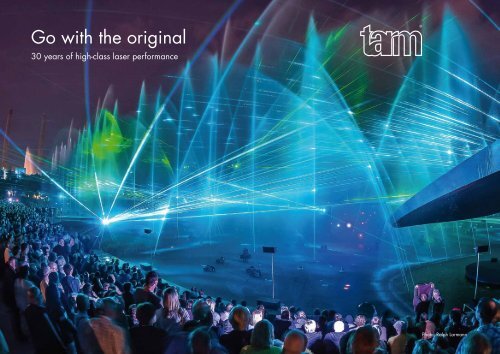 tarm Showlaser brochure 2019
Our brand new brochure is available now
Our brand new brochure is available now
SHOW MORE
SHOW LESS
Create successful ePaper yourself
Turn your PDF publications into a flip-book with our unique Google optimized e-Paper software.
Go with the original

30 years of high-class laser performance

Photo: Ralph Larmann
---
Seit 1988 zählt die tarm Showlaser GmbH zu den Weltmarktführern für innovative Laserinszenierungen. Kreativität, Präzision und Zuverlässigkeit vereint das Team spielerisch und voller

Idealismus. Namhafte Unternehmen, Institutionen und Regierungen zählen seit Jahren zu unseren Kunden. Wir inszenieren spektakuläre multimediale Events ganz gleich ob vor 200

geladenen Gästen oder vor 100.000 Besuchern einer Großveranstaltung.

Unsere Shows überraschen, motivieren und überzeugen. Auf jeden Fall bleiben sie in Erinnerung. Unauslöschlich und langfristig. Wir begeistern Menschen.

In den letzten 30 Jahren haben wir Auftritte von Pink Floyd, Silbermond, LENA oder Robbie Williams begleitet, aber auch die von vielen Vorständen auf zahlreichen Produktpräsentationen.

Wir haben bei den Eröffnungsfeierlichkeiten der European Games 2015 in Baku, der Abschlussfeier der Commonwealth Games 2010 in Delhi, den Eröffnungsfeierlichkeiten der

Olympischen Spiele 2010 in Vancouver und 2004 in Athen genauso für einen Teil der Spezialeffekte gesorgt wie bei der Weltpremiere der "Autosymphonic" in Mannheim, den

alljährlichen Wassershows in der Wolfsburger AUTOSTADT oder bei unzähligen anderen kleinen und großen Projekten.

So unterschiedlich unsere Kunden aber auch sein mögen - eines ist ihnen gemeinsam: Sie kommen wieder.

50 years boot-fair in Düsseldorf 2019
---
tarm Showlaser GmbH have been a world leader in the field of innovative laser presentations since 1988. Our team effortlessly combines creativity, precision and reliability into

impressive packages. Renowned corporations, institutions, and government agencies have used our technology and creative services to help create iconic and memorable events that

have amazed, motivated, and lived on in the memories of audiences around the world. Our team can design and stage spectacular, multimedia events for any size audience – from

200+ people in a modest sized hall to 100,000+ spectators in a gigantic stadium and a live TV audience of millions.

Our shows surprise, motivate, convince, and are not soon forgotten. We inspire people.

We have been putting on laser presentations for a list of distinguished clients from around the world for more than 30 years. From product launches, to rock 'n' roll spectacles for artists,

such as Pink Floyd and Robbie Williams, to large corporate events for major international brands, such as Samsung and Mercedes, to one-off events for private individuals and royalty,

including the Al Maktoums of Dubai, to new building openings, award ceremonies, and, perhaps the most prominent of all, the European Games opening ceremonies in Baku, 2015,

the closing ceremonies of the 2010 Commonwealth Games in Delhi, the Olympic Games opening ceremonies in Vancouver, 2010, and Athens, 2004.

Our clients are all very different, but they all share one thing in common: they come back.

www.tarm.de 50 years boot-fair in Düsseldorf 2019
---
50 years boot-fair in Düsseldorf 2019
---
50 years boot-fair in Düsseldorf 2019
---
Mercedes Benz / the most extraordinary truck launch in the UAE - Dubai 2018
---
Mercedes Benz / the most extraordinary truck launch in the UAE - Dubai 2018
---
#reflection / laserperformance based on an array of static and computer controlled moving mirrors
---
#reflection / laserperformance based on an array of static and computer controlled moving mirrors
---
"Tricolore" at Fête des Lumières in Lyon 2018
---
"AUTOSTADT" Wolfsburg / VOLKSWAGEN AG - the largest mobile Water-Pyro-Video-Light and Laserperformance
---
LASERGRID / single laser units are flexibly applicable
---
LASERGRID + bitmap laserscanning / single laser units are flexibly applicable
---
Opening Ceremony Industriemesse Hannover 2015

Opening Ceremony of Industriemesse in Hannover 2015
---
Opening Ceremony Industriemesse Hannover 2015

Opening Ceremony of Industriemesse in Hannover 2015
---
Photo: Ralph Larmann

World Premiere of Mercedes AMG Project ONE at the IAA 2017 in Frankfurt
---
Photo: Ralph Larmann

Mercedes-Benz AG - IAA 2015 Frankfurt

Mercedes Benz AG at the IAA 2015 in Frankfurt
---
Opening Ceremony European Games - Baku 2015

Opening Ceremony for the European Games in Baku 2015
---
SAP Select - Berlin 2016

SAP Select in Berlin 2016
---
SUSATO in Soest 2014
---
SUSATO in Soest 2014
---
Laser graphic projection on a dam

Laser graphic projection on the dam of the Möhne Reservoir 2014
---
EHF Final 4 - Cologne 2016, Opening Ceremony of a power plant - Düsseldorf 2016
---
NEXI Launch - Milano 2017

NEXI Launch in Milano 2017
---
VNV Nation - LEA Award Frankfurt 2013

VNV Nation at the LEA Award Frankfurt Festhalle 2013
---
Cupa Romaniei - Bucuresti 2014

Cupa Romaniei in Bukarest 2014
---
Cupa Romaniei in Bukarest 2014
---
EXTRASCHICHT 2017 - Zeche Zollverein Essen

EXTRASCHICHT at Zeche Zollverein Essen 2017
---
Laser and WaterScreen-projection for the Abha Lake Show 2002 in Saudi Arabia
---
10-millionth visitor celebration to Andrew Lloyd Webber's "Starlight-Express" musical in Bochum
---
Photo: Ralph Larmann

"autosymphonic 2011" in Mannheim

The city where Carl Benz invented the automobile witnessed an impressive multimedia spectacle

Adam & Eva 2012 Gold Award for the best public event in 2011
---
EUROVISON SONG CONTEST 2011, Lena Meyer-Landrut
---
Robbie Williams at the "WETTEN DASS…?" TV-show in Germany
---
"AUTOSTADT" Wolfsburg / VOLKSWAGEN AG - the largest mobile Water-Pyro-Video-Light and Laserperformance
---
"AUTOSTADT" Wolfsburg / VOLKSWAGEN AG - the largest mobile Water-Pyro-Video-Light and Laserperformance
---
"AUTOSTADT" Wolfsburg / VOLKSWAGEN AG - the largest mobile Water-Pyro-Video-Light and Laserperformance
---
"AUTOSTADT" Wolfsburg / VOLKSWAGEN AG - the largest mobile Water-Pyro-Video-Light and Laserperformance
---
Opening Ceremonies of the summer Olympic Games in Athens 2004
---
Opening Ceremonies of the summer Olympic Games in Athens 2004 / Lasergraphic on WaterScreen 50 years boot-fair and in cycladic Düsseldorf head 2019
---
Opening Ceremonies of the summer Olympic Games in Athens 2004
---
Christmas in Corvara, Italy - Lasergraphic projection over a distance of 1,5 km
---
SILBERMOND at the "ECHO 2009" awards ceremony in Berlin
---
"White Night" laser-water-pyro show in Bukarest 2008
---
Lasergraphics for the SMART presentation at the IAA 2011 in Frankfurt
---
100 Years celebration of OBO-Bettermann 2011 in Menden
---
Boxing fight Wladimir Klitschko at the ESPRIT-arena in Düsseldorf 2012
---
50th anniversary of the Abu Dhabi Police, UAE 2007
---
state-of-the-art equipment
---
state-of-the-art equipment
---
state-of-the-art equipment
---
state-of-the-art equipment
---
tarm Showlaser GmbH

Berthastrasse 6

D-44793 Bochum

+49 234 579 37 00

info@tarm.de

www.tarm.de