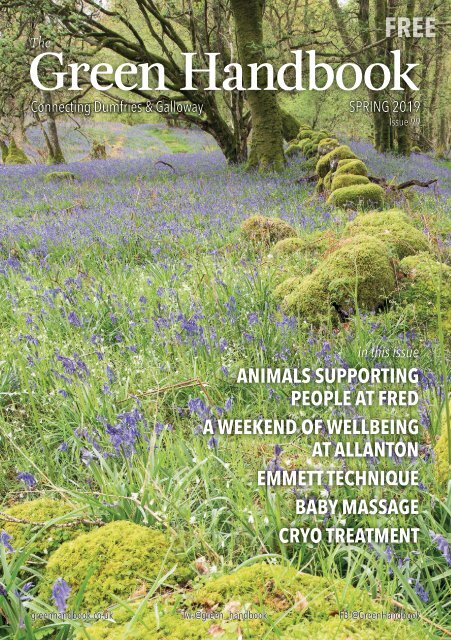 The Green Handbook
Connecting Dumfries & Galloway. Spring 2019. Issue 99
Connecting Dumfries & Galloway. Spring 2019. Issue 99
SHOW MORE
SHOW LESS
You also want an ePaper? Increase the reach of your titles
YUMPU automatically turns print PDFs into web optimized ePapers that Google loves.
FREE

The

Green Handbook

Connecting Dumfries & Galloway

SPRING 2019

Issue 99

in this issue

ANIMALS SUPPORTING

PEOPLE AT FRED

A WEEKEND OF WELLBEING

AT ALLANTON

EMMETT TECHNIQUE

BABY MASSAGE

CRYO TREATMENT

greenhandbook.co.uk

Tw:@green_handbook

FB:@GreenHandbook
---
THE GREEN HANDBOOK

WHERE TO FIND THE GREEN HANDBOOK

You will find the Green Handbook at libraries throughout the region and at these locations:

Annan: Citizens Advice Bureau, Perfect Retreat, Town Hall

Auldgirth: Allanton World Peace Sanctuary

Balmaclellan: Balmaclellan Shop

Beeswing: Loch Arthur Creamery

Carlisle: Atlas Works, Nelson Street

Carsphairn: Carrick's of Carsphairn

Castle Douglas: King Street at: Sunrise Wholefoods 49, In-house Chocolates 128, Artists & Makers/Heart Songs 141,

Blackburn's Hair & Beauty Salon 142, Small Print 215, McGill Duncan Gallery 231; Cotton Street Community Centre

Colvend: Londis Colvend Stores, Barnbarroch Pottery

Creetown: Barholm Arts and Crafts, Creeside Clinic, Gem Rock Museum

Dalbeattie: Bridge Wellness Centre, Carsons Butcher, Dalbeattie Books, Decaf Café, Galloway Soup CoJamiesons

Sandwich Bar, The Nail Factory, Post Office

Dalton: Village Hall

Dumfries: Alternative Centre, Basement 20, Boots, Business Gateway, Cloud 9 Gallery, D&G Mental Health Association,

Deli 56, The Dumfries Larder, Gracefield Arts Centre, The Hub, Lochside Childrens Services, Lochthorn Medical Centre,

Lover's Lane Dance & Fitness Studios, Midsteeple Box Office, Mrs Green's Tea Room, North West Resource Centre, Nana

Lou's Café (The Old School), Parry Farm Produce, Pilates Studio with Jane & Co, Pumpernickel, Robert Burns Centre Film

Theatre, St John's Church, The Stove, The Usual Place, VisitScotland iCentre, Your Sweet Home Café

Eskdalemuir: Community Hub

Gatehouse of Fleet: Galloway Lodge

Gretna: VisitScotland iCentre

Isle of Whithorn: St. Ninian's

Kirkkconnel: Poppy's Tearoom, Station 49

Kirkcudbright: All Natural Me, Brambles Delicatessen, Corner Gallery, High Street Gallery, Kirkcudbright Galleries,

Master Piece, Pleat, Pure Beauty, Stewartry Museum, VisitScotland iCentre

Langholm: Chloe at La Belle, The Paper Shop, Pelosi's Corner Café, Truly Scrumptious, Welcome to Langholm

Laurieston: The Gallery at Laurieston

Lochmaben: Graham's Bakery café, Pink Flamingo Vintage Tea Room

Lockerbie: Annandale Herald Newsagent, Cafe 91, Flower Pot Gift Shop, Just Be Bistro, Kings Arms

Moffat: Beauty Matters, Benmar Services, Brodie's, Buccleuch Arms, Harvest-Time, Moffat Books, The Rumblin Tum

Moniaive: Craigdarroch Arms, Glen Whisk café, Watsons' Grocers

New Abbey: Abbey Cottage Tearoom, New Abbey Stores

New Galloway: Catstrand, Community Shop, Post Office

Newton Stewart: Aroma Italian Bistro, Belted Galloway Visitor Centre, Brew Ha Ha, Lushlagenlook, Scent of Galloway

Palnackie: Village Shop

Ringford: Old Schoolhouse café

Sanquhar: A' the Airts, Burnside Tearoom

Stranraer: Good Life Foods, Jan de Vries shop, VisitScotland iCentre

St John's Town of Dalry: Post Office

Thornhill: Down to Earth, Moniaive Chocolatier, Spar shop, Drumlanrig Café, Cample Line

Wanlockhead: Wanlockhead Inn

Whithorn: Whithorn House Tea Room

Wigtown: Book Shop, Cobwebs, Hippiedippies, Readinglasses, Shoots & Leaves Café, W&B Community Initiative,

Wigtown Medical Practice

If you'd like to take copies of the Green Handbook please get in touch

2

Front cover photo: © Phil McMenemy. See more of his work at the Gallery at Lauriestion
---
THE GREEN HANDBOOK

A BIG EUROPEAN WELCOME

Despite the shabby behaviour of our

leaders, hope is to be found in youth.

Greta Thunberg has shown us that,

while politicians are failing, a 15 year

old Swedish girl can challenge gross

international failures. We now live in a

time when the young can call out corrupt

power, be heard, and highlight glaring

truths about climate change just as they

seem to slip off the radar.

We would like to thank Greta and the

school children around the world for the

pressure they are exerting on powerful

adults who seem fixated on xenophobia

rather than our futures.

We are delighted to have a photograph

by Phil McMenemy from the Gallery at

Laurieston on the front cover again. The

Gallery will soon be adding a tearoom so

why not drop in, say hello and get a cuppa.

IN THIS ISSUE

Baby Massage 4

A Weekend of Wellbeing 8

Animals Supporting People 12

Localised Cryo Treatments 16

Emmett Technique 18

Listings 21

Diary Dates 27

Health Play Movement for

pre-school and early years

Creative Movement & Dance for Primary age

Modern Dance Technique

Creative Dance & Improvisation

for Teens/Young People

Health, Well-being Dance

& Creative Movement for Adults

Classes in

Dalbeattie, Dumfries, Moniaive,

New Galloway, Rhonehouse & Tynron

If you would like to write for the

Green Handbook, please get in

touch or send something in.

Editor: Tim Jones

The Green Handbook is published by

JCC Creative, Ainsworth Cottage,

Ayr Street, Moniaive, DG3 4HP

Tel. 01848 200622

Email: editor@greenhandbook.co.uk

Web: greenhandbook.co.uk

Facebook: @GreenHandbook

Twitter: @green_handbook

The Green Handbook and JCC Creative assume no liability

or responsibility for any inaccurate, delayed or incomplete

information, nor for any actions taken in reliance thereon.

The information contained about each individual, event or

organization has been provided by such individual, event

organizers or organization without verification by us.

Opinions expressed in articles are the opinions of its author

and does not necessarily reflect the opinions of The Green

Handbook and JCC Creative. Therefore, The Green Handbook

carries no responsibility for those expressed opinions.

Any form of reproduction of any content in this publication

without the written permission of the publisher is strictly

prohibited. ©2019 The Green Handbook. All rights reserved.

3
---
THE GREEN HANDBOOK

Baby Massage

by Rachel Kirkpatrick

In the womb the sense of touch is

all around. Floating, then moving

on to a more massage type of

touch as baby gets bigger and fills the

womb. This gives babies a safe and

secure environment where they are

protected.

So why should this be any different

outside the womb? Babies, once

they are born, still need the same

safety and security they had. When

parents hold their baby, they have

that reassurance that they are still

protected. Without touch babies

can feel insecure, frightened, and

therefore unable to thrive or survive

in their environment.

Touch is our primary language of

compassion, and a primary means for

spreading this compassion.

The theorist, John Bowlby (1958),

devoted extensive research over many

years to the concept of attachment

theory and believed that there is

an evolutionary component to

attachment and that it aids human

survival. More recently, Suzanne

Zeedyk believes wholeheartedly

that babies come into our world

ready to connect. "The capacity

to be an engaged, relational being

doesn't happen some time later in

development, such as when children

walk or talk or start school. The

capacity is present from birth. Babies

share in mental and emotional

Baby Massage

Children's Yoga

Workshops & Courses

In Dumfries & Galloway

rosewtherapies@gmail.com

rosewtherapies.wordpress.com

experiences. This means that how we,

as adults, relate to our babies matters"

(2012).

The first 1001 days of life are critical

to enrich babies lives, and their

brains. Nourishing and nurturing

activities, such as baby massage, help

to grow their emotional intelligence,

resilience and emotional regulation.

So why is touch so important? The

skin is the largest sensory organ in our

body and not only acts as a shield, but

exudes anti-bacterial substances to

prevent infection and manufactures

vitamin D. It is also a huge sensor

packed with nerves keeping the brain

in touch with the outside world.

As touch is so important to our

wellbeing, you can see how baby

massage fits into all of this. Massage

4
---
THE GREEN HANDBOOK

stimulates the production of oxytocin

(the 'love hormone') and this has a

pain relieving and calming effect. It

also promotes the bonding between

parent and child and stimulates the

skin. This generates all the feelings

of love and protection. Massage can

aid digestion, sleep, and even prevent

baby illnesses by improving the

immune system.

Touching, holding, comforting and

massaging our babies enables them

to thrive and have confidence in the

uncertain world around them.

Contact Rachel for information about

upcoming Baby Massage Courses

rosewtherapies@gmail.com

rosewtherapies.wordpress.com

Confident Breastfeeding

FOR YOU AND YOUR BABY

Therapies & Crystal Shop

To bring your life and body back into balance

Tel: 07816 236659

FB: @distantheart

Email: heartsongshealing@gmail.com

141 King Street, Castle Douglas

Worried about climate change?

Care about social justice?

Join the Scottish Green Party!

We have an active growing branch in Dumfries

and Galloway with meetings across the region.

We are friendly and welcoming and you can do

as much or as little as suits you - no pressure!

Membership starts at £3 per month

for standard membership and

£1 per year for carers, under 18s,

refugees and full-time students.

Apply at greens.scot/join or contact

dumfriesandgalloway@scottishgreens.org.uk

Green Weddings

Traditional Hand Fasting Ceremony

Is breastfeeding

getting on your tits?

A little expert help can make a huge difference

Pre-natal preparation

Individuals and groups

Information on breastfeeding

t: 07552 312543

www.jillasher.co.uk

Jump the broom from the

sacred circle of light

Tel. 07514 557480 for more details

5
---
THE GREEN HANDBOOK

Galloway

Violin Studio

Specializing in Suzuki

& Classical violin study

for people of all ages

Cate Howard, director

chowardsasc@gmail.com

01644 470127 catehoward.com

DALBEATTIE BOOKS

"A little bit different"

Books

(New, remainder, used)

Maps

Greetings cards

Selected craft materials

Competitive prices

Closed Wednesdays & Sundays

65 High Street, Dalbeattie, DG5 4HA

dalbeattiebooks@gmail.com

01556 610228

Julian Leask BOst

Rosie Gibbs BOst MSc (Paed Ost)

Josh Long BOst

Registered Osteopaths

First consultation & treatment, 1 hour

Follow up treatments 30 minutes

Lochvale House

(formerly Georgetown Community Centre)

Georgetown Road, Dumfries, DG1 4DF

01387 270 750

www.dumfries-osteopathic-clinic.co.uk

R E S T O R E

W E L L - B E I N G

Relaxing

massage

Rejuvenating

yoga

alysonyoga@greenisp.co.uk

alysonyoga.wordpress.com

FB/Twitter: @alysonyoga

0757 9966151

Holistic yoga

and massage

with Alyson

Dumfries

Yoga and Qigong

Classes in Dumfries

and Lockerbie

Susan Neal

Ocean of Calm Energy Arts

susanneal@mac.com

07739904328

f: @OceanofCalmEnergyArts

oceanofcalm.wordpress.com

Teacher,

Yoga for Healthy Lower Backs

www.yogaforbacks.co.uk

6
---
THE GREEN HANDBOOK

Under cover

at the Victoria Pavillion, Dumfries Station

Over 30 stalls selling great local produce,

street food and artisan crafts.

Easily accessible on foot, bicycle, bus or car

DANNY BONNER

SLATE & STONE DESIGN

Danny designs and builds

hand-cut slate sculptures from

new and reclaimed slate

All types of

dry stone work undertaken

LOCH ARTHUR

BEESWING DUMFRIES DG2 8JQ

CREAMERY, FARM SHOP & CAFE

The home of fine local & organic products

Dumfries and Galloway's finest selection of

Organic produce.

Award winning Cheeses, Fresh Breads,

Cakes, Biscuits, Pies, Organic Meat, Fruit,

Vegetables and Eggs.

Spend time in our beautiful Cafe with our

simple menu of drinks, cakes and light meals.

No fast food here, just real food prepared

and served with the utmost care and attention.

MON - FRI: Shop: 9.00 - 5.30

Café: 9.30 - 5.00

SATURDAY: Shop: 9.00 - 5.00

Café: 9.30 - 4.30

SUNDAYS: Closed

Tel. 07557 513268

danny@slateandstonedesign.co.uk

Telephone: 01387 259669

www.locharthur.org.uk

7
---
THE GREEN HANDBOOK

A Weekend of

Wellbeing

at Allanton

by Glenda Thornton

'Living in Balance' – a Day of

Workshops, on Saturday 22nd June

is an opportunity for you to 'dip your

toe' in and experience different ways

to develop a healthy lifestyle.

We have a choice of workshops from

which you can choose three during the

day, including Yoga, rock painting,

kinetic chain release, language for

change, aikido, mindfulness and

much, much more.

Delicious Garden Soup and a roll is

available to purchase – supporting

our garden fund.

For updates on workshops and all

other information, please see our

website, as per advert.

21st International World Peace

Festival takes place the following

day on Sunday 23rd June. This is

an event for the whole family and

this year celebrates 'Wellbeing in

our Community'. Treat yourself

to delicious home-made cakes

from the Dunscore Fair Trade café,

whilst listening to our talented local

musicians, catching up with friends

and discovering what is available

for you to help to develop a healthy

lifestyle. The World Peace Flag

Ceremony takes place at 4pm and

everyone is invited to send peace to all

the countries of the world through the

'LIVING IN BALANCE'

A Day of Workshops

Allanton Peace Sanctuary, Auldgirth DG2 0RY

Saturday 22nd June 2019

9.30am – 4.00pm

Costs: £20/£25/£30

Bookings: livinginbalance7@gmail.com

Tel: 01387 740642

www.allantonpeacesanctuary.org

Allanton Peace Sanctuary

Scottish Charity SC038773

symbolism of their flags.

We do hope that you can come to one

or both of these events.

'May Peace Prevail On Earth

International' is our new name!! We

are no longer called the World Peace

Prayer Society. Our change of name

now reflects our Mission which is

to spread the message 'May Peace

Prevail On Earth'. We are delighted!

May Peace Prevail On Earth

Contact Allanton Peace Sanctuary:

01387 740642 allantonpeacesanctuary.org

21 ST INTERNATIONAL

WORLD PEACE FESTIVAL

'Wellbeing in Our Community'

Allanton Peace Sanctuary, Auldgirth DG2 0RY

Sunday 23rd June 2019

2pm - 6pm

Free Entry All Welcome

hello@allantonpeacesanctuary.org

www.allantonpeacesanctuary.org

Allanton Peace Sanctuary

Scottish Charity SC038773

May Peace Prevail On Earth

8
---
THE GREEN HANDBOOK

allnaturalme.co.uk

8 Castle Street, Kirkcudbright, DG6 4JA | 01557 428 010

9
---
THE GREEN HANDBOOK

Mharia Rawlins

Anam cara

(soul friend)

Counsellor &

Psychotherapist

MBACP

Person-centred approach

Mind, body, emotions and spirit

Face to face or by phone

10 years as a Holistic Therapist

Help with

Depression, life changes, trauma

bereavement, abuse, self-harm

addiction, suicidal thoughts, sexuality,

spirituality related issues & more...

mhariacounselling@outlook.com

07490 256213

Upper Nithsdale but can travel if necessary

counselling-directory.org.uk/counsellors/mharia-rawlins

www.mool.scot

e:hello@mool.scot

f:@DGRefugeeAction

07497 080 557

Wide range of stoves

Fireplaces and hearths

Logs and kindling

enquire@nithsdalestoves.co.uk

www.nithsdalestoves.co.uk

t: 01848 332200 m: 07949 211528

HETAS approved full installation service

132 Drumlanrig Street, Thornhill, Dumfries & Galloway DG3 5LP

10
---
THE GREEN HANDBOOK

In the lush mountains of South West Scotland

BENJAMIN ZEPHANIAH &

THE REVOLUTIONARY MINDS

MOONLIGHT BENJAMIN

GRIOGAIR LABHRUIDH - DIZRAELI

TALISK - MUGENKYO TAIKO DRUMMERS

MUNGOS HI FI SOUND SYSTEM FULL RIG

MC KENNY KNOTS - JEROME HILL

ED RUSH AND OPTICAL - YOKO PWNO

TOM MCGUIRE AND THE BRASSHOLES

SAMEDIA SHEBEEN SOUNDSYSTEM - SOLAREYE

KORRONTZI - THE HONEY FARM - CONTINENTAL DRIFTS

PÁS DE PROBLÈME - RUMPSTEPPERS - DJ CHRIS TOFU

OMAR AFIF AND GNAWA TRANCE FUSION

SEABASS KID - DOMNIC WAXING LYRICAL

SKINNY X PARADISE PALMS TAKEOVER

BRISTOL BRANCH - MILVUS MILVUS - AWRY

DELIGHTFUL SQUALOR - PYROCELTICA - GYPSY ROOTS

DUB PRINCESS - EAZY SKANKIN CREW - COSMIC - BBL

CENOTE SOUNDS - NEMA KUTA - ORAN BAGRAIDH

THE MATATUNES - RAZA - AWKWARD FAMILY PORTRAITS

HEADSET DISCO - VIXEN SOUND - IRIE YOYO

MUCKLE SPREE - AVOCET - CEITIDH MAC - FISH TO FRY

THE DALMELLINGTON SILVER BAND & MORE TO BE ANNOUNCED

11
---
THE GREEN HANDBOOK

Dumfries Traditional Acupuncture

Lochthorn Medical Centre, Edinburgh Road, Dumfries, DG1 1TR

Kirsty Hodgson Bsc (hons) MBAcC

07728688003

Catriona Jennings Bsc (hons) MBAcC

07980873623 www.dumfriesacupuncture.co.uk

One-day meditation retreat

in Kirkcudbright

Friday, 7 June 2019, 10am – 3.30pm

(includes a light lunch)

EMPOWER THE SELF

An invitation to an inner journey of

exploration, meditation, realisation and

experience

The opportunity to explore and understand

what is real inner strength and how we can

access, nurture and apply it in our lives.

Retreat facilitator: Denise Lawrence

Researcher, spiritual teacher,

broadcaster, and Raja Yoga

meditation practitioner since 1974.

For more information and

to reserve your place, please contact Pam:

07599566338 – millburnstudio.kbt@gmail.com

Don't miss out as space is limited to 15 participants

EVENTS SPRING 2019

MEDITATION WITH BREAKFAST

6 April, 4 May, 1 June 9.30-11.30 at Asheiri

SOUL CONVERSATIONS

13 March, 24 April, 15 May 18.00-20.00 at

Allanton Peace Sanctuary

PERSONAL VISITS, DAY

& WEEKEND EVENTS

Contact Sarah for details

Welcomes people of all

spiritual backgrounds or none

Contact Sarah Summerson

01671 820848

email: sarah@asheiri.one www.asheiri.one

12
---
m F 13/08/2012 14:12 Page 1

and relaxation for people with

limited mobility or other

special needs

carol godridge

y F 13/08/2012 14:20 Page 1

THE GREEN HANDBOOK

Yoga CDs and Downloads

for home practice

NEW!

Yoga Nidra for Healing: a practice for those

dealing with pain and illness.

Chair Yoga and relaxation: for people with

limited mobility or other special needs.

To be done in groups with a helper, or as an

individual practice.

Yoga Nidra: 3 practices for first and second

year students.

Yoga Nidra: 2 practices for more

experienced students.

yoga

nidra

for healing

chair yoga

carol godridge

Meditation: Kaya Stairyam (body stillness), Ajapa Japa (mantra)

and Antar Mouna (inner silence).

Crematorium & Woodland Burial Site

yoga nidra

carol godridge

meditation

Meditation practices from the Satyananda tradition

carol godridge

yoga nidra

Practices for mor experienced students

carol godridge

CDs £7 + £1.50 p&p each (includes free download).

Downloads only £5.

From: Carol Godridge, Ben Doran, Ayr Street, Moniaive,

Dumfriesshire DG3 4HW Tel: 01848 200681

Email: yoga@cgodridge.plus.com for bank details

Near Collin, Dumfries

For further information please contact

Roucan Loch Office on (01387) 266749

www.roucanlochcrematorium.co.uk

Room4You

Elizabeth Wallace, Holistic Therapist

'Nothing changes, if nothing changes'

Elizabeth is a Holistic Therapist with over twenty years experience in

Mental Health Work. Offering Indian Head/Swedish massage and

Minimalist/lifestyle coaching in a warm and welcoming environment

PG Cert Counselling (The University of Edinburgh)

CSMCOSCA

Book an appointment to make positive life changes

Dumfries based with a range of appointments to suit everyone

Facebook: Elizabeth Wallace Room4You Holistic Therapist

Telephone: 07810880759

13
---
THE GREEN HANDBOOK

Nithsdale community group,

Farmersfield Rest-home for

Elderly Donkeys (FRED), is

asking for our votes to secure National

Lottery funding as part of this year's

People's Projects. Animals Supporting

People at FRED (ASPatFRED), based

just outside Dunscore, is hoping to

secure funding to allow all year round

animal assisted therapy in a safe and

secure covered space. ASPatFRED is

one of five groups in the ITV Border

region, each going for £50,000.

The donkeys at FRED are cared for by

the family-run charity and a team of

volunteers allowing them to live out

their remaining years in the peaceful

companionship of other elderly

animals.

The donkeys provide therapeutic aid

to groups, families and individuals

suffering from stress, relationship

difficulties, trauma, mental illness

and also people with learning

disabilities. If successful, ASPatFRED

will use the grant to provide a covered

space to allow a greater number

of visitors to benefit from animal

assisted therapy in all weathers.

Treating donkeys as individuals is the

bedrock of FRED. In the good weather

the old donkeys potter about in the

fields with their particular donkey

friends. In poor weather, the donkeys

have their stables with clean, deep

beds. FRED also takes in younger

donkeys if they are in need of a safe

and secure home.

On Monday 1st April, their project,

"Going Underground", will be

showcased on Border regional news at

6pm. The programme will explain the

'Animals Supportin

Needs Your Vote

development project and the benefits

of the scheme. For a chance at the top

prize, ASPatFRED is asking people to

support them by visiting the People's

Projects website to vote.

Iraina McGroarty of ASPatFRED said:

"This is an exciting opportunity to

raise awareness and support for our

work, and with your help, to secure

further much-needed funding. We

urge local people to get behind us. If

successful, this will help us to make

an even bigger difference to our

local community by allowing animal

assisted therapy to be carried out

throughout the year. At the moment,

inclement weather vastly reduces and

interrupts our work here".

Joe Ferns, UK Funding Director at The

National Lottery Community Fund,

said: "In previous years we have seen

a wide range of successful projects,

14
---
THE GREEN HANDBOOK

g People at FRED'

s in Funding Bid

Voting opens at 9am on Monday 1st

April, closing at noon on Monday 15th

April at thepeoplesprojects.org.uk.

People can vote once per region and

will need a telephone number or email

address to vote.

Animals Supporting People at FRED

Scottish Charity SC045033

FB: farmersfieldfred

Mobile: 07852 447076

To vote for ASPatFRED by 15th April visit:

thepeoplesprojects.org.uk

from a café supporting young carers

to animal-assisted therapy for

people living with dementia and

the development of a bee-friendly

orchard. The People's Projects is a

chance for you to have your say on

how National Lottery funding can

help your community to thrive."

The people at ASPatFRED like to

share their passion for the donkeys

and the other animals they care for

with supporters and the general

public. They are also passionate about

the health benefits and restorative

wellbeing that spending time with

these animals can bring.

Visits to Farmersfield are welcomed

from groups, families and individuals

and can be arranged by calling the

mobile number or via Facebook. A

couple of days notice is usually all that

is needed.

YOUR VOTE CAN HELP US

WIN NATIONAL LOTTERY

FUNDING

Dunscore community group

Animals Supporting People at

FRED could be a winner in this

year's People's Projects Vote

Our "Going Undercover" project

was shown on ITV Border

thepeoplesprojects.org.uk

Voting closes at noon on

Monday 15 April 2019

15
---
THE GREEN HANDBOOK

Localised

Cryo Treatments

by Karen Shaw

There's been a buzz around

cryotherapy for quite some

time now from a simple bag of

frozen peas or an ice bath, to full body

cryo chambers.

Localised cryostimulation uses

a laser-like device, channeling a

controlled beam of liquid nitrogen

vapour onto the body. It is a gentle,

non-invasive therapy using extreme

cold in a holistic way to counteract

all sorts of ills. There is no need for

the practitioner to touch you unless

combined with a massage. Despite

questions surrounding the practice,

there are plenty of scientific studies,

and anecdotal evidence, pointing

towards its effectiveness.

Cryotherapy has long been used by

athletes to heal the body and help

to prevent injuries. Localised cryostimulation,

targeting a specific

area, can treat scar tissue and nerve,

joint or muscle damage, as well as

accelerating recovery after surgery

or broken bones. It can also treat

neurological and inflammatory

conditions like arthritis, fibromyalgia,

gout, multiple sclerosis and radicular

neuralgia.

The treatment accelerates healing and

recovery by encouraging the body to

circulate blood more rapidly into the

cooled area. This speeds the removal

of the by-products of tissue damage

while supplying fresh nutrients to the

recovering tissue. In turn this reduces

inflammation and pain.

Localised cryostimulation is most

often used to treat specific joint and

muscular problems, skin conditions,

the spine, and to boost the central

nervous system.

It has caught the attention of the

beauty industry because some

scientists believe it helps to reduce the

visible signs of ageing. It eliminates

the visible effects of tiredness,

tightens the skin and, through gentle

exfoliation, makes skin glow.

The science behind this suggests

that the liquid nitrogen vapour cools

the skin, exfoliating the top layer

of dead skin cells, promoting new

cell growth. This happens because

cryostimulation boosts blood flow,

pushing enzymes and nutrients into

dermal layers faster and eliminating

the toxins that cause ageing. Similarly,

it can make the delicate skin around

the eyes look less tired, reducing the

appearance of dark circles that can

make you look older.

The treatment also promotes collagen

production, which makes skin appear

plumper and younger, reducing

fine lines and wrinkles. As you age,

collagen production slows down, but a

Cryo facial gives your body a kick start

again, slowing down the acquisition

of fine lines and wrinkles.

Cryo facials are also used to treat

overly large pores, so even people

in their teens and early twenties

can benefit. Pores react to the cold

temperatures of cryotherapy by

tightening up, lessening the chances

16
---
THE GREEN HANDBOOK

of developing spots or even acne, by

warding off oil and impurities.

This treatment is not suitable for

people undergoing chemotherapy

or radiotherapy and the practitioner

should carry out an in-depth

consultation to ensure suitability for

treatment.

When applied by a professional,

localised cryostimulation is extremely

low risk. There are occasionally

some short term minor side effects,

like numbness, a dull ache, redness

and tingling.

Localised Cryostimulation and Cryo

Facials are currently available at the

Creeside Clinic in Newton Stewart.

Web: creesideclinic.co.uk

FB: creesideclinic

GRAPHIC

DESIGN

&

WEB

01848 200622

jcccreative.co.uk

CREESIDE

CLINIC

www.creesideclinic.co.uk

Face & Body Treatments

Advanced Beauty Treatments

Laser Hair Removal

Laser Tattoo Removal

Massage

Holistic Therapies

Localised Cryostimulation

www.creesideclinic.co.uk

creesideclinic

17
---
THE GREEN HANDBOOK

The

Emmett Technique:

A Muscle Release Therapy

by Jane Henderson

The Emmett Technique was

developed by Ross Emmett in

Australia. He worked with the

originator of the Bowen Technique,

Tom Bowen, and then went on to

develop his own system. It is relatively

new to the UK, having only been

available here since 2008. Since

then more and more therapists have

trained and are now widely spread

across the UK.

This technique is safe to use on

everyone from babies to the elderly

and even on animals. Courses are

available in Emmett for horses and

dogs.

Emmett Technique is a gentle finger

pressure that releases trauma and

stress in muscles to improve range

of movement and can ease pain and

discomfort.

Emmett may help with many

conditions from skeletal imbalances,

muscular pain, headaches and much

more.

The technique can be used alongside

other therapies such as massage,

Bowen, acupuncture, chiropractic and

osteopathy. It can be administered

anywhere as it can be done sitting,

standing or lying.

Ross Emmett has a vision that

PILATES STUDIO WITH JANE & Co

St Marys Industrial Estate, Dumfries

We offer a wide range of classes in

Pilates, both Mat, Chair & Reformer,

Yoga, Spirals, Barre, Dancefit,

Circuits, Tai Chi & Dance a hoop.

Treatments in Bowtech and Emmett

Technique – holistic therapies that may

help with muscular skeletal issues, back

pain, headaches, joint pain

& much more

www.pilateswithjane.co.uk

Tel. 07976 620753

everyone can use the Emmett

Technique to help themselves, friends

and family with pain and muscle

restriction.

He has developed a new one-day

course: 'The EMM-Tech (Easy Muscle

Management) Short Course' that is

designed for anyone to participate.

Eleven moves have been taken from

the practitioner training course and

put together to make up EMM-Tech.

This one day course is available in

Dumfries.

Jane Henderson leads the EMM-Tech

Short Course in Dumfries.

Contact by tel: 07976 620753

or email janehend.jh@gmail.com

18
---
THE GREEN HANDBOOK

We are delighted that

Dr Arthur Dahl has agreed

to visit Dumfries during his

tour of Scotland. He will be

giving a presentation about

"Meeting the Challenges of

the 21st Century", followed

by Q and A and light

refreshments on 22nd May.

Further information from

Venus Carew

venus.carew@gmail.com

Mob: 07796893500

Wednesday 22nd May 2019

at 7pm at the Stove café in Dumfries

19
---
THE GREEN HANDBOOK

LISTINGS

Architect

David Lamb Plans: extensions, alterations,

conversions Planning & Building warrants

25 Years in Architecture

Tel. 01387 880728 / 07501 038938

e: dlamb586@btinternet.com

Arts

Barholm Arts and Crafts

Arts and crafts co-operative. St John St,

Creetown. Tel. 01671 820671

f: @BarholmArtsAndCrafts

CAMPLE LINE Contemporary Art & Film

info@campleline.org.uk

nr Thornhill. Tel. 01848 331 000

Gallery at Laurieston Spring Show 2019

Nov to January.

Contact Phil: 01644 450235

f: /galleryatlaurieston

The Nail Factory Gallery exhibitions,

workshops & pop up shop in Dalbeattie.

01556 611686

e: info@nailfactory.org.uk

Acupuncture

Catriona Jennings, BSc(hons) MBAcC

Traditional Acupuncture. 07980873623

acupuncturecjennings.co.uk & Facebook

acupuncture.c.jennings@gmail.com

Lochthorn Medical Centre, Dumfries

Jenny Craig LicAc, MBAcC Specialist in

Japanese Toyohari Acupuncture & Moxa

Wigtown 01671 404845

jenny@galloway-acupuncture.co.uk

galloway-acupuncture.co.uk

Kirsty Hodgson, BSc(hons) MBAcC

Traditional Acupuncture. 07728688003

dumfriesacupuncture.co.uk

Lochthorn Medical Centre, Dumfries

Lynda Sharp

Dip Ac. Dip CHM. MRCHM. Dip NST

Traditional Chinese Acupuncture & Herbal

Medicine. NST Advanced Bowen Technique

01387 263703 /07753571212

Online booking www.wellnessdumfries.org

Beauty

Creeside Clinic

Face & Body Treatments. Laser Treatments

Tattoo Removal. Massage.

Holistic Therapies.

Localised Cryostimulation

www.creesideclinic.co.uk F: creesideclinic

Books

Dalbeattie Books

Books, maps, greetings cards,

craft materials.

65 High Street, Dalbeattie, DG5 4HA

Tel. 01556 610228

dalbeattiebooks@gmail.com

Builders

Steve Phelps General building,

roofing & maintenance work.

Whiteside Cottage, Dunscore,

Dumfries DG2 0UU.

01387 820347, 07768743988

e: stevephelps07@aol.com

Philip Watson Carpentry, general

maintenance. No job too small

Local reliable friendly service

Dalbeattie. Tel. 07922 066 326

www.philipwatson-carpentry.co.uk

Danny Bonner

Slate & Stone Design

Hand-cut slate sculptures and

all kinds of dry stone work

Tel. 07557 513268

slateandstonedesign.co.uk

20
---
THE GREEN HANDBOOK

TRADITIONAL

ACUPUNCTURE

Safe, relaxing & effective

Suitable for all ages.

Practitioner with

18 years experience.

Specialist in Japanese Toyohari

Acupuncture & Moxa

Jenny Craig LicAc, MBAcC

26 South Main St, Wigtown

DG8 9EH

The Orchid Room,

34a Charlotte Street, Stranraer

tel: 01671 404845

jenny@galloway-acupuncture.co.uk

www.galloway-acupuncture.co.uk

David Lamb

Architectural Plans

Extensions

Alterations

Conversions

PLANNING & BUILDING WARRANTS

25 Years in Architecture

01387 880728 / 07501 038938

e: dlamb586@btinternet.com

Noi is a fully-qualified traditional

Thai Massage practitioner with

over 10 years experience

Gift vouchers available online

www.thaimassageroom.com

01556 611 623 07799 664993

Millisle, Dalbeattie, DG5 4AX

Elaine Murdoch

Animal Communication

& Healing

REIKI & SEICHEM

PRACTITIONER

I use Reiki to help all kinds of animals

with physical, emotional & behavioural

problems, speeding up recovery from

injury or illness. I communicate with

animals, helping you to understand their

behaviour & how they feel about you & their

environment. Also photo & phone readings.

www.animal-communication-healing-by-elainemurdoch.co.uk

T: 07764 349 486 E: elainemurdoch@hotmail.co.uk

facebook.com/Elaines.Ihm.Ach

21
---
THE GREEN HANDBOOK

Centres & Retreats

Asheiri Spiritual Guest Centre Creetown

Meditation, retreats. Visitors welcome.

Contact: Sarah Summerson

01671 820848

sarah@asheiri.one www.asheiri.one

Allanton Peace Sanctuary

May Peace Prevail On Earth International

Auldgirth, DG2 0RY. Tel. 01387 740642

hello@allantonpeacesanctuary.org

www.allantonpeacesanctuary.org

Bahá'í Community

Circles of Study, Sacred Space gatherings,

Youth Empowerment groups. Contact:

Dumfries – Venus Carew 07796893500

(Peacemaker Club for Children)

Cairn Valley – Dicky Fusco 07873101766

dickyfusco@gmail.com

Wellness Centre Dumfries

Holistic Therapies,Yoga,Pilates,

Workshop space

01387 263703

www.wellnessdumfries.org

Ceremonies

Green Weddings Traditional Hand Fasting

Ceremony. Jump the Broom from the

Sacred Circle of Light. Tel. 07514 557480

johnfergie2011@gmail.com

Chiropodist/Podiatrist

Andrew J McDonald

BSc Pod MChS HCPC 07542 200771

e: ajmcdonald.chiropody@outlook.com

f: /ajmcdonald.chiropody

ajmcdonaldchiropod.wixsite.com/website

Clothing

The Nail Factory Pop Up Shop

Bringing together a superb selections of

Tweeds for men and women. Open by

appointment only. 01556 611686

e: info@nailfactory.org.uk

big top tent hire

weddings functions

festivals parties

children's events

info@littlebigtops.net

01848 200334

Philip Watson

Joiner

General Maintenance

Doors, Floors

Kitchen Worktops, Bathrooms

No Job Too Small

Dalbeattie 07922 066 326

philipwatson-carpentry.co.uk

Local Reliable Friendly Service

Get the 'wow factor' in your life

Learn

TAI CHI

For further information

or to reserve your place

please contact

Angela: 07808503091

e: creatinginnerrainbows@hotmail.co.uk

www.taichiscotland.org

22
---
THE GREEN HANDBOOK

Dance & Drama

Sara Lockwood Margaret Morris

Movement, choreography,

dance classes. Tel 01387 820472

sara.lockwood@sky.com

Creative Youth Drama Group

After-school weekly sessions. Aged 7-12

Wednesdays 3.30pm to 5pm

GM Institute, Moniaive

Jessica Fusco-Naish: 07709633663

jess.fusco.naish@hotmail.co.uk

Design

JCC Creative

Graphic Design. Websites. Apple Mac.

Training. Tel. 01848 200622

tim@jonescc.com jcccreative.co.uk

Facebook Communities

@BahaiCommunityOfDumfries-

AndGalloway

@BumpBabyandBeyondDumfriesandGalloway

@dgartsfest D&G Arts Festival

@DGSCHT Dumfries and Galloway

Small Communities Housing Trust

@DGWGO Dumfries and Galloway!

Whats Going on?

@DumfriesFarmersMarket First Sunday

of the month, Dumfries Station

@DumfriesNappyLibrary

@GallowayNational Park

@GreenHandbook

@IncredibleEdibleDumfries Daytime,

evening, and weekend sessions in spring/

summer. Join our 'muck-in' list dumfriescanbeincredible@hotmail.co.uk

Family Health

Jill Asher Breastfeeding

Individualised help and support at all stages.

Antenatal classes. T: 07552 312543

jillasher.co.uk FB: Jill Asher Breastfeeding

Funerals

Roucan Loch Crematorium & Woodland

Burial Site. Collin, Dumfries

Tel. (01387) 266749

roucanlochcrematorium.co.uk

Gardening

Paul Mellor Garden Services Moffat area

Mowing & lawn care, weeding, planting,

soil cultivation, pruning, hedgecutting etc.

Regular or single jobs. Tel: 07505 063924

Web: paulmellorgardening.com

Healing

Debra Hall Fully qualified and insured Reiki

master/teacher. 25 years experience.

For treatments, courses and refresher days

debra.ha@hotmail.co.uk

Tel: 01644430013 or 07793 371276

Elizabeth Drake

Heart Songs. Crystal shop & therapies

Tel. 07816 236659

Facebook: @distantheart

heartsongshealing@gmail.com

141 King Street, Castle Douglas

Elaine Murdoch

Animal healing. Reiki & Seikem

Tel. 07764 349 486

w: animal-communication-healingby-elainemurdoch.co.uk

e: elainemurdoch@hotmail.co.uk

Heating

Nithsdale Stove Centre Thornhill

01848 332200 nithsdalestoves.co.uk

enquiries@nithsdalestoves.co.uk

ADVERTISE HERE - CALL (01848) 200622

23
---
THE GREEN HANDBOOK

Derek Burgess Multi Fuel Stoves

Flue systems. Installations. 07793450530

E: dburgess82@ymail.com

www.derekburgess.co.uk & Facebook

Help & Activism

38degrees.org.uk UK petitions

avaaz.org International petitions

Euromyths blogs.ec.europa.eu/ECintheUK/

euromyths-a-z-index/

Massive Outpouring of Love (MOOL)

www.mool.scot e:hello@mool.scot

07497 080557 f:@DGRefugeeAction

ASPatFRED Animal assisted therapy

Donkey rescue, Dunscore

FB: farmersfieldfred Mob: 07852 447076

Scottish Green Party greens.scot

Dumfries & Galloway branch

dumfriesandgalloway@scottishgreens.org.uk

Jin Shin Jyutsu

Marion Gardner Jin Shin Jyutsu (JSJ)

Relax,revitalize, ease aches & pains,

balance emotions Tel. 01556 620388

www.OpenIntoLife.com

Languages

Mandarin Corner 汉 语 小 屋

Moniaive. For beginners aged 10-17

Chinese language and culture. Informal

Contact Jess: 07709633663

jess.fusco.naish@hotmail.co.uk

Spanish Lessons

Lucas Gonzales 07960 144 953

lucas.gonzalez.sc@gmail.com

Marquee Hire

Little Big Tops Big top tent hire for

weddings, festivals, functions, parties

info@littlebigtops.net Tel. 01848 200334

Massage

Anna Keith NIM

Relaxing deep tissue massage helps

prevent & relieve pain & stress. In quiet

setting nr Auldgirth. Some evening appts.

possible

DG2 OSA. Tel: 01387 740230

Noi McIntyre Thai massage. MGPBMT

Mill Isle, Craignair Street, Dalbeattie

DG5 4AX. Tel. 01556 611623

mobile 07799 664993

Rose Wellbeing Therapies

Baby Massage with Rachel Kirkpatrick

rosewtherapies@gmail.com

IG: Rosewtherapies www.

rosewtherapies.wordpress.com

F:RoseWellbeingTherapies

Meditation

Meditation class & half day courses in

Castle Douglas, Dumfries, KIrkcudbright,

Wigtown, and Stranraer.

For more info contact uma.org.uk

FB: Meditation in Dumfries & Galloway

Music

Flute Lessons Thornhill

Richard Dobson, experienced player

and teacher. Beginners to advanced.

Starter flutes available for sale or hire.

Tel. 01848 392021

Guitar Lessons

Lucas Gonzales

07960 144 953

lucas.gonzalez.sc@gmail.com

Galloway Violin Studio

Suzuki & Classical violin study

for people of all ages.

Cate Howard 01644 470 127

or chowardsasc@gmail.com

ADVERTISE HERE - CALL (01848) 200622

Listing entries cost £10 per issue. Send your text to info@greenhandbook.co.uk or call

24
---
THE GREEN HANDBOOK

RUTH ELIZABETH JONES & EMMA VARLEY

CERAMICS

PRINTMAKING

May 25th - 27th

Sat 10.30 – 8pm

Sun - Mon 10.30 – 5.30pm

Masonic Hall, High Street, Moniaive

Demonstrations

throughout the weekend

Studios 84 & 85 (Green route)

spring-fling.co.uk

Steve Phelps

Building, Roofing

& General Maintenance

work undertaken

tel. 01387 820347

mob 07768 743988

stevephelps07@aol.com

Whiteside Cottage, Dunscore,

Dumfries DG2 0UU

Jin Shin Jyutsu

Liberate your natural energy flows with this

gentle Japanese healing touch therapy.

Sessions help us to cope with stress,

tension, life challenges, aches and pains.

Restore & Maintain your

inner balance, harmony and peace

Marion Gardner, Wellbeing Practitioner

Dalbeattie & Dumfries Practice

01556 620388 / 0783 7726933

www.OpenIntoLife.com

(also Homeopathy, EFT & Journey Therapy)

Full supply and

installation stove

package deal now

available. Find it on

our website.

No Obligation

Free Quotes

25
---
THE GREEN HANDBOOK

Natural Products

All Natural Me

The beauty boutique,

8 Castle St, Kirkcudbright.

Organic beauty brands: Dr Hauschka,

Weleda, Lavera, Pravera, A Vogel etc.

01775 42810 or allnaturalme.co.uk

Osteopathy

Julian Leask B Ost, Rosie Gibbs B Ost,

Josh Long B Ost Registered Osteopaths

Lochvale House, Georgetown Road,

Dumfries, DG1 4DF. Tel. 01387 270 750

www.dumfries-osteopathic-clinic.co.uk

Psychotherapy & Counselling

Elizabeth Wallace

Holistic Therapist, Room4You

PG Cert Counselling. CSMCOSCA

FB: Elizabeth Wallace Room4You Holistic

Therapist. Tel: 07810880759

Jacqueline McCartney

Mulcaster Crescent, Carlisle

Person-centred. 07742069041. @Zenya

jacqueline.counselling@gmail.com

jacqueline-counselling.co.uk

Mharia Rawlins MBACP

Counsellor & Psychotherapist

Upper Nithsdale. Person-centred, mind,

body, emotions, spirit

mhariacounselling@outlook.com

07490 256213

Life Development Coaching

www.gillstanyard.life

To book a session call or text

Gill - 07464 433054

'With support, anything feels possible...'

Sarah Broun Counselling

Emotional release, relaxation,

meditation, guided visualisation

01387 880 720 07969 269 983

sarahlbroun@gmail.com

thebarnretreats.com

Reflexology

Anna Keith IIR in quiet setting nr

Auldgirth to assist self-healing,

balancing and stress relief.

Some evening appts. possible.

DG2 OSA. Tel: 01387 740230

Tai Chi

Wendletrap Tai Chi Call Angela

07808 503091 taichiscotland.org

creatinginnerrainbows@hotmail.co.uk

Whole Foods

Loch Arthur Farm Shop and Café

Award-winning organic food.

Camphill, Beeswing, DG2 8JQ

Mon-Fri 9-5.30, Sat 9-5

Tel. 01387 259669

Sunrise Wholefoods

49 King Street, Castle Douglas.

Tel. 01556 504 455 FB: @SunriseCD

Yoga & Pilates

Alyson Tyler Dumfries

Intermediate class. 1-to-1 sessions for all

BWY Qualified. 0757 9966151

alysonyoga@greenisp.co.uk

Facebook/Twitter: @AlysonYoga

alysonyoga.wordpress.com

Susan Neal Yoga & Qigong

Classes in Dumfries & Lockerbie

07739904328, susanneal@mac.com

oceanofcalm.wordpress.com

yogaforbacks.co.uk

Carol Godridge

Satyananda Yoga classes & CDs

Tel. 01848 200681

yoga@cgodridge.plus.com

carolgodridgesatyanandayoga.com

Pilates Studio With Jane & Co

Classes in Pilates, Yoga, Spirals, Barre,

Dancefit, Circuits, Tai Chi, Dance a hoop.

Bowtech & Emmett Technique treatments.

pilateswithjane.co.uk Tel. 07976 620753

26
---
THE GREEN HANDBOOK

DIARY DATES

7th April, 5th May & 2nd June - Dumfries Farmers Market, 11am - 3pm, Dumfries Stn

7th April - 27th June - Blossom. Exhibition at the Nail Factory, Dalbeattie

23rd - 26th May - Knockengorroch Festival World Ceilidh. Benjamin Zephaniah

24th - 27th May - Spring Fling Open Studios. Across the region. springfling.co.uk

7th June - Empower the Self. One day Meditation retreat. Kirkcudbright. 07599 566338

22nd June - Living in Balance. Allanton Peace Sanctuary, Auldgirth, DG2 0RY

23rd June - 21st Annual World Peace Festival. Allanton Peace Sanctuary 01387 740642

ADVERTISE WITH US

Advertising in the Green Handbook is a great way to get your news and message across

to people in Dumfries & Galloway. We circulate 4,000 copies, have an estimated

readership of 10,000 and we now get 900 unique web visitors per month. The Green

Handbook is free to pick up from shops, cafés and venues from Stranraer to Eskdalemuir.

Readers tend to keep a copy at home as a reference. Advertisers often benefit by

spreading the cost across the year and being in every issue, rather than putting all their

budget into one bigger advert. The Green Handbook is also available to read online and

we create links from your adverts directly to your website, email or Facebook etc.

RATES (10% discount for 4 issues prepaid)

Full page [120x180 boxed

or A5 + 3mm bleed] £120

2/3 page [120x118] £90

1/2 page [120x87 or 57x180] £70

1/3 page [120x56 or 57x118] £50

1/4 page [57x87 or 120x41] £40

1/6 page [57x56] £30

(measurements are width x height in mm)

Box adverts include a free Listing or Diary Date.

Typesetting/layout service: £7 - £15

Design service:

LISTINGS & DIARY (New Price)

Call

Listings Entry £10

Diary Date £10

PAYMENT DETAILS

Paypal:

Contact us

BACS: Acc no: 18241085

Sort Code 60-24-77

Cheque: Payable to JCC Creative

SUBMISSION DATES (2019-20)

Summer (Jun – Sep) May 10th

Autumn (Sep – Nov) Aug 9th

Winter (Dec – Feb) Oct 25th

Spring (Mar – May) Jan 31st

Please note carefully the new dates

for 2019 above. Over this year, we are

gradually altering our delivery schedule so

that future issues will cover the periods:

Dec - Feb, Mar - May, Jun - Aug, Sep - Nov.

ARTICLES & PRESS RELEASES

We are pleased to receive informative

articles and we edit at our discretion

but with your approval. Placing an

advert does not guarantee we will

publish your article.

The

Green Handbook

27
---
BLOSSOM

PAINTINGS: PHIL CRENNELL & ALAN BOWMAN

GLASS: ALAN BROCKBANK

PHOTOGRAPHY: NELLA KOKOCINSKA

WOOD: JIM STEWART

JEWELLERY: VICKI DEMPSTER

FURNITURE:PHIL CRENNELL

7 TH APRIL-27 TH JUNE

THURSDAYS - SUNDAYS, 11 AM - 5 PM

56 Southwick Road, Dalbeattie, DG5 4EW

01556 611686 | info@nailfactory.org.uk | www.nailfactory.org.uk