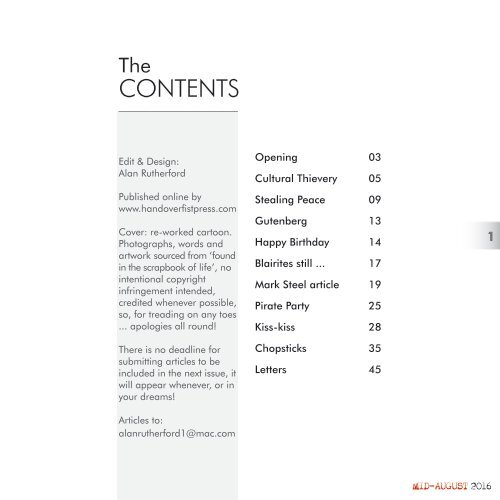 Sheep magazine Archive 2: issues 10-17
Lefty online magazine: issue 10, May 2016 to issue 17, November 2016
The

CONTENTS

––––––––––––––––––––––––––––––––

Edit & Design:

Alan Rutherford

Published online by

www.handoverfistpress.com

Cover: re-worked cartoon.

Photographs, words and

artwork sourced from 'found

in the scrapbook of life', no

intentional copyright

infringement intended,

credited whenever possible,

so, for treading on any toes

... apologies all round!

There is no deadline for

submitting articles to be

included in the next issue, it

will appear whenever, or in

your dreams!

Articles to:

alanrutherford1@mac.com

Opening 03

Cultural Thievery 05

Stealing Peace 09

Gutenberg 13

Happy Birthday 14

Blairites still ... 17

Mark Steel article 19

Pirate Party 25

Kiss-kiss 28

Chopsticks 35

Letters 45

1

MID-AUGUST 2016
More magazines by this user