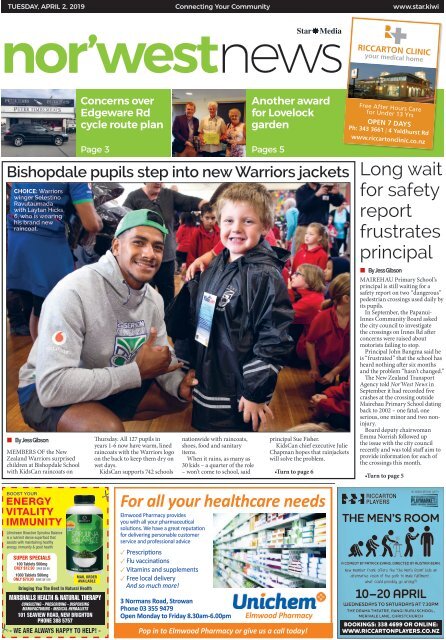 Nor'West News: April 02, 2019
You also want an ePaper? Increase the reach of your titles
YUMPU automatically turns print PDFs into web optimized ePapers that Google loves.
TUESDAY, APRIL 2, 2019

Connecting Your Community

www.star.kiwi

Concerns over

Edgeware Rd

cycle route plan

Another award

for Lovelock

garden

Free After Hours Care

for Under 13 Yrs

OPEN 7 DAYS

Ph: 343 3661 | 4 Yaldhurst Rd

• By Jess Gibson

MEMBERS OF the New

Zealand Warriors surprised

children at Bishopdale School

with KidsCan raincoats on

Page 3 Pages 5

Bishopdale pupils step into new Warriors jackets

CHOICE: Warriors

winger Selestino

Ravutaumada

with Laytan Hicks,

6, who is wearing

his brand new

raincoat.

Thursday. All 127 pupils in

years 1-6 now have warm, lined

raincoats with the Warriors logo

on the back to keep them dry on

wet days.

KidsCan supports 742 schools

nationwide with raincoats,

shoes, food and sanitary

items.

When it rains, as many as

30 kids – a quarter of the role

– won't come to school, said

principal Sue Fisher.

KidsCan chief executive Julie

Chapman hopes that rainjackets

will solve the problem.

•Turn to page 6

www.riccartonclinic.co.nz

Long wait

for safety

report

frustrates

principal

• By Jess Gibson

MAIREHAU Primary School's

principal is still waiting for a

safety report on two "dangerous"

pedestrian crossings used daily by

its pupils.

In September, the Papanui-

Innes Community Board asked

the city council to investigate

the crossings on Innes Rd after

concerns were raised about

motorists failing to stop.

Principal John Bangma said he

is "frustrated" that the school has

heard nothing after six months

and the problem "hasn't changed."

The New Zealand Transport

Agency told Nor'West News in

September it had recorded five

crashes at the crossing outside

Mairehau Primary School dating

back to 2002 – one fatal, one

serious, one minor and two noninjury.​

Board deputy chairwoman

Emma Norrish followed up

the issue with the city council

recently and was told staff aim to

provide information for each of

the crossings this month.

•Turn to page 5

BOOST YOUR

ENERGY

VITALITY

IMMUNITY

Lifestream Bioactive spirulina Balance

is a nutrient dense superfood that

assists with maintaining healthy

energy, immunity & good health

sUper speCIals

100 Tablets 500mg

only $12.90 save $8.60

1000 Tablets 500mg

only $79.90 save $41.60

MaIl orDer

aVaIlaBle

Bringing You The Best In Natural Health

MARSHALLS HEALTH & NATURAL THERAPY

CONSULTING - PRESCRIBING - DISPENSING

MANUFACTURING - MEDICAL HERBALISTS

101 seaVIeW roaD, NeW BrIGHToN

pHoNe 388 5757

- We are alWaYs HappY To Help! -

For all your healthcare needs

Elmwood Pharmacy provides

you with all your pharmaceutical

solutions. We have a great reputation

for delivering personable customer

service and professional advice

✓ Prescriptions

✓ Flu vaccinations

✓ Vitamins and supplements

✓ Free local delivery

And so much more!

3 Normans Road, Strowan

Phone 03 355 9479

Open Monday to Friday 8.30am-6.00pm

Elmwood Pharmacy

Pop in to Elmwood Pharmacy or give us a call today!

IN ASSOCIATION WITH

THE MEN'S ROOM

A COMEDY BY PATRICK EVANS. DIRECTED BY ALISTAIR BEAN.

New member Frank offers the 'The Men's Room' lads an

alternative vision of the path to male fulfilment…

what could possibly go wrong?!

10–20 APRIL

WEDNESDAYS TO SATURDAYS AT 7.30PM

THE DRAMA THEATRE, RANGI RURU SCHOOL,

MERIVALE LANE, CHRISTCHURCH

BOOKINGS: 338 4699 OR ONLINE:

WWW.RICCARTONPLAYERS.CO.NZ
---
2

get in touch

Tuesday April 2 2019

from the reporter's desk

IT WAS fantastic to see members of the Warriors put a smile

on the faces of more than 100 pupils at Bishopdale School last

week.

They gave a KidsCan raincoat with the Warriors logo on the

back to every child at the school to keep them warm and dry as

winter approaches.

Sarah Stewart from KidsCan says the school wanted the visit

to go ahead as planned so the pupils could look forward to it

following last month's tragic events.

In other school news, we revisit the concerns that at least one

principal has over pedestrian crossings outside his school.

It has been about six months since Nor'west News reported on

the "dangerous" pedestrian crossings near Mairehau Primary

and St Francis of Assisi schools. The principals are still waiting

for a safety report from the city council while pupils continue to

cross the road there every day.

– Jess Gibson

GENERAL INQUIRIES Ph 379 7100

CLASSIFIED ADVERTISING Ph 379 1100

Star Media, a division of Allied Press Ltd

PO Box 1467, Christchurch

starmedia.kiwi

NEWS

Jess Gibson

Ph: 021 914 169

jess.gibson@starmedia.kiwi

ADVERTISING

Monique Maynard

Ph: 364 7474

monique.maynard@

starmedia.kiwi

Rodd Gray

Ph: 982 9308

rodd.gray@

starmedia.kiwi

Latest Christchurch news at www.star.kiwi

Exhibitors

Book now

Don't miss your opportunity to

showcase your business in front of

10,000+ qualified attendees

lisa.lynch@starmedia.kiwi or 021 800 809

news

'Angel box' maker facing big bill after burglary

A Bishopdale coffin club, which makes and donates baby caskets

to Christchurch Women's Hospital, is appealing for help.

Page 4

home & living show

Exhibitors book now

Don't miss your chance to showcase your business in front of more

than 10,000 people.

Page 14

community events

Magic: The Gathering

Take your Magic: The Gathering decks to the Shirley Library on

Saturday from 1-4pm to play, swap cards or hang out.

Page 16

NOR'WEST NEWS

The best-read local newspaper, delivered to

16,717 homes every Tuesday

Harewood, Burnside, Bishopdale, Bryndwr, Fendalton, Merivale,

St Albans, Mairehau, Papanui, Casebrook, Redwood, Regents

Park, Styx Mill, Northwood, Belfast, Strowan.

Loves of our Lives

Llew Summers

This is a collection of recent work from Llew, half of which has not been

shown before. One group, on mythic themes, explores the human condition

metaphorically. The remaining work treats the human body in Llew's traditional

manner, exploring the joy of movement as a celebration of life. All the bronzes are

initially carved in wood or marble and are from editions of seven.

Robyn Webster

This printmaking technique which I have

developed, came about from my explorations with

harakeke / NZ flax and fine art over many years.

I sought to bring these threads

together and plait them into one

form of expression. I make the

figures, objects and textures,

and hand print them in different

colours and compositions to make

one-off but related pictures. I am

also hoping to evoke an emotional

response to the material itself.

Loving this plant, learning the

traditions around the gathering and

Love Story 1

Llew Summers

Robyn Webster

6 APRIL – 1 MAY 2019

'Mercury' available

in both maquette and

massive scale.

processing of it, has taught me much about our

place in the universe. It would be great to see

a resurgence of natural materials

such as harakeke into everyday use,

and for us to continue to innovate

alternatives to single-use plastics.

More broadly, my work asks

questions about how we see

ourselves in relation to our

environment and to each other. In

this body of work I am considering

my relationship with Llew, my love,

and with the concept of Love itself.

3 issues $20

6 issues $44.50

10 issues $65

The revolution

in heat pumps

is here now!

SUBSCRIPTIONS FREEPHONE

0800 77 77 10

rugbynews.co.nz

The revolution in heat pumps is here now!

The Fujitsu e3series

The brilliant

heat pumps from Fujitsu

e1 : efficiency

e2 : environment

e3 : economy

'CEREC' & cosmetic dentistry

Wisdom tooth removal

Painless, high quality dentistry

Sedation dentistry

Experienced, conscientious team

Experienced hygienists

OPEN SATURDAYS

355 9380

144 Cranford Street

www.stalbansdentalcentre.co.nz

The brilliant e3 series

heat pumps from Fujitsu

e1 : efficiency

e2 : environment

e3 : economy

Website: www.pshc.co.nz

NEW ZEALAND'S FAVOURITE AIR

Fujitsu's Catechin Filters are

approved by the Asthma and

Respiratory Foundation NZ's

Sensitive Choice ® programme.

FREE consultation from your local

Accredited Heat Pump Expert

Main Rd, Little River | 03 325 1944 | art@littlerivergallery.com

Phone today: 03 381 6950

INSERT DEALER DETAILS HERE

Email: info@pshc.co.nz
---
NOR'WEST NEWS Latest Christchurch news at www.star.kiwi

Tuesday April 2 2019 3

News

Cycle route plan worries businesses

• By Jess Gibson

STORE OWNERS on Edgeware

Rd are confused over whether

a proposed cycle route could

lead to parking being removed

outside their stores.

Concerns were raised after a

public consultation document on

Christchurch Northern Corridor

traffic mitigation

was delivered to

shop owners by

the city council

in March.

The proposal

showed the city

council's plan

David Timbs

to undertake a

study into a cycle

route on the east

and west sides of Edgeware Rd,

running from Springfield Rd to

Packe St.

Peter Timbs Meats owner

David Timbs said when he

looked at the diagram, it seemed

like the cycle route could remove

parking, which would affect foot

traffic and have a major impact

on the business.

Crisp on Edgeware owner

Simon Lau also said the proposal

might lead to car parks being

removed.

But city councillor Mike

Davidson said that is not the

case.

Cr Davidson talked to city

council staff after hearing about

the confusion from businesses

and was told there has been "no

discussion over the removal of

car parks."

He said he could understand

store owners' concerns because

of the Papanui Parallel cycleway

upgrades in 2017, which hurt

several businesses after parking

was removed.

But he said that it is too

early to know what will happen

and the study will need to

be done before any options,

including the removal of

parking, are even discussed.

Buy our famous award winning

HOT

CROSS

BUNS

But Mr Timbs said whatever

the outcome of the study, there is

"no way" traffic could go

both ways with car parks,

cycle routes and a footpath on

Edgeware Rd.

There are seven car parks

outside the two buildings leased

on Edgeware Rd for Peter

Timbs Meat's wholesale and

retail stores.

Although he understands

the study is only a proposal,

Mr Timbs is still gearing up to

oppose any changes that may

happen down the track.

He said with 60 employees, OPTION ONE

WORRIED:

A proposal

for traffic

mitigation on

Edgeware

Rd has left

store owner

David Timbs

concerned

that he may

lose car parks

outside Peter

Timbs Meats

wholesale

and retail

stores.

he "can't afford to lose any

business."

"Our lifeline is customers

coming through our door, so I've

got to catch it early because if I

don't do it now who knows what

will happen," he said.

•The Christchurch Northern

Corridor traffic mitigation

plan is open for consultation

until April 15. If you want to

have your say, go to https://

www.ccc.govt.nz/thecouncil/consultations-andsubmissions/haveyoursay/

show/226

Local

News

Now

In Brief

Fire rages, homes at risk

LIBRARY MURAL

A mural is on the cards for

Mairehau Library. The city

council is looking at funding

opportunities for a mural

on the back wall of the

library after Papanui-Innes

Community Board member Jo

Byrne raised the idea at a board

meeting. Ms Byrne also said

the electrical box at the front

of the library on Kensington

Ave is "rather ugly" and "a

target for graffiti." The city

council will look at options for

the electrical box, as well as

maintenance on the back fence

at the rear of the building.

SAWYERS ARMS VILLAS

A village of 20 units is being

developed at 50 Sawyers Arms

Rd. The village has been

designed for over 60-year-olds

who want to live independently

in a community environment.

Ten homes have been

completed so far, with six due

to be completed by May and

a further four by September.

The subdivision, developed

by Frank Primi, meets high

earthquake standards. All

units have a raft-foundation,

good-quality joinery, double

glazing and insulation. Four

units are occupied with

another resident due to move

in on Friday.

OPEN 7 DAYS

Cnr Cranford St and Innes Rd

Phone 03 355 6921 (34 on site car parks)

www.kiddscakes.co.nz

Baking fresh each day since 1986

18B MAIN NORTH RD, PAPANUI | PH 354 6000 | WWW.SHOSHA.NZ

Learn

Computer Skills

Are you looking to get back into the workforce, but don't

have up-to-date computer skills?

This FEES FREE* 20 week course will give you the skills to work in a

modern office, covering advanced use of Microsoft Word, Excel,

Publisher and other computer based business applications.

For more info txt 'OFFICE' to 027 557 8839

*Conditions apply

0800 834 834

vision.ac.nz

50 Hazeldean Road, Addington
---
4

Tuesday April 2 2019

News

Anniversary

of Nor'West

Brass Band

• By Georgia O'Connor-Harding

IT WAS over a beer at a busy pub

that Avonhead's Bill Vail and his

friend Adrian Dalton decided the

north-west of the city needed its

own brass band.

The idea was sparked after Mr

Dalton, a teacher at Burnside

High School, was concerned his

brass students had no local band

to play in.

The two musicians decided

to do something about it and

the Nor'West Brass Band was

formed.

Five years on and the booming

band, based at Rangi Ruru

Girls' School, has surpassed their

original goals to have 80 band

members over three tiered levels.

In the time it has been

running, it has grown from about

five to 85 members. The band was

set to hold a concert to mark its

five-year anniversary on Sunday,

which featured a performance

of Christchurch Alive!, written

by Mr Vail's son Dale, who has

received a fellowship with the

Sydney Symphony Orchestra.

•If you are interested

in becoming involved in

the brass band, email

norwestbrass@gmail.com

Costly security upgrade for casket maker

• By Jess Gibson

A BISHOPDALE coffin club

which provides free caskets to

mothers who have lost their

babies has forked out $2300 for

new security after a burglary.

The Kiwi Coffin Club is

attempting to raise the money

spent on alarms, window bars

and doors at its container on the

Menzshed site on Kendal Ave

through a Givealittle page.

The club makes 'angel boxes' –

custom-made caskets for babies

lost to stillbirth, cot death or

miscarriage – which are donated

to Christchurch Women's

Hospital.

Club founder Donna

Sutherland said insurance will

cover the cost of the equipment

taken when the burglars broke

in through the window.

The items taken included an

air compressor, airbrush guns

and hoses. "They even took my

pink tools and toolbox," she

said.

Mrs Sutherland started

the Givealittle page a week

after the burglary but had to

extend it after it did not meet

the target.

All money used to fund the

angel boxes is earned through

selling adult-sized, custommade

caskets.​

Mrs Sutherland, who started

Latest Christchurch news at www.star.kiwi

the project in 2016, said she was

"deeply saddened" when the

container was burgled.

She is retired and devotes all

of her time to the coffin club

with four other trustees who

help out at no cost.

One of the trustees,

Kevin Bradshaw, discovered the

container had been broken into

and said he contacted

Mrs Sutherland straight

away.

Mr Bradshaw volunteers

at the Menzshed and acts as

a quality control checker to

ensure the caskets are up to

scratch before they are sold to

customers or donated to the

hospital.

NOR'WEST NEWS

ANGEL:

Donna

Sutherland

had to

boost

security

at the Kiwi

Coffin Club

studio,

where she

makes

custommade

caskets

for babies

(inset),

after it was

burgled.

He said the burglary "was

disturbing."

Police investigated but have no

suspects.

•If you would like to

donate to the Kiwi Coffin

Club, go to: https://

givealittle.co.nz/cause/kiwicoffin-club-christchurchsecurity-cost

4WD farm properties at ethelton

sunday 14th of april, starting at 10am

Bring a picnic!

4wd

fundraiser

st george's hospital cancer care unit

$30 per adult

for further details contact John Belcher

Johnbelcher19@xtra.co.nz

Discover Christchurch's

best priced pet

accommodation

• Daycare - all breeds

• Long stay/short stay

Call now to

book in your

fur baby,

inspections

welcome

anytime!

aLameDa

kenneLs & cattery

271 Dyers Road | Ph 384 1297

www.alameda.nz

Home & Business Security • Cameras • Gates & Fencing

Access Control • Alarm Monitoring • Home Automation

Alarms Electrical Cameras Intercoms Auto Gates

Residential and Business Security

Tailor Made Security Solutions

All Your Electrical Needs

Custom Designed Automatic Gates

Innovative Intercom Systems

Pet Friendly Sensors

Security Cameras

Access Control Systems

Electric Fencing

Service and Maintenance

24/7 Fault Service

Locally owned and operated

All faults attended that same day

FREE QUOTES

P: (03) 384 0995 24/7 E: info@actionsecurity.co.nz

www.actionsecurity.co.nz

CAMERON BAILEY

Testimonial

"Hi Cameron and team, we were blown away by the result.

We realise that a lot of work, strategy and planning has gone

on, and this goes a long way to getting a sale and good result.

We are very thankful to you all! Thanks once again"

Jan and David

NO.1 HARCOURTS CANTERBURY 2012-2018

NO.1 HARCOURTS NEW ZEALAND 2017-2018

NO.1 HARCOURTS INTERNATIONAL 2017-2018
---
NOR'WEST NEWS Latest Christchurch news at www.star.kiwi

Tuesday April 2 2019 5

Lovelock garden impresses again

• By Jess Gibson

BRIAN AND Janet Lovelock

have two new garden trophies

to display in their Northwood

home.

The couple took out two

awards at the Fendalton-

Waimairi-Harewood

Community Pride Garden

Awards on Wednesday night.

The 'most attractive residential

garden' and 'community board

choice' awards add to the list of

accolades they have won in past

gardening competitions.

"It's such an exciting thing.

You do these gardens for

pleasure, but to get a reward

is just extra special," said Mrs

Lovelock.

More than 100 awards went

to residents from Fendalton,

Waimari and Harewood at the

awards ceremony.

About 200 people filled the

Russley Golf Club, including

recipients and their guests,

speakers and board members.

The awards acknowledge

community gardens

and celebrate the effort residents

put into them.

There were six special

awards, which went to people

with exceptional gardens in

the community, two of which

were claimed by Mr and Mrs

Lovelock. They have been top

contenders in many gardening

competitions – and also won

seven awards for their garden

at this year's Christchurch

Beautifying Association summer

garden competition.

They also received premier

gold at the spring gardening

awards from the Canterbury

Horticultural Society in 2017.

"It's so rewarding. It just

shows how much other people

appreciate what we do," said Mrs

Lovelock.

Board chairman Sam

MacDonald attended and said

the night went "really well."

"This is a great annual

event, where our board get the

opportunity to recognise the

hard work of so many people

who make our streets and

communities such nice places to

live."

"Every year I am impressed by

TOP CHOICE:

Sam

MacDonald

presented two

trophies and

a certificate

to Brian

and Janet

Lovelock on

Wednesday

night.

the high standard of all

the gardens chosen by the

judges. The effort and time

that goes into so many gardens

across our community are

remarkable."

Mr MacDonald said he

was glad to see a certificate of

appreciation go to Rangi Ruru

Preschool for its edible garden

which promotes the message of

healthy eating and how to grow

vegetables.

Local

News

Now

Fire rages, homes at risk

Still waiting for

school crossing

safety report

•From page 1

Ms Norris said it was unclear

after a six-month wait whether the

city council would provide the full

report.

City council transport

operations manager Steffan

Thomas said staff will meet with

the community board on April 17

to confirm top priority transport

projects.

"Mairehau Primary School

and/or the St Francis of Assisi

School zebra crossings are being

considered. Staff will refine

options to improve the zebra

crossings if funding is allocated to

the project," he said.

Ms Norris is frustrated

the process is taking so long and

the board will continue chasing

it up, she said. Mr Bangma has

worked at the school for 17 years

and said the problem has got

worse.

He said motorists speed through

the crossings even when the signs

are out before and after school.

"The law is clear that when one

sign is out, regardless of which

side it's on, that traffic must stop.

We get cars speeding up so they

can get through before the other

sign can be put out," said Mr

Bangma.

Titled Sections Available Now

03 281 7517 | sections@prof.co.nz | presonspark.co.nz
---
6 Tuesday April 2 2019

Latest Christchurch news at www.star.kiwi

NOR'WEST NEWS

News

GO TEAM: Warriors prop Jackson Frei with Bishopdale School

children on Thursday.

Warriors visit pupils at

Bishopdale School

•From page 1

Mrs Fisher said the children

were thrilled with their new

jackets and were very excited to

see members of the Warriors.

"Even some of the parents were

quite amazed," she said.

Mrs Fisher said she was

thankful for the work KidsCan

and other volunteers do to ensure

children's needs are met.

KidsCan, Fonterra and

Sanitarium all provided food for

Bishopdale School's breakfast

club, which is run by volunteers

from the Bishopdale community.

Your Local Views

Rates increase 'isn't sustainable'

Fendalton-Waimairi-

Harewood Community

Board chairman and

chartered accountant

Sam MacDonald writes

about concerns over rate

increases

ARE WE being rated out of our

own homes?

I regularly have ratepayers

contact me expressing their

concerns over the rate rises,

and the idea that we will all

eventually be "rated out of our

own homes." It particularly

worries me for the large fixed

income population across our

community.

It's appropriate for me to note

this is my personal view and I'm

not speaking on behalf of our

board as I write this.

As an area, we contribute just

over $100 million in rates to the

council each year, so when we

factor in the yearly increases,

this is a large contribution from

us all (whether you own or rent

your home). What do we get for

that?

I want to share with you the

most common questions and

concerns I get locally from

residents: Do we need more

cycleways? What's happening

with our water? Why did the

town hall cost us millions more

than planned? Why are our

roads still the way they are?

What would you add to

that list? Here's mine: In my

household, my rates now cost

more than the cost of my power

bill, what more am I getting for

that?

The council draft Annual

Plan has been out for public

submissions over the past

several weeks. This has been an

opportunity for us all to have a

say and to tell councillors and

the mayor what we think the

priorities are in our city, whether

that be local projects or the rates

charged to us all.

As you will recall, the council

10-year Long Term Plan was

set last year, which on current

projections would mean our

rates will increase by 50 per cent

over this period.

That isn't sustainable and

nowhere near

the annual inflation increase.

Whether it be deferring

spending money on some

new projects, getting greater

operational efficiency within

the council or being as bold as

imposing a rates increase cap, it's

clear something has to change.

I hope you are able

to follow the city council debate

and amendments over the

Annual Plan in the coming

weeks, I know I will be.

•HAVE YOUR SAY: What

you think about increasing

rates? Email your views to

jess.gibson@starmedia.kiwi

Don't assume your smoke alarms are working.

Push the button to check them this daylight saving weekend.

NFS0522_DLS_4_180x263
---
NOR'WEST NEWS Latest Christchurch news at www.star.kiwi

Tuesday April 2 2019 7

City2Surf

Iconic event brings community together

The Kadodo Western African band get the crowd warmed up before the start, including Alice Egan, 14, Isabelle O'Carroll, 15, and

Bing Lin.

• By Julia Evans

"THIS YEAR was special."

Star Media regional manager

Steve McCaughan said this year's

45th fun run was one of the most

poignant City2Surf events there

has been.

Thousands of Cantabrians

turned out, entries were well

up on 2018, with a surge of last

minute entries at the end of the

week.

Had it been any closer to the

tragic terror attack of March 15

that claimed 50 lives, Mr

McCaughan said the City2Surf

would not have gone ahead.

Instead it was a chance to bring

people together to have a positive

distraction through the adversity,

he said.

"It felt like the first step that

Cantabrians could take in the

healing process and moving back

to some normality . . . we needed

this," he said.

"It brought people together

to share in a community activity

with the benefit of some physical

activity."

There was also an increase in

the number of small groups, with

more people running in twos,

threes and fours than usual, Mr

McCaughan said.

"People were getting together

and saying let's do this."

This year's supporting charity

was the Canterbury Charity

Hospital Trust, which is currently

offering free counselling following

the Christchurch shootings.

Maori health provider He

Waka Tapu had 1200 people running,

jogging and walking under

its banner.

The major prize, return flights

to Singapore with Singapore

Airlines, was won by one of its

team.

"There was a strong sense of elation

at the finish line, more so than

usual," Mr McCaughan said.

"People from almost every part

of the community came over the

line as one. It was inclusive, which

is a value that New Zealanders

have embraced."

•More photos, pages 8 & 9

Mya Kingi with her father Cedrick

Brendan Kingi.

bring the trailer

seconds, samples, ex-photoshoot stock & more!

SATURDAY 6TH & SUNDAY 7TH APRIL, 9-5PM

43 GARLANDS RD, WOOLSTON

*terms & conditions apply
---
8 Tuesday April 2 2019

Latest Christchurch news at www.star.kiwi

ity2Surf

NOR'WEST NEWS

From left to right – Chris Dryden was the first man home, followed by Blair McWhirter and Brett Tingay. The first woman home was Roxy Shahtahmasebi followed by

Jean Kozynak and Olivia Ritchie.

Superwomen – Maree McElrea, Melissa Williams and Gill Wainwright at the

finish line.

Kimberley Barton with her supporters Ollie, 6, and

Sophie, 4.

Barry and Jenny Taylor,

volunteers for Canterbury

Charity Hospital Trust.

HOP INTO YOUR LOCAL TO SNARE THESE EASTER DEALS!!

Woodstock Black/Untold Rum 10pk cans

Jack Daniels & Cola 6pk

Jim Beam & Cola/Canadian Club (incl zero)

bottles

Cruiser cans/KGB bottles all 12pks

Smirnoff ice red 10pk bottles

Long White 10pk range

$

4.8%10pk cans/Jim Beam gold 7% 8pk cans

Woodstock 5% bottles/Woodstock 250ml 7% cans

$ $

18 .99 $

21

19 .99 ea $ .99 ea $

22 .99 24 .99 ea 24

Billy Maverick 18pk cans

( incl zero)/Cody's 7% cans all 12pks

.99 ea

$

25 .99

.99 ea

Shingle Peak Range

(ex PN/reserve)

$ .99 ea

9

Taylors promised land

range Villa Maria Private Bin Range Brown Brothers Moscato Range

15-22 April only.. Pepperjack Range

Stoneleigh Marlborough/Lighter ranges

Seagers 1L

$

10 .99 ea (ex PN&Syrah)

Huntaway Reserve

$

12 .99 ea range

$ .99 ea

$

31 .99 $

19

12 .99 ea $ Jagermeister 700ml

14 .99 ea $

32 .99 Malibu/Kahlúa 1L

.99 ea

www.thirstyliquor.co.nz

$ Jim Beam/Canadian Club 18pk 330ml

21

4.8% cans

$ .99 ea

31

Easter week

specials available

2 for $

25 .00 $ 34

Steinlager 24pk

$

39 .99 Billy Maverick 18pk

2 for $

50 .00

Jim Beam/Canadian

Club 18pk

$

29 .99 ea Fireball cinnamon

Absolut/Beefeater/Ballantines 1L

Captain Morgan (incl Johnnie Walker

whisky 700ml Jim Beam 1.75L

Grant's 1L (including spiced) 1L/Jim

Jim Beam 1.75

$ .99 ea

Spiced) 1L Red 1L

$

47 .99 $

60 .99

$

37 .99

$

39

Famous Grouse/Russian Std/Stolen Dark/

Beam Black 700ml $ $

$

39 .99 59 .99

Teacher's all 1L/Devil's Cut 700ml

39

38 .99 ea .99 ea 2 for $

70 .00

Mac's 12pk beer and

Tiger 12pk

Peroni/Asahi 12pk

Tui/Export Gold/DB Draught

bottle range

$

23 .99 ea $

23 .99 bottles

cider bottle range

$

29 .99 24pk bottles

$ $

22 .99 ea 24 .99 ea

Jack Daniel's 700ml

Gilbey's/Stil 1L (incls Honey and Fire)

Jim Beam/Canadian Club

Somersby 12pk bottles Monteiths cider & beer 12pk

Lion Red/Speights/Waikato/Summit 15pk bottles

range

$

22 .99 ea

398 High Street, Rangiora

03 313 7207

1275 Main North Road, Bridgend

03 323 8833

585 Springs Rd, Prebbleton

03 349 6031

45 South Terrace, Darfield

03 317 9499

$

24 .99 ea Heineken 15pk bottles

$

34 .99 ea $

38 .99 ea $

40 .99

Export 33 - 24 pk bottles Steinlager 24pk

OVER 160 STORES NATIONWIDE!

www.facebook.com/ThirstyLiquorandBlackBullLiquor

Available from 1st – 30th April. Specials while stocks last. Available at participating stores.

1147 West Coast Rd, West Melton

03 347 8460

670 Main South Rd, Islington

03 349 7337

Main Rd, Lake Tekapo

03 680 6242

42 Waimate Highway, St Andrews

RD24 03 612 6740

69 Main St, Fairlie

03 685 8061

21 Aldwins Road, Linwood

03 982 1753

9 Parnwell St, Burwood

03 383 2564

495 Papanui Rd, Christchurch

03 260 2380

65 Victoria St, Christchurch CBD

03 260 1155
---
NOR'WEST NEWS Latest Christchurch news at www.star.kiwi

Tuesday April 2 2019 9

Meikura Arahanga, Hori Poi and Tony Wikatene at

Ferrymead.

Annie Newenham and Henry

Hogan with a prize.

Above – Julie Long, Millie

Long, Alana Ellis, Gemma

Ballinger, Steve Ellis and

Cody Ballinger.

Left – Donna Buckley,

Nitasha and Cheryl

Walles, of Bromley, relax

while waiting for the

prize draws.

Right – Team McLean at

the finish line.

PHOTOS: KAREN CASEY

JOIN US NOW!

See website for details

HALLENSTEINS

All Polos now $10, Selected Short

Sleeve Tee's $5 (while stocks last).

UNDER ARMOUR

Hoodies & Joggers 2 for $160

(T&Cs apply)

STYLES MAY DIFFER TO IMAGE SHOWN

BENDON OUTLET

Nothing over $20 store wide

(while stocks last)

COTTON ON KIDS

New Winter Stock, Take 30% Off,

Includes Fleece Hoodies & Trackpants

(while stocks last).

CUTLER & CO

Linen Short Sleeve Shirts were

$129.95, Now $69.95 Each or 2 for

$100 (while stocks last).

Sign up to Smart Deals & be in the monthly draw for a $100 Dress-Smart gift card!

Be one of the first to hear about the latest deals, sent straight to your inbox each week!

CHRISTCHURCH 409 Main South Road, Hornby

Open 10am-5pm, 7 Days 03 349 5750

www.dress-smart.co.nz
---
10

Tuesday April 2 2019

Latest Christchurch news at www.star.kiwi

NOR'WEST NEWS

Proposed

Aquatic

Thrill Ride

Summer '19

Our biggest development yet...

We're pumped! We have

resource consent to build

five new thermal pools and

a new aquatic thrill ride.

The development will cost

$4.5 million and is set to

open in late 2019.

Best of all, we've worked

hard to make the new

additions environmentally

sustainable.

Proposed

Cascade

Pools

Our newest thrill

The new 13.5 metre high slide will attach

to our existing hydroslide tower above the

SuperBowl flume.

We're yet to name the slide, but it will be

a rush. Riders will shoot down a winding

hydroslide in 2-person tubes, before going

down a steep drop that propels them

up a near-vertical wall for a moment of

weightlessness, before zooming back down

and onto the slide's finish.

Five new pools

Five new pools will sit among river boulder

terraces and native gardens next to the

Rainbow Pools. They'll be linked by cascading

water over the rocks – a peaceful place

to relax and soak while enjoying the water

sounds surrounding you.

The bottom pool will have beach-style

access making it easy for everyone to use.

Environmentally

sustainable

Half of the energy required to run the

new pools and slide will come from a heat

transfer unit that will utilise energy which is

a bi-product of our electricity generator.

The pools are designed to be super water

efficient with no holding tanks. That was

important to us – we've worked hard to save

58,000,000 litres of thermal water a year in

recent times.

We are also pioneering new construction

techniques so the pools' foundation will sit

above ground and not damage tree roots

below.

Timeframe

Construction is underway and

we will be open Summer 2019!

42 Amuri Ave, Hanmer Springs | 0800 4 HANMER | hanmersprings.co.nz | Open 7 Days 10am - 9pm
---
2

NOR'WEST [Edition NEWS datE]

Latest Christchurch news at www.star.kiwi

Tuesday April 2 2019 11

In your

neighbourhood

Get ready for a healthy winter

As the seasons change, the risk of

coughs, colds and flu can increase,

sending Christchurch residents to

their local pharmacy to stock up

on medications and to get their flu

vaccinations.

Elmwood Pharmacy at 3 Normans

Road in Strowan is ready for the rush –

they have already started flu vaccinations

for this year. This is the best way of

protecting yourself from the flu and is

free to over 65's and pregnant women at

the pharmacy. However, anyone can walk

in and get a flu vaccination right there

and then at a time that is convenient to

you.

Elmwood Pharmacy also stock a wide

range of natural healthcare products

to boost your immunity and help

protect you further through the winter.

Pharmacist Jo Readman explains that it is

important to discuss your needs and any

other existing conditions and medications

with your local pharmacy staff to make

sure you are not putting yourself or your

loved ones at additional risk. Her team

are highly-trained, knowledgeable and

extremely approachable and friendly.

They will ensure you are receiving the

best possible advice about their whole

range of healthcare products from

pharmacist-only medicines such as

Buccaline to prevent coughs and colds,

through all the natural remedies available

to boost your immunity or help with

many other conditions, and should

the winter bugs strike they also stock a

range of pharmacy-strength cough and

cold medicines only available from the

pharmacist to help ease your symptoms

whilst you recover. Although the

common cold and 'flu can affect people of

all ages the elderly and the very young are

particularly vulnerable and it is important

to get the best advice to ensure you and

your family stay as healthy as possible.

As well as encouraging their clients to

be proactive about their health, Jo and her

staff provide the full range of community

pharmacy services including medicines

advice services, local delivery, compliance

packaging to help you manage your

medicines, and many others. Located

next door to Norman's Road Surgery,

they are a fast and convenient way to fill

prescriptions. They also meet a host of

other needs – there is a range of natural

toiletries and skin care including brands

such as Ethique, Trilogy and Antipodes.

Whether a customer's need is for a

medicated hair care product or corn

plasters, the team can advise on products

to help literally from head to toe, and

from the inside out as well.

To have the best chance of a healthy

winter, talk to the experts.

For all your healthcare needs

Elmwood Pharmacy provides

you with all your pharmaceutical

solutions. We have a great reputation

for delivering personable customer

service and professional advice

✓ Prescriptions

✓ Flu vaccinations

✓ Vitamins and supplements

✓ Free local delivery

And so much more!

3 Normans Road, Strowan

Phone 03 355 9479

Open Monday to Friday 8.30am-6.00pm

Elmwood Pharmacy

Pop in to Elmwood Pharmacy or give us a call today!

Jo believes in

providing the best

service possible for

her customers –

she is offering a $5

reduction on the cost

of flu vaccines to all

those who call into

Elmwood Pharmacy

and mention this

article.

Jo and the friendly team at

Elmwood Pharmacy

Learn

Grow

Explore

We're a local boutique early childhood centre that

focuses on creating a wonderful environment for your child

• Quality education and care for

children 0-6 years

• Small home-like environment

• Excellent child to teacher ratios

• Primary caregiving

Come and visit us today!

20 hours free

for children

from 2.5 years

255 Greers Road, Bryndwr | Phone 03 359 7944

www.theenchantedgarden.co.nz

AUTOMOTIVE

REPAIRS

Well equipped repair shop incorporating

our mechanical workshop, tyre,

WOF & brake servicing.

Making car repairs easy

& affordable...

The team at Allan's Tyre & Auto are here to help.

Ph: 358 9399. 164 Kendal Ave, Burnside

Email: info@allansauto.co.nz

Hours: Mon-Fri 8am-5pm, Sat 8:30am-1pm
---
12 Tuesday April 2 2019

Latest Christchurch news at www.star.kiwi

Burnside High golfer

scores top junior award

BURNSIDE HIGH School's

Juliana Hung was named junior

sportswoman of the year at the

Canterbury Sports Awards on

Friday night.

Hung, 17, was recognised for a

spectacular 2018, with highlights

which included representing New

Zealand at the Queen Sirikit Cup

and winning the New Zealand

stroke play title.

She recently finished 10th at this

year's stroke play tournament at

the Christchurch club.

The Russley member also

represented New Zealand at

the Buenos Aires 2018 Olympic

Youth Games. In November,

Hung helped guide Canterbury

to second at the NZ Toro

Interprovincial.

Hung was in a fine class of

finalists named for the junior

sportswoman award. The others

were New Zealand under-17

footballer Gabrielle Rennie,

Canterbury rugby rep Grace

Brooker, junior international

triathlete Ari Graham and New

Zealand junior track cycling rep

Annamarie Lipp.

ST ANDREW'S College

basketballers Samuel

Jenkins and Mac Stodart

will join Rangi Ruru

Girls' School's Ashlee

Strawbridge at a national

junior selection camp this

month.

Samuel and Mac have

been selected for the New

Zealand men's under-19

camp, while Ashlee will

push her case for the

under-19 women's team.

Three Christchurch

students were also named

in the New Zealand men's

under-17 camp team –

Hunter Adam and Tanae

Lavery from St Thomas

of Canterbury College

and Gregory Rodger from

Shirley Boys' High School.

A star coaching line-up

will work with the players

at the camp. Head coaches

Pero Cameron, Daryl

Cartwright, and US-based

coaches Aaron Fearne and

Hernando Planells, will

put these players through

their paces from April

23-27 at Pulman Arena in

Auckland.

Basketball New Zealand

high performance director

Leonard King says

having these four highlyexperienced

coaches at the

camp is a big step towards

lifting Kiwi basketball.

"Creating a strong,

high-performance culture,

which should flow from

our national teams down

through to our junior

SPORT

HONOURED: Juliana Hung was named junior

sportswoman of the year at the Canterbury

Sports Awards on Friday night. ​

Big chance for St Andrew's,

Rangi Ruru basketballers

teams, can only be as

successful as the people

that are tasked with the

job.

"These four coaches

know what it takes to

create winning teams,

foster strong cultures, and

get the best from their

players.

"Having discussed

where we see New Zealand

basketball heading,

all these coaches have

brought into the idea of

creating a great culture

and style of play that is

taught throughout all

our teams. These players

will be experiencing

a top, internationallycompetitive

coaching

environment," said Mr

King.

As an additional

opportunity for the girls

attending the camp,

OPPORTUNITY:

Ashlee

Strawbridge will

join St Andrew's

College

students Samuel

Jenkins and

Mac Stodart

at an under-19

New Zealand

team camp in

Auckland ​

there will be an NCAAaccredited

exposure camp

on April 26. Mr King says

this part of the camp will

be attended by a number

of US college coaches.

He also hinted

that Basketball New

Zealand may conduct a

Tall Ferns camp at the

same time as the selection

camp.

Mr King said if he can

make it happen, he will

look to get the junior

players court-side to see

their senior role-models in

action.

"These camps take on

added significance if we

can have the Tall Ferns

or Tall Blacks there. We

will announce more on

this later but, yes, there's a

chance the girls will get to

see their heroes in action,"

he said.

SENIOR LIVING

Aspire Canterbury

Aspire Canterbury offers support,

advice and resources to people with

mobility issues and impairments.

Removing barriers to everyday living

for individuals, Aspire Canterbury

inspires people to live life to the fullest

no matter what their difficulties. The

Disability Information Service is a source

of valuable information about the various

services available to people with short or

long term impairments, to individuals

and professionals from community

organisations.

Visit Aspire Canterbury's shop at 314

Worcester Street, or their online shop,

NOR'WEST NEWS

selling a wide selection of easier living

aids, they also hire out wheelchairs,

ramps, walkers and crutches.

Check out their online Community

Services Directory which contains

contact details of over 300 Canterbury

support organisations.

Aspire also has a mobile service which

is available for free fun interactive

presentations of all their equipment

and services to retirement homes/

villages and any other community

groups wanting a speaker. Call Kylie

Taylor on 022 676 5851 or email for a

booking.

Support and Resources for Independent Living

Can we help you or someone you support?

walkers to

purchase

(FroM $230)

or hire

$20

per week

Aspire Canterbury is a not-for-profit organisation

providing services to the community since 1981

Physical Address:

314 Worcester Street

Linwood Christchurch

2015 NZ Disability

Information Centre

of the Year

Disability Information Service – a 'one stop

information service' which offers unbiased

advice to assist people navigate their way to

organisations or services that can provide them

with support or advice.

Aspire Canterbury Shop – shop online or call in

to our shop at 314 Worcester Street and view our

range of easier living products We also hire out

wheelchairs, ramps and walkers.

Total Mobility Discounted Taxi Service – a scheme

which provides 50% discounts on taxi journeys to

eligible people in the Christchurch area who, due

to health conditions, are unable to access public

transport. Contact us for more information on

03 366 9093 or visit our website.

Mobile Service – Fun interactive

presentations of our information,

services and easier living equipment.

We come to you!

Call Kylie Taylor on 022 676 5851 or email

mobileservices@aspirecanterbury.org.nz

Postal Address:

PO Box 32074

Christchurch 8147

Ph: 03 366 6189

Freephone: 0800 347 242

Ph: (Total Mobility) 03 366 9093

E: admin@aspirecanterbury.org.nz

W: www.aspirecanterbury.org.nz
---
NOR'WEST NEWS Latest Christchurch news at www.star.kiwi

Tuesday [Edition April 2 datE] 2019 133

SENIOR LIVING

Centuries old folk remedy supports

good health!

A fermented liquid health tonic offers an

array of powerful health benefits. It is none

other than the popular apple cider vinegar

or ACV.

Since the time of Hippocrates – the

"Father of Medicine" – ACV has been

renowned for its curative properties.

In his popular book "ARTHRITIS &

FOLK MEDICINE", DR. D.C. Jarvis

reports how he found that Vermonters

who regularly consumed ACV and

Honey had excellent health with many

putting in a vigorous day's work on the

farm even when well into their eighties.

He also noted the effects of ACV and H

on arthritis to be remarkable with many

patients reporting almost total relief

after taking a course of the mixture.

Dr. Jarvis surmised that the acid and

potassium in cider vinegar counteracted

calcium deposits and helped the body

control calcium use. He also noted that

Vermonters who consumed ACV and H

around meal time had excellent blood

pressure and circulation. The reason he

found was that protein foods thickened

the blood and vinegar thinned it. As the

blood thickens it cannot pass as easily

and quickly through the blood vessels

and capillaries. This poor blood flow

would reduce cellular health by limiting

nutrients to the cells as well as waste

elimination from the cells. To prevent

cell damage the body naturally increases

blood pressure but this puts more stress

on the blood vessels, organs and heart.

Having ACV and H with meals will

help prevent protein raising the blood

pressure. It also contributes to a feeling

of greater well-being because the thinner

blood circulates quickly and more easily

through the blood vessels. Dr. Jarvis found

regular consumption of CV and H to be

an excellent health tonic with numerous

Health attributes.

ACV is highly nutritious as it contains

all the goodness of the apple in a form

that is readily accepted by the bodyGood

health starts with good digestion and

assimilation of nutrients. ACV taken

before food will stimulate and promote

healthy digestion and assimilation of

vital nutrients for good health. A wellfunctioning

digestive system helps

prevent disease by neutralising any toxic

substances that enter the body.

It is important to note not all ACV is

produced in the traditional way and results

are likely to prove disappointing with these

other vinegars.

Marshall's Premium ACV & ACV

with 20% Manuka Honey is produced in

Canterbury from Organic whole apples in

the traditional way. It is double strength so

you can use less.

Further information is available from

the Natural Health Advisers at Marshall's

Health & Natural Therapy, 101 Seaview

Road, New Brighton, Phone: 388-5757.

We are always happy to help!

Collagen

the body's youth protein

Collagen is the primary protein in the

body. It is a major component of skin,

hair, nails, muscles, tendons, ligaments,

joint cartilage, bones, gums, teeth, eyes,

and blood vessels.

In fact collagen is the primary

structural component for all tissue

in the body, providing the strength

and resilience associated with youth,

beauty and wellness. The body's natural

collagen production decreases with

age resulting in many signs of aging,

such as flaccid skin, wrinkles, ligament

and tendon injuries and aching joints.

Collagen supplementation is one of

the most fundamental things a person

can do to prevent premature aging and

promote youthful vitality.

NEOCELL are the industry leaders

in research on collagen supplementation.

Through advanced research they have

perfected a way to hydrolyse collagen and

effectively reduce its molecular weight this

improving the absorption of collagen into

the blood stream by over 90%.

A clinical study on NEOCELL

COLLAGEN has shown skin hydration to

increase an average of 21% and up to 50%,

with 92% of test subjects experiencing

firmer, softer skin. Most people taking

NEOCELL COLLAGEN reported seeing

visible improvements within two weeks.

Collagen supplementation provides

the nutrients necessary to support the

body's collagen supply. It can help reduce

fine lines and wrinkles and improve skin

elasticity, support building of strong bones

and teeth, strengthen the nails and hair,

and is vital for muscle growth, It also

assists weight loss by helping burn fat

for energy, promotes wound healing by

supporting the regeneration of healthy

tissue as well as help support overall

health.

NEOCELL COLLAGEN and further

information is available from the

Natural Health Advisers at Marshall's

Health & Natural Therapy, 101 Seaview

Road, New Brighton, Phone: 388-5757.

We are always happy to help!

you can stop him

snoring with a

SNOREX

Why put up with a broken

night's sleep?

Ph 377-4318 or 027 682 1752

DENISE LIM

FOR A FREE INFO PACK

Website: www.snorex.co.nz

Would you

like to profile

and grow your

Business?

For feature advertising

please phone

Jenny Wright

03 364 7446 or 021 220 3484

jenny@starmedia.kiwi

A Leader in Healthcare

Excellence for the

Older Person

Lady Wigram

Retirement Village

210 Kittyhawk Ave,

Wigram

Phone 03 341 0543

Golden Age

Retirement Village

96 Harewood Road,

Papanui

Phone 03 375 0720

Somerfield

Rest Home

137 Barrington Street,

Somerfield

Phone 03 332 5897

Hoon Hay House

Dementia

16 Anvers Place,

Hoon Hay

Phone 03 335 0297

www.goldenhealthcare.co.nz

Brookhaven

Retirement Village

29 Alport Place,

Woolston

Phone 03 384 5046

Camellia Court

Rest Home

84 Harewood Road,

Papanui

Phone 03 375 0722

Albarosa

Rest Home

80 Harewood Road,

Papanui

Phone 03 375 0727

Hoon Hay

Rest Home

16 Anvers Place,

Hoon Hay

Phone 03 379 7825

COLLAGEN - ThE BOdy's yOuTh PrOTEiN

hAir - sKiN - NAiLs - JOiNTs - BONEs

Collagen is the primary structural component for all tissue in the body,

providing the strength & resilience associated with youth, beauty &

wellness. The body's natural collagen production decreases with age

resulting in many signs of aging, such as flaccid skin, wrinkles, ligament &

tendon injuries & aching joints. Collagen supplementation is one of the most

fundamental things a person can do to prevent premature aging & promote

youthful vitality. NEOCELL collagen has undergone advanced enzymatic

hydrolyzation for superior results.

NEOCELL COLLAGEN SUPPORTS:

• Reduction in lines & wrinkles - improved skin elasticity

• Strong hair & nails, may help reduce hair loss

• Supports bone, ligaments, tendons & joint health

• Lean muscle & weight loss

• Youthful vitality & slowing of the aging process

NEOCELL PREMIUM COLLAGEN IS CLINICALLY

RESEARCHED FOR SUPERIOR RESULTS

Super

Prices

120 tablets only

$36.90 Save

$5.75

Bringing You the Best in Natural Health!

250 tablets only

$56.90 Save

$9.75

500 tablets only

$99.90 Save

$33.40

198 gram powder

$38.90 Save

$3.75

MARSHALLS HEALTH & NATURAL THERAPY

CONSULTING - PRESCRIBING - DISPENSING - MANUFACTURING - MEDICAL HERBALISTS

101 SEAVIEW RD, NEW BRIGHTON • PH 03 388 5757 • Email: enquiry@marshallshealthshop.co.nz

- WE ARE ALWAYS HAPPY TO HELP! -

ACV SUPPORTS

• Healthy digestion, assimilation of nutrients, elimination of wastes

• Energy – Vitality – Endurance

• Elimination of viruses, bacteria, fungus & parasites

• Powerful antioxidant

• Cardiovascular health, blood flow & healthy blood pressure

• Diabetes – improves insulin sensitivity

• Arthritis & joint support • Longevity & improved health

• Settles the stomach & reduces reflux

• Weight Loss

MAIL ORDER AVAILABLE

Apple Cider VinegAr - Powerful Natural Health Tonic

ACV is a highly nutritious with all the goodness of apples (one of our most health-giving fruits) in a form that is readily

accepted by the body. It promotes healthy digestion, assimilation of nutrients & elimination of wastes. Detoxifying

& purifying & supports the function of vital organs like the kidneys, bladder, liver & heart. Helps neutralise toxic

substances & harmful bacteria in food. A time-honoured natural remedy to improve health & longevity.

ALWAYS INSIST ON MARSHALL'S TRUE APPLE CIDER VINEGAR FOR

MAXIMUM NUTRITIONAL VALUE & HEALTH BENEFITS!

Bringing You the Best in Natural Health

MARSHALLS HEALTH & NATURAL THERAPY

CONSULTING - PRESCRIBING - DISPENSING - MANUFACTURING - MEDICAL HERBALISTS

101 SEAVIEW RD, NEW BRIGHTON • PH 03 388 5757 • Email: enquiry@marshallshealthshop.co.nz

- WE ARE ALWAYS HAPPY TO HELP! -

Super price

Premium QuALity N.Z. DoubLe

StreNgth, orgANic APPLe

ciDer ViNegAr:

750ml only $9.90, 2ltr only $19.90

With 20% mANukA hoNey ADDeD:

750ml only $14.90, 2ltr only $29.90

MAIL ORDER

AVAILABLE
---
14

Tuesday April 2 2019

Latest Christchurch news at www.star.kiwi

NOR'WEST NEWS

Exhibitors

Book now

Don't miss your opportunity to

showcase your business in front of

10,000+ qualified attendees

lisa.lynch@starmedia.kiwi or 021 800 809
---
2

NOR'WEST [Edition NEWS datE]

Latest Christchurch news at www.star.kiwi

Tuesday April 2 2019 15

HOME & HEATING

Bathroom

Ventilation

The extraction of air from the bathroom

should be a priority for all houses and

commercial buildings.

Bathrooms can generate a large quantity

of steam and odours. It is important this

compromised air does not circulate around

the house.

Bathroom odours can be unpleasant,

especially when near living, sleeping or

working areas.

The moisture generated by showers and

baths can be damaging to your home and

furnishings and be a major contribution

to condensation. Damp houses are not a

healthy environment for anyone to live in,

especially for children or other vulnerable

people.

By extracting air from the bathroom to

outside, warmer air from inside the house

will move in to the bathroom. Whereas

opening a window can draw cold air into

the bathroom and blow the smelly, moisture

laden bathroom air into the house.

Modern houses are built to be very

airtight and require mechanical ventilation

such as extraction fans or heat exchanger

systems. Although older houses can be

draughty, the air often flows in the wrong

direction. Therefore, they also usually

require mechanical ventilation to keep the

air quality higher.

The quality of the air we breathe affects

our health and ability to perform. We

breathe in and out approximately 20,000

litres of air every day. It is therefore very

important to ensure good air quality

indoors through adequate ventilation.

To ensure the quality of your air, contact

the experts. Smooth-Air Products can

calculate the required extraction for your

bathrooms, and look into air exchange

for your whole building. Smooth-

Air offers a wide range of ventilation

equipment, from air vents to ducting

for fans, for both the commercial

and domestic markets. They have an

extensive range of fans and ventilation

components in-store but they can also

provide innovative solutions tailored

to differing requirements. You can

contact Smooth-Air on 0800 SMOOTH

(0800 766684).

Choosing the

right heat pump

for your home

Are you struggling with the heat of

Summer or wanting to get organised for

Winter? With the ever changing weather

patterns, heat pumps have the flexibility

of being able to heat and cool which is an

advantage no other appliance can offer. This

represents great value for your investment

as you can use it all year round. The team

at Enviro Master Ltd can help keep you

cool this Summer either at home or work.

Enviro Master supplies, installs and services

all the leading brands including Panasonic,

Fujitsu, Mitsubishi and Daikin. This means

our team can show you which system and

brand will best suit your needs.

With new regulations coming in for

Landlords to provide heating in rentals,

now is a great time to beat the 1st of

July deadline. Inadequate heating and

ventilation can lead to mould growth and

dampness in your property, leading to

costlier maintenance and an unhealthy

living environment. Providing a fixed

heater with a higher heat output and lower

running costs, like a heat pump, will enable

your tenants to heat the area effectively.

It will also discourage them from using

unflued gas heaters which can make a

house damp and mouldy.

It is important to remember, when

selecting an installer, the manufacturer's

warranty does not cover the installation

and consumers could be responsible for

any repair or damage caused to the system

due to poor installation. Enviro Master's

five-star installation guarantee ensures

correct installation, and a demonstration

so customers have an understanding on

how it will best meet their needs.

For a free in home consultation, call

Enviro Master on 366 0525 or visit our

showroom at 41A Shakespeare Rd,

Waltham, Christchurch.

Smooth-Air

Ventilation Equipment Suppliers

to

trade

&

Smooth-Air has a wide range of

ventilation equipment to bring

fresh air into your home.

Domestic

Commercial

Industrial

retail

HEAT PUMP

SALE NOW ON!

Amazin' Autumn Specials!!

Remote Extraction Fans

• We will offer you the best quality brands and

option of heat pump for your home/business

• Providing Heat Pump solutions for over 17 years to Cantabrians

• We personally guarantee all our products & installs for 5 years

(providing annual maintenance has been completed)

Ceiling Mounting

Wall Surface

Mounting

Phone us today for your free consultation & quote

41A SHAKESPEARE RD, WALTHAM

PHONE 03 366 0525

www.enviromaster.co.nz

"A local team for local people"

0800 SMOOTH

(0800 766 684)

sales@smooth-air.co.nz

264 Annex Rd

Riccarton

Christchurch

03 343 6184

Wall or Ceiling

Mounted Fans

Monday - Friday

7.30am - 5pm

www.smooth-air.co.nz
---
16

Tuesday April 2 2019

Latest Christchurch news at www.star.kiwi

NOR'WEST NEWS

Email jess.gibson@starmedia.kiwi by

5pm each Wednesday

Mobile Discovery Wall

All day, every day this week

Head down to Papanui

Library to see the Mobile

Discovery Wall – a touchsensitive,

digital representation

of Christchurch that lets you

swipe your way through a virtual

world of photos, videos and

information. This event runs all

day and is free of charge.

Papanui Library

GenConnect

12.15-12.45pm

If you have questions about

your ipad, smart phone or tablet,

head down to GenConnect where

Papanui High School students

will help you for free.

Papanui Library

Scrabble Club

Today, 10.30am-noon,

Wednesday, 1-3pm, and 1.30-

3.30pm

Play Scrabble with a friendly

group. Just head down when you

can – no bookings required. All

materials are supplied at this free

event.

Today at Redwood Library,

tomorrow at Bishopdale and

Shirley libraries

Culture Exchange

Friday, 3.45-4.45pm

Go along and make new

friends, practice your English

and learn about New Zealand

and Christchurch.

Shirley Library

JP Clinic

Today, 10am-1pm, tomorrow,

10am-1pm, Saturday, 10am-noon

A justice of the peace will

be available to members of

the community to witness

signatures and documents,

certify document copies, hear

oaths, declarations, affidavits

or affirmations, as well as sign

citizenship, sponsorship or rates

rebates applications. No charge.

Today and Saturday at Papanui

Library, Today at Shirley Library,

Tomorrow at the Bishopdale

Library

Knit 'n' Yarn

Today, 1-3pm, Tomorrow,

1-2.30pm, Friday, 10am-noon

Take your knitting, crochet or

another craft project and have

fun with this social group. This is

a free, drop-in event.

Today at Bishopdale Library,

Tomorrow at Redwood Library

and Friday at Papanui Library

Makerspace

Today, 3.30-4.30pm

Join in on the fun activities

every week at the Makerspace

sessions. There will be creative

and/or tech activities to try and

fun to be had for kids of all ages.

No bookings required for this

free event.

Redwood Library

Reading to Dogs ​

Today, 3.30-4.30pm, Thursday,

3.30-4.30pm

Reading to Dogs is designed

to provide a relaxed, nonthreatening

atmosphere

which encourages children to

practice and develop a love of

reading. This programme​uses

dogs which are pets of the city

council animal management

team. These furry friends have

all been trained and tested for

health, safety and temperament.

Registration is required for this

free event.

Today at Shirley Library and

Thursday at Papanui Library

Rummikub

Thursday, 1-3.30pm, Monday,

1-3pm

Go along and play rummikub

– an exciting, interactive strategy

game. Free, drop-in event.

Bishopdale Library

Mahjong Group

Saturday, 2-4pm, Monday,

2-4pm

If you are interested in playing

mahjong or would like to learn to

play, head down and have a go. If

you have your own set, feel free to

take it along. This is a free event.

Saturday at Shirley Library

Take your decks to

the Shirley Library

on Saturday, 1-4pm,

for Bring your Magic:

The Gathering and

swap cards or hang

out. Each game of

Magic has a battle

between wizards

who cast spells,

use artefacts, and

summon creatures in

order to defeat their

opponents. Snacks

are provided at this

free event, which is for

ages eight to 18.

(registrations required) and

Monday at Papanui Library

(drop-in)

Senior Citizen Activities

Today, 12.45-2.30pm, Monday,

12.30-3pm

Enjoy a range of different

activities for senior citizens.

There are card groups on

Mondays and indoor bowls

and friendship groups on

Tuesdays. An Old Time Dance

event runs on the first and

third Saturday of each month.

For more information call

Veronica on 383 4682 or Beth on

388 2375.

Scottish Society Hall, corner of

Caledonian and Edgeware Rds, St

Albans

Enter our colouring

competition and you

could WIN!

To enter simply scan or photograph your entry and post

to our Facebook page Harcourts Four Seasons Realty

or drop off to your local Harcourts Four Seasons Office

in (Belfast, Kaiapoi, Hanmer Springs, Hornby, Lincoln,

Rangiora, Rolleston or The Palms) before 10.00am

Thursday 18 th April 2019.

Winning entries will be notified on Thursday 18 th April by

phone and displayed on our Facebook page.

Additional entry forms can be found on our Facebook,

Instagram and web page - harcourtsfourseasons.co.nz

or collected from any of the above offices.

Prizes: Winning entries in each age group will receive

vouchers from The Warehouse.

1 st $20.00 and 2 nd $10.00

Name

Age (please tick one) 0 - 5 years 6 - 9 years 10 - 14

Parent's Name

Mum or Dad's Contact Telephone

Four Seasons Realty

Your home for local property

Four Seasons Realty 2017 Ltd | Licensed Agent REAA 2008
---
NOR'WEST NEWS Latest Christchurch news at www.star.kiwi

Tuesday April 2 2019 17

REAL ESTATE

Fabulous family home

18 Arnold Street, Sumner

Auction: 12pm, Thursday 11 April 2018 (unless sold prior)

5 bedrooms | 3 living rooms | 1 bathroom | 1 ensuite | 2 car-garage | Listing number: 559702

If you have been looking for the ultimate

large dwelling, on the flat in Sumner - you

need look no further. This much loved home

has been transformed into the magnificent

property that it is today. Renovated with style

and spacious in every way, five bedrooms

and two bathrooms should satisfy every

family's needs.

Downstairs is devoted to spacious

living, with views across the garden from

every room. At the heart of the home is a

well-designed highly spec'd kitchen, with

adjoining utility room, laundry and extra

kitchen space. The formal lounge is private

and peaceful and opens onto the expansive

wrap-around deck.

Fabulous flat 903sqm section, with mature

trees, well-designed gardens and lawns to

delight sports enthusiasts, raised vegetable

beds, fruit trees and spa area. It really is the

best back yard in town!

Dual street access, double garaging plus

rumpus room - all this in a brilliant location,

close to schools, preschools, the beach and

Sumner Village.

18 Arnold Street has been a very special

home for the previous owners and is now

looking for a new family to revel in its magic.

Open Homes: Thursday 4 and Sunday 7 April

2:30pm-3:15pm.

See you at the open homes or for a

private viewing or more information

contact Marilyn Still of Bayleys Ferrymead

(Licensed Agent REAA 2008) on 027 229

8769.

growing with you June 2018 | 100%

Plants For

winter wow

Cool Choices

For Colour

& Contrast

From swamp

to sea views

The journey

begins with sarah

the Gardener

$7.90 incl. GST

Snap it up

Enter our annual

Birdlife Photo

Competition to win

great prizes!

clear the air

Why groWing

indoor PLAnTs is

so good for you

give it a grow

from gArLic

To chinese

ArTichokes,

We hAve your

groWing TiPs

covered

the latest releases

into the rose world

+ rose care

through winter

The magazine for

gardeners who like to get

their hands dirty

SUBSCRIBE FROM

$43. 50*

*6 issues/6 months

SUBSCRIPTIONS FREEPHONE

0800 77 77 10

WWW.GARDENER.KIWI
---
18 Tuesday April 2 2019

Latest Christchurch news at www.star.kiwi

NOR'WEST NEWS

If you want more information about an item or to contact a

seller, visit www.postanote.co.nz and search the ID#

Plastic Drums

2005 Mazda Premacy 2.0L

La-Z-Boy Chair

Dresser

Rabone Hardwood Ruler

Toyota Reflet X Starlet

$25

ID 17346

$2,500

ID 26994

FREE!

ID 27753

FREE!

ID 27752

$50

ID 15818

$2,500

ID 21544

Saw Bench & Motor

Massager For Neck & Shoulders

Belted Galloway Bull

Mitsubishi Colt Plus

Dell Computer & AOC Monitor

Flooring Tiles

$300

ID 27737

$45

ID 27715

$1,200

ID 27698

$4,950

ID 27209

$720

ID 27616

$10

ID 27602

Commando Ride-on Mower

43-inch Panasonic TV

Victorian Dresser

Fisher & Paykel Fridge Freezer

1996 Toyota Celica Auto

2 Ex-Army Jerry Cans

$550

ID 27388

$80

ID 27179

$195

ID 27177

$320

ID 27094

$2,000

ID 26690

$60

ID 26934

32" Panasonic TV

1994 Hyundai Accent

Porcelain Doll

2004 Honda Edix

Camping Gear

Volkswagen Touran

$60

ID 27776

$1,590

ID 27509

$35

ID 25905

$4,800

ID 27613

$300

ID 27764

$9,990

ID 27681

Heavy Duty Anti Spike Jumper Leads

Dresser With Mirror

1970 Triumph GT6 MKII 2+2

Yamaha YZF450

Fisher & Paykel Ceramic Cooktop

Toyota Estima Van/Camper

$35

ID 27762

FREE!

ID 27751

$19,750

ID 25804

$5,300

ID 18400

$100

ID 27781

$1,800

ID 27615

2 Couches & 2 Armchairs

Walt Disney Comic Books

12-speed Bike

High Sierra Hydration Pack (NEW)

3 Pottery Jars

1993 Kawasaki KX250

FREE!

ID 27738

$25

ID 14092

$20

ID 13917

$40

ID 13925

$50

ID 25595

$1,800

ID 27691

1974 Liteweight Caravan

Table Lamp

Catherine Cookson

Valco Baby Runabout Deluxe

1971 MGB GT

Tasman 20 Trailer Sailer

$10,500

ID 26768

$25

ID 27138

$3 each

ID 27642

$150

ID 27587

$9,750

ID 26557

$4,500

ID 27076

2140015chch
---
NOR'WEST NEWS Latest Christchurch news at www.star.kiwi

Tuesday April 2 2019 19

Classifieds Contact us today Phone our local team 03 379 1100

Community Events

ALCOHOLICS

ANONYMOUS, If you

want to have a drink that's

your business. If you want

to stop, we can help. Phone

0800 229-6757

Holiday

Accommodation

Australia QLD

SUNSHINE

COAST

RESORT

ALEXANDRA HEADLAND

All Units Have Ocean Views.

Heated Pools, Spa & Sauna,

Free Wifi, Tennis

& Mini Golf.

CHECK OUR GREAT

WINTER SPECIALS

www.mandolin.com.au

0061 7 5443 5011

JUNE to AUG temps 20C

Trades & Services

rooF

painting

Book now and

receive 20% discount

for summer.

Rope and harness a

speciality.

No scaffolding required.

30 years experience.

Free quotes, call

Craig 021 060 2392

HOUSE

CLEARING

Are you

moving house

or trying to

downsize?

Call All Clear

Canterbury. We work

with you to recycle,

sell and dispose of

unwanted items.

Ph: 03 260 0934

or 021 078 4553

raewynlcooke@gmail.com

www.allclearcanterbury.co.nz

• New homes

• Extensions

• Renovations

Trades & Services

Builder

Brandon Taw

Phone 027 370 2572

enquiries@tawbuilders.co.nz

www.tawbuilders.co.nz

Trades & Services

concrete & paving

• Driveways

• Earthquake repairs

• New Home Specialists

• Patios & Paths

tel: 0508 873 7483

email: sales@affordableconcrete.co.nz

www.affordableconcrete.co.nz

DRIVEWAYS

Exposed Aggregate

Stamped Concrete Plain

Concrete Resurfacing

Things we offer...

Competitive/affordable pricing

Attention to detail

Professional service

free quotes/insurance scopes

Cell 0278 145 848

www.drivecrete.co.nz

Trades & Services

CARPET

CLEANING & FREE

DEODORISING

3 rooms &

hallway

from $59.00

Quick drying

Over 20yrs experience

Our guarantee is your

satisfaction

ALRIGHT CARPET

CLEANING

Ph. 027 220 2256

• Light Commercial

• Repairs and

Maintenance

Trades & Services

UPHOLSTERER

dyers upholstery services

(Ex Leacroft St, Bishopdale)

We specialise in

re-upholstering all types of

household furniture

inc squabs.

Trusted craftsman for over

30 years. Fabric samples,

Free quotes, pick up &

delivery.

All work guaranteed.

Ph. 359 5033 or

022 106 0108

Trades & Services

BATHROOM

Renovations, complete

service from start to finish,

free quotes, ph Dave 027

334 4125

Trades & Services

PAINTER

Michael Kelly Painters

Locally owned and

operated family

business.

25+ years Experience

• Painting • Wallpapering

• Interior • Exterior

Free Quotes

Phone

Michael 0212 649 492

michaelkellypainter@hotmail.co.nz

PLUMBER

NEED A PLUMBER

Call us now for fast friendly service.

Get your problems sorted out

quick smart - on time!!

Phone for a

FREE

quote now.

Phone 03 377 1280 | Mobile 021 898 380

Trades & Services

ROOF

PAINTING

Rope & harness

a speciality,

no scaffolding

required,

30 years of

breathtaking

experience.

FREE QUOTES

Exterior staining,

exterior painting,

moss and mould

treatment and

waterblasting

Phone Kevin

027 561 4629

Trades & Services

junk

Trades & Services

Lawns, Gardens

& Home Cleaning

Free Quotes

Professional, personalised

service. Regular &

one-offs. Fixed price.

Ph: 377-5814

For all your property and

cleaning requirements

Trained, insured & security

screened owner/operators

Multi-award winning

systems & Franchises

Franchises Available

www.viphomeservices.co.nz

Why go to the Dump? Junkman comes to you!

Items too big for the rubbish bin?

Or too heavy for you to move?

Junkman comes to FROM

you & takes it away $

65 *

*Prices vary depending on items and volume – minimum charge $65

Trades & Services

BATHROOM

Renovations, complete

service from start to finish,

free quotes, ph Dave 027

334 4125

BUILDER

HANDYMAN

No job too small. Install

heat transfers, repair/

replace fences, floor

boards, decks. Russ

027 884 2330. Liability

insurance.

****************

CARPET & VINYL

LAYINg

Exp. Repairs, uplifting,

relaying, restretching.

Email jflattery@xtra.co.nz

ph John on 0800 003 181

or 027 2407416

CHIMNEY SWEEP

Txt 027 669 4681

ELECTRICIAN

Prompt & reliable

registered electrician

with 24 years experience

for all residential and

commercial work, new

housing and switch board

replacements. Phone Chris

027 516 0669

ELECTRICIAN

Registered, electrical

installation and repairs,

Gorbie Electrical, ph 021

026 73375 or 03 322 4209

PAINTER

DECORATOR

All int /ext painting.

Comp rates. I stand by

Canterbury. Wayne 385-

4348, 027 274 3541

PAINTINg

30 years experience,

workmanship

guaranteed, pensioners

discounts, free quotes, ph

Robert 021 026-30757

PLUMBER

ALF THORPE

PLUMBING Certifying

Plumber for all types of

plumbing, maintenance,

spouting, alterations etc.

Phone 352-7402 or 0274-

350-231

ROOFINg REPAIRS

Fully qualified, over 40

yrs experience. Ph John

027 432-3822 or 351-

9147 email johnchmill@

outlook.com

SHOE REPAIRS

Belfast engraving. Shoe

repairs, key cutting &

engraving. (10 yrs exp)683

Main North Rd, ph 027

3113423

SPOUTINg

CLEANINg

Spouting Unblocked,

Cleaned Out and Flushed

Out. Call Trevor 332 8949

or 021 043 2034

0800 586 5626

www.junkman.co.nz office@junkman.co.nz

Trades & Services

STONEMASON, BRICK

& BLOCKLAYER,

Earthquake Repairs, Grind

Out & Repoint, River/

Oamaru stone, Schist,

Volcanic Rock, Paving,

all Alterations new & old,

Quality Workmanship,

visit www.featureworks.

co.nz or ph 027 601-3145

STUMP gRINDINg

Best price guarantee Tony

0275 588 895

THINKINg PAINTINg?

30 year tradesman ready

now for all your interior

& exterior requirements,

with roofs a speciality!

Call Craig now on

02102692138

TILER/CARPENTER

35 years exp, no job

too small. Ph Ross 027

4311440.

TILINg

Flooring - Splashbacks -

Wall incl tile removal, reg

master tiler, ph Dave 027

334 4125

T.V. SERVICE

CENTRE

Repairs, tvs, microwaves,

audio amps, soundbars.

.Aerial & satellite

installations, kitsets, 480D

Moorhouse Ave, ph 03 379

1400

VHS VIDEO TAPES

& all camera tapes

converted to DVD, video

taping special occasions,

www.grahamsvideo.co.nz

ph 03 338-1655

Public Notices

Career Training

Vehicles Wanted

CASH/CASH for any

unwanted vehicles, ph

347 9354 or 027 476 2404

Wanted To Buy

AAA Buying goods

quality furniture,

Beds, Stoves, Washing

machines, Fridge Freezers.

Same day service. Selwyn

Dealers. Phone 980 5812

or 027 313 8156

A+ Household effects,

fridges, freezers, washing

machines, ovens. Good

cash paid. Ph Paul 022

0891 671

TOOLS Garden,

garage, woodworking,

mechanical, engineering,

sawbenches, lathes, cash

buyer, ph 355-2045

Public Notices

Redwood Early

Childhood

Centre

AGM 2019

Thursday 11th April

2019, 7.00pm

339 Main North Road,

Redwood, Christchurch

You are invited to join

our centre whaanau

and committee for our

AGM, all welcome!

Don't have the right

the job you want?

FREE 20 week Business Admin

and Computing course.

Get that job you really want!

CALL US NOW ON:

0800 834 834

OR TEXT: 'OFFICE'

TO 027 557 8839
---
20

Tuesday April 2 2019

Latest Christchurch news at www.star.kiwi

NOR'WEST NEWS

Want a good night's

sleep?

ALL MATTRESSES ON SALE

Single Mattresses FROM $ 169

Double Mattresses FROM $ 229

Queen Mattresses FROM $ 249

King Mattresses FROM $ 459

C omplete the Look!

Queen Lift Up

Storage Mattress

Base

NOW $ 700

Queen Flat Pack

Mattress Base

NOW $ 240

Dallas Queen

Headboard

NOW $ 249

Great for extra

pillows and

blankets.

Want fresh outdoor

at bargain prices?

REDUCED OUTDOOR

Limited time only.

While stocks last.

Shop

Online

Nationwide

Delivery

Finance

Options

targetfurniture.co.nz

On trend designs? You want it, we got it! Sale ends 08.04.19

Cnr Blenheim & Curletts Rds, Christchurch

Ph: 0800 TARGET (0800 827438)

Offers and product prices advertised here expire 08/04/19.

Sale excludes Manchester and Accessories.
---
NOR'WEST NEWS Latest Christchurch news at www.star.kiwi

Tuesday April 2 2019 21

Love the life you choose

Christchurch Open Weekend

Saturday 6 & Sunday 7 April

10am - 3pm

Summerset at Avonhead

120 Hawthornden Road,

Avonhead

Summerset on Cavendish

147 Cavendish Road,

Casebrook

Summerset at Wigram

135 Awatea Road,

Wigram

0800 SUMMER

summerset.co.nz

SUM1466_FC1
---
22 Tuesday April 2 2019

Latest Christchurch news at www.star.kiwi

NOR'WEST NEWS

Love the life

you choose

When you move into a Summerset retirement village, you're not just

moving house – you're joining a vibrant and welcoming community

where you'll feel completely at home.

At Summerset we put you at the heart of everything

we do, so you can enjoy the freedom of living the life

you choose.

Artist impression

The perfect home is waiting for you. From villas and townhouses, to

apartments – you'll find a place to make your own. Our homes are

accessible, high-quality, and there are no worries about maintenance or

upkeep as we do it all for you. Pets are also welcome, and you can even

go away on holiday knowing your home will be safe and secure. We'll

also make sure you're aware of all costs, giving you the certainty that

there won't be any unexpected surprises.

When it comes to activities and events, there's always something

happening to keep our Summerset community involved and

entertained, and you can choose to do as much or as little as you like.

If you need some extra care or support, our continuum of care means

we'll be there for you as your needs change, giving you the peace of

mind to continue living life to its fullest.

Over 5,000 residents are already enjoying the Summerset life across

25 villages around New Zealand. If you're interested in Summerset for

yourself or a family member, come and visit one of our Christchurch

villages to find out more about the Summerset life.

Christchurch

Open Weekend

Saturday 6 & Sunday 7 April, 10am - 3pm

Visit summerset.co.nz to find the

Summerset village nearest you.

Artist impression
---
NOR'WEST NEWS Latest Christchurch news at www.star.kiwi

Tuesday April 2 2019 23

Love the Summerset life

Love the Choice

At Summerset you'll find a wide range of homes specifically designed

for the over 70s. Choose from one of our lovely, modern, purposebuilt

homes, then make it your own. All our homes are designed with

accessibility as a priority.

Love the Community

At Summerset you can continue to live the life you choose with the

added peace of mind of living in a warm and friendly community where

you'll feel completely at home.

As a Summerset resident, you'll enjoy all the benefits of being part

of a thriving Summerset community including easy access to village

facilities and community spaces. And there's support on hand should

you need it in the future.

Love the Confidence

At a Summerset village you can live fully independently or, should

you need it, you can receive support and care in your own home or

apartment, or in our fully certified care centre. So, if your needs change,

you can be confident you will the get the support you need, without

having to leave the village.

As a Summerset resident, you'll have access to a range

of community facilities, including;

To find out more about our Christchurch villages,

call 0800 SUMMER (786 637) or visit summerset.co.nz

Divine Café

Exercise room

Communal vegetable

gardens

Residents' bar

All-weather bowling green

Residents' workshop

Hair and beauty salon

Swimming pool and/or

spa pool

Regular visits from

health practitioners

SUM1466_FC_DPS
---
24 Tuesday April 2 2019

Latest Christchurch news at www.star.kiwi

NOR'WEST NEWS

Love the life you choose at

our Christchurch villages

Brand new show homes open to view!

At Summerset retirement villages, you'll find a wide range of homes specifically

designed for the over 70s.

Our warm, modern homes are built with accessibility as a priority. And there's no need

to worry about maintenance or upkeep. Simply choose your new home and make it

your own. You can even bring along your pet.

Summerset at Wigram and Summerset at Casebrook have brand new homes

available now and our Summerset at Avonhead village is pre-selling* homes that

will be ready to move into in June!

Come along to our Open Weekend and find the home that's right for you. We will take

you through village plans and pricing, and answer any questions you may have.

If you would like to get some information prior, you can make an appointment or call

in and visit us any time - we are open 7 days.

Christchurch

Open Weekend

Saturday 6 April

Sunday 7 April

10am - 3pm

Summerset on Cavendish

147 Cavendish Road, Casebrook

Summerset at Wigram

135 Awatea Road, Wigram

Summerset at Avonhead

120 Hawthornden Road, Avonhead

*Licence to occupy

To find out more about Summerset, call us on

0800 SUMMER (786 637) or visit summerset.co.nz

SUM1466_FC4