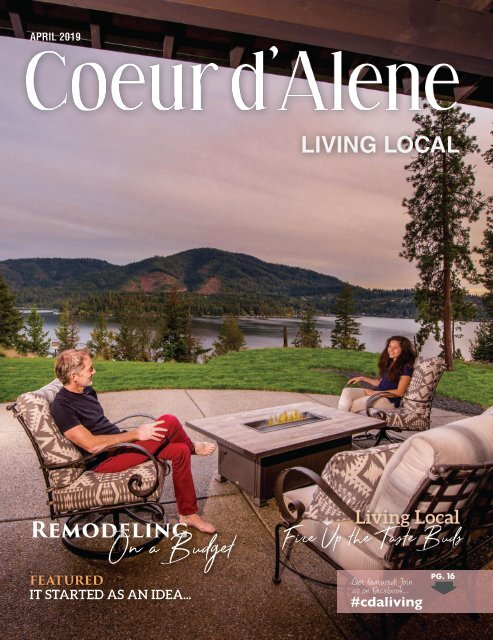 April 2019 Coeur d'Alene Living Local
April 2019 Coeur d'Alene Living Local
April 2019 Coeur d'Alene Living Local
SHOW MORE
SHOW LESS
You also want an ePaper? Increase the reach of your titles
YUMPU automatically turns print PDFs into web optimized ePapers that Google loves.
APRIL 2019

LIVING LOCAL

Remodeling

On a Budget

Living Local

Fire Up the Taste Buds

FEATURED

IT STARTED AS AN IDEA...

Get featured! Join

us on Facebook...

#cdaliving

pg. 16

CDALivingLocal.com

1
---
luxury living in the 208

Wade Jacklin

208.755.5075

JACKLIN.REALTOR

wpjacklin@gmail.com

Looking to buy or

list your home?

Call, text, email

or visit us online

TODAY!

Nicole Jacklin

208.704.0358

Megan Mongeau

208.625.0878

CDALivingLocal.com

2
---
Builder - Residential

Pillars of Architerra Homes

Neighborhoods

We aspire to create neighborhoods

of enduring value where people

want to live. Neighborhoods that

focus on how people live, rich with

features and amenities that add

value to our homeowners as well

as the surrounding community.

Features include parks, play areas,

open green spaces, schools, trails

and walking paths.

Innovation

We seek out and embrace

innovation. Examples of innovation

include technology, house design,

land development and new products

that will ultimately result in an

enhanced customer experience.

Quality

We strive to ensure quality is

infused throughout everything we

do. We define this as quality of

materials, quality of workmanship,

quality of the homebuyer experience

and quality of service. We don't just

say quality, we live it.

Ethics

We promise to always act in an

ethical manner, whether we are

dealing with our customers,

subcontractors, fellow employees

or community members. We always

ask the question, "What is the right

thing to do?" and then do it!

208-449-1905 | www.myarchiterra.com

Architerra Homes, LLC | 1859 N. Lakewood Drive, Suite 200 | Coeur d'Alene, ID 83814

CDALivingLocal.com 3
---
Coeur d'Alene's Best Hotel for Getting

Away with the Girls

Yoga | Wine Tours | Massages | Private Chef

Call for details: 208.765.7799 - Perfect for groups of 8 -14

THE

COEUR D'ALENE, IDAHO

820 E Sherman Ave. | Coeur d'Alene, ID | 208.765.7799 | blackwellhotel@gmail.com | BlackwellBoutiqueHotel.com

CDALivingLocal.com

4
---
5097 N. Building Center Dr. | Coeur d'Alene, Idaho | 208.772.9333 | www.MonarchCustomHomes.com

Joel & Shawn Anderson

CDALivingLocal.com 5
---
Home values are up 11%

since last year.

Call us for a

free home valuation!

@OURTOWNCDA

#movetocda

SOLD

Hayden Acre!

680 W Lacey AVe, Hayden

$635,000 #19-2119

CDALivingLocal.com

6
---
"Realtor for Today; Friend for Life."

raniel diaz

208.640.3794

MULTI-FAMILY INVESTMENT!

804 N 7th St, Coeur d'Alene

$449,500 #19-376

www.cdamultifamily.com

INCREDIBLE INVESTMENT OPPORTUNITY

4797 S Arrow Point Dr #D205, Harrison

$299,900 #19-383

CDALivingLocal.com

7
---
APRIL 2019

inside

Remodeling On A Budget

Wanting to Update Your Kitchen?

The good news is it doesn't have to cost much!

Make Your House A Work Of Art

Surround yourself with things that elicit joy

68

74

Improve Your Home Before Selling

Quick tips to yield the best bang for your buck

80

CDALivingLocal.com

8
---
There's expected, then there's EXTRAORDINARY

208.664.9171 | aspenhomes.com

1831 N Lakewood Drive, CDA, ID 83814

CDALivingLocal.com

9
---
CDALIVINGLOCAL.COM

MARKETING

Coeur d'Alene Marketing Director

Allyia Briggs | 208.627.6476

allyia@livinglocal360.com

Idaho Sales & Marketing Director

Jessica Kimble | 208.290.4959

jessica@livinglocal360.com

EDITORIAL

Senior Editor

Jillian Chandler | jillian@livinglocal360.com

Content Manager

Patty Hutchens | patty@livinglocal360.com

Staff Writer/Distribution

Colin Anderson | colin@livinglocal360.com

DESIGN

Creative Director | Whitney Lebsock

Design Director | Maddie Horton

Graphic Designer | Donna Johnson

Graphic Designer | Darbey Scrimsher

OPERATIONS

Managing Partner | Kim Russo

Executive Director | Steve Russo

Director of Operations | Rachel Figgins

CONTRIBUTORS

Nikki Luttmann, Dawn Mehra, Ryan Egan, Bri

Williams, Jennifer Wigglesworth, Marc Stewart,

Kirsten Madden, Marina Gunn

COEUR D'ALENE LIVING

LOCAL MAGAZINE

is brought to you by LivingLocal360.com. If

you would like to advertise with us, please call

208.627.6476 or email info@livinglocal360.com.

To submit articles, photos, nominations and events,

email us at events@livinglocal360.com.

HANDCRAFTED LUXURY• CUSTOM DESIGNS •UNIQUE VISIONS

801.664.5713•matt.rayson@yahoo.com

1343 N. Biztown Loop Hayden, ID 83835

RaysonDesigns.com•AAA

Living Local Magazine is published monthly and distributed

freely throughout Coeur d'Alene, Hayden, Post Falls,

Rathdrum, Spokane Valley, Sandpoint, Bonners Ferry and

Dover Bay. Opinions expressed in articles or advertisements

do not necessarily reflect the opinions of the publisher.

Living Local Magazine is not responsible for omissions or

information that has been misrepresented to the magazine.

Living Local Magazine is produced and published by

Living Local 360, and no part of this publication may be

reproduced or transmitted without the permission of the

publisher.

CDALivingLocal.com

10
---
#1Independent Real Estate Brokerage In Kootenai County!

SHERMAN

5 EAST

STARTING AT

$675,000

COMING SOON!!!

New contemporary farmhouse development located right downtown with 2 different floor plans to choose

from offering 2500+/-SF, 3BEDS/2.5BATHS plus detached 2 car garages with a second level office/loft

and full bathroom. Call today to reserve a unit.

DOWNTOWN

PENTHOUSE

CONDO!

$899,900

609 SHERMAN AVE #602

COEUR D'ALENE

Amazing Views of Lake CDA, Tubbs Hill and Downtown from this penthouse condo located in the 609 Sherman Building. This 2 bedroom/ 2 bath condo has

fantastic southern exposure from the top floor private wraparound rooftop terrace that serves the Master suite that has 2 walk in closets and a grand master

bathroom. Gourmet kitchen and living area that open to a second, private and covered deck. Open concept with walls of windows, custom built-ins, 2

fireplaces. and an office/study area. If you want to live Downtown, then this Penthouse is for you.

SANDERS BEACH!

Downtown!

420 S Dollar Street, Coeur d'Alene

$420,000 | MLS #19-1676

Fantastic Sanders Beach location! Great corner lot featuring 2

bedrooms, 1 bath with living room plus a newer family room.

Don't forget about the room to expand in the unfinished basement

as well as an unfinished attic... endless possibilities.

CDALivingLocal.com

Making the Northwest Home

Chad Oakland has been selling North Idaho Real Estate for over 25 years and

has been the #1 sales agent in Kootenai County for the past 10 years! He has

a superior knowledge of our area and its amenities. Whether you're looking

for your dream home, a secondary home, or a great investment, give Chad a

call and let his expertise go to work for you!

208.664.4200 2022 N Government Way, CdA, ID

www.northwestrealtygroup.com

119224

Chad Oakland

Realtor/Owner

208.704.2000

chad@nwidaho.com

11

1212 E Front Ave, Coeur d'Alene

$375,000 | MLS #19-1320

Charming home in prime Sanders Beach location! 2 story home

offers 3BEDS/1.5BATHS, large covered front porch, fenced

backyard, and detached garage. Great opportunity to live close to

everything that downtown has to offer!
---
CDALivingLocal.com

12
---
CDALivingLocal.com

13
---
PUBLISHER'S

Note

SPRING + EASTER = HOPE

PROVIDING

SOLAR SERVICES

RESIDENTIAL

COMMERCIAL

IT HAS BEEN A LONG WINTER, and

the warmth of spring is a welcomed relief

from the dark, cold days of the past several

months. Sure, the snow is fun for a while,

and Christmas is never the same unless it's

a white Christmas, but after time we yearn

for the warmth of the sun as nature blooms

around us.

This month we will also celebrate Easter, a

season of hope, renewal and the promise

of eternal life. While we have our secular

symbols of Easter such as coloring Easter

eggs, the Easter bunny and more, the true

meaning of Easter is the celebration of the

resurrection of Jesus, giving the promise of

eternal life—the symbol of ultimate hope

in the Christian world.

Sadly, there are many in this world who

struggle each day with little hope in their

lives. Whether it is living in poverty,

broken relationships or struggling with

abuse, mental health issues or addiction, it

is easy to lose hope when you don't feel the

love of others.

One of the best ways we can show the love

of God to others is through our actions.

For those of us who are blessed with an

enriched life surrounded by people who

love us, one of the greatest gifts we can give

to others is the gift of hope. I encourage

you to connect with others who may feel as

though there is no more hope in their lives.

While coloring Easter eggs and other

seemingly secular traditions are fun, add

a new tradition this year and do what you

can to give others a spark of hope in their

lives.

Know that you are helping spread the Good

News of the Easter season, and you, too,

will feel a renewed sense of hope! Happy

Easter from all of us at Living Local!

Steve Russo

Steve Russo

Executive Director

steve@livinglocal360.com

Creating | Connecting | Living Local

Quality

SOLAR & ELECTRICAL

Solutions

208.765.WIRE(9473)

www.nextgencda.com

311 Coeur d'Alene Ave. Ste. C

Coeur d'Alene, Idaho

ABOUT THE COVER

SPRING HAS OFFICIALLY ARRIVED IN

THE INLAND NORTHWEST. There are

very few reminders left that just a couple weeks

ago, it was a winter white snowy wonderland.

Before long, we'll be spending as much time

outdoors as possible, taking in the fresh, warm

air, tending to our gardens and relaxing with

family and friends. This month's cover photo is

courtesy of Aspen Homes.

Would you like to receive this issue and future

issues in your inbox? Visit CDALivingLocal.com

and sign up for our FREE Digital Edition.

CDALivingLocal.com

14
---
HIGHEST QUALITY IN CUSTOM HOMES.

Tradition - Innovation - Performance - Reputation

creeksidecda.com | 10075 N Government Way Hayden, ID 83835 | 208.666.1111

CDALivingLocal.com

15
---
CONNECT WITH COEUR D'ALENE LIVING LOCAL MAGAZINE

1.

3.

#CDALIVING

You could see your photos in print right

here in Coeur d'Alene Living Local!

2.

CDALIVINGLOCAL.COM

Use #CDALiving and your photos will

show up on our Get Social page or tag

us @CDALiving to be featured here!

facebook.com/cdaliving

instagram.com/cdaliving

pinterest.com/LL360

twitter.com/cdaliving

1.

Classic slipcover seating that always looks good.

#springishere #popofcolor #cdaliving #thetinroof

tinrooffurniture via

2.

3.

It's SPRING!!! Right??

#mountains #pnw #igdaily #cdaliving

brianjmelcher via

After a long March, April always puts a little Spring in my step.

#northwestisbest #thegreatpnw #wanderfolk #cdaliving

valokuvan via

CONTACT US TO ADVERTISE

Allyia Briggs

208.627.6476

allyia@livinglocal360.com

CDALivingLocal.com

16
---
Create the look of your dreams

AT THE TIN ROOF

Stop scrolling and start designing. We can help you create the look of your dreams and pull

your pins and saves off the screen and into your home. Enough dreaming, let's start designing!

FURNISHINGS + LIGHTING + AREA RUGS + WALL ART + DESIGN

509-535-1111 • 1727 E Sprague Ave

Monday - Saturday 10am - 5pm

www.TinRoofFurniture.com

@tinrooffurniture

CDALivingLocal.com

17
---
Contents

pg. 60

pg. 28

16 Get Social

Join our Facebook group Coeur d'Alene Living

for a chance to get your photos, recipes and

ideas featured and much more!

20 Essentials

The latest tips and trend

28 Life & Community

An Egg-credible Community Event: Let the

hunting begin

30 Good News

All About Care: The Orchard training all staff in

dementia care techniques

42 Living Local

Fire up the Taste Buds: Crave! returns for third

annual event

52 Health & Lifestyle

Tips and informational articles about living a

healthy, active lifestyle

60 Feature Story

It started as an idea: Individuals making a big impact

in their local communities

82 Travel & Leisure

Cannon Beach: Stunning Coastline and

Charming Seaside Village

34 Business Spotlight

TalkShop: Improving customer service, interaction

and relationships

36 In Focus

A Day to Make a Difference: Idaho Gives set for May 2

CDALivingLocal.com

85 Food & Drink

Your local guide to the tastiest hot spots around

town and local recipes

93 Arts &

Entertainment

Calendar of great local events, music, sports

and shows!

18

pg. 36
---
FOREVER SMOOTH.

Never

Never

shave

shave

again

again

with

with

Laser

Laser

Hair

Hair

Removal.

Removal.

Begin

Begin

your

your

razor-free

razor-free

journey

journey

today

today

at

at

www.medispacda.com/smooth

www.medispacda.com/smooth

Or

Or

call

call

208

208

758

758

0486.

0486.

Membership

Membership

Matters.

Matters.

Kate

Kate

Kuhlman-Wood,

Kuhlman-Wood,

MD

MD

is

is a

Board-Certified

Board-Certified

Plastic

Plastic

Surgeon.

Surgeon.

You

You

are

are

invited

invited to

to

explore

explore

our

our

curated

curated

collection

collection

of

of

facial

facial

and

and

body

body

treatments

treatments

selected

selected

to

to

celebrate

celebrate

an

an

original

original

—

—

like

like

you

you

@

@

www.medispacda.com

www.medispacda.com

Gift

Gift Certificates

Certificates

Available

Available

|

|

Open

Open

Every

Everyday

day for

for

your

your

Convenience

Convenience

(Most

(Most

Days

Days

Until

Until

7pm)

7pm)

|

|

In

In

Riverstone

Riverstone

@ 1875

1875

N Lakewood

Lakewood

Drive.

Drive.

Ste

Ste

103

103

CDALivingLocal.com

19
---
SPRING SUNSHINE AND WINDOW COVERINGS

BY NIKKI LUTTMANN, SEVEN BEE INTERIORS FOR SANDPOINT FURNITURE, CARPET ONE AND SELKIRK GLASS AND CABINETS

With spring comes an increase in the hours of

daylight, which is wonderful after our long

winter. However, the additional sunlight

can pose a problem for our home's interiors.

UV rays can be damaging to wood, carpet, fabric and other

finishes in our homes, not to mention being hard on the eyes.

Not surprisingly, spring is a time when people start to think

about window coverings.

As a designer, one of the most frequent issues I encounter is

how to cover specific windows without either blocking the

view or not giving enough privacy. Luckily, there are many

options available.

One of my favorite go-tos are wood blinds. They come in

a variety of colors, both painted and stained, a couple of

different widths, and are available with decorative trim to

add a little color. There are light-weight wood blinds for

larger windows, motorized options for hard-to-reach areas,

and they come in a selection of price points for all budgets.

With wood blinds, my suggestion is for the blind to match

your window trim exactly, creating a seamless look. This way,

whether the blind is open or closed, it looks like it belongs

there, sitting snugly in your window.

Another popular window-covering application is cellular

shades. These come in hundreds of colors, sizes and

transparencies, allowing for a custom look. I typically enjoy

a cellular shade that matches the paint or trim color, but you

can play with contrast as well.

With cellular shades, be sure to talk to your sales person in

depth, as there are many options out there. From doublecelled

blinds, which allow for more insulation, to top-downbottom-up

options, which work well to allow light in to a

room while maintaining privacy, you need to be sure what

is right for you. There are also room-darkening options that

work well for a bedroom or media room. And cellular shades

can be motorized as well for those tall picture windows.

CDALivingLocal.com

20
---
Beautiful Homes ...

Begin at Sandpoint Furniture

SPRING FEVER

SALE PRICES

ON ALL

FLEXSTEEL!

YES! We deliver to CDA!

The Flexsteel Difference

You'll find our namesake Blue Steel Spring at the core of our

upholstered seating. Unlike eight-way hand-tied springs, it

never needs retying or replacing to keep you from getting

that sinking feeling in your seat.

Our design and construction go hand in

hand to create comfortable, long-lasting

furniture with durable wood frames and

exceptionally soft seat cushions.

For more information, search our

products on www.flexsteel.com.

Our reputation keeps growing for featuring

High Value. High Style. High Quality.

We're Unique! We're Different! And We're Worth the Drive!

See some great Unique and Different pieces at sandpointfurniture.com

CDALivingLocal.com

401 Bonner Mall Way, Ponderay, Idaho

208-263-5138

SANDPOINT FURNITURE STORE HOURS:

Mon-Fri 9am-6pm, Sat 9am-5pm, Closed Sunday

21
---
The right window coverings can

last a lifetime.

Mesh shades, which are mounted on a roller and

provide some privacy while still allowing light

and views to filter in, are becoming increasingly

popular. These tend to look fantastic with both

rustic and modern looks but are not for those

who want complete privacy. If you are looking

at this option, something to keep in mind is that

light colors have a tendency to filter out views

more than dark colors. I know this sounds

counterintuitive, but the light colors reflect

more light inside, creating more of a box effect.

Dark colors tend to recede, making the view

more visible.

Something that is seldom talked about today are

draperies, but I think they are a wonderful way

to add warmth and texture to a room. They can

be spare and modern or flouncy and traditional,

and they can definitely add personality should

you choose patterns or textures over simple

cotton or linen. Not to mention, I still believe

draperies to be one of the best and easiest ways

to cover sliding or French exterior doors, as they

can be completely opened to allow easy passage

during the day and quickly closed at night for

privacy.

One thing for sure is that good window coverings

are an investment. To make sure you spend your

dollars wisely, do your research and find out

what options are right for you and your home.

The right window coverings can last a lifetime, so

a little education can go a long way! Should you

need help deciding which application is right

for you, don't hesitate to ask your sales person.

They have the knowledge and experience to help

you solve any issues you might face with your

particular windows and ensure a beautiful and

functional outcome.

CDALivingLocal.com

22
---
COME EXPERIENCE THIS REFRESHING NEW APPROACH TO CUSTOM HOME BUILDING

BUILDING

YOUR VISION

AND

CREATING

REALITY

Whether your style is a Mountain Contemporary Home, Western Rancher Home, Classic Coeur d'Alene Luxury Home

or a Rustic Timber Framed Compound Home with contemporary finishes, a custom home built by Affordable Custom

Builders in Coeur d'Alene, Idaho, is guaranteed to express your creativity and style.

208.666.4141 | AFFORDABLECUSTOMBUILDERS.COM | 401 SHERMAN AVE, STE. 207 | COEUR D'ALENE, ID 83814

CDALivingLocal.com

23
---
Compare Our

CD Rates

Bank-issued, FDIC-insured

6-month

2.40% APY* Minimum

deposit

$1000

1-year

2.50 % APY* Minimum

5-year

deposit

www.edwardjones.com

$1000

www.edwardjones.com

2.85 % APY* Minimum

deposit

You've Spent a Lifetime $1000

You've Spent Lifetime

Preparing *Annual Precentage for Yield Retirement.

(APY) effective

Preparing for Retirement.

03/25/19. CDs offered by Edwards Jones

are bank-issued and FDIC-insured up to

$250,000 (principal and interest accrued

Now but not yet paid) What?

per depositor, per

insured depository institution, for each

account ownership category. Please visit

www.fdic.gov or contact your financial

If advisor you're for recently additional retired information.

If you're recently retired or

planning Subject to availability to retire, and you're price change.

planning CD values are to subject retire, to you're interest rate risk

probably such that when concerned interest rates about rise, the

probably concerned about

making prices of CDs the can right decrease. financial If CDs are

making sold prior the to maturity, right financial the investor can

decisions. lose principal Together, value. FDIC insurance we can does

decisions. Together, we can

find not cover the answers. losses in market value. Early

find withdrawal the answers. may not be permitted. Yields

quoted are net of all commissions. CDs

We'll require sit the down, distribution face of interest to face, and to do

We'll not all sit interest down, to compound. face to CDs face, offered to

develop a strategy designed to

develop through Edward strategy Jones are designed registered with to

help the Depository your finances Trust Corp. meet (DTC). your

help your finances meet your

needs Call over or the visit long your haul. local

needs over the long haul.

financial advisor today.

To develop Doug Rupiper, a retirement CFP®

To develop Financial Advisor retirement

income 211 strategy E. Coeur d'Alene, that Ste.104

income strategy that

Coeur d'Alene, ID 83814

works for you, call or

works Office: for you, 208.667.1539 call or

visit today.

visit today.

doug.rupiper@edwardjones.com

Chris Liermann

Financial Advisor

Kevin R Callos, AAMS

Kevin Callos, AAMS ®

Financial Advisor

®

Financial Advisor

1810 Schniedmiller Ave. Ste. 210

Post Falls, ID 83854

Office: 208.773.3268

christopher.liermann@edwardjones.com

6797 Eisenhower St

Bonners 6797 Eisenhower Ferry, ID 83805 St

Debbie

208.267.5664

Bonners Ferry, Holmes ID 83805

Financial 208.267.5664 Advisor

6600 W Commerical Park Ave. Ste. E

Rathdrum, ID 83858

Office: 208.687.5765

debbie.holmes@edwardjones.com

F I N A N C

Spring is here—and for many of us, that

means it's time for some spring cleaning.

This year, in addition to tidying up your

home, why not try brightening your

financial environment? Some of the same

moves you make to clean your surroundings

may apply to your finances. Consider these

suggestions:

• Get rid of clutter. When you go through

your closets, attic, basement or other areas,

you may find many items you no longer need.

You might be able to sell some of these things

or find other ways of disposing of them. And

as you review your portfolio, you might also

encounter "clutter" in the form of investments

that may be redundant to others you own. If so,

you might consider selling these investments

and using the proceeds to purchase new ones,

which may help you broaden your portfolio.

• Protect yourself from hazards. As you

go about your spring cleaning, you may well

encounter hazardous substances, such as

cleaning agents, paints, batteries, pesticides

and so on, which you don't need anymore

and which may pose potential health risks.

You can reduce the possible danger from

these materials by recycling or disposing of

them in an environmentally safe way. Your

overall financial situation has hazards, too, in

the form of illness or injury preventing you

from working, or, in your later years, the need

for some type of long-term care, such as an

extended stay in a nursing home. To protect

yourself, you may need appropriate insurance,

including disability and long-term care.

• Find new uses for existing possessions.

When you are sprucing up your home, you

I A L F O C U S

Time for Some Financial Spring Cleaning

This article was written by Edward Jones for use by your local Edward Jones

Financial Advisors Doug Rupiper, Chris Liermann and Debbie Holmes

may rediscover uses for things you already

have. Who knows? Perhaps that treadmill

that's been gathering dust in your garage could

actually be employed again as part of your

rededicated exercise regimen. And you might

be able to get more mileage out of some of

your existing investments, too. Suppose, for

instance, that some of your stocks are paying

you dividends, which you take as cash. If you

don't really need this income to support your

lifestyle, you might consider reinvesting the

dividends so that you can own more shares of

the dividend-paying stocks. Over the long run,

increased share ownership is a key to helping

build your portfolio.

• Establish new habits. Spring cleaning doesn't

have to be just about physical activities—it can

also involve a new set of habits on your part.

For example, instead of placing your unread

magazines in an ever-expanding pile, try to

read and recycle them quickly. You can also

develop some positive habits as an investor,

such as "paying yourself first" by regularly

putting some money in an investment account

each month, even before paying all your bills.

You can also avoid some bad habits, such as

overreacting to market downturns by selling

investments to "cut your losses," even though

those same investments may still have strong

growth potential and may still be suitable for

your needs.

Doing some spring cleaning can make you

feel better about your living space today. And

applying some of these techniques to your

financial situation can help you gain a more

positive outlook for tomorrow.

IRT-4513A-A

IRT-4513A-A

Member SIPC

Member SIPC

CDALivingLocal.com

24
---
HELPING

BUYERS ~ BUY, SELLERS ~ SELL, INVESTORS ~ INVEST

CUSTOMIZE

YOUR SEARCH TODAY!

www.ConnectedNorthIdahoRealEstate.com

Victoria Mallett, Realtor 208-818-5586

Jonathan Zepeda, Realtor 208-215-6032

Landon Zepeda, Realtor 509-230-3120

Specializing in Relocation &

First-Time Home Buyers.

Connect With Us On Social Media f T P

ConnectedNorthIdahoRealEstate.com

CDALivingLocal.com

25
---
MAXIMIZE YOUR OUTDOOR LIVING

Top 2019 outdoor living trends

Your customers want

to be able to text

you, so let them

- With TalkShop!

TalkShop

(BPT) - WITH BUSY SCHEDULES AND ON-

THE-GO LIFESTYLES, OUTDOOR LIVING

SPACES offer a chance to decompress, enjoy

nature and connect with friends and family.

Thanks to the impressive design and quality

of today's outdoor products, these spaces often

rival the convenience, comfort and design of

the indoors.

As the heart of the home shifts outdoors,

following are some of the top trends that will

dominate the outdoor living landscape.

Sustainable solutions

There is a growing interest in sustainable

alternatives to wood products, which contribute

to deforestation and can leave a heavy carbon

footprint. Composite decking offers an

appealing option that outperforms wood, with

greater durability, less ongoing maintenance

and fewer harmful environmental impacts.

Trex decking, for example, is made from 95

percent recycled and reclaimed materials,

diverting more than 250 million pounds of

plastic film and bags from landfills each year.

Beyond decking, composite materials also

can be found in today's hottest outdoor

furnishings. Manufactured from recycled

milk jugs and other polyethylene plastics,

these high-performance on-trend designs

offer environmentally responsible options for

comfortable, stylish outdoor living.

Cozy and clean

As homeowners spend more time enjoying

their outdoor living spaces, comfort is key.

From plush cushions and throws to cozy

pergolas, today's outdoor spaces are designed

to evoke serenity and peace.

However, trend experts are quick to point

out that "cozy" doesn't equal "clutter." Clean,

minimalist looks are growing in popularity, as

homeowners emphasize quality over quantity.

In outdoor spaces, this trend is manifesting in

sleek lines, simple styles and a preference for

long-lasting products.

On decks, this minimalist trend can be seen

in the popularity of streamlined aluminum

railings. Another must-have is outdoor

cabinetry such as built-in trash bins and ice

chests that can be color coordinated to integrate

seamlessly into a deck design.

Illuminated spaces

From candles and tiki torches to fireplaces and

integrated fixtures, outdoor lighting is another

"bright" idea that is in high demand.

The right lighting can take any outdoor space

from invisible to inviting—especially when it's

integrated in innovative ways to accentuate key

features. Spotlights highlighting an accent wall

or tread lights incorporated into a bar top are

both popular options. Adding dimmable LED

lighting to the railing and stairs not only adds

ambiance but also enhances safety. By choosing

which outdoor elements to highlight, it's easy

to change the look of an outdoor living space

without moving any furniture.

Decidedly DIY

More homeowners than ever are feeling

confident about building their own outdoor

living spaces. Lighter weight deck boards such

as Trex Enhance, as well as innovative, easyto-install

railing panels, have made creating a

dream deck on your own easier than ever.

If you are comfortable using a hammer, a power

saw and a drill, you can build your own deck.

Or, if you have a deck but it is showing signs

of wear, you can easily resurface it in just one

weekend, so long as the substructure is intact.

For those ready to DIY, expert help is never

more than a click away. Installation guides,

instructional videos and detailed plans are

readily available online.

Call or text our

director of sales

Jeff Willis to

get your business

texting today.

855.910.8398

talkshopapp.com

CDALivingLocal.com

26
---
PET CANCER

facts

KNOW THE SIGNS AND GIVE YOUR PET THE BEST QUALITY OF LIFE

By Dr. Dawn Mehra, North Idaho Animal Hospital

One of the most dreaded words a

family can hear is that someone

they love has cancer. Our furry

companions, now solidly part of

our families, are living longer lives and are

more prone to developing cancer in their

later lives. Cancer is tough on everyone, and

concerns regarding quality of life after a pet's

diagnosis are why I wanted to write about the

various options for this disease.

Cancer is the uncontrolled growth of a

particular cell line and comes in as many

forms, types and degrees of pathology (danger

to the body) as there are different cell types in

our bodies. There are many potential causes

for cancer development, from gene mutation

to environmental toxins to nutritional

deficiencies and excesses. Several million cases

of cancer in dogs and cats are diagnosed each

year, and about 50 percent of dogs over 10 years

of age die from cancer. Cancer can be primary

or secondary—when it spreads from another

area. Another way to categorize cancer is to

determine if it is benign or malignant. Benign

tumors (growths) can be cancerous or not and

sometimes do not need treatment. An example

of a benign growth is a lipoma or "fatty tumor."

Sarcomas and carcinomas are mostly malignant.

Fortunately, with early detection and advanced

technology, pets can have a good quality of life

and even a cure with some cancers.

Needle aspirates (sucking up cells from a mass

and then looking at them with a microscope),

biopsies and blood tests are often helpful in

yielding an accurate diagnosis. To complete

and determine a prognosis and treatment plan,

we use radiography, ultrasound and endoscopy.

Sometimes more sophisticated techniques like

MRI and CT scans are required.

Cancer treatment depends on the type, stage

and severity of the cell line involved. One of

the best ways to cure "some" primary cancer

is to remove it surgically. When that isn't an

option (too large, difficult location or not

consolidated), radiation and chemotherapy

are options. Chemotherapy is well tolerated

in dogs and cats, and most experience few

side effects other than a thinning of the coat.

Newer treatments include immunotherapy,

interventional radiology, intensity modulated

radiotherapy and hyperthermia.

Choose a veterinarian who is comfortable

discussing each treatment modality as it relates

to your pet's temperament. You want the best

quality of life for the most amount of time.

Budget concerns and survival rates must be

taken into account. Sometimes we suggest

"palliative" care—a support system that focuses

on pain control. Many pet families become quite

emotional with a cancer diagnosis. Our pets

have become such embedded members of our

families that losing them is incredibly traumatic

and difficult. Cancer research is highly funded

as it is obviously a major component of human

medicine. This means that information is

rapidly changing, thus it is important to talk

to your veterinary medical doctor and explore

options before making decisions regarding the

diagnosis and treatment of this disease.

Dr. Dawn Mehra, North Idaho Animal Hospital,

320 South Ella Street, Sandpoint. IdahoVet.com,

ask@idahovet.com

WORKING TO MARKET

BUSINESSES IN

CDA

Allyia Briggs

Marketing Director

Call or email me today to

get creative about

your marketing!

208.627.6476

allyia@livinglocal360.com

CDALivingLocal.com

27
---
AN EGG-CREDIBLE

COMMUNITY EVENT

Let the

hunting begin

By Jillian Chandler

Photo by Eric Kensbock

Easter is just around the corner, and that means the Great

North Idaho Life Easter Egg Hunt has begun!

The brainchild of Keith Boe, the event was started on

a "whim" two years ago to bring people of all ages some

excitement and fun.

"We live in such a beautiful area, and it's great to see so many

folks out and about enjoying the outdoors and

some fun adventure," says Keith. "I just thought

it would be a fun, adventurous thing to do in our

local community while enjoying some sunshine,

beautiful views and cool areas."

The Great North Idaho Life Easter Egg Hunt ranges

from Bonners Ferry to the Silver Valley, Sandpoint

and Coeur d'Alene.

Eggs have been hidden anywhere from the grounds

of the Old Mission; the Spaceship in Wallace; the

hiking trails of Mineral Ridge, English Point and

Farragut; Sandpoint City Beach; the beach and

park at Q'emiln in Post Falls; the floating boardwalk

in Coeur d'Alene; Honeysuckle Beach in Hayden; in flower pots

outside restaurants and more! After the eggs are placed, clues are

then given via North Idaho Life on Facebook of where to find them.

Last year, hundreds of eggs were hidden the weeks leading up to

Easter, thanks to a group of volunteer 'bunnies,' the head of which is

avid hiker and outdoor enthusiast Eric Kensbock of Coeur d'Alene.

"IT IS AN ONGOING

AND DAILY EGG HUNT

THROUGHOUT THE

WEEKS LEADING UP TO

EASTER, AND EGGS ARE

PLANTED AT ALL HOURS

OF THE DAY OR NIGHT."

"We send our bunnies out in all directions sending them to local

parks, hiking trails and area landmarks," says Keith. "It is an ongoing

and daily egg hunt throughout the weeks leading up to Easter, and

eggs are planted at all hours of the day or night."

According to Eric, last year, he hid more than 1,200 eggs, which

included 700 filled with candy that he had scattered throughout

Tubbs Hill for the main event on Easter Sunday. The other 500-plus

eggs were hidden throughout the cities prior to

Easter, all containing gift certificates of some kind

thanks to generous donations from the community.

Gift cards included everything from local eateries

and food trucks, ice cream and coffee to boat

cruises, art, jewelry and local crafts. "This year

I'm hoping we can get somewhere around 1,500 in

total, which would include the ones at Tubbs Hill

on Easter Sunday," he says.

When it comes to what Eric looks forward to

during this event, it's seeing families get outdoors

and search for the eggs. "I've always been a big

promoter of getting people out of their house and

doing something since we live in such a great area,"

he says. "I also enjoy seeing the smiles it brings to the kids' faces on

Easter Sunday and the excited adults who find them as well."

Adds Ketih, "I look forward to this community event all year. It's so

much fun and so good for our community."

CDALivingLocal.com

28
---
Discover the power that comes with deciding for yourself

what it means to be beautiful. Signature Aesthetics is here to

help you see a "you" you'll love in the mirror each day.

COOLSCULPTING

we are #1 in North Idaho for the 3rd time

we can use three machines at one time

WOMEN'S WELLNESS

AESTHETICS SERVICES

208.627.6869 | SignatureAesthetics.com

1130 W Prairie Avenue, Coeur d'Alene, ID

212 N First Avenue, Suite 103 Sandcreek Plaza, Sandpoint, ID

CDALivingLocal.com

29
---
All About Care

THE ORCHARD TRAINING ALL STAFF IN DEMENTIA CARE TECHNIQUES

BY COLIN ANDERSON

PHOTOS COURTESY OF

ORCHARD RIDGE

For nearly

100 years,

the Village

at Orchard

Ridge has been

providing care

and comfort

for area

seniors.

Dementia is a progressive brain disease

that is projected to affect 13.5 million

Americans by mid-century. Today, more

than 5 million Americans are living with

the most common form of dementia, Alzheimer's

disease, including an estimated 200,000 under the age

of 65. By 2050, up to 16 million people will have the

disease.

Watching a person's memory continue to fade each

day is heartbreaking for family members and beyond

frustrating for those battling the disease. While there

is no cure, advancements in care for these patients are

moving forward, and some of the most cutting-edge

techniques are being practiced here in Coeur d'Alene.

For nearly 100 years, the Village at Orchard Ridge

has been providing care and comfort for area seniors.

This includes affordable independent living, assisted

living and memory care. In 2006, a new specialized

Memory Care segment was created for those with

dementia or Alzheimer's. Staff was shown training

videos by renown memory-care expert Teepa Snow,

which included how to approach and engage with the

residents.

When an opportunity came up to attend a Teepa Snowlead

conference in Seattle, The Village decided to send

Tiffany Pettit, who initially worked in activities and is

now in charge of admissions. "We chose to invest in

Tiffany's training so we can be a leader and resource

on dementia care for our community," said Amy Boni,

director of development and marketing.

The Positive Approach to Care (PAC) training

included a two-day fully immersed program which

included hands-on techniques, role playing, and

group question-and-answer periods all led by Teepa's

handpicked trainers. After the initial workshop,

certification requirements included six hours of online

training, eight hours of classroom training and posttraining

followup.

"The interactive component is unlike any other

training I have completed for dementia training,"

said Tiffany. "The program provides such wonderful

methods and inspiring techniques that all you want to

do is hurry up and get back to work so you can educate

and inspire the staff!"

The whole idea of the Positive Approach to Care

method is to create a sense of control for the resident

CDALivingLocal.com

30
---
GOOGLE ONLY LOVES YOU

WHEN EVERYONE ELSE

LOVES YOU FIRST.

REPUTATION

MANAGEMENT

SOCIAL MEDIA

MARKETING

GOOGLE LISTING

DIGITAL

MARKETING

SEO

...

AD

GOOGLE ADS

ROCKETFISHDIGITAL.COM

POWERED BY

CDALivingLocal.com

31
---
"When a caregiver uses the

techniques, they can see changes

in the person's emotions within

minutes. Stress, anger and

frustration levels are greatly

reduced."

as well as caregivers. Teepa's methods create a more positive dementia

care culture. A task as simple as brushing teeth can be a challenge for

resident and caregiver. The Hand Under Hand method offers a sense of

control to the resident, even though the care partner is doing almost all

the work.

"This technique is used to connect with our residents and helping them

with activities of daily living such as feeding themselves or getting

dressed," said Amy.

The PAC philosophy encourages care givers to:

• respond to a person's change in cognition and abilities in a way that is

not hurtful or offensive.

• understand that, with practice, common reactions to the person living

with dementia can become thoughtful responses that improve quality of

life for everyone involved.

• recognize that the person living with dementia is doing the best they

can and, if something isn't working, it the responsibility of the caregiver

to change the approach and behaviors toward the person with dementia.

• notice the physical and sensory environment (lighting, sound, activity)

surrounding the person they are caring for and make changes as

necessary.

With Tiffany now a certified instructor, she is now able to pass on this

training to the rest of the staff. In fact, each staff member from laundry,

housekeeping, caregiving and administration are all receiving the

training.

As part of the administration staff, Amy doesn't get to spend a large

portion of her time interacting with residents but says the training has

opened her eyes to the challenges they are experiencing.

"Learning about the PAC approach has given me the opportunity to

learn and explore what our residents in dementia community are going

through. It gives me the utmost respect for our nursing and the caregiving

staff, and how they are helping our residents live and thrive with this

most devastating disease," she said.

Staff at all levels are having a more positive experience with memory

care patients and are becoming more and more confident in approaching

daily interactions and challenges. Dementia is a disease that creates

anger, depression, frustration and anxiety, and being able to alleviate

some of those emotions can be wonderful for both the caregiver as well

as the resident.

"When a caregiver uses the techniques, they can see changes in the

person's emotions within minutes. Stress, anger and frustration levels are

greatly reduced," said Tiffany.

While this training can't completely wipe away the daily stress and

frustration memory care patients are feeling, the hope is to create a better

culture of understanding and overall care for those inflicted. Stress is also

lifted from families who visit their loved ones and see them in a calm

setting surrounded by caring staff who treat their residents as if they were

their own family members.

"We at Orchard Ridge don't believe that we are only caring for the

resident," said Tiffany. "We also have a responsibility to the family to walk

with them though the journey of dementia."

If you have questions or know someone who might be in need of memory

care assistance, The Village at Orchard Ridge would be happy to speak

with you. You can also learn more by visiting TheOrchardCdA.org.

CDALivingLocal.com

32
---
COOK. GATHER. EAT.

2129 MAIN STREET AT RIVERSTONE 208.277.4116 WWW.CULINARYSTONE.COM

Where the Spirit Finds Serenity

624 W. Harrison Avenue, Coeur d' Alene www.theorchardcda.org 208-664-8119

CDALivingLocal.com

33
---
Improving Customer

Service, Interaction and

Relationships

IT'S TIME TO TALKSHOP

TALKSHOP

310.622.9125 (TEXT)

HELLO@TALKSHOPAPP.COM

TALKSHOPAPP.COM

TalkShop is a text-messaging software designed for small

businesses and their employees. TalkShop allows your business

to send text messages from your existing landline.

"THAT'S WHAT I LOVE ABOUT

TALKSHOP. IT LETS THE BUSINESSES

TALK TO THEIR INTERESTED

CUSTOMERS IMMEDIATELY AND EASILY.

...THOSE KINDS OF RELATIONSHIPS

ADD UP TO MORE SALES AND HAPPIER

CLIENTS."

Texting is the new talking. It's how we check in with each other,

coordinate activities, share, make up, break up and make up

again.

With Americans sending an average of three text messages

per hour around the clock, we're using our thumbs as our main way of

communicating with the world.

Except, that is, when we want to talk to a business down the street. That's

the problem father-and-son entrepreneurs David W. Morgan and David

A. Morgan, along with longtime tech collaborator Binh Ly, set out to solve

when they invented TalkShop. Coeur d'Alene resident Jeff Willis joined the

group last year to head up sales.

TalkShop (TalksShopApp.com) transforms existing landlines so that

they can send and receive texts. That means shoppers can inquire about

available appointments at a local spa, order ahead from that new Greek

restaurant or get this week's class schedule from the gym.

"Texting is the easiest way to get information," said Ly. "We knew that

TalkShop had to be just as easy for consumers and for the businesses."

Because shoppers often already know a business' main phone number,

TalkShop works with phone carriers behind the scenes to route texts for

that same number to its TalkShop mobile app or an online dashboard—

whichever is most convenient for the business staff.

"All our technology is invisible to the business and its customers," said Ly.

"It might as well be magic because notifications come in on your phone

and computer in real time—just like with a regular text but without having

to share your personal number."

Other features allow businesses to distribute texts among multiple staff

members, blast out communications to all customers or set auto-responses.

One of TalkShop's earliest success stories, Spring Valley Golf Course in

Milpitas, California, has built its entire customer communications strategy

around TalkShop. "Our customers love the ability to text with TalkShop

CDALivingLocal.com

34
---
Use Your Existing Landline

Use With Google

Available On Desktop

Away Messages

Use With Your Website

Send/Receive Photos

Available On The Go

Accept Payments

for tee times," said Spring Valley's management. "It's a huge convenience

for them."

TalkShop also comes in handy when Spring Valley coordinates large golf

tournaments and has to share real-time information quickly. And the app

enables them to upsell, say, an electric cart or a dozen balls when confirming

a reservation by text.

"What I love about TalkShop is that we're still figuring out all the things it

can do," said sales leader Willis. "Later this month, our company is attending

a wedding expo to show brides how they can coordinate all their wedding

planning and activities with TalkShop. When we first created the app, we

never imagined it would be a way that Uncle Leo could send pictures and

greetings to the bride and groom from his table at the reception."

Willis says that diverse customers from chambers of commerce to plumbers

and trampoline bounce businesses continue to find creative, new ways to

drive revenue and customer satisfaction with the power of texting.

While the 'thumbs up' from more and more customers is exciting, it comes

as no surprise to the Morgans. David W. Morgan spent 30 years building a

global supply chain company from a spare-bedroom startup. More recently,

he revolutionized the data side of supply chain with ChronosCloud, Inc., a

venture that connects all the events and companies involved in the lifespan

of a product, from raw materials to the final mile delivery.

"In all my businesses, we take advantage of opportunities to simplify a

complicated world," Morgan said. "That's what I love about TalkShop. It lets

the businesses talk to their interested customers immediately and easily.

In a time where we all get too many voicemail phone trees and too much

spam, those kinds of relationships add up to more sales and happier clients.

It's a better experience for all of us."

If you want to TalkShop, you can find out more by calling/texting

310.622.9125 or visiting TalkShopApp.com.

CDALivingLocal.com

35
---
CDA IN

FOCUS

Living in North Idaho, we are witness to

not only many nonprofit organizations

that are serving the needs of those

in our communities but also to the

countless number of people and businesses who

step forward to make a difference in the lives of

those who need it most. Whether it's a food bank,

homeless shelter, an organization that helps

cancer patients or those who provide support

for neglected or abandoned children, the need is

great.

These organizations rely heavily upon yearround

donations, but there is one day set aside

each year to make a conscious effort to do what

you can to contribute to those groups that mean

the most to you.

CDALivingLocal.com

This year's date for Idaho Gives is May 2, and for

those organizations who want to take part and

provide an online venue for people to donate,

they must register by April 15. Idaho Gives is a

program administered by the Idaho Nonprofit

Center and is designed to bring all Idaho residents

together to raise both money and awareness

for the countless 501(c)(3) organizations who

work to make Idaho a better place. The Idaho

Nonprofit Center provides a simple platform

where donors can search, support and donate.

Kristin Ludwig is the director of development for

CASA of North Idaho, which has participated

in Idaho Gives for the last several years. She

said they raise approximately $1,000 each year.

"As with any state-wide nonprofit promotion,

I see the value in being part of the community

36

of nonprofits," said Ludwig. "They do provide

us social media ideas and other tools to help

promote giving locally."

Idaho Gives is a great way to promote an

organization's fundraising efforts and provides

eligible nonprofits the opportunity to reach

potential new donors with the visibility that only

a state-wide effort can generate.

With the abundance of nonprofit organizations

in North Idaho, it can be overwhelming for one

in need. Determining which organization would

best be able to serve them can be daunting.

Thankfully there is an organization in North

Idaho that can assist people with this search.

Sandpoint Community Resource Center (SCRC)

bridges the gap between those who serve and
---
A DAY TO MAKE A

DIFFERENCE

IDAHO GIVES SET FOR MAY 2

BY PATTY HUTCHENS & COLIN ANDERSON

those in need in both Bonner and Boundary

counties.

SCRC will be participating in Idaho Gives

for the first time under the direction of new

Executive Director Linnis Jellinek. Through

the Volunteer Idaho Panhandle program,

SCRC helps other nonprofits find volunteers,

new board members and other services. The

organization also helps volunteers find a place

to share their passions in the community.

"Working with Idaho Nonprofit Center has

given me solid resources as a new executive

director in the area," said Jellinek. "We are

participating this year because I trust their

recommendations, and this is going to be a fun

way for us to get the word out regarding the

broad scope of SCRC's services."

A donation to Sandpoint Community

Resource Center through Idaho Gives will go

to help support the local community in three

ways: The Resource Center where people get

connected to the resources they need in a time

of crisis; the Service Provider Information

Network (SPIN), a community of service

providers who can and will help those in need;

and the Volunteer Idaho Panhandle (VIP)

is where other nonprofits are supported and

volunteers find their perfect match.

For the past five years, The Pearl Theater in

Bonners Ferry has participated in Idaho Gives

and continues to meet or exceed its fundraising

goals each year. It's now become one of the

theater's largest annual fundraising events.

"Idaho Gives is easy; it provides the structure,

support and training for nonprofits to expand

their fundraising," said Board Member Valerie

Thompson. "Since our organization depends

almost entirely on memberships, volunteers

and admissions to shows, we rely on donations

to make up the difference, especially on big

ticket items."

The ease of the program and being able to

market a small theater near the Canadian

border to the entire state are reasons The Pearl

continues its participation.

CDALivingLocal.com

37
---
"Whether a person has been to The Pearl recently or ever, Idaho

Gives provides individuals, businesses and organizations the chance

to demonstrate that our dedication to fostering the performing arts

throughout Boundary County is important to them, too," said Thompson.

For an organization to be eligible to take part in Idaho Gives on May

2, they must be a 501(c)(3) nonprofit organization headquartered or

providing services in Idaho and registered and in good standing with the

Idaho Secretary of State. They must also register with Idaho Gives.

All organizations will be asked to provide the following:

• Primary contact information

• Mailing address

• EIN number

• Idaho Nonprofit Center Member number (if applicable)

• Banking information

• 990 document or postcard verification

While there is a fee involved to participate, it is nominal, and organizations

say it is well worth it for the exposure it provides.

The fee to participate in Idaho Gives depends on the size of the organization

and whether you are a member of the Idaho Nonprofit Center. Member

prices run from $50 to $100, and not-yet member prices range from $100

to $200. Costs are associated with annual operating expenses. The 'Small'

category is up to $99,999, while 'Large' qualifies with operating expenses of

$500,000 and up. Medium falls in between the two.

Nonprofits interested in participating, or those looking to make a donation

themselves, should head to IdahoGives.org. This article mentions just a few

of the organizations that will participate across the state. Donors can click

on the 'View All Participating Nonprofits' link for a complete list. You can

then narrow the list by city, county and/or what type of cause you would like

to support. This includes anything from homeless advocacy and disaster

relief to education, senior citizens and veterans.

May 2 is a day for all of Idaho to come together to help those committed to

making their communities a better place. Volunteers spend countless hours

and personal sacrifices helping those in need, providing needed services,

being mentors or promoting the arts and outdoors. You can say thank you

with even a small donation during Idaho Gives. Set aside a few extra dollars,

find a great organization to support and help turn many contributions into

an incredible impact across the Gem State.

CDALivingLocal.com

38
---
Collars

Toys

Treats

Gifts

Clothes

Pillows

LIKE "KYMS" ON FACEBOOK FOR

COMMUNITY EVENTS & MORE!

A fun, unique, and original dog shop.

It is for all dog lovers!

210 E. Sherman Ave., Suite 143

Resort Plaza Shops • 208.664.0414

www.thelabradorstoreandmore.com

Creative Soul Collective

· Workshops

· Classes

· Group & Private Sessions

For schedules & details:

Alison Henslee | Artist & Creative Coach

208.610.8806 | aghenslee@gmail.com

Bonners Ferry | Sandpoint | Coeur d'Alene

CDALivingLocal.com

39
---
BEHIND

ON BILLS?

Our FREE Program can

help you take the first step.

ATHLETES OF

BY PATTY HUTCHENS

Register For

Classes Online

For the opportunity to set

up a bank account, program

participants must complete two,

two-hour financial education

sessions.

online:

BankOnIdaho.org

or text:

BankOn to 50503

208.667.8112, ext. 108

BankOn@UnitedWayofNorthIdaho.org

Photo by Marina Erickson

NOAH MAYFIELD

Coeur d'Alene High School

Noah Mayfield is passionate about

the game of baseball, a sport he

has been involved in almost

his entire life. "It is the greatest

game created, and I love the competitive

nature that it brings onto the diamond," said

Noah, a senior at Coeur d'Alene High School.

Noah was a three-time Little League All-

Star as well as a Spokane Pony All-Star. He

has been a starter on the high school varsity

team since he was a freshman and credits his

passion for baseball to his older brothers,

whom he says he has looked up to ever since

he can remember.

Noah plans to continue his baseball career

next year at Spokane Falls Community

College. "I hope to improve and get stronger

Cheryl Nichols Photography

so I can advance to a Division I program,"

said Noah, whose career interests include

becoming a CEO or manager of a large

company. "I feel in that certain field I can

thrive in my work and enjoy doing it." Noah

has a talent when it comes to numbers and

exhibits great leadership skills.

Noah shares that the part of baseball he

enjoys the most is the relationships he has

made, saying some of his closest friends are

made through baseball and that the bond

of a baseball team is like nothing else. "It

can create special relationships that will last

forever," he said.

Baseball has taught Noah several things, but

most of all he says the best life lesson he has

ever learned is to always push to persevere

no matter the circumstance. "Life is hard and

there will always be obstacles, and the only

way to get through those obstacles is to put

your head down and keep going."

In his words....

"Life is hard and there will always be obstacles, and the only way to get

through those obstacles is to put your head down and keep going."

CDALivingLocal.com

40
---
THE MONTH

BROUGHT TO YOU BY

Spring Has

Sprung

Photo By Nicholas Brown

Photo By Mag Behrmann

SCHREYER JONES

Lake City High School

Lake City High School senior Schreyer

Jones has played on the school's

varsity tennis team for the last

three years and was awarded Most

Valuable Player her sophomore year. She has

persevered academically as well, achieving

Honor Roll status all four years of high school

and has qualified for national DECA her

junior and senior years. DECA is a group that

prepares emerging leaders and entrepreneurs

for careers in marketing, finance, hospitality

and management in high schools and colleges

around the globe.

In the fall, Schreyer will attend Boise State

University, and although she does not plan

on playing tennis at the collegiate level, it is

a sport she will continue to play throughout

her life. At Boise State, Schreyer will major in

political science and minor in marketing, with

a goal of one day becoming a political analyst.

She shares that one of the biggest challenges

she has faced when it comes to athletics is

finding a sport that she was passionate about.

"When I picked up tennis, I found that it was

a new and enjoyable sport that I wanted to put

the extra time into and to work to improve at,"

said Schreyer.

She said that what she loves most about the

sport is the competition. "I love the nerves

that come before a match and then being able

to get into the game and just play," she said.

Being involved in sports teaches young athletes

much more than just the fundamentals of

athletics; it also carries with it lessons they can

apply to the rest of their lives. For Schreyer,

she said that one of those lessons is to always

stay positive, "because once your mentality

changes, your whole game changes too."

In her words....

"I love the nerves that come before a match and then being able to get into the

game and just play."

CDALivingLocal.com

41

SUPER1FOODS.NET

RATHDRUM

HAYDEN

COEUR D'ALENE

POST FALLS

ATHOL
---
FIRE UP THE TASTE BUDS

CRAVE! RETURNS FOR THIRD ANNUAL EVENT

BY COLIN ANDERSON

Once a meat-and-potatoes town with only a handful of highquality

restaurants, Spokane is now a culinary delight filled

with choices to satisfy and challenge any pallet. You can still

find a great steak, but choices in seafood, wood-fired pizza,

small plates, gourmet burgers, world cuisine and an emerging vegetarian

option scene are bringing the Lilac City to the forefront of dining in the

West. Even the most dedicated diners would have a tough time hitting

all of Spokane's best spots over the course of a year. Lucky for you, there's

an upcoming event where you can sample from dozens of the area's best

chefs and restaurants over the course of a summer weekend.

Crave! returns July 11 through 13 to the CenterPlace Event Center in

Spokane Valley. Now in its third year, the event brings together many of

the top names in local cuisine as well as guest chefs from all over the U.S.

and Canada. Crave! is spearheaded by Eat Good Group's Adam Hegsted,

owner of many popular regional restaurants including Wandering Table,

Incrediburger, Honey Eatery and Social Club and the Gilded Unicorn.

A James Beard Award semi-finalist and decorated cooking innovator,

Hegsted's travels around the country attending dinners, tastings and

food festivals inspired him to create a one-of-a-kind experience in the

Northwest.

Crave! brings together dozens of chefs, brewers, vintners and artisans

from the greater Spokane and Coeur d'Alene area, along with a few

special guests as well. Luna Executive Chef Joe Morris and Cochinitio

Taqueria's Travis Dickinson will be serving up unique dishes alongside

Hegsted, and so will many of the region's best local chefs. Surprise guests

will be announced as the event draws near. These chefs will not only be

serving up delicious bites to eat but also offering cooking demonstrations

and techniques—an added bonus to learn from the best while you are

also tasting the best.

Top Chef contestant and owner of Zona Blanca and the recently opened

High Tide Lobster Bar Chad White will be representing Spokane, as well

CDALivingLocal.com

42
---
Come to Tim's for Prime Rib & BBQ Steaks

for your Easter get-together!

Stop in for all of your home cooking essentials

from Wood Chips for Home Smokers, Select

Sauces, Rubs and everything in between! Large

selection of American-Made Smokers, Grills, and

Locally-Made Fire Pits.

Tim's Special Cut Meats, Inc

.

Come see us at our NEW LOCATION!

525 N Graffiti St. • Post Falls, ID 83854 • 208.772.3327

YOUR OLD-FASHION BUTCHER SHOP...

Your Neighborhood Garden Center

Stop In or Call Us Today!

Products:

Products:

∙ Annuals

∙ Veggies

∙ Perennials

∙ Shrubs & Trees

∙ Soils, Bark, Rock

∙ Home & Garden Decor

Services:

∙Plant Delivery & Installation

∙Soil Bark & Rock Delivery

∙Landscape Design & Construction

12655 N. Government Way. Hayden, ID 83835 | 208.762.4825

NewLeafNurseryHayden.com | f NewLeafNurseryHayden

CDALivingLocal.com

43
---
CRAVE! IS BROKEN DOWN INTO SEVERAL EVENTS OVER

THE COURSE OF THREE DAYS. YOU CAN PURCHASE

ADMISSION TO ALL EVENTS, A COUPLE OF EVENTS OR JUST

A SINGLE EVENT DEPENDING ON HOW MUCH YOU WANT

TO SPEND AND TASTE.

as three other recent contestants from the popular Food Network series.

Tu David Phu, a season 15 contestant, returns, bringing with him a near

unmatched expertise in Vietnamese-style cooking. Top Chef Canada

runner-up Mark Singson also returns to share his unique style. New to

the lineup this year is Brandon Rosen, who has worked in some of the

finest restaurants in New York and San Francisco and is now a privately

employed personal chef in Silicon Valley.

One of the more popular booths also makes a return as James Beard

Award-winners Felipe and June Hernandez of Los Hernandez Tamales

will be serving up their iconic dish. You'll most likely find them with the

longest line during the tasting.

Crave! is broken down into several events over the course of three days.

You can purchase admission to all events, a couple of events or just a

single event depending on how much you want to spend and taste. Once

inside the festivities, you can safely put your wallet away as all the tastes

and beverages are included with your admission. Crave! is held mostly

outdoors with chef booths set up in the grassy area behind CenterPlace

Event Center. Live music and entertainment greets you during most

sessions.

The Thursday evening kickoff is often one of the favorite events. Fresh

fish, scallops, shrimp, oysters and more take the stage during the Seafood

Bash. Cooks will come up with specialty bites and dishes you typically

won't find on their menu. The Seafood Bash runs from 6 to 9pm.

On Friday, the smell of sizzling meats will be lingering in the air during

the Fire and Smoke event, also from 6 to 9pm. The challenge is to create

a barbecue dish you'll not soon forget. There will be dozens of drink

CDALivingLocal.com

44
---
The protection you need, at a price you can afford.

Specializing in:

∙ Auto

∙ Home

∙ Umbrella

∙ Recreational Vehicle

∙ Boat

∙ Motorcycle

Call Alisha today for a quote!

208.773.0504 • 609 N Syringa St. Post Falls, ID 83854

f Alisha Woodin-Mertens - Dickinson Insurance • DickinsonInsuranceServices.com • alisham@dickinsononline.com

Welcoming New Enrollments!

Secured Campus | Quality Caring Staff

3yrs - Kindergarten | Summer Programs And More!

Where Learners Grow!

Schedule your tour today.

My daughter starts this fall and I couldn't feel more comfortable

with this school. This school has made me and my girls feel so

welcome! So excited for my oldest to start class!!!

-Leila

I absolutely love Smart Start! My daughter is learning so much!!

Jenny is amazing. All the teachers are the best. I reccommed

them to everyone.

-Heather

1 208.966.4256 0 smartstartcda@gmail.com 4 smartstartcda.com

5 180 W Clayton Ave. | Coeur d' Alene, ID

CDALivingLocal.com

45
---
vendors offering beer and cocktail pairings for

many of the dishes, and you'll have a chance to

vote on your favorites in the People's Choice

awards for Best Dish and Best Beer. Members of

the Coeur d'Alene Tribe will also be on hand for

a very special night of entertainment including

traditional dances and music.

On Saturday, the education really begins with

demonstrations by regional and national chefs

during the Grand Tasting event from 1 to 4pm.

The demonstration kitchen is set up indoors

with seating and easy views of the presentation.

Local food purveyors will be offering up some

of their favorite small bites to which you

are entitled to unlimited samples. Wineries,

breweries and distilleries will all be offering

tastings and samples in the outdoor setting.

You'll learn mixology tips from some of the

region's best bartenders, cooking techniques

from renowned chefs and will walk away with

a full belly of delicious bites as well.

The final tasting is Saturday evening where the

theme is Foods from Around the World. With

an entire world of cuisines in which to choose

from, chefs often save their most unique and

innovative dishes for last. You might find

Vietnamese-inspired sliders, ingredients rarely

found in a taco, or beef tartare with a twist.

You really won't know until you walk through

the doors. As with other events, the local craft

distillers, brewers and winemakers will be on

hand with all the best the area has to offer.

Your ticket gets you unlimited tastings, but

you might want to bring a few bucks in with

you just in case you want to take something

CDALivingLocal.com

46

home. This year, even more artisans will have

booths available, featuring everything from

locally made barbecue sauces, cheeses, cakes,

caramels, craft sodas, oil and vinegar, and more.

The event wraps up with an after party that

includes a no-host bar, desserts and live music

under the stars.

Beyond just a wonderful and flavorful event,

proceeds from Crave! also benefit several

local nonprofits. Second Harvest brings

community resources together to feed people

in need through empowerment, education and

partnerships. Spokane Valley Partners provides

food, clothing and other basic needs to lowincome

families and offers a helping hand to

those making every effort to carve a stronger

path to a brighter tomorrow.
---
Call TODAY to get

your home SOLD!

NEW LISTINGS!

NEW LISTING!

$349,900

7815 N GOODWATER LOOP

COEUR D'ALENE, IDAHO

Great location in Coeur d'Alene on a quiet

loop/street and nice neighborhood! Very

well maintained home with a nice open

floor plan. Open concept main living area,

private master, and modern neutral color

scheme. This cozy yet spacious home also

includes a huge bonus room upstairs and

plenty of storage to boot. Schedule your

private showing today. This one does not

disappoint!

$379,000

2082 E GREENLEAF LN

COEUR D'ALENE, IDAHO

NEW LISTING!

Come see this single level home in Canfield

Park with a huge RV parking area and a

heated and insulated shop! This home is a 3

bed 2 bath split floor plan with gas forced

air and AC, a completely remodeled and

updated master bath, tile shower, granite

counters and double sinks. City parks, soccer

fields and schools out the front door. Only

minutes from downtown Coeur d'Alene!

Tickets are available now including full festival

packages, VIP packages and individual tasting.

Early Bird pricing is in effect, so buy in advance

to save a few dollars as well. Crave! also

partners with local hotels for those looking

for accommodations and special rates. To buy

tickets and for even more information, you can

visit CraveNW.com.

Watch

this video!

Download my

KW Mobile

App Now!

In the Inland Northwest we love our long,

warm summer days and cool evenings, and

what better way to spend a weekend than

sampling from the best of the best in food and

drink. Whether you choose a single event or

make it a whole weekend, you'll leave Crave!

with a new-found appreciation for the many

talented cooks that call the Inland Northwest

home.

Call today to get

your home SOLD!

208.691.1502 • joshadamsgroup.com

CDALivingLocal.com

47
---
BE PREPARED FOR ANY CRISIS

NIC OFFERS MENTAL HEALTH FIRST AID COURSE

BY KAYE THORNBRUGH

PHOTOS PROVIDED BY NORTH IDAHO COLLEGE

LEFT: A mental health crisis can come at any time. Be prepared with one of NIC's mental health

courses.

RIGHT: William Normington, who teaches the Mental Health First Aid course at the Workforce

Training Center in Post Falls.

You don't have to be a professional to

help someone experiencing a mental

health crisis.

North Idaho College offers an eighthour

"Mental Health First Aid" training course

designed to give people the skills to help someone

who is developing a mental health problem or

experiencing a crisis.

"Mental health affects everyone. Whether you are

in a helping profession role or you know someone

who has mental health issues, we have the training

to equip you," said Dotty Heberer, NIC Workforce

Training and Community Education Health

Professions coordinator. "Health-care workers

can achieve a national credential in mental health

through our certified Mental Health Assistant

program. Any helping profession such as police,

firefighter or teacher would benefit from our

Mental Health First Aid certification classes.

And for those seeking tools to provide better care

for a loved one, we offer dementia and self-care

workshops."

William Normington, mental health specialist at

Kootenai Health, teaches the Mental Health First

Aid course at the Workforce Training Center in

Post Falls.

"I look at it like regular, basic first aid that

everybody takes at some point in their life,"

Normington said. "This is the same thing, but

focused on mental illness."

Normington has more than two decades of

experience in behavioral health, especially

with youth patients. He said it takes 10 years,

on average, for someone with mental illness to

receive appropriate services.

"That's a long time for someone to be suffering

with mental illness without getting any kind of

treatment," he said.

One obstacle is the stigma associated with mental

illness, Normington said, which makes some

people hesitate to seek the help they need. Going

to the hospital for mental health services can

seem scary.

"People look back to what they've seen on TV,

like 'One Flew Over the Cuckoo's Nest,' and it's

not like that," he said. "But that's what they expect

when they come into the hospital."

He noted that lack of education about mental

illness is another major problem. People who don't

have much knowledge or experience regarding

mental illness might see it as frightening or

dangerous, making them reluctant to offer help

to someone experiencing a crisis.

"People with mental illness are more apt to be

victims of violence than to commit violent acts,"

Normington said. "If more people knew what

they were looking at, they'd be able to address

these things differently."

Mental Health First Aid teaches a five-step action

plan to support someone developing signs and

symptoms of a mental illness or experiencing an

emotional crisis, giving participants the tools to

intervene early.

NIC offers several courses focused on mental

health. For more information on the Mental

Health First Aid course and other mental

health training, contact the NIC Workforce

Training Center at 208.769.3214 or visit

NIC.edu/healthcareers.

CDALivingLocal.com

48
---
JJ[WNTOWN

The Sand Creek Lofts put you steps away from everything.

Dining, shopping, parks, recreation, nightlife, scenic Lake

Pend Oreille and the marina are literally just outside your door.

One or two bedroom units come with lake, marina or city views

and off-street parking. Boat moorage is available.

STARTING AT $349,000

COMING SOONI THE LAKE 200 LUXURY DOWNTOWN CONDOMINIUMS.

CURRENTLY UNDER CONSTRUCTION ... RESERVE YOUR NEW LUXURY CONDO NOWI

For information visit

sandcreeklofts.com

CDALivingLocal.com

49

To schedule a tour

contact John or Marie at

208.265.1597
---
208.699.9692

NORTHWEST BUSINESS

Union Gospel Mission Center

for Women & Children

UGM's long-term, residential recovery center for women with

children in Kootenai County provides a home-like setting in

which to explore and confront the issues underlying abuse,

addiction and homelessness. Residents receive food, shelter,

clothing, therapy, life skills classes, Bible study, educational

and vocational training, and medical care free of charge.

196 West Haycraft Avenue | Coeur d'Alene

208.665.4673

UnionGospelMission.org | f UCMCenter

Evans Brothers Coffee

Quality. Connection. Community. From seed to cup, Evan's

Brothers provides specialty coffee that is fresh and unique

in a setting where people can gather with members of the

community and connect with one another. Passionate about

their craft, the brothers, Randy and Rick, provide unique tasting

experiences for all their customers and have been recognized

nationally as Top 3 in America's Best Coffee House. Come and

experience not only award-winning coffee but a warm, inviting

atmosphere as well.

504 East Sherman Avenue | Coeur d'Alene

208.930.4065 | EvansBrothersCoffee.com

Prime Trade NW

At Prime Trade NW, owners and ITEX brokers Arthur and Kimberly Shaw offer an independent

brokerage within the ITEX barter network. ITEX allows businesses to trade with each other

with ITEX currency while the brokerage helps build membership in the ITEX network and

supporting local members in earning more business and spend ITEX currency. Call today for

more information.

1869 East Seltice Way | Post Falls

208.699.9692

PrimeTradeNW.com | f itexpacificnw

CDALivingLocal.com

50
---
EXPERTS...

**All business listings are members of ITEX Corporation and currently accept ITEX dollars.

Caramel Kitchen

Global Kitchen

Welcome to Caramel Kitchen, where this family owned business

specializes in hand-crafted caramel sauce. Located in the Silver Lake

Mall, Caramel Kitchen makes their caramel sauce the old-fashioned

way using only all-natural ingredients: cane sugar, cream, butter, sea

salt and vanilla. Each sauce they create offers a depth of flavor that

highlights the ingredients they use including bourbon, cinnamon

vanilla, chocolate, espresso, chipotle, pumpkin spice, Irish cream

and more. For wholesale or corporate gifts please contact ...

200 West Hanley Avenue, Ste 1502 | Coeur d'Alene

208.618.5055 | CaramelKitchen.com | f CaramelKitchenCDA

Located in Downtown Coeur d'Alene, discover unique flavors

and modern cuisine offered in a wide variety of small plates.

Focused on locally sourced produce, seasonal cooking and

healthy eating, the menu offers elevated simplicity with

fresh, flavorful foods that shine. Pair your meal with a glass

of wine from their extensive wine list or a regional craft brew.

Open daily at 3pm.

309 East Lakeside Avenue | Coeur d'Alene

208.930.4050 | GlobalKitchen-CdA.com

Collective Kitchen Public House

A modern restaurant with a retro vibe, the menu features a wonderful

selection of plates perfect for sharing and fresh entrees. "Social Plates" like

the bacon-wrapped figs, ahi sashimi and poutine to a variety of sandwiches,

burgers and street tacos are complemented by a wide selection of wine and

51 brews on tap. Open for lunch and dinner daily 11am to 9pm.

501 Sherman Avenue | Coeur d'Alene

208.930.4762 | f collectivekitchenpublichouse

CDALivingLocal.com

51
---
DON'T LET IT HOLD YOU HOSTAGE

Back pain should not be a life sentence

By Ryan Egan, Licensed Joint and Movement Specialist and Owner of MVMNT:GYM Sandpoint

Back pain is inordinately common, resulting in tens of millions of

doctor visits each year. Back pain is a deep societal plague not only

impacting the individual but everyone else as well. Everything from

work and recreation to relationships and responsibilities, back pain

has infiltrated and taken so many of us hostage that the opioid crisis we face

becomes pretty understandable. Back pain hurts. It is severely debilitating.

I myself have been the recipient of life-crippling back spasms and seizures,

after all I have broken three bones in my spine. Thankfully, pursuing a highly

intelligent training approach allows me to enjoy getting out of bed instead

of fearing it.

For starters, back pain is common, but back pain should not be considered

normal. Unfortunately, back pain has become such a typical part of life it's

almost expected. Back pain is not a sentence you must carry out nor are you

a victim of it. If you suffer from back pain, the reason for its cause may not be

your fault, but it is your responsibility to resolve.

There are two types of people: those who own their stuff and begin the

process of intelligently training their body to heal and those who play victim

and never take ownership. Honestly, most people are creating their back

problems and then expect someone else to fix it through passive treatments

such as chiropractic, massage, acupuncture, etc. Even more substantial

"solutions" like surgery have an efficacy of less than 10 percent. Surgery is

never a guarantee; I have seen more people worse off after the knife.

Even worse, too many people create an identity and define themselves by

HEALTHY TIP

HEALTHY SELF CARE

If you're not having a great day, don't "reward" yourself with

food. Instead, take a bath, read a book, listen to music,

surround yourself with true friends or buy yourself something

that will make you smile.

CDALivingLocal.com

52
---
MULTI-YEAR AWARD-WINNING BEST DENTAL OFFICE

MORE

REASONS TO

SMILE

We've added two more amazing dentists,

doubled our clinic size, implemented

new dental technology and have a whole

new look! It's easy to see why we're

Coeur d'Alene's top rated dentists.

3D IMAGING • IMPLANTS • 1-DAY CROWNS • WHITENING • VENEERS

INVISILIGN • DENTURES • ROOT CANALS • LASER PERIODONTAL THERAPY

208-664-8283 | KootenaiFamilyDental.com | 1420 Lincoln Way, CdA

CDALivingLocal.com

53
---
YOU DON'T NEED TO SUFFER

THROUGH BACK PAIN!

IF YOU SUFFER

FROM BACK PAIN,

THE REASON

FOR ITS CAUSE

MAY NOT BE

YOUR FAULT,

BUT IT IS YOUR

RESPONSIBILITY

TO RESOLVE.TO

EQUIP YOU.

their back pain—ultimately adding every "used-to-beable"

activity into a pile of "I can't do that anymore."

Pain is a huge multifactorial issue with mechanical,

biochemical and psychosomatic underpinnings and

very rarely has a singular cause. However, we can find

commonalities and major contributors.

The first major contributor to back pain and dysfunction

is insufficient breathing and core stabilization strategies.

Learning to maintain and create intra-abdominal pressure

is the first step to mastering your spine and taking control.

We did this sufficiently as very young children, but as we

economized our movement strategies during aging we

created preferential "hinges" resulting in local areas of

destabilization and overuse.

As a side note, "pulling your belly button to your spine" is

the absolute worst strategy you can use. Creating adequate

and appropriate "core" stabilization is far more complex.

The second major contributor is the hips. Limitations

in the largest load-bearing joint in the body result in

compensation strategies at the spine as you compromise

spinal integrity due to mobility limitations at the hip joint.

Developing active and usable hip range of motion does

wonders to remove those damaging compensations.

The third and most controllable factor is your exercise and

lifestyle. It's important to exercise, however, I have found

"how" people execute their exercise is a major player,

because most people are unprepared for the exercise they

do.

Lastly is sitting. Sitting is the new smoking. We all sit too

much, and the health impacts are innumerable.

Your back pain is a very big deal. Your spinal cord deserves

your undivided attention and prioritization. My hope is

that you invest in learning how to move it before you lose it.

CDALivingLocal.com

54
---
THE LIFE CYCLE OF A FACIAL

BREAKING DOWN THE BENEFITS AND HOW LONG THE RESULTS

REALLY LAST

PRESENTED BY

BY KRISTIN CARLSON, MEDICAL ESTHETICIAN

Did you know your skin cells shed and

regrow every 27 days? Sometimes

skin cells need a little help during the

natural shedding process; this could

be due to dehydration or lack of routine skin care.

The skin will look dry and flakey. This is when a

facial is most beneficial.

There are many types of facials. There is the

facial focused on relaxation with cleansing,

light exfoliation and a long luxurious massage

on your face, neck, shoulders, scalp and even

your arms, hands and feet. You walk out with a

luminous glow and your body feeling pleasantly

like mush. Then there is the facial solely focused

on correction; it may feel almost clinical, using a

variety of modalities, medical-grade products and

even chemical peeling agents to remedy a specific

skin condition. It has less "fluff " and is more

results driven. Ideally, look for a facial falling

somewhere in between; one offering a relaxing

facial massage and even the option to have your

hands or feet pampered, but the focus is results.

The facial can include the use of medical-grade

skin care, extractions, dermaplaning or chemical

peels to ensure you and your esthetician are

working toward your best skin.

So, what is happening during a facial? Let's break

down its life cycle and what to expect immediately

after and in the coming weeks:

• Immediately post facial treatment: We have

cleansed your skin, exfoliated off all the dead

skin cells and debris, performed extractions

if necessary, and pumped your skin full of

antioxidants and hydrating products. Not only

will you leave feeling relaxed, your skin will be

radiating a healthy glow. There may be slight

redness post facial if extractions were performed.

• Two to three days post treatment: Your skin

is hydrated, plump and glowing. There is an

increase in blood flow from the massage and

manipulation of your facial skin. This increase

carries more oxygen to the skin cells resulting in

a healthy, hydrated post-facial glow! The massage

also stimulates the facial muscles giving your face

a lifted and more toned appearance.

• Twenty-eight to 48 days post treatment:

This is when the real work is done. Skin cells

are regenerating, creating long-term anti-aging

benefits and stimulating collagen re-growth. With

routine facials, long-term results can include a

reduction in fine lines, lightening of pigmentation

and more taut skin.

• Four to six weeks: Dead skin cells are starting to

build up again and impurities can clog the pores.

Therefore, it's time for another facial!

A few things to remember: Getting regular facials

alone will not transform your skin. Just like a diet

or exercise, consistency is key. Staying hydrated,

eating a clean diet, getting enough sleep and a

good at-home skin-care regimen all contribute to

the health of your skin. These factors, along with

regular facials, will maximize the life cycle of your

facial and provide long-term benefits for your

overall skin health. And remember: Taking an

hour every four to six weeks to pamper yourself

will not only contribute to your skin health but

your mental health as well. You are worth it!

Ask for a free consultation with your esthetician

or skin-care professional to discuss what type of

facial is most beneficial for you.

REGISTER NOW: CHAFE150.ORG

PRESENTED BY

NEW ROUTES FOR EVERY RIDER

SUPPORTING OUR STUDENTS

JUNE

JUNE 15TH, 2019

PRESENTED BY

REGISTE

REGISTER NOW: CHAFE150.ORG

NEW ROUT

NEW ROUTES FOR EVERY RIDER

Sandpoint Rotary p

named the #3 Chari

Sandpoint Rotary presents the 12th Annual CHAFE 150 Gran Fondo,

CHAFE offers magn

named the #3 Charity Bike ride in the US by Bicycling Magazine!

family fun ride for r

CHAFE offers magnificent 150, 100, 80, 40, and 30 mile routes, and a

family fun ride for riders of any level!

EPIC AFTER_RIDE PARTY & MORE

OUR SPONSORS MAKE IT HAPPEN!

SUPPORT

SUPPORTING OUR STUDENTS

Ride CHAFE and sup

community. Procee

Ride CHAFE and support programs vitally important to our

help students impro

community. Proceeds go to Lake Pend Oreille School District to

and literacy program

help students improve their reading skills through after school

Join us and m

and literacy programs as well as other community projects.

Join us and make a difference!

PLATINUM SPONSORS

PLATINUM SPONSORS

OUR SPONSORS PLATINUM MAKE SPONSORS IT HAPPEN!

GOLD OUR SPONSORS

MAKE IT HAPPEN!

GOLD SPONSORS

GOLD SPONSORS

FOR ROUTE MAPS, FAQS, NEWS, AND MORE: CHAFE150.O

FOR ROUTE MAPS, FAQS, NEWS, AND MORE: CHAFE150.ORG

CDALivingLocal.com

55
---
RESETTING

HEALTH

IMBALANCES

A PROCESS OF ELIMINATION AND

DETOXIFICATION

BY SCOTT PORTER

Patterns of poor eating, stressful thinking and inactivity often

lead to undesired health issues or not achieving our full

wellness potential. Low energy and brain fog tend to arise

during these times. When left unchecked, these behaviors

lay the foundation for chronic diseases and disorders.

Even though the desire to change is there, it's often difficult to get

out of the rut of overeating and break the pull of cravings to foods

we know aren't the best. Inertia can have a strong hold where it's

challenging to find the motivation to make changes in our daily level

of activity.

This is when I like to do a health reset or restart. This includes a day or

two of fasting, eliminating foods and drinks that put a greater burden

on my health, and supporting my body's natural detoxification

processes.

There are many factors that can contribute to a declining path of

optimal wellness. This includes demanding work schedules and

environment, family and social activities, unexpected changes to our

normal routine and even just letting ourselves go for a bit during a

special occasion or holiday.

While we can get set off course from our highest intentions, stepping

back from these patterns and giving ourselves time to reset can

support us to get back on track. The body is amazing at adjusting and

shifting, so why not take advantage of that when we want to shift away

from unhealthy routines.

Several things can happen during a reset. First, it's easy to see how

our digestive system can get a break to cool down inflammation and

rebalance our gut microbiome. By eating less, drinking more water,

setting aside foods that contain flour and sweeteners, we can also

significantly reduce cravings and the desire for large meals.

Because we are consciously looking at what we are eating during this

time, there is a greater awareness of the quality and type of foods that

we are choosing. This awareness alone encourages selections that lead

toward the healthier side, even without having a specific list of what

not to eat.

Increasing the quality of sleep and activity levels are an important

part of restarting daily patterns. Both of these contribute to better

detoxification, and they encourage and allow the body the chance to

repair damage previously done.

During a reset, our liver gets a break and can catch up on breaking

down toxins and getting them out. Our body can release chronic

inflammation once it is given a break from the foods, activities and

thinking that cause stress.

Your body can't detoxify itself without proper nutrition, water, sleep,

elimination and movement. Each of these is essential. A short fast

can stimulate the body to move into healthier states, but you cannot

maintain these later without good quality food and supplementation.

When losing weight, it's especially important to support the

detoxification processes. This is because as fat cells reduce in size,

they also release stored toxins back into the bloodstream. These

need to be broken down and eliminated to avoid negative effects of

increased toxin load.

Consider fasting and an elimination diet as part of a regular reset

program. Choose nutrient-dense and low-inflammatory foods. I also

like to supplement the things I typically can't get enough of from food

and that are needed for detoxification.

CDALivingLocal.com

56
---
WHETHER REMODELING YOUR SMILE

OR JUST CLEANING YOUR TEETH,

we're here to help!

Ryon G. Schofield, DDS

Family & Cosmetic Dentistry

208.762.4331

Welcoming new patients!

CDALivingLocal.com

57

8912 N HESS ST

HAYDEN, ID 83835

www.SchofieldDental.com
---
PERSONAL TRAINING

24 Hour Access

3D Body & Inbody Scan

Group Training

Free Weights

Results Driven

The MyZone Belt and App

allow for engagement,

motivation, and

accomplishment of

personal goals!

MyZone works in and

outside of the gym.

Train smarter and see

actual results!

208.699.9692

231 W Hayden Ave.

Hayden, ID 83835

208.209.7089 | www.snapfitness.com

CDALivingLocal.com

58
---
ALCOHOLISM ON THE RISE

The true facts surrounding alchoholism and treatment

BY MARC STEWART, HERITAGE HEALTH

For every occasion, for every celebration,

for any reason or no reason, Americans

imbibe.

Research shows that people in the United States

are drinking more alcohol than ever before.

Per capita, people drink 2.35 gallons of alcohol

annually.

"Microbrews are the new deadly weapon,"

said Jen Romero, director of Heritage Health's

Restored Paths program. "They can contain up

to 12 percent alcohol, which is twice the amount

found in your traditional beer."

Not surprisingly, one in eight adults has an

alcohol disorder known as alcoholism. It's an

issue that society tends to sweep under the rug

or pretend it's someone else's problem.

"It sneaks up on people," Romero said. "Usually,

legal consequences force people to face their

own alcohol abuse. The majority of people

enrolled in our alcohol treatment program are

court ordered. Very few people come in for

treatment on their own."

Statewide, 7,327 people were cited for driving

under the influence in 2017. Locally, 317 people

received DUIs. To address repeat offenders or

excessive cases, Kootenai County uses a DUI

court. Last year, the DUI court served about 40

people and ordered them to undergo treatment

and regular drug testing.

"We have an 87 percent success rate," said

Rita Wickham, the Kootenai County DUI

coordinator. "Absolutely, it is making a

difference in people's lives."

The reasons people develop alcohol disorders

are complex, ranging from family history to

depression to social drinking that started in

high school or college.

"Stress can be a factor too," said Romero. "People

start by drinking a glass of wine to relax, but if

you're drinking a glass of wine every night and

one glass becomes three, there's a good chance

you've got a problem."

It's not uncommon for alcohol disorders to

lead to substance abuse disorders, according to

Romero.

"If you look at the underlying factors in

substance abuse, typically you find alcohol

abuse first and then they graduated to other

drugs," she said.

Children are also victims of alcoholism. About

12 percent of children (8.7 million) aged 17

or younger live in households with at least

one parent who had a substance use disorder

the previous year, according to a report by the

Substance Abuse and Mental Health Services

Administration (SAMHSA). Substance abuse

disorders are characterized by recurrent use of

alcohol or other drugs (or both) that results in

significant impairment.

In addition, the report shows that about one in

10 children (7.5 million) lived in households

with at least one parent who had an alcohol use

disorder in the past year and about one in 35

children (2.1 million) lived in households with

at least one parent who had an illicit drug use

disorder in the past year.

The road to sobriety isn't easy and many

counselors believe it is a lifelong problem

that requires hours of counseling and eternal

vigilance.

The initial treatment can take three months

to a year," said Romero. "It really depends on

what other issues are going on with the person.

Fortunately, when a person is motivated, the

success rates go up.

Follow Us!

CDALivingLocal.com

59
---
It started as

an idea …

Individuals making a big impact

in their local communities

BY COLIN ANDERSON

PHOTOS COURTESY OF CHAFE150 AND

RACE FOR A SOLDIER

Ideas are powerful. Something as simple as a passing thought

can become something huge that impacts our daily lives, or

something small impacting the people in our neighborhood.

When the idea is something that could positively impact a

community, others are usually quick to rally behind it. There are

examples all over the Northwest of how an idea can bring together

people from all backgrounds and walks of life to find common ground

and to better their surroundings; two of which you can be a part of and

make an immediate impact.

CHAFE 150, Sandpoint, Idaho, June 15. CHAFE150.org

It started as a simple idea from a local accountant, pitched to a small

group around a table; something fun that would help raise some funds

for the local school district. The Panhandle Alliance for Education

(PAFE) is a group that looks to raise additional private funds for public

schools in order to support programs that are either underfunded or

wouldn't be available with the current budget. Current board president

Geraldine Lewis recalls the day board member Brad Williams pitched

the idea of a bike ride as both a way of generating donations and

bringing awareness to the cause.

"There really were only about eight or nine of us conversing about

ways to expand our group of private supporters for public education.

We decided we had the right amount of elements and connections to

make it work, so we decided to do it!" said Geraldine.

As with most initial events, PAFE was just hoping to break even the

first ride and really focus on getting the word out. A clever name,

CHAFE 150, an acronym for 'Cycle Hard for Education', was created,

and the group went to work utilizing their local connections in the

business community to seek out sponsorships and volunteers.

"Each of us was assigned a different task; someone in charge of the

route, the marketing, the logistics, the food, and we just sort of figured

it out as we went," laughed Geraldine.

The first CHAFE 150 drew about 45 riders along with several volunteer

groups like local cycling clubs, Boy Scouts and other nonprofits

manning the aid stations. Brad's idea was now realized, and with

the help of community members banding together, it would surely

continue.

CDALivingLocal.com

More riders continued to sign up, and more volunteers offered their

time to help out. The event continued to grow—and so did the support

for the Panhandle Alliance for Education's Ready for Kindergarten

program; a program to help parents get their children ready to attend

kindergarten from age 0 to 5. Money raised from this ride went directly

to the program and benefited dozens of families in the area.

After five years of running the event, PAFE decided to pass it on to the

Sandpoint Rotary, who would be better equipped and well connected

to manage and operate the suddenly large annual event.

"The transition was so smooth, everyone recognizes the rotary name,

the business support is already in place, and now it just grows and

grows each year, which is great," said Geraldine.

Mel Dick is co-chair of the CHAFE 150 alongside Brad, who continues

to chair the event each year. Over the past seven years, the Sandpoint

Rotary has increased the ridership participation and helped bring in

title sponsors Timberline Helicopter and Ting, along with many other

organizations like the Lake Pend Oreille School District, Angels Over

Sandpoint, Friends of Scotchman Peaks and the YMCA.

"Well over 100 volunteers are involved day of the event, and our ride

organizing committee works on the ride year-round," said Mel.

The Rotary also realized they could attract more cyclists by adding

additional ride distances. The first few years, only a 150-mile course

was provided. Organizers decided to put in an 80-mile 'Half CHAFE'

60
---
CDALivingLocal.com

61
---
and, not long after, a 30-mile distance. This year,

three more options are available including a 100-mile

ride, 40-mile ride and 4-plus mile family fun ride.

The CHAFE is a beautiful and challenging course

that was just named No. 3 Best Charity Ride in the

United States by Bicycling Magazine.

"Now the ride is a full Gran Fondo, with multiple

routes and an after-ride party open to all riders, their

friends, family and the community as a whole," said

Mel.

When the event was handed over to the rotary,

proceeds continued to be presented to the school

district. Over the past six years, $260,000 was

donated to programs in support of students on the

autism spectrum in the Lake Pend Oreille School

District. This money has a huge impact for both

students and families, as told by Sandpoint resident

Patty Hutchens.

"When my son Brett was in first grade, he was

diagnosed with sensory integration dysfunction.

It is a disorder that is on the autism spectrum.

Although he is not autistic, he had to have some

special accommodations in the classroom to help

him focus and reach his full potential. The principal

and the teacher had never even heard of this

disorder, although it is very common. I paid for his

speech and occupational therapists to come in and

educate the principal and the teacher on this so they

would have knowledge on the disorder and why

special accommodations were needed to help him

be successful. I often wondered what would happen

with those families who did not have the resources

to pay therapists to do that or just did not have the

knowledge of their rights.

"Since CHAFE 150 has been contributing funds to

the program in the school district, all teachers are

now aware of not only this disorder but so many

others related to autism and are also educated on

what they can do to help students. It has been a gift

to the community."

The 2019-2021 rides will all continue to benefit the

local school district, this time in support of after-

It started as a simple

idea from a local

accountant, pitched

to a small group

around a table;

something fun that

would help raise some

funds for the local

school district.

CDALivingLocal.com

62
---
Indulge

Yourself

today!

Gift

Certificates

Available!

Spa Packages

PACKAGE #1 PERSONAL SPA PACKAGE - $85

Includes a 25-minute foot bath & foot massage, 25 minute table massage, hair mud mask

and self-applied mini facial, hand paraffin dip, steam sauna and a glass of wine.

PACKAGE #2 HEAVENLY HEAD TO TOE - $117.50

Includes our Higlands facial treatment, intensive foot treatment

(foot soak, scrub, mask, and massage), steam sauna and a glass of wine.

PACKAGE #3 SENSORY SOOTHER - $126.50

Includes a 55 minute full body massage, intensive foot treatment (foot soak, scrub, mask,

and massage), steam sauna and a glass of wine

PACKAGE #4 THE STRESS RELIEVER - $140.00

A 30-minute full body Chamomile exfoliation, followed by a 90 minute full body

massage, steam sauna and a glass of wine.

Visit us online to view all eight of our packages!

CDALivingLocal.com

4365 Inverness Drive | Post Falls, ID 83854

highlandsdayspa.com | 208.773.0773

63
---
Since 2011, the

foundation has

supported what it sees as

effective and sustainable

alternatives to the

present resources offered

for our veterans.

school literacy programs and a new reading

curriculum, according to Mel. The Sandpoint

Rotary Club has also used funds for various

community projects including a 'teen room' at

the local library, a swing set and jungle gym at

a playground, and funding for a book trust that

funds monthly book purchases by students.

Race for a Soldier, Gig Harbor, Washington,

September 15. RaceForASoldier.org

Born out of tremendous grief and a determined

desire to help other veterans after her son

overdosed in a Baltimore hotel room on March

7, 2009, just one day his discharge from the VA

hospital, his mother, Leslie Mayne, decided the

best way to honor Kyle's memory and service

to his country was to recruit family, friends

and her community to help her create the first

Race For A Soldier in 2011 in Gig Harbor,

Washington.

Kyle was 27 and had served as an infantryman

in Iraq. This was the beginning of a movement

that is bringing hope and healing for our

veterans that help them make peace with their

past by developing programs that foster "post

traumatic growth." The Permission To Start

Dreaming Foundation's (PTSD) other events,

Prayer Breakfast, Swing for A Soldier and Pull

for a Soldier, have helped to raise awareness

and support for the mission. Along the way,

the foundation discovered a comprehensive

wellness model that encompasses mind,

body and spirit for our combat veterans and

now includes our first responders. It is called

Warrior PATHH (Progressive and Alternative

Training for Healing Heroes). The goal is to

build a strong foundation of leaders here in

the Pacific Northwest for its own Northwest

Passage wellness retreat and programs.

Since 2011, the foundation has supported

what it sees as effective and sustainable

alternatives to the present resources offered

for our veterans. The foundation plans to

expand the impact and provide more of the

same programs to veterans and first responders

in the Pacific Northwest region. It is driven

to seek and provide unwavering support for

our returning warriors and first responders.

Presently, the foundation runs a monthly

huddle at the Heron's Key retirement facility

CDALivingLocal.com

64

in Gig Harbor; conducts quarterly Mind,

Body and Spirit workshops that focus on "post

traumatic growth"; and has begun to align itself

with the new Steven A. Cohen Military Family

Clinic in Lakewood, Washington. In 2019, the

foundation will continue to send veterans and

first responders from this area to strengthbased

and proven innovative retreat programs.

Leslie concentrates her energy and passion for

those who serve, strengthening relationships

and resources, as well as keeping her eyes

open for more compassionate allies to come

alongside her.

The Run

"After Kyle died, I felt the need to leave Gig

Harbor and search for some answers and

process my grief," recalled Leslie.

That road trip ended up in South Texas, and

she lived with her aunt for six months, until

Memorial Day weekend, and she returned. Her

friend Kathy Davis Hayfield was the general

manager at the Tides at the time and hired

her to serve the patrons of that establishment.

Knowing of her love for our military, Kathy
---
YOUR VACATION RENTAL HOME IS BEAUTIFUL

LET'S KEEP IT THAT WAY

COEUR D'ALENE

We are a high-end, boutique management company that specializes in working with

out-of-town owners on the management and marketing of their vacation rentals. If you

want to maximize your return and maintain a high quality rental, we are your partner.

Contact us for more information.

COEUR D'ALENE

vacation homes

steve@livinglocal360.com / 208.946.0901 / coeurdalenevacationhomes.com

CDALivingLocal.com 65
---
put Leslie in charge of "Buy a Soldier a

Lunch" day on October 15, 2010. It was such

a hit with the community and the 70 Green

Beret who showed up—all about to leave for

Afghanistan—that Leslie knew, after that day,

she needed to do something bigger and more

impactful that would speak to the needs of our

military when they return.

"The Race For A Soldier was born in my heart

that day," she said.

She began to hit the streets, knock on doors

and introduce herself to the mayor, the city

leaders and anyone who would listen to her.

Sue Braaten, a good friend and owner of the

Wesley Inn Best Western Suites, advised Leslie

to introduce herself to Miguel Galeana. Miguel,

a renowned world-class runner and owner of

Route 16 Running and Walking, happily agreed

to help her organize and be the architect of the

first half marathon in the area.

Thirty or so friends and family met at a

conference room free of charge at the Wesley

Inn each month, planning for a year. Their

dedication paid off as almost 1,100 people

showed up for the first run. In addition to

This was the

beginning of a

movement that is

bringing hope and

healing for our

veterans that help

them make peace

with their past.

the race inception, Leslie added an event

called the Prayer Breakfast, always two days

before the race, which allows soldiers to share

their inspirational and illuminating stories of

overcoming the struggles of post-traumatic

stress and making peace and finding purpose.

It was standing-room only the first year, and

continues to be each year since.

The number of runners is now close to double.

"I was more grateful than surprised, and I've

always known that the citizens of Gig Harbor

and beyond are generous and caring. They live

amongst our military, both active and retired.

They want to be a part of the solution. We just

had to find a way people could get involved in

a tangible way," said Leslie.

From an initial run, the organization now

hosts four annual events, each benefiting the

Permission To Start Dreaming Foundation.

If you are a golfer, Swing for A Soldier is a

terrific tournament; if you like competitive

trap-shoot events, Pull for a Soldier offers that

opportunity; and of course the Prayer Breakfast

is the most illuminating and inspiring event of

the year in the Gig Harbor area.

These are the stories of two individuals with

an idea; one combining a passion for cycling

and education, the other a mother not wanting

any other parent to go through a similar

tragedy of losing a loved one to suicide. Both

were inspired to make an impact on their

community, and the ideas they brought to life

have touched thousands of lives.

Do you have an idea you're pondering?

CDALivingLocal.com

66
---
208-664-0884

www.lakeviewdentalclinic.com

801 Milwaukee Drive, Coeur d'Alene, ID

EXCEPTIONAL GENERAL, COSMETIC & PROSTHODONTIC DENTAL CARE IN COEUR D'ALENE

Dental Implants | Cosmetic Dentistry | Board Certified in Prosthodontic Dentistry | Gentle Root Canal Therapy | Restore Your Smile

Teeth Whitening | Porcelain Veneers | Dental Implants | Sedation Dentistry For Anxious Patients | Root Canal Therapy | Dentures

AN

IHG

HOTEL

EVALUATE

www.hiexpress.com

YOUR

TRAVEL

Stay & Play

Minutes from

Schweitzer!

477326 Highway 95 North

Ponderay, ID 83852

208.255.4500

www.hiexpress.com

CDALivingLocal.com

67
---
REMODELING ON A

budget

BY PATTY HUTCHENS

Wanting to Update Your Kitchen?

The good news is it doesn't have to cost much!

CDALivingLocal.com

68
---
CDALivingLocal.com

69
---
It's been said that the kitchen is the most expensive room in the house to remodel. While

this can be true when it comes to purchasing new appliances, flooring, cabinets and

countertops, the good news is you can give your kitchen a fresh new look without having

to spend thousands of dollars.

The first step is to identify a design style that reflects you. Are you a minimalist who likes a

modern look? Or do you prefer a more layered, richly colored and accessorized space? Making

style choices and staying within your budget will be easier if you know what you want. Maybe

all your kitchen needs is a new wall color inspired by something you've seen online, in print

or in person.

A fresh coat of paint, new handles and drawer pulls or removing the cabinet doors altogether

can go a long way to providing a whole new look to the place where your family spends a great

deal of time and where you love to entertain.

"Changing out cabinetry hardware is one of the easiest and quickest updates," says HGTV's

Scott McGillivray, author of "How to Add Value to Your Home." He advises to look for colorful

options or a brushed nickel finish.

Cabinetry, which has traditionally been fairly neutral in color, is also the place where people

can now be more creative and add a bit of their personality to their kitchen. After all, our

kitchen cabinets set the tone for the rest of the kitchen and can also have a big impact on the

overall design of your home, especially if you have an open floor plan.

Thankfully painting, as opposed to the much more expensive option of replacing cabinets, has

been much easier with the development of new paint products.

But before you begin, remember this project can be a lengthy process, so plan accordingly.

You will need to remove and store everything in your cabinets, and the doors and drawers will

also need to be removed. And before you begin, all the surfaces which will be painted must

be thoroughly cleaned.

CDALivingLocal.com

70
---
Many people are opting to use two different colors when redoing

cabinets—one color for the upper cabinets and another for the lower

ones. You can also choose to paint a kitchen island a different color for

some contrast.

After you are done with painting, consider replacing existing doors

with glass-paneled ones, something McGillivray says looks like a major

upgrade. "Opt for frosted glass if you feel like your shelves aren't displayworthy,"

he advises, "Or ditch the doors all together to create the effect of

open shelving. I've done this in kitchens to create a lighter space. Display

your favorite dishes and bowls to add a bit of interest to the room."

Another way to freshen up your kitchen is by painting an accent wall. If

all your walls are a light color, designers recommend painting your accent

wall at least two shades deeper for the best effect.

Sometimes giving your kitchen a new look can be as simple as cleaning

out the clutter. Remove everything from the walls, countertops, windows

and tops of cabinets so you can see the kitchen as a clean slate. Then you

can begin by accessorizing with a few well-proportioned, carefully placed

items to reinvigorate the room with a fresh style. This is also a way to add

a pop of color either through countertop appliances or decorative items.

A fresh coat of paint, new handles and drawer pulls or removing the

cabinet doors altogether can go a long way to providing a whole new look.

CDALivingLocal.com

71
---
Other inexpensive ways to give your kitchen a new look include changing

out your lighting. With so many options available when it comes to color

and style, especially when you are looking to utilize pendant lights,

you can significantly change the look of your kitchen with this simple

upgrade.

Kristy Kropat, an interior designer based in San Francisco, recommends

AllModern.com, YLighting.com and LampsPlus.com to begin your

search for inexpensive and unique lighting options.

Adding a backsplash, bold or simple, can do much to add some contrast

and style. Most kitchens do not have a lot of backsplash area, so whether

you choose to do it yourself orhire a contractor, you shouldn't have to

spend an exorbitant amount of money.

If your home is like most, the kitchen is the place where people love to

gather. How about making some room for a nice window bench to offer

additional seating when entertaining? Do you find that you have a dining

area separate from your kitchen that is seldom used? Consider removing

your kitchen table and making your dining room area the place where

you eat each evening as a family and where you entertain friends and

family. I know one family that did this and replaced the kitchen table

area with two easy chairs near a bay window. They find they spend much

more time together while preparing dinner and are able to enjoy what

was once their formal dining area much more often.

Lastly, make the most of your resources! Another sure way to keep your

costs of upgrading at a minimum is to call upon friends and family

members who have special talents. Maybe ask them to help out in

exchange for you providing some services to them. Do you have a friend

who is exceptionally good at painting who maybe could use help with

watching her kids on occasion? Is installing a backsplash a skill you think

would be fun to learn? By participating in the process, you will not only

save money and learn a new skill, but you'll have fun and have a sense of

pride when you look at the finished product!

If your home is like most, the kitchen is the place where people love to gather. How about

making some room for a nice window bench to offer additional seating when entertaining?

CDALivingLocal.com

72
---
A Finer Cut in Quality

and Customer Service

Tile & Stone Installation

208.946.3919

www.rusttileandstone.com

Commercial/Residential

Lifetime Warranties Available

Discounts on maintenance by

Cleanlinez for all installations

Fully Licensed and Insured

CDALivingLocal.com

73
---
Make Your House a

Work of Art

BY PATTY HUTCHENS

Surround yourself with things that elicit joy

When it comes to our homes, we like to do what we can to

personalize it and make it a true reflection of ourselves.

What better way to do that than through the art we choose

to place on our walls? Art, in any form, can evoke strong

emotions and can bring joy to our lives—whether it is a

painting of a special place with fond memories, photos

of our family and friends or even something as simple as our children's

artwork.

There aren't a lot of "dos and don'ts" when it comes to decorating your

walls, unlike when choosing furniture and paint color. Art is a place to

express yourself through color, content and texture. And remember, art

is not just about choosing wall hangings; it can include sculptures and

rugs as well.

Before you begin, decide what "look" is most appealing to you. Do you

like to display your art in neat rows? Or do you want it to be eclectic

with no real rhyme or reason to how it is presented? Once you decide

on the type of arrangement you would like, then you can decide upon

your starting point. This will be the focal point, or the anchor, to your

other pieces, so pick something that reflects a feeling you want to echo

throughout the room. Perhaps it is a piece of art you have had a long

time, or you may want to purchase something new. Many people choose

to have one large piece of art as opposed to other smaller pieces around

an anchor piece. This can make a large impact when displayed in a

prominent area.

Some of the best art is often the least expensive and provokes a

sentimental feeling. Kids' artwork is something that parents love to save.

CDALivingLocal.com

74
---
POOL WORLD IS GRILL WORLD.

Selling Traeger, Big Green Egg and Weber Grills, as well as

accessories, seasonings, sauces and more.

Pool World has been a locally owned, family run business

for over 43 years now and is proud to serve the CDA area

with quality products and exceptional customer service.

208.765.5220

745 W Appleway Ave

Coeur d'Alene, ID 83815

CDALivingLocal.com

75
---
But what good is it if you stick it away in a box only to discover it

years later when cleaning out storage boxes or getting ready to move?

Preserve their artwork in a frame for all to enjoy!

There are also several inexpensive ways to display your favorite

photographs. Groupon frequently offers coupon deals to turn your

digital photos into canvas prints. It's a great way to preserve memories

and display photos of family trips, senior pictures and photos of

grandparents and other loved ones.

Interior Designer Nikki Luttmann, owner of Seven Bee Interiors,

states that for gallery walls, try to group "like with like."

"Black-and-white prints look great with other black-and-white

prints. Gold-framed oil paintings look great with other gold-framed

oil paintings. If, however, your collection is a little more eclectic,

that's OK too," she says. But whether you

choose a more formal arrangement with

symmetry and a coordinating theme or

an informal arrangement with an eclectic

blend of artwork displayed randomly, be

sure to space out the different elements

equally on your gallery wall, paying close

attention to how far apart things are.

Nikki recommends a sure-fire way to

guarantee everything will look good is to

lay it all out on the floor ahead of time.

"Another trick is to use blue painter's tape

to mask where items go on your walls.

This lets you clearly see the layout even

before getting out your hammer."

Also, the right tools are important. For

art hanging, you will need nails, hooks,

a hammer, a pencil, blue tape, a tape

measure and—most importantly—a level.

"There's nothing worse than hanging a

heavy piece of art or a mirror on your

walls only to find out it hangs two inches

too high on one side," says Nikki.

She shares that she recently learned of

Command wall-hanging solutions, a 3M

product, which rely on a high-powered

adhesive to adhere your art to the walls.

"Because you are not putting actual holes in your walls, it can feel a

little less daunting to do a gallery wall if you use Command strips." It

can also be helpful if you are one who likes to change things up often.

One of the most common mistakes Nikki sees is artwork that is hung

too high. "When placing your art, the rule of thumb for galleries and

art museums is that the center of the piece hangs at about eye-level, if

possible," recommends Nikki. "If you are very petite or very tall, this

CDALivingLocal.com

76
---
COUNTRY GIRL

26th Annual

Enjoy the Beauty

without the Hassle!

WIN THIS HOUSE!

1781 WEST MIDWAY AVENUE

POST FALLS

Tickets available online or at Super 1 Foods,

Stein's Family Foods, Yoke's Fresh Market, BMC,

Buck Knives and the NIC Foundation.

www.nic.edu/rbr or call (208) 769-3271

Sponsored

in part by

View The Home

May 19, June 2 and June 9

Sundays, Noon to 4 p.m.

All proceeds support student and program needs at North Idaho College

From serious orthopaedic conditions

to Fractures and sports injuries

Orthopaedic

experts for

kids & teens

Spring Cleanup

is Here!

Our Services:

• Landscape Projects

• Flowerbed Maintenance

• Irrigation Services

• Potted Plants

We'd love to meet you!

Contact us today to

make your home or

business stand out

this year!

— Spokane

To schedule an appointment, call:

888-895-5951

208.964.1621

CountryGirlGarden.com

CDALivingLocal.com

77
---
This will be the focal point, or the anchor, to your other

pieces, so pick something that reflects a feeling you want to

echo throughout the room.

CDALivingLocal.com

78
---
Decorate.

can be a little hard to determine, but figure the center of the piece to be

at about 5 feet off the ground for a professional look."

Other ways you can group things together is to incorporate a picture

ledge onto your wall. It's a simple and inexpensive way to display your

art collection. Whether you opt for a single ledge or decide to group

them, they're the perfect solution to fill a blank space.

If you are trying to brighten up a smaller room, hanging a mirror

can catch light and help "expand" the room. There are many different

decorative mirrors available, allowing you to find most anything to fit

the style you are looking for!

When decorating your walls, don't forget about greenery. By placing

a tall potted plant next to a piece of large-scale wall art, it can help

bring the outside indoors and add interest to a specific area you wish to

accentuate.

Whatever you choose, the goal is to find something that makes you

happy.

"The best way to decide if something is right for your walls is if you love

it. Remember, your home is a reflection of who you are—your likes and

dislikes," says Nikki. "Artwork is very personal and evokes emotion like

nothing else in your home, so by hanging art you truly love, your space

will feel uniquely 'you.'"

CDALivingLocal.com

79
---
IMPROVE

SIMPLE TIPS TO

YOUR HOME

BEFORE SELLING

QUICK TIPS TO YIELD THE BEST BANG FOR YOUR BUCK | BY KIRSTEN MADDEN, OWNER/BROKER AT CENTURY 21 FOUR SEASONS REALTY

Are first Impressions important? You bet your pocketbook they are! You only get one chance to make a great impression.

When you decide to sell your home, it is no longer your private family abode but rather a "new listing" to be showcased to

the most scrutinizing homebuyers and their real estate agents. Here are some simple, cost-effective tips to assist you in

making the greatest impact on potential buyers while achieving top dollar for your home.

STUFF, STUFF AND MORE

STUFF—DECLUTTER

DON'T GO IT ALONE,

HIRE A PRO

MAKE IT SPARKLE

Take a tour of your home both inside and out.

You are going to be packing everything for your

move anyway, why not get a jump start on it!

Take inventory and scrutinize everything. Pack

up items that are not in use and don't add to

the overall appeal of your home; rent a storage

unit if you have to. The goal is to minimize

the personal effects while maximizing your

home. Pay attention to your furnishings.

Oversized or too much furniture shrinks the

appearance of your home. You want potential

buyers to imagine their stuff in the home rather

than yours. Photos of your home are going

to be showcased all over the Internet, and

strangers are going to be going through your

home on a regular basis. Stay safe and pack up

valuable jewelry, firearms and other precious

collectibles.

CDALivingLocal.com

Now that you have gotten the excess stuff out of

your way, it is time to spring into a deep clean.

Get into all the nooks and crannies; clean,

polish and organize everything. Take time to

clean the forgotten, such as inside and under

cabinets, windows (inside and out), ceiling

fans, light fixtures, closets, garage, storage

sheds and the yard. Check light bulbs and

smoke detectors.

80

Now that your home is sparkling, it is time

to invite the professional. Schedule an on-site

consultation with a neighborhood Realtor.

Your home is an asset and should be treated

as such. You need a professional on your side.

Your Realtor's job is to sell your home at the

best possible price and make that process easy

for you. Your Realtor is good at his/her job and

will advise you on repairs or upgrades that will

yield the best return and help you price your

home for the market. Never trust some vague

online valuation when pricing your home.

Your home deserves the personal attention and

expertise of your area Realtor. Your home will

get the most attention in the first couple weeks

of listing, so it is important to get it right from

the start.
---
USE PROFESSIONAL

PHOTOGRAPHY

GET A PRE-SALE

INSPECTION

SHOW IT OFF!

You can hire a home inspector for a presale

inspection for a couple hundred dollars, and

this is money well spent. The inspector will

inform you of any potential issues, many of

which can be repaired quite inexpensively if

done at this stage. Consider hiring a handyman

to correct issues found by the inspector. If you

wait for the buyer to request repairs, you will

likely be required to hire a licensed contractor,

plumber or electrician, possibly costing more

money than necessary.

"A picture is worth a thousand words," so it's

important to get your home picture perfect.

Frequently your Realtor will arrange this for

you. Thanks to Internet marketing, your photos

will reach the four corners of this round earth.

Buyers spend countless hours looking at homes

on their smart devices long before they actually

plan any visits. You want yours to be a favorite.

Do not settle for poor photographs.

Now that you have your house on the market

and ready for showings, you can relax, grab

a glass of wine (or cup of coffee) and revel

in your hard work. However, there are a few

things you should do before your scheduled

showing appointments: Tidy up, replace

bathroom and kitchen linens, turn on all of the

lights and open the blinds, remove litter boxes,

and finally leave the house and take Fido with

you. Let your Realtor do his/her job and wait

for the offers!

CDALivingLocal.com

81
---
Cannon Beach

Stunning Coastline and Charming Seaside Village

Beach walks, fresh local seafood and luxurious

lodging make for a perfect vacation

STORY AND PHOTOS BY MARGUERITE CLEVELAND

Cannon Beach was named by National Geographic as one of the world's 100 Most Beautiful Places

in June 2013 as well as the staff 's pick for Best Beach Towns in July 2014. With the Oregon icon,

Haystack Rock, dominating the beach, it is easy to see why it earned these monikers. The village

of Cannon Beach manages to have a sleepy, small-town vibe yet has all the amenities that visitors

desire. Its architecture is reminiscent of East Coast island beach towns like Martha's Vineyard. With scenery

this lovely, plan your trip around time exploring the beach and coastline views, meandering through local

shops, art galleries and restaurants, and throw in a day trip along the coast.

There are many lodging options in Cannon Beach, but I just love a good beach house. During my stay I called

the Baker Beach Cottage home, conveniently located within a short walk to the beach and Haystack Rock. Or

head the other direction and you are a few houses down from town. This cute cottage offered all the comforts of

home and had some fun extras like an outdoor fire pit with Adirondack chairs and a separate bunkhouse with

two sets of bunk beds to sleep four in addition to the three-bedroom cottage. Beachcomber Vacation Homes

offers a variety of rentals in various sizes and price points.

The Beach

North Coast beaches are a wonder to behold with sandy beaches speckled with rocks and cliffs. Whether you

pull off at viewpoints or walk for miles on the beach, you will want to make beachcombing a big part of your

CDALivingLocal.com

82
---
THE AREA HAS A BOUNTY OF PACIFIC NORTHWEST

CULINARY DELIGHTS FROM CRAFT DISTILLERIES

AND BREWERIES TO LOCAL FARMERS MARKETS.

ONE PLACE YOU DON'T WANT TO MISS IS THE ECOLA

SEAFOODS RESTAURANT AND MARKET, A FAVORITE

WITH LOCALS AND VISITORS ALIKE.

trip. There are usually warning signs posted near the beach; when visiting

Oregon beaches, always make sure to read the warnings about sneaker

waves and tsunamis. The beaches can also be chilly even in the warmer

months, so dress in layers to stay warm.

Start with the almost 4 miles of beach surrounding Haystack Rock.

Familiarize yourself with a tidal chart. Low tide is the best time to see

tidal pools and to get a closer look at the "Rock." From February to April,

the Haystack Rock Awareness Program has volunteers that set up each

day to provide visitors with printed resources and knowledge about

Haystack Rock. In April you can see the cute Tufted Puffins nesting.

For a great overlook of the village and Haystack Rock, drive up to Ecola

State Park which has panoramic views of Cannon Beach and the historic

Tillamook Rock Lighthouse, as well as scenic hikes.

You don't want to miss Hug Point State Recreation Site, which is 3 miles

south of Cannon Beach. Make sure to visit around low tide for the best

experience. Enjoy the sounds of rushing water at the beachside waterfall.

There are sea caves and rounded rocks covered with bright green

seaweed, which make this a great place for photos. Arcadia Beach State

Recreation Site, a short two-minute drive south of Cannon Beach, offers

a long beach walk that connects to Hug Point. It is worth a stop on its

own merits and provides a unique beach with great views.

Food

The area has a bounty of Pacific Northwest culinary delights from craft

distilleries and breweries to local farmers markets. One place you don't

want to miss is the Ecola Seafoods Restaurant and Market, a favorite with

locals and visitors alike. After recovering from a fire last July in the midst

of their peak season, they are back in business in a beautiful space which

serves as a market and restaurant. The Beckmans run a family owned

enterprise with husband Jay operating two fishing boats to provide fresh,

local seafood and wife Cindy who runs the market and restaurant. They

succeed through word of mouth.

"People come because they are getting fish from boat to table, sustainably

line-and-hook caught with no gill nets. Our seafood is not farm raised

and that makes a big difference," said Cindy. It really does make a huge

difference in taste. You can purchase a variety of fish, crab or shrimp to

take home or order from the counter and enjoy on site. Two must-haves

are the halibut fish and chips and an Oregon shrimp and Dungeness crab

boat. This melding of two allows you to have both, and it is so good and

fresh. You can enjoy with the Beckman's homemade cocktail sauce but

that crab with a squirt of lemon is to die for.

CDALivingLocal.com

83
---
The Speci f ics

VISITOR INFORMATION

Cannon Beach Visitors Information

CannonBeach.org

WHERE TO STAY

Beachcomber Vacation Home

BeachComberVacationHomes.com

WHERE TO EAT

Ecola Seafoods Restaurant and Market

EcolaSeafoods.com

THINGS TO DO

North Coast Food Trail

NorthCoastFoodTrail.com

The Village

The village is such a fun place to stroll around. At the end of Taft Street

(where the Baker Beach Cottage is located) sits the EVOO Cannon Beach

Cooking School. This fun business offers cooking shows where you watch

a chef prepare a gourmet meal and you get to eat it too. Check their

calendar for availability. If not, make sure to stop by and visit their shop

with a variety of cooking-related merchandise. Bruce's Candy Kitchen is

always a hit with house-made candy as well as a great selection of what

I call 'vintage candies,' which are those fun products you grew up with.

There is a local market for groceries. I always love a good wine shop of

which there are two. The area is a nice easy stroll with art galleries and

lots of other cute shops.

You may want to drive from this side of town further north to the

Cannon Beach Hardware & Public House. This cool, kitschy place is a

local favorite and is known as Oregon's first hardware store to serve beer

and wine. Yes, you can enjoy a brew while you shop the aisles. This is one

of those stores that have a little bit of everything. While in the area make

sure to visit The Sleepy Monk for coffee. This place was recommended

over and over by locals, and it is a popular joint.

Road Trip

Plan to take a day and drive down the coast to Tillamook to tour the

cheese factory and have some of their great ice cream. Grab a North

Coast Food Trail guide, which has some great suggestions for things to

see and do. The little towns of Manzanita, Wheeler, Rockaway Beach and

Garibaldi are so quaint and worth a stop for coffee or lunch. On my trip I

drove straight to Tillamook with a stop in Manzanita for lunch and then

slowly worked my way back to Cannon Beach with numerous stops along

the way. Many of the marinas you will pass sell seafood and will cook

crab for you when in season. A short detour from the coast is Nehalem.

Stop into the Nehalem Bay Winery and enjoy a glass of wine on the deck

overlooking farmlands before heading back to Cannon Beach for the

sunset. If you are running late, as the sun comes down fast, there are

plenty of scenic overlooks to stop at.

If you are looking for a truly relaxing vacation, Cannon Beach checks all

the boxes.

CDALivingLocal.com

84
---
YUM

Your local Dining Guide

PRESENTED BY

www.northwestsizzle.com

RECIPES LOCAL FLAVOR SPOTLIGHTS

CDALivingLocal.com

85
---
SIMPLY SWEET

STRAWBERRY JAM

REFINED, SUGAR FREE

Photo and Recipe Courtesy of Marina Gunn

@marinagunn | MarinaGunn.com

Makes 1 1/2 cups of jam (1 large jar or 2 to 3 smaller jars)

INGREDIENTS:

1 lb. strawberries

juice of 1 lime

1/2 cup honey

2 tbsp. arrowroot powder

METHOD:

• Wash and slice up strawberries. Place in large pot.

• With heat on medium-high, use the back of a wooden spoon or a

potato masher to mash the strawberries. Add lime juice and 1/2

cup honey, stirring and mashing larger strawberry pieces.

• Once the jam begins to bubble, bring down to medium-low and,

using your wooden spoon, mix in 2 tablespoons of arrowroot

powder to thicken. Add the powder a little at a time to avoid

clumping.

• Simmer until jam has thickened, 15 to 20 minutes. Spoon into a

clean jar and refrigerate. Keeps in the fridge for 1 to 2 months.

CDALivingLocal.com

86
---
Breakfast, Lunch, Dinner

Waterfront Views

Live Music

An Experience

Easter Brunch Buffet | Sunday, April 21st | 8:00 AM - 2:00 PM

Made to order Omelettes | Leg of Lamb | Honey Glazed Ham | Stuffed Sole

Chocolate Mousse and so much more!

Please Join Us

Annual Cinco de Mayo Fundraiser Party

Sunday, May 5th | 4:30 - 8:30 PM

Trinity at City Beach Taco Bar on the Lawn | Drinks | Raffles | Silent Auction

All proceeds to benefit Bonner County Homeless Transitions.

58 Bridge Street at City Beach | Sandpoint, Idaho | 208.255.7558 | TrinityAtCityBeach.com

CDALivingLocal.com 87
---
MAX At Mirabeau

SWEET LOU'S RESTAURANT

AND TAP HOUSE

American fare with a twist. Ribs (pork or bison) smoked in house. Unique

burger menu featuring burgers made from ground top sirloin, topped with

pulled pork, hand-battered onion rings or jalapenos. 32 beers on tap to

enjoy while watching the game on one of their 24, 4K TVs.

601 E. Front St. Ste. 101 | Coeur d'Alene

208.667.1170 | SweetLousIdaho.com

f SweetLousCDA

The Valley's Award-Winning Eats

By Jillian Chandler

Chef de Cuisine Michael Durbin and Executive Chef/

Food and Beverage Director Shawn Matlock are serving

up eclectic cuisine at MAX, located in Mirabeau Park

Hotel in Spokane Valley.

Shawn joined the MAX team in June 2015, having an

extensive background in culinary management. Michael

was hired at the restaurant in July 2017, bringing his

widespread background in menu creation and plating

design to the table. Both bring an overabundance of

commitment to create only the best product to serve each

and every single guest while developing the team from

within.

CALYPSOS COFFEE

At Calypsos you'll find a combination of amazing coffee, which they roast

on site, ice cream, fantastic food and live music on a regular basis. They

display artwork from local artists, offer free Wi-Fi, have a play area for the

kids and also offer a Smart Room for meeting rentals!

116 E. Lakeside Ave. | Coeur d'Alene

208.665.0591 | CalypsosCoffee.com

The MAX menu—five of them to be exact—offers eclectic

cuisine, dishing out more than 100 menu items to choose

from 20 hours a day. The team is constantly exploring

new flavors and experimenting with new dishes and

ingredients, along with perfecting existing menu items.

The food is complemented by a warm and inviting

atmosphere; an exciting place to relax and enjoy a good

time, no matter what the occasion. The entire staff is

committed to surpass guest expectations and creating a

food experience that makes guests want to return again.

Take a seat and dine at MAX and see what chefs Michael

and Shawn are up to in the kitchen.

MAX at Mirabeau Park Hotel

1100 N. Sullivan Rd., Spokane Valley

509.922.6252

MAXatMirabeau.com

MAX AT MIRABEAU

Join MAX at Mirabeau for an unforgettable experience. You'll be treated

to eclectic cuisine, an award-winning menu with more than 100 items, a

wine list boasting more than 500 labels and 75 eclectic cocktails—a perfect

match for everything on the menu. Enjoy two happy hours daily, a-la-carte

brunch featuring multiple benedicts, mimosas and the area's best Bloody

Mary Bar—starting at only $5.90 per person! There's live music on Friday

and Saturday evenings, and late-night dining with a full menu is offered

until close. Open daily at 6am. Photo by Keith Boe.

1100 N. Sullivan Rd. | Spokane Valley

509.922.6252 | MAXatMirabeau.com

CDALivingLocal.com

88
---
www.sweetlousidaho.com

TAP &

RESTAURANT

RESTAURANT

HOUSE

HOUSE

LOU'S

LOU'S

SWEET

SWEET

SANDPOINT & COEUR D'ALENE,

D'ALENE, ID

YOU.Beer.

HERE.

- Sweet Lou Says - Sweet lou's restaurant & tap house Sweet lou's restaurant & BaR

>> 601 FRONT Ave. 208.667.1170

>> Ponderay, Idaho 208.263.1381

DOWNTOWN COEUR D'ALENe

Next to Holiday Inn Express

"Come hungry, Stay late,

Eat well!"

///////////////////////////////////////////////////////////////////////////

TASTE THE NORTHWEST

JULY 11 -13, 2019

FOOD & DRINK CELEBRATION • SPOKANE VALLEY • CraveNW.com

CDALivingLocal.com

89
---
THE PORCH PUBLIC HOUSE

OPEN 7 NIGHTS A WEEK

208.265.2000

41SouthSandpoint.com

A beautiful golf-course view without the cost of joining the

country club. They offer a full menu of sandwiches, salads,

soups and specialties prepared from scratch without the

high price of fine dining, and the region's finest cocktails,

microbrews and wines to accompany your meal. Feel at home

in the comfortable pub-style dining room or the fantastic

outdoor dining area. Open daily at 11am year round. Photo by

Lauren Denos, Adventure Bound Media.

1658 E. Miles Ave. | Hayden

208.772.7111 | WeDontHaveOne.com

Photo by Lauren Denos,

Adventure Bound Media

MOON TIME

Serving some of the best food around in a comfortable pub-style

atmosphere. The menu offers soups, sandwiches, pastas, salads

and other specialties prepared from scratch daily, along with a

fantastic selection of micro-brewed beers and fine wines by the

glass and bottle. Open daily at 11am, the kitchen is open late

every night. Be sure to stop in Thursday night for live music

featuring national and local artists. For more information

including photos, menu, specials and directions, make sure to

visit their website.

1602 Sherman Ave. | Coeur d'Alene

208.667.2331 | WeDontHaveOne.com

2 SEPARATE RESTAURANTS TO

SATISFY ANY CRAVING

DELICIOUS FOOD & FUN COCKTAILS

41 Lakeshore Drive, Sagle, ID

Next to the Lodge at Sandpoint

FISHERMAN'S MARKET

A local favorite for an array of reasons, including the friendly

staff, unbeatable atmosphere and phenomenal food. Voted best

seafood in Coeur d'Alene 2012, 2013 and 2014. Their menu includes

salads, fishwiches, taste of baja, fish and chips, smoked

fish, fresh sushi bar and fresh fish market with live shell fish

and lobster.

215 W. Kathleen | Coeur d'Alene

208.664.4800 | FishermansMarketCdA.com

315 Martinis and Tapas

At 315, guests will be treated to a full dinner menu and tapas

using fresh and seasonal food, more than 50 hand-crafted

martinis using the best natural ingredients, great wine, beer

and a variety of non-alcoholic beverages. Guests can choose

to dine in the large dining room, comfortable lounge, at the

bar our outdoors on their expansive patio. 315 offers nightly

specials and food and drink pairings weekly, and live music

on Tuesday night! The Greenbriar Inn also offers getaway and

elopement packages. Open Tuesday - Saturday 3:15pm - close.

315 Wallace Ave. | Coeur d'Alene

208.667.9660 | 315MartinisandTapas.com

FORTY-ONE SOUTH

208.265.2001 | ShogaSushi.com

OPEN WED-SUN NIGHTS

A beautiful waterfront, fine-dining restaurant in a romantic

lodge setting overlooking Lake Pend Oreille. Whether it

is summer on the patio or cozying up to the fireplace in the

winter, Forty-One South's spectacular sunsets, innovative

cuisine, full bar and extensive wine list are sure to make it a

memorable night out. A variety of delicious food year round.

Reservations recommended.

41 Lakeshore Dr. | Sagle

208.265.2000 | 41SouthSandpoint.com

CDALivingLocal.com

90
---
SHOGA SUSHI BAR

Delicious sushi and Japanese cuisine sure to delight

anyone's palate. Offering a wide variety of traditional

and specialty rolls as well as salads, sweet and sour pork,

grilled salmon and more! Beautiful waterfront dining

with spectacular sunset views. Professional and courteous

service. On Wedsnday nights it's buy one Sushi Roll get one

half off! Enjoy a delicious meal while taking in the beautiful

waterfront and spectacular sunset views.

41 Lakeshore Dr. | Sagle

208.265.2001 | ShogaSushi.com

Shopping. Dining. Take-Out.

MOONDOLLARS BISTRO

Moondollars Bistro is known for their burgers,

accompanied by scratch-made bread and soups. They

uses only fresh ingredients, which are the backbone

of this customer favorite. With a comfortable, friendly

atmosphere, awesome food, great service, huge patio

and full bar there is always something to keep customers

coming back for more.

609 N. Syringa St. | Post Falls | 208.777.7040

5416 W. Village Blvd. | Rathdrum

208.687.5396 | MoondollarsBistro.com

ANGELO'S RISTORANTE

"There is no substitution for quality. Our food is organic

and prepared from scratch." Authentic Italian cuisine.

Guaranteed best steaks in town. Catering and private

cooking classes available with Chef Angelo. DINNER FOR

2 & A BOTTLE OF WINE $65. Choose from 15 Entrees

and 10 Bottles of Wine. Open 7 days a week from 4-10pm.

846 N. Fourth St. | Coeur d'Alene

208.765.2850 | AngelosRistorante.net

JUNIOR'S BBQ

Enjoy North Idaho's best barbecue at Junior's, where guests

are treated to bold backyard flavor. Whether you dine in,

take out or need catering, you will not be disappointed,

and ordering is simple. Choose a sandwich, taco or salad.

Next choose your meat, then your choice of fixin's, from

Granny's baked beans, Mamma's mashed taters, smothered

green beans, coleslaw or pig tail fries. Top it all off with

Hillbilly Habanero or Junior's Original sauce.

85 W. Prairie Shopping Ctr. | Hayden

JuniorsBarbecue.com

TIM'S SPECIAL CUT MEATS

Tim's Special Cut Meats is your perfect, old-fashioned

butcher shop. The friendly staff is ready to help you pick out

the perfect cut. Tim's carries only the finest natural meats

and also handles custom orders, with an extensive line

of house-made products from pickled garlic to specialty

sauces, marinades, rubs and salsas. Mobile butchering and

wild game processing are also available.

525 N. Graffiti St. | Post Falls

208.772.3327 | fTimsSpecialCutMeats

TimsSpecialCutMeats.com

CDALivingLocal.com

91

Spring is

Here!

Be a chef at home or dine with us!

• Fresh Fish Market and Sushi Bar

• Smoked Fish

• 12 different kinds of fish and chips

208.664.4800

Mon-Sun 11am-8pm

215 W. Kathleen, Coeur d'Alene

Locally Owned & Operated

t f
---
CDALivingLocal.com

92
---
April Events

WHAT'S GOING ON

IN COEUR D'ALENE?

CDALivingLocal.com

93
---
CALENDAR OF EVENTS

APRIL

27

An Awesome Night of Fundraising

The Coeur d'Alene Chamber Commodores Aw$um

Auction set for April 27

BY JILLIAN CHANDLER

THE COEUR D'ALENE CHAMBER COMMODORES INVITE THE COMMUNITY TO JOIN

THEM FOR AN EVENING OF FUN AND FUNDRAISING.

The mission of the Commodores is to promote the Chamber and the Coeur

d'Alene community, serving as goodwill ambassadors by undertaking fundraising

projects, promoting businesses through ribbon cuttings and attending open

house celebrations.

The 2019 Aw$um Auction takes place Saturday, April 27, 5 to 10pm, at the Best

Western Plus Coeur d'Alene Inn, 506 West Appleway Avenue. The Chamber's

largest fundraising event of the year, those in attendance will be treated to a fun

evening to include a fabulous dinner and auction. By purchasing a ticket or table,

or through your donation, to the Aw$um Auction, you are helping to support the

Coeur d'Alene Chamber, in turn helping to support the local business community.

The funds raised go to helping the Chamber promote the vitality of this area for

business.

With summer just around the corner, you won't want to miss your chance to bid

on dozens of fabulous auction items, including everything from golf packages,

zip-lining passes and lodging to dinners and wine—even a pair of pre-season

Seahawks tickets! During the event, there will also be raffles and drawings,

including a $500 cash prize drawing.

This year's theme is Be Our Guest! Let your inner child shine and come as your

favorite Disney character, though costumes are not mandatory.

Now is the time to make your reservation to attend this fun event to benefit

our local Chamber while connecting with fellow community members and

HIGHLIGHT EVENT

networking with local businesses! Tickets are priced $70 per person or $510 for a

table of eight and include dinner and auction. For tickets, or to make a donation,

visit CdAChamber.com or contact Brenda at the Chamber office at 208.415.0110 or

via email at brenda@cdachamber.com.

An evening of food and fun, the Commodores welcome you to be their guest at

this year's Aw$um Auction.

APRIL

12-14

2nd Annual Food & Wine

Festival

2018 marked the first annual Food and Wine Festival at The

Coeur d'Alene Resort and it's back for its second year. The

three-day festival will feature wine tasting seminars, cooking

classes by award-winning chefs, intimate luncheons with

hand-selected wine pairing, unforgettable award-winning

chef dinners and more. Visit CdAFoodAndWineFest.com for

the weekend lineup and to purchase tickets.

APRIL

13

Big Man of CdA: A Womanless

Beauty Pageant

Help raise funds for the Coeur d'Alene Summer Theatre 7 to

10pm at Coeur d'Alene Eagles. Come see local guys show off

their talents, answer silly questions and wear whatever they

want, because life is too short not to strut your unique! Who will

win the crown at the un-pageant? There will be a 6pm cocktail

hour followed by the show at 7. Tickets are $25 per person and

can be purchased online at CdASummerTheatre.org.

APRIL

13

9th Annual Walk for Autism

Awareness

Come join the Panhandle Autism Society at McEuen Park

in beautiful Downtown Coeur d'Alene, 10am to noon, for

a morning of awareness, family time and community!

The morning includes a .5-mile family friendly walk and

activities to include raffles, a bounce house, team sign

making and awareness items sale. Register online at

RunSignUp.com.

Upcoming Events in MAY

11

34TH DEPOT DAYS

CLASSIC CAR &

MOTORCYCLE

SHOW

11

NORTH IDAHO

VETERANS STAND

DOWN

CDALivingLocal.com

94

18

FARRAGUT TRAIL

RUN

23

BACONFEST

NORTH IDAHO
---
The Coeur d'Alene Chamber's Biggest Fundraising Event of the Year!

At the Aw$um Auction

Saturday, April 27 • 5:00pm

Best Western Cd'A Inn

Come as your favorite Disney character!

Group costumes encouraged!

Tickets online at

cdachamber.com/auction

CDALivingLocal.com

95
---
APRIL

20

Easter Egg Hunt

Extravaganza

Post Falls Parks and Recreation invites the

community to the second annual Easter Egg Hunt

Saturday, April 20, 1 to 2pm, at Q'emiln Park. The

event is free for all to participate and will take place

rain or shine. Children are encouraged to bring

their own baskets/bags to collect their eggs. This

family friendly event will include six divisions: 1pm

toddlers, 1:15pm 3 to 4 years old, 1:30pm 5 to 7,

1:45pm 8 to 11, 2pm mobility needs and special

needs (max age 15).

APRIL

21

Shenanigans 7th Annual

Easter Eggstravaganza

Join Shenanigans in Downtown Coeur d'Alene for

their annual Easter Eggstravaganza, which will be

bigger and better than ever! Not only will they be

giving out 5,000 eggs, there will be an obstacle

course for the kids to run around in, candy, balloons,

gourmet popcorn and so much more! The Easter

Bunny will be there too! Age groups and times are as

follows: 1 to 1:15pm (4 and younger), 2 to 2:15pm (5

to 8) and 3 to 3:15pm (9 to 12).

APRIL

27

Walk MS: Coeur d'Alene 2019

APRIL

20

Hayden Kite Festival

Join the community for an afternoon of family

friendly kite flying. City of Hayden's annual Kite

Festival, sponsored by STCU, takes place Saturday,

April 20, noon to 2:30pm at Broadmoore Park in

Hayden. Registration for the event will take place

from noon to 1:30pm. Awards will be announced

at 2:15pm.

APRIL

27

2019 OoozaPaloooza

Coeur d'Alene City Park will be bustling with food,

drink and camaraderie Saturday, April 27, 11am to

5pm, as OoozaPalooza Food Truck Festival makes

its way back to the park with food trucks from the

Greater Spokane Food Truck Association, beer

garden and fun. Proceeds from alcohol sales will go

to Newby-ginnings of North Idaho and GSFTA Gives

Back. GreaterSpokaneFoodTrucks.com

APRIL

28

Mother's Day Market

APRIL

20

LCHS Annual Spring Craft &

Garden Show

The annual Lake City High School Spring Craft

and Garden Show takes place 9am to 4pm and

features artists and vendors from all over the

Northwest selling hand-crafted items such as

soaps, purses and jewelry, candles, greeting cards,

wood carvings, local photography, pottery and

more! Proceeds from the show support the Class

of 2019's drug- and alcohol-free party held on

graduation night. 208.769.0769

APRIL

27

37th Annual Spring Dash

Held 9:30am to 12:30m, the 37th annual Spring

Dash is a qualifier for Bloomsday and is a beautiful

5-mile run through Sanders Beach and along Lake

Coeur d'Alene Drive. The start and finish will be in

McEuen Park, where the Tot Trot will kick things

off for kids 10 and younger. Register online at

UnitedWayOfNorthIdaho.org/springdash.

MAY

01

3Cs Fashion Elegance

Walk MS brings together a community of passionate people

for one powerful cause: to end MS forever. It is because

of the community involvement in Walk MS that people

affected by multiple sclerosis have access to around-theclock

information, support and resources they need to live

their best lives. Team up for someone you love and register

today for Walk MS. The event starts at North Idaho College

at 10am. You can find the link to register on Facebook.

Celebrate mom with a day out and locally made gifts! Coeur

d'Alene Makers is a community gathering of local artists,

jewelers, bakers and crafters staging an open marketplace,

complete with activities for the kids, food samples and much

more. The event takes place from 10am to 4pm at The Coeur

d' Alene Resort's Convention Center. CdAMakers.com

Cancer and Community Charities (3Cs) presents their

Fashion Elegance Dinner and Fashion Show Wednesday,

May 1, at the Coeur d'Alene Resort. Doors open at 5:30pm.

Tickets are priced $75 per person $40 tax deductible). For

tickets, call Bobbi Freeman at 208.667.1479 or 509.993.4567.

CCC-NorthIdaho.org

MAY

26

MAY

26

CLAMBAKE ON THE

COEUR D'ALENE

LAKE AT CDA GOLF

HALF & FULL

COURSE CDALivingLocal.com

MARATHON

96

JUNE

JUNE

01 PRIDE CRUISE 01

RUN FOR #271
---
FAMILY

FUN

FAIR

4th ANNUAL FAMILY FUN FAIR

Saturday May 4th 2019, 11am - 4pm

Silver Lake Mall 200 W. Hanley Ave., Coeur d' Alene, Idaho

• Parenting Resources Scholarships, Summer Camps, Health, Education, Family Friendly

Businesses and Information addressing Children's Mental Health.

• "Jump into Summer" Fashion Show w/ Special Needs Kids & Canine Models.

• Live Performances from Marimba Cats, Lokahi Dance Academy, Lake City Highland

Dancers, Christian Youth Theatre, Dance Theatre NW, and Spotlight Cheer Leading.

• Photo-Ops w/ Spokane Indian's Otto & Doris, Aqua Duck, & Cecil the Cardinal.

• Pet Adoption Drive, Carnival Games, Bouncehouse, Arts, Crafts & Sensory Activities.

FREE ADMISSION | PRIZES | GIVEAWAYS | AND MORE!

Charity@thefamilyguide.org | 509.928.9664 | f nwfamilyfunfair

GET OUT OF YOUR OWN WAY AND BECOME A

POWERFUL CREATOR IN YOUR OWN LIFE.

Awaken the

Best You

A TRANSFORMATIONAL WOMEN'S CONFERENCE

COMING TO NECTAR IN SPOKANE, WA

APRIL 12, 2019

Register today: www.awakenthebestyou.com

Join our community: @awakenthebestyouconference

CDALivingLocal.com

97
---
Now offering Masterbrand Cabinets.

Call for your FREE estimate!

Your Vision. Our Mastery.

CDALivingLocal.com

98

6055 N. Sunshine St.

Coeur d'Alene, ID

208.664.8830 • f

AccentFloorsAndDesign.com
---
If not now...

then when?

Dentist Office

WWW.AVONDALEDENTALGROUP.COM

CDALivingLocal.com

99
---
THE CASH

IS IN FULL

BLOOM.

This spring, party all month long with over $100,000 in

cash and prizes, loads of food and drink specials, hotel

and spa discounts, top-shelf entertainment, and more!

Details at northernquest.com

CDALivingLocal.com

100