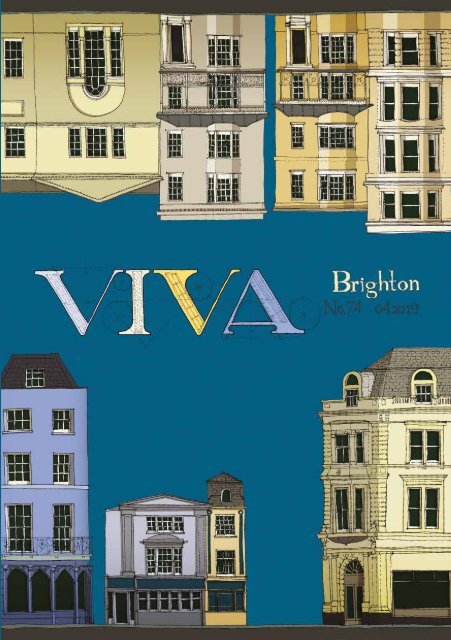 Viva Brighton Issue #74 April 2019
You also want an ePaper? Increase the reach of your titles
YUMPU automatically turns print PDFs into web optimized ePapers that Google loves.
VIVA

B R I G H T O N

#74. APR 2019

EDITORIAL

...........................

.......................

Viva Magazines is based at:

Lewes House, 32 High St,

Lewes, BN7 2LX.

For all enquiries call:

01273 488882.

Every care has been taken to

ensure the accuracy of our content.

We cannot be held responsible for

any omissions, errors or alterations.

Have you noticed the humming paving slabs

of Spring Gardens? Or the strange drone that

emanates from the Clock Tower intersection?

Road sweeper and philosopher Joe Henderson has.

She takes a longer, closer look at the streets than

most of us and her observations are alive with vivid

detail. I'd like to see the city through her eyes.

And what, I wonder, did Edward Cresy find in the

backstreets when he was appointed by the General

Board of Health to visit Brighton in 1849, to

conduct an 'inquiry into the sewerage, drainage,

and supply of water, and the sanitary condition

of the inhabitants'? If the slum clearances that

followed are any indication, it wasn't good. (The

word 'ooze' featured in his report.)

I thought I knew our streets pretty well, but this

month I've got to know a whole lot more about

them and the people who work in them. Like the

specialist St John Ambulance Service, bringing

essential healthcare to people who are homeless,

and the StreetVets who look after their pets. We

examine street art of the local, international and

revolutionary varieties, talk to a stall holder at

Brighton's oldest street market, and meet five

local window cleaners. Plus, we recall a time when

horses ruled the roads, elaborate on Mr Cresy's

findings and pay tribute to the late Ken Fines; a

man who ensured the conservation of some of our

most iconic streetscapes.

Next month the city will be thronged with

festival-goers and the streets will be at their

busiest. We thought we'd take this moment to

enjoy them for ourselves. The more you look, the

more there is to see.
---
VIVA

B R I G H T O N

THE TEAM

.....................

EDITOR: Lizzie Lower lizzie@vivamagazines.com

SUB EDITOR: David Jarman

PRODUCTION EDITOR: Joe Fuller joe@vivamagazines.com

ART DIRECTOR: Katie Moorman katie@vivamagazines.com

PHOTOGRAPHER AT LARGE: Adam Bronkhorst mail@adambronkhorst.com

ADVERTISING: Hilary Maguire hilary@vivamagazines.com,

Sarah Jane Lewis sarah-jane@vivamagazines.com

ADMINISTRATION & ACCOUNTS: Kelly Mechen kelly@vivamagazines.com

DISTRIBUTION: David Pardue distribution@vivamagazines.com

CONTRIBUTORS: Alejandro Martinez, Alex Hood, Alex Leith, Alexandra Loske,

Amy Holtz, Ben Bailey, Cammie Toloui, Charlotte Gann, Chloë King,

Chris Riddell, David Jarman, JJ Waller, Jacqui Bealing, Jay Collins, Joda, Joe Decie,

John Helmer, John O'Donoghue, Kate Elms, Lizzie Enfield, Mark Greco,

Martin Skelton, Michael Blencowe and Nione Meakin.

PUBLISHER: Becky Ramsden becky@vivamagazines.com

Please recycle your Viva (or keep us forever).
---
HURSTPIERPOINT COLLEGE
---
CONTENTS

...............................

Bits & bobs.

8-27. Artist and architect Alejandro

Martinez is on the cover; Ken Fines –

saviour of Brighton's streets – is on the

buses, and Alexandra Loske recalls a

time when Church Street traffic was of

the equestrian variety. Elsewhere, Joe

Decie finds (limited) inspiration on the

run, JJ Waller captures the hard realities

of street life for some, and we meet the

St John Ambulance Homeless Service

who are bringing essential heathcare services

to the city. Plus, Alex Leith happily

loiters at the Black Lion; Viva pops up

in Eritrea and Berlin Zoo; we've got

city guides to give you the inside track;

books from Jeff Noon and Damian Barr,

and cuddle monster Boris needs a home.

68

31

My Brighton.

28-29. Philosopher and road sweeper

Joe Henderson on the thrum of Brighton's

streets.

Photography.

31-37. The world-travelling exploits of

street art hunter Tim Jentsch.

Photo by Tim Jentsch. Art by Mantra

Columns.

39-43. John Helmer's on a one-man

neighbourhood watch, Lizzie Enfield's

got ideas for an alternative A to Z, and

Amy Holtz is navigationally challenged.

On this month.

45-59. Ben Bailey rounds up his pick of

the gigs and the best of Brighton's first

podcast festival; tales of coming out and

Hers & His by Alej Ez

8
---
CONTENTS

...............................

transition in Rotterdam, and the Pulitzer

Prize-winning play Glengarry Glen Ross

are both at the Theatre Royal, and how do

City Reads pick the book for Brighton's

biggest bookclub? Plus, we get an

insight into the state of the world's plants

at Wakehurst; actor Ian Ruskin brings

Thomas Paine to life, and autobiographical

activist Bryony Kimmings is coming

to ACCA.

Art & design.

60-73. David Jarman visits In Colour –

from Sickert to Riley at Charleston; we find

out what's up with the Paris 68 Redux

posters that have been popping up around

the city (and much further afield); Chloë

King gets to grips with a giant map of

Brighton, and just some of what's on, artwise,

this month.

The way we work.

75-79. Adam Bronkhorst photographs local

window cleaners and asks what catches

their eye while they're cleaning windows?

Food.

81-85. Joe Fuller samples his new veggie

local at the Roundhill; we've got a recipe

for Gujarati street food from Manju's, and

just a taster of this month's food news.

75

Features.

86-95. We meet the StreetVets; find

out how Edward Cresy's report led to

the city's slum clearances, and visit Upper

Gardner Street Market. And what

if Volk's Railway inventor Magnus Volk

had also created a time machine? Plus

professional story teller Jon Mason is

creating a Time Travel Treasure Hunt

for the Festival.

Wildlife.

97. Michael Blencowe gets the gossip

from the nest-hopping Dunnocks.

Inside left.

98. Washington Street, Hanover, 1920.
---
THIS MONTH'S COVER ARTIST

.......................................................

It's a bit of a shame to confine the work of

Alejandro Martinez (aka Alej Ez) to our A5

cover. His panoramic drawings which capture

local landscapes with the kind of confident,

sparing line you might expect of an architect,

often extend over several metres. One of his

most popular prints is of the view east from

Hove Lagoon on a very clear day. "When I

got back to the studio and zoomed into the

photographs, I could see so much detail. All

the way to Belle Tout Lighthouse [near Beachy

Head]. Would you believe that was possible?!"

He has worked at Archangels Architects in

Kemp Town for the past five years and credits

them with encouraging his art as well as his

architecture. He still produces many of his

preliminary drawings and feasibility studies by

hand. "The job of an architect is complex – you

must be a craftsman, a draftsman, understand

construction, legislation, detailing – so, to

feed my creative side, I began to take my art

more seriously." He now works four days

a week at the practice and spends Fridays

and weekends at the long-running artists'

cooperative, Studio Greenhouse, where he'll

work on, say, a study of the ruined remains of

the West Pier, a meticulous rendering of the

Royal Pavilion façade, or plot the elaborate

details of our Regency buildings. "I was born

in Granada, which is very exotic, so it's lovely

to know that the arches of the bandstand on

Brighton seafront are based on the arches of

the Alhambra palace. It's good to make links. It

makes me feel at home."

The drawings are then scanned and layered

with sophisticated, saturated colour; the

resulting images presenting the city as the best

version of itself. "I edit the images with some

Photo by Lizzie Lower

Hove & Brighton Promenade

....8 ....
---
ALEJ EZ

......................................................

artistic license: I let my eye capture an essence

instead of every last detail. I move things

around until I find them more pleasing. There

are normally no people in them at all – maybe

that comes from my architectural training –

but it makes the scenes look like it's five in the

morning and nobody is there. It's very soothing.

It gives them a sense of peace and quiet."

More recently, Alej has turned his attention

to the wider Sussex countryside. Inspired by

the likes of Eric Ravilious and Paul Nash, he

has been working on views of Firle, Cuckmere

Haven and Devils Dyke, his panoramic style

lending itself to the broad sweep of the

landscape.

This being our 'streets' issue, our cover features

some quintessentially Brighton buildings from

the Old Steine. They are taken from the much

larger 'Hers and His' print, which includes Mrs

Fitzherbert's house as well as HRH's Royal

Pavilion, and we highly recommend that you

seek it out in full scale. There is always a great

selection of Alej's work at Leo Frames (70

North Road) where, quite often, one of his

panoramic prints will be in the window. All the

better to stand back and take in the view.

Lizzie Lower

Alejandro will be exhibiting at Art 83 in Kemp

Town and Number Ten in Palmeira Square in

May's Artists Open Houses festival. alejez.com,

leoframes.com, aaarchitects.co.uk

Regency Brighton Pavilion Finial and Domes

....9 ....
---
Do you have a spare room

in your home?

Are you caring, nurturing

and supportive?

Become a Host

Family for an

international

pupil at a local

boarding school

Attractive daily rates

Occasional weekend and

half terms only

Contact Imogen to find out more on

imogen@pippasguardians.co.uk

or call 01684 252757

Valuation Day

Jewellery

15 April 2019, 10am to 2pm

VENUE

Pyecombe Golf Club

Clayton Hill, Pyecombe

West Sussex, BN45 7FF

APPOINTMENTS

AND ENQUIRIES

01483 504030

guildford@bonhams.com

bonhams.com/guildford

AN EMERALD, DIAMOND

AND ENAMEL COLLAR,

BY MARINA B, CIRCA 1990

Sold for £42,500

www.pippasguardians.co.uk

Prices shown include buyer's premium.

Details can be found at bonhams.com
---
TRIPS AND BOBS

...............................

SPREAD THE WORD

'Eritrea is an impressive

country with the friendliest

of people,' reports West Hill

resident Janet Davies who

recently took a holiday in the

East African country. 'Whilst

we were eyeing up the camels

at the market in Keren, our

friend Robel took a moment to

get a glimpse of Brighton life.'

Meanwhile, in Berlin, our

regular contributor Alexandra

Loske has been dutifully

spreading the word back in

her home town. 'I have been

distributing Vivas to friends

and family here in Berlin' she

reports. 'I asked daughter to

take this picture in front of the

famous giraffe and antelope

house in Berlin Zoo.' Regular

readers will know about Alexandra's

love of colour and her

fascination with the moon, but

she's also got a bit of a thing

about giraffes, so we weren't at

all surprised about her choice

of backdrop.

Keep taking us with you and

keep spreading the word. Send

your photos and a few words

about your trip to

hello@vivamagazines.com

ON THE BUSES #48: KEN FINES ROUTE 50

Brighton would look altogether different if it weren't for Ken Fines. In the

1970s Ken pushed for the conservation of the traditional streets of Brighton

and rejected plans for demolition and car-based development throughout the

town. He was born in Hove in 1923, and, in 1974, became a Borough Planning

Officer, rising to the position of Director of Planning for the Borough

of Brighton. He had a vision for the town and opposed plans to build more

high-rise flats along the seafront, instead pushing for the creation of five

new conservation areas. Working with the residents and traders in the town

centre, Ken recognised that sufficient features remained of the Victorian

townscape to warrant conservation status for the area that he dubbed The North Laine, in recognition

of the old field system of Brighthelmstone. It was designated a Conservation Area in 1976.

Ken's involvement with the community and push for public transport over the creation of a new

network of roads, which would have flattened much of the area, earned him his position in the public

eye as a local hero and a blue plaque (on the wall of Infinity Foods) in his memory.

Fines retired and lived out the rest of his life in Hove, opposing the demolition of architectural heritage

until his death in 2008 aged eighty-five. The next time you are admiring the Victorian terraces,

you know who to thank for preventing their destruction. Alex Hood

Illustration by Joda (@joda_art)

....11....
---
Lancing College

Preparatory Schools, Senior School & Sixth Form

Open Mornings

Saturday 4 May

10.30am–1pm

Lancing College

Lancing

West Sussex BN15 0RW

T 01273 465 805

E admissions@lancing.org.uk

Saturday 11 May

10am–12 noon

Lancing Prep Hove

The Droveway, Hove

East Sussex BN3 6LU

T 01273 503 452

E LPHadmissions@lancing.org.uk

Saturday 18 May

10am–12 noon

Lancing Prep Worthing

Broadwater Road, Worthing

West Sussex BN14 8HU

T 01903 201 123

E LPWadmissions@lancing.org.uk

Registered Charities

Lancing College & Lancing Prep Hove 1076483. Lancing Prep Worthing 1155150
---
JOE DECIE

...............................

....13....
---
CURATOR'S CITY

...............................

Stables in Church Street 1826, aquatint after A. C. Pugin.

ALL THE KING'S HORSES:

CHURCH STREET IN THE 19TH CENTURY

My office is in the Old Court House, a sturdy

Victorian building in Church Street, directly opposite

the Brighton Dome and Corn Exchange.

Church Street is one of the oldest streets in

Brighton, leading up from the north-east corner

of the Royal Pavilion Estate towards the parish

church of St Nicholas of Myra. Although it is not

a main thoroughfare through Brighton, it is a

street teeming with urban business. I work with

a constant soundtrack of singing, shouting, sirens

and seagulls and general traffic noise drifting up

to my desk. This is what I imagine the painter

John Constable meant when he complained, in

1824, that 'the magnificence of the sea [at Brighton]

is drowned in the din and tumult of stage

coaches, gigs, flys, etc.'

In the last few months I have been preparing a

new exhibition which opens on the 2nd of April

at Brighton Museum. All the King's Horses, as we

cheekily decided to call it, will tell the story of

George IV's passion for horses, dating back to

the 1780s, when the royal stables were located to

the south of the Pavilion, to the creation of the

magnificent new Royal Stables and Riding House

(now The Dome and Corn Exchange), created

to designs by William Porden between 1803 and

1808. This is of course what I am looking at from

my window.

....14....
---
CURATOR'S CITY

...............................

Stables from Church Street in early 1800s, artist unknown

Stables from Church Street in early 1800s, by ????????????????????

The Church Street façade of the stables has

changed dramatically since first built but has

retained its oriental flair. Images of how it looked

in the early years of the 1800s are rare, but this

delightful small watercolour (above) gives us an

idea, and even shows that the finial of the dome

was originally gilt. A more familiar image after

Augustus Charles Pugin (left), published in 1826,

shows fashionable Brighton society promenading

in Church Street. In the 1820s the entire perimeter

of the Royal Pavilion Estate was protected by

the military, seen here on duty flanking the main

entrance to the stables. In 1832 King William

IV added stables for his wife Queen Adelaide to

the east, as well as the new North Gate, seen in

a delicate drawing by Edward Fox from 1838

(right), the year Victoria was crowned queen and

first visited Brighton. A stage coach pulled by

four horses can be seen coming down Church

Street at considerable speed.

The façade underwent its most dramatic change

after the Royal Pavilion Estate went into municipal

ownership in 1850. Between 1867 and 1873

the stables complex was converted into performance

spaces, galleries, a museum and a public

library. Further changes to the exterior and

interior were made in 1901/2, and again in 1934,

adding an Art Deco entrance to the west. There

is a restlessness to my end of Church Street, but

also a grandeur and confidence that I cherish.

I have an office with a view of one of the most

exciting 19th century buildings in the country.

Alexandra Loske, Art Historian and Curator

All the King's Horses: The story of the Royal

Stables and Riding House opens on 2 April and

continues until 29 September 2019. Brighton

Museum. Free with admission.

Church Street in 1838, by Edward Fox

All images courtesy of Royal Pavilion & Brighton Museums.

....15....
---
may festival

23-25 MAY

Featuring the Goodwood Food Show
---
BITS AND PUBS

...............................

PUB: BLACK LION

As ever, I spare a

thought for Dirick

Carver, as I walk into

the Black Lion, which

has good claim to be

Brighton's oldest pub,

one mid-March Thursday

lunchtime.

It's an AFD (alcohol-free

day) so I

order a Virgin Mary,

and the young barman

meticulously prepares

it in a shaker as if it

were a cocktail, while

I sit and wait. I take in

my surroundings in the

leisurely way you do when you're on your

own, though I've been here many times

before. The long main room has a wooden

floor, chunky tables, and scruffy artwork on

the walls. There's a big choice of cocktails

on offer. Indie-pop filters through the

loudspeakers: Fur, Vira Talin, Dreamgirl

(thanks Shazam). The specials board offers

venison and tarragon pie, and I wish I

hadn't already eaten. It's a 'Laine' pub, with

a hipster vibe at night, but its position in

the Lanes has always drawn in all sorts, and

today, I figure, it's largely day-trippers.

When my drink comes, there's a lump

of celery in it that's possibly big enough

to constitute one of my five a day, and a

Humphrey straw. There's an aftertaste

of horseradish. It might well be the best

Virgin Mary I've ever tasted, which, at £4,

I'm pleased to be able to report.

I've done some

research on the Lion.

The building was

one of the oldest in

Brighton, but was

knocked down and

rebuilt, in facsimile,

in 1974. The first

edition of Pevsner's

Architectural Guide

rather snootily describes

its façade as a

'deceptive vernacular

pastiche faced in

cobbles, and with a

slate-hung, tall gabled

centre'. I love it:

getting a seat out front on a warm evening

is one of the real pleasures of Brighton.

Pevsner's doesn't mention Carver, a Protestant

Dutch immigrant who took over a

brewery on this site in 1546, when Henry

VIII was on the throne. Unfortunately

for him, Henry's eldest daughter 'Bloody'

Mary took over in 1553: two years later

Carver, a vehement transubstantiation denier,

was burnt at the stake in Lewes, stood

in a beer barrel.

I move to a table in the garden, overlooked

by portraits of Cuban revolutionaries, and

mull over blurred memories of the many

nights I've spent here over many decades.

And I raise my near-empty glass to Mr

Carver, suddenly realising that on another

day, I might – with inadvertent disrespect

– have ordered my souped-up tomato juice

with vodka in it. Alex Leith

....17....
---
'Fantastic place, full of beautiful magazines. I just love this shop.'

the world of great indie mags is here in Brighton.

22 Trafalgar Street

magazinebrighton.com

@magbrighton

magazinebrighton
---
JJ WALLER

...............................

"My Brighton photography centres around the documentation of the city

as I see it now." Says JJ Waller. "Rough sleeping is a huge issue today but

hopefully, in the not too distant future, this picture and others I have made on

the same theme will allude to a human problem long passed."

....19....
---
2019

One of the country's finest Elizabethan Houses and award-winning gardens.

Set within an ancient deer park below the South Downs.

Photograph: Trevor Sims

Open 21 April - 13 October 2019

www.parhaminsussex.co.uk
---
BITS AND BOBS

...............................

CHARITY BOX #36:

ST JOHN AMBULANCE HOMELESS SERVICE

Sharon Agnew, who runs the

Brighton and Hove St John

Ambulance Homeless Service,

explains why there's more to

the first aid charity than many

people realise…

What is the St John Ambulance

Homeless Service?

Essentially, we provide mobile

first aid and health care to

people who are homeless in

Brighton and Hove. We have

two kitted-out former ambulances – and a

new, purpose-built unit on its way – where the

homeless community can access our services

every week. You can find us down at the Peace

Statue in Hove every Monday and Thursday,

when we also run an additional clinic at the First

Base Day Centre in Hove. We offer a range

of services including podiatry, dental care, GP

referrals, advocacy and dietary advice. But often

the people we see just want to have a chat over

a cup of tea.

Who operates the clinics? A volunteer nurse

leads the clinics and manages a team of around

four or five support volunteers. A lot of our

volunteers are retired people who have worked

in the medical profession and some do it in

addition to their current jobs. But anyone can

train to be a support volunteer for us as long

as they are willing to go through a DBS check.

They receive training in skills such as first aid,

homelessness awareness, communication skills

and safeguarding, then they usually do some

shadowing with more experienced team members

and then they start. Volunteering for us can

be a great outlet for people who

have some time to spare and are

looking to give something back.

How long has the service

been going? We've been operating

for 20 years now. We were

St John's first homeless service.

The Hastings branch launched

15 years ago. But we are the

only two homeless services run

by St John's nationally and even

20 years on, many people aren't

aware of us. They think of St John's as a first

aid charity but they don't realise we run units

especially for the homeless community. That

can make it harder to raise funds. Because St

John's is a big charity, people often assume we

have enough money coming in but the homeless

service is a separate strand and we're very much

in need of donations to keep running.

What's coming up next for you? We're very

excited to get our new, purpose-built unit on the

road in a couple of months' time. At the moment,

we have been working out of two converted

ambulances, which work well but aren't ideal.

It's thanks to a recent fundraising campaign that

we've been able to commission a purpose-built

unit that is being made to our exact specifications.

It's due to be with us at the beginning of

May and we're hoping to do some road show

events to show it off because we want people to

see what their donations have bought. It's going

to be great having a third vehicle to work from

and it will mean we can help even more people

in Brighton and Hove. Nione Meakin

sja.org.uk

....21....
---
It's a

Barking

Success

PET CARE PLAN

Complete

peace of

mind

Our clever Pet Care Club

members are enjoying fantastic

discounts on everything,

every time they visit the vet.

Join today and start

saving money by calling

our Kemp Town team

on 01273 692257, or

drop by the surgery

in Freshfield Way.

coastwayvets.co.uk
---
BITS AND BOOKS

...............................

CATS SEEKING LAPS #11

BOOK REVIEW:

SLOWMOTION GHOSTS

Chunky Cuddle Monster Wants to Love You

Name: Boris (no relation to THAT Boris)

Age: 6

Occupation: Lap warmer

Me: I'm an enthusiastic cuddler with advanced

kneading skills and an abundance of empathy,

ready to soothe you with my strong purr and

loving head butts. You will enjoy squishing my

impressively large, soft belly and no doubt you

will cherish the surprise of my cold wet nose

pressed against your cheek as you sleep in the

night.

Seeking: Calm, catnip-friendly household with

space to roam and multiple humans to sit on.

Must be generous with affection and offer the

occasional lick of a buttery knife.

Interests: Dachshunds, gardening, shoulder-rides,

anything salmon-flavoured, anything

mouse-shaped (especially if it's stuffed with cat

drugs), singing in the wee small hours.

Dislikes: Recurring bouts of cystitis, being

called too kneady, the drive to the vet, the other

Boris.

Words and picture by Cammie Toloui

cammietoloui.com / Insta: @cammie669

Find Boris and his friends at Raystede Centre for

Animal Welfare. raystede.org

Paracosm. The word means

an imaginary world, the kind

beloved of children working

alone or in cahoots with

siblings and/or friends. You

know the place – Middle

Earth, Narnia, the Brontes'

Gondal. The concept plays

a crucial role in Jeff Noon's

new novel, his first straight policier. But of course

nothing in Noon's work is straight and Slow Motion

Ghosts is crime fiction with some Alice in Wonderland

weirdness thrown in.

DI Hobbes is ostracised by colleagues after his

cop mate hangs himself following the Brixton riot

in 1981. Posted to Richmond, he investigates the

murder of Brendan Clarke, superfan of Lucas Bell,

glam rock god from the early 70s. Bell's stage persona,

King Lost, complete with Aladdin Sane-type

mask, leads Hobbes down some mean streets to

Edenville, an invented village that is both shared

refuge for a bunch of outsider kids from Hastings,

and the source of King Lost.

It's also where Hobbes finds his suspects. If detective

stories are all about uncovering what's hidden

– awkward truths, motives, whodunnit – then

where better to locate them than in a paracosm?

This is where Noon both compels and enchants.

For Slow Motion Ghosts has the propulsive power

of a great detective novel, as well as the unique

imaginative quality that's characterised Noon's

work ever since his debut, Vurt, won the Arthur C.

Clarke Award in 1994. Will Slow Motion Ghosts win

an award? It would be a crime if it didn't.

John O'Donoghue

Slow Motion Ghosts, Doubleday, £16.99 hb

....23....
---
Thinkers

Challengers

Innovators

Leaders

DISCOVER THE SUSSEX MBA

FIND OUT MORE

www.sussexmba.com
---
BITS AND BOOKS

...............................

BOOK REVIEW: YOU WILL BE SAFE HERE

BY DAMIAN BARR

Damian Barr is a busy man.

When he's not writing columns

for The Sunday Times and

The Big Issue, he's host at his

Literary Salon, at the Savoy

Hotel in London. With Martini

dry wit he's talked books to

Armistead Maupin, Bret Easton

Ellis, JoJo Moyes, Patrick Gale

– the list grows longer and

more glamorous by the month.

Below all this swanning about,

though, is a very powerful

drive, stemming I think from

his upbringing in Motherwell.

He chronicled this tough background in Maggie

and Me, his memoir of growing up gay and

bookloving in the 1980s, and now comes his

first novel, You Will Be Safe Here.

On a sunny Spring afternoon I speak to him

down the phone from Viva HQ. I ask him why

he's set the novel largely in Johannesburg. "I was

reading an article about the murder of a boy in

South Africa," he tells me in his warm, Caledonian

tones. "He looked just like a boy that I'd gone

to school with. The story of what happened to

that boy is part of the inspiration for one of the

contemporary characters in the book."

This led me to ask about the dual timelines in

the novel. After a short prologue, the book opens

with the diary of Sarah van der Watt, taken from

her farm by the British in 1901, and brought

with her six-year-old son to Bloemfontein

Concentration Camp. The diary is addressed to

Sarah's husband, who is fighting against her captors.

"Time is the novelist's tool," he says, reflecting

on Britain's relationship with

her former colony. "That history is

being repeated and also ignored is

a strange irony." He warms to his

theme. "I found it most revealing

to go to the Anglo-Boer War

Museum in Bloemfontein, and to

meet the murdered boy's mother."

The depth and commitment of his

research – five years in total – is

evident throughout the novel,

whether in the details of Sarah's

experiences as a prisoner, or in the

use of slang and Afrikaans that runs

like barbed wire through its pages.

The harshness of colonial history culminates

in an account of a second camp, where young,

awkward Willem is sent at the urging of his stepfather,

who wants Will's awkwardness drilled out

of him. This awkwardness is the awkwardness

most teenagers go through, which Barr expertly

evokes, as well as creating female characters –

Willem's mother and grandmother, a black judge

– who counterbalance Sarah's Boer voice.

We get off the phone and I wonder where

Damian Barr will go next. For there is no doubt

that he has written a moving and brilliantly

written novel, shot through with poetic touches

and characters you won't easily forget. I have a

feeling we'll be seeing him on a fair few podiums

in 2019. You Will Be Safe Here is terrific.

John O'Donoghue

You Will Be Safe Here, Bloomsbury, £16.99.

Damian will be interviewed by Natalie Haynes

at 7pm, Thursday 4th, St. Michael & All Angels

Church, Victoria Road, £10. City Books/Eventbrite

....25....
---
1,000 of your neighbours

each owns a share in

Lewes Football Club.

They want to support their

local club, because it's:

- 100% community-owned

- A non-profit Community Benefit Society

- The only football club in the world

to pay women and men equally

You can become a Lewes FC owner, too,

for as little as £30/year

www.lewesfc.com/owners

It takes less than 60 seconds to sign up.

Your help will make a difference. Join us.

#JoinTheClub
---
BITS AND BOGS

...............................

MAGAZINE OF THE MONTH: CITIX60

I've been coming to or living

in Brighton for almost all of

my life. I carry with me the

big memory of the sea and the

Downs but Brighton means

streets to me. It's in the streets

that the abstract becomes real.

The streets are where you see

kindness and intolerance, variety

and sameness. The streets

are where the life is; the streets

are where towns and cities

come alive or, sometimes, die.

All of which is why, when we

thought of opening Magazine

Brighton, we thought first of Trafalgar Street. It

has always been our first port of call, our entry

to the North Laine and our first breath of the

Brighton we love. It's also why we are so pleased

to be here. Our street is one of the truly independent

streets of Brighton. Without a chain

store in sight, the mix is just brilliant and the

people are the same.

Do you want an independent magazine, a choice

of great coffee shops, a radiator store, a specialist

hat shop, a craft beer outlet,

three or four great pubs,

Vietnamese, Lebanese, Japanese,

Korean or French food,

something vegan, the best Saturday

burger, your computer

repairing, to buy a rug, or the

best chillies and much more?

Just come to Trafalgar Street.

It's all here, just seconds from

the station.

In honour of streets, this

month we are highlighting

a series of city guides called

CITIX60. Pocket-sized, we

like them because they contain 60 recommendations

from 60 local creatives who live on and

use the streets of their own town. Each guide

focuses on museums, architecture, outdoor

sculpture, food and drink, fashion, music,

leisure and more. Visit any one of their recommendations

and you'll be enjoying street life

from the moment you arrive in town. It's the

best place to be.

Martin Skelton, Magazine Brighton

TOILET GRAFFITO #51

As we go to press, we've no real idea if we'll still be in

the EU or not by the time this issue hits the streets.

The Brexit negotiations continue to hold all the

promise of a blind alley, so our advice is to seek out this

cubicle, for here sat an eternal optimist. 'Everything

works out in the end. If it hasn't worked out, it isn't

the end yet.' Tell that to Theresa May and Jean Claude

Junker. But where is it?

Last month's answer: Presuming Ed

....27....
---
INTERVIEW

..........................................

Photo by Adam Bronkhorst, adambronkhorst.com

....28....
---
INTERVIEW

..........................................

MYbrighton: Joe Henderson

Street Cleaner

Are you local? I consider myself local to Sussex

as I was born in Eastbourne but now live in

Seven Dials, just round the corner from where

my nan had a flat in the 80s. I've also lived in

Seaford and Oslo.

What do you do? My ID badge says I'm a

Street Cleaner but sometimes I use the older

term 'Road Sweeper'. Basically, I keep the public

footpaths tidy and litter-free whilst making

friends with the local cats. The seasons dictate

my workload, whether it's natural detritus from

the trees, animal waste, dust or bits of flotsam

that wash up from general human activity. I've

been studying philosophy at the Free University

Brighton (who are based at City Clean depot)

for the last few years so I spend these days

meditating on Phenomenology. It can be a

punishing job but there is a Zen-like quality to

repetitive actions like sweeping.

How does being a Road Sweeper affect how

you perceive Brighton? I notice little things

like the humming paving slabs outside the

electricity plant on Spring Gardens, seagulls

doing a rain-dance in the park (they sometimes

do yoga too) or the strange drone emanating

from the Clock Tower intersection. For a long

time I've had a curiosity about street furniture

– street lamps, abandoned phone boxes, esoteric

road signs and markings – the 'equipment' of

urban places. During major road works I'm

reminded of what's underground, hidden, but

essential. The job I do is not for everyone, but

there is a sense of camaraderie, diligence and a

necessary love of the outdoors within the crew

that is priceless.

What do you like about Brighton? The sense

of anonymity can be refreshing. I like being a

little fish in a big pond. It's still a small world,

and you can't get completely lost (although

many do, there's a lot of runaways in this town)

but it has a transient nature which is what makes

all the community projects and compassion in

the city so important and special. We are in a

UNESCO Biosphere region which recognises

the unique geography of marine, urban and

Downland. The texture of the climate and the

soundscape of seagulls is a constant reminder

of its coastal nature, which is comforting if you

have grown up near the sea and find yourself in a

new city like I did when I first moved here.

Whilst central Brighton can get hectic you can

always get on a bus and escape (the National

Trust have actually funded the number 77 bus

to Devils Dyke for this reason). There are also

parallels with San Francisco, even more so with

the tech work going on at Sussex Uni. In the

future Brighton may become 'Little Silicon

Valley', and where the Victorian pleasure town

clashes with AI and VR is anyone's guess. I'm

keeping an open mind.

What don't you like about Brighton? The

cost of living is astronomical. And 'No pets

allowed'.

When did you last swim in the sea? A few

years ago in Seaford. It's usually deserted on the

beach, even in summer. Last year I discovered

The Pells outdoor pool in Lewes. It's the oldest

in the UK. Brighton buses are linked up to both

these towns.

Interview by Joe Fuller

....29....
---
TASTING ROOM

& CELLAR DOOR

Dine in the heart of a Sussex Vineyard from a

menu of seasonal, modern British cuisine

TWO & THREE

COURSE LUNCHES

S E T M E N U

DINNERS

PURCHASE OUR

WINES & SPIRITS

B O O K TO U R S

& TASTINGS

Tasting Room, Rathfinny Wine Estate, Alfriston, Sussex, BN26 5TU

01323 870 022

rathfinnyestate.com

@RathfinnyTR
---
PHOTOGRAPHY

....................................

Tim Jentsch

Street art hunter

Brighton-based flight

attendant Tim Jentsch uses his

layover days to photograph

street art around the world.

With 10+ years of experience

in photographing street art,

Tim has built up an impressive

network of contacts, which

helps him find a startling

variety of works to share

with his 23k+ followers on

Instagram.

I document street art

because I think it's a very

interesting art movement.

Nothing is permanent. Sometimes pieces don't

last very long, so I catalogue everything in

various cities around the world. I'm involved

with isupportstreetart.com, a not-for profit

street art platform with 100k subscribers.

I've been using a drone to photograph my

finds for about a year. It's absolutely amazing.

Sometimes walls are really high up, and if you

want the perfect picture you need to be in front

of that wall. If you take it from an angle, it's not

going to reflect the full scale.

With its roots in graffiti, there are now a lot

of elements that we include under the term

street art. From quick throw-ups to stencils.

A throw-up is a T and a J, in bubble letters

for example. Stencils are best known through

Banksy. Huge abstract or photorealistic murals

are the tip of the iceberg. Paste-ups are very

popular too, which involve paper designs stuck

up to walls with wheat paste.

Street art is for everyone, rich or poor,

young or old. Whether you want to look at

it at night or in the day, it's there for everyone

to enjoy. I love that the wall

or surface that a piece is on

becomes its unique canvas.

This adds character. It's a oneoff

thing.

A lot of cities support the

street art scene and are now

putting mural trails or street

art maps together to encourage

urban exploring. Unfortunately,

Brighton is far behind

compared to other cities.

I feel that Brighton

hasn't quite understood

the difference between

vandalism and street art yet. A guy who

tags listed buildings and people's property is

a vandal, not a street artist. I don't agree with

that. My vision is that, if the local council

supported this art form more, people would

need to up their game a little bit. It would be

great if we could have a street art festival in

Brighton. The city needs a few big walls. At the

same time we could have a few allocated areas

where everyone can get involved. Like Bristol's

Upfest for example. They put up boards in pub

beer gardens and let everyone be part of it.

The city seems to focus on stopping

vandalism and taggers while neglecting

local talent. It's important to recognise that a

massive mural by a top international artist is

something completely different from someone

writing 'I Was Here' on a wall. That's neither

street art nor graffiti, it's closer to people

smashing windows, than people making art.

As told to Joe Fuller

Instagram @timjentsch,

Facebook @TimJentschStreetart

....31....
---
PHOTOGRAPHY

....................................

Photos by Tim Jentsch. Brighton works by: Bordalo II (top), Minty (bottom) & Mr Cenz (right).

....32....
---
PHOTOGRAPHY

....................................

....33....
---
PHOTOGRAPHY

....................................

Photos by Tim Jentsch. Brighton works by clockwise from top left: Cosmo Sarson, Aroe, Trusty Scribe & Req. Mantra (right, Luxembourg).

....34....
---
PHOTOGRAPHY

....................................

....35....
---
BRIGHTON

PHOTOGRAPHY

It ain't what you view,

it's the way that you view it.

Unique photography of Brighton and the South Downs

brightonphotography.com | 52-53 Kings Road Arches | 01273 227 523

lola james harper

boy smells

basalt

skandinavisk

joya

seven seventeen

100 acres

maison balzac

earl of east

la montana

blackbird

voluspa

evolve beauty

bondi wash

votivo

moa

terrible twins

corinne taylor

kobo

wickcandleboutique.com

Wick Candle Boutique

is Brighton + Hove's unique

candle, home scent and

organic bath & beauty

specialist.

Find over 50 luxury &

artisan independent brands,

with free gift wrapping.

Shop online too

120 Portland Road, Hove

01273 911151
---
PHOTOGRAPHY

....................................

Photos by Tim Jentsch. Artists clockwise from top left: JR (New York), Smugone (Antwerp), Lonac (West Palm Beach, Florida) & Tymon de Laat (Rotterdam).

....37....
---
Over 500 acres of stunning gardens, magnificent woodlands,

tranquil nature reserve and natural play spaces

Kew's wild botanic garden in Sussex

For details and events visit kew.org/wakehurst
---
COLUMN

...........................................

John Helmer

Street

A flattened clod of earth punctured by the

imprint of studs from a child's football boot. A

window cleaner going house to house collecting

fees. Two for-sale signs.

A robin. A cat snarling at a dog. A dog barking at

a fox. A fox in the night slinking up an alley then

turning to stare back at us, its eyes two shining

silver discs.

At 7:45 am, a builder parked with the engine

running, shouting into his mobile phone over

the sound of a car radio. Boys in blazers blocking

the morning pavement to pick up a friend –

while the friend's mother watches nervously

from an upstairs window.

The columnist, running for the bus stop at the

end of the road.

Scaffolding on house-fronts to roof level. A skip.

A spattered cement mixer in the road and planks

placed over the steps up to a front door.

A silver-haired woman and her giggling

granddaughter taking a puppy for its first

walk. Charity bags full of clothes left out for

collection.

The tail end of a queue for hot cross buns from

the baker's shop round the corner on Good

Friday morning.

Wheelie bins at mad angles, some on their backs,

after a storm. Rust-coloured slugs sprawled

across a garden path following rain. The sound

of scrapers on frosted car windscreens.

Six magpies in the street's only tree. A tax rebate

on the doormat.

Dawn, fog, rain, sun, twilight, dusk, night.

A dog-walker watching his cockapoo distractedly

as it squats in front of the columnist's house.

Later, the columnist walking out of his front

door, stepping in the dog poo and swearing.

A bike shed, blown over a wall by high winds,

blocking the path to a neighbour's front door. A

further bike shed, home-built out of pallet wood.

Dogs barking at postmen.

A skateboarder misjudging the camber of the

road and falling off.

A suited man standing in the porch of his house

with mobile phone held high to hail his Uber.

Children in demonic costumes going from

house to house, begging for sweets.

A flute being practised.

Members of a book group arriving at the door,

clutching Prosecco.

Ocado vans ventilating on a Friday evening.

An English teacher in a kilt, playing bagpipes on

the steps of his house at New Year, while friends

and neighbours cavort in the road.

The erratic chime of glass bottles being

placed in a recycling bin by a hungover

householder as the recycling van

approaches remorselessly

from two doors down.

An unexpected

spring day in

winter; the

warmth

of dusty

sunlight

belied by an

underlying

air-chill.

A child crying

in the night.

An unnoticed

earthquake.

Illustration by Chris Riddell

....39....
---
COLUMN

.........................

Lizzie Enfield

Notes from North Village

Illustration by Joda (@joda_art)

There's a new street at the end of our street.

They have a habit of appearing, almost as if

by magic, in places where previously there was

just a bit of space on the map.

Not long after moving into our current home,

a new street was created where previously

there had been garages and a large skulk of

foxes. (I had to look up the collective noun

for foxes and, given the amount of skulking

around they do here, found it particularly apt.)

I thought the street namers might have given

a nod to the foxes' former home when they

came up with a name for the street. There

are plenty of precedents for this elsewhere:

Lamb's Conduit Street in London, for

example, which is now all artisan dining and

select clothes shops, was once the way along

which sheep were driven through the city.

And in Norwich, where my daughter is now

at university, there is a Rampant Horse Street

where the mind begins to boggle imagining

what must have gone on there…

So I thought that the new street would be

named something like Fox Skulk Street or

Cunning Vixen Close but instead the namers

just added 'Close' to the name of the street it

turned off.

So far, so unimaginative. I was hoping for

better with the new new street, which has just

materialised beside the railway line.

Murderous Crow Street perhaps or, better

still, name it after a notable local resident,

like on the buses – one of my closest friends

was surprised and delighted to see her father

heading towards her along St. James Street

several months after his death. He'd been

immortalised on the front of the bus, which

gave her family much pleasure.

This particular part of town is full of writers

and, where Hove has a Poet's Corner, here we

could start a Writers' Enclave. Grant Street

perhaps after my illustrious neighbour Colin?

Or Chris Riddell Close? I wouldn't presume

after an Enfield Street although there is

one in Birmingham and I do have a whole

London borough to my name.

So I was eagerly looking forward to the

naming of the new street and a little

disappointed that, again, it's taken the name

of the neighbouring street and simply turned

itself into a mews.

A lost opportunity and also, it turns out, a

generator of lost people.

This new street is not on the map. Phones

and Satnavs are about as useful as the very

first Satnav I owned. It took so long to load

all the maps, back in the dark ages, that I

gave up after a while and, whenever we went

beyond the loaded map area, the Satnav would

behave as if we had entered a vortex and start

shouting at us to go back to the road.

I've a mind to position myself near the

entrance to the new street and shout

directions to some of the people spotted

staring at their phones and vainly trying to

find it.

....41....
---
BRYONY KIMMINGS

I'M A PHOENIX,

BITCH

" Unmissable"

Lyn Gardner

3, 4 & 7 MAY 8PM

5 & 6 MAY 4PM

PREMIUM £18/£14

STANDARD £16/£12

01273 678 822

attenboroughcentre.com

University of Sussex, Gardner Centre Road, Brighton BN1 9RA

HHHHH The Guardian

HHHH The Stage

HHHH Time Out

HHHHH What's On Stage

Gareth

Treason

Southgate

Productions

Ate My Credit Card

A new comedy by Paul Hodson (Brighton 'Til I Die & Fever Pitch) &

Mark Brailsford (The Treason Show & Southern Fail the Musical)

NOW IN IT'S RECORD BREAKING 19TH YEAR!

THE TREAS N SHOW

"Savagely funny - fantastically silly" The Guardian

The Latest

chortle.com

The Argus

Broadway Baby

Northern Echo

Fringe Guru

DIRECTED BY BRIGHTON FRINGE AWARD WINNER MARK BRAILSFORD

How love and football can ruin your life: a comedy

Thur 9th - Sat 11th May

7.30pm

Tickets £11.50 & £13.50

Box office www.brightonfringe.co.uk

or call 01273 917272

Thurs 23 - Fri 24 May @ 8.30

Sat 25 & Sun 26 May @ 9.30

Tickets £10 -£15

Meal deals & Cocktails!

Tickets www.treasonshow.co.uk

or via fringe box office 01273 917272
---
COLUMN

...........................

Amy Holtz

The truth is, I'm a Minnesotan

"You know where we can get a

taxi?"

It's Saturday night and the outof-towners

are still relatively well

behaved. They'll be disappointed

in a moment though, that they've

asked me.

"Yeaaaaahhhh," I exhale and start

to open all the little drawers in

my mind where street names

go. As always happens, only bats

fly out. "Er, just go down there

a ways, past the buses, and it'll be just there…"

I check my hands for the tell-tale L, "on your

right."

It's not a diagnosable problem, I'm sure, but it

probably shouldn't take a person 14 years to

learn the street names in Brighton. I mean, I

know what the names of streets are, just not, you

know, where they are. This, and I'm not 100%

sure of the difference between Hangleton and

Hanover, except there are hills involved. And

one of them is actually called Muesli Mountain.

Either way, I find it hard to visit neighbourhoods

that exist at the top of an incline, with their

own microclimates. (Little known fact –

Woodingdean is actually Brigadoon.)

Last week, on the way to a work meeting on

Middle Street, I led everyone down the wrong

lane. I was feeling confident because there was

that church with all the art, and those shoe stores

and then that store that sells bins and toilet

brushes AND greeting cards and then that's

where things got a little muddled.

"Um. Well. It should be here." The trouble

was, I didn't know which direction – now that it

clearly wasn't here – Middle Street was in. "Let's

go down this alley –" I said, confidently, "I'm

sure it's just down this way."

It only took an hour for

other people to exit the

Bungarooshed path, and then

we took our turn to tramp

through, westward. It spat

us out somewhere between

Kemp Town and Portslade,

which seemed promising.

We appeared to be at the

hellmouth of one of the less

picturesque bottom lanes (a

term not widely used, but accurate), where the

buildings all match; grimy doors and windows

sitting flush with their dull façades. Is this

actually a bottom lane? Or bottom laine? Or is

it actually spelled 'lahaigne'? Does anyone know?

Then it started to rain. I hand-checked left... and

then right. A loud sigh (not uncommonly heard

when I'm in charge of geographical pursuits)

sounded behind me.

"It's this way," someone says, taking the lead and

my elbow and guiding me, not unlike their nan,

down the road.

The biggest issue, for me, is that nothing makes

sense here. Sure, there's no poetry whatsoever in

our stateside street nomenclature, but at least – if

you can count – you can find 7th from 8th Street

(with the exception of 7½th Street, but we won't

get into that).

But whoever cast ill-devised names willy-nilly

through old Brighton was quite the jokester, like

the one they called North Street, which changes

its mind just around the time it actually starts

going north and turns into something different.

But hey, why be 'lane' when you could be

'lahaigne'? How charming to be both… despite

my perpetual bewilderment.

....43....
---
LEGENDS LIVE

Sun 7 Apr

UB40 FT ALI & ASTRO

Mon 8 Apr

THE ORIGINAL HARLEM

GLOBETROTTERS

Sun 5 May

MICHAEL BALL

Wed 8 May

box office 0844 847 1515 *

www.brightoncentre.co.uk

*calls cost 7p per minute plus your phone

company's access charge

1.4 | The Greys Pub

Melting Vinyl & terrace cred present

Rose Cousins

9.4 | The Rose Hill

Alex Rex

12.4 | St George's Church

So Recordings presents

Band of Skulls

27.4 | St George's Church

The Unthanks:

Unaccompanied, As We Are

30.4 | Komedia

C Duncan

30.5 | Westgate Chapel, Lewes

Melting Vinyl & Lewes Psychedelic

Festival present

Death and

Vanilla

3.6 | The Old Market

Julia Holter

10.6 | The Prince Albert

Vanishing Twin

21.6 | St George's Church

Joan as

Police Woman

JOANTHOLOGY TOUR

24.10 | The Hope & Ruin

Melting Vinyl and Love Thy

Neighbour present

Pom Poko

Tickets for shows are available from your local record shop,

seetickets.com or the venue where possible.

meltingvinyl.co.uk
---
MUSIC

..........................

Ben Bailey rounds up the local music scene

CURRLS

Tue 9th, Hope & Ruin, 7.30pm, £7/6

Brighton trio

Currls have only

released one song

so far, yet they've

spent the last year

playing ever-bigger

support slots and local festivals, including

Brighton Pride and The Great Escape. All this

based on the strength of last year's single April Fool

(and yeah, it's that good). Currls' sound is a mix

of post punk and power pop – channelling The

Strokes, Gossip and Blondie – with strident vocals

that somehow signal both nonchalant cool and

pure exuberance. This gig, which also includes a

support set from Djuno, is the launch party for

Currls' second single Let Down. With expectations

set so high, let's hope the title is ironic.

WASHED OUT FESTIVAL

Fri 12th & Sat 13th, various venues, £22

Festival season

starts earlier every

year in Brighton as

new events arrive

and settle for an

unclaimed weekend

either side of the summer. The first Washed Out

took place a couple of years ago and has since

expanded across eight central Brighton venues.

The founder of the festival risked his student loan

on the original line-up; luckily it paid off. Though

the acts are from all over, the event is rooted in

the city's DIY scene and covers every sub-genre

on the spectrum between indie and punk.

Brighton bands dominate the bill, such as Arxx,

Big Slammu, Beach Riot, Ditz, Egyptian Blue,

Squig and Gender Roles (pictured).

BAD POND FESTIVAL

Sat 20th & Sun 21st, Concorde 2, 2pm, £35/22

Jamie Lenman and

Three Trapped Tigers

headline this year's Bad

Pond Festival, alongside

a strong line-up of over 20 bands. What began

as an all-dayer at the Green Door Store in 2015

has grown into a proper weekender down at the

Concorde. The music is leftfield and experimental,

with an emphasis on the rockier side of what

that might mean. There's electro-punk from

CLT DRP, folky alt-rock from Wild Cat Strike,

classic instrumental prog courtesy of Poly-Math

and some upfront fuzz pop from rising grunge

rockers Beach Riot. Harder tastes are catered for

by Broker's post-hardcore barrage and The Guts

(pictured) who describe themselves as a "mathcore

jump scare scream team".

NAOMI BEDFORD &

PAUL SIMMONDS

Fri 26th, Unitarian Church, 7pm, £16

Naomi Bedford was singing

at a party in Brighton

when she was overheard

by the guys from Orbital

who ended up getting her

to do the vocals on their 2001 hit Funny Break.

These days she's found playing Appalachian

ballads with her partner Paul Simmonds from

folk punk stalwarts The Men They Couldn't

Hang. This gig is a benefit for the Peter Tatchell

Foundation, a human rights charity set up by the

LGBT campaigner (Tatchell himself is appearing

as a guest speaker). The event is billed as 'A Night

of 21st Century Folk Music' and also features

Robb Johnson, Bird in the Belly, Lisa Knapp and

Sarah Clarke Kent & Sue Tyhurst.

....45....
---
Hugh Bonneville

Liz White

SHADOWLANDS

By William Nicholson

Hugh Bonneville plays writer C.S. Lewis in this multi award-winning play

about his life-changing relationship with Joy Gresham, played by Liz White.

TICKETS FROM

£

10

26 April – 25 May

cft.org.uk

#Shadowlands
---
BOOKS

.............................

Let Me Be Like Water

The 2019 book for City Reads

What does it take for a novel

to win over the panel of City

Reads, arguably Brighton and

Hove's biggest book club?

The answer is: quite a lot.

"It has to have really meaty

themes but it's also got to be

easy to read," explains City

Reads' artistic director Sarah

Hutchings. "It doesn't have to

be set in Brighton but, if it's

a good read and it's set here,

that would probably give it

the edge on another title. And

since it's going to be read by

thousands of people, it's got to

be a book that will get everyone talking."

Fortunately, the panel were "pretty much

unanimous" when it came to this year's

choice – SK Perry's Let Me Be Like Water.

Hutchings had previously had her eye on Perry

as a promising young poet; in 2013 she was

longlisted for London's Young Poet Laureate

and was later a resident artist at Camden's

Roundhouse. "So when I heard she had just

published her first novel and it was set in

Brighton I got quite excited."

The novel tells the story of twenty-something

Holly who impulsively moves to Brighton

from London as she grieves the death of her

boyfriend. Lost and alone, it is only when she

meets retired gay magician Frank that the

tide begins to turn. As she is introduced to his

eclectic group of friends, all with their own

stories to tell, she starts to heal. "You can tell

she's a poet," remarks Hutchings. "There's a

sparseness and lyricism to the language she

uses and it's incredibly moving. Parts of it

made me cry. But then there's

also humour, there's punch;

you really feel for the central

character."

The novel is not a "pedestrian

read", says Hutchings, but

she is confident the thousands

who take part in City Reads

every year will embrace it. In

its 14-year history City Reads

has highlighted titles ranging

from Matt Haig's tonguein-cheek

sci-fi The Humans

to Ali Smith's challenging,

post-modern novel Hotel World;

Bethan Roberts' Brighton-set

love story My Policeman to Rose Tremain's

groundbreaking Sacred Country – and not

forgetting the year they outraged fans by

choosing Ian Fleming's From Russia With

Love. "A lot of our hardcore fans were appalled

and didn't like it at all," says Hutchings. "But

generally, the lovely thing about our readers

is that they're pretty up for anything. People

who love reading tend to like recommendations

from other people who love reading."

Nione Meakin

A range of events will support the city-wide

reading group, including a book swap at Jubilee

Library from 5pm on World Book Night (April

23), when book-lovers are encouraged to bring

a beloved title to swap; a live interview with

SK Perry by fellow poet Bridget Minamore

at Brighton Festival on May 12 and Amongst

Friends, a special literary salon on May 2 where

four writers are invited to read from books that

explore friendship – one of the themes of Let Me

Be Like Water. collectedworks.co.uk

....47....
---
4 – 26 May

Young

Brighton

Festival

COLOUR OUT OF SPACE

INTERNATIONAL EXPERIMENTAL

SOUND AND ART FESTIVAL

26th - 28th April 2019

From infants to Instagrammers,

Brighton Festival is packed with

opportunities for younger people

to get involved - find out more at

brightonfestival.org

Illustration ©

Simon Prades

www.colouroutofspace.org
---
THEATRE

.............................

Rotterdam

A trans story on stage

When director Donnacadh O'Briain first

came across Jon Brittain's Rotterdam in a pile

of scripts still to be read at new writing hub

Theatre 503, he knew he had found something

special. The story is, at heart, a simple one:

Alice is finally about to come out to her

parents when her long-term girlfriend Fiona

announces that she is transgender and wants

to transition to live as Adrian. What follows is

a wry and bittersweet exploration of identity,

sexuality and love. "It just kept making me

cry," says O'Briain. "Even when I read it out

loud with other people I would keep having

these moments when I had to stop and pretend

I was about to cough or something. I was very

affected by it. I found myself really fascinated

by these people and the difficulty of their

situation."

Brittain, who also wrote cult hit show Margaret

Thatcher Queen of Soho and the Fringe First

Award-winning A Super Happy Story (About

Feeling Super Sad) was inspired to write

Rotterdam after a friend transitioned from

female to male when they were both in their

20s. The same friend later acted as a script

consultant on the production, along with

input from many other people from the trans

community. "The storyline is a very central

theme in the lives of trans people – it's a

difficult situation for a lot of couples. But there

are elements of universality too because it's

a story about what happens to a couple when

something major enters their relationship; it

could be a child or an affair. It's essentially

about whether a couple can survive something

really difficult."

Rotterdam premiered at Theatre 503 in 2015

and transferred to New York and then the

West End before winning an Olivier award

in 2017. Does O'Briain feel it was the right

play at the right time? "To me it seemed like

a real story about real people but one that

wasn't being presented. When you see that,

it's always a play for now because it must mean

a story is being sidelined or censored in some

way. But it became apparent as we approached

the production that there was a shift in the

movement towards recognition of trans people

and in the level of understanding about what it

means to be trans. I felt we were in a position

to not just be seen as a fringe event but as part

of a much bigger conversation."

It is now touring the UK, including a stint

at Brighton's Theatre Royal. Touring is

important, says O'Briain: "Because these are

characters in a situation that is not one people

understand as everyday. We've seen such

positive things happening when people have

watched it in London and in New York and we

aspire to create the same feelings and changes

in people's outlook on the tour but we'll just

have to wait and see what happens."

Nione Meakin

Theatre Royal Brighton, April 8–10.

....49....
---
Experience Horrible Science activities this Easter holiday

6 – 22 April

For details visit kew.org/wakehurst

Horrible Science® is a registered trademark of Scholastic Ltd. And is used under authorization. All rights reserved.

Based on the bestselling books written by Nick Arnold and illustrated by Tony De Saulles. Illustration copyright

©Tony de Saulles. Licensed by Scholastic Children's books through Rocket Licensing Ltd.

ISLAND OF THE

HUNGRY GHOSTS

7 APRIL

CHINA PLATE &

STAATSTHEATER MAINZ

CHRIS THORPE

STATUS

9 APRIL

HE XIANGYU

THE SWIM

14 APRIL

APPARAT

26 APRIL

APRIL

01273 678 822

attenboroughcentre.com

University of Sussex, Gardner Centre Road, Brighton BN1 9RA

HIGHLIGHTS
---
NATURE

.............................

Surviving or thriving

Exploring the state of the world's plants at Wakehurst

If your grandparents ever told you that bananas

don't taste like they used to, it turns out they

were right. They might have developed a taste

for the Gros Michel, a variety that was all but

wiped out in the 1950s by the fungus Fusarium.

It was replaced by a resistant cultivar, the

Cavendish, that we all know today, but all

monocultures are susceptible to disease and

the Fusarium fungus has evolved a deadly new

strain to which the Cavendish has no resistance.

The race is on to find a replacement.

It is research like this that is going on at Kew

and in plant science laboratories the world

over, and the subject of a new exhibition –

Surviving or Thriving – at the Millennium Seed

Bank at Wakehurst.

"Scientists at Kew are involved with the Crop

Wild Relatives project, which is looking for

wild relatives of vegetables, fruits and grains

that we know exist all over the world," explains

Astrid Krumins, Interpretation Manager at

Wakehurst. "We're looking for traits that

might have been bred out over time, like

resistance to pathogens and good water use.

Commercial crops like cotton and maize need

huge amounts of water to grow, so, if we can

selectively breed them with varieties that need

less, we can continue to grow them as the

climate changes."

This is just one strand of the interactive

exhibition that draws on Kew's landmark State

of the World's Plants reports. "It's a real mix of

news," says Astrid. "Surviving and thriving

are relative terms and good or bad depending

on your view point. Some plants that are

thriving are things we may not want. Invasive

plants like Rhododendron Ponticum which

was introduced to the UK in Victorian

times and is now taking over huge areas

of Downland." Other plants we are only just

beginning to understand. "We are still finding

new plants; around 2000 a year are discovered

in a scientific sense, which is different from

stumbling across a plant in your garden or on

holiday."

If you haven't visited the Millennium Seed

Bank before, you might be surprised to

discover that it looks more like a NASA

research facility than a greenhouse. As its

name suggests, it was built to store seeds

from all over the world – an underground

ark preserving plant genetics for future

generations – but it is also a hub of scientific

activity, conservation and propagation. Visitors

to the exhibition can watch the scientists at

work in their glass-walled laboratories whilst

learning about the kinds of research going on

inside. How plants are changing to cope with

an uncertain and more extreme climate; about

the threats they face from pests, pathogens

and illegal trafficking; about their diverse uses

from medicine to Marmite, and cutting edge

innovations in genome sequencing.

It's a fascinating insight into the power and

potential of plants to tackle the challenges of

a rapidly changing world, and

how, of course, their survival and

ability to thrive is inextricably

linked to our own.

Lizzie Lower

kew.org/wakehurst

....51....
---
Award-winning independent

3 screen cinema

Next to Lewes station

Pinwell Road, Lewes BN7 2JS

01273 525354

lewesdepot.org
---
THEATRE

.............................

Bryony Kimmings

Autobiographical activist

I get the sense, trying to get hold of Bryony Kimmings,

that she's a busy woman. Which is what

you might expect for someone who bills herself,

on her website, as 'director, activist, musician, performance

artist, comedian, writer, theatre maker,

feminist, playwright, loudmouth'.

I finally nail her down when she's sitting still in

the same place for an hour – on the 14.48 to Victoria.

She's going up to London from hometown

Brighton for a performance of I'm a Phoenix, Bitch

at the Battersea Arts Centre, where it's enjoying

a second run before a five-show Brighton Fringe

stint at the Attenborough Centre, at the University

of Sussex, in May.

"It's the story of one woman surviving the most

traumatic year of her life, in which she gets sick

and she loses her mind to a psychosis," she tells

me. That woman is Bryony herself: in 2015

she suffered from a crushing case of post-natal

depression, during which she lost her partner and,

very nearly, her child.

Her career, too, was jeopardised. Bryony had

made a real name for herself with well received

shows such as Seven Day Drunk, in which she

examined the effect of alcohol on creativity by

boozing from 10am to 7pm then performing, and

Credible Likeable Popstar, in which she acted out

her nine-year-old niece's fantasy celebrity, with

the resulting pop songs getting Radio 1 airtime.

But then "I got it so badly that I stopped going

on stage. I was just terrified and really underconfident,

it's taken a lot to change that narrative in

my head."

The very act of creating I'm a Phoenix, Bitch

helped her come through the crisis. "[I've used]

theatre as a sort of cathartic therapy for both myself

and the audience to look at who we become

after something traumatic happens, and how you

repair yourself after that," she says. The first run

was a tremendous five-star success: Time Out

described it as a 'metaphysical glitter cannon of

trauma being fired straight at your chest'.

In the show she displays much of the versatility

she's famous for: I'm a Phoenix is part musical,

part pop video, part horror film, with Bryony

playing various versions of herself, while battling

with her interior monologue, which takes the

voice of "a straight, white, misogynistic, middle-class,

male TV drama exec."

She has described herself in the past as a 'washing

your dirty laundry in public sort of girl' and she

calls this "a baring of the soul". This soul-baring,

it seems, comes naturally: "The ability to deconstruct

the self and be able to talk about things that

people really don't want to talk about, that's just

very inherent in my family."

But is there the danger, I wonder, as the train

pulls into the station, of Bryony straying into

self-obsession territory? She thinks of herself

more as an 'autobiographical activist', it seems.

"If I sacrifice my own secretiveness, it might help

other people… I'm sent to be the jester, so the

world can change." Alex Leith

ACCA, 3rd-7th May

....53....
---
Join us at Polpo Brighton for 10% off

your meal and a complimentary bellini!

Offer runs until September 1st.

20 New Rd, Brighton BN1 1UF

www.polpo.co.uk | @polpo
---
THEATRE

.............................

Glengarry Glen Ross

Mark 'The Machine' Benson

I've heard that the David

Mamet play Glengarry Glen

Ross – also, of course, a

Hollywood movie – contains

so many swear words, that in

the acting world it's acquired

the nickname 'Death of a

F*****g Salesman'.

"We counted how many swear

words were used," says Mark

Benson, who plays the role

of Shelley 'The Machine'

Levene, so memorably

performed by Jack Lemmon in

the movie. "I had the most. It

came to 74."

If you don't know who Mark is, you probably

haven't watched much TV over the last

20 years. He played Eddie in Early Doors,

Howard in Northern Lights, and Chalky in

Waterloo Road. He hosted the game show The

Edge, starred in the 2017 Marks & Spencer

Christmas ad, and reached round ten of the

2013 edition of Strictly Come Dancing. More

recently, he's played the private detective Frank

Hathaway in the BBC series Shakespeare &

Hathaway. He's big, he's scruffy, and, hailing

from Teesside, he's irrevocably northern.

But not in Glengarry Glen Ross. "The play is

set in the cut-throat world of salesmen, selling

plots of land, near Chicago," he says, "so I've

learnt to do a Chicago accent… The David

Mamet script has us all speaking really fast –

like people do in real life – so it's been really

hard to learn. It's probably the hardest part

I've ever had to do on stage: but when we get it

right it's brilliant, it just goes like a train."

Mark is the most recognisable name in a cast

of seven, but he feels that this is very much

an 'ensemble' production.

"What's nice about it," he

says, "are that there are

no egos at work. Everyone

has their moment to shine,

so everybody's satisfied,

everybody's happy with what

they've got to do. We're like

a little gang, going round the

country."

Mark's character is in trouble:

Shelley Levene used to be the

top man in the sales team, but

he's having a run of bad luck,

his leads are lousy, and he's

facing the sack. Meanwhile,

his daughter's ill, and the medical bills are

mounting. I wonder how easy Mark finds it to

unburden himself of his character's problems,

once he's finished performing the role. Or

has he been taking all Levene's pent-up

frustrations home with him?

"That could be a problem, he says, "especially

with a heavy role, like this one. But I'll tell

you what. When I'd just started out, I worked

with Mike Leigh. You improvised with Mike,

and he always had a cut-off point where he

said 'come out of character.' So you'd come out

of character, and then you'd talk about that

character, objectively. From then on, I've been

able to become myself again when I wanted to."

So did all the profanities not leak into Mark's

day-to-day conversations? "Oh, that. It became

second nature, to tell you the truth. I went

home once, after rehearsals, and my wife said:

'would you please stop swearing so much?' It

took a while to get back to normal."

Alex Leith

Theatre Royal, April 22nd-27th

....55....
---
PODCASTS

.............................

Wave Festival

Pick'n'mix podcasts

Angela Barnes appears with Richard Herring in the Leicester Square podcast at TOM

Given the rising popularity of podcasts over

the last few years perhaps it's only natural that

there should be a festival in Brighton dedicated

to them. Wave is a two week programme of

events at venues across the city featuring some

of the UK's favourite podcasts recorded live, in

front of an audience.

Local promoters One Inch Badge have been

putting on gigs in Brighton for years, but this

is the first time they've turned their attentions

to the art of talking. For Wave, they were able

to drill down into the data to find out what

people in the city are listening to.

"Brighton is hugely up for this kind of

content," explains festival programmer

Ollie Catchpole. "These are all

shows that I listen to, but they

are shows that we know local

people listen to as well. There

are a couple of other podcast

festivals around the country,

but we wanted to make sure

that Brighton had its own

version. We wanted to be one

of the first to present a whole

festival with some of the most

popular podcasts out there."

On April 3rd, Richard Herring

brings a version of his longrunning

Leicester Square podcast to

The Old Market for a double set,

one with Brighton-based comedian

Angela Barnes. The week after,

Romesh Ranganathan comes to the

Theatre Royal to interview Rag 'N'

Bone Man for a special edition of Hip

Hop Saved My Life. Other shows in the

programme take a light-hearted look

at subjects such as parenting, films, lifestyle

tips and historical mysteries. "Because it's the

first time we've done this we wanted to offer a

variety of different genres that anybody could

pick up on. We're giving people a chance to

be a part of these conversations and see them

in a radio show environment. Most podcasts

don't launch with the idea of going out live, but

some like No Such Thing as a Fish do massive

rooms and Brett Goldstein [who hosts Films to

be Buried With] tours constantly. Then we have

smaller shows like Unexplained that are doing

their first ever live event."

On the strength of early ticket sales the

organisers have already announced plans

to turn Wave into an annual fixture. But

what explains the popularity of podcasts

in the first place?

"I think it's because they're so userfriendly,"

says Ollie. "It's the same

as having a music library. There's

such a variety out there, and people

can pick and choose what they

download and listen to without

having to rely on the radio.

"I'm a huge podcast fan myself. It's

like any new format, it takes a while

for people to understand what it is.

But some of the podcasts now, with

people like Simon Mayo and Mark

Kermode, they're absolutely huge. I

think audiences are warming, in vast

numbers, very quickly to the idea of

podcasting. People can approach it

quite easily now, because everyone

has a smart phone. It's there in

front of them." Ben Bailey

brightonpodcastfestival.co.uk

....56....
---
PODCASTS

.............................

NO SUCH THING AS A FISH

Tues 2nd, Brighton Dome, 7.15pm, £21

One of the

biggest

podcasts

going, No

Such Thing

As A Fish,

started out

five years ago

as a fun side project by the researchers from

the TV panel show QI. Since then they've

won numerous awards, sold out the Sydney

Opera House and bizarrely released an album

of their first 52 podcasts on vinyl. The team of

four typically take turns to share facts they've

learned that week, each responding with quick

gags or even weirder nuggets of knowledge.

And, no, technically speaking, fish don't exist.

The show is highly entertaining, potentially

educational and not as nerdy as it sounds.

THE RECEIPTS

Sun 7th, Sallis Benney Theatre, 7.30pm, £15

"It's a WhatsApp group

chat come to life,"

says Audrey Indome,

discussing the broad

appeal of the Radio

1Xtra podcast she hosts

alongside Tolani Shoneye

and Milena Sanchez. Realising there was

nothing out there that connected with the

experiences of black British women, the group

got together after another podcaster claimed a

show like this wouldn't be possible. Clearly, they

were wrong. The Receipts is three women talking

honestly and openly about... well, whatever

they feel like. The group's refreshingly frank

banter covers plenty of ground from race and

relationships to daily frustrations and sexual

misadventures – all peppered with pop culture

references and everyday swearing. There's

occasional group singalongs as well.

FILMS TO BE BURIED WITH

Sun 7th, The Old Market, 7.45pm, £16

This podcast does for

movies what Desert

Island Discs does for

music – but with a

macabre twist. "I'm

sorry to tell you this,

but you've died," Brett

Goldstein informs his

guests, before encouraging them to furnish

the details. "How did it happen?" Goldstein is

a stand-up who's appeared in Doctor Who and

Derek, but here he takes a backseat as his guests

discuss their favourite films. The show often

takes a nostalgic turn through movies both

great and naff, and sometimes even dips into

reflections on mortality. Previous guests have

included Ricky Gervais, Katherine Ryan and

Scroobius Pip. For Wave he'll be chatting with

Asim Chaudhry from BBC comedy People Just

Do Nothing.

THE BUGLE

Fri 12th, The Old Market, 7.45pm, £17

On the podcasting

timeline The Bugle

is the dinosaur that

refused to die. First

commissioned way

back in 2007 by The

Times, Andy Zaltzman's comedy news podcast

was originally a co-production with John

Oliver before the latter became a TV staple

in America. Now an independent show with

a long roll-call of comedy guests, The Bugle

examines current affairs through the lens of

Zaltzman's deadpan humour. His scattershot

approach and love of wordplay means every

topical skit is linked by endearingly silly

detours. It's like Radio 4's The Now Show, only

funnier and more freewheeling. As the blurb

explains, it's full of 'freshly-hewn satire, lies,

puns and high-grade bullshit'. Ben Bailey

....57....
---
NOURISH YOUR CREATIVITY

with over 800 arts and craft short courses

Expert tutors and fully equipped workshops | Inspiring surroundings

www.westdean.ac.uk

West Dean College of Arts and Conservation,

Chichester, West Sussex PO18 0QZ

MANIFESTO

LAUNCH

North Gallery, University of Brighton

Saturday 6 April | 17.00 – 19.00

Join us for the launch event of our ten-year vision

for new ways of thinking about art and art history

in education.

On Saturday 6 April at the University of Brighton's

North Gallery. The manifesto builds on the work

of the Association for Art History to develop new

exchanges and collaborations across the arts,

education and society. Free and open to all.

@forarthistory

www.forarthistory.org.uk
---
THEATRE

.............................

To Begin The World Again

Ian Ruskin on his Life of Thomas Paine

Your one-man play gives an

airing to Tom Paine's life

and ideas. How did you go

about writing it? Is much

of it in his own words? I

began by reading (most) of his

writings: a long list! Then,

biographies – starting with

the first. This gave me a clear

idea of the changing attitudes

to the man over time. And I

was lucky enough to have five

leading Paine scholars review

my writings and point me in the right direction.

Yes, much is in his words. I present them within

the context of when they were written.

It's striking that Paine was read by so many,

and rejected by so many (only six people

at his funeral). Was he, above all, a plain

speaker – thus, a threat to all as a threat to

the status quo? Exactly! What made Paine

dangerous to the establishment was his ability

to use language that the 'common man' could

understand and find inspiring. He wrote in

short, simple sentences and his works, beginning

with Common Sense, broke all sales records. At

the same time, he attacked slavery, the power of

monarchy, and organised religion – particularly

through a scathing review of the Bible. No

wonder he had as many enemies as friends!

You're interested in extraordinary people?

Nikola Tesla, Tom Paine, Harry Bridges.

What do they have in common? To my

mind, each is, in his own way, a genius. They're

certainly among the most maligned, misused

and misunderstood men in history – a line

from the play. Their visions and aims were

Photo by Tom Dempsey

to revolutionise the systems

they lived in and bring about

a world with greater equality,

democracy and power to the

people. No wonder their

legacies have been so efficiently

suppressed and distorted.

Why is it important to you

to tell their stories? Living as

an actor in Los Angeles, and

working mainly in television,

I grew tired of playing the

intelligent bad guy in shows

such as Murder She Wrote and MacGyver. The

discovery of these men changed my life. I had

found stories that I believed in, that meant

something to me, and that took me back to the

reason that I wanted to be an actor in the first

place. Now I get to tell them across America,

in Canada, Hawaii, Australia and England,

including Lewes, where Paine spent so many

important years of his life.

Have you been to Lewes? Once before.

My last three years in England I lived in

Sharpthorne, Sussex, and in 1984 my girlfriend

and I came to Lewes for Guy Fawkes night. I

had never seen such a combination of pageantry

and rebellion, and in such a beautiful English

country town. The celebration of the fact that

he was caught (the burning at the stake) and

that he nearly pulled it off (the fireworks) –

that, at least, is my interpretation. I'm eager to

return, if not with the same pageantry, at least,

I hope, with some of the rebellion!

Interview by Charlotte Gann

Attenborough Centre, 25th, 4.30pm,

All Saints Centre, Lewes, 27th, 7.30pm

....59....
---
Contemporary

British Painting and

Sculpture

We look forward to welcoming

you to our gallery in Hove.

OPENING TIMES

Mon—Sat 10.30am—5pm

Sunday/bank holidays 12pm—5pm

Closed Tuesday

For more details visit

CAMERONCONTEMPORARY.COM

CCA_VivaLewes_Advert_66x94_June2018_v1.indd 1 17/06/2018 09:0
---
ART

.............................

Kitchen Still Life, 1948 by William Scott

© Estate of William Scott 2019, Image courtesy of Southampton Art Gallery

In Colour - Sickert to Riley

Exhibition at Charleston

In Colour – Sickert to Riley is the second exhibition

in the new Wolfson Gallery at Charleston.

Curated by the textile designer Cressida Bell, it

runs until the 26th of August. Thirty one paintings

by thirty one twentieth century British artists,

all engaging with colour in their sometimes very

different ways.

While evoking 'a grey dusty withered evening

in London city' in Our Mutual Friend, Dickens

conjures up a wonderful phrase – 'the national

dread of colour'. And indeed, we often seem

to have had an ambivalent attitude to colour.

Reviewing the 1910 New English Art Club

exhibition, Huntley Carter identifies and praises

a small group of 'colourists' within the club's

ranks – Lucien Pissarro, Harold Gilman, Robert

Bevan and Spencer Gore (the last two also feature

in Cressida Bell's show). However, he then

cautions that 'three fourths of the human race

are unaffected by colour, except in a hostile form.

Pure, clean colour arouses in their honest bosoms

an exasperation only equalled by that called forth

by the so-called indecent forms of art.'

I don't know whether Cressida Bell would agree.

Viva Lewes readers may remember the (very colourful)

cover she did for the February 2019 issue.

In the accompanying interview with Joe Fuller, she

expressed a wish that people would try wearing

....61....
---
ART

.............................

Portrait of a Girl, 1912 by Mark Gertler. © Tate, London 2019

....62....
---
ART

.............................

Warm Up, Cool Down by Wilhelmina Barns-Graham

Courtesy of Wilhelmina Barns-Graham Trust

more colour, 'because it's so life enhancing'. So

perhaps we're not there just yet. But it would be

wrong to see the Charleston exhibition as any

part of a colour crusade. True, there are big bold

pictures just bursting with colour by the likes of

Terry Frost and Howard Hodgkin. It would be

surprising if they weren't featured. But I think

Cressida Bell is trying to do something rather

subtler, choosing paintings where the arrangement

of colours, the patterns, the colour balance

are paramount. This might explain the presence

in the show of artists such as Charles Ginner,

Ethel Sands and Sickert, especially Sickert, that

you would not associate primarily with colour.

And as she said in the Viva Lewes interview: 'I'm

trying to look for works of art where you can

tell that the artist has superimposed colours on

the painting, rather than actually seeing them.'

This would apply, for example, to Stanislawa de

Karlowska's At Churchstanton, Somerset.

What, I suspect, is of primary importance to

Cressida Bell is that we have a totally unmediated

response to the paintings. So, for example,

no distracting captions. If you want to know the

identity of the painter, the name of the picture,

where it's usually to be found, you have to refer

to the printed handout. Even on that, Cressida

Bell's thoughts on individual paintings, and there

are only a handful of these, are so tentative as

to be positively endearing. It's all tremendously

refreshing.

One criticism. The walls of the gallery have

been painted in four different colours, especially

for the exhibition. Far from enhancing the

paintings, it positively distracts from them, from

the colour in the paintings. A disastrous decision?

I think so, but perhaps it wasn't Cressida Bell's

idea. And maybe I'm just wrong. David Jarman

info@charleston.org.uk

The Pond at Charleston by Vanessa Bell. Estate of Vanessa Bell

courtesy of Henrietta Garnett and The Charleston Trust

Oranges and Quinces by Robert Dukes.

Courtesy of Robert Dukes

....63....
---
ART

....................................

ART & ABOUT

In town this month...

'It's pretty inconvenient having more than half your

garden a mile or more away but there's some magic about

allotments that is uniquely theirs,' writes artist Kate

Osborne of her Brighton allotment. 'They straddle the

boundary between wild and cultivated... If I get there early

enough in spring I am greeted by a hearty dawn chorus,

and I can sit with a cup of tea and watch the occasional

ship pass across the distant V of the English Channel.'

Drawing inspiration from the joys of this oasis, Allotment

– an exhibition of Kate's vibrant, abstract watercolours – is at 35 North gallery from 6th-27th April.

(Open Thurs/Fri/Sat 11am-5.30pm)

Brighton's festival of international experimental music and art -

Colour Out of Space – returns for an eighth edition from 26-28th

April. Described as 'three packed days of high sonic weirdness,

performance and audio innovation', the programme features sound

poets, noise artists, electro minimalists, cassette manipulators,

avant-rockabillies and free-guitarists. If that's not sufficiently

intriguing, there's a free daytime arts trail with installations and

performances at Brighton landmarks like the Pepperpot, the littleknown

Tarner Tower and the Open Market. Sound art radio station

Resonance FM hold a 'free university' on Friday the 26th at

Phoenix Brighton, and ONCA host the first ever UK exhibition

by Finnish multidisciplinary artist Jan Anderzen. There are

workshops and films too. See colouroutofspace.org for details.

....64....
---
ART

....................................

Luella Martin is the artist in focus at Cameron

Contemporary this month. She produces her prints of the

local landscape with solar plate etching – an eco-friendly way

of working which uses sunlight and tap water to process lightsensitive

plates without the need for harmful chemicals. She

often combines her printed images with loose gestural painting,

blurring the boundaries between the two media.

'Mad Hatter' From 2013 ©

Tessa Hallmann/Royal Pavilion

& Museums, Brighton & Hove

Chinoiserie-on-Sea – the extraordinary exhibition of hats by Stephen Jones –

continues at the Royal Pavilion. More than 150 hats from across Stephen's fortyyear

career as a top-flight milliner are on display throughout the royal pleasure

palace. Created for anyone who is anyone, from pop stars to couture houses, the

whimsical creations are perfectly suited to their exotic surroundings. (Quite literally)

fantastic! Continues until 9th June. (Free with admission.)

Brighton & Hove Arts Council has been in existence since 1974 and this

month they hold their Annual Spring Exhibition at the Friends Meeting

House, from Wednesday the 10th until Saturday the 13th of April. More

than 100 works in a diverse range of media will be on display, drawn from

members of the B&H Arts Council, Attic Art Club, St Thomas More Art

Group and the Brighton branch of the Embroiders' Guild. (Open 10am-

5pm on the 10th-12th and 10am-4pm on the 13th. Free entry.)

Man in a Deckchair by Sandra Emery

Brighton artist/illustrator Lisa Holdcroft's cards, puzzles and prints capture Brighton in glorious,

loony-toon detail; the closer you look, the more you see. This month, her latest work – a 12-footlong

panorama of the West Pier (below) as it was in its heyday – goes on display at The West Pier

Centre (by the i360). Complete with daring divers, performing dogs and floating tea parties, it

includes all sorts of seaside antics and curious characters for you and the kids to discover. Opens on

the 19th of April and continues throughout the summer. (Free. Open Fri-Mon, 11am-5pm.)

....65....
---
Artists Open Houses

Brighton & Hove, along the Coast, over the downs to Ditchling and beyond

Weekends 4-26 May 2019 aoh.org.uk
---
ART

....................................

Out of town

©www.leemiller.co.uk

Farleys House, gallery and sculpture

garden – the Sussex home of Roland

Penrose and Lee Miller – opens for the

season on Sunday the 7th of April, and then

every Sunday until the 27th of October,

with guided tours setting off every half hour

from 10.30am. In Farleys gallery is Deanland;

a collaborative project between the artist,

Alexander Johnson and photographer, John

Brockliss, who together documented the

ghostly WWII Sussex airfield.

The Weekend Book (by Francis Meynell)

Dust Jacket (1926) Private Collection

Draw Me In –

Towner's annual

schools' exhibition –

opens on Friday the

6th of April. Open

to all local children

and young people

aged from 0 to 21,

the call for works

went out last October and the entrants have

been busily making in artist-led workshops

at schools, in the community and at the

gallery. The fruits of their creative labours,

in a multitude of sizes and formats, will be

on display until the 2nd of June.

There's a last chance to

see the extraordinary

maps of Max Gill at

Ditching Museum

of Art + Craft. The

exhibition of work by the

well-known illustrator,

letterer, map-maker,

architect and decorative

artist closes on the 28th of April.

British painter Harold Gilman produced a view

of modern urban life in the early 20th century

that was entirely distinct. He combined the gritty

formality favoured by the Camden Town Group

and his mentor Walter Sickert with the vitality of

post-impressionism, with its thickly-applied paint

and vivid colours. His paintings infused scenes of

everyday domestic life and captured a moment

in time around the First World War when

perceptions of gender, class and urban living were

rapidly changing. Pallant House gallery is home

to an exhibition of over 50 works by the artist

whose career spanned just 15 years, before his

untimely death during the influenza pandemic at

the age of 43. Continues until 9th of June.

Tea in the Bedsitter 1916, Kirklees Collection,

Huddersfield Art Gallery

....67....
---
ART

.............................

Paris 68 Redux

50 years on and nothing has changed

It started, like most

good projects, as a

drunken conversation.

We were looking at a

book of posters from the

May 1968 Paris uprising

– La Beauté est dans la Rue

– and a lot of the images

were still relevant. The

students were protesting

about capitalism, censorship,

the poor treatment

of immigrant workers…

I'm of that generation

that thought by the time

I got to 50, everything

would have changed for the better. That's one

of the driving forces behind the Paris 68 Redux

project. We're living with a more extreme

version of capitalism than they were. If anything,

we've got more to protest about.

The original posters were made by the group

of artists and students Atelier Populaire.

No one actually claims

authorship of the posters

but we wanted Philip

Vermés – one of the original

members of Atelier

Populaire and author of

the book – to know that

we were doing this project.

We tried calling him,

we tried emailing him

and eventually we turned

up on his doorstep in

Paris with a bunch of

posters. He said we

needed to come up with

our own stamp, which is

when we came up with Paris 68 Redux.

We started pasting up posters in Brighton

last year, on the anniversary of Paris 68, but

then it grew. We visited Berlin, where there's

been a big fight with Google who wanted to

build a huge campus in Kreuzberg, the creative

centre of Berlin. Locals were really upset about

....68....
---
ART

.............................

it because rents doubled within a year. So we

reworked two of the '68 posters, creating the

Google head, and an updated version of On Vous

Intoxique and pasted those in concentric circles

around Kreuzberg. They have a great attitude

to street art in Berlin. When you paste there,

people come up and ask you what the posters

mean and have a half-hour conversation.

Then we created posters and placards

for the Trump demonstration in London,

and we've just done paste-ups in two stores

in Brooklyn. We did a lot of new designs for

placards for the Brexit March on the 23rd of

March, and we're doing something for Pride

in Manchester. With the Gilet Jaune movement

in France and what's happening with

Trump and Brexit, it feels like a good time

to be doing this. 50 years on and nothing has

changed. That's very much the point.

As told to Lizzie Lower

@paris68redux

....69....
---
"Transforming Lives Through Art"

TRANSPERSONAL ARTS FOR

HEALTH & WELLBEING

C&G LEVEL 5 AWARD - ACGI

YEAR 1 | TWO DAYS PER WEEK

TRANSPERSONAL ARTS IN THERAPY

C&G LEVEL 7 AWARD - MCGI (Masters equiv.)

YEARS 2 & 3 | THREE DAYS PER WEEK

YES!

Want an exciting, creative

career in Graphic Design!

NO EXPERIENCE NECESSARY

I love this! If I could travel back in time,

the first thing I would do is sign up

with the Strohacker Design School.

Glyn Dillon, Creative on Star Wars

@ Lucas Film/Disney

YOU can change your life

in 3 months full-time

or 6 months part-time

(1 day per week)

on our fast-track

Graphic Design courses!

For further information contact us

e: hello@strohackerdesignschool.co.uk

w: strohackerdesignschool.co.uk

COURSES START EACH SEPTEMBER

Book now for our Open Day:

THURS 16th MAY 2019

Charity Trust No. 1098710

10–14 Waterloo Place · Brighton BN2 9NB

GALLERY

& CAFÉ

OPEN

www.tobiasart.org

Tobias School of Art and Therapy, Coombe Hill Road, East Grinstead

West Sussex, RH19 4LZ, United Kingdom

Email: info@tobiasart.org Telephone: +44 (0) 1342 313655

2019

Over 100 artists

phoenixbrighton.org

PREVIEW: Fri 17 May 6–9pm

OPEN: Sat 18 May 11am–5pm

Sun 19 May 11am–5pm

2019

SUPPORTED BY
---
DESIGN

.............................

Brighton Map

Malcolm Trollope-Davis

"It's certainly an exercise in focus

and patience," says Malcolm

Trollope-Davis, creator of the

newly-launched, newly definitive,

Brighton Map. "I don't

think of it as one drawing. It's

thousands of small drawings."

Malcolm's map is sprawled out

in front of us on a café table – a

giant A0 print detailing the

many streets of Brighton &

Hove and pinpointing its notorious

residents, favourite pubs,

and dramatic historical events.

It's impossible not to be

impressed with the sheer effort

and skilful draughtsmanship

that went into this. The Brighton

Map has more in common

with those of centuries ago than

it does Google Earth, in spite of

the fact the latter has made its

creation possible.

Malcolm drew the map entirely

freehand, beginning simply by

drawing a line. This became

the city's main artery – North

Street and Western Road. Once

this was drawn, he worked in

concentric circles outwards, a

block at a time like you might

with a patchwork quilt.

The roads are miniaturised

somewhat – a street of maybe

50 houses is reduced to 15 or

20. "I don't think it's important

to draw every house," he

explains. "If I did, I would be

copying an aerial photograph,

and those are actually very

boring to look at – not the

most emotive things."

This approach, says Malcolm,

"makes everything bigger and

more visually engaging, and

yet everything is still in the

right place, so people can look

at a street and go, 'that must be

my house.'"

The Brighton Map is sequel

to the Lewes Map which Malcolm

began after noticing that

Photo by Chloë King

....71....
---
DESIGN

.............................

....72....
---
DESIGN

.............................

there were so few town maps around,

and those that were, were stylised and

inaccurate. "I wanted to create the

ultimate, definitive map," he says. "It's

functional art, which is really important

to me."

"You don't get projects like this appearing.

It took me a year to draw. You

don't get paid during that year, and for

someone to commission a project like

this, it would cost too much. The last

time you would have seen something

like this would have been back in the

1700s when manuscript hand-drawn

maps were state of the art. These days

it's a much more frivolous, explorative

project."

Now that the art prints, tea towels and

tote bags of the Lewes Map have sold in

their hundreds, the map's popularity has

made Malcolm's speculative endeavour

more than worthwhile. "It has allowed

me to do this…" says Malcolm, "…to

commission myself, effectively, which is

every artist's dream."

"It is almost like an old friend," he says,

pointing at the bottom quarter of the

Brighton Map. "When I got down to

here, I felt what I can only describe as

separation anxiety because it was going

to be finished soon."

Perhaps this is why Malcolm has

decided the Brighton Map will be a 'live

artwork'. In time, he will add to it and

amend it to reflect the city's development.

He also plans to create limited

editions to mark big occasions... Just

like the city itself, he says, the Brighton

Map, "is going to get busier and richer".

Interview by Chloë King

brightonmap.com

Photo by Dörte Januszewski @lewesmap

....73....
---
ADVERTORIAL

Do something life-changing

Train with the College of Naturopathic Medicine

Kezra Powell, a CNM naturopathic nutrition

graduate with a keen interest in women's

health, makes a difference to people's lives

every day.

As a Nutritional Therapist I find it rewarding

to make a difference to peoples' lives every

day. I love being able to schedule appointments

around my family life and earn enough

by working part-time. Studying at CNM has

been one of the greatest and most valuable

achievements I have accomplished so far.

I worked in the care sector for many years,

both in nursing homes and within the community.

I wanted an accredited qualification that

would allow me to work as a recognised practitioner,

yet which also had a holistic approach.

I enrolled at CNM where I truly loved the

content and felt inspired by the lectures.

I especially loved the balance between the

clinical, scientific content and the holistic/naturopathic/functional

approach. This has made

me an ever-curious practitioner committed to

lifelong learning. I also valued the large number

of clinic hours, which made the transition

into practice smooth and less daunting.

I'm excited about where my career will take

me, as my qualifications opened many doors.

I'm currently working for myself from two

popular clinics and I have a particular interest

in women's health and hormone disorders

such as PCOS and Endometriosis, as these are

matters very close to my heart.

Personally, the course has taken my health to

the next level. Professionally it has equipped

me with the knowledge and skills to be a

confident and successful practitioner, and

enabled me to follow my dream of building a

career doing something I am truly passionate

about. I feel very honoured to be making such

a positive contribution to healthcare.

CNM has a twenty-year track record in training students for successful

careers in natural therapies. There are CNM colleges across the UK and

Ireland, offering a variety of courses in class and online.

For more, please visit www.naturopathy-uk.com
---
THE WAY WE WORK

This month, Adam Bronkhorst caught up with five local window cleaners.

He asked them: What's the most interesting thing you've seen while cleaning windows?

adambronkhorst.com | 07879 401333

Matt Norman, Blue Skies Window Cleaning

'A toddler who was pointing and telling me that I'd missed a bit from inside the house.

He followed me all around the house. Maybe I should've hired him on the spot!'
---
THE WAY WE WORK

Jason Minter, Aquaclean

'A lady in her birthday suit who had not heard the doorbell before I started

the upstairs windows... thank goodness we now have reach and wash poles!'
---
THE WAY WE WORK

Matt Harrington, Hove Beach Window Cleaning

'Probably someone dressed in full armour. Turned out they do re-enactments

of battles, but at the time it was rather random, even for Brighton.'
---
THE WAY WE WORK

Paul Bramhall, Hanover Window Cleaning

'The diversity of the people.'
---
THE WAY WE WORK

Adrian Hulme, New Leaf Window Cleaning

'The spectacular views that we have available to us. I am in a fortunate position

to see views which I wouldn't otherwise be able to experience.'
---
Viva Brighton

We print 15,000 magazines every month

delivering 7,500 to houses in Brighton and Hove

with 7,500 at high visibility pick ups

9 Duke street Brighton BN1 1AH

www.croqueshop.co.uk

Reach our audience from just £95 a month.

V I V A M A G A Z I N E S . C O M

39 Kensington Gardens, North Laine

www.barneysdeli.com
---
FOOD

.............................

The Roundhill

Vegan invention

The botanical and the industrial

collide in the newly redecorated

interior of The Roundhill. The

pub has recently been renamed

back to The Roundhill from

The Jolly Poacher – a popular

reversion according to the

staff I chat to. It feels light

and airy, but noisy enough

to be atmospheric, and there

are flowers on the tables,

illustrations on the walls, a

model aeroplane on the ceiling,

but nothing too overbearing.

The menu is wholly vegetarian,

and we are told that all of the dishes can be

made vegan. This prompted discussion between

me and my guest: vegan and vegetarian places

often seem to try harder to come up with new

ways to flavour and present food. Even as a

carnivore, I'm increasingly starting to seek out

nice vegan and vegetarian places, to explore the

invention on offer.

This Shackletonian spirit of exploration

certainly bore fruit at The Roundhill. The

cauliflower wings starter (£5.50) came

recommended so my friend plumped for that,

while I opted for the mushroom & tofu gyoza

(£6.50) with a coriander dip. The gyoza were

good: the wrapper was chewy, the mushroom

bits moreish. But the wings had a brilliant smoky

and sweet coating, and the cauliflower was

succulent. The cauliflower gazumped the gyoza!

It beggars belief: I love gyoza. A gyoza is an

oily indulgent treat whereas cauliflower is a sad

vegetable, to be tolerated rather than savoured…

right? No! Folly! It was also fun to eat healthily

while feeling like you're eating something more

Photo by Nammie Matthews

indulgent, with the wings

designed to emulate buffalo

wings.

The main was similarly

revelatory for my dining

companion. She went for

The Roundhill Burger,

which included vegan

smoked gouda, gherkins,

fries and slaw (£12.50). She

raved about it being the

best vegan burger she'd ever

tried, explaining that it tasted

proteiny and even meaty,

feeling more substantial

and heartier than lesser vegetarian patties. "It's

like sorcery!", she exclaimed. We even liked the

vegan cheese, and having tasted it myself I can

confirm that it worked as a tasty burger.

I chose the green pesto tagliatelle with a winning

combination of good things: cashews, heritage

tomatoes, spinach and parmesan (£8.50). The

pesto (always a champion flavour) was subtle and

fresh: I enjoyed every mouthful of the simple

but effective main, while also appreciating a

deceptively deep plate.

We were too full to try out the vegan pancakes

on the dessert menu, a damned shame since the

candied pecans and hazelnuts called out to us

both. We settled for Scrabble and pints however,

with a strong selection of ales, lagers and ciders

to choose from, including Harvey's Best and

a Gun Pale Ale. A welcoming pub and a great

restaurant, either for bites and beers (skin-on

fries for £3 is generous by Brighton standards),

or for a full meal with friends and family.

Joe Fuller

100 Ditchling Road, 01273 235884

....81....
---
RECIPE

.............................

Photo by Alex Leith

....82....
---
RECIPE

.............................

Bataka Poha

Naimesh, from Manju's,

on a simple but tasty Gujarati rice dish

Our restaurant, Manju's, is named after my

mother. She's the chief inspiration behind

everything on our ever-changing menu which

offers traditional, entirely vegetraian Gujarati

food, and she still does a lot of the cooking.

Manju was born in India, but brought up in

Uganda, like a lot of Indians. She became famous

for being a brilliant cook – there's no traditional

Gujarati dish she doesn't know how to make,

having been taught by her mother, my nan.

In 1972 the family was deported by the Idi

Amin regime, and we came to live in London,

with just a suitcase full of belongings. Manju

got a job as a machine operator, which she

worked at till she retired.

Myself and my brother Jamie grew up to run a

lot of different businesses, first in London, then

in Brighton. But we always wanted to help my

mum run a professional kitchen and when this

place became available in 2017, we converted it

into an Indian restaurant. Her dream had come

true – at the age of 80.

We pride ourselves on serving our customers

authentic Gujarati food, and we don't cut

any corners, making everything from scratch.

There's room for no more than 24 customers,

and we have limited the group size to four, to

make sure everybody is given proper attention,

and served at the same time.

The experience, then, is very different from

what people might expect from a traditional

Anglo-Indian restaurant: we tend to get foodies

coming, expecting freshly cooked, authentic

food. A lot of our customers have spent time in

India; we like to treat them well, and they keep

coming back!

This dish, served hot or cold, is perfect as a

snack any time of the day, and is the sort of dish

that will be served as street food.

I'm no chef. With my brother, I deal with

all the other sides of the business. So for the

cooking instructions I'm going to hand you

over to Manju, and my wife Dee, head chef.

Method (serves one):

Heat up 1 tbsp of sunflower oil – we never use

ghee in savoury dishes – in a pan, and when it's

hot add ½ tsp cumin seeds. If you like nuts, you

can sprinkle in some cashew nuts or peanuts

at this stage. When the cumin starts sizzling

add a finely-diced potato. Once that's cooked

(when a fork goes through) add half a cup of

flattened rice, which has been rinsed to get rid

of the starch. Add one or two chopped chillies

(according to taste), 1½ tsp turmeric powder,

1½ tsp red chilli powder and 1 tsp sugar. Stir

with a wooden spoon, until it's nice and hot,

and squeeze in some lemon.

As garnish, you can add sev noodles (the dry

crispy ones you get in Bombay mix), fresh

coriander, pomegranate seeds, anything that

takes your fancy, and serve with extra lemon

segments.

You can get everything you need in Asian

specialist grocers, but also, nowadays, at all the

big supermarkets. This is authentic Gujarati

snack food: it's often on our menu, but you can

easily knock it up at home. Enjoy! Alex Leith

Manju's, 6 Trafalgar St, 01273 231870

....83....
---
A-news bouche

Find us at 7 Church Street, Brighton, BN1 1US,

for breakfast and lunch.

Vegetarian and vegan options available.

crunchandco.co.uk

NATIONAL PARTNER

brighton's BIGGEST CELEBRATION

OF FOOD, DRINK & live music

with top chefs

brighton

hove lawns

4, 5, 6 may

Tickets are now available for Brighton's

Foodies Festival, returning to Hove Lawns

in May. Including live performances from

Queen tribute band Flash, Katy Hurt and

The Din, top chefs and MasterChef winners

cooking live, and sweet treats with The

Great British Bake Off winners. There will

also be the opportunity to sample

new wines, champagnes and

cocktails, delicious street food

from around the world and

more. 4th to 6th May,

foodiesfestival.com

Discover new approaches to sandwiches at

an All About Bao Buns session with Kitchen

Academy. You will make all sorts of bao

buns from Japanese sandwiches to Chinese

snowballs. 17th April, 6pm to 9pm, £45,

The Community Kitchen. The College

of Naturopathic Medicine present a

Fermentation Demonstration for healthy

guts, which will include introductions

to kombucha, milk and water kefir

and vegetable fermentation.

27th April, 10.30am to

12.30pm, £10, BACA,

naturopathy-uk.com

foodiesfestival.com

Fancy a delicious sandwich for lunch?

Crunch & Co is now open at 7 Church

Street and offers delicious deep-filled, grilled

sandwiches and speciality soups,

to eat in or take away.

Finally, London Road's

Greek restaurant

Yefsis have opened a

second branch at 52a

Lansdowne Place.

....84....
---
FEATURE

.............................

StreetVet

Caring for animals on the street

StreetVet is a volunteer

service that supports

animals belonging to

people who are homeless:

dogs, in the vast majority

of cases. Launched by two

vets in 2016, StreetVet

is a registered practice

with the Royal College

of Veterinary Surgeons,

operating in multiple

locations around England.

We spoke to Hove

resident and StreetVet

volunteer Roz Wright, from the Brighton

branch – which has one of the largest workloads

nationwide – to find out more.

StreetVet Brighton runs alongside Sussex

Homeless Support's regular soup kitchen at the

Clock Tower, every Sunday 1-3pm. "We hand

out food, treats, coats, harnesses and more to

people who need them for their pets. We'll also

treat any dogs that need a check up. Sometimes

a dog might need emergency care during the

week, so their owner might message us about a

concern. Occasionally we'll organise for them

to go to a practice if they need to be seen before

we can get to them. And we have an out-ofhours

service that can see them if it's a critical

emergency at night".

One important part of StreetVet's work is to

counter the common perception that people

who are homeless should not own animals. "A

lot of the time those dogs have either come

along prior to them being homeless, or they've

been acquired as a result of the dog being in

worse circumstances, and the homeless person

is effectively rescuing them from that situation.

It can be very traumatic

for a dog who might

have spent all their life

with one person, albeit

on the streets, to then be

taken away and put into a

different environment that

they're not used to, like

kennelling.

"We've also got quite a lot

of dogs who are medical

assistance dogs to their

owners, who can help

with things like seizure

assistance, PTSD, anxiety. So to remove that

animal from the owner would be distressing on

both sides. You don't want to see a dog sitting

there looking sad in the cold, but actually a

lot of dogs are happier being with a person all

the time, being out and about, socialising with

people, rather than sitting at home while people

are at work. There's pluses and minuses in both

camps really."

Another aspect of StreetVet's work is to build

relationships with people who are homeless, and

getting to the bottom of what treatment their

dogs might need. "A huge part of StreetVet is

gaining the trust of people who've had some

very difficult experiences. They've lost trust with

a lot of people. Having the same people coming

to see them makes a huge difference, so they can

convince them that their dog does need a blood

test, vaccination, or a micro chip for example".

Joe Fuller

Donations are welcomed of dog food, toys, treats,

harnesses, leads, coats etc. Contact streetvet.

brighton@gmail.com if you are interested in

getting involved. streetvet.co.uk

....85....
---
FEATURE

.............................

Map from the 1849 Cresy report. Images courtesy of Royal Pavilion & Museums, Brighton & Hove

....86....
---
FEATURE

.............................

Brighton slums

The end of pigs in

Paradise Street

Carlton Hill area, prior to slum clearances.

An eminent local historian once said to me, "If

you really want to understand the history of a

town, have a look at the health reports." It might

seem a strange suggestion, but if you're interested

in the lives of ordinary people in Brighton in the

Victorian era – away from the grand crescents and

squares, theatres and promenades – health reports

make compelling reading.

The growth of Brighton in the 18th and early

19th centuries was driven by three key factors:

the popularity of sea bathing and the town's

reputation as a health resort; its proximity to

London, and the patronage of the Duke of

Cumberland and, later, the Prince Regent. The

influx of affluent visitors created a demand for

services, and the people who provided these also

needed somewhere to live. Unlike the elegant

seafront properties, workers' houses were small,

damp, badly ventilated and horribly overcrowded.

In 1848, local physician Dr William Kebbell

observed that the streets in deprived areas, in

particular those around Edward Street, were 'a

disgrace to any civilised people'. Not surprisingly,

disease was rife.

Edward Cresy was appointed by the General

Board of Health to visit Brighton in 1849 to carry

out an 'inquiry into the sewerage, drainage, and

supply of water, and the sanitary condition of

the inhabitants,' after the passage of the Public

Health Act the previous year. Consider this

description, which introduced his street-by-street

report: 'Many of the houses are wretchedly damp,

being constructed of inferior bricks, and mortar

made of sea sand. No methods are adopted for

getting rid of even the pluvial waters, and the

walls are covered with lichens; so that, added to

the want of drainage, a constant decomposition of

vegetable matter is going on.'

Cresy spent several days in Brighton and, during

his inspection, he would have come across

slaughterhouses in densely-populated streets, pig

yards kept 'in a filthy condition', shared privies,

and open cesspools that were rarely emptied. In

Carlton Hill, he noted, 'the drainage and soakage

of the privies come down into the rooms and

ooze through the walls.' In Paradise Street, 'the

pigs are much complained of,' while in nearby

Cavendish St, 'the well water is turbid and

positively green in colour.' He reported scarlet

fever in Richmond Square and Essex Cottages,

smallpox in St John's Place, typhus in Chesterfield

Street and widespread sickness elsewhere. It's

ironic that a town priding itself on its fresh sea

air should harbour such poverty and disease in its

back streets.

If some of these street names sound unfamiliar,

that's because many have disappeared. The

houses in Chesterfield Street, for example, were

demolished in the 1890s and those in Paradise

Street 30 years later. Further slum clearances took

place in the 1930s, but not before the streets were

photographed by officers from the environmental

health department (above), creating a poignant

visual record for future generations. Meanwhile,

Cresy's recommendations were slowly taken on

board; a new sewage system, widely considered a

feat of Victorian engineering, was completed in

1874 and is still in use today. Kate Elms

Cresy's report, along with a wealth of related

material, can be viewed at The Keep, thekeep.info

....87....
---
吀 爀 愀 渀 猀 昀 漀 爀 洀 礀 漀 甀 爀 栀 漀 洀 攀 眀 椀 琀 栀 漀 甀 爀 昀 椀 渀 攀 猀 琀 焀 甀 愀 氀 椀 琀 礀

匀 㨀 䌀 刀 䄀 䘀 吀 洀 愀 搀 攀 ⴀ 琀 漀 ⴀ 洀 攀 愀 猀 甀 爀 攀 椀 渀 琀 攀 爀 椀 漀 爀 猀 栀 甀 琀 琀 攀 爀 猀 ⸀

琀 ⸀ ㈀ 㜀 アパート アパート アパート 㠀 㐀 ㈀

攀 ⸀ 挀 漀 渀 琀 愀 挀 琀 䀀 戀 攀 氀 氀 愀 瘀 椀 猀 琀 愀 猀 栀 甀 琀 琀 攀 爀 猀 ⸀ 挀 漀 ⸀ 甀 欀

眀 ⸀ 眀 眀 眀 ⸀ 戀 攀 氀 氀 愀 瘀 椀 猀 琀 愀 猀 栀 甀 琀 琀 攀 爀 猀 ⸀ 挀 漀 ⸀ 甀 欀
---
MY SPACE

.............................

Photo by Alex Leith

Keith Willcocks

Upper Gardner Street market stall holder

I've been running a stall in the Upper

Gardner Street Market on a Saturday since

the late 80s, and the place has changed a lot

over the years. It used to be a very crowded

antiques market. Back then it was crawling with

dealers. You'd have to get there by five in the

morning, and you'd be home by midday.

Now we don't have to set up till 9am, and it

runs until 5pm. You'd think everyone would get

there early to get the best stuff, but it's quiet in

the morning: peak time isn't till after lunch.

The nature of what's on offer has changed

completely. Now it's all bric-a-brac, and food.

Until recently there was a lady in front of me

doing a roaring trade in cupcakes. She must have

made a fortune.

What I sell has changed over the years, too.

At first, I sold antiques, and then I moved into

vintage ladies' clothing. Now I mostly sell

vintage furs and leather goods. I source most of

it in Northern France.

The customers have changed, as well. The

Japanese and Chinese always ask if they can take

a picture of me; the Italians love their brands,

and are keen on haggling. The British are a bit

more reserved, but most everyone will try to

beat the price down. That's part of the game.

Most of my customers are young women

between the ages of 20 and 35. There are

older regulars, though, some of whom have been

coming for years and years. Most people who

come to the stall like to have a chat, but there

are a few 'look won't buy' types who have a good

rummage and move on without saying anything.

....89....
---
MY SPACE

.............................

Photos by Lizzie Lower and Alex Leith

....90....
---
MY SPACE

.............................

All the stall holders are on first name terms,

and a lot of us have nicknames. I'm 'Captain'

because of the sailing hat I wear. Stall holders

tend to stay around for the long haul, so the

market is like a social occasion for us.

That's just as well, because times are hard.

All the Brexit uncertainty has led to people

being very careful with what they spend. In the

last five months sales have dropped off and off

and off. Winters are always difficult: this one

has been exceptionally so.

I have an arrangement with Steve, who runs

the stall next to me. He books the stalls from

the Council, and I give him and his stuff a lift in

the morning, in my Toyota High Ace van. The

Council, it must be said, have been very helpful

over the years with any concerns we've had.

The market has been going since 1843, and

Steve has been operating since then. Joking

apart, John, on the other side, has been

running a stall since he was a boy working

alongside his father, who went back to who

knows when.

The most expensive item I've ever sold? I

remember the occasion well. It was a Zandra

Rhodes dress, for £75. Happy days.

As told to Alex Leith

....91....
---
TRY BEFORE YOU BUY

Rent an apartment at Artisan and if you choose to later buy

through Shared Ownership we will pay your legal fees**

2 Bedrooms

from £1,650 pcm

RENT FIRST

3 Bedrooms

from £1,850 pcm

BUY THROUGH SHARED OWNERSHIP

1 Bedroom

from £112,000 *

2 Bedrooms

from £148,750 *

3 Bedrooms

from £201,250 *

Located just 0.7 miles from Brighton or Hove Stations.

BOOK YOUR VIEWING TODAY

shosales.co.uk/artisan

0300 030 1042

Prices and details correct at time of going to print. *Based on a 35% share of the full market

value with a 5% deposit. Rent & service charges apply. Subject to terms and conditions.

Eligibility criteria applies. ** Subject to T&Cs. Actual photography of development.
---
FEATURE

.............................

Place and time

A time travel treasure hunt for Our Place

"No place is ever boring,"

says Jon Mason (pictured).

"Wherever you live you

know that something has

happened there, something

that has led to the design of

the streets and the names

they've been given. People

will have lived there before

you – and will live there

after you."

As a professional storyteller, Jon is fascinated by

how events of the past impact on the present and

the future of specific landscapes, and how we tell

those tales; the blurry line, he says, between fact

and fantasy.

Last year he retold Brighton's past through a

treasure trail at the Open Market. Visitors were

encouraged to go from stall to stall to pick up

clues and learn about the colourful heritage of

the city.

In May, as part of the Brighton Festival, he will be

doing something similar in Hangleton.

Children and their accompanying adults will be

able to discover more about the local buildings,

street names and former residents through

the Time Travel Treasure Hunt that starts at

Hangleton Community Centre.

But it's more than a history tour. Jon, who

often incorporates myths and legends in his

storytelling, says: "We're imagining that Magnus

Volk, the inventor of the Volk's Railway in

Brighton, also created a time machine that's been

lost and shattered across time.

"Meanwhile a local villain – based on a real

person in Brighton's history – is trying to find the

pieces to put it together. So we'll be travelling

through history, from the old fishing community

to Regency Brighton, maybe

even to the 1960s Mods and

Rockers and beyond, to try

to stop him."

The event, part of the Our

Place community celebration

in Hangleton, has also had

input from academics and

undergraduate students from

the University of Sussex's

History Department.

Jon, who studied for a Masters in History at

Sussex, says: "The students do a final-year project

that has to be public facing, so last year they

helped me to create content for the Brighton

Open Market. This year, not only will they do it

again, they'll also produce material that audiences

can access digitally through their devices."

The plan is that, in addition to being enthralled

by the excitement of the storytelling, audiences

can learn about local landmarks, such as St

Helen's Church (reputed to be the oldest building

in Brighton), and an old train track that used to

take visitors from Brighton to Devil's Dyke.

"I have always loved history, and did it as an

undergraduate degree many years ago in Wales,"

says Jon. "The great thing about studying for the

MA at Sussex was being reminded that history

isn't only written by academics and historians.

We can all gather it, we can all write it. History is

simply about people's experiences."

Jacqui Bealing

Time Travel Treasure Hunt is on 25 May and

begins and ends at Hangleton Community

Centre. The duration is 90 mins. Recommended

for ages 6-12, accompanied by an adult. Our

Place is sponsored by the University of Sussex.

jonthestoryteller.com

....93....
---
1,000 of your neighbours

each owns a share in

Lewes Football Club.

They want to support their local club,

because Lewes FC owners get great discounts:

- 25% off glasses at Specsavers Lewes branch

- 25% off food (not set menu) at ASK Italian Lewes

- 10% off at Intersport in Lewes

and more big discounts at over 50 other

local shops, restaurants and other businesses.

You can become a Lewes FC owner, too,

for as little as £30/year: www.lewesfc.com/owners

You can save all of that in just one trip to

Specsavers (or to ASK if you're feeling hungry)

It takes less than one minute to sign up.

Join us and feel great.

#JoinTheClub
---
FEATURE

.............................

Lewes FC Academy

The future is bright…

"This Academy is absolutely

the real deal," says

Charlie Dobres, Lewes

FC Director, sitting on

the grassy bank by the side

of the Dripping Pan pitch,

in the early spring sun.

There's some big news,

which he's clearly excited

about: Lewes FC have

teamed up with Plumpton

College in order to

expand their 'Academy' set

up, offering courses starting in September. I'm

here to find out more.

"We are offering young men and women, who

want to become professional footballers, the

chance to study for two years for their 'A' Levels

and BTEC," he says, "whilst simultaneously receiving

intensive and high-level football coaching

from our team of experienced coaches."

Seasoned Lewes FC-watchers might be

thinking 'hang on, wasn't there an academy

before? Didn't it all get folded up?' "Yes and

no," says Charlie. "We had a boys' academy,

where we used virtual educational providers to

teach the lads, here at the Dripping Pan, while

we provided the football training. This was

successful, with the likes of Ronnie Conlon and

Harry Reed making it to the first team. But for

financial reasons, we realised that wasn't the

best model for the students or for us, so we had

to have a rethink.

"More recently we have been running an

academy for young women, which has been far

more successful, because we teamed up with

an academic establishment, Newman College.

Basically, they provide the education, and pay

us to do the football training. It's a much more

sustainable model." So

far Ava Rowbotham has

made it all the way to the

first-team squad; there

are sure to be others

behind her.

The link-up with

Newman will continue

for young women; the

courses at Plumpton

College will be on offer

for a new intake of both

sexes, though the Boys'

Academy won't open its doors till 2020. Charlie

is negotiating with another local educational

establishment, so boys can also have a choice of

environments to study in.

"All the football training will take place at The

Rookery 3G training pitch on Ham Lane," he

continues. "The girls will be given three training

sessions a week – like the first team players

– and a match. The coaches are of exceptionally

high quality. There's Fran Alonso, the Lewes

FC Women's manager, who used to coach the

likes of Wayne Rooney at Everton; there's Simon

Parker, who used to be the manager of the

hugely successful Southampton Women's team;

and there's Jesus Cordon, another UEFA-qualified

coach."

Lewes FC are not just in it for the sake of the

kids, of course. The best of these youngsters,

Charlie concludes, will graduate to play in the

first XI of both the men's and women's teams.

"We are doing what we can to nurture budding

talent, for the good of the players, and the good

of the club. This is the dawning of an exciting

new era." Alex Leith

For more details, including of trials in April, see

lewesfc.com

....95....
---
WILDLIFE

.............................

Illustration by Mark Greco

Dunnock

A scandal in suburbia

"Anyway, I'm not one to gossip, but I flew down

to the bird table at number 30 yesterday and I

bumped into that house sparrow. You know how

sparrows love to chatter, well we got talking over

the fence. You know that Dunnock that lives in

the hedge at number 26? Well, she's certainly

nothing to look at is she? But that's Dunnocks

for you, all greys and browns. Not exactly the

most striking bird in the garden. Keeps herself

to herself.

"Well these Dunnocks aren't like the rest of us.

All sexual equality they are. So in February it was

her who was first out there in the garden establishing

a territory. Then she started seeing this

fella who had a territory next door. Well, it was

all innocent enough but that's when it all kicked

off. This other neighbouring Dunnock showed

up and he started strutting and serenading her

like he was bleedin' Casanova. Well, her fella

was having none of it – there was fighting and

feathers everywhere and he soon saw him off.

But old Casanova didn't give up – he sat in the

hedge warbling and wooing her. Well, when her

fella's back was turned she was over there like

a flash, twirling her tail at him. In no time they

were 'avin' a bit of 'ows yer father right under the

hedge. Then she flew straight back to her other

fella looking like butter wouldn't melt in her beak

and then they went at it. It was then that the third

fella showed up and she snuck off with him too

for some rumpy-pumpy behind the pampas grass

in the front garden of number 24.

"Well, it was like this for the next week apparently.

She was at it 100 times a day! Gets my feathers

ruffled just thinking about it. By April she was

proudly sat in her nest incubating four sky blue

eggs which hatched into four little chicks. But the

thing was, all three of her fellas thought that they

were the father – so she had them all scrabbling

'round searching for bugs. Her babies must have

been the most well-fed chicks in the street. I

reckon that was her little game all along.

"But that wasn't the end of it. It turns out that

her first fella was bringing bugs to another

Dunnock in the next garden who also had his

chicks. And the other two were the fathers of

another Dunnock's chicks two gardens over. You

couldn't make it up. There isn't even a word for

what these Dunnocks get up to. Well, there is.

Polygynandry they call it. Scandalous I call it. If

the people of Brighton only knew what goes on

in their very own backyards."

Michael Blencowe, Senior Learning & Engagement

Officer, Sussex Wildlife Trust

....97....
---
INSIDE LEFT: WASHINGTON STREET, HANOVER, 1920

.....................................................................................

They didn't call Hanover 'Muesli Mountain' in

1920, when this picture was taken. This view,

looking north down Washington Street towards

Islingword Road, shows quite what a bleak area it

was back in the day.

One wonders who commissioned the picture – in

the James Gray Collection – to be taken. It surely

wasn't a picture postcard.

Consider the year the photo was taken, and the

picture gets bleaker. Everybody in the town would

have known somebody who was killed or injured

in the war, but Washington Street was particularly

badly affected. Spare a thought for poor Arthur

and Jane Riddles, who lived at number 12, just

to the right of the place the photographer was

standing. They had two sons – both still in their

teens – killed in action within a few months of

one another in 1917. In March, 19-year-old James

'died of wounds' in Italy. In July his younger

brother Reginald – just 16 – went down with HMS

Vanguard, which was sunk at Scapa Flow.

Another war casualty was Frederick Cook, who

lived at number 23, with his wife Ethel. He was 28

when he was killed in Flanders, in April 1918.

Washington Street first appears in the directories

in 1864, when the Church of the Annunciation

was built on behalf of the Rev Arthur Wagner to

serve the working-class residents of the new area

of Hanover. At first there was a cluster of shops

and services around the church; the two rows of

terraces weren't completed until 1889. Believe it

or not, these grimy houses were just 31 years old

when the picture was taken.

It's a far cry from the Washington Street of today.

Hanover remained a poor – some might say slum

– quarter throughout the majority of the twentieth

century, but it was designated a 'general improvement

area' in the late 1960s, and, having escaped

the massive redevelopment of many other crowded

residential areas of Brighton, has undergone a

complete transformation of character.

Stand in this spot today and, all the road-clogging

cars apart, the view will be much jollier. You'll see

the same bungaroosh-filled buildings, for sure, but

now painted in colourful pastel hues, and affordable

only to those who can stump up something in

the region of £400,000. Alex Leith

Many thanks to the Regency Society for letting us

use this image from the James Gray Collection.

regencysociety.org

....98....
---
Springfield Mews, Brighton, BN1

Guide Price £500,000 - £550,000

• 4 x four bedroom houses

• Gas fired central heating

• Contemporary kitchens with appliances

• Contemporary bathroom suites (1 en suite)

• A mixture of carpet and engineered oak floors

• Good size rear gardens

For all enquiries contact:

Hamptons International Brighton and Hove

01273 230 230

hove@hamptons-int.com

hamptons.co.uk
---
Visit our shop and workshop

37 Gloucester Rd,

Brighton,

BN1 4AQ

01273 692110

www.julianstephens.com