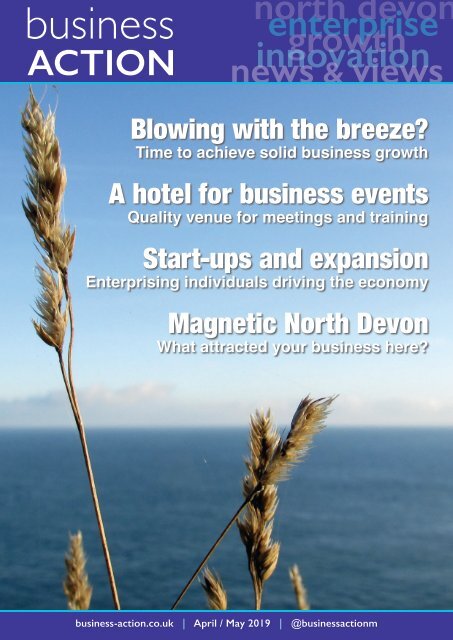 Business Action | April / May 2019
April / May 2019 issue of the independent North Devon-based business magazine covering news about business and enterprise in Barnstaple, Bideford, Braunton, Chulmleigh, Combe Martin, Holsworthy, Ilfracombe, Lynmouth, Lynton, South Molton, Torrington, Woolacombe and more. Subscribers get priority access of new issues of Business Action on publication. Subscribe at http://www.business-action.co.uk/subscription-packages
April / May 2019 issue of the independent North Devon-based business magazine covering news about business and enterprise in Barnstaple, Bideford, Braunton, Chulmleigh, Combe Martin, Holsworthy, Ilfracombe, Lynmouth, Lynton, South Molton, Torrington, Woolacombe and more.

Subscribers get priority access of new issues of Business Action on publication. Subscribe at http://www.business-action.co.uk/subscription-packages
SHOW MORE
SHOW LESS
You also want an ePaper? Increase the reach of your titles
YUMPU automatically turns print PDFs into web optimized ePapers that Google loves.
usiness

ACTION

north enterprise

devon

growth

innovation

news & views

Blowing with the breeze?

Time to achieve solid business growth

A hotel for business events

Quality venue for meetings and training

Start-ups and expansion

Enterprising individuals driving the economy

Magnetic North Devon

What attracted your business here?

business-action.co.uk | April / May 2019 | @businessactionm
---
We offer a wide range of

apprenticeships, at intermediate and

advanced levels, as well as higher and

degree levels, helping you to build a

skilled and enthusiastic workforce.

HEADER

professional, trusted, ambitious

DEVELOPING MINDS,

GROWING BUSINESS

LABORATORY TECHNICIAN

ACCOUNTANCY

BUSINESS ADMINISTRATION

CREATIVE & DIGITAL MEDIA

CUSTOMER SERVICE

ELECTRICAL INSTALLATION

ENGINEERING - FABRICATION & WELDING

HAIRDRESSING

HOSPITALITY & CATERING

HUMAN RESOURCE MANAGEMENT

IMPROVING OPERATIONS PERFORMANCE

IT & WEB DESIGN PROFESSIONALS

PARALEGAL SERVICES

SITE MANAGEMENT

TEAM-LEADING SUPERVISING

AND MANY MORE...

Contact us on business@petroc.ac.uk

or 01884 235206 | www.petroc.ac.uk

We offer a personal and professional marketing

service, working closely with you to determine

your key goals, the right strategy for you and

deliver real results for your business.

Wills Property Trusts (in will)

Children's Trusts (in will) Funeral Plans

Probate Lasting Powers of Attorney

Wills: £70 Single / £105 Joint

Call 01271 326694.

Email: info@boomboomedia.co.uk

visit us at www.boomboommedia.co.uk

ii

business action | April / May 2019 | business-action.co.uk
---
CONTENTS

Welcome to the second issue of

Business Action, the independent

North Devon-based

business magazine.

We were overwhelmed by

the positive reaction to the

first issue as we distributed

copies across the area, from

Chulmleigh to Bideford, from

Lynmouth to Holsworthy. In

response, we have increased

print distribution by 25% to

2,500 for this issue. You can

also read the magazine online

after the print copies have been

distributed – subscribers get

immediate access – see below.

As promised, in this issue

we cover businesses right

across North Devon, not just

in one or two big towns – no

other business publication does

this. Wherever possible, we

try to meet or visit businesses,

because you can't beat seeing

what people actually do and

drinking in the atmosphere

and experiencing what excites

business owners.

Blowing with the breeze

As we write, Brexit is still in

the balance and, we suspect,

uncertainty will continue even

after decisions are made and

rejected again and again.

This is not good for business,

but the first rule of

business is to assess the environment

in which you operate

and work out how to make the

most of it.

We all have to be smart,

adaptable, resilient and the best

we can possibly be. We also

have to support each other. The

best business support comes

from each other's businesses,

so we need to be generous

with our time and our advice

to build an economy that can

withstand anything.

WELCOME

North Devon Enterprise Day

We were discussing what could

bring all businesses in the area

together – and we mean all

businesses, small and large,

new and old, those in the big

towns and those operating

from remote farms across the

800 square miles of North

Devon – when we came up

with the concept for North

Devon Enterprise Day.

This is a day to promote and

celebrate enterprise in the area

and what better way than the

ultimate free lunch – the North

Devon Enterprise Day Free

Networking Buffet at BBxpo at

Devon Hall, Bideford College?

The date is Thursday 24

October 2019 – you can

register your place(s) at the

buffet and for the free business

exhibition and presentations at

bbxpo19.eventbrite.co.uk.

We are delighted that the

Google Digital Garage will be

presenting two workshops at

the BBxpo – see page 8.

There's lots more you can

get involved in on the day – see

ndevonent.uk.

In the meanwhile, we hope

you enjoy reading this issue

and find it useful.

Subscribe for £40 per year

Business Action subscribers receive:

➤➤6 x print magazines per year posted to a UK mainland address

➤➤Exclusive access to online version on date of publication plus

download or print – non-subscribers have to wait for access

➤➤Free listing in needitfindit.uk online directory

➤➤Up to 3 free business event listings per month on web site

Cover photo by Robert Zarywacz

Subscribe online now at

business-action.co.uk

business

ACTION

Web site | business-action.co.uk

Online version | business-action.uk

Vol 1 Issue 2 – Apr/May 2019 – distribution 2,500 across North Devon

CONTENTS

NDMA Manufacturing Awards.................................................................... 2

Market research firm's success................................................................ 2

Pinnacle Award for young people............................................................ 3

Public unaware of how to recycle scrap metal................................. 3

Power plant firm installs solar power.................................................... 3

Commercial property firm celebrates 10 years................................ 4

Online marketplace doubles transactions.......................................... 4

Family loss leads to enterprising solution.......................................... 5

Recycling equipment firm expands to meet demand.................... 6

You can afford to advertise.......................................................................... 6

Ilfracombe hotel is the business............................................................... 7

BBxpo, exhibitors and presentations.................................................... 8

Google Digital Garage courses................................................................. 8

North Devon Enterprise Day....................................................................... 9

Marley Comms to provide 4G Wi-Fi at BBxpo 2019 ...................... 9

Welding business builds a promising future ................................... 10

North Devon business events.................................................................... 10

Does anyone actually know what they're doing?............................ 11

In the Hot Seat: Neil Hughes of Dartington Crystal....................... 12

Design and branding locally and worldwide...................................... 13

Healthier planet, healthier sales................................................................ 13

Magnetic North Devon: Memories of a sparkling sea................... 14

Lynton deli brings quality food to the high street........................... 15

Candlemaker lights up customers' lives.............................................. 15

People...................................................................................................................... 16

Business listings............................................................................................... 16

Accessible accountants attract new clients...................................... 17

Teamwear firm signs deal............................................................................. 17

New roof for textile factory........................................................................... 17

EDITORIAL

Robert Zarywacz

Editor, Designer & Publisher

t: 07971 176044

e: robertz@business-action.co.uk

@robertz

ADVERTISING

Alan Williams

Advertising & Publisher

t: 07970 671192

e: alan@business-action.co.uk

© Need it Find it 2019. All information in this magazine is published in good faith.

Any views expressed are not necessarily those of the publisher, Need it Find it.

Readers are strongly recommended to seek advice from an appropriate professional

before taking any action on any topic discussed in the magazine and to check full

terms and conditions of any products or services promoted in advertisements.

@businessactionm | April / May 2019 | business action 1
---
NEWS

NDMA Manufacturing Awards

The 2019 NDMA Awards are

now open for entries with

the aims of identifying and

celebrating the expertise, technical

specialisation, innovation,

growth or other success

of manufacturers and schools

within North Devon.

The 10 categories are:

➤➤Manufacturer of the Year

➤➤Team of the Year

➤➤Apprentice of the Year

➤➤Trainee of the Year

➤➤Environmental Project of

the Year

➤➤Innovation of the Year

➤➤Transformation of the Year

➤➤Business Engagement in

STEM and Schools

Ofwat has delivered its verdict

on water companies' plans for

its 2019 price review (PR19)

submitted last September.

It has been critical of many

suppliers, who have been told

to do more, but South West

Water (SWW) has been held

up as a shining light and an

example to others.

Setting a new standard

SWW engaged Turquoise

Thinking and several other

agencies to deliver the research

and customer insights to help

formulate its PR19 proposal.

Turquoise Thinking offers

its market research services

nationally and has its headquarters

in Barnstaple.

Ofwat commended

SWW's plan and the insights

Turquoise provided, going so

far as to say that these "set a

new standard" for the water

sector. While Severn Trent

and United Utilities were also

singled out for praise, and can

join SWW in implementing

their PR19 without further

ado in Ofwat's 'fast track'

category, Ofwat has told the

other 14 water companies

they need to revise their plans,

following the model of the

benchmark suppliers.

Understanding the market

Every one of the water

companies conducted market

research in formulating its

➤➤Exporter of the Year

➤➤Product of the Year

Free to enter

Any manufacturing business

in the area can enter, both

North Devon Manufacturers

Association members and nonmembers,

and the awards are

free to enter. They are open to

companies of any size – awards

are judged on criteria relative

to the individual organisation.

The judging panel consists

of individuals who support and

promote manufacturing excellence

across the South West of

England.

Deadline 26 April

The deadline for entries is

Friday 26 April and the awards

plan, but what did South West

Water get so right compared

with the other suppliers?

Part of the answer lies with

its long business relationship

with its market researchers.

Turquoise has 30 years'

experience in utilities market

research and has been working

alongside South West Water

since the 1980s. Few, if any,

market research firms have

will be presented at an evening

function at the Barnstaple

Hotel, Barnstaple on Thursday

16 May. The event will be

attended by entrants, members

of NDMA, guests and the

media, providing the opportunity

for employers to reward

their staff for their hard work

and to network and share their

expertise with others.

Student awards

Entries are also open for the

NDMA's North Devon Technology

Awards – for students

13-19 years – which aim to

encourage the manufacturers

of the future.

These awards enable school

and college students to showcase

their technology projects

Market research agency

helps water company

on to Ofwat fast track

that level of knowledge and

experience, and the ability to

ask the right questions in the

right way is what ultimately

makes the difference.

Turquoise dug into the

qualitative side of the research

by using a variety of tools.

These included in-depth

interviews, focus groups and

co-creation groups. Other

specific measures included:

to win an industry award.

There is also a £100 cash prize.

Winners will receive their

awards at the NDMA Awards

event on Thursday 16 May.

Entries are welcome from

students independently, or

through their school, college

or institution. The deadline

for student entries is 4pm on

Wednesday 8 May.

Students can submit

excerpts from current projects

that they are working on for

their GCSE, A level, BTEC or

similar courses. Please contact

the NDMA to arrange for a

STEM Ambassador to visit

your school/college to discuss

how current projects can be

used and/or tailored for entry.

■■Enter at ndma.org.uk

➤➤Future customer research

➤➤Regional investment

research

➤➤Retailer research

➤➤Priority Services Register

research

➤➤Priorities and measures

research

➤➤OPM scoping research

Challenges ahead

PR19 was always going to

be a tough challenge. Rachel

Fletcher, Ofwat chief executive,

put it that the regulator

has essentially demanded that

water companies "deliver more

for less" over the next five

years. In any industry, that is

going to be a big ask, and to

come up with a plan that will

deliver demands full colour

market insights.

Fletcher praised South

West Water along with the

other fast-tracked suppliers

for delivering plans that will

improve efficiency, ensure they

meet their statutory obligations

and deliver "more of

what matters" to the communities

that they serve over the

coming five years. She said

that the gauntlet has now been

thrown down to the other

water companies in England

and Wales to meet this same

high standard.

■■Details 01271 337100 or

thinkturquoise.com

2 business action | April / May 2019 | business-action.co.uk
---
Pinnacle Award offers £3,000 prize to young people

The 2019 Pinnacle Award,

organised by the Exmoor

Society, is now open to young

people aged 18 to 27 years

who live, work or study in the

Greater Exmoor area.

The award offers up to

£3,000 to an individual or

group who have an idea for

a business venture based

on Exmoor, for example, in

agriculture, forestry, food and

drink, conservation, horticulture,

craft, tourism, or any

outdoor land-based activity.

Now in its eighth year, the

award was established to help

young entrepreneurs live and

work on Exmoor. As a conservation

body, the society fully

recognises the importance of

providing opportunities for

young people to continue to

live in the area by encouraging

entrepreneurial activity.

The award also helps to

promote the idea that beautiful

landscapes and livelihoods

in a National Park do

go together. Previous applications

have come from people

making cider and developing a

herd of pedigree cattle.

So far the award has helped

fund young people either

setting up or developing

businesses such as agricultural

contracting, country

clothing and woodland

management. There were

three successful applicants

in 2018: Polly Goodman,

Philip Stephens and Camilla

Waterer, who were developing

respectively goat meat from

local herds, vehicle canopies

from lightweight material and

horse-drawn carriage rides

over the moor for celebrations

and special picnics. All

three applicants impressed the

judges so much that trustees

decided to offer the full award

to each one.

Public unaware of how to recycle scrap metal

Members of the public prefer

to take their metal waste to a

local council recycling centre

instead of a metal recycling

company, according to a recent

survey by YouGov for a leading

UK metal recycler.

65% prefer this option,

not realising that regulated

recyclers not only genuinely

recycle scrap metal, but will

pay to receive it. Only 32% said

they would sell to a scrap metal

company, and a 'worrying' 1%

said they would fly-tip it. The

remainder would pay someone

externally to take it away

directly from their home.

"If the results coming out of

the survey are to be believed, it

is very worrying," says Martin

Mogford, managing director of

SWM. "As the region's leading

metal recycler, we strongly

believe that promoting the need

to recycle all metal is a fundamental

part of what we do.

"SWM want the general

public to be aware that we

welcome their business, and

are investing to make our yards

more welcoming. The public

could be missing out so we

want them to know that now

it is easier than ever to sell

waste metal to SWM. Not only

do you get the peace of mind

knowing that your metal is

recycled efficiently, but you also

get paid for it."

As part of a global recycling

programme, SWM has also

launched an initiative which

gives back to local charities

and organisations who support

scrap metal recycling through

their metal recycling yards.

For every tonne of waste metal

purchased, SWM will donate

a percentage to a nominated

charity or organisation. During

March it supported North

Devon Hospice.

As a family business, SWM

is proud to support an initiative

recognising that businesses

can make a difference to

Winner Polly Goodman is developing goat meat from local herds

local communities and to the

environment. It believes the

metals recycling industry,

while being a driver of the

circular economy, faces many

challenges. This includes scrap

yards who pay cash for scrap

metal, which is illegal. It is also

illegal to receive cash for scrap.

Yards such as SWM, which

is a Metal Recycling Association

member, ensure they are

environmentally compliant,

pay close attention to the

health and safety and welfare of

their employees, and support

the local community.

Anyone can take scrap

metal to one of SWM's yards in

Barnstaple, Bideford or South

Molton and receive payment

in addition to raising funds for

worthy local causes.

■■Details 01769 572184 or

swmrecycling.co.uk

Got a North Devon business news story?

Business Action wants your business news. Whether you're a

new start-up, a sole trader or an established company, we want to

hear from you and can even visit your business to interview you.

Contact us now on 07971 176044 or news@business-action.co.uk

Exmoor Society chairman

Rachel Thomas, said: "There

is a great deal of concern that

young people have to leave

Exmoor because of the lack

of employment. By providing

seed core money through the

Pinnacle Award, the society

hopes to enable them to stay

in the area and keep the moor

alive and thriving."

The society aims to attract

even more entries this year

before the closing date of

30 June 2019. Entry is via a

simple form with a reference

from a mentor or sponsor.

■■Enter at exmoorsociety.com

NEWS IN BRIEF

Power plant factory

installs solar panels

TDK Corporation has installed

solar panels at its power supply

manufacturing facility in Ilfracombe

to help power the whole

factory, including its recently

opened EMC test facility. The

company anticipates a return

on investment in the 92kWh

solar array in five years.

"The west facing roof of

'Factory 2' is the ideal place to

install solar panels as it gets

maximum exposure to the sun,

while being obscured from

general view," explains Geoff

Wilby, joint managing director,

TDK-Lambda UK. "From day

one, the solar panels will significantly

reduce expenditure on

energy, whilst showing local

residents and our customers

our continued commitment to

improving the environment."

The solar panels, combined

with an upgrade of the lighting

system to LED technology, aim

to minimise the whole facility's

grid power requirements.

■■Details uk.tdk-lambda.com

@businessactionm | April / May 2019 | business action 3
---
people and companies from

purchasing or leasing businesses

or business premises. In

fact, our pipeline is the strongest

it has been in 10 years, so

from a buyer's point of view

the confidence is still there that

they want to purchase.

"More of the difficultly

might be in a few months time

NEWS

Commercial property and business specialists

celebrate 10 years

If ever there was a difficult

time to set up a specialist estate

agency in the sale and letting of

commercial property and business,

you would probably pick

a few months after the Lehman

Brothers bank collapsed,

when the 'Great Depression'

or 'Financial Crisis' was really

at its worst. However, this is

when James Doble established

JD Commercial and now in

2019 the firm is celebrating its

10-year anniversary.

James himself has been

dealing with commercial property

and businesses throughout

Devon, Cornwall and Somerset

for longer than this, with more

than 20 years' experience. He

says that since establishing the

business, "although the market

remains challenging, there is

seemingly a growing number

of those who want to be their

own bosses and run a business

or those wanting to move to

the area for a home and income

lifestyle change, whether that is

renting a workshop to establish

a business or buying a going

concern B&B, tea room or

cottage complex."

With many of the challenges

in the market at present

appearing to come from issues

surrounding Brexit, James says:

"Although Brexit is still up in

the air, this is not deterring

Applegate Marketplace, based

in Barnstaple, has doubled

the number of transactions

it handled in 2018 compared

with 2017. The online marketplace

matches buyers sourcing

products and services with

suppliers across the world.

Jack Richards, marketing

communications executive at

Applegate, cites three mains

reasons for the increase: repeat

usage, word of mouth and

artificial intelligence.

"We have placed emphasis

on retaining site users and

encouraging them to place

multiple requests for quotation

on a repeat basis," says

Jack. "We know that not only

does this mean the buyer's

purchasing process becomes

habitual, but that this in turn

increases the likelihood of them

proceeding with the purchase

from our supplier base."

James Doble of JD Commercial

when these deals have gone

through, as there does not

appear to be the stock coming

on the market to replace these

soon-to-be-sold and leased

premises. Maybe it is a case

that buyers have more confidence

and desire to purchase

than prospective sellers think?

If this is the case, now may be

Online marketplace

doubles transactions

While Applegate invests

heavily in technology, it also

recognises how traditional

advertising and PR add

value, and, as well as working

with global businesses and

organisations, Jack works

with businesses locally. This

approach is generating significant

numbers of referrals

and recommendations which

have contributed to the large

increase in transactions.

Complementing this

human approach, Anneka,

Applegate's artificial intelligence

tool, continuously

searches social channels to

identify possible leads. This

AI tool frees up employees so

they can follow up leads and

strike while the iron is hot.

"Our substantial transactional

growth is not down

to any one thing," adds Jack.

"We see buyers coming back

to us in numerous industries,

particularly in manufacturing/

engineering, promotional

printing and digital agencies

and web design. Often, we

notice that these repeat within

the same industry, but also in

other industries too. As with

many services, I believe that it

is through providing a service

people find useful and easy

which will see them return."

Established in 1996,

Applegate now employs a team

a good time to consider a sale,

when purchaser confidence is

high but supply of stock is low.

"For those who are considering

a sale, we offer a free no

obligation marketing appraisal,

whether you put your property

on the market straightaway

or in five years' time. We are

happy to meet prospective

clients and offer our advice

with a view that hopefully we

will do some business with

them in the future.

"Whatever happens around

Brexit, one factor remains

consistent: the quality and

speed of response is something

that is key to what

we offer at JD Commercial,

and something that clients

and purchasers appreciate.

Whether it is a voicemail,

email, text, Facebook message

or Twitter comment, who

wants to be waiting 24 hours to

be responded to? We find the

key to offering first class service

is client contact."

James is happy to discuss

any aspect of buying or selling

a business or commercial

property in Devon, Cornwall

or Somerset and is looking

forward to JD Commercial

working with clients old and

new in the years ahead.

■■Details 01237 424053 or

jd-commercial.co.uk

of 31 at its office on Petroc's

Sticklepath campus. A technology

leader, it launched its

Applegate PRO eprocurement

system in 2016 and in 2017

secured an Innovate UK grant

to develop its artificial intelligence

and machine learning

technology.

In partnership with the

Institute of Data Science and

Artificial Intelligence at the

University of Exeter, Applegate

now develops machine

learning systems, continually

enhancing the matching of

suppliers to buyers' requests.

Applegate is also a Strategic

Partner of the US Department

of Commerce International

Trade Administration. While

operating globally, Applegate

retains its established base in

North Devon.

■■Details 0345 600 7177 or

applegate.co.uk

4 business action | April / May 2019 | business-action.co.uk
---
NEWS

Losing a family member is

difficult at any time of life, but

when James Dawson experienced

a family loss, he realised

there was a lack of interactive

resources available for children

and decided to create a solution.

The result was Off To The

Stars, a unique interactive kit

to help children deal with the

bereavement process.

"I wanted to give children a

pathway to manage their grief

in an interactive and nonthreatening

way, providing a

positive outlook on life," says

James. "I started the business

in 2017 during a college

enterprise project but started to

grow it in 2018."

Initially, James created the

concept and built the brand

and then built social media

profiles and a web site incorporating

a selling platform.

The kits, which were

developed alongside a child

psychologist to ensure they are

beneficial to children, include

a children's illustrated book,

sunflower seeds, a wish string

bracelet and an individual star

certificate enabling the child

to name a star after their loved

one. The aim is to support

All year 24/7 business services

Contemporary meeting venue

Great facilities & services

Choice of packages

Including activities

Training events

Call today for our business package

prices & details 01271 862446

ilfracombecarlton.co.uk

Banner 2.indd 1 20/03/2019 16:20:58

Family loss leads to enterprising solution

children in understanding

the concept of loss and how

to deal with their emotions as

YOUNG ENTERPRISE

James Dawson of Off To The Stars

they pass through the different

stages of grief.

"The products are sold

online, which has reached

great success," adds James.

"Customers can purchase their

kits swiftly and without added

hassle, which they do not need

due to the subject. I have also

had kits purchased by charities

and stocked in small stores.

"I market my products on

Facebook mainly, but also use

Instagram to boost day-to-day

activities."

James, who is 18 years old

and currently studying a Business

Access course at Petroc,

sees a bright future for Off To

The Stars and hopes to expand

products and stock them in

larger stores to increase sales:

"I have great aspirations and

would love to build my career

on it. However, I have another

business which I would like

to expand on, as well as future

business ventures."

■■Details offtothestars.com

Are you a young

entrepreneur?

Business Action aims to

support young people 18–30

starting businesses. Contact

us with your story at

news@business-action.co.uk

@businessactionm | April / May 2019 | business action 5
---
NEWS

Recycling equipment firm expands to meet

growing demand

A request to source a

machine for baling cardboard

in 2003 led to the creation of

a North Devon company that

supplies recycling machinery

to customers including Heinz,

Nestlé, Twinings, UPS, Viridor

and other household names

across the UK.

Founder Gordon Webber

supplied a RamPack 60 –

the first machine sold by

the company – to a friend's

Barnstaple company and now

Mardon Recycling Machinery,

based on Pathfields Business

Park in South Molton,

supplies a range of new,

second-hand and refurbished

waste and recycling machines

to its customers. The company

is now headed by managing

director Dennis Henry, who

is the driving force behind

its year-on-year continued

growth. Dennis has a fervent

belief in the recycling agenda,

leading by example with a

'can do' approach to customer

waste solutions, and an insistence

that the company fulfils

its promise of "we say what we

do and do what we say".

Mardon's equipment can

handle general waste, card,

plastic, cans, glass and wood,

and the company offers

customers a free survey – by

Mardon Recycling Machinery supplies static compactors and balers

phone, email or visit – to

establish existing waste

streams and recycling practices

so that it can recommend

the most cost-effective

solution. Its product range

includes vertical balers, semi

and fully automatic horizontal

balers, static and portable

compactors together with

a range of bespoke peripherals,

such as conveyors and

shredders. Equipment can

be purchased outright while

finance options are available

together with Mardon's own

contract rental scheme.

Recycling, waste reduction

and the environment are very

important considerations

You can afford to advertise

Many businesses think it's

too expensive to advertise

in magazines, so Business

Action has developed advertising

packages providing a

whole year of advertising – six

consecutive adverts – for as

little as £125 for business cardsize

adverts.

How do we do this? With

pricing that's keen for advertisers

and viable for us. Our

pricing is transparent – we

don't discount. We do reward

customers advertising in five

issues with a sixth free advert.

■■To advertise in Business

Action, contact Alan Williams

on 07970 671192 or

alan@business-action.co.uk

for every business and in

everyday life, and Mardon

finds that more businesses

are taking an interest for a

number of reasons, including

sustainability, source of

income and savings on costs.

A big factor for recycling is

what can be earned through

rebates for baled products and

Mardon's mill-sized balers are

very popular for cardboard

recycling. Mardon's balers

and waste compactors help

companies by providing more

cost-effective transport of

waste and, where applicable,

rebates on materials such as

cardboard. They also help

companies meet the requirements

of ISO14001 with

regard to recycling targets.

Mardon's team of in-house

engineers complete machine

refurbishments, bringing

second-hand machines back

to their best without compromising

performance, while its

team of field engineers repair

and maintain all types and

brands of recycling machinery

nationwide, as well as

providing training and repairs.

Demand for Mardon's

recycling machinery and

services continues to grow

and the company is currently

expanding its sales and

engineering teams to meet this

growing need.

■■Details 0800 587 3028 or

mardonbalers.co.uk

6 business action | April / May 2019 | business-action.co.uk
---
Ilfracombe hotel is the business

A Victorian hotel in Ilfracombe

now offers businesses 21st

century style and facilities

following a £1.25 million refurbishment

programme.

Owners Michael Rebeiro

and Eliot Seabourn-Wren

have redesigned and furnished

the Carlton Hotel, near the

seafront, to de luxe, four-star

standard, having refurbished

its 39 rooms plus the restaurant,

lounges and reception.

They have also added a gym,

library and dedicated boardroom

and workshop facilities,

fully equipped with superfast

broadband, smart TVs and

everything needed for a

productive off-site meeting or

customer event.

Michael, who has more

than 20 years' experience in

remodelling five-star hotels

in London, said they started

looking to buy a hotel in Kent

or Essex, but were sent the

Carlton's details. After viewing

other local hotels, Michael said

the Carlton's potential stood

out and in August 2015 they

took ownership of a bookedup

hotel, embarking on what

Michael describes as their

mission to "own a hotel we

would want to stay in".

Since then, they have fully

refurbished the main building,

creating a contemporary feel

sympathetic to the original

architecture. All bedrooms

include tiled bathrooms with

underfloor heating, double

glazing, flat screen TV, laptop

safe and personal bar plus many

Hospitality is vital to the North Devon economy, but the sector

depends on businesses with vision investing in the highest

standards of facilities and service. Robert Zarywacz visited the

Carlton Hotel in Ilfracombe to see how its owners have transformed

the Victorian building into a haven for business and leisure guests

personal touches to make each

guest's stay extra special.

Michael and Eliot ensure

that the focus on physical

comfort is matched by high

standards of service. The original

full-time staff of two has

expanded to a team of seven

supported by a further eight

part-time members. With the

hotel open 365 days a year, they

take their responsibilities as

employers seriously and aim to

provide all-year-round employment

to maintain a motivated

team who enjoy creating the

best possible experience for

guests. Eliot adds that the team

are really focused on this and

are continually developing,

supported by a training and

development programme

plus team wellbeing sessions

including yoga and the gym.

With refurbished accommodation,

dedicated business

facilities, a team dedicated

to providing the best service,

what else can businesses expect

for their events? Eliot points

out the Carlton Club bar and

brasserie, which serves simple

dishes prepared from scratch

with ingredients sourced from

many local suppliers. This is

a deliberate choice and some

95% of the Carlton's spend

is local and includes West

Country meat from Tony the

Butcher near Muddiford, fish

and seafood from Appledore

market, seasonal vegetables

from Broadlands Farm,

Braunton, and craft beers from

Lynmouth's Madrigal Brewery.

Located near Croyde,

Woolacombe and two shooting

grounds, the Carlton is the

ideal base for corporate activity

days and it offers a choice of

packages: Refresh and Energise,

Michelin (including dining

at Thomas Carr at The Olive

Room, North Devon's only

Michelin starred restaurant)

and Engage (featuring artisan

or outdoor activities).

Michael and Eliot's vision for

the Carlton Hotel has come to

fruition and it now offers businesses

all they could want.

■■Details 01271 862446 or

ilfracombecarlton.co.uk

@businessactionm | April / May 2019 | business action 7
---
ENTERPRISE

BBxpo is taking shape fast with

exhibitors booking stands, the

presentations programme now

being confirmed and the North

Devon Enterprise Day Free

Networking Buffet organised.

Thursday 24 October 2019

Put the date in your diary now

to make sure you take part in

North Devon's most enterprising

event at Devon Hall,

Bideford College.

Book exhibition space now

To take part in the exhibition,

please book your space now

to guarantee your stand. Stand

prices are £75 for a small stand

and £125 for a large stand. All

exhibitor packages include free

promotion on the event web

site, in the printed and online

editions of Business Action

magazine, in the official event

guide and in social media

posts. For full exhibitor details

and to book your space, please

visit bbxpo.uk

Register as visitor(s)

Entry to BBxpo, all presentations

and the North Devon

Enterprise Day Networking

Buffet is free.

We are delighted to welcome

the Google Digital Garage, who

will be presenting two courses

at the event (see below).

We are also pleased to host

the ultimate free lunch at the

North Devon Enterprise Day

Free Networking Buffet.

Make sure you guarantee

your places by registering at

bbxpo19.eventbrite.co.uk

Get free digital

skills at BBxpo

Google is bringing its Google Digital Garage to BBxpo on 24

October 2019, offering North Devon businesses free advice and

coaching on their digital skills to help them grow in their business,

career or confidence.

The Google Digital Garage is one of Google's flagship investment

programmes in the UK, where anyone can come and learn

free digital skills through a range of courses or 1:1 sessions. Since

launching the Google Digital Garage in 2015, over 300,000 people

have benefitted from Google's free face-to-face training on digital

know-how across 250 locations in the UK.

Two courses will be available at BBxpo, where visitors can stay

as little or as long as they like:

➤➤Build Your Personal Brand Online – Learn to identify your

brand, build and protect your online presence, and share

content to your network

➤➤Get Your Business Visible on Google – Get your business

visible on Google Maps and Search.

BBxpo co-organiser Alan Williams said: "The Google Digital

Garage visiting North Devon is a great opportunity for business

people to gain new skills and knowledge. As we are so remote,

digital branding and communication are vital for reaching more

customers and fulfilling business potential. These sessions will be

invaluable for anyone determined to grow their business."

Ronan Harris, Google UK & Ireland managing director, said:

"In the digital age, a basic understanding of how the online world

works is useful and when it comes to business, it's essential. We

are delighted to bring the Google Digital Garage to North Devon

and ensure everyone has access to free digital skills workshops and

1:1 coaching. We hope you'll pop in and get the skills you need to

become more confident online, grow your career or business, and

maybe even launch the next big idea."

■■To book your free place(s) for sessions, please register online

at bbxpo19.evenbrite.co.uk Find out more at

learndigital.withgoogle.com/digitalgarage/

bbxpo.uk #BBxpo

EXHIBITORS – Book your stand now at

bbxpo.uk

Confirmed 2019 exhibitors include

Clarity Copiers North Devon | claritynorthdevon.co.uk

Advice, demonstration, service, rental & sale of colour

printers, copiers & MFPs (multifunctional printers).

Cirrusli | cirrusli.co.uk

Top notch training in cloud and digital accounting systems

across North Devon and Cornwall.

Dare2BU | dare2bu.co.uk

Working to make North Devon the most mentally healthy place

to live and work.

Devon Electric Heating | devonelectricheating.co.uk

Electric Heating Systems – supplied and installed – throughout

the South West.

Jobcentre Plus | dwp.gov.uk

Engage with employers to identify bespoke labour market solutions

creating opportunities for DWP customers.

Marley Comms | marleycomms.co.uk

An expert leading bespoke cloud and on-premise telecommunications

and technology company.

Petroc | petroc.ac.uk

Petroc raisies the aspirations, knowledge and skills of individuals,

communities and business in Devon and beyond.

pressme | pressme.co.uk

Fixed-price copywriting services for effective articles that take

full advantage of promotional opportunities.

Safety Supplies Direct / Tawsa | tawsa.co.uk

Tawsa Ltd is a Health & Safety consultancy, while Safety

Supplies Direct specialises in supplying PPE and workwear.

The Sign Maker | sign-maker.net

House signs, business signs, memorials, engraved plaques and

wheel covers all made in North Devon.

Towergate | towergate.com/locations/bideford

Through our trusted team in Bideford, Towergate has access to

a wide range of tailor made insurance solutions.

Utilities Warehouse | pinkpigsavings.co.uk

Based in North Devon, Nick Parry can show you how to make

great savings on all your household bills.

Wills at Home | wills-athome.co.uk

Alan Williams provides a personal wills and lasting powers of

attorney service across North Devon.

8 business action | April / May 2019 | business-action.co.uk
---
Thursday

24 October 2019

is North Devon Enterprise

Day when all businesses can

join together to celebrate our

vibrant local business community,

support each other

and promote the vast range of

products and services provided

in the area.

Take part

Are you an enterprising

business? Take part now by

registering to

join the Enterprise

Wave at ndevonent.uk

Businesses are already

registering for what we aim

to be the largest independent

enterprise community in the

area – a collection of forwardlooking

entrepreneurs

committed to helping every

business to succeed.

On the day, we'll celebrate

at BBxpo with a panel session

of North Devon entrepreneurs

VISITORS – register now for free entry at

bbxpo19.eventbrite.co.uk

Presentations & activities

Build Your Personal Brand Online | Google Digital Garage

Learn to identify your brand, build and protect your online

presence, and share content to your network.

Get Your Business Visible on Google | Google Digital Garage

Get your business visible on Google Maps and Search.

High Performance in the Workplace | Dare2BU

1 in 4 people suffer with a mental health problem every year.

How does it impact a business when employees have mental illhealth

and what can businesses do to help improve employees'

well-being and their productivity?

Skills presentation | TBA

Full details of this session will be published as soon as they are

confirmed.

Celebrating North Devon Entrepreneurs

A panel of local business people will discuss their own business

experiences and answer questions on how to build a successful

business in North Devon.

North Devon Enterprise Day Free Networking Buffet

The ultimate free lunch brings together business people to

network and build new relationships on North Devon

Enterprise Day.

Marley Comms will be providing a fast and reliable 4G Wi-Fi network

for BBxpo exhibitors and visitors. Below, Daniel Garner, lead

communications manager, introduces Marley Comms and its services

Marley Communications,

serves the whole of the UK

from our Bideford base. We are

a leading provider of business

phone systems, IP CCTV, voice

and data networking, broadband,

4G and Wi-Fi systems

and much more, with a team

of highly skilled telephone

engineers and data networking

engineers at your disposal. Our

satisfied customers include The

Rigby Group PLC, Bovey Castle

Hotel, Devon Air Ambulance,

Evans Transport and Woolacombe

Bay Holiday Parks.

We offer bespoke systems

that will streamline your

business communications and

can design, build, install and

maintain a communications

package that is perfect for your

business or home needs.

Having gained valuable

experience across the sector

over many years, we work with

new and existing businesses

and develop solid proposals to

support business growth and

increase productivity.

With internet access now as

important as gas and electricity,

4G systems are something we

are implementing more and

and the North Devon

Enterprise Free Networking

Buffet – open to all businesses.

Let's all share our experience

and advice to help other

businesses so all thrive.

And share on social media

– hashtag #ndevonent – to

encourage everyone to join in.

North Devon

ENTERPRISE

Day #ndevonent

Follow and connect

Connect with @northdevon,

@businessactionm and

@needitfinditnow on Twitter

and other platforms.

■■Visit ndevonent.uk or email

ndevonent@business-action.co.uk

for full details.

Marley Comms to provide

4G Wi-Fi at BBxpo 2019

more, especially in remote

locations where fibre to the

cabinet (FTTC) is not available

and ADSL speeds are very low.

Depending on coverage, we can

achieve speeds around 60Mbps!

The hardware we use is

the same as you will find in

a normal home router, so all

your devices can connect to the

Wi-Fi or LAN network as you

would normally do. The added

benefit is we can remotely

monitor the devices for you,

apply firmware updates and

have them alert us should the

connection become unstable.

We were contacted by

Devon Air Ambulance Trust

to help get to the bottom of a

long-standing headache at one

of their Devon airbases.

It has always been a factor

at the Eaglescott base that the

helicopter and medical crews

could not get a reliable internet

connection on the site. This

was, at times, operationally

difficult, as flight information

such as weather updates are

crucial to the successful operation

of the service.

We completed a survey at

the base and found that there

was a very reliable 4G footprint

covering this area.

We designed, quoted and

subsequently installed a special

high gain external aerial to

run to a 4G router housed

internally, which in turn feeds

into their current data network.

From this point we also

installed a managed wireless

internet solution for medics

and flight crew so when on

base they can enjoy the luxury

of a reliable internet connection

and complete their work in

an effective manner.

An added advantage of

the managed wireless access

solution is that our engineering

team gets alerts if the internet

system is down, which enables

us to take a proactive approach

to the connectivity on site

and to dispatch engineering

resource in advance of the crew

realising there is an issue.

We aim to provide a firstclass

emergency engineering

service to all our customers

and can deliver this to you any

time, day or night. In fact, we

offer a full 24-hour, 365-daysa-year

service. It is never too

much trouble for us to come

along and give you an idea of

what we can do for you.

We offer multiple care

levels to provide the support

you need, so you only pay for

what you need from us. We

currently monitor some 1,000

cloud-managed devices, all

automatically alerting direct

to our team of engineers who

work on our service desk.

■■Details 01237 423445 or

marleycomms.co.uk

■■Meet Marley Comms on

their stand at BBxpo

■■Quote 'Need It Find It' for a

10% discount on any physical

installations

@businessactionm | April / May 2019 | business action 9
---
How do you start a manufacturing

business? Daniel Nott,

from Barnstaple, decided to do

it at the age of 24 to establish

a business that would support

his young family. Previously

an outdoor activities

instructor, Daniel completed

an apprenticeship in welding

and fabrication at Petroc, then

gained experience with local

companies. In June 2018, he

started Nott's Welding and

Sandblasting and is now

working hard to establish and

grow the business.

Making the leap

As anyone who has started a

business knows, it is always

difficult to decide when to

make the big leap from a job

to self-employment. Daniel

had been working from 7am to

5pm in a job, then in evenings

and at weekends on his own

work when he was offered a

three-month manufacturing

contract and decided it was

time to launch Nott's Welding

and Sandblasting full-time.

Own premises

Now Daniel works from a unit

at Mullacott Cross Industrial

Estate, near Ilfracombe, having

set up his workshop up with

equipment and a vehicle with

the support of a government

start-up loan.

"I have always wanted to

run my own business and I just

went ahead and did it," said

Daniel, now 28. "It is hard at

the start, when you're building

up the business, but you have

more freedom."

Building a reputation

Daniel is experienced in a

variety of metalwork, including

fabrication, stainless steel

and mild steel, wrought iron,

construction and RSJ work, as

well as working on products

such as fireplace frames, glass

balconies, railings and gates.

He also offers sandblasting on

metal and wooden items such

as motorbike frames, car wheels

and vintage lamps. He has even

built a custom cabinet so that

he can sandblast larger items

than is usually possible, which

is attracting referrals from

within the trade, and aims to

offer mobile sandblasting soon.

Nine months on, Daniel is

MANUFACTURING

Welding business builds

a promising future

looking to develop all opportunities

open to him. One is to

design and construct bespoke

wood and metal furniture to

order and he has already made

tables and house gates.

Daniel has achieved

considerable success already

and, with ambitious aims to

expand Nott's Welding and

Sandblasting, is a young entrepreneur

to watch.

■■Details 07706 595955 or

facebook.com/Nottswelding

NORTH DEVON EVENTS

Thurs 4 April – North

Devon Networking Lunch

Informal business lunchtime

networking at the Riverbank

Bar & Bistro, Bideford

■■northdevonevents.co.uk

Tues 9 April – Tourism

Masterclass: Increasing

bookings

Mihi Digital is hosting this

workshop aimed at tourism

businesses in the South West.

■■mihidigital.co.uk

Thurs 25 April – Retailers –

harnessing digital tech

Heart of the South West

Growth Hub workshop in

Bideford in conjunction with

Torridge District Council.

■■heartofswgrowthhub.co.uk

Fri 26 April – Barnstaple

Networking Lunch

Informal business lunchtime

networking at Lush in

Barnstaple.

■■07801 199671 or

susie@poundlane.co.uk

Thurs 9 May – North Devon

Networking Lunch

Informal business lunchtime

networking at the Riverbank

Bar & Bistro, Bideford

■■northdevonevents.co.uk

Thurs 6 June – North

Devon Networking Lunch

Informal business lunchtime

networking at the Riverbank

Bar & Bistro, Bideford

■■northdevonevents.co.uk

Thurs 24 Oct – Bideford

Business Expo (BBxpo)

Business exhibition, presentations

and free networking

buffet at Devon Hall, Bideford

College

■■bbxpo.uk

Check for more events at

northdevonevents.co.uk

Looking for independent financial advice?

Call us on 01237 426450

for a free initial consultation

contact@dscottfinancial.co.uk

https://dscottfinancial.co.uk

Your home may be repossessed if you do not keep up repayments on your mortgage.

10 business action | April / May 2019 | business-action.co.uk
---
PERFORMANCE

Does anyone actually know what

Have you ever had that feeling

that, any day now, you're going

to get 'found out'? Someone,

somewhere is going to call

you out as a fraud and your

secret will be out: you've been

winging it through life!

Well, you're not alone,

according to a study published

in The International Journal of

Behavioural Science in 2018,

some 70% of professional adults

suffer from a phenomenon

known as 'imposter syndrome'.

Imposter syndrome, or

imposter phenomenon, is

defined as "the persistent

inability to believe that one's

success is deserved or has been

legitimately achieved as a result

of one's own efforts or skills".

It comes in as many as five

different forms:

1. The Perfectionist

Perfectionists tend to set

themselves excessively high

goals and, when these are not

achieved, they feel a complete

failure. If goals are achieved,

the perfectionist will often feel

they could have done better

or the feeling of success will

be short-lived and rapidly

replaced with a new goal.

2. The Superman/woman

These people will feel they need

to push themselves harder than

their colleagues to feel satisfied

that they measure up.

The superman/woman can

get addicted to the validation

they receive through

their achievements, but often

believe that they, as a person,

are undeserving so they need

to keep proving themselves

professionally.

they're doing?

Professional counsellor and supervisor Kelly Smith discusses

imposter syndrome and how to manage it

3. The Natural Genius

People who achieve with ease,

generally, can feel a huge

amount of shame when something

challenges them. These

types of imposters not only set

their expectation bar incredibly

high, like the perfectionist, they

also expect to achieve their

goals on the first try. If they

feel they fail at this, they feel a

sense of internal shame.

4. The Soloist

These are people who feel that

if they need to ask for help

to achieve a goal, they have

failed. They will tend to frame

requests for help in terms of the

project or goal they are working

towards, rather than saying they

need the help as an individual.

5. The Expert

Experts measure their competence

on what they know and

how much expertise they have

in their professional field. They

often feel that they can never

know enough and will feel

driven to continually know

more, learn more and try to

keep ahead of others, to avoid

being exposed as inexperienced

or unknowledgeable.

If any of the above feel

familiar to you, you are in very

good company. Maya Angelou,

author of 11 best-selling books

admitted to feeling undeserving

at times: "I have written

11 books, but each time I think

'uh oh, they're going to find

out now, I've run a game on

everybody and they're going to

find me out'."

Kate Winslet, Tom Hanks,

David Bowie and Serena

Williams have also admitted to

feeling they've tricked everybody

into thinking they know

what they're doing!

So, if so many of us feel this

way, what can we do about it?

Here are some tips.

Get over yourself!

It is proven that the more

important we feel we are, the

more likely we are to feel we

have to live up to a certain

standard or achieve certain

goals. By releasing yourself

from internal expectation and

accepting that we are all equal,

this feeling diminishes.

Accept that you've had a

role in your success

Look back over your life and

remember how you got where

you are. Remember the sacrifices

you may have made, the

hard work you've put in, the

people you've supported. Let

yourself recognise that YOU

got yourself where you are now.

Focus on providing service

The more depersonalised we

can make our role, the less

pressure we put on ourselves.

Recognise that you ARE NOT

your job, you are providing a

service, in whatever form that

may be. Take yourself out of

the equation and focus on what

you can offer others instead.

Make a note of nice things

people say about you

If someone praises you or your

work, accept it and remember

it! Make a note somewhere of

what was said and how it felt so

you can return to this in times

of self doubt.

Say to yourself:

"It's imposter syndrome!"

When these feelings of being

undeserving surface, name it.

Say to yourself in your mind:

"It's just imposter syndrome.

I deserve my successes, I've

worked hard for them and I am

not alone in feeling this way."

And, above all else, remind

yourself that life is not a

competition. You are you. You

are unique and have a set of

skills and wisdom totally of

your own. It doesn't matter

what the next person is doing.

Celebrate the success of others

and they will celebrate the

success of you.

And if you're ever feeling

really brave, turn to the

colleague next to you and say: "I

have no idea what I'm doing, do

you?" My guess would be that

they'll be in the 70% with you.

■ ■ Details 07872 501606 or

facebook.com/

KellysmithMBACP

Right Way HR Services

Safeguard your business

• Advice on all aspects of employment law

• Contracts of employment

• Staff handbook • HR policies

• Letters, templates and documents

Call Richard on 07825 090782

e-mail: richard@rwhrs.com

@businessactionm | April / May 2019 | business action 11
---
IN THE HEADER HOT SEAT

Neil Hughes of Dartington Crystal

1. What was your first job?

For a short period after leaving

school I worked as a trainee

for an electronics company

building and installing engine

test equipment for the automotive

industry. It wasn't long

before my employer and I

realised that it wasn't to be

my field of expertise, so very

swiftly I moved on to become

a packer for Kays catalogue

and then a ware carrier for

Worcester Porcelain.

Glamorous stuff!

2. What is the best

business advice you've

ever received?

Not strictly advice, but a few

words of wisdom from Richard

Branson: "You don't learn to

walk by following rules. You

learn by doing, and by falling

over". I guess he knows what

he's on about.

3. What do you enjoy most

about business?

All of it and sometimes none of

it. I love to travel, landing the

big order, overcoming impossible

challenges, and being

involved in creative thinking

but dislike big company bullies,

tardy communication, big

company bullies, poor service,

oh and big company bullies.

4. What technology could

your business never be

without?

The obvious answer for a handmade

crystal company would

be our furnaces. Although I

would use the word technology

in the loosest sense, given that

many of the methods that we

use are traditional hand craft

techniques and, although the

Each issue we put a North Devon business personality in the hot

seat and ask them 10 questions. This issue we asked Neil Hughes,

managing director of Torrington-based Dartington Crystal

efficiency of the furnaces has

improved over time, the equipment

we use today is pretty

much the same as it was in 1967

when Dartington first started

production in Torrington.

5. Describe your business

management / style

Not sure about style. I feel

management style is for people

who have read too many books

or who require an adjective or a

self-praising label that feeds their

ego, but if you pushed me for an

answer, I would say straightforward

and a bit moody.

6. How do you go about

personal development?

I do believe in formal structured

training, but I believe far

more in experiential development.

I learnt far more that

way. I believe in giving good

young, enthusiastic people, the

opportunity to take on new

challenges, by allowing them

enough freedom for them

to get the personal pleasure

from achievement without

dropping them in too deep.

At Dartington we have a great

track record of promotion

from within, something that

we would hope to continue as

we grow.

7. Is there anything about

yourself that you want to

change?

Wish I was a bit taller and

maybe younger but not too

much younger.

8. Social media: yes or no?

Preferred network?

Absolutely yes. LinkedIn is the

only one that I personally use,

but I use it nearly every day to

network, to improve my knowledge,

to share experiences and

to keep up to date with the

latest news within the many

industries that Dartington are

directly or indirectly involved

with. I really enjoy it. From a

company perspective, social

media is also really important

and something we have been

prepared to invest in. We have

recently employed Sarah as

our social media manager,

spreading the word, sharing

our successes and engaging

with a wider audience. If I'm

honest, I don't really get all the

'book face' stuff but she's great

at it.

9. How do you wind down

when not working?

I have been known to appreciate

the occasional glass of wine. I

feel it's important to make sure

that our wine glasses are regularly

road-tested to ensure that

they are working properly.

10. Do you have a motto or

favourite quotation?

Start with 'Yes' and work out

how afterwards.

About Dartington Crystal

Dartington Crystal, the

leading UK name in contemporary

crystal and glass was

first established in 1967 in

Torrington, North Devon as a

manufacturer of quality products

for home use. Over more

than 50 years, Dartington has

developed and evolved many

ranges of crystal and glassware

based on its key skills of

design and glass-making.

Today Dartington has

customers throughout the

world, including major department

stores and high street

retailers. Dartington also has

well developed capabilities in

the B2B, premium hospitality

and luxury-bespoke markets.

In recent years, the business

has enjoyed good sales growth

and profitability as it has

widened its manufacturing

operation, customer base and

sales channels.

Dartington are proud to be

the only remaining large-scale

producer of crystal and glass

in the UK and remain an

important regional employer

with 130 staff. All of Dartington's

24% lead-crystal product

is hand-made made in the UK

while the company designs

and sources other non-lead

glassware from selected

European suppliers. The

Torrington visitor centre and

factory shopping complex is

an established tourist attraction

and welcomes many

thousands of both tourists and

local visitors each year.

In addition to crystal and

glass products, Dartington

Crystal owns and markets the

world-renowned Caithness

Glass and Royal Brierley

Crystal brands. Dartington

also sells and distributes

ceramic gifts and tableware,

enabling them to offer

customers a choice of products

and design styles from the

very best British names.

■■Details 01805 626262 or

dartington.co.uk

12 business action | April / May 2019 | business-action.co.uk
---
DESIGN HEADER & BRANDS

Bobblehat created Chester Barrie's flagship store in London's Savile Row

A group of North Devon

designers who set out to offer

businesses and brands an

agile and creative partner for

their retail and exhibition

challenges are taking their

designs across the world, but

as their international reputation

grows, Barnstaple-based

Bobblehat remains "proud to

be local".

"Our roots are very much

in North Devon and always

will be," says Bobblehat's

John Courtney. "Virtually

everything we deliver is

Locally designed for clients

worldwide and in North Devon

made in North Devon. Since

we started, six years ago

we've designed and installed

Formula 1 stores at the major

European venues, built exhibition

stands in Florence and

most recently a flagship store

in London's Savile Row for

Chester Barrie."

With such an impressive

portfolio, what is the next step

for Bobblehat?

"We've got brilliant clients

who we work with throughout

the UK and Europe and,

naturally, we will continue to

expand our UK and European

business, but it would

be great to work with more

local progressive businesses,

whatever the sector."

Working collaboratively

with clients, Bobblehat designs

retail spaces and exhibitions

Bobblehat's design for Formula 1 stores across Europe

and takes care of the build and

installation process too.

Whether it's a worldfamous

store in London's

Jermyn Street or a quality

brand in North Devon,

Bobblehat works in a variety

of styles from period to

contemporary and uses a

range of quality materials

to create unique retail

environments.

"We work with brands who

want their stories told."

■■Details 01271 328003 or

bobblehat.co

Healthier planet, healthier sales

Can a win for the planet be a

win for business too? In 1994,

Harvard Business recognised

this was traditionally a 'no', but

reassured "being green is no

longer a cost of doing business;

it's a catalyst for innovation,

new market opportunity and

wealth creation". Yet in 2019,

the nuts and bolts of how to

profitably combine moral

conscience with savvy business

still leaves many foggy-headed.

Blossoming audience

Research results? 50% of Gen

X (40-50yrs*) are willing to pay

a green premium, with 71%

more likely to promote ethical

messages. Gen Y (20/30yrs*)

seek out the interactive brands.

81% of Gen Z (4-24yrs*) would

"choose a restaurant based on a

menu's environmental impact"

. . . hardly surprising given how

deeply interwoven social media

and environmentalism is in

their young, digital lives. Not

your key audience? They soon

will be.

Sara-Jane Williams of BrandLanterns advises coffee shops, pubs and

restaurants on how to go green . . . profitably

Sales opportunities

Eco-disposables are a given,

so now let's get creative! From

rewards on green-hero dishes

to bike-powered PR gimmicks,

leftover scratch menus to

brand-boosting merchandise,

our recent workshop unearthed

many ideas ready for picking . . .

Unite with suppliers

Protect your profits too. Rather

than rekindle the painful PR

disasters of food and beverage

suppliers here, I'll remind you

that negativity can whoosh

along the supply chain and

grab you unaware. Challenge

your suppliers to share helpful

info and ensure you're working

to the same set of values. Stand

united, stand stronger.

Be an educator

Feeling passionate, knowledgeable?

Brands that educate

attract great advertising

opportunities, while improving

customer loyalty. Prefer to play

safer? Holds hands with local

action groups (ask for contacts)

or like-minded businesses.

Sustainability for survival

If businesses don't become

greener AND more profitable

with it, they'll struggle to

survive the next generation.

Activism is no longer 'in-yerface',

intimidating or rebellious;

it's smart and creative . . . and

we're here to help you.

(*approximate range)

■■Details 01271 372620 or

brandlanterns.co.uk

@businessactionm | April / May 2019 | business action 13
---
Childhood memories of a sparkling sea

After stepping off the train at

Ilfracombe Station, I saw the

most magical sight ever: the

August sun sparkling across the

water for as far as the eye could

see. I had never seen anything

like it and that memory from

1969 remains with me now.

My family's first holiday

in North Devon was the best

holiday of my life and, through

my teen years, I spent hours

in school lessons drawing

the track plan of Ilfracombe

Station, as back then railway

modelling was a big hobby. I

returned in the 1980s and 90s

and, by then, Mrs Z and I had

discovered the restaurants in

Fore Street. Both working in

London, in a merchant bank

and global law firm respectively,

we delighted in booking

a table at Food for Friends and

travelling down for a weekend

break of fantastic food.

Then, in 2002, when I had

been running my Zarywacz

communications partnership

with my brother Simon for

some years, I jumped at the

chance to give my Mum and

Aunt a lift down for a week's

holiday. Our cocker spaniel,

Felix, came too and stayed

an extra day to spend in

Ilfracombe. By this time, we

had lived in Windsor for 12

years where Heathrow Airport

noise pollution was increasing

to such an extent that I was

getting up at 7am every Sunday,

unable to relax.

"Why don't we move to

Ilfracombe?" I suggested, on

my return. To my surprise, Mrs

Z thought it a good idea.

From city to sea

But was it a good idea for

two townies, used to hopping

on the Tube into London, to

make such a big move? We

decided to test it by visiting out

of season and imagining we

already lived here, wandering

around on wet, grey days when

North Devon is a wonderful place in which to live and work, but

running a business here is challenging. In Magnetic North Devon,

we explore what attracts people to move here to start and run

businesses. We begin with our 'blow-in' editor, Robert Zarywacz,

born in Heston under the Heathrow Airport flight path

attractions were closed and

the town was deserted. Would

we still enjoy it when cold and

stormy? The answer was: Yes.

And so, one morning in

January 2004, we posted the

keys of our old house through

the letterbox and set off on

the 200-mile journey to our

new Ilfracombe home, to be

welcomed by a howling gale.

And we never looked back.

Business relocation

Moving to a beautiful area is

one thing, but running a business

here is a different story.

As an early adopter of home

and remote working in 1994, it

didn't matter where I worked

as long as I had internet

access. This was a potential

problem before we moved, as

many North Devon telephone

exchanges had not been

enabled for the (then) highspeed

ADSL service. Luckily,

Ilfracombe was enabled in

September 2003 and on our

first day a BT engineer installed

a new line, connecting us with

the rest of the world.

Of course, technology

continues to advance and it's

vital that North Devon's telecommunications

and transport

infrastructure keeps pace with

the rest of the country and the

world. We need to remain vigilant

about this and Business

Action will report on relevant

developments.

Connecting with people

Another consideration when

moving to a new area is that

you don't know anyone else.

I was just getting into online

networking and connected with

Kevin Woodward, who had

moved to North Devon from

Berkshire the previous year.

Kevin started the North Devon

group on ecademy.com, then

a thriving international online

business network. Through

this I met many local business

people, including Business

Action co-publisher Alan

Williams, and entered the highcholesterol

world of breakfast

networking, attending several

groups weekly for years before

moving to networking lunches

at a more civilised time of day.

During the past 15 years

in North Devon, my business

activities have included

seven years of freelancing as

business editor for the North

Devon Journal – when I met

and wrote about hundreds of

local businesses – and working

with our own clients across the

UK. Like many in the businessto-business

sector, we export

services, providing a vital yet

invisible contribution to the

local economy.

Remoteness and our

small market make running

a business in North Devon

tough, and this has led me to

admire the many businesses

who operate here successfully,

creating a hotbed of enterprise.

While great transport links

and the massive marketplace

around Windsor made it easier,

I much prefer to run my business

in North Devon where the

sea sparkles.

■■Details 01271 879100 or

z2z.com

What attracted your

business to Magnetic

North Devon?

Share your story to

news@business-action.co.uk

14 business action | April / May 2019 | business-action.co.uk
---
In a tough climate for high

street food retailing, the

Moorland Pantry in Lynton is

establishing itself as an independent

foodstore selling organic

meats, fair-trade fruit, and

organic vegetables and groceries

to the local community and

summer visitors.

Barnstaple-born owner

Dominic Cornish says his original

aim was to be self-sufficient

and he started growing salads

and herbs as well as keeping

free-range pigs for his family to

enjoy a healthy lifestyle. Then

he attended farmers' markets

and ran a small farmshop to sell

his surplus before opening the

Moorland Pantry in 2016.

Now the store stocks his

own nitrate-free bacon, cured

with sea salt, as well as sausages

and charcuterie products. A

keen baker, Dominic makes

his own pasties, sausage rolls,

pork pies and homity pies,

using organic ingredients, and

sells organic beef, lamb and

game from local farms as well

as sustainably caught fish and

Lynmouth lobster.

RETAIL

Lynton deli brings quality food to the high street

Independent businesses are

North Devon's treasures. Our

businesses aren't always as

visible as some of the national

and global brands people

expect to see on the high street

and it takes some exploring

to discover some of them, but

once you start exploring, you

never stop.

Lyn Candles in Lynton is

one of our treasures. John

Baker started the business

after reading about candlemaking.

His fascination with

the process led him to buy a

candlemaking kit and to start

the business in 1996. His shop

in Lee Road, where he has

made his candles for some

20 years, is brimming with

candles of all shapes, sizes and

scents, and has become one of

Lynton's must-see attractions

for visitors.

John makes all his candles

by hand without the use of

machinery and, aware of the

need for sustainability and

care for the environment, aims

to use materials that minimise

environmental impact. The soy

wax he uses is 100% natural

Dominic Cornish serving customers in the Moorland Pantry, Lynton

Candlemaker lights

up customers' lives

Enjoying your work is one of the best feelings in life and it is clear

when you meet John Baker of Lyn Candles that he really loves his

work. Editor Robert Zarywacz caught up with the Lynton chandler

who sends customers on their way smiling

and no beeswax or palm oil

are used. The candles are also

vegan friendly.

John uses quality soy wax

in his scented candles so they

are totally paraffin free. This

ensures all the fragranced

wax burns, reducing wastage

and providing better value.

All coloured, seashell, classic

cream and designer candles

are made from high grade

paraffin wax. Burn times

extend up to an impressive 216

Chandler John Baker of Lyn Candles, Lynton handcrafts all his candles

"Farming should be about

working with nature and

encouraging wildlife," says

Dominic. "I've always farmed

as naturally as possible and

want people to know where

food has come from."

In addition to his own

produce, Moorland Pantry

stocks organic vegetables

from Devon farms as well as

local cheeses, spices, olives

and bread, along with coffee

and tea, health foods and

ecologically friendly cleaning

products. This year Dominic is

expanding his range of homereared

meat after acquiring his

first flock of Jacob's sheep on

his smallholding.

"Locals have taken to it

really well and we have a

good local customer base,"

adds Dominic, who opens

the store all year round and

stocks produce according to

the season. "People love the

personal service and often

come in for a chat."

■■Visit at 12 Lee Road, Lynton

or details at The Moorland

Pantry on Facebook

hours for the largest candles,

such as the 200mm round ball

single wick candle.

At one time, Lyn Candles

supplied other businesses and

sold candles through its web

site, but now John supplies

only a select range of stores in

Bristol, Ilfracombe and Westward

Ho!. He has also stopped

web site sales – customers are

welcome to phone to place

their order and John finds that

some people call specifically

for a chat.

"Talking to people is so

important," says John. As

well as making life better for

everyone, it's a practice that

helps the business, as many

customers return year after

year to talk to John, watch as

he makes candles and then

browse the range of candles

and slate, solid wood and

wrought iron candleholders

before making their purchases.

John says Lyn Candles'

aim is to "ensure that our

customers are truly thrilled

with their purchases."

■■Details 01598 753321 or

lyncandles.com

@businessactionm | April / May 2019 | business action 15
---
TCi (GB) Ltd, Bideford-based

specialist commercial fit-out

and construction contractor,

has appointed three shareholding

directors from within

the company.

The appointments recognise

outstanding achievement

and commitment, promoting

Alex Slee as finance director,

Jim Capron as construction

director and Alex Perkis as

operations director.

Managing director,Adrian

Sealey explained; "I started

TCi in 2006 with my wife

Rebecca, working out of

my home and garage space,

working long hours, taking

HYPNOTHERAPY

Paul Holder

New Life Hypnotherapy

South Molton

t: 01769 574711

w: newlifehypnotherapy.org

Landscaping

CW Landscaping

Bideford & North Devon

t: 01237 474335

m: 07960 930974

From left (standing): Jim Capron, Alex Perkis, Alex Slee,

(seated) Rebecca Sealey, Adrian Sealey

BUSINESS LISTINGS

Locksmith

Nice logo

But what do you

actually do?

opportunities and growing the

company wherever possible.

Along the way, I have been

fortunate enough to have been

joined by an exceptional team,

capable of developing the

business well into the future."

Whilst maintaining a

guiding hand in the company,

Adrian is already embarking

on new projects beyond TCi,

now that there is a strong leadership

team in place. He has

already embarked on two separate

ventures in farming and

commercial property, through

which he hopes to bring new

employment opportunities and

prosperity to the area.

MJS Locksmiths

Covering North Devon

t: 07532 139388

w: northdevonlocksmith.co.uk

Removals

HLH Removals

Covering North Devon & UK

t: 07593 234194

e: hlhremovals@yahoo.com

fb page: HLH Removals -

Horshams Light Haulage

Advertise in our business listings for £10 per issue – minimum

three issues. Advertise for the whole year by taking advantage of

our 'six listings for the price of five' offer. Contact Alan Williams

07970 671192 or ads@business-action.co.uk

PEOPLE

Kerrie Anson, marketing

coordinator for Savona Foodservice

in Ilfracombe, is now

a Certified Digital Marketing

Professional after successfully

completing the Professional

Diploma in Digital Marketing.

The diploma has been credit

rated for the Scottish Credit

and Qualifications Framework

by the Scottish Qualifications

Authority at level 8 with 24

SCQF credit points.

The most widely taught

industry-accredited qualification

in its field, it teaches the

fundamental principles of

digital marketing, from mobile

and social media to email, PPC

marketing and SEO.

Kerrie said: "Having worked

in marketing for more than

seven years, I have a wealth of

knowledge in the more traditional

approach to marketing. I

therefore was looking to learn

more about the digital world

and how I could utilise my new

learning within my job role.

Hannah Cook has joined

the team at MiHi Digital in

Broadwoodwidger as digital

marketing executive, adding

her marketing experience

from the hospitality and

manufacturing sectors.

Nice photo

But what's

the price?

Having a digital presence

has become more and more of a

priority for businesses, making

it important to stay ahead of the

game. Savona Foodservice has

this forward-thinking approach

and they encouraged me to take

this step by funding the course

for me. Six months of hard

work and one tough exam later

I am now super proud of my

achievement and excited to see

how it shapes my career."

MiHi Digital director Mark

Worden said, "Hannah brings

with her a wealth of experience

and we are delighted to

welcome her to the team. In

order to be able to provide the

best possible service for our

clients, it's vital that we have

a talented and knowledgeable

team. I am confident that the

addition of Hannah will allow

us to continue delivering for

our clients, expand the business

and grow our client base

even further."

Committed to providing a

high level of service, the firm

is expanding into new sectors,

including the wedding and

tourism industries, with much

of its new business coming

through recommendations

from existing clients or free

digital skills events offered to

business owners.

Nice video

But how do I

buy one?

A word is worth a thousand pictures

We write choice words for your business. Call Robert Zarywacz on 01271 879100 or visit pressme.co.uk

16 business action | April / May 2019 | business-action.co.uk
---
Rachael Woosey of North Devon Accounts

Accessible accountants attract new clients

An accountancy practice with

a difference has started 2019

by attracting 60 new clients.

North Devon Accounts opened

its office in Braunton last

September and has quickly

established itself as a firm that

clients trust.

Rachael Woosey started

North Devon Accounts in 2005

and practised professionally

while bringing up her young

children. Now her children are

older, Rachael is developing

the practice and, along with

the new office, has built a team

of five to manage all aspects

of clients' bookkeeping and

accounting requirements,

including payroll, pensions and

CIS, cloud accounting and VAT.

"I do it because I love

accounts and got clients

through word of mouth," says

Rachael. "Now I want to move

the business to the next level."

Rachael is very clear about

how she runs the business, with

accessibility being an important

requirement: "To have a

small, local accountant really

fits in here and people can ring

up or pop in rather than it

being formal."

As a busy working mother,

Rachael is aware of the pressures

people experience while

running their businesses and

the worry that receiving a letter

from HMRC often causes.

She founded North Devon

Accounts to take away this

stress so that clients can focus

on business and not have to

bring accounting worries home

with them.

"Some people are really

nervous and don't know what to

do, but as soon as you get some

order, it all comes together."

Rachael is also aware that

many people need support

when starting up a business

or taking on employees.

North Devon Accounts offers

monthly bookkeeping so that

business owners can keep track

of their accounts, see whether

they are covering costs and

making a profit on their activities,

and know what tax they

will have to pay at the end of

the financial year.

Continuity is another

essential and clients get to

know who is looking after their

accounts and are always aware

of all charges.

"We're really transparent

with our pricing and talk

people through what we do and

give them options.

"I set out to build a different

kind of practice. One where

I can work closely with my

clients without having to bill

for every call, email or chat

over a coffee. One where I can

forge strong working relationships

with my clients and make

accounts approachable and

affordable."

■■Details 01271 815332 or

northdevonaccounts.co.uk

Teamwear firm signs deal

MJM Sports has secured an

exclusive three-year deal, with

Italian brand Kappa, to supply

playing, training and travelling

clothing to Army Basketball.

MJM managing director

Terry Schofield of Bideford

said: "We are delighted to build

on our long-standing partner-

ships with Corps basketball

teams within the Army.

Lt Col Duncan Chamberlain

(vice chair ABBA) said:

"Army Basketball is delighted

to be working with one of the

UK's leading team kit specialists

and a brand that has over

100 years of experience."

■■Details mjm-sports.co.uk

New roof for textile factory

Devon Contractors has

completed a re-roofing project

for technical textile specialists

Heathcoat Fabrics in Tiverton.

The new roof will enable the

manufacturer to install new

equipment previously prohibited

by the low roofline so

it can expand and meet the

needs of its growing product

range. Heathcoat Fabrics

designs and develops technical

textiles for applications such

as space exploration, extreme

sports and Hollywood films.

Devon Contractors works

primarily across Devon, Cornwall

and Somerset.

■■See devoncontractors.co.uk

Infrared heating

revolutionises the way

we heat our homes

Infrared Electric Heating Specialists

Modern, stylish and affordable electric heating for your home

Easy to install

Energy efficient

Thermostatically controlled

Infrared, like gentle sunshine

Comfortable healthy heat

White panel heaters Picture heaters Mirror heaters

www.multiheat-energysystems.co.uk

01237 451759

First Thursday of every month

is Steak Night!

01237 473399

49 Torrington Street, East the Water, EX39 4DP

www.theriverbankbistro.co.uk

email@theriverbankbistro.co.uk

@businessactionm | April / May 2019 | business action 17
---
TOWERGATE

YOUR LOCAL BROKER

Through our trusted broking team in Bideford, Towergate has access to a wide range of tailor made insurance solutions and risk management programmes.

Drawing on resource from our insurance experts across the UK, we can assist with insurance requirements locally, nationally and globally.

Contact Robin Glover on 01237 429 978

or email bideford@towergate.co.uk www.towergate.com

Towergate, 24 The Quay, Bideford EX39 2EZ

Towergate is a trading name of Towergate Underwriting Group Limited. Registered in England Number 04043759. Registered Office: Towergate House, Eclipse Park, Sittingbourne Road, Maidstone, Kent, ME14 3EN. Authorised and Regulated by the Financial Conduct Authority.

0008NS030119 - TIB Bideford half page ad.indd 1 03/01/2019 12:07

Investment property to Let?

• Competitive commission rates

• Local, friendly, expert advice and support

• Comprehensive marketing

• Fully managed services to suit your needs

• NEW! Mobile-optimised website

• Over 97% of our owners would

recommend us - find out why...

Contact us today on 01271 813777

for your homeowner recruitment pack

marsdens.co.uk