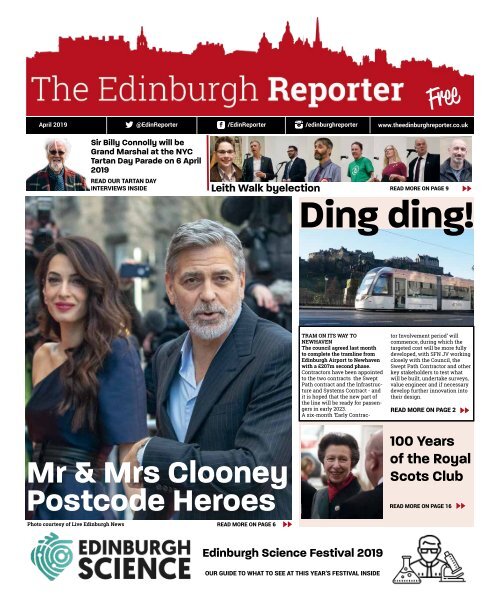 The Edinburgh Reporter April 2019 issue
The monthly newspaper with news all about Edinburgh
The monthly newspaper with news all about Edinburgh
SHOW MORE
SHOW LESS
You also want an ePaper? Increase the reach of your titles
YUMPU automatically turns print PDFs into web optimized ePapers that Google loves.
April 2019

@EdinReporter /EdinReporter /edinburghreporter

www.theedinburghreporter.co.uk

Sir Billy Connolly will be

Grand Marshal at the NYC

Tartan Day Parade on 6 April

2019

READ OUR TARTAN DAY

INTERVIEWS INSIDE

Leith Walk byelection READ MORE ON PAGE 9

Ding ding!

TRAM ON ITS WAY TO

NEWHAVEN

The council agreed last month

to complete the tramline from

Edinburgh Airport to Newhaven

with a £207m second phase.

Contractors have been appointed

to the two contracts the Swept

Path contract and the Infrastructure

and Systems Contract - and

it is hoped that the new part of

the line will be ready for passengers

in early 2023.

A six-month 'Early Contrac-

tor Involvement period' will

commence, during which the

targeted cost will be more fully

developed, with SFN JV working

closely with the Council, the

Swept Path Contractor and other

key stakeholders to test what

will be built, undertake surveys,

value engineer and if necessary

develop further innovation into

their design.

READ MORE ON PAGE 2

Mr & Mrs Clooney

Postcode Heroes

100 Years

of the Royal

Scots Club

READ MORE ON PAGE 16

Photo courtesy of Live Edinburgh News

READ MORE ON PAGE 6

Edinburgh Science Festival 2019

OUR GUIDE TO WHAT TO SEE AT THIS YEAR'S FESTIVAL INSIDE
---
2 NEWS The Edinburgh Reporter

About Us

Edinburgh Collected

I HOPE you enjoy reading this

month's print issue of The

Edinburgh Reporter. We enjoy

producing it each month and it

is a different product from our

website.

You can also have a look at our

other multimedia content on

Facebook, Twitter and Instagram

as well as podcasts on Anchor.

FM, Podbean and videos on

YouTube and Vimeo. You can

find links to those on the front

page of our website.

All of this content is brought to

you free of charge. But it costs

money to produce all of it.

If you have a spare pound

or two then could we ask you

to consider making a regular

donation? You can do that here

- www.theedinburghreporter.

co.uk/donate/

Or scan the QR code here

which directs you to the correct

page on our website.

It would help us to maintain all

of our content as free to access

for the foreseeable future. We

are very grateful to those of you

who already donate in this way.

Alternatively if you would like

to advertise with us and support

us that way then do get in touch.

editor@theedinburghreporter.

co.uk

You can now also read us on

PressReader. This is an app

for your phone and you can

download copies of whole

newspapers from across the

world rather than looking at

stories online. You can get free

newspapers this way by using

your library card - ask at your

local library how it works!

Phyllis Stephen Editor

How will your

garden grow?

AGEING Well, Edinburgh Leisure's

successful project promoting

healthy lifestyles for older adults

in Edinburgh, is launching

their allotment programme at

Leith Links. It runs weekly from

10.00am-1.00pm

Run by two experienced volunteers,

the opportunity is open to

any inactive older adults who

will be able to come along, enjoy

the outdoors, whilst growing

fruit, flowers and vegetables

in a supportive environment.

Our Stockists:

All Farmers Autocare outlets across

the city 194 Queensferry Road, 225 St

John's Road, 34 Hillhouse Road, 111

Piersfield Place, 19c Strathearn Road

and 108B Market Street Musselburgh,

Bonhams 22 Queen St EH2 1JX

Broughton Place Hair & Beauty

2a Broughton Pl EH1 3RX

Café Lowdown 40 George St EH2 2LE

Candersons Sweet Shop

102 Leith Walk EH6 5DT

Close Gallery 4B Howe St EH3 6TD

The Doo'cot 731-733 Ferry Rd EH4 2UA

ESPC Showroom

107 George St EH2 3ES

No gardening experience is

necessary. A donation of £2 each

week is encouraged.

Ageing Well has over 15

successful years of making a

significant difference to the lives

of those who regularly attend our

activities. The emphasis is on

meeting new people and making

physical activity accessible and

enjoyable.

For more information contact:

active@edinburghleisure.co.uk

t: 0131 458 2260

Grassmarket Community Project

86 Candlemaker Row EH1 2QA

Henderson's 94 Hanover St EH2 1DB

and Holyrood Rd

The Hideout Cafe

40-42 Queen Charlotte St EH6 6AT

Leith Walk Police Box Pop Up

Croall Pl EH7 4LT

Maialino 34 William St EH3 7LJ

Scottish Arts Club

24 Rutland Sq EH1 2BW

St Bride's Community Centre

10 Orwell Terrace EH11 2DZ

Summerhall

1Summerhall EH9 1PL

The Queen's Hall Clerk St EH8 9JG

The Royal Scots Club

29-31 Abercromby Pl EH3 6QE

Like to become a stockist?

Then contact us!

Editor: Phyllis Stephen

editor@theedinburghreporter.co.uk

07791 406 498

Children lining up at the start

THIS month's look at Edinburgh Collected is a photo from the Wester Hailes Fun Run in 1990.

Many of the Sentinel's Fun Run photos show young people taking part. When the Fun Run was restarted as

an event in 2012, many people remembered taking part as children and wanted to take part again.

Edinburgh Collected is an online community photo archive managed by Edinburgh Libraries. You can add

your own photos to help preserve the city's history for future generations. It is a good way for organisations

to preserve archives in scrapbooks online.

Ding ding! Continued from front page

BY 36 VOTES, and after two years

of talking about it since they were

elected, the SNP-Labour administration

along with the Green Group

on the council raised enough

votes and approved the extension

of the tramline to Newhaven

today.

The line extension (or completion

if you prefer) will run for for

4.69 kilometres/2.91 miles from

York Place to Newhaven. It is

seen as an enabler by those who

support it - it will allow those

living in Leith and beyond to get

on a tram and perhaps go to work

in Edinburgh Park or the airport.

According to the Transport

Convener Lesley Macinnes who

proposed the council's plans, this

whole project is couched with

a lot of caution. There is a big

difference between the administration

as it was when the

first tram line was constructed

- relying on bespoke contracts

and a Transport Convener who

confessed later he was not really

equipped to oversee such a

big project. One of the protesters

outside the City Chambers

who did not want the tram to be

extended mentioned the then

council leader, Jenny Dawe, who

lost the subsequent election after

the project was so badly derailed.

We write about news relating to

Edinburgh and the immediate area.

We welcome contributions to our

website and newspaper.

This time there is no intermediary

contractor or company and

the project will be wholly within

the control of the council and

their officers. The officers are

professionals at what they do -

and where necessary they have

engaged consultants to advise

them. NEC4 contracts which

are the industry standard are

being used and are believed to be

Scan here to

watch interview

with Transport

Convener

robust. They have mechanisms in

them to share both cost savings

and overspending, sharing the

risk.

Councillors have spent time

in what is called the Data Room

becoming familiar with every

aspect of the case, although one

who dissented from the council's

plans shared with me that they

did not take up that opportunity.

There are many who are set

against the tram in the city,

largely due to the history of the

original project which spiralled so

spectacularly out of control and

where contractors held the city

to ransom by doing no work for

months. This time we are assured

that the work will be done

properly by two separate contractors

and using large work sites

with road diversions remaining

in place. They will not we are

told chop and change as they did

before causing such frustration to

those trying to get about the city

centre.

Leith Walk will be open at least

in part but work on three lanes

will take around 18 months when

it starts later this year.

Conservatives and Liberal

Democrat councillors were

adamant that there should be a

delay until Lord Hardie reported

after the Inquiry which has

costed millions thus far. It is

not clear why there has been no

report, nor is there any time given

for him to deliver it.

Social Media

@EdinReporter

/EdinReporter

/edinburghreporter
---
@EdinReporter /EdinReporter /edinburghreporter NEWS 3

Planning ahead

HERE is our round up of recent

planning applications in

Edinburgh

The car park at Asda on

Sandpiper Drive will be reduced

in size if planning permission is

granted for 40 homes as applied

for by Robertson Living recently.

Edinburgh Dog and Cat Home

have applied for permission to

put up a new hoarding on the

Prom running to 170 metres in

length and bearing adverts at

intervals for their work with

A new park is planned for Western Harbour

cats and dogs.

At Broomhouse Market there is

an application to change a shop

into a hot food takeaway with a

new extraction duct in the roof.

An application has been lodged

to build six one-bed apartments

with associated pedestrian

access, hard and soft landscaping,

bicycle and bin storage on

Broughton Road.

The Café Royal may have a

new sign soon if their plans are

approved for a new illuminated

panel on West Register Street.

Behind Jury's Inn on Jeffrey

Street there are proposals to

create a new 131 bed boutique

hotel along with a 101 bed

extension to the hotel, two blocks

with 31 flats and also some retail

units. This will involve converting

two floors of a Grade C listed

19th century tenement to form

the new hotel entrance and links

through the site by way of closes

nearby, There will be a stepped

access from Jeffrey Street to the

High Street and a wheelchair

access from Jeffrey Street to the

top of the site.

On Gorgie Road plans have been

lodged to demolish the two-storey

Scotmid store and convert the

four upper levels to student flats

with room for 121 students. There

would be 100% cycle parking

study spaces and a reception. The

redevelopment will also furnish

Scotmid with a state-of-the-art

store with energy saving refrigeration

technology and the new

Food to Go range.

The council has granted permission

for a new St Crispin's school

at Burdiehouse with hard and

soft landscaping, land regrading,

sprinkler tank enclosure, bin

store, cycle shelter, substation,

drop-off and car parking. It will be

built on a brownfield site where

the former Burdiehouse Primary

School was until it closed in

2010 and was then subsequently

demolished. This is one of the

Belhaven would like to add a new sign to the Café Royal

important parts of the planning

appraisal report :

"It is assessed that the effects

of the proposals on the character

of the Burdiehouse Burn corridor

would be locally beneficial.

This is because the proposals

would result in a change in the

character of the site from one of

dereliction to that of positive and

managed use, and the proposals

are of a scale and design sympathetic

to its landscape setting,

visible only in when close

proximity to the site."

A planning application has

been lodged by Edinburgh

Forthside Developments to

create a new 4.4 hectare park in

the north of the city at Western

Harbour on 'Vacant land associated

with former port use'. A

community growing space is

included in the plans.
---
4 NEWS The Edinburgh Reporter

Crowdfunding

for a new future

Raise funds for Spartans

Alan Moffat is now looking to set up afresh in new premises

LEITH Recording Company lost

its premises at Stead's Place last

October when Drum Property

Group brought their lease to an

end. Since then Alan Moffat the

owner has been looking for a new

home for the company which is a

commercial enterprise, but which

also helps others with its development

scheme.

He has now found a new space

at Anderson Place but needs

some help in getting the business

back on its feet.

"It's been a really frustrating

time," he said. "Over the last two

years we have been so proud

to work with some really great

local talent from solo bagpipers

to heavy metal bands. We had a

successful business valued by the

community.

"Alongside the studio business

we ran our own development

scheme which allowed talented

people who wouldn't normally

have the opportunity or the

money to get their music out

there.

"Unfortunately, due to Drum's

plans we were evicted in October.

We repeatedly asked if we could

extend our lease on a month-tomonth

basis just to give us time

to find new premises and raise

funds to kit out a new studio but

Drum flatly refused.

"It's tragic to think that the room

that were trading from has lain

empty for the last five months.

What a terrible waste."

The good news is that Alan

has now found new premises at

Anderson Place. He has plunged

his £5,000 savings into the rebuild

but he needs another £10,000 to

complete the project.

Launching a crowdfunding

campaign, he said: "I'm not used

to asking for help, especially

as this will be a commercial

business that I'll be running,

but I'm asking for the people

of Leith, Edinburgh and music

lovers anywhere to help us get

back on our feet and reopen this

important community resource."

Alan plans to have a permanent

'Wall of Fame' in the studio's

live room where every donor's

name will appear as a thank you

for their support. In addition, he

is offering discounted rates for

anyone pre-booking time at the

new studio.

If all goes to plan he hopes to

have the new premises open later

this year.

"Anything that people can do to

help would be very much appreciated.

Even a pound, anything

to get me back up and running

and get the local artists in and

recording," he said.

To donate visit: www.gofundme.

com/help-leith-recordingcompany

JOIN the Edinburgh Kiltwalk on

15 September 2019 and help raise

funds for Spartans Community

Football Academy.

Working in North Edinburgh, an

area of multiple deprivation, the

academy hopes to change lives

through the power of sport.

A spokesman for the academy

says: "Your fundraising efforts

will help us continue to change

lives in North Edinburgh. Many of

the children and young people in

our neighbourhood face significant

disadvantage. We operate in

one of the most deprived areas

of Scotland where households

THE Council's Transport and

Environment Committee

approved the new hours of

operation at the three centres

at its meeting last month The

new opening hours at Seafield,

Sighthill and Craigmillar will

come into effect from 1 April 2019

as follows :

Monday, Tuesday, Wednesday,

Friday, Saturday and Sunday:

0900-1700; and

Thursday 09.00am - 6.30pm

As part of the budget-setting

process for 2018/19, Council

approved a review of HWRC

opening hours to align them more

closely with operational hours in

neighbouring authority areas.

often score poorly in education,

family income, crime and health

indicators. We work with our

local community to develop and

deliver innovative programmes

that help to tackle disadvantage

and change lives for the better

in North Edinburgh. Do have a

look at our 10 year video to see

how our programmes in youth

work, physical activity and

education have supported our

local community over the past 10

years."

Kiltwalkers can walk as

individuals, with friends or in a

team. There are three different

distances to choose from - so

More time for

recycling

Transport and Environment

Convener Councillor Lesley

Macinnes said: "Bringing the

hours into line with other authorities

bordering Edinburgh makes

financial sense for the Council.

Currently we've got an issue with

waste from outside Edinburgh

ending up in our centres since

they're open longer each day than

ones in other areas.

"This puts an extra administrative

and financial burden on our

service and we expect to save

some £200,000 through realigning

our opening hours. We've

consulted fully with affected staff

and will be running a publicity

campaign to make residents

aware of the new arrangements."

Raise much-needed funds for Spartans

there's something to suit all ages

and abilities.

Take on the "Mighty Stride" of

24 miles, the "Big Stroll" of 15.5

miles or the "Wee Wander" of 5

miles. With the Hunter Foundation

boosting every walker's

fundraising total by 40% it's a

fantastic opportunity to raise

funds.

If you would like to "put your

best foot forward" for The

Academy and be part of the

Spartans Family on the day,

register for the 2019 Edinburgh

Kiltwalk and select Spartans

Community Football Academy

as your charity.

Tax

Rates

THE Scottish Parliament agreed

that, for the purposes of section

11A of the Income Tax Act 2007

(which provides for income

tax to be charged at Scottish

rates on certain non-savings

and non-dividend income of a

Scottish taxpayer), the Scottish

rates and limits for the tax year

2019-20 will be :

(a) a starter rate of 19%, charged

on income up to a limit of £2,049,

(b) the Scottish basic rate is 20%,

charged on income above £2,049

and up to a limit of £12,444,

(c) an intermediate rate of 21%,

charged on income above £12,444

and up to a limit of £30,930,

(d) a higher rate of 41%, charged

on income above £30,930 and up

to a limit of £150,000, and

(e) a top rate of 46%, charged on

income above £150,000.
---
@EdinReporter /EdinReporter /edinburghreporter NEWS 5

SCO ReConnect

Electric Dreams

LAUNCHED in 2013 SCO

ReConnect is a programme of

interactive music workshops

which uses creative music

making to enhance well-being

and social interaction for people

living with dementia. Delivered by

the Scottish Chamber Orchestra

in partnership with the University

of Edinburgh and the Royal

Edinburgh Hospital, over the last

six years SCO ReConnect has

taken place in hospital settings.

Using live music they try to

improve well-being and quality

of life for both patients and

carers. The sessions incorporate

improvisation and interactive

performances which might

include songs from musicals,

Scottish tunes, and popular

hits. Patients, family members

and care staff are invited and

supported to join in by singing,

playing instruments, dancing and

listening.

We spoke to Dr Jane Bentley

who is a specialist workshop

leader about the sessions.

She explained : "I am brought

in to help the SCO with this

programme and have particular

expertise in participation. I think

they recognised the need to help

At one of the SCO REConnect sessions

those with dementia by doing

something seriously. People with

dementia may still expect the

highest quality of music. This

is not just a concert it is high

quality engagement.

"We aim to put people at the

centre of the music making - their

movements and expressiveness

will direct the music on the day.

We may start with something

familiar which people may

recognise. The beautiful music is

relaxing but our audience can still

make choices about what we play

simply by joining in.

"We have been working in the

hospital for 20 weeks and it

takes time for people to begin to

interact and express themselves.

By the end of the series we can

often have everyone playing

an instrument. We try to make

this as accessible as possible,

beginning simply with rhythm

instruments and shakers. The

musicians have to improvise and

respond."

Another SCO ReConnect

hospital series will run during

the Autumn/Winter season and

they plan to extend the series

with more public workshops at St

Cecilia's Hall later in the year.

New water mains installed

A £20 million project to make the

drinking water network in the city

and beyond more resilient is more

than a third complete.

supplies much of Edinburgh and

parts of West Lothian.

The investment will allow

customers to be supplied

from two different locations –

Glencorse and Marchbank Water

Treatment Works - making it less

likely that they are left

without water.

Scottish Water has installed

just over 4 km – out of a total 12

km – of brand new mains in the

southern part of the city which

Food for All

THERE will be a network of on

street electric charging hubs

across Edinburgh as the council

has just given approval for 66

chargers at 14 hubs.

As electric cars become more

popular it has become evident

that people need somewhere to

charge them. There will be 211

charging points by 2023 costing

£3.3m, partly paid by a £2.2m

grant from Transport Scotland.

But the improvements are likely

to save 7,751 tonnes of carbon

and over 14 tonnes of nitrogen

dioxide.

Transport and Environment

Convener, Councillor Lesley

On street charging could be introduced Image Creative Commons

Macinnes, said: "We are leading

the country with our bold,

strategic approach to providing

on-street electric vehicle

charging infrastructure, and I'm

delighted that we're now able to

move forward with the first stage

of our implementation plan.

"We've seen an exponential

rise in the popularity of electric

vehicles over the last few years,

and we want to see this continue.

Encouraging drivers to choose

environmentally friendly modes

of transport over diesel or petrol

cars will have a real impact on air

quality so it's essential that we

provide the infrastructure

to allow this."

The charging points will be on

roads to reduce street clutter on

pavements, and will be located

nearby not adjacent to houses.

The council will develop a

system to ensure that there is

enforcement around the bays

which will be reserved for

electric vehicles.

Separately the council is

speaking with Scottish Power to

explore how they could use some

of the 63,000 lampposts in the

city to charge vehicles. Schemes

already operate in London, and it

is believed that a pilot could be

possible in the West End.

THERE are Food for All points

at Granton Parish Church, PCHP,

Granton Primary and Granton

Baptist Church. If you need food,

then you can help yourself, no

questions asked. You can also

donate/swap things (as long as

they're in good condition and

don't need to be refrigerated) The

food for all shelves have been

refilled with some great winter

eats. There is a map of all the

Food for All shelves in North

Edinburgh on

http://www.foodforthoughtforum.

org.uk

Pupils from Oaklands School in Edinburgh were joined by Phillipa Quinn from Hearts & Minds and Mike

Thornton from the ScottishPower Foundation at one of the project's 'Clowndoctors' therapeutic sessions to

launch the ScottishPower Foundation's 2019 funding programme. Hearts & Minds is one of 25 good-cause

projects to receive funding from the ScottishPower Foundation this year, which will help it extend its impact

to vulnerable young people in specialised educational and healthcare settings.
---
6 NEWS The Edinburgh Reporter

People's Postcode Lottery Gala

GEORGE and Amal Clooney

visited Edinburgh to receive

Postcode Hero Awards from

First Minister Nicola Sturgeon

in honour of their work to

safeguard human rights.

George and Amal Clooney visited Edinburgh recently as guests of People's Postcode Lottery

| Photo courtesy of Live Edinburgh News.

At the People's Postcode

Lottery (PPL) Gala the couple

received a cheque from the

lottery for £1 million to help

fund Trialwatch, a project run by

the Clooney Foundation

for Justice.

Sandy wins award

EDINBURGH College's curriculum

leader has been highly

commended by an industry

body after he played a key role

in enhancing the College's

automotive course, improving

offering students and staff better

prospects.

Automotive Engineering

curriculum leader Sandy Bruce

was recognised by the Institute

of the Motor Industry (IMI) for his

contribution to the work of the IMI

and for providing a high standard

The Foundation will be able to

increase its monitoring of trials

in countries where human rights

are at risk.

After enchanting fans and

the press alike outside the

McEwan Hall the actor and his

international lawyer wife were

interviewed about their work by

broadcaster Natasha Kiplinsky.

George Clooney said about PPL :

"This is a spectacular organisation.

This is a really special

thing. You look around the room

Prince Michael of Kent, Sandy Bruce, Alison Delvard (Key Account Manager,

Shell Lubricants UK) Steve Nash (CEO of the IMI)

of qualification and progression

routes for automotive students in

Edinburgh and the Lothians.

Sandy received his award from

Prince Michael of Kent at a lavish

dinner and awards ceremony held

in London. He was joined by the

College's Engineering curriculum

manager Ross Milligan.

Sandy said: "I feel very privileged

to have been highly

commended by the IMI, it's a

fantastic feeling to be recognised

for the work that has been done to

and see a hundred people who

are doing amazing things. It's

an honour to be part of this. If

you end up getting lucky, then

you should share that luck. I've

always felt that."

Amal Clooney said : "The scale of

the problem can seem enormous

and the stories you hear unfathomable,

and you think : how do

you begin to confront something

like that. It's individuals who can

make a difference even in the

most grim circumstances."

enhance the Automotive course

portfolio at Edinburgh College

recently. The award is testament

to the commitment of the

entire Automotive team across

both Midlothian and Sighthill

campuses – thanks to everyone

involved.

"Our students' development is

always our primary focus and the

continuing partnership with the

IMI will be of great benefit to them

in their studies and their future

careers in the motor industry."

News in Brief

Edinburgh Community Council

Scheme Review

THE consultation closes in 22 Apr 2019 There is an online

questionnaire on the council website. A review of the Edinburgh

Community Council Scheme is ongoing. This Scheme covers the rules

and regulations governing community councils including election

procedures, meeting arrangements, membership, and conduct. A series

of events is taking place across the city.

http://www.edinburgh.gov.uk/communitycouncils

Curious Edinburgh

CURIOUS EDINBURGH is an app which takes you for a walk. There

is a selection of tours helping you to know what has happened in the

Granton area since medieval times. There is a focus on the industrial

heritage over the centuries. From quarrying to castles, manufacturing

electric cars, printing oils, and early steel, Granton has been at

the forefront of bringing innovation and wealth to Edinburgh. Most

industry has now vanished, but the app hopes to keep its heritage

alive by describing what was once a hive of activity. The scenic walk

along the Forth foreshore while listening to the stories makes for a tour

suitable on foot, wheelchair/pram friendly and can also be cycled. It

takes around 1.5 hours at a leisurely stroll.

Open Streets events

THE first three Open Streets events will be held on 5 May, 2 June and

7 July. The council will open streets in the city centre to pedestrians

and cyclists with vehicles being diverted away from the area. It is

likely that there will be pop up gardens and picnic spaces created on

the route which could include The Royal Mile from Lawnmarket to

Holyrood, St Giles Street, Cranston Street, Niddry Street, part of New

Street and Blackfriars Street. Separately Victoria Street and the north

side of the Grassmarket will also be open to pedestrians and

cyclists only.

National Records of Scotland

THERE were 12,580 births and 14,484 deaths registered in Scotland

between 1 October and 31 December 2018, according to provisional

figures released by National Records of Scotland. Compared to the

quarter four average for the last five years, births have fallen by 5.9 per

cent and deaths have risen by 0.6 cent.

The Royal Yacht Britannia

THE Royal Yacht Britannia had its busiest ever year last year

welcoming 390,848 visitors. Over 6 million people have walked the

gangway up to the Royal Yacht since it opened as a visitor attraction

in 1998. Britannia, owned and cared for by The Royal Yacht Britannia

Trust, is one of the most famous ships in the world, sailing a million

miles around the globe, on a thousand official visits, during her 44

years in royal service.

Craigmillar Tapestry Project

ARE you interested in getting involved with the Craigmillar Tapestry

Project? Go along to the April workshops to learn new stitching

techniques and have a go at working on the tapestry panels yourself!

These are on 4,11 and 25 April from 12.30pm to 2.30pm at the Thistle

Foundarion, Queen's Walk, EH16 4EA. If you just can't make it along

to the workshops, but are still interested, get in touch with Katie on

07909257415 or at connectingcraigmillar@gmail.com

Meeting new people

A NEW group meets on Monday afternoons, from 2.00-4.00pm at

Granton Library, 29 Wardieburn Terrace, EH5 1DD Would you like to

meet up with people for a chat, a coffee and perhaps some games

then just pop along. Want more information? Have a chat with Brenda

Herriot or Norman at the library

Woman fined for mistreating

animals

A 43 YEAR old woman was fined £360 for failing to provide a suitable

diet and proper veterinary treatment to two animals in her care, a cat

named Ash and a Staffordshire bull terrier called Arael, following a

Scottish SPCA investigation.

Nicola Barnes of Whitecraig Crescent, Musselburgh was sentenced at

Edinburgh Sheriff Court on 8 March 2019.
---
@EdinReporter /EdinReporter /edinburghreporter NEWS 7

Edinburgh

Futures

Institute gets

the go ahead

All new at Newhaven Road

From left to right, Leeann Dempster, Chair of the Regional

Enterprise Council, Michael Matheson, Cabinet Secretary for

Transport, Infrastructure and Connectivity, Professor Charlie

Jeffery, Senior Vice Principal of University of Edinburgh, Lord

Duncan, Parliamentary Under Secretary of State for Scotland and

Professor Sian Bayne, Director of Education, Edinburgh Futures

Institute. Photo | Neil Hanna

A WORLD-LEADING teaching

and research institute at the

University of Edinburgh is

aiming to help hundreds of

organisations across the region's

private, public and third sectors,

with almost £60m in Government

funding from the City

Region Deal.

The Edinburgh and South East

Scotland City Region Deal Joint

Committee approved a final

business case for the Edinburgh

Futures Institute (EFI) at a

meeting in the city last month.

Approval will take the

total investment in EFI, with

additional funding coming from

the University and external

partners and investors, up to

£189m. EFI, based at the former

THE £70 million contract to

deliver the Edinburgh Futures

Institute, a flagship refurbishment

and extension project

on behalf of the University of

Edinburgh has been awarded to

Balfour Beatty.

The contractor will be

responsible for restoring and

connecting six wards, unlocking

the building's wide corridors

to create free-flowing areas in

Edinburgh Royal Infirmary, is

one of five Data-Driven Innovation

hubs to receive funding as

part of the £1.3bn City Region

Deal.

Teams of researchers will work

with up to 350 partner organisations

on a range of topics and

themes, including how datadriven

innovation can improve

public services in the region, the

role of artificial intelligence and

the ethics of data.

The inclusion of Data-Driven

Innovation within the City

Region Deal reflects the growing

importance of data in the public

services, economic growth

and social change experienced

by millions of people across

Edinburgh and South

East Scotland.

Contract awarded

to Balfour Beatty

the University's Grade- A listed

Old Royal Infirmary hospital

building, extending to over

21,000 square metres.

On completion, the development,

part-funded by Edinburgh

and South East Scotland City

Region Deal, will provide

multiple teaching and learning

facilities, function areas, and

work spaces for staff, students

and the general public.

Homes should be ready for occupation by 2020.

Queensberry Properties has just begun its latest residential development in the capital. There will be 36

properties of one, two and three bedrooms in the new flatted development at Newhaven Road.

Developers say that the exterior will be in keeping with the surrounding area and that this will be a

significant landmark.

The location is bounded by the Water of Leith and Newhaven Road with many having a private balcony or

terrace. Off-street parking will be in the central courtyard. Homes should be ready for occupation in 2020.
---
8 POLITICS The Edinburgh Reporter

Ash Denham MSP

Christine Jardine MP

Daniel Johnson MSP

Deidre Brock MP

Gordon Lindhurst MSP

Gordon Macdonald MSP

Ian Murray MP

Jeremy Balfour MSP

Joanna Cherry QC MP

Kezia Dugdale MSP

Tommy Sheppard MP

Car Park Tax Hits Lowest

Paid Workers

By Jeremy Balfour MSP

RECENTLY Conservative MSPs

voted against the Stage 3 Budget

(Scotland) Bill.

Despite the SNP's block grant

increasing by more than £500

million next year thanks to

the Conservatives and the UK

Government, the SNP Government's

budget includes a

triple-tax bombshell.

The Greens made their traditional

deal with the SNP, passing

the 2019-20 budget in return

for new taxes including a work

place parking levy, which will see

workers taxed more than £400 to

park in their place of work, and

will hit the lower paid workers in

Scotland especially hard.

Fireworks

By Ash Denham MSP

OUR gatherings in Edinburgh

are world renowned. Hogmanay,

the Festival and Tattoo, just a

few of the examples of when we

open our arms to the world and

celebrate.

Part of those celebrations are

fireworks displays, loud and

colourful as they are, they can be

fun and memorable family events.

In the wrong hands, a firework

stops being an exciting display

and starts being a dangerous, and

disruptive, explosive. On Bonfire

Listen up!

By Daniel Johnson MSP

EVERY year since I was elected

I've held a series of listening

events, where I can engage

residents on topics that are

important to south Edinburgh.

This year the four topics are

Short Term Lets & Airbnbs,

Tenement Maintenance & Shared

Repairs, the Astley Ainslie

Redevelopment, and Education

(new schools, capacity and

staffing levels) in the

constituency.

These issues have been raised

It has also emerged that the

SNP has repeatedly opposed

similar plans, with high-profile

figures like John Swinney, Bruce

Crawford and Fergus Ewing

hitting out at the idea. It's

therefore no surprise that the SNP

didn't consult a single person

about such a damaging and

ill-considered proposal.

This new levy is the latest in a

long line of tax hikes from Nicola

Sturgeon. She has already broken

two manifesto promises: not to

raise tax on basic ratepayers, and

to cap council tax rises at three

per cent.

It is becoming increasingly clear

that only the Scottish Conservatives

would deliver a fair deal for

taxpayers across Scotland.

Night in 2017, my constituents of

Edinburgh Eastern saw this firsthand,

with disgraceful scenes of

anti-social behaviour – including

fireworks being set off at police

officers and members of the

public.

Scenes like these are why the

Scottish Government is consulting

on whether there should be

stricter rules on the sale and use

of fireworks. I would like as many

people as possible to take part

and would urge everyone to have

their say.

https://consult.gov.scot/safercommunities/fireworks/

with me consistently over the

past 12 months and I know

that many residents will have

concerns that they would like to

talk through. The guest speakers

and representatives that I've

invited along will also be able to

provide valuable insight on each

of the topics.

I think it's vitally important for

local representatives to engage

with residents as much as

possible, because at the end of the

day it's our job to make sure your

voices are heard.

If you are interested in coming

along then please get in touch

with my office on 0131 541 2145.

Fairtrade Fortnight

Success in Wester Hailes

By Gordon Lindhurst MSP

WE HAVE recently marked

Fairtrade Fortnight, two weeks of

the year during which thousands

of people, businesses and other

groups recognise those who grow

the food we love. People from very

poor parts of the world who are

often badly paid for what they do.

Chocolate, and those growing its

essential ingredient cocoa, was

the theme of this year.

Fairtrade is about paying

sustainable prices for products

from the developing world;

ensuring better pay and working

conditions, local sustainability

and fair terms of trade for farmers

and workers.

I was therefore delighted, as

Deputy Convener of the Cross

Party Group on Fair Trade in the

Scottish Parliament, to recognise

some local achievements during

Fairtrade Fortnight. Wester Hailes

Education Centre has achieved

Fairtrade status at levels 1 and

2 for the work they have been

doing in understanding their own

impact in terms of Fairtrade, and

acting on its principles by hosting

Fairtrade cake sales and breakfasts.

It was a pleasure to present

certificates to the pupils and meet

teachers involved in helping the

students to learn about Fairtrade.

As they embark on level 3

status to raise awareness about

Fairtrade in the community, I

wish them every success.

Brexit from the front

benches

By Joanna Cherry MP

THIS has been a crucial few

weeks in Westminster with the

Prime Minister's Brexit deal

defeated for a second time and,

as I write, confirmation from the

Speaker that he will not permit a

further vote without a substantial

change to the proposition being

put to the House.

It seems the only options now

to prevent No Deal would be if

the EU27 agree to extend Article

50, which failing the Article

50 Notice could be unilaterally

Keeping Fit

By Kezia Dugdale MSP

AT THE time of writing Edinburgh

Leisure were proposing a four per

cent price rise from the 1st April

that would increase the price of

a swim, gym classes and a raft of

other health and fitness activities

and facilities across the city.

For those who don't hold an

Edinburgh Leisure Discount Card,

the cost of a swim at the Royal

Commonwealth Pool which is

currently £6.20 could rise to

£6.44 and the cost of a 60 minute

fitness or gym class from £7.50 up

to £7.80.

At a time when Edinburgh

Leisure are putting up prices,

fast food delivery service, Uber

Eats, can deliver a 630 calorie

hamburger, fries and Coca-Cola

meal from McDonald's for just

Cultural Brexit

By Deidre Brock MP

IT'S A long way from August,

but probably not long enough

for those tasked with putting

together the nuts and bolts of

Edinburgh's festivals.

Behind the shiny programmes

of events lies a heck of a lot

of legwork and even more

paperwork. Sorting out visas has

become an absolute nightmare

in recent years – the 'hostile'

environment that the UK Government

created is taking its toll on

our performers. Every year we

hear of frustrating cases where

visit visas are refused or delayed

for obscure reasons, particularly

when the artists come from

countries in Africa or the Middle

East – the very voices we need

to hear more from! I'm told some

performers have already started

to say 'no thanks' to invitations,

rather than face being dragged

through humiliating Home Office

processes. This is a terrible state

of affairs - Edinburgh's reputation

revoked, thanks to the ruling

from the ECJ secured by a crossparty

group of parliamentarians,

including myself.

I make no apologies for voting

against the deal; I know from

evidence I have heard on the

Committee on Exiting the EU

that it will be bad for Scotland's

communities and economy. I also

know from speaking to constituents

that they do not want to be

taken out of the EU against their

will – which is why I sponsored

a motion this month calling for

a People's Vote with "Remain" on

the ballot paper.

£6.30 ( which includes delivery

and bag fee), 14p cheaper than a

swim or £1.50 cheaper than a one

hour gym class.

Edinburgh Leisure are at

their core about making a

positive impact on the health

and wellbeing of the people of

Edinburgh, however, increasing

prices yet again sends completely

the opposite message.

These price rises are the direct

impact of the cuts being handed

down to local authorities from

the SNP Government, who spend

thousands on promoting active

travel and a healthy Scotland,

yet continue to make it more

and more costly and difficult for

individuals and families to access

opportunities for healthy living

through swimming and fitness

facilities.

It's time to invest in our local

services and make health and

fitness facilities affordable for all.

as a world-leading festival city

relies on attracting a truly global

mix to our city. Our capital can

provide the warmest of welcomes

to international visitors and

performers alike, but we need

to get them over here first. We

cannot let the Home Office build

unnecessary barriers to participation.

This isn't just an Edinburgh

issue - festivals around the UK

have spoken out on the increased

difficulties they've faced in recent

years, but there is no sign yet that

the UK Government has listened.

Nothing in the recent Immigration

White Paper gave me hope

that the Minister was seeking to

change tack on their damaging

approach to visas. I've asked for

a meeting to try and find a way

forward, although I have yet to

receive a response. If we don't

take action now, the post Brexit

UK may find itself increasingly

isolated from the global cultural

map instead of a leading player,

with devastating consequences

for Edinburgh's economy.

Local Politicians

have their say
---
y Christine Jardine MP

@EdinReporter /EdinReporter /edinburghreporter GENERAL POLITICS NEWS

9

Brexit chaos

By Ian Murray MP

THROUGHOUT the chaotic Brexit

process, our political leaders have

let us down.

Theresa May triggered Article 50

without any idea of plan, leading

to a bad deal and a raft of humiliating

defeats.

Jeremy Corbyn has always

talked about a "better Labour

Brexit" but there are no upsides

to Brexit. There is no deal that is

as good as the one we currently

have.

Nicola Sturgeon saw the chaos

as nothing but a political opportu-

By Tommy Sheppard MP

I'VE written in these pages before

that drugs policy is not working

and that the current system is

failing some of our most vulnerable

citizens. Drug-related deaths

in Scotland have increased

fourfold in the last twenty years,

despite the number of people

actually consuming illegal

substances decreasing.

Classification of drugs and

criminal law in relation to their

use is still for Westminster to

decide, yet everything else that

deals with their impact – health

services, social work, prisons,

Stop the Pink Tax

IT'S 2019, and yet we find

ourselves in a situation whereby

women and men are still paying

different prices for the identical

or similar basic cosmetic

products.

Next time you are shopping

take a careful note of some of

the prices on the shelves. You

may not notice it at first but over

time you may begin to see a

trend. Discrimination on gender

grounds is illegal, and whether

women are paying more for

a pink razor, deodorant from

nity, desperately seeking to divide

us once again by holding another

independence referendum, when

we're crying out for unity.

I can understand why politicians

get a bad name.

But, behind the scenes, individual

MPs from all parties have

been working hard together to

find solutions to this mess.

At the time of writing, I can't

predict what will have happened

by the time you read this. But I

know that I, and my fellow MPs

on the backbenches, will continue

to work tirelessly on your behalf

to put the national interest first

with a very soft Brexit or no

Brexit at all.

Call for Drugs Enquiry

Evidence

Young campaigners

By Gordon Macdonald MSP

2018 MAY have come to an end

but there was a strong message

that came out of the Year of

Young People. That was the

desire to put young people at

the heart of decisions that affect

them.

And, as I write this, young

people are leaving their classrooms

to make their voices heard.

It is clear that our young people

are ready to take the lead in a

meaningful and genuine way,

as hundreds of thousands of

pupils and students demonstrate

against climate change – here in

policing and so on – is devolved

to the Scottish Parliament. Is that

model workable?

That's why the House of

Commons Scottish Affairs

Committee, of which I am a

member, has launched an inquiry

into the Use and Misuse of Drugs.

We want to hear about what

works - and what doesn't - and

consider whether or not the

Scottish government has the

powers it needs to tackle drug

misuse. We are seeking evidence

from people from all viewpoints

who have lived or professional

experience of the effects of drug

policy – get in touch here by 19th

April

http://tinyurl.com/yypj7ou7

Edinburgh, throughout Scotland

and right across the globe.

I pay tribute to these young

climate change campaigners, who

are proving that young people's

voices can effect real change.

Scotland is leading the world

in tackling climate change and

we must match the energy of

our young people to challenge

ourselves, and others, to go

further.

If you want to see an alternative

to the total chaos of Brexit

and the UK Government, look no

further than these inspirational

young people!

the same brand, or even for an

identical piece of clothing, it's

time to say enough is enough.

Last month, to mark International

Women's Day, I introduced a Bill

in the Commons which would ban

the differential pricing of similar

products just because they are

marketed towards women.

I've also been writing to all the

big manufacturers and retailers,

encouraging them to proactively

change their pricing structures.

I'm hoping that by next year, we'll

have finally put an end to the

sexist and outdated 'Pink Tax'

once and for all.

Leith Walk Byelection

11 April 2019

CANDIDATES for the forthcoming

Leith Walk by-election, which

will take place on Thursday, 11

April, have been announced.

The by-election will elect one

councillor from 11 nominated

candidates to represent the ward

along with three existing councillors.

Andrew Kerr, Returning Officer

for Edinburgh, said: "The role of

elected members is extremely

important to the democratic

process, with councillors

responsible for some of the most

important decisions our city can

face.

"Therefore I would encourage

as many residents as possible

to participate in the Leith Walk

by-election, and for anyone who

hasn't already registered to vote

to make sure they do so by 26

March to ensure they can take

part."

Residents in this ward who

haven't already registered to vote

must do so by 26 March in order

to take part in the by-election.

This can be done online(external

link) or by contacting the

Electoral Registration Office on

0131 344 2500.

Anyone living in the area who is

THIS was held in March at the

Thomas Morton Hall in Leith, and

although not all candidates had

the opportunity to speak, those

who did were in the main wellreceived.

Here is a snapshot of

what they said :

Jack Caldwell LibDem candidate

said he would increase recycling

points and social housing. He

wants Leith to become a Low

Emission Zone and he has been a

community councillor.

Kevin Illingworth the Independent

candidate represents the Save

Meadowbank campaign. He got

a laugh when he pulled out his

passport explaining that it took

him longer to get an old mattress

uplifted by the council than it

took to get his passport renewed.

He reminded everyone it is an

election where the single transferable

vote is used.

Lorna Slater the Green candidate

explained that there are already

eight councillors in the Scottish

Green group. She also pointed out

aged 16 or over and an EU citizen

can vote in the by-election, and

votes can be cast by post or by

proxy if more convenient.

Poll cards will be delivered

to registered voters in the area

from today (Monday, 11 March)

including further information on

when and where to vote.

Polling stations will be open

from 7am to 10pm and will be at:

Lorne Primary School

Norton Park Conference Centre

Holy Cross RC Primary School

Ebenezer United Free Church

Hall

Royal Navy and Royal Marine

Association Club

Broughton Nursery

Pilrig St Paul's Church Hall

McDonald Road Library

Leith Walk Primary School

The by-election will use the

Single Transferable Vote (STV)

system where voters can rank

candidates in order of preference

using numbers rather than a

single cross. Voters can choose to

vote for as many or as few candidates

as they like. The result of

the by-election will be announced

once the votes are counted after

polls close at 10pm on Thursday

11 April.

The candidates are

(in alphabetical order):

• Steven Alexander, UK

Independence Party

(UKIP)

• Jack Caldwell, Scottish

Liberal Democrats

• Nick Gardner, Scottish

Labour Party

• Kevin Illingworth,

Independent

• David Don Jacobsen,

Socialist Labour Party

• Tom Laird, Scottish

Libertarian Party

• Dan McCroskrie,

Scottish Conservative

and Unionist

• Rob Munn, Scottish

National Party (SNP)

• John Ferguson Scott,

Independent

• Lorna Slater, Scottish

Green Party

• Paul Mitchell Stirling,

The For Britain

Movement

Save Leith Walk Hustings

that Susan Rae is one of those

and she represents the Leith Walk

Ward already. She is not seeking

to replace Susan but hopes to join

her at the City Chambers.

Nick Gardner the Labour

candidate has been a councillor

before and continued after his

council career to campaign on

important issues. He wants more

finance for the council to buy

empty sites across Edinburgh. He

confessed (or proclaimed!) that he

is a belly dancer too.

Dan McCroskrie is the Conservative

candidate and was until

this a hustings rookie. He is

a recent Leith resident and

firmly anti-tram. He wants (in

common with the Tory group on

the council) the money from the

special dividend from Lothian

Buses to be used for schools

which are suffering under SNP

cuts. He got the only boo of the

night. (but a gentle one!)

David Jacobsen is the Socialist

Labour Party candidate who

works in the NHS. He talked about

that and the way that private

companies infiltrate the system

to reduce waiting lists.

Rob Munn is the SNP candidate

and is also a former councillor

and Depute Lord Provost. He said

he believes he can provide a voice

for the community. They need to

be listened to.

Tam Laird the Scottish Libertarian

Party candidate did not have a

place on the platform but we had

interviewed him that afternoon.

He explained the ethos of the

party which is that you should

not hurt people, 'don't take their

stuff'. There are things which are

paramount to Libertarians like

freedom of speech, freedom of

movement, right to life, right to

liberty and property rights are

important too. He has stood in

previous elections but believes

that the council needs someone

who pays more attention to the

rights of the individual than the

rights of private interest groups.
---
10 BUSINESS NEWS The Edinburgh Reporter

Thistle Awards

2018/19

Ventient Energy open

new office in Edinburgh

Paul Wheelhouse MSP, Scotland's Minister for Energy,

Connectivity and the Islands, officially opened Ventient Energy's new

flagship headquarters in Edinburgh recently. | PHOTO Jon Savage

The Real Mary King's Close - Left to right – Scottish Thistle Award National Final host, Greg McHugh,

Historic Environment Scotland Director of Commercial & Tourism, Stephen Duncan (holding trophy), the

team from The Real Mary King's Close and host Jennifer Reoch

EDINBURGH's International

Conference Centre (EICC) and

a historic visitor attraction

offering tours of hidden underground

streets of the capital

city were named best in the

business.

The EICC was awarded Best

Business Event, sponsored by

CAT Media, for the European

Orthodontic Society Congress

2018, at the Scottish Thistle

Awards National Final last

month alongside The Real Mary

King's Close which received the

Best Heritage Tourism Experience,

sponsored by Historic

Environment Scotland.

The awards ceremony took

place at the EICC where 15

individuals, businesses and

events were honoured for their

innovation, excellence and

success in the hospitality and

tourism sector.

Judges praised the EICC for

hosting a successful congress

in June 2018 that involved 2,300

delegates travelling to the city.

Judges were impressed by the

level of collaboration, logistical

prowess and client feedback from

hosting this highly prestigious

European congress.

Marshall Dallas, Chief Executive

of Edinburgh International

Conference Centre (EICC) said:

"We are thrilled to receive the

Thistle Award for Best Business

Event, recognising the valuable

collaborative work, between EICC,

the European Orthodontic Society

(EOS), and a number of industry

and city partners, in delivering a

congress and social programme

which made a truly positive

impact to the EOS and its 2,300

international delegates."

LEITH WALK POLICE BOX POP UP SPACE

Pop up space

Flexible and

affordable

The Real Mary King's Close

was commended by judges

for its consistent track record

for delivery and its continued

growth. They described the

visitor attraction as "very

entertaining" and offering a real

insight into "historical scene

setting."

General Manager Craig Miller

said: "The whole team at The Real

Mary Kings Close are thrilled to

receive this fantastic award. It's

the cherry on top of our recordbreaking

15th anniversary year.

Every aspect of our guest experience

is developed with love, a

sense of pride, and an enthusiasm

for both our rich history, and

delivering outstanding customer

service.

We'd like to thank all of our

customers, and VisitScotland for

its continued support."

New area of advice at

East Lothian law firm

AN EDINBURGH law firm has

appointed a dedicated family

lawyer and a financial adviser in

their East Lothian office.

Gilson Gray's office in North

Berwick will have a dedicated

expert in family law available to

offer advice, after recognising the

need for a personal and professional

service in the area.

Similarly, the office will also

benefit from a dedicated financial

adviser specialising in retirement,

investment and estate planning.

Shona Young and Sandra

Robertson will be available at

the office at 33 Westgate, meaning

that locals do not have to travel

into Edinburgh for legal advice

gilsongray.co.uk/our-services/

www.leithwalkpolicebox.com

THE Energy Minister Paul

Wheelhouse MSP opened the

flagship Edinburgh HQ where

wind farm owner Ventient Energy

will continue their expansion into

Europe.

The company now has a 49%

stake in a European 1 GW wind

DIAGEO has big plans for the

building at the end of Princes

Street that you will know as

Frasers or Binns depending on

your maturity. And one of those is

to restore the famous Binns clock

on the corner which was always

such a popular place to meet.

With the promise of 160 to 180

new jobs and an expectation

of around £135 million tourism

spend as a result of the new

attraction, this is a big development

in the city centre where

• Wednesdays and Fridays

11.00am to 6.00pm - Tipico

quality nuts. Almonds and

pistachios and delicious

Sicilian confectionery

• Saturdays Edinburgh Tool

Library 10.30am to 1.00pm

• The box can be used for

campaigning, market

generation portfolio with wind

farms in Spain, Portugal, France

and Belgium as well as its UK

portfolio. Ventient Energy Limited

was formed in 2017 from two

leading independent wind energy

power producers, Zephyr and

Infinis Wind.

The Johnnie Walker Experience

The development will complete a triangle of attractions for residents

and visitors along with Edinburgh St James and Edinburgh Castle.

other big shops are failing.

The whisky company and the

building's owner Parabola have

set out some very fancy plans

indeed for the seven storeys

which they will turn into a £150

million global visitor experience.

One of the exciting features

will be that the escalators will

be removed and the staircase

reinstated with a cupola above.

With two roof bars offering

unrivalled views this will be the

place to go at the West End.

research, art exhibitions

and has been used as a

cinema

• POP UP lets are available for

periods as short as 4 hours.

Terms and conditions are

flexible and affordable.

Please email

hello@leithwalkpolicebox.com .
---
@EdinReporter /EdinReporter /edinburghreporter WHAT'S ON 11

What's on in April

Theatre | Art | Music | Shows | Festivals

AT UNIVERSITY OF EDINBURGH MUSEUMS

5 April to 29 June 2019 :

Conectando: Scottish Encounters

with Spanish and Portuguese

UofE Main Library Exhibition

Gallery, 10.00am to 5.00pm

Monday to Saturday, FREE From

artists seeking inspiration, to volunteers

who fought in the Spanish

Civil War, and students learning a

new language, discover the many

Scottish connections with the

Spanish and Portuguese speaking

worlds.

28 April 2019 : Film Screening

of Nae Pasaran Lauriston

Hall, 7.30pm for an 8pm start In

conjunction with Cinema Attic,

tickets £5, available: In conjunction

with CinemaAttic, there is a

special screening of Felipe Bustos

Sierra's film Nae Pasaran which

On the Film Scene this month

by Adam Zawadzki

COMING to a cinema near you

- a mix of big studio and small

independent films.

Opening on 5 April 2019, Zachary

Levi (Chuck television series) is

the superhero of the title in the

film 'Shazam!' Despite appearing

in two Thor films for Marvel, Levi

has defected to rival DC for this,

the first feature film adaptation of

the character with Mark Strong

(The Imitation Game) as the

villain Dr. Thaddeus Sivana.

Featuring the voice talents of

Hugh Jackman (The Greatest

Showman), Zoe Saldana (Avatar),

Timothy Olyphant (Justified

television series) and Emma

Thompson (Saving Mr Banks),

'The Missing Link' is the latest

stop motion project from Laika,

the American animation studio.

All of its previous releases,

'Coraline', 'ParaNorman', 'The

Boxtrolls', and 'Kubo and the

WILL BE Scotland's first festival

of science fiction, fantasy and

horror writing and tickets for the

June event are on sale now.

There will be 40 talks, 12 workshops,

81 authors including events

for children and adults alike.

The workshop programme will

offer three FREE introductory

sessions supported by Edinburgh

Napier University and a children's

workshop with Lari Don.

During the weekend there will

be the chance to join book groups

or share your work at open mike

sessions. There are late night sessions

with a ceilidh to finish off

featuring the Science

Ceilidh Band.

The academic strand is curated

by David Bishop, programme

leader for Creative Writing at

further explores one of the themes

of the exhibition: Scottish Solidarity

with Chile. The film charts the

incredible true story of the Scots

who managed to ground half of

Chile's air force, in the longest

single act of solidarity against

Pinochet's brutal dictatorship.

1 May 2019: Japanese Tea Ceremony

St Cecilia's Hall, 50 Niddry

Street 2.00pm – 3.30pm, Tickets

£5 In partnership with Japanese

Arts and Culture International,

this event, led by Mio Shapley,

Director of JACI and Japanese

Tea Ceremony Master, includes a

performance of Shamisen guitar

music. All guests will have the

opportunity to enjoy a cup of

green matcha tea with sweets.

DETAILS: www.ed.ac.uk/local

Two Strings' were nominated

for Best Animated Film/Feature

BAFTAs and Oscars. Expect

brilliant craftsmanship from this

film, which is released in direct

competition with 'Shazam!'

In contrast, expect complete box

office domination from 'Avengers:

Endgame', the 22nd instalment

in the all-conquering Marvel

Cinematic Universe film empire.

With at least 22 superheroes

present in this, the fourth part to

the Avengers film series specifically,

this is event cinema on the

largest scale possible. Released

on 25 April, this film could

become the highest grossing

(unadjusted for inflation) in

history.

With a budget of just $2million,

the comedy-drama 'Eighth Grade'

opens the next day and couldn't

be more different. At just 14

years of age, Elsie Fisher was

nominated for a Golden Globe for

her leading performance.

Edinburgh Napier University, and

the author of 20 novels. Audiences

will hear mini presentations

covering the latest academic

research, presented in a dynamic,

accessible manner.

Festival founder and director

Ann Landmann said :"We've been

overwhelmed by the enthusiastic

and incredibly supportive

responses from publishers and

authors, and the interest this has

sparked around the world. It was

difficult limiting the programme

to the 80 speakers now appearing

at the festival.

"The response from readers has

been every bit as enthusiastic!

Sixty people purchased a weekend

pass through our crowdfunding

campaign before we'd even announced

the line-up. We think this

programme justifies their faith in

us, and thank them for helping to

make CYMERA a reality."

https://www.cymerafestival.co.uk/

Emma Bodiam from Edinburgh Science Festival team wearing a replica of Neil Armstrong's space suit

| PHOTO Ian Georgeson

Edinburgh Science Festival 2019

6 - 21 April

THE 31st annual festival of

science takes place here in the

capital. Here are our top choices

of things to see and events to get

tickets for. Edinburgh Science

Festival has something for all

ages with events for children and

adults too

This year the programme

explores various Frontiers :

planetary, digital, healthcare,

engineering, social and food,

inviting world-class scientists

academics and authors

to discuss everything from

overpopulation and space

exploration to medical cannabis

and Trump's Twitter feed. Here

are our choices from the really

big programme for adults and

children alike.

8 April

Where the Hell is My Hoverboard?

5.30pm Pleasance

Cabaret Bar £8.50 presents a

panel of experts discussing

where technology is at and what

hurdles we still have to overcome

before we can live out our sci-fi

dreams straight from Back to the

Future or Blade Runner. There

will also be the opportunity

to taste some 3D printed food,

courtesy of Cambridge company

Nūfood!

12 April

Plastic Alphabet 8.00pm

Pleasance Quaker Studio £8.50

A panel of experts sheds some

light on the plastic mystery,

including the 'queen of recycling'

Prof Margaret Bates, and

polymer chemistry researcher

Prof Michael Shaver. Join

them on a fascinating journey

from chemical processing and

manufacture through to disposal,

talking about how and why this

material is designed, used and

recycled. Led by Colin Webster

of the Ellen MacArthur Foundation

the talk will journey from

manufacture to disposal.

16 April

6.00pm at Royal Society of

Edinburgh Being a Woman in

Science - Changed Times? George

Street - Two former Presidents of

RSE Professor Dame Ann Glover

and Professor Dame Jocelyn Bell

Burnell examine some female

scientists and share their own

experiences with Dr Silvia . What

attracts women to science and

why are they not more visible?

Free but booking required.

A Human Touch

This is a free open-air exhibition

outside The Scottish Parliament.

The amazing collection

of images will shine a light on

the effect that humans and our

plundering of the earth's resources

is having on the planet.

There are some inventive steps

being taken to minimise harm

and protect Earth for future

generations.

FAKE MOON LANDINGS AND

OTHER PERSISTENT

CONSPIRACIES

8.30PM | 90 MINS Cabaret Bar

Pleasance £8.50/£6.50/#SCIFIVE

£5 From fake news to national

tragedies, conspiracy theories

are always close behind.

If you've ever questioned the

Moon landing or the September

11 attacks, if you're curious

about lizard people and disaster

actors, then this event is for

you. Join conspiracy theory experts

Prof Peter Knight and Prof

Robbie Sutton to find out where

these conspiracies come from,

how they take root and what

makes people believe them
---
12 GENERAL WHAT'S NEWS ON

The Edinburgh Reporter

Theatre | Art | Music | Shows | Festivals

Day by day guide

Park. You might even see the

Stones In His Pockets

Tue 2 – Sat 6 April | King's Theatre

A small village in rural Ireland

is turned upside down when

a major Hollywood film studio

descends to make a historical

blockbuster on location. Tickets

£18.50-£32 Evenings 7.30pm

| Matinees Wed & Sat 2.30pm

Running time (approx.): 1 hour 42

minutes Age: 14+

4 April 2019 Gilded Balloon

Basement at Rose Street Theatre

7.30pm

As Fringe preview show season

kicks off, Rose Theatre at Gilded

Balloon Basement will present

two acts : Max & Ivan and Wis

Jantarasorn & Megan Shandley.

The two UK comedy acts will

offer a little preview of their 2019

Fringe shows.

Advance tickets only £5.

Being a Woman in Science -

Changed Times?

16 April 2019 6.00-7.30pm

So many female scientists have

changed our understanding of the

world, yet around half the population

struggles to name a woman

in science. Questions need to be

asked! What attracts women to

science, what are their experiences

and why are they not more

visible?

Join us for a fascinating discussion

with current and former

RSE Presidents, Prof Dame Anne

Glover and Prof Dame Jocelyn Bell

Burnell and RSE Young Academy

of Scotland member Dr Silvia

Paracchini as they discuss their

experiences of being women in

science.

Part of the Edinburgh Science

Festival.Tickets 0131 226 0005

Classical Rush Hour

on Wednesdays at Le Monde

with Edinburgh Quartet Armenia

via Denmark: 17 April 2019,

5.30pm Selections of Armenian

and Danish folk music miniatures

arranged for string quartet, alongside

music by Tchaikovsky

Victorian Edinburgh: Powerhouse

of the Empire?

World Heritage Day Lecture with

Professor Sir Tom Devine

Edinburgh World Heritage has

organised a World Heritage Day

Lecture by Scotland's pre-eminent

historian. Sir Tom will explore

the extraordinary success of late

Victorian Edinburgh – as banking

house to the British Empire, as

patron of the arts and architecture,

and as a city of considerable

luxury and opulence.

18 April 2019 6.00pm for about

1 hour at The Royal College of

Physicians of Edinburgh, 9 Queen

Street,.

19 April 2019

There will be an Easter Egg

hunt at Starbank Park. Lots of

eggs to be found in our Walled

Spring Garden. Suggested donation

£3 per child or become a

member of Friends of Starbank

Easter Bunny!10:30 to 11:30 am.

Aimed at children aged 3-8 years.

Something to book ahead for May

Cyanotype & Bookbinding

Workshop Sunday, 12 May 2019

from 10.30am -4.30pm at Granton

Hub Madelvic House, 33 Granton

Park Ave, EH5 1HS To book a place

search Eventbrite. In this collaborative

workshop, Artist Kit Martin

(www.kitmartinphoto.co.uk) and

Bookbinder Cass Barron, will

introduce the cyanotype process

and guide you in creating a range

of prints onto paper and fabric,

before binding a selection into

a number of unique and usable

books. Beginners are welcome.

AT THE TRAVERSE

A Play, A Pie and a Pint from 9

April to 18 May 2019

Our three choices are -

Chic Murray - A Funny Place for

a Window featuring the comedian

looking back on the last day of

his life at the glittering but flawed

career he enjoyed.

The Mack by Rob Drummond

allows some discussion about the

building so ravaged by fire on two

occasions that its very future is

in doubt.

Toy Plastic Chicken which

involves a bomb scare, a toy

chicken and Edinburgh Airport

and is apparently based on a true

story.

A play, a pie and a pint of

beer/125ml glass of house wine

or a regular glass of Pepsi, Diet

Pepsi, lemonade, orange juice,

filter coffee or tea

A vibrant mix of themes, characters

and stories Lunchtime and

evening performances

Easily digestible 50-min play

packages

To book t 0131 228 1404

https://www.traverse.co.uk/

At National

Museum of Scotland

Getting the Robots exhibition

ready for opening.

| Photo Neil Hanna

16 April 2019 at 8.00pm as part

of the ROBOTS exhibition. The Future

is Robot with Timandra Harkness.

Join the writer, broadcaster

and comedian to find out how design

and programming decisions

will affect our future with robots. t

0300 123 6789 to book

Around the Galleries

The Fine Art Society

are holding two exhibitions

of paintings by contemporary

artists Victoria Orr Ewing - Ebb

& Flood and Emma Alcock - Quietude

until 6 April. The Dundas

Street Gallery is downstairs

from the Fine Art Society. From

10-27 April, Dundas Street

Gallery is transformed into a

sensory room, an art installation.

InnerVerse is a colourful

and emotional dialogue which

resonates the inner rhythms of

life and the human condition. A

visual conversation relatable to

everyday living and the journey

to appreciate more of life.

Arusha Gallery

13A Dundas Street EH3 6QG t

0131 557 1412 Casper White 12

April to 5 May 2019.

Torrance Gallery

36 Dundas Street EH3 6JN have

their Spring Show from 6 April

to 11 May 2019. More details from

mail@torrancegallery.co.uk or t

0131 556 6366

Birch Tree Gallery

23A Dundas Street EH3 6QQ t

0131 556 4000

art@birchtreegallery.co.uk

Open Tue-Fri 11.00am-6.00pm

Sat 11.00am - 4.00pm

Liberating Scale6 April to 4

May 2019

Laura Boswell (linocut and

wood block hand-inked prints)

Rachel Holian (porcelain)

Matthew Draper Roaming,

Crepuscular Rays series no 12019

pastel on paper H:79cm

W:107.5cm Price on Application

The Scottish Gallery

SOUND OF RAASAY Matthew

Draper 3 - 27 Apr 2019

'My fascination with the Island

started some 23 years ago

when I first moved to Scotland.

It was the same year the Skye

Bridge was opened. For some,

the bridge was a controversial

scheme, but nevertheless, it

offered the ease of access to the

Island and meant that my first

tentative trip exploring the West

Coast of Scotland was a relatively

easy, although unplanned

extension to my journey. For the

first time I experienced the rugged,

dramatic and varied landscape

of this unique Island and

regular trips have occurred year

on year allowing me to further

explore that particular wilderness.'

Matthew Draper, 2019

David McClure White Chimney

Stacks, Ardrossan1954

gouache H:49.5cm W:37cm

Price on Application

ART AND INDUSTRY -

ARDROSSAN TO MILLPORT

David McClure 3 - 27 Apr 2019

The exhibition is curated by

Robin McClure of works by David

McClure RSA, RSW (1926-1998)

featuring selected works on paper

from the 1950s.

Anthony Bryant Large Ash

Vessel AshH:36cm D:80cm

Price on Application Photograph:

Steve Tanner

Wood

3-27 April 2019 - an exhibition

showcasing both objects and

furniture from: Roger Bennett,

Anthony Bryant, Martin Cook,

Roland Fraser, Hans Henning

Pedersen, Kathryn Hinton,

Andrew Holmes, Owen Jones,

Eleanor Lakelin, Grant McCaig,

Lawrence Neal, Jim Partridge

& Liz Walmsley, Angus Ross and

Edward Teasdale.

Open Eye Gallery

5-29 April 2019 Alice McMurrough

PAI RGI RSW McMurrough

studied at Glasgow School of

Art to 1978 She has won many

awards and in this exhibition she

will show more of her concern

with the way that ideas, observations

and dreams are researched,

edited and translated into visual

statements. Her paintings have

a curious and bewitching air as

they are often set in spiritual and

timeless worlds.

Peter Thomson RGI RSW

Glasgow based Thomson is

known for his figurative and landscape

based oil paintings.

&Gallery

- JFK Turner Solo Exhibition 6

April to 1 May 2019 JFK Turner's

work is concerned with the

unnoticed ephemeral elements

of everyday life; found objects,

marks, stains and the natural

effect of time. The objects Turner

collects from the street form the

basis of the work.

The paintings are not abstract

– they are based on something

from the real world – for example

a rubber band, a screwed-up

piece of paper, or a flap on a

cardboard box. These are nonobjects,

just the remnants of

life.

The works are closer to objects

than traditional paintings. If

paint is used it is house hold

paint that is poured, smeared

and allowed to congeal and

crack – like spilt paint on a

pavement. In addition to paint

Turner uses found materials

– wax, plaster, photographs,

paper, discarded books and

clothes. Working on wood

allows the surface to be attacked

by scratching, sanding

and stabbing. This adds to the

works physical quality – like a

collagraph printing plate or a

religious icon.

Turner takes objects and

elements from the real world,

combines them together to create

another object. The ordinary

becomes unusual and other.

At The Grilli Gallery

20A Dundas Street EH3 6HZ

Mixed Exhibition until 20 April

2019 Marion Drummond PAI

Gail Pope, Rona Lee and Jean

Feeney

Charles Avery will exhibit at the

Ingleby Gallery this month

At Ingleby Gallery

27 April to 13 July 2019

Since 2005 Charles Avery's

practise has focused on a

fictional Island; an all-encompassing,

immersive investigation

of the fabric and possibilities

of another place. Through

drawings, texts and objects

Avery describes the inhabitants,

architecture, philosophies,

customs and idiosyncrasies of

this imagined territory.

With accents of the Scottish

Hebrides and East London, the

Island is situated at the centre

of an archipelago of innumerable

constituents. Its capital is

the port city of Onomatopoeia:

originally a stepping off point

for pioneers and travellers,

turned bustling boomtown,

turned citadel, turned depression

ravaged slum, turned

regenerated city of culture.

It has many eras, all encompassed

by a monumental city

wall separating it from the dark

and violent wilderness beyond.

Charles Avery's exhibition;

The Gates of Onomatopoeia,

includes several new drawings

and a large sculpture.

Don't miss our monthly What's on Section
---
@EdinReporter /EdinReporter /edinburghreporter

WHAT'S ON

13

Edinburgh Printmakers opens this month

Theatre | Art | Music | Shows | Festivals

EDINBURGH Printmakers will

open to the public with the

art exhibition The Politics of

Heritage vs. the Heritage of

Politics by German printmaker

Thomas Kilpper.

Established in 1967 as the

first open access studio in

the UK, this is an arts charity

specialising in printmaking.

It has a brand new home at

Castle Mills on Dundee Street.

The former North Edinburgh

Rubber Factory has been renovated

in an £11m project.

The building houses an

enhanced open access print

studio, traditional and digital

processes, a dedicated learning

space, artist accommodation,

art galleries, a shop, a

creative industries hub, café

and print archive.

Castle Mills is set to be one

of the largest printmaking

facilities created for artists in

Europe. The new building is

2194m2 compared to 939m2 in

the present Union Street base.

German installation artist

Thomas Kilpper is known for

his critical social and political

interventions. He studied with

Alfonso Huppi in Düsseldorf.

The Tate Gallery in London

houses the largest collection of

his works in the UK.

Chief Executive of Edinburgh

Printmakers, Shân Edwards said:

"Opening Castle Mills with a European

artist, signifies our vision

for Edinburgh Printmakers in the

future. Edinburgh Printmakers is

an arts charity with printmaking

at its heart.

"By 2023, our spaces will be

creative communities that lead

with our knowledge and heritage,

innovate through our practice and

ambitions and welcome the wider

world to art.

"Artist Thomas Kilpper's exhibition

will reflect the history of

the building through his chosen

material and portray a view of

politics relevant today to mark

this moment in history."

Riona McMorrow, Acting Head

of the National Lottery Heritage

Fund in Scotland.

said : "The people of Fountainbridge

are justifiably proud

of their industrial heritage and

thanks to players of the National

Lottery, this important part of

it has an exciting future back

at the heart of the community.

Once open, Castle Mills will be

a contemporary hub of creative

enterprise benefiting people living

and working nearby, bringing

a sense of pride to the people who

call this area home, and offering

an exciting addition to Scotland

and Edinburgh's cultural scene."

This will be the first time that

Castle Mills will be open as a

public building. In the three-floor

building, the general public will

be able to enjoy the two galleries,

shop and café. Members of

Edinburgh Printmakers will have

access to the top floor studio and

printmaking facilities and visiting

artists will be able to stay in

the flat for residencies.

Amanda Catto, Head of Visual

Arts, Creative Scotland, said:

"We're very much looking forward

to the opening of Edinburgh

Printmakers at Castle Mills - a

world class centre for printmaking

that will extend a warm

welcome to all. Supported by the

National Lottery through Creative

Scotland the new, state of the art

facility will deliver programmes,

classes and courses to suit people

of all experiences – from the

absolute beginner through to the

established artist/ printmaker.

"The completion of the building

development is a tremendous

achievement and looks set to generate

significant, artistic, social

and economic benefits for Edinburgh

Printmakers, its members

and the communities it engages

with locally, nationally and internationally.

We are excited by the

creative vision and ambition of

this project and would like to congratulate

all those involved. We

encourage everybody to visit and

explore this great new resource."

A City of Edinburgh Council

The resurrection of Castle Mills

was possible thanks to National

Lottery Heritage Fund, Creative

Scotland, Scottish Government,

City of Edinburgh Council, Historic

Environment Scotland and all

individuals who supported the fundraising

campaign along with The

Gannochy Trust and Robertson

Trust. Printmaking courses and

artist residencies will start in April

2019, full details are on the website

www.edinburghprintmakers.co.uk.

Thomas Knowles, Head of Grants

at Historic Environment Scotland,

said: "We are pleased to support

Edinburgh Printmakers with the

Castle Mills Regeneration Project

through our Historic Environment

Repair Grant funding programme.

This provided £598,000 of investment

to support the regeneration

of this culturally important Edinburgh

building into a multi-use

state of the art print facilities and

transforming the local area into a

creative hub".

Edinburgh Printmakers will open with a new exhibition at the end of the month | PHOTO Page/Park Architects

building, the conversion of

Castle Mills began in 2012, and

is part of the Council's redevelopment

plans for the area

of Fountainbridge and has

been supported by the Fountainbridge

Canalside Initiative

(FCI) as well as the surrounding

businesses.

Councillor Donald Wilson,

Culture and Communities Convener,

said: "An exciting future

lies ahead for Edinburgh Printmakers

when the Castle Mills

conversion completes. The new

hub is transforming what was

a derelict listed building into

a brand new arts facility, in

keeping with the character of

the building and the area. I'm

sure it will provide huge social

and economic benefits for the

local community and greatly

enhance Fountainbridge's cultural

offering.

"The project has long had

great support from the Council,

which has worked hard

to help Edinburgh Printmakers

take this building forward

to regenerate the area. This

has involved us providing the

land and helping Printmakers

secure necessary support from

the Scottish Government. I'm

delighted to see this

partnership reach the next

stage with news of the very

first exhibition."

Two American businessmen

bought the canalside building in

1856 and it became the HQ of the

North British Rubber Company

PHOTO | Page/Park Architects

AMERICAN businessmen and

bootmakers Henry Lee Norris and

Spencer Thomas Parmelee bought

the canalside building Castle

Mills Silks in 1856 and made it the

headquarters of the North British

Rubber Company.

Their company soon grew and

Castle Mills, the present building,

was created in 1870 in Gilmore

Park. The main entrance is now

from Dundee Street, Edinburgh.

By 1900 Castle Mills had become

the largest industrial unit in Edinburgh,

employing 3,000 people.

With the start of the First World

War came a demand for a durable,

rubber-soled boot for the trenches.

Commissioned by the Ministry

of War, the Wellington boot was

conceived in 1916. The North British

Rubber Company set to work

24 hours a day, producing 1,185,036

pairs of boots for soldiers in the

trenches.

After the war the product catalogue

ranged from sink plugs and

domestic flooring, to golf balls and

automobile components. In 1955,

under the Hunter brand, two new

boots were launched, the Green

Hunter and the Royal Hunter,

becoming a firm fixture in fashion

for the next 50 years. Princess

Diana famously wore a pair in her

engagement photos in 1981, and

the boots surged in popularity

again after Kate Moss was seen in

a pair at Glastonbury in 2005.

By the 1960s the North British

Rubber Company remained one of

Edinburgh's main employers, with

almost every family in the local

area having a family member

employed at the mills. After a disastrous

fire hit the factory in 1969,

much of the production was transferred

to other sites at Newbridge

on the outskirts of Edinburgh and

Heathhall, Dumfries. Four years

later, most of the factory complex

was demolished, leaving only

Castle Mills on the site.

Scottish and Newcastle Breweries

took over the site and built

one of the world's most advanced

canning complexes, with Castle

Mills being used as a store and

accounts office.

Don't miss our monthly What's on Section
---
14 WHAT'S ON The Edinburgh Reporter

Theatre | Art | Music | Shows | Festivals

At The Queen's

Hall this month

4 April at 7.30pm

The Legends of American

Country Music A showcase

highly acclaimed tributes to Dolly

Parton, Johnny Cash, Merle Haggard,

Tammy Wynette and Kenny

Rogers with new tributes to icons

Willie Nelson, Charley Pride,

Patsy Cline and Glen Campbell.

5 April doors 7.00pm

An Evening with The Hairy

Bikers Big hearted, down-to-earth

cooks Si King and Dave Myers

have been together for more than

20 years. This will be an epic

night of cooking and conversation

7 April 8.00pm

Jenna Reid and Harris Playfair

with Mr McFall's Chamber One of

Shetland's finest, modern-day fiddlers,

Jenna Reid is reunited with

one of Scotland's highly regarded

pianists, Harris Playfair. With

genre-defying Mr McFall's Chamber,

this will be a sumptuous

double-bill of musical mastery.

10 April 7.30pm

Julian Clary: Born to Mince

In this outrageously camp new

show, renowned homosexual

Julian Clary will bare his soul as

never before in the interests of

light entertainment. Don't miss

out; this might well be the final

mince!

11 April 7.30pm

SCO: Ravel Piano Concerto

Ginastera: Variaciones Concertantes;

Ravel: Piano Concerto in

G; Beethoven: Symphony No4

Josep Pons: Conductor; Bertrand

Chamayou: Piano

12 April 7.30pm

Wilko Johnson with special

guest Glenn Tilbrook The original

Dr Feelgood guitarist returned

to the live arena after his recent

cancer recovery, including a sold

out show at the Royal Albert Hall

to mark his 70th birthday. He

returns to The Queen's Hall with

special guest Squeeze guitarist

Glenn Tilbrook.

14 April 3.00pm

Edinburgh Quartet: Litany &

Rapture Beethoven: String Quartet

Op 18 No 6; Mozart: Selection of

Arias; Schoenberg: String Quartet

No 2 Emma Morwood: Soprano

15 April 7.45pm Arod Quartet

Haydn: Quartet in B flat Op 76

No 4; Webern: Langsamersatz;

Brahms: Quartet in A minor Op

51 No 2

Re-scheduled from 21 January

2019. Original tickets still valid.

18 April 7.30pm

Tommy Smith Sextet: Beasts of

Scotland Tommy Smith brings us

the first of his QH@40 curated gigs

supported by Creative Scotland.

Accompanied by his sextet and

with narration from Tam Dean

Burn, Beasts of Scotland is one

of Tommy's best-loved concerts,

inspired by Edwin Morgan's

poetry. Support is from the awardwinning

Square One quartet.

19 April 7.00pm

Dunedin Consort: Matthew Passion

Bach: Matthew Passion BWV

244 Trevor Pinnock: Director;

Hugo Hymas: Evangelist

21 April doors 7.00pm

Lake Street Dive New Yorkers

with their latest album Free Yourself

Up. It's their most confident

album yet, seriously soulful and

exuberantly rocking. Support

comes from Ida Bang & The Blue

Tears.

25 April 7.30pm

SCO: Hardenberger plays Haydn

& Gruber Schulhoff: Serenade

Op 18; Haydn: Trumpet Concerto

in E flat; Gruber: Busking; Beethoven:

Twelve Contradances

John Storgårds: Conductor; Håkan

Hardenberger: Trumpet Conductor

Insights, 6.30pm: John Storgårds

discusses tonight's programme

26 April 8.00pm

Tradfest: Lankum "They do

mark a turning point in folk… that

authentic voice of the streets is

back in a big way. Anarchic, yet

connected, rootsy and gutsy… I

love their music, it is just so damn

good!" (Mark Radcliffe) Need we

say more?

27 April 7.30pm

Faith: The George Michael Legacy

A stunning celebration and

vibrant musical journey through

the career of George Michael's

28 April 7.30pm

Matt Haig: Notes On A Nervous

Planet Join the bestselling author

as he tackles the questions that

so often plague our thoughts: how

can we stay sane on a planet that

makes us mad?

Tartan Day 2019

THIS YEAR the Grand Marshal

will be none other than Sir Billy

Connolly and the NYC Tartan

Day Parade are looking forward

to a great day out as the

musicians parade down Sixth

Avenue after a Pipes and Drums

performance at Bryant Park.

gularly responsible for the Big Yin

saying yes to her invitation.

Charlie said : "This is the ultimate

privilege to have Sir Billy

Connolly as Grand Marshal at the

Tartan Day Parade. I asked him by

way of some mutual friends and

he very quickly agreed to do it.

"I am absolutely delighted that

he is - and that he will be accompanied

by his wife, internationally

acclaimed psychologist, Dr

Pamela Stephenson, who will

judge the Scottie dug competition

before she and the Big Yin step

off in the parade.

"My husband Howie was

Grand Marshal in 2014. It was

an amazing experience which

we shared with our boys. We are

sure Billy and Pamela will very

much enjoy themselves and I

will be there to ensure that it all

goes as smoothly as possible.

We are very excited and I am

sure the crowds on the day will

love seeing him."

There are many Edinburgh

connections to the Tartan Day

Parade, but no bigger (although

she is most diminutive!) than

Charlie Nicholsby who is sin-

Whisky Kiss

I MET Iain MacPhail and Murray

Fergusson, two regular members

of the band Whisky Kiss to talk

about their upcoming trip to New

York and the events they are taking

part in around Tartan Day.

Murray and Iain were at school

together and have played together

as a fiddle-accordion duo

for about thirty years. The group

has a changing line-up and while

these two have played with others

over the years this is a very

welcome reunion for them.

They are both Edinburgh-based

and enjoying the fact that Murray

has just returned to the capital

after touring the world with Belle

& Sebastian (and teaching Mick

Jagger's son among many other

things). Murray had just tweeted

that he has not been so excited

about a gig for about 20 years as

he is about going to New York.

It is tricky for them to take

part in the Parade as their

instruments are more or less all

electric, but they will be playing

at ceilidhs before and after

the parade. Murray explained

that they have an electric violin,

electric accordion and while the

pipes carry themselves they can't

carry the drum kit in the parade!

Murray plays an American made

five string electric violin which

he says has dials on it that he is

'still discovering'.

On Friday night they play the

pre-parade ceilidh with Shot

of Scotch New York, then on

Saturday at Times Square they

will perform along with Elite Pro

Dance from Edinburgh who provide

pre-match entertainment at

Murrayfield before international

matches there. Then to top off

what will be a busy few days they

will play at Bryant Park on Sunday

lunchtime. For the trip to the

Big Apple Ciaren Ross will join

them on bagpipes and whistles.
---
@EdinReporter /EdinReporter /edinburghreporter WHAT'S ON 15

Theatre | Art | Music | Shows | Festivals

The Edinburgh Reporter

Editor: Phyllis Stephen

editor@theedinburghreporter.co.uk

07791 406 498

Share your

event with us!
---
16 NEWS The Edinburgh Reporter

House Prices on the rise

IN EAST central Scotland house

prices rose in the first couple of

months of 2019 when compared

with the same period last

year and the number of sales

increased by 6.1% year on year.

It has taken an average of 27

days for houses to sell which is

about 5 days slower than last

year, and the price achieved was

a little lower than the House

Report valuation.

So with more property on the

market the average selling price

of three bedroom homes in

Corstorphine, Clermiston, South

Gyle and East Craigs rose by 23.6%

to £326,227 compared to last year

although in South Queensferry

and Dalmeny prices rose by only

19%. In Liberton and Gilmerton

prices of a three bedroom home

fell by 19.2% to an average of

£227,596.

Buyers have a little less competition

than they did, although one

bedroom flats in Abbeyhill and

Meadowbank are selling in an

average of 14 days. Two bedroom

flats in Portobello and Joppa have

sold at 108.6% of the Home Report

valuation but the jewel in the

crown is Leith. There, one and

two-bedroom flats are the top

sellers.

Jamie Fraser-Davidson,

Business Analyst at ESPC, said:

"The past three months have

shown a reasonable increase

in the median selling time of

properties across east central

Scotland. This could be due to

the increase in the number of

properties coming to market in

recent months, which may have

resulted in less competition

between buyers for homes in the

area."

100 years of the Royal Scots Club

HRH The Princess Royal visited the Royal Scots Club to mark 100

years since it was officially opened.

It is the centenary of the Royal

Scots Club this year and to

celebrate that they invited their

patron, The Princess Royal ,to

pay them a visit, and they have

launched a book.

Author and journalist, Roddy

Martine was commissioned to

write the history of the club in

a book billed as so much more

than just the inspiring story of a

military club which has adapted

to modern times.

It is a lively history of the

establishment featuring some of

the great characters who have

lived in Edinburgh as well as club

members. A copy is available for

every member of the club and it

is also available for sale to the

general public.

The Princess Royal visited the

club on 11 March 2019, a hundred

years to the day since the then

Princess Royal, Princess Mary,

declared the club open.

We spoke to Roddy Martine

after the visit. He said : "This was

a tremendous gathering, a good

turnout and a great bit of history!

A hundred years of an amazing

club started 100 years ago to the

day when the Princess Royal's

aunt came to visit as one of the

founders. It is brilliant that she

has carried on the tradition."

It took Roddy about two or three

years to research but he admitted

to having 'an amazing amount

of help'. He said : "I think a lot of

tribute should go to John Lloyd

who was chairman of the club

committee and he approached me

to write the book originally. He

was going to work with me and

then unfortunately he died. After

that Colonel Robert Watson and

General Strudwick stepped into

the breach and everyone has been

so enthusiastic and helpful so it

was a lovely thing to do."

The title of the book is taken

from The Declaration of Arbroath

and it features on the Royal Scots

monument in Princes Street

Gardens. It was also used by the

Princess Royal when she was

opening the club in 1919 as a

tribute to the club. This is an all

ranks club, a kind of memorial

so 'Not for Glory nor Riches' but

as a membership club for the

regiment initially and now for

members from all different walks

of life.

Roddy said : "This is what I love

to do, researching people and

history. I suppose I am a latent

historian. I was always good

at history at school but I love

particularly that the history of

Roddy Martine with his book Not

for Glory Nor Riches

a club like this is the history of

Edinburgh and it is the Edinburgh

of my childhood and my parents'

childhood. My father was born in

Great King Street and my mother

on Northumberland Street. I went

to Edinburgh Academy and grew

up in this part of Edinburgh.

The characters in the book and

members of this club are all the

great characters of the last 100

years."

Edinburgh -

constantly changing

Roddy Smith has been in charge of Essential Edinburgh for four years.

by Roddy Smith, Chief

Executive, Essential Edinburgh

IN THE last four years since I

joined Essential Edinburgh, the

pace of change in our historic city

centre has been both constant

and hugely exciting.

Our buoyant tourist and visitor

industry, coupled with Edinburgh

performing very well across any

number of economic benchmarks

has led to the re-development

of many sites and buildings,

bringing a new purpose to empty

spaces and derelict buildings

alike.

This dramatic change is visible

throughout our city centre

landscape, stretching from a

reimagined Edinburgh St James

and Edinburgh Grand hotel, in the

former National Bank of Scotland

headquarters, in the east end to

the recently announced Johnnie

Walker Visitor Experience in the

former House of Fraser building

in the West End.

Edinburgh is a city with world

heritage status, as well as a

population of over 513,000 people

that welcomes nearly 4 million

visitors a year, as such it is our

duty to protect it. New developments

and refurbishments give

our historic buildings, which hold

memories for so many people, a

fresh lease of life ensuring their

legacy will not be forgotten.

With tourist numbers continuing

to grow there is no reason

to predict that these building

developments will not maintain

their upward trend in the future,

in fact many businesses are

looking to expand their current

city locations or to relocate to

Edinburgh.

One of the major catalysts

for change has, of course, been

Edinburgh St James. This transformational

development, the

largest new retail construction

in the UK, will provide a focus for

the east end and will attract both

residents and tourists, while also

creating new jobs and opportunities.

The east end of the city centre

has been further enhanced by a

number of new hotels, like the

stunning new Edinburgh Grand,

redeveloping previously vacant

spaces, reinvigorating derelict

buildings and restoring a part

of our city's history. New office

space has also been created

in St Andrew's Square and the

proposals for the world class

IMPACT concert hall nearby will

cement the area's importance and

continue to ensure Edinburgh's

reputation as a cultural hub.

The good news is also spreading

west, with Princes, George and

Rose Street complimenting the

new developments in the east

and spreading footfall across the

city. The former BHS building

on Princes Street is now under

construction for a new retail and

leisure development, which upon

completion will be enjoyed by

tourists and residents alike.

Recently, Diageo announced

new details around its plan to

redevelop the former House of

Fraser building to become the

Johnnie Walker visitor experience,

an imaginative and exciting

use of the historic building. This

multi-million-pound investment

in Edinburgh will transform the

empty site, adding a major visitor

attraction to our city's already

impressive portfolio and driving

footfall.

Edinburgh is growing as a

tourist destination, and although

the increase in visitors is both

welcome and vital for our

economy, we need to recognise

the historic nature of our city and

be sympathetic when we breathe

new life into old buildings as

well as with the construction of

new ones. This I believe we are

achieving with a balanced range

of developments for business,

leisure and tourism.
---
@EdinReporter /EdinReporter /edinburghreporter FEATURES 17

The perfect

match!

WHEN Hector and Yvonne

Falconer announced to their

friends and family they were

going to get married everyone

already knew it was a sure thing.

The two Scots who had been

a couple for a few years, met at

a party in London. Yvonne, a

speech and language therapist,

and Hector, a stockbroker, quickly

became each other's 'odds-on

favourite'.

On the wedding day itself

however there was room for a

side bet or two.

Even the minister at St Giles,

Rev Calum MacLeod, mentioned

during the ceremony that any

time the London-based bride

and her fiancé had been in his

congregation before, it was

usually during a rugby international

weekend. And he confessed

that he was surprised they chose

to get married on 16 March even

though the Calcutta Cup was

being played 500 miles away at

Twickenham.

The bride's sister Louise (not a

known gambler!) offered to buy

the wedding favours - and placed

a few bets on Scotland's chances

at her local branch of William

Hill. She had no idea how lucky

some of the guests would be.

There were 75 wedding guests

who were given betting slips for a

draw. Five of those were for a £10

bet, five for a £5 bet and 65 for £1

making the total payout at 33/1 a

whopping £4,760.

Scotland drew 38-38 with

England in a fightback which

began with them 31-0 down!

Hector and Yvonne's guests were

quids in. Hector and Yvonne

told us : "When Louise found out,

the expression on her face was

hilarious as she knew the implication

was that some slips were

now worth hundreds of pounds.

It was just another incredible

moment that added to the joy of

the day as guests whooped and

cheered."

REV DR RICHARD FRAZER,

minister at Greyfriars Kirk, has

written a book about travelling

the pilgrimage route of Santiago

de Compostela a few years ago.

He held this as a long-time

dream and completed it as one

of over 300,000 people who walk

Hector and Yvonne were married on the same day as Scotland retained the Calcutta Cup in a

thrilling 38-38 draw PHOTO | Martin P McAdam

Travels With a Stick

Rev Dr Richard Frazer completed

the pilgrimage in 2012 and has just

written a book about it

the 500 miles from near Biarritz

to Santiago in Spain each year. He

marked the 25th year of being a

minister that year and was gifted

money by his congregation along

with a guidebook.

Richard believes pilgrimage is

an important spiritual pathway

to Christianity, and he has

been influential in reviving the

tradition, which fell out favour in

Scotland after the Reformation.

He said: "I would urge everyone

to get outdoors and into nature.

"While walking, it's almost as

if the landscape starts to read

you, and you become part of the

landscape."

For those looking to embark on

their pilgrimage journey, Richard

says you don't need to start with

faith.

"It's very accessible," he said.

"It's a physical experience which

becomes spiritual.

As for the future of pilgrimage in

Scotland, Richard describes it as

a "very promising" time.

"A number of routes now

operate, from Orkney to Lindisfarne

and places in between."

Travels With a Stick is published

by Birlinn Books on 11 April

2019 and will be available from

Blackwells and other bookshops.

Richard will also be speaking at

the Christian Aid Book Festival on

Sunday 12 May and the Heart and

Soul Festival on Sunday 19 May.

The perfect match! PHOTO | Martin P McAdam

The Edinburgh Sketcher

The Edinburgh Sketcher can be commissioned to create ink and watercolour sketches of your favourite view

or location around Edinburgh. Have a personal painting of your house or special place in the city, drawn just

for you. Drop Mark an email at contact@edinburghsketcher.com to see more examples like this one and to

discuss details about your personal artwork.
---
18 GENERAL FOOD NEWS The Edinburgh Reporter

OVER 30 years' experience in

the industry, and he now runs

Bistro Deluxe by Paul Tamburrini

at Macdonald Holyrood Hotel

in Edinburgh. With uniquely

sourced Scottish ingredients and

fresh local produce, Paul offers

a repertoire of French classics

influenced by his passion for

exceptional dishes and the

Master Chefs with whom he has

trained.

Rabbit à la moutarde

salt and black pepper

6 rabbit legs

100g butter

100ml white wine vinegar

3 tbsp dijon mustard

500ml chicken stock

150ml double cream

Paul Tamburrini's

April recipe

Mains of

Taymouth

1 tbsp dried oregano

1 tsp smoked paprika

1 tsp chopped rosemary

6 garlic cloves, crushed

2 bay

leaves.

Season the rabbit legs. Melt

the butter in a heavy based

casserole pan and sear the rabbit

legs. Remove from the pan and

drain Swill the casserole with

the vinegar and boil to reduce by

two thirds. Add all the remaining

ingredients and bring to the boil.

When boiling, add the rabbit back

to the casserole , cover and cook

gently until the meat falls freely

off the bone.Take out the rabbit

and set aside. Boil the cooking

Paul recommends trying a little rabbit this month

liquor to reduce it to a sauce like

consistency (it will coat the back

of a spoon Adjust the seasoning

and return the rabbit to the pot to

warm through.

Sauté potatoes

6 large Maris piper potatoes

2tablespoons Olive Oil

125g unsalted butter

Cook the unpeeled potatoes in

gently simmering salted water

until almost soft in the centre.

Take out and leave to cool. Peel

and cut the potatoes into 1cm

pieces and gently fry in the butter

until golden brown.Carefully

place the braised Rabbit leg on

top of sautéed potatoes and serve

with a little mustard sauce

Mains of Taymouth is an hour

and a half from Edinburgh

by Juliet Lawrence Wilson

SOMETHING I always envied

about The Broons was their

holiday home. Admittedly

they referred to it as a 'But an

Ben', which sounds less than

glamorous but it must have been

refreshing to leave the tenements

of Glebe Street for some fresh

country air.

The Wilson family, on the other

hand live in soulless but comfortable

modernity. After decades

of braving the drafts of Georgian

splendour we are now ensconced

in insulated, double glazed

heaven by The Shore.

However there's only so much

modern living one can handle so

I booked us in for a weekend at

Mains of Taymouth, on the edge

of Kenmore Village, just a short

drive up the road from Aberfeldy. I

packed too many clothes and lots

of luxurious goodies to eat and

drink, then off we set. The child

had her travel sickness tablet

and the Wilsons were in holiday

spirits. The first "Are we there

yet?" occurred at the other side

of The Queensferry Crossing but

mother was told in no uncertain

terms we had at least an hour and

a half to go.

The journey was rainy and felt a

tad perilous on some of the bends

but Loch Tay still looked magnificent

on our arrival and check in

was swift and to the point, a good

thing seeing as the gin I brought

with me wasn't going to drink

itself. Mains of Taymouth is the

old stable mains of the estate

farm adjacent to Taymouth Castle.

The original buildings have been

converted to four and five star

properties, each with a hot tub

and some also featuring a sauna.

You can read the rest of this

review online and find out what

the Wilsons really got up to on

their holidays!
---
@EdinReporter /EdinReporter /edinburghreporter FOOD DIARY 19

Juliet's Food Diary

by Juliet Lawrence Wilson

I ADMIT to having form when it

comes to The Sheep Heid Inn.

Many a night, I've thought, just

one more round in the cosiness

of it's bar and several times I've

managed to demonstrate my lack

of hand to eye coordination in its

charming skittle alley.

This popular Duddingston

Village haunt has had something

of a dramatic makeover since my

day. The floors are polished and

the seating on the fancy side of

gastro pub. But such is the way

of the world: there's no place for

the old fashioned boozer any

more...We're offered the option

of a Vegan menu, which I find

surprising, and I'm not alone. I

spot a couple of vegan bloggers

I know and one remarks that

they "didn't think they'd have

anything for us here." Indeed

it's a sad thought that vegans

might be wandering the villages

of Edinburgh, knocking on the

doors of ye olde inns only to be

told they have nothing for them.

It's a sort of millennial, woke

version of the nativity. However

it's the ideal place for an Easter

Sunday lunch if you fancy a

bit of countryside in the City.

Vegans and Atheists welcome.

Read my full review online.

There's nothing I love more

than seafood where it ought to

be eaten: in a harbour. I've been

a big fan of The Lobster Shack

in North Berwick for some time,

as nothing to my mind can beat

a lunch of lobster and chips. The

weather can sometimes scupper

my plans but no more: the

people behind the LS now have

a proper harbour side restaurant

in Northy. At The Rocketeer

1 2 3 4 5 6

7 8

10 11

14

12 13

15 16 17 18

20 21 22 23

19

25 26

27 28

9

you can sample North Berwick

lobster, fish and chips, seafood

platters and burgers. They

advertise on their website that

it's fully air conditioned, because,

goodness knows, we often sweat

our socks off in harbour side

restaurants in Scotland. They're

a registered First Fish Buyer,

meaning they purchase the

freshest catch, directly from the

harbour. Its fully licensed too so

if you're going from Edinburgh

take the train! The people behind

this new venture and the Lobster

Shack are the ever popular Nether

Abbey Hotel, which was once

owned by Rod Stewart's cousin.

Rod the Mod often stayed there

with his then best blonde, Britt

Eckland. Every day's a school day,

chums.

I'm rarely a fan of 'theme'

establishments but make a strong

exception for The Barologist by

The Shore. Formerly the Cameo

Bar, the new proprietors have not

stinted in creating a unique and

fun big night out venue. Fitted

out steampunk style its truly

something to behold and the

food and cocktails are fantastic.

Interestingly they have a special

offer where you get a free meal

if it's your birthday (T&Cs apply,

obviously).

But on Easter Sunday what

might that mean for Jesus?

Ok, it's a few months since

his birthday but surely for his

resurrection he might get a free

Sunday roast, maybe taking , oh

I don't know, twelve pals along?

The Barologist is very Instagrammable

and they'll even print a

photo of your choice on top of

your cocktail or coffee. So get the

smartphones out disciples and

spread the happy word.

And if your Easter weekend

features nothing more thrilling

than a trip to IKEA, why not

purchase their flat pack chocolate

Easter Bunny. Yes, as part of

their Varkansla range the self

assembly treat can be purchased

for only £2.95, which leaves

plenty of cash left for Dime Bars

and tea lights.

Happy egg rolling, folks!

24

Crossword

Across

7 Changing over a hub I modify my conduct (9)

8 Car in accident with a heap of stones (5)

10 Strange manner to decorate (8)

11 Eighth form of measurement (6)

12 Part of the tin you describe as small (4)

13 Revere it, and try to get it back (8)

15 Wire had wrapped round untanned leather (7)

17 A faster way to travel to the orient ? (3, 4)

20 Like a fine particle taken from rural nag (8)

22 Unattractive great lump, you initially described

thus (4)

25 They serve drinks to me in barn (6)

26 Poorly indented, as it was meant to be (8)

27 Fed it awful, stinking material (5)

28 Shift stick over to real verge (4,5)

Cosy space in Duddingston Village for lunch

Sheep Heid Inn fit for royalty

Crossword by David Albury Answers on page 19

Down

1 In their schools they are the successors (5)

2 Sent from Lima as a sample of sausage (6)

3 I dye weed whilst expressing astonishment thus (4-4)

4 It's a rug, thrown over this instrument (7)

5 I mime art, travelling around the sea-coast (8)

6 Vicars hit out at one who keeps records (9)

9 Closed various huts (4)

14 Early dare led one to become a non-professional

person in church (3, 6)

16 Add ham, in defiance of female servant (8)

18 Try a duel to settle dispute over this sin (8)

19 Rare bit of dissension for a judge (7)

21 Between Ash Wednesday and Easter, gave on loan (4)

23 Tell, in a way, of this stone over a doorway (6)

24 Disease found in part of every country (5)

Advertise

with us!

Please send any copy

or advertising to

editor@theedinburghreporter.co.uk
---
20 SPORT The Edinburgh Reporter

PoppyScotland Sportive

- entries now open

Over £200,000 has been raised fry the Sportive or the Armed Forces charity in the past six years

ENTRIES are now being accepted

for PoppyScotland's

sixth Sportive.

In past years over £200,000

has been raised for the charity

which supports the Armed

Forces community.

The cycle event which usually

attracts around 1,000 entrants

takes place in East Lothian and

the Scottish Borders. This year

it is once again being sponsored

by Fred. Olsen Renewables.

Speaking at the Crystal Rig

Wind Farm, on the Lammermuir

Hills, near Dunbar, in East

Lothian, Stuart Naylor the UK

Operations Manager for Fred.

Olsen Renewables said: "Poppyscotland

provides an invaluable

service for the Armed Forces

community, and, speaking as a

former RAF Serviceman, I feel

immensely proud that Fred.

Olsen Renewables not only recognises

these efforts, but will be

able to help raise much-needed

funds and awareness of the

charity through sponsorship of

this year's Sportive.

"In developing a long-term relationship

with Poppyscotland,

we have been able to ensure

that all money raised at the

Sportive will be spent directly

on the charity's many great

initiatives."

Fran Tierney, 52, a keen cyclist

and member of the Poppyscotland

Sportive committee, said: "I

have participated in this event for

the past two years and absolutely

love it. I am a member of Kinross

Cycling Club and last year I tackled

the 100-mile route, which was

an interesting challenge due to

the wind! But after finishing, the

hot drink and toast brought a big

smile at the end to a great day.

"As a new member of the Sportive

committee, I will now be

helping on the day of the event –

and I can't wait. Each of the three

routes offers a unique cycling

experience for both club and recreational

cyclists. The scenery is

amazing with a mixture of coast

and country with rolling hills.

If you have a bike, I definitely

recommend this event for your

diary."

Poppyscotland's Katriona Harding,

who organises the event,

said: "Today is all about telling

cyclists across the country that

your much-loved Sportive is back

again. The Sportive is always a

sell-out event, so we encourage

participants to sign up as soon as

possible.

"It is a privilege for us to have

Fred. Olsen Renewables on board

as our sponsor again this year

– and for the next two years as

well. Along with their support,

and the generosity of those taking

part, the Poppyscotland Sportive

has raised an incredible £211,717

which goes directly to our Welfare

Services team as they work

tirelessly to support veterans

throughout the country. What's

more, 100 per cent of the sign-up

fee and any sponsorship raised

by participants goes directly to

Poppyscotland.

"Finally, I think it's important

to let residents in East Lothian

know that the Poppyscotland

Sportive is not a closed-road

event. It has been designed by

our committee of experienced

local cyclists to cause as little

disruption as possible and we

are in regular contact with a

number of community councils,

but, of course, I would welcome

any feedback from the public."

Best known for running the

iconic Scottish Poppy Appeal,

Poppyscotland reaches out to

those who have served, those

still serving, and their families

at times of crisis and need by

offering vital, practical advice,

assistance and funding. The

charity believes that no veteran

should live without the prospect

of employment, good health and

a home, and we all have part to

play in achieving this.

To take part in the 2019 Poppyscotland

Sportive, or for more

information, please contact Katriona

Harding, Events Fundraising

Manager at Poppyscotland,

on0131 557 2782, or at k.harding@poppyscotland.org.uk,

or by

visiting www.poppyscotland.org.

uk/sportive.

Golf with Edinburgh Leisure

WITH the lighter nights on their David Atkinson, Golf Manager at

way, Edinburgh Leisure gym and Edinburgh Leisure said: 'The Golf

fitness customers can get in the Bolt On is great value considering

18 holes at Braid Hills may

swing of it, with a golf 'bolt-on'

membership, which will give cost as much as £27.50 at the

unlimited access to six stunning weekend. It will definitely appeal

golf courses all within driving to casual golfers, who might only

range of the city centre.

play a round or two every month

The Edinburgh Leisure 'Golf Bolt but who like to use golf as part of

On' spans all six of Edinburgh their overall fitness regime."

Leisure's courses which include: The Golf Bolt On Membership is

Braid Hills, Carrick Knowe, available to buy at any Edinburgh

Craigentinny, Portobello, Silverknowes

and the Wee Braids and online) -

Leisure site (but is not available

costs just £26 per month, in addition

to their normal membership. memberships/golf

www.edinburghleisure.co.uk/

Festival of Tennis

NEW to tennis or an experienced several special offers and giveaways

on the day.

player?

Join Craiglockhart Tennis

For more information or to book

Centre for a fun-filled afternoon of a slot visit edinburghleisure.

tennis activities on 21 April 2019 co.uk/festival-of-tennis or ask in

for all ages and abilities, where centre. Craiglockhart Leisure &

you can get a taste of the programmes

and courses on offer. EH14 1BZ 0131 443 0101

Tennis Centre, 177 Colinton Road,

Gannon Sports will also have info.cltc@edinburghleisure.co.uk

Fishing round up

by Nigel Duncan

PERMITS for the Esk at Musselburgh

are available from Ace

Bike Co at North High Street and

Tracy's Open All Hours (green

canopy) at Eskview Terrace.

They are £20 with a senior (over

60) £10 and junior (under-16) £10

and a day ticket is £5 and fishing

is Wednesday to Monday only

with no Tuesday fishing.

Children up to 12 years-of-age

can fish free with an adult permit

holder and the salmon and sea

trout season ends on October 31

with the brown trout season closing

on October 6.

The season opens on the Water

of Leith on April 1. Permits are

free and are available from various

outlets including the Water

of Leith Centre at Slateford Road

and Post Offices in Balerno and

Currie.

Sevie Johnston, owner of Clubbiedean

Trout Fishery in the

Pentland Hills above Bonaly, has

confirmed fishing this summer

will be at 2017 prices and he has

purchased two new boats to add

to the six he already has in the

12-acre water.

He has also spent time cutting

weed in the picturesque reservoir

which is home to a sizeable number

of prime rainbow, blue and

tiger trout as well as wild brown

trout.

Stevie, now in his third year in

charge, has re-stocked and said:

"We're only ten minutes from the

city centre and this is a cracking

fishery with a good head of quality

trout.

"Last year was not the best because

of the weather but anglers

were still catching fish and we

had a number of parties from

around the world trying fly fishing

as a sport.

He's introduced a season ticket

which allows unlimited fishing on

a catch and release basis for £300

and Clubbiedean will be open

every day during the summer.

Pottishaw Fishery near Whitburn

opened its door to day ticket

buyers for the first time in seven

years on 24 March. Only 15 tickets

will be sold daily. Glencorse Reservoir

opened on 23 March.

YOUR TEAM

COULD BE

FEATURED

HERE
---
y John Hislop

@EdinReporter /EdinReporter /edinburghreporter SPORT 21

Hibernian's Drybrough

Cup triumphs

IN THE history of Hibernian

Football Club, the two Drybrough

Cup triumphs are sometimes

under appreciated but it should

be pointed out that only the best

teams in the country qualified

and both finals were attended by

over 49,000 fans.

The early 1970s saw the authorities

refuse to allow companies

to lend their name to existing

tournaments.

As a result those companies

prepared to put some money

into the game had to set up their

own tournaments, of which the

Drybrough Cup was one - the first

sponsored competition exclusive

to Scottish clubs.

The competition was established

in 1971, a year after the

similar Watney Cup had been

introduced in England and was

open to the clubs which scored

the most League goals in the preceding

season - the top four from

the then two existing divisions

- with the draw seeded so that

top division clubs couldn't clash

in the opening round. In England

the Watney Cup was played for by

the highest scorers EXCLUDING

teams who qualified for Europe or

won promotion.

The competition provided an

opportunity for the Scottish FA to

experiment with new rules and

ideas for football and in 1972 and

1973 an experimental version of

the offside rule was operated.

The new rule saw the penalty

area line extended to join up with

the touchlines, creating a solid

line across the pitch 18 yards

from each goal. The offside law

then only applied when a player

was beyond the new penalty area

line.

Hibs started with a comfortable

4-0 victory over Montrose thanks

to goals from Johnny Hamilton,

Pat Stanton, Alan Gordon and

Arthur Duncan.

The semi-final at Easter Road

against Rangers who fielded nine

members of the team that won

the European cup Winners Cup

a few months previously was attended

by 27,111.

Hibernian demolished Rangers

and the 3-0 scoreline flattered

the visitors although the game

is probably best remembered for

disgraceful scenes off the pitch.

The match was held up on

several occasions as the furious

Rangers fans invaded the pitch

and hurled bottles into the home

supporters massed in the old

'Cowshed'.

The behaviour of the visiting

'fans' that night resulted in the

closure of the shed and the subsequent

installation of bench seats.

Read more of this story online.

Spartans Ladies went down 5-1 at home to Celtic in a SWFL match at

Ainslie Park last month. Michaela McAlonie scored the home side's

goal late in the game. PHOTO | North Edinburgh Community News

Ian Ballantyne celebrates after scoring the only goal in Civil Service Strollers win over Stirling University in

the Lowland League last month. The win moved Civil into fourth place in the league table.

| Photo Thomas Brown

Hearts walking

footballers aiming

to retain title

by John Hislop

THE third National Walking

Football League hosted by North

Lanarkshire Leisure and supported

by Health & Social Care North

Lanarkshire began at the Ravenscraig

Regional Sports Facility in

Motherwell last month.

Hearts 56 won the trophy last

year on an exciting last day

after holding off Hearts 98, Gala

Fairydean Rovers and Glasgow

Sport West, with only two points

separating the top four positions.

The players later paraded

the trophy in front of a packed

Tynecastle during the half-time

break of the Scottish Cup tie

against St Johnstone and had

their photograph taken with Anne

Budge.

This year, due to the increased

popularity of the sport, an Over

65s tournament has been organised

with 10 teams from throughout

Scotland taking part.

This will run in tandem with the

Over 50s competition.

The teams meet one day per

month and play three 18 minute

games.

Walking football is designed to

help people keep fit or kick start

an active lifestyle. The sport is

aimed at men and women over

the age of 50 and is basically a

slowed down version of the beautiful

game where players walk

instead of running.

Many players report lower heart

rates, less fat, more muscle and

better mobility. In addition to

the health benefits, participants

meet new people, avoid becoming

isolated and get to interact with

others.

To find out more about walking

football and to identify the locations

of your nearest venue, visit

walkingfootballscotland.org

Naismith injury setback for Hearts

by Mike Smith

IN A season plagued by injury

Hearts have been dealt yet another

blow with the news Steven

Naismith has had more surgery

on a cartilage injury meaning the

on-loan Norwich City striker will

be out for around 8 weeks.

It's the second long-term injury

to affect the Scotland striker this

season but Hearts manager Craig

Levein was philosophical. He told

the official Hearts website:

"I feel for Steven, more than

anybody else. He's worked ever

so hard to get back the last time

and then this happens again. He

needs to get back fit again.

That will be his primary concern

at the moment.

"It's unfortunate but it is what

it is. I think he's getting a little

bit shaved off his cartilage again.

Last time he was eight to ten

weeks out.

"I hope we see him again before

the end of the season. He came

back really quickly last time, so

I'm hopeful it will be the same

again.

"When he was out previously we

had a shortage of strikers. Craig

Wighton is back and fully fit after

his ankle problem, and we've got

David Vanecek and Uche, so it's a

different situation altogether."

Hearts defender Michael Smith

is also out with a torn muscle in

his thigh and isn't expected to

return until the beginning of May.

Goal of the month

PHOTO | North Edinburgh Community News

HIBS Kirsten Reilly's goal against Heart of Midlothian in the First

Round of the SWPL Cup was voted as the winner of the clubs goal of the

month for February.

It proved to be hugely popular among the club's supporters as well as

it took home a massive 55% of the vote, beating off strikes from Stevie

Mallan, Marc McNulty, Oli Shaw, Jamie Gullan and Daryl Horgan to

scoop the award.

The midfielder took a touch to bring the ball under her control then

let fly from outside the area with the ball dipping and swerving into the

top corner.The goal proved to be decisive as well as the match ended

1-0 to Hibernian.
---
22 EDINBURGH POLITICIANS The Edinburgh Reporter

Crossword Answers

Across:

7 Behaviour, 8 Cairn, 10 Ornament, 11 Height, 12 Tiny, 13 Retrieve, 15 Rawhide, 17 Far east, 20 Granular, 22 Ugly, 25 Barmen, 26 Intended, 27 Fetid, 28 Gear lever.

Down:

1 Heirs, 2 Salami, 3 Wide-eyed, 4 Guitars, 5 Maritime, 6 Archivist, 9 Shut, 14 Lay reader, 16 Handmaid, 18 Adultery, 19 Arbiter, 21 Lent, 23 Lintel, 24 Fever.