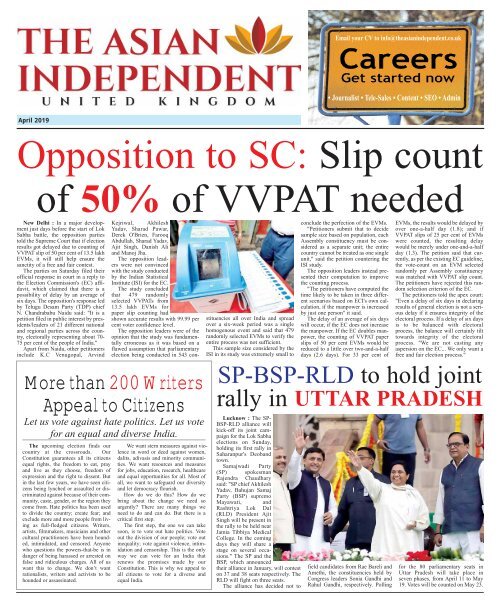 You also want an ePaper? Increase the reach of your titles
YUMPU automatically turns print PDFs into web optimized ePapers that Google loves.
Email your CV to info@theasianindependent.co.uk

• Journalist • Tele-Sales • Content • SEO • Admin

April 2019

Opposition to SC: Slip count

of 50% of VVPAT needed

New Delhi : In a major development

just days before the start of Lok

Sabha battle, the opposition parties

told the Supreme Court that if election

results got delayed due to counting of

VVPAT slip of 50 per cent of 13.5 lakh

EVMs, it will still help ensure the

sanctity of a free and fair contest.

The parties on Saturday filed their

official response in court in a reply to

the Election Commission's (EC) affidavit,

which claimed that there is a

possibility of delay by an average of

six days. The opposition's response led

by Telugu Desam Party (TDP) chief

N. Chandrababu Naidu said: "It is a

petition filed in public interest by presidents/leaders

of 21 different national

and regional parties across the country,

electorally representing about 70-

75 per cent of the people of India."

Apart from Naidu, other petitioners

include K.C Venugopal, Arvind

Kejriwal, Akhilesh

Yadav, Sharad Pawar,

Derek O'Brien, Farooq

Abdullah, Sharad Yadav,

Ajit Singh, Danish Ali

and Manoj Jha.

The opposition leaders

were not convinced

with the study conducted

by the Indian Statistical

Institute (ISI) for the EC.

The study concluded

that 479 randomly

selected VVPATs from

13.5 lakh EVMs for

paper slip counting had

shown accurate results with 99.99 per

cent voter confidence level.

The opposition leaders were of the

opinion that the study was fundamentally

erroneous as it was based on a

flawed assumption that parliamentary

election being conducted in 543 constituencies

all over India and spread

over a six-week period was a single

homogenous event and said that 479

randomly selected EVMs to verify the

entire process was not sufficient.

This sample size considered by the

ISI in its study was extremely small to

conclude the perfection of the EVMs.

"Petitioners submit that to decide

sample size based on population, each

Assembly constituency must be considered

as a separate unit; the entire

country cannot be treated as one single

unit," said the petition countering the

ISI study.

The opposition leaders instead presented

their computation to improve

the counting process.

"The petitioners have computed the

time likely to be taken in three different

scenarios based on ECI's own calculation,

if the manpower is increased

by just one person" it said.

The delay of an average of six days

will occur, if the EC does not increase

the manpower. If the EC doubles manpower,

the counting of VVPAT paper

slips of 50 per cent EVMs would be

reduced to a little over two-and-a-half

days (2.6 days). For 33 per cent of

EVMs, the results would be delayed by

over one-a-half day (1.8); and if

VVPAT slips of 25 per cent of EVMs

were counted, the resulting delay

would be merely under one-and-a-half

day (1.3). The petition said that currently,

as per the existing EC guideline,

the vote-count on an EVM selected

randomly per Assembly constituency

was matched with VVPAT slip count.

The petitioners have rejected this random

selection criterion of the EC.

The petitioners told the apex court:

"Even a delay of six days in declaring

results of general election is not a serious

delay if it ensures integrity of the

electoral process. If a delay of six days

is to be balanced with electoral

process, the balance will certainly tilt

towards integrity of the electoral

process. "We are not casting any

aspersion on the EC... We only want a

free and fair election process."

More than 200 Writers

Appeal to Citizens

Let us vote against hate politics. Let us vote

for an equal and diverse India.

The upcoming election finds our

country at the crossroads. Our

Constitution guarantees all its citizens

equal rights, the freedom to eat, pray

and live as they choose, freedom of

expression and the right to dissent. But

in the last few years, we have seen citizens

being lynched or assaulted or discriminated

against because of their community,

caste, gender, or the region they

come from. Hate politics has been used

to divide the country; create fear; and

exclude more and more people from living

as full-fledged citizens. Writers,

artists, filmmakers, musicians and other

cultural practitioners have been hounded,

intimidated, and censored. Anyone

who questions the powers-that-be is in

danger of being harassed or arrested on

false and ridiculous charges. All of us

want this to change. We don't want

rationalists, writers and activists to be

hounded or assassinated.

We want stern measures against violence

in word or deed against women,

dalits, adivasis and minority communities.

We want resources and measures

for jobs, education, research, healthcare

and equal opportunities for all. Most of

all, we want to safeguard our diversity

and let democracy flourish.

How do we do this? How do we

bring about the change we need so

urgently? There are many things we

need to do and can do. But there is a

critical first step.

The first step, the one we can take

soon, is to vote out hate politics. Vote

out the division of our people; vote out

inequality; vote against violence, intimidation

and censorship. This is the only

way we can vote for an India that

renews the promises made by our

Constitution. This is why we appeal to

all citizens to vote for a diverse and

equal India.

SP-BSP-RLD to hold joint

rally in UTTAR PRADESH

Lucknow : The SP-

BSP-RLD alliance will

kick-off its joint campaign

for the Lok Sabha

elections on Sunday,

holding its first rally in

Saharanpur's Deoband

town.

Samajwadi Party

(SP) spokesman

Rajendra Chaudhary

said: "SP chief Akhilesh

Yadav, Bahujan Samaj

Party (BSP) supremo

Mayawati, and

Rashtriya Lok Dal

(RLD) President Ajit

Singh will be present in

the rally to be held near

Jamia Tibbiya Medical

College. In the coming

days they will share a

stage on several occasions."

The SP and the

BSP, which announced

their alliance in January, will contest

on 37 and 38 seats respectively. The

RLD will fight on three seats.

The alliance has decided not to

field candidates from Rae Bareli and

Amethi, the constituencies held by

Congress leaders Sonia Gandhi and

Rahul Gandhi, respectively. Polling

for the 80 parliamentary seats in

Uttar Pradesh will take place in

seven phases, from April 11 to May

19. Votes will be counted on May 23.
---
2 April 2019

ASIA

www.theasianindependent.co.uk

India's caste system could play a pivotal role in

this week's upcoming elections — here's how

In India, your fate and future are

often sealed at the moment of your

birth, depending on your ancestors'

place in society. India's caste system

is the world's oldest surviving form

of social stratification It affects most

aspects of people's lives, including

how they vote in elections PM

Modi's historic 2014 election win

was partly due to his appeal across

castes Despite rapid urbanisation

and change, the caste system

remains highly relevant in modern

India.

And with the world's biggest democratic

election set to begin this week

on April 11 the issue is back in the

spotlight, raising questions as to how

the caste system could impact the ballot.

Here's a look at what exactly the

caste system is, how it fits into India's

democracy, and how it could influence

the upcoming elections.

First off — what is the caste system

in a nutshell?

A diagram of the caste system from

the Brahmins, Kshatriyas, Vaishyas,

Shudras and Dalits at the bottom.

India's caste system is the oldest form

of surviving social stratification and

was formalised around 1,000 BC.

Based on the Hindu teachings of

karma (meaning fate based on your

previous life) and dharma (meaning

duty and order) it later evolved to

include followers of other prominent

religions in India including Islam and

Christianity.

Though discrimination based on

caste was legally abolished in 1948,

the system still permeates many

aspects of a person's life: it can determine

where someone lives, works,

who they marry, where they pray —

and who they are likely to vote for.

Cows used to justify mob attacks

Cows are revered by the Hindu

majority, a belief some right-wing elements

have used to justify mob attacks

— and even murder.

The caste system separated Hindus

into four main categories based on the

different parts of the body of Brahma,

the god of creation, with castes ranked

Team AI :

Devinder Chander

Editor-in-chief

Columnists

V.B. Rawat

Farzana Suri

Arun Kumar

Rahul Kumar

Harminder K. Bhogal

Head Office

Samaj Media Enterprise Ltd

Suite 507, Hawthorns House

Halfords Lane, Smethwick,

Birmingham U.K.,B66 1BB

+44 7878 456 484

+44 121 565 4810

Email :

info@theasianindependent.co.uk

Advertisement

Enquiries

+44 7475 475 343

The Asian Independent is an

Intellectual Property of

Samaj Media Enterprise Ltd

from highest to lowest

depending on their position

from head to toe. Uppercaste

Brahmins, for example,

are seen as representing

Brahma's head, and are

often priests and academics.

On the other end of the scale

are Dalits, who are not

afforded a position on

Brahma's body. Also known

as 'untouchables', they're

generally considered outcasts

and are consigned to

the kind of work no one else

will do, such as cleaning

latrines.

There are now some

25,000 subclasses in India,

with the government classifying

those who are considered

educationally or socially

disadvantaged as Other

Backward Classes (OBC),

and those who are not as Forward

Castes.

Can you have a real democracy

with the caste system?

A crowd of people in India burns an

effigy depicting PM Narendra Modi in

a protest. Diego Maiorano, a research

fellow from the Institute of South

Asian Studies at the National

University of Singapore, said the caste

system is considered India's "most fundamental

social institution". The ability

of the caste system to adapt to wider

societal changes has been fundamental

in shaping India's brand of democracy,

Mr Maiorano told the ABC.

Quotas for Other Backward

Class: India allocated government

jobs quotas for the lowest castes in

1960, broadening this in 1989 To

reverse discrimination OBCs are now

entitled to 27 per cent of public sector

positions But the latest Right to

Information data shows they only hold

12 per cent of those roles Most allocated

posts remain unfilled, raising

questions about the system's effectiveness

As a former British colony,

India's democracy is based on the

Westminster system, but also takes on

a number of its own characteristics

rooted in Indian tradition, particularly

the dominant religion of Hinduism.

This includes complex personal

laws, which are applied differently to

individual religions. There is also a

system of affirmative action that

reserves a quota of higher education

places, public sector jobs, and legislative

seats for lower castes.

While quotas have improved representation

in Parliament, the very existence

of the quota system serves to

highlight caste identities and asserts

these hierarchies within both the Lok

Sabha and Rajya Sabha, the lower and

upper houses respectively. An Indian

dalit man shoulder deep inside a sewer

without this shirt on. Assa Doron, professor

of anthropology and South Asia

at the Australian National University,

told the ABC that caste has become a

political "identity marker".

"India's caste-based calculations

are part of an ongoing dynamic democratic

process, just like other countries

where interest groups influence political

outcomes," he said. Dr Doron

added that "segregation and socioeconomic

deprivation" is also a crucial

aspect that is "validated" by the

caste system, which "is often at odds

with the framework of liberal democracy".

But while Mr Maiorano said

"prejudices are hard to die", conditions

at the bottom of the social order

have improved over time.

How might it affect India's

upcoming elections?

A number of Indian women from

the dalit community squat on the

ground with voting cards. Dalits make

up about 15 per cent — or 200 million

— of India's 1.3 billion people, dwarfing

the number of upper-case

Brahmins, who comprise about 5 per

cent of the population. All parties

have, at least rhetorically, tried to woo

this large bloc of lower-caste voters,

according to Mr Maiorano. "It's often

said in India, you don't cast your vote,

you vote your caste," he said. India-

Pakistan tensions rise The conflict

between India and Pakistan over the

disputed territory of Kashmir has

escalated dramatically — and the

rivals are both armed with nuclear

weapons.

And historically there have been

many instances where political parties

China's marriage rate at 5-year low in 2018

Beijing : China's marriage

rate dropped to a five-year low

of 7.2 in 2018, yet another cause

of worry for the country that has

the world's largest ageing population.

The marriage rate dropped

from 9.9 per 1,000 people in

2013 to a five-year low of 7.2

per 1,000 people in 2018, said

China's National Bureau of

Statistics and the Ministry of

Civil Affairs (MCA).

While people in the 20-24 age

group had the highest record of

marriage registrations before

2012, people between 25 years

and 29 years were the mainstay

in 2017, accounting for 36.9 per

cent of all registered couples,

state news agency Xinhua said

citing the official statistics.

2018 also witnessed the lowest

birth rate since 1961 with the

country registering 15.23 million

new births. China is the fastest

greying society in the world.

Around 330 million Chinese will

be over 65 years of age by 2050,

which will be a drag on China's

already slowing economy.

The increased cost of living

and child education are some of

the major reasons for the country's

youth staying single. The

figures vary in different regions

with the more developed one

having lower marriage rates.

Tying the knot is no longer a

"necessity" for today's young

adults, with many preferring to

stay single, Xinhua said. "I'd

prefer a high quality single life

to a low-quality marriage" is the

common refrain. The decrease is

also closely related to the changing

demographic structure, said

Shi Zhilei, associate professor at

the School of Public

Administration of the Zhongnan

University of Economics and

Law. "The attitude towards marriage

and bearing a child is

changing among those born in

the 1980s or 1990s, with more

choosing to marry late or no

marriage at all," said Lu Jiehua,

professor of sociology with

Peking University.

"In an increasingly tolerant

society, marriage is not the only

option," Lu said.

The government has been

encouraging youth to date. Some

universities have dating courses,

while a province has decided to

give its single employees two

and half day leave to have more

time.

* The Asian Independent and people associated with it are not responsible for any claims made by the advertisers and do not endorse in any products or services advertised. Please visit www.theasianindependent.com/tc for more information.

mobilised groups across caste fault

lines, including the 2007 triumph of

the Dalit-backed Bahujan Samaj Party

in elections held in the most-populous

state of Uttar Pradesh. "In the current

run-up to the elections we see similar

patterns, with various parties trying to

solicit the support of caste groups and

associations by fielding candidates

from those castes," Dr Doron said.

Prime Minister Narendra Modi — a

former tea salesman and so-called

OBC — won the 2014 election in

large part due to his ability to appeal to

both the Bharatiya Janata Party's

(BJP) established upper-caste voter

base and lower-caste voters who identified

with his personal background.

However, caste-based politics is far

more complex for political parties

than simply encouraging voters to

back a politician in the same caste as

them, as attempts to appeal to lowercaste

voters can lose them higher-caste

voters, and vice versa.

Analysts warn Mr Modi's historic

victory will be difficult to replicate due

to his waning popularity — particularly

among rural workers — as well as

eruptions of caste-based violence and a

series of broken election promises.

India's PM Narendra Modi holds

his hands in the air, speaks at a podium

wearing an orange shirt, white

script on his forehead His main rival in

the upcoming elections is Indian

National Congress party leader Rahul

Gandhi, a Brahmin descended from

India's most powerful political lineage,

the Nehru-Gandhi family, who

claims that Mr Modi has been segmenting

Indians based on their caste.

However, while all political parties

have a stronger following among certain

castes, Mr Maiorano said "a political

party does not win the elections on

the basis of caste". Other key issues

going into the election include the

record levels of unemployment in

India and national security amid tensions

with neighbouring Pakistan.

"But [a party] cannot win without the

right set of caste equations either," Mr

Maiorano said.
---
www.theasianindependent.co.uk

Alipurduar, West Bengal : West Bengal

Chief Minister Mamata Banerjee on

Saturday dared the BJP government at the

centre to transfer as many state police officers

they wanted and claimed that the saffron

party won't be able to stop her or her party

Trinamool Congress in the coming Lok

Sabha elections. "BJP is saying, change all

the important officers. But first they have to

change me. (It does not matter) if more good

officers are changed as instructed by the BJP.

Whoever comes in their place is also my

officer," Banerjee said at a public rally in

Barobhisa in Alipurduar district. "They hold

so much grudge against me. The more you

(Centre) try to stop me, the more I will go

ahead. You won't be able to do anything," she

said. Banerjee's comments came a day after

the Election Commission removed Kolkata

Police Commissioner Anuj Sharma, his

counterpart in the Bidhannagar

Commissionerate Gyanwant Singh and two

Superintendents of Police -- Shyam Singh of

Birbhum and P.S. Selvamurugan of Diamond

Harbour police district.

Banerjee, who also holds the portfolio of

Home and Hill Affairs in the state, urged the

central forces to work together with the state

police personnel. "I welcome the central

force. All of you should be working together

with the state force. No one should think that

the central force belongs to the BJP. We also

have very important forces in our hands," she

said. Bringing up the issues faced by the tea

CBI books Delhi-based co over

Rs 2,348-cr bank fraud

New Delhi : The Central Bureau of Investigation (CBI) on

Saturday conducted searches at several locations in Delhi-NCR,

Chandigarh, Kolkata and Orissa, at the offices of a New Delhibased

private company in a bank fraud case.

It also conducted searches at the residential premises of the company's

directors, promoters and their associates after a case was registered,

a CBI statement said.

The investigation agency said the private company, through its

directors and other staff, fraudulently diverted around Rs 2,348

crore from the loan account of Punjab National Bank (New Delhi

and Chandigarh), Oriental Bank of Commerce (Kolkata), IDBI

Bank (Kolkata) and UCO Bank (Kolkata) to the accounts of various

shell companies "without any obvious purpose and thereby

misused the funds".

"It was further alleged that the said company availed various

loan facilities from 33 banks and financial institutions during 2007

to 2014 to the tune of Rs 47,204 crore (approx.) and defaulted on

repayments. Subsequently, lead bank PNB declared the account as

NPA followed by other banks and financial institutions," the statement

said. "It was also alleged that the accused entered into a criminal

conspiracy among themselves and with unknown public servants

of banks and others to cheat banks/ financial institutions/ government

exchequer... "It was further alleged that accused used the

bank funds for the purpose other than sanctioned by the bank, by

committing forgery for the purpose of cheating, used forged documents

and falsified the accounts causing loss to the tune of Rs 2,348

crore (approx.) to the lending banks/ financial institutions/ government

exchequer," it added. The CBI said that various documents

pertaining to the case were recovered during the searches.

garden workers in the region, Banerjee said

Prime Minister Narendra Modi has failed to

keep his promise of re-opening the closed tea

gardens or providing economic stability to

the tea labourers. She also said that her government

will not allow the BJP to implement

the National Register of Citizens (NRC) in

West Bengal by any means. "NRC is being

imposed by the BJP in Assam. They are

excluding Bengalis and even Hindus.

Chasing away Bengalis is not that easy. We

will not allow it. In the Citizenship

Amendment Bill, they talk about giving citizenship

after six years. But what will the

families do during that period," she asked. In

her next rally in the district's Kalchini area,

ASIA

BJP can't stop me by changing

police officers: Mamata Banerjee

Kannauj (Uttar Pradesh) : Kannauj MP

Dimple Yadav, accompanied by husband and

Samajwadi Party chief Akhilesh Yadav, on

Saturday filed her nomination papers for the

2019 Lok Sabha elections after a colourful

and widely attended road show. She chose

the auspicious first day of the 'Navaratras',

considered lucky to initiate any important

work, to file her nomination from the seat

she won the first time in a 2012 bypoll and

then retained in the 2014 Lok Sabha elections.

After filing her papers, Dimple Yadav

expressed confidence that her victory margin

will increase as her party and the BSP are

fighting the elections together.

Calling the Bharatiya Janata Party (BJP)

"a failure", she said: "The BJP did not fulfil

its promises and is now using the security

forces to distract the people."

Earlier performing special Navratra

prayers and rituals, Dimple Yadav, sporting a

red 'tilak' on her forehead, took to the

'Samajwadi Rath' along with her husband

and their three children for the eight-km-long

road show taken out with huge pomp and

show from Tiwra crossing to the Fagua

Bhatta area. Hundreds of motorcycles and

cars accompanied their modified bus chariot

and workers of both the Samajwadi Party

and its electoral ally Bahujan Samaj Party

(BSP) were out in force as Dimple Yadav,

who is affectionately called 'bhabhiji' in the

area, waved to the people. Apart from slogans

in her favour, there were also slogans

that the fate of the state will also change as

BSP supremo Mayawati and Akhilesh Yadav

have come together in these elections. Actorcum-MP

Jaya Bachchan, who accompanied

the Trinamool Congress supremo accused

the BJP and the Rashtriya Swayamsevak

Sangh (RSS) of doling out cash to the poor

people in north Bengal before elections.

She told the people to take the cash if

needed as it was "common man's money",

but not give a single vote to the saffron outfit.

"They (BJP) are coming here and doling

out cash before the elections. Do not give a

single vote to the BJP because they want to

buy off your pride and democratic rights by

giving cash," she said.

"Modi used to say he was a 'Chaiwala'

(tea seller). Now he has forgotten all that. He

promised to deposit Rs 15 lakh in every person's

account, but he forgot that too. He looted

all of you," Banerjee said.

Accusing the BJP candidate from

Alipurduar John Barla of being involved in

instigating unrest and clashes in the area,

Banerjee aksed people to vote for Trinamool

candidate Dasrath Tirkey and assured that he

would never do anything against the interest

of the local people.

"John Barla was involved in instigating

riots in the Dooars region. Could BJP not get

a better candidate? They have made a rioter

their candidate. Do not vote for him. Do not

vote for a party that causes riots and creates

trouble. "Our candidate Dasrath Tirkey is a

tea garden labourer. He will never work

against you people. Even if he tries to go

against you, I will not let him. All of us are

working together," Banerjee added.

Dimple Yadav in her road show, was also

present with Akhilesh Yadav, party General

Secretary Ramgopal Yadav, and BSP

General Secretary Satish Chandra Mishra as

she filed her nominations.

Dimple Yadav will again face the BJP's

Subrat Pathak, whom she had defeated in

2014. Leaders of both the SP and BSP

appeared enthused at Saturday's show.

Rajendra Maurya, Vice President of the

SP's backward cell, said: "This time there is

a coalition wave. We will win 75 (of the 80)

seats in the state." BSP's Sector In-charge

April 2019

3

'Pakistan won't accept repeal

of Indian Article 370'

Islamabad : Pakistan Foreign Office spokesman Mohammad

Faisal has said that Islamabad will

never accept India repealing

Article 370 of its Constitution

that gives autonomous status to

Jammu and Kashmir. Faisal made

the remark during his weekly

press briefing on Friday here,

reports Radio Pakistan.

"Pakistan will never accept the

repeal of Article 370 of the Indian

Constitution... Kashmiri people

will also not allow this to happen

ever. "Besides violating the rights

of Kashmiris, it will also contravene

relevant UNSC (UN Security Council) Resolutions," the

spokesman said while replying to a question.

Article 370 was incorporated in India's Constitution in October

1949. It exempts Jammu and Kashmir from the country's

Constitution, while allowing the state to draft its own.

It also gives power to the state legislature to define Jammu and

Kashmir's residents and their privileges.

In the briefing, Faisal regretted that India postponed the

Kartarpur Corridor meeting earlier this week.

"Indian side has expressed willingness to attend a technical-level

meeting on the issue on 15th and 16th of this month, which will

hopefully set the pace for further talks," Radio Pakistan quoted the

spokesman as saying. He reiterated Pakistan's commitment to complete

its side of Kartarpur Corridor before the 550th birth anniversary

of Sikh founder Guru Nanak later this year.

Faisal also announced that Pakistan was releasing 360 Indian

prisoners -- 483 fishermen, 54 civilian -- on humanitarian basis

upon completion of their sentences from April 8 onwards.

"One hundred fishermen will be released on Monday (April 8)

with another batch of hundred on the 15th of this month.

"It will be followed by the release of additional 100 fishermen

on April 22." He said the last batch of 60 Indian prisoners -- five

fishermen, 55 civilians -- will be released on April 29.

Dimple files papers from

Kannauj after road show

Ram Prakash said that party workers were

getting ready from the night to join the nomination

rally of Dimple Yadav, while district

General Secretary Subhash Dauhre said that

both parties are working hard to win elections

in the crucial state, which sends 80

MPs to the Lok Sabha. The SP is contesting

37 seats, the BSP 38 and Ajit Singh's

Rashtriya Lok Dal three. The alliance is not

fielding candidates in Amethi and Rae Bareli

- held by Congress President Rahul Gandhi

and UPA Chairperson Sonia Gandhi respectively.
---
4 April 2019

ASIA

www.theasianindependent.co.uk

Portraying Modi

as India is an insult,

says MAYAWATI

Lucknow : BSP chief Mayawati on Thursday

slammed the BJP and RSS for portraying Prime

Minister Narendra Modi as India, saying they

were repeating the same mistake which the

Congress did earlier.

"By portraying Modi-is-India and India-is-

Modi, the BJP/RSS are committing the same mistake

and insulting India and democracy," the former

Uttar Pradesh Chief Minister tweeted.

"A huge pity and most condemnable. People

will not forgive them for this sin," she added,

referring to the earlier Congress propaganda that

Indira (Gandhi) was India and India was Indira.

Her remarks came three days after Uttar

Pradesh Chief Minister Yogi Adityanath declared

that the Indian Army was 'Modiji ki sena'.

EC bans BJP theme song composed by Babul Supriyo

Kolkata : The Election Commission (EC) on

Saturday said the Bharatiya Janata Party's (BJP)

theme song composed by Asansol MP Babul

Supriyo cannot be played anywhere.

"Firstly, the theme song was not pre-certified

for which we had informed the Commission. Also,

the song is being played in different places so

there are instructions for stopping it," Additional

Chief Electoral Officer Sanjay Basu told reporters.

The Bharatiya Janata Party (BJP) member

who had applied for the song's certification has

been conveyed the EC's decision. Not seeking

prior permission from the Media Certification

and Monitoring Committee (MCMC) is a violation

of the model code of conduct, the official

said. Incidentally, West Bengal's ruling

Trinamool Congress had filed a complaint

regarding the content of the song. Later, the BJP

had submitted the lyrics of the song for permission

after which the state Chief Electoral Office

asked the party to submit a revised version.

Meanwhile, following the EC's order to remove

I may be arrested in a day

or two: Andhra CM

Visakhapatnam : Alleging that Prime

Minister Narendra Modi is harassing him,

Andhra Pradesh Chief Minister N.

Chandrababu Naidu on Friday voiced the

apprehension that he may be arrested.

"They may also arrest me tomorrow or day

after. Let them do. I will go to jail but I will

not be cowed," the Telugu Desdam Party

(TDP) chief told an election rally here on

Friday night.

Hours after income tax officials raided the

residence of his close aide

and Rajya Sabha member C.

M. Ramesh in Kadapa district,

Naidu alleged that

Modi was misusing central

agencies to target the TDP

leaders including the party

candidates.

Earlier, condemning the

series of raids on party leaders,

Naidu along with his

supporters staged a sit-in at

Ambedkar statue in

Vijayawada. He said Modi was isolating him

for raising his voice against the injustice

meted out to the state.

Addressing the rally at Visakhapatnam,

Naidu said Modi was insulting the democracy

by using Income Tax, Enforcement

Directorate, Central Bureau of Investigation,

Reserve Bank of India and now the Election

Commission against the opposition.

Naidu reacted strongly to the Election

Commission of India shunting out Chief

Secretary Anil Chandra Punetha. He said the

poll panel was acting at the behest of Modi.

"The Election Commission first transferred

a collector, then shunted out three IPS officials

including Director General. Today they

removed the Chief Secretary without giving

any reason. It can't act in whatever way it

likes. It should function in an impartial manner,"

he said.

Alleging that the transfers were aimed at

helping YSR Congress Party (YSRCP), Naidu

reiterated that Modi, Telangana Chief

Minister K. Chandrashekhar Rao and YSRCP

chief Y. S. Jaganmohan Reddy hatched a conspiracy

against TDP.

Naidu said the Election

Commission failed to act

on the complaints against

YSRCP that they misused

Form 7 to delete seven lakh

votes. "I have seen many

election commissions in

my 40-year-long political

career. There is a room for

manipulating EVMs and 22

parties demanded counting

of 50 percent slips in

VVPATs but the Election Commission said

this is not possible. The Commission which

failed to do this transferred CS, DG, SPs to

help YSRCP," he said.

Naidu was speaking hours after the

Election Commission shunted out Chief

Secretary Punetha for allegedly defying its

order to transfer three top police officials.

The poll panel has appointed L.V.

Subrahmanyam, an Indian Administrative

Service (IAS) officer of 1983 batch, as the

new Chief Secretary.

Elections to 175-member state Assembly

and all 25 Lok Sabha seats in the state are

scheduled on April 11.

some senior police officers in the state, Chief

Minister Mamata Banerjee on Saturday wrote to

the poll panel alleging that the decision was

"arbitrary, motivated and biased". The EC on

Friday removed Kolkata Police Commissioner

Anuj Sharma, his counterpart in the Bidhannagar

Commissionerate Gyanwant Singh and two

Superintendents of Police -- Shyam Singh of

Birbhum and P.S. Selvamurugan of Diamond

Harbour police district.

"The decision of the Commission is highly

arbitrary, motivated and biased. We have every

reason to believe that the decision of the

Commission is at the behest of the ruling party at

the Centre, i.e., the BJP," Banerjee said in the letter.

Asked about the Chief Minister's letter, Basu

said: "Yes, we have accepted the letter".

BJP 'whipping up

war hysteria', no F-16

downed: Imran

Islamabad : Pakistan Prime Minister

Imran Khan on Saturday accused India's ruling

Bharatiya

Janata Party (BJP)

of "whipping up

war hysteria" and

cited a US report

to dismiss its

claims of downing

an F-16 fighter of

the Pakistan Air

Force. "The truth

always prevails and is always the best policy.

BJP's attempt to win elections through whipping

up war hysteria and false claims of

downing a Pak F-16 has backfired with US

Defence officials also confirming that no F-

16 was missing from Pakistan's fleet," he said

in a tweet. The Indian Air Force (IAF) has

reiterated that it shot down a PAF F-16 on

February 27 as it thwarted a retaliatory

attempt from the neighbouring country after

hitting a Jaish-e-Mohammed terror camp in

Pakistan's Balakot the previous day.

The issue came back to the fore after

American magazine Foreign Policy reported

US officials as maintaining that a count of the

F-16s with Pakistan has found that none was

missing. The IAF said that its MiG 21 Bison

shot down a Pakistani F-16 aircraft in

Nowshera sector, but Pakistan has denied that

it had deployed F-16 fighter jets on February

27 and said it had used the JF-17 Thunder

combat aircraft.

The Indian Air Force had conducted the

Balakot strikes after the February 14

Pulwama terror attack in which 40 Central

Reserve Police Force personnel were killed in

Jammu and Kashmir.
---
www.theasianindependent.co.uk

ASIA

April 2019

5

World considers Modi a 'Feku',

says RAJ THACKERAY

Mumbai : In a stinging

attack, Maharashtra

Navnirman Sena President Raj

Thackeray on Saturday

alleged that Prime Minister

Narendra Modi is known as a

"Feku" (fibber) the world over

for his penchant of resorting to

lies.

He said that since the past

five years of the Bharatiya

Janata Party (BJP) rule, Modi

has been spreading "untruths"

on everything, whether it be

the IAF strikes or various government

policies and promises

like "Achhe Din", "Rs 15 lakh

for every Indian", "Vikas",

"employment", "demonetisation",

"Made in India", etc.

"Now, even the US government's

report has come out

rejecting India's stand on the

IAF strikes. Modi must reply

to that," Thackeray said at a

huge gathering at Shivaji Park

this evening on the occasion of

Maharashtra New Year, Gudi

Padva.

He also played an earlier

video of Modi in Jammu and

Kashmir and said that rather

than appreciating the jawans,

the PM had lodged cases

against the brave soldiers who

were engaged in fighting terrorists

and the Pakistani army,

braving great odds in those

cold altitudes.

Combining the rally to

drum up support of the

Opposition Congress-led

Mahagathbandhan in the

upcoming Lok Sabha elections,

Thackeray said that over

100 people died in queues during

demonetization and over

4.5 crore jobs have been lost

since then (November 8,

2016), besides huge industrial

losses all over the country.

However, he accused the

PM of "only speaking out lies"

and not replying to any of

these major burning issues of

public concern, nor showing

courage to address a single

press conference in his five

years' rule as "he is scared of

uncomfortable questions being

raised by the media".

"Instead, the BJP keeps

raising different political

cards, like the Hindu card, the

Ram temple in Ayodhya, cow

protection, politicizing the

Pulwama attacks and sacrifices

of our soldiers, exploiting

the IAF actions. But the

PM never discusses any of the

real problems concerning the

masses," Thackeray said.

He charged Modi with

changing names of all the

schemes/policies originally

launched by the previous

Congress government, and

claiming them to be (NDA-II)

government's achievements.

"It is only when the

Congress is defeated and the

opposition parties come to

power that we know the value

of (Congress). We are witnessing

this situation now. People

are absolutely fed up with the

BJP and the PM's lies,"

Thackeray rued.

He also slammed Modi and

BJP President Amit Shah of

sidelining senior party leaders

like L.K. Advani who built the

party from scratch and brought

it to the status of capturing

power, but was deprived of the

PM's post.

Thackeray contended that

the "nation is facing a crisis"

of Modi and Shah, and vowed

to work and ensure the crisis

can be overcome, for which he

will address around 8-10 rallies

in the coming weeks, averaging

to two for each of the

four-phased elections in

Maharashtra.

19mn Bangladesh

children at risk from

climate change

Dhaka : An estimated 19.4 million children in

Bangladesh, including half a million from the Rohingya

Muslim minority, are exposed to the most detrimental

and hazardous consequences of climate change, the

Unicef said on Friday. In a report released in Dhaka,

Geneva and New York, Unicef said more resources and

innovative programmes were urgently needed to avert

the danger that climate change posed to poor

Bangladeshi children, reports Efe news.

"Climate change is deepening the environmental

threat faced by families in Bangladesh's poorest communities,

leaving them unable to keep their children

properly housed, fed, healthy and educated," said

Unicef Executive Director Henrietta Fore, who visited

Bangladesh last month.

The results of the report, titled "A Gathering Storm:

Climate Change Clouds the Future of Children in

Bangladesh", were based on "existing available data"

and focus group discussions, Sakil Faizullah, a Unicef

spokesperson in Dhaka, told Efe. "We analysed the

data to see the impact of climate change on the children.

Our experts interacted with families in Dhaka,

Barisal, Cox's Bazar," he said. Unicef found that

Bangladesh's flat topography, dense population and

weak infrastructure make it uniquely vulnerable to the

powerful and unpredictable meteorological forces that

climate change is exacerbating. Unicef concluded that

a combination of extreme weather events, such as

flooding, storm surges, cyclones and droughts, and

longer-term phenomena directly related to climate

change, like rising sea levels and saltwater intrusion,

are pushing families further into poverty and displacement.

Around 12 million of the worst-affected children

live in and around rivers, which flow through

Bangladesh and regularly burst their banks.

Another 4.5 million, including almost half a million

Rohingya refugee children living in fragile bamboo

and plastic shelters, live in coastal areas that are regularly

struck by powerful cyclones.

Another three million children live further inland,

where farming communities suffer increasing periods

of drought. The report said that climate change is a key

factor pushing poorer Bangladeshis to abandon their

homes and communities as they try to rebuild lives

elsewhere.

Mamata to Modi: You're fascist,

don't preach patriotism

Dinhata (West Bengal) : West Bengal Chief

Minister Mamata Banerjee on Wednesday

called Prime Minister Narendra Modi a "fascist"

after he criticised her for questioning the

success of the IAF air strikes in Balakot.

"I will raise this question a thousand times?

We are nationalists, not fascists. We do not need

certificates of nationalism from anyone. We are

followers of Baba Saheb Ambedkar and Swami

Vivekananda. "Who murdered Mahatma

Gandhi? You are the ones who follow violence.

Today, you are preaching us love for the country

as if you are the only friends of India and the

rest of us are enemies. We are nationalists and

sorry to say PM, you are a fascist," Banerjee

said at a rally here in the Cooch Behar district.

Earlier in the day, the Prime Minister

attacked the Opposition's Grand Alliance saying

some Opposition leaders appeared more

hurt than Pakistan after the air strikes in

Balakot. Addressing a rally in north Bengal's

New Delhi : India on Thursday said

Pakistan has not responded to the clarifications

it has sought about facilities to pilgrims

for the Kartarpur corridor and has also not

addressed its concerns about appointment of

"controversial elements" to the committee

appointed by Pakistan to be associated with

the corridor. External Affairs Ministry

spokesperson Raveesh Kumar said India had

sought clarifications from Pakistan on a number

of issues, including the number of pilgrims

Siliguri, Modi said, "I gave a free hand to our

army. Do you agree with this decision? When

our forces killed the terrorists in Balakot, did

who can visit as also aspects such as the number

of pilgrims who can visit daily on visas.

"Those clarifications remain unaddressed by

Pakistan," he said. Kumar said India remains

committed to fulfilling the wishes of people

which flow out of a pending demand of Indian

pilgrims to visit the holy Gurdwara Kartarpur

Sahib using the corridor in safe, secure and

easy manner. He said India had also shared its

concerns on reports that controversial elements

have been appointed by Pakistan to a

you feel happy or not? Did your heads rise in

pride or not? But Didi didn't like it. Neither did

her allies. All these leaders cried so much after

the air strikes that they became heroes in

Pakistan."

Coming up with a sharp counter, Banerjee

questioned, "Don't you have shame, you do politics

in the name of jawans?" She accused the

Central government of not taking precautionary

measures despite intelligence input about a possible

terror attack in Pulwama.

Banerjee also attacked the BJP leaders for

referring to the army as "Modi Sena". "Today

they are calling the Indian army 'Modi Sena'.

Modi who only knows violence. But a jawan's

respect is very high because he sacrifices his

life for the country.

"The Election Commission rules state the

army cannot be used for poll campaign. How

are the BJP leaders talking about 'Modi Sena'?

We will raise this with the EC," she said.

Pakistan yet to address India's

concerns on Kartarpur: India

committee which was to be associated with

Kartarpur corridor. "We are yet to receive a

response from Pakistan," he said.

India had last week summoned Pakistan's

Deputy High Commissioner Syed Haider

Shah and conveyed its concerns over the presence

of Khalistani separatists in a committee

appointed by Pakistan on the Kartarpur

Corridor project. It had put on hold the second

round of Kartarpur Corridor talks scheduled

for April 2.
---
6 April 2019

ASIA

www.theasianindependent.co.uk

The original 'beti padhao' icon gets a

statue in Punjab, 122 yrs after death

Ludhiana: With education

and knowledge knowing no

boundaries, a government primary

school in village Sadda

Singh Wala of Mansa district

in Punjab has established a

mathematics park for students

in Savitribai Phule's memory

with her life-size statue

installed in it.

The inspiring story of

Savitribai Phule, who along

with her husband had opened

country's first school for girls

in 1848 at Bhide Wada in Pune

of Maharashtra under the

British Raj, has got a befitting

tribute at a place no one would

have really expected.

With education and knowledge

knowing no boundaries, a

government primary school in

village Sadda Singh Wala of

Mansa district in Punjab has

established a mathematics park

for students in her memory with

her life-size statue installed in it.

"Savitribai Phule Yaadgari

Park' (Savitri Bhai Phule

Memorial Park), reads the board

at the entrance and inside is a 5

feet 7 inches tall statue of Phule

installed in fiber. Clad in saree

tied in Maharashtrian style and a

plaque installed nearby narrating

her life story, not everyone in

Punjab might connect with the

personality at first glance. But

according to the school head

teacher Amolak Singh, that is

what the motive behind the initiative

is, to tell people living in

Punjab about the woman who

stood for girl education, Dalit

rights, widow remarriage and

fought against child marriages,

caste-ism and other issues.

The board near the statue

titled 'Why There Is A Need to

Remember Savitribai Phule?'

narrates her life in Punjabi language.

Born in 1831 and married

at age of just 10 to Jyotirao

Phule in Pune who was just 13,

PU withholds degrees of

2,000 SC/ST students

April 6. Nearly 2,000 students

belonging to SC/ST category await their

degrees, which have been withheld by

Panjab University (PU), because the

Punjab Government has not deposited

the requisite amount of post-matric

scholarship in the varsity account.

While Bir Devinder Singh, former

Deputy Speaker of Punjab Assembly,

expressed his anguish over the issue,

calling it a statutory obligation

of the state and

Central governments to

pay the scholarship

amount to SC/ST students

on time, PU Finance and

Development Officer

Vikram Nayyar said

despite repeated

reminders, the state government

did not reimburse

a sum of Rs 10 crore of the

said scholarship scheme to

the varsity for the past three-four years.

PU's Controller of Examination

Parvinder Singh said students from the

SC/ST category had been facing this

problem for the past two years and

though the varsity gave a 50 per cent

fee exemption to SC/ST students, as

per the PU Calendar rules, all other

education expenses, including tuition

and admission fee of these students,

were borne by the Ministry of Social

Justice and Empowerment under the

post-matric scholarship scheme of the

Central government.

He said, "Under the latest guidelines

of the scheme, the Centre gives a grant

to the state government, which is

directly credited to the account of

SC/ST students. For the past two years,

SC/ST students are being admitted to

colleges, but no scholarship money is

being given. In fact, the scholarship is

given only for admission and tuition

fee, not for the examination fee.

However, the PU Calendar has a provision

for 50 per cent exam fee exemption

for SC/ST students."

Bound by the procedure, the examination

branch needs to get a clearance

from the fees account irrespective of the

candidate being an SC or ST. "In case

there's a fee default, we still allow

ST/SC students to sit for exams, as they

are regular students, but how can we

recover the fees? We have every right

not to allow them to appear for exams,

but the PU takes a lenient

view. This matter was taken

up not only by Vice

Chancellor Prof Raj Kumar

but his predecessor Prof

Arun Kumar Grover too. It

is becoming a big problem

because the university

already lacks funds. We

will take up this matter in

the April 10 Syndicate

meeting," said Singh.

Nayyar said, "We have

been managing funds from here and

there. Despite repeated reminders, the

Punjab government has not reimbursed

Rs 10 crore spent by the varsity on SC/ST

students for the last three-four years."

Bir Devinder Singh said, "Chief

Minister Capt Amarinder Singh and the

minister concerned must apologise to

the students for the agony they suffered

because the state government has miserably

failed in paying the scholarship

money to the university. Even the PU

has no business to withhold the academic

degrees of the students which they

have earned through hard work. After

all it is a financial transaction between

the state government and the university.

Why are students being made scapegoats

for no fault of theirs? The PU

must immediately hand over degrees to

the students, notwithstanding the receipt

of the scholarship amount."

Despite repeated attempts, Punjab

Minister for Welfare of SCs and BCs

Sadhu Singh Dharamsot refused to

comment on the issue.

she continued her studies with

support of her husband and the

couple went on to open first

school for girls at Pune in 1848

where Savitribai worked as the

first teacher. She encouraged

introduction of maths and science

for girls at primary level. A

Dalit rights activist, poet and a

social reformer, her husband

encouraged her to become

teacher. At a time when British

ruled the country and hardly

encouraged education for

Indians and girls were not even

allowed to step out of homes,

Phule dared to open school for

girls and was the first teacher at

school that the couple ran.

When Phule would move out

of home to study and teach, people

would throw stones, mud at

her and pass taunts but she and

her husband were never discouraged.

They went on to open more

schools for girls. After her husband's

death, she continued his

mission. In 1897, during plague

break out in Pune, she opened a

clinic for poor and would bring

patients on her own, tendering

them with her own hands. She

herself contracted the disease

while serving the patients and

died on March 10, 1897.

"After independence, politicians

forgot her because her

teachings were dangerous for

them. Current governments can

never give equal rights to Dalits

and women. Neither can they

digest a woman leader rising

higher than men, nor can they can

provide education to all — then

how can Phule be their hero?"

reads the board near statue with a

conclusion that the best tribute to

her would be continuing her mission

to provide education to all.

Speaking to The Indian

Express, head teacher Amolak

Male : The ruling

Maldivian Democratic Party

(MDP) on Sunday celebrated

a historic victory as preliminary

results showed its candidates

securing a landslide victory

in the parliamentary polls

deemed crucial for the island

nation.

According to the preliminary

results from the

Elections Commission late

Saturday, the MDP won 62

out of the 87 seats in the

People's Majlis, reports Efe

news. The party secured seats

from all three major cities and

populous islands. It also took

major seats that previously

belonged to the opposition

Progressive Party of Maldives. In the

previous parliamentary elections held

in 2009 and 2014, the MDP was unable

to secure more than 26 seats. This is

the first time in the island nation's history

that a single party has secured

such a majority in parliament since the

advent of multi-party democracy following

the new constitution of 2008.

Saturday's voting was held without any

major complaints and the voter-turnout

was at around 78 per cent. Some

264,689 people were eligible to vote.

MDP supporters staged a victory

rally in the capital Male late Saturday

night where President Ibrahim

Mohamed Solih and former leader

Mohamed Nasheed addressed a jubilant

crowd. Nasheed, who also won a

seat, promised to deliver on his promises.

"Our biggest job is to ensure that

the government of our president continues

smoothly and peacefully," he

told hundreds of people.

Solih, who became President in

September as the candidate of a fourparty

coalition, reiterated his commitment

to the coalition."Today's decision

by the people is proof that you still

stand with the decision made on

September 23rd. You have decided

never to go back to corruption," he said.

The newly-elected parliament will give

legal authority to the presidential commissions

formed to investigate corruption,

abductions and murders, he said.

"Anyone with the intention to steal the

people's money cannot be a part of this

government," he said, stressing the role

of journalists in blowing the whistle

Singh said, "It is a tragedy that

people living in Northern states

are unaware about contribution of

this great woman because of

whom education became accessible

and a right for girls in our

country. The idea is to let people

know that there was a maha-naika

who stood for girls education."

The statue has been installed

for Rs 52,000 for which teachers

including those from other schools

in Mansa and community members

contributed. "The expenditure

on entire park has been Rs 1.70

lakh that too has been done without

any government funds. Statue

has been prepared by a Delhi

firm," says Singh.

Interestingly, the government

primary school Sadda Singh

Wala has 128 students of which

more than 70 are girls. It has

seven teachers of which three

women teachers are on contract

getting Rs 5,000 per month

salary only.

Maldives ruling party

celebrates landslide win

in parliamentary polls

over wrongdoings. Vice President

Faisal Naseem and Tourism Minister

Ali Waheed from the coalition partner

the Jumhooree Party (JP) also attended

Saturday night's celebration rally.

But JP leader Gasim Ibrahim earlier

formed an alliance with the opposition

for the parliamentary election and hinted

at leaving the coalition government

if the MDP won a majority.

Gasim has accused the MDP of

reneging on a coalition agreement for

the four parties to jointly contest the

parliamentary polls and accused

Nasheed of trying to become the prime

minister. The disagreement within the

coalition resulted in the JP forming an

alliance with the opposition Progressive

Party of Maldives and the People's

National Congress.
---
www.theasianindependent.co.uk

Memorandum to the Chief Election

Commissioner on violations of the

Election Code by political parties by

illegal and manipulative use of

Religion in the Election Campaign, and

defaming India's Defence forces

3 April 2019

To the Chief Election commissioner

And Members of the Election

Commission of India, New Delhi

Dear Sirs

The All India Peoples' Forum represents

a cross section of the people of

India, specially the urban and rural

poor, the farmers, the working class,

the youth, students and the marginalised

groups including Tribals, Dalits

and the Religious Minorities. In recent

years, we have brought to the attention

of governments and political parties

impacting on the daily life and future

of these sections of society. We have

held conventions and rallies across the

county in defence of Constitutional

values and the secular and plural ethos

of the country.

On the eve of the General

Elections, we have prepared a Peoples

Charter bringing the issues of the

common citizens to the notice of the

leadership of the political parties participating

in the polls.

We are closely monitoring the

progress of the General Elections

2019. We congratulate the Election

Commission for its management of

the largest exercise in the world by the

people electing a national government

through universal adult franchise in a

peaceful process. We appreciate your

efforts at ensuring that the electoral

process, specially the election campaign

by political parties and their

leaders follows the guidelines and

Election Code, and the voting will be

without fear and coercion.

We are therefore deeply disturbed

at the abuse and violation of the

Election Code by a Constitutional

ASIA

ALL INDIA PEOPLES FORUM

APIF contact address: U-90, Shakarpur, Delhi 110092

Authority, the Governor of a State of

the Union, and by the Prime Minister

of the country as also the Chief

Minister of Uttar Pradesh, among others,

right in the beginning if a longdrawn

campaign calendar.

A seven-judge constitution bench

of the Supreme Court headed by Chief

Justice T S Thakur on 2nd January

2017 ruled:"Seeking votes in the name

of religion, caste or community

amounted to corrupt practice and election

of a candidate who indulged in it

can be set aside."

https://t.co/puPmJBW0i

We list a very few of the instances

of violations of the Election Code for

your consideration and action. There

are more than one dozen instances in

few dates since campaigning began in

the First Phase.

1. We are happy the Commission has

found that the Governor of

Rajasthan, Mr. Kalyan Singh, was

in violation of the Code of Conduct

when he addressed a political meeting

in Uttar Pradesh, where he a

once chief minister, and called for

Mr. Narendrabhai Damodarbhai

Modi to be re-elected Prime minister

for a second term. Mr. Kalyan

Singh has issued no apology and the

President of India is so far silent.

2. Mr. Modi's election campaign

deserves the Election Commission's

close monitoring and scrutiny. We

are deeply disturbed at his direct

rousing of the Hindu population of

the country, the majority population,

and his barned references to

minority communities.

3. Just example will suffice. In UP in a

campaign he spoke a sentence

which has since then become his

template and has been used often by

the BJP's other

campaigners.According to the

Media, Mr. Modi makes it clear to

the voters he alone represents the

Hindus and can save them against

terrorism and international enemies.

4. One representative headline

says:Modi urges voters to punish

Congress for Hindu terror slur, targets

Rahul

https://www.businessstandard.com/article/elections/modi

-urges-voters-to-punish-congress-

for-hindu-terror-slur-targets-rahul-

119040100638_1.html

5. Mr. Modi has systematically

brought in the Indian Defence

Forces into his campaign rhetoric.

The photographs of defence forces

and martyrs as also the portrait of

the IAF pilot, Wing Commander

Abhinandan, who was shot down

by Pakistan and who later was repatriated,

were used in the BJP

leader's campaign materiel. Mr.

Modi has painted the Opposition

leaders and the civil society as antinational,

anti-patriotic, and surrogates

of Pakistan.

6. One of his major campaigners,

Uttar Pradesh Chef Minister Yogi

Adityanath has gone the limit and

reduced the brave Indian Army with

a distinguished history and a proud

heritage, to a feudal force commanded

by Mr. Modi. The newspaper

headlines say it:

Yogi Adityanath Calls Indian Army

'Modi ki Sena', Mamata Says

Soldiers Belong to All

https://www.news18.com/news/poli-

tics/yogi-adityanath-calls-indian-

army-modi-ki-sena-mamata-says-

soldiers-belong-to-all-

2084667.html

7. Addressing a rally in Ghaziabad,

Adityanath said, "Congress ke log

aatankvadiyon ko biryani khilate

the aur Modi ji ki sena aatankvadiyon

ko goli aur gola deti hai

(Congress fed terrorists biryani

while Modi's army feeds them bullets

and bombs)."

8. This a most dangerous trend and

does not augur good for the security

of the country. We, therefore,

urge the Election Commission to

examine each of these speeches

quoted here, and others, and to take

the strictest action under the law of

the land.

9. We would also urge the Election

Commission to examine the issue

of government departments conducting

test in space, as also other

developments which are not critical

to the day to day governance of the

country till a new government takes

office at the culmination of the

democratic electoral process now

underway.

10. This is specially so in space sciences

where ISRO, the space

agency, has held the national flag

high ever since it was established in

the hopeful and exciting years after

independence.

11. The All India People's Forum also

requests you to examine the abuse

and circumventing of existing rules

and regulations governing satellite

television channels, and the mushrooming

of channels such as NaMo

TV which are coming into our

April 2019

7

households even though we have

not subscribed to such channels.

This aggravates the existing situation

created by news channels who

one sided and often. Communal

coverage of news and events

already vitiated the political and

public environment.

12. Every Indian is justly proud of the

major space achievements of the

country. That we did all this often in

the face of US and western noncooperation

and hostility because

India was neutral in the Cold War,

and a part of NAM, makes it an

achievement specially something to

cherish as a tribute to Indian genius.

We rejoiced in the first launch on the

sands in Trivandrum.

We rejoiced when Sq. Leader Rakesh

Sharma became the first Indian cosmonaut.

We rejoiced when the Mangalyaan

reached Mars and scored several

Firsts despite western and Russian

dominance in this area. We are

looking to the day when the second

Indian will go to space on board an

Indian spacecraft.

We are proud of India in near self-sufficiency

in missile and payload technology.

India and its space and military scientists

have nothing more to prove to

anyone.

There is no use to display prowess in

space and missile technology.

That verges on a violation of the election

code.

We, with fellow citizens, await your

decisions, and your action.

With regards,

On behalf of the AIPF,

Vijay Pratap

Ambrish Rai

Prem Singh

Kiran Shaheen

John Dayal

Vidya Bhushan Rawat,

Manoj Singh, Delhi convener

BJP-RSS hegemony and the

Those who love India cannot

but feel for the Indian people

who have been badly

served by successive generation

of politicians since

Independence in 1947.

The current lot in power

under the aegis of BJP which

received 31% of the popular

vote in 2014 has shifted the

country to the extreme right

with its agenda of Hindu

Nationalism. This has proved

disastrous for the country in

particular for religious minorities.

BJPs populist election

promise to return black money

to the country from foreign

lands and making every person

rich to the tune of Rs 15 Lakh

(nearly £1500) has proven to

be a sham. During the 2014

election campaign with its

agenda of Acche Din (good

days) and development , the

masses were hoodwinked but

instead inequality between

rich and poor has widened to

unprecedented levels .

The recent military attack

on Pakistan following the

Pulwama terrorist attack has

proven to be shallow and a

deliberate attempt to distract

the nation into a side show

where no evidence has been

furnished or emerged so far of

the damage inflicted on

Pakistan as claimed by BJP

leadership. Instead Anti

Pakistan rhetoric and jingoism

has created a fear of psychosis

with an eye on the forthcoming

general election.

Firebrand, saffron and tilak

wearing, Hindutva ideologue,

the chief minister of Uttar

Pradesh, Yogi Adityanath has

proved to be a political disaster.

He recently referred to the

attack on Pakistan by Modi Ji's

s army as if the Indian army is

a personal property of Mr

Modi. This is a Freudian slip

that reveals the inner workings

of the hard core BJP ideologue

( and those who surround him)

including the Prime Minister.

Such comments betray the

trust reposed by the masses in

their politicians to act in a

responsible manner. The CM

should be declared a traitor

and dismissed for his reckless

comments .

Mr Advani a senior most

politician and one of the

founders of the BJP recently

criticised the current BJP leadership

for suppressing dissent.

He said the BJP, from its

conception has never regarded

those who disagree with us

politically as our enemies but

only as adversaries. He said in

our concept of Nationalism,

we have never regarded

those who we disagree with

Indian General Election 2019

politically as anti-national. He

said that essence of democracy

is respect for diversity and

freedom of expression. Mr

Modi and his supporters have

frequently painted the BJP

opponents as anti-national

often suggesting they are

working for Pakistan. On

Wednesday, at a rally, PM

Modi said that opposition

Congress party has 'hatched a

conspiracy to destabilise the

county ' that its election manifesto

was a document of

Pakistan conspiracies. I for

one do not endorse the

Congress Party as it is bereft of

leadership and whose current

leader Mr Rahul Gandhi

continues to behave like an

immature management trainee.

During BJPs tenure, the lurch

towards Hindu Nationalism

has undermined Secularism

and the Democratic fabric .

Under the guise of cow vigilantism,

love jihad, triple talaq,

the BJP has fuelled

Islamophobia and religious

intolerance. Dissent is dismissed

as anti-national.

The reach of the RSS has

deepened to such an extent that

it is difficult to reverse even if

the BJP does not do well.

According to a recent article

in the Economist (March

2nd - 8th 2019) the RSS has an

all male membership of 5m

and 60,000-odd Shakhas

(cells) . The hard core consist

of 6000 full time workers. Mr

Modi has inserted RSS men -

or like minded ones into every

part of Indian politics. The

RSS influence extends to university

deans, heads of

research institutes, members of

the boards of state owned

firms and banks (including the

central bank). It quotes Human

Rights Watch ( an NGO)

according to which violence

accompanied campaigns in

BJP-run states to apply stringent

laws against the slaughter

of cows. Between 2015 and

2018, some 44 people, 36 of

them Muslim, have been

beaten or hacked to death

by cow vigilantes. Mr Ram

Nath Kovind(President of

India), Venkaiah Naidu(Vice

President), Narendra Modi (

Prime Minister) , Sumitra

Mahajan (Speaker of lower

house - Lok Sabha) ; nearly

half of the Cabinet; 11/49

other ministers; 15/33 State

Governors and 8/31 state

Ministers are affiliates or have

links with the RSS.

Can a secular India

be re-built ?

Sat Pal Muman,

Caste Watch UK 6th

April 2019, London
---
8 April 2019

ASIA

www.theasianindependent.co.uk

Protest & Vigil for Democracy,

Human Rights & the Constitution

London : With India's general

election due to begin on 11 April, in

an atmosphere which causes deep

concern, Human Rights and Dalit

organisations in the UK , held a powerful

vigil and protest outside the

Indian High Commission as part of a

global day of action with a similar

protest taking place in New York and

in solidarity with the massive

People's Agenda 2019 event taking

place in Delhi today.

More than 50 people representing

the key organisations South Asia

Solidarity Group, CasteWatch UK,

SOAS India Society, Dr Ambedkar

Memorial Committee GB, Ambedkar

International Mission released a set

of demands (see attached in solidarity

with those being voiced in India by

those who are bravely standing up for

democracy, human rights and the

Constitution:

The demonstrators held pictures of

Mohamed Aqhlakh, Zafar, Gauri

Lankesh, Junaid Khan and Asifa and

placards saying 'Ambedkar Bhagat

Singh! Democracy will win!'

The shouted slogans such as

'Modi! Modi! Shame! Shame! No

more killings in our name!', 'Hands

Off Dr Teltumde! Hands Off Dr

Saibaba!' and 'Justice for Junaid!

Justice for Gauri Lankesh! Justice for

Asifa! Justice for Judge Loya!' They

expressed their deep concern that

lynchings of Muslims, Dalits and

Christians by RSS-led mobs, assassinations

of dissenters, rapes and escalating

violence against women and

girls, the arrests and incarceration of

human rights defenders and progressive

intellectuals have indeed turned

India into a republic of fear. They

noted that a media loyal to the government

whips up hate and hysteria

on a daily basis, while journalists

who speak out are persecuted and

even murdered. The independence of

the judiciary has been systematically

compromised and even judges are

not safe from assassination if they

dare to remain impartial.

They condemned the increasing

repression and daily human rights

violations in Kashmir, which is happening

as the military occupation is

intensified and extended, and warmongering

jingoistic rhetoric is used

cynically for electoral gain leading

the country to the brink of a devastating

war with Pakistan. They

expressed their concern that blatantly

anti-people and pro-corporate economic

policies coupled with shameless

corruption have led to massive

unemployment, corporate takeover

of land, indebtedness and an epidemic

of farmer suicides. Adivasi communities

are being displaced and facing

acute violence when they resist,

and forests destroyed on an

unprecendented scale; that basic economic

rights are being denied to the

vast majority of India's people. They

condemned the open calls from

prominent Hindutva figures to do

away with the Indian Constitution -

the cornerstone of the country's

democracy and civil liberties, written

by Dr B.R. Ambedkar after India's

independence and the fact that these

figures want to replace it with the

Manusmriti, an ancient Brahminical

legal text which is known for its

misogyny and its contempt for

oppressed castes.

On Mob Lynching and RSSsponsored

terror

Ensure justice for the victims and

survivors of lynch mobs, and that all

those who perpetrate and incite mob

lynchings, caste, communal and ethnic

massacres and rapes, and extrajudicial

killings are arrested and

prosecuted. Enact The Communal

Violence (Prevention, Control and

Rehabilitation of Victims) law; Enact

a law against discrimination, hate

crimes and atrocities against religious,

ethnic and racial minorities;

Scrap all 'cow protection' and 'anticonversion'

laws; Enact a law for

protection of inter-caste, inter-faith

and same-gotra couples; Set up a

Task Force specifically to counter

and dismantle communal and farright

terror groups; bring the perpetrators

of assassinations of dissenters

and journalists to justice

On Bhima Koregaon

Immediately arrest and prosecute

Milind Ekbote, Sambhaji Bhide and

others from the Hindutva groups

responsible for conspiracy, hate,

incitement and violence against

Dalits during the 200th anniversary

commemorations of Bhima

Koregaon on 1 January 2018; Close

FIRs and unconditionally withdraw

charges against all those who participated

in protests on 2 January 2018

against the violence against Dalits in

Bhima Koregaon, and all those

arrested in the witch hunt of Dalit

youth and children which followed.

Immediately release all human

rights activists, lawyers, academics

and artists arrested in connection

with the Bhima Koregaon incidents

and drop the fake charges against

them.

On Dr GN Saibaba

End the torture of disabled academic

and human rights activist Dr

GN Saibaba and immediately release

him.

Against Draconian Laws and

State Repression Scrap all draconian

laws including Sections124A (sedition),

499 (criminal defamation),

Unlawful Activities (Preventions)

Act (UAPA), National Security Act

(NSA), Armed

Forces (Special Powers) Act

(AFSPA) and free all prisoners

arrested under these and older draconian

laws like TADA; Set up a

Supreme Court monitored high-powered

tribunal to look into countrywide

cases of custodial torture and

killings; Enact police reforms to

ensure the police force is held

accountable to the Constitution and

FIR is registered in every encounter,

and every incident of custodial violence;

End militarisation of civilian

areas in Kashmir, Bastar and the

Northeast; End detention camps for

"suspected illegal immigrants" in all

states.

For Dalit and Adivasi People's

Rights

Implement the SC/ST (Prevention

of Atrocities) Act 2018, punish police

officials for failing to file

FIRs/record evidence; Increase funding,

and utilise all funds allocated for

scholarships and schemes for

members of SCs and STs; Enact

a law (Rohith Act) against caste discrimination

in educational institutions;

Approach the Supreme Court

to fast-track pending appeals

against acquittals in Dalit massacre

cases in Bihar and other states;

Enforce the Forest Rights Act,

accept all community and individual

claims; Release the thousands of

adivasi under-trial prisoners languishing

in jails on false charges,

especially in Jharkhand,

Chhattisgarh, Odisha, Andhra

Pradesh, Telangana.'
---
www.theasianindependent.co.uk ASIA April 2019 9

Those who want to demolish public

sector are claiming their achievements

The important message delivered by

Narendra Modi was nothing but an

attempt to redevelop the 'narrative' on

'nationalism' and 'national security' as

if nobody else is concerned about it.

#DRDO as well

as #ISRO are part

of a grand vision

which was build

by #Nehru who

the Sangh Parivar

are so proud of

abusing. I would

have loved to

hear Modi if

#Dassault had

done that. Today,

our defence

achievements are

the hard work of

our scientists in

DRDO as well as

in #HAL which

has been on the

radar of the international

defence lobby who wish to promote

the private sector.

India's achievements in Defence,

Petroleum and other sector is because of

these public sector units which we

abuse and which our current leaders

want to sale off. I had already mentioned

many times that #AirIndia still

remain one of the finest airlines. It was

one of the best airlines but today it is

being killed. They have done so with

#ONGC, #Railways,#BHEL,#BEL and

so many others by developing narratives

of their failure and hiding the loot of the

crony capitalists who actually thrived

on our money and patronage of the

state.

Will Mr Modi commit himself for the

By Vidya Bhushan Rawat

social and human rights activist

cause of strengthening our public sector

and throw away these cronies who have

no experience of work ?

Finally, I know Prime Minister of

India has huge responsibility, lots of

work in these poll seasons, this

announcement could have been made

by Director General of DRDO. He

deserve our praise and should have been

interviewed on the media and not the

politician who is habitual of taking

credit for everything.

Anyway, we were worried whether

he is going to show us some more proof

of #Balakot or some other initiative as

just a day before Pakistan Prime

Minister says

that things

have not yet

settled down

between

India and

Pakistan.

Hope good sense will prevail. Let us

discuss #RahulGandhi's Mimimum

Income Guranttee programme even

when people may critique it but let us

come back to our issues which we are

facing. National security issues be left

to Defence forces as the nation is solidly

behind them. We dont need politicians

who cant ask their state and communities

to join armed forces, to tell us

to stand with defence forces. We are

with them on all the national security

issues. Congratulations #DRDO but the

nation must return to questioning the

motives of these kind of 'special

announcement' during election season.

We must seek answers for farmer's suicide,

mob lynching, joblessness, student

unrest, cow crisis and other related

issues. We have a right to seek report

card of the government in five years and

you can not divert our attention through

these announcements.

Vidya Bhushan Rawat is a social

and human rights activist. He blogs

at www.manukhsi.blogspot.com

twitter @freetohumanity

Email: vbrawat@gmail.com

Ranveer Singh preps

with Kapil Dev for '83'

Dharamsala : Actor Ranveer

Singh is in the process of

"becoming the hurricane" under

the training of iconic

cricketer Kapil

Dev for the upcoming

film "'83", a

Bollywood entertainer

on India's

historical 1983

Cricket World Cup

win. On Saturday,

Ranveer tweeted a

photograph of himself

along with

Kapil in Dharamsala. Sporting

the Indian cricket team's blue

jersey, the two can be seen talking

to each other in the image.

The cricketer seems to be giving

some tips to the "Gully Boy"

actor. Ranveer captioned the

image: "Becoming the

Hurricane. Kapil Dev. Legend.

Journey begins... '83'." Presented

by Reliance Entertainment, "'83"

is being directed by Kabir Khan,

and will see Ranveer playing

Kapil. "'83" follows how,

under captain Kapil Dev, the

Indian cricket team defeated

West Indies in the final of the

World Cup in 1983. It tracks

the coming-of-age of not just

a cricketing team but of a

young nation in the eyes of

the world.

Apart from Ranveer, the

cast also includes Pankaj

Tripathi, Saqib Saleem and

Chirag Patil. The film's shoot

begins in May.

EC orders legal action against PRAKASH AMBEDKAR

New Delhi : The Election Commission (EC)

on Thursday said that it has asked the

Maharashtra Chief Electoral Officer to register a

case against Bharipa Bahujan Mahasangh

(BBM) chief Prakash Ambedkar for

threatening to "throw the EC into

jail" for banning any reference to the

Pulwama terror attack during the

Lok Sabha elections. Deputy

Election Commissioner Chandra

Bhushan Kumar told the media that

the poll panel has received a preliminary

report from the District

Magistrate of Yavatmal in

Maharashtra confirming that

Ambedkar had made those remarks during a

rally there. "This is an instance of clear-cut violation

of our instructions... In this particular

case, we have sought a detailed report from the

Chief Electoral Officer (CEO) in Maharashtra

that cases are being registered under appropriate

law against Prakash Ambedkar," Kumar said.

He said that as per the Indian Penal Code

(IPC), sections related to criminal intimidation

could be slapped in this case. "We will know the

exact details when the CEO submits a detailed

report to us," the Deputy Election

Commissioner added.

Ambedkar on Thursday threatened

that if voted to power, his party would

"throw the Election Commission into

jail" for banning any reference to the

Pulwama suicide attack during the

elections.

"The armed forces are being sacrificed

and the EC says we cannot speak

about the Pulwama attack. But we

shall speak about it because the

Constitution grants us this freedom," Ambedkar,

the grandson of the architect of Indian

Constitution B.R. Ambedkar, told an election

rally. "The EC has become a puppet in the hands

of the Bharatiya Janata Party (BJP).

If our government comes to power, we shall

not rest till we throw the EC into jail for at least

two days," he said.

Gathbandhan ahead in UP, NDA gains in Bihar: Survey

New Delhi : The SP-BSP-

RLD gathbandhan (alliance) is

likely to get a large chunk of Lok

Sabha seats at the cost of the BJP

in the coming Lok Sabha elections,

but the BJP-led National

Democratic Alliance (NDA) is

far ahead of the RJD-led alliance

in Bihar, a survey has shown. As

per the ABP-Nielsen survey

released on Thursday, the gathbandhan

of Samajwadi Party

(SP), Bahujan Samaj Party

(BSP) and Rashtriya Lok Dal

(RLD) is set to get 42 out of 80

Lok Sabha seats in Uttar Pradesh

while the Bharatiya Janata Party

(BJP) and its ally Apna Dal (AD)

are likely to get 36 seats.

The Congress, which is out of

the gathbandhan and fighting it

alone in Uttar Pradesh, is likely

to get just two seats. In the 2014

general elections, the BJP-AD

had won 73 seats, SP got 5 while

2 seats were won by the

Congress. However, in terms of

vote percentage, the BJP-AD is

one notch above the gathbandhan

with 43 per cent of votes.

The Congress is likely to slightly

improve its percentage of

votes from 7.8 per cent in 2014

to 9 per cent in the present elections,

the survey showed.

The opinion poll found that

voters in Uttar Pradesh found the

performance of Prime Minister

Narendra Modi as "good".

However, his rating was "average"

among the Muslim respondents.

The performance of the

NDA government has also been

rated as "good" with a mean

score of 3.73. Corruption and

unemployment are the top two

important issues in the state.

Maintaining law and order

emerged as the top reason to vote

for a party in Uttar Pradesh. The

Congress seems to be preferred

for communal harmony, price

control, welfare schemes and job

reservation for backwards classes,

said the survey which covered

over 20,000 respondents

between March 16 and March

24. In Bihar, the NDA consisting

of BJP, Janata Dal United (JD-U)

and Lok Janashakti Party (LJP)

is likely to win 34 out of 40 Lok

Sabha seats with 52 per cent of

votes. The gathbandhan comprising

Rashtriya Janata Dal

(RJD), Congress, Rashtriya Lok

Samta Party (RLSP) and

Communist Party of India-

Marxist Leninist (CPI-ML) is

projected to get just six seats

with 35 per cent of votes. In the

survey of 10,000 respondents

done between March 17 and

March 26, the performance of

Prime Minister Modi has been

rated as "good". The scores are

higher among men and urban

respondents. The performance of

the NDA government has also

been rated as "good" with a

mean score of 3.92. The score is

higher among urban respondents.

The performance of the

Nitish Kumar-led state government

has also been rated as

"above average". Corruption and

unemployment are the top two

important issues facing the people.

The top problems are more

pronounced among women and

rural respondents. The opinion is

divided on Shatrughan Sinha

with 38 per cent of the respondents

saying he has done the

right thing by leaving the BJP

and joing the Congress, while 39

per cent think differently.
---
10 April 2019

ASIA

www.theasianindependent.co.uk

Searching a right candidate – KP Sasi

The debates on the forthcoming elections

have already started. Activists and

people's movements who have been contributing

actively without the representations

in Parliament have started discussing

on strategies. The usual debates

are on. All these debates have been repetitions

of the debates we have heard for

decades. Some will decide to opt out.

Some will decide to back those political

forces which can effectively form an

alternative to BJP Governance, while

these opposition political parties are still

negotiating and fighting for their presence

in power among themselves. Some

would say, `vote for the eligible candidates'.

And others will follow the `mainstream

opinion within the alternative'.

We have seen that enough in history. It

is also a matter of irony that this

Parliament Election in 2019 has become

so crucial for many discourses and discussions

at a time when Parliament itself

has become more or less a rubber stamp.

New Delhi : Before the Lok

Sabha elections, a number of

politicians switched parties hoping

better prospects. IANS compiles

a list of the prominent leaders

who switched allegiance in

the run-up to the elections.

New faces in Bharatiya

Janata Party (BJP)

Baijayant 'Jay' Panda: On

March 4, former Biju Janata Dal

MP Baijayant 'Jay' Panda jumped

ship to the saffron party, stating

that only the BJP could save

Odisha. Tom Vadakkan: In a jolt

to the Congress, senior leader

and Kerala Congress spokesperson

Tom Vadakkan crossed over

to the BJP on March 14.

Vadakkan had said that he was

upset with Congress' stand on the

Pulwama terror attack.

Arjun Singh: Four-time

Trinamool Congress MLA Arjun

Singh on March 14 switched

sides to the BJP. He was reportedly

not happy after being

denied a Lok Sabha ticket from

Barrackpore.

Jaya Prada: Once a star candidate

of the Samajwadi Party,

actor-turned-politician Jaya

Prada on March 26 joined the

BJP stating that she was happy to

work with "brave leader" Prime

Minister Narendra Modi.

Chandraprakash Mishra:

Impressed with the BJP's performance

in the last five years,

The data of the number

of millionaires and

billionaires as sitting

members in the Indian

Parliament are available.

The corruption

details are heavily

debated within the

mainstream press

itself. And it is an open

reality that most of the

MPs that we elect do

not even read and

reflect crucial Bills

that affect the lives of

the majority of people

in this country, before

they decide to `vote

for' or `vote against'.

Many of them are also

`sleeping members'.

The influence of the investment of

money in these campaigns to determine

the success or loss of a candidate has also

Party hoppers

before Lok

SABHA POLLS

senior Bahujan Samaj Party

(BSP) leader Chandraprakash

Mishra, who contested against

Congress President Rahul

Gandhi in Amethi in 2004,

joined the BJP on March 20.

Freshers in Congress

Kirti Azad: Former cricketer

and BJP MP Kirti Azad severed

his 26-year-long association

with the saffron party and joined

the Congress on February 19,

after claiming that he saw the

"real faces" of the BJP leaders in

the last few years.

Savitri Bai Phule: Sitting

BJP MP from Bahraich, Savitri

Bai Phule on March 2 joined the

Congress, accusing the saffron

party of being anti-Dalit.

Rakesh Sachan: Unhappy

with the party, prominent

Samajwadi Party (SP) leader and

former MP Rakesh Sachan

joined the Congress on March 2.

Sukh Ram: Former Union

Telecom Minister Sukh Ram,

along with his grandson Aashray

Sharma, joined the Congress on

March 25 after the saffron party

denied Sharma a Lok Sabha ticket

from Mandi.

Shatrughan Sinha: Actorturned-politician

Shatrughan

Sinha on April 6 officially joined

the Congress, bidding farewell

to the BJP with which he has

shared an acrimonious relationship

for years.

transformed drastically

in recent times.

Therefore, the crisis is

to find eligible candidates

who worked for

the people and articulate

the concerns of

the people, if we have

to protect this important

institution of

democracy. In this situation,

there are some

candidates also fighting

without the backing

of money power

and with the intention

of raising important

issues they have been

representing for

decades as activists. In

Bangalore North,

Cynthia Stephen has decided to contest.

She is not an unknown face for the

activists in Bangalore. I have seen her

presence in many protests and public programmes

and seminars for a long time.

She has been consistently raising the

issues of Dalits, Women, Religious

Minorities, Child Rights, Rights of the

Physically Challenged and other issues of

the marginalised as well as various developmental

issues. Her contributions in

research, writings, advocacy, activism are

known to the activists in Bangalore.

In this context, it is too appropriate

that the activists in Bangalore support

their own candidate whole hearted and

work for her success. I do not see this

from a perspective of `winnability', but

as a matter of `principle'.

When decisions are based on

`winnability' and not on `principles' then

I can assure you that there will be no

transformation in the structure of Indian

Parliament. And if people dare to vote on

`principles' and work for this candidate,

she may win also. My best wishes to

Cynthia Stephen.

Never saw political opponents

as anti-national : Advani

New Delhi : In an implicit

criticism of Prime Minister

Narendra Modi and BJP

President Amit Shah, party veteran

L.K. Advani on Thursday

said the BJP never regarded the

political opponents as "enemies"

but only viewed them as

"adversaries". In a blog post

written exactly after five years,

the Bharatiya Janata Party

(BJP) patriarch also said that in

the conception of Indian

nationalism, the party never

regarded those who disagree

politically as "anti-national".

He said the guiding principle

of his life has been "Nation

First, Party Next, Self Last",

and in all situations, he has

tried to adhere to this principle

and will continue to do so.

"The essence of Indian democracy

is respect for diversity and

freedom of expression. Right

from its inception, the BJP has

never regarded those who disagree

with us politically as our

'enemies', but only as our

adversaries. "Similarly, in our

conception of Indian nationalism,

we have never regarded

those who disagree with us

politically as 'anti-national',"

he said.

In a prompt reaction, Prime

Minister Narendra Modi said

that the party's founder member

has perfectly summed up

the true essence of the BJP.

"Advani ji perfectly sums

up the true essence of BJP,

most notably the guiding

mantra of 'Nation First, Party

Next, Self Last'. Proud to be a

BJP karyakarta (worker) and

proud that greats like L.K.

Advani ji have strengthened

it," Modi said in a tweet.

Advani, one of the founders

of the Bharatiya Jana Sangh

and later the BJP, said that elections

are a festival of democracy

and "also an occasion for

honest introspection by all the

stakeholders in Indian democracy".

"The party has been

committed to freedom of

choice of every citizen at personal

as well as political level."

Defence of democracy and

democratic traditions, both

within the party and in the larger

national setting, he said, has

been the proud hallmark of the

BJP. "Therefore, BJP has

always been in the forefront of

demanding protection of independence,

integrity, fairness

and robustness of all our democratic

institutions, including

the media. Electoral reforms,

with special focus on transparency

in political and electoral

funding, which is so

essential for a corruption-free

polity, has been another priority

for our party," he said.

"In short, the triad of Satya

(truth), Rashtra Nishtha (dedication

to nation) and Loktantra

(democracy, within and outside

the party) guided the strugglefilled

evolution of my party,"

he added.

His blog comes ahead of the

BJP's foundation day on April

6 and amid the campaigning

for the Lok Sabha polls.

"This is an important occasion

for all of us in the BJP to

look back, look ahead and look

within. As one of the founders

of the BJP, I deem it to be my

duty to share my reflections

with the people of India and

more specifically with the millions

of workers of my party,

both of whom have indebted

me with their affection and

respect," he said.

The former Deputy Prime

Minister said serving the motherland

has been his passion and

mission ever since he joined

the Rashtriya Swayamsevak

Sangh (RSS) at the age of 14.

Indian Sweets

& Catering

We Cater For All Occasions;

Weddings, Birthdays,

Engagements Parties or any

other Social Functions.

Big Discounts on

Bulk Orders

Quality Service and

Years of Experience

71 Great Bridge,

Tipton, DY4 7HF

Tel. 0121 238 2648

Mob: 07413 426 930

Mail: vivek_18hp@yahoo.com

715-C Parkfield Road

Wolverhampton, WV4 6EE

Tel. 1902 681 655

TM

Sky Digital Channel 0205

24 hour Entertainment

On Sky, On-Line, On Mobiles

Studio : 01902 457875

Reception : 01902 450533
---
www.theasianindependent.co.uk

ASIA

April 2019

11

Air India saves time, fuel as

Pakistan opens some airspace

New Delhi : With Pakistan

opening its airspace partially

from Thursday, national passenger

carrier Air India has started

on time and fuel for its US and

Europe-bound flights, said an

airline official on Saturday.

The national carrier re-routed

some of its flights which had to

take a longer flight path over

Mumbai to reach the US and

Europe. "We are saving 15 minutes

on our US and Europebound

flights since Pakistan

opened some of its airspace from

last Thursday," a senior Air India

official told IANS.

Pakistan had closed its airspace

since the Indian Air Force

(IAF) strikes in Balakot on

February 26. The move has

adversely affected international

flights to and from India, with

Air India being a major victim.

Flights from across the world

have either been cancelled or rerouted

since the closure was

announced on February 27.

Pakistan partially opened its airspace,

only for the flights bound

for the country.

Air India, which operates 33

weekly services to the US and 66

to Europe, has curtailed operations

due to the airspace closure.

It has clubbed together several

US and Europe-bound flights.

Flights to the US and Europe

are now diverted over Mumbai

and then northwards over the

Arabian Sea through the United

Arab Emirates (UAE) airspace.

The new technical stops on the

route are Sharjah in the UAE and

Vienna in Austria. The Delhi-

Washington flight has a stopover

at Mumbai.

The flights from the US have

been taking a longer route,

which has extended their duration

on the already long-haul

journeys. The AI Mumbai-New

York-Mumbai flight, launched in

December 2018, has been combined

with the Mumbai-Newark-

Mumbai flight for March 16-31

duration, the airline tweeted on

March 14. Another newlylaunched

flight, between Delhi

and Najaf in southern Iraq, has

been cancelled, as are the Delhi-

Madrid-Delhi, Delhi-

Birmingham-Delhi and Delhi-

Amritsar-Birmingham and

Birmingham-Amritsar-Delhi

flights.

Indian-origin actors

creating waves on

Country groaning

under undeclared

Emergency:

MAYAWATI

Lucknow : Bahujan Samaj

Party (BSP) leader Mayawati

on Friday hit out at Prime

Minister Narendra Modi, saying

the people of India were

suffering under his government's

"undeclared

Emergency".

"During Indira Gandhi's

regime, India faced

Emergency. But under the

Modi government's undeclared

political Emergency as

well as economic Emergency

of demonetization, the country's

130 crore people are suffering

and want to get rid of

it," Mayawati tweeted.

Event Management & Wedding Planners

Travel & Accommodations

AMERICAN SHOWS

New Delhi : From Kunal

Nayyar to Lilly Singh and

Mindy Kaling, many actors of

Indian origin are creating waves

on American television shows.

Here are some of them:

* Kunal Nayyar: He rose to

fame as Rajesh Ramayan

Koothrappali or Raj on the show

"The Big Bang Theory". Kunal,

a British-born Indian actor, was

also seen in shows like "Prison

Break" and "The Mindy

Project".

* Kal Penn: The "Harold &

Kumar" actor is known for portraying

Dr. Lawrence Kutner on

the television programme

"House". In 2016, he began

playing Seth Wright in the political

drama "Designated

Survivor" and later served as

host of the game show

"Superhuman".

* Hasan Minhaj: The

Indian-American comedian

found global fame when he gave

words to his story through the

stage production turned comedy

special "Homecoming King".

After doing some gigs, Hasan

got his big break when he

became a part of "The Daily

Show". Hasan recently received

a backlash from netizens over

his stint on Netflix show "Patriot

Act with Hasan Minhaj" in

which he took a dig at Prime

Minister Narendra Modi.

* Lilly Singh: Lilly Singh,

Canadian born with Indian roots,

is popular across the globe as

Superwoman. She rose to fame

with her YouTube channel. In

2017, she was ranked 10th on the

Forbes list of the world's highest

paid YouTube stars. On the small

screen, Lilly will be hosting a

new late night talk show for

NBC titled "A Little Late with

Lilly Singh".

* Mindy Kaling: An Indo-

American actress, comedian,

writer and producer, Mindy

played Kelly Kapoor in "The

Office" sitcom from 2005 to

2013. Recognition for her work

on "The Office" include a

Primetime Emmy Award nomination

for Outstanding Writing

in a Comedy Series in 2010. She

gained wider attention for creating,

writing, producing and starring

in "The Mindy Project"

comedy series.

* Aziz Ansari: The Indian-

American actor is known for his

role as Tom Haverford on the

series "Parks and Recreation",

and as creator and star of the

Netflix series "Master of None".

Ansari began his career performing

stand-up comedy in New

York City in the mid-2000s

while attending New York

University. In 2007, he created

and starred in the MTV sketch

comedy show "Human Giant",

which ran for two seasons.

* Padma Lakshmi: Born in

Chennai, Padma Lakshmi has

been the host of the US cooking

competition programme "Top

Chef" since season two in 2006,

for which she received an Emmy

nomination in 2009 for

Outstanding Reality Host.

* Sendhil Ramamurthy:

Born to Tamil parents, Sendhil is

best known for his role as geneticist

Mohinder Suresh in the scifi

drama "Heroes". He has also

been a part of shows like "Grey's

Anatomy", "Numb3rs", "CSI:

Miami", "Beauty & the Beast",

"Family Guy" and "New

Amsterdam".

* Punam Patel: The actress

is set as a series regular opposite

Kenan Thompson and Andy

Garcia in single-camera comedy

pilot "The Kenan Show". She

will reportedly play Erica,

Kenan's loyal friend and coworker.

Enjoy Holidays in India & Across the Globe with ONTIME

Inbound & Outbound Tailor Made Tours

Ontime Luxurious Apartment

Rent-a-car Service Across India

Visa & Air Tickets | Travel Insurance

ONTIME HOSPITALITY SERVICE (Mumbai, India)

+91-22-26848985/66952866/26837175

+91-9833120569

info@ontimetravel.net, chetna@ontimetravel.net

www.ontimetravel.net | www.ontimeapartments.com

On kanshi TV

channel 864.

SATURDAY at

6 :00 pm

SUNDAY at

6 :00 pm

Ambedkarites News and Views

by

BUDDHIST INTERNATIONAL MEDIA

Mob : 07411 251 804, 07847 307 059
---
12 April 2019

BUSINESS

www.theasianindependent.co.uk

Polls, earnings to decide

INDICES MOVES

Tea exports down 7% in

volume during Jan-Feb

Mumbai : Commencement of general election and the

upcoming quarterly results season will be major factors that are

expected to decide the trajectory of key equity indices next week.

According to market observers, the release of macro-economic

data points on industrial production and retail inflation, combined

with the direction of foreign fund flows and crude oil

prices, will also impact investors' risk-taking appetite.

"In the next few weeks markets will await results of general

elections before making a bigger move on frontline indices but

mid and small-cap stocks could continue their up move," said

Sahil Kapoor, Chief Market Strategist-Research, Edelweiss

Wealth Management. "RBI's interest rate cut and measures to

boost liquidity should help mid and small-cap stocks in furthering

the current rally." Besides the polling for General Elections,

Q4 earnings result season will kick off from next week. IT major

Tata Consultancy Services (TCS) is expected to come out with

its Q4 result on April 12. Apart from the Q4 results, investors

will look out for the upcoming macro-economic data points such

as the IIP (Index of Industrial Production) and CPI (Consumer

Price Index). "Going ahead, investors focus will be on Q4 results

season starting next week. IIP and CPI inflation are other key

data points... Consensus expect IIP to decelerate while inflation

to soften further," said Vinod Nair, Head of Research at Geojit

Financial Services. In terms of currency, the rupee on a weekly

basis weakened to 69.22-23 per greenback.

"The rupee was volatile this week and swayed between 68.37

to 69.30 and closed at 69.22," said Sajal Gupta, Head Forex and

Rates, Edelweiss Securities.

"Crude closed above $70 per barrel levels which can cause

some more depreciation in the rupee... Expect rupee to trade

between 69 to 70.20 levels." On a weekly basis, provisional figures

from the stock exchanges showed that foreign institutional

investors bought scrip worth Rs 973.38 crore. "In recent times,

domestic market is outperforming global markets on account of

improved liquidity from FIIs and DIIs due to dovish global central

policies and expectation of political stability," Nair said.

"We expect this positive momentum to continue supported by

higher inflows from FIIs and reduction in cost of equity, being

the fastest and largest growing economy in the world. However,

the global factors which can impact negatively on this expectation

are; economy falls to a recession than a slowdown, delay in

US-China deal, structural issue in EU and post effect of BREX-

IT." As per technical charts, the underlying trend of the National

Stock Exchange's (NSE) Nifty50 remains bullish. "Technically

with the Nifty continuing to rally higher and remaining in a firm

uptrend, the index could attempt to target the current life highs of

11,680 points on a weekly closing basis," said Deepak Jasani,

Head of Retail Research for HDFC Securities.

Kolkata : India's tea exports decreased

by nearly 7 per cent to 41.60 million kg

during January and February in 2019 from

44.72 million kg exported during the same

period of last year, according to data from

Tea Board India.

Provisional data from the Board, however,

showed tea export, in value terms,

during the first two months of the current

calendar year was up by about 9 per cent to

Rs 934.08 crore as against Rs 858.47 crore

in the year-ago period.

Exports to neighbouring Pakistan and

China fell marginally while the shipments

to Germany, the UK and CIS countries

were down in volume terms. Tea exports to

neighbouring Pakistan stood at 2.35 million

kg in the period, down marginally

from 2.68 million kg exported in the corresponding

months of 2018.

The crop exports to China during the

period were also down at 1.49 million kg as

against 1.52 million kg in the same period

last year. The board data also said tea shipments

to CIS countries, including Russia,

Ukraine, Kazakhstan and others, were at

9.20 million kg in the January-February

period of 2019, down from 11.36 million

kgs exported in the same period of last

year. Exports to the UK at 1.16 million kg

were down in the period under review, as

against 1.85 million kgs shipped out in the

year-ago period while exports at 1.61 million

kg to Germany during the period were

also down from 1.85 million kg exported in

the corresponding months of 2018. Tea

exports to Iran, however, went up sharply

to 11.37 million kg in the period from 5.13

million kgs in the year-ago period.

Small cities order food big as Zomato goes global

New Delhi : Do you know that Indore

requests more midnight deliveries than

Mumbai or 70 per cent of online food

delivery platform Zomato's regular users

in Kolhapur had never tried food delivery

in their life -- even over a phone call?

While Ooty has registered the highest

average transaction value, Manipal has

the highest delivery frequencies among

all cities on Zomato, according to the

company's short-form annual report.

In Alwar, someone requested 292

deliveries from 48 different restaurants

while in Jaipur, a delivery worth Rs 1.84

lakh was made in 415 boxes. In

Guwahati, a Zomato delivery was done by

crossing the Brahmaputra river on a boat!

Gurgaon-based Zomato, which registered

a three-fold jump in revenue at $206

million for the financial year 2018-2019

(with a loss of $294 million), is witnessing

people increasingly going online to

book tables not just in India but globally.

"Our reservations service is now

offered in eight countries across over

16,000 restaurants. Over 1 million diners

in India are reserving tables on Zomato

every month," said Deepinder Goyal,

Founder and CEO, Zomato.

According to him, unit economics of

the food delivery business have come a

long way.

"We now lose Rs 25 per delivery, compared

to Rs 44 per delivery in March

2018. Our last mile cost per delivery is

now Rs 65, compared to Rs 86 in March

last year. The number of deliveries per

rider per hour has gone up to 1.4 from 0.9

last year," Goyal informed. Zomato Gold

-- that provides benefits uniquely

designed for users who see great value in

frequently dining out -- has partnered

with over 10,000 restaurants globally to

offer either 1+1 on food or 2+2 on beverages.

"As on March 31, we have over 1 million

active subscribers of Zomato Gold

globally compared to 170k active users,"

Goyal said.

Zomato Gold in also available in four

cities outside India -- Jakarta, Manila,

Auckland and Beirut.

Currently active in seven cities,

food@work by Zomato serves 125,000

meals a day, partners with 300 caterers

and serves 70 companies. "We have also

partnered with Tier-1 caterers like Elior

and Voila to the cash-and-carry segment

providing better compliance and food

safety," said the Zomato founder.

Guaido says he'll host world leaders in Venezuela

Caracas : Self-proclaimed

interim president Juan Guaido,

here on Saturday, announced an

upcoming gathering of world

leaders in Venezuela to address

what the opposition calls a

humanitarian emergency in the

oil-rich nation.

"We will have a great global

encounter here in Venezuela of

leaders to talk about the situation

in Venezuela, about the

humanitarian emergency, about

the solution and the alternatives

for change in Venezuela," he

told thousands of supporters in

Caracas.

The speaker of the opposition-controlled

National

Assembly provided no details

about the date of the encounter

and did not name the participants,

but his press team said

that more information would be

provided in the coming days,

Efe reported.

The rally Guaido addressed

in the capital was one of more

than 350 planned demonstrations

across Venezuela to

denounce the leftist government

of President Nicolas

Maduro for a series of nationwide

power blackouts, including

one that lasted five days.

Guaido, recognised as interim

president by the US and

more than 50 other countries,

urged public employees to

come to the National Assembly

on Monday to activate the next

phase in "Operation Freedom,"

the name he gives to the effort

to oust Maduro, whose May

2018 re-election the opposition

and its foreign allies deem illegitimate.

"Everyone into the streets

for the definitive phase of the

end of the usurpation," Guaido

said.

The assembly speaker said

that police used tear gas to

break up an opposition protest

in the western state of Zulia and

briefly detained two lawmakers.

As Guaido spoke in eastern

Caracas, thousands of government

supporters marched to the

presidential palace, on the other

side of the capital, to listen to a

speech by Maduro.

The president expanded on

his government's previous

claims that the power failures

plaguing Venezuela in recent

months were the result of sabotage

orchestrated by

Washington.

"We have discovered new

sources of attack, from Chile,

Colombia, cyber-attacks supported

by the government of

the US have been carried out to

damage the electrical system of

Venezuela," Maduro said.

A massive power failure on

March 7 kept virtually the

whole country in the dark for

five days until the government

managed to regain control of

the situation and restore electric

service.

The government said at the

time that sabotage at the Guri

hydroelectric complex, which

supplies 70 percent of

Venezuela's electricity, was to

blame for the blackout.

The opposition, however,

blamed the Maduro government

for failures in the system,

saying that the government's

poor management of the grid

was the real cause of the outage.

China, Russia and India

are among the dozens of countries

that continue to support

Maduro.
---
www.theasianindependent.co.uk

WASHINGTON : Eating habits of

white individuals disproportionately

affect the environment as their foods

require more water and release more

greenhouse gases during production, a

study claims.

The study, published in the Journal

of Industrial Ecology, takes an in-depth

look at what different demographic

populations eat, how much greenhouse

gas those foods are responsible for, and

how much land and water they require.

The study was undertaken to get a

better understanding of the environmental

impacts of the food consumption

patterns of major demographic

groups so that environmental policies

designed to reduce negative impacts of

food production could be drafted that

take these differences into account.

"The food pipeline—which includes

its production, distribution and waste—

contributes significantly to climate

change through the production of greenhouse

gases and requires significant

amounts of water and land, which also

has environmental effects," said Joe

Bozeman, a student in the University of

Illinois at Chicago in the US.

"If we are to draft policies related to

food, they can't be one-size-fits-all policies

because different populations have

different eating patterns which have

their own unique impacts on the environment,"

said Bozeman.

Researchers analysed data on per

capita food consumption estimates for

more than 500 types of food, and environmental

impact of these foods.

Foods considered 'environmentally

intense,' include those that require more

water, land and energy and produce

more greenhouse gases than other

foods. Apples, potatoes, beef and milk

HEALTH

are among the most environmentally

intense foods.

Researchers found that white individuals

produced an average of 680

kilogrammes of the greenhouse gas carbon

dioxide each year that can be

directly linked to what they ate and

drank, while Latinx individuals produced

640 kilogrammes of carbon dioxide

and blacks produced 600 kilogrammes

of carbon dioxide each year.

"While the difference may not be

enormous, these numbers are per individual,

and when you add up all those

April 2019

White people's diet most harmful for environment: Study

New wearable

device grabs cancer

13

individuals, it's very clear that whites

are responsible for the majority of

greenhouse gases emitted as a result of

their food choices," Bozeman said.

The researchers also found that the

food habits of white people require

about seven per cent more water at

328,000 litres per year than Latinx individuals.

Black's eating habits depend on

about 12 per cent more land than other

populations, which Bozeman said is

driven in part by their higher consumption

of chicken and apples, which are

high land-use food items. "Whites tend

to drink more water and milk. Milk

itself requires a lot of water to produce

when you consider livestock cultivation,

so that is part of what we think is

pushing their water impacts higher," he

said. Policies that attempt to reduce

resource dependence or greenhouse

gases need to also take into account

individual nutrients, said Bozeman.

"If you are going to draft policies

that may reduce the amount of landintensive

oranges, we need to think

about other less resource-intensive

sources of vitamin C," said Bozeman.

"It gets more complex as you look

closely at the food pipeline and how

different populations engage with it, but

we are now starting to get a better

understanding on these complex

dynamics in such a way that we can

begin to rationally take steps to

improve environmental quality," he

added.

Smoking in pregnancy

raises infant's obesity risk

NEW YORK : Children whose mothers smoked during their

pregnancy are at increased risk of being obese later in life, say

researchers. The findings published in the journal Experimental

Physiology, showed that chemerin a protein that is produced by fat

cells and appears to play a role in energy storage, was more prevalent

in the skin and isolated cells of infants whose mothers smoked during

pregnancy.

Previous research had shown that chemerin is present in higher

levels in the blood of obese people.

The new results suggest that smoking in pregnancy could lead to

changes in the regulation of the genes that play an important role in

fat cell development and, by extension, obesity.

"It has been consistently shown that mothers who smoke during

pregnancy confer increased risk of obesity to their baby, but the

mechanisms responsible for this increased risk are not well understood,"

said Kevin Pearson from the University of Kentucky in the

US. "Our work demonstrated that expectant mothers who smoke cigarettes

during pregnancy induce distinct changes in chemerin gene

expression in their offspring," Pearson said.

For the study, the researchers recruited a total of 65 new mothers.

All of the infants were full-term and approximately half of all new

mothers reported smoking during their pregnancies.

The current and future results could provide a springboard for the

development of effective treatments against pediatric and adult obesity

in babies born to smokers as well as those exposed to other in

utero environmental exposures, the team noted.

cells from BLOOD

New York : A team of US engineers

have developed a prototype wearable

device that can continuously collect live

cancer cells directly from a patient's

blood in an advance that could help

patients avoid biopsy as well as get treatment

for cancer more effectively.

Most cancer cells cannot survive in

the bloodstream, but those that do are

why we're doing this," said Daniel F.

Hayes, Professor at the University of

Michigan.

The wearable device contains a cellgrabbing

chip, which in animal tests

trapped 3.5 times as many cancer cells

per millilitre of blood as it did running

samples collected by blood draw, according

to the paper published in the journal

more likely to

N a t u r e

start a new

Communications.

tumour.

Typically, it is

The chip uses

nanomaterial

these satellite

tumours, called

metastases,

which are deadly,

rather than

the original

tumour. They

can release more

than 1,000 cancer

cells into the

bloodstream in a

single minute.

This means

cancer cells captured

from blood

could provide

better information

for planning

treatments than those from a conventional

biopsy, the researchers explained.

"Nobody wants to have a biopsy. If

we could get enough cancer cells from

the blood, we could use them to learn

about the tumour biology and direct care

for the patients. That's the excitement of

graphene oxide to

create dense

forests of antibody-tipped

molecular chains,

enabling it to trap

more than 80 per

cent of the cancer

cells in the blood

that flows across

it.

It can also be

used to grow the

captured cancer

cells, producing

larger samples

for further analysis.

The team estimates the device could

begin human trials in three to five years.

It would be used to help optimise treatments

for human cancers by enabling

doctors to see if the cancer cells are making

the molecules that serve as targets for

many newer cancer drugs.

McDowell's

water banned

in J&K after

e-Coli found

New Delhi : Jammu and Kashmir's Food

Commissioner has banned the sale and supply of

McDowell's packaged drinking water in the state

after the detection of E. coli bacteria in it.

An official statement by the Commissioner

described McDowell's No.1 Platinum Packaged

Drinking Water as "unsafe". "The public in general

and the stakeholders in particular are informed

through the medium of this notice to discontinue use

or stop sale of above food products," said the notice

dated March 29. The Food Safety and Standards

Authority of India (FSSAI), however, will not go for

any action against McDowell's packaged water at the

national level as the issue was found in only a particular

batch, its CEO Pawan Kumar Agarwal said.

"It doesn't require action at the national level.

They found E.coli in one particular lot or batch and

they have issued an alert. It's about a particular batch,

not about an overall brand," Agarwal told IANS.

"The batch may have been processed in a unit in

J&K... that they have not been able to confirm to me.

If the particular unit where the batch was processed is

located in that particular state, it would be advisable

for them to visit that and see the hygiene practices in

that unit." The FSSAI chief also said that the state

Food Commissioner has also given liberty to the

company to get their products tested at a FSSAI notified

lab and "it is for the company to that".
---
14 April 2019

HEALTH

www.theasianindependent.co.uk

Blood test can help diagnose pre-eclampsia: Study

Does IVF raise

cancer risk in

CHILDREN?

New York : While pregnancies

enabled by in vitro fertilisation

(IVF) have faced more difficulties,

with children born earlier

and smaller, according to a

new study, they may also raise

risk of cancer in babies.

IVF is associated with birth

defects and imprinting disorders.

Because these conditions

are associated with an increased

risk of childhood cancer, many

of which originate in utero,

descriptions of cancers among

children conceived via IVF are

imperative, said researchers

from the University of

Minnesota in the US.

The study, published in

JAMA Pediatrics journal, found

that the overall cancer rate

among IVF children was about

17 per cent higher than non-IVF

children. In addition, the rate of

liver tumours was over 2.5

times higher among IVF children

than naturally conceived

children.

However, there was no difference

in the rates of other cancers

between the two groups.

"The most important takeaway

from our research is that most

childhood cancers are not more

frequent in children conceived

by IVF," said Logan Spector,

Professor at the University of

Minnesota in the US.

"There may be an increased

risk of one class of cancers in

children. However, due to the

nature of our study, we could

not distinguish between IVF

itself versus the parents' underlying

infertility," he said. The

study consisted of 275,686 IVF

children and 2,266,847 naturally

conceived children.

While the study found a link

between IVF and childhood

cancer, it's important to note

that this does not suggest IVF

causes cancer, the Mirror.co.uk

reported "An association

between IVF and cancer is

found but it is impossible to say

what the cause is," Jane Stewart,

Chair of the British Fertility

Society, was quoted as saying.

"We still need to know

whether it is the treatment itself

or the underlying infertility that

accounts for this difference.

"There are also lifestyle and

other factors that could contribute

to cancers in this group,

which are not explored in the

paper," Stewart said.

Follow this wellness

guide to quit

smoking, drinking

New Delhi : Most lifestyle advice tells

you to give that glass of wine or cigarette

a miss. Serving as a reminder, a new book

on healthy living reiterates the advice we

know too well, topped off with practical

tips that finally help you say 'No.

"Live Well

To 101", a

wellness guide

by doctor and

television presenter

Dawn

Harper, lists

useful tips to

quit smoking:

* Cigarettes don't contain just nicotine

but a range of toxic, carcinogenic chemicals

you wouldn't want near your body.

Next time you reach for a cigarette that

looks quite appealing, imagine yourself

licking tarmac, chewing on rubber cement

or drinking a cocktail of battery acid,

lighter fuel and nail varnish remover.

* If you get the opportunity to talk to a

smoker who has developed diseases as

a result of smoking, knowing their stories

might help put off your habit.

* To quit, go public! Telling everyone will

keep you motivated. Also put aside

cigarette money for something special,

like a personal reward or charity.

* It's easier never to start than it is to quit.

Spread the message.

For alcohol, Dr Harper says:

* Don't wait for warning signs. They may

not come. Be

honest with

yourself about

your consumption

and start

putting in dry

days in your

diary.

* Recognise

your triggers and work on them. For

instance, if you reach for the bottle

when your kids are asleep, find ways

to keep yourself occupied and not be

tempted.

* Offer to drive when you go out -- it gives

you the perfect excuse to not drink.

* Understand your alcohol intake. Beers

and wines have become stronger over

the years so you may be taking in more

units than you should, as well as more

calories. The 280-page book is published

by Hachette India and is priced

at Rs 399.

LONDON : A simple blood test can

help diagnose a common but potentially

fatal pregnancy complication—preeclampsia,

finds a study published in

The Lancet journal. During the study,

by measuring the concentration of placental

growth factor (PlGF) in a

woman's blood, doctors were able to

diagnose pre-eclampsia two days sooner

on average. "We knew monitoring

PlGF was an accurate way to help detect

the condition but were unsure whether

making this tool available to clinicians

would lead to better care for women.

Now we know that it does," said lead

author Lucy Chappell from King's

College London.

Pre-eclampsia, a condition in pregnancy

characterised by high blood pressure,

sometimes with fluid retention and

proteinuria, can cause damage to vital

organs, fits and can be fatal for the

woman and baby, if left untreated.

Globally, 100 women die due to preeclampsia

every day. "For the last hundred

years, we have diagnosed preeclampsia

by measuring blood pressure

and checking for protein in a woman's

urine. These are relatively imprecise

and often quite subjective," Chappell

noted. For the study, the research team

studied 1,035 women with suspected

pre-eclampsia from 11 maternity units

across the UK. They were randomly

assigned to two groups—one had their

PlGF test results made available to their

clinical team, the other did not.

The PlGF testing was shown to

reduce the average time to diagnose preeclampsia

from four to two days and

serious complications before birth (such

as eclampsia, stroke, and maternal

death) to four per cent from five per

cent. There was no change in the likelihood

of complications for the baby, the

age at which babies were delivered prematurely

or whether they were admitted

to a neonatal unit, the researchers said.

45 million

Indians suffer

from heart

AILMENTS

Chandigarh : Of the estimated 1.30 billion

population of India, around 45 million suffer

from heart ailments, which gives the country

an odd distinction of having the highest number

of cardiovascular disease cases in the

world, according to a renowned cardiologist.

Warning that India may turn into the world

capital of coronary artery diseases, H.K. Bali

said incidence of heart disease has increased

among the younger generation.

"Poor lifestyle choices have resulted in an

increase in the number of young Indians suffering

from coronary artery disease. If this

continued the future was at severe risk, he said

on Monday.

Till a decade ago, doctors hardly came

across young patients with heart problems.

"Now, we get many cases where people in the

25-35 years age group are diagnosed with

heart disease," said Bali, chairman of Paras

Superspecialty Hospital in Panchkula near

here.

In India, heart diseases related deaths have

risen by 34 per cent in last 26 years, while the

death due to cardiovascular diseases in the US

has declined 41 per cent during the same period.

According to him, the warning signs of

congenital heart disease in infants may include

a heart murmur or abnormal heart sound,

cyanosis, fast breathing and poor weight gain,

an inability to do activities and excessive

sweating.
---
www.theasianindependent.co.uk

Roaming recycling

bin introduced in

Shanghai Disney

Shanghai : A roaming

recycling bin has been introduced

in Shanghai Disney

Resort to encourage its guests

to learn more about recycling

methods amid the city's effort

to promote household garbage

sorting and recycling.

The walking and talking

recycling bin named Xiao Tui,

will travel the pathways of

Shanghai Disneyland throughout

April, welcoming guests

and spreading helpful environmental

messages, Xinhua

news agency reported.

As well as chatting with

guests, Xiao Tui will also help

promote the benefits of recycling

and sorting, encouraging

everyone to take action by

emphasizing how small

changes can have a positive

effect on the environment

around them, according to the

resort.

"Environmental care and

protection have been a key

part of Shanghai Disney

Resort since day one, and

throughout April we are excited

to be able to share our

commitment and daily environmental

practices with our

guests," said Joe Schott,

President and General

Manager of Shanghai Disney

Resort. Shanghai will enact a

set of regulations on household

garbage sorting and

recycling from July 1.

Individuals and organizations

will be asked to shoulder

responsibilities to classify

garbage according to the

waste categories of recyclable,

hazardous, wet, and dry,

the report said.

The city will also introduce

more environmentally-friendly

packing materials and promote

economical packaging

standards against over-packaging.

London : Scientists have developed

and tested an artificial intelligence

(AI)-based computer system to predict

the risk of early death due to chronic

diseases in a large middle-aged population.

The system of computer-based

'machine learning' algorithms was

very accurate in its predictions and

performed better than the current standard

approach to prediction developed

by human experts, according to the

study published in the journal PLOS

ONE.

Researchers at the University of

Nottingham in the UK used health

data from over half a million people

aged between 40 and 69 recruited to

the UK Biobank between 2006 and

2010 and followed up until 2016.

"Most applications focus on a single

disease area but predicting death

due to several different disease outcomes

is highly complex, especially

given environmental and individual

factors that may affect them," said

Stephen Weng, Assistant Professor at

the University of Nottingham.

"We have taken a major step forward

in this field by developing a

HEALTH

'Menstrual cycle influences

sleep quality in women'

WASHINGTON : Young

women are more likely to experience

sleep disruption in the

days leading up to their menstrual

period, a study has found.

"Sleep is more disrupted in

the several days directly prior

to menses in young healthy

women," said Anne E Kim, a

medical student at Case

Western Reserve University in

the US. "Increased sleep disruption

was found in the late

luteal phase, which corresponds

with the days directly

prior to menses," said Kim.

Menstrual phase affected

sleep efficiency, wake after

sleep onset (WASO), number

of awakenings per night, and

sleep fragmentation index, in

keeping with increased sleep

disruption in the late luteal

phase. Compared with the early

follicular phase, sleep efficiency

decreased by 3.3 per cent,

WASO increased by 15 minutes,

and number of awakenings

per night increased by

three in the late luteal phase.

Researchers collected daily

sleep data from 10 healthy

women between the ages of 18

and 28 who had regular menstrual

cycles. The researchers

tracked the women's sleep during

two of their cycles.

The women wore actigraphic

sensors on their wrist to

record patterns of activity and

rest over 578 sleep episodes

New Delhi : All liquor bottles

will need to carry cautionary

messages such as "Drinking is

injurious to health" and "Don't

Drink and Drive" on their labels

from April 1, the Food Safety

and Standards Authority of India

(FSSAI) said on Monday.

The food regulator has issued

directives making mandatory

for alcoholic beverage bottles of

up to 200 ml to carry the

and they provided morning

urine samples for measurement

of concentrations of luteinizing

hormone (LH), estrone-3-glucuronide

(E1G), and pregnanediol-3-glucuronide

(PDG).

All participants ovulated in

both cycles. The women also

completed five-day diets during

the early follicular phases of

each cycle. The diet during one

cycle contained neutral energy

availability, and the diet during

the other cycle contained 55 per

cent fewer calories.

Menstrual cycle lengths

were standardized to 14-day

follicular and 14-day luteal

phases, centered on the day of

ovulation. "Short-term caloric

restriction had negative effects

on sleep in both the late follicular

phase, just before ovulation,

and in the late luteal phase, just

before the onset of menses,"

said Kim, who performed this

study. Decreased energy availability

increased sleep disruption,

with less sleep efficiency,

greater WASO, and higher

sleep fragmentation index in

the late follicular phase in addition

to the effects noted above

in the late luteal phase.

It is likely these effects are

mediated by the dynamic

changes in ovarian hormones

across the menstrual cycle.

Their study found that E1G

was linked with more awakenings,

and PDG was linked with

a trend toward higher sleep

fragmentation index.

The study validates perceptions

using objective measures,

and further documents the negative

impact of dieting on

sleep."These findings suggest

that women need to be particularly

cognizant of practicing

good sleep hygiene in the week

before menses and with

decreased caloric intake," Kim

noted.

labelled warning message with

capital letters no less than 1.5

mm high while the bottles larger

than 200 ml should have letters

at least 3 mm tall. It also

said warning messages should

unique and holistic approach to predicting

a person's risk of premature

death by machine-learning," Weng

April 2019 15

Childhood abuse

worsens depression

later: LANCET

London : Facing trauma in childhood can significantly

change the structure of the brain, which may result in severe

depression which could even be recurrent in adulthood, say

researchers. The results from MRI scan images suggest that both

childhood maltreatment and recurring depression are associated

with similar reductions in the surface area of the insular cortex,

part of the brain that regulates emotion and self-awareness.

This reduction in the brain could make a future relapse more

likely, said the study, published in The Lancet Psychiatry journal,

which found childhood maltreatment one of the strongest

risk factors for major depression in adulthood.

"Given the impact of the insular cortex on brain functions

such as emotional awareness, it's possible that the changes we

saw make patients less responsive to conventional treatments,"

said lead researcher Nils Opel from the University of Munster in

Germany. The study included 110 patients aged 18 to 60 years.

Of the 75 patients who experienced a relapse, 48 had experienced

one additional episode, seven reported two episodes, and

six experienced three episodes.

Fourteen had a remission period of less than two months and

could therefore be regarded as having chronic depression. The

findings are to develop or improve risk-adapted interventions for

people susceptible to a worse long-term clinical outcome. Future

psychiatric research should therefore explore how the findings

could be translated into special attention, care and treatment that

could improve patient outcomes, the study noted.

Warning message on liquor bottles from April 1

be printed in English and one or

more local languages as prescribed

by the state governments.

A time period of six

months is allowed for use of old

unused labels and printed cans.

'Artificial intelligence may predict premature death risk'

said in a statement.

"This uses computers to build new

risk prediction models that take into

Also, alcoholic beverages manufactured

before April 1, 2019

can be sold in the market till

March 31 next year or finalisation

of the parameter for yeast

in beer, whichever is later.

account a wide range of demographic,

biometric, clinical and lifestyle factors

for each individual assessed, even

their dietary consumption of fruit,

vegetables and meat per day," he said.

The AI machine learning models

used in the new study are known as

'random forest' and 'deep learning'.

These were pitched against the traditionally-used

'Cox regression' prediction

model based on age and gender

-- found to be the least accurate at predicting

mortality -- and also a multivariate

Cox model, which worked better

but tended to over-predict risk.

"There is currently intense interest

in the potential to use 'AI' or 'machinelearning'

to better predict health outcomes,"

said Professor Joe Kai, one of

the clinical academics working on the

project.

"In some situations we may find it

helps, in others it may not. In this particular

case, we have shown that with

careful tuning, these algorithms can

usefully improve prediction," Kai

said.
---
16 April 2019

ENTERTAINMENT

www.theasianindependent.co.uk

Diljit unveils his wax figure at Madame Tussauds Delhi

New Delhi, Actor-singer Diljit

Dosanjh on Thursday unveiled his

Madame Tussauds' wax figure.

A die-hard fan of reality TV star

Kylie Jenner, Diljit wants her wax

figure too, should find a spot in the

iconic Regal Building at Connaught

Place here.

The "Udta Punjab" star has said in

the past, he wanted to visit Madame

Tussauds in London, but could not.

"There was a long line. I was in London

for a day so couldn't find the time. I

tried again but the attempts were not

successful. "Then I thought," he said, "I

will go in like this only." And now the

singer's wax replica has indeed entered

the museum.

He acted pleasantly surprised by the

Mumbai, Actress Huma

Qureshi on Friday completed

shooting for her upcoming web

series 'Leila'. After wrapping

up her last schedule, Huma

penned a hearfelt post on

Instagram, saying she is "grateful

for the opportunity to play

such a beautiful character" in

the show.

Based on a book by Prayaag

Akbar, 'Leila' is set in the near

future and follows the journey

of Shalini (Huma), a mother in

Huma Qureshi wraps up 'Leila'

search of her daughter Leila

whom she lost one summer.

The six-episode series is

directed by Deepa Mehta,

Shanker Raman and Pawan

Kumar, and produced by Priya

Sreedharan and Wasim Khan.

She also expressed her love

towards the show's cast and

crew. Thanking the team, she

wrote: "With my two producers

Priya Sreedharan and Wasim

Khan who have given this project

everything and for being the

last ones standing (literally)..

This has been a hard and long

journey but I am grateful for

the opportunity to play such a

beautiful character.

"Thank you Deepa Mehta

for unlocking me. Your direction,

your kindness, your

friendship, your faith has

impacted my life more than you

can imagine. Thank you

Shanker Raman for being our

rock and always giving me 'a

safe place' and support in the

hardest times."

Huma also thanked her costar

Siddharth "for being the

talented cartoon that you are – a

friend for life."

"Thank you to the whole

team, my crew, my assistant

directors, each and every

department who all have

worked so hard and still are

working tirelessly behind the

scenes," she added, along with

a couple of photographs from

the show' s shoot.

The trailer of 'Leila' will

release soon, while the show

itself will go live on Netflix on

June 14.

IPRS distributes royalty

of over Rs 20 crore

Mumbai-based Indian Performing Right Society Limited (IPRS) on Thursday distributed royalty

of more than Rs 20 crore to composers, song writers and publishers.

The IPRS is a representative body of owners of music — the composers, lyricists, authors and

the publishers of music. Veteran lyricist and chairman of IPRS Javed Akhtar distributed the

money to its member authors, composers and publishers, read a statement. The IPRS also distributed

royalties to music composers and legends like Pandit Shiv Kumar Sharma and

Pandit Hariprasad Chaurasia, both of whom were instrumental in the amendment of

the Copyright Act along with Akhtar in 2012.

Akhtar said: "I am very glad that IPRS is beginning to benefit our classical music

artistes who epitomise our great music tradition. IPRS revenues have seen a

significant increase in the year ended March 31, 2019, which is a result of the

expanded rights mandate vested with IPRS and importantly its democratic

constitution which allows all stakeholder non-discriminatory treatment,

equal representation and a voice in the administration of IPRS.

"The revamped IPRS is now benefiting its author, composer and

publisher members economically. This royalty distribution event

is a very optimistic sign that IPRS, which comprises of its

author and composer members and music label colleagues, are

all committed in their effort to ensure that IPRS as a representative

body of all stakeholders acts in a non-discriminatory

and transparent manner both in the interests of all

stakeholders as well as that of potential licensees."

Mumbai, If "Bobby Jasoos"

actress Vidya Balan had to turn

a spy, she says she would love

to investigate megastar

Amitabh Bachchan.

On her radio show "Dhun

Badal Ke Toh Dekho", Vidya

opened up about her habit of

decoding people in real life.

Vidya was in conversation

with a radio jockey, who asked

her who would she want to spy

on in real life.

The "Bobby Jasoos" actress

named her "Paa" co-star Big B

and said the late Sridevi would

have been an ideal subject, read

a statement.

"While I have never faced

the need to spy on someone,

but I would love to know

everything about everyone

since I love decoding people.

There is this 'keeda (urge)' in

me… I love getting to know

people.

"It has to be Amitabh

Bachchan, as his thoughts or

his feelings are never given

away by his expressions. He

has this straight face and that's

quite intriguing to decode. Of

course, he is absolutely different

when he faces the camera."

Regarding Sridevi, Vidya

said: "There's another person I

would have loved to investigate,

but she is no more and

that is the legendary Srideviji. I

strong resemblance between him and

his wax figure, which sports black and

red casuals with a huge neck piece and

a black turban.

It is the first turbaned figure in

Madame Tussauds Delhi.

"Forget about having a wax figure

here, I had almost given up hope of even

entering Madame Tussauds," said the

artiste, who took a selfie with the figure.

Asked which actress' statue he would

like to have here, he laughed and said:

"Kylie Jenner."

Diljit, who turned up at the event all

suited up, has often expressed his "love"

for the reality TV star on social media.

His fans, mostly Sikhs, gathered outside

the Regal building to get a glimpse

of him. One of them said: "It's an honour

for all the Sikhs to have his wax figure

here as he is the first Sikh celebrity

to get a wax statue at Madame Tussauds

(Delhi)."

Diljit wasn't seen interacting with his

fans though, but he had a message.

"First of all, there is no need to be

like me. I am just doing my job. I am

working for myself and family. Keep

working hard, you will get what you

want," he said.

The artiste has joined a host of

national and international celebrities

including Virat Kohli, David Beckham

and Sachin Tendulkar at the museum.

The Sikh singer-actor has found popularity

in Indian showbiz with his versatile

roles in films like "Udta Punjab",

"Phillauri" and "Soorma".

VIDYA BALAN WOULD

LOVE TO SPY ON BIG B

am a huge Sridevi fan, and I

feel ecstatic to have paid her a

tribute with her iconic song

'Hawa Hawai' while she was

amongst us.

"While she couldn't see the

film, she did attend the screening

and I am just glad I could

do that." Vidya's radio show

airs on 92.7 BIG FM.

'Padosan' in IMDb's top 100

Indian films, Saira happy

Mumbai, The 1968 film "Padosan" has entered the top 100

Indian Movie List of IMDb. Veteran actress Saira Banu says the

movie was offered to her early

in her career and she is glad that

she could stand up to the "formidable"

talent of her co-stars.

"I'm truly happy to learn that

'Padosan' figures in the count of

top 100 films of India on

IMDb," Saira said in a statement.

She co-starred in the film

with Sunil Dutt, Kishore Kumar

and Mehmood.

Directed by Jyoti Swaroop,

the comedy film is about a simple

man from a village who falls

in love with his fashionable and

very urban neighbour. He enlists

the help of his musical-theatre friends to woo the girl-next-door

away from her music teacher who always seems to be around

her. It is a remake of the Bengali film "Pasher Bari".

"'Padosan' came to me in the early stages of my career when

I was myself a carefree, extremely happy and lively young

woman full of the joie de vivre that comes when one's dreams

come true. Much of the vibrancy you can see in the character of

Bindu is a reflection of my real personality at that time.
---
www.theasianindependent.co.uk

ENTERTAINMENT

April 2019

17

I like Sunil Grover a lot: Kapil Sharma

Mumbai : Comedian-actor Kapil

Sharma, who had a widely talked

about public spat with his former colleague

Sunil Grover, says he likes him

a lot.

On Arbaaz Khan's chat show

"Pinch", Kapil opened up about the

spat with Sunil. It grabbed headlines

back in 2017.

He said: "I like Sunil a lot...There

was just a misunderstanding between

us. Someone asked my that why I am

not taking him in show and in a fit of

rage I wrote on Twitter that I was ready

to take him, it's he who doesn't want to

come back on the show.

"I have learned a lot from that incident.

If we have a misunderstanding,

we should not share it on social media.

If you are mad at somebody, just pick

up the phone and message. Also this

new trend of wishing birthday on

Twitter is strange. If you don't do it,

Hema Malini performs in

new role as farm woman

Mathura : Actor and

BJP MP Hema Malini,

who is seeking re-election

to the Lok Sabha,

joined farmers and tried

her hand at cutting the

wheat crop in this region

in Uttar Pradesh, inviting

scorn from the opposition.

She even picked up a

bundle of wheat crop and

carried it some distance,

much to the amusement

of villagers, in

Govardhan area here.

Opposition leaders called

her action "nautanki".

Hema Malini later told the

media that she wanted to be one

with farmers and identify with

their problems and aspirations.

"When I was going to the villages,

I saw golden coloured

'Difficult to do sequels'

Jacqueline Fernandez, who will

soon start working on Salman Khanstarrer

Kick 2, says doing sequels is not

easy, as they come with huge responsibilities

and expectations to live up to.

Jacqueline, who made her debut back

in 2009 with Aladin, rose to fame with

the 2014 film Kick in which she played

Salman's love interest.

"Kick 2 is being scripted. Moving

into any sequel is not easy. I have done

Race, Housefull and have been part of

Judwaa 2. It is difficult to do and there

is pressure. Sajid Nadiadwala wants to

make Kick 2 bigger and better. He is

working hard on the writing,"

Jacqueline said. Jacqueline's next

release is Drive with Sushant Singh

Rajput. The film produced by Karan

Johar will arrive in theatres in June this

year. There are rumours that Jacqueline

will be seen in the sequel of Chashme

Baddoor and is also likely to star

alongside Akshay Kumar in Rohit

Shetty's next, Sooryavanshi.

The 33-year-old actress, however,

refrained from commenting about the

two projects.

wheat ready to

be harvested… I

tried my hand.

Women in the

fields welcomed

me warmly. We

visited 10 villages,"

she said.

"I have also

done a lot of

work in Braj

area. People

will vote for

me," she said.

Against

Hema Malini,

the Congress

has fielded newcomer

Mahesh Pathak while the

SP-BSP alliance has given ticket

to Kunwar Narendra Singh.

Mumbai : Actor Irrfan Khan, who had been

keeping a low profile and maintaining a distance

from the media

by hiding his

face behind a

mask, finally

faced the shutterbugs

on

Tuesday as he

was spotted outside

the airport

here.

Irrfan was

spotted at

Mumbai airport

in the early

hours of

Tuesday. The

lower half of his

face was first

covered with a black mask, but he later removed it

Kareena to star opposite

Irrfan in 'Hindi Medium 2'

Mumbai, Actress Kareena Kapoor Khan has

joined actor Irrfan Khan in the sequel to "Hindi

Medium". A source close to the actress told IANS:

"She is playing the lead role in the film and might

turn into cop mode for it."

It is also reported that the film's shoot will take

place in London. Saket Chaudhary directorial

"Hindi Medium" which released in 2017, starred

Irrfan and Pakistani actress Saba Qamar in pivotal

roles. The film was based on India's education system.

The sequel will be Irrfan's first project after he

was diagnosed with Neuroendocrine Tumour in

March last year.

Apart from "Hindi Medium 2", Kareena will next

be seen in "Takht" and "Good News".

people think they do not get along

well," added the actor, who turned a

year older on Tuesday.

Kapil also cleared the air about the

buzz that he threw a shoe at Sunil.

"There were reports that Kapil

threw a shoe at Sunil and he has problem

with the team eating food before

him... Do you think I am such kind of

a person who will fight for this reason?

"I never accepted such a thing and

not even Sunil mentioned about it anywhere...

Then who is writing such articles?"

Kapil asked

Later, when Arbaaz asked Kapil if

he had a chance to block, follow and

unfollow on Twitter amongst Sunil, Ali

Asgar and Upassna Singh, Kapil

quickly said that he wants to follow

Sunil as he wants to find out "what is

he doing these days".

He said he would block Ali and

unfollow Upassna.

Irrfan Khan uncovers face,

looks in pink of health

for the paparazzi. The "Piku" actor, who returned

to India earlier this year after getting treated for

neuroendocrine

tumour at London,

looked in the pink of

health in a pink t-

shirt which he

teamed up with a floral

print shirt and

denim jeans.

"Irrfan was leaving

for Rajasthan for personal

work," a source

in the know told

IANS. There has been

a buzz that Irrfan will

soon start shooting

for the sequel to his

2017 film "Hindi

Medium", opposite

Kareena Kapoor Khan in London.

Not contesting elections:

Madhuri Dixit

Mumbai, Actress Madhuri Dixit Nene says she is not contesting

the upcoming Lok Sabha elections.

There were reports that the actress might contest the Lok Sabha

elections from Pune for the Bharatiya Janata Party (BJP). But

Madhuri says she is not involved with any political party.

"It is just a rumour. I am not contesting for any political party. I

think I have already cleared the air on that matter," Madhuri told

IANS. "In fact, I think there are three of us (actors) who were roped

in for the rumour and I clarified it," the actress added.

Madhuri, who entered the industry in 1984 with "Abodh", has

remained a pivotal part of the Indian entertainment industry and

has enthralled fans through meaty roles in films like "Tezaab",

"Ram Lakhan", "Dil", "Beta", "Hum Aapke Hain Koun..!",

"Anjaam", "Mrityudand", "Pukar", "Dil To Pagal Hai" and

"Devdas". She also

starred in "Gulaabi

Gang".

On the work

front, Madhuri is

busy promoting her

upcoming Marathi

production "15

August", which is set

to release on Netflix

on March 29. She

will also be seen in

"Kalank".
---
18 April 2019

ENTERTAINMENT

www.theasianindependent.co.uk

BRAZEN,

yet liked

A fan threw her bra away at actor-singer Nick

Jonas' concert here in Los Angeles and his actress

wife Priyanka Chopra Jonas was only too happy to

pick it and pass it as a "fan message"! In the videos

that have surfaced online from the Atlanta concert,

Priyanka is seen picking up the blue-coloured bra at

the concert. Priyanka, who was attending her first

Jonas Brothers' concert, cheerfully picked up the bra

at the gala to give it to her husband Nick. She even put

a video on Instagram in which she is seen walking

away with a blue bra in her hand. "Collecting fan

messages for the hubby! Happy to pass along! Lol,"

she wrote alongside the video in which she is smiling

away. Priyanka also posted a backstage video on her

Instagram stories, where she was seen cuddling up to

Nick and was heard saying: "This is my first Jonas

Brothers concert and I am very excited and proud of

them." The "Isn't It Romantic" star has featured in

Jonas Brothers' latest music video Sucker.

ANDRE RUSSELL: I FEEL LIKE

A BIG BOLLYWOOD ACTOR

Bulging biceps, spectacular sixes

and a flashy blonde Mohawk — that's

Andre Russell for you in a nutshell. In

a recent tête-àtête, the cricketer said

playing in the Indian Premier League

(IPL) makes him feel like a superstar.

"I love playing in the Caribbean

and it will always be the closest thing

to my heart, but that's nothing to compare

with the IPL. To be in a stadium

with 40,000-65,000 people. You don't

get that many people in the

Caribbean," he says. The Jamaican

player is off to a great start this season.

"I love playing in the Caribbean

Premier League since it's in front of

my home crowd. [But] In terms of

atmosphere, this is the place to be.

You feel like a superstar," adds

Russell whose powerful batting has

taken the IPL by storm this

Mumbai : Actor Shreyas Talpade has

said he would love to feature in Gujarati

films. The actor was interacting with the

media at a party organised to celebrate

success of Vipul Mehta's Gujarati film

"Chaal Jeevi Laiye".

"I feel it has become Gujarat's 'Sairat'

(Marathi film). It's really a good thing.

Earlier, Marathi films started doing well at

the box office and now it's Gujarati films.

It's a great sign for every actor and filmmaker,"

said Shreyas who has already

starred in Hindi and Marathi movies.

The actor was there to support the

director, his dear friend.

"I am happy for him. I have known him for

the last 30 years when he wrote and directed

plays in college. It's a really nice benchmark

(that the film has created). I hope people from

He amazed people with his action skills when

he starred opposite John Abraham in Force

(2011). And then, he raised the bar further with

his Commando franchise. Actor Vidyut

Jammwal is perhaps one of the better action stars

Bollywood has, a facet his latest

offering, Junglee utilises to the

fullest.

Ask why he focuses only on

action films, and he says, "I am

best at doing it, so I love doing it.

When you enjoy something, you

will be good at it. It's good to be

choosy and be able to decide in

what will you be able to give your

100%. Junglee is a bit different for

me. It's an action adventure which

caters to families, something which I have not

delved into earlier."

He's glad with the response he's got so far for

it. "I am happy, I have been meeting families,

interacting with kids. The excitement is great. I

love the fact that we could get in (director)

Chuck Russell. He's one of Hollywood's known

names, and gave Dwayne Johnson, who's their

The cricketer

loves the adulation

he receives from

fans during IPL

season.But it isn't about feeling like a

superstar that makes the IPL experience

unique, rather it's the connect

that Russell has with the crowd that

makes it worth his while.

"Indian crowds embrace cricketers.

I am afraid to go the mall. For

two months I am restricted from moving

anywhere, but I enjoy it. I feel like

a big Bollywood actor. It's a great

feeling to receive so much love," says

Russell who was in the Capital, promoting

his IPL franchise, Kolkata

'Hollywood has the budgets,

Hindi films the daredevilry

Vidyut Jammwal enjoys doing action films; (inset) with tusker Bhola

I am happy, I've

been meeting families,

interacting with kids.

The excitement is

great. I love the fact we

could get (director)

Chuck Russell.

VIDYUT JAMMWAL

ACTOR

the Gujarati movie industry will keep making

good films to let people like me an opportunity

to work. I know Gujarati language really well."

Asked if he would like to work in Gujarati

biggest action star, his first break. He sees potential

in me, and feels I could take Indian martial

arts global!" says Vidyut. The actor was last seen

in the multi-starrer Baadshaho (2017) which also

starred Ajay Devgn and Emraan Hashmi.

Does he feel that the potential

of action films has been fully

tapped by Indian cinema? "Yes,

the talent that is performing is the

best, you can compare it to

Hollywood. If you see Mission:

Impossible, the budgets they work

with are much higher than in

Hindi cinema, but the daredevilry

is higher here. Chuck says that

he's never seen someone (there)

who wants to do their own stunts.

He's never witnessed a part where the hero does

these big 10 sequences in a day without a stunt

double. The East is brilliant with action. We don't

have budgets or spend money like that," he says.

We finally ask Vidyut if this lack of spending

bothers him since he's a big believer in action

films. Pat comes the reply, "Nothing bothers me.

Not this, not anything in life."

Knight Riders' fashion line. The 30-

year-old allrounder feels indebted to

fans in India, and that's what drives

the cricketer to give his best.

"Back in the Caribbean, I

can be sitting at a beach

just chilling, and

someone who would

know that I am a big

deal, would go like

'Hey Dre Russ,

what's up' and I'll

be like 'all cool' .

And that's it. But

that's not the case

here. You just walk into

a lobby and they go crazy

and I absolutely love it.

That's why I try to give them

my best every time," he

adds.

SHREYAS WILL LOVE TO DO,

PRODUCE GUJARATI FILMS

films, he said: "Definitely. Language has never

been a barrier for me. If an interesting script or

role comes my way, I would love to be a part of

a Gujarati film. In fact, there was a time when I

was supposed to work in a Gujarati film. That

was way before my Hindi film debut 'Iqbal'. But

things didn't turn out well."

When Shafi Inamdar sir used to direct plays

for colleges, I loved to watch them. Whether it's

Gujarati theatre or Gujarati films, it's always

fascinating. There is no doubt that I would be

part of it at some point in my career."

On the possibility of directing a Gujarati

film, he said, "I would prefer to act than direct.

I will direct when I will be able to understand

Gujarati films in a better manner. But I would

definitely get into production of Gujarati films.

If these films are earning Rs 50 crore, then who

would not like to produce them?"

Kriti, Sunny beat

summer heat in style

Mumbai : Actresses Kriti Sanon and Sunny Leone

are beating the summer heat with shades of blue, setting

the trend for stylish beach fashion and casual wear.

A pop of colour is always a fun option during the

summer. Kriti shared a throwback photograph from her

Maldives vacation, and she is seen wearing a sensual

electric blue bandaged monokini, blending perfectly

with the azure blue waters of the Indian Ocean. In the

image, Kriti is seen sitting on a swing amidst the water,

giving out a cool vibe when the temperature is soaring

high. Sunny, on the other hand, turned up wearing a

blue cold shoulder top with a stylised knotted hot pink

skirt for an event in Mumbai on Monday.
---
www.theasianindependent.co.uk

New Delhi : Facebook, already facing the

election heat in India, is busy doing something

never heard of: Sending its representatives

to users' home to verify if the post with

political content was actually written by

them.

IANS has contacted one such Facebook

user in New Delhi who was recently visited

by a Facebook representative for the

verification process related to the

content the user had posted.

"It was like cops come to your

door for passport verification. The

Facebook representative asked me to

prove my credentials by asking for

my Aadhaar card and other documents

to understand if I am the one

who had posted the political content,"

the person, who did not wish

to be named, told IANS.

The user was left stunned to see a

Facebook representative landing at his home

for inquiring about just a post.

"It was a shocker for me. How come a

social media platform do that to a user? What

about a user's privacy? I have never heard of

any such incident anywhere. Was this at the

behest of the government?" asked the user

IANS sent a couple of mails to Facebook

for their version on this but to no avail.

According to legal experts, physically

verifying a user is something that is unprecedented

and called for a tough action against

the social media platform." This action, if

true, clearly infringes upon the privacy of a

user. Sending a representative to physically

verifying a user is a blatant invasion of his or

her privacy space. Only the state can act like

this under proper laws," Pavan Duggal,

nation's top cyber law expert and a senior

Supreme Court advocate, told IANS.

TECH

Facebook does physical

verification of an

Indian user for a post

Facebook, Duggal said, can at best discontinue

a Page, Group or delete the post, or

remove the user from its platform as it has

done so in the past. When it comes to those

who wants to run political ads on Facebook,

the company verifies residency of advertisers

either by physical verification (by sending

someone to the address provided) or by sending

a code in the post.

Facebook has partnered with external

agencies for physical verification of the

location of the advertisers.

To be approved by Facebook, one needs

to have a residency in India and the verification

process takes around four to five

days, says the company which has close to

30 crore users in the country.

But physical verification of a user is

gross violation and unwarranted under the

ambit of the Information Technology Act,

2000.

"In such a scenario, the user can sue

Facebook and even the government for

allowing such activities under its nose that

infringes on the privacy of a user," Duggal

noted.

San Francisco

: Tech giants

Google, Facebook

and Twitter are

slated to send

their company

representatives to

testify at a Senate

hearing next week

about the alleged

"censorship" of

conservative

voices. The Senate subcommittee

is chaired by technology

critic and Republican Senator

Ted Cruz of Texas, who has

alleged that Silicon Valley

giants are biased against conservatives

and routinely censor

right-wing voices.

"Twitter and Google are also

expected to send their representatives

to the event titled

'Stifling Free Speech:

Technological Censorship and

the Public Discourse'," The

Hill reported citing a source

familiar with the matter.

Facebook's public policy

director Neil Potts is scheduled

to attend the hearing to be held

by the Senate Judiciary

Subcommittee on the

April 2019

19

Google, Facebook,

Twitter to testify

on 'CENSORSHIP'

Constitution.

"Donald Trump in a tweet

last month accused Facebook,

Google and Twitter of being

'on the side of the Radical Left

Democrats'," the report added.

The three tech titans have

denied the accusations, arguing

that there was little evidence to

back the charges. This comes in

the wake of conservatives,

including US President DOnald

Trump, increasing their criticism

of social media companies.

"Big tech behaves like the

only acceptable views are those

on the far left. And any views

to the contrary are suitable for

censorship and silencing," Cruz

said last week, according to

RT.com.
---
20 April 2019

TECH

www.theasianindependent.co.uk

India needs human-centric AI to curb fake news

New Delhi : As social media

giants fight to curb fake news

ahead of the Lok Sabha polls,

an Indian-origin tech junkie has

stressed it is not enough as the

nation needs better human-centric

Artificial Intelligence (AI)-

based solutions to combat the

spread of misinformation.

For Lyric Jain, a 22-year-old

Cambridge and MIT graduate,

social media platforms and

other stakeholders, including

the government, may design

solutions to fight fake news but

there will be glitches, as is with

the case with any technology.

"India needs to prepare better

as the stakes are high.

Facebook is taking the problem

of fake news seriously but there

are many other digital platforms

that aren't working towards that

direction," Jain told IANS.

Family finds hidden camera livestreaming in Airbnb

Dublin : A family from New

Zealand vacationing in Ireland

discovered they were being

livestreamed by a hidden camera

in the living room of their

Airbnb accommodation.

Nealie and Andrew Barker

were in the midst of a 14-month

trip around Europe in March

when they arrived at the Airbnb

property in Ireland with their

four children and niece, CNN

said in a report on Friday. Once

the family unpacked, Andrew

Barker, who works in IT security,

scanned the house while trying

to connect his phone to the

Wi-Fi network at the accommodation

and saw a device

labelled "IP camera".

The scan unearthed a camera

and subsequently a live feed.

From the angle of the video, the

family tracked down the camera,

concealed in what

appeared to be a smoke alarm

or carbon monoxide detector.

"He scanned that device's ports

and found the live video feed,"

Nealie Barker said. "It was

such a shock. It was just a really

horrible feeling."

The camera was in the

lounge, positioned so it had a

view of the dining and kitchen

area as well.

Nealie Barker said her children

were frightened after they

Conceived by Jain, Logically

has been developed by a diverse

team of data scientists, coders,

designers and journalists.

Adding a layer of credibility

to the Internet to battle misinformation,

the Logically platform

acts as a real-time, userfriendly

filter, ensuring users

can quickly consume information

that is fair, authentic, credible

and trusted (FACT).

"News isn't just limited to

media houses anymore. The

idea is to create 'responsible

sharing' among people," said

Women issues at

Microsoft reach CEO

SATYA NADELLA

San Francisco : Citing cases

and raising concerns of discrimination

in career advancements and

sexual harassment against women

within the company, Microsoft

employees had a much-needed

meeting with the CEO, Satya

Nadella.

Roughly 100 to 150 employees

attended the meeting with Nadella

in person on Thursday while others

watched via live-stream.

In response to the concerns,

Nadella was empathetic and

expressed his sadness and disappointment,

along with his Chief

People Officer Kathleen Hogan,

promised employees additional

transparency around advancement

within Microsoft, the Wired reported

on Friday.

"I will personally look into the

situation with my team. I understand

the devastating impact of

such experiences, and (Nadella)

wants to be made aware of any such

behaviour, and we will do everything

we can to stop it," the report

quoted Hogan as saying in an email

to the employees after the meeting.

The meeting came as a response

to a viral online discussion that

started last month on an internal

company forum, where an employee

asked women for advice on how

to move up the ranks in the company,

to which hundreds of women

responded and shared their own

gender bias and harassment stories.

Women shared experiences

where they were approached with

death threats, sexual advancements

and threats against being laid off if

they refrained from doing what was

asked of them.

As part of their protest, the

women are hoping to get more data

on bonuses and promotions, the

report added.

According to court filings

unsealed last year, Microsoft

received 108 complaints of sexual

harassment and assault from female

US-based technical employees, 119

complaints of gender discrimination,

eight complaints of retaliation

and three complaints of pregnancy

discrimination between 2010 and

2016, Forbes reported.

Jain. "Logically will analyse

whether the information is fake

or not, even if the information

is being provided by a wellknown

journalist from a credible

publication," he added.

When asked how the technology

works, Jain replied: "It

is a human-centric AI effort".

"We analyse the content or

text, check the metadata that is

being mined and see how information

is being circulated

across networks. "We then

combine these indicators and

conclude whether the news is

Seoul : LG Electronics Inc. has said its

first quarter operating profits are expected

to drop 18.8 per cent from a year earlier,

mainly due to its sluggish smartphone

business.In an earnings guidance, the

South Korean electronics major said it

expects to post 899.6 billion Won ($791.8

million) in operating profits in the January-

March period -- above the average market

expectation of around 800 billion won.

Its sales are expected to be 14.9 trillion

Won in the first three months of 2019, sliding

1.4 per cent from a year ago, the firm

said. The company did not

provide detailed performances

for each division,

saying it will release its

earnings report later in

April, Yonhap news

agency reported.

The operating profit in the preliminary

earnings report was up more than 11 times

from the previous quarter figure and the

company's second-highest quarterly

record.Market watchers say the strong

demand for home appliances was expected

to have improved its profitability, offsetting

losses from the sluggish mobile business.In

the wake of the worst bout of fine

dust in South Korea this year, LG

Electronics posted brisk sales of products

related to air quality, such as air purifiers,

dryers and clothing-care home appliances.

realized the host could be

watching them. "We looked at

one another mortified as the

realization of the situation sunk

in."

She called Airbnb to report

the camera. "They had no

advice for us over the phone.

The girl just said that if you

cancel within 14 days, you

won't get your money back."

The family then called the

owner of the property who

hung up. Later, he called

back, insisting the camera in

the living room was the only

one in the house, said the

woman.

The family relocated to a

credible or not. Also, our

human fact-checking team

complies with the international

fact-checking standards," Jain

said, adding that it was the fake

news and political interference

debate around Brexit and the

2016 US Presidential elections

that drove him to launch the

Logically platform.

As the India elections inch

closer, Jain said the platform

will try its best to analyse the

flow of information. Logically

taps deep learning algorithms

and web graphs of millions of

web sites from top publishers

around the world to identify top

quality sources for trending,

quality news, per category,

query, or article. "Logically will

look for information that is misleading,

distorting or interfering

with the elections," he added.

LG says Q1 operating profits

may decline over 18%

Sales from its home appliance rental

service have also been on the rise as more

people opt for renting gadgets to save

money on purchases, installations and

maintenance. "The release of new televisions

and home appliances are expected to

enhance LG Electronics' profitability, but it

may be hard for the mobile communication

division to make a turnaround in the first

quarter," Park Sung-sun, an analyst at BNK

Investment and Securities, said.

In March, LG released its new flagship

smartphone -- the G8 ThinQ -- which drew

a lukewarm market

response compared with

Samsung's Galaxy S10. It

plans to release the V50

ThinQ, its first 5G smartphone

with a detachable

second screen, in South

Korea on April 19. Analysts estimated LG

posted over 200 billion Won in operating

losses from its mobile business in the first

quarter, extending losses from a year ago

and marking the eighth consecutive quarterly

deficit.

According to industry tracker Strategy

Analytics, LG smartphones' market share

fell from 17.4 per cent in 2017 to 14.3 per

cent in 2018 in South Korea. Its share in

the North American market also fell from

16.9 per cent to 15.9 per cent over the cited

period.

nearby hotel. Nealie Barker

said Airbnb's response was

initially "hopeless" as it took

weeks to hear back about the

outcome of the investigation.

An Airbnb spokesperson

said: "We have permanently

removed this bad actor from

our platform.

"Our original handling of

this incident did not meet the

high standards we set for ourselves

and we have apologized

to the family and fully

refunded their stay. There

have been over half a billion

guest arrivals in Airbnb listings

to date and negative incidents

are incredibly rare."
---
www.theasianindependent.co.uk

The schedule for the 2019 general

election has been announced, and the

political arena has once again been

transformed into a gigantic market

place. In this space political parties proceed

to outbid and undercut each other,

often in shocking ways, as they desperately

buy a commodity called state

power. Every political party pursues

state power as frantically as the Knights

of King Arthur searched for the Holy

Grail in medieval England. This is their

project and their rationale for existence.

Power saturates every site of social

interaction, from the household to the

workplace, but state power is unique

because it is a condensate of all power.

The state decides whether our lives are

led in good, bad or ugly ways. The

holders of state power resolve what sort

of opportunities are offered by society

and the economy, and whether we can

participate in multiple social transactions

as equals.

All that's at stake

Understandably, politicians yearn to

take over the state. Some of them might

even agree to sell their souls, drive a

Faustian bargain so that they can

acquire, possess and relish power. We

are a democracy, but citizens are unable

to control the possession, exercise and

implementation of power by their representatives.

A disturbing question haunts the corridors

of our democracy. Are representatives

responsive to their constituencies,

to their wants, needs and aspirations?

Or do they tend to subordinate

the well-being of citizens to their own

lust for office? The latter is painfully

evident.

Democratically elected governments

can and have divided society, kept people

in penury, imprisoned and tortured

civil liberty activists, destroyed civil

societies, and threatened war against

neighbours. Overt and covert violence

stalks our heels.

Violence may have

become the new

normal in India, but

there is little that is

noble about violence.

"Each new

morn" says Macduff

of war in

Shakespeare's

Macbeth, "new widows

howl, new

orphans cry, new

sorrows Strike

heaven in the face,

that it resounds."

Today, new sorrows

follow us

around like Mary's

little lamb because the government

refuses to respect our need for a decent

life, lived with dignity and in peace.

Consider the way the Indian government

has responded to serious economic distress

in the country. Refusing to address

the grim crisis in the agrarian sector

which has destroyed livelihoods and

driven farmers to suicide, the government

decides to offer petty pocket

money to the agriculturalist. Instead of

transforming educational institutions, or

taking on the onerous task of creating

jobs with some determination, the Modi

government offers pitiful reservations to

graduates and postgraduates who have

been forced to compete for positions

below their capabilities. Worse, our government

refuses to count how many

Indian citizens are unemployed. It just

does not acknowledge that poverty created

through job losses does not only

breed distress, it produces and reproduces

discontent and anger, resentment

and violence. Our representatives have

failed us.

For when we vote, we expect that

our representative government will provide

the basic preconditions of a good

WORLD

life. We do not expect it to tap petty passions

and irrational emotions through

incendiary rhetoric that targets communities,

regions and other countries in the

name of the nation. Cynics might wonder

whether elections bring about

change at all, or whether the outcome

results in more of the same.

Freedom from fear

Nevertheless, elections are significant.

The opportunity to vote offers us

choices, we can vote for the same violence

that has left us with bloodied

hands and torn feet. Or we can vote for

a party that offers us freedom. At stake

in the 2019 election are four kinds of

freedoms. The first is freedom from

fear, from the haunting feeling that

someone, somewhere is watching how

we behave, and that someone is ready to

penalise us through words and deeds if

we dare question the mockery that

democracy gives power to the religious

majority. Our own people who belong

to the minority community need to be

reassured that they are citizens of this

country by right, and no one has the

right to make them feel that they are

here on sufferance. All of us have to be

free from the nagging

worry that our

neighbourhoods will

be overrun by

lumpens on their

monstrous motorcycles

baying for blood

at the drop of a hat,

that citizens of India

will be lynched and

left to die painfully

on the mud tracks of

our cities and villages.

Above all, we

have the right to vent

criticism of representatives

without being

assaulted by crude,

sexist abuse on social

media that relentlessly intrudes into our

everyday lives.

The second sort of freedom we

should reinstall is freedom from want.

Our farmers live in precarious conditions,

our working class ekes out a bare

existence steeped in misery and deprivation,

our children are offered insecure

and low paid jobs, and our minorities

live under the constant threat that their

livelihoods will be snatched from them.

Seventy-one years after Independence,

the government should be concerned

about the quality of employment it offers

our people, about suitable remuneration,

about lives lived with dignity, and about

the self-worth that people develop when

they love what they do for a living.

It is not enough that the working

classes are handed out a mere pittance

instead of a living wage. It is not sufficient

that our people work for a mess of

porridge, or that they should merely

have enough to eat. It is the task of a

democratic government to provide for

basic preconditions — health, education,

employment and a sustainable

wage — that enable people to stand up

and speak back to a history not of their

Agartala : The Election

Commission (EC) will take adequate

steps to help physically

challenged voters, including

visually-impaired ones, exercise

their franchise, a top official said

here on Sunday.

"Following the Election

Commission's directives, adequate

steps would be taken to

facilitate physically challenged

voters including visuallyimpaired

electorates to exercise

their franchise," Chief Electoral

Officer (CEO) Sriram

Taranikanti said.

He said that visually-impaired

voters would be provided with a

voting slip in Braille and dummy

ballot paper. Those with low

vision would be given magnifying

glasses and other equipment.

"If necessary an impartial

person would be allowed as a

guide for the visually impaired

people with the permission of

the authority," the CEO said.

The official said that wheelchair,

waiting shed, ramp and

other facilities would be

April 2019

The principles that inform a lived life of dignity must

dictate choices in the great Indian election of 2019

UN human rights expert plans to visit Assange

Geneva, A UN expert plans

to meet WikiLeaks founder

Julian Assange at the

Ecuadorian Embassy in

London on April 25 after

receiving complaints of privacy

violations, a statement released

by the Office of the UN High

Commissioner for Human

Rights (OHCHR) said.

The statement was released

on Friday after the expert

received two separate complaints

made by Assange and

Ecuador's President Lenin

Moreno. In the statement, Joe

Cannataci, the Human Rights

Council special rapporteur on

the right to privacy, said the

meeting would "help determine

if there exists a prima facie case

of violation of privacy that warrants

further investigation".

He also said that he was

requesting further information

from the Ecuadorian government

on a complaint lodged by

the country's President that his

privacy had been violated by

the publication of personal

data, Xinhua news agency

reported. WikiLeaks said earlier

this week on its verified

social media account that

Assange will be expelled within

"hours to

days", quoting

"a highlevel

source

within the

Ecuadorian

state". In an

interview earlier

this week,

Ecuador

President

Lenin Moreno

told local

media that

Assange had

repeatedly

violated protocol

and conditions of his stay

at the Embassy.

Assange does not have the

right to hack private accounts

or phones and cannot intervene

in the politics of other countries,

especially Ecuador's partners,

said the President.

"Several times, Assange has

violated the agreement we

reached with him and his

lawyers," Moreno said.

In another statement

released by the OHCHR on

Friday, UN Special

Rapporteur on

Torture Nils

Melzer said he was

alarmed by reports

that Assange may

be expelled from

the Embassy of

Ecuador in

London, indicating

that he intended to

personally investigate

the case.

Melzer said

Assange's expulsion

from the

Ecuadorian

Embassy could "expose him to

a real risk of serious violations

of his human rights". "I therefore

urge the Government of

Ecuador to abstain from

expelling Assange from its

Embassy in London or from

otherwise ceasing or suspending

his political asylum until

such time as the full protection

of his human rights can be

guaranteed," said the special

rapporteur.

Ecuador's Foreign Minister

Jose Valencia tweeted that "the

diplomatic asylum is a sovereign

authority of a state, which

has the right to grant it or withdraw

it unilaterally when it

deems it justified."

After having established

WikiLeaks in 2006, Assange

has been staying at the

Embassy since 2012 when he

was granted asylum by

Ecuador as part of a bid to

avoid extradition to Sweden,

where the Australian-born

whistleblower was facing allegations

of sexual assault and

rape.

In 2017, he received

Ecuadorian citizenship so as to

resolve the political impasse

over his continued presence in

Britain. However, in 2018,

Assange launched legal action

through his lawyers against the

Ecuadorian government, accusing

it of violating his fundamental

rights and freedoms.

21

making. This is what democracy means,

not a handout here and a handout there.

For this, we need to ask why should

people remain poor.

The third freedom that we have to recapture

is freedom from discrimination.

Ironically, upper castes have mobilised

against protections provided to one of the

most vulnerable groups in human history,

Dalits. It is paradoxical that reservations,

which are meant to secure respect

for those who are doubly disadvantaged

by reasons of caste and class, are offered

to the upper castes, which are already

over-represented in the public sphere.

Reservations have become a mockery, a

charade, used as a deliberate ploy to

delegitimise the project of social justice.

The fourth freedom is freedom from

sexual violence, for women, for men,

for transgenders, and for children. India

must never witness with horror and pain

another child mauled, raped and mutilated

as in Kathua. We must never bear

witness to the ignoble spectacle of

lawyers demonstrating in favour of

rapists. We must never again register the

horrific phenomenon of women being

beaten up merely because they wish to

visit their god in a temple. If India cannot

secure equality, which is the reason

for democracy, let us at least opt for

non-discrimination, a lesser form of

equality.

A constitutional right

At stake in the elections that loom

large on our collective imaginations is

not delegation of power to representatives,

so that they can live out their sick

fantasies of controlling minds and bodies.

We vote to recapture and protect the

freedom that earlier generations fought

for so strenuously. We vote because

freedom is our constitutional right and

we will reclaim it.

Neera Chandhoke

is a former Professor of Political

Science at Delhi University

EC's special arrangements

for differently abled voters

arranged for voters belonging to

the Persons with Disability

(PwD) category.

He said the state's Social

Welfare and Social Education

Department has been asked to

look after the PwD voters and

the Social Welfare Department

Additional Secretary has been

appointed as the "Accessibility

Observer" to oversee any balloting

issue faced by the PwD voters.

Meanwhile, a four-member

delegation of four different

organisations of differently

abled people met the CEO on

Saturday and demanded that priority

be given to the PwD voters

to cast their votes, and that adequate

arrangements be made as

per the Election Commission

and Supreme Court Directives in

this regard.

The spokesperson of these

four organisations of differently

abled people, Salil Debbarma,

said that in Tripura, at least two

lakh PwD voters are enrolled in

the electoral list.
---
22 April 2019

WORLD

www.theasianindependent.co.uk

From L-R: Consul General Aman Puri, Dr. Sangha, Mayor

of Telford and Wrekin, Cllr. Rajash Mehta, Lord Suri,

Deputy High Commissioner, Mr. Charanjeet Singh,

Member of European Parliament, Ms. Neena Gill.

Guru Nanak Dev Ji 550th Birth Anniversary Celebrations

at University of Wolverhampton -28th March, 2019

The University of Wolverhampton

(UOW) hosted a special event to celebrate

the 550th Birth Anniversary of

Guru Nanak Dev Ji at the Chancellor's

Hall on 28th March, 2019. The event

was organised by the centre for Sikh and

Panjabi studies of UOW and supported

by Consulate General of India,

Birmingham. More than 200 guests

from across the UK came together to pay

tribute to Guru Nanak Dev Ji, the revered

first Sikh Guru. The event commenced

with the welcoming of the guests by the

Vice Chancellor of University of

Wolverhampton, Prof. Geoff Layer, and

featured inspirational speeches from Dr.

Opinderjit Kaur Takhar, Director of

Centre for Sikh and Panjabi studies,

Deputy High Commissioner, Mr.

Charanjeet Singh, Lord Suri, Dr.

Mohinder Singh, Chairman GNNSJ,

Baba Amar Singh Ji, Consul General Dr

From L-F Prof Geoff Layer, Vice Chancellor University of

Wolverhampton, Deputy High Commissioner, Mr. Charanjeet

Singh, Dr. Opinderjit Kaur Takhar, Director, Centre for Sikh

and Panjabi Studies, Consul General Aman Puri.

Aman Puri among others. The speeches

presented at the event highlighted the

various aspects of Guru Nanak Dev Ji's

life, his teachings and how he continues

to be an inspiration for millions of Sikhs

and people belonging to all faiths across

the world. Member of European

Parliament, Ms. Neena Gill, Baba Amar

Singh Ji, Chairman of the Council of

Gurdwara Management Committees UK

Avtar Singh, Dr Sadhu Singh, Chairman

of the Council of Sikh Gurdwaras, Chief

executive officer of Sun Mark, Dr Rami

Ranger and a number of other prominent

members of the Indian diaspora shared

their thoughts on Guru Nanak's teachings

and how Guru Nanak Dev Ji's message

of Compassion and Contentment is as

relevant today as much as it was 550

years ago

The celebrations which filled the

Chancellor's Hall at the Wulfruna

Building, featured a string of speeches,

motivational messages of peace, gender

equality, rejecting discrimination and

promoting harmony among communities.

Guru Nanak Dev Ji's philosophy has

a timeless quality and universal appeal.

Mayor of West Midlands Andy Street

thanked the Sikhs across the Midlands

region for their outstanding contribution

to the community. He also appreciated

the noble initiative of celebrating the

Prakash Parv in Midlands. The event

concluded with the ensemble of religious

songs by Mr. Jas Wohra,

Managing Director, East End Foods Plc,

creating a spiritual environment at the

Chancellor's Hall. Communities across

the globe will mark the anniversary with

a series of events throughout this year,

with the UK expected to host the

biggest celebrations outside India.

Guests gathered at The Chancellor's Hall of the University of Wolverhamton to celebrate

the 550th Birth Anniversary of Guru Nanak Dev Ji.

Vice Chancellor of University of

Wolverhampton, Prof. Geoff Layer welcoming

the guests at the 550th Birth Anniversary

celebrations of Guru Nanak DevJi.

Lord Suri speaks on how Guru Nanak Dev Ji's

philosophy has shaped his political career.

Dr. Opinderjit Kaur Takhar, Director of Centre

for Sikh and Panjabi studies, University of

Wolverhampton speaking at the event emphasized

that Guru Nanak Dev Ji continues to be

an inspiration for millions of Sikhs and people

belonging to all faiths across the world

Mayor Andy Street appreciating the noble initiative

of celebrating the Prakash Parv in Midlands.

46% Indian kids die of

communicable diseases

Toronto, Communicable diseases like

pneumonia and tuberculosis accounted for

over 46 per cent of preventable deaths in children

aged 5-14 years in 2016, finds a study.

In 2016, India had about 74,000 preventable

or treatable deaths from communicable diseases,

representing

nearly

half of all the

annual deaths

and over a

third of all

deaths in the

four developing

countries

— India,

China, Brazil

and Mexico —

in children

aged 5-14

years. In India,

death rates

from these

communicable

diseases as well as vaccine-preventable diseases

were nearly 20 times higher than in

China, and 10 times higher than in Brazil and

Mexico, showed the findings published in The

Lancet journal. "Most of these deaths are

avoidable and for those caused by medical conditions,

many of them are treatable," said

Prabhat Jha, Professor at the Dalla Lana School

of Public Health at the University of Toronto.

"Death in children aged 5-14 should be rare

around the world. With cost-effective, feasible

and affordable interventions, substantial

declines in deaths in this age group are possible,"

Jha said. The study examined data on

around 2.5 lakh deaths in children aged 5-14

years from 2005 to 2016 in India, China, Brazil

and Mexico.

These countries

are home to

about 40 per cent

of the world's

children aged 5-

14 years and

experience more

than two lakh

deaths annually

at these ages.

Marked declines

in the communicable

disease

mortality among

girls narrowed

the gap with

boys in India and

China. However, mortality rates for non-communicable

diseases and injury were found to

be still higher in India than in China, Mexico,

and Brazil. In contrast with Mexico and

Brazil, a majority of road fatalities in both

India and China were among pedestrians.

Despite regional differences, the common

leading causes of death in all four countries

include, road accidents, drowning, cancers

and neurological diseases, researchers said.
---
www.theasianindependent.co.uk

WORLD

April 2019

23

Jacinda Adern, the youngest New

Zealand PM was in the news, a month

ago, in the wake of the Christchurch

shooting by a terrorist. The world

media and people across board praised

her reaction as a leader. She spoke,

truthfully from the heart and in a way a

mother would,to protect her children.

The opposition, termed her a 'weak

leader'.Didher act cause discomfort

and was,possibly at odds with what

they would practice?

Wasit because her brand of leadership-

fresh and real and, differed from

the usual rhetoric of those in bastions of

political power? Or because she is a

woman and her action, deemedtoo feminine.

This, got me thinking about strong

and successful women leaders around

the world.

The statsstate that6.4% of Fortune

500 CEO positions are held by women

as on date. One must acknowledge that

this number has tripled since 2008.

What makes the numbers thin out

despite the rise in highly educated,

capable and successful women, today?

Genders do not matter when it

comes to leadership. The key qualities

that make a great leader are present, in

men and women, both. The difference

exists in the personalitiesand each individual's

unique traits.

It's interesting to note that women

are not always encouraged to take on

leadership positions, in many places.

The gender diversity stands at mere single

digits, even in the most advanced

and progressive corporations.

Men and women are different and

this is what brings strength to an organisation.

The differences need to be celebrated

instead of being pokedat.

So, what do women bring to the

table as leaders which is unique to their

personality?

Sharing, caring and connecting with

co-workers to create a work-life balance,

are values that drive

women.Their approach to leadership is

holistic. Similar to the characteristic of

keeping families together.As compared

to men, who aremore career-driven and

focussed on financial goals. A belief

entrenched from the early days, where

man's role was to provide for the family.

Here's what makes women leaders

different.

Adaptability

As water moulds itself into the

pitcher, women have an innate ability to

What makes a successful

WOMAN LEADER?

cope and change. Having been far

removed from the traditional roles of

power at home, women lead through

ingenuity with the resources available

to them. It provides them the ability to

look at challenges as opportunities to

do things, differently.

Empathy

The compassionate and nurturing

spirit in women is often confused with

the inability to confront and hold people

accountable. Being kind and empathetic

is about being fair and just and

use the ability to sell their vision. It

helps in building trust and,understanding

what drives and motivates people.

Self-awareness

Women have a strong sense of selfawareness

and are, constantly seeking

ways to achieve success. They welcome

feedback on their work, to hone

and polish those weak spots and harness

their strengths. They are more

intuitive and self-aware, and at times,

tend to overlook their capabilities,

bybeing too involved inothers' needs,

neglecting their own opportunities for

Farzana Suri,

Victory Coach

Farzana SuriVictory Coach is a Life

Coach and Corporate Trainer residing

in Mumbai, India. Visit www.farzanasuri.com

for more details. Or reach her

on mail@farzanasuri.com

victory. When they focus on themselves,

they have the ability to turn any

challenging situation into triumph.

Teamwork

Women accept that leadership

requires working together and forging

relationships that are collaborative. Their

capacity to be vulnerable, to serve and be

served by others, speaks of their skill in

knitting people without the heavy hand

of authority. This attribute of teamwork

builds higher employee satisfaction,

retention, and productivity that is critical

for an organizational success.

Multitasking Abilities

It is no myth, anymore - women are

naturals at multitasking, according

toaUK study. In a stressed and complex

situation, women are better organised

due to theirability to switch lanes of

thinking to take action. They can handle

a career crisis and an emergency at

home with carefulthinking, patience

and kindness. A much-needed trait for a

leaderwhich can save time and costs,

for the organization.

High Emotional Intelligence

The ability to recognize and relate to

emotions in yourself and others is an

essential leadership quality. It helps

create a safe environment for people to

grow and shine. Women are born with

this unique emotional sensitivity and

intuition.They use it to build deeper

relationships and, are known to accelerate

the resolution of critical issues with.

Connection

Women leaders excel at competencies

such as developing others and

building relationships. They value, recognize

and invest in them. They

acknowledge that these networks are a

part of their journeyand strive to build

on it. Their intentional support forms

deep and lasting bonds and, often

makes them connectors or go-to people

who bring others together.

What comes in the way of many

women leaders is perhaps, summarised

in the study by a group of female academics

in Harvard Business School

which concludes, "Women and men

believe they are equally able to attain

high-level leadership positions but men

want that power more than women do."

Women are less motivated by pay,

status and more by the ability to be

meaningful and work towards a shared

purpose.Therefore, they are sometimes

seen as not strategic and goal-oriented

unlike the male counterparts.

However, women leaders, intrinsicallyexemplify

trust and touch hearts

with their femininity. The world, organisations

and homes need leaders who

embody the yin and yang. This balance

can move mountains and create rivers

of harmony and prosperity.

Given the right mentoring and sponsor,

women have the ability to lead, in a

way only women can. Because women

are impacting, shaping and reshaping

the world economy. They account for

almost 52% of the world and are the

world's most powerful consumers with

annual spends exceeding $18 trillion.

Wouldn't it make smarter sense not just

to elevate and harness thisbut to transform

the nature of power towards oneness

and balance instead of dominance?

Women leaders can shift the C-suite

paradigm by being bridge-builders who

can resolve conflicts without the need

for harsh measures. Women have the

ability to heal, inspire and shape, a

slightly better world.

May admits she can't pass Brexit deal without Labour

London, British Prime

Minister Theresa May has

admitted that the only way of

passing her Brexit deal is with

support from the opposition

Labour Party, in comments that

are likely to deepen the tensions

on her own side of the

political divide in the Britain.

In a statement released on

late Saturday, May said the deal

she'd negotiated with the

European Union (EU) had been

rejected three times by

Parliament and there was no

chance of it passing in its current

form. Given that

Parliament has also made clear

it will oppose a no-deal Brexit,

the only way to secure a deal

was through a compromise

with Labour.

"If we cannot secure a

majority among Conservative

and DUP MPs we have no

choice but to reach out across

the House of Commons," she

said, referring to the

Democratic Unionist Party, the

small bloc from Northern

Ireland that props up

her minority government

in the House of

Commons, CNN

reported.

May's statement is

an admission that her

previous strategy of

attempting to win over

the hardline elements

of her own party has

failed. But her declaration

that the only way

forward is a deal with

the opposition will further

enrage the

Brexiteer wing of the

Conservative Party.

It is a high-risk move — it

will almost certainly result in a

loss of support for the deal

from her own side, without any

guarantee that the process

underway with Labour will

lead to a successful outcome.

May, however, has pledged to

step down as Conservative

Party leader, and no longer

needs its support. In her statement,

she said a cross-party

approach was

"in the national

interest."

Talks with

Labour began

on Thursday

evening, in an

attempt to break

the Brexit

impasse. The

Labour Party

said late Friday

that progress

had been slow,

because May

had been reluctant

to make firm commitments

to change her Brexit deal.

Labour wants the UK to remain

in a customs union with the EU

after Brexit, but is divided on

whether to ask British voters to

ratify any deal in a second referendum.

In her statement, May

notably does not rule out a customs

union or a second referendum,

saying only that both

main parties are committed to

ending unrestricted immigration

from the EU after Brexit.

"The fact is that on Brexit

there are areas where the two

main parties agree: We both

want to end free movement, we

both want to leave with a good

deal, and we both want to protect

jobs."

"That is the basis for a compromise

that can win a majority

in Parliament and winning that

majority is the only way to

deliver Brexit." May is due to

meet EU leaders at a special

summit in Brussels on

Wednesday, where she will ask

for a short extension to the

Brexit process, to June 30.

Unless the EU agrees to a

delay, the UK will leave without

a deal on April 12. Business

leaders and economists have

warned of chaos in the event of

a no-deal Brexit.

May's strategy of reaching

out to Labour has caused fury

within her own party: Two ministers

resigned from the government

earlier this week, and

party members posted pictures

on social media tearing up their

membership cards.
---
24 April 2019

WORLD

www.theasianindependent.co.uk

Rohingya rights group says

Iran, Iraq vow to boost

ties despite US pressure

Tehran, Iranian

President Hassan Rouhani

and Iraq's Prime Minister

Adel Abdul-Mahdi, here

on Saturday, pledged to

strengthen bilateral economic

and political relations

despite pressure

from the US on Baghdad

to break ties with Tehran.

Abdul-Mahdi began a

two-day official visit to

neighbouring Iran on

Saturday, the first since he took

office last October. During a joint

press conference, Rouhani said, "our

plans for the future is of achieving a

$20 billion trade between the two

countries, which we hope will be

achieved in the coming months,"

reported Efe news. "One of the most

important topics that we discussed

was accelerating the implementation

of all agreements signed during my

visit to Iraq (in

Mid-March),"

the Iranian

President said.

He said the

agreements

included free

visas for nationals

of both

countries,

which has been

implemented, as

well as the

Shalamcheh-Basra railway link,

which would start in July.

They also addressed the issues of

Iran's electricity exports to Iraq as

well as to be implemented oil and gas

links. Iranian exports to Iraq have

reached $13 billion. Of this, more

than $7 billion are non-oil products.

Iraq largely depends for gas, electricity

and food on its Persian neighbour.

The US wants to cut these exports

Humanitarian work

important element of

India's diplomacy

after having pulled out of the 2015

multilateral Iranian nuclear deal last

year and re-imposition of sanctions

on Iran. The US sanctions affect

many sectors, including energy and

banking. Washington has called on

allies to follow suit and granted Iraq

a 90-day moratorium in March to

adapt and reduce its dependence on

Iranian energy. But the Iraqi Prime

Minister on Saturday reinforced his

commitment to the agreements

penned with Iran last month, adding

he would "expand" relations with the

neighbouring country. The close

cooperation between the two "will be

beneficial for both countries, the

region and the world," he added

"We have said before, and we reiterate

today, we are with the Iranian

government and the nation in happiness

and sadness," Abdul-Mahdi

said, a direct reference to the US

pressure on Baghdad.

air strike kills over 20

Dhaka : A Rohingya rights group

in Bangladesh on Sunday said more

than 20 people were killed and 50

were injured during an air strike on

April 3 by the Myanmar Army on

members of the ethnic group in

Rakhine state, contradicting the government

version of the incident.

The Arakan Rohingya Society for

Peace and Human Rights (ARSPH)

said innocent Rohingya villagers

were gathering bamboo in streams

near Phon Nyo Leke when Myanmar

military helicopters flew low overhead

and shot at ordinary Rohingya

making rafts in the river, reports Efe

news. "More than 20 people were

killed and over 50 were injured.

Many people had arms and legs

blown off by the bombs," the ARSPH

said in a statement. Headed by former

school teacher Mohammad

Mohibullah, the ARSPH was formed

by Rohingyas following the exodus

in 2017 to champion the cause of the

persecuted Muslim community.

"The genocidal military issued a

statement on April 5, saying that only

six Rohingyas were killed because

they are working with a terrorist

group," said ARSPH. "This is completely

false information," it said,

adding that it was evidence that the

military continues "to take every

opportunity to clear all Rohingya

from their homeland and complete

the genocide that they started 40

years ago". The Myanmar Army confirmed

the death of six Rohingya,

who according to the military, collaborated

with the rebels of the Arakan

Army (AA), during an air strike

against a bastion of insurgents in the

west of the country. The UN, which

accuses the armed forces of "intentional

genocide" for the operation

against the Rohingya, indicated this

week its "deep concern" about the

recent clashes.

More than 738,000 Rohingya

refugees have fled violence in

Myanmar's Rakhine state since

August 2017, while 200,000 members

of the community had earlier

escaped to Bangladesh.

Most refugees live under harsh

conditions in Bangladesh's Cox's

Bazar area, near the Myanmar border,

that has become the biggest refugee

camp in the world.

New York, Humanitarian work is an

important element of India's diplomacy,

although it is often overshadowed by its

strategic and defence aspects, according to

India's Ambassador Harsh Vardhan

Shringla. Humanitarian assistance plays

an important role in India's diplomatic

outreach to other countries, he said on

Thursday here at a seminar on "India for

Humanity", held as part of the year-long

commemoration of Mahatma Gandhi's

150th birth anniversary.

The seminar was centred on

the example of the 'Jaipur Foot'

in promoting the humanitarian

element of Indian diplomacy

through a collaboration of the

External Affairs Ministry and

an NGO behind the prostheses.

The Jaipur Foot prostheses,

which some have called a "marvel

of Gandhian engineering"

for their simplicity yet effectiveness, were

developed in the Rajasthan state capital by

the Bhagwan Mahaveer Viklang Sahayata

Samiti, which continues to finance their

manufacture and distribution.

"Jaipur Foot extends Gandhi's message

of compassion", Shringla said referring to

the organisaton's work of providing free

prosthetic limbs to victims around the

world. Diplomats from Bangladesh and

Malawi acknowledged the Jaipur Foot's

humanitarian work in their countries and

elsewhere. Malawi's Deputy Permanent

Representative to the United Nations, Lot

Dzonzi, said that while celebrating

Gandhi, "one of the greatest human

beings", it is fitting to recall that "Jaipur

Foot is the arm that India extended to my

country to touch 500 people".

It has changed the lives of those who

came crawling or stumbling with canes to

the camps but walked out straight, he said.

Bangladesh Consul General Sadia

Faizunnesa said that the Jaipur Foot organisation

is changing the lives of underprivileged

people in her country.

India as a neighbour, she said, is also

giving her country humanitarian help with

the problem of Myanmar refugees.

Shringla said that India had flown

plane-loads of aid packages and other supplies

for families of Rohingya refugees

sheltering in Bangladesh and was setting

up a hospital for them.

He recalled that after the

end of the Sri Lanka conflict,

India had sent teams to defuse

and remove mines planted

there and held camps for

those who had lost their feet

or legs to be fitted with Jaipur

Foot prostheses.

The chairman of Jaipur

Foot USA, Prem Bhandari

said that 1.8 million people around the

world have benefited from the prostheses

programmes since 1975, and 73 camps

have been held in 20 countries to help

people regain their mobility.

During the year of Mahatma Gandhi's

150th birth anniversary, Jaipur Foot will

be holding 12 international camps, he said.

Five of them have already been held in

Nepal, Vietnam, Myanmar, Iraq and

Malawi, and three are underway in

Tanzania, Egypt and Senegal, he said.

Mahatma Gandhi's great-great-grandson

Paritosh Prasad said that there was no

better way of demonstrating his lessons of

compassion than the work of Jaipur Foot

organisation. India's Consul-General

Sandeep Chakravorty said that Jaipur Foot

"was India's only international brand"

because it is geographically distributed so

widely and it brings together diplomacy

and philanthropy.