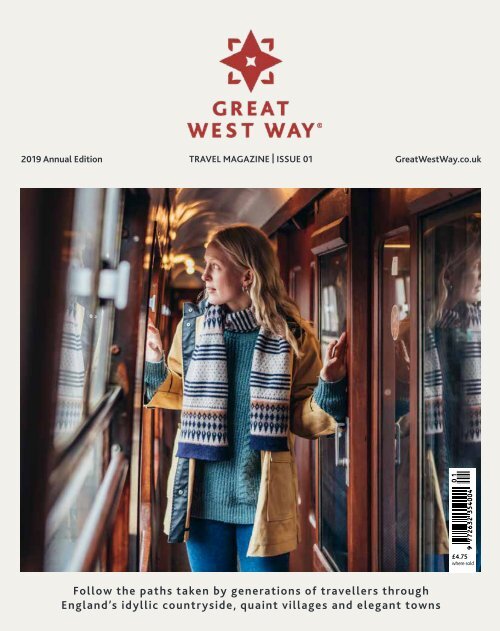 Great West Way® Travel Magazine | Issue 01
The first edition of a brand-new magazine showcasing the Great West Way, Britain's newest touring route, has been launched. The Great West Way Travel Magazine features 84 pages of informative articles and stunning photography brimming with inspiration to explore further, delve deeper and uncover the essence of this unique part of England. It presents a series of inspirational themed features, articles and ideas suitable for visitors travelling along the route by road, rail, water, on bike or on foot. The magazine highlights the extraordinary variety of amazing tourism destinations and experiences along the route, each with something unique to offer. From idyllic countryside, beautifully quaint villages to elegant towns and buzzing cities, a route where creativity and culture rub shoulders with world-famous heritage.
The first edition of a brand-new magazine showcasing the Great West Way, Britain's newest touring route, has been launched. The Great West Way Travel Magazine features 84 pages of informative articles and stunning photography brimming with inspiration to explore further, delve deeper and uncover the essence of this unique part of England. It presents a series of inspirational themed features, articles and ideas suitable for visitors travelling along the route by road, rail, water, on bike or on foot. The magazine highlights the extraordinary variety of amazing tourism destinations and experiences along the route, each with something unique to offer. From idyllic countryside, beautifully quaint villages to elegant towns and buzzing cities, a route where creativity and culture rub shoulders with world-famous heritage.
SHOW MORE
SHOW LESS
Create successful ePaper yourself
Turn your PDF publications into a flip-book with our unique Google optimized e-Paper software.
2019 Annual Edition

TRAVEL MAGAZINE | ISSUE 01

GreatWestWay.co.uk

£4.75

where sold

Follow the paths taken by generations of travellers through

England's idyllic countryside, quaint villages and elegant towns
---
At Bristol Airport, we're

proud to be the Official

Airport Ambassador for

the Great West Way ® .

We've invested £160m in developments that

have transformed the airport experience and

now offer more than 125 destinations to our

8.5 million loyal passengers.

Delivering world-class customer service and

sustainable aviation is at the heart of everything we

do, which is why we're so proud to win ACI's Best

Airport in Europe (5-10m passengers) award.

www.bristolairport.co.uk
---
Pictured Below: Cherhill White Horse, and The River Thames

at Marlow

THE STORY OF THE

GREAT WEST WAY ®

I AM THRILLED TO INTRODUCE

Great West Way Travel Magazine, welcoming

visitors to explore this new 125 mile touring

route, based on one of the first Great Roads

commissioned by the Kings of England.

Follow the paths taken by generations of

travellers. Plan your own course from the roads, lanes and

towpaths and, best of all, whether you drive, ride, float or

walk, allow your senses to take in the natural, and manmade,

wonders of our countryside.

Discover how, over millennia and centuries, our history

and heritage are reflected in what you see.

Relax and take your time – and feel inspired by the

infinitely rewarding, flexible path to the best of England

– enjoying all the attractions and new experiences that

await you!

A new 125-mile touring route between London

and Bristol based on ancient routes, roaming

through idyllic countryside, quaint villages and

elegant towns.

Jessica x

Jessica Way

Editor-in-Chief, Great West Way Travel Magazine

To download your Great West Way map visit:

: GreatWestWay.co.uk/explore/maps

GreatWestWay.co.uk 3
---
Explore one of the

greatest royal

residences ever built

Walk in the footsteps of Henry VIII and discover

the magnificence of Hampton Court Palace

www.hrp.org.uk/hampton-court-palace
---
CONTENTS

2019 Annual | Edition 01

INTRODUCING THE GREAT WEST WAY

LOST IN TIMELESSNESS

Where the world-famous rub shoulders with

the yet-to-be-discovered

HERITAGE MEETS HIP

From London the UK's capital, to Bristol, one

of the country's hippest cities, and with many more

characterful towns and villages between

THE LEGENDS WHO LIVED HERE

Quietly enriching the lives of passers-by for 150

years, we take a look at some of the plaques along the

Great West Way - linking the people of the past with

the buildings of the present

Pictured

above:

Afternoon

Tea; Close

up of a

guard at

08 21

Windsor

Castle;

and

Stonehenge

12 24

16 29

WAYS TO TRAVEL THE ROUTE

YOUR WAY ON THE WATER

Like messing about in boats? The Great West

Way offers dozens of opportunities to do just that

RIDING THE RAILS

Travel the Great Western Railway line

designed and built by engineer Isambard Kingdom

Brunel in the 1830s

DISCOVER YOUR PATH

One of the best ways to explore the Great

West Way is under your own steam, either on foot

or bicycle. Soak up sights and sounds easily missed by

train or car - off the beaten track →

GreatWestWay.co.uk 5
---
Visit the heart of beautiful Georgian Bath

and step into history with a visit to the

Roman Baths, one of the finest spas of the

ancient world.

Book online at www.romanbaths.co.uk

@RomanBathsBath

TheRomanBaths

theromanbaths
---
PUBLISHED BY

Contista Media Ltd

Mitchell House, Brook Avenue,

Warsash, Southampton,

Hampshire, SO31 9HP

contistamedia.co.uk

In association with

the Great West Way.

CONTRIBUTORS

Jessica Way

Editor-in-Chief

Adrian Wilkinson

Business Operations Manager

Rebecca Lowe

PR and Marketing Consultant

Helen Ochyra

Outdoor Travel Specialist

Jeremy Forsyth

Museums, Arts and Culture Writer

Gareth Herincx

Sports and Motoring Enthusiast

Emma Harrison

Food and Drink Connoisseur

Robin Glover

History and Heritage Specialist

Diana Woolf

Historic Houses and Gardens Writer

Emma Johnson

Fashion and Shopping Expert

TITLE AMBASSADORS

With a special thanks to:

Bristol Airport, Canal & River Trust,

GWR, and National Trust

COVER IMAGE:

Passenger on the Avon Valley Railway

Image copyright credits: p5 and p9 © VisitEngland/Doug Harding p14

© VisitBritain/Peter Beavis p20/p22/p25/p29-p31/p33 © Jon

Attenborough Photography Ltd p21 © VisitEngland/Visit Wiltshire/

Charlie Ross p22/p53-56 © nicksmithphotography.com p25/

p51/p60 © monitoba.com p34 © VisitBritain/ VisitEngland/

SimonWinnall/nicksmithphotography.com p36/p41 © Anna Stowe

p37 © Nick Turner p43 © Colin Hawkins p52 © Historic England

p61/p72 © nicksmithphotography.com p63 ©VisitBritain/Ben

Selway p64 © Gary Sayers p66 © Simon Brown p69 © VisitBritain/

Joanna Henderson p74 © VisitBritain / Peter Beavis

Follow us on

Twitter @theGreatWestWay

Facebook @GreatWestWay

Instagram.com/GreatWestWay

Contista Media Ltd cannot accept responsibility for unsolicited

submissions, manuscripts and photographs. While every care is taken

prices and details are subject to change and Contista Media Ltd take no

responsibility for omissions or errors. We reserve the right to publish and

edit any letters. All rights reserved.

THE GREAT OUTDOORS

33

AS SEEN ON SCREEN

Whether you're a fan of Harry Potter,

Downton Abbey or the British Royal Family, there

are plenty of places you might just recognise

36

ARISTOCRATIC ACRES

A journey along the Great West Way takes

the traveller past some of England's most spectacular

palaces and historic houses

41

NATURE IN HIGH DEFINITION

From the roaming deer in Richmond Park to

whole areas of outstanding beauty amid rolling hills

and green valleys

YOUR NEXT ADVENTURE

45

AMAZING MOMENTS

World-renowned visitor attractions, iconic

sights and some of the greenest, most pleasant

landscapes

51

CLASSIC CAR TOURS

Salisbury Plain, the Mendips and the

Ridgeway, take in the views, and soak up the

laid-back lifestyle and pretty villages

54

DRINK LIKE A LOCAL

The proud tradition of producing natural

alcoholic beverages, good for home consumption

but even better taken in your favourite tavern,

inn or public house

59

MARVELLOUS MUSEUMS

Tucked away in villages, towns and cities,

there are fascinating finds to make your journey

even more rewarding

Pictured above:

Abbey House

Gardens,

Malmesbury

PLUS DON'T

MISS WHEN

PLANNING

YOUR

JOURNEY

CULINARY

DELIGHTS

62

SHOPPING

DESTINATIONS

A WARM

WELCOME

66

68

72

JOIN THE FUN!

WHAT'S ON

Digital editions

available at:

GreatWestWay.co.uk/

digitaltravelmagazine

GreatWestWay.co.uk 7
---
LOST IN TIMELESSNESS

Where the world-famous rub shoulders

with the yet-to-be-discovered

Words: Helen Ochyra

IAM STANDING in a Dickens novel, sipping a pint of

ale and feeling the warm glow of the rousing fire in

the fireplace on my face, as I imagine a time when

this thatched house, The Waggon and Horses, was a

coaching inn filled with weary travellers making their way

along the Great Bath Road.

I am holding the tiller of a canal boat, watching green

and yellow fields slide past on both sides and birds settle

in the trees that line the banks of the Kennet & Avon

Canal. I plot a course westwards, down a staircase flight

of locks and past pub gardens with picnic tables and

overnight moorings.

I am exploring the Great West Way, a corridor that runs

through the very soul of England, from the vibrant capital of

London to the creative city of Bristol (read more in Heritage

Meets Hip, p12). This is a touring route that is more a lattice

– of paths, trails and tracks, snaking across the countryside

from ancient market towns to quaint villages.

Some of these paths are best on two feet, strolling

around Bath's cobbled streets perhaps, or rambling

across the green rolling hills of the Cotswolds, England's

largest Area of Outstanding Natural Beauty. Others could

have been made for cycling - the towpaths alongside

the canals from the Thames to the Bristol Channel for

example, or the mountain biking trails that wind through

the ancient trees of the

Savernake Forest. (Find your

trail in Discover Your Path,

p29.)

Then there are the

waterways. There is the River Thames, home to some

of the best stretches of water for rowing in the country,

not to mention the Henley Royal Regatta, an annual

festival of rowing races that brings London society to the

river's banks, Champagne glass in hand. There is also the

Devizes Locks, one of the greatest challenges in English

narrowboating – 28 locks up (or down!) one very steep

"A corridor that runs through

the very soul of England"

hill. Spend the day tackling that, or get in training for the

annual Devizes to Westminster International Canoe Race,

when canoeists of all abilities paddle their way from the

Wiltshire market town to London. (Discover your next

water adventure in Your Way on the Water, p21.)

Rather ride the rails? The Great Western Railway runs

from London Paddington to Bristol, a modern railway still

following the route of Isambard Kingdom Brunel's pioneering

line. Brunel designed it to be the longest, most level and

broadest railway in Britain, but travellers simply called it the

'holiday line', climbing aboard in their thousands to chug out

to the coast and countryside for their holidays. (Read more

about Brunel in Riding the Rails, p24.)

Climb aboard in London and in under an hour you can

be in Windsor, poking your head into the rooms and

galleries of the oldest and largest occupied castle in the

world – said to be the Queen's favourite residence. (Enjoy

more Aristocratic Acres, p36.)

Spend 90 minutes on board and you could be in Bath,

taking the waters at the thermal baths first discovered

by the Romans and strolling along Georgian streets,

where every building is fashioned from Bath stone and

glows the same shade of honey. It pays to take your time

travelling along the Great West Way, walking, cycling

or narrowboating through the countryside, but it is also

possible to drive (plan your

route, with Classic Car Tours,

p51.) Take a car and you'll find

yourself on one of the first

major highways to be built

in England, once called the Great Bath Road, and route

of the world's first mail coach service, which ran from

London to Bristol from 1784.

Along the way you'll find old coaching inns serving

hearty English meals such as fish and chips and Sunday

roast, washed down with local real ale – from Wadworth

Brewery in Devizes perhaps (see Drink Like a Local, p54.) →

8 GreatWestWay.co.uk
---
Pictured above (then in a clockwise direction): Changing of the Guard at Windsor

Castle; Tea and cake at a coffee shop in Castle Combe; pretty Wiltshire village of

Milton Lilbourne and a smiling florist in Bristol

GreatWestWay.co.uk

9
---
Pictured left-right: Gardens and woodland at Stourhead, Wiltshire; Hampton Court Palace; The Roman Baths;

Calne and the Marden river; Trowbridge, Wiltshire's county town

This route, now the A4, remains a major highway,

bringing you to Bristol from the heart of London in

just a few hours. And what an exciting city Bristol is.

Innovative, forward thinking and vibrant, this western

powerhouse has long been at the cutting edge; a

major port that is home to both Brunel's SS Great

Britain passenger ship, today a museum, and his lofty

Clifton Suspension Bridge.

Bristol is a hotbed of artists and passionate locals,

with street art and many independent galleries found

in the city. Cycling is popular in Bristol too. With cycle

paths on most major roads as well as along rivers and

into the countryside it is no wonder Bristol was named

as the UK's first 'cycling city'. So why not let two

wheels take you into the city's secret corners, where

you might find an early Banksy (there's an app for that)

or a yet-to-be-discovered fashion designer, musician or

artist displaying their creations? However you choose

to travel, the web of trails and tracks that make up the

Great West Way mean you can meander off the major

routes and find your own favourite slice of England.

You might find it in Marlborough, home to one of

the country's widest and grandest high streets, lined

with boutiques and cafés; or Malmesbury, England's

oldest borough with a stunning 12th Century Abbey

and a Market Cross from 1490.

Take time out to enjoy the shopping destinations

too, from the iconic Jolly's in Bath, one of the oldest

department stores in Europe to the Oracle shopping

centre in Reading, a hub for visitors throughout the

Thames Valley. (Enjoy more Shopping Destinations,

p62.) Or at the prehistoric and deeply mysterious

Silbury Hill, the largest man-made mound in Europe,

which covers some five acres, reaches about 130 feet

high and has no discernible purpose (read more in

Nature in High Definition, p41.)

Wherever you choose to stay (see A Warm

Welcome, p68) you'll find friendly family-run hotels

and boutique B&Bs. Perhaps five-star grandeur at

The Royal Crescent Hotel & Spa, proud to describe

themselves as "the only landmark building in the

world you can sleep in", located in the historic centre

of Bath is for you, or check in to Whatley Manor in the

heart of the Cotswolds and cosy up to watch a film in

the cinema or immerse yourself in tranquillity at their

wonderful Aquarias Spa.

Like gardens? Call in to Royal Botanic Gardens, Kew,

home to the world's most extensive and diverse plant

collection. Here in London's largest UNESCO World

Heritage Site you can stroll through an arboretum that

is like a living library of more than 14,000 trees and

step into a rainforest in the Victorian-era Palm House,

a stunning glass structure that shelters endangered and

otherwise-extinct tropical tree species.

Seven miles further south in East Molesey, you will

find the magnificent royal splendour of Hampton

Court Palace, the home of Henry VIII, his wives and

children. Walk in the footsteps of kings and queens

at the Chapel Royal, experience the splendour of the

Great Hall, and lose yourself in the spectacular 60

acres of formal gardens with over 8,000 trees and

Britain's longest flower-filled border. Summer is a

10 GreatWestWay.co.uk
---
fabulous time to wander in the rose garden, see fruit

and vegetables growing in the kitchen garden as they

were for 18th century kings. There's also the world's

largest grape vine planted in 1768 and still producing

black grapes, which you can buy from onsite shops

from early September.

From the 19th century, wind your way along the

Great West Way further and you'll wind the clock

back too. In Wiltshire you'll find many pretty towns

and villages to explore. Stroll through the beautiful

park in Trowbridge, the county town, and saunter

past the independent shops, well-known High

Street outlets and a multitude of cafés, pubs and

restaurants. There are also a number of convenientlyplaced

hotels in Trowbridge which could make a

great base for your Great West Way journey. Calne

is another great historic town from which you can

discover the timeless wonders of Wiltshire - and also

the place where the traditional English technique

of curing ham and bacon – the Wiltshire Cure - was

invented by the Harris family.

There's also Lacock Abbey, a Tudor family home

that started life as an abbey and nunnery in the

13th century. You'll almost certainly recognise the

medieval cloisters here – from Wolf Hall or Harry

Potter and the Philosopher's Stone – then step outside

and into a film set. The ridiculously picturesque village

of Lacock is the darling of TV producers. Look up and

you'll see why the British TV networks love Lacock

– or, rather, you won't, as it's the lack of TV aerials

and phone cables that have made this National Trust

village the perfect backdrop for everything from Pride

and Prejudice to Cranford. (Discover Great West Way

places you can step on set in As Seen On Screen, p33.)

Travel further back in time and further west again,

into Roman Britain and the well-preserved baths of

Bath. See the original Roman bathing pool surrounded

by gorgeous 18th and 19th century buildings at The

Roman Baths, and don't miss taking a dip yourself,

at the modern Thermae Bath Spa. Here the rooftop

pool sends curls of steam up above the skyline of this

elegant Georgian city and where you can rest your

arms on the side of the pool, look up through the heat

haze and stare straight at the Victorian Gothic Bath

Abbey, the work of another great English architect, Sir

George Gilbert Scott.

It may only be 125 miles from London to Bristol but

the Great West Way can take you all the way back

to prehistoric. At Avebury you can touch the ancient

standing stones of Britain's largest stone circle, part

of a sacred landscape that dates back to around

2850BCE. There are some 42 remaining stones here,

each one weathered and wizened into a different shape.

And then of course, there is Stonehenge. This

masterpiece of ancient engineering is one of the icons

of England, and part of the same UNESCO World

Heritage Site as Avebury. (Discover more heritage in

Marvellous Museums, p59.) This may be one of the

planet's most important ancient sites but it's just one

small part of England's story, and of your journey on

the Great West Way. It's time to head out there and

to start making your own memories.

GreatWestWay.co.uk 11
---
HERITAGE MEETS HIP

From London, the UK's capital, to Bristol, one of the country's

hippest cities, and with many more characterful villages and plenty of

lush, green landscapes between. Arts and creativity along the Great

West Way are diverse and fascinating at every turn

Words: Robyn Powell

CARVING A CREATIVE CORRIDOR across

Britain, the route encompasses sites of artistic

innovation, some old and some new, but all

steeped in Britain's creative heritage.

London's art scene has been well documented and, for

centuries, writers, painters and composers have gathered

here. At the other end of the Great West Way, Bristol

and Bath are home to some of the grandest neoclassical

architecture in Britain. The oldest continually-functioning

theatre in the English-speaking world is the Bristol Old

Vic and yet this is also the hometown of Banksy, the

anonymous graffiti artist whose internationally renowned

work grew out of the local underground scene.

The city now hosts Upfest, a festival of street art, and

some of Banksy's best street art has been combined into a

self-guided walking tour of the city.

Between these two urban 'poles' are countless artistic

gems, waiting to be unearthed or rediscovered. We can

only offer a small selection to whet your appetite.

Before leaving London, a must-do for lovers of the

12 GreatWestWay.co.uk
---
Pictured this

page:

Bristol Docks

Pictured

opposite

page:

The Mild

Mild West

mural by

graffiti artist

Banksy

60's pop music revolution is a visit to the new Eel

Pie Island Museum, in Twickenham, where the area's

creative connection with superstars like Mick Jagger,

Eric Clapton and Rod Stewart is brilliantly celebrated.

Moving westwards, the village of Cookham has been

commemorated by the

"The area around Reading and

Bracknell has become 'home' for

today's high-tech creators"

visionary artist Stanley

Spencer (1891–1959) whose

paintings interpreted the

whole world through the

prism of his birthplace.

Spencer referred to

Cookham as "a village in Heaven" and in his biblical scenes,

fellow-villagers are shown as their Gospel counterparts.

Spencer was a unique talent in Britain and feted around

the world. His works continued to be influenced by the

landscape in which he grew up and lived.

Today if you visit Cookham you can view his paintings at

the Stanley Spencer Gallery and see nearby the landscape

where he imagined the resurrection and Christ carrying

the cross through Jerusalem. Nearby, at Pangbourne, is

the ultra-hip Modern Artists' Gallery, where works of

contemporary art are on permanent display, for viewing or

purchase.

The area around Reading and Bracknell has become

'home' for today's high-tech creators, finding digital

solutions for industry as well

as fast-moving computer

games for leisure time. While

in the town, take time to tour

the Abbey Galleries and relax

among the ruins of Reading

Abbey, founded in 1121 by King

Henry I and site of his (as yet undiscovered) burial-place.

Oscar Wilde enthusiasts may prefer the opportunity of a

tour around that literary giant's temporary residence, at

Reading Prison. A short detour to the south is rewarded

by the remarkable Watts Gallery - Artists' Village, near

Guildford, where a moving experience of the passions

of some of Victorian England's most influential artists,

painters and sculptors awaits. Head west to Newbury for

the altogether different vibe at Arlington Arts, a centre →

GreatWestWay.co.uk 13
---
for aspiring artists to present their talent, whether

creative or performing. Opened by KT Tunstall in 2006,

it attracts growing numbers of aspiring musicians and

painters, all eager to impress.

Out in the English countryside some of the oldest art

in Britain is to be found carved into the ancient chalk hills

of Wiltshire. The famous White Horses can be seen from

many miles away because the grass around the huge

chalk incisions is regularly cut, weeds removed and the

images cleaned. In a small area between Marlborough

and Devizes are a collection of six examples, near

Marlborough, Hackpen, Cherhill, Alton Barnes, Pewsey

and Devizes. Were they originally pagan symbols or tribal

markings to say this was the territory of the White Horse

people? We can't know why they were created but the

impact of their highly-stylised designs is unforgettably

dramatic and surprisingly modern.

West of Devizes, Lacock Abbey is another example

of how British creativity continues to evolve. Parts of

the medieval complex were incorporated into a grand

manor house and, in the 19th century, it became the

home of one of the pioneers of photography, William

Henry Fox Talbot. The immaculately-conserved village

of Lacock is also associated with one of the most

successful British artistic ventures of modern times.

A number of scenes in the first two Harry Potter film

series were shot at the abbey, its cloisters and side

rooms transformed into the classrooms at Hogwarts

School. Harry's discovery of the Mirror of Erised was also

shot at Lacock, and a house in the nearby village was

chosen as the cottage where Harry's mother Lily was

"Corsham

brings together

artworks,

theatre, film

and dance"

Pictured left-right: An artist at

Bristol's Upfest street art and graffiti

festival; and Parkside House,

Corsham High Street

killed by Voldemort. As if to shake off the ancient and

adopt the modern, the nearby country town of Corsham

hosts another modern arts hub, The Pound Arts Centre,

bringing together artworks, theatre, film and dance.

The exquisite city of Bath, whose roots are firmly in the

age of the Roman invasion, became a haven for society

folk wishing to escape London in the 18th/19th centuries

and the UNESCO-listed architecture is breathtakingly

beautiful. The National Trust's Bath Assembly Rooms were

often frequented by author Jane Austen during her highlyproductive

years in the city. They are now home to Bath

Fashion Museum which holds a world-class collection of

contemporary and historic dress.

For US visitors, the American Museum and Gardens is

an irresistible draw, housing the only dedicated collection

of American decorative artefacts outside the United

States, and located in Sydney Pleasure Gardens is The

Holburne Museum, home to fine and decorative arts.

The short hop to Bristol takes you to another world.

Formerly a great port city and industrial centre, Bristol

has been revitalised and its two universities ensure that

the creative engine will never stop turning. Among many

ventures, we recommend Spike Island, a public art space,

near the docks, hosting the workshops of more than 70

contemporary artists, providing workspace for budding

designers and wallspace on which to exhibit. Heritage and

Hip go hand in hand in contemporary Britain.

14 GreatWestWay.co.uk
---
Discover how Brunel's innovations shaped our world.

ssgreatbritain.org

GreatWestWay.co.uk 15
---
THE LEGENDS WHO LIVED HERE

Quietly enriching the lives of passers-by for 150 years, we take a look

at some of the plaques along the Great West Way -

linking the people of the past with the buildings of the present

Words: Gareth Herincx

Pictured

Freddie

Mercury

blue

plaque

with

Brian May

©English

Heritage

THE IDEA OF ERECTING "memorial tablets" was

first proposed by William Ewart MP in the House

of Commons in 1863 to mark the homes and

workplaces of famous people. The first person

honoured was poet Lord Byron (1788-1824) in 1867 with

a blue plaque commemorating his birthplace at 24 Holles

Street, Cavendish Square, London.

There are now more than 900 plaques across London,

plus hundreds of others across the UK, though they are not

always round and blue or sanctioned by English Heritage.

Follow the Great West Way from London to Bristol and

you'll find a fascinating cross section of society reflected

in the plaques. A tour of them all would provide enough

material for a book, so here we've chosen a combination of

significant and quirky examples - from a Hollywood legend

to the world's most famous dog.

Our journey into the past takes us out of the central

London hotspot for plaques (where some properties have

two each) to 40 Sandycombe Road, Twickenham - a house

designed by artist J.M.W. Turner (1775-1851).

He's thought to have lived there with his father between

1812 and 1826. Back then it was surrounded by countryside,

now it's hemmed in on all sides by London suburbia.

West of Twickenham in the London Borough of Hounslow

you'll find the town of Feltham. It's here at 22 Gladstone

Avenue, TW14, that 17-year-old Freddie Mercury (1946-

1991) settled with his parents after emigrating from

Zanzibar in 1964.

The Queen frontman was living in the modest semidetached

home when he met two other members of the

16 GreatWestWay.co.uk
---
"Caversham's award-winning pub, the Fox &

Hounds is where (in 1960) Paul McCartney and

John Lennon played their only gig as The Nerk

Twins just before they formed The Beatles."

band - Brian May and Roger Taylor - and the rest is history.

Staying with music, composer Edward Elgar (1857-

1934) is best associated with the Malvern Hills which

inspired many of his most popular compositions.

However, he was also a regular visitor to Berkshire, and

often stayed and composed - most notably his renowned

Cello Concerto - at a mansion in Monkey Island Lane,

Bray, Maidenhead.

The house was later named Long White Cloud (the

Maori name for New Zealand) by a more recent resident,

Formula One legend Stirling Moss.

You'll find the pretty village of Cookham three miles

north of Maidenhead, once home to Kenneth Grahame

(1859-1932), author of The Wind in the Willows.

He lived with his grandmother at The Mount in

Cookham Dean and it's generally accepted that the river

scenes in the children's classic were inspired by the stretch

between Cookham and Henley with Winter Hill above it.

Just over 10 miles further west, you will find

Caversham's award-winning pub, The Fox & Hounds

where (in 1960) Paul McCartney and John Lennon played

their only gig as The Nerk Twins just before they formed

The Beatles. The blue plaque is on the wall just before you

step inside - where it is also said the pair worked behind

the bar on occasion, where at the time Paul's cousin ran

the pub.

Blue plaques don't just celebrate the great and the

good - buildings can get the star treatment too. Travel

a little further west to Thatcham in Berkshire and you'll

find a plaque outside another pub - The Kings Head in

the Broadway, commemorating where Britain's first mail

coach changed horses at the old coaching inn between

Bristol and London on August 3, 1784.

Up until then, it took two to three days for post to

travel from London to Bristol, but the stage coach system

cut this down to just over 16 hours by dividing the route

into stages with fresh horses at each stop.

Head west from Thatcham to the market town of

Newbury. Best known for its racecourse, there's also a

large plaque commemorating renowned civil engineer

John Rennie (1761-1821) and Newbury Lock - the first to

be built on the Kennet & Avon Canal. →

Pictured

left-below:

British

Olympic

gold medal

winner Ed

McKeever's

gold-painted

postbox;

Hollywood

movie legend

Cary Grant

and Actress

Diana Dors

Blue Plaque

GreatWestWay.co.uk 17
---
The Scot was the brains behind the completion of the

canal, and its network of locks, which opened in 1810 and

meant that goods could be transported between London

and Bristol rather than by the often hazardous sea route.

Cross the border into Oxfordshire, close to the White

Horse at Uffington, and you'll find Garrard's Farmhouse

where poet John Betjeman (1906-1984) lived with his wife

Penelope between 1934 and 1945.

Knighted in 1969 and appointed Poet Laureate in 1972,

lines from his short poem, Uffington, were set into the

floor at London St Pancras station (which he helped save)

- "Imprisoned in a cage of sound/ Even the trivial seems

profound".

The great diarist Samuel Pepys (1633-1703) is most

associated with the City of London, but he travelled widely,

hence a blue plaque in Marlborough, Wiltshire.

He stayed for a night with his wife at the Hart Inn in

1688 after a tour of the West Country. The inn no longer

exists, but a plaque can be found on the north side of the

High Street next to a doorway. He wrote: "Before night,

come to Marlborough, and lay at the Hart; a good house,

and a pretty fair town for a street or two..."

The London to Bristol route via Bath through Wiltshire,

was described by Pepys as one of England's finest coaching

routes. You'll find the town of Swindon about 12 miles

from Marlborough. Home to the "Magic Roundabout"

(which features five mini-roundabouts arranged around a

sixth central, anticlockwise roundabout), it was also the

birthplace of actress Diana Dors, who was seen as the

British Marilyn Monroe back in the 1950s.

Born Diana Mary Fluck, she died in 1984 aged 52 and a

blue plaque celebrating her can be seen at 61 and 62 Kent

Road SN1 - once the Haven Nursing Home.

The market town of Chippenham is 10 minutes west of

Swindon by train. Before you leave the station, walk over to

a nondescript single-storey building in the forecourt where

you'll see a plaque commemorating Isambard Kingdom

Brunel - the creator of the Great Western line. The building,

which is still in use today, was Brunel's site office and its

styling echoes the original 1841 station.

There's also a fascinating footnote to the history

of rock'n'roll in Chippenham because it was here that

American star Eddie Cochran (1938-1960) was killed when

the taxi carrying him from a show in Bristol crashed en

route to London.

Popular and hugely influential among fellow musicians,

his hits included Summertime Blues and C'mon Everybody.

His plaque at Rowden Hill (the scene of the accident), is

mounted on three stone steps, each inscribed with lyrics

from his posthumous UK No 1 - Three Steps To Heaven.

Head west by road via the A4 and you'll come to the

picture postcard town of Bradford on Avon – home to

British Olympic gold medal winner Ed McKeever. The

35-year-old won the men's 200m (K-1 200m) kayak sprint

"Nipper featured on hundreds of

millions of records produced by the

His Master's Voice label for more

than a century."

at the London 2012 games and the Royal Mail marked

his achievement with a special stamp and a gold-painted

postbox which can still be seen in The Shambles.

A 10-minute train ride takes you from Bradford on Avon

to Bath which was founded by the Romans as a thermal

spa and is now a UNESCO World Heritage Site. Writer

Jane Austen (1775-1817) is arguably Bath's best known

former resident, though she only lived in the city from

1801 to 1806. It did, however, provide the inspiration for

Northanger Abbey. You can see her bronze plaque at 4

Sydney Place.

There's another bronze plaque a short walk away at 19

New King Street honouring astronomer William Herschel

(1738-1822). Born in Hanover, he migrated to Britain at

the age of 19 and was later joined by his sister Caroline

(1750–1848) - also a noted astronomer.

It was from this house, using a telescope of his own

design, that he discovered the planet Uranus in 1781. Their

former home is now the site of the Herschel Museum of

Astronomy.

The last leg of our Great West Way blue plaque tour

takes us to Bristol where Hollywood movie legend Cary

Grant (1904-1986) was born Archibald Alec Leach. The star

of North by Northwest and To Catch a Thief is celebrated in

the biennial Cary Grant Comes Home Festival in Bristol and

his blue plaque can be found at 15 Hughenden Road where

he was born.

Finally, we celebrate one of the most recognised dogs in

the world. Known as the HMV dog, Nipper the terrier cross

was painted sitting with his ear to a wind-up gramophone

and featured on hundreds of millions of records produced

by the His Master's Voice label for more than a century.

Head to the corner of Park Row and Woodland Road BS1 to

see a blue plaque devoted to Nipper (1884-1895) and his

master Mark Berraud.

18 GreatWestWay.co.uk
---
Pictured this

page:

Wootton

Rivers Lock,

Kennet &

Avon Canal

Pictured

opposite

page:

Flight of

Devizes Locks

at Caen Hill
---
YOUR WAY ON THE WATER

Like messing about in boats? The Great West Way offers

dozens of opportunities to do just that, from captaining a

narrowboat yourself to pushing out by canoe

Words: Helen Ochyra

We hope you will enjoy our selection of 10 of the best

ways to explore the Great West Way by water:

1

CRUISE TO HENRY VIII'S HOME

îClimb aboard one of Thames River Boats' vessels at

Kew and you'll cruise past the glorious gardens before

sailing around a bend in the river to encounter some of

West London's finest vistas, from the picture-postcard pubs

of Richmond to the grand 17th-century mansion of Ham

House and Garden. The cruise finishes at Hampton Court

Palace, once home to notorious monarch Henry VIII.

2

TEST YOUR METTLE AT CAEN HILL

îThe 28 Devizes Locks form one of the greatest

challenges in English boating. Here you'll rise 72

metres (237ft) in just two miles, pushing open and pulling

shut 28 sets of heavy wooden lock gates to travel uphill to

the market town of Devizes. Fortunately you're unlikely to

be alone – this is a busy stretch of the Kennet & Avon Canal

and help is often at hand.

3RELAX ON A NARROWBOAT CRUISE

îDon't fancy driving a narrowboat yourself? Take one of

the Kennet & Avon Canal Trust's tours instead, climbing

aboard the Barbara McLellan at Bradford on Avon wharf for

a slow cruise along a bucolic stretch of the canal. The bow is

open for enjoying the view and there's a licensed bar.

4SAIL INTO WIND IN THE WILLOWS

îCheck out the riverbanks that inspired Kenneth

Grahame's Wind in the Willows on a two hour tour

of the Thames from Reading with Salters Steamers. Cruise

through four traditional locks, passing Sonning and its famous

bridge, before arriving at Henley, where you could visit the Wind

in the Willows exhibition at the River & Rowing Museum.

5HOP ON BOARD THE MATTHEW

îCruise along Bristol's old dock cranes in this fabulous

and faithful reconstruction of the boat used by

John Cabot when he discovered Newfoundland in 1497,

and enjoy all the water activity that makes Bristol one of

Europe's most interesting maritime cities. →

GreatWestWay.co.uk 21
---
One of the Great West Way's

many charms is that it can be

entirely navigated on water, via

the River Thames and the Kennet

& Avon Canal.

Pictured above left & right:

Avoncliff village, the point

at which the Kennet and

Avon canal crosses the river and

railway line via the Avoncliff

Aqueduct; and Kennet and Avon

canal at Burbage Wharf.

6CANOE THE KENNET & AVON

îThe beautiful Kennet & Avon Canal

is one of many waterways cared

for by the Canal & River Trust. Get closer

to its water by hiring a Canadian canoe

from Towpath Trail in Bradford on Avon

and pushing out into the waters of the

canal under nothing but your own muscle

power. Paddle eastward to Seend Cleeve

and you can moor up at the canalside

Cross Guns at Avoncliff for a proper pub

lunch before making the return journey.

7HIRE A BOAT IN HENLEY

îHobbs of Henley provides a variety

of ways to enjoy the Royal River

Thames from public cruises or self-drive

and chauffeur-driven days out, to its

newest boats, luxury Linnsen self-drive

cruisers, the only ones for hire in the UK.

Charter by the weekend or the week.

8SEE BRUNEL'S WORK FROM

THE WATER

îIsambard Kingdom Brunel is one

of the most ingenious engineers the world

has even seen. Check out two of his most

incredible achievements, stepping aboard

Brunel's SS Great Britain before joining

a cruise along Avon Gorge with Bristol

Ferry Boats for jaw-dropping views of the

dramatic gorge and the chance to sail

beneath Clifton Suspension Bridge.

9

TAKE A DEVIZES BOAT TRIP

îSail out on the wide beam

Kenavon Venture boat from The

Wharf Devizes with the Kennet and

Avon Canal Trust and enjoy a relaxing

two hour trip and cream tea. There's also

their Bruce Branch Boats division offering

affordable canal holidays to disabled,

disadvantaged or older people.

10

JOIN HENLEY ROYAL REGATTA

îEvery July the Thameside

town of Henley hosts the

world's most famous regatta, Henley

Royal Regatta. Take a seat in the Regatta

Enclosure to watch the races or book a

trip with Thames Rivercruise to sail along

the course and get close to the action.

The Henley River and Rowing Museum is

also worth a visit – it tells the story of the

Thames and the history of rowing.

22 GreatWestWay.co.uk
---
Take your

time on the

Kennet &

Avon Canal

The beautiful Kennet & Avon Canal (or K&A as it's known)

flows along 87 miles of the Great West Way®. From Bath to

Reading, it winds through quintessential rolling Wiltshire hills,

bustling towns and even a World Heritage Site.

Since 1810, narrowboats have drifted along at four miles an hour, plying their trade from Bristol to London.

Today, you'll find a mixture of holiday and live-aboard boaters, all seeking the calm and tranquillity that

comes from life on or by the water.

In fact, research by the Canal & River Trust, the charity that looks after the K&A, suggests spending time

next to water is good for your wellbeing. So take a wander along the towpath, paddle away on a canoe,

jump aboard a boat trip, or simply stop, stare and take it all in. The K&A is free and open for everyone to

use and enjoy every day.

Great West Way® Waterways Ambassador

Registered Charity Number 1146792

canalrivertrust.org.uk/GreatWestWay
---
RIDING THE RAILS

Travel the Great Western Railway line, designed and built by

engineer Isambard Kingdom Brunel from 1836, to visit the

spectacular sights and landmarks along the Great West Way

Words: Jeremy Forsyth

ONE OF ENGLAND'S GREAT long-distance

railway lines, the Great Western Railway (or

GWR), is perhaps Brunel's most enduring legacy

and many of the attractions described in this

magazine are easily accessed from its stations. The railway

west from the capital, sometimes nicknamed

"Brunel's billiard table", provides a leisurely opportunity

to enjoy the delightful sights along the route, via Taplow

and Maidenhead to Reading. The 'northern' track goes to

Bristol through bucolic Pangbourne and the railway town

of Swindon while that to the south takes in Newbury,

Bradford on Avon and Bath. Choose your destination

and take your pick! Incidentally, the Malmaison hotel in

Reading, also designed by Brunel,

was one of a chain, originally built

to accommodate the vast number

of passengers taking advantage of

the railway to explore places to the

west of London.

Isambard Kingdom Brunel has

often been described as "the little man in the big hat".

However he was in fact a daring British engineer whose

work is commemorated to this day throughout the nation,

particularly on the Great Western Railway. In 1833, at the

age of 27, he was appointed chief engineer of the newly

formed GWR. Brunel personally surveyed the route from

London to Bristol, and further on to Exeter, and planned a

passenger-friendly line that involved few inclines and no

sharp curves. Bridges over rivers, viaducts over valleys, and

tunnels through hills were constructed.

His two mile GWR Box Tunnel, near Chippenham, was

the longest in the world when it was completed in 1841

and, when the two teams of tunnellers met in the middle,

they were only 1¼" out of line. The elegant entrances to

the tunnel, built of Bath stone quarried at nearby Corsham,

have both been listed as national monuments. Railway

"Brunel's engineering solutions

were often radical, and

frequently graceful"

enthusiasts, of all ages, will feel the lure of STEAM - Museum

of the Great Western Railway, in Swindon, housed in one of

the original engine 'sheds' telling the story of the men and

women who built, operated and travelled on the GWR. You

can see famous locomotives, drive a steam train simulator

and even work the signals in the restored signal box.

Brunel was a typically energetic Victorian, working up to

18 hours a day, often sleeping in his office. He believed that

there was no challenge he couldn't meet. His engineering

solutions were often radical, and frequently graceful, even

if not all of them came to fruition.

His construction of the Great Western Railway, including

the bridge over the Thames at Maidenhead, Bristol docks,

and the three biggest steamships

in the world were part of an

integrated masterplan that would

take passengers from London to

Bristol by train and then straight

over to the United States in

transatlantic steamers. SS Great

Britain was the first steam powered screw propeller ship to

cross the Atlantic. Originally the largest passenger ship in

the world on her completion in 1845, Brunel's masterpiece

is now restored and displayed in Bristol Docks.

Brunel's other less well-known ships are the Great

Western and the Great Eastern. The former was the longest

ship in the world at the time and proved the viability of

commercial transoceanic steamship travel. The Great

Eastern became a pioneering oceanic telegraph

cable-laying ship.

The newly-opened 'Being Brunel' exhibition, at Brunel's

SS Great Britain, explores the great engineer's multifaceted

character and is full of facts about his extraordinary

life and legacy. Maybe he was compensating for only being

five feet tall but no one in Victorian Britain thought as big

as Isambard Kingdom Brunel. →

24 GreatWestWay.co.uk
---
Pictured above left (then in a

clockwise direction): Brunel's

Box Tunnel on the Great Western

Main Line between Bath and

Chippenham; Couple riding the

rails on Great West Way journey;

Commemorative plaque at

Clifton Suspension Bridge built

by Isambard Kingdom Brunel;

and Great Western Railway at

Westbury

"The railway west

from the capital

provides a leisurely

opportunity to enjoy

the delightful sights

along the route."

GreatWestWay.co.uk 25
---
He was born near Portsmouth, where his father, Marc

Isambard Brunel, was working on a project for the Royal

Navy. In 1841, Marc Brunel was knighted for successfully

designing the world's first passenger tunnel under a

navigable river, and The Brunel Museum, Thames Tunnel,

at Rotherhithe, celebrates the life and work of both father

and son. Isambard worked with him on that project from

the age of 20 as his father's on-site engineer.

To see the tunnel shaft today, connecting Rotherhithe

and Wapping, visit the Brunel Museum, or take Brunel's

London Tour, with London Walks, which includes a train

ride through the tunnel.

The Thames Tunnel was a risky venture and on two

occasions young Isambard was lucky not to have been

killed when the workings collapsed and flooded. After

the second of these narrow escapes, Isambard was sent

to recuperate in Bristol and while there heard about a

competition to build what would become the Clifton

Suspension Bridge. Brunel came up with a design

that was daringly simple, two vast stone columns on

either side of the Avon to be linked by a metal bridge

suspended between the columns.

When involved in a project, nothing escaped Brunel's

attention, and he loved a challenge. Not even Marc

Brunel thought it was possible for a suspension bridge

to span 194 metres (the received wisdom was that 176

metres was the maximum). His idea was eventually

adopted by the bridge committee because its simplicity

also meant it was the cheapest option - providing it

worked. For reasons of financial and civil turbulence the

suspension bridge was only completed 33 years later,

in 1864. This was five years after Brunel's death, but it

'worked' and is fully in operation today.

Railway bridges that Brunel designed include the

graceful Maidenhead Bridge over the Thames in Berkshire,

still carrying mainline trains in and out of London. In all,

Brunel designed 1,000 miles of track in Britain as well as

major stations including London Paddington and Bristol

Temple Meads.

We can see Brunel's influence in many places along the

Great West Way, from Paddington all the way to Bristol.

A statue of him, seated and (for once) actually holding,

rather than wearing, his famous stovepipe hat stands

inside Paddington Station. But Brunel's most enduring

triumph remains the railway line he built.

With it, Isambard Kingdom Brunel proved railways did

not have to spoil the countryside they passed through. He

had a radical impact on the English countryside but it was

an impact that opened up new vistas, making the sight

of a train crossing a viaduct, entering a tunnel or passing

along the riverside something inherently picturesque.

For details of ticket

options, including

'PlusBus' and

'Discoverer', please

visit gwr.com

Pictured

above to

below:

Clifton

Suspension

Bridge and

couple

waiting to

board the

Great

Western

Railway.

26 GreatWestWay.co.uk
---
Moments to

remember

made with the

National Trust

Visit the National Trust places along the the

Great West Way® for for spaces to to relax, relax, gardens

and countryside to to explore and and stories stories to to discover. discover.

These are the places that make us.

These are the places that make us.

nationaltrust.org.uk/south-west

nationaltrust.org.uk/south-west

© National Trust 2019 . Registered charity, No. 205846. © National Trust Images \Alana Wright.

© National Trust 2019 . Registered charity, No. 205846. © National Trust Images \Alana Wright.
---
A GLORIOUS STAY IN THE COTSWOLDS

Enjoy a stay and fabulous dining at Lords of the Manor

in the magnificent Cotswolds. Immerse yourself in

the tranquillity of the countryside while taking in the

sensational scenery around the hotel and local area with

the River Eye meandering through our grounds and

the ancient and unspoilt picturesque village of Upper

Slaughter. A stay at our beautiful hotel will allow you to

indulge in everything the Cotswolds has to offer, from

timeless scenery and rolling rural countryside to the

enchanting sights of picturesque villages like Chipping

Campden, Broadway Tower, Stow-on-the-Wold,

Bourton-on-the-Water and Bibury. There are also countless

natural attractions to enjoy including Batsford Arboretum,

Cotswold Farm Park, Sudley Castle, Cotswold

Wildlife Park & Gardens and many more!

LORDSOFTHEMANOR.COM | 01451 820243
---
Pictured:

Cherhill

Downs with

Cherhill

White Horse

in the

background

DISCOVER YOUR PATH

Explore the land around the Great West Way under your

own steam, either on foot or bicycle. Soak up sights and

sounds easily missed when speeding west by train or car and

discover treasures off the beaten track

Words: Diana Woolf

FROM ANCIENT TRAILS to disused railways, there's

a path for all tastes and all energy levels. While

some people might like to walk the whole 125

miles from London to Bristol in one single trip,

(would recommend at least 6 days!) most will prefer to

take their time, and to choose their own path, absorbing

the sights as they go and taking advantage of the many

rewarding watering-holes and charming resting-places to

be experienced. Throughout the Great West Way, there are

choices and options of both routes and daily destinations.

Armed with a good map (and strong legs), you can roam

the countryside, making your own memories in this idyllic

land and free to go/stop as you please.

Leaving London, the temptation to hurry westward is

to be resisted as the opportunity to follow the 50+ miles

of Thames Path from Putney to Reading should not be

missed, if schedules permit. Taking in such beauties as the

magnificent expanse of Richmond Park, the royal palaces

of Hampton Court and Windsor Castle, Henley, Eton and

delightful riverside villages, the path leads to the Kennet &

Avon Canal and thence, 87-miles away, the city of Bristol.

Our suggestions of good places to break this leg of the

journey would be The Swan, at Staines, pet-friendly and

with great dining, and The Great House or The French Horn,

both at Sonning. The easily-negotiated canal/river towpath

ends at Bath, from where the 13-mile Bristol-Bath Railway

Path, following the route of the old Midland Railway, leads

to the destination.

For those who like to take things easy, there are plenty

of stopping points along this section as some of the old

stations are still open; you can get a snack at the Warmley

Waiting Room and there's also a café at Bitton Station.

The Railway Path is part of the larger National Cycle

Network and links up with National Route 4 which starts

in London and makes its way along the Thames and then

eventually cross-country to Bath. →

GreatWestWay.co.uk 29
---
The rural charm of the

touring route, including

3 Areas of Outstanding

Natural Beauty,

makes it a picturesque

destination for any

walking or cycling tour

As well as passing through some lovely rural scenery, the

path takes in some fascinating reminders of England's

industrial past including the extraordinary Devizes Locks,

(as featured on page 21) a flight of 28 separate locks, and

the longest continuous flight of broad locks. First opened

in 1810 and now a scheduled ancient monument. This,

then, is certainly the most direct route but misses much

of the wonders to be found, away from the waterway and

track. Natural beauty, prehistoric marvels and marvellous

wayside halts lie in wait for those who choose adventure.

A favourite, ancient path is the Ridgeway, starting at

Ivinghoe Beacon and joining the Great West Way at the

North Wessex Downs, it is certainly one of England's

oldest, used by travellers for at least 5000 years. Accessed

at pretty Goring, a little further along the Thames Path

from Reading, it's an 87-mile long path running across the

heart of the Great West Way. From the North Chilterns,

the path wends its way southwest across the hills to join

the North Wessex Downs, finishing at mysterious Silbury

Hill, west of Marlborough and just a few miles north of

the Kennet & Avon river, close to another 'white horse'

on Hackpen Hill. It passes through some of our most

lovely countryside and, as it keeps to the high ground –

historically less wooded and drier than the surrounding

valleys, so easier to travel – it gives walkers a chance to

enjoy some spectacular views. A particularly interesting

section runs from Wantage to Swindon, across the famous,

in the horse-racing world, Lambourn Downs. Legend has

it that Dragon Hill is where St George killed the dragon

-– there's no grass on top of the hill as supposedly the

dragon's spilt blood killed it all. You will get a perfect view

of the Uffington White Horse, a prehistoric shape carved

into the chalky hillside, as well as the site of the Iron Age

hill-fort, Uffington Castle, built around 2600 years ago.

Nearby, too, is the Neolithic burial mound at Wayland's

Smithy. Legend has it a pagan god had his blacksmith's

forge in the burial chamber and he would shoe your horse

if you left it, and a suitable payment, overnight. As it is a

country path, you will not pass through villages or towns

and careful planning is required. In view of the distances

involved, you might consider resting near Goring, Wantage

and Swindon. Take a good look at Royal Oak at Yattendon,

Queens Arms at East Garston and Helen Browning's Royal

Oak, Wiltshire – you will not be disappointed. Once you are

30 GreatWestWay.co.uk
---
Pictured both

pages:

Cherhill Downs

back on the A4 at Avebury, you will likely be ready for another

break and the Old Forge at East Kennett, on the very banks of

the River Kennet, could not be better placed. If you don't fancy

the towpath challenge, a 10-mile hike/ride will bring you to

Chippenham and public transport will speed you on your way.

The Cotswolds Way is another of England's long distance

trails and its lower reaches are easily accessible from the Great

West Way. It starts in the lovely city of Bath and then runs

north along the Cotswold escarpment for 102 miles towards

the Midlands. A good day's effort would take you past Bath

Racecourse and the monument to Sir Bevil Grenville's 1643

heroics in the English Civil War towards the opulent country

estate of Dyrham Park. Stop for refreshment (or stay the night)

at the Crown Inn at Dyrham.

Further along this trail, and a short detour to the east, you

could find Malmesbury a vibrant market town steeped in history.

Here you can enjoy river walks along the River Avon which winds

around the town, or stay in England's oldest hotel, The Old Bell.

Wherever you go, by whichever route and whatever form of

transport floats your boat, you'll be assured of a warm welcome

along the Great West Way, with something new and fascinating

to discover at every turn.

GreatWestWay.co.uk 31
---
Make memories in Marlow

Situated along the new 125 mile

touring route Great West Way, the

charming and characterful town

of Marlow awaits you. Welcomed

by the iconic suspension bridge

spanning the River Thames,

soak up the idyllic riverside by

boat or on foot, mooch about

the boutique high street shops,

enjoy impressive, award-winning

food and drink or explore the

quintessential English villages that

lie on the doorstep…

www.GreatWestWay.co.uk

www.VisitThames.co.uk

Explore the Marlow

Midsomer Murders Locations Trail

Follow the local discovery trail based on

locations used in the popular TV detective

series Midsomer Murders in and around Marlow

and the picturesque Hambleden Valley.

The 17-mile trail starts in the historic market town

of Marlow and you will very quickly find yourself

immersed in scenes from Midsomer Murders.

Following the trail you can sample local beer and

wine, taste fine food, spend the night in a filming

location and walk the Chiltern Hills of Midsomer.

Download a copy from:

www.visitbuckinghamshire.org/midsomer

Group enquiries: info@visitbuckinghamshire.org quote ref. GWW19

www.corsham.gov.uk/visit

Come

and

discover

Wiltshire's

hidden treasure

History, heritage, arts and crafts, great places to

eat and drink and lots of independent shops –

plus Poldark was filmed here too.

Just 8 miles from Bath on the A4, 4 miles from the

M4 (J17), or 3 miles from Chippenham Station.

IMAGE CREDIT: MAMMOTH MEDIA
---
AS SEEN ON SCREEN

Whether you're a fan of Harry Potter, Downton Abbey

or the British Royal Family, there are plenty of places

you might just recognise, as you step on set!

Words: Rebecca Lowe

Pictured:

Highclere

Castle, also

known as

Downton

Abbey,

Hampshire

THE GREAT WEST WAY is quintessentially English,

so it's no surprise that many of its cities, villages

and castles have appeared on screen. While the

BBC have made good use of Lacock village, Bath

and Bristol have both starred in global hits and the castles

of Highclere and Windsor are familiar to millions. We

hope you enjoy our pick of the best locations to visit.

GREAT WEST WAY - THE MOVIE

îHighclere Castle and Downton Abbey

With Downton Abbey The Movie being released on 13

September 2019 (North America on 20 September) there's

no better time to visit Highclere Castle, in Hampshire,

perhaps better known as Downton Abbey - the family

home of the Earl and Countess of Carnarvon. Visitors can

step inside the Great Hall - backdrop to much of Mary and

Matthew's romance - and the Dining Room - scene of many

a family drama and plenty of acerbic comments from the

Dowager Countess. Production for the movie also took

place in the picturesque villages of Lacock, Wiltshire and

Brampton in the Oxfordshire Cotswolds.

îQueen Square, Bristol and Sherlock Holmes

Start your action adventure tour in Bristol, where this

gorgeous central square was featured in Sherlock Holmes:

The Abominable Bride, starring Benedict Cumberbatch.

A balcony here was used for Emilia Ricoletti's shoot-out

before she died; later the square morphed into the exterior

of the Diogenes Club. →

GreatWestWay.co.uk 33
---
Did you know?

Windsor Castle is the

oldest and largest

occupied castle in

the world

Pictured

top-left (then

in a clockwise

direction):

The Royal

Crescent,

Bath;

Windsor

Castle,

Windsor;

Castle Combe;

Queen Square,

Bristol

îRoyal Crescent, Bath and Vanity Fair

Reese Witherspoon spent some time in Bath filming the 2004

film Vanity Fair. The movie was adapted from William Makepeace

Thackeray's nineteenth century novel of the same name and used the

city's beautiful Georgian architecture to full effect. Scenes were shot in

Beauford Square behind the Theatre Royal, in the grand boulevard of

Great Pulteney Street and at the sweeping Royal Crescent, a glorious

semicircle of 30 golden-hued stone terraced houses.

îCastle Combe and Spielberg's War Horse

This chocolate box Wiltshire village is most famous on screen for

its appearance in Spielberg's War Horse, when its main street was

transformed into a Devon village whose men were heading off to

war. The village's fourteenth century market cross was bedecked in

banners encouraging the locals to enlist.

îCorsham and Poldark

Most famously, Corsham provided a backdrop for the filming of the

drama series Poldark. This pretty market town in west Wiltshire is

also seen in The Suspicions of Mr Whicher, Tess of the d'Urbervilles,

Larkrise to Candleford and The Remains of the Day.

îMarlow, Hambleden valley and Midsomer Murders

A self-guided Midsomer trail through Marlow and the Hambleden

valley is new for 2019. Covering 17 miles, this exciting trail starts and

ends in Marlow, taking you through the villages of Frieth, Lane End,

Bolter End, Fingest and the Hambleden valley where you will find

yourself immersed in scenes from Midsomer Murders!

îLacock and Cranford and Harry Potter

There are no phone lines or telegraph poles in this National Trust

village, making it perfect for historical TV series such as the BBC

classics Cranford - when it stood in for Knutsford in Cheshire - and

Pride and Prejudice, when it appeared as Meryton. The main street

here has also been used in Downton Abbey and Lacock Abbey was the

location of several scenes in the Harry Potter films.

îWindsor Castle and Prince Harry and Meghan Markle's wedding

Not all Great West Way sites to have appeared on screen have done so

in fiction. Windsor Castle was seen on millions of TV screens around the

world in 2018 when it hosted the wedding of Prince Harry and Meghan

Markle, now officially known as the Duke and Duchess of Sussex.

34 GreatWestWay.co.uk
---
A A small small town town

with with a Big a Big Heart Heart

Hungerford

Explore Explore • • Discover Discover • • Enjoy! Enjoy!

www.visithungerford.com

www.visithungerford.com
---
ARISTOCRATIC ACRES

A journey along the Great West Way takes the traveller past

some of England's most spectacular palaces and historic houses

Words: Diana Woolf

There are over 30 National Trust properties

alone along the Great West Way route. Many

we have already mentioned, such as Cliveden,

Mompesson House, Montacute House and

Runnymede, the site of the sealing of the Magna Carta,

to name but a few.

Almost before you leave London, you pass the royal

palaces at Kew, Hampton Court and Windsor Castle, the

oldest occupied castle in the world.

Then further west, as the countryside opens up

and the landscape is scattered with an array of stately

homes, two further castles, Highclere and Berkeley.

Many of these properties are still owned by the

aristocratic families who first built them. We hope you

feel inspired by our selection of those you must visit.

BOWOOD HOUSE & GARDENS, WILTSHIRE

Bowood House, famed for its gardens, is owned by the

Marquis of Lansdowne. Be enchanted by the herbaceous

borders and the Italianate terrace gardens with their

formal beds and fountains, and don't miss the 30-acre

Woodland Walk, with massed beds of rhododendrons.

The park at Bowood designed by 'Capability' Brown

is another highlight, featuring expanses of lawn and

picturesque groups of trees sweeping down to a gently

curving artificial lake, it is a quintessentially English

landscape. Inside the house, which is open to the public

from 30 March – 3 November 2019, there is an unusual

stately home laboratory. This is because it was here

that Joseph Priestley, while working as the family tutor,

discovered oxygen in 1774. You can visit the state rooms,

library and chapel as well as the Orangery designed by

Robert Adam in the 1760s, and the room he originally

created as a small zoo which is now a sculpture gallery.

36 GreatWestWay.co.uk
---
STONOR PARK, SOUTH OXFORDSHIRE

Stonor Park is one of the longest lived-in family homes

in England, owned by the Stonor family for over 850

years. Located near Henley, Stonor is a beautiful place to

visit, especially if you are staying east of the Great West

Way route. The historic building and sweeping grounds

are breathtaking and inside there is a fascinating family

collection of art and artefacts. Open to visitors between

April-September and at Christmas, (gardens are open April-

October), you can view the work of St. Edmund Campion,

created when he was given refuge there in 1581, and outside

sits their oldest resident, a perfectly preserved prehistoric

stone circle.

LONGLEAT, WILTSHIRE

Home of the Marquess of Bath, Longleat House is one of

the finest examples of Elizabethan architecture in England,

and since 1580, up until today, has been owned by 16

generations of the Thynn family. The House is open to the

public throughout most of the year. Inside this 450-year-old

treasure trove, you will find the original Elizabethan Great

Hall, the spectacular Grand Staircase, the impressive Saloon

stretching 90 feet long with exquisite Flemish tapestries,

beautiful antique furniture and a staggering collection of

more than 40,000 books. In total there are 15 breathtaking

rooms, together with stunning 'Capability' Brown

landscaped grounds. Famously known for establishing the

first drive-through safari park outside of Africa in 1966,

home to, amongst other animals, majestic lions, a troop of

mischievous macaque monkeys, a pack of grey wolves plus,

the only animal collection in Europe to exhibit southern

koalas (from 29 March 2019).

BERKELEY CASTLE, GLOUCESTERSHIRE

Just half an hour north of Bristol, Berkeley Castle makes an

excellent day out for stays based west of the Great West

Way route. Another impressive history, having been lived

in by the same family for nearly 900 years, it is the longest

lived-in family fortress in England. Surrounded by eight

acres of landscaped gardens, including Queen Elizabeth

I's bowling green and the 8th Earl's swimming pool, now

an ornamental lily pond with plume fountain. Explore the

Norman Keep complete with the cell in which King Edward

II was held captive and reputedly murdered. Walk through

medieval kitchens and the imposing Great Hall and marvel

at the elegant State Apartments. See magnificent furniture,

rare paintings by English and Dutch Masters, Elizabethan

tapestries and the world famous Berkeley silver. There are

free guided tours, a Tropical Butterfly House, a host of

seasonal events and you could even stay overnight in their

characterful 9 bedroom town house located on the estate. →

GreatWestWay.co.uk 37
---
IFORD MANOR GARDENS, BRADFORD ON AVON

For garden-lovers, a perfect day out on your Great West

Way journey could be the wonderful Iford Manor Gardens,

close to Bath and the idyllic Frome River valley. Here you

can dreamily wander around 2.5 acres of historic gardens

that sit at the heart of the Grade I listed grounds designed

by Harold Peto during his tenure at Iford from 1899-1933.

Explore freely getting lost amongst the colonnades, pools

and steps, as you enjoy the magnificent rural views over the

valley. The garden contains many steep, narrow and uneven

paths, as well as long flights of steps without handrails -

very much part of the garden's charm and design.

GREAT CHALFIELD MANOR, WILTSHIRE

As well as these aristocratic superstars, there are many

smaller historic houses dotted along the Great West Way.

Great Chalfield Manor is a late medieval manor house,

built by the self-made Thomas Tropenell to proclaim his

arrival into the landed gentry. He gave his new house all the

necessary mod cons of the day including a gate house, moat,

great hall and fashionable oriel windows, features which can

still be seen, as the house has hardly been touched since his

time. This relative neglect accounts for the house's gentle

charm and explains why it's a popular film location: the BBC

series Poldark and Wolf Hall were both filmed here.

MOMPESSON HOUSE, WILTSHIRE

Imagine you are living in the 18th century as you walk down

the graceful oak staircase, perch on a window seat and

admire the wonderful plasterwork of this quintessential

Queen Anne townhouse, situated inside Salisbury's historic

Cathedral Close. All of the interiors are decorated as they

might have been in the 1700s, except the library which is

1950s - and you might recognise it too, as Mompesson

House was used as the set for Mrs Jennings' London

townhouse in the 1995 film Sense and Sensibility. The

house, garden, shop and tea-room are open to visitors from

9 March until 3 November.

BLENHEIM PALACE, OXFORDSHIRE

A short detour off the route and you'll find Blenheim Palace,

a World Heritage Site near Oxford. A vast confection of

pinnacles, pilasters and porticos built in golden stone,

owned by the 12th Duke of Marlborough. Sarah, the

notoriously difficult wife of John Churchill, the 1st Duke

of Marlborough, took charge of the building project, and

managed to fall out with the architect John Vanbrugh and

with the queen herself. However in spite of the rows, Sarah

oversaw the creation of one of England's finest Baroque

palaces which includes the magnificent state rooms with

their painted ceilings glorifying John Churchill.

38 GreatWestWay.co.uk
---
Berkeley Castle

A jewel in the crown of British history

Only half an hour

north of Bristol,

and 10 minutes

from junctions 13

& 14 of the M5

Berkeley Castle is unique; it has been lived in by the same family for nearly 900 years, longer than

any other fortress in England. Now a comfortable family home, this Norman castle welcomes visitors

from all over the world, interested to find out more about its celebrated and colourful history.

The Castle and Gardens are open Sunday – Wednesday, 1st April – end of October

Easter – open every day from Friday 19th April – Monday 22nd April

Tropical Butterfly House open Sunday – Wednesday from May until the end of October

www.berkeley-castle.com BerkeleyCastleEstate @BerkeleyCastle
---
Immerse yourself in the life and experiences of a

17th Century wealthy Silk Merchant with our guides

At the Merchant's House Marlborough

132 High Street, Marlborough, Wiltshire

SN8 1HN

info@merchantshousetrust.co.uk 01672 511491 www.themerchantshouse.co.uk

Explore the home of Bombay Sapphire

in the heart of Hampshire

BOOK YOUR GIN EXPERIENCE TODAY: DISTILLERY.BOMBAYSAPPHIRE.COM

Accessible by train and shuttle bus from Overton and Micheldever Stations.

Bombay Sapphire Distillery | Whitchurch | Hampshire

HELLO@BOMBAYSAPPHIRE.COM | 01256 890090
---
NATURE IN HIGH DEFINITION

From the roaming deer in Richmond Park to whole areas of outstanding

beauty amid rolling hills and green valleys, the Great West Way is one

of the very best examples of England's stunning countryside

Words: Emma Johnson

Words: Emma Johnson

Pictured:

Poppy fields in

early morning

sunshine on the

Marlborough

Downs, Wiltshire

NATURE'S OWN MARVELS

The surrounding countryside of the Great West Way includes

three Areas of Outstanding Natural Beauty - the Chilterns,

the Cotswolds and the North Wessex Downs. AONBs are

vast stretches of countryside that have been designated for

conservation due to their significant landscape value.

The Chilterns are the closest to London, stretching

from the River Thames in southern Oxfordshire up

through Buckinghamshire and Bedfordshire to Hitchin in

Hertfordshire. A living, working area of countryside, nearly

two thirds of it is given over to farmland, while a fifth of it is

woodland. The chalk rock underlying the Chilterns gives it its

distinctive hillsides of velvety chalk downland.

Further south, you come to the North Wessex Downs, which

stretch across West Berkshire, Hampshire, Oxfordshire and

Wiltshire. They are home to Avebury as well as numerous

other historic sites of importance, including eight white horses

– carved out of chalk into the hillside and visible from miles

around; Whitchurch Silk Mill – the oldest working silk mill in

the UK still in its original building; and the now iconic Highclere

Castle, the setting for Downtown Abbey.

Finally, further west and the route takes in the beautiful

rolling hills of the South Cotswolds, home to the Slad

Valley, made famous by Laurie Lee's Cider with Rosie, whose

hills glow golden as the sun sets. The Cotswolds is England's

largest designated AONB, and is famous for mile upon →

GreatWestWay.co.uk 41
---
Pictured left

to right: Fallow

deer roam the

parkland at

Dyrham Park,

near Bath;

Corsham Court

Peacocks; The

Palladian Bridge

at 18th-century

landscape

garden Prior

Park, Bath; and

Royal Botanic

Gardens, Kew

mile of rolling hills and quaint villages built in

honey-coloured stone – including Bibury, Broadway and

Lower and Upper Slaughter. If it is a countryside getaway

you are after then this area of the Great West Way is the

perfect place to stay over for a night, or three. It is within

easy access of some of the best attractions and most idyllic

destinations along the route, and there are many beautiful

hotels and traditional bed and breakfast style accommodation

to choose from. If you do decide on a break in the

Cotswolds be sure to take a look at Compass Holidays,

specialists in walking, cycling and activities in the area, and

also visit Cotswolds.com, the official Cotswolds tourist

information website for all the latest information.

The Cotswolds are also home to the beautiful Westonbirt,

The National Arboretum with dozens of designated

"champion trees", the largest or tallest of their kind in Britain,

and an impressive Treetop Walkway which runs through

the tree canopy for 300 metres, providing a totally different

look at the forest, from a unique vantage point.

Autumn is the most special time here, when hundreds of

Japanese maples transform into a host of stunning colours,

turning Westonbirt into a red, orange, russet and yellow

wonderland.

Elsewhere, there is beauty to be found in the most diverse

of places – from dazzling carpets of bluebells at West

Woods just outside Marlborough to nothing but silence

in the designated Silent Space at Prior Park Landscape

Garden in Bath. In Bristol you will find 4,500 plant species

from over 200 plant families at the University of Bristol

Botanic Garden, or you can simply enjoy the amazing sight

of thousands of rare orchids at Hartslock Nature Reserve

near Goring-on-Thames, south Oxfordshire.

WONDERFUL WILDLIFE

Nothing starts your day quite so wonderfully as watching

the sunrise with hundreds of free-roaming deer in

Richmond Park. Watch as the morning mist clears to

reveal a lush green expanse, rich with ancient trees and

views of London in the far distance. Deer have roamed

freely in this royal park since the seventeenth century and

it's easy to get close to the herd here. Autumn is rutting

season, when the stags might be seen clashing antlers,

while May to July is your best chance of seeing tiny fawns,

skittering alongside their mothers.

You can also enjoy free-roaming deer at the striking

Ashton Court Estate, near Bristol, a fine country mansion

in 850 acres of woodland and pasture; and the spectacular

Dyrham Park, near Bath, where fallow deer roam around

a 17th-century Baroque mansion, set in 274 acres of lush

parkland.

Not too far away, the lush expanses and rolling hills

of the Marlborough Downs offer beautiful views and a

feeling of total peace and escape. They are frequented by

hundreds of native birds, including the rare corn bunting,

coupled with grazing sheep and a carpet of wild flowers

- harebells, cowslips and orchids amongst them. Part of

the expansive Downs includes Savernake Forest, a Site of

Special Scientific Interest, due to its rare lichens and fungi.

Here, you'll not only find some of the most ancient and

intriguingly named oak trees – Bumble Oak, Cathedral Oak

and the famous Big Belly Oak – but nightjars, woodpeckers,

crossbills, nightingales, numerous owls, buzzards, kestrels

and red kites – and plenty of native Red and Roe deer.

Further south west, it's worth taking a stroll around to

try and spot Corsham's free-roaming peacocks, who are

famous for strutting down the pretty town's high street.

And don't miss the rich host of wildlife in marshland at

Jones's Mill Nature Reserve in the Pewsey Vale in the

wonderful North Wessex Downs. Previously used as

water meadows to encourage the growing of crops, this

protected area is now home to kingfishers - a striking flash

of blue and orange as they dart about the river - as well as

water voles, dragonflies, water shrews, snipes and herons.

Heading back towards London, make sure to add the

beautiful Chilterns to one of your stops, so you can spot

stunning red kites soaring across the sky from October to

April, and beautiful butterflies flitting about wildflowers in

the rare chalk grasslands throughout the summer months.

42 GreatWestWay.co.uk
---
PROTECTED AND CELEBRATED

Some of England's most famous and important heritage

sites are situated just off the Great West Way, and there is

none more impressive and beguiling than the entire World

Heritage Site that is home to Stonehenge – an ancient and

important prehistoric monument that continues to fascinate

visitors to this day. Historians are still pondering both how

the stones got there and why, and its mystery remains a

vital part of its appeal, which sees it attract over one million

visitors a year. It is really worth exploring the whole World

Heritage Site, and not just focusing on Stonehenge as there

as so many hidden gems to seek out and discover.

You can also marvel at the ancient origins of the standing

stones in Avebury, a Neolithic monument containing three

stone circles, including the largest megalithic stone circle

in the world, with a village built inside the stone surrounds.

In addition, don't miss Silbury Hill – a man-made chalk

mound whose specific origins remain a mystery, and West

Kennet Long Barrow, a Neolithic tomb, situated on a

prominent chalk ridge, near Silbury Hill. The extensive and

ancient history of this entire place continues to reveal its

secrets, even in modern times, and remains one of the

most fascinating of English sites for archaeologists and

visitors alike.

Stonehenge and Avebury are both part of the same

UNESCO World Heritage Site, an honour shared by two

other sites easily accessible from the Great West Way. The

entire city of Bath is one, a striking example of beautiful

Georgian architecture, whose impressive crescents and

cobbled streets feel both ancient and timeless. The

incredible Roman Baths, the UK's only natural hot springs,

situated in the heart of the city, soothed aching muscles

for over 2000 years and now feed the open-air rooftop

pool at Bath's Thermae Bath Spa.

Royal Botanic Gardens, Kew is also a World Heritage

Site, created in 1759, and boasting 330 acres of important

landscape, several striking botanical glasshouses –

including the largest Victorian glasshouse in the world -

and four Grade I listed buildings. Home to the largest and

most diverse botanical and mycological collections in the

world, it boasts 30,000 different kinds of plants, some of

which are extinct in the wild and an extensive arboretum

of 14,000 trees, many of which cannot be found anywhere

else in Britain. Its newest addition is a unique 17m-high

honeycomb structure called The Hive, which takes you

inside the world of honeybees using 900 LED lights and the

sound of 40,000 bees.

All along the Great West Way you'll find plenty of

houses, parks, gardens and other places to visit. English

Heritage sites and buildings are designated as important

monuments to English history and are protected from

development or unapproved work, so visitors are ensured

an authentic and unspoilt journey back into the past.

Highlights nearby include Apsley House, the Duke of

Wellington's former home; Donnington Castle, an

impressive 14th century twin-towered gatehouse; Bratton

Camp, an Iron Age hillfort complete with one of the area's

distinctive white horses, a giant 17th century chalk carving

of a horse, a major landmark and visible from miles around;

and Harmondsworth Barn, a Grade I listed medieval

barn near London, which ranks alongside the Houses of

Parliament and Westminster Abbey for its exceptional

architectural and historic interest.

If walking in nature, exploring the roads and paths

less travelled, finding hidden gems and a host of

native wildlife is your idea of the perfect short

break, then why not plan a walking road trip down

the Great West Way over the course of several

days? There are a host of fantastic accommodation

options along the route, from bed and breakfasts in

quintessential villages and rental options in quaint

cottages, to luxury hotels in grand houses.

You can find everything you need at

GreatWestWay.co.uk/stay

GreatWestWay.co.uk 43
---
45 individually designed Suites & Bedrooms, with breathtaking views

'So much more than a hotel'

The Royal Crescent Hotel & Spa

01225 823333 info@royalcrescent.co.uk royalcrescent.co.uk I #RCHBath
---
AMAZING MOMENTS

Here are just a few amazing moments you will

only find on the Great West Way

Words: Rebecca Lowe

Pictured:

Rooftop

pool at

Thermae

Bath Spa,

Britain's

only

natural

thermal

spa, Bath

BEST FOR ROMANCE

îGet an out-of-hours visit by booking the Stone Circle

Access visit at Stonehenge and rising early to be inside the

stone circle before it opens to the public. You still can't touch

the stones, but you will get some great pictures of them.

îSoak in the UK's only natural hot springs at Thermae

Bath Spa – home to a rooftop al fresco pool with views over

the city's ancient rooftops. You might want to upgrade your

experience by booking exclusive use of The Cross Bath, a

more intimate open-air thermal bath, located just across

the street from Thermae Bath Spa.

îFor the ultimate in romantic experiences take a (Bailey)

Balloon flight and fly high above Bristol and Bath.

îSip Champagne while enjoying Afternoon Tea, one

where homemade scones and cakes star and the tea itself

is endless. Most five-star hotels do a great one, including

Whatley Manor, The Langley and The Royal Crescent.

îEnjoy an al fresco theatre performance under the stars

at Dyrham Park. An enchanting, fast-paced production,

The Lord Chamberlain's Men perform A Midsummer Night's

Dream in the open air on two summer evenings (2-3 August

2019). Booking is essential. →

GreatWestWay.co.uk 45
---
GREAT FOR HERITAGE

îClimb the mighty ramparts for views over the

Wiltshire plains and imagine the once thriving town

of Old Sarum. Stand in the footprint of Salisbury's

original cathedral, conquer the royal castle which

stood high on the motte, and discover the

awe-inspiring Iron Age hill fort where it all began.

Unearth over 2,000 years of history and find out

how the Romans, Normans and Saxons have all left

their mark on this impressive landscape.

îIn a country renowned for its industrial

heritage, none is more exciting or glamorous

than Concorde, the iconic supersonic passenger

jet that was a testament to British (and French)

engineering. At Aerospace Bristol, the site that

built every British Concorde ever made, visitors

can climb on board the last one built.

îVisit the super-elite school that educated

Princes William and Harry – as well as 19 British

Prime Ministers - with a tour of Eton College,

including the School Yard and College Chapel.

îHaggle for antiques in Hungerford, a

picturesque Berkshire town. Head to Hungerford

Arcade Antiques, home to more than 100 dealers

in everything from jewellery to pottery.

îVisit Reading Abbey, the ruined medieval church

which Henry I spent the equivalent of half a billion

pounds on building before being buried there.

îSalisbury Cathedral just 9 miles from Stonehenge

has Britain's tallest spire, and best preserved

original Magna Carta, or still within easy reach

of the route is Wells Cathedral, the first English

Cathedral built entirely in the new Gothic Style.

Pictured

above left

(then in a

clockwise

direction):

Old Sarum,

Salisbury;

Sign in

Eton; Cheddar

Gorge

& Caves;

Beckford's

Tower;

Castle

Combe

Circuit;

SS Great

Britain;

Salisbury

Cathedral;

and British

Concorde

at

Aerospace

Bristol

46 GreatWestWay.co.uk
---
BEST FOR ADVENTURE

îFor thrill seekers, flying down mountain biking

trails that weave through ancient woodland in

Swinley Forest is sure to get your adrenaline going!

The 13km Red route is not for the faint-hearted –

expect jumps, drops and twists all the way!

îFor the ultimate experience take a tandem

13000ft skydive with military instructors

from Skydive Netheravon! From the thrill and

anticipation of your first jump, right through to the

exhilaration for those who take it to the extreme

with Wingsuit flying, this sport has it all.

îIf heights are your thing then you'll love the

experience of climbing the rigging of Victorian ship,

Brunel's SS Great Britain, reaching heights of more

than 25 metres above Bristol harbour! If you're feeling

really brave you can even walk out along the main yard.

îMix heights with beauty by learning the ropes

on a rock climbing lesson at the high limestone

cliffs of Avon Gorge. There are 750 climbing routes

here, some of them so physically and mentally

challenging that they've only been climbed once.

îTake in the wonderful view of the Great West Way

from the skies while soaring like a bird above the

Wiltshire Downs on a paragliding lesson.

îClimbing a 120-foot Neoclassical tower built for

Europe's wealthiest man at Beckford's Tower just

outside Bath is an experience you won't forget!

îSee Bath's beautiful cityscape from a different angle

by taking to the water on a stand up paddleboard

with Original Wild - they will teach you how to gain

your balance and paddle before leading you on a

unique tour of the city. Or see the exciting waterways

of Bristol Harbourside with an expert SUP Bristol

instructor to show you the ropes. It's no wonder stand up

paddleboarding is the UK's fastest growing watersport.

îPeer down from steep cliffs into England's largest gorge

before descending beneath this dramatic landscape on a

caving adventure at Cheddar Gorge & Caves.

îGo wild swimming in the Thames at Cock Marsh near

Cookham, where you'll find sandy beaches to paddle out

from and clear, clean waters.

îFor motor enthusiasts it doesn't get much better than

taking the wheel of a Formula Ford 1600 or Lotus Elise on

a lap of Castle Combe Circuit race track. →

GreatWestWay.co.uk 47
---
GREAT FOR SPORT

îBetting on the horses at Ascot and Newbury

Racecourses, which have racedays year-round.

îEnjoying an immersive Archery Experience in

Somerset with Hood Archery. Travel around the

world and through time, under the guidance of

different historic characters, until you are fully

trained and ready to save the world!

îSeeing what's biting in the Kennet & Avon Canal –

home to some of England's most bankable angling

spots. Fishing is permitted along much of the towpath

here, but two of the best places for a bumper catch are

Bathampton near Bath and Hungerford in Berkshire.

Contact the local angling association for a permit.

îHaving a go at clay pigeon shooting in the grounds

of Donnington Grove in Berkshire.

îWatching a professional rugby match or taking a

tour of Twickenham Stadium (also home to The

World Rugby Museum). Or you could visit other

Rugby Premiership teams including Harlequins, Bath

and Bristol - also on the Great West Way.

Pictured

top left to

Bottom

Right:

Children

having

fun with

rainbow

lorikeets,

Longleat

Safari

Park;

monkeys

at

Longleat

Safari

Park;

Rhinos at

Cotswold

Wildlife

Park; and

a lion at

Cotswold

Wildlife

Park

BEST FOR ANIMAL LOVERS

îMeeting some very mischievous monkeys at

Longleat – as you drive through their habitat expect

them to clamber onto your car (you can always

bypass them if you prefer to).

îStepping behind the scenes in a daring, hands-on

Lion Feeding Experience at Bristol Zoo Gardens!

Help prepare the lions' meat before heading over

to their enclosure and being introduced to these

majestic animals. Then steady your heartbeat and

get ready to hand-feed a lion with only the enclosure

railings between you.

îTaking a day out to visit the giraffes, lions, rhinos

and more at Cotswold Wildlife Park - or meeting

the adorable Aldabra Giant Tortoises with one of

their 30 minute animal encounter experiences.

YOU MIGHT ALSO LIKE

îTaking a dip al fresco at an outdoor lido. There's

Thames Lido in Kings Meadow, Reading, a beautiful

Edwardian swimming baths offering non-members

swimming sessions every weekday from 1-4pm.

The same company operate Bristol Lido in Clifton,

Bristol, which dates from the Victorian era, and has

been reborn as a gorgeous 24-metre outdoor pool,

complete with adjacent restaurant.

îSeeing the cave where two giants, Goram and

Ghyston, are said to have once made their home. You

can walk to this small cave overlooking Avon Gorge

in Bristol from the Observatory above it, through

a tunnel carved in the nineteenth century by artist

William West.

îLearning how stop animation works in Bristol, home

to Aardman Animations, the Academy Award winning

studio who brought the world Wallace and Gromit.

We The Curious science centre is home to Animate

It! where you can meet your favourite Aardman

characters, draw your own and create stop frame

animations.

48 GreatWestWay.co.uk
---
BY DAY OR NIGHT

COME RAIN OR SHINE...

Relax in the warm, mineral-rich waters of Bath's

natural thermal Spa. Bathe in the open-air rooftop

pool and indoor Minerva Bath, refresh your senses

in the multi-sensory Wellness Suite and choose from

over 40 spa treatments and packages.

Open daily from 09.00 – 21.30

(pools & Wellness Suite close at 21.00)

01225 33 1234

www.ThermaeBathSpa.com
---
\\2019 RACE DAYS

NEW for 2019! Classic Motorcycle

Race Weekend

Sat 6th/Sun 7th April

Howards Day

Mon 22nd April

May Day Madness Race Day

Mon 6th May

Combe Challenge Race Day

Mon 27th May

The Big Race Weekend

Sat 6th-Sun 7th July

Combe Countdown Race Day

Mon 26th August

Motorcycle Grand

National Race Weekend

Sat 31st August/Sun 1st September

Grand Finals Race Day

Sat 14th September

Autumn Classic

Sat 5th October

10% OFF TICKETS

for Great West Way readers. Use Code: GWW10

For the latest NEWS, EVENTS and to BOOK TICKETS to any of the above

please visit www.castlecombecircuit.co.uk or call 01249 782 417 today.

Castle Combe Circuit //Chippenham, Wiltshire SN14 7EY

\\2019 SHOW & ACTION DAYS

Spring Performance Action Day

Sat 30th March

Pure Ford

Sat 27th May

JDM Combe

Sat 1st June

Summer Action Festival

Sat 22nd June

German Performance Day

Sat 13th July

Forge Motorsport Action Day

Sat 7th September

Mini Action Day

Sat 28th September

Action Day Finale

Sat 12th October

Self Drive Classic Car Hire

Based in Wiltshire

with

Vintage

Classics

■ Classic Car Rental

■ Classic Car Tours

See the West Country's chocolate box villages, stunning scenery, world heritage

landmarks and National Trust properties whilst driving an iconic classic car!

BOOKINGS MUST BE MADE AT LEAST 7 DAYS IN ADVANCE OF HIRE

BOOKING LINE: 01225 703377

View our fine range of classics online: www.vintage-classics.co.uk
---
CLASSIC CAR TOURS

Salisbury Plain, the Mendips and the Ridgeway, take in the views

and pretty villages, and soak up the laid-back lifestyle

Words: Gareth Henrincx

Pictured:

Vintage

Classics

car drives

through

pretty

Wiltshire

Cotswolds

village

FINDING YOUR JOURNEY

THE GREAT WEST WAY meanders from London to Bristol

via historic towns and villages, country estates, canals,

castles and vibrant cities.

As highlighted within our magazine articles so far,

travelling the 125-mile journey can be enjoyed in a number

of ways, on the water, railway lines, countryside footpaths,

and by road. Taking to explore the route by car is a great

way in finding the undiscovered, and exploring the Great

West Way in your own time, and under your own steam.

To help inspire your journey, and set you on your way,

we've chosen three routes with a mix of entertaining

roads snaking through the countryside either side of the

Great West Way, all boasting history, culture and amazing

sightseeing. It is easy by road to stray off the Great West

Way too, taking a detour north for example towards the

Cotswolds, where there are yet more picture postcard

villages and wonders of the world to discover.

1

BRISTOL TO WELLS

îA blend of tight, twisty roads and open

countryside with a stop-off at Britain's highest,

inland limestone cliffs created during the Ice Age...

Our first route is recommended as a day out, starting

from your Great West Way accommodation, ideally

based west of the route, and beginning your journey from

Clifton Suspension Bridge in Bristol, one of Brunel's most

spectacular legacies – then heading south, and taking you

a short detour off the route, to the medieval splendour

of Wells Cathedral in Somerset. Opened to the public on →

GreatWestWay.co.uk 51
---
Pictured left-right: The beautiful Wells Cathedral; Uffington White Horse; Bath's Kennet &

Avon Canal; Bradford on Avon's ancient bridge still with two of its original 13th century arches

December 8th, 1864, the bridge spans the spectacular Avon

Gorge linking Clifton in Bristol to Leigh Woods in the North

of Somerset.

Built to a design by William Henry Barlow and John

Hawkshaw, (based on an earlier design by Isambard

Kingdom Brunel) it's a Grade I listed building and forms

part of the B3129 road (just make sure you have a £1 coin

ready for the toll).

Enjoy the spectacular views as you cross, then carry on

along the B3129 and B3128 towards Clevedon where you

might want to enjoy the delights of the only Grade I listed

pier in the country. Described as "the most beautiful pier

in England" by poet Sir John Betjeman, it's celebrating its

150th anniversary in 2019.

Next, stop off at the National Trust's Tyntesfield - a

gothic Victorian time capsule. From Clevedon take the

B3133 towards Yatton, Congresbury and Cheddar Gorge.

From its stunning cliffs to its remarkable subterranean

stalactite show caves, the gorge was forged some 1.2

million years ago and 'Cheddar Man' - Britain's oldest

complete human skeleton - was found in the caves in

1903. If you park up, take the 274-step walk to the Lookout

Tower or enjoy the three-mile Clifftop Gorge Walk for

awe-inspiring views. The first section of road as you leave

Cheddar is the most dramatic, offering incredible views of

England's deepest gorge.

The B3135 snakes through rocky outcrops as it climbs

away into the Mendips. After a series of tight bends, the

road opens so that you can savour the countryside. You're

now in the heart of the Mendips, but don't miss the Wells

Road turning, followed by the Old Bristol Road which will

take you into Wells - arguably England's smallest city.

Built between 1175 and 1490, Wells Cathedral has been

described as "the most poetic of the English Cathedrals"

and it's the earliest English cathedral to be built in the

Gothic style.

Head to Wells on a Wednesday and Saturday if you want

to catch a traditional market. The town is also popular with

TV and movie makers - think Wolf Hall and Hot Fuzz.

2NEWBURY TO CASTLE COMBE

îA gallop past two chalk White Horses and on to a

couple of automotive treats…

We begin our second route in the Berkshire town of

Newbury (turn off Junction 13 of the M4 and head south

on the A34, then A329). It's the perfect base for exploring

numerous walking and cycling trails, visiting Highclere

Castle, home of TV's Downton Abbey, or simply spending a

day at the races.

Head north-west from Newbury, picking up the

Lambourn Road at Speen. It slices through the countryside,

much of it alongside the River Lambourn, before dipping

under the M4 just past Easton.

Keep going until you get to Great Shefford, making sure

you head east to Lambourn – the heart of the area known

as the Valley of the Racehorse, so called because it's one of

the UK's major racehorse training centres.

Watch out for racehorse crossings as you motor towards

Ashbury on the B4057, followed by Uffington where you'll

see a 110-metre prehistoric chalk white horse carved into

the hillside.

Now go north through Hinton Parva, over the M4

and onto the A346 which sweeps towards the village of

Wroughton, west of Swindon. From here, go south and

onto the A4 westwards, looking out for a sign to our

second white horse of the day, at Cherhill - 3.5 miles east

of the town of Calne in Wiltshire.

Calne is also the home of the small, friendly

Atwell-Wilson Motor Museum, exhibiting cars and

interesting motoring memorabilia from the 1920's onwards.

The final section of our journey takes us to the historic

Castle Combe circuit. Just follow the A4 west. You can also

stop off at the picture postcard village of Castle Combe,

a favourite TV and film location for productions such as

Stardust, War Horse and the original Doctor Dolittle with

Rex Harrison in 1966.

Castle Combe Circuit was opened just 18 months after

Silverstone in the summer of 1950, making it one of the

longest established (and fastest) tracks in the UK. Still an

active circuit, it's even possible to test your own car to the

limit during special 'track days' staged several times a year.

52 GreatWestWay.co.uk
---
3BATH TO BRADFORD ON AVON

îA loop up to the Cotswolds, a visit to

Westonbirt, The National Arboretum and drive

on the ancient Fosse Way…

Route three starts in the UNESCO World Heritage City

of Bath. Historic and beautiful with its honey-coloured

stone, it's located within a valley of seven hills.

Our journey takes us north out of Bath on the A46.

Before you know it, you've crossed the border from

Somerset and into South Gloucestershire. Stay on the A46

and before crossing over the M4 look out for the village of

Pennsylvania, which is said to have been named after the

American state by Quakers.

There are more intriguingly named villages as we head

further up the A46, with its fast stretches of open road.

There's Petty France and the slightly smaller hamlet

of Dunkirk - both are believed to have been Huguenot

(Protestant) settlements after thousands fled (Catholic)

France during the 17th century.

Just past Dunkirk we take a right fork onto the A433 for

the short drive to Westonbirt, The National Arboretum in

South Gloucestershire. With 15,000 specimens and 2,500

species of tree from all over the world it's the perfect place

to escape, relax or have an adventure.

Soon you'll be back on the A433 where you need to cross

over onto the Tetbury Road towards Sherston.

Carry on south, turning off onto a section of the Fosse

Way just after Ladyswood. Stretching from Exeter (Isca

Dumnoriorum) north-east to Lincoln (Lindum), today's

Fosse Way follows the course of a major Roman Road.

Now continue over the M4 through the pretty villages of

Yatton Keynell and Biddestone before crossing over the A4

Bath Road and into Corsham.

The historic market town is an ideal base for exploring

the surrounding area, including the picture postcard

villages of Lacock and Castle Combe.

Corsham, where some of the hit TV period drama Poldark

was filmed, is also home to a number of historic buildings

including Corsham Court.

The art collection at Corsham Court contains important

paintings by such masters as Fra Filippo Lippi, Van Dyck,

Carlo Dolci and Joshua Reynolds. The mirrors and tables

in the Picture Gallery were specially designed by Robert

Adam, while 'Capability' Brown was responsible for the

layout of the park and gardens.

The 20-minute final leg of the drive takes us on the A4

west, forking off down the B3109 to Bradford on Avon.

Occupying a unique position on the edge of the Cotswolds

facing the River Avon, Bradford on Avon's ancient bridge in

the centre remains the town's natural focus and still retains

two of its original 13th century arches.

Stroll southwards and you can walk along the Kennet &

Avon Canal or visit the spectacular Tithe Barn for free. It's

been described by English Heritage as "one of the largest

medieval barns in England, and architecturally one of the

finest".

Did you know? You can fly to Bristol from over

60 destinations. Find out all you need to know,

including the £7 Airport Flyer Express Link, from

GreatWestWay.co.uk/explore/air/from-uk

PLANNER

îDRIVE YOUR DREAM CAR

Fancy driving an E-Type or an Aston Martin or Austin Healey

3000 or perhaps you've always hankered after an Audi ur-quattro?

Beautiful memories are available to hire.

vintage-classics.co.uk

îBOOK A DRIVING EXPERIENCE

The West Country's home of motorsport Castle Combe Circuit

offers a range of driving experiences for different abilities.

castlecombecircuit.co.uk

îGENERAL CAR HIRE

Some recognisable brands operating in the region are Avis,

Enterprise Rent-A-Car, Sixt and Hertz. You can arrange in advance

to pick these up at any of the nearby airports.

GreatWestWay.co.uk/explore/car-hire

GreatWestWay.co.uk 53
---
DRINK LIKE A LOCAL

The proud tradition of producing natural alcoholic

beverages, good for home consumption but even better

taken in your favourite tavern, inn or public house

Words: Robin Glover

Pictured left:

The Red Lion, East

Chisenbury

THE RENAISSANCE OF INTEREST in gin, and

its vast variety of fascinating flavours, is well

documented and the north Hampshire village

of Whitchurch is home to the leader of this

upsurge, Bombay Sapphire. Less well-known, but

magnetic to all 'ginnoisseurs', are small-batch products

from 137 at Newbury, Ramsbury at Aldbourne, (north

of Marlborough) and the outstanding Bristol Dry Gin.

Before the gin revolution came, the heroic, sometimes

derided, stand taken by dedicated British beer-drinkers,

in the late 20th century, against the major breweries'

policy of phasing out 'real' ale in favour of the sterile

'keg' imitation. The resounding success of this consumers'

campaign has secured the survival of this uniquely

British brew. Not only have the major manufacturers

been obliged to maintain production but the increased

demand has enabled independent breweries to grow and,

with improved technology, low-volume micro-breweries

to become commercially viable. You will find a warm

welcome at most of these distilleries and breweries, such

as the recently established West Berkshire Brewery, in

Yattendon, a village to the north-east of Newbury, and

world-famous Wadworth Brewery, founded in Devizes in

1852. If you're lucky, you will have timed your arrival to catch

the company's horse-drawn drays delivering their wares to

local hostelries in the town. English wines, too, are gaining

54 GreatWestWay.co.uk
---
Pictured left:

Aldwick

Estate Vineyard;

Wadworth's

horse-drawn

dray delivering

its wares

Pictured right:

The Griffin Inn,

Bath

in worldwide popularity and excellent vineries can be found

along the route – we suggest you try a'Beckett's Vineyard

at Littleton Panell, near Devizes, Mumfords near Bath, Alder

Ridge Vineyard on the edge of Hungerford and Aldwick at

Redhill near Bristol. Whether your chosen transport is by car,

train, bicycle or canal, along the Great West Way you can

discover a handsome choice of top-quality, locally-produced

drinks and some of the

country's most perfect

pubs in which to enjoy

them. There really is a

wealth of options – some

in quaint, chocolate-box

villages, some wayside

inns and others in medieval market squares – and we are

only scratching at the surface by mentioning just a few of our

favourites. You will surely find more!

For fabulous food, in an unmatched Thames-side location,

visit TV chef, Tom Kerridge's 2-Michelin-starred Hand and

Flowers in Marlow, Bucks, but you must book, and well

in advance. Heading westwards, Yattendon is not only the

village base of the West Berkshire Brewery where, in the

Taproom, you can sample the full range of their excellent ales

but also of the Royal Oak, Yattendon, a pub/restaurant/

hotel which achieves that extraordinary feat of succeeding on

all three fronts. The olde-worlde charm of the bar, all beams

and open fires (and West Berkshire ales), and the walled

garden blend with delicious dining and blissful accommodation.

Since the opening of the by-pass around Newbury, this

horse-racing, historic town is mercifully free of traffic and

able, once again, to

charm the tourists.

A regular in the

Good Pub Guide is

The Newbury, a

modern, town-centre

gastropub in which

the food's high quality is equalled by that of the drinking

experience. Venturing ever westwards toward Bristol, the

rural landscape welcomes the adventurous traveller, bringing

rich rewards. Just off the M4 J14, north of Marlborough, is the

splendid Queens Arms, East Garston, an award-winning

pub/restaurant/hotel in an idyllic setting. A little further on

and the road takes the traveller past two more 'unmissables'.

The first is the The Red Lion, East Chisenbury, a pretty,

family-run country gastropub, with five exquisite →

"If you're lucky, you will have timed

your arrival to catch the company's

horse-drawn drays delivering their

wares to local hostelries in the town"

GreatWestWay.co.uk 55
---
edrooms on the banks of the River Avon and with the

accent on hospitality. Just a few miles away, on the edge

of Savernake Forest, is the Three Tuns Freehouse at Great

Bedwyn, an authentic, village pub by the side of the Kennet

& Avon Canal. The Chef/Proprietor is James Wilsey, who is as

proud of his dog-friendly garden and drinker-friendly bar as

he is of the honest, locally-sourced food on offer.

There's also the nearby Royal Oak at the centre of

Wootton Rivers, a beautiful thatched village. Wootton Rivers

is on the Kennet and Avon canal, just 10 minutes from the

historical market town of Marlborough.

Slightly south, and before reaching booming Bristol, we

come to the handsome, 16th century inn at Ford, The White

Hart, the epitome of a traditional English country pub but

with a good restaurant and quality accommodation in case

you enjoy the welcome a little too much!

Even in the bustling city centres, there are gems waiting

to be unearthed. Bath has the wonderful Whisky Shop in its

High Street and in Bristol's reborn waterside is an uber-cool

underground bar, already winning awards for its uniquely

modern concept. The Beer Emporium lures the adventurous

traveller into its vaults to sample a range of craft ales, ciders

and wines and to dine, either in the bar or the adjoining

'Pepenero' restaurant.

There is simply not enough print-space to do more than

give you a hint of the pleasures open to the thirsty/hungry/

tired 'pilgrims' taking to the Great West Way but we hope we

have whetted your appetites with our selections.

Whether you are walking, cycling, boating or driving, you

will certainly stumble on others, just as good, and wonder at

the joys on offer, off the beaten track. Good hunting!

STILL THIRSTY? FIND OUT MORE

ABOUT THE DRINKS YOU LOVE

îWADWORTH BREWERY VISITOR CENTRE

Sample the delights and discover the history and heritage of

Wadworth Brewery. Featuring a 'Brewseum' of Wadworth

memorabilia, interactive displays showcasing the traditional

brewing methods, a sample bar and fully stocked gift shop.

îBOMBAY SAPPHIRE DISTILLERY

Uncover the secrets of Bombay Sapphire world-famous gin.

Behind the doors of this historic distillery, Laverstoke Mill

you can unveil the care, skill and artistry behind every drop,

from the comfort of a private deck.

îHISTORIC PUBS, MINING & DINING

Experience the best and breadth of quintessential English

inns, pubs, food, drink and learn about our intriguing past on

this unique experience with Around & About Bath.

The 4 hour tour takes you out of Bath and into the local area

for an evening of stories, brews and the most amazing fine

dining you'll find anywhere in the Bath region.

Escape the crowds, create timeless memories, and immerse

yourself in authentic England.

Pictured

above:

The Royal

Oak,

Wootton

Rivers

Pictured

left:

Wadworth

Brewery

Visitor

Centre

56 GreatWestWay.co.uk
---
GIN MAKING

Explore the magic of gin-making. We are reinstalling

an appreciation for gin-making through a fun,

hands-on experience. Enjoy tasting, distilling, and

creating your very own bespoke gin blend.

The Newbury is an imposing grade II listed gastro

pub in the centre of Newbury. It is a multi-award

winning venue which prides itself on its exciting

British a la carte menu, a great selection of ales,

extensive wine list & fabulous service.
---
Against the backdrop

of a renowned collection

experience critically acclaimed

exhibitions of historical and

contemporary art, lectures,

concerts, workshops and

events or indulge in our

Garden Café.

2019 HIGHLIGHTS

George Shaw

A Corner of a Foreign Field

Édouard Vuillard

The Poetry of the Everyday

Lauren Child

The Art of Illustration

Rembrandt

A Life in Print

Henri Matisse

Master of Line

Great Pulteney Street, Bath BA2 4DB

www.holburne.org

UNEXPECTED READING
---
MARVELLOUS MUSEUMS

The Great West Way takes you past some of England's finest

heritage sites but, tucked away in villages, towns and cities, there are

fascinating finds to make your journey even more rewarding

Words: Robin Glover

Pictured:

The Museum

of English Rural

Life, Reading

TRAVELLERS ALONG the Great West Way, whether

driving, cycling, boating or walking, will be granted

many opportunities to visit sites of national and

international importance.

The world is well aware of magnificent Windsor Castle,

majestic Salisbury Cathedral, mystical Stonehenge and the

Roman Baths in Georgian Bath – and each demands a visit

– but may overlook the less well-known.

We British are not just a nation of hoarders and

collectors anxious to justify the odd fancy, whether it be

dolls or aeroplanes, but are also proud of local heritage

and keen to put our history on display. Keep a look out for

these attractions and prepare to be amazed.

Before leaving behind the Thames-side delights of Henry

VIII's Hampton Court, historic Runnymede, notorious

Cliveden and Royal Windsor, seek out the Windsor

& Royal Borough Museum, unassuming but full of

interesting exhibits illustrating the thousands of years of

the settlement's existence and royal patronage.

By contrast, just a few minutes away, at Eton Wick, is

an absorbing, privately-owned collection of civilian and

military motor vehicles and militaria, The History on

Wheels Museum.

As a bonus, there's also an all-encompassing exhibition

of Princess Diana memorabilia, painstakingly assembled

and, reputedly, second only to the Althorp collection. →

GreatWestWay.co.uk 59
---
Head a little further upstream and you will come to the

Maidenhead Heritage Centre where you can both trace the

two thousand years of the town's history and, unforgettably

for enthusiasts of all ages, 'fly' in a WWII Spitfire simulator.

Although in a less rural setting, the town of Reading has many

visitor attractions. Reading Museum, is full of fascinating

regional history and artefacts, a 70-metre long, woven

replica of the famous Bayeux Tapestry and the Huntley &

Palmer exhibition, reflecting on the 150 years of local biscuit

manufacture. The Museum of English Rural Life is where

agriculture, through the ages, is brilliantly brought to life

with interactive exhibits as well as comprehensive displays

of implements, machinery and vehicles, and the new Abbey

Galleries are a great introduction to exploring the ruins of

Reading Abbey and finding out more about Henry I, England's

last 'unfound' king. We think there really is 'something for

everyone, of all ages' in our selection so far, but there are

even more, large and small, to consider. In Newbury is the

West Berkshire Museum, a treasure trove of information

and exhibits illustrating the origins of the county and

its people. By contrast, just a few miles further west, in

Wiltshire, is a pair of remarkable survivors from the early

days of the Industrial Revolution. The Crofton Beam

Engines were built over 200 years ago to maintain waterlevels

in the nearby Kennet & Avon Canal and, amazingly,

those great steam engines are still in working order, doing

the job for which they were designed!

Negotiating the pretty lanes of the Vale of Pewsey

brings the happy traveller to Devizes, home of the

independent craft brewers, Wadworth Brewery, and of the

county's Wiltshire Museum, telling the 500,000 years

story of the county through its award-winning galleries,

exhibits, high-quality graphics and striking reconstructions.

In order to maximise their enjoyment, visitors en route to

such prehistoric sites as Avebury and Stonehenge are urged

to visit this museum first.

And in Wiltshire's county town, one museum to watch

for the future is the Trowbridge Museum, offering insight

into the rich textile related heritage in the heart of the

town. Currently the museum is undergoing a fantastic

multi-million pound expansion, which will see the museum

double in size for its 2020 re-opening!

Moving forward in time, the history of 19th and 20th

century steam railways is retold at STEAM - Museum of

the Great Western Railway and, if historic aeroplanes

are a 'must-see' for you or your children, you need look no

further than the Boscombe Down Aviation Collection

at Old Sarum, Salisbury, where cockpits are mostly open

60 GreatWestWay.co.uk
---
Pictured left-right: We The Curious,

Bristol; Crofton Beam Engines, with the

oldest working steam engines in the world; Jane

Austen Centre, Bath; STEAM - Museum of the

Great Western Railway; STEAM Museum pattern

shop; and The Merchant's House, Marlborough

and you can sit in and use the controls. Since its formation

in 1942, the Corps of Royal Electrical and Mechanical

Engineers has been the driving-force of the British Army

and the inspiring story of the unit is told at the REME

Museum through their collections of armoured vehicles

and weaponry and child-friendly interactive displays.

When you reach Bristol, be prepared for even more,

as Aerospace Bristol houses an awesome collection of

aeroplanes and space vehicles spanning the centuries,

including the last

"Moving forward in time, the history

of 19th and 20th century steam railways

is retold at STEAM - Museum of

the Great Western Railway"

Concorde to be built

and to fly.

While in Bristol

don't miss We The

Curious on Bristol's

harbourside, with

all sorts of different

experiences and exhibits for you to interact with, and

experiments you can take part in.

Our next ports-of-call are altogether more restful,

starting at the charming Georgian town of Chippenham,

where we are pleased to recommend the Chippenham

Museum & Heritage Centre, set in an immaculate 18th

century townhouse and relating the story of the town's

development since the prehistoric era. On the way to the

nearby market town of Corsham, a small detour will bring

you to the picture-perfect village of Lacock, and National

Trust's Lacock Abbey, Fox Talbot Museum and Village.

Here, in 1835, William Fox Talbot created the world's

first photographic negative and it is only proper that the

Museum of Photography is established here.

Pretty Corsham offers two museum 'treats', a moving

historical experience in the original 17th century Corsham

Schoolroom and

Almshouse and The

Pound Arts Centre, a

North Wiltshire hub for the

performing and visual arts.

The City of Bath, in

its entirety, has been

awarded UNESCO World

Heritage status and this modest feature cannot do it full

justice. Explore it for yourself, at leisure, and marvel at the

splendour and grace of its Georgian beauty. Impressive

museums and exhibitions include the imaginative

recreations at No. 1 Royal Crescent and the Jane Austen

Centre and the superb collection of fine and decorative arts

to be viewed at the Grade I listed The Holburne Museum.

GreatWestWay.co.uk 61
---
SHOPPING DESTINATIONS

With one-of-a-kind independent boutiques, selling antiques,

arts and crafts, books, fashion, jewellery and clothing, historic

department stores, markets and entire shopping villages, there

is an abundance of shopping destinations to be enjoyed

Words: Emma Johnson

PERHAPS IT'S DOWN to its history as a main arterial

route between the east and west of southern

England, flanked partly by the Thames. Or because

it wends its way through some of the most beautiful

and sought-after English countryside around. Whatever

the reason, the Great West Way boasts some of the

most wonderful cities, towns and villages for indulging

all your retail desires. Whether you want to pick up a few

mementos of your trip from local artisans in Marlborough

and Windsor, rummage through the antiques shops in

Hungerford and Tetbury,

or splash out on renowned

British brands in Bath and

Richmond, shopping along

the Great West Way is both

diverse and inspiring.

LONDON-INSPIRED

At the beginning of your journey west, make a stop in

Richmond, where you can find upcycling and preloved

beauties at Mary's Living and Giving; quirky home décor

in Anthropologie; 30th Century Comics, who specialise in

back issues of every comic ever made; and The Open Book,

an independent bookshop with an amazing range and

knowledgeable staff. Richmond also has a Whole Foods

Market.

And, don't miss shopping in Kew too, close by and a

lovely place to shop, with a number of wonderful galleries,

especially those whose artists are inspired by their

botanical surroundings. Next to each other, the Marianne

North Galley and the Shirley Sherwood Gallery of Botanical

Art are both well worth a visit. While at Christmas, a showstopping

trail of festive light installations runs through

"The Great West Way boasts some of

the most wonderful cities, towns and

villages for indulging all your retail

desires."

Royal Botanic Gardens, Kew until early January, with more

than a million pretty fairy lights installed along the route

and a festive market selling homemade food and gifts.

TOWN AND COUNTRY

From Richmond and Kew, you'll journey away from the

big city and soon find yourself in delightful little towns

whose independent shops and boutiques have been

steadfastly preserved. A beautiful and historic town,

Windsor is also somewhere that prides itself on having a

thriving and popular high street. Many important British

names, from Jigsaw and Jo

Malone to Joules and Hobbs

London are here, located in

the beautiful Windsor Royal

Shopping centre, previously

the old station booking hall,

and a glorious glass-covered

atrium, with numerous

shops, restaurants, cafés and bars. Close by, you'll also find

country outfitters Barbour, tailors New & Lingwood (just

over the river in neighbouring Eton) and just outside of

town, Windsor Farm Shop and Café which sources meat

and game from the royal estate, and also sells local honey,

craft ales, flowers and fresh produce, as well as royal

estate gifts and hampers.

Close by, beautiful Henley on Thames is a smart,

chic town with a great mix of independent shops and

carefully chosen brands. Amidst the likes of classic British

homeware brand Laura Ashley, luxury beauty store Space

NK and British fashion names Joules, Crew, White Stuff

and Whistles, you'll also find Fluidity - a chic fashion store

which recently shot to fame as the store responsible for

Prime Minister Theresa May's eclectic wardrobe; as well

62 GreatWestWay.co.uk
---
Pictured:

Couple enjoy

shopping in

Windsor

as Way's Rare & Secondhand Bookshop, nautical fashion

emporium Boatique and Italian shoe brand Moda in Pelle.

Moving west, you'll come to Newbury, whose Parkway

Shopping complex is a great town centre addition,

featuring John Lewis at Home, L'Occitane, Hotel Chocolat

and Neal's Yard Remedies; while in Hungerford you can

spend an entire day exploring the Hungerford Antiques

Arcade, home to more than 100 antiques dealers – and

plenty of weird and wonderful finds.

Antiques are also a popular feature in the beautiful

market town of Tetbury. Make sure to visit Lorfords,

who sell their own range of traditionally upholstered,

contemporary sofas/armchairs; Muir Antiques, who

mix contemporary design with selected pieces from the

20th century, French decorative antiques and retro; and

Brownrigg, based in an impressive Georgian house, spread

over three floors dealing in period antique furniture,

decorative antiques and painted antiques. A short drive

away is Malmesbury, England's oldest borough, where

you'll find local favourite French Grey Interiors, gift

shop Woodcock & Cavendish and the popular cashmere

knitwear brand, Sassy & Boo.

Don't miss out on a potter down the high street of

market town Marlborough, either - one of the widest high

streets in England, with a host of adorable tea shops, as

well as interior design shop Susie Watson and modern

British art gallery Katharine House Gallery.

And, not too far away, in Bradford on Avon, the honeycoloured

stone and meandering, cobbled streets are home

to the likes of Made In Bradford on Avon, a collective of

local artisans' wares in the old vaults, vintage treasure

trove Instant Vintage, gift shop Strawberry Blue and the

wonderfully pungent The Cheese Shop.

BATH & BRISTOL

Towards the end of the Great West Way, you'll pass

through both Bath and Bristol, wonderful cities with very

different but inspiring shopping scenes. In Bath, celebrate

the beauty of the city's extraordinary architecture, while

perusing the likes of Jolly's – the oldest department store in

the UK, and Rossiters of Bath, an independent department

store in a wonderful higgeldy piggeldy building.

Also, make sure to wander along Pulteney Bridge in

Bath. This gorgeous Georgian bridge is one of only four

worldwide to have shops lining both sides and is a classical,

and retail, masterpiece.

From here, take your time exploring the winding

Georgian streets in search of the best boutiques and

bookshops. Mr B's Emporium is best for books, Vintage to

Vogue is a top destination for vintage fashion, while, when

it comes to homewares, you're spoilt for choice – Found,

Graham & Green, OKA, Brissi, The Fig Store and The Loft

and Looking Glass of Bath are all inspiring, beautiful shops.

The newly launched Bath Gift Card is also a great idea

if you're planning a weekend away here or in search of a

unique present. Accepted across the city in over 200 shops,

bars, museums and beauty salons, the Mastercard-based

card works in the same way as a store gift card, but can be

redeemed at a wide range of participating retailers, hotels,

restaurants and attractions. (You can buy a pre-loaded

card online, bathgiftcard.com or at the Visitor Information

Centre, just off Terrace Walk.)

In Bristol, Cabot Circus shopping centre remains the

perfect destination for contemporary fashions, but for a

sense of heritage you can't beat St Nicholas Market – an

award-winning indoor market dating back 275 years. There

are a host of independent food stalls, as well as shops →

GreatWestWay.co.uk 63
---
Pictured above left (then in a clockwise

direction): McArthurGlen Designer

Outlet Swindon; Clarks Village; and restored

Great Western Railway works

selling vintage records, art, handmade knitwear, books,

board games and model-making kits.

It's worth setting aside some time to explore the rest

of Bristol too, as little shopping enclaves with popular

local names are starting to emerge. Park Street, The

Arcade and Gloucester Road are the places to head to

for second-hand shopping and vintage fashions. We

love S8, a popular independent department store on

Park Street, and also the Bristol Guild, with a heavy

focus on design, it features everything from dining and

kitchenware to toys, jewellery and ceramics.

The Stokes Croft area includes Gloucester Road, the

longest street of independent shops in the UK, which

has a trendy, indie feel. Stokes Croft is also where you

can see one of Bristol-born artist Banksy's best pieces.

Iota sells homeware and gifts, Fig does interiors, and

you can refuel at Joe's Bakery with some organic, artisan

fast food. In Clifton, start at the amazing Clifton Arcade,

a veritable rabbit hole of old-world charm, with quirky

antiques, vintage fashion and sweet shops. Around

Clifton itself, don't miss the jewellery in Bees & Graves

or fashion in Fenice and Grace & Mabel. Also try Focus

on the Past for antiques, pick up beautiful stationery

at Papersmiths and enjoy organic artisan food at Arch

House Deli.

OUTLET SHOPPING

Housed in the beautifully renovated Grade II listed

buildings of the Great Western Railway Works,

McArthurGlen Designer Outlet Swindon is one of

the largest covered designer outlets in Europe. With

everything from Bose and Jack Wills to Joules and Links

of London, it is the perfect place, in a great location

to pick up a bargain. As well as many dining options,

McArthurGlen Designer Outlet Swindon also houses a

great selection of cafés including Starbucks, Soho Coffee

and Costa. The on-site STEAM - Museum of the Great

Western Railway offers families the chance to learn

about the men and women who built, operated and

travelled on the Great Western Railway and National

Trust has its own café and shop.

Head south from Bath, a short detour off the

Great West Way route, and nestled in the heart of

Somerset just one mile from the world famous town of

Glastonbury, and you will find your way to Clarks Village

where you will discover big brands and hidden gems - all

under one roof.

Clarks Village is no ordinary designer shopping

outlet. It was established in 1993 on the site of old

C&J Clark factory buildings and was the UK's first ever

outlet shopping centre to open its doors. Less than 20

minutes from the M5, you will find paved walkways and

canopies, award winning landscaped gardens, seasonal

flower beds and an amazing array of mature trees.

There are more than 90 high street and designer brands,

cafés, 'grab & go' kiosks and restaurants that continue

to offer great value for money to fashion foragers and

style seekers. You will find a wonderful emporium of big

name brands including Jack Wills, Hobbs, Barbour, Dune

London, Jack Wolfskin, Hotel Chocolat, Mint Velvet,

Levis, Vans and Joules.

64 GreatWestWay.co.uk
---
Experience outlet shopping in

the heart of Somerset

Up to 60% off every day at over 90 designer and high street brands
---
CULINARY DELIGHTS

Whether you are looking for traditional British classics or

experimental cookery to tantalise your taste buds, there has

never been a better time to eat out whilst exploring the

stunning landscapes of the Great West Way

Words: Emma Harrison

FROM FINESSED FINE DINING TO GLORIOUS

GASTROPUBS, WE HOPE YOU'LL ENJOY OUR GREAT

WEST WAY FOODIE ROUND UP.

1THE VINEYARD, STOCKCROSS, BERKSHIRE

Not only is The Vineyard a luxury five-star hotel

and spa in a quaint country setting in Berkshire,

it also has a 30,000-bottle wine cellar and a fine dining

restaurant. Head chef Robby Jenks is at the helm of

this 3AA Rosette restaurant. Diners can choose from

an à la carte or a tasting menu where they can enjoy

dishes such as veal sweetbread ravioli with pumpkin

seeds in a pumpkin and brown butter sauce or roast

brill, brassicas, caper berries and almond. îStockcross,

Newbury RG20 8JU

2THE FAT DUCK, BRAY, BERKSHIRE

If you love theatre, Heston Blumenthal's

renowned eatery in Bray offers the perfect

destination, serving innovative modern British

cuisine in the most spectacular of settings. Heston

has previously been described as the 'Willy Wonka of

British gastronomy' and diners who would like to eat at

his three-Michelin-starred wonderland pay £325 up

front for a 'ticket' - providing them with access to the

17-courses on offer that showcase his multi sensory

cuisine. îHigh St, Bray SL6 2AQ

3THE WATERSIDE INN, BRAY, BERKSHIRE

Bray clearly is the place for foodies to be! The

Waterside Inn which is under the leadership of

chef patron Alain Roux has held three Michelin stars

for over thirty years. Expect the most exquisite Classic

French cooking coupled with the most impeccable

service. îFerry Rd, Bray, Berkshire SL6 2AT

1

3

6

2

4

4CLIVEDEN HOUSE, TAPLOW, BERKSHIRE

Cliveden House has always been the place

for 'people in the know' and since Meghan

Markle spent the night before her wedding to Prince

Harry there, its star continues to rise. This is largely

helped by its varied food offering. Chef André Garrett's

innovative dishes and meticulous preparation and

elaborate finishes showcase his exquisitely crafted

creation. Produce is locally sourced and is highly

seasonal - guests can choose between an à la carte

menu or an eight-course tasting menu.

îCliveden Rd, Taplow, Berkshire, SL6 0JF

5

THE DINING ROOM, MALMESBURY,

WILTSHIRE

'Michelin's European Young Chef of the Year'

Niall Keating showcases his skills as Executive Chef

at this one Michelin star dining room restaurant

at Whatley Manor Hotel. Serving seasonal British

produce influenced by his worldwide travels.

îWhatley Manor Hotel and Spa, Easton Grey,

Malmesbury, Wiltshire, SN16 0RB

6BELMOND LE MANOIR AUX

QUAT'SAISONS, SOUTH OXFORDSHIRE

Described as 'Oxfordshire heritage meets

French flair', Raymond Blanc's two Michelin-starred

chic restaurant has earned itself a global reputation for

fine gastronomy and creative cooking. Diners continue

to be charmed by both the setting (country-house

luxe) and the delicious treats on offer which include

the likes of spiced monkfish, ravioli of pumpkin and

smoked trout amongst others. îChurch Road, Great

Milton, South Oxfordshire, OX44 7PD

66 GreatWestWay.co.uk
---
7

THE MILLER OF MANSFIELD,

GORING-ON-THAMES, READING

Despite its intriguing name, The Miller of

Mansfield is situated in the sweet village of Goring-on-

Thames. This 18th-century country pub has been given

a contemporary twist and can be defined as 'Modern

European' which has earned two AA Rosettes and

offers refined modern British dishes from the

freshest seasonal, locally-sourced ingredients. îHigh

Street, Goring, Reading RG8 9AW

8THE HARROW AT LITTLE BEDWYN, NR.

MARLBOROUGH, WILTSHIRE

Owned and run by Sue and Roger Jones, this

Michelin Star gem has received worldwide accolades

for its food and has also been critically acclaimed

for its 900 bin Wine List. Offering three menus, to

include an 8 course evening gourmet option, often

changed to reflect the best seasonal ingredients.

îLittle Bedwyn, Nr. Marlborough, Wiltshire, SN8 3JP

9RED LION FREEHOUSE, EAST

CHISENBURY, WILTSHIRE

Husband and wife team, Guy and Brittany

Manning modestly describe themselves as "just a

couple of chefs working to create a place with real

soul". Sourcing from the best possible producers, talent

and hard work has earned the duo, and their team,

one Michelin star status and a restaurant "where

the food has personality, the surroundings are

relaxed and the hospitality is warm and sincere".

îEast Chisenbury, Pewsey, Wiltshire, SN9 6AQ

HAND AND FLOWERS, MARLOW,

BUCKINGHAMSHIRE

10THE

Nestled in the pretty Georgian town

of Marlow, The Hand and Flowers is the only

pub in the UK with two Michelin stars and with

celebrated chef Tom Kerridge at the helm it is easy

to see why. The restaurant has a rustic feel which is

complemented by the refined British cuisine on offer.

î126 West St, Marlow, Buckinghamshire SL7 2BP

11

CASAMIA, BRISTOL

Casamia is a family run restaurant

serving a multi-course tasting menu

within an intimate restaurant setting of just nine

tables. Chef Peter Sanchez-Iglesias and his team

create dishes which are influenced by the individuality,

multicultural and creative vibes of their home city of

Bristol. His refined British dishes are served in his

stylish restaurant with seasonally changing decor.

îThe General, Lower Guinea Street, Bristol BS1 6FU

8

10

12

14

9

11

13

7

4

12

BULRUSH, BRISTOL

One of the additions to the recently released

Michelin Guide, Bristol-based restaurant

Bulrush is certainly on many a foodie's 'must visit' list for

2019. Chef Proprietor George Livesey's imaginative and wellbalanced

menu is chock-full of seasonal ingredients which

are either organic or have been foraged. î21 Cotham Rd

South, Bristol BS6 5TZ

13

PONY & TRAP, BRISTOL

Run by brother and sister Josh and Holly

Eggleton, this Michelin Star pub, with

exceptional views of the stunning Chew Valley, offers

an ever-changing menu that focuses on fresh produce

which is locally sourced. Diners can choose from a

tasting menu or from the dinner and lunch menus

where they can enjoy dishes such as wood pigeon and

'day boat' fish.

îMoorledge Rd, Newtown, Chew Magna, BS40 8TQ

14

OLIVE TREE RESTAURANT, BATH

Located in the renowned Queensberry

Hotel, Olive Tree is a 3 AA Rosette restaurant

in the heart of the beautiful city of Bath. It is a

contemporary British restaurant offering informal fine

dining under the direction of award-winning head chef,

Chris Cleghorn. He has recently been awarded a Michelin

Star in the 2019 guide and is the only restaurant in the city

to be awarded this prestigious honour. Chris's menu is

quintessentially British with Mediterranean influences.

î4-7 Russell St, Bath BA1 2QF

15

QUEENS ARMS, EAST GARSTON,

BERKSHIRE

Perfectly placed as a stop-over destination to

explore on your Great West Way journey, in the heart of

an Area of Outstanding Natural Beauty, yet only 3 miles

from the M4. This award winning, pub, restaurant and

hotel (with its own private lodge) serves seasonal British

cuisine. îEast Garston, Berkshire, RG17 7ET

GREAT WEST WAY HIGHLIGHT

îSAVOURING BATH

Savouring Bath (savouringbath.com) offer expert

epicurean tours and experiences introducing you to

the best of the city's food and drink scene.

Locally based, and passionate foodie guides will

introduce you to the top food and drink hot spots

and Bath's hidden gems of yumminess along with

some of the city's famed history, while the food

itself remains centre stage.

GreatWestWay.co.uk 67
---
A WARM WELCOME

Stay overnight, treating yourself to a minibreak and

more time to explore the Great West Way. From spas to

luxury hotels, manor farms to guest houses, here's our pick

of some of the best places to stay through the seasons

Words: Rebecca Lowe

JANUARY/FEBRUARY/MARCH

If your New Year's Resolution is to detox and start afresh,

then it's time to spa! The Great West Way has some of the

country's best and most unique spa hotels, including the

Gainsborough Bath Spa, which draws on the city's natural

thermal waters, the only one in the UK; The Langley - a new

five-star hotel opening in Buckinghamshire on the former

country estate of the third Duke of Marlborough to include

a world-class wellness centre, complete with indoor and

outdoor pool, thermal area and a fitness suite designed

by trainer to the stars, Matt Roberts; and Lucknam Park

Hotel & Spa, a country house retreat 6 miles from Bath,

with a luxurious and rejuvenating spa surrounded by walled

gardens, avenues of beautiful trees and manicured lawns.

Celebrate Valentine's Day with a Great West Way break,

choosing from one of the many romantic hotels, B&Bs or

inns along the route. Some top picks are: Roseate Hotels

with hotels in London, Bath and Reading, which has been

dubbed the UK's Sexiest Townhouse Hotel. Troutbeck

Guest House, just across the road from the Michelin starred

68 GreatWestWay.co.uk
---
country pub, Red Lion Freehouse, is located in the heart of

Wiltshire. Try and get The Benjamin Room, which has its own

private entrance, lobby and large deck with views of the River

Avon and has a roll-top bath in the bedroom to make the

most of those river views.

For something a bit different, try a canalboat holiday.

Moonraker Canalboats in Wiltshire have luxury, widebeam

boats that come complete with king-sized beds, Jacuzzi baths

and log burners.

If you fancy afternoon tea you are spoilt for choice along the

Great West Way. As afternoon tea is as English as Jane Austen,

it seems apt to partake in Bath, where Austen famously lived.

The Royal Crescent Hotel & Spa has a choice of three

Afternoon Teas, including a dedicated Children's Afternoon Tea,

all of which are deliciously decadent.

Whatley Manor Hotel & Spa is one of the most luxurious

places to take tea, whether you choose to be served in the

Garden Room, Drawing Room, Reception Hall, or on one of its

terraces.

APRIL/MAY/JUNE

HRH Duke and Duchess of Sussex are expecting a spring

baby. If born in April, the bundle of joy will share a birth

month with its Great Grandmother, HRH Queen Elizabeth II,

so when better to explore the Great West Way's royal links?

Five star country house hotel Cliveden House in Berkshire

was the hotel of choice for Meghan and her mother the night

before the royal wedding, or head over to Gloucestershire

and Berkeley Castle, where the Barons of the West gathered

before setting out to the momentous meeting with King John

at Runnymede at which the Magna Carta was sealed.

May is the month to enjoy Britain in bloom, when the

country is a riot of colour and nowhere more so than the

Great West Way, home to many pretty guest houses and

B&Bs with walks and gardens to visit just a short stroll

away. Try Manor Farm situated in the small village of

Collingbourne Kingston, on the northern edge of Salisbury

Plain, forming part of the North Wessex Downs Area of

Outstanding Natural Beauty – a traditional farmhouse B&B,

alongside their own working arable farm.→

Pictured left:

The Royal Crescent

Hotel & Spa, Bath

Pictured above-right:

Grand staircase at

Berkeley Castle and

bedroom at Whatley

Manor Hotel & Spa

GreatWestWay.co.uk 69
---
Pictured left (then

in a clockwise

direction):

The Lygon Arms

Hotel; Woolley

Grange Hotel;

Abbey Hotel

Bath; and The Old

Bell Hotel

JULY/AUGUST/SEPTEMBER

During the long summer holidays, you can't get much better

than The Lodge at Bristol Zoo Gardens, where overnight

visitors can enjoy having the zoo all to themselves, with

rooms overlooking the enclosures, free entrance included

and optional experiences such as a behind-the-scenes

tour, animal feeding experiences and breakfast with the

Gorillas. Woolley Grange, a hotel that puts family first, is

another great option. As well as its family-friendly spa and

playhouses, swings, trampoline, nature garden and pond

dipping in the 14-acre grounds, the luxury hotel also offers an

Ofsted registered nursery, 2 hours daily free childcare and a

Children's Breakfast Club, where children are collected from

their room at 8am and taken for breakfast so parents can go

back to bed!

If you fancy taking a tour off the Great West Way route to

the Cotswolds, there's many beautiful places to choose from.

Some of our favourites include The Lygon Arms, a luxury 16th

century coaching inn on Broadway High Street, Cricklade

House Hotel located on the Wiltshire edge of the Cotswolds

an absolutely ideal venue for a relaxing golfing break, while

Lords of the Manor Hotel in the quaint Cotswold village of

Upper Slaughter near Bourton-on-the-Water and Stow-onthe-Wold

offers a truly enchanting getaway.

OCTOBER/NOVEMBER/DECEMBER

Cosy up in the pretty Wiltshire town of Calne with a romantic

stay in a luxury holiday cottage, come barn conversion,

at Buttle Farm. Or stay at the nearby Old Bell Hotel,

reputed to be the oldest in the country, dating from 1220

but sympathetically modernised over the passing centuries.

Recently refurbished, the intention is to be the best country

house hotel in England, albeit in the centre of Malmesbury,

and right by the majestic might of its medieval abbey.

Meadowbank House B&B located in the lovely village of

Liddington, Marlborough is a great option for being close to

the McArthurGlen Designer Outlet Swindon, which offers

up to 60% off over 100 leading brands and hosts an annual

Festive Fashion Event (15th November).

To enjoy this great season full of festive fun, there are

plenty of Christmas Markets from November, including one

of the country's biggest, the award-winning Bath Christmas

Market. Consisting of 180 stalls, set amongst Bath's Georgian

streets, the market sells hand-made ceramics, glassware,

jewellery and local produce. Located in the historic centre of

Bath, is The Abbey Hotel with chalet-style Après-Ski bar!

70 GreatWestWay.co.uk
---
SCHEDULED WEEKLY TOURS INCLUDE:

Explore the UNESCO World Heritage City

of Bath using your taste buds on artisanal

food & drink sampling experiences

What our

customers say...

"If you're a foodie there isn't a better way

to spend an afternoon…"

"We had so much fantastic food along

with lots of laughter!"

"Lots of yummy tastings and so interesting

to hear from the local traders & producers"

'GUILTY PLEASURES'

A naughty but nice

tour of the city!

'GEORGIAN FARE'

Bath's historical

culinary traditions

'FOOD HEROES'

The people & foods who have put

Bath on the culinary map of the UK

'PLANTED!'

Our entirely gluten-free &

plant-based food sampling tour!

BOOK ONLINE AT SAVOURINGBATH.COM

Sumptuous Afternoon Teas ■ Delicious Sunday Roast

■ New Tapas Menu ■ Fully Refurbished Bar featuring 100+

Whiskies and 50+ Gins ■ New Restaurant and award-winning chef

■ 45 Bedrooms ■ Leisure Facilities including Golf

CRICKLADE HOUSE

Common Hill, Cricklade, Wiltshire, SN6 6HA

reception@crickladehotel.co.uk, 01793 750751

www.crickladehotel.co.uk
---
JOIN THE FUN!

From confetti battles to music festivals, canoe races

to country shows and big-ticket exhibitions

Words: Samantha Rutherford

CALENDAR OF EVENTS

APRIL / MAY / JUNE

Devizes to Westminster

International Canoe Race

20-21 APRIL

This is the world's longest non-stop canoe

race, which starts in Devizes, following

the Kennet & Avon Canal and joining

The Thames, finishing just downstream

of Westminster Bridge, opposite the

Houses of Parliament, a total distance

of some 125 miles. îdwrace.co.uk

Howard's Day at Castle Castle

Combe Circuit 22 APRIL

Easter Monday is the traditional start

to the motor racing season at Castle

Combe Circuit and is marked by this

popular race day.

îcastlecombecircuit.co.uk

The Bath Festival

17-26 MAY

Having recently celebrated its 70th

birthday, this 10-day festival celebrates

music and literature, bringing prominent

writers, musicians and cultural figures to

the city.

îbathfestivals.org.uk

Pub in the Park Marlow

17-19 MAY

Still new to the foodie festival scene,

Tom Kerridge's Pub in the Park has

been a sellout in its first 2 years, with

people clamouring for tickets to enjoy

pop-up pubs and great live music in this

stunning riverside park.

îpubintheparkuk.com

72 GreatWestWay.co.uk
---
One of Britain's most well-known racecourses,

Ascot holds a special week of races in June each year,

which is attended by The Queen, who has had an

interest in horses since childhood.

Pictured leftright:

Henley

on Thames

and Horse

and Coach at

Royal Ascot

Highclere Country Show

26-27 MAY

The estate better known as Downton

Abbey, Highclere hosts one of

England's best country shows, with

falconry, gundog displays and the

chance to have a go at clay shooting.

îhighclerecountryshow.co.uk

Afghanistan v Australia – 2019

ICC Cricket World Cup, at the

Bristol County Ground 1 JUNE

Australia launch their title defence

against Afghanistan in this crucial match

in the Cricket World Cup, taking place

at The County Ground in Bristol, one

of 11 venues to feature in the 46-day

tournament. îIce-cricket.com

The Little Welly Obstacle

Course & Festival, Henley on

Thames 8-9 JUNE

A day at The Little Welly is jam-packed

full of fun and crazy experiences. Let

your kids Go Wild, Get Muddy and

have a great day out. Enjoy tackling

the 3km landscaped course designed

using natural features with over 30 big

obstacles – involving water, foam and of

course plenty of MUD!

îthelittlewelly.co.uk

Royal Ascot 18-22 JUNE

Arguably England's most famous

– and grandest – horse racing event,

with five days of races each kicked off

by a royal carriage parade. This is your

chance to wave at The Queen and to

wear a fabulous hat! →

GreatWestWay.co.uk 73
---
JULY / AUGUST / SEPTEMBER

Henley Royal Regatta

3-7 JULY

Established in 1839, this annual regatta attracts rowing

crews from around the world to its five days of head to head

knockout competitions and is regarded as an integral part of

the English social season. îhrr.co.uk

Kew the Music

9-14 JULY

Kew Gardens hosts six nights of laidback picnic concerts,

from big names in every genre of music from pop and

rock to classical and jazz. Headliners include Craig David,

Beverley Knight and Jools Holland. îkewthemusic.org

Bristol Harbour Festival

19-21 JULY

Bristol's largest annual event fills the harbour from the

SS Great Britain to the city centre with tall ships, music

stages, dance areas and food markets. Expect water

displays and circus acts too. îbristolharbourfestival.co.uk

Royal International Air Tattoo, Fairford

19-21 JULY

One of the world's greatest airshows, fresh from celebrating

the centenary of the RAF, will return to mark the 70th

anniversary of NATO. Over 300 aircraft typically take part in

the flypasts and aerial acrobatics. îairtattoo.com

WOMAD, Malmesbury

25-28 JULY

Global fiesta of music, dance, art and food that started in

Charlton Park, Malmesbury and has since taken the party

to more than 27 countries worldwide including Australia,

Chile and Spain. îwomad.co.uk

74 GreatWestWay.co.uk

Cinema Rediscovered

25-28 JULY

Love cinema? 2019 will be the 4th year of Cinema

Rediscovered where great films will be brought back to

the big screen in cinemas across Bristol. It's a chance to

experience lesser known cinematic voices, some of the

finest digital restorations, contemporary classics and film

print rarities from across the globe back where they belong

– on the big screen. The perfect excuse for a city break with

a cinematic twist! îwatershed.co.uk/whatson

Bath Carnival

13 JULY

Bath's biggest party features a procession of more than

1,000 dancers and musicians through the city plus plenty

of world music on the sound systems and at Party in the

Park in Sydney Gardens. îbathcarnival.co.uk

Bristol Pride

1-14 JULY

Bristol Pride is an annual celebration of the LGBT+

community. A series of events that take place across Bristol

ranging from theatre, comedy, dance and their award

winning film festival, Queer Vision. The main Pride Day

festival will take place on Saturday 13 July.

îbristolpride.co.uk

Malmesbury Carnival & Festival

1 AUGUST-1 SEPTEMBER

The month-long carnival and festival has events for

everyone including Petticoat Lane Street Market, Open

Gardens, a Funfair, Walks & Talks, Wine Tasting and of

course the Carnival Procession itself.

îmalmesburycarnival.co.uk

4 April 2019 marks NATO's 70th anniversary

of the signing of the North Atlantic Treaty
---
Pictured leftright:

Henley

Royal Regatta;

an artist at

Upfest

festival; Bristol

International

Balloon Fiesta;

Jane and circus

fun at Devizes

Festival

Festival of British Eventing, Gatcombe Park

2-4 AUGUST

Held at the spectacular home of the Princess Royal

and her family, incorporating the British Open,

Intermediate and Novice Championships, as well

as the Amateur Championship, The Corinthian Cup.

îfestivalofbritisheventing.com

Bristol International Balloon Fiesta

8-11 AUGUST

Europe's largest annual meeting of hot air balloons brings

colour to the sky above Bristol with twice-daily mass balloon

launches and the chance to take a ride yourself.

îbristolballoonfiesta.co.uk

Reading Festival

23-25 AUGUST

One of England's biggest and best-loved music festivals,

featuring big-name acts from around the world – think

Kings of Leon and Foo Fighters. îreadingfestival.com

The Colour Rush and Confetti Battle, Devizes,

31 AUGUST

Nobody knows why it started but Devizes' Confetti Battle

is surely the most fun you can have with torn up bits of

coloured paper. Get stuck into the battle in the marketplace

and stay for the fireworks!

îdocadevizes.org.uk

Jane Austen Festival, Bath

13-22 SEPTEMBER

Get your top hats, bonnets and lace out for this 10-day

celebration of all things Austen. Highlights include a

costumed Promenade through the city, and the Regency

Costumed Masked Ball, with dancing in the Pump Room of

the Roman Baths. îjaneaustenfestivalbath.co.uk

Heritage Open Days

13-22 SEPTEMBER

This national event sees normally hidden and closed

places throw their doors open to the public. Highlights

along the Great West Way include Reading Synagogue,

Sevington Victorian School in Wiltshire and the Rolls-

Royce Heritage Trust in Bristol - with many more besides!

îheritageopendays.org.uk

Mini Action Day, Castle Combe Circuit

28 SEPTEMBER

Things go pocket-sized for Mini Action Day on Saturday

28th September – the UK's oldest, best and ONLY trackbased

Mini event. Prepare to marvel at the hundreds of

both old and new examples of this iconic car that make

the venue their home for the day.

îminiactionday.co.uk

Henley Literary Festival

28 SEPTEMBER – 6 OCTOBER

Bringing together punters and pundits from far and wide,

last year's speakers included Irvine Welsh, Judith Kerr,

Sebastian Faulks and Michael Morpurgo, so expect an

equally diverse and stellar line up for 2019.

îhenleyliteraryfestival.co.uk

Cliveden Literary Festival

28-29 SEPTEMBER

Famous for its literary salon which has inspired writers

including Alexander Pope, Jonathan Swift, George Bernard

Shaw and Lord Tennyson, Cliveden's annual literary

festival has attracted writers from the world of TV and film

including Stephen Frears, Armando Iannucci, Sarah Waters

and Kier Kreishi.

clivedenliteraryfestival.org →

GreatWestWay.co.uk 75
---
Dundas Aqueduct

Great West Way Discoverer pass

With just a single train ticket, you can explore the Great West Way's most iconic destinations, including London,

Bristol and Bath. The best and most relaxing way to explore the route is by rail, and the Great West Way Discoverer

pass allows you unlimited off-peak train and bus travel between London Paddington and Bristol Temple Meads,

with options to branch off in the Thames Valley, Cotswolds and Wiltshire.

It is an easy and relaxing way to explore some of

England's most popular destinations, taking you

along an historic route that has been in use since

the early days of rail travel, built by pioneering

Victorian engineer Isambard Kingdom Brunel.

Great West Way Discoverer pass also includes

unlimited travel on selected bus services along

the route, transporting you to Eton, Henley,

the Cotswolds, Stonehenge and beyond.

East, West or Global routes

There are three Great West Way Discoverer

routes available, giving you the opportunity to

explore the area in one-day instalments or

over the duration of a week.

The East route covers the railway line from

London Paddington and London Waterloo to

Swindon, Pewsey and Salisbury, and costs £69

for a one-day pass and £159 for a seven-day pass.

The West route covers the railway line from

Bristol Temple Meads to Swindon, Pewsey and

Salisbury. The one-day pass costs £24 and the

seven-day pass costs £69.

The Global route includes both the East and

West routes and is available as a seven-day pass,

costing £239 for adults.

There are also the following discounts available:

0 to 5 years old – free of charge; 5 to 15 years

old – 50% discount; Railcard – 10% discount.

How to buy your pass

You can purchase the Great West Way Discoverer

pass online at GWR.com or from your local

station. They come in the form of a standard

orange ticket, clearly showing the route you

have purchased and whether it is valid for

one day or seven.

If you are travelling from overseas, international

passes (similar to a BritRail pass) can be

purchased online at ACPRail.com or via your

travel agent, where discounted international rates

apply and with no off-peak travel time restrictions.

Get inspired

With a Great West Way Discoverer Global

pass, there are plenty of attractions you can visit,

including some of the country's most treasured

landmarks. Here are some recommended places

to see on your journey:

• Roman Baths, Bath – this ancient thermal

spa is just one of the reasons that the city of

Bath was awarded UNESCO World Heritage

status in 1987. It is one of the best-preserved

attractions of its kind in the world.

• Clifton Suspension Bridge, Bristol – designed

by Great Western Railway's chief engineer,

Isambard Kingdom Brunel, the Clifton

Suspension Bridge, spanning the Avon Gorge,

is a masterpiece of British creativity.

• Stonehenge, near Salisbury – this 5,000-year-old

landmark has intrigued and beguiled visitors

for centuries.

• STEAM: Museum of the Great Western

Railway, Swindon – discover the bygone days of

steam-powered locomotion in this beautifullyrestored

railway building.

• Bradford-on-Avon – take time to explore this

picturesque Wiltshire market town and stroll

along the banks of the historic Kennet and

Avon Canal.

• Henley-on-Thames – this archetypal English

town is best known for its regatta in July, but

is a charming location to visit all year round,

full of boutique shops and elegant cafes, where

you can take afternoon tea.

• Windsor – it was here that Prince Harry tied

the knot with Meghan Markle in May 2018,

and for that reason alone you should visit the

beautiful Windsor Castle where the wedding

reception was held.

Buy online at GWR.com or from your local station.
---
Pictured:

Christmas at

Kew

OCTOBER / NOVEMBER / DECEMBER

LEGOLAND Fireworks Spectacular,

VARIOUS DATES IN OCTOBER

Make your visit to Legoland even more magical by timing it

to coincide with the annual fireworks spectacular, part of the

theme park's spooky Halloween season.

îlegoland.co.uk

The Festival of Light, Longleat

SELECTED DATES FROM

09 NOVEMBER - 5 JANUARY 2020

The UK's original, biggest and unsurpassed lantern festival

returns for 2019. Hundreds of breath-taking, illuminated

lanterns, set in over 30 acres of splendid 'Capability' Brown

landscaped grounds, will transform Longleat as darkness falls.

This year the extraordinary Festival of Light presents Myths and

Legends.

îlongleat.co.uk/festival-of-light

LaplandUK, Ascot

16 NOVEMBER – 24 DECEMBER

Are you ready for the most magical, mystical, Elftastic day

of your lives? Based in Berkshire, LaplandUK offers a festive

family phenomenon hidden within The Crown Estate and a

favourite of celebrities and royals such as Sir Elton John, the

Beckhams, and The Countess of Wessex.

îlaplanduk.co.uk

Christmas at Kew

LATE NOVEMBER-EARLY JANUARY

A show-stopping trail of festive light installations runs

through Kew Gardens from late November until early

January. More than a million teeny pea lights are installed

along the route and there are festive treats such as spiced

cider and toasted marshmallows.

îkew.org

Windsor On Ice

16 NOVEMBER - 5 JANUARY 2020

Alexandra Gardens in Windsor plays host to two ice rinks –

one indoor and one outdoor. You'll also find the UK's biggest

dodgems and plenty of other fairground rides.

îwindsoronice.com

Bath Christmas Market

21 NOVEMBER - 8 DECEMBER

One of the country's biggest Christmas markets,

consisting of 180 stalls, set amongst Bath's Georgian

streets, the market sells hand-made ceramics, glassware,

jewellery and local produce.

îbathchristmasmarket.co.uk

To discover more events on the

Great West Way visit GreatWestWay.co.uk

/see-and-do/festivals-and-events

GreatWestWay.co.uk 77
---
TOUR & EXPLORE

with Anne Bartlett

Anne is an experienced

Cotswold based Blue Badge

Tourist Guide and Tour

Director who provides a

friendly, professional guiding

service for groups exploring

the Great West Way.

Email: anne@tourandexplore.com

tourandexplore.com

Ambassador for The Great West Way

Where? Windsor, Henley, Reading, Kennet and Avon Canal,

River Thames, Chiltern Hills, North Wessex Downs

How? Waterways trips, town and countryside walking tours,

coach tours, themed tours

Who? Graham Horn, GREAT WEST WAY® Ambassador,

experienced Blue Badge Guide, local knowledge

Contact me to enhance your GREAT WEST WAY® tour

• www.tours2order.com

• graham@tours2order.com

bathgiftcard.com

Enjoy your gift card across Bath

Food & Drink • Health & Beauty

Museums & Galleries • Hotels & Shops

The best of Bath in one little card

Discover Your

Discover Your

Cathedral

FREE ENTRY . GUIDED TOURS . GIFT SHOP .

DAILY WORSHIP . CAFE . GARDENS

FREE ENTRY . GUIDED TOURS . GIFT SHOP .

DAILY WORSHIP www.bristol-cathedral.co.uk

. CAFE . GARDENS

Discover Your

www.bristol-cathedral.co.uk

Cathedral

FREE ENTRY . GUIDED TOURS . GIFT SHOP .

DAILY WORSHIP . CAFE . GARDENS

www.bristol-cathedral.co.uk

we the curious

Bring questions,

start discoveries

Live shows, planetarium voyages

and hundreds of ways to spark

new ideas.

Find us on Bristol's Harbourside.

wethecurious.org

Image: Lisa Whiting Registered charity number 1049954
---
Champagne Balloon Flights

with Bailey Balloons

See Bristol, Bath and Wiltshire

from the sky!

EXPLORE THE GREAT WEST WAY ® WITH AN EXPERT GUIDE

Chauffeur driven tours with a Blue Badge Guide

www.southwestdriverguide.co.uk

southwestguide@gmail.com

April to late October

baileyballoons.co.uk 01275 375 300

Bristol Balloon Fiesta flights are 8-11 August 2019

Book early to avoid disappointment!

Avebury and Stonehenge Private Guided Tours

Wiltshire's wonderful countryside,

full of internationally important monuments,

is a very special place to visit.

See how

the other

half lived

at

ROYAL

CRESCENT

Discover how life used to be

above and below stairs in Bath's

most fashionable address.

Find out more online or call Laurence

oldburytours.co.uk | +44 (0)7947 488665

www.no1royalcrescent.org.uk

6555 No.1 A3,A4,A5 portrait AW.indd 1 13/02/2014 11:13
---
THE ONLY MOTOR MUSEUM IN WILTSHIRE!

Stay in a Jacobean manor on

your Great West Way journey!

■ A small, friendly museum just off the A4 in Calne

■ 100+ exhibits - many are vehicles from the 1920s onwards

■ Apr-Oct (Tues-Sun11-5) Nov, Feb-March (Thurs-Sun 11-4) Dec-Jan (Sat-Sun 11-4)

www.atwellwilson.org.uk

01225 864705 | www.woolleygrangehotel.co.uk

Woolley Green, Bradford-On-Avon, Wiltshire, BA15 1TX

A member of the Luxury Family Hotel collection

Q

ueens

HOTEL • PUB • RESTAURANT • PRIVATE ROOMS • GARDEN

Discoveringthe Cotswolds

Just 90 minutes from London and featuring many of England's most picturesque

towns and villages, the Cotswolds are full to bursting with honey-coloured stone

cottages, beautiful scenery, gorgeous places to stay and a whole host of

fabulous things to do.

Whether your passion is strolling through the rolling hills and countryside, browsing

unique boutiques and markets or learning more about how history shaped this

picture-perfect part of England, you'll fi nd it all – waiting to be discovered.

Create your own 2019 Cotswolds escape at www.cotswolds.com

GLORIOUS GARDENS - from Hidcote to

HRH Prince Charles's Highgrove garden and

hidden gems waiting for you to discover

and explore.

www.cotswolds.com

HISTORY AND HERITAGE – discover

Blenheim Palace - the birthplace of

England's best known Prime Minister or walk

in the footsteps of Tudor kings and queens

at Sudeley Castle. There's history around

every Cotswold corner.

TOURING THE COTSWOLDS - hear the

little known stories and get off the beaten

track with knowledgeable expert guides.

Many guides offer collections from local

train stations, your hotel or even from the

airport – let them take the strain out of your

Cotswold adventure, giving you time to sit

back and relax.

T: 01285 623000 | E: cotswoldstourism@cotswold.gov.uk

Perfect place for long, lazy weekends!

Daily Telegraph

3 miles off J14 of M4 (Hungerford & Lambourn)

Halfway between London, the South West & Wales

East Garston • Berkshire • RG17 7ET

Tel: 01488 648 757

info@queensarmseastgarston.co.uk

www.queensarmseastgarston.co.uk

COTSWOLD DISTRICT COUNCIL FP BSUP.indd 1 08/11/2018 09:59
---
ABINGDON-ON-THAMES TOWN COUNCIL

51307 Stonor 51307 Park_Layout Stonor Park_Layout 1 15/08/20171 15/08/2017 10:50 Page 10:50 1 Page 1

Please check carefully, and advise us of any errors by returni

otherwise it will be presumed correct.

Over 147 years of River and Boating Service

This This

51307

a

Stonor

proof

Park_Layout

is a proof

1

of

15/08/2017

your

10:50

of

Page your

1

advertisement which which will a

advertisement and it will be printed as the proof shown below,

ABINGDON-ON-THAMES TOWN TOWN COUNCIL COUNCIL - OF

LAP (Local Authority Publishing Co. Over Over 148 147 Ltd.) 147 years will of of River not and be Boating liable Service

Service for any

Over 147 years of River and Boating Service

International Please check Please House,

This carefully, check is a

Northfield

proof carefully, and advise of your and Business advise advertisement of any us errors Park, of any by Lower errors which returning by Dicker,

will returnin the appe amE

Tel: 01323 849962 otherwise Email: otherwise it will admin@localauthoritypub

be it presumed will be presumed correct. correct.

ABINGDON-ON-THAMES TOWN COUNCIL - OFFIC

LAP (Local LAP Authority (Local Authority Please Publishing check Publishing carefully, Co. Ltd.) and Co. advise will Ltd.) not us of be will any liable errors not be by for returning liable any errors for the any amende or eo

advertisement advertisement and it will and be it printed will be otherwise as printed the it proof will as be the presumed shown proof below, correct. shown without below, li w

LAP (Local Authority Publishing Co. Luxury Ltd.) Passenger will not Boat be liable Charter for any errors or omis

Luxury Passenger Boat Charter

advertisement and it will be printed Self as the proof

Self Drive shown below, without liabilit

Adventure

Tel: 01323 849962 Email: Luxury Passenger Boating admin@localauthoritypubli

Boat Holidays

Charter

International House, Northfield Luxury Business Passenger

Self Drive

Park,

Adventure

Boat Lower Charter Dicker, East Sussex BN

River Trips

Tel: 01323 849962 Email: Self Luxury admin@localauthoritypublishing.co.uk

Drive Boating Adventure

Holidays

Moorings and Storage

River Trips

Edwardian Luxury Chauffeured Boating Holidays Launches

Edwardian

Moorings

Chauffeured

and StorageLaunches

Edwardian River Chauffeured TripsLaunches

International International House, Northfield House, Northfield Business Business Park, Lower Park, Dicker, Lower East Dicker, Suss Ea

Tel: 01323 849962 Email: admin@localauthoritypublishing.co

OUR REFERENCE: 4254 / 51307 (Please quote a

For bookings and enquiries please contact Hobbs of Henley

For bookings For on bookings 01491 and Moorings 572035 and enquiries or boats@hobbsofhenley.co.uk

please

and

contact

Storage

Hobbs Hobbs of Henley of Henley

on Edwardian 01491

on

572035

01491 572035

Chauffeured or

or boats@hobbsofhenley.co.uk

Launches

For bookings and enquiries please contact Hobbs of Henley

on 01491 572035 or boats@hobbsofhenley.co.uk

OUR REFERENCE: 4254 / 51307 (Please quote at all times)

0617006 A5 0617006 1pp.indd A5 1pp.indd 1 1 27/06/2017 27/06/2017 14:13 14:13

OUR REFERENCE: 4254 / 51307 (Please quote at all time

OUR REFERENCE: 4254 / 51307 (Please quote at

0617006 A5 1pp.indd 1 27/06/2017 14:13

0617006 A5 1pp.indd 1 27/06/2017 14:13
---
THANK YOU TO

THOSE WHO HELPED

US ALONG THE WAY

Title Ambassadors

Bristol Airport

Canal & River Trust

Great Western Railway

National Trust

Destination Ambassadors

Bath Business Improvement District

Bradford on Avon Town

Calne Town

Chippenham Town

Corsham

Cotswolds Tourism

Destination Bristol

Devizes Town

Henley on Thames

Hungerford Town

Malmesbury Town

Marlborough Town

Marlow

North Wessex Downs AONB

Reading UK

Royal Borough of Windsor &

Maidenhead

Stonehenge & Avebury WHS

Swindon Town

Tourism South East

Trowbridge Town

Vale of Pewsey

Visit Bath

Visit Thames

Visit Newbury

Visit Richmond

VisitWiltshire

Designated Attraction

& Hotel Ambassadors

Aerospace Bristol

Alder Ridge Vineyard

Bowood House & Gardens

Cheddar Gorge & Caves

McArthurGlen Designer Outlet, Swindon

Fashion Museum Bath

Longleat

The Roman Baths

Royal Crescent Hotel & Spa

Stonehenge

Thermae Bath Spa

Wadworth Brewery & Tours

West Berkshire Brewery

Westonbirt, The National Arboretum

Whatley Manor

Windsor Castle

Gateway Ambassadors

Abbey Hotel

The Abbey Quarter

a'Beckett's Vineyard

Active England

Aldermaston Tea Rooms,

Visitor Centre, & Shop

Aldwick Estate

Alison Howell's Foottrails

Alton Priors Church

Apex Hotel, Bath

Arnos Vale Cemetery

Around and About Bath

Aspley House

Atwell-Wilson Motor Museum

Avalon Lodge Bed and Breakfast

Avebury Landscape Wiltshire

Avon Valley Adventure & Wildlife Park

Bailey Balloons

Bainton Bikes

Barbara McLellan

The Barn Theatre

Barrington Court

Bath Apartment Breaks

The Bath Brew House

Bath Bus Company

Bath Self Catering

Beanhill Farm B&B

Berkeley Castle

Best Western Plus Angel Hotel,

Chippenham

Bombay Sapphire

Bozedown Alpacas

Bristol Blue Glass

Bristol Cathedral

Bristol Community Ferry Boats

Bristol Packet Boats

Bristol Tandem Hire

Bristol Zoo Gardens

Brooks Guest House B&B, Bath

Bruce Branch Boats

Brunel's SS Great Britain

Buttle Farm

Canal Trust Café

Castle Combe Circuit

Cheddar Gorge

The Chilterns View

Chippenham Museum

and Heritage Centre

Church Farm Country Cottages

Clifton Suspension Bridge

& Visitor Centre

Cobbs Farm Shop

Compass Holidays

The Courts Garden

Cricklade Hotel

Crofton Beam Engines

Cumberwell Country Cottages

Devizes Marina

Devizes Marina Day Boat Hire

Devizes Wharf Tea room

Didcot Railway Centre

Donnington Grove

DoubleTree by Hilton, Swindon

Dyrham Park

The Engineman's Rest Café

The Farm Camp

French Brothers

Glenside Hospital Museum

Great Northern Hotel

Hampton by Hilton Bristol Airport

Hampton Court Palace

Harrow at Little Bedwyn

Helen Browning's Royal Oak

Henley Greenlands Hotel

Heritage Bed & Breakfast

Hobbs of Henley

The Holburne Museum

Holiday Inn, Salisbury - Stonehenge

Honey Street Boats & Café

Hungerford Wharf and Kintbury

Iford Manor Gardens

Inspirock

Jane Austen Centre

Kenavon Venture

Koffmann & Mr. Whites

English and French Brasserie

Lacock Abbey, Fox Talbot

Museum and village

The Langley

Lido Bristol

Lytes Cary Manor

Macdonald Hotel & Spa Bath

Maidenhead Heritage Centre

Manor Farm B&B

Marlborough College Summer School

The Matthew Of Bristol

Meadowbank House

Merchants House

Mompesson House

Montacute House

The Museum of English Rural Life

MV Jubilee

Newark Park

The Newbury Pub

Newbury Racecourse

No. 1 Royal Crescent

Noah's Ark Zoo Farm

The Old Bell, Malmesbury

The Old Chapel

Old Sarum

Oldbury Tours

Parkway Shopping, Newbury

Pound Arts

Practical Car and Motorhome

hire, Chippenham

Prince Street Social

Prior Park Landscape Garden

Queens Arms, East Garston

Reading Museum

The Red Lion East, Chisenbury

REME Museum

River & Rowing Museum

Roseate House London

The Roseate Villa, Bath

The Roseate Reading

Rose of Hungerford

Roves Farm

Royal Oak, Yattendon

Salisbury Cathedral

Salisbury, Stonehenge and Sarum Tours

Salters Steamers

Savouring Bath

Shaw House

Skydive Netheravon

Stonor Park

South West Heritage Tours

South Western Railway

Stourhead

SUP Bristol

The Swan, Bradford on Avon

Swinley Bike Hub

Thames Lido

Thames Rivercruise

Three Tuns Freehouse

Tintinhull Garden

Totteridge Farm

Tour and Explore

Tours 2 Order

TransWilts Community Rail Partnership

Troutbeck

Tucking Mill Self catering

Tutti Pole

Tyntesfield

University of Bristol Botanic Garden

Vaughan's Kitchen

Vintage Classics

The Watermill Theatre

Wellington Arch

West Berkshire Museum

We The Curious

Whitchurch Silk Mill

Wiltshire landscape, Stonehenge

Wiltshire Museum

Wiltshire Music Centre

Wiltshire Wildlife Trust, Blakehill Farm

Wiltshire Wildlife Trust, Lower Moor

Wiltshire Wildlife Trust, Jones's Mill

Woolley Grange Hotel

Discover more about our Ambassadors at: GreatWestWay.co.uk
---
Descend into an expansive and eccentric land, populated with over 1,000 animals from all

continents. Delve into 450 years of history spanning 16 generations of the Thynn family

with Longleat House; one of the finest examples of Elizabethan architecture in Britain.

Home to the UK's original safari park established in 1966, Longleat is also the only

animal collection in England to have southern koalas from 29th March 2019.

Book online at longleat.co.uk and save up to 15%, group discounts also available.

Explore Gough's Cave where the oldest, most complete skeleton in Britain, dating back

10,000 years, was discovered in 1903. Wander up the 274 steps of Jacob's Ladder and then on

to the highest, inland limestone cliff formation to find an abundance of wildlife including the rare

Cheddar pink, then descend into the caves to marvel at the beautiful, natural rock formations.

Book online at cheddargorge.co.uk and save up to 15%, group discounts also available.