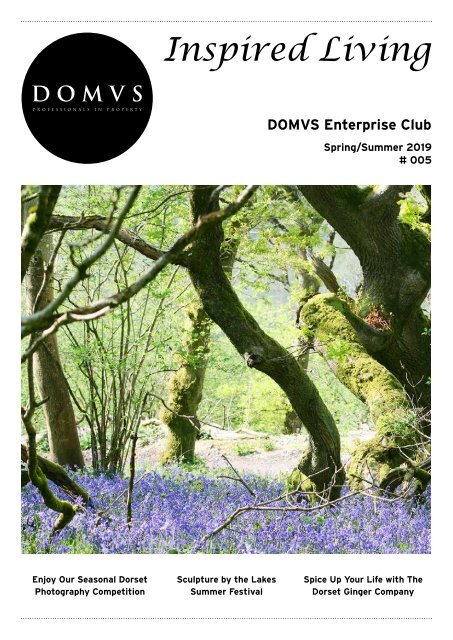 DOMVS Enterprise Club Inspired Living - Issue 5 - Spring Summer 2019
DOMVS Enterprise Club comprises some of the best producers Dorset has to offer, all independent businesses founded and located in Dorset, who have come together to promote not only each other, but the glorious lifestyle and products our unique county has to offer.
DOMVS Enterprise Club comprises some of the best producers Dorset has to offer, all independent businesses founded and located in Dorset, who have come together to promote not only each other, but the glorious lifestyle and products our unique county has to offer.
SHOW MORE
SHOW LESS
Create successful ePaper yourself
Turn your PDF publications into a flip-book with our unique Google optimized e-Paper software.
Inspired Living

DOMVS Enterprise Club

Spring/Summer 2019

# 005

Enjoy Our Seasonal Dorset

Photography Competition

Sculpture by the Lakes

Summer Festival

Spice Up Your Life with The

Dorset Ginger Company
---
Welcome to Inspired Living

Official magazine of DOMVS Enterprise Club

Dorset; a more beautiful county you'd struggle to find. From sun-blessed beaches to lush green woodland and

everything in between, we consider ourselves to be the luckiest people alive to live in this magical area – and we

would love you to join us. Check out 'Weywood', a truly captivating home set in the utterly gorgeous village of Upwey.

Designed with the most stunning modern architecture, light and space are the undoubted bywords. Try out our

virtual reality film at domvs.co.uk to see for yourselves.

Check out, too, the people behind the many artisan businesses highlighted in this latest edition of Inspired Living.

From sculpture to scented candles, and hand-crafted gin to health and beauty, the list goes on. You can't mistake the

enthusiasm and talent on offer; perhaps another reason why our county is so very special.

If you're thinking of moving, give us a call. We are already living the dream and we should be delighted to help you do

the same.

Polly Greenway, Director, DOMVS
---
DOMVS Enterprise Club Members

Our members comprise some of the best producers

Dorset has to offer, all independent businesses founded

and located in Dorset, who have come together to

promote not only each other, but the glorious lifestyle

and products our unique county has to offer.

We are always looking for exciting and innovative new

members, so if you fit the bill and would like to be

involved, please get in touch.

Director: Polly Greenway

Primrose's Kitchen, Purbeck Candles, Purbeck Shepherd

Huts, Sally's Fish Camp, Sarah Dale Aesthetics, Sarah

Talbot Garden Design, Sculpture by the Lakes, Upstairs

Downstairs

On the cover: 'Bluebells on Bulbarrow Hill' by the winner

of this edition's seasonal Dorset landscape photography

competition, John Simpson.

Printed by Ravensworth

Club Secretary: Lucy Cole

lucy.cole@domvs.co.uk

Editorial and Design: Charlie Ryan

charlie.ryan@domvs.co.uk

Contributors: Allegoric Designs, Back2Market, Chococo,

Clarkes Windows, DOMVS, The Dorset Ginger Company,

Elaionaki, Fordington Gin, Gallery on the Square, The

Gardens Group, Gorwell Farm, Hall & Woodhouse, The

Highbrow Clinic, Jurassic Coast Farm Shop, Olives Et Al,

3
---
Inside this Season

5. Clarkes Windows

6. Try Chococo's perfect pecan brownies

7. Introducing: The Dorset Ginger Company

9. Fordington Gin

10. Have a crack with Sally's Fish Camp

11. Spotlight on: Elaionaki

11. Meet jubilant Jessy of Allegoric Designs

12. Discover the good life with property experts DOMVS

13. Serene surroundings at Sarah Dale Aesthetics

15. Awards excitement for Purbeck Candles

16. Introducing: Purbeck Shepherd Huts

17. Take a tour of Dorset with Hall & Woodhouse

19. Get together at Gorwell Farm

20. The best of our seasonal photography competition

21. Upstairs Downstairs inspires with ikats

23. Spotlight on: Back2Market

24. Boost your mental well-being with The Gardens Group

25. Introducing: Jurassic Coast Farm Shop

27. Spotlight on: The Potting Shed

28. In the garden with Sarah Talbot Garden Design

29. Primrose's Kitchen champions charcoal

30. News from The Highbrow Clinic

31. Spotlight on: Sculpture by the Lakes

34. Gallery on the Square

4
---
'A' Rated Windows & Doors

Conservatories Fascias Soffits

Guttering Glass Replacement

A local, family-run company with

30 years' experience

Tel: 01305 759020

www.clarkeswindows.com

17 Maumbury Road, Dorchester, DT1 1QN

5
---
Chococo Loco

Squidgy pecan brownies from Chococo Co-Founder, Claire Burnet

My brownies are richer and softer than some classic

recipes, but are in fact low in sugar and gluten-free.

I love the toffee notes of light muscovado sugar and

pecans, but you could quite easily replace the pecans

with an equivalent weight of your favourite nuts or

fruit and nut combinations; dried cherries with walnuts

or macadamias with chopped stem ginger would be

scrumptious here too. Use this recipe as your brownie

base to play with.

Makes 12-16 brownies

You will need:

• 225g dark chocolate, chopped

• 150g unsalted butter, chilled and cubed

• 3 eggs

• 125g light muscovado sugar

• 1 teaspoon vanilla extract

• 50g fine rice flour

• 1/4-teaspoon crushed sea salt

• 100g pecans, roughly chopped

• 22cm square brownie tin, base and sides lined with a

single piece of baking parchment

1. Preheat the oven to 180°C (350°F) / gas mark 4.

2. Melt the chocolate and butter in a heatproof bowl set

over a pan of barely simmering water. Once melted, take

the bowl off the heat and leave to cool for a few minutes.

3. Beat the eggs, sugar and vanilla extract together in

a separate bowl with a hand-held electric mixer until

increased in volume, pale and fluffy.

4. Fold the rice flour and salt into the egg and sugar

mixture, then stir in the pecans, reserving a handful

to scatter over the top. Add the melted chocolate and

butter mixture and gently fold it all together.

5. Pour the mixture into the prepared tin and tap it

on the work surface to ensure it is level. Scatter the

reserved pecans over the top.

6. Bake in the preheated oven for about 15-17 minutes

until risen at the edges, but still squidgy in the middle.

7. Don't worry if it seems undercooked, as it will continue

cooking after being taken out of the oven. Don't be

tempted to overcook it or the brownies will be dry.

8. Leave to cool in the tin, then cut into squares of a size

to suit you. Stored in an airtight container, the brownies

will keep for up to three days.

Experience more fine, fresh, handmade delicacies at

the Chococo Chocolate Houses in Swanage, Winchester,

Exeter and Horsham.

chococo.co.uk

6
---
The Spice of Life

Introducing The Dorset Ginger Company

The Dorset Ginger Company Ltd has been producing

award-winning, non-alcoholic, non-carbonated, handblended

ginger drinks and Sicilian lemonade since 1985.

The drinks are available in over 900 UK outlets and the

company also exports.

In 2017, they received SALSA Accreditation, which

means only the highest quality standards are

maintained. They are also members of several local and

national networks, such as Taste of the West, Dorset

Food & Drink and Dorset Food Network. 2018 was an

outstanding year for the company, as their Dorset

Ginger Original won Silver, whilst both Dorset Ginger

Strong and Sicilian Lemonade won Highly Commended

at the Taste of the West Awards. In May 2018, The

Dorset Ginger Company Ltd received a boost from

former Dragon's Den personality, Theo Paphitis, after

winning his popular Twitter competition 'Small Business

Sunday'. They were delighted to be retweeted by the

business tycoon, who has over half a million followers.

They are also very proud to have reached the finals of

the Dorset Magazine's Food, Drink & Farming Awards in

the Best Drink Produce category, voted for by the public.

The Dorset Ginger Company Ltd gently pasteurises its

bottles, which gives them a long shelf life and eliminates

the need for adding potassium sorbate. Their ginger

drinks can be enjoyed on their own, used as mixers or

even for cooking and baking.

2019 sees two new flavours joining the family; refreshing

Apple with a Ginger Kick and the intense Extra Strong

Ginger, both available in 33cl and 75cl bottles.

Health benefits

Ginger falls into the category of medicinal products,

considered one of the most valuable spices in the

world. This sweet and aromatic spice, rich in natural oils

(especially gingerol), has amazing, hidden therapeutic

properties.

7
---
Ginger has long been known in both traditional and

alternative medicine and was originally used to address

digestive problems and colds. Studies conducted in the

past decade have shown that ginger is as effective - or

even superior to - many synthetic anti-inflammatory

drugs, because it is devoid of serious side effects. The

main biologically active substance in ginger, gingerol,

is responsible for much of the medicinal properties

of the product. It has powerful anti-inflammatory and

antioxidant properties and is also effective in combating

viral and bacterial infections associated with gum

disease, such as gingivitis and periodontitis.

Ginger also helps alleviate feelings of nausea and

prevents the gag reflex in patients after surgery

and those undergoing chemotherapy. Its anticancer

properties - due to the rich content of gingerol – have

led some studies to suggest that ginger may be useful in

treating pancreatic, breast and ovarian cancer.

Due to its anti-inflammatory effects, ginger is useful for

people suffering from pain in the joints. Studies show

that two grams of ginger taken daily for 11 days

significantly reduce muscle pain in people with joint

problems, as ginger slowly-but-effectively reduces the

progression of muscle pain and returns mobility.

Use of ginger also significantly reduces blood sugar

and improves cardiac function. A study conducted in

2015 showed that two grams of ginger powder per day

reduced the level of glucose in the blood by 10-12%

over a 12-week period. Ginger improves brain function

and prevents brain aging and Alzheimer's disease. In a

study involving 60 middle-aged women, ginger improved

cognitive ability and working memory. Ginger can also

be used for external applications in combination with

cinnamon and sesame oil. These are just some of the

reasons you need to drink more ginger!

dorsetginger.ltd

E. info@dorsetginger.ltd

T. 01202 620203

8
---
Fordington Gin

Fordington Gin is an excellent Dorset Gin, created with a

unique combination of carefully sourced botanicals.

A gentle and distinctive creation, Fordington Gin uses

juniper, star anise and lemon balm combined with some

botanicals of Absinthe to create a subtle and original

flavour.

Fordington Gin's story is rooted in botanical heritage and

draws together a wealth of knowledge, experience, and

an intense curiosity for the unusual, resonating with the

truly modern artisan company.

Fordington Gin – gently stirring the spirits.

fordingtongin.co.uk

9
---
A Cracking Good Time

Sally's Fish Camp; a perfect catch

Do you love shellfish and love entertaining and sharing

good times with other seafood lovers? Then get them

round for a 'cracking' good time with your host, Sally, of

Sally's Fish Camp.

Sally brings the knowledge, the tools 'and the

newspaper' for a different dining experience. You each

get your own crab or lobster to twist, pull, pick and

crack, learning a new skill in this wonderful hands-on

masterclass and discovering how not to waste any of the

delicate, flaky, white crabmeat or delicious nuggets of

lobstermeat.

Sally makes this a fun and relaxed experience, be it in

your kitchen, on your garden patio or any other venue of

your choice. Wherever you set up your fish camp, you'll

be sure to remember a good time and take away your

own dressed crustacean or enjoy it as part of your main

meal there and then.

Workshop includes:

• Two-hour masterclass, learning a new skill with a

step-by-step, hands-on guide

• Whole crab or lobster to crack

• Complimentary glass of wine with selection of crab

or lobster canapés

• Recipe sheet with suggested ideas

• All tools, boards and equipment are provided, as are

disposable aprons and gloves or, if you prefer, you

can pre-order your very own 'Keep Calm and Crack

On' apron (they make a great gift too)

• Groups of up to 20 crackers, minimum of 8

Sally's Fish Camp is taking bookings all year round from

£35 per person. Gift vouchers are available online.

Foodie festie fun

Check out @sallysfishcamp and jump on board to see

which food festivals the team are attending this summer.

Swing by to say hello and grab yourself a lobster roll!

Seafood delivery

If festivals aren't for you, then why not head to

sallysfishcamp.co.uk and order a handmade wooden

crate filled with ice and all your favourite seaside

shellfish and we'll come to you? Get in early for seasonal

holiday bookings, as delivery slots are limited.

10
---
Spotlight on: Elaionaki

Elaionaki Extra Virgin

Olive Oil derives solely

from olives grown in our

small grove overlooking

the Gulf of Pagasitikos in

central Greece.

As a family business, we

can trace the oil from

our trees through cold

pressing and shipping to

Poundbury, where we do

the bottling and labelling.

It has a delicious, light,

fruity flavour reminiscent

of the fresh olive oil

enjoyed in local Greek

tavernas, unlike that sold

in most supermarkets.

elaionaki@gmail.com

Spring Chicken

At Allegoric Designs things are all set for Spring and

Summer with Jessy the Juggling Chicken. Jessy is just

one of the talented farm animals in the Circus Farm

range of illustrated prints and giftware.

Artist and illustrator, Yvonne Lee, runs Allegoric Designs

from her studio in the heart of the Dorset countryside

and created the Circus Farm as a series of illustrations

to adorn her new kitchen. To view more of their animal

antics visit allegoric.co.uk

11
---
The Good Life

Tim Grainger, Associate Director of Dorset property professionals DOMVS, sat down with clients, Mr and Mrs

Brown, to find out why they swapped the hustle and bustle of Surrey for the hills and beaches of Dorset.

Tim: What was it about our property marketing that

encouraged you to contact DOMVS?

Mr & Mrs B: We thought it was of a better quality. You

had the houses we were looking for. And you were good;

you were always polite and we felt you were on the case.

Tim: From my side of things, getting to know you and

what you liked and didn't like helped me get an idea of

what your perfect house was, so when I went to value

properties I'd think, 'Mr and Mrs Brown, they'd love it!'.

Mr & Mrs B: And you sounded as if you wanted us to buy

a house. Some of the agents were just… disinterested.

You believed in us.

Tim: You viewed this house early on in its marketing,

didn't you?

Mr & Mrs B: First! We were the first. You hadn't even

launched it on the market.

Tim: What sort of home were you looking for – any

particular criteria?

Mr & Mrs B: We were basically looking for three

bedrooms, a reasonable size, parking and a garage,

and we wanted a south or south west-facing garden;

something a bit different. When we first drove up here,

this house appealed to us straight away.

Tim: I meet so many people from Surrey and other

areas who say they want to move down here, come and

view a couple of houses and then abandon the idea,

because they get scared of the change. I remember

thinking you'd fit in so well and I was so happy when

it all went through. What is it about Dorset, and

Weymouth in particular, that made you want to leave

Surrey and relocate?

Mr & Mrs B: It's not just that it's pretty, because Surrey's

pretty as well. The difference is that here you've got

so many walks, and in a short car drive you can get to

Bridport and all the way down that coast, you can get

onto Portland and enjoy the views down Chesil Beach; all

that was part of it.

In Surrey, we didn't like all the cars and everything.

We started to feel differently because we'd been in the

same area for 40 years, we'd brought the children up

and it wasn't improving. It was getting busier and busier,

especially the drive to the golf club, which might sound

irrelevant, but that was our life. We'd been going there

for 24 years and were growing to quite dislike the drive.

We'd moved house a couple of times, but stayed in the

same area making the same journey everywhere, and

we're getting older and wanted something else to do.

Tim: It was putting you off the things you wanted to do?

Mr & Mrs B: Yes, and we kept coming down here, because

we have friends in Swanage, and we felt there was a

better quality of life. There are always things going

on here, even in the winter. There's live music in the

pubs, there are things going on in Weymouth itself; all

year round there are things going on. We got to know

two guys quite well who run a pleasure boat out from

Weymouth Bay round to Portland. Now we go bowling

with them, not that we're any good at it! People are

friendly down here, you make friends. When you get to

our age – we know it sounds morbid – you know that

there's an end for you. We found ourselves thinking, 'Do

we want to be doing the same thing for the next twenty

years?', and we don't. We want something else.

Tim: A new lease of life?

Mr & Mrs B: Absolutely. Weymouth is a secret treasure.

Every day we wake up now and it's a new adventure.

domvs.co.uk

12
---
Clean, Green 2019

News from Sarah Dale Aesthetics

We have been delighted to welcome both regular

and new clients to our new Skin and Laser Clinic

in Poundbury. The excitement of choosing colours,

furniture, pictures and accessories to have everything

ready for our opening back in October already seems a

distant memory.

such as surgery or the use of injectables. We work with

our clients to develop a bespoke treatment plan that

encourages them to think about their skin health as part

of a wider lifestyle choice, looking beyond the quick fix

and, instead, being excited about long term results.

We have appreciated feedback from our clients telling

us they love our smart and elegant interior and that

the parking just outside is a real bonus. With a steady

increase in our number of male clients - who see the

benefits of IPL and laser treatments in the control and

maintenance of hair growth and skin rejuvenation - it

was important to create an environment in which both

men and women feel comfortable.

Instant gratification is disappearing. Clients are starting

to realise long term skin health is vital. With our

advanced, ethical skincare and non-surgical treatments,

the body can regenerate itself naturally rather than

results being achieved by a more aggressive approach,

Among other things, our clients want to improve

damage from the past, particularly sun damage and red

veins; improve lines and wrinkles; experience our Venus

Freeze non-surgical face-lifting and body treatments;

improve the appearance of scarring, stretch marks and

cellulite; or come to us for permanent hair removal. Our

treatments are advanced, safe and effective.

As in so many fields, techniques and technologies

are advancing all the time. The team at Sarah Dale

Aesthetics are constantly appraising the latest

equipment and trends in Aesthetic Treatments. After

much consideration, we are thrilled to have taken

delivery of the Ellipse YDUN Frax 1550 system that

13
---
allows us to offer the latest Frax Laser Treatments,

which complement our existing Venus Viva Resurfacing

Treatments. What is the Frax Laser Treatment? In the

lip area, for example, it naturally hydrates, exfoliates,

diminishes fine lines, plumps and improves the definition

in lip contour, and brings back more colour. As many

is British, specialising in small batch production in

their own certified labs. They are 100% animal crueltyfree

and dedicated to minimising their impact on

the environment. Their offices are powered by 100%

renewable energy. We were delighted when they

repackaged their products to cut unnecessary plastics,

of our clients don't want to be inconvenienced or shut

themselves away for a few days, down time following

treatment is minimal. When you are next in the clinic,

ask Tanya, Milly or Sarah for details or, if you haven't

visited us before, make an appointment with us soon.

We offer complimentary consultations for all our

treatments. Resolve to make that enquiry with us as

your first step towards clearer, fresher skin.

One of our ambitions for 2019 is to be increasingly

mindful of our use of the world's resources, and we

endeavour to find suppliers that are like-minded. Our

regular clients will be familiar with our Medik8 range of

skincare products. It's important to us that the company

and our stock is always delivered in boxes made from

recycled cardboard. If you haven't tried the Medik8

range, come in for a complimentary skin analysis and

talk to our clinicians about the best products for you.

sarahdaleaesthetics.com

facebook.com/sarahdaleaesthetics

E. sarah@sarahdaleaesthetics.com

T. 01305 269220

25 14
---
The Sweet Smell of Success

Exciting news from Purbeck Candles

Purbeck Candles, Dorset's Artisan Candle Company,

are excited to be finalists for this year's Gift of the Year

Award; an amazing achievement for a small company

who began life making natural candles on an Aga

overlooking Corfe Castle. From over 1,200 applicants,

Purbeck Candles were shortlisted. Their stunning

aromatherapy range then went before a large panel of

industry specialists - including buyers from John Lewis,

Haskins Garden Centre, Ocado and The National Gallery,

as well as journalists and industry experts - to become

one of just three finalists in their category. This

wonderful range is made up of four unique blends; Blend

1 to Relax; Blend 2 to Uplift; Blend 3 to Inspire and

Blend 4 to Focus. Each blend is produced in house using

pure essential oils and presented in beautiful, amber,

apothecary-style glass, which really wowed the judges.

Shop the aromatherapy range at purbeck-candles.co.uk

E. sales@purbeck-candles.co.uk

T. 01929 505036

15
---
Introducing: Purbeck Shepherd Huts

The Purbeck Hut-Makers, creating beautiful, moveable spaces that fit your needs

Do you have a little patch of garden or a small field

and want to utilise the space? Nothing shouts 'Dorset

countryside' like a beautifully hand-crafted shepherd's

hut, designed and made to your specification. The

Purbeck Hut Makers are all artisan craftsmen with

years of experience in carpentry, interior decorating

and building. Each hut is completely bespoke, created

exactly to your needs.

Maybe you require a unique home office space or a selfcontained

holiday let or AirBnB? Maybe a luxury

treatment room or a fun games room for the family? You

are limited only by your imagination. From cosy French

chic to utilitarian modernist, we can create the beautiful

space of your dreams.

Why not call us and have a chat?

purbeckshepherdhuts.co.uk

M. 07973 697435

T. 01929 766017

16
---
DORSET, THE HOME OF

HALL & WOODHOUSE

Hall & Woodhouse are one of the few remaining regional family

brewers, brewing our award-winning Badger beers in Dorset

and offering warm hospitality at our pubs for over

240 years. Whether you're thirsting for a classic English

Village pub, stunning views of the Dorset coastline or

countryside, beautiful pub gardens or contemporary

pub-restaurants, we've got the perfect place to

help you while away those spring and summer

days. Below is a guide to just a few of our

stunning Dorset pubs, for more information

on these and the rest of our estate, visit

www.hall-woodhouse.co.uk.

The

World's End

Almer, Nr Blandford,

DT11 9EW

01929 459671

The

Crown Hotel

West St, Blandford

Forum, DT11 7AJ

01258 456626

Evershot

The

Brewery Tap

Blandford St. Mary,

DT11 9LS

01258 452141

Sherborne

Shaft

Milton Abbas

Hall & Woodho

Queen Mother Square,

Poundbury, DT1 3DD Bridport

01305 757569

The Ship

Custom House Quay,

Weymouth, DT4 8BE

01305 773879

The Duchess

of Cornwall

Dorchester

Bla

The

Smugglers I

Osmington Mills,

Weymouth, DT3 6HF

01305 833125

Weymouth

The Lulworth

Cove Inn

Main Road, Lulworth

Cove, BH20 5RQ

01929 400333

Bedrooms available
---
use, the home of Badger Beer

esbury

The

Monmouth Ash

93 Manor Road,

Verwood, BH31 6DT

01202 822227

St. Peter's

Finger

Dorchester Road,

Lytchett Minster, BH16 6JE

01202 622275

The

Olive Branch

East Borough,

Wimborne, BH21 1PF

01202 884686

Verwood

The Angel

188 Ringwood Rd,

Ferndown, BH22 9AP

01202 873778

ndford Forum

Poole

Christchurch

nn

Lulworth

Bournemouth

The

Grasshopper

139-141 Bournemouth Rd,

Poole, BH14 9HT

01202 741463

Swanage

The Old

Granary

The Quay, Wareham,

BH20 4LP

01929 552010

The Yachtsman

Lake Road, Hamworthy,

BH15 4LW

01202 674568
---
Glorious Gorwell

Mary Pengelly, Owner, Gorwell Farm

Dream up your own wedding day, create your own event,

or feast on the exciting new food experiences on offer,

all at Gorwell Barn.

Your wedding day is your special day, the first day of

your married life together, and it should be everything

you wish for. Gorwell Barn is a relaxed setting where you

really can express who you are as a couple. Your own

tastes and preferences can shine through in every detail,

helped by our infinitely flexible attitude, giving you the

freedom to design your own day. We'll give you all the

support you may need with recommended suppliers and

ample inspiration.

Our venue, in our own secret valley, is perfect for up

to 130 guests. There's plenty of space for eating and

dancing, complete with well-equipped, comfortable

cottages to stay in and a field for glamping. Come and

make it your own as you throw the wedding of your

dreams.

Our 17th century barn retains all its period character and

atmosphere, but has been equipped with elegant toilets,

underfloor heating, inside and outside bar areas and a

large, new kitchen for use by your caterers. We have a

license to hold wedding ceremonies at Gorwell and have

several beautiful ceremony areas for you to choose

from; the pagoda is situated outside in a pretty wooded

area if you're dreaming of an outdoor wedding with a

difference; there is a large terrace alongside the barn,

offering the option of quickly moving your ceremony

inside if the weather turns; and we have a designated

area for a marquee or gazebo if preferred.

Gorwell Barn is available for all types of events requiring

a unique space with ample parking for visitors, and

which allows you the freedom to plan your special event.

A managed, licensed bar is available and we can work

with you to achieve most requests, creating a truly

unique event guaranteed to leave a lasting impression

on your guests.

We also have new and exciting food events planned for

later this year. To find out more, please visit our website.

We would love to hear from you.

gorwellfarm.co.uk

T. 01305 871401

M. 07971 978585

E. mary@gorwellfarm.co.uk

19
---
'Portland Bill Sunset' by Penny Argent

'Chesil Beach' by Craig Oakes

Capturing the Best of Dorset

'Cattle at Buckland Newton' by John Simpson

At Inspired Living, we delight in showcasing the best

from Dorset's landscape photographers, both budding

and seasoned. Here are our favourite spring/summer

entries, with the winning photograph, 'Bluebells on

Bulbarrow Hill' by John Simpson, gracing our front cover.

John and our runner-up, Craig Oakes (above), will both

receive a bag of goodies from the DOMVS Enterprise

Club members.

The closing date for entries for our next competition is

Sunday 11th August 2019 at midnight. This time we're

looking for striking autumn/winter photographs of our

beautiful county. The winning entry will feature on the

cover of our next edition.

Terms & Conditions:

• Entries must be submitted by the stated closing date via email to

lucy.cole@domvs.co.uk (we regret we are unable to accept postal

entries).

• Please ensure photographs are at least 1MB in size.

• By submitting your photograph/s you agree to allow DOMVS to

publish them in print as well as online, with full credit going to the

original author, for this and future purposes.

• Entrants should include their full name, address, telephone

number and the location/title of their photograph.

• The decision of the judges is final and no correspondence will

be entered into. Submission of an entry will be taken to mean

acceptance of these terms and conditions.

'Sunshine at Durdle Door' by Margaret Preuss-Higham

'Portland's Pot of Gold' by Kristian Corlett
---
Block Party

Kitty Oakshott of Upstairs Downstairs

talks ikats and block prints

Ikat (pronounced 'ee-cat') comes from the Malaysian

word 'mengikat', meaning to 'tie or bind'. Particularly

popular today, Ikat works wonderfully in both modern

and traditional interiors, helping to give an eclectic,

bohemian feel. This ancient art of weaving is believed to

have been simultaneously and independently developed

in different parts of the world, ranging from South East

Asia to South America and the Middle East. The tradition

is to dye the threads before they are woven. Once the

yarns have been dyed and dried, the weaver lines them

up on a loom to form the pattern. The design then takes

shape as it is woven into the cloth. This process is

incredibly complex and intricate, and a good ikat pattern

really is a true art. As a result, within the cultures that

produced them, ikats were expensive and typically

status symbols, because of the immense skill and time

involved in producing them.

Today, we refer to ikat in a general way to describe

not only the actual technique, but any pattern that

resembles the original ikat woven style. Many fabric

companies have adapted this style, but in a printed

format to make them more affordable. Today's patterns

are fresh and bold, fashionable and modern, but with an

ancient feel.

Ikats are a great way to add a bit of fun to any room and,

as they are often bright and colourful, just a statement

chair, lampshade or some cushions is all it takes to

update your room. Old ikat saris look beautiful made into

pleated lampshades. If you are feeling bold, how about a

headboard to really make a feature of this design? Ikats

are particularly mesmerising as they have a blurred

effect, so keep the rest of the room calm and subtle,

allowing the ikat to jump out and give that little extra

21
---
magic to your scheme. Instantly recognisable, ikats

look great as wall hangings, made into bed covers

or as wallpaper. Why not use it as a statement in the

downstairs loo or hallway? Watch out though, as ikats

can become addictive. Once you start using it in your

home, you might get carried away!

Handblock printing is one of the earliest, simplest and

slowest forms of textile printing. Originating centuries

ago in India, the distressed look created by block

printing cannot be replicated by a machine. The design

is first carved out of a wooden block, which is then

covered with dye and pressed firmly onto the cloth or

paper. If the design is intricate, the carving process of

the wooden block itself can take seven to ten days. Each

colour in the design has its own block, so each colour is

applied separately; a detailed and multicoloured design

could use as many as 30 blocks. The process is slow and

labour intensive, but produces beautiful results.

The reminders that these designs have been printed by

hand add to their charm. No batch will ever be exactly

the same. A small imperfection here, perhaps a not dead

straight line there, all add to their uniqueness and detail.

Block prints look particularly good on cushions, quilts

and lampshades, where they can make a feature out of

a small space. Block print designs are colourful, creative

and eclectic, warm and welcoming and bring a touch

of joy. They really are something to be admired and

appreciated for the talented and time-consuming work

that goes into them - a real labour of love.

Block printing and ikat; two of my favourite designs that

have stood the test of time. Why not welcome these

beautiful, intricate fabrics into your home?

Quote "ENTERPRISE" for 10% off fabrics, curtains,

blinds, upholstery or loose covers at Upstairs

Downstairs, The Old School Rooms, Long Street,

Sherborne, DT9 3BS.

updowninteriors.co.uk

T. 01935 813831

22
---
Spotlight on: Back2Market

Business Manager, Claire Beddow, shares the love

I am passionate about Back2Market and what it does; I

have been since I first came across it. Yes, you could say

it's because I dated and am now married to the owner,

Paul, and yes, I may work for him as well, but part of

the reason those things have happened is because of

Paul's ethos, his passion for Back2Market and how this

translates to the attitude of his staff and their quality of

service.

My background is in social care and welfare benefits. In

fact, two years ago, I gave up a successful, long-term

career in the public sector to work for Back2Market,

because of Paul and how he has developed his business.

His customers are central to everything he does and how

he operates. His commitment to providing them with a

quality, friendly and efficient service is second to none.

He will bend over backwards to ensure he goes the extra

mile, giving the advice and assistance his customers

need. Even if Back2Market can't help, Paul will do all he

can to provide information about what needs to be done.

Paul's commitment to the principles of Back2Market and

the way in which this has extended to our team is what

drives my passion as the firm's Business Manager, and,

hey, I guess it's part of the reason I married him too.

Contact me for a free quote for your removal and

storage requirements on 07845 231488. For your

clearance needs, call Paul on 0800 2425012 or 07853

275379, or email us at back2market@hotmail.co.uk

back2market.com

Paul believes in recycling and reusing wherever possible

and actively strives to minimise landfill waste, seeking

out ways to recycle as much as possible. This passion

has been passed on to our staff; we are lucky to have

such a dedicated team of people working with us. Like

Paul, they will do whatever they can to get jobs done in

a timely, professional and friendly manner. They have

great cohesion and work seamlessly together, treating

our customers and their belongings with respect. If

you're lucky, you'll even be 'treated' to their cheesy

humour and singing!

23
---
Green Fingers, Green Hearts

Mike Burks, Managing Director, The Gardens Group

Screen time and virtual experiences are dominating the

modern world, resulting in a more sedentary lifestyle

and taking us away from the simple pleasures in life,

which can be both grounding and fulfilling. While we

need to embrace all the modern world has to offer, we

must also remember the value of getting back to nature

and the important role we play in looking after the

environment. At The Gardens Group, we're working hard

to inspire, educate and engage with gardeners of all

ages and levels of expertise to help them look after their

patch of earth, so here's a few things to bear in mind as

spring rolls around once again.

Wellness while weeding

Calorie-burning, stress-reducing and immunity-boosting,

gardening offers a wealth of physical and mental

benefits which can contribute to a well-balanced life.

Whether tending to an allotment, garden or window

box, simply having contact with well-maintained soil,

teeming with micro-organisms, can trigger a release

of serotonin, which is a natural anti-depressant. This is

just one example of how gardening can have a positive

impact on our well-being, and there have even been

studies to suggest that the unavoidable work-out that

regular gardeners enjoy can help reduce the risk of

degenerative diseases such as dementia.

Weathering the weather

It can be tempting to react to the impact of snow,

torrential rain and soaring temperatures with drastic

redesigns, but environmentally friendly gardening

techniques should minimise disruption during adverse

weather conditions. Lawns provide natural drainage

in the garden, as well as food and habitats for wildlife,

so it is important to look after the soil structure and

allow moisture to flow easily by adding well-rotted plant

material or digging in homemade compost. Collecting

rain in water butts is also an effective way to reduce

the risk of flooding, as well as being a cost-effective

way to keep the garden watered during extended dry

spells. Having water stores in the gardens also provides

vital hydration for wildlife visiting your garden when

resources are scarce.

Green interiors

Houseplants have seen a huge revival in recent

years, especially with younger customers who don't

necessarily have traditional gardening experience to

call on or have limited access to outdoor space in rented

accommodation or more built-up areas. Known to relieve

stress, purify the air and reduce allergies, houseplants

have become a firm feature of home interiors alongside

technological gadgets, demonstrating how the mental

and physical benefits of plants can help provide balance

in a modern living environment.

Whether planning a new border, filling the front room

with foliage or helping your garden through a heat wave,

there is so much to be gained from getting back down

to earth. With a little extra care for Mother Nature along

the way, wildlife can flourish too.

thegardensgroup.co.uk

Instagram: thegardensgroup

@thegardensgroup

24
---
Where the Grass is Always Greener

Introducing Jurassic Coast Farm Shop

Jurassic Coast Farm Shop is an alternative shopping

experience delivering the finest and freshest produce at

affordable prices from the countryside straight to your

door. Here at Jurassic Coast Farm Shop, we stock our

own grass-fed, free-range Aberdeen Angus beef from

our farm as well as other free-range meats, sustainably

sourced fish, local cheeses, fruit and vegetables.

Our family farm at Winfrith Newburgh has always taken

pride in using traditional agricultural methods of farming

to maintain a very high standard of animal welfare and

sustain the environment. We leave our beef to mature

for 18 months before hanging to dry-age for 28 days,

which enhances the tenderness and gives it its exquisite,

rich flavour. Grass-fed, free-range beef has higher

amounts of omega-3 and is full of antioxidant vitamins

and minerals, because of the animal's natural diet. It has

also been found that grass-fed beef has less total fat and

is lower in saturated fat than other beef, which makes it

the best meat you can eat.

We offer free delivery to all our customers nationwide on

orders over £40. Whether it be your weekly shop, an

indulgent treat or for a dinner party, we provide a one

stop shop for everything you need.

Jurassic Coast Prime Rib Roast

The success of a good roast is a prime piece of meat and

a good gravy!

Serves 8-10

You will need:

• 3.75kg (8lb 4oz) 3 bone Aberdeen Angus beef rib

joint

• A little vegetable oil

• 3 onions, halved

• 3 carrots, halved lengthways

1. Take the beef out of the fridge an hour before cooking

to allow it to come to room temperature.

25
---
2. Rub a little oil on clean hands and rub over the beef.

Season the beef well with salt and pepper before placing

in a hot dry pan to sear on all sides.

3. Sit the beef on top of the onion and carrot halves in

your roasting pan.

For medium-rare, roast for 12 mins per 450g/1lb

Roast for approx. 100 mins – if you happen to have a

meat thermometer, target temp is 38°C. Leave the

joint to rest in a warm place for 30 mins. The internal

temperature needs to increase to 51°C for medium rare.

For medium-well done, roast for 15 mins per 450g/1lb

Roast for approx. 1 hour 25 mins to 48°C, then rest in

a warm place for 30 mins to 65°C. You can always cut

into the thickest part of the meat and see the colour.

Remember it will continue to cook while resting.

For the gravy:

1. First remove the carrots and onions from the pan, then

stir a little plain flour into the meat juices, whilst you've

got the pan off the heat. You don't want lumps in the

gravy, so this needs mixing in well.

2. Next, begin to incorporate your stock – homemade or

a branded beef stock pot (mixed per the instructions).

Water saved from cooking the vegetables adds more

nutrients and flavour.

3. Return the pan to the hob over a medium-low heat.

As the gravy thickens, add in a little more liquid until

you achieve your desired thickness. Simmer for 5-10

minutes. Reheat before serving piping hot.

Serve with Yorkshire puddings, cauliflower cheese,

carrots, roast potatoes and parsnips… the list is endless

and entirely your choice (if we're not offering it on the

website, then drop us a line; we'd love to hear from you).

jurassiccoastfarmshop.co.uk

E. info@jurassiccoastfarmshop.co.uk

26
---
Spotlight on: The Potting Shed

Found directly opposite the new Queen Mothers Square

and attached to the Garden Centre in Poundbury, The

Potting Shed is a melting pot of cuisine and styles

that reflect the nature of the founders' eclectic food

tastes. The ever evolving menu shifts and moulds

itself around the seasons as well as travels, trends and

fresh discoveries. There is always something new and

interesting, the welcome is always warm and the coffee

and cake are deservedly reputed to be amongst the

finest in all of Dorset. The Potting Shed stays open later

on Fridays with themed menus, often with the delights

of Tapas - after all, sharing is caring. What better way to

start the weekend than over a feast with friends and a

drink or two? Definitely worth a visit.

facebook.com/pottingshedpoundbury/

olivesetal.co.uk

27
---
In the Garden with Sarah

At last, the days are getting longer and our gardens are

about to burst into life. Fear not; if you've been a little

'laissez faire' during the winter months, these practical

suggestions will help get you back on track:

• Trim the lawn edges

• Cut back early-flowering clematis and deciduous

grasses

• Remove dead, perennial foliage

• Weed like mad!

Looking ahead, a more relaxing diary date in May is

the Chelsea Flower Show. Emphasis will be on trees,

woodland and creating natural landscapes. Pollinatorfriendly

plants together with non-chemical gardening,

climate change and biodiversity will all be hot topics.

Biodiversity; it really is the key and no, size doesn't

matter. Our own patch, whether large or small, can play

its part and for inspiration, look no further than Isabella

Tree's latest book 'Wilding'. As owners of Knepp Castle

Estate, Isabella and her husband took a leap of faith and

handed their failing 3,500-acre farm back to nature.

The humans took a back seat and allowed nature to rebalance

itself with astonishing success and unexpected

speed. As a result, many endangered species of flora

and fauna are thriving and the soil has regained its

structure and fertility.

With a little thought and expertise it's possible to

translate elements of the Knepp philosophy and

approach into our own gardens. The land has long been

sending us warning signs and we disregard them at our

peril, but this project gives hope and is living proof that

it's not too late.

If you are undecided as to what to do with your garden,

my landscaper colleague, Alan Horley, and I are happy

to assist. Over the years, we have developed a very

successful working relationship, so if you'd like a little

help, we're happy to share our knowledge with you. Just

call me to arrange a date.

sarahtalbotgardendesign.co.uk

M. 07808 471937

T. 01305 751230

28 12
---
Black Magic

Primrose Matheson, Owner, Primrose's Kitchen

We are forever hearing the word 'superfood' used in

marketing, but if there is a time to use it, then I believe

this is it; charcoal.

Charcoal is a natural substance that has been utilized

to remove toxins and chemicals from the body for

centuries, with the first recorded use being for medicinal

purposes in Egypt around 1500 BC. In the 19th century,

charcoal biscuits were sold in England, prescribed

as a remedy for flatulence and stomach trouble.

Additionally, pills of carbon are used in many countries

as a treatment for diarrhoea, flatulence and indigestion.

More recently, charcoal has been finding its way back

into our foods as a functional ingredient.

At Primrose's Kitchen, we believe all food should be

functional. In the words of Hippocrates, "let food be

thy medicine and medicine be thy food." Charcoal is

a particular favourite of mine, which is why we have

included it within our staple porridge and chia mix,

so you too can benefit from this magical ingredient.

Research has shown it has a positive effect on lowering

the LDL or bad cholesterol and raising the HDL or good

cholesterol levels 1 and it has also been shown to reduce

gas and bloating 2 .

As well as its benefits inside the body, charcoal powder

can bring effective relief to stings on the surface of the

skin and reduce inflammation and infection in cases of

acne or rashes.

How does it work?

Charcoal works because its particles contain millions

of pores that trap unwanted substances as they pass

through the body and then finally excrete them.

Because of its proven detoxifying properties, the knockon

effect of charcoal is that it is highly beneficial for

boosting our immune system, which, in today's modern

world, is bombarded with toxins on a daily basis via

our food chain and the air we breath. It may seem

unappetising to look at, but the beauty of charcoal is it

has very little taste, but all the benefits.

Where does our charcoal come from?

The charcoal in our Chia & Charcoal Porridge is not

the kind you find on the outside of burnt sausages, it

is carefully made using a traditional technique and a

single ingredient; the Dorset Oak. With 90% of the UK's

charcoal being imported from, generally, unsustainable

sources that do not consider deforestation, Dorset

charcoal is a welcome change. Sourcing our charcoal

locally from The Dorset Charcoal Company not only

reduces our carbon footprint, but also considers the

wider environmental factors.

How is it made?

Firstly, kilns are stacked with chopped wood and set

alight for 12 hours. After this, chimneys are added to

the kilns to control the oxygen. Once the burning is at

a stable, controlled level, the chimney lid is closed to

starve the kiln of oxygen for 24 hours. The charcoal is

then bagged, taken back to Jim's yard and ground to a

fine powder.

So, why not try it?

Add a tablespoon of our Chia & Charcoal Porridge to

your morning smoothie, use it as an ingredient for

stuffing or turn it into charcoal muffins using the recipe

on our website.

primroseskitchen.com

References:

1: ncbi.nlm.nih.gov/pubmed/2874369

2: ncbi.nlm.nih.gov/pubmed/3521259

29
---
Happy, Healthy Highbrow

News from The Highbrow Clinic

What an amazing start to 2019! After a busy festive

period we anticipated a quiet January, but, on the

contrary, we had our best month ever! After the launch

of our new Alumier MD skincare range last November,

clients have taken full advantage of our fabulous

chemical peel treatment offers and that, combined

with our deep tissue massage treatments and LVL lash

treatments, has ensured the clinic continues to go from

strength to strength. We now have three dedicated

skin care specialists who are all qualified Alumier Pro

practitioners; Louisa, Leah and introducing the latest

member of our team, Vicky Garrard.

Introducing Vicky Garrard

Vicky joined the clinic in late 2018 and has quickly

become an invaluable member of the team. With over 12

years' experience in the beauty industry, she has built

everyone wants clear, beautiful skin. They assembled

a team of top scientists and physicians to produce the

most effective formulations using optimal medical-grade

ingredients. With over 100 years of combined skincare

experience, their experts understand the physiology

behind different skin types and conditions, to help

clients achieve a youthful glow.

When peels are performed regularly, the skin gets

used to this process and begins to rejuvenate itself

like younger skin. Chemical peels improve skin texture

and firmness, decreasing fine lines and wrinkles. Peels

also even out skin tone, improve acne-prone skin and

reduce pore size appearance. Alumier focus on the

science behind great skin; they know that it starts with

identifying and understanding each client's skin profile.

Their comprehensive medical skin care line includes

Vicky Garrard

up her expertise in all aspects of beauty therapy and

has qualified as a skin care specialist offering chemical

peel treatments and our latest LVL lash lift treatments.

Vicky is engaged to Neal and is planning their wedding

this year. The couple share a love of surfing, custom

bike cycling and enjoying going to festivals in their

Volkswagen campervan.

The Highbrow Training Academy

We are very proud to announce that Louisa has now

completed and passed her teacher training course

and is now a fully qualified teacher in semi permanent

natural enhancements. Our new training academy will be

launched at the clinic in the middle of this year.

More about Alumier

AlumierMD was born out of an understanding that

state-of-the-art, science-based, luxurious formulations

with innovative delivery systems. These products

address multiple skin concerns, deliver results and

perform progressively over time.

We offer a selection of superficial to medium depth

peels known for their excellent results and safety profile.

Our specialists will complete a thorough skin analysis

and recommend an individualised treatment programme

to address your skin concerns. They will create a

personalised programme that combines professional

treatments with home care products, which work

synergistically to improve the health and beauty of skin.

thehighbrowclinic.co.uk

T. 01305 269220

30
---
Spotlight on: Sculpture by the Lakes

Nature, art and soul unite at Tincleton, Dorchester

Set in 26 acres of Dorset's finest countryside, Sculpture

by the Lakes is the go-to venue for art, gardens and

peaceful days out. Over the past few months, this iconic

sculpture park has added even more to its offering.

Home to leading contemporary sculptor Simon Gudgeon

and his gardening wife Monique, Sculpture by the

Lakes has been described as one of the most beautiful

and unique sculpture venues in the UK. Set alongside

Dorset's River Frome, with three lakes, wildlife ponds,

streams, meandering woodland paths and more formal

gardens, it is the perfect place to spend the day, to

experience art and landscape and not merely to view it,

and to recharge mind, body and soul.

Not just a sculpture park

Sculpture by the Lakes is as much a destination for art

connoisseurs as for garden enthusiasts, nature lovers

and foodies. Visitors can experience a day visiting

The Barn Gallery, one of three gallery spaces on site;

enjoying home-cooked food at The Gallery Café; and

walking around the park itself taking in the beautiful,

tranquil surroundings. There are also private areas

available to hire for the day, such as The Riverkeeper's

Hut, a beautiful shepherd's hut situated on the river's

edge, or The Island, a private, enclosed pavilion with soft

seating, picnic table and wood-burning stove.

The art

Simon Gudgeon has attained worldwide recognition with

exhibitions across the globe. His work features in several

important private collections such as those of HRH The

Duke of Edinburgh, TRH The Prince of Wales and The

Duchess of Cornwall, and TRH The Duke and Duchess

of Cambridge. Simon's sculptures also feature in public

spaces such as Woburn Abbey, Hyde Park, Kew Gardens

and the National Museum of Wildlife Art in Jackson Hole,

Wyoming, USA.

As a venue for both international and UK-based artists,

Sculpture by the Lakes boasts three gallery spaces; The

Gallery Café, Studio One and the newly-opened Barn

Gallery, making it the largest art location in Dorset.

Featuring smaller works by Simon, The Barn Gallery

also showcases work by local artists including Jason

Anderson, Julie Brunn, Julie Ann Scott and Laura Rich,

alongside USA-based artists such as Andrew Denman,

Guy Combes, Dennis Boyd and September Vhay. A rolling

series of group and one-man shows is held throughout

the year, plus regular residencies and demonstrations by

guest artists.

The experience

Under the banner of Mind, Body and Soul, the sculpture

park is now home to a range of well-being courses and

31
---
workshops including a weekly meditation group, regular

yoga retreats plus shiatsu healing, makko-ho and

qigong sessions. Added to this is a burgeoning Winter

Art School to tempt you into taking on a new challenge

or brushing up neglected creative skills. Highly

talented lecturers and tutors from around the globe

offer courses on a huge range of disciplines from oil

portraiture to tassel making, stone carving to jewellery

making, furniture painting to needle felting, plus a

choice of drawing and painting techniques. The team

has also devised a practical range of garden and outdoor

workshops; rose and fruit tree pruning, propagating and

wildlife gardening are just a selection of those available.

The food

The fully licensed Gallery Café serves delicious

home-made food all day, offering vegan and glutenfree

options across the menu. From tea, coffee and a

selection of home-cooked cakes to light bites, quick

snacks and three-course lunches complimented by a

well-chosen wine list, local beers, ciders and soft drinks

for drivers, everyone is catered for. Visitors still hungry

after a post-lunch walk around the park can even finish

their day with a traditional cream tea. The quarter-acre

Kitchen Garden is open for visitors to wander through

and supplies The Gallery Café with fresh produce daily,

whilst the flock of free-range hens ensures a steady

supply of eggs for the kitchen.

The venues

Recently licensed as a wedding venue, Sculpture by the

Lakes is a truly unique place to celebrate, whether it be

a marriage ceremony or special birthday. The Retreat

overlooks the River Frome and can accommodate up

to 60 people seated or 100 for a standing reception.

Smaller venues such as The Riverkeeper's Hut, The

Island or The Pavilion are perfect for smaller, more

intimate groups of four, six or eight people respectively

and include a personally delivered picnic made freshly

by The Gallery Café team - an ideal way to enjoy the

sculpture park and spoil family and friends.

Entry to the sculpture park is £10 per person and entry

to the Gallery Café, Studio One and The Barn Gallery

is free. Sculpture by the Lakes is open 10am-5pm

Tuesday to Saturday from October to the end of March

and Wednesday to Sunday from April to the end of

September. No children under 14 years, and no dogs. For

details on venue hire, retreats, our Winter Art School

and gardening workshops, please visit the website.

sculpturebythelakes.co.uk

T. 07720 637808

E. office@sculpturebythelakes.co.uk

32
---
Meet DOMVS Enterprise Club at Sculpture by

the Lakes Summer Festival, 6th and 7th July

From producers of delectable, tasty treats to the most

talented designers, decorators and artists, we are all

independent Dorset businesses passionate about where

we're from and what we do.

The event

Come along and meet DOMVS Enterprise Club members

in our very own festival field, forming part of the

Sculpture by the Lakes Summer Festival. Be inspired

by the unique artisans, their products, demonstrations,

the venue and refreshments. Celebrating the best that

Dorset has to offer, this event will have you reaching for

your phone to share your finds on social media.

The venue

Dorset's unique art, gourmet and garden venue,

Sculpture by the Lakes, will be playing host to DOMVS

Enterprise Club and myriad other craftsmen and

producers for its second annual Summer Festival this

year.

Home to leading contemporary sculptor Simon Gudgeon

and his gardening wife Monique, Sculpture by the

Lakes has been described as one of the most beautiful

and unique sculpture venues in the UK. Set alongside

Dorset's River Frome with three lakes, wildlife ponds,

small streams, meandering woodland paths as well as

more formal gardens, it is the perfect place to spend the

day, to experience art and landscape and not merely to

view it, and to recharge mind, body and soul.

Now an annual event, Sculpture by the Lakes' Summer

Festival attracts visitors from all over the county and

beyond, with people coming from all over the South

West as well as further afield. On its first outing in 2018,

the one day festival had just under 1,000 attending

and, having extended to two days, expects to double

the number of visitors this year. Entry costs £7.50; no

children under 14 years old (includes babies) and no

dogs, please. Stallholders wishing to take part should

contact:

E. office@sculpturebythelakes.co.uk

M. 07720 637808

33
---
34
---
"So what is your image of estate agents? Change it and go to DOMVS. The

team will be realistic on market values, determinedly persistent on leads,

even cheerful in the face of idiosyncratic sellers, buyers and surveyors.

And they never give up. When do they switch off and sleep?!"

Mr Garvey, 2018

RAVE REVIEWS

In 2018, 99% of customers questioned rated us five out of five

and said they would recommend our services.

If you've been thinking of selling or letting, talk to us today and

experience a different kind of estate agency.

In association with

domvs.co.uk

Dorchester: 01305 757300 Preston: 01305 835300 Wareham: 01929 555300