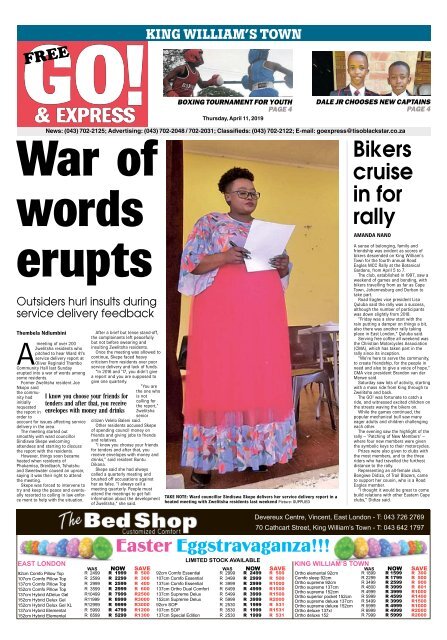 You also want an ePaper? Increase the reach of your titles
YUMPU automatically turns print PDFs into web optimized ePapers that Google loves.
FREE

KING WILLIAM'S TOWN

BOXING TOURNAMENT FOR YOUTH

PAGE 4

Thursday, April 11 , 2019

DALE JR CHOOSES NEW CAPTAINS

PAGE 4

News: (043) 702-2125; Advertising: (043) 702-2048 / 702-2031; Classifieds: (043) 702-2122; E-mail: goexpress@tisoblackstar.co.za

War of

words

AMANDA NANO

erupts

Outsiders hurl insults during

service delivery feedback

Thembela Ndlumbini

Ameeting of over 200

Zwelitsha residents who

pitched to hear Ward 41's

service delivery report at

Oliver Reginald Thambo

Community Hall last Sunday

erupted into a war of words among

some residents.

Former Zwelitsha resident Joe

Nkopo said

the community

had

initially

r e q u e st e d

the report in

order to

account for issues affecting service

delivery in the area.

The meeting started out

smoothly with ward councillor

Sindiswa Skepe welcoming

attendees and starting to discuss

the report with the residents.

However, things soon became

heated when residents of

Phakamisa, Breidbach, Tshatshu

and Sweetwater caused an uproar,

saying it was their right to attend

the meeting.

Skepe was forced to intervene to

try and keep the peace and eventually

resorted to calling in law enforce

ment to help with the situation.

After a brief but tense stand-off,

the complainants left peacefully

but not before swearing and

insulting Zwelitsha residents.

Once the meeting was allowed to

continue, Skepe faced heavy

criticism from residents over poor

service delivery and lack of funds.

"In 2016 and '17, you didn't give

a report and you are supposed to

give one quarterly.

"You are

the one who

is not

calling for

the report,"

Zwelitsha

senior

citizen Velelo Baleni said.

Other residents accused Skepe

of spending council money on

friends and giving jobs to friends

and relatives.

"I know you choose your friends

for tenders and after that, you

receive envelopes with money and

drinks," said resident Buntu

Dikana.

Skepe said she had always

called a quarterly meeting and

brushed off accusations against

her as false. "I always call a

meeting quarterly. People must

attend the meetings to get full

information about the development

of Zwelitsha," she said.

I know you choose your friends for

tenders and after that, you receive

envelopes with money and drinks

TAKE NOTE: Ward councillor Sindiswa Skepe delivers her service delivery report in a

heated meeting with Zwelitsha residents last weekend Picture: SUPPLIED

Bikers

cruise

in for

rally

A sense of belonging, family and

friendship was evident as scores of

bikers descended on King William's

Town for the fourth annual Road

Eagles MCC Rally at the Botanical

Gardens, from April 5 to 7.

The club, established in 1997, saw a

weekend of games and bonding, with

bikers travelling from as far as Cape

Town, Johannesburg and Durban to

take part.

Road Eagles vice president Lisa

Quluba said the rally was a success,

although the number of participants

was down slightly from 2018.

"Friday was a slow start with the

rain putting a damper on things a bit,

also there was another rally taking

place in East London," Quluba said.

Serving free coffee all weekend was

the Christian Motorcycles Association

(CMA), which has taken part in the

rally since its inception.

"We 're here to serve the community,

to create friendship, for the people in

need and also to give a voice of hope,"

CMA vice president Brandon van der

Merwe said.

Saturday saw lots of activity, starting

with a mass ride from King through to

Zwelitsha and back.

The GO! was fortunate to catch a

ride, and witnessed excited children on

the streets waving the bikers on.

While the games continued, the

popular mechanical bull saw many

eager adults and children challenging

each other.

The evening saw the highlight of the

rally – 'Patching of New Members' –

where four new members were given

the symbolic keys to their motorcycles.

Prizes were also given to clubs with

the most members, and to the three

riders who had travelled the furthest

distance to the rally.

Representing an all-female club,

Bongiwe Didiza, of Trail Blazers, came

to support her cousin, who is a Road

Eagles member.

"I thought it would be great to come

build relations with other Eastern Cape

clubs," Didiza said.

EAST LONDON

92cm Comfo Pillow Top

107cm Comfo Pillow Top

137cm Comfo Pillow Top

152cm Comfo Pillow Top

137cm Hybrid ADelux Gel

152cm Hybrid Delux Gel

152cm Hybrid Delux Gel XL

137cm Hybrid Elemental

152cm Hybrid Elemental

Devereux Centre, Vincent, East London - T: 043 726 2769

70 Cathcart Street, King William's Town - T: 043 642 1797

Easter Eggstravaganza!!!

LIMITED STOCK AVAILABLE

WAS NOW SAVE WAS NOW SAVE

R 2499 R 1999 R 500 92cm Comfo Essential R 2999 R 2499 R 500

R 2599

R 2999

R 3599

R10499

R11999

R12999

R 5999

R 6599

R 2299

R 2599

R 2999

R 7999

R 8999

R 9999

R 4799

R 5299

R 300

R 400

R 600

R2500

R3000

R3000

R1200

R1300

107cm Comfo Essential

137cm Comfo Essential

137cm Ortho Dual Comfort

137cm Supreme Delux

152cm Supreme Delux

92cm SOP

107cm SOP

137cm Special Edition

R 3499

R 3999

R 6499

R 5499

R 5999

R 2530

R 3530

R 2530

R 2999

R 2999

R 4999

R 3999

R 3999

R 1999

R 1999

R 1999

R 500

R1000

R1500

R1500

R2000

R 531

R1531

R 531

KING WILLIAM'S TOWN

WAS NOW SAVE

Ortho elemental 92cm

Comfo sleep 92cm

Ortho supreme 92cm

Ortho supreme 137cm

Ortho supreme 152cm

Ortho superior pocket 152cm

Ortho supreme deluxe 137cm

Ortho supreme deluxe 152cm

Ortho deluxe 137xl

Ortho deluxe 152

R 1899

R 2299

R 3499

R 4800

R 4999

R 5999

R 5499

R 5999

R 6999

R 7999

R 1599

R 1799

R 2599

R 3999

R 3999

R 4599

R 3999

R 4999

R 4999

R 5999

R 300

R 500

R 900

R 801

R1000

R1400

R1500

R1000

R2000

R2000
---
Page 2 GO & EXPRESS

GOT A NEWS STORY? Call our news desk on (043) 702-2125. Find us on

April 11, 2019

NPO's campaign

to help animals

SIVENATHI GOSA

BUSINESS SENSE: Fine art photographer and Buckaroo initiator Marlene Neumann was the guest speaker

at the third annual Ladies High Tea and Mini Business Expo hosted by St Bernard's Hospice at the Abbotsford

Christian Centre on Saturday. The aim was to raise funds for St Bernard's home-based palliative care

programme. About 230 women filled the centre to listen to Neumann, who delivered a spiritual talk. There

was also a mini business expo where businesses displayed their products. The hospice raised R40,000 in

total

Picture: SIVENATHI GOSA

Pleasant weekend weather ahead

After last week's taste of winter,

this week's weather looks set to be

some of the most pleasant so far.

Things start off comfortably

enough on Thursday with the

maximum temperature reaching a

warm 25°C.

There will be a few clouds in the

sky and a brisk breeze of 18km/h

from the north-east.

Fr i d ay 's weather only improves

with the wind dying down to just

7km/h and the few clouds from

Thursday burning off, leaving clear

skies. Temperatures remain steady

at 25°C.

Despite temperatures dropping a

little on Saturday to 22°C,

conditions promises to be still

pleasant enough. Light cloud cover

is expected and the wind will

increase to 11km/h from the south.

Finally, Sunday sees rain

predicted for the afternoon

although the temperature remains

mild at 21°C. Unfortunately, a

south-westerly wind is expected to

increase yet again to 22km/h.

Non-profit organisation

Whistle and Wags Animal

Friends held a fundraising

event on Sunday morning at

Gonubie Spar in order to

raise money for muchneeded

pet food and

healthcare supplies to

distribute to animal shelters.

"Whistle and Wags Animal

Friends was founded by a

group of animal lovers who

saw a need for a feeding

programme to assist animal

shelters with pet food and

healthcare supplies, to

enable rescue shelters to

focus on their rescue efforts,"

Whistle and Wags member

Michelle Henning said.

Henning said their future

goal was to assist families

facing financial hardships,

with pet food to be able to

feed their pets.

"Our main objectives are to

fill the bowls of rescued

animals, to network for

animals in need of rehoming

or fostering and to promote

the education of the humane

treatment of animals,

domestic and wild."

Henning said they do not

have kennels to house

rescued animals but had

recently fostered eight

puppies and their mother for

a local animal welfare

o r g a n i s at i o n .

"We have adopted the

mother who has a loving

temperament, and have

named her Gypsy," she said.

ANIMAL FRIENDS: Whistle and Wags official Michelle Henning

stands outside Gonubie Spar during their fundraising

event on Sunday

Picture: SUPPLIED

Whistle and Wags Animal

Friends has also assisted

Meals on Wheels, an

organisation that assists in

feeding people who are

disabled, financially

constrained and elderly

people.

"We were astounded to

learn that there are 50 dogs,

39 cats, two roosters and

one wild bird on their [Meals

on Wheels] route," Henning

said.

"As one of our goals is to

assist families with pets who

are in financial hardship, we

made contact with them

[Meals on Wheels]," Henning

said.

They raised R720 through

the sale of books, a raffle

and monetary donations and

collected a trolley full of pet

food to distribute to the

family pets of Meals on

Wheels recipients.

"We are all animal lovers

blessed with different skills

and talents and

personalities. We would

appreciate any donations of

pet food, fencing, wooden

pallets, any unwanted

household items, books,

blankets, which we will

distribute to various animal

welfare organisations.

"We are on Facebook

where one can follow our

initiatives and fundraisers.

"Our telephone number is

063-979-3431.

"We wish to thank

everyone who supported us

on Sunday," said Henning.

Daily Dispatch Building, Cnr St Helena Rd

& Quenera Dr, Triple Point, Beacon Bay.

T: 043-702 2000 F: 086 545 2648

P.O. Box 131, East London, 5200

GENERAL INFO

COMPETITION ENTRIES

ŐŽĐŽŶĞΛŽďůĂĐŬĂĐŽĂ

MAIN E-MAIL ADDRESS

ŐŽĞĞΛŽďůĂĐŬĂĐŽĂ

ADVERTISING

MAIN BODY / FEATURE ADVERTISING

Cheryl Larsen : Phone 043-702 2031

ŵĂŝůŚĞůΛŽďůĂĐŬĂĐŽĂ

ĞůĞĐŽPhone 043-702 2048

ŵĂŝůĞůĞΛŽďůĂĐŬĂĐŽĂ

CLASSIFIED ADVERTISING

ĞůĞĐŽPhone 043-702 2048

ŵĂŝůĞůĞΛŽďůĂĐŬĂĐŽĂ

EDITORIAL

ĂŚĞŝĞůĚPhone 043-702 2125

ŵĂŝůĂŚĞΛŽďůĂĐŬĂĐŽĂ ĞĚŝŽ

ŝĞŶĂŚŝŽĂPhone 043-702 2046

ŵĂŝůŝĞŶĂŚŝΛŽďůĂĐŬĂĐŽĂ ŽŶĂůŝ

ŵĂŶĚĂĂŶŽPhone 043-702 2049

ŵĂŝůĂŶŽΛŽďůĂĐŬĂĐŽĂ ŽŶĂůŝ

BUSINESS MANAGER

AND EDITOR

ĂŶĞĞŶŚĂĞPhone 046 624 4356

ŵĂŝůŚĂĞΛŽďůĂĐŬĂĐŽĂ

ACCOUNTS / MARKETING

ĞŶĚĞĐŚŵĂŶŶPhone 043-702 2280

ŵĂŝůĞŶĚΛŽďůĂĐŬĂĐŽĂ

WEBSITE

www.goexpress.co.za

SOCIAL MEDIA

ŶĂŐĂŵwww.instagram.com/goexpressnews

ŝĞŝĞĐŽŵŽĞĞŽ

ĂĐĞŬŽΘĞ

DELIVERY ENQUIRIES

Phone 043-702 2239 / 2168 / 2103

COAT KING

KIDS COATS

2 FOR

R80

GOLF SHIRTS

R25 each

OPEN TO THE PUBLIC

& HAWKERS

81 Fitzpatrick Rd, Arcadia.

043 743 8964

CELEBRATE WITH SONG: The East London Cantata Choir will present 'Lenten Cantata', originally

written by German Baroque composer George Frideric Handel, at St Albans Anglican Church on

Sunday April 14 at 4pm. The cantata tells the story of Jesus' journey to the cross and includes

excerpts from Handel's 1741 oratorio 'The Messiah', as well as narration by Bill Gould. There will

also be Easter hymns. Admission is free. Inquiries: Yvonne Daniels at 082-878-2079

WONDERFUL GIFT: Anna Olivier has been the latest recipient of PnA East London and the

Sweethearts Foundation's monthly wheelchair handover. In addition to her new wheelchair,

Olivier also received a surprise gift in the form of a hand-knitted sweater, which was provided

by a good-hearted anonymous donor. With Olivier are PnA mascot Penny and Christine Diack

Picture: MATTHEW FIELD
---
April 11, 2019 For all your advertising needs call Cheryl on (043) 702-2031, Wezley (043) 702-2048. Find us on Facebook

GO & EXPRESS Page 3

Dan Patlansky

live at Legends

MATTHEW FIELD

We l l - known South African blues

musician Dan Patlansky will be

bringing his latest show, Duo

Elect ric, to Legends Showcase on

April 18 in support of the

Cornerstone Anti Human Trafficking

Institute (CAHTI) and

#Ar tistsAgainstSlaver y.

CAHTI was established in 2018

and aims to protect and advance

the rights of human trafficking

survivors, as well as raise

awareness about the issue.

This is Patlansky's first

collaboration with CAHTI and he

said he "really believed in their

cause".

Pat l a n s k y first got into music at

a young age.

"Growing up, my parents listened

to music constantly, so I would say

the love of music came from them.

It's always been a massive part of

my life," he said.

It was his parents who also

convinced him to take up blues as

his genre of choice.

"The type of music my parents

constantly played was the blues

and music within the blues realm.

"It felt like the most natural form

of music to play, I felt like I knew it

a l r e a d y, " said Patlans k y.

The show is scheduled to start at

8pm and tickets are R150 per

person. Bookings can be made

online at http://bit.ly/2T5F9L6.

For more information, call

043-735-1586 or e-mail

s a ra h @ l e e g o l d . c o . z a .

FEELING BLUE: Dan Patlansky will be performing at Legends

Showcase on April 18 in support of the Cornerstone Anti Human

Trafficking Institute

Picture: JASON RYAN COMINS

TALKING ABOUT MUSIC: Vocalists and producers attend Samro's informative roadshow talks on

copyright laws, at the Eastern Cape Audio Visual Centre in East London Picture: AMANDA NANO

Artists informed about

copyright and royalties

AMANDA NANO

Music royalties and other

burning issues were on the table

as the South African Music

Rights Organisation visited East

London musicians at the Eastern

Cape Audio Visual Centre in East

London last Friday.

It formed part of the

o r g a n i s at i o n 's nationwide

roadshow to inform Samro

members about the importance

of public domain works.

Artwork remains copyright

protected for the duration of the

c r e at o r 's life and then 50 years

after their death.

As Samro legal services

general manager Chola

Makgamathe said, once the 50

year limit ends, then the

protection expires and artwork

falls within the public domain for

royalty-free usage and

exploitation, without legal

consequences.

"There needs to be a careful

balancing act between the

protectors of the works and the

users of the works,"

Makgamathe said.

Other issues touched on

included the infringement of

moral rights, such as doing a

cover version of someone's song

and posting it on YouTube

without acknowledging the

ar tist.

"It is to your benefit to keep

records of your original creation

in case of infringement," Samro

managing director Andre Le

Roux said.

Matters also arose of stolen

work and how one can prove the

work is indeed their own.

Another issue was the

visibility of Samro within the

Eastern Cape.

For producer and vocalist

Lungisile Mdunyelwa, the

workshop gave him a broader

understanding of how public

domain works.

"I wish Samro could have an

office in the province because a

lot of information can be passed

on," Mdunyelwa said.

For more information, contact

Samro on m a r k e t i n g @ s a m ro . o r g . z a

or visit their Facebook page,

Samro.

WHEELIE GOOD FRIENDS: The Christian Motorcyclists Association and Social Riders showed their

support at the fourth annual Road Eagles Rally held at the Botanical Gardens in King William's Town

from April 5 to 7. They are, from left, Leanne Herapath, Tony Hurn, Bianca Martiz, Shawn Herbst,

Danika Herbst, Brandon van der Merwe and Lolly Kapp
---
Page 4 GO & EXPRESS

GOT A NEWS STORY? Call our news desk on (043) 702-2125. Find us on

April 11, 2019

GO! IN KING

E-mail: goexpress@tisoblackstar.co.za

Young boxers trade leather

THEMBELA NDLUMBINI

Boxing lovers flocked to King

William's Park on Saturday for

the amateur boxing tournament

organised by local

businessman Fred de Abreu for

young boxers from in and

around King William's Town.

Spirits were high despite the

poor state of the ring – and no

injuries were reported

Accompanying De Abreu to

the tournament was former IBF

World Champion We l c o m e

"Ta ko m " Ncita.

There were 51 bouts fought

in the boys category with five

bouts fought in the girls'

categor y.

Winners were presented with

medals and trophies, as well as

meals.

"We are developing King

William's Town amateur boxers

and we are protecting our kids

from drugs and we want them

to stay away from bad

elements," De Abreu said.

He said this tournament

showed people that boxing was

a sport that could unite

children and helped them stay

away from drugs or other

harmful activities.

"We have made a call to

parents to help us by

supporting their children,"

Zwelitsha Boxing Club manager

Siza Helwana said.

He also said a major

stumbling block for boxing in

King William's Town was

sponsorship.

Former professional boxer

Nkosomzi Moss welcomed the

tournament as it kept children

busy after school hours.

"We are appealing to the

department of sports, business

people and people of South

Africa to support boxing," he

said. One of the parents,

BIG HIT: Two young boxers go toe-to-toe at King William's Park boxing tournament on Saturday

Picture: THEMBELA NDLUMBINI

Lungelwa Ngceshe, said: "I am

here today to give support to

my children who are are under

the Ginsberg Boxing Club.

I am also here to encourage

parents to allow to our kids to

join boxing to keep them busy

in their free hours after

school."

GO! makes call to budding writers

MATTHEW FIELD

The GO! & Express is

currently looking for

assistance in covering the

King William's Town area.

We are calling on any

budding writers or

photographers to please

submit any news articles or

pictures relating to King

William's Town, Bhisho,

Breidbach, Zwelitsha,

Ginsberg etc to

g o e x p re ss @ t i s o b l a c k s t a r. c o . z a

and we will gladly consider

them for publication in future

editions.

With regard to news

stories, please ensure that

they are no more than two

weeks old or it will be too late

for us to publish.

For pictures, please provide

the full names of all the

people who are photographed

as well as where the photo

was taken.

Please note that deadline

for submissions is no later

than 3pm on Tuesdays.

Due to budget constraints,

we are unable to pay for any

submissions. However, full

credit will be given to all

a u t h o r s / p h ot o g r a p h e r s .

LEADING THE PACK: Dale College Boys' Primary has selected new

captains for their rugby and hockey sides. Amangile Songelwa, left,

will lead the rugby side, while Akhanani Msutu will lead the hockey

Picture: SUPPLIED

KING WEATHER

If last weekend was on the cool

side, this week looks to be going

in the opposite direction.

Thursday starts off nice and hot

with temperatures peaking at

28°C. Light clouds are expected

overhead but on the plus side,

wind speeds are expected to

reach a quiet 7km/h from the

north east.

The temperature remains stable

at 28°C again on Friday with

T h u r s d ay 's clouds all but

disappeared. Like the

temperature, the wind doesn't

change speed but it is expected

to switch to to the south east.

Saturday sees the temperature

drop a little to 26°C while there

will be some cloud about.

Wind will increase slightly to

11km/h from the south east.

Sunday will be the coolest day

of the weekend with a maximum

temperature of just 22°C with

possiblility of rain in the

af ternoon.
---
April 11, 2019 For all your advertising needs call Cheryl on (043) 702-2031, Wezley (043) 702-2048. Find us on Facebook

GO & EXPRESS Page 5
---
Page 6 GO & EXPRESS

GOT A NEWS STORY? Call our news desk on (043) 702-2125. Find us on

April 11, 2019

GO!SCHOOLS

E-mail: goexpress@tisoblackstar.co.za

Tune in

for EL

school

talent

MATTHEW FIELD

CHAMPION: Stirling High School pupil Alfonso Janse van Rensburg

competed in the South African National Junior Swimming Championships

at the Kings Park Pool in Durban, from March 20 to 23 as well as the South

African Lifesaving Championships 2019 from March 25 to 30 2019.

In the Still Water Competition Alfonso achieved the following results in

the under 17 category:

1. 200m Obstacle Swim - 1st place

2. 100m Rescue Medley - 1st place

3. 100m Manikin Carry with Fins - 2nd place

4. 50m Manikin Carry - 4th place

5. 200m Super Lifesaver - 2nd place

6. Overall Victor Ludorum (Under 17)

In the Junior Male Surf Competition he achieved:

1. First place in the Taplin Relay

2. Board Relay - 4th place

3. Run Swim Run - 5th place

4. Rescue Tube Rescue - 7th place

5. Surf Swim: 6th place

6. Single Ski Relay - 8th place

7. Iron Man - 6th place

TOP PERFORMER: Hudson Park High School pupil Inathi Mpulampula competed at

the South African Championships for Performing Arts (Sacopa) in Rustenburg last

week and was selected to be part of the team representing South Africa at the

World Championship of Performing Arts in the US later in 2019. She obtained two

gold medals with a score of more than 90% for hip-hop and ethnic genres. This

placed her the highest in her age group for hip-hop and highest in the competition

for ethnic. She also received a bronze medal for acting Picture: SUPPLIED

Once again, East London schools are

gearing up for the latest edition of

the East London Port Rex Lions

E i st e d d fo d .

From April 29 to May 10, schools

will go head to head in a number of

musical recitals which will

demonstrate their classical music

skills.

The first East London eisteddfod

was held in 1922 while the e i st e d d fo d

in its current form emerged in 1983,

organised by the South African

Society of Music Teachers.

The East London Port Rex Lions

Club became involved with the

eisteddfod in the 1980s and have

been primary sponsors since.

From its onset, the main focus of

the East London eisteddfod has been

classical music. Recitals include

chamber choirs, marimba bands, and

choral sections, all putting their

music abilities to the test.

While classical music remains the

core focus, a contemporary music

section was added in 2015 to cater to

pupils wishing to perform on more

contemporary instruments.

Also in 2015, floating trophies were

replaced with medals sponsored by

Lee Gold Music which winners can

take home.

For more information, visit

w w w. e l p o r t re x l i o n s e i s t e d d f o d . c o . z a .

GO! & EXPRESS

DOES YOUR

BUSINESS NEED

BUSINESS?

We will help you connect with your

ŽĞŶĂůĐůŝĞŶďĂĞ

GO! & EXPRESS

WE PRIDE OURSELVES ON CREATING CONNECTIONS

ŽŶĂĐŝĂŚŽŶĞŽĞŵĂŝů

ŚĞůĂĞŶ

ĐŚĞůůΛŽďůĂĐŬĂĐŽĂ

ĞůĞĐŽ

ĞůĞΛŽďůĂĐŬĂĐŽĂ

SINGING SENSATION: Selborne College pupil Joshua Hayes recently

competed at the South African Championships of the Performing Arts. He

was awarded three silver medals in the Pop, Broadway and Open Vocal

categories as well as a gold medal for Country Vocals. Due to his results,

Joshua has been selected to represent South Africa at the World

Championships of the Performing Arts in Los Angeles later in the year

Picture: SUPPLIED

GET A GRIP: Selborne College 1st team

player Grant Pretorius grabs the ball

during their match against Grens as part

of the Grens derby day on Sunday.

Selborne won 39-20 Picture: SUPPLIED
---
April 11, 2019 For all your advertising needs call Cheryl on (043) 702-2031, Wezley (043) 702-2048. Find us on Facebook

GO & EXPRESS Page 7

Advertising feature

Egg-ceptional display at mall

GO REPORTER

Lack of bin provision

adds to our litter woes

MATTHEW FIELD

The work of five local

artists will be on

display at Vincent Park

Shopping Centre from

Friday until the end of

M ay.

The artists – N at a s h a

Bezuidenhout, Unathi

Feni, Mziwoxolo

Makalima and Kate

Teesdale – have been

commissioned by

Vincent Park to

decorate oversized eggs

as part of the mall's

Vincent Park Paints

Easter campaign.

The fifth artist is a

local primary school

pupil whose work was

selected by public vote

from more than 330

ent ries.

The entry has been

adapted and interpreted

onto a threedimensional

sphere by

Lynne Price, well-known

artist and owner of I

Left My Heart in Africa,

a community art

initiative based in

Chintsa.

"We are incredibly

proud to be working

with local artists and

are really excited to

offer them the

opportunity to

showcase their talents

to the greater East

London public," said

Vincent Park manager

Joseph Parsley.

"The artists have

been working on their

creations in studio and

will be applying the

finishing touches to

their masterpieces in

the mall this weekend,"

added Vincent Park

marketing manager

LETTER TO THE EDITOR...

HATCHING GREAT ART: Artists are hard at work bringing their Easter eggs to

life for the Vincent Park Paints Easter campaign

Picture: SUPPLIED

Mariaan Hartwig.

East Londoners are

invited to view the

artworks and will also

have the opportunity to

win shopping vouchers.

"Vincent Park is

launching an exciting

selfie competition on

our Facebook page. As

of April 15, shoppers

can upload a selfie

taken next to their

favourite egg and tag

the mall's page to stand

a chance of winning a

R500 Vincent Park gift

card. We have a total of

10 up for grabs," said

Har t wig.

Details of the

competition will be

available on the mall's

Facebook page.

SPCA in need of public's help

Our front page story this week

is about an admirable new

recycling initiative that aims to

not only help clean up the

streets, but also help the

environment.

The problem of waste is

certainly something BCM

residents know a thing or two

about.

Even when the municipality

isn't on strike, it seems that

there's just no end to the litter

that fills streets, clogs gutters

and ruins beachfronts.

I want to look at an aspect of

this problem that I don't think

gets much attention or, at

least, doesn't get as much

attention as it deserves.

And that is the lack of refuse

bins in and around the BCM

area. While it is true that there

are those who simply dump

their rubbish at the most

convenient spot and forget

about it, the truth is that

there's not much choice for

those who want to do things

p r o p e r l y.

Nahoon Corner is one of the

most popular beach spots

around Nahoon Beach and

sees heavy foot traffic,

especially over weekends.

However, there are only a

handful of bins provided – and

a good number of them are

actually broken.

Go down to Corner on a

Sunday morning and you'll find

the bins overflowing with even

more rubbish piled around

them. It is clear that the

number of bins is grossly

WASTE WISE: Providing more bins in key areas would go a long

way to combat littering

Picture: FILE

inadequate for the amount of

waste generated but nothing

has really been done about it.

The fact that people took the

time to not only fill the bins

but then ensure they left their

rubbish by them

when they were

full, shows that

beach-goers

aren't as

careless as we'd

like to think.

Clearly they want

to use the bins

and properly

dispose of their

rubbish but

simply cannot.

Yes, people leaving their

rubbish on the beach itself is

problematic and should be

rightly criticised. But why

aren't any bins provided along

the beach for people to use?

As it stands, the closest bins

are at Corner or the Lifesaver

Shack and, as we just

discussed, even these are

inadequate to meet demand.

This can be extended to the

city as a whole. In many areas,

there are simply

not enough bins

provided to cope

with the amount

of waste

generated, which

means the ones

that are present

quickly fill up,

leaving residents

with nowhere else

to dispose of their

rubbish.

It won't solve our litter

problem entirely, of course, but

surely one of the best ways to

encourage proper waste

disposal is to give citizens the

option to do so in the first

place?

Dedicated professional

people are needed who

are able to commit

time, effort and

expertise to ensure the

survival of the East

London SPCA.

The East London

SPCA has been through

a tumultuous time and

needs strong leadership

at the helm to take the

SPCA to new heights.

Each SPCA is an

independently

registered non-profit

o r g a n i s at i o n

responsible for its own

sur vival.

Of course the key

factor is funding,

especially as no

financial support is

received from

government and any

income from a

municipal source is not

a grant but payment for

services rendered in

connection with taking

in stray animals.

However, it may

surprise most people to

learn that the main

reason SPCAs have

closed over the past 20

years is the lack of

community support.

Each SPCA needs an

elected management

committee (or "Board")

comprised of local

people. This is the body

which directs, plans,

organises and ensures

the future of the SPCA.

In instances when an

insufficient number of

people from the

surrounding community

can be found to

undertake this function,

the SPCAs have

floundered and closure

has followed.

Please do not let this

happen to your SPCA!

An appeal is made not

to take the SPCA for

granted but to be part

of its future and the

solution to animal

welfare in your district.

The SPCA provides a

service which is

essential to the animals

and the community.

The East London

SPCA has been in

existence for over 100

years and it would be

devastating day if this

legacy were to end and

the Society were to

close its doors due to

the lack of community

suppor t.

We cover an

extensive area,

incorporating large

areas with indigent

citizens and with

numerous animal

related facilities, that

require regular

inspection. The cociety

admits over 6,000

animals of all species

and deals with over

11,000 animals through

cruelty complaints and

routine inspections

annually. This they do

currently with only two

inspectors and one field

officer. Far too often

when an SPCA is in

financial difficulty,

well-meaning people

come forward offering

to help by raising funds.

This is deeply

appreciated but

ensuring the existence

of an SPCA is an

around-the-clock

function and firmly

vested in the

communit y.

We are calling a

special general meeting

on Saturday May 4 at

10am at Griffon Hall,

Buffalo Club, 1 Buffalo

Park Dive, Quigney in

order for us to elect a

fully functioning

management

commit tee.

Individuals, especially

with business

backgrounds, may

submit a one-page CV

to Vonny Strachan at

ecliaison@nspca.co.za

before April 26.

Vonny Strachan,

NSPCA national senior

i n s p e c to r
---
Page 8 GO & EXPRESS

GOT A NEWS STORY? Call our news desk on (043) 702-2125. Find us on

April 11, 2019

'Our Planet' re v e a l s

the good, bad, ugly

MATTHEW FIELD

There are many words

one could use to describe

Our Planet, a nature

documentary recently

released on Netflix.

Our Planet breaks away

from the more traditional

nature documentary

format in that it makes no

bones about the fact the

beauty it is showing is

under threat from

humans.

Truly gorgeous shots of

rainforests, savannah and

Arctic wilderness are

quickly followed up by

tragic reality.

One particularly painful

example comes when

narrator David

Attenborough, the king of

nature documentaries,

spends a good 15 minutes

exploring a lush rainforest

and the unique animals

that live there.

When he's done, he

pauses, as if in tragic

contemplation, and

explains how the

rainforest was cut down

years ago to make way for

a palm oil plantation.

It is this sense of

rapturous awe of nature

combined with

unflinching examination

of its destruction, that

makes Our Planet so

captivating and yet so

hard to watch.

The series doesn't

tip-toe around the issue

and says right up front

that it is humanity and its

unquenchable thirst for

resources, that is

decimating the natural

world.

And, while Our Planet

has plenty of hard truths,

it is also not without

hope. As Attenborough

says in the conclusion of

one of the last episodes,

we have a choice.

We can continue with

business as usual or we

could turn around and

save not just the planet

but ourselves as well.

There is still time but,

as the Netflix series

points out, the window is

growing smaller by the

d ay.

W H AT 'S ON THE GO!

Contact News Desk on (043) 7022048 or e-mail:

goexpress@tisoblackstar.co.za by Monday 4pm

on publication week

T H U R S D AY

ý The University of the Third

Age caters to people of a mature

age who are eager for

knowledge, with a zest for

hearing cultural and

motivational talks. We meet at

the St Andrews Croquet club hall

on the second Thursday of a

month and the third Thursday at

9.30am. Each meeting has a

qualified speaker. R10 for visitors

and tea\coffee will be served.

Phone: 043-738-5090 for

i n fo r m at i o n

ý Narcotics Anonymous at

Buffalo Flats Primary School, 84

Greenpoint Road, Buffalo Flats.

Starts at 7.30pm. Call

083-900-6962

ý The Compassionate Friends

will meet at The Vincent

Methodist Church Hall, Preston

Avenue at 7.00 for 7.30pm.

Psychologist Kail Els will be the

guest speaker. All bereaved

parents and their families as well

as friends are most welcome to

attend. Phone Myrtle on

043-721-0406 or Jenny on

043 - 741 - 2551

F R I D AY

ý Narcotics Anonymous at

Khanya Youth Centre (next to

Fire station), 172 Dunoon Road,

Fynbos. Starts at 6pm. Call

083-900-6962

ý Come Dance tonight away on

EL's best dance floor with live

music by EL best singer Quentin

at Comrades Club from 8-30pm.

Bar and kitchen open from 6pm

at bargain prices Entry R25pp.

Bookings and info 083-255-

-3468

S ATURDAY

ý Yellowwood Forest Fare,

Morgan's Bay, every Saturday

from 9am to 2pm.

ý The Centenary Tennis Club

hosts social tennis every

Saturday from 1.30pm. All

welcome. Enquiries: Maurice

0 8 2 - 676 - 9 70 8 .

ý Gonubie flea market every

Saturday in front of the

municipality from 8am to 1pm.

Glenda 082-714-3390.

ý Narcotics Anonymous there

for those for whom drugs have

become a major problem, meet

every Wednesday and Saturday

at 22 Pell Street, St Nicholas

Church, Beacon Bay from 7pm.

For more information, call Peter

on 082-094-0959.

ý Nar-Anon Family Group for

family and friends affected by

someone else's addiction, meet

on Wednesday and Saturday at

22 Pell Street, St Nicholas

Church, Beacon Bay from 7pm.

For more information, call

Belinda on 083-662-3442.

ý The Hemingways Mall

Community Market Shop runs

every weekend, downstairs in

the Food Court. Support local

traders. We have a range of

clothing, accessories, shoes.

ý The support group of

Diabetes SA - EL BRANCH meet

on the first Saturday of every

month at the Regent Hotel's

Ocean Terrace Room. (On the

Esplanade) from 2.45 – 4pm.

Please join us for refreshments

after the talk. For more

information call: Vrooda Makhan

on 083-708-0489.

ý The Friends of the East

London Zoo will be having an

Educational Easter Hunt at the

Zoo from 2pm to 3pm. Entrance

is R50 and adults with children

taking part in the hunt enter free.

There will be an educational talk

and display as well as a fun craft

activity. To book, phone

042-721-1171 or 043-742-5386 or

e-mail felzoo@el-zoo.co.za

ý LGBTQI hiking and social

group on Saturdays and

Sundays. Locations to be

confirmed. WhatsApp Cindy for

more info: 081-210-4879.

S U N D AY

ý Narcotics Anonymous at

Buffalo Flats Primary School, 84

Greenpoint Road, Buffalo Flats.

Starts at 7pm. Call

083-900-6962

ý Weather permitting, there will

be miniature train rides for

family enjoyment at the Gonubie

Farmers Hall Entry is free. Rides

start at 10.30am until about

1pm.Clive on 082-355-5445.

Win R150

meal

voucher for

one of

H e m i n g wa y s

Casino and

H ote l 's

restaurants.

SEND in a completed, correct crossword

#1127 for a chance to win a R150 meal at

one of Hemingways Casino and Hotel's

restaurants. Either drop off the

crossword solution before 10am on

Tuesday April 16 at the Daily Dispatch

building in Beacon Bay, or scan a copy

and e-mail it to g o c o n t e s t s @ t i s o b l a c k s t a r. c o . z a

Please include your contact number and

full name on the copy. T & Cs apply. The

winner of crossword 1126 is Alma Braun

VERUSHKA

- looking for a

family to love

and protect.

Sponsored

by

BONO

ůůŚĂĞŶ

ĨŽŶĚŚĂŵ

looking for.

HARRY

- I have a heart as

big as can be.

Sponsored

by

SIMON

- Get lost in my

deep blue eyes.

TABITHA

- I will be your

Purr-fect pet.

A SELECTION OF

PETS UP FOR

ADOPTION.

PLEASE COME IN

AND HAVE

A LOOK.

DIMITRI

- Looking

forward to

ŵĞĞŶŐŵ

new family.

Sponsored

by

BEREA PHARMACY

Sponsored

by

Please give these pets a good home.

Interested persons please phone 043 745 1441 and ask for Reception.

Sponsored

by

Photo's by

Evette Joubert

Sponsored

by
---
April 11, 2019 For all your advertising needs call Cheryl on (043) 702-2031, Wezley (043) 702-2048. Find us on Facebook

GO & EXPRESS Page 9

Advertising feature

Celebrating 20 years

SIVENATHI GOSA

Celebrating two decades in the

business, SuperSPAR Highway in

Mdantsane recently honoured

their five "long service" w o r ke r s

who have been with them since

the beginning.

Noluthando Mapipa,

Nonzwakazi Mabandla, Nosipho

Lobese, Thandeka Mahlathi,

Bongiwe Shweyi and Mongezi

Booi all shared their gratitude

about the positive effect SPAR

had had on their lives.

"I started working for SPAR in

1999, where we were taken to

Southernwood for training as

cashiers. We were then taken to

Mdantsane, where received more

training, specifically on how to

handle customers," Mapipa said.

"SuperSPAR Highway was

officially opened on March 25

1999 and six months after the

opening of the store, I was

promoted as the supervisor,"

said Mapipa.

"Before being a SPAR

employee, we were not business

minded. Throughout these 20

years, we gained a lot of

knowledge in terms of customer

services, communication skills

and many more.

"They are also providing us

with some educational

programmes for employees.

SPAR also gives learnerships to

university students during their

holidays, so that they can gain

some work experience and earn

a stipend," Mapipa said.

The original SPAR burned

down in October 2013 and the

employees were left jobless for

three months until the new

owners took over and

re-employed them.

"We are grateful to the owners

because they could have hired a

new team, but they decided to

take us back after the tragedy.

We would like to thank

SuperSPAR Highway for the

opportunities that they have

granted us with," Mapipa said.

Moldenhauer Group supports

these charity organisations:

GOD'S HEART DESIRE

CHILDREN'S HOME IN FORT

J A C KS O N

This initiative caters for 32

children who are taken care of

full-time.

"The new centre in Fort

Jackson was built by the

Moldenhauer Group. We are

currently adding to the centre

with a new bathroom and

laundry room," marketing and

corporate social investment

coordinater of Moldenhauer

Group Alexi Carreira said.

KUYASA HOPE ON THE HILL

FOUNDATION IN NU 3

MDANTS ANE,

REAL VIEW FOUNDATION

Moldenhauer Group has

partnered with Bulelani Fowl,

from the Real View Foundation.

The initiative feeds just over 500

children three times per day on a

budget of R1,300 per week.

POTSDAM CHURCH

Originally, the Moldenhauer

TOP TEAM: Employees of Mdantsane's Highway SuperSPAR who have been there since the start are, Thandeka Mahlathi, Bongiwe

Shweni, Mongezi Booi and Noluthando Mapipa

Picture:SIVENATHI GOSA

Group became involved when

the bricks ordered for the

building of the church of the

church were stolen. Build It

stepped in and offered to build

and finish the church.

"Not only have we opted to

build the church, but as a

method to help self-sustain the

members of the church, we have

initiated a plastic bottle

recycling initiative which sees

thousands of plastic bottles

being gathered and recycled.

The proceeds are put back into

the church and the surrounding

communit y," Carreira said.

Moldenhauer also supports a

number of outreach programmes

every week with food.

"We donate food parcels to

the following organisations on a

weekly basis: Masizakhe

Children's Home, Ethembeni Old

Age Home, Mamas Club Old Age

Home, Siyazama Old Age Home

and Kukhulu HIV Centre,"

Carreira said.

COMBO DEAL BUY

1x Sasko Cake Flour 12,5kg

1x Itau Maize Meal 12,5kg

1x Allsome Rice 10kg

À

1x Huletts Sugar 2,5kg

ALL 5 FOR

Fresh

Pork

SPAR

Maas 2L

16 99

Thokoman

400g Smooth

Peanut Butter

14 99

34 99

Sunlight

Handwash Washing

Powder 2kg

299 00 per kg

39 99

Apples

3kg

19 99

Specials only available at Highway Superspar, Mdantsane. Valid from Thursday 11 April until Sunday 14 April 2019 while stocks last.

We reserve the right to limit quantities. Prices include VAT. E & OE. Actual products may differ from those depicted in this advertisement.
---
Page 10 GO & EXPRESS

GOT A NEWS STORY? Call our news desk on (043) 702-2125. Find us on

April 11, 2019

CLASSIFIED

INDEX

DOMESTIC ANNOUNCEMENTS

1010 Births

1040 Engagements

1050 Marriages

1070 Deaths

1100 In Memoriam

1220 Congrats / Best Wishes

1230 Birthday Greetings

1290 Thanks

PERSONAL

2070 Health & Beauty

2140 Lost

2142 Found

ENTERTAINMENT

3060 Entertainment General

SERVICE & SALES GUIDE

5010 Education & Tuition

5090 Plumbing

5100 Electrical Services

5120 Building Services

5122 Home Maintenance

5160 Walls / Fencing

5190 Painting / Decorating

5210 Pools, Spas, Accessories

5260 Computer Services

5360 Garden Services

5451 For Sale

5510 Kennels and Pets

5550 Misc Wanted

5570 Removals and Storage

5630 Services Offered

5640 Shuttle Services

EMPLOYMENT

6140 Education & Training

6150 Employment Wanted

6151 Employment

6170 Estate Agents

6370 Employment Wanted Domestic

ACCOMMODATION

7020 Accomm. Off / Wtd

7060 Flats to Let

7090 Houses to Let

7151 Holiday Accommodation

PROPERTY

8010 Flats For Sale

8050 Houses For Sale

8161 Business Premises To Let

8163 Business Premises For Sale

MOTORING

9070 Used Car Sales

9440 Motorcycles

9381 Motor Sundries

9640 Vehicles Wanted

9200 Used Bakkies / Panelvans

NOTICES

11010 Legal Notices / Auctions

11030 Businesses for Sale

2

PERSONAL

2070

Health & Beauty

Dr Brian D. Ritchie

Plastic Surgeon.

My Directory Entry has

ďĞĞŶŽŵŝĞĚ

ĨŽŵŚĞĂŽŶĚŽŶ

2019-2020 Phone Book

ŐĞĚĚĞ

3 Princes Road,

Vincent, EL

ĞůĞŚŽŶĞŶŵďĞ

043 748 1470

043 748 1584

Ă

Emergencies 083 281 2688

2275

Loans & Finance

THE Classified Adverts

whisper cost and shout response.

That's why they're

so popular.

2275

Loans & Finance

"LOAN" TO

T&C'S APPLY

5

SERVICES & SALES

GUIDE

5090

Plumbing

SPLASH JETTING

SERVICES High pressure

jetting of all blocked sewer

and storm water drains. Tel:

043 722 6430.

5121

Home Improvement

BLOCKS q R8,80; Sand,

Stone. Gladstone

083735 7389.

BUILDING PLANS

DRAWN Home & Comm.

SACAP. Large & small -

Entire SA. Kathy 082 939

8131.

DJ MAINTENANCE –

Alterations – Extensions,

Painting – Welding – Gates

– Handyman – Call David

083 320 8017.

5121

Home Improvement

FOR ALL your roofing,

waterproofing, painting,

guttering, home maintenance

and renovations

Lowest prices! Call 082

342 8944 Shane q 043 q

722 7774 Border Roofing

MOPPS MAINTENANCE

Building, Home improvements,

Electrical, Tiling,

Painting, Granite Installations

Carpentry. Free

quote 066 032 9161

maintenance@mopps

enterprises.co.za

RUBBERISING Waterproofing

to all types of Roofs,

Box Guttering, Flat Roofs

Border Roofing Rubber

Specialists 043722 7774.

Under R300

5541

ASHTRAY: Square black

and white whiskey R40

each or R70 for both.

Phone (043) 7264670

BLOUSES: Sleeveless, size

36/38. 2x R30 each.

Phone (043) 7264670.

BOTTLES: Peanut Butter

12 normal size, 12x R1

each; Medium size. 20x

R1 each; Large mayonnaise

q 3x R1.50 each; 2x

Chutney bottles q 1x

each; 10x Jacobs coffee

10x R1.50. Phone (043)

726 4670

BREAD SLICER: Old type

bread slicer. R80.

083467 5007.

BREADMAKER: Russell

Hubs. Good condition.

R299. 082503 2524.

&$0%5,'*( *,5/6

BLAZER (size 11) plus

school skirt plus tie.

R200. 083467 5007.

CD: Worsie Visser CD R20.

082 5922240.

CLOTHING: Gents size

36/38 - Trousers: 3x R40

each; Shorts: 3x R30

each; Shirts: 3x R25

each. 082 59 22240.

COMPUTER KEYBOARD:

Like new. R20. 082 59

22240.

CONVECTION OVEN:

Sunbeam. Like new.

R299. 082503 2524.

DANCING SHOES: 2x

Pairs. No. 7 dancing

shoes in black. R150 for

one and R100 for other

pair. The both have T

bars and one has Cuban

heel. Gerda 081 270

5650.

DRESSES: Evening dresses

- 2 floral long 36 and

38 R60 each. Phone

(043) 726 4670

EGG BOILER: Safeway

boils 7 eggs, R90 Phone

(043) 7264670

ENAMEL CHAMBER: R80.

083467 5007.

ENGINE: Wisconsin 2

cylinder. R299. 082503

2524.

FLEECE: ladies, double

breasted jacket, new,

colour Pale Blue, size 12,

R299. Phone 083 280

6088

GARAGE DOOR: Tip-up /

tilt type. R299. Phone

073227 5420.

Fishing: Two piece rod,

3,5 metres. R60; Shad

spoons and lures, assortment,

different sizes,

R100 for all 10; Fishing

tackle box with assortment

of items. R50. 073

858 7370

GARDENING: Planter and

herb boxes, pallet wood,

new, different sizes. 3 x

R45; 1 x R65; 1 x R99,99

073 858 7370.

Under R300

5541

GLUCOSE SUGAR TEST

MACHINE with needles

in pouch. R299,99.

Please contact Sue 0664

576834.

HATS: Straw hats. 1x

Green. R40; 1x White

with big brim. R50.

Phone (043) 726 4670

KITCHENWARE: Stainless

steel frying pan. R30;

Egg beater + bowl. R20;

Copper fish mould R20.

082 5922240.

MAGNETIC HOLDER for

tools and cutlery, mounts

to wall or cupboard, 300

mm, new, R25. 073 858

7370

MICROWAVE for spares.

Defy model DMO291.

R99. 073227 5420.

MOTOR with remote for

tip-up garage door.

R299. 073227 5420.

PHOTOGRAPHY: Selfie

stick. R50; Camera tripod,

sound condition,

R50. 073 858 7370

PICK HANDLE: Firm and

strong, R20, 073 858

7370

PINE TIMBER BOARDS:

2,4m long. 5x R50 each.

083 5211 846.

PINE TIMBER BOARDS:

2,4m long. 5x R59,99

each. 083 5211 846.

PLANTS: Bromeliads and

others in pots. 10x R12

each. 073 858 7370

PYREX DISH: Rectangle

white with flowers has lid

quite big R60; Pyrex dish

round white with red roses

R40. Phone (043)

7264670

PYREX DISHES: 1x Large

acropal. R100; Tart dishes

q 1x R50 and 1x R60.

083467 5007.

ROLLERSKATES: Disco

rollerskates. Size 6. As

new. R250. 083 554

3986.

SHOES: Brown patent

leather ladies shoes -

size 7. R80. Phone (043)

726 4670

SHOES: Gent's. R40. 082

59 22240.

TABLE: Yellowwood, 45cm

width x 45cm length x

71cm height. R299.

083467 5007.

TENNIS RACQUET: Spalding.

R299. 083 5211

846.

TOW HITCH for car. R60.

083 5211 846.

1400

Church Notices

TRAINERS: New, ladies,

size 4, colour White with

blue trim, R299. Phone

083 280 6088

UMBRELLA STANDS: 2x

Round, cement style.

R130 each. 083467

5007.

ALL MILITARY ITEMS -

Badges - Medals also old

Coins and Banknotes -

Zane 082 756 4133.

CALL Cash 4 Scrap. We

collect all types of scrap

metal. Weigh & pay on

the spot. WhatsApp or

call Wessel 078218 6112

Louise 065808 7802 or

office 043-7321204.

LEE-$11E6 buy quality

used clothing, bedding,

linen, curtaining, shoes

and much more. Tel:

Lee-Anne 043-7426546

FRIDGE REPAIRS Regas

and repairs done on site.

Microwaves, washing

machines, stoves. Call

Hendrik 072368 3030.

PRIVATE CARE WORKER

seeking employment.

More than 15 yrs exp.

Avail. from 30 April. Call

073 192 8811.

PRIVATE CARE CENTRE.

Retirement & Frail Care.

From home, to home.

Avail imm. 24 Hr Service.

Rina 082712 0984. 043 q

740 1454. 18 Yrs Exp.

ST ALBAN'S

ANGLICAN CHURCH

VINCENT, EAST LONDON

Do join us this Easter at St. Alban's Church,

5 Durham Road (off Devereux), Vincent, 043 726 7270

Sun 14 April

PALM SUNDAY

7.00am TRADITIONAL EUCHARIST

9.00am FAMILY EUCHARIST

WITH PROCESSION

Mon 15 April 7.00pm MEDITATIONS

AND PRAYERS

Tue 16 April

9.15am TUESDAY EUCHARIST

7.00pm STATIONS OF THE CROSS

¿

Wed 17 April 6.30pm for 7pm PASSOVER MEAL

Join us for a Passover meal

Thu 18 April

Fri 19 April

7.00pm MAUNDY THURSDAY

Eucharist and Washing of the Feet

and Stripping of the Altar

12.00pm GOOD FRIDAY

Who do you say I am? A 3-hour meditation

in sermons, with hymns, worship & prayers

Sun 21 April EASTER DAY: John 2O:1-18 Arise!

6.00am SUNRISE SERVICES

Please join the other churches meeting at

Nahoon Beach to celebrate Easter

Under R300

5541

5550

Misc. Wanted

5560

Repair / Services

6

EMPLOYMENT

6150

Employment Wtd.

7

ACCOMMODATION

7020

Accomm. Off / Wtd

1400

Church Notices

7.00am TRADITIONAL EUCHARIST

¿

Candle

9.00am FAMILY EUCHARIST

9070

Used Car Sales

5630

Services Offered

9070

Used Car Sales

5630

Services Offered

IF YOU ARE READING

THIS - SO ARE YOUR

POTENTIAL CUSTOMERS

DON'T MISS OUT - PLACE YOUR

CLASSIFIED ADVERT TODAY.

CONTACT WEZLEY SCOTT ON

(043) 702 2048

Time for

that epic

egg hunt

GO REPORTER

Scripture Union (SU)

Amatola will be hosting

their annual Epic Easter

Egg Hunt again this

year in James Pearce

Park, Stirling on

Saturday April 20.

Scripture Union offers

both life skills and

faith-based activities in

14 schools across

Buffalo City Metro.

Funds raised from

this event go towards

their lifeskills courses

and camps, as well as

holiday clubs and

school Christian groups.

"Our Epic Easter Egg

Hunt was a great

success in 2018 and we

received a lot of

positive feedback, and

numerous requests to

run it again. We are

looking forward to a

fantastic event," SU

Amatola regional

director Matthew

Tarboton said.

The hunt runs from

10.30am to 1.30pm and

costs R70 per child

aged between two and

12. Tickets will only be

sold in advance.

Entry includes a

bunny bag for the hunt,

Easter activities,

jumping castles, a soft

play area for toddlers,

as well as competitions

and giveaways.

Food will be on sale

and families are invited

to bring a picnic

blanket along and enjoy

lunch in the park.

Contact 082-481-8622

for tickets, or e-mail

E p i c E a s t e r Eg g H u n t @ g m a i l .

com. Please note that no

tickets will be sold on

the day.

Easter

upon us

again

MATTHEW FIELD

Easter is one of the

more jolly holidays on

the public calendar,

second only to

Christmas (in my

opinion) when it comes

to good vibes.

Both are celebrations

of key moments in

Christianity (the

resurrection of Jesus

Christ and his birth,

respectively), both

borrow heavily from

pre-historical pagan

traditions, and both

focus on the giving of

free stuff to other

people.

It helps that Easter in

SA falls in that magical

time of the year where

the oppressive heat of

summer is on its way

out but the bitter chill

of winter hasn't quite

arrived yet.

There's always ideal

photo opportunities too.

So why not take the

chance to take a few

choice shots and send

them through to us? If

we get enough, we'll

put together a special

Easter collage in our

April 25 edition.

Photographs can be

sent through to goexp

re ss @ t i s o b l a c k s t a r. c o . z a
---
April 11, 2019 For all your advertising needs call Cheryl on (043) 702-2031, Wezley (043) 702-2048. Find us on Facebook

GO & EXPRESS Page 11

Selbor ne

to fly EL

flag

MATTHEW FIELD

Fun and funds with

Zombie Run

MATTHEW FIELD

Belgravia Art Centre and

Jonginenge Eco-Adventures will be

co-hosting a 5km Zombie Run at

Lavender Blue on Saturday.

The run will help raise money for

the art centre, as well as

Jonginenge's ongoing Surf Outreach

programme.

"With more than 600 pupils from

grades 1 to 12, we would like to

develop the centre and be able to

extend our services to more

outreach programmes," B e l g r av i a

staff member Patsy Hoelandt said.

"We would also like to do building

alterations for our sculpture

depar tment."

According to her, she also said

they wanted to use the funds to

improve access for disabled

students since, according to her, the

school "is not wheelchair-friendly".

The Jonginenge Surf Outreach

programme has been running for

two years and provides surf lessons

to children at Nahoon Beach every

S at u r d ay.

The programme currently hosts 20

children and Jonginenge wants to

raise funds to accommodate more.

Entry fees are R80 per adult and

R40 for children under the age of 10.

Entry forms are available at Slaters,

Party Magic, and Nina Deli or e-mail

zombierunel@gmail.com.

Late entry on the day can be done

at Lavender Blue from 12.30pm.

T-shirts will be given to the first

100 entrants.

Runners are encouraged to dress

up as zombies for the event. They

might even be chased by "zo m b i e s "

along the route.

For more information, call

0 4 3 - 72 2 - 3 4 9 5 .

STICKS DOWN: Clarendon Girls High School first

team hockey girls travelled to Johannesburg to

compete in the prestigious St Marys Hockey

Festival. The team came first in the pool stages

Picture:SUPPLIED

Selborne College will be the only East London school

taking part in the 12th annual Standard Bank Kearsney

Easter Rugby Festival in KwaZulu-Natal from April 18 to

22

Ṫhey will be competing against 11 other top school

rugby teams from across the country, namely:

Kearsney, Glenwood, and Durban High Schools from

KwaZulu-Natal; Pretoria Boys High, Hoerskool Dr EG

Jansen, HTS Middleburg and Welkom Gimnasium from

Gauteng; HTS Drostdy; Hoerskool Noord-Kaap from the

Northern Cape; and Hoerskool Framesby from the

Eastern Cape.

In addition to thrilling rugby, members of the KZN

Rugby Union and the Sharks Academy will be watching

the matches to identify potential future players which

will surely encourage participanting players to be on

top form throughout.

Sharks Academy managing director Etienne Fynn

said the Kearsney Tournament not only brought

together some of the top schoolboy rugby talent from

across the country, it was also a great opportunity to

expose players and coaches to the Sharks brand.

"Rugby has become a realistic career opportunity

and the festival is an ideal springboard for players to

show their skill and flair for the game, whilst also

providing obvious benefits to rugby in the province,"

said Fynn.

The kick-off is 9.30am daily and gate entrance is

R25 per person

WILD RUN: Wild Women on the Run held a fun run on Saturday at he Teas in

Trees in Chintsa to raise funds for two beneficiaries, African Angels

Independent School and Busfare Babies. There were eight organisers who

each managed to raise R1,350, resulting in a grand total of R10,800. From

left, Carren van der Merwe, winner of the run Samuel Luquongo, and Jaci

Annison

Picture:SUPPLIED

GOLDEN BOY: Duncan Village resident Azinga

Fuzile, 22, recently defeated Mexican

challenger Romula Koasicha in Nelson

Mandela Bay to retain his IBF

Intercontinental junior-lightweight title.

Fuzile remains undefeated after 14

fightsPicture: FACEBOOK
---
INSIDE: PREPARE FOR ZOMBIE RUN - PAGE 11

Wild Women run for good cause

- Page 11

Bulldogs

rescue d

S P O RT

CONTACT US

E-mail: goexpress@tisoblackstar.co.za

Newsdesk: (043) 702-2125

Advertising: (043) 702-2031

(043) 702-2048

(043) 702-2122

Thursday, April 11 , 2019

. East London - 043 742 1673 *

. 1 Gladstone St KWT - 043 643 3859

. EC Peer Shopping Centre,

Smith Street* KWT . 043 642 2398

. Maclean Square, Old Theatre Building*

Butterworth - 047 491 8215 -

. Shop 5, Bell Street* Queenstown -

045 839 5814 49 - Robinson Rd R4900

R3850 R3150 R1900

SIVENATHI GOSA

The department of sport,

recreation, arts and

culture (DSRAC) has

come up with a R4.2m

lifeline to help the

liquidated Border Bulldogs get

back into the rugby limelight.

The lifeline will see the team

take part in the SuperSport

Challenge and the Currie Cup B

Division competitions later this

y e a r.

"In 2018, the general public

learnt with shock that Border

Rugby Union was facing serious

challenges in terms of

administration and compliance

with South African Rugby Union

[Saru] prescripts and policies,"

Dsrac MEC Bulelwa Tunyiswa

said. "The matter became a

subject of discussion on various

platforms, with some calling for

government intervention," she

said.

Tunyiswa said Saru had

confirmed that Border Rugby

had indeed been suspended

from playing over the past two

seasons; this included

participation in national

competitions by the men's rugby

senior team (Border Bulldogs)

and attendance by the executive

in all (Saru) constitutional

meetings.

"In January 2019, a process of

engagement between DSRAC,

Buffalo City Municipality, Saru

and Eastern Cape Sport

TO THE RESCUE: DSRAC MEC Bulelwa Tunyiswa announced last

Friday the department will inject R4.2m into the Border Bulldogs to

get them back on track

Picture: SIVENATHI GOSA

Confederation(ECSC) started to

gain momentum and, as a result,

DSRAC started to take the lead

in negotiating with Saru to

re-open the window of

participation by the Border

Bulldogs.

"Saving Border Rugby would

save young players from being

rugby 'migrant labourers' as the

absence of a team would mean

that they must go to other

provinces to have a chance to

p l ay, " Tunyiswa said.

The coaching staff were still

on the Saru payroll, which meant

that Saru was still incurring

expenses regarding their

salaries.

Saru executive member

Monde Tabata said Border Rugby

were not attracting sponsors and

owed SARS lots of money.

"You can never run a club

without sponsors. Two-thirds of

the budget should come from

sponsorships," Tabata said.

DSRAC senior manager

Bafundi Makubalo said the

players were in good shape to

participate in upcoming events,

as some of them were part of

the team that won the Eastern

Cape Super 12 Rugby

competition last month, and

others were currently playing in

the Gold Cup.

Border Bulldogs scrumhalf

Bangi Kobese said the past six

months had been tough, but the

players have been pushing hard.

"We are really grateful in what

the government is doing for the

team," he added.

BRING IT ON: Stirling High School 1st Hockey player Bontle Thinyane goes up against Queenstown

Girls' High School at Stirling on Saturday. The schools drew 1-1

Picture: ALAN WEBSTER

Sons run for cancer support

AMANDA NANO

The "Three Cousins" –

Brenton de la Harpe,

David Prinsloo and

Russell Weare – are on

a mission to raise R1m

for East London-based

cancer support group

Reach for Recovery

(R4R).

The trio know what

it's like to have cancer

affect family as their

mothers have all been

diagnosed with it.

Prinsloo and De La

Harpe's mothers have

sadly succumbed to the

disease.

"Together we are

aiming to raise this sum

by running the 90km

Comrades Marathon on

June 9 from Durban to

Pietermaritzburg,"

committee member

Maureen Smith said.

Smith said 2% of

their target had been

raised so far.

"With less than t wo

months to go to

Comrades 2019, any

contribution, no matter

how big or small, will

go a long way to

rectifying our current

short fall," Smith said.

R4R is affiliated to

the international body

bearing the same name

and aims to help

women with breast

cancer. The non-profit

organisation was

started in 1972 by

Theresa Lasser, who

had a mastectomy and

realised that other

women who had been

through similar

circumstances would

need assistance.

Weare is an Old

Selbornian who has

competed in a number

of marathon runs.

His mother, Rosalie,

is an active member of

the R4R East London

branch.

The "Three Cousins"

will compete in the Two

Oceans Marathon on

April 20 in Cape Town.

RUN FOR CANCER: The faces of, from left, Rosalie Weare, Leonie Harry

and Lorraine Schonknecht whose sons, Russell Weare, David Prinsloo and

Brenton de la Harpe – the 'Three Cousins' – will run for those whose lives

have been affected by breast cancer in the 2019 Comrades Marathon and

to raise funds for a cancer support group. Donations via

ht tps://www.givengain.com/activist/208142/projects/16198/donations or

by visiting their website, www.threecousins.co.za Picture: SUPPLIED