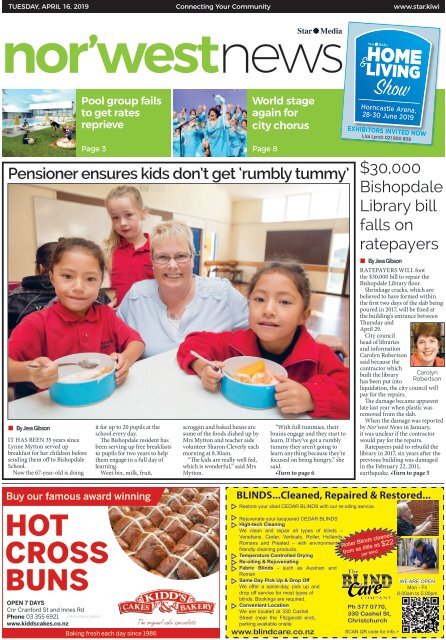 Nor'West News: April 16, 2019
You also want an ePaper? Increase the reach of your titles
YUMPU automatically turns print PDFs into web optimized ePapers that Google loves.
TUESDAY, APRIL 16, 2019

Connecting Your Community

www.star.kiwi

Pool group fails

to get rates

reprieve

World stage

again for

city chorus

EXHIBITORS INVITED NOW

Lisa Lynch 021 800 809

• By Jess Gibson

IT HAS BEEN 35 years since

Lynne Mytton served up

breakfast for her children before

sending them off to Bishopdale

School.

Now the 67-year-old is doing

Page 3 Page 8

Pensioner ensures kids don't get 'rumbly tummy'

it for up to 20 pupils at the

school every day.

The Bishopdale resident has

been serving up free breakfasts

to pupils for two years to help

them engage in a full day of

learning.

Weet-bix, milk, fruit,

scroggin and baked beans are

some of the foods dished up by

Mrs Mytton and teacher aide

volunteer Sharon Cleverly each

morning at 8.30am.

"The kids are really well fed,

which is wonderful,"​said Mrs

Mytton.

"With full tummies, their

brains engage and they start to

learn. If they've got a rumbly

tummy they aren't going to

learn anything because they're

focused on being hungry," she

said.

•Turn to page 6

$30,000

Bishopdale

Library bill

falls on

ratepayers

• By Jess Gibson

RATEPAYERS WILL foot

the $30,000 bill to repair the

Bishopdale Library floor.

Shrinkage cracks, which are

believed to have formed within

the first two days of the slab being

poured in 2017, will be fixed at

the building's entrance between

Thursday and

April 29.

City council

head of libraries

and information

Carolyn Robertson​

said because the

contractor which

built the library

has been put into

Carolyn

Robertson

liquidation, the city council will

pay for the repairs.

The damage became apparent

late last year when plastic was

removed from the slab.

When the damage was reported

by Nor'west News in January,

it was unclear if the contractor

would pay for the repairs.

Ratepayers paid to rebuild the

library in 2017, six years after the

previous building was damaged

in the February 22, 2011,

earthquake. •Turn to page 5

Buy our famous award winning

HOT

CROSS

BUNS

OPEN 7 DAYS

Cnr Cranford St and Innes Rd

Phone 03 355 6921 (34 on site car parks)

www.kiddscakes.co.nz

Baking fresh each day since 1986

BLINDS...Cleaned, Repaired & Restored...

Restore your oiled CEDAR BLINDS with our re-oiling service.

Rejuvenate your lacquered CEDAR BLINDS

High-tech Cleaning

We clean and repair all types of blinds –

Venetians, Cedar, Verticals, Roller, Hollands,

Romans and Pleated – with environmentally

friendly cleaning products.

Temperature Controlled Drying

Re-oiling & Rejuvenating

Fabric Blinds - such as Austrian and

Roman

Same Day Pick Up & Drop Off

We offer a same-day, pick up and

drop off service for most types of

blinds. Bookings are required.

Convenient Location

We are located at 330 Cashel

Street (near the Fitzgerald end),

parking available onsite

Roller Blinds cleaned

from as little as $22

per blind

Ph 377 0770,

330 Cashel St,

Christchurch

www.blindcare.co.nz SCAN QR code for Info >

WE ARE OPEN

Mon - Fri

8.00am to 5.00pm
---
2 Tuesday April 16 2019

Latest Christchurch news at www.star.kiwi

get in touch

from the editor's desk

IT'S GREAT to see people giving back

to the community. Lynne Mytton (front

page) is one of them.

The 67-year-old is a familiar face at

Bishopdale School at 8.30am where she

dishes up breakfast to pupils, with the help of teacher aide

Sharon Cleverly.

Lynne has lived in Bishopdale for many years. She recalls

fondly serving breakfast at home to her own children before

they headed off to the school.

Times have changed though and many schools now serve up

breakfast for pupils – but they need people like Lynne to help

out.

"With full tummies, their brains engage and they start to

learn. If they've got a rumbly tummy they aren't going to learn

anything because they're focused on being hungry," she says.

Good stuff.

– Barry Clarke

GENERAL INQUIRIES Ph 379 7100

CLASSIFIED ADVERTISING Ph 379 1100

Star Media, a division of Allied Press Ltd

PO Box 1467, Christchurch

starmedia.kiwi

NEWS

Jess Gibson

Ph: 021 914 169

jess.gibson@starmedia.kiwi

ADVERTISING

Monique Maynard

Ph: 364 7474

monique.maynard@

starmedia.kiwi

Rodd Gray

Ph: 982 9308

rodd.gray@

starmedia.kiwi

news

Redwood has a voice again

The new Redwood Business and Residents' Association has had

its first meeting.

Page 6

community events

Easter egg hunt

Have some Easter-themed fun today, 10.30am-noon, at the Shirley

Library; 2-4pm​ at Bishopdale Library; 3.30-5pm at Redwood

Library; and tomorrow, 10.30-11.30am, at the Papanui Library.

Page 8

home & living show

Exhibitors book now

Don't miss your chance to showcase your business in front of

more than 10,000 people.

Exhibitors

Book now

Page 24

Don't miss your opportunity to

NOR'WEST NEWS

The showcase best-read your business local newspaper, in front of delivered to

16,717 homes every Tuesday

10,000+ qualified attendees

Harewood, lisa.lynch@starmedia.kiwi Burnside, Bishopdale, or 021 800 Bryndwr, 809 Fendalton, Merivale,

St Albans, Mairehau, Papanui, Casebrook, Redwood, Regents

Park, Styx Mill, Northwood, Belfast, Strowan.

Titled Sections Available Now

03 281 7517 | sections@prof.co.nz | presonspark.co.nz
---
NOR'WEST NEWS Latest Christchurch news at www.star.kiwi

Tuesday April 16 2019 3

News

Pool group fails to get rates reprieve

• By Jess Gibson

A BID FOR a rates remission

at the site of planned Edgeware

Pool has sunk.

The St Albans Pavilion

and Pool Group applied for a

remission for the empty site on

Edgeware Rd as its members

have been paying

from their own

pockets since

purchasing the

land in 2016.

Rates

remissions

are granted to

Karleen

Edwards

not-for-profit

community

organisations

which provide a public good

through the use of their land.

City council chief executive

Karleen Edwards declined the

application from the group, which

is a registered charity, as the land

is not open for public use.

St Albans Pavilion and Pool

spokeswoman Valerie Somerville

said the application was an

attempt to relieve some pressure

while the group tries to reinstate

the pool, which was demolished

in 2007.

"We accept the reason for

the council's decision and are

very grateful for the (Papanui-

Innes) Community Board's

support in suggesting other

PLANS: The St Albans Pavilion and Pool Group is paying rates for the empty land on Edgeware

Rd where it plans to build the Edgeware Pool.

PHOTO: APOLLO DESIGN

options to apply for funding,"

said Mrs Somerville.

The community board received

a letter from Dr Edwards

informing members about the

decision after it wrote to the city

council in support of the group's

application.

Dr Edwards acknowledged

the group is doing good work

and said the city council would

be "happy to accept a further

remission application once the

site is open."

In 2016, the city council sold

the land for the Edgeware Pool to

the St Albans Pavilion and Pool

Group for $1.

The city council stated at the

time it would not contribute to

the project, but later said it would

commit $1.25 million if the

group could raise the rest of the

$5 million cost.

So far, about $170,000 has

been raised for the project,

which has been used to cover

costs including resource consent

and developing a design plan.

The project is in its feasibility

stage, which will assess the

practicality of the pool designs

and determine whether it is an

asset to the community.

After this, the group can apply

for money from major charitable

funding groups.

•If you want to donate to

the Edgeware Pool rebuild,

visit https://givealittle.co.nz/

cause/edgewarepool

Local

News

Now

In Brief

Fire rages, homes at risk

FEEDBACK ON $1M TOILETS

The city council received 49

submissions on the $1 million

toilet blocks proposed for Roto

Kohatu Reserve in Harewood.

The public provided feedback on

the designs for two separate toilet

blocks to go next to the popular

Rua and Roto Kohatu lakes. A

summary of the feedback will be

available once staff have replied to

the submitters.

POLICE STATION REOPENS

The front counter at the Papanui

Police Station re-opened on

Wednesday. All front counter

services, other than the

Christchurch Central Police

Station, were closed after the

March 15 terror attack. The

number of police staff involved in

the response to the attack meant

services were reduced. Due to

operational demand, each stations

opening hours may vary.

NIGHT ROADWORKS

Another round of roadworks

is taking place at the Cranford

St and Innes Rd intersection

between 7pm and 6am. The

Christchurch Northern Corridor

Alliance team was due to start

an upgrade of the stormwater

network on Sunday and plans to

finish on Friday. ​The footpath is

closed and diversions are in place

for pedestrians.

Discover Christchurch's

best pet

accommodation

• Daycare - all breeds

• Long stay/short stay

Call now to

book in your

fur baby,

inspections

welcome

anytime!

ALAMEDA

The revolution

in heat pumps

is here now!

KENNELS & CATTERY

271 Dyers Road | Ph 384 1297

www.alameda.nz

The revolution in heat pumps is here now!

The Fujitsu e3series

The brilliant

heat pumps from Fujitsu

e1 : efficiency

e2 : environment

e3 : economy

'CEREC' & cosmetic dentistry

Wisdom tooth removal

Painless, high quality dentistry

Sedation dentistry

Experienced, conscientious team

Experienced hygienists

OPEN SATURDAYS

355 9380

144 Cranford Street

www.stalbansdentalcentre.co.nz

The brilliant e3 series

heat pumps from Fujitsu

e1 : efficiency

e2 : environment

e3 : economy

Website: www.pshc.co.nz

NEW ZEALAND'S FAVOURITE AIR

Fujitsu's Catechin Filters are

approved by the Asthma and

Respiratory Foundation NZ's

Sensitive Choice ® programme.

FREE consultation from your local

Accredited Heat Pump Expert

Phone today: 03 381 6950

INSERT DEALER DETAILS HERE

Email: info@pshc.co.nz
---
4 Tuesday April 16 2019

Latest Christchurch news at www.star.kiwi

NOR'WEST NEWS

Don't Miss...

Northwest Christchurch's

14th Annual Rotary

Bookarama

3 DAY SALE

26th - 28th April, 2019

Friday 10am-7pm

Saturday 10am-6pm; Sunday 10am-3pm

LOCATION

YMCA: Bishopdale

50,000 books on sale

PLUS Jigsaws, Games, CDs, DVDs,

Vinyl Records

Books priced from $1.00 to $3.00

EFTPOS

AVAILABLE

All books are donated - fresh stock every year.

Books are clean and tidy, something for everyone.

All proceeds to Rotary Community Services

Club of

Bishopdale

Burnside

$600,000 has been channelled into

community services by Rotary

WE HAVE BEEN SUPPORTING OUR COMMUNITY

FOR 45 YEARS — SERVICE ABOVE SELF

Follow us on Facebook, type in BOOKARAMA Event

www.bishopdale-burnside-rotary.com

• Community

Service

• Friendship

• Business

Networking

• Personal

Development

• Fun Doing It
---
NOR'WEST NEWS Latest Christchurch news at www.star.kiwi

Tuesday April 16 2019 5

News

Local

News

Now

Parking limits should boost business

Fire rages, homes at risk

• By Jess Gibson

PARKING restrictions could

lead to a much-needed boost in

business for a block of shops in

St Albans.

Ten car parks on the northern

side of Malvern St between

Rutland and Gossett Sts will

get 60min limits, while two

car parks on Rutland St near

the entrance to the Canterbury

Rugby Union's car park will get

30min limits.

The Papanui-Innes

Community Board approved the

decision to put time restrictions

on the car parks, which currently

have no limit. It aims to provide

higher turnover parking for

customers using the Rutland St

shops.

Shop owners suffered a

downturn in business in

2017 after the installation of

the Papanui Parallel Cycleway

removed about 50 per cent of the

car parks along Rutland St.

There are currently only seven

restricted 15min parking spaces

outside six shops, the rest are allday

car parks ,which are usually

taken up by CRFU members and

staff.

Coco Gifts owner Liz van

Monfort said she noticed a 20 to

30 per cent downturn in business

after the major cycle route was

Bishopdale Library floor repairs to cost $30k

•From page 1

The $1.2 million library rebuild

budget was increased by almost $2

million to ensure the building was

up to standard.

In January, city council

community libraries manager

Erica Rankin said the cracks were

considered safe but were being

fixed as the damage was noticeable

to visitors.

She said there is a high

likelihood of more shrinkage

cracks in other parts of the

building, but these could be

covered by floor materials.

Repairs were made to the floor of

UPTURN: Coco Gifts owner Liz van Monfort gives a big thumbs up for the installation of 12

restricted parking spots outside her store.

PHOTO: MARTIN HUNTER

put in. "(The parks) will be a

great boost for daily business,"

said Ms van Monfort.

Susan Ross, who owns the

Susan Ross uniform shop, said

parking has been a "nightmare"

the assembly hall in January while

the main library remained open.

But the city council has

decided to close the building

while the entrance is fixed as the

expected noise and dust would be

unpleasant for the public.

The closure is timed to

coincide with the Easter and

Anzac Day.

Library items can still

be returned to Bishopdale Library

while the building is closed.

The closest alternative libraries

are the Papanui Library in

Langdons Rd and Redwood

Library in Main North Rd.

and the changes are a positive

outcome. Rutland St Dairy

owner Jackson Zhang said he

suffered a downturn of about

40 to 50 per cent following the

cycleway changes.

Mr Zhang has also faced an

ongoing problem with people

disregarding the current 15min

restrictions, so the board has

asked the city council to consider

enforcement signs.

The city council sought

feedback from affected residents

and businesses on Rutland and

Malvern Sts on the proposed

changes in November and

received 63 submissions. Of 44

submissions which opposed the

changes on Malvern St, 38 were

from people associated with

CRFU and the remaining six

were unidentified. The majority

of these submissions supported

the changes to the two parks on

Rutland St. One submission said

60min was not long enough for

people going to meetings or for

training sessions at Rugby Park,

while another said rugby players

would need to park further away.

City councillor Mike Davidson

said the "strength in numbers" of

the CRFU's submissions needed

to be taken into consideration

when looking at the benefits to

the wider community.

A CRFU spokesperson said

the "decision-making process is

ultimately with the council."

Two other options were

considered by the board –option

one was to provide 10 60min

car parks on Malvern St and six

30min car parks on Rutland St,

which would have removed all

of the all-day parking between

Innes Rd and Malvern St. Option

three was to do nothing.

DAMAGE:

Ratepayers

will pay

to repair

cracks in the

floor of the

Bishopdale

Library.

CAMERON BAILEY

Testimonial

"Hi Cameron and team, we were blown away by the result.

We realise that a lot of work, strategy and planning has gone

on, and this goes a long way to getting a sale and good result.

We are very thankful to you all! Thanks once again"

Jan and David

NO.1 HARCOURTS CANTERBURY 2012-2018

NO.1 HARCOURTS NEW ZEALAND 2017-2018

NO.1 HARCOURTS INTERNATIONAL 2017-2018
---
6

Tuesday April 16 2019

NOR'WEST NEWS

Latest Christchurch news at www.star.kiwi

News

McMaster & Heap

Veterinary practice

Bilateral anal Gland SurGery

Anal gland issues are

common problems

we see in our canine

patients today. The

anal gland has no

real function except

it's the dogs "special

scent" or parfum.

This secretion has a

distinctive fish smell

to it making it very

unpleasant for us,

plus its heaving with

bacteria! Not a good

look or smell on the

new sofa.

Dogs present

because of pain and anal irritation leading

to scooting, licking or biting of the area.

Often it's too painful for these dogs to toilet

so they become constipated. Severe cases

become infected and the anal sacs swell and

can eventually burst, discharging pus either

outwardly or inwardly around the perineum.

Occasionally anal sac fistulas develop which

persist for ages. Impaction of anal sacs can

lead to toxaemia and dermatitis. Some dogs

present because they leak anal gland fluid

constantly which becomes very difficult to live

with if your dog is an indoor pet.

No one really knows why anal glands become

a problem. Some cases present due to

diarrhoea, constipation or anal sphincter

laxity. Some cases are related to anal duct

obstruction which leads to infection,

abscessation and sometimes rupture of the

sac. Other cases are due to hypersecretion

which can happen with food allergies, thyroid

diseases and infectious skin disease.

Whatever the cause, my job is to rectally

express them which isn't particularly nice for

the patient as often by this stage they are

painful. It is a procedure mostly I can perform

awake.

If the anal sacs are infected I either prescribe

antibiotics systemically or I instill an antibiotic/

anti-inflammatory ointment into the sacs for

2-3 treatments. Sometimes a prescription food

is recommended ( either for food allergies or

a diet high in fiber) and revisits are advised to

check the sacs.

In chronic, recurring and difficult cases that

don't respond to

medical therapy,

often the best

option is bilateral

surgical removal.

This option can

completely eliminate

the disease and

make the owners

and dogs' life far

more bearable. Dogs

can live without

these anal sacs – it's

just a fiddley surgery

and great care has

to be taken when

working around the

anus to avoid incontinence issues.

I have had lots of practice removing anal

glands over the past 30 years – so much so

that I get referrals from other clinics.

Juno, a young Labrador cross is having

bilateral anal gland surgery. Juno presents

every 2-3 months with anal glands that just

leak and wreek everywhere. They are not

infected nor painful to squeeze. She has

received various medical treatments and is on

a Royal Canin hypoallergenic diet, but nothing

seems to help.

The surgery takes roughly 60-90 minutes,

because I am very careful around this delicate

area. Juno is maintained throughout the

surgery on intravenous fluids and Megan

my surgical nurse is monitoring all her vitals

(heart rate, temperature, respiratory rate, body

temperature and oxygen saturation) to ensure

a safe anaesthetic and quick recovery.

Juno was a star patient and the two anal

glands were removed. She was discharged

on antibiotics, pain medications and local

anaesthetic cream to apply to the surgical

area. I recommended an E collar to wear

initially to stop her worrying her surgical site

and a soft diet 5 days post surgery.

My advice is – don't struggle with this

problem in your family cat or dog as it's

not going away. These glands have no vital

function and can be removed safely and

effectively in the right surgical hands, leading

to a better quality life without the nasty

smells!!

Dr Michele McMaster

Redwood has a voice again

• By Jess Gibson

THE WHEELS are

in motion at the new

Redwood Business and

Residents' Association.

About 20 residents,

business owners, church

members, community

workers and Papanui-

Innes Community Board

members attended the

group's first meeting at the

Christchurch Function

Centre last week.

The former Redwood

Residents' Association

went into recess eight years

ago.

Past secretary Gayle

Freeman said it was the

right time to reform a

community group. "There

is a real hunger to see what

we can make Redwood

into," she said.

The previous association

was active for about seven

years before the February

Getting kids off to a good start

•From page 1

Bishopdale School

receives the donated food

from Fonterra, Sanitarium

and KidsCan.

At the school, the

breakfast club is open to

all pupils rather than just

those who need to be fed

and is even on offer for

parents who come in with

their children.

Before the breakfast

club, Mrs Mytton was a

22, 2011, earthquake.

Redwood Hotel owner

Alison Hume was one of

three people who set up the

meeting to see if there was

any interest in restarting a

group, which would meet

regularly to talk about

Redwood.

Ms Hume was "really

surprised" with the

turnout. The group talked

about the area's needs –

including a community

hall, adequate facilities,

more resources, events

and making the suburb

enjoyable for young people.

She said there was

a positive discussion

about "the importance of

ensuring Redwood is a

welcoming, inclusive place

for people to live".

Creating a more

village-like area has been

suggested as a result of the

Christchurch Northern

Corridor's effects.

volunteer for the milk in

schools programme while

her grandchildren were at

Bishopdale School.

When Mrs Cleverly

asked Mrs Mytton to help

her start up the breakfast

club in 2017, she jumped on

board.

"I love seeing the kids

laughing and happy

because they are being fed

and it's so nice seeing them

interacting around the

DISCUSSION:

About 20

people

were at the

Christchurch

Function

Centre for

the first

Redwood

Business and

Residents'

Association

meeting.

Ms Hume said the group

is due to meet again in a

month to discuss how it

will move ahead and there

will be an opportunity for

people to step forward into

leadership roles.

No capital projects are

planned for Redwood in

the city council's Long

Term Plan 2018-2028.

But city councillor

Mike Davidson said the

group can partner with

the community board to

advocate to the council.

"The group can use this

as an opportunity to see

what's needed," said Cr

Davidson. ​

When the previous

association was active,

it was instrumental in

keeping the Redwood

Library open, making

traffic improvements and

the ensuring Graham

Condon Recreation and

Sports Centre was built.

table," she said.

"It's very rewarding.

You're helping them in a

small way but it makes a

big impact."

Bishopdale School

principal Sue Fisher is

thankful to have volunteers

who run the programme.

"We have to thank them

wholeheartedly for their

time. They take the time

every day to come in," said

Mrs Fisher.

Open 7 days

Cnr Hoon Hay & Coppell place

phone 338 2534, Fax 339 8624

e. mcmasterandheap@yahoo.co.nz

www.mcmasterheap.co.nz

McMaster & Heap

style

noun

elegance and sophistication.

synonyms: flair, grace, poise,

polish, suaveness, urbanity,

chic, finesse, taste, class,

comfort, luxury, affluence,

wealth, opulence, lavishness.

MAGAZINE

STYLE.KIWI

Home & Business Security • Cameras • Gates & Fencing

Access Control • Alarm Monitoring • Home Automation

Alarms Electrical Cameras Intercoms Auto Gates

Residential and Business Security

Tailor Made Security Solutions

All Your Electrical Needs

Custom Designed Automatic Gates

Innovative Intercom Systems

Pet Friendly Sensors

Security Cameras

Access Control Systems

Electric Fencing

Service and Maintenance

24/7 Fault Service

Locally owned and operated

All faults attended that same day

FREE QUOTES

P: (03) 384 0995 24/7 E: info@actionsecurity.co.nz

www.actionsecurity.co.nz
---
NOR'WEST NEWS Latest Christchurch news at www.star.kiwi

Tuesday April 16 2019 7

ADVERTISEMENT

"It's fresh and it feels like home"

Colleen Shah loves the

ease with which she can

keep in close contact with

friends and extended family,

while living at Ngaio Marsh

Retirement Village.

Her apartment offers a

beautiful view out to the

village gardens, and is located

in a quiet part of Papanui in

the heart of Christchurch.

Colleen can easily drive to

Merivale and other nearby city

suburbs, before returning to

the sanctuary of her serviced

apartment. "It's clean and it's

fresh and it feels like home."

Home is important to

her. Colleen has had an

adventuresome life including

living for a good spell in

India, where she mixed with

politicians and diplomats.

She originally trained in

Wellington in the diplomatic

service and was posted to New

Delhi. Her husband Vinay

Shah, who was an aspiring

politician, died in a plane

crash in 1976. In her serviced

apartment she has a photo

album of her wedding day

on Christmas Eve 1969. The

photo of her table of guests

including such dignitaries as

Indira Gandhi.

Colleen previously worked

in foreign affairs in Wellington

before that posting, but

remains a Cantabrian at heart.

She likes the options of

either joining in community

activities, relaxing at home

or heading out for an

appointment or to see friends.

Her own family, including

Serviced apartment resident Colleen Shah with sales advisor Marie Kyle-Stevenson

her daughter who lives in

Perth, know she is in a lovely

environment and can choose

to visit her whenever they

want. She has two stepchildren

living in India.

The staff at the village

have completely won her

over with their charm and

caring attitude.

The village provides

independent living in a

townhouse, assisted living in

serviced apartments, and the

very best of resthome and

hospital care. The village is

peaceful and conveniently

located close to both Merivale

and Northlands malls and the

central city.

Facilities include an allweather

bowling green, indoor

heated swimming pool, spa,

atrium, gym, hair salon, bar,

library and shop. "I spend

a lot of time in the library

here, which is a nice part

of the central building. I'm

often sitting there reading

The Press."

Outside is the croquet lawn

and of course the gardens.

"One of the wonderful things

about the village has been the

display of impatiens owers in

pink and orange. Our residents

can see these brilliant colours,

and they take pleasure in

being able to see owers when

they go out," Colleen says.

Colleen says the facilities are

great and the gardens give a

real sense of space and beauty

to the living environment. She

also loves the quality of the

meals provided in the village.

She had previously lived in

her own apartment in Carlton

Mill Road, then made a move

to a central village before

coming to Ngaio Marsh.

She is very happy to

have two friends from

her last village now living

on the same serviced

apartment floor as her. Sales

Advisor Marie Kyle-Stevenson

says Ngaio Marsh is a very

attractive option for people

looking at retirement villages,

particularly given its

central location.

It has a great layout

including beautiful green

spaces to provide both a visual

delight and space for the

village community to enjoy

outdoor events. "It's spacious

and there are a good number

of walks near the village,"

Marie says.

"There's a walk that goes

right up the west edge of the

village up to Northlands Mall,

and there's another great walk

that takes them to a café."

Although the village is

close to a lot of amenities, it's

tucked away location means

that residents enjoy peace and

quiet in a friendly community.

Studio serviced

apartment

available now!

Have the independence of your

own home, and a little extra help with

meals and housekeeping.

Priced at $335,000

For more information

phone Marie on 354 6608

95 Grants Road, Papanui
---
8 Tuesday April 16 2019

Latest Christchurch news at www.star.kiwi

News

• By Jess Gibson

THE CHRISTCHURCH City

Chorus has its sights set on New

Orleans.

The choir of 140 women will

represent New Zealand at the Sweet

Adelines International competition

in the United States in September

after winning the national heat for

the 11th time.

It won't be the first time the group

has performed at the competition –

the choir has previously taken the

stage in San Antonio, Hawaii and

Indianapolis in the United States, as

well as Calgary, Canada.

In its most recent trip to Las Vegas

in 2016, the choir finished fifth in

the world at the competition.

But director Virginia Humphrey

is hoping to do better at this year's

competition.

Coaches will fly over from Los

Angeles, Sweden and Seattle to train

the choir before it heads to New

Orleans.

Mrs Humphrey said the group

could go every year if it wanted but

aims for every three years due to

the high cost of the trip. The choir

will showcase jazz, popular New

Zealand music, ballads and swing at

a southern-style-themed fundraiser

on April 28.

The money raised will go towards

accommodating two Swedish singing

coaches during the trip, hiring

stage equipment and flying props

over.

The choir will donate 10 per cent

of its proceeds to the Muslim Association

of Canterbury after the

March 15 terror attack.

The group will be judged on

sound, music, expression and showmanship

at the competition.

Mrs Humphrey formed the group

in 1985 after being part of a barbershop

chorus in Canada.

"I loved it so much I came home

and started a chorus here," she said.

The group has since won every

national competition it has entered

since 1987.

The fundraiser on April 28 will

showcase two a cappella shows at

2pm and 7pm at Harmony Church​,

220 Antigua St.

NOR'WEST NEWS

Local

News

Now

City chorus to perform on world stage again

CHAMPS: The Christchurch City Chorus, which is led by director Virginia Humphrey-Taylor,

will travel to New Orleans for the Sweet Adelines International competition in September.

Fire rages, homes at risk

Mobile Discovery Wall

Every day, except Friday this

week

Head down to Papanui

Library to see the Mobile

Discovery Wall – a touchsensitive,

digital representation

of Christchurch that lets you

swipe your way through a virtual

world of photos, videos and

information. This event runs all

day and is free of charge.

Papanui Library

GenConnect

Today, 12.15-12.45pm

If you have questions about

your iPad, smartphone or tablet,

head down to GenConnect where

Papanui High School students

will help you for free.

Papanui Library

Email jess.gibson@starmedia.kiwi by

5pm each Wednesday

Scrabble Club

Today, 10.30am-noon,

Wednesday, 1-3pm and 1.30-

3.30pm

Play Scrabble with a friendly

group. Just head down when you

can – no bookings required. All

materials are supplied at this free

event.

Today at Redwood Library,

tomorrow at Bishopdale and

Shirley libraries

JP Clinic

Today, 10am-1pm, Tomorrow,

10am-1pm, Saturday 10am-noon

A justice of the peace will

be available to members of

the community to witness

signatures and documents,

certify document copies, hear

oaths, declarations, affidavits

or affirmations, as well as sign

citizenship, sponsorship or rates

rebates applications. No charge.

Today and Saturday at Papanui

Library, today at Shirley Library,

tomorrow at Bishopdale Library

Knit 'n' Yarn

Today, 1-3pm, Tomorrow,

1-2.30pm

Take your knitting, crochet or

another craft project and have

fun with this social group. This is

a free, drop-in event.

Today at Bishopdale Library

and tomorrow at Redwood

Library

EGG HUNT: Hop down

to your nearest library

for some Easter-themed

fun. Have a good time sharing

stories, creating crafts and

taking part in an Easter egg

hunt. The free sessions will

be held today, 10.30am-noon,

at Shirley Library; 2-4pm​at

Bishopdale Library; 3.30-5pm

at Redwood Library; and

tomorrow, 10.30-11.30am, at

Papanui Library.

Makerspace

Today, 3.30-4.30pm

Join in the fun activities every

week at the Makerspace sessions.

There will be creative and/or

tech activities to try and fun to

be had for kids of all ages. No

bookings required for this free

event.

Redwood Library

Reading to Dogs ​

Today, 3.30-4.30pm

Reading to Dogs is designed

to provide a relaxed, nonthreatening

atmosphere which

encourages children to practice

and develop a love of reading.

This programme​ uses dogs

which are pets of the city council

animal management team.

Registration is required for this

free event.

Today at Shirley Library

Mahjong Group

Saturday, 2-4pm, Monday,

2-4pm

If you are interested in playing

mahjong or would like to learn to

play, head down and have a go. If

you have your own set, feel free to

take it along. This is a free event.

Saturday at Shirley Library

(registrations required) and

Monday at Papanui Library

(drop-in)

Ozobots

Thursday, 10.30am-noon

Create your own basic coding

pattern using special markers

to guide ozobots around a path.

This is an informal, drop-in

session to have a look at how

ozobots work.

Redwood Library

Weight Management and

Wellness Centre

We provide comprehensive, medically

supervised, non-surgical weight management

and wellness treatment programs for adults.

We are dedicated to improving the health and wellbeing

of our patients through individualized weight management

treatment programs.

Get in touch with us today!

Shop 6, 42 Silverstream Blvd, Kaiapoi

(Just 15 minutes from Christchurch Airport

with convenient parking)

Phone 03 327 2273

www.girouardcentre.co.nz

now open

liquiD

SeLF Service

LaunDroMatS

345 sTANMORE ROAD, RICHMOND

261 BuRwOOD ROAD, BuRwOOD

All sites open 7 DAYs, 5Am-11pm

WaSH 2 Mink

BLanketS or

DuvetS

For onLY $8

Hot Water &

extra LarGe

WaSHerS

avaiLaBLe

Dry up to 14kg from

$4 in only 25 minutes!

Save time &

electricity

WaSH & DrY

aLL Your

LaunDrY in

unDer 1 Hour

from

$

4.00 WASH $ 4.00 DRY

• Fast Dryers

• Sports Gear

• Duvets

• Mink Blankets

• Bedding

• Washers

• Domestic Laundry

over 70 locations nationwide

Other Locations: Sydenham • Hornby • Hoon Hay • Woolston • Aranui • Rangiora

www.liquidlaundromats.co.nz
---
NOR'WEST NEWS Latest Christchurch news at www.star.kiwi

Tuesday April 16 2019 9

hygge at home

[pronounced hue-guh ]

It's definitely got me thinking. This month instead of

writing (which to me is talking) about property in its

usual commercial and clinical way, I've decided to

explore the deeply satisfying concept of what a home

is. What makes us rush home, why some homes

engage you at every level and how this deep sense of

comfort and safety are important because they are.

Last year I was introduced to the concept of Hygge.

Usually I struggle with concepts with words I find

difficult to say but this word stems from the Danish

representation of what is "cozy".

It's not a formal method of living, it doesn't dictate or judge, it

merely encourages you to know or find what is comforting and meaningful

then ensuring the essence of this is part of your home life.

The consistent elements of this sit as easily in a Kiwi lifestyle as a

Scandinavian one and includes: enjoying or being close to nature, creating

intimate cozy spaces, having meaningful items in your home rather than

massive amounts of stuff or clutter (that's me challenged!) and finding joy in

the simple things.

With all of this in mind, I thought I'd share some of my own Hygge

interpretations and ways in which I enjoy bringing a strong sense of home

and family into my life.

• Blankets, I love them everywhere and not just for decoration but for

warmth, snuggling and occasionally as a quick cloak walking from one part

of the house to another.

• Big couches that you can lie on or fall asleep in. Not those tiny little things

that you just fit on with your back straight and your feet tucked in.

• Candles, flowers and lamps. No surprises here and if there's nothing

at the markets I'll forage leaves and random bits of greenery. All of these

provide me with a sense of peace and respite.

• Pictures of my family, if there was a fire I'd grab my framed pictures and

feel grateful.

There you are. I live much of my life in the world of real estate.

I'm constantly interpreting or being asked to explain its nuances.

The Christchurch market going into winter, this winter needs a clear head

and a strong sense of purpose that's why celebrating the gentle rhythms of

your own home is important for me and no doubt you.

Happy April, try Hygge.

Lynette McFadden

BUSINESS OWNER HARCOURTS GOLD

HARCOURTS NZ INSPIRATIONAL

WOMEN AMBASSADOR

PAPANUI 352 6166 International Division (+64) 3 662 9811

REDWOOD 352 0352 PARKLANDS 383 0406 NEW BRIGHTON 382 0043 GOLD PROPERTY MANAGEMENT 352 6454

FOLLOW US ON
---
10 Tuesday April 16 2019

Latest Christchurch news at www.star.kiwi

NOR'WEST NEWS

Keep

STOCKTAKE CLEARANCE

20-60 % OFF

your

bunny

happy this

Easter

IMPERIAL, CREAM

30% OFF

So comfortable and

so relaxing

Massive savings on

all Stress Free and

Zedere Chairs

ALL FLOOR STOCK BEDS

50% OFF

ALL SLAT BEDS

REGAL, MOCHA

60% OFF

ALL ACCESSORIES

Stress Free Chairs are all $1599

and Zedere Chairs $1999

40% OFF

ALL OUTDOOR

SIMPLYFURNITURE.CO.NZ

SIMPLYFURNITURE.CO.NZ

484 Cranford Street, Christchurch - 03 354 5026 | 12 Hawthorne Drive, Queenstown - 03 442 3435
---
nor'WEst NOR'WEST nEWs NEWS Latest Christchurch news at www.star.kiwi

Tuesday [Edition April 16 datE] 2019 27 11

It's

happening

at the...

Bishopdale Village Mall

Popular pharmacy

offers much more

than expected

As residents of Bishopdale and the

surrounding areas know, they can rely on

the friendly pharmacists and retail team at

Unichem Bishopdale Pharmacy for all their

pharmaceutical needs as well as health,

personal care and beauty products and

advice.

However, there is much more on offer at

this popular pharmacy, with one of their

key features being the extensive selection of

fashion scarves.

"We are well-known for our scarves

and we sell hundreds every month," says

business owner Maria, who runs the

pharmacy in partnership with Amanda and

Anna.

"Our retail manager goes to three gift

fairs a year and sources the very latest in

colours and designs for our customers.

They are mostly one-offs, however there is

often the potential to re-order if a customer

misses out on a particular one they like."

A number of the retail team members

have particular talents for colour matching,

and can help customers choose the

right scarf for their personal style and

colouring, and also show them different

ways to tie and wear scarves, Maria says.

Prices range from $11.99 up to $100 for

the most luxurious designs, with most of

the scarves priced around $20.

A new range of ponchos has arrived at

Unichem Bishopdale – just in time for

the cooler weather. Priced from $30 to

$120 these come in a variety of fabrics and

shades, including merino, and are a very

popular, easy-to-wear fashion item.

Another reason why customers keep

coming back to Unichem Bishopdale is

their extensive range of gift items.

"The feedback we get from people is that

they always seem to find what they want,

and in their price range," Maria says.

Added to that is the complementary

gift-wrapping service, she says.

"Customers can walk in, find just what

they're looking for, have it beautifully

gift-wrapped and walk out ready to go."

When it comes to health and wellness,

Beautiful Scarves

foreveryone

• Fabulous range of colours

• Affordable prices, $11.99-$100.00

• New season's ponchos

Be in quick – won't last

long at these prices!

Bishopdale Pharmacy

Unichem Bishopdale values natural health

products, particularly the Go Healthy

range, including Glucosamine, Magnesium

and Fish Oils, which they are proud to be

able to offer their customers at some of the

best prices in town.

Glucosamine can assist with joint

mobility, Magnesium has a number of

potential benefits including improvement

to muscle, bone and nerve health, while

Fish Oils can improve joint, heart and

mental function.

If you are unsure what products would

be most helpful for you, have a chat to

the team. They have the knowledge and

understanding of a range of natural health

products to provide the right advice for

every individual.

Unichem Bishopdale Pharmacy is

conveniently located in the Bishopdale

Village Mall. Opening hours are Monday

to Friday 8.30am-6pm, Saturday

9.30am-4pm. Phone 359 8302. www.

bishopdalepharmacy.co.nz

37 Bishopdale Court, Bishopdale | Phone 03 359 8302

Ma Baker - your local

Kiwi bakery

They say that if you want to know the

best place to find a great bakery, follow the

locals, and in Edgeware and Bishopdale,

you'll find both the residents and those

working in the area are regularly heading

straight for Ma Baker.

Their yummy food options in-store can

be described as honest Kiwi tucker and

there's something for everyone. Everything

is baked daily by their team of bakers, from

the fresh bread displayed in store which

is also used in their sandwiches and rolls,

to their delicious and so-moreish cream

cakes, scones and slices. It's a perfect spot

to call in for lunch or afternoon tea with

friends, to share a cuppa and a cake with

someone special, or for tradies to fill up

on their large selection of pies, stuffed

sausages, toasties, buns and donuts, and

they can be comfortable knowing they are a

tradie/hi-vis/workboots-friendly bakery. It

is also a popular spot for business people to

hold casual weekly meetings.

When cooking a meal is too much after

a busy day, parents can select something

from their large deli-bars and take home

large-sized bacon and egg or family meat

pies or pizza breads with fruit pies to follow

– their budget-friendly prices mean that

take-out or eating out doesn't need to be

a weekly treat any more. Their savoury

Pamper

yourself

for Mother's Day

• Facials

• Full body massages

• Manicures

Euphoria

body & beauty clinic

packs, authentic Southland cheese rollups,

biscuits made with real butter, cream

sponge rolls, iced madeira cakes, tarts

and slices are also ideal if you are having a

family get together , party or even just a few

friends round to watch the footy.

Ma Baker is one- hundred percent Kiwi

owned and operated by Paul and Nicky,

who opened their first bakery in 1995 and

still have a faithful following of regulars

– no surprise when they have continued

their winning formula of a welcoming

environment with excellent customer

service, a wide selection of affordable food,

matched with delicious hot coffee or tea

and convenient parking.

Find them at 135 Farrington Avenue,

Bishopdale and 1066 Colombo Street,

Edgeware.

Selling delicious, original Kiwi cuisine, baking fresh daily.

See in store for

our delicious

Hot Cross Buns!

EDGEWARE VILLAGE 1066 Colombo St, Ph. 365 0802

BISHOPDALE VILLAGE MALL 135 Farrington Ave, Ph. 359 1020

OPEN 7 DAYS 7.00AM - 5.30PM

• Pedicures

• Eyebrow tinting

• Eyelash tinting

• Waxing

• Men and women

welcome

Harewood Road, Bishopdale (inside the YMCA)

Phone 359 3445

www.euphoriabodybeauty.com
---
12 [Edition Tuesday datE] April 16 2019

Latest Christchurch news at www.star.kiwi

1

SCHOOL OPEN DAYS

NOR'WEST NEWS

Catholic Cathedral College

To Live By Faith

Catholic Cathedral College is first and

foremost a Catholic school and for 150

years Catholic children of Christchurch

have been educated on this site. We aim

to produce graduates who are confident,

compassionate, connected citizens, willing

to make a positive contribution to our

society with a focus on faith, justice and

equity.

As the only co-ed Catholic College in

Christchurch, with a vibrant mix of

ethnicities, we offer excellent preparation

for life. We have a strong focus on our

bicultural heritage and all students from

Year 7 to 10 learn Te Reo Maori.

We encourage our students to strive

for excellence and have had sustained

excellent academic results over recent

years for all students, across all levels of

NCEA. We recently won the

highly coveted Bishop Lyons'

Shield, a public speaking and

debating competition for the

seven Catholic secondary

schools in the Diocese.

Our Vocational Pathways

programme offers individualised

programmes giving students

access to a range of tertiary

providers.

If you are looking for a Catholic

faith-based education, please

visit us on our Open Evening

on Thursday 23 May, 6.30-8pm

and experience the special

atmosphere and sense of family

that is so evident.

Open Evening Thursday 23rd May, 6.30-8.00pm

www.cathcollege.school.nz | 62 Ferry Road | Tel: 982 1690
---
2

NOR'WEST [Edition NEWS datE]

Latest Christchurch news at www.star.kiwi

Tuesday April 16 2019 13

SCHOOL OPEN DAYS

All New for Avonside

at Ōrua Paeroa

A new school, a

new location, and a

new uniform! What

a fabulous year for

Avonside Girls' High

school as a new chapter

in the school's 90 plus

year history is written

this year. As Avonside

Girls' High School moves into its new

home on Travis Road at the beginning of

term 2, it will take with it its traditions,

culture, history and values and its focus

on working with every student to help

her identify her strengths and develop

her talents so that she can flourish in her

future.

Just over 1000 girls will move onto the

new site in Travis Road and experience

learning in New Zealand's newest

secondary school buildings. The campus

which also includes a satellite unit of

Ferndale School, is New Zealand's first

ever co-location of a state girls' school and

a state boys' school sharing the same site

and some key facilities and yet delivering

teaching and learning within their own

single-sex learning environments.

One look inside the impressive entrance

foyer reveals an exciting campus with

fabulous facilities to enhance learning for

students.

In the front section of the school lie the

shared facilities, boasting the reception

and administrative centre for both

schools, a spacious library, a cultural

space, two theatres, a cafeteria with indoor

and outdoor seating, and student kitchen

facilities alongside a commercial kitchen

for teaching senior Hospitality courses.

The design of the school then separates

into two separate schools each designed

around its own courtyard. The school

is organised by learning areas, denoting

the school's support of subject discipline

knowledge and skills, yet with adjacencies

that provide opportunities for learning

to be connected across learning areas for

students.

Avonside supports the development

of the whole student with a strong

ako programme delivered within a

vertical form structure and wonderful

opportunities for involvement beyond

classroom learning time. The superb

facilities in the new campus certainly

enhance those opportunities for our

students.

Avonside Girls' High School has

embraced this opportunity to provide this

exciting new brand of 21st century style

single-sex education – the best of both

worlds!

Shirley Boys' High School

at Ōrua Paeroa

Finally after 8 years

of unstinting effort,

Shirley Boys' is in its

new home, one that

features state of the art

facilities for teaching

and learning in the 21st

Century.

The new

campus features a

Performing Arts Centre, full size all

weather turf, sports fields, the largest

school gymnasium in the city as well

as traditional classrooms and modern

flexible spaces designed to meet the needs

of all of its 1250 young Shirley men.

Shirley Boys' High School,

Kiwi Soul Global Vision

At Shirley Boys' High School, students

are encouraged to participate in a vast

array of sporting and cultural activities

and in all of these areas they are expected

to prepare themselves for action and

success on the world stage, while also

being encouraged to retain and strengthen

their own cultural roots.

Shirley Boys' High School encourages

students to strive for personal excellence.

Learning occurs both inside and outside

the classroom, reflecting the desire of the

school to focus on teaching the whole

person to ensure a lifelong desire for

self-improvement. At Shirley Boys' this

is known as "BTB – Better than Before".

BTB leads to achievement, which can

be as modest as getting fit for a sport or

improving a test score or learning to sing

in a choir. BTB can also be as spectacular

as achieving a Premier New Zealand

Academic Scholar Award (awarded to the

Top 10 academic students in NZ).
---
14 [Edition Tuesday datE] April 16 2019

Latest Christchurch news at www.star.kiwi

3

SCHOOL OPEN DAYS

Christchurch Girls' High School

Te Kura o Hine Waiora

Founded in 1877, Christchurch

Girls' High School - Te Kura o

Hine Waiora benefits greatly

from 140 years of proud

educational achievement. It is

a learning environment that

values its rich tradition while

embracing innovation and

adapting to the modern world.

It is a place where each girl is

challenged to be a discerning

thinker, who is comfortable with

the concept of hard work and is

open to possibility.

All the programmes at

Christchurch Girls' High School

are designed with girls in mind.

We want our students to explore

the possibilities that are on offer so that

when they leave school they will have

choices and can determine their own

future and not have it predetermined by

others.

We prepare our students by asking

them to embrace tradition, innovation

and excellence and to appreciate the

importance of each in shaping the future.

The school values, developed by the

students themselves, are an integral part

of the education we offer:

Compassion Aroha A Christchurch

Girls' High School girl will show empathy

and concern for others. She will have an

understanding of the world and people

beyond her own circumstances, giving

service and acting with decency.

Gratitude Whai Whakaaro A Te Kura

o Hine Waiora student is thankful for the

support of her family and whanau. She is

appreciative of the opportunities she has

been able to explore at school.

Honesty Pono A Christchurch Girls'

High School girl will act with integrity.

She will be known for her honesty,

courtesy, reliability and trustworthiness.

Strength Kaha A Te Kura o Hine

Waiora girl will stand tall and proud.

She will have the have the courage and

strength of character to do what is

right, facing challenge and change with

confidence.

We warmly invite you to come and see

what Christchurch Girls' High School - Te

Kura o Hine Waiora has to offer you and

your daughter.

Catholic Cathedral College

- To Live By Faith

Catholic Cathedral College is first and

foremost a Catholic school and for 150

years Catholic children of Christchurch

have been educated on this site. We aim

to produce graduates who are confident,

compassionate, connected citizens,

willing to make a positive contribution to

our society with a focus on faith, justice

and equity.

As the only co-ed Catholic College

in Christchurch, with a vibrant mix of

ethnicities, we offer excellent preparation

for life. We have a strong focus on our

bicultural heritage and all students from

Year 7 to 10 learn Te Reo Maori.

We encourage our students to strive

for excellence and have had sustained

NOR'WEST NEWS

excellent academic results over recent

years for all students, across all levels

of NCEA. We recently won the highly

coveted Bishop Lyons' Shield, a public

speaking and debating competition for

the seven Catholic secondary schools in

the Diocese.

Our Vocational Pathways programme

offers individualised programmes giving

students access to a range of tertiary

providers.

If you are looking for a Catholic faithbased

education, please visit us on our

Open Evening on Thursday 23 May,

6.30-8pm and experience the special

atmosphere and sense of family that is so

evident.

Christchurch Girls'

High School

Te Kura o

Hine Waiora

Embrace Tradition. Embrace Innovation. Embrace Excellence.

Open Day

Tuesday 21 May 2019, 10am - 2pm

Guided tours start with a brief information talk

Please visit our website to book a tour

www.cghs.school.nz

Bookings open May

Open Evening Thursday 24th May, 6.30-8.00pm

www.cathcollege.school.nz | 62 Ferry Road | Tel: 982 1690
---
4

NOR'WEST [Edition NEWS datE]

Latest Christchurch news at www.star.kiwi

Tuesday April 16 2019 15

SCHOOL OPEN DAYS

Medbury School: Preparing boys for life in the 21st century

Medbury School is the only independent

boys' school in Christchurch, offering an

education for both dayboys

and boarders from Years 1 to

8. Medbury offers a traditional

education, encompassing the

Medbury values of manners

and respect, and its vision is

to provide an education which

prepares boys for life in the

21st Century.

Whilst placing a high

value on Literacy and

Numeracy in a 'boys-only'

learning environment, Medbury also

believes in helping boys develop as

Choosing the

right school for

your Tamariki

When choosing the right school for our

tamariki we often go by the 'feeling' we have

when we visit, as much as by the programmes

that schools have on offer. The world demands

fewer people who can do repetitive tasks and

more people who can think creatively and

critically. That's why our vision, our aspiration,

as a school is to be 'A centre of creative

excellence' in everything that we do, whether

visual arts or chemistry, volleyball or music,

management or curriculum organisation. In

doing this we haven't forgotten the importance

of the strong relationships that we build with

all of our students, and the importance of

individualising learning pathways so that

we come as close as we can to meeting every

individual student's needs. Hornby High

School's feeling is one of positive relationships

that support learning. Students often comment

that we feel like whānau, like family. This all

takes place within our amazing new facilities,

some of the most modern in the country.

These facilities are allowing us to develop a

curriculum that caters for individual needs,

that supports student passions, and helps

our students to grow their heart for their

community, while emphasising our values

and promoting the ethos of kindness, of

manaaki. We are also committed to engaging

with whānau in any and every way we can. I

personally invite you to come along and meet

with our skilled staff, and the amazing young

people who make Hornby High School such a

wonderful place to be.

Robin Sutton - Principal

confident individuals, and developing

personal attributes, such as organisation,

confidence, relationships with others,

and independence.

At Medbury, the focus is

on the 'whole boy', and small

class sizes enable teachers to

deliver a personalised learning

programme, ensuring that every

boy has the support, extension and

encouragement he needs to discover

and develop his particular strengths.

The learning programmes are all

focused on a boy's way of learning,

providing them with a structured

environment, with competition,

A New Marian

College

for 2023

Marian College is inviting its school

community to share ideas on what the

new school in Papanui could look like.

High on the list is celebrating Marian's

Catholic special character and heritage,

tradition of service and cultural

representation.

Marian College leadership is expecting

excellent facilities which will continue to

enable flexible and responsive teaching

and learning, catering to students'

individual learning needs, strengths,

passions and interests.

Conveniently located on main arterial

Marian College

students respond to the

wonderful news

(QEII Drive, Main North Road) and

Orbiter bus routes, the new site connects

with key cycleways and is down the road

from brother school, St Bede's College.

New and prospective families are

invited to join the conversation – at

Marian College Open Night, Tuesday 14

May from 4-7pm (Principal's welcome

at 4:15pm and 5:30pm), and Open Day,

Thursday 30 May from 1-3pm (starting

with Principal's welcome).

Open Afternoon

Tuesday 14 May

1.30 - 2.30pm in the junior block

Information Evening

Wednesday 15 May

6pm in the auditorium

For details of our enrolment zone, please refer to our website.

180 Waterloo Road, Hornby - Ph 03 349 5396 www.hornby.school.nz

boundaries and an opportunity to

succeed.

Medbury's partnership with Swinburne

University of Technology is a new and

exciting initiative aimed at development

of emotional intelligence (EI) via the

Aristotle-EI programme.

Medbury's Headmaster, Ian

Macpherson, states, "Our passion at

Medbury is to unlock the potential

of every boy. It is why we exist – to

understand each boy's opportunities and

challenges, then personalise an education

which encourages him to strive to be the

very best he can be.

Friendships, values and a quiet selfconfidence

that comes with sound

preparation, will provide an invaluable

foundation for the

boys' educational

journeys ahead."

For more

information

please contact

the Registrar

on 03 351 6169,

email registrar@

medbury.school.

nz or visit www.

medbury.school.

nz.

Unlocking every

boy's potential

You are invited to attend the Medbury

School Open Day to discover what

makes a Medbury education unique.

The Open Day is on Tuesday 7 May

2019 from 9.00am to 10.45am. The

Headmaster will speak at 10.15am.

Scholarships are available for 2020.

To register online visit Enrolment at

medbury.school.nz

OPEN DAY
---
16 [Edition Tuesday datE] April 16 2019

Latest Christchurch news at www.star.kiwi

5

SCHOOL OPEN DAYS

Christian Integrated Schools in

Christchurch working together

Working together for the good of students

and families has been a successful recipe

for Christian Integrated Schools in

Christchurch.

The Christian School Network has been

in existence for over ten years. Aidanfield

Christian School, Emmanuel Christian

School, Hillview Christian School and

Middleton Grange School decided in

2005 that there was much to be gained

by working together cooperatively.

They recognised opportunities to share

successful teaching practice, curriculum

development initiatives across a wide

spectrum of school operations as well as

cooperatively strengthening their special

Christian Character. They recognised that

their ability to serve students and families

was greatly enhanced by working together

in a close and trusting relationship.

The success of the network has seen

other schools wanting to join in. Early

Middleton Grange School

Character, Excellence, Service for the Glory of God

OPEN DAYS

Tuesday, 21 & Thursday, 23 May 2019

am & pm

BOOKINGS

ESSENTIAL

Bookings Open

Term 2

in the piece Rangiora New Life School

became part of the network. The schools

joined together to support the genesis

of Ashburton Christian School and also

culminated in the start up of a brand new

school in Rolleston in 2015.

The schools have developed

interlocking enrolment schools which

assists in providing transparent pathways

in Christian education from new entrant

through to Year 13.

First rate general

education and

biblically based

teaching

NOR'WEST NEWS

A further strength has been a

cooperative engagement with the Ministry

of Education who have been pivotal

in assisting the networks successful

development.

Primary School : Years 1-6

Middle School : Years 7-10

Senior College : Years 11-13

Places available particularly at Years 1, 4, 7, 9, 11-13

2020 Enrolments Close

Friday 14 June 2019 (Y7-13)

Friday 23 August 2019 (Y1-6)

If your child turns 5 and will start school in 2020, you must apply this year.

We are known for

our quality education as a compassionate community

in which the God-given gifts and talents of pupils are nurtured and celebrated

A Year 1-13 non-denominational co-educational Christian School

High quality affordable Christian education in a State Integrated School setting

Highly qualified teachers who are committed Christians

High expectations for academic achievement and behaviour

New Zealand Curriculum delivered from a Biblical perspective

Strong partnership and shared vision between home and school

for God's calling on the life of the child

Christian values modelled and encouraged

office@middleton.school.nz

30 Acacia Ave, Riccarton

+64 3 348 9826 www.middleton.school.nz Christchurch, New Zealand

Middleton Grange School was

established in 1964 with the aim of

providing a first rate general education

and biblically based teaching in the

Christian faith. We see learning not

as an end in itself but something that

happens alongside the development of

character and a desire to serve God by

serving others.

We look forward to seeing our young

people excelling in academic, sporting,

cultural and service activities with a

sense of personal achievement. We also

want them to identify the strengths,

skills, talents and abilities that God has

put within each one of them, not just

for their personal benefit, but for the

benefit of the communities that they

live in. Serving others with compassion

and kindness is part of the 'DNA' of

Middleton Grange School. We want our

young people to engage in the society

and culture that they live in, to be a

positive influence and to point others to

God by their example.

We appreciate the hard work that

staff and students put into producing

top academic results, but what we value

even more highly is wisdom, character,

integrity and a willingness to help and

encourage others.

This is summed up in our school

motto 'Character, Excellence, Service for

the Glory of God.

Rod Thompson, Interim Principal

Hillview Christian School

Yr 1–10

Middleton Grange School

Yr 1–13

Emmanuel Christian School

Yr 1–10

Aidanfield Christian School

Yr 1–10 Yr 1–8

Open Days: 15 & 17 May

Contact

school

for details

p: 332 6923

e: office@hillview.school.nz

w: www.hillview.school.nz

Open Days: 22 & 24 May

Contact

school

for details

• High quality affordable Christian education

• Qualified teachers who are committed Christians

• High standards of academic achievement and behaviour

p: 348 9826

e: office@middleton.school.nz

w: www.middleton.school.nz

Open days: Viewing by appointment

Contact

school

for details

p: 359 3595

e: office@emmanuelchristian.school.nz

w: www.emmanuelchristian.school.nz

p: 338 8153

e: enrol@aidanfield.school.nz

w: www.aidanfield.school.nz

A network of non denominational Christian Schools offering limited places in 2019

• Co-educational and State Integrated

• New Zealand Curriculum delivered from a Biblical perspective

• Christian virtues modelled and encouraged

Open days: Viewing by appointment

Contact

school

for details

Open days: Viewing by appointment

Contact

school

for details

p: 550 2653

e: office@rcs.school.nz

w: www.rollestonchristian.school.nz

• Strong partnership and shared vision between home and school for God's calling

on the life of the child

• Pathways for pupils from Aidanfield, Emmanuel, Hillview and Rolleston to

Middleton Grange School at Senior College level
---
NOR'WEST 6 [Edition NEWS datE]

Latest Christchurch news at www.star.kiwi

Tuesday April 16 2019 17

SCHOOL OPEN DAYS

St Thomas believe

the best preparation

for life is an

education in a caring

diverse environment

At St Thomas' we believe that the best

preparation for life is an education which

fosters excellence in a caring, diverse

environment. Our staff are committed

to guiding our students through a broad

range of spiritual, learning, culture,

sporting and service opportunities

in order to develop young men with

"educated hearts and educated minds".

We are a state integrated Catholic

school for a maximum of 615 students

from Years 7 to 13. Our size enables us to

provide individual attention and develop

close relationships with our students in

order for them to develop a healthy selfimage,

relaxed but confident personal

skills, and a positive outlook on life.

We are a high performing academic

boys' school and as such, maintain a clear

focus on boys' needs and the pathway

from boyhood to manhood. We will

provide your son with adventure, testing

of courage and strong, good male role

models.

We want the young men who graduate

from our College to be men of justice and

compassion, who believe they have much

to offer the world in order for it to be a

better place.

Steve Hart, Principal

St Thomas of Canterbury College

Giving boys the

opportunity to be great

St Bede's is a Catholic College for boys

founded by the Society of Mary in 1911

and it is also the only Catholic boarding

school for boys in the South Island.

Catholic, Marist and Bedean principles

and values form the basis of a holistic

education at the College. We aim not

to make the College great but to ensure

every boy has the opportunity to be great,

and we endeavour to develop young men

of Catholic hearts and minds through the

experiences the boys have in their time

here at the College.

St Bede's is a College for all…a place

where gospel values are practised to

help form principled men; a learning

environment where everyone achieves;

a place that teachers want to come

to because of the strength of the

community; a place also, where boys can

embrace spiritual, sporting, cultural and

community activities, which all combined

shape boys into men. That's the priority

and that is in our DNA.

We welcome parents and boys to the

College's Open Day on Wednesday 8 May

between 9.00am – noon, where you will

have the opportunity to tour the College

and meet staff and students.

Parents are also invited to attend the

Information Evening, commencing at

7.00pm, where Senior Management and

students will provide further information

about the College.
---
718 [Edition Tuesday datE] April 16 2019

Latest Christchurch news at www.star.kiwi

SCHOOL OPEN DAYS

Nurturing and educating

children for 168 years

Is your child one of 15 or 50? Is their

classroom a calm, productive learning

space or a tension of noise and

movement? How much teacher attention

does your child really receive?

St Michael's has been nurturing

and educating children for 168 years.

Our small co-ed classes and specialist

teachers ensure your child is an

individual, well known by staff and

fellow pupils alike. For at the heart of

St Michael's are the essential values of

Christian faith and good citizenship:

respect, integrity, faith, hope and love.

St Michael's is a prep school so

your child is assured of a traditional

foundation in English and Mathematics.

This academic rigour then underpins our

wider curriculums in Science, History,

Geography and Spanish. IT literacy

is taught, not assumed, and computer

use is measured. We like teaching and

talking to our pupils!

Cultural and sports' programmes

develop your child's foundation further,

as creativity and problem-solving come

in many forms. Specialist art and music

classes are enjoyed weekly; and most

pupils play at least one instrument.

There are two choirs, and drama lessons.

Our new Y7&8 Programme ranges

from financial literacy to outdoor ed,

leadership challenges to new sports, art

and technologies.

✓ Co-educational, Years 1-8

✓ Small classes

✓ Specialist teachers

✓ Traditional classrooms;

academic rigour

✓ Musical excellence

✓ Christian values

✓ Before & after school care:

7.30am - 5.30pm

✓ Cental city location,

easy access

And our extended campus is

spectacular: today, the Gardens;

tomorrow, the Art Gallery; next week…

Our pupils come from city-wide,

arriving via the bus exchange only a

block away or with parents who work in

the thriving centre.

You are warmly welcome to explore

our purposeful, wholehearted and

inclusive prep school. Our next Open

Day is Tuesday 14 May or please contact

our registrar, Bec Hitchcock, for a

personal tour: 03.379.9790.

St Michael's

Your school at the heart

of the city since 1851

Open Day: Tuesday 14 May

www.saintmichaels.school.nz 249 Durham Street 379 9790

Papanui

High School

- Preparing

students for

their future

"Our aim is simple... to

provide the best education

possible for every student"

Giving students the

opportunity to study from

an innovative and broad

curriculum is critical to

providing each student a

pathway that meets their

individual needs. We allow

for a greater range and

flexibility in subject choice

including the utilization

of the secondary/tertiary

interface. This reinforces the

philosophy underpinning

personalised learning and

is strongly supported by

understanding our students'

interests, passions, talents,

and ultimately their career

aspirations.

We understand that for effective

learning to take place, it has to be

implemented in such a way that students

will be highly engaged. The school

does this in a 'forward thinking' way by

creating learning environments that allow

our students to see value in what they do

and achieve. Papanui "PRIDE" is what

we represent and we demonstrate this by

having young adults leave our school as

confident learners who have gained the

appropriate qualifications and social skills

to become valued contributing members

of society.

All that we do here is reinforced by

positive relationships, an ethos of caring,

NOR'WEST NEWS

cultural responsiveness, inclusion, and

high expectations – what we call "Our

Full service Model". The school highly

values the connectedness of curricular

and co-curricular learning. We have a

philosophical understanding that the

holistic development of the student is

critical to their individual success.

The school has worked hard to

consolidate recent initiatives to ensure

sustained and continuous improvement.

You are invited to view our website,

school charter, ERO report, and/or

contact the school for more information.

We look forward to welcoming all

prospective students and their families/

whanau to visit our school.

PAPANUI HIGH SCHOOL

Our aim is simple….to provide the best education possible for every student

OPEN NIGHT

Tuesday 21st May 6.30pm

The evening will consist of an address from the principal and student

representatives, followed by guided tours of the school's facilities.

Phone: 03 352 6119

30 Langdons Road

PO Box 5220

www.papanui.school.nz

Applications for enrolment are due by

Friday 26th July

My School, My Success, My Responsibility - Tōku Kura, Tōku Tiketike, Tōku Haepapa
---
8

NOR'WEST [Edition NEWS datE]

Latest Christchurch news at www.star.kiwi

Tuesday April 16 2019 19

SCHOOL OPEN DAYS

Selwyn House offers a

world class education

Selwyn House School offers a world-class

education with a talented teaching staff

and small class sizes which are set within

a future-focused, nurturing environment.

An extensive range of educational,

sporting and cultural opportunities are

offered for girls in Years 1 - 8.

A supportive all-girl learning

environment encourages girls to take risks

without fear of failure and develops their

love of learning. They become confident,

compassionate, articulate and determined

young women who have the values, skills,

and attributes needed to not only achieve

their goals but to make a difference in

their communities. Our teachers ensure

girls are inspired and committed to

learning as they develop their unique

way of learning and achieving. The focus

across Years 1 - 8 is on the growth of the

developing girl encompassing intellectual,

social, physical, emotional, and cultural

needs.

Selwyn House is committed to

providing a continuum of international

education. The combination of the

International Baccalaureate Primary

Years Programme (PYP) and our futurefocused

STEAM and Mechatronics

curriculum ensures girls are equipped to

face a continually changing world with

confidence and enthusiasm.

We focus on instilling

strong foundations which

can be successfully built

upon. Core learning in

reading, writing and

mathematics is a priority.

Specialist programmes

in Art, Creative Writing,

Leadership, Mechatronics,

Music, Performing Arts,

Physical Education,

Science, Spanish and

Swimming play key roles to

further enhancing learning.

Selwyn House

provides each girl with

a personalised learning

experience. Each classroom

and specialist teacher

has the time to foster

meaningful relationships

with each student. Due

to our comprehensive

learning environment,

our girls are highly skilled, stand out

among their peers and are prepared for a

successful transition to secondary school.

Selwyn House's nurturing environment

is apparent in all aspects of the school.

In our modern and safe, family-oriented

Boarding House, girls are supported by

dedicated staff and tutors. Girls from

across New Zealand and internationally

fondly call the Boarding House, their

'home away from home' and easily form a

sisterhood with others.

We believe in the strength of tradition,

the promise of the future and the power

of education. For more information on

the benefits of Selwyn House School,

scholarship information or to schedule

your personal tour, please contact

Charlotte Johnson 03 355 7299.

SELWYN HOUSE SCHOOL

Open Day

MONDAY 13 MAY

9AM TO NOON

SCHOLARSHIPS AVAILABLE FOR 2020

APPLICATIONS CLOSE 4PM, 17 MAY 2019

phone (03) 355 7299 email office@selhouse.school.nz

122 Merivale Lane, Merivale, Christchurch 8014

WWW.SELWYNHOUSE.SCHOOL.NZ

Selwyn House School is a leading girls' school for Years 1–8, with boarding

options available. We provide exceptional educational opportunities for girls,

in a stimulating and nurturing environment. Our focus is on developing globally

minded learners and leaders who will become confident and capable women.

Please join us at our Open Day on Monday 13 May and experience all that Selwyn House has to offer.

If you are unable to attend our Open Day, a personal tour can be arranged by appointment.

To register your interest for our Open Day phone: (03) 355 7299

or email: office@selhouse.school.nz

An International

Baccalaureate School

SCHOLARSHIPS

AVAILABLE

FOR 2020
---
20 Tuesday April 16 2019

Latest Christchurch news at www.star.kiwi

SCHOOL OPEN DAYS

NOR'WEST NEWS

Transforming lives

through the

St Mark's Story

Grounded in tradition,

enlivened by innovation and

inspired by God.

St Mark's is an Anglican

full primary state-integrated

school – the only one in the

South Island.

We are a Christian School.

A school with strong

connections to the local

community. A school which

celebrates the gifts and

talents of everyone in the

community. And a school

that strives to live every

aspect of school life by the

values of Grace (Huatau),

Excellence (Hiranga),

Courage (Māiatanga)

and Faithfulness

(Piriponotanga).

A brand new campus with

excellent facilities including

science room, music rooms,

all weather turf and hall

with stage supports the delivery of a full

curriculum with specialist programs.

With the school marking it's centennial

in 2021 tradition remains important to

us, as we partner with all whanau to bring

innovative teaching and learning to all

Ākonga.

Even with limited spaces in 2020 you

are always welcome at St Mark's School.

Villa Maria

offers

education for

girls years 7-13

Villa Maria College is a state integrated

Catholic secondary school for girls

in Years 7 – 13. The foundation for

everything we do is our Catholic faith,

which we express through our Mercy

charism. Villa Maria College offers

spiritual formation and pastoral care

in the tradition of Catherine McAuley,

the founder of the Sisters of Mercy, who

established the College in 1918.

Our Mission is to: "Empower each

young woman to determine her potential,

live Gospel values, confidently embrace

life-long learning and as a Mercy woman

be inspired to make a difference".

We have a proud academic history,

annually achieving academic results,

which are among the best in the

country. Girls are encouraged to stretch

themselves and work towards individual

goals, so they fulfil their potential. A

good education has balance, and our

strong academic programme is combined

with varied co-curricular activities,

encompassing sport, cultural and musical

programmes.

We invite you to visit Villa Maria

College and experience our special

character for yourself. You will also find

a wealth of information on our website

–www.villa.school.nz

• Grounded in tradition, enlivened by innovation

and inspired by God

• Year 0 - 8 Anglican State - Integrated

• Holistic education inspired by the Gospel through

Grace/Huatau, Excellence/Hiranga, Courage/

Maiatanga and Faithfulness/Piriponotanga.

• Caring family atmosphere

• Specialist programmes

• Exciting new campus

• Transforming lives

• Limited places available in 2020

St Mark's School

Open Day - Wednesday 22nd May, 9am - 2pm

Cholmondeley Avenue, Christchurch | Phone: 03 332 7339

Email: office@saintmarks.school.nz | www.saintmarks.school.nz

T E W H A R E O M E R I

Tuesday 21 May 2019, 9:00am - 3:00pm

Villa Maria College is a state integrated Catholic secondary school for girls in years 7 - 13.

We extend a warm invitation to prospective parents and students to join us throughout the day

and see our College in action.

Meet our staff and students and find out what makes Villa Maria College such a special place.

Principal Deborah Brosnahan and our student leaders will address visitors in the Auditorium at

the following times: 9am and 1pm for Year 9 intake, and 11am for Year 7 intake. Visitors are then

invited to take a guided tour of the College.

We look forward to seeing you.

2019 Student Leaders

21 Peer St, Christchurch • Ph: 348 4165 • www.villa.school.nz
---
NOR'WEST NEWS Latest Christchurch news at www.star.kiwi

Tuesday April 16 2019 21

FOCUS ON HEALTH

1 in 2 people

deficient in B12

Emerging research has shown as many as 50% of older adults and

as many as 25% of younger adults are deficient in vitamin B12.

Scientists at Rush University Medical

Center found those most deficient

in vitamin B12 to have the smallest

brain mass and the lowest scores on

tests measuring short-term memory,

concentration and brain performance.

Another study showed that older people

with higher levels of B12 in their blood

have bigger, healthier brains and score

higher on cognitive tests than those with

lower levels. Yet another recent landmark

study showed that B12 supplementation

slows the accelerated rate of brain

shrinkage and declining cognitive function.

B12 is essential for energy production, cell

health, regulation of mood and sleep cycles,

nerve health and repair, and prevention

of homocysteine a serious cardiovascular

risk factor that is known to cause damage

and plaque in the blood vessels. It can also

increase the chances of a stroke. Harvard

researchers found

a 34% decrease

risk of vision

loss in a study

of participants

aged 40+ who

supplemented with

B12. Another study

linked a higher risk of hearing loss in

IS YOUR BRAIN SHRINKING?

Brain fog, forgetful, feeling old, low energy, mood swings,

difficulty sleeping, pins & needles, numbness in legs

Up to 1 in 2 people may have a shrinking brain due to a lack of vitamin B12. Supplementation of

methylcobalamin B12 has been shown to reduce the rate of brain shrinkage & support memory &

brain function. B12 is also known to protect against homocysteine a serious cardiovascular risk

factor that can also damage the hearing, eyesight & affect the mood. B12 is essential for energy,

cell health & nerve function.

B12 SUPPORtS:

• Memory & Brain Performance

• Helps protect against brain

shrinkage

• Energy & Recovery

• Nerve Function

• Vegetarian's Diet

• Helps protect blood vessels from

damage

• Sleep & mood regulation

• Cellular Health & Repair

• Good Health

• Cardiovascular Health

• Eye sight - Study showed a 34%

decrease risk of vision loss in

those supplemented with B12

• Hearing loss - Study linked a higher

risk of hearing loss in subjects in

their 60s who were low in B12

subjects in their 60's who were low in B12.

The reason so many people lack B12

appears to be our body's ability to absorb

it declining with age as the digestive

system becomes less efficient. Anti-reflux

medication and other drugs further reduce

B12 absorption. The good news is B12 in

the form of Methylcobalamin sublingual

tablets that are dissolved in the mouth and

thru bypassing the digestive tract have

been shown to effectively raise B12 levels in

the body.

Further detailed information is

available from the Natural Health

Advisers at Marshall's Health and

Natural Therapy, 101 Seaview Road, New

Brighton, Phone: 388-5757. We are always

happy to help!

See a

difference

in as little as

48 hours!

SUPER PRICE OFFER

Superior Methylcobalamin B12

(High Absorption Sublingual Lozenges)

100 Lozenges 200 Lozenges

Only $ 32 .90 Only $ 59 .80

MAIL ORDER AVAILABLE

Bringing You the Best in Natural Health

MARSHALLS HEALTH & NATURAL THERAPY

CONSULTING - PRESCRIBING - DISPENSING - MANUFACTURING - MEDICAL HERBALISTS

101 SEAVIEW RD, NEW BRIGHTON • PH 03 388 5757 • Email: enquiry@marshallshealthshop.co.nz

- WE ARE ALWAYS HAPPY TO HELP! -

BOOST BRAIN

PERFORMANCE UP TO 30%

TEBONIN is the No 1 Ginkgo Biloba extract in the World with more than 8 million tablets

being consumed every day. It is also the most researched herbal extract with more than 60

controlled clinical studies & over 400 scientific studies. It has been shown to have excellent

efficacy, safety & tolerability. Millions of consumers have trusted TEBONIN for over 30

years to support blood flow, capillary health, brain health & performance.

Studies on TEBONIN Show:

- Improved Brain Performance & Function up to 30%. This includes improvement

in mental sharpness, focus, attention, concentration, understanding, memory & recall.

- Reduces errors made & mental stress.

- The only Ginkgo shown to increase activity in all areas of the brain. Can help restore

brain function after a brain injury such as from a stroke.

- Helps relieve tinnitus (ringing & noise in the ears), vertigo, dizziness & supports normal

balance.

- Improves blood flow to all areas of the body.

- Reduces plaque formation in the blood vessels.

- Protective effect against eyes damage caused by light.

MAIL ORDER

AVAILABLE

Bringing You the Best in Natural Health

- WE ARE ALWAYS HAPPY TO HELP! -

SUPER PRICE

30 tablets only

Save

$8.10

$36.90

60 tablets only

Save

$21.08

$68.90

TEBONIN is a highly concentrated

proprietary herbal extract of Ginkgo biloba

leaves that has proven superior to other

brands under scientific scrutiny.

MARSHALLS HEALTH & NATURAL THERAPY

CONSULTING - PRESCRIBING - DISPENSING - MANUFACTURING - MEDICAL HERBALISTS

101 SEAVIEW RD, NEW BRIGHTON • PH 03 388 5757 • Email: enquiry@marshallshealthshop.co.nz

The tree of LIFE

New research on Gingko

Biloba excites researchers!

For decades scientists believed brain

damage with age, after a stroke or injury

was irreversible and brain neurons could

not be repaired. In more recent times,

new research has shown that neurons

can grow back with the right conditions

and that a special extract of Gingko

Biloba (EGb-761 or TEBONIN) has

been clinically found to assist in this.

The implications for stroke recovery are

obvious, but researchers also know many

of us suffer from undetected "microstrokes"

that over a period of time slowly

reduce our cognitive function. TEBONIN

is prescribed worldwide as a natural

supportive agent for a healthy brain and

cognitive function. It supports healthy

mental performance, concentration, focus,

alertness, motor function and to help

with many conditions including tinnitus

(ringing and noise in the ears), vertigo

and normal balance. TEBONIN improves

micro-circulation and helps the blood

flow reach those critical places it needs to

get. It is a potent anti-oxidant and makes

the red blood cells more pliable and

capillary walls more flexible.

TEBONIN is one of the most widely

studied and researched herbal products in

the world and is the only Ginkgo biloba

extract manufactured via a patented

multi-step extraction process. Each small

tablet contains a highly concentrated

50:1 extract to give you a therapeutic

clinical dose without having to take a large

amount of the herb. Of 25 Gingko biloba

products on the market, and tested by a

major medical journal, only TEBONIN

passed all five of the test requirements.

Ten brands didn't meet any requirements

and the rest didn't pass more than three

out of five requirements. TEBONIN is

the only Gingko biloba extract shown

to activated all areas of the brain and is

considered the gold standard in Gingko.

TEBONIN has been trusted by millions

of consumers worldwide for over 30

years with more than 8,000,000 tablets

consumed each day.

TEBONIN and further information

is available from the Natural Health

Advisers at Marshall's Health & Natural

Therapy in New Brighton. PH: 388-5757.

They are always happy to help!

ADVERTORIAL

Reverse the signs of aging

naturally with the newest LED Facial Machine to NZ!

Summer has come to a close, your skin, especially your

face needs hydration and rejuvenation. Coming off the heat

wave Christchurch experienced, the elasticity in your skin

will have shrivelled after being exposed to the drying, aging

outdoor elements.

Now there is a machine that is sweeping the globe and has

landed in Christchurch. Experience the eleven beauty and

healing treatments accomplished within one facial mask

using LED technology.

LED was invented by NASA as they were looking for a light

source to grow plants in space, from this they found that it

had amazing skin cell rejuvenation and it wasn't long before

LED infrared was used in hospitals around the world.

Doctors then noticed patients started looking younger

whilst under a program of RED LED light treatments after

their surgery and injuries, which led them to study colour.

It was found that skin cells recognise colour and that each

colour has a job to play in the performance of the living

skin cell.

People are experiencing the full facial rejuvenating

experience with the LED light therapy with documented

results in:

• Anti-Ageing – Wrinkles, Age spots, Scaring

• Anti-Acne – Antibacterial, Reduces inflammation

• Cell Rejuvenation - Eczema

• Reduce Redness – Rosacea, Sunburn

• Even Skin Tones – Hyper-Pigmentation

• Skin Booster – Collagen Rejuvenation

• Skin Soothing – Psoriasis

• Pain Blocker – Reduce swollen capillaries

BEFORE

BEFOREaFtER

Amazing results – before and after photos supplied by

a happy client, who has been battling acne all her life

Charmaine McFarlane and Turn Back Time Beauty,

located in Somerfield are the resident experts in this Aduro

LED light therapy with tremendous benefits. She is able to

run this service parallel to her popular Sparklewhite teethwhitening

program.

"The success stories and the testimonials we see and hear

weekly where the LED light therapy is changing people's

lives is just incredible. The natural face lifts, new glowing

skin, no more acne or scars, is just many of the common

results I see here every day"

Experience the results for yourself, call Charmaine today to

discuss how she can plan a package of treatments just for

you. What have you got to lose but your wrinkles, broken

capillaries, acne, uneven skin tones, eczema, psoriasis or

whatever your skin concern might be.

View: www.turnbacktimebeauty.co.nz or www.

aduronewzealand.co.nz and make an appointment today,

call 339 7374 or 021 161 2349. Beauty never felt so good!

LED Light

Therapy

Facials

3x LED

Facials

Packages starting

from $199

(normally $450)

Expires 20th

May 2019

The patented design offers a full facial rejuvenating experience,

for a range of skin imperfections and signs of aging.

Including Anti Wrinkle, Increases Collagen Cells, Age Spots,

Acne, Scaring, Rosacea, Eczema, Psoriasis, Redness, Uneven

Skin Tone plus many more...

Call us now and experience

the difference!

bEForE

aFTEr

Phone 339 7374 or 021 161 2349

www.turnbacktimebeauty.co.nz

BUY NOW PAY LATER

with

over 10 weeks
---
2

22 [Edition Tuesday datE] April 16 2019

Latest Christchurch news at www.star.kiwi

continuing education

NOR'WEST NEWS

christchurch

School of Music

As

Did you know that musical training

can change brain structure and function

for the better? It can also improve longterm

memory and lead to better brain

development, particularly for those

who start at a young age. So why wait

any longer?? Come and join us at the

Christchurch School of Music!

CSM is a not-for-profit organisation with

a strong focus on community. From ages 2

to 92 we have something for everyone. On

a Saturday morning the whole family can

find something to suit.

For the young ones there are pre-school

and junior school classes, "Take Off with

Music", 41/2 year olds can start on Suzuki

strings and at 6 the recorder is a great

instrument to learn. In 2019 we have a

fantastic deal for beginner recorder players

– just $52 for a year of tuition and this

includes a recorder and a book!!

Older children and adults may opt for

group or individual lessons on a specific

instrument (including voice). With six

orchestras, two concert bands, a Big Band,

a jazz combo, six wind ensembles, rock

bands, two choirs, chamber groups, a

samba band and a guitar ensemble there is

an ensemble to suit all levels and all ages.

If affordability is an issue, CSM may be

able to offer a discount through funding

provided by the Rata Foundation.

Find out more about us or enrol any

time at www.csm.org.nz

Try something new

daylight saving ends

and the evenings become

longer why not take the

opportunity to take up a

new hobby, learn a new

skill, meet some new

people and have fun at

the same time then join

one of Papanui High

School's exciting range of

Adult and Community

Education Courses for

Term 2 beginning from 6

May. We have a wide range

of courses to choose from and guarantee you

will find something to appeal regardless of

your age or interests.

One of new classes for Term 2 is a Belly

Dancing for Beginners Workshop on

Saturday 25 May between 3-4.30 pm. This

one off workshop taught by Nicola Rooney

is ideal for those who have always wanted to

try Belly Dancing and is the idea opportunity

to see if it is for you. All new dancers are

welcome as no previous dance experience is

needed. The workshop will cover a dancers's

warm-up, posture and how to dance safely,

torso and arm movements, and common

belly-dance steps and terminology. This

class promotes creativity and self-expression,

strength, confidence and body awareness all

through the art of moving to music.

We also offer classes in Languages,

Woodwork, Dressmaking, Art, Cooking,

Cake Design, Yoga, Pilates,

Bee Keeping, Ukulele,

English for Speakers

of other languages,

Photography and more.

For further information

and enrolment in these

or any of our courses

please visit our website

www.papanui.school.nz

or email rpb@papanui.

school.nz or telephone

our office on 3520701.

40 + COURSES

AND TALKS

ENROLING NOW

www.cwea.org.nz 59 Gloucester Street, Christchurch, 03 3660285
---
NOR'WEST NEWS Latest Christchurch news at www.star.kiwi

Tuesday [Edition April 16 datE] 2019 233

COntinuing eduCAtiOn

Adult and community

education at Risingholme

Community Centre

There are exciting times ahead for

Risingholme Community Centre,

as we prepare to re occupy the

Risingholme Homestead, situated

in the Risingholme Park in Opawa.

This occasion will be marked with a

Mayoral Opening on Wednesday 5th

June and a Community Open Day

will take place on Saturday 8th June

when members of the community

are welcome to come and have a

look at the refurbished facilities.

Risingholme Community Centre

continues to offer a wide range of

exciting learning opportunities across the

city. With the start of term 2 on Monday

6th May and winter approaching why not

enrol in one of our exciting classes – www.

risingholme.org.nz

Risingholme's strong focus on language

development continues with a wide range

of languages courses at a variety of levels

– ESOL, German, Italian, Russian, Sign

Language, Spanish and Te Reo Maori.

Risingholme's traditional base of art and

craft courses continues to flourish with a

full range available at a number of venues.

They include fabrics, woodwork skills, cake

decorating, health & fitness and well-being,

Looking after each other

and ourselves

This Autumn the WEA is offering a

range of courses with the emphasis on

self and social care. We recognise that

having opportunities to listen deeply to

one another, and to come together around

a shared activity or experience are vital

parts of building a safe and connected

community. It is also true that to look after

others we must first look after ourselves. It

can be as simple as building time into our

busy lives for things that feed us: perhaps an

artistic or musical pursuit, learning a new

language, or practicing meditation. With

a range of over 40 courses from Middle

Eastern Dance to Understanding the Treaty

in 2019, Foraging to Rethinking Mental

Health and a welcoming and enthusiastic

community of learners, there is lots to gain

from a course at the WEA and we would

love to see you there.

computing, guitar and photography, as well

as many others.

For more information on classes at

Risingholme, Riccarton High School,

Christchurch Girls' High School, Shirley

Boys' High School, Hillmorton High

School and Hornby High School, contact

the Risingholme Community Centre at

332 7359 or e-mail info@risingholme.org.

nz

The full programme for Term 2 is

available on our website at http://www.

risingholme.org.nz/courses

Brochures are available at the Risingholme

office and public libraries.

Visit www.cwea.org.nz to find out more

or pop in and chat to us at 59 Gloucester

street (between 9.30 and 3pm week days).

Hearts created by students of

Japanese Origami

Learn business and

computing for free

Vision College's free 20-week Certificate in

Business (Administration and Technology)

is a level 3 course that offers computer skills

within a business focus for those wanting to

retrain for modern office systems.

The course is designed for those wanting

to run the admin side of their own business,

work in an administration role, or upskill.

While covering computer applications

like Microsoft Word, Excel and Publisher,

it includes business report writing,

communication skills and creating business

documents.

Vision College's self-paced course allows

students to work through a series of

computer-based skills with tutor support,

at times that suit their lifestyle. "Classes are

held during normal working hours, but we

can be flexible with hours that best suit our

Adult and Community

Education Term 2, 2019

Come learn with us

Risingholme Community Centre

offers a wide range of short courses,

each term, at a range of venues.

Risingholme Community Centre

Art (Create with Pastels & Paints, Mixed Media, Watercolour,

Painting with Acrylics), Mindfulness, Cake Decorating,

Drawing & Sketching, Embroidery, ESOL, Fabric & Craft

Skills, Guitar, Pottery, Sewing Skills, Upholstery, Using your

Overlocker, Weekend Sewing classes, Yoga, Wood Sculpture,

Woodwork, Woodwork for Women, Zentangle, Printmaking,

Fermented Foods, Plastics Free, Waiata.

Christchurch Girls' High School

Dressmaking, Embroidery, Te Reo Maori, Watercolour Painting,

Drawing & Sketching, Preserving Fruit, Vegetables & Herbs.

Riccarton High School

Calligraphy, ESOL Business English Intermediate, Indian

Cooking, Italian Language, NZ Sign Language, Russian

Language, Sewing Skills, Spanish Language, Te Reo Maori,

Arabic, A Taste of Egyptian Cooking, Picture Framing.

student's lifestyle." says Gary Taylor, Vision

College Campus Manager.

"So, the learning is delivered by way of a

workbook, along with organised tutorials

where tutors are on hand to offer one-on-one

tuition when required. While some theory

is included, the course is very practical and

students are at a computer from the first

lesson." Added Taylor.

This course is available for domestic

students aged 16+. Students do not need

their own computer, as the classroom is

fitted out with the required technology, but

may bring their own.

Vision College are enrolling now for

their April intake. For more information

call 0800 834 834, txt 'OFFICE' to 027 557

8839, or visit the website www.vision.ac.nz

to enrol online.

Hornby High School

Sewing Skills, Thai Cooking, Te Reo.

Shirley Boys' High School

Painting with Acrylics, German Language, Photoshop, Reiki

Level 1, Spanish Language Level 3, Te Reo Maori, Thai

Cooking, Woodwork, Yoga (range of classes), Art of Creativity

& Expression, Sign Language.

Full details available on www.risingholme.org.nz

Risingholme office at 99 Hawford Road

Phone 332 7359 | Email info@risingholme.org.nz

www.risingholme.org.nz

Learn

Computer Skills

0800 834 834

vision.ac.nz

50 Hazeldean Road, Addington

Are you looking to get back into the work force, but

don't have up-to-date computer skills?

This FEES FREE* 20 week course will give you the skills to

work in a modern office, covering advanced use of Microsoft Word,

Excel, Publisher and other computer based business applications.

Hours of study are flexible and tutors are

available for one-on-one support.

For more info txt 'OFFICE' to 027 557 8839

*Conditions apply
---
24 Tuesday April 16 2019

Latest Christchurch news at www.star.kiwi

AUTOMOTIVE PROFESSIONALS

NOR'WEST NEWS

Tyres, rims and even

great coffee

Word of mouth is the best

recommendation for any business, and there

is a raft of customers happy to recommend

JCM Direct Tyres in Middleton. The

independent, family-owned and operated

business supplies tyres, mags and rims and

it is clear from their feedback that they

provide 'outstanding customer service,'

'really know what they are doing,' and even

provide 'tasty coffee.'

Reviews like these are hard-won, with

the emphasis being on making sure they

go the extra mile to really meet the needs

of the client. As an independent dealer,

they are not tied to a specific brand.

Instead, they will look at your vehicle,

your budget and your driving style to

provide you with what you need instead

of what the franchise wants you to have.

This can be brand new tyres such as Pirelli,

Continental, GT Radial and Nankang, or

high end, almost-new second hand tyres

in mint condition, often the same brand

names as the new options. The JCM team

wants to know their customers are leaving

them with their vehicles, from caravans to

utes, that are safe on the roads.

They will give you their honest opinion

and expertise about what you need too.

It could be more cost effective in the long

run to spend a little more a quality tyre and

reduce the risk of punctures on the Garden

City's rebuild roads, and if you do have a

puncture, they can repair it quickly and

efficiently.

It is not only tyres – they supply rims

from the 1930s to the present day. If you

are lucky enough to own a classic vehicle,

you will know how difficult it can be to

find authentic parts, and the JCM team will

help you source what you need.

They also provide alloy wheels, spare

wheels plus wheel and tyre combo packages

to make their excellent products even more

affordable. They are even able to help you

with finance options.

Open six days a week, you can find

them at 8c Birmingham Drive on the

corner with Hands Road. Check them

out on Facebook.com/JCMDirect, or

visit JCMDirect.co.nz to see what their

family can do to help your family.

NEW

LOCATION

95 Gasson St

Your LoCAL

TYrE SPECIALIST

New & Quality Used Second-hand Tyres

Alloy Wheels

Replacement Rims

Puncture Repairs

www.jcmdirect.co.nz

8c Birmingham Drive,

Middleton

Next to Addington Raceway

343 0099 or 027 22 63 805

The Automotive Lamp Specialists

New and Used Lamps for Cars, Trucks,

Vans, 4WD and Motorhomes

PH 0800 225 483 | 95 Gasson Street, CHRISTCHURCH

s

m

a

r

t

mall

edium

• Panel beating

• Spray painting

Fast

turnaround

utomotive

epair

echniques

Smart repairS (NZ) Limited

automotive refinishers

272 Lichfield St (Fitzgerald Ave end)

Ph 377-0409

Free Check & Assessment

ROSES

AUTO ELECTRICAL

rosesautoelec@gmail.com

A vonhead

utomotive

free

6 months roadside assist

with any vehicle servicing

• automatic transmission

flushing service

• Wof • tune-ups • suspension

• batteries • neW tyres • oil &

lube service • courtesy cars

• full mechanical repairs

oPen 6 days (sat until 1pm)

126 racecourse road

Ph 342 7123 or 027 495 6600

®
---
2

NOR'WEST [Edition NEWS datE]

Latest Christchurch news at www.star.kiwi

Tuesday April 16 2019 25

HOME & HEATING

The

importance

of air quality

Choosing the

right heat pump

for your home

The quality of the air we breathe

affects our health and ability to

perform. We breathe in and out

approximately 20,000 litres of

air every day. It is therefore very

important to ensure good air

quality indoors through adequate

ventilation. Ventilation is the

process of air exchange to provide

the necessary air quality that meets

the needs of the occupants for clean,

fresh air. Low oxygen with high

carbon dioxide causes stuffiness

in the room and occupants can

feel drowsy. Invisible harmful

substances like a high content of

dust and tobacco smoke are harmful

and can cause various diseases. Even

bad smells can cause discomfort

or irritate the nervous system. In

summer, it's easy to open windows

for cross ventilation, however as

winter approaches, we start to shut

up out houses to trap in the heat and

as a result, air quality can decline.

Ventilation includes both the

exchange of air to the outside as

well as circulation of air within

the building. It is one of the

most important factors for maintaining

acceptable indoor air quality in buildings.

Filtered air supply for summer and filtered

and warmed air in winter creates a healthy

environment in which to live and work. In

case of poor or insufficient air intake from

outside, the oxygen content decreases,

humidity and dustiness levels increase. If

exhaust ventilation is not provided or it is

not effective, polluted air, smells, humidity

and harmful substances are not removed.

To ensure the quality of your air, contact

the experts. Smooth-Air Products can

calculate the required air exchange for

your building requirement.

Smooth-Air offers a wide range

of ventilation equipment, from

air vents to ducting for fans,

for both the commercial and

domestic markets. They have

an extensive range of fans and

ventilation components instore

but they can also provide

innovative solutions tailored to

differing requirements.

You can contact Smooth-Air on

0800 SMOOTH (0800 766684).

Are you struggling with the heat of

Summer or wanting to get organised for

Winter? With the ever changing weather

patterns, heat pumps have the flexibility

of being able to heat and cool which is an

advantage no other appliance can offer. This

represents great value for your investment

as you can use it all year round. The team

at Enviro Master Ltd can help keep you

cool this Summer either at home or work.

Enviro Master supplies, installs and services

all the leading brands including Panasonic,

Fujitsu, Mitsubishi and Daikin. This means

our team can show you which system and

brand will best suit your needs.

With new regulations coming in for

Landlords to provide heating in rentals,

now is a great time to beat the 1st of

July deadline. Inadequate heating and

ventilation can lead to mould growth and

dampness in your property, leading to

costlier maintenance and an unhealthy

living environment. Providing a fixed

heater with a higher heat output and lower

running costs, like a heat pump, will enable

your tenants to heat the area effectively.

It will also discourage them from using

unflued gas heaters which can make a

house damp and mouldy.

It is important to remember, when

selecting an installer, the manufacturer's

warranty does not cover the installation

and consumers could be responsible for

any repair or damage caused to the system

due to poor installation. Enviro Master's

five-star installation guarantee ensures

correct installation, and a demonstration

so customers have an understanding on

how it will best meet their needs.

For a free in home consultation, call

Enviro Master on 366 0525 or visit our

showroom at 41A Shakespeare Rd,

Waltham, Christchurch.

Smooth-Air

Ventilation Equipment Suppliers

Domestic

to

Commercial

Industrial

trade

&

retail

HEAT PUMP

SALE NOW ON!

Amazin' Autumn Specials!!

Centrifugal

inline fans

Axial inline fans

Axial fans Axial fans Bathroom fans

Window fans

• We will offer you the best quality brands and

option of heat pump for your home/business

• Providing Heat Pump solutions for over 17 years to Cantabrians

• We personally guarantee all our products & installs for 5 years

(providing annual maintenance has been completed)

Phone us today for your free consultation & quote

41A SHAKESPEARE RD, WALTHAM

PHONE 03 366 0525

www.enviromaster.co.nz

"A local team for local people"

0800 SMOOTH

(0800 766 684)

sales@smooth-air.co.nz

the

right

264 Annex Rd

Riccarton

Christchurch

03 343 6184

for the

product

job

Monday - Friday

7.30am - 5pm

www.smooth-air.co.nz
---
26 Tuesday April 16 2019

Latest Christchurch news at www.star.kiwi

REAL ESTATE

Classifieds Contact us today Phone our local team 03 379 1100

Luxury waterfront residence - one of NZ's finest homes

Redcliffs, 145 Main Road

Price: $3,495,000

4 bedrooms | 3 bathrooms | 4 toilets | 4 living rooms | 1 dining room | 3 car-garage | Listing Number: PI57626

Rarely are we favoured with the

opportunity to bring to the market a home

of this quality and size within a prestigious

neighbourhood, where luxury residences

are few and far between.

Epitomizing a cutting edge design,

this striking home is a commitment to

contemporary architectural language and

unparalleled luxury. Designed by Stufkens

+ Chambers Architects the home has

perfectly encapsulated an ambience of

timeless elegance while forsaking nothing

in practicality and functionality.

With a floor area of 501sqm, the home

built in 2010 is notable for the way in which

it explores the three separate buildings

joined by transparent links wrapped

around an open courtyard to create a

timeless, modern building, appropriate to

its urban location.

With precise planning and detailing it

incorporates four bedrooms, several living

areas, media room, mezzanine, gym, pool/

spa, and an air-conditioned wine cellar as

well as triple car garaging. All with water

views and effortless indoor-outdoor flow,

lighting and well thought out landscaping,

it is the perfect result.

The natural palette of materials and

colours used throughout the home delivers

on a promise of calm and clarity with oak

timber veneer, timber flooring, exposed

aggregate concrete walls, frosted glass

and simple white interior. Inspections

will reveal the full extent of the luxurious

detailing. Automated roller blinds,

localized air-conditioning, double-glazing,

extensive underfloor heating, smart

security and home automation system start

a very long list of quality specifications.

With so many amenities on your doorstep,

you will never need to leave this pinnacle

position. This price represents incredible

value and we encourage your early interest

to secure such a magnificent home.

The extravagance of this home requires

new occupants and prudent purchasers

will recognise that this is indeed a rare

opportunity for a life that excites the

senses.

Please contact agents for viewing details.

To arrange a private viewing phone

Cameron Bailey on 352 6166 or mobile

0275 557 079 or Kirstyn Hay on 027

7224 792 of Harcourts Gold Papanui

(Licensed Agent REAA 2008)

NOR'WEST NEWS

Classifieds Contact us today Phone our local team 03 379 1100

Trades & Services

Trades & Services

Trades & Services

Trades & Services

concrete & paving

DRIVEWAYS

PAINTER

PAINTERS

• Driveways

• Earthquake repairs

• New Home Specialists

• Patios & Paths

tel: 0508 873 7483

email: sales@affordableconcrete.co.nz

www.affordableconcrete.co.nz

Exposed Aggregate

Stamped Concrete Plain

Concrete Resurfacing

Things we offer...

Competitive/affordable pricing

Attention to detail

Professional service

free quotes/insurance scopes

Cell 0278 145 848

www.drivecrete.co.nz

Michael Kelly Painters

Locally owned and

operated family

business.

25+ years Experience

• Painting • Wallpapering

• Interior • Exterior

Free Quotes

Phone

Michael 0212 649 492

michaelkellypainter@hotmail.co.nz

Painters and Decorators Ltd

Canterbury Owned and Operated

A husband and wife team

Specializing in:

• Roof Painting

• Interior/exterior

residential

• Small commercial

painting

Noel 027-411-3596

kemp.painters@gmail.com

kemp painters and decorators

We offer

free quotes

Quality not

Quantity

PLUMBER

VIDEO PRODUCTION

WINDOW TINTING

Trades & Services

NEED A PLUMBER

Call us now for fast friendly service.

Get your problems sorted out

quick smart - on time!!

Phone for a

FREE

quote now.

Phone 03 377 1280 | Mobile 021 898 380

business video

PRoduCTion

A video will bring your business alive & into your

customers mind.

Promote your services or business with a

professionally created video with us

• Corporate and Business

video a speciality

• Competitive rates

• 25 years experience

• Start to finished product

• Professional quality

guaranteed

PHone KeRRY 021 635 083

tintawindow

advanced film solutions

99% uv block

fade protection

heat control

reduce glare

25 Years Experience

privacy films

frosting designs

non-darkening films

Workmanship Guaranteed

Lifetime Warranties on Most Films

UV

block

Free Quotes Canterbury and Districts

03 365 3653 0800 368 468

Get Rid of

Crying Windows

Get a Warmer, Drier, Healthier Home

Get in Early for April Specials

24 Months Interest Free Available*

*(Ts & Cs apply)

Book your FREE

consultation today!

Ph Scott 021 284-1010
---
NOR'WEST NEWS Latest Christchurch news at www.star.kiwi

Tuesday April 16 2019 27

Anglican

Trades & Services

CARPET

CLEANING

sPECIAL

3 Rooms & hALLwAy

fRom $59.00

over 20 years experience

027 220 2256

rooF

painting

Book now and

receive 20%

discount.

Rope and harness a

speciality.

No scaffolding required.

30 years experience.

Free quotes, call

Craig 021 060 2392

HOUSE

CLEARING

Are you

moving house

or trying to

downsize?

Call All Clear

Canterbury. We work

with you to recycle,

sell and dispose of

unwanted items.

Ph: 03 260 0934

or 021 078 4553

raewynlcooke@gmail.com

www.allclearcanterbury.co.nz

BLOCKED

DRAINS?

• Video inspection

• Waterblasting

• liquid Waste

pH: 03 365 7960

24 hours // 7 days

info@h20jet.co.nz

www.h20jet.co.nz

UPHOLSTERER

dyers upholstery services

(Ex Leacroft St, Bishopdale)

We specialise in

re-upholstering all types of

household furniture

inc squabs.

Trusted craftsman for over

30 years. Fabric samples,

Free quotes, pick up &

delivery.

All work guaranteed.

Ph. 359 5033 or

022 106 0108

30 years + experience

Older house

restorations:

no problem!

Quotes: FREE!

Rates: Reasonable

Paint supplied at

trade price!

NO JOB TOO SMALL

Light industrial also

Roger Brott

Painter & Decorator

021-1966-311

Classifieds Contact us today Phone our local team 03 379 1100

Trades & Services

ROOF

PAINTING

Rope & harness

a speciality,

no scaffolding

required,

30 years of

breathtaking

experience.

FREE QUOTES

Exterior staining,

exterior painting,

moss and mould

treatment and

waterblasting

Phone Kevin

027 561 4629

Trades & Services

BATHROOM

Renovations, complete

service from start to finish,

free quotes, ph Dave 027

334 4125

BUILDER

HANDYMAN

No job too small. Install

heat transfers, repair/

replace fences, floor

boards, decks. Russ

027 884 2330. Liability

insurance.

****************

CARPET & VINYL

LAYING

Exp. Repairs, uplifting,

relaying, restretching.

Email jflattery@xtra.co.nz

ph John on 0800 003 181

or 027 2407416

Trades & Services

SHOE REPAIRS

Belfast engraving. Shoe

repairs, key cutting &

engraving. (10 yrs exp)683

Main North Rd, ph 027

3113423

SPOUTING

CLEANING

Spouting Unblocked,

Cleaned Out and Flushed

Out. Call Trevor 332 8949

or 021 043 2034

STONEMASON,

BRICK,BLOCKLAYER

Earthquake Repairs, Grind

Out & Repoint, River/

Oamaru stone, Schist,

Volcanic Rock, Paving,

all Alterations new & old,

Quality Workmanship,

visit www.featureworks.

co.nz or ph 027 601-3145

STUMP GRINDING

Best price guarantee Tony

0275 588 895

STUMP GRINDING

Best price guarantee Tony

0275 588 895

THINKING PAINTING?

30 year tradesman ready

now for all your interior

& exterior requirements,

with roofs a speciality!

Call Craig now on

02102692138

TILER/CARPENTER

35 years exp, no job

too Catholic small. Ph Ross 027

4311440.

TILING

Flooring - Splashbacks -

Wall incl tile removal, reg

Catholic

master tiler, ph Dave 027

334 4125

T.V. SERVICE

CENTRE

Interdenominational

Repairs, tvs, microwaves,

CHIMNEY SWEEP audio amps, soundbars.

*Rotary

brush .Aerial & satellite

Interdenominational

installations, kitsets, 480D

technology*. From $70

single story. 0800 SWEEP

ME

ELECTRICIAN

Prompt & reliable

registered electrician

with 24 years experience

for all residential and

commercial work, new

housing and switch board

replacements. Phone Chris

027 516 0669

ELECTRICIAN

Moorhouse Ave, ph 03 379

1400

VHS VIDEO TAPES

& all camera tapes

converted to DVD, video

taping special occasions,

www.grahamsvideo.co.nz

ph 03 338-1655

Anglican

Community Events

ALCOHOLICS

Anglican

Registered, electrical

ANONYMOUS, If you

installation and repairs,

want to have a drink that's

Gorbie Electrical, ph 021

your business. If you want

026 73375 or 03 322 4209

to stop, we can help. Phone

GARDEN CORNER

0800 229-6757

SORTER

Vehicles Wanted

Ring Graeme 027 341`

8596 / 342 5151

CASH/CASH for any

PAINTING

unwanted vehicles, ph

30 years experience, 347 9354 or 027 476 2404

workmanship

CASH/CASH for any

guaranteed, pensioners unwanted vehicles, ph

discounts, free quotes, ph

Presbyterian

347 9354 or 027 476 2404

Robert 021 026-30757

PAINTER

DECORATOR

All int /ext painting.

Comp rates. I stand by

Canterbury. Wayne 385-

4348, 027 274 3541

PLUMBER

ALF THORPE

PLUMBING Certifying

Plumber for all types of

plumbing, maintenance,

spouting, alterations etc.

Phone 352-7402 or 0274-

350-231

PLUMBER

A Top Plumbing job

completed at a fair price,

prompt service, all work

guaranteed, Ph Brian 960-

7673 or 021 112-3492

ROOFING REPAIRS

Fully qualified, over 40

yrs experience. Ph John

027 432-3822 or 351-

9147 email johnchmill@

outlook.com

Pentecostal

Catholic

Interdenominational

To Let

Presbyterian

Career Training

Gardening

& Supplies

A GARDEN OR

LANDSCAPING TIDY

UP? Shrub, hedge &

tree pruning, Lawns,

Gardening, consistently

reliable general property

upkeep, Dip. Hort. 10

yrs experience, One off

tidy ups or on-going

service. Nick's Garden

Maintenance. Keeping

your garden beautiful.

Free Quote. Ph. 942-4440

& 022 264 7452

Holiday

Accommodation

Australia QLD

SUNSHINE

COAST

RESORT

ALEXANDRA HEADLAND

All Units Have Ocean Views.

Heated Pools, Spa & Sauna,

Free Wifi, Tennis

& Mini Golf.

CHECK OUR GREAT

WINTER SPECIALS

www.mandolin.com.au

0061 7 5443 5011

JUNE to AUG temps 20C

HOMESITTERS reqd,

lovely homes & pets. Ph

Lisa 03 359 2323 www.

townandcountryhomesit.

co.nz

BISHOPDALE

SUNNY Warm 3 Bdrm

home on lg fenced section

facing Nth, new kitchen,

u/fl insulated, new carpets,

2 heatpumps, suit family,

Anglican

long term, n/s, no dogs, ph

021 511 908

Wanted To Buy

AAA Buying goods

quality furniture,

Beds, Stoves, Washing

machines, Fridge Freezers.

Same day service. Selwyn

Dealers. Phone 980 5812

or 027 313 8156

A+ Household effects,

fridges, freezers, washing

Presbyterian

machines, ovens. Good

cash paid. Ph Paul 022

0891 671

TOOLS Garden,

garage, woodworking,

mechanical, engineering,

sawbenches, lathes, cash

buyer, ph 355-2045

Anglican

Don't have the right

the job you want?

FREE 20 week Business Admin

and Computing course.

Get that job you really want!

CALL US NOW ON:

0800 834 834

OR TEXT: 'OFFICE'

TO 027 557 8839

Easter

Presbyterian

Church Services

Presbyterian

Advertising Feature

Presbyterian

Maundy Thursday – 'Take eat this is my body...'

7.30pm Eucharist of the Lord's Supper and Footwashing

8.30pm 'Tenebrae' - Service of Shadows

Good Friday – 'Why have you forsaken me?'

9am Carrying the cross from Holy Pentecostal

Trinity Catholic Church

10.30am Creative Lifestreams service (in hall)

12 noon Vigil – music and readings in church

Easter Day – 'Christ is Risen!'

8am Eucharist with Hymns

Catholic

9.30am Festive Eucharist with Choir

10am Lifestreams Intergenerational Service (in hall)

5pm Evensong with Choir

7pm Antioch – Contemporary Worship (in hall)

Catholic

Canon Mark Chamberlain

Cnr Fendalton Rd and Tui St

Parish Office: 351 7064 l www.stbarnabas.org.nz

Catholic

Interdenominational

Easter Services

Interdenominational

We warmly invite you to our services

celebrating the dying and rising of Jesus

Christ, God's Saviour for us all.

The service information is as follows:

Thur 18 April Maundy Thursday Service of

Shadows 7.30pm

Fri 19 April Good Friday all-age service

Anglican

9.30am

Sun 21 April Easter Day services 7.45am,

9am & 10.30am

Anglican

244 Avonhead Rd. Phone 358 8780

www.stchristophers.org.nz

ST ANDREW'S AT RANGI RURU

Presbyterian PRESBYTERIAN CHURCH

16 Merivale Lane • Ph: 355 7174

standrewsatrr@xtra.co.nz

Friday 19 April

10am Good Friday Sevice

Sunday 21 April

10am Easter Sunday Service

with Communion

Anglican

Easter Services

at St Aidan's Bryndwr

Cnr Brookside Tce & Aorangi Rd, Bryndwr

Good Friday, 9am - Why Jesus?

Easter Sunday, 8:30am - Communion service

10am - Family Service with Easter Egg Hunt

'REALLY good news!'

Come and hear the good news of God's love.

Northwest Christchurch

AnglicAn PArish

st David's Belfast, 829 Main north rd

Thurs 18 Apr: 7pm, The Last Supper

st silas redwood, 237 Main north rd

Wed 17 Apr: 10am, Easter Service

Fri 19 Apr: 10am, Good Friday

Spiritualist Reflective Service

Sun 21 Apr: 10am, Resurrection

Celebration & Cafe

Phone: Evangelical

352-1366

www.northwestchchparish.org.nz

Easter at the

Transitional Cathedral

Maundy Thursday – 18 April

7:00pm Evening Eucharist of the Lord's

Supper with Footwashing.

Music by the Cathedral Choir

Good Friday – 19 April Lutheran

10:00am Children's Good Friday Service

12:00pm Celebration of the Lord's Passion

Music by the Cathedral Choir

Holy Saturday – 20 April

12:noon Tallis Lamentations Lutheran sung by the men of the Choir

9:00pm The Great Vigil of Easter

Easter Day – 21 April

8:00am Holy Eucharist

10:00am

Lutheran

Festival Choral Eucharist

Music: The Cathedral Choir

Preacher: Bishop Peter Carrell

5:00pm Choral Evensong

Music: The Cathedral Choir

Preacher: Dean Lawrence Kimberley

ChristChurch

234 Hereford St

Methodist

Cathedral

Latimer Square Transitional

Easter

Church Services

Advertising Feature

Interdenominational

Presbyterian

Anglican

Presbyterian

Pentecostal

Spiritualist

Evangelical

Methodist

Christchurch North

Methodist

Parish

Anglican

Cnr Harewood Rd & Chapel St

Easter Services

Baptist

Spiritualist

Pentecostal

Pentecost

Maundy Thursday, 7pm

Good Friday, 10am

Easter Sunday, 7am (St James Park),

10am (Holy Communion)

Monday – Thursday, 12noon – 6pm:

Church will be open for a self-guided tour

through the stations of the cross.

B
---
28 Tuesday April 16 2019

Latest Christchurch news at www.star.kiwi

NOR'WEST NEWS

We love

what we do

Congratulations to our Top 20 Consultants

for March 2019

It's an unquestionable truth – the success of our clients is

directly tied to the success of our people. We are inspired

every day by our clients stories and it's why we love doing

what we do.

Congratulations to our top performers for their passion and

dedication, their unique expertise and exemplary service.

Top

02

03

04

RICHARD DAWSON

Ilam 2

PAUL NICHOLS

Fendalton

CATHY CARTER

Fendalton

MARTIN SUTTON

Ilam 2

05

06

07

08

CORINA GREY

Ilam

JAMIN MARSHALL

Merivale

JENNI ROLTON

St Albans

FIONA NANKIVELL

Fendalton

09

10

11

12

STEVEN MARSHALL

Fendalton

PETER HAMPTON

St Albans

CHRIS LEWIS

Fendalton

MIKE TAPLEY

Ilam 2

13

14

15

16

JANINE LANEY

Ilam 2

PETER FITZHARDINGE

Ilam 2

CHRIS CAMPBELL

Merivale

BRIDGET PERRY

St Albans

17

18

19

20

DARREN WILLIAMS

Merivale

TRACY THOMSON

St Albans

LESLEY FALCONER

Merivale

CINDY-LEE SINCLAIR

Merivale

Contact one of our top performers today:

FENDALTON

03 355 6116

ILAM

03 351 6556

ILAM 2

03 351 3002

MERIVALE

03 355 6677

ST ALBANS

03 377 0377

holmwood.co.nz