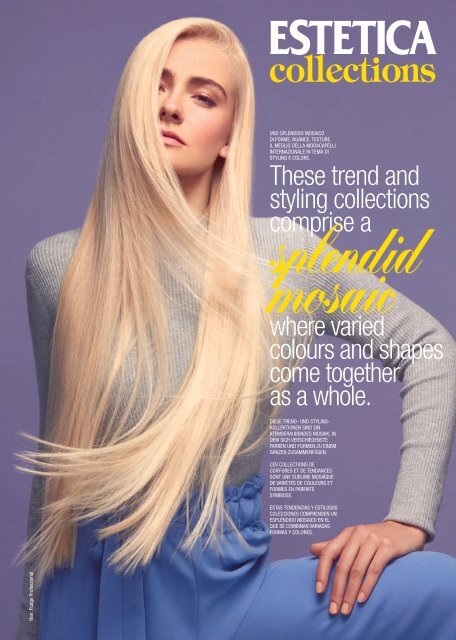 Estetica Magazine UK (2/2019 COLLECTION) - INT
Estetica Magazine is the world's leading hairdressing magazine. Founded in Italy in 1946 and published today in over 60 countries around the world, it is a global reference point for professionals working in the hair and beauty industry. Techniques, fashion, education and trends are at the core of every issue of Estetica Magazine. Further information about both the printed and digital versions of the magazine is available at www.esteticanetwork.com
UNO SPLENDIDO MOSAICO

DI FORME, NUANCE, TEXTURE.

IL MEGLIO DELLA MODACAPELLI

INTERNAZIONALE IN TEMA DI

STYLING E COLORE.

These trend and

styling collections

comprise a

where varied

colours and shapes

come together

as a whole.

DIESE TREND- UND STYLING-

KOLLEKTIONEN SIND EIN

ATEMBERAUBENDES MOSAIK, IN

DEM SICH VERSCHIEDENSTE

FARBEN UND FORMEN ZU EINEM

GANZEN ZUSAMMENFÜGEN.

CES COLLECTIONS DE

COIFFURES ET DE TENDANCES

SONT UNE SUBLIME MOSAÏQUE

DE VARIÉTÉS DE COULEURS ET

FORMES EN PARFAITE

SYMBIOSE.

ESTAS TENDENCIAS Y ESTILOSAS

COLECCIONES COMPRENDEN UN

ESPLÉNDIDO MOSAICO EN EL

QUE SE COMBINAN VARIADAS

FORMAS Y COLORES.

Hair: Fudge Professional
More magazines by this user