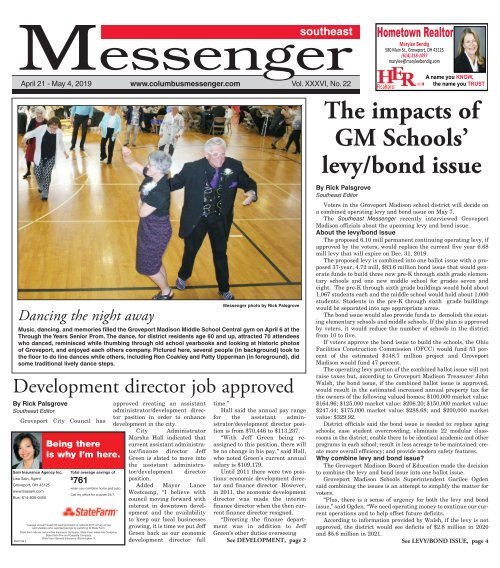 Southeast Messenger - April 21st, 2019
You also want an ePaper? Increase the reach of your titles
YUMPU automatically turns print PDFs into web optimized ePapers that Google loves.
southeast

April 21 - May 4, 2019 www.columbusmessenger.com Vol. XXXVI, No. 22

Hometown Realtor

Marylee Bendig

580 Main St., Groveport, OH 43125

(614) 218-1097

marylee@maryleebendig.com

A name you KNOW,

the name you TRUST

The impacts of

GM Schools'

levy/bond issue

Dancing the night away

Messenger photo by Rick Palsgrove

Music, dancing, and memories filled the Groveport Madison Middle School Central gym on April 6 at the

Through the Years Senior Prom. The dance, for district residents age 60 and up, attracted 70 attendees

who danced, reminisced while thumbing through old school yearbooks and looking at historic photos

of Groveport, and enjoyed each others company. Pictured here, several people (in background) took to

the floor to do line dances while others, including Ron Coakley and Patty Upperman (in foreground), did

some traditional lively dance steps.

Development director job approved

By Rick Palsgrove

Southeast Editor

Groveport City Council has

Sain Insurance Agency Inc.

Lisa Sain, Agent

Groveport, OH 43125

www.lisasain.com

Bus: 614-830-0450

Being there

is why I'm here.

Total average savings of

$

761

when you combine home and auto.

Call my office for a quote 24/7.

*average annual household savings based on national 2015 survey of new

policyholders who reported savings by switching to State Farm.

State Farm Murual Automotive Insurance Company, State Farm Indemnity Company,

State Farm Fire and Casualty Company,

State Farm General Insurance, Bloomington, IL

P097136.1

approved creating an assistant

administrator/development director

position in order to enhance

development in the city.

City Administrator

Marsha Hall indicated that

current assistant administrator/finance

director Jeff

Green is slated to move into

the assistant administrator/development

director

position.

Added Mayor Lance

Westcamp, "I believe with

council moving forward with

interest in downtown development

and the availability

to keep our local businesses

growing, it is time we put Jeff

Green back as our economic

development director full

time."

Hall said the annual pay range

for the assistant administrator/development

director position

is from $70,446 to $113,237.

"With Jeff Green being reassigned

to this position, there will

be no change in his pay," said Hall,

who noted Green's current annual

salary is $109,179.

Until 2011 there were two positions:

economic development director

and finance director. However,

in 2011, the economic development

director was made the interim

finance director when the then current

finance director resigned.

"Directing the finance department

was in addition to Jeff

Green's other duties overseeing

See DEVELOPMENT, page 2

By Rick Palsgrove

Southeast Editor

Voters in the Groveport Madison school district will decide on

a combined operating levy and bond issue on May 7.

The Southeast Messenger recently interviewed Groveport

Madison officials about the upcoming levy and bond issue.

About the levy/bond issue

The proposed 6.10 mill permanent continuing operating levy, if

approved by the voters, would replace the current five year 6.68

mill levy that will expire on Dec. 31, 2019.

The proposed levy is combined into one ballot issue with a proposed

37-year, 4.72 mill, $83.6 million bond issue that would generate

funds to build three new pre-K through sixth grade elementary

schools and one new middle school for grades seven and

eight. The pre-K through sixth grade buildings would hold about

1,067 students each and the middle school would hold about 1,000

students. Students in the pre-K through sixth grade buildings

would be separated into age appropriate areas.

The bond issue would also provide funds to demolish the existing

elementary schools and middle schools. If the plan is approved

by voters, it would reduce the number of schools in the district

from 10 to five.

If voters approve the bond issue to build the schools, the Ohio

Facilities Construction Commission (OFCC) would fund 53 percent

of the estimated $148.7 million project and Groveport

Madison would fund 47 percent.

The operating levy portion of the combined ballot issue will not

raise taxes but, according to Groveport Madison Treasurer John

Walsh, the bond issue, if the combined ballot issue is approved,

would result in the estimated increased annual property tax for

the owners of the following valued homes: $100,000 market value:

$164.96; $125,000 market value: $206.20; $150,000 market value:

$247.44; $175,000 market value: $288.68; and $200,000 market

value: $329.92.

District officials said the bond issue is needed to: replace aging

schools; ease student overcrowding; eliminate 22 modular classrooms

in the district; enable there to be identical academic and other

programs in each school; result in less acreage to be maintained; create

more overall efficiency; and provide modern safety features.

Why combine levy and bond issue?

The Groveport Madison Board of Education made the decision

to combine the levy and bond issue into one ballot issue.

Groveport Madison Schools Superintendent Garilee Ogden

said combining the issues is an attempt to simplify the matter for

voters.

"Plus, there is a sense of urgency for both the levy and bond

issue," said Ogden. "We need operating money to continue our current

operations and to help offset future deficits.

According to information provided by Walsh, if the levy is not

approved, the district would see deficits of $2.8 million in 2020

and $5.6 million in 2021.

See LEVY/BOND ISSUE, page 4
---
PAGE 2 - SOUTHEAST MESSENGER - April 21, 2019

DEVELOPMENT

Continued from page 1

economic development and acting as assistant

administrator," said Hall. "In 2012,

those duties became permanent, mostly

because the finance operations were going

well and as a convenience."

Hall said establishing the assistant

administrator/development director position

is needed because the city is emphasizing

development in the downtown,

office, and the city's Gateway districts,

which requires the time the position now

gives to finance.

"It's in the city's best interest to go back

to two positions so that development can

have the attention it requires," said Hall.

"Additionally, I know of no other municipality

that combines these two positions."

When asked how the proposed change

would affect the finance director position,

Hall said, "The finance director will be a

separate position overseeing the finance

department. In Groveport, in the past, the

finance director also served as assistant

administrator when needed. With this

change, the development director will handle

those duties."

As Green shifts positions, a new finance

director must be found. According to the city

charter, the finance director is appointed by

the mayor with confirmation by council.

Downtown development news

Green reported that March 29 was the

deadline for the submission of proposals for

the development of the .49 acre former

50

YEARS OF

EXCELLENCE

Dwayne R. Spence

Funeral Homes

& Crematory

1969 2019

FREE on site shredding of all paper documents by Royal

Document Destruction.

FREE recycling on most electronics by TRD Recyclers

TVs have a charge of $1.00 per screen inch.

Our Family Helping Your Family

used car lot on the northeast corner of

Main and College streets.

"Although we did not receive any proposals

by the deadline date, we plan to follow

up with the entities that requested the

request for proposals to find out their interest

in the site," said Green. "Promotion of

the site will be the focus of much of the

advertising for the remainder of 2019."

Green said the city purchased advertising

in various publications to promote the

development of commercial opportunities

in downtown Groveport.

He said city staff is considering ideas for

regular activities, especially in the summer,

to attract people to downtown

Groveport, such as possibly enlarging the

farmer's market with food trucks and pet

shows as well as presenting live music performances

downtown and elsewhere on

Main Street.

Gasoline tax revenues

Groveport will receive more in its share

of local gasoline tax revenue now that state

officials approved, effective July 1, a 10.5

cent increase in the gasoline tax, which

raises the total gasoline tax per gallon to

38.5 cents per gallon. According to Ohio

Department of Transportation estimates,

the increase in the state gasoline tax will

increase Groveport's share of the funds in

2020 from $316,569 to $514,536. The city

uses the local gasoline tax revenue for

street projects on its larger streets.

Saturday,

June 8, 2019

9:00-1:00

Pickerington

Bring your used

eyeglasses to donate to

the Lions Club

St. Vincent de Paul

Society will be

collecting clothing &

household items

Pickerington Food

Pantry will be

collecting nonperishable

food items

Door Prizes

Compliments of

Dwayne R. Spence

Funeral Home

DWAYNE R. SPENCE

FUNERAL HOME

550 Hill Rd. N, Pickerington,

OH

614-837-7126

www.spencefuneralhome.com

www.columbusmessenger.com

GM Schools transfer a

piece of land to Columbus

By Rick Palsgrove

Southeast Editor

A small piece of land has been removed

from the Groveport Madison school district.

At its April 10 meeting, the Groveport

Madison Board of Education approved

transferring a 4.1 acre parcel located at

Rickenbacker Airport to Columbus City

Schools. The land is in the southern portion

of the airport at the site of the old control

tower near the runways. The parcel is

contiguous to another parcel that is

already within the city of Columbus.

According to Franklin County Auditor

records, the land is owned by the

Columbus Municipal Airport Authority.

Also according to the county auditor, the

site's current market value is $1.1 million,

which includes $432,800 for the land and

$704,700 for improvements.

However, Groveport Madison Treasurer

John Walsh said the land is exempt from

property taxes because it is within the Port

Authority.

"The property is non-taxable so

Groveport Madison Schools will not lose

any revenue," said Walsh.

New Chromebook computers

The board approved the purchase of

1,200 new Chromebook computers at a cost

of $269,124 for student use. The purchase

will be spread over two fiscal years with

600 purchased in 2019 and 600 in 2020.

(Fiscal year 2020 starts July 1.)

The new computers will replace existing,

older Chromebooks and will be paid for

Groveport Police statistics

police news

March crime statistics for the city of

Groveport, according to the Groveport

Police: 21 accidents, 0 assaults, 2 burglary,

0 criminal mischief/trespassing, 12 domestic

disputes, 2 domestic violence, 2 OVI and

alcohol issues, 0 fights, 2 disorderly conduct,

10 thefts/robberies, 2 stolen/unauthorized

use, 0 missing persons/juveniles, 0

weapon related calls, 2 narcotic related

offenses, 30 general complaints, 9 school

related incidents, 0 identity theft, 0 suspicious

vehicles/persons, 5 parking, 3

threats, 3 vandalism, 33 traffic citations, 1

sex related crime, 3 suicide attempts.

Madison Township

Police statistics

out of the district's technology budget.

Groveport Madison Chief Technology

Officer Peter Dotson said Chromebooks

become outdated after five years.

"These new Chromebooks will go primarily

to sixth grade and ninth grade students

next year," said Dotson. "That will

leave around 200 to fill in for new students

and other replacements in grades 7, 8, 10

and 11."

Dotson said the district has provided

Chromebooks for each student in grades K-

12 for two years.

"We have had students using

Chromebooks since 2013, but they were a

shared resource in each building," said

Dotson. "Now every student kindergarten

through 12th grade has a Chromebook

assigned to them (approximately 6,000).

We also keep from 15 to 60, depending on

the building size, loaner devices at each

building."

Dotson said students in grades six

through 12 are allowed to take the

Chromebooks home with a signed agreement.

"We are also piloting take home at three

elementary schools," said Dotson. "Sedalia

and Glendening allow take home for students

needing intervention when they use

an online intervention program. Groveport

Elementary is piloting take home with

their fifth graders. We also have online

summer school opportunities for all grade

levels using online tools and our teachers.

This is the second year for the summer

school program."

March crime statistics for Madison

Township, according to the Madison

Township Police: 4 attempted overdose, 0

animal complaint, 8 assaults, 4 burglary, 0

dead upon arrival, 24 domestic complaints,

9 driving under the influence, 1 drunk, 1

fight, 0 fire, 2 juvenile complaints, 1 mental

assist, 18 miscellaneous incidents, 1

misdemeanor warrant, 2 missing persons,

18 mutual aid, 4 public assistance, 0 recovered

vehicle, 0 robbery, 0 shots fired, 3

stolen vehicle, 2 suicide attempt, 1 suspicious

person/vehicle, 7 thefts, 3 threats or

harassment, 100 traffic offenses, 2 trespass

warnings, 4 vandalism, 0 vehicle accident -

hit-skip, 9 vehicle accident - property damage

only, 1 vehicle accident - with injury, 4

vehicle impounds, and 324 dispatched

calls.

Police history exhibit

An exhibit about the history of the

Groveport Police Department will be on

display throughout May at Groveport

Town Hall, 648 Main St.

The exhibit features badges, uniforms,

photos, historical newspaper articles, vintage

radio and police equipment, General

Paul Tibbetts' police badge and ID from the

1960s, and more.

Town Hall is open Monday through

Friday from 9 a.m. to 5 p.m., Saturday

from 11 a.m. to 7 p.m., and Sunday noon to

6 p.m. For information call 614-836-3333.
---
www.columbusmessenger.com

Cruiser softball team is on a roll

It's time for

April 21, 2019 - SOUTHEAST MESSENGER - PAGE 3

KINDERGARTEN

KINDERGAR REGISTRATION

TION

MARCH 4 - APRIL 22, 2019

IS YOUR CHILD READY?

Messenger photos by Rick Palsgrove

The Groveport Madison Cruiser varsity softball team exploded for 39 runs in two

recent games. The Cruisers defeated Franklin Heights 21-0 on April 10 and Canal

Winchester 18-4 on April 11. Pictured here is Cruiser Lexi Wright safely sliding

into third base in the win against Canal Winchester. In the game at Canal

Winchester, Gabby Adams hit two home runs in back-to-back innings and Lanie

White also homered. The Cruisers also defeated New Albany 5-0 on April 15. On

April 17 the Cruisers beat Newark 8-6 as White clobbered two more home runs. As

of April 17, the Cruisers were 11-4 overall and 4-0 in league play.

ELIGIBILITY REQUIREMENTS

THREE EASY STEPS:

Cruiser pitcher Ally Maddy is shown

here firing in a pitch during the game

against Canal Winchester. As of April

17, Maddy was 8-2 as a pitcher.

Cruiser shortstop Lanie White prepares

to throw out a Canal Winchester

base runner.

Gabby Adams, Lanie White, and Ally

Maddy celebrate at home plate after

scoring against Canal Winchester.

CENTRAL ENROLLMENT

4400 Marketing Place, Suite B

Groveport, OH 43125

(614) 491-8288

gocruisers.org
---
PAGE 4 - SOUTHEAST MESSENGER - April 21, 2019

Alumni banquet

Groveport Madison High School's 126th

annual alumni banquet will be held May

18 at Groveport Madison Middle School

Central, 751 Main St. Registration begins

at 4:30 p.m. and dinner is at 5 p.m. Dinners

are $16 each and reservations must be

made by May 10. Send your check payable

to Groveport Alumni Association, Box 382,

Groveport, OH 43125. This year's honored

LEVY/BOND ISSUE

Continued from page 1

"We're also next in line for OFCC funding

for building new schools and we don't

want to lose our place in line," said Ogden.

"If the bond issue fails, the state money

would go to another district."

Groveport Madison Communications

Director Jeff Warner added, "We're already

over capacity at each of our schools and

we're putting a lot of money into repairs.

Delaying passage of the bond issue will

only make the situation worse."

What cuts will be made

if the levy/bond issue fails?

Ogden said the district has not yet identified

specific cuts that would be made if

the levy/bond issue fails.

"We hope to continue moving forward in

a positive direction," said Ogden, but she

added that, if the levy fails, cuts would

have to be identified.

Ogden said if the levy/bond issue fails it

will be up to the board of education to

decide when and how the district would

return to the ballot. However, the earliest

would be in November as the deadline to

appear on an August special election ballot

will have passed before the May 7 election

takes place.

Enrollment and high school addition

The district's current total enrollment is

6,048 with 1,667 students in the high

school.

In 2013-14, the OFCC said there were

5,638 students in the district and projected

that by 2023-24 there would be 5,539. The

OFCC had projected there would be 1,370

students in the high school in 2018-19 and

1,494 by 2023-24.

Because there are more students than

projected by the OFCC, the district hopes

to build a four room classroom addition

(with OFCC approval) on the high school's

east wing using $2 million in savings left

over from the high school construction project.

Ogden said knowing the likelihood that

there would have been more students in

the high school than OFCC had projected,

the district went ahead and installed the

foundation piers and upgraded the HVAC

systems in that part of the building to

accommodate an addition. This was done

during the initial construction of the high

school.

Ogden said the enrollment growth in the

district is spurred by families' attraction to

the new high school and the district's

improved academics.

"We've had a gradual increase in enrollment

the past four years and this summer

we added 260 students districtwide," said

Ogden. "As we improve academically we'll

attract more."

classes are the class of 1969, which is celebrating

its 50th anniversary, and the class

of 1994, which is celebrating its 25th.

Groveport Elementary and Middle School

Central will be open for alumni visitation

on May 18 from 3-4:30 p.m.

Alumni Hall of Fame

The newly refurbished Groveport

Madison High School Alumni Hall of Fame

Messenger photo by Rick Palsgrove

Groveport Elementary School located in downtown Groveport.

Ogden said the OFCC's original enrollment

projections were based on a previous

10 year period when there was little growth

in enrollment. She said if the levy/bond

issue passes, a new enrollment projection

study will be done and the OFCC can base

figures on the new trends.

Ogden said Groveport Madison does not

have open enrollment.

"We do a residency check on every student

who enrolls and we ask for things like

copies of a lease signed by a landlord, a

mortgage, or utility bills," said Ogden.

Building repairs

District officials said that, in 2012, the

OFCC recommended the district replace all

of its remaining older schools because the

$78 million cost to renovate them would

exceed the cost of building new.

Ogden said maintenance and repairs of

the district's buildings have been ongoing.

She said so far this year 1,380 maintenance

issues (for example, problems with toilets

or broken windows) have all been completed

with a turnaround time of less than two

days.

"Last summer, we had $700,000 in

immediate repair needs but we could only

afford to perform $220,000 worth of this

work based on how much money was available

in our permanent improvement fund,"

said Ogden. "But anything that is a safety

issue is addressed immediately. For example,

a basement foundation wall recently

collapsed at Groveport Elementary, but it

was immediately fixed over a weekend.

She said Groveport Elementary and

will be re-dedicated with a ceremony on

May 18 from 2:30-3:15 p.m. at Groveport

Madison High School, 4475 S. Hamilton

Road. The alumni plaques have been professionally

redone, complete with new

frames, glass, and engraved plates. The

plaques will be mounted on the walls in the

new high school's mezzanine.

Following the ceremony, brief tours of

the new high school will be available.

Middle School Central need $5 million in

roof replacement.

"But we don't have the money," said

Ogden. "Any time there is a leak we patch

and repair it."

Potential new school locations

Ogden said the district could use two

existing sites for potential new schools - the

Glendening Elementary/Middle School

South site and the Sedalia

Elementary/Middle School North site. Two

more sites would need to be found.

The district entered into an agreement

to purchase acreage along Noe-Bixby Road

that could become a new school site if soil

and flood plain studies justify it and if the

board of education decides to finalize the

purchase agreement.

Ogden said the hope is to place the new

elementary schools close to neighborhoods

and find a centralized location for the new

middle school.

According to district officials, two-thirds

of the district's students reside north of

U.S. Route 33 and one third reside south of

that highway.

"We're trying to be intentional about

what properties we use in relation to where

our children live and the community's

needs," said Ogden.

What happens to old school sites?

Warner said there is a state process for

handling public lands. If the levy/bond

issue passes and the old school sites are

considered unusable to the district, the

school properties must be appraised and

www.columbusmessenger.com

Art show honorees

The following Groveport Madison students

earned honors at the recent District

Art Show: People's Choice Awards - Aliyah

Cooper, Dunloe Elementary, fourth grade;

Sayvon Morris, Middle School South, seventh

grade; Kaitlyn Tinney, high school

junior; Superintendent's Choice Award -

Serena Musungu, high school senior.

then be first offered to a community or

charter school. If there are no takers, the

properties could go to public auction or

they could be inter-governmentally transferred

to another government entity for a

public purpose.

"We will not leave abandoned buildings

or any unsafe environments," said Ogden.

Warner said, once the buildings are

demolished and the land converted to green

space, it's the district's responsibility to

maintain them until the properties go to

another owner.

Transportation costs

Ogden said a detailed analysis of future

bus transportation costs has not been made

yet, but she believes busing efficiency

would improve with the new schools by

shortening travel distances when school

attendance boundaries are redefined and

by not having to bus all the gifted students

to one faraway school as is done now.

The fate of Groveport Elementary

and Middle School Central

Both Groveport Elementary and Middle

School Central are on the National

Register of Historic Places.

"The city of Groveport and Groveport

Madison Schools are in the infancy stage to

consider possible uses for the buildings and

property," said Groveport City

Administrator Marsha Hall of these

schools. "Both entities believe this is an

important piece of the downtown and we

are interested in working together, if possible,

to arrive at a solution that benefits the

entire community."

Ogden said, "We're committed to preserving

the history of Groveport

Elementary/Middle School Central and are

interested in working with the city."

Added Warner, "We know there is a sentimental

attachment in the community to

Groveport Elementary and we want to

respect that."

Economic impact on downtown

The possible departure of two schools

located in downtown Groveport could mean

fewer people coming to the city's core daily,

which could have an adverse economic

impact on local businesses.

"We are cognizant of this," said Ogden,

who also serves on the city's Community

Investment Corporation board. "We want

to make sure there are no negative economic

impacts."

She noted there would still be schools in

the Groveport city limits because the

Glendening/Middle School South site and

the new high school are within the city's

borders.
---
www.columbusmessenger.com April 21, 2019 - SOUTHEAST MESSENGER - PAGE 5

Ohio & Erie Canal corridor named to National Register

By Rick Palsgrove

Southeast Editor

The Ohio & Erie Canal Southern

Descent Historic District, which includes

Lock 22 in Groveport, has been officially

added to the National Register of Historic

Places.

"My reaction? I was excited beyond all

words!" said Cathy Nelson, an independent

historical preservation coordinator, when she

heard about the district receiving this recognition.

Groveport city officials were pleased to

hear the news, too.

"This is the culmination of a lot of hard

work by the canal partners, and Groveport

is excited to be a part of this recognition,"

said Groveport City Administrator Marsha

Hall. "Mayor Lance Westcamp, in particular,

was enthusiastic that the city take a

role in assuring this was accomplished. As

he stated in his letter of support, 'The city

of Groveport has a rich history as a port on

the canal and maintains that connection to

our past through the preservation of local

canal-era artifacts and monuments, not the

least of which is Ohio and Erie Canal Lock

22.'"

Westcamp said history is important in

Groveport.

"Any time we can do things to preserve

our heritage I'm all for it. Plus, we'll never

forget that the cleaning up and restoration

efforts for Lock 22 gained momentum several

years ago as an Eagle Scout project by

Nathan White," said Westcamp. "The

National Register designation for Lock 22

as part of Ohio & Erie Canal Southern

Descent Historic District is also an opportunity

to showcase our community as a

welcoming and interesting place for people

to visit."

When asked how and why the city will

use this designation of Lock 22 and the

Ohio & Erie Canal Southern Descent

Historic District as a marketing tool to

attract visitors and business to Groveport,

Hall said, "Groveport will work with the

other coalition members to develop marketing

information to provide to the public

interested in visiting the sites on self-tours

throughout the canal district. We hope that

this will bring visitors to Groveport."

The Ohio & Erie Canal Southern

Descent Historic District includes 14 historic

canal sites along a 100 mile stretch of

the old Ohio and Erie Canal in central and

southern Ohio. The sites include

Groveport's lock 22, located in the northern

part of Groveport Park, as well as the following

other locations: Bibler Lock (lock 8 in

Baltimore); locks 26, 27, 29, and 30 in

Lockbourne; the Big Walnut guard lock to the

Columbus feeder canal near Lockbourne; lock

2 of the Columbus feeder; lock 31 near

Ashville; the Scioto River aqueduct abutment

and piers located about 650 feet downstream

from the U.S. Route 22 bridge; the Circleville

feeder inlet; the watered canal prism near

Circleville and Westfall; lock 48 near

Rushtown; and lock 50 Union Mills near

West Portsmouth. Most of these nearly 190-

year-old features are significantly considered

to be in fair to good condition.

"The canal story is fascinating," said

Nelson earlier this year. "Think of how hard

it was to construct the canal. It was hard

labor done by hand with shovels and picks.

It's an extraordinary piece of Ohio history.

That we still have many of the stone locks

and other features in place that help tell that

story is amazing. It's a story that deserves to

be told."

Local government officials, historians, private

citizens and others from along the route

worked to gather information for the

National Register of Historic Places nomination.

Jeff Darbee, an historic preservation

consultant with Benjamin D. Rickey & Co. of

Columbus, wrote and completed the nomination

form, aided by Nancy Recchie, and with

comments from the State Historic

Preservation Office at the Ohio History

Connection. Matt Leasure, of the firm

Designing Local in Columbus, prepared the

mapping.

Meaning of the National Register

Darbee said the National Register listing

is "a kind of seal of approval" showing that a

property or district is historically significant

and worthy of preservation. It does not

require any public or private owner to maintain

or restore a property, or open it to the

public.

According to Darbee, the listing allows

communities to show the sites were professionally

vetted as historic and important and

some grant-making foundations and other

funding sources require that properties seeking

funds must be National Register listed.

Canal history

The Ohio and Erie Canal was completed

between 1827-32 and wound 308 miles

through the state connecting Lake Erie at

Cleveland to the Ohio River in Portsmouth.

The canal, a man-made waterway that was

an engineering marvel, was built to

enhance transportation and shipping in the

state.

During the canal's heyday in the 19th century,

55 locks were situated on the Ohio and

Erie Canal from the Licking Summit in

Newark to the Ohio River. The locks' function

was to raise and lower canal boats to meet

the changing level of terrain.

"People love transportation history and

will travel to areas to see canal remnants and

sites," Nelson said in an interview earlier this

year. "These visitors enhance local economies

by bringing in tourism dollars to communities.

A historic corridor people could visit

would be fabulous for the towns near where

these locks and other canal features are located."

Lock 22 in Groveport

Lock 22 in Groveport is nearly 190-yearsold

and is made of sandstone block. Its overall

length is 117 feet and its chamber is 90 feet

long and 16 feet wide. The lock's purpose was

to raise and lower canal boats to meet the

changing terrain. The lock is owned and maintained

by the city of Groveport and is accessible

from Groveport Park and Blacklick Park.

The canal channel is still visible near lock

Messenger photo by Rick Palsgrove

Ohio and Erie Canal lock 22 is located in the northern portion of Groveport Park, 7370

Groveport Road. The lock is now on the National Register of Historic Places.

22 as well as in Groveport's Blacklick Park

and along Rohr Road south of town.

Additionally, a dry dock and canal boatyard

operated in the 1800s in what is now

Blacklick Park. The canal operated in

Groveport from 1831 to the early 1900s and

the transportation opportunities it offered for

shipping and travel were a significant factor

in the economic development and growth of

the city.
---
PAGE 6 - SOUTHEAST MESSENGER - April 21, 2019

Lung Cancer?

Asbestos exposure in industrial,

construction, manufacturing jobs, or the

military may be the cause. Family in

the home were also exposed.

Call 1-866-795-3684 or email

cancer@breakinginjurynews.com.

$30 billion is set aside for asbestos

victims with cancer. Valuable settlement

monies may not require filing a lawsuit.

SUPPORT

your

Community Paper

Through advertising, community newspapers like the

Messenger have always been FREE papers. In these

tough economic times we are asking you the reader to

help offset the current decline in advertising revenue by

participating in a voluntary payment program*.

To those who have already participated -

We Thank You.

For those who would like to, below is a form

you can mail with your payment.

*This is not a subscription.

.Name:

Address:

City/State/Zip

Letters policy

The Southeast Messenger welcomes letters to the editor.

Letters can be of any topic as long as they are not libelous. Letters

that do not have a signature, address, and telephone number, or

are signed with a pseudonym, will be rejected. PLEASE BE

BRIEF AND TO THE POINT. The Messenger reserves the

right to edit or refuse publication of any letter for any reason.

Opinions expressed in the letters are not necessarily the views of

the Messenger. Mail your letters to: Southeast Messenger, 3500

Sullivant Avenue, Columbus, OH 43204; or by email to southeast@columbusmessenger.com.

columbus

3500 Sullivant Ave., Columbus, OH 43204

1 year ($9) 2 year ($18)

Eastside Westside Southwest

Southeast

Issue 5 is not the answer

Our Groveport Madison Schools need repaired

and/or replaced, but not with larger schools outside of

the neighborhoods they now serve. There is an abundance

of research that concludes student performance

is hindered by moving to large schools. (1)

This is especially true with social and economically

disadvantaged students: "... larger schools have higher

rates of student absences and social disorder that may

hinder cognitive and social development (Gottfredson

& DiPietro, 2011)." It is equally important for students

to be able to walk to schools. (2)

Most have us have seen the footage of disruptive,

violent behavior from the high school, do we want to

see the same with our junior high and elementary students?

Replacing our small neighbor schools with larger

consolidated schools is a bad idea. I am concerned

for children's emotional, educational and physical

needs. Research is clear on this issue.

Additionally, I do not agree that two issues (levy

and bond issue) should be wrapped into one. I think we

need laws to disallow this manipulative practice by our

school boards. I without question would vote to renew

our schools' operating levy, but the fact that the

Groveport Madison Board of Education has tied a separate

bond issue to the levy (Issue 5) makes it impossible

for me to support.

References:

(1) Cotton, Kathleen. School Size, School Climate

and Student Performance, NWREL School

Improvement Research Series, Close Up May 1996.

(2) http://www.walkbiketoschool.org/wpc

o n t e n t / u p l o a d s/2017/01/Walking-to-schoolresearch1.pdf

Kathleen Casserly Walsh

Columbus

Make a difference, vote for Issue 5

I am often asked if I think things in the Groveport

Madison school district have turned around. I believe

the feeling in the district today is as different as night

and day when compared to five years ago. For the district

to have received the Ohio Dept. of Education's

2018 Momentum Award provides affirmation of the

academic improvement the district has made.

letters

www.columbusmessenger.com

We have many great teachers, a top-notch K-12 gifted

program, and many other programs that are helping

children succeed. Hopefully, one day, we can seriously

plan for school district-sponsored preschool.

Passing this levy on May 7 will give our kids equal

opportunities.

That takes care of programs and every day expenses

from the levy, but the schools will still need replaced.

To look at some schools you would wonder what is the

problem? They don't look bad, they have fresh paint,

and they appear to be well cared for, but you know

what they say about lipstick on a pig.

We still have brown water coming from the restroom

faucets. Cooks have to run the faucet for several

minutes so that they have clear water to prepare

lunches. Most of the roofs leak and are overdue to be

replaced. I understand the cost to replace the roofs at

Middle School Central and Groveport Elementary

exceed $5 million.

Just think about the safety of our kids in four of our

schools that were built using an open-classroom concept.

These rooms can't be secured in the event of an

emergency. We have 22 modular classrooms that are

extremely expensive (approximately $85,000 each) to

purchase and cost two-thirds more expensive to operate

than a conventional school building. Think of a

teacher in one without a restroom, it is storming and a

little child says they need a restroom break. What do

you do? You can postpone lunch or leaving for a "special"

but you cannot postpone a child's restroom break.

We have all seen what the new high school has done

for our community, let's complete the project. Just

imagine what a difference this will make. Our district

would be looked at in a completely different way. We

could once again be considered a great place live, not a

farming community as we once were, but a diverse,

suburban, district that can compete anytime and in

anyway. It is a great time to be a Cruiser!

Charlotte Barker

Groveport

Pay it forward

I am a proud alumni of Groveport Madison class of

1978. I started my education as a kindergartner in

1960 at Asbury Elementary. During my education at

Groveport Madison the community united for the common

good of the children. Our parents built

Dunloe, Sedalia, Madison, a new high

school, Glendening and two middle schools.

Just as our parents paid it forward for

our education I choose to pay it forward to

the next generation of Groveport Madison

students and vote yes on Issue 5.

Gayle Fout

Groveport

The Southeast Messenger

serves Groveport and

Madison Township.

southeast

Messenger

(Distribution: 19,206)

Rick Palsgrove ...................................Southeast Editor

southeast@ columbusmessenger.com

Published every other Sunday by

The Columbus Messenger Co.

3500 Sullivant Ave., Columbus, Ohio 43204-1887

(614) 272-5422

The Columbus Messenger Co. reserves the right to edit, reject or cancel

any advertisement or editorial copy at any time. The company is not

responsible for checking accuracy of items submitted for publication.

Errors in advertising copy must be called to the attention of the company

after first insertion and prior to a second insertion of the same advertising

copy.
---
www.columbusmessenger.com

Cruiser teams honored

The Groveport Madison Board of

Education honored three Cruiser high

school athletic teams on April 10.

The boys basketball team was recognized

for its community work with youth

basketball, Groveport Madison Human

Needs, and the Special Olympics.

The varsity softball team was recognized

for its two straight Ohio Capital

Conference titles as well as its charitable

work with the Firefighters Toys for Kids

program and Honor Flight Columbus.

The varsity wrestling team was recognized

for winning three straight Ohio

Capital Conference championships.

Schools and city

to celebrate Arbor Day

The city of Groveport and Groveport

Madison Schools will celebrate Arbor Day

on May 3 at 10:30 a.m. with a tree planting

at Glendening Elementary School,

4200 Glendening Drive, Groveport.

The theme will be "Old trees in

Groveport." It is believed one of the oldest

trees in Groveport is located at Glendening

Elementary.

At 1:30 p.m., a tree will also be planted

at Groveport Elementary, 715 Main St.,

and at 12:30 p.m. a tree will be planted in

Blacklick Park in memory of former councilwoman

Jan Stoots, who has passed

away.

"e Towpath Adventures

of Skinny Nye"

More than 20 detached trailers, converted

storage closets, desks on an auditorium stage, and

hallway spaces partitioned off with curtains and

metal filing cabinets. These are just some of the

temporary solutions being utilized in Groveport

Madison Schools because enrollment has far

exceeded available classroom space.

With passage of Issue 5 on the May 7 ballot,

the State will chip in $65 million to help replace

nine critically overcrowded elementary and middle

schools with four new, larger buildings. The

State funding is only for new buildings, because

the existing schools are all over 40 years old –

one is nearly 100. Fixing their plumbing, electrical,

roof, and structural issues also wouldn't

Special Olympics

A chapter of Special Olympics Ohio

formed in the Groveport/Canal Winchester

The Groveport Heritage Society's free area. Its mission is to provide year round

program on April 25 at 7 p.m. at Groveport sports training and competition in a variety

Town Hall, 648 Main St., will be "Life on

of Olympic type sports for intellectual-

the Ohio and Erie Canal: The Towpath ly disabled individuals. For information

Adventures of Skinny Nye," presented by contact local coordinators Penny and

Marilyn Weymouth Seguin, author of Cassandra Hilty at groveportspecialolympics@gmail.com

"Silver Ribbon Skinny: The Towpath

or at (614) 395-

Adventures of Skinny Nye, a Muleskinner 8992 or 395-6640. Donations may be sent

on the Ohio & Erie Canal, 1884."

to Groveport Special Olympics, P.O. Box

She will be recounting the life of Pearl 296, Groveport, OH 43125.

R. Nye who was born on a canal boat near Special Olympics will collect donations

Chillicothe and went on to become a boat on May 18 from 9:30 a.m. to 3:30 p.m. at

captain until the canal closed in 1913. the intersections of Main Street and

Hendron Road, Main and College streets,

and Main and Front streets in Groveport.

PAID ADVERTISING

Issue 5 is good for community

address overcrowding.

Issue 5 also replaces an expiring operating

levy which funds day-to-day educational costs

across the District. Without Issue 5, the schools

will lose millions in existing, critical operating

dollars, making cuts to teachers and educational

programs necessary. The operating levy is not a

tax increase, and the cost of the bond issue to

qualify for the State funds for new schools is less

than 50 cents a day per $100,000 of home value.

Issue 5 is needed for students, good for our

community, and smart for taxpayers. Visit

SupportGroveportMadisonSchools.com for more

information.

April 21, 2019 - SOUTHEAST MESSENGER - PAGE 7

columbusmessenger.com

AUTO HOME BUSINESS LIFE INSURANCE

Beplerinsurance.com

614.837.4379

staff@beplerinsurance.com

3246 Noe Bixby Rd., Columbus, Ohio 43232

12 th Annual

"Ladies' Afternoon Tea"

Sunday, May 5, 2019 - 2-4 p.m.

Madison Township Community Center

4575 Madison Lane,Groveport, OH

Registration Begins at 1:30 p.m.

Enjoy music by: "The Treble Clef's"

Tea Buffet & Assorted Iced and Hot Teas

$8/Adults 4-12 years/$5 3 & under Free

Sponsored by: Groveport Presbyterian Women

Contact:

Beulah Morgan at 836-3119

or

Cindy Raver at 579-6068

• Our elementary and

middle schools are

aging and overcrowded. owded.

• We have an existing

operating levy that

is expiring.

• Issue 5 addresses

both needs – and brings millions

in State funds to pay half the cost for new schools.

For more info visit Suppor

upportGr

tGrovepor

eportMadisonSchools.com

NEEDED

GOOD

SMAR

ART

Issue 5 is a combined operating levy and bond issue.

The operating levy is

NOT a tax increase and

the cost of the bond is less

than 50¢ a day

per $100,000 of home value.

Paid for by Gro

ovepor

t Madison Committee for Better Schools
---
PAGE 8 - SOUTHEAST MESSENGER - April 21, 2019

SUMMER BLAST!

ELVIS

featuring

Mike Albert

and the Big E Band

Saturday

June 15, 2019

VILLA MILANO

1630 Schrock Rd.

Dinner/Show Tickets $ 49.00

Tables of 10 Available

Tickets by Phone: 614-792-3135

Still Good Seats Available

Visa • Mastercard • Discover

NO REFUNDS

Cruiser baseball in action

www.columbusmessenger.com

Music from classic films at Wagnalls Memorial

The Wagnalls Memorial, 150 E.

Columbus St., Lithopolis) will present a

free will offering piano concert performed

by Laurence MacDonald on May 5 from 2-

4 p.m.

He will perform selections from classic

films such as "Gone with the Wind" and

"E.T." as well as ragtime, Gershwin's

"Rhapsody in Blue," and many other

favorites.

MacDonald spent most of his early life in

Columbus, where he attended St. Mary

Magdalene Catholic elementary school and

St. Charles Borromeo Preparatory School.

He received a bachelor degree cum laude in

piano from The Ohio State University (1963)

and a Master of Arts in Music History and

Literature (OSU, 1966). He is a professor

emeritus at C. S. Mott Community College,

where he teaches a course he developed on

the history of film music.

In addition to his teaching career, he is

also a performance pianist, a church choir

director, a film critic and reviewer for

newspapers and radio stations, and a published

author. One of Laurence's books,

"100 Greatest Film Scores," will be available

to purchase at the concert. For information,

call 614-837-4765 or visit

www.wagnalls.org.

Messenger photos by Rick Palsgrove

The Groveport Madison Cruiser varsity baseball team lost to Canal Winchester

2-1 in 10 innings in a game played in Groveport on April 11. Pictured here is

Cruiser pitcher Colin Rice just after he released a pitch against Canal

Winchester.

Cruiser third baseman Robby Morgan fields a ground ball and prepares to throw the

runner out during the game against Canal Winchester
---
www.columbusmessenger.com

April 21, 2019 -SOUTHEAST MESSENGER - PAGE 9

CLASSIFIED ADS

Deadlines: Southeast and West editions, Wednesdays at 5 p.m., • East, Southwest, Madison editions, Tuesdays at 5 p.m.

All editions by phone, Tuesdays at 5 p.m. • Service Directory, Tuesdays at 5 p.m.

xCome & Get It

xPublic Notices

COME AND GET IT

Deadlines are Tuesdays by 5 pm.

Call For Publication Schedule 614-272-5422

Need to Get Rid of Something Fast - Advertise It Here For FREE!

FREE Garden Straw for gardens or bedding. Call for appointment for pickup.

Circle S Farms, 9015 London-Groveport Road, Grove City, 43123

Grove City - 614-878-7980

Simmons Queen Size Mattress & Box Spring

ML - Groveport - 614-836-2718

Six Foot Sofa Bed Couch, good condition except has some damage to arms,

can cover, brown/green/beige/rust color.

AM - Canal Winchester - 614-837-3109

FREE 4x8 Table with partial steel plate, well built. You pick up.

CM - Columbus - 614-272-5422

. Come and Get It! is a bi-weekly column that offers readers an opportunity to pass

along surplus building materials, furniture, electronic equipment, crafts, supplies,

appliances, plants or household goods to anybody who will come and get them - as

long as they're FREE. NO PETS! Just send us a brief note describing what you want to

get rid of, along with your name, address and phone number. Nonprofit organizations

are welcome to submit requests for donations of items.

Send information to The Columbus Messenger, Attention: Come and Get It, 3500

Sullivant Ave., Columbus, OH43204. Deadline is Tuesdays by 5 pm for following

Mondays publication. Messenger Newspapers is not responsible for any

complications that may occur. Please contact us when items are gone. 272-5422

Come & Get It

xInformation

ASSOCIATION ADS

Dish Network - Satellite

Television Service. Now

Over 190 channels for

ONLY $59.99/mo! ,

FREE Installation, FREE

Streaming, FREE HD.

Add Internet for $14.95 a

month. 1-800-219-1271

APRIL GIVEAWAY

Place a prepaid classified line ad in our paper

during the month of APRIL and be registered

to win a $50 Gift Card from

The Columbus Messenger

Newspapers.

All ads received by mail, in person,

e-mail or phone will be included in the drawing.

Drawing will be held May 1st, 2019

and the winner will be notified and published

in our May 5th issue .

GOOD LUCK TO

EVERYONE!!!!

ASSOCIATION ADS

Attention Viagra users:

Generic 100 mg blue

pills or Generic 20 mg

yellow pills. Get 45 plus

5 free $99 + S/H. Guaranteed,

no prescription

necessary. Call 866-793-

7442

ASSOCIATION ADS

Suffering from an AD-

DICTION to Alcohol,

Opiates, Prescription

Pain Killers or other

DRUGS? There is hope!

Call Today to speak with

someone who cares.

Call NOW 1-855-866-

0913

DO YOU HAVE AN AN-

TIQUE OR CLASSIC

CAR TO SELL? Advertise

with us. You choose

where you want to advertise.

800-450-6631

visit macnetonline.com

for details

Lung Cancer? And Age

60+? You And Your

Family May Be Entitled

To Significant Cash

Award. Call 866-428-

1639 for Information. No

Risk. No Money Out Of

Pocket.

VIAGRA & CIALIS! 60

pills for $99. 100 pills for

$150 FREE shipping.

Money back guaranteed!

1-800-503-7846

PLANNING AND

ZONING COMMISSION

***NOTICE OF MEETING***

MONDAY, MAY 6, 2019 6:00 P.M.

GROVEPORT MUNICIPAL BUILDING

COUNCIL CHAMBERS—2ND FLOOR

#2019-01 A request by The Pizzuti Companies

for a Final Development Plan at 4500 S.

Hamilton Road, Parcel #185-001293 and

Parcel #185-001294.

#2019-02 A request by Derik Leary for a Final

Development Plan at 2400 Rohr Road. Parcel

#154-000002.

The public is invited to attend and participate.

ASSOCIATION ADS

A PLACE FOR MOM. The

nation's largest senior living

referral service. Contact

our trusted, local experts

today! Our service is

FREE/no obligation. CALL

1-844-722-7993

CARS/TRUCKS WANT-

ED!!! All Makes/Models

2002-2018! Any Condition.

Running or Not. Top $$$

Paid! Free Towing! We're

Nationwide! Call Now: 1-

888-985-1806

AIRLINES ARE HIRING -

Get FAA approved hands

on Aviation training. Financial

aid for qualified students

- Career placement

assistance. Call Aviation

Institute of Maintenance

877-818-0783

Call Empire Today® to

schedule a FREE inhome

estimate on Carpeting

& Flooring. Call

Today! 1-866-538-7163

Call Empire Today® to

schedule a FREE inhome

estimate on Carpeting

& Flooring. Call

Today! 1-800-508-2824

HEAR AGAIN! Try our

hearing aid for just $75

down and $50 per

month! Call 800-426-

4212 and mention 88272

for a risk free trial! FREE

SHIPPING!

[WANTED] CARS/

TRUCKS WANTED!!!

All Makes/Models 2002-

2018! Any Condition. Running

or Not. Competitive

Offer! Free Towing! We're

Nationwide! Call Now: 1-

888-368-1016

ASSOCIATION ADS

READER

ADVISORY

The National Trade Association

we belong to has

purchased the following

classifieds. Determining

the value of their service

or product is advised by

this publication. In order

to avoid misunderstandings,

some advertisers do

not offer "employment"

but rather supply the

readers with manuals, directories

and other materials

designed to help

their clients establish mail

order selling and other

businesses at home. Under

NO circumstance

should you send any

money in advance or give

the client your checking,

license ID or credit card

numbers. Also beware of

ads that claim to guarantee

loans regardless of

credit and note that if a

credit repair company

does business only over

the phone it's illegal to request

any money before

delivering its service. All

funds are based in US

dollars. Toll Free numbers

may or may not

reach Canada. Please

check with the Better

Business Bureau 614-

486-6336 or the Ohio Attorney

General's Consumer

Protection Section

614-466-4986 for more

information on the company

you are seeking to

do business with.

PUBLIC NOTICE

Groveport Madison Local Schools

invites the submission of sealed

Proposals for Food Service Operations

A Request for Proposal (RFP) with information and requirements is available

for all interested vendors from the District's offices, at 4400 Marketing Place,

Suite B, Groveport, OH 43125.

Proposals will be accepted at the above office, addressed to the attention of

James Grube, Deputy Superintendent, until 12 p.m. on Tuesday, June 11,

2019. Any proposal received after that time will be returned unopened. No

faxed or emailed proposals will be accepted or considered.

Groveport Madison Schools reserves the right to accept or reject any and all

proposals in whole or in part, to waive any and all irregularities, and to award

a contract to the vendor determined to have submitted the best proposal

to provide the specified services, with cost being one of the factors

considered but not the determinative factor. The District further reserves the

right to request additional information from one or more vendors submitting

proposals to further explore both the services and the pricing for the

services.

A pre-selection meeting for food services management companies

interested in providing specified services will take place on Wednesday, May

15, 2019, from 9:00 to 11:00 a.m.

Attendance at the pre-selection meeting is mandatory. All questions after

the pre-selection meeting must be made in writing to:

Mr. James Grube

Deputy Superintendent

Groveport Madison Local Schools

4400 Marketing Place, Suite B

Groveport, OH 43125

614-492-2520

Any representation and/or oral discussion not confirmed in writing will not

be binding upon the District.

ASSOCIATION ADS

Cross Country Moving,

Long distance Moving

Company, out of state

move $799 Long Distance

Movers. Get Free

quote on your Long distance

move 1-800-511-

2181

Stay in your home longer

with an American Standard

Walk-In Bathtub. Receive

up to $1,500 off,

including a free toilet,

and a lifetime warranty

on the tub and installation!

Call us at 1-844-

374-0013

Put on your TV Ears and

hear TV with unmatched

clarity. TV Ears Original

were originally $129.95 -

NOW WITH THIS SPE-

CIAL OFFER are only

$59.95 with code

MCB59! Call 1-855-993-

3188

Public Notices

ASSOCIATION ADS

DISH NETWORK $69.99

For 190 Channels. Add

High Speed Internet for

ONLY $14.95/month. Best

Technology. Best Value.

Smart HD DVR Included.

FREE Installation. Some

restrictions apply. Call 1-

855-837-9146

DISH TV - Over 190

Channels Now ONLY

$59.99/mo! 2 yr. price

guarantee, FREE Installation!

Save HUNDREDS

over Cable and DI-

RECTV. Add Internet as

low as $14.95/mo! 1-

855-977-7405

AIRLINE MECHANIC

TRAINING - Get FAA

Technician certification.

Approved for military

benefits. Financial Aid if

qualified. Job placement

assistance. Call Aviation

Institute of Maintenance

866-453-6204

ASSOCIATION ADS

GENERIC VIAGRA and

CIALIS! 100 Pills $99.00

FREE Shipping! 100%

guaranteed. 24/7 CALL

NOW! 888-889-5515

Attention: Oxygen Users!

Gain freedom with a

Portable Oxygen Concentrator!

No more

heavy tanks and refills!

Guaranteed Lowest Prices!

Call the Oxygen

Concentrator Store: 866-

288-3671

Applying for Social Security

Disability or Appealing

a Denied Claim?

Call Bill Gordon & Assoc.,

Social Security Disability

Attorneys, 1-855-

498-6323! FREE Consultations.

Local Attorneys

Nationwide [Mail: 2420 N

St. NW, Washington DC.

Office: Broward Co. FL

(TX/NM Bar.)]
---
PAGE 10 - SOUTHEAST MESSENGER - April 21, 2019

www.columbusmessenger.com

xEmployment

JOB

EXPLOSION!!

S TA F F I N G

Your Partner at Work

*Pipelayers

* Heavy Equipment

Operators

* Dirt and Utility

Foreman

*Maintenance

* Lowboy Drivers

Please fill out an application at

www.sealscoinc.com or send resume to:

Seals Construction Inc.

Human Resource Department

10283 Busey Road

Canal Winchester, Ohio 43110

IS YOUR HELP WANTED

SIGN WORKING?

If Not, consider advertising in our

Employment Section!

We reach over 41,000 homes in the

East/Southeast areas.

Call Kathy to Advertise

or for more info.

614-272-5422

ASSOCIATION ADS

SAVE ON YOUR NEXT

PRESCRIPTION! World

Health Link, Price Match

Guarantee! Prescriptions

Required. CIPA Certified.

Over 1500 medications

available. CALL Today

For A Free Price

Quote. 1-855-530-8993

Call Now!

ASSOCIATION ADS

SELLING YOUR OWN

PROPERTY? Need to

advertise it in your local

paper and others like it?

We have the placement

services to help you.

Contact MACnet MEDIA

@ 800-450-6631 or online

at MACnetOnline

.com

50 immediate openings

Warehouse to Office Work Available

Up to $13/Hour

Perfect Attendance Bonus

Manufacturing, Warehouse,

Assembly, Pick/Pack to Forklift

ALL SHIFTS!

Apply Daily at Trillium

Located at 4998 West Broad St., Suite 100

Columbus, Ohio

614-351-3100

ASSOCIATION ADS

DO YOU HAVE AN AN-

TIQUE OR CLASSIC

CAR TO SELL? Advertise

with us. You choose

where you want to advertise.

800-450-6631

visit macnetonline.com

for details

Lung Cancer? Asbestos

exposure in industrial,

construction, manufacturing

jobs, or military

may be the cause. Family

in the home were also

exposed. Call 1-866-

795-3684 or email cancer@breakinginjurynews

.com. $30 billion is set

aside for asbestos victims

with cancer. Valuable

settlement monies

may not require filing a

lawsuit.

Become a Published Author.

We want to Read

Your Book! Dorrance

Publishing-Trusted by

Authors Since 1920.

Book manuscript submissions

currently being

reviewed. Comprehensive

Services: Consultation,

Production, Promotion

and Distribution. Call

for Your Free Author's

Guide 1-877-626-2213

$$OLD GUITARS & AMPS

WANTED$$ GIBSON*

FENDER*MARTIN. ALL

BRANDS. TOP DOLLAR

PAID. CALL TOLL FREE

1-866-433-8277

KILL BED BUGS! Harris

Sprays, Mattress Covers,

Kits. Available:

Hardware Stores, The

Home Depot, homedepot.com

AT&T Internet Get more

for your High-Speed Internet

thing. Starting at

$40 / month w / 12-mo

agmt. Includes 1 TB of

data per month. Ask us

how to bundle and

SAVE! Geo & svc restrictions

apply. Call us today

1-833-707-0984

ASSOCIATION ADS

Spectrum Triple Play!

TV, Internet & Voice for

$29.99 ea. 60 MB per

second speed. No contract

or commitment.

More Channels. Faster

Internet. Unlimited Voice.

Call 1-855-652-9304

Wants to purchase minerals

and other oil and gas

interests. Send details to

P.O. Box 13557, Denver,

CO. 80201

DIRECTV & AT&T. 155

Channels & 1000s of

Shows/Movies On Demand

(w/SELECT Package.)

AT&T Internet 99

Percent Reliability. Unlimited

Texts to 120

Countries w/AT&T Wireless.

Call 4 FREE Quote

1-855-781-1565

ENJOY 100% guaranteed,

delivered to-thedoor

Omaha Steaks!

SAVE 75 PERCENT

PLUS get 4 FREE Burgers!

Order The Family

Gourmet Feast - ONLY

$49.99. Call 1-855-349-

0656 mention code

55586TJC or visit www.

omahasteaks.com/lovel3

Earthlink High Speed Internet.

As low as $14.95/

month (for the first 3

months.) Reliable High

Speed Fiber Optic Technology.

Stream Videos,

Music and More! Call

Earthlink Today 1-855-

520-7938

IMPORTANT

NOTICE

The following states: CA,

CT, FL, IA, IL, IN, KY,

LA, MD, ME, MI, MN,

NE, NC, NH, OH, OK,

SC, SD, TX, VT and WA

requires seller of certain

business opportunities to

register with each state

before selling. Call to

verify lawful registration

before you buy.

BE YOUR OWN BOSS!

INDEPENDENT

CONTRACTORS

WANTED

If you have a reliable

car and would like to

earn extra money,

then why not deliver?

• Deliver 1 or 2 days a week

• Flexible delivery hours

• Work close to home - often

in or near your neighborhood

CONTACT US

1-888-837-4342

www.thebag.com

• Deliver 7 days a week

• Delivery before dawn

• Work close to home - often

in or near your neighborhood

CONTACT US

614-461-8585

www.dispatch.com/delivery

HELP WANTED

ADVERTISING

SALES HELPER

The Advertising Dept. at

the Columbus Messenger

Newspapers is seeking a

Helper for

the Sales Department.

No Experience Necessary

Duties include:

Set Appomtments, Make

Calls, Run Errands, etc.

Senior Citizens and

welcome to apply.

Please send your

resume to:

Doug Henry,

Advertising Mgr.

Columbus Messenger

Newspapers,

3500 Sullivant Ave.,

Columbus, OH 43204

or email to doughenry@

columbusmessenger.com

Nurse or Medical Asst.

needed PT for busy

family practice office. Call

614-875-3152 or fax

resume to 614-875-0090

NOW HIRING

Commercial

Janitorial

All Shifts

Full and Parttime

Call Now

614-804-1256

4 Paws & A Tail

We are currently hiring a

FT Pet Stylist w/exp. in

a busy Grove City Pet

Salon for Immediate Hire

Please call 614-991-

0130 or drop in3899

Grove City Rd., G.C.

Employment

4/28 M

ADVERTISING

SALES HELPER

The Advertising Department at the

Columbus Messenger Newspapers

is seeking a

Helper for the Sales Department.

No Experience Necessary

Duties include: Set Appointments,

Make Calls, Run Errands, etc.

Salary plus auto allowance.

Seniors welcome to apply.

Please send your resume to:

Doug Henry, Advertising Manager

Columbus Messenger Newspapers

3500 Sullivant Ave.,Columbus, Ohio 43204

or e-mail to doughenry@columbusmessenger.com

HELP WANTED

Busy Handyman Company

looking to hire exp. handyman

with own tools & vehicle.

Wages based on exp.

Paid weekly. Call 614-284-

2100

DATED SALES

IRISH HILLS

COMMUNITY SALES

Fri, May 3, Sat, May 4

9:00 am-?

1 mile s. of Clime Road

on Demorest Rd

Posted Signs

FREE

Garage Sale

Signs

When You Stop By

Our Office At:

3500 Sullivant Ave.

And Place Your

DATED SALE AD

WANT TO BUY

We Buy Junk Cars &

Trucks. Highest Prices

Paid. 614-395-8775

$ Cash At Your Door $

for junk or unwanted cars

(Free Tow). Call

614-444-RIDE (7433)

CASH FOR CARS

614-276-2597

ANTIQUES

WANTED

Victrolas, Watches,

Clocks, Bookcases

Antiques, Furn.

Jeff 614-262-0676

or 614-783-2629

NOW HIRING!

Local High Volume Pharmacy

Immediate 2nd & 3rd shift positions available

for Pharmacy Clerks and Technicians.

Looking for energetic associates

in a fast pace environment.

NEW Starting rate: $11.50 per hour

Shift differential $.50 an hour

Please apply at: jobs.kroger.com

Use Zip Code 43217

Must be 18 years of age & have high school diploma or GED.

Call 614-333-5012 for more details.

WANT TO BUY

WANTS TO Purchase

minerals and other oil &

gas interests. Send details

to: P.O. Box 13557,

Denver, CO 80201

We Buy Cars & Trucks

$300-$3000.614-308-2626

MISCELLANEOUS

FOR SALE

Large Selection of

Chandeliers to

choose from.

All in working condition.

Going Out of Business!!

614-271-2469

FREE 4'x8' TABLE

with partial steel plate,

well built. You Pick Up.

Call

614-272-5422

Bedbug Solution like NO

other! Safe for Pets! Start

seeing results within

days!! You won't find a

more affordable and lasting

solution! Contact Info:

brendamia125@gmail.co m

614-975-0109

MISCELLANEOUS

FOR SALE

Very Large Koi fish in

outside pond for sale.

614-517-5438

REAL ESTATE

SERVICES

Property Management

We are always available!

40 yrs. exp in

Certified Property Mgmt.

Reas. Fees. Call Now!

614-783-7464

VACATION RENTALS

Englewood, Florida

Palm Manor Resort

Within minutes of white

sand Gulf beaches,

world famous Tarpon

fishing, golf courses, restaurants/shopping,

Bush

Gardens. 2 BR 2 BA

condos with all ammenities,

weekly/monthly, visit

www.palmmanor.com

or call 1-800-848-8141
---
www.columbusmessenger.com

April 21, 2019 - SOUTHEAST MESSENGER - PAGE 11

xClassified Services

INFORMATION

NEED

SOMETHING

DONE THIS

SPRING?

CHECK OUT OUR

CLASSIFIED

SERVICES!

FOR

ADVERTISING

INFO. CALL

(614) 272-5422

THE COLUMBUS

MESSENGER

AIR CONDITIONING

AIR CONDITIONING

Complete System

Clean & Check

$49.95 5-12 A

Free Electronic Leak Testing

All Makes • All Models

45 Yrs. Exp. • Senior Discount

614-351-9025

614-351-9005

APPLIANCE REPAIR

Washer, Dryer, Stove &

Refrig. Repair 875-7588

BASEMENT

WATERPROOFING

Walker's Basement

Waterproofing

Free Est. 614-359-4353

BLACKTOP

SANTIAGO'S

Sealcoating & Services LLC

Quality Materials Used

Driveway Seal

& Repairs

Top Seal Cracks

CLEANING

4-28

A&M

Commercial & Residential

Spring Clean-Ups

Mowing, Mulching, Edging

"Ask for whatever you need"

BBB Accredited

FULLY INSURED

Call or text for Free Est.

614-649-1200

Cleaning-wash walls 20 yrs

exp. Judy 614-946-2443

Looking for Mrs. Clean?

For excellent cleaning

services at reas. rates

w/great refs, depend.

10% Sr. Disc. Gwen

614-226-5229. Free Est.

CARPET CLEANING

Dirt Busters Tile/Floor-Any

3 Rms - $44.95. Laminant

floor polish/clng. Pet odor

treatment. 614-805-1084

CONCRETE

ALL-CITY CUSTOM

CONCRETE

All Types Concrete Work

New or Tear Out-Replace

37 Yrs. Exp.

(614) 207-5430

Owner is On The Job!

EDDIE MOORE

CONSTRUCTION

Quality Concrete Work

Lt. Hauling & Room Add.,

Block Work & Excavation

Stamp Patios,

Bsmt. Wall Restoration

37 Yrs Exp - Lic & Ins.

Free Ests. 614-871-3834

AJ's Concrete,

Masonry

Good Work - Fair Prices

Block Foundations

Driveways • Sidewalks

Epoxy/Overlay Floors

Bonded-Ins. • Free Ests.

Now Accepting Credit Cards

614-419-9932

EVANS

Complete Concrete.

Facebook Evansconcrete

(Schedule Now)

• Foundations • Additions

• Block • Driveways

• Patios • Sidewalks

• Colored & Stamped

(Free Estimates)

614-373-1013

Ins./Bonded • 32 Yrs. Exp.

Pour It Right, The First Time

D.J. & DAD KIMMLE

CUSTOM CONCRETE

5-12

All Types E/SE

Free Estimates

All Work Guaranteed

614-206-0158

GUTTERS

Low Price-Great Service

5 & 6" Seamless gutters,

covers, siding, gutter clng.

Bill 614-306-4541

HOME

IMPROVEMENTS

SINCE 1973

Phil Bolon Contr.

Windows & Siding

Decks, Kitchens, Baths

Room Additions,

Flooring, Roofing

Bsmt Waterproofing

Deal With Small Non-Pressure Co.

45 Yrs. Exp. - Refs. Avail.

Lic.-Bond-Ins.

Free Est. - Financing Avail.

Member BBB Of Cent. OH

O.C.I.E.B. ID #24273

614-419-3977

or 614-863-9912

5/12 A

5-12

A/M

5-12 A

HOME

IMPROVEMENTS

C&JHandyman

Services LLC

Minor Plumbing &

Electric

Install Hot Water Tanks,

Dishwashers & Disposals

Also Fencing &

Interior/Exterior Painting

Free Est. ~ 18 Yrs. Exp.

614-284-2100

LG

REMODELING

Interior & Exterior

Full Service Remodeling

• Bathrooms • Kitchens

• Tile • Drywall • Flooring

• Roofing • Siding • Etc.

NO JOB TO SMALL

A+ BBB Rating

A+ Angie's List

Lic. • Bonded • Insured

614-488-8377

www.lgroofingcolumbus@gmail.com

HOME

MAINTENANCE

Finishing Carpenter for all

your extra home repairs or

Honey-do-list. over 40 yrs.

exp. Sonny 614-325-1910

JOE'S HOME MAINT.

Home Repairs, Roofing,

Siding, Gutters, Soffits,

Misc. Int. Repairs

Int. Painting

Call Joe 614-235-6883

35 Years Exp.

LANDSCAPING

DAN'S

Mowing

Service

4/14

SE

Quality Work

Affordable Price

Groveport Resident since 1979

Licensed & Insured

Free Estimate

614-598-2545

LAWN CARE

Marty Mack Lawn Svcs.

Lawn cutting, yard cleanup.

Small tree & bush

trimming. Light hauling &

trash removal

614-589-7841

LET US MAINTAIN

YOUR LAWN & GARDEN

FOR YOU

Summer, Spring,

Winter or Fall

WE DO IT ALL!!!!

Lawn Cuts, Edging,

Trees & Shrubs, Garden,

Mulching, Hauling,

Garden Pond &

Home Maint.

Free Ests. Low Rates

$20 & Up

Kevin - 614-905-3117

5-12 A

5-12 A&M

LAWN CARE

Spring Clean-up Special

Accepting New Clients

Mowing, plant trimming,

installation, mulching.

Free Estimate.

Call Patrick 614-301-3575

MOVING

Aaron Allen Moving

Local Moving Since 1956

Bonded & Insured

614-299-6683, 263-0649

Celebrating 60 yrs in business

Proof in Pictures helping

you in retaining your security

dep. 614-562-1567

A Complete

Moving

Reasonable, Reliable

No Job Too Small

PUCO #150692-HG

Free Estimate

614-878-1179

MOWER REPAIR

LAWN MOWER DR.

"House Calls Only"

Overall Checkups

Oil Change & Filter,

Spark Plug &

Blades Sharpened

MINOR REPAIR

John

614-395-7909

johnellis0333@sbcglobal.net

PAINTING

Burt's Painting

Free ests. 614-539-3412

Painter Over 30 Yrs Exp.

Free Est. Reas Rates

Daniel 614-226-4221

A Job Well Done Again

A lic. General Contractor

Some Skilled Services

Incl: Painting • Stucco,

Repair•Carpentry•Exterior

Drainage & Home Maint.

Call Today! 614-235-1819

PEST CONTROL

Anthony Pest Control

Eliminate Your Pest For

Less $$. 614-600-8841

PLUMBING

All About Drains & Plumb.

Will snake any sm drain

$125 + tax. 614-778-2584

ALL IN ONE

PLUMBING LLC

"One Call Does It All"

$25 OFF LABOR

With This Ad

A

614-801-1508

All Major Credit Cards Accepted

POWER WASHING

4-28 A

4/28

Home Powerwash from

$99 & up. Also House

Painting. 614-805-1084

5/12 A&M

JOE STANLEY

1-833-288-ROOF (7663)

614-558-3466

Classified Services

FREE

Estimates

24 Hour

Emergency Service

Licensed &

Insurance

RESIDENTIAL • COMMERCIAL • CONDOS • APT. BUILDINGS

idealroofingcolumbus@gmail.com

POWER WASHING

MRS. POWERWASH

Any house wash $149 + tax

Single deck $69 + tax

2 Tier deck $99 + tax

Best Wash In Town

Over 45,000 Washes

Ashley, 614-771-3892

SHOP THE CLASSIFIEDS!!

Only $1 per line

columbus

❏ Check for one additional FREE week.

Telephone: _________________________________________________________

Print Your Name:____________________________________________________

Last

First

Print Your Address:___________________________________________________

Print Your City:__________________________ State:_______ Zip:____________

Print Your Ad Below…

One word each space. BE SURE YOUR TELEPHONE NUMBER OR ADDRESS is included in your

advertisement. The lessor of 4 words or 22 characters per line. We reserve the right to use abbreviations

when actual space exceeds amount purchased.

1. __________ __________ __________ __________

2. __________ __________ __________ __________

3. __________ __________ __________ __________

4. __________ __________ __________ __________

5. __________ __________ __________ __________

6. __________ __________ __________ __________

Columbus Messenger

3500 Sullivant Ave. • Columbus, Ohio 43204

614-272-5422

classified@columbusmessenger.com

$

ROOFING

Not Valid for Garage Sales

ROOFING

ROOFING

Robinson roofing & repairs

30 yrs. exp. Lifetime Cols.

resident. Lic./bonded/Ins.

Reas rates. Member of

BBB. Dennis Robinson

614-330-3087, 732-3100

West ___ Southwest ___ East ___ Southeast ___ Madison___

❏ Cash

❏ Check

❏ Money Order

❏ VISA ❏ MC

SEWING MACHINE

REPAIR

REPAIR all makes 24 hr.

service. Clean, oil, adjust

in your home. $39.95 all

work gtd. 614-890-5296

TOP SOIL

Alexander Hauling

Driveways topped w/new

limestone. We also deliver

Topsoil - comtil - sandmulch.

Specializing in

residential. 614-491-5460

Bobcat Service Avail.

TREE SERVICES

Brewer & Sons Tree Service

• Tree Removal

• Tree Trimming 5-12

A&M

• Stump Grinding

• Bucket Truck Services

Best Prices • Same Day Service

614-878-2568

Credit Card

Information

___

__________________________

Credit Card Number

____________

TREE SERVICES

TROTT

TREE & LANDSCAPE

Tree Trimming

& Removal

Also Stump Removal

Free Est. - Fully Ins.

Call 614-235-3791

Cell 614-738-0682

BURNS TREE SERVICE

Trimming, Removal &

Stump Grinding.

614-584-2164

Joe's Tree & Yard Work

Trim, thin, shape bushes,

hedges, stump grinding,

hauling. 614-598-6247

5/12

E/SE

A&M

Fast Tree Service

Tree Removal,

Stump Grinding

Free With Access,

Pruning, Shaping

Insured, Free Est.

Payment Plans Avail.

614-837-8367

614-863-1522

__(___)__

Exp. Date 3 digit code

Minimum Charge $5.00

4/28

A
---
PAGE 12 - SOUTHEAST MESSENGER - April 21, 2019

On stage at Madison Christian

Madison Christian Junior/Senior High Theatre Department

will present, "Clue!" on May 2 and May 3 at 7 p.m. and May 4 at

2 p.m. and 7 p.m. at the Madison Christian Elementary Chapel,

3565 Bixby Road, Groveport. Tickets are: students, $5, general

admission, $8, reserved, $10, Golden Ticket (closed after first performance),

general $18 for three nights, premium $24 for three

nights (only one night on the front row). Call 614-497-3456.

Groveport Farmers Market

The Groveport Farmers Market will be held every Tuesday

from June 4 through Sept. 10 from 4-7 p.m. in the grassy area

near Ace Hardware on Main St. Four of the days will have special

themes: June 4 - Family Farm Market; July 2 - Red, White, and

Kids Celebration; Aug. 6 - Dog Days; and Sept. 3 - Customer

Appreciation Day. For information call 614-836-3333.

At Slate Run Living Historical Farm

The following activities will be held at Slate Run Living

Historical Farm, 1375 State Route 674 North, Canal Winchester:

•May 4, 1-3 p.m.: Eggs, Feathers, and Fowl - Farm workers will

butcher chickens, show how eggs were preserved before refrigeration

and answer questions about keeping small flocks at home.

There may be newly hatched chicks to see. Meet at farmhouse.

At ree Creeks Metro Park

The following activities will be held at Three Creeks Metro

Park, 3860 Bixby Road, Groveport (Meet at Confluence Area

unless otherwise noted):

•April 25, 7 p.m.: Family Fun Walk - Use sight, sound, taste,

touch, and smell to explore nature on a fun 1 mile walk. Meet at

Confluence Area.

•May 4, 8-10 a.m.: Birding and Breakfast - Share a hearty breakfast

then walk the trails in search of migrating feathered friends.

Meet at Confluence Area.

Our Pictorial Past

by Rick Palsgrove

e Sunoco station's last days

www.columbusmessenger.com

Photo courtesy of the Groveport Heritage Museum

This is how the former Rich's Sunoco service station on Groveport's Main Street looked prior to its demolition

in the early 21st century. It was one of two downtown service stations that were demolished at

the time, the other gas station (which was a Sohio and later a Marathon) was just beside the Sunoco on

the corner of Main and Front streets. There were once several gas stations in Groveport. There was also

a Shell station on the south side of Main Street at Brook Alley and a Texaco station on the north side of

Main Street near where State Route 317 now passes through town. The gas stations sprouted in the early

to mid-20th century when automobiles became common in town.

Ladies' Night Out

at the Paddock Pub and Links of Groveport

The Paddock Pub

$15 per person, prepaid

Join us as Elizabeth, our Event Manager, and Danyel

cupcakes accompanied by a glass of wine.

A Mary Kay Consultant will also be joining the event.