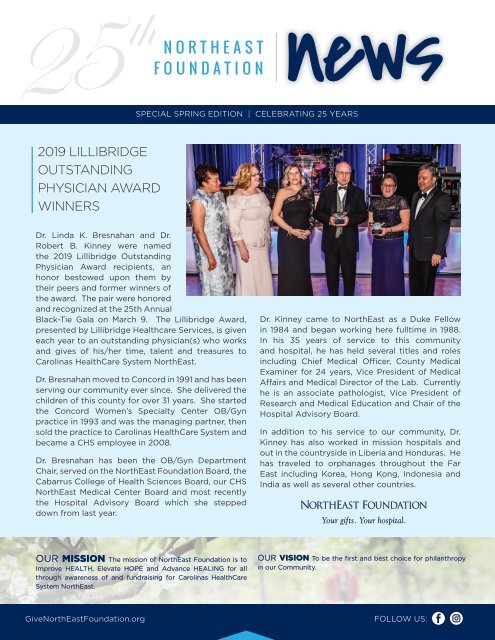 9074 NEF News Flipbook Gala 2019
Create successful ePaper yourself
Turn your PDF publications into a flip-book with our unique Google optimized e-Paper software.
SPECIAL SPRING EDITION | CELEBRATING 25 YEARS

2019 LILLIBRIDGE

OUTSTANDING

PHYSICIAN AWARD

WINNERS

Dr. Linda K. Bresnahan and Dr.

Robert B. Kinney were named

the 2019 Lillibridge Outstanding

Physician Award recipients, an

honor bestowed upon them by

their peers and former winners of

the award. The pair were honored

and recognized at the 25th Annual

Black-Tie Gala on March 9. The Lillibridge Award,

presented by Lillibridge Healthcare Services, is given

each year to an outstanding physician(s) who works

and gives of his/her time, talent and treasures to

Carolinas HealthCare System NorthEast.

Dr. Bresnahan moved to Concord in 1991 and has been

serving our community ever since. She delivered the

children of this county for over 31 years. She started

the Concord Women's Specialty Center OB/Gyn

practice in 1993 and was the managing partner, then

sold the practice to Carolinas HealthCare System and

became a CHS employee in 2008.

Dr. Bresnahan has been the OB/Gyn Department

Chair, served on the NorthEast Foundation Board, the

Cabarrus College of Health Sciences Board, our CHS

NorthEast Medical Center Board and most recently

the Hospital Advisory Board which she stepped

down from last year.

Dr. Kinney came to NorthEast as a Duke Fellow

in 1984 and began working here fulltime in 1988.

In his 35 years of service to this community

and hospital, he has held several titles and roles

including Chief Medical Officer, County Medical

Examiner for 24 years, Vice President of Medical

Affairs and Medical Director of the Lab. Currently

he is an associate pathologist, Vice President of

Research and Medical Education and Chair of the

Hospital Advisory Board.

In addition to his service to our community, Dr.

Kinney has also worked in mission hospitals and

out in the countryside in Liberia and Honduras. He

has traveled to orphanages throughout the Far

East including Korea, Hong Kong, Indonesia and

India as well as several other countries.

OUR MISSION The mission of NorthEast Foundation is to

Improve HEALTH, Elevate HOPE and Advance HEALING for all

through awareness of and fundraising for Carolinas HealthCare

System NorthEast.

OUR VISION To be the first and best choice for philanthropy

in our Community.

GiveNorthEastFoundation.org

FOLLOW US:
---
EXCITING UPDATES

FROM CHS NORTHEAST

AND NORTHEAST

FOUNDATION

NORTHEAST FOUNDATION NAMED 2018

NONPROFIT OF THE YEAR

The Cabarrus Regional Chamber of Commerce recognizes businesses, organizations and

individuals who contribute to the success of our community at its annual meeting each year.

The NorthEast Foundation was honored to receive the 2018 Nonprofit of the Year Award,

sponsored by Hilbish Ford, at the Feb. 8 meeting. Thank you to the Cabarrus Regional Chamber

of Commerce as well as the other nonprofits nominated for the work they do in our community.

NEW MAMMOGRAPHY SOFTWARE FOR THE BREAST

HEALTH CENTER AT CHS NORTHEAST

The NorthEast Foundation recently funded Hologic Low Dose

3D Mammography - C-View Software for the Breast Health

Center and mobile mammogram unit at CHS NorthEast so

they possess the necessary tools to remain at the forefront of

early breast cancer detection in our community. The C-View

software is clinically proven to increase invasive cancer

detection and decrease recall rates. It also lowers a patient's

radiation dose and compression time leading to greater

patient comfort.

SAVE THE

DATES

JULY 26, 2019

Fellowship Program

OCTOBER 22, 2019

Annual Foundation

Fashion Night

APRIL 4, 2020

Black-Tie Gala

For more information follow

us on Facebook

@NorthEastFoundation

CHILD ABUSE AWARENESS MONTH – April is Child Abuse

Awareness Month, and the Jeff Gordon Children's Advocacy

Center is bringing in guest speaker Matthew Sandusky to speak

about his experience with abuse on Friday, April 12 at 3 p.m.

Registration is free, more information can be found on the

NorthEast Foundation's Facebook page.

STRIDES FOR STROKE – CHS NorthEast is proud to have one

of the largest stroke support groups in North Carolina. Come

out and support local stroke survivors for the 5th Annual Strides

for Stroke 5K race on April 13 at the North Carolina Research

Campus.

FELLOWSHIP PROGRAM – The Summer Fellowship program will

be held on July 26. The program gives participants an exclusive

behind-the-scenes tour of the facilities at CHS NorthEast.

FOUNDATION FASHION NIGHT – The 39th Annual Foundation

Fashion Night and "Taste of Cabarrus" benefiting the NorthEast

Foundation will be held on Tuesday, October 22. Last year's

event SOLD OUT so stay tuned for more information!

2020 BLACK-TIE GALA – The date is set for the 2020 NorthEast

Foundation Gala! Mark your calendars for April 4, 2020 at the

Cabarrus Arena & Events Center.
---
NETS OVER $181,000

CELEBRATING 25 YEARS SUPPORTING

CHS NORTHEAST

THANK YOU TO

OUR TOP SPONSORS

NORTHERN LIGHTS

$10,000

Ben Mynatt Family

of Dealerships

Carolina Neurosurgery &

Spine Associates

Charlotte Radiology

Lillibridge Healthcare Services

US Acute Care Solutions

MOONLIGHT

$5,000

CHS NorthEast Administration

S&D Coffee & Tea

Shoe Show, Inc.

TEAM HONEYCUTT /

Allen Tate Realtors

US Acute Care Solutions

Wells Fargo

Wright McGraw Beyer

Architects

It was truly a night of celebration, as 600 guests filled the Cabarrus

Arena & Events Center on March 9 for the 25th Anniversary Gala of

Lights. Led by Gala Co-chairs Diane Honeycutt and Cyndie Mynatt, the

30 committee members, 25 volunteers and NorthEast Foundation Staff

transformed the arena into a wonderland to raise over $181,000 for our

hospital CHS NorthEast.

The money raised will continue to provide funding for innovative

programs, specialized equipment and additional needs like the update

to the Children's Advocacy Center (CAC). The CAC upgrade funding was

a special request made by Founding and Current Board Member Ann

Cannon, an honorary Gala Chair along with her husband Bill Cannon.

Guests were greeted by a snowy entrance as they walked up to the venue.

Once inside guests were able to mingle in several areas including a VIP

reception, the silent auction area and the Ice Lounge. The main ballroom

opened at 8 p.m. and attendees were wowed by the transformation. The

program featured information on the 25 years of the Foundation, the

presentation of the Lillibridge Outstanding Physician Awards and the

live auction before dancing into the night with local musical favorite Too

Much Sylvia.

AND THE WINNER IS…

Congratulations to Ann Cook

who won the $10,000 raffle prize!

Ann stopped by the NorthEast

Foundation office after work

one day and purchased her

winning ticket. Ann is a CHS

NorthEast Teammate who was not

in attendance at the gala, so the

NorthEast Foundation staff, with

the help of CHS NE President Phyllis Wingate and VP of

Administration Tri Tang, had the pleasure of surprising Ann

with the news the following Monday!

A special thank you to board member Dean Wike who

sold the most raffle tickets for the Gala.

Special thanks to Gala

Co-chairs Diane Honeycutt

and Cyndie Mynatt &

NorthEast Foundation Board

Chair Dakeita Vanderburg.
---
THE KIDS DID IT AGAIN! KING OF THE

COURT RAISES ANOTHER $13,000 FOR

THE NORTHEAST FOUNDATION AND

BREAST HEALTH CENTER

The Cabarrus County Schools, cfa Academy and

Cannon School students hosted another amazing

King of the Court volleyball tournament. The 2018

volleyball tournament raised $13,226 for the Breast

Health Center at CHS NorthEast. This amazing

fundraiser is held annually and put together by

local high school student leaders in our community.

To date, this fundraiser has raised almost $80,000

for the Breast Health Center. Students presented

the check to the staff at the Breast Health Center

and enjoyed a tour of the Center, learning more

about the 3D mammography machines that aid in

the detection of breast cancer.

FOUNDATION STAFF CHANGES

Heather Kincel, former Director

of Events, Marketing and Public

Relations, has taken on a new role as

the Director of Corporate Relations

and Marketing. Her focus will be on

corporate partnership strategies

and Foundation marketing.

Angel Overcash joined NorthEast Foundation in

December of 2018 and serves as the Director of

Special Events and Community

Relations. In this role, Angel will

oversee the two largest fundraisers

for the Foundation: the Annual Gala

and Foundation Fashion Night. For

the last 13 years, Angel was the

Special Events Coordinator with

the Jeff Gordon Children's Center.

NORTHEAST

FOUNDATION

TURNS 25!

The NorthEast Foundation is celebrating its 25th

Anniversary in 2019. The Foundation kicked-off its

Silver Anniversary with an event in January at the

Cabarrus Country Club to honor current and past

leaders, Board of Directors, community donors

and corporate partners who have contributed

to its accomplishments over the last 25 years.

Board Chair Dakeita Vanderburg and NorthEast

Foundation President Charlie Sastoque hosted

the evening, along with CHS

Northern Division President

Phyllis Wingate.

The hosts then presented

distinguished awards to

several new individuals and

corporate partners who

have reached the highest

levels of lifetime giving with

the NorthEast Foundation.

The Governor's Crime Commission

moved up to the Visionary Level, which is over $1

million, in its support of the Children's Advocacy

Center at Jeff Gordon Children's Center. Three

donors were recognized for reaching the

Cornerstone

Level ($100,000

– $499,999):

Susan Howell

Bare, Focused on

a Cure – Karen

Goforth and North

Carolina Hospital

Foundation.

Congratulations to Heather and Angel.

GiveNorthEastFoundation.org | 920 Church Street North | Concord, NC 28025 | 704-403-1369