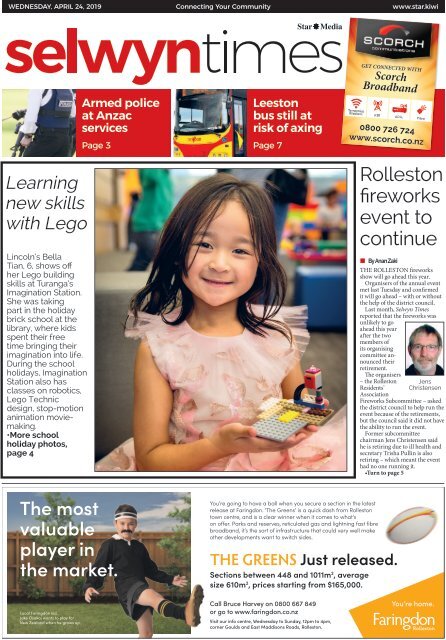 Selwyn Times: April 24, 2019
Create successful ePaper yourself
Turn your PDF publications into a flip-book with our unique Google optimized e-Paper software.
WEDNESDAY, APRIL 24, 2019

Connecting Your Community

www.star.kiwi

Armed police

at Anzac

services

Page 3

Leeston

bus still at

risk of axing

Page 7

GET CONNECTED WITH

Scorch

Broadband

0800 726 724

www.scorch.co.nz

Learning

new skills

with Lego

Lincoln's Bella

Tian, 6, shows off

her Lego building

skills at Turanga's

Imagination Station.

She was taking

part in the holiday

brick school at the

library, where kids

spent their free

time bringing their

imagination into life.

During the school

holidays, Imagination

Station also has

classes on robotics,

Lego Technic

design, stop-motion

animation moviemaking.

•More school

holiday photos,

page 4

Rolleston

fireworks

event to

continue

• By Anan Zaki

THE ROLLESTON fireworks

show will go ahead this year.

Organisers of the annual event

met last Tuesday and confirmed

it will go ahead – with or without

the help of the district council.

Last month, Selwyn Times

reported that the fireworks was

unlikely to go

ahead this year

after the two

members of

its organising

committee announced

their

retirement.

The organisers

– the Rolleston

Residents'

Association

Jens

Christensen

Fireworks Subcommittee – asked

the district council to help run the

event because of the retirements,

but the council said it did not have

the ability to run the event.

Former subcommittee

chairman Jens Christensen said

he is retiring due to ill health and

secretary Trisha Pullin is also

retiring – which meant the event

had no one running it.

•Turn to page 5
---
2 Wednesday April 24 2019

Latest Christchurch news at www.star.kiwi

from the editor's desk

our great history

SELWYN TIMES

GREAT NEWS on page 1 today - the

Rolleston Fireworks will go ahead this year.

The event has been in doubt after the two

people who made up the Rolleston Residents'

Association fireworks subcommittee

organisers decided to retire.

That left no one to run the event and the spotlight went on the

district council to take it over.

But that went down like a lead balloon and the fireworks – a

big wheel in the district's calendar – looked like it was fizzling

out.

That would have been a travesty given its popularity. But

behind the scene talks have reignited the issue and the residents'

association has now stepped back up to the plate.

Common sense has prevailed and everyone is happy.

- Barry Clarke

get in touch

GENERAL INQUIRIES Ph 379 7100

CLASSIFIED ADVERTISING Ph 379 1100

Star Media, a division of Allied Press Ltd

PO box 1467, Christchurch

starmedia.kiwi

NEWS

Anan Zaki

Ph: 021 911 576

anan.zaki@starmedia.kiwi

ADVERTISING

Lynette Evans

Ph: 364 7434

lynette.evans@starmedia.kiwi

Holiday fun

Check out what the children from Busy Bumbles got up to last

week.

Page 4

sport

Family time on the golf course

The Selwyn Futures Golf Hub is allowing "time-poor'' families

a chance to taste the sport together.

Page 10

community events

Get crafty

Selwyn libraries have various activities for kids during the

school holidays.

Page 23

The best-read local newspaper, delivered to

20,015 homes, RDs and farms every Wednesday

Ladbrooks, Tai Tapu, Leeston, Lincoln, Southbridge, Prebbleton,

Halswell, Rolleston, Templeton, Burnham, West Melton, Darfield,

Kirwee, Arthur's Pass.

RUN OUT SALE

Be Quick While Stocks Last!

proudly present the smash hit musical

ON STAGE

24 MAY -

1 JUNE 2019

DIRECTED BY

REGAN JACKSON

BOOK YOUR FREE

APPOINTMENT TODAY!

0800 324 678

www.dcis.co.nz

WAS $3,499

NOW

$3,099 INSTALLED*

FH50 HIGH WALL HEAT PUMP

*Basic back to back installation

Music by

ALAN MENKEN

Lyrics by

GLENN SLATER

Additional Book Material

DOUGLAS CARTER BEANE

Book by

CHERI STEINKELLNER

& BILL STEINKELLNER

Based on the Touchstone Pictures Motion Picture "Sister Act"

written by Joseph Howard

By arrangement with Hal Leonard Australia Pty Ltd Exclusive agent for

Music Theatre International (NY)

MUSICAL DIRECTOR

JO CASTELOW

CHOREOGRAPHER

JESSIE THOMSON

TICKETS

AVAILABLE FROM

OR ONLINE AT

BOWRANDA

ROOFS

For a free Measure & Quote PH 0800 26 26 20

● Immediately increase the value of your home

● Manufactured to custom specifications

● A permanent, sheltered outdoor space

● Strong and durable frame constructed of powdercoated

aluminium and stainless steel

● Square profile complements NZ residential architecture

● Option to enclose with outdoor blinds

● Eliminate 99% of harmful UV light

● Achieve your outdoor vision

A Lifestyle Choice

www.bowranda.co.nz
---
SELWYN TIMES Latest Christchurch news at www.star.kiwi

Wednesday April 24 2019 3

News

Armed police at Anzac services

• By Anan Zaki

ARMED POLICE will be

guarding the Rolleston Anzac

service tomorrow.

Organisers of the service, the

Rolleston Residents' Association,

told the Selwyn Times it has

received confirmation from

police that officers will be at the

event.

Police

refused

to go into

the details

due to

"operational

reasons."

But

Peter Cooper

Canterbury

Rural Area

Commander

Inspector Peter Cooper said all

officers who are present at Anzac

Day services will be armed due

to increased security measures

following the March 15 terror

attack in Christchurch.

Said Rolleston Residents'

Association chairwoman Leonie

MacLachlan: "I have spoken

to police and they will have a

presence."

Lincoln Community Anzac

Day Service Committee

chairman Ian Collins said he

did not know if police would be

present at its service.

Malvern RSA secretary Terry

Hutchinson said he has not been

able to confirm if police will be

present at the Darfield service.

Inspector Cooper said the

increased security levels are not

permanent.

"Things will settle down

again and we will get back to

a norm but just while we're in

heightened security, there will

be an armed presence at some

of the events," Inspector Cooper

said.

Police could not commit to

every service in the district due

to stretched resources.

"There are over 50 events in

Canterbury for Anzac Day so

we can't do them all," Inspector

Cooper said.

"We will put extra security

around the Christchurch ones

and some in the major township

ones [in the district]," Inspector

Cooper said.

•Anzac Day services, p12

HIGH SECURITY: Armed

police are likely to be

present at the Anzac Day

services in major townships

in the district.

Local

News

Now

In Brief

Fire rages, homes at risk

MULTIPLE CRASHES

Two cars crashed at the

intersection of Hoskyns and

Jones Rds last Tuesday afternoon.

Police said they were called

to the crash at 3.10pm and

the occupants received minor

injuries. St John said one

ambulance attended, but was not

required. Traffic was also blocked

on Main South Rd near Bankside

after a nose to tail crash. The

crash happened about 10am last

Wednesday. The crash blocked

the north bound lane of Main

South Rd. No one was injured

and a cause will be investigated, a

police spokeswoman said.

COMMUNITY FUNDS

Applications for community

funds close next Tuesday.

Funding from the district council

is available to support events

and activities that contribute to

community well being, bringing

communities together and

attracting visitors to the district.

The last round of funding

saw 22 organisations awarded

$39,000 to help run everything

from music groups and senior

support to galas and fitness

classes, the district council said.

For more information email

selwyncommunityfund@selwyn.

govt.nz or to apply visit selwyn.

govt.nz/selwyncommunityfund.

Hon Amy Adams

MP for Selwyn

I am out and around Selwyn regularly

and would love to meet you and hear

the things that are important to you

Friday 3 May

11.30am - Qubed Coffee Lounge,

Longhurst, Halswell

1.30pm - Hartnells Cafe, Prebbleton

Come up and make

yourself known to me.

Visit amyadams.co.nz

to sign up for my newsletter

Contact me

03 344 0418

selwynoffice@parliament.govt.nz

MPAmyAdams

amyadams.co.nz

Authorised by Amy Adams,

829 Main South Road,

Templeton, Christchurch.

Home & Business Security • Cameras • Gates & Fencing

Access Control • Alarm Monitoring • Home Automation

Alarms

Electrical Cameras Intercoms Auto Gates

Residential and Business Security

Tailor Made Security Solutions

All Your Electrical Needs

Custom Designed Automatic Gates

Innovative Intercom Systems

Pet Friendly Sensors

Security Cameras

Access Control Systems

Electric Fencing

Service and Maintenance

24/7 Fault Service

Locally owned and operated

All faults attended that same day

FREE QUOTES

P: (03) 384 0995 24/7 E: info@actionsecurity.co.nz

www.actionsecurity.co.nz

Have

your

say

The Public Inquiry into the Earthquake

Commission is seeking submissions on any

changes you think are needed to improve

EQC's policies, operations and service.

We'd like to hear your views about EQC to improve

its readiness for future events, and ensure the best

possible experience for all who engage with it.

We'll be accepting submissions until 19 May 2019.

You can make a submission and find out more

online at eqcinquiry.govt.nz

Submissions can also be made by filling out a

FreePost questionnaire at your local library or

service centre.

For any queries or assistance contact the

Inquiry team on info@eqcinquiry.govt.nz or

0508 INQ EQC (0508 467 372).

eqcinquiry.govt.nz

Agent: Magnitude Sports, 55 Faringdon Street, Rolleston
---
4 Wednesday April 24 2019

Latest Christchurch news at www.star.kiwi

SELWYN TIMES

The school holidays are in full swing. Children from the Busy Bumbles holiday

programme participated in activities held at Leeston, Rolleston and West Melton

last week.

Chloe Andrews, 9, made teeth from apples.

Jean Ferguson, 5, and Daghan Swanepoel,

9, in the fabulous forts activity.

Sebastian

Goddard, 10 and

Patrick Shanahan,

10 making Lego

at the house of

bricks.

Amelia Roche, 10, on Scrumdiddlyumptious Day. ​

Miley Stent, 10,

made bugs from

grapes.

Kate Hunter, 6 at

the house of bricks,

with her Lego

creation.

Amy Liu, 8, making Olympic rings during the sports

programme.

Shruti, 10, and

Aaditi Reddy,

11, having fun

at house of

bricks.

ROLLESTON OFFICE

78A Rolleston Drive, Rolleston

Richard Gray

rcg@meareswilliams.co.nz

Kate Warren

kcw@meareswilliams.co.nz

Anita Molloy-Roberts

am@meareswilliams.co.nz

T: (03) 374 2547

Offices also located at:

Lincoln – 43 Gerald Street

Christchurch – 225 Papanui Road

Darfield – 28 South Terrace

Our gorgeous range of..

sandwiches, paninis, bagels,

scones, slices, muffins,

quiches, sausage rolls & pies,

coffee and more!

CATERING AVAILABLE!

Gorgeous Food

specialist bakery

OPEN

SATURDAY

7am - 1.30pm

66-68 Springs Rd Ph: 344 6044 Email: gorgeousfood@xtra.co.nz

Open Monday-Friday 6am-3.30pm www.gorgeousfood.co.nz
---
SELWYN TIMES Latest Christchurch news at www.star.kiwi

Wednesday April 24 2019 5

News

School board says no financial issue

• By Anan Zaki

ELLESMERE COLLEGE says it

has cash reserves to navigate the

financial difficulties they are in.

Last week Selwyn Times

revealed school principal Ronan

Bass had emailed parents

informing them of its "difficult

financial position."

Mr Bass said in the email

the school

is forecast

for a fourth

consecutive

year of deficit,

caused in part

by $78,000 in

unpaid course

Mark Maddren

fees and course

donations.

He said in

the email the school is at risk

of being placed under statutory

financial management, meaning

its finances would be managed

by external agents.

But school's board of trustees

chairman Mark Maddren has

now told the Selwyn Times it has

"plenty" of cash reserves.

Two years ago the school had

cash reserves of $318,354.

When asked how much cash

reserves the school currently

has, Mr Maddren referred the

question to Mr Bass as it was a

"management" subject and not a

"governance" subject.

STILL SAFE: Ellesmere College board of trustees chairman Mark Maddren says the school has

cash reserves to overcome its current financial situation.

PHOTO: GEOFF SLOAN ​

Mr Bass would not answer

what the cash situation currently

was, saying: ''I refer you to the

board chair's response on our

school Facebook page regarding

this. The annual accounts are audited

independently before being

provided to the MOE (Ministry

of Education) in May and as such

has not yet been ratified and

submitted.''

The school recorded deficits of

($70,579) in 2016 and ($17,170)

in 2017.

Mr Maddren also said the

school is "not in financial woe"

even though statutory financial

management could be a possibility

in the future.

"In the long term, if we carried

on with deficits then yes it would

be, but we're not in financial woe

at the moment and we're just

being prudent about moving

forward into the future," Mr

Maddren said.

He also said the principal's

email – which discussed the

school's current financial situation

– did not mean it was in

financial woe.

"We're just being frugal and

want the community to realise

that things are tight and we're

doing things to stop that," Mr

Maddren said.

Local

News

Now

Rolleston fireworks show to go ahead

Fire rages, homes at risk

Move for

Arthur's Pass

visitor centre

THE DEPARTMENT of

Conservation has moved its

visitor centre services ahead of a

planned upgrade to the Arthur's

Pass National Park Visitor

Centre later this year.

The temporary visitor centre

is located next to Arthur's Pass

Motel and Lodge in the national

park village.

Work will start later this year

on the planned upgrade of the

Arthur's Pass National Park

Visitor Centre to bring it up

to 100 per cent of the National

Building Standards.

"The upgraded visitor centre

will be an exciting opportunity

to help visitors and the local

community to connect with

conservation," DOC operations

manager, Kingsley Timpson said.

DOC said it had been

planning a full upgrade of the

building for "some time".

Following the 2010/2011

earthquakes, engineers certified

the building as safe for public

and staff use but with some areas

closed to access.

"Interim improvements were

made to the building at the time

with isolation walls added and

new beams inserted to ensure

staff and visitors were safe," Mr

Timpson said.

•From page 1

The residents' association was

previously unable to find new

organisers, but the situation

appeared to have changed after

last Tuesday's meeting.

"We can confirm there will

be a Rolleston Fireworks 2019.

Discussions are ongoing with

council – we haven't finished

our dialogue with council [for

the 2020 event and beyond]," Mr

Christensen said.

He would not provide further

details about this year's event and

said more information will be

shared at a later time.

The district council said it

could not comment on the

fireworks until Friday, as the

person dealing with the fireworks

subcommittee is away.

Last month, district council

chief executive David Ward said

the fireworks display is not one of

its "core services."

He said last month: "During

the summer months, council

already running a significant list

of community events across the

district, and to add the Rolleston

fireworks would simply be to

add to the exhaustive list,

and stretch our limited

resources."

The district council staff are

due to provide a formal update

on its position on the fireworks

the next council meeting in

May.

GOING AHEAD: The annual

Rolleston Fireworks will

go ahead this year after

organisers met last Tuesday.

PHOTO: PETER WALKER ​

Join Corrections for a job you can be proud of.

Become a Corrections Offi cer, Probation Offi cer or Case Manager.

Find out more at careers.corrections.govt.nz

or call 0800 4FRONTLINE 0800 437 668
---
6 Wednesday April 24 2019

Latest Christchurch news at www.star.kiwi

SELWYN TIMES

WINTER

HEATING

TO KEEP YOU...

E

Mitre10 MEGA Hornby

Ph: 03 349 8497

*If you find a lower price on an identical stocked

product locally we will beat it by 15%

Mitre10 MEGA Papanui

Ph: 03 359 5443

*If you find the same product cheaper from another Mitre 10 store or Mitre 10 website we'll match that price.

Excludes trade and special quotes, stock liquidations and commercial quantities. The in-store price may be lower

than that advertised.
---
SELWYN TIMES Latest Christchurch news at www.star.kiwi

Wednesday April 24 2019 7

News

TWO STORIES: ECan's Darfield bus service is performing better than its

Leeston bus service, which is still at risk of being cancelled. ​

Leeston bus still

at risk of axing

• By Anan Zaki

PASSENGER numbers

on Leeston's trial bus

service remain too low to

sustain, says Environment

Canterbury.

ECan said last week the

average passenger numbers

on its daily service to

the township was at 27

passengers, down from last

month's reported average

of 28.

ECan is also running

a trial from

Darfield to central

Christchurch.

Mr Gibbon said

the service averages

41 passengers

everyday,

down from last

month's reported

average of 47

passengers.

Last month, Selwyn

Times reported the Leeston

service was at risk of being

axed due to low patronage.

The service is currently

in trial phase and planned

to continue through the

winter. The trials started

in January.

Stewart

Gibbon

Said ECan senior

manager public transport

Stewart Gibbon: "The

Leeston numbers are

still lower than what we

would like to see. Unless

there is better uptake, the

passenger numbers aren't

high enough to justify

continuing the service

long-term."

Mr Gibbon said there is

no set number of required

passengers to make it

viable, as money received

from ECan's bus fare

system is factored

into the route's

sustainability.

"It is not as simple

as there being an

ideal [passenger]

number. Other

factors come into

account such as

different fare types and

zones," he said.

The bus leaves Leeston

in the morning to central

Christchurch and returns

to Leeston in the late

afternoon.

Mr Gibbon said it is

only running buses at its

current morning and late

Trial bus departure

times:

•87 Leeston to city

7am

•87 City to Leeston

4.37pm

•86 Darfield to city

7.10am

•86 City to Darfield

4.42pm

SOURCE: METRO

CANTERBURY

afternoon times in Leeston

due to public feedback it

received.

"The community surveys

we did before starting

the trial services showed

the strongest interest was

in running trips at peak

times," he said.

"The Darfield figures

are better, however, there

is still room for growth

on this service. As well as

seeing continued growth,

we're also looking to see

that the level of usage is

sustained over the autumn

and winter months to

demonstrate long-term

sustainability of the

service," he said.

Park and ride on schedule

CONSTRUCTION works

on the park and ride

project on Kidman St,

Rolleston are continuing as

scheduled.

All stormwater and light

ducting has now been

installed.

Preparation for the

installation of the final

kerb and channel areas

began last week.

Construction works on

the footpaths is also set

to start and the car park

is planned to be sealed

within the next two weeks.

The free car parks will be

located between the district

council headquarters and

Kidman St.

The site will be next

to bus stops, allowing

users to catch a metro

bus to major shopping

centres in Rolleston and

the surrounding areas,

including Burnham,

Christchurch and Lincoln.

With a Metrocard

discount, travelling on

the bus from Rolleston

to Burnham and Lincoln

costs $2.65 and from

Rolleston to Christchurch

is $3.85.

It will also extend the

parking capacity for

district council staff, who

will get 59 additional car

spaces and six motorcycle

spaces.

Hellers Fresh NZ Burgers 400g, Pre-Cooked Sausages 1kg

Plain (excludes Flavoured Variants), Everyday Sausages 6 Pack

(Selected Varieties only), Tegel Fresh NZ Chicken Tenders 6 Pack

or Quick Cook Chicken 300-400g Varieties

Fresh NZ Skinless

Chicken Breast

Fillets

$

12 99

Coca-Cola, Sprite,

Fanta, Lift or L&P

1.5 Litre or Keri Premium

Fruit Drink 1 Litre

kg

ANY

2 FOR

$

4 99

Broccoli

Product of New Zealand

www.foursquare.co.nz

ANY

2 FOR

$

15

$

1 49 ea

The NEd 750ml

(excludes Pinot Noir

& Chardonnay)

$

13 99 ea

facebook.com/FourSquareNZ

Specials available South Island only from Monday 22nd April until Sunday 28th April

2019 or while stocks last. Wine and beer available at stores with an off licence. Wine

and beer purchases restricted to persons aged 18 years old and over.
---
8 Wednesday April 24 2019

Latest Christchurch news at www.star.kiwi

Your Local Views

SELWYN TIMES

Readers respond to last

week's article about

Lime Scooters being

mooted for Rolleston

Justine Stack -I think it is

a great idea Rolleston getting

Lime Scooters, there's not much

for our young ones to do in

Rolleston and this will be a great

thing for everyone. This 50-yearold

is looking forward to having

a go.

Estelle Dyhrberg - No,

I do not want to see Lime

Scooters here in Rolleston for

the following reasons: People do

not use them responsibly, your

picture is one example.

Supposed to be one person on

each. This town is full of small

children and older people and

they are a menace for them.

Anyone disabled or had an

injury just shrivels in fright at

them. Why is it not good

enough to use one's legs, this

town is hardly large. Can just

imagine them in the shopping

complex that is a driving

nightmare now, between shops

and getting in and out, there is

already anger over the planning

of roads here. Will be two

minutes before serious injury or

death. If Sam Broughton likes

them so much why does he not

buy a non powered one. His vote

as mayor should count no more

than any other. Of course the

company want them here, they

WHIZZING AROUND: Lime Scooters are being considered for

use in Rolleston.

are making money. It will not

stop car traffic. People

cannot take their kids

to sports on a scooter

or collect

their groceries on

them.

E Town - Being

elderly, I wouldn't use a

Lime Scooter. However,

I have a mobile scooter which

I have to use on the footpath.

Other than round the shopping

area the footpaths are

really bad in some

places and certainly

not suitable for a

Lime scooter. In some

circumstances for

safety reasons, I

would recommend

Lime Scooters be

allowed to use the road.

Amy Adams

Selwyn MP

Small towns need to thrive

SELWYN IS typical of many

regions of New Zealand in having

large open spaces and small rural

communities.

These communities are

essential to our economy as they

are the driving force behind our

primary sector, which contributes

more than $45 billion annually in

exports and feeds more than 40

million people.

In order for our primary sector

to contribute we need our small

rural communities to be thriving.

This means they need access

to quality healthcare and other

essential services to ensure they are

viable and desirable places to live.

Since the current Government

has come into power we've seen a

lack of focus on these areas with a

number of policies making things

tough. Rural health is a major

concern and it is hard to get people

to commit to living in isolated

areas if they feel that they may not

be able to access the services they

need. For example, the Government

denied funding for Rural

Health Alliance Aotearoa New

Zealand, an organisation that

plays a valuable and vital role in

addressing mental health needs.

Mental health is a significant

issue in rural areas as farmers

are deal with physical isolation,

uncertainties around unfavourable

weather and swings in the

prices of New Zealand's exports

of farm commodities. The impact

of proposed vocational education

reforms on our ITOs could also

see St John's rural ambulance

services get cut, meaning that

these areas become even more

isolated from quality healthcare.

The reason for this is that St John

receives $1 million a year from

the Industry Training Fund,

which also funds ITOs, and this

fund is up for review as part of

the Government's proposed tertiary

education reforms. This $1

million is used to train rural and

remote volunteers.

If St John no longer receives

funding for rural volunteer

training, this will be a bad thing

for health services in our rural

regions.

The roll-on effects of such

decisions, as well as proposed

taxes on farmers, are starting to

permeate through tight-knit rural

communities and their local

economies are starting to slow.

BAND

The

Air Force

On Tour 2019

New shoes for the Autumn Season

Saturday 25 May

Air Force Museum, Christchurch

Tickets available from the museum shop or airforcemuseum.co.nz

RiccaRton

37 Main South Road

RedcliffS

2 augusta Street

MaRShlandS

427 Marshland Road

daRfield

darfield Pharmacy

Ph 348 7910 | www.feetfirst.co.nz

now servicing

oXfoRd

Specialists @ Individuality

• Focus on sustainability

• Award winning family owned business

• Proven reputation of quality

• Full architectural design package

NATIONAL "HOY" WINNER plus GOLD RESERVE 2016

View our display home

Phone Jesse 021 701 265

or visit www.jdhomes.co.nz

Canterbury
---
SELWYN TIMES Latest Christchurch news at www.star.kiwi

Wednesday April 24 2019 9

Back to childhood

LAST WEEK my mum

and step-dad welcomed

two new additions to their

household.

Two dogs, just in case you

suddenly thought it was me and

VITTORIA

Vittoria.

& Matt

I was so excited to see how

Bubs would react to seeing

them, she's not had a lot of

It's nice to enjoy some

experience with dogs.

childish fun with my daughter

We went out to their house

and have a normal excuse to

for a whānau dinner and she

get back to things I can't remember

doing but obviously

spent as much time as possible

running around after them and

were happy non-memories (is

laughing her head off.

that a thing?)

The poor wee things (they are

small dogs), just new in their

I once walked in on a very

environment and suddenly they

drunk mate playing with some

were being hounded (pun) by a

Transformers toys by himself on

loud mini-human.

the floor on the wrong side of

All involved loved seeing her

21. Clearly his happy place, not

with them, especially me. And it

as good an excuse as having a

HAPPY PLACE: Vittoria on a

gave me a wee epiphany. daddy/daughter trip to the

kid, sorry bro.

Spending a lot of time with playground.

Playing with toys on the floor

Vittoria has allowed me to enjoy

is my bread and butter now and

some of the simple things that equipment. I haven't played it's completely normal.

tend to get left behind in adulthood.

Vittoria I'm on there swinging

on a swing for years, but with

So I'd best make the most

Tell 25-year-old non-parent beside her using skills I haven't

of my ticket to enjoy a second

me that he would happily dance had reason to use in all that

pseudo-childhood because it

along to children's music, in time.

won't be long before Vittoria

public, just to see a toddler I even find myself enjoying

grows out of it and tells me to

smile and he would probably toddler appropriate shows and

grow up.

have just snorted derisively into cartoons again. I don't have to •Former Star Media

his stout.

watch The Wiggles when she journalist Matt Salmons

Now I do it all the time and does, but I do. I've got all the has become a stay-athome

dad. We follow his

love it.

songs in my head and totally

Same with playground don't actually mind.

journey weekly.

BACKYARD CRITTERS

Exotic citrus pest

Mike Bowie is an ecologist who specialises in

entomology (insects and other invertebrates).

Each week he introduces a new species found

in his backyard at Lincoln. His column aims

to raise public awareness of biodiversity, the

variety of living things around us. Check out

the full list of invertebrates found at

http://naturewatch.org.nz/projects/backyardbiodiversity-bugs-in-lincoln

THE BLACK scale or olive

scale is an exotic pest known

scientifically as Saissetia oleae.

Mature female scales are

black, 3-5mm long and have a

characteristic raised H pattern on

their top.

They are a significant pest in

all citrus growing countries, but

since found in New Zealand in

1885 they have been recorded on

at least 23 native and 20 exotic

plants respectively.

Hosts include citrus, olive,

pittosporum, kiwifruit, Mexican

orange blossom, pear, grapes,

rose, rosemary and pseudopanax,

to name a few.

Heavy infestations can reduce

plant vigour, but the honeydew

these scales excrete onto leaves

and fruit below can also be an

issue.

The sugary honeydew is

attacked by black sooty mould,

which makes plants look

unsightly but which can also

reduce photosynthesis and

potentially kill the plant.

The scales are usually

parthenogenic, meaning they can

reproduce without fertilisation, as

aphids can.

Scales overwinter as immature

females and develop during the

summer, producing only one

generation per year.

Large numbers of eggs

are produced beneath the

female between November

and December, which hatch

December to January.

The immatures, called crawlers,

align along leaf veins to feed on

the sap.

JOIN US NOW!

See website for details

CONVERSE

Buy one get one half price on almost everything.

Exclusions apply

REMBRANDT

All Suits nothing over $299. All Blazers nothing over $199.

Conditions apply

THE BAG LAB

Stock take clear out – 75% off selected fashion bags.

60% off Large Cellini Suitcases. Were $398, now $159.

PUMA

50% off RRP storewide. Conditions apply. Ends 28 April

STYLES MAY DIFFER TO IMAGE SHOWN

ANDREA BIANI

Selection of ladies shoes. Were up to $219.90.

Now from $69.90 to $159.90. Conditions apply. Ends 28 April

GLASSONS

Skirts now $15, selected styles. Ends 28 April

MERRELL

20% off the lowest marked price on all Apparel & 30% off the

lowest marked price on selected Footwear

K & K FASHIONS

Take a further 50% off the marked price storewide

(selected styles). Conditions apply

THE WATCH.CO.NZ

Huge clearance sale - up to 70% off RRP storewide

Sign up to Smart Deals & be in the monthly draw for a $100 Dress-Smart gift card!

Be one of the first to hear about the latest deals, sent straight to your inbox each week!

CHRISTCHURCH 409 Main South Road, Hornby

www.dress-smart.co.nz

Open 10am-5pm, 7 Days 03 349 5750
---
10 Wednesday April 24 2019

Latest Christchurch news at www.star.kiwi

News

The Arthur's Pass Wildlife

Trust had a group of

36 volunteers who

carried Department of

Conservation predator

traps from Klondyke

Corner to Crow Valley. A

group from Canterbury

Conservation Volunteers

NZ and staff from

Engineering Firm, Pattle

Delamore Partners Ltd

turned up at Klondyke

Corner for the walk and the

traps were made by

local Arthur's Pass

volunteers. They are being

used to boost the trapping

programme in the Crow

Valley.

Families get involved in golf

• By Jacob Page

THE SELWYN Futures Golf Hub

is allowing "time-poor" families a

chance to taste the sport together.

​The initiative, launched by

Canterbury Golf in February

is aimed at getting more young

people and their families onto the

golf course.

​Clubs involved include

Charteris Bay, Ellesmere,

Greendale, Hororata, Lincoln,

McLeans Island and Tai Tapu.

Membership is open to

anyone under the age of 19 with

memberships for parents and

guardians to play with their child

at any of the clubs.

Members also get given an

apparel pack, an official New

Zealand Golf number and

handicap as well as subsidised

coaching as well as off-peak

playing rights.

Dave Williams and his two

sons two sons, Benji, 8, and

Joshua, 5, are members of the hub

after starting off at Wakatipu.

"I'm time poor, I'd rather go out

and play with my boys.

"To be playing golf with my

boys, is a bit of a dream and who

knows when it will end because

that's up to them but they're

sports mad," Williams said.

He said another positive of

the concept was the change to

IN THE SWING: Benji Williams, 8, drives from the tee at

Greendale Golf Club during a Selwyn Hub event.

PHOTO: BW MEDIA

meet and play golf with other

families.

"At this age, we are expecting

Tiger Woods . . . so as long as it's

fun and the kids are enjoying

themselves, that's all that matters."

Williams' Dad, Graham, is a

members at McLeans Island so he

said the times where he has had

three generations on the same

golf course is "very special."

SELWYN TIMES

"The important thing is for it to

be affordable and to play a range

of golf courses.

"This suits me and my boys and

the coaches tell me that both of

them hit and nice ball so that's

good enough for me," he said.

"I don't want to make time for

golf, unlike my Dad, so if I can

squeeze in some time to play with

my boys on a Saturday or Sunday

then that's great."

We get you more!

As New Zealand's largest real estate group Harcourts talks to more buyers every single day.

Ensure you get the most for your property by marketing it to as many potential buyers as possible.

To talk to buyers, talk to us today.

Four Seasons Realty

0800 789 1011

Your home for local property

Four Seasons Realty 2017 Ltd Licensed Agent REAA 2008
---
SELWYN TIMES Latest Christchurch news at www.star.kiwi

Wednesday April 24 2019 11

ellesmere speedway

SATURDAY 27 TH APRIL

PACIFICA CUP ANNIVERSARY

CTRA NZ SPRINTCAR TITLE

gates open at 12.00pm for a 1.00PM start

supporting classes:

SPRINTCARS, TQs, PRODUCTION SALOONS,

MODIFIED SPRINTS, 6 CYCLINDER SPRINT CARS,

¼ MIDGETS, LIMITED SALOONS

www.ellesmerespeedway.co.nz

Under 15yrs

free

$15 per adult

gold card

holders $10
---
12 Wednesday April 24 2019

Latest Christchurch news at www.star.kiwi

SELWYN TIMES

LEST WE FORGET

ANZAC DAY

APRIL 25, 2019

Dawn Parade

& ANZAC Service

Burnham

6am: Dawn Parade, Army Camp gates.

Address and wreath laying ceremony

Cranmer Square

6am-6.15am: People gather

6.15am: The parade begins

6.30am: The service centred around the

memorial cenotaph begins

7.15am: The service concludes with

wreath laying

Darfield

8.45am District War Memorial

Wreath laying followed by service at

Trinity Church

Dunsandel

8.30am District War Memorial

Wreath laying ceremony

Glentunnel

9.30am Glentunnel Community Centre

Service followed by wreath laying

ceremony

Greendale

2.30pm Greendale Memorial

Service followed by wreath laying

ceremony

Hororata

11.00am St John's Church

Service at Community Hall followed by

wreath laying at District War Memorial

Kirwee TBC

TIME - School Lane

Kowai

Service follows Springfield's ceremony

Leeston

10.30am Leeston Rugby Football

Pavillion. Service followed by parade to

cenotaph and wreath laying

Lincoln

2.00pm Lincoln Events Centre

Service followed by wreath laying

ceremony

Mead

9.00am Mead Hall Memorial gates

Wreath laying ceremony

Prebbleton

9.00am District War Memorial

Wreath laying ceremony

Rolleston

10.50am Parade at Rolleston

Community Centre

11.00am Service at District War Memorial

Clock Tower followed by wreath laying

ceremony

Sheffield

8.00am Cenotaph

Wreath laying ceremony

Springfield

11.00am Tawera Memorial Hall

Service followed by wreath laying at

District War Memorial

Springston

10.20am Parade at Springston School

10.30am Service at Springston Hall

followed by wreath laying ceremony at

District War Memorial

Tai Tapu

8.30am Flag raising at Primary School

9.00am District War Memorial

Service followed by wreath laying

ceremony

West Melton

10.00am West Melton Memorial

Service followed by wreath laying

ceremony

BROUGHT TO YOU BY THE FOLLOWING:

M-A

MATSON & ALLAN

REAL ESTATE LIMITED

Canterbury

C T H Timber & Hardware

Post Gifts & stationery

Canterbury Ltd

lincoln & rolleston

www.homesbyparklane.co.nz

rolleston
---
SELWYN TIMES Latest Christchurch news at www.star.kiwi

Wednesday April 24 2019 13

High hopes for basketballer

after winning national title

• By Jacob Page

LINCOLN University

basketballer Connie Poletti

hopes her third appearance

at the FISU World University

League Finals in China in

November will be a lucky charm.

​The Lincoln team of Poletti,

Ajiah Pepe, Lucy Brown and

Rosalia Samia won the national

title for a third

time a fortnight

ago, after

going through

the two-day

tournament

in Auckland

unbeaten.

​On the

Connie Poletti

surface, it may

have looked

comfortable, that team had to

survive a semi-final against Canterbury

University, which they

won 20-18 before downing their

Auckland rivals in the decider

14-12.

"It was bloody tough this year,

that's for sure, so to be able to

hold our nerve, was great. I feel

like everyone lifted to our level

and wanted to beat us," she said.

"It was fun but stressful."

Rosie and Lucy will be going

on their first world tournament.

​The 22-year-old said after

finishing 14th both years, she

wanted to get more wins in 2019.

"The last couple of years we

WINNERS: The Lincoln University 3x3 basketball team will

take on some of the best university teams in the world, in

China, later this year.

SPORT

were competitive for the first seven

minutes and then let things

slip for the last three minutes,"

she said.

"Our scoring dropped, our fitness

dropped and our mental effort

dropped and you can't afford

that against the world's best."

Poletti said her team played

a physical style of game which

countries took time to adjust

to.

"We are a challenge to teams

but we need that fitness and ability

to finish under pressure.

"One of the advantages of

our team is how tough we play,

especially compared to the

European teams."

Poletti said the strength of

3x3 basketball was in the Asian

countries.

"Their ball-handling and control

is next level.

"Ajiah and Lucy are good ballhandlers

while Rosie can post-up

like me and use her size and

strength."

The draw and exact date in

November is yet to be confirmed

but with three of the team

playing for the Canterbury

Wildcats, the focus will shift

back to the traditional game

until at least June.

Athlete on a mission

• By Jacob Page

PROMISING LINCOLN High

School triathlete Reece Rush

could be forgiven for being

behind in his school work over

the past month.

​The 16-year-old has been

competing against athletes two

years older than him as he looks

move himself up the ranks and

closer to the world championship

qualifying mark over the next 12

months.

"I've certainly missed a few

days of school but it's worth it,"

he said.

Reece competed in the junior

athlete category of the Oceania

Championships in Tasmania

against older, more experienced

athletes and finished 37th, last

month.

He then competed in the

under-19 category of the New

Zealand Secondary Schools

Championships a fortnight ago

and finished 17th.

"Tasmania was a world championship

qualifier and while I

didn't expect to be at that level

yet, it was a chance to test myself

and see where I am.

"It was a step up, more professional

and gave me an idea of

what I need to do."

"In New Plymouth, I had a

strong swim but I got a bit of

cramp on the bike leg which carried

on through the first few laps

of the run which meant I blew out

a bit.

"I can still come back next year

and look to go better.

MOTIVATED: Lincoln High

School's Reece Rush is

hoping a strong winter training

regiment will set him up for a

big summer campaign.

PHOTO: ROB RUSH

"I now have all winter to train

hard and get stronger.

"I'll do some road cycling and

some cross country running

before my season gets underway

in November again."

Reece said he wants to keep improving

his swimming so he can

get a clean exit out of the water

into the transition to the bike.

Once the school holidays

finish, Reece will be back behind

his school desk, at least for the

winter.

•More sport, p17

Changes to ANZAC Day

kerbside collections

Collection of all bins, bags and crates on Thursday 25

April will take place the following Saturday 27 April. We

recommend you place your bins out on Friday night.

Your fresh food people.

OUR weekly specials

loose bananas .................................................... 1

green or gold kiwifruit ...................... 2

5kg brushed agria .......................................... 4

butternut pumpkins......................................

1

prepack carrots 1kg ................................... 1

prepack grapes

red/green 500g ................................................... 3

beef rump steak ............................................... 11

lamb rump...................................................................

19

corned silverside ......................................... 7

havoc pork loin roasts .................... 18

chicken thigh fillets.............................. 14

.99

kg

.99

kg

.99

each

.99

each

.99

each

.99

each

.99

kg

.99

kg

.99

kg

.99

kg

.99

kg

All our fresh meat is 100% NZ FARMED. specials VAlid 23rd april - 28th april 2019.

ONLY AVAILABLE AT RAEWARD FRESH HAREWOOD RD, TOWER JUNCTION

selwyn.govt.nz

WWW.

.CO.NZ
---
14

Wednesday April 24 2019

Latest Christchurch news at www.star.kiwi

Selwyn Times

New toilets at Castle Hill Village

New toilets have been installed at Castle Hill Village.

The new standalone toilet block, with three unisex toilets, replaces

the single public toilet in the Castle Hill Community Centre.

The new facility, which cost $230,000, opened on 18 April.

Property and Commercial Manager Douglas Marshall says

increased visitors to Castle Hill and an increase in traffic meant

there was a need to add new public toilets to the township, while

the previous toilet was due for an upgrade.

New Zealand

Music Month

New Zealand Music Month is back at Selwyn Libraries next month.

Residents can get involved and make some noise with the Christchurch Symphony Orchestra

(CSO) every Friday in May.

The orchestra will be bringing a one-hour interactive show, designed for children aged two to six, to

all four district libraries, introducing each instrument in the orchestra, and mixing elements of song,

stories and dance.

The shows are a great opportunity for children to see the instruments up close and join in. The

CSO Music Trails shows will be held at Darfield Library on 3 May, Lincoln Library 10 May, Rolleston

Library 17 May and Leeston Library 24 May. A caregiver is required for all children.

If you prefer to listen, there will be Saturday concerts hosted at each library across the month.

Local artists Picking at the Remnants, Moonflower, Alex and Patrick, and Hanna and Connor will

be playing acoustic sessions from 11.30am–1pm, including breaks.

All Music Month events in Selwyn are free, with no bookings required, however spaces are limited.

See selwynlibraries.co.nz for more details.

Selwyn commercial building consents increase

The growth in the commercial building sector continues to surge in Selwyn.

The latest quarterly economic update from analysts Infometrics showed non-residential building

consents to the value of $342 million were issued during the year to December 2018. This means the

value of consents increased by 143% over the same period.

The update showed 270 new residential building consents were issued in Selwyn in the December 2018

quarter, compared with 217 in the same quarter last year. On an annual basis, the number of residential

consents decreased by 18% compared with the same 12-month period last year.

Building Manager Vanessa Mitchell says Selwyn District Council statistics show building growth in the

district remains strong with about 50% of building consent work relating to new dwellings and about

10% relating to new commercial and industrial buildings. "The residential market remains strong due

the availability of serviced land in new and developing subdivisions," Mrs Mitchell says.

Many of the commercial buildings currently being built are large-scale projects located in the Iport

development in Rolleston, Mrs Mitchell says. "We also have buildings either damaged, or affected

by the earthquakes which are subject to earthquake prone legislation that are progressing with

strengthening works, upgrades and, or rebuilds."

Selwyn's continuing population growth is also contributing to an increase in consent applications for

building projects such as new schools, retail shopping centres, petrol stations and community centres.

Anzac Day Council closures and services

Council headquarters in Rolleston will be closed on Anzac Day, Thursday 25 April.

If Thursday is your usual refuse bin collection day, then your collections will occur on Saturday 27 April instead.

Pines Resource Recovery Park will be open from 1–4.30pm.

Lincoln Event Centre will be open from 1–4pm for an Anzac Day service. Rolleston Community Centre

will be open in the morning for an Anzac Day service. West Melton Community and Recreation Centre

and all Selwyn Libraries will be closed.

Selwyn Aquatic Centre will open from 1–8pm. Aquafit will not run.

Our customer contact line will be operating 24 hours a day over this period for urgent issues, phone

(03) 347 2800.

For a full list of Anzac Day services in Selwyn go to selwyn.govt.nz.

Council pools operating to top

safety standards

Safety standards at Selwyn pools have been recognised with

three Council pools now accredited with the country's leading

safety certificate.

Darfield and Southbridge pools have become accredited by the

Poolsafe Quality Management Scheme (Poolsafe) for the first time,

while the Selwyn Aquatic Centre has also been reaccredited.

Poolsafe is an independent assessment of public pools to ensure

that their operations and facilities are safe.

"It shows that we're operating to the best possible practice in New

Zealand," Aquatic Facilities Manager James Richmond says.

"It's quite a detailed process on what we would need to provide,

checking water quality and testing procedures, safety processes

and staff training and qualifications."

Darfield and Southbridge pools began the process to become

accredited in October 2018, updating policies and developing

new policies where necessary, training staff and testing that

everything worked.

The processes and policies were checked by Recreation Aotearoa,

which also did site visits to the pools in February.

Southbridge Pool

Rolleston town centre roading

and public spaces – what do

you think?

We've reached an exciting milestone in the Rolleston town centre

redevelopment with detailed designs for the roading and public

spaces now available to view.

We want your feedback on the proposed designs for the streets and

pedestrian spaces. The design and layout is based on community

feedback gathered through past consultation, along with input from

Council staff and expert designers' vision.

Public submissions close at 5pm on Friday 24 May, 2019. For more

information about the proposed design and layout and to complete

an online submission form, go to selwyn.govt.nz/rtc-design.

Artist's impression of Wordsworth Street

Council Call

Selwyn District Council

Norman Kirk Drive, Rolleston

Ph 347 2800 or 318 8338

Rolleston Library

Rolleston Drive, Rolleston

Ph 347 2880

Darfield Library & Service Centre

1 South Terrace, Darfield

Ph 318 8338 or 347 2780

CC240419
---
Selwyn Times Latest Christchurch news at www.star.kiwi

Wednesday April 24 2019

15

Notices

ALCOHOL NOTICES

Carmen Joyce Campbell has

applied for an off licence.

Gulati and Sapra Enterprise

Limited has applied for the

renewal of an on licence.

Objections on both are open

until 30 April.

For more information go to

selwyn.govt.nz/alcoholnotices.

FLUSH YOUR TAPS

Some plumbing fittings have

the potential to allow minute

traces of metals to accumulate

in water standing in the fittings

for several hours. Although the

health risk is small, the Ministry

of Health recommends that you

flush a mugful of water from

your drinking-water tap each

morning before use to remove

any metals that may have

Meetings

Public Forums: Council,

Community Board and local

committee meetings are open

to the public. Time is available at

the start of meetings for people

to speak on matters of concern.

Please notify Bernadette Ryan

or your local committee at least

three days before the meeting.

Township, Hall and Reserve

Committees: To list or make

changes to meeting details, email

meeting.changes@selwyn.govt.

nz or phone 347 2800 or 318

8338 by 9am Wednesday the

week before publication.

COUNCIL & COMMUNITY

BOARD

Unless otherwise stated all of

these meetings will be held at the

Rolleston Council Building.

Malvern Community Board

Tue 23 Apr 4.30pm

Darfield Library

ON THE

ROADS

dissolved from the plumbing

fittings. We are recommending

this simple precaution for all

households, including those

on public and private water

supplies. This notice is issued

by Selwyn District Council on

behalf of the Director-General of

Health, Ministry of Health.

MICROCHIPPING

If your dog was first registered

after 30 June 2006 and is not a

working dog, the law requires

him or her to be microchipped.

A clinic will be held on Friday 10

May at the following places:

Rolleston 9–9.30am

Lincoln 10.15–10.45am

Leeston 11.30am–12pm

Darfield 12.45–1.15pm

Microchipping will not take

place if wet. If you have

Audit and Risk Subcommittee

Wed 1 May 10am

Property Committee

Wed 1 May 2.30pm

District Plan Review Meeting

Wed 8 May 9am

Council Meeting

Wed 8 May 1pm

LOCAL COMMITTEES &

ASSOCIATIONS

Coalgate Township Committee

Tue 23 Apr 7.30pm

Coalgate Fire Station

Darfield Recreation

and Community Centre

Management Committee

Mon 6 May 7.30pm

Darfield Recreation Centre

Glentunnel Township

Committee

Mon 29 Apr 7.30pm

Glentunnel Community Centre

On the roads this week

Due to work on the Christchurch Southern Motorway

the Shands Road and Marshs Road intersection

(between approximately 374 and 523 Shands Road) will

be closed until Sunday 28 April. Detours will be in place.

Road works will continue on Goulds Road between

Maltby Drive and East Maddisons Road until Friday

17 May. Detours and traffic management will be in place during this time.

Footpath construction will be occurring on Leeston Road from Ellesmere

Junction to Collins Road, on Tod Place and on North Belt from James

Street to Kildare Terrace.

Work has been completed on the one kilometre seal extension on Dunns

Crossing Road between Boulez Mews and Selwyn Road

Snap Send Solve to report issues

any questions regarding

microchipping, please contact

Tracey Wheeler on 347 2800.

SELWYN COMMUNITY FUND

Applications for the Selwyn

Community Fund close at 5pm

on Tuesday 30 April. This fund

is available to support events

and activities that contribute to

community wellbeing, bringing

communities together and

attracting visitors to Selwyn.

For more information and to

apply visit selwyn.govt.nz/

selwyncommunityfund

ANZAC DAY SERVICE

CHANGE

The Hororata Anzac Day service

will be held at the Hororata Hall,

11am, followed by a wreath

laying ceremony at the District

War Memorial.

Leeston Community Committee

Mon 6 May 7.30pm

Leeston Library

Leeston Park Committee

Mon 29 Apr 7.30pm

Leeston Park Pavilion

Rolleston Residents'

Association

Mon 29 Apr 7pm

Rolleston Community Centre

Rolleston Community Centre

Management Committee

Thur 2 May 7pm

Rolleston Community Centre

Tawera Memorial Hall

Committee

Wed 1 May 7pm

Tawera Memorial Hall

Waihora Park Reserve

Committee

Tue 7 May 7.30pm

Waihora Bowling Club

Dunns Crossing Road

Did you know you can use a free smartphone app to report any Council related issues?

Potholes, vandalism to Council property and rubbish that has been dumped illegally are some of the

many issues that can be reported using the app which is called 'Snap Send Solve.'

The app allows you to take a photo of the problem and submit a short description

of the issue along with it. It uses the GPS location of your phone to locate where

the problem was reported and generate a service request to the Council.

When using the app you will also need to include a short description of the problem

so that we have enough information to respond to the report. Once reported, issues

are reviewed by the Council with urgent issues being prioritised.

The app can be used on Android or Apple phones. To download the app visit the

Android or Apple app stores and search for 'snap send solve' or visit www.selwyn.

govt.nz/contact-us. Once the app is downloaded you can lodge a report using the

add photo function, then selecting 'location' and following the 'next' prompts to

include a description of the problem and submit the report. Adding your contact

details allows us to let you know your request has been responded to.

You can also use our online form at selwyn.govt.nz/contact-us to report an issue.

Selwyn Events

FRIDAY

26

APRIL

SATURDAY

27

APRIL

30 APRIL

AND 4 MAY

WEDNESDAY

1MAY

FROM

1–31

MAY

THURSDAY

9MAY

UNTIL

12

MAY

SUNDAY

12

MAY

BOOST Skate

Rolleston Skate Park

Bring your bike, skateboard, scooter or

wheels for the first BOOST event of the

year. Featuring a skate competition,

spot prizes, giant games, Pedalmania's

array of bizarre bicycles and a sausage

sizzle fundraising for the victims of the

Christchurch terror attack. Tahu FM will

be there too.

Ellesmere Community

Recycling Drop-off Day

Cemetery Pit, Southbridge

Leeston Road, 10am–4pm

Clean up your shed, backyard and

garden. Go to Selwyn.govt.nz for what

can and can't be dropped off. Some

charges may apply.

Bangers and Books

Leeston Library, Tuesday 11am–

5.30pm and Saturday, 11am–4pm

In the spirit of community we're

hosting a free sausage sizzle. To be

eligible, borrow a book or join up to

the library if you're not a member.

Confident Drivers Course

Leeston Bowling Club, 9am–3pm

Offering a refresher of the current

road rules for over 60s. For more

information and to book contact Age

Concern on (03) 366 0903.

'Bring a Mate' May

Selwyn Aquatic Centre

For the whole of May Selwyn Aquatic

Centre is offering the opportunity to

bring a friend with you to any of the

Aqua Fitness classes for free.

Art for All

West Melton Community and

Recreation Centre, 1–2pm

Every Thursday for eight weeks. These

sessions aim to encourage memory

recall through the process of creating

art. For those who are keen to share

experiences and socialise while

stimulating the mind. $40 per person

for the term (8 sessions). Bookings

essential, at Eventbrite.co.nz.

An Ashburton Collection

Down by the Liffey Gallery, Lincoln,

selected hours Wed–Sun

Featuring the work of Ngaio McKee,

Margaret Digby and Hakatere

Ceramics and Pottery. Colour and

creativity from a group of artists

hailing from south of the Rakaia.

Mums Swim for free

Selwyn Aquatic Centre

Mums swim for free on Mother's Day,

so give mum a quiet relaxing swim, or

celebrate with a family day out.

For information on listing a community event visit

www.selwyn.govt.nz/councilcall

Leeston Library & Service Centre

19 Messines Street, Leeston

Ph 347 2871

Lincoln Library & Service Centre

Gerald Street, Lincoln

Ph 347 2876

(03) 347 2800

Darfield call free 318 8338

www.selwyn.govt.nz

SelwynDistrictCouncil
---
16 Wednesday April 24 2019

Latest Christchurch news at www.star.kiwi

SELWYN TIMES

PETS & PAWS

Bunny Lodge under

new management

Things are changing at Bunny Lodge! For those of you

who haven't heard, Bunny Lodge is a countryside animal

holiday resort located in the Rolleston area, and is now

under new management. Providing excellent animal care

and, of course, holiday fun for your pets is their specialty,

along with ensuring peace of mind that your pets are in the

best care possible.

Bunny Lodge also provides a doggy day care service

Monday to Friday, allowing your dogs to socialize with

their ever-growing group of canine friends, and

giving you peace of mind that your dogs are having

a blast whilst you are at work or out and about.

Bunny Lodge provides a large swimming pool

for your dogs, whether they are boarding, or in

for day-care, and features a waterfall, rockery and

varying water depths - it's definitely one of the

highlights of their stay! Along with this, there are

also three other extra-large paddocks for walks,

playtime and socializing.

Although dogs are their speciality, Bunny

Lodge also provides fantastic boarding

care for your cats, rodents and birds. Their

cattery features individual units on three

levels and an outside area with a goldfish pond

to keep your cats entertained. For your rabbits

and guinea pigs, accommodation is also provided

with a separate outside area to relax in the sun

and munch on the grass. For bird owners, along

with their boarding services, the team at Bunny

Lodge also provide wing and nail clipping services

without the expensive vet fees! Along with their

extensive boarding services, Bunny Lodge also

offers dog grooming on Tuesdays and Thursdays

with their fantastic new groomer!

Located on Jones Road, you can't miss their bright blue

doors and newly painted reception. Feel free to pop in and

ask their excellent staff any questions you may have about

your dog's new boarding facility.

To get more information on Bunny Lodge's services

check out their Facebook page for daily photo updates

of all the fun. For boarding and grooming applications,

go to their website bunnylodge.co.nz and for all other

enquires give them a call on 033478835.

DI'S

GROOMING

FULL GROOMS

BATH & TIDY

NAIL

CLIPPING

phone:

0274311395

Member of The NZ Dog

Groomers Association

K9

BY APPOINTMENT ONLY

Manufacturers of

Fine Natural Pet Food

Variety of 10kg

Mixes

for cats

and dogs

$45-$55

Pet Boarding

dog grooming

doggy daycare

Dogs, Cats,

Rabbits,

Guinea Pigs

& Birds

554 Jones Rd, Templeton. P: 03 347 8835 E: bunnylodge@xtra.co.nz

www.bunnylodge.co.nz

We are

• Mobile

• Prompt

We provide

• Caring

• Reliable

• Full grooming and clipping

• Wash/dry

• Nail trimming

Your local professional

groomers, Jill & Sophie are

available now to book your

dog/s in for a pampering at

your own home.

Phone (03) 347 0626

Shop 4, 855 Jones Road, Rolleston (opposite Redpaths)

Hours: Mon-Tue 9am-5pm, Wed-Fri 9am-5.30pm, Sat 10am-1pm

Call now to seCure your appointment!

0800 454 654

www.jimsdogwash.co.nz
---
SELWYN TIMES Latest Christchurch news at www.star.kiwi

Wednesday April 24 2019 17

SPORT

Prebbleton teen impressive

at formidable Aussie track

IT TOOK just two races for

Prebbleton driver Jaden Ransley

to establish himself as a genuine

contender in the Australian

Toyota 86 Racing Series.

Racing at the opening round

of the championship at Philip

Island in Victoria, Ransley

captured a

race win and

a podium in

three races.

After strong

showings in

practice, the

17-year-old

managed to

Jaden Ransley

qualify fifth

a in a field

of 40 cars. It

got even better once racing got

under way, with Ransley taking

third in the first race after a dice

with V8 Supercars legend Garth

Tander.

In the second race Ransley

went even better and claimed his

maiden win in the Australian

championship. In Sunday's final

race Ransley was forced to retire

after another driver collided

with him.

"I'm incredibly satisfied with

the performance that myself and

HOT PROSPECT: Jaden Ransley (53) claimed a race win at the

opening round of the Australian Toyota 86 Racing Series.

the Liam McAdam Motorsport

team showed this weekend," said

Ransley.

"We've shown that we aren't

here to play tiddlywinks and

we've also shown that we have

the pace to fight for race wins

and podiums. Winning race

two was a moment I will never

forget. To be battling wheel to

wheel with Garth Tander was an

incredible experience and something

that I learned a lot from."

"Unfortunately we ended the

weekend on a low after being

spun out by another driver and

getting stuck in the gravel trap.

But there are a huge amount of

positives to take from the weekend.

For now we're counting

down the days to continue some

more awesome racing in a few

months in Townsville."

•The next round of the

championship takes part in

Townsville from July 5-7.

REPRESENTATIVE: Tony Worthington scored New Zealand's

only points when they took on an under-14 Australian AFL

team. ​

Rolleston College student

scores only goal in AFL games

ROLLESTON College student

Tony Worthington recently

represented New Zealand in two

matches in Auckland against an

Australian under-14 AFL team.

The young Australian rules

player scored the only goal for

the AFL New Zealand academy

team during their two games

against the Mornington Peninsula

side.

The New Zealand side lost

the first game 0-112. In match

two Worthington kicked his

side's only goal in a 7-115 loss.

Both games were played at QBE

Stadium.

In spite of being the only goal

scorer Worthington said the best

part was doing the haka wearing

the New Zealand jersey.

The teenager is also a talented

rugby union player and was

named in the Ellesmere

under-13 development side last

year.

liquiD

SeLF Service

LaunDroMatS

47 Carmen rd, Hornby

(Gasoline alley site)

All sites open 7 DAYs, 5Am-11pm

WaSH 2 Mink

BLanketS or

DuvetS

For onLY $8

Hot Water &

extra LarGe

WaSHerS

avaiLaBLe

Dry up to 14kg from

$4 in only 25 minutes!

Save time &

electricity

WaSH & DrY

aLL Your

LaunDrY in

unDer 1 Hour

from

$

4.00 WASH $ 4.00 DRY

• Fast Dryers

• Sports Gear

• Duvets

• Mink Blankets

• Bedding

• Washers

• Domestic Laundry

over 70 locations nationwide

Other Locations: Sydenham • Richmond • Hoon Hay • Woolston • Aranui • Rangiora • Burwood

www.liquidlaundromats.co.nz

'Famous for their roasts!'

RESTAURANT & CAFÉ

Cooked Breakfasts

Check out our extensive breakfast

menu from Continental to Cooked

We are open from 6.30am

Seniors SPECIAL

Two courses $22

Soup/Roast or

Roast/Dessert

Special available lunch only

Monday - Saturday 12pm - 2.30pm

$19

Kid's 2 course

special

School

Holidays

We are family

friendly.

Great Kids menu

plus designated

play area.

TREAT THE

FAMILY!

$13

The

RACECOURSE HOTEL

& Motorlodge

118 Racecourse Rd, Sockburn,

Christchurch. Ph 03 342 7150

www.racecoursehotel.co.nz

LIVE MUSIC

SATURDAY

7.30PM:

SUNDAY

1.30PM:

ANNETTE'S

HEART

OF THE

COUNTRY

$6 ENTRY

H ORNBY

WORKINGMEN'S

CLUB

ph 03 349 9026

17 Carmen Rd, Hornby

www.hornbywmc.co.nz

Members, guests & affiliates welcome

FAMILY FRIENDLY DINING

MID WEEK

MEAL DEALS!

CLUB CAFÉ

LUNCH SPECIAL

ONLY

$12

SUNDAY

12TH MAY

ROAST OF THE DAY

WITH VEGES

-OR-

FISH OF THE DAY

WITH CHIPS & SALAD

BUFFET LUNCH 12-2PM

BUFFET DINNER 5-8PM

LIVE ENTERTAINMENT

THIS SATURDAY

OUR FAMOUS

ROAST DINNER

IS BACK!

DINNER FROM 5.30PM

BOOKINGS ESSENTIAL

MUSIC AT 7.30pm

GO IN THE

DRAW TO

WIN A

PAMPER

PACK

FOR MUM!

*Conditions apply

AVAILABLE

LUNCH & DINNER

ON FRIDAYS

AT THE CLUB CAFE

Special includes

Burger served with a

glass of post-mix

TUESDAY

WEDNESDAY

THURSDAY

MIDDAY TO 2PM

ADD A DESSERT

FOR JUST $5

BRING A GUEST!

BOOKINGS ESSENTIAL.

ADULTS $30. KIDS 12 & UNDER

JUST $1 PER YEAR OF AGE
---
18 Wednesday April 24 2019

Latest Christchurch news at www.star.kiwi

SELWYN TIMES

Mercedes-Benz CLS a real head-turner

Motoring

Ross Kiddie

I DOUBT I'll ever know the real

answer. Why, after many years,

has Mercedes-Benz gone back to

a straight six-cylinder engine in

one of its models?

It goes like this – for as long as

I can remember its mainstream

engines were straight-sixes,

then in the late 90s the company

reconfigured them to a V6-type

that were highly successful, now

the new CLS-Class arrives with

an engine that has gone full

circle – an inline six.

I can work out the answer to a

certain extent, and no-one knows

better than me – most of the

cars I have ever owned have had

straight-six engines – they are

renowned for their smoothness

and refinement, and I guess that's

where Mercedes-Benz is coming

from, the CLS450 is the epitome

of sophistication and elegance.

The CLS is classed as a coupe,

to me it's pretty much a coupetype

sedan with its four doors

yet definite sloping rear which

incorporates a deep underliftback

boot.

The evaluation car was painted

black, and it captured attention

from everyone who gazed at

it, it's a stunning looker and

measures up in the area of

performance. Mercedes-Benz

label it a mild hybrid, there

are engineering aspects which

gather, store and deliver energy;

however, for me I still see it as a

traditional power plant, and that

fabulous six-potter is amazing

with its outputs and polish on

delivery.

Mercedes-Benz rates the

turbocharged 3-litre unit

at 270kW and 500Nm of

torque, both outputs realised

at usable points in the rev

band – 5500rpm and 1600rpm

respectively. Drive from the

engine, and small electric motor,

is channelled through a ninespeed

automatic gearbox to all

four wheels, yes the CLS in this

form utilises the 4Matic system

carried across many other

models from this stable.

Put simply, in the CLS' case,

the 4Matic system is a device to

enhance grip levels on sealed

surfaces, and that characterises

the model, it is a slick open road

charger with handling ability

to address the power outputs.

Of course, there are several

drive modes, and some of those

are structured so that the high

country roads can be tackled

with speed and dignity.

MERCEDES-BENZ CLS450: Classed as a coupe but with the

benefit of four doors.

I took the test car on a short

Port Hills loop and thoroughly

enjoyed its ride and handling

balance.

The CLS is low (1.4m), as a

consequence there is little body

movement over the suspension,

and if you add in the quality of

the air suspension elements there

is little doubt the CLS is made for

those quick highway journeys.

Huge low profile 20in Good Year

Eagle tyres add to the equation,

grip is high and performance

barely equalled in a car of this

type.

In terms of figures, the CLS

450 will accelerate to 100km/h

in 4.8sec and will make a

highway overtake in 3.8sec, it

simply scorches through the

acceleration process, and there's

no point where the engine stops

giving, it is forceful, yet you

would never know it is working

hard, it simply delivers without

sound.

As honest as it is with its

response, the engineers have also

developed the driveline with fuel

economy in mind. Mercedes-

Benz claims an 8.7-litre per

100km (32mpg) combined cycle

average. That sits well with the

9.4l/100km (30mpg) figure

showing constantly on the dash

display graphics. At 100km/h it

is sipping fuel at just 5l/100km

(56mpg) with the engine turning

over amazingly low at 1250rpm.

All of these computations add

up to a beautifully engineered

vehicle, it also stands out for its

dignity and all of those values

you look to Mercedes-Benz for.

The CLS 450 has a magnitude

of safety kit, and that's evident

every time you drive it. There are

• Price – Mercedes-Benz

CLS450, $157,890

• Dimensions – Length,

4988mm; width,

2069mm; height,

1435mm

• Configuration – Sixcylinder,

four-wheel-drive,

2999cc, 270kW, 500Nm,

nine-speed automatic.

• Performance –

0-100km/h, 4.8sec

• Fuel usage – 7.6l/100km

almost autonomous-like devices

which keep you out of trouble.

There's also a plethora of

features for comfort and

convenience, the CLS just feels

so right to be in. While it is a

big car at almost 5m, you don't

actually feel its size when you are

driving it.

As a driver it gives you

all of the feel and satisfaction

you would expect from a car

which lists in standard form at

$157,890.

Although it may

seem like a big outlay, I'd happily

pay that amount for such a true

luxury car, one which delivers

so much in terms of overall

performance.

Every time now I get in the

Kiddie-family Toyota I'm looking

for the six-cylinder smoothness

that also makes the CLS so

desirable. It's not quite there in

the Toyota, but it is certainly an

indication of what the inline-six

can deliver.
---
SELWYN TIMES Latest Christchurch news at www.star.kiwi

Wednesday April 24 2019 19

SCOOP PURCHASE SPECIALS

VRX 2.4L 4WD

$39,990 * • 6-Speed Manual

DRIVE AWAY

• 7 Leather-faced Seats

• 2.4L Petrol Engine

• Ultrasonic mis-acceleration Mitigation System.

• 18" Alloy Wheels

• Reversing Camera

*Christchurch Mitsubishi have a LIMITED NUMBER of Short-term lease

returned 2018 Outlander 2.4L VRX, most having travelled under 25,000kms

available for immediate delivery. Includes balance manufacturers warranty.

GLX-R 2WD Double Cab

Wellside Manual

$26,078 +GST DRIVE AWAY

• Reversing Camera

• Daytime Running Lights

• Smartphone Connectivity

• Sports Suspension

GLX 4WD Double Cab

Wellside Auto

$32,608 +GST DRIVE AWAY

• 5-Speed Automatic

• Easy Select 4WD with rear diff lock

• Keyless Entry

• Cruise Control

• Vinyl floor

GLX 4WD Double Cab

Chassis Manual

$32,608 +GST DRIVE AWAY

• 6-Speed Manual

• 3.5 Tonne Towing Capacity**

• 1,135kg Payload

• Easy Select 4WD with rear diff lock

CHRISTCHURCH MITSUBISHI

386 Moorhouse Avenue, Christchurch.

03 379 0588 | christchurchmitsubishi.co.nz

Prices listed are for Triton 2WD GLX-R double cab wellside manual, Triton 4WD GLX double cab wellside auto and Triton 4WD GLX double

cab chassis manual. Prices include GST and on road costs, which inludes WoF, registraiotn, 1,000km road user charged and a full tank

of fuel. Visit mmnz.co.nz for full Diamond Advantage terms & conditions. **3.5 tonne towing is only possible with a 3-axle braked trailer,

towball vertical load of no grater than 4% and an approved MMNZ towbar.

10 year / 160,000km Powertrain Warranty (whichever comes

first) (non transferable). 5 year / 130,000km New Vehicle

Warranty (whichever comes first) (non transferable).
---
20 Wednesday April 24 2019

Latest Christchurch news at www.star.kiwi

MY PRIDE AND JOY

SELWYN TIMES

Jigger comes to Rolleston

Jeff Bland and Graham

Lawn with the jigger.

Since the 1800's, Rolleston has sat beside the junction

of the Midland railway line to Greymouth and main

south railway line to Invercargill.

This connection inspired the idea of displaying

a jigger in the new town centre, to signify rail's

importance to Rolleston.

"The jigger symbolises the people who created the

rail network, the reason for Rolleston's existence," says

Jeff Bland, Selwyn District Councillor.

Discussion at Rolleston's 150th celebrations in

2016, led to local railway enthusiast, Graham Lawn

charged with the mission of finding a jigger and while

he thought the task unachievable, Graham did find a

four-person jigger in Cass.

With the help of Jeff Bland and local historian,

Wayne Stack, the jigger was transported to Rolleston

on a trailer.

"Finding an old jigger is amazing and thanks to

KiwiRail it now belongs to the people of Rolleston.

A little rail history can be restored and displayed for

people to enjoy in the future," says Graham.

From the 1800s, hand operated pull-trolleys were

used for track inspection and maintenance. These had

a seesaw action operated by two people, one standing at

each end and pushing or pulling the handle of a double

ended pole to drive the wheels via a chain connection.

"In the early 1900s, motorised jiggers came into use

for transporting workers to railway lines with no road

access. Their average speed was around 40kph and

their 10 horse power motor fairly reliable. There were

three forward gears and one reverse, two steel axles

and four steel wheels, chain driven via a back axle cog

connected to a gearbox.

"With no springs or shock absorbers the ride was

extremely uncomfortable and cold in winter. You had

to dress warm and got soaked when it rained. Track

workers wore Lammies, heavy great coats down below

their knees," explains Graham.

One man could lift and swing the jigger's end onto

an off-tracking point then push it off the railway lines

until a train passed. This was the jigger's main benefit

according to Graham. Two jiggers might also be

coupled together with a towing rod and flat top trolley

loaded with materials.

On the odd occasion a track worker miscalculated

a train's schedule and had to quickly leap off before

the jigger was disintegrated, though accidents were

rare and do not occur today as workers are in constant

contact with train control.

The jiggers were replaced in the 1990s by lightweight

jeep-like inspection vehicles then high wheel road/

rail trucks with a double cab, back tray and hydraulic

wheel operation (powered by road wheels and guided

by rail wheels).

Graham estimates the jigger is around 80 years old so

an ideal representation of the role of railway builders,

inspectors, maintainers and engine drivers so deserves

a place in the new town centre alongside agriculture,

military and multi-cultural icons typifying Rolleston's

history.

Anyone interested in joining the

jigger's restoration team is welcome to call

Graham Lawn on 021 869 065.

The jigger will be displayed

in the new town centre.

EASTER TYRE SALE

BUY 1 GET 1

HALF PRICE

On selected Bridgestone car

and 4x4 tyres and Firestone

4x4 and van tyres.*

WHEEL

ALIGNMENT

Bridgestone Tyre Centre - Rolleston

847 Jones Road, Rolleston 03 347 4702

* Valid until 30 April 2019. Selected

tyres only. Conditions apply.

For details visit us in-store or

see www.bridgestonetyres.co.nz.

Jones Road auto

ALL YOUR

MOTORING NEEDS

› While You Wait WOF's

› Courtesy Cars

› Diagnostics

› Repairs › Servicing

› Batteries › Tyres

WE HAvE MOvED 131 IPORT Drive

(Cnr Hoskyns & IPORT drive)

Phone 347 4020 | www.jonesroadauto.co.nz

9198779AA

Jones Road, Rolleston, RD 7

Christchurch

Ph 347 8703 Fax 03 347 9576

Mob 027 228 2854

Email cameron.hcc@paradise.net.nz

• Panelbeating

• All insurance

claims

• Sandblasting

• Spray (Bake)

Painting

• Truck Refinishing

• Windscreen

Replacments

• Chassis

Straightening

• Motorhome

Refinishing

• Loan Cars
---
SELWYN TIMES Latest Christchurch news at www.star.kiwi

Wednesday April 24 2019 21

MOTORCARE PROFESSIONALS

American

hot rods and

muscle cars

Eddie Fairbairn built a side-valve 32 Ford

Roadster in the 1960s. It was the beginning

of a lifetime interest in V8s. In 1966, he put

together a front engine, side-valve dragster

which contained his own four carburettor

alloy intakes and owner made pistons.

Just two years later, he purchased a 'Pink

Panther' Ford Roadster which earned the

title of New Zealand's top show car.

Fast forward to 1991, and Eddie achieved

over 200mph across the quarter mile track

in just 6½ seconds while drag racing; a

feat he attained six times. By 1995, Eddie

was circuit racing his 1995 Camaro in the

TransAm class.

Eddie's passion for hot rods and muscle

cars grew into a business and 34 years ago

he began sourcing and supplying American

parts for automobiles.

Paul French joined Eddie in the business

31 years ago. He too has a passion for hot

rods. He owns a 27 Ford Track Roadster

440 and a 28 Model A Roadster Hemi,

and is an expert at re-building Holley

carburetors.

The massive knowledge, Eddie and Paul

have built up over the years is benefitting

many of American Auto Parts' customers

who receive expert advice on their own

auto needs including restoration projects

and auto modifications.

American Auto Parts stock parts from

reputable manufacturers and carry an

exhaustive range of Chevrolet, Ford,

Chrysler and Pontiac parts. In store, you

will find almost everything American auto

from big block engines to smaller parts,

with plenty of carburettors, manifolds and

ignition starters and distributors.

New stock arrives regularly and they also

have used parts. If not in stock, they will

source a part for you and assist your search

when you have no part number.

You will find American Auto Parts at

388 Lincoln Rd in Addington (between

Moorhouse Avenue and the railway line).

While in store, check out the memorabilia

on the roof. Some is signed by top

American drag racers. It will keep you

amused for hours!

To call Eddie or Paul phone 379 5585

or email: usaparts@americanautoparts.

co.nz.

You might also like to check out their

website https://www.americanautoparts.

co.nz/ for the latest updates. Click on

'our products' to find a full list of parts

available.

Paul French and

Eddie Fairbairn.

American Auto Parts is located at 388 Lincoln Rd.

In store, you will find almost everything American

auto from big block engines to smaller parts, with

plenty of carburettors, manifolds and ignition

starters and distributors.

• Engines

• Performance Parts

• Chassis

• Suspension

• Hot Rod Parts & more

need parts

oVernight?

order by 3pm. Visa ready.

Phone 0800 872 727

"south island's leading hot rod shop"

Phone:

0800 872 727

0800 usa PaRts

338 Lincoln Road, Christchurch

P. (03) 379 5585 F. (03) 379 5094

usaparts@americanautoparts.co.nz

www.americanautoparts.co.nz

We also Cater For Jet Boats & other Motorsports

3 TRUCKS

3 CARS

3 LUBES

3 SERVICING

3 FLEET WORK

3 BOATS

3 DIESEL INJECTOR

3 & PUMP SERVICING

3 ENGINE TUNING

3 BRAKES

3 MAXXIS TYRES

3 WHEEL ALIGNMENTS

3 BATTERIES

3 WOFs

3 CAMBELTS

AND MUCH

MORE!

Mon-Fri 7am-5pm

Sat 8am-12pm (WOFs only)

839 Jones Road, Rolleston P.O. Box 16 Rolleston

Phone Simon on 347 7110 or Mobile 027 272 9213
---
22 Wednesday April 24 2019

Latest Christchurch news at www.star.kiwi

SELWYN TIMES

"

We're not just building

another subdivision,

we're creating a community

Antony Geddes – South Island Development Manager, Avanda Group

"

My extended family has enjoyed farming the Acland Park land for

generations. So, it is fantastic to know that many new and established

families will get to enjoy a similar opportunity for the future.

There are many amenity points about Acland Park, Rolleston; which

you won't find in other subdivisions, all of which have been designed to

create a safe and relaxed environment with a strong sense of community.

We have developed a series of new streetscapes which provide a

pedestrian environment, with the inclusion of courtyards to encourage

hard surface play, signaling a return of the good old days when kids

were safe and free to go and play in the street – and their parents

were happy to let them!

With a centrally located Commercial Centre planning an offering of

hospitality, retail, medical centre, and an Early Learning Centre the

Acland Park community will have the best facilities in the region.

We're now rewarding early buyers by offering fenced sections

at significantly lower prices for a limited time – so don't miss your

opportunity to live better for less – enquire now!

Early Release Sections

with free fencing included

available for a limited time at

significantly reduced prices –

priced from just

$155,000

aclandpark.co.nz

0800 ACLAND

Brought to you by Avanda Group
---
SELWYN TIMES Latest Christchurch news at www.star.kiwi

Wednesday April 24 2019 23

Pop into any of the

libraries during the

school holidays and try

a different craft activity.

Darfield Library: Garden

craft and seed planting,

Email anan.zaki@starmedia.kiwi by 5pm

Leeston Library: Spider

each Wednesday

crafts. Make a spider

and a web out of our

Building and Construction Markerstations

craft materials and go

Library hours, all week

Friday 10am-noon

and see the new display.

Do you love playing with

Use the Makerstations to

Lincoln Library: Makea-scene.

Create a scene

blocks? All of the libraries will create wonderful things – create

have a selection of blocks – from one of the templates or

using our Diorama

including LEGO®, DUPLO®,

boxes,

use your imagination to make

Rolleston Library: Native

wooden blocks and more

something unique. Suitable

Bird Craft. Join them

available during opening

for all ages, children aged 7

for the native bird craft

hours. Let your imagination and under will require active

activity. Create your own

go wild. Suitable for all ages, adult supervision. No bookings

tūī, kererū, or kōkako to

children aged seven and

required.

take home.

under will require active adult Darfield and Leeston libraries

Darfield Library, 1 South

supervision. No bookings

Tce, Leeston Library, 19

required.

Messines St, Rolleston

Darfield, Leeston, Rolleston

Library, 94 Rolleston

and Lincoln libraries

Drive, and Lincoln

Library, 22 Gerald St

An Ashburton Collection

Wednesday to Thursday

11.30am-2.30pm, Friday to

Sunday 10am to 4pm

Featuring the work of Ngaio

McKee, Margaret Digby and

Hakatere Ceramics and Pottery.

Colour and creativity from a

group of artists hailing from

south of the Rakaia. Until May

12.

Down by the Liffey Gallery, 1

James St, Lincoln

Boost Skate

Friday, 11.30am-2pm

Take your bike, skateboard,

scooter or wheels. Food, spot

prizes and more. For all ages.

Free.

Rolleston Skatepark

The revolution

in heat pumps

is here now!

The Fujitsu e3series

The brilliant

heat pumps from Fujitsu

3 issues $20

6 issues $44.50

10 issues $65

SUBSCRIPTIONS

FREEPHONE

0800 77 77 10

rugbynews.co.nz

e1 : efficiency

e2 : environment

e3 : economy

FREE consultation from your local

Accredited Heat Pump Expert

Phone today: 03 381 6950

INSERT DEALER DETAILS HERE

Ellesmere Community

Recycling Drop-off Day

Saturday, 10am

This is a great chance to clean

up your shed, backyard and

garden and drop off garden

waste, scrap metal, tyres, child

car seats and e-waste to a local

collection point. Fees apply.

For more information visit

www.selwyn.govt.nz

Cemetery Pit, Southbridge

Leeston Rd

Justice of the Peace Clinics

Rolleston on Monday, noon-

1pm, and Lincoln on Tuesday,

10am-1pm

A justice of the peace will be

available to members

of the community to witness

signatures and documents,

certify document copies, hear

oaths, declarations, affidavits

or affirmations, as well

FG1441

as sign citizenship, sponsorship

or rates rebates applications.

Rolleston and Lincoln libraries

Adults Book Club

Tuesday, 10.30am-noon

Enjoy a good book? Don't

mind sharing the good the bad

and the ugly bits? The book

clubs are an opportunity to get

together with other readers and

talk about books on a monthly

topic or genre.

Lincoln Library

Markets:

The revolution in heat pumps is here now!

Website: www.pshc.co.nz

The brilliant e3 series

heat pumps from Fujitsu

e1 : efficiency

e2 : environment

e3 : economy

NEW ZEALAND'S FAVOURITE AIR

Email: info@pshc.co.nz

West Melton Market:

Saturday, 9am-noon. St Paul's

Church.

Fujitsu's Catechin Filters are

approved by the Asthma and

Respiratory Foundation NZ's

Sensitive Choice ® programme.

Darfield Market: Saturday,

9am-1pm, opposite Challenge

Darfield, South Tce.

Lincoln Farmers and Craft

Market: Saturday, 10am-1pm,

Gerald St.

Running groups:

Rolleston Road Runners:

Monday registration from

6.15pm for a 6.30pm start. 2.5km

and 5km options in Foster Park,

next to the gravel car park beside

the playground.

Lincoln Road Runners:

Tuesday registration from

5.40pm, starts at 6pm. 3km or

6km events. Starts outside Coffee

Culture on Gerald St. 3km or

When Moana Maniapoto and her fellow

musicians toured NZ in 2017, some of

their fans loved them so much, they

carried their own guitars and ukuleles to

the show – and joined in. Now she is back

on the road with 'My Name is Moana', a

90-minute tribute to the ocean, including

garage party classics, as well as those

inspirational songs that have taken Moana

and her musicians across 30 countries.

Moana and her musicians will host their

own little garage party on Tuesday, 14

May, 7.00pm at Trinity Church, Darfield.

The audience is invited to bring their

own guitar or ukulele and join in! A

delightful showcase of sublime singing

and captivating storytelling awaits the

audience, drawing them in to discover

and share their relationship to the Ocean

– and to each other.

This year Independent Music NZ

recognised Moana and the Moahunters'

TAHI (Southside 1993) as the 2019

recipient of the Classic Record, an award

acknowledging New Zealand's history

of inspiring music albums. You can find

Moana's music on Youtube, including

songs with her bands, The Moahunters

and The Tribe.

Moana has played hundreds of stages

in Istanbul, Moscow, Florence, Berlin,

Warsaw, Toronto, Venice, Shanghai,

Seoul, Vienna, and Taipei. She has taken

her haka-funk-dub-fusion to the Sydney

Opera House (Australia), as well as to

6km options. Gold coin

donation.

Malvern Road Runners:

Tuesday registration, starts

at 5.45pm for a 6pm start.

3km and 6km options and

a 1.5km over summer. Meet

at McHughs Plantation in the

summer.

Ellesmere Road Runners:

Wednesday registration from

5.45pm, starts at 6pm. 3km

or 6km walk or run. Starts

from Leeston Physiotherapy.

Foster Park Run: Saturday

from 7.50am. Free weekly timed

5km run, jog or walk. Register at

www.parkrun.co.nz/foster and

don't forget your barcode. Starts

at Foster Park in Rolleston.

Moana Maniapoto

plays Darfield

the Montreux Jazz Festival (Switzerland),

Sziget (Budapest), and Norway. Her

band, The Tribe, performed in and

around Glasgow in July 2014 as part of

the "Boomerang Project" collaboration

with Scottish and indigenous Australian

musicians.

Sponsored by Arts on Tour NZ and the

Malvern Community Arts Council, 'My

Name Is Moana' comes to Darfield on

Tuesday, 14 May, 7pm at Trinity Church

Darfield. Tickets are $20 adult, $10

student, available at the Selwyn Gallery or

at the door.

Malvern Community Arts Council presents...

MY NAME IS

MOANA

TUESDAY

14 MAY

7.00PM

Bring your

guitar or

ukelele to

TRINITY CHURCH

DARFIELD

Tickets $20 adults $10 students

available at Selwyn Gallery or at the door

Malvern Community Arts Council gratefully acknowledges

the support of...
---
$7.90 incl. GST

24 Wednesday April 24 2019

Latest Christchurch news at www.star.kiwi

SELWYN TIMES

Gardening

April is nature's planting time

• By Rachel Vogan

THIS IS one of the last months in

which soil temperatures are still

consistently warm and, hopefully,

moist after a few days of autumn

rain.

Due to this, April is known as

nature's planting time. Both these

elements enable newly planted

trees and shrubs the best start on

anchoring themselves into the

ground.

To give any newly planted tree,

shrub or perennial the best start,

blend in compost before planting

and establish a regular feeding

regime.

When planting at this time

of year, you're best to opt for

balanced fertilisers that contain

potassium for strong healthy

roots.

Vegetables

It pays to be thinking about

winter crops and planting

out as many leafy greens

as your patch can cope

with. If you have

run out of space in

the ground, look

to tubs, buckets

and containers

as alternatives to

grow these winter

essentials.

Pumpkin

harvesting can begin

this month if required;

however leaving them

on the plants and outside

until a few frosts have cured

the skins does improve flavour

and increases how long the crop will

store.

Broad bean seeds can be planted this month, along with a few

rows of peas.

Hedges

Autumn is the ideal time to trim evergreen hedges, such

as buxus, laurel, privet, escallonia, teucrium and lonicera. With deciduous

hedges, it is wise to wait until the plants shed their leaves before you prune.

Remove any leaves lying on the hedge to enable fresh air and sun to circulate.

New hedges can be planted out this month too. Allow a reasonable distance

between plants to ensure the roots are not competing with those of their

neighbours. A side-dressing of general fertiliser will give the plants a boost

before winter.

Transplanting

Sometimes plants are, quite

simply, in the wrong spot.

Fortunately, many trees and

shrubs can be transplanted

if they are not too large. April,

May and June are good months to

do this. Shallow-rooted plants, such as azaleas,

rhododendrons and camellias, are easy to move. Roses

readily transplant, as do daphne. Unless it is a tree, aim to

trim back the plant by about a third, which will compensate

for the loss of roots below the ground.

Autumn & winter herbs

When it comes to packing a punch with flavour, herbs are at

the top of the list, as not a lot is required to elevate an average

dish into something outstanding. Herbs that can go in now are

rosemary, thyme, oregano, sage, bay, parsley, winter savory,

chervil and coriander. To maximise and promote healthy

growth, plant in good soil, in full sun. All the aforementioned

will thrive in tubs and planters – just don't be tempted to plant

them in small pots, as they all enjoy plenty of root room.

Flower garden

Flowering perennials, summer-flowering shrubs and climbers

all need the short-back-and-sides treatment now. Leave stillblooming

dahlias alone, these can

be dealt with in a month or two.

Hydrangeas can be pruned now. Trim the stems back by up

to 50 per cent if you want to reduce the overall size of the plant.

However, note that this doesn't have

to be an annual job – you can, alternatively, just leave them to

it, space permitting.

Bulbs can still be planted. Remember to plant them deeply,

to avoid them becoming top heavy later and falling over.

We design gardens

DESIGN IT from a blank canvas and

transform outdoor living

areas into pleasing, relaxing spaces for the

client to enjoy year after year.

Our design skills extend also to large lifestyle

properties, making the most of the extensive

land to fit perfectly with the client's needs.

LANDSCAPING IN

CANTERBURY FOR

OVER 30 YEARS

WE DO:

Decking

Paving

Driveways

Irrigation

Fencing

Excavation

Pizza Ovens

Lawns

Retaining

walls

Planter

boxes

Ponds

Canterbury

Timber & Hardware

Timber Wood Fuel Pellets

20kg Bag for $12.30

At Evergreen Landscapes,

BUILD IT our staff are specialists in

their areas of expertise; we

have experts in excavation, paving, building,

irrigation, planting, maintenance.

PLANT IT

Evergreen Nursery is our large tree and

shrub nursery that can supply all your

garden needs. If you prefer, we can do the

tasks of planting, composting and mulching

with our skilled labour teams.

EVERGREEN LANDSCAPES LTD

60 Ivey Road, Templeton, Christchurch

Nursery Enquiries Ph 027 312 4406

Ph: 03 349 2929, Mob: 027 359 9877, E: design@egn.co.nz

Open: Mon to Fri, 8:30am - 4:30pm

WE HAVE:

Tree Nursery

Diggers

Loaders

Tip trucks

WE SUPPLY:

Design services

Trees / shrubs

Bark / soil

Decorative stone

Landscaping

from Residential,

to Lifestyle, to

Commercial Sites

Make sure to check out our NEW website: www.egn.co.nz

Call in today for your free quote!

NEW ENTRANCE: 167 Manion Road, Rolleston

Jason Pester P 03 347 7465 F 03 347 7032 E jason@cthl.co.nz

Mon-Fri: 7am-5pm Saturday: 8am-12pm

Canterbury

C T H Timber & Hardware

growing with you June 2018 | 100%

Plants For

winter wow

Cool Choices

For Colour

& Contrast

From swamp

to sea views

The journey

begins with sarah

the Gardener

Snap it up

Enter our annual

Birdlife Photo

Competition to win

great prizes!

clear the air

Why groWing

indoor PLAnTs is

so good for you

give it a grow

from gArLic

To chinese

ArTichokes,

We hAve your

groWing TiPs

covered

the latest releases

into the rose world

+ rose care

through winter

We are here

The magazine for

gardeners who like to get

their hands dirty

SUBSCRIBE FROM

$43. 50*

*6 issues/6 months

SUBSCRIPTIONS FREEPHONE

0800 77 77 10

WWW.GARDENER.KIWI
---
SELWYN TIMES Latest Christchurch news at www.star.kiwi

Wednesday April 24 2019 25

Exhibitors

Book now

Don't miss your opportunity to

showcase your business in front of

10,000+ qualified attendees

lisa.lynch@starmedia.kiwi or 021 800 809
---
26 Wednesday April 24 2019

Latest Christchurch news at www.star.kiwi

Caravans, Motorhomes

& Traliers

CARAVAN Wanted to

buy. Up to $5000 cash

today 027 488-5284.

Gardening

& Supplies

ellesmere

lions

Pea straw

now available

We deliver:

Small bales $6

Medium squares

(equivalent of

10 small bales)

$50

Contact

alex Hayward

03 324 4094

Heating

Log Fires

Pellet Fires

Heat Pumps

Sales

Service

Installations

Free Quotes

03 343 1651

472 Blenheim Rd

www.heatstore.co.nz

Select Services

Full Site and

Lawn Preparation

Landscaping

Roll Out Lawn

Irrigation

Free QuoteS

Contact Scott

0800 4 GRASS or

03 347 5555

sprayongrass.co.nz

AUTO ELECTRICIAN

Ellesmere

Auto

Electrical

• Air Conditioning • Alternators

• Starter Motors • Wiring Repairs

• Diagnostics • Lighting • Batteries

Mobile Auto Electrician

022 644 9664

Farmlands Card Accepted

Select Services

Need a hand?

✤ Lawns & Edges

✤ Landscaping

✤ Gardening

✤ Hedge Trimming

✤ Handyman Jobs

✤ Casual or One Off

Phone Mike Lineton

022 341 8848

Your local

Selwyn District

GARDENER/

HANDYMAN

Plant and

Equipment Hire

2 FOR 1 SPECIAL

APRIL ONLY

Hire for 2 days

and pay for 1 day!

(weekends only)

73 Hire Darfield

26 Horndon Street

Phone 03 318 8228

73 Hire

73 Hire Rolleston

873 Jones Road

Phone 03 347 0450

73 Hire - Rolleston

www.73hire.co.nz

Select Services

DRIVEWAYS

HARRIS

BULLDOZING LIMITED

• Driveways

• Car Parks

• Lifestyle Blocks

• Site Clearing

& General

Earthmoving

Mark 021 345 571

or Paul 021 705 996

Email harrisbull@xtra.co.nz

www.harrisbulldozing.co.nz

All Work Guaranteed

Please phone for a free quote

Select Services

STOP leaveS

birds, snow, hail & vermin from

blocking up your spouting

Quality materials: BHP Colorbond steel mesh with

unique patented louvre will even keep out pine needles.

Will not rust or sag with age or load. 10 year warranty,

range of colours.

Proven in Australia & New Zealand over the last 15 years.

FOR SaFe, PURe DRINKING

WaTeR FROM YOUR ROOF.

NOW avaIlaBle: STaINleSS STeel

MICO MeSH

Call Rohan anytime Mon-Sat for a

no-obligation assessment & quote

0800 486532

www.gumleaf.co.nz

Trades & Services

BUTCHER

SERVICE

Watkins Home Kill

Processing Beef, Pigs,

Sheep, Deer & Fish.

Smoking Bacon, Ham

and small goods.

Mobile slaughter service.

124 Burdons Road

Burnham

Phone Tim 347 6693

BUTCHER

SERVICE

Watkins Home Kill

Processing Beef, Pigs,

Sheep, Deer & Fish.

Smoking Bacon, Ham

and small goods.

Mobile slaughter service.

124 Burdons Road

Burnham

Phone Tim 347 6693

TAI TAPU TYRES

53 Main Rd Tai Tapu

Ph. 03 329 6767

Will better any

other quoted price

Stockists of Kumho, Goodride and

Petlas Tyres, for all cars, 4WD, bikes,

tractors and trucks.

•Re Roofing

•Roof Repairs

•Spouting

Approved Age Concern provider

Over 30 years experience

Licensed Building Practitioner

N A BARRELL

ROOFING LTD

Ph: 349 9778 or 0275 389 415

Email: nabroofing@xtra.co.nz

"Totally Dependable"

Maintenance & Servicing | New Housing | Hot Water Systems

Upgrades | Solar Hot Water | Central Heating

Commercial & Backflow Prevention | Pumps & Filtration

Town & Rural

Laser Plumbing Christchurch West

Phone: 03 348 6920

Email: chchwest@laserplumbing.co.nz

www.laserplumbing.co.nz

• Gates and gate openers

• Automatic openers

• Garage doors

The genuine custom

made garage door

professionals

• Maintenance

• Repairs

• Free quotes

276 Larcombs Road, Rolleston

Call us on 0800 661 366 or 03 347 8333

Open Monday to Friday 7am-5pm

www.custommade.co.nz

SELWYN TIMES

Classifieds Contact us today Phone our local team 03 379 1100

carpet layer

CARPET

LAYER

45 YRS + EXPERIENCE

Repair, Uplifting,

Relaying, Restretching

All preparation work undertaken

*Also GARAGE CARPET

Phone John 027 208 7383

jandcbennett@xtra.co.nz

SHELTERBELT TRIMMING

Boundary

Trimming

Call Tony Dempsey

Phone 03 325 3256

Mobile 0274 323 943

Trades & Services

vinyl laying

VINYL

LAYING *

*SPECIALISING

IN VINYL PLANK

Selection available or

customer supply

All floor preparation

undertaken

Contractors rates

Phone John 027 208 7383

jandcbennett@xtra.co.nz

BUILDING REPAIRS

GIB STOPPING | FENCING

YARD CLEARING / CLEAN UP

SMALL DIGGER WORK

DRIVEWAYS & CONCRETE REPAIRS

RC MAINTENANCE

no job too small

Trades & Services

LTD

ROSS CHESTNUT

ROSS Owner CHESTNUT

/ Operator

Owner / Operator

021 969 654

021 969 654

ross@rcmaintenance.co.nz

ross@rcmaintenance.co.nz

PO Box 92010

PO Box 92010

Farringdon, Rolleston

Rolleston 7650

BUILDING REPAIRS | GIBB STOPPING | YARD CLEARING / CLEAN UP

SMALL DIGGER WORK | FENCING | DRIVEWAYS & CONCRETE REPAIRS

No job to big or small.

Supply carpet, underlay and garage carpet.

Experienced in installing second hand carpet.

Carpet samples.

Free measure and quote!

Call David 0272319931

www.davidfarmercarpetlayer.co.nz

concrete & paving

• Driveways

• Earthquake repairs

• New Home Specialists

• Patios & Paths

tel: 0508 873 7483

email: sales@affordableconcrete.co.nz

www.affordableconcrete.co.nz

DECORATORS

New Paint • Repaints

Wallpapering • Fences

Repairs • Feature Walls

Floor & Roof Painting

Spray Painting

Light Commercial

Restoring Timber

Selwyn based but service the whole of Canterbury

www.andertondecorators.co.nz

www.facebook.com/andertondecorators

027 724 6846 027 PAINTIN

Non-Service Cremation $2,050

Just Funerals, a family owned and

operated company with qualified,

registered and experienced staff.

Other services also

available, please

call to enquire.

Phone 0800 804 663 - 24 Hour Availability

Email: info@justfunerals.co.nz

christchurch.justfunerals.co.nz
---
SELWYN TIMES Latest Christchurch news at www.star.kiwi

Wednesday April 24 2019 27

Classifieds Contact us today Phone our local team 03 379 1100

Excavations

• Driveways

• Car Parks

• Site Cleaning

• Demolition

• Farm Tracks

• Drain Cleaning

• Stump & Hedge

Removal

• Ashpalt Concrete

Driveways

Over 22 Years Experience

Quality

Workmanship

• Driveways

• Kerb &

Channel

• Garden Edging

Trades & Services

Freephone: 0800 081 400

swainskiwikerb@gmail.com

Wide range

oF TruckS

SWAINS

KIWI KERB

(Since 2005)

• Tennis Courts &

Swimming Pools

• Chip Seal Driveways

• Diggers – 2 Ton

up to 20 Ton

• Excavators

• Bobcat & Drilling

• For Posthole &

Fence hole

For a Free Quote

on your next project

Phone Steve on 021 338 247

or 325 7922

Trades & Services

Free

QuoTe

Trades & Services

Est

1979

Arthur's

Roof & Property

Services

Ph: 03 347 2635

DeMossing

Silicone Sealing

Pest Controls

Roof Repairs

Colourcoating

Cell: 027 584 7980

Email: apisl2008@slingshot.co.nz

www.arthursroofandproperty.co.nz

Free delivery for loads

over 5m 3 within 20kms.

See our website for

more information

Trades & Services

FIREWOOD

FIREWOOD

Timber Offcuts - $20 scoop

Fill your Boot, Trailer or Truck

Shop Now | Take Now | Pay Later

03 348 2915 • www.gardenbox.co.nz

57 Lunns Road, Middleton (off Curletts Road)

Formerly Parkhouse Garden Supplies

landscaping

Landscape

Construction and

Garden Maintenance

You can have your gardens, trees,

shrubs, plants and lawns maintained to look their best

all year round, for a great price.

Residential & Commercial Landscaping

• Maintenance • Pruning • Reconstruction & Rejuvenation

• Rental Property and Commercial Maintenance

• Pre-Sale Tidy-Ups

New Home Landscaping

Lawns • Gardens • Decks • Paving • Water Features

• Quality • Value for money • Experienced • Punctual

• Professional • Flexible • Knowledgeable • Reliable

Call Ross Legg - 027 222 0388

Email ross@revivelandscaping.co.nz

www.revivelandscaping.co.nz

Trades & Services

Lawn mowing

Hedge trimming

Gardening

Weed eating

Spraying

and much more

Call Todd

0212059543

toddmc.greenacres@gmail.com

0800 8200 600

www.pickapart.co.nz

Trades & Services

TRACTOR REPAIRS,

PARTS, SERVICING

Ferguson

Massey Ferguson

Most pre 90's

tractors

Phone Mark

027 431 7259

enquiries@farmbits.co.nz

CAR REMOVALS

$$CASH PAID$$

CARS, VANS, UTES & 4X4 WANTED

NZ OWNED AND OPERATED FOR 24 YEARS

We use world class vehicle depollution systems

• Irrigation • Drainage • Driveways • Auger Hole Drilling • Land Clearing & Development

• Culvert Installation • Construction Site Works • Tree & Hedge Removal • Concrete Breaker

Phone Mike: 027 272 8058 OR 03 324 4323 A/H

g.m.contracting@xtra.co.nz www.gmcontracting.co.nz

Trades & Services

ROOF

PAINTING

Rope & harness

a speciality,

no scaffolding

required,

30 years of

breathtaking

experience.

FREE QUOTES

Exterior staining,

exterior painting,

moss and mould

treatment and

waterblasting

Phone Kevin

027 561 4629

ACE HIGH

PLUMBING

All Plumbing

Gasfitting

Drainlaying

Blocked Drains

Log Fires,

Wetbacks

Gas Hotwater

Phone

021 454 864

Trades & Services

BUILDER QUALIFIED

Decks, T & G Flooring,

Villa Restoring, New

Homes, Weatherboards.

Free Quotes. Bennet &

Sons Ltd Sam 027 496-

9362 or Tony 027 224-

0374

BUILDER

Local builder with 35

years exp in all types of

building - from concrete

work to finishing. Also

some gib stopping and

painting. Selwyn based.

High quality work with

careful attention to detail.

Happy to quote. Phone/

Txt Bruce 027 274

2792. Licensed Building

Practitioner (LBP).

CARPENTER

HANDYMAN

Small Job Specialists,

Carpentry, Repairs,

Decking & Maintenance,

40 years experience, no

job too small, Ph Warren

03 322-1103 or 027 697-

8541

CARPET & VINYL

LAYING

Exp. Repairs, uplifting,

relaying, restretching.

Email jflattery@xtra.co.nz

ph 0800 003 181 or 027

2407416

Trades & Services

CONCRETE CUTTING

Affordable Concrete

Cutting with Quality, and

removal work. Free quote.

No job to small. Phone 027

442-2219, Fax 359-6052

a/h 359- 4605

FENCING

Quality timber fencing -

gates & repairs, ph Ryan

027 951 8892

Bellamy's

Furniture

Furniture made to

order and restoration

by tradesman with

35yrs experience.

PH Stephen

021 073 2624

Trades & Services

LANDSCAPING

Paving, Lawns, Irrigation,

Decking, Fencing.

Kanga & small digger

services. Check out Squire

Landscaping on facebook.

FREE QUOTES. Ph

Arthur 347-8796, 027

220-7014 Edwin 027 220-

7154

MASONRY

DAMAGED

MASONRY?? Rock and

Blocks Work Ltd for all

your brick, block and tile

laying needs. Friendly

service Licensed Building

Practitioner phone Devon

on 021 375-888 or 03 329-

5511

RJB PLUMBING

Renovations, New Houses,

Hot Water Cylinders,

Kitchens Bathroom

Upgrades, Laundries,

General Maintenance ,

Water Filters. Phone Mark

0278690026

SHEEP SHEARING

MOBILE

Fast friendly professional

service. 25 yrs exp.

Shearing, drenching, hoof

trimming etc. Call Shaun

021 204 1274

STUMP GRINDING

Best price guarantee Tony

0275 588 895

TILING

Flooring - Splashbacks

-Wall incl tile removal, reg

master tiler, ph Dave 027

334 4125

WINDOW CLEANING

Brown & White Ltd.

Family owned since 2001.

Ph Paul 027 229 3534

RENT ME!

Ideal as an extra

bedroom or office.

no bond required

Fully insulated and double glazed for warmth.

Three convenient sizes from $70 a week:

Standard 3.6m x 2.4m

Large 4.2m x 2.4m | Xtra-large 4.8m x 2.4m

Wanted To Buy

AAA Buying goods

in Rolleston,Lincoln,

Prebbleton. Quality

furniture, Beds, Stoves,

Washing machines,

Fridge Freezers. Same day

service. Selwyn Dealers.

Phone 980 5812 or 027

313 8156

TOOLS Garden,

garage, woodworking,

mechanical, engineering,

sawbenches, lathes, cash

buyer, ph 355-2045

To Let

Visit our website

www.justcabins.co.nz

for display cabin locations

www.justcabins.co.nz

Situations Vacant

DRIVETECH LTD

"TRAINING TOMORROWS DRIVERS TODAY"

HEAVY TRAFFIC CLASSES 2, 3, 4 & 5

FROM FULL CAR (Class 1)

TO FULL TRUCK (Class 2) in 2 days

(Road code & pre-assessment driving training provided)

FORKLIFT ENDORSEMENT (F & OSH)

Train with a knowledgeable experienced Assessor that will

work with you through your theory and practical steps.

Driving Related Health & Safety Training

Passenger, Logbook & Load Security Training

OTHER COURSES/LICENCES & ENDORSEMENTS AVAILABLE ARE:

Vehicle Recovery, Wheels, Tracks, Rollers & Dangerous Goods

Courses in Christchurch, Invercargill,

Cromwell & Mosgiel daily.

Other areas by arrangement

INTEREST FREE TIME PAYMENTS

(Terms & Conditions apply)

FREEPHONE 0508 2 37483

or 03 348 8481, 027 510 0684

info@drivetech.co.nz / www.drivetech.co.nz

Situations Vacant

Public Notices

FULL TIME CLEANER

SICON Ltd operates a range of services encompassing Parks and

Reserves, Roading Maintenance, Water and Sewer infrastructure and Civil

Construction.

We are looking for a Full Time cleaner extraordinaire to carry out the

following duties over the Selwyn District:

• Maintain Public toilets in a hygienic condition

• Empty rubbish bins

• Cleaning of interior and exterior of facilities

You are required to

• Have a full Driver's License

• Be Health and Safety conscious

• Be physically fit

• Be able to work public holidays and weekends if required

If you are a team player who strives for the highest standards in your work,

we want to hear from you!

The position is based in Rolleston.

We are committed to providing a safe work environment therefore

successful candidates are required to pass a pre-employment medical and a

drug/alcohol test.

Applicants for this position should have NZ residency or a valid NZ work visa.

Please email your cover letter and CV to recruit@sicon.co.nz quoting

Reference 202. Applications close 5pm on Monday 29th April 2019.
---
28 Wednesday April 24 2019

Latest Christchurch news at www.star.kiwi

SELWYN TIMES

ALL LOUNGE

ALL BEDROOM

ALL DINING

ON SALE ON SALE ON SALE

INTRODUCING THE

Calvin

Cute, compact

& only $ 499

Looks great with

our Woodwall range!

Available as a 2 Seater or 3 Seater in Grey or Emerald Green.

Shop

Online

Nationwide

Delivery

Finance

Options

targetfurniture.co.nz

Storewide sale on now. Ends 06.05.19. Excludes Manchester & Accessories.

Cnr Blenheim & Curletts Rds, Christchurch

Ph: 0800 TARGET (0800 827438)

Offers and product prices advertised here expire 06/05/19.

Sale excludes Manchester and Accessories.
---
THe BeST PRoPeRTieS AcRoSS

THe SeLWYn DiSTRicT

INSIDE

PUBLiSHeD eVeRY WeDneSDAY

Week commencing WeDneSDAY, 24TH APRiL , 2019

Contemporary Masterpiece

with Triple Car Garage

This superior West Melton residence simply exudes designer living at

its best. With contemporary flair & mono pitch ceilings, this property

captures your eye from whoa to go. Beautifully set on an established

2463m2 section, the home is well set back from the road & positioned

to the centre of the land, giving you both an expansive front & back lawn

with great options for your preferred outdoor living space - depending

on the occasion or the time of day. You'll be immediately impressed with

the striking foyer with feature wall paper & glamorous pendant light,

but when reaching the stunning open plan living space, you'll be in awe

of the gorgeous kitchen, with it's large scullery, 90cm oven, stone bench

tops & incredible view across the dining space which extends to the

covered front patio - perfect for entertaining. The casual living space

boasts a gorgeous schist wall, with inlayed log burner & TV recess - quite

a feature. Moving through to the separate lounge, boxed lit ceilings

create further visual appeal & the gas fire provides ambience for those

cosy winter nights in front of a movie, & there's built in surround sound

too for the full theatre experience. The stylish master suite boasts a

sleek tiled en-suite & WIR plus has access to the patio too. Four further

bedrooms are on offer, plus a uniquely fun family bathroom space with

a walk-through vanity room, with separate toilet to the end, and off to

the side a tiled wet room with a free-standing bath & tiled shower. When

it comes to the practical needs of a modern family, you'll appreciate the

separate laundry & carpeted triple car garage with drive through door to

the rear which leads to a large parking pad should you need it. So, if you're

looking for a home with the 'x' factor, & one that will provide you with so

much space & privacy, then this one needs to be at the top of your viewing

list. We look forward to seeing you at an open home soon or contact us

anytime to arrange a private appointment, you'll be so glad you did.

PRICE: Offers Over $999,000

rwwestmelton.co.nz/RLL24754

Town & Lifestyle Real Estate Ltd

Licensed (REAA 2008) - Rolleston

Brendan 'Big Red' Shefford

Contact:

Mobile: 027 224 4733

Sarah Booth

Contact:

Mobile: 027 527 8258

2 Rossington Drive, West Melton Open Home: Saturday 2.00pm - 2.30pm

SALES

OFFICE

OPEN

New sections

Find out more, call us on 03 741 1340 or visit us at our brand new Falcon's Landing

sales office on the corner of Falcon Road and Lincoln-Rolleston Road, open Thursdays,

Fridays and Sundays from 1-3pm. Email enquiries@yoursection.nz
---
2

Four Seasons Realty 2017 Ltd | Licensed Agent REAA 2008

Contributor to realestate.co.nz

Your home for local property

harcourts.co.nz
---
3

Welcome

Glenis Whittle

Rolleston Office

" After 10 years of owning a retail

business it was a natural progression

to move into Real Estate. I'm very

excited and passionate for the next

stage forward."

M 021 0836 7476

E glenis.whittle@harcourts.co.nz

Four Seasons Realty 2017 Ltd | Licensed Agent REAA 2008

Your home for local property
---
4
---
5
---
6
---
7
---
2

8

[Edition datE]

Buying a lifestyle block

City life getting you down? Dreaming of

living in the country, where you 'commute'

from the breakfast table to a barn or your

home office? It might look like an easy life but

buying a lifestyle property can be a complex

business.

While living in the country has much

to recommend it, you need to do more

preparation for buying a place there than

buying a pair of gumboots and comparing

the merits of ride-on mowers.

"We recommend comprehensive due

diligence when buying any kind of property,

but rural ones come with a whole extra set of

things to think about compared to buying a

straightforward stand-alone home in town,"

says Kevin Lampen-Smith, chief executive of

the Real Estate Authority (REA).

Lampen-Smith says that while it's tempting

to focus on the dream wish list for your

bucolic bolt-hole, but you should also

compile a list of issues to be aware of (and

people who can help you learn about them).

"If the property you like is being sold by a

licensed real estate agent, remember that you

can ask them anything you like about it," he

says.

"Rural real estate agents have special skills

in this area and they'll be able to help you

figure out what information you need to

make a well-informed decision. It's also a

good idea to get your lawyer onboard early to

check titles, consents and other information

that you gather in the process."

It might feel like you're getting away from

it all when moving out of town, but rural

developments can be subject to rules that

restrict what you can do. Lampen-Smith

recommends getting your lawyer to check if

there are any covenants on the property that

might have an impact on a future business

you may run there, or any planned building

projects. You don't want to invest in an

alpaca herd for your new dream property

only to find that it's not allowed to carry any

livestock. Similarly, it would be tough to

discover that your subdivision plans are not

permitted by council rules.

Be aware that there may be tax implications

if you're planning to use the property as a

business, Lampen-Smith says.

"In general, if it is currently being used for

a business that is tax-registered – whether

that's selling organic eggs, grazing stock

or running a B&B – then the seller will

probably add GST to the price. This means

you'll pay an extra 15 per cent, unless you are

also registered for GST. Ask your lawyer or

accountant to check if the house or any other

buildings on the property are GST-exempt.

They will also be able to advise you on

whether you need to be GST-registered."

A good place to start when trying to figure

out what tax obligations might attach to your

purchase of the property is Inland Revenue's

property tax decision tree (available at

http://www.ird.govt.nz/property/propertyterms-and-tools/property-decision-tree/),

but keep in mind that it is always best to

seek professional advice before you make a

decision.

Rural properties (like all properties) can

also have easements on the title that relate to

access, water or power. Lampen-Smith says

you should ask your lawyer to check the title

and work out what the easements are, and

how they will have an impact on your rights

and responsibilities as an owner.

"For example, if the title allows a neighbour

access to a piece of their land through your

property, do you have any right to limit the

type and frequency of that access if you buy

it?"

Be aware too that there may be 'unofficial'

easements operating; the incumbent owners

may have an informal arrangement with their

neighbours, but this may not remain when

the property passes into new ownership.

Things that we take for granted when living

in urban environments, like water, sewage

and access, can require more involvement in

rural areas. Check the water sources for the

property – if it has its own bore, are there

limits on the amount of water you can draw

from it? What is the process for ensuring it is

safe to drink? What happens to wastewater

and sewage? Are you prepared for life with

a septic tank? Will the current owner ensure

the tank is empty as a condition of sale?

When it comes to access, will you share

a private road or right of way with other

properties? What will be your responsibilities

and potential costs for maintaining it? Don't

forget that your neighbours may be involved

in unglamorous activities at ungodly hours –

check the zoning rules for nearby properties

if you're worried about noise, smells or traffic.

You might think it's lovely to have stock

grazing out the window, but are you ready for

a milk tanker driving past every morning? Be

aware that the LIM will not always alert you

to any pending or current NZTA decisions

regarding local highway linkages that often

divert traffic away from urban centres in

favour of immediate rural areas on the town

boundary. Check with NZTA if you think

your property could be affected by road

changes.

"Like all property purchases, buying a place

in the country requires careful, objective

consideration," Lampen-Smith says.

"There are lots of great things about living

on the land, but it's best to be realistic about

it. You don't want to be like the former townie

I met a few weeks ago, who mournfully told

me that their lifestyle block had become "a

life sentence". Do your homework and you're

far more likely to live happily ever after in

rural bliss."

For independent advice on buying or

selling property, check out settled.govt.nz.
---
9

A Superior Lifestyle

Residence

1/748 Waterholes Road, Rolleston

5 3

• Stunning private home set on approx. 5.0 Ha

• Gas heated pool with integrated hot pool

• 160 m2 approx storage workshop facility

• Templeton Silt Loam soil

• 5 bdrms + study, 3 bthrms (2x ensuites)

• Sep living areas

• Diesel fired central heating radiators throughout and log fire

• Park like setting with flowing lawns, trees, shrubs, gardens

and orchard

• Currently undergoing subdivision. Possession expected to

be available mid 2019.

Viewing by appointment

For Sale $1,400,000 (incl GST if any)

Web mikepero.com/RX1823817

Joe Brankin

Brand & Territory Owner

021 324 529

joe.brankin@mikepero.com

Very Limited

Prestigious

Release

748 Waterholes Road, Rolleston

Just 4 superb blocks of approx. 4 Ha. Not only in a highly

sought after location but also featuring the highly favoured

Templeton Silt Loam Soil.

This is a fantastic opportunity to establish a high-end lifestyle

property investment and/or investigate the many land use

options. Lots 3 and 5 under offer. Lots 2 and 4 available.

Currently undergoing subdivision. Possession expected to be

available mid 2019.

Viewing by appointment

For Sale Lots 3, 4 and 5 $500,000 per section

and Lot 2 $575,000 (incl GST if any)

Web mikepero.com/1823819

Joe Brankin

Brand & Territory Owner

021 324 529

joe.brankin@mikepero.com
---
2

10

[Edition datE]

What to watch for when

the mode of sale changes

Buying a property is rarely straightforward,

which is no surprise given that it's the

biggest financial commitment most people

ever make. When you combine big sums of

money and a considerable level of emotional

investment, even the simplest transaction

can be stressful. We hear a lot about the need

for buyers to do their homework, but there

are plenty of reasons for sellers to be careful

too.

If you're selling a property with a real estate

agent, you must sign an agency agreement

that sets out all the terms and conditions

of your contract with them, including how

much commission they will earn from the

sale and how the property will be marketed.

That's why it's so important to get legal advice

before you sign an agency agreement. If it's a

standard agreement, you usually retain the

right to sell the property privately but it's a

good idea to check this. If you have signed

an agreement with an agency but decide for

whatever reason to opt for a DIY private

sale, you should double and triple-check

whether the agency agreement requires you

to pay commission to the real estate agent or

agency.

Most agencies use the Real Estate Authority

(REA) standard clauses in agency

agreements, which set out certain terms

and conditions for the contract and the

payment of commission. According to the

standard clauses, commission is payable if

the property is sold within the active term

of the agreement (normally 90 days) or if it

is sold privately within six months after the

end of the term to a buyer that the agent had

earlier introduced to the property. In other

words, if the buyer visits an open home run

by the real estate agent, and then enters into a

private sale with the seller within six months

after the end of the agreement, the seller is

still obliged to pay commission to the agent.

This can vary depending on whether it is

a sole or general agreement – talk to your

lawyer before you sign up.

Both sole agency agreements and general

agency agreements provide for commission

payments after the agreed period ends. If a

seller enters into a sale within six months of

the agency agreement ending with a buyer

who was introduced by the real estate agent

(or the agent facilitated the sale), then the

seller must pay the agent commission just as

they would have done when the agreement

was still current. So, if the agent brings a

potential buyer to a property in March, the

agency agreement expires in April, and the

seller and purchaser enter into a private

sale agreement in May, the seller will have

to pay the agent commission. The sale must

become unconditional (which is when all

the conditions of the sale and purchase

agreement have been met), but it doesn't

matter whether it goes unconditional during

or after the agency period, or during or after

the six months following expiry, so long as

the sale and purchase agreement is entered

into within those timeframes. So, before you

sign an agency agreement, ask the agency

if it uses standard REA clauses. If it doesn't

you may be exposed to more complicated

commission risks and you should seek legal

advice.

Generally, any issues arising from the agency

agreement/arrangements between the seller

and the real estate agent won't have a direct

effect on the separate sale and purchase

agreement between the seller and the buyer.

However, the wrangling involved may create

headaches or delays that you as a buyer

wouldn't want to be troubled with.

If you do decide that you're really keen on a

property in this situation, seek legal advice

before getting involved (and especially

before signing anything). Remember too

that the REA can help you with questions

and complaints about sales involving

licensed real estate agents, but it's unable to

step in if you have a problem with a private

and unlicensed seller.

For independent advice on buying or

selling property, check out settled.govt.nz.

RURAL | LIFESTYLE | RESIDENTIAL

COALGATE 13 Cross Street

First Home or Investment

This home on 1012sqm comprises a large open-plan

kitchen/dining/living area. Two bedrooms, family

bathroom/laundry, large free-standing log burner with

wetback. Double carport, garden shed and wood shed.

2 1

$265,000 GST Inclusive

Min Cookson

M 027 249 5417 | B 03 341 4301

E min.cookson@pggwrightson.co.nz

pggwre.co.nz/DAR30166

LEESTON 9 Johnston Street

4 1 1

Character Home

$410,000 GST Inclusive

Delightful character home with lead light windows

and rimu panelling on a 1009sqm section. Four large

bedrooms, family bathroom, separate toilet, formal

dining room or separate lounge, open-plan

kitchen/dining flowing through to a very large family

room. Adjacent to the home is a large garage with a

sleep-out or hobbies room. Situated to the south of

Leeston primary school with the Leeston swimming

pool across the road. Easy walking distance into the

local shops and commutable access to the city.

Min Cookson

M 027 249 5417

E min.cookson@pggwrightson.co.nz

ROLLESTON 1/51 Wild Road

Private And Peaceful

This 4ha property offers a beautifully presented home with

modern kitchen, spacious living areas, formal lounge, three

bedrooms, master with en suite and WIR, office and double

garage. Mature garden, sleepout and swimming pool.

3 2 2

PRICE BY NEGOTIATION GST Inclusive

Min Cookson

M 027 249 5417

E min.cookson@pggwrightson.co.nz

pggwre.co.nz/DAR30225

pggwre.co.nz/DAR29789

PGG Wrightson Real Estate Limited, licensed under REAA 2008

Helping grow the country
---
11
---
12

Hastings McLeod Limited Licensed under the Real Estate Agents Act 2008 6 Tennyson Street ROLLESTON rolleston@pb.co.nz 03 929 0306

Timeless elegance, central location

Clever design gives you more!

WEB ID ROU67580

ROLLESTON

1 Allingham Lane

Designed to grow with your family and with features

that exude luxury yet practicality, this spacious and

elegant 287m2 home (including alfresco area) on a

833m2 section will capture the hearts of all that enter

and leave you with a feeling of home

• Kitchen with WIP & stainless steel tops

• Extra-height ceilings & feature doors

• Gas cooking, heating & water, heat pump

• Ensuite with double head fully-tiled shower

• Gorgeous private setting, alfresco outdoor living

Quarter-Acre Kiwi Dream

View By Appointment

Sarah Yeates

Mobile 027 447 2719

Office 03 929 0306

sarahy@pb.co.nz

BY NEGOTIATION

4

2

3

WEB ID ROU67790

ROLLESTON

15 Farnborough Way

VIEW Sunday 28 Apr 12.00 - 12.30pm

With a clever layout offering excellent sun and space to

the open plan living area and a kitchen with floor to

ceiling cabinetry and quality Bosch appliances this

property represents excellent buying! Features include:

• 3 bedrooms, master with ensuite & WIR

• Gas hot water, heat pump and alarm system

• Private sunny courtyard for easy-care living

• Excellent location to South Point shopping centre

Just Bring Your Friends, Family!

Sarah Yeates

Mobile 027 447 2719

Office 03 929 0306

sarahy@pb.co.nz

BY NEGOTIATION

3

2

1

WEB ID DFU67671

DARFIELD

19 Cardale Street

Simply irresistible for those down-sizing or first home

buyers, where relaxed family living and entertaining

come together on a sunny quarter-acre section. Superbly

suited from couples to families with stacks of

inside/outside storage, plus the added convenience of a

separate bathroom, toilet and large laundry. Heated by a

heat-pump and log burner on wetback. Double garage

plus workshop, covered caravan parking and

situated a short walk to schools, reserves and amenities.

View By Appointment

Amy Jones

Mobile 021 077 9945

amy.jones@pb.co.nz

$459,000

3

1

2+

WEB ID LEU67759

SOUTHBRIDGE

84 Pacific Drive

This wee cutie is your quintessential, kiwiana `Bach at

the Beach!` And has so much with it. The table is here,

the beds are here, the chairs are here....even the

fridge....And so much more. Two bedrooms and a

laundry/ toilet addition. A studio/ craft-room out the

back and, a single garage. Nestled in behind a hedge

giving great privacy and overlooking a stream and bush

out the back....it`s the ideal holiday spot to escape to

and unwind.

View By Appointment

Penny Dadson-Clausen

Mobile 027 895 5943

Office 03 929 0306

pennyd@pb.co.nz

$215,000

2

1

1

pb.co.nz
---
13

Hastings McLeod Limited Licensed under the Real Estate Agents Act 2008 6 Tennyson Street ROLLESTON rolleston@pb.co.nz Office 03 929 0306

Productive farmlet - 10ha

Better Take A Look! $330,000

WEB ID LEU67868

LEESTON

51 high street

Hardly even a stroll to the businesses, cafes and schools

in the Leeston township, this 3 bedroom home on

741m2 is ideal if you are looking for your first home or

an investment property.

The open plan kitchen/dining area and living offer

sliding doors onto the covered patio area overlooking

the backyard. Great indoor/outdoor flow letting lots of

sunshine in with a log burner to keep you warm and

cosy during those chillier months.

VIEW By Appointment

3

WEB ID DFL67888

LEESTON

40 Lakelands Road

Located close to both Leeston and Lincoln and featuring

a spacious modern family home.

•Open plan kitchen/dining

•2 separate living areas

•4 double bedrooms/2 bathrooms

•Log burner & heat transfer system

•3 bay stable with single bay lockable workshop

•Irrigated from excellent low cost shallow ground water

supply

DEADLINE SALE

VIEW 28 Apr & 5 May 1.00 - 1.45pm

DEADLINE SALE closes Thursday 9th May, 2019 at 4.00pm,

(unless sold prior)

Gareth Cox

Mobile 021 250 9714

gareth@pb.co.nz

4

2

2

Penny Dadson-Clausen

Mobile 027 895 5943

Office 03 929 0306

pennyd@pb.co.nz

Exceptional value! $475,000

WEB ID ROU67840

LEESTON

180 High Street

My vendor's loss is your gain and they call to action a

quick sale!

Built by Horncastle homes in the Millbridge subdivision

and set on a good sized 668m2 section, this well layout

4 bedroom, 2 bathroom home with separate living is

going to cater well for first home buyers, or those

looking for the next step. The open plan kitchen dining

area has fantastic bench space, great storage and

quality Bosh appliances. There is plenty of room for the

dining table and a cosy area in front of the fire ready for

the upcoming winter evenings.

VIEW By Appointment

Angela Hunt

Mobile 021 548 777

angela.hunt@pb.co.nz

1

1

4

2

2

pb.co.nz

REAL ESTATE SPECIALISTS

543 Drain Road, Doyleston 4 Bruce McLaren Way, Rolleston

Offers Over $640,000 Offers Over $760,000

The Living is Easy!

With room for the kids to roam, swim and play tennis, this spacious, comfortable 4 bedroom, 2 bathroom family

home on 12654sqm offers all the freedom of a country lifestyle within 40 minutes of the city.

Neutral with beautiful timber accents throughout, the relaxed feel of the open plan lounge, dining and kitchen

is perfectly suited to casual family living whilst a second separate lounge offers an alternative space to retreat

and relax. Catering for hours spent in the sun and enjoying the company of friends, the superb north-facing

outdoor living area includes a raised deck area, outdoor fireplace, attractive landscaping and a fabulous decked

swimming pool. Keeping children or teenagers entertained will not be a problem with all of this on offer plus

a grass tennis court for family tournaments. A standalone double garage plus additional sheds provide ample

storage space for vehicles, tools and gardening equipment.

Situated within a few minutes' drive of Leeston village, the good life awaits! Contact Mike now to arrange your

viewing.

** Set Date of Sale : Offers to be presented 5pm 15th May (unless sold prior)

Brand New and Waiting for You!

Just waiting for you to move in this newly built, beautifully presented, spacious home promises many happy

years of superb comfort and style in a fabulous neighbourhood. Thoughtfully designed this light, bright & open

plan 4 bedroom, 2 bathroom home has 2 living areas as well as a designer kitchen in sleek white that includes

a walk-in pantry with additional bench space and an abundance of cupboards. Quality is on show here with the

beautiful engineered stone bench top, quality appliances and breakfast bar for casual dining, while the master

suite offers a generous walk-in wardrobe and a stunning ensuite with tiled twin shower. Planned to cater to a

busy household this home also includes a study nook, great for studious teenagers, plus the essential separate

laundry. Year round comfort is assured with air conditioning provided by three heat pumps.

Fully insulated and carpeted drive-through garaging for two-plus vehicles, as well as off-street parking spaces,

ensures ample storage for cars and toys. Contact Mike now to arrange a viewing of this superb family home.

** Set Sale : Offers to be presented 5pm, 9th May 2019 (unless sold prior)

68 Rolleston Drive, Rolleston

0800 645 346

www.oneagencyres.co.nz

Mike Goatley

027 249 5561

Stephen Ferguson

021 224 2000

Fraser Mackintosh

027 286 8161

Elyse Campbell

021 187 6217

Deepak Gangar

021 227 9563

Nicola Curtis

Administrator

Julz Sibbe

Administrator

Real Estate Specialists Ltd Licenced REAA (2008)
---
14

Boundary lines are indicative only

Boundary lines are indicative only

Heathcote Valley 91 Avoca Valley Road

Ultimate lifestyle on city limits

Tucked in at the base of the Port Hills, this substantial 10.78ha of rolling pasture offers a superb rural lifestyle within

15 minutes of the CBD. Originally part of family-owned Tussock Hill Farm, circumstances dictate it's time to sell.

Awaiting the construction of the country home you've dreamed of is the consented building platform boasting

expansive views across the city and estuary. This highly desirable farm land consists of prime pasture supported by

a comprehensive woolshed and yards, providing buyers endless options. You'll enjoy easy access to all city

amenities plus close proximity to the shops, cafes and eateries of Ferrymead, Sumner Village and Lyttelton.

Outdoor activities nearby include walkways, bike tracks and beaches. Seize your chance at this once-in-a-lifetime

opportunity!

bayleys.co.nz/559803

Deadline Sale (unless sold prior)

1pm, Wed 8 May 2019

View by appointment

Sam Sidey 027 346 3500

sam.sidey@bayleys.co.nz

Jacob Wieblitz 027 2397176

jacob.wieblitz@bayleys.co.nz

WHALAN AND PARTNERS LTD, BAYLEYS, LICENSED UNDER THE REA ACT 2008

Boundary lines are indicative only

Boundary lines are indicative only

Coalgate Coaltrack Road

Prebbleton 4 Skara Brae

Build or complete subdivision

Expansive elegant living

5 4 3 6

For sale on behalf of the Receivers. 8,496 square

metres of bareland located on Coaltrack Road in the

heart of Coalgate township. The property has been

subdivided into seven sections but the subdivision has

not been fully completed. The choice is yours to build

your dream home or complete the subdivision,

creating future upside.

Perfectly positioned, being close to Darfield and all

local amenities, whilst only a short drive to numerous

rivers, lakes and mountains, providing lots of options

for recreational pursuits in both summer and winter.

bayleys.co.nz/559819

Deadline Sale (unless sold prior)

4pm, Fri 3 May 2019

3 Deans Ave, Chch

View by appointment

Ben Turner 027 530 1400

ben.turner@bayleys.co.nz

Craig Blackburn 027 489 7225

craig.blackburn@bayleys.co.nz

WHALAN AND PARTNERS LTD, BAYLEYS, LICENSED REAA 2008

Sited among other quality properties in one of

Prebbleton's sought-after streets, this 731m 2 (approx)

executive home on 5,007m 2 is surrounded by

professionally landscaped grounds providing a feeling

of absolute tranquillity and seclusion. Space in this

house will never be an issue. Above the supersized

garaging is a fully self-contained apartment with

independent access. Conveniently located just 1.5km

from Prebbleton shopping centre and community

facilities. This is seriously good living!

bayleys.co.nz/559813

Deadline Sale (unless sold prior)

1pm, Wed 8 May 2019

View Sun 2-2.30pm

Nathan Collett 027 826 1535

nathan.collett@bayleys.co.nz

Chris Jones 027 220 5043

chris.jones@bayleys.co.nz

WHALAN AND PARTNERS LTD, BAYLEYS, LICENSED REAA 2008

bayleys.co.nz
---
15

NEW LISTING

Boundary lines are indicative only

Lincoln 17 Allendale Lane

Lifestyle and luxury in Lincoln

• Immaculately presented 2.05 hectare lifestyle property, awarded a silver medal in House of the Year in 2010, this

expansive approx. 389m 2 home comprises an open-plan living, dining and kitchen (with a walk -in pantry).

Adjoining the generous living is the separate lounge plus a study

• Five double bedrooms comfortably accommodate the whole family

• Elevated section with the picturesque Liffey Stream on the boundary

• Sun-drenched north-west facing outdoor living creates an idyllic spot to while away the days

• Outbuildings include a two bay shed with one bay currently utilised as a man cave. One paddock with post and

rail fencing and sheep yards. Triple garaging provides ample room for the toys

bayleys.co.nz/559909

5 2 2 3

For Sale by Deadline Private Treaty

(unless sold prior)

1pm, Wed 15 May 2019

3 Deans Ave, Chch

View 2.30-3pm Sun 28 Apr & Sun 5 May

or by appointment

Mick Sidey 027 229 8888

mick.sidey@bayleys.co.nz

WHALAN AND PARTNERS LTD, BAYLEYS, LICENSED UNDER THE REA ACT 2008

NEW LISTING

NEW LISTING

Boundary lines are indicative only

Boundary lines are indicative only

Halswell 113 Quaifes Road

Prebbleton 60 Birchs Road

Rural living yet close to all

city amenities

Proudly owned for over 30 years, this 7.62ha has a

location hard to beat. Medical Centre, early childcare

facilities, cafes and eateries only 1km away, walking

distance of Seven Oaks School and the CBD is

conveniently close. Water supply is already in place

with an artesian well and shelter is established on two

boundaries. Currently zoned Rural and with no

covenants to restrict your build turn your family's

plans into reality. Your new lifestyle awaits!

bayleys.co.nz/559928

Deadline Sale (unless sold prior)

1pm, Tue 14 May 2019

Chris Jones 027 220 5043

chris.jones@bayleys.co.nz

Sam Sidey 027 346 3500

sam.sidey@bayleys.co.nz

WHALAN AND PARTNERS LTD, BAYLEYS, LICENSED REAA 2008

Uncompromised quality

Located within walking distance to the local school

and amenities. This beautifully landscaped 965m 2

property is well suited for both family comfort and

ease of entertaining. The 293m 2 executive home

includes four bedrooms plus office/ fifth bedroom,

open plan living incorporating a modern kitchen with

butler's pantry and dining area, separate formal

lounge and kid's living room with two bathrooms,

excellent heating options and ample storage.

Exceptional outdoor entertaining areas including

open fireplace and BBQ make entertaining easy.

Uniquely styled, faultlessly presented and immaculate.

bayleys.co.nz/559902

5 3 2 3

Auction (unless sold prior) 12pm, Fri 10 May 2019

3 Deans Ave, Chch

View Wed/Sun 12-12.30pm

Richard Innes 027 522 9598

richard.innes@bayleys.co.nz

Jeremy Gould 027 436 1581

jeremy.gould@bayleys.co.nz

WHALAN AND PARTNERS LTD, BAYLEYS, LICENSED REAA 2008

bayleys.co.nz
---
16

Accelerating success.

Reach more people - better results faster.

REAL VALUE ADD OPPORTUNITY

FOR SALE BY DEADLINE PRIVATE TREATY closing Thu 16 May 2019 at 4pm (unless sold prior)

1491 CHRISTCHURCH AKAROA ROAD, MOTUKARARA, CANTERBURY

LIFESTYLE

4.0082 Hectares Extensive sheds

colliers.co.nz/212835

3 bedroom home Open Homes:

22 April & 28 April - 2-2.30pm

This entry level lifestyle property offers plenty. Older style home offers 3 bedrooms; 2-3 living areas, with outdoor living. Plenty of potential to

enhance and add value with shelter and fencing in place. Separate sleepout (with WC & shower), garages, barn, kennels & cattleyards. This block

is very well fenced and backs onto the Halswell River. Easy commute to the city and school buses nearby.

Shane O'Brien

+64 27 471 6121

shane.obrien@colliers.com

Ruth Hodges

+64 27 309 0334

ruth.hodges@colliers.com

Agri Realty Ltd,

Licensed REAA 2008

SHELTER ESTABLISHED - BLANK CANVAS

FOR SALE $350,000 Inclusive of GST

1491 CHRISTCHURCH AKAROA ROAD, MOTUKARARA, CANTERBURY

BARELAND

UNIQUE OFFERING

FOR SALE $400,000 Inclusive of GST

1587 CHRISTCHURCH AKAROA ROAD, MOTUKARARA, CANTERBURY

BARELAND

4.4990 Hectares Bareland

Main road frontage

10.0032 Hectares Bareland

Handy commute to City

This attractive 4 hectare lifestyle block is situated close to the Motukarara settlement and is

well fenced into 5 paddocks with established shelter. Ideal building sites with rural outlooks

and easy commute to the city. No building covenants.

A unique holding bisected by the Halswell River. This 10 hectare bareland block is handy to

Motukarara and an easy commute to the city. Offering a main road profile with 3 paddocks

including wetland area. No building covenants. If you're looking for something a little

different and a bit bigger, here is a real opportunity!

Shane O'Brien

+64 27 471 6121

shane.obrien@colliers.com

colliers.co.nz/212832

Ruth Hodges

+64 27 309 0334

ruth.hodges@colliers.com

Agri Realty Ltd,

Licensed REAA 2008

Shane O'Brien

+64 27 471 6121

shane.obrien@colliers.com

colliers.co.nz/212834

Ruth Hodges

+64 27 309 0334

ruth.hodges@colliers.com

Agri Realty Ltd,

Licensed REAA 2008

colliers.co.nz
---
2

[Edition datE] 17

Your guide to Show Homes & New Sections

in the Selwyn District

Raising the standard

There is now a second showhome to view

in Rolleston's Branthwaite subdivision.

At 185sqm, BT Builders' Kawarau design

showhome is ideal for first or second home

buyers who want a modest home with a

spacious feel.

The quality specifications and finish start

with a polystyrene rib raft foundation. This

offers thermal benefits, seismic movement

resilience and is standard for BT Builders.

Aesthetically appealing, with vertically

grooved panel veneer augmented with

stone, this home is well-built with an

attractive yet practical layout.

The spacious entry leads into the living,

dining and kitchen space with a separate

lounge accessed through double French

doors, making it a perfect room for dayto-day

living and entertaining. From the

lounge, double stacker doors lead out to

the garden while a large hardwood deck

runs off the living and master bedroom.

A standout feature of the living area is

the buffed concrete floor. This has attracted

considerable interest from visitors to the

home, for its look and functionality. The

grey and white colour scheme is softened

with a touch of earthy panelling and

furnishings, enhanced with rebated doors

and full height windows into the slab

which smoothly meet the floor coverings

bringing in lots of light, including in the

hallway.

The galley kitchen is bright and wellappointed

with two windows and an

efficient utilisation of space. It includes

tiled splashback, a walk-in pantry

cupboard, quality appliances, an island

sink and engineered stone bench tops.

All three bedrooms are well positioned

for easy access to bathroom facilities where

a spacious feel is achieved, by positioning

the main bathroom and toilet between

master and second bedrooms, and the

third bedroom making the latter ideal for

an office or guest room.

Generous storage is also a feature with

double wardrobes in both second and third

bedrooms, a walk-in robe in the master

bedroom, and two double cupboards in

the hallway. All are fitted with intelligent

cupboard organiser storage systems and

full height sliding doors. Standard for

BT Builders is also the provision of attic

trusses for extra storage, concealed in

the garage roof space and accessible via a

foldaway ladder.

In the ensuite, there is shower, hanging

vanity and toilet while the main bathroom

also has a hanging vanity, along with a tiled

walk-in shower and slightly fitted freestanding

acrylic bath. A separate toilet is

located next door and the laundry sited in

the insulated double garage.

BT Builders' attention to detail

includes taking care of all aspects of a

build including landscaping, letterbox,

clothesline, patios, driveways and vehicle

crossing for an easy build.

"We like to determine each client's

lifestyle requirements so we can optimise

their home and section for solar gains

and outdoor use," explains Brad Tucker,

Director of BT Builders.

To view BT Builders' new Branthwaite

showhome, head to 1 Reuben Drive (on

the corner of Lincoln Rolleston Road)

in Rolleston; open 8am-5pm weekdays,

12noon-4pm Sundays or by appointment

(phone 027 543 8228).

SITE

109
---
2

18

[Edition datE]

Home heating –

electricity, gas or wood?

How you heat your home depends on a

number of factors. Figuring out the best

way to heat your home continues to be a

matter for debate.

Several things are undisputed. A

warm, dry home is essential for

comfort and good health, good

insulation dramatically increases

the efficiency of any heating

system and ventilation is an

important consideration.

Most homes are

heated by electricity,

gas, or wood. In

New Zealand,

heating accounts

for approximately

30 percent of a

home's annual energy

consumption. There are many

things you can do to reduce

consumption and cost.

The World Health Organisation

recommends a temperature of 18 deg C

for indoor living areas, and slightly less for

bedrooms. It recommends slightly higher

temperatures for vulnerable people – the

elderly and small children. Studies have

shown that indoor temperatures below 12

degrees can disrupt sleep.

Among all these considerations, how

you heat your home is a matter of personal

choice, with many options available.

Heat pumps are generally the most

common and cost-effective form of home

heating in New Zealand. Used properly,

they heat quickly and are convenient.

However, you need to have the right sized

unit for the area and they don't work when

electricity is not available. They tend to be

room-specific but ducted heat pumps are

becoming more popular and are costeffective,

especially in new builds, but can

also be installed into established homes.

Modern wood burners may be the

closest you can get to an open-fire feel, but

are much more efficient. Wood is generally

a renewable fuel, and if you have a cheap

or free supply, a wood burner may be

the least expensive heating option. They

heat large areas and are not dependent

on electricity but there is the chopping

and stacking to be done, flues need to be

cleaned regularly and older models can

contribute to air pollution and may violate

strict air quality regulations – www.mfe.

govt.nz has detailed information regarding

this.

Pellet fires are typically more efficient

than wood burners but can have a smaller

output. They require electricity but

some have a battery backup and they are

thermostatically controlled with timers.

These must comply with regulations which

are also detailed on the Ministry for the

Environment website.

Gas heating is common and convenient.

Central heating systems can be zone

controlled and provide warm air

circulation. Flued gas heaters are best, as

unflued and portable gas heaters produce

lots of moisture and emit pollutants that

can be unsafe. Flued gas heating systems

can be installed in most homes. They are

fast heating and are relatively inexpensive

to run. However gas is not a renewable

resource and prices can vary widely.

The greatest source of energy is actually

free. Harnessing the sun can dramatically

reduce heating costs and is the most

environmentally friendly way to heat your

home. Passive heating combines insulation

with good design, accomplished more

effectively in new builds but also able to be

incorporated into existing homes.

Getting the sun's warmth into your

home is a function of the design; keeping

it in is a function of the insulation. There

is a wealth of information online as passive

heating becomes normative in the design

and building industry.

Websites such as energywise.govt.

nz and smarterhomes.org.nz have

comprehensive information on and tips

for, heating your home in the colder

months.

Visit Our New

Showhome Village

Featuring seven of Canterbury's

leading building companies

The Flemington Showhome Village is now open.

Find your perfect house and land package within a well regarded

community. Each home site has been created to enjoy the best

possible aspect situated amongst Lincoln's rural outlook.

First National Real Estate

Sue Mullins

027 244 1325

Visit Us Onsite Corner of Birches Road and Craig Thompson Drive, Lincoln.

Barry O'Neill

021 364 422

www.flemington.co.nz
---
19

This Week's

12.00pm - 12.30pm

12.00pm - 12.30pm

12.00pm - 1.00pm

12.45pm - 1.15pm

12.45pm - 1.30pm

1.00pm - 1.30pm

1.00pm - 1.30pm

1.30pm - 2.00pm

1.30pm - 2.30pm

1.30pm - 2.00pm

1.45pm - 2.15pm

2.00pm - 2.30pm

2.30pm - 3.00pm

2.30pm - 3.00pm

3.15pm - 3.45pm

3.45pm - 4.15pm

10.30am - 11.00am

11.00am - 11.30am

11.00am - 11.30am

11.00am - 11.30am

11.00am - 11.30am

11.00am - 11.30am

11.00am - 11.30am

11.00am - 11.30am

11.00am - 11.30am

11.15am - 11.45am

11.30am - 12.00pm

11.30am - 12.00pm

11.30am - 12.00pm

11.45am - 12.15pm

12.00pm - 12.30pm

12.00pm - 12.30pm

12.00pm - 12.30pm

12.00pm - 12.30pm

12.00pm - 12.30pm

12.00pm - 12.30pm

12.00pm - 1.00pm

sATURDAY 27Th ApRil

3 De Renzie Place, Kirwee

Ray White West Melton

27 Yardley Street, Avonhead

Harcourts Rolleston

83 Highsted Road, Bishopdale

Harcourts Rolleston

670 Springston Rolleston Road, Rolleston

Harcourts Lincoln

668 Springston Rolleston Road, Rolleston

Harcourts Rolleston

5 Melville Crescent, Rolleston

Harcourts Rolleston

16 Shona Lane, West Melton

Ray White West Melton

13 Aua Street, Lincoln

Ray White Lincoln

5 Loreto Place, Hornby

Harcourts Rolleston

4B Coppell Place, Hoon Hay

Harcourts Rolleston

21 Anaru Road, Lincoln

Harcourts Lincoln

2 Rossington Drive, West Melton

Ray White West Melton

268 Southfield Drive, Lincoln

Ray White Lincoln

10 Sunline Avenue, Lincoln

Harcourts Rolleston

31 Central Avenue, Prebbleton

Ray White Lincoln

2/131 Carmen Road, Hei Hei

Ray White Rolleston

sUnDAY 28Th ApRil

250 Two Chain Road, Rolleston

Ray White West Melton

3070 Coaltrack Road, Coalgate

Matson & Allan Darfield

14 Hungerford Drive, Rolleston

Ray White Rolleston

26 Anaru Road, Lincoln

Ray White West Melton

70 Othello Drive, Rolleston

Ray White Rolleston

28 Goodland Place, Rolleston

Ray White Rolleston

14 Marquess Avenue, Halswell

Ray White Lincoln

9 Palm Drive, Shirley

Ray White Rolleston

479 Southbridge Dunsandel Rd, Leeston

Ray White Lincoln

5 Caesar Close, Rolleston

Ray White Rolleston

4 Frame Crescent, Rolleston

Ray White Rolleston

50B Stonebrook Drive, Rolleston

Ray White Rolleston

7 Boulez Mews, Rolleston

Ray White West Melton

47 Hungerford Drive, Rolleston

Ray White Rolleston

20A Telegraph Road, Darfield

Matson & Allan Darfield

20 Full Moon Lane, Rolleston

Ray White Rolleston

15 Farnborough Way, Rolleston

Property Brokers

27 Yardley Street, Avonhead

Harcourts Rolleston

223 Brookside Road, Rolleston

Ray White Rolleston

95 Fairfield Way, Rolleston

Ray White Rolleston

83 Highsted Road, Bishopdale

Harcourts Rolleston

12.15pm - 12.45pm

12.15pm - 12.45pm

12.15pm - 12.45pm

12.15pm - 12.45pm

12.15pm - 12.45pm

12.30pm - 1.00pm

12.30pm - 1.00pm

12.30pm - 1.00pm

12.30pm - 1.00pm

12.30pm - 1.00pm

12.30pm - 1.15pm

12.45pm - 1.15pm

12.45pm - 1.15pm

12.45pm - 1.30pm

1.00pm - 1.30pm

1.00pm - 1.30pm

1.00pm - 1.30pm

1.00pm - 1.30pm

1.00pm - 1.30pm

1.00pm - 1.30pm

1.00pm - 1.30pm

1.00pm - 1.30pm

1.00pm - 1.30pm

1.00pm - 1.30pm

1.00pm - 1.45pm

1.15pm - 1.45pm

1.15pm - 1.45pm

1.30pm - 2.00pm

1.30pm - 2.00pm

1.30pm - 2.00pm

1.30pm - 2.00pm

1.30pm - 2.00pm

1.30pm - 2.00pm

1.30pm - 2.00pm

1.30pm - 2.15pm

1.45pm - 2.15pm

1.45pm - 2.15pm

1.45pm - 2.15pm

1.45pm - 2.15pm

1.45pm - 2.15pm

197 Brookside Road, Rolleston

Ray White Rolleston

17 Quartz Drive, Rolleston

Ray White Rolleston

8 Azalea Close, Templeton

Ray White Lincoln

22 Navy Loop Rolleston

Ray White Rolleston

5 Chervier Street, Leeston

Bayleys Canterbury

16 Leeston & Lakes Road, Leeston

Property Brokers

39 Sheridan Drive, Rolleston

Matson & Allan Rolleston

21 Shillingford Boulevard, Rolleston

Ray White Rolleston

1/4 Banks Street, Templeton

Ray White Rolleston

8 The Stables, Halswell

Ray White Lincoln

1/522 Weedons Road, Broadfield

Ray White West Melton

670 Springston Rolleston Road, Rolleston

Harcourts Lincoln

10 Full Moon Lane, Rolleston

Ray White Rolleston

668 Springston Rolleston Road, Rolleston

Harcourts Rolleston

11/487 Weedons Road, Rolleston

Matson & Allan Rolleston

33 Greendale Road, Darfield

Matson & Allan Leeston

20 McLenaghan Road, Rolleston

Ray White Rolleston

6 Fleming Drive, Leeston

Bayleys Canterbury

5 Melville Crescent, Rolleston

Harcourts Rolleston

788 Weedons Ross Road, West Melton

Ray White West Melton

14 Marble Court, Rolleston

Ray White Rolleston

904 Hoskyns Road, West Melton

Matson & Allan Rolleston

3 Henley Close, Rolleston

Ray White Rolleston

99 Shillingford Boulevard, Rolleston

Ray White Rolleston

40 Lakelands Road, Leeston

Property Brokers

11 Thames Drive, Rolleston

Ray White Rolleston

19 Donatello Drive, Rolleston

Ray White Rolleston

9 Stanford Way, Rolleston

Matson & Allan Leeston

3 Maltby Drive, Rolleston

Matson & Allan Rolleston

9 Fairhurst Place, Rolleston

Ray White Rolleston

182 Robinsons Road, Prebbleton

Ray White Lincoln

20 Carston Street, Leeston

Property Brokers

22 Newman Road, Rolleston

Harcourts Rolleston

4B Coppell Place, Hoon Hay

Harcourts Rolleston

2 Wallace Crescent, Prebbleton

Harcourts Rolleston

51 Oak Tree Lane, Rolleston

Ray White Rolleston

53 Oak Tree Lane, Rolleston

Ray White Rolleston

37 Brookside Road, Rolleston

Ray White Rolleston

22 Jacqueline Drive, West Melton

Ray White West Melton

45 MacLaren Road, Wigram

Ray White West Melton

1.45pm - 2.15pm

1.45pm - 2.15pm

1.45pm - 2.30pm

2.00pm - 2.30pm

2.00pm - 2.30pm

2.00pm - 2.30pm

2.00pm - 2.30pm

2.00pm - 2.30pm

2.00pm - 2.30pm

2.00pm - 2.30pm

2.00pm - 2.45pm

2.00pm - 3.00pm

2.15pm - 2.45pm

2.15pm - 2.45pm

2.15pm - 2.45pm

2.30pm - 3.00pm

2.30pm - 3.00pm

2.30pm - 3.00pm

2.30pm - 3.00pm

2.30pm - 3.00pm

2.30pm - 3.00pm

2.30pm - 3.00pm

2.30pm - 3.00pm

2.35pm - 3.00pm

2.45pm - 3.15pm

2.45pm - 3.15pm

3.00pm - 3.30pm

3.00pm - 3.30pm

3.00pm - 3.30pm

3.15pm - 3.45pm

3.15pm - 4.00pm

3.30pm - 4.00pm

3.30pm - 4.00pm

3.45pm - 4.15pm

43 Masefield Drive, Rolleston

Harcourts Rolleston

21 Anaru Road, Lincoln

Harcourts Lincoln

51 Clydesdale Way

(off Carnaveron Drive), Lincoln

Harcourts Hornby

238 Wabys Road, Southbridge

Matson & Allan Leeston

4 Thomas Street, Kirwee

Matson & Allan Darfield

60 Birchs Road, Prebbleton

Bayleys Canterbury

12 Oak Tree Lane, Rolleston

Ray White Rolleston

39 Stanford Way, Rolleston

Matson & Allan Leeston

55 Farnborough Way, Rolleston

Harcourts Rolleston

16 Shale Court, Rolleston

Bayleys Canterbury

711A Hoskyns Road, West Melton

Ray White West Melton

1977 Selwyn Lake Road, Dunsandel

Bayleys Canterbury

6 Fountain Place, Rolleston

Matson & Allan Rolleston

263 Lincoln Rolleston Road, Rolleston

Ray White Rolleston

81 Dryden Avenue, Rolleston

Ray White Rolleston

1406 Leeston Road, Doyleston

Property Brokers

14D Manor Drive, Rolleston

Ray White Rolleston

12 Navy Loop, Rolleston

Ray White Rolleston

2 Perthshire Crescent, Lincoln

Ray White Lincoln

10 Sunline Avenue, Lincoln

Harcourts Rolleston

5 Loreto Place, Hornby

Harcourts Rolleston

17 Allendale Lane, Lincoln

Bayleys Canterbury

1 Reuben Avenue, Rolleston

Harcourts Rolleston

6 Whitehorn Drive, Lincoln

Harcourts Hornby

45 School Road, Halswell

Ray White Rolleston

95 Genesis Drive, West Melton

Harcourts Rolleston

226a Dunns Crossing Road, Rolleston

Ray White Rolleston

17c Kingsdowne Drive, West Melton

Ray White West Melton

3 James Hight Drive, Halswell

Ray White Rolleston

50 Strauss Drive, Rolleston

Ray White Rolleston

6 Charles Major Road, Rolleston

Ray White Rolleston

235 Rolleston Drive, Rolleston

Harcourts Rolleston

2 Hurley Drive, Rolleston

Ray White Rolleston

6 Boulez Mews, Rolleston

Ray White Rolleston

CHECK OUT THE SELWYN

TIMES PROPERTY DIRECTORY

EVERY WEDNESDAY FOR THE

BEST OF PROPERTY IN THE

SELWYN DISTRICT

FOR FULL

DETAILS OF ALL

OPEN HOMES,

PLEASE CONTACT

THE REAL ESTATE

COMPANIES

RAY WHITE

ROLLESTON 03 347 9988

www.rwrolleston.co.nz

WEST MELTON 03 347 9933

www.rwwestmelton.co.nz

LINCOLN 03 325 7299

www.rwlincoln.co.nz

FARMLANDS www.farmlands.co.nz

FARMLANDS LINCOLN 03 325 2889

FARMLANDS LEESTON 03 324 3189

FARMLANDS DARFIELD 03 317 9070

PROPERTY BROKERS ROLLESTON

www.propertybrokers.co.nz

ROLLESTON 03 929 0306

HARCOURTS

www.fourseasons.harcourts.co.nz

HARCOURTS HORNBY 03 349 9919

HARCOURTS ROLLESTON 03 347 4711

HARCOURTS LINCOLN 03 662 9933

PGG WRIGHTSON CANTERBURY

03 318 7850, www.pggwre.co.nz

MATSON & ALLAN

www.marealestate.co.nz

ROLLESTON 03 347 9949

DARFIELD 03 318 8204

LEESTON 03 324 3704

MIKE PERO ROLLESTON

03 347 1111, www.mikepero.com

BAYLEYS

CANTERBURY 03 375 4700

www.bayleys.co.nz

GLASS MILES

CHRISTCHURCH 03 343 5178

www.glassmiles.co.nz
---
20

M-A

MATSON & ALLAN

REAL ESTATE LIMITED

'The

Selwyn

Experts'

Residential

Lifestyle

Rural Property

Licensed REAA2008

ROLLESTON - 11/487 Weedons Road

THIS IS THE ONE YOU HAVE BEEN

WAITING FOR

• 4ha farmlet

• Positioned in private, secure & landscaped setting

• Modern 2 story dwelling

• 2 double bedrooms, 1 bathroom downstairs &

master bedroom with ensuite upstairs

• Open plan living/kitchen

• Great indoor/outdoor flow

• Fully lockable implement shed with concrete

floor & power, single garage & lean to off house

• Good fencing & excellent shelter belts around

the perimeter & internal parts of property

• Situated right in the heart of thriving &

expanding neighbourhood

• 5 min to Rolleston, 7 min to Lincoln Townships

& 15 min to Hornby

ROLLESTON - 13 Riverstone Drive

1010m 2 TITLED SECTION IN DREAM

LOCATION

• Sought after Riverstone subdivision

• Fully fenced

• North West facing section

• Services to the boundary

• New price level

ROLLESTON - 39 Sheridan Drive

STYLE & SPACE IN PRIME LOCATION

• 305m 2 Peter Ray Homes

• Four double bedrooms

• Substantial ensuite/bathroom

• Spacious living areas, discreet study nook

• Sleek modern well-appointed kitchen

• Sizeable Butler's pantry

• Large separate laundry

• Fantastic heating options

• Immaculate four seasons garden

• Fenced 1296m 2 section

• Zoned for Clearview & West Rolleston Primary

Schools & Rolleston College

ROLLESTON - 3 Maltby Drive

A MARVEL ON MALTBY

• Immaculate & well presented home

• Located in the popular Faringdon

• Stylish, modern & practical kitchen

• Interactive open plan living/dining area

• Sumptuous separate lounge

• Private & sheltered entertainment area

• Four generous bedrooms

• Master with WIR & well appointed ensuite

• Practical internal storage options & separate

laundry

• Security system & garden shed

Viewing: Sun 1.00pm – 1.30pm

Price: $850,000 incl GST

View: www.marealestate.co.nz/MA0539

Chris Flanagan Mb 027 433 4657

chris@marealestate.co.nz

Price: $249,999

View: www.marealestate.co.nz

Andrew Taylor Mb 027 435 5930

andrew@marealestate.co.nz

Jackie Derrick Mb 027 636 3576

jackie@marealestate.co.nz

OPEN HOME

Viewing: Sun 1.30pm – 2.00pm

Price: $595,000

View: www.marealestate.co.nz/MA0522

OPEN HOME

WEST MELTON - 904 Hoskyns Road

NEW LISTING

OPEN HOME

Viewing: Sun 12.30 – 1.00pm

Price: Neg Over $809,000

View: www.marealestate.co.nz/MA0543

Jo Barrett Mb 021 859 006

jo@marealestate.co.nz

PRICED BELOW RV –

VENDORS DEMAND ACTION!

• 3 double bedrooms

• 2 living areas

• Established private parklike grounds

• Native bush walk

• Well subdivided paddocks

• Range of outbuildings

• 5 minute drive to West Melton & Rolleston

ROLLESTON - 39 Stanford Way

STAND OUT FROM THE CROWD

• Architecturally designed 230m 2 three bedroom

home

• Very private established landscaped 840m 2 section

• Master with ensuite and WIR

• Designer kitchen, WIP, induction hob

• 2x living areas

• 2x large sheltered deck areas

• Separate laundry

• Reticulated gas, gas fire, heat pumps

• Priced for quick sale

ROLLESTON - 9 Stanford Way

SENSATIONAL & DISTINCTIVE LIVING

• Built in 2013 by Today Homes

• 2 spacious separate living areas

• 4 double bedrooms

• Master with ensuite and WIR

• Dual aspect fire

• Cassette heating, heat pump, underfloor heating

• Modern kitchen with walk in pantry

• Quality fixtures, fittings & window treatments

• Large decked area for entertaining

• Double internal access garage

• Established, private and secure section

ROLLESTON - 6 Fountain Place

SPACIOUS WITH A TRIPLE CAR GARAGE

• Three double bedrooms

• Large master bedroom with walk in robe & tiled

ensuite

• Stunning bathroom with standalone bath

• Underfloor tile heating

• Spacious & separate living areas

• Modern kitchen with reputable appliances

• Walk in pantry

• Separate toilet & laundry

• North facing patio area

• Neutral décor throughout

• Basic landscaping including lawns & patios

• West Rolleston School zone

Andrew Taylor Mb 027 435 5930

andrew@marealestate.co.nz

Andrew Taylor Mb 027 435 5930

andrew@marealestate.co.nz

Jackie Derrick Mb 027 636 3576

jackie@marealestate.co.nz

OPEN HOME

Viewing: Sun 1.00pm – 1.30pm

Price: $870,000

View: www.marealestate.co.nz/MA0521

OPEN HOME

Viewing: Sun 2.00pm – 2.30pm

Price: Neg over $630,000

View: www.marealestate.co.nz/MA0545

OPEN HOME

Viewing: Sun 1.30 – 2.00pm

Price: Neg Over $749,000

View: www.marealestate.co.nz/MA0540

Jo Barrett Mb 021 859 006

jo@marealestate.co.nz

OPEN HOME

Viewing: Sun 2.15pm – 2.45pm

Price: $590,000

View: www.marealestate.co.nz/MA0458

ROLLESTON PH: 03 347 9949 LEESTON PH: 03 324 3704 DARFIELD PH: 03 318 8204 www.marealestate.co.nz

NEW LISTING

Chris Flanagan

027 433 4657

Andrew Taylor

027 435 5930

Jackie Derrick

027 636 3576

Jo Barrett

021 859 006

Stephan Knowler

027 229 9522

Cameron McRae

027 769 6696

Paul Robinson

021 277 2690

Juliet Flanagan

027 490 8019

Connie van der Klei

021 449 174