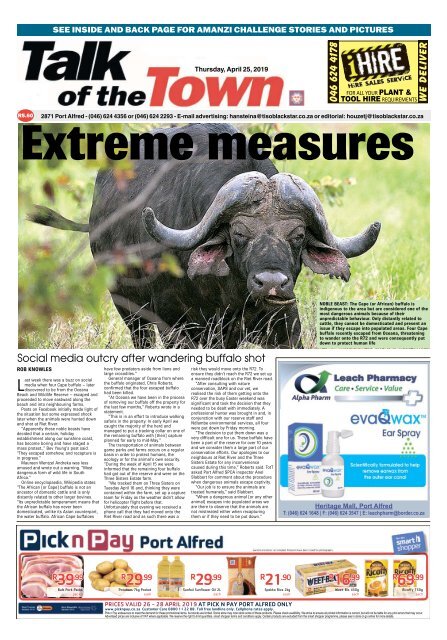 You also want an ePaper? Increase the reach of your titles
YUMPU automatically turns print PDFs into web optimized ePapers that Google loves.
SEE INSIDE AND BACK PAGE FOR AMANZI CHALLENGE STORIES AND PICTURES

Thursday, April 25, 2019

R5.60 2871 Port Alfred - (046) 624 4356 or (046) 624 2293 - E-mail advertising: hansteina@tisoblackstar.co.za or editorial: houzetj@tisoblackstar.co.za

Extreme measures

NOBLE BEAST: The Cape (or African) buffalo is

indigenous to the area but are considered one of the

most dangerous animals because of their

unpredictable behaviour. Only distantly related to

cattle, they cannot be domesticated and present an

issue if they escape into populated areas. Four Cape

buffalo recently escaped from Oceana, threatening

to wander onto the R72 and were consequently put

down to protect human life

Social media outcry after wandering buffalo shot

ROB KNOWLES

Last week there was a buzz on social

media when four Cape buffalo – l at e r

discovered to be from the Oceana

Beach and Wildlife Reserve – escaped and

proceeded to move eastward along the

beach and into neighbouring farms.

Posts on Facebook initially made light of

the situation but some expressed shock

later when the animals were hunted down

and shot at Riet River.

"Apparently these noble beasts have

decided that a certain, holiday

establishment along our sunshine coast,

has become boring and have staged a

mass protest.," Bev Young's post said.

"They escaped somehow, and recapture is

in progress."

Maureen Wentzel Andreka was less

amused and wrote out a warning. "M o st

dangerous form of wild life in South

Africa."

Online encyclopaedia, Wikipedia states:

"The African [or Cape] buffalo is not an

ancestor of domestic cattle and is only

distantly related to other larger bovines.

"Its unpredictable temperament means that

the African buffalo has never been

domesticated, unlike its Asian counterpart,

the water buffalo. African Cape buffaloes

have few predators aside from lions and

large crocodiles."

General manager of Oceana from where

the buffalo originated, Chris Roberts,

confirmed that the four escaped buffalo

had been killed.

"At Oceana we have been in the process

of removing our buffalo off the property for

the last few months," Roberts wrote in a

st at e m e n t .

"This is in an effort to introduce walking

safaris in the property. In early April we

caught the majority of the herd and

managed to put a tracking collar on one of

the remaining buffalo with [their] capture

planned for early to mid-May."

The transportation of animals between

game parks and farms occurs on a regular

basis in order to protect humans, the

ecology or for the animal's own security.

"During the week of April 15 we were

informed that the remaining four buffalo

had got out of the reserve and were on the

Three Sisters Estate farm.

"We tracked them on Three Sisters on

Tuesday April 16 and, thinking they were

contained within the farm, set up a capture

team for Friday as the weather didn't allow

for helicopter flight before that.

Unfortunately that evening we received a

phone call that they had moved onto the

Riet River road and as such there was a

risk they would move onto the R72. To

ensure they didn't reach the R72 we set up

a manned roadblock on the Riet River road.

"After consulting with nature

conservation, SAPS and our vet, we

realised the risk of them getting onto the

R72 over the busy Easter weekend was

significant and took the decision that they

needed to be dealt with immediately. A

professional hunter was brought in and, in

conjunction with our reserve staff and

Ndlambe environmental services, all four

were put down by Friday morning.

"The decision to put them down was a

very difficult one for us. These buffalo have

been a part of the reserve for over 10 years

and we consider them a large part of our

conservation efforts. Our apologies to our

neighbours at Riet River and the Three

Sisters Estate for any inconvenience

caused during this time," Roberts said. TotT

asked Port Alfred SPCA inspector Anel

Slabbert for comment about the procedure

when dangerous animals escape captivity.

"Our job is to ensure the animals are

treated humanely," said Slabbert.

"When a dangerous animal [or any other

animal] escapes into populated areas we

are there to observe that the animals are

not mistreated either when recapturing

them or if they need to be put down."

Heritage Mall, Port Alfred

T: (046) 624 1648 | F: (046) 624 3547 | E: leachpharm@border.co.za

R

39 .99

R

29 .99

R

29 .99

R

21 .90 R 16 .99 R 69 .99

Bulk Pork Packs

per kg

Potatoes 7kg Pocket

each

Sunfoil Sunflower Oil 2L

each

Spekko Rice 2kg

each

Weet-Bix 450g

each

Ricoffy 750g

each

PRICES VALID 26 - 28 APRIL 2019 AT PICK N PAY PORT ALFRED ONLY

www.picknpay.co.za Customer Care 0800 11 22 88. Toll free landline only. Cellphone rates apply.
---
2 Talk of the Town ADVERTISING / NEWSDESK: (046) 624 4356 Find us on Facebook

April 25, 2019

Handball thrills at

Amanzi Challenge

JON HOUZET

For people not familiar with the

sport, the SA Beach Handball

Champs at West Beach were

thrilling to watch.

A relatively young sport in South

Africa, only three provinces took part

– Western Cape, Eastern Cape and

North West, with both boys' and girls'

teams.

In an exciting boys' beach handball

final that ended in a 26-all draw,

Western Province and Eastern

Province went into extra time for five

minutes that saw WP clinch victory

9-7 against EP on Sunday.

North West came third.

WP also won the girls' final – again

against EP. The WP girls team had

only four members, which required

three to be on the field all the time –

two acting as strikers/defenders and

one goalie. Other teams were able to

switch strikers for defenders and vice

versa after each goal in the

fast-paced game.

At the prize giving at the Royal St

Andrews Hotel, Eastern Province

Handball president Zet Mdani said:

"Come 2020 we hope for a full house

of all provinces taking part."

And SA Handball Federation

president Ally Pole said the Amanzi

Challenge would definitely be on the

handball calendar.

"On behalf of the SA Handball

Federation, I want to say, 'A journey

of 1,000 miles starts with a single

st e p '. We started with indoor

handball and saw no way of growing

handball further. We resolved that

beach handball is the way to go and

it was a worthy investment," Po l e

said.

"We appreciate the appetite that is

being developed here. Rather than

having a once-off championship, we

want to move from one town to the

next.

"Thanks to the coaches, sponsors

and organisers who made this event

possible. Thumbs up, Port Alfred,"

said Pole.

He said there would be another

beach handball national

championship in KwaZulu-Natal in

D e c e m b e r.

TOP TEAM: The Western Province boys' team which won the SA Beach Handball Champs at West Beach, part of the Royal St

Andrews Hotel Amanzi Challenge

Pictures: JON HOUZET

SAND DIVE: Liam Schneider of Western Province shooting

for goal in the SA Beach Handball Champs at West Beach

last Saturday

¿

29 Miles St, Port Alfred

PO Box 2871, Port Alfred, 6170

046 624 4356 / Fax: 046 624 2293

Mauneen Charter, mcharter@tisoblackstar.co.za

Anneli Hanstein, hansteina@tisoblackstar.co.za

Jon Houzet, houzetj@tisoblackstar.co.za

ĂůŬŽŌŚĞŽŶĐŽĂ

ΛĂůŬŽŌŚĞŽŶĞĐ

ĂůŬŽĨŚĞŽŶ

ĂůŬŽĨŚĞŽŶŶĚůĂŵďĞ
---
April 25, 2019 ADVERTISING / NEWSDESK: (046) 624 4356 Find us on Facebook

Talk of the Town 3

Pig & Whistle's

music gift drive

boosts school

BUDDING ARCHITECTS: Port Alfred High

Pre-Primary pupils, AJ Mayo and Bulumko

Maqondwana, had great fun building a

skyscraper hotel in class last week

THANK YOU BUCO: The Port Alfred High School

U13 netball girls are delighted recipients of new

team apparel kindly sponsored by BUCO Albany

Road. Back row, from left, are Emihle Funde,

Micke Samuels, Siya Coto, Zozbini Xaka and in

front, Cathlene-Ann Wolmarans, Jade de Lange,

coach Nicole Muller, Kendra Schuman and

Linray Ruiters

Once again the

Pigs for People

initiative run by

the Historic Pig and

Whistle Inn, and

facilitated by front of

house manager Natalie

Brighton, was proud to

be able to assist with a

community upliftment

project in the village.

This time the

beneficiary was

Qhayiya Primary School

in Nolukhanyo

township in Bathurst,

which received a

donation of various

musical instruments to

kick off their musical

programme and

depar tment.

This donation was

made possible through

the kind support of

guests, visitors and

patrons that arrive at

the inn and purchase a

wooden pig plaque. The

pig plaques are then

inscribed with the

purchaser's name and

are placed on the

beams in the oldest

continuously licensed

pub in South Africa.

Brighton said:

"Recently , at the end

of 2018, we were able

to assist in upgrading

the schools

assembly-quad area

and transform it into a

multi-faceted space

where the kids could

play netball and various

other activities. We

believe in sport and

musical development

as a form of personal

growth in the children

and are so excited to

see how the kids love

staying after school

and are getting

involved in

ext ra-curricular

activities instead of

going home after

school and roaming the

st reets.

"We would like to

thank Anthony Caplan

who assisted us in

obtaining various

musical instruments

that will enable a

number of school kids

to play, create some

harmony and have fun

doing it. Anthony very

kindly gave up his time

to do a workshop with

the teachers to show

them how exciting it

can be when everyone

plays musical

instruments together.

"Among the

instruments purchased

were a xylophone, an

electronic keyboard, an

African drum, shakers

and rattles, individual

bass bars, mouth harps

and reed pipes," she

said.

HELP US FILL UP THE BOX: Port Alfred High

grade 2 pupil Santosha Oosthuizen appeals to

the community on behalf of the school's Early

Act Club to collect plastic bottle caps for their

wheelchair campaign. The club is aiming to

collect 450kg of lids which will be exchanged

for a wheelchair for a Ndlambe person in need.

Send what you can to school or drop off at the

front office

Trading Hours Superspar: Mon– Sat: 8am – 7pm Sun 8am - 5pm

Valid: 25 - 28 April 2019 | E&OE | Tel: 046 624 3542 | www.rosehillsuperspar.co.za |

While stocks last. WE DELIVER - Place orders telephonically or via email rosehill1@retail.spar.co.za

Trading Hours Nemato Spar: Mon– Sat: 7am – 7pm Sun: 7:30am - 6pm

Valid: 25 - 28 April 2019 | E&OE | Tel: 046 940 0383 | While stocks last

WE DELIVER - Place orders telephonically or via email nemato1@retail.spar.co.za

Onions 3kg, Potatoes

3kg

R49.99Per combo

Yellow Corn Bread

R12.99 Each

Speciality Breads

R19.99 Each

Bulk Stewing Beef

R59.99 Per kg

Stork Country Spread

1kg

R28.99 Each

Spekko Long Grain

Rice 10kg

R99.99 Each

Bulk Lean Beef Mince

R79.99 Per kg

Bulk Lamb Packs

R89.99 Per kg

Cheese Griller and

Chips

R19.99 Each

Yum Yum Peanut Butter

1kg

R44.99 Each

B-Well Omega 3

Cooking Oil 1L

R29.99 Each

Richelieu Brandy 750ml

R144.99 Each
---
4 Talk of the Town ADVERTISING / NEWSDESK: (046) 624 4356 Find us on Facebook

April 25, 2019

AMANZI CHALLENGE

DP ENGINEERING

..........................................................

75 Bathurst Street, Port Alfred

Tel: 046 624 4957

Cell: 083 360 6949

www.dpengineering.co.za

For all your steelwork requirements,

including burglar bars, balustrades,

fencing, security gates and wall spikes.

We also offer a powder coating &

galvanizing service and gate motors.

Shop 19, Heritage Mall

072 010 2250 /

085 3000 245

IDEAL COMPLEX LIVING! R550 000

2 BEDROOM

HOUSE FOR SALE IN

EMERALD HEIGHTS

Two spacious carpeted

bedrooms and one full

bathroom on the upper

level, with open plan

kitchen/dining and

lounge area downstairs.

Built-in cupboards

all-round. Paved outside

patio leading from two

sliding doors and a

generous garden portion.

Tucked safely within the

2 Bedrooms | 1.5 Bathrooms estate's secure perimeter

2 Open Parkings

and lovely nature views.

Communal pool and braai facilities.

Call us to view this magnificent property.

Natascha Pienaar

Cell: 072 010 2250

Email: natascha.p@everitt.co.za

Distinctive

By TIMBER TOWN

Kitchens

Ŗ

Ŗ

Ŗ

Ŗ

Ŗ

Scenes from the

opening weekend

of the week-long

Royal St Andrews

Hotel Amanzi

Challenge, which

featured an 8km

Trail Run, the SA

Bodyboarding

Champs at West

Beach, the SA

Handball Champs,

the Marina Mile

open water swim,

Anything that

Floats and the

opening ceremony

at the Royal St

Andrews Hotel.

JON HOUZET took

the pictures.

WARRICK STRACHAN CFP ®

T: 046 604 2300 (o) 072 3766 523 (m)

E: warrick@oldmutualpfa.com

30 Campbell Street, Port Alfred

27 Lyon Road, Kenton on Sea

Cnr African & Allen Streets, Grahamstown

ĞůĞďĂŶŐĞĂŽĨĮŶĂŶĐŝĂůůĂŶŶŝŶŐΘŝŶĂŶĐĞĞĐĞůůĞŶĐĞ
---
April 25, 2019 ADVERTISING / NEWSDESK: (046) 624 4356 Find us on Facebook

Talk of the Town 5

YOUR VOICE

... vox pops on the street

'How has the

rain affected

your life?'

DISCUSSING HEALTHCARE: Speakers and stakeholders recently gathered for World TB Day at Marjorie Parish TB Hospital to

discuss ways of fighting the disease

MARISKA MARX: I

personally think we

have been blessed

to have the rain; it

has been dry for a

very long time.

FREDERICK HILPERT:

It has affected me a

lot. It has done some

damages in my

house in Station Hill.

ELVIS BINGQELA: To

me it has been a

blessing. We have

been suffering from

drought for a very

long time. I am sure

even the farmers are

h a p p y.

THEMBELANI

MACINGWANE: We are

supposed to be

travelling to Engcobo

for a funeral. We are

afraid to do so

because we heard that

the roads are terrible.

DESMOND HILPERT: I

am a person who

normally walks from

job to job, so it

hasn't been easy

doing that for the

past few days.

PHILASANDE HABI: I

think we are very

lucky to have these

rains. It has been

dry and our gardens

have been

s u f fe r i n g .

Leading the fight against TB

Marjorie Parish TB Hospital and Ndlambe

primary healthcare providers, with

support from the USAID TB South Africa

Project, invited all stakeholders and civil

society to meet and discuss ways of

fighting TB in Ndlambe for 2019 World TB

Day recently.

The theme was "It's time for religious

leaders and politicians to lead the fight

against TB".

"Tuberculosis remains the leading killer

disease in South Africa despite the fact

that it is curable and effective treatment

is available free of charge from

government clinics," USAID TB South

Africa Project's Simphiwe Mayaphi said.

He said the purpose of the get-together

on World TB Day was to discuss

challenges facing the Eastern Cape

department of health in the fight against

TB and to source help and contribution

from various stakeholders going forward

in the fight as the department of health

said it could not win the battle alone.

Among the challenges that were

highlighted by the department of health

are the high death rate and high failure of

follow up among TB patients.

More than 5% of TB patients either die

or disappear before the end of the

six-month treatment period, Mayaphi said.

Some of the concerns raised by the

various stakeholders include:

ýLack of health education at various

platforms about TB (at schools, on radio

stations, in churches, in the transport

sector, etc);

ýOvercrowding at police cells

conducive for the spread of TB infection

as there is also poor ventilation;

ýCommunity members never want to

disclose their health issues upon arrest

resulting in them not continuing with

t reatment;

ýSubstance abuse one of the serious

issues, alcohol and dagga smoking

(regulatory control absent); and

ýLack of poverty alleviation initiatives

(eg, recycling, etc).

Among the steps taken at the meeting

were that a TB survivor has made herself

available to assist with health education

and stigmatisation of TB in the area free

of charge.

Delegates said people need to indicate

availability for Ndlambe FM every

Thursday from 7 to 9pm to provide health

e d u c at i o n .

"There's a great need to act, a need to

take ownership," Mayaphi said.

Delegates also suggested a related

need to regulate tavern operating hours

and the age of people entering the

t av e r n s .

In public healthcare interests, the

meeting agreed that people locked in the

police cells need to be screened upon

arrest to exclude TB patients.

Mayaphi said the department of

education had committed to open doorsto

the department of health for health

education. The Council of Churches will

also open slots for health education, and

politicians present committed to open a

slot about TB at every gathering.
---
6 Talk of the Town ADVERTISING / NEWSDESK: (046) 624 4356 Find us on Facebook

April 25, 2019

OPINION

Did you

miss the

a c t i o n?

The week-long Royal St Andrews Hotel

Amanzi Challenge is more than

halfway through, and if you didn't

take part in any of the events or head

down to the beach to watch, you have

been missing out.

There truly was something for everyone,

with anyone able to take part in the

opening event – the 8km trail run. Even if

you're not a runner, you could walk it and

still win a prize, as this writer proved.

And for the non-athletic, the Anything

that Floats just required a blow-up tube or

something else to float on, in tranquillity

on the river, moving with the outgoing

tide from My Pond Hotel to Kiddies

Beach. Willem Nel of Ndlambe River

Control was on hand to watch over the

par ticipants.

The more strenuous Marina Mile was

also something any person could

participate in, as the goal for most was

the accomplishment of finishing it. Not

everyone who swam was a super-fit

at h l e t e .

Of course, as with any sport there were

also competitive athletes who took part in

those events, running like the wind and

moving like a fish in water.

We salute their accomplishments.

The other events that have taken place

so far were more for those who have

dedicated their lives to competitive

sports, such as the SA Bodyboarding

Champs at West Beach and the World

Surfing League's Port Alfred Classic at

East Beach.

What is also great for locals, is that

some of our own bodyboarders and

surfers took part in those events, and

made good placings.

The spirit among the bodyboarders on

West Beach was contagious, with teams

from the various provinces rooting from

the shore for their members competing in

their heats, and forming a welcome

tunnel for them when they came out of

the water. It was good to watch.

Also exciting to watch was the beach

handball, a fast-paced sport with lots of

player changes in between goals.

Unfortunately for spectators, the rain

that lasted through the whole of Monday

and Tuesday, and part of Wednesday, put

paid to any idea of watching the surfing

at East Beach. Nonetheless the die-hards

were there, and it certainly did not deter

the competitors themselves, who put in

some stellar performances.

Well done also to the organisers of

WSL Africa for being so on-the-ball with

updates and press releases.

Aside from the weather playing a part,

it is disappointing that few locals

ventured down to the beach to watch the

events. Perhaps more spectators will turn

up to watch the rubber duck races this

w e e ke n d .

Jon Houzet

HAVE YOUR S AY

Letters to PO Box 2871, Port Alfred - or e-mail to houzetj@tisoblackstar.co.za

This is an open forum for readers to express their opinions. However, the publishers reserve the right to shorten letters. Those printed are not necessarily the views of Talk of the Town. Although noms de plume may be used,

letters must be signed and have an authentic contactable address & telephone number. Talk of the Town reserves the right to not publish letters. Please limit letters to 250 words or less.

NEW

C A P TA I N

ON BOARD

WHAT A BARGAIN! Piers Oosthuizen was

delighted to purchase a canoe for a very friendly

price of just R100 at the Rotary Club of Port

Alfred's Bargain Hunt at the Port Alfred Civic

Centre on Saturday. The canoe was one of many

items donated to the club. Proceeds from the

sale will go to worthy causes in the Port Alfred

communit y

F E S T I VA L

TA L K

PRAISING PORT ALFRED: Mandla

Mabece, CEO of the Ugu South Coast

Development Agency, was the keynote

speaker at the opening ceremony of the

Royal St Andrews Hotel Amanzi

Challenge last Friday night, and spoke

highly of the town and the festival

Picture: JON HOUZET

SHABBY EXTERIOR: Resident Heather Howard brought attention to the neglected front façade of

the Port Alfred Civic Centre, where lettering has peeled off the municipal signage, and a

dilapidated alcove where concrete has broken, bricks have tumbled and paint is peeling from the

wall. 'One would imagine there'd be a bit of a budget somewhere for minor facelifting?' she asked

25

26

27

28

29

30

1

2

Tide Guide

Kind courtesy-SA Navy

HIGH

1935 0710

2037 0752

2303 0917

---- 1206

0053 1321

0141 1401

0215 1433

0246 1502

L OW

0105 1327

0147 1415

0302 1603

0555 1827

0720 1928

0802 2006

0833 2038

0902 2108

Emergency numbers

Port Alfred hospital – (046) 604-4000

Police station – (046) 604-2001/2

Multi-Security – (046) 624-2508

Chubb Security – (046) 624-4810

Sky Alarms – (046) 624-2806

NSRI – 082-990-5971

Electricity (a/h) - (046) 624-1111

EMS (Emergency Medical Services) – 10177

Gardmed –082-759-2134

Holistic EMS – 063-460-0042

Fire Department – (046) 624-1111

Thanks for the 'Classified Ads'

Thank you Talk of the Town for

your Facebook "Talk of the Town

Classified Ads" page.

As more people become

conscious of the unnecessary

waste pouring into landfills

worldwide, we begin seeing the

value in purchasing "previously

loved" and unused items.

As the economy continues to

dive in SA, many people are also

reducing their footprint and debt

by downsizing.

Talk of the Town has provided

a much-needed tool for the

community to trade their goods

at no cost.

Businesses who advertise in

TotT also get to post free ads on

the FB page.

Personally, I am (and know

many others who also are)

extremely grateful to have this

platform to move personal items

into new homes, thereby giving

us much needed funds to

survive... and for some to move

closer towards better future work

oppor tunities.

Thanks again TotT for your free

service to the community.

For those benefitting . . . let's

remember to support TotT by

advertising in it when we are on

our feet again.

JOSIE GRACE
---
April 25, 2019 ADVERTISING / NEWSDESK: (046) 624 4356 Find us on Facebook

Talk of the Town 7

THINK

ABOUT IT

... with Roy Hewett

To u c h i n g

lives

Whether by design or

through our normal,

everyday interactions

with others, we all

touch lives in one way

or another.

Very few of us realise

the extent to which we

affect those around us

and we would do well

to reflect on how we are

influenced by our

family, friends,

acquaintances and

experiences at all

levels.

Family and friends

teach us social skills.

Acquaintances give us

opportunities to grow

our authenticity and

integrity. Lessons about

ways of interacting and

showing respect for the

opinions, strengths and

weaknesses of others

grow us.

But surprisingly often

we don't pay enough

attention to these

effects and influences

... to the detriment of

meaningful awareness

and informed reactions.

Significant points in

this regard are made in:

"Your success is

directly proportional to

the number of lives you

have touched for the

bet ter." – V i s h wa s

Chavan (Vishwasut ras:

Universal Principles for

Living: Inspired by

Real-Life Experiences);

and

"In life, we leave a

legacy to our children,

we leave our footprints

wherever we travel, and

we leave our

fingerprints on every

heart we touch." – Pa t

Patrick, (Awakening the

Dream Within).

With some reflection,

each of us should

readily be able to recall

and appreciate many of

those who have

touched our lives in

positive and uplifting

way s .

Parents, siblings and

teachers surely rank up

there among the most

influential in many lives.

While some of the

academic experiences

in classrooms certainly

had a role to play, it is

the life's lessons along

the way that often

remain indelibly

imprinted in our

psyches.

Even conflicts, fights

and seemingly unfair

treatment on occasion,

have played their part

in moulding us, and

their perpetrators have

also touched our lives

in ways that only

become apparent upon

reaching maturity and

the wisdom of the

"golden years".

Many sports coaches

and mentors in the

creative and performing

arts have touched lives

in considerable and

enduring ways. Skills

have been nurtured and

honed, healthy attitudes

and sportsmanship

developed, and the

wonderful values of

support and teamwork

encouraged. Those

involved in teaching in

the broad sense, are

surely entitled to derive

a healthy sense of

wor thwhile

achievement.

This undeniable

influence is captured in:

"When you touch

minds, people are

willing to walk a dozen

miles for you; and when

you touch hearts,

people are willing to

walk a thousand miles

for you; but when you

touch souls, people are

willing to walk a million

miles for you." –

Matshona Dhliwayo

Many lives are

sublimely touched by

pets – devotion and

loyalty that know no

bounds greatly enhance

the quality of life of

many humans.

The unsurpassable

beauty and awesome

range of nature –

oceans, rivers,

mountains, vegetation

and topography in

general – play a

monumental role.

Of course the

touching of lives is not

the sole preserve of

people, nature and

pets.

Institutions, systems,

literature, social media,

political ideologies and

philosophies of life play

a considerable role too.

Unfortunately, some

fall prey to

brainwashing and other

forms of populist

deception during their

life paths – e f fe c t i v e l y

reflecting the dark side

of touching lives.

Fortunately for most

of us, when we reflect

on how our lives have

been touched, the focus

is usually on the

positive and uplifting

experiences that have

helped to define us.

Those that have led us

to value and live life to

the full.

This sense is

depicted in:

"Life is full of beauty.

Notice it. Notice the

bumble bee, the small

child, and the smiling

faces. Smell the rain,

and feel the wind. Live

your life to the fullest

potential, and fight for

your dreams." – Ashley

Smith

And then the power

of the message in

literature to guide and

touch lives in

considerable and

far-reaching ways is

conveyed in Ralph

Waldo Emerson's "Be

not the slave of your

own past. Plunge into

the sublime seas, dive

deep and swim far, so

you shall come back

with self-respect, with

new power, with an

advanced experience

that shall explain and

overlook the old."

Touching lives is real,

wields much power and

influence, and reflects

the very fabric of our

e x i st e n c e .

WAVE WARRIORS: The eThekwini Bodyboarding Association were the ultimate team winners in the SA Bodyboarding Champs held on West Beach

during the Royal St Andrews Hotel Amanzi Challenge. As for EP bodyboarders, Clint Cooper from Port Elizabeth won the grandmasters division, and

Port Alfred's own Clinton Millard came third in the masters. Fellow EP members Julia Stanford came third and Stephanie Maritz fourth in the ladies

division

Picture: MAUNEEN CHARTER

Question: Tell us about your job.

Answer: Teaching the word and ways of God to

children, is my passion. I do not see it as a job but

a calling and a blessing. Children need guidance

to walk on the good path of life, and being a

teacher I am fortunate to be part of this

experience.

Q: What made you get into that line of work?

A: My enthusiasm for the Lord and the love for

his people.

Q: Describe the most memorable experiences

that you have had.

A: The day when I was 16 years old and accepted

God into my life, and the day that I married my

best friend Arno O'Shea, and the birthdates of all

my grandchildren.

lee's decor & craft studio

OPENING 3 MAY 2019

ŝŶĐůĚŝŶŐĐĂĞĐŚŝŽŶůŝŐŚŶŐĐůŽŚŝŶŐ

ĂŶĚĂĐĐĞŽŝĞĂŶĚŵĐŚŵŽĞ

Located at The Workshop in Bathurst.

Lee Robertson: 063 032 6491

FA C E 2FA C E

... with Annetjie O'Shea

Q: What do you do to unwind when you are not

working?

A: I enjoy quiet time with my Bible studies,

listening to music and interior decorating.

Q: What is your motto in life?

A: Always strive to be a good person. A better

person than what you were yesterday.

Q: What makes you happy?

A: When children discover the word of God, and

experience how powerful His word is.

Q: What makes you angry?

A: Carelessness.

Q: What do you think about the youth of South

Africa? Do you have any advice for them?

A: Being a diverse country, the youth need to

stand together in good faith. Faith in the Lord, love

for each other and hope for a better future. These

principles will make South Africa a better place.

Q: If you could change one thing about Port

Alfre d…

A: More community projects to support and

uplift the community, projects to teach young

mothers, projects to uplift the fallen and projects

to care for children.

Q: What do you like most about Port Alfred?

A: The wonder of Port Alfred is in its captivating

river banks, beautiful beaches and warm-hearted

people living in it.

Q: What is your favourite music of all time?

A: 60s and 80s music and gospel worship.

Q: Name three people you would like to invite

for dinner (dead or alive).

A: Martin Luther King, my father Mr Lourens who

passed away many years ago, and my sister Rita

who passed away last year.

Q: Three wishes for South Africa.

A: That each heart be filled with love for one

another; from every tongue, the sound of God's

glory will exclaim; that all hands be stretched out,

to restore those with a broken life.
---
8 Talk of the Town ADVERTISING / NEWSDESK: (046) 624 4356 Find us on Facebook

April 25, 2019

Port Alfred

BUSINESSFORUM

Financial security

Exactly what is financial security? To supply a

correct explanation, I can assure you that we would

need close to a full page of the Talk of the Town.

In one sentence it could be summed up as being

fully prepared for any occurrence that could

probably cross our path during our lifetime. What a

mouthful.

Yes, to provide oneself and one's family with

complete peace of mind

against any unfortunate

occurrence.

Let us start off with death.

Please remember that there

are two certainties in life and

those are death and taxes.

I can assure you that each

person will come across both

these certainties someday.

Will you be in position to cover all outstanding

debts when you die and further provide your family

with sufficient funds to continue with their lifestyle

that they have become accustomed to?

If the reply is no, I would propose that you make

an urgent appointment with a qualified and

trustworthy financial advisor and insist on a full

financial analysis be done to ensure that

appropriate corrective action is taken.

The next point of importance to discuss is

permanent disability. Can you imagine for only one

moment of how severe the consequences would be

if you become permanently disabled and cannot

continue with your daily profession?

This goes hand in hand and is as important as

being sufficiently covered against death.

Following on quite closely is income replacement

cover. One can temporarily

be prevented from working

for up to a period of two

MONEY

M AT T E R S

... with Nico Human

years or even permanently

due to various unforeseen

reasons, which could be as

a result of an accident or a

serious illness.

By investing in an income

replacement policy, one can be assured of a

tax-free income during the period of incapacity.

There is also cover available against contracting

a serious illness. This would pay out a certain

percentage of the cover amount, depending on

severity of illness.

This pay-out can come in handy if one is

burdened with huge hospital and doctor's bills.

The argument that you belong to a medical aid

could be rather disappointing when your medical

aid only settles a portion of the bills and you are

directly responsible for the outstanding balances.

You are left with the choice of comprehensive

cover or only being covered for certain illnesses.

As a matter of importance, that I certainly cannot

leave without a reminder, is whether you will have

sufficient funds to carry you and your spouse

through your retirement years.

It would be a rather sad occasion if you find that

you have run out of money at the age of 80 or 85.

What will you do? Let's leave it as a "point to

ponder" until next time.

For qualified, experienced financial advice,

please feel free to telephone our office number

(087) 805-7712 for a fully confidential appointment.

Our offices are situated at 20 Southwell Road,

corner of Becker Street, Port Alfred.

We have ample free off street parking as well as

a ramp for easy wheelchair access.

Easter is a special time

when Christians

remember that there is

a promise of a new

beginning. It is also a

time for family, friends,

and community to

gather together and

celebrate life.

This year we, those

that live in the

Kenton/Port Alfred

area, were particularly

lucky in that those that

had come from far had

a few days of warm

sunny weather… and

then the rains came! I

don't know about you

but we got about

Catch up with what's happening on the PA business front

Cooking the green way with LP Gaz

ROB KNOWLES

With electricity cost escalating, LP Gaz is now

the distributor for Greenheat – an inflammable

gel that reduces reliance on expensive electricity

as well as being eco-friendly and not based on

fossil fuels.

There are so many reasons for choosing

Greenheat, but some of the more interesting

advantages to using the system are that your

monthly cooking and lighting costs are cheaper

using the Greenheat stove, gel and lamps and

there is no black soot or smoke emitted, so pots

and pans stay clean and the food is not tainted

with the small of fuel.

A new beginning

MYHOME

... with Simon Oliver

The gel is extinguishable and can be re-lit. In

fact, the gel can be extinguished with water and

burns cleanly and is odourless.

Being in a gel form, it can not spill like liquid

fuels. It does not emit dangerous hydrocarbons

and is made from renewable agricultural

sources rather than fossil fuels.

Household consumption is about 10 litre per

gel per month for a family of five (depending on

the type and size of the meals cooked).

The gel is also non-flare, non-explosive,

non-splash and non-toxic.

So, get to LP Gaz, pick up your gel and start

cooking.

Bathurst Book Fair

speaker programme

Bathurst is the place to be this

Sunday for the annual Bathurst

Book Fair.

From 9am, there will be books

and bargains galore, a "Round

the Bend" poetry event, book

signings, kiddies' story time with

B at h u r st 's famous alpacas, food

stalls and more.

Browse seven venues in the

village, from the Village Green to

The Workshop. Be entertained at

Books of Bathurst by local

authors speaking about writing

and giving tips on getting

published.

The venue is the Books of

Bathurst, 258 Kowie Road,

Bathurst village.

ý 9.30am: Understanding one

90mm!

I am grateful for the

joy this must have

brought the farmers

that have struggled

with dry weather. I am

grateful for what it has

done for my garden

and for the fact that my

water tanks are almost

full. It reminds me to

be grateful for the

many blessings I have.

Despite having

cleaned out the gutters,

top dressed the lawns

and generally prepared

myself for when the

rains would come,

when it did eventually

arrive, in the volume

a n ot h e r 's cultures

Eve Clayton, author of T h wa l a ,

a cross-cultural novel

ý 10.30am: Writing a sense of

place Monty Roodt, author of

Dead Man's Land, set in Lower

Albany

ý 11.30am: Round the Bend

poetry event

Poet Derrick Newson presides

over an open mic poetry reading

ý 12 noon: Kiddies corner

Mary Riley, author of Pablo &

Pe p i t o , reads her book to young

readers and introduces them to

the two alpaca heroes of her

stor y.

ý 12.30pm: The

self-publishing game … or is

your book better as a film?

that it did, it exposed

weaknesses in the

system I hadn't

a n t i c i p at e d .

Leaks in the roof,

pipes that had broken

and erosion where the

unusual amounts of

water gouged out

sections of the garden.

These tribulations

gave me direction as to

what to focus on to

make our home more

secure, more robust

and more able to

provide us with a sense

of fulfillment, joy, and

love.

This cycle got me

thinking. So often we

are told to be proactive

– be in control.

I believe in this

because it teaches us

what we can do, in our

own time – it sort of

makes us fit and better

Rod McGregor Mann, author of

Librarians and Other Criminals

and founder of The Hornbills

Literary Agency

ý 1.30pm: Should the facts

get in the way when telling a

good story?

Author and raconteur Bartle

Logie in conversation with his

publisher Frank Nunn

ý 2.30pm: Animals in

literature and life – why should

we pay attention to them?

Poet, author and academic

Dan Wylie mulls over some

possible answers

See the Facebook page for the

full programme. Contact (046)

625-0202 or 082-621-1523 for

more information.

able to cope with

unexpected adversity. It

prepares us to be

effectively reactive and

not overwhelmed.

I am grateful for the

rain, for so many

reasons, not least

because it gave my

garden a new

beginning.

I would love to hear

how you reacted to the

arrival of the rain.

Please give me a call

on 082-653-5643 or

contact me on

s i m o n . o l i v e r @ s e e f f. c o m

I look forward to

hearing from you.

Cannon Rocks | R1 600 000

ŽĞůŵďĞŚŽŵĞůĂĚũĂĐĞŶůŽĨŽĂůĞ

ŵĞĂŝŶŐŵ ŝŶŽĂů

ĞĚŽŽŵĂŚŽŽŵĂĂŐĞ

ŚĞŚĞŽĂĞĂŶŐŽŽĞŝŶŐŚŝŝŽŚůŽŽŬŝŶŐ

ĂĞĂůŝŐŚĂŶĚĚŚĞŽĞŶůĂŶůŝŝŶŐĂĞĂĂŶĚŵĂŝŶ

ďĞĚŽŽŵůĞĂĚŽŽĂůĂŐĞĚĞĐŬŝŚŝŶĂůŬŝŶŐĚŝĂŶĐĞŽ

ŝĞďĞĂĐŚ

ALMARE SMITH | 076 217 5873

almare.smith@seeff.com

ŝĞ ď ĂŽŝŶŵĞŶŽ Ăůů ŽĞŶĂů ŶĞĞĚ ůĞĂĞ ĐĂůů

ŝĐŚĞůůĞ

ĞŶŽŶŽŶĞĂ

ŵŵĂĐůĂĞĂĐŝŽŚŽŵĞŝĚĞĂůĨŽĞŶĞĂŝŶŝŶŐ

ĞĚŽŽŵĂŚŽŽŵĂĂŐĞĂŽ

ĞĂĨůĨĂŵŝůŚŽŵĞŽĞŶĞŶĞĂŝŶŵĞŶĂĞĂŽĞŶŝŶŐŽ

ŽŚĞŚĞůĞĞĚŶŶŶŽŚĨĂĐŝŶŐĂŽŝŚďŝůŝŶďĂĂŝ

ĂŶĚĨůůĞŶĐůŽĞĚŐĂĚĞŶŽďůĞŐĂĂŐĞŽŶĞŵŽĞŚŝĐŚ

ĐĂŶŚŽĞŽďŽĂŝĚĞůĂŶĚŽŽŵ

MIKE BAILEY | 082 899 8103 | mike.bailey@seeff.com

HAYLEY GADD | 083 565 5039 | hayley.gadd@seeff.com

ŝĞ ď ĂŽŝŶŵĞŶŽ Ăůů ŽĞŶĂů ŶĞĞĚ ůĞĂĞ ĐĂůů

ŝĐŚĞůůĞ
---
April 25, 2019 ADVERTISING / NEWSDESK: (046) 624 4356 Find us on Facebook

Talk of the Town 9

Song and dance as

Happy Hours get to

celebrate classroom

ROB KNOWLES

It was an early evening of

fun and friendship at Happy

Hours Pre-primary School

last Friday when the school

celebrated the opening of its

new classroom as a thank

you to those individuals and

businesses that contributed

to this community project

and making it all happen.

School principal Tracy

Lloyd thanked everyone

involved in the project,

especially Brian Knight from

main construction contractor

CM Heunis who had driven

the project from the

beginning.

"We thank him very much

for all the work he has done

to make this classroom a

realit y," she told the group

of business people and

individuals who had

contributed to the project.

For Knight this is just one

of the many community

projects that he, as CM

Heunis, has undertaken.

Knight said he was a part of

the community and wants to

give something back.

Other projects

successfully completed in

the past, include the

Kleinemonde Community

Church (with Barry Purdon),

a classroom at the Kenton

Primary School, the

Kleinemonde Recreation

Club and the Port Alfred

Tourism Office on Causeway.

"It is just a matter of a

phone call to suppliers to

get them involved," said

Knight.

"CM Heunis is always

ready to help the

communit y."

There is a long list of

people who need to be

thanked, Lloyd said. These

include Makana Brick,

KayJay Bricks, Inso

Aluminium, Buco Main

Street and Albany Road,

Bathurst Co-op, Mooifontein

Quarry, Trelidor, H Venter

Plant Hire, Dulux Paint, and

Viv Dell Transport. Roy

Bowles Construction did the

paving at the school.

There were also private

donations made in order for

the project to be completed.

The classroom is large,

airy and bright and leads

into a private baby section

where teachers or carers can

care for infants.

"Thank you all so much.

None of this would have

been possible without you,"

Lloyd said.

PLAYGROUND JOY: The pre-primary class at Shaw Park Primary pose on their

jungle gym

LOTS OF BUNNIES: Grade 3s at Shaw Park Primary put on their bunny masks

to wish everyone Happy Easter last week

EASTER POSE: The grade 1 class at Shaw Park Primary, with

teacher Ilze Dames, wished everyone a Happy Easter

Isuzu on maximum attack with D-Max

In the Eastern Cape, Isuzu is synonymous with

Ironman, Southern Kings rugby and other macho

international activities.

With its new D-Max pick-up one-tonners and

double cabs, it wants to portray the more than

"t u f fe n u f f " image for these vehicles throughout

Southern Africa.

Just how tough are these four-wheel ironmen from

Port Elizabeth? Do they keep the driver

and occupants comfortable and happy

as they carry out their strongarm work,

as well as while cruising on the open

road?

We wheeled out the flagship D-Max

300 TD 4x4 LX Double Cab on a test

session via the uncompromising

mountain roads outside Oudtshoorn

and surrounding areas, to get some

answers.

The last time I visited Isuzu in

Japan, I came away convinced that it's

firstly, strongly, an engine-oriented

motor manufacturer.

Now, one look at the styling of the D-Max tells me

that this ethos has drastically changed.

This new Isuzu is handsome and like no other

pick-up, with a frontal countenance that is forceful of

design. The new Xenon headlights are Bi-LED and do

their bit for the vehicle's head-on styling, as do the

new, colour-coded radiator grill and front bumper.

Side-on, the rear window line sweeps up almost

immediately after the B-pillar, similar to that of a clubor

crew-cab vehicle. But not so, this is a full-form

fo u r - d o o r.

The 18-inch aluminium wheels stand well clear of

the aggressive arches, enabling more than usual

suspension travel. However, the fancy, but inhibiting

side steps and rear tow hitch on this model will

prevent one from taking on really severe off-road

work. Ground clearance, in spite of this, allows a

wading depth of 600mm.

Much as the D-Max's styling and cosmetics have

been upped, so the mechanicals have largely been

left unaltered.

LOOKS AND POWER: New name and a new

appearance are key notes of the Isuzu D-Max

pick-up range. Our test D-Max seen here

weighing up a serious challenger in the outback

near the Cango Caves – both in 'Blue Me Away'

colouring.

You say the Isuzu 's four-cylinder turbo-diesel motor

does not match the 3-litre V6 or five-cylinder units of

some of the main opposition? Well, this one has big

piston "p ot s " for more torque and it comes with

380Nm at a low 1,800r/min and 130kW of power at

3,600r/min.

Not earth-shattering, but I got the impression that

this engine is designed to work at well below tress

levels and should still deliver

optimally way beyond when the

others may have reached the end of

their lives.

Our test pick-up came with a

six-speed manual gearbox with a

suitable ratio for a large variety of

situations – including pukka off-road

work. Four-wheel drive is simply

dialled in on the fly, via a rotary

control on the centre console, just

behind the gear lever.

Active safety features include

Electronic Stability Control, Electronic

Brake Force Distribution, Hill Start Assist and Hill

Descent Control for those whose off-road driving may

not be up to scratch.

Also, this package returns very low fuel

consumption figures compared with the D-Max's

detractors, averaging out at just 8.2l/100km, for a

variety of driving conditions. Together with an 80-litre

diesel fuel tank, a better range with a 2,999cc chunky

double cab 4x4, would be hard to find.

The occupants of the LX version have the benefit of

leather upholstery, fully electrically-six-way-adjustable

front seats and sumptuous carpeting and cladding.

The cab is 1,860mm wide, offering sufficient shoulder

room for five adults.

The driver has rear parking distance sensors and

PORT ALFRED

SERVICE CENTRE

imagery that show on a nine-inch infotainment screen

up front on the dash. The electrically adjustable

polished chrome external rear view mirrors are heated

and fold away in tight situations or for bush work.

Those headlights also incorporate integrated LED

daytime running lights on the LX model.

An Alpine integrated touchscreen infotainment

system has an AM/FM radio, Bluetooth connectivity,

iPod control, USB ports, WiFi connectivity and

embedded satellite navigation. I found its operation a

bit of a challenge at first, but it was the old story of

having done it just once, it was easy thereafter. Cruise

Control is activated by buttons on the multi-function

steering wheel.

Our D-Max 4x4 LS standard has a price tag of

MONTHLY AUCTION

SATURDAY

27 APRIL 2019 AT 10am

SEE OUR FACEBOOK PAGE FOR PICTURES

75 BATHURST STREET, PORT ALFRED

T: 046 - 624 8070 C: 072 188 2633

GREENHEAT NOW AVAILABLE IN

OUR SHOP!!

À

À

R600,700 without the optional extras.

Its warranty extends over five years/120,000km,

there is a five-year corrosion warranty and five-year

roadside assistance, while the service plan extends

over five years or 90,000km.

Our test D-Max was clad in a particularly pleasing

bright blue called 'Blue Me Away'. Someone at Isuzu

has a nice sense of humour, because other colours –

after our last test Isuzu KB's 'Saturday White Fever' –

include 'Black Meet Kettle and 'Pull Me Over Red'.

Classics at the Castle

19 Wesley Hill Port Alfred

- presents -

QUINTESSENCE

3pm welcome drink 3:30pm start of concert

Tickets @ R90 from KNA Port Alfred (046 624 2036)

includes a drink and programme
---
10 Talk of the Town ADVERTISING / NEWSDESK: (046) 624 4356 Find us on Facebook

April 25, 2019

N E I G H B O U R LY NOTES

MAN AT THE TOP: Alan Malan from the Kenton Round Table

was inducted as the new ARTSA president recently. ARTSA is

the Association of Round Tablers in South Africa to which all

Round Table clubs in Namibia and South Africa belong

DIARISE THIS

Albany Vintage and Classic Motor Club Museum

opens on the last Saturday of each month – 9am–12

noon – Hawkins Industrial Park, Alfred Road, Port

Alfred.

Alzheimer SA East Cape Support Group meets the

last Thursday of each month at 3pm at Brookshaw

Home at 9 Donkin Street, Grahamstown. The Support

Group is for family, friends and caregivers of those with

Alzheimer's Disease or any form of Dementia. There is

usually a speaker followed by discussion and tea.

Contact Dr Heather Rauch 081-350-8079 for information

and to get on to our mailing list.

Bathurst Farmers Market – Every Sunday rain or

shine at Yesterday Today and Tomorrow Nursery, Kowie

Road from 9am–12.30pm.

Birdwatching Tours and Three Sisters Saunter. Book

with Anne (046) 675-1976 or 083-719-4950.

w w w. a n n e s b i r d i n g . c o . z a

Bonsai Club meets once a month on a Saturday. For

more information please contact David Brewis on

076-457-3218. Or e–mail d a v i d b re w i s 7 7 @ g m a i l . c o m

Cricket Club – Practices on Tuesdays and Thursdays at

the Port Alfred Country Club, French Street from 5pm.

Contact Rob Nel on 076-394-4067.

East Cape Shotokan–Ryu Karate, Port Alfred –

Mondays and Thursdays: 4.30pm for beginners. 5.15 for

intermediate class and 6pm for the advanced cl;ass.

Contact Gary Grapentin on 073-346-0059 for more

i n fo r m at i o n .

Healing Horses Therapeutic Riding Centre –

Therapeutic and recreational horse riding activities for

people living with disabilities. Mondays at 09.30am

and 10.30am, Wednesdays at 10am and 11am, To book a

ride, or find out about volunteering, call Jann on

078 - 3 4 6 - 5 41 2 .

Hockey Club – Practices on Tuesdays and Thursdays

from 5pm at the Port Alfred Country Club, French

Street. Contact Chris Pike on 082-350-0900.

Kenton Garden Club meeting second Wednesday of

the month at 9.30am. For info visit

w w w. k e n t o n g a r d e n c l u b . c o . z a

Kenton Pub Quiz – 6.30pm – first Sunday of each

month at Kenton Bowls Club. Cash bar available. Cash

and other prizes. Teams of four to six. All welcome.

Kleinemonde Morning Market on the first Saturday of

every month, from 8.30 to 10am. Kleinemonde

Community Hall. Enjoy breakfast and browse the stalls

selling wholesome farm chickens and home produce,

including quality meats, vegetables, pancakes, frozen

meals, quiches, bread, rusks, gingerbread houses,

home baked cakes, doggy treats, candles, gifts and

more.

Knit and Knatter Crafters club at Holly House, every

Wednesday at 9am. All welcome. Contact Kathy on

(046) 624-4452 for further information.

Kowie Auctioneers – monthly auction every last

LET it rain! The clarion call of the people of the

Eastern Cape as drought threatened the area.

However, although we must be grateful that it

is at last raining, there can be too much of a

good thing. The virtually endless rain is a little

reminiscent of the start of the 2012 floods that

ravaged the area, destroying homes in

low-lying areas and leading to many families

seeking shelter in church halls and other

places of safety. Although the forecast is for

an end to the rain by the weekend the damage

the rain as already done must be taken into

account. Be careful when driving along the

coast road between East London and Port

Alfred as this stretch of the R72 has many

water-logged areas as well as rocks on the

road that have been washed there as the rain

water finds its way to the sea.

THE Royal St Andrews Hotel Amanzi Challenge

comes to an end this Sunday after 10 days of

action-packed adrenaline pumping water-sport

entertainment. Sxeaks Nkwinti of BS Sports,

the main organiser of the event, has managed

to bring four major events to the area

including international surfing, bodyboarding,

SA Inflatable racing and SA Championship

beach handball. Added to this we had the 8km

trail run and the Marina Mile swim,

trampolining, an Anything the floats race and

much more entertainment. The weather has

obviously put a bit of damper on spectators

attending the events but, all in all, this year's

event has certainly helped put the Sunshine

Coast on the beach-sports event calendar.

Well done to all concerned and good luck as

the event nears conclusion on Sunday.

WITH the national and provincial election less

than two weeks away things are already

getting nasty with political parties demanding

court interdicts on others, politicians denying

involvement in state capture enquiries,

state-owned enterprise executives scurrying

for position, Eskom threatening more load

shedding after the elections, oil price

increases and a floundering rand, 2019

doesn't look as bright as we hoped it would

be. When are our so-called leaders going to

call a halt to the madness of racism and

realise that we are all in this together, and it's

going to take all of us working together to get

this country right?

E-mail Rob Knowles at knowlesr@tisoblackstar.co.za or fax (046) 624-2293

or drop in at 29 Miles Street from 8am to 4.30pm, Monday to Friday

OUR ENTRIES ARE OPEN FOR MAY, JUNE and JULY

E-mail houzetj@tisoblackstar.co.za or fax (046) 624-2293 or drop in at 29 Miles Street from 8am to 4.30pm, Monday to Friday

Thursday of the month at 35 North Street. Entries for

the auction need to be in on the Tuesday before the

auction. Viewing day prior from 2pm. For more

information call Colin Maclachlan 083-521-3623 or

Peter Charter on 082-569-3478.

The Kowie Camera Club monthly meeting, the last

Monday of every month (except December) at 7pm in

the Settlers Park Retirement Village hall. Contact

Herman Groenewald 078-428-9551.

Kowie History Museum, at The Old Railway Station,

Pascoe Crescent. Open 9.30am–12.30pm

Tu e s d ay –Saturday. Closed Sunday/Monday and public

h o l i d ay s .

Kowie Striders time trial – every Tuesday at 5.30pm at

the Port Alfred Country Club. Distances of 3, 5 or 8km.

Runners and walkers welcome. Contact Sticks Stiglingh

on 071-612-7339 or Alan Robb on 082-495-6842

Kowie Striders casual long run from the Duck Pond –

every Sunday at 7am . Runners and walkers welcome.

The route will be determined on the morning of the run.

Lower Albany Historical Society meets 3rd Thursday

of the month – some meetings in Don Powis Hall,

Settlers Park, others, outside trips. Call Avonne on

083-473-6823 for details.

Lower Albany Woodworkers' Guild, meets first

Tuesday of each month. Call Brian Edwards on (046)

624-2945 for more information.

Memory Book Scrapbook Club meets twice a month

on a Thursday afternoon. All welcome. Contact Cheryl

(046) 624-2733 / 083-556-7562.

MOTHS – Old soldiers never die – Calling all

ex–servicemen "Ou Manne" and their ladies for a

get–together on the first Sunday of every month at 12

noon and the MOTH Hall (next to the Ski–boat Club) for

a light lunch and some memories. RSVP MOTHS at

082-537-9033 for catering purposes.

National Sea Rescue Institute practices every

Wednesday at 5pm. To join the NSRI visit the base in

person to undergo an evaluation.

Port Alfred Art Club welcomes new members, both

experienced or wanting to learn. We meet weekly

offering a monthly DVD from leading artists, giving

excellent tips and guidance on how to draw and paint.

Contact Jenny (083-292-2650) or Paddy

(083–226–5254).

Port Alfred Bowling and Croquet Club invites you to

try your hand at lawn bowls and Croquet,free coaching

and equipment available. Situated next to the Nico

Malan Bridge. Enquiries: Rod Wilson at: 082-375-2968

or (046) 624-5671. Croquet enquiries: Rodger Darkes at

082-373-8181 See our website at: w w w. p a b c c . c o . z a and

our Facebook page.

Port Alfred Bridge Club – Now meets at the Eddie

Grant MOTH Hall (next to the Ski–boat Club) every

Monday and Thursday – 1pm for 1.30pm start. All

bridge enthusiasts and persons wishing to learn to play

bridge are most welcome.

WE know many people don't like to be

reminded that they are getting older, but there

are others who maintain getting on in years is

just about a number, as they feel just the

same in their hearts. Anyway, here's to

wishing everyone celebrating a special day in

the week ahead a wonderful birthday and best

wishes for many more, especially to twin

sisters Jean Reed and Joan Mould, Pam Nel,

Tyler Stevenson, Rhodes Tremeer, Danielle

Dugard, Claire Hall, Colleen Shaw, Ginger

Naude, Ray Hicks, Erica Janse van Rensburg,

Norman Levine, Sue Simpkins, Ronin Beetge,

Pieter Pretorius, Hazel Whitham, Glenn

McCreath, Taylor Thorp, Tony Border, Andrew

Marshall, Dries Meyer, Wally Vandermeulen,

Jacoba Maritz, Lauren Brunette, Warren

Currie, Grant Marais, Paul Crous, Jed

Thurgood, Graham Webber, Steve Lambert,

Timothy Riddin, Monty Colville-Reeves, Lindsay

van der Schyff, Mercia van der Westhuizen,

Kyle Henning, Natasha Kenny, Cecile

Oosthuizen, Thulani Makinza, Cecile Nelson

and Rowena Collin.

OUR heartiest congratulations to Darryl and

Jolanta Hanstein and big sister Amelia on the

arrival of their beautiful baby boy Tobias. We

know he will bring heaps of joy and happiness

to the entire family.

CONTINUED good luck and success to all

businesses celebrating another year in trade.

All the best to C'est la Vie (Stewart Road), and

Home Essentials (Rosehill Mall).

S O R RY, but it's not good news on the financial

front. Although very little South Africa does

effects global markets, the artificially-inflated

price of Brent crude oil (the Opec nations

determine, as a collective, what the price

should be – isn't this a monopoly?) will most

certainly mean hit South Africans and other

developing nations hardest. Because we

depend on oil for our industry and

domestically in the form of petrol, any

variation in the oil price directly takes money

out of our pockets. The sooner we find

alternative, cheap and sustainable forms of

energy we have to live with the consequences

of the decisions of Western and Middle

Eastern countries that are less concerned with

the plight of people than in making a fast

Port Alfred Community Police Forum meets on the

third Tuesday of each month at the Port Alfred Police

Station at 2.30pm.

Port Alfred Floral Art Group (PAFAG) meets on the

third Saturday of the month at Settlers Park hall at

2.30pm. For more information please phone

082–464–4606 (Hennie de Bruin). All welcome.

Port Alfred Park Run, Civic Centre. Every Saturday

8am–9am.

Probus Club of the Kowie meets on the second

Tuesday of each month at 10am at the Port Alfred River

and Ski-boat Club.

Rocky Ridge Farm Market opens every Saturday and

Sunday from 9am with a variety of home made

delights, "egg–cellent" free–range eggs, honey,

biltong, droewors as well as its very popular morning

breakfast. Contact Desia Holmes on 083-589-0765 for

more information.

Rosehill Mall Art and Crafters Market, the first

Saturday of every month, from 9am–4pm. A true art

and craft market. Only handmade items available by

our local crafters. Large selection of goods.

Scottish Country Dancing at Don Powis Hall, Settlers

Park, every Wednesday from 5pm–7pm. All welcome.

For more information please phone Mary (046)

604-0478 or Audrey (046) 624-3179.

Scrapbook workshops and classes: Bcreative offers

monthly workshops, night classes, social classes and a

whole lot more. Call (046) 624-3096 to book or for

more information.

Self Drive Heritage Map: All the historical sites in Port

Alfred, Bathurst and surrounding areas. Available at the

tourism office.

Sunshine Coast Women's Forum meets every fourth

Tuesday in the Don Powis Hall, Settlers Park at 2.30pm.

Come and join us. Visitors welcome. For more

information contact Tosca Spenceley (046) 624-4339.

U3A – Port Alfred Branch meets on the fourth Thursday

of every month at 9.30 for 10am at the Don Powis Hall,

Settlers Park village. All welcome.

Thursday April 25 to Sunday April 28

The 2019 Amanzi Challenge continues.

Thursday April 25

PA Art Club– 9am – Catholic Hall. Enjoy a social time.

DVD and book exchanges, tea, coffee and snacks.

Bring paintings for review and inspiration.

U3A meeting – 9.30 for 10am – Don Powis Hall,

Settlers Park. Alan Lubbe will be speaking on Caves

and Caving.

Port Alfred Scrapbook Club – 2pm to 5pm –

Presbyterian Church Port Alfred. All welcome. Contact

Cheryl (046) 624-2733 / 083-556-7562.

Sunshine Coast Tourism and Port Alfred Business

Forum networking evening – 6pm – Royal Port Alfred

Golf Club. Guest presentations on water infrastructure

by Justin Wilmot, alternative electricity supply by

buck. With petrol now almost certainly going

to see another price hike in May, we are left

wondering if the consumer will bear the brunt

of the increase or if the government can

absorb some of it. After all, they are prepared

to bail out Eskom at a moment's notice,

maybe they can extend the same courtesy to

the south African people? At the time of going

to press (and with last year's figures in

brackets to compare against), the Rand was

trading at R14.32 to the Dollar (R13.23), R18.52

to the Pound (R16.98) and R16.07 to the Euro

(R14.42). Commodities such as Gold were

trading at $1,273.45 per ounce ($1,264.09)

and platinum at $820.77 per ounce ($958.20).

Brent Crude is trading at $74.29 per barrel

( $ 51 . 8 6 ) .

SPECIAL thoughts and prayers are with all

those folk who are not well, having or have

already had tests, operations and treatments.

'Sterkte' to Roy Potter, Andrew de Vries, Jenny

Groenewald, Chris de Wet Steyn, Marian

Eaten, Martin Bekker, Trish Solz, Brenda

Shelton and Theo Snyman.

HERE'S to many more terrific years together

and our heartiest congratulations to everyone

celebrating a wedding anniversary, especially

to Clinton and Lize-Marie Millard, Kudu and

Beryl Pancoust, Dennis and Sue Chandler, Gert

and Jean van der Merwe, Matthew and

Antoinette Buchholz, Jannie and Elsabe

Badenhorst, John and Diana Lardner-Burke,

Des and Tosca Spenceley

CONGRATULATIONS to Eric and Lisa Strydom

(nee Came) who tied the knot on Saturday

April 20 in Bedford. We wish you many years

together filled with love and happiness.

F I N A L LY, and unashamedly, don't forget the

one-man show at Harry B's at the Ski-boat

Club this Saturday evening, starting at 7pm.

It's going to be a lot of fun, so don't miss out.

Tickets from Harry B's, Laura Kete's Gallery on

Van der Riet Street or you can WhatsApp me

on 078-391-4701.

THOUGHT for the week: "I have found that if

you love life, life will love you back".

BEST regards as always,

The Team.

Simon Thesen, and tourism/business forum projects by

Rick Pryce and Wouter Hensens. RSVP to

tourism@sunshinecoasttourism.co.za by April 15. Cash bar

ava i l a b l e .

Saturday April 27

Freedom Day.

Sunday April 28

Diaz Cross Bird Club outing to Mtunzi. We will meet at

Robbies at 6am and Heritage Mall at 6.30am. Visitors

welcome (R10 per person to DCBC). Bring a picnic

brunch. For more details contact Tim Cockbain (046)

624-8483.

Bathurst Book Fair – From 9am, books and bargains

galore, 'Round the Bend' poetry event, book signings,

kiddies story time with Bathurst's famous alpacas, food

stalls and more. Browse seven venues in the village,

from the Village Green to The Workshop. Enter the

poetry competition and at Books of Bathurst, hear local

authors speak about writing and give tips on getting

published. See the Facebook page for the full

programme. Contact (046) 625-0202 or 082-621-1523.

Tuesday April 30

Grahamstown Music Society presents "Quintessence"

– 7.30 pm – NELM Auditorium, 25 Worcester Street.

Pianist Joanna Wicherek performing with Dariusz Dinh

Thieu Quang (French horn), David Bester (violin),

Anmari van der Westhuizen (cello) and Piotr Thieu

Quang (clarinet). Ticket prices: R90, R70 (pensioners),

R50 (students in tertiary institutions); no charge for

Music Society members or schoolgoers.

Thursday May 2

PA Art Club – 9.30am – DVD at Settlers Park Hall.

Theme for May: flower or plant study.

Saturday May 4

Port Alfred Sport Shooting Club. Shotgun shoot.

Visitors with licenced firearms welcome. Contact the

chairman on 083–633–1939.

Sunday May 5

Classics at the Castle – The quintet, Quintessence,

will be performing at the Richmond House Museum

Music Room. Featuring internationally–acclaimed

pianist Joanna Wicherek along with clarinet, French

horn, cello and violin. Tickets @ R90 go on sale from

Friday April 12 from KNA Port Alfred. Out-of-towners

may phone KNA (046) 624-2036 to reserve their

tickets, but these need to be collected and paid for

soon after.

Saturday May 11

Port Alfred Sport Shooting Club. Handgun shoot.

Visitors with licenced firearms welcome. Contact the

chairman on 083–633–1939.

Saturday May 18

Port Alfred Sport Shooting Club. Sport and Hunting

shoot. Visitors with licenced firearms welcome. Contact

the chairman on 083–633–1939.
---
April 25, 2019 ADVERTISING / NEWSDESK: (046) 624 4356 Find us on Facebook

Talk of the Town 11

TINKLING GLASSES: Rotarians, from left, Erna Light, Audrey Barnard and Rob Cross mingling and

chatting before the start of the Rotary Club of Kenton-on-Sea's 10th birthday celebration at The

Volo conference centre last week

Pictures: JON HOUZET

TIME TO CHAT: Enjoying some fellowship before the start of the Rotary Club of Kenton-on-Sea's

10th birthday celebration last week were, from left, Carol Oliver of the Rotary Club of Port Alfred,

Tom McGhee, Maddy Webber and Mike Peter

Marking 10 years' of

service above self

JON HOUZET

How 10 years

have flown by,

was a common

refrain at the Rotary

Club of

Kenton-on-Sea's 10th

birthday celebration at

The Volo conference

centre last week.

After welcomes by

Peter Reed serving as

MC and grace led by

Rev Glen Craig,

everyone enjoyed a

starter of avo cream

cheese and salmon

r o st i .

Charter member,

first president of the

club and past district

governor of Rotary,

Bruce Steele-Gray

related how the club

was formed.

"In July 2008 I was

approached by Dave

Slater and Roger

Carthew to start a

Rotary Club in Kenton.

It was a risk and

extremely brave on

their part, because it

might have offended

the Port Alfred club,"

Steele-Gray said.

"Various meetings

were held and we

were able to

cherrypick 33

members, many of

whom are still

members."

The first meeting

was held in August

2008, and the first

project the fledgling

club got involved in

was repairing the

seawall in Kenton

before the spring

tides.

The "having fun,

doing good" mant ra

was born.

Injecting some mirth

into the historical

account, Steele-Gray

said at the first board

meeting in September

2008 it was decided

that people only have

one drink before the

meeting started.

The charter dinner

of the club was held in

the Kenton town hall

on April 4 2009,

attended by 145

people, including 67

g u e st s .

S t e e l e - G r ay

mentioned the

numerous projects

and activities the club

had been involved in,

from friendship tours

and establishing

Interact Clubs at local

schools, to snare

removal and the

annual garden

competition.

Kenton Rotary

counts past district

governors and

assistant governors

among its ranks, and

has grown from 28

members at its charter

to 44 active members

and six honorary

members.

Steele-Gray also

called a roll of

deceased members:

Brian Bell, Dave Slater,

Mike White, Olive

Wilmot and Joan

Jakins.

It was then time for

the main course – a

buffet of

Mediterranean rolled

pork, beef

bourguignon, mustard

mash, jasmine rice,

roasted butternut feta

and walnut, minted

peas and Big Fat

Greek salad.

While enjoying

dessert of malva

pudding, custard and

ice-cream, Rotarians

and guests could

enjoy a slide show of

photos of Rotary

activities and

memories over the

past 10 years.

A SLICE FOR EVERYONE: Kenton Rotary president Sandi Peter cuts the

cake after the formalities at the club's 10th birthday celebration last

we e k

SHARING MEMORIES: Bruce Steele-Gray, Tony Swift and Brian Pachonick at the Rotary Club of

Kenton-on-Sea's 10th birthday celebration at The Volo conference centre last week

Stork Country

Spread Tub 1kg

R28.99 Each

Sunshine D Lite Tub

1kg

R28.99 Each

TALL STORIES: Simon Matthews chatted to High

Wormald at the Rotary Club of Kenton-on-Sea's

10th birthday celebration, held at The Volo

conference centre last week

Trading Hours Sunshine Coast Spar:

Mon – Fri: 7:30am – 6pm

Sat: 7:30am - 5pm Sun 7:30am - 4pm

Valid: 26 - 28 April 2019 | E&OE |

Tel: 046 648 1023 | While stocks last

Snowflake Cake

Wheat Flour 2.5kg

2 for R35

Beef Stew

R68.99 Per kg

Bokomo Weet Bix

900gr

R38.99 Each

Potatoes 1.5kg

2 for R20
---
12 Talk of the Town ADVERTISING / NEWSDESK: (046) 624 4356 Find us on Facebook

advertising feature

April 25, 2019

Happy days as Royal Alfred

Marina celebrates 30 years

Two of the canals named

after the original designers

The Royal Alfred Marina

clubhouse was filled to capacity

last Tuesday evening when

residents, former contractors and

other invited guests attended the

30th birthday celebration of the

completion of the marina.

In honour of the marina's two

developers who have passed on, the

Royal Alfred Marina Homeowners

Association (Ramhoa) has named

two canals after them – the Keith

Wilmot and Jannie van de Vyver

canals.

After Ramhoa executive committee

member Isobel Meyer made the

introductions, Pamcor's Justin de

Wet Steyn, the only surviving

developer, took to the podium and

described the building of the marina

from its concept right through to its

final commissioning in 1989.

De Wet Steyn explained how the

marina was designed to achieve the

best possible tidal water quality and

how the University of Natal created a

scale-model to simulate the movement

of the tide through the canals.

"There was concern that the

marina would cause problems in the

quality of the water in the canals, but

the model showed that not to be the

case," he explained.

"The test indicated that all the

water would be fully replaced with

each tidal cycle and, provided the silt

was removed, this was better than

the international standard."

The marina has become an iconic

symbol of Port Alfred, photographed

as much to encourage buyers as to

show the aesthetic beauty of the

area. Each plot has a minimum direct

water frontage of 15m and the sea

can be reached directly from each

property by boat.

The design positions most of the

homes in a north-easterly orientation

allowing houses to take good

advantage of the path of the sun.

De Wet Steyn explained that the

final authorisation for the building of

the marina was delayed in Cape

Town where politicians were

reluctant to allow its construction

due to some adverse opinions on its

environmental impact on the river.

"That was when we employed

professor Johan Neethling from the

University of the Western Cape to

carry out extensive studies on the

fish and benthic [river/seabed

Turn to page 13

PROUD HERITAGE: In honour of two original developers of the Royal Alfred Marina who have since passed away, two canals

were renamed after them – the Jannie van de Vyver Canal and the Keith Wilmot Canal. This took place at the 30-year

celebration held at the marina clubhouse on April 16. The extended families of the men stood holding plaques that would be

positioned at the entrance of each canal

Pictures: ROB KNOWLES

CONGRATULATIONS to

ROYAL ALFRED MARINA.

WE WISH YOU MANY MORE YEARS

OF MAKING A DIFFERENCE IN THE

COMMUNITY.

NEAVE STÖTTER INC.

This holiday book your Offshore Fishing Adventure with us.

Cell: Darren : 082 – 818 8995 or

CONGRATULATIONS ROYAL ALFRED MARINA ON 30 YEARS OF EXCELLENCE!
---
April 25, 2019 ADVERTISING / NEWSDESK: (046) 624 4356

Talk of the Town 13

TOASTING THE

MARINA: Having a

great time at the 30th

anniversary of the

Royal Port Alfred

Marina last week

were, from left,

Phumla Mlonyeni,

Estelle Jordaan and

husband Jan, Simoné

Adlem and Daniel

Geldenhuys

Picture: ROB KNOWLES

JOB WELL DONE: Those responsible for keeping the Royal Alfred Marina

clean and tidy were also thanked at the marina's 30th birthday

celebration at the clubhouse. From left are Imelda Oosthuizen and her

husband Graven who is the supervisor at the marina, as well as marina

manager Mike Hosty

Picture: ROB KNOWLES

Find us on Facebook

advertising feature

PREPARATORY WORK: The West Bank of the Kowie River was being

levelled and retaining walls were constructed in 1988 in preparation for

the construction of the Royal Alfred Marina

Exemplar of

marina design

celebrated

From page 12

creatures] communities of the Kowie Estuary and

concluded that the marina impacted the habitat

and species positively," he said.

"The silt that built up was identified and a place

on East Beach was designated where it could be

deposited."

The marina was the first development in Port

Alfred to enjoy full waterborne sanitation and the

development brought about the construction of the

local municipality's sewerage works in 1988 which

began serving the greater Port Alfred. It has since

been upgraded.

Storm water from the Marina is discharged

directly into the canals and no reticulation is

required. Maintenance is controlled by the

executive committee elected annually by Ramhoa.

This includes management and keeping in good

clean order the canals, the tar roads and bridges

along with residents' facilities and amenities,

namely the clubhouse and swimming pool, tennis

and squash courts as well as being responsible for

the security of the project.

The Kowie River was canalised early in the 19th

century with semi-permeable, stone-packed walls.

In view of the fact that the marina canals

experience full tidal exchange it makes a

contribution to the ecosystem as it acts as a

breeding grounds for juvenile species, a protected

habitat areas for vulnerable species, and as areas

for the production of plant tissue.

It was a very festive atmosphere at last

Tu e s d ay 's celebration and local muso Anthony

Caplan kept the atmosphere light with some great

old favourites, as well as new songs. The food was

delicious and plentiful and everyone had a great

time celebrating this exemplar of marina design.

A RIVER RUNS THROUGH IT: The course of the Kowie River was

straightened to accommodate the Royal Alfred Marina as could be seen

from the air in 1987

Picture: LYNLEY CLARKE

DUNES' END: The sandy beach was being levelled to make way for the

construction of the Royal Alfred Marina, as can been seen from this

photograph from 1987

TEL: 043 740 2993

Congratulations to the

Royal Alfred Marina

on your 30th Anniversary!

29 Miles Street, PA | Tel: 046 624 4356 | Fax: 046 624 2293

Congratulations on

your 30th Milestone -

You are truly an

asset to Port Alfred!

CONSTRUCTION cc

MASTER BUILDER & PROPERTY DEVELOPERS

FOR ALL YOUR BUILDING REQUIREMENTS

SERVICING PORT ALFRED AND SURROUNDING

AREAS SINCE 1985

CONTACT: RICHARD HENY: 083 633 0113

richard@henbrick.co.za

LIKE US ON FACEBOOK

Congratulations on 30 years -

We wish you many more

milestone years ahead!

FOR FRIENDLY AND EFFICIENT

SERVICE, CONTACT US FOR ALL

YOUR LEGAL REQUIREMENTS.

Wishing you all

the best on your

30th Anniversary.

We are very proud to

be associated with the

Royal Alfred Marina.
---
14 Talk of the Town ADVERTISING / NEWSDESK: (046) 624 4356 Find us on Facebook April 25, 2019 ADVERTISING / NEWSDESK: (046) 624 4356 Find us on Facebook

Talk of the Town 15

advertising feature

TEARING ALONG THE BEACH: Unavoidably, big

machines were brought in 1988 to what was

then East Beach in order to clear away sand

that could hamper the development of the Royal

Alfred Marina

W H AT 'S HAPPENING? In 1988 locals visited the

site where construction was under way to make

way for the Royal Alfred Marina

S A's watershed

moment on

property rights

IN THE MAKING: A photograph of the construction of the marina taken from a plane in 1987

Picture: LYNLEY CLARKE

Congratulations

to the

Royal Alfred Marina

on their

30th Anniversary!

RE/MAX Kowie - 54 Campbell Street | 046 624 1110

Congratulations to the

Royal Alfred Marina

on your 30th Anniversary!

What a wonderful asset you

are to our town.

C: 082 569 3478

A VIEW FROM THE WEST BANK: The marina development was well under way in 1988

BEFORE THE MARINA: The East Bank of the Kowie River taken before the construction of the Royal

Alfred Marina

AERIAL VIEW: A closer view of the Kowie River

as construction of the Royal Alfred Marina was

under way Picture: LYNLEY CLARKE

Happy 30th Anniversary

to the Royal Alfred Marina -

Wishing you many more

successful years ahead!

MR EGGY'S EASTER SUPRISE: The Feathers Farm mascot, Mr Eggy together with rep, Charlene Vorster,

visited the Port Alfred High School Pre-Primary and Foundation Phase Classes last Thursday and

handed out marshmallow Easter eggs to the delighted children

Marketing is key to

Feathers Farm's

success story

"Grandpa realised early on that

a good marketing strategy

depends on three factors:

quality, quantity and

reliabilit y," says Kate Knight,

co-owner of local egg farm,

Feathers Farm.

The egg farm was

established by Knight's

grandparents, Avro and Pat

Randall in Southwell in 1948

when drought all but wiped out

Randall's hopes of becoming a

cattle farmer after serving in

the air force as a pilot during

the Second World War.

The farm was purchased by

Paul and Kate Knight from

K at e 's parents, Joc and George

Guest in 1997 who had

themselves fiercely guarded

this recipe for market success.

Knight remembers special

deliveries being made by her

parents to assist customers

who had underestimated

demand over high days and

holidays such as Easter.

During the Guests' era, the

brand was solidified under the

name "Feathers Farm" and

new packaging options

explored and adopted.

"Freshness has always been

a cornerstone to the brand's

promise," said Knight's

husband, Paul, who, together

with his wife, has pioneered

various unique selling points

to differentiate their product in

a fiercely competitive market.

"We first began exploring

the idea of a mascot in the

early 2000s and were fortunate

to purchase, via the internet,

the Mr Eggy costume and

import it from China."

He has been a hit ever since.

The brand continued to

move with the times with both

product diversification and

extension taking place.

For example, Feathers Farm

joined the Top Lay egg

producers co-operative.

"It made sense to band

together with other leading

egg producers to secure

market channels, entrench the

highest production standards

and improve price negotiation

with top retail chains."

The growing popularity of

free-range eggs saw the

couple move quickly and

establish themselves as the

biggest free range egg

supplier in the Eastern Cape.

On this front the Knights

have brought about a double

brand differentiation.

F i r st , the farm is audited

thus reassuring the consumer

that their eggs are 100% free

range and the laying hens are

treated according to the

highest international animal

husbandary standards.

Second, a delightfully downy

feather is now a feature in

every pack of their Scratch

Patch free range eggs.

"This idea came to me one

day while out in the hen

houses and a feather floated in

a beam of sunlight in front of

me," explains Knight.

Staff carefully collect the

feathers which are then

washed in a pillow slip in a

washing machine, dried in the

sun and then individually hand

placed in the egg boxes.

Far mers' fate 'litmus test' of what

will happen if state not confronted

SOUTH AFRICAN INSTITUTE OF RACE

REL ATIONS

South Africans need to speak clearly and

forcefully for their interests if they are to

secure the future of the country as a free and

prosperous society.

This was the message delivered by Institute

of Race Relations (IRR) project manager

Terence Corrigan at the launch of the Southern

African Agricultural Initiative (SAAI) in Pretoria

r e c e n t l y.

SA faces serious challenges, especially the

threat to property rights in the drive towards

Expropriation without Compensation, which is

codified in the Expropriation Bill and

reinforced by the determination of the ruling

ANC to force through an amendment to the

c o n st i t u t i o n .

"Today we are at a watershed moment," said

Corrigan. "This is a point at which we need to

declare a willingness to confront, however

heretical it seems, the implications of the

ideological currents that shape the decisions

and policies taken by the South African

government."

The fate of farmers was "the litmus test of

what will happen to us all. Given what is at

stake, in many respects all South Africans are

commercial farmers today".

Sketching an overview of current

developments, Corrigan cited IRR analysis

showing that many in the ANC and in

government were committed to empowering

the state to intrude ever more deeply into the

lives and property of South Africans. At the

same time, demographic trends and economic

failings were working against the ANC's

electoral dominance.

"The ANC is rapidly running out of room to

manoeuvre and is trapped in an ideological

prison of its own making. Unable to reform,

the ANC is likely to preside over an economy

CONTACT DES, DONNY OR JANNIE

TEL: (046) 653 0189

KABA ROAD, ALEXANDRIA

GREAT PRICES!

GREAT SERVICE!

VISIT US TODAY!

that is unable to grow, and so turns instead to

racial nationalist incitement to detract

attention from its failures, animate its

supporters to vote, and to open the way to the

erosion of civil liberties and the rule of law –

should it in time come to that," said Corrigan.

Appeasement had not proved to be an

effective response.

Too often organised interests had thrown

away their influence by attempting to cut

deals, or by attempting to win favour by

representing government to their

constituencies, rather than vice versa.

This must stop. South Africans need to

realise the gravity of the situation and push

back. Central to this is for organisations to

challenge these dangerous trends in the realm

of ideas. Objecting to the reckless course of

events, and countering it with solid arguments

– directed not only at government or the

ruling party, but at society as a whole – is

crucial.

The IRR has frequently called on people to

take up this responsibility.

Corrigan noted that the IRR had repeatedly

stated over the past 12 months: "We cannot

guarantee you that we will win because it is

now late in the day, and more apparent than

ever that those who assured you there was

nothing to fear have been wrong all along. But

we can guarantee you that we will fight so

that we know we did all we could."

ý More than 150,000 South Africans have

given the IRR a mandate to fight Expropriation

without Compensation (EWC) on their behalf.

The IRR has handed to the Office of the

President each individual mandate from every

South African who has supported the IRR in

opposing EWC. See h t t p s : / / i r r. o r g . z a / c a m p a i g n s /

d e f e n d - y o u r - p ro p e r t y - r i g h t s / e n d o r s e - o u r - c h a r t e r
---
16 Talk of the Town ADVERTISING / NEWSDESK: (046) 624 4356 Find us on Facebook

April 25, 2019

ANGLICAN CHURCH ALBANY

A R C H D E A C O N RY

St Paul's Port Alfred – Ferndale Road.

Sunday Eucharist 8.30am

Wednesday: Eucharist 8.30am.

St Barnabas – Nemato Port Alfred

Sunday Eucharist 9am.

St John's – Bathurst Sunday Eucharist

8.30am

St Mary's – Cuylerville 11am Eucharist (1st

Sunday in the month only).

St James – Southwell 11am Eucharist (3rd

Sunday in the month only).

Enquiries: (046) 624-1236.

ANGLICAN PARISH OF ALEXANDRIA

St David's Bushman's River Mouth

Holy Communion Service:

Sunday 8am

Wednesday 9am.

Christ Church, Alexandria Eucharist S u n d ay

9am.

Enquiries: : Graeme Hutchison

082-955 -5051.

APOSTOLIC FAITH MISSION BETH-EL

ASSEMBLY ALEXANDRIA – 14 De Wet Street

Sundays at 10am and 6pm

Wednesday Prayer meeting at 6.30pm.

Enquiries: Pastor Alan Cannon

072-907-8405..

AFRIKAANSE PROTESTANTSE KERK

Vir AP Kerkdienste. Kontak Anton Kok by

082-964 -3123.

BATHURST COMMUNITY CHURCH

The Village Chapel, 1 The Stables, Kowie

Road, Bathurst

Ser vices: Sundays at 9am

Pastor on 084-441-2876 or (046) 624-3623.

CATHOLIC CHURCH

St James Catholic Church – Caxton Lane,

Port Alfred.

Mass Times: Sunday – 9.30am

Tuesday – 5pm

Friday – 8.30am

Fr Nkosinathi Njoko OFM (046) 624-1509 /

073 - 384 - 9133 .

St Thomas Catholic Church – Tenth St,

Station Hill, Port Alfred.

Mass Times: Sunday – 9.30am,

Wednesday – 6pm

St Anthony's Catholic Church – Bushman's

River Mouth.

Mass Times: Sunday – 7.30am

Sacred Heart Catholic Church – A l ex a n d r i a .

Mass Times: Saturday – 5.30pm

Enquiries: Fr Trymos Munyaka on (046)

624-1509 or 082-676-6573

CELEBRATION CENTRE

Guide Hall in Causeway .

Sunday morning service – 9am.

Pastor: Bazil Mauer 082 061 5463 Email:

CHURCH NOTICES

p a c e l e b ra t i o n c e n t re @ g m a i l . c o m All welcome.

CHRISTIAN SCIENCE SOCIETY

Goodwill Centre.

Sunday 9.30am.

Enquiries: 082-600-5429.

CHRIST AMBASSADOR MINISTRIES

770 Runeli Drive, Nemato.

Sunday Services: 10am-12pm.

Evening services 6-8pm. Tel/Fax: (046)

624 -2632.

CHRISTIAN HARVEST CHURCH

3013 Shiceka Street, Nemato

Sunday Services: 9.30-12pm.

Evening 5pm-7pm.

Contact: 083-513-5638.

PORT ALFRED BAPTIST CHURCH

Morning services and Children's church

(Ignite) 9.30am.

Evening services 6pm – (NO evening service

on the last Sunday of the month)

Youth: Fridays: Grades 1-3 (KICK) at 5pm-6pm,

Grades 4-7 (SWAT) at 6pm-7pm. Grades 8-12

(G63) at 7pm-9pm.

Pastor: Josh de Wit – 073 -166-2 939

Office: (046) 624-1335.

We b s i te : w w w. p o r t a l f re d b a p t i s t . c o . z a

Email: p o r t a l f re d b a p t i s t @ g m a i l . c o m

PORT ALFRED CHURCH

21 Masonic Street, Port Alfred.

Grace Bible College (Free) Mon – Fri am.

Sunday: 9am.

Contact: John 073-633-2465.

FULL GOSPEL

Sunday Morning Service 9.30am.

Evening Service: 6.30pm.

Friday Junior Youth: 7pm.

Enquiries: (046) 624-1915.

FULL GOSPEL (STATION HILL)

Sunday morning: 10am.

Enquiries: Pastor P Israel 084-582-4607

GEREFORMEERDE KERK

Eredienste elke Sondag oggend om 9vm in

die "Settlers Church" historiese monument)

h/v Buthurst str and North str. Navrae ds

Aucamp by (046) 654-0106/083-654-9190 of

Bert Venter by (046)

654 -0272/082-451-2426.

GRACE AND TRUTH CHURCH

Albany Centre, 90 Albany Road.

"For the law was given through Moses, but

grace and truth came through Jesus Christ."

(John 1:17).

Sundays: 9.30am

Contact: Gary Ford 072-761-3417, (046)

624 -4985

GREAT COMMISSION CHURCH

Previously Bushmans Family Fellowship meet

in Bushmans Town Hall 9am Sunday

mornings! All welcome!

Contact: Ps Charles Southey 078-650-3694.

KING OF KINGS GLOBAL MOVEMENT

Meets at the MyPond Hotel Conference Centre

every Sunday from 10am (intercessory prayer

followed by the service) until 1pm.

LIFE CHRISTIAN CENTRE, ALEXANDRIA

Sunday Morning Service and Club Jesus.

(ages 4 to 12) 9am. (Baby cry room).

Sunday Evening Service: 6.30pm. (Praise and

p r ay e r ).

Friday evening "G U TS " (All Teens Welcome)

6pm-8pm.

Free Bible school – Tuesdays 6.30pm.

Enquiries: PS Leon De Smidt 082-330-6865.

METHODIST CHURCH

WESLEY (Hards St):

Every Sunday: 8.30am (only).

ALEXANDRIA

Sunday service: 10am.

Bible Study : Wednesday 6.15pm

Cell 074-582-0812.

STATION HILL (Windvogel St):

Every Sunday: 11am and 4pm

B AT H U R ST (York Rd):

Every Sunday: 9am

C LU M B E R (Shaw Park Rd from Bathurst then

Martindale turn off):

Monthly services on fourth Sunday of every

month at 11am.

ROKEBY PARK (Opp Halfway Store on

Grahamstown Rd):

Second Sunday: 11am.

KLEINEMONDE ( N at u r e 's Way):

First, Third and Fifth Sundays: 11am

Enquiries: (046) 624-2420.

K E N TO N :

Every Sunday: 8.30am.

Call 084-319-9634, Rev Rod Burton.

NEDERDUITSE GEREFORMEERDE KERK

DIAS GEMEENTE KERKKANTOOR: B r o a d way

26, Port Alfred, 6170

Kantoorure: Maandag tot Vrydag 8am-12pm.

Tel: (046) 624-3534

PORT ALFRED: (Broadway 26)

Elke Sondag: 9vm.

Kinderkerk and Kategese tydens erediens.

BOESMANSRIVIERMOND: (Mainst reet)

Elke Sondag: 9vm.

Kinderkerk tydens die erediens en 10vm

K at e g e s e .

KLEINEMONDE:

Dienste elke 4de Sondag van die maand:

11vm.

Leraar: Ds Wikus Venter Sel: 078-800-3353

ALEXANDRIA: (Mainst reet)

Erediens elke Sondag: 09:30am.

Kantoorure: Maandag tot Vrydag 8am- 1pm.

Tel: (046) 653- 0147.

Kontak: Ds Willem Schoeman (046)

653-0010 of 083-607-8790.

NEDERDUITSCH HERVORMDE KERK

St Nicolas, Beachweg, Port Alfred

Eredienste: Elke Sondag om 9vm.

Kategese na erediens.

Kontak Prof John Gericke (046) 624-9025

of sel 082-565-9534

NEW APOSTOLIC CHURCH

Port Alfred and Kenton on Sea.

For information on services. Eddie

078-752-2233 or Arnol 082-809-3421.

NUWE LEWE VOLLE EVANGELIE KERK

Honeycombsentrum, 88 Albanyweg, Port

Alfre d.

Sondae: 9.30vm en 6.30nm.

Dinsdae: Vrouebiduur 10vm

Woensdae: Seldiens by kerk 7nm

Vir meer inligting kontak: Pastoor Theo en

Marinda Snyman 084-811-0606 / (046)

624-2265. Almal welkom – All welcome

PERISOS SONSKYNKUS

Perisos (Oorvloed/Abundance) nooi u uit na

samekomste: Alexandria. Elke Sondag om

9.30vm te Maria-saal (agter Caltex-garage).

073 - 586 - 0201 .

Prediker Theunis Pienaar – 082- 895 - 8830 .

Ons verkondig: Oorvloed in Christus.

PRESBYTERIAN CHURCH

Corner of Southwell and Becker Street.

Sunday worship and Children's Church: 9am –

10am

Communion Services: 1st Sunday of the

month

Cell groups: Monday 4pm at the church and

Thursday 7pm at 11 Lambert Road.

Enquiries: Errol Parsons 084-800-3033 /

(046) 624-4471.

SEVENTH DAY ADVENTIST CHURCH

Service Times – Saturdays: 9:30am- 12 noon.

Enquiries: Judith on 083-652-5655 or Trevor

082- 492-3789.

SHEKINAH MINISTRIES

Sunday mornings: 10am

Monday and Wednesday: 7pm

Youth on Friday evenings: 7pm.

Enquiries: Dan Hilpert 079-649-8750.

THE SHEKINAH GLORY OF GOD - 1 PET 4:14.

STUDENT CHURCH

Meets Sunday mornings 9am in Kenton on

Sea Town Hall. The 1st church in South Africa

to be operating on this concept. Called

Student Church as the services are run by the

full time students from Generation Impact

Bible College. Believers of all ages welcome.

Exciting Children's Church available.A church

that equips Saints of all ages. Contact:

Madelein 084-513-7306.

THE CHURCH AT MERRY HILL

Sunday morning services: 9am.

All are welcome.

Enquiries: Gavin – 079-211-4675 or Diana –

072-344 -1102

THE CHURCH OF JESUS CHRIST OF

LATTERDAY SAINTS

Meets every Sunday for Sacrament Service at

9am followed by Sunday School at 10am.

Priest hood meeting at 11am and Relief

Society meeting at 11am.

New church location is 25 Biscay Road across

the street from Sky Security in Port Alfred.

Visitors welcome.

Phone: 083-452-8801 or 078-132-7336.

WESTSIDE CHURCH

Contemporary – Connected – Commit ted.

"Connecting people to people – Connecting

people to God."

M e et i n g s :

Sunday 9:30am

Wednesday: 6:30pm

"Connect Groups". Directions: Turn left into

Van Riebeeck Street – Last street on main

road leaving Port Alfred for PE (VW

Showroom on corner) – 800m turn first right

into Green Lane – Go straight up to T-junction

will see roof of church ahead.

Enquiries: 083-444-9380/ 082-373-8181 /

082- 677-78 00 .

WORD OF TRUTH MINISTRY, LIVING WATERS

BOOKSHOP, CHURCH OF THE NATIONS

Across the road from the BP garage and

fire station open every day 8am-12pm

except Mondays.

Sunday : 9am (Morning Service with Mother's

room and Children's Church)

Evening service: 6pm. All are welcome.

Youth: 6.30pm on Friday Evening.

Enquiries: (046) 624-2381, After hours:

072-219 -9065.

SUDOKU - WIN A WHARF STREET FRUIT & VEG VOUCHER

Complete this Sudoku and be in line to win a R35 voucher from

Wharf Street Fruit & Veg in Wharf Street.Entries must be in by

3:30pm on Tuesday at the TotT office - 29 Miles St. Winner to

please collect voucher (must show ID) from TotT offices before

Tersia Wienand.

Wharf Street

Name:...................................................................................................

Tel No:...................................................................................................

WIN A VOUCHER FROM THISTLE RESTAURANT OR PICK N PAY

SOLUTION TO LAST WEEK'S SUDOKU

Name:.........................................................................................................................

Address:....................................................Tel No:......................................................

Entries must be

submitted by 3:30pm

on Tuesday at the

TotT Office -

29 Miles Street.

Winner of last

Royal St Andrews-

ă

Catherine McNeil

Halyards Sunday

Lunch Buffet

for Two -

Jenny Dalgety

Winner to please

collect voucher

(must show ID) from

TotT offices before

attempting to redeem

prize.
---
April 25, 2019 ADVERTISING / NEWSDESK: (046) 624 4356 Find us on Facebook

Talk of the Town 17

LOCAL SUPPORT: Fred and Tracy Golombick

socialising after the opening ceremony of the

Royal St Andrews Hotel Amanzi Challenge last

Friday night

Pictures: JON HOUZET

DURBAN BOYS: Bodyboarders from eThekwini, from left, Nowell Buckley, Brad Dames,

Jared Visick and Angelo Ackerman enjoying snacks after the opening ceremony of the

Royal St Andrews Hotel Amanzi Challenge last Friday night

ENJOYING THE OCCASION: Hein Claassen and

Liana Hamman attended the opening ceremony

of the Royal St Andrews Hotel Amanzi Challenge

last Friday night

OPENING SOCIAL: Attending the opening ceremony of the Royal St Andrews Hotel Amanzi

Challenge last Friday night were, from left, Clinton Millard, Sandy Birch and Justin de Wet

Steyn

YOUTHFUL ENTRANTS: Wermare Verwey and Jonathan

Steck at the end of the parkrun last Saturday

Picture: JON HOUZET

FIRST TIMERS: Maryke and Werner Verwey did

their first Port Alfred parkrun last Saturday

P.A.

33 VAN DER RIET STREET

TEL: 046 624 1117

TOASTIES AND CHIPS

R40

BEEF BURGER AND CHIPS

R55

T-BONE STEAK AND CHIPS

R110

DEEP FRIED HAKE AND CHIPS R85

DEEP FRIED HAKE NUGGETS R60

CRUMBED CHICKEN STRIPS AND CHIPS R60

BBQ PORK RIBS WITH POTATO SKINS R95

STICKY CHICKEN WINGS BASKET R70

MYPOND FAMILY BASKET

R130

BILTONG AND DROEWORS BASKET R45
---
18 Talk of the Town ADVERTISING / NEWSDESK: (046) 624 4356 Find us on Facebook

April 25, 2019

2

PERSONAL

2070

Health & Beauty

GUINOT SPA AFRIKA KUSINI

in Kenton on Sea.

īĞŝŶŐŝŌŽŽŵĞ

ĚĂĚĞŵŝĞŽďůĞ

ŽŶŝĂŽŶŐĞŵŵŵ

ŝĂĐŝĂůĞĞů

ĂĞůůĂŚŽŵĞĐĂĞ

ŽĚĐĞůůĂŝŶĞĚ

ĂīĂĞĂůŝĮĞĚŽŐŝĞ

ŽĞĐĞŽŶĂůĂĚŝĐĞ

ĞĐŝĂůŝŝŶŐŝŶŶŐŝŶŐ

ĂĐŝĂůĞŐŝŵĞĞŽīĞ

ŝĐŽďůĂĚŝŶŐĞŵĂŶĞŶ

ĂŬĞŽĂŶĚ

ĞŵĂŶĞĞĚůŝŶŐŽůůĂŐĞŶ

ĞŶĞĂůĂĐŝĂů

ĂůůĨŽŽĮĨĞĞ

ĐŽŶůĂŽŶĂŶĚŐĞ

ŚĞŬŝŶŽĚĞĞĞ

Call 046 648 1139.

Shop 5B, Boardwalk center,

Kenton on Sea.

MARGIE

MORRELL

Physiotherapist

Treating Backache,

Neck-Ache, Headaches,

Joint and Muscle

Problems, Sports

Injuries, Orthopaedic

Rehabilitation,

Bladder Control.

Kenton-on-Sea

Tel: 046 648 1396

2260

Finance

Žŵ

ŝŶĂŶĐŝĂůĂĞŵĞŶ

ĂĞŶ

ŽŶŚůĂĐĐŽŶ

Ğůů

ŵĂŝů

ůΛŝŵĂŐŝŶĞĐŽĂ

Finance

2260

INDEPENDENT

FINANCIAL

ADVISOR

Life Cover Quotes

ĞĞŵĞŶůĂŶŶŝŶŐ

ĞĂŶĚŽ

ŶĞŵĞŶĚŝĐĞ

ĞĞŝůů

Theo van der Walt (BCom)

082 784 7212

theo.vanderwalt@

adviceworx.co.za

Ŷ

SERVICES & SALES

GUIDE

Plumbing

5

5090

5120

Building Services

Ž

ŽůĨĞĚ

Ğů

Ă

Ğůů

ŝŶĐĂĞĞůŬŽŵ

ůŝŶĞŝĚŽŶ

5122

Home Maintenance

5360

Garden Services

5570

Removals & Storage

5570

Removals & Storage

15m 2 Unit - R700p.m

20m 2 Unit - R850p.m

Long & Short

Term.

CONTACT

TANYA

082 565 8660

5510

Kennels and Pets

34 Atherstone Road

Port Alfred, EC

Dr L de Bruyn

Dr H Brink

Dr M Van Vuuren

Dr J Krüger

Consulting Hours:

Week days

08:00 -18:00

VET NOW AVAILABLE

AT LUNCH TIME

Saturdays & Public

Holidays 09:00 – 13:00

Sundays 10:00 – 12:00

Contact us:

Tel: 046 624 1092

Fax: 046 624 1092

Emergency No:

082 566 3502

GROOMING NOW

AVAILABLE!

Expanded kennels

& Cattery

5550

Misc. Wanted

SUNSHINE COAST

HOSPICE

Require stock for their

charity shop. We accept

anything including

furniture, crockery, cutlery,

kitchen and electrical

appliances, glassware,

ĂŝŶŶŐŽŶĂŵĞŶ

linen, curtains, clothes,

toys, books, bric a brac etc.

THE SHOP IS OPEN

EVERY WEDNESDAY

AND FRIDAY

ĨŽŵŚŚĂ

ŽůĨĞĚŽĂĚŽ

ůĨĞĚTel: 046 624 4107

5630

Services Offered

For the hiring of the

PORTABLE LED PROJECTOR,

HALL, FIELDS, CROCKERY,

TABLES, ETC. at / from

PORT ALFRED HIGH SCHOOL.

CONTACT: LAURA GUEST

084 607 6174

ŵĂŬĞŶŐΛĂŚĐŽĂ

U-Store

Clear your garage

or spare room of

ůŝůĞĞĚĐůĞ

ŽĞŝŚŽĞ

Secure, convenient

storage for individuals and

companies in container

ŽĂĞŚŽĞĨĂĐŝůŝĞ

located in Port Alfred's

prime industrial area.

Also store boats, vehicles

and camper vans.

ŽŵĞĞĂĞĂŶĚ

professional service.

Call Doug on

0832259688 or mail:

ĚĂŶĚŬĞŵΛŐŵĂŝůĐŽŵ

5630

Services Offered

All contents

of Homes.

sunshinecoast@movingon.co.za

www.movingon.co.za

Diane Hosty:

082 775 2777

WOODPECKER

INSTALLATIONS

Kitchens, bedroom

cupboards, decks,

windows, building,

plumbing and electrical,

ĂŝŶŶŐĐŽŶĂĐŽ

Lloyd 082-821-7997

woodpeckerjoinery.co.za

STORAGE:

Riversbend Industrial

Park, Bushman's

River; 15m2 Unit –

R450pm. Various

size units available.

Contact Louis:

082 574 2540

6

EMPLOYMENT

6150

Employment Wtd.

BONGANI is looking for

general work. He can

paint, build and do carpentry.

PHONE: 062 931

6344

MATILDA is looking for

part-time domestic job for

Thursdays

only.

References available.

Phone: 083 862 0609

6150

Employment Wtd.

PHUMEZA is looking for a

part-time domestic job for

Mondays, Wednesdays

and Fridays. References

available.

Phone:

073 719 4666

Thandeka is looking for a

care-giver job for full or

part-time. References

available.

Phone:

072 970 1520

6170

Estate Agents

RENTALS PROPERTIES

REQUIRED FOR

QUALIFIED TENANTS!

All Tenants are screened and

Credit checks are done.

We update payment profile

at the national credit bureau.

Contact us for professional

and Experienced property

management.

Contact Arlene Du Plessis

at Remax Kowie

Tel: 046 624 1110

arlene@remaxkowie.co.za

Harcourts Port Alfred

046 624 5222

rent.pa@harcourts.co.za

We have a number

Ǧ

CONTACT JILLIAN

046 624 5222 or

on 082 604 2733

NOTICES

IN THE ESTATE OF THE LATE ANTHONY

JOHN TREE, Identity Number 370626

5140 086 who was married out of

community of property and died on the

12 th December 2018 and resident at 52

Umdoni Downs, Port Alfred

ESTATE NUMBER 343/2019

The First and Final Liquidation Account

in the above estate will lie for inspection at

WKH2I¿FHRIWKH0DVWHURIWKH+LJK&RXUW

*UDKDPVWRZQ DQG WKH 0DJLVWUDWHV 2I¿FH

Port Alfred for a period of twenty-one days

from the 26 th April 2019

DATED at PORT ALFRED on this the 4 th

Day of April 2019

N STÖTTER

$JHQWIRUWKH([HFXWRU

Neave Stötter Inc

&DPSEHOO6WUHHW

PORT ALFRED

Ref: pk/MAT9407

IN THE ESTATE OF THE LATE BENJAMIN

BEZUIDENHOUT, Identity Number 440502

5085 082, who died on the 8 th April 2015

and JUDITH MARGARET BEZUIDENHOUT,

Identity Number 500704 0134 082, to whom

he was married in community of property, of

+LJK6WUHHW3RUW$OIUHG

ESTATE NUMBER 185/2019

&UHGLWRUVDQG'HEWRUVRIWKHDERYHGHFHDVHG

DUHKHUHE\UHTXHVWHGWRORGJHWKHLUFODLPV

ZLWKDQGSD\WKHLUGHEWVWRWKHXQGHUVLJQHG

within 30 days of the 26 th April 2019

DATED at PORT ALFRED on this 15 th

Day of April 2019

N STÖTTER

$JHQWIRUWKH([HFXWRU

Neave Stötter Inc

&DPSEHOO6WUHHW

PORT ALFRED

Ref: pk/MAT9402

COURIER SERVICES

DENTIST

ESTATE AGENTS

Help

Guide

AWNINGS, BLINDS & CARPORTS

CARPET & UPHOLSTERY

CLEANING

COMPUTER & PRINTER

SERVICES

DSTV

ELECTRICIAN

GAS SUPPLIES & SERVICES

HAIR STYLISTS

HOME RENTALS

MARINE & POWER PRODUCTS

TYRES

OPTOMETRIST

TREE FELLING
---
April 25, 2019 ADVERTISING / NEWSDESK: (046) 624 4356 Find us on Facebook

Talk of the Town 19

NDLAMBE MUNICIPALITY

PORT ALFRED

NDLAMBE MUNICIPALITY

PORT ALFRED

TENDER NOTICE

PROVISION OF HYDRAULIC RESCUE TOOL SET FOR FIRE

SERVICES

ITEM DESCRIPTION

1 JAWS OF LIFE

RESCUE TOOL SET

Bidders Shall Take Note of the Following Bid Conditions:

1. Prices must be valid for at least ninety (90) days from the closing date.

2. Prices quoted must be inclusive of VAT.

3. Ndlambe Municipality does not bind itself to accept the lowest bid or any other bid and

reserves the right to accept the whole or part of the bid.

4. Bids that are late will not be considered, whilst the lowest or only quotation will not

necessarily be accepted. Quotations per fax or E-mail will also not be considered.

5. ¿

6. ¿

a tax reference number and PIN or TCC number must be provided.

7. Bidders must complete Council's Declaration of Interest form (MBD4).

8. ¿MBD9).

9. Bidders who wish to claim for preferential points in terms of the Preferential Procurement

MBD 6.1 as well as a

of the proof of B-BBEE status level of contribution.

10. ¿

applicable, directors/owners) must accompany all bids.

11.

12.

¿

It should be noted that the 80/20 points system will be applied, 80 being for price and 20

¿

The abovementioned MBD forms are available for download from:

http://www.ndlambe.gov.za/index.php?option=com_docman&task=cat_view&Itemid=&gid=46

Tenders must be placed in sealed envelope marked "TENDER NUMBER 89/2019 -

PROVISION OF UNIFORM FOR FIRE SERVICE NDLAMBE MUNICIPALITY" and must

¿

12h00 on 13 MAY 2019.

NOTICE NUMBER: 89/2019

DATE: 26/04/2019

SPECIFICATION AND QUANTITIES

POWER UNIT:

HYDAULIC HOSE:

TWO x

SPREADER:

SHEARS/CUTTER:

RAMS:

ONE xONE x

RAM EXTENSION:

ONE x

ADV R DUMEZWENI

MUNICIPAL MANAGER

INVITATION TO TENDER – LIFEGUARD SERVICES -

2019/2020 PERIOD

Tenders are hereby invited from suitably accredited Lifeguard companies for the rendering of

¿

DETAILS OF TENDER

BEACH PERIOD REQUIRED NUMBER OF LIFEGUARDS

1. Fish River beach 14 Dec – 05 January 2020 3 Lifeguards

2. Kleinemonde (East) 14 Dec – 05 January 2020 3 Lifeguards

3. Port Alfred (East) 06 Dec – 05 January 2020 3 Lifeguards

4. Port Alfred (West) 06 Dec – 05 January 2020 3 Lifeguards

5. Boesmans River Beach 06 Dec – 05 January 2020 3 Lifeguards

6. Boknes Beach 06 Dec – 05 January 2020 3 Lifeguards

7. Boknes Lagoon 06 Dec – 05 January 2020 1 Lifeguard

8.

9. Kelly's Blue Flag Beach 01 Dec 2019 – 01 May 2020 4 Lifeguards

10. Kariega Blue Flag Beach 01 Dec 2019 – 01 May 2020 4 Lifeguards

BIDDERS WHO MEET ALL OF THE FOLLOWING CRITERIA WILL BE GIVEN PREFERENCE:

1. A minimum of 5 years' experience in providing lifeguard services along the Eastern Cape

also be a preference.

2.

3. All equipment to be provided by the successful bidder (includes communication via cell

ÀÀ¿

equipment, duty books, torpedo buoys and other).

4. All transport requirements of the lifeguards are the responsibility of the successful bidder,

including the daily transport of lifeguards and equipment to and from the beaches

concerned.

5. Preference to be given to local lifesavers (lifesavers from the Ndlambe municipal area)

6.

supervisors etc. and ensure they are adequately looked after, fed etc.

7. The appointed service provider is required to submit an "End of Season Report" to Ndlambe

reports per Blue Flag Beach)

8.

beaches.

9. -

cell phone).

10.

them to plan effectively.

¿¿¿

¿

¿¿

Flag Full Status beach.

service

03 May 2019

at 08h00

River to Boknes.

15. For further information please contact the Beach manager on 046 604 5527.

-

BIDDERS SHALL TAKE NOTE OF THE FOLLOWING BID CONDITIONS:

a) ¿

b)

c) Proof of Company registration must be provided

d) ¿

e) Evidence of registration of company on the Central Supplier Database must be provided (CSD

"MAAA" number).

f) MBD4).

g) ¿MBD9).

h)

Regulations, 2017, must submit a completed form MBD 6.1CERTIFIED COPY

of the proof of B-BBEE status level of contribution.

i) ¿

to be provided.

j)

¿

k)

The abovementioned MBD forms and proposed Service Level Agreement (SLA) are

¿¿.

Proposals must be submitted in sealed envelope clearly marked "NOTICE 92/2019 - LIFEGUARD-

ING TENDER 2019/2020" and be placed in a tender box in the ¿,

not later than 12:00

Centre at 12:00 on the same day.

For enquiries contact telephone 046-604 5527 or Ms T Mapekula on 046 604

5606 for Supply Chain related enquiries.

NOTICE NUMBER 92 / 2019

ADV R DUMEZWENI
---
20 Talk of the Town ADVERTISING / NEWSDESK: (046) 624 4356 Find us on Facebook

April 25, 2019

ENJOYING THE VIBE: From left, Bryan Mentz and Lyle Schentke of EP Bodyboarding with Bernadette

Nel-Naude of Atlas Security at the opening ceremony of the Royal St Andrews Hotel Amanzi

Challenge last Friday night

Pictures: JON HOUZET

NDLAMBE MUNICIPALITY

PORT ALFRED

SURFERS REPRESENT: From left, Richard Heny, Dave Macgregor and his son Kye at the opening

ceremony of the Royal St Andrews Hotel Amanzi Challenge last Friday night

NDLAMBE MUNICIPALITY

PORT ALFRED

INVITATION TO TENDER

TRANSPORTATION OF LIVESTOCK FOUND IN PUBLIC OPEN

SPACES THROUGHOUT THE AREA OF JURISDICTION OF

NDLAMBE MUNICIPALITY TO THE ALEXANDRIA POUND

Tenders are hereby invited for the transportation of livestock found in Public Open Spaces

throughout the jurisdiction of Ndlambe municipality, to the Alexandria Pound for the 2019/2020

¿

SPECIFICATIONS:

The livestock truck to be used needs to meet the requirements of relevant legislation

The truck, the driver and a team of herders must be available 24 hours per day, 7

days a week so that it can respond to call outs of stray animals when reported by the

¿¿

All livestock loaded need to be recorded at the nearest South African Police Services

A logbook is to be kept of all call outs, kilometers travelled, start and end times, load

carried and be made available for inspection when requested by a duly authorised

¿

Bidding fees should include and specify, the following:

Rate per kilometer for travelling

Rate per hour for call-out

Rate per head of livestock to transport

BIDDERS SHALL TAKE NOTE OF THE FOLLOWING BID CONDITIONS:

¿

Ndlambe Municipality does not bind itself to accept the lowest written quotation or any

Proof of Company registration must be provided

¿

Evidence of registration of company on the Central Supplier Database must be provided

Bidders must complete Council's Declaration of Interest form (MBD4

¿MBD9

Bidders who wish to claim for preferential points in terms of the Preferential Procurement

Regulations, 2017, must submit a completed form MBD 6.1 as well as a CERTIFIED

COPY

¿

It should be noted that the 80/20 points system will be applied, 80 being for price and

¿

available for download from:

¿

¿. Proposals must be submitted in sealed envelope clearly marked "NOTICE

93/2019 - TRANSPORTATION OF LIVESTOCK" and be placed in a tender box in the

¿, not later than 12:00

2019 Tenders will be open at Civic Centre at 12:00

For enquiries contact telephone 046-604 5527 or Ms T Mapekula on 046 604

NOTICE NUMBER 93/ 2019

ADV R DUMEZWENI

INVITATION TO SUBMIT FORMAL WRITTEN QUOTATIONS

SERVICE PROVIDER / AGENT FOR NDLAMBE MUNICIPALITY:

ISSUING OF BOAT LICENCES:

1 JULY 2019 to 30 JUNE 2020

Ndlambe Municipality invites interested parties to submit quotations to be a Service Provider/

Agent for the issuing of boat licences on behalf of the Municipality.

¿

1. Applications are hereby invited for a Service Provider to issue boat licenses in the

Port Alfred area.

2. Successful Bidders will be required to enter into a Service Level Agreement with

Ndlambe Municipality for rendering the service of issuing boat licenses in terms of the

By-law for the Control of Boats and others activities on the rivers within the Ndlambe

area of jurisdiction, 2003.

3. The Service Level Agreement will come into effect once it has been signed by both

parties and will run from the date signed up until 30 June 2020.

4. All personnel appointed must be suitably trained by the Service Provider (assistance

may be given by the municipal representative) to deal with monies received from the

Public and permits issued to them. The person dealing with the Public must be able

to converse in English.

5. It is imperative that the Service Provider makes a card system pay-point available

for payment purposes and costs incurred in this regard will be for the account of the

Service Provider.

6. For convenience purposes, the Service Provider should have premises close to boatlaunching

sites. It will also be necessary for the successful Bidder to work outside of

normal working hours, i.e. weekends and public holidays.

7. The Service Provider and all personnel must have a broad knowledge of the Ndlambe

Municipal By-law: Regulations for the control of boating and other activities along the

Ndlambe rivers, promulgated in 2003.

8. The successful Bidder will be required to have the best interests of the Municipality

at all times in their duties as an Agent of the Municipality.

9. The Service Provider will be responsible for the safekeeping of all cash received until

¿

10. An agreed fee per services will be based on the Ndlambe Municipal Council decision.

It must be noted that the fee is per annual boat registration license / permit from

the 1 st July 2019 to the 30 th June 2020, excluding VAT.

11. All monies received and paid over to the Municipality are to be accompanied by corresponding

and balancing spread-sheets to be given to the Environmental Conservation Unit.

12. The Service Provider shall, on a monthly basis, compile a boat owner database of all

boat registrations issued.

13. Ndlambe Municipality does not bind itself to accept the lowest bid or any other bid

and reserves the right to accept the whole or part of the bid.

a) Bids that are late will not be considered, whilst the lowest or only quotation will not

necessarily be accepted. Quotations per fax or E-mail will also not be considered.

¿

¿

PIN or TCC number must be provided.

d) Bidders must complete Council's Declaration of Interest form (MBD4).

¿(MBD9).

f) Bidders who wish to claim for preferential points in terms of the Preferential

MBD 6.1 as well as

a of the proof of B-BBEE status level of contribution.

¿

bidder being a company, also in respect of any of its directors).

h) Evidence of registration with National Central Supplier Database (CSD) must be

provided ("MAAA" number).

It should be noted that the 80/20 points system will be applied, 80 being for price and 20 for the

¿

The award will be made in terms of the Municipality's Supply Chain Management Policy.

The abovementioned MBD forms and proposed Service Level Agreement (SLA) are

available for download from:

http://www.ndlambe.gov.za/index.php?option=com_docman&task=cat_view&Itemid=&gid=46

¿

separately in a sealed envelope marked "NOTICE NUMBER 94/2019 - PROVISION TO ACT

AS AN AGENT AND SELL BOAT LICENCES FOR NDLAMBE MUNICIPALITY, and must be

later than 12h00 on 13 May 2019.

For enquiries contact Mr SJ Fouché – telephone 046-604 5527 or Ms T Mapekula

046 604 5606 for Supply Chain related enquiries.

NOTICE NUMBER 94/2019

ADV R DUMEZWENI
---
April 25, 2019 ADVERTISING / NEWSDESK: (046) 624 4356 Find us on Facebook

Talk of the Town 21

RIDING THE WAVES: Bodyboarders glide through the waves at the SA Bodyboarding Champs last Friday, which is part of the Royal St Andrews Hotel Amanzi Challenge

Pictures: JON HOUZET

NDLAMBE MUNICIPALITY

PORT ALFRED

NDLAMBE MUNICIPALITY

PORT ALFRED

INVITATION TO TENDER

SHREDDING OF GARDEN REFUSE - WARDS 2, 3 & 4

(CANNON-ROCKS, BOKNES, KENTON-ON-SEA &

BUSHMANS RIVER MOUTH)

Tenders are hereby invited for the rendering of shredding (chipping) of garden refuse within

the area of Wards 2,3 and 4 (Cannon Rocks, Boknes, Kenton-on-Sea and Bushmans River

¿

SPECIFICATIONS:

-

¿

BIDDERS SHALL TAKE NOTE OF THE FOLLOWING BID CONDITIONS:

a) ¿

b)

c) Proof of Company registration must be provided

d) ¿

e)

f) MBD4

g) ¿MBD9

h)

MBD 6.1CERTIFIED

COPY

i) ¿

j)

¿

k)

¿-

¿. "NOTICE 91//2019

- SHREDDING OF GARDEN REFUSE" Municipal

¿, 12:00 Tenders

12:00

NOTICE NUMBER 91 / 2019

ADV R DUMEZWENI

INVITATION TO TENDER

INVITATION TO TENDER - SUPPLY AND DELIVERY OF

WHEELIE BINS

Tenders are hereby invited for the supply and delivery of Wheelie Bins as follows:

REQUIREMENTS:

1. Supply and delivery of 1000 (One Thousand Only) Wheelie Bins to Ndlambe Municipality:

2. ¿

SABS standard;

Heavy-duty plastic;

240 litre capacity;

Green in colour;

1080mm in height; 580mm in width, 640mm in length;

Rubber wheels and galvanised steel axles.

3. Bidder to produce a sample of offered bin during the Bid Evaluation process.

4. Delivery must be to the Port Alfred Municipal Stores and take place within 14 days of

receiving the award.

BIDDERS SHALL TAKE NOTE OF THE FOLLOWING BID CONDITIONS:

a) ¿

b) Ndlambe Municipality does not bind itself to accept the lowest written quotation or

any other quotations and reserves the right to accept the whole or part of the formal

request.

c) Proof of Company registration must be provided

d) ¿

a tax reference number and PIN or TCC number must be provided.

e) Evidence of registration of company on the Central Supplier Database must be provided

(CSD "MAAA" number).

f) Bidders must complete Council's Declaration of Interest form (MBD4).

g) ¿MBD9).

h) Bidders who wish to claim for preferential points in terms of the Preferential Procurement

Regulations, 2017, must submit a completed form MBD 6.1 as well as a CERTIFIED

COPY of the proof of B-BBEE status level of contribution.

i) ¿

are to be provided.

j) ¿MBD

6.2). The minimum local production content threshold in respect of the required goods,

as determined by the DTI, is 100%.

k)

¿

2017.

l) The award will be made in terms of the Municipality's Supply Chain Management Policy.

The abovementioned MBD forms are available for download from:

¿-

¿. Proposals must be submitted in sealed envelope clearly marked "NOTICE 90/2019

- WHEELIE BINS" and be placed in a tender box in the ¿,

not later than 12:00

For enquiries contact telephone 046-604 5527 or Ms T Mapekula for Supply

Chain related enquiries.

NOTICE NUMBER 90 / 2019

ADV R DUMEZWENI
---
22 Talk of the Town ADVERTISING / NEWSDESK: (046) 624 4356 Find us on Facebook

April 25, 2019

Trail run fitting start to Challenge

The Royal St Andrews Hotel Amanzi

Challenge kicked off with an 8km

Trail Run organised by the Kowie

Striders last Friday morning.

Just under 100 participants set off

across the Royal Port Alfred Golf Course

at 7.30am. Most were keenly competitive

runners, with walkers bringing up the

rear. Jon Houzet and Adele Steck from

Talk of the Town joined the throng.

On the other side of the golf course,

marshals handed out much appreciated

Easter eggs to give runners an energy

b o o st .

From there the route followed a stretch

of road and then onto the beach at

Saltvlei. It was tough going on the

beach as the sand was soft. Opting to

walk over the rocky areas was tricky in

case of a fall.

There was much relief when the route

moved off the beach at Kelly's Blue Flag

Beach. From there it was an interesting

little loop on tar and dirt roads just

behind the beach until we groaned at the

prospect of another stretch of beach at

West Beach. But here the sand was much

firmer and a pleasure to walk on in the

beautiful morning weather, observing the

start of the SA Bodyboarding Champs

taking place at the beach.

Marshals directed us to a short stretch

on the Kowie River towpath just past

Guido's, then along Beach Road and up

the notorious old concrete staircase that

caused a number of participants to slow

down and take a breather.

The staircase leads to Grand Street and

from there we went down Muller Drive

and entered the final stretch on a trail

through dune bush behind Medolino

Caravan Park, before coming out a

st o n e 's throw from the finish at the Royal

St Andrew's Hotel.

The winner of the race was Vusi Zondo

in a spectacular time of 26:51, with Nikelo

Lolwana second in 27:48 and Sinethemba

Jilingisi third in 28:07.

First woman home was Asanda Zamisa

in 36:16, with Roxi Smith second in 36:33

and Jene Banfield third in 38:45.

Among the walkers, and coming in

ahead of a couple of runners, Jon Houzet

was proudly first in one hour 11 minutes

and 18 seconds.

Cash prizes were awarded to the

winners, including in age categories.

WINNERS ALL: The top five male finishers in the 8km

Trail Run, back from left, Nikelo Lolwana (second), Vusi

Zondo (first), Sinethemba Jilingisi (third), Sizakele

Dayimani (fourth) and Ndoda Jekana (fifth), with, in

front, BS Sports CEO Sxeaks Nkwinti, the man behind

the Royal St Andrews Hotel Amanzi Challenge

INSPIRING FINISH: The oldest entrant in the 8km Trail Run and winning a

prize for her efforts was Glenda Hicks, 81, pictured with Linda Bekker of

the sponsor, the Royal St Andrews Hotel

Pictures: JON HOUZET

Hoërskool P.J. Olivier

Grahamstad

Waar kinders gelukkig is!

AANSOEKE VIR 2020

NOU BESKIKBAAR.

Tel 046-6223322

admin@hspjolivier.co.za

Respek Integriteit Omgee

TOP WOMEN: The first

five women across the

finish line in the 8km

Trail Run were, from

left, Roxi Smith

(second), Asanda

Zamisa (first), Jene

Banfield (third), Jacky

Kobokana (fourth) and

Caroline (no surname

provided) in fifth place

IN THE ESTATE OF THE LATE PIETER

WILLEM JACOBUS NEL, Identity Number

360910 5053 081 who died on the 28 th

January 2018 and CHRISTINA ALLETA

NEL, Identity Number 420423 0031 084

to whom he was married in community of

property, of 20 Lancing Street, Port Alfred

ESTATE NUMBER 609/2018

The First and Final Liquidation Account in

the above estate will lie for inspection at

¿

Grahamstown and at the Magistrate's Court,

Port Alfred for a period of twenty-one days

from the 26 th April 2019

DATED at PORT ALFRED on this 5 th Day

of April 2019

N STÖTTER

Agent for the Executor

Neave Stötter Inc

37 Campbell Street

PORT ALFRED

Ref: pk/MAT8747

IN THE ESTATE OF THE LATE JANET

MARIE STIRK, Identity Number 341223

0010 088, of Damant Lodge, Port Alfred,

who died on the 16 th February 2019 and

who was married out of community of

property

ESTATE NUMBER 960/2019

Creditors and Debtors of the above

deceased are hereby requested to

lodge their claims with and pay their

debts to the undersigned within 30 days

of the 26 th April 2019

DATED at PORT ALFRED on this the

8 th April 2019

N STOTTER

Executor

Neave Stotter Inc

37 Campbell Street

PORT ALFRED

Ref. pk/MAT9518

IN THE ESTATE OF THE LATE VALERIE

MARY KITKAT, Identity Number 400106

0045 089 who was a widow and died on the

10 th February 2016 and resident at Dolphin

Coast Nursing Home, Kenton on Sea

ESTATE NUMBER 1841/2016

The First and Final Liquidation Account

in the above estate will lie for inspection at

¿

¿

Port Alfred for a period of twenty-one days

from the 26 th April 2019

DATED at PORT ALFRED on this the

10 th Day of April 2019

JS NEAVE

Co-Executor

Neave Stötter Inc

37 Campbell Street

PORT ALFRED

Ref: pk/MAT7583

IN THE ESTATE OF THE LATE NORMAN

WHITFIELD TURNER, Identity Number

300603 5010 085 who was a widower and

died on the 6 th October 2018 and resident

at Damant Lodge Frail Care, Port Alfred.

ESTATE NUMBER 3475/2018

The First and Final Liquidation Account in

the above estate will lie for inspection at

¿

¿

Port Alfred for a period of twenty-one days

from the 26 th April 2019

DATED at PORT ALFRED on this 4 th Day

of April 2019

N STÖTTER

Executor

Neave Stötter Inc

37 Campbell Street

PORT ALFRED

Ref.: pk/MAT9259
---
April 25, 2019 ADVERTISING / NEWSDESK: (046) 624 4356 Find us on Facebook

Talk of the Town 23

ANOTHER BEAUTY: William Duncan, from the

same boat as Wayne Macintosh, with his

8.25kg dorado

KOB WAS PLENTIFUL: Joe Lee with a 3.5kg kob

at the weigh-in of the Port Alfred Ski-boat

Club's annual Easter fishing competition

DEEP-SEA TREASURE: Wayne Macintosh with an

enviable 8.75kg dorado

Excellent Easter fishing competition

JON HOUZET

Though not part of the Amanzi Challenge, the

Port Alfred River and Ski-boat Club (PARSC)

held their annual Easter fishing competition

last weekend, opting to finish on Good Friday

because of predicted deteriorating conditions

over the weekend.

PARSC chair Keith Fryer said it was a very

successful competition with 18 boats taking

part, including a lot of out-of-towners.

Two boats – No Fear and Sunfish – shared

first place in the bottom fishing section of the

competition, splitting the R12,000 cash prize.

COLOURFUL CATCH: Kallie Ludicke from the boat

Duimpie with his 4.4kg Miss Lucy

Dave Duncan on Tintin won the game

fishing section, getting R7,500.

The best angler was Flakkie de Villiers from

Kenton-on-Sea, who caught four species,

winning himself R3,000 and a rod and reel.

"It was a species competition, and anglers

were only allowed to weigh in one fish per

SLIPPERY ONE: Albert Kolver had to get a grip on

his 5.05kg kob at weigh-in Pictures: JON HOUZET

species. We don't want to purge the ocean,"

Fryer said.

"A few guys didn't get it and we had to

explain the rules to them, but the bulk of the

guys went for species.

"There were 12 species that could be

caught and there were minimum weights."

NEW VENUE FOR FUNCTIONS: The Volo Function

and Conference Venue in Kenton-on-Sea offers a

fully equipped intimate venue for small to

medium sizes groups of 70 to 100 people

New development at The Volo

Since Eugene and Ruleen de Witt started

refurbishing The Volo in June 2018, a lot has been

achieved in the interest of enhancing the customer

experience.

This includes a total makeover of the bar area,

new air-conditioning, and smoke extraction in the

smoking areas, and refurbishment in the gaming

area. The new Volo Pizzeria with a wood-fire pizza

oven has a regular following of locals and visitors to

Kenton-on-Sea.

The Shipwreck Gin and Cocktail bar is open every

Friday and Saturday out of season, where the theme

is "chill to chill music" while sipping a great gin or

and exotic cocktail after work or before dinner. The

cocktail bar is available for private functions such

as book clubs and bachelorettes parties.

The latest development, The Volo Function and

Conference Venue, recently opened. This venue

offers a fully equipped intimate venue for small to

medium sizes groups of 70 to 100 people.

The Volo Function and Conference Venue is the

upstairs area above Continental Restaurant,

equipped with a stage, mobile podium, permanent

quality sound, drop down screen for projection

including a proxima. It is also fully air-conditioned.

There is a bar area that can be provided with

service and stock for functions. Catering for every

taste can be done on site from Continental

Restaurant and or the pizzeria. The Shipwreck Gin

and Cocktail bar downstairs can be used for

pre-function drinks if required.

OPTIONAL SERVICE: The bar area of the Volo

Function and Conference Venue, located above

the Continental Restaurant in Kenton-on-Sea

PORT ALFRED BRIDGE CLUB

Results for Thursday, 18 April 2019

Red Section (7tables)

N-S 1st C Fletcher & A Osinski 58.9%

2nd C Hill & H Webber 54.3%

E-W 1st H Clohessy & G Wallace 60.8%

2nd N Wood & R Wood 58.8%

Green Section (9 tables)

N-S 1st L Inglis & L Lombard 66.3%

2nd L Stephens & J Rogers 65.8%

E-W 1st B Osborne & S Shaw 64.2%

2nd W Jurgensen & L Wisener 56.3%

Board 7 (from April 15th): Dealer S,

both vulnerable

¹ Exclusive bid (excludes Spades and clubs), showing the two red suits.

The table shows two possibilities (there are more) for bidding Board 7.

Although North has a hand powerful enough to double, the shortage in

clubs, taken together with the shortage in spades, is likely to result in a

club response from South; possibly after a pre-emptive raise in spades

from East. The 3C bid in 1 shows a 'red two suiter' and the hand is powerful enough to make a

further bid, even if South passes initially and East raises spades.

À

with a potentially useful distribution, plus no defensive values.

If N-S bid to 5H, West should not double, because it will alert declarer to play for a 4:1 heart

ÀÀ

will reveal the heart position to North; who may decide to bid (and make) 6D by playing for the

revealed heart position.

Results by section

Red Section 4H+1; 5D+1; 5H=; 5H*= (2); 5S*-1; 5S**-1

Green Section 4H=; 4H+1; 5H-1; 5H=; 5H*= (2); 5S*-1; 5S*-2; 6H-2

Full results at: www.pabridge.co.za, including details of all the hands.

Results for Monday, 22 April 2019

Red Section (5 tables)

N-S 1st T Paterson & A Ridderhof 61.0%

2nd H Clohessy & G Wallace 50.8%

E-W 1st C Fletcher & A Osinski 62.4%

2nd Patricia & David Townsend 50.4%

Green Section (5 tables)

N-S 1st T Versfeld & J Gie 53.0%

2nd C Bennet & P Bailes 52.0%

E-W 1st L Stephens & J Rogers 62.5%

2nd A Corrans & C Hill 58.5 %

Board 9: Dealer N, E-W vulnerable

Alert listeners can often elucidate information concerning relative strengths

from bids and absence of bids!

This sequence is easy to read by South in that North has made a minimum

opening; East has made a minimum double, presumably holding both majors. Therefore assume

À

suit to justify a bid. You have good diamonds and a potentially useful club suit, so bid 4D.

À

lead. From the bidding East is sure to have a maximum of one diamond; so lead the diamond 2.

This will, or should be. Interpreted by partner as a suit preference signal, to win the trick and lead

back a club. South obliges by leading back the club Queen, and the contract goes down.

When South wins the trick with the diamond Queen it is obvious that North holds the diamond Ace,

so must have reason for not playing it, after noting from the bidding that the defenders are likely to

À

Results by section

Red Section Pass, 3D+1; 3D+3; 3H=; 4S+1

Green Section 3H-2; 3H=; 4D=; 5D=; 5C-1

Full results at: www.pabridge.co.za, including details of all the hands.
---
24 Talk of the Town ADVERTISING / NEWSDESK: (046) 624 4356 Find us on Facebook

April 25, 2019

MARINA PRIZE WINNERS

There was a good turnout of all ages for the Marina Mile on Saturday, one of the events of the Royal St

Andrews Hotel Amanzi Challenge. Swimmers had a wet start at the entrance to the first marina canal

after jumping in the water from the Halyards Hotel jetty. According to the rules, wetsuits were optional

as the water temperature was between 18 and 20°C, but anyone using a wetsuit was not eligible for a

prize. Prizes were awarded in various age categories, and there were also lucky draws.

OLD MEN OF THE RIVER: Rod Allin, left, and

Eddie Wepener were two of the oldest

participants in the Marina Mile last Saturday,

and both were bloodied for their efforts when

they encountered some rocks

Picture: JON HOUZET

LIKE FISH IN WATER: The two top spots in the

Marina Mile went to Hannah Counihan, who

was the first woman finisher in 23:12, and

Jordan Denyer, who was first overall in 23:01

Picture: JON HOUZET
---
April 25, 2019 ADVERTISING / NEWSDESK: (046) 624 4356 Find us on Facebook

Talk of the Town 25

NO MORE WATER FROM SETTLERS

Brace yourselves, residents of Makhanda

(Grahamstown). The latest information available to the

Grahamstown Residents' Association is that Settlers

dam is now too empty to pump water from it.

Neighbouring dam Howiesonspoort – much smaller

than Settlers – still has water but is likely to be too

empty to use by the end of April.

The good news is that there has been some

improvement to the infrastructure at James Kleynhans

water works, and this will result in a continued flow of

water into Makhanda.

In the meantime, residents should reduce water

usage as much as possible.

There may have been jubilation in the wet streets of

Makhanda following the Easter weekend rain, but

much more is needed, particularly in the Settlers dam

catchment area.

Meanwhile, in a statement issued on Monday,

residents of Makhanda West were earnestly requested

by Makana Municipality to reduce water usage.

The statement read, in part: "Instead of 50 litres per

person per day, the municipality appeals to residents

to reduce usage to 25 litres per person per day until

Wednesday (April 24)."

It appears that the pump at Howiesonspoort

developed a fault and no water was being pumped to

Waainek waterworks.

The statement continued by saying the municipality

was managing the supply of water through reducing

outflow from the reservoirs. It was expected that

service providers would attend to the second pump on

Tuesday, and pumping would resume thereafter.

BENTWOODS LEAVES CAWOOD

I noticed last week that The Knock Shop, owned by

Craig Fourie, has moved from premises in Cobden

Street to 2A Cawood Street, home of Bentwoods

Antiques up to now.

A little bit of research later and I discovered that

owner Sue Drake has decided to retire, and she closed

Bentwoods mid-April after 15 years of trading.

Regular customers were dismayed.

Older Grahamstonians, and former Grahamstonians

who have retired to the coast, may remember that

back in the 1960s Reg Wesson operated Wesson's

Service Station from 2A Cawood Street.

Thereafter Neville and Susan Koch owned Wesson's

at the same address before moving to 23/25 Beaufort

Street, and then to 39 High Street, adjacent to

Commem Methodist Church where they continue to

operate to this day.

Readers may also remember that The Knock Shop

traded in upper New Street for many years under the

ownership of Knockie and Di Wakeford, before their

retirement.

GREEN, AMBER, RED BACK

There was dismay among Makhanda

(Grahamstown) citizens on Monday last week when

the traffic lights in front of the Cathedral were

switched on again, quite suddenly, it seems.

For several months the lights were not in operation

due to technical issues, and local motorists rejoiced at

the newly found 'freedom of movement' at that busy

intersection.

"It used to be bliss until they switched the lights

back on," said one unhappy motorist. "Now, that is

gone once again, and we are forced to wait several

minutes for the lights to turn in our favour."

The past 10 days have seen much congestion on the

western side of the Cathedral since the lights have

been back in operation.

Yes, the traffic situation without traffic lights

appeared to work rather well, in my opinion. Only

problem, I witnessed on occasion, were nervous

pedestrians dodging traffic, and taxis not waiting their

turn.

MOVING

The layout and design of the Makhanda

(Grahamstown) column you are presently reading in

Talk of the Town will be the last to be undertaken in

the offices of Newspaper House at 19 Baakens Street

in Port Elizabeth.

It was announced last week that The Herald and

Weekend Post newspapers would be moving their

editorial functions from Baakens Street, where they

have been for 66 years, to Greenacres this week.

The move includes the group's community

newspapers, Talk of the Town included.

One of the staff members who will be moving a few

kilometres up the road is Helen Claassens, who is

responsible for the editorial layout of Talk of the Town,

who has been with the group for 21 years.

Helen has been designing the

Grahamstown/Makhanda page for the past six or

seven years, and I am pleased to say she has been

doing a jolly fine job. We may have been working

together for so long, as it were, but we have not met

each other face-to-face yet – just phone calls and

e-mails.

Helen told me this week she's "looking forward to

the move".

All the newspapers in the group will continue to be

printed at its plant at Hunters Retreat.

BLIND LIBRARY CELEBRATES

The Makhanda-based (Grahamstown) SA Library for

the Blind, which celebrates its centenary this year, will

showcase the work of blind and visually impaired

artists in a unique exhibition during this year's

National Arts Festival.

Interested artists are invited to submit photos or

CELEBRATING: Last Saturday saw the 50th staging of the Two Oceans ultra-marathon over 56

kilometres in Cape Town, and special medals were handed to finishers to mark the occasion.

Displaying their medals at the finish on the University of Cape Town campus are Stephen Penney

(Kowie Striders) and Terri-Lynn Penney (Nedbank Athletics Club). Between them they have 42 Two

Oceans ultra-marathon medals, Stephen 27 and Terri-Lynn 15

videos of their work, along with personal details, to

Natasha.agnew@salb.org.za by May 15.

In the book "Grahamstown Reflected" published in

1995, author Emily O'Meara wrote of the library's

founder, Miss Josie Wood: "In 1962 she became the

first Freeman of the City of Grahamstown. Nearing 90,

frail and beautiful, at the civic ceremony she sat

beneath the portrait of her father, who had been first

mayor of the city exactly one hundred years before."

O'Meara also wrote of the library buildings: "Even

the lift – a rarity in low-rise Grahamstown – has a set

of braille buttons."

FINISHING TOGETHER

A 'local' feature of this year's Old Mutual Two

Oceans ultra-marathon and half-marathon in Cape

Town on Saturday is that one Makhanda

(Grahamstown) couple finished together in the

ultra-marathon and another couple finished together in

the half-marathon.

Stephen Penney (Kowie Striders) and Terri-Lynn

Penney (Nedbank Athletics Club) finished the 56km

ultra together, Stephen credited with the time of 5

hours 17 minutes 25 seconds and Terri-Lynn one

second later. They completed their 27th and 15th Two

Oceans ultras respectively.

Richard Foss of Albany Saints & Sinners Multi-Sport

Club completed his 14th Two Oceans ultra in 6 hrs 50

mins 18 secs, while clubmate Ryan Bruton was clocked

in at 5 hrs 59 mins 50 secs.

Colin and Karen Meyer of Albany finished the Two

Oceans half-marathon (21km) together in 2 hrs 33

mins 41 secs and 2 hrs 33 mins 43 secs respectively.

Karen Meyer completed her ninth Two Oceans half on

the day and Colin Meyer his fifth.

Clubmate Colin Price-Smith finished his 14th Two

Oceans half-marathon in 2 hrs 20 mins 16 secs.

AWARDS AT VG

Victoria Girls' High School has awarded cultural

Half-Colours to Onke Sentile, Hlonela Yamiso,

Bathandwa Mgquba, Catherine Frost and Sixolile

Mafani, while tennis Half-Colours have been awarded

to Nthabiseng Mohapi.

Meanwhile, the swimming victrix trophy winners are

Ellie Amner (U19), Catherine Frost (U16) and Alyson

van der Merwe (U14).

RESULTS FROM FESTIVALS …

The First XVs of Graeme College, Kingswood College

and St Andrew's College spent the Easter weekend

taking part in rugby tournaments up north, Gauteng to

be exact.

At the St John's College rugby festival, Graeme was

defeated by Windhoek Gym 24-37, went on to beat St

Charles College 19-10, and lost 7-15 to Daniel Pienaar

Technical High on the final day.

Kingswood lost 10-20 to SACS at the St Stithian's

Easter festival, and lost 7-28 to Maritzburg College.

At the same festival, St Andrew's went down 10-17 to

Rondebosch Boys' High, beat Michaelhouse College

SWIMMING

STARS: Among

the sports and

cultural awards

made recently

to pupils by

Victoria Girls'

High School

(VGHS) were

the trophies to

the swimming

victrix winners.

They are, from

left, Alyson van

der Merwe

(U14),

Catherine Frost

(U16) and Ellie

Amner (U19)

THE BEAT: Aswyn Classen (above) is a member

of the Graeme College steelband, and he is seen

playing the pan at the Rhodes University

graduation garden party, with the clock tower

looming in the background. He and the other

members of the band are currently preparing

for the Port Rex Lions Eisteddfod in East London

at the beginning of May Picture: SID PENNEY

40-19, and beat Parktown Boys' High 68-5.

ON THE RANGE

Entries close on Friday, April 26 for the Eastern

Province Small-Bore Rifle Association championships

to be shot on the Rhodes University rifle range on

Saturday May 4 (from 9am).

The prone championships will be shot in A, B, C and

F classes. Entry details and further info can be

obtained from Gerrit Vlok at 082 362 2916 or via

e-mail at gerritvlok@hotmail.com

IN THE ROUGH

Makhanda (Grahamstown) road runner Jene

Banfield went off-road last Friday and was third lady at

the 8km trail run held as part of the Royal St Andrew's

Hotel Amanzi Challenge in Port Alfred. Banfield was

17th overall in 38 minutes 45 seconds.

Other Makhanda athletes to finish were Jeanne du

Toit (57th in 50 mins 47 secs), Paul Caiger (59th in 51

mins 12 secs) and Peter du Toit (60th in 51 mins 50

secs).

Oh, and very well done to Talk of the Town staffers

Jon Houzet and Adele Steck who entered as walkers.

Houzet was first walker to finish.

STABLEFORDS AT BELMONT

Scoring 34 points, Paul Davies won last Friday's

individual stableford at Belmont Golf Club, with Gulio

Marabini runner-up on 33. Two-clubs were recorded by

John Williamson (11th) and Gavin Dugmore (15th),

while Sean McCallum was nearest the pin on the 8th.

Then, on Saturday, Cyril Tarr won the individual

stableford with 35 points, with Pieter Oosthuizen

second on 33.

EASTER IN THE GARDENS

With many of the usual participants away for the

long weekend, 105 runners, joggers and walkers took

to Makana botanical gardens for the Easter Saturday

edition of parkrun.

First finisher Jonathan Benjamin completed the 5km

course in 18 minutes 48 seconds, with Cee-Jay

Porthen second in 20 mins 56 secs and Rodney

Westgate third in 21 mins 33 secs.

Benjamin's time is a new course record set by a

registered parkrun participant.

In the ladies' division, Elisa Kirigin was first in 27

mins 22 secs, Tosca Stoloff was second in 27 mins 56

secs and Tamzin Griffith third in 28 mins 28 secs.

Well done to Erika Human on completing her 50th

parkrun.

Parkruns are held at 8am each Saturday from the

entrance to the botanical gardens in Lucas Avenue.

G LO W I N G

A 'Glow in the Dark' fun run and walk (2km or 5km),

convened and organised by Grahamstown SPCA, takes

to local streets on Tuesday, May 7, and convenors are

encouraging participants to dress as brightly as they

can.

The fund-raising event starts at the Grahamstown

Bowling Club in African Street at 5.30pm. Entry fee is

R20 for adults, R10 for children under-12 and R10 for

dogs.

For more info e-mail glowingmay@gmail.com

FESTIVAL ON ANOTHER SQUARE

What a jolly fine idea the convenors have come up

with. They're going to block off parts of Cross Street

and Bartholomew Street from 1pm to 6pm on

Wednesday, May 1 to hold the 'Sunnyside Street

Fe st i va l ' in the area of Artificers Square.

The event, aimed at creating a festival atmosphere

and community building, will have live music, food

stalls, various performances, plus arts and crafts

st a l l s .

GOWNING GLORY

Well, that's another graduation ceremony done and

dusted, and a year's wait for the next one, an annual

'pomp and ceremony' event that turns the 1820

Settlers National Monument into a sea of colour

(mainly red, it seems), much like arts festival shows in

the same auditorium.

In the coffee-table book "Grahamstown Reflected"

published in 1995, author Emily O'Meara describes

Rhodes University's graduation ceremonies in her

inimitable, flowery style.

She wrote, way back in the 1990s, when most of this

year's graduates were babes in arms, or not born yet:

"The gowning glory of the Rhodes graduation

ceremonies every April – an unforgettable experience

for everyone from the blushing BA to the greying

dignitary receiving an honorary doctorate in

recognition of a lifetime's work.

"The weekend when the university unites to see its

ongoing purpose fulfilled by different degrees in an

all-pervading glow of success.

"The young batting about in basic black; the

professors hardly recognisable in the medieval

richness of their robes, some sporting mortar boards

and floppy velvet bonnets at rather rakish angles.

"Education is Grahamstown's main industry and

Rhodes the main producer. Not assembly line

think-alikes but individuals encouraged to shine in

their own special way."

MUSICAL NOTES

The Grahamstown Cathedral welcomed its new

Director of Music, Cameron Luke, at the Good Friday

service. Luke served as Director of Music at All Saints

Church in Cheltenham, UK from 2007 to 2018.

MUSIC, WRITING AND WORKSHOPS

A full programme of events awaits visitors to the

National English Literary Museum (NELM) when it

celebrates Freedom Day on Friday, April 26.

The programme includes: story reading and writing

for children (9am, 11am and 3.30pm); instrument

making workshops (9.30am and 2.30pm); exhibition

tours (10am and 1pm); garden tours (10.30am and

1.30pm); writing workshop for children (10am); and

writing workshop for adults (1pm).

The lunch hour concert at 1pm will feature Indian

music, Kora music, Uhadi music and Chinese zither

music.

QUINTET PERFORMS

The Grahamstown Music Society welcomes pianist

Joanna Wicherek back to Makhanda (Grahamstown)

when she performs with Dariusz Dinh Thieu Quang

(French horn), David Bester (violin), Anmari van der

Westhuizen (cello) and Piotr Thieu Quang (clarinet).

The "Quintessence" concert takes place at the

National English Literary Museum (NELM) at 25

Worcester Street on Tuesday, April 30.

Ticket prices are R90, R70 (pensioners) and R50

(students). There is no charge for society members

and school pupils.
---
26 Talk of the Town ADVERTISING / NEWSDESK: (046) 624 4356 Find us on Facebook

April 25, 2019

Good fishing in icy water

TOP U16: Liam Miller with a 47cm bronze bream caught

during the latest Port Alfred Rock and Surf round robin

The 8th round of the Claude Pittaway

Round Robin sponsored by

Hillscapes took place on April 13

between Fish River and Kleinemonde

East in awesome weather conditions.

"We could not have asked for a better

day, except for the icy cold water," Por t

Alfred Rock and Surf spokeswoman

Jo-Anne Hilliar said.

"Most anglers enjoyed the long walk

to fish and to reap the benefits. It was a

great walk to introduce some new

anglers into the club.

"We had a 46% turnout from our

members for the day with a total of 87

fish being caught and a total weight of

118.78kg was recorded.

"With this being said, we had a 100%

release rate and I must congratulate the

anglers on this. Nine different species

were caught on the day."

Prize-giving was handled by club

chairman Gary du Randt. The following

achievements were recognised: Biggest

in the species are as follows: bronze

bream – 3.23kg Darryl Olivier; poenskop

– 2.29kg Luke Erasmus; steenbras –

4.54kg Terry Stewart; zebra – 0.55kg

Darryl Olivier; blacktail – 1.19kg Darryl

Olivier; banded galjoen –

0.55kg Rod Yendall;

Cape stumpnose

– 0.89 kg

Brendan

Marais; kob –

3.89kg Paul

Knight; and a

spot ted

grunter –

0.69kg Brendan

Marais.

The top International

Game Fishing Association

team (weight converted to points) for

the day was Team 1 Macnabs consisting

of Paul Knight, Terry Stewart, Rod

Yendall and Bruce Amos on 243 points.

Second place with 188 points went to

Gary du Randt's Team 4, the Lost

Seaman, comprising Gary and is

daughter Melissa du Randt, Joshua de

Vos and Brendan Marias. In 3rd position

was Team 9 Fantasea consisting of Dave

Kemp, Karen Kemp, Faan de Klerk and

Mark Coetzee.

The sealed weight was won by Terry

Stewart with his 4.54kg steenie as well

as the Buckland's heaviest fish

released. Jack's Paint and Hardware

catch of the day was won by Darryl

Olivier for a JB of 3.23kg.

Best U16 was Liam Miller on 8.4kg of

fish. Top master was Terry Stewart with

8.36 kg, top lady angler was Melissa du

Randt (8.07kg), top senior David Kemp

(227.19kg) and top U21 Luke Erasmus

on 15.71kg fish.

"Thanks to Don Fryer, for all his

efforts in making the fire after the

compo and to Round Table 177 for the

venue. It's awesome to see the different

clubs working together," Hilliar said.

The club thanked their sponsors: Aloe

Oils, Bucklands Private Reserve, GBS

Mutual Bank, Leach Pharmacy, Kowie

Toyota, McCullum Brokers,

MultiSecurity, Ocean Basket, Pick n Pay,

BUCO Albany Road, Rosehill SuperSpar,

Sirac, Settler City Toyota, Sotheby's,

Supa Quick, Sports & All, Wimpy,

Andy's Service Centre, The Bed Store,

Wharf Street Bew Pub, The Little

Brewery on the Wharf, Bruce Amos,

Palms Video, Jack's Paint, Buco Main

Street, Chelsea Veg, Penny Farthing,

Hillscapes, Specsavers

Pietermaritzburg, Country Meat Market,

Corrosion Block, Don Fryer, Feathers

Farm, Kekkel en Kraai, John Kew,

Peddie Build it, The Tab and Gidana

Arms.

Should you wish to become a sponsor

or a member, contact Gary du Randt on

082-324-9448 to arrange a meeting, or

e-mail supercybizpc@telkomsa.net.

The next fixture takes place on May 4

and it is the GBS Team of 3,

commencing at 7am. Also see the

Facebook page, Port Alfred Rock & Surf

for more details.

RETURNED TO THE SEA: Brendan Marais with a blacktail

he caught in the latest Port Alfred Rock and Surf round

robin

Port Alfred Bowling Club

The Guido's competition on Tuesday

afternoon was won by the John Hodges

team of Richard Henshaw and Bulla

Burger. Well played and thank you to

Guido's for their vouchers.

The Doris Ford and Les Clarke

competition was cancelled on Thursday

afternoon due to welcome rains and will

be scheduled for a later date.

The finals of the Eastern Areas (EA)

Mixed Pairs will be played at Kowie on

Saturday and Sunday. The winners will

play in Port Elizabeth the weekend of May

25 and 26.

The Colleen Timm/Moore Shield will

also be played at Kowie Bowling club on

Saturday afternoon.

We welcome all the participants to our

club who are playing in the Alan Wilson

croquet tournament.

The tournament starts on Sunday April

28 and will continue throughout the week.

There is an EA executive meeting at the

Kowie Bowling Club on Monday April 29 at

6pm for those committee members

involved.

BOWLSBANTER

Should you wish to enter the EA Men's

and Ladies Novice and Senior Singles to

be played at Kenton Bowling Club on May

4, please ensure that you enter your

names on the board timorously. The

closing date is Friday April 26. Late entries

will not be accepted.

Marcel Renaud turned 90 on Tuesday

April 23 and was celebrated in style.

Marcel keeps an eye on all the players and

will always be able to give you a rundown

on the standard of anybody's play in the

club.

We have ringed this date for 10 years

time, Marcel.

Duties for the week April 30 – May 4:

Tabs – Ron Orford and Sandra Wiblin, Bar

– Gordon Goff and Warren Woza Williams.

Kowie Bowling Club

Last week I mentioned the fact that the

majority of our newer bowlers tend to play

their first bowl narrow.

The important thing is what they do

with their second bowl. Do they adjust or

do they deliver along the same path

again?

The strange part about it all is that the

player who goes wide with his first bowl

immediately adjusts his line with the

second bowl. The first priority is to

establish very early in the game what the

grass is and to have a fixed spot on the

green or the bank the player can use as a

r e fe r e n c e .

As green keepers inspecting a green we

will always describe the draw in relation to

the boundary peg or strap. Our first

delivery is to the boundary peg.

Depending on where the bowl comes to

rest in relation to the middle line we can

say that the draw on that rink was on the

peg or say half a metre inside the peg.

When we communicate with each other

the official description of the draw will

always be in relation to the peg.

... what's happening

The older bowlers always played their

trial ends by delivering each bowl to the

peg so that when they started the game

they knew which side was wider than the

peg and which draw was narrower than

the peg.

When you see a player delivering three

bowls a metre narrow on say the 17 end

you know he has not taken note of the

grass throughout the game.

When you deliver a bowl you must take

note of the path and when the bowl comes

to rest you must decide whether you need

to adjust your line or not.

You can only be successful with your

second bowl if you remember precisely

what you did with your first bowl.

Taking a mark to a fixed object on the

bank is not always so dependable. If you

have moved the mat up your angle to that

mark has changed and you must make the

necessary adjustment.

Last Tuesday's turnout was very good

and there were some tight games, but, as

always one crowd had a runaway. Tony

Brown, Dennis Wicks, Margaret Stegman,

and Piet Coetzee claimed the boodle.

Misty rain all day on Thursday put paid

to any aspirations our players might have

had of seeing the Easter weekend in with

some bowls.

By Saturday our members were

suffering from withdrawal symptoms and

there was a good turnout.

Because of the numbers we had a

mega-bucks competition which was won

by Dick Schuurman, Bryan Burger, Gerald

Mills, and Louise Fleming. They combined

very well and were just too strong for their

opposition.

Once again rain put paid to the holiday

bowls and braai on Monday and looking at

the forecast it would seem as if Tuesday

will also be written off.

Those who have lived here long enough

realise that any sacrifice which brings with

it two days of rain is worth it.

Duties: Roll – Siegie Rorhs, Mark – Rob

Turner and Howard Oates, Tabs – Mirelle

Macphee, Bar – Pieter Stegman.
---
April 25, 2019 ADVERTISING / NEWSDESK: (046) 624 4356 Find us on Facebook

Talk of the Town 27

Purdons take medals at

Two Oceans Marathon

While TV viewers may have been disappointed

at not being able to watch the Two Oceans

from the comfort of their own homes last

Saturday, locals will be happy to know the

Purdon sisters and their mom – originally all

from Cannon Rocks – ran the race and won

medals to boot.

Taryn and Tegan both matriculated at Port

Alfred High School, with Kyla finishing grade

10 at PAHS before moving to Port Elizabeth.

Two of the sisters are Rhodes graduates, Taryn

(BCom) and Tegan (LLB). Kyla has just

graduated from Nelson Mandela University

with a BEng (Mechatronics) degree.

PURDON'S PRIDE: Competing in the Two Oceans Marathon in Cape Town on Saturday were, si st e r s

and mom, from left, Kyla van Rensburg (nee Purdon), with sister Tegan Purdon, their mom Shirley

Purdon, and sister Taryn Purdon, who were all awarded medals having completed the event

GOLFW E E K LY

... the results

L ADIES' R E S U LTS

April 15: Really uncomfortable

westerly winds gusting up to

45km/h made the going difficult

for the 26 players who entered the

better-ball Stableford competition

on Tuesday afternoon sponsored

by the Ocean Basket.

Liz Gatenby and Shirley Heny

combined well in the difficult

conditions to card 39 points and

win the afternoon's competition.

They narrowly pipped runners-up

Ingrid Griffiths and Gaby

H a u s m a n n - Ta r p a n i 's 38 points

who counted out Pogs Smith and

Helen Lockyear into third on the

same score.

Ingrid Griffiths holed the only

two-club of the afternoon (11th).

Bridget McNelis's drive was

closest to the pin on Top Carpets'

sixth, as was Andrea Key's on

Rosehill Driving Range's eighth

and Ingrid Griffiths' on Wimpy's

11th. Bridget was also

"closest-or-t wo" on River Spa's

13th.

The longest drive competitions

were held on the 18th fairway and

struck by Yvonne Hill and Verene

Burger in the lower and higher

handicap sections respectively.

There is no women's golf

competition on April 29 as the

Mad Hatter tournament will be

underway at this time.

KGB RESULTS

Tuesday April 16: A really chilly

start to Tuesday morning told all

that winter is not too far away, but

did not limit the turnout unduly

with no fewer than 46 players

making their appearance to be

drawn into 10 four-balls and two

three-balls to play the usual

two-to-count Stableford alliance.

The wind did come up early on

slowly turning from off-shore

northerly to a gusty westerly

making playing conditions a

challenge and the majority of

individual performances reflected

this.

Nevertheless they did not seem

to affect Neil Loundar, Nick

Oosthuizen, John Abbott and

Derick van Harmelen as they won

the morning's competition with 91

points. Sharing the runners-up slot

on 89 were (1) Mark Warren, Arnie

Schultz, Russell Warren and David

Groenewald and (2) visitor from

Hong Kong Ian Gardner, Steve

Annadale, Bob Shaw and Tom

Tagg. Not one other covey

managed an above 80 point

submission, the lowest, and

consequently the day's recipients

of the notorious Hamer en Sukkel

trophy, being John Muggeridge,

Martin Lambrechts, Dave Rose and

Eugene Erasmus on 66 points.

Tom Tagg made the only

two-clubs of the morning doing so

twice, one on the 11th and the

other on the 13th.

The best individual nett round

was shot by John Abbott (65) with

Ian Gardner (67) and Mark Warren

(70) both enjoying better than

average rounds. Ian's gross of 79

was also the best gross recorded.

Friday April 19: A return to

traditional April weather saw a

calm temperate morning greet the

47 golfers that participated in the

early morning draw to play a

two-to-count Stableford Alliance in

11 four-balls and one three-ball.

A light easterly developed as

the morning unfolded but scores

were not reflective of seemingly

ideal golfing conditions with Bob

Shaw, Norman Bester, John

Crandon and Andy Stembridge's

87 points being sufficient to win

leaving Bryan Robinson, David

Rose, Maureen McGarvie and

Donald McGarvie just one behind

on 86 points in second position.

Scrapping at the rear Neil

Loundar, Chris Niebieszczanski,

Cliff Roberts and Theresa Loundar

posted 72 points to lay claim to

the Hamer en Sukkel.

Sandy Fryer and Neil both

recorded two-clubs on the par

three 8th and being the only

two-clubs ensured a carry-over of

the pool. Len Bohnen's individual

nett of 67 was the best of the

morning whilst Bryan with a nett

68 and Johnny Johnston with 70

nett also posted good scores.

PORT ALFRED MIXED

April 20: Easter Saturday saw a

field of 12 ladies and 14 men

drawn in three- and four-balls to

play in the weekly Mixed

Stableford Alliance competition.

The spouses Danny and Gaby

Tarpani along with Rick and

Yvonne Hill combined to win on 84

points followed in second position

by Wendy Slabbert, Kirstin Dale,

Rob Immelman and Len Bohnen

on 80 points.

Not so happy were the three-ball

of Russel Warren, Margie Reid and

Heather van Harmelen with 75

points to provide a base that the

rest of the field looked down on.

Wendy was closest the pin on

the par three eighth.

No sub 80 grosses were

recorded or sub 70 nett rounds.

This past Easter weekend

was the Two Oceans

Marathon. Due to some

issues between SABC

and Athletics SA it was

unfortunately not

televised.

Well done to our two

athletes who competed.

Stephen Penny ran a

great time of five hours

17 minutes to complete

his 24th consecutive run.

Marianne Stiglingh

completed the race in a

comfortable 06:28.

Husband Sticks Stiglingh

competed in the 21km

event, coming home in

01:38. Well done to the

three of you.

The Amanzi Challenge

8km Trail Run was held

on Good Friday from the

Royal St Andrews Golf

Course and our athletes

took five of the top-10

places.

Sinethemba Jilingisi

was third in 28:07,

Sizakele Dayimani fourth

in 29:42, Ndoda Jekana

fifth in 30:22, Ayabonga

Saul sixth in 31:53 and

Zamile Xanti seventh in

32:32. Well done, guys.

Looking forward to a

great cross country

season for you all.

The Marina Mile was

held on Saturday with a

record entry. A great

KOWIESTRIDERS

swim by Billy Futter saw

him finish 3rd in the over

50s. Billy is in his 70s.

Also there braving the

cool, choppy and windy

conditions, were Sharon

Hanson, Mike Nelson and

Eddie Hattingh.

Let's see if we can get a

lot more of our runners

swimming there next time.

This Saturday is the

10km Freedom Challenge

which is also the Eastern

Province Champs.

About 20 of our

athletes will be running.

We wish them all the

b e st .

Finally, a huge big

thank you to all helpers

who made the Amanzi

Challenge 8km Trail Run

such a big success.

We have had nothing

but compliments for the

event.

Time Trial: April 16

8km Run

Sinethemba Jilingisi

28:26

Sizakele Dayimani

29:27

Ayabonga Saul 30:23

Wandele Funda 31:56

Zamile Xanti 31:58

Mpho Nzambazi 32:09

Simon Nobebe 33:40

Asakhe Solwadle 33:45

Bradley Betts 33:48

Sean Knight 33:51

Rick Betts 34:23

Richard Legg 34:50

Labobolo Sali 37:55

Leah Shanks 41:26

Petra Hattingh 47:38

Eddie Hattingh 47:43

5km Run

Lethemba Jekana

18:02

Sticks Stiglingh 21:54

Kevin Lee 22:55

Zee Jiji 23:25

Phumela Memani 25:19

Shanon Kethro 25:52

Petrie Koodtzen 25:52

Zanel Venter 26:20

Matthew Woods 26:38

Alan Robb 26:53

Marianne Stiglingh

26:56

Wendy Jardine 28:57

Lulu Mceka 29:27

Chris Roberts 30:18

Marietjie Robb 33:31

Clare Wood 33:36

Sharon Hanson 33:36

3km Run

Kazilemla Mboso 17:08

Rob Nel 17:08

Nelly Phiri 18:51

Jo-Anne Betts 19:24

Dinky Davenport 19:48

Nomande Helele 25:10

8km Walk

Pauline Weed 1:29:18

Sue Robertson 1:29:18

Billy Futter 1:29:18

5km Walk

Leslie Futter 54:43

Shaun Harper 54:43

3km Walk

Sally Blake n/t

Alistair Blake n/t

Ray Basson 37:48

We were hoping for a larger field due to the

influx of visitors, but sadly not. Well done

to all those who attended the trial.

Time Trial: April 18

3.8km

No runners

VOLO VIKINGS

5km

1. Roxy Smith 23:09

2. Athikhosi James 23:37

3. Uthimna Tana 27:32

4. Siphosetle Torwe 28:24

5. Lisakhanya Dumezwe 29:20

6. Thabo Klaas 31:37

7. Nicolas Mlamla 31:39

8. Mandoza Tana 33:11

9. Sima Smoors 33:55

10. Isasa Gidwa 33:57

8km

No runners
---
Sp ort

Contact us with any sports news: (046) 624-4356 (Jon Houzet) Thursday, April 25, 2019

TWIST AND SHOOT: Nemato's own Lihle Nxobo, playing for Eastern Province, was the top goal

scorer in the SA Beach Handball Champs played on West Beach over Saturday and Sunday. Nxobo

was renowned for his spin and shoot at goals, which earn double points. EP lost narrowly to

Western Province in the final

WAVE ACTION: One of the participants in the SA Bodyboarding Champs on the first day of the Royal

St Andrews Hotel Amanzi Challenge last Friday. There was a festive atmosphere on the beach with

teams rooting for their members in the surf

Amanzi action all the way

JON HOUZET

It was an action-packed weekend for the start of

the Royal St Andrews Hotel Amanzi Challenge,

which began on Good Friday and continues

through this week until Sunday April 28.

LEAGUES AHEAD: Although he was ineligible for

a prize because he swam in a wetsuit, Travis

McGrath was the first to the finish in the

Marina Mile last Saturday Pictures: JON HOUZET

There was something for everyone, from the

diverse array of athletic prowess on display in the

sea, on the beach, in the Kowie River and on the

trail run which kicked off the event last Friday

morning.

The 8km trail run, organised by the Kowie

Striders, started at the Royal Port Alfred Golf Club

just next to the Royal St Andrews Hotel (see results

inside) with runners and walkers passing by the SA

Bodyboarding Champs at West Beach – which also

started that day and continued over the weekend,

concluding on Tuesday.

For the less athletic there was a fun option on

Saturday morning, when children and some adults

took part in the Anything that Floats on the Kowie

River, starting at My Pond Hotel and ending at

Kiddies Beach. Most opted for blow-up tubes or

boards, but there were a couple of stand-up

paddlers too.

At noon the more serious swimmers took part in

the Marina Mile, jumping in from the Halyards Hotel

jetty and starting at the entrance to the first canal,

swimming the length of the first island and then

back up the Kowie River to the finish at the small

boat harbour slipway.

The SA Handball Championships were held at

West Beach on Saturday and Sunday, offering

spectators unfamiliar with the sport a good view of

the fast-paced and thrilling game.

The World Surfing League's Port Alfred Classic

began on Monday at East Beach, overlapping with

the bodyboarding still going on at West Beach.

Although the rain – which carried on for the whole

day on Monday and Tuesday – kept spectators away,

SA's top surfing talent showed their skills in the

wav e s .

At the opening ceremony of the Amanzi Challenge

at the Royal St Andrews Hotel on Friday night, the

mayor of Sarah Baartman District Municipality,

Eunice Kekana, welcomed all participants and said

the week-long sports festival could rival the National

Arts Festival in Makhanda.

Martin Bekker, the owner of title sponsor the

Royal St Andrews Hotel, was emotional at the

opening, saying he had prepared a speech but that

Kekana had "messed it up for me".

"My dream for Port Alfred is to expose as many

people as possible, nationally and internationally, to

Port Alfred, so that it's not only a place to drive

through and place on the map," Bekker said.

"I'm extremely overwhelmed by the growth this

event has achieved since the start. From the first

event, which was very local, we now have national

and international participation – who would have

thought it possible?"

Both he and Sunshine Coast Tourism chairman

Rick Pryce said the event had been a boon for local

accommodation providers.

"We wish all competitors a fantastic and safe

event, and please experience the fantastic

hospitality our town offers," Bekker said.

The keynote address was given by Mandla

Mabece, CEO of the Ugu South Coast Development

Agency, who said: "Port Alfred, you've done very

good in a short space of time."

He said his dream was to see such coastal events

taking place "from Kowie to Kosi Bay".

"If Port Alfred can do it, Margate can do it,"

Mabece said.

"Mr Bekker, you committed for five years. Now I

hear you committed for another three years. If you

go beyond from your business to doing social good,

I can understand you become emotional about it –

you're invested in it."

In his closing remarks, BS Sports CEO and Amanzi

Challenge founder Sxeaks Nkwinti said the Amanzi

Challenge was the only event in South Africa where

one would find the World Surfing League, the

national rubber duck races, SA Bodyboarding

Champs, an open water one-mile swim and an 8km

trail run taking place at the same event.

The semi-finalists in the men's and women's

events and the finalists in the junior men's and

women's events at the Royal St Andrews Hotel Port

Alfred Surf Classic were decided in wild conditions

at East Beach on Tuesday.

Kommetjie-based teenager Eli Beukes relegated

Beyrick de Vries of uMhlanga, the standout

PSIRA: 1241091 SAIDSA: 890

performer on day one of the competition, to the

runner-up spot. Both competitors advanced to the

semifinals while third and fourth placed Shane

Sykes (Salt Rock) and Saxton Randall (Durban) were

eliminated from the event.

Beukes went on to reach the final of the Junior

Men's event later in the day when he finished

second behind Thomas Lindhorst (East London) in

the first of the Men's JQS semifinals.

Slade Prestwich (Durban) produced arguably the

d ay 's best performance in the second quarter-final,

advancing to a matchup with Beukes, De Vries and

the runner-up in the second quarter-final, 2018 WSL

Africa Junior Men's champion Luke Slijpen (Hout

B ay ) .

Zoe Steyn (East London) put on a spectacular

performance to advance in both the Women's and

Junior Women's events. The goofy-footer is the lone

South African in the Women's semifinals and faced

strong competition from the international contingent

including Lucy Campbell (UK), Sol Aguirre (Peru)

and Ariane Ochoa (Spain).

Japan's Minami Nonaka, fresh off her double

victory in PE last Saturday, was joined by

compatriots Shino Matsuda, Ren Hashimoto and

Julie Nishimoto in the Women's semifinals.

Ceara Knight (Kommetjie) solidified the form she

displayed when reaching her maiden Women's JQS

final in PE by edging out Nishimoto in the semis on

Tuesday to book her spot in a second consecutive

final on Wednesday. She took on fellow countrywoman

Steyn, and Japan's Matsuda and Nonaka.

The Thunder Cat Rubber Duck racing begins with

time trials today and tomorrow, with the actual races

taking place on Saturday and Sunday.

Other attractions include fencing, tumbling and

gymnastics displays at the beach.

24 Hours : (046) 624 2508

Office Hours : (046) 624 3708