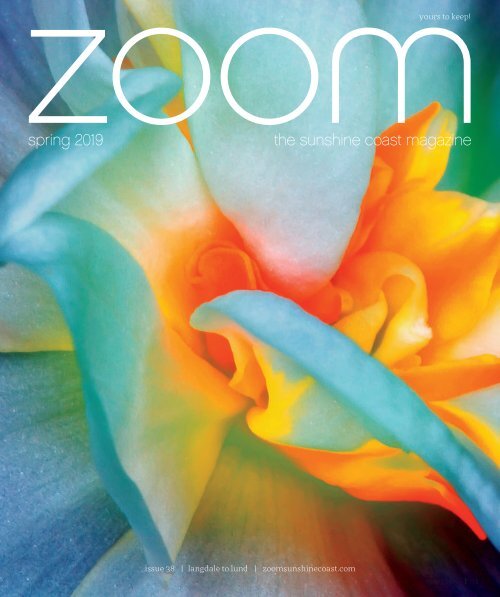 ZOOM | Spring 2019
A magazine showcasing the natural beauty of the Sunshine Coast of British Columbia, Canada - its people, spectacular scenery, coast lifestyle and vibrant arts scene.
A magazine showcasing the natural beauty of the Sunshine Coast of British Columbia, Canada - its people, spectacular scenery, coast lifestyle and vibrant arts scene.
SHOW MORE
SHOW LESS
You also want an ePaper? Increase the reach of your titles
YUMPU automatically turns print PDFs into web optimized ePapers that Google loves.
yours to keep!

spring 2019

the sunshine coast magazine

issue 38 | langdale to lund | zoomsunshinecoast.com

spring 2019 1
---
2
---
COLIN D. HORABIN PHOTO

6

inside

The Living Lens | Colin D. Horabin

26

The Sunshine Coast

12

A Tangled Web | Sandy Kay

30

Stonewater

The main image in the

index page of the New

Year 2019 issue was

taken by Allan Forest.

We apologize for

inadvertently missing

the photo credit.

16

18

20

22

Glass Fusion | Claire Folstad

Radar

The Powell River Townsite Market

In Style | Vortex

32

35

40

43

Ortho-Bionomy ®

Viewfinder

Rustic Modern

Diego's Den

THIS ISSUE'S COVER IMAGE BY DARIUSH M

the sunshine coast magazine

ISSUE 38 | SPRING 2019

PO Box 200

Garden Bay, BC VON 1S1

604.883.9279

www.zoomsunshinecoast.com

Edmund Arceo

EDITOR & GRAPHIC DESIGNER

Ann Harmer

COPY EDITOR

Natalie Findlay

Angie Ishak

Nancy Pincombe

CONTRIBUTING WRITERS

Greg Lewis

ADVERTISING SALES REPRESENTATIVE

ZOOM is published locally and distributed FREE from Langdale to Lund. You will find copies of ZOOM on the Horseshoe Bay―Langdale

ferry and in selected outlets on the Sunshine Coast. Authors of submitted material are solely responsible for their contributions.

ZOOM is not responsible for any text, documents, or photos submitted. Pages or photos in this magazine may not be reproduced,

stored, or transmitted in any form without prior written permission of the publisher. ZOOM is printed in British Columbia, using 100%

recyclable paper. Submitted materials are published at the sole discretion of the editor. Production and free distribution of ZOOM

is made possible by advertising support from local businesses and contributions from groups

and private individuals. If you love ZOOM, please thank our advertisers.

If you wish to contact ZOOM, please call 604.883.9279.

For advertising inquiries, please call Greg Lewis at 604.886.2299.

spring 2019 3
---
FINE ART GALLERY

VISIT OUR ONLINE PRINT STORE AT MOTOKO.CA

LUND

SAVARY ISLAND

TLA'AMIN

HARWOOD ISLAND

POWELL RIVER

VAN ANDA

TEXADA ISLAND

SALTERY BAY

the sunshine coast

4590 Sinclair Bay Road, Garden Bay, Pender Harbour, BC

604.883.9472 | info@motoko.ca | www.motoko.ca

Please visit our website for gallery hours

NELSON ISLAND

GARDEN BAY

EARLS COVE

EGMONT

MADEIRA PARK

KLEINDALE

SECRET COVE

THORMANBY ISLAND

HALFMOON BAY

SECHELT

DAVIS BAY

WILSON CREEK

ROBERTS CREEK

PORT MELLON

GIBSONS

LANGDALE

Plan your

Sunshine Coast

discovery route.

604.883.2380

12887-12889 Sunshine Coast Hwy, Madeira Park (look for the yurts)

April to October 11am to 5pm . November to March by appointment

www.fibreworksgallery.com

Patt Wilson

Mark your

destinations

and set a course

for a coastal

adventure!

HORSESHOE BAY

WEST VANCOUVER

4
---
THE WEST COAST'S MOST ANTICIPATED OCEANFRONT COMMUNITY

Returning to What's Real.

For anyone who feels the pull towards simpler, more natural living, Touchstone will

feel like home in ways you've always wished a place could. This masterfully designed

oceanfront community in Gibsons, B.C. will be home to an elevated collection of

condominiums, townhomes, single family homes and a boutique hotel, with more

than half of it's 47 acres protected as pristine forest and waterfront forever.

Gibsons

Pasley

Island

Keats

Island

Bowen

Island

One Hour From Vancouver

Unveiling Spring 2019

Horseshoe

Bay

REGISTER NOW TO LIVE IN THIS NEVER BEFORE AND

NEVER AGAIN COMMUNITY ON THE SUNSHINE COAST

TouchstoneLiving.ca

This is not an offering for sale. Any such offerings may only be made with a Disclosure Statement, E.&.O.E.
---
FOCUS

The Living Lens

COLIN D. HORABIN

6
---
The scope of Colin D. Horabin's photography is impressive: surprising, colourful shots of performances, sports, kids at play, wildlife,

birds, more birds, travel . . . There's a satisfying energy and a "just caught" moment in each. His years of work as a photojournalist have

given him experience in many areas, particularly action shots and dance. Colin has learned that dancers are very particular about the

performance moments captured in an image. Light and shadow, costume drape, expression, point of toe, alignment—it all matters. His

images from last year's "Nutcracker" performance at Raven's Cry Theatre are breathtaking. And since moving to the Sunshine Coast, he

has added more nature shots to his collection.

WORDS | NANCY PINCOMBE

spring 2019 7
---
Forest shots are a staple of our West Coast photographers, but Colin's gleam

and sparkle. He often chooses to shoot after a rain, taking advantage of light

reflecting off wet surfaces. He uses long exposures to heighten the effect of

rushing water, and he experiments with fill light to highlight shadowy crevasses

and moss.

Like so many others, Colin loves to photograph eagles. His seem larger than

life, detailed, substantial, and often in motion. Some are tangled in discarded

plastic. Proceeds from the sale of his images help to fund The Plastic Planet, an

educational project that brings awareness to this awful situation.

HORABIN ARTFULLY MANIPULATES

SOME OF HIS FAVOURITE SHOTS,

USING VARIOUS SOFTWARE, TO

BRING OUT TEXTURES AND ENHANCE

COLOURS. IN THIS WAY HE GETS TO

GUIDE OUR ATTENTION AND GIVES

US NATURE, ONLY MORE SO.

8
---
Herons in their charming variety of poses make the photographer's

work a little easier by their stillness. Horabin artfully manipulates some

of his favourite shots, using various software to bring out textures

and enhance colours. In this way he guides our attention and gives us

Nature, only more so.

He never tires of photographing his own kids "enjoying their environment,"

whether tobogganing up the Tetrahedron or playing in their own

backyard. A particularly arresting shot and one of his favourites is of his

daughter on a family holiday in France, outside Bordeaux. She stands for

a moment in a patch of sunlight in the ruins of an old church, her shadow

taking the form of a cross made by her outstretched arms.

Horabin has studied the work and texts of Freeman Patterson, a (worldtravelling)

Canadian nature photographer. Lines, shadows, petals—

wherever a photographer looks, there is always something of interest. But

getting a fabulous shot takes a lot of work and some luck. Colin shakes his

head at the number of unimpressive sunrises he has arisen early for. Or

how he had to run along Davis Bay to catch that paddle boarder aligned just

so, with the sunset behind.

COLIN D. HORABIN CURRENTLY EXHIBITS AT COASTAL ART GALLERY (SECHELT), WHEATBERRIES CAFE (DAVIS BAY), AND ONE FLOWER ONE LEAF GALLERY (GIBSONS). VISIT HIS WEBSITE AT CHFOTOS.COM.

spring 2019 9
---
JAPANESE

KITCHEN

ISSUE 3 OF THE

SUNSHINE COAST

FOOD & DRINK MAGAZINE

IS COMING SOON

BE PART OF IT.

AUTHENTIC JAPANESE FOOD . DINE-IN & TAKE-OUT

MONTHLY SPECIALS . LICENSED PREMISES . PARTY TRAYS

Harbour Spirit Centre, 12808 Madeira Park Road, Madeira Park

www.mamaskitchen.ca | 604.883.9190

Fresh . Local . Live . Wild . Fish . Seafood

ADVERTISING OPPORTUNITES

AVAILABLE.

PLEASE CALL 604.886.2299

Your source for local fish & seafood on the Sunshine Coast

for more than 30 years. Happy to reserve your order, just

give us a call. Now serving fresh chowder daily.

FLAVO URS

THE SUNSHINE COAST FOOD & DRINK MAGAZINE

OPEN SEVEN DAYS A WEEK

#103 - 5688 Cowrie Street, Sechelt | 604.885.7410

facebook.com/seafoodonthecoast

10
---
A BOUTIQUE NURSERY & FARM

exquisite flowering plants, select groundcovers, ornamental grasses

farm eggs from free range chickens

Spring Hours: Wed to Sat 9am–5pm, Sun 10am–4pm

3483 Stellar Place, Roberts Creek . 604.741.9871

Follow us on Facebook

Jardin de Flores Nursery & Farm, Roberts Creek

Indoor and Outdoor Plants . Containers

Giftware . Growing Supplies

Bring in a few of your old rusty garden tools in

exchange for a $10 gift certificate

1059 Roberts Creek Road . (778) 458-2450

HUGE PLANT SALE - Sunday, May 5 th , 10am–1pm

SUMMER HOURS BEGIN MAY 1 st

Open Fridays to Wednesdays, 11am–4pm

Closed Thursdays

5941 Mason Road, Sechelt | 604.740.3969

info@coastbotanicalgarden.org | www.coastbotanicalgarden.org

Indulge your senses with a variety of

hand-made lavender products and locally

raised lavender plants. From culinary blends

to raw Goat's Milk Soap, take home a piece

of the experience when you visit our farmgate

Lavender Shop from May to September.

Please visit our website for

current hours and directions.

6154 Segador Road, Sechelt

604.885.5563

@SCLavenderFarm

#SCLavender_Farm

www.SunshineCoastLavender.com

spring 2019 11
---
ART

A TANGLED WEB

SANDY KAY

12
---
THESE WORKS POINT

NOT JUST TO THE

TRANSITORY REALITY

OF LIFE BUT TO

THE TANGLES WE

FIND OURSELVES IN,

WHETHER SELF- OR

EXTERNALLY IMPOSED.

Sandy Kay's influences have been

eclectic and her career extensive. In the

Tangled Web series we see a bright kind

of impressionism and a reverence for

the complex compositions that are all

around us in Nature.

Sandy was born in California and grew up on the East

Coast of the US before moving to Vancouver in 1999.

She has always had her own studio/gallery, including

a stint in Gallery Row on Granville Island. Her work

has found homes in such faraway places as England,

Germany, and Dubai.

Halfmoon Bay has her heart now, though, and the Tangled

Web series celebrates beauty and impermanence close

to home in a series of carefully chosen close-up images

from Smuggler Cove, the sorts of views you might

miss while hiking there if you're watching your footing

or restraining a dog on a leash. These images slow us

down and help us focus. Many are of the bog created by

beaver activity. Of the dynamic impermanence of these

ecosystems, Kay explains (from her artist's statement),

"The bog didn't exist twenty years ago, and may not

be there twenty years from now. [It is] a dynamic and

complex environment which is a metaphor for our lives."

Kay's process is interesting and complex. She starts

with a detailed and realistic drawing on the canvas and

does a black, white, and grey painting to establish light

and depth. Working carefully around the misty and

sharp lines, she then adds colour in transparent glazes.

She works with only three primary colours, plus black

and white. Layering achieves other colours (purple and

green, for example).

"Working this way," she says, "can create great

luminosity in the painting. Often the layers change in

hue depending on the ambient light in a room. This to

me mimics what happens outdoors as light changes in

the atmosphere."

WORDS | NANCY PINCOMBE

spring 2019 13
---
A TANGLED WEB -

SANDY KAY'S SOLO

EXHIBITION AT THE

GIBSONS PUBLIC ART

GALLERY RUNS THIS

YEAR FROM JULY 11

TO AUGUST 11.

By the time she is finished, we see

Nature in the composition, but the artist's

process has abstracted it and made

it painterly. The colours Kay achieves

have a soft clarity and give a heightened

impression of light.

Her works point not just to the transitory

reality of life but to the tangles we find

ourselves in, whether self- or externally

imposed. To her, the light perceptible

behind these knotted areas is crucial and

guiding:

"This series is about seeing and

celebrating the small places and the bits

of light shining through in Nature and in

our own journeys."

Kay's paintings will be featured in the

Gibsons Public Art Gallery, an airy and

accessible space, from July 11 to August

11. Inspiring photos of the bog and

wetlands will be found in the smaller Eve

Smart space within the main gallery. Your

other senses won't be left out: original

music put together by Coasters Graham

Ord, Bonar Harris, and David Taylor, joined

by Frank Carmelitano (from Florida), will

enhance your viewing. Sound mixing and

production will be done by David Taylor.

A book is also being produced. And as

if that isn't enough, each weekend will

feature talks and interactive events.

FOR INFORMATION ABOUT SANDY KAY'S SOLO

EXHIBIT AT THE GIBSONS PUBLIC ART GALLERY, PLEASE

VISIT GPAG.CA AND/OR SANDYKAYART.COM. PHOTOS

(LEFT FROM TOP) BY: ROB TOMPKINS, DAMON

BERRYMAN, AND DOLF VERMEULEN.

14
---
LONGARM QUILTING

WITH A CONTEMPORARY FLAIR

QUICK TURNAROUND . GAMMILL LONGARM WITH ADVANCED

COMPUTER-ASSISTED DESIGNS . CUSTOM PATTERNS AND

HAND-GUIDED TECHNIQUES . FREE CONSULTATION

1647 Field Road, Sechelt | 778.689.1564 | wildflowerqs@gmail.com

. Please call for an appointment .

YOUR LOCAL OUTFITTER

5707 COWRIE STREET, SECHELT . (604) 885-6436

BAMBOO FASHIONS . GIFTS & ACCESSORIES . BEAD SUPPLIES . HOME & GARDEN METAL ART

KERRI LUCIANI 604.741.5106 . MOSAIC EMPORIUM, DAVIS BAY

ART, CRAFTS & GIFTS FROM AROUND HERE

436 Marine Drive, Gibsons Landing . 604.886.0099

www.onefloweroneleaf.com

spring 2019 15
---
ART

CLAIRE FOLSTAD

"I TAKE THESE PLAIN SHEETS OF GLASS . . . LIFELESS . . .

BREAK THEM DOWN INTO TINY PIECES, THEN FIRE THEM BACK TOGETHER

INTO SOMETHING VIBRANT AND ALIVE."

WORDS | NANCY PINCOMBE

PHOTOGRAPHY | EDMUND ARCEO

16
---
Claire Folstad has loved glass for a

long time. When travelling, she used

to gaze at church stained glass with

longing. She took some classes

when she found the time. But back

when her restaurant business took up all of her

attention, she found mosaic work to be fussy, and

other glasswork required too much patience.

"My time was not my own back then," she says, "but

every time I would stop, glass was present in some

form. I seemed to be surrounding myself with it more

and more. It always caught my eye and made me be

present."

The Sunshine Coast caught Claire's eye too, largely

because of its vibrant arts community. When she

sold her business and moved here, she set off on a

creative journey. Knowing that she wanted to work

differently, and with no more than an inner glimmer

of where she was headed, she began to dabble.

"I began very small [with] a tiny little hobby kiln in

which I would play and experiment. I knew what I

wanted but not how to create it, how to manipulate

the glass, capture the light."

Glasswork can be powerfully transformative. That's

what fire does. This excites Claire: "I take these plain

sheets of glass . . . lifeless . . . break them down

into tiny pieces, then fire them back together into

something vibrant and alive."

And her work is full of life! Splashy, vibrant, exuberant,

delicate, so beautiful that there's a hint of sadness.

She feels that each piece has a story, tells a story.

And she has been slowly moving her practice away

from being bound by function to more purely for art.

"So now, practical function is not the top priority. I am

learning to let go of control. I am finding beauty in the

imperfections. It is very satisfying."

Claire's work has an organic kind of vibrancy, and

she is learning what the glass needs from her. "I love

a flow, a continuity. It is freedom to me. Also it is

necessary to help the glass glow to its best potential.

I started creating more sculptural pieces, art pieces,

just letting the emotions flow from my hands and

heart."

She is compiling pieces and hopes for her first

independent show this year. She now shows at One

Flower One Leaf Gallery in Gibsons.

WORDS ONE FLOWER | NANCY ONE PINCOMBE LEAF GALLERY IS LOCATED IMAGE AT | 436 ROGER MARINE HANDLING DRIVE

IN GIBSONS LANDING.

spring 2019 17
---
HAT - WHERE - WHEN - WHO .

WWHAT . WHERE . WHEN . WHO -

LUNDSEAFOOD

FESTIVAL

MAY 25 & 26

NOW ON ITS 12 TH YEAR, THIS OUTDOOR WEEKEND

EVENT ALONG THE SHORES OF LUND HARBOUR

SHOWCASES SEAFOOD VENDORS, LOCAL MUSICIANS,

MARINE PARK TOURS, COOKING DEMONSTRATIONS,

LOCAL CRAFTS, AND MORE. ADMISSION IS FREE!

LUNDBC.CA

GIBSONS

JAZZFESTIVAL

JUNE 21–23

MUSICIANS LOVE VISITING OUR COAST! AND

GIBSONS' GLORIOUS LOCATION AND OUTDOOR

VENUES MAKE THIS FESTIVAL PARTICULARLY

PRIZED. DON'T MISS THE OPENING FESTIVAL

CONCERT ON JUNE 21 ST OR THE SUNDAY BRUNCH

AND PARK FESTIVAL ON THE 23 RD .

"JAZZ WEEK" TAKES PLACE JUNE 14–20 AT

MANY LOCAL RESTAURANTS.

COASTJAZZ.COM

MAY 31 & JUNE 2

CONNECTIONS IN LIFE AND AMONG LIVING THINGS ARE THE THEMES OF

PENDER HARBOUR CHOIR'S CONCERTS ON MAY 31 ST AT THE SUNSHINE

COAST BOTANICAL GARDEN AND JUNE 2 ND AT THE PENDER HARBOUR

SCHOOL OF MUSIC. "WE ARE ONE" WILL INCLUDE MUSIC RANGING FROM

TRADITIONAL FOLK SONGS TO WORKS BY JOHN LENNON, ANDREA BOCELLI,

AND RODGERS AND HAMMERSTEIN.

PENDERHARBOURCHOIR.COM

WE

AREONE

PRISMA2019

JUNE 17–29

THE PACIFIC REGION INTERNATIONAL SUMMER MUSIC

ACADEMY (PRISMA) PRESENTS FIVE CONCERTS AND

DAILY MASTERCLASSES IN ITS TWO-WEEK PROGRAM

THAT PREPARES MUSIC STUDENTS AND YOUNG

PROFESSIONALS FOR CAREERS IN CLASSICAL MUSIC

PERFORMANCE.

PRISMAFESTIVAL.COM

PHBLUES

FESTIVAL

JUNE 7–9

A WEEKEND OF FANTASTIC MUSIC AT UNIQUE VENUES

AROUND SCENIC PENDER HARBOUR AND EGMONT. AMAZING

PERFORMANCES BY RUSSELL DECARLE WITH STEVE BRIGGS,

KENNY "BLUES BOSS" WAYNE, STEVE MARRINER, COUSIN

HARLEY, MARCUS MOSELY, DOC FINGERS, JOE STANTON, SIMON

PARADIS, JIM FOSTER, STEVE HINTON BAND, BLUE LINE DUO,

KAREN GRAVES & POPPA GREG AND THE CHILLIN DYLANS.

PRESENTED BY THE PENDER HARBOUR BLUES SOCIETY.

PHBLUES.CA

18
---
Casual

VERY

FINE DINING

Phone for Reservations

604.885.4216

1041 Roberts Creek Road

Mon-Thu 10am-8:30pm

Fri-Sat 9am-9pm | Sun 9am-8:30pm

. Open 7 days a week

. Innovative & Fresh

. Vegan, Gluten-Free Options

. Best Wine List on the Coast

A TOWNSITE LANDMARK . . . REIMAGINED

Visit the renovated 1941 Powell River Stores building,

now home to many new local artisan shops with clothing, art,

curiosities, furniture, home decor, bakery, green grocer,

coffee shop, climbing gym, and more!

www.gumbootrestaurant.com

CREATING EXPERIENCE AND CONNECTION

IN THE HEART OF THE HOME . . .

Shop in store or browse online:

www.theseasonedkitchen.ca

Gibsons Park Plaza (near Marketplace IGA)

108-1100 Sunshine Coast Hwy, Gibsons, BC V0N 1V7

604.886.7724 . info@theseasonedkitchen.ca

5831 Ash Avenue, Powell River, BC

We're just across from Townsite Brewing in the

Townsite District, a Canadian National Historic Site.

spring 2019 19
---
SPOTLIGHT

THE POWELL RIVER TOWNSITE MARKET

WHAT'S OLD IS NEW AGAIN

WORDS | ANGIE ISHAK

PHOTOGRAPHY | D2K AND MELI LOONIE

20
---
At the newly opened Townsite

Public Market in Powell River,

visitors weave through artisan

stalls, follow their noses to

specialty food purveyors, and

pick up fresh, local fruit and veg. With kids and

dogs in tow—and a Basecamp americano in

hand—the shopping experience at the Market

is a decidedly modern homage to the location's

historic origins.

Townsite Public Market resides in the historic

Stores Building, British Columbia's first indoor

mall. Built in 1941, the mall served as Powell River's

shopping and community hub, with Hudson's Bay,

Safeway, and a credit union, amongst others.

Subsequent incarnations included life as a bingo

hall and nightclub. When a fire damaged the

building, Powell River business investor Steve

Brooks purchased it, not wanting the location's

history to disappear. He envisioned a continuation

of that legacy, but with a 21st-century twist. "I've

tried to balance the building," he says, "with a

mixture of entertainment, market-type stores

providing produce, coffee, baked goods, and then

stores showcasing our local artists and artisans."

He is also working with the City of Powell River,

Vancouver Island University, and the Powell River

School District to set up a section of the market

as an innovation and tech hub.

Most of the fourteen businesses currently at the

Market are female entrepreneurs, craftspeople, or

artists. Tatiana Kostiak of Fiddleback Shack and

Lesley Wilson of Kaleidoscope Coast Creations

share a space and appreciate the opportunity

the Market offers them and other start-ups for

showcasing their work. "Deciding to be in a brickand-mortar

location was what we really needed,

but we also wanted to be somewhere unique,"

Kostiak explains. Both women have their own

workspaces, but needed a space to market their

creations and interact with customers.

The Market is also home to K-Lumet, a local social

enterprise that employs people with high barriers

to employment, including those with disabilities.

Once you've filled your basket with handmade

chocolates, lunched on a tasty quinoa bowl,

and had that perfect handcrafted birthday

giftwrapped and ready, test your mettle at the inhouse

rock climbing gym, Powell River Climbing

Co-op. It's BC's largest co-op climbing centre.

Then reward your hard work with a beer flight at

Townsite Brewing, just across the street.

THE MARKET IS TRULY

UNIQUE, ONE THAT

HONOURS ITS ROOTS,

YET HAS AN EYE TO

THE FUTURE.

Brooks hopes the Market becomes an integral

part of Powell River's arts and culture scene, with

the goal of offering events at least once a month.

The Market participated in the Townsite Jazz

Festival this past April, and will host a large craft

fair in May and the Powell River Veg Fest in June.

So what's next? Steve plans to open another

section of the building's large, 35,000-sq-ft floor

space and attract more food vendors, particularly

a local fishmonger. Exhibits that highlight the

historic significance of the site are under way,

complementing the exposed wooden beams from

the original building.

Townsite Market is poised to become one of

Powell River's go-to gathering places. As a vibrant

attraction for both locals and visitors alike, the

market is truly unique, one that honours its roots

yet has an eye to the future.

THE TOWNSITE MARKET IS LOCATED AT 5831 ASH AVENUE IN

WORDS POWELL | NANCY RIVER. PINCOMBE

IMAGE | ROGER HANDLING

spring 2019 21
---
SPOTLIGHT

VORTEX

In Style

WORDS | NANCY PINCOMBE PHOTOGRAPHY | EDMUND ARCEO

Sophistication isn't always easy to come by in very

small towns. But the Sunshine Coast is full of surprises.

Residents and visitors alike tend to cheer, loudly,

when we come across a particularly fine selection of

merchandise, perfectly plated food, motivated yet

discreet service, big city music, whatever. We are proud to let

people know. And so: Hurray!

Hurray for Vortex Fashions, which has been bringing high-end

European fashion to the Coast for fifteen years. Stylish and

dedicated owner Ewa Niepokojczycki (pronounced Eva) feels

strongly about the importance of fashion:

"Fashion is the art and creative force for expressing your true self."

Vortex is full of gorgeous European lines designed to look great

on every body. Here, texture is at least as important as colour,

and each piece has a bit of a twist: unusual pockets or neckline,

a combination of weaves, a fashionably uneven hemline. Linen

features prominently. "Looks fabulous with wrinkles!" Ewa

enthuses. No flimsy fabrics here. These boxy and loose fashions

nevertheless have a deliberate drape designed to hold your

space, to move and flatter.

Natural colours—oyster, sandstone, granite, and custard—

predominate. But where there is a more standout colour, it is a

bold and saturated turmeric, the greenest Kermity green, a blue

between electric and navy.

The pieces are designed to mix and match. A sleeveless tunic

top can be worn alone for a little exposure, or paired with loose

but slim-legged slacks. Scarves in every variety tie it all together.

The store itself is artfully laid out, graced with tribal touches and

collectibles. And don't expend all of your attention on the racks of

clothing and accessories! Make sure to glance at the walls and the

arresting artwork of Ewa's husband, artist Lez Niepo.

Ewa got her fashion start on a holiday in Bali, where she found

irresistibly beautiful fabrics. She set out to design clothing with

these and never looked back. She discovered there was a niche

for quality fabric and unusual design.

Now her lines come from places like Italy and Australia. It is

technically casual wear, but everything can easily be dressed up

or down. It makes one yearn to be invited to a garden party.

The prices at Vortex aren't for all of us, however. And over the

years Ewa has felt unfairly judged by certain visitors to her store

who were dismayed at her higher-end prices. Indeed, Vortex

Fashions rubs uneasy elbows with thrift and second-hand stores

on Cowrie Street. But she has a loyal and well-heeled following

who appreciate being catered to and who trust her judgment. Ewa

buys some items with specific customers in mind. These people

know what they want and where they have to go to get it. Vortex

has clients who come in at the beginning of summer and buy a

whole wardrobe of the freshest fashions. It is Ewa's dedication

to high-end quality and discernment that has kept her business

thriving all these years.

22

YOU'LL FIND VORTEX EUROPEAN FASHIONS AT 5712 COWRIE STREET IN SECHELT.
---
VORTEX

EUROPEAN

FASHIONS

the look

of the season

5712 COWRIE, SECHELT

604.741.0655

ACROSS THE STREET FROM

OUR PREVIOUS STORE

"FASHION IS THE ART AND

CREATIVE FORCE FOR

EXPRESSING YOUR TRUE SELF."

Consignment

Charming, eclectic, nature-inspired, beachy casual decor.

Locally made furniture, art & craft. Featuring "Where We Live"

landscape photography by local Diane Nicholson.

Design, decor, and de-cluttering services also available.

5660 Cowrie Street, Sechelt | 604.885.5884

spring 2019 23
---
WHAT'S HAPPENING

MAY

5HUGE ANNUAL PLANT SALE

THIS IS THE BIG ONE! CHOOSE FROM HUNDREDS OF

SMALL TREES, SHRUBS, AND PERENNIALS AT GREAT

PRICES. MASTER GARDENERS WILL BE ONSITE TO

OFFER EXPERT ADVICE FOR CHOOSING THE BEST

PLANTS FOR YOUR HOME GARDEN. SC BOTANICAL

GARDENS, 5941 MASON RD, SECHELT10AM–1PM.

INFO: COASTBOTANICALGARDEN.ORG

HIKE FOR HOSPICE

A JOYFUL CELEBRATION WITH MUSIC, FOOD, PRIZES

AND A SHORT HIKE ALONG THE SEAWALL, UNITING

PEOPLE OF ALL AGES AND BACKGROUNDS WHO

SUPPORT THE WORK OF THE HOSPICE SOCIETY.

PRESENTED BY THE SUNSHINE COAST HOSPICE

SOCIETY. MISSION POINT PARK 12–2:30PM.

INFO: COASTHOSPICE.COM

9SPRING FASHION SHOW FUNDRAISER

FOR ST. BART'S FOOD BANK

A FUN EVENING OF FASHION, LIVE AUCTION, 50/50

DRAWS AND FUN! PRESENTED BY LANDING CLOTHING

CO. & PEGGY SUE'S. ST. BART'S CHURCH, 7PM.

INFO: 604.886.2116

10

SC QUILTERS GUILD 2019 QUILT SHOW

SHOW CHALLENGE, RAFFLE QUILT, COMMUNITY QUILTS,

MERCHANTS. GIBSONS & AREA COMMUNITY CENTRE,

700 PARK RD, 10AM.

10

SCHOOL OF MUSIC COFFEE HOUSE

EXCELLENT MUSIC FROM LOCAL PERFORMERS IN

OUR WATERFRONT THEATRE.

SCHOOL OF MUSIC, MADEIRA PARK, 7:30PM.

INFO: PENDERHARBOURMUSIC.CA

MOTHER LOVE

STORIES CELEBRATING MOTHERS. HICKS WILL

PERFORM THE FEISTY, THE FUNNY, THE SILLY AND

SAD CHARACTERS FROM A VARIETY OF HER WORK.

ANNA LUMIERE WILL BE FEATURED ON PIANO AND

GORD HALLORAN WILL PROVIDE VOCALS. HIGH BEAM

DREAMS, 350 GLASSFORD RD, GIBSONS, 7:30PM.

INFO: CAITLINHICKS.COM

11

THE KUBE SPRING CRAFT FAIR

SHOP LOVELY OFFERINGS FROM LOCAL ARTISANS -

CERAMICS, TEXTILES, ART, FOOD & DRINK, JEWELRY,

FLOWERS, APOTHECARY, TAROT CARD READINGS, &

MORE, 104-875 GIBSON WAY, GIBSONS, 11AM–5PM.

INFO: THEKUBE.CA

16–22

ATTACK OF DANGER BAY 18

THE WORLD'S BEST DOWNHILL RACERS GATHER

FOR A WEEKEND OF EXTREME LONGBOARD RACING.

VARIOUS LOCATIONS IN PENDER HARBOUR.

INFO: COASTLONGBOARDING.COM/CALENDAR

17

3 RD ANNUAL ART AT THE MARKET SHOW & SALE

LOTS OF WONDERFUL NEW WORK BY THE LANDING

ARTISTS GROUP. GIBSONS PUBLIC MARKET,

473 GOWER POINT RD.

18

74 TH ANNUAL PENDER HARBOUR MAY DAY

COME CELEBRATE WITH A PANCAKE BREAKFAST,

PARADE, GAMES, VENDORS, FOOD AND FUN!

MADEIRA PARK, 9AM–4PM.

'OUT OF THE WOODS' OPENING RECEPTION

AN EXHIBITION FEATURING WORKS OF LOCAL ARTISTS

JESSICA SILVEY & PLUMBBOB. FIBREWORKS GALLERY,

12887 SC HWY, MADEIRA PARK, 2PM–4PM

INFO: FIBREWORKSGALLERY.COM

19

JANELLE NADEAU TRIO

AN AFTERNOON OF MUSIC WITH HARP, VIOLIN,

AND CELLO RANGING FROM CLASSICAL TO FOLK

AND TRADITIONAL CELTIC. SCHOOL OF MUSIC,

MADEIRA PARK, 2PM.

INFO/TICKETS: PENDERHARBOURMUSIC.CA

25, 26

12 TH ANNUAL LUND SEAFOOD FESTIVAL

OUTDOOR WEEKEND EVENT ALONG THE SHORES

OF LUND HARBOUR WITH SEAFOOD VENDORS,

LOCAL MUSICIANS, MARINE PARK TOURS, COOKING

DEMONSTRATIONS, LOCAL CRAFTS, AND MORE.

ADMISSION IS FREE!

INFO: LUNDBC.CA

31

LGBTQ2 + ALLIES YOUTH GROUP

COME BY TO HANG OUT - FOR YOUTH UNDER 24.

SNACKS AND DRINKS PROVIDED. PRESENTED BY

GIBSONS & DISTRICT PUBLIC LIBRARY AND SUNDAY

IN THE PARK WITH PRIDE SOCIETY. GIBSONS &

DISTRICT PUBLIC LIBRARY, 6PM–8:30PM

INFO: GIBSONS.BC.LIBRARIES.COOP

WE ARE ONE

CONNECTIONS IN LIFE AND AMONG LIVING THINGS

ARE THE THEMES OF PENDER HARBOUR CHOIR'S

SPRING CONCERTS WITH MUSIC DIRECTOR

KENNETH NORMAN JOHNSON AND ACCOMPANIST

DAVID POON. BOTANICAL GARDEN PAVILION,

MASON RD, SECHELT, 7PM.

INFO: PENDERHARBOURCHOIR.COM

EVENTS ARE LISTED FREE. PLEASE SEND YOUR EVENT DETAILS TO EVENTS@ZOOMSUNSHINECOAST.COM
---
JUN

2WE ARE ONE

CONNECTIONS IN LIFE AND AMONG LIVING THINGS ARE

THE THEMES OF PENDER HARBOUR CHOIR'S SPRING

CONCERTS WITH MUSIC DIRECTOR KENNETH NORMAN

JOHNSON AND ACCOMPANIST DAVID POON. PENDER

HARBOUR SCHOOL OF MUSIC, MADEIRA PARK, 2PM.

INFO: PENDERHARBOURCHOIR.COM

7–9

16 TH ANNUAL PENDER HARBOUR BLUES FESTIVAL

3 MEMORABLE DAYS OF FANTASTIC MUSIC AT UNIQUE

VENUES AROUND SCENIC PENDER HARBOUR.

INFO/TICKETS: PHBLUES.CA

8, 9

A PLACE IN THE CHOIR

THE SUNCOAST PHOENIX CHOIR PRESENTS A WIDE

VARIETY OF MUSICAL STYLES. FEATURING SPECIAL

GUEST, THE PENDER HARBOUR SECONDARY

SCHOOL CHOIR. JUNE 8 - ST. HILDA'S ANGLICAN

CHURCH, SECHELT, 7 PM; JUNE 9 - CALVARY

BAPTIST CHURCH, GIBSONS, 2:30PM.

14

SCHOOL OF MUSIC COFFEE HOUSE

EXCELLENT MUSIC FROM LOCAL PERFORMERS IN

OUR WATERFRONT THEATRE.

SCHOOL OF MUSIC, MADEIRA PARK, 7:30PM.

INFO: PENDERHARBOURMUSIC.CA

15

CHILDREN'S FESTIVAL & DUCK PLUCK

GAMES, FOOD, MUSIC, ART, DANCE & FUN.

ALL PROCEEDS SUPPORT THE PROGRAMS OF SC

COMMUNITY SERVICES SOCIETY PROGRAMS.

DOUGALL PARK, GIBSONS, 10AM–2PM.

17–29

PRISMA 2019

THE PACIFIC REGION INTERNATIONAL SUMMER

MUSIC ACADEMY (PRISMA) PRESENTS CONCERTS

AND MASTERCLASSES IN A TWO-WEEK PROGRAM IN

POWELL RIVER, PREPARING MUSIC STUDENTS AND

YOUNG PROFESSIONALS FOR CAREERS IN CLASSICAL

MUSIC PERFORMANCE. INFO: PRISMAFESTIVAL.COM

21–23

24 TH ANNUAL GIBSONS LANDING JAZZ FESTIVAL

A WEEKEND FULL OF LIVE JAZZ MUSIC AND SO MUCH

MORE. OUTDOOR FESTIVALS, CONCERTS, DANCES

AND COMMUNITY FUN. INFO: COASTJAZZ.COM

29

'CONVERSATIONS IN WHITE' OPENING RECEPTION

THE SUNSHINE COAST SURFACE DESIGN GROUP

EXPLORES THE WIDE RANGE OF WHITE WHILE

INCORPORATING TEXTURE AND PATTERN. FIBREWORKS

GALLERY, 12887 SC HWY, MADEIRA, 2PM–4PM.

INFO: FIBREWORKSGALLERY.COM

JUL

4–13

BC BIKE RACE - SUNSHINE COAST STAGES 4,5,6

THIS RACE WINDS THROUGH 9 BEAUTIFUL WEST COAST

COMMUNITIES, EACH SHOWCASING UNIQUE QUALITIES

AND ELEMENTS THAT MAKE BRITISH COLUMBIA

A WORLD-CLASS DESTINATION FOR ATHLETES,

ADVENTURERS AND TOURISTS ALIKE.

INFO: BCBIKERACE.COM

13

'A TANGLED WEB' OPENING RECEPTION

SANDY KAY'S VISUAL REFLECTIONS ON THE

BOG IN SMUGGLER COVE. GIBSONS PUBLIC ART

GALLERY, SATURDAY JULY 13, 2PM–4PM.

EXHIBITION RUNS FROM JULY 11 TO AUGUST 11.

INFO: GPAG.CA

13–14

53 RD ANNUAL HALFMOON BAY COUNTRY FAIR

FUN ACTIVITIES OVER THE WEEKEND AT COOPER'S

GREEN PARK IN HALFMOON BAY.

INFO: HMBCOMMUNITY.ORG

21

19 TH ANNUAL SAVARY ISLAND

FAMILY FRIENDLY TRIATHLON

FAMILIES AND FRIENDS OF ALL FITNESS LEVELS

CHALLENGE THEMSELVES TO MEET PERSONAL BESTS.

SAVARY ISLAND, 9AM.

INFO: SAVARYTRI@HOTMAIL.COM

27–28

TEXADA ISLAND BLUES AND ROOTS FESTIVAL

A MUSIC FESTIVAL FOR EVERYONE, WITH A FARMERS

MARKET, FOOD AND CRAFT VENDORS, A KIDS' ZONE,

AND A PLACE TO QUENCH THE ADULTS' THIRST.

GILLIES BAY, TEXADA ISLAND.

INFO: TEXADABLUESFESTIVAL.COM

DATES AND TIMES MAY HAVE CHANGED AFTER PRESS TIME. PLEASE CONFIRM EVENT DETAILS WITH ORGANIZERS.

GIBSONS

Gibsons Plaza, Upper Gibsons

604.886.3487

WILSON CREEK

Wilson Creek Plaza, Hwy 101

604.885.6331

MADEIRA PARK

12887 Madeira Park Road

604.883.9100
---
DESTINATION

DESTINATION

The Sunshine Coast

BEAUTY & BOUNTY

26
---
The arrival of spring means shaking off the winter malaise and letting the longer days, brighter

skies, and warmer weather refresh your spirits. On the Sunshine Coast, it's the perfect time to

reacquaint yourself with the area's natural beauty and get excited for summer coming up. If the

ocean beckons, heed the call. Grab a blanket, a picnic, and some friends and meet up for casual

beachfire gatherings at your favourite sandy spot. Spring is prime time for bonfires, since fire

bans are often the case during the summer months.

Warmer weather also brings out watercraft aplenty, the sparkling Salish Sea inspiring locals and visitors alike to

take their boats, kayaks, and SUPs out from winter storage. Fishing along the Coast is a popular pastime. With a

robust salmon migration route, you can expect to find chinook salmon year round, joined by sockeye, coho, pink,

ALL PHOTOS COURTESY OF SUNSHINE COAST

TOURISM | OPPOSITE PAGE: OTB CHARTERS

BY NATHANIEL MARTIN. THIS PAGE FROM

TOP: COAST GRAVITY PARK BY ABBY COOPER,

PENDER HARBOUR BY NATHANIEL MARTIN.

spring 2019 27
---
and chum salmon from mid-April to mid-November.

Spend a few hours in your waders or head out in a

boat for a day's adventure. If you don't have your

own vessel, chartering a boat is a stress-free way to

go. In Pender Harbour, outfits like OTB Boat Charters

know the best spots, providing the know-how and

gear so you can focus on the fishing. Whether a

simple, unhurried catch or an indulgent ocean-totable

experience, OTB can make it happen.

Trading in your reel for spokes is not uncommon on

the Coast, equally a mountain biker's paradise as it

is a fisherman's utopia. With over 700 kilometres of

bike trails throughout the South and North Coasts,

every town from Gibsons to Lund has its own parks

and trails. Coast Gravity Park is a world-renowned

downhill park just ten minutes past Sechelt. Built

by a home team of riders—the Coastal Crew—Coast

Gravity Park offers a network of shuttled trails for

those with basic skills to expert riders.

ON LAND OR SEA,

SPRINGTIME ON THE

SUNSHINE COAST

WAKES US UP FROM

OUR WINTER SLUMBER

AND INTRODUCES US TO

THE JOY OF WARMER

MONTHS

At the northernmost end of the Sunshine Coast

is the town of Lund. Once you've fished and biked

your way up the Coast, treat yourself to a stay at the

reimagined Lund Hotel at Klah ah men. Though it has

a rocky past, this historic hotel is now a celebrated

establishment, proudly owned by the local Tla'amin

Nation. As the first full-service Indigenous resort

on the Sunshine Coast, it offers event space, a

restaurant, and a pub, all overlooking the renamed

13 Moons Marina.

On land or sea, springtime on the Sunshine Coast

wakes us up from our winter slumber and introduces

us to the joy of warmer months. It's a time that

reminds us of the beauty and bounty that surrounds

us, and we can take a literal breath of fresh air.

PHOTOS FROM TOP: PENDER HARBOUR BY NATHANIEL MARTIN,

SECHELT INLET BY ANDREW STRAIN, LUND RESORT BY CHRIS ISTACE.

SHARE YOUR SUNSHINE COAST STORIES AND PHOTOS ON SOCIAL

MEDIA USING #SUNSHINECOASTBC. FOR MORE INFORMATION,

VISIT SUNSHINECOASTCANADA.COM.

28
---
Exceptional Value,

Spectacular Living.

Make the move to our Coast!

full kitchenettes, flat screen tvs, decks & seating areas in every room

Your Home Away from Home

on The Sunshine Coast

campsites available - with outdoor shower!

13483 Sunshine Coast Hwy, Madeira Park

reservations@thestonewater.ca | (604) 883-0046

www.thestonewater.ca

Stacey Buchhorn

Sunshine Coast

staceybuchhorn.com

604.760.4797

THE SUNSHINE COAST'S

PREMIER

GLASS OUTFITTERS

BLUE OCEAN

BAR AND GRILL

Enjoy Chef Jeremy Marotte's

new summer menu and fresh sheets

RESIDENTIAL / COMMERCIAL / MACHINE / MARINE

FREE ESTIMATES!

604 741-8075 secheltglass.com

Mother's Day Brunch

Sunday, May 12, 2019

Seatings at 10am, 12 & 2 pm

Reservations required

604.885.2700 ext 2 | 6177 Ripple Way, Sechelt

www.blueoceangolf.ca/dining

spring 2019 29
---
DESTINATION

WORDS | NATALIE FINDLAY

PHOTOGRAPHY | EDMUND ARCEO

STONEWATER

he Stonewater Motel has been a Pender Harbour mainstay from the days of old; the motel's

signage was where you would hitch your horse during your stay. By the time Terry Griffin and

Scott Barras got their hands on it in 2008, it needed a bit of love. Lots of love, actually. A serious

upgrade to the infrastructure was more than they had bargained or budgeted for. However, they

Tjumped in without looking back and now have a thriving community of new and regular guests.

30
---
Terry treats the motel as she would her home: clean, comfortable, and

friendly. The rooms are spotless and fully stocked for each guest's

arrival, thanks to Terry's fastidious high standards. Whether staying a

night or a week, you'll have everything you need, from Keurigs to kettles,

from salt to sumptuous bed sheets.

Stonewater features a fire pit for evening campfires. where stories

are shared and friends made; a vegetable garden for guests to tend,

pick, and enjoy; and a barbecue for guests to cook up the day's fishing

catch. Griffin loves seeing people getting to know each other and often

observes guests from several units getting together for evening meals

on their decks as overlapping vacations are shared.

Pets are always welcome. As some people are extremely allergic to

animals, Terry ensures each room that has accommodated a furry

family member is meticulously cleaned so the next guests can enjoy

their stay. Stonewater has larger suites for four people, rooms for two,

and RV and camping sites. Scott built a beautiful outdoor shower last

year with hot water on demand. Even those with suite rooms will want to

enjoy the free feeling of an outdoor shower.

Russell deCarle

Kenny "Blues Boss" Wayne

Steve Marriner

Cousin Harley

Marcus Mosely

Doc Fingers

Tim Hearsey

Sully Antonyk

The Grand Koolios

Steve Hinton Band

Joe Stanton

Jim Foster

Blue Line Duo

Karen Graves

Simon Paradis

Poppa Greg & The Chillin' Dylans

16 th

june 7,8,9

2019

buy your tickets online!

www.phblues.ca

tickets also available at:

Strait Music (Sechelt), Java Docks &

The Royal Canadian Legion (Madeira Park)

gibsons landing

Located close to restaurants, grocery stores, a gas station, the golf

course, and with proximity to lakes, the ocean, and easy access to many

hikes, the Stonewater Motel is a desirable location for your vacation stay.

For locals and visitors alike, Stonewater offers quick laundry services

with an industrial-sized sterilization washer and dryer that can handle

all clothes and linen needs. If you're looking for laundry to be done while

on the road, your construction uniform is getting a little "stiff," or you're

packing up your house until your next visit, Terry can handle all your

laundry needs. The Stonewater's friendly service, relaxing environment,

and easy access to nature will make your stay a lasting memory.

STONEWATER MOTEL IS LOCATED AT 13483 SUNSHINE COAST HWY NEAR THE PETRO CANADA

STATION IN KLEINDALE. VISIT THEIR WEBSITE THESTONEWATER.CA FOR MORE INFORMATION.

june 21–23, 2019

21

Opening Festival Concert

22

23

• Street Festival

• Dance

• Sunday Brunch

• Sunday Park Festival

coastjazz.com JAZZ WEEK: JUNE 14–20 RESTAURANTS/VENUES

spring 2019 31
---
WELLNESS

ORTHO-BIONOMY ®

Our bodies are complex, and the

path to health is not always clear or

simple. What is accessible are multidisciplinary

approaches that provide

the support to assist our bodies to

heal and become stronger.

Dr. Arthur Lincoln Pauls, founder of Ortho-Bionomy ® ,

taught Ortho-Bionomy ® for the first time in Canada in 1976.

Originally from Canada, Dr. Pauls was a British osteopath

at the time and combined the structural principles from

osteopathy with energetic and philosophical concepts

from the martial arts along with homeopathy teachings.

Gentle Healing

In the early 2010s, Sunshine Coast resident Scott McQuitty

suffered a vertebral artery dissection stroke. This incident

was the impetus that led him on the path to becoming an

Ortho-Bionomy ® practitioner. When life gives you lemons;

make lemonade, and that is what Scott has done. In 2015

he received his practitioner's certificate, and after further

practice hours and education, achieved his advanced

practitioner certificate in 2018.

Ortho-Bionomy ® is a profound, effective, and noninvasive

practice that encourages self-awareness and

stimulates the self-healing reflexes, reminding the body

how to reclaim comfort. The practitioner takes the time to

listen to the body and responds with gentleness, guiding

the client's body without force to release the associated

trauma the body is holding. Scott has worked with many

clients, and his calming and soothing manner allows them

to discover the innate wisdom each body has to heal itself.

The Ortho-Bionomy ® website www.ortho-bionomy.ca

shares the principles of this modality: to be able to stimulate

the body's self-healing reflexes in order to help yourself

to achieve balance and comfort; to use the smallest

treatment necessary to bring about the healing response

as the practitioner, through gentle movement and

compression, guides the body to change the stress and

pain patterns; to work on all levels—physical, mental, and

emotional—therefore relaxing all components of the body

as they connect with internal healing and stimulate inner

awareness of the natural state of balance; and to work

within the comfort zone of both the client and practitioner

in a respectful and safe environment.

Pain leaves the body tired and tense, when what we need

for healing is to release and relax.

32
---
THE BASIC PRINCIPLE OF THIS

MODALITY IS TO STIMULATE THE

BODY'S SELF-HEALING REFLEXES

TO HELP YOURSELF ACHIEVE

BALANCE AND COMFORT.

Ortho-Bionomy ® reminds the body of its natural ability to restore

balance, from pain to peace.

This technique is performed fully clothed, with light to limited touch,

allowing attention to those who are extremely sensitive, including

those in pre- and post-operative care, people with sports injuries or

experiencing acute and chronic pain, and infants and newborns.

As far as our health and wellbeing is concerned, many different

modalities can support our bodies as we heal. Discovering the one that

can help you in your time of need requires curiosity and commitment.

While a certain style may have worked for one ailment, it may not

always work for another. Being open to different methods of healing is

a gift we can all give ourselves. Scott helps clients at Suncoast Body

Works in Sechelt and in Garden Bay.

A peaceful space

for people of all walks of life

and beliefs, to come and receive.

The Centre welcomes everyone.

Discover practical tools to help you navigate life with greater ease

and balance. Learn mindfulness or in-depth Pure Meditation,

receive Healing, and/or give yourself time to retreat

for a few hours, a day, or longer.

Halfmoon Bay, Sunshine Coast . 604.740.0898

sevalightcentre@telus.net . www.selfrealizationcentrecanada.com

A not-for-profit Society

SevaLight

Retreat Centre

for Self Realization Pure Meditation Healing & Counselling

Our Canadian, prairie-grown Hemp Seed Hearts, Protein

Powders and Oils provide essential nutrients for healthy living.

Hemp Seed Hearts contain highly digestible

proteins including all 10 essential amino

acids, and are a perfect

naturally balanced source of

Omega-3 and Omega-6 EFAs.

Organic or natural, all of our

products are sustainable,

vegan, non-GMO, gluten-free,

nut-free and they taste great!

FOR MORE INFORMATION ABOUT ORTHO-BIONOMY ® , PLEASE CONTACT SCOTT MCQUITTY

AT 604.741.3233 OR VISIT SUNCOASTBODYWORKS.CA.

spring 2019 33
---
Move away from pain with

Ortho-Bionomy ®

As the body relaxes, tension leaves and

self-correcting reflexes emerge.

Many seek Ortho-Bionomy to:

Relieve headaches, back, neck & joint pain

Alleviate Frozen shoulder & carpal tunnel syndrome

Promote Relaxation & Prevention

LOCALLY DESIGNED & ETHICALLY MADE CLOTHING

shopmorgans@gmail.com

facebook.com/shopmorgans

Suncoast Body Works

SCOTT McQUITTY, ROBP

Registered Advanced Ortho-Bionomy ®

Practitioner

Call or text: 604.741.3233

www.suncoastbodyworks.ca

Gift Certificates Available

healingscents

THE SUNSHINE COAST'S ORIGINAL SOURCE

FOR ORGANIC ESSENTIAL OILS

shop online at www.healingscents.net

2-626 Shaw Rd, Gibsons | 604.886.6583 | 604.741.1503

Spring into Health

and Seize the Opportunity

to Live Your Dreams

34

YOUR CLEAR CHOICE FROM LANGDALE TO EGMONT

Residential . Commercial . Auto & Marine

24 Hr Emergency Service . Insurance Claims

FREE ESTIMATES

Custom Shower & Tub Enclosures . Residential Glass Replacement . Skylights

Glass Railing . Auto Glass Replacement & Repair . Window Screens . Phantom Screens

Custom Cut Mirror & Glass . Plexiglass

LOCALLY OWNED & OPERATED

604.740.9960 5590 Wharf Rd., Sechelt

. C​hildren's health

. Women's health​

. A​cute & chronic pains

. Fatigue & stress

. Depression​ & anxiety

Sequoia Naturopathic Centre

8442 Redrooffs Rd, Halfmoon Bay, BC

Dr. Denise Rochon

N.D., F.C.A.H., C.C.H.

Naturopathic Doctor

I can help you​ ​or a loved one, ​if you have any concerns regarding:

. Digestive ailments

. Insomnia

. Allergies

. Infertility

. Weight issues

. Hormonal imbalances

. Immune & autoimmune diseases

. Conditions of the nervous or

cardio-vascular systems

. Skin conditions​ and ​more . . .

By Appointment: 604.885.3150

www.drdeniserochon.com
---
TURTLE BAY, OAHU

MELONY MOK, ISABELLA DROGOSIEWICZ,

& PHAEDRA-LYNN HICKS

VIEWFINDER

JOSE & SUZANNE QUEIROGA

ZIHUATANEJO, MEXICO

PENDER HARBOUR SECONDARY

STUDENTS & TEACHERS

WHISTLER, BC, CANADA

spring 2019 35
---
VIEWFINDER

JOANNE POCOCK

BRIGHTON, ENGLAND

STEVE MITCHELL

SYDNEY, AUSTRALIA

MORGAN & SYDNEY DOWNIE (HI MOM!)

CANCUN, MEXICO

BRIGHTON, ENGLAND

SUSAN ARCEO

DALE SPENCE

ALICANTE, SPAIN

36

VICTORIA, BC, CANADA
---
HALONG BAY, THAILAND

ALHAMBRA, SPAIN

BRUCE SEARLE &

YVONNE MOUNSEY

CASEY, CLARENCE, CELINE,

CAILEAN, & CARLO LAGMAN

PETER WARD &

EDITHA ARCEO-DALISAY

SINGAPORE

SUNSHINE COAST RESIDENTS TAKE GREAT SOUVENIR

PHOTOS OF THEIR TRIPS WITH THEIR FAVOURITE LOCAL

MAGAZINE AND SHARE WITH US SNAPSHOTS OF THEIR

ADVENTURES. COPIES OF ZOOM ARE OFTEN LEFT WITH

THEIR HOSTS AND NEW FRIENDS, AS SUNSHINE COAST

KEEPSAKES. MANY OF OUR READERS ALSO SEND COPIES

OF ZOOM TO THEIR RELATIVES AND FRIENDS OVERSEAS

AND ASK THEM TO SEND PHOTOS OF THEMSELVES WITH

THE MAGAZINE. SHARE YOUR ZOOM TRAVEL PHOTOS,

TOO. REMEMBER NOT ONLY TO HAVE A COPY OF ZOOM

IN THE PHOTO, BUT ALSO SHOW A GREAT VIEW OF THE

PLACE YOU VISITED! SEND PHOTOS FOR CONSIDERATION

TO VIEWFINDER@ZOOMSUNSHINECOAST.COM.

LINDA BUCKINGHAM & GREG DEACON

DEE FREADRICH & RICK BUDD

MURI BEACH, COOK ISLANDS

BERLIN, GERMANY

spring 2019 37
---
PUERTO VALLARTA, MEXICO

VIEWFINDER

LUNENBERG, NS, CANADA

PEGGY COLLINS

CORVID LEBRAY &

JOHN COLLENS

DUBAI, UAE

38

LAURI & PETE DUNK

HUATULCO, MEXICO

JOHN & CANDACE PINKSTER
---
TRAIL BAY

open

daily

in july

and august

fresh

from the coast

local artisan

shop & gallery

5498 Trail Avenue, Sechelt | 604.741.0760

spring 2019 39
---
HOME

WORDS | NANCY PINCOMBE

PHOTOGRAPHY | DOLF VERMEULEN

RUSTIC MODERN

40

T

he home of Nicolas and

Jess Meyer in upper

Roberts Creek has fine

craftsmanship in every

direction. It shows strong

Bauhaus influences, an

emphasis on reclaimed

materials, lots of wood, and

a simple functionality that works so well in our

over-the-top natural surroundings.

The Meyers spent a year searching in the Fraser

Valley and on the Sunshine Coast for a property

near enough to their Vancouver clients. When they

purchased the home and acreage in 2005, they

knew they had found a place where they could

blend family and working life. More and more

young families choose the Sunshine Coast for

these reasons. Very often the workspace needs to

be established first. The Meyers were no different.
---
"The building of the shop," they say, "was the priority, since

that was our business. After building the shop, we changed

our home little by little, without touching any of the core

infrastructure, and honoured the original layout of the house.

We love working with the space instead of rearranging

everything. We used a lot of reclaimed materials or materials

we found on the property or from within the house."

Their shop wasn't just tacked together in haste. The

2000-sq-ft open-plan studio features an entire wall of

windows (more than forty) and won an architectural green

design and building award in 2010 for using reclaimed

building materials, first-growth timber, and other design

features considered to have low environmental impact. A

separate three-bedroom cottage is ideal for guests or rental.

"WE USED A LOT OF

RECLAIMED MATERIALS OR

MATERIALS WE FOUND ON

THE PROPERTY OR FROM

WITHIN THE HOUSE"

Community is also what attracted the Meyers to the area,

yet that might not be what first comes to mind when viewing

a large house set on forested acreage. But the nearby

village of Roberts Creek enjoys a full calendar of community

events, from parades, dances, and concerts to the annual

everyone-welcome painting of the mandala at the entrance

to the beach and jetty. Rural Roberts Creek has farm stands

(honour system!), and people go visiting on horseback.

Nicolas elaborates:

"We love the diversity of the coastal community. When you

are on the ferry, you have the Porsche beside a beat-up old

rusty truck and next to that the e-car or Harley Davidson.

Mostly, though, we were attracted to all the artists and

artisans."

The Meyers are design and craft professionals (visit Nico

Spacecraft on Facebook). They poured all their twentyfive

years of expertise into this home, with custom ceiling

tiles, reclaimed wood, high-end appliances, functional yet

beautiful kitchen and bath design, and painstakingly curated

materials. That means, for example, the solid maple flooring

was recycled from the UBC memorial gym (apparently Jimi

Hendrix performed on it). The wood kitchen fronts were

made with white oak from a heritage tree planted in Gibsons

almost 100 years ago. It had split and was deemed unsafe

by arborists. The Meyers joined in the effort to conserve the

wood and used it thoughtfully. The materials and features of

this unique estate contain many stories.

FOR MORE INFORMATION ABOUT THIS PROPERTY, PLEASE CONTACT RACHEL DEMPSTER AT 604.506.3141 OR VIA RACHELDEMPSTER.COM.

spring 2019 41
---
ADVERTISEMENT

the hub

ReDecor

Consignment

Charming, eclectic, nature

inspired, beachy casual

decor for the home or cabin.

Locally made furniture, art &

craft. Always stylish, always

affordable.

Design, decor & de-cluttering

services available.

"Where We Live" landscape

and seascape photography

by local Diane Nicholson.

Thanks for supporting our

downtown community!

604.885.5884

5660 Cowrie Street, Sechelt

Original Carvings &

Sculpture by Keith Burdon

Inspired by a life lived on

Canada's coastlines. A mix

of whimsy and realism,

vibrant colour and the

natural beauty of wood.

Open year round by

appointment or chance.

redherringstudio.ca

fb.com/redherringstudio

info@redherringstudio.ca

604.741.7496

Reflections Bed &

Bath Collections

CINDY BUIS PHOTO

Artworks Gallery

& Picture Framing

Largest Selection of Framing

on the Sunshine Coast

Custom Framing, Conservation

Matting, Glass Cutting,

Art Supplies, Local Art &

Reproductions. More than

35 years experience.

604.740.2660

5697 Cowrie Street, Sechelt

Monday–Friday: 10am–5pm,

Saturdays until 4 pm

Kanata by Daniadown

We carry major brands:

Daniadown

Cuddle Down

Àlamode Home

Decorate your sanctuary to

fit your personal taste and

lifestyle without having to

leave the Sunshine Coast!

We offer a collection of

duvet covers, duvets, linens,

pillows, towels, robes, bath &

beauty products. Introducing

new orthopedic mattress

toppers. Gift certificates and

a Bridal Registry available.

604.885.4893

5668 Cowrie St., Sechelt

reflectionsbedandbath.ca

SIAM99

Thai Clothing, Accessories

and Asian Home Décor

A showcase of modern Thai

casual clothing & accessories

& handcrafted Asian home

décor personally sourced

by owner Gina Kusuma

Thongbai. Traditional Thai

Massage and Psychic

Medium Readings also

available. Featuring locally

made jewelry and other

seasonal products.

103-12808 Madeira Park Rd.

Madeira Park, BC

siam99.ca | fb.com/siam99

604.740.2472

Washtub

Laundromat & Alterations

Full Service ~ Family

Owned and Operated

Attendant always

available to help with

machines and coins

Large washer/extractors

for duvets, blankets,

dog beds, etc.

Drop and fold service

Open 7 days a week!

Monday–Saturday 9 am–6 pm

- last load in by 5:30 pm

Sunday 9 am–4 pm

- last load in by 3:30 pm

682 Gibsons Way, Gibsons

(beside Panago Pizza)

www.washtub.ca

604.886.0308

42
---
DIEGO'S DEN

OSCAR

by Eleanor Lenz

MIGUEL

with Motoko

by Edmund Arceo

JAC

by Edmund Arceo

TESSA

by Heather Gordon

BRIE

by Edmund Arceo

MONTGOMERY WARD (2007-2019)

by Victoria Louise

ELIZA JANE

by Margaret Sinclair

spring 2019 43
---
DELILAH

by Chris Brown

ZIGGY

by Sherry Reid

COFFEE

by Caroline Au Yeung

TIA

by Leanne Bernaerdt

ZAHRA & GEORGI

by Fred Glasbergen

DEREK

by Heather O-Donnell

SILVER MIST

by Elisabeth Parker

HENRY

by Laurin Shadforth

A local family business since 1989

Committed to support our neighbourhood

Your Sunshine Coast Pet Headquarters

@AllforPetsSechelt

#allforpets

Better Nutrition for Healthy, Happier Pets! | 101-5641 Cowrie Street, Sechelt | 604.885.8843 | www.allforpets.ca

44
---
DEXTER

by Gerd Hoechstetter

SOPHIE

by Deborah Souter

SWEET PEA

by Judy MaLarty

LOLA

with Elizabeth

by Grant McBain

TINY DANCER

by Jo-Anne Chiasson

BREEZLEY

by Sandra Chudy

BEULAH

by Kim Howcroft

THOMAS & MOOKIE

by Alex Thomson

Dr. Rick Smalley DVM 604-883-2488 24

hours

Unit 201 - 12890 Madeira Park Rd, Madeira Park, BC | Fax: 604-883-2489 | mpvh@dccnet.com

spring 2019 45
---
Client Focused. Results Driven!

"She is fantastic she has helped me and my family sell our first home and purchase our second home.

She was nothing but helpful. She sold our home at an amazing price and helped us get a great deal on

our second home. She's very personable and definitely has your best interest in mind.

We love her to bits!" - Grace Gamboa

"Rachel was an excellent realtor for us. She listened to what our wants were, and debated when we

needed more convincing. Even more than being a good realtor, Rachel (and her family) participates in

her community - that level of connectedness is important when you're buying a house in a new-to-you

community." - Moj Beall

3037 GRAUMAN ROAD, ROBERTS CREEK

- OFFERED AT $1,948,800

1466 SMITH ROAD, LANGDALE

- OFFERED AT $2,499,000

Idyllic and hidden retreat in the heart of Roberts Creek. The estate boasts 5 private acres

with 2 exquisite homes and an award winning Green building (Bauhaus style) with over

2000 sq ft workshop/potential guest house. The main residence is made for entertaining

showcases superb craftsmanship and quality with a designer handmade bespoke kitchen

and many curated materials. The home has an open plan feel, authentic architectural

features, guest apartment and room to expand. The second home is a charming 3 bed

cottage with superb rental capabilities. Unique opportunity to own an heirloom property

for generations to come.

A rare opportunity to purchase this extraordinary piece of waterfront property on the

Sunshine Coast. Located in Langdale, this executive waterfront estate has it all. Shower

off sandy toes at the beach hut or enjoy a cocktail on the beach deck. Enjoy magnificent

panoramic views of Howe Sound and take advantage of private moorage. Take a dip in

the salt water swimming pool and hot tub and entertain friends in the separate guest

suite. This recently renovated home includes gourmet kitchen and is an entertainers

paradise. You have to experience this incredible coastal home for yourself!
---
a

BRITISH

COLUMBIA

VANCOUVER

t

n

I LAND

chmond

h)

WA

W SHINGTON

Seatt

ttle

Spring INTO SAVINGS

BECOME A NEW

$ 200 *

MEMBER AND GET

EXISTING MEMBERS GET $50* PER REFERRAL. GET YOUR CUSTOM REFERRAL LINK

AND SHARE IT WITH YOUR FRIENDS AND FAMILY SO THAT YOU BOTH RECEIVE REWARDS!

SUNSHINECCU.COM/SPRING

*Limited time offer. Terms & conditions apply: getyourshare.ca/terms
---
Photography by Don Klan - 604.886.3298

life on the coast brought to you by