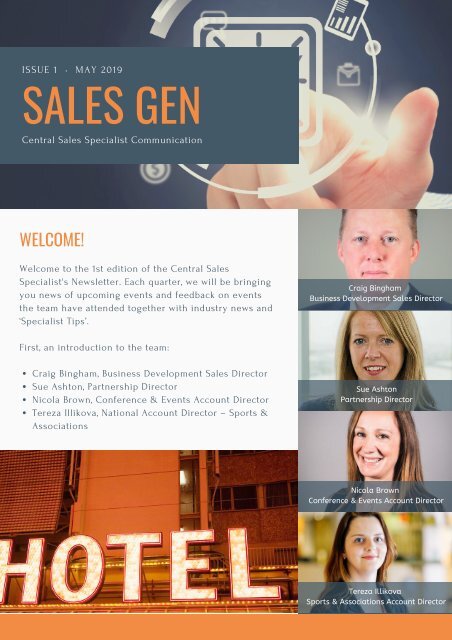 You also want an ePaper? Increase the reach of your titles
YUMPU automatically turns print PDFs into web optimized ePapers that Google loves.
ISSUE 1 • MAY 2019

SALES GEN

Central Sales Specialist Communication

WELCOME!

Welcome to the 1st edition of the Central Sales

Specialist's Newsletter. Each quarter, we will be bringing

you news of upcoming events and feedback on events

the team have attended together with industry news and

'Specialist Tips'.

Craig Bingham

Business Development Sales Director

First, an introduction to the team:

Craig Bingham, Business Development Sales Director

Sue Ashton, Partnership Director

Nicola Brown, Conference & Events Account Director

Tereza Illikova, National Account Director – Sports &

Associations

Sue Ashton

Partnership Director

Nicola Brown

Conference & Events Account Director

Tereza Illikova

Sports & Associations Account Director
---
2019 LEISURE EXHIBITIONS

ACCOR LEISURE WORKSHOP

The first quarter of the year is always a busy time for

for leisure events, and we kicked off 2019 with the Accor

Leisure Workshop. This year was the 10th Anniversary

event, held at the Novotel Hammersmith due to the high

number of attendees. It is always an exceptionally well

attended event, with this year having 114 leisure

operators and over 80 hotel representatives.

"Enquiries for

the Interstate

portfolio to

the value of

over 210k

were received,

with 45k

contracted."

As in previous years, it was a full programme of

activities with both pre booked appointments and a

speed dating/networking session.

Enquiries for the Interstate portfolio to the value of over

210k were received, with 45k contracted
---
CALDER CONFERENCES UPDATE

TOP TIPS FOR CONVERTING CALDER

CONFERENCE ENQUIRIES

Calder are a key conference agent partner of Interstate

Hotels & Resorts, with over £591k of business placed

within the portfolio in 2018. To have the best possible

chance of converting the business from Calder, it is

essential to understand their enquiry procedure:

Rates: One of the most important things for Calder are rates. Rates

must be offered within the budget stated, any higher and it is

automatically refused , a hotel that constantly quotes higher than

the stated budget will gain a reputation for this. Rather than quote a

higher rate, the business should be declined.

"Calder have

a response

time

requirement

of 40

minutes."

Response Time: The next most important element is response

time. Calder have a response time requirement of 40 minutes,

responses received after this time are highly unlikely to secure the

business.

Venue Directory response: A free format type section is now

included within Venue Directory, which provides a great

opportunity to add information about your property or what is

included in the rate i.e. free parking, themed breaks.

Updates: When chasing an update on a proposal, this should

initially be done by email, only if you do not receive a response

should you call to chase. Always explain that an email chase has

also be made.

Freesale: Freesale is an opportunity to support conversion of last

minute or distressed inventory, this is still managed via Venue

Directory.

If you have any questions about working with Calder Conferences

or would like further information on the Freesale process, please

contact: Nicola.Brown2@interstatehotels.com
---
IHG EXPO 2019

INTERCONTINENTAL PARK LANE, LONDON

The second key date in the event calendar was IHG's

very own annual B2B tradeshow in March, held at the

prestigious Intercontinental Park lane; attracting buyers,

bookers and managers of travel from segments

including leisure, meetings, extended stay,

entertainment, corporate, associations and partnerships.

As well as a general customer attendance, IHG Expo

invites top corporate buyers and meeting bookers to

participate in an exclusive Hosted Buyer program. The

exhibition showcases hotels to B2B customers; providing

these customers an opportunity to meet with the hotels.

Interstate had representation across all the IHG brands:

Crowne Plaza, Holiday Inn, Holiday Inn Express, Hotel

Indigo and Staybridge Suites. The team which included

Stephanie Pinto, Craig Bingham, Nicola Brown and Ben

Lockyear, were extremely busy throughout the day

meeting with pre-arranged and ad hoc clients to discuss

business opportunities. With all the team having full

diaries through the day and leaving with over over 45

live leads with a potential value of £250k across the

portfolio and market segments.

"With all the team

having full diaries

through the day

and leaving with

over over 45 live

leads with a

potential value of

£250k across the

portfolio and

market segments."
---
MIA CONNECT AGENT DAY

MEETINGS INDUSTRY ASSOCIATION

The MIA (Meetings Industry Association) is the principal

association supporting and growing the business meetings

and events industry in the UK, and the keeper of the AIM,

the UK's only recognised standard for the meetings

industry.

The MIA supports members with research and training,

through a multitude of networking opportunities, in order

to help businesses grow, of which the MIA Connect Agent

Day is one.

The MIA Connect Agent's Day provides a platform for a

wide range of industry professionals to network with top

agents in an unusually informal setting.

The experiential event allows delegates to completely

immerse themselves in an intimate series of discussions to

gain crucial insights and ask agents any burning questions.

It takes form as a full day event with refreshments, lunch

and an afternoon of dynamic team building activities.

Some of the

agents in

attendance, who

we met are:

Cloud 9 Events /

Engaging Spaces / Bien

Venue / Capita Travel &

Events / Pandora Events /

Dotted Lines / The Events

Company / Click Travel /

Opening Doors & Venues

/ Inntel / XSEM / Hire

Space / ACE Bookings /

To Book

Off the back of the event, portfolio information has been

sent to all agents in attendance with contact details

updated accordingly on SalesForce.

Six requests for meetings have been received to update on

the portfolio and a number of opportunities are in the

pipeline and being followed up accordingly which will be

shared with the hotels.

Some of the key topics discussed included Mental Health

& Wellness in the hospitality industry and Food &

Beverage offerings for conferences and meetings – both

subjects will be covered in more detail in the next Central

Specialist's Newsletter.
---
SPECIALIST SECTOR

SPORTS GROUPS

Many hotels have the opportunity to work with sports

groups and so we asked our National Account Director

for Sports & Associations, Tereza Illikova, for guidance

on how best to work with this sector.

The first key message about this very specific sector is

that it must be treated completely differently to MICE or

corporate groups.

There is often the perception that sporting groups, particularly football related groups, will not be

price sensitive, but this is misguided and they will definitely be looking for the most competitive

price from a property together, with a hotel that understands their needs without being told.

As with all groups, a quick response time is vital, ideally within two hours. Flexibility regarding

cancellations is also high on the list of considerations as sporting fixtures are often made with a

relatively short lead time and are liable to change. Being affected by weather, results from previous

matches, and TV rights are just a couple of the factors that can impact sporting events.

Understanding that each sport has different requirements demonstrates that you are experienced

in dealing with this sector and so reassures the agent that you are the best hotel to select. Football

will generally require a pre match meal or stay with F&B, while cricket will be B&B in most cases.

Different leagues can also have different requirements.

Twin room types will also be considered the standard so ensure inventory can accommodate this

when quoting for these groups.

Continued...
---
Have a discussion with your chef in advance so that you have prices for suitable, high

carbohydrate and protein based menus already in place, this will allow a faster response. Include a

physio room, meeting room and private dining wherever you can. Do you have Sky TV in your

hotel? Make sure this is highlighted in your response.

In regards to flexibility with the cancellation policy, allow one room up to 24 hours prior to arrival.

The likelihood of dropping a room a day before is realistic, but it might just increase your chance of

securing the business.

Waiting for a rooming list? These can come as late as 24/48 hours prior to arrival, so avoid chasing

too far in advance.

Within Interstate, there are several experts who regularly deal with sporting groups, these include

Alfonso at Holiday Inn High Wycombe and Nikhil at Holiday Inn London Bexley, both of whom have

had great success with this sector which can be attributed to their understanding of how to deal

with these groups.

If you would like more support in working with sporting groups, please contact

tereza.illikova@interstatehotels.com.
---
RATE LEAKAGE

THE WHOLESALER'S VIEW POINT

What is rate leakage? You may be more familiar with

the terms rate parity issues, rate violations and 'in the

IHG world', it is known as Lowest Internet Rate

Guarantee (LIRG)! Whatever name we know it by, it is

something we all want to avoid.

Hotelbeds, one of the biggest accommodation

Wholesalers, have an interesting article in their most

recent newsletter, which highlights some points

regarding rate violations from the wholesaler's

perspective:

"The topic of 'rate leakage' is increasingly a hot topic for our

hotel partners, so we've interviewed Hotelbeds Sam Turner,

Director of Wholesale Sales & Sourcing, to discuss the matter

in depth:

"To be clear,

we are not

making

available to

any of these

channels those

FIT rates that

are meant to

be packaged."

Recent developments in the market by some mainstream

players are leading to more OTAs selling on third-party rates,

but without giving hoteliers oversight of where those rates

come from. What is the Hotelbeds view on this?

From our end we are certainly not encouraging or supporting

this recent change in the market. To be clear, we are not

making available to any of these channels those FIT rates that

are meant to be packaged. Additionally, we´ll also be taking a

stance proactively to ensure that our customers don't use

those rates in that way.

Continued...
---
Where is this 'rate leakage' occurring?

There are two principle areas where this is happening most.

Firstly from the wholesalers that are proactively trying to

maximize their volume and taking an unsustainable approach

to rate distribution. And secondly, where accommodation

buyers then take those FIT rates that are meant to be

packaged and sell them downwards onto such channels.

What type of wholesalers should a hotel be concerned by?

Unfortunately we suspect the smaller wholesalers will

undoubtedly try to take advantage and hoteliers

understandably should be concerned about them.

Is this happening at Hotelbeds – and what will you do if you

discover it?

"Our objective

is always to be

the perfect ally

to our hotel

partner."

Sam Turner, Hotel Beds

We at Hotelbeds will be watching out very closely for anyone

we feel is doing this and will take action where necessary to

stop it, if necessary penalizing and disconnecting customers

who take advantage.

Our objective is always to be the perfect ally to our hotel

partners to complement their distribution – and we fully

understand and are aligned with them on the importance of

this matter."

For the full article visit iAccelerate, Group Partnership Area.
---
MPI

MEETINGS PROFESSIONALS INTERNATIONAL

MPI (Meetings Professionals International) is the largest

meeting and event industry association worldwide.

Founded in 1972, MPI provides innovative and relevant

education, networking opportunities and business

exchanges, and acts as a prominent voice for the

promotion and growth of the industry.

MPI has a global community of 60,000 meeting and

event professionals, including more than 17,000 engaged

members and its Plan Your Meetings audience. It has

more than 90 chapters and clubs in 19 countries.

"Our Business

Development

Sales Director,

Craig Bingham,

has recently

been elected to

join the board."

The UK & Ireland

Chapter is one of the

most active Chapters

within Europe and

globally, and we are

pleased to inform you

that our Business

Development Sales

Director, Craig Bingham,

has recently been

elected to join the board

of the MPI UK & Ireland

Chapter for the year

2019/'20.

Through this opportunity, we intend to further drive our

hold on the Meetings and Events industry within the UK

and Europe and leverage this opportunity with the wider

MPI worldwide network to put Interstate Hotels & Resorts

at the forefront of any Meetings & Event professionals

mind.
---
HOW THE WORLD VIEWS THE UK

ANHOLT 2018 REPORT RELEASED

Have you ever thought about the UK as a

brand?

Well that is exactly what the Anholt

National Brand Index (NBI) is a measure of.

Visit Britain has just released the 2018

Nation Brands Index. This is an annual

report reflecting the results of just over

20,000 respondents who are asked about

their perception of the UK from an

inbound traveller's perspective. It

provides invaluable information as to how

the UK compares as a brand against other

key travel destinations and with the Brexit

impact is all the more relevant.

Questions asked cover 6

areas or 'dimensions' as

they are referred to:

People

Tourism

Culture

Governance

Immigration

Exports

So how do you think the UK scores against

other countries? Overall, it sits in 3rd

place, a position it has held for eight

consecutive years. Germany retained 1st

place and Japan jumped into 2nd place,

pushing France into 4th place.

Amongst the UK's highest attribute

rankings are those for culture, vibrant city

life and urban attractions, plus educational

qualifications and being creative with new

ways of thinking.

Disappointingly, it is the 'personal' areas

the UK has seen ranking positions fall for

2018, include UK Welcome and UK Tourism

– a worrying result for the hotel industry.

The information becomes all the more

interesting when drilled down in to further

detail to see which source markets score

the UK high and low. Overall, the UK

brand is perceived well by visitors from

China and USA, but not very well by many

of the smaller emerging markets.

As would probably be expected, the UK is

perceived strongly in areas of history,

buildings and monuments and sporting

achievements! Visitors to the UK do not

score the country highly for its natural

beauty – this may very well be due to the

dominance of London as the visitor's

destination, all the more reason for them

to visit further afield!

The full report is available on the Visit

Britain website, www.visitbritain.com.