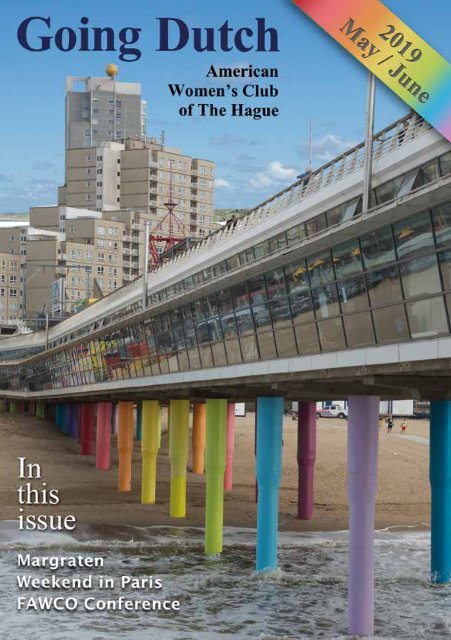 AWC Going Dutch May_June 2019
The monthly magazine of the American Women's Club of The Hague
The monthly magazine of the American Women's Club of The Hague
SHOW MORE
SHOW LESS
Do you know the secret to free website traffic?
Use this trick to increase the number of new potential customers.
one stop shop

for all your beauty desires

Going Dutch

May/June 2019

The Magazine of the

American Women's Club

of The Hague

5 Officers and Chairwomen

6 Message from the President

7 Installation of Officers

8 Letter from the Editor

10 Membership

11 New Look Campaign

31

11 Construction Around the

Clubhouse

12 Slate of Officers

Margraten

13 Ongoing Activities

22 One-of-a-Kind Activities

24 General Meeting Collage

26 Volunteers and Honorary

Members Celebration

27 American Quilts

28 May Calendar

31 Margraten Memorial Day

FAWCO Conference

36

34 FAWCO Corner

36 FAWCO Conference and

Collage

40 A Weekend in Paris

43 Art Reflection: Ossip

Zadkine

44 The Dutch Daily

46 Announcements

51 Keri Potts: Pathways to

Safety

Denneweg 56

2514CH The Hague

Tel. 0703458442

www.lifestylesalonthehague.nl

Paris Vacation

40

52 Classifieds

53 Index of Advertisers

and Ad Rates

54 Restaurant

Recommendations

MAY/JUNE 2019 3
---
Editor

Open

2019-2020 AWC Officers

Committee Chairs

AWC Clubhouse

Johan van Oldenbarneveltlaan 43

2582 NJ Den Haag

Tel: 070 350 6007

info@awcthehague.org

www.awcthehague.org

Going Dutch Magazine

goingdutchmag@awcthehague.org

Clubhouse Hours

Tuesday and Thursday

10 a.m. - 2 p.m.

Monday, Wednesday and Friday Closed

Dues (Effective 2019-2020)

€ 110 per year (€ 66 after January 1)

€ 90 business, professional

€ 55 valid US military ID

€ 35 student

€ 35 Outside the Netherlands (Going

Dutch magazine not included)

Add € 15 new member registration fee

Design and Layout

Teresa Mahoney

Cover Photo

The Pier by Melissa White

Photography

Laurie Brooks, Greetje Engelsman, Marsha

Hagney, Michelle Jacquemain, Suzanne

MacNeil, Teresa Mahoney, Julie Mowat,

Patricia Ramaer, Melissa Rider, Melissa

White

Proofreaders

Celeste Brown, Jane Gulde, Diane Schaap,

Debbie van Hees, Chelsea Wald

Advertising Manager & Invoicing

Open

Contributors

Donna Brown, Suzanne Dundas, Greetje

Engelsman, Amber Gatewood, Marsha

Hagney, Eileen Harloff, Michelle

Jacquemain, Suzanne MacNeil, Julie Mowat,

Melissa Rider, Holly Savoie, Melissa White

Printer

www.dwcprint.nl

AWC Bank Account Number

IBAN: NL42ABNA0431421757

KvK Den Haag

40409274

BTW or VAT: 007408705B01

Honorary President Diane Hoekstra

President Suzanne MacNeil

president@awcthehague.org

Vice President Melissa Rider

vicepresident@awcthehague.org

Treasurer Sheyla Karman

treasurer@awcthehague.org

Secretary Heather DeWitt

secretary@awcthehague.org

Club and Community Development

Amber Gatewood

community@awcthehague.org

Clubhouse Administrator

Jan Essad

clubadministrator@awcthehague.org

Communications Audrey Goodman

communications@awcthehague.org

Member-at-Large

Sunita Menon

Front Office

Liduine Bekman, Siska Datema-Kool,

Dominique Duysens, Amber Gatewood,

Shanon Gonzales, Melissa Rider, Jessie

Rodell, Holly Savoie

Activities: Open

Arts: Jane Choy

Assistant Treasurer: Teresa Insalaco

Benefit Event: Michelle Voorn & Deana

Kreitler

Board Advisor: Jessie Rodell

Caring Committee: Naomi Keip

Chat, Craft & Cake: Suzanne Dundas

eNews: Amber Gatewood

Evening Events: Elizabeth Zeller

Events & Tours: Liduine Bekman

FAWCO: Laurie Brooks, Barbara

Brookman

Front Office Coordinator: Open

General Meeting Programs: Open

Heart Pillow: Jan de Vries

Historian/Archivist: Georgia Regnault

Holiday Bazaar: Jaimie Keppel-Molenaar

IT Administrator: Julie Otten

Kids' Club: Lindsey Turnau

Library: Dena Haggerty

Membership: Melissa Rider

Newcomers: Open

Parliamentarian: Georgia Regnault

Philanthropy: Holly Savoie

Public Relations: Open

Social Media: Ceci Wong and Julie Otten

Tennis: Molly Boed

Tours: Liduine Bekman, Sabine Crowley

Volunteer Coordinator: Laurie

Martecchini

Webmaster: Julie Otten

Women with Dutch Partners: Michelle

Voorn

Deadlines: Submissions are due no later than the last Monday of the month preceding the publication month.

For example, for the September issue, submissions are due before Monday, July 29

Please Note: Articles submitted to Going Dutch will be published subject to space limitations and editorial approval.

All rights reserved; reprints only by written permission of the Editor. Please email to: goingdutchmag@

awcthehague.org

Legal Notice: Articles in Going Dutch express the views and opinions of their authors alone, and not necessarily

those of the AWC of The Hague, its Members or this publication.

4 GOING DUTCH

AWC Mission Statement

The AWC is an association formed to provide social and educational activities for American

women living in the Netherlands and to promote amicable relations among people of all nations,

as well as acquiring funds for general public interest. Membership in the club is open

to women of all nations who are friendly and welcoming to American culture. The association

does not endeavor to make a profit. The AWC is a 100% volunteer organization.

MAY/JUNE 2019 5
---
Message from the President

by Suzanne MacNeil

Installation of Officers

by Suzanne MacNeil

It seems like yesterday that the 2018-2019

Board neophytes first started planning the

upcoming year and guiding the Club to

hopefully give Members what they want and

need. Did we achieve everything? Of course

not, but we certainly moved the needle in the

right direction. Looking ahead, the official

Club year may end on May 31, but your Board

and committees have plans for summer events

and activities to keep the momentum going.

Please read the One-of-a-Kind section on

page 22, and check our Facebook and new

Instagram page (www.instagram.com/awcthehague)

regularly for information. Looking

back, here's a condensed reminder of what

took place this Club year.

For starters, our Club gained 40 new

Members since June of last year. Many of

those new Members are already involved

and taking advantage of our Club's offerings

and we're happy to have them!

Jan Essad and Sunita Menon oversee the

Clubhouse and have more than fulfilled

their promise to update our little place. Even

after a major purge of items during the New

Look Campaign (Phase I), they are determined

to make a final push. There will be

another Clubhouse cleanout on June 19 and

20, and details can be found on page 11. To

list all that Jan and Sunita have undertaken

would likely fill this page. Suffice it to say,

this Dynamic Duo is well known by our

property managers!

6 GOING DUTCH

Our previous website platform,

GroupSpaces,

was unstable. Julie

Otten, our IT

Administrator

and Webmaster,

saw the end of

GroupSpaces

coming but

we wanted to

leave it behind

of our own accord.

Unfortunately,

GroupSpaces

failed us and

Julie worked feverishly

to build

our new website

on WordPress.

Julie did the

technical work

while Marsha

Hagney, our

outgoing Vice President, worked with Julie

to create our new calendar and all of its

components. The behind-the-scenes work

was mind-boggling, and while there are still

a few kinks to be remedied, I'm grateful for

everyone's ongoing help.

The Club's philanthropic efforts continued

this year under Naya Pessoa who is stepping

down from chairing Club and Community

Development (new baby!). April's re-Building

Lives Benefit at Madurodam raised money

for Not For Sale, which helps women

gain independence after having been trafficked.

It was a smashing success! We've

made a donation to the Textile Research

Center (TRC) in Leiden for the purchase of

two American quilts from the 1800s to complete

a set that's already housed in the TRC.

The quilts will be exhibited as part of the

400-year remembrance of the Pilgrims in

Leiden and our Club will be noted as a TRC

benefactor. See page 27 for more details. We

gave € 3,889 to FAWCO's Target Project for

2017-2019: Hope Beyond Displacement.

The money came thanks to the generosity

of our Members who donated and bid on

almost 100 purses, jewelry and accessories

at our annual Handbag Auction. The money

put our Club at the Diamond Level, the top

FAWCO donor status. And, our philanthropy

team led by Holly Savoie gave everyone

who participated in the Sinterklaas toy and

toiletry drive, the TLC dinner, and Easter

basket assembly that good feeling when you

do something for those who need a helping

hand, not a handout.

>>21

The May General Meeting and

Installation of Officers will take place

at the home of AWC Member Sabine

Crowley, whose husband Shawn is the

Deputy Chief of Mission of the American

Embassy. Sabine has graciously opened her

home for several events in the past, including

prior Installations. The installation of

the 2019-2020 Board will take place after a

morning reception and will be followed by

lunch. Space is limited and only Members

who register will be permitted entrance to

the residence. Once you register, the address

and security requirements will be sent to you.

Thursday, May 9

10:30 a.m. – Noon

Registration Deadline: May 6

Members Only

Sign up at www.awcthehague.org

MAY/JUNE 2019 7
---
Letter from the Editor

by Audrey Goodman

As we go to print with this

issue of Going Dutch,

our Benefit Committee

is working to wrap up our

2019 re-Building Lives Benefit.

This year's event took place at

Madurodam on Saturday, April

13, and the beneficiary was Not

For Sale. The Committee was

co-chaired by Deana Kreitler

and Michelle Voorn, who led

an amazing group of women in

planning the event over the past

several months.

It was agreed upon from the start that

Stichting Not For Sale Nederlands (www.

wearenotforsale.nl) would be the beneficiary.

The organization, based in Amsterdam,

aids victims of human trafficking. They

provide training and education, to enable

victims to lead independent lives within

the local community. Some of this training

takes place in the organization's restaurants,

Dignita (www.eatwelldogood.nl), with two

locations in Amsterdam.

We started planning in early January, first

looking to nail down the venue. It was suggested

that we hold the event at Madurodam,

which we all agreed would be a fantastic

location. Raise money and schmooze in a

miniature Netherlands theme park? Yes,

please! After confirming availability and

space, our date was set. Now for the fun part

of planning the evening…

Meals were decided upon, Dutch-themed

graphics were obtained, a color scheme was

selected, and the planning took off. We had

biweekly meetings and visited the venue

on numerous occasions. While we encountered

a couple hiccups (our online ticket

platform went down for a couple days and

there was concern about the availability of

fresh tulips for our centerpieces), we were

not deterred from our goal of hosting a fun

8 GOING DUTCH

event to raise funds for Not For Sale. The

Committee members took on various roles

to divide the responsibilities, including auction

item procurement, volunteer coordinating,

decorating, marketing, and media.

Working with such a wonderful and generous

group of women certainly made for a

fantastic experience. The evening went on

without any issues; the cold weather didn't

keep attendees from participating in the

competitive scavenger hunt, the decorations

were beautiful, the food was delicious, the

music selection was great, and it didn't rain.

We're still finalizing numbers but gauging

by the bidding wars during the live and silent

auctions, it would appear the night was

a success.

Many thanks to the volunteers on our

Committee: Barbara Brookman, Dena

Haggerty, Hilde Hatlestad Volle, Jo

van Kalveen, Laurie Brooks, Laurie

Martichinni, Lori Schnebelie, Mary

Adams, Naya Pessoa, Shanon Gonzales,

and Teresa Insalaco. Without these women,

the event would not have been possible.

Details about the evening and the announcement

of total funds raised will be in the next

issue of Going Dutch. Thank you to all who

attended, and I hope you had a memorable

night!

Audrey

MAY/JUNE 2019 9
---
Membership

by Melissa Rider

2019-2020 Membership Dues

AWC Membership dues for the 2019-2020

Club year are payable September 1 and

will be effective until August 31, 2020.

The best way to renew your Membership

is on our website, www.awcthehague.org,

under Become a Member. You can also

pay by PIN at the Clubhouse during office

hours. Dues remain the same as last year:

€ 110 for Regular and Associate Members,

€ 90 for Business/Professionals, € 55 for

Military (with valid military ID) and € 35

for Students (with valid student ID).

Update Your Information

It is very important to keep both your email

and mailing addresses accurate in order to

receive eNews and Going Dutch in a timely

fashion. If you have moved recently, please

contact me at membership@awcthehague.

org with your updated contact details.

Going Dutch is Available Online

Welcome New Member!

Fanny Elena

Go to www.awcthehague.org to share the current month's issue with friends and family. You will

also find links to our annual advertisers, whose support makes this magazine possible. If you

visit or contact one of our advertisers, let them know Going Dutch sent you!

New Look Campaign (Phase II)

by Jan Essad & Sunita Menon

Time to Spring Clean in the

Summer!

What a wonderful year we have had at the

AWC with lots of activities, get-togethers

and events. Like any normal household, we

now need a spring clean-out. So, it's time

for Phase II of our New Look Campaign to

begin.

Please join us in June for spruce-up mania!

Whatever time you can spare—you don't

want to miss the fun of cleaning, organizing

and mingling with fellow Members.

Remembering "many hands make light

work," we look forward to many of you

stopping by to lend a hand. Even if you

only have a short time to spare, we'll find

the perfect thing for you to do since every

small job gets the big job done. There is

some truth to the quote, "The best way to

find out what we really need is to find out

what we really don't." Come join us for music,

refreshments and fun as we freshen up

our Clubhouse.

Wednesday, June 19 &

Thursday, June 20

9 a.m. – 1 p.m.

AWC Clubhouse

Construction Around the AWC

Clubhouse

by Jan Essad and Sunita Menon

Birthdays

Due to changes in European privacy laws, and because

Going Dutch is posted on our external Facebook page, we

won't be sharing birthdays in print any longer. Instead, you'll

see Members' birthdays in the weekly eNews, which is sent

to your private email account and is more secure. We value

our Members' privacy. If you have any questions, please

contact Melissa Rider, our Membership Coordinator, at

membership@awcthehague.org.

Members: eNews

Distribution

A weekly electronic

newsletter

is sent to all AWC

Members.

If you have not been

receiving your eNews,

please contact Melissa at

membership@

awcthehague.org.

The construction on Johan van

Oldenbarneveltlaan is now just outside our

front door!

According to a Dutch website, works will

possibly continue until July. However, we

hope they will finish early. Due to this ongoing

construction, parking will be limited

and public transportation is recommended.

Parking is available on the south side of the

street and on the one-way streets off Johan

van Oldenbarneveltlaan. However, public

transportation is highly encouraged.

The Clubhouse is accessible via tram #16,

tram #1, and bus #21. Consult www.9292.

nl for the best means of travelling to the

Clubhouse from your area.

We sincerely hope this minor inconvenience

won't keep you from coming to the

Clubhouse to enjoy scheduled activities and

great company. See you at the Club!

10 GOING DUTCH

MAY/JUNE 2019 11
---
Slate of Officers 2019-2020

We are pleased to introduce our last candidate for the 2019-2020 AWC The Hague Board.

Vice President – Melissa Rider: Although

I was born in Richmond, Virginia, I

spent my formative years in Wilmington,

Delaware, where I attended high school

and graduated from the University of

Delaware with a BS in Chemistry. As an

adult, I have lived at least for a short time

in all but two of the Mid-Atlantic states

(NJ, PA, DE, MD, VA, and NC). We have

a house just north of Philadelphia, which

is our retirement home when our overseas

living comes to an end. My desire to live

overseas began with my study abroad in

Vienna during the spring semester of my

junior year at university. Never dreaming

that an international move would ever happen,

my husband and I jumped at the opportunity

to come to the Netherlands with

our two teenage sons in 2006. We were

able to stay for six years so both boys could

graduate high school from the American

School of The Hague (ASH). While I was

an AWC Member from 2007-2009, I soon

became overly occupied with the boys'

school trips and activities as well as with

the ASH Parent Teacher Organization, just

as I had been an involved parent in their

sports, music, scouting and school programs

in the US.

In January 2017,

I felt like I had

won the lottery

twice, when we

returned to live

in Wassenaar

after my husband

took a job

with a different

company headquartered

in the

Netherlands. I so

enjoyed my first

time here: meeting

new people from diverse backgrounds,

experiencing different cultures, traveling the

world and, of course, riding my bike everywhere.

My second time around is proving to

be just as pleasurable, thanks to the AWC.

With no kids in tow, and therefore no school

community, I promptly joined the AWC to

find friendship and volunteer opportunities.

I quickly became a Front Desk volunteer

and took over the role of Membership

Coordinator in January 2018. I am now looking

forward to becoming even more involved

with the AWC's various social and philanthropic

activities as I serve on the Board as

Vice President.

Did you know that any English-speaking woman may join the AWC?

Credit: Amazon

Ongoing Activities

Book Clubs

The AWC Book Clubs are open to all readers,

and new Members are especially welcome!

There are no requirements that you must

attend every meeting or lead a discussion.

Snacks are provided by a different Member

each month. There are two Book Clubs

hosted by AWC Members: One in the

daytime and one in the evening. Questions?

Teresa Mahoney organizes the daytime

group and can be reached at bookclubday@

awcthehague.org. Dena Haggerty handles

the evening meetings and can be reached at

bookclubevening@awcthehague.org.

Daytime Book Club

May Selection: Perfume River by Robert

Olen Butler

Robert Quinlan is a

70-year-old historian

teaching at Florida State

University, where his

wife Darla is also tenured.

Their marriage, forged in

the fervor of anti-Vietnam

War protests, now bears

the fractures of time.

The cracks in Robert and

Darla's relationship remain under the surface,

whereas the divisions in Robert's family

are more apparent. As his father, a World

War II veteran, is dying, aftershocks of war

ripple across the family once again. And

an unstable homeless man, whom Robert

meets at a restaurant and at first takes to be

a fellow Vietnam veteran, turns out to have

a deep impact not just on Robert, but everyone

closest to him.

Thursday, May 23

10 a.m.

AWC Clubhouse

FREE

June Selection: The

Witch Elm by Tana French

Toby is a happy-go-lucky

charmer who surprises

two burglars who beat

him and leave him for

dead. Struggling to recover

from his injuries,

beginning to understand

that he might never be the

same man again, he takes refuge at his family's

ancestral home to care for his dying uncle.

When a skull is found in the trunk of an

elm tree in the garden and detectives close

in, Toby is forced to face the possibility that

his past may not be what he has always believed.

A spellbinder from one of the best

suspense writers working today.

Thursday, June 27

10 a.m.

AWC Clubhouse

FREE

>> 14

Credit: Amazon

Daytime Book Club Reading List:

Invite your English-speaking friends from other countries who have an

affinity for Americans to join us today!

July 25: Ladder to the Sky by John Boyne

August 22: The Dry by Jane Harper

12 GOING DUTCH

MAY/JUNE 2019 13
---
Ongoing Activities (cont.)

Continued from page 13

Daytime Book Club Recap – March

Yuval Noah Harari is well known for looking

into the past and future to assess what

society did and can expect. He uses his

expertise as a history professor to encourage

his readers to consider and reevaluate

events. 21 Lessons for the 21st Century

was a journey into how the author views

the challenges of our present age. He provides

the reader with 21 vantage points

from which to evaluate the world we live

in; those going from Disillusionment, to

God, to Post-Truth. His goal is to get the

reader to consider how our world of algorithms

and a veritable automatization revolution

poses long-term consequences for

humankind when we are much more shortterm

thinkers. Governments, social media,

schools, even how we raise our children,

are all heavily impacted by a world changing

so rapidly that it is difficult to keep up

at all levels of society. While not attempting

to be doomsday at all, Harari's book is

meant to be a "wake-up call." Our group

had a rousing discussion, but only after

there was agreement that the 300+ page

book would have made a better article, or

even a TED Talk. Everyone felt he belabored

most of his points, also not considering

the diversity of society in all of these

changes. Instead it seemed as if he felt

everyone, from super-rich to very povertystricken,

would have to embrace change in

the same manner. Some in the group agreed

that we all need to do our best to keep up in

this rapidly changing world, while others

preferred not to imagine the possible outcomes

of sitting in the midst of a technorevolution.

Much of the discussion was

about our children and the world in which

they must prepare themselves. One particular

turn was when we pondered the various

Credit: Amazon

ways in which schools approach technology.

Generally, we would only recommend

the book to those steeped in all the jargon

of the age.

Evening Book Club

May Selection: The

Immortalists by Chloe

Benjamin

If you knew the date of

your death, how would

you live your life? It's

1969 in New York City's

Lower East Side, and

word has spread of the

arrival of a mystical

woman, a traveling psychic who claims to

be able to tell anyone the day they will die.

The Gold children—four adolescents on

the cusp of self-awareness—sneak out to

hear their fortunes. The prophecies inform

their next five decades. Golden-boy Simon

escapes to the West Coast, searching for

love in '80s San Francisco; dreamy Klara

becomes a Las Vegas magician, obsessed

with blurring reality and fantasy; eldest son

Evening Book Club Reading List:

September (TBA): Buried Appearances

by D.E. Haggerty

October 9: The Red Tent by Anita Diamant

Daniel seeks security as an army doctor

post-9/11; and bookish Varya throws herself

into longevity research, where she tests the

boundary between science and immortality.

A sweeping novel of remarkable ambition

and depth, The Immortalists probes the

line between destiny and choice, reality

and illusion, this world and the next. It is

a deeply moving testament to the power of

story, nature of belief, and unrelenting pull

of familial bonds. The location changes

every month, so please contact Dena at

bookclubevening@awcthehague.org if you

are interested in attending.

Wednesday, May 8

7:30 p.m.

Location TBA

FREE

>> 16

14 GOING DUTCH

MAY/JUNE 2019 15
---
Credit: Amazon

Credit: Amazon

Ongoing Activities (cont.)

Continued from page 15

Evening Book Club (cont.)

June Selection: The Lost Girls of Paris by

Pam Jenoff

While passing through

Grand Central Terminal,

Grace Healey finds an

abandoned suitcase beneath

a bench. Unable to

resist her own curiosity,

Grace opens the suitcase,

where she discovers a

dozen photographs of

different women. In a moment of impulse,

she takes the photos. Grace soon learns that

the suitcase belonged to the leader of a network

of female secret agents who were deployed

out of London during the war. Those

12 women were sent to Occupied Europe

to aid the resistance. They never returned

home, their fates a mystery. Setting out to

learn the truth, Grace finds herself drawn to

a young mother turned agent named Marie,

whose daring mission reveals a remarkable

story of friendship, valor and betrayal.

Wednesday, June 13

7:30 p.m.

Location TBA

FREE

July Selection: Asymmetry by Lisa

Halliday

Told in three distinct sections,

this novel explores

the imbalances that spark

and sustain many of our

most dramatic human relations:

inequities in age,

power, talent, wealth,

fame, geography and

justice. "Folly," tells the

story of Alice, a young

American editor, and her relationship with

the famous and much older writer Ezra

Blazer. This tender coming-of-age account

of an unexpected romance takes place in

New York during the early years of the Iraq

War. "Madness" is narrated by Amar, an

Iraqi-American who, on his way to visit his

16 GOING DUTCH

brother in Kurdistan, is detained by immigration

officers and spends the last weekend

of 2008 in a holding room in Heathrow.

These two seemingly disparate stories gain

resonance as their perspectives interact and

overlap in the third section.

Wednesday, July 10

7:30 p.m.

Location TBA

FREE

August Selection: The Alice Network by

Kate Quinn

1947. In the chaotic aftermath

of World War

II, American college

girl Charlie St. Clair is

pregnant, unmarried,

and on the verge of being

thrown out of her

very proper family. She's

also desperately hopeful

that her cousin Rose, who disappeared in

Nazi-occupied France, might still be alive.

So when Charlie's parents banish her to

Europe to have her "little problem" taken

care of, Charlie breaks free and heads to

London, determined to find out what happened

to the cousin she loves like a sister.

1915. Eve Gardiner burns to join the fight

against the Germans and unexpectedly gets

her chance when she's recruited to work

as a spy. She's trained by the mesmerizing

Lili, the "Queen of Spies," who manages

a vast network of secret agents right

under the enemy's nose. Thirty years later,

haunted by the betrayal that ultimately tore

apart the Alice Network, Eve spends her

days drunk and secluded in her crumbling

London house until a young American

barges in uttering a name Eve hasn't heard

in decades, and launches them both on a

mission to find the truth...no matter where

it leads.

Wednesday, August 14

7:30 p.m.

Location TBA

FREE

Credit: Amazon

Playball Netherlands is now

taking bookings for 2019!

Want to get your little one involved?

www.playballkids.com to see the fun for ages

2-7 years

Email kidsplayball@hotmail.com to arrange a

FREE trial class

www.facebook.com/PlayballNetherlands

Or call Maggie on: 0627214347

Evening Book Club Recap – March

Our group had mixed feelings about The

Dinner by Herman Koch, but it certainly

wasn't a favorite. Interestingly, three of the

Members read the novel in Dutch (the language

in which it was originally published)

and were decidedly more positive about the

novel. They found the writing caustically

witty, and it's possible that humor does

not translate well. In English, the narration

is simple and boring. The main character,

Paul, tells us in excruciating detail the specifics

of the menu and his ordering. But he

omits simple details like the disease from

which his wife suffered and his own medical

condition. Although the story ostensibly

takes place over one dinner, the narration

jumps back and forth through various happenings

in the past. There was not one character

in this novel who redeemed himself.

They are all horrible people covering up a

heinous crime committed by their children.

The question should arise as to how far you

would go to protect your children. This issue,

however, is irrelevant here as the severity

of the crime committed by the children

is such that a decent human being can only

hope they would not cover up the crime as

these parents did.

Chat, Craft & Cake

Chat, Craft & Cake is a weekly highlight

for those who enjoy crafts and camaraderie.

Whether your craft is knitting, quilting,

needlepoint or simply mending your >>18

MAY/JUNE 2019 17
---
Ongoing Activities (cont.)

Continued from page 17

clothes, and whether you are a beginner

or an expert, you are welcome to join us.

Fish that UFO (Unfinished Object) out

of the drawer and get going on it again.

CCandCer's are always ready with a helping

hand, a lesson, or some advice. Each week,

a different Member brings a cake—tried

and true, or experimental. Babysitting is not

available and there are lots of sharp objects

about (pins, needles, scissors and wit) so

we cannot accommodate children. Contact

Suzanne Dundas at chatcraftcake@

awcthehague.org for more information.

Every Tuesday

10 a.m. – Noon

AWC Clubhouse

FREE

Heart Pillow Project

Members work together to make heartshaped

pillows designed to help support the

arms of recent mastectomy patients. Each

pillow is made with TLC, wrapped, and

comes with a note signed by an AWC volunteer.

No sewing skills are needed, as you

can cut, stuff, or wrap the heart pillows. We

are proud to provide men and women with

something both practical and comforting,

and we know our work helps because we often

receive thank-you notes and emails from

the patients who have received a heart pillow.

For more information, please contact

Jan de Vries at heartpillow@awcthehague.

org.

Tuesday, May 14

Tuesday, June 11

Noon – 2 p.m.

AWC Clubhouse

FREE

Visitors Welcome

Out to Lunch Bunch: May – In

Delft

Café Brasserie Huszár is located in the former

office building of the steel company

Royal Braat, which produced iron and steel

decorations for buildings in the art nouveau

style. Production halls were built outside

the city center of Delft, but the large office

was built at the Hooikade. Naturally,

the building had steel windows from its

own production. Elsewhere in the building

is a four-story decorative stained-glass

window, designed by the Hungarian artist

Vilmos Huszár, for which the restaurant

is named. The word "Huszár" (Huzaar, in

Dutch) means "soldier on horseback" and is

pictured in the logo. We will not be able to

see the stained-glass window but will have

a nice lunch: a combination of sustainable

and organic products, with great service. To

sign up, please contact Greetje Engelsman

at activities@awcthehague.org.

Wednesday, May 15

Noon – 2:30 p.m.

Café Brasserie Huszár

Hooikade 13, Delft

www.huszar.nl

Out to Lunch Bunch: June – In

Leiden

In a monumental old building, in the

middle of one of the Leiden University

areas, close to the Lipsiusbuilding (arts,

languages and humanities), and close to the

Academiegebouw (Academic Headquaters,

a former nuns cloister), you will find Grand

Café Pakhuis (Dutch for "warehouse") in

a narrow steeg (alley) right off the famous

Rapenburg. The café's slogan is, "Good,

affordable, cozy!" To sign up, please

contact Greetje Engelsman at activities@

awcthehague.org.

Friday, June 14

Noon – 2:30 p.m.

Grand Café het Pakhuis

Doelensteeg 8, Leiden

www.pakhuisleiden.nl

>>20

Upcoming Out to Lunch Bunches:

July 18: Dudok, in Den Haag

August 21: Luden, in Den Haag

Cancellation Policy

Members may reserve a spot for an AWC tour, activity or

event in advance. Payment is required within five business

days of the reservation or before the deadline date (whichever

is sooner) otherwise your name will be moved to a waitlist.

It is the responsibility of the Member to notify the Club at

awcthehague.finance@gmail.com to cancel a reservation

prior to the cancellation deadline. Please note that there will

be NO REFUNDS (no exceptions) after the cancellation deadline.

Members may find a substitute in lieu of cancellation

provided that arrangements are made with the tour, activity

or event organizer. Members shall be held responsible for

their guest reservations in accordance with this policy.

AWC Guest Policy

Guests are welcome

to participate in AWC

activities and tours on

a limited basis. As a

nonmember, a guest

is limited to attend

two functions per

calendar year and will be

charged an additional

nonmember fee. Only

Members are entitled to

use babysitting services.

Travel4U@americantravelcenter.net/www.americantravelcenter.nl/tel. +3261234901

"Our next holiday is

a safari. They do

the whole world!"

"They make booking a

holiday so easy. I just

leave it to them!"

"Every trip is

customized, just for

me! That's unique!"

18 GOING DUTCH

MAY/JUNE 2019 19
---
Ongoing Activities (cont.)

Continued from page 19

Thirsty Thursday

Join us again for our monthly gathering.

Thirsty Thursday is a casual evening of

companionship and good conversation—a

favorite for AWC Members and prospective

Members. Two soft drinks, wine or beer,

plus snacks.

Thursday, May 16

6 – 9 p.m.

Restaurant Toko Frederik

Frederikstraat 225, 2514 LC, Den Haag

€ 15 for two drinks and food

No RSVP needed

Thursday, June 20

6 – 9 p.m.

Grieks Restaurant Knossos

Kerkplein 1, 2513 AZ, Den Haag

€ 15 for two drinks and food

No RSVP needed

Upcoming Thirsty Thursdays:

July 18: Location TBA

August 15: Location TBA

Walkie Talkies

Whether you count your steps or just want

to walk with friends, the Monday morning

Walkie Talkies is a fun, healthy and energetic

way to start the week. The group meets in

front of the Clubhouse before heading out to

walk to various destinations in the area, usually

racking up 10,000 steps along the way.

We will continue to walk most Mondays

throughout the summer. Please check the

AWC Facebook page or contact Emily van

Eerten at walkietalkies@awcthehague.org

for last minute updates and cancellations.

Mondays

9:30 a.m.

AWC Clubhouse

Free

Sign up at www.awcthehague.org

Wassenaar Coffee &

Conversation

If you live in or north of Wassenaar, join your

neighbors for coffee and conversation once

a month without having to drive to the clubhouse.

One Member will host a casual coffee

at her home at 9:30 on the first Thursday

of every month. Prospective Members are

welcome too. Suzanne Dundas coordinates

these meetings and can be reached at

chatcraftcake@awcthehague.org. Because

the location changes every month, contact

Suzanne if you are interested in attending or

for more information.

Thursday, May 2

Thursday, June 6

9:30 a.m.

Location TBA

FREE

Message from the President (cont.)

Continued from page 6

I'm especially appreciative of Sheyla

Karman, a CPA and our Treasurer, who

manages our accounts with finesse as I'm on

the other side of the spectrum when it comes

to numbers. Sheyla and the Finance Team

have made their hours of work on our budget

and oversight of our finances easy for

me to understand and feel confident, even

when we went through a nasty period in the

market this Club year.

It's difficult to quantify the time and energy

that goes into running a volunteer

organization. There aren't enough words

to express my gratitude to all those who

make our Club run, and run well. Your

Board takes its job seriously, but we don't

take ourselves seriously. Our meetings are

sometimes long, there are many discussions

about minor and major issues, and we work

together as a team, which makes the work

enjoyable. So, indulge me with a few more

thanks. Heather DeWitt, our Secretary, is

relatively new to the Club, but has been an

invaluable addition. Audrey Goodman,

our Communications Officer, oversees the

Club's communications portals, is the Going

Dutch Editor, and launched our Instagram

account last month. She is indefatigable!

And, many thanks to Georgia Regnault,

our Parliamentarian, and Jessie Roddell,

who serves as our Board Advisor. They kept

us (me) on the right track.

Please welcome Melissa Rider as the Club's

new Vice President and Amber Gatewood

who will chair Club and Community

Development. They both come to the Board

as long-time Members of our Club with lots

of ideas. I'm honored to serve with them

and all the remarkable women who give

of their time and energy to make our AWC

what it is becoming.

Bedankt and tot ziens!

Suzanne

20 GOING DUTCH

MAY/JUNE 2019 21
---
One-of-a-Kind Activities

by Marsha Hagney & Suzanne MacNeil

RSVP directly on www.awcthehague.org. Direct any questions to

vicepresident@awcthehague.org

Payment must be made within 5 calendar days of reserving or your name will be moved to a waitlist.

Payment can be made in the Front Office by PIN, on the AWC website (www.awcthehague.org) or by

bank transfer to the AWC account NL42ABNA0431421757.

Author, Mother, Sober, & Expat!

Book Reading and Signing with Janelle

Hanchett: I'm Just Happy To Be Here

Pregnant just three months after meeting her

baby's father, 21-year-old Janelle Hanchett

thought she knew what she was getting into

and could handle all that motherhood was supposed

to offer. After her daughter was born,

she realized her new marriage, new baby, and

new life was not what she expected. Soon,

afternoon glasses of wine became full-on

benders and a deep dive into drug addiction.

Now sober, Janelle Hanchett, author, mother

and wife, will join us at the Clubhouse to discuss

her open and honest memoir: I'm Just

Happy to be Here. The book takes readers on

the ten-year rollercoaster ride of Janelle's addictions,

many unsuccessful rehab attempts,

and then finally finding her way to sobriety.

They are just working. That's it. We are surviving.

Full stop."

Please join us in welcoming author, mother,

and soon-to-be expat, Janelle Hanchett, to our

Clubhouse. You can purchase a copy of I'm

Just Happy To Be Here at the American Book

Center located at Lange Poten 23. If you

have any questions, please contact Suzanne

MacNeil at president@awcthehague.org.

Monday, May 6

12:30 – 2:30 p.m.

AWC Clubhouse

www.renegademothering.com

€ 10 Members / € 15 non-members

Maximum 30

Sign up at www.awcthehague.org

Painted Collage Workshop

No Drawing or Painting Skills Required!

Join Karla Duterloo at the Clubhouse to

learn how to make abstract paintings that

you will then use to make several small

collages. Karla is an artist from The Hague

who now lives in Cape Town, South Africa,

and she specializes in abstract compositions

and mosaics. She encourages participants to

"Let it go" and enjoy the process of painting

to create original artwork in this hands-on

course. Learn more about Karla at www.

karladuterloomosaics.com.

Tuesday, July 9

7 – 10 p.m.

AWC Clubhouse

Maximum 15 / Minimum 8

€ 50 Members / € 55 non-members

Price includes all material

Sign up at www.awcthehague.org

American Baseball Comes to the

Netherlands!

If you can't make it

to your favorite baseball

park in the US

this summer, you can

still take in America's

favorite pastime

in Rotterdam.

The World Port

Tournament (www.worldporttournament.nl)

will take place at Neptunus Family Stadium

and the US will field a team, along with

teams from the Netherlands, Japan, Curaçao

and China. The tournament runs from July

12 through July 21, and Wednesday, July 17

has been named USA Day. The American

team will play Curaçao at 7 p.m. and AWC

Members are invited to field our own team to

cheer on our countrymen.

Tickets have not yet gone on sale for the

July 17 game. However, if you would like

to attend the game, please send your name

and number of tickets you need to Suzanne

MacNeil. We would like to secure a block of

seats so Club Members can sit together.

Wednesday, July 17

7 p.m.

USA vs. Curacao

World Port Tournament

Neptunus Stadium, Rotterdam

Arrangements will be provided upon

registration

Sign up with Suzanne MacNeil at

president@awcthehague.org

Unique products

for entrepreneurs

1061246

In recent weeks, Janelle announced on her

website, Renegade Mothering (an unflinching

look at motherhood and life in general),

that her family is moving to the Netherlands

from northern California. As she wrote, "We

want to live. We want to do something. We

want our kids to witness a reality that isn't

American. Our lives aren't working. No.

22 GOING DUTCH

Sligro The Hague Forepark is the perfect fit for you as entrepreneur.

We inspire and support you with our products and services, that will

help you with your business. Our people are always there for you

with professional and tailored advice.

sligro.nl

Linge 2, The Hague

MAY/JUNE 2019 23
---
April General Meeting

24 GOING DUTCH

MAY/JUNE 2019 25
---
Celebrating Our Volunteers

and Honorary Members

by Jan Essad & Sunita Menon

American Quilts: 200 Years of

Dedicated Recycling

by Audrey Goodman & Suzanne MacNeil

"Because I want to give back to a Club that

has given me a soft place to fall while I adjusted

in a new country."

"I love participating in our philanthropic activities.

It's wonderful to see how these acts

of caring and kindness bring joy to people in

The Hague community."

"I left my career behind for my first expat

assignment and serving on the Board is a

great way to keep my skills sharp and my

resume current, while meeting new friends

and enjoying all the activities the Club has

to offer."

"Planning activities for the Club is a great

way to show newcomers my country."

"I've got to stay busy or this rain and dreary

weather will drive me crazy."

There are so many reasons for volunteering.

Whatever the reason, it is undeniable

that the selfless volunteerism of many of

our Members is the true heart of the AWC.

The Volunteers and Honorary Members

Luncheon is our chance to recognize and

thank all who dedicate their time and talents

to make our AWC the vibrant Club it is today.

While many Members come to the

Netherlands for short-term expat assignments,

others have come for a lifetime with

their Dutch partners. Some of these ladies

have been Members for more than 25 years!

They are our Honorary Members and an

invaluable asset to our Club, offering their

knowledge, expertise, advice, and support

from an undisputable proud history of AWC

The Hague. These are women, who in the

true spirit of volunteerism, created a legacy

for our Club. We are very thankful, not only

for their contributions that made the Club

what it is today, but the continued generosity

of their talents, inspiration and mentorship.

Did you know we have a Member who

has been part of AWC The Hague for 55

years, and another for 53 years? You won't

want to miss this chance to hear some of

their stories.

"Volunteers don't necessarily have

the time, they just have the heart."

~ Elizabeth Andrew

Mark your calendars and come celebrate

our Volunteers and Honorary Members at

the luncheon. Please be sure to register so

we'll know how many to plan for. This is

the perfect opportunity to thank those who

volunteered this past year, get to know

our Honorary Members, and find out more

about where you would like to volunteer in

the next Club year.

Wednesday, May 22

10:30 a.m. – 1 p.m.

AWC Clubhouse

FREE

Registration/Cancellation Deadline:

May 17

Sign up at www.awcthehague.org

This year our Club donated € 990 to

the Textile Research Center (TRC) in

Leiden. The funds will be used for the

purchase and preservation of quilts from the

1800s, in connection with an exhibition that

will arrive in Leiden in 2020. Many of our

very own Members are involved in this project,

including Beverley Bennett, Susan Cave

and Loren Mealey. You can learn more about

their quilting histories and involvement with

the project by reading Susan's article, Clues

in the Calico, in our January/February issue.

Below is a blog submission that was featured

on TRC's website (www.trc-leiden.nl)

in December 2018 and provides information

about the upcoming exhibition.

Gillian Vogelsang, TRC Director,

announces a new exhibition

at the TRC, to be opened in

February 2020.

Almost 400 years ago, in 1620, a group

of 102 English Protestant Puritans left

the town of Leiden, where they had

found refuge some 10 years before,

and sailed via Plymouth in England on

board the Mayflower to Massachusetts in

America. The Pilgrim Fathers, as they were

to be called, are traditionally regarded as the

founders of the United States. A daughter

of two of the Pilgrims, namely Myles and

Barbara Standish, has become famous for

producing the first extant embroidery sampler

in the US, commonly known as the

Loara Standish Sampler.

To mark the 400-year anniversary of the

Massachusetts settlement in 2020, Leiden is

organizing the Mayflower 400 Program with

a series of exhibitions, theater productions,

sports meetings, and many other events. For

more information, see www.visitleiden.nl/

nl/ontdek-leiden/specials/pilgrim.

As part of the Mayflower 400 Program, the

Textile Research Centre (TRC) in Leiden

will be setting up an exhibition and series

of workshops about 200 years of American

quilt making. This has been made possible

by the recent donation of over 50 American

quilts and quilt tops by Sherry Cook and

others. Examples of quilts dating from the

1830s to the present day will be on display.

A series of lectures on American quilts

and quilt making will accompany the exhibition.

There will also be practical workshops,

during which various technical aspects

of quilting will be explored.

The exhibition is being organized in

conjunction with Sherry Cook from

Washington state, Susan Cave (New

Zealand/The Hague) and Beverley Bennett

(UK/The Hague).

"Modern American Quilt with Scalloped

Edge."

26 GOING DUTCH

MAY/JUNE 2019 27
---
May 2019

Sun Mon Tue Wed Thu Fri Sat

Save the Dates:

June 19 & 20: Clubhouse Clean-Out

June 30: July 4th Picnic at ASH

July 9: Painting Workshop

July 17: American Baseball

Sept 17: Prinsjesdag

1 2

Wassenaar Coffee and

Conversation 9:30 a.m.

3 4

5 6

7

8

9

10 11

Walkie Talkies 9:30 a.m

Book Reading and Signing

12:30 p.m

Chat, Craft & Cake 10 a.m.

Installation of Officers

10:30 a.m.

Evening Book Club

7:30 p.m.

12

13

14

15

16

17 18

Buddy Check 12

Walkie Talkies 9:30 a.m

Chat, Craft & Cake 10 a.m.

Heart Pillow Workshop

Noon

Out to Lunch Bunch

Noon

Thirsty Thursday 6 p.m.

19 20

21

22

23

24 25

Walkie Talkies 9:30 a.m

Chat, Craft & Cake 10 a.m.

Volunteer and Honorary

Members Luncheon

10:30 a.m.

Daytime Book Club 10 a.m.

26

27

28

29 30 31

Walkie Talkies 9:30 a.m

Chat, Craft & Cake 10 a.m.

Margraten Ceremony

3 p.m.

28 GOING DUTCH

MAY/JUNE 2019 29
---
Come to Memorial Day at Margraten

by Roberta Enschede

Margraten American Cemetery lies in the southernmost tip of the Netherlands, in the

rolling Limburg countryside, amidst oak and maple trees, dark hawthorn hedges and

Polyantha roses. In the month of May, pink and maroon velvet rhododendrons are in

glorious bloom.

The new AWC Website is now up and running!

Please visit

www.awcthehague.org

for all of your Club-related needs:

Payment of Membership dues, registration for activities and events, Membership

directory, etc.

If you have any questions about the website, please contact

awcthehague.communications@gmail.com.

The Mourning Woman, a bronze sculpture, stands by a reflecting pool with doves and a

new shoot from a war-ravaged tree. Her message is on the stone upon which she stands, "New

life from war's destruction proclaims man's immortality and hope for peace."

There is a glistening white marble tower behind the Mourning Woman chiseled with the

ancient words of Pericles of Athens, "Each for his own memorial earned praise that will never

die and with it the grandest of all sepulchers, not that in which his mortal bones are laid, but a

home in the minds of men."

Margraten is beautiful, if you can call such a sad place beautiful. It's trimmed, meticulous,

eternal. 8,301 white marble crosses and Stars of David stand on its land and 1,722 names are

inscribed on the Wall of the Missing. 10,023 lives tell us over and over, "Freedom is not free!

Freedom is not free."

Margraten is overwhelming. It jumbles your thoughts. One question comes, and another

and another. You find yourself gazing over the glistening white marble of the crosses and the

stars, asking, "Why? Why?" And "why" again! "Was it all worth it? What did we learn?"

Questions keep coming: Why did they have to die so young? Why did they have to die so

hard? Why did they have to die so far from home—Texas, New York, Kansas, everywhere?

Who got the telegram, "The Secretary of War desires me to express his deep regret that your

(son, husband, brother, father) was killed in action"? Who hung a Gold Star flag in another

window of America?

Margraten tells you what you already know. Most of them probably never had a trace of

white in their thick boy hair. Most of them didn't live long enough to be a farmer, a firefighter,

an engineer, an auto mechanic, a doctor, a lawyer, the neighborhood grocer, a ball player, a

teacher, a preacher, a father, a husband. And those who did live, the veterans who came home,

and married, and worked, and raised a family, and grew old lived with memories of war and

fallen friends forever 18 or 19 or 20 years old.

Every Memorial Day those veterans return to Margraten to say, "Hello." There are fewer

and fewer these days. You know them when you see them. Some wear their hats, ribbons, medals,

and some, green jackets. After the ceremony, they usually gather in little groups between

the crosses and the stars. They laugh and poke fun, then you watch them get serious and know

they're telling their soldier stories. Stories of a slogging, sleepless world of men and boys,

determined to do what had to be done. Stories of friends they lost so long ago.

30 GOING DUTCH

The 104th Infantry, the Timberwolves, with their green jackets, used to come back every

year. Now, most of them are gone. There was Glenn, an architect from Kansas who said, "I

gotta go say hello," broke away from the little group, ambled among the crosses and the stars

and a few minutes later ambled back. "I said Hello." Tears filled up his crusty old eyes. There

was Hy Davis, the Jewish jeweler from California who used to say, "Margraten is my church."

>> 32

MAY/JUNE 2019 31
---
Margraten (cont.)

Continued from page 31

There was Cliff from Ohio who went to schools and talked to kids about the war. "As long

as I'm alive, I'll keep talking." And he did. There was Dan. They'd joke and call him "The

Poet in the Foxhole." He kept his notebook in his foxhole and wrote when the war was quiet.

Each for his own memorial earned praise that will never die and with it the

grandest of all sepulchers, not that in which his mortal bones are laid but a

home in the minds of men.

Erik Hazelhoff, a Dutch citizen and after the war a naturalized American, wrote a book

called Soldier of Orange (Soldaat van Oranje). It's a true story of what he and his friends from

Leiden University did for freedom. "There comes a time in our lives" he wrote, "when we have

to take a stand —when we say to ourselves—this can't go on! This can't be."

Glenn, Cliff, Hy, and Dan took a stand. Their comrades-in-arms, who rest in Margraten,

took a stand. Freedom is not free! It wasn't free then and it isn't free now! Young men and

women are taking a stand today because, "Some things simply can't be."

Margraten isn't just about yesterday, it's a message—a challenge for now! Eli Wiesel, a

survivor of the Holocaust, author, and recipient of the Nobel Peace Prize, cautioned, "It's not

just that we remember, it's what we do with those memories."

Every Memorial Day, Dutch families, thousands of Americans, and people from many

countries come to Margraten. There is a memorial service conducted by a rabbi, a priest, and

ministers. The American ambassador and the Queen's Commissioner speak, and usually a

high-ranking member of the military or the government.

For thousands of Dutch people, every day is a memorial day. Grandparents and parents come

with their children—sometimes three, or even four, generations. They come with springtime

flowers or on a birthday. They come on rainy, windy autumn days and trudge in the snow with

shopping bags of Christmas arrangements. You see them walk from one grave to another to

take care of their soldiers.

The service concludes with the wreath laying, followed by a flyover. Each year Overseas

Americans Remember (OAR) lays a wreath. The wreath-layer is either a combat veteran or

a family member of a veteran. This year, Lt. Col. Mike Hanson, USAF, an "Iowa boy" and

a decorated veteran of two tours in Afghanistan, will lay the OAR wreath. OAR also lays a

wreath for the Timberwolves, to fulfill a promise made long ago. More than 100 Timberwolves

are buried in Margraten, comrades-in-arms of Glenn, Cliff, Hy, and Dan.

After the wreath-laying, there is sometimes is a few seconds of silence. In the distance

comes the roar of F-16s. They streak across the horizon over the crosses and stars and almost,

it seems, scrape the towering white chapel. One breaks away and climbs, and climbs and disappears

into what feels like forever. At that moment, you know why you came.

Soldaat van Oranje was made into a musical. It has been playing for years in a hanger converted

to a theater on what was the Valkenburg Airbase. There is a memorial to Erik Hazelhoff

behind the Wassenaar War Memorial on the Schouweg. Half of his ashes are buried there and

the other half in Hawaii, his home in America.

32 GOING DUTCH

Since 1945, the Dutch people have cared for the graves at Margraten. Every single grave

and name on the Wall of the Missing is adopted by a Dutch family. The Adopt a Grave program

is unique to Margraten.

They Are Buried in Margraten

Six Recipients of the Congressional Medal of Honor:

• Lt. Col. Robert G. Cole – San Antonio, TX

September 18, 1944 near Best, Eindhoven

• Sgt. George Peterson – Brooklyn, NY

March 30, 1945 near Eisern, Germany

• Pvt. George J. Peters – Rhode Island

March 24, 1945 near Fluren, Germany

• Pfc. Willy F. James, Jr. – Kansas City, MO

April 8, 1945 near Lippoldsberg, Germany

• 1st Lt. Walter J. Will – West Winfield, NY

March 30, 1945 near Eisern, Germany

• Pfc. Walter C. Wetzel – Virginia

April 3, 1945 near Birken, Germany

Four women—two nurses and two Red Cross workers:

• Dorothy J. Burdge – Ohio

May 1, 1945

• Anita McKenny – Florida

Nov. 26, 1945

• 1st Lt. Christine Gasvoda – Michigan

April 13, 1945

• 1st Lt. Wilma R. Vinsant – Texas

April 14, 1945

40 sets of brothers and a set of twin brothers.

106 Graves of the Unknowns: "Here Rests in Honored Glory a Comrade in Arms Known

But to God."

172 African-American Soldiers.

179 Jewish Soldiers:

• Maj. Gen. Maurice Rose – Denver, CO

March 30, 1945 near Paderborn, Germany

The highest-ranking American killed by enemy fire in the European Theatre of

Operations, and the most decorated soldier buried in Margraten.

• Pfc. Robert van Klinken – Kitsap City, WA

September 20, 1944 near Neuen, Netherlands

A first generation Dutch-American, a veteran of Normandy and Market Garden, and

a liberator of Eindhoven who astonished the locals during a victory celebration. He

spoke their dialect when he reassured them they would catch some hidden Nazis.

"Wacht more eevns. Wie hoain heur der wel oet." ("Hold on, we'll get them out.") – Robert

van Klinken, who died in the land of his mother and father.

Come to Margraten this Memorial Day. You will never forget it.

Bring a flower, walk around, say, "Hello."

Ceremony

Sunday, May 26

3 p.m.

Netherlands American Cemetery

Amerikaanse Begraafplaats 1, Margraten

MAY/JUNE 2019 33
---
FAWCO Corner

by Julie Mowat, AWC The Hague FAWCO Representative

Federation of American Women's Clubs Overseas, a United Nations NGO with

consultative status with the UN Economic and Social Council

www.fawco.org.

I

want to start by saying thank you to you,

the Members of AWC The Hague. I have

been the FAWCO Rep for the past three

years and it has been a wonderful experience.

During my tenure in this position, the

Club has been so supportive. People jump in

when asked to volunteer for various FAWCO

events: speakers/talks, the Stand Up Against

Human Trafficking Symposium, last year's

Interim Meeting held here in The Hague

(helping with the welcome desk, tours, dinners,

among many other things), etc. You

made squares for the gorgeous FAWCO

Foundation quilt and bought raffle tickets.

You raised money for the Target Projects: Free

The Girls and Hope Beyond Displacement.

Our Club is among the top money-raising

clubs for these amazing projects. Our AWC

makes a difference and you are all a big part

of that. Thank you!

Scholarships

You can win scholarships through FAWCO!

There are many scholarships available for

which our Members and their children can

apply. It is

a wonderful

perk for our

Club. Keep

your ears

open in the

fall for more

details. My

son Ben won

a $5,000

Humanities

Scholarship,

which is

super exciting.

He is

thrilled and

honored.

34 GOING DUTCH

Development Grants

At the FAWCO Conference held recently in

Edinburgh, many Development Grants were

awarded, accompanied to lots of cheering

in the room. Disappointingly, our Club's

submitted proposal for Stahili did not win,

though I heard that it was a close vote. (I

was proud though to share just how helpful

last year's Development Grant was for

Stahili's Pillow Project). However, many of

the grants our Club voted for were awarded.

They included Keeping Backpacks Full of

Hope, Stepergy, Fistula Repair Program,

and our spring benefit recipient, Not for

Sale's More than Just a Cup of Coffee.

Quilt

While no one from our Club won the beautiful

quilt this year, many Members made

squares for this gorgeous quilt which was

raffled at the conference. Terri Mahoney

won the Hermes scarf raffle. All proceeds

from the raffles go to the FAWCO

Foundation which provides Educational

Scholarships and Development Grants to

Members and their

children and grandchildren.

Board

Many of our own AWC Members are very

active in FAWCO. Laurie Brooks served

for these past two years as First Vice

President. She will continue being active

by helping with the website and other technical

needs. Emily van Eerten is the new

FAWCO President for 2019-2021. She was

previously President from 2005 through

2007 and has been elected again for the position.

What a huge honor and a lot of work. Go

Emily! Anne van Oorschot will continue

as Co-chair of the Environment Team, and I

am excited to begin a term as Co-chair of the

Human Rights Team. Other Members have

held positions in the past: Georgia Renault

and Celeste Brown are past Presidents and

now serve as counselors. Mary Adams was

on the Board of FAWCO Foundation and

Co-chaired the Stand Up Against Human

Trafficking Symposium. If you have any

questions about FAWCO, there are many

AWC Members you can ask. There are also

many ways for you to be involved, if you

wish!

New FAWCO Board

Upcoming FAWCO Events

The FAWCO Youth Program is a wonderful

experience for teens ages 15 to 18. The cultural

volunteer program is fun and informative.

Most participants come home saying

this experience had a great impact on them,

and many make long-term friendships. This

year it will be held in Greece from October

16 – 23. Please consider registering your

child or grandchild for this amazing opportunity.

Our Regional Conference will be hosted by

AWC Amsterdam on October 4 – 6. More

details to come soon.

Next year's Interim Meeting will be held

on March 20 – 22 in Luxembourg. This is

a shorter meeting and often less expensive.

All Members are invited, and it is a great

way to learn about FAWCO. More information

to follow.

MAY/JUNE 2019 35
---
FAWCO Conference

by Julie Mowat, AWC The Hague FAWCO Representative

The FAWCO Biennial Conference 2019 was held recently in Edinburgh. It was an exciting

conference and many of our AWC Members attended. The four days were filled with

inspiring speakers, practical workshops, cultural events and themed evenings. In addition,

we networked and learned about what the various FAWCO teams have done throughout the

year The final night included a silent and live auction where funds were raised for the FAWCO

Foundation. These auctions raised $33,000 for Scholarships, Development Grants, etc.

There was so much information shared during this conference that I will only touch on a

few items. Please reach out to me if you have any questions.

The opening Keynote Speaker was Alice Thompson of Social Bite. I don't think there was

a dry eye in the house when she finished. Everyone came away from this speech inspired and

in awe of what her organization does for the homeless. I highly recommend checking out their

website: www.social-bite.co.uk. They are organizing an international event called Sleep in

the Park which you may hear more about. Our closing speech was by award-winning actress

and poet Gerda Stevenson. She is quite accomplished; her credits include Braveheart and

authoring several books. She read poems from Quines, her book about Scottish women,

which were fascinating stories told by an amazing poet.

Some of the workshops we attended included: Combatting Exploitation in NGOs,

Edinburgh Fringe Festival, Scottish Dancing, Genealogy, Literary Conversations, Refugees

in the UK, Managing Wealth Abroad, Environmental and Health Impact of our Food Choices,

#MeToo Abroad, and Fundraising Advice. Our final panel was Women in Science and Health:

At the Forefront of Medical Research, during which a lot was learned about stem cell research.

The four Global Issues Teams (Human Rights, Environment, Education, and Health) work

throughout the year to educate clubs on the issues and what we can do to help. They shared

some of their efforts by recommending articles, books, and events to attend, such as >> 38

36 GOING DUTCH

APRIL 2019 37
---
FAWCO Conference (cont.)

Continued from page 37

One Billion Rising. A new sub-team, the Refugee Network, has started to link clubs together

that work on this initiative. The FAWCO Stand Up Against Human Trafficking Facebook page

continues to be active; please request to join this group if you're interested in learning more.

The UN and US teams' workshops were very well attended. There was so much information

given that we hope to hold a session at the Clubhouse to specifically talk about the issues

presented during these workshops. www.FAWCO.org has much more information available.

Since FAWCO is a United Nations (UN) accredited non-governmental organization

(NGO) with special consultative status with the UN Economic and Social Council, we are

quite involved in many UN activities. FAWCO has UN representatives in New York, Geneva,

Vienna, Athens, and Bonn. They recently attended the Commission on the Status of Women

(CSW) Conference in DC during which they had a panel that included Amanda Lane from

Collateral Repair Project's Hope Beyond Displacement.

The US team is chaired by our Club's former president, Johanna Dishongh. This team

works to keep the public up to date on issues important to Americans living and working

overseas, including citizenship, voting, taxation, and banking concerns. They shared the latest

concerns about the low overseas voter turnout in the last election (about 4%) and there was a

lot of discussion about the citizenship laws regarding children born to American parents who

live abroad. Many of these children have difficulty with the legal requirement for citizenship

(living five years minimum in the US, including two years after their 14th birthday). Also discussed

were Medicaid challenges and ongoing tax issues. So many questions and so little time!

This conference was so much fun, and I learned a lot. I hope you can all join me for the

next one in Luxembourg in March 2020.

Photo Credit: Patricia Ramaer

38 GOING DUTCH
---
A Weekend in Paris

by Audrey Goodman

In early April, my husband and I enjoyed

a long weekend in Paris. We've both been

before, but not without family tagging

along. I'm not sure I would call it a romantic

weekend, but it was nice to unplug and spend

some alone time together. And the beautiful,

sunny weather made it almost perfect.

We took the Thalys from Rotterdam to Paris

Nord, arriving mid-day Saturday without

any delays. I had stayed at Hôtel Muguet

(www.hotelparismuguet.com) when I visited

with my mother in August, and my experience

was so wonderful that I booked the

same hotel for this trip. It's located in the 7th

arrondissement, just around the corner from

the Army Museum, a 15-minute walk from

the Seine River, and a 10-minute walk from

Champ de Mars. The location can't be beat.

dinner reservations at Cézembre (www.

cezembrerestaurant.com) for our first night

and were glad we did. During dinner, we

watched the host turn away at least a dozen

groups. It's located in the 6th District, in an

area overflowing with bars and restaurants.

We opted for the wine pairing, to accompany

the fixed five-course dinner menu. Hands

down, this was one of the best meals I've had

in months. The service was fantastic, and the

courses were both beautiful and delicious.

I know there are endless dinner options in

Paris, but I would highly recommend adding

this restaurant to your list.

Our next morning started with a skip-theline-entrance

to the Louvre (which I strongly

urge visitors to purchase in advance from

the official website: www.ticketlouvre.fr).

My third time in Paris, and I finally saw the

Mona Lisa. I don't really have an appreciation

for art, but I love this museum. The

walls, ceilings and stairwells are gorgeous;

I would estimate that I spent at least 75%

of my visit looking up. The building itself

is just as beautiful as its contents. This was

my second visit to the museum, and I still

haven't seen all the rooms and halls. Unless

you've been to the Louvre, it is almost impossible

to grasp the sheer size of this museum.

We got lost several times!

After four hours of wandering through

the Louvre, we headed to Dalí Paris, the

Salvador Dalí Museum near Sacré-Cœur,

which was disappointing. It's small and feels

more like a tourist trap than an art museum.

Save yourself € 12 and skip this.

We took our time making our way back to

the hotel, where we freshened up before

dinner. We hadn't made reservations in

advance, but took some time earlier in the

day to research the restaurants around us.

Fellow AWC Member Amber Gatewood >> 45

40 GOING DUTCH

After lunch at a nearby restaurant, Le Champ

de Mars, we spent the afternoon walking

around the area, over several bridges, up and

down the Tuileries Garden, and through the

Champ de Mars. We intentionally left our

entire afternoon open, so we could enjoy the

sights of the city at our leisure. Of course,

we stopped at a café for a glass of wine

somewhere along the way.

Several weeks before our trip, we spent time

researching restaurants online. We made

MAY/JUNE 2019 41
---
Paris (cont.)

Continued from page 43

Art Reflection: Ossip Zadkine

by Michele Jacquemain

had suggested La Fontaine de Mars (www.

fontainedemars.com), which happened to

be a 10-minute walk from our hotel. We

arrived at the restaurant around 6 p.m. and

snagged the last available table. It's clearly

a popular restaurant, because all of the other

tables were reserved and there was a line

when we left. The atmosphere was casual,

and the food was fantastic.

Our last day was fully devoted to the

Musée de l'Armée (Army Museum) and

Napoléon's Tomb, both of which were

fascinating. We had purchased these tickets

in advance as well, which turned out

to be unnecessary. The museum contains

countless military artifacts dating back to

the 13th century. Our first stop was in the

Contemporary Department, housing artifacts

from both World Wars. My husband is

a history buff, so this was the most interesting

to him, while I found the old armor to be

most captivating. The museum has some of

Louis XIII's childhood armor, which looks

incredible when displayed next to his adulthood

armor. They have so many pieces that

they've added windows into storage rooms,

so visitors can see items which are not in

formal displays. Our museum tickets also

provided us entrance into the Dôme des

Invalides, which houses Napoléon's Tomb.

The dome is ornate and beautiful, and the

tomb is unsurprisingly massive. This was

the shortest part of our visit (no pun intended),

but well worth the stop.

Before catching a cab back to Paris Nord

for our train ride home, we had a late lunch

near our hotel at a casual café, Le Tribeca.

This was on Rue Cler, just a few doors down

from Boutique Pralus Paris Cler, a colorful

little chocolate and pastry shop. No trip to

Paris would be complete without a small

box of macarons!

This winter I was fortunate enough to

visit the Ossip Zadkine Exhibition

at the Museum Beelden aan Zee in

Scheveningen. This beautiful museum is located

in the dunes, next to the ocean waves. The

setting made the exhibit even more powerful.

Ossip Zadkine was born in Russia, where

he went to school with fellow artist Marc

Chagall. Zadkine later studied the arts for several

years in England and France. After completing

his studies, he settled in Paris, where

he became acquainted with many other French

artists. To escape the Nazis during World War

II, he fled occupied France for the US. It would

have been too dangerous for him to stay, given

his Jewish origin. At the end of the war, he

returned to France, where he lived out the rest

of his life. In order to represent the awful confinement

of the French people during the war,

he created a sculpture depicting three men in a

metal cage. This piece is called The Prisoners

and depicts many emotions. It could make you

cry while admiring it.

Zadkine was mainly a sculptor. He would

chisel directly into the material without making

a sketch before starting to sculpt. He worked

with a variety of materials: all sorts of woods

from elm to dead trees, stones from granite to

marble, and terracotta. He even covered some

of his creations with gold leaves. He had a deep

connection

to trees and

saw them as

his friends.

Most of

his sculptures

of humans

portray

women

with long

hair down

their backs

but without

a face. He

was also

very interested

in music,

poetry

and mythology.

He was

inspired by

Italian artist

Amedeo

Modigliani,

French

sculptor

Auguste

Rodin, and

African art.

Zadkine

was also a

painter, creating

no less

than 200 watercolors. First being inspired by

cubism, he later created his own style.

Zadkine had several contacts with Dutch

people, at different stages of his life. His first

student in Paris, Johannes Toorop, was Dutch.

Many of us may be familiar with his extremely

moving sculpture, The Destroyed City, which

represents Rotterdam after the World War II

bombing which devastated the city. The sculpture

depicts a human figure grieving and crying

to heaven with a hole in its body.

To end on a humorous note, Zadkine

changed the day of his birth according to the

country where he was living: July 4 while in

the US and July 14 while in France.

42 GOING DUTCH

MAY/JUNE 2019 43
---
Credit: volkskrant.nl

The Dutch Daily

by Eileen Harloff

Brabant Goes to New York

Mark Manders, a 50-year-old renowned artist

from Volkel, Netherlands, creates statues

made of what appears to be clay but is actually

cast iron. He began his artistic career as

a graphic designer, but then decided to be

a writer. Not with a pen or typewriter, but

by way of mostly very large objects. Over

the years he has exhibited in many cities

throughout the world and has won various

international awards, including the Prix

de Rome in 1992. In 2015, he was chosen

to design the Netherlands Pavilion for the

55th Venice Bienniale, and is also the creator

of the two-headed fountain at Rokin in

Amsterdam. Manders was recently selected

by the Public Art Fund of New York, which

brings art to the streets of that city, to display

his Tilted Head sculpture at the southeast

entrance to famous Central Park. This

remarkable statue lies with closed eyes on

its left ear, and is intended to encourage at

least some of the 3.2 million annual passersby

to stop and contemplate its meaning.

Payback Time

The National Museum of World Cultures

(www.museumovermensen.nl), founded

in 2014, includes the Tropical Museum in

Amsterdam, the Africa Museum in Berg

en Dal, and the Volkenkunde (Ethnology)

Museum in Leiden. It also works closely

with the World Museum in Rotterdam. The

museums have now adopted a rule that

they will examine their collections with the

aim of returning to their place of origin, on

request, those artifacts that were formerly

stolen or removed by force during this

country's 400-year colonial past. Since the

museums are in possession of some 375,000

items, only 5% of which are on display, this

will be an enormous task. The items were

obtained through public auction, gifts, and

purchase; only half could be considered

stolen. On a personal note: I have previously

approached two museums offering to gift

Indonesian art objects that I have inherited,

and was met with the comment, "Thank you

for your offer, but we already have more of

these than we need."

So far, no claims for the return of objects

have been received. Claims will be expected

to be carefully composed; once accepted,

background information will be sought with

the aid of the Netherlands Institute for War

Documentation, which does research into

the country's colonial past. In the end, a decision

will be made at the local or national

governmental level, as all public museum

collections are possessions of the central

government. However, as the collections of

the World Museum are owned by the municipality

in which they are located, their

approval will need to be sought.

Modern Bricklaying

The days of bricklayers outfitted with knee

pads and using hand tools to pave a road

are coming to an end, if what is happening

in The Hague nowadays continues. The

Credit: volkenkunde.nl

Credit: tiger-stone.nl

Scheveningseweg, the road down to the

beach (and our Clubhouse), will soon reopen

with its wider tram tacks and renewed

red brick road. The road is being constructed

by the Tiger-Stone machine, a Dutch invention

that can lay 3,229 square feet (300

square meters) of bricks per day. Not one by

one, but like a carpet—and without pausing

for lunch!

Exit the Unsightly Tattoos

Erasmus University in Rotterdam recently

offered nine people the opportunity, free

of charge, to rid their bodies of unwanted

ink: scrolls, stars and stripes, hearts, colorful

landscapes and the like. In exchange, the

recipients were required to take part in a

film targeting teenagers called Dag Tattoo—

Hello Baan (Goodbye Tattoos—Hello Job).

In addition, recipients must participate in a

study being undertaken by Media Professor

Henri Beunders on the nonverbal communication

of tattoos.

One of the participants is a young man from

Tilburg who was covered head-to-toe with

a variety of tattoos. He acquired them when

he was 17 years old and "lived in the shadows,"

hating the world and often coming in

contact with the police. One day he got a job

working as a garbage collector. This lasted

but a short time, as his supervisor told him

at the end of his first day that he looked so

awful he didn't want him to come back to

work. Not even his mother could accept his

markings; she was embarrassed to introduce

him as her son. Now he wants to look "normal"

again, especially for his one-year-old

daughter.

Andy Han, who runs a tattoo and laser

shop in Rotterdam with his wife, has set

up a foundation called Spijt van Tattoo

(Regret Tattooing). The foundation helps

those who cannot afford to pay the high

price of laser removal by removing tattoos

which can hinder them from finding a job.

The idea came to Han after his 23-year-old

daughter came home from a night out with

a wine glass tattooed on the back of her ear.

He now devotes one day a week to laser

removals for people that he has screened

and who meet his requirements: minimal

income, willingness to take part in a documentary

shown to teenagers, and with visible

tattoos on their hands, neck or face. His

three-phase selection process consists of a

written application, interview with the applicant,

and a trial laser treatment to allow

the applicant to decide if they wish to continue.

The treatment often takes a long time.

Laser rays warm up the ink, which eventually

disintegrates into small pieces that are

subsequently absorbed into the body. More

than one treatment is required, and sometimes

it is not possible to get completely rid

of the tattoo. Only tattoos on hands, faces

and necks are lasered by Mr. Han, as these

are visible areas and can stand in the way

of being accepted for a job. Once they complete

treatment, participants are also helped

by job agencies to find work.

Good News

Since February 1, the new director of Albert

Heijn is 45-year-old Marit van Egmond,

who began her career at the supermarket

in 1997 as a trainee. She joins the women

who are CEOs of two other daughter companies

of Ahold Delhaize: Gall & Gall and

Etos.

Credit: schildersvak.nl schildersvak.nl

44 GOING DUTCH

MAY/JUNE 2019 45
---
Announcements

Dutch Remembrance Evening

(Herdenking)

Two minutes of silence are observed at

8 p.m. on May 4 of each year to remember

all those who have died, in war and

in peace operations, during and since the

outbreak of World War II. For information

about commemorations around the country,

visit: www.4en5mei.nl. Locally, a commemoration

will take place at the dunes of

Scheveningen: a silent procession on the

Waalsdorpervlakte, where people were put

to death by the occupying forces during

World War II. www.erepeloton.nl

Dutch Liberation Day

(Bevrijdingsdag)

Whereas May 4 is a day of sadness and

commemoration, May 5 is the "Day of

Liberation" with celebrations marking

the end of the Nazi occupation of the

Netherlands. This year marks 74 years of

freedom. Celebrations are held throughout

the country. To see what's happening at the

free festival at the Malieveld in The Hague,

go to: www.bevrijdingsfestivaldenhaag.nl

National Windmill Days

Over 900 mills will be open to the public on

Saturday, May 11 and Sunday, May 12. It

is an ideal opportunity for young and old to

experience these historical works that have

played such an important role in the development

of the Netherlands. Participating

mills are identified by the blue flag, spinning

blades or festive flags. www.molens.nl

46 GOING DUTCH

The Arts Society Lecture

Three Andalusian Cities

Invaded in 711, the Iberian Peninsula was

dominated by Arab civilization for nearly

800 years. Seville, Cordoba and Granada

grew to be centers of culture, learning,

luxury and magnificence. Great Moorish

architectural gems were built, such as the

Mezquita in Cordoba and the Alhambra in

Granada. Examining the interchanges between

Moors and re-conquering Christians

are vital to an understanding of the diversity

of Spanish culture. Lecturer Gail Turner

studied Modern History at Oxford and

History of European Art at the Courtauld

Institute. Nonmember fee is € 13. www.

theartssocietythehague.org

A Court in the Alhambra at the Time of the

Moors, Edwin Lord Weeks, 1876

Tuesday, May 14

8 p.m. (doors open at 7:30 p.m.)

Cultural Centrum Warenar

Kerkstraat 75, Wassenaar

Dutch Beer Tasting Festival

The Grote Kerk in The Hague provides a

unique setting for 43 Dutch breweries to

showcase 250 of their best beers on May 16

– 18. www.weekvanhetnederlandsebier.nl

Sushi Festival

From May 17 – 19, the Lange Voorhout in

The Hague will be transformed into a vibrant

Asian food market full of sushi and

popular street foods such as dim sum, sukiyaki,

noodle bowls, and tempura. There

will also be karaoke, games for young and

old, and sushi workshops. Entrance is free.

When ordering your first drink, there is

a one-off fee of €2.50 for a festival glass,

which saves tens of thousands of single-use

plastic cups. Don't forget your PIN card as

cash is not accepted. www.festival-joy.nl

Opera Days in Rotterdam

Operadagen (Opera Days) Rotterdam is an

opera and music theater festival at various

venues around Rotterdam from May 17 –

26. www.operadagenrotterdam.nl

61st Tong Tong Fair

The world's largest Eurasian Festival is

held annually at the Malieveld in The

Hague. Many of the exhibitors come from

Indonesia, Vietnam and Malaysia just for

this event. From May 23 – June 2, there will

be cultural events, an East-West fair, food

fest, and street vendors. www.tongtongfair.

nl

Hague Bunker Day

More than 50 giant concrete bunkers built

during WWII as part of the Atlantic Wall

still dot the Dutch coastline. Normally

closed to the public, they are opened annually

for Bunker Day. On Saturday, May

25, in various locations within the dunes at

Scheveningen and Kijkduin, there are bunker

tours, walks and re-enactments with historical

vehicles and actors. Proceeds from

tickets help maintain the bunkers and can be

purchased at www.bunkerdag.nl.

Delta Lloyd North Sea Regatta

The largest Dutch sailing event starts

on May 28 with the 110-mile Fire Ships

(Vuurschepen) Race from Scheveningen

to Harwich, England. The Regatta is held

from June 8 – 10 with over 500 boats of 25

different classes, including yachts and catamarans,

competing in races starting from

Scheveningen Harbor. www.nsr.nl

Food Truck Festival

Dozens of food trucks, lots of music and

delicious bites will combine to turn the

Lange Voorhout into a huge open-air restaurant

over two weekends this summer:

May 30 – June 2 and August 9 – 11. This

free event will also be held in Leiden and

Rotterdam throughout the summer. www.

rrrollend.nl

Rooftops of Rotterdam Tours

The city of Rotterdam allows visitors on

their rooftops on May 31 – June 2 to show

how rooftops can contribute to a healthy,

lively, attractive, and future-proof city.

Last year, 56 rooftops were visited by

20,000 participants. Registration is necessary

at www.rotterdamsedakendagen.nl

Culinary Festival in The Hague

From Friday, June 7 through Monday,

June 10, the Lange Voorhout will host the

free Haagse Wereld Hapjes (Hague World

Appetizers) Festival featuring cuisine from

18 local restaurants and entertainment

for both adults and children. www.

haagsewereldhapjes.nl

>> 48

MAY/JUNE 2019 47
---
Announcements (cont.)

Continued from page 47

Japanese Gardens

Don't miss a chance to take a stroll through

the serene Japanese Gardens in Clingendael

Park in The Hague. There is no charge to

visit these gardens, which are open daily

from 9 a.m. to 8 p.m. through June 9.

Day of the Castle

Here is your chance to learn all about Dutch

castles and country estates. On Monday,

June 10, these cultural heritage sites, many

of which are not generally accessible, open

their gates to the public. This year's theme

is Over the Border, examining foreign family

ties and the Netherland's colonial past.

www.dagvanhetkasteel.nl

Open Garden Days

Each year, several Amsterdam Canal

Museums organize Open Garden Days.

On June 14 – 16 from 10 a.m. to 5 p.m.,

you will be allowed a rare glimpse into 30

canal gardens. Tickets can be purchased

48 GOING DUTCH

at the sponsoring museums: www.

opentuinendagen.nl

Day of Architecture

Every year, cities around the country allow

the public a chance to look inside some of

their special buildings. On Saturday, June

15, you can look inside unique buildings in

The Hague that are otherwise closed to the

public. There will be free guided tours (some

of them in English), and architects will present

information about the design and history

of the buildings. www.dvda-denhaag.nl

Flag Day (Vlaggetjesdag)

On Saturday, June 15 is a festival celebrating

the arrival of the first herring (Hollandse

Nieuwe) at Scheveningen Harbor. Hundreds

of thousands of people gather for the

festivities and fishing boats are decorated

especially for the occasion. The first barrel

of herring is traditionally sold at an auction

on the preceding Thursday with the proceeds

going to charity. Visitors are invited to

watch demonstrations by rescue teams,

participate in old Dutch children's games,

tour boats and old fire engines, and enjoy

the many colorful traditional costumes.

www.vlaggetjesdag.com

Tall Ships in Scheveningen

Dozens of tall ships are coming to The Hague

for the Liberty Tall Ships Regatta from June

20 – 23. The 25 ships will sail from France

to the port of Scheveningen arriving with a

large Sail-in Parade at 10 a.m. on Thursday,

June 20. Coinciding with the 75-year

Jubilee of D-Day and the liberation of the

occupied territories in Northwest Europe,

the Liberty Tall Ships Regatta 2019 will

reflect the theme of international friendship

and understanding that is central to every

Sail Training International Tall Ships event.

Tickets aren't necessary for the parade or to

visit the ships. However, if you want to take

a cruise on one of the ships, you will need

to buy a ticket. www.sailopscheveningen.nl

Leiden Culinary Festival and

Boat Parade

On Thursday, June 27, Leiden launches its

Culinary Festival, which runs through

Sunday, June 30. Entrance is free for this

great opportunity to try small portions

from several of Leiden's best restaurants

while being entertained by live music. That

Friday evening, Leiden hosts its annual

boat parade when 150,000 spectators will

gather to watch decorated boats make their

way through the city's lovely canals. www.

leidenculinair.nl and www.lakenfeesten.nl

Dutch Veterans Day

On Saturday, June 29, thousands of veterans

from all over the country will descend

upon The Hague to take part in Veterans

Day. This event focuses on acknowledging

and showing appreciation for the

111,000 veterans who have been deployed

in the service of peace, now and in the

past. There will be festivities at Malieveld

including a parade and flyovers of many

kinds of jets, airplanes and helicopters

over the Hofvijver. www.veteranendag.nl

4th of July Picnic

Come celebrate America's birthday with

an old-fashioned picnic. Bring a blanket,

chairs and a picnic or enjoy some hot

dogs and hamburgers off the grill; drinks

and ice cream will also be for sale. There

will be a bouncy castle and games for the

kids and, of course, baseball. For information,

contact AWC Member Roberta

Enschede.

Sunday, June 30

2 – 6 p.m.

ABF Clubhouse adjacent to ASH

>> 50

Ammonslaantje 1, Wassenaar

MAY/JUNE 2019 49
---
Announcements (cont.)

Continued from page 49

The Hague Urban Trail

More of a "fun run" than a race, participants

can choose either a 5K or 10K course

which loops not just around historic buildings

and secret spots, but through them as

well making this truly a unique way to see

and experience an entirely different side of

The Hague. The Urban Trail on Sunday,

July 7, also makes running more accessible

for those who don't want the pressure of a

timed race. www.denhaagurbantrail.nl

North Sea Jazz Festival

The world's largest indoor jazz festival will

be held at Ahoy in Rotterdam on July 12 –

14. Groove and move to the beat of swing,

bop, electronic jazz, blues, gospel, funk,

soul, hip hop and Latin. www.northseajazz.

com

Rotterdam Summer Carnival

Rotterdam celebrates cultural diversity

during the Rotterdam Unlimited Festival

50 GOING DUTCH

which will immerse the city in music, dance

and carnival from July 23 – 27 in one of

Europe's largest free street festivals. The

Summer Carnival Street Parade features

amazing costumes on over 2,500 energetic

dancers and 30 floats on Saturday, July 27 at

1 p.m. www.rotterdamunlimited.nl

Amsterdam Gay Pride

For 24 years Amsterdam has celebrated

diversity at the end of July and beginning

of August each year with live music and

street parties. The world's only gay Canal

Parade on Saturday, August 3 at 12:30

p.m. is definitely the highlight! www.

amsterdamgaypride.nl

Wild Rooster Festival

Raise a little hell at this annual free music

festival in the city center of The Hague on

August 23 – 24. When the summer is at its

hottest, life on the Grote Markt revolves

around two days of BBQ, beer and rockabilly,

bluegrass, blues and rock 'n roll. www.

wildroosterfestival.nl

Jazz in the Canal Festival

This free event is held annually on the picturesque

canals of The Hague around the

Bierkade, Groenewegje, Veenkade, and

Hooikade. On August 29 – 31, musicians

will perform as they pass by these canal

quaysides on flat bottom boats. The canals

will be swinging to jazz, blues and other

musical influences. www.jazzindegracht.nl

Keri Potts: Assault and

Survival in Rome

by Suzanne MacNeil

Of the many workshops I attended at

the FAWCO Biennial Conference in

Edinburgh, the one led by Keri Potts

has stuck with me. Potts, Senior Director of

Communications for ESPN, told the workshop

attendees via Skype about her work to

help women who are sexually assaulted while

on vacation in a foreign country. It's a subject

she understands all too well.

Potts was visiting Rome in 2008 when she

was assaulted by a man who also attempted

to rape her. She was able to free herself and

to identify him to police. It took two years

of international legal wrangling before her

assailant pled guilty and was given a suspended

sentence of 11 months and 10 days,

and ordered to pay all of Potts' $10,000 in

legal fees.

It has been more than ten years since Potts

was assaulted and she hasn't stopped

working to help other travelers who've

found themselves in similar circumstances.

Potts founded A Fight Back Woman, Inc.

(www.afightbackwoman.com), which

provides best practices to businesses and

organizations about issues of sexual and

interpersonal violence. In addition, she's

now the Vice President of the Board of

Pathways to Safety International (www.

pathwaystosafety.org), the organization

whose ad often runs in Going Dutch and

whose poster is hanging in our Clubhouse.

Pathways to Safety is the only US-based

organization that provides comprehensive

services to the millions of Americans who

are at risk of being sexually assaulted or

abused while traveling or living abroad.

Pathways to Safety International has a 24/7

hotline that's confidential and anonymous.

Please add the organization's phone number

(833-7233-833) to your contacts list.

MAY/JUNE 2019 51
---
Classifieds

Index of Advertisers

Expat Families in Transit &

Work Life Balance

Ingrid offers Child & Teens

Counseling, Life Work

Coaching, Accountability

Coaching and Workshops

& Training. Experienced

Bilingual Psychosocial

Therapist/Counselor &

Coach. Certified NFG

member. Check for Coverage

Health Care Insurance.

Contact 0640216544. FREE

30 MIN CONSULTATION.

imasselinkandreas@gmail.com

www.ingridmasselinkandreas.

com

Private Pilates Lessons in

Your Own Home

I am a Certified Pilates

instructor offering mat

Pilates—tailored to your

body's specific needs.

Monday to Friday, office

hours. Women only. Private

one-on-one or small groups

of up to three possible.

Lessons in English.

The Hague, Wassenaar area

only.

Please email christina@gikas.

nl for more info.

Life Drawing Lessons

Portrait & Nude figures

Monday to Sunday

In the studio of visual artist

Rubins J. Spaans in a most inspiring

old building near the

harbour of Scheveningen.

Sign up for a free trial lesson!

All levels welcome!

info@rubins-art.com

+31 6 27898963

ACCESS

page 30

American Travel

Center

page 19

Aveda Lifestyle

Salon

Inside Cover

FRITSTAXI

Airport Service

Inside Back Cover

Happy Critters

page 17

Marcel

Vermeulen

Jewelry

page 9

Petros Eyewear

page 9

Playball Kids

page 17

Sligro

page 23

VERHEY VAN

WIJK brilmode

page 15

Wassalon

Weissenbruch

page 13

Your Cleaning

Service

page 30

Support Fellow AWC

Members

Find links to a large

variety of businesses

owned by AWC Members

at www.awcthehague.

org/site/newcomers/

Event information, suggestions or comments

for eNews?

Please send all eNews information to

enews@awcthehague.org

no later than end of day each Friday for the following

week's eNews.

AWC is a Pet-Free Zone

As much as many of our Members love

their pets, please do leave them at home

as the AWC has a long-standing policy of

no pets in the Clubhouse. Thank you for

your understanding!

The AWC is not responsible for accidents

or injuries occurring at Club activities or

on Club property. Sports and exercise

instructors must carry their own liability

insurance.

business-links

Member Privacy

Please be reminded that the AWC Membership List is for AWC Member reference only and use of this

information in any communication other than AWC official business is strictly prohibited. Members may

not share the list with anyone other than another AWC Member in good standing and never to any

third party.

The AWC takes care to protect Member information and adherence to this policy is critical to maintain

Member privacy. Members are asked to report suspected misuse of the list to any AWC Board Member.

52 GOING DUTCH

Rates

Classified Mini-Ads:

Deadline: In general, the 1st of the month prior to the

month in which your ad will appear, although subject to

change due to holiday schedule.

AWC Member Rates:

For 45 Words

Non-Member Rates:

For 45 Words

For 25 Additional Words

Per Issue € 15 € 8

Eight Issues € 110 € 55

For 25 Additional Words

Per Issue € 10 € 5

Eight Issues € 70 € 30

How to Submit Your Ad:

Email your ad to: goingdutchads@awcthehague.org

Payment Information:

Please indicate the name of your ad on your payment so that

we are able to match up your payment with your ad.

By Bank Transfer:

ABN-AMRO 43.14.21.757

IBAN: NL42ABNA0431421757

Display Ads:

For full, half, third or quarter page commercial display ads,

email our magazine staff at

goingdutchads@awcthehague.org

MAY/JUNE 2019 53
---
Restaurant Recommendations

by Audrey Goodman

Recommendations by Amber Gatewood

Please send your recommendations to goingdutchmag@awcthehague.org.

Bistro Mer

Specializing in fish, lobster and oysters,

Bistro Mer can be recognized by the oyster

cart outside the front door and the beautiful

display window of fresh fish, shellfish and

crustaceans.

Javastraat 9A, 2585 AB, Den Haag

070 360 7389

bistro-mer.nl

Seafood, European, French

€€€

Lunch: Tuesday – Friday, Noon – 2 p.m.

Dinner: Monday – Sunday, 5 – 11 p.m.

Lapsang

Authentic and creative, serving high tea,

lunch, breakfast, cake, wine, and picnics.

Everything is made fresh daily, organic

(when possible) and without additives.

Oude Molstraat 11A, 2513 BE,

Den Haag

070 360 3598

lapsang.nl

European, Dessert, Wine Bar

€ - €€

Tuesday, 10 a.m. – 4 p.m.

Wednesday – Sunday, 10 a.m. – Midnight

Closed Monday

Pastis

Located in the center of The Hague, Pastis

is a classic French bistro. Everything is prepared

fresh and à la minute.

Oude Molstraat 57, 2513 BA, Den Haag

070 363 3031

pastis.nl

French, European, Seafood

€€ - €€€

Monday – Sunday, 5 – 10:30 p.m.

54 GOING DUTCH

MAY/JUNE 2019 55