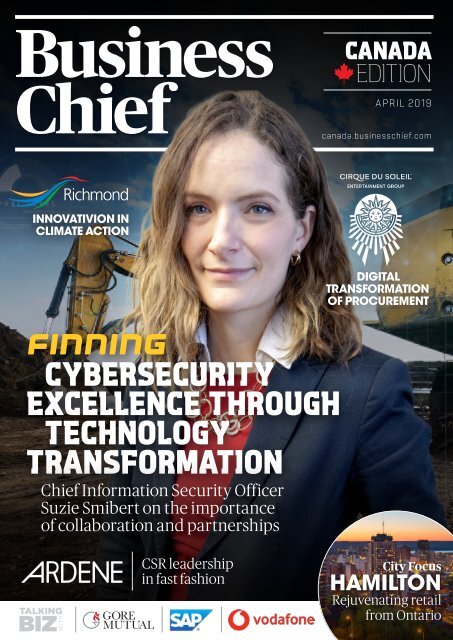 Business Chief April 2019
Create successful ePaper yourself
Turn your PDF publications into a flip-book with our unique Google optimized e-Paper software.
CANADA

EDITION

APRIL 2019

canada.businesschief.com

INNOVATIVION IN

CLIMATE ACTION

DIGITAL

TRANSFORMATION

OF PROCUREMENT

CYBERSECURITY

EXCELLENCE THROUGH

TECHNOLOGY

TRANSFORMATION

Chief Information Security Officer

Suzie Smibert on the importance

of collaboration and partnerships

CSR leadership

in fast fashion

City Focus

HAMILTON

Rejuvenating retail

from Ontario
---
FOREWORD

W

elcome to the April issue of

Business Chief Canada.

Our cover star this month is Finning

International: the world's largest

Caterpillar dealer, which has been

delivering unrivalled service

for more than 80 years.

Chief Information

Security Officer Suzie

Smibert has been

leading the company's

cybersecurity

transformation, as it

looks towards its

long-term vision and

digital strategy.

Meanwhile, businesses are looking

to become increasingly agile and

unlock further value. This month,

Laura Mullan sat down with Jamie

McDougall, Vice President, Business

Intelligence & Analytics at Gore

Suzie Smibert,

CIS Officer, Finning Int.

Mutual Insurance, to find out how

the business has created a business

intelligence (BI) and advanced

analytics entity in order to remain

the best in class.

This month's City Focus zooms in

on Hamilton, Ontario, a city

with a proud history of

industry, and at local

resident Doug Putman,

who is being hailed as

the savior of another

historic industry: vinyl.

Enjoy the magazine, and feel

free to join in the conversation on

Twitter: @Business_Chief

Enjoy the issue!

Harry Menear

harry.menear@bizclikmedia.com

03

www.businesschief.com
---
CANADA

EDITION

Click the home icon (top right of page)

to return to contents page at anytime

EDITOR-IN-CHIEF

HARRY MENEAR

MANAGING EDITOR

OLIVIA MINNOCK

CREATIVE DIRECTORS

DANIEL CRAWFORD

STEVE SHIPLEY

CREATIVE TEAM

FRAZER JONES

LUCIE MILLER

ERIN HANCOX

ALICIA LOLOTTE

PRODUCTION DIRECTOR

DANIELA KIANICKOVA

PRESS PLAY!

WHEN YOU SEE THE PLAY BUTTON ICON,

CLICK TO WATCH OUR VIDEO CONTENT

Wherever you see these icons

in the magazine click to be directly

connected via social media

PRODUCTION EXECUTIVE

LUNA GUTHRIE

DIGITAL VIDEO DIRECTOR

JOSH TRETT

DIGITAL VIDEO PRODUCER

EMILY AMOS

05

SOCIAL MEDIA MANAGER

CALLUM RIVETT

PROJECT DIRECTORS

TOM VENTURO

DENITRA PRICE

JASSEN PINTADO

CRAIG DANIELS

RICHARD DEANE

OPERATIONS DIRECTOR

ALEX BARRON

GROUP MANAGING DIRECTOR

JAMES PEPPER

CHIEF OPERATIONS OFFICER

ANDY TURNER

PRESIDENT & CEO

GLEN WHITE

CLICK NOW

TO SUBSCRIBE

FOR FREE

Visit the BusinessChief.com website

and sign up to receive exclusive

access to one of the world's fastest

growing business news platforms.

PUBLISHED BY

IF YOU LIKE US

FOLLOW US!
---
CONTENTS

12

FINNING INTERNATIONAL:

A digitally–led cybersecurity

transformation

32

44

Americas:

The 5G future

THE DIGITAL

DISRUPTION

OF DELIGHT
---
54

Equality, diversity

and respect:

How Marian Salzman

is defining the business

conversation

PEOPLE

POWERED:

SIX THINGS

I LEARNT

FROM

CRE ATING A

SUSTAINABLE

SOURCING

MODEL

74

City Focus

HAMILTON

86

64
---
CONTENTS

Gore Mutual

Insurance

Company

100

132

City of

Richmond

118 Ardene
---
150

Cirque

du Soleil

190

T-Mobile

164

RagingWire

Data Centers
---
206

SAP

228

WestGUARD

Insurance

Company
---
240

Plymouth Rock

Assurance

254

Glidewell

Dental

268

SGK
---
FINNING

INTERNATIONAL

12

A DIGITALLY–LED

CYBERSECURITY

TRANSFORMATION

WRIT TEN BY

CATHERINE STURMAN

PRODUCED BY

JAKE MEGEARY

APRIL 2019
---
TECHNOLOGY

13

www.businesschief.com
---
FINNING INTERNATIONAL

Finning International has

transformed its cybersecurity

efforts, built strong partnerships

and created a culture built on

collaboration – Chief Information

Security Officer Suzie Smibert

tells us more

14

I

ndustry 4.0 is changing the game for the

traditional industrial sector. New technologies

and innovations have seen original

equipment manufacturers (OEMs) and suppliers turn

towards new solutions to ensure greater efficiency,

improve safety, meet compliance requirements

and guarantee substantial savings. However, such

advances come with additional risks that can threaten

the security of consumer and machine data, with

breaches found to be the most costly in the United

States and Canada by the Ponemon Institute.

With firm routes in Canada, Finning International

now amasses an impressive global footprint, spanning

three geographies. Employing more than 13,000

people worldwide, the business has accrued a world

class network of product support services across

British Columbia, Yukon, Alberta, Saskatchewan,

the Northwest Territories and a portion of Nunavut,

as well as the United Kingdom, Ireland and South

America. Its formidable reputation in industrial

markets, such as mining, construction and agriculture,

has enabled the company to become a key figure

APRIL 2019
---
TECHNOLOGY

15

www.businesschief.com
---
FINNING INTERNATIONAL

16

"We're seeing

a lot more

digitization,

connected

assets and

abilities

to enhance

performance

solutions"

—

Suzie Smibert,

Chief Information Security Officer

in working with customers to achieve

the lowest equipment owning and

operating costs while maximizing

uptime across their operations.

However, to counteract the growing

threat of cybercrime across Finning's

international footprint and remain ahead

of the curve, Chief Information Security

Officer (CISO) Suzie Smibert has

looked to place security at the forefront

of every employee's mind. Demonstrating

effective leadership as Finning looks

towards its long-term vision and digital

strategy, Smibert has been key in

transforming its image of a sole reseller

and service provider to that of an

innovative, technology led company.

"My background is primarily in

information security, which knows no

sector boundaries. Finning was an

interesting company to me when it was

presented as an employment option as

it was an industry I had never been part

of previously. It's an organization with

impressive reach with of the potential

to transform how heavy machinery is

used on a global scale," says Smibert.

"One of the things that gets me the most

excited about this company is that we

are not afraid of thinking outside of the

box, creating technology, thinking of

APRIL 2019
---
TECHNOLOGY

CLICK TO WATCH: 'FINNING PERFORMANCE SOLUTIONS'

17

how can we optimize our customers'

fleets and how we can provide customers

with the best equipment," she adds.

"When you are a CISO, oftentimes you

have your recipe that you use in one

organization, move on to the next and

use the same recipe with slight modifications

for that specific business. As

Finning represented an industry I'd never

worked in, I didn't know if my recipe

would work. So, it was more exciting

not to just 'rinse and repeat', but push

myself towards something new."

With damage related to cybercrime

projected to hit US$6trn annually by

2021, it has been essential for a leading

company such as Finning to take

a closer look at updating its systems,

remove redundancies and streamline

its operations, which will filter into

its long-term aim to promote digital

innovation and engage further with its

diverse customer base.

"In information security there is a lot

of convergence happening. Currently

there are an unsustainable number of

products and tools on the market which

make it difficult to manage budgets,

complexity and maintain the skills to

manage, in some cases as many as 50

www.businesschief.com
---
FINNING INTERNATIONAL

18

platforms at a company. I'm also seeing

tools that are providing the right amount

of security, but could be better utilized

and leveraged, whether inside of outside

of the security portfolio, across multiple

stress factors," explains Smibert.

"At Finning, our customers are evolving.

We are seeing a lot more digitization,

connected assets and abilities to

enhance performance solutions for

how our customers manage fleets and

utilize our equipment," she adds. "An

example of this is, instead of just having

a driver unit, now we can optimize how

the machine is functioning by leveraging

data." The monetization of data is

being seen across every industry, yet

Smibert is driven, and rightly so, to ensure

that the business remains pedantic

around how data is used, whether the

right level of consent has been granted,

and whether the correct contractual

agreements are in place, all to guarantee

consumer trust and transparency.

"Security, compliance and regulation

can be a necessary evil. It can take

time to explain and demonstrate that

having security controls to protect our

customer data, employees' data, meet

privacy regulations wherever we are

APRIL 2019
---
TECHNOLOGY

operating," she reflects.

"Internally, it takes a lot of relationship

building amongst teams to help them

realize that we're not going to slow

them down or prevent a product from

being launched. We're going to make

sure a product is not recalled because

it was secured at the engineering stage

and conception stage, as opposed to

when it goes live. Reassurance that our

role is not a showstopper to business,

but is a enabler and can help us win

more business by demonstrating to our

customers that we are serious about

their data, their privacy, and are taking

control that is above the industry

standard. Having these controls in

place is an incentive for our customers

to consider us as a provider rather than

going elsewhere."

ROBUST SECURITY

The establishment of the General Data

Protection Regulation (GDPR) across

its European operations has seen

Finning join the UK government's Cyber

Essentials scheme which supports

businesses in protecting themselves

against common cyber threats. However,

most importantly, it works to ensure that

the business adheres to what Smibert

coins as "the most stringent" framework,

where the business has mapped each

control it needs to follow, and has

selected the hardest to achieve, applying

this to its operations not just in Europe,

but worldwide.

"We figure that if we set the bar high

19

EXECUTIVE PROFILE

Suzie Smibert

Suzie is a security practitioner with more than 18 years

of experience and is currently Finning International

Chief Information Security Officer. Working with

the leadership team, Suzie provides leadership, vision,

strategy and experience for all things security. She

and her team are responsible for managing

information security risks, protecting information

and technology resources globally for Finning.

www.businesschief.com
---
TRY IT FREE

FOR 15 DAYS

SIGN UP FOR FREE TRIAL

ABOUT CROWDSTRIKE

CrowdStrike is the leader in cloud-delivered next-generation endpoint

protection. CrowdStrike has revolutionized endpoint protection by being

the first and only company to unify next-generation antivirus, endpoint

detection and response (EDR), and a 24/7 managed hunting service.

OUR SITE

CONTACT US
---
TECHNOLOGY

"Our role is not

a showstopper to

business, but is

an enabler and

can help us win

more business"

—

Suzie Smibert,

Chief Information Security Officer

and require ourselves to meet the most

stringent requirements everywhere, and

by transforming our behavior, thought

process and policies, we will be able to

tell our users the same story wherever

they work in the world," states Smibert.

"I travel to our operating regions frequently,

and many of my coworkers are also

nomads, working from every one of our

facilities, different regions, different

countries. We can't expect them to know

which behavior to adopt wherever they

travel. If we tell them one set of behaviors,

one set of policies to meet, it makes our

job easier in the back end, and makes it

much easier on our workforce."

By harmonizing, centralizing and

simplifying Finning's digital infrastructure,

Smibert has looked to promote

cross-collaboration and rework in-region

management teams. Hiring "tremendous

talent" predominately from Calgary, she

has been leading the transformation

of Finning's security and enterprise

architecture services and embedded

next generation multi-tool sets, allowing

the business to improve its response,

detection and management capabilities.

"We have security individuals assigned

to squads in the DevOps team. While

they don't sit in DevOps, they do report

into the management team and exist as

a service provider to that group, and

continue to report into my organization.

"We do security as code. A lot of our tasks

and requests are automated, when they

are deemed low risk, it goes straight

into code."

PROMOTING COLLABORATION

As the business continually evaluates

emerging products and technologies

which could drive greater value, Smibert

explains that the business undertakes

whole-market evaluations in advance

of a product's shelf life in order to remain

resilient, and looks not only to longstanding

players in the market, but also

21

www.businesschief.com
---
FINNING INTERNATIONAL

EXPERIENCEMATTERS

Transform your security initiatives with IMagosoft Identity

Management Solutions Inc., a proven security partner that brings

integrated "best of breed" Identity and Access Management

tools to the enterprise through strategic partnerships and

talented, experienced security experts. IMagosoft works within

your unique requirements to help you reach a cost-effective

outcome to your Identity Management needs.

IMagosoft offers a team of Identity and Access Management

specialists that can engage at any point in the lifecycle of

your IAM program.

Our services include business case development, IAM

transformation, development of program/product

roadmaps, proof of concept implementation/review, pilot

projects, implementation of IAM solutions through our

professional services model, and operational support of

Identity Management products.

CONTACT US

LEARN MORE

APRIL 2019
---
TECHNOLOGY

23

to innovative startups that can bring

something unique to the table. "Many big

companies only work with organizations

that are tried and tested. At Finning, we

take well-calculated risks and work with

startups, or we consider open source

products after careful evaluation so that

we can get the best return on investment

and efficiency in our protection

and detection capabilities," she says.

Partnering with established players,

as well as pioneering startups, is

something to which Finning remains

thoroughly committed, in order to drive

further growth across the business

and strengthen its security operations.

Collaborating with cybersecurity leader

CrowdStrike, for example, has allowed

the business to embed next-generation

antiviruses across all of its digital

environments, and gain chip intelligence,

security protection and detection at all

of its endpoints. Not only that, it has also

helped Finning practice better internal

collaboration with broader technology

teams, identify applications or software

that are no longer used and manage

its license with more efficiency.

www.businesschief.com
---
FINNING INTERNATIONAL

"We were able to not impact the end

user, give them the visibility and tools

they needed, but in the back end, save

a significant amount of money not only

with our security portfolio, but our data

science team, employee productivity

services team and networking teams. It's

been quite powerful for us. CrowdStrike's

main play is security, but we're using it

outside of what it's normally known for."

24

WELCOMING DIVERSE TALENT

Additionally, observing technology as an

enabler and not a sole tool in the creation

of a thriving collaborative culture, Smibert

has worked alongside the communications

team and change management

group as the business continues on

its transformation journey, providing

exceptional support to employees as

well as ample opportunities for personal

and professional development.

"As part of our awareness program,

we've enlisted a psychiatrist to help us

define how our people learn and how

they retain information. Instead of having

an article on our webpage every couple

of months, we have videos, face-to-face,

gamification, and a variety of approaches

to reach and engage our employees. Not

everybody learns in the same way, so

APRIL 2019
---
TECHNOLOGY

COMPANY FACTS

• Finning has accrued

a world-class network

of product support services

across Canada, the

United Kingdom, Ireland

and South America.

• Embedding next

generation multi-tool sets

has seen the business to

improve its response,

detection and management

capabilities.

• Finning looks not only

to longstanding players,

but towards start-ups

that can bring something

unique to the table.

• Collaborating with

CrowdStrike has allowed

Finning to gain chip

intelligence, security

protection and detection

across its endpoints.

with change management

and psychology,

we've transformed our

communication to craft

a message in a way

that is not too techy,

rather it is approachable

and relatable,"

she explains.

At Finning, Smibert

is keen to stress that

its employees are its

strongest assets,

and so upskilling its

workforce will not only

benefit employees but

will also protect the

organization, leading

the business to avoid

common cultural

pitfalls across its

various geographies.

"We are in different

countries in South

America, and for

someone that's not

going very frequently,

they might think

a Chilean and an Argentinian think

the same and both speak Spanish, so

everything should then be the same.

25

www.businesschief.com
---
FINNING INTERNATIONAL

1933

Year founded

12,000+

Approximate number

of employees

26

In reality, it's not," she states. "There

are subtleties, even if they both speak

the same language, operate and retain

data. Our communications groups were

fantastic in helping us avoid addressing

employees or teams in a way that would

not resonate with them. When you think

of awareness and how you can really

reach and influence your employees, it

gives you massive return on investment."

LONG-TERM OPPORTUNITIES

With such a global footprint, Finning

remains committed to contributing to

a number of charitable causes, but one

key focus has been behind the delivery

of science, technology, engineering

and mathematics (STEM) education.

Across each of its operating regions,

the business has sought to inspire the

innovators of tomorrow by supporting

the growth in STEM-based roles.

Partnering with leading STEM outreach

organization, Actua in Canada, Finning

provides financial support, volunteering

and hands-on opportunities to those

interested in areas such as programming

and coding.

APRIL 2019
---
TECHNOLOGY

27

"Finning wants to see more influx of

inclusive and diverse talent in the field

of STEM, so we partnered with Actua,

which is a camp for students and young

children, hosting engagement events

on university campuses. I volunteer to

help students understand the world

of technology and the world of cyber

security. In the past year, we did exercises

involving coding machines, allowing

them exposure to technology," says

Smibert. "Some of my coworkers have

invited students to come into a branch

to see the heavy equipment and what

a power systems engineer might do, so

that they get attracted into the culture

and the field of STEM."

Looking at further opportunities, the

business has also recently acquired

100% of 4Refuel Canada and 4Refuel

US. As a leading mobile on-site refueling

company supporting customers across

the construction, transportation, power

generation and oil and gas sectors, it will

provide a multitude of advantages for

Finning, as more than 95% of 4Refuel's

profitability is generated in Canada.

"By having 4Refuel join us to serve

www.businesschief.com
---
FINNING INTERNATIONAL

28

customers across the different geographies

where our customers operate,

we're going to reduce their potential

downtime because they will have access

to fuel to keep their operation going, as

opposed to having to wait for delivery,

or having a site that might not have all

of the fuel capacity that they need.

This is definitely one element where

this acquisition will help us ensure our

customers are up and running as much

as they want, allowing them to be more

nimble and at the end of the day,

profitable," says Smibert.

"Additionally, having 4Refuel will

allow us to expand in some of our

customer fleets where we might not

have a service contract, primarily

non-Caterpillar equipment. This will

give us visibility in terms of the other

assets that are used by our customers,

"I volunteer to help

students understand

the world of tech–

nology and the world

of cyber security"

—

Suzie Smibert,

Chief Information Security Officer

and how they're utilizing the other

equipment. It is our hope that by

providing holistic service that customers

will think of us as the first place to

buy their next piece of equipment."

Finning's continued drive to fully

expand its product and service offerings

across Canada will see the business

work towards a goal of acquiring 100%

connected assets to deliver further

support, and allow its data science

and analytics teams identify business

APRIL 2019
---
TECHNOLOGY

29

opportunities to partner with its

vendors and customers and create

long-term opportunities.

"Our next aim is to connect everything

and create new technologies that are

going to transform and empower our

customers and their partners to build

and power a better world," adds Smibert.

In many places, once you have your

initial transformation things slow down.

The leadership at Finning hasbeen

tremendous, and the willingness to put

ourselves in uncomfortable positions

to achieve greater good, and do better

for our customers, is something I've not

seen elsewhere. It's an inspiring part

of our culture and a big part of what

keeps me engaged in working here."

www.businesschief.com
---
Covering every angle

in the digital age

The Business Chief platforms offer

insight on the trends influencing

C and V-level executives, telling the

stories that matter

CLICK TO SUBSCRIBE FOR FREE

www.businesschief.com
---
LEADERSHIP

32

Americas:

The 5G future

We talk to Andrew Morawski, President and

Country Chairman at Vodafone Americas

about the wide reaching and disruptive

implications of 5G for telecommunications,

IoT, drones, self-driving cars, virtual reality

and medicine

WRITTEN BY HARRY MENEAR

APRIL 2019
---
www.businesschief.com

33
---
LEADERSHIP

34

Looking back on a career in communications

spanning the past twoand-a-half

decades, the President

and Country Chairman of Vodafone

Americas, Andrew Morawski discovered

a passion for technology and its

applications in the space early on.

From communications pioneer Nortel

Networks, Morawski's career has

also seen him work for Telstra

International and Cable & Wireless

Worldwide, which have provided

him "with a global view of business

that has been key to [his] role at

Vodafone. Vodafone is truly a global

company and we are working to

help businesses that are based in

the Americas region connect

globally," he says.

Worldwide, Vodafone, which employs

over 110,000 people across 25 countries

and reported a net revenue of

US$48.2bn in 2018, "is sitting at the

heart of how technology is changing

the world and we have the opportunity

to help shape how businesses succeed

in the digital world," according to

Morawski. In the Americas, Vodafone

employs approximately 300 people

and its customers are "some of the

APRIL 2019
---
leading global brands with significant

operations in the US," he explains,

"and I am able to bridge my experience

in operations with my passion for

technology." Business Chief spoke

with Morawski about the next paradigm

shift already beginning to reshape

both the telecommunications space

and technology as a whole: the mass

adoption of 5G. We found out about the

myriad far-reaching applications and

implications of the next big step in

Industry 4.0, and got Morawski's take on

the operational challenges and technological

opportunities on the horizon.

5G refers to the next generation of

mobile communications. The technology

promises faster data download

and upload speeds, as well as wider

currency, more reliable connections,

and reductions in latency to basically

nil. 5G is made possible by better use

of the radio spectrum through which

data is transmitted, according to a BBC

report, which in addition to faster

connections, will allow far more devices

to access the mobile internet simultaneously.

In addition to the way people

download, upload and browse content

over the internet, 5G is expected to

35

www.businesschief.com
---
LEADERSHIP

36

$46bn

Approximate

revenue

Vodafone Americas

provides services to

70%

of Fortune 500

companies

111,000+

Approximate number

of employees

have far-reaching consequences for

the field of artificial intelligence (AI),

drones, autonomous vehicles, robotics

and a host of other cutting-edge

technologies. Above all,

perhaps, the rise of 5G

coverage will elevate the Internet of

Things (IoT) to new levels.

"IoT is an area I'm very passionate

about. It is a game-changer for businesses

across every industry as it offers

access to real-time data, which

enables increased efficiency, better

customer experience and improved

visibility into performance," says

Morawski. "In my opinion, IoT is the

catalyst for other emerging technologies

such as AI and machine learning,

so I predict each to continue to grow in

importance across businesses." The

ability for more devices to access mobile

internet at greater speeds that 5G

provides will, he predicts, empower

other emerging technologies. "AI,

machine learning, and data analytics

gain value when fed with businesscritical

data. With more devices and

endpoints in the business connected to

networks via IoT, more data becomes

available that can be analyzed through

APRIL 2019
---
CLICK TO WATCH: '5G COULD IMPROVE PATIENT CARE'

37

"Drones will

become a more

common sight,

delivering

everything from

gifts to medical

supplies"

—

Andrew Morawski,

President and Country Chairman,

Vodafone Americas

AI, machine learning, and data

analytics instances."

Although Morawski admits that,

"it's hard to see the full impact of 5G

so soon, given that we expect it to be

around for a decade, we can already

see some elements that could have

a significant societal impact." Still, he

predicts that "drones will become

a much more common sight delivering

everything from gifts to important

medical supplies." Back in 2016, Ericsson

and China Mobile began testing

drones operating over 5G networks.

www.businesschief.com
---
LEADERSHIP

38

The potential for end-to-end low latency

over high-traffic networks that 5G

delivers will allow larger numbers of

drones to operate in urban and rural

areas, with massive implications for

logistics and transportation. On the

subject of mobility, according to

Morawski, "an integrated transport

system, with more connected vehicles

(both autonomous and driven) can make

roads safer, less congested and change

the nature of commuting." He also

speculates that, "in the more distant

future, remote healthcare could make

a significant impact, enabling specialist

doctors to treat patients wherever they

are in the world," as instantaneous data

monitoring and consistently low latency

could make specialist knowledge and

skills readily available from the other

side of the world.

5G will also, Morawski expects, have

a dramatic effect on the US and global

workforce. "5G is set to be as much

as 100 times faster than existing 4G

networks. This would give us the ability

to download a full HD movie in under 10

seconds on a 5G network instead of

10 minutes with 4G. This will be game

changing for how we share and consume

APRIL 2019
---
"At Vodafone,

we see

telecoms as

the center

of digital

transformation

efforts for

our customers"

—

Andrew Morawski,

President and Country Chairman,

Vodafone Americas

39

www.businesschief.com
---
LEADERSHIP

"There is a direct

connection between

cybersecurity practices

and business success"

—

Andrew Morawski,

President and Country Chairman,

Vodafone Americas

CYBERSECURITY

40

With the number of devices and

digital traffic set to explode thanks

to 5G, having the cybersecurity

measures to protect that data is more

important than ever.

• 86% of high-growth

companies believe that

having strong cyber

security enables new

business opportunities

• 24% is the increase

in financial benefits

IoT adopters expect

to see from having

strong cyber security

• 91% of under 35 year old

decisionmakers expect

cyber security budgets

will need to rise over the

next three years to meet

toughening challenges

• 89% of businesses said

that improving their cyber

security would enhance

customer loyalty and trust

APRIL 2019
---
digital content. [The technology] will

improve efficiencies and facilitate

the use of virtual and augmented

reality, which we expect enterprises

to start using to provide training and

remote worker and customer support.

We will even see the speed, reliability

and low latency of 5G potentially used

in smart factories and other enterprises

such as hospitals to support new

connected applications."

For Vodafone's operations in the

Americas, Morawski reveals that

the mass-adoption of 5G could have

significant, but manageable consequences.

"At Vodafone, we see telecoms

as the center of digital transformation

efforts for our customers, as digital

transformation continues to be a main

priority for enterprises. In terms of what

still needs to be done, we are in the

process of transforming our Vodafone

owned networks to be able to take on

5G," he says. "We believe 5G will enable

a major shift in our customer's experience,

yet it probably won't cause significant

changes in customer behavior like

the jump to 4G did. 4G ushered in the

significant shift in the consumption of

video and streaming services through

41

www.businesschief.com
---
LEADERSHIP

42

"Vodafone is truly

a global company

and we are working

to help businesses

connect globally"

—

Andrew Morawski,

President and Country Chairman,

Vodafone Americas

APRIL 2019
---
devices at a rapid pace. 5G won't change

that behavior, but it will greatly improve that

experience." He also notes that "as much as

we would like it to, change doesn't happen

overnight. Change management is a core part

of my role at Vodafone as we ensure we can

meet the needs of our customers both today

and for the future. To me, it is important to set

objectives that align with necessary changes

and provide clear directions on where and

how we make those changes."

"When looking to the future of Vodafone in

a 5G world, Morawski says: "The past few

years at Vodafone have been some of the

most exciting, challenging, and rewarding

years of my career and I do not see it slowing

down any time soon."

43

www.businesschief.com
---
TECHNOLOGY

THE DIGITAL

DISRUPTION

44

OF DELIGHT

Business Chief sits down with

CEO Vinod Muthukrishnan to

explore the ways in which his

startup CloudCherry is using

predictive data and analytics

to disrupt the customer

relationship management space

WRITTEN BY HARRY MENEAR

APRIL 2019
---
www.businesschief.com

45
---
TECHNOLOGY

46

There aren't many CEOs that can look

back on as eclectic a career as Vinod

Muthukrishnan, the man at the helm of

consumer experience startup CloudCherry.

From nine years in the Merchant Navy, where

he served as a navigation officer, he pivoted

to Market Simplified, a fintech startup providing

mobile solutions to financial institutions worldwide.

He founded CloudCherry in 2014, which

has since grown into a disruptive, Cisco-backed

customer experience management company.

CloudCherry is based in Salt Lake City, Utah,

with offices in Singapore, Dubai, Bengaluru

and Chennai.

Muthukrishnan, reflecting on the challenges

and benefits of moving from sector to sector,

notes that "a fresh perspective shows you

things that being stuck in the weeds for the

last six months doesn't." Conversely, "there's

nothing that compensates for a deep awareness

of a domain," he says. "Every time I've

been in an alien environment, I've done two

things: initially, I have taken a first principles

approach to the problem. Then I surround

myself with people who know that domain

really well." The combination of expert advice

and fresh eyes is, he maintains, a winning

strategy. "It gives you an advantage because

you're not weighed down by the baggage you

accumulate when you've been in a domain for

20 years." In retrospect, he says: "I've always

APRIL 2019
---
47

chased problems I believed were

worth solving." Today at CloudCherry,

Muthukrishnan is using data analytics

and machine learning to disrupt the

customer relationship space on behalf

of a diverse roster of brands spread

across multiple markets.

The genesis of CloudCherry was a conversation

between Muthukrishnan and

several of the company's founding

team. "We tried to count on two hands

how many brands we loved and would

never leave," he says. "And we realized

that we were generally having fairly

www.businesschief.com
---
TECHNOLOGY

48

"We tried to

count on two

hands how

many brands

we loved and

would never

leave, and we

realised we

were generally

having subpar

customer

experiences"

—

Vinod Muthukrishnan,

CEO & Co-Founder, CloudCherry

subpar customer experiences."

Muthukrishna and CloudCherry's other

founders saw this as puzzling, given

the emphasis placed on customer experience

by so many leading brands. "Like

true techies, we believe that there's

a software to solve every problem in

the world." Muthukrishna was certain

the issue lay with the technology being

used to process and analyse customer

data, which was resulting in the efforts

of companies and the needs of the customer

becoming lost in translation. He

laughs, "We naively assumed there

was no software that truly helped brands

understand the customer experience.

Obviously, down the line, we realized that

such software was out there, but the

problem persisted." The two issues remaining,

they realized, were that the

APRIL 2019
---
CLICK TO WATCH: 'B2B CJM GENERAL'

49

majority of customer data was gathered

through surveys, and that, once

customer data was collected, companies

had little guidance to act upon it

efficiently without engaging expensive

consulting firms. Now, in 2019, Cloud-

Cherry specializes in both the collection

and analysis of customer data, turning

it into efficient, actionable insights for

the client company. "Our whole quest

is to find the causal relationship

between factors," says Muthukrishnan.

"There are three very simple ideas

upon which CloudCherry is built,"

he continues. "One: the customer

experience is all about journeys; it's not

just a point-in-time survey or an app

store review. A deep understanding of

customer journeys, understanding

where customers are coming from,

where they've been and where they're

going is at the heart of understanding

customer experiences. So CloudCherry

offers complete customer journey

understanding for a brand." Secondly,

Muthukrishnan stresses the idea that

the customer's journey is a subjective

experience. "It's very important that we

know what happened on a customer's

journey," he says, explaining that "if you

www.businesschief.com
---
TECHNOLOGY

50

were to go to a store, it's very important

to know how often you come in, how

much you usually spend, what products

you like, who you are. Often, all this

data sits in siloed systems throughout

a company." By bringing together all

available data on its clients' customers,

CloudCherry can create a complete

picture of its customers' habits and

wants, which can then be turned into

solutions. The company's third core

tenet, Muthukrishnan explains, was to

"move away from a retrospective way

of looking at data towards a more predictive,

proactive approach." This third

pillar is where a lot of the company's

utilization of cutting-edge technology

comes to the fore. "We put a lot of

emphasis on our machine learning to

make sure that we're actually able to

tell brands ahead of time what they're

supposed to do," he says.

Despite the data-driven precision

with which customer behaviour is dissected

by CloudCherry, Muthukrishnan

insists that, far from reducing them to

a collection of inputs, "digital is supposed

to make the interaction more human.

I actually believe we're going back to

the times where experiences, because

of the lack of technology, used to be

personal. Businesses used to make

APRIL 2019
---
eye contact. They used to call you by

your name because you were one of

their 100 customers. They knew you."

By using machine learning, bots, numerous

data inputs he suggests, modern

brands are recreating that "back to

basics" service, but at scale.

Of course, different markets value

different elements of service, and the

needs of customers vary on a case

by case basis. Between markets,

Muthukrishna demonstrates, different

technologies might be key to providing

good service. "In Malaysia, QR codes

are a huge hit. In North America, they

are not. In Singapore, reliability and

predictability are very important to

customers, whereas, in India, customers

want to be wowed." Helping

Muthukrishnan and CloudCherry

navigate these global markets is the

"All of our

focus and

energies are

on making

sure our

predictive

analytics

are ahead of

the curve"

—

Vinod Muthukrishnan,

CEO & Co-Founder, CloudCherry

51

www.businesschief.com
---
TECHNOLOGY

52

"We put a lot

of emphasis

on our machine

learning to

make sure that

we're actually

able to tell

brands ahead

of time

what they're

supposed

to do"

—

Vinod Muthukrishnan,

CEO & Co-Founder, CloudCherry

APRIL 2019
---
company's diverse cast of investors. "We have

Pelion Ventures from Salt Lake. We have The

Chennai Angels from India, Vertex Ventures

from Singapore and obviously Cisco," he says.

"Cisco is very interesting because they are

a strategic investor. They're hands on. They

understand what's happening. At the same

time, they have great respect for who runs the

business." Within their own region, each investor

brings a different skillset to the table. For example,

our Singapore business has hugely

benefited from the introductions that Vertex

has made for us. They're a very well-known

name in the region."

Looking to the future, Muthukrishnan is

excited about both the rising tide of the customer

experience market and the course

CloudCherry has plotted. "All of our focus and

energies are on making sure our predictive

analytics are ahead of the curve," he says,

noting that, more and more, we are heading

for a survey-less world. "What do you do in

a world where the customer isn't really telling

you what they want directly? We're optimizing

for a world where the standards of customer

listening are going to be radically different."

53

www.businesschief.com
---
PEOPLE

54

Equality, diversity

and respect:

How Marian Salzman

is defining the business

conversation

MARIAN SALZMAN, SENIOR VP

OF COMMUNICATIONS AT PHILIP MORRIS

INTERNATIONAL DISCUSSES

CONVERSATIONAL CURRENCY, THE

BATTLE FOR EQUAL PAY AND RESPECT,

AND THE FUTURE OF PHILIP MORRIS

AS A SMOKE-FREE COMPANY

WRITTEN BY HARRY MENEAR

APRIL 2019
---
www.businesschief.com

55
---
PEOPLE

56

Marian Salzman, Senior Vice

President of Communications

at Philip Morris, the world's

largest tobacco company, doesn't

smoke. As a veteran of three decades

at the highest level of PR and marketing,

Salzman has shaped the lens

through which the world perceives

some of its most iconic brands. From

Apple's 'Think Different' campaign to

the digitalisation of Rolling Stone

Magazine, and from the popularisation

of the word 'metrosexual', to her latest

role in transitioning the world's largest

cigarette manufacturer into a smokefree

future, she has always been a bold

wielder of conversational currency.

"I've led a marketing communications

and PR life," says Salzman. "I've had

something like 38 job titles over the

years, but very few employers. I had my

own company, which sold to Chiat\Day,

which became Omnicom. I worked at

Omnicom twice over the course of

six or seven years. I worked at WPP,

I worked at Y&R as their first in-house

Futurist, and then later on worked at

J. Walter Thompson as Chief of Staff

and then Chief Marketing Officer. And

then I worked at Havas for almost 15

years." Since April 2018, Salzman has

served as the Senior Vice President of

Communications at Philip Morris

International and she can look back on

a career spent at the highest levels of

media communications and public

relations, the battle for equal pay and

equal respect, and the future of Philip

Morris as a smoke-free company.

"I think Philip Morris spent a long time

searching for somebody who had my

APRIL 2019
---
57

"I've led a marketing

communications and

PR life… There aren't

many people out there

who have a combination

of global PR and bigger

budget experience"

—

Marian Salzman,

Senior Vice President of Communications,

Philip Morris International

www.businesschief.com
---
PEOPLE

58

"I have never

seen a company

that cares more

about getting it

right on this topic

of inclusion

and diversity"

—

Marian Salzman,

Senior Vice President of Communications,

Philip Morris International

kind of background, and there aren't

many people out there who have

a combination of global PR and bigger

budget experience," says Salzman.

"It's easy in the PR world to do a lot on

a budget, it's only at the CEO level

where you're going to have enough

experience with big budgets – and

obviously Philip Morris has the luxury

of working with big budgets." In 2017,

the US Federal Trade Commission

reported that marketing and promotional

spending by the nation's largest

tobacco companies was just shy of

US$1mn per hour. From her role as the

CEO of global PR firm Havas, Salzman

certainly has the necessary experience.

On the other hand, Salzman is no

APRIL 2019
---
CLICK TO WATCH: 'PHILIP MORRIS INTERNATIONAL –

CREATING A SMOKE-FREE FUTURE'

59

stranger to creating cultural paradigm

shifts on a budget. Philip Morris was

also interested in the fact that she had

"done a lot of things that had gone viral".

"I wanted to prove that you didn't need

money to make news," she says. "You

needed conversational currency."

Salzman proved that point in 2003

during a campaign for beverage giant

Miller Beer. "I was the person who

publicised and promoted the word

metrosexual. It was 2003, and we

needed a place for Peroni to live in the

market in adjacency to Stella Artois

and the rise of designer vodkas for

men." Salzman found the word in use

by the New Zealand media. Armed with

a research piece entitled The Futureless

Gender, Salzman was featured on

the front page of the UK newspaper

The Daily Telegraph explaining the

term. In 2003, the American Dialect

Society named metrosexual its word of

the year, "and the rest is sort of buzz

marketing history". While her success

as the propagator of metrosexual is an

undeniable demonstration of Salzman's

ability to shape the global conversation

www.businesschief.com
---
PEOPLE

60

$29.6bn

Approximate

revenue

1847

Year Philip Morris

was founded

80,600+

Approximate number

of employees

– on a budget no less – she emphasises:

"I've spent the last 15 years of my life

trying to come up with something to

wipe that off my tombstone."

In her new role at Philip Morris

International, Salzman believes she

has found exactly that. "I have never

seen a company that cares more about

getting it right on this topic of inclusion

and diversity," she says. Philip Morris

International is an Equal-Salary company,

ensuring that it remains committed

to equal pay for men and women.

Salzman is devoted to ensuring that

along with equal pay comes equal

respect and recognition and notes the

challenge of being

a top-level female executive at the firm:

"I've never really been iconic. I've always

just been someone who worked hard.

I feel now, as one of two women on

our Global Executive Committee, an

extraordinary burden on behalf of all

women to get it right." In addition to

fighting for women in the boardroom,

Salzman is applying her ideals to the

business of cigarettes. "One of the

things I'm most passionate about is

that we need to do a better job making

sure women get information about

harm reduction," she explains. "Because

of regulatory restrictions on things you

can and can't do with women in media,

it's tougher to bring smoke-free

information to that demographic."

Philip Morris is currently organising

a women's initiative in order to mitigate

the health risks placed upon half the

world's population. "You'll see us

launch communications campaigns,

over the course of the next several

months that will include women who

quit, woman who smoked themselves,

and make themselves into role models

APRIL 2019
---
"The fact men

are becoming

smoke-free at

a much higher

rate than

women makes

it a feminist

issue"

—

Marian Salzman,

Senior Vice President

of Communications,

Philip Morris International

61

www.businesschief.com
---
PEOPLE

62

as a consequence." However, the

creation of a smoke-free world is

more than a gendered issue for

both Salzman and Philip Morris.

"We are a company committed

to dramatic transformation; we're

taking people from combustible

cigarettes, either to quitting or to

move over to something in our

smoke-free portfolio," Salzman

says. According to Philip Morris,

6.6mn people have already begun

using the company's flagship

smoke-free device. The IQOS

heats tobacco up to 350°C

(in comparison to the often-higher

than 600°C produced by combustible

cigarettes). As a result, "the

levels of harmful chemicals are

significantly reduced compared to

cigarette smoke". Salzman's experience

at the helm of companies and

PR campaigns with high budgets will,

she expects, prepare her to orchestrate

this monumental shift in strategy

for the company that owns Marlboro,

Chesterfield, Benson & Hedges,

Virginia Slims and L&M, a collection

of some of the most iconic cigarette

brands in the world. "This year is the

"I hope my

tombstone

says: 'She

helped

the planet

become a

land of nonsmokers"

—

Marian Salzman,

Senior Vice President

of Communications,

Philip Morris International

APRIL 2019
---
year we re-enter civil society with

a smile," Salzman says. "I hope we

will be able to turn the conversation

towards getting people to give up

their conventional combustible

tobacco and move towards

safer alternatives."

Looking to the future, Salzman

believes that 2019 is going to

be the year she helps lead Philip

Morris into the next phase of

its evolution. "This is the year

I champion more women being

hired in more roles where they

can make a difference for the

company, and then for themselves

and their families. By the time we

get to 2025, I think the most

important job of someone in

my position is to be sure I have

a successor, and that she is ready

to step in and lead." Salzman can

look back across a career filled with

hard work and undeniable results.

She concludes: "I hope my tombstone

says: 'She helped the planet

become a land of non-smokers'."

63

www.businesschief.com
---
SUSTAINABILITY

PEOPLE POWERED:

SIX THINGS I LEARNT

FROM CREATING

A SUSTAINABLE

SOURCING MODEL

64

As sustainability becomes

a pertinent topic in boardrooms

across the globe,

Suranga Herath, CEO of English

Tea Shop, examines how

businesses can create a more

sustainable sourcing model

WRITTEN BY SURANGA HERATH,

CEO of English Tea Shop

APRIL 2019
---
www.businesschief.com

65
---
SUSTAINABILITY

66

Today more, than 1.66mn farmers

and workers are in Fairtradecertified

producer organizations.

In my view, no other organization has

done more to make consumers stop,

consider and care where their food,

drink, clothes and jewelry come from

than Fairtrade.

Inspired by Fairtrade and consumer

demand for ethically-sourced products,

there is an emerging trend for manufacturers

to develop their own sustainable

sourcing models – even the likes of Tesco

and Sainsbury's are following suit.

While a proactive commitment to

sustainable sourcing is to be applauded,

setting up an entirely new sourcing

model – and doing it well – is no mean

feat. I speak from experience of

converting English Tea Shop to run

on a Creating Shared Value model

throughout our supply chain from

seed to cup. The impact of creating

and implementing our own sourcing

model has been profound not only for

the farmers but for our business and

all those in our community, or our

Prajāva as we like to call it.

APRIL 2019
---
"While a proactive

commitment to

sustainable sourcing

is to be applauded,

setting up an entirely

new sourcing model

– and doing it well –

is no mean feat"

—

Suranga Herath,

CEO of English Tea Shop

67

So, based on my experience over

the years, I wanted to share some of

the key things I've learnt about setting

up a sourcing model.

1. BE CLEAR ON YOUR MOTIVATIONS.

The very first step should be asking

yourself why you're setting off on this

path. Is it to help support and share

value with those in your supply chain?

Is it to improve transparency? Is it to

have a more secure and reliable supply

chain? Is it so you can source increasingly

high-quality produce? Is it

because ethical sourcing is important

to your customers? Is it to be better for

the environment? Is it all of the above?

What's important is considering what

long-term outcomes you want to achieve,

both for your business, and for those

in the supply chain.

2. START SMALL AND SCALE UP.

Unless you're starting a new business,

it's probably best to take a long-term

approach to sourcing. Having direct

relationships with producers is both

essential and time-consuming, and

www.businesschief.com
---
SUSTAINABILITY

wrong thing when trying to do the

right thing. That's why close relationships

are so important – you have to

have an innate understanding of what

people want and need, rather than

just doing what you think they need.

The stronger your Prajāva, the better

placed you will be.

68

building close relationships even more

so. It may be best to start working with

one producer or co-operative under

your model, or on one project, and to

grow from there.

3.YOUR BUSINESS MODEL IS ONLY EVER

AS STRONG AS YOUR PRAJAVA.

Prajāva is the Sri Lankan word for

community and taking a wide view of

who this includes is vital. Creating

shared value throughout a supply

chain takes a great deal of thought

– and it's surprisingly easy to do the

4.BUILD A BUSINESS OF

BUSINESS PEOPLE.

This is one of the absolute best ways

of sharing value through your supply

chain. For us, this means helping our

farmers to improve the quality and

quantity of their yield through support

education and a trusted route to

market rather than just paying a

minimum price. For those who work in

our factories, we have a profit-sharing

initiative called 'Big Game' which

involves them in programmes such as

open book management, knowledge

sharing and budget games with the

goal of making English Tea Shop a

significantly employee-owned

business. This ultimately drives

employee engagement and increases

productivity too – there has now been

a 31% increase in value added per

APRIL 2019
---
69

"Unless you're starting a new

business, it's probably best to take

a long-term approach to sourcing

—

Suranga Herath,

CEO of English Tea Shop

www.businesschief.com
---
SUSTAINABILITY

"The impact of creating

and implementing our

own sourcing model

has been profound

not only for the farmers

but for our business

and all those in

our community"

—

Suranga Herath,

CEO of English Tea Shop

70

employee since the Big Game

initiative was introduced. Without

wanting to be too trite about it, helping

people help themselves is much more

sustainable and powerful.

5.FIGURE OUT THE MEASURING

AND MONITORING SYSTEM.

If you're going it alone, you need to

find a robust way of benchmarking the

outcomes of your model. Failing to do

so could cause more harm than good.

This could involve developing a

framework for measuring social and

economic impact for your investments

and efforts and then tracking how

business is directly and indirectly

impacted as a result of such social

progress.

6.MAINTAIN A LASER FOCUS

ON CREATING SHARED VALUE.

Creating a sourcing model is not

without its ups and downs and there

APRIL 2019
---
are times when commercial realities

come knocking that can put you in

difficult positions. My advice would be

to focus your sourcing model on

creating shared value that is, value for

people throughout your supply chain,

but also for your business. For me, this

is what makes a model truly sustainable

in that it is then protected from

short-termism during leaner periods.

As our society becomes even more

ethically-minded, it will soon be the

norm for businesses to adopt and

drive growth through sustainable

sourcing models. We've already seen

a good selection of early adopters

make their mark, and I hope that the

fruitful results produced will encourage

others to take a leap of faith.

71

www.businesschief.com
---
April 29-30, 2019

The Ritz Carlton, Atlan
---
ta | Atlanta, GA
---
CITY FOCUS

74

City Focus

HAMIL

Business Chief explores

Hamilton, Ontario, a historic

city of steel currently at the

heart of the vinyl revolution

WRITTEN BY HARRY MENEAR

HAMIL

APRIL 2019
---
TON

75

TON

www.businesschief.com
---
CITY FOCUS | HAMILTON

76

ocated at the westernmost tip of Lake

L

Ontario, immediately below Mississauga

and Toronto, Hamilton is home to approximately

750,000 people. In addition to its proud history

of industry and manufacturing — responsible for its

nickname of 'Steeltown' — the city is also home to

the country's largest botanical garden, which covers

an impressive 980 hectares. To this day, the city is

home to some of the country's largest steel companies,

including National Steel Car, Canada's largest

manufacturer of rolling stock.

Founded in 1912 by a group of wealthy Hamiltonian

investors, National Steel Car today creates 12,500

rolling stock units each year under the leadership of

CEO and chairman Gregory J. Aziz. The town is also

home to Stelco Holdings, another of Canada's oldest

manufacturers of steel. Although the company

filed for bankruptcy in 2007, it was bought by US

Steel, taken public and today operates in a diminished

capacity refining rolled steel. While Canadian

steel production plummeted during the 2007 financial

crisis, dropping to less than half of its pre-crash

output, according to Trading Economics research,

the industry has made strides in the past decade,

approaching if not reclaiming the grandeur of one

of Canada's oldest and proudest industries.

APRIL 2019
---
'Hamilton has a proud historyof industry and

manufacturing — responsible for its nickname

of a country's largest botanical garden'

77

www.businesschief.com
---
CITY FOCUS | HAMILTON

1846

Official city status

750,000

Population

78

Nearest airport

14km

John C. Munro Hamilton

International Airport

Another Hamilton-born businessperson

investing in the potential financial

returns of the past is Doug Putman, the

man hailed by some in both Canada

and the United Kingdom as the savior

of physical entertainment and the

independent record store. From the

purchase of local record chain Sunrise

Records in 2014, Putman has built

a media empire stretching across 82

Canadian locations and, in February,

APRIL 2019
---
www.businesschief.com

79
---
CITY FOCUS | HAMILTON

he saved 100 of HMV's UK locations

as the company went into administration

for the second time in the last

six years. Sunshine records is the

only national record chain in Canada,

succeeding where so many, including

Sam the Record Man, Music World and

A & A Records have passed into history.

80

CAPITALISING ON THE CANADIAN

VINYL MARKET

Born in Ancaster, a suburb of Hamilton,

the 34-year-old Putman gambled on

the success of physical entertainment

in 2014, capitalizing on the worldwide,

decade-long resurgence of the vinyl

market. According to Statista, vinyl

sales in the United States rose from

1mn units in 2007 to 16.8mn last year.

Following the growth of his Canadian

music empire to 82 stores with the purchase

of failed HMV Canada locations,

Putman told Music Week in February

2019 that Sunrise Records' operations

were profitable at a time when brick and

mortar retail is a shrinking industry, and

the majority of the world's population

consumes audio media through streaming

services like Spotify and Apple Music.

In an interview with the Hamilton

Spectator in 2017, Putman explained

how he saw the opportunity to turn his

own passion for vinyl as a medium into

a profitable pursuit. "I like the warmer

sound of vinyl and I feel there is a huge

passion out there for physical content,"

he said. "People think the younger generation

is all about digital. But the reality

is that digital is all they knew growing up

and now they are finding vinyl and they

love the collecting piece of it. They just

didn't have that experience before. And

APRIL 2019
---
81

now that they have it, they are becoming

hooked and absolutely love it."

The collecting element is a large part

of Putman's operating model for Sunrise.

In his Canada stores, he reportedly

allows his managers to alter their

purchasing decisions based on local

demand and preference. In an interview

with BBC Radio 4, he explained that

"people love to come into a store, have

an experience, talk with someone who

"People love to

come into a store,

have an experience,

talk with someone

who understands

and loves music"

—

Doug Putman,

CEO, Sunrise Records

www.businesschief.com
---
CITY FOCUS | HAMILTON

understands music, loves music, loves

video and entertainment. If you think

online is the only future, I just think

that's not going to be the case. There's

so much you get from coming to a store

that you just can't get online."

A CUSTOMER-CENTRIC EXPERIENCE

The Sunrise model also brings a

touch of the esoteric to its in-store

experience. In an interview with Spill

Magazine, Putman talked about the

customer's desire for a deeper, guided

experience when shopping for music

that independent stores were providing

but larger chains were not. While

most record shops, he explained,

would probably stock a Fleetwood

Mac greatest hits album and a copy of

the band's iconic album Rumours (Putman's

favorite LP), he ensures that

Sunrise Records offers a more indepth

collection. "Rather than having

what I call the 'basics', we would offer

82

"I like the warmer sound of vinyl and I feel there

is a huge passion out there for physical content"

—

Doug Putman,

CEO, Sunrise Records

APRIL 2019
---
CLICK TO WATCH: 'HMV.COM TALKS TO DOUG PUTMAN'

83

Tusk and Tango In The Night. It takes it

deeper and it gives the customer that

assortment in the store."

Regarding his purchase of 100 HMV

stores in the UK, he also noted that "it's

all about listening to what the customers

want. I think HMV was so used to

handling things the same way for years

that they didn't want to change, but we

knew going into this that it would be

quite the task, so our only option was

to do things differently."

Sunrise Records has its headquarters

in Putman's home district of Ancaster.

Also headquartered in the small suburb

is his other venture, Everest Toys,

one of the largest toys and games distributors

in North America, according

to the Guardian.

Hamilton has a long and illustrious

history of business leaders from Jack

Kent Cooke, legendary sports executive

and owner of the NHL's Los Angeles

Kings, the NBA's Los Angeles Lakers

and the NFL's Washington Redskins,

to Stephen Elop, the first non-Finnish

president and CEO of Nokia. Now,

Doug Putman is well on the way to

carving out a place for himself among

the city's most celebrated sons.

www.businesschief.com
---
OPTIMIZE FIELD WORKERS, SERVICE & ASSETS

Advancing Serv

OPTIMIZE FIELD WORKERS, SERVICE & ASSETS

April 23-26, 2019 • JW Marriott Pa

The #1 event for organization

Lead Sponsors:

LEAD SPONSORS:

Lead Sponsors:

Lead Sponsor

rs:

Lead Sponsors:

Official Publication:

Official Publication:

Official Publication

Official

REGISTER TODAY!

Web: fieldservicepalmsprings.com · Call: 1.888.482.6012 · Email: fieldservice@wbrese
---
OPTIMIZE OPTIMIZE FIELD WORKERS, FIELD WORKERS, SERVICE SERVICE & ASSETS & ASSETS

lm Desert Resort & Spa, CA

s who want world-class service and field operations

ice Together

SERVICE EXECUTIVES

GET AN EXTRA

20% OFF TODAY

WITH DISCOUNT CODE

BIZCLIK20

Lead Sponsors:

s:

:

Publication:

OPTIMIZE FIELD WORKERS, SERVICE & ASSETS

OPTIMIZE FIELD WORKERS, SERVICE & ASSETS

Official Publication:

Official Publication:

OPTIMIZE FIELD WORKERS, SERVICE & ASSETS

OPTIMIZE FIELD WORKERS, SERVICE & ASSETS

OPTIMIZE FIELD WORKERS, SERVICE & ASSETS

Official Publication:

Official Publication:

OPTIMIZE FIELD WORKERS, SERVICE & ASSETS

Official Public

arch.com
---
TOP 10

86

APRIL 2019
---
TOP 10

Franchises

in the USA

87

Business Chief lists the top 10 franchises in

the US, according to Franchise Direct. With

headquarters ranging from Massachusetts to

Kentucky, the franchises sit within the food,

hospitality and convenience store sectors

WRITTEN BY SOPHIE CHAPMAN

www.businesschief.com
---
TOP 10

88

10 Baskin-Robbins

Est. 1953

The ice cream and cake restaurant chain, Baskin-Robbins, is based in

Canton, Massachusetts. Having launched in 1953, the company now

manages 700 stores and carries 1,200 flavors. The firm holds a Guinness

World Record for the largest cup of ice cream, and has employed

celebrities and politicians such as Barack Obama, Julia Roberts and

Randy Quaid. As of December 2018, the company's total revenue

was valued at US$24.3mn.

APRIL 2019
---
89

09 Domino's

Est. 1960

"Like most corporate success stories, Domino's started out small –

with just one store in 1960. However, in 1978 the 200th Domino's store

opened, and things really began to cook," the firm claims. As of the

third quarter of last year, the company operated a network of 15,300

franchises in more than 85 markets. "Domino's has built its 50+ year

success around its franchisees – independent business owners with

a common vision and mission to be the number one pizza company in

the world. Much of this success has come from our franchise business

model, which is primarily an internally-based franchise system."

www.businesschief.com
---
TOP 10

90

08 Subway

Est. 1965

The Connecticut-based sandwich shop chain was launched in the

1960s to pay for Fred DeLuca's school tuition. Peter Buck financed

the project with $1,000 to open the first shop – the company now

operates in more than 100 countries across the world. DeLuca and

Buck decided to start franchising in 1974 when they realized they

would not meet their goal of opening 32 stores. "Today, the SUBWAY®

brand is the world's largest submarine sandwich chain with more

than 40,000 locations around the world," the company says.

APRIL 2019
---
91

07 7-Eleven

Est. 1927 [as Tote'm Stores]

The founder of 7-Eleven, Joe C. Thompson Jr, stated: "Give the customers

what they want, when and where they want it." The franchise

is the largest chain convenience store in the US, and is owned by

Japan's Seven & I Holdings. The business is headquartered in Dallas,

Texas. As of December 2018, the company operated, franchised, and

licensed 67,480 stores across 17 nations. "In our 24-hour world, today's

consumers are busier than ever and want more from one location,

whenever they want it. The U.S. convenience store industry is feeding

this 24/7 consumer demand, taking in approximately $680bn in

sales every year," claims 7-Eleven.

www.businesschief.com
---
TOP 10

92

06

Dunkin' Donuts

Est. 1950

"With over 3,100 stores in over 30 countries outside of the US,

Dunkin' Donuts has been serving loyal customers around the world

for over 60 years," states the company. The brand was established

by William Rosenberg in 1950, and now serves on average 5mn customers

per day. The company owns Baskin-Robbins, and so Dunkin

Donuts claims to have "almost 120 years of combined franchising

experience and more than 17,400 points of distribution in nearly

60 countries worldwide."

APRIL 2019
---
'The firm's first

franchise was in

1952, and by 1963

there were 600

restaurants across

the US — making

KFC the largest fast

food operation

in the nation at

the time'

93

05 KFC

Est. 1937

Headquartered in Louisville, Kentucky, Harland Sanders founded his

first restaurant in 1937 under the name Sanders Court & Café. The

firm's first franchise was in 1952, and by 1963 there were 600 restaurants

across the US – making KFC the largest fast food chain in the

nation at the time. The company claims to be "one of the few brands

in America that can boast a rich, decades-long history of success

and innovation." The business established the KFC Foundation in

2015, which has provided $18mn in funding to more than 6,400 of its

employees and students to help with education and personal finance.

www.businesschief.com
---
TOP 10

94

04

Marriott International

Est. 1927

Founded in Washington in 1927 and now based in Maryland, the hotel

franchise owns 30 brands. In 2017, the company recorded having

almost 1.3mn hotels. The company has five core values: putting people

first, pursuing excellence, embracing change, acting with integrity,

and serving the world. Following their food and drink business, the

Marriott family opened its first hotel in 1957 in Arlington, Virginia.

The company is currently the largest hotel chain in the world.

APRIL 2019
---
95

03

Pizza Hut

Est. 1958

Pizza Hut was established by two brothers who studied at the Wichita

State University in 1958. The second store opened six months after

the first, and six months after that they had opened an additional four

locations. The Yum! Brands-owned company operates more than

16,900 stores across the globe. Kentucky-based Yum! Brands also

owns KFC and Taco Bell. In the fourth quarter of 2018, Pizza Hut saw

its worldwide system sales increase by 2%. 97 of the brands' stores

were refranchised throughout the year.

www.businesschief.com
---
TOP 10

96

02

"Every day, more than 11mn guests visit

Burger King

Est. 1954

Burger King restaurants around the world.

Founded in 1954, Burger King is the secondlargest

fast food hamburger chain in the

world," states the firm. The Miami-based

company was acquired by 3G Capital in 2010,

making it a privately held business. In 2018,

Burger King's system-wide sales increased

by 7.4%, while it saw net restaurant growth

of 5.5%. The company's revenue sits at

more than $4bn.

APRIL 2019
---
www.businesschief.com

97
---
TOP 10

98

01 McDonald's

Est. 1940

Known as the largest franchise in the world,

McDonald's has grown from a single store in

San Bernardino to a franchise of more than

37,000 restaurants. The company was

founded in 1940, and since its revenue has

hit $22bn. "McDonald's continues to be

recognized as a premier franchising

company around the world. More than 90%

of our restaurants in the U.S. are owned

and operated by our Franchisees," claims

the company.

APRIL 2019
---
'Known as the largest franchise in

the world, McDonald's has grown

from a single store in San Bernardino

to a franchise of more than 37,000

restaurants'

99

www.businesschief.com
---
100

DIGITALLY

DISRUPTING

THE CANADIAN

INSURANCE

SPACE

WRIT TEN BY

LAURA MULLAN

PRODUCED BY

JAKE MEGEARY

APRIL 2019
---
canada.businesschief.com

101
---
GORE MUTUAL INSURANCE

Gore Mutual Insurance may

be Canada's oldest property

and casualty insurance firm

but thanks to its latest digital

transformation it's more

agile than ever

102

ounded in 1839 – 28 years before the

F

founding of modern Canada – Gore

Mutual Insurance is defined by its rich

history. The insurer has borne witness to two world

wars, having pledged $50,000 and $100,000 to

support the Canadian war effort in WWI and WWII

respectively. The Canadian insurance company

has also seen the advent of automobiles, offering

automobile insurance for the first time in its

centennial year, and then went on to help the

victims of the catastrophic Grand River Flood.

Later, in 2015, when new legislation offered the

chance to demutualize, the firm decided against

this, harking back to its long held desire to help

communities in their times of need. Rooted in a

tradition of courage and cooperation, Gore Mutual

may be Canada's oldest property and casualty

(P&C) insurer but it isn't bound by its historic legacy.

Gore Mutual

employees on site

APRIL 2019
---
103

In fact, in many ways, it has always

been at the forefront of innovation.

With almost two decades of

experience at Gore Mutual, Jamie

McDougall, Vice President, Business

Intelligence & Analytics, has had a

lasting impact on the firm's digital and

insurance footprint. Marrying his

innate knowledge of the claims and

underwriting business with a zeal for

technology, he affirms that digitisation

is helping the company "enable our

broker partners in an increasingly

digital world". "We are using the

canada.businesschief.com
---
Impacting

Business Results

For almost two decades, Earnix data scientists,

financial experts, and software engineers have

worked to create a comprehensive analytics

software solution that solves some of the most

difficult product, pricing and channel challenges

faced by financial institutions. With Earnix -

insurers, lenders, and other financial institutions

can now incorporate into their product, risk, and

delivery systems the same advanced analytics that

make personalization possible for the tech giants.

www.earnix.com

Follow Us:
---
Gore Mutual Insurance Partners with

Earnix to Improve Analytic Agility

and Speed Time to Market

Gore Mutual, a Canadian mutual insurance company that has provided community protection

to personal and business customers for over 175 years, has partnered with Earnix to provide the

best service possible to their broker network and customers. As part of an initiative to better

understand their end customers and improve responsiveness to a constantly changing market,

Gore has partnered with Earnix to continually improve analytical processes and better

operationalize the speed of rate deployment to the marketplace.

Analytical Process Improvement.

Gore traditionally has done risk and demand

modeling, in order to understand customer

propensities and exposure and determine the

appropriate costs of risk transfer. As Gore has

advanced to managing this modeling process

holistically, through the use of an end to end

data management, analytics, and pricing

platform, they have realized the ability to

understand their customers at an even deeper

level. Gore utilizes predictive analytics to

derive insight from the information that they

receive, and in turn support the effective

underwriting of risk accepted. Understanding

and applying risk and demand thresholds to

customer segments enables a more effective

insurance transaction for all stakeholders.

Speed Rate Deployment.

Managing the rate deployment process at

organizations like Gore requires accounting for

many variables. Price changes must be made,

approval and governance of changes must be

received, and proposed changes must then be

deployed to the market. Gore knew that only

an end to end system with real time rating

engine capabilities, integration to touchpoints

such as core and policy admin systems, and

the ability to monitor rate change performance

would be the best solution for them.

Gore has turned to Earnix as a partner to

provide an end to end pricing and personalization

platform, which takes their operationalization

of analytics to the next level. Earnix will

provide a real time rating engine that is connected

to all of Gore's core platforms – including

policy admin systems in the back office,

and customer interaction systems in the front

office. The ability to develop, execute, monitor,

and refine multiple pricing structures and

strategies with high performance and reliability

allows for improved governance and control.

For Gore, the capability to deploy rates

and rate changes in real time allows the pricing

process to be operationalized very quickly.

As Gore works to distribute these analytic and

time to market improvements across the

business, many other future advancements

are being considered as well. Machine learning

tools and capabilities are being researched,

as a way to automate processes

and understand their customer base even

further. Being able to use the Earnix rating

engine capabilities to take any analytical

model developed by any tool and use it in

a real time manner is also an exciting

possibility. The partnership between

Earnix and Gore is creating a strong

foundation for future advancements,

including the use of analytics and

personalization in every project

that Gore undertakes.
---
GORE MUTUAL INSURANCE

1839

Year founded

500

Approximate number

of employees

106

explosive developments in digitization

data, business intelligence (BI),

self-service analytics, machine

learning (ML) and artificial intelligence

(AI) to enable a mature business

transformation that is both genuine

and thoughtful," he explains.

The handling of data is nothing new

for the insurance industry, but disruptive

technologies are helping to

uncover endless new opportunities.

Gore Mutual Insurance has identified

BI and analytics as one such innovation

which is a "strategic priority". With

the aim of making its use more

pervasive in the business, Gore Mutual

established BI and analytics as a separate

entity and asked McDougall to

take on the role of Vice President of

Business Intelligence and Analytics. In

doing so, Gore Mutual has sought to

put more meaningful data, analytics,

insights and information at its leaders'

fingertips so that they can make better

decisions whilst enabling conversations

across the business. "Ongoing

advances in data analytics allow us to

be more agile and gather insights in

APRIL 2019
---
Gore Mutual employees

assessing fire damage

107

EXECUTIVE PROFILE

Jamie McDougall

Jamie McDougall is responsible for advancing Gore Mutual's business

intelligence, analytics and actuarial capability, which are central

to the company's ability to continue providing leading products

and solutions to its customers. His previous experience as Gore

Mutual's Vice President of Claims and Vice President of Personal

Insurance are key to his current role, which also involves leadership

in the implementation of major data and systems transformation

across all lines of business. Prior to joining Gore Mutual, he

spent several years as a Management Consultant in process

improvement and performance management with a boutique

consulting firm and completed his MBA with the Haskayne

School of Business at the University of Calgary.

canada.businesschief.com
---
TRANSFORMING THE

INSURANCE WORLD

Visit our Site
---
FROM INFORMATION

TO INSIGHT

What gives Opta Information Intelligence a

competitive edge in the market? What makes

it unique?

I believe our number one competitive edge is

that our people possess an extraordinary amount

of information about the Canadian market and

specifically the Canadian insurance industry. In

addition to this, we've also amassed the largest

property data set in commercialized property. By

utilizing the wealth of our dataset and our analytical

capabilities, as well as our ability to understand

the Canadian insurance market we have a

unique perspective in the market.

What advantages does the company's technology

offer? What outcomes can customers expect?

We offer superior property information intelligence

for underwriting purposes. Canada is the

second largest country in the world; there are

varying degrees of elevation, areas where there

is floodplains or unprotected fire zones and then

there are urban centres which have their own

risks. We understand the Canadian geography

and are the number one data provider to help

organizations turn this into actionable insights.

How has Opta Information Intelligence supported

Gore Mutual Insurance in its latest digital

transformation?

Gore Mutual Insurance has been a very strong

partner and believer in Opta's solution. The

company has also been a very helpful co-development

partner in services that we've brought

the Canadian market such as iClarify, which is

the number one personalized property underwriting

quoting tool in the country. With Gore's

digital transformation, I believe that we were able

to understand its unique position in the Canadian

market place and respond with solutions in a

customized fashion that help improve efficiency

and drive improved underwriting results.

Could you provide another example where Opta

Information Intelligence has helped to enable

digital transformation?

When the Fort McMurray fire happened in Canada,

nobody was able to really understand which properties

were total loses and damaged or which

ones weren't. This was because you weren't able

to get on site for weeks after the fire. We were

able to utilize advanced artificial intelligence (AI),

satellite imagery and train computers to recognize

which homes were lost and how much those

losses would be. We hired a satellite to go over

the area and within days of the fire, we were able

to deliver a solution which demonstrated to a lot

of insurers, the power of artificial intelligence,

the potential of data and the realm of the possible.

What does the future hold for Opta Information

Intelligence? Are there any upcoming developments

we should watch out for?

We're exploring opportunities within Fintech and

Municipal markets within Canada. Our massive

amount of data and profes sional attributes can

offer new insights to differ ent markets but ultimately

our number one goal is to always be a

relevant and meaningful partner to our Canadian

insurance customers.
---
GORE MUTUAL INSURANCE

110

CLICK TO WATCH: 'GORE MUTUAL'S DISCOVERY CONCOURSE TOUR'

the business," says McDougall. "It

helps us improve our broker experience

and the experience of our

consumers. We're becoming more

proactive and not just reactive. We are

driving improved claims and underwriting

operations," he adds. "The new

entity is ensuring clarity of focus. It

indicates to the organization that this

is an enabling set of technologies and

we recognize their value in the

insurance space."

Good BI requires good data – and

this was top of the agenda for Gore

Mutual as it embarked upon its latest

digital transformation efforts. "We're

heavily focused on creating curated,

quality data assets to build trust in the

information," says McDougall. Forging

a promising partnership with Information

Builders, the Canadian business

has worked hard to master its data

and build quality data assets. "We

utilized their platform as a way to

distribute information and insights to

the appropriate individuals so that we

can make better and more informed

business decisions," he adds. "It has

absolutely delivered concrete value to

our consumers, to our brokers and to

APRIL 2019
---
our business." This has allowed

Gore Mutual to provide more

sophisticated pricing to the market,

whether offering auto insurance or

even flood and earthquake insurance.

Gore Mutual has also

developed close ties with integrated

software company Earnix, using

its software to further empower the

organization.

In the fast-moving world of

technology, close collaboration is

everything. Championing this spirit,

last year Gore Mutual built its

Discovery Concourse in its campus

"We're becoming

more proactive

and not just

reactive. We are

driving improved

claims and

underwriting

operations"

—

Jamie McDougall,

Vice President of Business Intelligence

and Analytics, Gore Mutual Insurance

111

Gore Mutual – Innovation Lab

canada.businesschief.com
---
"More than just another

pretty dashboard..."

Achieve profitable growth using trusted data and

dashboards that use all of your P&C data.

Underwriting gets all

history, with current

and go-forward

views, to manage risk

Actuaries get granular

pricing and reserving

data to be more

accurate and faster

Claims knows where

to cut leakage, tighten

steps, and improve

service

Information Builders can help.

We bring clear, actionable, and complete data – fast – to your

executives, brokers, managers, and underwriters.

With one unified, historical view of your business, you can drill down to address risk, pricing, and market

segmentation. Shift from product-centric to customer-centric views of your business – giving a unique view to

insured parties, brokers, policies, underwriters, assets, and claims.

Just like that, your entire team can leverage all of your data to manage your book of business more effectively.

See the impact we've made for other P&C companies

informationbuilders.com/omni-insurance
---
"In our business,

responsiveness

to the consumers'

needs is critical:

we want to be

there when they

need us"

—

Jamie McDougall,

Vice President of Business Intelligence

and Analytics, Gore Mutual Insurance

in Cambridge, Ontario. This is a spot

where continuous innovation seems to

be in the air and where the hands-on

creation of insurance solutions is

commonplace. Featuring a high-tech

innovation lab, McDougall says this

area acts as a hub where "brokers,

insurtechs, reinsurers, technology

partners and Gore Mutual employees

from different departments can

collaborate on solutions to solve

industry issues".

This proactive stance is a must in the

insurance world. The nature of risk is

ever-changing – and insurance needs

to transform with it, not only to remain

commercially viable but also to protect

customers. "In our business, responsiveness

to the consumers' needs is

critical: we want to be there when they

need us," notes McDougall. "If we

know that a dramatic storm is coming

or a forest fire is burning, we can be

proactive and identify the exposure,

policies, and those consumers at risk.

At times we have proactively called

brokers, identified the consumers in

their portfolio that are at risk and then

proactively contacted them to ensure

that they're okay and that they didn't

experience loss. This data offers

transformative value that we can bring

to the business." As well as using its

own analytics, Gore Mutual has

worked shoulder to shoulder with Aon

to try and understand the "complexity

of catastrophic loss protection" when

creating models for flood or earthquake

risk. The firm has also forged

ties with DMTI for detailed location

information, which McDougall

describes as "a quality data provider".

Another key insurance industry data

partner, OPTA Information Intelligence,

has enabled Gore Mutual to improve

113

canada.businesschief.com
---
GORE MUTUAL INSURANCE

Gore Mutual – Discovery Concourse

Model with confidence

in Canada

Impact Forecasting's enhanced flood model for Canada, covering both fluvial and pluvial flood

perils, enables insurers to delve into the latest scientific data to support both primary underwriting

and portfolio risk management. Moreover, high resolution flood hazard and risk maps provide

detailed and methodologically-consistent insights into flood risk across populated Canada. How can

YOU benefit from partnering with Impact Forecasting to tackle risk assessment for this increasingly

important peril?

NEW! We are working on an earthquake model in collaboration with Global Earthquake Model

foundation to leverage the state-of-the-art local science and data to complement our suite of

products available for Canada – watch this space!

If you would like to demo our catastrophe modelling solutions and risk mapping products,

please contact sarka.cerna@aon.com
---
115

its assessment of risk through

advanced information tools as well as

through OPTA's developing of advanced

analytics and modelling. Gore

Mutual's openness to enhancing its

abilities through quality partnerships is

a credit to the insurer and a recognition

that in advanced analytics there

are many paths to success.

As well as industry partnerships,

McDougall is keen to shout about

Gore Mutual's remarkable network of

brokers as well as its internal team.

Attracting and retaining talent may be

a challenge for some businesses, but

"Our value

proposition for

attracting and

retaining talent

is about creating

a very complete

and holistic value

proposition for

employees"

—

Jamie McDougall,

Vice President of Business Intelligence

and Analytics, Gore Mutual Insurance

canada.businesschief.com
---
GORE MUTUAL INSURANCE

116

at Gore Mutual McDougall asserts

that individuals seeking "breadth of

scope, accountability and ownership"

are easily attracted to the firm. "We're

large enough to be dynamic and

creative," he adds. "Our value proposition

for attracting and retaining talent

is about creating a very complete and

holistic value proposition for employees."

McDougall has evidence to

back up this claim: last year Gore

Mutual was awarded for being a

'Best Workplace in Canada' and also

recognized as a 'Best Workplace in

Financial Services and Insurance' by

Gore Mutual – Cambridge Campus

"I'm confident that

Gore Mutual will

continue to evolve

to become an

increasingly

analytic yet always

human business"

—

Jamie McDougall,

Vice President of Business Intelligence

and Analytics, Gore Mutual Insurance

the Best Workplaces Award and Great

Place to Work® Canada respectively.

In February 2019, the business was

named an 'Employee Recommended

Workplace' for putting employees'

health, wellness and workplace

experience at the forefront of its

operations. McDougall is confident

that 2019 will remain a banner year for

the firm as there has been a "resurgence

or recognition of the mutual

proposition".

On the road ahead, Gore Mutual is

set to keep its finger on the pulse of the

APRIL 2019
---
117

latest technology trends as it constantly

evolves and grows into a leading

mid-market modern mutual insurance

company. Yet it's clear that despite this

bright future, the firm won't forget its

historic legacy any time soon. "Gore

Mutual will be 180 years old this year

and we're very proud of our history,"

concludes McDougall. "The organization

started as a district mutual fire

insurance company and has become

ingrained in the communities where we

live and work – it's part of our story."

"We're a modern mutual," he asserts.

"We continue to grow and invest in our

people, our business and our communities.

I'm confident that Gore Mutual

will continue to evolve to become an

increasingly analytic yet always

human business."

canada.businesschief.com
---
118

APRIL 2019
---
A journey toward

CSR leadership

in the fast

fashion industry

119

WRIT TEN BY

HARRY MENEAR

PRODUCED BY

CRAIG KILLINGBACK

canada.businesschief.com
---
ARDENE

Canadian fashion retailer

Ardene is on a journey to become

a corporate social responsibility

leader through greenhouse

gas mapping, supply chain

accountability and innovation

120

E

very business faces the constant

challenge of remaining true to its core

values, particularly when growing at

speed. Over the past 37 years, Canadian apparel

retailer Ardene has grown from a single 500 sq ft

accessories and jewelry store in Montreal to a

network of over 375 stores across North America

and beyond. Since the company's inception,

Ardene has had one key principle in mind: to "do

good business, while also doing good in the world."

Today, Ardene is working harder than ever to

ensure it is a leader in Corporate Social Responsibility

(CSR) and sustainable supply chain practices.

In addition to waste reduction strategies, community

outreach initiatives and health and wellness

programs for its employees, Ardene is currently

embarking on an ambitious project to completely

map its greenhouse gas (GHG) emissions, in order

to more effectively understand the next phase of its

sustainability journey.

We spoke with representatives of Ardene's CSR

team to explore the company's core

APRIL 2019
---
121

sustainability goals: complete GHG

mapping, increase supply chain

accountability, product innovation and,

most importantly, sharing Ardene's

message about a sustainable future.

"As a family company with a young

workforce, upholding ethical practices

is part of our DNA; it is important for us

to take care of our people, our

customers, and of course the world

we live in," says a representative of

Ardene's CSR team.

With all of the company's sustainable

initiatives rebranded under the name

canada.businesschief.com
---
REAL ESTATE POTENTIAL.

REALIZED.

Realize your retail potential with Morguard's portfolio of nearly 15.7 million square feet of local, regional, super

regional, mixed use, and development properties in 60 Canadian and U.S. communities. With an experienced

internal research team, we provide market intelligence to target the right demographic in each community

in which we operate. Our objective is to maximize traffic, sales, and market share to align with our retailers'

strategic objectives and fully realize on the unique opportunity that each property represents. With Morguard's

broad geographic and product diversity, we can realize your expansion requirements.

55 CITY CENTRE DRIVE MISSISSAUGA, ON T 905-281-3800

DAVID WYATT T 905-281-5397 CANADA

JOSHUA NOLAN T 561-404-7036 U.S.
---
CLICK TO WATCH: 'ARDENE IS A FAMILY-OWNED CANADIAN VALUE

FASHION RETAILER BASED IN MONTREAL, QUEBEC'

123

Ardene Collective, the company's CSR

team is emphasizing the fact that

sustainability "will not be a simple effort,

but will require that we all continue to

shift our frame of mind and daily

thinking as one collective team".

Ardene organizes its sustainability

initiatives into four pillars: People, which

includes the wellness of its workforce,

including extended partners; Planet,

which covers recycling, waste, energy

and water; Product, which deals with

merchandise, packaging and supply

chain efforts; and Policies, which

includes compliance and certifications.

'Sustainability

will not be

a simple effort,

but will require

that we all

continue to shift

our frame of

mind and daily

thinking as one

collective team'

canada.businesschief.com
---
ARDENE

ARDENE FOUNDATION

The Ardene Foundation

is the company's dedicated

charitable organization,

dedicated to enacting its

corporate social responsibility

and community goals. To date,

the foundation has donated

over 1mn articles of clothing

and footwear, and raised more

than $4mn for non profits.

124

APRIL 2019
---
$4mn

Raised for non-profits

1mn

Articles of clothing and

footwear donated

125

canada.businesschief.com
---
ARDENE

'In areas of

empowerment,

poverty, education

and health, we

leverage the

strength of our

communities and

try hard to shape

a better world'

Congratulations

to Ardene on your world class Sustainability

Transformation and CSR efforts.

We are proud to be your Partner.

Visit our Site
---
127

"Because of our presence and brand

awareness, we have the opportunity to

bring about big changes with regard to

sustainability," says Ardene's representative.

"We already have programs

we're proud of, like community engagement,

our garden, the end of single use

plastic and Styrofoam, store hanger

re-use programs and more. But we're

ready to make an even bigger impact."

These changes range from small-scale

steps, like replacing plastic water

bottles with boxed water in stores and

offices, to large-scale operations like

analysing the company's entire supply

chain to be more sustainable and

efficient.

"In the past it was very easy, especially

in the fashion world: you need it, you

ship it. Today, one of our first thoughts

is: 'How can we do this better? How

can we create fewer emissions from

our transportation?'" explains Ardene's

representative. "We've already scaled

back and consolidated all our shipments

in order to optimize the movement

of merchandise. Now our

products move as directly as possible

from the source to the end store, and

we have dedicated weekly shipping

canada.businesschief.com
---
ARDENE

'Because of our footprint

and brand awareness, we

have the opportunity to

bring about big changes'

128

days. Air freight has also been decreased

tremendously through smarter

planning, as well as vessel shipments

and trucking." Furthermore, all of

Ardene's international shipments now

travel directly from the company's

vendors to their destinations, drastically

reducing the company's carbon

emissions.

In order to fully understand and

further reduce its carbon footprint

today, Ardene is mapping its GHG

emissions according to the Greenhouse

Gas Protocol, a set of standards

employed by 90% of Fortune 500

companies. Ardene believes that full

knowledge of its supply chain will help

combat the unsustainable elements

inherent in the apparel industry.

Additionally, the company has

partnered with the Sustainable Apparel

APRIL 2019
---
CLICK TO WATCH: 'ARDENE FOUNDATION IS ARDENE'S

DEDICATED CHARITY ORGANIZATION'

129

Coalition (SAC), a global alliance of

retailers, brands, suppliers, advocacy

groups, labour unions and academics

that aims to mitigate the environmental

impact of the industry. "This alliance

can help us make real change in our

company and our supply chain. The

SAC offers tools, such as the HIGG

Index, that enable brands, retailers and

facilities of all sizes – at every stage in

their sustainability journey – to accurately

measure and score a company or

product's sustainability performance,"

says Ardene's representative.

"If you go back even a hundred years,

there hasn't been a lot of progress in

the process of garment construction,

which still tends to be very resourceand

labour-intensive work. In the past,

many companies didn't have any social

or environmental record of what

vendors overseas were doing. Now,

Ardene has systems in place to ensure

our factories are socially and environmentally

compliant, and we continue to

improve these through our partnerships

with the SAC and others. We have

a code of conduct and conduct audits,"

says Ardene's representative. "Next,

we're looking at raw materials and

canada.businesschief.com
---
ARDENE

4,500+

Approximate number

of employees

1982

Year founded

375

Number of stores

worldwide

130

packaging too. We have begun the

process of product and packaging

innovation, whether in the fabrics and

material choices we make or the way

we package goods."

Ardene also works to ensure its

positive impact on the world through

the Ardene Foundation, a division of the

brand dedicated to enacting positive

change across the globe. Ardene has

donated over 1mn units of apparel and

footwear and raised over CA$4mn for

various charitable organizations.

"We work with multiple charitable

organizations both at home and abroad

to ensure our customers and staff

understand that giving back and doing

good is a hands-on part of our culture.

Whether it be in areas of empowerment,

poverty, education and health, we

leverage the strength of our communities

and try hard to shape a better

world," says Ardene's representative. In

select stores and through its site,

Ardene sells its line of biodegradable,

eco-friendly shoes, which are made

from antibacterial, moisture-wicking

and pesticide-free bamboo rayon. The

APRIL 2019
---
company continues to grow its selection

of sustainable products under the name

Ardene Collective.

Ardene recently launched a donation

box program in select stores, where

customers can ensure gently used

clothing and shoes avoid landfills. The

business also continues its policy of

refusing to incinerate post-season

clothing and continually donates used

products to charities at home and

abroad. According to a CSR representative,

the company's next steps are to

partner with upcycling organizations

that turn used merchandise into raw

material to be re-used, further decreasing

waste.

Looking back over the past decade,

Ardene has made great strides along

its sustainability journey. Looking

forward to the future, the company is

hitting the ground running. Ardene's

representative concludes: "Our

sustainability and CSR efforts are an

ongoing journey. In the short term, we

will continue with our new and existing

initiatives, the largest being our

greenhouse gas emissions mapping

and reduction, and our efforts in supply

chain accountability, product innovation

and education. In the future, we

foresee more sustainable raw materials

in our products, a closed loop through

increased upcycling initiatives, sustainable

building initiatives and more. We

are optimistic about the future."

131

canada.businesschief.com
---
132

Results-oriented

leaders embracing

technology

to address

WRIT TEN BY

SEAN GALEA-PACE

PRODUCED BY

CRAIG KILLINGBACK

climate threats

APRIL 2019
---
canada.businesschief.com

133
---
CITY OF RICHMOND

134

Mayor Malcolm Brodie

of the City of Richmond,

British Columbia, and City

staff, Peter Russell, Senior

Manager of Sustainability,

and Alen Postolka,

District Energy Manager,

discuss how the City's

climate actions are

transforming Richmond.

A

city with its sights firmly set

on becoming a leader in the

field of sustainability,

Richmond, British Columbia, has not

only delivered outstanding results but

also advanced a novel and replicable

model for developing municipal

district energy systems. Mayor

Malcolm Brodie believes that taking

action on climate change is vital due

to Richmond's location as an island

city that is one metre above sea level.

"Farmers started building dikes over

100 years ago and we've continued

APRIL 2019
---
135

that program. Since then, the City

implemented a flood protection

strategy and a dike master plan to

respond to climate change impacts,"

explains Brodie. "We're one of the few

cities in our province that owns and

operates a diking and drainage utility

which provides secure funding for

new capital projects."

"Every year, we collect money from

residents specifically for the utility

and that allows us to invest an average

of around US$13mn annually in

infrastructure improvements," adds

Peter Russell, Senior Manager,

Sustainability & District Energy.

"Our climate change mitigation work

is just as important as our work in

climate adaptation. We invest heavily

in our district energy program, now

bringing many benefits to our city."

INTRODUCING OLD TECHNOLOGY

IN AN EXPANDED CAPACITY

Richmond's first investment in district

energy, the Alexandra District Energy

Utility, employs geo-exchange

technology which uses the earth's

canada.businesschief.com
---
CITY OF RICHMOND

EXECUTIVE PROFILE

Malcolm Brodie, Mayor of Richmond

136

Malcolm Brodie has been a member of Richmond City Council

since 1996. Following a by-election, he was sworn in as Mayor

on October 29, 2001 and was re-elected in 2002, 2005, 2008,

2011, 2014, and most recently in October 2018. Mayor Brodie

has represented Richmond on the Board of Directors of Metro

Vancouver since taking office in 2001. He currently serves

on their Water Committee, Performance & Audit Committee,

Finance & Intergovernmental Committee, Mayors' Committee,

and the Industrial Lands Strategy Task Force. He has

represented Metro Vancouver on the Municipal Finance

Authority and the National Zero Waste Council, and is currently

the Chair of both these organizations. He is also a member

of the TransLink Council of Mayors. Before

election to Council, Mayor Brodie was

a practising lawyer and had a long

record of service to Richmond in the

volunteer community. In honor of his

contributions and achievements in

the community, Mayor Brodie is a

recipient of the Commemorative

Medal for the 125th Anniversary of

the Confederation of Canada, the Queen

Elizabeth II Golden Jubilee Medal, the

Queen Elizabeth II Diamond Jubilee

Medal, and the Canada 150th

Anniversary Medal.

APRIL 2019
---
CLICK TO WATCH: 'SUSTAINABILITY IN ACTION'

137

geothermal energy from deep below

the surface to provide domestic hot

water, space heating and cooling

services to buildings in the service

area. With over 700 boreholes, the

City has utilized the technology on a

larger scale than ever before, affirms

Alen Postolka, District Energy

Manager. "Geo-Exchange is a very

simple technology and has existed

for over 30 years on a smaller scale.

We've implemented it in a much

bigger way. It works by drilling a

borehole into the ground around 250

feet deep and inserting high-density

polyethylene pipe loop in the

boreholes," says Postolka. "The water

is circulated through the loops with

the water going through the ground,

extracting the heat." You can find

further information on how the

geothermal system works here.

www.luluislandenergy.ca/videos

Richmond has now won 15 awards

for its district energy work to date,

including the 2016 System of the Year

award from the International District

Energy Association for the work

completed at the Alexandra District

Energy Utility. Richmond has led the

canada.businesschief.com
---
CITY OF RICHMOND

138

"The Olympics

opened many

doors for the City,

including the

expansion of rapid

transit in our city

centre, now called

the Canada Line."

—

Malcolm Brodie,

Mayor, City of Richmond

APRIL 2019
---
canada.businesschief.com

139
---
District Energy

Solutions

We explore the possibilities

that make sense for you.

CORIX Utilities designs, builds, finances, and operates sustainable energy

solutions for infrastructure challenges of all sizes and degrees of complexity.

Whether your project involves new construction or a retrofit, our innovative

systems give you the flexibility to scale your system as your needs grow, adapt

to alternative energy sources, and incorporate additional utility systems.

1.866.575.3330

www.corix.com/districtenergy
---
SECTOR

way for other cities to follow in its

footsteps, says Russell. "Our awards

are proof that we are doing the right

thing, it's important 'third party

validation' that we are achieving the

City Council's goals for climate action

and liveability. As a result of our

success, we've experienced a high

level of interest in our district energy

program from cities like Edmonton,

Halifax and other utility companies.

We are now seeing those cities invest

in similar technology," says Russell.

"This is how cities work, we share

information and are all willing to

cooperate and support each other's

work. It's led to us presenting our

unique model at conferences and

being profiled in articles with international

distribution."

EXPANDING DISTRICT ENERGY SERVICES

An early opportunity emerged to get

district energy planning work going in

Richmond's City Centre. As a host city

for the 2010 Olympic Winter Games,

the City committed to constructing a

premier venue for the games: the

141

EXECUTIVE PROFILE

Peter Russell is the Senior Manager, Sustainability and

District Energy for the City of Richmond, B.C.; his team

focuses on community, corporate and district energy

programs and environmental protection. He is a trained

environmental engineer, an award-winning professional

planner and an experienced sustainability manager,

having worked with the cities of Vancouver and Surrey,

B.C., prior to Richmond. Russell also worked with

cities across B.C. as a consulting planner for 10 years,

developing sustainability, land-use and energy plans.

Russell holds a Bachelor degree of applied science in

environmental engineering and a Master degree

in science in community and regional planning.

canada.businesschief.com
---
CITY OF RICHMOND

142

Richmond Olympic Oval for speed

skating events. To raise a portion of

the funds to build the venue, the City

leveraged a number of consolidated

waterfront sites in 2006, selling some

of the land to a multi-family residential

developer, while retaining a major

parcel in the centre on which to

construct the Oval. Significant

residual funds raised from the

disposition were used to replenish

and further grow the City's land

inventory. The City then entered into

a Memorandum of Understanding

(MOU) with the developer to assess

the viability of district energy in the

area. "The Olympics opened many

doors for the City, including the

expansion of rapid transit in our city

centre, now called the Canada Line,"

says Brodie. "The Canada Line

bolstered our City Centre Area Plan

by creating a lot of interest for

developing in our downtown; staff saw

the opportunity to 'get ahead' of

development and they presented the

Council with a business case that

included a focus on renewable energy

and competitive customer rates."

This foundational work led to the

establishment of the City's 2nd district

APRIL 2019
---
143

"Every year we

collect money from

residents specifically

for the utility and that

allows us to invest

an average of around

US$13mn annually

in infrastructure

improvements."

—

Peter Russell,

Senior Manager,

Sustainability & District Energy

canada.businesschief.com
---
CITY OF RICHMOND

144

EXECUTIVE PROFILE

Alen Postolka is the District Energy Manager with the

Lulu Island Energy Company responsible for advancing

the development of district energy systems in the City

of Richmond, BC. He is a professional engineer, a

certified energy manager and certified professional

with 25 years of experience in mechanical engineering,

building science and project management.

Postolka holds degree a Bachelor of Science

in mechanical engineering from the

University of Zagreb.

APRIL 2019
---
145

energy service area, now called the

Oval Village District Energy Utility that

provides space heating and hot water

services. The City also established

the Lulu Island Energy Company as a

wholly-owned municipal corporation

to manage the all district energy

initiatives on behalf of the City. The

first building was connected in 2014

and the system now serves over

1.9mn sq ft buildings, which are

primarily multi-family residential.

"We were already expanding our

infrastructure in Alexandra District

Energy Utility system, which had

examined different options for how to

finance, manage and deliver expanded

services in city centre. This work

led to our senior management and

City Council to direct us to procure an

operating partner with the necessary

experience and resources," explains

Postolka. "Following a rigorous

procurement process, Corix Utilities

canada.businesschief.com
---
CITY OF RICHMOND

$541mn

Approximate

revenue

1879

Year founded

2,250

Approximate number

of employees

APRIL 2019
---
was selected and we started to negotiate

and look at how they can help us to deliver

this project," added Postolka.

Corix is a privately held corporation,

principally owned by the British Columbia

Investment Management Corp., with offices

in Vancouver, B.C., and Wauwatosa, Wis.

Both parties would enter into an MOU to

define roles and responsibilities in 2011,

a process for working together and a

compensation commitment to Corix

should an agreement not be reached.

The process for working together included

two distinct stages: first, a due diligence

phase that included infrastructure, business

and financial planning, and, finally,

development and execution of a long-term

concession agreement. In 2014, Corix and

the Lulu Island Energy Company executed

a concession agreement that will see Corix

design, build, finance and operate the system

over 30 years, while Lulu Island Energy

Company would manage the infrastructure.

Richmond City Council is the regulator of

utility rates. "Corix has been a great partner.

We have a great working relationship with

their team; they've served our customers

well and have delivered our capital projects

on time and on budget, in fact, often under

budget," says Russell.

147

canada.businesschief.com
---
CITY OF RICHMOND

148

FUTURE PLANS

With a vision in mind for the future of

the city, Postolka believes Richmond

must adhere to its business plan to

accelerate its growth in renewable

energy. "We expect growth to continue,"

he says. "We're making sure that

buildings outside of the current district

energy system service areas that we

can't economically connect yet are

built to be 'district energy-ready'. This

approach ensures the buildings are

designed to be connectable in the

future. They have in-building energy

systems but that when our pipe comes

to their front door, we can easily

connect them to our low carbon district

£1.5bn+

Approximate

revenue

2002

Year founded

1,800

Approximate number

of employees

"Geo-Exchange is a

very simple technology

and has existed for

over 30 years on a

smaller scale. We've

implemented it in

a much bigger way"

—

Alen Postolka,

District Energy Manager

energy system." The City's work is

consistent with its 2041 Official

Community Plan which defines

Richmond's land use and development,

social, economic, and sustainability

policies over the upcoming decades.

Russell believes the city will continue to

grow and develop in key areas.

Through the plan, the City aims to add

another 80,000 people throughout the

city, with the vast majority being

directed to the city's high density,

mixed use City Centre. "The city is

APRIL 2019
---
149

experiencing sustained investments,

in new multi-family residential buildings,

transit, and infrastructure improvements,"

says Russel. "We intend to

do the same for district energy."

The City of Richmond benefited from a

unique starting point: a city centre area

ripe for redevelopment and a supportive

City Council. Today, supplied with

thermal energy from the City's wholly

owned Lulu Island Energy Company,

district energy customers benefit from

Richmond City Council's mandate to

provide customer service excellence

and competitive rates using low-carbon

energy systems. "When it comes

to our climate action work, there is an

expression that 'nations talk and cities

act'… our approach is really important

because we have to be poised to take

our position in the 21st century as

opposed to being stuck back in the

20th century," concludes Brodie.

canada.businesschief.com
---
150

CIRQUE DU SOLEIL:

BREAKING

THE SILOS

WITH DIGITAL

TRANSFORMATION

WRIT TEN BY

SOPHIE CHAPMAN

PRODUCED BY

ARRON RAMPLING

APRIL 2019
---
canada.businesschief.com

151
---
CIRQUE DU SOLEIL

With her team of costumers

and operational buyers,

Fulya Oguz reveals to

Business Chief how Cirque

du Soleil manages unique

procurement on its digital

transformation journey

152

W

hat we do is very unique," reveals

Fulya Oguz Operational Procurement

Manager, Supply Chain at Cirque

du Soleil. "On a day-to-day basis I might be

talking with an operational buyer about a lift

that will pull up a 25-ton tent in one corner

of the world, and then move on to discussing

the lingerie required for our Zumanity show."

The Canadian entertainment company was

established in Montreal, Quebec, in 1984.

In the past 35 years the business has expanded

on a global-scale, having offered shows

to more than - 200mn viewers globally across

450 cities.

Due to the colorful nature of the performances,

the procurement team is often

required to source non-conventional products

in order to achieve the high-quality

productions promised in its reputation.

"Our goal is to invoke imagination,

provoke fantasies, and evoke

emotions. In order to enable that

APRIL 2019
---
canada.businesschief.com

153
---
CIRQUE DU SOLEIL

"Operationally

we have to be

efficient and

operationally

we have to be

on time"

—

Fulya Oguz,

Operational Procurement Manager,

Supply Chain at Cirque du Soleil

154

APRIL 2019
---
CLICK TO WATCH: 'BEAUTIFUL, INTRICATE COSTUME DESIGNS

AND MATERIALS OF CIRQUE DU SOLEIL'

155

we buy extremely specialized and

unique, custom-made products," says

Fulya.

Fulya manages the operational procurement

team within the company's

supply chain operations, which focuses

on strategic sourcing, travel management,

customs and logistics. "My team

consists of project managers and operational

buyers that specialize in different

commodities. Essentially, my team supports

all the Cirque units, including

studios, buildings, IT, touring shows,

production and of course costumes

workshops," she states. Her mandate

is to ensure all internal business units

are supported with solid contracts,

efficient procurement processes, and

good risk management. For Cirque du

Soleil, efficiency is important in ensuring

all the customer-facing aspects of the

company function perfectly. "Operationally

we have to be efficient and we have

to be on time," Fulya explains. The live

shows require reliable equipment and

bold sets and costumes, and without

efficiency from the procurement team

these may not be readily available.

Innovation is a key driving force behind

functions. With growth influencing oper-

canada.businesschief.com
---
CIRQUE DU SOLEIL

156

ations, the team is introducing new

technologies to manage procurement

and ensure vital efficiency. "As our

President Daniel Lamarre has said 'At

Cirque du Soleil we don't talk about

diversity, we live it every day with different

nationalities influencing our

growth.' I think it is very important as

we're a worldwide company and our

global presence has increased considerably

over the years. And, of

course, this growth influences and

impacts all of its business units and

their operations. So, everything we

do we have to do it even more efficiently

and effectively," explains Fulya. With

growing demand, the team is focusing

on introducing new, creative solutions:

"It's a creativity-driven business. We try

to acquire the best and brightest talent

in the field of procurement, while capitalizing

on the highest technological

advancement and tools available."

In order to introduce new technologies,

Cirque du Soleil began by questioning

how it conducted business. By

addressing what could be eliminated

from everyday operations, it could then

APRIL 2019
---
EXECUTIVE PROFILE

157

Fulya Oguz

Fulya Oguz joined Cirque du Soleil Entertainment Group in May

2011 as the Operational and Costume Procurement Manager.

Fulya leverages her more than 20 years of industry knowledge

and experience to lead the charge on countless projects across

the world. As a leader within the rapidly growing company, she

manages critical relationships throughout all internal divisions

of the business, in support of operational procurement. Fulya

helps support many of Cirque's largest shows, handling pivotal

enterprise processes for negotiation, budgeting, purchasing,

inventory logistics, operation management and vendor

intelligence. Having worked within the IT, retail and

online spaces like Oracle, Ice.com and Diamond.com,

she brings a unique and vital business and technological

perspective to Cirque's continued growth.

canada.businesschief.com
---
Integrated

Print

At PDI, we are passionate about printing and we

take your total satisfaction to heart. We demand

nothing but the best from ourselves and our

partners. With a multitude of services under one

roof, PDI is committed to delivering quality

products, on time and within budget.

GRAPHIC ADAPTATION SERVICES

ELECTRONIC PREPRESS

PRINT PRODUCTION

SIGN AND DISPLAY

MAILING, FULFILLMENT

AND DISTRIBUTION

VISIT OUR SITE

decide where to start investing. "To

support our supply chain transformation,

we invested in an e-sourcing cloud

platform, shortly followed by an e-procurement

cloud platform. The e-sourcing

platform was introduced with the

intention of streamlining our communications.

As a buyer, we receive requests

in all forms – from emails to verbal."

Cirque du Soleil has been able to process

an increased volume without increasing

the team. The cloud has enabled timeefficient

operations, allowing Cirque

du Soleil to communicate globally and

shorten its response time. The team

also found that the solutions enabled

statistic tracking, analysis and traceability,

while connecting different

departments. "We can invite different

partners within the same tool – it breaks

the silos. Everyone can participate,"

Fulya continues.

Innovation is not the only priority for

Fulya, with Cirque du Soleil also ensuring

it sources its products in the most sustainable

ways. "As a citizen of the world

we have to value sustainable methods

and watch our footprint. We have to

integrate these principles in our procurement

practices," says Fulya. "Today
---
1984

Year founded

4,500

Approximate number

of employees

159

canada.businesschief.com
---
CIRQUE DU SOLEIL

160

"As a citizen of the

world we have to

value sustainable

methods and watch

our footprint. We

have to integrate

these principles in

our procurement

practices"

—

Fulya Oguz,

Operational Procurement Manager,

Supply Chain at Cirque du Soleil

Photo © Cirque du Soleil – Suspended

Pole act from the show CORTEOD

APRIL 2019
---
161

Photo © Cirque du Soleil – Hoop Diving from LUZIA

Photographer © Matt Beard

canada.businesschief.com
---
CIRQUE DU SOLEIL

162

CLICK TO WATCH: 'A BOOST OF ENERGY WITH...VOLTA | OFFICIAL

2018 CIRQUE DU SOLEIL SHOW TRAILER'

we have performances all over the

world and we have to showcase unique

products, meaning the fabrics and

props we use are not readily available

or reachable." In 2017, the company

transported fabrics from France to

Canada on the Avontuur sailboat. The

successful journey emitted zero carbon

as the engineless boat required no fuel.

This led to the firm committing to making

at least five journeys through this method

by 2020 in order to reduce its environmental

damage when acquiring its specialized

materials. When creating the

LUZIA show, the firm used 6,000 litres

APRIL 2019
---
Photo © Cirque du Soleil

of water per performance. In order to

offset the huge quantities used, Cirque

du Soleil would ensure that every liter

would be recycled during the duration

of a stay in a given city. "When we say

sustainability and the environment are

very important to Cirque, we really

mean it," Fulya adds.

Since joining the company eight years

ago, Fulya has helped transform the

operational procurement team. As she

continues to break the silos and be

a part in ensuring the company's shows

are staged on time, the head of the

operational department aims to ensure

the solutions – allowing this to happen

– are implemented across the world. "In

regards to technology, we have already

decided what we're going to use and

we're working on it. The next step is making

sure the cloud platforms are accessible

all over the world," states Fulya.

"That's an extraordinary responsibility

in a magical environment."

163

canada.businesschief.com
---
164

RAGINGWIRE

MISSION-CRITICAL

DATA CENTERS

FOR HYPERSCALE

CLOUD AND LARGE

ENTERPRISES

WRIT TEN BY

JOHN O'HANLON

PRODUCED BY

TOM VENTURO

APRIL 2019
---
RagingWire Sacramento CA3

Data Center Skywalk

165

canada.businesschief.com
---
RAGINGWIRE DATA CENTERS

166

As part of NTT, RagingWire is one of the largest

data center providers in the world, connecting

customers to a global network of more than 140

data centers in 20 countries and regions

o say the world is facing an

T

unprecedented explosion of

information may be a cliché,

but it's true. Globally, the data center

market is estimated to reach revenues

of around US$174bn by 2023, largely

driven by the massive growth in cloud

computing and the migration of large

enterprises from in-house data centers

to colocation facilities. These are the

fundamentals behind the strategy of

RagingWire Data Centers.

RagingWire was one of the early

start-ups that helped create the data

center colocation industry back in the

early 2000s. Since then, the company

has steadily grown its presence across

the US, with campuses in the top data

center markets of Ashburn, Virginia,

Dallas, Texas, Silicon Valley, Chicago,

Illinois, and Sacramento, California.

In Ashburn, the #1 data center market

in the world which is known as "Data

Center Alley" for its large concentration

APRIL 2019
---
167

RagingWire Ashburn VA3 Data Center

– Security checkpoint

of colocation data centers, RagingWire

operates a 78-acre, securely fenced

campus with room for seven large data

center facilities, one of which is opened

and two of which are under construction

now. Combined with two other data

centers RagingWire previously opened

in Ashburn, the company owns space

for a total of nine Ashburn data centers

which could offer a total of 236 MW of

critical power.

In Dallas, RagingWire owns a 42-acre

data center campus which is home to

a marquee 16 MW facility. Four more

large data centers are planned for the

campus, which would bring the campus

total to 144 MW of critical IT load.

In Sacramento, California, about

90 miles east of San Francisco and

outside the earthquake zone of the

Bay Area, RagingWire built three

data centers with a total of 53 MW

of critical power, all running on 100%

renewable energy.

canada.businesschief.com
---
RAGINGWIRE DATA CENTERS

168

Recently, RagingWire announced

plans to build new data centers on

coveted land in Silicon Valley (Santa

Clara to be exact), and in Chicago.

These new locations complete Raging-

Wire's portfolio in the most popular U.S.

data center locations, but the company

is also planning developments in

other emerging markets as well.

NTT BRINGS GLOBAL CONNECTIVITY

TO RAGINGWIRE CUSTOMERS

Today RagingWire is focused on

meeting the demands of large enterprises

and cloud providers which

increasingly outsource data center

capacity to take advantage of greater

economies of scale, efficiencies,

speed to market, security, space and

reliability than they would have if they

housed their mission-critical computers

at their own facilities.

In January 2014, NTT acquired an

80% equity stake in RagingWire. Four

years later in January 2018, having

doubled RagingWire's capacity, NTT

exercised its option to purchase the

remaining shares.

By joining the NTT family, Raging-

Wire became the platform for NTT's

EXECUTIVE PROFILE

Joe Goldsmith

Joe Goldsmith is Senior Vice President and Chief

Revenue Officer at RagingWire Data Centers,

responsible for all aspects of go-to-market strategy

and execution including: sales, marketing,

product management, business development,

channels, and sales operations.

Goldsmith is a proven sales executive with more

than 25 years of experience, including more than

a decade in the data center industry.

APRIL 2019
---
"Hybrid IT is the

new world order

and I don't think

you will find any

CIO in America

who has not

contemplated or

executed a cloud

component to

their overall

strategy"

—

Joe Goldsmith,

Senior Vice President and

Chief Revenue Officer

at RagingWire

169

RagingWire Dallas TX1 Data Center

– Lobby

canada.businesschief.com
---
RAGINGWIRE DATA CENTERS

170

"The new data

centers have to

be super reliable

of course, and

scalable, but

the one big

consideration

for hyperscalers

is speed to

market"

—

Kevin Dalton,

Senior Vice President of Construction

and Critical Facilities Engineering and

Design (CFED) at RagingWire

RagingWire Sacramento CA3 Data Center

– Lobby

data center business throughout the

Americas, and became part of one of

the largest data center companies in

the world with strong financial backing

and more than 140 facilities in over 20

countries and regions.

RagingWire's customers value the

global reach enabled by NTT. According

to RagingWire Senior Vice President

and Chief Revenue Officer Joe

Goldsmith, "Though Asia represents a

huge market for the cloud and softwareas-a-service

(SaaS) providers, it's not

one in which most of the US-based

cloud service providers have deep

infrastructure. Being able to support

them in the European and Asian

markets is really powerful for us."

EVERYTHING HYPERSCALE PLAYERS

NEED, AND NOTHING THEY DON'T

It makes less and less sense for

APRIL 2019
---
171

EXECUTIVE PROFILE

Kevin Dalton

Kevin Dalton is Senior Vice President of

Construction and Critical Facilities Engineering

and Design (CFED) at RagingWire Data Centers,

responsible for leading the team that designs

and delivers world-class data centers.

Kevin is an expert in leveraging supply chain

optimization and modular pre-fabricated

construction techniques to drive rapid growth,

improved quality, and speed to market.

Throughout his career, he has set the standard

for next generation data center designs.

canada.businesschief.com
---
YORK ® YVFA

FREE-COOLING

CHILLERS: EFFICIENT,

SIMPLE AND

RELIABLE.

YORK ® YVFA Free-Cooling Chillers

deliver the lowest possible yearly energy consumption and lifecycle costs with payback

in as little as three years. Efficiency is ensured through advanced technologies like:

• Variable-speed driven (VSD) compressors

• Integrated high-efficiency air-to-liquid free-cooling coils

• Intelligent controls that optimize efficiency year-round

The YVFA is simple to own and operate, thanks to single-point control, open- or closed-loop

configuration options and three cooling modes. Plus, reliability is assured by AHRI certification –

the first time this certification has been earned by an air-cooled screw chiller with free cooling.

Visit YORK.com/YVFA-Free-Cooling to learn more.
---
173

RagingWire Dallas TX1 Data Center

hyperscale cloud providers like Google,

Amazon, Alibaba or Microsoft to take

the time and expense to build the

capacity they require in a data center.

The hyperscale players are driving

the market right now, says Kevin

Dalton, Senior Vice President of

Construction and Critical Facilities

Engineering and Design (CFED) at

RagingWire. "We're meeting [the

hyperscalers'] changing needs, which

include bringing their operating

expenses down through more efficient

cooling, better management of energy

and the like," Dalton says. "The new

data centers have to be super reliable

of course, and scalable, but the one

big consideration for hyperscalers is

speed to market. Demand is so intense

right now that these customers can no

longer meet it from their own resources,

which is why they are reaching out

canada.businesschief.com
---
A simpler approach

to a future-proof

data center.

With scalable pre-fabricated solutions like Vertiv SmartMod

and the quickly deployed Power Module, Vertiv is standardizing

modular systems so you can get your data center running, faster.

Vertiv.com
---
CLICK TO WATCH: 'THE RAGINGWIRE GROWTH PLAN

– WHERE THEY WILL GO' 175

to organizations like RagingWire."

We are in the early stages of a tech

boom driven by huge opportunities

with the Internet of Things (IoT),

artificial intelligence (AI) and big data,

and nobody doubts that soon self-driving

vehicles and smart cities will

create new demands for data centers

and the servers, storage, and networking

devices that live there. Combine

these new and emerging demands

with continued growth in enterprise

computing and the future looks bright

for RagingWire.

As Goldsmith puts it: "The hyperscale

players' core strength lies in building

and developing software, infrastructure

and cloud services. There are many

markets where they simply don't have

the ability to catch up with the demand.

That's where they can turn to a third

party like us that can help them achieve

their business objectives by fulfilling

their data capacity requirement."

Goldsmith mentioned that enterprises

like insurance companies, banks or

large manufacturers may still have

some on-site processing or a data

canada.businesschief.com
---
Delivering mission critical services throughout

the Lifecycle of your Data Center

Recent Project News

RagingWire SV1 Data Center: NTT Facilities Group led

the design of a world class data center, coordinating an

international team of Japanese and US engineering

firms. The SV1 Data Center will be the first Base

Isolated data center in Silicon Valley.

Isolation Device

Granparktower, 3-4-1 Shibaura,

Minato-ku, Tokyo 108-0023, Japan

https://www.ntt-f.co.jp/english

Call: 81-3-5444-2621 (Japan)

http://nttf-us.com

Call: 1-408-436-2829 (US)

• General Contracting

• Construction Management

• Project Management

Mission

Critical

Lifecycle

Solutions

410 Forest Street,

Marlborough, MA 01752

https://www.eecnet.com

Call: 1-800-342-5332 (US)

• Cooling Assessment

• Energy Assessment

• Onsite Facility Operation

• Preventive and Demand Maintenance
---
"We have been

innovating in the

area of modular

design and

supply chain, to

both shorten

construction

lead times and

to lower costs"

—

Kevin Dalton,

Senior Vice President of Construction

and Critical Facilities Engineering

and Design (CFED) at RagingWire

center, but most are executing a hybrid

strategy that includes legacy applications,

proprietary systems, private

cloud, and public cloud.

"Hybrid IT is the new world order

and I don't think you will find any CIO in

America who has not contemplated or

executed a cloud component to their

overall strategy," Goldsmith said.

BUILDING DATA CENTERS BIGGER,

SMARTER, FASTER

Kevin Dalton's job is to locate, design

and construct new data center space.

To do this, he and Joe Goldsmith work

closely with customers to understand

their business plans and capacity

requirements. "This is an iterative

process for us in collaboration with

our customers," says Dalton. "Clearly,

without access to reliable, cost-effective

power and fiber connectivity you

can't have a data center. Cost of land

and labor are other challenges."

But these are secondary to being

in the right location at the right time.

RagingWire is constructing, for example,

a new four-story data center, SV1, in

Santa Clara, California, in the heart of

Silicon Valley. The 160,000 sq. ft. facility

is going up on a 3.3 acre site, with 64,000

sq. ft of data floor space and 16 MW of

scalable, critical IT power and will be

operational in 2020.

New data center space in Santa

Clara is rare. The vacancy rate among

at least 30 data centers in the area is

under 8%. There will be no lack of

takers for RagingWire's new facility.

To be prepared for the ground-shaking

that is characteristic of the Bay Area,

RagingWire's SV1 Data Center will feature

a seismic-stability system used by NTT

in its data center in Japan, a location

177

canada.businesschief.com
---
RAGINGWIRE DATA CENTERS

178

RagingWire Ashburn VA3 Data Center

APRIL 2019
---
NTT

(RAGINGWIRE'S

PARENT COMPANY)

$118bn+

Approximate

revenue

283,000

Approximate number

of employees

140

Data centers

worldwide

179

canada.businesschief.com
---
Picking a Diamond In The Rough

Takes a Special Kind of Skill

• 22% of Fortune 50 Companies Have Used LayerZero Power Systems.

• 50 Million Hours of Uninterrupted Operaon, We Are The World's

Biggest Gem Hiding In Plain Sight.

To Unlock Your

www.LayerZero.com
---
CLICK TO WATCH: 'KELLY MORGAN FROM 451 RESEARCH REPORTS

ON THE DALLAS DATA CENTER MARKET ' 181

prone to earthquakes. A subterranean

pendulum isolation system protects

the building from the ground moving

below it. Using the same system, NTT's

Tokyo facilities were unharmed by the

catastrophic 9.1 magnitude earthquake

and tsunami that devastated eastern

Japan in 2011.

This is a great illustration of one of

the advantages that RagingWire gains

from its parent group, however Dalton

returns to the agility RagingWire offers

as the main differentiator across the

USA. "We have been innovating in the

area of modular design and supply

chain, to both shorten construction

lead times and to lower costs," Dalton

says. "There are huge advantages in

having standard designs where we

can pretty much drop in electrical and

mechanical modules at any location

around the country. Time to market is

vital to the cloud providers."

With this approach, the equipment

for an electrical room can be reduced

to a couple of elements that fit on a

flatbed truck for delivery to a core and

shell at any location in the country.

canada.businesschief.com
---
BUILDING BETTER

MODULAR ELECTRICAL SOLUTIONS FOR DATA CENTERS

www.fibrebond.com
---
"Most of our

customers have

green policies so

being able to offer

them renewable

energy helps

them maintain

those green

credentials"

—

Kevin Dalton,

Senior Vice President of Construction and

Critical Facilities Engineering and Design

(CFED) at RagingWire

Another advantage of partnering with

vendors, he adds, is that they are willing

to hold an inventory of fully functioning

and tested modules – the old way of

build to order takes too long to meet

hyperscale cycle times.

Close management of the supply

chain, allied to sophisticated forecasting,

means that much of the construction

can be done ahead of time.

Customers need to know exactly when

their facility will be up and running.

Once the core and shell of the building

are in place, installing the infrastructure

should take no more than a few

months. Purchasing agreements with

global equipment manufacturers lead

to volume discounts that can be

passed on to customers.

"We do as much work in advance as

possible to procure the equipment and

ship it to the integrator so they can put

it together for us, test it and hold it as

inventory ready to ship," Dalton explains.

It's all about consistency in design, so

that customers can deploy systems and

RagingWire and their NTT colleagues

can manage data centers worldwide.

Design drives operational synergy. The

modular approach allows RagingWire to

replicate facilities in different markets

while tailoring the data centers to take

advantage of the unique characteristics

of the geography.

REDUCING TCO WHILE INCREASING

RENEWABLE ENERGY

In a market that is expanding at the

rate of the cloud, total cost of ownership

(TCO) is a major consideration for

providers when building a business

case. RagingWire is addressing TCO

at every level. Power represents the

183

canada.businesschief.com
---
RAGINGWIRE DATA CENTERS

184

biggest operational cost, and mechanical

systems such as cooling are the

largest consumers of power. In the

data center industry, the ratio between

mechanical systems and computing

equipment is assessed using the

power usage effectiveness (PUE)

metric. "Efficient cooling systems lead

to efficient data centers that reduce

your operating expense and ultimately

lower the total cost of ownership for

the customer," explains Goldsmith.

Over the years, data center designs

have become highly efficient. The quest

now is to find affordable and reliable

renewable energy sources. RagingWire

has taken a proactive approach to

renewable energy at its three data

centers in Sacramento, Calif., which

together offer 680,000 sq. ft. with 53

MW of critical IT power. In Sacramento,

RagingWire now offers 100% renewable

power that is 100% available and

backed by a 100% uptime service level

agreement (SLA) to customers.

Sustainability is a major priority for

customers, emphasizes Kevin Dalton.

"Most of our customers have green

APRIL 2019
---
CLICK TO WATCH: 'RAGINGWIRE DALLAS TX1 DATA CENTER

VIRTUAL TOUR'

185

RagingWire Dallas TX1 Data Center

– Lobby

canada.businesschief.com
---
RAGINGWIRE DATA CENTERS

Russelectric is now a

Siemens Business

© 2019 Siemens Industry, Inc.

Global low and medium voltage innovator

and leading U.S. manufacturer of power

control systems are joining forces

usa.siemens.com/datacenter

Bowie, MD / Ashburn, VA / Newport News, VA

In mission-critical environments, power

is information.

Data centers, hospitals, telecommunications

centers and commercial interiors. In these

environments, power provides access to

information and ensures continuity.

VIEW OUR PORTFOLIO

CONTACT US

Power Solutions is the Mid-Atlantic's premier

electrical contractor. Putting energy into

motion where power — and success —

are imperative.

APRIL 2019
---
policies so being able to offer them

renewable energy helps them maintain

those green credentials. In Sacramento,

we work with our utility partner, the

Sacramento Municipal Utility District

(SMUD), to ensure that our energy

utilization is a combination of wind and

hydro, solar and biomass. We are also

working with energy providers in all of

our locations to develop renewable

energy options for our customers."

Recycled concrete and repurposed

steel are other ways he cites to reduce

the amount of material sent to landfills.

EARNING A REPUTATION AS A TRUSTED,

STABLE PROVIDER

For Joe Goldsmith, a big benefit of

being under the NTT umbrella is that

the parent represents a single, stable,

and substantial source of capital.

"Unlike a lot of the data center providers

in the market today, especially the

private-equity backed companies, we

have a single source of capital,"

Goldsmith says. "We don't have to go

from bank to bank when we want to

come into a new market, raise debt, raid

equity, look for investment partners, or

manage to restrictive covenants. This

"Efficient cooling

systems lead

to efficient data

centers that

reduce your

operating

expense and

ultimately lower

the total cost of

ownership for

the customer"

—

Joe Goldsmith,

Senior Vice President

and Chief Revenue Officer

at RagingWire

RagingWire Dallas TX1 Data Center

– Data Floor

187

canada.businesschief.com
---
RAGINGWIRE DATA CENTERS

"Unlike a lot of the data center

providers in the market today,

we have a single source of capital.

We don't have to go from bank

to bank when we want to come

into a new market, raise debt,

raid equity, look for investment

partners, or manage

to restrictive covenants"

—

Joe Goldsmith,

Senior Vice President and

Chief Revenue Officer

at RagingWire

DATA DEMANDS POWER.

WE KEEP DATA HAPPY.

It's no secret that data centers are the lifeblood of

your business. That's why you went with KOHLER®

power systems to back up your buildings around

the world. Made entirely of KOHLER products, our

systems are designed to work together. So when the

grid goes down, your business goes on—and your

data stays protected.

From engines to generators,

we give the world power.
---
RagingWire Ashburn VA3 Data Center

– Showcase Conference Room

189

takes uncertainty out of the equation,

and that is something the hyperscale

players really appreciate."

RagingWire's capital plan is refreshed

annually, and this gives its

clients confidence that their future

plans don't depend on a company that

might run into difficulties. "Another

thing in our favor is that we are not

subject to the consolidation that is

going on right now in the data center

market," Goldsmith says. "It's too easy

for a data center start-up to be more

interested in their exit strategy than

their growth strategy and customer

service. Customers don't want the

volatility that comes with new owners,

new contracts, new pricing, and new

operations. They like to know that the

site will be operated in a proven and

consistent way by people they know

and trust."

canada.businesschief.com
---
190

Customer centricity

at the heart of digital

transformation

WRIT TEN BY

MARCUS LAWRENCE

APRIL 2019
---
canada.businesschief.com

191
---
T-MOBILE

T-Mobile, the Uncarrier network, has

incorporated disruptive technologies

to overhaul its internal operations

and online presence to maximise

customer centricity

192

B

ased in Bellevue, Washington, T-Mobile

US has undergone a significant digital

transformation process over the past

five years, in tandem with a drastic overhaul of

its business model. CEO John Legere, who took

office in 2012, has reenvisoned the company's

operations by focusing on customer centricity.

Now known as the 'Uncarrier' network, T-Mobile

has become wholly concentrated on maximising

customer freedom, rewarding customers for

choosing T-Mobile and showing appreciation

for their continued loyalty through ongoing offers.

The move has seen a series of departures

from standard industry practice, with a level of

success that has gradually molded the sector

around T-Mobile's vision. Mandatory fixed-term

contracts, limited early upgrade options, international

usage fees, contract termination fees and

more have been upended at T-Mobile, both to

the benefit of its customers and the growth of its

subscriber base.

APRIL 2019
---
canada.businesschief.com

193
---
The feeling you get following

your vendor's ERP roadmap…

Sometimes, it's hard to see how IT teams

can deliver game-changing initiatives when

a significant amount of their budget and

resources are spent on a vendor-dictated

roadmap … a never-ending journey with costly

software maintenance, mandatory updates

and upgrades and ultimately a rip-andreplace

move to the cloud.

In the end, funding their roadmap could mean

not funding yours. Don't lose sight of your

options. Learn how Rimini Street can help.

Get your free software support

assessment today.

It's Your Roadmap.
---
Powering digital transformation with

a Business-Driven Roadmap

By Glenn Cahaly

I spend most of my time talking to

Oracle and SAP customers and the

conversation is essentially the

same these days:

"To change the game, our company needs to put users

first and technology second. The good news: Our leadership

team has identified what we need to compete and grow the

business, and we understand the IT initiatives required. The

bad news: we have very little capacity for innovation because

we spend the majority of our budget and time on vendordictated

ERP roadmaps, which can include risky updates,

costly upgrades and rip-and-replace projects to move to

their cloud solutions prematurely."

Whether you are a CFO, a CIO, an IT leader, Procurement or

IT Asset Manager, these words probably sound familiar. The

vendor's product roadmap should be an input into your

strategy; it shouldn't be your strategy. Yet ERP applications

are such an important component of the IT you use to run

your business that it can be easy to fall into the pattern of

letting your vendor call the shots. If you don't upgrade, you

can fall out of compliance. And regardless of how much you

pay, you get progressively less value from each upgrade. All

the while, the vendor is shifting its R&D investments away

from the products it sold you and giving you seemingly no

option but to continue to move. Unlike a vendor-dictated

approach, a Business-Driven Roadmap starts with an

organization's 3-to-5 year business strategy and then

defines the game-changing IT initiatives that will support it.

Rimini Street accelerates clients' to adopt a Business-Driven

Roadmap strategy by providing capacity that accelerates

their ability to innovate and reduces vendor lock-in, allows

them the flexibility to design a roadmap based on their

unique requirements, and provides the agility to take an

orchestrated approach to their technology strategy. When

clients move to a Business-Driven Roadmap approach

powered by Rimini Street, they are liberated from the

vendor-dictated roadmap and enabled to take control of

their IT destiny and future-proof their investment to

accommodate continuous change.

Get your free roadmap

assessment today

Learn More

1

Gartner - "IT Key Metrics Data 2018: Executive Summary" December 11, 2017

Free up IT capacity: According to Gartner 1 , as

much as 90percent of the IT budget goes to

ongoing operations ("keeping the lights on").

That leaves a measly 10percent to invest in

game- changing initiatives. Organizations

becoming trapped in an endless cycle of enterprise software

upgrades is a big reason why. If you've customized your ERP

and integrated it with other software, you don't dare upgrade

without extensive testing. Free yourself from this busywork,

and you can get back to making technology investments

that make a difference.

Extend the lifespan of existing investments:

Most enterprises have spent years implementing,

integrating and customizing their ERP to meet

business needs — only to have their vendors tell them it's

time to abandon all that in favor of a "new and improved"

but immature platform. Vendors want to establish new

revenue streams and reposition themselves for the cloud.

That roadmap serves vendors' needs, not those of enterprises

seeking to build on investments they have already made.

That's why you need a Business-Driven Roadmap approach

that includes third-party support for your ERP.

Innovate with flexibility: Cloud computing

should give you more options, not fewer.

Your ERP vendor has a roadmap to take you

to the cloud — specifically, to its proprietary

corner of the cloud. Fortunately for those wary of even

deeper vendor lock-in, open cloud options exist to improve

the cost and performance of your ERP operations while

keeping you in control. You won't find many on the vendor's

technology roadmap; you need to follow your own and we

can help you get there.

Design with your future enterprise in mind:

How are you rationalizing your software

decisions? You won't find the answer exclusively

on one vendor's roadmap, unless you're

convinced it has the best product in every category.

Born-in-the cloud software represents some of the greatest

innovations in enterprise technology. The best of them come

with APIs that allow you to connect them to other APIs and to

your installed base of software. Rather than struggling with

laborious integrations, you have the opportunity to

orchestrate software around the use cases that matter

most to your business.

Learn why over 2,600 clients chose Rimini Street's ultraresponsive

service, breaking free from the burden of vendor

support so they can focus IT resources on initiatives that

support their Business-Driven Roadmap strategy.

195
---
Drive digital strategies.

Deliver competitive

advantage.

The future of procurement awaits.

Turn disruption into opportunity by innovating

procurement with digital capabilities, advanced

analytics, agile operations, and optimal experiences

for customers, suppliers and employees. Learn

more at read.kpmg.us/FutureProcurement

Anticipate tomorrow. Deliver today.

©2019 KPMG LLP, a Delaware limited liability partnership and the U.S. member firm of the KPMG network of independent

member firms affiliated with KPMG International Cooperative ("KPMG International"), a Swiss entity. Some of the services

or offerings provided by KPMG LLP are not permissible for its audit clients or affiliates or related entities. 181205
---
CLICK TO WATCH: 'T-MOBILE – HOW WILL 5G CHANGE EVERYTHING?'

197

Nielsen Mobile Insights reported in

early 2017 that T-Mobile had ranked

first in customer service satisfaction

through the entirety of 2016. In the

company's press release at the time,

Legere said: "We have the best care

team in the business – at this point,

that's not even up for debate. But, like

everyone else at this company, our

care team takes 'we won't stop' pretty

literally. They've got their sights on

being the #1 care team in any industry,

anywhere – not just wireless." T-Mobile

has made good on this promise as its

subscriber base continues to boom.

In January 2019, T-Mobile's Q4 2018

report highlighted the net addition of

2.4mn subscribers to its network, making

the quarter its best ever for acquiring

new customers. Since 2013, at

the advent of the Uncarrier marketing

strategy, T-Mobile's customer base has

rocketed upwards by 46mn, bringing

the total to 79.7mn at the end of 2018.

In the same report, T-Mobile noted:

"Not only are customers coming to

T-Mobile, but they are also staying

longer. T-Mobile posted its best-

canada.businesschief.com
---
Reimagine

the impossible

Bring together people, data, and processes to transform

your organization.

With the latest in AI technologies, you can engage your customers

in new ways, empower your employees more than ever before, and

optimize operations to become an industry leader. Start your digital

transformation today.

Get started
---
"We have the best damn

care team in the business

– at this point, that's not

even up for debate"

—

John Legere,

CEO at T-Mobile

199

ever fourth quarter branded postpaid

phone churn result this quarter

showing the power of the company's

value proposition."

The digital transformation that has

accompanied and facilitated this

drastic change of operations, and

subsequent success, has seen the

incorporation of a host of exciting,

disruptive technologies that focus on

maximising the quality of T-Mobile's

service offering. Salesforce has been

a key partner for T-Mobile over the

past five years, with its Lightning and

Pardot platforms aiding significantly in

the automation and personalisation of

the online customer experience. In a

Dreamforce 2017 interview with John

Carney, SVP of Communications and

Media at Salesforce, T-Mobile's EVP of

Marketing and Experience, Nick Drake,

described the firm's use of the Salesforce

platforms in driving the innovative

operations from an internal base.

"We are now incredibly excited about

the implementation of Lightning that's

canada.businesschief.com
---
Rewiring the T-Mobile

Supply Chain with Digital

Technology platform

T-Mobile is known for its resolute pursuits and

unwavering focus on customer experience. Digital

Transformation was the preferred strategy and supply

chain was one of the chosen areas for transformation

in order to build foundational capabilities. The tenets

of the Digital Supply chain transformation included

Customer Centricity, Real-time Inventory visibility and

Asset traceability, Time to market and integration with

other partner ecosystems.

Tech Mahindra, #15 in the Forbes Digital 100 ranking

2018, collaborated with T-Mobile to take up the

challenge of going beyond the brief through architectural

simplifications and automation through a co-created

framework for transformation.

Whilst the idea was to shatter the architectural

monolith, the efforts were centered around " Small

and RoI-driven" bets among the others which include

Inventory serialization, reverse logistics serialization,

IMEI tracking, and applications that were delivered

successfully through 100% agile mode of execution.

The resulting KPI's were higher NPS, reduced time

to market, reduced inventory cycle time and better

control over operating costs. The next time a

customer connects with any T-Mobile touch point and

is able to access real-time inventory, check product

availability, trade-off an old phone for a new one in a

frictionless manner, it is the Digital transformation in

action, enabled by a robust T-Mobile - Tech Mahindra

partnership.

Tech Mahindra's ability to deliver value to the

business with a state-of-the-art digital platform and

transforming the culture of the operations has helped

T-Mobile achieve digital maturity in a record time.

To learn more visit us at, https://www.techmahindra.com/cwce.html
---
201

$40bn+

Approximate

revenue

2002

Year founded

44,000

Approximate number

of employees

just occurred, as we're seeing radical

efficiency appearing in our business,"

Drake said. "From a lead generation

perspective, we're using Pardot to

prioritise who we should be contacting,

Einstein is going in in the near future to

help us become more intuitive and predictive

about who we should be calling

and what our most qualified leads are,"

he continued. "It's enabling our teams

to put the next natural customer experience

step into place." Lightning has

enabled T-Mobile to personalise the

Salesforce CRM platform to its brand,

canada.businesschief.com
---
IN TODAY'S

HYPERCONNECTED

WORLD, THE RIGHT

CONNECTIONS

ARE EVERYTHING

TRANSFORM YOUR BUSINESS

WITH SAP ARIBA

Capitalize on the relationships

that add the most value to your

business and streamlining

processes for a fast-paced

business environment.

Learn more at: ariba.com

THE BEST RUN
---
as well as significantly increasing the

efficiency with which its representatives

can manage pipelines through a

deeply intuitive user interface. Pardot,

Salesforce's CRM-integrated B2B

marketing automation solution, enables

T-Mobile's marketers to create,

launch, and manage campaigns and

initiatives with ease, ramping up their

lead generation rates.

This technological focus on the

customer, coupled with T-Mobile's

pioneering subscription strategies and

offers, is further strengthened by its 203

COMPANY FACTS

• T-Mobile's customer base

has increased by 46mn

since 2013, reaching 79.7mn

at the end of 2018

• T-Mobile added 2.4mn

subscribers to its network in

Q4 2018, its best quarter ever

• T-Mobile has tripled its

4G LTE coverage since 2015

• Revolutionary CEO John

Legere took office in 2012

asynchronous messaging capabilities

launched in 2016. Provided by LivePerson,

a market leader in conversational

commerce solutions, T-Mobile's Team

of Experts service enables its customers

to continue through each stage

of their digital journey with the same

representative, providing a continuity

of service that is often sorely lacking

across other live chat services. In a

September 2018 press release from

LivePerson, Drake said: "The frustration

of endless robotic phone menus

and transfers from rep to rep can

ruin a customer's experience – so we

canada.businesschief.com
---
T-MOBILE

204

ended it. Now with T-Mobile's Team

of Experts, our customers can get

assistance when and how they want

to – including via messaging."

In Drake's interview with John Carney,

he noted that the decision to introduce

this service was driven by an understanding

of modern smartphone usage,

particularly the focus on messaging

and video streaming. Today, the commitment

to T-Mobile customers' love

for watching video on their smartphones

has seen the firm launch a free

Netflix subscription with its T-Mobile

ONE family package. This attention

to detail can be traced back to John

Legere's influence as CEO, who has

reportedly instructed each of the company's

executives to speak to customers

every day, thereby instilling the

laudable culture of customer-centricity

through consulting with those customers

about what they want from their

network provider.

T-Mobile's next major step in its

digital journey is no secret: the muchanticipated

leap to 5G. Not only has

the firm tripled its 4G LTE coverage

since 2015, it has been working hard

to ensure it is one of the first to market

APRIL 2019
---
with its own 5G network. The firm

has laid out its 5G Vision, promising

the gigabit-speed network standard

for everyone, everywhere. Industry

experts anticipate that 5G will be one

of the most transformative leaps in

wireless technology's history, and

T-Mobile says it is the only carrier in the

US capable of establishing a strong

and well-distributed 5G network in the

early years of its release. With T-Mobile

set to launch its 5G coverage this year,

it says that the network will not only

offer significantly faster download

and upload speeds but that it will also

enable it to offer lower prices per gigabyte

for its customers. Highlighting this

promise of bringing down its prices is

emblematic of T-Mobile's bold strategy

since Legere took the reins, knowing

and proving that investing in customers

will continue to draw subscribers like

never before.

205

canada.businesschief.com

usa.businesschief.com
---
206

INTELLIGENT DIGITAL

TRANSFORMATION ON

A GLOBAL SCALE

WRIT TEN BY

JOHN O'HANLON

PRODUCED BY

CRAIG DANIELS

APRIL 2019
---
canada.businesschief.com

207
---
SAP

A comparatively recent strategy of inorganic

growth at scale has significantly expanded

SAP's markets and furthered its ownership

of the intelligent enterprise. We speak to

the strategy's architect Arlen Shenkman,

Executive Vice President for Global Business

Development and Ecosystems at SAP

208

S

AP is the defining enterprise software

company of our time. Industry leaders

in almost every sector, private and

public, were getting to grips with the concept

of enterprise resource planning (ERP) back

in the 1990s when, in the face of determined

competition, SAP succeeded in adapting to

the rapid evolution that was taking place at

the turn of the century. Not only did it expand

its platform to embrace additional functionality,

but it started to prepare itself for the exodus

from on-premise enterprise software to the

as-a-service model that resides in the cloud

today. SAP's is the fastest growing business

cloud by a wide margin.

At its inception, the company had a strategy

of having regional resellers but today it is

reaping the benefits of having decided very

early on that it was going to be a global

company. It entered China in the early 1990s

and now China is its fastest growing market

APRIL 2019
---
209

in defiance of any gloom around its slowing

growth. "We are not having challenges

in China — we are doubling down

in China," declared SAP's CEO Bill

McDermott as recently as January 29th.

Arlen Shenkman's association with

SAP spans 15 years and in that time,

he has helped evolve the company's

global growth strategy in a number of

important ways. Trained in corporate

law and corporate finance he brought

with him broad experience with large

international firms, much of it to do with

mergers and acquisitions (M&A). In

canada.businesschief.com
---
JOIN THE BEST.

Discover your path to digital

transformation.

Around the world, leading companies and organizations

are using cutting-edge technologies to transform

their business, drive innovation, and win in an

increasingly digital economy. These businesses are a

cut above their competitors in many ways, but what

sets them apart the most are the technologies they

use to support themselves, as well as their industries

and customers.

Platform technologies are helping these businesses

reach their goals and discover new ones, regardless

of the industry. Take a look at just some of the industries

where leading companies are leaping ahead in

innovative ways.

Manufacturing

In a high-pressure, competitive industry like manufacturing,

companies must make use of every possible

measure to keep costs low and efficiency high.

Aligning its strategy with digital transformation

processes, Bosch Group is focusing on innovative,

service-based business models and the Internet of

Things (IoT). To achieve this, Bosch deployed the

SAP HANA in-memory database using SUSE® Linux

Enterprise Server for SAP Applications on IBM

Power. As a result, they streamlined SAP HANA operations

and support, and maximized availability

and business continuity of SAP HANA environments

through innovative technology solutions.

To produce and distribute tires and rubber auto parts

to a wide range of customers all around the world,

JK Tyre required efficient manufacturing processes

and low-friction methods of coordinating with Original

Equipment Manufacturers (OEMs), as well as

dealers and distribution networks. In the race to stay

ahead of its competitors, JK Tyre decided to make

the move to SAP HANA and SUSE Linux Enterprise

for SAP Applications. JK Tyre boosts productivity by

up to 30% and will now migrate to S/4HANA.

Retail/Wholesales

Companies in the retail/wholesale industry must offer

great value and a seamless shopping experience.

Further, they need to give managers real-time insight

into customer purchasing habits, profit margins

and stock levels.

CarrefourSA decided to refresh its entire enterprise

application landscape, introducing an integrated

suite of SAP ERP solutions, together with SAP Business

Warehouse (BW) powered by SAP HANA for

ultra-fast analytics and reporting. SUSE Linux Enterprise

Server for SAP Applications provides a reliable

platform to support constantly growing operations

at CarrefourSA and delivers consistently high levels

of performance for even the most demanding SAP

workloads.

As a major player in the wholesale business, Galexis

wants to offer digital, real-time services to complement

its logistics operations, as well as Alloga's

pre-wholesale operations. Galexis decided to implement

SAP S/4HANA powered by SAP HANA running

on SUSE Linux Enterprise Server for SAP Applications.

Galexis improved business continuity with

50% faster, fully automated failover process.

High Tech

Innovation also happens at the intersection of industries.

Hosting provider FIS-ASP wanted to seize

new business opportunities and broaden its service

offering to address the evolving requirements of its

customers, while also increasing efficiency. Previously,

when FIS-ASP was managing systems manually,

it typically took between 40 and 60 man-days

to set up complex landscapes for customers, such

as those featuring SAP S/4HANA applications, SAP

Fiori, SAP Hybris and SAP Business Warehouse. By

taking advantage of SUSE OpenStack Cloud, FIS-

ASP can now complete the same kinds of deployments

in just five or ten days.

Can you win with a digital platform?

Companies across industries are using platform

technologies to thrive in their industries – or transcend

beyond their boundaries. Find more success

stories on www.suse.com/c/success/.

About SUSE

SUSE is the trusted and preferred open source platform for SAP customers who want to

unlock data intelligence, drive innovation and run with the best. • Trusted: SAP's in-house

implementation platform • Open and Flexible: World's largest independent open source

provider, promising customers retain control and flexibility • Innovative: SAP co-innovation

partner, enabling customers to run with the best.
---
SAP

212

APRIL 2019
---
CLICK TO WATCH: 'SAP BUSINESS WOMEN'S

NETWORK – DEFINE THE WAY'

213

2005, he was invited by SAP's then

CFO Werner Brandt to build out an

M&A practise for the company. Before

then, though it had made a number of

smaller acquisitions, SAP's growth had

been largely organic and by strategic

partnerships with technology companies,

notably IBM.

TRANSFORMATIVE ACQUISITION

AT SCALE

Brandt however recognized that to meet

the challenges of the market and the

limitless potential presented by data it

would be necessary to place M&A

activity at the center of future development.

"Our objective was to do transformative

acquisitions. We really started

down that road in 2007 with the acquisition

of BusinessObjects in the analytics

space, and that expanded our addressable

markets considerably." The $6.78bn

acquisition of BusinessObjects was

a watershed moment for the company

both on account of the major financial

commitment and because it brought

business intelligence tools to SAP's back

office transactional systems.

By 2010, SAP was ready to make its

next transformational jump with the

canada.businesschief.com
---
Cisco and SAP

Empowering intelligent

enterprises everywhere.
---
Bring intelligent

experiences to

your customers

on premise or in

the cloud.

Cisco is the best choice for deploying

the complete SAP solution with infrastructure

that is built in concert with

SAP. This includes world-class hardware

and software solutions within

Data Centers, Cloud, Collaboration,

and products like AppDynamics, DNA

Spaces, and more.

Core Benefits:

Dependable infrastructure

Connect SAP applications and users

across the enterprise with the best

foundation for a modern, flexible, and

efficient SAP environment

Adaptable platforms

Ensure SAP environments are deployed,

managed, and optimized for

enhanced functionality across the entire

data management suite

Continuous innovation

Take advantage of world-class R&D

that consistently finds new ways to

innovate, drive business agility, and do

more with your data.

For enterprise businesses looking to

maximize value and build the best

foundation for a modern, flexible, and

efficient SAP environment, Cisco connects

SAP applications and users with

adaptable platforms and dependable

infrastructure. With enhanced functionality

across the entire data management

suite, Cisco ensures modern, flexible,

and efficient SAP environments are

easily deployed, managed, and optimized.

Supported by world-class R&D

and armed with a comprehensive

approach to modernization and continuous

innovation, Cisco consistently

delivers new ways to innovate, drive

business agility, and do more with data.

Cisco helps you maximize the value of

your existing SAP investment and add

valuable new cloud native capabilities

to help your business thrive now and

into the future.

Together, Cisco and SAP are empowering

intelligent enterprises everywhere.

Click here to learn more
---
SAP

216

$5.8bn acquisition of Sybase, which

gave SAP users the option of running

their operations from mobile devices,

paving the way for real-time analytics

and removing barriers between business

applications and business intelligence,

says Shenkman. "We then went on with

a series of acquisitions to expand our

cloud capabilities, ranging from Success-

Factors to Ariba and Fieldglass and

the travel and expense management

services company Concur."

The $8.3bn Concur deal in 2014

coincided with the launch of the latest

version of the S/4 HANA business

suite. As Bill McDermott observed at

the time: "With Ariba, Fieldglass and

Concur, SAP is the undisputed business

network company. We are redefining

how businesses conduct commerce

across goods and services, contingent

workforces, travel and entertainment.

With the SAP HANA platform, the possibilities

to innovate new business

models around Concur and the network

are limitless."

Following the successful completion

of this phase of strategic M&A activity

Shenkman served for two years as

CFO of SAP in its largest market, the

USA, before being invited by the CEO

to work directly with him in the newly

created role of Executive Vice President,

Global Business Development and

APRIL 2019
---
Ecosystems in May, 2017. His job, he

explains, is to help the company get

to grips with the opportunities it has

to grow externally. "We tend to define

that as inorganic growth: oftentimes

that can be a new strategic partnership

or an acquisition or a strategic

investment, but in essence our charter

is really to help the company put its

arms around strategic initiatives with

global partners. We're looking for

initiatives that enable us to expand

our portfolio and continue to help our

customers and our ecosystem with

the digital transformation that most

of them are going through."

"Data only has value

when it helps you

make better

decisions and

makes employees,

customers and

product users have

a better experience

with you"

—

Arlen Shenkman,

Executive Vice President for Global Business

Development & Ecosystems at SAP

217

EXECUTIVE PROFILE

Arlen Shenkman

Arlen Shenkman serves as executive vice president for

global business development and ecosystems at SAP. He is

responsible for business models, investments, and mergers

and acquisitions. Before his current role, Shenkman served

as CFO of SAP North America, SAP's largest business unit,

responsible for all finance functions in North America,

including forecasting and planning, identifying efficiencies,

and ensuring the region's overall financial

health. As part of the leadership team, Shenkman

was engaged in driving new sales.

canada.businesschief.com
---
SAP runs its SAP HANA ® platform on

Lenovo. Let Lenovo run yours, too.

P runs its SAP HANA ® platform on

novo. Lenovo Let servers Lenovo help SAP know run yours, too.

more, faster.

ovo servers help SAP know

e, faster.

SAP relies on Lenovo servers, optimized for SAP HANA,

to run real-time analytics and develop next-generation cloud

applications for its customers.

elies Different on Lenovo analyzes servers, better. optimized for SAP HANA,

real-time analytics and develop next-generation cloud

ations for its customers.

Read more at www.lenovo.com/datacenter

ent analyzes better. Read more at http://lnv.gy/2uTEAvO

Different is better

Different is bet

©

Lenovo 2019. All rights reserved. Lenovo and the Lenovo logo are trademarks of Lenovo. Other names and brands may be claimed as property of others. SAP HANA is a registered trademark of

SAP SE in Germany and in several other countries.
---
219

ter

THE INTELLIGENT ENTERPRISE

The word ecosystem in Shenkman's job

title reflects the realities facing business

today. A holistic view of organizational

activity as an organism or a living entity

influenced by the activity and changes

in every place, internal or external, that

touches it, is made possible by the

convergence and management of

data in the cloud. We can see here

the beginnings of what SAP today

describes as the intelligent enterprise.

In this new world the notion of categories

is perhaps invidious, but that

said, the most recent SAP acquisition

($8bn) of Qualtrics has outlined a new

category, that of experience management

(XM). The experience economy

is a reality – 80% of customers have

chosen to switch brand because of

a negative experience and the impact

of yearly loss of trust due to abuse

of data privacy and brand loyalty is

put at a staggering $2.5tn, and the estimated

market size for customer experience

solutions, platform and integration

to operational systems stands

at $100bn.

canada.businesschief.com
---
SAP

220

"One of the

things that really

excited us

was the idea

of creating

a category

around

experience

management"

—

Arlen Shenkman,

Executive Vice President for Global Business

Development & Ecosystems at SAP

APRIL 2019
---
canada.businesschief.com

221
---
SAP

1972

Year founded

96,000

Approximate number

of employees

222

Qualtrics is a technology platform

that organizations use to collect, manage

and act on experience data. Experience

management may be described

as a system whereby teams, departments

and organizations can manage

the four core 'experiences' of business:

customer, product, employee and

brand. "One of the things that really

excited us when we were considering

this acquisition," says Shenkman, "was

the idea of creating a category around

experience management. This is often

narrowly defined as a customer's,

an employee's, or a product user's

experience. But Qualtrics is truly

a horizontal platform that allows you

to get feedback and information

around the holistic experience from

all of these. This gets really interesting

when you bring it together with our

product portfolio, which links together

that operational data with experiential

data. How is it possible to have an

intelligent enterprise without understanding

how your customers,

employees, product users, and everyone

exposed to your brand, feel about

APRIL 2019
---
223

you?" It is hard to have a holistic view

without really understanding what

is happening to the business from an

external perspective, and why that

is happening."

Simply put, Qualtrics brings together

the mass of experiential data trawled

from whatever source – customer,

brand, employee or the product itself.

Rather than crunching these numbers

in the back office and subjecting them

to traditional feedback and survey processes,

it gives companies the ability

to adjust policy based on this data in

real time – addressing issues like

competitiveness drops, employee turnover

or customer churn before they

have time to develop into a problem.

The integration of this ability with

SAP's ecosystem eliminates the old

distinction between front office and

back office. 'Intelligent enterprise'

ceases to be a mere buzzword once

the business is viewed organically,

rather like the human body or a natural

ecosystem in which latency can mean

the difference between extinction

and survival.

canada.businesschief.com
---
SAP

224

DATA IN THE ECOSYSTEM

Data, of itself, is dumb, says Arlen

Shenkman. "There has long been

a debate in large companies and among

enterprise software specialists about

the intrinsic value of data. My personal

perspective is that data only has value

when it helps you make better decisions

and makes employees, customers and

product users have a better experience

with you. That can't happen unless you

know what they think about you."

For 50 years SAP has been focused

on customer success driven by the

quality of its products: that remains the

focus, but today it's no longer enough.

There's no doubt that the acquisitions

of the past ten years have deepened

and broadened SAP's reach. Innovation

can't happen in isolation, he insists.

"Without doubt M&A has driven a very

robust portfolio of products, each of

which enhances our focus on the success

of our customers – and that, we

believe, is the key to our own success

as a global organization."

So, it's probably not quite the thing

to regard the Qualtrics acquisition as

a complete reinvention of the company.

SAP always had this focus, based on

customer service delivered through

APRIL 2019
---
its global presence and the global

presence of the 18,000 partners that

implement, build and innovate on its

platforms. "This is where the complexity

of our ecosystem comes in. We have

very large global partners like Accenture,

Capgemini, Deloitte, EY, and PWC.

We work closely with the major public

cloud providers, and hardware and

software partners, and we have many

smaller regional suppliers from around

the world. The core of the SAP ecosystem

is a very strong set of companies

around the globe that develop software

that resides and integrates with an SAP

platform, whether on-premise or a cloud

solution like SuccessFactors, Fieldglass,

Ariba or Concur. Over the years, SAP

has carefully cultivated our ecosystem.

Every partner contributes certain expertise

that allows us to deliver a more

intelligent enterprise."

225

THE LANDSCAPE SURVEYED

There's no doubt though that Qualtrics

is a bit of a game changer for SAP, and

one that will take a while to settle in.

It is impossible to say never again, but

the man with the overview of the ecosystem

is able to claim a degree of satisfaction

with its current state. "We love the

canada.businesschief.com
---
SAP

226

"The core of the SAP

ecosystem is a very strong

set of companies around

the globe that develop

software that resides

in and integrates with

an SAP platform"

—

Arlen Shenkman,

Executive Vice President for Global Business

Development & Ecosystems at SAP

Qualtrics acquisition and we are really

excited about building a category

around XM, however I am not aware

of any hole in our portfolio that would

represent a strategic gap for us,"

he says. "When we look over the

landscape today, what our development

teams have built and the cloud

assets that we've amassed over the

past eight years, we're very comfortable

with that portfolio." So, no more

large scale acquisitions are currently

in his sights.

APRIL 2019
---
The breadth of the SAP portfolio is

legendary of course with capabilities

spanning ERP, procurement, CRM, HR,

MRP and so on you'd be hard put to

identify any weakness. There will doubtless

continue to be smaller acquisitions

as the potential of technologies like AI

and IoT are realized, but from here on in,

SAP can concentrate on its core mission.

"The journey for so many of our customers

is digital transformation. SAP is helping

them all the way, from finding the right

place for them to start to deploy some

solutions to implementing them. Some

of the companies we work with are

already through that journey; others

are not. With 425,000 customers in

180 countries it's not surprising they

are on different timetables!"

The acquisition program since 2010

has hugely expanded what he calls

SAP's addressable markets. "We have

crafted a strategy to ensure our customers

go through their digital transformation

and move to the cloud successfully,

deploying SAP technology to become

the best businesses they can be."

227

canada.businesschief.com
---
LOGO HERE

The secret

behind

Berkshire

228

Hathaway

GUARD

Insurance

Companies'

growth

WRIT

TEN BY

LAURA MULLAN

PRODUCED BY

ANDY TURNER

APRIL 2019
---
229

canada.businesschief.com
---
BERKSHIRE HATHAWAY GUARD INSURANCE COMPANIES

Competition may be rife in the insurance

sector but Berkshire Hathaway GUARD

Insurance Companies is proving it has

the right strategy for success

230

P

erhaps no greater question faces companies

today than: 'How do I scale my business?'

Nowadays, business headlines are inundated with

stories touting the best tips and tricks for growth but surely,

more than anything, it's better to follow in the footsteps

of a company which has done it before? Insurers searching

for the best tried-and-tested methods to scale their

business need look no further than Berkshire Hathaway

GUARD Insurance Companies, a fast-growing trailblazer

in the US insurance market.

Preparing the foundations for growth

Since its founding in 1983, GUARD companies have gone

from strength to strength and today, now known as Berkshire

Hathaway Guard Insurance Companies, the business stands

as a prominent subsidiary of Berkshire Hathaway – underwriting

through its insurance companies: WestGUARD,

AmGUARD, EastGUARD, NorGUARD and AZGUARD.

The group provides commercial (and, most recently, personal

lines) insurance coverage and services to businesses of all types

in the US. In fact, in 2017, the group issued over 250,000

policies to businesses across the country. However, this

success wasn't achieved because of luck or 'just good

timing': throughout its history Berkshire Hathaway GUARD

has worked hard to redefine and reshape its strategy,

APRIL 2019
---
canada.businesschief.com

231
---
BERKSHIRE HATHAWAY GUARD INSURANCE COMPANIES

232

"We're growing

every year by

20-25% which

shows that this

is not a steady

state company"

—

Sy Foguel,

CEO and President,

Berkshire Hathaway GUARD

aligning the organization to achieve

meteoric growth.

The CEO, Sy Foguel, joined the

company in 2007 when the group

was acquired by Clal Insurance

Enterprise Holdings Ltd., an international

insurance group of which he

was Executive Vice President. "At the

time the company was writing around

US$200mn of Workers Compensation

premium in a dozen states," he recalls.

"Our vision from day one was to use the

company as a platform to become a

one stop shop for the insurance needs

distributed by our agents. We started

to introduce additional lines of coverage

and built all the infrastructure." Later

in 2012, the organization changed

hands again and became a whollyowned

subsidiary of National Indemnity

Company, which is part of the

Berkshire Hathaway Group. "Today, we

are a $1.6bn company," Foguel adds.

COO Carl Witkowski, who has been

with the company in different roles

since 1989, adds that before gaining

the backing of Berkshire Hathaway,

GUARD first had to forge its own path

in the insurance market. "We were a

small regional company and there

were two key things we had to offer:

superior service and efficiency," he

observes. "Our retail agents are a key

part of our DNA – they've been our

distribution force." Like any small

operation, efficiency has always been a

well-versed mantra at GUARD. "We

needed to be efficient to survive

as a company and so our expense

ratios needed to be managed,"

he continues. "When we were later

acquired, it was a great example of

when preparation meets opportunity."

Critically, as the insurer has continued

on its upward trajectory, it has taken

care to retain this same start-up

philosophy and mentality.

APRIL 2019
---
233

SPEARHEADING DIGITAL

TRANSFORMATION

"In 1989 GUARD was a small two-state

company," Witkowski recalls. "I was

brought in to hone its processes, create

efficiencies and develop a managerial

infrastructure." As part of this process,

the enterprise re-platformed directly

onto a browser-based modern architecture

and went increasingly paperless

– readying itself for a digitally-savvy

future. "We probably had one of the first

browser-based client systems in the

United States," adds Witkowski. "We

also became one of the first paperless

insurance companies, with both

accomplishments partially enabled by

our R&D approach to technology

yielding over a dozen patents." With

a wealth of experience in insurance,

Witkowski has witnessed firsthand how

the sector is moving from the paperbased

work of the past towards a new

age powered by technology and data.

Many businesses contend that data

is the 'new oil' and the same sentiment

rings true at Berkshire Hathaway GUARD.

With reams of data at the insurer's

fingertips, Foguel, who is an actuary by

profession, believes that this appreciation

canada.businesschief.com
---
BERKSHIRE HATHAWAY GUARD INSURANCE COMPANIES

234

of data gives the organization

a significant edge. "Whether it's for

claims processing or policy selection

and pricing, we always manage data

down to the scintilla level. This means

we can provide our analysts and actuarial

staff the data they need to make good,

real-time decisions," he explains.

Digital transformation can put a

strain on any business' wallet but at

Berkshire Hathaway GUARD, the

enterprise has shrewdly taken a build,

rather than buy, approach. "A lot of

resources, time and effort are

consumed when companies decide

to replace their policy administration

system, portals, claims system,

or spend their time integrating multiple

third-party systems" observes Witkowski.

"It distracts the business and slows it

down. Because of this, we don't

replace any systems. Instead, we

evolve our systems. Therefore, we

don't waste the resources and we don't

throw away that investment. However,

we still must make the system very

easy for an agent to use, as we don't

work directly with consumers."

APRIL 2019
---
EXECUTIVE PROFILE

Sy Foguel

As Chief Executive Officer and President, Sy Foguel leads the strategic

planning and positioning of the organization, helping to promote

initiatives that make realization of both short- and long-term goals

possible. His involvement with the company has been marked by

numerous accomplishments. While at Clal Insurance of Israel, he

was the individual who first recognized the potential of a small,

regional monoline carrier (i.e., GUARD in 2006) and was instrumental

in the acquisition of this organization in 2007, which ultimately

resulted in him being named Chief Executive Officer and President

of GUARD. Since 2007, the company's annual premiums have more

than tripled (despite very challenging economic times) while

maintaining a combined ratio well below industry peers and

diversifying into new lines of property and casualty coverage. In

2012, he then helped orchestrate the profitable sale of GUARD to

Berkshire Hathaway Inc. (specifically National Indemnity Company)

and has continued in his role as CEO/President — rebranding the

group as Berkshire Hathaway GUARD Insurance Companies and

becoming a nationwide carrier

Prior to his current tenure, Foguel had accumulated diverse international,

executive-level insurance industry experience, including roles as

CEO of IDI Bituch Yashir of Israel, Executive Vice President

of Clal Insurance of Israel, and Senior Vice President of

Arch Insurance in the United States as well as being in

charge of other international insurance ventures

such as a Lloyd's Syndicate and a Romanian entity.

Sy is an honors graduate of the Computer Engineering

and Mathematics Faculties at the Hebrew University

in Jerusalem, is a certified actuary in both the US and

Israel, and is a member of several actuarial societies

in both countries (ACAS, FILAA).

235

canada.businesschief.com
---
BERKSHIRE HATHAWAY GUARD INSURANCE COMPANIES

236

EXECUTIVE PROFILE

Carl Witkowski

Chief Operating Officer Carl Witkowski joined the organization in

1996 after working for nearly a decade as a consultant. Throughout

his tenure, he has spearheaded numerous initiatives such as

transforming the organization to 100% paperless processing in the

early 2000's and leading the re-platforming of our proprietary

systems to a browser-based environment. Similarly, Witkowski's prior

leadership experience in the health care field has enabled him to

serve a key role in formulating and shaping managed care strategies

that have allowed Berkshire Hathaway GUARD to excel in delivering

superior claims service that provides quality care to injured workers

while containing costs. As current President of GUARDCo, he ensures

standards of excellence and best practices are achieved.

As part of his current duties, he leads Berkshire Hathaway GUARD's

information and technology group and is also "curator" of the

company's "human capital" and culture. In 2001 (the only year the

company participated), GUARD was named the second Best Large

Place to Work in Pennsylvania. All operational units currently fall

under Witkowski's leadership, including Claims processing, Small

and Intermediate Business Unit underwriting, and Customer

Service and Support functions.

Witkowski has extensive past management, executive,

and leadership experiences. He exited his two-decade

career in behavioral health as Clinical Director of one

of Pennsylvania's most diverse behavioral health

organizations. He was also engaged in private practice

(providing both clinical counseling and management

consulting), was a graduate faculty member of Marywood

University for 12 years, and is a frequent presenter on

information technology and human capital topics

at national conferences.

APRIL 2019
---
"Our retail

agents are a key

part of our DNA

– they've been

our distribution

force"

—

Carl Witkowski,

Chief Operating Officer and Executive Vice

President at Berkshire Hathaway GUARD

237

canada.businesschief.com
---
BERKSHIRE HATHAWAY GUARD INSURANCE COMPANIES

238

LEADERSHIP AND COLLABORATION:

A PERFECT MIX

Technology may be a fundamental cog

in any business growth strategy but

when it comes to true success, it's

ultimately down to the people. Abandoning

hierarchies in favor of a culture

that "rewards individual performance

and celebrates team accomplishment",

Foguel points out how "everyone treats

this company as though they have

ownership in it – there's respect for

one another".

"There are never more than three

or four degrees of separation in the

company," he notes. "Our greatest

success is our ability to make decisions

quickly. We're also flexible enough to

implement them on a very quick timeline."

The insurer has taken this positive work

culture one step further using technology:

by creating a robust agency portal and

leading call center, the firm has strived

to create a close-knit culture between

the company and its agents.

In all aspects, it seems agility is

interwoven into the company's DNA.

This not only applies to technology:

indeed, Berkshire Hathaway GUARD

has worked diligently to offer bigger

and better product propositions to

1983

Year founded

500+

Approximate number

of employees

HQ

Wilkes-Barre

Pennsylvania

"We don't

replace any

systems.

Instead, we

evolve our

systems"

—

Carl Witkowski,

Chief Operating Officer and Executive Vice

President at Berkshire Hathaway GUARD

APRIL 2019
---
239

its customers. "GUARD itself is not

a new company but in the last decade

we've acted like a fast growing startup,"

enthuses Foguel. "We're growing every

year by 20-25% which shows that this is

not a steady state company in any form.

We're always innovating and we always

have four or five projects on the go."

In fact, just last year the firm announced

various partnerships with IoT companies

and AI applications, including a pilot

with Safe Drive Systems (SDS), to

create a collision avoidance system

and fleet management systems (FMS)

technology for its commercial auto

lines, and a project with Plank Re to use

AI to further automate the workers'

compensation underwriting process.

Berkshire Hathaway GUARD is truly

a strong role model for how to profitably

scale quickly and steadily. Businesses

should keep an eye on the firm to see

what they'll do next.

canada.businesschief.com
---
Digital transformation

and innovation

at Plymouth Rock

240

WRIT TEN BY

OLIVIA MINNOCK

PRODUCED BY

ANDY TURNER

APRIL 2019
---
canada.businesschief.com

usa.businesschief.com

241
---
PLYMOUTH ROCK ASSURANCE

Tom Lyons, Chief Operations

Officer of Plymouth Rock

Assurance's Direct Response

Channel, discusses how an agile,

creative approach has allowed

the insurer to adapt its offering

to a changing market

242

T

oday, customer service is all about choice

and innovation and the increasingly

competitive insurance sector is no

exception. Consumers want to communicate in the

most convenient way for them, and they expect

personalized service as well as products tailored to

their specific needs. Across an increasingly

demanding landscape, auto and home insurance

carrier Plymouth Rock Assurance has stepped up

to this challenge and adapted its offering to survive

– and thrive. Tom Lyons, Chief Operations Officer of

Plymouth Rock Assurance's Direct Response

Channel, has closely watched the changing industry

over his 12 years at the company. He has observed

key consumer habit changes and notes an important

shift: consumers increasingly want the ease of

doing business through a distribution channel of

their choice. This is the very reason the Direct

Response Channel for Plymouth Rock was born.

APRIL 2019
---
canada.businesschief.com

243
---
PLYMOUTH ROCK ASSURANCE

244

"That's the key to direct

distribution: how do

we make it easy for the

consumer to buy the

product, while still

feeling well informed?"

—

Tom Lyons,

Chief Operations Officer, Direct Response

Channel, Plymouth Rock Assurance

"In New Jersey, property and

casualty insurance market share has

evolved from being independent and

exclusive agent dominated to more

direct dominated," Lyons explains.

For example, in 2003, New Jersey was

71% dominated by independent and

exclusive agents. Today those same

agents make up around 47% of the

market. In comparison, the Direct

market share in 2003 was 29% and

now stands at 53%. Plymouth Rock

has had to adapt to this transformation

in the industry while continuing to invest

in and support its independent and

Prudential exclusive agent networks.

Traditionally, the insurer distributed

its products solely through an agency

model. In order to step up and compete

with the evolution of direct writers,

a key element of Plymouth Rock's

transformation was to build a direct

capability that complemented and

strengthened its agency distribution

offering. "Within our geographic

footprint, you'll see that a lot of the big,

national direct writers entered our

markets and began gobbling up market

share from the agency channels," Lyons

comments. "To combat that, we piloted

building out a direct-to-consumer

APRIL 2019
---
CLICK TO WATCH: 'PLYMOUTH ROCK ASSURANCE

30 SECOND TV SPOT'

245

response channel about 10 years ago

to see if we could make the economics

of growing through direct distribution

work. We also needed to help our

agency channels compete in a digital

marketplace." While initially a pilot

venture, failure was not an option.

Plymouth Rock needed to build an

economical and scalable direct

business to compete in the marketplace

and to fuel growth. Over the past

decade, it has transformed into

a multi-channel distribution model.

Plymouth Rock's goal is for its Direct

Response Channel to be a partner to

its agency channel, as opposed to

a competing business. "From the initial

launch of the Direct Response Channel

through today, our focus has been

helping the Plymouth Rock Enterprise

compete in this evolving digital landscape.

We are continually on the hunt

for new marketing sources, partners,

and technology to leverage for the

benefit of our agents," says Lyons.

Since being founded in 1982,

Plymouth Rock has expanded significantly

across the northeast US. Initially,

Plymouth Rock distributed its products

in Massachusetts and eventually

canada.businesschief.com
---
PLYMOUTH ROCK ASSURANCE

246

moved into New Jersey in 1992. It also

has been active with independent agents

in Connecticut and New Hampshire for

more than 20 years. Currently, Plymouth

Rock's Direct Response Channel is

actively writing in New Jersey, Pennsylvania,

Connecticut and New Hampshire.

The company plans to enter New York

in the latter part of 2019.

As the market changes and develops,

Plymouth Rock no longer just competes

with local rivals. National and global

companies also have become competitors.

"Our direct national competitors

have economies of scale in terms of

their marketing and telesales acquisition

dollars," says Lyons. "In many cases,

they have thousands of sales reps

in their sales centers and very large

national advertising budgets.

To compete with that, we have to be

extremely targeted and selective about

where and how we spend our marketing

dollars and how we sell our product."

In many ways, Plymouth Rock is

maintaining an entrepreneurial startup

mentality as it grows. It is careful how

it spends its money and the relationships

APRIL 2019
---
it forms, and it is adept at listening to

each colleague within the fast growing

organization.

A significant advantage for Plymouth

Rock is its deep understanding of the

market and how consumer needs and

expectations continue to evolve. Lyons

is keenly aware of the shift to self-serve

in the market and what this means for

his organization. "Back in the old days

of insurance, it was routine for customers

to go to their local agent to buy insurance

products, face to face. Nowadays,

many customers want to be able

to transact right from their smartphone

or tablet and buy the product online or

over the telephone. However, they still

seek the comfort and confidence of

knowing that there's a licensed agent

ensuring they make the right decisions.

That's the key to direct distribution.

How do we make it easy for the

consumer to buy the product, while still

feeling well served and well informed?"

In order to provide the best possible

experience for customers in a changing

landscape, Plymouth Rock has worked

with innovative startups that might

otherwise be seen as disruptive

competition. "We've worked with a lot

247

EXECUTIVE PROFILE

Tom Lyons

Tom Lyons is the Chief Operations Officer of the Direct Response

Channel for the Plymouth Rock Management Company of New Jersey.

He is responsible for all aspects of Plymouth Rock Assurance's auto

direct‐to‐consumer marketing and sales efforts, marketing analytics

activities, and inbound and outbound Sales Center operations.

He also oversees all aspects of Teachers' Insurance Plan of NJ.

Tom joined Plymouth Rock in 2007 as a Marketing

Representative in the Prudential Agency Management Division.

The following year, he became the first Supervisor of Plymouth

Rock's Direct Sales Center, eventually being promoted to the

Director position. In this capacity, he built out and oversaw

the growth of the inbound, outbound and telemarketing

sales operations. tlyons@plymouthrock.com

canada.businesschief.com
---
Welcome to the

un-agency.

Think Digital is a data-driven, digital marketing agency

focused on driving business results. We believe that we

succeed when our clients succeed, so we make that the

foundation of every relationship.

SEARCH ENGINE

MARKETING

SEARCH ENGINE

OPTIMIZATION

NATIVE DISPLAY

& MEDIA

SHOPPING &

DYNAMIC PRODUCT

AD CAMPAIGNS

DATA

SCIENCE &

ANALYTICS

DIGITAL

STRATEGY

& PLANNING

LET'S WORK TOGETHER

www.think-digital.com
---
"What sets Plymouth

Rock apart from

our competitors

is that we try to form

really strategic

partnerships with

these companies: it's

not just one size fits all"

—

Tom Lyons,

Chief Operations Officer, Direct Response

Channel, Plymouth Rock Assurance

of insurtech companies both from a

technology and a distribution perspective,"

says Lyons. "What sets Plymouth Rock

apart from our competitors is that we

try to form tailored strategic partnerships

with these companies. It's not just one

size fits all." For example, the insurer

has partnered with other alternative

distribution partners, which it calls

Super Agents, throughout the country.

The company has integrated with these

partners through LeadCloud, a leading

data integration partner. "Regional

direct writers need to be scrappy

and agile in how we form partnerships

and how we integrate with them,"

Lyons emphasizes. There's a fine line

to those arrangements, but several

have worked out well for Plymouth

Rock and its partners. "Transparency

and collaboration is at the forefront

of how we form these strategic

partnerships to ensure win-win

relationships," says Lyons.

As well as startups, Plymouth Rock

maintains relationships with more

established tech partners in order

to leverage the latest technology for

a truly superior customer experience.

Working with Salesforce.com,

a customer relationship management

(CRM) system, gives the company a

unified 360-degree view of both

current and prospective customers.

"We monitor the customer journey all

the way throughout their lifecycle with

us through every touch point," Lyons

explains. "We understand if they like

to communicate with us via email, chat,

text or phone, so we can tailor the

customer experience specific to those

individuals. In addition, partnerships

with IBM and Acxiom are instrumental

for data management. We are pursuing

multichannel marketing, where we

execute a variety of different marketing

249

canada.businesschief.com
---
PLYMOUTH ROCK ASSURANCE

250

channels to fit customers' needs.

Some consumers would prefer we

market to them through email and

display advertising, whereas others

prefer direct mail or social media

advertising. It's about tailoring our

messaging and approach to fit the

needs of the customer."

Another interesting area of partnership

Plymouth Rock is beginning to

explore is with financial institutions.

"This is an area of expansion and

growth," says Lyons. "We're finding

that these financial institutions are

able to round out their client base

by offering a Property and Casualty

insurance product with us, and in doing

so, improve their customer retention.

The strategic partnerships we form are

key to what Plymouth Rock does.

Our partnerships are not about 'you do

this and we do that' – they are creative

and agile. Plymouth Rock is currently

working with many financial institutions

in this regard and is actively seeking

out new partnerships to advance

our respective businesses."

Internally, Plymouth Rock's research

and development team is always on the

lookout for emerging technologies.

Its agile, flexible approach allows new

"Regional direct writers

need to be scrappy and

agile in how we form

partnerships"

—

Tom Lyons,

Chief Operations Officer, Direct Response

Channel, Plymouth Rock Assurance

APRIL 2019
---
ventures and solutions to be piloted

quickly before successful initiatives

are rolled out across the organization.

Every innovation implemented is

measured in relation to its impact on

customer experience, which is closely

monitored. "We do customer surveys

and focus groups to understand what

customers like and don't like about

being insured with us, and we often

make changes based on that. Keeping

our finger on the pulse of consumers

and being responsive to their needs

helps keep us competitive and at the

cutting edge of innovation," Lyons says.

Another key element to finding the

best solutions for its business and

customers is Plymouth Rock's culture

of collaboration. It is not only external,

but permeates the internal organization

as well. "We have a culture where

everybody in the organization, regardless

of rank, feels empowered to give

recommendations or suggestions,"

Lyons says. For example, the popular

Get Home Safe® benefit that's unique

to Plymouth Rock allows the company's

customers access to a free taxi ride

home as a safer alternative to driving

when necessary. This innovative

service was suggested to the CEO

251

canada.businesschief.com
---
PLYMOUTH ROCK ASSURANCE

1982

Year founded

1,800+

Approximate number

of employees

252

HQ

Woodbridge

New Jersey

"Plymouth Rock was

founded on the

principle of putting

service first. That is

still part of our DNA."

—

Tom Lyons,

Chief Operations Officer, Direct Response

Channel, Plymouth Rock Assurance

by an employee in the lunchroom many

years ago. It has now been rolled

out across the enterprise. "We have

a culture of collaboration and transparency

across our various business

units," Lyons says

"These units empower an entrepreneurial

spirit and an innovative approach

to all of our business initiatives.

And there is always collaboration to

ensure the best practices of the various

groups across Plymouth Rock."

Through this entrepreneurial spirit

and a commitment to collaboration,

APRIL 2019
---
253

the Plymouth Rock Direct Response

Channel has grown significantly.

"We plan to grow our business quite

rapidly over the next several years

and feel our multi-channel approach

to distribution should fuel growth in

these new states for both our direct

and independent agent channels,"

Lyons explains. Throughout this

journey, he is confident the organization

will not lose the unique touch that

led to this success in the first place,

with customer service being at the

forefront of everything it does.

"Plymouth Rock was founded on the

principle that a higher standard of

customer service would make us stand

out in an already-crowded industry.

Treating our customers with courtesy,

valuing their time, and understanding

and empathizing with their issues has

been crucial to our success. That is still

part of our DNA. We respect the brand

equity that Plymouth Rock has built since

day one and honor our cultural values."

canada.businesschief.com
---
254

RESOURCING

DENTISTRY,

TRANSFORMING

BUSINESS

WRIT TEN BY

JOHN O'HANLON

PRODUCED BY

CRAIG DANIELS

APRIL 2019
---
canada.businesschief.com

255
---
GLIDEWELL DENTAL

Glidewell Dental, on the cusp

of its 50th anniversary, has

transformed its business

model to become a technology

company that acts as a virtual

extension of the dental

practices it serves

256

J

ust how did Glidewell Dental become the

largest privately owned dental laboratory

in the world? In 1970, spurred by a desire to

make rehabilitative dentistry accessible to all, Jim

Glidewell, CDT, applied a unique blend of technical

knowledge, business principles and marketing

philosophies to expand his one-man kitchen table

operation into a multifaceted technology company

among those at the forefront of the oral health

industry today. His focus from day one has been on

developing new equipment and techniques with the

objective of keeping dentistry affordable for both

clinician and patient. He has consistently reinvested

the profits of the business into its industry-leading

R&D department (in which Glidewell himself remains

heavily engaged) which has given dental practices

access to many award-winning products, such as

BruxZir Solid Zirconia restorations. There can't be

that many founders and CEOs still leading their

company half a century on, yet preparations are

underway for a yearlong 50th anniversary celebration

in 2020.

APRIL 2019
---
canada.businesschief.com

257
---
GLIDEWELL DENTAL

"How could

Glidewell

guarantee

consistency of

the products?

For me that was

the starting point

in our journey

toward digital

258 transformation"

—

Mike Selberis

CTO, Glidewell Dental

Mike Selberis joined Glidewell as CIO

in 2008, just a year before the first

BruxZir product hit the market. In that

role he has overseen the increasing

adoption of technology platforms to

run the business; however, he also sits

on the American Dental Association

(ADA) and ISO Standards Committees

for CAD/CAM, and leads a team of automation

specialists responsible for a

growing number of innovations in the

field of mass customization. As we'll see,

this is central to the company's future

growth and relevant to Selberis' promotion

in 2016 to Chief Technology Officer

(CTO), which extended his oversight to

APRIL 2019
---
hardware engineering, CAD/CAM

software and material sciences.

The launch of BruxZir solidified

Glidewell as the leading manufacturer

of zirconia materials for the dental

market. Zirconia (zirconium oxide) is

an ideal material for making dental

restorations thanks to its toothcolored

shading and impressive

durability, and BruxZir is the top

selling brand in the United States,

having been prescribed for more

than 18mn restorations. Its rapid

adoption by dentists and patients

alike has spearheaded a global shift

from full-cast and porcelain-veneered

restorations to monolithic

ceramic crowns and bridges.

ENTER GLIDEWELL.IO

Far-sighted investment in material

science made in the first decade of this

century paved the way for the development

of the software- and hardwarebased

technology that is transforming

Glidewell Dental, and disrupting global

dentistry, Selberis believes. When it

comes to restorations, dentists expect

reliability, speed and consistent quality.

Traditionally they are accustomed to

dealing with small dental laboratories

employing five people or fewer, where

259

EXECUTIVE PROFILE

Mike Selberis

Mike Selberis graduated from California State

Polytechnic University, Pomona, in 1987 with a B.S.

in Electrical/Computer Engineering and joined

Glidewell in 2008 as CIO. He has more than 22

years of engineering and management

experience. Selberis currently holds a seat

on the ADA and ISO Standards Committees

for CAD/CAM, assisting in the development

of an industry standard for CAD/CAM

interoperability. In 2016, he was

promoted to CTO.

canada.businesschief.com
---
CLICK TO WATCH: 'GLIDEWELL.IO IN-OFFICE SOLUTION WITH

CHAD C. DUPLANTIS, DSS'

261

there is a limited amount of variation

from one restoration to the next. Glidewell,

however, has always aimed to

provide premium restorations on a large

scale to help meet public demand. "How

could Glidewell guarantee consistency

of the products?" Selberis ponders. "For

me, that was the starting point in our

journey toward digital transformation

utilizing software with technologies such

as artificial intelligence (AI) and robotics

in order to predictably produce the

optimal outcome for each patient."

The challenge was to provide a personalized

service in higher volumes, in a

way that would work for both clinician

and patient. Traditionally, someone

needing a crown would visit the dentist

for a physical impression of their teeth,

which was then sent to the laboratory

where the prosthesis would be made.

The digitization of the manufacturing

process was essential to eliminating the

variability inherent in the old system;

however, the patient would still have to

book a follow-up appointment to

receive the final prosthesis.

Imagine if you could book a single

hour-long appointment and leave the

dentist's office with a zirconia crown in

canada.businesschief.com
---
GLIDEWELL DENTAL

262

place! By eliminating unnecessary

appointments, the dentist can limit

administrative work and maximize his or

her chair time, while the patient will have

to take less time off work and undergo

less stress. So Glidewell's R&D came up

with a solution that could deliver just

that. "Last year we launched the

glidewell.io In-Office Solution, which

allows a dentist to produce a BruxZir

zirconia crown that can go straight into

the patient's mouth when the tooth is

prepared. That's something only our

company has been able to achieve!"

Instead of taking a traditional

impression, dentists using glidewell.io

capture a digital rendering of the

patient's dentition using an intraoral

scanner. For this entry point of the

process, Glidewell secured an alliance

and distribution agreement with Align

Technology, whose iTero Element

intraoral scanning system leads the

North American market. Glidewell

Dental has provided digital laboratory

fabrication services for hundreds of

thousands of iTero restorative cases,

and was familiar with its advantages.

Once the patient has been scanned,

Glidewell's fastdesign.io software is

able to automatically propose a design

"glidewell.io allows

a dentist to be

able to produce a

zirconia crown that

can go straight into

the patient's mouth

in a single visit,

while the patient

is still in the chair"

—

Mike Selberis

CTO, Glidewell Dental

APRIL 2019
---
for the restoration, which the dentist

can accept or revise according to

preference. From the same software

interface, the dentist can either prescribe

and request a restoration from Glidewell

Laboratories, or send the design

direct to the fastmill.io In-Office Unit for

immediate chairside milling.

This package effectively provides the

dentist laboratory capabilities in the

comfort of the office, explains Selberis.

"We allow them to take the strongest

industry-standard material, a BruxZir

zirconia crown, and mill it without

having to put it into a furnace." Normally,

at the laboratory the crown would

have to cure in a furnace for some

hours, but as supplied with the fastmill.io

it is pre-hardened. Nobody else has

been able to mill zirconia in its hardened

state, he adds with pride.

"It's thanks to our vertical integration,

because we are the source of the

material, develop the CAD/CAM software

and the AI piece, and engineer and

manufacture the in-office mill, that we

are the only company that can bring

this purpose-built system to market."

CLOUD FORMATIONS

Glidewell has created an ecosystem

with a single focus, to make the

263

canada.businesschief.com
---
GLIDEWELL DENTAL

264

experience more pleasant for the

patient and more efficient for the

practitioner. By compressing years of

lab expertise into a small form factor,

glidewell.io has attracted high demand

since it came on the market in March

2018 – not surprising when the clinician's

investment can be recouped

within a year. "Because of our vertical

integration we've been able to develop

this technology at a system level, at a

much lower price. To allow this, we

developed our all-in cloud strategy

together with Amazon Web Services

about five years ago, when we began

developing our CAD/CAM software on

their cloud and this allows us to very

easily extend the benefits into the

dentist's office."

And yet the synergy between

clinician and lab goes much further than

this. "glidewell.io is an ecosystem that

provides the solution in the dentist's

office but also networks seamlessly

with our laboratory," he explains. "So, for

the things that they can't do chairside,

they can communicate with us much

more easily. We have provided this

platform as an extension of the

laboratory, as if it were another member

of their treatment team. We have made

1970

Year founded

HQ:

Newport Beach

California

APRIL 2019
---
it much easier for them to consult with

us as needed." For unusual cases

featuring added complexity, Selberis

emphasizes that today's automatic

design proposals may not be the sole

solution. "As much as we've done to

simplify a significant portion of everyday

casework, there are always outliers

requiring the sophistication of a human

technician. Through digital transformation,

we make it simple for them to gain

assistance from us however they

choose, marrying human and artificial

intelligence to provide the best crown

possible for each individual patient."

265

TECHNOLOGY INNOVATIONS

Raising that experience to a yet higher

level Glidewell has introduced an IoT

button along the lines of the Amazon

Dash button. "Our Glidewell Wi-Fi

connected pickup button has one job

only. As things stand when you send

cases to the lab either their driver

comes out or a carrier will be booked.

Typically, dental practices do business

with up to four different labs so they

spend a lot of time on the phone and

there's a lot of scope for delay and error.

I looked for a way to simplify that and

that is how the Glidewell Pickup button

canada.businesschief.com
---
GLIDEWELL DENTAL

266

was born. When you have one or more

cases ready you just press the button to

automatically schedule the case,

generate a shipping label, and it will be

picked up by a FedEx or UPS driver

within a couple of hours."

glidewell.io and the Pickup

button are important milestones

on the company's journey

towards fuller automation. It's

all about providing a simpler,

more personalized customer

experience. To help decide the

'next best action' for assisting

an individual customer, Glidewell

has partnered with customer

"It's our ability to take

all the knowledge

we have gained over

the years and turn

our data into a tool

that will enable us to

further enhance the

dentist and patient

experience"

—

Mike Selberis

CTO, Glidewell Dental

experience and automation specialist

Pega, to provide an AI solution with the

goal of servicing a 'segment of one'.

"Big Data and analytics are a start, but

the real value comes when you can turn

data into insight, into action, which

means making coordinated decisions in

real time, across all channels," says

Mike Selberis. "We probably service

over half of the USA's dentists, so to

take the most appropriate actions at the

right time for each customer we need a

system that is automated, and that is a

part of our digital transformation."

APRIL 2019
---
267

50 years on, Selberis remains

convinced that technology will deliver

still better outcomes for dental

patients. Work continues on a 3D

printing solution that allows dentists

to design and create, using the

glidewell.io platform, a temporary

crown or bridge from composite

material, nightguards, surgical guides,

and study models, again at a single

visit. Furthermore, definitive restorations

featuring additive manufacturing

techniques are almost certainly in the

future. "It will likely take years to fully

leverage the work we have started,

But it's our ability to take all the

knowledge we have gained over the

years and turn our data into a tool that

will enable us to further enhance the

dentist and patient experience. So we

will surely become more of a knowledge

and technology driven business."

canada.businesschief.com
---
LOGO HERE

268

SGK: optimising brand

performance through

digital transformation

APRIL 2019
---
269

WRIT TEN BY

CATHERINE STURMAN

PRODUCED BY

CRAIG DANIELS

canada.businesschief.com
---
SGK

The need for omnichannel

solutions is providing ample

opportunity for the marketing

supply chain industry. Chief

Technology Officer at SGK,

Francois Estellon, tells us more…

270

S

upporting clients in optimizing their

brand performance through customized

content and packaging solutions,

SGK has successfully blended the right

combination of talent, services and technology

in the management of infinite content requirements

across ever-growing brand touchpoints.

Knowing that even the best ideas are only as

good as their execution, the business has

applied this knowledge across the entire

brand ecosystem, spanning multiple channels,

contents and geographies.

Transforming the way brands relate to their

customers, SGK rethinks how brands are created

and sold, and how their assets are produced

to protect their equities to ensure a fully optimized

investment.

Spearheading a multitude of technology-led

initiatives, and benefitting from an extensive

career across manufacturing and supply chain

product development, SGK's Chief Technology

APRIL 2019
---
canada.businesschief.com

271
---
"The AWS platform

enables the flexibility

and speed IT needs

to transform Matthews

International, with

the technology

leadership for us to

innovate for the future

of our business"

Davor Brkovich

Head of IT and CIO

Matthews International

www.BuildOn.aws
---
" WE ARE THE IT PEOPLE WITH

LABELS & PACKAGING KNOWLEDGE

AND THE LABELS & PACKAGING PEOPLE

WITH IT COMPETENCE"

Modular production

workflow suite for …

• File processing

• Asset management

• Soft proofing

• Workflow automation

• The Standard in

PDF Editing

• Designed for

Labels & Packaging

• OS X and Windows

www.hybridsoftware.com

Design: www.gd90.de
---
CLICK TO WATCH: 'SGK CONTENT SOLUTIONS'

275

Officer (CTO) Francois Estellon jumped

at the chance to take on a new challenge

in a sector which he had yet to explore.

"SGK was a new industry to me. I love

to try to draw differences and parallels

between various industries. A third-party

view on operations and the way we

do business can bring different

perspectives. You have to maintain a

balance between learning something

new while trying to inject some knowledge

from your previous life," he explains.

"I like to spend time with our clients

and our talented client-facing team

to understand their challenges, how

our organization can help them and

how it should drive our technology

focus. Our customers have real

challenges that need solving urgently

and we need to focus on this as

a tech-driven organization. In the

marketing supply chain industry,

we are one of the most established

businesses and collaborate with great

global brands. Mars, Coca-Cola,

Pepsi, Procter and Gamble, Unilever,

Apple… you name a global consumer

product or food company, and we

probably do business with them.

It's a pretty interesting space," he adds.

canada.businesschief.com
---
SGK

276

INNOVATIVE SOLUTIONS

Through an effective blend of creative,

technical and business-orientated

individuals, SGK has built a collaborative

culture which places technology firmly

at the center. Developing products,

such as packaging and ads, as well as

PDF files, renders, metadata and more,

the company's creative brands such as

Brandimage and Anthem support the

establishment of brand identities and

effective marketing communications

and programs that enable its clients

to strengthen their overall positions

in their chosen market.

"Our Equator brand focuses on

the unique needs of retailers, while

IDL creates exciting and interactive

instore displays and immersive brand

experiences. Our production brands

also bring strategies and ideas to life.

Schawk produces brand assets

and protects brands, ensuring flawless

execution and consistency, while

Saueressig delivers rotogravure

solutions and technical expertise

in the reproduction of brand assets,"

says Estellon.

As brand owners continue to

experience complex demands

stemming from a rapidly evolving

marketplace, SGK's long-term

technology roadmap has focused on

simplifying, standardizing and automating

services, applying a manufacturing

approach to the creation of marketing

deliverables. "This removes unnecessary

hidden-factory costs by creating

and managing content seamlessly

across systems and marketing

channels while offering greater agility

in the creative development process,"

affirms Estellon.

"The guiding principle of our roadmap

is to embrace leading-edge

concepts without carrying legacy debt

APRIL 2019
---
to what has come before. This is on top

of generating revenue from new digital

products and services, reaching new

markets and opportunities to supply

different customer outcomes though

technology. We also want to improve

our speed to market, and enhance

quality through automation. Production

is a big part of our DNA and we

need to continue improving."

Partnering with a number of companies

which share SGK's guiding principle

for technology, the business has

become cloud-first (utilizing Platformas-a-Service

(PaaS) for running

existing applications, managing

artwork and content file storage and

shares), alongside an API-first, User

Experience and User Interface Design

(UI/UX). The adoption of artificial

intelligence (AI), machine learning (ML)

and national language processing

(NLP) will also be additional accelerators

for SGK's production teams.

277

RETAIL EDGE

Consumer Packaged Goods (CPG)

in particular may face significant

disruption in the coming years, and

with the race to provide consumers

choice through omnichannel sales

canada.businesschief.com
---
SGK

278

options, brand products will need to

be available not just through traditional

packaging, but through a multitude of

e-commerce channels. The marketing

supply chain will therefore need to

become nimbler in providing marketing

assets. This, coupled with store

brand competition and changing

consumer tastes and behaviors will

provide brands with increased

opportunities to utilize innovative,

connected packaging solutions, and

differentiate themselves with the types

of experience and information offered.

"The time to produce assets has also

been impacted, not only as a result

of technology, but shifting market

expectations," says Estellon.

"For example, we've been able to build

a supply chain for easy access

production. Historically, if you see a

picture of a liquor in a magazine, this

seems to be a photography asset.

We would book a photographer, a studio,

and take a picture of the assets. These

are renders now. We take models to

bottles, take the models to liquid, we take

the packaging we develop, and we build

a render for all the liquor brands in the

world. We are able to build a supply chain

in weeks. Eight or nine projects, that's

APRIL 2019
---
EXECUTIVE PROFILE

Francois Estellon

As Chief Technology Officer for SGK, the brand solutions division of

Matthews International Corporation. Francois Estellon is responsible for

defining the vision of the role that technology plays in the development of

our products and services, for enhancing the delivery of our current and

future products and services with software solutions, and for leveraging the

data in our business to create more value for our clients.

Estellon sits on the Advisory Board for the special interest group on digital

transformation at Penn State called CODE (Consortium for the Digital

Enterprise), a research and advisory group focusing on Digital Trends within

Enterprise Computing. He is also a Board Member for the Pittsburgh

Technology Council. Estellon was twice named a Pittsburgh CIO of the Year

award finalist and a Top 100 Technology Leader by Computer World in 2016.

Prior to joining SGK, Francois Estellon worked for PwC Germany as

a Senior Consultant for a large company's global ERP implementation.

Eventually, he started his own consulting firm which quickly grew into

a multi-million dollar operation across Germany, France, Canada and the

U.S. The company was sold in 2006 and Francois took a leadership role

in the newly formed global consulting footprint.

In 2008, Estellon joined Caterpillar Global Mining, a division of Caterpillar,

Inc. as Director for Global Application, and soon became Global CIO for the

$5 billion company. Moving forward in 2013, Estellon joined Gardner

Denver, a $2.5 billion private equity-owned engineering conglomerate.

As CIO for the company, he was responsible for the global IT footprint.

Gardner Denver successfully completed an IPO in early 2017.

Estellon studied industrial engineering at the Grenoble Institute of

Technology in France and received a master's in supply chain and

manufacturing management from Linkoping University in Sweden.

Francois Estellon is a sought-after thought leader and speaker

by the technology industry and regularly publishes on

the topic of leadership in technology at: www.cio.com

279

canada.businesschief.com
---
SGK

280

huge from photographic assets to free

assets. Now it takes weeks instead of

years, so that's important for us."

With growing demand for increased

information to be placed on packaging,

SGK is driven equally by creative

content and data. Estellon explains

that creating a new package requires

a significant amount of metadata: from

nutrition, ingredients, barcode and QR

codes, all the way through to brand

and allergy statements, and often in

a multi-language environment. "Using

technology to recognize, capture and

enhance data sets is therefore critical

for us and for our clients. As an industry

leader we are also working to establish

standards in taxonomy and metadata

definitions for the verticals we serve."

The way in which consumers interact

with brands has clearly led SGK to

APRIL 2019
---
transform its service offerings.

Restructuring teams to remove all

internal silos between development

and deployment has seen the

establishment of integrated, holistic

solutions, where teams can gain

greater understanding of the brand

ecosystem outside their particular area

of expertise, become more flexible to

clients' needs and identify optimisation

opportunities to develop innovations

which address marketplace demands.

By improving brand and business

performance in relation to cost, speed

and market share, these tools have all

proven invaluable to SGK's clients.

281

FOUR PILLARS

All industries are being driven towards

more digital engagement, leading SGK

to provide a user centered experience

which remains contextual for a client's

business. Building four platforms

which provide strong foundations for

its end-to-end supply chain operations,

the company has developed a new

Service Delivery Platform, HubX. This

platform is not only scalable, but fully

covers the end-to-end supply chain

and delivers a complete, user-centric

client experience.

canada.businesschief.com
---
"HubX will put users

in control of their

content workflow,

simplifying tasks

through automation,

connecting to

back-end systems

and enriching

project data points,

guaranteeing

process efficiencies"

—

Francois Estello,

Chief Technology Officer

"HubX is an interface which grants

clients greater control, visibility,

efficiency and access to data for

all content projects, from brief to

asset release, and will bring a number

of innovations to the fore," explains

Estellon. "HubX will put you in

control of your content workflow by

simplifying tasks through automation,

connecting to back-end systems to

enrich project data points, driving

process efficiencies. It also delivers

real time reporting, and showcases

project data and spend, revealing

quality insights."

"Previously, we didn't have a global

ERP system. We now utilize SAP as

our middle office to produce a single

view of data. We've been transforming

our production line, and partnered

with Hybrid to revamp our digital

production environment," he adds.

"We want to focus on operational

improvements that bring customer

value: efficiency, quality of artwork

and velocity/responsiveness.

This extends towards simplifying,

streamlining our processes, and

empowering employees with digital

tools to help deliver better customer

outcomes. HubX brings the value of

that investment directly to our clients."

The transformation of SGK's digital

infrastructure has been fully tied

together through its strong Application

Programming Interface (API) system.

Leveraging readily available microservices

from Amazon Web Services

(AWS), the company has even built a

robotic process automation (RPA) tool

called Logic Builder to complement

283

canada.businesschief.com
---
SGK

"We collaborate with great

global brands. Mars,

Coca-Cola, Unilever, Apple…

you name a global consumer

product or food company,

and we do business with them"

—

Francois Estello,

Chief Technology Office

284

APRIL 2019
---
CLICK TO WATCH: 'SGK HUBX'

285

HubX's capabilities. "It's a little bit like

Lego bricks – we have the base bricks

and can now build solutions to benefit

our customers by shuffling these

around and building new ways of

leveraging our investment. It gives us

the ability to innovate and scale rapidly,"

depicts Estellon. "For example, we

were able to build a supply chain for

our 3D assets production in a matter

of weeks by leveraging our customer

front end, our production workflow

and render software, all secured

through our API system."

OPERATIONAL AGILITY

The business is continually looking

at the next trend or technology to

support its evolution, and is now set

to launch a new solution to further

improve customer connectivity,

Estellon refers to it as "a platform

that is built on our combined expertise

in software development".

"A lot of people in our marketplace

have a software solution but it remains

independent from their business,"

he explains. "They cannot sell it as

software. If clients work with us, they

canada.businesschief.com
---
SGK

286

gain access to the platform. I think it's

really game changing in our industry,

where we want to change the way our

clients do business with us."

However, although sales are a vital

part of overall brand performance,

accessing metrics such as views,

clicks and likes all factor into how

consumers now engage with digital

content. Consequently, brands will

need to take a closer look at the array

of content consumed, which all filters

into a company's brand strength.

To counteract this, SGK has

successfully launched an array of its

own internal startup brands, enabling

clients to address specific tools across

the supply chain, either independently

or in conjunction with the company's

other services. "ColorDrive, for

example, helps clients manage their

print quality by providing a cloud-based

APRIL 2019
---
solution that allows for easy evaluation

and comparison of printer performance.

It makes complex print analyses more

digestible for those who may not have

highly specialized print expertise," says

Estellon. "5Flow is also an independent

software company within our holding

– they develop configurable workflow

platforms for clients to manage

their artwork supply chain and approval.

The key advantage of these tools

internally is that they allow us to

broaden and deepen our partnership

with clients by helping them solve

complex issues. From a client

perspective, they have access to tools

that can ease their management

of the supply chain and ensure their

brands are more consistent and

accurate on the shelf."

Reinforcing smarter content and

packaging solutions, and remaining

increasingly efficient, connected

and global, SGK creates content and

packaging ecosystems capable of

humming with extraordinary efficiency,

as it turns brand activities into

connected content experiences

which inform, entertain and delight

consumers in unexpected ways.

Its ability to scale will allow the

business to leverage resources and

local talent to deliver better brand

consistency, operational agility and

process efficiency, where technology

will be the key driver in cementing

SGK's ongoing position across an

evolving competitive landscape.

287

canada.businesschief.com
---
REGISTER TODAY!

1.888.482.6012 • ProcureCon@wbresearch.com

procureconit.com

IT SOURCING

EXECUTIVES AND

PROCUREMENT PRACTITIONERS

GET 20% OFF

TODAY

WITH DISCOUNT CODE:

PITS19BCHIEF

June 18-20, 2019 | Sheraton Denver Downtown Hotel Denver, CO

THE ONLY PEER-LED IT SOURCING CONFERENCE

This was my first year attending and I was very impressed. The content was fantastic and the size allowed for

great networking opportunities. I left with several great ideas and contacts for events we plan to run this year.

– Mohan G., Vice President – IT Staffing, HCL GLOBAL INC

Organized By:

Sponsors: