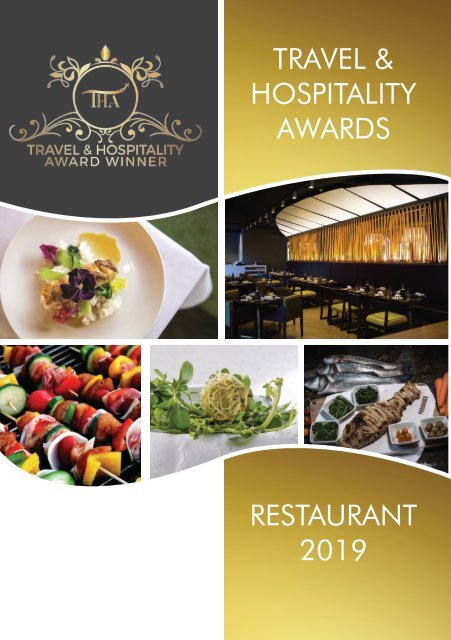 Travel & Hospitality Awards | Restaurant Winners 2019 | www.thawards.com
www.thawards.com
www.thawards.com
SHOW MORE
SHOW LESS
Do you know the secret to free website traffic?
Use this trick to increase the number of new potential customers.
TRAVEL &

HOSPITALITY

AWARDS

RESTAURANT

2019

2
---
TEAM

CEO

Rob Bruce

EDITOR-IN-CHIEF

Katherine Lozell

Contents

ART DIRECTOR

Marcs Bacera

DIRECTOR OF SALES

Stanley Lucas

AWARDS DIRECTOR

Brian Anson

EDITORIAL LIAISON MANAGER

David Hyde

DIRECTOR OF MARKETING

Azim Aftab

SENIOR WRITERS

Tasmai Dave

Jacqui Irvine

Joseph Wilton

SENIOR DESIGNERS

Antoine Jackson

Hafiz Arslan

AWARDS MANAGERS

Adam Cole

Joseph Malabanan

Zach Ford

Peter Clement

Joyce Lee

RESEARCH MANAGERS

Jerald Jaime

Mukul

CONTRIBUTING WRITERS

Tracy Morgan

Joseph Malabanan

Aisha Ahmed

Criteria6

Europe10

Italy – The Gastronomic Giant 12

La Fata Ignorante 16

Hakkaiza 17

Norway Food Blogger 18

Portugal – Europe's Best Kept Secret 20

Panorama Guincho 26

Ristorante Granaio28

Capon Tree Town House 30

Asia32

Culinary Road Trip 34

Oceania40

Three Courses Down Under 42

Africa & Middle East46

Kenyan Cuisine – The One To Watch 48

The Tanzanian Top Three 52

Alexander's Hotel 54

Zaffran Dining Experience56

Americas58

Mexican Street Food 60

Le Chique 64

Top Five Food Challenges In The USA 66

3 4
---
CRITERIA

Excellence in Service is an important category, as customer

service can often responsible for repeat diners. We look

for restaurants where staff go out of their way to please

their guests, those that provide a personal level of service

and take the time to get to know each visitor so that they

might anticipate their every need. This can be something

as simple as a friendly conversation, a manager who offers

a personal greeting or a chef who is happy to adjust

based on dietary needs – but whatever it is, we are always

pleased when we encounter staff that have been trained in

the art of customer satisfaction.

CUSTOMER SERVICE

It is no question that style and design is key factor in

selecting our award winners. A guest will form an opinion

about a restaurant as soon as they arrive, so it is important

to us that all our winners make those first impressions

count. We're certainly not partial to a specific period of

architecture – but whether we're judging a gothic castle or

an environmentally friendly lodge, the criteria remains the

same. We consider factors such as architectural features,

use of materials, creation of spaces, décor and the overall

feel. We love it when we find a restaurant that tells a

story though its interior and exterior features or offers a

design that is sympathetic to the natural surroundings of

its location.

STYLE & DESIGN

While the ambience and services of a restaurant are

important, what really defines it is its menu and the dishes

in it. We pay special attention to the courses that are

available in the menu and even look into how it's set up.

Balance of the menu is especially important. A restaurant

that serves multiple dishes that balance each other out to

give the customers a perfect meal experience is seen as an

authority. The cuisine options are taken into consideration

too; be it a local cuisine or an international one. The

sourcing of the ingredients is an important factor as well.

Image by: Patrick Schneider

MENU & DISHES

5 6
---
MARKETING &

BRANDING

In today's modern age, a restaurant cannot rely on word of

mouth to get their message out into the world. As social

media has become a vital part of everyday life, we like to

see companies that go the extra mile to engage with their

customers, both past and future. Attractive and informative

websites and engaging and honest content are what we

look for when judging a company's use of marketing;

how well they display their services, how up-to-date their

content is, how well they get their brand message across,

and, most importantly, how well their marketing can tempt

us to go and see what they have to offer for ourselves.

LOCATION

Location is one of the most important factors, but also

one of the most subjective, as the 'ideal' is very much

determined by the type of visitor and the type of restaurant

itself. However, there are a few factors we take into

consideration when determining the winners of locationbased

awards. The first is convenience; that is, restaurants

that are easy to travel to. Many of our winners in this

category are in convenient locations, such as adjacent

to popular attractions, close to beaches or found in the

heart of easy-to-navigate cities. We're always excited to

come across a restaurant that is, to use a familiar phrase,

off-the-beaten-track. A restaurant that can offer something

a little different, in terms of natural surroundings, can make

the difference between a good dining experience and an

incredible one.

Diversity is one important aspect that needs to be taken

into consideration when in the travel and hospitality

industry. It is essential to have staff that has varying diversity

to ensure that the organization can properly connect with

their guests. Diversity is taken into account in terms of

gender, nationality as well as languages spoken among

other factors. Not only do we take the diversity of the staff

into account but even that of the facilities and services

offered; a hotel or tour operator providing a better range

of services is preferred over those that do not.

What better way is there to know about an organization

than by getting first hand reviews? Customers are the best

judges of any service as they are the ones who experience

them and can assess whether they were up to the mark or

not. Considering reviews from hundreds of customers over

a set period gives us a fair idea about the general pros

and cons of any organization while also giving us valuable

inputs for the other criteria as well.

DIVERSITY

CUSTOMER REVIEWS

The approach taken by the restaurant whether it be

Innovative, traditional or anything else are considered

when deciding winners. Values and approach illustrate

the dedication of the restaurant to deliver a specific type

of experience for their diners. This is evident in the food,

source menu, presentation, the staff and

VALUES &

APPROACH

7 8
---
EUROPE

Image by: Jakub Kapusnak

9 10
---
ITALY – THE GASTRONOMIC GIANT

It is virtually impossible not to have a love affair with Italy, its people and, of course,

Italian food. It fills our hearts, our stomachs and leaves us feeling quite emotional

when the flavours are as they should be. The fact that the food is simple, from the fields of

Tuscany to the plates of the UK, the ingredients sourced and combined to create delicious

sauces and toppings.

Nevertheless, how did Italy manage

world domination with its food? Many

parts of the world had done reasonably

ok without focaccia, olive oil, parmesan,

and prosciutto. Economic hardship and

both the first and second world wars

created migration and diasporas, with

Italians reaching the far corners of the

world including the USA, Australia, the UK,

Switzerland, Libya, Africa and Asia.

Italian neighbourhoods emerged and with

these came the delis, the produce sellers,

wholesalers, all offering a taste of Italy, from

frothy coffees to unusual vegetables never

seen before such as broccoli, zucchini and

artichokes.

It may be something an Italian will take for granted, but the rest of the world loves to

find reasons to indulge in this wonderful culinary experience. Hence the celebrating

worldwide, not just pizza and pasta, but the famous Prosciutto ham, the nutty and heady

smells of Parmigiano Reggiano cheese, rich Bolognese sauce, ring-shaped tortellini,

traditional Balsamic condiment from Modena, and many more.

The USA saw the most significant influx

and with it quickly grew the gastronomic

tradition of the Italian panino, a sandwich

made from traditional Italian ciabatta bread,

served warm with Italian ham or salami and

the beautiful Italian cheese, mozzarella.

The Italian food revolution took place

during the 1980s when the delights of

pasta and tomato sauce, Italian olives and

canned tomatoes were in high demand.

Cooking programmes helped to generate

this storm of romantic Italian dining, and

award-winning restaurants opening to

offer complicated dishes such as spaghetti

alla carbonara or lasagne, a firm favourite

with layers of pasta, a ragu of meat in

classic tomato sauce, topped with a mix of

béchamel sauce and hard Italian cheese.

Alternatively, the famous dish from Milan,

Ossobuco alla Milanese, veal shanks and

vegetables cooked in white wine resulting

in a hearty broth, perfectly seasoned and

full of the flavours of Italy. Italian fish dishes

include pasta pescatore or freshly made

cioppino with its intricate and delicate fish

flavours served with crusty Italian bread.

11 12
---
Pizza

Iconic, tasteful, filling, formerly

food for peasants, an afterthought

by the baker on how to deal with

leftover dough, the classic Italian

Pizza will never go out of fashion.

Big chains joined the cause with

the first Pizza Hut and Pizza Land

arriving in the UK in the 1980s

closely followed by Dominos, all

hailing from the USA when the first

American pizza offered in New

York in 1905.

The pizza craze spread throughout

the world with different toppings

to suit individual tastes, from

Milan and Hawaii style toppings,

Greek and Mexican, to New York

pizza, all having a unique take

on what constitutes the perfect

pizza topping. Legend has it that

the name Pizza Margherita hailed

from the Queen of Italy who took

a shine to the toppings tomato,

mozzarella and basil.

No Italian banquet would be

complete without the obligatory

gelato. Nobody knows where ice

cream originated, but the Italians

certainly perfected it and even

have a museum dedicated to the

Italian art of creating perfect gelato

and world tours and competitions

to celebrate the masters of gelato

creation.

Due to its dominant standing in

the world of gastronomy, it is safe

to say that Italian food is famous,

not because of any exoticness,

but rather the simplicity and the

perfect fusing of core ingredients

to create wonderful aromatic

flavours.

13 14
---
Italy

LA FATA

IGNORANTE

Restaurant

Norway

HAKKAIZA

Boutique Restaurant

Via Giuseppe Giulietti, 5, 00154 Roma RM, Italy ♦ Tel +39 06 9436 6835 ♦ lafataignorante.it

Sørenga 146, 0194 Oslo, Norway ♦ Tel +47 400 89 182 ♦ hakkaiza.no

La Fata Ignorante literally translates to The Ignorant Fairy. To tell the truth, this

restaurant is far from ignorant for your gastronomic requirements; They pay so

much attention to it and each dish here is a delight to have. The walls of the restaurant

are adorned with copies of paintings of different artists: Tamara de Lempicka, Hopper

and Magritte. The Ignorant Fairy is a painting by Magritte. Lighting makes the entire

ambience perfect for an indulgent gastronomic experience. Situated in the heart of Rome,

the restaurant has taken it upon itself to bring to you the finest of Italian dishes. Fish, meat

and vegetarian options; From spaghetti "ajo e ojo" with clams and chiodini mushrooms,

to squid curls with pecorino cheese, peas cream and cesanese wine reduction, passing

through the veal tongue and the traditional oxtail ragu with pine nuts, tomato sauce and

bitter cocoa. They have a plethora of dishes for you to try. They even have a wide range

of wines in their bar from which you can pick up some of the finest wines available in Italy

and sip them along with your meal for a complete dining experience.

Hidden in the heart of Oslo, in a new township of Sørenga, is an Asian restaurant

which is a gateway from Norway into the flavourful wonderland of Asian cuisine

– Hakkaiza. This place provides for some of the most lip smacking Asian food in all of

Norway. The restaurant sets the tone for your welcome with its picturesque ambience

and location. The ambience is chic and upmarket, which would make you want to visit the

place again and again. The location makes the ambience disappear into the background,

with a view of the sea to savour, while you eat. The food, then, takes you on a journey

to Asia. You can try out the delicious Dim-Sums from China or some Sake from Japan,

or how about some Crispy Duck, straight from Beijing. Hakkaiza also serves some of the

best Korean Fried Chicken there is. If your mouth has started to salivate, go ahead and

reserve a table today!

15 16
---
Norway

ANDERS HUSA

Norway Food Blogger

Q&A

Tell us a little about yourself

My name is Anders Husa and I run the

largest restaurant- and travel blog in the

Nordics. I visit the best restaurants in our

region and share my top recommendations

with my followers.

What made you decide to set up a food

blog?

A long-time passion for food and travel,

combined with marketing studies

specialized in social media, eventually led

me to combine the two into a hobby, which

over the years turned into a full-time job.

In the beginning, I only did research and

made lists of the best restaurants for myself.

However, more and more people started

asking me for recommendations, and I

realized I had to systemize and publish it

online.

What would you say is a traditional

Norwegian dish? How is it made?

For me, one of the most traditional

Norwegian dishes is potato dumplings.

They go by different names, depending on

the region, but the most common ones are

"komle," "klubb," and "raspeball." Made

from a mix of raw and cooked potatoes that

are grated and mixed with salt and flour

before they are cooked in a lamb broth,

the potato dumplings are typically served

with salty lamb, sausages, rutabaga mash,

and bacon fat. In some regions, they also

make it with a piece of bacon inside. My

grandmother always used to make them

for me when I was a kid, and back then, I

could eat ten of them. Today, as an adult, I

can hardly finish two of these rich and heavy

dumplings.

A common misconception about

Norwegian food is that it's "bland", do

you find this to be the case and where do

you think this reputation comes from?

Traditionally, Norwegian food was

constructed for the peasants. It wasn't

supposed to be good-looking or very

balanced, but rarther filling and packed

with energy. When they are well-made,

however, a lot of the dishes can be really

good. But heavy and rich food doesn't go

well in a modern restaurant, so few places

do really good traditional food.

What is currently the most popular

culinary trend in Norway?

The general trend of quite casual restaurants

continues. Barriers to entry are low. I'm also

happy to see a trend of restaurants focusing

more and more on sustainability – choosing

local, organic products, and working to

reduce waste.

Akevitt is extremely popular, what advice

would you give to a traveller looking for

authentic Akevitt in Norway?

Most bars in Norway will have a good

selection of aquavit, but Himkok in Oslo

takes it one step further. They distill their

own aquavit and make several cocktails

based on the spirit. In fact, their entire

menu is based around local and seasonal

produce.

Part of what you do is produce popular

foodie guides & maps but have you ever

thought about setting up your own food

tour, showing travellers, the best spots

in the city?

Actually, I have done this already. In April

this year, I invited 14 of my readers to

Copenhagen where we dined at Noma,

Geranium, Barr, and Sanchez to name a few.

The plan is to host more of these food tours!

Favourite place to grab a coffee?

Tim Wendelboe in Oslo is two blocks from

where I live, and possibly the best coffee

shop in the world.

Other than Norway, what destination

would you recommend to a foodie?

I'm currently quite obsessed with Asian

cuisine and just had an amazing trip

to Hong Kong and Singapore. Highly

recommended!

What does the future hold for Anders

Husa?

The project I am most excited about in

2019 is the 360 Eat Guide where I am

chairman and responsible for Norway. It's a

completely new way to evaluate restaurants

and the first restaurant guide in the world

ranking both gastronomy and sustainability

Contact info:

Instagram: https://www.instagram.com/andershusa/

Facebook: https://www.facebook.com/andershusacom/

Photo credits:

1: Arnold Lan; 3: Hedda Kaupang; 5: Anne Valeur

17 18
---
PORTUGAL – EUROPE'S BEST KEPT SECRET

From the Mediterranean to the Atlantic, Portugal has a lot to offer in culinary terms,

more than the blatantly obvious tourist food bait of sardines and custard tarts

washed down with the obligatory glass of Port, although perfectly acceptable behaviour

if you look to sit with locals and pay reasonable prices!

Fresh fish and shellfish are a staple diet of Portugal, with cod being the most popular and

diverse, cooked in many ways from fish stew to croquettes. Look out for lobster, oysters,

shrimp and crabs cooked in the most creative ways following the traditions of Portuguese

grandmothers. These are dishes craved by true connoisseurs of good food, food created

from humble origins taking full advantage of the seasonal ingredients.

Add to the plate the sun-ripened vegetables and fruits, and the wild acorn-eating pigs

cured to create hams to rival those of any Spanish, the free-range lamb and beef raised

on traditional Portuguese farms add flavour equal if not superior to that of its neighbours.

Until very recently, it has remained in the shadows of neighbouring gastronomy

powerhouses, with traditional Portuguese cuisine not promoted or defended to the extent

of that as Spain and France. However, the world is waking up and becoming captivated by

the feasts offered by the wealth of this Country's top chefs who deserve a lot more credit

for their roles in influencing world gastronomy.

19 20
---
Even Spanish chefs admit that the best seafood comes from the Portuguese Atlantic

waters. Local markets will have a daily catch on display from tiny cuttlefish to enormous

tuna. Heavenly fresh seabass caught locally and served up simply with a hint of garlic,

a dash of lemon and a generous drizzle of award-winning Portuguese liquid gold,

i.e.olive oil. Discover the best seafood restaurants serving up the morning catch in

Lagos, Alvor or Madeira Island.

Cod rules in Portugal with claims that there exist 365 different ways of cooking this

magnificent fish. Popular is Bacalhau a Bras, originally from a Lisbon neighbourhood

region. Bacalhau a Bras constitutes a salted cod, shredded and combined with

scrambled egg, served with olives and potato fries. Different regions will have their

unique take on the Bacalhau a Bras. Coimbra crumbles cornbread into the mix,

Porto's unique take adapted from one of its finest chefs, Bacalhau a Ze do Pipo, who

added the flavour of mayonnaise, pickles and mashed potato, while the iconic city

of Lisbon adds their Bacalhau a Bras to a salad of chickpeas and chopped onion.

Whichever way you take your Bacalhau a Bras, it will imprint some Portuguese flavour

forever to your soul.

Rice with seafood is a traditional dish, with the Portuguese's take on seafood rice

dishes in the form of a sumptuous Arroz de Marisco. A family favourite for generations,

infused with cilantro (coriander), garlic, fresh tomato sauce and loaded with shellfish

favourites caught that morning, such as lobster, clams, shrimp, crab. Top versions are

on offer at many of the seaside resorts such as Praia da Vieira, Cascais, or the Algarve

North Portugal's food traditions extend to the mountains and the islands where

traditionally big family lunches are very important. One dish that continues throughout

the country is Cozido a Portuguesa, a type of one-pot stew. The stew features a range

of meats including beef, pork and Portuguese paprika spiced sausage known as

Chourico and blood pudding. Added to the stew are vegetables from the farmyard

kitchen including potatoes, cabbage, carrots and turnip. The island of Furnas on Sao

Miguel, set in the Azores, is famed for cooking this hearty soup for six or seven hours

in a "fumarole" a hole in the ground of a dormant volcano. Served alongside the

delicious fresh cheeses made from the milk of local dairy farms that are abundant in

this area and locally made quince jam and fresh crusty bread.

21 22
---
With the microclimates

offering up probably one

of the best geographical

locations in the world

to produce the most

excellent dairy products,

it remains a mystery why

Portuguese cheeses are

not more widely known,

even though many have

won awards: the herby

infused goat and sheep

milk.

Nor forgetting the vast

variety of wines, again from

such a small country with

enviable microclimates a

great many of the finest

wines produced in the

world come from Portugal.

In addition to the wellknown

rosados, Oportos

and Madeiras, partake

in the summery vinho

verdes from the lush green

northwest, full-bodied reds

and fruity whites from the

Avarino grape that grows

alongside the Douro and

Tagus rivers and sparkling

offers from the Bairrada

and sweet honey muscatel

wines from Setubal.

Arguably the best food in

the world and a significant

influence on the quiet

(Japan has Portugal to

thank for tempura and the

UK for its "traditional fish

and chips").

23 24
---
Portugal

PANORAMA

GUINCHO

Seafood Restaurant

Guincho, 2750-640 Cascais, Portugal ♦ Tel +351 910 926 327 ♦ panorama-guincho.com

Panorama Guincho -- Portugal's top-rated seafood restaurant attains excellence in what it

does as a result of the perfect combination of quality services, fresh ingredients in food

and highly-experienced cooking. The restaurant gives out a positive vibe, owing to its renewed

space which fills the decor with a brand-new contemporary style of sitting. The elegant interiors

and delectable spread of food coupled with the magnificent views of the Atlantic Ocean and

Sintra Hills in the background is what your ideal weekend should look like and the restaurant

prides itself at delivering just that. The ambience of the restaurant is inspired by the Village of

Cascais.

The place also accommodates an

articulated interior terrace. The

discreet and friendly service at the

restaurant is what ensures that the

guests keep returning for more. The

meals at the restaurant are cooked

with the mixture of Portuguese

gastronomy's everlasting flavours

but in a traditional manner. Some of

the most recommended food items

include stuffed crabs and the blue

lobster 'Lavagante.' Their big plate

of tasty shrimps 'Carabineiros' is just

as amazing. Their crunchy 'Bread

Crust Fish' is an absolute delight for

all seafood lovers out there! Pair their

exquisite dishes with the wide range

of wine options they have to further

enhance your dining experience.

The meals are prepared by top-rated

chefs right in front of the guests. The

team comprises of some of the most

popular chefs in Portugal, including

Pedro Carapinha (the head chef),

Paulo - who is in charge of the room

staff and Sérgio who plays a key part

in the Panorama-Guincho team by

delivering the best experiences to

the guests.

The restaurant is also an ideal space for parties and private functions. The food is prepared

while keeping your requirements in mind - be it group lunches or dinners. The restaurant

also hosts company lunches, birthday parties, Christenings or even wedding ceremonies.

25 26
---
UK

RISTORANTE

GRANAIO

224 Piccadilly, Piccadilly Circus, London ♦ Tel +44 0 2079301459 ♦ ristorantegranaio.co.uk

Creating traditional and regional Italian cuisine is an essential core value of Ristorante

Granaio Caffe e Cucina.

To accomplish this, we sought advice from the most globally valued cooking expert…

grandmothers!

Because when it comes to food and choices at the dinner table, we all appreciate the classic

recipes of tradition steeped in history and taste: Grandmother's cooking.

WHAT IS THE PERFECT MENU?

Without doubt, it includes classic Italian

favorites: lasagna, risotto, Parmigianino

and meat dishes. All adapted within

different regions, our dishes replicate

the passion put into home cooking and

Grandmother's kitchen.

Our mission is to make you feel right at

home, to help you recollect treasured

memories and flavours from your

childhood.

OUR VALUES

From the pastries to the dishes on the

menu, everything is prepared respecting

tradition and craftsmanship, using natural

ingredients, sourced and selected carefully

to ensure the highest quality.

Together, they represent our brand values

and what we do.

Our values are also reflected within the

interior style of our restaurants, from the

elements of the table to furniture, all of

which are natural and elegant, rustic and

stylish. This carefully conveys the sense of

a lived past, in a chic and elegant setting.

Enjoy a taste of home cooking with

Ristorante Granaio every time!

27 28
---
Scotland

CAPON TREE

TOWN HOUSE

French Restaurant

61 High St, Jedburgh TD8 6DQ, UK ♦ Tel +01835 869 596 ♦ thecapontree.com

The Capon Tree is situated in Jedburgh, in the traditional and historic county

town of Roxburghshire, in the Scottish Borders. Husband and wife team Alasdair

and Ashley Wilkie are hands-on proprietors; their passion and ambition are reflected

throughout the entire team. Alasdair together with head chef Iain Barr use only the best

local and seasonal British ingredients meticulously prepared with heart and passion from

small suppliers that live and breathe quality. Alasdair & Iain have a deep understanding of

classic French cooking techniques which continue to be the backbone of their style. They

have an unrivalled reputation and passion for creating flavoursome and innovative dishes,

which shows with the diverse menu & delicately decorated food on offer. Ashley & our

Sommelier Elena Gargani hand select our wine menu which has inspiration from both old

and new world wines. Working closely with the Chefs' selected ingredients, Elena pairs

each dish with one of our chosen wines to create a matching combination. All elements

of the dining experience are well thought out to ensure a memorable experience at The

Capon Tree.

Image by: Juli Vo

29 30
---
ASIA

Image by: Sharon Chen

31 32
---
CULINARY ROAD TRIP

If you want to take a culinary road trip, Southeast Asia can offer such a fantastic range of

unique dishes in countries such as China, Vietnam, Cambodia, Thailand and Malaysia.

Experiencing the local food is a key part of any trip where you can experience a countries

culture and cuisine. There is so much that can be learned about their history and its

culture, simply from their local dishes. Southeast Asia has many influences throughout

history, which can be seen in their cuisine where local dishes can vary from simple, to

exceptionally spicy and complex offerings.

Trying local food and drink is such as an important part of travel and your road trip. With

such a range of options in this part of the world, its essential to try as many dishes as

possible, be adventurous!

Some of the most popular dishes which should not be overlooked are listed below, during

your Southeast Asia road trip.

China

One of the most popular dishes in

China is the classic Kung Pao chicken,

also known as Gong Bao or Kung Po.

Kung Pao chicken is a spicy chicken dish,

which includes vegetables, peanuts and

chilli peppers as the main ingredients.

Kung Pao is served throughout China,

although there are regional variations,

which can be less spicy for example.

There is a westernised version of Kung

Pao, but this is very different from the

real thing as certain ingredients are

difficult to source outside of China, so

substitutions may be used.

Kung Pao is a "must have" dish when in

China, the only place you can appreciate

the authentic flavours of this famous

Chinese dish.

33 34
---
Vietnam

Vietnamese food is considered one of

the healthiest foods, with its distinctive

taste from the core ingredients, these

freshly cooked dishes must be tasted, to

be fully appreciated.

A popular dish to consider during a visit

to Vietnam is Pho (pronounced Fu), this

is a noodle dish that is available all over

Vietnam, probably the most common

street food on offer. Typically, Pho dishes

are Pho Bo and Po Ga (Beef and Chicken),

these are served with flat rice noodles

with a broth, and garnished with lime, red

chillies, beansprouts, basil or coriander.

Pho is your essential dish to sample

when in Vietnam, available all day and

everywhere, the true taste of Vietnamese

cuisine.

Cambodia

Continuing the road trip into Cambodia,

another culinary experience awaits. With

many dishes to choose from, each dish

can be completely different in flavour

and spiciness with most contrasting

tastes.

Why not experience Khmer red curry. This

is a coconut based curry, similar to the

curries of Thailand, but without the same

level of spice, so much milder. The curry

can be served with beef, chicken or fish

with its main ingredients of aubergine,

potatoes, green beans and lemon grass.

Most dishes in Cambodia are served

with rice, but the Khmer red curry is an

exception and server with bread, typically

at special occasions such as weddings. If

you get the opportunity to sample this

dish, make sure you do, you won´t be

disappointed.

35 36
---
Thailand

And in to Thailand, a country renowned

for flavoursome yet simple food with a

spicy kick to match. There are so many

superb dishes to recommend, but Tom

Yum is a dish that deserves a special

mention.

Also known as Tom Yam, originally from

Laos and Thailand, this is a sour and

spicy soup usually with prawns. The soup

has a distinct taste, with fragrant spices

and full flavours in abundance. The broth

is made from fresh ingredients including

lemon grass, galangal, lime leaves,

chillies and fish sauce.

With its popularity, the soup is now

available worldwide, but as with all

the South Asia dishes, the commercial

alternatives are no match for the

authentic real thing.

Malaysia

The final destination of the five country

road trip of Southeast Asia is Malaysia.

The style of cuisine in Malaysia is

complex and diverse, derived from a

combinations of Malay, Indian, Chinese

and Indonesian with other influences

including Thai, Portuguese, Dutch,

and British.

There are many exciting dishes worth

considering when in Malaysia, but why

not choose Mee Goreng Mamak, with a

strong Indian influence, and served with

beef or chicken, this flavoursome dish

consists of yellow noodles, soy sauce,

vegetables and eggs, with some extra

chilli added to provide the anticipated

spice.

This dish is a great illustration of the

quality dishes that can be enjoyed

in Malaysia. Try to replicate this dish

yourself, but guaranteed to be nowhere

near as good as the real thing.

With the road trip of Southeast Asia

complete, and a wonderful array of

dishes enjoyed, why not take the

return journey back through the same

countries and enjoy other popular

dishes from this region. There are so

many to choose from!

37 38
---
OCEANIA

Image by: Caroline Attwood

39 40
---
THREE COURSES DOWN UNDER

Regionally inspired cuisine in Australia is a delight to the sensory palate. Dishes that

belong to Australia include home-grown meat from the kangaroo, buffalo, emu

and lamb. Fish aplenty including John Dory and Barramundi and, of course, the legendary

BBQ staples such as snags (similar to the UK sausages).

Head to Sydney and the top-rated authentic Australian restaurant, aptly named Farmhouse

Kings Cross. Typical French farmhouse style, the cosy restaurant boasts one long shared

table.

The main course would have to be on the fantastic Queen Adelaide restaurant, which is

located …on board a train! However, not just any train, this train is The Ghan, a superb

way in which to view the splendid Australian scenery over three days and four nights. The

journey starts in Darwin, with various excursion stops along the 2,979km journey, taking

the traveller deep into the Australian countryside through Katherine, Alice Springs with

Coober Pedy the penultimate stop before the final destination of Adelaide.

On offer is a five-course meal of fresh

local and organic ingredients with each

course paired carefully with an allocated

wine for that particular dish. The

restaurant owner is a wine expert and

keeps an array of Australian and French

wines in his cellar.

The dining space of Queen

Adelaide is stunningly ornate,

harking back to rail travel

from a bygone luxurious and

romantic period.

The menu changes regularly according to

the seasons. Starters include locally sourced

calamari in a deliciously rich and flavoursome

broth, or a mouth-watering broth made from

spanner crab and roe, with a citrus explosion

provided by native lime. Served with

homemade crusty bread and homemade dip.

Reservations well in advance are necessary

as this restaurant is usually fully booked for

weeks ahead.

The main course experience

aboard The Ghan promises

to be one of exceptional

dining. With dining booths

situated alongside full-size

picture windows, allowing

the diner to enjoy a view

of the stunning Australian

outback, mountains, deserts

and valleys.

41 42
---
Main courses are of the finest local ingredients, including the most popular, a fillet of

perfectly grilled barramundi from the Top End of Australia's Northern Territory. The

barramundi is prepared on a bed of pannacotta and spinach and served with a delicate

mango salad.

The Queen Adelaide restaurant manager is a trained sommelier and recommends

a pairing of crisp dry Australian white or Sauvignon Blanc. However, the dish is light

enough to pair with a glass of good quality sparkling Shiraz.

For an iconic dessert, head to the

Woolloomooloo suburb of Sydney

and the world famous Flour and Stone

bakery, for a slice of traditional Australian

lamington cake. A lamington cake is

a simple affair, consisting of a square

of jam or cream-filled sponge, dipped

in melted chocolate and coated with

shredded coconut. A large chunk of cake

but enough to hold in your hand, the

Australians can claim this dessert as their

own.

For many years, this dessert went out

of fashion and did not find favour

with diners in Australia. There was a

real danger of it dying out altogether.

However, Flour and Stone have gone

to great efforts to ensure the lamington

remains a local and worldwide favourite

by taking the Australian lamington to

an entirely new level, with its signature

flavour, pannacotta.

The revival has been widespread with

lamingtons on the menu at many of

the fashionable restaurants and trendy

coffee shops and bakeries with various

interpretations of the original.

Match the Lamington dessert with a rich late harvested sweet wine. The Australian

fortified Muscat from northeast Victoria is a sweet, robust, vibrant and delicious wine and

will accompany this Australian symbol of sweetness in perfect harmony.

43 44
---
AFRICA &

MIDDLE EAST

45 46
---
KENYAN CUISINE – THE ONE TO WATCH

When it comes to food, Kenya has a great deal of external influence both

historically and modern day from slave and spice trading, Arab invasions, and

the critical establishment of trading links. It is impossible to restrict a style of cuisine to

Kenya as there is a certain amount of overlap with cultures and history. However, there

is a strong influence from India through the similar use of rice, maize, bread, marinated

meat and fish.

Ugali is the Kenyan equivalent of Italian pasta served with almost every meal. It is a dish

cooked using cornmeal added to boiling water. A special "ugali stick" helps to mix the

flour and water, continually pushing the mixture up the sides of the pan until it becomes

dense in consistency, to be able to slice through the mixture to serve it.

An excellent example of the Indian

influence is the Samosa, found all

over Kenya but originally an Indian

snack, these small triangular parcels

filled with delicately spiced beef

and vegetables, cherished amongst

the Maasai tribe, the ladies will sit

together, making the dough, creating

the fillings and frying until golden

brown. Served up with wedges of

lime. The Kenyan Samosa is less

spicy than its Indian counterpart

is and today are highly regarded

street food and a favourite snack

in cafes and restaurants. Similarly,

the Chapati, the very typical Indian

round flatbread cooked on a skillet,

served with a variety of dishes as an

accompaniment.

Irio is another comfort food

native to central Kenya

comprised of potatoes,

peas, sweetcorn, spinach or

pumpkin leaves combined

together to create a subtle

texture of starchy mash. In

the Kikuyu language, (the

native language of Kenya)

Irio translates as "food" and

is a traditional side dish to

a Kenyan style beef stew or

nyama choma.

47 48
---
Kenyan Goat Pilau

Another reflection of Indian cuisine is Pilau. The rice is cooked and infused with an

array of whole spices including cardamom, cumin, cloves and cinnamon. When served

alongside a delectable goat stew, this flavoursome rice is a match made in heaven.

Samaki wa Kupaka

This is a delicious grilled fish coated with a thick and creamy coconut sauce flavoured

with tamarind. A favourite side dish for this Kenyan fish dish, apart from coconut rice,

is Mandazi, originally from the Kenya coast, these sweet or savoury African doughnuts

go well with fish dishes alongside a serving of Sukuma Wiki or spinach.

No culture can escape the invasion of western influence, especially when it comes

to food, and the Burger Hut Nairobi has been a successful penetration into the

Kenya capital for the past 20 years. Achieving consistently excellent reviews, it has

helped Nairobi evolve to a crowd-pleasing burger city with an annual burger festival

taking place for the fourth year in 2019 running for 10 days with over 100 restaurants

participating.

Sukuma Wiki

This vegetable is similar to Kale

and full of nutrition, it cooks

down well with fried onions and

tomatoes to make a favourite

Kenya side dish. Many Kenyans

living in the countryside easily

grow this staple vegetable, and

serve it with home reared goat,

rabbit or chicken.

Finally, a speciality drink from the town of Kalenjiin. Predominantly a dairy producing

town, it has a speciality drink known as Mursik. A special combination of fermented

goat or cow's milk and fresh blood from one of these animals. The drink is famous for

nourishing the Kenyan Olympian runners and, when they return from the games with

medals, they are presented with a gourd filled with the milk/blood combination. Not

for the faint hearted, the drink smells and tastes like a strong cheese and can easily

unsettle an unaccustomed stomach!

49 50
---
THE TANZANIAN TOP THREE

Overview

Tanzania offers some of the world's most stunning landscapes, with its highest mountain

and deepest lake, Tanzania has topped the polls in a recent National Geographic

Magazine award for preferred tourist holiday destination.

1. Mshikaki – this is a

local finger food of

marinated cubes of

beef served on skewers.

The smell will have your

mouth watering long

before you even see

them. Grilled or roasted

on the streets as a snack

or a complete meal,

served up hot and full

of flavour using local

spices.

2. Ndizi na Nyama – this is a stew

traditionally from the Kilimanjaro

Chagga tribe. Made with beef,

green bananas, coconut milk

and an exciting variety of spices.

A stew served up in large bowls,

poured over a generous portion

of rice traditionally fed to women

who are about to give birth due

to its strength-giving qualities.

Depending on where you stay in Tanzania, local food is a delight, cheap and easy to come

by. Avoid the tourist traps and pizza houses, and go for the local cafes and street food that

is on offer everywhere.

Wandering the streets, you will need sustenance, and it is easy to come by. On every street

corner, you will find the "chapaati mamas" local women making chapaatis, in addition to

numerous stalls selling fresh local bread and cookies, all served up with cups of refreshing

chai masala.

3. Pilau ya Kuku – pilau rice with

chicken. The pilau rice in the Tanzania

kitchens is unique, with a unique blend

of pilau masala, differentiating this

style of rice from its Indian counterpart.

This delicious, taste bud enticing

plate of rich food has a side dish of

refreshing kachumbari, a relish of

salted tomatoes, red onions, drizzled

with sweet tasting lime juice.

51 52
---
Tanzania

ALEXANDER'S

HOTEL

Boutique Restaurant

1216 Mary Knoll Ln, Dar es Salaam, Tanzania ♦ Tel +255 754 343 834 ♦ alexanders-tz.com

Alexander's Hotel in Dar es Salaam is a family-owned boutique hotel that offers you

a lavish stay. However, the one thing that stands out about this hotel is its fantastic

restaurant. The restaurant is neatly tucked away on the terrace of the hotel and has a very

comfortable and contemporary feel to it. Be it day or night, you can sit back and enjoy some of

the finest preparations in Dar es Salaam right here in the open air booths.

You can choose from a wide range of options here which are prepared with the choicest locally

sourced ingredients. The tender beef is sourced from Iringa, the seafood too is freshly sourced

from the surrounding seas. Do try out their wide variety of seafood dishes. The Swahili Prawn

Curry and the Lobster Thermidor are some dishes that you simply cannot miss out on when

visiting Alexander's Hotel.

They have an extensive collection of

premium and award winning wines, which

is among the best collections in Tanzania.

You can choose from a wide range of

South African wines such as Hoopenburg,

Hartenburg, Delheim or even Mitre's Edge.

They have a good collection of Single Malt

whisky which is off-the-menu.

The decor of the restaurant deserves a special mention here. The restaurant is extremely

spacious and is open from all sides so that you can dine in the midst of nature and see

lush greenery all around. The environment is extremely peaceful, which takes your dining

experience to the next level.

53 54
---
Qatar

ZAFFRAN DINING

EXPERIENCE

Indian Restaurant

The Center, Salwa Road, Al Muntazah, Doha ♦ Tel +44110045 ♦ taste.qa

Our goal is that each guest receives prompt, professional, friendly and courteous service.

We ensure that all guests and staff are treated with respect and dignity. By maintaining

these objectives we shall be assured of a fair growth that will allow us to contribute to the

community we serve.

Since its inception, Zaffran

Dining Experience is a

legacy of gastronomic excellence

derived from decades of research

and development in visionary

culinary, dedicating a unique

concept for the very first time in

Qatar since 2015.

In a short span of operation,

Zaffran Dining Experience has

been blessed with many local &

international awards from various

institutes that recognize quality.

At Zaffran Dining Experience we

offer a progressive fine dining

approach with traditional Indian

cuisine, where you explore a new

take on presentation, flavour and

textures of old favorites, in an

ambience that invites and sets

the mood, whether a romantic

dinner for two or a night out in

the town. Located conveniently

in the heart of the city, we cater

to the foodies and connoisseurs,

seeking a culinary experience that

engages the senses of their taste

buds.

Zaffran Dining Experience Franchise options are in the pipeline in Europe | USA | South

Africa | Singapore - To find our more write to us at info@taste.qa.

55 56
---
AMERICAS

57 58
---
MEXICAN STREET FOOD

What better location to lose

oneself completely in a

foodie adventure than Mexico? Cultural

influences from around the world collide

to create a culinary and gastronomic

celebration.

Mexico is a country of vibrancy and

mouth-watering famous street snacks

consisting of the famous tacos al pastor

served up by local characters each with

a story to tell, against a backdrop of

emotive history and architecture.

Maize, or corn, has its history from

when Mexico was Meso-America and

farmed by the Toltecs, the Aztecs and

the Mayan civilisations. Today, maize

does not require any processing. Elotes

are grilled corn cobs, served up on a

stick with a variety of mouth-watering

condiments, from a simple squeeze of

lime and a sprinkle of salt to butter and

cheese

The Mexican popularity for street food has developed due to a demand for "antojitos"

(snacks or nibbles) and the exciting flavours achieved from the Hispanic ingredients that

play a huge role in the characteristics of Mexican street food.

In Mexico City, a visit to the Barrio de la Merced is the heart of the city's historical

commercial district where there exist large communities of Jewish and Lebanese all of

which play a part in the influencing of flavours.

From early morning to late at night stalls line the streets serving up tacos cooked on a

comal, a flat griddle used to prepare a variety of foods and filled with local delicacies such

as bull's eyes, brains and intestines.

Favourite dishes include Caldo de Gallina, cooked fresh daily with herbs and onions,

served up with rice or chickpeas with a variety of condiments to self-serve such as lime,

salsa, finely chopped habanero and onions, and roasted chilli flakes, enabling personal

seasoning preference. A great local trick is to take a tortilla and spread with salsa for

dipping into the soup to give a fantastic heated kick: a massive bowl for less than £2.00,

incredible value.

59 60
---
Another hugely popular and flavoursome street food is the tlacoyo, commonly

referred to in Mexico as the "ancestor of the tortilla". Typically Mexican, consisting of

a thick oval shaped dough called masa, sometimes blue in colour when prepared with

the natural blue corn, and filled with various ingredients including frijoles (traditional

black beans) and butternut squash blossoms, salsa, onion, chillies.

The tlacoyo is an ancient creation from Olmec, Maya and Aztec cultures and forms

the basis of many creations by merely adding delicious toppings and stuffing. Recent

food festivals in Mexico have given these firm favourites a modern twist by stuffing

with chickpeas and avocado leaves and topping with fried pork skin.

Birria, in Spanish, literally means a disaster or a mess, but the birria served up on

the streets of Mexico is anything but a disaster! Initially, from the Mexican state of

Jalisco and Michoacán, this rustic and spicy stew composed traditionally of goat meat

although may contain a mix of goat, beef and mutton, cooked for many hours until it

is meltingly delicious. Served up with a plate of tortillas on the side, the heat can be as

hot as you can handle, with a variety of condiments and seasoning on offer including

lime juice, fragrantly fried chillies and salsa picante. Ladle onto a fresh tortilla, add

some chopped onion and a little more salsa, wrap and eat. Heavenly and hearty.

Mole, pronounced "molay" is

the name for the many types

of rich, flavoursome sauces

that accompany meat or rice.

Mole comes in differing colours

including yellow, red, black

and green. The sauces typically

come about from the blending

of approximately 30 ingredients

including nuts, fruits and various

seasonings such as chilli. They

can be a filling for tamales or a

topping for enchiladas.

61 62
---
Mexico

LE CHIQUE

Boutique Restaurant

Carretera Cancun-Puerto Morelos km 27.5, Manz 37, Super Manz 12, Riviera Maya, Mexico ♦

Tel +52 998 872 8450 ♦ lechiquerestaurant.com

Located in the exotic Azul

Beach Resort in Riviera Maya,

Le Chique is not just a treat for your

taste buds and nose but for all your

other senses as well. As you enter

the restaurant, you'll be welcomed

with the classy, seductive decor

of the restaurant along with the

aroma of fresh food. Restaurant Le

Chique takes you on a multi-sensory

dining adventure in its comfortable

ambience with walls covered in

a shade of blue and lamps of

minimalistic design hanging from

the roof.

They take modern cuisine to the

next level by first deconstructing the

food and then reconstructing it to

resemble something totally different.

Be prepared to get both puzzled

and amazed by the culinary skills of

the chefs for Entrées may appear as

desserts or cocktails may appear as

spheres! What's even more amusing

about the food is the manner in

which it is served. It is nothing short

of fancy. You can expect your food

to be served inside a hollowed-out

book or even on a string!

Bringing this all to you is Chef Jonatán Gómez Luna, Head Chef Alejandro Villagrana

Pérez and their talented team. All the food is prepared by using the choicest of local

ingredients which are grown through sustainable growing practices. Do not miss out on

their wide collection of wines, which, when paired with their dishes, give you a completely

unique culinary experience unlike none other.

Do try out their Crispy Veal with Sun-Dried

Smoked Chilli and Spider Crab prepared

with Corn and Burned Habanero to give

you a zesty treat! Do not miss out on visiting

their mini wine cellar which is located right

inside the restaurant. Le Chique stands

absolutely true to its name. It provides all its

guests a unique, boutique, chic experience

unlike any other.

63 64
---
TOP FIVE FOOD CHALLENGES IN THE USA

It is only the USA one will find the phenomenon of the "Supersize Food" where the

saying "go big or go home" applies. Restaurants across American continually attempt

to "wow" their foody customers with legendary and extreme eating challenges.

Orochon Ramen Special Spicy Noodle Challenge

Join the ranks of courageous spicy ramen warriors on the Wall of Bravery at Orochon

Ramen. This beautiful ramen restaurant in Little Tokyo downtown Los Angeles offers

differing levels of the famous broth with Special No. 2 being the spiciest and the

subject of their fiery challenge. Finish a large bowl of the ridiculously spicy broth in

half an hour, to win a place on the Wall of Bravery. All levels contain delicious miso,

garlic, green peppers, mushroom and pork and a secret spice mix that is the envy of

other ramen restaurants. With six teaspoons of the incredibly scary spice added to

the fiery Special No. 2, the heat is intense, but the flavour is incredible!

Sasquatch Challenge

The XXL burger "the Sasquatch

Burger" challenge is a feature

of the Big Foot Lodge American

diner in Memphis Tennessee. The

burger consists of two mammoth

bread buns, a whole tomato, a

whole onion, 7 leaves of lettuce, a

mountain of pickle and eight slices

of American cheese. The redeeming

feature of this supersize burger is

the quality of meat, 80/20 ground

chuck beef, and the equivalent of

eight regular size burger patties.

Anyone who deigns to take on this

task has 60 minutes to finish the

7.5-pound burger. For the winner is

a permanent place on the infamous

hall of fame.

65 66
---
The Acme 15 Dozen Oyster Challenge

The French Quarter, New Orleans' oldest neighbourhood is home to the battle of

man versus mollusc. With 180 oysters to consume in one hour, this is a crazily tough

challenge with five out six competitors failing. The winner has the glory of their name

on added to the prestigious Acme Oyster House Wall of Fame. The oysters are as

fresh and delicious as can be, almost exclusively from the Louisiana Gulf Coast, and

cooked in a range of ways, raw, grilled or fried, served with the Acme delicious sauce.

Don Juan Breakfast Taco Challenge

A legendary eating challenge in Austin, Texas takes place at Juan in a Million. The

challenge is to break the previous record in one sitting, no time limits, no bathroom

breaks. One taco consists of a whole Idaho potato, bacon, two fresh eggs, salt,

black pepper, paprika and cheese on a 6" traditional Mexican flour tortilla. Prizes for

winning are a free meal, a Don Juan T-shirt and, of course, your face on the coveted

"Juan of Fame".

The Hellfire Challenge

Win a free T-shirt and a place

on the aptly named Smoke

Eaters hall of fame for this

excruciatingly painful challenge.

San Jose, California, hosts the

hellfire challenge of 12 chicken

wings doused and impregnated

in their signature Hellfire sauce.

With a 10-minute time limit, no

drinks, no napkins, fingers and

plate licked clean. A further five

minutes without any relief (i.e. no

water!) is required.

67 68