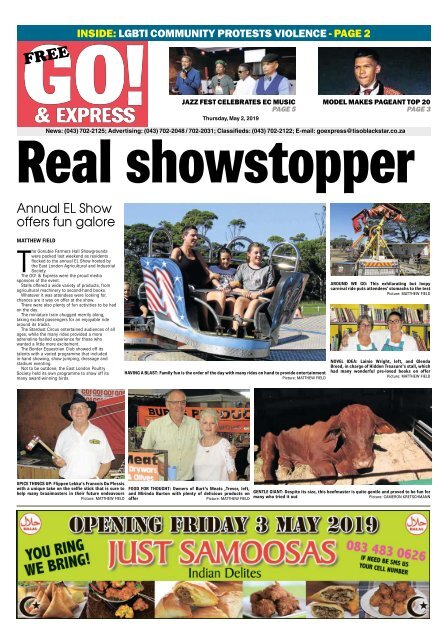 You also want an ePaper? Increase the reach of your titles
YUMPU automatically turns print PDFs into web optimized ePapers that Google loves.
FREE

INSIDE: LGBTI COMMUNITY PROTESTS VIOLENCE - PAGE 2

JAZZ FEST CELEBRATES EC MUSIC

PAGE 5

Thursday, M ay 2, 2019

MODEL MAKES PAGEANT TOP 20

PAGE 3

News: (043) 702-2125; Advertising: (043) 702-2048 / 702-2031; Classifieds: (043) 702-2122; E-mail: goexpress@tisoblackstar.co.za

Real showstopper

Annual EL Show

offers fun galore

MATTHEW FIELD

The Gonubie Farmers Hall Showgrounds

were packed last weekend as residents

flocked to the annual EL Show hosted by

the East London Agricultural and Industrial

Societ y.

The GO! & Express were the proud media

sponsors of the event.

Stalls offered a wide variety of products, from

agricultural machinery to second-hand books.

Whatever it was attendees were looking for,

chances are it was on offer at the show.

There were also plenty of fun activities to be had

on the day.

The miniature train chugged merrily along,

taking excited passengers for an enjoyable ride

around its tracks.

The Stardust Circus entertained audiences of all

ages, while the many rides provided a more

adrenaline-fuelled experience for those who

wanted a little more excitement.

The Border Equestrian Club showed off its

talents with a varied programme that included

in-hand showing, show jumping, dressage and

stadium eventing.

Not to be outdone, the East London Poultry

Society held its own programme to show off its

many award-winning birds.

HAVING A BLAST: Family fun is the order of the day with many rides on hand to provide entertainment

Picture: MATTHEW FIELD

AROUND WE GO: This exhilarating but loopy

carnival ride puts attendees' stomachs to the test

Picture: MATTHEW FIELD

NOVEL IDEA: Lainie Wright, left, and Glenda

Breed, in charge of Hidden Treasure's stall, which

had many wonderful pre-loved books on offer

Picture: MATTHEW FIELD

SPICE THINGS UP: Flippen Lekka's Francois Du Plessis

with a unique take on the selfie stick that is sure to

help many braaimasters in their future endeavours

Picture: MATTHEW FIELD

FOOD FOR THOUGHT: Owners of Burt's Meats ,Trevor, left,

and Mirinda Burton with plenty of delicious products on

offer

Picture: MATTHEW FIELD

GENTLE GIANT: Despite its size, this beefmaster is quite gentle and proved to be fun for

many who tried it out

Picture: CAMERON KRETSCHMANN
---
Page 2 GO & EXPRESS

GOT A NEWS STORY? Call our news desk on (043) 702-2125. Find us on

May 2, 2019

OUT AND PROUD: Members of the East London LGBTQI community march to the city hall in order to raise awareness about the discrimination and abuse

they face from communities

Picture:SIVENATHI GOS

LGBTQI march for awareness

SIVENATHI GOSA

Braving the cold weather last Friday,

members of the East London LGBTQI

community marched from the Buffalo

City College main campus to the city

hall in order to raise awareness

about the discrimination and

sometimes violence they face in their

communities.

Under the theme "Walk in her

shoes", the 2km-long march was

filled with song and dance, with the

participants, some dressed in

colourful costumes, drawing

attention from motorists who hooted

and cheered from the sidelines.

"We are trying to integrate

minority communities within sport

codes and also raise awareness on

gender discrimination.

"We want people to place

themselves in the shoes of

transgender women or anyone from

the LGBTQI community. We

experience a lot of things such as

unemployment, violence and other

discriminative issues on daily basis.

"Government institutions such as

health facilities mistreat us because

of our sexuality, and so does the

transport industry, as some of us use

public transport.

"We want the government to

protect us and we want our rights to

be taken seriously," Social Health

Empowerment (She) member Leigh-

Ann van der Merwe said.

The non-profit organisation f i r st

emerged in East London in November

2010, and has grown from strength to

strength since.

"Our work is based on collective

action and though we were

registered as a coalition with the

department of social development,

we work on an equal basis with all

our partners," Van der Merwe said.

Cold weather on cards

A cold front seems to be blowing through this

weekend which begins with the tell-tale

opening heat wave.

The maximum temperature on Thursday is

expected to be high, peaking at 30°C with light

cloud. This is accompanied by 7km/h winds

from the North-West.

The wind does a 180 on Friday, switching to

the South-West and increasing to 18km/h. In

contrast, the temperature drops down to 20°C

while the skies darken with cloud.

Temperatures drop even further to 18°C on

Saturday while the wind increases to 25km/h.

On the plus side, the clouds begin to blow off

and the day will only be partially cloudy.

Sunday sees the temperature remain stable

at 18°C with a further clearing of skies.

Daily Dispatch Building, Cnr St Helena Rd

& Quenera Dr, Triple Point, Beacon Bay.

T: 043-702 2000 F: 086 545 2648

P.O. Box 131, East London, 5200

GENERAL INFO

COMPETITION ENTRIES

ŐŽĐŽŶĞΛŽďůĂĐŬĂĐŽĂ

MAIN E-MAIL ADDRESS

ŐŽĞĞΛŽďůĂĐŬĂĐŽĂ

ADVERTISING

MAIN BODY / FEATURE ADVERTISING

Cheryl Larsen : Phone 043-702 2031

ŵĂŝůŚĞůΛŽďůĂĐŬĂĐŽĂ

ĞůĞĐŽPhone 043-702 2048

ŵĂŝůĞůĞΛŽďůĂĐŬĂĐŽĂ

CLASSIFIED ADVERTISING

ĞůĞĐŽPhone 043-702 2048

ŵĂŝůĞůĞΛŽďůĂĐŬĂĐŽĂ

EDITORIAL

ĂŚĞŝĞůĚPhone 043-702 2125

ŵĂŝůĂŚĞΛŽďůĂĐŬĂĐŽĂ ĞĚŝŽ

ŝĞŶĂŚŝŽĂPhone 043-702 2046

ŵĂŝůŝĞŶĂŚŝΛŽďůĂĐŬĂĐŽĂ ŽŶĂůŝ

ŵĂŶĚĂĂŶŽPhone 043-702 2049

ŵĂŝůĂŶŽΛŽďůĂĐŬĂĐŽĂ ŽŶĂůŝ

BUSINESS MANAGER

AND EDITOR

ĂŶĞĞŶŚĂĞPhone 046 624 4356

ŵĂŝůŚĂĞΛŽďůĂĐŬĂĐŽĂ

ACCOUNTS / MARKETING

ĞŶĚĞĐŚŵĂŶŶPhone 043-702 2280

ŵĂŝůĞŶĚΛŽďůĂĐŬĂĐŽĂ

WEBSITE

www.goexpress.co.za

SOCIAL MEDIA

ŶĂŐĂŵwww.instagram.com/goexpressnews

ŝĞŝĞĐŽŵŽĞĞŽ

ĂĐĞŬŽΘĞ

DELIVERY ENQUIRIES

Phone 043-702 2239 / 2168 / 2103

ON YOUR

M A R KS :

Bikers at the

Buffalo Park

Stadium

during the

annual

RevAfrica

Bike and

Music

Fe st i va l

P i c t u r e : S I V E N AT H I

GOSA

GIVING BACK: Team Just Breathe took part in the Wild Coast Challenge, a

120km run from The Haven in Cwebe to Crawfords Beach Lodge in Chintsa to

help raise funds for the Red Cross Children's Hospital Trust. The team

managed to raise more than R200,000 for the Trust. Just Breathe was

founded by Daniel and Debbie Weber who tragically lost their son Connor in

December 2017. From left, Jacques Buchner, Liam Victor and Pierre Weber

Picture: SUPPLIED
---
May 2, 2019 For all your advertising needs call Cheryl on (043) 702-2031, Wezley (043) 702-2048. Find us on Facebook

GO & EXPRESS Page 3

SPAR to

unveil

mascot

MATTHEW FIELD

SPAR Eastern Cape will unveil Zisa, their new

mascot for their STOP Plastic campaign, in Port

Elizabeth on May 1.

The STOP Plastic campaign was started in April

2018 and aims to encourage consumers to ditch

plastic bags in favour of renewable options. It has

proven to be a big success with 3 million fewer

plastic bags being sold in the last few months of

2018.

SPAR EC sponsorships and events manager Alan

Stapleton said that one of the biggest contributors

to plastic pollution is the attitude people have

towards plastic.

"We want to change mindsets about how we

use and re-use plastic. Yes, we have a plastic

problem but it is caused by a people problem and

we just want to remind people of the role they can

p l ay, " Stapleton said.

As reported by the GO! & Express (SPAR EC

recognised for fighting plastic pollution, December

20, 2018), SPAR EC's campaign won them the

award for consumer engagement in plastic

reduction at last year's SPAR International

Conference held in the Netherlands.

"Our mission is to create awareness about the

dangers to the environment of plastic pollution.

We are doing this because it is the right thing to

do. I equate it to playing sport - if you play well,

the scoreboard will take care of itself," SPAR EC

managing director Conrad Issac said.

MAKE THE

CHANGE:

Zisa, the

STOP Plastic

campaign

m a s c ot ,

poses with

SPAR EC

sponsorships

and events

manager

Alan

Stapleton

Picture: LEON

HUGO

MAKING A DIFFERENCE: Caviner Ruiters has made

the list for the top-20 finalists for the Mr SA

pageant

Picture: SUPPLIED

Mr SA finalist to

turn around words

AMANDA NANO

Name-calling and other insults were all over social

media as the South African public threw in their

two cents about the reveal of the top-20 finalists

for Mr South Africa last We d n e s d ay.

Buffalo Flats resident and Eastern Cape's only

finalist, Caviner Ruiters, said his response to the

backlash is to use it positively to teach the nation

how to love and tolerate one another.

"We are real and know what's going on in SA,

and some of the strongest men I know are in this

competition and making a difference in the

countr y," Ruiters said.

The Mr SA organisation has strongly condemned

the bullying and attacks of the contestants based

on their look, physical appearance or physique.

According to Mr SA CEO JP Roberts, the

competition looks beyond appearances and it's

about male ambassadors that exhibit integrity,

compassion and professionalism.

Ruiters also stated that it's unfair to place men

and women on the same benchmark for pageants.

Though the two genders are equal, there are

fundamental differences.

"Men have a role to play in bringing integrity

and respect for the most vulnerable in society.

They can play a positive role in fighting social

injustices such as gender-based violence," he said.

As the GO! had previously reported ("Book Drive

joy for pupils", September 27), Ruiters has

completed a book drive together with Wild Coast

FM, the department of sport, recreation arts and

culture (Dsrac) and PnA Stationers East London.

"I managed to ignite a child's imagination and

reading can open up their dreams to something

more tangible," he said.

Now a finance lecturer at ELMI college, Ruiters

runs mentorship programmes for the students.

The pageant is due to take place later in 2019 in

Cape Town. To vote for Ruiters, SMS "MRSA 8" to

40439.
---
Page 4 GO & EXPRESS

GOT A NEWS STORY? Call our news desk on (043) 702-2125. Find us on

May 2, 2019

GO! IN KING

E-mail: goexpress@tisoblackstar.co.za

Stands uplift traders' lives

HAND OVER: BCM mayor Xola Pakati, left, and finance MEC Lubabalo Mabuyane cut the ribbon at the

unveiling of 28 new hawker stands in Bhisho

Picture: SUPPLIED

MATTHEW FIELD

Hawkers in Bhisho received a welcome gift last

week when finance MEC Lubabalo Mabuyane and

Buffalo City mayor Xola Pakati visited the area to

deliver 28 newly-constructed vender stands.

The stands have lockable doors, lockable saving

counters, and provide a safe space to cook and

store food.

Construction began after an inspection by

Mabuyane in 2018, where he found hawkers

trading from dilapidated stands or out in the open.

Traders raised various concerns with the MEC,

most notably having to endure inclement weather

due to the lack of adequate facilities.

"It is very important for the government to focus

on microeconomics to stimulate economic growth.

'It is through supporting these small businesses

that our government will be able to change the

lives of ordinary South Africans.

"For us, growing our country starts with

investing in providing such support to small

businesses," Mabuyane said.

Pakati said the construction of hawker stands

was high on the municipal agenda and that BCM

intended to roll out more in King William's Town

and Mdantsane.

"We took a collaborative initiative to rebuild

these stalls to make sure that we treat our people

with respect and also bring back their dignity.

"People are earning a living out of the work that

they do here," he said.

Nogcinile Simakade, one of the traders who

received a new vending stall, said they were

g r at e f u l for the new facilities.

"Many leaders have been here before and made

promises to no benefit.

"It is the first time that someone comes once

within no time and we see this remarkable

change," Simakade said.

Her sentiments were shared by fellow trader

Celiwe Baleni.

"This is a huge delivery for us. We now feel safe

and cared for. Our situation before was painful and

undeserving of a human life," Baleni said.

"The rain would come in and make us wet while

we worked. It was even worse when there was

wind, it would just be impossible to work as wind

would just blow everything away.

"In winter we had to put on plastic bags and

paper to cover ourselves from the cold."

ON THE MARCH: The month-old

Socialist Revolutionary Workers'

Party (SRWP) held a rally in King

William's Town recently. As one of the

many new parties to register for this

year's national elections, the SRWP

has been pushing hard to increase

membership Picture: FACEBOOK

Cold front is on the way

Don't let the initial heat wave fool

you, a cold front is on the way.

Thursday starts off the weekend on

a hot note with a scorching maximum

temperature of 30°C. Skies will be

partially cloudy with a North-East

wind of 11km/h.

On Friday, the front hits and sees

the temperature drop down to 22°C.

The front will bring some rain in the

afternoon and a switch in wind to the

South although the speed remains

11km/h.

Temperatures drop even further on

Saturday down to 18°C but the rain

seems to be over, leaving just an

overcast sky. Wind speed increases

to 22km/h and will now be blowing

in from the South-West.

Things remain relatively stable on

Sunday and not much change in

conditions is expected. Maximum

temperature is still 18°C, skies are

still overcast, and the wind is still

22km/h. The only change is wind

direction which is now North-East.
---
May 2, 2019 For all your advertising needs call Cheryl on (043) 702-2031, Wezley (043) 702-2048. Find us on Facebook

GO & EXPRESS Page 5

MUSIC TO THE PEOPLE: Attending the Eastern Cape Jazz Festival media

briefing on Friday, are, from left, Gary Ndlovu, Dumza Maswana, Lulama

Gaulana and Retsi Pule

Picture: AMANDA NANO

Big names to jazz

it up at EC festival

AMANDA NANO

The Eastern Cape Jazz Festival held a

media briefing at The Square, in East

London last Friday to announce some

of the headliners for the upcoming

three-day celebration of music which

will be held in East London from

September 20 to 22.

Dumza Maswana and Lulama

Gaulana opened the launch festivities

with a song.

According to festival organiser

Mlindi Ntloko, quite a few jazz

headliners in SA have confirmed their

at tendance.

"Confirmed to attend are Sibongile

Khumalo, Selaelo Selota, Mlungisi

Gegana, Lindiwe Maxolo and Titi

Luzipho among others," Ntloko said.

Local artists are urged to submit

videos of themselves in action. Five

will be chosen from these submissions

to form part of the line-up.

"Artists can upload their videos via

the website and our Facebook page.

The public will then be able to vote

for their favourites," Ntloko said.

Veteran jazz artist Retsi Pule is

elated that a festival of this stature

will take place in the province.

"Eastern Cape is the home of jazz,

and the biggest stumbling block we

have encountered was the homeland

s y st e m .

"This revival will be enjoyed for

generations to come," Pule said.

The festival's official ambassadors

are Dumza Maswana, Lulama

Gaulana and Pule.

Ntloko said they would gradually

expand the festival to accommodate

more artists and venues.

Tickets will be available from June

at R350 per person.

For more information on video

submissions, visit w w w. e c j a z z f e s t . c o . z a

or contact 078-190-2286.

EMPTYING OUT: The Bonza Bay lagoon opened

up and flowed into the sea following recent

heavy rains

Picture: NEVILLE CROWDER

Call for men of God

to reignite at meeting

WENDY KRETSCHMANN

"All mighty men of God: Too many

candles have gone out, it's time to

reignite."

These are the words businessman

Michael Stevens is heeding as he

answers a call placed upon his life by

God to help reignite all men in

pursuing the Christian walk of life.

In the spirit of the Mighty Men

Conferences started by Angus

Buchan, Stevens is calling for a

coming-together of men at the

Christian Centre in Wyse Avenue,

Abbotsford this Saturday May 4 for a

men's breakfast from 7.30am until

9am where there will also be a time

of fellowship.

Stevens, who is a walking

testimony of the life-changing impact

of one of these conferences, will give

a brief message at the breakfast

where there will also be a time of

fe l l o w s h i p .

Tickets can be purchased upon

arrival at the Christian Centre for R30

each which will entitle the ticket

holder to two boerewors rolls and

c of fe e .

To secure your booking, please

RSVP before 12pm Friday May 3 with

Michael Stevens on 082-900-2338.
---
Page 6 GO & EXPRESS

GOT A NEWS STORY? Call our news desk on (043) 702-2125. Find us on

May 2, 2019

GO!SCHOOLS

E-mail: goexpress@tisoblackstar.co.za

EARLY RISERS: Hudson Park Primary School's tennis group makes the most of an early morning

training session. They are, back from left, Ethan Botha, Luke Botha, Lwando Kunju, Elijah van der Berg,

Ethan Barry, Riley Cook, Kumkani Kabane, coach Claude Moonieyan, Chad Weiman, David Emslie, Erin

Batting, Cami de Villiers, Chioma Oyenele. Front from left, Jody Emslie, Tiaan Wessels, Taylor Emslie,

Sarah Wolmarans, Kara Batting and Dominic Stegmann

Picture: SUPPLIED

SUPPORT YOUR TEAM: Merrifield U14 hockey girls supported the U14 boys as they took part in the

recent Rob Taylor U14 Hockey Festival Picture: ROB KRUMMECK YOUNG BLOOD: Baysville School recently chose its new prefect body. Their head prefects are, from left,

Dario Cramford, Ovayo Thethelwa, Cheyanne Smith and Christine Bailing

Picture:SUPPLIED

WE CONNECT

YOU

IN

PRINT

AND

ONLINE

WHAT A RACQUET: A derby day with Clarendon High School against Queenstown Girls High School

(QGHS) took place over the weekend, with the squash games counting towards the South African Top

Schools' Challenge. QGHS first team won 5-1, while the Clarendon second team won 5-1. Clarendon

won a total 22 games,while QGHS won 20

Picture: SUPPLIED

TO YOUR

CUSTOMERS

Contact us via phone or email

Cheryl Larsen - ĐŚĞůůΛŽďůĂĐŬĂĐŽĂ

ĞůĞĐŽĞůĞΛŽďůĂĐŬĂĐŽĂ

Instagram: www.instagram.com/goexpressnews

ŝĞwww.twitter.com/GoexpressGo

Facebook: Go!&Express

WAR OF WORDS: Stirling High School pupil Madhvi Jayakrishnan, right, competed as a member of the

South African delegation at the 31st World Individual Debating and Public Speaking Championships

hosted in Toronto, Canada recently. She made it to the finals of the Interpretive Reading category,

ranking 8th out of 115 participants from around the world in this category

Picture: SUPPLIED
---
May 2, 2019 For all your advertising needs call Cheryl on (043) 702-2031, Wezley (043) 702-2048. Find us on Facebook

GO & EXPRESS Page 7
---
Page 8 GO & EXPRESS

GOT A NEWS STORY? Call our news desk on (043) 702-2125. Find us on

May 2, 2019

Netflix series ticks

nearly all the boxes

MATTHEW FIELD

Netflix's Requiem is the definition

of a mixed bag.

On the one hand it has amazing

atmosphere, an interesting story,

and one of the best soundtracks

I've heard in a while.

On the other, there are some

really average performances that

threaten to undo it all.

The story follows Lydia Wilson as

Matilda Grey, a talented up-andcoming

cellist whose life is turned

upside down when her mother

commits suicide in front of her.

After finding mysterious

photographs relating to a decadesold

missing child case in her

m ot h e r 's cupboard, Grey and her

companion, Harlan Fine, (played by

Joel Fry) travel to the small Welsh

town of Penllynith to find answers.

What starts out as a mystery

thriller, quickly takes on a more

supernatural tone, and before long,

Grey finds herself having to deal

with grisly rituals, Satanic cults,

and even vengeful spirits. The

series draws from classic Gothic

horror pieces such as The Woman

in Black, with the supernatural

elements remaining refreshingly

l o w - ke y.

Instead, it focuses on building a

growing sense of dread, where the

characters (and audience) know

something is wrong but aren't ever

sure what exactly it is.

It's a fantastic approach and is

sure to keep you entertained. It

helps that the music is absolutely

gorgeous and really builds on that

brooding Gothic atmosphere.

Unfortunately, the acting can

leave much to be desired.

I found Wilson to be the worst of

the lot, often acting vague and

disconnected from what's going on

around her. It was really distracting

and prevents one from investing in

her character.

Thankfully the rest of the cast

manage to salvage the series.

W H AT 'S ON THE GO!

Contact News Desk on (043) 7022048 or e-mail:

goexpress@tisoblackstar.co.za by Monday 4pm

on publication week

T H U R S D AY

ý THE University

of the

Third Age caters to people of a

mature age who are eager for

knowledge, with a zest for

hearing cultural and motivational

talks. We meet at the St

Andrews Croquet club hall on

the second Thursday of a

month and the third Thursday

at 09.30am. R10 for visitors

and tea\coffee will be

served. Phone: 043-738-5090

for information

ý Narcotics Anonymous at

Buffalo Flats Primary School,

84 Greenpoint Road, Buffalo

Flats. Starts at 7.30pm. Call

083-900-6962

ý Solo Club invites all singles

to mingle and dance tonight

away with live music by

Patrick and partner at EL

Bowling from 8pm till late.

Entry R25pp. Info Neva

082-766-7897

F R I D AY

ý Narcotics Anonymous at

Khanya Youth Centre (next

to Fire station), 172 Dunoon

Road, Fynbos. Starts at 6pm.

Call 083-900-6962

ý Come Dance tonight away

on EL best dance floor with

live music by EL best singer

Quentin at Comrades Club

from 8-30pm. Entry R25pp.

Bookings and info

083-255-3468

S ATURDAY

ý Yellowwood Forest Fare,

Morgan's Bay, every Saturday

from 9am to 2pm.

ý The Centenary Tennis

Club hosts social tennis every

Saturday from 1.30pm. En -

quiries:

Maurice

082-676-9708.

ý Gonubie flea market every

Saturday in front of the municipality

from 8am to 1pm.

Glenda, 082-714-3390.

ý Narcotics Anonymous

meet every Wednesday and

Saturday at 22 Pell Street, St

Nicholas Church, Beacon Bay

from 7pm. Inquiries: Peter,

082-094-0959.

ý Nar-Anon Family Group -

for family and friends affected

by someone else's addiction,

meet on Wednesday and Saturday

at 22 Pell Street, St

Nicholas Church, Beacon Bay

from 7pm. Inquiries: Belinda,

083-662-3442.

ý The Hemingways Mall

Community Market Shop

runs every weekend, downstairs

in the Food Court.

ý The support group of diabetes

SA - EL Branch meet on

the first Saturday of every

month at the Regent Hotel's

Ocean Terrace Room. (On the

Esplanade) from 2.45 – 4pm.

Inquiries: Vrooda Makhan,

083-708-0489.

ý LGBTQI hiking and social

group on Saturday and Sunday.

All welcome. Locations

and times to be confirmed.

Whatsapp or sms Cindy for

more info: 081-210-4879

ý The Support Group of Diabetes

SA - EL Branch will

have the monthly meeting on

4 May 2019 from 3pm to 4pm

at the Regent Hotel (Esplanade)

Ocean Terrace Room.

Guest speaker is optometrist

Nicholas Wiltshire. Inquiries:

Vrooda

Makhan,

083-708-0489

ý Dance at Cambridge

Bowling Club 8pm until late.

Entry is R25. For bookings,

call Gladys 083-968-1069

S U N D AY

ý Narcotics Anonymous at

Buffalo Flats Primary School,

84 Greenpoint Road, Buffalo

Flats. Starts at 7pm. Call

083-900-6962

M O N D AY

ý The East London group of

Alcoholics Anonymous meets

at the Catholic Church Hall,

Quigney at 7pm. Inquiries:

Pieter, 082-094-0959.

ý AA Kayser's Beach at the

Chapel Hall at 7.30pm. Inquiries:

082-714-9400.

ý Narcotics Anonymous at

United Reformed Church,

Abdurman Road, Parkside.

Starts at 6pm. Inquiries:

083-900-6962

T U E S D AY

ý The EL Caledonian Society

Pipe Band meets on Tuesdays.

Inquiries: Robert,

082-897-8571.

ý Al Anon family group at

the Cambridge Methodist

Church 7.30pm. Elsie

043-721-0483.

ý EL Bridge Club duplicate

Bridge every Tuesday and/or

Saturday at 1.15pm at the

Berea Gardens dining hall.

Jean on 043-735-4893.

Win R150 meal voucher

for one of Hemingways

Casino and Hotel's

restaurants.

SEND in a completed, correct

crossword #1130 for a chance to win a

R150 meal at one of Hemingways

Casino and Hotel's restaurants. Either

drop off the crossword solution before

10am on Tuesday May 7 at the Daily

Dispatch building in Beacon Bay, or

scan a copy and e-mail it to

gocontests@tisoblackstar.co.za Please include

your contact number and full name on the

copy. T & Cs apply. The winner of

crossword 1129 is Vernon Kaschula

Sponsored

by

Sponsored

by

MIRANDA

- Looking to the

road for when

you come to take

me home.

SAM

- I'm a real

Cat-sanova.

Sponsored

by

Sponsored

by

OPHELIA

- Your Purrr-fect

pet.

FSP: 6558

Please give these pets a good home.

Interested persons please phone 043 745 1441 and ask for Reception.

CALVIN

- It will be a

Cat-astrophic

tragedy if you

leave me behind.

Sponsored

by

A SELECTION OF

PETS UP FOR

ADOPTION.

PLEASE COME IN

AND HAVE

A LOOK.

Photo's by

Andrea Mento

McFLY

- Pick me - my

love for you will

ďĞĂŬĂůůŵĞ

barriers.

Sponsored

by
---
May 2, 2019 For all your advertising needs call Cheryl on (043) 702-2031, Wezley (043) 702-2048. Find us on Facebook

GO & EXPRESS Page 9

Masithethe high

tea raises R10,000

SIVENATHI GOSA

MASITHETHE counselling services

held a high tea last Saturday as

part of their fund-raising drive to

enable the organisation to offer

counselling free of charge to those

who have been abused, are

depressed, suicidal or have family

problems.

The high tea took place at the

Nahoon Methodist Church.

Masithethe director, Jackie

Orsmond, said they h av e

counsellors in 18 schools in East

London.

"We have satellite offices at the

Gompo Library in Duncan Village,

we'll be opening one at King

William's Town Child and Youth

Care Centre, and are opening one

at Nontyatyambo Clinic in

Mdantsane in May," Orsmond said.

The high tea was supported by

the Hudson Port Rex Lions Cubs,

women from the East London

Hindu Society, staff from East

London High School and St Johns

Road Primary School, and

Masithethe volunteers.

In total, R10,000 was raised.

There was also raffle ticket

competition with Maita

Mazambani emerging as the top

winner, winning a weekend

voucher for the Morgan Bay Hotel.

HELPING OUT:

Masithethe

Coumselling

Ser vice

d i r e c t o r,

Jackie

Orsmond, back

left, with the

members of the

Hudson Port

Rex Lions Cubs

P i c t u r e : S I V E N AT H I

GOSA

VOTE ON

#XsêDay

8 MAY 2019

7AM - 9PM

NATIONAL & PROVINCIAL

ELECTIONS

0800 11 8000

Find us on:

IECSouthAfrica • www.elections.org.za

2019

YOUR X IS YOUR SAY

THE PARLOTONES

A BEAUTIFUL

LIFE TOUR

11 MAY

20H00

R170 PP

BOOK NOW

hemingways.co.za

SAVE FROM

10 %
---
Page 10 GO & EXPRESS

GOT A NEWS STORY? Call our news desk on (043) 702-2125. Find us on

May 2, 2019

BLACK AND WHITE: A young zebra has a lay-down in the grass at the Inkwenkwezi Private Game Reserve outside of East London Picture: MATTHEW FIELD

DOWN AND DIRTY: A little mud didn't stop Alexa,

left, and Chelsea Kirk from having a lot of fun at

Morgan Bay

Picture: GISELLE KIRK

'#Blessed' shines a spotlight

NIGHT OUT: Buffalo Flats non-profit organisation

Cupido Rehab held a masked gala on Saturday

where they to raised R4,500. The centre was

established in March 2017 and their main mission

is to help youth recover from drug addiction and

find employment to support themselves. Having

fun at the event are, Essie Daniels, left, and

Emelia Sampson Picture:SUPPLIED

COAT KING

KIDS COATS

2 FOR

R80

GOLF SHIRTS

R25 each

OPEN TO THE PUBLIC

& HAWKERS

81 Fitzpatrick Rd, Arcadia.

043 743 8964

SIVENATHI GOSA

Jenny Bryson Moorcroft Theatre's

four-day social justice play #Blessed

came to an end on Sunday at the

Arts Theatre in East London.

Set in East London, the show

follows the story of three school girls:

Precious, Lisa and Megan.

Precious is academically focused

and doesn't fall into the trap of the

"blessed" culture, but her friend,

Lisa, hooks up with a local driver,

Skha, who provides for her financially

in exchange for sex.

Megan has no choice and is sold

by her father to an old man.

The GO! reported ("Sugar dads in

s p ot l i g h t ", December 20 2018) that

Jen Bryson Moorcroft Theatre,

together with Cornerstone

Anti-Human Trafficking Institute,

seeks to create awareness and a

forum to discuss the issue.

Producer Bryson Moorcroft said

the play had been adapted from a

script written in 2015 about the

"blesser" phenomenon.

"It interrogates the relationships

between "blessers" and "blessees"

as a part of youth aspirational

culture," Moorcroft said.

She said they would also invite

local NGOs and legal professionals to

give expert advice and engage the

communit y.

According to Moorcroft, the play is

part of their #ArtistsAgainstSlavery

movement, in which artists educate

and create awareness about issues

of human trafficking through their

work.

"We can't do this alone.

"We have to involve others to help

educate and create awareness about

human trafficking," she said.

At the end of the play, a panel

discussion was held, where the

actors and audience spoke about the

dynamics of the "blesser and

blessee" lifest yle.

"As creatives, we have the ability

to capture people's attention with our

ar t.

"Art is visual and it communicates

#BLESSED:

Cebo

Ndzimela,

left, plays

Skha and

Sinelizwi Teka

plays Lisa, in

the social

justice play

#Blessed

P i c t u r e : S I V E N AT H I

GOSA

across language barriers, cultural

differences, generation gaps,

demographic preferences,

geographic borders, political alliance

and religious affiliation.

"It doesn't matter what medium or

genre you create in.

"The possibilities are endless,"

Moorcroft said.

SUPPORTING EACH OTHER:

The East London Stroke

Support Group meets on

the first Saturday of every

month at St Nicholas

Church, 22 Pell Street,

East London. The next

meeting will be Saturday

May 4 at 3pm. The support

group is for people who

have had strokes, as well

as for their families and

carers. The aim of the

group is to share

information that would be

useful in the care of stroke

patients, as well as to

offer emotional support.

This month's guest

speaker is East London

biokinetisist Justin

Bowden. Bowden will

share tips from the

perspective of his

profession. For more

information, contact Lin

Middlecote 076-11-88-089

Picture: SUPPLIED
---
May 2, 2019 For all your advertising needs call Cheryl on (043) 702-2031, Wezley (043) 702-2048. Find us on Facebook

GO & EXPRESS Page 11
---
Page 12 GO & EXPRESS

GOT A NEWS STORY? Call our news desk on (043) 702-2125. Find us on

May 2, 2019

Decision to not vote could be valid

In just a week, the country takes part

in one of the most important rituals

of any democratic society: elections.

Some people are even saying

these are going to be the most

important elections since 1994.

Whether or not that's true, there's

no denying that the right to vote is

one of the most cherished in any

democracy, especially in ours where

there are still people alive who

remember what it was like to exist

under a brutal regime where such a

right was denied.

Given that people literally fought

and died to bring us this right, it's

not surprising that whenever

elections come along, there's always

calls from every side to get as many

people voting as possible.

And, just as frequently, there's

always the lamentation that the voter

turnout is not as high as it should be.

This is fair enough, I guess.

Voting is often seen as the most

direct way for citizens to get their

voices heard, a way to finally punish

or reward politicians for their

performance over the last five years.

However, when people lash out at

those who decide to sit elections out,

they often overlook the

many legitimate

reasons that people

may have for not

v ot i n g .

Quick disclaimer: I

am registered to vote,

I intend to vote, and I

even know which

party I'm voting for.

Back to the main

point.

Just as there are many reasons to

vote, there are many equally valid

reasons not too.

Poverty, for example, can play a

big role in determining whether or

not someone is capable to vote.

Despite being a fundamental right,

voting can be an expensive process.

In order to register, you need a valid

ID document – either an ID book,

smart ID card, or certified temporary

ID – and obtaining one can be really

inconvenient or expensive.

We 've all seen the massive queues

outside the home affairs office.

There's also the issue of voting

stations, which may not be

accessible to many.

If you live in a particularly isolated

area, the nearest

voting station may be

many kilometres away

and you may simply

not have the money to

spend on transport.

Now these are

reasons people may

be prevented from

voting due to

circumstance, but

what about the people

who are fully capable of voting but

make the conscious decision not to?

We tend to write these people off

as apathetic, especially if they belong

to the dreaded "youth" bracket. But

that in itself is a reductive view of

things.

Much as we may disagree, the fact

is that there are plenty of reasons

why someone may want to

deliberately sit elections out.

For one, they see not voting as a

form of protest.

Daily Maverick journalist Nkateko

Mabasa said he has no intention of

voting because "it is only by refusing

to participate in the electoral process

entirely that political parties will

listen to the demands of voters"

NIGHT TO REMEMBER: One of the highlights of the RevAfrica Motorbike and Music Festival was the

concert held at Buffalo Park on Saturday. The concert saw big-name South African musical acts

perform to an excited audience. Pictured are MiCasa lead vocalist J'Something (right), Mango Groove

lead vocalist Claire Johnston, and Cape-Town based band Freshlyground(above) who were just some

of the acts that performed

Picture: DEAN HOLMES

(Youth and elections: I refuse to vote,

but I still have a right to complain,

January 29).

According to Mabasa, voters are

advised to simply pick whichever

party has "the smallest of

s m a l l a n ya n a s ke l e t o n s ", also known

as the lesser of two (or more) evils.

"How low our standards have

dropped and how far have we

descended in our lack of moral

clarity, all in the quest of securing a

system that we can all see is broken

and beyond repair."

There are many others who share

Mabasa's views, with entire

communities sometimes declaring

their refusal to vote in protest of

issues such as lack of service

deliver y.

There are also those who simply

don't find any of the political parties

on offer to be appealing or properly

representative of their interests.

In the end, not voting is just as

much a political decision as voting.

Rather than brush those people off

as merely apathetic, we should

instead try and understand what

causes them to not vote in the first

place.

REFLECTIONS

... with Charles Beningfield

Feast and

famine

don't mix

CHARLES BENINFIELD

Naomi, my precious wife of more than 57

years, is a product of war-time Britain, born

and bred on the Isle of Wight and in the

Portsmouth area.

When German blanket bombing of targets

such as this great British shipping port

(known forever after as the "Smitten City")

was at its height, many parents packed their

children off to safer areas.

Naomi was put on a ship in Liverpool with

other refugee children to see out the war with

Canadian relatives.

Only she didn't get there. Halfway across

the Atlantic, although the ship was flying the

requisite flag denoting it was a non-combat

vessel, a German U-boat commander

nevertheless opted to blow the boat out of

the water in the dead of night, resulting in

Naomi and the other little ones being flung

into an icy, oily sea.

Fortunately they were rescued, put on a

tanker and shipped back to Britain and

placed under medical observation in an

Edinburgh hospital for a week or so. Imagine

what their poor parents had to go through!

Naomi spent the rest of the war with her

parents and little sister in the Hampshire area

undergoing the hardships of a nation at war

such as strictly enforced black-outs, frequent

bombing raids with the accompanying air-raid

warnings (moaning minnies as they were

called), rationing, shortages of food and

endless queuing before the family emigrated

to SA after the war, where they eventually

settled in East London.

Her mom and dad bought a house at

tranquil Gulu mouth, where they opened a

little tea-room, which older East Londoners

may remember.

It was later demolished to accommodate

the new widened coastal road to Port Alfred.

Both parents are buried in a now

disgracefully neglected Cambridge cemetery.

Years later, an itinerant newspaper

compositor (that's me) was passing through

this little retirement town on his way to Cape

Town and by pure chance met his beautiful

English rose.

Did I say "passing through?" I married

Naomi there and then and 57 years later, here

we are still in the Border area, still happily

married, and now retired of course.

Naomi brought my wanderlust to an abrupt

halt, presented me with three fantastic sons

and may I say with all my heart that not a

single day goes by without me thanking God

for this wonderful, wonderful woman.

Of course, with her Spartan English

war-time upbringing, nothing was ever

wasted in our house, certainly not food.

The boys' clothing had often seen better

days before being replaced and they were

inculcated with qualities such as a sense of

common decency, respect for their elders and

the value of thrift, which has served them

well.

So it is not surprising that to this day waste

horrifies Naomi. You see it everywhere don't

you, particularly on television where people

constantly toss great wads of foodstuff into

the dirt-bin without batting an eyelid.

Our middle son Jason, who is in the

hospitality trade, told us once of an occasion

when he was general manager of a restaurant

in Plett and a party of merry revelers descend

on his establishment, ordered lavish seafood

platters, and then proceeded to down copious

quantities of the best available wine, while

eating little of their expensive meals.

In due course, they arose unsteadily, paid

for their food and drink, which would have

settled my household expenses for a couple

of months at least, and departed.

And the tragedy of the whole thing is that

the food had to by law, be ditched.

In this case, the local pig farmer benefited,

along with the rest of perfectly good food

disposed of by over-privileged patrons.

With poverty, unemployment and hunger

rife in SA, do we need another disaster such

as war before our complacent fellow citizens

come to appreciate the value of food?
---
May 2, 2019 For all your advertising needs call Cheryl on (043) 702-2031, Wezley (043) 702-2048. Find us on Facebook

GO & EXPRESS Page 13

Beacon Bay

OVER THE RAINBOW: Berea Gardens Retirement Foundation residents enjoying themselves at their

annual high tea fundraiser

Picture: SIVENATHI GOSA

High tea serves up

R60,000 for home

SO LONG: The last golden rays of sunlight signal the end of another day in Beacon Bay

Picture: Milind Chitnis

Morgan Bay

SIVENATHI GOSA

Berea Gardens Retirement

Fo u n d at i o n 's hall was decked

in rainbow colours, with

balloons floating from the

ceiling, tables covered with

different kinds of delicious food

and the residents dressed to

the nines for their high tea

fundraising event on Saturday.

The foundation managed to

raise about R60,000.

Berea Gardens executive

director Mike Schulze said the

foundation had grown

significantly since its

establishment and now had

five complexes accommodating

more than 700 residents. Berea

Gardens was founded in 1974

with a vision to provide a safe

environment for retired people.

It was started by Quigney

pharmacist Richard Mogg after

he noticed many of his

customers lived in poor

conditions and could not afford

any better.

"The aim of the fundraiser is

to generate funds for the

service centre, the life-blood of

the foundation as it sometimes

runs at a deficit.

"Since 2012, our subsidy was

reduced drastically by the

department of social

development," Schulze said.

"These kind of events play a

huge part in being able to keep

the service centre open."

The centre also subsidises

mid-day meals for people who

are less fortunate, a clinic that

operates on-site, and visits

from a home-based carer – "all

funded out of pocket".

"We have auctions, some are

silent auctions and the others

are normal auctions, with all

the funds going to our service

cent re," Schulze said.

He said they normally held

one big fundraiser annually,

two bazaars, and other ongoing

events, such as charity shops

and tuckshops.

BEFORE: During the torrential downpours that hit the country two weeks ago, the Morgan Bay area

received 303mm of rain in 62 hours. The caravan park was completely flooded when the lagoon broke

its banks while Yellowwood Forest was almost washed away

Picture: RICHARD WARREN SMITH

AND AFTER: Once the rain subsided, however, the lagoon drained quickly, leaving little more than a

muddy field. It was a stark contrast to just a few days before but on the bright side, the mud provided

an excellent (if dirty) playground for young children

Picture: GISELLE KIRK
---
Page 14 GO & EXPRESS

GOT A NEWS STORY? Call our news desk on (043) 702-2125. Find us on

May 2, 2019

DOMESTIC ANNOUNCEMENTS

1010 Births

1040 Engagements

1050 Marriages

1070 Deaths

1100 In Memoriam

1220 Congrats / Best Wishes

1230 Birthday Greetings

1290 Thanks

PERSONAL

2070 Health & Beauty

2140 Lost

2142 Found

ENTERTAINMENT

3060 Entertainment General

SERVICE & SALES GUIDE

5010 Education & Tuition

5090 Plumbing

5100 Electrical Services

5120 Building Services

5122 Home Maintenance

5160 Walls / Fencing

5190 Painting / Decorating

5210 Pools, Spas, Accessories

5260 Computer Services

5360 Garden Services

5451 For Sale

5510 Kennels and Pets

5550 Misc Wanted

5570 Removals and Storage

5630 Services Offered

5640 Shuttle Services

EMPLOYMENT

6140 Education & Training

6150 Employment Wanted

6151 Employment

6170 Estate Agents

6370 Employment Wanted Domestic

ACCOMMODATION

7020 Accomm. Off / Wtd

7060 Flats to Let

7090 Houses to Let

7151 Holiday Accommodation

PROPERTY

8010 Flats For Sale

8050 Houses For Sale

8161 Business Premises To Let

8163 Business Premises For Sale

MOTORING

9070 Used Car Sales

9440 Motorcycles

9381 Motor Sundries

9640 Vehicles Wanted

9200 Used Bakkies / Panelvans

NOTICES

11010 Legal Notices / Auctions

11030 Businesses for Sale

2

PERSONAL

2070

Health & Beauty

Dr Brian D. Ritchie

Plastic Surgeon.

My Directory Entry has

ďĞĞŶŽŵŝĞĚ

ĨŽŵŚĞĂŽŶĚŽŶ

2019-2020 Phone Book

ŐĞĚĚĞ

3 Princes Road,

Vincent, EL

ĞůĞŚŽŶĞŶŵďĞ

043 748 1470

043 748 1584

Ă

Emergencies 083 281 2688

2230

Personal

VIDEO-CAMERA FILMS

put onto DVD, Super8

or 8mm. Call Mike 043

748 3721

2275

Loans & Finance

CLASSIFIED

INDEX

5

SERVICES & SALES

GUIDE

5121

Home Improvement

BLOCKS – R8,80; Sand,

Stone. Gladstone

083 735 7389.

BUILDING PLANS DRAWN

Home & Comm. SACAP.

Large & Small - Entire SA.

Kathy 082 939 8131 or

kathy@yourplans.co.za

DJ MAINTENANCE –

Alterations – Extensions,

Painting – Welding – Gates

– Handyman – Call David

083 320 8017.

MOPPS MAINTENANCE

Building, home improvements,

Electrical, Tiling,

Painting, Granite Installations

Carpentry. Free

quote 066 032 9161

maintenance@mopps

enterprises.co.za

Gardening

5361

SUCCULENTS: Open Day

Sale on 4 th May at 22

Oakhill Road, Vincent

from 9am to 3pm. Big

variety. 082 8750 306.

Under R300

BATHROOM BASIN &

PEDESTAL with 2 taps

beige in colour good as

new R299.99 Phone 084

522 0785

DVD SEASON: Orange is

the new black. R100

(season). 076575 5109.

6

5541

EMPLOYMENT

6151

Employment Offered

Under R300

5541

CURTAINS for sale. Two

Drop size 188cmx120cm.

R240. WhatsApp for pictures

071 054 1337

DVD SEASONS: CSI &

Criminal Minds. R40

(season). 076575 5109

DVD SEASONS: Vikings

and Spartacus. R70

(season). 076575 5109

TV STAND: R150. 082648

4316.

STOVE: Defy 4 plate (electric).

Plates working oven

not. R250 o.n.c.o. 043

7311 876

6

EMPLOYMENT

6151

Employment Offered

Under R300

5541

SURFBOARD (2m) with 3

fins. Good cond. R299.

082648 4316.

KITCHEN CUPBOARD with

2 doors. White, wooden.

R250. 082648 4316.

OMELETTE PAN: Aluminium,

holds 3 eggs q R30 q

072 230 8041

WOOL: Mohair very thin

(cream) 100g balls (20)

R10 each 072 230 8041

GOLFSTOKKE: 1x Stel

voledige golfstokke.

Linkshandig. R299,99

082957 5951.

6

EMPLOYMENT

6151

Employment Offered

Under R300

5541

FURNITURE: Bookshelf

(dark wood); Office chair

on castors. Both good

cond. R149,99 each.

082648 4316.

5550

Misc. Wanted

CALL Cash 4 Scrap. We

collect all types of scrap

metal. Weigh & pay on

the spot. WhatsApp

or Call Wessel 078 218

6112

Louise 065 808 7802 or

office 043-7321204.

6

EMPLOYMENT

6151

Employment Offered

5542

Garage Sales

GARAGE SALE:

19 DoveStreet, Amalinda.

4 May 8am to 2pm.

Phone 078 435 3145.

9

MOTORING

9381

Motor Sundries

11

LEGALS

11010

Legal Notices

5560

Repair / Services

SEWING MACHINE repairs

& services. All makes.

Industrial, domestic. 082

746 6023.

9

MOTORING

9381

Motor Sundries

Regassing and

servicing of car

airconditioners

47 Currie St, Quigney

043 722 5228

11

LEGALS

11010

Legal Notices

NOTICE

OF APPLICATION FOR THE

TAKING OF WATER FROM A

WATER RESOURCE

Notice is hereby given of an intended application

for extraction of water from Yellow Hood River for

irrigation purposes on farm 410 Local Municipality

of Buffalo City Metro, Division of King William's Town.

Abstraction Point: Farm 410

Magisterial District: King William's Town

Area to be irrigated: 2ha Cabbage, 2ha Carrot,

2ha Spinach, 2ha Green Pepper, 2ha Butter nut and

2ha Beetroot.

Water taken p.a. 50 000m3

Total farm area: 19.75ha

The application is to be lodged for a licence in terms

of section 22 of the national water act, 1998 (act 36 of

1998), for the taking of water for irrigation use from the

Yellow Hood River. Any objections are to be lodged in

writing within 60 days of the publication of this notice

with the Department of water and sanitation at:

Address:

Acting Director : Ms Chilton

Institutional Establishment

P.O.Box 7019

East London

5200

Tel: 043 701 0221

Applicant:

Nceba Jakavula

P.O.Box 4247

King William's Town

5600

Cell: 073 613 8245

email: nzvjakavula@gmail.com

IF YOU ARE READING

THIS - SO ARE YOUR

POTENTIAL CUSTOMERS

DON'T MISS OUT - PLACE YOUR

CLASSIFIED ADVERT TODAY.

CONTACT WEZLEY SCOTT ON

(043) 702 2048

CLASSIFIED adverts

satisfy a demand. They indicate

market trends and

needs, and stimulate competition.
---
May 2, 2019 For all your advertising needs call Cheryl on (043) 702-2031, Wezley (043) 702-2048. Find us on Facebook

GO & EXPRESS Page 15

HEALTHY BODY AND MIND: Children take part in a friendly tug-of-war during the launch of Lubanzi

iQhayiya last Saturday

Picture: SUPPLIED

NGO uplifting youth with sport

AMAND NANO

Sports development and

encouraging sportsmanship are

some of the main goals of NGO

Lubanzi iQhayiya, which was

launched last Saturday at

Parkside, East London.

Founded by Tina Somazana,

the NGO focuses on spor ts

development in under-privileged

primary schools in the BCM area.

"We want to provide them

with equal opportunities in

sports to groom their talents and

make them better sportsmen,"

Somazana said.

The event took place at AW

Barnes Primary School, where

activities included tug-of-war,

six-a-side soccer and netball

m at c h e s .

The NGO looks to also

maintain sports fields and courts

at various schools.

"Our main school sports are

soccer, cricket, netball and

athletics. We're also looking to

adopt 200 children into our

programme this year," she said.

Lubanzi will host their next

event on June 16, with an

inter-schools soccer, cricket and

netball tournament.

Anyone who would like to

volunteer or donate to the

organisation can e-mail Somzana

at tina@lubanzi.org.za or contact

her on 072-188-0155.

TOP TALENT: Selborne

College rugby player

Mntungwa Mapantsela has

been awarded a 2020 bursary

to attend the Sharks

Academy in Durban valued at

over R10,000. Mapantsela is

one of three players who were

recognised by the academy

for outstanding performance

during the recent Standard

Bank Kearsney Easter Rugby

Festival. The bursary includes

a contract with the academy,

accommodation and a tuition

bursary with one of the

Sharks' education partners

Picture: FACEBOOK

BULL'S-EYE BRILLIANCE: A good time was had by all at the NASP Bull's-Eye and 3D competition which

was held at Gonubie Primary School last weekend

Picture: SUPPLIED

Buffalo archers on

target with medals

MATTHEW FIELD

Buffalo Archery Club hosted a

NASP Bull's-eye and 3D

competition at Gonubie Primary

School last Saturday.

The club won 17 medals,

including those for top female

and top male archers:

ýJared Swart (Stirling High

School) – Gold for bull's-eye and

3D, as well as a medal for top

male archer of the day;

ýJason Botha (Grens

Hoërskool) – Silver for bull's-eye

and 3D;

ýKegan Wertlen

(homeschool) – Bronze for both

Bulls-Eye and 3D;

ýKayla Evans (Stirling High

School) – Gold Medal for

Bulls-Eye;

ýCaley Kent-Brown

(Beaconhurst High School) –

Gold medal for 3D and Silver

medal for bull's-Eye, as well as

medal for top female archer;

ýChloë Bently (Montessori

High School) – Bronze medal for

both Bulls-Eye and 3D;

ýBlake Harvey (Gonubie

Primary) – Gold medal for 3D

and Silver for Bulls-Eye;

ýAidan Herselman (Gonubie

Primary) – Bronze medal for

Bulls-Eye; and

ýSaskia Botha (Grens

Laerskool) – Silver medal for 3D.

HARD TURN:

Janine Mitchell

roars ahead

during the Super

GP Motard

Champions

event at the East

London Grand

Prix last

weekend Picture:

DEAN HOLMES

GOOD LUCK: Buffalo Archery Club and NASP-EC would like to wish Junior

Protea archer Jason Botha good luck as he will be competing in the NASP

African All Stars in Cape Town this weekend. He will not only be

representing Buffalo Archery Club, Grens Hoërskool and the Eastern Cape

but SA as well. His team will be competing against teams from Botswana,

Namibia and Zimbabwe

Picture: SUPPLIED
---
INSIDE: NGO HELPS SCHOOL SPORT - PAGE 15

Young archer to rep SA

- Page 15

S P O RT

CONTACT US

E-mail: goexpress@tisoblackstar.co.za

Newsdesk: (043) 702-2125

Advertising: (043) 702-2031

(043) 702-2048

(043) 702-2122

Thursday, M ay 2, 2019

Clarendon squash wins derby

- Page 6

SWEET VICTORY: Gihahn Cloete goes for the swing

during the Warriors' match against the Kings on

Sunday.

Picture: MATTHEW FIELD

WILD RIDE: Race the

Wild Coast will put

riders to the ultimate

test Picture: SUPPLIED

Test of horse and man

MATTHEW FIELD

The third iteration of

Race the Wild Coast

(RTWC) – billed as

the toughest horse

race in the world –

will be starting on

October 19 and is now

open for registration.

The event is

limited-access only

with 20 riders

allowed to take part.

The 350km ride

sees participants

travel on horseback

from Port Edward to

Kei Mouth over a

period of four to five

days. Each

participant will ride

three horses over the

course of the race,

with each horse

covering on average

of 50km per day.

In addition, there

will be 12 scheduled

veterinary checks

every 29km to ensure

the well-being of the

horses.

According to race

organiser and 2017

Mongol Derby winner

Barry Armitage,

RTWC is sure to prove

a challenge to

experienced riders.

"RTWC is a

complex multi-stage

race in which riders

must brave this

challenging

wilderness and swim

rivers while keeping

horses fit for vet

checks. It is no doubt

the ultimate test of

endurance and

horsemanship for any

long-distance rider,"

Armitage said.

The race has

achieved international

acclaim and attracts

talent from as far as the

United Arab Emirates,

Guatemala, and the UK.

US race veteran

Stevie Murray said the

race is one of the

toughest he's ever

competed in.

"When you've done

the Mongol Derby

[1,000km race through

the Mongolian st e p p e

in China and world's

longest horse race],

you think nothing will

ever compare with that

again. I was wrong.

"RTWC is technically

and physically far more

challenging and the

hectic, but breathtaking

terrain has no

comparison.

Armitage warned

would-be participants

that the RTWC is not

something that should

be done lightly.

"Being physically fit

is essential. There are

some brutal hills on

this ride and some of

the river crossings are

daunting, so being

confident in water is a

m u st .

"With six major rivers

that require deep water

swims, and the

expectation of rain,

conditions will test

riders' skills each step

of the way," he said.

To enter, contact

Armitage on

083-393-5007 or e-mail

i n f o @ ro c k e t h o r s e ra c i n g . c o . z a .

For more information,

visit

w w w. ro c k e t h o r s e ra c i n g . c o . z a .