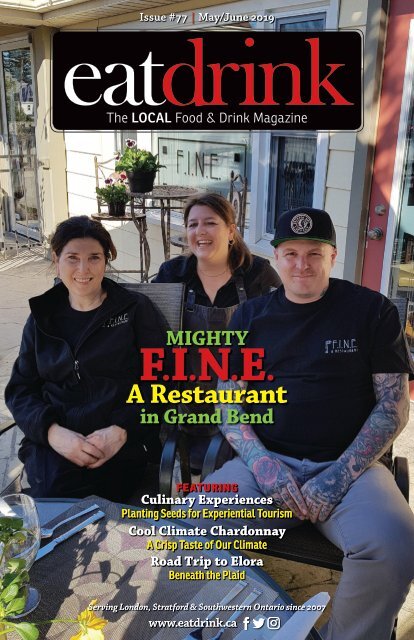 Eatdrink #77 May/June 2019
The Local Food & Drink Magazine serving London, Stratford & Southwestern Ontario since 2007
The Local Food & Drink Magazine serving London, Stratford & Southwestern Ontario since 2007
SHOW MORE
SHOW LESS
You also want an ePaper? Increase the reach of your titles
YUMPU automatically turns print PDFs into web optimized ePapers that Google loves.
Issue #77 | May/June 2019

eatdrink

The LOCAL Food & Drink Magazine

MIGHTY

F.I.N.E.

A Restaurant

in Grand Bend

FEATURING

Culinary Experiences

Planting Seeds for Experiential Tourism

Cool Climate Chardonnay

A Crisp Taste of Our Climate

Road Trip to Elora

Beneath the Plaid

Serving London, Stratford & Southwestern Ontario since 2007

www.eatdrink.ca
---
2 | May/June 2019

eatdrink.ca |@eatdrinkmag

Stratford's

#nextgen chefs are here

VisitStratford.ca
---
BEST

SHOPPING

IN THE CITY;

NOW BOTH

SATURDAY

AND SUNDAY!

THEMARKETWFD.COM

STEPHANIE A.

FACEBOOK REVIEW

Get off the highway and escape the rush. Visit small towns and dusty roads to celebrate

the culture, flavours and creators of Oxford County. Slow down and embrace our rural routes.

Get inspired and find details at

TourismOxford.ca

519-539-9800

1-866-801-7368 x3355

tourism@oxfordcounty.ca

www.tourismoxford.ca

Woodstock, Tillsonburg, Ingersoll, Norwich, Tavistock, Drumbo, Embro
---
4 | May/June 2019

eatdrink

The LOCAL Food & Drink Magazine

eatdrink.ca |@eatdrinkmag

eatdrinkmagazine

@eatdrinkmag

eatdrinkmag

eatdrink.ca

Think Global. Read Local.

Publisher

Chris McDonell – chris@eatdrink.ca

Managing Editor Cecilia Buy – cbuy@eatdrink.ca

Food Editor Bryan Lavery – bryan@eatdrink.ca

Copy Editor Kym Wolfe

Social Media Editor Bryan Lavery – bryan@eatdrink.ca

Advertising Sales Chris McDonell – chris@eatdrink.ca

Bryan Lavery – bryan@eatdrink.ca

Stacey McDonald – stacey@eatdrink.ca

Terry-Lynn "TL" Sim – TL@eatdrink.ca

Finances

Ann Cormier – finance@eatdrink.ca

Graphics

Chris McDonell, Cecilia Buy

Writers

Jane Antoniak, Darin Cook,

Gary Killops, Bryan Lavery,

George Macke, Kym Wolfe

Sue Sutherland Wood

Photographers Bruce Fyfe, Steve Grimes, Doug North

Telephone & Fax 519-434-8349

Mailing Address 525 Huron Street, London ON N5Y 4J6

Website

City Media, Cecilia Buy

Social Media Mind Your Own Business

Printing

Sportswood Printing

OUR COVER

On the patio of Grand

Bend's F.I.N.E. a

Restaurant are chef/

owner Erryn Shephard

(left), front-of-house

manager Susan Tebrugge,

and chef Ben Sandwith.

Photo by Bruce Fyfe.

© 2019 Eatdrink Inc. and the writers.

All rights reserved.

Reproduction or duplication of any material published in Eatdrink

or on Eatdrink.ca is strictly prohibited without the written permission

of the Publisher. Eatdrink has a printed circulation of 20,000

issues published six times annually in each of two markets, for a total

of 240,000 copies in print. The views or opinions expressed in the

information, content and/or advertisements published in Eatdrink

or online are solely those of the author(s) and do not necessarily

represent those of the Publisher. The Publisher welcomes submissions

but accepts no responsibility for unsolicited material.

Serving up

Great

partnerships

commercial | digital | wide format | design

Let us help with your next project...

519.866.5558 | ben@sportswood.on.ca

www.sportswood.on.ca
---
EVENTS • FOOD • VENDORS

eatdrink: The Local Food & Drink Magazine March/April 2019 | 5

SorryNO

RV Parking

on long wknds & July-August

OVER 200 VENDORS SELLING UNIQUE, HANDCRAFTED,

VINTAGE AND EVERYTHING IN BETWEEN

FOOD VENDORS, CRAFT BEER & LIVE ENTERTAINMENT

EVENTS POSTED ON FACEBOOK

www.pinerymarket.com

FOR MORE INFO

VISIT

US ON

3 Miles South of

Grand Bend

on Hwy 21

519-238-8382

OPEN

SUNDAYS 9-4

may thru

thanksgiving
---
Contents

Issue #77 | May/June 2019

Publisher's Notes

When Patience Is a Virtue

Getting It Right the First Time

By CHRIS McDONELL

8

Food Writer at Large

Culinary Experiences

Planting Seeds for Experiential Tourism

By BRYAN LAVERY

10

40

10

Wine

Cool Climate Chardonnay

A Crisp Taste of Our Climate

By GARY KILLOPS

40

Theatre

Summertime ...

And the Theatre Is ... Diverse

By JANE ANTONIAK

48

Restaurants

Mighty F.I.N.E. for Fifteen Years

F.I.N.E. a Restaurant, in Grand Bend

By JANE ANTONIAK

20

Spotlight

New Hotspots

Additions to the Culinary Scene

By THE EDITORS

24

Road Trips

Beneath the Plaid

There's More to Elora

By SUE SUTHERLAND WOOD

28

Beer

For the Love of Lager

Craft Brewers Take on Big Beer

By GEORGE MACKE

35

28

20

The BUZZ

Culinary Community Notes

New and Notable

53

Books

Chop Suey Nation

by Ann Hui

Review by DARIN COOK

64

66

Recipes

Earth to Table Every Day

by Jeff Crump and Bettina Schormann

Review & Recipe Selections by TRACY TURLIN

66

The Lighter Side

Skål!

By KYM WOLFE

70

64
---
eatdrink: The Local Food & Drink Magazine

May/June 2019 | 7

WE SPEAK THE GOOD

FOOD LANGUAGE

Come & sample our

New Seasonal Menu!

Reserve NOW for Our Famous Gourmet

MOTHER'S DAY BRUNCH BUFFET

Sunday, May 12

519-430-6414

/Blakes2ndFloor

¦
---
8 | May/June 2019

Publisher's Notes

eatdrink.ca |@eatdrinkmag

When Patience Is a Virtue

Getting It Right the First Time

By CHRIS McDONELL

O

ne of the best perks in publishing

Eatdrink is the notices we get

when a new business launches. It

is always exciting to hear about

creative people taking the bold step of

introducing the world to their brainchild. This

is not work for the faint of heart! We admire

their courage and strive to be fully supportive.

And we are pleased to announce the news.

As exciting it is to break a story first, we

tend to be a little slow to put together an

in-depth profile for our readers. There

are several sound reasons for this,

although we get some complaints about

this informal policy from eager owners

(and publicists, who are often on shortterm

contracts so they REALLY press to

PATIENCE

get their story out). We offer our BUZZ

column, totally free of charge, but "a real story"

is seen as the golden ticket.

We have been doing this since 2007, and we

have learned that we can be of best service if

we are a little patient. Despite putting together

the most detailed and well-researched business

plans, years of experience in the industry, with

boundless energy, passion and keen intelligence

brought to the project, very few businesses get

everything right when they first open.

I could cite some real disasters, like a head

chef crumbling under the pressure of opening

day and resigning before dinner service was

over, but those are few and far between.

Thankfully! But quite consistently, lesser

issues arise. Perhaps there's a staffing issue.

It might turn out that some menu items are

just not working, the HVAC system proves

inadequate with a weather change, or a

supplier can't manage to deliver a key product

in a timely manner. A tweaking or an overhaul

takes place, maybe several times, before the

business is really hitting its stride.

We take our responsibility to our readers

very seriously. We only publish stories about

places that we are confident our readers will

enjoy. The result: readers understand the

story is a form of endorsement and their

interest is piqued. A bump in business ensues.

New customers are created, and they help

spread the word. That is the ideal situation.

Every good business makes the effort to

ensure every customer enjoys an optimum

experience. For a first-time customer, this is

absolutely crucial. A large number of patrons

will not easily return if things do not go

well. Which is why a "soft opening" is

so helpful for getting launched. There

is an understanding on everyone's

part that this is "a work in progress"

and extra allowances are granted. Here

at Eatdrink, we like to extend that grace

period a little longer.

Early on, we published a story on an

interesting new business, and the owner was

excited. The story came out, but in just a few

weeks, some things went sideways. The owner

contacted us a few months later, asking that

we write another story about his business.

"So much has changed! We've fixed so many

problems! We need to tell a different story!"

Publishing every other month, we literally

don't have the space to write about every

worthy business even once a year. We have

written about some businesses more than

once — our cover story is a fine example of

that (pun intended!) — but there are years in

between stories. So we wait, until a venture is

relatively established, and also able to sustain

a spike in business when a story comes out.

We're interested in long term relationships,

with our customers and with our readers.

Now, all that said, we're trying something

a little different this issue, and have included

a column about five new businesses that

Eatdrink is watching with some excitement.

Is this a good idea? Please let me know! We're

here to serve.

Peace,
---
eatdrink: The Local Food & Drink Magazine

Learn. Teach. Empower.

Train to become a Holistic Nutritional Consultant

Natural Nutrition Diploma Program

(offered full-time and part-time)

and

Holistic Culinary Certificate Workshops

CSNN has over 9,000+

graduates worldwide! Discover

the range of knowledge of select

graduates, and how they are

making an impact in the health

care industry and beyond:

csnn.ca/about/alumni-profiles

A CSNN graduate is a professional trained in Natural Nutrition,

whose principal function is to educate individuals and groups about

the benefits and health impact of optimal nutrition.

Holistic Nutrition professionals work in private practice or with other health

care professionals and find careers in a variety of sectors, including:

• Food Industry • Fitness/Training Centres • Writing Books and Articles

• Teaching/ Education • Natural Health Centres and Spas

• Medical & Wellness Clinics • Health Food Stores

• Conference and Retreat Centres • Seniors' and Retirement Homes

• Consulting Services • Supplement Industry

Canadian School of Natural Nutrition | London Branch

747 Hyde Park Road, Suite 108, London ON

519.936.1610

csnn.ca/london @CSNN_London CSNN London CSNNLondon

TEACHING THE MEDICINE OF THE FUTURE
---
10 | May/June 2019

eatdrink.ca |@eatdrinkmag

Food Writer at Large

Culinary Experiences

Planting the Seeds for Experiential Tourism

By BRYAN LAVERY

We like to travel along Oxford

County's concessions and back

roads to rediscover the terroir

and pastoral landscapes and to

stop at the farmgates in season. Just outside

Woodstock, situated in the rolling hills just off

Highway 59, is Shep Ysselstein's Gunn's Hill

Artisan Cheese operation and his family's wellestablished,

third generation dairy farmstead.

Bo, the Ysselstein's affable canine will likely

greet you upon arrival. Prepare yourself to

walk in the shoes of a gifted local cheesemaker,

while attending Affinage 101, a new hands-on

culinary experience in Oxford County.

We were given hairnets and disposable shoe

coverings before heading in to get a hands-on,

behind-the-scenes look at how Ysselstein

crafts his award-winning Swiss-style artisan

cheese. The wheels of cheese are stored on

long wooden shelves in climate-sensitive

ageing rooms. We washed the hefty wheels of

cheese in order to keep them moist, turned

them over, and washed them again allowing

the cheese to gain additional flavour. Using

a double-handed cheese knife, the affable

Ysselstein, cut into the wheels in order to

taste the cheese at the various stages of

ageing. We were guided on how to judge the

quality of cheese, and rate the various flavour

At Gunn's Hill Artisan Cheese visitors get the full

experience: from hands-on cheesemaking activities ,

to preparing and enjoying the final product.

profiles, textures, and anomalies.

Later we prepared a trio of cheese

fondues. The insides of the pots were

rubbed with garlic cloves, white wine

was slightly heated with cornstarch

over portable burners, and then

three different varieties of cheese

were grated and individually stirred

into their own fondue pots. We ate

the communal fondue by dipping

fresh bread (from Woodstock's new

bakery, Two Guys and a Whisk) into

Dave Schonberger leads visitors in "From Tree

to Table – A Build your own Board Experience,"

another opportunity for experiential tourists.
---
the melted cheese.

There was time to

socialize with other

participants, sample

different cheese

varieties and savour

the fondues.

On display at

Gunn's Hill's newly

renovated showroom

are tree-totable

charcuterie

and cheese boards,

Poland, Baltic States handcrafted & St. Petersburg with

21 days, sustainably-sourced

Late August 2019

Stylish and vibrant history local and wood culture by and Dave the

sheer grandeur Schonberger of Russia's imperial of city

Tanzania Ottercreek & Zanzibar Woodworks.

September In 2018 2019

14 days,

10-day Serengeti & Schonberger Tarangire National won Parks

Safari,, plus the 4 Innovative days Beach Resort

Experience of the

Year Award from

Southwest Ontario

31 Tourism Nottinghill Gate, for his Suite 203,

Oakville "From ON Tree TICO#50013851 to Table

– A Build-your-own

Board Experience."

This experience

includes a guided

walk through Carolinian

Forest, an

artisanal workshop

where you can craft

your own live-edge

charcuterie board,

and a tasting of

local cheese and

charcuterie.

Affinage 101 and

"From Tree to Table

– A Build-your-own

Board Experience"

are both good examples

of authentic

experiences which

enable visitors

to forge deeper

connections with

regional food stories.

Planting Seeds for Experiential Tourism Dinner:

(top) Modernist Apple with Edible Soil by Chef

Brian Sua-an of Reverie: (middle) Pawpaw Puree

from Farmer Paul Spence; (bottom) Joanne Wolnik,

Tourism Project Development Manager, Southwest

Ontario Tourism Corporation. Photos by Phong Tran.

experience the

wonders & colours

of morocco

A tour that will

open your mind

and your senses

11 DAYS

18 MEALS

Call Heather for dates and prices

www.heathersincomparablejourneys.ca

For any and all of your travel needs

519-473-8591 — Heather Wilkinson

Regional Office: 31 Nottinghill Gate, Suite 203, Oakville

TICO#50013851

Come Experience Our World!

Award Winning Artisan Cheese

NOW OFFERING! Affinage 101

A hands-on behind-the-scenes experience

• Visit the aging room where cheese is cured

• Taste the changes in flavour as the cheese cures

• Discover steps to judge cheese quality and taste

• Create a delicious Gunn's Hill fondue from scratch

• Find details and register on our website

445172 Gunn's Hill Rd, Woodstock, ON

519-424-4024

www.gunnshillcheese.ca
---
Trust...

Taste...

Quality...

eatdrink.ca |@eatdrinkmag

Celes Davar (above) discusses experiential tourism

with an engaged group of industry professionals at

a Slow Food-inspired evening.

Your Source for

Dry Aged Steaks,

Sausages, Burgers & Kebabs

and so much more ...

• Sourced locally from trusted farms

• Traditional European preparation methods

• The latest in food processing innovation

Open six days a week.

Hensall, Ontario

Just off Hwy 4,

45 minutes north of London.

www.metzgermeats.com

519-262-3130

Available in London at

The Village Meat Shop

at Western Fair Farmers' Market

on Saturdays!

Local Beef • Pork • Lamb • Poultry

Specialty European Meat Products

When led by knowledgeable guides, participants

become interactively immersed. Experiential

tourism offers a value-added, hands-on activity

that changes the visitor from a consumer to a

participant, enriching the experience, and often

creating longer stays and increasing revenue.

Last November a culinary experience with

an invitation to be creative about tourism

was branded as "Planting the Seed for

Experiential Tourism". It is being marketed

for team building experiences and convention

attendees later this year. This experience

was crafted with Melissa Du Luca of Tourism

London, Joanne Wolnik of Southwest

Ontario Tourism Corporation (SWOTC) and

Forest City Cookbook creator Alieska Robles.

We asked participants to attend with a spirit

of adventure and prepared to be enlightened
---
eatdrink: The Local Food & Drink Magazine

by culinary professionals. Designed to

inspire participants and to think about

creative collaboration and innovation, the

experience included certified tea sommelier

and nutritionist Michelle Pierce Hamilton,

owner of beTeas and The Tea Lounge; chef/

owner Brian Sua-an of Reverie, London's

12-seat tasting restaurant; chef/owner Thomas

Waite of The In Home Chef; and Paul Spence,

Chatham-Kent's local food champion.

More recently, I facilitated a Slow Foodinspired

evening on behalf of Lavery Culinary

Group. My colleague and nephew Nick Lavery

emceed the event, with a craft beer pairing by

Nate Torrresan of Forked River Brewing Co.

Speakers Gary Rowsell and Emanuela Frongia

provided an impressively nuanced discourse

on the Slow Food movement. Frongia spoke

of the Canadian Ark of Taste (think of

Noah's Ark for food), which comprises an

archive of foods threatened by agribusiness,

standardization and environmental

degradation. Photographer Phong Tran

offered expert advice on creating Instagramworthy

food photos with your cellphone.

Sample delicious local eats,

meet inspiring producers and

marvel at the tempting array

of fresh and artisanal edibles.

From farm to table, pork to pies

to pints, discover more

in Perth County!

restaurants

farm gates

Woodstock's Chocolatea involves visitors in creating

hand-crafted chocolates — a "Truffle Camp" workshop —

a fine example of experiential tourism in action.

food shops

Find us, follow us!

#DiscoverMore #PerthCounty

@PerthCoTourism

perthcountytourism.ca
---
14 | May/June 2019

Experiential dining events are all about

innovation, often featuring restaurants popups

in non-traditional spaces. For both the

"Planting the Seeds for Experiential Tourism"

and Slow Food-inspired dinners, menus

included less familiar indigenous ingredients

such as custardy pawpaw, tart quince, nutty

Jerusalem artichokes, local chestnuts and the

honey-like tasting Jesuit pear, prepared by

farm-to-table observant farmers and chefs.

We learned how experiential tourism is

changing the landscape of visitor experiences

Homestyle Cooking & Baking

Family Owned & Operated Mennonite Restaurant & Bakery

Homemade cooking & baking made fresh daily from

scratch using the best ingredients!

• 20+ Pies! • Muffins • Squares • Cookies • Sweet Buns • Donuts

• Cheesecakes • Tarts • Cakes & Cupcakes • Bread & Dinner Rolls

OPEN

ALL YEAR

ROUND!

10am–6pm

DAILY

www.annamaes.ca

519-595-4407

Monday–Saturday

7am–8pm

Cash or Debit Accepted

4060 Line 72, Millbank ON

eatdrink.ca |@eatdrinkmag

in travel and tourism in Canada by "experiential

guru" Celes Davar, of the award-winning

boutique experiential tourism company Earth

Rhythms. Davar and his wife Susan are dedicated

to fostering customized immersive travel

experiences. Twenty new trailblazing experience-development

coaches emerged from the

"Train the Trainer" course facilitated by Davar,

all grads of his "Unlocked & Inspired" training

program provided by SWOTC.

Among the grads were tourism innovator

and Oxford County chocolatier Cindy Walker,

certified tea sommelier, and self-styled "Queen

of the Ganache." As owner/head chocolatier

of Ingersoll's Chocolatea, Walker crafts smallbatch

chocolates with innovative flavour

pairings and procures a carefully curated

selection of teas. Participants assume the role

of the chocolatier and step behind the counter

to craft a dozen of their own multi-flavoured

truffles in her "Truffle Camp" workshops.

Walker guided the Culinary Learning Tour

for the SWOTC 2019 annual conference. We

were transported by school bus to Heeman's

Greenhouse where we met Susan Judd, a

partner in Ride the Bine, who provides local

beer, wine and cider tours with co-owner

Amanda Dooney. Chief Daymaker Will Heeman

was on hand to provide context and an engaging

overview of Heeman's family owned and

operated greenhouse and strawberry farm. We

tasted and transplanted different herb varietals

to take away. A honey tasting experience was

presented by Tom Heeman, with an explanation

on how bees make honey, the different varieties

and the variations in colour, taste, texture

and aroma. Tom is the driving force behind

Heeman's honey production and has a solid

background in agronomy and biological controls

along with industry experience, having grown

up on the farm. The honey was paired with

IN-STORE BAKERY

& GIFT SHOP

Old Fashioned Sausage

Smoked Pork Products

Bacon & Ribs

Local Artisan Cheeses

Large Selection of Gourmet Condiments

The Finest Local Poultry Products

Free Range & Drug Free

Holland Grills

#2146 Highway 7 & 8, Shakespeare ON

519-625-8194

www.porkshoppe.com
---
eatdrink: The Local Food & Drink Magazine

different types of cheese for a taste comparison.

Chef Shauna Versloot, coach/owner of The Live

Well Community, spoke about a recent trip to

Italy as well as balsamic vinegar. The tour ended

with a competitive make-your-own sundae with

strawberry preserve and balsamic glaze topping.

Davar stated, "In the hands of local storytellers,

passionate gardeners and in the warm,

humid and green environment, we had a tropical

holiday for a winter's afternoon. That's how

we change tourism, one experience at a time."

This summer, my colleagues and I will be

helping to host a range of customized foodfocused

and cultural experiential walking tours

options that will be on offer in Downtown

London. You will be able to experience the

Forest City in a new way, and indulge all of your

senses with an insider tour by a local culinary

expert. Watch the Eatdrink social media

channels for more information.

Eatdrink Food Editor and Writer at Large BRYAN

LAVERY brings years of professional experience in

the hospitality industry, as a co-founder of the Lavery

Culinary Group, food writer, chef, event planner, former

restaurateur and mentor.

Stratford 'Stinks' – but only once a year!

September 7, 9am – 5pm

September 8, 10am – 4pm

Indoors at the Community Hall

Stratford Rotary Complex

353 McCarthy Road, Stratford ON

•

Ontario Garlic & Artisan Market

featuring over 70 vendors

Exclusive Tastings

pairing artisanal cheeses with wines,

beer and spirits

Cooking Demonstrations

Educational Forums

Live Entertainment

Free parking and bike valet service

growers & creators of fine lavender products

DISCOVER.

INDULGE.

ESCAPE.

Annual

BLOOM

Celebration

June 15-30

519-494-5525

47589 Sparta Line, Sparta

Wed–Sat 10-5; Sun 12–4

Mother's Day to Dec. 20

PLUS June–Labour Day: Tues 10-5

steedandcompany.com

$5 Garden

Admission

June 15-July 14
---
Stratford is

more than

great theatre

visitstratford.ca

Where Herbivores

can bring their Carnivores

PATIO

NOW

OPEN!

118 Downie Street, Stratford

Wednesday thru Sunday 11–8

Call 519.305.5888

www.theplanetdiner.com

Globally inspired; locally sourced.

An eclectic array of tapas, tacos, & plates;

featuring a pre-theatre prix fixe dinner menu.

Local craft beer & wine,

unique cocktails & margaritas.

(519)273.5886

themillstone.ca

Every Saturday

10pm - 2am

30 Ontario St, Stratford, ON

A POP-UP SNACK BAR

Laotian cuisine alongside

regionally-inspired cocktails

@ latenightlao

themillstoneON
---
"Our bodies are our gardens

to which our wills are gardeners."

— William Shakespeare

Awaken your taste buds

with over 50 choices of fresh,

olive oils & balsamic vinegars,

all in the heart of Stratford.

21 York Street

TUES, WED, THURS, SAT 10–5;

FRI 10–6; SUN 12–4; Closed MON

519-508-1757

oliveyourfavourites.com

Casual Family-Friendly Italian

Eat In • Take Out • Patio

Licensed

Tuesday–Thursday 4:30–9:00

Friday–Saturday 4:30–10:00

38 Erie Street, Stratford

519-305-3838

www.aopasta.com
---
"A fun place to shop

for housewares and gifts!"

Beautiful rugs and textiles made

entirely from recycled plastic bottles

visitstratford.ca

@StratfordON

WATSON'S

CHELSEA BAZAAR

84 Ontario St. Stratford

watsonsofstratford.com

519-273-1790

PATIO NOW OPEN
---
A WORLD OF

MUSIC FOR

EVERYONE

Friday Night Live at Revival House

Join us Friday nights in Stratford as we turn a dining hall into a Manhattan-style night

club. Don't miss these six exceptional evenings that will jazz-up your summer nights!

$45 each show, in advance (+ $5 at the door)

$89 Dinner & Show package, in advance only

FRIDAY, JULY 19TH AT 9 PM

Stephen Prutsman, jazz

FRIDAY, JULY 26TH AT 9 PM

Conception Bay with Duane Andrews, Mark Fewer

and INNERchamber, jazz & folk

FRIDAY, AUGUST 2ND AT 9 PM

Phil Dwyer Trio, jazz

FRIDAY, AUGUST 16TH AT 9 PM

Bohemians of Brooklyn, Tom Allen, Lori

Gemmel, Bryce Kulak, Patricia O'Callaghan

FRIDAY, AUGUST 23 AT 9 PM

Rhapsody in Blue and Brazilian Jazz with

John Novacek, James Campbell and Graham

Campbell, brazilian jazz

FRIDAY, AUGUST 9TH AT 9 PM

Jodi Proznick & Heather Bambrick, jazz

season

sponsor

519.271.2101 / 1.866.288.4313

stratfordsummermusic.ca
---
20 | May/June 2019

eatdrink.ca |@eatdrinkmag

Restaurants

Mighty F.I.N.E. for Fifteen Years

F.I.N.E. a Restaurant, in Grand Bend

By JANE ANTONIAK | Photos by BRUCE FYFE

Aging like a fine wine, or maybe more like the

energizer bunny, Chef Erryn Shephard, shows

no sign of slowing down or of losing her love

of French cuisine. Her brilliant touches on

everything from the breadbasket to the cheesecake, not

to mention custom décor including her own art collection,

make Grand Bend's F.I.N.E. a Restaurant a beloved

Southwestern Ontario destination.

Shephard speaks of roux in loving tones. Butter and

flour are her muses. She bakes and makes soups with such

passion that, at 58, when other chefs might think about

standing down after years on their feet, she is consumed

with what new culinary business she may yet start.

"I love it. I cannot imagine doing anything else. I'm

not tired of any of it yet," she says when you can manage

to get her to sit down in a chair for a few minutes for

an interview. Her 14-year partner in the kitchen, Chef

Ben Sandwith, takes her chair for further questions as

Shephard dashes off to the kitchen to bring yet more

samples or to

personally pack

left-overs for

guests to take

home.

"There's

not a thing

she won't do

for someone,"

says Sandwith.

He outlines

the various

charitable acts

by Shephard

including

cooking for

schools,

churches, and

fundraisers

for everything

from the local

foodbank to

Seated on the F.I.N.E. patio are chef/owner Erryn Shephard (left),

chef Ben Sandwith, and Front-of-house manager Susan Tebrugge
---
eatdrink: The Local Food & Drink Magazine

Tastings at the London Hunt Club. This is in

addition to the tens of thousands of dollars

she has raised for cancer research at St.

Joseph's Health Care in London via her annual

ladies' nights dinners and auctions.

This generous spirit is also evident in her

kitchen. While Shephard loves working with

rich ingredients in classically-inspired dishes,

she has respect for customers who prefer

lighter or vegetarian fare.

Daily soups include the popular Coconut

Curry Sweet Potato vegetarian soup. Cream

of Celery Root soup, topped with apple slaw,

is light, silky and crunchy. Shephard says she

is seeing a younger crowd in recent years who

"don't come in for a Manhattan, but they

know a lot about food." While the certified

Angus beef tenderloin remains a mainstay on

the menu, chefs Shephard and Sandwith also

give a nod to fish as a customer choice. Maybe

it's the location (next to Lake Huron waters)

which inspires both chefs and customers to

clamour for the lake fish. While the pan-fried

pickerel is outstanding, so is the fresh BC

halibut, pan-seared and served beautifully

with lemon cream, spring peas, homemade

BISTRO • CONFERENCE • SUITES • SPA

519-565-2576

LakeHouseofBayfield.com

meats Catering that your needs.

C'Angelina

Catering

Corporate & Family BBQs

Prepared Foods & Fresh Meats

Sausage-Making Classes

Visit us this Summer at

The Pinery Market

Sundays 9–4

By Appointment

426 Third Street, London

519-204-8189

c-angelina@rogers.com
---
22 | May/June 2019

eatdrink.ca |@eatdrinkmag

gnocchi that melts in your mouth, and is topped with

a light salad. Don't put it past Sandwith to play it up

with jumbo shrimp, lobster and other ocean fishes for

his fish-of-the-day or his crostini-of-the-day. "Ben has

just gotten better and better," says Shephard.

Both chefs were trained in the US. Shephard

attended the Greenbrier Apprentice program in

West Virgina as well as programs in Dallas and Ohio.

Sandwith grew his talents in New York City before

returning home to Grand Bend, where he and Shephard

connected at the Oakwood Inn. They are strongly

customer-centric while remaining true to "cooking

what we love to cook" and what the customers love to

eat. Front-of-house is managed by Susan Tebrugge.

A visit to F.I.N.E. simply must include dessert.

Shephard's cheesecakes are deep, creamy and not

overly-sweet despite being double-chocolate or peanut

butter with additions of fudge sauce, whip cream,

cookies and candies. She is playful with offerings

such as hot bananas in deep-friend wontons with

spiced honey, cinnamon sugar and vanilla ice cream.

"People are more open to trying things, trusting us,"

says Shephard. As well, they get summer customers

on vacation who are looking for a special experience.

The customer base has grown from Grand Bend

locals to regulars from London, Sarnia and beyond.

The restaurant is open ten months a year, closing

in January and February (although it opens for

Valentine's Day). F.I.N.E. also has a busy catering

business serving up to 200 at off-site weddings,

custom private dining and even beach parties. The

restaurant itself has two sections for about 40 people,

a seasonal patio for 24 and a private room upstairs for

12. Think elegant cabin with stunning artwork and

funky seasonal decorations. F.I.N.E. offers some special

occasion events such as Mother's Day brunch, Father's

Day dinner, wine-tastings and tapas with Michael Buck

of Lifford Wines. And an interesting experience that

combines dinner with psychic readings.

Still, Shephard is strongly hinting she wants more.

"I love the feeling of yeast, dough in my hands,"

she says. For example, locals pop by on Fridays

for Cinnamon Friday Fries — a tribute to a longago

Grand Bend bakery which sold iced cinnamon

deep-fried dough strips. "I was taught by such great

chefs in the US so I like the classical stuff and how

it's applied here. Sometimes I think I'd like to offer

the food of your parents: cool, old-school and still

really good." She gets sentimental reminiscing about

Oysters Rockefeller and Surf 'n' Turf. Clearly, with

14 solid years in the bank, the loyal clients of F.I.N.E.

Right, from top: Cream of Celery Root Soup with apple slaw ;

Crostini-of-the-Day: jumbo shrimp, garlic chilis and

homemade hot sauce; Chocolate cheesecake with Skor bits,

chocolate fudge sauce, cream and berries.
---
eatdrink: The Local Food & Drink Magazine

May/June 2019 | 23

F.I.N.E a Restaurant

42 Ontario Street South, Grand Bend

519-238-6224

finearestaurant.com

lunch & dinner hours change seasonally

Pan-roasted BC Halibut (top) with homemade gnocchi,

spring peas, asparagus, and lemon cream; and Hot

Bananas Won Tons (below) with spiced honey, cinnamon

sugar, Macadamia nuts and vanilla ice cream.

have proven that Shephard and Sandwith have

found a unique space for their talents, with

the promise of more to come.

The Best and Only Water-TOP Patio!

Chef-inspired Breakfast, Lunch & Dinner Menus

Craft Beers & Inspired Cocktails

Best View In The City

Join Us ... Dockside!

JANE ANTONIAK is a regular contributor to Eatdrink.

She is also Manager, Communications & Media Relations,

at King's University College in London.

BRUCE FYFE is a frequent photographer for Eatdrink

and Head, User Experience & User Services, Western

Libraries for Western University.

Alternate Grounds Dockside

Sarnia Bay Marina,

97 Seaway Road, Sarnia

519-332-3081

Open Daily • from 8–Late • April–October

agdockside.com

"Where everyone knows your game"

18 Hole Golf Course

Year-round Restaurant / Bar

519-236-4030

whitesquirrelgolfclub.com

72538 Bluewater Hwy. 21, Zurich
---
24 | May/June 2019

eatdrink.ca |@eatdrinkmag

Spotlight

New Hotspots

Five Noteworthy Additions to Our Culinary Scene

By THE EDITORS

There is no shortage of exciting culinary news,

and our Buzz column on page 53 offers plenty of

proof of that. We think it's obvious editors here

at Eatdrink are always on the lookout for quality

businesses that our readers will want to know about. There

is also real consternation about the constraints on the

number of stories we can print in any one issue, in any one

year. This column is an effort to help remedy that.

After a great deal of discussion, we are putting an extra

spotlight on five new businesses of merit, with a bit more

attention than the Buzz column can afford. Here they are,

in no particular order, and with some exceptionally enticing

enterprises left on the back burner for a future issue.

Harris Electric Eatery

159 Queen Street East, St. Marys

519-914-8811

facebook.com/HarrisElectricEatery

tuesday–saturday 11:30–2pm; 4:45–8:45pm

sunday & monday closed

The location will be familiar to many as the

former home to some great restaurants, most

recently Chris and Mary Woolf's Little Reds.

But chef Jordy Carr reached even further

back into the building's history, when it was

home to Harris Electric until 1979. Given that

his mother's maiden name was Harris (no

relation), the homage to both town and family

felt right.

Chef Carr worked across the country

before returning to his

hometown with a young

family in tow. Having

been in the industry

for about two decades

(he started when he

was 14!), Carr had run

kitchens but not his

own restaurant. He made a commitment to a

farm-to-table approach, making everything

in house, from preserves to smoked meats

and charcuterie. The atmosphere is familyfriendly

and cozy, with an interesting range

of craft beers on tap. Chef's goal is to have

"something for everyone" but he keeps the

regular menu manageable and fresh. Expect

great sandwiches and burgers, salads and

perhaps steak frites or a creative take on

tacos. Changing specials frequently reflect

Carr's interest in Asian and Latino cuisines.

Just ensure that you leave room for dessert!
---
eatdrink: The Local Food & Drink Magazine

AO Pasta

38 Erie Street, Stratford

519-305-3838

aopasta.com

tuesday–thursday 4:30–9pm,

friday & saturday 4:30–10pm

sunday & monday closed

Boutique Bakery

Buttercream Cakes,

Cookies and

French Macarons

Complimentary

Wedding

Consultations

by Appointment

Open for Walk-in Purchases

THURS & FRI 11–4pm • SAT 10am–2pm

145 Wortley Road, London

Upstairs— above the former Village Harvest Bakery

bakeshopstudio.com

Make HAPPINESS

a part of your day.

❤ ❤ ❤ ❤

❤

AO Pasta is the creation of

Kris and Suzy Schotzhauer,

with the name inspired by

their young children, Axel

and Olive. Chef Kris,

Stratford-raised, honed his

love for pasta at Toronto's Enoteca Sociale. Chef

Suzy made her mark as a pastry chef in Calgary.

Together now for almost a decade, their

restaurant is as family-centred as the business

name. Open hours are structured to maintain

a balance between work and home life, and

the menu is inventive but accessible, anchored

by — no surprise here — pastas and made-toorder

sauces. Craft beers and a good wine list

are complemented by Italian soft drinks.

Striking a balance between great food and

affordability means counter service without

wait staff and no reservations, with the goal

of filling the gap between fast food joints and

Stratford's sit-down restaurants. The space,

previously home to The County Food Co., offers

comfortable seating and a casual ambiance.

Procure a table, peruse the "simple and

honest, Italian-inspired menu using seasonal,

locally-sourced products and authentic Italian

ingredients," then get up to order. You'll find all

is as advertised, simply delicious. The signature

Arancini — deep-fried risotto balls stuffed with

mozzarella — are highly recommended.
---
26 | May/June 2019

Streamliners Espresso Bar

767 Talbot St.,St. Thomas

519-631-0999

facebook.com/streamlinersespressobar

monday–wednesday 7am–6pm

thursday & friday 7am–8pm

saturday 7am–6pm

sunday 9am–4pm

First, while Streamliners

can hardly be called "new" (having been open

about two years) it has grown into a truly

chic hotspot of note. It's located in the heart

of "Railway City," across the street from the

marvelously restored CASO Station that is

also home to the Las Chicas del Cafe coffee

roastery. Those are the same "coffee chicks"

behind Streamliners, and along with awardwinning

coffee, hearty and healthy breakfast

and lunch options, and delicious pastries,

this a great all-day spot. Open Mike Nights

eatdrink.ca |@eatdrinkmag

bring in music, and even a Poetry Slam. As

one fan said, "Go for the coffee. Stay for the

atmosphere. The people here are amazing!"

Ivy Ristorante

587 Oxford St E., London

519-601-7707

ivyristorante.com

tuesday–thursday 5pm–10pm

friday & saturday 5pm–11pm

closed sunday & monday

At a time when so many

are turning to a less

formal approach, it's both

a surprise and refreshing

to see "the best of Italy"

presented with classic fine

dining accoutrements, white linen tablecloths

included. In the former home of Bourbon

Street on Oxford St. at Adelaide, owners

Michael & Karla have transformed the space

with elegant and romantic touches throughout.

The menu is as classic as the decor, with a wine

list offering predominately Old World choices.

Brickhouse Brewpub

190 Fairway Rd, Woodstock

519-290-5347

upperthamesbrewing.ca/brewpub

sunday–thursday 11am–11pm

friday & saturday 11am–late

This is the second location for Upper

Thames Brewing Company (the first locale

at 225 Bysham Park Drive in Woodstock also

has an appealing taproom). Twelve taps are

The menu is unabashedly upscale, with a wide

variety of the Italian canon presented with a

dedication to tradition.

dedicated to their own beer, with

their small-batch approach ideal for

experimentation and limited hardto-find

seasonal offerings. Another

dozen taps rotate other Ontario

craft beers. This is a production

facility too, so there's a store for

bottles and growlers to go, but a full

kitchen makes this a popular destination for

more than great beer.

A casual pub vibe includes counter service
---
eatdrink: The Local Food & Drink Magazine

for traditional pub fare that often incorporates

Upper Thames beer. Think Lazy Fox Amber

Ale-Braised Pork Side Ribs with a Gunn's Hill

cheese-loaded baked potato, or Beef & Ale Pie

filled with local beef, onion, carrots, potato,

mushrooms and Timberbeast Brown Ale. The

food is hearty, the atmosphere is warm and

friendly. Watch the website for special events,

including live music, comedy and more.

grace is delicious + modern canadian + localfocused

+ from scratch + hyper-seasonal +

accessible + welcoming + food-as-ar t + foodas-communit

y + ethical + unpretentious + for

celebrations + for af ter work + beautiful, fun,

demystified wine + curated beer + craf ted

cock tails + coming spring 2019

215 DUNDAS ST · 226 667 4822

INFO@GRACELONDON.CA

GRACERESTAURANTLONDON

GRACELDNONT

Monday–Thursday: 11:30am–9pm

Friday: 11:30am–10pm

Saturday: 11:30am–10pm

Sunday: 11:30am–8pm

NOW OPEN

Reservations: 519-601-7799

1140 Southdale Road West, London

www.bocconcinilondon.ca

Free Parking
---
28 | May/June 2019

eatdrink.ca |@eatdrinkmag

SPONSORED BY

Road Trips

Beneath the Plaid

There's More to Elora

By SUE SUTHERLAND WOOD

The village of Elora has so much to

offer — hiking, quiet walks, fishing,

festivals, scenic views, music,

water activities, history, wildlife

— and of course wonderful places to eat and

drink. Unique shops that have been carefully

restored in keeping with heritage architecture

also offer exciting wares year round. Retaining

tradition, yet constantly evolving to present

something new makes Elora an ideal road trip

destination — for any season.

At Elora Mercantile (eloramercantile.ca),

vivacious Patti Boutin, speaks ardently about

being "a general store with a conscience." This

credo is reflected in choices that are always

organic, local when possible and predominantly

made in-house by Patti herself, with assistance

from her mother Michele, who

brings a charming Québécois

sensibility to many of the offerings.

Like all of the vendors in Elora,

they have a stalwart concern for

the environment (bottled water

is simply not available, anywhere). Re-fillable

containers are used for many of the products.

Patti invited me to try a few samples and

both the quality and unique selections were

impressive. Cretons, a rich meat spread beloved

in Quebec, and its French cousin rillettes, made

with duck and pork, come attractively packaged

in glass jars and were moist and fragrant when

spread on a crispbread. Piping hot wontons were

succulent

pillows of

duck meat.

A variety

of cheeses

including

Wild Nettle

and Black

The Elora Mercantile's Patti

Boutin, left, and her mother

Michele, are but two of a

large number of irrepressible

personalities that have found a

home in beautiful Elora.

A view of the Grand River as it flows through Elora
---
eatdrink: The Local Food & Drink Magazine

May/June 2019 | 29
---
eatdrink.ca |@eatdrinkmag

The Evelyn combines French-inspired fine dining in a

vintage setting, with a warm, unpretentious approach.

Top photo by Mike Nagy @ Transparent Kitchen.

Dessert photo, below, by Dan Dunlop MacLean.

Truffle, onion confit, tender samosas with

a sharp coriander chutney, and many jewel

toned jellies such as Spicy Northern Crab Apple

rounded out the feast. Michele also presented

me with their satiny smooth maple crème brûlée

— I was very sad indeed when it was finished.

Turkey, Meat and Boeuf Bourguignon pies

are also popular take-home items from the

store freezer. It's clear that Patti understands

that people work hard and deserve a

homemade treat that they can feel good about.

She is already planning the launch of an old

school picnic basket — complete with blanket

and shop selections — that can be enjoyed and

then returned at the end of the day.

The Evelyn (theevelynrestaurant.com)

is an intimate French-inspired restaurant

that combines fine dining with a welcoming,

unpretentious environment. The vintage interior

décor with gilded pineapple light fixtures, an

elegant wall mural and candlelit seating, make

it difficult to believe that The Evelyn has not

yet been open a year. Like many others, owner

MacLean Hann was drawn to the less frenetic

way of life available in Elora and the restaurant

has flourished with the local support and
---
eatdrink: The Local Food & Drink Magazine

friendliness of the community. The menu offers

five entrées and there are sharing opportunities

in the chaud and froid section such as mussels

or pork terrine. I enjoyed the Coq au Vin (made

with Cornish Game Hen) and a green salad

featuring shaved radish, pickled shallot, roasted

pear and dried cranberries in a chardonnay

vinaigrette which was divine, artfully presented

on blue and white willow china. The portions

were absolutely spot on and left me able to enjoy

an oozing, still slightly warm butter tart served

up with Kawartha ice cream.

Greg Dove has already been working at Elora

Bread Trading Co. (elorabread.ca/our-bread) for

about six hours when we meet at 10 a.m., but

this father of twins still looks freshly scrubbed

and cheerful as the door opens into the moist,

inviting smell of freshly baked bread. Large

bags of flour bear playful names like "Rye

Humour" and Greg is quick to mention 1847

Stone Milling in Fergus (1847.ca) for producing

organic grains and a discriminating product.

The mill actually brought a stone burr mill from

Europe in 2013, once it was clear that they were

going to make a go of it.

Modern Skincare Made with Love

The Forest City's

all-natural small-batch

skincare company

Locally Handcrafted Curated Boutique

incense, home decor, DIY supplies,

jewellery, crystals, tarot cards, eco-friendly

items and so much more ...

Greg Dove and his small staff at Elora Bread Trading Co.

turn out about 800 loaves every week. Photo: Doug North

Greg and his small staff turn out about

800 loaves every week and well over 1,000 in

peak season. The bakery offers an extensive

selection — choices vary daily — with a

naturally-leavened sourdough as a constant.

Elora Bread Trading Co. also has a tempting

lunch menu and the sandwiches are especially

popular with locals. Quality and sustainability

shine here as well with mayonnaise, hummus

and pesto all made in-house. Greg is a relative

newcomer to Elora and he also cites the warm

support of a community that reflects a united

vision of food integrity.

Elora Brewing Co. ( elorabrewingcompany.

ca) is in a building that was originally an old

111 Mount Pleasant Ave., London

Monday–Friday: 10AM – 6PM

Saturday & Sunday: 10AM – 4PM

+1 519 630 5305

info@purdynatural.ca

purdynatural.ca

Boho Bazaar Night Market

Community is our passion. We support

and sell local, and create events where

everyone can gather and grow together.

Stay updated on events @purdynatural

@bohobazaarnightmarket
---
32 | May/June 2019

At neighbourhood bar and restaurant The Porch Light,

you'll find one of the largest whiskey selections in the

region, along with a lively and friendly atmosphere

hardware store but which has been converted to a

gastropub/craft brewery. It's a lively, comfortable spot

to have a bite and sample some award-winning beer.

Elora Borealis, a Gold Medal winner at the Ontario

Brewing Awards last year, is clean and fruity and

one of many to choose from, both bottled and on

tap. Locally-sourced menu choices are delicious and

hearty with an emphasis on farm-to-table philosophy

and staff are knowledgeable and pleasant. The EBC's

interior is yet another example of repurposing, with

the original tin ceiling now adorning the bar and firescarred

beams dating back to the 1800s still visible en

route to the mezzanine level. Spotless stainless steel

vats remind diners that the brewery is directly on site,

lending a cool industrial vibe. It's obvious that a great

deal of hard work and attention to detail is paying off

and will ensure EBC's continued success.

The Porch Light (porchlightelora.com) is a singular,

intimate spot that has quickly forged a place in Elora's

eatdrink.ca |@eatdrinkmag

heart. With its clever octopus wallpaper

and funky, custom bar stools (made by

local artisan Mike Hintermeister using

re-claimed steel), the general vibe here is

full-on, unapologetically Irish pub. That

is also reflected in its having one of the

largest selections of whiskey in Southern

Ontario, over 30 from around the world

including the twice-distilled Kilbeggan.

Tayto's Cheese and Onion crisps are

here to go with it too! There is a quirky

selection of specialty cocktails/mocktails

and the companionable website

suggestion that if you don't see what

you want: "just ask, chances are we can

make it anyway!" Sunday nights herald

the "Porch Light Sessions" with live

music. There are hopes to expand further

outside during the summer months.

An eclectic menu offers many choices

from traditional Irish soup to a selection

of artisanal boards and there is a kids'

menu. All foods are chosen carefully and

the website notes "we know where our

products come from and we are proud to

highlight the best of the best."

Janet Etherington's The Cellar Pub &

Grill (thecellarpubelora.com) is enjoying

its ninth year of business. When

asked about the Elora camaraderie

Elora Mill offers a range of unique

rooms and suites, many with

breathtaking views of the Grand

River and the gorge
---
eatdrink: The Local Food & Drink Magazine

everyone talks about she raises her hands

playfully and smiles, "Born and raised in Fergus!"

She shrewdly recognized early on that

this is where she wanted to be, and that passion

is still evident.

Janet has worked with Chef Kevin Zuber for

many years and

credits his ability

to provide affordable,

quality dishes

(including glutenfree,

vegan, and vegetarian

choices) as

being a big part of

The Cellar's success.

The menu offers

house specialties

such as Lemon &

Herb Basa Fish and

the salads are especially

noteworthy.

Watermelon and

feta with blueberry

vinaigrette can be

topped with grilled

chicken, salmon,

shrimp or smoked

tofu. A stunning

outside patio at the

back is unexpected

and like entering a

painting, as the river

is silvery calm here

and one can enjoy

a drink watching

ducks (and sometimes

swans) gliding

Enjoy fine dining at

affordable prices at The

Cellar Pub and Grill, by

the river. The Cellar also

offers accommodations

with a river view.

Dining

Thames

Locally Sourced Ingredients

Authentic Italian Cuisine

Local Craft Beers

Exclusive to Southwestern Ontario

Small-Batch Region-Specific

Organic Wine by the Glass or Bottle

Take Out & Gift Certificates Available

Open for Lunch and Dinner

Tuesday through Saturday

www.fatolive.ca

2135 Dorchester Rd., Dorchester

519-268-0001
---
eatdrink.ca |@eatdrinkmag

There's more than outstanding craft beer at Elora

Brewing Company. The Kitchen supports local farmers

and producers, offers "playful" beer and food pairings,

and even has an on-site butchery. Photos: Doug North

past. Janet is an enthusiastic participant in the

Swan Conservation program and everyone looks

forward to a sighting.

During our time in Elora we were fortunate

enough to stay at The White Garden (febba.ca)

where hosts Karen and David Drimmie offer

a pampered bed and breakfast experience in

the setting of their stately home. Bright, highceilinged

rooms are filled with thoughtfully

placed art and statuary while plants billow freely

out of pots in sunny corners. The atmosphere

here is tranquility — not museum. Our room

was quietly elegant with an excellent bed and

stained glass doors. A private bathroom was

delightful with an oversized shower, modern

fixtures and plenty of hot water. We loved every

minute — including some excellent conversation

and a breakfast served on vintage china.

The Elora Mill (eloramill.ca) has been an

imposing and majestic landmark since it was

built over 175 years ago. Its location offers

dramatic views of both the Gorge and the

Grand River thundering beneath. After a series

of incarnations and sadly, some neglect, the

former grist mill (one of the few five-storey

Ontario mills still in existence) has recently

been transformed into a luxury hotel and spa

by Pearle Hospitality owner, Aaron Ciancone

— but with a genuine sensitivity and respect

not often seen. Twenty seven million dollars

in renovations included carefully repointing

stone, the creation of the Mill's own power

plant to take advantage of the Grand River's

hydro potential, thirty opulent guest rooms,

many featuring breath taking views and

every imaginable luxury, 'The Granary' with a

rooftop garden suitable for special events and

weddings, and an elegant dining room with

seating overlooking the river and falls. The site

of the Mill's stables have also been re-imagined

as a new spa complex and incorporates cliffside

views of the gorge.

We enjoyed lunch in Elora Mill's dining

room which provides an authentic vista to

the river and gorge below. The atmosphere

is stylish but friendly and our server was

especially good. I particularly admired the

staff uniforms, which included long brown

tailored aprons as chic as a Burberry scarf and

flattering to both male and female servers.

The menu offered traditional mains and I

selected the frittata which was sinking with

mushrooms and tangy sheep's milk cheese;

my partner ordered salmon which was cooked

to flaking pink perfection.

For those who want to combine Elora's

history, scenic beauty and the Grand River

consider a "punt" tour. These 20-foot Englishstyle

punts, hand-crafted by Ken Thompson,

are similar to gondolas. Thompson's company,

Elora Raft Rides (eloraraftrides.com) offers

guided or self-piloted options as well as

a myriad of customizations from white

water to twilight tours to specialty (add a

musician, a historian — or a picnic basket!)

to eco-cruising (400 million year old fossils,

anyone?) Thompson notes that the flatbottomed

punts are manageable for seniors

and stringent safety precautions are in place.

Ken's sincere passion for Elora's history

presents a unique opportunity to spend some

time on the river.

Choose whatever you want to do in Elora

— you'll be so glad that you came!

SUE SUTHERLAND-WOOD is a freelance writer and

regular contributor to Eatdrink. Read more of Sue's work

at www.speranzanow.com

DOUG NORTH is an enthusiastic photographer, writer

and historian living in London.

Sue and Doug were guests of ELORA & FERGUS

TOURISM (elorafergus.ca), which did not review or

approve the contents of this article.
---
eatdrink: The Local Food & Drink Magazine

Beer

For the Love of Lager

Craft Brewers Take on Big Beer Brands

by GEORGE MACKE

May/June 2019 | 35

Big beer, move over. Craft lagers are

gunning for your core brands. Small

batch microbrewers once shunned

making lagers in favour of ales,

mostly because lagers take more tank time

and major brands had lager fans sewn up.

But no more. There's been an explosion in

the number of thirst-quenching craft lager

offerings as independent brewers respond to

demand from fans for less hoppy options.

Still, don't expect a craft lager to taste

anything like a Budweiser, the North

American standard for an easy-to-drink pale

ale. Once you start exploring craft lagers

and their clever flavour nuances, Bud will

come across as watery.

(Fun fact: Bud is brewed to exacting

standards of consistency so that, for

example, a Bud brewed in London using

Great Lakes water will taste the same as one

from the original brewery in St. Louis. Craft

lagers could vary batch-to-batch.)

Not every lager from craft brewers is a

pale lager or a pilsner. Helles, marzen, dunkel

and Schwarzbier lager styles are all brewed by

various microbreweries and are more flavourful

lagers to sip and savour.

Fresh and local, craft lagers are where it's

at from Victoria Day to Labour Day, on decks

and docks everywhere. Here are 12

to seek, taste and compare.

Long Pond Lager, Bayside

Brewing — I'll bet the folks at this

little brewery on the shore of Lake

Erie pictured a day of fishing when

they developed the recipe for this

honey-aroma lager. Along the way,

they hooked those of us who've never cast a

line. The LCBO suggests pairing it with tacos

or burgers. I prefer pairing it with a wood-fired

Bayfield Classic pizza and a waterfront view at

the brewery in pretty Erieau.

Shindig, Cowbell Brewing — A

German-style pilsner brewed in Blyth

using all Canadian barley malt and hops

imported from Germany, Shindig has

become hugely popular. I picture Huron

County farmers reaching for it as a

twilight, end-of-workday reward. True

to style, Shindig is low in bitterness

with a character described as bready.

Square One Pilsner, Square

Brewing — Can you be a microbrewery

in a beach town and

not offer a lager? Square Brew

in Goderich offers a classic

refresher with Square One, which,
---
36 | May/June 2019

eatdrink.ca |@eatdrinkmag

Breweries,

Craft Beers, spirits,

Wines, Coolers,

Food trucks, BBQ,

Live MusiC,

GrilLing stage,

BaCkyard GaMes

& MuCh More!

WesternFairDistrict

@WesternFair

#LdnBeerBBQ
---
eatdrink: The Local Food & Drink Magazine

May/June 2019 | 37

#LDNBEERBBQ

JUNE 14&15

FRI @ 6PM-11PM | SAT @ 12PM-5PM | SAT @ 6PM-11PM

SAMPLE NEW & UNIQUE SUMMER FLAVOURS

SLOAN

THE REKLAWS

FRIDAY EVENING

CONCERT INCLUDED WITH ADMISSION

SATURDAY EVENING

CONCERT INCLUDED WITH ADMISSION

JOIN OUR SHOW! BECOME AN EXHIBITOR, SPONSOR OR PARTNER

CONTACT SALES@WESTERNFAIRDISTRICT.COM OR CALL 519.438.7203

GET YOUR TICKETS BEERBBQSHOW.COM

845 Florence St. London, ON
---
38 | May/June 2019

like Cowbell's Shindig, is brewed with Canadian

malt and German hops. Square also does a

Vienna-style lager, which is dark and malty,

called Vienna is Waiting.

Daly Pil, Herald Haus Brewing — The yearold

Stratford brewery has a new light pilsner

which hasn't yet passed my

lips. It's 4.7 per cent alcohol

and described by the brewery

as classically crisp. Herald

Haus also has Dingman Dark

Lager, named in honour of

Stratford's first mayor, brewed with intensely

dark (and local) Midnight wheat malt.

Oops, It Fell Out, Stonepicker Brewing

Co. — This pilsner from a farm-based brewery

in Forest uses barley malted on

site. At 5.75 per cent alcohol, it's

more potent than most and at 5

IBU, it's the malt-forward anti-IPA.

Undertone, Storm Stayed

Brewing — The beer board

constantly gets revised as recipes

come and go at this strip mall

microbrewery on Wharncliffe Road

in London. Undertone's

cool factor is that it's a lager

brewed with purple corn.

eatdrink.ca |@eatdrinkmag

Waterloo Craft Lager — One of Ontario's

oldest continuously operating craft

breweries, Waterloo Brewing marks

a milestone 35 years of beer-making

by introducing a new lager — a yin

to the yang of Waterloo Dark. Widely

distributed at the Beer Store and LCBO,

this new craft lager is

sessionable at 4.7 per cent

alcohol, and versatile with

summertime food pairings.

Waterloo Pilsner —

Waterloo Craft Lager's older and

wiser sibling has more bitterness

and is highly touted for pairing

with seafoods from calamari to

fish and chips.

Liquid Schwartz, Forked

River Brewing — Some

like it dark. Lagers need not

be light and sessionable.

London's Forked River brews

#ItsWhatWeDrink

NOW AVAILABLE IN 355 mL BOTTLES

144 DOWNIE ST, STRATFORD, ON 519 • 814 • 7926

BLACKSWANBREWING.CA @BLACKSWANBREWINGCO
---
eatdrink: The Local Food & Drink Magazine

a Schwarzbier dark lager which, last I checked,

was still available at the 45 Pacific Court

brewery. As the brewery says, think roasty

pilsner. Better suited to cool weather, Liquid

Schwartz still resonates as a ratcheting down

from ports and stouts.

London Natural Lager, London Brewing

— The microbrew co-op on Burbrook Place

made beer drinkers throughout

Southwestern Ontario stand up and

take notice with this flavourfulyet-accessible

lager recipe. London

Natural Lager is brewed in the

Munich helles style. They've used

North American Sterling hops, which

provide a spice and herb aroma.

Available in distinctive silver cans at

the brewery, Beer Store, and LCBO,

remember to pour it in a nonic glass

or, in a pinch, a red Solo cup. Pairs best with

hot summer nights, campfires, and loons.

Country Pilsner, Ramblin' Road Brewery

Farm — They don't mind taking it slow down

on the farm. Czech-style and richly-flavoured,

Country Pilsner starts smooth and ends bitter.

May/June 2019 | 39

It pairs with sausage, chicken,

and fish as main courses or light

desserts such as fresh berries with

whipped cream, according to the

brewery's cheat sheet. Ramblin'

Road is near Delhi.

Astro Pils, Sons of

Kent Brewing —

Chatham-based Sons of

Kent takes a page from both German

and Czech pilsner styles to create

Astro Pils. They've used both Czech

Saaz hops and German Select. The

result, as expected, is a crisp beer.

It's 5 per cent alcohol and at 32 IPU,

bitterness beckons with a whisper

and a wink.

Lager Alternatives

If your favourite craft brewery doesn't have a

lager, reach for a cream ale or American pale ale.

Great local examples are Anderson Cream Ale

and Homecoming APA from Powerhouse.

GEORGE MACKE is a Southwestern Ontario craft beer

explorer who spends too much time at the LCBO.

Road Trip!

FAMILY-FRIENDLY, FULLY-ACCESSIBLE RESTAURANT

and DESTINATION CRAFT BREWERY in BLYTH

40035 BLYTH RD., BLYTH, ON N0M 1H0 1-844-523-4724 WWW.COWBELLBREWING.COM
---
40 |

Wine

Cool Ontario Chardonnays

A Crisp Taste of Our Climate

by GARY KILLOPS

Ontario is a cool

climate wine

region, but

what does that

really mean?

Because of the lower

temperatures, grapes

grown in cool climates

tend to preserve their

acidity. The wines tend

to be crisper and often

lower in alcohol.

The fruit flavours

lean towards tree

fruits such as

apple and peach

rather than tropical

fruit notes like

pineapple.

Some wines,

such as chardonnay,

tend to express the

climate that the grapes are grown in.

The I4C

The 9th annual I4C, or International Cool

Climate Chardonnay Celebration, runs from

Friday, July 19 to Sunday July 21 in Niagara,

Ontario. Winemakers from cool climate

regions around the world will converge to

talk, sip, and share the chardonnays that they

have produced. Tickets for the weekend-long

event are already on sale and some of the

popular events sell out fast.

The I4C offers a choice of wine, food and

educational experiences that will showcase

Ontario's most popular and most planted

grape, along with cool climate chardonnays

from other regions around the world such as

Chablis and Champagne France, Southern

Australia, Northern California, New Zealand

and Nova Scotia.

Popular events such as "Flights of

Chardonnay" offer those attending the

opportunity to taste chardonnays poured

by the winemakers from regions around the

world. The event is held at the Niagara District

Airport and features five Niagara restaurants

offering small bites (for a fee) that pair well

with cool climate chardonnays.

On Saturday July 20 the Canadian Food and

Wine Institute will host a cool climate world

tour tasting and dinner at Niagara College.

This event is often the pinnacle event of the

weekend.

Grape Growers of Ontario will also host

an event on Saturday afternoon called "Kick

The Dirt." Those attending this event tour

vineyards in Niagara and meet with the some

of the passionate grape growers. The growers

will discuss the soils, climate, and the vine
---
eatdrink: The Local Food & Drink Magazine

management techniques used to produce

their award winning chardonnays.

HAPPENS!

A total of 50 wineries (28 Ontario and

22 from other regions) will be showcasing

chardonnay over the weekend, in seven

organized tasting events. Visit the I4C

website at CoolChardonnay.org for more

information on the events, times and prices.

Why Choose Chardonnay?

Chardonnay is a versatile grape. It can be aged in

oak to add flavour complexity. It can be used to

make sparkling wine and can also be fermented

dry or left with a touch of sweetness.

Chardonnay is grown in all three of

Ontario's VQA wine appellations.

Approximately 125 wineries in Ontario

produce chardonnay. It is used in 18% of

Ontario's annual total production and is

most often fermented to a dry style.

Here are several of Ontario's cool

climate chardonnays for you to

consider.

Fielding 2017 Unoaked

Chardonnay (Vintages #164491,

$15.95) — This is a clean, fruit

forward chardonnay.

Red apple, melon, and

nectarine fruits linger

on the palate for quite

some time. It is crisp,

clean and refreshing. An

easy sipping wine that highlights

Ontario's cooler climate.

Consider serving this one as

an aperitif, or with some light

appetizers.

Southbrook 2016 Triomphe

Organic Chardonnay

(Vintages #172338, $24.95) —

Quite a complex chardonnay.

Fresh peach, lemon, and green

WINE TASTINGS • EVENTS

HIKE OUR TRAILS!

Spring

Hours:

Wed–Sun

12-6

7

SARNIA

LAKE

HURON

21

Grand

Bend

Forest

Aberarder Line

21

402

London

77 km

Available at the winery, select LCBOs & farmers' markets

5547 Aberarder Line, Plympton-Wyoming

519-899-2479 • altonfarmsestatewinery.com

Winemaking

at Its Finest

Premium quality handcrafted wine

at an affordable price

150 Exeter Road, London 519-652-3998

somersetfinewines.com

OPEN TUES–FRI 10am–7pm & SAT 9am–4pm
---
42 | May/June 2019

eatdrink.ca |@eatdrinkmag

EXPLORE

TASTE SAVE

WITH OUR NEW EPIC TASTING PASS

A tasting and discovery pass you can use all year long in

Windsor-Essex Wine Country! Enjoy 1 experience at each of the 11

participating wineries and take advantage of these huge savings!

THE EPIC TASTING PASS INCLUDES:

ONLY

$

25

× × ×

EPIC

TASTING

PASS

$

100 VALUE

11

WINERY

EXPERIENCES

Explore × Taste × Save

WE'RE GOING

DIGITAL!

PREMIUM

FLIGHTS &

TASTINGS

GREAT

WINERY

TOURS

BUY YOURS AT EPICWINERIES.COM
---
eatdrink: The Local Food & Drink Magazine

May/June 2019 | 43

Experience Canada's Hottest Wine Region

MAKE IT AN

EPIC WEEKEND!

SAVE THE DATE FOR OUR 2019/2020 EVENTS

Dip Into Summer

May 25 & 26, 2019

EPIC Vintage Tasting

August 11, 2019

Meet the Makers

February 8 & 9, 2020

March MAC'ness

March 7 & 8, 2020

Taste the Season

November 23 & 24, 2019

FOLLOW US FOR NEWS & UPDATES
---
44 | May/June 2019

apples, ginger spice, butterscotch, and vanilla.

With a medium plus body it has some weight

to it. Ontario's cool climate is expressed in the

vibrant acidity that leads to a lingering finish.

Will pair nicely with creamy Parmesan garlic

mushroom chicken.

Cave Spring Estate 2016 Chardonnay

(Vintages #256552, $19.95) — Fresh green

apple notes, lemon peel citrus. Lighter in

style than one might expect, resulting in a

graceful, elegant chardonnay. The elevated

SOMETHING

BIG

IS COMING!

Reminder:

Visitors Welcome

While Renovations

Are Underway!

Colchester Ridge Estate Winery

108 Essex County Road 50

Harrow ON

519-738-9800

@crewinery

eatdrink.ca |@eatdrinkmag

acidity allows this wine to be paired

with fried chicken and other fried

dishes.

Flat Rock "The Rusty

Shed" Chardonnay

2016 (Vintages

#1552, $21.75) — This

is a big, full-bodied

chardonnay leading

with oak dominated

notes. Rich and

complex. Apple

and citrus notes

balance the oaky

vanilla very well.

The wine's creamy texture will

entice anyone who loves this big,

oaky style of wine.

Closson Chase

Vineyard 2016

Chardonnay (Vintages

#148866, $29.95) — The 2017

vintage was released on April

1. Bottles of the 2016 vintage,

which are from a warmer

vintage for Prince Edward

County, are still available

at select locations. Ripe

apple, pear and citrus fruit,

creamy butter, vanilla

and butterscotch notes

complement. Well-balanced

and deliciously complex!

GARY KILLOPS is a CAPS Certified Sommelier who

loves to talk, taste, and write about wine. He shares his

tasting notes on EssexWineReview.com
---
More Local VQA Chardonnays

Aleksander Estate Winery

2013 Chardonnay, $16.00

Alton Farms Estate Winery

2017 Unoaked Chardonnay, $23.00

2016 Oaked Chardonnay, $16.00

Colchester Ridge Estate Winery

2016 Chardonnay, $13.95

2016 Flagship Chardonnay, $19.95

Colio Estate Wines

2016 Bricklayer's Predicament Chardonnay, $13.95

2015 Girls' Night Out Chardonnay, $10.95

Cooper's Hawk Vineyards

2013 Barrel Fermented Chardonnay, $17.95

2016 Chardonnay Musqué, $16.95

2015 Unoaked Chardonnay, $14.95

Mastronardi Estate Winery

2013 Chardonnay, $14.00

Oxley Estate Winery

2017 Chardonnay, $18.95

Pelee Island Winery

2017 Chardonnay, $12.45

2016 Chardonnay Reserve, $13.95

2012 Chardonnay Vinedressers, $17.95

Sprucewood Shores Estate Winery

2016 Unoaked Chardonnay, $14.95

2016 Barrel Chardonnay Hawk's Flight

Reserve, $22.15

Viewpoint Estate Winery

2013 Chardonnay, $16.95

Vivace Estate Winery

2016 Chardonnay, $17.00

Open daily year round 11am-5pm

Quality Craft Wines

Beachfront Picnics

www.sprucewoodshores.com 519-738-9253

Enjoy Our Wines, Available at the LCBO

An EPIC Wine Region

that shares latitude,

not attitude.

We pride our winery experiences

as being laid back and fun. Enjoy

our scenic wine route by taking an

unforgettable road trip, or if you're

feeling adventurous, pedal your way

around the shores.

Fun Fact!

Our EPIC Wine Region shares the same

latitude as some of the worlds most

renowned wine making regions, including

Tuscany.

#WINERYQG

visitwindsoressex.com

Donna Feore
---
46 | May/June 2019

eatdrink.ca |@eatdrinkmag

Embrace the

Season, London.

It's Patio Time!

Savoury

Seasonal

Cuisine

Smoked

Scallops

Tuscan Stuffed Chicken

Large Patio Now Open!

Outdoor Patio

Coming Soon!

Ample

Free

Parking

310 Springbank Drive, London

519.657.1100

thespringsrestaurant.com
---
eatdrink: The Local Food & Drink Magazine

An Experience to Savour ...

BLACK

Vegan &

Vegetarian

Options

TRUMPET

Far Out ...

but we like it that way!

Perfect Venue for Groups, Weddings, Receptions,

Bridal Showers. Rehearsal Lunches & Dinners!

Private Dining Rooms with Audiovisuals

Enjoy Our

Beautiful

& Tranquil

PATIO

NEW

Spring Lunch

& Dinner Menus

Local Craft Beer

Order

GIFT CARDS

Online!

OPEN MON–SAT

11:30 am–close

523 Richmond St, London www.blacktrumpet.ca

RESERVATIONS: 519-850-1500 | info@blacktrumpet.ca

SUNDAY BRUNCH

11am−2pm

Now Open!

Intimate

Outdoor

Courtyard

Blair Blvd

London

International

Airport

Crumlin Rd

Oxford St

MON & TUES: Lunch 11–3

WED, THURS & FRI: Lunch 11–5; Dinner 5–9

Weekends: Breakfast 9–12, Lunch 12–3, Dinner 5–9

Come for the planes and fall in love with the food!

Patio overlooking

the airport runway

NOW OPEN!

519-455-9005

katanakafe.ca

2530 Blair Blvd, London

Diamond Flight Centre

Open 7 Days a Week

Mon/Tues 11:30-10, Wed/Thurs 11:30-11, Fri/Sat 11:30-12, Sun 11-10
---
48 | May/June 2019

eatdrink.ca |@eatdrinkmag

Theatre

Summertime ...

And the Theatre Is ... Diverse!

By JANE ANTONIAK

It is fair to say there is something for everyone this

summer at regional theatres. An elephant with ties to

St. Thomas (any guesses?) shows up in Blyth, while the

saga of the Donnelly's from Lucan hits the stage at Port

Stanley. There's also Canadiana from Norm Foster who goes to

Lunenburg, Nova Scotia and delivers the story home to Lake

Erie. Another legendary Canadian playwright, Dan Needles,

brings his iconic rural reflections twice this season — to Blyth

and also to Port Stanley. And hot on the heels of last summer's

curling hit comes another comedy by Stratford writer Mark

Crawford, Bed and Breakfast, also at Blyth. This and so much

more is detailed below to help you map out your summer

theatre trips.

While summer theatre is usually lighter fare to match the

carefree season, we are going to be challenged as well. Blyth's

artistic director Gil Garratt has taken on one of the most serious

crimes of our region, the murders of seniors by former nurse

Elizabeth Wettlaufer, and co-written it into a play. We start our

summer theatre roundup in Blyth, located 95 kilometres north

of London.

Blyth Festival Theatre

Blyth Festival Theatre is celebrating its 45th season with a

deepened commitment to producing Canadian stories for the

stage. It kicks off its anniversary season on June 14 with a

world premiere, Jumbo. Anyone who has driven into St. Thomas

will have seen the statue of this famous elephant from P.T.

Barnum's circus. The statue marks the tragic ending of Jumbo

the elephant, hit and killed by a train in Southwestern Ontario's

"railway city". Playwright Sean Dixon and Director Garratt have

set out to tell the story on stage of Jumbo's fame, which lives on

in local lore. Pass the peanuts and get ready for a nostalgic show.

Heading into Canada Day weekend, Blyth brings back a 1984

premiere, Cakewalk, written by Colleen Curran and directed

by Kelli Fox. Imagine today's baking wars television shows set

in the 1980s. It is a good thing there are delicious cookies for

sale in the Blyth community hall as you are sure to get hungry

watching this show!

Dan Needles of Wingfield fame has two shows at Blyth this

season. There is a pre-season performance May 23–25 of True

Confessions from the Ninth Concession, followed

later in the summer by The Team on the Hill

directed by Severn Thompson.

"This is a season full of spectacle, comedy,

The playlist this season at Blyth Festival Theatre

includes (from the top): Team on the Hill; Jumbo; In the

Wake of Wettlaufer; Cakewalk; and Bed and Breakfast.
---
eatdrink: The Local Food & Drink Magazine

drama, and current affairs; a season full of

larger-than-life creatures, and true-to-life

stories; a season that exemplifies our mission

to give voice to the region and the country.

Our 45th consecutive season of producing the

best in new Canadian plays," says Garratt.

Garratt had landed in some controversy

as we went to print over his decision to

co-write and direct a new play which has its

roots in the tragic nursing home murders by

Wettlaufer. At least one family member of a

victim is calling for a boycott of In the Wake of

Wettlaufer. Garratt has publically stated that

he sees the play as a vehicle of change when it

comes to the country's health system. He has

also shared on Blyth's social media site how

the play was developed.

In the post Garratt said "long term care in

Ontario is in crisis", and feels the conversation

created by the play is "urgent, relevant, and

necessary." Props to Blyth for taking on the

difficult with the charming this season.

The theatre and the impressive Cowbell

Brewery have brought tourism back to this

corner of Huron County. Take some time for a

self-guided tour of the brewing premises and

giving

up the ghost

W ORLD

P RE

M IERE

July 3 to July 20

PortStanleyFestivalTheatre

by Arlin Dixon & Matthew Gorman

519-782-4353 www.psft.ca

show sponsor

W ORLD

P RE

M IERE

LIVE. ORIGINAL. CANADIAN. THEATRE.

FROM JUNE 12 TO SEPTEMBER 28, 2019

1.877.862.5984 BLYTHFESTIVAL.COM

• JUMBO • CAKEWALK • THE TEAM ON THE HILL

• IN THE WAKE OF WETTLAUFER • BED AND BREAKFAST
---
50 | May/June 2019

eatdrink.ca |@eatdrinkmag

enjoy some local taps for those who are recording beer

tastings in their apps. Cowbell also offers a full menu

for lunch and dinner. It is a busy spot so book ahead.

blythfestival.com

Port Stanley Festival Theatre

The recently renovated Port Stanley Theatre is a perfect

little jaunt from London on a summer's day or evening.

Allow space in your schedule for the Lake Erie perch

offered at local restaurants. It can't be beat! The theatre

itself is now licensed and offers drinks before the show

and at intermission on two patios. It is located right on

the harbor in Port Stanley, next to the bridge.

The theatre company has expanded the season from

five to six shows running from May 21 to September

7. It is a delightful mix of mystery, music and comedy.

Artistic director Simon Joynes has created quite the

playlist for the summer. "Our 2019 season is an exciting

blend of Canadian stories taking our patrons from the

intimate concert setting of Jeff Culbert's The Wildest

Town in Canada: Donnelly Songs and Stories to Norm

Foster's Lunenburg through the world premiere of

Giving Up The Ghost and Jamie Williams' madcap period

farce It's Your Funeral. We're excited by the size of the

season, by the design challenges, and by the fact that it's

our biggest season to date with six unique productions."

Joynes explains that they've gone to a larger season

because it challenges them to become better at what

they do, and because it increases the variety of programming

that they can offer their patrons. psft.ca

Victoria Playhouse Petrolia

Last year's hit at the Blyth Festival, The New Canadian

Curling Club, saw a successful run in Alberta this past

winter. It now returns to our region August 6-25 at

Victoria Playhouse Petrolia. This delightful poke at our

obsession with the game is a comedy. New Canadians

learn the skills and traditions from a crusty rink rat

coach. Any curling fan will simply love it.

Victoria Playhouse Petrolia is a busy spot, with the

longest season in our area for local theatre this summer.

It opens on April 30 with a tribute show to Carole

Victoria Playhouse Petrolia

The summer line-up at Port Stanley Festival

Theatre includes (from the top): The Wildest

Town in Canada: Donnelly Songs and Stories,

"Like Father, Like Son? Sorry.", Lunenburg,

Giving Up The Ghost, and Ed's Garage.
---
eatdrink: The Local Food & Drink Magazine

May/June 2019 | 51

world curious

London proud

2019/20 season Titanic This London Life

between breaths Mary Poppins room

Fully Committed Every Brilliant Thing

Grow The Runner Honour Beat

juno's reward jeans 'n classics

Subscriptions on sale now

Single tickets on sale July 2

season

sponsor

grandtheatre.com

519.672.8800
---
52 | May/June 2019

eatdrink.ca |@eatdrinkmag

King and James Taylor and wraps

up fittingly in late October with

Dracula, a Chamber Musical. This

production sees the return of David

Rogers as co-artistic director in the

same production he performed on

the Stratford Festival stage back in

the late 1990s. thevpp.ca

Stratford Festival

Last issue we published a feature

interview with Donna Feore,

choreographer and director at

The Stratford Festival, hot on the

heels of last season's hit The Rocky

Horror Show. This year she is busy

again at Stratford with two big

shows: Billy Elliot and Little Shop of Horrors.

They both open in late May. It looks like an

amazing season at Stratford. Congratulations

to artistic director Antoni Cimolino, who has

had his term extended through to the 2024

season. No surprise there as Stratford posted

a $1.9-million surplus, with a 10% increase

in attendance to 502,605 in 2018. It was

their longest season on record, running into

Stratford Festival presents Shakespeare's The Merry Wives of Windsor

from May 11 – October 26, directed by Antoni Cimolino. Above, from

left: Brigit Wilson, Sophia Walker, and Geraint Wyn Davies.

Creative Direction by Punch & Judy Inc. Photography by David Cooper.

December, thanks to the mega fans of Rocky

Horror. More than 100,000 patrons saw the

show. stratfordfestival.ca

JANE ANTONIAK is a regular contributor to Eatdrink.

She is also Manager, Communications & Media Relations,

at King's University College in London.

WIN A LEXUS FOR A WEEKEND!

Plus get your own car cleaned and detailed!

eatdrink &

Presented by

Enter at facebook.com/eatdrinkmag

Contest ends June 24, 2019. Complete details online.

Congratulations Tom Anguish,

winner of our March/April Draw!
---
eatdrink: The Local Food & Drink Magazine

May/June 2019 | 53

London

The goal of the Culinary Federation of Chefs &

Cooks is to unite chefs and cooks across Canada in a

common dedication to professional excellence. The

Federation was founded in 1963 and incorporated

in Ottawa as a non-profit association in 1972.

Throughout its history as Canada's largest federally

chartered professional chefs' organization, the name

of the federation has undergone several changes to

recognize the chef's continually changing role in the

kitchen and education. Membership in the Culinary

Federation is available to any and all persons with

career paths as a Cook Apprentice, Journeyman

Cook, Professional Chef/Cook or Culinary

Professional. culinaryfederation.ca

Congratulations to Vanessa and Pete Willis of

The Church Key Bistro-Pub. Downtown London's

landmark restaurant with farm-to-table cuisine

and an impressive selection of wine and craft beers

is celebrating 10 years in business on May 1. 476

Richmond St. 519-936-0960, thechurchkey.ca

We're crazy for the gnocchi at Radu Rotariu's

recently opened Bocconcini at Southdale and

Hyde Park Road. Chef David Taylor's pillowy

potato dumplings with braised beef, cabernet and

wild mushrooms are authentic and classic Italian

cuisine. The manicotti is out of this world and the

silky tiramisu otherworldly. 1140 Southdale Road

West, 519 601-7799

Eduard Nagy and Anita Tasonyi have taken

over operations at London's landmark Budapest

Restaurant. Signature dishes include a variety of

superb schnitzels, chicken paprikash, goulash and

The BUZZ

Culinary Community Notes

More than just a Coffee Shop!

iconic Hungarian cabbage rolls. The restaurant

has long served as one of the city's quintessential

European restaurants for dining out. The familyrun

restaurant offers banquet facilities and is

available for lunch and dinner parties, celebrations,

business meetings, and weddings. There is a

seasonal street-side patio. 348 Dundas Street, 519-

439-3431, budapestrestaurant.net

Angelina & Carmine Ianni, formerly of Pasquales,

opened C'Angelina and retail prepared foods and

fresh meats as well as offering family-style catering

— including BBQ whole pigs. Check out the sausage

making classes. You also will find them at London

festivals this summer and at the Pinery Market in

Grand Bend. 426 Third St, Tuesday–Friday, 1–6 p.m.

facebook.com/cangelinameatcatering/

Aroma of India owner Venkat Matta and chef Sunil

Kumar offer well-seasoned Indian cookery with

plant-based, lamb, chicken and shrimp dishes at

different levels of spice. We like the crisp onion

bhajias and spicy Chana Masala. There are varieties

of locally-brewed Coolindia featuring traditional

Sanskrit names on offer. Open for lunch and dinner.

Closed Mondays, 350 Dundas Street, 519-601-5353,

aromaofIndia.ca

Olha and Anatolii Prytkova's family-owned

Happiness Coffee and Desserts, on Wellington

Street across from One London Place, features

European-style coffee and scratch baking, including

seasonal and specialty cakes, macarons, cupcakes

and chocolates. The name Happiness comes from

when the Prytkovas were home in Ukraine. A friend

bought a box of cakes that Olha had baked and said

PATIO

OPEN!

24

Gelato

Flavours!

Including Gluten-Free,

Vegan & Dairy-

Free Options

Gelato to Go in ½ litre & 1 litre containers

Try our new Gelato Paninis!

Pour Over Coffee Bar

Iced Coffee

Open Daily 8am–9pm

825 Southdale Rd W, London

519-652-1607

creambeanerycafe.com
---
54 | May/June 2019

it was like a box of happiness, and the name stuck.

430 Wellington St., 519-204-2854

Edo Peljhi of Garlic's of London is this year's

recipient of the Fanshawe College Tourism,

Hospitality and Culinary Arts award for Industry

Supporter of the Year. There is tremendous

demand for trained hospitality professionals across

the globe, and Fanshawe's programs provide a solid

foundation to set participants on a career path that

could take them anywhere in the world.

"Elles sont Food, and You?" is open to women

chefs, sous-chefs, pastry chefs, cooks and food

entrepreneurs, living in Ontario and involved in

the gastronomy scene. The culinary competition

is an event organized by the Consulate General

of France in Toronto, in partnership with the Ted

Rogers School of Hospitality and Management,

Ryerson University. The goal for the participants is

to showcase the culinary culture of Ontario and/or

France by creating the best cocktail party possible.

For this, they will have to rely not only on the

specificity of French culinary culture but also on

the diversity and richness of Ontario cuisine with

the objective of showcasing the best local Canadian

and/or French ingredients.ellessontfoodandyou.ca

eatdrink.ca |@eatdrinkmag

The 2019 Hospitality Awards Gala, presented

by the Ontario Restaurant Hotel and Motel

Association›s London Region, will take place

at the London Convention Centre on June 17.

londonhospitalityawards.com

There are plenty of changes for brothers Gregg

and Justin Wolfe this spring. Originally, the Wolfe

brothers had planned to refigure the recently

closed Wolfe of Wortley space to build a new

pizzeria, but after finding the London Pride Fish

and Chips on Chester Street at Ridout vacant, they

altered their vision. They will now be opening the

pizzeria which they will call Through Thick and

Thin in the London Pride space. More recently, they

opened a smaller incarnation of The Early Bird —

their iconic downtown diner — known as the Little

Bird Café in the former Wolfe of Wortley space.

The brothers had already taken over the former

premises of the Village Harvest Bakery next door

and plan to expand and rebrand as The Wolfe Pack

Company Bar. The brothers also own and operate

Los Lobos — think modern Mexican flavours, with

innovative riffs and ideas with lots of cool Mexican

imagery and local references. London watches for

their next moves with great interest!
---
eatdrink: The Local Food & Drink Magazine

We popped by Wortley Village's hospitable Bake

Shop Studio to visit owner Kate St Laurent and her

hospitable crew. This boutique bakery specializes

in beautiful, made-from-scratch cakes and pastries.

When they aren't baking they offer hands-on

baking classes and mentorship for artisan bakers.

They are open Thursday and Friday 11-4pm and

Saturdays 10am-2pm. A selection of small pastries

and cupcakes are available to purchase for walk-in

clients. One of London's well-kept secrets, the

bakery is located upstairs at 145 Wortley Road.

bakeshopstudio.com

From Pottage to Pinperneau: The Eldon House

Cookbooks. This exhibit will display and interpret

several historical cookbooks in the museum's

collection and elaborate on the origins, uses and

terminology of these wonderful examples of social

history. The Eldon House Collection holds several

books of cookery — from printed materials to hand

inscribed "receipt" books. Historical cookbooks

contain more than just tips on turning a "joint of

meat to perfection;" they are encyclopedias of

domestic advice, encompassing recipes for home

remedies and medicinal treatments as well as

delicious desserts. June through November.

Afternoon tea on the beautiful lawn of Eldon House,

overlooking the Thames River, returns July 2

through August 25, Tuesday through Sunday. Light

Tea is $15.00 (incl. HST) per person and includes a

scone with butter and jam, fresh fruit and a small

dessert item. Full Tea is $26.00 (incl. HST) per

person and includes tea sandwiches, a scone with

butter and jam, fresh fruit and a variety of dessert

items (24 hour advanced registration). 481 Ridout

St. North, eldonhouse.ca

If you love beer and grilled foods you can't ask for

a better place to enjoy the true tastes of summer

than at the London Beer and BBQ Show on June 14

and 15. Highlights for this year include unique BBQ

and Beer flavours — grill experts are on hand with

live cooking demonstrations. Watch the eatdrink.

ca website for more updates on this show, which

has earned a permanent spot on the June calendar.

New this year: Saturday will be divided into an

afternoon and an evening show. Admission includes

a performace by rockers Sloan on Friday night, and

country favourites The Reklaws on Saturday night.

westernfairdistrict.com/beer-bbq-show

Willie's Café continues to grow and thrive in the

London Food Incubator at 630 Dundas and will be

celebrating two years at the new location at the

beginning of June. Ian Kennard has expanded the

seating with more tables, comfy chairs and a new

London's New Culinary Adventure!

African Breakfast

Sundays

"Reasonably priced, fresh, well-executed

Ethiopian cuisine ..." — Bryan Lavery, Eatdrink

• FAMILY FRIENDLY

May/June 2019 | 55

• Vegetarian &

Vegan Options

• Takeout

• Catering

• Reservations

Recommended

ADDIS ABABA Restaurant

Tuesday–Sunday 11am–10pm by reservation

Closed Monday

465 Dundas Street 519 433-4222

www.tgsaddisababarestaurant.com

Loose Leaf Teas & Tisanes

•

Contemporary & Traditional Teaware

•

Fresh Soups, Salads, Cheese Boards,

Fresh-baked Scones,

Tea

& Chocolate

Pairing with

Sweet Brigadeiros

Fri., May 24

Desserts

Mother's

Day Traditional

Afternoon Tea

Sun., May 12

Noon–2pm

Petojo

@ the Lounge

Indonesian Plantbased

Pop-up &

Tea Pairing Dinner

Sat., June 8 268 Piccadilly Street

(beside Oxford Book Store)

519-601-TEAS (8327) • tealoungelondon.com

WED & THURS 11am-6pm • FRI & SAT 11am-9pm • SUN noon–5pm
---
56 | May/June 2019

cozy dining area. There is inexpensive municipal

parking off of Queens Ave. and customers are

welcome to use the entrance accessible from the

parking lot. Check out some of the new menu items,

including house-made sodas, lemonades and

specialty desserts. Willie's continues to provide

catering services with a focus on office/corporate

lunches. willescafeandcatering.com

The outdoor Farmers' Market at Covent Garden

Market is held on Saturdays from 8 a.m.–1p.m.,

through to December. New this year is a Night

Market on Thursdays from 4–7p.m.

Freshly home-made in the heart of the community

The

Village

Teapot

Licensed

Dine In & Take Out

Catering & Private Events

Breakfast • Brunch • Lunch • Cream Teas

Wed–Fri 10:30–3:30

Sat & Sun 10–2

Reservations

Recommended

Check our website

for our Sunday

Roast Events!

13257 Ilderton Road, Ilderton ON

thevillageteapot.ca

519-298-TEAS (8327)

eatdrink.ca |@eatdrinkmag

LULU Magazine invites you to enjoy The Latin

American Festival. Experience Latin American art,

music, rhythms and iconic Latin American food in the

Covent Garden Market Square. There will be a Salsa

and Bachata contest. Saturday, June 1, 2–11p.m.

FIESTA London Mexican Festival brings the

sounds, culture and tastes of Mexico to Downtown

London outside in the Covent Garden Market

Square. Sunday, June 2, 11a.m.–9 p.m.

The London Multicultural Festival is a colourful

and family-friendly event offering an opportunity

to have a great time with your family and friends.

Enjoy the diversity, visit the multi-cultural displays,

watch the performers and taste globally-inspired

food at Covent Garden Market Square. Sunday June

9, 11 a.m.–5 p.m.

The Saturday and Sunday Market at Western Fair

is a popular destination for chefs, cooks and food

enthusiasts in search of a wide variety of artisanal

products and seasonal ingredients. Market-goers

love the Market because they can buy high-quality,

farm-fresh goods directly from the person who

produced them, and can find unique products not

available elsewhere in the city. The second floor

Artisans' Market features over 40 permanent

vendors and a rotating roster of weekly market

table vendors providing friendly personalized

service. Experience a variety of artisans'

products from the culinary arts to the fine arts.

westernfairdistrict.com/market

Recently opened Mint Leaves Indian Kitchen is

geared to serving speedy dine-in or takeaway

cuisine. The owners bring some of the best

authentic Indian cuisines to London. We loved

the fiery Rogan Josh with tender morsels of beef,

the savoury Chicken Biryani and the succulent

Lamb Masala. The chickpea flour pakoras are

crisp and melt in your mouth. Mint Leaves serves

properly prepared Dosa (a type of crepe made from

Featuring

Creative Menus

from Chefs

Erryn Shephard

&

Ben Sandwith

Always Available

for Caterings!

519.238.6224

42 Ontario St. S., Grand Bend

www.finearestaurant.com

Lunch and Dinner — Seasonal Hours

Reservations Recommended
---
eatdrink: The Local Food & Drink Magazine

In Memoriam

Remembering Tibor Homolay

(A long-serving career hospitality professional)

A Letter from Nino Basacco

I realize this may not be a normal letter, but I need

to let people know of the sudden passing of Tibor

Homolay. For over a decade Tibor was a great

server in our family restaurant. His enthusiasm

and laughter will no longer sound in the dining

room of La Casa, but many of you will always

remember his good cheer and his ceaseless

energy trying to make sure everyone enjoyed their

dining experience.

A proud Hungarian, he claimed he could speak

five languages, including Italian, and yes, he

could. He could also make you dizzy with his

knowledge of wines and foods. And his awareness

of what was going on in the world made for some

very lively discussions.

La Casa will miss Tibor, but not like his dear wife

Maria Homolay (long-time server at Michaels On

The Thames) and daughter Christina will. Our

hearts go out to them. We hope in the next few

days we will be able to host a memorial tribute for

Tibor at La Casa. If you were ever served by Tibor,

you might want to drop into La Casa and sign our

Book of Grateful Memories.

fermented batter) that is stuffed with potato and

served with two varieties of chutney and sambar.

1080 Adelaide St. N., 519-601-9494

The menu at TG's Addis Ababa Restaurant features

an outstanding offering of elaborately spiced and

perfectly prepared Ethiopian specialties from the East

African culinary canon. Be sure to put TG›s Ethiopian

breakfast on your list for a great culinary adventure

on Sundays. 465 Dundas Street (at Maitland), 519-433-

4222, tgsaddisababarestaurant.com

May/June 2019 | 57

Billy's Deli has been a downtown landmark for

over 30 years. For lunch, specialty deli sandwiches

like the quintessential Reuben and Montreal

smoked meat are made with a quarter pound of

meat, warm and sliced off the brisket. Interesting

daily blackboard specials are enticing and add

seasonality to the extensive menu. Billy's is

known for the baking and we love the Potato Latke

Breakfast with Octoberfest sausage, two eggs,

toast, apple sauce and sour cream. 113 Dundas

Street at Talbot, 519-679-1970

Altogether different...

and so very, very tasty!

Catering excellence since 1985

Weddings Pineridge Barbecue Co

Corporate Events

Hensall, ON

Backyard Shakers 1-888-241-8450

Celebrations of Life pineridgebbq.com

Benmiller Inn & Spa

as always, like never before

www.benmiller.ca | 519-524-2191 | 1-800-265-1711
---
"a gastronomical landmark for over 23 years"

Bistro & Catering

Dietary Needs Lunch Accommodated Mon–Fri

Ample Free Dinner Parking Mon–Sat

Available for Private Parties

46 Blackfriars Street, London | 519-667-4930

blackfriarsbistro.com

FLIGHTS & BITES

HALF PRICE Sharing Plates & Oysters

Tuesday–Friday from 3:30–5:30pm

SUNDAY INDUSTRY NIGHTS

20% OFF!

New Summer Menus & Cocktails!

TUES–SAT Lunch & Dinner 11:30am to Close

SUNDAY Brunch 11am & Dinner

449 Wharncliffe Road South

519.914.2699

eatdrink.ca |@eatdrinkmag

At Waldo's on King Bistro & Wine Bar, chef/owner

Mark Kitching's talented culinary brigade offer

traditional bistro-style selections. This is where

you will find the best organic burger in town. Uberbartender

Greg Simpson rocks the bar at Waldo's

several nights a week. 130 King Street, (Covent

Garden Market) 519-433-6161

The London Food Truck Association is now booking

for spring and summer events. Reach out for

more information or to find the weekly schedule.

facebook.com/londonfoodtrucks/

PC Cooking Schools at Superstore offer one-hour

weekly daytime "What's for Dinner?" classes on

Thursdays, Oxford and Gammage 12:30-1:30 p.m.;

Oxford and Hyde Park Road 1-2 p.m. Both locations

offer a schedule of evening classes that run 6:30-

8:30 p.m. Gammage location: "Gluten-Free Seafood

Sensations" with Ankita Vaidya on May 7;"Dinner and

a Book Club - The Nest" (Cynthia D'Aprix Sweeney)

with Chef Barbara Toomer on May 14; "Early Summer

BBQ Favourites" with PC Cooking School Chef on May

28; "Fruitful Dining" with Chef Jamie Chows on June

4; "PC Summer Insiders Collection" on June 11; and

"Celebrate Like the Masters" with Van Houtte Coffee

on June 13, 6:30-8:30 pm. Hyde Park location: "Street

Foods of Egypt" with Paul Abeleira on May 7; "Early

Summer BBQ Favourites" with PC Cooking School

Chef on May 24; "Quick but Delicious French Stews"

with Chef Barbara Toomer on May 27; "PC Summer

Insiders Collection" on June 7; "Celebrate Like the

Masters" with Van Houtte Coffee on June 10; and

"East meets West Indian Fusion" with Ankita Vaidya

on June 25.

Stratford

Stratford Tourism Alliance (STA) celebrates

#nextgen chefs in the 25th edition of the Stratford

Culinary Guide, a staple for restaurants, pubs,

cafés, food shops and producers in Stratford and

area. It continues to be a go-to source for culinary

information in Stratford. The guide was officially

launched at a pop-up event at Richmond Station

in Toronto, owned by Stratford Chefs School's

graduates and partners, Ryan Donovan and Carl

Heinrich. Eatdrink magazine, Food Editor Bryan

Lavery and other media guests were treated to

tastes created by Stratford Chefs School alumni

by Jamie Crosby of The Prune, Meaghan Evely and

Vincent Stacey from Pazzo Taverna & Pizzeria and

Ryan O'Donnell of Mercer Hall. Craft beverages

were served by Junction 56 Distillery and Black

Swan Brewing Company. The 2019 guide features 12

#nextgen Stratford chef photos in the print version

which is available at Stratford Tourism, local

accommodators and Ontario Travel Centres. Thirty-
---
eatdrink: The Local Food & Drink Magazine

seven restaurants, food shops and producers

from Stratford and area are featured in the guide.

A digital version of the guide is available online

VisitStratford.ca/culinaryguide

The Stratford Blues & Ribfest will be kicking

off the summer June 21 to 23. This is an outdoor

family-friendly gathering with slow-cooked

BBQ and all types of Blues music in support

of the Boy Scouts and Girls Guides. Licensed

beverages will be available at the bandshell area.

stratfordbluesandribfest.com

Do you want to attend a world-class event

that showcases and supports local agriculture

and features tastings, pairings and delicious

garlic dishes? Then mark your calendar for the

Stratford Kiwanis Garlic Festival, September 7-8.

Keep an eye on the Facebook page for updates.

stratfordgarlicfestival.com

Chef Kris Schlotzhauer and Pastry Chef Suzy

Schlotzhauer recently changed operating hours to

offer dinner service at AO Pasta. Dine inside or on

the patio or order take-out. aopasta.com

The Mill Stone Restaurant & Bar features

seasonally-inspired lunch, dinner and late-night

menus using many locally procured ingredients.

A couple of back tables overlook the Avon River,

and there is a small street-side patio. This year the

restaurant features a late night pop-up snack bar

with a Lao-inspired menu on Saturdays from 10

p.m. to 2 a.m. (Yes, the kitchen is open till 2a.m.). 30

Ontario St., Stratford, 519-273-5886, themillstone.ca

Anne Campion of Revel is committed to the core

values of social justice and serves ethically and

sustainably produced direct trade coffee. She

can be seen pulling espresso shots or making

consistently perfect cortados at Revel, her busy

coffee shop off Stratford's Market Square. "Our

desire to be for the good of our community, both

locally and globally, informs all our decisions,"

May/June 2019 | 59

says Campion. Launched with the assistance

of just two staff, Campion now employs 18. Two

pastry chefs now bake all of Revel's pastries in

house, using products from many local farmers.

revelstratford.ca

Celebrate the young stars of this year's Kiwanis

Festival of the Performing Arts Stratford. Your

family and friends will love the SSO Sunday Brunch

Concert Series at Revival House, offering farm fare,

craft brews, wine and music. These fundraising

events feature local performers in support of the

LUNCH Wed to Fri 11:30–2:30

DINNER from 5pm daily

432 Richmond Street

at Carling • London

ALWAYS

a 3-course prix fixe

menu option

www.davidsbistro.ca

481 Richmond Street

519-432-4092

garlicsoflondon.com
---
eatdrink.ca |@eatdrinkmag

Outdoor Farmers' Market

Opening Day: Saturday, May 4, 8am–1pm

NEW this year! Thursday Night Markets,

starting May 9, 4pm–7pm

We grow it, raise it,

make it & bake it —

local produce, meat,

cheese and more! Join

us outside on the

Market Square. Both markets will run weekly

through December.

Latin American Festival

Saturday, June 1, 2pm–11pm

Lulu Magazine invites you to experience Latin

American art, with music, rhythms and flavours.

Enjoy traditional Latin food, and an exciting

Salsa and Bachata Contest. All are welcome!

Fiesta London Mexican Festival

Sunday, June 2, 11am–9pm

Fiesta London honours culture, tradition, and

family with the sounds and tastes of Mexico.

This is a celebration and a vigorous declaration

of community spirit. All are welcome!

London Multicultural Festival

Sunday, June 9, 11am–5pm

This colourful and family-friendly event is an

opportunity to enjoy our diversity. Visit the

ethnic displays and enjoy a wide range of

performers and ethnic foods. All are welcome!

MARKET HOURS

Mon–Fri 8am–7pm

Saturday 8am–6pm

Sunday 11am–4pm

Mezzanine & Restaurant Hours Differ

Stratford Symphony Orchestra. Sunday brunch

events start at 11:30 a.m.

Revival House is serving up amazing live

entertainment this season and offers limited preconcert

preferred seating. Enjoy dinner and the

show from your seat! 519-273-3424, revival.house

For 35 years Stratford Chefs School, a not-for-profit

career college focused on innovative, hands-on

training of high quality, aspiring chefs and culinary

entrepreneurs, has set the standard of excellence

for culinary training in Canada. In addition to its

renowned 32-week professional cookery program,

the School recently launched a unique 16-week

"Cook: Basic – Level 1 Diploma" program to run

June 3–September 20. Teaching the basics of

classical cookery and pastry coupled with theory

classes focused on cuisine and hospitality, this

program is perfect for those embarking on a second

career or interested in fast-tracking culinary goals.

stratfordchef.com/summer-program

Stratford Farmers' Market, a year-round market

operating since 1855, offers fresh produce, crafts,

meat and cheese at Stratford Rotary Complex-

Agriplex, 353 McCarthy Rd, Saturdays 7 a.m.–12

noon. 519-271-5130. www.stratfordfairgrounds.com

Around Our Region

We are hearing great reports about Jordi Carr

and Natalie Crittenden's recently opened Harris

Electric Eatery in the space previously occupied by

Little Red's at 159 Queen Street East in St Marys.

harriselectriceatery.com

Steelhead Food Co. recently moved into its own

processing facility and will soon offer fresh locally

processed fish that are cleaned and cut at the Fish

and Seafood Market. Based in St. Thomas, Steelhead

offers a selection of premium quality fish and

seafood — fresh, frozen, and smoked. 5 Barrie Blvd,

St. Thomas, 226-237-3474, steelheadfoodco.ca

Alton Farms Estate Winery has extended their

hours, and is now open Wednesday through Sunday,

12 noon–6 p.m. The patio will be open when

weather permits, with pizza on offer by June 1.

altonfarmestatewinery.com

Dino and Carla Dassie of Fat Olive in Dorchester

went to Goodfella's Pizza School in Staten Island,

New York, one of the world's most comprehensive,

hands-on pizza schools. They were taught how

to make wood-fired pizzas and about owning

and operating a restaurant by the world pizza

champions, Be sure to make a reservation, Fat Olive

is a busy hot-spot. Closed Monday & Sunday, 519-

268-0001, fatolive.ca
---
eatdrink: The Local Food & Drink Magazine

Udderly Ridiculous, co-founded by Cheryl and

Greg Haskett in Oxford County, is a local artisanal

company introducing goat's milk ice cream to

frozen dessert lovers across Ontario. Available

in six sophisticated flavours "With less naturally

occuring sugars and more vitamins and nutrients

such as calcium and protein, goat's milk is a fabulous

alternative to cow's milk ice cream," says Cheryl

Haskett. "Goat's milk allows us to sustainably

provide fresh-from-the-farm ingredients," adds

Greg Haskett. "In addition to farming sustainably

and supporting local, ten cents from every tub

of our ice cream goes towards buying a goat for

a family in need through World Vision." Udderly

Ridiculous will be available at select Sobey's and

Foodland stores, with more distribution channels

coming online soon. udderlyridiculous.ca

St. Thomas's Chef Terrance Tew (Chopped Canada

contestant) and Anna Tavares have teamed up to

offer The Tipsy Pig — "an authentic roadside BBQ

Catering Company." Housed in a renovated barn,

they use local ingredients and traditional woodfired

BBQ techniques. "Elgin County has always

amazed us with an abundant amount of producers

and products that surround our local community,"

says Chef Terrance. "We showcase it the best way we

can, with what we affectionately refer to as refined

BBQ, combining traditional Southern smoking,

modern scratch cooking, and our dedication to

hospitality." They look forward to servicing Elgin

County and surrounding areas. 519-319-7980

The Village Teapot is serving Mother's Day Afternoon

Tea on Sunday, May 12, 1—3 p.m. Also on the event

schedule are Homestyle Sunday Roasts with all the

fixings. Mother's Day features Roast Lamb, May 26th

is Roast Beef and Father's Day, June 16th is Prime Rib.

Reservations required. Licensed with a selection of

local wines and beer. 13257 Ilderton Road, Ilderton,

519-298-TEAS (8327), thevillageteapot.ca

Join Ride the Bine for the new tour of Cheese Bites

and Beer Flights – a journey through the backroads

of Norfolk and Oxford County. Enjoy local tastes as

you sip small batch beer and sample an array of fine

cheeses – both artisanal and international. Amanda

and Susan meet guests at 12:30 p.m. in the Quality

Inn parking lot in Woodstock to begin an afternoon

adventure of fun.

Keith Muller, chair of Hospitality & Culinary Arts

at Conestoga College, told Eatdrink that a Centre

of Excellence for Cheesemaker Training is set to

launch in Ontario at Conestoga College's Waterloo

campus, in collaboration with the Ontario Dairy

Council and French-language College La Cité. The

cheesemaker training program will be Ontario's

where art is

Hey, Cupcake! a piece of cake

The ORIGINAL

LONDON CAKERY &

GOURMET CUPCAKE

BAKERY

ASK US Custom Bakery • Walk-In Orders Available

ABOUT OUR

"RANDOM

ACTS OF

SWEETNESS!"

CAMPAIGN

www.heycupcake.ca

275 Wharncliffe Rd. North

519-433-CAKE (2253)

STORE HOURS: Mon–Fri 11–7

Saturday 10–5 • Sunday 11–4

100% Local — from Our Farmers to Your Table

Hormone & Drug-Free

Ontario Beef, Pork, Bison, Lamb & Chicken

THE VILLAGE

MEAT SHOP

LOCAL - NATURAL - QUALITY

WE ARE YOUR LONDON OUTLET FOR

• Metzger Meat Products • Lena's Lamb

• Blanbrook Bison Farm • Little Sisters Chicken

• Glengyle Farm Organics

The Market at Western Fair District: SAT 8–3; SUN 10–2

226-376-6328 • www.thevillagemeatshop.ca
---
eatdrink.ca |@eatdrinkmag

a

movement

for

restaurants

who believe

local food

matters.

®

A Feast On® Certification means

you're fighting the good food fight.

You're supporting our farmers

and putting local food first.

To get certified, visit:

ONTARIOCULINARY.COM

@ONTARIOCULINARY #FEASTON
---
eatdrink: The Local Food & Drink Magazine

most extensive hands-on training program, and will

address a growing demand for skilled workers and

artisans in the dairy processing industry.

Sollgood Social Market kickoff, June 20 in

downtown Ingersoll from 6–9 p.m. Artisan

vendors, food and beverage trucks, food producers

and musicians all from within a 100 km radius.

sollgoodsocialmarket.com.

Your love of all things Italian begins at

We want your BUZZ!

Do you have culinary news or upcoming events

that you'd like us to share?

Every issue, Eatdrink reaches more than

50,000 readers across Southwestern Ontario

in print, and thousands more online.

Get in touch with us at editor@eatdrink.ca

Submission deadline for the next issue: June 5

Gift Cards

Available

ts,

tmas

Teams

lable.

nas

Bring back "homemade"

again with Marshall's Pasta!

@eatdrinkmag

Fresh Homemade Pasta & Sauces, Meatballs, Lasagnas, Salads & more!

Text MARSHALLS

to 70734 for a

$5.00 Off Coupon

to be used in-store!

Quality

Convenient

Meals

Bring Marshalls to the Cottage!

Store-made sausages & buns, Italian sandwiches, pasta

trays & pasta salads. All ready to heat up on the BBQ!

Convenient food everyone loves!

Ask about Blake's BBQ

We can cater all

your family functions!

580 Adelaide St N, London

519-672-7827

MON–FRI 9:30am–7pm • SAT 9:30am–5pm • SUN 11am–5pm

Full menu available at marshallspastacatering.ca

519-652-7659 • HWY 401 & 4 • pastosgrill.com

From our farm to your table ...

Award winning hand crafted

alpine style cheese

Fresh Cheese Curds

Cheese Tastings

Gift Baskets &

Gift Boxes

Cheese Trays

Fondue & Raclette

Monday to Friday 9am–5pm

Saturday 9am–4pm

Stonetown Artisan Cheese

5021 Perth Line 8

St. Marys ON

519-229-6856

info@stonetowncheese.com

www.stonetowncheese.com
---
64 | May/June 2019

eatdrink.ca |@eatdrinkmag

Books

Chop Suey Nation

The Legion Café and Other Stories from

Canada's Chinese Restaurants

by Ann Hui

Review by DARIN COOK

Ann Hui was first exposed to Chinese

food outside of her home when her

school cafeteria served a Chinese

New Year meal. Even at six years

old she was confused as to why it did not

resemble her parents' cooking. Years later, as

The Globe and Mail food reporter, Hui became

obsessed with this Canadianized Chinese

food and embarked on an 18-day road trip

from British Columbia to Newfoundland to

visit small-town Chinese restaurants. Chop

Suey Nation: The Legion Café and Other Stories

from Canada's Chinese Restaurants (Douglas &

McIntyre, 2019) documents the journey which

led her to question "why so many of them

seemed to look and feel exactly the same"

and to seek out "a single answer that could

explain the spread of Chinese restaurants

across the country … a single starting point or

a single place responsible for the ubiquity and

uniformity of these tiny restaurants."

Chop suey is translated into English as

"bits and pieces" and is prepared by throwing

together whatever scraps are

available to compose a dish.

This hodge-podge approach

allows recipes to be adaptable

to regional variations, such as

strips of cabbage being used in

chow mein in Newfoundland

to replace egg noodles that

were hard to come by in such

a remote location. Ginger beef

was a national mainstay on

Chinese menus, invented in the

Silver Inn Restaurant in Calgary

to combine the customers'

love of deep fried food with

some exotic flavours. Even

though this style of chop suey

cuisine is not

authentically

Chinese, and

was often called

"fake" Chinese

in Hui's

household,

she found out

how undeniably

popular it

was from coast to coast.

Hui's small-town criteria intentionally

put places with higher populations out of

reach, but she was compelled to try one local

restaurant inside a curling rink in Thunder Bay.

The second-generation owner was continuing

the legacy of her father — a popular chef who

had his own local TV station cooking show

after establishing Ling Lee's Chinese Cuisine,

a dining hot spot, to entice people to the

curling rink. The restaurants Hui visited were

overwhelmingly run by families. Most owners

portrayed the exhausting yet satisfying lifestyle

of an all-consuming business

with long hours. Family homes

were often attached to the

restaurants, leaving little room

for division of family and

work; young children would

move between residence and

restaurant to wash dishes,

assemble takeout orders,

or do homework at vacant

tables. Many restaurants

were sold in their entirety —

recipes, buildings, equipment,

inventory, supplier contracts

Author Ann Hui

Photo by Amanda Palmer
---
eatdrink: The Local Food & Drink Magazine

May/June 2019 | 65

— as a source of income for

new families to make a go of

it in Canada. Even beyond

being family-oriented, the

homey feel extended to the

community, with restaurants

acting as social hubs of a

city. This was most evident

in Stony Plain, Alberta

where the popularity of the

owner of Bing Restaurant

No. 1 spurred him on to run

for and win the seat of city

mayor. More than a venue to serve food to the

community, Hui writes, "The restaurant, it had

turned out, had been the perfect launching pad

for his political career."

The further Hui investigated the stories of

these restaurants, the more it moved beyond

the food to explore sweeping cultural issues.

Even more poignant than chop suey's role in

Canadian culinary history are the surprise

elements of her story that she unearths as

she travels back in time through stories of

her father's upbringing. She was able to piece

together portions of his childhood in China, so

TIME

FOR

A

Author Ann Hui, bottom left, in a childhood

family photo. Photo courtesy Ann Hui.

different from her own, and

how he became a chef after

immigrating to Canada at

the age of twenty-four to

join his own father. Not

only did she surprisingly

learn that her family had

taken the same path by

running its own Chinese

restaurant in Abbotsford,

BC before she was born,

but she was able to bridge

generational and cultural

issues that were not talked about when she was

growing up, to gain a deeper sense of belonging

to her heritage and an understanding of how

her family came to Canada. As Hui learns from

one of the restaurant owners, and what seems

to apply to most of them: "Even more so than

the food … Chinese restaurants are defined by

the families that run them."

DARIN COOK is a Chatham-based freelance writer

who keeps himself well-read and well-fed by visiting the

bookstores and restaurants of London.

SPRING TUNE-UP?

FOR

COME IN AN OIL CHANGE

A fresh, new harvest of EVOO has arrived just in time for Spring!

Come say Hola, Hello, or Ciao to our fresh crush of Spanish,

Californian & Italian Extra Virgin Olive Oils.

The

Pristine

live

Est. 2012

884 Adelaide Street N. | London | 519-433-4444

www.thepristineolive.ca
---
66 | May/June 2019

eatdrink.ca |@eatdrinkmag

Recipes

Earth to Table Every Day

Cooking with Good Ingredients Through the Seasons

by Jeff Crump and Bettina Schormann

Review and Recipe Selections by TRACY TURLIN

We talk a lot these days about

farm-to-table, slow food, local

and seasonal eating. It's easy

to forget, as we zip through

our days, 140 characters at a time, that this is

just the way the world used to work. People

grew fruits and vegetables, raised livestock,

produced small batches of cheese or beer

or sausages. They invested their time, their

labour and, ultimately, their reputations.

They made the best they could because they

took pride in knowing that people — real

people with names and faces they recognized

— would be buying it. You, as the consumer,

bought the best, when it was available, and

enjoyed it while it lasted. You didn't fuss too

much with it because, why would you mess

with the best?

This is the philosophy behind Earth to

Table Every Day: Cooking with Good Ingredients

Through the Seasons (Jeff Crump & Bettina

Schormann; Penguin; 2018).

UWO alum Jeff Crump went on to attend

Stratford Chefs School, and trained at some of

the world's best restaurants before returning

to Ontario. He worked as executive chef at

Ancaster Mill, along with good friend and awardwinning

pastry chef Bettina Schormann. Over

nearly two decades of working together, they've

developed a holistic approach to food. This has

guided them through the creation and evolution

of the Earth to Table: Bread Bar restaurants,

in Hamilton and Guelph. Based on the idea

that "good ingredients

matter," the Bread Bar

menu is changed four

times a year to match

the seasons.

At Bread Bar they

are not just making

and selling great food;

they've become a vital

link in the ecosystem of

their community.

Many consider

it a gathering

place and

20 lucky

customers

were chosen

to test recipes

for Earth to

Table Every

Day.

Their

community-centric

approach means supporting local

businesses, craft breweries, and other producers

as much as possible. Having learned that

lack of access to land is a problem for aspiring

farmers, they and their partners at Pearle Hospitality

purchased farmland in 2010 and set

aside 50 acres to serve as an incubator farm.

Another six acres is used to produce exclusively

for Bread Bar, giving them access to the freshest

ingredients they choose to grow.

Flipping through this book I wasn't sure if I

wanted to fire up the oven or make reservations,

but I'm confident you would find either to be a

delight. The recipes selected for this book either

come from the restaurant or are inspired by the

people who inspire the chefs.

Crab Cakes with Citrus Chutney are worth

the effort of finding the best fresh crabmeat

available. Poblano chilis add a mild, savoury

heat that compliments

the sweet seafood

without overpowering

it. The chutney

brightens the dish

and works well on just

about everything.

Jeff Crump and

Bettina Schormann
---
eatdrink: The Local Food & Drink Magazine

Piri Piri Baby Back Ribs satisfy my recent

obsession with apple cider and are perfect for

the upcoming grill season. These ribs are the

best of both worlds with a low, slow roast in

the oven for moisture and a quick char on the

grill for the smoky taste of summer. The Piri

Piri Dry Rub mixture has found a place in our

kitchen among our favourite spice mixes.

Sadly, I don't have the room here to tell you

about the desserts, the pizza and the bread.

Oh, the bread. In short, whether you use this

book to plan your next dinner party or your

next trip to the restaurants that inspired it,

you win either way. Now, if you'll excuse me, I

have to go read the bread chapter again.

Destination for the food lover

Featuring specialty foods,

kitchenwares, tablewares,

cooking classes and gift baskets.

TRACY TURLIN is a freelance writer and dog groomer

in London. Reach her at tracyturlin@gmail.com

Recipes excerpted from Earth to Table Every Day: Cooking

with Good Ingredients Through the Seasons by Jeff Crump

and Bettina Schormann. Copyright © 2018 Jeff Crump

and Bettina Schormann. Published by Penguin, an imprint

of Penguin Canada, a division of Penguin Random House

Canada Limited. Reproduced by arrangement with the

Publisher. All rights reserved.

115 King St., London Ontario

jillstable.ca 519-645-1335

Monday, Monday,

Monday, June 3

June June 11:30-1:30 5, 5, 2017 2017@

11:30

11:30 BUDWEISER

– 1:30

– 1:30

@

@

budweIser budweIser GARDENS

EatDrinkAd_2017.indd 1 2017-04-19 2:28

gard gard e ne sn s

Join us for a showcase of some of

London's best restaurants and catering

companies and their Signature dishes! Check

out parkinsonsociety.ca for a complete list of

Join us for a showcase of some of London's

Join us for best a showcase restaurants of and some catering of London's companies

best restaurants and their and Signature catering dishes! companies Check out

and their parkinsonsociety.ca Signature dishes! for Check a complete out list of

restaurants

parkinsonsociety.ca restaurants and

for a complete caterers.

list of

restaurants and caterers.

Tickets Tickets $20

only only

available $20 $25

at:

all Finch Auto Group available

available dealerships, at:

at: Budweiser Gardens box office,

all Finch all Finch Auto Auto online Group at www.parkinsonsociety.ca dealerships, Budweiser Budweiser Gardens or call (519) Gardens box office, 652-9437 box office,

online online at All at www.parkinsonsociety.ca proceeds support local programs or and call services or (519) call for 652-9437 (519) people wit h 652-9437

Parkinson's.

All proceeds support local programs and services for people wit h Parkinson's.

All proceeds support local programs and services for people with Parkinson's

in partnership with

in partnership in partnership with with

Mendes

Mendes Law Firm

Law Firm
---
68 | May/June 2019

Crab Cakes with Citrus

Makes 12 crab cakes • Serves 4

These beautiful crab cakes are an absolute

splurge. Make them when you can get fresh

crabmeat from a fishmonger. Go ahead and

reward yourself and the ones you love. Be gentle

when shaping the cakes — better to have very

loose and tender crab cakes than well-formed

but dense ones. You will have leftover citrus

chutney, which can be used on buttered toast or

served with roast chicken.

CITRUS CHUTNEY (makes 2 cups/500 ml)

1 lemon, ends trimmed (or 2 Meyer lemons)

1 orange, ends trimmed

2 limes, ends trimmed

1 sweet red pepper, seeded and diced

2 cups (500 mL) lightly packed brown sugar

½ teaspoon (2 mL) red chili flakes

CRAB CAKES

1 large egg

1¼ lbs (565 g) fresh

crabmeat, picked over

¼ cup (60 mL) minced

poblano chili 2

tablespoons (30 mL)

minced fresh cilantro

1 clove garlic, minced

Grated zest of 1 lime

1 cup (250 mL) Basic

Mayonnaise (p. 246)

or store-bought

¼ cup (60 mL) Dijon

mustard

½ teaspoon (2 mL)

Lawry's Seasoned

Salt or Old Bay

seasoning

¼ teaspoon (1 mL)

cayenne pepper

1 cup (250 mL) panko

crumbs

½ cup (125 mL) canola

oil, divided

1 To make the Citrus

Chutney, wash the citrus

well under warm running

water. Cut the lemon,

orange, and limes into

⅛-inch (3 mm) rounds.

Pluck out any seeds.

Place the citrus in a large

saucepan. Add the red

pepper, brown sugar, chili

flakes, and just enough

water to cover. Bring to

a boil over medium-high

heat. Reduce the heat

eatdrink.ca |@eatdrinkmag

and simmer until the citrus peels are very soft, about 30

minutes. Add a little water if the mixture starts to dry out.

2 Cool to room temperature before serving. (The chutney

keeps in the refrigerator, in a resealable container, for

up to one month.)

3 To make the Crab Cakes, in a medium bowl, beat the

egg. Add the crab, poblano chili, cilantro, garlic, lime

zest, Basic Mayonnaise, mustard, Lawry's Seasoned

Salt, and cayenne. Mix well to combine, but do not

overwork the mixture—try to keep it airy.

4 Divide the mixture into 12 equal portions. Shape them

into hamburger-like patties. Dredge them lightly in the

panko crumbs.

5 Heat ¼ cup (60 mL) of the canola oil in a non-stick skillet

over medium heat. Working in batches, fry the Crab

Cakes for 2 to 3 minutes on each side, or until golden

brown, using the remaining ¼ cup (60 mL) canola oil as

needed. Drain the Crab Cakes on a plate lined with paper

towel. Serve hot with the Citrus Chutney.
---
eatdrink: The Local Food & Drink Magazine

Piri Piri Baby Back Ribs

Serves 6 • Requires time for prep

Summertime to us means outdoor cooking,

barbecues, and good times. If we had to cook

just one thing in the summer, it would be these

simple, flavourful, and tender ribs. They are easy

to cook and are the perfect outdoor dinner with

friends. Apple cider brings both sweetness and

the moisture needed for the long, slow cooking.

PIRI PIRI DRY RUB (makes 1 cup/240 ml)

¼ cup (60 mL) hot paprika

8 teaspoons (40 mL) kosher salt

4 teaspoons (20 mL) dried oregano

4 teaspoons (20 mL) ground ginger

4 teaspoons (20 mL) ground cardamom

4 teaspoons (20 mL) garlic powder

4 teaspoons (20 mL) onion powder

2 teaspoons (10 mL) cayenne pepper

2 teaspoons (10 mL) sugar

Zest of 4 lemons,

minced

Zest of 4 limes, minced

1 In a small bowl, combine

the paprika, salt, oregano,

ginger, cardamom, garlic

powder, onion powder,

cayenne, sugar, lemon

zest, and lime zest. Stir

well. Store, covered and

refrigerated, for up to one

month.

4 racks baby back ribs

(about 8 lbs/3.5 kg)

1 cup (250 mL) Piri Piri

Dry Rub

1 cup (250 mL) dry

apple cider

2 Place the ribs meat

side down on a cutting

board and remove the

membrane from the back

of the rack by inserting a

small knife beneath it and

pulling it up so you can

grab it with a dish towel.

Peel off the membrane

and discard.

3 In a large bowl, combine

the ribs and the Piri Piri

Dry Rub. Using your

hands, cover the meat

entirely in the rub.

Shake off excess. Wrap

ribs in plastic wrap and

refrigerate for at least 3

hours or overnight.

May/June 2019 | 69

4 Preheat the oven to 325°F (160°C). Place the ribs in a

large Dutch oven — it's okay if they overlap—and add

the apple cider. Cover tightly and bake for 4 hours, or

until the meat is fork-tender. Uncover and let cool. (At

this point you can wrap the ribs in plastic wrap and

refrigerate for up to 1 week or freeze in a resealable

plastic bag for up to 1 month.)

5 To serve, preheat a grill to medium-high. Grill the

ribs for 5 minutes per side, until slightly charred. You

can serve these ribs dry,

by sprinkling with a little

more Piri Piri Dry Rub, or

wet with your favourite

barbecue sauce.
---
70 | May/June 2019

eatdrink.ca |@eatdrinkmag

The Lighter Side

Skål!

By KYM WOLFE

Apparently Swedes have a "bittersweet

relationship with alcohol." Who

knew? Not me, until I visited the

Spritmuseum in Stockholm where I

learned ...

Historically liquor meant strength and

manliness. Vodka kept soldiers healthy and

brave. Serious drinking on May 1st kicked

off the growing season, and farmers

sprinkled vodka over the fields to

ensure fertility and a good harvest.

Whenever guild members

gathered they would raise a toast

to Christ, the Virgin Mary, and

a never-ending list of saints.

The rules were simple: drink the

same amount as everyone else and

behave. If you dared to fall down,

throw up or pass out you would be fined.

For an unaccompanied woman to drink in

public was unthinkable. The only exception

seemed to be for the "oarsmadames" who

taxied people around Stockholm in rowboats

(the city is made up of 14 islands). In one

painting, two oarsmadames stand in their

small boats and raise a toast, a large uncorked

bottle on the dock between them. Perhaps

there was an understanding that they needed

the sustenance to fuel their rowing.

Vodka was considered as nourishing as meat

and bread — even young children had their

daily tipple. During times of famine mothers

moaned that their poor malnourished

children had to make do with water in their

porridge. Help was on the way …

Countess Eva de la Gardie was the first

woman elected to the Swedish Royal Academy

of Sciences in 1748. Her claim to fame?

Transforming potatoes into vodka. Thanks to

Eva, grains could be used to feed the starving

masses instead of being turned into vodka …

there were plenty of potatoes for that!

Swedes drank copious amounts of alcoholic

punsch during the 19th century, raising their

glasses in a show of national pride referred

to as "Punsch Patriotism." Sugar was a status

symbol, and punsch was packed with sugar …

giving rise to another common phenomenon:

"Punsch Belly".

By the late 19th century, thanks to a vocal

temperance movement, alcohol education

became a mandatory school subject.

Terrifying images, designed to scare children

from even trying alcohol, warned: "Danger

might be lurking in the very first glass!"

Picture fat-choked hearts and livers, and

booze-ravaged faces. A "vodka dragon" —

shaped like a still with vodka pouring

out of it — was surrounded by

paths leading to prison, the

madhouse and the poorhouse.

"Good citizens" were issued

an alcohol ration book. Married

women, substance abusers

and the poor need not apply.

One book per household, to the

man of the house. Not having

one meant you were not a trusted

citizen. Shameful!

Today the Swedes have developed a taste

for the bubbly — Sweden is now the world's

tenth largest Champagne market. One exhibit

dispelled a myth that refuses to die: that the

champagne coupe was designed to match

the shape of Marie-Antionette's breasts. She

"actually did have china cups that were clearly

breast-shaped, but they were intended for

goat's milk, and were not modelled after the

queen's own womanly charms."

Vodka remains the spirit of choice

for traditional holidays, though, with

sales peaking at Christmas, Easter and

Midsummer. Drink vodka, eat pickled

herring, crayfish and surströmming

(fermented herring), and sing schnaps songs.

And of course propose a toast.

For tips on how to do that properly, we

turned to Swedish actor Max von Sydow at

the "Skål School with Max" exhibit. Raise

your glass. Look the person you are toasting

in the eye — one eyebrow lowered, slight

smirk. Say "Skål"! Give a slight nod. Down the

hatch! Another direct and serious look in the

eye, with furrowed brow. Put your glass down.

Elegant and effective.

Thanks Max, and skål!

KYM WOOLF is a freelance writer based in London.
---
LONDON'S

Local Flavour

VOLUME 7

Restaurants • Specialty Shops & Services

Craft Beer & Wine • Farmers' Markets

Do You Have Your Copy Yet?

NEW!

More to Explore!

Recommended

Culinary

Neighbours

localflavour.ca
---
72 | May/June 2019

eatdrink.ca |@eatdrinkmag

MONDAY — FRIDAY

MARKET HOURS:

SATURDAY

SUNDAY

8–7

8–6 11–4

WE HAVE FREE UNDERGROUND PARKING:

2 HOURS FREE SAT & SUN • 1/2 HOUR FREE MON — FRI

WITH VALIDATION • NO PURCHASE REQUIRED • DURING MARKET HOURS

130 KING STREET, LONDON | coventmarket.com w b