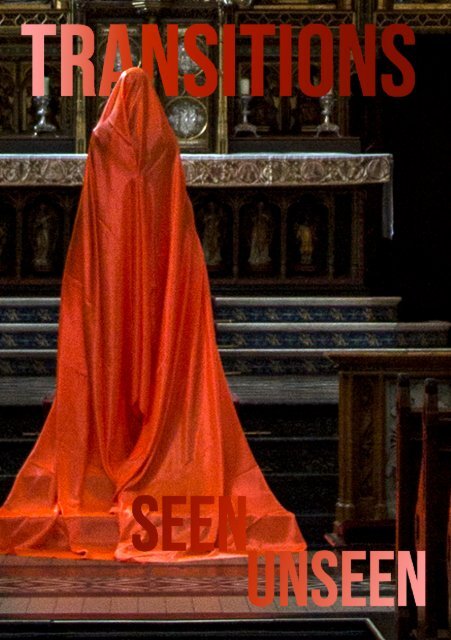 Transitions Catalogue Digital Edition
Accompanying Catalogue to Transitions: Seen Unseen Exhibition
Accompanying Catalogue to Transitions: Seen Unseen Exhibition
SHOW MORE
SHOW LESS
You also want an ePaper? Increase the reach of your titles
YUMPU automatically turns print PDFs into web optimized ePapers that Google loves.
Applecart Arts,

London,

April 2019

Printed by Solopress
---
Transitions

Seen Unseen
---
Foreword

Over the last two years, The Methodist Church in London has engaged with

the theme of Moving Stories where local churches and circuits have been

able to celebrate the contribution of migrants in the life of the Methodist

Church, historically and today. For, the opportunities and challenges

and ultimately to change the story so that migration in all its forms, for

all ages, might be seen as a positive part of our faith and social action

engagement.

London is a diverse, vibrant and energetic city, its excitement, complexity

and challenges are exceptional. The mission of the Methodist Church in

London is shaped by this exciting and challenging context. As disciples of

Jesus Christ we work together to respond creatively to the opportunities

and needs of this unique city.

Within this context, migration is a key part of the story in London. Over the

last two years churches, circuits and District have actively engaged in many

ways so that we might 'change the story' so that migration is celebrated

rather than feared, and engage with the challenges of issues linked to

migration. It has been important to see the Moving Stories project as a

pivotal vehicle towards enabling the London Methodist District to discover

our collective voice as we act to fulfil God's will for us into the future.

As District Chairs, we are delighted that Applecart Arts have worked with

us to create a unique touring exhibition, which will tour the London District

from April – September. We hope it will open up conversations about

migration in the context that you are in, and will help us all to develop a

vision that takes seriously our 'story' to enable and equip God's people for

works of service.

If you wish to host the exhibition at your venue for a service or special

event, please contact info@applecartsarts.com

Revd Nigel Cowgill, Revd Jongi Zihle, Revd Micky Youngson

The London District Chairs of the Methodist Church
---
Introduction

We have all experienced movement, some of us through choice, others through

necessity and in that process of physical movement we undergo an internal change

that shapes who we are as we move forward.

Transitions: Seen Unseen is an exhibition of movement. It questions our preconceived

ideas around migration; who a migrant is, and what happens when migration

occurs. What is it we perceive and how do others perceive us? This collection of

multi-disciplined works has been carefully selected to open this conversation up,

whilst simultaneously giving a voice to migrants and in the process acknowledging

the benefits migration can bring.

Applecart commissioned three new pieces of work for the exhibition, Ric Stott's

Jide/Sebastian, Marie-Louise Jones' Odyssey and Guler Ates' Poems (Journey) #

3. As the works developed the title for the exhibition began to emerge. Stories

can be rich and complicated, part of the stories are deemed acceptable, some of

the stories are judged not to be, these parts are kept hidden, regardless of their

importance. Some parts of the story we leave behind. These artworks challenge our

views on acceptability, what is allowed to be seen and what isn't, what we take and

what we leave. How much do we sanitise our stories to adapt to our circumstances,

to survive our journey? These stories can be celebrated for the perseverance and

resilience we have all experienced as we transit through life.

As one travels around the exhibition, the works are situated in dialogue with each

other. There are works that speak of everyday journeys; short journeys, commutes

through London, journeys of choice as well as longer journeys, perilous journeys,

journeys that are the only option. The viewer is invited into the space, to journey

through, encounter what is explicit, to leave changed and to contemplate on the

implicit.

Transitions: Seen Unseen will itself move as the exhibition tours from venue to

venue, like-wise needing to adapt in each new situation, making new perceptions

in each new incarnation. It too will transition.

Grace Acton Roberts

Curator
---
Odyssey

Carbonised tree, resin, gold leaf

322cm x 25cm

2019

"Odyssey began from a thought scribbled in my sketchbook: 'Movement from

one part of something to another, and the space between'." Marie-Louise Jones

describes how she was thinking about the personal and collective journey, time,

space, and transformation. Taking an object of nature, the tree, symbolic of

being rooted and static, transforming it through a process of yakisagi (an ancient

Japanese wood finishing technique of burning, brushing and oiling) to make a

carbonised sculpture, with added resin and gold leaf. The sculpture then embarks

on a physical journey that moves beyond geography. Representing the divided

self, in parts, its arrangement remains fluid and in a constant state of change,

never fixed but able to adapt to its circumstance and re-order itself throughout

its journey.

Marie-Louise Jones

Marie-Louise Jones (b.1980) is a British artist whose practice spans across

sculpture, sound, film, and installation. She embarks on long journeys into

unknown landscapes; either physical, emotional or cultural, gathering inspiration

by observation, constructing and deconstructing objects, relationships, belief

systems, while searching for truths and seeking a balance of forces. Often working

intuitively and in response to the landscape, her site-specific installations present

humble, seductive objects that attempt to draw in the viewer, encouraging the

audience to see and contemplate nature (both human and environmental) in a way

they are not accustomed to. Asking existential questions about the issues of our

time whilst examining both the personal and the universal journey.

Since receiving her Bachelor of Fine Art in 2009, Marie-Louise has been awarded

DYCP bursary from the Arts Council England (2018), invited as Resident Artist

for Dia Projects, Ho Chi Minh City (2018), exhibited at 57th Venice Biennale (Italy

2017), and Brussels Art Week (Belgium 2017), selected as finalist for Camaradas in

association with the Embassy of Mexico (London 2017), and previously undertaken

residencies and exhibitions in London, New York, Barcelona, Venice, Vietnam,

Indonesia and Norway.

www.marielouisejones.com
---
Labyrinth

Limited Edition Book, Plaistow

26cm x 52cm

2014

In 2013 Mark Wallinger, was commissioned to make a major new artwork for

London Underground to celebrate its 150th anniversary. Wallinger created 270

individual artworks, one for each station on the network, each one bearing its own

unique circular labyrinth, but with the design echoing the Tubes existing and very

familiar Roundel logo. Each Labyrinth is rendered in bold black, white and red

graphics, the artworks are produced in vitreous enamel, a material used for signs

throughout the London Underground network. At the entrance of each Labyrinth a

red X is marked inviting the viewer to start their journey tracing their finger within

the raised walls of the labyrinth through a single path, to the centre and back out

again mirroring the tube traveller's own journey.

Labyrinth - A Journey Through London's Underground is a record of Mark Wallinger's

commission, documenting each labyrinth created in situ. The book also serves as a

celebration of the London Underground and of London itself, recording the diverse

face and fabric of the network and its users, in photographs while informing the

reader of the individual histories of each station.

Mark Wallinger

Mark Wallinger is a British artist widely known for his design for the Fourth Plinth of

Trafalgar Square in London, Ecce Homo (1999), a statue of a bound Christ. Wallinger

trained at the Chelsea School of Art and went on to study at Goldsmith's College

in London, where her became involve with the Young British Artists movement. In

2007, he was won the Turner Prize for "State Britain", a pile of banners and toys

placed outside the Houses of Parliament in protest against the war in Iraq. His work

is currently held in the collections of the Tate Gallery in London, the Denver Art

Museum, and the De Pont Museum of Contemporary in Tilburg, the Netherlands,

among others. His work is seen as a social commentary and often focuses on class,

royalty, nationalism and religion.
---
Concourse

Oil on Canvas

85cm x 105cm

2017

Concourse is a painting of Paddington Station and is one in a series of paintings of

travel hubs and stations by the artist, Imogen Perkin. The series is concerned with

the theme of moving on and uncertainty.

Imogen Perkin starts by photographing a scene, this one was taken from an

upper level at the station, and working the painting up from that photograph. The

resulting image is a snapshot of a particular instance in time with many different

types of people passing through. Perkins uses the de-humanising structures of

the huge new concourse to give a sense of unease, as dwarfed figures negotiate or

lose their way amidst a confusing plethora of directions and constructs.

With the recognisable look of a station terminal, "Concourse" cannot fail to address

ideas around migration, not least from its most famous fictional migrant Paddington

Bear, but Perkins depicts this man-made landscape, with figures making up the

scenery. People waiting to move on, transiting through, encouraging the viewer to

question their stories, "Where are they going?". Perkins comments, "I often return

to the theme of 'stations'. For me, they are places of transition, alluding to the lifelong

journey and the destination that is always just out of sight."

Imogen Perkin

Imogen Perkins gained an honours degree in Fine Art from Newcastle University

and now lives in Hertfordshire. She has exhibited her work in many different types

of venue, for the most part either locally or in London. At present she is taking

part in the "Hanbury Manor Project" - a local initiative to display contemporary

art in up-market hotels. Most recently Imogen has shown paintings at the "Art

of Caring" exhibition at St Pancras Hospital and at "Construction, Destruction,

Reconstruction" at Tower Bridge Engine Rooms, as well as with the United Society

of Artists at the Bankside Gallery.

www.aubreyartgallery.com/pages/perkin/imogenperkin.html
---
ADVENT

Video, 3 monitors, colour and sound (stereo)

Duration: 00:19:00

2019

Taken from interviews of individuals, church and charity groups over a twelvemonth

period, Advent explores the nature of arrival. The film tells the stories of

people compelled to move as they reflect on where they've come from, and the

compulsion that made them journey. The film is called 'Advent' after the waiting

period in the Christian calendar, which prepares for the welcome of God into the

world, evoking strong emotions of childhood excitement.

In making the film, Peter Moreton remarked "I was struck by the courage of the

travellers. Some crossed seas, some borders and some only moved a short distance,

but the real journey is from community to isolation. For both the 'welcomer' and for

the stranger there is a preparedness to embrace the unknown."

Applecart Arts

Applecart is an arts organisation based in East London, currently developing an

old community centre into a multidisciplinary arts venue, with a theatre, rehearsal

space; exhibiting space; studio and office space; and a cafe with a community

garden.

Applecart launched in 2008, when founders Peter Moreton and Phil Summers

began telling stories to a regular monthly audience in a pub in Whitechapel,

London. Since then Applecart has toured to various venues, pubs, theatres and

universities around the country. Applecart believe that stories are potent and have

the power to change, challenge and strengthen communities, and the organisation

aims to reach across cultural divides and tell stories which engage, inspire and

entertain audiences.

Applecart works with a wide range of artistic disciplines – creating original music,

film, visual art and drama and has also extended its storytelling into film, making

numerous short films and documentaries. Applecart have recently produced a

series of documentaries, Broke in Britain – Faces of Britain which were broadcast

nationally. The new centre, Applecart Arts, has recently co-hosted various London

festivals including Voila! a festival of European theatre and Newham Word a

festival of theatre and literature.

www.applecartarts.com
---
MANWAR

Video, 3 monitors, colour and sound (stereo)

Duration 00:06:00

2018

Manwar Ali is one of the few scholars in the UK who has been directly involved in

conflict zones alongside extremist organisations. He now uses this experience in

his work with the UK's Home Office and Crown Prosecution Service. He founded

the charity JIMAS and has helped make British Islam relevant and important to

life now.

In this interview for Applecart Arts, as part of an ongoing programme called

InCourage, Manwar, talks about his journey towards radicalisation and the

harrowing experience that led him back again. Many of the stories in this Exhibition

are of people fleeing from violence. Manwar's story is different in that he initially

felt compleed to fight for a perception of freedom. It is only by understanding the

personal cost of violence that he chose to journey in a different direction.

InCourage

InCourage is an ongoing programme developed by Applecart Arts in an attempt

to find a creative approach to social concerns prevalent in the East End of London

and beyond. The initiative aims to celebrate diversity, champion local partnerships

and highlight personal stories that touch upon the dangers of extremism and the

manipulation of young people.

InCourage continues to work with school children, youth groups, local authorities

and the Greater London Authority to provide creative ways of understanding the

causes of radicalization and extremism whilst exploring more positive and less

harmful narratives.

Current projects include an up-coming schools theatre and workshop tour of 'Iz

Dis a Dagga' charting the aftermath of a teenage stabbing; the development of

a dance and physical theatre piece addressing the grooming of young girls and

sex trafficking; and a puppetry performance for children exploring gender and

sexual identity. In the next few months the Applecart Arts will begin shooting a

film script, devised and written by young men convicted and serving sentences

in a youth offenders' prison. The film and crew will be made up of young people

in Newham, London, all of whom have been identified as being targeted by gang

culture. The participants will be mentored by a professional team of professional

film-makers and actors.

www.applecartarts.com
---
Wilderness

Video, 3 monitors, colour and sound (stereo)

Duration 00:01:30

2019

Revd Michaela shares this spoken word to encourage those who encounter the

wilderness, which for many people in our world is a daily reality. Much of the

inspiration for this spoken word was found in her trip to Jordan where she saw

some of Methodist charity All We Can's work through its local partners. This video

was created as a part of All We Can's Lent 2019 campaign 'travel lightly' which

drew upon the themes of the Moving stories movement.

Michaela Youngson

Michaela has been Chair of the London District since 2012. With a passion for social

justice and for developing strong ecumenical relationships, Michaela is committed

to working within the diverse and rich context of the Methodist Connexion. She is

a regular contributor to the BBC Radio 2 Early Breakfast Show's Pause for Thought

and is currently serving as President of the Methodist Conference.

All We Can

All We Can is an international development and emergency relief organisation.

Focusing on those in greatest need, it is inspired by Christian principles, with its

roots in the British Methodist Church.

All We Can's purpose is to help find solutions to poverty by engaging with local

people and organisations in some of the world's poorest communities to end the

suffering caused by inequality and injustice.

Over the years, All We Can and the London District have sought ways to work

together. Since the beginning of Moving Stories, All We Can and the London

District have been finding ways to unite in their shared mission, giving voice to the

stories of Migrants.

www.allwecan.org.uk
---
Mobile Homes

Aluminium, PVC, Nylon, Paper

120cm x 200cm

2018

Resulting from a conversation with a church community in Bethnal Green, Mobile

Homes is an acknowledgement that our homes our never static. Each home has

a window through which its inhabitant can look at the moving world outside.

Participants were asked to share words and feelings about their homes, where

they'd moved from, and the process of movement.

The mobile is an expression of the fragile nature of home and the interdependency

we have if we are to keep the whole thing from tumbling down.

On display is a corner of much larger work incorporating three more balanced

sections hanging from a cross bar measuring 140 centimetres.

Peter Moreton

Peter Moreton was born in Hertfordshire in the UK. He studied as an actor at

the Guildhall School of Music and Drama and has since worked as an actor and

musician, performing in television, film and live theatre including West End and

International work with companies such as the Royal Shakespeare Company,

Cheek by Jowl and the National Theatre.

As a writer and composer his work has been performed at Shakespeare's Globe

Theatre and as far afield as the Kallang Theatre in Singapore. He has also worked

as a musical associate and director for theatre productions at the Barbican Theatre

and in the West End.

Peter co-founded Applecart storytelling company and continues to work as its

artistic director. The company currently runs Applecart Arts, an arts centre in the

East End of London.

www.petermoreton.com
---
Jide/Sebastian

Oil on canvas

150cm x 100cm

2019

This painting features Revd Jide Macaulay. Jide is a gay British-Nigerian priest who

started an inclusive church for LGBT+ in Nigeria and now works in London as the

founding pastor of "House of Rainbow" – a charity that works with and supports

gay BAME Christians and other faiths across the world.

The painting echoes an image of St Sebastian in local Anglican church where Jide

currently serves as the Assistant Curate: a beautiful Saint who was martyred by

being pierced with arrows and who is often seen as an iconic gay figure. In the

background, a street scene from Nigeria references Jide's past life experience

and historic roots. He is wrapped in a rainbow Union Jack – a symbol of LGBT+

pride and British identity. Pierced by an arrow, wounded by pernicious and hateful

homophobia he has encountered in Nigeria and in the British Church, he remains

strong: standing beautiful and proud.

As a person living with HIV, the flowing blood also has special significance. As well

as a symbol of wounding, body fluids from HIV+ people are often seen as unclean

and infectious, but this is unwarranted prejudice not least because modern drug

regimes reduce the viral load in a person so that there is no risk of passing the

virus on to others.

Ric Stott comments, "Jide is a true LGBT+ hero who has faced much opposition

in his ministry, much of it from fellow Christians, this painting highlights the holy

beauty of this remarkable Black gay man."

Ric Stott

Ric Stott is an artist and Methodist Minister based in Sheffield. His practice is

primarily oil painting and drawing. Finding inspiration from diverse experiences

studying medical science, theology and art psychotherapy he explores ideas

focussed on sexuality and spirituality and the impact of place on our sense of self.

For Ric painting is an exercise in fully embodied spirituality.

As his work progresses, he is seeking to further investigate this interplay of body,

spirit and place as well as the relationship between painting and drawing with an

emphasis on the boundary blurring aspects of queer experience.

Ric completed his MFA in Fine Art at Sheffeild Hallam University in May 2018.

www.ricstott.com
---
Poems (Journey) # 3

UV printed on wooden panel (ply wood) and piano hinges

80cm x 100cm

2019

One of the core elements in Güler Ates's work is cultural displacement. She is

interested in the interaction of Eastern and Western cultures. The images that are

in the centre of Poems #3 were taken in Onze Lieve Vrouwekerk (Church of Our

Lady) in Amsterdam. This house of prayer is used by both Roman Catholic and

Syriac Orthodox communities. The latter call it the Mother of God Church. The

layered poems are written in Turkish by Güler Ates, Senay Ates and Fero Fırat. The

poems reflect the emotional encounters of immigration from Eastern Turkey to

London. However, their first mother tongue is Zazaca, which was forbidden to be

taught in the Schools.

Güler Ates works with Video, Photography, Printmaking and Performance, merging

Eastern and Western sensibilities. In the performances Ates provides a commentary

on the Western notion of Orientalism and the effects of the cross-pollination of

cultures on female identity and architecture.

The architectural sites that Ates works within retain specific links to the colonial

era and to the 'East'.and the history of these inform the source of the fabric that

becomes a costume or veil for her performing model to wear. The subject tells a

story drawn from the history of the site, exploring her feeling of cultural duality.

The viewer is presented with the image of a veiled woman, yet the veil prevents

classification or knowledge of the figure. It is not necessarily a hijab, nor a niqab,

but it could be part of a sari or a wedding veil. Likewise the European interior

in some of her works, further complicates interpretation by referencing veiled

women, such as those found in the work of Vermeer and Rembrandt. This openness

of possible readings illustrates the multi-faceted nature of the garment. Ates uses

historical comparison to highlight social and political issues, especially those

surrounding gender politics and the veil.

Guler Ates

Born in 1977 in Eastern Turkey, Güler Ates lives and works in the UK. She graduated

in 2008 from the Royal College of Art with an MA in Fine Art. She is the current

Digital Print Tutor at the Royal Academy Schools and her work can be found in the

print collections of the Victoria & Albert Museum, Oude Kerk, Museum Van Loon

in Amsterdam, the Royal Academy of Art and the Museu de Arte do Rio (MAR)

in Rio de Janeiro. Ates' work has been exhibited at the Summer Exhibition at the

Royal Academy for the last several years, as well as in numerous international solo

exhibitions (The Netherlands; London, Italy; Brazil; Portugal; India; Japan, Japan).

Her work has been featured in numerous groups shows and she has completed

residencies at ArtSite Fest, Turin (2018), Eton College, Windsor (2015), Instituto

Inclusartiz, Rio de Janeiro (2013-2014), Art Suites, Bodrum (2014), Space 118 & The

Loft at the Lower Parel, Mumbai & Rajasthan (2012 & 2009) and Cite Internationale

Des Arts, Paris (2007).

www.gulerates.co.uk
---
Distant Hope

Acrylic on Canvas

80cm x 30cm, 80cm x 60cm, 80cm x 60cm, 80cm x 60cm

2018

Distant Hope is a collection of works that were created by artist Sara-Louis Dobson

as a response to her experience of the changing nature of the working-class

communities in the areas she lived and worked in. This alongside her research in

social sciences brought about an interest in capturing the portraits of individuals

who were in some way having difficulties in integrating within their communities.

Sangeeta (crying baby) was the first portrait which Dobson was inspired to make

following an article she read in the National Geographic regarding poverty and

migration among African children. 'Luther' (sunglasses) was an African migrant

she met at a carnival in her home town who told her about his experiences in

the Notting Hill carnival. Both 'Amina' (landscape profile) and 'Sophia' (wearing

the veil) are Syrian refugees – who travelled from Syria to reach the UK sharing

the common vision of 'hope' in their journey to a better place. Using a fusion of

photography and acrylic painting Dobson created this set of images inspired by

the current political climate and cross culturalism, which looked to represent the

changing nature and variation of culture globally. Her portraiture is reflective

of this, focussing on migration, poverty and diversity whilst using experimental

techniques which test the reception of monochromatic effects against that of

colour in abstract.

Sara-Louise Dobson

Sara-Louise Dobson has been practicing art for over twenty years, inspired by her

personal experiences and close environment. Sara graduated with a 1st Class Degree

from Lancaster University, before pursuing her art and research development full

time. She now works from her studio on Wyresdale Park near Lancaster and runs

the project; Butterfly Portraits which provides portraits to bereaved families. Sara

was awarded Fellowship of the Royal Society of Arts in response to her work with

the community and continues to exhibit nationally, a body of work which seeks

to address the changing and somewhat challenging nature of societal thought

processes and social construction

www.poetryandprose.co.uk
---
Rootless 1988

Suitcase, acrylic, paper, and pumice stone

29cm x 34cm x 27cm

2019

A metaphor for mobility, escape, and transition, "Rootless, 1988" expresses the

emotions of a migrant embracing the journey as liberating and empowering. Rather

than telling a tale of gloom and suffering, "Rootless 1988" is the love story of the

migrant who is ready to embrace the new. The pumice stones collected from the

Greek island of Santorini are used to convey a feeling of lightness, rootlessness

and freedom - a lighthearted movement towards new experiences.

Lito Apostolakou is interested in spaces and objects not as fixed entities but as

sites transformed by our imagination, and open to interpretation. The River Thames

has long been a source of inspiration, and the materials and stones found on its

foreshore often appear in her work. Shaping and being shaped by the metropolis the

river is a liquid, ever changing archive where grand narratives mingle with personal

tales. The starting point of her work is the analysis of spaces and structures as

sites of memories and embodiments of dreams.

Lito Apostolakou

Lito Apostolakou works from her studio in Deptford Foreshore, London. Between

2015 and 2018 she has exhibited her work in Bristol (Creative Histories conference,

University of Bristol), London (Menier Gallery, Old Biscuit Factory, Talented Art

Fair, Ply Gallery, Crouch End Festival), East Sussex (Pure Arts Autumn Fair 2017),

Bath (44AD artspace), Amsterdam (Toon Gallery). She is currently taking a twoyear

Fine Art course at City Literary Institute. Apostolakou holds a PhD in history

from King's College London and has previously worked as a historian and freelance

writer. She's been a Londoner since 1988.

www.litoapostolakou.com
---
'That the entire world is full of hearts searching

for a place to call home. But refugees are

different, because they don't just look for a

home. They look for peace too. And because

of that, they possess the most special hearts

anyone could ever have.'
---
The Boy at the Back

of the Class

Illustration /Text

2018

The Boy At The Back Of The Class is a children's novel written from the perspective

of nine year old Alexa about Ahmet, a Syrian refugee boy, who joins her class. The

Illustrations on display are the pictures Ahmet presents to his class to explain

his story. On first sight the pictures are sweet and childlike in design but what

they depict is jarring, as we start to understand Ahmet's dangerous flight from

Syria. Illustrator Pippa Curnick has carefully captured the essence of childhood

understanding in his drawings whilst simultaneously given Ahmet the opportunity

to tell his truth. As the viewer, with our knowledge and experience we can

contextualise his story.

Onjali Q Rauf's novel is a heartwarming tale about children trying to make sense of

the refugee crisis and holding up friendship and kindness as a response above all

else. Rauf cites 11 am on the 2nd September 2015 as the point in which she started

considering the refugee crisis. This was the morning the story broke globally of

3-year-old Aylan Kurdi, a refugee boy who died trying to cross the Aegean Sea with

his family and a beginning to her response to the crisis.

Onjali Q Rauf

Onjali Q Rauf is the founder of Making Herstory, an organisation which encourages

men, women and children to work together to create a fairer and more equal world

for women and girls everywhere. In her spare time, she delivers emergency aid

packages to refugee families living in Calais and Dunkirk, and can often be found

with her head buried in a book at the local bookshop. "The Boy at the Back of the

Class is her first novel and was winner of the 2019 Blue Peter Book Award, and

overall winner of the Waterstones Children's Book Prize 2019. She has written for

The Guardian, and is also a contributor to the BBC Radio 2 programme Pause For

Thought.

www.makingherstory.org.uk

Pippa Curnick

Pippa Curnick graduated with a first-class degree in illustration from the

University of Derby and has several years' experience in picture book design for

major children's publisher Alison Green Books. She lives in Leicestershire with her

partner, Ben, her two children and Sprinkles the bunny.

www.pippacurnick.com
---
What They Took

With Them

Video, monitors, colour and sound (stereo)

Duration: 00:05:00

2016

What They Took With Them: A List is a poem written by Jenifer Toksvig for Moving

Stories, a fundraising concert of writing and poetry which was staged at the

National Theatre in the Lyttelton, in 2016. The concert was produced by Emma

Manton, who was moved to support the United Nations' refugee charity UNHCR

after seeing the now infamous image of 3-year-old Aylan Kurdi and other children's

bodies washed up on the beaches of Greece.

The poem was inspired by stories and first-hand testimonies from refugees

forced to flee their homes and items they took with them. The poem was based

on verbatim and historic reports of what refugees chose to take with them when

they fled. Much of the inspiration for it came from photographer Brian Sokol's

extraordinary photo series The Most Important Thing made in collaboration with

UNHCR. Many of Brian's photos, along with first-hand accounts from the refugees

he photographed, are featured in the film.

From that show, the poem was made into a short film featuring UNHCR Ambassador

Cate Blanchett. Blanchett performs the rhythmic poem 'What They Took With

Them' alongside fellow actors Keira Knightley, Juliet Stevenson, Peter Capaldi,

Stanley Tucci, Chiwetel Ejiofor, Kit Harington, Douglas Booth, Jesse Eisenberg and

Neil Gaiman.

Jenifer Toksvig

Jenifer Toksvig is a writer, lyricist and musical theatre maker. She has written and

collaborated on many shows including: The Stones Are Hatching (adapted from the

novel by Geraldine McCaughrean), The Queen of Snow (inspired by Hans Christian

Andersen's The Snow Queen), and Hitler's Canary (adapted from the novel by Sandi

Toksvig) with Alexander Rudd. Toksvig and Rudd are also prolific song writers whose

work has been recorded in Britain by musical theatre performers such as Julie

Atherton, Michael Xavier, Claire Moore and Niamh Perry, and in L.A. by jazz singers

such as Richard Shelton at Columbia Records. With her theatre company, The

Copenhagen Interpretation, Jenifer also directs and produces, developing devised,

immersive, transmedia musical theatre which directly engages the audience.

www.acompletelossforwords.com
---
Nomad

Distressed Canvas

44cm x 50cm

2008

'Nomad' was made within the context of 'having to flee one's home', in circumstances

of exile and displacement. What to carry with you? How to protect yourself. These

are the issues that Jo Scorah wishes to address.

Hung by a rusted butcher hook, giving a sculptural 3-dimensional presence, the

garment opens out into a 'tent-like' shape for refuge, and has three armholes,

enabling it to be wrapped around the body for protection. Constructed from

painted canvas that has been distressed, it reveals marks reflecting the journeys

that migrants have taken.The lining is silk, screen printed with drawings depicting

bodies in conflict.

Nomad has been successfully used as the subject matter for workshops in an

inner-city school enabling students were from diverse backgrounds, to bridge

cultural differences through collage and stitch.

Jo Scorah

Jo Scorah is a visual artist based in Manchester, UK. Since completing an MA

in Textiles in 2008 she has been working within a studio practice and exhibiting

throughout the UK. Her work has focused on issues that highlight exile and

displacement. Coming from a textile background, Scorah works predominantly

with cloth, although drawing and painting constitute a great deal and she often

uses a collaboration of techniques to achieve an emotional response to the subject

matter.

www.joscorah.com
---
Gates to a New World

Altered book pages

18cm x 260cm

2019

"Gates to a New World" is a book sculpture with scenes of travel and displacement

by sea, an actual phenomenon that is sadly present in the daily news and that

is shaping our way of conceiving the world. It is inspired by the visual language

of traditional votive pieces, and also by artworks that are iconic for their way

of representing universal feelings. Every page presents stories of suffering,

desperation, hope, and sweetness; the people depicted are made of maps, that

represent the places they are escaping from, as well as the promised lands they

are trying to reach. They are connected and related by the same waves that engulf

their bodies; the movement of the water is recreated by the reader every time the

pages of the book are opened and closed.

Linda Toigo's material of choice is paper, a fragile yet extremely durable material.

With this media, she explores the field of book alteration using traditional, slow

paced and laborious techniques. She creates both small works and large scale

interventions with multiple layers of carved paper. In her paper cut illustrations,

she takes the inspiration from childhood memories, traditional storytelling, and

observation of the reality; Toigo creates three-dimensional scenes from sheets of

paper assembled together, that draw the viewer into a world full of hidden details

that is often fun, surreal and ironic.

Linda Toigo

Born in Italy, Linda Toigo graduated with a Master Degree in Architecture from

Politecnico di Milano in 2006; after working for three years as an urban planner,

she decided to change her scale of intervention and moved to London to study

Graphic Design at London College of Communication, UAL. There, she fed her

curiosity for book design and book structures, discovering and experimenting with

the physical qualities of paper. Toigo's work has been shown in solo exhibitions

and touring group shows in Italy, UK, Spain, Taiwan, and the USA; Her paper cut

illustrations have recently been published in best-selling children's novels.

www.lindatoigo.com
---
Acknowledgements

With many thanks to all the artists, contributors and the London District

of the Methodist Church and all those who helped to put Transitions:

Seen Unseen together and its accompanying cataogue.

Support us

Applecart is delighted to be collaborating with the London District of the

Methodist Church on Transitions Seen/Unseen. However, this is just one

of the projects that Applecart is currently producing.

As a charity we believe that stories are potent and have the power to

challenge, change and strengthen communities. We champion social

justice and celebrate diversity, providing platforms for people who might

otherwise never be heard.

If you'd like to find out more about Applecart's work, then take a look at

our website at www.applecartarts.com. We run events and workshops

on a regular basis and our café is open from Monday to Friday 9am-4pm.

We're only a short walk from Upton Park Underground Station.

Donate

Applecart's work is entirely reliant on donations and funding grants.

Funding is always an uphill struggle and donations are particularly precious

to us. We've tried to make it as easy as possible to support Applecart

Arts financially. You can donate by visiting our website, or directly at

www.justgiving.com/applecartliveltd