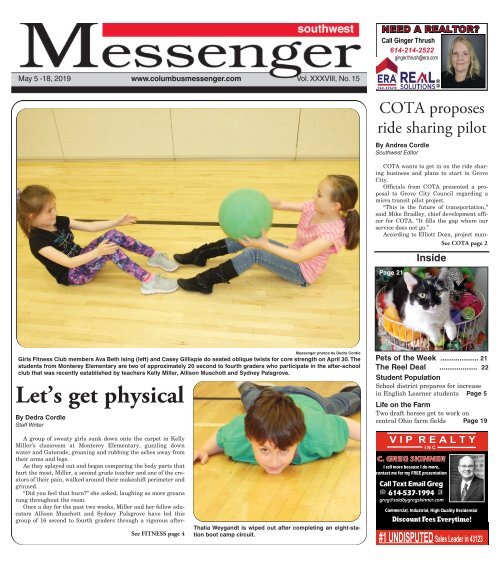 Southwest Messenger - May 5th, 2019
Create successful ePaper yourself
Turn your PDF publications into a flip-book with our unique Google optimized e-Paper software.
May 5 -18, 2019 www.columbusmessenger.com Vol. XXXVIII, No. 15

NEED A REALTOR?

Call REALTOR?

Ginger Thrush

Call 614-214-2522

Ginger Thrush

614-214-2522

ginger.thrush@era.com

COTA proposes

ride sharing pilot

By Andrea Cordle

Southwest Editor

COTA wants to get in on the ride sharing

business and plans to start in Grove

City.

Officials from COTA presented a proposal

to Grove City Council regarding a

micro transit pilot project.

"This is the future of transportation,"

said Mike Bradley, chief development officer

for COTA. "It fills the gap where our

service does not go."

According to Elliott Doza, project man-

See COTA page 2

Page 21

Inside

Messenger photos by Dedra Cordle

Girls Fitness Club members Ava Beth Ising (left) and Casey Gillispie do seated oblique twists for core strength on April 30. The

students from Monterey Elementary are two of approximately 20 second to fourth graders who participate in the after-school

club that was recently established by teachers Kelly Miller, Allison Muschott and Sydney Palsgrove.

Let's get physical

By Dedra Cordle

Staff Writer

A group of sweaty girls sunk down onto the carpet in Kelly

Miller's classroom at Monterey Elementary, guzzling down

water and Gatorade, groaning and rubbing the aches away from

their arms and legs.

As they splayed out and began comparing the body parts that

hurt the most, Miller, a second grade teacher and one of the creators

of their pain, walked around their makeshift perimeter and

grinned.

"Did you feel that burn?" she asked, laughing as more groans

rang throughout the room.

Once a day for the past two weeks, Miller and her fellow educators

Allison Muschott and Sydney Palsgrove have led this

group of 16 second to fourth graders through a rigorous after-

See FITNESS page 4

Thalia Weygandt is wiped out after completing an eight-station

boot camp circuit.

Pets of the Week .................. 21

The Reel Deal .................. 22

Student Population

School district prepares for increase

in English Learner students Page 5

Life on the Farm

Two draft horses get to work on

central Ohio farm fields Page 19

V I P R E A L T Y

I N C

C. GREG SKINNER

I sell more because I do more,

contact me for my FREE presentation

Call Text Email Greg

614-537-1994

greg@soldbygregskinner.com

Commercial, Industrial, High Quality Residential

Discount Fees Everytime!

#1 UNDISPUTED Sales Leader in 43123
---
PAGE 2 - SOUTHWEST MESSENGER - May 5, 2019

www.columbusmessenger.com

The City Beat

Grove City honored by Arbor Day Foundation

Grove City was named a Tree City USA

community for the 26th consecutive year

by the Arbor Day Foundation. The Tree

City USA award recognizes more than

3,500 communities nationwide, with a combined

population of 150 million that meet

tree conservation goals as part of their

community forestry program.

Grove City is committed to maintaining

this designation, recognizing that trees are

F∩O∩R∩ G∩R∩E∩A∩T∩

A∩U∩T∩O∩ R∩A∩T∩E∩S∩

it takes

a village!

lag

A∩t V∩illage I∩nsurance

A∩gency

we

believe we can save you money

on

your car insurance.

B∩efore you renew

you

ur auto

insurance call us and see how much

we can save you!

Schuman's Meats

TASTE THE DIFFERENCE

assets to the community, improving the

visual appeal of neighborhoods, increasing

property values, reducing home cooling

costs, and removing air pollutants among

many other benefits.

Each year, the Grove City Service

Department Urban Forestry staff and

Grove City Tree Commission volunteers

work to promote comprehensive tree care,

tree education and community pride at the

1440 Harrisburg Pike

Columbus, OH 43223

614-274-2161

www.schumansmeats.com

Tues. - Fri.: 7:00 a.m. – 6:00 p.m.

Saturday: 7:00 a.m. – 5:00 p.m.

S∩ave E∩ven

M∩ore W∩hen

W∩e I∩nsure

Y∩our C∩ar &

H∩ome!

www.viaoh h.com • (614) 875-3010

3136 B∩roadway, S∩uite 103

G∩rove C∩ity, O∩H∩ 43123

Prices good Thru

May 14th - 25th

Think Schuman's For Your Graduation & Memorial Weekend!

GREAT ITEMS FOR YOUR SMOKER!!

Beef Brisket....................................... $5.99lb

Pork Shoulder - Bone In....................... $

1.99lb

Pork Shoulder - Boneless.................... $

2.39lb

Boneless Chicken Breast............................. $

1.99lb

Pork Country Style Ribs............................... $

1.79lb

Chicken Leg Quarters....(40lb Box 27.60)..... .89lb

Green Onion Bratwurst............................... $

3.99lb

Sweet italian Bratwurst............................... $

3.99lb

5lb Box Ground Beef Patties..(20 per Box).. $

17.95

Ground Beef 10lb Package........................... $

23.99

Grill Burgers................................................ $

2.39ea

Meat & Cheese Trays - Made To Order, Several

Sizes Avaliable. Call For Pricing.

Home of Choice Beef

EcoFest and throughout the city. For 2019,

the focus is pruning trees in Grove City

parks and keeping our tree canopy healthy.

"Our 26th consecutive year named a

Tree City USA designation is truly a point

of pride for our community," said Mayor

Richard "Ike" Stage. "We thank the many

volunteers, residents and staff who help

keep our community green."

This marks Ohio's 39th consecutive year

COTA

Continued from page 1

ager for COTA, this program would be like

Uber or Lyft, but within a defined zone.

Zone one would cover Mount Carmel Grove

City, businesses in South Park and along

State Route 665, Mid-Ohio Foodbank and

the Grove City Park and Ride.

"We chose Grove City because it is a

growing community," said Doza.

A resident could use a mobile app or call

to arrange for a COTA vehicle to pick them

up either at home for a fee or from a COTA

bus stop for free. For example, if a resident

lives within the zone boundaries and works

at Mount Carmel Grove City, that individual

could schedule a pick-up from home to

work for a fee of $3 or $4. If an individual

rides a traditional COTA bus, and gets off

at a stop in Grove City, they can arrange a

smaller vehicle to take them the rest of the

way to work for free.

COTA would use a six to eight passenger

vehicle as the shuttle.

According to Doza, COTA would like to

launch zone one in July. The service would

operate seven days a week. On weekdays,

the service would run from 5:30 a.m. to 7

p.m. and on weekends and holidays the

service would run from 6 a.m. to 6 p.m.

This would be a one-year pilot program

that would run from July 15, 2019 to July

14, 2020. The cost to launch zone one is

estimated at $360,000 with Grove City and

COTA splitting the cost. The cost would

cover the service set-up, management,

marketing and maintenance.

According to Grove City Mayor Richard

as the top Tree City USA state, according

to the Ohio Department of Natural

Resources' (ODNR) Division of Forestry.

For information about tree care or the

Grove City Tree Commission, visit

GroveCityOhio.gov or call the Grove City

Service Department at 614-277-1100. For

additional details about Tree City USA

qualifications and benefits, visit

www.arborday.org/programs/treecityusa.

Spring rain barrel workshop

Take advantage of the benefits of rain

water harvesting at a Spring Rain Barrel

Workshop. The city of Grove City and Keep

Grove City Beautiful are hosting a rain

barrel workshop from 6:30 to 7:30 p.m.

May 15, for residents of Grove City and

Jackson Township only at the Gantz

Farmhouse, 2255 Home Road.

Save time and money as your rain barrel

collects untreated water for indoor and

outdoor plants, birdbaths, garden and

lawn. Help prevent runoff from washing

pollutants into our local waterways.

During the workshop, participants learn

the importance of water conservation, how

this leads to a more sustainable community

and the use, maintenance and proper

installation of rain barrels. The workshop

fee includes an installation-ready, 50-gallon

barrel with diverter. The cost is $55 for

a black barrel and $65 for granite color.

Participants should be prepared to take the

barrel home at the conclusion of the workshop.

Registration is required, online or in

person at the Grove City Parks and

Recreation office, 3226 Kingston Ave., or by

calling 614-277-3050.

"Ike" Stage, the city has asked employers

who would benefit from the pilot program

to contribute financially. Grant funding

will also be sought.

COTA has plans to launch zone two in

Grove City which would include the South-

Western Career Academy, downtown

Grove City, the village of Urbancrest and

the Evans Senior Center. The cost to implement

the second zone would be an additional

$130,000.

Some council members had questions

and concerns about the proposal.

"I do not know if this is cost effective,"

said councilman Ted Berry, when Uber and

Lyft offer the same service but cover the

entire city and the city doesn't have to

spend $180,000.

Councilman Roby Schottke said many

employers in the city have shift work and

the service time would not support second

shift workers.

COTA officials said the company would

share performance data with the city and

adjust service as needed.

COTA plans to host a public hearing

from 6 to 7 p.m. May 8 at City Hall, 4035

Broadway, for residents who would like to

learn more about the proposed program.

Council is scheduled to have the first reading

of the funding legislation for the program

at its May 6 meeting. The second

reading and public hearing is scheduled for

May 20. Council meetings begin at 7 p.m.

at City Hall.
---
www.columbusmessenger.com

May 5, 2019 -SOUTHWEST MESSENGER - PAGE 3

Welcome to 4750 Saint Andrews Dr.

IN

CONTRACT

FORMER MODEL HOME..Enter into a private foyer and then into an open plan with soaring ceilings up to 20 ft. in the great rm./dining rm. Includes a wall

of window light, corner fireplace, high profile trim. Quality construction featuring Anderson windows, granite kitchen tops, hardwood floors. 1st floor private

master, opening to luxe bath, seated shower, his & her vanities plus large walk in closet. Guest Brm/Den & full bath. Large Island in kitchen w/eating bar

and SS Appliances. 2 1/2 car garage. Approx. 1,622 sq. ft. 1st level and 900 sq.ft. of finished lower level with a great rm.,full bath, separate bedroom and

2 large daylight windows. Lower level is a whole another suite! .Do NOT miss this immaculate home. $334,900 MLS#: 219013381

COMMERCIAL, INDUSTRIAL, HIGH QUALITY RESIDENTIAL

UNPRECEDENTED SINGLE AGENT SALES OF OVER $75 MILLION FOR 2015-2018

C. Greg Skinner

614-537-1994

I sell more, because I do more, call me for my free no obligation marketing presentation.

Discount Fees Everytime.

I

GROVE CITY

greg@soldbygregskinner.com

UNDISPUTED #1 in 43123 SALES
---
PAGE 4 - SOUTHWEST MESSENGER - May 5, 2019

Blood drive at Kingston Center

The American Red Cross Blood Drive

meets in the Kingston Center, 3226

Kingston Ave., from 1-7 p.m. the first

Wednesday of each month. To schedule an

appointment call 1-800-448-3543 or visit

the American Red Cross Blood Drive website.

S.A.L.T. at Evans Center

The Grove City Division of Police host

Seniors and Law Enforcement Together

(S.A.L.T.) meetings at 1 p.m. the second

Tuesday of each month at the Evans

Center, 4330 Dudley Ave. Adults of all ages

are welcome to attend. If you would like

additional information on other crime prevention

programs visit police.grovecityohio.gov

or call 614-277-1765.

Hydrant flushing in JT

The Jackson Township Fire

Department will begin its annual hydrant

flushing program on May 13. The program

will be conducted Monday through Friday

from 8:30 a.m. to 5 p.m. daily, until all

areas of the township have been completed.

It is expected that the flushing will take

two to four weeks. Hydrant flushing may

cause water to become rusty and to appear

discolored. Although the water is not

harmful to drink, it can cause discoloration

of laundry. There are products, available at

around the southwest

SUMMER BLAST!

ELVIS

featuring

Mike Albert

and the Big E Band

Saturday

June 15, 2019

VILLA MILANO

1630 Schrock Rd.

Dinner/Show Tickets $ 49.00

Tables of 10 Available

Tickets by Phone: 614-792-3135

Still Good Seats Available

most area pharmacies and grocery stores,

which should remove the rust from clothing

if discolored when washed in the rusty

water. For more information, call the fire

department at 614-875-5588.

Youth Team Tennis

Registration is open for South-Western

Youth Team Tennis. Students who participate

learn teamwork, communication, balance,

agility, problem solving and self

reliance all whole having fun and making

friends. South-Western Youth Team

Tennis, part of Midwest Youth Team

Tennis, uses smaller courts, shorter racquets

and lower bouncing balls so players

can feel successful, even beginners.

Students in grades 1-8 are encouraged to

register. The teams meet on Tuesdays

June 4 through July 9 at Grove City High

School, 4665 Hoover Road. The cost is $45

per player. Registration closes May 10. To

register, visit midwestteamtennis.com. For

more information, contact James VanDyne

at 614-560-3922 or

westlandtennis@gmail.com.

Free community meal

Bethel Lutheran Church, 4501 Hoover

Road in Grove City, will host a free community

meal every third Saturday of each

month. The food will be served from noon

to 1 p.m. For more information, call the

church office at 875-0510.

Visa • Mastercard • Discover

NO REFUNDS

Fitness club members learn to fine tune their pushups.

FITNESS

Continued from page 1

school fitness hour to strengthen and condition

their growing muscles and bones. The

session that took place on this particular

afternoon was inspired by a boot camp

class.

"It was brutal," said one student.

The idea for a fitness club, Miller

explained, was sparked when a call went

out from the administration asking teachers

to create more after-school activities for

their students.

"Allison, Sydney and I sat around brainstorming

fun activities we could do and we

came up with this fitness club for girls," she

said. "We are all fitness buffs so we wanted

to bring that sense of comradery and

enthusiasm for physical activity and

healthy habits to our girls."

When they began signing students up

for the after-school club several weeks ago,

they were not sure what the level of interest

would be.

"We have a maximum of 20 students

permitted and we hoped to get half of that,"

said Miller.

Instead, they got more.

The reason the Girls Fitness Club members

signed up is quite varied.

For second grader Ava Beth Ising, she

joined the club to make her "wimpy legs"

stronger.

"They get tired after a while and I want

them stronger."

For fourth grader Salia McLeod, she

signed up to make friends and burn off

energy.

"I like being active," she said. "I'm told it

keeps me out of trouble."

And second grader Thalia Weygandt

said her family made the decision for her.

"I guess they signed me up," she said.

"They're trying to be healthier and exercise

more so here I am."

Initially, Weygandt said she was not

sure as to whether she would like the vigorous

physical activities that were

promised through the club. Ultimately, she

ended up liking it.

"I prefer walking my dog but yeah, this

www.columbusmessenger.com

is OK," she admitted. "It's nice to move

around like this."

When the club held its first session on

April 23, the advisors began with an introductory

lesson on fitness, healthy eating

habits, personal goals and ways to increase

muscle and body strength. They also spoke

of the importance of lifting each other up

and never getting discouraged when they

can't do something. Then came the laps

throughout the gym. And then a homework

assignment.

"We didn't give them homework," said

Miller with a laugh. "We just asked them to

try to put their newfound knowledge of

physical activity and strength and conditioning

to use after-school."

Many of the girls took it to heart.

"They would come up to me in class or in

the hall, telling me they worked on leg

strength through jumping on the trampoline

or they did cardio by running," Miller

said. "Ava Beth told me she's been working

on her calves and another girl told me they

started drinking more water instead of sugary

beverages."

Though the club, which is in its first

year, just started and will only run fourweeks,

the advisors said they can tell the

lessons are already paying dividends with

their budding fitness pupils.

"We hope being a part of this club will

keep them on the path toward healthy

habits and healthy decisions for the long

run," said Muschott, a fourth grade

teacher.

Muschott said she, Miller and Palsgrove

were all active when they were the age of

the fitness club students and have continued

to maintain that level of enthusiasm

for activity throughout their lives.

"Healthy habits start when you're

young," she said. "We want them to have

that knowledge of what their bodies are

capable of and that sense of confidence that

comes from physical activity and being

encouraging of others as they try to reach

their goals."
---
www.columbusmessenger.com

In Education

May 5, 2019 -SOUTHWEST MESSENGER - PAGE 5

District expects to see increase in EL students

By Dedra Cordle

Staff Writer

South-Western City School officials are

predicting steady growth in the enrollment

numbers of students classified as English

Learners.

At the April 22 board of education meeting,

program coordinator Ed Kennedy said

data indicates there could be as many as

3,325 EL students enrolled in the district

for the 2019/20 school year, which is an

increase of 21 students from the current

school year. He added that while growth is

projected in all buildings, one area that will

continue to see added growth throughout

the years is the "Franklin Heights corridor."

"We are seeing many families move into

the areas whose schools will feed into

Franklin Heights High School," he said,

referring to East Franklin, Finland,

Harmon and West Franklin Elementary,

as well as Franklin Woods Intermediate

and Finland Middle.

Community Focus

around the southwest

Immunizations in Jackson Township

Franklin County Public Health will offer adult and childhood

immunizations on May 13 at the Jackson Township

Administration Building, 3756 Hoover Road in Grove City. Most

insurance plans are accepted but discounted services are available

for those with no insurance. To schedule an appointment, call

(614) 525-3719 or visit www.myfcph.org.

Gardens at Gantz plant sale

Join the Gardens at Gantz volunteers as they celebrate the

26th annual Gardens at Gantz Herb, Perennial and Landscape

Plant Sale from 8:30 a.m. to 2:30 p.m. May 11 at Gantz Park, 2255

Home Road. Due to park construction, the sale is in the Gantz

Farmhouse parking lot. This is a rain or shine event.

Browse a wide variety of culinary and landscape herbs, native

perennials, rain-garden plants and more. The Grove City Tree

Commission in conjunction with Five Springs Farm Nursery &

Landscaping and Hickory Lane Farms offer a selection of trees

and bushes. Volunteers are on-site to answer gardening and tree

care questions. Cash, checks and credit cards ($15 minimum) are

accepted at the plant sale and cash or check payment only at the

tree sale.

Proceeds benefit the Gardens at Gantz Farm volunteers, celebrating

28 years of dedication and cultivation to garden improvements,

youth and adult education and book donations to area

schools.

For more information, call 614-277-3058 or 614-871-6323.

Screenings at Evans Senior Center

Amity Care Home Health Services provides a nurse at the E.L.

Evans Senior Center in Grove City to do free diabetic screening

and blood pressure testing every first and third Wednesday of the

month from 11 a.m. to 1 p.m. For more information, call Amity

Care Home Health at 334-6800.

He said the demographic that will grow

throughout that area is the Latino population.

"For many years, we saw a lot of growth

with our Somali and Arabic speaking families

in that corridor but now we are projecting

an increase of our Latino families."

Kennedy said those projections do not

come as a surprise to the district, nor are

they unprepared for the influx on a staffing

level.

"Spanish is our number one language

with EL students, with Somali and Arabic

following," Kennedy said. His data indicates

71 percent of EL students speak

Spanish as their primary language, followed

by 20 percent for Somali and Arabic

speakers.

He also reported that when students

enroll in the program, a majority are doing

so when they are at the pre-functional or

basic level of learning the English language.

"Of that group, a majority are at the

younger levels, such as the elementary or

All smiles

Messenger photo by Dedra

Cordle

On April 20, more

than 80 children

and adults from

across the region

came to the West

Jefferson

Community Center

to participate in an

Easter egg hunt

designed specifically

for those with

special needs. One

such participant

was Carson Groves,

a 6-year-old student

at J.C. Sommer

Elementary, who

was all smiles as he

came into a room

filled with eggs

attached to balloon

strings to accommodate

those with

mobility issues. The

event, which organizers

hope will

become an annual

tradition, was made

possible through a

partnership with the

village of West

Jefferson and the

Autism Society of

Central Ohio.

intermediate age," he said.

Kennedy said it takes one to two years

for students to have a proficient grasp on

conversational skills, while it takes five to

seven years to become proficient with their

reading and writing skills.

He said when it comes to older students

who enroll and are testing at the pre-functional

or basic level it is "all hands on deck"

to get them to graduate on time.

One step the district is taking to lessen

the language gap is through a Striving

Readers Comprehensive Literacy grant.

According to Kennedy, the district was

recently awarded a $200,000 grant from

the Ohio Department of Education that, in

part, allowed officials to purchase books for

the middle to high school grades.

"We have found that pleasure reading

helps advance their understanding of the

English language," said Kennedy.

He said a favored genre of students is

the graphic novel.

"Graphic novels are popular because

they are able to show you the action while

telling you what is happening," he said.

The grant was implemented this year,

and Kennedy said it is already paying dividends.

"We have seen a 0.5 to a 0.8 percent

increase in grade level growth after just the

first semester," he said.

Another positive thing about the grant,

he added, is that most of the reading materials

can be accessed online so there are no

waiting periods for the return of popular

materials.

"We think this will be a great tool for our

students," he said.

In other news, Amy Schakat, the coordinator

of Career-Technical Education, said

the middle grades will be introduced to four

new courses next year. They include an

introduction to financial literacy, entrepreneurship,

app development and strength

and fitness. And at the high school level,

Westland will add a Bilingual Customer

Service Certificate.
---
PAGE 6 - SOUTHWEST MESSENGER - May 5, 2019

Opinion Page

www.columbusmessenger.com

Dare I hope the Browns turn it around?

I rarely have memorable nightly dreams

anymore, mainly because one must sleep to

have them, and I've found aging seems to

frown upon that luxury. I can only remember

a few I've had my entire lifetime, all

from my younger days. In one, I was looking

down from high above, flapping my

arms and flying like a bird. Then there was

the one where I was a jockey in the

Kentucky Derby where the starting gate

swung open and I was sitting backwards on

the horse, hanging on to its tail, trying desperately

not to fall off. A nightmare for me,

but nothing more than a comedy sketch

comedian Tim Conway would have been

proud of.

I had a new dream the other night,

albeit a nightmare. I tossed and turned and

woke up sweating and exhausted. I was

yelling, "no, no, no!" As I analyzed it over a

cup of strong morning coffee, I realized it

was based on a true event, one I wish I hadn't

recalled again. I concluded it was generated

by all the recent headlines about the

Browns and their recent acquisition of star

receiver Odell Beckham Jr. from the

Giants.

I was the lead character in the nightmare,

i.e. the bad guy, the rat fink. It was

January, 1988 and I was down on the field

at Mile High Stadium in Denver. It was the

AFL Championship Football Game with

the winner headed for the Super Bowl. For

some reason, my Browns teammates kept

calling me Earnest, Earnest Byner. The

game was winding down, the clock showing

just 1:12 left. We were losing 38-31, but we

were driving, now down to Denver's 8 yard

line. Victory and a Super Bowl appearance

were in sight. The call in the huddle was a

handoff to me.

I took the ball, I was moving, the goal

line was getting closer and closer, nobody

was going to stop me, just one more yard.

Suddenly, a defender stripped the ball from

me. Poof, the win became a, now you see it,

now you don't moment. The fumble that

rocked the Browns community and will

A yard sale is no small task. It takes

several hours of cleaning house, adding

prices and sitting on your porch all day

hoping someone will find value in the items

you no longer want or need.

By the end of the day, we only made a

little over a $100, and then used that

money to pay someone to remove an overgrown

bush in the backyard and haul away

some other items. It was by no means a

money maker, but the feeling of having less

clutter in my home was priceless.

Lately, I've been fascinated with this

duo called "The Minimalists." I first

always live in infamy. I'm glad I quickly

awoke and realized I wasn't the real

Earnest Byner. Poor guy, a good career

running back, just some real bad luck.

After the reality of the loss set in, I went on

to feel as bad for him as I did for us fans.

As harrowing as that nightmare was,

the on-field fiascos of the following years

have been even worse for us fans of the

hapless Browns. In 1995 they moved to

Baltimore, hanging our devoted loyalty and

streaming tears out to dry. Then, a season

without playing at all. The 'new' Browns

arrived back home to play, at least a poor

semblance of play, in 99. It's been an uphill

fight since then, with results less positive

than General Custer's efforts at the Little

Big Horn. They've taken fan patience to

new unreasonable and unattainable levels.

We sank from the glory days of Jimmy

Brown, Otto Graham, Lou 'The Toe' Groza,

and the Kardiac Kids of '80, all the way

down to the depths and stigma of 'The

Clowns.'

I went for years barely watching a game

after that, it was too painful, I just couldn't

handle the mental anguish. Sneaking a

quick peak of the weekly score in the news

was difficult and more than enough.

Besides, I always knew the result, another

game in the loss column, the question was

just by how much.

But we Browns fans are as loyal as they

come, there always remained a glimmer of

hope for the future. The losses always

insured a top draft choice. Every year I'd

try to stay positive until the draft was over.

Then every year my hopes would collapse,

and I'd shake my head in disbelief at who

they'd selected. Ah yes, those fresh memories

of the great headcase, Johnny Manziel!

Brown's inept management really

messed up in the 2018 draft. They inadvertently

selected someone with actual potential,

a player with talent and a born leader

on the field who seems to know how to

behave professionally. They selected Baker

Mayfield from Oklahoma, the top pick in

the draft. With him assuming the QB controls

in '18, and the line blocking better so

he didn't become the usual instant injured

mashed potato, as has been tradition with

our quarterbacks for too long now, they

actually became fun to watch again. Oh,

they were still far from Super Bowl territory,

but they were competitive in more than

a few games, a term I didn't think I'd ever

use with them again. They still found

incredible ways to blow big leads and lose

in the closing seconds, but now they were

also finding ways to come from behind and

win some games just as miraculously.

Another win or two and they would have

backed into the playoffs.

A bombshell hit the sports wires this

past March. The Browns acquired supertalented

wide receiver Odell Beckham Jr.

from the Giants for some draft picks. Given

the Browns track record on drafting and

wasted picks, it sounds like an excellent

trade, assuming Odell stays healthy and

concentrates on his game instead of some of

the on-field and sideline antics he's been

known to have. He's only 26 and should

continue to provide that extra spark the

offense has so sorely needed for years.

I fear it's going to be difficult for me to

get fully back into the spirit, even with a

significant improvement over the past

Browns follies we've struggled to endure.

The NFL seems to have lost its way and

forgotten the recipe for success that's made

it so special and popular. While it remains

successful, despite itself, it seems intent on

losing its loyal fan base these days with its

wishy washy management. It's just not the

same game it once was, the one I so loved.

The NFL's contently prioritized itself as

a social issue forum first, the game now

seeming to have become secondary at

times. It's become a barrage of commercials,

interrupted occasionally by on-field

play. There's little consistency in the rules.

Instant replay reviews, intended to

improve calls, have too often only muddied

things up worse and slowed the game

Getting rid of all that clutter feels like freedom

Life Moments - Christine Bryant

Guest Column

Dave Burton

down, only to give us

more commercials

while drawn out,

still controversial,

decisions are being

made. I once

thought I knew

what a catch was -

not anymore. Calls

are only supposed to

be overturned when there's conclusive

replay evidence to do so. I often join with

the announcers in being totally baffled

with some of the strange replay rulings we

routinely see. Then there's the new call,

targeting. Inconsistency at its worst. The

trend continues toward not touching the

quarterback, else risk a penalty. The game

is steadily gravitating too far away from

the rough and tumble game we once knew,

bringing back childhood memories of flag

football.

In my heart, I know if the Browns potential

develops, they'll suck me in again.

Making the playoffs after so many years

would be great. But I've been waiting for

them to get to the Super Bowl. Maybe

that's still a year or two away, maybe just

as far as ever, but perhaps all the media

and fan buzz is justified and the 2019 season

is finally going to be the one. I can't

wait to hear, "It's a pass from Mayfield.

Beckham has it, he's on his way. A 99 yard

touchdown play for the Browns. They win!"

It would be fun to see the endzone Dawg

Pound rocking and rolling again. Some

exciting wins, some new fond Super Bowl

memories and who knows, this could even

be the year for a new dream, a sweet one,

I've had enough nightmares!

Dave Burton is a guest columnist for the

Columbus Messenger Newspapers. He

lives in Grove City.

watched their documentary on Netflix,

called "Minimalism," though the concept of

minimalism is not new to me.

I've watched the opposite of it for some

time, often catching those hoarding shows

that chronicle the lives of people whose

"collections" have gotten out of hand - to

the point of it becoming mentally and emotionally

debilitating.

I am no hoarder, but I do have emotional

attachments to certain things.

Yet lately, I've been asking myself, "If

I'm so attached to something, why is it

stuffed away in a box in the back of a closet?"

Watching the documentary was an eyeopening

experience for me, allowing me to

ask myself if I would be better off in my life

with fewer things rather than more.

I don't plan to become a minimalist, but

then again, that's not necessarily the idea

behind the film. Sure, there are people who

really just have a few pieces of clothing, a

couch and table, and that's about it.

What I've learned, however, is minimalism

is subjective for each of us. What

makes you happy is going to be different

than what makes me happy. What's important

is for us to embrace what makes us

happy and not get lost in the idea that the

actual act of having possessions is a path to

happiness.

If you haven't caught the documentary,

it certainly will make you think about what

we deem important these days. If nothing

else, it might help you finally find that

willpower to go through your closets and

cupboards, and who doesn't need that little

extra push?

Christine Bryant is a Messenger staff writer

and columnist.
---
www.columbusmessenger.com

May 5, 2019 -SOUTHWEST MESSENGER - PAGE 7

Active Lifestyles

A bi-monthly feature celebrating the

wisdom, experience and contributions of our community's senior citizens

PAID ADVERTISING

Hannigan Memorials hires

branch manager to serve Grove City

Modlich Monument Company has hired a branch manager

to oversee memorial sales and operations at Hannigan

Memorials.

Chad Sothard will serve as a memorial specialist and branch

manager at Hannigan Memorials, located at 4071 Franklin St.,

Grove City, Ohio. Hannigan Memorials is part of the Modlich

Monument Company's family of companies.

"I look forward to staying active in the community and

helping families in their time of need choose the right memorial

to honor their loved ones," said Sothard.

"We look forward to working with Chad and have confidence

in his ability to develop relationships with the Grove

City community and to continue to grow Hannigan Memorials'

position as the place people can trust to create a timeless tribute

for their family members," said Jonathan Modlich, vice

president of Modlich Monument Company.

For more than 40 years, families have trusted Hannigan

Memorials to create timeless tributes that are as unique as the

people they honor. At its Grove City showroom, the experts at

Hannigan Memorials get to know each customer and listen to

their loved one's life story before crafting a memorial that

meets the customer's special needs.

For more information, go to modlich-monument.com/hannigan.

Exercise key to helping arthritis

Exercise can be beneficial in the treatment of arthritis, say many

doctors.

Physical activity can reduce stiffness and increase muscle strength

and flexibility. It also has overall health benefits, such as improving cardiac

fitness and physical endurance. Three types of exercise are most

appropriate for those who have arthritis:

•Strength training: Strong muscles help support and protect joints

affected by arthritis. Lifting weights can provide this.

•Range of motion exercises: Dancing, tai chi, Pilates, swimming,

and other activities that push the body to stretch and move help maintain

normal joint motion and relieve stiffness.

•Aerobic activities: Activities such as brisk walking, bicycle riding,

skating and more are good for the heart. They also moderate weight,

which in turn puts less strain on joints, particularly the knees. Some

studies show that aerobic exercise can reduce inflammation in some

joints.

Before beginning an exercise program, discuss with your doctor

what activities might be right for you.
---
PAGE 8- SOUTHWEST MESSENGER - May 5, 2019

Staying healthy starts with balanced diet

A balanced diet is an integral element of

a healthy lifestyle for men, women and

children alike. But while kids and young

adults might be able to get away with an

extra cheeseburger here or there, men and

women approaching 50 have less leeway.

According to the National Institute on

Aging, simply counting calories without

regard for the foods being consumed is not

enough for men and women 50 and older to

maintain their long-term health. Rather,

the NIA emphasizes the importance of

choosing low-calorie foods that have a lot of

the nutrients the body needs.

But counting calories can be an effective

and simple way to maintain a healthy

weight, provided those calories are coming

from nutrient-rich foods. The NIA advises

men and women over 50 adhere to the following

daily calorie intake recommendations

as they attempt to stay healthy into

their golden years.

Women:

•Not physically active: 1,600 calories.

•Somewhat active: 1,800 calories.

•Active lifestyle: between 2,000 and

2,200 calories.

Men:

•Not physically active: 2,000 calories.

•Somewhat active: between 2,200 and

2,400 calories.

•Active lifestyle: between 2,400 and

2,800 calories.

When choosing foods to eat, the NIA recommends

eating many different colors and

Active Lifestyles

types of vegetables and fruits.

Phytochemicals are substances that occur

naturally in plants, and there are thousands

of these substances offering various

benefits.

The NIA also advises that men and

women over 50 make sure at least half the

grains in their diets are whole grains.

Numerous studies have discovered the various

benefits of whole grains, which are

loaded with protein, fiber, antioxidants and

other nutrients.

Another potential hurdle men and

women over 50 may encounter is a change

in their sense of smell and taste. A person's

sense of smell may fade with age, and

because smell and taste are so closely related,

foods enjoyed for years may no longer

tantalize the taste buds. That can be problematic,

as many people instinctually add

more salt to foods they find bland.

According to the U.S. Office of Disease

Prevention and Health Promotion, older

adults should consume no more than 1,500

milligrams of sodium per day. That equates

to roughly 3/4 teaspoon of salt. Older men

and women should resist the temptation to

use salt to add flavor to foods, instead opting

for healthy foods that they can still

smell and taste.

Maintaining a healthy diet after 50 may

require some hard work and discipline. But

the benefits make the extra effort well

worth it.

www.columbusmessenger.com

Seniors at risk of financial abuse

Informed Aging - Michelle Missler

You or someone you know could become

the target of a growing crime in the United

States - financial abuse of older adults.

This can be defined simply as the illegal

or improper use of an older adult's finances

or property. This is the fastest growing

form of elder abuse that deprives older

adults of their resources and ultimately

their independence. Financial abuse can

happen to wealthy older adults or those

with limited means. It is reported that

older adults lose billions of dollars each

year as a result of financial abuse.

Scammers are targeting older adults by

using common scare tactics like the

Internal Revenue Service telephone scam,

the sweetheart scam, the home repair

scam and the grandparent scam. Another

progressively growing scam is where

callers pretend to represent the Social

Security Administration and attempt to

obtain the older adult's Social Security

Kiwanis Club of Grove City

The Kiwanis Club of Grove City meets

at 6 p.m. the first, third and fourth

Tuesday of each month at the IHOP on

Stringtown Road. For more information,

contact Phil Rohr at 614-539-3610.

club meetings

number, date of birth and banking information.

The information is then utilized to

divert their benefits to another address

and bank account.

Financial abuse has become more

prevalent and is an expensive problem

that affects older adults and their families.

Safeguard your personal information and

never provide your Social Security number,

banking information or other personal

financial information over the phone

unless you initiate the telephone call.

If you feel that you or an elderly loved

one is susceptible to financial abuse please

contact Franklin County Office Adult

Protective Services (APS) at 614-525-4348

who strives to prevent, reduce or correct

conditions causing danger to adults who

are 60 years of age and older.

Michelle Missler is the director of the

Franklin County Office on Aging.

Grove City Arts Council

The Grove City Arts Council meets the

third Tuesday of each month at 6:30 p.m at

Storypoint on Orders Road. For more information,

call 670-2926.
---
www.columbusmessenger.com

Active Lifestyles

May 5, 2019 -SOUTHWEST MESSENGER - PAGE 9

Franklin County Board of Commissioners: Marilyn Brown • John O'Grady • Kevin Boyce

The Franklin County Board of Commissioners and The Franklin County Office on Aging join with the Messenger Newspaper in providing this update on aging issues in Franklin County.

OLDER AMERICANS MONTH 2019: CONNECT, CREATE, CONTRIBUTE

May is Older Americans Month. Older adults have made countless

contributions and sacrifices to ensure a better life for future generations.

Since 1963, communities across the country have shown their gratitude by

celebrating Older Americans Month (OAM) each May. This celebration

recognizes older Americans for their contributions and demonstrates our

nation's commitment to helping them stay healthy and active.

Each year, more and more older adults are making a positive impact in

Franklin County. As volunteers, employees, employers, educators,

mentors, advocates, and more, they offer insight and experience that

benefit the entire community.

This year's OAM theme, Connect, Create, Contribute, encourages older

adults and their communities to:

• Connect with friends, family, and local services and resources.

• Create through activities that promote learning, health, and personal

enrichment.

• Contribute time, talent, and life experience to benefit others.

The Office on Aging plans three events in 2019 that will help older adults

connect with local services and resources, learn how to create healthier

lifestyles and discover ways to share their talents and life experiences with

others.

Thursday, June 20, 2019, Franklin County Office on Aging Day with

the Columbus Clippers! Gates open at 11:00 a.m. and game time is

12:05 p.m. as the Columbus Clippers host the Rochester Red Wings. Fans

aged 60 and over attending the event will be treated to reduced ticket

prices of just $5.00 for reserved seats and $4.00 for bleacher seats, a

boxed lunch and special door prizes. Tickets must be purchased in

advance and may be obtained by calling (614) 462- 5250. Deadline for

ticket orders is June 7th. Transportation for groups of 10 or more is available

by calling the Franklin County Office on Aging at (614) 525-5230 by

June 7th.

Wednesday, September 25, 2019, Flourish Franklin County, Franklin

Park Adventure Center, 1775 East Broad Street, 10:00 a.m. – 2:00 p.m.

A free event held in conjunction with the 18th Annual National Women's

Health & Fitness Day to educate, empower and engage women age 60

and over by providing them an opportunity to flourish. This event will

provide fitness activities and health information from a gender perspective

in a favorable environment and with the intent of improving the well-being

of older women.

Friday, October 25, 2019, Senior Living Festival, Hollywood Casino,

200 Georgesville Road, 10:00 a.m. – 2:00 p.m.

A free celebration for older adults which includes information exhibits, door

prizes, live entertainment, recreational activities and free parking.

Medicare beneficiaries will have an opportunity to receive assistance in

evaluating and choosing coverage options as part of the fall open

enrollment period. Plan comparisons will be provided and discussed by

trained volunteers.
---
PAGE 10 - SOUTHWEST MESSENGER - May 5, 2019

The season of safe digging

To highlight the need for increased

awareness around safe digging, a survey

was recently conducted by the Common

Ground Alliance that revealed many homeowners

are putting themselves and their

families at risk by not calling 811. Digging

without knowing the location of underground

utilities can result in serious

injury, service disruptions, and costly

repairs.

"We are encouraging homeowners in

Ohio to know the ground rules before they

dig," said David Musser, operations center

manager at Columbia Gas. "If you're planning

to dig, no matter how big or small, you

should start with a call to 811."

The survey indicated that 42 percent of

homeowners who plan to dig this year for

DIY projects will not call 811. The survey

also revealed that nearly half of American

homeowners will complete a landscaping

project that requires a call to 811. The

most popular of these projects are:

• Planting a tree or shrub

• Building a patio or deck

• Building a fence

• Installing a mailbox

Columbia Gas is encouraging homeowners

to take the following steps when planning

a digging project this spring or summer:

• Always call 811 a few days before digging.

Call at least two business days before

beginning your project.

• Consider moving the location of your

project if it is near utility line markings.

• If a contractor has been hired, confirm

that the contractor has called 811. Don't

allow work to begin if the lines aren't

marked.

Visit ColumbiaGasOhio.com/811 for

more information.

Summer Scribbles Youth Writing Contest

Students in grades six through 12 are

invited to enter the 10th annual Summer

Scribbles Youth Writing and Poetry

Contest to be held at Southwest Public

Libraries beginning June 1. The contest,

sponsored by the Grove City Writers'

Group and Friends of the Library, is open

to any student in grades 6-12 who lives

within the boundaries of South-Western

City Schools. There are two divisions (6-

8th grade and high school) in two categories

— poetry and fiction. Prizes in all categories

will be: first place - $100; second

place - $50. Rules and entry forms will be

available in the Youth Section of both the

Grove City Library and the Westland Area

Library. Contest ends July 31. For more

information, email Diana Hannon

Forrester at dhannon55@aol.com.

Pick-Up &

Delivery

C.M.T

MOWER REPAIRS

Authorized Dealers for BOB CAT Mowers

6446 HARRISBURG PIKE, ORIENT, OH 43146

614-875-5830

"We have the lowest price in town!"

GENERAL MAINTENANCE SERVICES

Push Mowers $49.95 • Riding Tractors $149.95

Zero Turn Mower $149.95

Parts are additional on all units

PICK-UP & DELIVERY AVAILABLE $60.00

CHECK OUT THESE GREAT DEALS!!

• CRZ-42........ $ 4,000.00

• CRZ-48........ $ 4,200.00

• CRZ-52........ $ 4,500.00

• CRZ-61........ $ 4,800.00

• XRZ Pro RS61.. $ 7,900.00

ProCat RS 61.............. $ 9,400

ProCat 6000 61........... $ 9,500

Predator Pro 7000 72.... $ 12,400

0% Interest

Financing up to

48 months (if qualified)

www.columbusmessenger.com

Encouraging young writers

The 10th annual Summer Scribbles Youth Creative Writing and Poetry Contest will

kick off at Southwest Public Libraries on June 1. Entry forms are available at both

the Grove City Library and the Westland Area Library. Pictured (from left) are sponsors

Diana Forrester, Rosemary Barkes and Janet Shailer of the Grove City Writers'

Group and Carol Rorick of Friends of Southwest Public Libraries.
---
www.columbusmessenger.com May 5, 2019 - SOUTHWEST MESSENGER - PAGE 11

Grove City Area Chamber of Commerce

To create a positive environment for the development and success of business

Daily Bread's one carb buns are "bun-derful"

Daily Bread is one of our many Grove City Chamber

Farmers' Market vendors, but with a particularly interesting

product: gluten free bread that has only one net carb.

People go wild over these buns! Recently we learned that

our good friend and the Chambers' Small Business Advisor,

Nancy Stoll, helped Daily Bread get their business off the

ground, so we decided to learn more.

We sat down with Carmen Richardson, owner of Daily

Bread and her daughter and partner Elizabeth Beckley, to

find out how they got the idea, how Nancy helped them, and

what's in those buns!

Richardson started off by explaining exactly what their

product is.

"We have a sandwich bun that is not bread," said

Richardson. "We call it, the 'Omega Bun.' There are no

grains, no flour, and no yeast. There's no sugar, nuts, soy,

or oils! We've gotten amazingly positive comments from people

who have tried low carb buns. One doctor says he's tried

every low carb bun around and ours is by far the best. It's

less than one net carb per bun."

Richardson explained the creation of the bun came when

her husband got a bad checkup at the doctor, and they decided

to get healthy — but they needed bread!

"Two years ago my husband went in for a checkup and

wasn't doing great," she said. "His cholesterol was high, he

was pre-diabetic, had high blood pressure, you name it. So

we decided to make a change. We both like things simple,

so I said, okay, we're going to cut out all grains, and all

sugar, and it worked! We went for a couple weeks and I realized,

I need bread! I need a sandwich. I started searching

online and I didn't like anything that I found, nothing

seemed like a really good substitute. So I started playing

around in the kitchen and it took me weeks, no, months, to

perfect the recipe."

Then Beckley leans in, noting that this is when she got

involved because she knew from the first taste that her

mom had done something really important.

"I tried them, and I thought, 'Wow, mom, we have to do

something with these, you've made something really special

— other people would love these!'"said Beckley.

Beckley explained that she then did her research. She

had heard about people who help with small businesses,

and that's how they found themselves meeting with Nancy

Stoll — who offers all of our Chamber members the opportunity

to meet with her at no cost.

Nancy Stoll, is a certified business advisor with the

Small Business Development Center and has been advising

for years. She explained to us that she started advising because

she loves to be able to see her work in the community.

"I've been doing it since 1986 because I just love business,

it is my passion," said Stoll. "In helping others succeed,

I feel that I have left a small thumbprint on that life,

on that business and the community as well. Some small

thing that once I'm not needed any more reflects, 'Nancy's

been here!'"

Beckley and Richardson reflected, "One of the first things

we did was to set up a meeting with Nancy Stoll. She was

one of the very first steps in getting us off the ground. She

Elizabeth Beckley (left) and Carmen Richardson of Daily Bread.

gave us a lot of guidance and direction about what to

do before starting to sell our product and that really

helped us. She gave us fantastic information on what

it takes to start a business and she warned us about

things to be cautious of. It's nice that she was our

first fan, really!"

Added Stoll, "They wanted to make sure everything

they were doing was compliant with the State

of Ohio so, I took care of the basic legal structure,

making sure they had everything in place that would

help them with limited liability. Over the course of

several meetings, their legal responsibilities, defined

their target market and more."

Richardson had her own memory of the meeting —

at first they thought Nancy hated their buns.

"We met with her initially and she tasted the bun

really timidly — I thought she didn't like them," said

Richardson. "Then all of a sudden she stopped and

said, 'I haven't eaten bread in seven years because it

upsets my stomach, but this is fantastic!'

Beckley nods in agreement. She said she knows it

sounds kind of exaggerated, but people really do have

that reaction.

"There have been events where people have

hugged us and have even cried because they're allergic

or sensitive to gluten and now they can eat bread

again!" said Beckley.

See BUNS, page 12

The amazing Omega Bun sandwich buns at Daily Bread.
---
Grove City Living

PAGE 12 - SOUTHWEST MESSENGER - May 5, 2019

www.columbusmessenger.com

Job Fair connects employers with workers

Grove City businesses employ more than

25,000 associates representing a multitude

of industries in one of central Ohio's fastest

growing communities; many offering benefits

and career advancement opportunities.

Supporting Grove City businesses in

their effort to recruit top-notch associates,

the City of Grove City is pleased to partner

with the Grove City Area Chamber of Commerce

to host the 2019 spring job fair and

hiring event.

"We welcome opportunities to connect

employers with quality candidates," said

Mayor Richard L. "Ike" Stage. "We credit

Grove City's low unemployment rate (currently

under 4 percent) to our extraordinary

business community that continues to grow,

serving local to international clients."

Your Grove City Area Chamber of Commerce

is excited to be hosting the 2019 Job

Fair in partnership with the City of Grove

City. We understand that talent acquisition

and retention is an ongoing challenge and

we hope that our Job Fair will be a viable

and sustainable solution for both employers

and job seekers alike.

The event will be held on Thursday, May

30 at the Aladdin Shrine Center located at

1801 Gateway Circle, Grove City, from 10

a.m. to 7 p.m.

BUNS

Continued from page 11

Beckley added one of their favorite

events is the Grove City Farmers' Market.

She says they love it here, rain or shine!

"We love the Grove City Farmers' Market

— it's really helped us break into a different

community," said Beckley. "The chef demonstrations

are awesome. One day it was really

rainy with thunder and we were

wondering whether or not we should even

go. Well, I'm glad we did because loads of

people came out just to get our buns!"

Stop by the Grove City Chamber Farmers'

Market every Saturday from May 18

through Sept. 7 from 8 a.m. until noon in

the Historic Grove City Town Center and

say hello to Carmen and Elizabeth. You can

order products from Daily Bread at

Omegabuns.com

Elizabeth Beckley and Carmen Richardson

make bread in the kitchen.

Tom Marshall, CLU

State Farm Agent

tom@tommarshall.biz

3612 Hoover Road • Grove City, OH 43123

614-875-1873
---
www.columbusmessenger.com Grove City Living May 5, 2019 - SOUTHWEST MESSENGER - PAGE 13

Kirk Williams Company

believes in family and community

By Shawn Conrad

I spent a bit of time with Joe Williams

the fourth generation of Williams to own

and run the Kirk Williams Company.

Located on Home Road, just off of I-270

and Broadway, the Kirk Williams Company

is a long time Grove City resident and a

longtime member of the Chamber.

Joe is a mechanical contractor and is

passionate about coming up with and providing

solutions for his customers. The Kirk

Williams Company history is richly filled

with family and community.

The Kirk Williams Company was

founded by James "Kirk" Williams in 1949.

The company began operating out of a small

facility in downtown Columbus. Over time,

specialty fabrication gave rise to mechanical

contracting applications in commercial, industrial,

institutional and health care markets.

Kirk invited his son, Jim, and son-in-law,

John Ubbing, to join the company in the

early 1950's. Kirk, Jim and John were the

foundation of the organization and were responsible

for fostering the growth of the

Kirk Williams Company. Jim's son "JK"

joined the firm full time in the mid 1970's.

JK's brother, Joe, and JK's sons, Pat and

Nic, are the fourth generation poised to

move the corporation into the future.

The company has made a conscious effort

to invest in developing key relationships to

deliver design-build and design-assist solutions

in today's fast paced construction environment.

The Kirk Williams Company

prides itself on being an experienced, dependable

and multifaceted firm that focuses

on finding solutions to our customers' needs.

The Kirk Williams Company will continue

a long-term focus as the fourth generation

of owners and managers are active

within the company. In order to be truly

successful over time, the Kirk Williams

Company will continue to operate with the

strong values that have insured the success

of our organization from its inception. That

is our commitment to their customers, to

continue to bring the quality and consistency

that their customers have come to expect

and deserve.

What does Kirk Williams do? HVAC, Industrial

Metals, Duct, Piping, Plumbing,

Laser Cutting, Mechanical Services, BIM,

Prefabrication, Installation Welding and

Material Handling. You'll recognize their

work when you drive around town: Schottenstein

Center Arena, Hollywood Casino,

Chalmers P. Wylie VA Ambulatory Care

Center, to name a few.

Joe and the rest of the team will tell you

that the customer is the reason they exist.

They believe in what they do and they believe

that the reason that they exist as an

industry and as a company is because of

their customer.

"We invest in new equipment, the latest

technologies, and most importantly, our

people," said Joe. "We are always looking for

ways to improve productivity, quality and

safety. Our strong foundation has deep

roots in our community and we have a good

reputation throughout the construction industry.

We don't just work hard, we work

smart. We plan the work and work the plan;

bringing solutions to the table. We create

good paying jobs and treat our employees

with respect and we believe in family and in

giving back to the community. We are continually

growing our business because we

believe that we can do it better than anybody

else. We show up every day thinking

of ways to improve our company so we can

best serve our customers."

The tour of the facility was amazing, not

only from a business perspective but because,

as Joe and I walked around the

plant, the pride for this business was evident

on the faces of the people doing the

work.

Our friends at Kirk Williams support a

number of charities and are proud members

of the Grove City Area Chamber of Commerce

and have been actively involved in

the Grove City Community since 1974.

Thanks Kirk Williams Company for giving

us one more reason to be Grove City

Proud!

Kirk Williams has been involved in the community since 1974.

BUILDI

ING Rela

elation

lt

nship

AC

CRO

OSS

GENERATI

ONS

onships

• STUDE

ENT CHECKING •

• REWA

EWARDS CHECKING •

• RETIRE

REMENT E

SAVINGS •
---
PAGE 14 - SOUTHWEST MESSENGER - May 5, 2019

Grove City Living

www.columbusmessenger.com

Pam Brown

614-975-9462

Thinking about

selling your home?

ATTORNEY AT LAW

General Practice

Personal Injury Domestic

Probate Wills

Power of Attorney

Healthcare Documents

FREE CONSULT & PARKING

614-875-7233 Fax: 614-875-7207

3894 Broadway, Grove City

www.jeffreypcompton.com

Email: jcompton@jeffreypcompton.com

Call An Experienced Realtor!

38 Years of "Service with a Smile"

GREAT SELLING MARKET!

3656 Broadway, Grove City, OH 43123

614.871.1000 • www.era.com

Fresh from the farm

Beginning Saturday, May 18, the quaint

and beautiful Historic Town Center streets

will be lined with fresh, locally grown produce

— fruits and vegetables, eggs, jellies,

local honey, sauces, baked goods, herbs,

meats, cheeses, pastas, even gluten free

items as well as coffee, teas, flowers, potted

plants and so much more as shoppers and

visitors enjoy the multiple award-winning

Grove City Chamber of Commerce Farmers'

Market.

Shopping at your local farmers market

finds less-processed, clean, and more healthful

choices and just may be the smartest investment

you could make for you and your

family's physical health and the health of

your local economy.

In addition to shopping the Farmers'

Market, visitors can enjoy a cooking demonstration

from a local chef. Our guest chef or

cook is given $50 to "shop the Market" and

prepare healthful, delicious, easy to prepare

dishes that we can in turn make at home.

Tasty samples and Q&A with our chef

round out the morning. Walk over to our Fit

Corner and watch a demo from yoga experts,

martial artists, strength professionals

and more.

As you enjoy this years' "Green Market'

you'll learn more about environmental challenges

and responsibility and you'll find

some easy steps you can take to make sure

that you're contributing to the health of our

community.

As the only Market in Central Ohio offering

these exciting features, you'll have a

well-rounded edge after visiting the Grove

City Area Chamber of Commerce Farmers'

Market. Stop by the Grove City Chamber

Farmers' Market every Saturday from May

18 through Sept. 7 from 8 a.m. until noon in

the Historic Grove City Town Center.
---
www.columbusmessenger.com May 5, 2019 - SOUTHWEST MESSENGER - PAGE 15

Grove City Living

Scenes from the Farmers Market
---
PAGE 16 - SOUTHWEST MESSENGER - May 5, 2019

Giving Back

Each year the Grove City Area Chamber

of Commerce looks forward to donating proceeds

from the Taste of Grove City & Business

Expo to The Grove City Food Pantry.

As we entered the pantry, nestled next

door to the Grove City United Methodist

Church, aka, The Purple Door Church,

there is a hustle of volunteers lifting, carrying,

moving, sorting and shelving cases of

donated non-perishable food.

Don Swogger, the manager of The Grove

City Food Pantry and president of the

board, greets us with a warm smile and

poses with us next to well stocked shelves

for a quick picture. After we hand him the

big ceremonial check, he explains a bit

about what the Pantry does.

"We service Grove City, Harrisburg and

Orient," Swogger said. "This donation will

help us purchase lots of food! We purchase

most of our food through the Mid-Ohio Food

Bank because of their great purchasing

power, the financial gift that the Chamber

gives each year goes much further than if

someone purchased food from a retailer."

Swogger continued on, explaining some

fascinating history behind the Grove City

Food Bank.

"We are a fully volunteer organization

with nearly 100 volunteers and we've been

serving people for almost 40 years," said

Swogger. "We lease this building from the

Grove City United Methodist Church even

though we're a total independent board. We

are working on an expansion and possible a

move. But that takes time and resources.

The community has been a wonderful support

and we look forward to serving as many

A new AAA location has just opened in

Grove City, so we caught up with Brandi

Grimsley, the district sales manager, to find

out more about this new location.

We were surprised to learn that AAA is

also a full service travel agency that offers

support year round to many, many customers

— in fact, it's a large part of what the

company does.

"Most people don't realize we're also a

full service travel agency," said Grimsley.

"Everything from a car rental to flights all

the way up to full vacation packages, tours,

cruises and all-inclusive trips. You don't

have to be a AAA member to use those services,

but our AAA members do get benefits

and discounts! Our travel agents are also

some of the best around — one of our tenured

travel agents has been with us for 40 years.

You can know you're booking with a trusted

brand — if any issues come up you're dealing

with a hands-on company."

Grove City Living

Pictured above Lisa Zeigler (President Of Chamber Board) with Don Swoger and Shawn Conrad.

as 500 families from our new location. No

date is set as of yet — but be on the lookout

for ways that you can help."

As we get ready to leave, amidst the hustle

and bustle of a dozen volunteers working

quickly but with smiles on their faces, Swogger

closes the interview by explaining the

size and scope of the impact the organization

has on the community.

"We service about 270 families a month!"

said Swogger. "We require everyone to have

an appointment through Hands-On Central

Ohio. Families can call them and set up an

appointment and they'll be referred to us. I

www.columbusmessenger.com

really love working here, I've been here for

many years. It's a great feeling being able to

help people who really need it, to see kids

and families get the food that they need. We

think it's really special to be able to serve

our community this way."

Full service travel agency opens in Grove City

Family Owned and Operated Since 1963

For Pizza Perfection

"Old world cooking with

new world service"

4011 Front Street

Grove City, Ohio 43123

875-2700

www.zamarellispizzapalace.com

Tues.-Wed.-Thurs_______4:00 to 12:00

Fri. -Sat._______________4:00 to 1:00

Sunday_______________4:30 to 10:30

CATERING

AVAILABLE

Quick Repsonse Code

Grimsley explained that, while the roadside

assistance is what AAA is best known

for, in addition to the travel agency they

also have many other services.

"The number one thing that everybody

knows us for is roadside assistance — if their

car breaks down or has an issue our emergency

service department can get you back

on the road," she said, "However, we also

offer insurance — we actually have an insurance

agent in AAA Grove City — that covers

home, auto, and life insurance. We also

work with car care centers, sell foreign currency,

we offer our own AAA Member Rewards

Visa Credit Card — and we have a

reloadable debit card available as well to

protect your bank accounts!"

Grimsley finished by explaining why she

loves working with AAA — it's more than a

brand, it's a commitment to unparalleled

service.

"I've been with AAA for more than three

years now, and I think in general the direction

AAA brand is the top end of customer

service," said Grimsley. "I love that, as a

company, we take care of our members, and

I take pride in working here because I know

as a company we're helping people get the

best experience they can.
---
Grove City Living

www.columbusmessenger.com May 5, 2019 - SOUTHWEST MESSENGER - PAGE 17

WE:LEAD offers insights into

personal and professional growth

The annual WE:LEAD Women's Business

Forum is right around the corner!

The forum has been growing steadily

since its inception in 2014 and strives to be

more than just another conference. This

year's forum is "Building a Better You —

Professionally and Personally."

WE:LEAD offers relevant education and

networking opportunities that are aimed to

empower women in business, advance leadership

skills and inspire conversations and

connections. Our goal is to provide business

women with engaging topics that encourage

personal and professional growth. Our pervious

WE:LEAD Women's Business Forums

have drawn engaging and inspiring speakers

and this year will be no different!

This year's keynote speaker is Dominique

Brooks, recently featured by CNN

and Forbes magazine, she is the co-owner of

E.E. Ward Moving and Storage, the oldest

African-American business in the country.

Dominique also launched 1881 Apparel, a

clothing line that pays homage to the distinguished

legacy of her company and what it

means to be 1881 Strong in the 21st century.

In addition to Dominique's inspiring

Chef for

a day

At the annual

Farmers' Market,

visitors can enjoy

a cooking demonstration

from a

local chef. Guest

chefs can also try

their hand, like

Grove City Mayor

Richard 'Ike"

Stage.

keynote presentation, "Expanding Your Vision

of Life — Dream Big!!" there are five

breakout sessions for participants to choose

from:

• "Growth Mind Set: Triggers & Strategies,"

by Sue Heiser;

• "Developing the Hidden Leader in

You,"by Laura Haines;

• "5 Habits That Will Transform Your

Relationship With Money!" by Amanda

Sharratt;

• "Ten Tips to Build a Better You

Through Nutrition & Fitness," by Trish Zelenak;

and

• "That's Gonna Leave a Mark! Humorous

Lessons from a Reluctant Entrepreneur,"

by Joe Dorian.

In addition to the annual Business

Forum, WE:LEAD hosts networking events

designed to cultivate one-on-one interactions.

"Women's Wine Down," "Meet the

Author," and other inspirational events

have brought women together to develop

and grow professionally and personally

while having some fun in the process!

Register now by going to gcchamber.org

or calling our office at (614) 875-9762.

1776 Stringtown Rd. • Grove City, OH 43123

614-883-1710

16.3813_© 2014 Kahala Franchising, L.L.C. COLD STONE CREAMERY is a registered trademark of Kahala Franchising, L.L.C.

Soapcitylaundry.com

4310 Broadway

Grove City, OH 43123

614-801-1999

Ask About Our Party Orders!

$

3 OFF

1776 Stringtown Rd. Grove City, OH 43123 • 614-883-1710

Limit one per customer per visit. Expires 3/31/20 - 5/31/2019 19 PLU #54

$

5 OFF

1776 Stringtown Rd. Grove City, OH 43123 • 614-883-1710

Limit one per customer per visit. Expires 3/31/2019 - 5/31/2019 PLU #48

$

2 OFF

Any Small or Large Round Cake

(Excludes Pies, Petite Cakes &

Cupcakes)

Any Small or Large Rectangle

Cake (Excludes Pies, Petite

Cakes & Cupcakes)

A 6-Pack of Ice Cream Cupcakes,

OR a 4-Pack of Ice Cream Cookies,

OR any Ice Cream Pie

1776 Stringtown Rd. Grove City, OH 43123 • 614-883-1710

Limit one per customer per visit. Expires 3/31/2019 - 5/31/2019 PLU #50
---
PAGE 18 - SOUTHWEST MESSENGER - May 5, 2019

Grove City Living

www.columbusmessenger.com

HERE

FOR

GROVE CITY' S BEST

ON STRINGTOWN ROAD A T 104

HEALTH

Grove City Methodist Hospital

(Located behind Target)

The OhioHealth Grove City Methodist Hospital campus now includes heart and

vascular care and primary care from OhioHealth Physician Group. It's just another

way we're bringing your best health within reach.

270 20

To

learn more about the ways OhioHealth cares for Grove City,

visit OhioHealth.com/G

GroveCity.

.

71

Jackson Pike

Stringtown Rd

© OhioHealth Inc. 2019. All rights reserved. FY19-37248. 03/19.

Parkway Centre Dr

Buckeye Pkwy

Target

H
---
www.columbusmessenger.com SOUTHWEST MESSENGER - May 5, 2019 - PAGE 19

Not horsin' around

By Rick Palsgrove

Southeast Editor

The only sounds in this Slate Run Living Historical Farm field

on this rare, warm spring afternoon were the muffled clomps of

horses' hooves in the soft, spring ground and the scraping of a

spring tooth harrow as it loosened the soil for planting.

The farm's two new draft horses, Judy and Prince, who are

both 4 years old and are half-siblings, were pulling the spring

tooth harrow guided by Slate Run Living Historical Farm worker

Mike Huels. They were getting the field ready for the planting of

oats and then, later in the season, sorghum and pumpkins.

Huels said the farm obtained the two Percheron horses in early

March from an Amish man in upstate New York.

"Judy and Prince have done farm work before and some logging

work," said Huels. "They've helped plow, spread manure, and

other farm work. Both horses are easy going, willing workers.

Judy is a little more friendly, but they are both really good to work

with. They're patient and they'll stand and wait till we're ready.

Then, when I say, 'Go,' they go."

Huels said the two gentle giants work well as a team.

"They want to be together," said Huels.

Added Slate Run Farm Program Manager Ann Culek, "They

have been very good so far. Their Amish farm background shows

in their abilities."

Judy and Prince were brought in to replace some of the farm's

other draft horses who will be retiring soon - 26-year-old Maude

and 27-year-old Kate. Last summer 18-year-old Sailor also

retired.

"Those horses have worked hard and earned their retirement,"

said Huels. "We'll most likely have Judy and Prince here at the

farm for 15 to 20 years."

After Maude and Kate retire, Slate Run Living Historical

Messenger photo by Rick Palsgrove

Slate Run Living Historical Farm's Mike Huels walks behind a spring tooth harrow pulled by the farm's two

new draft horses, Judy and Prince.

Farm will have four working horses: Judy and Prince

as well as Marquis, who is 15, and Bob, who is 7 years

old.

The working historical farm portrays how farming

was done in 1880s Ohio. It's an era where horses

played an important role performing the work a tractor

now normally does on a modern farm.

For information on Slate Run Living Historical

Farm, which is located at 1375 State Route 674 North,

Canal Winchester, visit metroparks.net.

V I P R E A L T Y

I N C

C. GREG SKINNER

COMMERCIAL, INDUSTRIAL, HIGH QUALITY RESIDENTIAL

• Only agent offering balanced marketing including Newspapers, Magazines,

area Postcards, Enchanced Internet and more!

• 5 Star Rated Columbus Area agent again for 2018 • Discount Fees everytime

Call Text Email Greg 614-537-1994

for a FREE marketing presentation, it spells out all I do to sell your home.

greg@soldbygregskinner.com

UNPRECEDENTED

SINGLE AGENT

SALES

OF OVER

$75 MILLION

FOR 2015-2018

UNDISPUTED Sales Leader in 43123
---
PAGE 20 - SOUTHWEST MESSENGER - May 5, 2019

SPRING

AUTO DEALS

This Week's Features

Touch-a-Truck event

The Prairie Township Community

Center will host a Touch-a-Truck event

from 12 to 2 p.m. May 18 at 5955 West

Broad St. For more information, contact

the community center at 614-907-7990 or

visit www.prairietownship.org.

www.columbusmessenger.com

614-279-8880

www.haydocy.com

CERTIFIED USED SPECIALS

08 TOYOTA TACOMA

17B153B

Super Clean!

07 HONDA ODYSSEY

SA1892A

Hard to Find!

10 VW ROUTAN SE

SA177S

Navigation & More!

Only 65,066 Miles!

10 FORD F-150 SUPER CAB

SA1921

Sport Package, V-8

08 JEEP WRANGLER

UNLIMITED X

17G350B

Only, 73,355 Miles!

$

14,795

13 GMC TERRAIN DENALI

19G056A

Sunroof,

Chrome Wheels!

15 CHRYSLER 300 S AWD

SA1833

Sunroof, $

17,995

Navigation & More!

16 HONDA ODYSSEY EX-L

19B097A

Leather & Loaded, $

23,995

Sunroof & More!

16 FORD F-150

SUPERCREW LARIAT

19G037A $

Heated & Cooled 24,995

Leather Seats, Navigation, 4X4

3895 W. Broad St.

www.haydocy.com

$

6,795

$

6,995

$

9,995

$

11,995

$

15,795

JEFFREY P. COMPTON

ATTORNEY AT LAW

General Practice

Personal Injury • Domestic

Probate • Wills

Power of Attorney

Healthcare Documents

FREE CONSULT & PARKING

614-875-7233 Fax: 614-875-7207

3894 Broadway, Grove City

www.jeffreypcompton.com

Email: jcompton@jeffreypcompton.com

Franklin

Heating and Refrigeration, Inc.

OH License #20692

SPRING IS HERE!

Contact us NOW for your air conditioner tune up.

$

100 OFF a new system replacement!

(614) 836-9119

Free Estimates for Replacement Equipment

$

99 00

A/C Checkup

Exp. 5-31-19

24 Hour

Service

$

10 00 OFF

Contract or

Service Call

www.franklinheating.com

Lung Cancer?

Asbestos exposure in industrial,

construction, manufacturing jobs, or the

military may be the cause. Family in

the home were also exposed.

Call 1-866-795-3684 or email

cancer@breakinginjurynews.com.

$30 billion is set aside for asbestos

victims with cancer. Valuable settlement

monies may not require filing a lawsuit.

Finding a friend

Messenger photo by Dedra Cordle

The Humane Society of Madison County held a 'Tour for Life' on April 27 as part

of a cooperative adoption event with the North Shore Animal League America. The

shelter, which is located in West Jefferson, welcomed more than a hundred potential

adopters like the Parker family of Grove City. Here, Chris and his son Kenaniah

get to know Kayla, an Akita mix. For more information on the animals up for adoption,

visit their website at www.hsmcohio.org.

military news

• U.S. Air Force Airman Nathaniel Sheppard graduated from

basic military training at Joint Base San Antonio-Lackland, San

Antonio, Texas.

The airman completed an intensive, eight-week program that

included training in military discipline and studies, Air Force core

values, physical fitness, and basic warfare principles and skills.

Airmen who complete basic training also earn four credits toward

an associate in applied science degree through the Community

College of the Air Force.

Sheppard is the son of Susan and Nate Sheppard of Grove City.

He is a 2013 graduate of Grove City High School.

• U.S. Air Force Airman Anthony Williams graduated from

basic military training at Joint Base San Antonio-Lackland, San

Antonio, Texas.

The airman completed an intensive, eight-week program that

included training in military discipline and studies, Air Force core

values, physical fitness, and basic warfare principles and skills.

Airmen who complete basic training also earn four credits toward

an associate in applied science degree through the Community

College of the Air Force.

Williams is the son of Marinelle and Louis Williams and brother

of Adrianna Politis of Grove City. He is a 2017 graduate of

Grove City High School.
---
www.columbusmessenger.com SOUTHWEST MESSENGER - May 5, 2019 - PAGE 21

Pet Corner

Pets of the week

Levi is a 1-year-old

pit bull mix. He

enjoys running with

dogs in playgroup,

although he favors

certain dogs over

others. He loves

going outside on

walks and is people

oriented. He has

been a resident of

the Franklin County shelter for a few weeks

and would love to find a new home.

FYI: 614-525-3647 or www.franklincountydogs.com

Randolph is a constant

companion. If

you're looking for an

emotionally secure,

mutually satisfying,

low maintenance

relationship, he is all

you need. He is a

friendly 8-years-old.

Adopt Randolph from

the Franklin County

Dog Shelter.

FYI: 614-525-3647 or www.franklincountydogs.com

Jefferson, aka

Jeffie, is a 2-year-old

girl that was thought

to be a boy, hence

the name. She is very

shy but she loves

being petted and getting

belly rubs. Jeffie

would do best in a

quiet home. She has

been around other

cats and would love

to find a permanent forever home. Adopt

Jeffie through Friends for Life Animal Haven.

FYI: www.fflah.org

Animal events at Darby

The following are events scheduled at

Battelle Darby Creek Metro Park, located

at 1775 Darby Creek Drive in southwest

Franklin County.

• Warbler Walk, May 11 at 8 a.m. - Join

us on a two-mile hike and search for warblers.

Ages 14 and older meet at Indian

Ridge.

• Baby Animal Display, May 11-17

from 10 a.m. to 6 p.m. - Learn about baby

animals found inside the park and how

they are cared for, plus what to do if you

find an animal infant without its mother.

Meet at the Nature Center.

For more information, visit

metroparks.net.

These furry friends are available

for adoption at local

rescues and shelters

Ivy Rose is a gorgeous

young lady

who is looking for a

good forever home.

She is good with

other cats, spayed

and up to date on

vaccinations. She

loves to cuddle once

she trusts you. Ivy

Rose would make a

perfect addition to

any family, but she will need some time to

adjust to a new home and a lot of patience

and love. Adopt her from Friends for Life

Animal Haven.

FYI: www.fflah.org

Gepetto is a sweet 1-

year-old who loves

her toys. Her family

was evicted from their

home so she was surrendered

to Colony

Cats. You can meet

Gepetto at the adoption

center, located at

2740 Festival Lane in

Dublin.

FYI: www.colonycats.org

Legend had a rough

go but now he's

happy and ready for

the good life. He

came from a rural

shelter and was

heartworm positive.

He needed the long,

hard treatment before

he could find a home.

Legend has been

treated and after two

months of strict cage rest, he is ready to be a

typical dog. He's a sweet 3-year-old

lab/hound mix who loves to play and wants to

have a family of his own. Legend is up for

adoption through Colony Cats and Dogs.

FYI: www.colonycats.org

southwest

Messenger

(Distribution: 21,678)

Andrea Cordle...................................Southwest Editor

southwest@ columbusmessenger.com

Published every other Sunday by the

The Columbus Messenger Co.

3500 Sullivant Ave., Columbus, Ohio 43204

(614) 272-5422

The Columbus Messenger Co. reserves the right to edit, reject or cancel

any advertisement or editorial copy at any time. The company is not

responsible for checking accuracy of items submitted for publication.

Errors in advertising copy must be called to the attention of the company

after first insertion and prior to a second insertion of the same advertising

copy.

Women's Civic Club

The Women's Civic Club of Grove City

meets at 7 p.m. the first Thursday of every

month, except January and February, at

the Grove City Library. The philanthropic

St. John's Evangelical

Lutheran Church

3220 Columbus St.

Grove City, OH 43123

614-875-2314 www.stjohnsgc.org

WORSHIP SERVICES

Saturday - 6:00 pm

Sunday - Traditional 8:15 am & 11:00 am

Contemporary - 11:00 am

Looking for a small, friendly church experience? Try

First Presbyterian Church

of Grove City

4227 Broadway in Grove City

Join us on Sunday mornings:

Traditional wordship at 9am

Sunday School:

Pre-school-4th grade: 9:15am-10am

Adult Sunday School: 10am-11:00am

Contemporary Service: 11:15am-12:15pm

club meeting

Be a Part of Our

Local Worship Guide

group begins its evenings with a speaker,

followed by a business meeting and

refreshments. If interested in attending,

contact Carol Bonder at 614-558-6138.

Grove City Church of God

"A Healing Place"

4235 Harrisburg Pike, Grove City, Ohio

614-875-7186

Sunday Service: 10am

Wednesday Service: 7pm

• Pentecostal • Spirit-Filled Wordship

• Gospel Ministry • Life Groups

• Central Ohio Living Free

• Biblical Teaching/Preaching

Faith Community Church of God

"The Church at the Roundabout"

4203 Alkire Rd., Grove City, OH 43123

www.faithcommunitychurchofgod.com

614-277-8499

Where the whole Bible is preached and

honest answers are given to honest

questions. Join us as we prepare to

begin our new series of Genesis.

9:30 a.m. Sunday School

10:30 a.m. Worship Service

6:30 p.m. Wednesday Bible Study

Our upcoming Worship Guide is geared toward celebrating faith and helping

readers connect with religious resources in our community. Make sure these

readers know how you can help with a presence in this very special section

distributed to more than 22,000 households in the Southwest area.

Contact us today to secure your spot in our Worship Guide.

614.272.5422 • kathy@columbusmessenger.com
---
PAGE 22 - SOUTHWEST MESSENGER - May 5, 2019

www.columbusmessenger.com

"Avengers: Endgame" offers satisfying conclusion

audience that makes this film float away gressing and regressing. Steve Rogers

into the ether of complete entertainment. (Chris Evans) leads a self-help group for

It begins several weeks after the events those struggling to move on; Bruce Banner

of Infinity War where the survivors of the (Mark Ruffalo) has finally come to terms

mass dusting that took place on a global with his Hulk side; Tony lives a quiet life

scale are reeling from the shock of it all. with his wife Pepper (Gwyneth Paltrow)

Governments have collapsed, families have and daughter; Thor (Chris Hemsworth) has

been destroyed, and all hope is gone with turned to alcohol and gaming; Clint Barton

the remaining members of the Avengers. (Jeremy Renner) became an assassin and

One night, when the Avengers have all Natasha (Scarlett Johansson) spends most

gathered around to play 'Did Thanos use of her timing staring off into the distance.

the stones again?' they meet Carol Danvers While coming back from group therapy

(Brie Larson) who has rescued Tony Stark one afternoon, Steve and Natasha receive a

(Robert Downey Jr.) and Nebula (Karen message from someone who was believed to

Gillan) from certain death in the far reaches

be a casualty of 'The Snap.' At first, the two

of outer space.

write it off the pleas of Scott Lang (Paul

Due to her galactic ability and dogged Rudd) as a previously recorded video, but

optimism, Carol determines that they quickly realize it is happening in real time.

should go kill Thanos (Josh Brolin) on When they invite him into the former headquarters,

whatever planet he is holed up on, pry the

they learn about the quantum

gauntlet with the 7 infinity stones off of his realm (where Scott was stuck) and its theory

cold, dead, purple hand and use them to

that space and time are irrelevant. Going

bring half of the universe's popular back to on the slim hope that they could travel back

life. Having no other plan of action, they in time to collect the stones before they were

set off to do so, only to be informed that found and right the wrongs that were done,

Thanos has destroyed all of the stones and the Avengers as we currently know them

thus any hope of rectification.

assemble one last time.

The film then flashes forward five years This film can be described as taking

and we can see how the survivors are pro-

place in three acts; Act I is the grieving

Home Buyers Guide

There is much to like about "Avengers:

Endgame," aka the ode to the original superheroes

in this never-ending cinematic universe.

Unlike its collective predecessors, this

film manages to strike a balance between

scenes of humor and heartbreak, action and

drama, and it doesn't skim on that all-important

thread of character development. With

that said, there is much to dislike about

"Avengers: Endgame," too. Since it only

came out last weekend, I shall refrain from

spoiling certain parts via an airing of grievances

but there are moments that are complete

headscratchers, mostly stemming from

the decisions of the writing team.

In my quest for clarity on 'certain parts,'

I read the Q&A session with screenwriters

Christopher Markus and Stephen McFeely

for further understanding. This was a mistake.

Not only did I come away from reading

their interview with a newfound disdain

for their alleged creative talents, I

also felt more disappointment in the film

because of their explanations.

'Endgame' is a movie where the talent

on screen elevates the material given.

Though it sinks sometimes due to their

meandering dialogue and development, it

is the bond between actor, character and

The Reel Deal

Dedra Cordle

process, where the actors show their range

with grief, anger and guilt; Act II is the

time heist where we see some of Marvel's

"greatest hits" as it were; and Act III is just

emotionally charged bonkers action where

things occasionally veer off the rails, especially

as it pertains to the decision making

process by the film's creators.

"Avengers: Endgame" isn't a perfect

movie by any stretch but it's not a completely

awful hot mess despite efforts of the creative

team. It's very fun, and entertaining and a

somewhat satisfying conclusion to the first

grand arc of this endless cinematic universe.

I wouldn't say no to another viewing, primarily

to see the sequences in the final battle,

but I'm also not in a complete rush to go

out and see it again anytime soon either.

Large crowds are not my thing, neither is sitting

in a theater for more than three hours.

Grade: B

Dedra Cordle is a Messenger staff writer

and columnist.

Saxton Real Estate

"People Serving People"

Locally owned and operated since 1959

Contact Saxton Real Estate for more

information about purchasing a HUD home.

3703 Broadway, Grove City, OH 43123

614-875-2327

www.saxtonrealestate.com

http://sageacq.com https://www.hudhomestore.com/home/index.aspx

Next Edition:

May 19 th

IN CONTRACT

2913 LOWELL DRIVE, COLUMBUS

$

119,900

This Ranch with a deep 1 car garage has a huge back yard, covered patio & front

sitting area. Close to Valleyview. Lots of parking on a quite street. 3 Bedrooms,

Pam Brown

REALTOR®

614.975.9462

www.era.com

3656 Broadway, Grove City, OH 43123

OPEN HOUSE Sat., May 11th, 2-4 pm

1935 WOODS OPOSSUM RUN RD, ORIENT

$

448,900

Rancher's Pride - 3 Bdrm / 2 ba - Ranch sitting on 42 acres w/Woods, Pasture,

Creek . 2 car attached & 3 bay large Garage & Barn. Possibilities unlimited for:

Horses, Cattle, Garden, Crops, Deer Hunting & so much more. 30 minutes from

downtown Columbus.

Jerry Hunt

Phone: 614–571-2673

Email: jerry@jcahunt.com

Deadline:

May 14 th

Contact Doug Henry:

614-272-5422

doughenry@columbusmessenger.com
---
www.columbusmessenger.com SOUTHWEST MESSENGER - May 5, 2019 - PAGE 23

By Rick Palsgrove

Southeast Editor

The stress of life as a police officer or a

firefighter can exact a painful toll on first

responders.

This strain is expressed in the following

words in an anonymous note written by a

police officer, "I never knew that being a

cop could hurt so much. I can't do this any

more. I am sorry."

Groveport Police Chief Ralph Portier is

well aware of this stress and its impacts. In

1998, to help combat the depression and

strain felt by first responders, Portier created

the program, "Dying in Blue." It's purpose

is to create and maintain awareness

for all first responders and their families

about the dangers of the trauma they see

each day.

Helping first responders cope with the stress of the job

"In 1998, I noted the suicide of an officer

I knew and tried to determine the reason

for the death," said Portier. "What I

found during my research was the lack of

employer assistance and that police chiefs,

fire chiefs and sheriffs did not understand

how to handle these situations before a suicide

occurred with their agency."

Portier, who has been involved as a first

responder himself since 1971, said his life

in public service gives him credibility with

fire/EMS and law enforcement.

According to Portier, so far in 2019,

more than 50 police officers have committed

suicide.

"Presently firefighters are gathering

that information, but it is happening,

throughout the United States," said

Portier.

Divorce frequency based on the stress

and depression they deal with is also high

among first responders.

"Oddly, the American public has a

divorce rate of 51 percent, but first responders

can see it as high 60 to 70 percent,"

said Portier.

Portier has been presenting "Dying in

Blue" (which he funds himself) all over

Ohio, primarily through mental health services.

He said he has expanded over the

years to individual departments who may

not have the means to have this type of

training. Portier said it is hard to estimate,

but he thinks he has presented the program

to about 2,000 first responders over

the years.

"I speak frankly in terms of awareness,

physiological and psychological information,

seeking help and helping others," said

Portier. "What I have found during and

after each lecture is that first responders

will open up and begin to talk to each other

and pretty soon, help starts immediately."

Portier also keeps the stories he hears

from first responders private.

"My promise to those who have opened

up to me is to keep their stories confidential,"

said Portier.

When asked how the public can help

ease the strain first responders face,

Portier said, "This is a hard question to

answer, but I believe supporting your

police, firefighters, EMS, doctors, nurses

and dispatchers truly helps. These first

responders never ask to be recognized, but,

like what many of our residents in

Groveport do for us all the time, we love

cookies!"

CLASSIFIED ADS

Deadlines: Southeast and West editions, Wednesdays at 5 p.m., • East, Southwest, Madison editions, Tuesdays at 5 p.m.

All editions by phone, Tuesdays at 5 p.m. • Service Directory, Tuesdays at 5 p.m.

INFORMATION

xInformation

MAY GIVEAWAY

Place a prepaid classified line ad in our paper

during the month of MAY and be registered

to win a $50 Gift Card from

The Columbus Messenger

Newspapers.

All ads received by mail, in person, e-mail or

phone will be included in the drawing.

Drawing will be held May 29th, 2019

and the winner will be notified and published

in our June 2nd, 2019 issue.

GOOD LUCK TO EVERYONE!!!!

Congratulations

To Our Gift Card Winner

For April 2019

Joe Morton

From

The Columbus Messenger

Newspapers

Information

Spring Into a

New Hair Style!

Call Marilyn Weaver

For An Appt.

For a New Haircut/Style

614-277-1921

Indulgence Hair Salon

3387 McDowell Rd.

Grove City

ASSOCIATION ADS

DO YOU HAVE AN AN-

TIQUE OR CLASSIC

CAR TO SELL? Advertise

with us. You choose

where you want to advertise.

800-450-6631

visit macnetonline.com

for details

Dish Network Satellite

Television Service. Now

Over 190 channels for

ONLY $59.99/mo! ,

FREE Installation, FREE

Streaming, FREE HD.

Add Internet for $14.95 a

month. 1-800-219-1271

DISH TV - Over 190

Channels Now ONLY

$59.99/mo! 2 yr. price

guarantee, FREE Installation!

Save HUNDREDS

over Cable and DI-

RECTV. Add Internet as

low as $14.95/mo! 1-

855-977-7405

Call Empire Today® to

schedule a FREE inhome

estimate on Carpeting

& Flooring. Call

Today! 1-800-508-2824

Put on your TV Ears and

hear TV with unmatched

clarity. TV Ears Original

were originally $129.95 -

NOW WITH THIS SPE-

CIAL OFFER are only

$59.95 with code

MCB59! Call 1-855-993-

3188

xPublic Notice

LEGAL NOTICE

The Grove City Police Department has recovered

numerous bicycles, tools, electronic equipment, clothing

and monies over the course of several months.

The bicycles are of various types and models, as are

the tools and electronic equipment. All properties are

held in a secured police facility at all times. If you

believe you have claim to any of the property and have

proof of ownership for the property, you may call the

Grove City Police Department Property Room at

614-277-1757. A review and release of any and all

property is by appointment only. All items not claimed

will be sold at public auction, turned over to the Law

Enforcement Fund, or destroyed according to Ohio

Law.

CHARITABLE DONATION

Qualified organizations may be eligible to receive

bicycles as charitable donations from the City of

Grove City. Qualified organizations must have a valid

ruling or determination letter recognizing the taxexempt

status of the organization, pursuant to Internal

Revenue Code Section 501(c)(3) or (c)(19).

Representatives may call the Grove City Police

Department Property Room at 614-277-1757 to

inquire about the donation process.

TO ADVERTISE

YOUR LEGAL/

PUBLIC NOTICES

CALL KATHY

AT THE

COLUMBUS

MESSENGER

NEWSPAPERS

614-272-5422

Public Notice

xMother's Day Greeting

HAPPY MOTHER'S DAY

TO OUR READERS

Mother's Day Greeting
---
PAGE 24 - SOUTHWEST MESSENGER - May 5, 2019

www.columbusmessenger.com

CLASSIFIED ADS

Deadlines: Southeast and West editions, Wednesdays at 5 p.m., • East, Southwest, Madison editions, Tuesdays at 5 p.m.

All editions by phone, Tuesdays at 5 p.m. • Service Directory, Tuesdays at 5 p.m.

xEmployment

Jefferson

Local Schools

NOW HIRING

BUS DRIVERS

Training Provided

Minimum Regular Driver Starting Pay $17.66/hr

Sub Drivers $16.00/hr.

Must have valid driver's license and able

to pass BCI/FBI background check

Apply at

906 W. Main St., West Jefferson, OH 43162

Contact 614-879-7654 ext. 1120

WANTED

Servers • Cook • Retail

You Can Work 29+ Hrs. Based on

Your Availability & Performance

Immediate Full/Part-time Openings

• Weekly Pay

• Paid Training

• No Tip Sharing

• Paid Vacation

We Offer:

• Employee Meal Discount

• Position/Salary Advancement Plan

• Discount Purchase Plan

Apply online at crackerbarrel.com/careers for

Grove City Location

614-871-1444

ADVERTISING

SALES HELPER

The Advertising Department at the

Columbus Messenger Newspapers

is seeking a

Helper for the Sales Department.

No Experience Necessary

Duties include: Set Appointments,

Make Calls, Run Errands, etc.

Salary plus auto allowance.

Seniors welcome to apply.

Please send your resume to:

Doug Henry, Advertising Manager

Columbus Messenger Newspapers

3500 Sullivant Ave.,Columbus, Ohio 43204

or e-mail to doughenry@columbusmessenger.com

HIRING?

Let us help you recruit the qualified employees you need to make

your business succeed. With a print and online audience of more

than 39,000 readers, our employment section is your key to meeting

local job seekers where they look first for fresh career opportunities.

Our Westside Messenger

covers Lincoln Village,

Galloway, Franklin Township

Our Southwest Messenger

covers Grove City and

Southwest Columbus

Reaches over 35,000

household in these 2 area

To list a job opportunity, contact a

recruitment advertising specialist today at

614.272.5422

or

Kathy@columbusmessenger.com

ASSOCIATION ADS

SELLING YOUR OWN

PROPERTY? Need to

advertise it in your local

paper and others like it?

We have the placement

services to help you.

Contact MACnet MEDIA

@ 800-450-6631 or online

at MACnetOnline

.com

Suffering from an AD-

DICTION to Alcohol,

Opiates, Prescription

Pain Killers or other

DRUGS? There is hope!

Call Today to speak with

someone who cares.

Call NOW 1-855-866-

0913

NOW HIRING!

Local High Volume Pharmacy

Immediate 2nd & 3rd shift positions available

for Pharmacy Clerks and Technicians.

Looking for energetic associates

in a fast pace environment.

NEW Starting rate: $11.50 per hour

Shift differential $.50 an hour

Please apply at: jobs.kroger.com

Use Zip Code 43217

Must be 18 years of age & have high school diploma or GED.

Call 614-333-5012 for more details.

ASSOCIATION ADS

$$OLD GUITARS & AMPS

WANTED$$ GIBSON*

FENDER*MARTIN. ALL

BRANDS. TOP DOLLAR

PAID. CALL TOLL FREE

1-866-433-8277

CARS/TRUCKS WANT-

ED!!! All Makes/Models

2002-2018! Any Condition.

Running or Not. Top $$$

Paid! Free Towing! We're

Nationwide! Call Now: 1-

888-985-1806

IMPORTANT

NOTICE

The following states: CA,

CT, FL, IA, IL, IN, KY,

LA, MD, ME, MI, MN,

NE, NC, NH, OH, OK,

SC, SD, TX, VT and WA

requires seller of certain

business opportunities to

register with each state

before selling. Call to

verify lawful registration

before you buy.

ASSOCIATION ADS

[WANTED] CARS/

TRUCKS WANTED!!!

All Makes/Models 2002-

2018! Any Condition. Running

or Not. Competitive

Offer! Free Towing! We're

Nationwide! Call Now: 1-

888-368-1016

Lung Cancer? Asbestos

exposure in industrial,

construction, manufacturing

jobs, or military

may be the cause. Family

in the home were also

exposed. Call 1-866-

795-3684 or email cancer@breakinginjurynews

.com. $30 billion is set

aside for asbestos victims

with cancer. Valuable

settlement monies

may not require filing a

lawsuit.

Employment

ASSOCIATION ADS

READER

ADVISORY

The National Trade Association

we belong to has

purchased the following

classifieds. Determining

the value of their service

or product is advised by

this publication. In order

to avoid misunderstandings,

some advertisers do

not offer "employment"

but rather supply the

readers with manuals, directories

and other materials

designed to help

their clients establish mail

order selling and other

businesses at home. Under

NO circumstance

should you send any

money in advance or give

the client your checking,

license ID or credit card

numbers. Also beware of

ads that claim to guarantee

loans regardless of

credit and note that if a

credit repair company

does business only over

the phone it's illegal to request

any money before

delivering its service. All

funds are based in US

dollars. Toll Free numbers

may or may not

reach Canada. Please

check with the Better

Business Bureau 614-

486-6336 or the Ohio Attorney

General's Consumer

Protection Section

614-466-4986 for more

information on the company

you are seeking to

do business with.

NOW HIRING FOR

ALL POSITIONS

*Pipelayers

* Heavy Equipment

Operators

* Dirt and Utility

Foreman

*Maintenance

* Lowboy Drivers

Please fill out an application at

www.sealscoinc.com or send resume to:

Seals Construction Inc.

Human Resource Department

10283 Busey Road

Canal Winchester, Ohio 43110

BE YOUR OWN BOSS!

INDEPENDENT

CONTRACTORS

WANTED

If you have a reliable car and would like to

earn extra money, then why not deliver?

• Deliver 1 or 2 days a week

• Flexible delivery hours

• Work close to home - often in or

near your neighborhood

CONTACT US

1-888-837-4342

www.thebag.com

• Deliver 7 days a week

• Delivery before dawn

• Work close to home - often in or

near your neighborhood

CONTACT US

614-461-8585

www.dispatch.com/delivery
---
www.columbusmessenger.com

May 5, 2019 - SOUTHWEST MESSENGER - PAGE 25

xEmployment

NEED EXTRA CASH?

WE NEED DRIVERS

tristar

TRANSPORTATION CO.

NOW HIRING

Posions are PT, working 20-24 hrs per week

We offer paid training and credenaling.

Company vehicle provided for use during working

hours. Individuals must be able to pass a background check,

a pre-employment physical/drug screen, have no DUI's and

have less than 4 points on their OH license.

For more informaon, please contact Vanessa at

614-679-7280 or email vfrazier@tristarcolumbus.com

To learn more about Tristar, please visit our website at

www.tristarcolumbus.com

No CDL Required

WANTED

SW CITY SCHOOLS

SCHOOL BUS DRIVERS

The South-Western City School

District is currently hiring drivers

$16.55/HR

Available positions are for substitute

drivers that can develop into "Regular"

positions with benefits. Interested

individuals should submit an application

on our website at swcsd.us. Follow the

employment link. Applicants should have

an excellent driving record and must

submit to drug, alcohol, and background

screening. A high school diploma or

equivalent is required.

EOE

JOB

FAIR

OR OPEN

INTERVIEWS?

CALL KATHY

TO ADVERTISE

272-5422

ASSOCIATION ADS

ENJOY 100% guaranteed,

delivered to-thedoor

Omaha Steaks!

SAVE 75 PERCENT

PLUS get 4 FREE Burgers!

Order The Family

Gourmet Feast - ONLY

$49.99. Call 1-855-349-

0656 mention code

55586TJC or visit www.

omahasteaks.com/lovel3

AT&T Internet Get more

for your High-Speed Internet

thing. Starting at

$40 / month w / 12-mo

agmt. Includes 1 TB of

data per month. Ask us

how to bundle and

SAVE! Geo & svc restrictions

apply. Call us today

1-833-707-0984

Call Empire Today® to

schedule a FREE inhome

estimate on Carpeting

& Flooring. Call

Today! 1-866-538-7163

Lung Cancer? And Age

60+? You And Your

Family May Be Entitled

To Significant Cash

Award. Call 866-428-

1639 for Information. No

Risk. No Money Out Of

Pocket.

Applying for Social Security

Disability or Appealing

a Denied Claim?

Call Bill Gordon & Assoc.,

Social Security Disability

Attorneys, 1-855-

498-6323! FREE Consultations.

Local Attorneys

Nationwide [Mail: 2420 N

St. NW, Washington DC.

Office: Broward Co. FL

(TX/NM Bar.)]

ASSOCIATION ADS

HEAR AGAIN! Try our

hearing aid for just $75

down and $50 per

month! Call 800-426-

4212 and mention 88272

for a risk free trial! FREE

SHIPPING!

GENERIC VIAGRA and

CIALIS! 100 Pills $99.00

FREE Shipping! 100%

guaranteed. 24/7 CALL

NOW! 888-889-5515

DIRECTV & AT&T. 155

Channels & 1000s of

Shows/Movies On Demand

(w/SELECT Package.)

AT&T Internet 99

Percent Reliability. Unlimited

Texts to 120

Countries w/AT&T Wireless.

Call 4 FREE Quote

1-855-781-1565

ASSOCIATION ADS

Earthlink High Speed Internet.

As low as $14.95/

month (for the first 3

months.) Reliable High

Speed Fiber Optic Technology.

Stream Videos,

Music and More! Call

Earthlink Today 1-855-

520-7938

VIAGRA & CIALIS! 60

pills for $99. 100 pills for

$150 FREE shipping.

Money back guaranteed!

1-800-503-7846

Cross Country Moving,

Long distance Moving

Company, out of state

move $799 Long Distance

Movers. Get Free

quote on your Long distance

move 1-800-511-

2181

ASSOCIATION ADS

SAVE ON YOUR NEXT

PRESCRIPTION! World

Health Link, Price Match

Guarantee! Prescriptions

Required. CIPA Certified.

Over 1500 medications

available. CALL Today

For A Free Price

Quote. 1-855-530-8993

Call Now!

Spectrum Triple Play!

TV, Internet & Voice for

$29.99 ea. 60 MB per

second speed. No contract

or commitment.

More Channels. Faster

Internet. Unlimited Voice.

Call 1-855-652-9304

FAMILY

RECIPE

Steve Evans Country Sausage Patties are

so tender you can cut them with a toothpick.

We are looking ideally for a

PART-TIME PERSON

perfect for retiree who loves working with

people to demonstrate our product in local

Walmart Supercenters.

If you would love to get out of the house, have

fun selling a great product, please respond to

Michael Pierre at 614-935-4936

or via email at boiler@insight.rr.com

Employment
---
PAGE 26 - SOUTHWEST MESSENGER - May 5, 2019

xCome & Get It!

ASSOCIATION ADS

www.columbusmessenger.com

xFocus on Rentals

COME AND GET IT

Deadlines are Tuesdays by 5 pm.

Call For Publication Schedule 614-272-5422

Need to Get Rid of Something Fast - Advertise It Here For FREE!

FREE Garden Straw for gardens or bedding. Call for appointment for pickup.

Circle S Farms, 9015 London-Groveport Road, Grove City, 43123

Grove City - 614-878-7980

Simmons Queen Size Mattress & Box Spring

ML - Groveport - 614-836-2718

Six Foot Sofa Bed Couch, good condition except has some damage to arms,

can cover, brown/green/beige/rust color.

AM - Canal Winchester - 614-837-3109

FREE 4x8 Table with partial steel plate, well built. You pick up.

CM - Columbus - 614-272-5422

. Come and Get It! is a bi-weekly column that offers readers an opportunity to pass

along surplus building materials, furniture, electronic equipment, crafts, supplies,

appliances, plants or household goods to anybody who will come and get them - as

long as they're FREE. NO PETS! Just send us a brief note describing what you want to

get rid of, along with your name, address and phone number. Nonprofit organizations

are welcome to submit requests for donations of items.

Send information to The Columbus Messenger, Attention: Come and Get It, 3500

Sullivant Ave., Columbus, OH43204. Deadline is Tuesdays by 5 pm for following

Mondays publication. Messenger Newspapers is not responsible for any

complications that may occur. Please contact us when items are gone. 272-5422

Come & Get It!

xPreschool/Daycare

AMAZING KIDS

ACADEMY PRESCHOOL

4501 Hoover Rd., Grove City, OH 43123

NOW ENROLLING FOR FALL

614-539-4800

3-5 Year Olds

2 morning, 3 morning, 5 morning &

3 afternoon

Visit us on Facebook

advertise

YOUR DAY CARE

OR PRESCHOOL

Call Kathy at the

The Columbus Messenger

For More Info

614-272-5422

Preshool/Daycare

ASSOCIATION ADS

Wants to purchase minerals

and other oil and gas

interests. Send details to

P.O. Box 13557, Denver,

CO. 80201

AIRLINE MECHANIC

TRAINING - Get FAA

Technician certification.

Approved for military

benefits. Financial Aid if

qualified. Job placement

assistance. Call Aviation

Institute of Maintenance

866-453-6204

Stay in your home longer

with an American Standard

Walk-In Bathtub. Receive

up to $1,500 off,

including a free toilet,

and a lifetime warranty

on the tub and installation!

Call us at 1-844-

374-0013

DISH NETWORK $69.99

For 190 Channels. Add

High Speed Internet for

ONLY $14.95/month. Best

Technology. Best Value.

Smart HD DVR Included.

FREE Installation. Some

restrictions apply. Call 1-

855-837-9146

Become a Published Author.

We want to Read

Your Book! Dorrance

Publishing-Trusted by

Authors Since 1920.

Book manuscript submissions

currently being

reviewed. Comprehensive

Services: Consultation,

Production, Promotion

and Distribution. Call

for Your Free Author's

Guide 1-877-626-2213

A PLACE FOR MOM. The

nation's largest senior living

referral service. Contact

our trusted, local experts

today! Our service is

FREE/no obligation. CALL

1-844-722-7993

See...

You Looked!

Newspaper

Ads Catch

The Eye!

Call

272-5422

For Info. &

Pricing

CHILD CARE

OFFERED

Depend. Quality Child care

in loving hm. Exp. Mom, n-

smkr, hot meals, sncks,

playroom, fncd yd. Reas.

rates. Laurie at 853-2472

HELP WANTED

YOU DO YARD WORK

IN EXCHANGE FOR

HUNTING PRIVILEGES

Grove City Area. Call or

Text 614-599-2763

Shop / Delivery Person

Needed 8-5, Mon-Fri.

Will Train. Mechanically

inclined, able to drive a

standard shift, able to lift

75 lbs, have a driver's

license and dependable

transportation. Apply in

person at 2270 Harper

Rd., Columbus or call

614-275-0303

Help Wanted:

Landscape Team Members.

Valid Drivers License

(Preferred), Competitive

Wages, IRA, Attendance

Bonus, No Weekends.

Apply in Person at:

Madison Garden Center

9641 W. Broad St.

West Jefferson, OH 43162

Email: dspegal@madisontree.com

ADVERTISING

SALES HELPER

The Advertising Dept. at

the Columbus Messenger

Newspapers is seeking a

Helper for

the Sales Department.

No Experience Necessary

Duties include:

Set Appomtments, Make

Calls, Run Errands, etc.

Senior Citizens and

welcome to apply.

Please send your

resume to:

Doug Henry,

Advertising Mgr.

Columbus Messenger

Newspapers,

3500 Sullivant Ave.,

Columbus, OH 43204

or email to doughenry@

columbusmessenger.com

WEDGEWOOD

VILLAGE

1, 2, and 3 BR Apts.

Rent Based on Income.

Call 614-272-2800 or visit us

at 777 Wedgewood Dr.

DD/TTY 1-800-567-5857

EQUAL HOUSING OPPORTUNITIES

APARTMENT MANAGERS!

Did This Catch Your Eye?

ADVERTISE YOUR APARTMENT

COMPLEX IN THIS SPACE

And Get Results!

Call Kathy For More Info & Rates

The Columbus Messenger

614-272-5422

HELP WANTED

Home Health Aides

$13.00/hr. after 90 days

$15.00/hr. Premium Shifts

Performance Bonus and

Paid Time Off after 1 yr.

One yr. experience working

for an employer in a caregiver

5/26 A&M

role is required.

To apply, please visit

v-angels/galloway/employment

Auction Auto Detailers

FRANK'S DETAIL OHIO

Immediate Openings

$600 per week

Will Train / FT Benefits/

Weekly Pay

Hours are

Monday-Saturday with

overtime available.

Valid Driver's License Req

Apply in person

at our location or

make an appt.

Located: Manheim Ohio

3905 Jackson Pike

Grove City, OH

(Parking at

1394 Stringtown Rd.)

Call: 614-871-6820

HR: Leisa

franksdetailohio.com

NOW HIRING

Commercial

Janitorial

All Shifts

Full and Parttime

Call Now

614-804-1256

8.26 M

HELP WANTED

Veterinary Assistant

Part time position available

immediately. Duties would

include, but not limited to

the following:

Receptionist - answering

phone, booking appointments,

taking messages.

You would also be greeting

and checking in appointments.

Veterinary Assistant - You

need to be comfortable

handling animals as they

are being weighed, examined,

etc.

Cleaning - Cleaning the

areas used during appointment

or procedures in addition

to general cleaning

and upkeep of the clinic.

Please send your resume

to Hudson's Corner Animal

Hospital, 11365 State

Route 104, Ashvlle, OH

43103 or drop off your resume

during our office

hours.

DATED SALES

Community Garage Sale

Meadow Grove

2097 Twin Flower Cir.

May 10 & 11

9:00 - 3:00

YARD SALE

May 10-11, 9 - 3

5435 Meadow Grove Dr.,

G. C. Lots of vintage.

Community sales in area

Rentals

Miller

Commons

100 Miller Avenue, Ashville

Ages 55+

Income limits apply

Covered parking - Appliances

no stairs or steps throughout.

Brand New - Now Open!

Reserve your spot today.

614-813-8966

Lamplighter

Senior Village I & II

1185 Lamplighter Drive, Grove City

Seniors 55+, Energy Star Rated Appliances,

Community Activities Building and Garden,

Covered Parking or Attached Garage, Pet

Friendly, No steps on the community

Call now 614-991-6121

Income Limits Apply

www.lamplighterseniorapts.com

DATED SALES

FREE

Garage Sale

Signs

When You Stop By

Our Office At:

3500 Sullivant Ave.

And Place Your

DATED SALE AD

WANT TO BUY

We Buy Junk Cars &

Trucks. Highest Prices

Paid. 614-395-8775

We Buy Cars & Trucks

$300-$3000.614-308-2626

CASH FOR CARS

614-276-2597

WANTS TO Purchase

minerals and other oil &

gas interests. Send details

to: P.O. Box 13557,

Denver, CO 80201

ANTIQUES

WANTED

Victrolas, Watches,

Clocks, Bookcases

Antiques, Furn.

Jeff 614-262-0676

or 614-783-2629

$ Cash At Your Door $

for junk or unwanted cars

(Free Tow). Call

614-444-RIDE (7433)

MISCELLANEOUS

FOR SALE

Couch That Makes Bed

Call 614-595-0446

For Information

MISCELLANEOUS

FOR SALE

Large Selection of

Chandeliers to

choose from.

All in working condition.

Going Out of Business!!

614-271-2469

FREE 4'x8' TABLE

with partial steel plate,

well built. You Pick Up.

Call

614-272-5422

MOVING OUT SALE

12 drawer dresser-gd cnd

Wood office table-good

Metal/wood computer tbl

King size new frame

Metal folding bed/sofa

Metal folding single bed

Vertical glass showcase

Lg standing wood closet

4 chairs/glass dining set

$50 each.

614-465-7763

RENTALS

1 BR Apt. $425/mo. 1965

Vaughn St. 740-407-7758

VACATION RENTALS

Englewood, Florida

Palm Manor Resort

Within minutes of white

sand Gulf beaches,

world famous Tarpon

fishing, golf courses, restaurants/shopping,

Bush

Gardens. 2 BR 2 BA

condos with all ammenities,

weekly/monthly, visit

www.palmmanor.com

or call 1-800-848-8141
---
www.columbusmessenger.com

May 5, 2019 - SOUTHWEST MESSENGER - PAGE 27

xClassified Services

AIR CONDITIONING

AIR CONDITIONING

Complete System

Clean & Check

$49.95 5-12 A

Free Electronic Leak Testing

All Makes • All Models

45 Yrs. Exp. • Senior Discount

614-351-9025

614-351-9005

APPLIANCE REPAIR

Washer, Dryer, Stove &

Refrig. Repair 875-7588

AUTO SERVICE

SPRING INTO

MIDLAND AUTO

for all your

auto service needs!

614-278-9458/778-3864

A Rating-BBB - 46 yrs.

American & Foreign Cars

BASEMENT

WATERPROOFING

Walker's Basement

Waterproofing. Free

Inspection 614-359-4353

BLACKTOP

SANTIAGO'S

Sealcoating & Services LLC

Quality Materials Used

Driveway Seal

& Repairs

Top Seal Cracks

CLEANING

CONCRETE

AJ's Concrete,

Masonry

Good Work - Fair Prices

Block Foundations

Driveways • Sidewalks

Epoxy/Overlay Floors

5-26

A&M

Commercial & Residential

Spring Clean-Ups

Mowing, Mulching, Edging

"Ask for whatever you need"

BBB Accredited

FULLY INSURED

Call or text for Free Est.

614-649-1200

CARPET CLEANING

Dirt Busters Tile/Floor-Any

3 Rms - $44.95. Laminant

floor polish/clng. Pet odor

treatment. 614-805-1084

Cleaning-wash walls 20 yrs

exp. Judy 614-946-2443

Ohio Cement Contractors

All concrete patios, porches,

walks, drives, walls

etc. Specializing in stamped

color concrete. Bonded

& Insured. Please call Ron

740-771-5988

740-727-9469

Bonded-Ins. • Free Ests.

Now Accepting Credit Cards

614-419-9932

5/12 A

CONCRETE

ALL-CITY CUSTOM

CONCRETE

All Types Concrete Work

New or Tear Out-Replace

37 Yrs. Exp.

(614) 207-5430

Owner is On The Job!

GALLION

CUSTOM CONCRETE LLC

Specializing in Custom Colors &

Custom Designs of Concrete.

Including Remove & Replace

41 yrs exp & Free Est.

Licensed & Insured

Reputation Built

On Quality

Ronnie

614-875-8364

See Us On Facebook

www.gallioncustom

concrete.com

EDDIE MOORE

CONSTRUCTION

Quality Concrete Work

Lt. Hauling & Room Add.,

Block Work & Excavation

Stamp Patios,

Bsmt. Wall Restoration

37 Yrs Exp - Lic & Ins.

Free Ests. 614-871-3834

EVANS

Complete Concrete.

Facebook Evansconcrete

(Schedule Now)

• Foundations • Additions

• Block • Driveways

• Patios • Sidewalks

• Colored & Stamped

(Free Estimates)

614-373-1013

Ins./Bonded • 32 Yrs. Exp.

Pour It Right, The First Time

Buckeye Cement

Contractors

Specializing In

Tearout & Replacing

Concrete of Any Type

Licensed • Bonded • Insured

37th Year in Business

614-539-5640

FENCING

EAZY FENCE

Chain Link - Wood

No Job Too Big or Small

All Repairs ~ Free Est.

Insured. 614-670-2292

GUTTERS

Low Price-Great Service

5 & 6" Seamless gutters,

covers, siding, gutter clng.

Bill 614-306-4541

HAULING

DUMPSTER RENTALS

Bulk Pickups

Estate Cleanouts

You Load or We Load

Open 7 Days - Visa/MC

BUCKEYE HAULING

and DUMPSTERS

614-397-1171

5-12 W/SW

5-12 A

5-12 W/SW

5-26 A

HAULING

CHEAP HAULING

614-816-6680

DEAN'S HAULING

614-276-1958

HOME

IMPROVEMENTS

LG

REMODELING

Interior & Exterior

Full Service Remodeling

• Bathrooms • Kitchens

• Tile • Drywall • Flooring

• Roofing • Siding • Etc.

NO JOB TO SMALL

A+ BBB Rating

A+ Angie's List

Lic. • Bonded • Insured

614-488-8377

www.lgroofingcolumbus@gmail.com

Quality is our #1 Priority

HELMS' CONTRACTING

Call For FREE ESTIMATES

New Kitchens & Baths

New Replacement Windows

Basement Remodels

Room Additions • Roofs

More than 25 Years Experience

Licensed • Insured • Bonded

Bill Helms 614-296-0850

or 614-801-1801 5-26

W/SW

SINCE 1973

Phil Bolon Contr.

Windows & Siding

Decks, Kitchens, Baths

Room Additions,

Flooring, Roofing

Bsmt Waterproofing

Deal With Small Non-Pressure Co.

45 Yrs. Exp. - Refs. Avail.

Lic.-Bond-Ins.

5-12

A/M

Free Est. - Financing Avail.

Member BBB Of Cent. OH

O.C.I.E.B. ID #24273

614-419-3977

or 614-863-9912

SLAGLE

HOME REMODELING

Baths, Kitchen,

Room Additions,

Plumbing and Electrical.

All your Handyman needs

No Job too Big or Small

Over 30 Yrs. Exp. Lic.-Bond-Ins.

Jerry

614-332-3320

C&JHandyman

Services LLC

Minor Plumbing &

Electric

Install Hot Water Tanks,

Dishwashers & Disposals

Also Fencing &

Interior/Exterior Painting

Free Est. ~ 18 Yrs. Exp.

614-284-2100

5-12 A&M

5-5 SW

5-12 A

PEST

CONTROL

PEST

CONTROL

TERMITE & PEST CONTROL

3093 W. Broad St., Cols.

614-367-9000

TERMITES? PESTS?

BED BUGS?

$100 off new termite services! with this ad

Monthly & Quarterly Pest Services

Great Prices!! Licensed & Insured

Visit Us

"Do It Yourself Pest Control".

Free Termite Inspection

HOME

MAINTENANCE

Finishing Carpenter for all

your extra home repairs or

Honey-do-list. over 40 yrs.

exp. Sonny 614-325-1910

LANDSCAPING

WE PULL WEEDS!

No job too big or too small.

We offer a full range of

landscape services

Fast • Affordable • Reliable

Call Dustin for a

FREE Estimate today!

614-357-7847

LAWN CARE

FREE ESTIMATES

The Lawn Barber

Cut & Trim Starting at

$22.50 & up

614-935-1466

LET US MAINTAIN

YOUR LAWN & GARDEN

FOR YOU

Summer, Spring,

Winter or Fall

WE DO IT ALL!!!!

Lawn Cuts, Edging,

Trees & Shrubs, Garden,

Mulching, Hauling,

Garden Pond &

Home Maint.

Free Ests. Low Rates

$20 & Up

Kevin - 614-905-3117

Spring Clean-up Special

Accepting New Clients

Mowing, plant trimming,

installation, mulching.

Free Estimate.

Call Patrick 614-301-3575

MOVING

Aaron Allen Moving

Local Moving Since 1956

Bonded & Insured

614-299-6683, 263-0649

Celebrating 60 yrs in business

A Complete

Moving

Reasonable, Reliable

No Job Too Small

PUCO #150692-HG

Free Estimate

614-878-1179

5-12 w/sw/m

5/12 A&M

MOWER REPAIR

LAWN MOWER DR.

"House Calls Only"

Overall Checkups

Oil Change & Filter,

Spark Plug &

Blades Sharpened

MINOR REPAIR

John

614-395-7909

johnellis0333@sbcglobal.net

PAINTING

A Job Well Done Again

A lic. General Contractor

Some Skilled Services

Incl: Painting • Stucco,

Repair•Carpentry•Exterior

Drainage & Home Maint.

Call Today! 614-235-1819

Burt's Painting

"Grove City's Hometown

Painter." Free ests.

614-539-3412

Painting - Int./Ext.

Power Wash-Gutters Clnd

Free Est. - 26 Yrs Exp.

Call Dave 614-270-2369

God Bless

PEST CONTROL

Anthony Pest Control

Eliminate Your Pest For

Less $$. 614-600-8841

PLUMBING

All About Drains & Plumb.

Will snake any sm drain

$125 + tax. 614-778-2584

ALL IN ONE

PLUMBING LLC

"One Call Does It All"

$25 OFF LABOR

With This Ad

A

614-801-1508

All Major Credit Cards Accepted

Classified Services

5-26 A

5/26

JOE STANLEY

1-833-288-ROOF (7663)

614-558-3466

FREE

Estimates

24 Hour

Emergency Service

Licensed &

Insurance

RESIDENTIAL • COMMERCIAL • CONDOS • APT. BUILDINGS

idealroofingcolumbus@gmail.com

SHOP THE CLASSIFIEDS!!

Only $1 per line

columbus

❏ Check for one additional FREE week.

Telephone: _________________________________________________________

Print Your Name:____________________________________________________

Last

First

Print Your Address:___________________________________________________

Print Your City:__________________________ State:_______ Zip:____________

West ___ Southwest ___ East ___ Southeast ___ Madison___

Print Your Ad Below…

One word each space. BE SURE YOUR TELEPHONE NUMBER OR ADDRESS is included in your

advertisement. The lessor of 4 words or 22 characters per line. We reserve the right to use abbreviations

when actual space exceeds amount purchased.

1. __________ __________ __________ __________

2. __________ __________ __________ __________

3. __________ __________ __________ __________

4. __________ __________ __________ __________

5. __________ __________ __________ __________

6. __________ __________ __________ __________

Columbus Messenger

3500 Sullivant Ave. • Columbus, Ohio 43204

614-272-5422

classified@columbusmessenger.com

$

ROOFING

POWER WASHING

Housewash

Vet/Sr Disc. Call Today!!

614-586-3417

Home Powerwash from

$99 & up. Also House

Painting. 614-805-1084

MRS. POWERWASH

Any house wash $149 + tax

Single deck $69 + tax

2 Tier deck $99 + tax

Best Wash In Town

Over 45,000 Washes

Ashley, 614-771-3892

Not Valid for Garage Sales

ROOFING

ROOFING

Robinson roofing & repairs

30 yrs. exp. Lifetime Cols.

resident. Lic./bonded/Ins.

Reas rates. Member of

BBB. Dennis Robinson

614-330-3087, 732-3100

INFORMATION

ONLY

$50.00

For This Ad In Our

West & Southwest

For Info Call

272-5422

❏ Cash

❏ Check

❏ Money Order

❏ VISA ❏ MC

REPAIR all makes 24 hr.

service. Clean, oil, adjust

in your home. $39.95 all

work gtd. 614-890-5296

TOP SOIL

Alexander Hauling

Driveways topped w/new

limestone. We also deliver

Topsoil - comtil - sandmulch.

Specializing in

residential. 614-491-5460

Bobcat Service Avail.

TROTT

TREE & LANDSCAPE

BURNS TREE SERVICE

Trimming, Removal &

Stump Grinding.

614-584-2164

Brewer & Sons Tree Service

• Tree Removal

• Tree Trimming 5-12

A&M

• Stump Grinding

• Bucket Truck Services

Best Prices • Same Day Service

614-878-2568

Credit Card

Information

___

__________________________

Credit Card Number

____________

SEWING MACHINE

REPAIR

TREE SERVICES

Tree Trimming

& Removal

Also Stump Removal

Free Est. - Fully Ins.

Call 614-235-3791

Cell 614-738-0682

__(___)__

Exp. Date 3 digit code

Minimum Charge $5.00

5/26

A
---
PAGE 28 - SOUTHWEST MESSENGER - May 5, 2019

www.columbusmessenger.com

Don't Get Stuck with your Grove City Home

NOT SELLING this Spring or Summer.

The homes in this ad, ALL sat for months on end. They were all listed with other well intentioned

agents and went UNSOLD during the peak selling season last year.

Once they were relisted with me, I am sure these sellers will tell you that I quickly brought new

life to these listings and got ALL of them SOLD.

I sell more because I do more, Undisputed #1 agent in 43123, ONLY agent offering Full Circle

Balanced Marketing and DISCOUNT FEES EVERYTIME!

I invite your inquiry, and THANK YOU!

Greg

SOLD

SOLD

SOLD

SOLD

$313,000 $269,500 $324,900 $290,150

1206 Carnousite Circle

1672 Clayton Court 2655 Woods Crescent 4483 Perrin Street

SOLD

SOLD

SOLD

SOLD

$330,000 $345,000 $250,000 $359,900

5030 Harrisburg Georgesville Road 5955 Grant Run Place 5960 Buckeye Parkway 6334 Shawnee Street

COMMERCIAL, INDUSTRIAL, HIGH QUALITY RESIDENTIAL

UNPRECEDENTED SINGLE AGENT SALES OF OVER $75 MILLION FOR 2015-2018

C. Greg Skinner

614-537-1994

I sell more, because I do more, call me for my free no obligation marketing presentation.

Discount Fees Everytime.

I

GROVE CITY

greg@soldbygregskinner.com

UNDISPUTED #1 in 43123 SALES