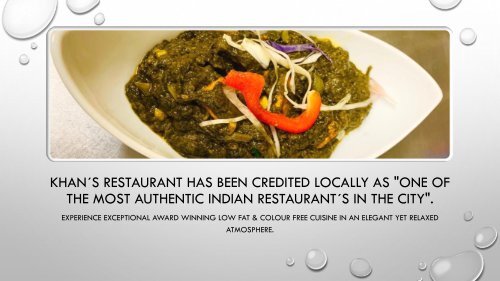 Khan's Restaurant - Best Indian Restaurant & Takeaway In Battersea, London
Khan´s Restaurant (http://www.thekhanrestaurant.co.uk) has been credited locally as "one of the most authentic Indian restaurant´s in the city". Experience exceptional award winning low fat & colour free cuisine in an elegant yet relaxed atmosphere. Our "pure Indian flavours" and attentive service continue to attract theatre goers, business professionals, romantic and social diners. Khan´s Restaurant is not only an Indian restaurant but offers also a takeaway & delivery service to the surrounding areas. We welcome you to order online for delivery or collection and hope you enjoy our food.
KHAN´S RESTAURANT HAS BEEN CREDITED LOCALLY AS "ONE OF

THE MOST AUTHENTIC INDIAN RESTAURANT´S IN THE CITY".

EXPERIENCE EXCEPTIONAL AWARD WINNING LOW FAT & COLOUR FREE CUISINE IN AN ELEGANT YET RELAXED

ATMOSPHERE.