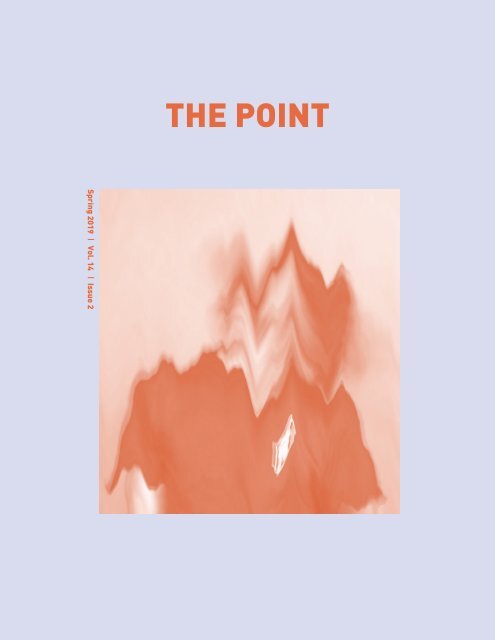 The Point: Spring 2019
Spring 2019 | Volume 14 | Issue 2
Spring 2019 | Volume 14 | Issue 2
SHOW MORE
SHOW LESS
Create successful ePaper yourself
Turn your PDF publications into a flip-book with our unique Google optimized e-Paper software.
Spring 2019 Vol. 14 Issue 2

THE POINT
---
mjpr.biola.edu/simon

PR Scholarship

"

Be

encouraged,

my friends;

the Good Lord

is faithful!

"

In Honor of

William (Bill) Simon

In memory of Professor Bill Simon, the faculty in the Department of Media, Journalism and

Public Relations have established a scholarship in his name. It was one of Prof. Simon's dreams

to assist students with the heavy burden of debt that they carry to attend Biola University. He

continued to look for creative ways to attend to this need. Now his legacy will live one.

Students of Public Relations will have opportunity to apply for the scholarship and receive

financial support. Simon's legacy will live on. Visit mjpr.biola.edu/simon for more information.
---
LETTER FROM THE EDITOR

Dear friend,

re· new // to make like new: restore to freshness, vigor, or perfection //

to restore to existence

I wish renewal was a process I could wrap up with a pretty bow and hand to you. A present for you to

experience rather than endure. I would hand it to you and sit and listen as you spoke of the ways it changed

your life. But the present would steal the process from you.

I could tell you of the smallest joy: a cup of tea handed in care. I could tell you of grace unexpectedly

received. Each of these would be a story, a part of a powerful testimony, but it would become much more if

you experienced it, too. It would form into a part of your story—a story constantly in beginning and middle

stages.

So, today I invite you to grow. To leave the familiar and "brave the dangers" of the desert wandering. To

have the Holy Spirit and the joy of salvation through Jesus. To know "if something goes a little wrong—and

it will—that the Lord will strengthen you to rise again.

"Create in me a pure heart, O God, and renew a steadfast spirit within me."

Psalm 51:10

As an expression of learning about renewal, professors, faculty, staff and students in various departments

were emailed the questions, "How do you experience renewal?" and, "How have you seen God renew parts

of your life?" From 15 responses, I saw the process of renewal in relationships, prayer, creation, Sabbathing,

exercising, writing and suffering. Each of these became a way of highlighting a person's story on social

media. And we remain excited to hear more!

Rebecca Mitchell

What is your story of renewal?
---
STAFF

Editor-in-Chief: Rebecca Mitchell

Managing Editor: Kendall Jarboe

Visual Director: Eliana Park

Photo Editor: Thecla Li

Design Editor: Cassidy Eldridge

Copy Editor: Amanda Frese

Web Editor: Jana Eller

Business Manager: Jenna Robertson

Social Media Manager: Katie Bean

Faculty Adviser: Tamara Welter

Story Editors:

Kendall Jarboe

Megan Josep

Jehn Kubiak

Writers:

Jasmyne Bell

Emily Bontrager

Rachel Gaugler

Kyle Kohner

Thecla Li

Logan Lusk

Photographers:

Emily Inaba

Alyssa Jupiter

Kyle Kohner

Thecla Li

Jasmine Rodriguez

Designers:

Amy Bucher

Macie Cummings

Lindsey Hayden

Nichole Landon

Rose Nickols

Spring 2019 Vol. 14 Issue 2

We are a student publication of Biola University. Contact us at pointmag@biola.edu.

https://thepointmagazine.org

Instagram.com/PointMagazine

Facebook.com/ThePointMagazine

California College Media Association: 1st Place General Excellence 2008, 2010

California College Media Association: 3rd Place Best Magazine 2019

California College Media Association: 3rd Place Best Magazine Cover Design 2019

California College Media Association: 1st Place Best Magazine Photo

California College Media Association: 3rd Place Best Magazine Photo 2019

California College Media Association: Honorable Mention Best Magazine Story 2019

California College Media Association: 3rd Place Best Inside Page/Spread Design 2018

California College Media Association: 1st Place Best Inside Page/Spread Design 2019

Columbia Scholastic Press Association: Gold Medalist 2009

Associated Collegiate Press: Magazine Pacemaker 2008

Associated Collegiate Press: Magazine Pacemaker Finalist 2013, 2017, 2018

Associated Collegiate Press: Design Of The Year 2017

Evangelical Press Association: 1st Place Cover Design 2019
---
5

9

15

21

Defining Me 27
---
CHECK ALL THAT APPLY

Growing up Multiracial in a Racialized Society

Writer: Rachel Gaugler

Story Editor: Megan Josep

Photographer: Jasmine Rodriguez

Designer: Lindsey Hayden

You're exotic.

You don't look Asian.

You can't be Latina, you don't speak

Spanish.

You're light skinned; you're not one of

us.

You are not authentic enough.

What are you?

Check one: Spanish, Hispanic or Latino.

Native American, Alaska Native. Asian.

Black, African-American, African. Native

Hawaiian, Pacific Islander. White or

Caucasian.

2000 was the first year the United States

Census gave the option to check all

applicable boxes, meaning that every year

leading up to the 21st century, multiracial

individuals were forced to choose one

race over another. Today, individuals are

still told to make the choice in social

circles, family gatherings, classrooms,

professional settings and on the street.

Where do multiracial individuals find

their place in a racially charged society?

Individuals of multiethnic backgrounds

spend years trying to come to terms with

their light skin that should be dark, their

dark skin that is supposed to be light,

their freckles that do not match their race

and their chocolate-colored eyes that

seem too normal. They wrestle with the

famous question, "What are you?" when

the real question—and more respectful

one—is, "Who are you?"

5
---
Multiracial individuals have a unique

perspective on racial discrimination

because they are each distinctly discriminated

against. When society is bent on

fitting people into racial categories, multiethnic

people confuse the fixed system.

The study, "The Social Construction of

Race: Biracial Identity and Vulnerability

to Stereotypes," found that multiracial

individuals face unique discrimination

because of this inability to be placed

into preexisting racial categories.

"Because multiracial individuals cannot

be easily classified in either the monoracial

majority or monoracial minority

groups, they face rejection from both

majority groups and minority groups in

society," said researcher Margaret Shih.

Freshman communication sciences and

disorders major Mathias Davis experiences

this discrimination as he navigates

between being both black and Mexican.

"Not having the foundation of knowing

who I am made me very insecure. My

friends would tell me I'm not black so

I shouldn't act like I am," Davis said.

"Being multiethnic means being rejected

by both sides. I've been rejected by the

Mexican community and the black

community. 'You're not really one of

us. You're a lightskin. You don't know

what it's like.' That's something that I've

gotten a lot and still do get."

As multiracial individuals attempt to

navigate through a racially charged

society, this lack of belonging often negatively

impacts self-esteem. Due to the

presence of racial categories, these individuals

frequently feel the need to choose

one race over another, often resulting in

psychological conflict.

"I had such a bad identity crisis junior

year [of high school] because I felt

neglected by Asian culture," said Becca

Jackson, freshman cinema and media

arts major, whose Japanese and white

background somehow makes her less

'authentically Asian.' "One of my friends

who is white was learning Japanese

and kept saying things like, 'You don't

watch anime and you don't speak your

language, you're not even Japanese.' It

was discouraging. I just wished I was one

or the other. I wished I was full Japanese

or full white."

It did not make sense to Jackson why

people would tell her she was not Asian

simply because she did not speak Japanese—as

if linguistic ability determines

ethnicity. Many multiethnic people face

this confusion as they seek to figure

out who they are when their own racial

groups reject them.

Like Jackson, senior graphic design

major Kayleigh Rodgers felt neglected

by her Asian culture as she grew up.

Rodgers found it difficult to fit in with

her Filipino friends, seeing as her father's

white heritage apparently invalidated her

mother's Filipino heritage.

Rodgers explained that she would

chameleon between both her white and

Filipino social circles, playing into what

others expected of her though she was

not sure what she expected of herself.

But, how long can an individual wear a

malleable mask?

"I just couldn't be a chameleon forever. It

was exhausting," Rodgers said.

Exhaustion from chameleoning between

groups heightens when the multiracial individual

is faced with constantly explaining

their racially ambiguous background.

While several students commented that

they find it fun to talk about their mixed

racial background with friends and

Other students share Davis' experience.

Sophomore cinema and media arts major

Holly Chang grew up with a Chinese

father and half-Mexican, half-white

mother. She identifies as fully Chinese

and Mexican and desires to belong in

both cultures.

"It's easy to assume that we can just

identify with one thing, but that's not

the case for multiethnic people. It's

really hard to have a sense of belonging

because we don't belong to just one

thing. We're kind of being pulled all over

the place and we don't really know what

that means," Chang said.

I just

couldn't be a

chameleon

forever.

It was

exhausting.

6
---
strangers, others recalled instances when

the comments came across as ignorant

and insensitive.

"Sometimes it can be offensive when

someone asks, 'What are you?' I remember

this one lady was like, 'Wow, you're

so exotic!' And I was just like, 'I'm not

a smoothie! I'm just a person,'" Jackson

said.

The term "exotic" is not a compliment.

Instead, it plays into the racial ambiguity

often attached to mixed identities

and attributes to further self-doubt and

frustration.

Freshman cinema and media arts major

Olivia Tan explained that stereotypical

comments about her heritage played a

huge role in the insensitivity of peers

and strangers. She described that while

growing up with a Chinese father from

the Philippines and a Caucasian mother

from Belgium has influenced her positively,

she has experienced some measure of

discrimination.

"Sometimes people make stereotypical

comments about Asians because they are

almost comfortable making them in front

of me since I'm half-white," Tan said.

Multiracial individuals are often exposed

to comments that are 'not meant for their

ears' simply because their physical appearance

does not match the stereotype.

At this point, the situation seems dreary:

rejection from their own cultures, the

pressure of choosing sides, the ignorance

of peers. So then, how, in a world where

racial categories are cemented, can a

multiracial individual come to terms

with their unique cultural identity?

One conclusion seems to be acceptance

of mixed culture. If the racialized society

can not fit those who are multiethnic

in their exclusive boxes, then let them

create their own unified culture of mixed

heritage.

Tan has seen her identity as hapa–a term

for an individual of Asian and white

background–as positive because she has

been able to connect with other racially

mixed people.

"Recently, the hapa culture has been really

awesome for me because meeting other

people who are hapa wasn't something I

had growing up," Tan said.

The beauty of blended culture flourishes

among these individuals and their

settings when they get to know others of

mixed backgrounds.

"There are a lot of Asians in Biola and

around the area. And a lot of mixed

students here too, compared to Chicago.

When I first came out here, I thought,

'Woah this is crazy,' I'm not used to this

many people that look like me or look

7
---
like my mom," said Sam Vance, sophomore

music major, who identifies as

Korean and Caucasian.

Embracing mixed identity does not

ignore the pain from rejection or the hurt

from stereotyping, but it builds community

between those who are told they

are not authentic enough and embraces

the distinctive aspects of mixed culture

such as the many holidays, traditions and

food. For example, senior accounting

major Austin Bishop saw his multiethnic

identity as Japanese and white as positive

because he loved being able to eat Japanese

food growing up. Chang similarly

grew up with three different Christmases,

enjoying turkey and ham, enchiladas and

Spanish rice and beef chow fun every

year.

The unique aspects of the multiracial

community are not only to be celebrated,

but validated by the biblical truth that

everyone is made uniquely and purposefully.

"When I was saved my sophomore year

[of high school], I realized that my identity

is first in Christ and then through my

ethnicity," Davis said.

He explains that his foundation in Christ

allows him to see his true value, regardless

of how others perceive his racial

background. Now, Davis can confidently

say that he is proud of who he is.

"I used to hate my curly hair because it

didn't do what I wanted. I didn't like my

brown eyes because they were normal.

But eventually I came to love these features

about myself. I love the color of my

skin and how golden it is," Davis said.

Race is a social construct, as many

multiethnic individuals have come to

understand, but the ability to check off

so many boxes is also an avenue for

empathy.

"It has taught me how to embrace

other people," Chang said. "Not to say

that people who are monoracial can't

embrace others, but there's this type of

mentality that people who are multiethnic

have because we are so used to

being tugged at and thrown into different

situations. My multiracial experience has

taught me to love people better."

After living a life yearning for appreciation,

show that appreciation to others.

A multiracial identity is not all there

is to a person but learning to love and

appreciate different cultures has benefits

innumerable.

"We are the people that can bridge between

cultures because we don't belong

to just one," Chang said.

We are the

people that can

bridge between

cultures because

we don't belong

to just one.

8
---
Too

For My

FAMILY

Learning the beauty in every body.

Writer: Thecla Li

Story Editor: Megan Josep

Photographer: Thecla Li

Designer: Nichole Landon

Over the last decade it has

become an unspoken understanding

that maintaining a body

positive outlook in life takes a lot

of work, time and tears. However,

today's controversial body debates

can become more difficult for older

generations, such as our parents and

grandparents. Though unhealthy

body images have existed over multiple

decades, the positive influences

teaching us how to combat them

have not. The current generation was

born in the age of self-love. However,

their parents' parents grew up with a

culture that taught them to perceive

themselves differently. Those perceptions

sometimes rub off on how they

interact with their children, which can

lead to fat-shaming jokes and negative

body remarks. With years of normalizing

toxic body image, many parents

and older relatives' minds are cut off

from fathoming the idea that curvy

bodies, thin bodies and every body in

between are beautiful.

Our parents' tortured ideas of beauty

and self-image stem from what their

parents and society taught them.

While accepting that our parents'

demons are their own is one obstacle

to tackle, another is figuring out how

near us we will allow those demons to

get.

Biola alumna Emily Vivanco genetically

inherited her Mexican father's body

type, a frame in complete contrast to

her American mother's smaller stature.

She recalled her own struggle with her

and her family's conflicting definitions

of beauty.

9
---
10
---
11
---
My mom has

stressed the

importance of

keeping a thin

frame for the

last decade of my

life. From that

stemmed a daily

struggle.

"My mom has stressed the importance

of keeping a thin frame for the last

decade of my life. From that stemmed

a daily struggle. There isn't a day that

goes by where I do not think of myself

as overweight or fat," Vivanco said.

Vivanco was led to take on her mom's

belief that she was deviant from

normal due to their contrasting body

types. Unfortunately, Vivanco could

not find comfort with her father, who

took on his wife's Western beliefs as

higher than his own. With no one to

turn to, Vivanco's sense of a healthy

self-identity was challenged.

"I feel like I had to be a different

person to make my mom proud,"

Vivanco said. "It hurt my confidence

and self-esteem which eventually led to

large amounts of extra stress on top of

the pressure I already had."

The stress that Vivanco mentioned can

sometimes be the tipping factor of an

eating disorder, which can later lead to

negative effects towards an individual

on biological, psychological and sociological

planes. According to Kendall

Robins, Postdoctoral Fellow at the Biola

Counseling Center, a severe eating

disorder has the ability to physically

harm the brain, upset spinal fluid and

increase anxiety in relationships.

"Most research so far reflects that

eating disorders can result in the loss of

hormonal control and brain chemistry,"

Robins said. "Eating disorders

have the highest rate of mortality out

of all of psychological disorders."

In an electronic survey of 204 Biola

students, 80 percent of students have

experienced being fat-shamed by their

family members. Of those students, 21

percent frequently received comments

and 12 percent received them very

frequently. Sixty-five percent of the

survey takers admitted to eating less

or dieting as a result of their families'

remarks. Ninety-nine percent of survey

takers believe it is possible to fall into

an eating disorder as a result of family

members negative treatment towards

their body.

These beliefs should not be overlooked.

Though a direct causation has not been

proven, parents' actions do heavily

impact children's lives in critical ways.

"Parents sometimes don't realize the

impact they might have. In a relationship

with a stable foundation, a good

place to start would be to acknowledge

that they are coming from a place of

care and then to help them realize that

their words hurt you," Robins said. "I

encourage you to step into your parents'

shoes and realize that what they

are doing is likely because they care."

One of the ways to rewire years of

internalized cultural norms is by intentionally

helping older generations experience

the norms of today instead. Not

partaking in the body shaming talk but

debating the internalized beliefs. For

some, being supportive includes opposing

the, "I look so fat in this," with a,

"No, you don't."

12
---
"Sometimes parents make choices

about how to engage with their child

based on their own needs or what they

did or did not receive in their own

childhood," said Dr. Aundrea Paxton,

Psychology Adjunct Professor. "Nevertheless,

just because one parents in

this fashion does not mean that they

do not love their child or is trying to

hurt them. Often choices that we make

in parenting and other relationships

in our lives are unconscious and we

can sincerely believe that we're doing

what's in the best interest of the child."

One of the most important steps in

caring for those who suffer from the

symptoms of an eating disorder is to

remind them that they are not alone.

Various campus departments ranging

from the BCC to Resident Life offer

their support to affected students.

Dean of Student Wellness Lisa Igram

expressed Biola's eagerness to help any

students who come to them.

"Biola cares deeply for students who

struggle with disordered eating and

eating disorders. Support and care for

those with eating disorders requires

an interdisciplinary approach, which

at Biola may include Student Care, the

Health Center, the Biola Counseling

Center, and referrals to off-campus resources,

depending on what the student

most needs," Igram said in an email.

"We are ready and waiting to support

you!"

No disorder is too small to ask for

help. The smallest of thoughts could

be the start of a future demon. One

of the potentially dangerous factors

that contributes to any form of an

eating disorder is an individual telling

themselves that their rejection of their

own body is too minor for them to ask

for help.

On their own, eating disorders are

huge monsters to tackle. However, the

methods of self-punishment created by

fat-shaming are not limited to eating

disorders alone. Over time, a seemingly

small comment is capable of sending

an individual into spaces of of hurt

and self-harm that can take years of

rehabilitation to heal.

"Sometimes people feel trapped with

their emotions within their own bodies.

Self-harming is a way of releasing

extreme feelings of shame, guilt and

self-hatred when they do not have the

skills sufficient for addressing their

pain," Robins said.

For Elena*, the emotional pain was

coupled with physical pain. She shared

about her experiences of coping with

her hurt through cutting.

"For me, cutting was a form of

self-punishment that gave me an

immediate release from the guilt that

I received from my parents if I ate too

much," she said.

Those who are faced with less than

pleasant criticism of their body can

find hope in a solution. In some cases,

painful comments made toward us by

our families often have more to do

with their love for us than any harmful

intent. By humanizing our families,

we can look past the toxicity and into

their personal struggle with self-love.

Outweighing the thoughtless words by

remembering that in a healthy family

no one, including ourselves, loves us

more than our parents.

*Elena's name was changed in order to

protect her identity.

By humanizing our

families, we can

look past the

toxicity and into

their personal

struggle with

self-love.

13
---
14
---
FAME

CULTURE

Photo Story By: Emily Inaba

Designer: Amy Bucher

15
---
To be an

influencer is to

advocate that

your life is

perfect, fun and

what "it should

be." As we

constantly post

what we are

eating,

wearing and

doing, we

glamorize life

through

a filter.

16
---
17

This, however,

detracts us from

the whole picture.

We miss out on the

life around us and

shroud the

entirety of our

being for

glamor. While we

share about our

aesthetic, we fail to

be who we

really are.
---
18
---
19
---
LIKE ME

LIKE ME

LIKE ME

20
---
21

The abuse of theology can often debilitate discussions regarding

mental illness and be blinding for Christians in need of practical

and proactive means of help outside of prayer.
---
PROZAC & THE PULPIT

Writer: Kyle Kohner

Story Editor: Kendall Jarboe

Photographer: Kyle Kohner

Designer: Rose Nickols

My name is Kyle Kohner. Two

years ago I was diagnosed with

and began treatment for severe depression

and anxiety. Though my diagnosis

came only recently, this struggle has

overwhelmed my entire being for as

long as I can remember. During my four

years as a student at Biola University,

the symptoms heightened, however, I

remained reserved regarding mental

state. Unfortunately, when sharing

this obstacle with other Christians, I

was often met with archaic theological

justifications for my illness—condemnation

and shame. These theological

justifications are in contrast to God's

grace. Christians, like non-Christians,

are just as susceptible to the detrimental

symptoms of mental illness.

The Christian faith assures, "This isn't

the end," says Dr. Melanie Taylor,

Director of the Biola Counseling Center.

It is a faith that makes a difference in

times of despair, pain and sadness—one

that pushes us to keep working, trusting

and striving. But this doesn't mean

that Christians do not struggle exactly

like non-Christians, "because they do,

absolutely," Taylor says.

For Assistant Professor of Old Testament

Jeffrey Volkmer, he began battling

with severe anxiety in the year 2000.

"I became a Christian later in my life,

but it wasn't long after that I began my

descent into my struggle with mental

illness," Volkmer said.

After beginning seminary school in

Dallas, Texas, Volkmer endured a

series of panic attacks and took many

trips to the hospital thinking they were

cardiac-related issues. Volkmer came

to face the reality of these issues and

learned to deal with them through an

eclectic means of coping, including

prayer. However, as a theology professor,

he also realizes the need for holistic

self-care.

"You can't just Bible study, pray and

meditate your way out of mental

illness," Volkmer said. "You can love

the Lord, but it's OK to say, 'I'm really

sick.'"

Though he has learned to manage his

mental illness to a certain degree, Volkmer's

battle persists.

"You learn to hide it. A lot of times, my

students don't know what's going on

inside me when I'm up front trying to

be cheery and happy," Volkmer said.

While Volkmer is able to hide what

mental health feels like—in this case

anxiety—Volkmer likens it to "dark

matter, a low-level energy that permeates

the universe. It's mysterious, it's this

low hum going on in the background of

everything. You have to be conscious of

it and if you aren't, it'll eat you alive."

Speaking from experience, Volkmer's

words ring true to how this on-going

battle feels. For many who struggle with

any and all forms of mental illness—in

particular, depression—life seems like

a slow battle through mere existence, a

struggle that parallels the Greek tragedy

of Sisyphus, the King of Corinth.

Sisyphus was condemned for eternity

to roll a massive boulder to the top of

a steep hill and whenever he neared

the top, the giant rock would roll right

back down again.Discouraged, Sisyphus

was forced to start his laborious task all

over again. This is what depression feels

like, and to an extreme, the battle with

suicide. When living begins to feel the

slightest enjoyable, the smallest failure

and detour in life can derail it all, thus

You have

to be

conscious

of it & if

you aren't,

it'll eat you

alive.

beginning the grueling accent up that

steep hill all over again. Soon, the

monotonous climb weighs too heavily,

bogging down any will to live.

Ever since the suicide deaths of two

influential and beloved individuals:

cross-cultural journalist Anthony Bourdain

and fashion-designer Kate Spade,

the discussion of mental health has taken

on a whole new level of seriousness

and put into question the perpetuating

factors contributing to this epidemic—namely

religion. In reaction to their

deaths, The Conversation published a

piece in June 2018 discussing the ethics

of suicide and the implications of mental

illness in relation to the world's religions—most

notably Christianity. As

the author points out, the prohibition

against suicide originates in Genesis 9:5,

which says, "And for your lifeblood, I

will require a reckoning," which means

humans are held responsible to God for

their decisions. Accordingly, every life

belongs to God rather than for a human

to take. While the preservation of life

22
---
It really sucks knowing

Christians are sometimes

the last people you want to

talk to… one emotion-filled

church service doesn't fix

everything.

- Tony Rangel

is important in this discussion, brash biblical legalism

provides little comfort to those who contemplate taking

their own life or simply ponder the thought of not

wanting to exist.

"There's a mode of operating in shame that is so ingrained

in some older forms of Christian fundamentalism.

There's this mentality that if you're not doing well,

then something's wrong—and so you just have to put

on your best face or pretend like things are great," said

Associate Professor of Photography Kurt Simonson in

light of the suicide death of his friend and former Biola

art department chair Loren Baker a little over five years

ago.

Not to negate the power of prayer,

but many people think that if that

doesn't work then, 'Maybe you just

want to be sad.'

- Whitney Barnard

Similar to other issues like sexual assault and racial

reconciliation, the church has consistently trailed behind

in the discussion of mental illness. With this unspoken

reality, Christians are only recently beginning to

actually have the conversation. While the church is

actively progressing, the question of seeking the Lord in

joy and in sadness remain. Unfortunately, as a collective

body in Christ, we have strayed from compassion and

understanding of those who suffer, specifically toward

individuals battling depression and its extreme extension—suicidal

ideation.

23
---
Even though mental illness and suicide

plague all groups of people of all faiths

or no faith, Judeo-Christian history

may be guilty for its brash response

and theological discernment—or lack

thereof—regarding the topic and to

those who go through it. For example,

when looking back as far as the fourth

century, the Catholic Church forbade

anyone who committed suicide from

being buried in consecrated land, for

suicide was deemed the unconfessed

and unforgivable sin—according to

the Catochism of the Catholic Church.

As someone who was born and raised

Roman Catholic, Volkmer shares how

the idea of forgiveness through a priest

impacts the church's beliefs about

suicide.

"We were taught that you need to

confess to a priest in order to have your

sins forgiven, which plays into the belief

that killing oneself would not allow for

that final confession nor one's salvation.

I think that thought process sort

of flows into some Christian theology,

unfortunately," Volkmer said.

That being said, in analyzing the most

extreme manifestation of depression

once again, philosopher and theologian

Thomas Aquinas was adamantly harsh

regarding the act of suicide: "To bring

death upon oneself in order to escape

the other afflictions of this life is to

adopt a greater evil in order to avoid a

lesser." Aquinas also comes to the conclusion

that God alone should decide

when a person will live or die. Early

Christian theologian, philosopher and

key figure in the development of Western

Christianity St. Augustine—whom

many Christian ethicists point to

when maneuvering through the teeth

of depression—valiantly persevered

through his own battles, though God

drew him out of his pain. Augustine,

like Aquinas, demonized the mere

thought of the act. As discussed in

The Conversation, traditional rhetoric

purports suicide as a rejection of God's

'gift of life,' further suggesting that any

pondering of fate or severe emotional

distress as a path toward this deliberation

is rejecting the gift of God. But

is it?

In Lamentations 3:31-35, it says,"For

no one is cast off by the Lord forever.

Though he brings grief, he will show

compassion, so great is his unfailing

love. For he does not willingly bring

affliction or grief to anyone."

Most of the time, it is hard to argue

against either Aquinas or Augustine,

but modern Christians have taken their

thoughts for face-value and weaponized

the power of their views without consideration

or further reflection on the

ultimate grace of God. In reality, there

is no explicit prohibition of suicide or

demonizing of mental illness anywhere

in the canonical texts of Christianity.

However, the Bible does make clear the

very real issues and problems people

face in life. With all its teachings on joy

and hope, the Bible presents characters

and stories that reflect life submerged

in the darkest of valleys. If you simply

look at biblical figures like Job and

Samson, the most faithful people of

God experienced despair, depression

and even contemplated suicide.

Unfortunately, pondering whether or

not a bout with mental illness is the

result of something done wrong in the

eyes of God has become normalized

within the Christian community.

"[Students at Biola] really grapple with

these theological questions, especially

suicidal ideation. Some students are

very open and deeply thoughtful about

how God would respond if I made that

choice, asking, 'What does that mean

for my eternal destiny?' And they do

often question if they did something

wrong," said Deann Decker, Student

Care Coordinator.

Every time I pray,

I have a doubting

voice in the back of

my head whispering,

'Am I really saved, is

he just gonna ignore

me again?'

- Anonymous

24
---
In answering that question, Volkmer

believes suicide does not have bearing

on one's salvation.

"While I wouldn't say God is all stoked

about suicide, it doesn't have bearing

on one's salvation," Volkmer said.

"Suicide is evidence or manifestation

of sin, just as much as it is with cancer.

Someone with cancer is not sinning, but

cancer is a perversion of God's ideal for

human prosperity."

Though you will hardly hear of individuals

of faith telling others that their

holiness is tainted by their depressed

thoughts or their salvation is in jeopardy

for thinking about suicide, Christians

do harmfully, albeit, ignorantly

'console' their brothers and sisters

through their struggle. As harmless as it

may sound, the mere utterance, "Pray

about it. Give it to God," is ironically

disheartening. It is a default platitude

that suggests there is nothing to be

done other than to pray to God. There

is nothing wrong with praying for

recovery from a mental health condition,

but loving proactiveness is also

necessary. People cannot simply 'pray

away' a mental health condition for it

is an issue not limited to the soul, nor

should it ever be a question of one's

faithfulness to God.

"It's not a sin to be sick," said David

Mandani, founder of Saving Face Saving

Grace, the Mental Health Ministry

of Saddleback Church. "An illness is

not your identity. Again, your illness is

not your identity, and neither is your

chemistry."

Mandani, who currently battles with

schizophrenia and once contemplated

suicide, believes Christians lack

compassion or empathy regarding

mental illness. According to Mandani,

The darker the night,

the brighter the stars.

The deeper the grief,

the closer is God!

theological debates should be left to

other forums and out of this particular

epidemic.

"I don't think people, when [they] want

to take [their] life because [they're] so

depressed, want to hear your theological

position," Mandani said. "I think

what they want to hear is the compassion

of Jesus Christ and that he cares."

When it comes to empathizing with individuals

with mental illness, Mandani

recalls and reasserts James 1:19, "Be

quick to listen, slow to speak, slow to

anger and weep with those who weep."

Keeping this verse in mind, it is vital to

remember—as cliché as it may sound—

God did not promise an easy life.

Though not a Christian, French philosopher

Albert Camus—who first drew a

parallel between Sisyphus' struggle to

that of depression—reflects upon this

sentiment in his book "The Myth of Sisyphus."

He says, "If one could say just

once: 'this is clear,' all would be saved."

Mental illness is not a punishment or

test, it is instead, part of a reality that

all humans suffer in some capacity. And

yet, there is beauty in suffering.

When discussing the state of suffering,

Fedor Dostoyevsky, Russian philosopher,

essayist and author as well as a

believer in Christ, was an authoritative

voice. From a young age until his death,

Dostoyevsky struggled with chronic seizures

and would eventually serve four

years in a Serbian labor camp amidst

horrific living conditions. However,

he wrote this in his novel "Crime and

Punishment" about suffering.

"The darker the night, the brighter the

stars. The deeper the grief, the closer is

God!" Dostoyevsky said in his book.

Throughout his work, Dostoyevsky

consistently explored the struggle in

reconciling the suffering evident in

the world and the notion of a loving

God. Nevertheless, Dostoyevsky was a

proponent of the idea that, "Pain and

suffering are always inevitable for a

large intelligence and a deep heart. The

really great men must, I think, have

great sadness on earth."

Dostoyevsky's words speak volumes to

the reality of those struggling with suicidal

thoughts and/or living with mental

illness, including depression. God holds

us near and dear in our darkest and

most unbearable moments regardless of

the situation.

"I think God is nearer, more present,

or at least you are more aware of your

need for him in your darkest times,"

Simonson said. "You know, I don't even

think that's a hard stretch to say that's

just true for most people. I think if you

are alert enough and not spinning inside

of your own head and at least talking to

25
---
God during times of depression, suicidal

ideation, etc, I think God holds you

closer."

In God's eyes, mental illness is a manifestation

of suffering, therefore, an

avenue toward his grace. Though the

Christian community is slowly but surely

progressing in this dire discussion, it

is time to become radical thinkers and

remove the stigma and shame that has

pervaded the realities of mental illness

for centuries.

"If you could see that there's pain and

there's someone else who has a different

theological view than you, you could

both agree that there is suffering regardless

of what your views are," Mandani

said. "And I would start any conversation

moving forward with the idea that

there needs to be compassion of Christ

present in how you engage others who

have been impacted by mental illness."

Not every church has remained quiet.

Concerning itself deeply with the mental

health epidemic, Saddleback Church

is leading the progression. After senior

pastor Rick Warren's son died from a

self-inflicted gunshot wound in 2013,

Saddleback took action and launched a

mental health ministry. Headed by Mandani,

the sole purpose of this initiative is

to bring awareness to the issue and deeply

love those who struggle. For example,

Saddleback holds "survivors of suicide"

days every November in partnership

with the American Foundation for

Suicide Prevention to celebrate as well as

grieve the loss of loved ones.

"Being able to reach people impacted

by mental illness as Christians is very

radical," Mandani said. "The common

consensus of people who come into the

church feel they don't have a voice because

churches have not recognized their

struggle through mental illness. Instead

of a culture of fear, we need a culture of

love. When you look through this lens,

compassion can come and there's freedom.

Then there will be equality, there

will be parody, and we want to change

that in this church and other churches."

As we go through life, enduring its onslaught

of pain, suffering and heartbreak,

that proverbial and contemplative walk

up the hill will likely come with grief and

much affliction. But that same climb can

take place in joy and comfort knowing

that God remembers us, for there is a

metaphysical honor in enduring the

world's tragedies and how they defeat us.

The mental illness that I have sojourned

through, like many others, is enough to

fill our hearts—not to separate us from

our father.

26
---
DEFINING ME

Gaining permission to be ourselves through the Enneagram.

Writer: Logan Lusk

Story Editor: Jehn Kubiak

Photographer: Thecla Li

Designer: Macie Cummings

27

7
---
2

In the first chapter of "The Enneagram

Made Easy," authors Elizabeth Baron

and Renee Wagele mention that though

nobody knows the exact origin of the

Enneagram, it is believed to have existed

in ancient Sufi oral tradition. Others

say its original use dates thousands of

years back to Pythagorean mathematics,

Neoplatonic thought and early enigmatic

Christianity. However, the Enneagram

was introduced to Europe in the

1920s by Russian mystical teacher G.I.

Gurdjieff. By the 1960s, it had arrived

in the United States. Since then, the

Enneagram has continued to dominate

cultural conversations. Recently, college

students and young adults have been

most fascinated by it.

Most people who take the Enneagram

want to learn more about themselves,

how they confront the world and how

they relate to others. Those who take

the test receive a number—one through

nine—signifying which personality

'type' they are. Among other traits, the

results include the subject's supposed

dominant strengths, weaknesses, likely

coping mechanisms and overall emotional

outlook on life.

28
---
5When something claims to have the

the

ability to inform us about complex and

intimate categories such as our own

personalities, oftentimes our initial

response is doubtfulness. Which is

why, for many of us, it is easy to be

skeptical of assessments such as the

Enneagram. Department Chair and

Associate Professor of Psychology

Dr. John Williams, discussed possible

reasons why college students may be

so deeply interested in things like the

Enneagram test.

"Maybe it's kind of a nice way that

seems sort of scientific to help [students]

get an idea of where they should

go, or who they should be, or something

to that effect," Williams said.

Williams proposed that perhaps people—especially

college students—are

searching for clarity on who they are

and in which direction they ought to

go. Williams also shared his reluctance

towards the high importance students

tend to place on themselves. Notwithstanding

the confirmation bias that

goes into interpreting given results, he

worries about students succumbing to

self-fulfilling prophecies.

"When we receive results of our own

weaknesses from something like the

Enneagram, it's possible we might use

them as an excuse... It's possible we

will feel comfortable becoming the

[negative] thing we are told we are,"

Williams said.

Williams sees the Enneagram as more

fun than informative, but he also

believes that it can teach us something

new about ourselves. Unsurprisingly,

the Enneagram has nevertheless

continued as a popular phenomenon

in the past few years. The seemingly

pseudo-scientific personality measuring

mechanism has also wiggled its way

into Christian college-age cultural

circles and has totally saturated certain

areas of Biola's community. So, why

are students so obsessed with personality

assessments—and what is it about

the Enneagram in particular?

The Enneagram appeals to students

because it offers them something they

desperately seek: it seems to validate

young people—both for all that they

are and for all they are not. It creates

an inventory of their most obvious

strengths, weaknesses and idiosyncrasies.

It reminds them of the comforting

fact that they are not as odd or out of

place as they may all too often consider

themselves to be.

As college students and young adults

learn about themselves and who they

hope to become, the Enneagram has

become an impactful tool. But there

are two individuals in particular

who have incredible knowledge on

all things Enneagram through their

respective lines of work. Both possess

a keen awareness of the way the

Enneagram has touched people's lives.

Singer-songwriter Ryan O'Neal is

mind behind the Chicago-based

musical project "Sleeping at Last," and

producer of nine songs for each of the

Enneagram types.

Beginning in 2014, O'Neal released

"Atlas: Year I," the first stage of a

three-part musical venture: the Atlas

series. He is currently in the process of

releasing music for "Year II." According

to his website, "Atlas: Year I"

speaks on the origins of the universe,

and includes themes such as darkness,

light, space, land and oceans. "Year

II" speaks on the human experience

and involuntary human development,

and incorporates the following themes:

life, senses, emotion, intelligence and

Enneagram.

O'Neal's efforts to help individuals feel

a little less alone in the world represent

what intrigues people most about the

Enneagram itself. The sense of belonging

it provides is exactly what draws

O'Neal to the Enneagram.

"Belonging has such a tie into pretty

much everything we do as people. I feel

like when you learn about yourself and

you recognize that you're a part of a

specific type of people that have these

[patterns] in your life, you feel solidarity.

You feel understood," O'Neal said.

O' Neal first heard about the Enneagram

from his friend, Chris Heutrez—

Enneagram expert and author of the

book "The Sacred Enneagram." At

29
---
1

30
---
8

What motivated O'Neal to include

the Enneagram numbers in his music,

to express the journey of human

development enough to write a song

about each type? The answer to that

has to do with the projected concept

of "Atlas: Year III," which, according

to O'Neal, will be voluntary human

development. Whereas "Year II" has to

do with the aspects we are born with,

"Year III" will discuss how we choose

to cope with the cards we are dealt.

"I believe that we are born with certain

wiring [which] life emphasizes it as

we get older. So, I kind of felt like

that was the perfect transition to end

involuntary human development with

the Enneagram. Which leads to voluntary

human development" O'Neal

said. "Basically, I believe… that God

hardwired [personality] into us. But

our health greatly depends on what we

choose to do with it."

For O'Neal, like many others, the Enneagram

has become a way to gain a

better awareness of ourselves and how

we relate to those around us. It gives

people a way to make sense of one of

the most confusing things there are:

human personality.

first, O'Neal was skeptical because it

seemed limiting.

"In general, I have not been a fan of

personality typing whatsoever, because

it feels like it gives you permission to

not be a better person," O'Neal said.

"But once [Chris] taught my wife and

I the general gist of the nine types, I

couldn't help but see it everywhere."

Additionally, Sarahjane Case is the administrator

of the Instagram account,

@enneagramandcoffee. Case's page

features information that each individual

Enneagram 'type' may find helpful

for going about their day-to-day lives.

Since December 2018, she has amassed

almost 271,000 followers. When asked

how she would explain the Enneagram

to a stranger, Case shared about forming

a relationship with oneself.

"I would say that the Enneagram

is a really incredible tool for you to

create a more in-depth relationship

31
---
with yourself, to know yourself well,

to understand your motivations, to

understand your coping mechanisms

and to create an engaged and active

relationship to being who you want to

be in the world," Case said.

Case's Instagram account reflects her

philosophy on what the Enneagram

is by bringing the assessment to life in

unique ways to her audience. Her posts

include various tips, tricks and encouragements

tailored to each of the types.

Case believes that her account has

grown so quickly because people can

look at her content and feel known.

"The Enneagram gives us a language

to describe ourselves," Case said.

It may be said that the Enneagram test

fails to measure up to the conventional

standards of an accurate scientific or

psychological test. Does this mean that

as people, we place too much emphasis

on our results? Maybe not. Perhaps the

Enneagram is not something we can

prove as an absolutely conclusive, endall-be-all

assessment for sorting out all

of life's problems. But those familiar

with the test, such as Case and O'Neal,

argue that that was never its job in the

first place.

6

This truth is not exclusive to college

students, but extends to people in general.

We like to be told that our quirks,

flaws and oddities are not so strange

after all. Receiving validation and

belonging in a way such as this can

be comforting as people begin to feel

more comfortable in their own skin

and less alone in an often lonely world.

And, in many cases, that is enough.

Instead, the Enneagram acts as a

helpful guide on the perplexing path

of human development. It can equip

those who take it with effective ways

to navigate and cope with the world

around them. The assessment is useful

to transform us out of our own most

unfamiliar strangers into the person we

know best.

As people, we find solace in things that

make us feel seen and identified. We

like to be told that we fit into a group

with others who share our strengths.

32
---
dean

mentor

disciple

maker

Dr. Justin Heth

15+ years of Residential Life

Dean of Residence Life, Dr. Justin Heth,

remarkably creates student community

while upholding campus standards. Work

as a graduate assistant alongside Dr. Heth

and directly apply classroom theories to

impact the lives of college students through

the new M.A. in Higher Education and

Student Development.

wheaton.edu/HigherEd
---
e· new