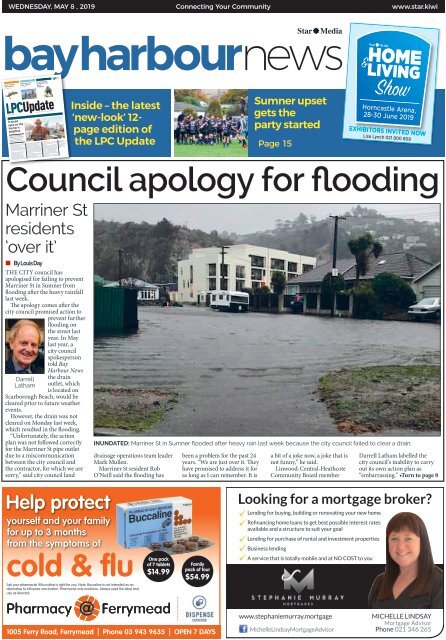 Bay Harbour: May 08, 2019
Do you know the secret to free website traffic?
Use this trick to increase the number of new potential customers.
WEDNESDAY, MAY 8 , 2019

says.

Continued on p2

Marine Mammal

she says.

Connecting Your Community

www.star.kiwi

Gollan's geckos

find new home

» Page 06

Fuelling our love

of the outdoors

» Page 07

Green fingers at

Lyttelton Primary

School

» Page 08

Issue 13 May 2019

Trained

eyes on the

Hector's

dolphins

Marine mammal observer

Maryjane Waru describes her

first encounter with Hector's

dolphins and why it's so

important to protect them.

Lyttelton Port Company Community Newsletter

Maryjane Waru stands on a container near - the mitigation zone - she stops the piling enro led in the course.

the construction of the new cruise ship berth operation immediately with two words.

"I thought, this is crazy. I get to go out and

with her trained eyes on the sea.

"Shut down," she ca ls into the radio

keep an eye on the dolphins and whales and

"You've got the sea, you've got waves,

strapped to her chest. The piling team reacts be paid for it."

seaweed, birds and everything else, but then immediately and can only resume when

In 2014, Maryjane and one other became

something catches your eye. You think you Maryjane has seen every last dolphin leave the first Maori marine mammal observers. At

see a bird but it's moving too fast," Maryjane the zone, or after 30 minutes of no sightings. that time, most of the work was monitoring

Maryjane is from the Ngati Rahiri hapu in overseas oil and gas operations, and many of

Maryjane is a marine mammal observer Taranaki. She answered an advertisement for the observers were brought in from overseas.

with Blue Planet Marine. The sudden

New Zealanders to become marine mammal There are now 18 Maori marine mammal

movements she is watching for are Hector's observers in 2014.

observers, including one of Maryjane's

dolphins. Armed with binoculars, a

"I've always been a Jacques Cousteau fan nephews, who she has encouraged into the

clinometer and five different smartphone from a kid so when I heard about this course role. Two other nephews are going through

apps, Maryjane quickly calculates the

I thought, 'this is rea ly cool'."

the training now.

distance of the dolphin to the piling work. Maryjane says she didn't realise it was a Maryjane says her cultural perspective

As soon as the animals get within 450 metres paid role that could be a career until after she makes the role a natural one.

Observer Maryjane Waru

(Ngati Rahiri) became

the first Maori observer

in 2014. "The advantage

that we have is our affinity

with Tangaroa and the

way we've been raised to

protect our environment,"

Inside – the latest

'new-look' 12-

page edition of

the LPC Update

Council apology for flooding

Sumner upset

gets the

party started

Page 15

EXHIBITORS INVITED NOW

Lisa Lynch 021 800 809

Marriner St

residents

'over it'

• By Louis Day

THE CITY council has

apologised for failing to prevent

Marriner St in Sumner from

flooding after the heavy rainfall

last week.

The apology comes after the

city council promised action to

prevent further

flooding on

the street last

year. In May

last year, a

city council

spokesperson

told Bay

Harbour News

Darrell

Latham

the drain

outlet, which

is located on

Scarborough Beach, would be

cleared prior to future weather

events.

However, the drain was not

cleared on Monday last week,

which resulted in the flooding.

"Unfortunately, the action

plan was not followed correctly

for the Marriner St pipe outlet

due to a miscommunication

between the city council and

the contractor, for which we are

sorry," said city council land

INUNDATED: Marriner St in Sumner flooded after heavy rain last week because the city council failed to clear a drain.

drainage operations team leader

Mark Mullen.

Marriner St resident Rob

O'Neill said the flooding has

been a problem for the past 24

years. "We are just over it. They

have promised to address it for

as long as I can remember. It is

a bit of a joke now, a joke that is

not funny," he said.

Linwood-Central-Heathcote

Community Board member

Darrell Latham labelled the

city council's inability to carry

out its own action plan as

"embarrassing." •Turn to page 8

Help protect

yourself and your family

for up to 3 months

from the symptoms of

cold & flu

Ask your pharmacist if Buccaline is right for you. Note: Buccaline is not intended as an

alternative to influenza vaccination. Pharmacist only medicine. Always read the label and

use as directed.

One pack

of 7 tablets

$14.99

Family

pack of four

$54.99

Looking for a mortgage broker?

lending for buying, building or renovating your new home

Refinancing home loans to get best possible interest rates

available and a structure to suit your goal

Lending for purchase of rental and investment properties

Business lending

A service that is totally mobile and at NO COST to you

1005 Ferry Road, Ferrymead | Phone 03 943 9635 | OPEN 7 DAYS

www.stephaniemurray.mortgage

MichelleLindsayMortgageAdvisor

Michelle lindsay

Mortgage advisor

Phone 021 346 265
---
PAGE 2 Wednesday May 8 2019

BAY HARBOUR

Latest Christchurch news at www.star.kiwi

get in touch

from the editor's desk

YOU CAN see why Marriner St residents

continue to get hacked off when heavy rain

comes (see page 1).

The city council says keeping a drain

outlet on Scarborough Beach clear is the

key to stopping flooding on the street.

Last week when the downpour came it flooded. Apparently

there was "miscommunication" between council staff and the

contractor which cleans the drains when weather forecasters say

it is going to rain.

That's not much consolation for the long suffering residents of

Marriner St, who say the problem has been going on for years.

Let's see what happens the next time it rains.

Miscommunication may not be an acceptable reason.

- Barry Clarke

GENERAL INQUIRIES Ph 379 7100

CLASSIFIED ADVERTISING Ph 379 1100

Star Media, a division of Allied Press Ltd

PO box 1467, Christchurch

starmedia.kiwi

NEWS

Louis Day

Ph: 021 919 917

louis.day@starmedia.kiwi

ADVERTISING

Jo-Anne Fuller

Ph: 364 7425

jo.fuller@

starmedia.kiwi

Rob Davison

Ph: 021 225 8584

rob.davison@

starmedia.kiwi

Lighting solution

Diamond Harbour residents are happy LPC found a way to

turn down the lights.

Page 7

news

Rapaki celebrates milestone

Check out how Rapaki Church marked its 150th anniversary.

Page 8

community events

Need help with your gadgets?

Go along to a Technology Help Session on Monday, 2-3pm, at

the Matuku Takotako: Sumner Centre.

Page 19

The best-read local newspaper, delivered to

10,056 homes, RDs and farms every Wednesday

Brookhaven, Heathcote, Ferrymead, Redcliffs, Mt Pleasant,

Sumner, Lyttelton, Diamond Harbour, Governors Bay, Akaroa.

Need a local

landscape

design and

construction

team?

Call Tom on

03 328 9965 or

027 420 2466

www.gunndesign.co.nz

Sarah Piggott,

Tall Poppy Christchurch

Local agent, local expertise

Fairer flat fees for full service

Free no obligation market appraisal

The same exceptional service you deserve

Give me a call and find out about the Tall Poppy way!

Sarah Piggott Tall Poppy, Christchurch

M 021 060 3547 | E sarah.piggott@tallpoppy.co.nz | W tallpoppy.co.nz/sarah-piggott

BULSARA T/A TALL POPPY LICENSED UNDER REAA 2008
---
Wednesday May 8 2019

News

tree trouble?

call us 384 9630

www.fourseasonstreecare.co.nz

Hunter junior

(Leather)

Latest Christchurch news at www.star.kiwi

Pay plan for board members

• By Louis Day

CITY COUNCILLORS could

face a financial dilemma this

year: Sacrifice some of their

salary for lower paid community

board members.

The Remuneration Authority,

which sets

the pay of city

councillors and

community

board members,

said if the city

council wished

Andrew

Turner

Sara

Templeton

to increase community

board

remuneration

following the

October 12

elections, it

would have to

come from the

money allocated

towards the

salaries of city

councillors.

After the elections,

councils

around New

Zealand will allocate their governance

pools, deciding on the

salaries of city councillors and if

any money from the pool will be

put aside for community board

members.

Deputy Mayor and Banks

Peninsula Ward city councillor

LOW PAY: Banks Peninsula Community Board member John

McLister is not running in the local body elections because of

concerns over money and time.

Andrew Turner, who is paid

$118,220, said he would support

a decision to sacrifice the salaries

of city councillors to supplement

the Banks Peninsula Community

Board.

"I think the level of pay for the

Banks Peninsula Community

Board is not adequate and is certainly

out of line when compared

to other city boards," he said.

Heathcote Ward city councillor

Sara Templeton, who is paid

$102,400, said she would also be

open to city councillor salaries

being used to better remunerate

the board. She is concerned the

current model was preventing

people from running for community

boards.

"We need to enable a wide

range of people to stand for our

community boards, not just

in Banks Peninsula but across

the city, part of that is better

remuneration," she said.

Four members of the Banks

Peninsula Community Board

told the Bay Harbour News they

may not stand in the local body

elections due to concerns over

the money they receive and the

time pressures they face.

Banks Peninsula board members

– excluding the chairwoman

and city councillors – currently

receive $9670 a year. That is

less than half the $24,098 paid

to Halswell-Hornby-Riccarton

Community Board members.

Banks Peninsula chairwoman

Pam Richardson is paid $19,342,

while Halswell-Hornby-

Riccarton Community Board

chairman Mike Mora ($48,196).

The current remuneration

model is set by population, so

boards with larger populations

get better remuneration.

Banks Peninsula Community

Board member John McLister

said the remuneration board

members received was

"ridiculously low" for the

amount of work they have to do.

"I will not run because

financially, it is harmful," he

said. "I don't think we do less

than the inner city community

boards and I don't think they

have the complex issues that we

have."

Can you spot the difference?

Worried about wearing hearing aids?

Come in for your free hearing check and to talk to us

about the latest hearing technology.

p Sound

p Style

Local

News

Now

In Brief

p Connectivity

BAY HARBOUR

Fire rages, homes at risk

p Discretion

PAGE 3

NEW CHANGING ROOM

A new changing facility has been

proposed for Sumner Beach. The

planned site for the facility is on

The Esplanade, near the existing

toilet block. It will be made from

stainless steel and will have

four separate changing cubicles

with a rubber mat floor. Public

submissions close on May 27 and

can be made on the city council's

Have Your Say page.

PLAN APPROVED

The landscape plan for Scott

Park has been approved by the

Linwood-Central-Heathcote

Community Board. The plan

will be implemented in stages

as funding becomes available.

Heathcote Ward city councillor

Sara Templeton said the board

was looking forward to tidying

up the park for all groups and

members of the public who go

there.

SUMNER CAR FIRE

Firefighters were called to a car

fire at St Leonards Square in

Sumner on Monday morning.

Firefighters attended the fire at

about 3am and took 3min to put

it out. No one was in the car.

The cause of the fire is unknown

and has been referred to police.

Firefighters were alerted to the

fire after a neighbour heard a loud

bang and saw the Mazda station

wagon ablaze.

t h e t r e e p e o p l e

f o u r s e a s o n s t r e e C a r e

Great new colours from size 7.

From $105 each

47c Garlands Road, Woolston

Phone 389 3431

www.thefootwearfactory.co.nz

Call us to find out more Ashburton 03 307 8949

Fendalton 03 351 3535

Ferrymead 03 376 4483

Special

Offer!

Buy one hearing

aid and get the

second aid

1/2

Price

Halswell 03 322 4326

Rangiora 03 310 7355

*Offer on the purchase of selected hearing aids, valid to 31 May 2019 T&Cs apply.

THIS

SUNDAY

MAY 12

SPOIL YOUR MUM THIS

MOTHER'S DAY

WITH THE PURE INDULGANCE OF HANDCRAFTED

BELGIAN CHOCOLATE

www.despa.co.nz

2 CHRISTCHURCH STORES:

FERRYMEAD: 1013 Ferry Road, Ferrymead - Ph. 384 5285

RICCARTON: 218 Riccarton Rd. Riccarton - Ph. 343 1467
---
PAGE 4 Wednesday May 8 2019

BAY HARBOUR

Latest Christchurch news at www.star.kiwi

News

Ship has sailed on saving Kia Ora

• By Louis Day

A BADLY damaged historic

racing yacht stranded in

Lyttelton will not be

restored.

The 121-year-old Kia Ora,

which has been sitting on

Lyttelton Port Company land for

more than 20 years on the corner

of Norwich Quay and Donald St,

will be destroyed.

LPC planned to dispose of the

vessel unless the owner came

forward and agreed to pay for its

removal.

Family members of Robert

Bryson, the last owner of the

boat, have decided not to remove

it because of its poor condition.

They have salvaged pieces of it as

mementoes instead.

Ian Knewstubb, former

chairman of the now-defunct

Norwich Quay Historic Precinct

Society, said the vessel was of

high significance.

"A boat built not long after the

Kia Ora called The Rainbow in

Auckland has just been restored

and they spent $800,000 on

it. That is how these boats are

looked upon in other parts of the

country. Down here it is different,

I don't think anyone gives a

hoot about maritime heritage in

Canterbury," he said.

The Kia Ora was sunk in the

1960s and was moved by Mr

Bryson to a vacant section in

Locksley Ave, Dallington.

It was then gifted to the

Norwich Quay Historic Precinct

Society and relocated to its

current location where it has

deteriorated to a condition

DECAY: The Kia Ora vessel will not be restored to its prime condition like in 1900, after

sitting on Lyttelton Port Company land for more than 20 years.

beyond repair.

Mr Bryson's granddaughter

Emma Graham said the Kia Ora

was well past the point of saving.

"It was borderline 20 years

ago, so the ship has sailed so to

speak," she said.

"I would love to have that

boat fixed and going again,

but it is just beyond repair. My

grandfather should have fixed

it all those years ago, but he had

so many other projects and also

heart problems to deal with."

LPC port services and security

manager Tony Simpson saw the

boat as a potential risk to the

public.

"Our first step was to place

fencing around the Kia Ora, but

we believe this is an inadequate

long-term option to mitigate the

risk, as the stability of the way it

is propped up and the condition

of the hull itself led us to believe

that it could collapse," he said.

The vessel was designed by

More time to make seaplane submissions

• By Louis Day

THE PUBLIC now have until

the end of the month to make a

submission on the plan to bring

seaplanes to Lyttelton Harbour.

Submissions were initially due

by April 30 but the Civil Aviation

Authority has extended the

deadline out to May 31.

The authority is seeking

feedback on Rangiora-based

company Peninsula Air

Ltd's plan to construct a

waterdrome in Lyttelton

Harbour.

The 1km runway

would be located

between Rapaki and

Quail Island and provide

seaplanes with an area

to take off and land.

One of Peninsula Air

Ltd's directors Mark Christensen

Mark

Christensen

told Bay Harbour News the

seaplanes would be used to

take people on scenic tours

of the peninsula.

"It is still very early

days, but we are thinking

about providing a service

that would complement

all the other tourist

operations in the

peninsula," he said.

Mr Christensen hopes the

project will emulate the Sydney

seaplanes experience.

"In concept, it is a similar

operation to the Sydney one

involving a seaplane that takes

people on scenic flights," he said.

"If you look at the Sydney

operation, they also deliver

people to tourist destinations as

well."

Public submissions can be sent

to: aerodromes@caa.govt.nz

Professor RJ Scott, head of

Canterbury College's engineering

school and cousin of Antarctic

explorer Captain Robert Falcon

Scott.

The Kia Ora would go on to

win the annual regatta in 1900

against staunch opposition, such

as The Rainbow.

Visit our new website: www.min.nz

With thriving communities and

picturesque views,

the bays are truly spectacular

COASTAL REAL ESTATE SPECIALISTS

We'll help you live the dream.

Min Sarginson Real Estate Ltd. specialises in homes, sections and

rental properties in the spectacular Lyttelton Harbour bays, and

coastal suburbs of Christchurch, New Zealand.

We'll make it so easy for you. All our sales consultants live in the

area – we can give you valuable insights into life in our thriving

coastal communities.

This is an exciting time; of promise, optimism, and opportunities

never anticipated pre-quakes. Beachfront, or hillside with

grandstand views, find the property of your dreams:

Lyttelton | Diamond Harbour | Governors Bay | Cass Bay

Charteris Bay | Church Bay | Purau Bay | Port Levy | Northshore

Southshore | New Brighton | Heathcote | Sumner | Redcliffs

Scarborough | Mount Pleasant | Clifton

Call Min Sarginson Real Estate Ltd. for free, no-obligation advice. Lyttelton: 03 328 7273, lyttelton@min.nz or Church Bay: 03 329 4161, churchbay@min.nz
---
Wednesday May 8 2019

Latest Christchurch news at www.star.kiwi

Local

News

Now

Fire rages, homes at risk

BAY HARBOUR

PAGE 5

WILD: Peacocks in Lyttelton are being relocated to protect rare geckos and

skinks.

Peacocks moved after

threat to shoot them

• By Louis Day

WILD PEACOCKS are

being relocated from part

of Lyttelton to stop them

eating endangered geckos

and skinks.

The move comes after a

farmer sent her

neighbour, Janelle

Wills, a legal letter

stating she would

shoot the peacocks

which entered her

property.

The farmer,

who has declined

to be named,

said the peacocks

eat geckos and

skinks on her

property.

Miss Wills feeds the

wild peacocks and can

sometimes have up to 30

around her house.

She said she was

"heartbroken" to have

to relocate them and

"disgusted" the farmer had

plans to eat them.

"They climb around my

house and look through

Anita

Spencer

my windows at me and, as

soon as I leave my house,

they follow me. It's going

to be heartbreaking to see

them go," she said.

The farmer's legal

letter stated any peacock

which wanders onto

private property is

considered to be

trespassing under

the Impounding Act

and is permitted to

be shot.

She also told Bay

Harbour News: "I

certainly hope to

eat one and provide

meat to several

people."

"If I just had sheep

it would not matter but

with these other creatures

[skinks and geckos] it

makes for a very different

situation. It is like a

peacock eating a diamond

and that diamond is of

value to New Zealand, it is

not just me that is losing

out."

Department of

Conservation senior

biodiversity ranger Anita

Spencer said peacocks

posed a potential threat to

skinks and geckos.

"Peacocks have wide

diet preferences and are

interested in anything that

moves. Overseas they eat

lizards, rodents and snakes,

so they could potentially

eat a threatened lizard if

they came across one," she

said. Ms Spencer confirmed

there were rare geckos and

skinks in the area.

"We know there are three

threatened lizard species

in the area and we have

been told by the property

owner two of those species

can be found on her land.

DOC hasn't carried out any

formal surveys to confirm

this, but we understand a

herpetologist has visited

the property and identified

the lizards."

Miss Wills said the

peacocks are being

relocated throughout the

Canterbury region with the

help of Serendipity Animal

Rescue.

DIZZYINGLY

LOW PRICES!

YOUR LOCAL

ACCOUNTANT

I COME

TO YOU

Financial Statement Preparation

Tax Preparation & Compliance

Xero & MYOB Specialist

Steven Clarke Ltd. 7 Margot Lane

Mount Pleasant, Christchurch

Phone 03 384 4633 Cell 021 677 670

steven@sclarke.co.nz

Home & Business Security • Cameras • Gates & Fencing

Access Control • Alarm Monitoring • Home Automation

Alarms

Electrical Cameras Intercoms Auto Gates

Residential and Business Security

Tailor Made Security Solutions

All Your Electrical Needs

Custom Designed Automatic Gates

Innovative Intercom Systems

Pet Friendly Sensors

Security Cameras

Access Control Systems

Electric Fencing

Service and Maintenance

24/7 Fault Service

Locally owned and operated

All faults attended that same day

FREE QUOTES

P: (03) 384 0995 24/7 E: info@actionsecurity.co.nz

www.actionsecurity.co.nz

Valid Wednesday 8th May

MAD DAY DEALS – TODAY ONLY!
---
PAGE 6 Wednesday May 8 2019

BAY HARBOUR

Latest Christchurch news at www.star.kiwi

GREAT AUTUMN

READS INSTORE

NOW!

NEW RELEASES

GREAT READS INSTORE NOW

Chasing the Dream

By Shaun Wallace

Born on the 2nd of June 1960 to Jamaican parents, Shaun is a

Londoner born and bred, and has been a devoted Chelsea fan

since 1967. From the age of 12, Shaun knew he wanted to be

a barrister and was determined to make it. Despite one or two

setbacks along the way, he finally managed to fulfil his childhood

ambition when he was called to the bar in November 1984.

He has been a Criminal Defence Advocate now for nearly 34

years, and has worked tirelessly on cases ranging from murder

to money laundering to firearms to drug trafficking. Shaun has

also regularly appeared on British television quiz shows such

as Fifteen-To-One, The Weakest Link, Greed, and Are You an

Egghead?. Shaun catapulted to national prominence and recognition when, on the 5th

December 2004, he became the first black person to win the BBC's renowned Mastermind.

Since 2009, he has become a household name, regularly appearing as The Dark Destroyer

on the smash ITV hit teatime quiz show, The Chase.

The Butterfly Room

By Lucinda riley

Posy Montague is approaching her seventieth birthday. Still living

in her beautiful family home, Admiral House, set in the glorious

Suffolk countryside where she spent her own idyllic childhood

catching butterflies with her beloved father, and raised her own

children, Posy knows she must make an agonising decision.

Despite the memories the house holds, and the exquisite garden

she has spent twenty-five years creating, the house is crumbling

around her, and Posy knows the time has come to sell it.

Then a face appears from the past - Freddie, her first love, who

abandoned her and left her heartbroken fifty years ago. Already

struggling to cope with her son Sam's inept business dealings,

and the sudden reappearance of her younger son Nick after ten years in Australia, Posy

is reluctant to trust in Freddie's renewed affection. And unbeknown to Posy, Freddie - and

Admiral House - have a devastating secret to reveal.

Maori Made Easy

For everyday Learners of the Maori Language

By Scotty Morrison

The complete and accessible guide to learning the Maori

language, no matter your knowledge level. Fun, user-friendly

and relevant to modern readers, Scotty Morrison's Maori Made

Easy is the one-stop resource for anyone wanting to learn the

basics of the Maori language. While dictionaries list words and

their definitions, and other language

guides offer common phrases, Maori

Made Easy connects the dots, allowing

the reader to take control of their learning

in an empowering way. By committing

just 30 minutes a day for 30 weeks,

learners will adopt the language easily

and as best suits their busy lives. Written

by popular TV personality and te reo

Maori advocate Scotty Morrison, author

of The Raupo Phrasebook of Modern

Maori, this book proves that learning the

language can be fun, effective i and easy!

The Flat Share

By Bet O'Leary

Tiffy and Leon share a flat. Tiffy and Leon share a bed. Tiffy

and Leon have never met…

Tiffy Moore needs a cheap flat, and fast. Leon Twomey works

nights and needs cash. Their friends think they're crazy, but

it's the perfect solution: Leon occupies the one-bed flat while

Tiffy's at work in the day, and she has the run of the place the

rest of the time.

But with obsessive ex-boyfriends, demanding clients at work,

wrongly imprisoned brothers and, of course, the fact that

they still haven't met yet, they're about to discover that if you

want the perfect home you need to throw the rulebook out the

window...

JIGSAWS

GREAT

RANGE

FROM JUST

$14 .99

each

1005 Ferry rd

Ph 384 2063

while stocks last (see instore for terms and conditions)

Barry & kerry
---
Wednesday May 8 2019

Latest Christchurch news at www.star.kiwi

BAY HARBOUR

PAGE 7

News

DIMMED: Lights in the Lyttelton Harbour have been reduced in intensity after

complaints from Diamond Harbour residents.

Turning down the lights

• By Louis Day

LIGHTING IN Lyttelton

Harbour has been dimmed

following complaints

from Diamond Harbour

residents.

The red and green spar

buoys have been turned

down to half the intensity

they previously were.

The lights were put in

place by the Lyttelton Port

Company to help guide

ships through the harbour.

Diamond Harbour

resident Nathan Graham,

who previously described

the spar buoys as looking

like "a Christmas themed

accident scene," saw it as

a step in the right

direction.

"What we had initially

was ridiculous and now it

is nowhere near as bright

and we have been able to

enjoy some brilliant starry

nights," he said.

Mr Graham hoped the

lead lights near Pile Bay

and Camp Bay could also

autumn is here but the

market is not cooling!

The weather may be cooling but the property market certainly isn't! In the

seaside suburbs from 'as is where is' homes to family and executive homes.

Find out what your home could be worth to eager buyers actively trying

to find their next home with a free property appraisal. I look forward to

guiding you through your options for selling.

For this professional advice and

more call Chris Moores today.

Chris Moores

Harcourts Grenadier Ferrymead

1020 Ferry Road P: 03 384 7950 | M: 027 588 4440

E: chris.moores@harcourts.co.nz

GRENADIER

Licensed Sales Consultant REAA 2008

be adjusted.

LPC strategic engagement

manager Phil de Joux

said they were currently

working towards a solution

for the lead lights.

"We tried turning those

[lead lights] down but the

pilots came back to us and

said they could not see

them in all conditions so

we are now considering

what other engineering

options we have to

directionalise them down

towards the heads," he said.

Drones cause more issues

• By Louis Day

DRONES ARE continuing

to be a problem in the Bay

Harbour News area.

Lyttelton resident

Sandra Cunningham was

watching television in her

living room recently when

a drone began hovering

above her porch at about

9pm.

"The incident was

disturbing as it hovered

there, less than 10ft (3m)

above my head. It remained

motionless for nearly 1min.

I had the creepy feeling that

I was being watched," she

said.

It comes after a

low-flying drone was

suspected of spying on

teenage girls just after

Christmas last year.

The drone was seen

hovering over Whero Ave,

Diamond Harbour, about

6.30pm on December 27.

Anna Clinch, 14, was in

a swimming pool with a

teenage friend, when she

saw the drone.

She believed it was being

used to spy on them.

Anna said the drone was

flying near power lines.

"It just hovered above

the pool while we were

swimming for about

30sec and we were really

concerned about it," she

said.

"We moved out of the

way because we thought

it was a bit bizarre and

went inside. And the drone

continued to fly back and

forth over the house a

couple of times [before

leaving]."

The Civil Aviation

Authority states drone

operators must have

consent from the owner of

the property they want to

fly over.

The CAA does not

investigate breaches of

privacy, and investigations

are dealt with by police.

Mother's

Day

Watties Baked Beans

or Spaghetti 420g,

Flavoured Tomatoes

400g or Peaches, Pears

or Apricots 400-425g

Half leg

sizes

for greater

convenience

Fresh NZ Quality

Mark Lamb Leg

Roast

Stoneleigh 750ml

(Excludes Lattitude,

Wild Valley &

Rapaura Series)

$

12 99 ea

Pams Pancake

Mix 325g

$

13 99 kg

Griffins Toffeepops or

Macaroon 200-250g

Whole Single Leeks

Product of New Zealand

Mothers Day Mixed

Bouquet (Available

while stocks last)

$

16 99 ea

$

2 79 ea $

2 99 ea

ANY 4 FOR

$

5 99

Nestle Scorched

Almonds 240g

Green Kiwifruit Loose

Product of New Zealand

www.foursquare.co.nz

$

5 99 ea

NEW

PRODUCT

$

2 79 kg

$

1 99 ea

facebook.com/FourSquareNZ

Specials available South Island only from Monday 6th May until Sunday 12th May

2019 or while stocks last. Wine and beer available at stores with an off licence. Wine

and beer purchases restricted to persons aged 18 years old and over.
---
PAGE 8 Wednesday May 8 2019

BAY HARBOUR

Latest Christchurch news at www.star.kiwi

News

Apology over

flooding in

Sumner

•From page 1

Dr Latham said this was

one of a series of flooding

events since the city council

formulated an action plan last

year.

"The current approach

of manually clearing beach

drainage outlets is costing

ratepayers thousands of

dollars and it appears to be

not working particularly well

because drainage outlets are

buried in sand or they cannot

be located. This approach is

not sustainable and given the

recent storm event, it is now

time for the city council to

acknowledge that the current

methodology is not effective

and to investigate a more

effective plan of action and

solution to this problem," he

said.

The city council is currently

spending $20,000 a year to

keep the drains clear prior to

weather events.

Mr Mullen said it is

investigating whether the

beach level is likely to fall,

meaning sand is less likely

to block drains, or whether

longer-term solutions may be

necessary.

Local

News

Now

Skepticism over berth benefits

• By Louis Day

LYTTELTON business owners

are not convinced over the

economic benefits the new cruise

berth will bring.

It was announced last week the

Lyttelton Port Company's new

cruise berth is scheduled to open

in November next year.

While smaller vessels

have continued to visit,

large cruise vessels have been

unable to berth at Lyttelton Port

since the February 22, 2011,

earthquake.

With the new cruise berth in

place, LPC will be able to

welcome cruise vessels which

cater for more than 5000

passengers and 2000 staff.

However, business owners are

concerned tourists will bypass

the port town and go directly

into the central city.

"I don't know if it will have

any impact because the ones that

currently come, they just ship

everyone to town anyway. On

days when cruise ships come we

notice no difference in business,"

said Shroom Room owner Koryn

Hope.

Eruption Brewing co-owner

Steve Leftly said cruise ships

currently brought little to his

business.

"We have only been exposed

BIG PLANS: 3D still images of what the completed cruise berth will look like when it opens in

November next year.

to the smaller ones [cruise ships]

and they only tend to have a

handful of people that actually

come into Lyttelton," he said.

ChristchurchNZ destination

development manager Anton

Wilke said it was working on a

bus schedule that would benefit

the local economy.

"There is ongoing liaison

between ChristchurchNZ and

LPC with regard to how the

transfers could look and how

they might pan out, the details

of that are not nailed down at

this point but we are certainly

very conscious of the needs of the

Lyttelton community," Mr Wilke

said.

Lyttelton Coffee Company

Fire rages, homes at risk

owner Stephen Mateer was more

concerned about the impact the

larger cruise ships would have on

the environment than what they

would do for his business.

"It is going to do a good job of

blocking my view of Quail Island

from my house," he said.

•Akaroa cruise ships, page 14

DO IT ONCE - DO IT RIGHT

•Retaining Walls

•Drain-laying

•Driveways

•Trenching

•Over 60 years

professional

experience

•Modern

Machinery

The Christchurch branch of Civil Construction Ltd

takes great pride in delivering high quality civil

works, drainage and general contracting solutions

through the Canterbury region.

Our success is built on obtaining respect

and repeat business for our honesty,

skills and innovation.

For enquiries and a free quote contact

Peter on 03 344 2596

peter@civilconstruction.co.nz

www.civilconstruction.co.nz

HEAT PUMP

SALE NOW ON!

Amazin' Autumn Specials!!

• We will offer you the best quality brands and

option of heat pump for your home/business

• Providing Heat Pump solutions for over 17 years to Cantabrians

• We personally guarantee all our products & installs for 5 years

(providing annual maintenance has been completed)

Phone us today for your free consultation & quote

41A SHAKESPEARE RD, WALTHAM

PHONE 03 366 0525

www.enviromaster.co.nz

"A local team for local people"
---
Wednesday May 8 2019

Latest Christchurch news at www.star.kiwi

BAY HARBOUR

PAGE 9

Dream

DISCOVER YOUR

BATHROOM

Our product partners are the finest

from around the world. Discover

bathroom objects of beauty and be the

envy of your neighbourhood.

10 bathrooms

CHRISTCHURCH 305 Cashel St, Ph 03 379 4750

DUNEDIN 46 Timaru St, Ph 03 466 3600

NELSON 68 Gladstone Rd, Ph 03 544 9392

OPENING SOON - CROMWELL

plumbing supplies

bathroom solutions

Established 1875.

www.oakleysplumbing.co.nz
---
PAGE 10 Wednesday May 8 2019

BAY HARBOUR

Latest Christchurch news at www.star.kiwi

Look who has

joined us!

This week we welcome two new faces to our Ray White

Ferrymead sales team. Pip Sutton and Rosamund

McDonald have joined us from another office and both

bring a wealth of experience and expertise to the team.

Rosamund with eight years in real estate and a resident

of Heathcote, and Pip with an impressive 15 years in

real estate and resident in Redcliffs are sure to further

complement our existing team of local professionals.

Local knowledge and community

involvement are two aspects of

real estate we pride ourselves

on, and it is exciting for us to have

these two experienced agents

adding another layer of local

knowledge and enthusiasm to our

market.

Pip Sutton can be contacted

on 0272249524 or

pip.sutton@raywhite.com

Rosamund McDonald can be

contacted on 02102656149 or

rosamund.mcdonald@raywhite.com

Patricia Van der bent

027 296 1408

Jan Edlin

027 433 8025

Feature Properties

Eddie Spry

021 156 5884

Marie Malone

027 489 8349

Top Sales

for April

The Standevens

Ferrymead Office

14 Augusta Street, Redcliffs

- Team Standeven

Eleanor Corston

027 435 2415

Molly Ferdinand

027 594 7427

Bronny Clifford

021 272 7718

Mark Gardner

021 633 669

What people are

saying about us:

"Jan was a pleasure to do business with --

informative, and she kept me up to date with

feedback relating to open homes etc."

- About Jan Edlin

36a London Street, Lyttelton

- Daisy Foldesi

Daisy Foldesi

021 328 059

Matt Clayton

021 223 3998

"We were most impressed with their approach

to digital marketing, video and online presence

that was achieved through RayWhite and

other websites. A special thanks to [assistant]

Anna for keeping us in the loop with the

reports. They were timely and easy to

follow. [We were] most impressed with their

professional approach and attention to detail.

Unlike many other experiences we had buying

or selling, this one tops them all."

- About Team Standeven

2 Ti Kouka Eco Lane, Redcliffs

- Rosamund McDonald

Anna Loader

027 272 7128

Simon Standeven

027 430 4691

Paula Standeven

027 547 2852

21 Humphreys Drive, Ferrymead and 47b London Street, Lyttelton

Phone (03) 3844 179 | rwferrymead.co.nz | /RayWhiteFerrymead

Rod Cross

021 763 763

Bev Prout

027 495 9586
---
Wednesday May 8 2019

Latest Christchurch news at www.star.kiwi

BAY HARBOUR

PAGE 11

News

S

Sunday 12th May

See in-store for great gift ideas

6 th to 12 th May 2019

$

13 99

kg

Fresh NZ

Lamb Leg Roast

$

2 29

kg

Loose Dole

Ecuadorian Bananas

SNACK: Vittoria shares a post-mushroom afternoon tea with Loki.

Fungus freak-out

AFTER NEARLY six

months in the role I'm

getting pretty confident,

but last week I had a major

freak-out which brought

me back to earth.

Like any toddler, Vittoria

is quick on her feet. Not like

regular quick mind you,

any adult can smash a toddler

in a foot race.

Nah, toddlers have a

magic power which lets

them teleport to wherever

you don't want them as

soon as their parents' eyes

are off them.

Last Tuesday, I looked

away for a second and

she was standing on the

TV cabinet (cue lounge

rearrangement).

That was not the worst

one though. Recently, I

turned away to check my

phone as we were playing

out front and before I knew

it she had grabbed up a

mushroom from the bunch

growing near the bins and

shoved it in her wee gob.

I'm no botanist – and I

don't even know if botanists

know about mushrooms – so

I had zero clue what it was.

All I could think about

was that it could be poisonous.

So I fished out what I

could of the mushroom and

washed her mouth out. Vittoria

was not impressed.

Potential futures rushed

through my mind; bolting to

the emergency room, Vittoria

foaming from the mouth,

her in a hospital bed.

So I rang the poison

hotline for the first time in

my life and was happy to be

calmed, reassured and have

signs to keep watch for.

I kept a sample of the

mushrooms and made

the classic "don't worry,

Vittoria's okay" phone call

to Laura. An hour later,

through some research, I

found out the mushroom

was an edible species.

The relief that Vittoria

was actually going to be fine

VITTORIA

& Matt

had another element to it.

I felt like if she had

actually been sick from the

mushroom, or needed to go

the hospital, it would prove

that I was a bad parent and

incapable of looking after

her on my own.

It was on my watch.

"What would people

think?" actually went

through my head even

though I feel I took all the

right steps in the situation.

As the TV cabinet episode

proves, I didn't quite

learn my lesson.

Now I just have all of the

regular parenting worries to

deal with. Easy.

•Former Bay Harbour

News journalist Matt

Salmons has become

a stay-at-home dad.

We follow his journey

weekly.

$

3 00

ea

Coca-Cola,

Sprite, Fanta,

Lift or L&P

2.25L

$

1 79

ea

Bluebird Delisio

Chips or Dorito

Corn Chips

140-170g

$

8 99

ea

$

5 99

pk

WW Mild, Colby

or Edam Cheese

1kg

Purex Toilet Tissues

or Mega Long White

6-12 Pack

Wastewater overhaul

AKAROA'S ageing

wastewater infrastructure

is set to be overhauled.

City council senior

project manager Kylie

Hills said the work which

includes wastewater main

replacement, inspections

and pipe repairs, will be

disruptive but essential.

He said parts of the

town's wastewater pipes

nearing the end of their

expected service life.

"To minimise the impact

of the disruption, we have

waited until the cruise ship

season is over and until

after Easter," he said.

There are several aspects

to the work, which centres

on reducing the amount of

extra water getting into the

wastewater system through

ingress and infiltration

from groundwater, roof

gutters and downpipes

illegally connected to the

network (down pipes are

supposed to be connected

to the stormwater system

or roadside kerbs) and

from private gully traps

that receive surface water

runoff.

Last year the city council

completed a survey of

the Akaroa wastewater

network using distributed

temperature sensing.

This identifies where

colder groundwater

and rainwater has been

entering the network

and where pipe repairs

or replacements may be

needed.

"The survey showed that

ingress and infiltration

makes up about 40 per cent

of the annual volume of

wastewater reaching the

Beach Rd treatment plant,"

he said.

"That's much higher

than we would like,

and this work aims to

reduce the volume of

wastewater from Akaroa

and improve the quality

of treated wastewater

being discharged into the

harbour. It will also reduce

the size and cost of the new

disposal system, whichever

option is chosen."

$

22 99

pk

Owned &

operated

by locals

Heineken

12 x 330ml Bottles

$

11 99

ea

Wither Hills

(Excludes Pinot Noir)

or Mission Estate

(Excludes Pinot Noir,

Sparkling & Reserve)

750ml

SuperValue Lyttelton, Sumner

For inspiration visit SuperValue.co.nz |

While stocks last at SuperValue Lyttelton and Sumner only.

Please drink

responsibly

svbhn0805
---
PAGE 12 Wednesday May 8 2019

BAY HARBOUR

Latest Christchurch news at www.star.kiwi

News

EMOTION:

Jacinda Ardern

may attend the

new Redcliffs

School opening

after the old

school was

demolished

last year due

to earthquake

damage.

Ardern may make it to

Redcliffs School opening

• By Louis Day

PRIME MINISTER Jacinda

Ardern says she will "do

everything she can" to be at the

opening of Redcliffs School next

year.

Pupils sent Ms Ardern several

letters inviting her to the school

opening in June

2020.

In her

response, Ms

Ardern thanked

the pupils for

their letters and

vowed to do

Jacinda

Ardern

everything she

can to be at the

opening.

Principal

Rose McInerney is confident Ms

Ardern would be there.

"We are pretty sure that she

will be there, we are really

excited that she wants to come.

She knows that we have been on

the biggest journey to get here,"

she said.

After the community

campaigned to keep the school

open, then-Education Minister

Hekia Parata reversed her

decision to close it in November

2016.

It was

decided the

school would

relocate to

Redcliffs Park,

sparking a

separate,

unsuccessful

campaign by

the Friends of

Redcliffs Park

to keep the

school on its Main Rd site.

Rose

McInerney

The school has been operating

out of the van Asch Deaf

Education Centre since the 2011

earthquake.

Local

News

Now

Rāpaki marks 150 years

RĀPAKI CHURCH celebrated

its 150th anniversary on

Saturday.

More than 200 people

gathered for a special service

to commemorate the historic

church, which opened in

1869.

Matua Douglas Couch, who

grew up in Rāpaki during the

1930s and 40s, said the church

was a central meeting point for

the community in those days.

"We used to go there when

the church bell rang. Sometimes

we were down on the beach and

wouldn't hear the bell and if you

got home at dinner and hadn't

been to church, you'd be in

trouble," he said.

The small weatherboard

church, which can hold 80

people, has recently undergone a

significant restoration.

The church was closed

following the earthquakes and

the restoration work began last

year after funding was received.

The restoration included

repairs to the south sanctuary

wall as well as the replacement of

the rotten main window

with a replica of an earlier

window based on an old

photograph.

The steeple was rebuilt

with a shingle finish, which is

likely to be what the original

Fire rages, homes at risk

CELEBRATION: A procession of visitors make their way to

Rāpaki Church for a morning service on Saturday.

PHOTO: DEAN MACKENZIE

steeple was clad in.

The surrounding fence has

been built in a style based on an

1871 painting of the church with

posts made from the old Quail

Island jetty.

The restoration work was

completed with an emphasis

on "minimum intervention"

to ensure the cultural heritage

value of the building has been left

intact.

This means details, such as

names scratched into the wooden

pews decades earlier, have been

left untouched.

JOIN US NOW!

See website for details

MAX

Nothing over $39.99 summer clearance.*

HALLENSTEINS

Chinos and Jeans now $30.* **

CONVERSE

Buy one get one half price on all seasonal footwear

including kids styles. 2 tees for $50.

Mother's Day special: 20% off all women's apparel.

Terms, conditions & exclusions apply

STYLES MAY DIFFER TO IMAGE SHOWN

CANTERBURY

All remaining rugby boots to clear at $30.*

THE BAG LAB

$40 fashion bags - up to 75% off RRP. Exclusions apply.

FILA

Men's and Women's snap pants were $80 now $30.*

CUTLER & CO

New seasons jackets were up to $499.95

NOW from $149.95.* **

*While stocks last. **Conditions apply.

Sign up to Smart Deals & be in the monthly draw for a $100 Dress-Smart gift card!

Be one of the first to hear about the latest deals, sent straight to your inbox each week!

CHRISTCHURCH 409 Main South Road, Hornby

www.dress-smart.co.nz

Open 10am-5pm, 7 Days 03 349 5750
---
Wednesday May 8 2019

Latest Christchurch news at www.star.kiwi

BAY HARBOUR

PAGE 13

Treat mum

This Mother's Day

mother's day - sUNday 12 may

UNder

UNder

UNder

UNder

$10 $20 $50 $100

Bath Bomb

Assorted flavours.

914053

Candles

Assorted flavours.

914202/03/04

equilibrium

3D Suncatcher

Assorted

styles.

985379

Nouveau

Laundry Hamper

329124

$

6 90 $

13 99

eacH

eacH

Wine Bottle

Cooler

912191

FrOM

Coffee To-Go Mug

Ceramic, 295ml.

326385/86/87

$

24 90

eacH

effects

Cocktail Shaker

Set 4PC

914547

$

69 98

Goldair

Electric Micro Fleece Throw

279430

$

3 99

eacH

$

14 98

eacH

$

26 95

Set

$

89 99

amoura

Hand Cream 100ML

French Pear, Mango & Pineapple or Guava & Fig available.

937116

Sistema

Bake It Set 7PC

336202

Chrysanthemum

Indoor Bowl 17CM

296880

Sodastream Mega Pack

White/grey.

336521

$

9 95

eacH

Cyclamen 10CM

188096/97/98

3 FOr

$

10

$

18

$

99

Assorted Foliage 12CM

191238

CoLUmBUs CaFÉ

NoW oPeN

monday to Friday 7am to 4.30pm

saturday to sunday 8am to 4.30pm

Public holidays 8am to 4.30pm

$

12 98

eacH

$

23 98

Ferrymead

1005 Ferry Road, Phone: 366 6306

Opening Hours:

Monday–Friday: 7am–7pm

Saturday, Sunday and Public Holidays: 8am–6pm

mitre10.co.nz/local/MegaFerrymead/

If you find a lower price on an identical stocked product locally we will beat it by 15%.

If you find the same product cheaper from another Mitre 10 store or Mitre 10 website we'll match that price.

Excludes trade and special quotes, stock liquidations and commercial quantities.

The in-store price may be lower than that advertised.

Offers available at Ferrymead Mitre 10 Mega only, until 15 th of May, while stocks last.

Ferrymead
---
PAGE 14 Wednesday May 8 2019

BAY HARBOUR

Latest Christchurch news at www.star.kiwi

News

• By Louis Day

PEST FREE Banks Peninsula has

asked the city council for $60,000.

Chairman David Miller made

the request during his submission

on the draft Annual Plan last

week.

Dr Miller said the project

needed the support of the city

council to empower and educate

communities in eradicating pests

and meet their goal of a pest-free

peninsula by 2050.

"The fund may be used to

provide advice, training or to buy

traps and even assist volunteers in

running community groups."

Dr Miller said they were hoping

to build on the work of the

Summit Road Society.

The society started the Predator-Free

Port Hills movement in

TARGETED:

Pest Free

Banks

Peninsula

is aiming to

eradicate

pests by

2050.

Bid for more funding

2016 with the aim of equipping

4000 households with traps.

It has provided more than 750

households with traps so far.

"We want to create that habitat

to bring back the native birds and

lizards and predator control is

a key part of that," said society

secretary Marie Gray.

The society was set up in 1948

to further the vision of Harry Ell

to preserve and protect the landscape

of the Port Hills.

The society currently owns

Omahu Bush, Ohinetahi Reserve,

Gibraltar Rock and the Linda

Woods Reserve.

The Annual Plan will be finalised

by city councillors before the

start of the new financial year on

July 1.

Submissions on the plan have

closed.

Local

News

Now

Call for less cruise ships

• By Louis Day

"WE WANT to see an end to

Akaroa being used as a tourist

delivery depot."

Those are the words of Akaroa

Ratepayers and Residents

Association president Harry

Stronach during his submission

on the city council's draft Annual

Plan last week.

Mr Stronach called for a

reduction in

cruise ship

numbers in

coming

seasons.

"Somewhere

in this building,

there might be a

Harry

Stronach

department with

a door that says

sensible planning

department,

well if there is there is nobody at

home," he said to city councillors.

"The main street of Akaroa,

Rue Lavaud, is not wide enough

for two way traffic you have to

weave around the parked cars

and some days there are over 40

tourist buses trying to use it as a

highway."

A survey conducted by the

association in March found that

69 per cent of respondents felt the

number of cruise ships should be

limited, with the average

number proposed being 40 per

year – less than half of the 92

ships, which stopped in Akaroa

during the 2018-19 season.

Mr Stronach was concerned

about the cruise ship schedule for

the coming season.

"Look at the plan for the next

Christmas and New Year period,

over that time normally the town

is full anyway. What is scheduled

for this coming year is an

additional 27,000 passengers over

that period."

Deputy Mayor and Banks

Fire rages, homes at risk

CROWDED: Ninety-two cruise ships and more than 198,000

passengers visited Akaroa over the course of last season.

Peninsula Ward city councillor

Andrew Turner told Bay Harbour

News the city council needed

to look at better management

strategies for future cruise ship

seasons.

"The community have had

problems when Akaroa is

absolutely full to the seams and

we know that the infrastructure

fails to cope when this happens,

whether that be with toilets or

roads," he said.
---
Wednesday May 8 2019

Latest Christchurch news at www.star.kiwi

BAY HARBOUR

PAGE 15

'Bedlam' breaks out after upset

• By Gordon Findlater

FIVE STRAIGHT losses to

start the season were quickly

forgotten when Sumner

celebrated a historic win over

four-time defending metro rugby

champions Lincoln University.

With 20min remaining in

the match on Saturday, Sumner

looked destined for their sixth

consecutive defeat. However,

when they kicked the ball into

touch at fulltime

to secure

the 21-19

upset win, St

Leonards Park

was sent into

ecstasy.

"She was

a little bit

bedlam-ish

Martin

Dodgson

Dyers Road Landscape

& Garden Supplies

• Barks • Peastraw • Composts - we supply the best available

• Aggregates - Chip, Round and Basecourse

• Pavers & Schist products • Pungas

• Decorative Stones & Landscaping Rocks

• Trailer Hire first hour free with purchase

• Bag & Bulk - pick up or delivered

David, Carol & Mike

. . . as the

game went on

the old boys

just got rowdier and rowdier.

Like everyone, I think they

were just so stoked for the boys

because we've copped a fair bit of

flack, but rightly so," said coach

Martin Dodgson.

Coming into the home

match, many people would have

written the winless Sumner

off against the competition

leaders. However, a nothingto-lose

mentality after failing

to gain a result in the opening

five matches this season helped

the wave rip through Lincoln

University.

SPORT

They received a boost on

Tuesday when Crusaders coach

and staunch Sumner supporter

Scott Robertson lent a hand at

their training session.

"If he comes down the boys are

going to absolutely fizz because

We will deliver!

SOIL

AND

HARDFILL

DUMPING

Phone: 03 384 6540

183 Dyers Rd, Bromley • OPEN 7 DAYS

Weekdays 7.30am-5pm. Weekends 8.30am-3pm

www.dyersroadandlandscapes.co.nz

ECSTASY: Sumner celebrated well into the night following

their 21-19 upset win over Lincoln University on Saturday.

it's not every day you get to have

him and sure enough the boys

went manic," said Dodgson.

The intensity carried over

into Thursday's training and on

Saturday Dodgson said their

dominance in contact helped

them pull off the upset.

The team's celebrations went

well into the early evening in the

changing rooms. A number of

them then continued at a player's

flat. However, Dodgson was

unable to kick-on with the team

as he was attending Canterbury

coach Joe Maddock's house

Holmwood

my kind of people

Simon Watson

M 021 355 454 P 03 351 3002

simon.watson@harcourts.co.nz

Holmwood Real Estate Ltd Licensed Agent REAA 2008

CAREERSEXPO 2019

Take a close look at your options

AND MAKE SMART CAREER CHOICES!

The NZ Careers Expo is your

one-stop-shop for careers advice

and information from a wide range

of employers, training providers

and industry organisations.

warming party in Lyttelton.

"(Maddock) actually said

during the week, 'by the way,

don't bother showing up if you

get smashed by 70 because I

don't want you to be the downer

at the party'," he said.

Sumner conceded a try

with 20min remaining and

found themselves behind 19-7.

However, Sumner scored from

the restart, courtesy of an

Alistair Crossdale intercept on

halfway.

With 5min to play, Sumner

No 8 Mathew Tuala made a

break from his own 40m line to

Lincoln University's 22m line.

The ball was then spun wide to

Crossdale, who burned past his

defender to score and level the

game 19-19.

Fullback Eiji Kaneda then held

his nerve to kick the conversion

and give Sumner a 21-19 lead.

With just 3min to play,

Sumner successfully held

possession, before winning a

scrum penalty on full-time to

take the win.

With five games in the first

phase of the competition

remaining, Sumner are still well

outside of top six contention. But

they will be looking for a strong

run before the competition is

split into a top and bottom six.

On Saturday, Sumner will

travel to Ilam Fields to play

bottom-of-the-table Canterbury

University at 2.45pm.

Redcliffs 9 Inverness Lane

Quality, Style & Below R.V.

From the moment you enter this striking home you will

be drawn to the expansive views of the city, Pegasus Bay

and beyond. The entertainers kitchen with breakfast

bar and booth is open to the living room and for a more

intimate setting just step down to the formal lounge

and soak up the views once more.

Opulent is the only way to describe the master

bedroom, a breadwinners haven with magnificent

views, outdoor flow, walk-in wardrobe and en-suite.

The swimming pool is heated to ensure an extended

swimming season and the large deck is perfect for

relaxing and sheltered from the wind.

Features you will enjoy include underfloor heating in

the kitchen, dining/living and all bathrooms. Ample

storage throughout including large storage room with

shelving and the bonus of triple car garaging and

off street parking for up to 5 cars. Phone Simon now

for an appointment to view.

For Sale

www.harcourts.co.nz/IM51858

Open to all & entry is free! Visit careersexpo.org.nz for more details

CHRISTCHURCH 9-11 MAY - Horncastle Arena Thursday 9th 9-3 /5 -7, Friday 10th 9 -3, Saturday 11th 10-3.
---
PAGE 16 Wednesday May 8 2019

BAY HARBOUR

Latest Christchurch news at www.star.kiwi

Small Mazda SUV has further appeal

WHEN MAZDA launched its

CX-3 crossover/sport utility

vehicle in New Zealand four years

ago, I was so smitten with it I

described it as being one of the

company's finest vehicles, it was

certainly one of my best drives for

2015.

Four years down the track, not

a lot has changed, there's now an

upgraded CX-3 and it still exudes

the feel and vigour that made

the first generation model so

memorable, only more so.

Like before, the CX-3 lands in

six grades with four-wheel-drive

options along the way. All share

the same naturally aspirated

2-litre engine, but there is now

the option of two high grade

models Limited and Takami,

the latter is a range of high

grade models that are filtering

all through the Mazda line-up,

and I can report from previous

experience with Takami grade

it is something that gives those

models special appeal.

All that aside, the CX-3 this

evaluation focuses on is a midspec

front-drive GSX and it lists

at $36,695. For the record, the

entry-level GLX sits at $31,995,

while the Takami tops the range

at $41,695.

Even in GSX form the CX-3

wants for little, it has all of

the ingredients that make you

feel comfortable, and there is

enough gadgetry to keep the

technophile happy. Bear in mind

that in this specification it also

gets an i-Activesense safety

upgrade which includes blind

spot monitoring, traffic sign

recognition, smart city brake

support reverse and radar cruise

control. Mazda's safety suite of

technologies easily qualifies for

a five-star Australasian New Car

Assessment program rating.

While I consider the CX-3 to be

MAZDA CX-3: Two and four-wheel-drive options.

Motoring

Ross Kiddie

a true SUV, it is small and its size

won't appeal to everyone, it is a bit

tight in the rear seating area but

for me that's never been an issue,

the car feels so right to drive, and

for a small family it will easily

suffice as it makes good use of its

compact proportions. There is

also a purposeful amount of rear

cargo space – according to Mazda

– 264-litres to 1174-litres.

What I like most about the

CX-3 is its normality. Everything

is traditional, there are no tricks

with the engine and the gearbox

is a torque converter automatic.

While it appears simple on the

surface, you also have to take

into account that the driveline

incorporates Mazda's SkyActive

technology which promotes

economical fuel usage without

compromise.

This has been the direction

Mazda has largely focused on

as a car maker; it isn't hugely

into hybrids or electric vehicles,

but it simply makes internal

combustion engines work with

amazing efficiency.

As a result, the CX-3 is rated

with a 6.3-litre per 100km

(45mpg) combined cycle fuel

usage figure and that is easily

achievable. Without trying,

the fuel usage reading on

the evaluation car's digital

display was constantly listing

around 7l/100km (40mpg). At

100km/h the engine is relaxed

(2100rpm), sipping fuel at the

rate of just 4.5l/100km (63mpg)

instantaneously.

If you think this economy

comes at the expense of

performance you need not be

worried, Mazda claim power

outputs of 110kW and 195Nm

from the 1998cc engine.

The CX-3 is free-revving and

spirited, it's lively to drive, and

because it isn't carrying too much

weight (1297kg) it feels agile and

nimble, and will return a 9sec

standstill to 100km/h acceleration

time.

Along with the solid response

from under the bonnet, the

CX-3 is a hoot when corners

arrive. It steers with beautiful feel

and feedback, it can be driven

enthusiastically such is its poise

and composure, all of the time the

suspension provides occupants

with a comfortable, controlled

• Price – Mazda CX-3 GSX,

$36,695

• Dimensions – Length,

4275mm; width, 1765mm;

height, 1535mm

• Configuration – Fourcylinder,

front-wheeldrive,

1998cc, 110kW,

195Nm, six-speed

automatic

• Performance –

0-100km/h, 9sec

• Fuel usage – 6.3l/100km

ride as well as absorbing

the road undulations without

upsetting steering response, nor

body balance.

If you weigh up all of these

ingredients, the CX-3 is a lot

more than meets the eye. It is

built with all of the fun factor that

is Mazda's ideology, and that is

why I rate it so highly as a driver's

car, it is so involving.

It is also well appointed, and

given this is the CX-3's second

makeover it wants for nothing

inside. GSX buyers have the

choice of a leatherette/cloth trim

or leather for an extra $1600.

Elsewhere there is keyless entry

and ignition, satellite navigation,

intuitive display screen readouts,

sport drive mode and my

favourite inclusion, the standard

fitment of a CD player, which is

great for us old dinosaurs who

haven't fully adapted to the new

digital music technology.

I've written many times in

recent reviews about the quality

of product that is coming out of

Mazda factories, the upgraded

CX-3 would be very much a

preferable choice, and if I do get

the chance to buy a new car to

see me through my impending

retirement, then something out of

this Japanese stable will be right at

the forefront of any decision.
---
Wednesday May 8 2019

Latest Christchurch news at www.star.kiwi

BAY HARBOUR

PAGE 17

Serenity S Series 7 Serenity Z Series 3

Queen Size Mattress & Base

WAS $3,999

NOW $1,999

Queen Size Mattress & Base

WAS $4,199

NOW $2,099

Serenity Z Series 6 Serenity Z Series 8

Queen Size Mattress & Base

WAS $4,399

NOW $2,199

Queen Size Mattress & Base

WAS $4,599

NOW $2,299

Other Sizes & Models Available In-store!

BEDS R US CHRISTCHURCH

166 Moorhouse Ave, (Next To Noel Leeming)

Ph: 03 379 5110
---
PAGE 18 Wednesday May 8 2019

BAY HARBOUR

Latest Christchurch news at www.star.kiwi

SCOOP PURCHASE SPECIALS

VRX 2.4L 4WD

$39,990 * • 6-Speed Manual

DRIVE AWAY

• 7 Leather-faced Seats

• 2.4L Petrol Engine

• Ultrasonic mis-acceleration Mitigation System.

• 18" Alloy Wheels

• Reversing Camera

*Christchurch Mitsubishi have a LIMITED NUMBER of Short-term lease

returned 2018 Outlander 2.4L VRX, most having travelled under 25,000kms

available for immediate delivery. Includes balance manufacturers warranty.

GLX-R 2WD Double Cab

Wellside Manual

$26,078 +GST DRIVE AWAY

• Reversing Camera

• Daytime Running Lights

• Smartphone Connectivity

• Sports Suspension

GLX 4WD Double Cab

Wellside Auto

$32,608 +GST DRIVE AWAY

• 5-Speed Automatic

• Easy Select 4WD with rear diff lock

• Keyless Entry

• Cruise Control

• Vinyl floor

GLX 4WD Double Cab

Chassis Manual

$32,608 +GST DRIVE AWAY

• 6-Speed Manual

• 3.5 Tonne Towing Capacity**

• 1,135kg Payload

• Easy Select 4WD with rear diff lock

CHRISTCHURCH MITSUBISHI

386 Moorhouse Avenue, Christchurch.

03 379 0588 | christchurchmitsubishi.co.nz

Prices listed are for Triton 2WD GLX-R double cab wellside manual, Triton 4WD GLX double cab wellside auto and Triton 4WD GLX double

cab chassis manual. Prices include GST and on road costs, which inludes WoF, registraiotn, 1,000km road user charged and a full tank

of fuel. Visit mmnz.co.nz for full Diamond Advantage terms & conditions. **3.5 tonne towing is only possible with a 3-axle braked trailer,

towball vertical load of no grater than 4% and an approved MMNZ towbar.

10 year / 160,000km Powertrain Warranty (whichever comes

first) (non transferable). 5 year / 130,000km New Vehicle

Warranty (whichever comes first) (non transferable).
---
Wednesday May 8 2019

Latest Christchurch news at www.star.kiwi

BAY HARBOUR

PAGE 19

Tai Chi

Friday, 7-8.30pm

Tai Chi is a gentle exercise

for people of all ages and fitness

levels, bringing many health and

other benefits. All are welcome

to attend this weekly class. Phone

Lucida for more information on

022 697 7420

105 Bridle Path Rd

Following the Sumner Rd:

An Exploration of its Past and

Present

Today, all day

Learn more about this essential

link between the communities of

Lyttelton and Sumner by visiting

dual exhibitions about the

Sumner Rd at Lyttelton Library,

and at Matuku Takotako:

Sumner Centre.

Lyttelton and Sumner libraries

Akaroa Craft Group

Monday, 1.30-2.30pm

Go along and join the friendly

Akaroa Craft Group. Sit in the

library and have a chat while

working on your craft project.

Share skills like needlework,

knitting, quilting, handicrafts,

making dolls, teddy bears and

spinning.

Akaroa Library

JP Clinic at Sumner

Saturday, 10am-noon

A justice of the peace will

Email louis.day@starmedia.kiwi by 5pm

each Wednesday

be available to members of

the community to witness

signatures and documents,

certify document copies, hear

oaths, declarations, affidavits

or affirmations, as well as sign

citizenship, sponsorship or rates

rebates applications. No charge

for this service.

Matuku Takotako: Sumner

Centre

Shoreline Toastmasters

Monday 7.30pm-9pm

Nervous about speaking?

Gain confidence by practising

speaking, listening, learning and

laughing in a warm, friendly

non-threatening environment.

Mt Pleasant Yacht Club

Sumner Bridge Club

Monday, 7.15pm and

Wednesday, 12.45pm

Do you play bridge? Go along

and join the Sumner Bridge Club

at 57 Dryden St. For information

phone Julie on 027 434 6678.

57 Dryden St

Wā Pēpi: Babytimes

Tuesday, 10.30am-11am

An interactive programme

including music, movement,

rhymes and a story.

Recommended for under twos.

Free.

Matuku Takotako: Sumner

Centre

Mt Pleasant Tennis Club

Monday-Friday, 9am-5pm and

Saturday, 9am-4pm

Mt Pleasant Tennis Club is

looking for both new junior

and senior members. Casual

players are also welcome. For

information phone club captain

Jeff Long on 384 8463.

Mt Pleasant Tennis Club

Autumn Craft

All day Tuesday

Create your own tiny village

using recycled materials.

Lyttelton Library

Social Games Club

Monday, 10am-11.30am

Want to play a game of

Scrabble, chess, or Rummikub?

Go and join the friendly group.

Matuku Takotako: Sumner

Centre

Mt Pleasant Walking Group

Tuesday and Thursday, 9.30am

A mix of flat and hill walks for

those with a medium level

of fitness. Walks are in nearby

areas and further afield. Car

pooling, with shared costs. For

further information, phone Judy

384 1269.

Mt Pleasant Community Centre

Knit 'n' Yarn

Today, 10am-noon.

Go along to Lyttelton Library

for the friendly craft sessions.

Take your knitting, crochet or

other portable craft project and

enjoy time with other crafters.

Have a look at the range of books

Go along to a

Technology

Help Session

on Monday,

2-3pm. If you

need help using

your computer,

smartphone,

iPad or tablet, go

along to a free

drop-in session.

Learn to use

email, search the

internet, use the

library catalogue,

eBooks and

other computer

functions.

Matuku Takotako:

Sumner Centre.

to get ideas for your next project.

Lyttelton Library

Super Saturday Storytimes

Saturday, 2-3pm

Encourage learning through a

love for stories. Storytimes is an

interactive programme including

stories, rhymes, craft and play.

Matuku Takotako: Sumner

Centre

Sumner Centre Book

Discussion Scheme

Today, 11am–noon

For those who love reading and

want to share in discussion with

other friendly book lovers. Held

every third Wednesday of the

month

Matuku Takotako: Sumner

Centre

Smooth-Air

Ventilation Equipment Suppliers

to

trade

&

retail

VY

Collection

Smooth-Air has a wide range of

ventilation equipment to bring

fresh air into your home.

Domestic

Commercial

Industrial

liquiD

SeLF Service

LaunDroMatS

289 colombo street, sydenham

17 halswell road, hoon hay

713 ferry road, woolston

All sites open 7 DAYs, 5Am-11pm

WaSH 2 Mink

BLanketS or

DuvetS

For onLY $8

Hot Water &

extra LarGe

WaSHerS

avaiLaBLe

Dry up to 14kg from

$4 in only 25 minutes!

Save time &

electricity

WaSH & DrY

aLL Your

LaunDrY in

unDer 1 Hour

from

$

4.00 WASH $ 4.00 DRY

• Fast Dryers

• Sports Gear

• Duvets

• Mink Blankets

• Bedding

• Washers

• Domestic Laundry

over 70 locations nationwide

Other Locations: Richmond • Hornby • Burwood • Aranui • Rangiora

www.liquidlaundromats.co.nz

0800 SMOOTH

(0800 766 684)

sales@smooth-air.co.nz

264 Annex Rd

Riccarton

Christchurch

03 343 6184

Remote Extraction Fans

Range Hood Cupboard Inserts

Monday - Friday

7.30am - 5pm

www.smooth-air.co.nz
---
PAGE 20 Wednesday May 8 2019

BAY HARBOUR

Latest Christchurch news at www.star.kiwi

MALONE DONATA – HASS AREZZO

FROM $

549 3 Seater NOW $ 1999 2 Seater NOW $ 1599

feathers, velvets, leather...

Snuggle into Autumn with cosy textures & great prices.

Autumn sale on now. Ends 27.05.19.

Shop

Online

Nationwide

Delivery

Finance

Options

targetfurniture.co.nz

Cnr Blenheim & Curletts Rds, Christchurch

Ph: 0800 TARGET (0800 827438)

Offers and product prices advertised here expire 27/05/19.

Sale excludes Manchester and Accessories.
---
Wednesday May 8 2019

REAL ESTATE

Black magic!

39 Stoke Street, Sumner

Price: $1,279,000

Latest Christchurch news at www.star.kiwi

4 bedrooms | 2 bathrooms | 2 toilets | 1 living room | 1 office/study | 2 car-garage | Listing Number: SM0188

BAY HARBOUR

PAGE 21

Tucked privately away behind a fence, there

is much on offer here. As you would expect

from a quality home like this, the indoor/

outdoor flow has been maximised to take

advantage of the spacious decks, entertaining

area and easy-care gardens.

With enough space to easily accommodate

the family, there is a clean and contemporary

living area plus a well-appointed kitchen with

ample scullery storage. Boasting four double

bedrooms with built in robes, the master suite

enjoys an ensuite with double shower to avoid

the morning rush! With every consideration

for comfort, the high spec double glazing,

hydronic under floor heating and extra thick

walls will keep you and your little ones toasty

warm throughout the colder months.

Of course living so near the sea, you

will probably have plenty of toys to store!

So whether it's a home for your kayak,

surfboards or boat that you are looking for -

this is the place for you! With an extra large

double garage, plus a spacious workshop/

studio and ample off street parking this is an

outstandingly practical property.

As appealing as the home itself is, the

location is the grand slam! Just a minute or

two to walk to the beach & village, you can

stroll down for a surf in the morning, a coffee

in the afternoon and a beer in the evening

(or vice versa - who are we to judge?!). The

schools, parks and bustling village are just

some of the reasons that this is such a well

loved community.

Our vendors have loved this home but

it's now time for them to work their magic

on another project, so this is a fantastic

opportunity to secure your family's future.

Call today or come see for yourself.

For a private viewing appointment

– contact Michelle Ward of Harcourts

Grenadier Ferrymead (Licensed Agent

REAA 2008) on 384 7950 or mobile

027 203 7858

growing with you June 2018 | 100%

Plants For

winter wow

Cool Choices

For Colour

& Contrast

From swamp

to sea views

The journey

begins with sarah

the Gardener

$7.90 incl. GST

Snap it up

Enter our annual

Birdlife Photo

Competition to win

great prizes!

clear the air

Why groWing

indoor PLAnTs is

so good for you

give it a grow

from gArLic

To chinese

ArTichokes,

We hAve your

groWing TiPs

covered

the latest releases

into the rose world

+ rose care

through winter

The magazine for

gardeners who like to get

their hands dirty

SUBSCRIBE FROM

$43. 50*

*6 issues/6 months

SUBSCRIPTIONS FREEPHONE

0800 77 77 10

WWW.GARDENER.KIWI
---
PAGE 22 Wednesday May 8 2019

BAY HARBOUR

Latest Christchurch news at www.star.kiwi

Exhibitors

Book now

Don't miss your opportunity to

showcase your business in front of

10,000+ qualified attendees

lisa.lynch@starmedia.kiwi or 021 800 809
---
Wednesday May 8 2019

Latest Christchurch news at www.star.kiwi

BAY HARBOUR

PAGE 23

Computer

Services

VIRUS REMOVAL AND

PC HEATH CHECK

$50.00 With free pick

and delivery within 10km

of Redcliffs. Phone Paul

on 021495577. Microsoft

Certified Pro with 25 years

experience. Visit www.

seracnz.com

Gardening

& Supplies

A GARDEN OR

LANDSCAPING TIDY

UP? Shrub, hedge &

tree pruning, Lawns,

Gardening, consistently

reliable general property

upkeep, Dip. Hort. 10

yrs experience, One off

tidy ups or on-going

service. Nick's Garden

Maintenance. Keeping

your garden beautiful.

Free Quote. Ph. 942-4440

& 022 264 7452

KATANG

Classifieds Contact us today Phone our local team 03 379 1100

Health & Beauty

Fitness

Tues 9.15am-10.15am

Real Estate

WANTED As-is, Whereis

house for family

who are private buyers.

We are flexible on location

but would like a sunny

site with at least three

bedrooms. Please contact

Michaela on 027 536 2795

To Let

RENT ME!

Ideal as an extra

bedroom or office.

no bond required

Sumner Community

Centre (above library)

$5 per class.

Concession cards available.

For more info

contact Katrina

381 1704 or

027 4966 845

To Let

APARTMENT

Furnished Studio with

kitchenette for rent MT

PLEASANT available

7June - 30 September or

by negotiation. Power

& internet included

Please phone Ali 027 229

4298

Fully insulated and double glazed for warmth.

Three convenient sizes from $70 a week:

Standard 3.6m x 2.4m

Large 4.2m x 2.4m | Xtra-large 4.8m x 2.4m

Visit our website

www.justcabins.co.nz

for display cabin locations

www.justcabins.co.nz

Trades & Services

CABS / TAXI

Wanted To Buy

AAA Buying goods

quality furniture, beds,

stoves, washing machines,

fridge freezers. Same day

service. Selwyn Dealers.

Phone 980 5812 or 027

313 8156

Trades & Services

rooF

painting

Book now for

Summer and receive

20% discount.

Rope and harness a

speciality.

No scaffolding required.

30 years experience.

Free quotes, call

Craig 021 060 2392

Tuition

PIANO LESSONS

Catherine Bracegirdle

DipABRSM ATCL AIRMT

51A Colenso St, Sumner

Ph. 021 044 5102

www.pianoandtheory.co.nz

catherine.bracegirdle@gmail.com

Trades & Services

Peninsula

scaffolding

Certified set up/dismantle

Tube/clip system scaffold

For all scaffolding and

propping jobs

Phone 329 0040 or

027 235 8180

PLUMBING &

DRAINAGE

SERVING

CHRISTCHURCH

AND WIDER

CANTERBURY REGION

WITH QUALITY

WORKMANSHIP

AND SERVICE.

PHONE HAMISH BALDWIN

027 636 3499

PLUMBING & DRAINAGE

Gas FittinG & GuttEr CLEaninG

New Skyvac Machine.

Revolutionary gutter cleaning system.

Local business for all plumbing,

drainage & gas work.

Free Quotes

Call Morgan 0223 758 506

Visit our website - www.mtpd.co.nz

Email - morgan@mtpd.co.nz

YOU COULD

BE HERE

Let us help take

your business to

new heights

Advertise your business

in our Trades and

Services column.

For assistance phone

Vicky on 03 364 7419

Public Notice

Notice of proposal

for construction of

a Waterdrome

EXTENDED PERIOD FOR SUBMISSIONS

The Civil Aviation Authority has received notification from

Peninsula Air Limited of a proposal to construct a Waterdrome at

Lyttelton Harbour. This is a notification that the period for submissions

has been extended until 31st May 2019.

Pursuant to Civil Aviation Rule 157.9, the

Director of Civil Aviation is conducting an

aeronautical study to consider the effects

of the proposed action. In particular,

the aeronautical study shall consider

the following:

• The effect the proposed action would

have on existing or contemplated

aerodrome traffic circuits of

neighbouring aerodromes.

• The effect the proposed action would have

on existing and projected airspace uses.

• The effect the proposed action

would have on the safety of persons

and property on the ground.

• The effect the existing or proposed

man-made objects and natural objects

within the affected area would have

on the proposed action.

In accordance with Civil Aviation Rule

157.9(b) the Director invites interested

parties to make submissions concerning

the proposal.

Submissions should quote

Work Request 19/157/3

and be addressed to:

Group Executive Officer

Aviation Infrastructure & Personnel

Civil Aviation Authority of New Zealand

PO Box 3555

Wellington 6140

Fax: 04 569 2024

Email: aerodromes@caa.govt.nz

Closing date for submissions 31st May 2019

Trades & Services

Landscape

and Garden

Services

Need help with

your garden?

We provide a quality

service for all your

Garden Maintenance

(hedges, lawns,

line trimming, weeding)

and Landscaping needs,

(fencing, paths, drives,

retaining and earthworks).

Full Arborist Service

Ph 021 272 0303

ROOF

PAINTING

Rope & harness

a speciality,

no scaffolding

required,

30 years of

breathtaking

experience.

FREE QUOTES

Exterior staining,

exterior painting,

moss and mould

treatment and

waterblasting

Phone Kevin

027 561 4629

Trades & Services

CARPET & Vinyl

lAying

Exp. Repairs, uplifting,

relaying, restretching.

Email jflattery@xtra.co.nz

ph John on 0800 003 181

or 027 2407416

COnCRETE CUTTing

Affordable Concrete

Cutting with Quality, and

removal work. Free quote.

No job to small. Phone 027

442-2219, Fax 359-6052

a/h 359- 4605

ElECTRiCiAn

JMP Electrical.

Experienced & registered..

Expert in all home

electrical repairs &

maintenance.Call James

027 4401715

gARDEnER

Need your home or

commercial garden tidied

up or renovated or require

long term assistance.

Phone Ruth 326-6663 or

021 272-0303

lAWnMOWing

You Grow I Mow. Free

quotes. Ph / text Chris 021

252 1801

PAinTing SERViCES

Mature, reliable,

conscientious &

experienced, reasonable

rates, no job too small!,

call Ron 027 434-1400

PlASTERing

INTERIOR, no job too big

or too small, specialise in

repair work & new houses,

free quotes given, over 20

yrs plastering experience,

ph Peter 027 221-4066 or

384-2574

Trades & Services

STOnEMASOn, BRiCK

& BlOCKlAyER

Earthquake Repairs, Grind

Out & Repoint, River/

Oamaru stone, Schist,

Volcanic Rock, Paving,

all Alterations new & old,

Quality Workmanship,

visit www.featureworks.

co.nz or ph 027 601-3145

Public Notices

Public Notices

Redcliffs School

Board of Trustees

Election

Nominations are invited for

the election of five parent

representatives to the Board

of Trustees.

A nomination form and a

notice calling for nominations

will be posted to all eligible

voters. You can nominate

another person to stand

as a candidate, or you can

nominate yourself. Both

parts of the form must be

signed.

Additional nomination forms

can be obtained from the

school office.

Nominations close at noon

on Friday 24th May 2019 and

may be accompanied by a

signed candidate statement

and photograph.

The voting roll is open for

inspection at the school and

can be viewed during normal

school hours. There will

also be a list of candidates'

names, as they come to

hand, for inspection at the

school.

If an election is required,

voting papers will be sent to

all eligible voters.

Voting closes at noon on

Friday 7th June 2019.

Rachael Davis

Returning Officer

Redcliffs School

c/- 38 Truro Street

Sumner

Christchurch 8081
---
PAGE 24 Wednesday May 8 2019

BAY HARBOUR

Latest Christchurch news at www.star.kiwi

EXPLORE THE MAGIC OF CHRISTMAS IN EUROPE

LONGER STAYS | GENUINELY INCLUSIVE | 'MY TIME' GUARANTEED | UNIQUE ACCOMMODATION | FESTIVE TOUR EXPERTS

German & Austrian Christmas Markets

Christmas in an Italian Castle

A Swiss New Year Adventure

NEW

FOR

2019

10 Days - Frankfurt to Munich

Departs 30 Nov & 5 Dec, 2019

Price $3,989pp twin share. Solo Traveller $4,939pp

• Savour the fabulous Christmas Markets in Frankfurt,

Rothenburg, Würzburg, Bamberg, Nürnberg,

Innsbruck, Salzburg and Munich

• Stay 2 nights in Rothenburg barely 50 metres

from perhaps the most romantic of all Christmas

Markets and enjoy a Nightwatchman walking tour

• Relax over 3 nights Oberammergau, experience

the incredible funicular and cable car rides up to

the summit of the massive Zugspitze mountain

and take in the views across 400 snow covered

mountain peaks

• Stay 2 nights Salzburg and enjoy a walking tour of

the old town through to the Christmas Markets

11 Days - Munich to Milan

Departs 18 December, 2019

Price $4,969pp twin share. Solo Traveller $5,799pp

• Celebrate Christmas over 4 nights in a stunning

Italian Castle in the foothills of the Italian

Dolomites

• Savour the fabulous Christmas Markets in Munich,

Innsbruck, Salzburg and Bolzano

• Stay 2 nights beside Lake Fuschl in the

picturesque Austrian Lakes District and enjoy a

torch light walk with mulled wine

• Stay 2 nights in medieval Innsbruck and visit

Swarovski Crystal Worlds

• Visit Neuschwanstein Castle, the 'Passion Play'

village of Oberammergau and the wonderful

Kloster Ettal Monastery

8 Days - Luzern to Zurich

Departs 28 December, 2019

Price $4,439pp twin share. Solo Traveller $5,379pp

• Celebrate New Year over 6 nights in Interlaken

• Spend 5 full days exploring the Bernese Oberland

• Be there for the New Year's Day fireworks show

• Enjoy a New Year's Eve Chinois Fondue dinner and

Farewell dinner with a Swiss Folklore show

• Take the funicular train up the Jungfraujoch

• Ride on a cable car to the exhilarating Schilthorn

• Take the cable car to Grütschalp then a scenic train

along to the cliff top village of Murren

• Explore Bern and lakeside Thun and Wengen

• Visit Grindelwald & enjoy a horse-drawn carriage ride

" TOGETHER WE CAN MAKE YOUR NEXT HOLIDAY EVEN BETTER"

BETTER TOGETHER

987 FERRY ROAD, FERRYMEAD VILLAGE I 376 4022 I FERRYMEAD@HOT.CO.NZ

*Pricing is in New Zealand dollars and are per person twin share for the land tour only. Airfares are additional and can be arranged by House of Travel. Tour dates & availability are subject to change at the time of booking.