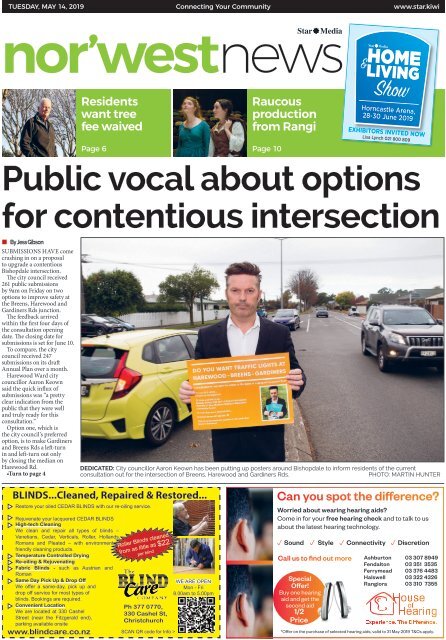 Nor'West News: May 14, 2019
You also want an ePaper? Increase the reach of your titles
YUMPU automatically turns print PDFs into web optimized ePapers that Google loves.
TUESDAY, MAY 14, 2019

Connecting Your Community

www.star.kiwi

Residents

want tree

fee waived

Page 6 Page 10

Raucous

production

from Rangi

EXHIBITORS INVITED NOW

Lisa Lynch 021 800 809

Public vocal about options

for contentious intersection

• By Jess Gibson

SUBMISSIONS HAVE come

crashing in on a proposal

to upgrade a contentious

Bishopdale intersection.

The city council received

261 public submissions

by 9am on Friday on two

options to improve safety at

the Breens, Harewood and

Gardiners Rds junction.

The feedback arrived

within the first four days of

the consultation opening

date. The closing date for

submissions is set for June 10.

To compare, the city

council received 247

submissions on its draft

Annual Plan over a month.

Harewood Ward city

councillor Aaron Keown

said the quick influx of

submissions was "a pretty

clear indication from the

public that they were well

and truly ready for this

consultation."

Option one, which is

the city council's preferred

option, is to make Gardiners

and Breens Rds a left-turn

in and left-turn out only

by closing the median on

Harewood Rd.

•Turn to page 4

DEDICATED: City councillor Aaron Keown has been putting up posters around Bishopdale to inform residents of the current

consultation out for the intersection of Breens, Harewood and Gardiners Rds.

PHOTO: MARTIN HUNTER

BLINDS...Cleaned, Repaired & Restored...

Restore your oiled CEDAR BLINDS with our re-oiling service.

Rejuvenate your lacquered CEDAR BLINDS

High-tech Cleaning

We clean and repair all types of blinds –

Venetians, Cedar, Verticals, Roller, Hollands,

Romans and Pleated – with environmentally

friendly cleaning products.

Temperature Controlled Drying

Re-oiling & Rejuvenating

Fabric Blinds - such as Austrian and

Roman

Same Day Pick Up & Drop Off

We offer a same-day, pick up and

drop off service for most types of

blinds. Bookings are required.

Convenient Location

We are located at 330 Cashel

Street (near the Fitzgerald end),

parking available onsite

Roller Blinds cleaned

from as little as $22

per blind

Ph 377 0770,

330 Cashel St,

Christchurch

www.blindcare.co.nz SCAN QR code for Info >

WE ARE OPEN

Mon - Fri

8.00am to 5.00pm

Can you spot the difference?

Worried about wearing hearing aids?

Come in for your free hearing check and to talk to us

about the latest hearing technology.

p Sound

p Style

Offer!

Buy one hearing

aid and get the

second aid

p Connectivity

p Discretion

Call us to find out more Ashburton 03 307 8949

Fendalton 03 351 3535

Ferrymead 03 376 4483

Special

1/2

Price

Halswell 03 322 4326

Rangiora 03 310 7355

*Offer on the purchase of selected hearing aids, valid to 31 May 2019 T&Cs apply.
---
2 Tuesday May 14 2019

Latest Christchurch news at www.star.kiwi

get in touch

from the editor's desk

TOO MUCH traffic and poor or tricky

intersections tend to get the gander up.

On page 1 today we explain why.

Submissions on the long running saga

over the Breens, Harweood, Gardiners

intersection have come flooding in.

Harewood Ward city councillor Aaron Keown has been

trying to get changes at the intersection for sometime now. I'm

sure it helped his campaign at the last local body elections – and

no doubt his unwavering commitment to the cause will assist

him again this time around.

Jamie, sorry James Gough, wants to sell off the library

buildings (page 5).

No doubt there will be strong views from both ends of the

political spectrum.

But will he stand for mayor? I think he might.

- Barry Clarke

GENERAL INQUIRIES Ph 379 7100

CLASSIFIED ADVERTISING Ph 379 1100

Star Media, a division of Allied Press Ltd

PO Box 1467, Christchurch

starmedia.kiwi

NEWS

Jess Gibson

Ph: 021 914 169

jess.gibson@starmedia.kiwi

ADVERTISING

Monique Maynard

Ph: 364 7474

monique.maynard@

starmedia.kiwi

Rodd Gray

Ph: 982 9308

rodd.gray@

starmedia.kiwi

news

Spelling quiz

Check out how Selwyn House went in the Otago Daily Times

Extra! Canterbury quiz last week.

Page 13

community events

Book talk

Hear Emma Stevens talk about living in the wilderness of

Alaska at Papanui Library today from 12.30-1.30pm.

Page 18

home & living show

Exhibitors book now

Don't miss your chance to showcase your business in front of

more than 10,000 people.

Exhibitors

Page 20

Book now

NOR'WEST NEWS

The Don't best-read miss your local opportunity newspaper, to delivered to

16,717

showcase

homes

your business

every Tuesday

in front of

10,000+ qualified attendees

Harewood, Burnside, Bishopdale, Bryndwr, Fendalton, Merivale,

lisa.lynch@starmedia.kiwi or 021 800 809

St Albans, Mairehau, Papanui, Casebrook, Redwood, Regents

Park, Styx Mill, Northwood, Belfast, Strowan.

Standing with our community

and attending the commemoration

services around the electorate

on ANZAC Day to honour those

who made the ultimate sacrifice

for our country is a part of my role

that I value. This, to me, is what

it means to be a New Zealander

- to acknowledge that what we

are today is built on the sacrifices

of those who came before. We

have learnt that peace may be

fragile but the spirit of those brave

soldiers remains.

Waimakariri electorate is well

served by our dedicated volunteer fire

men and women. It was a privilege

as local MP to visit local volunteer

fire men and women on International

Firefighters' Day to say thank you

and to acknowledge their families and

employers, who also sacrifice their

time when the alarm goes.

Thank you to Belfast's Zealandia

Nursery for hosting Hon Scott

Simpson, MP for Coromandel

and National's Environment

Spokesperson, and me for a visit

to be briefed on their systems

and technologies which reduce

energy use and keep waste to

exceptionally low levels. If your

place of work is doing something

you're proud of, please get in touch

- I'd love to hear about it.

My Inspiring Women networking

lunch this month was well attended.

I enjoy hosting these events as local

MP and connecting with the women

who are contributing across a range

of platforms in the electorate.

Our local businesspeople

enjoyed an opportunity to get a

closer look at Government's new

employment changes and to ask

questions of Hon Scott Simpson,

MP for Coromandel and National's

Spokesperson for Workplace

Relations, at my Workplace

Relations Business Lunch. We also

heard from a business leader who

provided a business case of what

these changes would look like for

a local business. Attendees raised

a range of concerns, including a

loss of business confidence and

future job cuts.

Independent Easy Living for Over 60's

SAWYERS ARMS ROAD, PAPANUI

New Villas Available Today From $469,000

• Henry Roil Lane, Papanui (50 Sawyers Arms Rd) – private cul-de-sac

• Beautifully designed, quality finished two bedroom Villas

• Choice of six different floor plans from 97m2 – 103m2

• Focus on privacy, security and lots of daylight

• Freehold (Unit) Title – 100% ownership

• Purchase complete or off-the-plan with interior design choices

• Stroll to Northlands Mall, Swimming Pool, Cinema, Library

Display Villa Open Saturday 12noon – 2.00pm

or village viewing by private appointment

ANNETTE PENDERGAST

022 090 2627 • 0800 500 123

Annette.pendergast@mikepero.com

sawyersarmsvillas.mikepero.com

Mike Pero Real Estate Ltd REAA (2008)
---
NOR'WEST NEWS Latest Christchurch news at www.star.kiwi

Tuesday May 14 2019 3

News

Call for murals to prevent tags

• By Jess Gibson

A COMMUNITY board

member wants to see murals

replace graffiti in Papanui.

Papanui-Innes Community

Board member John Stringer

said he wants to prevent regularly

targeted surfaces by covering

them with art.

"I think it would be a really

constructive solution to make it

a feature of the community," Mr

Stringer said.

Mr Stringer

suggested the city

council investigate

options for a

mural on the toilet

block wall at St

John

Stringer

James Park during

a board meeting

on Friday.

The request

came after two graffiti attacks at

the same site in a short period of

time.

Mr Stringer asked the city

council to paint over the graffiti

on the side of the toilet block two

weeks ago.

He said the city council

promptly painted over the

tags but the wall was struck

again "immediately" by a

similar tag before the paint had

dried.

A city council spokesperson

said graffiti has been covered at

UNSIGHTLY: The toilet block wall at St James Park was recently tagged. Soon after the graffiti

was painted over it was struck again with a similar tag.

St James Park five times in 12

months which has cost $1000.

"It's disappointing to see this at

St James Park because it's a really

nice area and we haven't had a lot

of graffiti there, so I hope it's not

an opening trend," Mr Stringer

said.

Mr Stringer advocated for a

mural at Aratupu Preschool and

Nursery on Harewood Rd in

January.

"That site gets attacked all the

time."

Staff have liaised with Aratupu

Preschool and Nursery and recommended

that the pre-school

applies for a funding grant

towards a mural.

Community board member Jo

Byrne asked that the city council

investigate a mural in the Innes

Ward on the back wall of the

Mairehau Library and one on the

power box near the library.

"It's not in great condition so

we thought having something

nice would be good," Ms Byrne

said.

She said the process is "early

days" but the community board

will continue to discuss the idea

with residents and library staff to

make sure everybody wants the

murals.

A city council spokesperson

said research suggests that painting

multi-coloured designs or

murals on surfaces will discourage

graffiti as tagging is more

difficult.

"Such mural projects, especially

when they involve local

artists, community groups and

high school students, have solved

many graffiti problems."

The spokesperson said the cost

of a mural depends on the size

and how it is executed.

"It depends on who they are,

their experience and reputation

and whether or not they are

working with communities to

create the work, with material

and equipment hire costs usually

come on top of that," the spokesperson

said.

"Roughly we say starting

around $80 per sq m for an artist

to develop and implement a

mural."

•HAVE YOUR SAY: Would

you like to see murals

replace graffiti? Email your

thoughts to jess.gibson@

starmedia.kiwi

Local

News

Now

In Brief

Fire rages, homes at risk

CAR PARKS REMOVED

Ten car parks will be removed

on at the bend on Willowview

Drive to improve visibility. The

Papanui-Innes Community

Board approved the change

after residents raised safety

concerns about the area, which

is near the entrance to the Styx

River Conservation Reserve.

The changes will allow two-way

traffic flow through the bend

and improve sight lines for the

pedestrian crossing point on the

bend. The city council contacted

affected property owners and

residents were advised of the

recommended options and all

were in favour of the proposal.

BATTERY RECYCLE TRIAL

Eco Styx Mill and Papanui Mitre

10 are two of seven locations

which are part of a battery

collection trial run by the city

council. People can dispose of

unwanted batteries safely in drop

boxes at these locations so they

can be recycled appropriately.

Batteries from household devices,

loose batteries, cellphone batteries

and car batteries can be dropped

off and will then be picked up by

E-Cycle.

•To learn more, visit https://

ccc.govt.nz/services/rubbishand-recycling/disposal/

batteryrecycling/

'CEREC' & cosmetic dentistry

Wisdom tooth removal

Painless, high quality dentistry

Sedation dentistry

Experienced, conscientious team

Experienced hygienists

OPEN SATURDAYS

355 9380

144 Cranford Street

www.stalbansdentalcentre.co.nz

Home & Business Security • Cameras • Gates & Fencing

Access Control • Alarm Monitoring • Home Automation

Alarms

Electrical Cameras Intercoms Auto Gates

Residential and Business Security

Tailor Made Security Solutions

All Your Electrical Needs

Custom Designed Automatic Gates

Innovative Intercom Systems

Pet Friendly Sensors

Security Cameras

Access Control Systems

Electric Fencing

Service and Maintenance

24/7 Fault Service

Locally owned and operated

All faults attended that same day

FREE QUOTES

P: (03) 384 0995 24/7 E: info@actionsecurity.co.nz

www.actionsecurity.co.nz

Weight Management and

Wellness Centre

We provide comprehensive, medically

supervised, non-surgical weight management

and wellness treatment programs for adults.

We are dedicated to improving the health and wellbeing

of our patients through individualized weight management

treatment programs.

Get in touch with us today!

Shop 6, 42 Silverstream Blvd, Kaiapoi

(Just 15 minutes from Christchurch Airport

with convenient parking)

Phone 03 327 2273

www.girouardcentre.co.nz

now open

IT'S MUCH EASIER

STAYING WELL

thAN GETTING BETTER

getting the flu shot every year is your

best protection against the flu

Flu shots are available from your GP team or some

pharmacies. You may even qualify for a free vaccination.

Check out www.flufree.co.nz for more info and flu facts.

PUBLICW04
---
4 Tuesday May 14 2019

Latest Christchurch news at www.star.kiwi

News

Meetings to discuss intersection

•From page 1

This option has an estimated

cost of $400,000 to implement

and the city council has stated it

will likely be eligible for funding

subsidy from the Government.

Option two is to install traffic

lights at the intersection.

The predicted cost of installing

traffic signals is $1.2 million and

would unlikely be eligible for

Government subsidies.

But city councillor Aaron Keown

said the budget is "not really

comparable."

Cr Keown has been campaigning

to have traffic lights installed

at the intersection for three

years.

He said the preferred option

would introduce major issues by

cutting off Harewood Rd and

forcing people to drive around

the block or make dangerous

U-turns.

"The city council is putting 13

sets of brand new traffic lights on

one cycleway," Cr Keown said.

"You can't say we can't afford it

when they are more than happy

to put that many traffic lights on

a cycleway."

City councillor Phil Clearwater

said he had a view that there

were "far more" unsafe intersections

in Christchurch which

should be taken into account

when considering traffic light

installation.

"It's extremely important that

in council we do our job to fix

[higher priority] ones first," said

Cr Clearwater.

"However, I think it's important

that I keep an open mind

when that consultation comes to

council," he said.

Fendalton-Waimairi-Harewood

Community Board chairman

Sam MacDonald said the

board has "continually advocated

for the city council to address the

dangers at the intersection."

"We're pleased to see traffic

lights as one of the options, but

we will wait to hear the views of

the community," Mr MacDonald

said.

SAFETY

UPGRADE:

More than 260

submissions

were sent into

the city council

in relation to

a Bishopdale

intersection

in less than a

week.

The city council will hold two

public information sessions

which will start with a 20min

presentation, followed by the opportunity

to speak to the project

team.

The first session will be held at

Breens Intermediate School Hall

at 85 Breens Rd, Bishopdale, on

May 21 from 5.30 until 7pm.

The second session will be held

at the Bishopdale Community

Centre, 13 Bishopdale Court

on May 23 from 10.30am until

noon.

•HAVE YOUR SAY: Visit

https://ccc.govt.nz/thecouncil/consultations-andsubmissions/haveyoursay/

show/240

Readers respond to the

Nor'West News article

about the Harewood,

Breens and Gardiners

Rds intersection which

is currently out for

consultation

Shirley Bastin – I read the

item about this intersection, and

feel very strongly that it is important

to state my opinion. I am

100 per cent in favour of option 2,

installing traffic lights. The other

option sounds crazy.

Brenda Hart – As a longtime

resident of Crofton Rd, I

would prefer traffic lights at the

Breens/Harewood/Gardiners Rd

intersection rather than the left

turn option, as the traffic would

divert on to Crofton Rd and

certainly create another problem.

Indeed something has to be done

– this intersection is an accident

waiting to happen.

Diana Creighton – The

Harewood/Gardiners Rd intersection

needs traffic lights. I can

barely believe the city council is

considering the U-turn option.

Gary Knight – Given the

contentious issue of the volatile

status of the Breens, Harewood

and Gardiners Rds

intersection, a sense of rationale

must prevail to ensure that the

correct solution to rectify the

problem is activated. Making

NOR'WEST NEWS

Local

News

Now

Fire rages, homes at risk

left turns only, in and out of

both Breens and Gardiners Rds,

installation of a median strip disallowing

right turns from Harewood

Rd for motorists but allowing

it for buses would do little to

control the traffic volume at this

intersection.

The only realistic solution to also

avoid endangering pedestrians

with a crossing and potential crash

by motorists utilising a turning bay

is to make it a controlled intersection

by the installation of traffic

lights. This would make turning

in either direction from the three

roads a much safer option.

Bryan Lawrence – It will

be absolutely crazy to close the

median on Harewood Rd. The

only safe way is to install traffic

lights there.

The traffic lights at the Gardiners

Rd and Sawyers Arms Rd

intersection work wonderfully

well with no problem, even during

busy periods in morning and

evening traffic.

345 sTANMORE ROAD, RICHMOND

261 BuRwOOD ROAD, BuRwOOD

All sites open 7 DAYs, 5Am-11pm

WaSH 2 Mink

BLanketS or

DuvetS

For onLY $8

Hot Water &

extra LarGe

WaSHerS

avaiLaBLe

liquiD

SeLF Service

LaunDroMatS

Dry up to 14kg from

$4 in only 25 minutes!

Save time &

electricity

WaSH & DrY

aLL Your

LaunDrY in

unDer 1 Hour

from

$

4.00 WASH $ 4.00 DRY

• Fast Dryers

• Sports Gear

• Duvets

• Mink Blankets

• Bedding

• Washers

• Domestic Laundry

over 70 locations nationwide

Other Locations: Sydenham • Hornby • Hoon Hay • Woolston • Aranui • Rangiora

www.liquidlaundromats.co.nz

BAND

The

Air Force

On Tour 2019

Saturday 25 May

Air Force Museum, Christchurch

Tickets available from the museum shop or airforcemuseum.co.nz

Congratulations

CAMERON BAILEY

Just announced as this years Number 1!

2019

No.1 Harcourts gold

No.1 Harcourts Christchurch
---
NOR'WEST NEWS Latest Christchurch news at www.star.kiwi

Tuesday May 14 2019 5

News

HAVE YOUR SAY: What do you think of James Gough's

idea? Email your views to Jess.Gibson@starmedia.kiwi

Gough wants to look at selling libraries

• By Julia Evans

POTENTIAL mayoral candidate

and Fendalton Ward city

councillor James Gough wants to

investigate the possibility of selling

off libraries and service centres.

Cr Gough said a conversation

should be had over whether

suburban libraries and service

centres, excluding Turanga, would

be a better asset if they were sold

to private investors, with the city

council as long-term lease holders.

The value of city council's library

and service centre network

is $65.3 million.

"It would realise significant

revenue in the short-term to

assist with paying down debt

and reducing rates – but it would

also be essential that council

expenditure is significantly

reduced too," he said.

However, Cr Gough said it

would have to be paired with

pared back capital and operational

spending to have the best

outcome to reduce rates.

"The proposal would need to be

a hand-in-glove approach where

increased revenue in the shortterm

was coupled with a significant

reduction in capital and

operational spending as well."

Cr Gough has been a proponent

of asset sales.

But in September the city

council voted against a proposed

review into how much could

ASSETS: (Clockwise) – Fendalton, Bishopdale, Shirley and Upper Riccarton libraries.

be made from selling stakes in

businesses such as the Lyttelton

Port Company and broadband

provider Enable.

It is a conversation starter echoed

by the Canterbury Employers'

Chamber of Commerce in its

submission to the city council's

May LunchtiMe

speciaL

Pizza and beer or wine

For only $34.00

Treat yourself to our fabulous savouries, sandwiches, slices,

cream buns, cream cakes and enjoy your favourite tipple!

Annual Plan based off a similar

model in Perth.

"I think there are opportunities

for the council to take a good, hard

look at some of the assets that they

do own and work out whether

or not they need to own them or

whether there is a different model

for that operation," chief executive

Leeann Watson said.

Ms Watson said it should be

looked at it on a case by case basis

– there should not be a "hard

and fast" model, which was supported

by Mayor Lianne Dalziel.

"I used the example of the

Linwood Library being in the

Eastgate Mall and the fact that

we jointly own this building with

Ngai Tahu," Ms Dalziel said.

"It is enabling of people to

access the library in the same

hours that the mall is open."

Cr Gough is considering running

for mayor.

"I'll probably make an announcement

in the near future,"

he said.

The People's Choice chairman

Keir Leslie, which opposes asset

sales, said libraries were a core

council business.

"The ideal that we would sell

off libraries in our own city . . .

would be a bad deal for the ratepayer

in the long run."

Chase Commercial real estate

agent Brendan Chase said the

buildings would be "highly

saleable and sought after" with

a reliable and safe tenant in the

city council.

"The question to ask is are

those libraries going to be required

in the long-term, if they

are you'll pay for them over and

over again," Mr Chase said.

Cr Gough said the projected

rates increase of about 50 per

cent in the next 10 years is an

unsustainable "house of cards"

that would "epically fail."

"Average incomes are not rising

anywhere near this quickly

so the system is fundamentally

broken."

Nicky Wagner

National List MP

A

E

P

W

922 Colombo Street

Central Christchurch

PO Box 21359

Christchurch 8143

chch.office@parliament.govt.nz

03 365 8297

nickywagner.co.nz

OPEN 7 DAYS Cnr Cranford St and Innes Rd

P: 03 355 6921 E: cafe@kiddscakes.co.nz

www.kiddscakes.co.nz (34 on site car parks)

Baking fresh each day since 1986

Funded by the Parliamentary Service and authorised by

Nicky Wagner, 922 Colombo Street, Christchurch.

Enrolling

NOW!

FOR MAY 27 TH

START

0800 834 834

vision.ac.nz

50 Hazeldean Road, Addington

Learn

Computer Skills

Are you looking to get back into the work force, but

don't have up-to-date computer skills?

This FEES FREE* 20 week course will give you the skills to

work in a modern office, covering advanced use of Microsoft Word,

Excel, Publisher and other computer based business applications.

Hours of study are flexible and tutors are

available for one-on-one support.

For more info txt 'OFFICE' to 027 557 8839

*Conditions apply
---
6 Tuesday May 14 2019

Latest Christchurch news at www.star.kiwi

NOR'WEST NEWS

News

Association

to remain

informal

• By Jess Gibson

THE REDWOOD Business

and Residents' Association will

remain informal until it gains

more momentum.

There were 16 attendees at

the group's second meeting last

week, including business owners,

residents and Papanui-Innes

Community Board members.

Donna Brenssell was involved

in starting the association up last

month.

She said members would like

more people to get involved and

for the group to decide on specific

issues or goals they would

like to work on before officiating

the association. One issue which

was discussed at the meeting was

the lack of proposed planning

for Redwood in the city council's

Long Term Plan.

Mrs Brenssell said the group

also thought about focussing on

the impact that the Northern

Corridor will have.

She said the group will continue

to meet monthly and will

appoint members to roles once

the group strengthens.

The next meeting will be

held on June 11 at 7pm at the

Christchurch Function Centre,

Redwood Hotel.

Bid to get fee dropped unlikely

• By Jess Gibson

A HAREWOOD couple may

have failed in their bid to have

an $1800 resource consent

fee waived over troublesome

trees.

Graeme and Diane Barber

have asked the city council

to drop the $1800 fee, so they

can apply to have six 16m oak

trees in Pasadena Reserve cut

down.

The couple who live in Cam Pl

have been battling the city council

for 10 years over the trees,

which they say block the sun to

their property and impact their

wellbeing.

But a response, which Mr

Barber received from the city

council last week, indicated that

a waiver was unlikely because

the trees are more than 10m tall

and in good health.

"There's nothing in there that

gives me any hope there would

be a fee waiver," he said.

"I'm not feeling very good

about it."

Mr Barber wanted the fees

waived as he believed that paying

for the application put the blame

on residents for something that

was not their fault.

"The decisions that the city

council has made in the past

hasn't considered other people in

the long term," Mr Barber said.

He said when he shared

the information with his

neighbours, who are also

affected, their reaction was

"horror."

"At this point in time,

everything is lumped on

the applicant who had no

responsibility in the decisionmaking

process and is feeling

guilty by association," Mr Barber

said.

He said he will figure out how

to move forward in the coming

months.

But Fendalton-Waimairi-

Harewood Community Board

chairman Sam MacDonald said

it was a "tricky situation" as the

waived fee would end up costing

ratepayers.

"We sympathise with Mr

Barber over the situation, but

the reality is that if there was

an exception to be made in

one case, ratepayers could end

up subsidising the removal of

trees right across the city," Mr

BATTLE: Graeme

Barber asked the

city council to

drop a resource

consent fee so

he and his wife

Diane can apply

to have six oak

trees cut down.

MacDonald said.

"It's not an easy situation at all.

"Down the line, there is

also paying for the actual trees

to be removed, which would

be bloody expensive," Mr

MacDonald said.

The $1800 fee for resource

consent is only a deposit.

The final fees are the

actual costs of processing the

removal of the trees and there

may be a refund or a further

invoice.

JOIN US NOW!

See website for details

CONVERSE

Buy one get one half price on all seasonal footwear

including kids styles. 2 tees for $50. 30% off men's and

women's clearance apparel. Terms & conditions

and exclusions apply

BONDS

$25 Trackies, Hoodies and Pullovers. Some exclusions apply.

YD

Buy one get one 50% off Chinos & Denim

STYLES MAY DIFFER TO IMAGE SHOWN

UNDER ARMOUR

Hoodies and Joggers 2 for $100. Buy one get one half

price on all footwear. T&Cs apply

BENDON

Half price sale. Some exclusions. While stocks last.

CUTLER & CO

Jackets were up to $499.95, now only $99.95. Half zip

Merino knitwear were $199.95, now only $129.95. While

stocks last. Terms and conditions apply.

CANTERBURY

All remaining rugby boots to clear at $30. While stocks last.

REMBRANDT

Suits now $299. Blazers now $199. Terms & conditions and

exclusions apply

Sign up to Smart Deals & be in the monthly draw for a $100 Dress-Smart gift card!

Be one of the first to hear about the latest deals, sent straight to your inbox each week!

CHRISTCHURCH 409 Main South Road, Hornby

www.dress-smart.co.nz

Open 10am-5pm, 7 Days 03 349 5750
---
NOR'WEST NEWS Latest Christchurch news at www.star.kiwi

Tuesday May 14 2019 7

raNGiora • Northwood • st martiNs • tower juNctioN • BishoPdaLe • raNGiora • Northwood

Northwood • st martiNs • tower juNctioN • BishoPdaLe • raNGiora • Northwood • st martiNs • tower juNctioN • BishoPdaLe •

50 %

off

GREETING

CARDS

TuESDAy, MAy 14 - SuNDAy, MAy 19

Follow us on Facebook:

@papertreestores

tower junction, off Clarence St, Riccarton | Bishopdale, 31 Bishopdale Court, Bishopdale | rangiora, 206 High Street, Rangiora

Northwood supa centre, Main North Road, Belfast | st martins shopping centre, Wilsons Road, St Martins

• st martiNs • tower juNctioN • BishoPdaLe • raNGiora • Northwood • st martiNs • tower juNctioN • BishoPdaLe • raNGiora
---
8

News

Young piper to attend national and global competitions

• By Jess Gibson

Tuesday May 14 2019

A FULL-BLOWN line-up of

competitions is in store for

award-winning piper Campbell

Wilson.

The 16-year-old St Andrew's

College student will

take part in the Colin Craig

Claidmeamh'mor solo piping

competition in Palmerston North

on Saturday.

The competition is an invitational

event for the top pipers in

New Zealand.

Campbell will then travel to

Dunedin two weeks later to

compete in the annual Queen's

Birthday solo competitions,

where he will compete in the A

grade.

After that, his skills will take

him to Scotland in August

to compete in under-18

and under-23 age groups of

competition in Oban and

Inverness.

Campbell said he is "very excited"

to return to Scotland.

He has been once before

when he competed with the St

Andrew's College Pipe Band at

the World Pipe Band Championships

and stayed on for two weeks

afterwards to compete in solo

competitions.

Since Campbell began piping

when he was nine-years-old, he

has achieved a long list of highlights

in his career.

He made history at the

Hastings Highland Games

in April when he became the

youngest ever winner of the

New Zealand Gold Medal for

Piobaireachd.

Campbell was named New

Zealand Young Piper of the Year

in October, is titled the youngest

ever winner of the Silver Chanter

March, Strathspey and Reel event

and won the under-21 New Zealand

Championship Hornpipe

and Jig in January.

During his Scotland trip in

August, Campbell will be travelling

his father, Greg Wilson, who

doubles as his tutor.

Latest Christchurch news at www.star.kiwi

Mr Wilson is classified as one

of the top pipers in the world.

He has won 14 Gold Clasp

Piobaireachd competitions – an

event which pipers can only

compete in if they have won the

New Zealand Gold Medal for

Piobaireachd.

Mr Wilson has also had victory

at Bratach Gorm in London

three times, has won the premier

double march, Strathspey and

Reel multiple times, and has also

been New Zealand Solo Piping

Champion on multiple occasions,

to name a few.

"I am very grateful for the opportunity

to travel such a great

distance doing what I love with

my number one role model. He

is a world class piper, and he is

an absolutely wonderful teacher,"

Campbell said.

Mr Wilson said it is "very satisfying"

seeing Campbell do well

at piping.

"I'm absolutely proud of him,

he's done very well from a young

age," said Mr Wilson.

NOR'WEST NEWS

TALENT: Greg Wilson and his son, Campbell Wilson, have both

achieved success in their piping careers to date ​

The history behind Mother's Day

The revolution

in heat pumps

is here now!

HONOUR: It took Anna Jarvis six years of campaigning in the

United States to have a day set aside to honour mothers.

The revolution in heat pumps is here now!

The Fujitsu e3series

The brilliant

heat pumps from Fujitsu

e1 : efficiency

e2 : environment

e3 : economy

Website: www.pshc.co.nz

FREE consultation from your local

Accredited Heat Pump Expert

Phone today: 03 381 6950

INSERT DEALER DETAILS HERE

The brilliant e3 series

heat pumps from Fujitsu

e1 : efficiency

e2 : environment

e3 : economy

NEW ZEALAND'S FAVOURITE AIR

Email: info@pshc.co.nz

Founder

of the

Christchurch

Women's

Club

Toastmasters

Sheila

Hailstone

writes about

how Mother's Day began

History tells us celebrations

related to mothers have existed

throughout the world for

thousands of years, though

the Christian celebration of

Mothering Sunday was more

about the mother church than a

celebration of women.

What is probably unknown is

the woman who campaigned for

our modern version of Mother's

Day would later denounce the

commercialisation of this event.

It took Anna Jarvis six years of

campaigning in the United States

to have a day set aside to honour

Fujitsu's Catechin Filters are

approved by the Asthma and

Respiratory Foundation NZ's

Sensitive Choice ® programme.

mothers or as she put it, "the person

who has done more for you

than anyone else in the world."

Her own mother, Ann Reeves

Jarvis, had been a peace activist

caring for the wounded in the

Civil War no matter their politics

or which side they fought for.

Then after the war, she began

clubs to address public health

issues and helping women to

knowledgeably care for their children.

When her mother passed

away Anna realised, in spite of

the positive impact women have

on society, their work for their

children and the community was

often overlooked.

Anna's Mother's Day was not a

commercial event, but was about

celebrating the achievements of

women and further reminding

them of their power and what

can be accomplished when

women and mothers come

together for a good cause.

Time has not diminished the

3 issues $20

6 issues $44.50

10 issues $65

SUBSCRIPTIONS

FREEPHONE

0800 77 77 10

rugbynews.co.nz

value of Anna's message.

Mother's Day has become

a date for launching political

causes. The wife of Martin Luther

King, Coretta used Mother's

Day in 1968 to host a march

in support of underprivileged

women and children.

Then in the 1970s women's

groups gathered on this day to

highlight the need for equal

rights for women and access to

child care. On Friday at 12.30pm,

Christchurch Women's Club

Toastmasters is holding an open

day at the Village Church on the

corner of Frank St and Papanui

Rd to celebrate the influence of

mothers and women in our lives.

CWC Toastmasters supports

women to succeed in any

venture giving them the skills to

communicate their vision clearly

and with confidence.

•More information

can be found at www.

cwctoastmasters.org.nz
---
NOR'WEST NEWS Latest Christchurch news at www.star.kiwi

Tuesday May 14 2019 9

'Tui' by Therese Boustead

Art

Expo

Ngaio Marsh Retirement Village in association with

Arts Canterbury warmly invite you to their Art Expo.

• Free entry • Refreshments • Tours available

• Credit cards accepted

Artwork from this talented group of artists will be displayed

in the community centre and all artwork will be available for sale.

A portion of the proceeds from sales will go to our charity

for 2018/2019, the Stroke Foundation New Zealand.

Saturday 18 and Sunday 19 May

10am-3pm

For more information please call Marie on 354 6608.

95 Grants Road, Papanui
---
10 Tuesday May 14 2019

Latest Christchurch news at www.star.kiwi

NOR'WEST NEWS

News

Additional

car parks

in Papanui

REDUNDANT BUS stops in

Papanui will be replaced by car

parks.

The Papanui-Innes Community

Board approved the

installation of 10min parks on

Langdons Rd outside Papanui

High School and 120min parks

on Chapel St north of Harewood

Rd on Friday.

The city council proposed

the changes after a bus route

changed and no longer used the

roads.

The report said additional

parking would benefit people

using Papanui Library, Papanui

High School and Northlands

Shopping Centre. It also said the

additional 120min parks would

benefit nearby businesses.

Papanui High School representatives

were advised of the

recommended option and supported

the proposal.

No consultation with was undertaken

with property owners

on Chapel St before the decision

was made, but they will now

be informed of the approved

changes.

The parks will be installed

around four weeks after a

contractor receives the request.

Rangi Ruru students in raucous production

TWENTY-SIX Rangi Ruru Girl's

School students will take on the

roles of 40 different characters

in the upcoming high-energy

production Wheeler's Luck.

The first showing of the 80min

theatre piece is tomorrow at

7.30pm at the Merivale Lane

theatre and will run every night

at the same time until Saturday.

Lying somewhere between

Dylan Thomas's Under Milk

Wood and the Ian Mune film

Came A Hot Friday, Wheeler's

Luck is a raucous tale of the

battle between preservation and

development in a small rural seaside

community.

When local landowner, Nora

Cox dies, leaving her prime

coastal property to the people

of the small town of Cox Point,

Mayor Duncan Sanderson,

enlists a developer to build a golf

course and casino on her land.

When postie and environmentalist

Sharon Dickle discovers

that Nora left the point to all the

residents, she begins a campaign

to preserve Nora's place as a bird

sanctuary.

Year 13 student, Sarah Lawrence,

who plays Lydia Cox, was

accepted into the Court Theatre

Youth Company at the end of last

year.

She is also the regional representative

at the Sheilah Winn

National Shakespeare Schools'

Production, workshops and

performances in Wellington this

September.

Year 13 student and head girl,

Rachel McSweeney, will play

Johnny Wheeler.

However, there are no "leads"

in this production.

"It's a true ensemble cast,"

Sarah said.

"No one character is on stage

any more than another."

Sarah said the time commitment

from everyone is significant,

including rehearsing during

the recent school holidays.

With extra involvement in a

number of orchestral groups,

Sarah said she "doesn't sleep

much."

"I would rather be doing this

during the holidays though; it's

what I love."

Rangi Ruru's director of

theatre arts, Peter Rutherford,

said presenting New Zealand

work is important to him and the

students.

"We hear our own voices, see

our own history and characters,"

he said.

"I think that's really important

in a world full of things from

COMMITMENT:

Peter

Rutherford

working

with year 13

students Sarah

Lawrence

and Rachel

McSweeney

during

rehearsals

for the

Wheeler's Luck

production.

other countries thousands of

miles from New Zealand."

"That's not to say there

isn't a place for work from

overseas but we have such great

material written by Kiwi's

and about our own country;

we should share it as much as

possible," he said.

•Tickets to the show

are available on the

Patronbase website -https://

nz.patronbase.com/_

RangiRuru/Productions/

SP19/Performancesor or go

to www.rangiruru.school.nz

Titled Sections Available Now

03 281 7517 | sections@prof.co.nz | presonspark.co.nz
---
NOR'WEST NEWS Latest Christchurch news at www.star.kiwi

Tuesday May 14 2019 11

Cameron Bailey

No.1

Papanui

No.1 HARCOURTS CHRISTCHURCH 2012-19

Mary Turnbull

No.2 No.3 No.4 No.5

Papanui

Mark O'Loughlin Redwood Foss Shanahan Papanui

Caleb Griffioen

Parklands

No.4 HARCOURTS CHRISTCHURCH 2018-19 No.9 HARCOURTS CHRISTCHURCH 2018-19 No.15 HARCOURTS CHRISTCHURCH 2018-19 No.16 HARCOURTS CHRISTCHURCH 2018-19

Belinda Dunster

No.6 No.7 No.8

Papanui

Sandra O'Brien

Papanui

Ash Sutherland Todd Papanui

Deb Soper

No.9

Papanui

Michelle Fu

No.10

Papanui

No.19 HARCOURTS CHRISTCHURCH 2018-19

No.22 HARCOURTS CHRISTCHURCH 2018-19

No.24 HARCOURTS CHRISTCHURCH 2018-19

No.28 HARCOURTS CHRISTCHURCH 2018-19

Leeann Marriott

No.11 No.12 No.13 No.14

Papanui

Mark Wang

Papanui

Lewis Donaldson Papanui Lauren Clemett Papanui

Julie Proctor

No.15

Papanui

Geeta Teague

No.16

Papanui

No.17

Andrew Swift New Brighton

No.18

No.19

Rob Ilott Redwood Graeme Jones Papanui

Sharon Trumper

No.20

Papanui

Meet our

Top 20

WORK

WITH THE

BEST!

HARCOURTS GOLD

is what separates the

best from the rest.

Thank you! To Our Clients,

Our Community and Our City.

"Career Realtors, this talented group of professionals have

represented their clients and our company in an exceptional

and polished manner. In a city where the sales process requires

utmost skill, these are your go to real estate consultants.

They have our deep respect and support, and we are proud to work

with them and their clients every day."

John & Lynette McFadden

Chris Kennedy

General Manager,

HARCOURTS GOLD

Left to Right: Kyle Sutherland Executive Manager, HARCOURTS GOLD PAPANUI

Yvonne Duff Sales Manager, HARCOURTS GOLD PAPANUI

Margaret Danzer Sales Manager, HARCOURTS GOLD REDWOOD

Nikila Creagh Sales Manager, HARCOURTS GOLD EASTSIDE

Tracey Edwards Property Manager, GOLD PROPERTY MANAGEMENT

Doug Soper Liaison Manager, HARCOURTS GOLD

PAPANUI 352 6166 International Division (+64) 3 662 9811

REDWOOD 352 0352 PARKLANDS 383 0406 NEW BRIGHTON

382 0043 GOLD PROPERTY MANAGEMENT 352 6454

FOLLOW US ON
---
12 Tuesday May 14 2019

Latest Christchurch news at www.star.kiwi

REAL ESTATE

An Have unparalleled you ever... lifestyle in magical Moncks Bay

242 7 Jameson Main Road, Avenue, Redcliffs St Albans - "As-Is, Where-Is"

Auction: Thursday, 14 March 2019 Unless Sold Prior

3 bedrooms | 2 bathroom | 2 lounges | 1 dining | 2 toilets | 2 car garage | www.harcourts.co.nz | Listing #NB3423

4 bedrooms | 2 bathrooms | 3 living rooms | 1 office/study | 2 car-garage | 2 off-street parks | Listing Number SM0166

Dreamed of living on a tree-lined street close

Treasured by two generations and offering Moncks Bay incorporating from Shag Rock

to town in a much sought-after location with

a truly once in a lifetime opportunity, this and right along the Pegasus Bay coastline.

nothing more to worry about than what time

tantalizing home upon a 2853m2 section This property can potentially be subdivided

which furthers your options and adds

to book the moving truck? Then consider us

enjoys an overwhelming tranquil setting and

your own personal genie because we can

is presented to the market on an uninsured another element of interest for buyers.

make that dream a reality!

"as-is, where-is" basis.

Ensconced in a private lane that sits across

Situated We have in a fabulous the tightly 3-bedroom, held locale 2-bathroom of magical from the waterfront, this property is also

Moncks home Bay, on offer. this With property it being makes built a in memorable 2015 positioned to enjoy the area's celebrated

first

you

impression

can leave any

and

worries

was constructed

you have at the

in the microclimate and is located within easy reach

1960s

front

but

door.

has

This

naturally

home has been

received

finished

extensive

to of the beaches, boating facilities, Barnett

modern

such a beautiful

enhancements

standard

including

that it will make

a Bruce Park and the amenities in both Redcliffs and

Banbury

you beg

architectural

us to let you

renovation

move in tomorrow.

in 2004. Sumner.

Resort-style

Number 7 Jameson

serenity

Ave

is

has

provided

so much on

by the With floors needing repiling and being sold

colourful

offer: from

Clivias

the generously

as well as

sized

the

bedrooms

established uninsured, deemed uneconomical to repair,

greenery

and spa-like

and

bathrooms

palms trees

to a kitchen

that border

you will

the this unique "as-is, where-is" opportunity is a

definitely want to cook in. You are connected

swimming and spa pool, with the outstanding real game changer with the feel good factor

to a native inspired garden with fabulous

views and majestic cliff face backdrop only and is guaranteed to attract attention. Your

indoor/outdoor flow from your living areas to

escalating the property's visual appeal. earliest viewing is advised.

maximise the enjoyment you will have living

Spacious living areas are complemented Open Homes: Wednesdays, Saturdays

and entertaining here.

by the sizeable Kwila deck, water feature and Sundays 1:00pm - 1:45pm.

and With idyllic our owners alfresco having surroundings found their next which See you at the open homes or for a private

have dream previously home, now hosted is the a chance wedding to own and could viewing or for more information contact

continue yours. Get to be in touch the scene today of to many make memorable

sure you Alison Carter of Harcourts Grenadier

occasions. don't have regrets tomorrow!

Ferrymead/Sumner (Licensed Agent REAA

Skylights, the superb use of timber, a

2008) on 384 7950 or mobile 0274 318 960.

Auction: Thursday 24 May 2019, from

contemporary 10.00am (unless colour sold prior). scheme and the

magnificent Gold Auction stone Rooms, fireplaces 471 Papanui create Road an

incredibly inviting ambience indoors where

Viewing: Thursday 2.00 -2.45pm, Saturday

you'll find four double bedrooms, two

and Sunday 11.00 - 11.45am

bathrooms and a relaxing sunroom area that

comes Contact: complete Chantale with and a spa Bev bath. Johnson

With (Licensed an agents expansive REAA lawn 2008) on area 382 and 0043 the or

picturesque 027 393 9285 garden (Chantale), at the 027 rear 643 of the 9393 property (Bev)

both Email: epitomise chantale.johnson@harcourtsgold.co.nz

peace and privacy and offer

access Gold up Real to Estate the Group top of Ltd. the section where

you can sit and admire the ocean vistas over

EIGHT HUNDRED

& eighty eight *

NOR'WEST NEWS

by Harcourts gold Papanui,

Making it the No.1 office in

Christchurch for Residential Sales

OUT OF 23 HARCOURTS OFFICES

Contact any of the Papanui

team with confidence.

WORK

WITH THE

BEST!

HARCOURTS GOLD

*APRIL 2018 TO MARCH 2019

FOLLOW US ON...
---
NOR'WEST NEWS Latest Christchurch news at www.star.kiwi

Tuesday May 14 2019 13

News

Community

planting day

successful

• By Jess Gibson

MORE THAN 1500 native trees

and shrubs were planted in the

Styx Mill Conservation Reserve in

Northwood last Sunday.

About 120 people volunteered

for the community planting run

by Trees for Canterbury, including

students, park rangers, members

of the Styx Living Laboratory

Trust, a scout group and residents.

Trees for Canterbury project

co-ordinator Robin Stove said the

day went "fantastically."

"It was great having people

from diverse backgrounds there,"

he said.

The main large species planted

were Kahikatea and Totara

trees and there was a mixture of

smaller trees like Ribbonwood,

Lacebark, Flax and Cabbage trees,

among others.

The seedlings were all sourced

and donated by Trees for

Canterbury, who gather the native

tree species from areas such as

Riccarton Bush.

Trees for Canterbury has been

planting in the reserve, as well as

other sites, for about 20 years as

part of a regeneration project to

plant two million native trees in

Canterbury.

Local

News

Now

Quizmasters battle it out

• By Jess Gibson

MORE THAN 200 keen spellers

put pen to paper at the Otago

Daily Times Extra! Canterbury

quiz at Christchurch South

Intermediate.

Pupils from schools across

the city teamed up in threes

last Tuesday and were tested on

spelling, grammar, abbreviations,

matching words with their

country of origin and dictionary

skills.

Selwyn House won the year 5

and 6 section of the quiz with 95

points out of a possible 100.

Their victory followed a

suspenseful tie-breaker with

Fendalton Open-Air School,

which came second with a score

of 94 points.

The St Martin's School group

in third was not far off, with 93

WINNERS: Amelia West, 9, Penelope Sutton, 8, and Serena

points.

Mackle Bayley, 9, after their victory in the year 5 and 6

section of the Otago Daily Times Extra! Canterbury spelling

Selwyn House champions

quiz.

PHOTOS: JESS GIBSON ​

Penelope Sutton, 8, Amelia West,

9, and Serena Mackle Bayley, 9, 11 and Tor Chiles, 12, "did not the event.

everything ran smoothly, but the

were ecstatic after their win. expect it" when their team was Cobham Intermediate

support of South Intermediate

Penelope said the quiz was called as the winners, as they School and Christchurch South volunteer runners was a big help.

"nerve-racking but fun."

only practised once on the day of Intermediate were tied for

Teams were chosen by their

"The tie-breaker was the hardest

part. We got really confused Liam said the team got caught Extra! editor Tricia Rowe was competition.

the quiz.

second place at 81 points. schools to compete in the

with one word – rhythm," she on one of the mystery questions, pleased with how the night went. The quiz was run by the

said.

but breezed through most of the "It's the first time South Otago Daily Times through

The Cathedral Grammar others.

Intermediate had run the quiz Extra! – its monthly Newspapers

School team won the year 7 and "The anticipation while waiting

for them to read out the them," said Mrs Rowe. She said primary, intermediate and

and I was really happy with in Education publication for

8 quiz with 86 points out of 100.

Harry Long, 11, Liam Hume, votes" was his favourite part of it was challenging making sure junior secondary school pupils.

Fire rages, homes at risk

School's not for

everyone!

IS SCHOOL NOT

WORKING FOR

YOUR TEEN?

for more info,

TXT

'STUDY' TO:

027 557 8839

www.

STUDY

WITH

US

.co.nz

Ultimate

Security

digital media

(career decider

for youth)

Business Admin

Early Childhood

Web & Software

ENROL

NOW!

GAIN

NCEA

CREDITS

www.trainme.org.nz

www.vision.ac.nz

*conditions apply

50 Hazeldean Road, Addington | hello@vision.ac.nz

www.studywithus.co.nz | 0800 834 834
---
14

Tuesday May 14 2019

Latest Christchurch news at www.star.kiwi

NOR'WEST NEWS

Former UC stars represent New Zealand

• By Gordon Findlater

FORMER ST Andrew's College

hooker Shilo Klein and former

Christ's College centre Dallas

McLeod have both been selected

to represent the New Zealand

side at next month's World

Rugby Under-20 Championship.

The pair were named in the

squad to travel to Argentina to

play in the tournament along

with five other Crusaders region

players – Cullen Grace, Leicester

Faingaanuku, Fergus Burke,

Fletcher Newell and Tamaiti

Williams.

Klein and McLeod both learnt

of their selection following

their second place finish

at the Oceania Rugby U20

Championship in Australia

earlier this month.

"You work for a long time

to try to give yourself an

opportunity like this. To get it

you're proud and I'm just really

grateful to all the people who

have helped me get to this point.

I'm really excited to try and put

in some performances that I

can be really proud of," said

Klein.

The 20-year-old pointed out

his coaches at St Andrew's as

the major influence in installing

a belief he could achieve big

things in rugby if he put his

mind to it.

"Year 13 was a bit of a turning

point for me. I decided I was

going to put my foot down and

really have a crack at it," he said.

The High School Old Boys

player got his first taste of rugby

at the Sumner club before

attending St Andrew's. His drive

to succeed is something he hopes

will go well beyond the U20

world cup.

"It's a dream of mine to be a

Crusader and be an All Black,

they're always long term goals

that I keep in the back of my

head because they motivate me

to get up every day and train."

Meanwhile, McLeod's roots

lay in Methven. The 20-year-old

played for the Methven club

before receiving a scholarship to

play at Christ's in his final year of

secondary school.

"That definitely helped and

then getting the opportunity to

get into the Crusaders academy

is probably the main thing that's

helped me get access to good

coaches and to have a lot of

other people around me who are

chasing the same thing," said

McLeod.

Last year, McLeod was named

Canterbury's under-19 player of

the year.

The New Zealand squad will

assemble in Mount Maunganui

on May 26 before departing to

SPORT

NATIONAL HONOURS:

Former UC Championship

stars Shilo Klein (left) and

Dallas McLeod (below) will

represent New Zealand at

next month's World Rugby

Under-20 Championship in

Argentina. ​

Argentina ahead of their first

pool match against Georgia on

June 5. They also face Scotland

and South Africa in pool play.

"I think South Africa and

Georgia will have some pretty

big units, that will be a good

challenge," said McLeod.

New Zealand finished fourth

at last year's tournament in

France. The last time they won

the title was in 2017 in Georgia.

Smile for

SelfieS again!

Complete your look

233 Riccarton Road,

Phone 341 5419

The Partial Denture People

Calling for exhibitors

weddingshow

FAILED EARTHQUAKE REPAIRS?

LET US DEAL WITH IT

Do you have concerns around your scope of works?

Is your settlement fair for the damage incurred?

We work directly for and with the homeowner to:

•Establish if your scope of works is correct, including floor levels

•Assist with the insurance part of the claim if required

•Manage the repairs from the initial stages to completion

•Have quality tradespeople and workmanship assured

Initial Consultation FREE!

Sunday 25th August, 2019 Air Force Museum, Christchurch

To exhibit at this fantastic show, please email mark.sinclair@starmedia.kiwi for more info.

Phone Stewart 027 488 6975 or George 027 334 4197 www.harwelservicesltd.com
---
NOR'WEST NEWS Latest Christchurch news at www.star.kiwi

Tuesday May 14 2019 15

Merivale.

So much Moore than

just a drycleaners

Moores Drycleaners on Papanui Road

is so much more than just a drycleaning

business - it is part of the fabric of Merivale

itself. Their terrific customer service,

expertise and highly-professional standards

have seen them succeed on the same spot

for over half a century. In fact, it is the

oldest business still operating in the same

location in Merivale, and also is the oldest

family-owned and operated drycleaners

in the whole of

Canterbury.

What makes it

such a local success?

Owner Greg Moore's

father began Moores

Drycleaning back in

1961 and Greg joined

him straight out of

school. Having been

there ever since, his

own knowledge is

unparalleled, and it is

the focus on meeting

the needs of customers

that makes them stand

out. These days, his daughter has joined the

team, making her the third generation to work

in the business.

Their focus is on providing a terrific

service to local clients and meeting all their

drycleaning needs. Whether you are spring

cleaning and want to freshen up all your

drapes, duvets and bedding, or have toughto-remove

spots, they are on hand to help.

They will make sure that garments such as

suits and dresses look as good as new when

they return them to you, and they are experts

at working with delicate fabrics in evening

gowns and cocktail dresses. They are also

the go-to drycleaners for wedding dresses,

recommended by many of the region's bridal

salons to their new brides. In fact, they are

just about the largest drycleaners for wedding

dresses in the south island.

In spite of their long tradition in this

industry, Moores Drycleaning have moved

with the times. They now have an ecocleaning

machine which uses a solution of

plant extracts as its cleaning agent which is

far friendlier to the environment. In fact,

they have been leading greener approaches

to drycleaning as they have been recycling

for over 40 years, their plastic bags are

biodegradable and their coat-hangers are

manufactured from recycled plastic which

they encourage their customers to recycle and

return.

You can find them at 178 Papanui Road,

where they are open six days a week (closed

Sundays) or give them a call at 03 355 5942.

They will be happy to help.

178 Papanui Road, Merivale

(3 doors down from St Albans Street)

Ph: 03 355 5942

In business 58 years - same location!

Home lending advice you

can understand. Kim will help

you control your mortgage and

save you money as well!

Email or call Kim today!

Now is a great time to get your

coats, jumpers, jerseys, trousers cleaned! www.mylend.co.nz email: kim@mylend.co.nz cell: 027-222-1044

Congratulations

CAMERON BAILEY

Just announced as this years Number 1!

2019

No.1 Harcourts gold

No.1 Harcourts Christchurch
---
16 Tuesday May 14 2019

Latest Christchurch news at www.star.kiwi

Tennis scholarship for

Burnside HS student

SPORT

SIX YEARS of

determination and hard

work has paid off for

14-year-old tennis player

Alkmini Giannakogiorgou

of Papanui.

The year 10 Burnside

High School student has

been awarded a $1000

scholarship by the Burnside

Park Tennis Club for

showing potential and

demonstrating positive

values.

The junior scholarship is

a way to acknowledge New

Zealand ranked junior

members and give them

an opportunity to travel to

gain further experiences.

"Tennis was the only

sport that wasn't driven

by my desire to win but

by the way it made me feel

when I was on the court.

Jeff Brightwell, my tennis

coach, gave me a real sense

of purpose including setting

small goals along the

way," Alkmini said.

Alkmini practices for

four hours daily, which

has earned results including

placing fourth at the

nationals, being selected

for Canterbury representative

teams and winning

regional tournaments.

Later this year she

plans to take her tennis

to another level as she

travels to Germany with

her coach to train and play

on clay.

"By learning to play on a

different surface and train

with a different intensity I

will be opened up to new

aspects of the game that

will improve my playing

style," Alkmini said.

"I love this sport with

all my heart and I am determined

to keep pushing

myself as far as I can go,"

she said.

DETERMINED: Year

10 Burnside High

School student Alkmini

Giannakogiorgou's

hard work paid of at a

recent tournament in

Wellington, where she

won the 16 and under

girls category. ​

OPEN DAYS

A supportive all-girl

learning environment

Selwyn House School offers a world-class

education with a talented teaching staff

and small class sizes which are set within a

future-focused, nurturing environment. An

extensive range of educational, sporting and

cultural opportunities are offered for girls in

Years 1 - 8.

A supportive all-girl learning environment

encourages girls to take risks without fear

of failure and develops their love of learning.

They become confident, compassionate,

articulate and determined young women who

have the values, skills, and attributes needed

to not only achieve their goals but to make a

difference in their communities. Our teachers

ensure girls are inspired and committed to

learning as they develop their unique way

of learning and achieving. The focus across

Years 1 - 8 is on the growth of the developing

girl encompassing intellectual, social, physical,

emotional, and cultural needs.

Selwyn House is committed to providing a

continuum of international education. The

combination of the International Baccalaureate

Primary Years Programme (PYP) and our

future-focused STEAM and Mechatronics

curriculum ensures girls are equipped to face

a continually changing world with confidence

and enthusiasm. We focus on instilling strong

foundations which can be successfully built

upon. Core learning in reading, writing and

mathematics is a priority. Specialist programmes

in Art, Creative Writing, Leadership,

Mechatronics, Music, Performing Arts,

Physical Education, Science, Spanish and

NOR'WEST NEWS

Swimming play key roles to further enhancing

learning.

Selwyn House provides each girl with a

personalised learning experience. Each classroom

and specialist teacher has the time to

foster meaningful relationships with each student.

Due to our comprehensive learning environment,

our girls are highly skilled, stand

out among their peers and are prepared for a

successful transition to secondary school.

Selwyn House's nurturing environment is

apparent in all aspects of the school. In our

modern and safe, family-oriented Boarding

House, girls are supported by dedicated staff

and tutors. Girls from across New Zealand

and internationally fondly call the Boarding

House, their 'home away from home' and easily

form a sisterhood with others.

We believe in the strength of tradition, the

promise of the future and the power of education.

For more information on the benefits of

Selwyn House School, scholarship information

or to schedule your personal tour, please

contact Charlotte Johnson 03 355 7299.

SCHOLARSHIPS AVAILABLE FOR 2020

APPLICATIONS CLOSING SOON: 4PM, 17 MAY

ST ANDREW'S College's

girls basketball side got the

defence of their Whelan

Trophy off to a winning

start with a tight fought

51-49 win over Avonside

Girls' High School.

The defending champions

will host Middleton

Grange – who had a

strong opening round win

over Christchurch Girls'

High School – in their second

match of the season

this evening.

Meanwhile, the St

Andrew's boys suffered an

opening round loss in the

Thomson Trophy to highly

touted St Thomas of Canterbury

College 66-71.

Both the Whelan and

Thomson trophies, which

are Canterbury's elite

secondary school basketball

competitions, run

through pool play for the

next three months before

the grand final evening

at Cowles Stadium on

August 27.

After five weeks the

Thomson competition will

split into top and bottom

pools

Round one results:

Thomson Trophy

BRIGHT

START:

Defending

Whelan Trophy

champions

St Andrew's

began their

season with a

51-49 win over

Avonside.

Mixed results for St

Andrew's basketball

Pool A: Cashmere HS

120, Middleton Grange

88; Christ's College

95, Burnside HS 64; St.

Bede's 82, Christchurch

BHS 67. Pool B: Rangiora

HS 118, Hillmorton HS

38; St Thomas 71, St

Andrew's 66; Shirley BHS

78, Ashburton College

55.

Whelan Trophy:

Rangiora 69, St

Margaret's 44; St

Andrew's 51, Avonside

GHS 49; Kaiapoi HS 91,

Ashburton College 51;

Middleton Grange 75,

Christchurch GHS 59.

SELWYN HOUSE SCHOOL

Personal tours

and experience

days available

Selwyn House School is a leading girls' school for Years 1–8, with boarding

options available. We provide exceptional educational opportunities for girls,

in a stimulating and nurturing environment. Our focus is on developing globally

minded learners and leaders who will become confident and capable women.

Be our guest and schedule your personal tour or experience day.

To register your interest phone: (03) 355 7299

or email: office@selhouse.school.nz

An International Baccalaureate School

WWW.SELWYNHOUSE.SCHOOL.NZ
---
NOR'WEST NEWS Latest Christchurch news at www.star.kiwi

Tuesday May 14 2019 17

SCHOLARSHIPS & SCHOOL OPEN DAYS

All new for Avonside

at Ōrua Paeroa

A new school, a

new location, and a

new uniform! What

a fabulous year for

Avonside Girls' High

school as a new

chapter in the school's

90 plus year history

is written this year.

Avonside Girls' High

School moved into its new home on

Travis Road at the beginning of term

2, taking its traditions, culture, history

and values along with a focus on

working with every student to help her

identify her strengths and develop her

talents so that she can flourish in her

future.

Just over 1000 girls moved onto the

new site in Travis Road to experience

learning in New Zealand's newest

secondary school buildings. The

campus which also includes a satellite

unit of Ferndale School, is New

Zealand's first ever co-location of a state

girls' school and a state boys' school

sharing the same site and some key

facilities and yet delivering teaching

and learning within their own singlesex

learning environments.

One look inside the impressive

entrance foyer reveals an exciting

campus with fabulous facilities to

enhance learning for students.

In the front section of the school

lie the shared facilities, boasting the

reception and administrative centre

for both schools, a spacious library, a

cultural space, two theatres, a cafeteria

with indoor and outdoor seating, and

student kitchen facilities alongside a

commercial kitchen for teaching senior

Hospitality courses.

The design of the school then

separates into two separate schools each

designed around its own courtyard.

The school is organised by learning

areas, denoting the school's support

of subject discipline knowledge

and skills, yet with adjacencies that

provide opportunities for learning to

be connected across learning areas for

students.

Avonside supports the development

of the whole student with a strong

ako programme delivered within a

vertical form structure and wonderful

opportunities for involvement beyond

classroom learning time. The superb

facilities in the new campus certainly

enhance those opportunities for our

students.

Avonside Girls' High School has

embraced this opportunity to provide

this exciting new brand of 21st century

style single-sex education – the best of

both worlds!

We welcome interested students and

their families to come and visit the

campus on our Open Night.

Shirley Boys' High

School at Ōrua Paeroa

Finally after 8 years of

unstinting effort, Shirley

Boys' is in its new home,

one that features state

of the art facilities for

teaching and learning in

the 21st Century.

The new campus

features a Performing

Arts Centre, full size all

weather turf, sports fields, the largest school

gymnasium in the city as well as traditional

classrooms and modern flexible spaces

designed to meet the needs of all of its 1250

young Shirley men.

Shirley Boys' High School,

Kiwi Soul Global Vision

At Shirley Boys' High School, students

are encouraged to participate in a vast

array of sporting and cultural activities

and in all of these areas they are expected

to prepare themselves for action and

success on the world stage, while also

being encouraged to retain and strengthen

their own cultural roots.

Shirley Boys' High School encourages

students to strive for personal excellence.

Learning occurs both inside and outside

the classroom, reflecting the desire of the

school to focus on teaching the whole

person to ensure a lifelong desire for

self-improvement. At Shirley Boys' this

is known as "BTB – Better than Before".

BTB leads to achievement, which can

be as modest as getting fit for a sport or

improving a test score or learning to sing

in a choir. BTB can also be as spectacular

as achieving a Premier New Zealand

Academic Scholar Award (awarded to the

Top 10 academic students in NZ).

We look forward to welcoming

prospective students and families to our

Open Night, Thursday 23 May at 6.30-

8.30pm.
---
18 Tuesday May 14 2019

Latest Christchurch news at www.star.kiwi

NOR'WEST NEWS

Mobile Discovery Wall

All day, everyday

Head down to Papanui Library

to see the Mobile Discovery

Wall – a touch-sensitive, digital

representation of Christchurch

that lets you swipe your way

through a virtual world of

photos, videos and information.

This event runs all day and is

free of charge.

Bishopdale Library

Knit 'n' Yarn

Today, 1-3pm, Wednesday,

1-2.30pm, Friday, 10am-noon

Take your knitting, crochet or

another craft project and have

fun with a social group. This is a

free, drop-in event.

Bishopdale, Redwood and

Papanui libraries

GenConnect

12.15-12.45pm

If you have questions

about your ipad, smart

phone or tablet, head down

to GenConnect where Papanui

High School students will help

you for free.

Papanui Library

Scrabble Club

Today, 10.30am-noon,

Wednesday, 1-3pm, and 1.30-

3.30pm

Play Scrabble with a friendly

Email jess.gibson@starmedia.kiwi by

5pm each Wednesday

group. Just head down when you

can – no bookings required. All

materials are supplied at this free

event.

Redwood, Bishopdale and

Shirley libraries

Culture Exchange

Friday, 3.45-4.45pm

Go along and make new

friends, practice your English

and learn about New Zealand

and Christchurch.

Shirley Library

JP Clinic

Today, 10am-1pm, tomorrow,

10am-1pm, Saturday, 10am-noon

A justice of the peace will

be available to members of

the community to witness

signatures and documents,

certify document copies, hear

oaths, declarations, affidavits

or affirmations, as well as sign

citizenship, sponsorship or rates

rebates applications. No charge.

Papanui, Shirley and

Bishopdale libraries

Makerspace

Today, 3.30-4.30pm

Join in on the fun activities

every week at the Makerspace

sessions. There will be creative

and/or tech activities to try and

fun to be had for kids of all ages.

No bookings required for this

free event.

Redwood Library

Reading to Dogs

Today, 3.30-4.30pm, Thursday,

3.30-4.30pm

Reading to Dogs is designed

to provide a relaxed, nonthreatening

atmosphere

which encourages children to

practice and develop a love of

reading. This programme uses

dogs which are pets of the city

council animal management

team. These furry friends have

all been trained and tested for

health, safety and temperament.

Registration is required for this

free event.

Shirley and Papanui libraries

Rummikub

Thursday, 1-2.30pm, Monday,

1-3pm

Go along and

play Rummikub – an exciting,

interactive strategy game. Free,

drop-in event.

Bishopdale Library

Mahjong Group

Saturday, 2-4pm, Monday,

2-4pm

If you are interested in playing

mahjong or would like to learn

to play, head down and have a go.

Hear Emma Stevens

talk about living in the

wilderness of Alaska

during the Friends of

the Library Booktalk

at Papanui Library

today from 12.30-

1.30pm. Ms Stevens

will discuss three

memoirs – Walking

on Ice, Nesting on

the Nushagak and

Dancing on the

Tundra. Her talk will

be an insight into the

experience of living,

learning and teaching

in an indigenous

community in remote

Alaska. All are

welcome for this gold

coin admission event.

Take along your own set. This

is a free event. Register for the

Shirley session on Saturday, but

the Papanui's Monday session is

drop-in.

Shirley and Papanui libraries

Storytimes

Today, 10.30-11am,

Wednesday, 10.30-11am,

Thursday, 11-11.30am and

Monday, 10.30-11am

This free event encourages

learning through a love for

stories. Storytimes is an

interactive programme .

Shirley, Bishopdale, Papanui

and Redwood libraries
---
NOR'WEST NEWS Latest Christchurch news at www.star.kiwi

Tuesday May 14 2019 19

AUTOMOTIVE PROFESSIONALS

Tyres, rims and even

great coffee

Word of mouth is the best

recommendation for any business, and there

is a raft of customers happy to recommend

JCM Direct Tyres in Middleton. The

independent, family-owned and operated

business supplies tyres, mags and rims and

it is clear from their feedback that they

provide 'outstanding customer service,'

'really know what they are doing,' and even

provide 'tasty coffee.'

Reviews like these are hard-won, with

the emphasis being on making sure they

go the extra mile to really meet the needs

of the client. As an independent dealer,

they are not tied to a specific brand.

Instead, they will look at your vehicle,

your budget and your driving style to

provide you with what you need instead

of what the franchise wants you to have.

This can be brand new tyres such as Pirelli,

Continental, GT Radial and Nankang, or

high end, almost-new second hand tyres

in mint condition, often the same brand

names as the new options. The JCM team

wants to know their customers are leaving

them with their vehicles, from caravans to

European

Car Owners

NEW DIAGNOSTIC EQUIPMENT!

We can identify ANY electrical

fault & reduce repair work

with our NEW European Car

Specific Diagnostic Equipment

ROSES

AUTO ELECTRICAL

Enquiries welcome

CH 352 5090

®

utes, that are safe on the roads.

They will give you their honest opinion

and expertise about what you need too.

It could be more cost effective in the long

run to spend a little more a quality tyre and

reduce the risk of punctures on the Garden

City's rebuild roads, and if you do have a

puncture, they can repair it quickly and

efficiently.

It is not only tyres – they supply rims

from the 1930s to the present day. If you

are lucky enough to own a classic vehicle,

you will know how difficult it can be to

find authentic parts, and the JCM team will

help you source what you need.

They also provide alloy wheels, spare

wheels plus wheel and tyre combo packages

to make their excellent products even more

affordable. They are even able to help you

with finance options.

Open six days a week, you can find

them at 8c Birmingham Drive on the

corner with Hands Road. Check them

out on Facebook.com/JCMDirect, or

visit JCMDirect.co.nz to see what their

family can do to help your family.

s

m

a

r

t

• Panel beating

• Spray painting

Smart repairS (NZ) Limited

automotive refinishers

272 Lichfield St (Fitzgerald Ave end)

Ph 377-0409

A vonhead

utomotive

free

mall

edium

Fast

turnaround

utomotive

epair

echniques

6 months roadside assist

with any vehicle servicing

• automatic transmission

flushing service

• Wof • tune-ups • suspension

• batteries • neW tyres • oil &

lube service • courtesy cars

• full mechanical repairs

oPen 6 days (sat until 1pm)

126 racecourse road

Ph 342 7123 or 027 495 6600

For Everything

AUTO ELECTRIC

CARS • BOATS • TRUCKS • CARAVANS • TRAILERS

• 4WDS • ELECTRIC & HYBRID VEHICLES

• Starter Motors

• Alternators

• Central Locking

• Electric Windows

• ABS & Airbags

• Stereos/Alarms

• Batteries

• Tuneups

• Engine Management

YOU NAME IT WE FIX IT

AAE

Amazing

Auto

Electric

NEW

LOCATION

95 Gasson St

USUALLY

SAME DAY

SERVICE

WE ARE HERE

65 Coleridge St, Sydenham 65 Coleridge St

Coleridge St

Ph. 379 4250

www.amazingautoelectric.co.nz

Gasson St

Wordsworth St

Brisbane St

8c Birmingham Drive, Middleton

Next to Addington Raceway

343 0099 or 027 22 63 805

www.jcmdirect.co.nz

The Automotive Lamp Specialists

New and Used Lamps for Cars, Trucks,

Vans, 4WD and Motorhomes

PH 0800 225 483 | 95 Gasson Street, CHRISTCHURCH

Your LoCAL

TYrE SPECIALIST

New & Quality Used

Second-hand Tyres

Alloy Wheels

Replacement Rims

Puncture

Repairs
---
20

Tuesday May 14 2019

Latest Christchurch news at www.star.kiwi

NOR'WEST NEWS

Exhibitors

Book now

Don't miss your opportunity to

showcase your business in front of

10,000+ qualified attendees

lisa.lynch@starmedia.kiwi or 021 800 809
---
NOR'WEST NEWS Latest Christchurch news at www.star.kiwi

Tuesday May 14 2019 21

REAL ESTATE

Seaside Gem - Short Call Auction!

7/3 Head Street, Sumner

Auction: Thursday 23 May 2019 Unless Sold Prior

2 bedrooms | 1 bathroom | 1 toilet | 1 living room | 1 car-garage | Listing Number: SM0200

Situated just a hop, skip and a jump from

Sumner's picturesque Esplanade, near to the

popular surf spot at the clock tower end of

Scarborough Beach, this rare property offers

an entry-level opportunity in a fabulous

seaside location.

The unique two bedroom upstairs unit

comes with its own private and sizeable

garden with lawn, raised vegetable beds and a

patio area to enjoy the sun and sea air. Offering

security and peace of mind for pet owners, the

established garden is private and fenced, and

the property also offers a single garage, and

separate storage shed, conveniently located

next to the stairs.

Inside the layout caters beautifully to

relaxed beachside living with an open plan

kitchen, living and dining area that leads to a

sunny balcony with views to the surrounding

hills. The kitchen includes a breakfast bar for

casual dining, and the cook can enjoy the

lovely outlook from the bay window.

Conveniently compact and easy-care, there

is ample accommodation for a couple or

small family with one double bedroom and

one single, each with a built-in wardrobe. The

bathroom includes a shower, vanity and toilet.

Located within walking distance from the

village's restaurants, bars, and movie theatre,

weekend brunches are just a short and

beautiful Sumner stroll away. And, for those

who love the outdoors, there's a wide variety

of activities on offer with the ocean at your

doorstep plus a vast array of cycle ways and

walking tracks to explore in the area.

Suitable for singles, couples, small family,

investor, Airbnb and surfers.

If you are looking for a fantastic beach pad

in a top location, inspect today as this is one of

the very few opportunities to purchase at this

level in this location. Owner has purchased -

be quick to view.

Auction date: Thursday 23 May 12:00pm

(Grenadier House, 98 Moorhouse Ave)

Unless Sold Prior

Open Homes: Wednesday, Saturday and

Sunday 12:00pm - 12:45pm.

See you at the open homes or for a private

viewing or for more information contact

Alison Carter of Harcourts Grenadier

Ferrymead/Sumner (Licensed Agent REAA

2008) on 384 7950 or mobile 0274 318 960.

growing with you June 2018 | 100%

Plants For

winter wow

Cool Choices

For Colour

& Contrast

From swamp

to sea views

The journey

begins with sarah

the Gardener

$7.90 incl. GST

Snap it up

Enter our annual

Birdlife Photo

Competition to win

great prizes!

clear the air

Why groWing

indoor PLAnTs is

so good for you

give it a grow

from gArLic

To chinese

ArTichokes,

We hAve your

groWing TiPs

covered

the latest releases

into the rose world

+ rose care

through winter

The magazine for

gardeners who like to get

their hands dirty

SUBSCRIBE FROM

$43. 50*

*6 issues/6 months

SUBSCRIPTIONS FREEPHONE

0800 77 77 10

WWW.GARDENER.KIWI
---
22

Tuesday May 14 2019

Latest Christchurch news at www.star.kiwi

NOR'WEST NEWS

If you want more information about an item or to contact a

seller, visit www.postanote.co.nz and search the ID#

Golfing Scooter

Aluminium Boat & Warranted Trailer

Kerosene Camping Stoves

2010 Bailey Pegasus 554

1998 Toyota Hilux 4X4

Railway Semaphore Lenz

$1,300

ID 28634

$2,500

ID 28339

$25

ID 28618

$38,000

ID 25046

$2,600

ID 7458

$50

ID 4990

1999 Toyota Corolla 1.6 Hatchback Three-part Fishing Rod

Nissan Maxima - Reduced

Retro Cane Chair

2015 Fiat Ducato Rollerteam Rambler

China Cabinet

$2,500

ID 28308

See Seller

ID 16118

$900

ID 21212

$40

ID 16942

$99,000 ONO

ID 28474

$250

ID 28475

Double Horse Float

BMW Motorsport 325i Touring

1999 Mitsubishi Diamante XE

Holden Commodore

Mobility Scooter

Leyland Housebus

$23,000

ID 28456

$7,000

ID 28508

$2,200

ID 28386

$5,000

ID 28218

$500

ID 18063

$40,000

ID 28143

Oak Lamp Shade Stand

Queensize Mattress & Base

2006 Mazda Seven Sites Car

Haier Fridge Freezer

1995 Nissan Cefiro

Samsung LED TV

$15

ID 28580

$250

ID 28576

$7,500

ID 28540

$100

ID 28571

$1,600

ID 28549

$380

ID 28572

Nissan Pulsar

Milazo Victor Pro X Series Bike

Double Horse Float

Phoenix English China Tea Set

Ladies Bike

2 Leather Couches

$1,650

ID 28520

$45

ID 28539

$23,000

ID 28456

$50

ID 25073

$225

ID 28594

$2,400

ID 28446

Oak Cabinet With Draws

BMW Motorsport 325i Touring

Railway Semaphore Lenz

Suzuki Moped Scooter

KitchenAid Hand Blender

2015 Fiat Dukato Campervan

$120

ID 28578

$7,000

ID 28508

$50

ID _4990

$1,200

ID 23548

$150

ID 28547

$99,000ono

ID 28474

Toyota Starlet

Decormastic Roof Tiles

Motorbike Jacket

2009 Ford Focus TD

Ford 460cu in BB Motor

Toyota Liteace Noah 4WD

$2,750

ID 28172

See Seller

ID 28521

$300

ID 28500

$6,500

ID 28472

$4,500

ID 28413

$4,400

ID 28402

2158212chch
---
Tuesday May 14 2019

NOR'WEST NEWS 23

Latest Christchurch news at www.star.kiwi

Classifieds Contact us today Phone our local team 03 379 1100

ADD SOME

COLOUR

TO YOUR ADVERT!

Community Events

ALCOHOLICS

ANONYMOUS, If you

want to have a drink that's

your business. If you want

to stop, we can help. Phone

0800 229-6757

Gardening

& Supplies

A GARDEN OR

LANDSCAPING TIDY

UP? Shrub, hedge &

tree pruning, Lawns,

Gardening,

consistently

reliable general property

upkeep, Dip. Hort. 10

yrs experience, One off

tidy ups or on-going

service. Nick's Garden

Maintenance.

Keeping

your garden beautiful.

Free Quote. Ph. 942-4440

& 022 264 7452

Lost & Found

Black & White Cat

Missing since early

March. Black on top of

body & white underneath,

black mark on nose.

Please contact Jane:

021 819 842

Missing

Trades & Services

Quality workmanship every job by trade

qualified tradesmen.

All decorating services provided.

25+ years' local experience.

Telephone Jon Poultney for a quotation.

03 360 3076 or 0272388362

poultneypainting@xtra.co.nz

PAINTER

Michael Kelly Painters

Locally owned and

operated family

business.

25+ years Experience

• Painting • Wallpapering

• Interior • Exterior

Free Quotes

michaelkellypainter@hotmail.co.nz

Phone

Michael 0212 649 492

Trades & Services

concrete & paving

tel: 0508 873 7483

email: sales@affordableconcrete.co.nz

www.affordableconcrete.co.nz

• Driveways

• Earthquake repairs

• New Home Specialists

• Patios & Paths

Trades & Services

DRIVEWAYS

Exposed Aggregate

Stamped Concrete Plain

Concrete Resurfacing

Things we offer...

Competitive/affordable pricing

Attention to detail

Professional service

free quotes/insurance scopes

Cell 0278 145 848

www.drivecrete.co.nz

Trades & Services

PLUMBER

Call us now for fast friendly service.

Get your problems sorted out

quick smart - on time!!

NEED A PLUMBER

Phone 03 377 1280 | Mobile 021 898 380

Phone for a

FREE

quote now.

YOU COULD

BE HERE

Advertise your business

in our Trades and

Services column.

For assistance phone

Vicky on 03 364 7419

Let us help take

your business to

new heights

Trades & Services

carpet cleaning

For all your carpet

cleaning needs

• Commercial

and domestic

• Over 36 years

experience

Phone John - 021 238 3274

CARPET

CLEANING

sPECIAL

3 Rooms & hALLwAy

fRom $59.00

over 20 years experience

027 220 2256

Wanted To Buy

AAA Buying goods

quality

furniture,

Beds, Stoves, Washing

machines, Fridge Freezers.

Same day service. Selwyn

Dealers. Phone 980 5812

or 027 313 8156

TOOLS

Garden,

garage,

woodworking,

mechanical, engineering,

sawbenches, lathes, cash

buyer, ph 355-2045

Situations Vacant

Online Editor

If you want to be part of a progressive media company,

please email your CV to:

Barry Clarke, Editor In Chief - barry@starmedia.kiwi

Star Media is a division of Allied Press.

The appointment will coincide with a

refreshed and new-look online news site

being launched to market.

You will be the champion for our site

and responsible for sourcing and loading

content to engage our target audience

each week.

The successful applicant will need to have an excellent knowledge of

Canterbury, its issues and people.

You will need to work as part of our team, making quick decisions under

pressure each day

Key duties will include:

• Assisting in the relaunch of the new website

• Co-ordinating and sourcing content and local news

• Ensuring content is up to the minute, fresh and factual for our target audience

• Co-ordinating within our business divisions promotional and paid content

• The continuous development and improvement of our digital platforms

The successful applicant will ideally have experience in growing audience to an

online news platform and must have a full New Zealand driver licence.

The position will be filled as soon as the right applicant is found.

Page 3 Page 13

Li ter library

Problem areas for li ter

revealed

Surf club move

New Brighton surf club opts

to rebuild on new site

TUESDAY, APRIL 10, 2018 www.star.kiwi

Loca ly Owned

jo

hayes

christchurch east

Ca l to make an

a pointment

P: 384 9459

www.national.org.nz

Authorised by Jo Hayes

Unit 6/950 Fe ry Road, Christchurch

• By Sophie Cornish

WORKSAFE NEW Zealand

has b en a proached in a bid to

fina ly repair the potholes in New

Brighton's Hawke St car park.

Coastal-Burw od Ward city

counci lor David East wants

WorkSafe to pre sure the car

park's private owners into

repairing the potholes which are

a "trip and vehicle" hazard.

WorkSafe chief inspector

a se sment southern Da ren

Handforth said it may be able to

take action under the Health and

Safety at Work Act 2015, "as a

person conducting a busine s or

undertaking."

Mr Handforth said WorkSafe

is aware of the concerns raised by

Cr East abou the car park.

"WorkSafe has completed

an a se sment visi to the site

and is engaging with the owner

to advise them that it is their

responsibility to manage their

risks a propriately."

Different parts of the car park

are owned by various people

and the Coastal-Burw od

Community Board recently

wrote to them about its concerns

around health and safety.

Cr East said the bi gest i sue

in the past has b en ge ting in

touch with the landlords and

owners and ge ting them to

agr e to anything. "The board

a preciates that multi-ownership

of the parking space may present

a difficulty in co-ordinating

repair/resurfacing but felt obliged

to pa s these concerns onto you,"

said the le ter.

One reply has b en received so

far from an owner who is wi ling

to discu s the i sue. However, a l

the owners would have to agr e

to undertake work.

Cr East said there had b en

a "number of incidences" in

the car park of people injuring

themselves which had gone

unreported.

"I've always though that it

has b en quite amazing that we

haven't had any serious a cidents

or senior citizens perhaps

tri ping in those potholes and

doing themselve some damage."

He is confiden the new

a proach wi l bring results.

"I think the WorkSafe

involvement may prove to be the

lever that we are l oking for."

New bid to fix potholes

Action looms

on Hawke St

car park

HAZARD: Coastal-Burw od Ward city counci lor David East wants WorkSafe New Zealand to put pre sure on the Hawke St car

park owners to fix the dangerous potholes. PHOTO: GILBERT WEA LEANS

Ph 3 7 0 70,

30 Cashel St,

Christchurch

Restore your oiled CEDAR BLINDS with ou re-oiling service.

Rejuvenate your lacquered CEDAR BLINDS

High-tech Cleaning

We clean and repair a l types of blinds –

Venetians, Cedar, Verticals, Ro ler, Ho lands,

Romans and Pleated – with environmenta ly

friendly cleaning products.

Temperature Contro led Drying

Re-oiling & Rejuvenating

Fabric Blinds - such as Austrian and Roman

Same Day Pick Up & Drop O f

We o fer a same-day, pick up an drop o f

service for mos types of blinds. B okings

are required.

Convenient Location

Drop blinds into us by 9am, at

30 Cashel Str et (near the

Fitzgerald end), and co lect

them a th end of the day.

New Blind Sales Priced from $30

WE ARE OPEN

Mon - Fri

8. 0am to 5. 0pm

Ro ler Blinds cleaned

from as li tle as $20

per blind

www.blindcare.co.nz SCAN QR code for Info >

BLINDS .Cleaned, Repaired & Restored .

Land size

Garage

Bedr om

Carport

Bathr om

Car pad

Lounge

Boat pad

Dining

P ol

Toilet

Te nis court

Shower Study

2.5

1

2

4

850m

1 2 3 4 5 6 7 8 9 10 1 12 13 14

Land size

Garage

Bedr om

Carport

Bathr om

Car pad

Lounge

Boat pad

Dining

P ol

Toilet

Te nis court

Shower Study

2.5

1

2

4

850m

1 2 3 4 5 6 7 8 9 10 1 12 13 14

Land size

Garage

Bedr om

Carport

Bathr om

Car pad

Lounge

Boat pad

Dining

P ol

Toilet

Te nis court

Shower Study

2.5

1

2

4

850m

1 2 3 4 5 6 7 8 9 10 1 12 13 14

Land size

Garage

Bedr om

Carport

Bathr om

Car pad

Lounge

Boat pad

Dining

P ol

Toilet

Te nis court

Shower Study

2.5

1

2

4

850m

1 2 3 4 5 6 7 8 9 10 1 12 13 14

Page 3 Page 5

Cartwright steps downs

Community board chairman

stays true to his word

Pool plans for Edgeware

Designs for ind or learner's

p ol revealed

TUESDAY, APRIL 10, 2018 www.star.kiwi

Loca ly Owned

www.denturesouth.co.nz

call 332 4004 TexT 027 537 0567

230 BarringTon sTreeT

Mobile

Service

Available

• By Sophie Cornish

THE ST Andrew's Co lege big

band had extra incentive to

win a the National Youth Ja z

Competition – ba s player, Tom

Fastier, co lapsed and died the

day before the competition

began.

"Tom was a ba s player from

Cashmere High Sch ol who was

playing with our big band this

year. He had a strong chance of

wi ning best ba s player a the

festival as he was a very a complished

musician," head of music

Duncan Ferguson said.

"We were delighted to win, but

it was bi tersw et," he said.

St Andrew's won the most

outstanding big band title a the

competition in Tauranga.

The band dedicated it se to

Tom, who died while on his way

to Cashmere High on March 27.

His death was po sibly related to

a medical event.

•Turn to page 9

SW ET SOUNDS: St Andrew's Co lege year 12 students Lewis Edmond and Je na We ls performing a the 41st National Youth

Ja z Competition.

Bittersweet win for St Andrew's big band

• By Sophie Cornish and Julia Evans

THE PAPANUI-I nes

Community Board has taken the

rare step of starting a petition

to figh the city council over

funding.

Signatures are being co lected

in a bid to get funding for a community

facility in Shirley.

It comes after the city council

removed funding for the centre

pla ned for Shirley Rd, near the

intersection with Hi ls Rd. This

was the site of the former community

centre, which was badly

damaged in the February 2,

20 1, earthquake.

The removal o funding

prompted community board

chairwoman Ali Jones to threaten

to stand down, citing it as her "die

in the ditch" project.

Ms Jone said the board's role

is to represen the community,

and by gathering signatures from

residents, it was fulfi ling that

role.

"One of the roles of a community

board is to represent and act

as advocate for the interests of its

community and this is what we

are doing. The LTP and a nual

plans are a l about lo bying the

council."

•Turn to page 5

Board

launches

petition

to get new

community

facility

Ph 3 7 0 70,

30 Cashel St,

Christchurch

Restore your oiled CEDAR BLINDS with ou re-oiling service.

Rejuvenate your lacquered CEDAR BLINDS

High-tech Cleaning

We clean and repair a l types of blinds –

Venetians, Cedar, Verticals, Ro ler, Ho lands,

Romans and Pleated – with environmenta ly

friendly cleaning products.

Temperature Contro led Drying

Re-oiling & Rejuvenating

Fabric Blinds - such as Austrian and Roman

Same Day Pick Up & Drop O f

We o fer a same-day, pick up an drop o f

service for mos types of blinds. B okings

are required.

Convenient Location

Drop blinds into us by 9am, at

30 Cashel Str et (near the

Fitzgerald end), and co lect

them a th end of the day.

New Blind Sales Priced from $30

WE ARE OPEN

Mon - Fri

8. 0am to 5. 0pm

Ro ler Blinds cleaned

from as li tle as $20

per blind

www.blindcare.co.nz SCAN QR code for Info >

BLINDS .Cleaned, Repaired & Restored .

Grenadier Real Estate Ltd MREINZ is a Licensed Agent Under the Real Estate Agents Act 2 08

Alistair Hazeldine

Mobile: 027 572 1 5 | Phone: 0 384 7950

Email: alistair.hazeldine@harcourts.co.nz

w.harcourtsfe rymead.co.nz

MAgic on clifton

Mobile: 021 353 280 | Phone: 0 384 7950

Email: joy.butel@harcourts.co.nz

Joy Butel AREINZ - Dip.R.E.

Four Seasons Realty

Grenadier Fe rymead

TEAM

BUTEL

20 Tuawera Te race, Clifton Hi l - $980, 0 3 2 2 2

Phone: 03 384 6540

183 Dyers Rd, Bromley • OPEN 7 DAYS

W ekdays 7.30am-5pm. W ekends 8.30am-3pm

www.dyersroadandlandscapes.co.nz

Dyers Road Landscape

& Garden Supplies

• Barks • Peastraw • Composts - we su ply the best available

• A gregates - Chip, Round and Basecourse

• Pavers & Schist products • Pungas

• Decorative Stones & Landscaping Rocks

• Trailer Hire first hour fr e with purchase

• Bag & Bulk - pick up or delivered

David, Carol & Mike

We wi l deliver!

SOIL

AND

HARDFILL

DUMPING

Page 3 Page 5

Traffic plan at The Brae

Bid to ease traffic on busy,

na row str et

New pi za joint

Fire and Slice fina ly se to

open in Sumner

WEDNESDAY, APRIL 1 2018 www.star.kiwi

Loca ly Owned

LICENSED SALES CONSULTANT RE A 2 08

GRENADIER

Alison Carter

P: 384 7950 M: 0274 318 960

E: alison.carter@harcourts.co.nz

Your local

hi l and

seaside

specialist.

• By Gordon Findlater

DEAN CALVERT (above)

returned from the United

Kingdom last w ek after

ge ting closer than mos to

Joseph Parker in the build up

to his world heavyweigh title

unification fight with Anthony

Joshua in Cardiff.

The former New Zealand

title-holder trave led with his

father George and brother

Bryce to London ahead of the

fight where they spen time

with Parker in the build up.

Mr Calvert, 47, comes from a

boxing mad family.

•Turn to page 6

Former champ hooks

up with Parker in UK

Cave Rock

Apartments'

owners

expect EQC

sign-off

this week

• By Sarla Donovan

THE OWNERS of Sumner's Cave

Rock Apartments ar expecting the

Earthquake Commi sion to sign-off

on a se tlement agr emen this w ek.

Body corporate chairman Mike

White said the group had gone

into mediation with IAG and EQC

on February 20, and signed off

on a deal with IAG on February

2 – coincidenta ly seven years

to the day after the February 2,

20 1, earthquake. However, they

are waiting for EQC to sign the

agr ement.

"Given that EQC actua ly drafted

the agr ement, there' l be no

problem with them doing that."

The apartment suffered damage

in the February and June, 20 1,

earthquakes and were demolished in

late 2012. In 2016, IAG's offer of the

difference betw en indemnity value,

$10 mi lion, and the sum insured,

$16 mi lion, was rejected by the body

corporate.

The mediation agr ement

prevented Mr White from disclosing

the se tlement amount, but he said it

involved the two parties paying "a bit

more money than they'd wanted to

earlier."

•Turn to page 6

Page 7 Page 10

Fishin' for w eds

Children's event at risk if The

Groynes' lakes not cleaned up

Pedaling acro s NZ

Stroke survivor finishes long

journey

TUESDAY, APRIL 10, 2018 www.star.kiwi

Loca ly Owned

www.denturesouth.co.nz

call 32 4 04 TexT 027 537 0567

230 Ba ringTon sTr eT

Mobile

Service

Available

A NEW 60km/h sp ed limit and

double ye low lines wi l be in

place on Dyers Pa s Rd by early

May.

The sp ed limit change was

a proved by the city counci last

w ek.

A decision to paint double yellow

lines on the stretch betw en

Summit Rd and the Sign of the

Takahe was earlier made by the

Spreydon-Cashmere Community

Board.

But the Banks Peninsula Community

Board decided against

ye low lines on the Summit Rd-

Governors Bay section due to the

road's na rowne s and general

condition.

The changes are designed to try

and reduce the crash rate.

Insta lation of the double

ye low lines, the new sp ed limit

signs and raised centre line pavement

markers wi l begin in mid

April.

The work i scheduled to take

place betw en April 15-18, 2-26,

29 and May 2.

While the work is done, Dyers

Pa s Rd wi l be closed to traffic

from the Sign of the Takahe to

Governors Bay betw en 7pm and

6.30am.

60km/h

Dyers Pass

speed

limit from

early next

month

• By Emily O'Co ne l

A WOOLSTON butcher proved

to be a cut above the rest in an

international competition.

New World Fe ry Rd butcher

Jeremy Garth and his team, the

Pure South Sharp Blacks, recently

came second a the World

Butchers' Cha lenge in Northern

Ireland.

It was the firs time Mr Garth

had competed in the cha lenge

and he was "rea ly proud" of

how the team performed.

"We produced some top quality

products and came away

with a g od result so we're very

ha py," he said.

The preparation for this year's

World Butchers' Cha lenge was

intense as the team members

met in Auckland every two

months for lengthy w ekend

practices.

Mr Garth, who has b en a

butcher for 14 years, said the

competition brought back his

pa sion for the job.

"Doing a l thi stuff and

m eting new people, seeing new

ideas, it just brings that flair

back for you," he said.

Mr Garth hopes to own a

butcher shop of his own someday

but says for now he wi l focus

on ge ting mor experience

and on the 2020 cha lenge.

"In two years' time, we' l be

going back to try and win the

title," he said.

U per Ri carton butcher Corey

Winder was part of the Pure

South Sharp Blacks team.

GLOBAL STAGE: W olston butcher Jeremy Garth back home after his team came second in the World Butchers' Cha lenge.

PHOTO: MARTIN HUNTER

From New World Ferry Rd

to second in the

world

Ph 3 7 0 70,

30 Cashel St,

Christchurch

Restore your oiled CEDAR BLINDS with ou re-oiling service.

Rejuvenate your lacquered CEDAR BLINDS

High-tech Cleaning

We clean and repair a l types of blinds –

Venetians, Cedar, Verticals, Ro ler, Ho lands,

Romans and Pleated – with environmenta ly

friendly cleaning products.

Temperature Contro led Drying

Re-oiling & Rejuvenating

Fabric Blinds - such as Austrian and Roman

Same Day Pick Up & Drop O f

We o fer a same-day, pick up an drop o f

service for mos types of blinds. B okings

are required.

Convenient Location

Drop blinds into us by 9am, at

30 Cashel Str et (near the

Fitzgerald end), and co lect

them a th end of the day.

New Blind Sales Priced from $30

WE ARE OPEN

Mon - Fri

8. 0am to 5. 0pm

Ro ler Blinds cleaned

from as li tle as $20

per blind

www.blindcare.co.nz SCAN QR code for Info >

BLINDS .Cleaned, Repaired & Restored .

Page 3 Pages 10 & 13

Cyclist's helipad bid

Serious crash gives new

perspective on ride to hospital

River working group

Rebuilding a healthy

ecosystem in the Selwyn River

WEDNESDAY, APRIL 1, 2018 www.star.kiwi

Loca ly Owned

June 29 - July 1

EXHIBITORS BOOK NOW

vanessa.fleming@starmedia.kiwi

021 914 565

• By Georgia O'Co nor-Harding

A CRACKDOWN on mobile

traders acro s the districts could

be l oming.

However, the public has li tle

interest in having input into the

i sue.

Only eight submi sions were

received for a potential bylaw

aimed at regulating commercial

activities in public places.

The district council wi l be

holding a hearing for the Public

Places Bylaw and Policy on Commercial

Activities and Events in

Public Places.

A hearing i scheduled to be

held on Thursday.

The bylaw comes as an increasing

number of mobile traders

are s eking to operate in Selwyn,

especia ly during the summer

months.

In the past year, the district

council has received five inquiries

about se ting up a mobile busine s

on private or public land.

A report said there are two

str et operators in Darfield, a

coff e cart is parked beside the

railway in Ro leston, and a pi za

cart visits Lincoln w ekly betw en

September-May along with a Thai

f od truck.

•Turn to page 7

Mobile

traders

could

face

regulation

Pupils learn about role of war horses

GR ENDALE SCHOOL pupils

have taken a step back in time,

s eing first hand what men and

horses l oked like during war.

The New Zealand Mounted

Rifles Charitable Trust president

Mark A pleton and member

Mike Donaldson t ok their

horses to the sch ol on Monday,

in a bid to educate pupils on the

sacrifice their ancestors made in

World War 1 and World War 2.

Mr A pleton and Mr Donaldson

a rived a the sch ol dre sed

in World War 1 uniforms while

their horses Tommy and Kruze

wore 1 0-year-old sa dles donated

to the trust.

The presentation is a prelude

to the Gr endale Recreation Reserve

Management Commi t e's

upcoming Anzac Day service.

As a tribute to those who

served, members of the trust wi l

ride horseback to the service.

Mr A pleton said it was

important children were

educated on what soldiers

wen through during World

War 1 and World War 2.

But he said the presentation

didn't go into t o much detail

and was more of a "show and

te l" to make them aware of what

the soldiers l oked like.

Children were shown the type

of kits horses were required to

wear in the war.

•Turn to page 7

• By Georgia O'Co nor-Harding

HISTORY: Pupils have taken a step back in time learning about what

New Zealand soldiers and horses l oked like in World War 1. Abi P oler,

5, sits on Kruze, alongside Mounted Rifles Charitable Trust president

Mark A pleton. PHOTO: MARTIN HUNTER

New sections

selling now

There's no be ter place to se tle out wes than at Falcon's Landing. Pop in to our sales and

information office, 17 Branthwaite Drive, this Thursday, Friday or Sunday from 1pm to 3pm

to find out more. Contact us on 03 741 1340 or mail enquiries@yoursection.nz anytime.

Page 3 Page 5

Driver hazard?

Community board member

blasts Yaldhurst Rd island

Mega centre f edback

Denton Park a tracts more

submi sions than Cathedral

TUESDAY, APRIL 10, 2018 www.star.kiwi

Loca ly Owned

www.denturesouth.co.nz

ca l 32 4 04 TexT 027 537 0567

230 Ba ringTon sTr eT

Mobile

Service

Available

• By Emily O'Co ne l

AN U PER Ri carton butcher

has proven himself to be a cut

above his Au sie rivals at an

international competition.

Elite Meats owner Corey

Winder was named in the a l

star team a the World Butchers'

Cha lenge in Northern Ireland.

Mr Winder and his team, the

Pure South Sharp Blacks, which

includes W olston butcher

Jeremy Garth, finished second

in the competition.

He said the cha lenge started

as a "transtasman test match"

seven years ago.

The preparation for this

year's World Butchers' Challenge

was intense as the team

members met in Auckland

every two months for lengthy

w ekend practices. Mr Winder

said coming second against 1

other countries was a "fantastic"

result.

"To get second behind Ireland

was a huge achievement and to

be ahead of Australia is an

even bi ger thing for us," he

said.

But Mr Winder admires the

Australian team.

"Those guys over there

[Australia] are on top of their

game, they do a g od job," he

said.

"And it just showcases that

New Zealand has got some

of the best butchers in the

world," he said.

Mr Winder has b en a butcher

since the age of 19.

Elite butcher cut above the world

• By Emily O'Co ne l

THE HALSWE L-Hornby-

Ri carton Community Board

has b en given the gr en ligh to

o pose the pla ned qua ry near

Templeton.

Mayor Lia ne Dalziel told the

board on Thursday it had the okay

from the city council to make a

submi sion if Fulton Hogan a plies

for a resource consen to create a

qua ry.

Board chairman Mike Mora

told Western News the submi sion

would likely o pose Fulton Hogan's

plan.

"You can just about guarant e

it . because we [the community

board] don't believe qua ries

should be so close to residential

areas," he said.

Mr Mora said he wasn't sure if

the city council would endorse the

board' submi sion.

"I'd like to think so because the

city council has had their eyes

open as we l ove recent years over

the crysta line silica risk," he said.

Mr Mora said the community

board wi l be "representing and

advocating" for the Templeton

community.

•Turn to page 5

Community

board get

permission

to oppose

Templeton

quarry

AWARD-WINNING: Corey Winder is back home after his team came second in the World Butchers' Cha lenge .

PHOTO: MARTIN HUNTER

Ph 3 7 0 70,

30 Cashel St,

Christchurch

Restore your oiled CEDAR BLINDS with ou re-oiling service.

Rejuvenate your lacquered CEDAR BLINDS

High-tech Cleaning

We clean and repair a l types of blinds –

Venetians, Cedar, Verticals, Ro ler, Ho lands,

Romans and Pleated – with environmenta ly

friendly cleaning products.

Temperature Contro led Drying

Re-oiling & Rejuvenating

Fabric Blinds - such as Austrian and Roman

Same Day Pick Up & Drop O f

We o fer a same-day, pick up an drop o f

service for mos types of blinds. B okings

are required.

Convenient Location

Drop blinds into us by 9am, at

30 Cashel Str et (near the

Fitzgerald end), and co lect

them a th end of the day.

New Blind Sales Priced from $30

WE ARE OPEN

Mon - Fri

8. 0am to 5. 0pm

Ro ler Blinds cleaned

from as li tle as $20

per blind

www.blindcare.co.nz SCAN QR code for Info >

BLINDS .Cleaned, Repaired & Restored .

Pip Su ton BCM (Marketing)

Residential Sales & Development

Specialist - Licens e Salesperson

Next Step Realty Limited

Licensed (RE A 2 08)

Your best choice

in the West

Mobile: 027 24 9524

DI: 03 421 8417

Email: pip.su ton@raywhite.com

$ 40

T Y R E S

LTD

New Tyres - Ba teries

Quality Secondhand Tyres

Discounts on sets of tyres

LOOK

Used tyres from

FR E PICK UP & DELIVERY (in local area)

Ph 348 0626

9 Main South Rd (cnr Wa ts Rd), Sockburn

T Y

Quality Secondhand Tyres

Discounts on sets of tyres

A l at very competitive prices

$ 70

155

x 13

AA

Discounts

8047287 A

8214716 A

LOOK

New tyres from

5

Star Media is seeking

an online editor

to join its award

winning newsroom.

Career Training

Don't have the right

the job you want?

FREE 20 week Business Admin

and Computing course.

Get that job you really want!

CALL US NOW ON:

0800 834 834

OR TEXT: 'OFFICE'

TO 027 557 8839

Vehicles Wanted

CASH/CASH for any

unwanted vehicles, ph

347 9354 or 027 476 2404

Tree and hedge

trimming

Tree removal

Gardening

Landscaping

CALL us 021 405 277

House & Garden

Property services Ltd

Trades & Services

Vehicles Wanted

CASH/CASH for any

unwanted vehicles, ph

347 9354 or 027 476 2404

HOUSE

CLEARING

Are you

moving house

or trying to

downsize?

Call All Clear

Canterbury. We work

with you to recycle,

sell and dispose of

unwanted items.

Ph: 03 260 0934

or 021 078 4553

raewynlcooke@gmail.com

www.allclearcanterbury.co.nz

Trades & Services

Rope & harness

a speciality,

no scaffolding

required,

30 years of

breathtaking

experience.

FREE QUOTES

ROOF

PAINTING

Phone Kevin

027 561 4629

Exterior staining,

exterior painting,

moss and mould

treatment and

waterblasting

Trades & Services

AUTUMN TIDYUP

Incl lawn sowing & top

dressing. Greame 342-

5151 or 027 341 8596

BATHROOM

Renovations,

complete

service from start to finish,

free quotes, ph Dave 027

334 4125

BUILDER

HANDYMAN

No job too small. Install

heat transfers, repair/

replace fences, floor

boards, decks. Russ

027 884 2330. Liability

insurance.

****************

CARPET & VINYL

LAYINg

Exp. Repairs, uplifting,

relaying,

restretching.

Email jflattery@xtra.co.nz

ph John on 0800 003 181

or 027 2407416

CHIMNEY SWEEP

*Rotary

brush

technology*. From $70

single story. 0800 SWEEP

ME

ELECTRICIAN

Prompt & reliable

registered

electrician

with 24 years experience

for all residential and

commercial work, new

housing and switch board

replacements. Phone Chris

027 516 0669

ELECTRICIAN

Registered,

electrical

installation and repairs,

Gorbie Electrical, ph 021

026 73375 or 03 322 4209

gARDENER AVAILBLE

For weeding, pruning,

tidying.30 yrs exp.

Free quotes.$25 per

hr.Pessioner rates. Ph

Richard 349 4022 or 0274

918234

PAINTINg

30 years experience,

workmanship

guaranteed,

pensioners

discounts, free quotes, ph

Robert 021 026-30757

PAINTER INT/EXT

Comp rates. Ph 385-4348,

027 274 3541

PLUMBER

ALF

THORPE

PLUMBING

Certifying

Plumber for all types of

plumbing,

maintenance,

spouting, alterations etc.

Phone 352-7402 or 0274-

350-231

PLUMBER

A Top Plumbing job

completed at a fair price,

prompt service, all work

guaranteed, Ph Brian 960-

7673 or 021 112-3492

ROOFINg REPAIRS

Fully qualified, over 40

yrs experience. Ph John

027 432-3822 or 351-

9147 email johnchmill@

outlook.com

Trades & Services

SHOE REPAIRS

Belfast engraving. Shoe

repairs, key cutting &

engraving. (10 yrs exp)683

Main North Rd, ph 027

3113423

SPOUTINg CLEANINg

Spouting

Unblocked,

Cleaned Out and Flushed

Out. Call Trevor 332 8949

or 021 043 2034

STONEMASON, BRICK

&

BLOCKLAYER,

Earthquake Repairs, Grind

Out & Repoint, River/

Oamaru stone, Schist,

Volcanic Rock, Paving,

all Alterations new & old,

Quality

Workmanship,

visit

www.featureworks.

co.nz or ph 027 601-3145

STUMP gRINDINg

Best price guarantee Tony

0275 588 895

TILER/CARPENTER

35 years exp, no job

too small. Ph Ross 027

4311440.

TILINg

Flooring - Splashbacks -

Wall incl tile removal, reg

master tiler, ph Dave 027

334 4125

T.V. SERVICE

CENTRE

Repairs, tvs, microwaves,

audio amps, soundbars.

.Aerial & satellite

installations, kitsets, 480D

Moorhouse Ave, ph 03 379

1400

VHS VIDEO TAPES

& all camera tapes

converted to DVD, video

taping special occasions,

www.grahamsvideo.co.nz

ph 03 338-1655

Trades & Services
---
24 Tuesday May 14 2019

Latest Christchurch news at www.star.kiwi

NOR'WEST NEWS

We love

what we do

Congratulations to our Top 20 Consultants

for 2018-2019

It's an unquestionable truth – the success of our clients is

directly tied to the success of our people. We are inspired

every day by our clients' stories and it's why we love doing

what we do.

Congratulations to our top performers for their passion and

dedication, their unique expertise and exemplary service.

Top

02

03

04

RICHARD DAWSON

Ilam 2

CHRIS LEWIS

Fendalton

JAMIN MARSHALL

Merivale

PAUL NICHOLS

Fendalton

05

06

07

08

JENNI ROLTON

St Albans

CATHY CARTER

Fendalton

CORINA GREY

Ilam

CINDY-LEE SINCLAIR

Merivale

09

10

11

12

STEVEN MARSHALL

Fendalton

PETER HAMPTON

St Albans

JANINE LANEY

Ilam 2

TRACY THOMSON

St Albans

13

14

15

16

EMMA LUXTON

Ilam 2

FIONA NANKIVELL

Fendalton

LUCY ZHOU

Ilam 2

CHRIS CAMPBELL

Merivale

17

18

19

20

BLAIR EARNSHAW

St Albans

MITCHELL MACDONALD

St Albans

PETER FITZHARDINGE

Ilam 2

LESLEY FALCONER

Merivale

Contact one of our top performers today:

FENDALTON

03 355 6116

ILAM

03 351 6556

ILAM 2

03 351 3002

MERIVALE

03 355 6677

ST ALBANS

03 377 0377

holmwood.co.nz
---
NOR'WEST NEWS Latest Christchurch news at www.star.kiwi

Tuesday May 14 2019 25

FREE $300 cooking

Go in the draw

to win a

when you share our Facebook page

Valid for the month of May 2019 only, terms and conditions apply.

class for two

Delicious Thai

and Vietnamese cuisine

265 Halswell Road, Halswell

Phone 03 260 1799 | Open 7 days

www.hoianhouse.co.nz
---
26 Tuesday May 14 2019

Latest Christchurch news at www.star.kiwi

NOR'WEST NEWS

Small Beginnings

Thai Specialty

roti flatbread V $7.50

With peanut satay.

summer rolls (x2) gf $12.00

Freshly made rice paper rolls, pork and prawns, carrot,

cucumber, mint, lettuce, vermicelli noodles with nuoc

cham dipping sauce.

hanoi crab and prawn fried

spring rolls (x4) $12.00

Chả Giò Rế. Served with nuoc cham dipping sauce.

lemongrass

chicken skewers (x3) gf $13.00

Bò/Gả Nuống Sả. Served with satay sauce.

hanoi pork meatballs (x4) $12.00

Nem Nuống. Pickled vegetable salad with our Hoi An

dipping sauce.

crispy pork belly gf $13.00

Heo Quay. Glazed in caramelised honey, soy, garlic

and sesame sauce, crispy onion.

hawker roll $13.00

Roti bread filled with fried fish, coriander, crispy

shallots, slaw and spicy coconut sauce.

salt & pepper squid df $12.00

Mực Chiên Giòn. Five spice, green onion and chilli

with Hoi An house dipping sauce.

dim sum (x4) $12.00

Steamed crystal prawn dumplings topped with Penang

sauce and kaffir.

tom yum soup

with prawns gf $14.00

shoestring fries $9.00

With tomato sauce.

seasonal stir fry gf $9.00

With garlic and oyster sauce.

pad thai gf V

Rice noodles cooked with bean sprouts, spring onion

and crushed peanuts in our special pad thai sauce,

served with fresh lemon and sprouts.

Chicken, Beef, Pork or Vegetables and Tofu $22.90

Prawn $24.90

cashew nut stir fry *

An abundance of fresh vegetables and cashews.

Chicken, Beef, Pork or Vegetables and Tofu $23.50

Prawn $25.50

green curry gf V

A marvellous aromatic mixture of fresh ground herbs

and spices of fresh chilli, lemongrass, galangal, garlic

and kaffir lime, prepared in a creamy coconut based

broth.

Chicken, Beef, Pork or Vegetables and Tofu $23.50

Prawn $25.50

bangkak satay stir fry gf V

Roasted peanut sauce combined with a selection of

seasonal vegetables. Rich, sweet and satisfying.

Chicken, Beef, Pork or Vegetables and Tofu $23.50

Prawn $25.50

honey crispy chicken $23.90

Battered chicken pieces stir fried with a tangy lemon

sauce and sweet honey sauce. Served with prawn

crackers, fresh salad and steamed jasmine rice.

fried rice * V

Stir fried rice prepared with fresh seasonal vegetables

in our house made sauce, with your choice of meat.

Chicken, Beef, Pork or Vegetables and Tofu $22.90

Prawn $24.90

chilli and basil stir fry * V

Seasonable vegetables stir fry with chilli and basil, with

your choice of meat.

Chicken, Beef, Pork or Vegetables and Tofu $22.50

Prawn $24.90

thai salad gf $22.50

Wok fried chicken or beef, coriander, spring onion,

mint, lime juice, fish sauce, Thai rice powder, garnished

with fresh salad.

black pepper hot plate * V

Stir fried vegetables in our special black pepper stir fry

sauce, with your choice of meat, served on a sizzling

hot plate.

Chicken, Beef, Pork or Vegetables and Tofu $22.50

Prawn $24.90

gf Gluten free

*

Can be made gluten free

V Can be made vegan

bun Vermicelli noodles

com Steamed rice

ga Chicken

bo Beef

nuoc cham Special dipping sauce
---
NOR'WEST NEWS Latest Christchurch news at www.star.kiwi

Tuesday May 14 2019 27

takeaway menu

Vietnamese Specialty

"hoi an" bowl gf V $24.00

Coconut cream curry sauce, steamed vegetables,

Vietnamese basil and coriander, fried shallots, rice stick

noodles, lime, chilli, fish sauce, bean sprouts.

Your choice of chicken or prawn.

chop chop "bun" ha noi gf V $24.00

Grilled pork belly, rice noodle, lettuce, mint, coriander,

smashed peanuts, crispy vegetarian spring roll, sprouts

and Hoi An dipping sauce.

lamb shanks gf $25.00

Ca-ri Cừu. Lamb shank braised in curry sauce, potato,

smashed peanuts, served with "com."

Vietnamese pancake gf V $23.00

Bánh Xèo. Pork and prawn, shredded lettuce, herbs,

crispy shallot, bean sprouts, cucumber and carrot salad

with nuoc cham dressing.

green peppercorn

chicken * V $23.00

Gà Xào Tiêu Phú Quốc. Sweet and spicy battered

chicken, green peppercorn, garlic, spring onion, chilli

served with "com."

cashew nut

tempura chicken $23.00

Gà Xào Hạt Diều. Sweet chilli jam, cashew nuts, crispy

chicken, carrot, capsicum served with "com."

caramelised beef

short rib df gf $25.00

Súốn Bò Nấu Là Chúc. Kaffir lime, chilli and basil,

Vietnamese salad and house made pickles served with

roti bread.

spicy fried wok noodles * V $23.00

Pho Xao Bò. Sliced beef, rice noodles, egg, cabbage,

spices, lemon, fresh coriander and basil.

traditional Vietnamese

noodle soup gf V $21.00

PhỚ Gà. Poached chicken, light broth, fresh rice

noodles, sprouts, spring onion served with coriander,

mint, sliced chilli and lime.

sizzling sunbathe tofu * V $23.00

Ðậu Hủ Xào. Silken tofu deep fried, crispy stir fried

vegetables, lemongrass and black bean sauce served

with "com."

lemongrass chicken gf $24.00

Gả Xào Sả Ớt. Chilli, garlic and tumeric, lemongrass,

onion, served with "com."

beef shin red curry gf $25.00

Bò Kho. Carrot, potato, garlic, ginger, lemongrass,

kaffir lime, red curry, coconut milk, served with "com."

mekong fish salad gf $24.00

Gỏi Cá Mekong. Lightly battered turmeric fish,

vermicelli noodles, roasted rice powder, spring onion,

coriander, shallots, chilli and lime dressing.

Extras

Chicken, beef, pork $4.00

Tofu or cashew nuts $4.00

Peanut sauce $4.00

Prawn or fish $5.00

Steamed rice $3.50

Roti $3.50

Chefs bring

their Asian flair

to Christchurch

You don't need to travel the world

to get the exotic flavours of Asia -

you can get them all right here in

Christchurch.

Hoi An House have found chefs from all

corners of Asia including Thailand, Vietnam,

the Phillipines and Malaysia. These chefs have

brought the best from their homelands and

added others to create delicious dishes for you

to enjoy.

Hoi An House has been operating for a year

at its site in Halswell. Here you will find a

restaurant with intimate spaces, an 80-person

function room and beautiful garden terrace.

The signature Vietnamese pancakes with fresh

herbs, salad, pork and prawns will have you

coming back for more.

The restaurant takes pride in the quality of

their ingredients and the preparation made in

compliant and sustainable ways. You can even

learn some of the dishes yourself as they also

operate the Asian Garden Cooking School.

Hoi An House means the "perfect meeting

place", a place to come and relax, eat, enjoy,

and never leave the table hungry.

265 Halswell Road, Halswell

Phone 03 260 1799 | Open 7 days

www.hoianhouse.co.nz
---
28 Tuesday May 14 2019

Latest Christchurch news at www.star.kiwi

NOR'WEST NEWS

Food for the people

Local Asian street food

No bookings required - just march on in!

Cnr Somerfield/Colombo Streets | 03 366 8844 | Open 7 days from 5pm | www.commi.co.nz

Book a

class today!

Cooking is an art form, an expression of life.

At Asian Garden Cooking School, we admire the

philosophy and techniques of Asian Cuisine.

Our purposely built cooking school and Asian Garden offers

our customers a unique opportunity to learn Asian Cooking

techniques, classes from $99 per person, 3 to 4 hours of learning

and fun.

We teach the secrets of Thai, Vietnamese, Chinese and other Asian

cuisine, dumpling making, drinks are included also.

Great for single, groups, or team building. Kids classes available.

We run day and evening classes, you can either book into an

existing class online; or you can book for a special event or

function.

Get in touch to find out more!

7 Whitchurch Place, Harewood | Phone 03 359 8917 | www.asiancookschool.co.nz