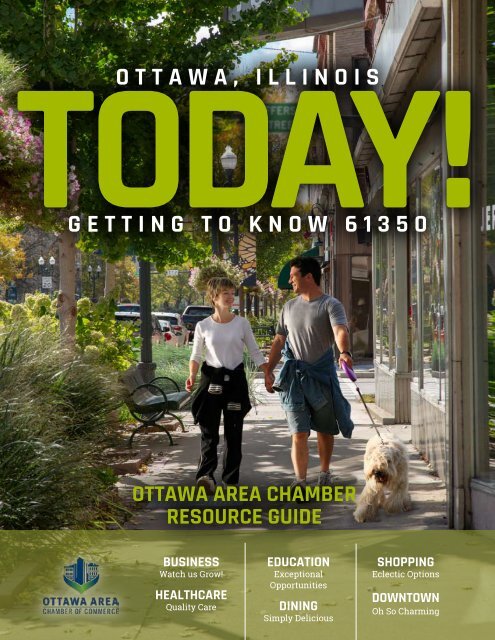 Ottawa TODAY!
Getting to Know 61350
Getting to Know 61350
SHOW MORE
SHOW LESS
You also want an ePaper? Increase the reach of your titles
YUMPU automatically turns print PDFs into web optimized ePapers that Google loves.
TODAY!

OTTAWA, ILLINOIS

GETTING TO KNOW 61350

OTTAWA AREA CHAMBER

RESOURCE GUIDE

BUSINESS

Watch us Grow!

HEALTHCARE

Quality Care

EDUCATION

Exceptional

Opportunities

DINING

Simply Delicious

SHOPPING

Eclectic Options

DOWNTOWN

Oh So Charming

Ottawa TODAY! 1
---
HEALTH CARE

THAT'S CONNECTED

Our OSF HealthCare family offers a wide variety of primary care and specialty providers to choose from. With the help of our

electronic medical record, you can be sure that you'll receive coordinated care from each OSF HealthCare office. When it comes

to the health and well-being of your family, trust the care and compassion of our family of caregivers.

We are OSF HealthCare, and we're proud to support Ottawa and a number of communities.

OTTAWA

• Full-service inpatient hospital

• Walk-in urgent care

• Behavioral health services

• Primary care for all ages

Plus: Cardiology, General surgery,

Neurology, OB/GYN, Orthopedics,

Pulmonology and Rheumatology

STREATOR

• 24/7 Emergency Center

• Testing and diagnostics

• Rehab therapy services

• Primary care for all ages

Plus: Behavioral health, Cardiology,

General surgery, OB/GYN,

Orthopedics and Podiatry

MENDOTA

• Full-service inpatient hospital

• Skilled nursing facility program

• Community health services

• Primary care for all ages

Plus: Cardiology, ENT, General

surgery, Neurology, Orthopedics

and Pulmonology

MARSEILLES

• Primary care for all ages

WENONA

• Primary care for all ages

MORRIS

• Walk-in urgent care

For a full listing of services and locations,

visit osfhealthcare.org

2 Ottawa TODAY!
---
THE

BEST WATERFRONT RESORT COMMUNITY

OFFICIAL

BEST OF

I L LINOIS 2018

LIVE THE HARBOR LIFE

Ottawa TODAY 3

Ottawa TODAY! 3
---
executive DIRECTOR'S NOTE

As Executive Director of the Ottawa Area Chamber of Commerce since 2005, amazing things

have taken place in our community that I and the Chamber have witnessed and been part of.

From asphalt to asphalt, we have transformed our historic downtown to a streetscape of

"botanical arts and gardens", thriving retail stores and restaurants. Future waterfront development is

now being planned for more than twenty acres of riverfront property. The plans include a new YMCA

center, an outdoor concert venue, botanic gardens, and harbor with nearby residential and commercial

development.

Ottawa continues to offer the ideal setting for business and entrepreneurial ventures,

an enviable quality of life for residents, and a delightful get-away experience for visitors.

Ottawa is history!

You can see it in our historical buildings, larger-than-life murals, our historical homes

in each district of our town, and our churches.

We're proud of the exceptional educational resources. The public and parochial schools offer

quality and comprehensive curriculum, sports and extra-curricular programs. Our high school music

program has ranked first in the State for 20 out of the last 21 years! Illinois Valley Community College's

off campus facility is located in downtown Ottawa allowing our residents

to have convenient access to college and continuing education opportunities.

Economic Development is a key priority for Ottawa. The city's industrial park offers

ready-to-build sites including rail. Ottawa is home to companies MBL (USA), NSG Pilkington, SABIC,

ITW Zip-Pak, PetSmart DC, Kohl's DC, Clover Technology Group, HR Imaging Group, Tyson Foods, Cristal

Metals, Seattle Suttons Healthy Eating, SIKA, Advantech B&B SmartWorx, LMK Technology, and U.S.

Silica, among others.

Ottawa is the gateway to Starved Rock State Park and Starved Rock Country and

we enjoy sharing our city with visitors and welcome new residents.

Come see for yourself! Ottawa truly is AMAZING.

Boyd Palmer

Executive Director

Meg Skelly

Assistant Executive

Director

Kristal Nodland

Office Coordinator

4 Ottawa TODAY!
---
Let's say, HELLO to 61350!

Get to Know Us

6-7

Ottawa Unplugged

8-9

Dine Well

10-11

Building Legacys

12-13

Business & Industry

14-15

Time Flies

16-17

Head over Heels

18-19

Volunteers Make

the Difference

20-21

Education

22-23

Healthcare

24-25

There's No Place

Like Home

26-27

Membership Directory

28-31

Community Leaders

and Supporters

32-48

Special thanks to Ottawa photographers, Annette Barr and Skipp Hupp, for their incredible photography throughout this publication.

Ottawa TODAY! 5
---
6 Ottawa TODAY!

A BRIEF INTRO TO 61350
---
25,000 cars

travel through

Ottawa

everyday.

On February 8, 1910,

William Dickson Boyce, then a

resident of Ottawa, incorporated

the Boy Scouts of America. The

Ottawa Historical and Scouting

Heritage Museum, on Canal

Street, is open to the public. The

museum features the history of

Ottawa and Scouting.

18,768

people live in Ottawa!

The John Hossack House was

a "station" on the Underground

Railroad, and Ottawa was a major

stop because of its rail, road,

and river transportation.

Ottawa Nicknames:

The Friendly City

The Town of Two Rivers

Radium City

The City On Sand

The Town of Stovepipe Hats

Ottawa is in

LaSalle

County

Ottawa Silica sand was on board

the Columbia space shuttle for

experimental purposes.

Known as the scenic gateway to

Starved Rock State Park, the

most popular state park

in Illinois, with some

2 million visitors per year

Located at the confluence of the

Illinois River and Fox River.

The Illinois River is a conduit for

river barges and connects

Lake Michigan at Chicago,

to the Mississippi River, and

North America's 25,000

mile river system.

1858

Ottawa was the site

of the first

Lincoln-Douglas debates.

Because of numerous

silica sand deposits

Ottawa has been a major

sand and glass center for

more than 100 years.

Ottawa is...

Illinois Representative District: 76

Illinois Senate District: 38

US Congressional District: 11

The stars are

among us!

Local Celebs &

Famous PEEPS

from Ottawa.

Walt Willey - Actor, All My Children

Guy Hoffman - MLB Pitcher

Maria Kanellis - WWE Wrestler

Kim Howard Johnson - Author,

Monty Python Books

Johnston McCulley - Creator of Zorro

Bob McGrath - Actor, Sesame Street

Stephen L. Brusatte - Palentologist

Tim Finchem - Golf Commissioner

Tom Corcoran - US Congressman

Tribute to William D. Boyce,

founder of the

Boys Scouts of America,

overlooks the Illinois River.

Ottawa TODAY! 7
---
Unwind, unplug and enjoy the outdoors. Just minutes away from Ottawa are the woods, canyons, and waterfalls of Starved Rock

State Park. It's where fun is waiting for you. Ottawa is home to hundreds of acres of community parkland. City parks offer

a variety of amenities, including boat launches, docking facilities, a swimming pool, tennis courts, bike and hiking trails, ball diamonds,

basketball courts, playgrounds, picnic facilities, monuments and art, fishing, a toboggan run, a riverwalk ~ and LOTS more.

1

In The Air

For those who seek the ultimate adventure - we

invite you to jump and experience a thrill you'll

never forget. Located just north of Ottawa on

220 acres of private land, Skydive Chicago offers

instruction to first-time jumpers, as well as an

Advanced Freefall Program. They have loads of active

and outdoor amenities for camping, swimming and

so much more.

Skydive Chicago is the home of several World

Records, multiple local and national competitions and

the nation's largest skydiving festival of the year.

This family run training center has been in business

since 1988.

Enjoy the BEAUTY. Experience the ACTION.

Ottawa Unplugged

Let's all go to 61350!

ON THE RIVERS

There's nothing like being on the water.

From fishing and boating to skiing, tubing

and kayaking, you'll discover why the Illinois and

Fox Rivers are the place to be from springtime

through the fall. Plenty of access ramps to the

rivers are conveniently located in downtown

parks and nearby marinas. In addition to the

homes and vacation cottages at Heritage

Harbor, just East of Ottawa, a state of the art

marina awaits you with a great restaurant -

plus boating amenities and plenty of rental

options for the active river enthusiast!

2

8 Ottawa TODAY!
---
inSIDE the

canyons

3

No matter the season, outdoor

activities are always in play in

Ottawa. Minutes away from the

woods, canyons, and waterfront of

Starved Rock State Park, hiking and

even ice climbing are just a few of

the favorite activities of the two

million tourists that visit each year.

THROUGHOUT

the parks

Winter sees cross-country skiing,

snowmobiling, and hiking in Starved

Rock. Those who brave the cold are

rewarded with breath-taking views of

snow-covered bluffs and ice-encrusted

waterfalls on the trails.

4

5

On

the streets

Get out and run! A variety of races, from walks

and runs, both big and small are held in Ottawa

throughout the Spring, Summer and Fall months.

Runners and walkers of every age and fitness

level take in the beauty of Ottawa and the

surrounding area as they do what they love.

The Annual Starved Rock Country Half/Full

Marathon is perhaps the highlight of the more

serious runners local summer race. It takes you

from historic Washington Park in downtown

Ottawa, up and through the picturesque hills to

Starved Rock State Park.

Ottawa TODAY! 9
---
A'Lure Aquarium Bar

Ottawa Bakery

"

ONE CANNOT THINK

WELL, LOVE WELL AND

SLEEP WELL IF ONE HAS

NOT DINED WELL.

Michael Anderson

"

B.A.S.H - Burger and Sushi House

10 Ottawa TODAY!
---
DINE WELL

Ottawa Bakery Anyone visiting

Starved Rock Country will want to leave

the trail for this sweet, small batch

bakery. Fresh scones, pastries, quiche

and coffee (hot and iced) - the Ottawa

bakery is sure to satisfy any sweet

tooth. Stop by and say hi to Holli! Enjoy

her creations and the sweet life with

something fresh and delicious while

you take in the beautiful scenery of

downtown Ottawa. Locals love it!

Jeremiah Joe Coffee is the perfect

spot to gather with friends and kick-start

your day. They proudly roast the blends

that make up each and every fresh cup

of coffee and espresso they serve. Enjoy

your very own hand-crafted cup of joe

before you stroll along to all your favorite

downtown spots!

A'Lure It takes more than exquisite

cooking to make a memorable meal.

At A'Lure they believe a social atmosphere

in the right location, personal and

attentive service and great company

are what separates a delicious dinner

from an unforgettable experience. A'Lure

Aquarium bar is another one of Ottawa's

destination spots for great cocktails - like

their ginormous Bloody Mary!

Hi Way Restaurant Voted "Best Place

for Breakfast" time and time (and time)

again. Brothers, Ray and Nick Banushi

have been in the restaurant business in

Ottawa since the mid 1970's, owning the

Hi Way for more than 20 years since. AND

- they're a few of the nicest guys you'll

EVER meet! Top sellers at this favorite

spot include a variety of hearty breakfast

skillets and wraps. They serve LOTS of

pasta and are famous for an incredible

garlic salad dressing. People come

from miles around stop in for their liver

and onions ~ and yes, they even serve

cocktails!

B.A.S.H Burger and Sushi House was

established in 2013 and is a unique and

perfect pairing of quality food, service,

& ambience. The staff ranges from local

friendly faces to a team of sushi chefs

with experience from across the world.

When looking for an option for everyone,

visit B.A.S.H. in downtown Ottawa! It's

Destination Dining for sure!

JJ's Sports Pub It's one of the

favorite spots in Ottawa for locals

and visitors alike - with great food -

including the fan favorite Italian Beef

sandwich, plus ALWAYS your favorite

cold beer. Hang out with old friends or

meet a new one while you catch the

game on one of Jeremy's big screens!

Try your luck at their video poker and

slots section. Cheers to JJ's!

Ottawa TODAY! 11
---
The Carlson Auto Legacy

For more than 93 years, the name

Carlson has been synonymous in the

Ottawa area with automobiles.

Carlson Motor Sales, a Plymouth and

Valiant car dealership, was started

in 1926 by Gary's grandfather, Hugo

Carlson, who was joined in business

by Gary's father Wayne in 1952. The

dealership closed due to health issues

in 1972.

Gary Carlson, owner of Carlson

Auto Body, is proud to continue this

successful legacy and continued

investment here in Ottawa for the last

41 years.

Gary opened his business Carlson

Auto Body in 1978 in the original Carlson

Motor Sales buildings on the south

side of Main Street. He and his wife,

Diana, purchased two more buildings

on the north side of the street in 1989

to expand the business into what it is

today.

He prides himself on treating his

customers the way his family before

him treated theirs.

He has established lasting relationships with his customers by what some might call

the old-fashioned way - by being fair and honest, and doing a great job. That's the way

we do things in Ottawa, and he wouldn't have it any other way.

Gary and his team are proud to be able to continue to serve his Ottawa neighbors and

friends with the kind of respect and service that was started almost a century ago by the

elder Carlsons, right here in Ottawa.

BUILDING LEGACYS in Ottawa

TURK FURNITURE LEGACY

In 1885, Joseph Turk founded Turk

Furniture believing that people deserved

well-made furniture at affordable prices.

He opened the first store in Downtown

Joliet. The Ottawa location on LaSalle

Street has been in business since 1988.

Five generations later, although the

merchandise they carry has changed in

terms of its fashion their service hasn't.

At Turk Furniture, customer

satisfaction remains their #1 goal

as it has throughout their 128 years

as a family-owned furniture store.

Their mission is to exceed customer's

expectations by providing the best

combination of value, selection and

service along with a low price. They're

not only committed to creating beautiful

homes but also committed to creating

long-term relationships with their

customers.

Find out why others enjoy shopping in

a family owned furniture store.

12 Ottawa TODAY!
---
Mother, Daughter's toy & book OBSESSION

Mary Olson and her daughter Gabriella Crivilare have a habit

of saving things. It started out small, with items to be used in

future craft projects, like stage decorations and props for the

theater productions put on by the

former Community House of Arts in

Ottawa. Then they got a cat. After

that, it was The Classroom Store, an

educational supply and toy store,

which Olson—alongside her business

partner, Sue Vandervort—eventually

transformed into Rock Paper

Scissors. Then, in 2016, Olson and

Crivilare bought the Book Mouse, and

reopened it as Prairie Fox Books.

"It seems like our retail endeavors

evolved from our desire to collect

things," says Crivilare. "I always joke

that we ran out of room in the house

for books, so we had to open a bookstore."

Because Prairie Fox was bursting at the seams with their

incredible collection - they invested in downtown Ottawa even

more by purchasing and renovating another beautiful building.

In 2018, they relocated in it, across the street, nearly tripling

their space and inventory.

Yet, still, plenty of books, board books, and other tomes for

young readers can be found at Rock Paper Scissors.

"The book room is my favorite thing about the toy

store," confesses Olson. "Picture books

are an art form all their own, and just as

important to the mental development

of a child as certain types of toys are to

developing fine motor skills."

But Olson and Crivilare believe that no

book should be limited to a single target

audience, and it's this belief that has led to

their diverse selection and habit of expertly

recommending books from different age

groups and genres to people who might be

hesitant. "One of the most valuable things

about books is their ability to transport and

provide windows and mirrors for different

life experiences," says Crivilare. And that's

exactly what Mary and Gabby provide.

Whether it's with story times at the toy store, events with

local and literary bents, or simply recommending a book with a

new-to-you point of view – stop by and ask them the titles of

their favorite books; they've been saving them just for you.

Ottawa TODAY! 13
---
Ideally Situated for

Business & Industry

Close to Chicago ~

Just a ninety minute drive will get

you into the metropolitan area of

Chicago and its millions of residents.

Yet this distance allows Ottawa to

remain free of the environmental

issues, congestion, crime, expensive

business regulations, intense

government bureaucracy and more

which commonly plague tour more

urban areas.

Plenty of Transportation Options ~

Ottawa is located on Interstate 80,

the nation's premier, coast-to-coast/

east-west route. Additionally, it's just 12

miles East of Interstate 39, one of the

country's main north-south routes.

Six major airports, including Chicago's

O'Hare and Midway are within a 90

minute drive from Ottawa. The Illinois

Valley Airport with its strong corporate

aircraft capability, is just 18 miles away.

Rail and Illinois Waterway

transportation are immediately

available. In fact, two thirds of the

United States is within a two day

shipping range of Ottawa.

Ready for Business and Industry ~

Businesses and entreprenuers alike

have recognized the potential for their

growing companies, here in Ottawa.

We want your business to grow here,

with us.

The City of Ottawa owns property

complete with sewer, water, electric,

gas, broadband, environmental signoffs,

rail, barge and more. These lots

are backed by an attractive incentive

package ~ all just two miles from

Interstate 80 are immediately available.

14 Ottawa TODAY!
---
GREAT THINGS IN BUSINESS ARE NOT DONE

BY ONE PERSON ~ THEY ARE DONE BY A TEAM.

MAJOR EMPLOYERS

SITES AVAILABLE on Interstate 80

Ottawa's Interstate corridor is a bustling

commercial area with auto dealerships,

major retail outlets, restaurants,

manufacturers, hotels and more. Despite

significant growth in this area, many

attractive sites near Interstate 80 are still

readily available.

While a safe, green, uncongested city,

Ottawa also stands out because of

its exceedingly rare combination of

amazing quality of life and great business

opportunities.

OSF Saint Elizabeth:

Health Services, 892 employees

Petsmart:

Warehouse Distr., 450 employees

Wal-Mart Super Center:

Department Store, Grocer,

425 employees

The Results Companies:

Call Center, 400 employees

Ottawa Elementary School District:

Education, 332 employees

SABIC Innovative Plastics:

Plastic Processing, 285 employees

Clover Technologies Group:

Printer Cartridges, 258 employees

Illinois Valley Community College:

Education, 220 employees

MBL (USA) Corporation:

Automotive Belts, 213 employees

NSG: Glass Maker, 198 employees

HR Imaging Partners: Photo

processing/yearbooks, 181 employees

U.S. Silica Company:

Sand, 180 employees

Ottawa Township High School:

Education, 155 employees

Ottawa Dental Lab: Dental Wear

and Appliance manufacturer, 144

employees

Seattle Sutton's Healthy Eating:

Meal Plans, 125 employees

Pleasant View:

Senior Care, 120 employees

City of Ottawa:

Government, 115 employees

Tyson Fresh Meat Inc.:

Meat Distribution, 110 employees

Ottawa TODAY! 15
---
16 Ottawa TODAY!

TIME FLIES WHEN YOU'RE HAVING FUN!
---
Nestled along the Illinois and Fox River, the area creates a peaceful and beautiful

backdrop for residents and visitors. It has become a popular destination for anyone

looking to relax and enjoy some me time without lo sing the comforts of life. The

downtown offers many shops and unique restaurants. It is a place full of activities,

business, lush plantings and many friendly faces. Architecture, large murals, art and

performance shows bring culture to life. It's a great place to live and invest!

CURT BEDEI, NFPC

Executive Director, Ottawa Visitors Center

PICK US!

Host to a number of festivals and markets throughout the year, the

variety of events in Ottawa appeal to everyone, no matter your age.

Every Saturday morning from June through

October, visit the OLD TOWN FARMERS MARKET.

Findings here vary from homegrown vegetables

and preserves to perennials and pies - PLUS

handmade items including paintings, garden

sculptures and so much more

In early May, the MIDWEST MOREL FEST draws

mushroom enthusiasts from over a three

state area. Events offered during the festival

include seminars and guided hunts from

Morel University and a Championship Hunt

with cash prizes. If hunting down the evasive

'shroom is not your style, enjoy Illinois largest

MOREL FARMERS MARKET and HOMEBREW

COMPETITION all under one tent.

June kicks off with the OTTAWA 2 RIVERS

WINE FEST featuring wines from nearly twenty

vintners across the state. This three-day event

incorporates live jazz on-stage every night and

throughout the event. PLUS FRESH LOBSTERS

flown in fresh from the coast of Maine. They're

perfectly cooked to order, right on the spot for

your enjoyment!

July 4th is Show Time for one of Illinois

biggest and best fireworks displays! Lots of

activities happen all day long throughout the

community for children of all ages. This grand

display at dusk is made possible by generous

community donations and funds raised by a

dedicated team of volunteers known as

Ottawa First.

RIVERFEST - happens the first weekend in

August, and is the last hurrah of the summer.

It runs Wednesday - Sunday, kicking-off

with the Chamber's annual Welcomeburger

Picnic. Lots of downtown activities and fun

for children of all ages happen everyday thru

Sunday.

Historic Washington park is host to events like

the BIG and ever popular book sale. Plenty

of talent and variety entertainment happens

throughout the fest along with Art in the Park

sponsored by the Ottawa Art League, as well

as the agricultural street fair and a vintage

car show. Then, on Sunday, when things start

winding down the RIVERFEST PARADE rolls

through town with miles of floats, music, candy

and clowns – contributed by organizations, local

businesses, sports teams, schools and many

other community leaders.

In late September, celebrate Fall with

us at OKTOBERFEST & SCARECROW FEST.

Nothing says autumn like a good old-fashioned

German style beer fest. It's Oktoberfest! Meet

your friends early and stay late celebrating at

this traditional German style festival featuring

great food, and lots of fun and games.

Scarecrow Fest is a family-friendly event,

and provides plenty of activities for all ages

including a petting zoo, craft fair, face painting

and giant bouncy houses. Shop the scarecrow

lined streets of Old Town for some unique items

and incredible deals.

As the season comes to a close, Ottawa

embraces the winter chill with its FESTIVAL

OF LIGHTS. Friday night kicks off with the

Thanksgiving Santa Parade - as you-know-who

comes to town - followed by the lighting of

beautiful and historic Washington Park. All

while you shop for that special gift for someone

in our downtown "Old Town".

In December, get into the holiday spirit with

the Chris Kringle Market in downtown Ottawa,

featuring artisan gift vendors, tasty holiday

treats, traditional German-style beer, and

memorable activities for the whole family

to enjoy!

Plan now

for these events!

JUNE - OCTOBER

Old Town

Farmers Market

MAY

Midwest Morel Fest

Brewfest

JUNE

Ottawa 2 Rivers

Wine Fest

JULY 4TH

Ottawa 1st Fireworks!

August

Riverfest

SEPTEMBER

Oktoberfest

Scarecrow Fest

THANKSGIVING

WEEKEND

Festival of Lights

DECEMBER

Chris Kringle Market

For up-to-date

information and

exact dates, visit

PickUsOttawail.com!

Ottawa TODAY! 17
---
Head over Heals for Ottawa

Ottawa businesses

draw from a very

loyal customer

base with their

regulars traveling

from hundreds of

miles away. Here

are a few of our

faves with a rather

impressive market

reach.

Step inside Jobst Monument to find

an unexpected must-have piece.

The Unique ~

JOBST MONUMENTS AND GIFTS

Customers travel from miles and

miles away to shop the unique items

and gifts available at Jobst Monument

& Gifts.

This one-of-a-kind gift shop on

the corner of West Main Street and

Canal Streets in Ottawa has often

been referred to as "the BEST kept

secret in Ottawa," and "that ivy covered

building." Each description accurately

sets the tone for the rustic selection of

remarkable merchandise inside of the

shop.

Available under the ivy decorated

roof is an art gallery of sorts when

it comes to the unique variety of

lawn and garden decor, religious

and bereavement gifts, statuaries,

and more. Such items include kinetic

art, humming bird feeders, gazing

globes, wind chimes, and Isabel Bloom

sculptures.

18 Ottawa TODAY!
---
The Daring ~

SKYDIVE CHICAGO

More than 75,000 jumps take

place annually by Skydivers from

all over the world at Skydive Chicago,

just 4 miles north of Ottawa.

Here are just a few of the 200 in air at

the same time attempting to break the

world record vertical formation jump.

SaltTreeYoga ~

Obsessed with Wellness

It's one of those sweet, one-of-a-kind

spots in Ottawa that you don't want to

miss. Set back and up the stairs at 310

1/2 West Main in Downtown Ottawa,

SaltTreeYoga has become a vital part of

the area's movement toward wellness.

SaltTreeYoga's roots began as

BLOOM! Yoga in 2009, and then

expanded into a Wellness Center in

2015. Diana Carlson, owner and a

Certified Yoga Therapist, has provided

some of the latest natural healing

methods and educational opportunities

that help locals and visitors guide their

bodies back to a functional, balanced,

and healthy state.

Relax, meditate and immerse

yourself into all of their services -

ESPECIALLY within the walls of the

serene and softly lit Himalayan Salt

Cave. Inspired by and designed around

the memory of Diana's father, who was

an avid tree lover and planter, the

business name was changed to

SaltTreeYoga.

The door to the Salt Cave is custom

built from dead oak trees her dad

harvested and kiln-dried from the local

family home refuge where she grew up.

The salt in the cave is absorbed via

Halotherapy by both the skin and your

air passageways - clearing pollens,

viruses, toxins, and other pollutants

from the body - thereby reducing

inflammation, and improving respiratory

ailments. Remarkable!

In addition to Dry Salt Therapy

in the Salt Cave, their other state of

the art wellness services include: Dry

Hydrotherapy, Migun Thermal Massage

Bed, Full Spectrum Infrared Sauna, Ionic

Foot Detox, Body Vibration Therapy,

Reflexology & Massage, Yoga, Essential

Oils, and more. All services provide some

combination of pain relief, detoxification,

and relaxation. RELAX your way to

wellness.

You deserve SaltTreeYoga!

Diana Carlson, owner of SaltTreeYoga,

just inside the door of the area's only

himalayan salt cave.

Ottawa TODAY! 19
---
VOLUNTEERS

No act of kindness, no matter how small, is ever wasted.

Ottawa PADS Shelter is a 50-bed

homeless shelter that provides shelter,

meals, and other services to those in

need. IV PADS heavily relies on excellent

volunteers to assist us in our mission

to provide these essentials for the

homeless.

The Reddick Mansion Association has

been an all-volunteer organization

since its inception in 1975. Their focus

is maintaining and restoring the

Mansion – which is the only current

building around Washington Park that

existed at the time of the Lincoln-

Douglas debate in 1858. In the past

45 years, Association members have

done everything from hosting cocktail

parties and painting walls to acting as

tour guides of the Mansion and pulling

weeds in the Gardens. Volunteerism

is the life blood of the RMA. Each year,

more than 5,000 hours of volunteer

time are donated to the Mansion.

Each December, WCMY 1430 AM, Handy

Foods - IGA and Stevenson Transfer host

Freezin' for a Reezin'. And, every year,

countless volunteers and generous friends

spend days and dollars not only organizing

this event but ultimately collecting up to

nearly 30 tons of food to be used throughout

the year for people in need through the

the Ottawa Food Pantry, which serves over

2,000 thankful families in the area.

Pet Project is a Non Profit, No Kill Animal

Shelter. They were established in 1993

and have rescued well over 5,000 animals.

Their Mission is to operate a shelter

and provide for the humane treatment

of animals while attempting to secure

permanent homes for them.

20 Ottawa TODAY!

Ottawa is Blooming is a group of

residents that work together to spruce

up a block or area of town that may

need it. That may be anything from

planting flowers to painting fences.

The U of I Extension Master Gardener

Program has over 20 volunteers

contributing nearly 600 volunteer hours

serving the City of Ottawa. Volunteers

assisted with the delivery of over 8,000

pounds of fresh produce to area food

pantries from the Ottawa Community

Gardens for the PAR (Plant a Row)

initiative for the 2018 growing season. A

new and ongoing project is the Butterfly

Garden, located at the corner of Canal and

Madison Streets in downtown Ottawa.
---
What would ANY community be without its volunteers? In Ottawa, we come together to

participate in our society ~ and contribute to projects that matter to the community. The social

relationships developed from volunteer work are critical to the individuals that help their community.

The spirit of volunteerism is inspired with values such as solidarity, teamwork, mutual trust, belonging

and empowerment, every one of which contribute significantly to the quality of life here in Ottawa.

For some, properly maintaining a

home can be an impossible task - -

many cannot even provide themselves

with the basic necessities we take for

granted. Labor of Love is an annual

one-day blitz to repair and rehabilitate

the homes of the poor, elderly, and

disabled. Generous crews with big

hearts - just like this group from First

National Bank of Ottawa unite with

people of all walks of life to roll up

their sleeves and assist others in need

here in Ottawa.

Twenty volunteers from Chamber

member businesses make up the

Chamber's public relations team called

the Ambassadors. Ambassadors

are active and visible in the area by

representing the Chamber at ribbon

cutting ceremonies, Business After

Hours, Welcomeburger and other

Chamber events. Ambassadors

represent the Chamber and the

city of Ottawa year-round, and are

an essential part of the Chamber's

success. They assist and volunteer

for special events and visit new and

potential members as well as current

members. The Chamber Ambassadors

are proud of Ottawa and actively share

that enthusiasm with others.

The Salvation Army's host of volunteers

have been serving those in need in the

LaSalle County area for over 125 years!

The results of their efforts are put forth to

help meet human need wherever, whenever

and however they can ~ to ensure that the

people in our community get the help they

need.

Ottawa First consists of members

who volunteer throughout the year

spending countless hours raising

funds and gathering donations so

that Ottawa can put on one of the

finest fireworks display in Illinois.

Christmas 4 Kids began in 2005 by

Sheriff's Deputy, Felecia Rassmussen.

Since then, under her direction, and with

the help of countless holiday helpers,

they have orchestrated the collection of

donated funds and toys so that hundreds

of kids in-need throughout LaSalle County

are able to enjoy a very special Christmas.

Mosaic Artist, Susan Burton, is

the Ottawa Public Arts Community

Chairman (Ottawa PAC) Thousands

and thousands of donated hours while

working with dozens and dozens of

artist volunteers is what it takes to

create these mosaic masterpieces

that are the highlight of our charming

downtown.

Ottawa TODAY! 21
---
22 Ottawa TODAY!

Successful students,

winning athletes,

talented musicians

~ Ottawa schools

provide educational

opportunities and

incredible experiences

that your child will

never forget.
---
Education

Marquette Academy is a pre-K through

12 school situated on two campuses

in Ottawa. A Roman Catholic School

under the Diocese of Peoria, the

academy serves as a college preparatory

school that integrates eternal truths

and values into a strong academic

program. With a goal to stimulate the

spiritual, intellectual, emotional, and

physical growth of students, Marquette

develops the whole child in a Christ-like

atmosphere and an educational system

like no other in the area.

For their youngest students, Marquette

offers a full-day, full-week "Power Pre

school," or traditional half-day preschool

for three and four year olds. Providing

core classes as well as exploratory

classes, children learn about math,

science, art, music, and Spanish.

The grade school also runs before and

after care programs. The elementary

campus offers numerous core classes

in addition to accelerated programs,

foreign language, and other exploratory

classes for all students who test well

above local, Diocesan, state, and national

levels in all subjects. The school offers

many extracurricular programs such as

athletics, robotics, academic team, and

an art club.

At the high school campus, Marquette

provides accelerated and college level

classes. In conjuction with Illinois Valley

Community College, the academy

offers the "Running Start Program"

for upperclassmen in which they are

afforded the opportunity to earn

both their high school diploma and

an Associate Degree upon graduation.

Marquette Academy currently has one

hundred percent graduation and college

acceptance rates.

Ottawa High School, with an enrollment

of more than 1,600 students, occupies

four buildings that house classrooms,

an auditorium, and three gymnasiums.

Students may choose their classes

from more than one hundred academic

courses and fifty career-oriented

courses.

The curriculum includes accelerated

courses, advanced courses in chemistry

and composition, and advanced

placement in U.S. history.

2018 marked the 22th IHSA State

Music Sweepstakes Championship

for the Ottawa High School Music

Department. The IHSA State Music

Championship is won by excelling in two

IHSA competitions: a Solo & Ensemble

Contest where students compete as a

soloist or member of a small ensemble,

and an Organizational Contest, where

students compete as members of a choir

or band.

With the current system of tabulating

points, only one school in Illinois has

surpassed the 1000 point mark - Ottawa

High School. They have done it 13 times.

Ottawa Elementary District 141 is home

to five different schools, varying in grade

levels served - with a total of over two

thousand students enrolled. Curriculum

focuses on math, language arts, science,

and social studies as well as art, music,

and physical education. District 141 also

offers a program for gifted and talented

students.

Ottawa Christian Academy,

is a Christ-centered educational center

with a progressive academic curriculum

- exceeding state and national

averages. They encourage the student

to be inspired and to become a lifelong

learner; applying the skills, critical

thinking, and technological advances in

their quest for knowledge.

Illinois Valley Community College,

renowned for high-quality instruction,

low-cost and convenience, opened a

satellite campus at 321 W. Main St.,

in downtown Ottawa in 2010. In fall

2019, the Center will be enhanced as

a Transfer Academy providing courses

students need for university transfer

after two years.

IVCC's main campus, established in 1967

in Oglesby, is a comprehensive two-year

college awarding associate degrees in

arts, science, and applied science. In both

Ottawa and Oglesby, the college offers

a full spectrum of educational services

from English as a Second Language,

basic literacy and GED preparation

to nearly 30 one-year certificates, 40

two-year career programs for those

wishing to go straight to work, and 45

program options from which transfer

students may choose before moving

on seamlessly to a four-year college or

university.

Ottawa TODAY! 23
---
Quality Healthcare resources

Award-winning healthcare for you -

for the entire family

OSF HealthCare Saint Elizabeth Medical

Center is Ottawa's flagship medical

facility. Offering 97 beds, the acute care

hospital is stroke ready and features the

area's most comprehensive behavioral

health program.

With roots in the community dating back

to 1895, OSF Saint Elizabeth joined the

OSF HealthCare ministry in 2012. OSF

HealthCare is an integrated health system

owned and operated by The Sisters of the

Third Order of St. Francis, headquartered

in Peoria, Illinois.

OSF HealthCare employs nearly 21,000

Mission Partners (employees) in 126

locations, including 13 hospitals - nine

acute care, four critical access - and two

colleges of nursing throughout Illinois and

Michigan.

Thanks to this coordinated network,

residents of Ottawa and surrounding

communities enjoy access to more than

1,200 primary care, specialist physicians,

and advanced practice providers.

Convenient OSF PromptCare and OSF Urgo

clinics are also available locally for walk-in

treatment of minor illnesses or injuries.

Patients in need of more specialized care

for conditions such as heart failure, stroke

or critical injuries can rely upon OSF Life

Flight medical helicopters.

With a base stationed nearby in Peru,

these state-of-the-art air ambulances

transfer patients to OSF HealthCare

trauma centers in Peoria and Rockford

to ensure safe and timely access to

advanced care for you or your loved one.

OSF HealthCare consistently ranks as one

of the country's top-performing health

systems and was named one of the best

employers by Forbes magazine in 2018,

achieving the highest ranking among

Illinois-based companies listed.

For more information about OSF

HealthCare and its local services,

view our ad on the inside front cover

or visit www.osfhealthcare.org.

24 Ottawa TODAY!
---
and the entire family.

Morris Hospital & Healthcare Centers has been improving the health of area

residents since 1906. Located 23 miles east of Ottawa in Morris, the 89-bed Morris

Hospital serves residents of Grundy County and parts of LaSalle, Will, Livingston, and

Kendall counties. All together, Morris Hospital offers services in 25 locations.

Morris Hospital & Healthcare Centers is known for its compassionate and

personalized approach to healthcare. This is attributed to the outstanding work of

1,300 employees, 500 Auxilians, and a medical staff of more than 200 physicians and

allied health/advanced practice providers representing most medical specialties.

Morris Hospital's 3 Ottawa locations include:

• Morris Hospital Ottawa Campus - Services include family medicine, pediatrics

and laboratory services.

• Morris Hospital Obstetrics & Gynecology Specialists - An excellent health care

resources for women at all stages of life.

• Morris Hospital Cardiovascular Specialists - From routine concerns to complex heart

conditions, their board-certified cardiologists put their hearts into making sure you

have a healthy one.

The Morris Hospital Mission: To improve the health of area residents.

Their Vision: Transforming healthcare to support healthier living.

Their Values: Compassion, Accountability, Respect, Excellence

IMPORTANT NUMBERS

EMERGENCY

911

AMBULANCE

815.433.2121

OSF HOSPITAL

815.433.3100

MORRIS HOSPITAL

815.942.2932

NON-EMERGENCY POLICE

815.433.2131

ILLINOIS STATE POLICE

815.224.1150

SHERIFF

815.433.2161

FIRE

815.434.3785

Serving You in Ottawa.

Whether you need a primary care provider or specialist, our physicians are your connection

to award-winning care at Morris Hospital & Healthcare Centers, an 89-bed hospital just 20 miles east of Ottawa.

In Ottawa, we have:

Morris Hospital Ottawa Campus, where patients of all ages can be seen for

routine check-ups, chronic conditions and illness - as well as lab services.

Find us at 1306 Gemini Circle, Suite 1, Ottawa. Call 815.433.9200.

Morris Hospital Obstetrics & Gynecology Specialists, excellent healthcare

resources for women at all stages of life, including pregnancy, labor, family planning,

birth control and more. We're at 1300 Starfire Dr., Ottawa. Call 815.324.9700.

Morris Hospital Cardiovascular Specialists, board-certified

cardiologists who specialize in the diagnosis, treatment and

prevention of heart disease. See us at 1404 Aquarius Circle,

Suite A, Ottawa. Call 815.705.1000.

morrishospital.org

Ottawa TODAY! 25
---
There's no place like home.

"Big or small, old or new - Ottawa is filled

with incredible choices that you can call home"

Options for Apartments, Condos, Town

Homes and Duplexes are scattered

throughout the entire Ottawa area.

Whether you're looking for the

maintenance-free benefit, a close-knit

neighborhood, the added comfort of

security or the affordability factor, Ottawa

has plenty of options perfect for buyers

and renters alike.

Ottawa's historic neighborhoods and

homes offer plenty of character and

charm. Stepping inside some of the

historic homes in Ottawa is a bit like

stepping back in time. From the ornate

fireplaces and antique door knockers to

the intricate crown molding and vintage

built-ins, Ottawa is home to a myriad of

homes packed with history. By purchasing

a historic home in Ottawa, you are helping

to keep its history alive. You'll enjoy

breathing new life into a historic treasure.

If help is needed with a brand new home

or renovations to an older home, a host of

qualified union contractors are just a call

away with the Illinois Valley Contractors

Association.

Residents in Ottawa's up and coming

neighborhoods find themselves next door

to like-minded people who care about

the place they call home. Here in Ottawa,

you'll appreciate our midwest demeanor

and community spirit - with neighbors

who are eager to get to know each other

and ready to pitch-in and help when you

need it. Just one drive through these

developments on a beautiful day will allow

you to see walkers, runners and families

on sidewalks - plus children walking to and

from school and playing in the parks. This

shows you that our residents feel safe in

their neighborhood.

A variety of Independent, Assisted and

Senior Living Options are available in

Ottawa for our mature residents - no

matter what your age, lifestyle, health

and assistance needs may be. From

independent and assisted living choices,

like those available at Pleasant View

Lutheran Home, to the more hands-on

live-in care that's provided at Aperion Care,

there is a lot of compassionate care and

plenty of quality resources available to our

seniors here in Ottawa.

26 Ottawa TODAY!
---
Relocation Contacts

Relocating is an exciting time for any family.

Information included in this guide can help

make decisions on a realtor, schools,

shopping, healthcare and fitness easier.

Heritage Harbor - Ottawa is a waterfront marina and residential resort

community. It's the perfect port to call home and provides a safe and

beautiful boating environment.

Heritage Harbor offers a variety of charming homes for sale with

waterfront properties that you won't find anywhere else in Illinois.

This quaint marina community is a great option for a second home or

beautiful vacation with rental opportunities available all year. This up

and coming destination boasts an array of available waterfront lots

where you can build your dream home.

This is a full-service, state of the art marina with over 450 slips - plus

a travel lift, dual access boat ramps, equipment rentals, marine sales,

service and storage. Everything you need for your day on the water is

at the Heritage Harbor ship's store and the marina's bar & grill.

Utilities

Water: City of Ottawa, 815-433-0161

Electric: Ameren IP, 800-755-5000

Gas: Nicor, 888-642-6748

Cable/Internet

Mediacom, 815-433-5710 or 800-322-0245

AT&T and Dish Network, 866-722-7500

Telephone

AT&T, 800-288-2020

Waste Removal

Republic Services, 815-434-5557

Waste Management, 800-796-9696

Tonegate Sanitation, 815-228-5303

Newspaper

The Times, www.mywebtimes.com

815-433-2000

For more information or additional help,

contact the Chamber Ottawa at 815-433-0084. TODAY 3

Ottawa TODAY! 27
---
These are the members of the Ottawa Area Chamber of Commerce.

Because of their support and investment in our community, the Chamber continues to

fund important community initiatives and lead the way for more business.

These members support, promote and attract business that help build our community.

Accountants-Certified-Public

• Roenfeldt & Lockas, P.C.

www.roenfeldtlockascpa.com

(815) 433-0464

• William W. Peabody, CPA

(815) 434-0393

•Walker Accounting Group, LTD

www.walkeraccountinggroup.com

(815) 223-7733

• Income Tax Etc., Ltd

www.incometaxetc.com

(815) 434-2450

• Holtzman's RSR & Company

(815) 434-6034

Advertising/Marketing

• Advertising Specialties

www.advspc.com

(815) 200-7724

• MCS Advertising

www.mcsadv.com

(815) 224-3011

• Diane Stelken Associates

www.stelken.com

(815) 942-4470

• Starved Rock Country

www.starvedrockcountry.com

(815) 431-4014

• The Hauser Design Group

www.thehauserdesigngroup.com

(815) 324-9422

• Cook Multimedia

www.cookmultimedia.com

(815) 993-6590

Agriculture/Supply

• Ottawa Barge Terminal

(815) 434-1815 Terminal

• Ottawa Plant Food

www.ottawaplantfood.com

(815) 433-2090

• Windy Acrez Farm

www.windyacrez.com

(815) 252-9638

• CL Hop Farms, LLC

www.illinoishops.com

(815) 312-4677

Appliances

• Shanley TV Center

www.shanleysonline.com

(815) 434-0308

• Sears Authorized Hometown

Store #3142

(815) 433-6401

Architects

• Basalay, Cary, & Alstadt,

Architects, Ltd.

www.bca-architects.com

(815) 434-0108

Attorneys

• The Cantlin Law Firm

www.cantlinlaw.com

(815) 433-4712

• Hupp, Lanuti, Irion & Burton, PC

www.hupplaw.com

(815) 433-3111

• White, Marsh, Anderson, Martin,

Vickers, Deobler and Goode

Attorneys at Law

www.wmamvdg.com

(815) 434-2000

• Armstrong & Surin

www.armstrongsurin.com

(815) 434-4323

• Johnson Law

www.hmjohnsonlaw.com

(815) 324-9646

• Strow Law, LLC

(815) 431-1111

www.strowlaw.com

• The Justice Law Firm, PC

www.thejusticelawfirm.com

(815) 434-0709

Automobile Dealers

• Bill Walsh Automotive Group

www.billwalsh.com

(815) 434-2323

• Duffy's Auto Sales, Inc.

www.duffysauto.net

(815) 431-9500

Automotive Detailing/

Body Shop

• Route 6 Pro Wash/Pro Dent

www.rt6prowash.com

(815) 433-9274

• Carlson Automotive Body Shop, Inc.

www.carlsonautobodyshop.com

(815) 433-3862

• Carstar

www.carstar.com/locations/il/ottawa-15389

(815) 433-3277

• Ziebart/Speedy Auto Glass

www.ziebartofottawa.com

(815) 433-5353

• Ottawa Auto Spa

ottawaautospa.com

(815) 313-5858

• Dolphin Car Wash II

www.dolphincarwash.com

(815) 434-3770

Automotive/

Motorcycle Services

• The Auto Inspector Inc.

www.TheAutoInspectorInc.com

(815) 326-5831

• Jim Boe's Mobil

www.jimboeservice.com

(815) 434-0389

• Conroy's Inc.

(815) 434-0280

• Leipold Motor Sales, Inc.

www.leipoldmotorsales.com

(815) 433-0713

• Starved Rock Harley

www.starvedrockhd.com

(815) 431-1900

Bakeries

• The Ottawa Bakery

www.theottawabakery.com

(815) 433-2253

Banks, Banking Assoc.

& Credit Unions

• First Federal Savings Bank

www.firstfedsavingsbank.com

(815) 434-3500

• The First National Bank of Ottawa

www.firstottawa.com

(815) 434-0044

• Old Second Bank Ottawa

www.oldsecond.com

(815) 433-4433

• Ottawa Savings Bank

www.ottawasavings.com

(815) 433-2525

• First State Bank

www.firststatebank.biz

(815) 433-3727

• Hometown National Bank

www.myhtnb.com

(815) 223-7300

• Compeer Financial

www.compeer.com

(815) 433-1780

• Eureka Savings Bank

www.eurekasavings.com

(815) 223-0700

• Midland States Bank

www.midlandsb.com

(815) 431-2900

• Financial Plus Credit Union

www.financialplus.org

(815) 433-1496

Banquet Facilities/

Party Rentals

• 807 Conference Center

www.807conferencecenter.com

(815) 993-8885

• Pitstick Pavilion

www.pitstickpavilion.net

(815) 433-3571

• Festivities Unlimited

www.festivitiesunlimited.com

(815) 433-3200

• Columbus Building Association

www.kofc.org

(815) 434-5443

• Rental Pros, LLC

(815) 433-6061

• Event Specialists & 123 Picture

Me Photo Booths

www.123pictureme.com

(815) 830-0712

Building Supplies

•Western Sand & Gravel Co., LLC

(815) 664-2341

www.westernsandgravel.com

• Golden Rule

www.goldenrulelumber.com

(815) 433-1692

Business Services

• Leading Edge Business Brokers

(815) 579-9079

• North Central Illinois Council

of Governments

www.ncicg.org

(815) 433-5830

• Management Professional

Services, Inc.

(815) 224-1889

• Alliance SBDC

alliancesbdc.org

(844) 369-8898

• Capital Consulting of Illinois

capitalconsultingil.com

(815) 228-7541

• Business Employment Skills

Team, Inc.

www.best-inc.org

(815) 224-7930

• Personal & Professional Women's

Development Network

(815) 252-9039

• Kane Consultants LLC

www.kaneconsultants.net

(937) 369-3125

Call Center

• The Results Companies

www.theresultscompanies.com

(815) 673-7090

Cellular Equipment

and Service

• Illinois Valley Cellular - Wireless

Solutions Center

www.ivcellular.com

(815) 795-3200

• Sprint by Aircorp

www.sprint.com

(815) 434-3333

Child Development & Family

Services

• Youth Service Bureau

of Illinois Valley

www.ysbiv.org

(815) 433-3953

• Starved Rock Regional Center for

Therapy and Child Development

starvedrockcenter.org

(815) 434-0857

Chiropractors

• Gretencord Acupuncture

and Chiropractic

(815) 434-1616

gretencordchiropractic.com

• Perry Chiropractic Center

www.perrychirocenter.com

(815) 434-0803

• Ottawa Chiropractic

www.ottawachiropractic.org

(815) 431-8303

Churches

• Ottawa Catholic Community

(815) 433-0700

www.saint-columba.com

• Cross Bridge Community Church

of the Nazarene

www.ofcfamily.com

(815) 434-3794

Cleaning Services/Restoration

• Illinois Valley Clean Team, Inc.

(815) 228-5273

www.ivcleanteam.com

• Stanley Steemer

www.stanleysteemer.com

(815) 431-9940

• Quality Care Cleaning

www.qltycarecleaning.com

(815) 434-2539

• Servpro of Morris/Ottawa

servpromorrisottawa.com

(815) 416-0075

• Maxon Professional

Window Cleaning

(815) 326-2350

Coffee Shops

• Jeremiah Joe Coffee

www.jeremiahjoecoffee.com

(815) 566-3507

Computer-Services/Products

• Connecting Point

Computer Center

www.cpointcc.com

(815) 223-1052

• Computer Spa

www.mycomputerspa.com

(815) 434-4226

Contractors - Concrete

• Dean's Dynamic Concrete Inc.

www.deansdynamicconcrete.com

(815) 431-0076

28 Ottawa TODAY!
---
Member Listing

Contractors-Electrical

• Clegg-Perkins Electric, Inc.

(815) 433-0191

• Halm Electrical Contracting, Inc

www.halmelectric.com

(815) 434-6653

Contractors-Fencing

• All Type Fence Inc

(815) 672-5840

www.alltypesfence.com

Contractors-General-

Commercial Industrial/

Residental

• Vissering Construction Company

www.vissering.com

(815) 673-5511

• Liebhart Construction, Inc.

www.liebhartconstruction.com

(815) 433-5467

• Prairie State Insulation

www.prairiestateinsulation.com

(815) 579-8937

• Cornerstone Contracting &

Development, Inc. and Painting

cornerstonecds.com

(815) 216-6670

• Correct Hardwood/

Correct Builders

www.correcthardwood.com

(815) 343-6091

Contractors-Heating & Air

Conditioning

• Marseilles Sheet Metal, Inc.

www.marseillessheetmetal.com

(815) 795-4500

Contractors-Masonry

• Ottawa Masonry Inc.

www.ottawamasonryinc.com

(815) 431-1588

Contractors/Excavating

• Conley Excavating, Inc.

www.conleyexcavating.com

(815) 942-1905

Contractors-Roofing

• D. H. Mayou Roofing & Supply

Co., Inc.

www.mayouroofing.com

(815) 433-0823

Contractors-Specialty

• Window World of Joliet

www.windowworldjoliet.com

(815) 729-3100

Counseling/Individual &

Family, Mental Health/

Substance Use

• Crossroads Counseling

Services, LLC

www.crossroads-helps.com/

ottawa-location

(815) 433-5101

• Illinois Valley Counseling

Services, LLC

www.illinoisvalleycounseling.com

(815) 993-1614

• North Central Behavioral Health

Systems, Inc.

www.ncbhs.org

(815) 223-0160

Dentists/Dental Labs

• Ottawa Children's Dentistry

www.ottawachildrensdentistry.com/

(815) 434-6447

• Ottawa Dental Lab

www.ottawadentallab.com

(815) 434-0655

• William C. Vesely, DDS

www.drveselydental.com

(815) 433-3996

• Faber Dental Arts - Jonathan

Faber, DMD

www.faberdentalarts.com

(815) 433-1242

• Mark Benavides DDS

www.benavides.org

(815) 434-0152

Department Stores

• Farm & Fleet of Ottawa

www.farmandfleet.com

(815) 433-4536

• Wal-Mart Supercenter

www.walmart.com

(815) 434-0120

Distribution Center

• PetSmart Distribution Center

www.petsmart.com

(815) 431-3600

• Tyson Fresh Meat, Inc.

www.tysonfoodsinc.com

(815) 431-9501

Dry Cleaners

• Blackley Cleaners, Inc.

www.blackleycleaners.com

(815) 433-1111

Education-Adult

Developmental Training

• Ottawa Friendship House

www.ottawafriendship.com

(815) 434-0737

Education-Schools, Colleges

• Illinois Valley Community College

www.ivcc.edu

(815) 224-0402

• Ottawa Elementary School

District

www.ottawaelementaryschools.com

(815) 433-1133

• Marquette Academy

www.marquettehs.com

(815) 433-0125

• Ottawa Township High School

www.ottawahigh.com

(815) 433-1323

• Lincoln College

www.lincolncollege.edu/normal

(309) 268-4355

• Ottawa Christian Academy

www.ottawachristianacademy.com

(815) 434-0507

Electricity Aggrigation

• The Stone River Group

www.thestonerivergroup.com

(217) 737-5811

Employment Service

• Express Employment

Professionals

www.expresspros.com/ottawail

• Kelly Services

www.kellyservices.com/

(309) 663-4241

• The Reserves Network

www.trnstaffing.com

(815) 672-2020

Engineers-Civil,

Environmental, Structural &

Consulting

• Etscheid, Duttlinger &

Associates, Inc.

www.etch-dutt.com

(815) 434-3925

• Chamlin & Associates

www.chamlin.com/

(815) 434-7225

• IMEG

www.imegcorp.com

(815) 433-2080

Entertainment

• Pinheadz Entertainment Center

(815) 434-0378

www.pinheadzottawa.com

Environmental Products &

Controls

• Stack Test Group, Inc.

www.stacktestgroup.com

(815) 433-0545

Equipment - Sales/Leasing

• Alta Equipment Company

www.altaequipment.com

(815) 313-2070

• MH Equipment

www.mhequipment.com

(815) 324-1260

Estate Sales

• Matthew Bullock Auctioneers

www.bullockauctioneers.com

(815) 434-5400

Farm Equipment-Tire Sales &

Service

• Stoller International

www.stollerinternational.com

(815) 433-2211

Financial/Financial Advisors

• AXA Advisors/Michael J. Hughes,

CLU, ChFC

us.axa.com/about-axa/advisors/

financial-strategies.html

(815) 433-4232

• Northwestern Mutual Financial

Network - Nick Potthoff

www.nickpotthoff.com

815) 433-4325

• Edward Jones - Financial Advisor

Helio Ruvalcaba

www.edwardjones.com

(815)-431-0549

• Edward Jones - Financial Advisor

Blake Baker

www.edwardjones.com

(815) 673-9149

• Edward Jones - Financial Advisor

Kim Krueger

www.edwardjones.com

(815) 434-4336

• Edward Jones - Finanical Advisor

Silas Parker

www.edwardjones.com

(815) 973-3845

• Edward Jones - Financial Advisor

Robert J. Paglis

www.edwardjones.com

(815)-434-4336

• Edward Jones - Financial Advisor

Mark Platt

www.edwardjones.com

(815)-431-9189

Fitness Centers /Health Clubs

• Rep by Rep Fitness Center

www.repbyrep17.com

(815)-434-3539

• YMCA of Ottawa

www.ottawaymca.org

(815) 433-2395

• Energyoga

www.energyoga.net

(815) 228-3262

• SaltTreeYoga

www.salttreeyoga.com

(815) 343-2751

Fuel Distributors

• Etna Oil Co.

(815) 434-0353

Funeral Homes & Memorial

Parks

• Gladfelter-Roetker Funeral Home

www.gladfelterfuneralhome.com

(815) 433-0097

• Mueller Funeral Home

www.muellerfh.com

(815) 434-4433

• Oakwood Memorial Park

www.oakwoodmemorialpark.net

(815) 433-0313

• Ottawa Funeral Home &

Crematory

www.ottawafuneral.com

(815) 433-0300

Furniture

• Turk Furniture

www.turkfurniture.com

(815) 433-8875

Gas/Service Stations

• Casey's General Store

www.caseys.com

(815) 434-2378

Golf Clubs

•Senica's Deer Park Golf Club

www.senicagolf.com/

(815) 667-4239

•Senica's Oak Ridge Golf Club

www.senicagolf.com

(815) 223-7273

• Pine Hills Golf Club Bar &

Restaurant

www.ottawapinehillsgolfclub.com

(815) 434-3985

• Prairie Lakes Country

Club and Golf

www.prairielakesgc.com/

(815) 795-5107

Government

• Housing Authority for LaSalle

County

www.halc.org

(815) 434-0380

• City of Ottawa

www.cityofottawa.org

(815) 433-0161

• Ottawa Port District

www.ottawaportdistrict.com

(815) 434-6653

Graphic Design/Printing

• Sigma Graphics

www.sigmagraphics.net

(815) 433-1000

• Illinois Office Supply

www.illinoisofficesupply.com

(815) 434-0186

Grocers & Meat Markets

• Polancic Meat Market

(815) 433-0324

• Handy Foods, Inc.

www.handyfoodsiga.com

(815) 434-2300

Ottawa TODAY! 29
---
Member Listing

Health Care-Physicians &

Surgeons

• Jeffrey A. Crowhurst, DPM

www.crowhurstfootcare.com

(815) 434-1900

• Pinnacle Dermatology

www.pinnacleskin.com

(815) 431-9850

• Rezin Orthopedics and Sports

Medicine

www.rezinortho.com

(815) 433-0850

Health Food

• Seattle Sutton's Healthy Eating

www.seattlesutton.com

(815) 434-4484

Home Improvement

• Floor to Ceiling

www.floortoceiling.com

(815) 434-3165

• Home Hardware

(815) 433-1800

Homeless Shelter

• Illinois Valley PADS

www.ivpads.com

(815) 433-1292

Hospice

• VITAS Innovative Hospice Care

www.vitas.com

(815) 220-0021

Hospitals

• OSF HealthCare Saint

Elizabeth Medical Center

www.osfsaintelizabeth.org

(815) 433-3100

• Morris Hospital &

Healthcare Centers

www.morrishospital.org

(815) 942-2932

Indoor Water Parks

• Pirate's Cay Water Park

www.piratescay.com

(815) 496-3292

Industrial Mineral

• US Silica Company

www.ussilica.com

(815) 434-0188

• Unimin Corporation

www.unimin.com

(815) 434-4178

• Fairmount Santrol

www.fairmountminerals.com

(815) 433-2449

Insurance & Investments

• LaVerne Dooley State Farm

Insurance

www.statefarm.com

(815) 433-0058

• Northern Insurance

Service Ottawa

www.northernins.com/ottawa.

(815) 433-0560

• IIP Insurance Agency, Inc.

www.mylocalagent.com

(815) 433-2680

• T.J. Lewis & Associates, Inc.

www.tjlewisassociates.com

(815) 433-4200

• Ronald Henson State Farm

Insurance

www.statefarm.com

(815) 433-3276

• Brett W. Dyche State Farm Insurance

www.statefarm.com

(815) 433-5110

• Brian Carnes Country Financial

www.countryfinancial.com

brian.carnes

(815) 433-1440

• Farmers Insurance - Robert

Hasty Agency

www.farmersagent.com/rhasty

(815) 431-9400

• Caselli Insurance & Real Estate

www.caselliinsurance.com

(815) 795-4028

• Ramza Insurance Group

www.ramzainsurancegroup.com

(815) 433-3583

• Diamond Brothers Insurance

Agency, Inc.

www.dimondbros.com/

(815) 431-9900

• Country Financial - Kevin Berryman

www.countryfinancial.com/kevin.

berryman

(815) 433-9014

• Country Financial - Bruce Butchko

www.countryfinancial.com/bruce.

butchko

(815) 433-1440

• Willand-Barton Agency

www.familyheritagelife.com

(815) 252-8445

• First Fed Insurance Agency

www.firstfedsavingsbank.com

(815) 434-0563

Interior Decorators &

Designers

• Your Interior Motives

www.yourinteriormotivesinc.com

(815) 434-4006

•Woodhill Cabinetry & Design Inc.

(815) 431-0545

www.woodhillcabinetry.com

Janitorial Supplies

• T & L Janitorial Supplies Co.

www.tlcleaningproducts.com

(815) 434-2539

Jewelers

• VanDuzer Jewelers

www.vanduzerjewelers.com

(815) 433-5653

Labor Associations

• IL Valley Labor Management

www.ivlabmgt.org

(815) 223-0561

LandscapeMaintenance/Care

• Stohr's Lawn Service, Inc.

www.stohrslawnservice.com

(815) 433-5953

Landscape Design/

Installation

• Bartman Design & Landscape,

Inc.

www.bartmandesign.com

(815) 252-3619

Landscape Supplies

• Pavers & More, Inc.

www.paversandmore.net

(815) 431-1108

Libraries

• Reddick Public Library District

www.reddicklibrary.org

(815) 434-0509

Liquor Stores

• Herman's Package Store

www.hermanspackagestore.com

(815) 434-0075

Loans

• Cash Store

www.cashstore.com/local/paydayloans-ottawa-il

(815) 433-2274

Locksmiths/Automotive

• Frank's Lock & Safe, Inc.

(815) 433-4500

Lodging

• Hampton Inn

www.hamptoninn.com

(815) 434-6040

• Fairfield Inn & Suites

www.marriott.com

(815) 431-8955

• Comfort Inn

www.choicehotels.com

(815) 433-0029

• Starved Rock Lodge

www.starvedrocklodge.com

(815) 667-4211

• Super 8 Motel

www.super8.com

(815) 434-2888

• Fox River Resort - Holiday Inn

Club Vacations

members.holidayinnclub.com/

explore-our-resorts/fox-river-resort

(815) 496-1692

• Heritage Harbor

www.visitheritageharbor.com

(815) 433-5000

• Mansion Rentals

www.vrbo.com/1166363

Manufacturing

• SABIC Innovative Plastics

www.sabic-ip.com

(815) 433-7427

• NSG Group

www.pilkington.com

(815) 433-0932

• MBL (USA) Corporation

www.mblusa.com

(815) 434-1282

• Burns Machine Co.

www.burnsmachine.com

(815) 434-3131

• Johnson Pattern & Machine

Works, Inc

www.johnsonpattern.com

(815) 433-2775

• Zip-Pak

www.zippak.com

(815) 431-2001

• Clover Technologies Group

www.clovertech.com

(815) 431-8100

• Cristal Metals

www.itponline.com

(815) 431-4300

• Advantech B&B SmartWorx

www.bb-elec.com

(815) 433-5100

• Sigan America

www.siganindustries.com

(815)-431-9830

Marinas/Contracting/Sales

• Starved Rock Marina

www.starvedrockmarina.com

(815) 433-4218

• Quest Watersports

www.questwatersports.com

(815) 433-2200

Massage Therapy

• Essential Massage Inc.

Facebook - Essential Massage, Inc.

(815) 791-6959

Mortgage Companies

• Wells Fargo Home Mortgage

www.wfhm.com

(815) 433-3715

• Two Rivers Mortgage Company

www.tworiversmortgagecompany.com

(815) 324-9760

Moving & Storage

• Stevenson Transfer, Inc.

www.stevensontransferinc.com

(815) 433-0970

Newspapers

• The Times

www.mywebtimes.com

(815) 433-2000

• News Tribune

www.newstrib.com

(815) 223-3200

Office Supplies, Equipment

& Furniture

• Ottawa Office Supply

www.britlink.com/ottawa

(815) 433-0273

• 2 Rivers Imaging

2riversimaging.com

(815) 343-6504

Optical, Optometrists,

Opticians & Optical Labs

• Gailey Eye Clinic

www.GaileyEyeClinic.com

(815) 434-4200

• Eyesite/Drs. Kent & Beth Kunkel

www.eyesiteottawa.com

(815) 434-7970

• Wendy Sanders-Maubach OD, PC

www.drwendysanders.com

(815) 433-1426

Oral & Maxillofacial Surgeon

• Illinois Valley Oral Surgeons

(815) 434-4500

Organizations/Associations

• Habitat for Humanity - LBPC

www.hfhlbpc.org

(815) 434-2041

• United Way of Eastern LaSalle Co.

www.unitedwayelc.org

(815) 434-4003

• The Salvation Army

centralusa.salvationarmy.org/ottawa

(815) 433-0798

• LaSalle County CASA

www.lasallecountycasa.org

(815) 434-2620

• Zonta Club of Ottawa

www.zontadistrict6.org

(815) 434-3730

• Ottawa Downtown Merchants

(815) 252-9124

• Ottawa Sunrise Rotary

www.sunriseottawa.wordpress.com

(815) 343-7655

• Ottawa Noon Rotary

www.rotary.org

(815) 252-2906

• Starved Rock Country Community

Foundation

www.srccf.org

(815) 252-2906

• Bridges Community Center

www.alternativesforyou.org

(815) 431-8034

• W. D. Boyce Council Boy Scouts

of America

www.wdboyce.org

(309) 673-6136

Paint/Paint Supplies

• Sherwin-Williams

www.sherwin-williams.com

(815) 434-3578

30 Ottawa TODAY!
---
Member Listing

Pet Care & Services

• Norway Kennels

www.norwaykennels.com

(815) 496-2150

• Play and Stay Dog Lounge

www.playandstaydoglounge.com

(815) 313-9477

• Pet Heaven

www.petheaveninc.com

(773) 729-1762

• Pet Project

www.petproject.petfinder.com

(815) 795-9663

Pharmacies/Drug Stores

• The Pharmacy Stop

www.thepharmacystop.com

(815) 434-5355

• PharmaCannis

www.harmacannis.com

(708) 912-2878

Photography Studio

• HR Imaging Partners

www.hrimaging.com

(815) 433-1869

• Robert Kuhn Studio of

Photography

www.rkuhnstudio.com

(815) 434-6008

Property Managers

• The Chrysalis Group Management

and Realty, Inc.

www.tcgmangementandrealty.com

(815) 433-4030

Radio

• WCMY1430/95.3 JACK FM

www.ottawaradio.net

(815) 434-6050

• WAJK/WLPO/WLWF

www.millergroupmedia.com

(815) 223-3100

• WBGL

www.wbgl.org

(800) 475-9245

• WRWO 94.5 FM/LP

www.wrwo.org

(815) 324-9501

• Studstill Media

www.studstillmedia.com

(815) 224-2100

Radon Mitigation

• Illinois Valley Radon Mitigation

www.illinoisvalleyradon.com

(815) 313-5892

Real Estate Appraisers

• Ganiere Appraisal Service

(815) 433-4457

Real Estate-Residential/

Commercial

• Southtowne Mall

(847) 446-8440

• Breipohl Realtor & Developer

(815) 433-1616

• Heritage Harbor

www.visitheritageharbor.com

(815) 433-5000

• Century 21 Windsor Realty

www.theramp.net/windsor

(815) 434-2122

• Re-Max 1st Choice

www.remax.com

(815) 434-3337

• Coldwell Banker

The Real Estate Group

www.coldwellhomes.com

(815) 433-5501

• Washington Square Realtors, Inc.

www.washingtonsquarerealtors.com

(815) 434-3630

• Simply Modern Homes

www.realsatisfied.com/Kate-Shields

(630) 234-7522

Real Estate Management

• Ottawa Realty Trust

(815) 434-0240

• Mark Alan - DZ

(815) 690-0718

Recycling

• CIMCO Recycling Ottawa, Inc.

www.cimcoresources.com

(815) 433-0031

• Buckman Iron & Metal Co., Inc.

www.buckmanironandmetal.com

(815) 431-1200

Restaurants

• Tangled Roots Brewing Company

www.tangledrootsbrewingco.com

(815) 324-9549

• The Red Dog Grill

(815) 434-4406

www.reddoggrill.com

• Cheese Shop & Deli

thecheeseshop.biz

(815) 433-0478

• Hank's Inc

www.hanksfarm.com

(815) 433-2540

• McDonalds of Ottawa

www.mcdonalds.com

(815) 434-4532

• The New Chalet Restaurant

www.thenewchalet.com

(815) 433-2746

• Pizza Hut

www.jvpizzahut.com

(815) 433-2311

• Wendy's

www.wendys.com

(815) 433-0334

• Bianchi's Pizza

(815) 434-6884

• Hi-Way Restaurant

(815) 431-9431

• Woody's Steak House

(815) 433-2400

• R. Grotto Ristorante

www.rgrotto.com

(815) 431-1100

• Culver's of Ottawa

www.culvers.com

(815) 431-2283

• Sunfield Restaurant

www.sunfieldrestaurant.com

(815) 434-5500

• Corner 230

www.corner230.com

(815) 434-0000

• Jimmy Johns

www.jimmyjohns.com

(815) 433-9133

• B.A.S.H. Burger and Sushi House

www.burgerandsushihouse.com

(815) 617-2676

• The Pink Chihuahua

thepinkchihuahua.com

(815) 324-5227

• Rosati's Sports Pub

www.myrosatis.com/ottawa

(815) 324-9559

• A'Lure

www.ottawaalure.wixsite.com/

dynamitefood

(815) 324-5184

Salons & Spas

• D'Antonio Hair Designing for Men

(815) 431-1272

• Carribean Tan

www.carribeantan.com

(815) 431-0448

• The Beaute Bar

www.facebook.com/cbbeautebar/

(815) 434-4616

Senior Living

• Ottawa Pavilion, Skilled Nursing &

Rehabilitation Center

www.ottawapavilion.com

(815) 431-4900

• Pleasant View, A Lutheran Life

Community

www.pvlh.org

(815) 434-1130

• LaSalle County Nursing Home

www.lasallecounty.org

(815) 433-0476

• Aperion Care Marseilles

aperioncare.com

(815) 795-5121

• Heritage Woods of Ottawa

www.bma-mgmt.com/heritagewoodsottawa

(815) 431-1400

• Epworth Village, Inc.

www.epworthplace.com

(815) 434-4416

• The Stough Group

(630) 789-8939

Shoe repair

• Tino's Shoe & Boot Repair

(815) 434-0720

Signs

• Designs & Signs by Anderson

www.beansigns.com

(815) 434-7340

• Correct Digital Displays

www.correctdd.com

(815) 695-1000

Speciality Retail

• Bell's Clothing

www.ibellsclothing.com

(815) 434-4854

• Brothers Country Supply

www.brotherscountrysupply.com

(815) 433-3775

• Lady Di's/Lady Di's

Royal Chamber

(815) 434-3232

• Rock Paper Scissors

www.rockpaperscissorsottawa.com

(815) 433-4233

• Mary Kay Sales Director -

Vicki Thomas

www.marykay.com/vickithomas1

(815) 579-2955

• Goodwill Industries of Northern

Illinois

goodwillni.org

(815) 434-4680

Steel-Fabricators & Sales

• Marquette Steel Supply

& Fabrication, Inc.

(815) 433-0178

Swimming Pool

Contractors/Service

• JTS Pools

jtspools.com

(815) 433-4664

Technology & IT Services

• Marco

www.marconet.com

(800) 847-3098

• Drop Tank

www.drop-tank.com

(630) 570-7062

• Mediacom Business Services

www.mediacomcc.com

(312) 898-6141

Title Companies

• Chicago Title

www.ctic.com

(815) 433-4080

• Wheatland Title Company

www.wheatlandtitle.com

(815) 433-0301

Tourist Attractions

• Reddick Mansion Association

www.reddickmansion.org

(815) 433-6100

• Hegeler Carus Foundation

www.hegelercarus.org

(815) 224-5895

• LaSalle County Historical Society

www.lasallecountymuseum.org

(815) 667-4861

Travel Agencies

• S & S Travel of Ottawa

www.s-s-travel.com

(815) 434-2005

• All In One Travel Inc./Ottawa

Travel & Cruises

(815) 433-0285

• All Points Travel of Ottawa, Inc.

www.allptstravel.com

(815) 434-4700

Tree Service, Spraying

& Horticulture

• The Tree Guy

www.treeremovalinottawail.com

(815) 228-1629

Utilities

• Ameren IP

www.amerenip.com

(815) 224-6210

• Nicor Gas

www.nicorgas.com

(800) 231-1571 x 244

• AT&T

www.att.com

(309) 565-4565

• Exelon Generation - LaSalle Station

www.exeloncorp.com

(309) 227-3709

• Enbridge

www.enbridge.com

(219) 864-5466

Veterinarians

• Fox Valley Veterinary Hospital, P.C.

www.foxvalleyvetil.com

(815) 434-0363

• Novak Rinker Veterinary Clinic

www.novakbrainard.vetsuite.com

(815) 433-1865

Video Gaming

• Lattner Entertainment Group

Illinois

www.lattnergaming.com

(815) 313-0060

• Ruby's

www.playrubys.com

(618) 514-1231

• Visco Entertainment Inc.

(815) 433-9485

• Shelby's

www.laredphospitality.com

(815) 433-5000

Waste Removal-Commercial/

Residential

• Thrush Sanitation Service

www.thrushsanitation.com

(815) 434-5557

• Republic Services

www.republicservices.com/locations/

illinois/ottawa/61350

(815) 434-1808

Water Conditioning Sales &

Service

• Culligan of Ottawa

www.culliganillinoisvalley.com

(815) 433-0757

Wineries

• August Hill Winery

www.augusthillwinery.com

(815) 224-8199

Ottawa TODAY! 31
---
A very special thank you to the individuals and companies featured

here, and on the following pages. We encourage you to shop and

conduct business with them - they are leaders in our community.

GEORGE SHANLEY

The George Shanley Team

BROKER | GRI

"Experience isn't expensive; it's priceless."

1402 Columus St | Ottawa, IL 60350

Direct: 815.228.1859

Office: 815.433.5501

gshanley@coldwellhomes.com

Voted BEST breakfast in Ottawa

- time and time again!

• Steak

• Seafood

• Chops

• Cocktails

• Italian

• Oriental

• Breakfast

anytime

210 W. Norris Drive • 815-431-9431 | MC • Visa • Discover • Am Express

32 Ottawa TODAY!
---
Your support for this guide, our chamber, and the city of Ottawa helps

promote and attract businesses for the advancement of our community.

Thank you for helping to make Ottawa the community that it is TODAY!

Call me today

for a noobligation

quote!

815.431.9400

Robert Hasty

Your Local Farmers Agent

JOBST MONUMENTS & GIFTS

402 W. Main St., Ottawa

815-433-0310

219 W MAIN ST

OTTAWA , IL 61350

RHASTY@FARMERSAGENT.COM

Available Now!

Do you have limited income and

are in search of an affordable

and nice place to live?

The Public Housing and Section 8 programs

provide affordable housing to over 1600

families in our community.

• We have rents as low as $50 a month, based

on income, and deposits starting at $100.

• Small pets are permitted in most locations.

Applications for the Public Housing and

Section 8 programs can be obtained at:

Housing Authority for LaSalle County

526 E. Norris Dr., Ottawa, IL 61350

Call for more information

815-434-0380

Visit our website at www.halc.org

The Housing Authority for LaSalle County is an equal opportunity provider and employer.

TDD 815-434-0929

1 in 4 People are Victims of Identity Theft.

Get Protected with Ultimate ID TM so you aren't one of them!

SWITCH YOUR ACCOUNT TO A

FIRST CHECKING PREMIUM

And get the protection you deserve for a fraction of

the cost of other ID theft protection programs!

Ottawa

701 LaSalle St

Drive-Up Locations:

300 W. Madison St.

601 State St.

2771 N. Columbus St.

Ottawa, IL 61350

Morris National Bank & Trust

1771 N. Division St.

Morris, IL 60450

Streator National Bank

409 E. Bridge St

2324 N. Bloomington St.

Streator, IL 61364

Yorkville National Bank & Trust

1459 Cannonball Tr.

Yorkville, IL 60560

815-434-0044

www.firstottawa.com

Ottawa TODAY! 33
---
Your one stop for all of your

Janitorial Supply needs

Call today, for a

FREE Comparison Quote

and let US take care of YOU!

815.431.9880

717 Bellevue Ave, Ottawa, IL 61350 | tlcleaningproducts.com

"Personal

Injury,

Personally

Handled"

815.433.4712

cantlinlaw.com

Residential & Commercial

• Furniture & Accessories

• Space Planning & Consultations

• Hardwood, Carpet, & Tile

• Window Treatments

• Kitchen & Bath Design

222 West Madison Street

Ottawa, Illinois 61350

Ph: (815) 434-4006

Fax: (815) 434-4046

yourinteriormotivesinc.com

Like us on facebook!

facebook.com/yourinteriormotives

Let Us Do the Heavy Lifting

Whether you are moving around the block or around the world,

Stevenson Transfer has the experience, resources, and dedication to move

your personal belongings or commercial equipment safely and securely.

Has your home tested positive for radon?

We are the solution!

Illinois Valley Radon Mitigation, LLC. Serving the Illinois Valley

and surround counties. Locally owned and operated, we are the areas newest

family owned Mitigation company. We are licensed by the State of Illinois.

Free Estimates • Guaranteed Work • Fully Insured

300 W. Stevenson Rd. • Ottawa, IL 61350

815.433.0970 • info@stevensontransferinc.com

Owner: Tami

Thomas-Leonatti

Tom Thomas, Mitigation Professional License

#RNM2018203

Rolando Martinez, Mitigation Professional

License #RNM2018207

717 Bellevue Ave. Ottawa, IL | 815-313-5892

tami@illinoisvalleyradon.com | illinoisvalleyradon.com

34 Ottawa TODAY!
---
Obsessed with Wellness

Relax, meditate and immerse

yourself into ALL of their

services - ESPECIALLY

within the walls of the

serene and softly lit Salt Cave.

Experience restorative

services to bring balance

to your body and life.

815.343.2751 • 310 1/2 W. Main St. • Ottawa • salttreeyoga.com

Ottawa TODAY! 35
---
akery

the ottawa

at Oakwood Memorial Park

We offer many choices to honor memories, and are committed to

providing our clients with the peace of knowing they have

done their best to commemorate the life of someone they loved.

We are a locally owned and operated

small batch bakery. Stop in or

give us a call - we offer a variety

of baked goods not found anywhere

else in the Illinois valley!

630 Court St. | 815.433.2253

We believe in the best, celebrate the best and most of all -

see the healing that comes from us doing our best.

We see this shine through in our products,

our people, and our service.

2405 Champlain St, Ottawa, IL 61350 | oakwoodmemorialpark.net

FIRST FEDERAL SAVINGS BANK

633 Lasalle St. Ottawa, IL 61350 • (815) 434-3500 | 433 W Main St. Ottawa, IL 61350 • (815) 434-2193

First Federal Savings Bank is a community bank committed to identifying and understanding the

needs of our customers and the communities we serve. Our diverse product lineup, investment

in technology, and superior service allow us to provide a unique banking experience for every

stage of life. We invite you to visit our website, connect with us on social media, or stop in to

find out more about the exciting things happening at First Federal Savings Bank!

PRODUCTS

• Checking Accounts

• Savings Accounts

• Business Accounts

• Certificate of Deposits

• Insurance & Investment

• Personal Loan Products

• Mortgage Loan Products

• Commercial Loan Products

www.ffsbweb.com

Insurance Products offered by First Fed Insurance Agency, Inc. – Not FDIC Insured – Not deposits of or guaranteed by First Federal Savings Bank – Investment may lose value.

36 Ottawa TODAY!
---
CIMCO makes our world a little more beautiful.

Scrap Management &

Recycling Services

We provide comprehensive scrap management solutions

allowing for our corporate clients to maximize the

revenue they receive for their scrap sales.

• Aluminum

• Copper

• Brass

• Steel

• Tin

• Radiators

• Batteries

• Nickel

WE BUY:

• Lead

• Iron

• Catalytic

• Converters

• Insulated

Wire &

Cables

and More!

Maintenance-Free Villa Homes

Assisted Living Apartments • Short-term Rehabilitation

Licensed Memory Care • Skilled Nursing

For up-to-the-minute pricing,

call CIMCO FIRST! 815.433.0031

recycling ottawa, inc.

505 College Avenue | Ottawa, IL | (815) 434-1130 | pvOttawa.org

1520 W. Norris Drive, Ottawa

Ottawa TODAY! 37
---
Caring is what we do.

Aperion Care offers a serene setting

for both short and long-term care.

Some of our services include:

• Physical Therapy

• Occupational Therapy

• Speech Therapy

• Cardiac Rehab

• Post-Stroke Rehab

• Hospice/Palliate Care

• Feeding Tubes

• Medication Management

• In-House Hemodialysis

• Wound Care

578 Commercial St. | Marseilles, IL 61341 | (815) 795-5121 | aperioncare.com

Stay Awhile.

Stay within minutes of the area's premier attractions, such as Starved Rock and other state parks, historic museums, and a variety of fine restaurants.

3000 Fairfield Lane, Ottawa | 815.431.8955

4115 Holiday Lane, Ottawa | 815.434.6040

38 Ottawa TODAY!
---
PASSION+

COMMITMENT

Proud to be a part of the Ottawa

community for over 45 50 years.

www.sabic.com

www.sabic-ip.com

Ottawa TODAY! 39
---
"Th i s c h a r m i n g a n d

i n d e p e n d e n t b o o k s t o r e ,

o f f e r s t h e c u r r e n t t o p-s e l l e r s, PLUS

a f r i e n d l y a t m o s p h e r e, k n o w l e d g e a b l e

s t a f f , a n d u n i q u e e v e n t s s u c h a s

a u t h o r t a l k s, b o o k s i g n i n g s , b o o k c l u b s ,

c o m m u n i t y e v e n t s ~ a n d so m u c h m o r e ."

719 LaSalle Street | Ottawa, IL 61350 | (815) 433-7323

Monday-Friday 10am-5:30pm Saturday 10am-3pm

Fairmount Santrol and Unimin have come together as Covia.

A new company with a rich legacy. Built through the merging of two leading

organizations, Covia is a leading provider of minerals and material solutions for the

Industrial and Energy markets. Covia offers a broad array of high-quality mineral

and material products and the industry's most comprehensive and accessible

distribution network. We believe in the power of long-term partnerships – built on

integrity, reliability and an innovative solutions mindset – to deliver shared success.

www.coviacorp.com

Corporate HQ - 3 Summit Park Dr., Ste 700 Independence, OH 44131 | (440) 214-3200

The Beautiful & Historic

Reddick Mansion

anchors Ottawa's Washington

Square, the site of the first

Lincoln-Douglas debate.

Built before the Civil War,

this ornate 22-room mansion

is open for tours Friday

thru Monday, 11am-3pm.

Winter hours may vary.

For other times and group

tours, call 815.433.6100.

Reddick Mansion

& Gardens

100 W. Lafayette St. Ottawa, IL 61350 reddickmansion.org

Environmental

Leadership

LaSalle County Station

Exelon supports organizations and initiatives that enhance biodiversity and protect

and improve the environment. Our efforts focus on promoting environmental

education, conservation and preservation, developing cleaner sources of energy,

protecting endangered species and beautifying neighborhoods.

Clean Energy Now and in the Future

40 Ottawa TODAY!
---
Building a Strong Future for Ottawa

You'll see it here in Ottawa and throughout the entire

Illinois Valley area ~ the quality work and value they bring

to homes and businesses is on display, everyday.

They are the Illinois Valley Contractors Association.

Look to their members-the area's top contractors-for unparalleled

expertise and a commitment to safety. They've been helping build,

develop and GROW Ottawa and its surrounding communities since 1948.

For a quality contractor visit ivlm.org, call IVCA at 815.223.0561 or contact one of these premier members.

Ottawa TODAY! 41
---
Hupp, Lanuti, Irion & Burton, P.C.

Attorneys at Law

• Estate Planning

• Probate

• Guardianships

• Municipal

• Real Estate

George C. Hupp, III | Richard L. Burton | Michael W. Fuller

Serving the community for over 60 years

815-433-3111

• Banking

• Collections

• Corporations

• Civil Litigation

227 W. Madison St., Ottawa | hupplaw.com | hupplaw@hupplaw.com

Meet your friends

at Ottawa's

Aquarium Bar

STEAKS, FRESH OYSTERS, FISH, PASTA, SANDWICHES, WRAPS & MORE!

KATIE TROCCOLI

Managing Broker

827 COLUMBUS ST

OTTAWA, IL 61350

815.434.3630 Office

815.228.2058 Mobile

WashingtonSquareRealtors.com

Dine-in

or Carry

Out!

We're

KID

friendly!

213 W. Madison, Ottawa | 815.324.5184 | ottawabarrestaurant.com

310 W. Main St., Ottawa | 815.433.3862 | carlsonautobodyshop.com | Mon-Fri 7a-noon;1-5p

Ottawa's Full Service, Hometown Body Shop

What to do if you're in an Accident!

1. Call the police 2. Call us! We'll guide you thru step-by-step!

3. Call your insurance agent

• Lifetime Guarantee on ALL collision repairs

• Coordinate all arrangements with all insurance companies

• One quote is all you need for a claim • Restoration work

• Rental Cars available on-site • FREE pick-up & delivery

It's your choice who does your repairs!

START REACHING

YOUR GOALS

Home Loans, Car Loans, Personal Loans,

and more! Call, click, or visit us today!

323 E. Norris Drive, Ottawa

25+ area locations! 1-815-366-4555 oldsecond.com/loans

Member FDIC

42 Ottawa TODAY!
---
THERE'S NO PLACE LIKE A

NEW HOME

Excellent Rates • Quick Local Decisions

Personalized Service • Individual Attention

TARA STEFANICH

LOAN ORIGINATOR

1212 LaSalle St., Ottawa, IL 61350

p: 815.539.1565 • f: 815.433.0948

NMLS# 688620

tstefanich@firststatebank.biz

Established in 1995, Diane Stelken Associates has a

proven track record of delivering creative and innovative

advertising, marketing and graphic design solutions.

Highly talented, driven and flexible with a

proven ability to develop projects from original concept –

through final production and delivery, we ensure all work is of

superior quality, and delivered on time and within budget.

We coordinate all aspects of your marketing projects by leading

our team of copywriters, photographers, graphic designers,

illustrators, web developers, printers and productions facilities.

We are a National Award-winning Group.

www.firststatebank.biz

in Ottawa and Morris 815-228-2429 www.stelken.com

ENGINEERS g SURVEYORS g PLANNERS

Providing services to developers, municipalities,

industry, state agencies and others ~ for over 60 years.

g Land Planning, Site Design

g Lot & Farm Surveys

g Topographic Surveys

g Drone Surveys

g Municipal Engineering

g Water & Wastewater

g Structural

g Transportation

g Airports

g Environmental

g Floodplain Studies

g Elevation Certs & LOMA'S

g Construction Staking

g Construction Observation

Crea t e your s t yle for les s!

Your home is your own, make it reflect who you are!

We have pieces to fit every room and every style. At Turk Furniture,

you can create your style and your perfect home...for less!

218 W. Lafayette Street Ottawa, IL 61350 815-434-7225

FORMERLY VEGRZYN, SARVER & ASSOC., INC.

OTTAWA g PERU g MORRIS

www.chamlin.com

801 LaSalle Street, Ottawa, IL • 815.433.8875

online @ turkfurniture.com

Ottawa TODAY! 43
---
TOYS FOR A

CHERISHED LIFE

We practice every aspect of residential real estate

transactions and estate planning along with:

Probate

Wills & Trusts

Business Law

Personal Injury

Wrongful Death

Family Law

Criminal Defense

Traffic

A Versatile Law Firm

with Attention to Detail

712 La Salle St | Ottawa, Illinois | 815.433.4233

Ottawa Office

511 East Etna Road | Ottawa, IL | 61350

815-434-2000

info@wmamvdg.com

Earlville Office

201 South Ottawa St. | Earlville, IL | 60518

815-246-8121

info@wmamvdg.com

Buckman Iron and Metal is a full service processing

facility that provides scrap management services to

individuals as well as all types of industrial accounts.

Family owned business for more than 116 years.

We provide roll-off boxes or semi trailers for

industrial and retail customers. When full, the bins

and containers are transported to our facility for

processing.

Buckman accepts ferrous and nonferrous materials.

Including all aluminum, brass, copper, stainless steel,

etc. Open six days a week at three locations.

We'll take your

aluminum cans!

1520 Warehouse Dr. Ottawa

815-431-1200

153 Canal St. La Salle

815-223-0322

buckmanironandmetal.com

705 5th St. Mendota

815-539-9563

We pay

for

junk

vehicles!

44 Ottawa TODAY!
---
golden rule lumber

Your Member Owned

and Operated

diane stelken associates

Financial Institution

Membership Open to the Community

Ottawa Business and Chamber Member for 125 years!

Ottawa | Peru | Mendota | Morris | Diamond

www.financialplus.org

Federally Insured by NCUA

Manufacturer of quality component parts and special machinery

4000 Burmac Drive, Ottawa, IL 61350 • (815) 434-3131

burnsmachine.com

Ottawa TODAY! 45
---
Come see how we roll.

THE

OTTAWA

YMCA

- FOR A

BETTER

US.

201 East Jackson St.

815-433-2395

ottawaymca.org

1012 N. LaSalle St., Ottawa | 815-434-BASH | burgerandsushihouse.com

Tuesday-Thursday 4-10pm | Friday-Saturday 11am-10pm

Where

good friends

gather...

for the big game, great food,

video slots and poker, and

ALWAYS a refreshing beverage!

We proudly serve more than 16 ICE COLD specialty

beers and imports on tap. We'll see YOU at JJ's!

The Premier Silica Sand Provider for Today and Tomorrow

701 Boyce Memorial Drive | Ottawa, IL 61350 | (815) 434 -0188

www.ussilica.com

Ottawa Christian Academy

is Ottawa's best kept secret!

We are a Christ-based educational center with a progressive

academic curriculum - exceeding state and national averages.

We encourage critical thinking for tomorrow's generation.

104 W. Main Downtown Ottawa! 815-431-1816

900 Hitt St. Ottawa, IL 61350 | (815) 434-0507

ottawachristianacademy.com

46 Ottawa TODAY!
---
Welcome to Ottawa

The Ottawa Catholic Community consists of three parishes which have been

serving the Catholics of Ottawa and the surrounding area since 1838.

We invite you to learn more about the many ministries, groups, and stewardship

opportunities that the churches of St. Columba, St. Patrick and St. Francis have to offer.

As a parish, we are united by our common faith

and strive to make our parish a faith-filled community.

We invite you to become part of our family. Please join us at Mass.

For mass times, please call 815-433-0700.

ST. PATRICK

726 W. Jefferson Street

ST. COLUMBA

122 W. Washington Street

ST. FRANCIS

820 Sanger Street

Ottawa TODAY! 47
---
To schedule a visit and be part of

the Marquette family, contact us today!

48 Ottawa TODAY!

Early Education Campus

1110 LaSalle Street

Ottawa, IL 61350

815-433-1199

marquetteacademy.net

High School Campus

1000 Paul Street

Ottawa, IL 61350

815-433-0125