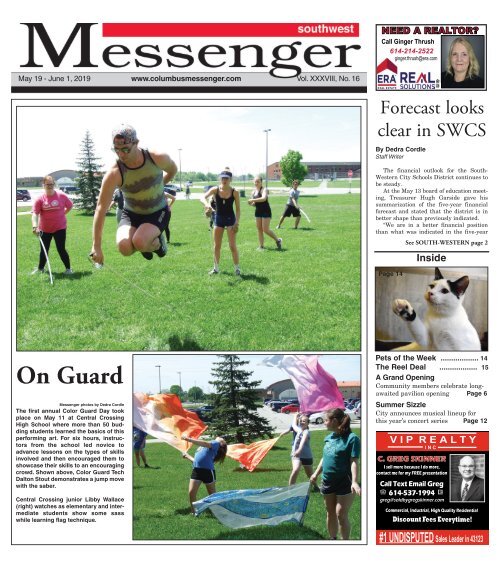 Southwest Messenger - May 19th, 2019
Create successful ePaper yourself
Turn your PDF publications into a flip-book with our unique Google optimized e-Paper software.
May 19 - June 1, 2019 www.columbusmessenger.com Vol. XXXVIII, No. 16

NEED A REALTOR?

Call REALTOR?

Ginger Thrush

Call 614-214-2522

Ginger Thrush

614-214-2522

ginger.thrush@era.com

Forecast looks

clear in SWCS

By Dedra Cordle

Staff Writer

The financial outlook for the South-

Western City Schools District continues to

be steady.

At the May 13 board of education meeting,

Treasurer Hugh Garside gave his

summarization of the five-year financial

forecast and stated that the district is in

better shape than previously indicated.

"We are in a better financial position

than what was indicated in the five-year

Page 14

See SOUTH-WESTERN page 2

Inside

On Guard

Messenger photos by Dedra Cordle

The first annual Color Guard Day took

place on May 11 at Central Crossing

High School where more than 50 budding

students learned the basics of this

performing art. For six hours, instructors

from the school led novice to

advance lessons on the types of skills

involved and then encouraged them to

showcase their skills to an encouraging

crowd. Shown above, Color Guard Tech

Dalton Stout demonstrates a jump move

with the saber.

Central Crossing junior Libby Wallace

(right) watches as elementary and intermediate

students show some sass

while learning flag technique.

Pets of the Week .................. 14

The Reel Deal .................. 15

A Grand Opening

Community members celebrate longawaited

pavilion opening Page 6

Summer Sizzle

City announces musical lineup for

this year's concert series Page 12

V I P R E A L T Y

I N C

C. GREG SKINNER

I sell more because I do more,

contact me for my FREE presentation

Call Text Email Greg

614-537-1994

greg@soldbygregskinner.com

Commercial, Industrial, High Quality Residential

Discount Fees Everytime!

#1 UNDISPUTED Sales Leader in 43123
---
PAGE 2 - SOUTHWEST MESSENGER - May 19, 2019

St. John's Evangelical

Lutheran Church

3220 Columbus St.

Grove City, OH 43123

614-875-2314 www.stjohnsgc.org

WORSHIP SERVICES

Saturday - 6:00 pm

Sunday - Traditional 8:15 am & 11:00 am

Contemporary - 11:00 am

Looking for a small, friendly church experience? Try

First Presbyterian Church

of Grove City

4227 Broadway in Grove City

Join us on Sunday mornings:

Traditional wordship at 9am

Sunday School:

Pre-school-4th grade: 9:15am-10am

Adult Sunday School: 10am-11:00am

Contemporary Service: 11:15am-12:15pm

The Naz

(Grove City Church

of the Nazarene)

4700 Hoover Rd.

614-875-2551

Join us Saturday's at 6PM or

Sunday's at 9AM or 11AM

www.thenaz.church

Be a Part of Our

Local Worship Guide

Grove City Church of God

"A Healing Place"

4235 Harrisburg Pike, Grove City, Ohio

614-875-7186

Sunday Service: 10am

Wednesday Service: 7pm

• Pentecostal • Spirit-Filled Wordship

• Gospel Ministry • Life Groups

• Central Ohio Living Free

• Biblical Teaching/Preaching

Faith Community Church of God

"The Church at the Roundabout"

4203 Alkire Rd., Grove City, OH 43123

www.faithcommunitychurchofgod.com

614-277-8499

Where the whole Bible is preached and

honest answers are given to honest

questions. Join us as we prepare to

begin our new series of Genesis.

9:30 a.m. Sunday School

10:30 a.m. Worship Service

6:30 p.m. Wednesday Bible Study

Our upcoming Worship Guide is geared toward celebrating faith and helping

readers connect with religious resources in our community. Make sure these

readers know how you can help with a presence in this very special section

distributed to more than 22,000 households in the Southwest area.

Contact us today to secure your spot in our Worship Guide.

614.272.5422 • kathy@columbusmessenger.com

around the southwest

Volunteers needed for

environmental committee

Be a voice for sustainability in Grove

City and become a volunteer member of the

city's Environmental Sustainability

Committee. Volunteer applications are currently

being accepted.

The new advisory group will help the

city develop a sustainability plan that recognizes

the work of the Mid-Ohio Regional

Planning Commission's regional sustainability

agenda. The nine-person committee

led by the city's environmental coordinator,

will promote:

• Waste reduction and recycling;

• Green business/economic opportunity

and development;

• Energy conservation/renewable energy;

• Natural resources preservation and

protection; and

• Other sustainability endeavors.

Those interested in volunteering for the

Environmental Sustainability Committee

should forward a letter of interest and

resume to the city of Grove City via email

SOUTH-WESTERN

Continued from page 1

forecast presented in October," he said.

According to Garside, the district is 2.6

percent above estimate on revenue and 1

percent below estimate in expenditures.

"That indicates to me that we are staying

the course (financially) while still providing

a quality education for our students,"

he said.

If there is one cause for concern, however,

Garside said it is the upcoming biennial

budgets.

"Not only do we need to keep our eye on

what is taking place with this upcoming

budget, but we also need to watch the budget

that is coming in two years," he said.

"The reason why this needs to be monitored

closely is because we receive roughly

60 percent of our funding from the state."

Though the budget has yet to be voted

upon, Garside believes it will be favorable

to the district.

"While we do not know what the official

allocation will be, from what we have seen

the district will be treated fairly."

In addition to state funds, the district

will continue to receive roughly $3 million

in taxes from the Hollywood Casino.

The forecast that was presented estimates

that the district's revenue in fiscal

years 2019, 2020 and 2021 will be $278

million, $279 million and $282 million,

respectively.

The district will continue to see a rise in

expenditures throughout the five-year forecast.

The biggest expense for the district is

personnel services, which primarily consist

of salaries and wages. Garside said roughly

80 percent of the district's expenditures are

for personnel services.

Purchased services are predicted to

www.columbusmessenger.com

at comments@grovecityohio.gov or deliver

in person to City Hall, 4035 Broadway.

Fresh produce to be distributed

Free fresh fruit and vegetables will be

distributed on June 8 to qualified, lowincome

Franklin County residents. The

fresh produce will be available at Central

Baptist Church, 1955 Frank Road, beginning

at 10:30 a.m. To assist in registration,

bring a photo ID and your current address

in Franklin County. For more information,

call 614-279-3115 or visit www.centralbaptistcolumbus.org.

S.A.L.T. at Evans Center

The Grove City Division of Police host

Seniors and Law Enforcement Together

(S.A.L.T.) meetings at 1 p.m. the second

Tuesday of each month at the Evans

Center, 4330 Dudley Ave. Adults of all ages

are welcome to attend. If you would like

additional information on other crime prevention

programs visit police.grovecityohio.gov

or call 614-277-1765.

increase roughly 2 percent to 2.5 percent

over the term of the forecast, as are supplies

and materials. Garside said one of the

reasons for the jump in the cost of supplies

and materials are due to a technology

replacement cycle and the replacement of

textbooks.

"In regards to the textbook replacement

cycle, much of the increase is due to inflation,"

he said.

Garside said he believes as the district

moves more toward the use of

Chromebooks, the purchase of physical

textbooks may become obsolete in the

future.

"That is something many districts have

been talking about," he said.

The price of fuel is being closely monitored

as well, with the forecast projecting

that one-fifth of the overall supplies and

materials budget stems from the cost of

fuel. According to the financial report,

every 30 cent increase in the price per gallon

of fuel represents roughly $130,000 in

increased cost annually.

The forecast presented estimates that

the cost of expenditures for the fiscal years

2019, 2020 and 2021 is $256 million, $272

million and $286.6 million, respectively.

The district will continue to maintain a

positive cash balance throughout the term

of the forecast. It estimates the district will

have a positive cash balance of $200 million,

$206 million and $201 million in fiscal

years 2019, 2020, and 2021. Garside said

having a positive cash balance is vital to

the health of a district as it can keep them

afloat in uncertain times.

"It can help a district weather any storm

that may come down the pike," he said.
---
www.columbusmessenger.com

May 19, 2019 -SOUTHWEST MESSENGER - PAGE 3

Welcome to 5424 Grove City Rd.

Welcome to 5424 Grove City Road....this was a custom built home back in the day and needs work. 15 acres just up the road from

the HOT Grove City Town Center and Beulah Park project. Large wrap around deck. Abundance of real woodwork, trimmed by

Craftsmen. Also includes an outbuilding. Being sold as is, where is to settle an estate. Cash or Conventional offers only. This one is

a DEAL! $259,900 MLS#: 219015923

COMMERCIAL, INDUSTRIAL, HIGH QUALITY RESIDENTIAL

UNPRECEDENTED SINGLE AGENT SALES OF OVER $75 MILLION FOR 2015-2018

C. Greg Skinner

614-537-1994

I sell more, because I do more, call me for my free no obligation marketing presentation.

Discount Fees Everytime.

I

GROVE CITY

greg@soldbygregskinner.com

UNDISPUTED #1 in 43123 SALES
---
PAGE 4 - SOUTHWEST MESSENGER - May 19, 2019

By Andrea Cordle

Southwest Editor

THANK YOU YOU JANUARY APRIL MAY 2018 2017 2019 CUSTOMERS

Breannah Austin Glenn Winter

Stacia Burgett Barkley Faris

Kindra Mesenbring

Christine Jill Jeffrey Hammond Ford Rowe

Charlee Compton

Anthony Bryce Angelo Hudson Woodley

Derek Kellough Fry

William Sztybel

Charolette Lisa Joseph Browning Justus Wiseman

Quintin Jean Stuller Porter

Austin Lucinda Alan McPherson

Steele Mays

Megan Jason Webb Coyan

Richard Colin Bline Hurt

Keith David Rotroff Supel

Justin Arlene Germack

Danny Robert Chapman Velasquez Heise

Jeremiah Rayburn

Michael Ralph Derk Trimarche Yount, HixsonJr.

David Beavers

John Rachel Dale Bays, Campbell Carl III

Brian Burfield

George

Lizbeth David Peppard

Hugo Perez Payne

Quiroz

Jr.

Kevin Mark

Bridget Heather

Wolf Williams Stephenson

Huff

Sharon Grose

Don Michael Heard Burks

Cher John Riley Byrd-Delcour II

Rodney Antoine Gallaher Summers

Steven Amber

Jeff Sherry

Laughbaum

Marcum

Tincher Bonner

Karen Evans

Nalee Ty Earl Higgins

Shaun

Carter Custer

Bates

2081 Harrisburg Pike, Grove City

875-1811

Sarah Brandon Bridget Ramona

Beach Smith Leffler

McKenzie

Kaitlynn Mullins

Barbara Janna Vicki Pilkington Maderia Newman

Jaleel Asante

Lavonna Eric Terry Cline

Christal

Ward Carl Cook

Katelynn Nicole Walker

Larry Darrick Skeie Deleon Scales

Kayla Ralph Stanley Cossin

Robbin Joshua Thomas Sanders Cloward

Jean Summers

Kemp

Shelley Miller

David Erika Webb Mays

Nathan Randall Williams Blake

Micquel Michael

Michael James Lakeish Moore Alexander Bennett

Lori Hildebrand

Paige Erin Jessica McGhee Melson Klempner

Don Heard

James Mary Daphney Evangelista Eldridge Lockett

Phillip Hammonds

Sherry

Timothy Judy Howell

Richard Powell Rife Walters

Donald Larry Ken Livingston,

Guadalupe

Dust, Perry Virgen

II Jr.

Danie Daniel

Patrick Nile Frazier

Brayden Michelle

Williams

Scott Leathers

Tanisha Stephanie Giving Tackett

Cheryl Ricky

Brandon Auja Sanders

Akers

Huff

Tyler Ford

Kincannon

Wendy Nancy Kenneth Walters Peterson Schlabach

Rachael Stormont

Stacey Danny Kelliann Arnold Sangili

Hanna Cline, Starner Sr. Steve James Rebecca Cassandra

Evans Hall Voit Cross

Donald Rhinesmith Trevonte Windham

Zackery Carlotta Saultz Fulton Parrott Richard Michael Infante-Montesdeoc Given Newhouse

Jason Ellis

David Hatcher

Cynthia Joel Marche Wilson Joyce Horn

Jared

Brofford,

Taffin Towns Jr. Kimberly Allison Justin Lucas Schmidli Perdue

Eric Jason Boyer Joseph Ford

William Joseph Dombroski Young Johnson Myranda Ashley Robert Wray McDowell Keel

Cheryl Allison Lytle Zinn Amanda Rare Gibson Morrison

Ishasia Jeffrey Susanne

Juan Fajardo

Halleck Owens Buechler

Tyler Lindsey Fran Schirtzinger

Burns Miller

Parker Bennett Juan Jimmie Luna, Wooten, III Jr.

Charles Stefan Mills Finks Robert Michael Bown Newsome

Betty Bruce Mohr Decker James Ann Bradford Winkle, II

Sequin Fannin Darlene Mulpas

Scott Daren Belinda Allman Dumas Kendrick Preston Cynthia Charles Zweifel Litchfield Ford

Cathy Loudner Delores Chara

Joe David Jeffrey Weaver Ros Arman Davin Shannon Matthew Alaniz Hurst Krumm

Kizer Johnston Gwendolyn Looney

Frederick Deanna Lawrence Stinson Weber Pace, Jr. Sherry Donna Lance Scott Parker Hanners

Danielle Raver Dale Deffenbaugh

Allyson

Kannon Alison Glover

Brock Martin Wotring

Whitson

Hannah

Aubrey Alicia Wade

Zach Vasquez Whittaker

Lazzara

Richard Marvin Laura McClung

Trevor Thompson Lochbihler Williams Richard Richard Halcinia Corwell

Dioubate-Battle Sturgill Dumont

Dustin Mills

Joshua Smith

Charles Gary Jordan Schroeder Britt Misty Deffenbaugh Langley

William Joseph Bush Vandemark Scott Danielle Cassady Orsburn

Ralph Phillip Garnes Bisciotti Lenora Chapman

Philip Brittany

Robert Marla Wilcox Underwood

Pratt Hall Joseph

Michael Katherine Haverfield Kearns

Parsley

Hassell Caplinger Darrell Smith

Margarita Lena Patrick Smith Robinson Salgado Devon Robertson

Nadia Williams Eric Norman

Thank You!

Amy Schakat, coordinator of careertechnical

education for the South-Western

City Schools District, said employers are

looking for skilled workers and the South-

Western Career Academy has trained students

who would fit the bill. There is just

one barrier.

"That barrier is transportation," said

Schakat.

Schakat addressed Grove City Council

at the May 6 meeting to show her support

for a ride sharing pilot program proposed

by COTA. Council had its first reading to

appropriate $180,000 from the general

fund for COTA's proposed On-Demand

Micro-Transit Service.

The micro-transit service would allow

residents to use a mobile app or call to

arrange for a COTA vehicle to pick them up

either at home for a fee or from a COTA bus

stop for free. According to Elliott Doza,

project manager for COTA, this program

would be like Uber or Lyft, but within a

defined zone. Zone one would cover Mount

Carmel Grove City, businesses in South

Park and along State Route 665, Mid-Ohio

Foodbank and the Grove City Park and

Ride.

"We chose Grove City because it is a

growing community," said Doza.

According to Doza, COTA would like to

launch zone one in July. The service would

operate seven days a week. On weekdays,

the service would run from 5:30 a.m. to 7

p.m. and on weekends and holidays the service

would run from 6 a.m. to 6 p.m.

This would be a one-year pilot program

that would run from July 15, 2019 to July

14, 2020. The cost to launch zone one is

estimated at $360,000 with Grove City and

COTA splitting the cost. The cost would

cover the service set-up, management,

marketing and maintenance.

COTA also plans to launch a second

www.columbusmessenger.com

The City Beat

Businesses see benefit to proposed micro-transit program

Public parks input meeting

Parks are important to a community's

quality of life, contributing significantly to

its economic and environmental well-being.

Living near a park is linked to better physical

and mental health.

The city of Grove City offers nearly two

dozen parks with a variety of amenities to

improve the quality of life of its citizens

and visitors.

Grove City is gathering input for new

parks in the Pinnacle area and on the former

grounds of Beulah Park with assistance

from MKSK Studios, a landscape

architecture, urban design and planning

firm that worked on the award-winning

Scioto Greenways in downtown Columbus.

All community members are invited to

view a presentation and share ideas at

visioning stations regarding the development

of the parks including possible

amenities at a public meeting from 6:30 to

8 p.m., Tuesday, May 21 in Grove City

Hall, 4035 Broadway.

For additional information on the meeting,

contact the Grove City Parks and

Recreation Department at 614-277-3050.

around the southwest

zone, which would include the South-

Western Career Academy, downtown

Grove City, the village of Urbancrest and

the Evans Senior Center. The cost to implement

the second zone would be an additional

$130,000.

Schakat said the school district offers 18

career technical programs and the students

in those programs are ready to work.

"They just need transportation," said

Schakat. "This program would solve that

problem."

Jason Koma, with Mount Carmel Grove

City, also addressed council and urged

them to vote in favor of the micro-transit

program.

"It is critical to provide access to the hospital,"

said Koma. "It would help not only

the employees, but also visitors."

Grove City Mayor Richard "Ike" Stage

said this pilot program could have an

impact on all central Ohio. He also said the

city's administration had reached out to

the employers that would benefit from this

program to see if there was a willingness to

share in the cost.

There are still questions regarding the

micro-transit service.

"I do not know if this is cost effective,"

said councilman Ted Berry, when Uber and

Lyft offer the same service but cover the

entire city and the city doesn't have to

spend $180,000.

The second reading and public hearing

for the COTA pilot program proposal is

scheduled for May 20. Council meetings

begin at 7 p.m. at City Hall, 4035

Broadway.

Career and Job Fair

The city of Grove City and the Grove

City Area Chamber of Commerce are collaborating

to sponsor a Career and Job

Fair, from 10 a.m. to 7 p.m. May 30, at

Aladdin Shrine Center, 1801 Gateway

Circle, Grove City.

"We've assembled a variety of Grove

City businesses hoping to connect with

candidates seeking a career in one of the

best hometowns in central Ohio," said

Mayor Richard "Ike" Stage. "We are looking

forward to this event and proud of our

continuing partnership with the chamber."

Central Ohio job seekers are encouraged

to attend and meet with hiring managers,

learn about available positions and explore

career options. Nearly 40 Grove City

employers are gearing up to meet with participants.

Come prepared with a resume

highlighting your skills and experience.

"This is a key opportunity for our local

employers to recruit quality talent," said

Grove City Chamber Executive Director

Shawn Conrad.

For more information, visit

www.grovecityohio.gov and www.gcchamber.org

or call 614-875-9762.
---
www.columbusmessenger.com

May 19, 2019 -SOUTHWEST MESSENGER - PAGE 5

Welcome to 7553 Augusta Woods Terrace

Welcome to 7553 Augusta Woods Terrace. If you are in the market for a captivating custom built ,no expense spared home, DO NOT LOOK AT ANYTHING UNTIL

YOU HAVE SEEN THIS GEM. TWO yes TWO oversized master suites! Luxurious chefs dream kitchen offers ultra rare granite tops. Opens up to a large eating area

and an oversized Great Room featuring soaring ceilings and a exquisite fireplace. All other bedrooms are large and offer their own walk in closets and private full baths.

Walk out basement to a fully landscaped wooded lot. This immaculate home boasts custom rail system, overlooks and custom built ins. Fully fenced grounds featuring

irrigation, pavers and pond. Priced WELL below duplication, owner paid over 900k for this home originally...home shows like new and is perfect for a family retreat.

$659,900

MLS#: 219015262

COMMERCIAL, INDUSTRIAL, HIGH QUALITY RESIDENTIAL

UNPRECEDENTED SINGLE AGENT SALES OF OVER $75 MILLION FOR 2015-2018

C. Greg Skinner

614-537-1994

I sell more, because I do more, call me for my free no obligation marketing presentation.

Discount Fees Everytime.

I

GROVE CITY

greg@soldbygregskinner.com

UNDISPUTED #1 in 43123 SALES
---
PAGE 6 - SOUTHWEST MESSENGER - May 19, 2019

club meeting

Women's Civic Club

The Women's Civic Club of Grove City

meets at 7 p.m. the first Thursday of every

month, except January and February, at

the Grove City Library. The philanthropic

group begins its evenings with a speaker,

followed by a business meeting and

refreshments. If interested in attending,

contact Carol Bonder at 614-558-6138.

Community Focus

www.columbusmessenger.com

t

JEFFREY P. COMPTON

ATTORNEY AT LAW

General Practice

Personal Injury • Domestic

Probate • Wills

Power of Attorney

Healthcare Documents

FREE CONSULT & PARKING

614-875-7233 Fax: 614-875-7207

3894 Broadway, Grove City

www.jeffreypcompton.com

Email: jcompton@jeffreypcompton.com

Lung Cancer?

Asbestos exposure in industrial,

construction, manufacturing jobs, or the

military may be the cause. Family in

the home were also exposed.

Call 1-866-795-3684 or email

cancer@breakinginjurynews.com.

$30 billion is set aside for asbestos

victims with cancer. Valuable settlement

monies may not require filing a lawsuit.

May Giveway

Place a prepaid classified line ad in our paper

for the month of May and be registered to win a

$50 Gift Card from

The Columbus Messenger Newspapers.

All ads received by mail, in person,

email or phone will be included in the drawing.

Drawing will be held May 29th, 2019

and the winner will be notified

and published in

our June 2nd issue

GOOD

Messenger photo by Dedra Cordle

Urbancrest Mayor Joseph Barnes Sr. and a delegation of council members, community leaders, spiritual advisers and developers

prepare for the ribbon cutting at the opening of the Quinichett Pavilion on May 3.

LUCK!

Pavilion opens in Urbancrest

By Dedra Cordle

Staff Writer

The prospect of a prolonged construction project

taking place near their homes would not thrill most

residents, but the one that was slated to be built adjacent

to hers had Vera Ziglar-Zimmerman buzzing with

anticipation.

For years, the village of Urbancrest resident had

been hoping to see the construction of an enclosed shelter

house in the community and for years had been

denied that opportunity. She was tired, she said, of

having to look outside of the area for an affordable

place to host family gatherings and celebrations, and

especially tired of having to host them at the open shelter

house at Martin Luther King Park.

"We would all be packed into that little space with

bugs flying around us and our food, and sometimes the

rain would be coming in at us," she said.

So when she heard that council had approved the

construction of an enclosed shelter house in 2016, she

was beyond ecstatic.

"I was so pleased to learn we were finally getting

one," she said.

The initial groundbreaking

was pushed back due to

inclement weather, but when

they finally put those shovels on

the dirt in the summer of 2017,

Ziglar-Zimmerman was right

there watching.

As the months went by, she

continued to observe the construction

process, becoming

more and more excited as the

building took shape. And when it

appeared the exterior structure

was finished, there was no word

as to when it would open.

What happened to cause the

long delay, said village Mayor

Joseph Barnes Sr., was a plethora

of issues stemming from the construction company

the council had hired to undertake the project.

"It was a bit of a mess for a while," he said.

It began, he explained, when contractors expressed

their discomfort at some of the material requests the

company, Palmetto Construction Services, was making.

Then came the firing of the first site manager who,

Barnes said, had expressed similar complaints.

Shortly thereafter, the two parties went into arbitration

and the company defaulted in 2019. The

Messenger reached out to the last known number and

email address for comment on these allegations, but

the line was not connected and the email bounced

back.

Despite the headaches and delays, Barnes said

there was a dogged determination to have the opening

of the pavilion take place as soon as it was safely possible.

On May 3, that day finally came with the grand

opening of the Quinichett Pavilion, which was named

in honor of Samuel and Ella Quinichett, the first

African American family to settle in the village.

Barnes said though the construction of the pavilion

was an unexpectedly long and exhaustive process, it

stands as an example of the spirit and perseverance of

the community.

"Sometimes you end up walking on the rough side of

the mountain and when you reach the top it is smooth

sailing on the other side," he said during the ceremony.

Though there are some drainage and sound issues

that still need to be worked on, Barnes said the million

dollar pavilion is now open for business.

"We've already got people signed up and lined up (to

use the building)," he said.

While Ziglar-Zimmerman has yet to add her name

to that list — she primarily plans to attend graduation

celebrations and family gatherings this summer — she

said she was thrilled with the end result.

"It was a long time coming but it was worth it," she

said. "It looks beautiful and it's so exciting to have this

in our community."
---
www.columbusmessenger.com

May 19, 2019 -SOUTHWEST MESSENGER - PAGE 7

WOODS AT PINNACLE

NEARLY SOLD OUT!

FROM THE

$350'S!

VISIT OUR MODEL!

71

GROVE CITY

BUCKEYE PKWY.

STRINGTOWN RD.

Golf Course

PINNACLE CLUB RD.

PINNACLE

WOODS DR.

LAST CHANCE!

WOODED LOTS!

UP TO $23,000 IN

FREE OPTIONS!*

487O PINNACLE WOODS DR., GROVE CITY, OH 43123

FOR MORE INFORMATION CONTACT LISA MEIER AND RUTH ANNE LUDOLPH:

614-876-6789 | RL@SCHOTTENSTEINHOMES.COM

*All plans, pricing, terms and conditions are subject to change without notice. | *Promo expires 5/31/19.
---
PAGE 8- SOUTHWEST MESSENGER - May 19, 2019

In Education

www.columbusmessenger.com

Making

a pitch

By Dedra Cordle

Staff Writer

The four high school teams vying to

take top honors in the business concept

competition known as Pitch Night were

prepared to fail.

It was not that they wanted to, mind

you, it was just that these 14 seniors have

become accustomed to the prospect since

joining the Innovation and

Entrepreneurship program at the South-

Western City Schools District.

"Our ideas get shot down a lot," said

Westland student Brandon Vargas.

For instance, Vargas and his fellow

classmates Omar Abdi and Haley Hall

have been trying to perfect their business

concept of a solar powered cellular phone

case that is capable of charging batteries

and offering protection against damaging

drops.

In their quest for product betterment,

they reached out to several companies

that they believed could offer sound advice

or even help them create a physical product.

They were rebuffed at every turn.

"It was a bit discouraging," said Hall.

"It's like adults don't want to take you

or your idea seriously," said Vargas. "All

we wanted was some feedback and most

didn't even give us the time of day or

respond to our emails."

Through the lessons laid out in their

program, the trio knew the importance of

pushing through with your idea, and it

was not just because they were being graded

on the product and their business acumen.

"It was something we believed it," said

Vargas. "We just had to keep adapting

until our idea became viable."

In addition to wanting to score a top

grade in their class, they also wanted to

earn the right to compete at the state level

with their idea, which they did earlier this

year.

"They placed seventh in the state," said

Kevin Peters, a business and technology

teacher.

With that accomplished, they set their

sights on Pitch Night, an event where a

panel of business professional determine

which top team from each of the high

schools had the best potential for a business

startup.

"Unfortunately at this point, the winners

do not get a financial reward or

internship," said Amy Schakat, the district's

coordinator of career technical education.

"Just school bragging rights."

Messenger photo by Dedra Cordle

Westland High School seniors Omar Abdi, Brandon Vargas and Haley Hall took first place at the district's third annual Pitch Night

for their business concept SolCase. The students in the Innovation and Entrepreneurship program said SolCase is a solar powered

cellular phone case that is capable of charging batteries and providing protection against damaging drops. Pictured here from left

to right is Omar Abdi, judges Dr. Heidi Stevenson, Tim Roe, and Dan Havener, and Brandon Vargas and Haley Hall.

Though most admit they would have

liked a contract for their business concept,

they agreed bragging rights was enough for

now.

"We all want to win for our schools," said

Savion Golden, a senior at Franklin

Heights.

The first presentation was from Ashigan

Ali, Brittany Hanson, Luis Olivo and Jose

Martinez at Central Crossing who pitched

an app called $.M.A.R.T (or Saving Money,

Assisting Reliable Tips). According to the

team, the app helps people track how much

money they make, how much they can

spend, and how their money could be better

managed.

The second presentation was from

Golden, Kianna Jackson and Shareka

Jones who pitched a product called Grease

Glove. According to the team from Franklin

Heights, the "lightweight silicone glove" is

meant to protect fast food workers from

getting "popped by grease."

"As you can see, it's a big problem,"

Golden said, pointing to all of the Band-

Aids covering his arms.

The fast food worker said he is tired of

getting splashed by grease and his team's

market research indicated the same.

"Eighty percent of the people we interviewed

said getting popped by grease was

problematic."

He said this glove did not negatively

affect the tasks of the workers and added

that it was good business practice to wear

them.

"It would cut down on worker's comp."

The third presentation was from DJ

Neff, James Marvin and Blake Sahr from

Grove City who pitched UpNext Sports

Camp, a database which allows young athletes

to connect with sports camps that best

fit their abilities.

Marvin said they are just focusing on

local camps at this time but have received

excellent feedback from sports camps who

were interested in their budding product.

"There are millions of young athletes out

there looking for the right camp to go to,"

he said. "Our product would put them in

touch with the right fit for them."

The last presentation was from the team

at Westland who pitched SolCase, the solar

powered cellular phone case that would be

made from recycled parts.

"Our product will be very eco-friendly,"

said Hall.

After all of the pitches took place, the

judging panel said they had a hard time

determining the best business concept.

"They were all so different and presented

so well," said Dr. Heidi Stevenson. "I

think they all deserved to win."

Schakat said she too was impressed by

the ideas from the students.

"There was a lot of variety," she said. "In

the past there have been a lot of apps

pitched — which is a great thing — but these

teams had products that seemed more personal

to their lives and their challenges."

Ultimately, only one team could be chosen

as the winner of Pitch Night and that

was the team from Westland.

"We're really excited," said Vargas. "It's

a great feeling to know that other people

like your idea."

Their win marked the first time a team

from Westland has received the top honor

at Pitch Night (Grove City won in its inaugural

year; Central Crossing the following).

Schakat said she hopes the recognition and

friendly competition will propel more students

to take an interest in the Innovation

and Entrepreneurship program.

"It really is one of the district's more

unique career pathways," she said. "They

are taught that there is no right way or

wrong way to create a business concept and

it allows them to be free to fail, so to

speak."
---
www.columbusmessenger.com

May 19, 2019 -SOUTHWEST MESSENGER - PAGE 9

Gro

ve Ci

ity Sprin

ng & Su

ummer EVE

ENTS

rove C

y Spri

mme

MA AY 18-SEPT

T. 7 '

MAY 24-AUG. 16

MAY 27

JUNE 1

JUNE 6-AUG. 1

JUNE 14-16

JUNE 14-15

JUNE 29

JULY 4

JULY 5

JULY 26

AUG. 10

FARMERS' MARKET

TS

Satur

day mornings, 8 a.m.-Noon

To

own Center, hosted by

Grove City Area Chamber of Commerce

SUMM MMER SIZZLE CONCERT SERIES

Fr iday evenings

, 7-8:30 p.m.

To

own Center, G

eorge Edge Music Park on Broadway

MEMORIAL

DAY PARADE

11 a.m.

To

own Center, Ceremony at Grove City Cemetery

HERITAGE CELEBRAT

TION

10 a.m.-4 p.m.

Century Village at Fryer r P ark, 3899 Orders Road

FRYER FLICKS ON TH HE HILL

Thursday evenings at dusk

Fryer Park sledding hill, 4185 Orders Road

Grove City Presents OHIO FLAGS OF HONOR

Flags displayed until 3 p.m., June 16 at Arbutus us Avenue & Park Street

C oncert by Swing's

The Thing, 7 p.m., Friday

GROVE CITY WINE & ARTS FESTIVAL

Friday, 5-10 p.m.; Saturday, 11 a.m.-10 p.m.

To

own Center, hosted by

Heart of Grove City

GRANT-SAWYER HO

OME

BELL

RINGING G

&

OPEN HOUSE

10 a.m.-2 p.m.

Grant-Sawyer Home, 4126 Haughn Road

INDEPENDENCE DA

Y CELEBR

ATION

6-10:30 p.m. | Fireworks at 9:50

p.m

m. Simulcast on WLVQ, Q-FM 96.3

Grove City High School

, 466565 Hoover

Road

KICKOFF TO PARKS

& RECREATION

MONTH

6-8:30 p.m. at Gantz

P

ark, 2255 Home Road

Concert by Central Ohi o Brass Band, 7 p.m.

HOMECOMING

CELEBRATION

6-10 p.m.

by RockHouse Band

To

own Center, Concert b

AUG. 10 EC

E OFEST & BIKE WITH

MAYOR IKE

9 a.m.-2 p.m.

To

own Center,

east of Broadway

GROVE CITY BOURBO ON FESTIVAL

1-1010 p.m.

To

own Center, hosted by

Heart of Grove City

Grove City Parks and Recrea

tion

614-277-3050 •

GroveCityOhio.gov

@ GroveCityOhio
---
PAGE 10 - SOUTHWEST MESSENGER - May 19, 2019

www.columbusmessenger.com

Memorial Day Section

Memorial Day parade and service

Honoring those who serve

Messenger file photo

Relatives of veterans who have passed away participate in the annual Grove City

Memorial Day parade, held in the Town Center.

American Legion Paschall Post 164 and

Veterans of Foreign War 8198 will host the

Memorial Day parade and services on May

27. The parade steps off at 11 a.m. from

Our Lady of Perpetual Help Church and

"The King's" music lives on in the heart and

soul of admirers such as Elvis entertainer Mike

Albert, who will perform at this year's Summer

Blast 2019.

Now you can see one of the best "Elvis"

shows in the country as Albert, with his "The

Ultimate Tribute" show and the Big "E" Band,

brings the memory of the king of rock and roll

back to gyrating life for the 19th year on the stage

of the Villa Milano June 15 during Summer Blast

2019.

Doors open at 5:30 p.m., dinner is served at

6:30 p.m. and the show kicks off at 7:30 p.m. with

Albert and his band.

travels down Broadway. There is a short

ceremony at City Hall, then the parade

continues to Grove City Cemetery for the

Grove City Memorial Day service.

PAID ADVERTISING

Mike Albert to perform

at Summer Blast

Mike Albert is the complete package with his

wardrobe, charisma, and voice. Along with the

six piece Big E Band, it makes for a Las Vegas

style performance. First timers at Mike Albert's

show are absolutely amazed.

Albert covers Presley's career from the rockabilly

'50's to the Vegas '70's, including love

songs and gospel numbers, and has performed

concerts in Europe, Australia, New Zealand and

throughout America.

Tickets for the dinner and show are $49. Call

792-3135 for information or to order tickets. Villa

Milano is located at 1630 Schrock Road in

Columbus and there is ample parking.

SUMMER BLAST!

ELVIS

featuring

Mike Albert

and the Big E Band

Saturday

June 15, 2019

VILLA MILANO

1630 Schrock Rd.

Dinner/Show Tickets $ 49.00

Tables of 10 Available

Tickets by Phone: 614-792-3135

Still Good Seats Available

Visa • Mastercard • Discover

NO REFUNDS
---
www.columbusmessenger.com

Memorial Day Section

May 19, 2019 -SOUTHWEST MESSENGER - PAGE 11

A mother's heartfelt

letter to her soldier son, 1919

By Rick Palsgrove

Southeast Editor

Imagine yourself as a soldier stationed

overseas in those first few weeks after the

end of World War I. You're eager to go

home, but until you are discharged your

only tangible contact to home is by letter.

One hundred years ago, in the days

before someone overseas could be contacted

instantly by telephone, or through the various

forms of the Internet, the written

word in the form of ink on paper was the

main way to reach out to a faraway loved

one.

Letters from home to those in the military

who fought in World War I in Europe

could take days or weeks to reach their destination.

Then those on the home front, in

turn, waited days or weeks for a reply.

One such letter from home to a

Groveport soldier in 1919 recently was

donated to the Groveport Heritage

Museum by the Westerville Public Library

after it was found in the library's files.

The letter, written by his mother, was

sent to her U.S. Army private son, who was

in the 37th Division, and was dated, "From

home at Groveport, O., Jan. 13, 1919."

World War I had ended Nov. 11, 1918,

and the family was eagerly awaiting his

return home. In flowing script handwriting,

his mother writes, "We are growing

impatient waiting for you and no doubt you

boys are the same. I hope you are comfortably

quartered and it is not so cold there."

She described how things were at home

to her son, noting that the Ohio winter had

been "ideal" so far and noting, "A few days

were cold, six above zero is the coldest day

we've had. Just three light snows, scarcely

enough to cover the ground. We can pull a

turnip up out in the garden and it is as

crisp as early fall." She added that the

weather recently was nice enough for her

to dry clothes outside on the line because it

was like "a summer day."

She told her son that she won't tell him

about everything that's happened at home

in the year and a half he's been away

because she wants him to have some surprises

when he comes home.

She wrote about others her son knew

from the community who served in the war

noting that one wounded fellow, "is home

for a while now, but will go back as soon as

he recovers. He was in that bunch of 1,200

in that Argonne Woods battle...150 came

out and he was gassed three times and got

some slight wounds."

Referencing newspaper accounts of the

time, she wrote that a "bunch of wounded

soldiers landed (in America) on Dec. 20...It

is a pitiful sight to see our once perfect

specimens of boys now hobbling along with

one leg or some member of their body

gone."

As the letter closes, she wrote, "I can

hardly wait for the day when I see you

come marching home" and she described a

potential welcome home meal that awaited

him as "roast ribs, dressing, mashed potatoes

and gravy, kidney beans, marshmallow

salad, cherry and custard pie, cake

cookies, pickles, strawberry preserves,

bread, butter, coffee, tea, milk, salt and

pepper, and toothpicks."

Imagine how heavenly that list of food

sounded to a soldier who had been existing

for many months on Army food!

She signed off the warm, heartfelt letter

this way: "Lots of love and many God bless

you my child. All send their love and best

wishes to our dear, dear absent boy. Love,

from mother."

But then there is a P.S. noting a stick of

gum was included for him with the letter.

A simple, kindly gesture, that offered a

sweet taste of home.

PAID ADVERTISING

Day Camp at the

Grove City YMCA

YMCA Day Camps provide a safe space for

kids to learn, grow and thrive while school is out.

One in three U.S. children is obese, and when

summertime hits, kids will be more idle. Research

shows that without access to out-of-school physical

and learning activities, kids fall behind academically

and gain weight twice as fast during summer

than the school year. That's why at the

YMCA of Central Ohio, we are committed to

keeping kids healthy and active all summer long.

The Grove City YMCA Day Camp is a place

for kids to spend their summer having fun, learning

new skills, making friends and memories that

will last a lifetime. Campers spend 80 percent of

their time outdoors, including days spent in the

pool. Kids discover not just the wonders of day

camp but the joy of exploring their unique traits,

talents and interests as well as the power of sharing

their strengths and skills to benefit the group.

Have the best summer ever! Sign up for camp

today.

For more information or to sign up visit ymcacolumbus.org/grovecity-daycamp.
---
PAGE 12 - SOUTHWEST MESSENGER - May 19, 2019

SPRING

AUTO DEALS

This Week's Features

614-279-8880

www.haydocy.com

CERTIFIED USED SPECIALS

08 TOYOTA TACOMA

17B153B

Super Clean!

07 HONDA ODYSSEY

SA1892A

Hard to Find!

10 VW ROUTAN SE

SA177S

Navigation & More!

Only 65,066 Miles!

10 FORD F-150 SUPER CAB

SA1921

Sport Package, V-8

08 JEEP WRANGLER

UNLIMITED X

17G350B

Only, 73,355 Miles!

$

14,795

13 GMC TERRAIN DENALI

19G056A

Sunroof,

Chrome Wheels!

15 CHRYSLER 300 S AWD

SA1833

Sunroof, $

17,995

Navigation & More!

16 HONDA ODYSSEY EX-L

19B097A

Leather & Loaded, $

23,995

Sunroof & More!

16 FORD F-150

SUPERCREW LARIAT

19G037A $

Heated & Cooled 24,995

Leather Seats, Navigation, 4X4

3895 W. Broad St.

www.haydocy.com

$

6,795

$

6,995

$

9,995

$

11,995

$

15,795

www.columbusmessenger.com

The City Beat

Music makes the summer sizzle

As the temperature heats up, so does

the fun in Grove City. Weekends full of outdoor

activities are sparked by open-air concerts

on Friday evenings. Most weeks, the

free Summer Sizzle Concert Series, sponsored

by the Grove City Parks and

Recreation Department, features children's

activities and live entertainment from 7 to

8:30 p.m. by the best acts in central Ohio at

the George Edge Music Park on Broadway,

corner of Park Street and Broadway.

The Summer Sizzle concerts kick off

Memorial Day weekend at 7 p.m., Friday,

May 24 with a Salute to America's Finest

performed by the Grove City Community

Winds in the historic Town Center. Also

celebrate Public Works Week that evening

with an interactive, hands-on Touch-a-

Truck event. Children can explore a variety

of big trucks and equipment the public

service staff use in daily operations. Learn

how public works associates play a vital

role together with first responders, staff

will be on hand to answer questions.

Kick off the Summer Reading Program,

Friday, May 31 with engaging activities,

crafts and fun for the family as the city

Messenger photo by Dedra Cordle

Celebrating science

The city of Grove City participated in a Build, Blast and Grow

Science Celebration on May 2 in partnership with COSI's 2019

Science Festival. For two hours, families throughout the community

came out to the Kingston Center where they built pasta

towers, learned how to remove ticks from their pets, and made

mini-lava lamps, to name a few interactive stations. Shown here,

Grove City resident Matt Nelson helps his daughter Katerina, 8,

make a skyscraper using spaghetti noodles and marshmallows.

The duo said the height of their structure reached 20 inches,

unofficially. To see more photos from the event, visit

www.columbusmessenger.com and look under Southwest.

partners with Southwest Public Libraries

to host a concert for kids celebrating the

50th anniversary of the lunar landing.

Free concerts are also included in several

special events throughout the summer.

Swing's the Thing performs patriotic tunes

7 to 8:30 p.m., Friday, June 14 during

Grove City presents Ohio Flags of Honor at

Park Street and Arbutus Avenue. The

Central Ohio Brass Band performs 7 to

8:30 p.m., Friday, July 5 in the Gantz

Gazebo as part of the Kickoff to Parks and

Recreation Month at Gantz Park, 2255

Home Road (the Gardens at Gantz volunteers

host an open house at 6 p.m.).

RockHouse performs 7 to 10 p.m., Friday,

July 26 at Park Street and Broadway, during

the annual Homecoming Celebration.

2019 Summer Sizzle

Concert Series Schedule

• May 24, Grove City Community

Winds (patriotic, marches and jazz)

• May 31, Shazzbots (children's variety

and family favorites)

• June 7, Marquis66 (classic rock)

• June 14, Swing's the Thing (patriotic

tunes) at Park Street and Arbutus Avenue

Tearing it down

• June 21, Ladies of Longford (acoustic

celtic fusion)

• June 28, Rezes-Hall Band (classic rock

& roll)

• July 5, Central Ohio Brass Band

(patriotic, marches and jazz) at the Gantz

Park Gazebo

• July 12, The Conspiracy Band (R&B,

rock and jazz)

• July 19, Robin Lacy and DeZydeco

(creole rock & roll, zydeco)

• July 26, RockHouse (classic rock, pop

and country) at Park Street and Broadway

• Aug. 2, The Russell Blue Band (Latin

jazz, R&B, funk and pop)

• Aug. 9, Danny and the Linders (60s

and 70s classic rock, pop and country)

• Aug. 16, The Usual Suspects (blues,

southern rock, Motown and jazz)

For additional information, visit

GroveCityOhio.gov or call the Grove City

Parks and Recreation office at 614-277-

3050. Weather-related cancellation information

is available on the Grove City

Facebook and Twitter pages or call the

weather hotline at 614-277-3060 the day of

the event.

Photo courtesy of Karen Cotton

Demolition started at the former site of the Grove City Library

on May 13. According to Southwest Public Libraries, the

library building on Park Street opened in March of 1954. The

building was expanded south to Civic Place in 1962. The

building was again expanded in 1974. In 2013, Southwest

Public Libraries and the city of Grove City agreed to a partnership

to build a new library in the city's Town Center. The

city paid the library approximately $2 million for the Park

Street site. In October of 2016, the new Grove City Library

opened at Broadway and Grant Avenue. The city determined

that it would be too expensive to save the old library building.

It has yet to be determined what the city will do with the

property on Park Street, but a signed petition from residents

suggest many would like the property turned into a public

park.
---
www.columbusmessenger.com SOUTHWEST MESSENGER - May 19, 2019 - PAGE 13

Dodgeball!

Messenger photos by Josh Jordan

Members of the Grove City Division of Police and the Jackson

Township Fire Department pose for a picture at the end of the

first ever Fire Responder Face-Off Dodgeball Match. The event

was held May 4 at Central Crossing High School. The police

officers came out on top with a 5-4 win. Proceeds from the

game will be used to install lights for the Buddy Ball field in

Grove City.

At right, Grove City Police Officer Aaron Ragland attempts to

throw out Jackson Township Firefighter Jeremy Latella.

Pick-Up &

Delivery

C.M.T

MOWER REPAIRS

Authorized Dealers for BOB CAT Mowers

6446 HARRISBURG PIKE, ORIENT, OH 43146

614-875-5830

"We have the lowest price in town!"

GENERAL MAINTENANCE SERVICES

Push Mowers $49.95 • Riding Tractors $149.95

Zero Turn Mower $149.95

Parts are additional on all units

PICK-UP & DELIVERY AVAILABLE $60.00

CHECK OUT THESE GREAT DEALS!!

• CRZ-42........ $ 4,000.00

• CRZ-48........ $ 4,200.00

• CRZ-52........ $ 4,500.00

• CRZ-61........ $ 4,800.00

• XRZ Pro RS61.. $ 7,900.00

ProCat RS 61.............. $ 9,400

ProCat 6000 61........... $ 9,500

Predator Pro 7000 72.... $ 12,400

0% Interest

Financing up to

48 months (if qualified)

around the southwest

Task force volunteers sought

Grove City Council established a

Citizen Financial Review Task Force and

wants community input. You don't have to

be a finance wizard, just have an interest

in the city. The task force is comprised of

15 residents who will:

• Review and compare the city's operating

expenditures and identify possible

near-term strategies for cost savings;

• Determine potential long-range revenue

stream changes and corresponding

impact on budgets;

• Assess strengthening the long-term

revenue picture through multiple

approaches; and

• Identify and prioritize short- and

long-term capital needs.

The task force shall report its findings

and recommendations within 180 days

from the date of its first plenary session.

Those interested in volunteering for the

task force should forward a resume to the

city of Grove City via email at comments@grovecityohio.gov

or deliver in person

to City Hall, 4035 Broadway.

Free community meal

Bethel Lutheran Church, 4501 Hoover

Road in Grove City, will host a free community

meal every third Saturday of each

month. The food will be served from noon

to 1 p.m. For more information, call the

church office at 875-0510.
---
PAGE 14 - SOUTHWEST MESSENGER - May 19, 2019

Pet Corner

Pets of the week

Demi is a 2-year-old

busy bee. She's a

naturally playful, curious

and trusting

canine. She loves

going for a long walk

every day as it gives

her something to do.

She'll then curl up

with you in the evenings. She's a dog on a

mission to please the family. Adopt Demi from

the Franklin County Dog Shelter.

FYI: 614-525-3647 or www.franklincountydogs.com

Macy is the sweetest

dog ever. This senior

gal is super easy

going and literally

just wants to snuggle

all day. She loves all

people and would be

such a great companion.

She is very

food motivated and knows a few tricks. Macy

is full of love and has been waiting far too long

for her forever home.

FYI: 614-525-3647 or www.franklincountydogs.com

These furry friends are available

for adoption at local

rescues and shelters

Mamas is such a

sweet heart. She is so

wiggly and adorable.

She loves attention

and is very social.

She loves everyone

she meets. She

enjoys exploring and

walking, and can't

wait to adventure with you. She would need to

be the only female dog in the home but she

would do well with a male dog where she can

be the boss. She loves to cuddle with her

human friends.

FYI: 614-525-3647 or www.franklincountydogs.com

Hope is a 2-year-old

girl hoping to find her

forever home. She's a

petite lady who still

has her kitten cuteness.

Her favorite

place to be is in your

lap to take a nice nap. Hope is good with other

cats, dogs and children. She would make the

purrfect edition to any family. Adopt her from

Friends for Life Animal Haven.

FYI: www.fflah.org

Buddy is a 9-yearold

beagle mix

weighing around 35

pounds. He is leash

trained and crate

trained. Buddy is

obedient, playful and

affectionate. He is

even-tempered and

eager to please.

Adopt this gentle

hound from Colony

Cats and Dogs.

FYI: www.colonycats.org

D'Angela was

trapped at a mobile

home park. She was

living in an area that

had heavy construction

and she had to

be removed for safety

concerns. She is

about 1 and is a very

dark, almost black

torti. D'Angela is currently

residing at the

PetValu store in the

Short North. Adopt

her from Colony Cats

and Dogs.

FYI: www.colonycats.org

Ying and Yang were

born July 2018. They

have been with

Colony Cats since

they were babies.

They are still playful

kittens and hope to

find a forever home

soon. They can be

adopted together ot

separately. You can

meet Ying and Yang

at the Colony Cats

cage-free adoption

center.

FYI: www.colonycats.org

www.columbusmessenger.com

Ying

Yang

southwest

Messenger

(Distribution: 21,678)

Andrea Cordle...................................Southwest Editor

southwest@ columbusmessenger.com

Published every other Sunday by the

The Columbus Messenger Co.

3500 Sullivant Ave., Columbus, Ohio 43204

(614) 272-5422

The Columbus Messenger Co. reserves the right to edit, reject or cancel

any advertisement or editorial copy at any time. The company is not

responsible for checking accuracy of items submitted for publication.

Errors in advertising copy must be called to the attention of the company

after first insertion and prior to a second insertion of the same advertising

copy.

V I P R E A L T Y

I N C

C. GREG SKINNER

COMMERCIAL, INDUSTRIAL, HIGH QUALITY RESIDENTIAL

• Only agent offering balanced marketing including Newspapers, Magazines,

area Postcards, Enchanced Internet and more!

• 5 Star Rated Columbus Area agent again for 2018 • Discount Fees everytime

Call Text Email Greg 614-537-1994

for a FREE marketing presentation, it spells out all I do to sell your home.

greg@soldbygregskinner.com

UNPRECEDENTED

SINGLE AGENT

SALES

OF OVER

$75 MILLION

FOR 2015-2018

UNDISPUTED Sales Leader in 43123
---
www.columbusmessenger.com SOUTHWEST MESSENGER - May 19, 2019 - PAGE 15

In Entertainment

Don't get scammed by "e Hustle"

In an attempt to make older properties feel more

relevant to today's times, movie studios have begun to

gender swap their relics in order to give off the faint

whiff that they are doing something original.

Sometimes the idea works and the familiar product

feels new and fresh and sometimes it backfires and a

stale stench lingers over it.

The latest film to receive the swap treatment by a

studio is "The Hustle," a re-envisioning of the 1988 con

caper "Dirty Rotten Scoundrels" starring Michael

Caine and Steve Martin. Throughout the years, that

film has reached comedy classic status due to its sheer

absurdity and twist ending, thus casting a long shadow

for any follow up. As its more modern counterpart,

"The Hustle" already had too much to live up to and it

unsurprisingly feels like a pale imitation of its elder

version. With that being said, it has a few shining

moments of its own so it is not completely devoid of

any merit.

It begins with the introduction of Penny Rust

(Rebel Wilson), a small-time scammer who finds her

marks through dating apps. The writers wanted it

known that Wilson is the lead who has a conscience.

Her character makes her decision on who to scam

based on how the target treats her. For example, if she

meets a guy and he is nice to her, she leaves him alone.

If she meets a guy and he is rude, the scam if a full go.

When we officially meet her, she is in "full go"

mode, trying to bilk $500 from a shallow man jerk

(played brilliantly by Veep's Timothy Simons) for

breast implants for a made up sister. And just when it

seems she is about to score some quick cash, the cops

bust up the party thanks to a tip from a recently

burned mark.

While on the run, she spots a magazine article

about a lavish sea-side town in France that is just

overflowing with wealthy people. Having nowhere to

go now that the local authorities are onto her, she

decides that she needs a change of scenery and the

people of the fictional Beaumont-sur-Mer need to be

The Reel Deal

Dedra Cordle

liberated of their money.

As she is becoming more

familiar with her new digs and

marks, she meets a big time

scammer named Josephine

Chesterfield (Anne Hathaway)

who kindly tells her to get lost.

Having no intention to do so,

the two butt heads until Penny ends up scamming her

way into a con artist apprenticeship with Josephine.

These scenes are easily the funniest of the movie, with

Rebel making the most of her comedic chops and

Hathaway with her more subtle humor.

Unfortunately, the film then veers away from their

budding frenemy status with a winner-take-the-town

bet to see who can receive the affections of Thomas

Westerberg (Alex Sharp), a gullible tech millionaire

who is on the cusp of super stardom.

While "The Hustle" doesn't veer far from the plotting

of "Dirty Rotten Scoundrels" it also doesn't have

the level of absurdity and non-stop humor of its predecessor.

There are scenes that truly drag and long

moments where no smiles or laughs are elicited but it

had a few bright spots of entertainment and eyecandy,

namely with the costuming by Emma Fryer.

The outfits will make you want to get some new pieces

in your wardrobe, and then imagine starting your own

scams as you catch a glimpse of the pricing.

Overall, "The Hustle" isn't a bad movie but it's not

a fantastic one either. The chemistry between the cast

helps lessen the more tedious moments but it's a film

that definitely could have worked more efficiently with

a more distinctive point of view. Grade: C-

Dedra Cordle is a Messenger staff writer and

columnist.

Summer is Here!

Advertise in our next edition!

June 2, 2019

Deadline: May 28, 2019

Contact Doug Henry

614-272-5422

doughenry@columbusmessenger

"Willy Wonka" performed at Darbydale

Students at Darbydale Elementary School put on a spring musical of "Willy Wonka." The performance was

held on May 10 at the school. Darbydale was one of the only elementary schools in the area to put on a

spring musical. About 45 students participated in the musical, which took months of preparation.

Terri Ehmann

REALTOR ®

Direct: (614) 216-7977

Fax: (614) 875-0889

terri.ehmann@herrealtors.com

herrealtors.com/TerriEhmann
---
PAGE 16 - SOUTHWEST MESSENGER - May 19, 2019

www.columbusmessenger.com

CLASSIFIED ADS

Deadlines: Southeast and West editions, Wednesdays at 5 p.m., • East, Southwest, Madison editions, Tuesdays at 5 p.m.

All editions by phone, Tuesdays at 5 p.m. • Service Directory, Tuesdays at 5 p.m.

xEmployment

Southeast Healthcare is seeking the following positions: Engagement Specialists and

Recovery Guides to promote recovery in adults with severe mental illness

and/or drug or alcohol dependency.

Positions available in Delaware and Franklin County.

Qualified applicant will have a lived experience with the recovery process.

Applicant must have a HS diploma/GED, valid driver's license,

vehicle and be willing to transport.

Case Managers to provide individual care planning and community linkages and

referrals for adults with severe mental illness.

The successful applicant will have an AA/BA, as well as a valid driver's license,

vehicle and be willing to transport.

Crew Leaders to supervise clients employed in our transitional employment program

and assist with skill building for permanent, competitive employment.

The successful applicant will have a HS diploma/GED, as well as a valid driver's license,

vehicle and be willing to transport.

We offer many great benefits, including health, dental, vision, 401(k),

education reimbursement and generous time off.

For a full list of opportunities, go to www.southeastinc.com

To complete an application, go to Southeastinc.appone.com

ADVERTISING

SALES HELPER

The Advertising Department at the

Columbus Messenger Newspapers

is seeking a

Helper for the Sales Department.

No Experience Necessary

Duties include: Set Appointments,

Make Calls, Run Errands, etc.

Salary plus auto allowance.

Seniors welcome to apply.

Please send your resume to:

Doug Henry, Advertising Manager

Columbus Messenger Newspapers

3500 Sullivant Ave.,Columbus, Ohio 43204

or e-mail to doughenry@columbusmessenger.com

INFORMATION

Summer"

Almost Here

Call Marilyn Weaver

For An Appt.

For a New Haircut/Style

for a cool summer look!

614-277-1921

Indulgence Hair Salon

3387 McDowell Rd.

Grove City

Employment

WANTED

SW CITY SCHOOLS

SCHOOL BUS DRIVERS

The South-Western City School

District is currently hiring drivers

$16.55/HR

Available positions are for substitute

drivers that can develop into "Regular"

positions with benefits. Interested

individuals should submit an application

on our website at swcsd.us. Follow the

employment link. Applicants should have

an excellent driving record and must

submit to drug, alcohol, and background

screening. A high school diploma or

equivalent is required.

EOE

ASSOCIATION ADS

READER

ADVISORY

The National Trade Association

we belong to has

purchased the following

classifieds. Determining

the value of their service

or product is advised by

this publication. In order

to avoid misunderstandings,

some advertisers do

not offer "employment"

but rather supply the

readers with manuals, directories

and other materials

designed to help

their clients establish mail

order selling and other

businesses at home. Under

NO circumstance

should you send any

money in advance or give

the client your checking,

license ID or credit card

numbers. Also beware of

ads that claim to guarantee

loans regardless of

credit and note that if a

credit repair company

does business only over

the phone it's illegal to request

any money before

delivering its service. All

funds are based in US

dollars. Toll Free numbers

may or may not

reach Canada. Please

check with the Better

Business Bureau 614-

486-6336 or the Ohio Attorney

General's Consumer

Protection Section

614-466-4986 for more

information on the company

you are seeking to

do business with.

ASSOCIATION ADS

KILL BED BUGS! Harris

Sprays, Mattress Covers,

Kits. Available:

Hardware Stores, The

Home Depot, homedepot.com

HEAR AGAIN! Try our

hearing aid for just $75

down and $50 per

month! Call 800-426-

4212 and mention 88272

for a risk free trial! FREE

SHIPPING!

Dish Network Satellite

Television Service. Now

Over 190 channels for

ONLY $59.99/mo! ,

FREE Installation, FREE

Streaming, FREE HD.

Add Internet for $14.95 a

month. 1-800-219-1271

DISH Network $59.99 For

190 Channels. Add High

Speed Internet for ONLY

$14.95/month. Best Technology.

Best Value. Smart

HD DVR Included. FREE

Installation. Some restrictions

apply. Call 1-855-

837-9146

AT&T Internet Get more

for your High-Speed Internet

thing. Starting at

$40 / month w / 12-mo

agmt. Includes 1 TB of

data per month. Ask us

how to bundle and

SAVE! Geo & svc restrictions

apply. Call us today

1-833-707-0984

WANTED

Servers • Cook • Retail

You Can Work 29+ Hrs. Based on

Your Availability & Performance

Immediate Full/Part-time Openings

• Weekly Pay

• Paid Training

• No Tip Sharing

• Paid Vacation

We Offer:

• Employee Meal Discount

• Position/Salary Advancement Plan

• Discount Purchase Plan

Apply online at crackerbarrel.com/careers for

Grove City Location

614-871-1444

NOW HIRING!

Local High Volume Pharmacy

Immediate 2nd & 3rd shift positions available

for Pharmacy Clerks and Technicians.

Looking for energetic associates

in a fast pace environment.

NEW Starting rate: $11.50 per hour

Shift differential $.50 an hour

Please apply at: jobs.kroger.com

Use Zip Code 43217

Must be 18 years of age & have high school diploma or GED.

Call 614-333-5012 for more details.

Local New Construction

Plumbing Contractor

seeking experienced

Rough & Finish Plumbers.

Please visit our website for more information

and to apply on line at:

http://plumbingsolutionscolumbus.com/employment/

or call, 614.235.6007
---
www.columbusmessenger.com

May 19, 2019 - SOUTHWEST MESSENGER - PAGE 17

xEmployment

Jefferson

Local Schools

NOW HIRING

BUS DRIVERS

Training Provided

Minimum Regular Driver Starting Pay $17.66/hr

Sub Drivers $16.00/hr.

Must have valid driver's license and able

to pass BCI/FBI background check

Apply at

906 W. Main St., West Jefferson, OH 43162

Contact 614-879-7654 ext. 1120

BE YOUR OWN BOSS!

INDEPENDENT

CONTRACTORS

WANTED

If you have a reliable car and would like to

earn extra money, then why not deliver?

ASSOCIATION ADS

AIRLINE MECHANIC

TRAINING - Get FAA

Technician certification.

Approved for military

benefits. Financial Aid if

qualified. Job placement

assistance. Call Aviation

Institute of Maintenance

866-453-6204

• Deliver 1 or 2 days a week

• Flexible delivery hours

• Work close to home - often in or

near your neighborhood

CONTACT US

1-888-837-4342

www.thebag.com

ASSOCIATION ADS

Portable Oxygen Concentrator

May Be Covered

by Medicare! Reclaim

independence and

mobility with the compact

design and long-lasting

battery of Inogen One.

Free information kit!

Call 888-609-2189

Get DIRECTV! ONLY

$35/month! 155 Channels

& 1000s of

Shows/Movies On Demand

(w/ SELECT All Included

Package.) PLUS

Stream on Up to FIVE

Screens Simultaneously

at No Addt'l Cost. Call

DIRECTV 1-855-781-

1565

• Deliver 7 days a week

• Delivery before dawn

• Work close to home - often in or

near your neighborhood

CONTACT US

614-461-8585

www.dispatch.com/delivery

ASSOCIATION ADS

VIAGRA & CIALIS! 60

pills for $99. 100 pills for

$150 FREE shipping.

Money back guaranteed!

1-800-503-7846

KILL ROACHES-GUAR-

ANTEED! Harris Roach

Tablets, Sprays, Traps,

Concentrate. Hardware

Stores, Home Depot,

homedepot.com

Lung Cancer? Asbestos

exposure in industrial,

construction, manufacturing

jobs, or military

may be the cause. Family

in the home were also

exposed. Call 1-866-

795-3684 or email cancer@breakinginjurynews

.com. $30 billion is set

aside for asbestos victims

with cancer. Valuable

settlement monies

may not require filing a

lawsuit.

[WANTED] CARS/

TRUCKS WANTED!!!

All Makes/Models 2002-

2018! Any Condition. Running

or Not. Competitive

Offer! Free Towing! We're

Nationwide! Call Now: 1-

888-368-1016

Earthlink High Speed Internet.

As low as $14.95/

month (for the first 3

months.) Reliable High

Speed Fiber Optic Technology.

Stream Videos,

Music and More! Call

Earthlink Today 1-855-

520-7938

A PLACE FOR MOM. The

nation's largest senior living

referral service. Contact

our trusted, local experts

today! Our service is

FREE/no obligation. CALL

1-844-722-7993

ASSOCIATION ADS

Call Empire Today® to

schedule a FREE inhome

estimate on Carpeting

& Flooring. Call

Today! 1-866-538-7163

Applying for Social Security

Disability or Appealing

a Denied Claim?

Call Bill Gordon & Assoc.,

Social Security Disability

Attorneys, 1-855-

498-6323! FREE Consultations.

Local Attorneys

Nationwide [Mail: 2420 N

St. NW, Washington DC.

Office: Broward Co. FL

(TX/NM Bar.)]

GENERIC VIAGRA and

CIALIS! 100 Pills $99.00

FREE Shipping! 100%

guaranteed. 24/7 CALL

NOW! 888-889-5515

ASSOCIATION ADS

Become a Published Author.

We want to Read

Your Book! Dorrance

Publishing-Trusted by

Authors Since 1920.

Book manuscript submissions

currently being

reviewed. Comprehensive

Services: Consultation,

Production, Promotion

and Distribution. Call

for Your Free Author's

Guide 1-877-626-2213

Stay in your home longer

with an American Standard

Walk-In Bathtub. Receive

up to $1,500 off,

including a free toilet,

and a lifetime warranty

on the tub and installation!

Call us at 1-844-

374-0013

Employment

ASSOCIATION ADS

$500 + Paid Daily The

Easy Way. Go To: www.

PaidDailyGroup.com

SAVE ON YOUR NEXT

PRESCRIPTION! World

Health Link, Price Match

Guarantee! Prescriptions

Required. CIPA Certified.

Over 1500 medications

available. CALL Today

For A Free Price

Quote. 1-855-530-8993

Call Now!

Suffering from an AD-

DICTION to Alcohol,

Opiates, Prescription

Pain Killers or other

DRUGS? There is hope!

Call Today to speak with

someone who cares.

Call NOW 1-855-866-

0913

REPORTER

WANTED

Part-time Reporter wanted to cover

community meetings in the evenings and

write various feature and news stories.

Photography experience helpful.

Please send a resume and

three writing samples to:

Rick Palsgrove, Managing Editor,

Columbus Messenger Newspapers,

3500 Sullivant Ave.,

Columbus OH 43204 or email

southeast @columbusmessenger.com

No Phone Calls!
---
Great downtown location

Expansive floor plans

Hardwood flooring

Rooftop deck with grills

Community entertainment room

Stainless steel appliances

with 12-month lease

when you mention this ad

Limited-time offer!

1234 WASHINGTON STREET

SOMERSVILLE HEIGHTS

List details, terms and conditions here. List details, terms and conditions here.

List details, terms and conditions here. List details, terms and conditions here.

List details, terms and conditions here. List details, terms and conditions here.

List details, terms and conditions here.

PAGE 18 - SOUTHWEST MESSENGER - May 19, 2019

www.columbusmessenger.com

xCome & Get It! xInformation xMisc. for Sale

COME AND GET IT

Deadlines are Tuesdays by 5 pm.

Call For Publication Schedule 614-272-5422

Need to Get Rid of Something Fast - Advertise It Here For FREE!

FREE Garden Straw for gardens or bedding. Call for appointment for pickup.

Circle S Farms, 9015 London-Groveport Road, Grove City, 43123

Grove City - 614-878-7980

Simmons Queen Size Mattress & Box Spring

ML - Groveport - 614-836-2718

Six Foot Sofa Bed Couch, good condition except has some damage to arms,

can cover, brown/green/beige/rust color.

AM - Canal Winchester - 614-837-3109

FREE 4x8 Table with partial steel plate, well built. You pick up.

CM - Columbus - 614-272-5422

. Come and Get It! is a bi-weekly column that offers readers an opportunity to pass

along surplus building materials, furniture, electronic equipment, crafts, supplies,

appliances, plants or household goods to anybody who will come and get them - as

long as they're FREE. NO PETS! Just send us a brief note describing what you want to

get rid of, along with your name, address and phone number. Nonprofit organizations

are welcome to submit requests for donations of items.

Send information to The Columbus Messenger, Attention: Come and Get It, 3500

Sullivant Ave., Columbus, OH43204. Deadline is Tuesdays by 5 pm for following

Mondays publication. Messenger Newspapers is not responsible for any

complications that may occur. Please contact us when items are gone. 272-5422

Come & Get It!

xFocus on Rentals

ATTENTION

APARTMENT MANAGERS

Advertise Your Apartment Listings Today!

simply the Best Place to Live

Claremont

Towers

Luxury Studio & 1-Bedroom Apartments

Our Westside Messenger

covers Lincoln Village,

Galloway, Franklin Township!

Our Southwest Messenger

covers Grove City and

Southwest Columbus

Reaches over 47,000 households in

these two areas!

Example

One Month Free Rent

&NoApplicationFee

000-000-0000

WWW.NAMEWEBSITE.COM

ASSOCIATION ADS

Cross Country Moving,

Long distance Moving

Company, out of state

move $799 Long Distance

Movers. Get Free

quote on your Long distance

move 1-800-511-

2181

CALL KATHY

TODAY!

614.272.5422

kathy@columbusmessenger.com

Rentals

ASSOCIATION ADS

Lung Cancer? And Age

60+? You And Your

Family May Be Entitled

To Significant Cash

Award. Call 866-428-

1639 for Information. No

Risk. No Money Out Of

Pocket.

ASSOCIATION ADS

DO YOU HAVE AN AN-

TIQUE OR CLASSIC

CAR TO SELL? Advertise

with us. You choose

where you want to advertise.

800-450-6631

visit macnetonline.com

for details

MAY GIVEAWAY

Place a prepaid classified line ad in our paper

during the month of MAY and be registered

to win a $50 Gift Card from

The Columbus Messenger

Newspapers.

All ads received by mail, in person, e-mail or

phone will be included in the drawing.

Drawing will be held May 29th, 2019

and the winner will be notified and published

in our June 2nd, 2019 issue.

GOOD LUCK TO EVERYONE!!!!

Information

ASSOCIATION ADS

AIRLINES ARE HIRING -

Get FAA approved hands

on Aviation training. Financial

aid for qualified students

- Career placement

assistance. Call Aviation

Institute of Maintenance

877-818-0783

Spectrum Triple Play!

TV, Internet & Voice for

$29.99 ea. 60 MB per

second speed. No contract

or commitment.

More Channels. Faster

Internet. Unlimited Voice.

Call 1-855-652-9304

Wants to purchase minerals

and other oil and gas

interests. Send details to

P.O. Box 13557, Denver,

CO. 80201

IMPORTANT

NOTICE

The following states: CA,

CT, FL, IA, IL, IN, KY,

LA, MD, ME, MI, MN,

NE, NC, NH, OH, OK,

SC, SD, TX, VT and WA

requires seller of certain

business opportunities to

register with each state

before selling. Call to

verify lawful registration

before you buy.

SELLING YOUR OWN

PROPERTY? Need to

advertise it in your local

paper and others like it?

We have the placement

services to help you.

Contact MACnet MEDIA

@ 800-450-6631 or online

at MACnetOnline

.com

Get a SMARTPHONE

for $0 DOWN* with

AT&T Next® and AT&T

Next Every Year; $250

Gift Card for Switching to

AT&T! (*Requires wellqualified

credit. Limits &

restrictions apply.) 1-

888-545-5093

Call Empire Today® to

schedule a FREE inhome

estimate on Carpeting

& Flooring. Call

Today! 1-800-508-2824

ASSOCIATION ADS

$$OLD GUITARS & AMPS

WANTED$$ GIBSON*

FENDER*MARTIN. ALL

BRANDS. TOP DOLLAR

PAID. CALL TOLL FREE

1-866-433-8277

REAL ESTATE AUCTION

MONDAY, 6-10-19

Beautiful 1861 Stone

House / Barn, Well-maintained,

w/ upgrades, 4

Acres+/-, Lancaster, PA

For details, visit: www.

Wolgemuth-Auction.com

#2357 717-656-2947

CARS/TRUCKS WANT-

ED!!! All Makes/Models

2002-2018! Any Condition.

Running or Not. Top $$$

Paid! Free Towing! We're

Nationwide! Call Now: 1-

888-985-1806

CHILD CARE

OFFERED

Depend. Quality Child care

in loving hm. Exp. Mom, n-

smkr, hot meals, sncks,

playroom, fncd yd. Reas.

rates. Laurie at 853-2472

HELP WANTED

Seeking Child Care

Teacher with High School

Diploma/College Degree

at our Grove City and East

locations. Experience in

Child Care Req. Please

call 614-875-0514 or

submit resume to todays

childlearning@yahoo.com

ADVERTISING

SALES HELPER

The Advertising Dept. at

the Columbus Messenger

Newspapers is seeking a

Helper for

the Sales Department.

No Experience Necessary

Duties include:

Set Appomtments, Make

Calls, Run Errands, etc.

Senior Citizens and

welcome to apply.

Please send your

resume to:

Doug Henry,

Advertising Mgr.

Columbus Messenger

Newspapers,

3500 Sullivant Ave.,

Columbus, OH 43204

or email to doughenry@

columbusmessenger.com

HELP WANTED

NOW HIRING

Commercial

Janitorial

All Shifts

Full and Parttime

Call Now

614-804-1256

Housekeeper Needed

Travelodge, Grove City

614-991-5301

Shop / Delivery Person

Needed 8-5, Mon-Fri.

Will Train. Mechanically

inclined, able to drive a

standard shift, able to lift

75 lbs, have a driver's

license and dependable

transportation. Apply in

person at 2270 Harper

Rd., Columbus or call

614-275-0303

Home Health Aides

$13.00/hr. after 90 days

$15.00/hr. Premium Shifts

Performance Bonus and

Paid Time Off after 1 yr.

One yr. experience working

for an employer in a caregiver

5/26 A&M

role is required.

To apply, please visit

v-angels/galloway/employment

DATED SALES

Not Your Average Sale!

Do you need craft supples

like Shabby Chic

Farm House decor? This

should be your first stop!

Few antiques, table saw,

scroll saw, lots of misc

items. Fri., May 24 &

Sat., May 25, 9-4 weather

permitting. Rain date

following weekend.

798 Chestershire Rd

Garage Sale

Friday May 31st and

Saturday, June 1st

from 8am-2pm

3916 Nordman Fir Dr.

Grove City, OH 43123

OFFICE

PRINTER

WORKCENTER

PRO 238

FOR SALE

740-852-0809

Misc. for Sale

8.26 M

DATED SALES

GARAGE SALE

5/24 & 5/25, 8:30 - 3.

4233 Crispin Ct. Grove

City. Many Coke items &

glassware, hshld items &

some antique furniture.

FREE

Garage Sale

Signs

When You Stop By

Our Office At:

3500 Sullivant Ave.

And Place Your

DATED SALE AD

WANT TO BUY

ANTIQUES

WANTED

Victrolas, Watches,

Clocks, Bookcases

Antiques, Furn.

Jeff 614-262-0676

or 614-783-2629

WANTS TO Purchase

minerals and other oil &

gas interests. Send details

to: P.O. Box 13557,

Denver, CO 80201

CASH FOR CARS

614-276-2597

We Buy Junk Cars &

Trucks. Highest Prices

Paid. 614-395-8775

$ Cash At Your Door $

for junk or unwanted cars

(Free Tow). Call

614-444-RIDE (7433)

We Buy Cars & Trucks

$300-$3000.614-308-2626

MISCELLANEOUS

FOR SALE

Nordic Track Elliptical

Mt. Sterling area $250.

Exc. cond. 614-736-1636

FREE 4'x8' TABLE

with partial steel plate,

well built. You Pick Up.

Call

614-272-5422

MISCELLANEOUS

FOR SALE

60" Round Patio Table

w/glass top & 6 chairs-

$95.00. 740-400-4077

MOVING OUT SALE

12 drawer dresser-gd cnd

Wood office table-good

Metal/wood computer tbl

King size new frame

Metal folding bed/sofa

Metal folding single bed

Vertical glass showcase

Lg standing wood closet

4 chairs/glass dining set

$50 each. 614-465-7763

Couch That Makes Bed

Call 614-595-0446

For Information

Large Selection of

Chandeliers to

choose from.

All in working condition.

Going Out of Business!!

614-271-2469

HOMES FOR SALE

Galloway Home For Sale

By Owner-Reduced final

price to $200,000 as is. 5

BR, fin. bsmt w/2 extra

bdrms, 4 full bas, big

garden fully fenced. Most

appls. 614-465-7763

REAL ESTATE

SERVICES

Property Management

We are always available!

40 yrs. exp in

Certified Property Mgmt.

Reas. Fees. Call Now!

614-783-7464

RENTALS

1 BR Apt. $425/mo. 1965

Vaughn St. 740-407-7758

VACATION RENTALS

Englewood, Florida

Palm Manor Resort

Within minutes of white

sand Gulf beaches,

world famous Tarpon

fishing, golf courses, restaurants/shopping,

Bush

Gardens. 2 BR 2 BA

condos with all ammenities,

weekly/monthly, visit

www.palmmanor.com

or call 1-800-848-8141
---
www.columbusmessenger.com

May 19, 2019 - SOUTHWEST MESSENGER - PAGE 19

xClassified Services

INFORMATION

Look To The

Professionals

In Our

Service Directory

For

Quality

Service

That Is

OUT

OF

THIS

WORLD!

AIR CONDITIONING

AIR CONDITIONING

Complete System

Clean & Check

$49.95 6/9 A

Free Electronic Leak Testing

All Makes • All Models

45 Yrs. Exp. • Senior Discount

614-351-9025

614-351-9005

Air Conditioning

Installation & Repairs

30 yrs exp. $50 Service

Fee. R22 recharge avail.

614-226-0982

APPLIANCE REPAIR

Washer, Dryer, Stove &

Refrig. Repair 875-7588

AUTO SERVICE

Summer's Coming

MIDLAND AUTO

AC EVAC DYE &

RECHARGE - $110.00

& all your other

Auto Service Needs!

614-278-9458/778-3864

A Rating-BBB - 46 yrs.

American & Foreign Cars

BASEMENT

WATERPROOFING

Walker's Basement

Waterproofing. Free

Inspection 614-359-4353

BLACKTOP

SANTIAGO'S

Sealcoating & Services LLC

Quality Materials Used

Driveway Seal

& Repairs

Top Seal Cracks

5-26

A&M

Commercial & Residential

Spring Clean-Ups

Mowing, Mulching, Edging

"Ask for whatever you need"

BBB Accredited

FULLY INSURED

Call or text for Free Est.

614-649-1200

CARPET CLEANING

Dirt Busters Tile/Floor-Any

3 Rms - $44.95. Laminant

floor polish/clng. Pet odor

treatment. 614-805-1084

CLEANING

Cleaning-wash walls 20 yrs

exp. Judy 614-946-2443

CONCRETE

Ohio Cement Contractors

All concrete patios, porches,

walks, drives, walls

etc. Specializing in stamped

color concrete. Bonded

& Insured. Please call Ron

740-771-5988

740-727-9469

Buckeye Cement

Contractors

Specializing In

Tearout & Replacing

Concrete of Any Type

Licensed • Bonded • Insured

37th Year in Business

614-539-5640

EDDIE MOORE

CONSTRUCTION

Quality Concrete Work

Lt. Hauling & Room Add.,

Block Work & Excavation

Stamp Patios,

Bsmt. Wall Restoration

37 Yrs Exp - Lic & Ins.

Free Ests. 614-871-3834

AJ's Concrete,

Masonry

Good Work - Fair Prices

Block Foundations

Driveways • Sidewalks

Epoxy/Overlay Floors

Bonded-Ins. • Free Ests.

Now Accepting Credit Cards

614-419-9932

GALLION

CUSTOM CONCRETE LLC

Specializing in Custom Colors &

Custom Designs of Concrete.

Including Remove & Replace

41 yrs exp & Free Est.

Licensed & Insured

Reputation Built

On Quality

Ronnie

614-875-8364

See Us On Facebook

www.gallioncustom

concrete.com

ALL-CITY CUSTOM

CONCRETE

All Types Concrete Work

New or Tear Out-Replace

37 Yrs. Exp.

(614) 207-5430

Owner is On The Job!

FENCING

EAZY FENCE

Chain Link - Wood

No Job Too Big or Small

All Repairs ~ Free Est.

Insured. 614-670-2292

6/9 W/SW

6/9 A

6-9 W/SW

GUTTERS

Low Price-Great Service

5 & 6" Seamless gutters,

covers, siding, gutter clng.

Bill 614-306-4541

HAULING

CHEAP HAULING

614-816-6680

DEAN'S HAULING

614-276-1958

DUMPSTER RENTALS

Bulk Pickups

Estate Cleanouts

You Load or We Load

Open 7 Days - Visa/MC

BUCKEYE HAULING

and DUMPSTERS

614-397-1171

HOME

IMPROVEMENTS

LG

REMODELING

Interior & Exterior

Full Service Remodeling

• Bathrooms • Kitchens

• Tile • Drywall • Flooring

• Roofing • Siding • Etc.

NO JOB TO SMALL

A+ BBB Rating

A+ Angie's List

Lic. • Bonded • Insured

614-488-8377

www.lgroofingcolumbus@gmail.com

C&JHandyman

Services LLC

Minor Plumbing &

Electric

Install Hot Water Tanks,

Dishwashers & Disposals

Also Fencing &

Interior/Exterior Painting

Free Est. ~ 18 Yrs. Exp.

614-284-2100

SLAGLE

HOME REMODELING

Baths, Kitchen,

Room Additions,

Plumbing and Electrical.

All your Handyman needs

No Job too Big or Small

Over 30 Yrs. Exp. Lic.-Bond-Ins.

Jerry

614-332-3320

Quality is our #1 Priority

HELMS' CONTRACTING

Call For FREE ESTIMATES

New Kitchens & Baths

New Replacement Windows

Basement Remodels

Room Additions • Roofs

More than 25 Years Experience

Licensed • Insured • Bonded

Bill Helms 614-296-0850

or 614-801-1801 5-26

W/SW

5-26 A

6-9 A&M

6-9 A

6/9 SW

HOME

IMPROVEMENTS

SINCE 1973

Phil Bolon Contr.

Windows & Siding

Decks, Kitchens, Baths

Room Additions,

Flooring, Roofing

Bsmt Waterproofing

Deal With Small Non-Pressure Co.

45 Yrs. Exp. - Refs. Avail.

Lic.-Bond-Ins.

Free Est. - Financing Avail.

Member BBB Of Cent. OH

O.C.I.E.B. ID #24273

614-419-3977

or 614-863-9912

HOME

MAINTENANCE

Finishing Carpenter for all

your extra home repairs or

Honey-do-list. over 40 yrs.

exp. Sonny 614-325-1910

LANDSCAPING

6-9

A/M

WE PULL WEEDS!

No job too big or too small.

We offer a full range of

landscape services

Fast • Affordable • Reliable

Call Dustin for a

FREE Estimate today!

614-357-7847

LAWN CARE

FREE ESTIMATES

The Lawn Barber

Cut & Trim Starting at

$22.50 & up

614-935-1466

LET US MAINTAIN

YOUR LAWN & GARDEN

FOR YOU

Summer, Spring,

Winter or Fall

WE DO IT ALL!!!!

Lawn Cuts, Edging,

Trees & Shrubs, Garden,

Mulching, Hauling,

Garden Pond &

Home Maint.

Free Ests. Low Rates

$20 & Up

Kevin - 614-905-3117

PEST

CONTROL

6-9 w/sw/m

MOVING

A Complete

Moving

Reasonable, Reliable

No Job Too Small

PUCO #150692-HG

Free Estimate

614-878-1179

Aaron Allen Moving

Local Moving Since 1956

Bonded & Insured

614-299-6683, 263-0649

Celebrating 60 yrs in business

MOWER REPAIR

LAWN MOWER DR.

"House Calls Only"

Overall Checkups

Oil Change & Filter,

Spark Plug &

Blades Sharpened

MINOR REPAIR

John

614-395-7909

johnellis0333@sbcglobal.net

PAINTING

Burt's Painting

"Grove City's Hometown

Painter." Free ests.

614-539-3412

A Job Well Done Again

A lic. General Contractor

Some Skilled Services

Incl: Painting • Stucco,

Repair•Carpentry•Exterior

Drainage & Home Maint.

Call Today! 614-235-1819

Painting - Int./Ext.

Power Wash-Gutters Clnd

Free Est. - 26 Yrs Exp.

Call Dave 614-270-2369

God Bless

PEST CONTROL

Anthony Pest Control

Eliminate Your Pest For

Less $$. 614-600-8841

PEST

CONTROL

TERMITE & PEST CONTROL

3093 W. Broad St., Cols.

614-367-9000

TERMITES? PESTS?

BED BUGS?

$100 off new termite services! with this ad

Monthly & Quarterly Pest Services

Great Prices!! Licensed & Insured

Visit Us

"Do It Yourself Pest Control".

Free Termite Inspection

Classified Services

6/9 A&M

5-26 A

INFORMATION

CAN YOU PICTURE YOUR AD?

For Display Advertising Rates

in the Service Directory, Call

THE COLUMBUS MESSENGER

272-5422

PLUMBING

All About Drains & Plumb.

Will snake any sm drain

$125 + tax. 614-778-2584

ALL IN ONE

PLUMBING LLC

"One Call Does It All"

$25 OFF LABOR

With This Ad

A

614-801-1508

All Major Credit Cards Accepted

SHOP THE CLASSIFIEDS!!

Only $1 per line

columbus

❏ Check for one additional FREE week.

Telephone: _________________________________________________________

Print Your Name:____________________________________________________

Last

First

Print Your Address:___________________________________________________

Print Your City:__________________________ State:_______ Zip:____________

West ___ Southwest ___ East ___ Southeast ___ Madison___

Print Your Ad Below…

One word each space. BE SURE YOUR TELEPHONE NUMBER OR ADDRESS is included in your

advertisement. The lessor of 4 words or 22 characters per line. We reserve the right to use abbreviations

when actual space exceeds amount purchased.

1. __________ __________ __________ __________

2. __________ __________ __________ __________

3. __________ __________ __________ __________

4. __________ __________ __________ __________

5. __________ __________ __________ __________

6. __________ __________ __________ __________

Columbus Messenger

3500 Sullivant Ave. • Columbus, Ohio 43204

614-272-5422

classified@columbusmessenger.com

$

5/26

ONLY

$50.00

For This Ad In Our

West & Southwest

For Info Call

272-5422

Not Valid for Garage Sales

INFORMATION

POWER WASHING

Home Powerwash from

$99 & up. Also House

Painting. 614-805-1084

MRS. POWERWASH

Any house wash $149 + tax

Single deck $69 + tax

2 Tier deck $99 + tax

Best Wash In Town

Over 45,000 Washes

Ashley, 614-771-3892

Housewash

Vet/Sr Disc. Call Today!!

614-586-3417

ROOFING

Robinson roofing & repairs

30 yrs. exp. Lifetime Cols.

resident. Lic./bonded/Ins.

Reas rates. Member of

BBB. Dennis Robinson

614-330-3087, 732-3100

❏ Cash

❏ Check

❏ Money Order

❏ VISA ❏ MC

REPAIR all makes 24 hr.

service. Clean, oil, adjust

in your home. $39.95 all

work gtd. 614-890-5296

Alexander Hauling

Driveways topped w/new

limestone. We also deliver

Topsoil - comtil - sandmulch.

Specializing in

residential. 614-491-5460

Bobcat Service Avail.

BURNS TREE SERVICE

Trimming, Removal &

Stump Grinding.

614-584-2164

TROTT

TREE & LANDSCAPE

Brewer & Sons Tree Service

• Tree Removal

• Tree Trimming 6-9

A&M

• Stump Grinding

• Bucket Truck Services

Best Prices • Same Day Service

614-878-2568

Credit Card

Information

___

__________________________

Credit Card Number

____________

SEWING MACHINE

REPAIR

TOP SOIL

TREE SERVICES

Tree Trimming

& Removal

Also Stump Removal

Free Est. - Fully Ins.

Call 614-235-3791

Cell 614-738-0682

__(___)__

Exp. Date 3 digit code

Minimum Charge $5.00

5/26

A
---
PAGE 20 - SOUTHWEST MESSENGER - May 19, 2019

www.columbusmessenger.com

Don't Get Stuck with your Grove City Home

NOT SELLING this Spring or Summer.

The homes in this ad, ALL sat for months on end. They were all listed with other well intentioned

agents and went UNSOLD during the peak selling season last year.

Once they were relisted with me, I am sure these sellers will tell you that I quickly brought new

life to these listings and got ALL of them SOLD.

I sell more because I do more, Undisputed #1 agent in 43123, ONLY agent offering Full Circle

Balanced Marketing and DISCOUNT FEES EVERYTIME!

I invite your inquiry, and THANK YOU!

Greg

SOLD

SOLD

SOLD

SOLD

$313,000 $269,500 $324,900 $290,150

1206 Carnousite Circle

1672 Clayton Court 2655 Woods Crescent 4483 Perrin Street

SOLD

SOLD

SOLD

SOLD

$330,000 $345,000 $250,000 $359,900

5030 Harrisburg Georgesville Road 5955 Grant Run Place 5960 Buckeye Parkway 6334 Shawnee Street

COMMERCIAL, INDUSTRIAL, HIGH QUALITY RESIDENTIAL

UNPRECEDENTED SINGLE AGENT SALES OF OVER $75 MILLION FOR 2015-2018

C. Greg Skinner

614-537-1994

I sell more, because I do more, call me for my free no obligation marketing presentation.

Discount Fees Everytime.

I

GROVE CITY

greg@soldbygregskinner.com

UNDISPUTED #1 in 43123 SALES