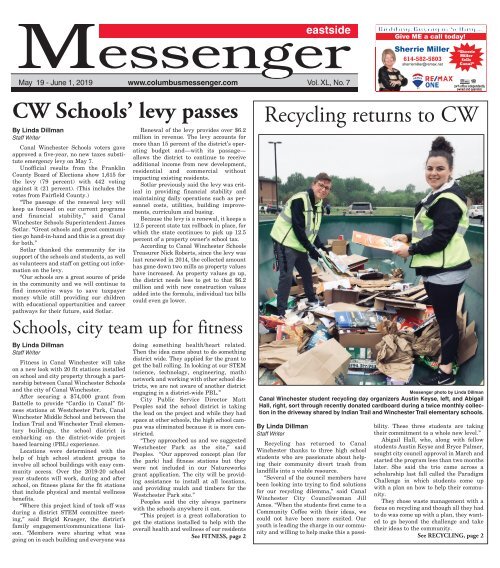 Eastside Messenger - May 19th, 2019
Create successful ePaper yourself
Turn your PDF publications into a flip-book with our unique Google optimized e-Paper software.
eastside

Building, Buying or Selling...

Give ME a call today!

Sherrie Miller

614-582-5803

sherriemiller@remax.net

"Sherrie

Miller

Sells

Canal"

May 19 - June 1, 2019 www.columbusmessenger.com Vol. XL, No. 7

CW Schools' levy passes

By Linda Dillman

Staff Writer

Canal Winchester Schools voters gave

approved a five-year, no new taxes substitute

emergency levy on May 7.

Unofficial results from the Franklin

County Board of Elections show 1,615 for

the levy (79 percent) with 442 voting

against it (21 percent). (This includes the

votes from Fairfield County.)

"The passage of the renewal levy will

keep us focused on our current programs

and financial stability," said Canal

Winchester Schools Superintendent James

Sotlar. "Great schools and great communities

go hand-in-hand and this is a great day

for both."

Sotlar thanked the community for its

support of the schools and students, as well

as volunteers and staff on getting out information

on the levy.

"Our schools are a great source of pride

in the community and we will continue to

find innovative ways to save taxpayer

money while still providing our children

with educational opportunities and career

pathways for their future, said Sotlar.

Renewal of the levy provides over $6.2

million in revenue. The levy accounts for

more than 15 percent of the district's operating

budget and–with its passage–

allows the district to continue to receive

additional income from new development,

residential and commercial without

impacting existing residents.

Sotlar previously said the levy was critical

in providing financial stability and

maintaining daily operations such as personnel

costs, utilities, building improvements,

curriculum and busing.

Because the levy is a renewal, it keeps a

12.5 percent state tax rollback in place, for

which the state continues to pick up 12.5

percent of a property owner's school tax.

According to Canal Winchester Schools

Treasurer Nick Roberts, since the levy was

last renewed in 2014, the collected amount

has gone down two mills as property values

have increased. As property values go up,

the district needs less to get to that $6.2

million and with new construction values

added into the formula, individual tax bills

could even go lower.

Schools, city team up for fitness

By Linda Dillman

Staff Writer

Fitness in Canal Winchester will take

on a new look with 20 fit stations installed

on school and city property through a partnership

between Canal Winchester Schools

and the city of Canal Winchester.

After securing a $74,000 grant from

Battelle to provide "Cardio in Canal" fitness

stations at Westchester Park, Canal

Winchester Middle School and between the

Indian Trail and Winchester Trail elementary

buildings, the school district is

embarking on the district-wide project

based learning (PBL) experience.

Locations were determined with the

help of high school student groups to

involve all school buildings with easy community

access. Over the 2019-20 school

year students will work, during and after

school, on fitness plans for the fit stations

that include physical and mental wellness

benefits.

"Where this project kind of took off was

during a district STEM committee meeting,"

said Brigid Krueger, the district's

family engagement/communications liaison.

"Members were sharing what was

going on in each building and everyone was

doing something health/heart related.

Then the idea came about to do something

district wide. They applied for the grant to

get the ball rolling. In looking at our STEM

(science, technology, engineering, math)

network and working with other school districts,

we are not aware of another district

engaging in a district-wide PBL."

City Public Service Director Matt

Peoples said the school district is taking

the lead on the project and while they had

space at other schools, the high school campus

was eliminated because it is more constricted.

"They approached us and we suggested

Westchester Park as the site," said

Peoples. "Our approved concept plan (for

the park) had fitness stations but they

were not included in our Natureworks

grant application. The city will be providing

assistance to install at all locations,

and providing mulch and timbers for the

Westchester Park site."

Peoples said the city always partners

with the schools anywhere it can.

"This project is a great collaboration to

get the stations installed to help with the

overall health and wellness of our residents

See FITNESS, page 2

Each office independently

owned and operated.

Recycling returns to CW

Messenger photo by Linda Dillman

Canal Winchester student recycling day organizers Austin Keyse, left, and Abigail

Hall, right, sort through recently donated cardboard during a twice monthly collection

in the driveway shared by Indian Trail and Winchester Trail elementary schools.

By Linda Dillman

Staff Writer

Recycling has returned to Canal

Winchester thanks to three high school

students who are passionate about helping

their community divert trash from

landfills into a viable resource.

"Several of the council members have

been looking into trying to find solutions

for our recycling dilemma," said Canal

Winchester City Councilwoman Jill

Amos. "When the students first came to a

Community Coffee with their ideas, we

could not have been more excited. Our

youth is leading the charge in our community

and willing to help make this a possibility.

These three students are taking

their commitment to a whole new level."

Abigail Hall, who, along with fellow

students Austin Keyse and Bryce Palmer,

sought city council approval in March and

started the program less than two months

later. She said the trio came across a

scholarship last fall called the Paradigm

Challenge in which students come up

with a plan on how to help their community.

They chose waste management with a

focus on recycling and though all they had

to do was come up with a plan, they wanted

to go beyond the challenge and take

their ideas to the community.

See RECYCLING, page 2
---
PAGE 2 - EASTSIDE MESSENGER - May 19, 2019

Substance abuse & mental health seminar

The city of Canal Winchester and Franklin County Public

Health will present a free seminar on substance/alcohol abuse and

mental health on June 6 from 6:30-8 p.m. at the Frances Steube

Community Center, 22 S. Trine St., Canal Winchester. The event

is open to all ages.

"Canal Winchester is the greatest little city in Ohio, but that

doesn't make us immune from the effects of the opioid crisis.

Substance abuse, alcohol abuse, and mental health issues affect

all communities. That's why it's important that we do our part to

help educate the public," said Mayor Mike Ebert.

The seminar, made available through Recovery Village of

Columbus, covers the who, what, when, where, why of how to

access treatment services for a loved one suffering with substance/alcohol

or mental health issues and will also include a personal

testimony about the Journey of Recovery.

Visit www.canalwinchesterohio.gov or call 614-834-9915 for

information.

CW Library Branch

The Canal Winchester Branch of the Columbus Metropolitan

Library, 115 Franklin St. (located in the rear portion of the former

school at 100 Washington St.), is open Monday through Thursday

from noon to 7 p.m. and Friday and Saturday from noon to 6 p.m.

eastside

Messenger

(Distribution: 12,574)

Rick Palsgrove................................Eastside Editor

eastside@ columbusmessenger.com

Published every other Sunday by

The Columbus Messenger Co.

3500 Sullivant Ave., Columbus, Ohio 43204-1887

(614) 272-5422

Lung Cancer?

Asbestos exposure in industrial,

construction, manufacturing jobs, or the

military may be the cause. Family in

the home were also exposed.

Call 1-866-795-3684 or email

cancer@breakinginjurynews.com.

$30 billion is set aside for asbestos

victims with cancer. Valuable settlement

monies may not require filing a lawsuit.

Winchester

Dental

Call us today to schedule

an appointment.

Winchester Square

Shopping Center

614.834.1834

Ladan Pourmoghadam

D.D.S.

Now offering our

'Smile Plan' to our

non-insured patients

Eastside

Messenger

serves the

Canal

Winchester

area.

Look Great

Feel Great

Sleep Great

Providing Gentle,

Caring Dentistry

In a Comfortable

Setting.

Accepting New Patients

Most Insurances Accepted

By Linda Dillman

Staff Writer

The Madison Township trustees are seeking

answers to dwindling resources and deteriorating

roadways.

"If anybody drives on township roads, they know we

have some issues," said Madison Township Trustee

Chairman John Pritchard on May 14 before asking

Public Works Superintendent Dave Watkins what

would happen with the roads if nothing was done.

Watkins replied, "The roads would just turn into

gravel."

According to Watkins, it costs approximately

$150,000 per mile to renovate a road, money the township

doesn't have. The longer the wait, the more work

and more expensive the situation becomes.

While maintaining roads in developments like

Blacklick Estates is an ongoing battle between time

and resources, Watkins said country roads also need a

lot of work.

"It seems every day we fall behind a little more,"

Watkins said. "We're down one person, but doing the

best we can."

Pritchard said the last time the township asked for

approval of a road and bridge levy was 18 years ago

FITNESS

Continued from page 1

as well as being good stewards of public funds by sharing

resources," said Peoples.

While installation is expected to begin later this

year, an official ribbon-cutting ceremony will be held

in June 2020 for the community.

RECYCLING

Continued from page 1

"Our original plan was to get curbside recycling,

but that was not doable because of the city's contract

with Waste Management, so we went for the next best

option and that is how we came up with community

recycling days," said Hall. "This most difficult part of

coordinating an effort like this is finding people that

are dedicated to the same path and willing to help

through all stages. We have been more than lucky

though to have the help of the city council and Waste

Management."

For Hall and her fellow organizers, the most

rewarding part of watching their idea come to life is

seeing how excited other community members are

when they drop off their recycling.

"We see on social media and even in passing conversations

that there are many in our community who do

choose to continue recycling," said Amos. "There are

also many others who have expressed that it is not

convenient to haul it around to the different locations

hoping for a container that is not full. We are also

choosing to volunteer our time on collection days

because it is important to the community and to help

show the continued interest in recycling as we begin to

look towards our waste removal contract in 2020."

Amos said help from city staff, such as Public

Service Director Matt Peoples, in arranging meetings

to helping facilitate collection days is "amazing."

"I am so appreciative of our city and staff that

stands behind its youth leadership and also want to

thank Waste Management and Brooke Standley for

helping to make this happen," said Amos.

Resident Sharan Boehmer, who dropped off a load

of items during a May 4 collection drive, said she likes

the idea of having a scheduled time and place to bring

her recyclables because she does not like tossing

www.columbusmessenger.com

Township roads in need of repair

and it was "shot down." Throughout the years, as costs

increased, the road department shrunk. At one time,

there were seven to eight workers.

The number of employees today is much smaller,

but the coverage area has remained relatively the

same.

"This is not something that just hit us," said

Madison Township Administrator Susan Brobst. "We

really struggle with what we can do. We've got to start

working towards some solutions."

Pritchard said the township has four options: do

nothing and let the roads continue to deteriorate; consider

inside millage; ask for a general fund levy, which

impacts all township voters or go to the ballot with a

road levy, which impacts property owners in unincorporated

areas of the township.

Trustee John Kershner said the township is waiting

on updated data before moving ahead.

"The bottom line is we need money," Pritchard said.

"We're desperate to fix the roads. I want folks to know

what we're facing. It's going to cost money. If we want

roads that aren't going to fall apart and turn to gravel,

we need money. We're at that point where we need to

address it and do the right thing."

Krueger said the district is looking for other interested

partners with expertise in healthy living and fitness

to expand the project's vision. For more information,

contact Cyndi Toledo ctoledo@cwls.us.

things in the trash.

"I don't have to worry about trying to find a bin that

isn't filled up, like they were over by Stradley Place,"

said Boehmer. "I think its wonderful young people are

doing things like this."

On the first and third Saturdays of the month, from

9 a.m. until 2 p.m., teenage and adult volunteers staff

the recycling drive in the parking lot shared by the

Indian and Winchester Trail elementary schools.

Recyclables are tossed into bins donated by Waste

Management, who picks up the containers later in the

day for further processing.

"We accept all recyclable materials except for glass

at the moment," said Hall. "Before people drop off their

recycling, the best thing to do is sort it into two groups,

one being paper and cardboard and the other all other

recyclables. They want to rinse out any containers so

that there are no remnants of food and whatever may

have been in the container."

Hall said residents can bag their recycling, but it is

not necessary. It can be brought in containers or a

cardboard box. Accepted items include recyclable plastic,

aluminum, paper, cardboard, and steel.

"Our long term goal is curbside recycling," said

Hall. "Our hope with the Community Recycling Days

is that a majority of the community will be choosing to

recycle, which will be obvious to Waste Management

due to their awesome involvement in our project. Then

curbside recycling will be an option for our next contract

in 2020 with Waste Management. Other than

that, we want to educate the public on how they can

become aware and reduce their impact on the world so

that we can make it a safer and cleaner environment."

For information about community recycling days,

visit @CanalWinchesterRecycles on Facebook.
---
www.columbusmessenger.com

Making beautiful quilts for veterans

By Linda Dillman

Staff Writer

Canal Winchester quilters are honoring local veterans

in a cozy way with handmade quilts.

With sewing machines humming in the background,

Quilters on the Canal meets weekly to work on

personal projects and create patriotic projects in red,

white and blue with fabric swatches detailing veteran

service records.

"I was aware of the national organization, Quilts of

Valor. It's a wonderful organization. However, VFW

Post 10523 had their meetings in the Community

Center where we met every week," said quilt group

leader Joyce Barrett. "Why would we make quilts and

send them away when we had veterans right here in

our own community? So, in 2014, we gave our first

quilt to (veteran) John Crabtree. It is always an honor

when I hand a veteran his or her quilt in person."

Many of the ladies have made and donated several

veterans' quilts. Barrett, who quilts all of the finished

tops on a long-arm quilt machine, said there are

always two or three under construction and the VFW

post supports the quilters with donations of fabric, batting,

backing and thread.

VFW Post 10523 Commander Rick Williams said

his members have overwhelming accepted the ladies

and their quilts since the program began five years

ago.

"The quilters were meeting at the community center,

where we also meet, and they said they wanted to

do something for the vets," said Williams. "The majority

of our members are Vietnam vets. I thought it

would go over big, and it did. About 50 of our members

have received quilts. They're very proud to receive

them and in the future, the quilts will be keepsakes for

the family. They're a great group of ladies and I think

the maker takes real pride in seeing the recipient."

One of those "makers" is Sue Cerkan, whose husband

is a retired Air Force veteran. Although she's

only been quilting for a little over three years, she is

working on her fifth military quilt.

Cerkan said she sews the quilts because it is important

to honor veterans and to know what they've gone

through. As a retired military wife, she is aware of the

sacrifices veterans made in service to the country.

"It's important to make the quilts and let them

know we care," said Cerkan. "It's nice when we get to

meet them when the quilts are presented."

Helen McGuane's husband is also an Air Force veteran.

One of her brothers served in the Army and

another was in the Marines. She has made two military

quilts and is working on her third.

It takes her two to three weeks to complete work on

the quilt, depending on how much time she has to

devote to cutting out fabric pieces and sewing.

"It's enjoyable because you know the person receiving

the quilt will appreciate it," said McGuane. "I know

a lot of the veterans in town and we're looking forward

to making more quilts. Getting together on Mondays to

work on the quilts is a nice social gathering. It's a nice

Messenger photo by Linda Dillman

Quilters on the Canal members Helen McGuane

(left), Joyce Barrett (center), and Sue Cerkan (right),

look over finished and in-progress quilts made by

members of the group for local veterans in honor of

their service.

"It is always an honor when I hand a veteran

his or her quilt in person."

Joyce Barrett

Quilters on the Canal

way to share the time."

Barrett said when the 50x60-inch quilts are finished,

she prepares a label after Williams gives her the

name and service record of the recipient, which is

attached to the back of the quilt. Four dozen quilts

have been given to veterans by Quilters on the Canal

since 2014.

"We try to have a quilt ready for each monthly

meeting," said Barrett. "On several occasions, we have

presented the quilt in the home of the veteran. If a veteran

has passed away, we still give a quilt to the

spouse. We started with the World War II veterans

first unless a more recent veteran was very ill. We are

now making quilts for the Vietnam veterans. When

every member of VFW Post 10523 has received a quilt,

I will look for friends who have veterans in their families."

Quilters on the Canal meets at the Frances Steube

Community Center on Monday from 9 a.m. to 3 p.m.

Barber Museum

May 19, 2019 - EASTSIDE MESSENGER - PAGE 3

The National Barber Museum in Canal Winchester is located

at 135 Franklin St. (behind the former CW High School building).

The museum, housed in approximately 5,000 square feet, showcases

art, artifacts, and memorabilia from decades of the barbering

profession. Regular hours are Friday and Saturday from 11

a.m. to 4 p.m. or by appointment (614) 837-8400.

GROVEPORT

JUNE 10TH THRU 14TH - 6-8 PM

FREE PROGRAM

Children entering Kindergarten or First Grade

• Fire Safety

• Bicycle & Pedestrian Safety

• Stranger Danger

• School Bus Safety

• Water Safety

• Animal Safety

• Internet Safety for your child, a program for adults

MANY OTHER SAFETY LESSONS TAUGHT!

FOR INFORMATION CALL (614) 599-2610

Sponsored by: Groveport Presbyterian Church

in conjunction with the City of Groveport, Groveport Police &

Madison Township Fire & Police Departments

Be a Part of Our

Local Worship Guide

Our upcoming Worship Guide is geared toward

celebrating faith and helping readers connect with

religious resources in our community. Make sure these

readers know how you can help with a presence in this

very special section distributed to more than 18,000

households in the East area.

The cost is $20 per issue. (must run two twice)

Contact us today to secure your spot in Worship Guide.

614.272.5422 • kathy@columbusmessenger.com

•U.S. Air Force National Guard Airman Joshua

Wilson graduated from basic military training at Joint

Base San Antonio-Lackland, San Antonio, Texas.

Wilson is the son of Roy and Denise Worley of Canal

Winchester. He is the husband of Lauren Wilson of

Westerville.The airman is a 1998 graduate of Liberty

Union-Thurston High School. He earned a doctor of

philosophy degree in 2014 from Capital University

military news

Law School.

•U.S. Air Force National Guard Airman Alexis

Arnold graduated from basic military training at Joint

Base San Antonio-Lackland, San Antonio, Texas. She

is the daughter of Cara and Mike Geib of Mansfield

and Brent Odson of Canal Winchester. The airman is

a 2016 graduate of Madison Comprehensive High

School.

A Special Section From

columbus
---
PAGE 4 - EASTSIDE MESSENGER - May 19, 2019

entertainment

www.columbusmessenger.com

SUPPORT

your

Community Paper

Through advertising, community newspapers like the

Messenger have always been FREE papers. In these

tough economic times we are asking you the reader to

help offset the current decline in advertising revenue by

participating in a VOLUNTARY payment program*.

To those who have already participated -

We Thank You.

For those who would like to, below is a form

you can mail with your DONATION.

*This is not a subscription.

.Name:

Address:

City/State/Zip

Don't get scammed by "e Hustle"

In an attempt to make older properties

feel more relevant to today's times, movie

studios have begun to gender swap their

relics to give off the faint whiff that they

are doing something original.

Sometimes the idea works and the product

feels new and fresh and sometimes it

backfires and a stale stench lingers over it.

The latest film to receive the swap treatment

by a studio is "The Hustle," a re-envisioning

of the 1988 con caper "Dirty Rotten

Scoundrels" starring Michael Caine and

Steve Martin. Throughout the years, that

film has reached comedy classic status due

to its sheer absurdity and twist ending,

thus casting a long shadow for any follow

up. As its more modern counterpart, "The

Hustle" already had too much to live up to

and it unsurprisingly feels like a pale imitation

of its elder version. With that being

said, it has a few shining moments of its

own so it is not completely devoid of any

merit.

It begins with the introduction of Penny

Rust (Rebel Wilson), a small-time scammer

who finds her marks through dating apps.

3500 Sullivant Ave., Columbus, OH 43204

1 year ($9) 2 year ($18)

The writers wanted it

known that Wilson is

the lead who has a

conscience. Her character

makes her decision

on who to scam

based on how the target

treats her. For

example, if she meets

a guy and he is nice to

her, she leaves him

alone. If she meets a

guy and he is rude,

the scam if a full go.

Letters policy

The Eastside Messenger welcomes letters to the editor. Letters can be

of any topic as long as they are not libelous. Letters that do not have a signature,

address, and telephone number, or are signed with a pseudonym,

will be rejected. PLEASE BE BRIEF AND TO THE POINT. The Messenger

reserves the right to edit or refuse publication of any letter for any reason.

Opinions expressed in the letters are not necessarily the views of the

Messenger. Mail letters to: Eastside Messenger, 3500 Sullivant Avenue,

Columbus, OH 43204; or email eastside@columbusmessenger.com.

Eastside Westside Southwest

Southeast

The Reel Deal

Dedra

Cordle

When we officially meet her, she is in

"full go" mode, trying to bilk $500 from a

shallow man jerk (played brilliantly by

Veep's Timothy Simons) for breast

implants for a made up sister. And just

when it seems she is about to score some

quick cash, the cops bust up the party

thanks to a tip from a recently burned

mark.

While on the run, she spots a magazine

article about a lavish sea-side town in

France that is overflowing with wealthy

people. Having nowhere to go now that the

local authorities are onto her, she decides

that she needs a change of scenery and the

people of the fictional Beaumont-sur-Mer

need to be liberated of their money.

As she is becoming more familiar with

her new digs and marks, she meets a big

time scammer named Josephine

Chesterfield (Anne Hathaway) who kindly

tells her to get lost. Having no intention to

do so, the two butt heads until Penny ends

up scamming her way into a con artist

apprenticeship with Josephine. These

scenes are easily the funniest of the movie,

with Rebel making the most of her comedic

chops and Hathaway with her more subtle

humor. Unfortunately, the film then veers

away from their budding frenemy status

with a winner-take-the-town bet to see who

can receive the affections of Thomas

Westerberg (Alex Sharp), a gullible tech

millionaire who is on the cusp of super

Demi is a 2-year-old busy bee. She's

a naturally playful, curious and trusting

canine. She loves going for a long

walk every day as it gives her something

to do. She'll then curl up with

you in the evenings. She's a dog on a

mission to please the family. Adopt

Demi from the Franklin County Dog

Shelter.

FYI: 614-525-3647 or www.franklincountydogs.com

Macy is the sweetest dog ever. This

senior gal is super easy going and

literally just wants to snuggle all day.

She loves all people and would be

such a great companion. She is

very food motivated and knows a

few tricks. She is a shelter favorite,

and will often come hang out in the

offices where she will just relax. She

can be a bit picky about her dog friends and would need

to meet any potential furry siblings prior to adoption. Macy

is full of love and has been waiting far too long for her forever

home. Come meet this perfect pup today.

FYI: 614-525-3647 or www.franklincountydogs.com

Mamas is such a sweet heart. She

is so wiggly and adorable. She loves

attention and is very social. She

loves everyone she meets. She

enjoys exploring and walking, and

can't wait to adventure with you. She

would need to be the only female

dog in the home but she would do

well with a male dog where she can be the boss. She

loves to cuddle with her human friends.

FYI: 614-525-3647 or www.franklincountydogs.com

Hope is a 2-year-old girl hoping to find her forever home.

She's a petite lady who still has her kitten cuteness. Her

pets of the week

stardom.

While "The Hustle" doesn't veer far from

the plotting of "Dirty Rotten Scoundrels" it

also doesn't have the level of absurdity and

non-stop humor of its predecessor. There

are scenes that truly drag and long

moments where no smiles or laughs are

elicited but it had a few bright spots of

entertainment and eye-candy, namely with

the costuming by Emma Fryer. The outfits

will make you want to get some new pieces

in your wardrobe, and then imagine starting

your own scams as you catch a glimpse

of the pricing.

Overall, "The Hustle" isn't a bad movie

but it's not a fantastic one either. The

chemistry between the cast helps lessen

the more tedious moments but it's a film

that definitely could have worked more

efficiently with a more distinctive point of

view.

Grade: C-

Dedra Cordle is a Messenger staff writer

and columnist.

favorite place to be is in your lap to

take a nice nap. Hope is good with

other cats, dogs and children. She

would make the purrfect edition to

any family. Adopt her from Friends

for Life Animal Haven.

FYI: www.fflah.org

Buddy is a 9-year-old beagle mix

weighing around 35 pounds. He is

leash trained and crate trained.

Buddy is obedient, playful and affectionate.

He is even-tempered and

eager to please. Adopt this gentle

hound from Colony Cats and Dogs.

FYI: www.colonycats.org

D'Angela was trapped at a mobile

home park. She was living in an area

that had heavy construction and she

had to be removed for safety concerns.

She is about 1 and is a very

dark, almost black torti. D'Angela is

currently residing at the PetValu store

in the Short North. Adopt her from

Colony Cats and Dogs.

FYI: www.colonycats.org

Ying and Yang

were born July

2018. They

have been with

Colony Cats

since they were

babies. They

are still playful

kittens and hope to find a forever home soon. They can be

adopted together ot separately. You can meet Ying and

Yang at the Colony Cats cage-free adoption center.

FYI: www.colonycats.org.
---
www.columbusmessenger.com

around Canal Winchester

CW Farmers' Market

One of central Ohio's longest running

outdoor markets, the Canal Winchester

Farmers' Market opens its 21st season in

historic downtown Canal Winchester on

May 25.

The Canal Winchester Farmers' Market

is presented by Destination: Canal

Winchester and Kelly Abbott & the "A"

Team, HER Realtors, with entertainment

sponsored by Diley Ridge Medical Center.

Visit the market, located near Stradley

Park, 36 S. High St., each Saturday from

May 25 through Sept.28 (rain or shine)

from 9 a.m. to noon. Shop the market for

fresh vegetables, fruits and herbs, homebaked

goods, and more. Take a moment to

slow down and savor the sights, sounds,

and tastes of an old-fashioned marketplace.

For information about the Canal

Winchester Farmers Market, visit

thecwfm.com, destinationcw.org, or contact

Karen Stiles at 614-270-5053. The

market will be closed on July 27 to accommodate

the Canal Winchester Blues &

Ribfest.

It's mosquito season!

The city of Canal Winchester has contracted

with Franklin County Public

Health for mosquito control in 2019.

Franklin County Public Health takes a

proactive approach to mosquito management,

using tools and techniques throughout

the season to help control the mosquito

population, these include:

•Surveillance of adult mosquito populations

by setting traps weekly throughout

the county.

•Larviciding areas of stagnant water

and storm water catch basins to prevent

mosquitoes from hatching in these prime

breeding sites.

•Testing of adult mosquitoes for the

presence of disease, such as West Nile

Virus.

•Adulticiding (spraying) using ultra low

volume, truck-mounted equipment to treat

residential areas to reduce adult mosquito

populations.

•Sharing a variety of educational materials

and awareness approaches.

Historical data about mosquito breeding

locations, areas that traditionally have

high adult mosquito populations, and the

frequency and distribution of mosquitoborne

diseases throughout Franklin

County helps to concentrate and focus

mosquito management efforts. Residents

can help by reporting areas that they suspect

may be mosquito breeding areas

and/or when there is an increase in adult

mosquito activity.

Detailed information about the mosquito

program and a form to request service or

report an area of concern is available

online at www.myfcph.org or by calling

Franklin County Public Health's Mosquito

Bite Line at (614)525-BITE.

Music in the Park

Canal Winchester's Music in the Park

free summer outdoor concert series is June

21 and July 19 from 6:30-9 p.m. June's

Music in the Park concert features a display

of tractors and farm equipment, a

small farmers' market, and classic country

entertainment by Jack Fox & The County

Line Band. July's Music in the Park concert

will feature the Gas Pump Jockeys

and the 12th annual Cruise-In Car Show,

hosted by C-Town Cruisers.

On July 12 and Aug. 9 at dusk, the park

will become the setting for family-friendly

movies. Bring a blanket and snacks to

enjoy a free Movie in the Park. Screenings

will begin when the sun goes down, at

about 9 p.m. Movie titles will be

announced soon!

Portable chairs and picnics are welcome

at outdoor summer events. No alcohol is

permitted.

Visit www.canalwinchesterohio.gov for

information.

Township Police statistics

April crime statistics for Madison

Township, according to the Madison

Township Police: 11 assist/mutual aid, 1

assault, 5 burglary, 1 dead upon arrival, 16

domestic complaints, 11 driving under the

influence, 5 juvenile complaints, 6 miscellaneous

incidents, 2 missing persons, 1

recovered vehicle, 1 robbery, 2 stolen vehicles,

1 suspicious person/vehicle, 11 thefts,

10 threats or harassment, 108 traffic

offenses, 5 vandalism, 6 hit-skip accidents,

2 vehicle accidents - with injury, 24 vehicle

crashes, 3 vehicle impounds, and 319 dispatched

calls.

Comments sought on

Rickenbacker Area Study

The Mid-Ohio Regional Planning

Commission is seeking public comments on

the draft Rickenbacker Area Study.

The study outlines recommendations to

improve workforce mobility and the area's

overall quality of life. Recommendations

include infrastructure improvements in

transportation, diversification of energy

sources, and expansion of public

fiber/broadband in the Rickenbacker study

area.

The study area encompasses State

Route 762/Duval Road on the south, State

Route 764/U.S. 33 on the east, State Route

104 on the north and Interstate 71 on the

west.

The results of the study can be viewed

as a story map at morpc.org/rickenbackerstudy.

A public meeting to share the final recommendations

will be held May 30, from

3:30-6:30 p.m. at the Obetz Village

Municipal Office, 4175 Alum Creek Drive,

Obetz.

May 19, 2019 - EASTSIDE MESSENGER - PAGE 5

Memorial Day Section

PAID ADVERTISING

Mike Albert to perform

at Summer Blast

"The King's" music lives on in the heart and

soul of admirers such as Elvis entertainer Mike

Albert, who will perform at this year's Summer

Blast 2019.

Now you can see one of the best "Elvis"

shows in the country as Albert, with his "The

Ultimate Tribute" show and the Big "E" Band,

brings the memory of the king of rock and roll

back to gyrating life for the 19th year on the stage

of the Villa Milano June 15 during Summer Blast

2019.

Doors open at 5:30 p.m., dinner is served at

6:30 p.m. and the show kicks off at 7:30 p.m. with

Albert and his band.

Mike Albert is the complete package with his

SUMMER BLAST!

ELVIS

featuring

Mike Albert

and the Big E Band

Saturday

June 15, 2019

VILLA MILANO

1630 Schrock Rd.

Dinner/Show Tickets $ 49.00

Tables of 10 Available

Tickets by Phone: 614-792-3135

Still Good Seats Available

wardrobe, charisma, and voice. Along with the

six piece Big E Band, it makes for a Las Vegas

style performance. First timers at Mike Albert's

show are absolutely amazed.

Albert covers Presley's career from the rockabilly

'50's to the Vegas '70's, including love

songs and gospel numbers, and has performed

concerts in Europe, Australia, New Zealand and

throughout America.

Tickets for the dinner and show are $49. Call

792-3135 for information or to order tickets. Villa

Milano is located at 1630 Schrock Road in

Columbus and there is ample parking.

Visa • Mastercard • Discover

NO REFUNDS
---
PAGE 6 - EASTSIDE MESSENGER - May 19, 2019

www.columbusmessenger.com

Memorial Day Section

A mother's heartfelt letter

to her soldier son, 1919

By Rick Palsgrove

Eastside Editor

Imagine yourself as a soldier stationed

overseas in those first few weeks after the

end of World War I. You're eager to go

home, but until you are discharged your

only tangible contact to home is by letter.

One hundred years ago, in the days

before someone overseas could be contacted

instantly by telephone, or through the

various forms of the Internet, the written

word in the form of ink on paper was the

main way to reach out to a faraway loved

one.

Letters from home to those in the military

who fought in World War I in Europe

could take days or weeks to reach their

destination. Then those on the home front,

in turn, waited days or weeks for a reply.

One such letter from home to a

Groveport soldier in 1919 recently was

donated to the Groveport Heritage

Museum by the Westerville Public Library

after it was found in the library's files.

The letter, written by his mother, was

sent to her U.S. Army private son, who was

in the 37th Division, and was dated, "From

home at Groveport, O., Jan. 13, 1919."

World War I had ended Nov. 11, 1918,

and the family was eagerly awaiting his

return home. In flowing script handwriting,

his mother writes, "We are growing

impatient waiting for you and no doubt you

boys are the same. I hope you are comfortably

quartered and it is not so cold there."

She described how things were at home

"I can hardly wait for the day

when I see you come marching

home."

From a mother's letter to

her soldier son, 1919

to her son, noting that the Ohio winter had

been "ideal" so far and noting, "A few days

were cold, six above zero is the coldest day

we've had. Just three light snows, scarcely

enough to cover the ground. We can pull a

turnip up out in the garden and it is as

crisp as early fall." She added that the

weather recently was nice enough for her

to dry clothes outside on the line because it

was like "a summer day."

She told her son that she won't tell him

about everything that's happened at home

in the year and a half he's been away

because she wants him to have some surprises

when he comes home.

She wrote about others her son knew

from the community who served in the war

noting that one wounded fellow, "is home

for a while now, but will go back as soon as

he recovers. He was in that bunch of 1,200

in that Argonne Woods battle...150 came

out and he was gassed three times and got

some slight wounds."

Referencing newspaper accounts of the

time, she wrote that a "bunch of wounded

soldiers landed (in America) on Dec. 20...It

is a pitiful sight to see our once perfect

specimens of boys now hobbling along with

one leg or some member of their body

gone."

As the letter closes, she wrote, "I can

hardly wait for the day when I see you

come marching home" and she described a

potential welcome home meal that awaited

him as "roast ribs, dressing, mashed potatoes

and gravy, kidney beans, marshmallow

salad, cherry and custard pie, cake

cookies, pickles, strawberry preserves,

bread, butter, coffee, tea, milk, salt and

pepper, and toothpicks."

Imagine how heavenly that list of food

sounded to a soldier who had been existing

for many months on Army food!

She signed off the warm, heartfelt letter

this way: "Lots of love and many God bless

you's my child. All send their love and best

wishes to our dear, dear absent boy. Love,

from mother."

But then there is a P.S. noting a stick of

gum was included for him with the letter.

A simple, kindly gesture, that offered a

sweet taste of home.
---
www.columbusmessenger.com

May 19, 2019 - EASTSIDE MESSENGER - PAGE 7

Memorial Day Section

Memorial Day in Canal Winchester

In remembrance of fallen veterans, VFW Post #10523 will host Canal

Winchester's annual Memorial Day ceremony on May 27 at Union Grove Cemetery,

400 Winchester-Cemetery Road, beginning at 10:30 a.m. The ceremony will feature

keynote speaker John J. Pritchard, a U.S. Army veteran and current Madison

Township trustee. Other ceremony participants will include the Boy Scouts, Girl

Scouts, and the Canal Winchester High School Band.

Following the ceremony, the National Societies, Daughters of the American

Revolution and Sons of the American Revolution are expected to host a special commemorative

ceremony on nearby cemetery grounds.

PRIDE SOCCER CLUB

TRYOUTS 2019/20

CELEBRATING 15 YEARS!

Since 2004, PSC has grown to become one of the most successful

and respected clubs in all of Ohio. Our proven system of player

development is implemented by excellent leaders and professional

coaches in a stable, player-centered environment that allows players

to enjoy their experience and reach their fullest potential

The rifle squad from VFW Post 10523 marches into position during last year's

Memorial Day ceremony held in Canal Winchester's Union Grove Cemetery.

PAID ADVERTISING

PRIDE Soccer Club

celebrating 15 years

PRIDE Soccer Club is thrilled to be celebrating

15 years of developing soccer players and

people!

PSC has a proven system of player development

that is implemented by excellent leaders and

professional coaches in a stable, player-centered

environment that allows players to enjoy their

experience and reach their fullest potential. PSC

has one of the most highly qualified and experienced

Staffs in Central Ohio with 80 percent of all

coaches having a USSF "D" License. PSC has

produced over 60 players since 2015 that have

went on to play College Soccer. PSC has around

40 teams for players ages 6-19.

How do I register?

Go to www.pridesoccerclub.com, click

login/register in top right, find 2019-2020 tryouts.

At what age can players join?

Players can join at U7 (2013 birth year) and

play U8.

What is the difference between PSC

and recreation?

PSC provides a more developmentally

focused program that will better help prepare

players for the next level than a recreation program.

This is accomplished by a professional staff

in a competitive environment with two to three

times as many training opportunities.

Where are training/games?

PSC trains and hosts home games in Canal

Winchester. League games and tournaments are

mostly in Central Ohio but can be throughout

Ohio and the region depending on the level of the

team.

U8-U10 BOYS/GIRLS

U11-U12, U18-U19 BOYS/GIRLS

U13-U17 BOYS

U13-U17 GIRLS

MAY 28, 29, 31 | 6 - 7:30 PM

MAY 28, 29, 30 | 6 - 7:30 PM

JUNE 3, 5, 7 | 6 - 7:30 PM

JUNE 4, 5, | 6 - 7:30 PM

JUNE 8 | 10:30 - 12 PM

Players are encouraged to attend two (2) tryout dates.

For more info and to contact us, go to:

www.PrideSoccerClub.com
---
PAGE 8 - EASTSIDE MESSENGER - May 19, 2019

www.columbusmessenger.com

Village of Lithopolis

Business

Spotlight

The Secret Gift Shop

There's a special shop nestled

in historic downtown Lithopolis

that can fulfill your gift giving

needs.

It's The Secret Gift Shop,

owned by Lesli Brewer and

located at 87 E. Columbus St..

The Secret Gift Shop is a

unique, pleasant place where you

can find a great gift for just about

anyone, including yourself!

For information on The Secret

Gift Shop call 614-578-7787 or

email Thesecretgs@yahoo.com.

Come visit us and see what

we have to offer!

Fairfield County's "Best Kept Secret"

fine artists and artisans specializing in

Fish Fry and Car Show

The Bloom Township Firefighters annual

Memorial Day Fish Fry & Car Show will

be held May 27 on Columbus Street in

downtown Lithopolis.

Events start at 11 a.m. Car show registration

is from 11 a.m. to 2 p.m.

Registration fee is $15. Car show awards

will be presented from 4:30-5 p.m. Awards

include 50 Fish Fry Favorites, Military

Vehicle Favorites, Mayor's Choice, and

Fireman's Choice. Must be present to win.

There will also be a 50/50 raffle, door

prizes, music, art, and crafts.

Memorial Day plant sale

The Lithopolis Garden Club will hold its

Memorial Day plant sale on May 27 from

10 a.m. to 3 p.m. behind Wagnalls

Memorial Library, 150 E. Columbus St.,

Lithopolis. You will find plants potted by

garden club members from their own gardens.

This is the club's only annual fundraiser

which helps maintain the park and containers

on Columbus Street in Lithopolis.

Calling all artists:

Art at the Wagnalls

The Wagnalls Memorial, 150 E.

Columbus St., Lithopolis, is hosting its first

outdoor summer art festival, "Art at the

Wagnalls," on Aug. 10. The event features

painting, photography, ceramics, glass,

jewelry, furniture, sculpture, wood, metal,

and other mixed media.

Vendors may secure their space now for

$100.

Prizes for art entry awards are $600

first place, $250 second place, and $150

third place.

Deadline is June 28. For information,

contact Alexis via email at

socialmedia@linearcreative.com or call 216-

741-1533.

Gatsby at the Wagnalls

The Wagnalls Memorial, 150 E.

Columbus St., Lithopolis invites you to the

second annual Gatsby at Wagnalls on Oct.

12.

Come experience the magical spirit of

the Roaring Twenties at a glamorous

evening wearing your finest attire or

Gatsby-themed couture.

The event will benefit Wagnalls

Memorial Foundation. There will be a

silent auction featuring unique items and

gift packages.

Early bird ticket: $45 and general ticket:

$50. For information, contact Alexis via

email at socialmedia@linearcreative.com or

call 216-741-1533.

Lithopolis Honeyfest

The 13th annual Honeyfest in downtown

Lithopolis promises to be bigger and

better than ever and embraces the theme,

"Saving the planet, one honeybee at a

time." It will be held Sept. 6 from 3-7 p.m.

and Sept. 7 from 10 a.m. to 7 p.m.

Admission is free and a shuttle will be

available.

The Honeyfest features live music, bee

beards, beekeepers, honey and honey tasting,

mead competition, Honeyfest Queen

Pageant, honey bake off, Ohio Honey Show,

honey extracting, hive inspection, junior

beekeeping, the American Honey Princess,

mead and wine tasting, foods made with

honey, kids crafts, photo contest, art, honey

beer garden, and the Bloom-Carroll

Kiwanis.

Call 614-829-7355 for information.

Wagnalls Memorial Library

Wagnalls Memorial Library, 150 E.

Columbus St., Lithopolis, is open Monday -

Thursday: 10 a.m. to 8 p.m., Saturday: 10

a.m. to 2 p.m. and closed on Friday and

Sunday. For information call (614) 837-

4765 or visit www.wagnalls.org.

Lithopolis Garden Club

Lithopolis Garden Club meets the first

Tuesday each month at 1 p.m. in the

Community Building at Wagnalls

Memorial in Lithopolis.

Anyone interested in gardening and

meeting other gardeners are invited to

attend the meetings.

The Secret Gift Shop

A unique shop, where you can find something

for just about anyone, including yourself

Lesli Brewer, Owner

87 East Columbus St., Lithopolis, OH 43136

614-578-7787

Thesecretgs@yahoo.com

Mention this ad and receive

10% DISCOUNT

Faler Feed

Store, Inc.

Serving Central Ohio Since 1936

4360 Cedar Hill Rd. P.O. Box 277

Lithopolis, Ohio 43136

(P) 614-837-4494

(F) 614-837-3273

Falers4360@sbcglobal.net

FalerFeedStore.com

PLEASE SUPPORT THESE BUSINESSES!

Your Local Realtor celebrating 20 years of

helping Home Buyers and Sellers!

Tammy Roof Elliott

614-226-6953 (mobile)

TammyRoofElliott.com

www.OldeCountryStoreLithopolis.com

Family Owned and

Operated Since 1926

36 East Columbus Street

Lithopolis, OH 43136

(614) 837-4705

Eileen Law Benson & Kathlynn Benson Moling

Proprietors

www.pedregalrestaurant.com

44 E. Columbus Street, Lithopolis, OH 43136

Hours:

Mon.-Thur. 11:00 AM - 10:00 PM

Fri. & Sat. 11:00 AM - 10:30 PM

Sun. 11:00 AM - 9:00 PM

Phone: 614-829-2394 Fax: 614-829-2396

DAILY SPECIALS

HAPPY HOUR 4PM-8PM EVERYDAY

The Pump House

Pizza & Burgers

Spirits

614-837-6823 • 614-837-9306

Dine In and Carry Out

17-21 E. Columbus St. Lithopolis, OH 43136

Mon. - 4pm-11pm

Tues.-Sat. 11am-11pm

www.facebook.com/thepumphouse2017

Envy

Nail Shop

614.829.2428

Providing professional

nail & waxing services

87 E. Columbus St., Lithopolis, OH 43136

Walk ins welcome, Appointment Preferred

Mon.-Fri. 10-7 Sat. 10-5 Sun. 11-4

Mention ad and receive

10% OFF

Buggy Seat Antiques

4650 Waterloo Rd.

Canal Winchester, OH 43110

(614) 920-1834

Open 10:00 am - 5:00 pm

Wednesday - Saturday

Or by Appointment

edwardrutter@att.net

Freda Rutter, Owner
---
www.columbusmessenger.com

May 19, 2019 - EASTSIDE MESSENGER - PAGE 9

CLASSIFIED ADS

Deadlines: Southeast and West editions, Wednesdays at 5 p.m., • East, Southwest, Madison editions, Tuesdays at 5 p.m.

All editions by phone, Tuesdays at 5 p.m. • Service Directory, Tuesdays at 5 p.m.

xCome & Get It!

xInformation

xEmployment

COME AND GET IT

Deadlines are Tuesdays by 5 pm.

Call For Publication Schedule 614-272-5422

Need to Get Rid of Something Fast - Advertise It Here For FREE!

FREE Garden Straw for gardens or bedding. Call for appointment for pickup.

Circle S Farms, 9015 London-Groveport Road, Grove City, 43123

Grove City - 614-878-7980

Simmons Queen Size Mattress & Box Spring

ML - Groveport - 614-836-2718

Six Foot Sofa Bed Couch, good condition except has some damage to arms,

can cover, brown/green/beige/rust color.

AM - Canal Winchester - 614-837-3109

FREE 4x8 Table with partial steel plate, well built. You pick up.

CM - Columbus - 614-272-5422

MAY GIVEAWAY

Place a prepaid classified line ad in our paper

during the month of MAY and be registered

to win a $50 Gift Card from

The Columbus Messenger

Newspapers.

All ads received by mail, in person, e-mail or

phone will be included in the drawing.

Drawing will be held May 29th, 2019

and the winner will be notified and published

in our June 2nd, 2019 issue.

GOOD LUCK TO EVERYONE!!!!

HIRING?

. Come and Get It! is a bi-weekly column that offers readers an opportunity to pass

along surplus building materials, furniture, electronic equipment, crafts, supplies,

appliances, plants or household goods to anybody who will come and get them - as

long as they're FREE. NO PETS! Just send us a brief note describing what you want to

get rid of, along with your name, address and phone number. Nonprofit organizations

are welcome to submit requests for donations of items.

Send information to The Columbus Messenger, Attention: Come and Get It, 3500

Sullivant Ave., Columbus, OH43204. Deadline is Tuesdays by 5 pm for following

Mondays publication. Messenger Newspapers is not responsible for any

complications that may occur. Please contact us when items are gone. 272-5422

ASSOCIATION ADS

Cross Country Moving,

Long distance Moving

Company, out of state

move $799 Long Distance

Movers. Get Free

quote on your Long distance

move 1-800-511-

2181

Applying for Social Security

Disability or Appealing

a Denied Claim?

Call Bill Gordon & Assoc.,

Social Security Disability

Attorneys, 1-855-

498-6323! FREE Consultations.

Local Attorneys

Nationwide [Mail: 2420 N

St. NW, Washington DC.

Office: Broward Co. FL

(TX/NM Bar.)]

VIAGRA & CIALIS! 60

pills for $99. 100 pills for

$150 FREE shipping.

Money back guaranteed!

1-800-503-7846

Get DIRECTV! ONLY

$35/month! 155 Channels

& 1000s of

Shows/Movies On Demand

(w/ SELECT All Included

Package.) PLUS

Stream on Up to FIVE

Screens Simultaneously

at No Addt'l Cost. Call

DIRECTV 1-855-781-

1565

Come & Get It!

ASSOCIATION ADS

GENERIC VIAGRA and

CIALIS! 100 Pills $99.00

FREE Shipping! 100%

guaranteed. 24/7 CALL

NOW! 888-889-5515

SAVE ON YOUR NEXT

PRESCRIPTION! World

Health Link, Price Match

Guarantee! Prescriptions

Required. CIPA Certified.

Over 1500 medications

available. CALL Today

For A Free Price

Quote. 1-855-530-8993

Call Now!

[WANTED] CARS/

TRUCKS WANTED!!!

All Makes/Models 2002-

2018! Any Condition. Running

or Not. Competitive

Offer! Free Towing! We're

Nationwide! Call Now: 1-

888-368-1016

Become a Published Author.

We want to Read

Your Book! Dorrance

Publishing-Trusted by

Authors Since 1920.

Book manuscript submissions

currently being

reviewed. Comprehensive

Services: Consultation,

Production, Promotion

and Distribution. Call

for Your Free Author's

Guide 1-877-626-2213

ASSOCIATION ADS

Wants to purchase minerals

and other oil and gas

interests. Send details to

P.O. Box 13557, Denver,

CO. 80201

AIRLINE MECHANIC

TRAINING - Get FAA

Technician certification.

Approved for military

benefits. Financial Aid if

qualified. Job placement

assistance. Call Aviation

Institute of Maintenance

866-453-6204

Suffering from an AD-

DICTION to Alcohol,

Opiates, Prescription

Pain Killers or other

DRUGS? There is hope!

Call Today to speak with

someone who cares.

Call NOW 1-855-866-

0913

Get a SMARTPHONE

for $0 DOWN* with

AT&T Next® and AT&T

Next Every Year; $250

Gift Card for Switching to

AT&T! (*Requires wellqualified

credit. Limits &

restrictions apply.) 1-

888-545-5093

ASSOCIATION ADS

READER

ADVISORY

The National Trade Association

we belong to has

purchased the following

classifieds. Determining

the value of their service

or product is advised by

this publication. In order

to avoid misunderstandings,

some advertisers do

not offer "employment"

but rather supply the

readers with manuals, directories

and other materials

designed to help

their clients establish mail

order selling and other

businesses at home. Under

NO circumstance

should you send any

money in advance or give

the client your checking,

license ID or credit card

numbers. Also beware of

ads that claim to guarantee

loans regardless of

credit and note that if a

credit repair company

does business only over

the phone it's illegal to request

any money before

delivering its service. All

funds are based in US

dollars. Toll Free numbers

may or may not

reach Canada. Please

check with the Better

Business Bureau 614-

486-6336 or the Ohio Attorney

General's Consumer

Protection Section

614-466-4986 for more

information on the company

you are seeking to

do business with.

Dish Network Satellite

Television Service. Now

Over 190 channels for

ONLY $59.99/mo! ,

FREE Installation, FREE

Streaming, FREE HD.

Add Internet for $14.95 a

month. 1-800-219-1271

ASSOCIATION ADS

CARS/TRUCKS WANT-

ED!!! All Makes/Models

2002-2018! Any Condition.

Running or Not. Top $$$

Paid! Free Towing! We're

Nationwide! Call Now: 1-

888-985-1806

DO YOU HAVE AN AN-

TIQUE OR CLASSIC

CAR TO SELL? Advertise

with us. You choose

where you want to advertise.

800-450-6631

visit macnetonline.com

for details

DISH Network $59.99 For

190 Channels. Add High

Speed Internet for ONLY

$14.95/month. Best Technology.

Best Value. Smart

HD DVR Included. FREE

Installation. Some restrictions

apply. Call 1-855-

837-9146

Call Empire Today® to

schedule a FREE inhome

estimate on Carpeting

& Flooring. Call

Today! 1-866-538-7163

AT&T Internet Get more

for your High-Speed Internet

thing. Starting at

$40 / month w / 12-mo

agmt. Includes 1 TB of

data per month. Ask us

how to bundle and

SAVE! Geo & svc restrictions

apply. Call us today

1-833-707-0984

IMPORTANT

NOTICE

The following states: CA,

CT, FL, IA, IL, IN, KY,

LA, MD, ME, MI, MN,

NE, NC, NH, OH, OK,

SC, SD, TX, VT and WA

requires seller of certain

business opportunities to

register with each state

before selling. Call to

verify lawful registration

before you buy.

Let us help you recruit the qualified employees you need to make

your business succeed. With a print and online audience of more

than 39,000 readers, our employment section is your key to meeting

local job seekers where they look first for fresh career opportunities.

Our Eastside Messenger

now covers

Canal Winchester

Our Southeast Messenger

still serves our Groveport

and SE Columbus areas.

Reaches over 35,000

household in these 2 area

ASSOCIATION ADS

KILL BED BUGS! Harris

Sprays, Mattress Covers,

Kits. Available:

Hardware Stores, The

Home Depot, homedepot.com

REAL ESTATE AUCTION

MONDAY, 6-10-19

Beautiful 1861 Stone

House / Barn, Well-maintained,

w/ upgrades, 4

Acres+/-, Lancaster, PA

For details, visit: www.

Wolgemuth-Auction.com

#2357 717-656-2947

$500 + Paid Daily The

Easy Way. Go To: www.

PaidDailyGroup.com

AIRLINES ARE HIRING -

Get FAA approved hands

on Aviation training. Financial

aid for qualified students

- Career placement

assistance. Call Aviation

Institute of Maintenance

877-818-0783

To list a job opportunity, contact a

recruitment advertising specialist today at

614.272.5422

or

Kathy@columbusmessenger.com

Employment

ASSOCIATION ADS

KILL ROACHES-GUAR-

ANTEED! Harris Roach

Tablets, Sprays, Traps,

Concentrate. Hardware

Stores, Home Depot,

homedepot.com

A PLACE FOR MOM. The

nation's largest senior living

referral service. Contact

our trusted, local experts

today! Our service is

FREE/no obligation. CALL

1-844-722-7993

Stay in your home longer

with an American Standard

Walk-In Bathtub. Receive

up to $1,500 off,

including a free toilet,

and a lifetime warranty

on the tub and installation!

Call us at 1-844-

374-0013

ASSOCIATION ADS

Spectrum Triple Play!

TV, Internet & Voice for

$29.99 ea. 60 MB per

second speed. No contract

or commitment.

More Channels. Faster

Internet. Unlimited Voice.

Call 1-855-652-9304

Earthlink High Speed Internet.

As low as $14.95/

month (for the first 3

months.) Reliable High

Speed Fiber Optic Technology.

Stream Videos,

Music and More! Call

Earthlink Today 1-855-

520-7938

Lung Cancer? And Age

60+? You And Your

Family May Be Entitled

To Significant Cash

Award. Call 866-428-

1639 for Information. No

Risk. No Money Out Of

Pocket.
---
PAGE 10 - EASTSIDE MESSENGER - May 19, 2019

www.columbusmessenger.com

xEmployment

Southeast Healthcare is seeking the following positions: Engagement Specialists and

Recovery Guides to promote recovery in adults with severe mental illness

and/or drug or alcohol dependency.

Positions available in Delaware and Franklin County.

Qualified applicant will have a lived experience with the recovery process.

Applicant must have a HS diploma/GED, valid driver's license,

vehicle and be willing to transport.

Case Managers to provide individual care planning and community linkages and

referrals for adults with severe mental illness.

The successful applicant will have an AA/BA, as well as a valid driver's license,

vehicle and be willing to transport.

Crew Leaders to supervise clients employed in our transitional employment program

and assist with skill building for permanent, competitive employment.

The successful applicant will have a HS diploma/GED, as well as a valid driver's license,

vehicle and be willing to transport.

We offer many great benefits, including health, dental, vision, 401(k),

education reimbursement and generous time off.

For a full list of opportunities, go to www.southeastinc.com

To complete an application, go to Southeastinc.appone.com

WANTED

SW CITY SCHOOLS

SCHOOL BUS DRIVERS

The South-Western City School

District is currently hiring drivers

$16.55/HR

Available positions are for substitute

drivers that can develop into "Regular"

positions with benefits. Interested

individuals should submit an application

on our website at swcsd.us. Follow the

employment link. Applicants should have

an excellent driving record and must

submit to drug, alcohol, and background

screening. A high school diploma or

equivalent is required.

EOE

Local New Construction

Plumbing Contractor

seeking experienced

Rough & Finish Plumbers.

Please visit our website for more information

and to apply on line at:

http://plumbingsolutionscolumbus.com/employment/

or call, 614.235.6007

REPORTER

WANTED

Part-time Reporter wanted to cover

community meetings in the evenings and

write various feature and news stories.

Photography experience helpful.

Please send a resume and

three writing samples to:

Rick Palsgrove, Managing Editor,

Columbus Messenger Newspapers,

3500 Sullivant Ave.,

Columbus OH 43204 or email

southeast @columbusmessenger.com

No Phone Calls!

ASSOCIATION ADS

SELLING YOUR OWN

PROPERTY? Need to

advertise it in your local

paper and others like it?

We have the placement

services to help you.

Contact MACnet MEDIA

@ 800-450-6631 or online

at MACnetOnline

.com

HEAR AGAIN! Try our

hearing aid for just $75

down and $50 per

month! Call 800-426-

4212 and mention 88272

for a risk free trial! FREE

SHIPPING!

ASSOCIATION ADS

Lung Cancer? Asbestos

exposure in industrial,

construction, manufacturing

jobs, or military

may be the cause. Family

in the home were also

exposed. Call 1-866-

795-3684 or email cancer@breakinginjurynews

.com. $30 billion is set

aside for asbestos victims

with cancer. Valuable

settlement monies

may not require filing a

lawsuit.

BE YOUR OWN BOSS!

INDEPENDENT

CONTRACTORS

WANTED

If you have a reliable

car and would like to

earn extra money,

then why not deliver?

• Deliver 1 or 2 days a week

• Flexible delivery hours

• Work close to home - often

in or near your neighborhood

CONTACT US

1-888-837-4342

www.thebag.com

• Deliver 7 days a week

• Delivery before dawn

• Work close to home - often

in or near your neighborhood

CONTACT US

614-461-8585

www.dispatch.com/delivery

ASSOCIATION ADS

$$OLD GUITARS & AMPS

WANTED$$ GIBSON*

FENDER*MARTIN. ALL

BRANDS. TOP DOLLAR

PAID. CALL TOLL FREE

1-866-433-8277

Portable Oxygen Concentrator

May Be Covered

by Medicare! Reclaim

independence and

mobility with the compact

design and long-lasting

battery of Inogen One.

Free information kit!

Call 888-609-2189

Call Empire Today® to

schedule a FREE inhome

estimate on Carpeting

& Flooring. Call

Today! 1-800-508-2824

HELP WANTED

Shop / Delivery Person

Needed 8-5, Mon-Fri.

Will Train. Mechanically

inclined, able to drive a

standard shift, able to lift

75 lbs, have a driver's

license and dependable

transportation. Apply in

person at 2270 Harper

Rd., Columbus or call

614-275-0303

Seeking Child Care

Teacher with High School

Diploma/College Degree

at our Grove City and East

locations. Experience in

Child Care Req. Please

call 614-875-0514 or

submit resume to todays

childlearning@yahoo.com

Employment

ADVERTISING

SALES HELPER

The Advertising Department at the

Columbus Messenger Newspapers

is seeking a

Helper for the Sales Department.

No Experience Necessary

Duties include: Set Appointments,

Make Calls, Run Errands, etc.

Salary plus auto allowance.

Seniors welcome to apply.

Please send your resume to:

Doug Henry, Advertising Manager

Columbus Messenger Newspapers

3500 Sullivant Ave.,Columbus, Ohio 43204

or e-mail to doughenry@columbusmessenger.com

HELP WANTED

Home Health Aides

$13.00/hr. after 90 days

$15.00/hr. Premium Shifts

Performance Bonus and

Paid Time Off after 1 yr.

One yr. experience working

for an employer in a caregiver

5/26 A&M

role is required.

To apply, please visit

v-angels/galloway/employment

ADVERTISING

SALES HELPER

The Advertising Dept. at

the Columbus Messenger

Newspapers is seeking a

Helper for

the Sales Department.

No Experience Necessary

Duties include:

Set Appomtments, Make

Calls, Run Errands, etc.

Senior Citizens and

welcome to apply.

Please send your

resume to:

Doug Henry,

Advertising Mgr.

Columbus Messenger

Newspapers,

3500 Sullivant Ave.,

Columbus, OH 43204

or email to doughenry@

columbusmessenger.com

NOW HIRING!

Local High Volume Pharmacy

Immediate 2nd & 3rd shift positions available

for Pharmacy Clerks and Technicians.

Looking for energetic associates

in a fast pace environment.

NEW Starting rate: $11.50 per hour

Shift differential $.50 an hour

Please apply at: jobs.kroger.com

Use Zip Code 43217

Must be 18 years of age & have high school diploma or GED.

Call 614-333-5012 for more details.

DATED SALES

FREE

Garage Sale

Signs

When You Stop By

Our Office At:

3500 Sullivant Ave.

And Place Your

DATED SALE AD

WANT TO BUY

We Buy Cars & Trucks

$300-$3000.614-308-2626

WANT TO BUY

We Buy Junk Cars &

Trucks. Highest Prices

Paid. 614-395-8775

CASH FOR CARS

614-276-2597

$ Cash At Your Door $

for junk or unwanted cars

(Free Tow). Call

614-444-RIDE (7433)

WANTS TO Purchase

minerals and other oil &

gas interests. Send details

to: P.O. Box 13557,

Denver, CO 80201

MISCELLANEOUS

FOR SALE

60" Round Patio Table

w/glass top & 6 chairs-

$95.00. 740-400-4077
---
www.columbusmessenger.com

xMisc. for Sale

May 19 , 2019 - EASTSIDE MESSENGER - PAGE 11

xClassified Services

MISCELLANEOUS

FOR SALE

FREE 4'x8' TABLE

with partial steel plate,

well built. You Pick Up.

Call

614-272-5422

Large Selection of

Chandeliers to

choose from.

All in working condition.

Going Out of Business!!

614-271-2469

OFFICE

PRINTER

WORKCENTER

PRO 238

FOR SALE

740-852-0809

Misc. for Sale

SHOP THE CLASSIFIEDS!!

Only $1 per line

columbus

❏ Check for one additional FREE week.

Telephone: _________________________________________________________

Print Your Name:____________________________________________________

Last

First

Print Your Address:___________________________________________________

Print Your City:__________________________ State:_______ Zip:____________

West ___ Southwest ___ East ___ Southeast ___ Madison___

Columbus Messenger

3500 Sullivant Ave. • Columbus, Ohio 43204

614-272-5422

classified@columbusmessenger.com

$

Not Valid for Garage Sales

REAL ESTATE

SERVICES

Property Management

We are always available!

40 yrs. exp in

Certified Property Mgmt.

Reas. Fees. Call Now!

614-783-7464

Print Your Ad Below…

❏ Cash

❏ Check

❏ Money Order

❏ VISA ❏ MC

VACATION RENTALS

Englewood, Florida

Palm Manor Resort

Within minutes of white

sand Gulf beaches,

world famous Tarpon

fishing, golf courses, restaurants/shopping,

Bush

Gardens. 2 BR 2 BA

condos with all ammenities,

weekly/monthly, visit

www.palmmanor.com

or call 1-800-848-8141

One word each space. BE SURE YOUR TELEPHONE NUMBER OR ADDRESS is included in your

advertisement. The lessor of 4 words or 22 characters per line. We reserve the right to use abbreviations

when actual space exceeds amount purchased.

1. __________ __________ __________ __________

2. __________ __________ __________ __________

3. __________ __________ __________ __________

4. __________ __________ __________ __________

5. __________ __________ __________ __________

6. __________ __________ __________ __________

Credit Card

Information

___

__________________________

Credit Card Number

____________

__(___)__

Exp. Date 3 digit code

Minimum Charge $5.00

INFORMATION

Look To The

Professionals

In Our

Service Directory

For

Quality

Service

That Is

OUT

OF

THIS

WORLD!

AIR CONDITIONING

Air Conditioning

Installation & Repairs

30 yrs exp. $50 Service

Fee. R22 recharge avail.

614-226-0982

AIR CONDITIONING

Complete System

Clean & Check

$49.95 6/9 A

Free Electronic Leak Testing

All Makes • All Models

45 Yrs. Exp. • Senior Discount

614-351-9025

614-351-9005

APPLIANCE REPAIR

Washer, Dryer, Stove &

Refrig. Repair 875-7588

BASEMENT

WATERPROOFING

Walker's Basement

Waterproofing. Free

Inspection 614-359-4353

BLACKTOP

SANTIAGO'S

Sealcoating & Services LLC

Quality Materials Used

Driveway Seal

& Repairs

Top Seal Cracks

CARPET CLEANING

5-26

A&M

Commercial & Residential

Spring Clean-Ups

Mowing, Mulching, Edging

"Ask for whatever you need"

BBB Accredited

FULLY INSURED

Call or text for Free Est.

614-649-1200

Dirt Busters Tile/Floor-Any

3 Rms - $44.95. Laminant

floor polish/clng. Pet odor

treatment. 614-805-1084

CLEANING

Cleaning-wash walls 20 yrs

exp. Judy 614-946-2443

CONCRETE

ALL-CITY CUSTOM

CONCRETE

All Types Concrete Work

New or Tear Out-Replace

37 Yrs. Exp.

(614) 207-5430

Owner is On The Job!

Ohio Cement Contractors

All concrete patios, porches,

walks, drives, walls

etc. Specializing in stamped

color concrete. Bonded

& Insured. Please call Ron

740-771-5988

740-727-9469

AJ's Concrete,

Masonry

Good Work - Fair Prices

Block Foundations

Driveways • Sidewalks

Epoxy/Overlay Floors

Bonded-Ins. • Free Ests.

Now Accepting Credit Cards

614-419-9932

EDDIE MOORE

CONSTRUCTION

Quality Concrete Work

Lt. Hauling & Room Add.,

Block Work & Excavation

Stamp Patios,

Bsmt. Wall Restoration

37 Yrs Exp - Lic & Ins.

Free Ests. 614-871-3834

GUTTERS

Low Price-Great Service

5 & 6" Seamless gutters,

covers, siding, gutter clng.

Bill 614-306-4541

HAULING

DUMPSTER RENTALS

Bulk Pickups

Estate Cleanouts

You Load or We Load

Open 7 Days - Visa/MC

BUCKEYE HAULING

and DUMPSTERS

614-397-1171

DEAN'S HAULING

614-276-1958

HOME

IMPROVEMENTS

LG

REMODELING

Interior & Exterior

Full Service Remodeling

• Bathrooms • Kitchens

• Tile • Drywall • Flooring

• Roofing • Siding • Etc.

NO JOB TO SMALL

A+ BBB Rating

A+ Angie's List

Lic. • Bonded • Insured

614-488-8377

www.lgroofingcolumbus@gmail.com

6/9 A

5-26 A

6-9 A&M

HOME

IMPROVEMENTS

C&JHandyman

Services LLC

Minor Plumbing &

Electric

Install Hot Water Tanks,

Dishwashers & Disposals

Also Fencing &

Interior/Exterior Painting

Free Est. ~ 18 Yrs. Exp.

614-284-2100

SINCE 1973

Phil Bolon Contr.

Windows & Siding

Decks, Kitchens, Baths

Room Additions,

Flooring, Roofing

Bsmt Waterproofing

Deal With Small Non-Pressure Co.

45 Yrs. Exp. - Refs. Avail.

Lic.-Bond-Ins.

Free Est. - Financing Avail.

Member BBB Of Cent. OH

O.C.I.E.B. ID #24273

614-419-3977

or 614-863-9912

HOME

MAINTENANCE

Finishing Carpenter for all

your extra home repairs or

Honey-do-list. over 40 yrs.

exp. Sonny 614-325-1910

JOE'S HOME MAINT.

Home Repairs, Roofing,

Siding, Gutters, Soffits,

Misc. Int. Repairs

Int. Painting

Call Joe 614-235-6883

35 Years Exp.

LAWN CARE

GOOD NEIGHBORS

LAWN CARE

Mowing, Mulching, Pruning

Light Landscaping

Weeding & Edging of Flower Beds

Taking on New Accounts

Res. / Comm.

Lic./Ins. BBB Member

614-238-9237

614-937-0658

$10 Off 1st Service for New Customers

LET US MAINTAIN

YOUR LAWN & GARDEN

FOR YOU

Summer, Spring,

Winter or Fall

WE DO IT ALL!!!!

Lawn Cuts, Edging,

Trees & Shrubs, Garden,

Mulching, Hauling,

Garden Pond &

Home Maint.

Free Ests. Low Rates

$20 & Up

Kevin - 614-905-3117

MOVING

Aaron Allen Moving

Local Moving Since 1956

Bonded & Insured

614-299-6683, 263-0649

Celebrating 60 yrs in business

MOVING

A Complete

Moving

Reasonable, Reliable

No Job Too Small

PUCO #150692-HG

Free Estimate

614-878-1179

MOWER REPAIR

LAWN MOWER DR.

"House Calls Only"

Overall Checkups

Oil Change & Filter,

Spark Plug &

Blades Sharpened

MINOR REPAIR

John

614-395-7909

johnellis0333@sbcglobal.net

PAINTING

Painter Over 30 Yrs Exp.

Free Est. Reas Rates

Daniel 614-226-4221

A Job Well Done Again

A lic. General Contractor

Some Skilled Services

Incl: Painting • Stucco,

Repair•Carpentry•Exterior

Drainage & Home Maint.

Call Today! 614-235-1819

PEST CONTROL

Anthony Pest Control

Eliminate Your Pest For

Less $$. 614-600-8841

PLUMBING

ALL IN ONE

PLUMBING LLC

"One Call Does It All"

$25 OFF LABOR

With This Ad

A

614-801-1508

All Major Credit Cards Accepted

All About Drains & Plumb.

Will snake any sm drain

$125 + tax. 614-778-2584

POWER WASHING

MRS. POWERWASH

Any house wash $149 + tax

Single deck $69 + tax

2 Tier deck $99 + tax

Best Wash In Town

Over 45,000 Washes

Ashley, 614-771-3892

INFORMATION

Classified Services

6-9

A/M

6-9 A

5/26 E/SE

6/9 A&M

5-26 A

5/26

POWER WASHING

Home Powerwash from

$99 & up. Also House

Painting. 614-805-1084

ROOFING

Robinson roofing & repairs

30 yrs. exp. Lifetime Cols.

resident. Lic./bonded/Ins.

Reas rates. Member of

BBB. Dennis Robinson

614-330-3087, 732-3100

SEWING MACHINE

REPAIR

REPAIR all makes 24 hr.

service. Clean, oil, adjust

in your home. $39.95 all

work gtd. 614-890-5296

TOP SOIL

Alexander Hauling

Driveways topped w/new

limestone. We also deliver

Topsoil - comtil - sandmulch.

Specializing in

residential. 614-491-5460

Bobcat Service Avail.

TREE SERVICES

TROTT

TREE & LANDSCAPE

Tree Trimming

& Removal

Also Stump Removal

Free Est. - Fully Ins.

Call 614-235-3791

Cell 614-738-0682

Brewer & Sons Tree Service

• Tree Removal

• Tree Trimming 6-9

A&M

• Stump Grinding

• Bucket Truck Services

Best Prices • Same Day Service

614-878-2568

BURNS TREE SERVICE

Trimming, Removal &

Stump Grinding.

614-584-2164

6/9

E/SE

A&M

Fast Tree Service

Tree Removal,

Stump Grinding

Free With Access,

Pruning, Shaping

Insured, Free Est.

Payment Plans Avail.

614-837-8367

614-863-1522

INIFORMATION

CAN YOU PICTURE YOUR AD?

For Display Advertising Rates

in the Service Directory, Call

THE COLUMBUS MESSENGER

272-5422

5/26

A
---
PAGE 12 - EASTSIDE MESSENGER - May 19, 2019

www.columbusmessenger.com

CW boys win OCC track title; girls finish second

Messenger photos by Rick Palsgrove

The Canal Winchester High School boys varsity track team won the Ohio Capital

Conference Capital Division championship at the league meet held at Groveport

Madison High School on May 9 and 11. The Canal Winchester varsity girls track team

finished second to Big Walnut. Pictured here are Canal Winchester's Nathan Simons,

Dylan Randall, Tyler Toledo during the boys 100 meter, which was won by Simons.

Canal Winchester's Dom Davis running the boys 110 meter hurdles.

Canal Winchester's Christiana Jordan hands the baton to Anaya Edwards during the

girls 400 meter relay.