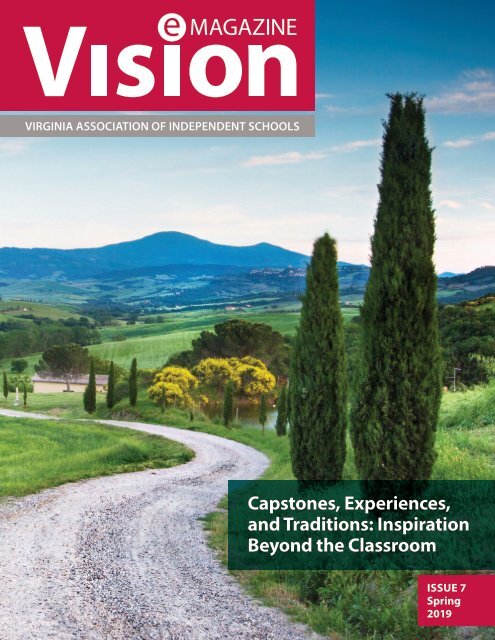 VAIS Vision E-Magazine, Spring 2019 Issue 7
Capstone, Experiences, and Traditions: Inspiration Beyond the Classroom
Capstone, Experiences, and Traditions: Inspiration Beyond the Classroom
SHOW MORE
SHOW LESS
Create successful ePaper yourself
Turn your PDF publications into a flip-book with our unique Google optimized e-Paper software.
e MAGAZINE

VIRGINIA ASSOCIATION OF INDEPENDENT SCHOOLS

Capstones, Experiences,

and Traditions: Inspiration

Beyond the Classroom

ISSUE 7

Spring

2019
---
e MAGAZINE

From the Desk of the Director of Accreditation

Yoga Connections

Lelia Grinnan, Director of Accreditation and Yogi

CONNECT. COLLABORATE. LEAD.

CONTENTS

2

3

5

7

8

9

11

From the Desk of the VAIS Director of

Accreditation

Marketplace Day: A Cultural Shift

Minimester at St. Margaret's Offers

Experiential Learning

The Senior Essay: A Northstar

Academy Crowning Achievement

Blazing a Trail to Commencement

Kindness Matters

Beyond The Classroom

Editorial Advisory Board

Kim Failon, Director of Communications, VAIS

Lelia Grinnan, Director of Accreditation, VAIS

Interested in writing an article for an upcoming

Vision? Contact: Kim Failon, Director of

Communications, VAIS, at kimfailon@vais.org

ISSUE 7

Spring

2019

With a passion for yoga and meditation,

I embarked upon a personal capstone

project during the 2018-2019 academic

year. Over the course of a seven months, I

engaged in a 200-hour teacher training program

through YogaWorks, an internationally

recognized leader in yoga education. Once a

month from October to April, I joined eleven

other practitioners and two yoga instructors

for a long weekend (Friday afternoon

to Sunday evening) of immersive study and

intensive yoga practice. In between these

weekends, I studied, submitted assignments

through Google classroom, and attended

many yoga classes at my favorite studio. Elements

of concentration included anatomy,

yoga history and philosophy, Sanskrit, asana

(posture) mastery, and teaching techniques.

I felt that I had returned to my graduate

school days, as I balanced the job I love with

the yoga I needed to get that job done.

My dad passed last July, and I hoped that

committing to yoga study would help me

with the grieving process. I sought to carve

out time for myself, to get in better physical

shape, and to calm my weary heart. This selfcare

plan proved to work. Learning Sanskrit

inspired me, as I love languages. Anatomy

and instructional methodology made my

head spin, yet I welcomed the challenge

as an escape. I immersed myself in solitary

study to tire my brain and attended all sorts

of yoga classes to tire my body. I was "minding

my mat," but my practice was ego-driven.

Yoga demands surrender of the ego.

Surrendering the ego is a painful (and

unending) undertaking. As the months progressed

and my studies intensified, however,

I found myself bonding more deeply with

my fellow students. Guided by expert teachers,

I realized that the only way that I could

surmount the course demands was to connect

my personal journey with that of the

collective whole. We needed each other to

advance in our asana practice. We needed

each other to progress in our understanding

of yoga philosophy, the very foundation for

that practice. I had to get out of my own way

and allow the lessons I needed to find me,

instead of chasing them down.

Yoga has many definitions. On the surface,

yoga is the physical practice of sun salutations,

headstands, backbends, and other

postures. At its core, however, yoga is the

practice of stilling the mind's chatter. As we

still the mind, we may connect with the collective

consciousness of the universe. As we

let go of our egos, we find common ground

for the common good.

One of my favorite lessons from The Yoga

Sutras of Patanjali, a practical guidebook for

the practice of yoga, derives from Sutra 1.33,

commonly referred to as the Four Locks and

the Four Keys. This sutra states, "By cultivating

attitudes of friendliness toward the happy,

compassion for the unhappy, delight in the

virtuous and disregard toward the wicked,

the mind-stuff retains its undisturbed calmness."

1 When our minds are calm and free

from life's distractions, we live in the present

moment. We are freed from ego-driven desires

and hangups, and thus are able to be of

service to others. This is a place I want to be.

Sutra 1.33 reminds me to rejoice in another's

happiness, even when I may not feel happy

myself; to extend compassion to those

who are struggling, even when I may wish

to judge; to admire the pure of heart, even

when I may feel unworthy or guilt-ridden;

to walk away from those who incite hatred,

even when I may wish to argue. The keys to a

fulfilled existence--friendliness, compassion,

delight, and disregard--are easy to use and

cost nothing.

My yoga journey has imbued me with

a profound sense of accomplishment, and

above all, tremendous gratitude. Being afforded

the time and space to practice and

to study has been an incredible gift. I could

not have done it solo. I refer not only to my

fellow yogis, but to my family, friends, and

colleagues, without whom I could not have

progressed. I faced my fear of handstands

and other inverted postures. I confronted

my impatience and hubris. I embraced setbacks--physical,

mental, emotional, and

spiritual--with fresh perspective, not always

gracefully, but afresh. I soothed my grieving

heart and found myself able to connect

with others in deeper, more meaningful

ways. These connections proved the greatest

surprise of the journey. What began as a

solitary venture with fixed goals has evolved

into a shared experience, connected and

unbounded, the capstone reimagined as an

interwoven thread, or sutra.

1. Satchidananda, Sri Swami, translator. The Yoga Sutras of Patanjali.

Rev. ed., Buckingham, Integral Yoga Publications, 2012.

2
---
Marketplace Day:

A Cultural Shift

Libby Germer, Head of School

Church Hill Academy, Richmond

Church Hill Academy (CHA) is a philanthropically-funded, independent,

Christian high school in the East End of Richmond. For ten years now, our

faculty and staff have centered on the mission of equitably educating students

whose community, Church Hill, has been markedly underserved for decades.

The same Hill that hosted Patrick Henry's famous "Give me liberty or give me

death" speech in 1775, played host in this century to racist housing and hiring

practices, the construction of five of the city's six public housing projects, and

the damaging effects of suburbanization and "white flight." As the local tax base

shrunk, city services and public education took a hit. These factors contributed

to record-high crime rates in the 1990s. Today, Church Hill is better known for

rapid gentrification and fashionable, award-winning restaurants … right down

the street from those housing projects. As the culture of Richmond's East End

shifts and diversifies, Church Hill Academy's school culture is adapting, too.

Last fall, when I became CHA's Head of School, I inherited a school-wide

capstone project called Marketplace Day. Pictures of smiling, business professionals

intermingling with our students, all dressed in their finest attire, won me over to

this tradition. The day was designed to bring two groups of Richmond residents

together to participate in mock interviews between the high school students and

prospective employers representing many fields and industries. Marketplace Day

last year was a success by most standards. Students received helpful feedback

from interviewers, competed for the highest marks, and were given gift cards if

they placed in the Top 3 for their interview skills. One student even received a job

offer that promised international travel and a significant salary! The only thing that

seemed to be missing, from my vantage point, was the inclusion of interviewers

who lived in and around Church Hill. A careful observer may have noted that to be

a successful professional meant to hail from another part of the city.

Because the interviewers were chosen by staff and were generally well-todo,

white business professionals, the Marketplace Day tradition had become

loaded with unintentional but implicit cultural biases. Meaning well and wanting

to connect, some interviewers spent most of their fifteen minutes with students

reliving their own early work and college experiences. The interviews emphasized

the importance of shaking hands firmly, speaking clearly to adults, and wearing your

finest clothing to impress others. In other words, Marketplace Day

seemed at risk of becoming an etiquette lesson taught by white

professionals to younger, black students.

This year, even if the structure of the event was essentially

the same, we went in a slightly different direction. Church Hill

Academy's planning team intentionally invited local business

professionals from a variety of backgrounds, who represented

a larger swath of industries. Lawyers and financial planners

sat next to education policy activists, beauticians, and human

resource professionals. Students were their shining best …

heads held high, resumes polished, and sincerely smiling as they

engaged with their interviewers. One Senior received perfect

marks in every setting and one interviewer wrote, "If I had a

position available, I would offer this young lady a job today!"

I do not know if Marketplace Day felt very different to students

this year, or if our planning team's attempt at more equitably

inviting guests was noticed by others. The interviewers' feedback

praised the event and our students highly, and most promised

their future participation. To us, though, the greatest marker of

success was seeing our students, sitting across the table from

business professionals who often looked like them. We were

able to imagine future Church Hill Academy alumni who are not

discounted for their community's track record of difficulties, but

who are instead known for and by its successes.

3

4
---
Students saw stunning geology and

sights while kayaking the Colorado

River through the Grand Canyon as

part of a Minimester trip.

Kristen, a senior at St. Margaret's School in Tappahannock,

Virginia interned with the Mobile Integrated Healthcare

Unit for Chesterfield County, observing home visits, interacting

with overdose victims, and visiting recovery centers. It sparked

her interest in choosing criminal justice as a college major with

a focus on case management.

Katherine, who aspires to a business/health career, gained

experience with people suffering from cognitive impairment

and memory loss, and gained insight into the world of business

administration at The Virginia Dementia Foundation.

At BingoBox, a start-up firm in China, Sunny worked in

the marketing department and analyzed statistics for future

investors, developing invaluable skills in the cutting-edge field

of shopping technology.

These experiential learning opportunities were part of

Minimester, similar to a college J-term they participated in

through Independent Study Projects (ISP) as seniors at St.

Margaret's School. Each year, seniors design an ISP experience

Minimester at St. Margaret's

Offers Experiential Learning

Patricia Brincefield, Director of Communication and Marketing

St. Margaret's School, Tappahannock

Meeting Drego, on the police k-9

team, processing fingerprints,

analyzing blood splatters, and

documenting crime scenes were

part of the CSI:Forensic Science

Minimester experience.

for themselves based on their interests with the support of a

faculty sponsor, and then secure a two-week placement onsite

with a sponsoring organization.

"I gained a newfound confidence in myself and my abilities

that I had never felt before," said Mackenzie, who worked

as a marketing intern at Spartanburg Methodist College in

Spartanburg South Carolina, completing a website audit, a

social media audit, an SEO audit, and a campus map update. "I

connected with so many incredible women and men who gave

me not only professional advice but life advice as well."

"This experience certainly provided me a glimpse into the

professional world and helped me understand how hectic

it can be," said Kem, who interned at the Northumberland

County Commonwealth Attorney's Office. "The late nights and

early mornings in these two weeks paid off with a huge sense

of achievement. Looking back, I am grateful that St. Margaret's

has prepared me well to cope with the stress and challenges of

a busy schedule."

While seniors are working on their ISPs, underclasswomen take

part in a variety of themed classes and trips for their Minimester

experience. Whether upcycling and recycling thrift-store finds

or combining the technology and skills of art, architecture and

animation, students expanded their creativity, and tried new

things during Minimester. "Safe risks" in physically demanding

courses involved playing flag football, racing go-karts, or

taking driver's education. Investigating fingerprints at a crime

scene, learning cutting-edge scientific research at Biosphere 2

in Arizona, and inspecting geology by kayaking the Colorado

River through the Grand Canyon were opportunities to examine

science from a real-world perspective and allowed students to

bridge the gap between theory and practice. Mindsets were

changed by interpreting and analyzing science fiction films or

taking the Next Steps, visiting prospective colleges, practicing

interview skills, and preparing for SATs.

The Minimester experience for girls in grades 8–12 at St.

Margaret's encourages independent learning and empowerment

as students feel more self-directed in their exploratory learning

process. And, Minimester is time for fun with their peers out

of the traditional classroom setting and in a world of creative

possibilities.

Exploring what a girl becomes is the essence of the St.

Margaret's experience. Girls stretch, learn, and grow here in

all areas of their lives. The St. Margaret's School traditions of

Independent Study Projects and Minimester encourage girls to

challenge themselves, take safe risks, and become their best.

By learning to meet these challenges, they develop confidence,

resilience, and strength of character. In addition to learning

academic and life skills, they become independent, creative,

and morally courageous women.

For her Independent Study Project,

Mackenzie '19 worked as a marketing

intern at Spartanburg Methodist

College in Spartanburg, South Carolina.

5

6
---
The Senior Essay:

A Northstar Academy

Crowning Achievement

John Latham, Upper School English Teacher

Northstar Academy, Richmond

Blazing a Trail to

Commencement

Kim Croxton, Upper School Lead Teacher and English Instructor

Ware Academy, Gloucester

At Northstar Academy, a school that specifically serves

students with special needs, senior traditions take on unique

meaning. Especially on the eve of graduation. Hours before

mortar boards flutter in the air, "butterflies" might best sum up

the feelings of the students (and their parents and teachers)

as the seniors prepare to take the stage for their Baccalaureate

ceremony. Earlier in the school year, the senior class likewise

was recognized when they received their traditional crowns at

Northstar's fall homecoming picnic. By the year's end, however,

that event feels far removed. The Baccalaureate spotlight seems

to burn hotter due to the magnitude of the occasion, regardless

of graduating classes ranging in size from a mere handful during

some years to twenty in 2018.

Senior traditions pepper the Northstar calendar. For example,

students participate monthly in a community service project at St.

Peter's Church to help serve lunch to those less fortunate. Other

familiar traditions are notable for senior absences, like a "Senior

Skip Day" ahead of Prom and end-of-year exam exemptions. But,

the Northstar senior tradition that shines brightest is the crown

jewel, Northstar's Baccalaureate. Students must be prepared to

present before an audience. For some, the ceremony offers the

first time for speaking publicly. Even those who do not speak or

read as easily and prolifically as others share their story with the

assembled audience. These students inarguably steal the show.

Northstar seniors and their parents anticipate this moment's

approach. After all, the Baccalaureate has been a school tradition

since Northstar's first graduating class in 2002. Students begin

preparing for it through the writing of "The Senior Essay," which

is assigned in English class in four parts. Student reactions to it

are as varied as the essays themselves. Some responses are as

strong as the stages of coping.

While students may resist to participate in such an assignment

(until early May, at least), there is no denying that they are ready for

the essay's first part. They have lived it. They know firsthand how

disabilities can create obstacles not only in school but in life. After

perhaps a bit of nudging, students address the first essay part—their

past. Specifically, "What learning challenges led you to Northstar?"

Previous learning experiences may evoke a slew of feelings,

even those as strong as anger. Still, students' progress is too

noteworthy and positive to continue the "stages of coping"

comparison (although students may try to bargain their way out

of the assignment altogether). Students' past school experiences

often serve as juxtaposition for their progress as they next

address why Northstar has been a good fit for them. Recurring

student responses note small class sizes and connections to

peers, friends, faculty, and staff members.

As the senior essay guides students from their past to their

present, a third prompt reaches to their future plans. Such

paths may include a career or technical focus, perhaps even at

Northstar's Career Academy. Other students may plan to pursue

post-secondary educational opportunities. Regardless, this part

of the essay encourages the articulation of "some of your next

steps after graduation." Thus, students have a chance to script a

response to what undoubtedly will be an oft-asked question.

The senior essay requires a daunting yet worthwhile degree

of student reflection. A behind-the-scenes look reveals the

proverbial blood, sweat, and tears of an emotionally-tinged,

labor-intensive project. Teachers involved in this project work to

ease its sting, to dry the sweat, and to share the tears. Sharing

tears becomes much more literal with the final part of the

project in which the students share their appreciation. These

sincere accounts of past, progress, plans, and the heartfelt

appreciation expressed by students who have overcome so

much adversity leave few dry eyes in the audience of friends and

family, including school family.

The next day the seniors graduate, celebrate, and are

celebrated. For a moment, diplomas overshadow keepsake

copies of the senior essays. Nevertheless, poignant words from

the Baccalaureate ceremony still will reverberate, sometimes

as lasting and profound as the memories of those students

themselves. Though they received homecoming crowns earlier

in the school year, each senior's essay and presentation at

Baccalaureate truly is a crowning achievement.

Ware Academy Upper School student embarks upon the

A Ware experience with a three-day, two-night team-building

excursion for sixth and seventh graders. Canoeing, wall-climbing,

and zip-lining require interdependence. Individuals and teams

must work together to build trust, create friendships, and reach

a common solution. Seventh graders are excited to assume

leadership roles as they serve as fountains of knowledge and

experience for novice sixth graders. Further bonding occurs

for the seventh grade class when they encourage and assist

each other during the hiking expedition and the ascent of Old

Rag, a 3,284 feet mountain near Sperryville in Madison County,

Virginia. The happy sounds of laughter coupled with words of

encouragement can be heard up and down the hiking trail. By

the end of the week, sixth graders are eager to embrace more

challenging experiences within the Upper School and exhibit

more confidence in interacting with members of other grades.

Seventh grade cements the unity of the class for their transition

to eighth grade.

The outdoor classroom experience continues for the eighth

grade as they tackle their Capstone Project. This culminating,

project-based learning experience takes place during the third

trimester and is designed to be cross-curricular and relative to

the local community. Each student is charged with the following

performance task:

Create an educational campaign that informs and encourages

community members to consider their actions as they relate

to land and water resources in the Chesapeake Bay Watershed

region. This campaign should be based on the scientific

parameters that represent a clean, healthy, and sustainable

environment and how humans impact these parameters.

Student-driven research and field study continues to a climatic

week-long eighth grade trip during which students travel to the

headwaters of the Chesapeake Bay Watershed in Pennsylvania.

Students work alongside the United States Geological Survey

team and Water Specialists to research and find supporting

evidence for their individual topics.

The Capstone Project creates engaging dialogue and encourages

deep conversations that are relative to a common

goal. Additionally, the week-long journey, from preparation to

anticipation to commitment, forges a bond that empowers the

Eighth Graders to see beyond the classroom walls. On the last

night, an "Order of the Paddle" tradition occurs that signals not

only the end of the class journey that began in sixth grade, but

also reflects upon their time together at Ware. The students are

well-equipped for life after Commencement.

"Ware is more than a school; it is a family. I learned more than

what books teach; I made mistakes, cried, shared successes,

and laughed throughout the years as I grew and passed from

grade to grade. It's so sad to leave the familiar; I am scared,

but I am stronger because of Ware and ready to face the

challenges of the future." - former 8th grader

7

8
---
Kindness Matters

Katherine Cockerham, Clubhouse Coordinator

St. Catherine's School, Richmond

When I began planning the Clubhouse after-school program, little did I know

how much it would transform my life. I knew the program would be a great

place for students to engage in enrichment classes, STEM activities, and good oldfashioned

fun. I wanted to bring back "old school" activities, such as Kick the Can,

sewing, and building. As much as we depend on technology, I did not want that

to be the focus. I also wanted to instill in the girls some basic kindness skills. I saw

a need for this, as competition to be the best often seems to take over their little

lives. I love the kindness rocks project that is sweeping the country, and I thought

that would be a great way to start.

I went to Home Depot and bought three fifty-pound bags of river rocks that I

would ask the girls to paint with kind words. As they began this project, they were

moved by the fact that someone walking around campus would find their rock

and that it could brighten their day. We talked about what it means to have a bad

day, and how, when you are a child, things in your life might not

seem as bright as they should. I took the girls to each division's

chapel service to announce the Clubhouse Kindness Rocks

project. They asked everyone who found a kindness rock to

please take their picture with it, and we would post the pictures

on our bulletin board in the hallway for all to see.

As they started painting rocks, the girls began painting

rainbows, hearts, puppies, kittens, confetti, sunshine, flowers,

and more. Their encouraging words included: shine your light,

rainbow kisses, keep on, be brave, be strong, you have a friend,

and you are loved. More and more students, faculty and staff

would find the kindness rocks and come to my office to have

their picture taken. Before we knew it, the bulletin board was

full of pictures of students, faculty, and staff with big smiles and

holding their kindness rocks. The Clubhouse girls were excited

to see the bright smiles, but more importantly, how happy they

had made someone. They began to understand that kindness

feels good; that it matters.

We are in our second year of the Clubhouse after-school

program, and my students look forward to painting kindness

rocks and hiding them weekly. With this small act of kindness,

they have helped build a community, meeting people on campus

that they might not have had the opportunity to meet before.

I have purchased over 600 pounds of rocks. I wash every single

rock before the paint goes on. The task of removing all the dirt

and debris so that someone may have a beautiful rock to hold is a

wonderful practice for me. I feel how the girls feel when they see a

smiling photograph of someone who has found their small gift of

kindness go up on the bulletin board.

9

10 ision
---
Beyond The Classroom

Peter Hufnagel, Dean, The Miller School of Albemarle, Charlottesville

S

ometimes great classrooms are not classrooms. For Jay Drake, one of his

favorite classes at The Miller School of Albemarle (MSA) takes place in the seat

of a Bobcat excavator deep in the woods of the 1,600-acre campus. He is currently

completing a Land Management independent study, in which he is designing and

building a 1.5-mile multipurpose trail from central campus to the school's 12-acre

lake. He works daily operating the excavator to sculpt a steep slope into a gently

rolling trail. While absent of white boards, desks, books, and other items typically

associated with schools, Jay has found a learning environment with important

lessons around every bend.

Jay's love of heavy machines goes back to his childhood.

Jay commented: "Ever since I can remember, I have always loved heavy

equipment -- from dump trucks to excavators to bulldozers. I love them all. Growing

up, my dad owned a flooring company and had a couple of large forklifts, which I

loved to drive around with the operators. There are countless pictures of me as a

little kid sitting in the operator's lap with a smile as big as my face. Since then, not

much has changed -- I still love heavy equipment."

Since its founding in 1878, MSA has been a school where teachers bridge

academic understanding with practical hands-on experience so that students gain

knowledge as well as know-how. Jay's mentor and teacher,

Andy Guptill, recognized an opportunity both to support Jay's

passion and to promote MSA's educational mission.

Guptill commented: "Jay is a remarkable young man who

has talent for both trail design and heavy machine operation.

He has the vision to design and the skills to build world-class

trails. This independent study provides him an opportunity to

engage both his mind and hands in a project that will serve the

school for decades to come."

The trail that Jay is building will allow students and faculty

to access the lake more easily. In addition, the gentle slope and

width of the trail will make it accessible to less-experienced

hikers and even baby strollers.

While Jay has developed many of his skills building trails in

MSA's Land Management course, he also has benefited from

his summer work with the esteemed local excavating company,

Contour Construction.

Jay commented: "Last summer I worked for Contour

Construction. I got to spend the summer around the machines

that I love, which opened my eyes to the world of heavy

equipment. I learned so much about what it is like to work

around and in them. I finished up the summer with more

knowledge about heavy construction equipment, that will

both help me down the road if I continue into a career in this

industry as well as in my everyday life."

The lessons that Jay learned extend far beyond the

mechanics of machine operation. One day while driving a

$400,000 haul truck, Jay inadvertently ran over large metal

survey stake that showed exactly where the height of the

dirt needed to reach, known as the final grade. His boss was

infuriated because Jay's error meant that the area would need

to be surveyed again.

"I learned that in any line of work you have to pay very close

attention to the details, and listen to those who know more

than you. This was an easy lesson to learn on the job. And,

since then, I've applied this lesson to other aspects of my life.

Whether in the classroom or when riding my bike, I've learned

to pay special attention to the instructions of those who know

more than I do."

Between his summer job and independent study, Jay has

built his own educational path--one that is the perfect grade

for his passions and talents.

Leaning up against his excavator in the upper meadow, Jay

carefully considered what he has learned from these experiences:

"I've gained a sense of confidence and responsibility and an

appreciation for a hard day's work. As I go forward, I know now

that I am able to meet almost any challenge, as long as I listen,

pay attention, and apply my full effort.

11

12
---
VAIS Mission

The Virginia Association of Independent Schools

is the leader in advancing and advocating for

independent school education in Virginia.

Take a moment and connect with your colleagues

on the VAIS Educator Exchange this summer! For

more information, login to the VAIS website or email

Joan Fargis at joanfargis@vais.org.

Let's get connected!

CONNECT. COLLABORATE. LEAD.

9100 Arboretum Parkway, Suite 310, Richmond, VA 23236

ph: (804) 282-3592

VAIS.ORG VAIS.org VAIStweets