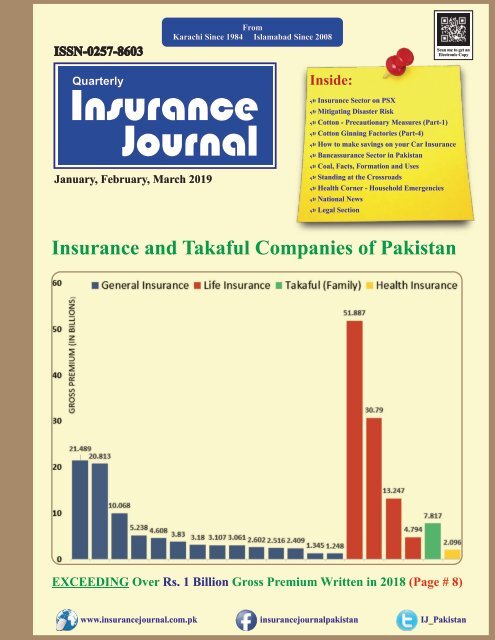 Insurance Journal (1st Quarter 2019)
You also want an ePaper? Increase the reach of your titles
YUMPU automatically turns print PDFs into web optimized ePapers that Google loves.
ISSN-0257-8603

From

Karachi Since 1984 Islamabad Since 2008

Inside:

Scan me to get an

Electronic Copy

January, February, March 2019

U Insurance Sector on PSX

U Mitigating Disaster Risk

U Cotton - Precautionary Measures (Part-1)

U Cotton Ginning Factories (Part-4)

U How to make savings on your Car Insurance

U Bancassurance Sector in Pakistan

U Coal, Facts, Formation and Uses

U Standing at the Crossroads

U Health Corner - Household Emergencies

U National News

U Legal Section

Insurance and Takaful Companies of Pakistan

EXCEEDING Over Rs. 1 Billion Gross Premium Written in 2018 (Page # 8)

www.insurancejournal.com.pk

insurancejournalpakistan

IJ_Pakistan
---
ISSN-0257-8603

January, February, March 2019

No. 138 Vol. 35

No. 42 Vol. 11

Published by:

M. Jamaluddin

No.63, Noor Chamber, Robson Road,

Karachi - Pakistan.

Email: insurancejournalpakistan@yahoo.com

Designed by:

Artixone-ads

Islamabad.

Email: artixoneads@gmail.com

Printed at:

Panjwani Printing Press

1, Abdul Manzil, Muhammad Bin

Qasim Road, Karachi.

Tel: +92-21-32630331

+92-21-32630734

Islamabad Office:

3-A, Street # 64, Sector F-7/3,

Islamabad - Pakistan.

Tel: +92-51-2611111

Insurance Sector on PSX

07

CONTENTS

Companies Over Rs. One Billion Premium

Mitigating Disaster Risk

Cotton - Precautionary Measures (Part-1) 12

Cotton Ginning Factories (Fire Hazard - Part-4)

How to make savings on your Car Insurance

Bancassurance Sector in Pakistan

Coal, Facts, Formation and Uses

Standing at the Crossroads

Health Corner - Household Emergencies (Part-6)

National News

08

09

15

21

23

27

28

31

33

Legal Section

35

Insurance Journal January, February, March 2019

05

Find us at: www.insurancejournal.com.pk — www.facebook.com/insurancejournalpakistan
---
INSURANCE SECTOR ON

PAKISTAN STOCK EXCHANGE

(Quarter: October, November, December 2018)

Compiled By: Khurram Shahzad

Paid up Face Higest Lowest

Turnover of

Company

Capital Value Rate Rate

Shares

(Rs. in Million) Rs. Rs. Rs.

Adamjee Insurance Company Limited 3,500 10.00 47.00 38.10 17,172,500

Announcement During the Quarter

Asia Insurance Company Limited 603 10.00 - - -

Askari General Insurance Company Limited 719 10.00 28.65 24.00 277,500

Askari Life Assurance Company Limited 602 10.00 27.20 9.18 2,017,000

Atlas Insurance Limited 772 10.00 66.96 51.45 363,500

Beema-Pakistan Company Limited 417 10.00 - - -

Business & Industrial Insurance Company Limited 86 10.00 - - -

Century Insurance Company Limited 503 10.00 27.24 19.61 656,500

Crescent Star Insurance Limited 1,077 10.00 2.92 1.68 18,354,500

Cyan Limited 586 10.00 47.00 28.75 1,020,000

East West Insurance Company Limited 610 10.00 148.05 141.00 1,000 Bonus Issue = 25%

EFU General Insurance Limited 2,000 10.00 115.76 99.30 1,125,800 Dividend = 12.50%

EFU Life Assurance Limited 1,000 10.00 242.06 194.00 196,300 Dividend = 12.50%

Habib Insurance Company Limited 619 5.00 12.00 10.51 377,000

Hallmark Insurance Company Limited 5 10.00 - - -

IGI Holdings Limited 1,426 10.00 286.94 189.05 1,050,600 Dividend = 30%, Bonus Issue = 15%

IGI Life Insurance Limited 706 10.00 72.00 47.10 179,000

Jubilee General Insurance Company Limited 1,804 10.00 68.00 60.01 139,000

Jubilee Life Insurance Company Limited 793 10.00 650.99 472.10 68,900

Pakistan General Insurance Company Limited 464 10.00 5.20 2.26 981,500

Pakistan Reinsurance Company Limited 3,000 10.00 38.00 29.04 3,156,500

PICIC Insurance Limited 350 10.00 2.44 1.31 10,372,000

Premier Insurance Limited 506 10.00 8.50 6.00 67,500

Progressive Insurance Company Limited 85 10.00 - - -

Reliance Insurance Company Limited 561 10.00 7.70 5.70 623,000

Shaheen Insurance Company Limited 600 10.00 5.29 4.00 167,500

Silver Star Insurance Company Limited 306 10.00 - - -

Standard Insurance Company Limited 8 10.00 - - -

The United Insurance Company of Pakistan Limited 2,262 10.00 12.25 9.56 1,180,500

The Universal Insurance Company Limited 500 10.00 7.97 5.20 487,500

TPL Direct Insurance Limited 939 10.00 23.00 18.30 123,500 Dividend = 20%

Insurance Journal January, February, March 2019

07

Find us at: www.insurancejournal.com.pk — www.facebook.com/insurancejournalpakistan
---
Over Rs. 1,000,000,000 Premium

Over Rs. 1,000,000,000 Premium

Insurance and Takaful Companies of Pakistan EXCEEDING

Over Rs. 1,000,000,000 Gross Premium Written in 2018

Gross

GENERAL INSURANCE

Premium*

(Amount in Billion)

1 Adamjee Insurance Co. Ltd.

21.489

2 EFU General Insurance Co. Ltd.

20.813

3 Jubilee General Insurance Co. Ltd. 10.068

4 United Insurance Co. Ltd. 5.238

5 IGI Insurance Co. Ltd. 4.608

6 UBL Insurers Limited

3.830

7 Askari General Insurance Co. Ltd.

3.180

8 East West Insurance Co. Ltd. 3.107

9 Atlas Insurance Co. Ltd. 3.061

10 Alfalah Insurance Co. Ltd.

2.602

11 Security General Insurance Co. Ltd.

2.516

12 TPL Direct Insurance Co. Ltd.

2.409

13 Habib Insurance Co. Ltd.

1.345

14 Century Insurance Co. Ltd.

1.248

LIFE INSURANCE

1 Jubilee Life Insurance Company Limited 51.887

2 EFU Life Assurance Company Limited 30.790

3 Adamjee Life Assurance Company Limited 13.247

4 IGI Life Insurance Limited 4.794

TAKAFUL (FAMILY)

1 Pak Qatar Family Takaful Limited

7.817

HEALTH INSURANCE

1 Allianz EFU Health Insurance Ltd 2.096

* Figures as available now, before finalization of exact figures for balance sheet.

Insurance Journal January, February, March 2019

08

Find us at: www.insurancejournal.com.pk — www.facebook.com/insurancejournalpakistan
---
Guest Contribution

Dr. Zafar Qadir

Chairman, Board of Directors

Taleem Foundation and Kashmir

Education Foundation

Mitigating Disaster

Risks

Possibilities for Developing

Countries

Dr. Zafar Qadir is a former civil servant of "Pakistan Administrative Service". He has held challenging

assignments in public sector both at home and abroad, including that of Federal Secretary IT & Telecom,

Chairman of National Disaster Management Authority and Economic Minister to the World Trade

Organization at Geneva, Switzerland. He has been Chairman of PTCL, Telecom Foundation and Virtual

University Boards; and a member on the Boards of Universal Service Fund, ICT R&D Fund, OGDCL,

Inter State Gas System (ISGS), Government Holdings (Private) Limited and Agricultural Development

Bank of

Pakistan.

Dr. Qadir has a wide experience of public administration, project management and trade promotion. He

attained the management, law and trade related skills at the University of Connecticut (USA), University

of Manchester (UK), ADB Institute (Philippines), International Trade Institute (Singapore), Advisory

Centre for WTO Laws (Switzerland) and the International Trade Centre (Switzerland).

In his private capacity, Dr Qadir is operating a number of philanthropic endeavours, including 'Taaleem

Foundation', 'Kashmir Education Foundation', 'TF Health Initiative' and 'TF School of Skills'.

As a social entrepreneur, he owns a technology company called ICT4E that has developed and deployed

"Interactive Learning Solution" (ILS) for formal schooling in Pakistan with the brand name of e-School

(www.e-school.com.pk). The e-School solution is gradually being rolled out to all 400 plus schools of the

Federal Directorate of Education in Islamabad.

He has a PhD degree in Development Studies; and holds three Masters Degrees: Business Administration,

Economics and Political Science. Has excellent proficiency in English, Urdu, Punjabi and Saraiki: with

working knowledge of French, Hindi and Pashto. He is on aculty of at the University of Cambridge UK

and a number of local universities in Pakistan.

Background:

The World Conference on Disaster

Reduction convened in Kobe, Japan

in 2005 identifies following five

priorities in its action plan – The

Hyogo Framework for Action

(HFA)1:

o Ensure that disaster risk reduction

is a national and a local priority with

a strong institutional basis for

implementation

o Identify, assess and monitor

disaster risks and enhance early

warning

o Use knowledge, innovation and

education to build a culture of safety

and resilience at all levels

o Reduce the underlying risk factors

o Strengthen disaster preparedness

for effective response at all levels

At the 28th National Conference of

the Red Cross and Red Crescent,

National Societies together with the

member states adopted "The Agenda

for Humanitarian Action" that

specifically "acknowledged the

importance of disaster risk reduction

and to undertake measures to

minimize the impact of disasters on

vulnerable population".2

Disaster mitigation refers to structural

and n o n - s tructural measures

undertaken to limit and control the

Insurance Journal January, February, March 2019

09

Find us at: www.insurancejournal.com.pk — www.facebook.com/insurancejournalpakistan
---
Guest Contribution

adverse impact of hazards induced by

climate change events. As the climate

change is inevitable in foreseeable

future, so is the vulnerability of the

exposed communities, living in not so

f a v o r a b l e c o n d i t i o n s . T h e

governments by and large, in the

developing countries, find it hard to

plan and implement the hazard

mitigating strategies, mainly due to

l a c k o f v i s i o n , p r i o r i t y a n d

institutional capacity, besides their

limited ability to mobilize resources

for the purpose. The communities in

distress live in a state of oblivion, not

knowing who would rescue them if

t h e y w e r e h i t b y f l o o d s o r

earthquakes. Hence the need for

disaster risk insurance.

Pakistan is being taken as a case

study, keeping in view the fact that

this piece of the globe is among the

most vulnerable countries in the

world with respect to climate-induced

disasters, owing to its geographical

location in Hindu Kash Himalaya

(HKH) region.3

The whole idea of nation-wide

coverage and risk-averse measures

through the instrument of innovative

insurance products was conceived

and developed by the author – the then

Chairman NDMA Pakistan. The

major driving force behind this

thought process had been the

unavoidable necessity of reducing

risks, providing safety and creating

jobs in the private sector. The scheme,

if adopted by the government at

national level, has the potential to roll

out nearly 2.6 million jobs in a period

of just one year after putting the risk

insurance governance structure in

place.

The concept was floated in the

industry to gauge the pulse. The

response was phenomenal. "The

S e c u r i t i e s a n d E x c h a n g e

Commission of Pakistan (SECP)

would be fully supportive of the idea

of launching this policy forthwith",

r e m a r k e d M r A r i f A s i f ,

Commissioner Insurance at SECP.

The Insurance Institute of Pakistan at

Karachi hosted an international

conference on the possibilities of

Catastrophe Risk Insurance, where

this concept was officially presented

by NDMA. Many leading global

players of the insurance / reinsurance

industry showed great interest in

being part of this business plan. Most

participants termed this initiative to

be the biggest ever game changer in

the global insurance industry, besides

promoting the image of the country as

a benevolent nation.

Rationale:

Most countries in South Asia are

prone to a variety of disasters

including floods, earthquakes

cyclones etc. There is generally chaos

like situation during every disaster,

minor or major, about who would

r e a c h o u t t o t h e s u f f e r i n g

communities with what package of

response in how much time and for

how long. Reliance on funding from

donors and multilateral financial

institutions has major limitations in

terms of efficiency, effectiveness and

sufficiency, besides impacting the

dignity and sovereignty of state at

times. Shortfalls in resources affect

the poor and vulnerable households

the most and lead to discontentment

and anger against the rulers.

In Pakistan, the two major policy

documents, i.e., National Disaster

Risk Management Framework

(NDRMF) and National Policy on

Disaster Risk Reduction (DRR),

abundantly provide for development

of insurance schemes for disaster risk

reduction as a priority.

Pakistan's economy has suffered a

loss of billions of dollars due to

climate-induced disasters since 2005.

The NDRMP calls for action on part

of the governments to anticipate

disaster threats and keep financial,

material and human resources ready

to roll out at once. Saving lives and

commissioning humanitarian actions

becomes the prime priority of the

state at the times of catastrophe.

Despite legislative support of the

kind, the policy echelons shy away

from making upfront allocations for

disaster preparedness or response.

One cannot even find any head of

account in the budget books for

allocating resources for the purpose

either at national or provincial level.

In order to share and spread the risk

burden, the governments need to

develop a model of micro insurance

that encourages investments in

disaster prevention and provide for a

more dignified means of coping with

disasters. Such scheme would not

only put the vulnerable communities

at ease but also support creation of

jobs in private sector to plan, manage,

deliver and monitor the insurance

products among communities.

Insurance Journal January, February, March 2019

10

Find us at: www.insurancejournal.com.pk — www.facebook.com/insurancejournalpakistan
---
Guest Contribution

Disaster Risk Insurance:

Disaster risk insurance provides the

most needed support to the lowincome

households, taking family as

a unit. Average family size in Pakistan

is around 6-8 persons; with one breadearner

and the others depending on

him/her. The concept aims at

providing easily accessible and

affordable insurance cover for death

of the bread-earner (in the family)

along with food security, shelter and

compensation for livelihood. This

insurance cover may not reduce

immediate impact of a disaster but by

ensuring timely finances helps in

faster recovery; thus reducing the

long-term impacts of a disaster. The

insurance cover is cheaper, faster,

reliable and more dignified help than

the traditional reliance on meager

household savings, family support,

unregulated philanthropic endeavors,

international humanitarian appeals

and post disaster micro-credit. Also, it

can encourage investments in disaster

prevention by offering lower

premiums to reward risk-reducing

behavior.

Disaster Risk Insurance can assist in

the optimal allocation of risk

financing in the economy, which may

result in higher economic growth,

better mitigation and more effective

way of alleviating poverty. The need

for identifying opportunities for

catastrophe risk financing was

highlighted in the Damage and Needs

Assessment in response to the 2010

floods after discussion with a broad

range of stakeholders involved in

disaster risk management in the

country. National Disaster Risk

Reduction Policy takes cognizance of

the need and stipulates priority for

such initiatives.

Though the insurance industry in

Pakistan is still at nascent stage, the

private insurance sector in global

market has a vibrant insurance

appetite, which could be mobilized to

offer innovative insurance solutions

for disasters to our population. This

would allow Pakistani insurance

players to grow and contribute to the

economy and also provide an

opportunity for risk sharing; easing

the burden on the public sector and

provide immediate funds to affected

communities in the times of disaster.

In addition to the formal sector, the

potential of micro insurance may also

be tapped in consultation with the

stakeholders and learning from

similar experiences in the region. This

should lead to developing a model of

micro insurance that encourages

investments in disaster prevention

and provides for a more dignified

means of coping with disasters.

Index-Based Solution:

A traditional insurance cover would

provide for the claims on the basis of

actual loss. In case of disaster risk

financing of the low-income groups,

this traditional approach may require

for an extensive network of trained

people to assess the value of the asset

being insured, and claim adjusters

who would have to assess the

individual losses. As this kind of

u n d e r t a k i n g m a y r e q u i r e

considerable amount of time before

the payouts are made, the government

would remain under pressure to

provide immediate relief and

recovery.

Pakistan may however look for an

option of disaster risk insurance,

which is index based (parametric

insurance). Such insurance contracts

would be written against a physical

trigger such as an earthquake of a

scientifically determined magnitude

or above. This would mean that each

time there is an earthquake of the

magnitude above the agreed level, the

people of the area would become

eligible for the payment of certain

amount irrespective of actual loss /

extent of damage. In the case of

weather derivatives, farmers collect

an insurance payment if the index

reaches a certain measure or "trigger"

(for example a certain measure of

rainfall) regardless of actual losses.

In case of agriculture, parametric

insurance may be the best solution

due to the high costs associated with

settling of individual claims. In

addition, parametric solutions are

more transparent since they are

related to an agreed physical trigger

and are not subject to post disaster

damage assessment.

1 World Disasters Report, International Federation 2014

2 Ibid

3 IPCC, 2012: Summary for Policymakers. In: Managing

the Risks of Extreme Events and Disasters to Advance

Climate Change Adaptation [Field, C.B., V. Barros, T.F.

Stocker, D. Qin, D.J. Dokken, K.L. Ebi, M.D. Mastrandrea,

K.J. Mach, G.-K. Plattner, S.K. Allen, M. Tignor, and P.M.

Midgley (eds.)]. A Special Report of Working Groups I and

II of the Intergovernmental Panel on Climate Change.

Cambridge University Press, Cambridge, UK, and New

York, NY, USA, pp. 1-19.

Insurance Journal January, February, March 2019

11

Find us at: www.insurancejournal.com.pk — www.facebook.com/insurancejournalpakistan
---
Guest Contribution

Majid Khan Jadoon

A.C.I.I. (U.K), MD/CEO

M/s. Pakistan Inspection Co. (Pvt.) Ltd.

Cotton

Precautionary Measures

Part-1

Authored in Urdu by the late Mr. Anwar Mubin, Fire Insurance

Surveyor, Lahore and translated in English by Mr. Majid Khan Jadoon.

In the 2nd half of the Sixties, when I

had joined the Profession of Insurance

Surveyors and Loss Assessors /

Adjusters, there were only few most

reputable Surveyors' Organizations in

the entire Insurance Market of

Pakistan.

They were mostly from Karachi and

Lahore, namely M/s. Salim Hyder &

Co., M/s. Mehboob F. Mooraj & Co.,

M/s. Mustafa Hyder & Co., M/s. Moin

& Co., M/s. Isharat & Co., M/s.

Ghaffoor & Associates, M/s. Joseph

Lobo and M/s. Republican Surveyors.

All these Surveyors Companies had

been Karachi-based, and had been

engaged in All Classes of Insurance

Survey Profession.

Apart from the above, some other

Karachi-based Surveyors Companies

were exclusively engaged in the

Marine Cargo Surveys, as well as

Loading/Un-loading Supervisions,

including Vessels' Draught Surveys,

besides other assorted Marine-related

Surveys, on behalf of the Carriers.

The Lahore-based Surveyors included

M/s. Anwar Mobin & Co., M/s.

Hamid Mukhtar & Co., M/s. R.A.

Malik & Co., M/s. Muzaffar Hussain

& Co., and M/s. Haseeb & Associates,

including certain others as well, if I

may correctly recall.

Frequently, there used to be Seminars

and other Get-to-gathers, wherein

Professional Experts would present

their Papers on Legal and Technical

aspects of the Profession and would

freely deliberate on matters of

practical problems, faced by the

Insurance Industry of Pakistan and the

Professionals engaged therein.

These Seminars would always have

been very crowded and foreigndelegates

would also attend the same,

sharing their knowledge, expertise

and practical experiences with

Pakistani Insurance Professionals.

The late Anwar Mobin from Lahore

had been a very active Insurance

Surveyor, having expertise in the

Cotton Insurance Claims and

Surveying, who always used to attend

almost every Seminar/Professionalgathering.

However, due to certain un-avoidable

circumstances, the late Anwar Mobin

could not attend a well-advertised

Seminar in the PC Hotel, Karachi,

wherein Foreigners too had been

participating. Therefore, the Late

Anwar Mobin called me overtelephone

and told me that he was

dispatching a Parcel of Booklets, in

Urdu, to me which had been authored

by him on Cotton and Cotton-fire

Losses, with a request to distribute the

same amongst the Participants of the

On-going Seminar in the PC Hotel.

The Anwar Mobin's authored Booklet

had been titled. "COTTON AND

FIRE" which has still been preserved

with me. The Author has very

comprehensively deliberated, on

Cotton and Cotton-trade matters since

Insurance Journal January, February, March 2019

12

Find us at: www.insurancejournal.com.pk — www.facebook.com/insurancejournalpakistan
---
Guest Contribution

the cultivation, production, ginning,

baling, spinning, weaving of cloth, in

connection with Coverage of

Insurance Risks during all the aforementioned

stages of the Cotton Trade.

In my opinion, the said Booklet is

substantially informative for the

Underwriters, as well as for the

Cotton/Textile Trade Insurance

Surveying Fraternity of Pakistan.

Therefore, I thought of endeavoring to

hereunder reproduce, part-wise, the

Contents of the afore-mentioned

Booklet, authored by the Late Anwar

Mobin, for the Insurance Journal to be

published accordingly for the benefit

of our Co-Professionals and the 1st

Part of the same is hereby presented.

Production:

Cultivation and Production of Cotton

has been a lucrative Economic

Activity at places all-over-the-world.

But, North and South America,

Pakistan, India, Sudan, China, Central

Asia and West Indies are particularly

very famous for growing this Crop,

due to Hot Atmospheric environment

of these Countries/Regions.

A Cotton Plant would grow upto 3 to 4

feet in height from the field-level. If

adequate care is taken in the

cultivation, growth and up-bringing of

the Plants of Cotton, the same shall

yield flowers like the Colour of

Onions.

Subsequently, the same flowers would

gradually convert themselves like a

ball and we Pakistanis call the same

"TINDAH". A ball of Tindah would

contain Cotton-seeds from 32 to 40

numbers.

During the development stage, the

Fiber of Cotton can be noticed,

wrapped in layers over Cotton-seeds.

Naturally, even Cotton-seed has been

observed to have been wrapped by

about 4000 hairs of Cotton.

During the period of growth and

development, the afore-mentioned

Tindah would burst-out, due to the

t r e m e n d o u s p r e s s u r e o f t h e

development of the Cotton-hairs.

Thus, white and soft flowers of Cotton

would sprout-up on the Plants.

Subsequently, the same mould of

Cotton-hairs is plucked-up from the

Cotton-plant and accumulated in

Boras.

The plucking-up of the Cotton-mould

has been usually manually performed

by labourers and/or mechanically as

well.

However, mechanically plucking-up

Cotton-moulds would usually cause

the wastage of the Cotton-hairs and

extraneous Stras and Plant-leaves

would also get admixed with the

Cotton-fibres, which would adversely

affect the grades and qualities of the

same.

It has been a bad-luck in our country

that Cotton-growers have not cared to

arrange for the training of Cottonmoulds

Picking-up Labourers and unskilled

and un-careful work force has

always been deployed to do the job

which, consequently, would result in

the damaging of substance of the

Cotton-moulds by the un-trained/unskilled

labourers, due to lack of

knowledge and skills.

During the course of its development,

the Tindahs of Cotton are too hard,

like steel, which quite fastly grow-up

during Night-hours and within the

same duration, at least 40-white-fibres

would sprout-up from the same

centre-point and would fastly growup.

After passing through various growthstages,

the Tindahs would burst out

and thus, due to the effect of Sun-rays

and heat, the cover of the Tindahs

would dry-up and split-out and fall-off

the plant.

Construction:

Research and probing has revealed

that the Fibres of Cotton are not any

solid-bodies, but the same soft and

tinder hairs would abreast each other

which appear like a single Fibre. They

are like a Cotton-thread made-up of

many hairs which, after twining with

each other, would form a thread-like

fibre.

In Cotton, the white layers are like the

natural layers of wood etc. which

consists of many substances. The

most prominent substances of Cotton

are Wax, Starch, Dust and Minerals

which are named the debris of Cotton.

Afterwards, the same substances

would creat a lot of difficulties during

dying thereof. This would even render

water an in-effective matter.

Therefore, prior to dying of thread,

Insurance Journal January, February, March 2019

13

Find us at: www.insurancejournal.com.pk — www.facebook.com/insurancejournalpakistan
---
Guest Contribution

those substances are washed away

which would result in quite effective

dying of the thread.

Particulars:

The length of each Fibre of the Cotton

would stand from quarter Inch to Oneand-a-half

Inch, whereas their

diameter would be the same. Every

diameter would be different which

would range at an average of 1/1000

Inches.

Similarly, the lengths of the Fibres of

the different types of Cotton would

differ from each other. But it has been

observed that with length size, the

Softness of the Fibre would be more

excessive.

The greater the length of the Fibre, the

more would it yield a qualitative

Cotton-thread which can absorbed

more twists.

For the manufacture of best thread, a

more lengthy Cotton-fibre would be

more suitable which can absorb more

twists and which can be utilized for

the weaving of the Best Cloth.

The maximum length of Pakistaniproduced

Cotton would stand from 1"

to 1.4", but usually 1" to 1.6" and 1" to

1.8".

The weight of each Cotton-fibre

would be about 1/10,000,000 Ounce

and by this Scale, one pound of Cotton

would contained about 160,000,000

Cotton-fibres. If these Cotton-fibres

are spread from end-to-end, the Total

length may exceed 2500 Miles.

The Softest Cotton-fibres can absorb

more twists per Inch than the hard

Cotton-fibres, which would absorb

comparatively less twists.

By Categorization, Egyptian Cottonfibres

are found to have been the

Softest and most lengthy, as compared

to Cotton-fibres produced elsewhere.

Therefore, it can take upto 250 twists

per Inch, yielding more durable and

stronger than others.

As against the Egyptian Cotton-fibre,

Pakistani Cotton-fibres can take only

150 twists per Inch and the best

quality fibres can yield the best quality

with Special-properties.

Everywhere, hard Cotton Fibres are

considered to be the Raw-material for

Artificial Silk.

Hard-cotton Fibres would vigorously

resists Sun-light, Heat, Compounds of

Oxygen and Hydrogen and Chlorides.

Cotton-thread when washed with

Castic-soda, would create more shines

therein, whereby it is prepared for

dying as well.

To be continued.....!

Insurance Journal January, February, March 2019

14

Find us at: www.insurancejournal.com.pk — www.facebook.com/insurancejournalpakistan
---
Guest Contribution

Cotton Ginning Factories

Fire Hazards and Safety

(Safety - Part-4)

Qayyum Pervez Malik

Insurance Surveyor & Loss Adjuster /

Claims Investigator

Qayyum Pervez Malik & Co. (Pvt) Ltd

T h i s a r t i c l e i s p r e s e n t e d i n

continuation of the last article in this

subject which addressed the issue of

fire hazards of cotton ginning &

pressing factories whereas this article

would address the safety aspects

against physical and exposure

hazards with reference to cotton

ginning & pressing factories

warranties etc.

The fire policies are made subjected

to application of cotton ginning and

pressing factories warranties form

which provides a comprehensive

guideline for taking appropriate

safety measures against fire and other

hazards as usually involved in any

cotton ginning and pressing factory.

The detail of these warranties have

been described in the previous articles

on the same subject which may be

gone through.

Here we would address the issue of

safety measures to be taken while

running business of cotton ginning

and pressing.

SAFETY MEASURES (Against

physical hazards)

HOUSEKEEPING

Though no comprehensive guideline

is available in cotton ginning and

pressing factories warranties form as

issued by Insurance association of

Pakistan but generally speaking the

guideline is there to follow through

other sources. Factory owners,

mortgage bankers also have idea what

to do for safety and they take care of

this. It is just required to streamline

and update the safety measures to

bring it in line with the modern era

requirements and facilities available

in the market.

A systematic guideline is given below

to keep the premises risk free by

following the safety measures for

better housekeeping.

BOUNDARY WALL

No hanging electric wires, cables,

bulbs, switches, tube lights, switch

boards, rugs and any hazardous

material should be placed with the

b o u n d a r y w a l l . E v e r y s u c h

installation should be properly fitted.

No loose joints, no faulty switches or

other electrical items must be there.

No stocks or other material should be

stored adjacent to the boundary wall.

A clear passage should be left

alongside the boundary wall for

movement of vehicles, pedestrians

and fire brigade vehicles etc.

Proper entry and exit gates must be

fixed without presence of any

encroachment to ensure the entry and

exit fully uninterrupted. Proper notice

boards regarding warranties, no

smoking, emergency phone numbers,

installation of spark arrestors etc. are

to be provided there. Emergency

alarm/siren may also be provided at

main gates.

Insurance Journal January, February, March 2019

15

Find us at: www.insurancejournal.com.pk — www.facebook.com/insurancejournalpakistan
---
Guest Contribution

A set of spark arrestors must be placed

at entry gate in order for warranties

compliance and to save the premises

from fire origination through suits or

burning grits as emitted from the

silencers of Vehicles entering into the

premises.

Proper fence to be installed on the

boundary wall. Proper lighting

system and an elevated check post for

proper surveillance.

On all the 4 sides of the boundary wall

4 x 4 buckets of water and sand, with 1

chemical fire extinguishers frame

must be provided. The security guards

must be provided proper training to

o p e r a t e t h e c h e m i c a l f i r e

extinguishers as and when required.

Office of factory Manager should be

positioned on such a location from

where he could view the whole

factory compound and other activities

from elevation.

GODOWN

Insurance policies covering the

Godowns and contents warrant

maintenance of clear distance of 30

feet between Godown and all type of

stock including hazardous material at

all the times when insurance policy is

enforced.

So this warranty is to be observed in

case of Godowns as part of safety

against hazards.

No hazardous goods or stock other

than that insured under the policy

should be stored in the godown.

The electric wiring, switch starters,

switch boards, bulbs, tube lights etc.

should be of good standards and

properly maintained.

It must be properly ventilated and safe

from entry of rain water from any side

w i t h t h e p r o p e r l y d e s i g n e d

ventilators, doors, and raised floor

from outside level.

Class of construction must fulfill the

insurance requirements. No inferior

class of construction is allowed by the

policy however, superior class of

construction may be provided.

Godown should be placed in a way

that in case of any emergency it must

be easily accessible by the fire

brigades and other emergency

services.

No movement of vehicles be around

there in absence of spark arrestors to

be fitted on silencers. This is also

requirement of insurance policy and

must be followed.

Usually it is seen that only one entry

and exit door is provided in big

godown which is not appropriate. For

big godowns at least 2 doors must be

provided.

Proper maintenance of the godown

building is essential to protect the

contents from seepage, leaks,

moisture, microbiological activities,

insects, odor, contamination, mold,

fungi etc.

A general purpose store/godown and

a s t o r e / g o d o w n p a r t i c u l a r l y

constructed for storage of stocks

should not be mixed up.

Perfect party wall must be provided

between two godowns or between

godown and process building where

machinery is installed and stock

remains under process etc.

Smoke detector is to be provided.

4 x 4 water and sand buckets with one

chemical fire extinguishers must be

installed with the godown wall.

Locally available firefighting

facilities as per requirement of

insurance warranties must be

installed.

G I N N I N G A N D P R E S S I N G

HALL/BUILDING

This is most sensitive area which

needs to be focused in depth.

As mentioned earlier in 3 articles on

the same topic, massive machinery is

installed in this premise which create

fire and other hazards. Massive

electrical and mechanical machinery

is installed as per detail given in the

previous articles. Then the stock of

cotton in most dangerous condition is

processed and pass through these

machines where live electricity, static

charge and friction is present to ignite

that fluffy stock of cotton.

Following safety measures are

recommended for this area of risk.

1. The whole electric wiring, switch

boards, switches, electrical items,

joints, must be up to the standards and

Insurance Journal January, February, March 2019

16

Find us at: www.insurancejournal.com.pk — www.facebook.com/insurancejournalpakistan
---
Guest Contribution

properly maintained all the time.

2. Electric motors and other electrical

devices must be in order, maintained,

serviced, cleaned and oiled with

periodical bearing, stator inspection

etc. Its overloading and heating

should be monitored properly. The

switch starters of electric motors and

other devices must be examined /

serviced periodically. Leakage of

current, short-circuit, wear and tear

much be checked periodically.

3. Main switch board panels must be

examined and serviced periodically.

4. Residual of cotton dust staying on

electric cables, switch starters,

electrical devices, electric motors etc.

must be cleaned periodically.

5. Ginning machines must be

properly examined and serviced by

cleaning, oiling, saws setting, belts

and chains re-adjusting, bearings

servicing.

6. Pneumatic pipes, suctions fans etc.

must be examined and services

properly.

7. The capacity of suction fans must

be proper otherwise the stock piling

and flow interruption causes fire.

8. Step cleaners, pre-cleaners etc.

must be examined and serviced

properly as it is done for ginning

machines.

9. Condensers, rollers, conveyors etc.

must be examined and serviced

properly.

10. Press house machinery like

hydraulic engine, electric motor,

hydraulic piping and instruments,

baling chambers, hydraulic valves

and gauges must be examined

properly and serviced. Press house

condenser, conveyor tray and

moisture fan must be examined and

serviced properly.

11. Sweeping, waste, dust must be

properly removed from the process

building which must be kept neat and

clean from all such fire hazardous

material on daily basis.

12. No smoking notices should be

fixed at various locations inside and

outside the building.

13. 4 x 4 water and sand buckets with

2 chemical fire extinguishers must be

fixed on at least 3 sides of the main

building which must be checked for

p r o p e r o r d e r a n d c o n d i t i o n

periodically.

14. The Insurance policy warrants

that all type of stocks and hazardous

material must be stored at clear

distance of 30 feet from the building.

15. The fresh pressed stock of cotton

bales coming out of press house is

however exempted from maintaining

this 30 feet distance for 24 hours.

1 6 . P r o p er locally available

firefighting facilities to fulfill the

warranty requirements should be

provided.

17. No stock other than the stock in

process should be stored in the

building.

18. Mostly it is seen that the stocks of

various kinds are stored adjacent to

the wall of ginning and pressing

building which is not allowed. Trash,

hulls and other waste material is also

sometimes placed outside adjacent to

the walls of buildings which is

prohibited and against the principles

of safety.

OPEN COMPOUND

It is rated as high risk area.

All the stocks except stock in process

and stock in godowns, are stored in

the open compound. During peak

cotton season the factory compound

is full of all kind of cotton business

related stocks. Sometimes it really

turns difficult to maintain the

distances as stipulated by insurance

policies. So a highest level of care and

caution should be maintained in

housekeeping of open compound of

cotton factory. The under mentioned

safety measures are recommended.

1. Distances between the stocks as

stipulated by insurance policy must

be maintained. The detail has already

been given in the previous articles.

2. Distances between stocks and

building as stipulated in the policies

must be maintained.

3. Size of the un-ginned cotton heaps

as stipulated in the policies should be

maintained.

4. Size and weight of cotton bales as

stipulated in the insurance policies

must be maintained.

Insurance Journal January, February, March 2019

17

Find us at: www.insurancejournal.com.pk — www.facebook.com/insurancejournalpakistan
---
Guest Contribution

5. Maximum number of cotton bales

as allowed to be stored at one place as

stipulated in the insurance policies

must be maintained.

6. Maintain the distance between

waste material, hazardous material

and stocks/buildings etc.

7. No vehicle without fixing spark

arrestor must enter in to the

compound.

8. If pre-cleaners etc. and spreading

machine etc. are installed/working in

the open compound then that must be

declared to the insurers for evaluation

of risk and charging due rate of

premium.

9. Minimum firefighting facilities as

stipulated by the insurance policies

must be provided in the compound.

The detail has already been provided

in my previous articles.

10. All the passages, ways, walkways

of the compound must be cleared

from stocks of un-ginned cotton

which is spread all around during

transportation etc. because in case of

fire occurrence, the fire spread all

over through that. This scattered stock

provides the trail to fire progression.

11. Hull, dried boll etc. separated

from the un-ginned cotton is

sometimes stored in the open

compound which is breach of

warranty. It should be stored 100 feet

away from rest of the stocks and

building/godown.

12. In case the insurance cover is not

combined for ginning factory and oil

mill then the oil mill section should be

separated by proper wall and gate

from the ginning factory section.

Similarly if the stock of cotton seed is

not covered in the policies covering

stocks of ginning factory then the

seed should be directly shifted to oil

mill section through conveyors and

should not be stored in cotton factory

section because it increased the risk.

13. It is seen that many fire incidents

in cotton factories occur due to

fireworks used during different

events and festivals so during those

days the stocks should be covered

with tarpaulin and must be guarded

more efficiently. The locally available

firefighting facilities must be reexamined

and discrepancy if any

must be compensated.

14. Warranted arrangements of

minimum firefighting facilities must

be made available in addition to

mobile chemical fire extinguishers to

arrest the fire immediately. 4 frames

of 8 x 8 water and sand buckets must

be made available on all the 4 sides of

the compound.

15. It is seen that at time of fire

incidents the whole firefighting

facilities cease to operate in absence

of electricity, so an alternate

arrangement should be made to

compensate this anomaly.

16. Labor quarters seen to be a source

of fire origination so a strict

compliance of safety instructions

m u s t b e i m p l e m e n t e d t h e r e .

Similarly, the offices building where a

large number of visitors come and go

throughout the day who keep on

smoking and cooking process is also

carried out throughout the day.

17. Small tea tuck shops available

adjacent to main gate of the factory is

another source of fire especially when

strong wind or wind storm is blown

and live soot flown and scattered

everywhere. This element of risk

must be addressed.

18. Children from labor quarters keep

on playing in the compound and their

mischievous or naughty acts cause

outbreak of fire. This risk factor must

be blocked.

19. The floor of compound must be

raised from surrounding ground level

in order to protect the stock from

inundation etc. and the natural flow of

rain water out of cotton heaps must be

ensured.

20. Incidents of short-circuiting and

leakage of current are frequent during

atmospheric disturbance especially

during wind storm, rain etc. so the

factory operation must be closed

during that period by switching off the

electric supply. No live electric cable

should be present in the factory

during atmospheric disturbance.

21. During hot and humid season the

size of un-ginned cotton heaps must

be reduced generally. Size of one heap

should not exceed 1100-1200 mounds

(Equal to one lot).

22. It is witnessed that the scattered

stocks of un-ginned cotton are

arranged by application of tractor

blade which is not advisable at all. It

causes outbreak of fire by friction.

Striking of any hard material with the

tractor blade. Silencer of the tractor

also play a role in fire origination.

23. Un-authorized, un-concerned

people should be checked while

entering in to the factory. Fire

occurrence due to malicious acts

should be tackled.

24. It is seen that some stock of unginned

cotton keep loaded on tractor

trolleys for long time which are

parked in the factory compound. It

should be kept in mind that the normal

insurance coverage granted from

stocks of open compound do not

cover such stocks. So the concerned

Insurers must be informed in

advance. Such stocks are vulnerable

to fire.

25. During rain fall the stock must be

covered with tarpaulin for safety of

stock as well as from saving it from

fire origination because the rain

droplets which are thousands in

number play role of convex lens and

the sun rays passing through these

droplets may cause fire in the stock.

26. The compound must be cleared

from dry leaves and other foreign

Insurance Journal January, February, March 2019

18

Find us at: www.insurancejournal.com.pk — www.facebook.com/insurancejournalpakistan
---
Guest Contribution

elements which provide fuel to fire.

LABOR QUARTERS

Construction of labor quarters in the

factory compound is risky. The under

mentioned safety measures must be

taken.

1. All activities of labor and their

family member especially the

children must be guarded, managed

and cautious in all respect.

2. The quarter area must be isolated

with proper wall.

3. Cooking process must be regulated.

4. Free movement of family members

and children to the stocks and

sensitive areas of factory must be

banned.

5. Smoking should be restricted.

6. The element of malicious acts are

more frequent due to various

psychological reasons so the factory

owner must be cautious about such

activities.

OFFICE BUILDING

Office building is the area which play

important role for safety as well as for

spreading hazards if careless and

carefree people are sitting there.

Following safety measures may be

initiated from here.

1. Emergency alarm must be fixed on

office building.

2. Office of the Manager should be

located at elevation and the factory

side wall should be of glass.

3. Emergency phone numbers notice

board should be fixed in his office and

outside the office near main gate.

4. Duty should be assigned to the

Manager to take emergency steps in

case of any emergency. It should

include in his duty to ensure the

presence of minimum firefighting

facilities as warranted by the

insurance policies with some

additional measures as suggested

above.

5. He should ensure that no vehicle

could enter in to the factory without

first fixing the spark arrestor.

6. He should ensure the general

maintenance and good housekeeping.

7. His duty should include to take all

safety measures as suggested by the

insurance policies, mortgages banks

rules/regulations, civil defense

rules/regulations and so on.

8. All kind of cooking must be strictly

regulated in the office.

9. No smoking notice boards must be

fixed at multiple suitable locations.

SUMMARY OF WARRANTED

SAFETY MEASURES

Although this information has already

been provided in previous articles of

the same topic but the summary of

safety measures as required by the

insurance policies is given below for

ready reference.

1. Not more than 1000 cotton bales

could be stored at one place. The next

stock of 1000 bales should be stored at

clear distance of 20 feet.

2. Distance between cotton bales and

other stocks must be kept at 20 feet.

3. Distance between un-ginned cotton

and cotton bales must be 20 feet.

4. Distance between stocks and

building must be 30 feet.

5. Distance between stocks and

godown must be 30 feet.

6. Distance between hazardous

material and stocks must be 100 feet.

7. Distance between stocks of cotton

bales which are not pressed according

to the warranted specification must be

100 feet.

8. Distance between stocks of 10000

bales from other should be 100 feet.

9. Minimum water storage 25000

British gallons.

10. Minimum length of hoses is 300

feet i.e. 1 x 3 x 100

11. Water pump with the capacity of

250 gallons per minute output.

12. Alternate energy source to drive

the pump.

13. Water tabs for connecting the

hoses to use it in fire emergency.

14. No vehicle should enter in to the

factory without fixing spark arrestors.

15. Specification of cotton bale as per

warranty.

16. Stacking pattern should not

exceed 6 bales high.

17. Size of one cotton heap must not

exceed 4500 mounds.

18. Next such heap must be formed at

distance of 20 feet.

Working on safety measures and

suggesting the same to the concerned

quarters is continuous process which

must be continued with the innovative

changes being brought in modern era

business environment and conditions.

Close interaction and exchange of

views among all the stake holders is

key to create a safe business

conditions for this kind of sensitive

and risky process of cotton ginning

and pressing as well as oil extraction

from cotton seed.

Insurance Journal January, February, March 2019

19

Find us at: www.insurancejournal.com.pk — www.facebook.com/insurancejournalpakistan
---
Guest Contribution

Nasir Siddique

ACII (UK), MBA (I & RM)

Team Lead (Underwriting)

IGI Insurance Limited

How to Make

Savings on your

Car Insurance

When buying car insurance, the type

and the insurer that you decide to go

with will depend on the amount that

you are asked to pay in premiums. On

saying this, whichever form of

insurance you decide to take, whether

fully comprehensive or third party

fire and theft, you can save money on

it if you just follow some simple

common sense.

In some cases you save yourself just a

few hundreds per year, while others

will help you save a thousand or more

from your car insurance premiums

over the year.

The premium you are quoted and are

asked to pay will depend on various

factors and one of the factors which

can make a big difference to how

much you pay in premiums is the

amount of excess which you are

willing to stand to should you need to

make a claim. All companies will ask

that you pay so much towards the cost

of the repairs to your car and the more

you are willing to pay for this, the

cheaper the premium will be.

However, when considering this as an

option to go for a way to reduce the

premiums on your car insurance, you

will have to determine if you think the

risk would be worthwhile. If your

driving and safety record is

immaculate then this is in your favor.

However if you have claimed before

then it might not be in your best

interests to try and bring down your

car insurance premium this way

unless you are willing to stump up a

bigger excess.

If you are thinking of making savings

this way then perhaps you could put

the money aside which you have

stated as your excess. This will ensure

that should the unthinkable happen

you won't have to worry about

finding the money.

When you have decided how much

you wish pay for your excess then it is

imperative that you shop around for

the cheapest car insurance premium

possible. You should get quotes from

as many insurers as you can or use an

independent broker to find the right

policy for you.

Also take into account any exclusion

within policies, as very often these

are hidden in the small print of the

policy and aren't clearly listed. This

can save you money in the long run.

With a little bit of knowledge and

forethought you can make savings on

your premium by getting the best deal

possible on your car insurance simply

by raising the amount of excess you

pay.

If You Refuse To Pay High

Insurance Rates…Here Are 4

"Bargaining Chips" you Can Use

to Negotiate a Better Insurance

Rate.

Having a good driving record is one

of the best ways to keep your car

insurance rates down. Here are a few

Insurance Journal January, February, March 2019

21

Find us at: www.insurancejournal.com.pk — www.facebook.com/insurancejournalpakistan
---
Guest Contribution

other ways to help lower your costs.

1. Shop Around

Make companies compete for your

business. Prices will vary from

company to company. So, be sure to

ask at least 3-4 different companies

for a quote. Make them earn your

business.

Talk to your friends, neighbors and

coworkers about their insurance

policies. If they're happy with their

insurance company there is a good

chance you will be too.

There are dozens of companies on

line willing to give you a free car

insurance quote. This may be a good

starting place for you. Keep your eyes

and ears open for radio and TV

advertisements.

Again, these agencies are willing to

compete for your business; so, don't

settle.

your insurance policy kicks in. By

raising your deductible, you can

l o w e r y o u r i n s u r a n c e r a t e s

significantly. For instance, raising

your deductible from Rs. 2500 to Rs.

5,000 can reduce your collision and

comprehensive coverage 10-30

percent. Raising your deductible to a

Rs.10,000 could save you as much as

40% or better.

Just be sure you have the cash on hand

to cover yourself in the event of a

claim.

3. Have Safety/ Anti-theft Devices

Installed

You may be eligible for further

insurance discounts if your vehicle is

equipped with one or more options:

anti-lock brakes, automatic seat belts,

air bags, or traction control.

Installing a vehicle recovery systems

such as Tracker can save you up to 7-

10% per year.

4. Consolidate Insurance Policies

Insuring two or more vehicles

through the same insurance company

can help to reduce your insurance

rates by as much as 10%-15%.

Covering your home through the

same company that insures your

vehicles can help lower your rates by

an additional 10%-15%.

Conclusion

Lowering your auto insurance, in

many instances, is about knowing

what questions to ask and what you

are entitled to. Since many companies

aren't going to do your homework for

you.

Deductions will vary from state to

state and from insurance company to

insurance company. So be sure to ask.

Also the key to lowering your auto

insurance rate is not necessarily how

many discounts you are eligible for.

It's the bottom line that matters.

2. Ask For Higher Deductibles

Deductibles are what you pay before

Other Anti-theft devices are relatively

inexpensive and can also help to

reduce your insurance premiums.

EFU Life launches Pakistan's First Insurance Chatbot on Facebook

In today's Digital age, the internet users are highly connected. As more devices and apps deliver instant

gratification, the more it sets new standards for customer expectations. With a few taps and swipes of their mobile

device, customers can have what they want, when they want it.

EFU Life, the leading life insurance company in Pakistan has been a pioneer in ground breaking technology, and

with the customers at the heart of everything that it does, becomes the first life insurance company in Pakistan to

launch a chatbot, 'EFU LifeBot', on the Facebook platform.

'EFU LifeBot' is a virtual assistant fueled by machine learning to help provide automated responses and create

better service experience for its clients. It allows for customers to access their policy details, view and pay their

policy premium online through debit or credit card. Additionally, it provides a host of services for both customers,

and non-customers, such as getting to know about the latest products and services, branch contact information, to

connecting to the financial advisor for a customized insurance plan.

Speaking on the occasion Mr. Zain Ibrahim, Chief Operations Officer, EFU Life said, "As a customer-centric

company, our primary focus has always been to deliver faster, convenient and seamless service so that our clients

can enjoy a pleasant experience when dealing with us. Digitalization tools especially machine learning enabled

chatbots offer tremendous convenience and superior customer experience when compared to traditional methods

like calls, physical visits, emails. Dynamic, interactive, secure, hassle-free and available 24/7, EFU LifeBot will be

ready to serve all our customers, and non-customers too!

Looking ahead, our focus will be to continue to progress on the digitization path using cutting-edge technologies in

all our business processes to further improve our customer experience."

Insurance Journal January, February, March 2019

22

Find us at: www.insurancejournal.com.pk — www.facebook.com/insurancejournalpakistan
---
Guest Contribution

Kausar Hamad

Dip CII (UK)

Vice President (Bancassurance Business)

EFU General Insurance Limited

Bancassurance

Sector in Pakistan:

Challenges and Prospects

In an underdeveloped country like

P a k i s t a n , w h e r e i n s u r a n c e

penetration is less than 1% of the

GDP and little awareness about the

c o n c e p t o f i n s u r a n c e , t h e

bancassurance has paved the way to

approach individuals.

In the last five years, the Insurance

industry has witnessed a growth in

underwritten premium, the primary

reason being the expansion of

delivery channels and the promotion

of customized and innovative

i n s u r a n c e p r o d u c t s . T h e

bancassurance model has played a

pivotal role in reaching its customers

in almost all the remote areas,

creating awareness about the

importance of insurance and the aid it

provides to save and protect a policy

holder from an unforeseen event.

In this article, I would like to discuss

the challenges which bancassurance

sector is exposed to along with its

future prospects. But before

proceeding with the same, I would

like to explain some of the basics w.r.t

bancassurance mode of business, the

development of bancassurance sector

in Pakistan and its current status.

Bancassurance means distribution

o f i n s u r a n c e p r o d u c t s o f

(insurance) companies through a

bank's distribution channels.

The Bank and an Insurance Company

e n t e r i n t o a b a n c a s s u r a n c e

agreement, whereby the Bank acts as

a corporate insurance agent/

distributor of the Insurance Company

by promoting and selling its product

through its distribution channels. The

benefit entitled to a bancassurance

arrangement is always lucrative for a

Bank and for Insurance Company

alike. The Insurance Company

b e n e f i t s f r o m a n i n c r e a s e d

penetration of their insurance

products via the bank's wide

distribution network. On the other

hand, the Bank also receives income

in the form of an agreed commission

for selling and promoting the

products of the Insurance Company.

Bancassurance Models

There are two types of models used in

bancassurance i.e. Direct Sales

Model and Referral Model:

Direct Sales: In Direct Sales model,

the bank uses its own sales force and

distribution channels i.e. phone

banking, telesales or branch banking

for the promotion and sale of

insurance products.

Referral Model: In Referral Model,

the Insurer uses its own Insurance

Consultant to market and distribute

its products by using the bank's

distribution channels.

Background

The concept of bancassurance

originated in Pakistan way back in the

year 2004, when some banks and

insurance companies made ties to

promote insurance products. The

concept got familiarized yielding

income to the Banks as well as the

Insurance Companies. The model,

although introduced quite late in

Insurance Journal January, February, March 2019

23

Find us at: www.insurancejournal.com.pk — www.facebook.com/insurancejournalpakistan
---
Guest Contribution

Pakistan, had been a success story for

the penetration of insurance products

even in the remote areas of Pakistan,

which was not the case earlier.

Till the year 2010, Banks and

Insurance Companies had been

working on their own terms without

any defined commission structure

from the regulator and even the

f o r m a t i o n o f b a n c a s s u r a n c e

agreements were used to be made in

the absence of affirmed regulatory

guidelines / instructions. There were

cases where the agreed commission

between a Bank and an Insurance

Company were very high i.e. almost

90%, which let the ultimate

consumer/ policy holder to pay a high

price. There was neither any platform

for policy holders/ consumer's

grievances nor any check and balance

to identify and prevent miss selling.

To promote the phenomenal success

of bancassurance model and to

protect and ensure the policy holder's

right, the SECP (Securities and

Exchange Commission of Pakistan)

issued its first formal guidelines, for

the businesses falling under the

purview of bancassurance mode, in

the year 2010. The guidelines covered

detailed aspects of bancassurance

business including, commission

structure, claim handling, training

requirements and sales models. The

guidelines were made applicable on

the creation of all new bancassurance

agency agreements and prior

agreements were required to be

amended accordingly.

Although the issuance of guidelines

streamlined many of bancassurance

functions and operations, they were

mere guidelines. To bind the Banks

and the Insurance Companies to

observe the requirements at full

length, there still required a

c o m p r e h e n s i v e a n d d e f i n e d

regulatory framework. For the

sustainable growth of this sector, the

S E C P i s s u e d a d r a f t o f t h e

Bancassurance Regulations 2013.

The concept paper was routed via

Press Release to solicit the opinions

of the concern stakeholders.

After detailed review and feedback,

the SECP issued Bancassurance

Regulation 2015, which repealed the

prior Bancassurance Guidelines. The

p r e v a i l i n g r e g u l a t i o n s w e r e

envisaged to cover detailed aspects of

bancassurance business with

introduction of the new requirement

of 'After Sales Call' and of 'Need

Based Analysis' document.

Current Status

At present there are a number of

private sector players in the market

who are promoting bancassurance

business, especially in life assurance

sector. The contribution of the two

dominating private sector players,

EFU Life and Jubilee Life, towards

the promotion of bancassurance

products is incredible. The players are

leading the market in terms of market

share by provisioning dynamic and

innovative products, meeting the

insurance requirement in almost all

segments and creating awareness by

print, electronic and social media.

Although banks and insurance

companies are going hand in hand in

promoting and market penetration of

insurance products, there is still room

for improvement. Underlying are

some of the challenges Insurance

Companies are facing which requires

transparency, not just for operational

efficiency but also for the expansion

of business.

Challenges

The SBP along with the SECP should

take steps to address the prevailing

challenges and readdress the

regulations and operation methods

pertaining to Bancassurance mode of

business.

Prevention of Misselling

Bancassurance Regulation 2015 have

strictly prohibited the misselling or

misrepresentation for the policies

sold on account of bancassurance

mode. The regulation required the

Insurer to perform 'After Sales Call' to

Policy holder within Free Look in

Period or to integrate their after sales

script with the bank's CBC (Call Back

Confirmation).

This is further reinforced by the

SECP's Circular No. 5/ 2016, which

made it mandatory on all Insurance

Companies to create awareness

among policy holders via 'awareness

message' regarding the availability of

a Complaint Resolution Forum. In

line with the said circular, the

Insurance Companies promoting

bancassurance business were

required to intimate their partner

banks to assure that these awareness

messages are displayed in both

languages i.e. English and Urdu in all

the branches of the banks, where the

policy holders pay frequent visit.

But despite of all the checks and

measures in place, misselling or

misrepresentation is still not totally

eradicated. The identification of

misselling or misrepresentation by

B a n k I n s u r a n c e E x e c u t i v e s

promoting bancassurance business

can be made to some extent, if the

product is promoted by phone

banking or telesales with the

existence of recorded lines.

Insurance Journal January, February, March 2019

24

Find us at: www.insurancejournal.com.pk — www.facebook.com/insurancejournalpakistan
---
Guest Contribution

But in most of the cases, especially for

life assurance and unit linked

policies, where a product is promoted

by the bank's RM's (Relationship

Managers), having face to face

contact with customer, it is difficult to

identify how the product is pitched

and whether the policy holder is fully

informed about all the product

features. The Bank's RM's are getting

handsome incentives/ commissions

for selling insurance products to their

customers. Therefore in most of the

cases, product features are either not

fully disclosed to a potential policy

holder or exaggerated, especially as

regards the Rate of Return in case of

saving policies. Apparently all due

requirements as stated in Regulations,

including duly signed 'Insurance

Need Analysis' document and policy

holder's written consent is obtained

on set of lengthy terms and

conditions. In most of the cases,

detailed policy terms and conditions

are hardly understood and read in full

by a policy holder. So it cannot be

assessed in absolute terms, even in the

presence of all supporting documents,

if a product is rightly pitched and the

policy holder is fully informed about

all the product features.

Referring to the SECP's requirement

imposed on an Insurer regarding

'After Sales Call' to a Policy holder,

sometimes the RMs, based on their

relationship with their customer,

influence them to attend the requisite

call in their presence. So in this way,

the tool imposed for the prevention of

miss-selling by way of 'After Sales

Call' can also be tampered with.

Renewal Persistency

Although Bancassurance model

proved to be really effective for the

growth of insurance business and

sector as a whole, the persistency of a

business acquired via bancassurance

model is one of the prevailing

c h a l l e n g e s w h i c h I n s u r a n c e

Companies face.

It has been observed that growth of

business in first year is relatively

higher than the second/ renewal year.

The main reason is the huge gap

between the first year's and the

renewal year's commission, .i.e. 50%

and 5% for the first and the renewal

year respectively.

Due to lucrative provision of

commission/incentive to bank in the

first year of business, banks are keen

on the promotion/ sale of a new

product. Although as directed by

Bancassurance Regulations 2015 and

practiced by Insurance Companies,

the provision of Persistency Bonus is

awarded to the banks maintaining the

required level of persistency i.e. 5%

and 2.5% for the Policy Year 2 and

Policy Year 3 respectively. But as

maintenance of relationship with

clientele is the key for promotion of

business, the Insurance Companies

are deemed to provide the bonuses to

B a n k s i r r e s p e c t i v e o f t h e

maintenance of the required

persistency level.

Moreover, as mentioned above, the

products are pitched by the bank's

RMs for which they are receiving

attractive incentives. The primary

reasons for non- receipt of premium

for the underwritten policy in the

second year are as under:

Ÿ Commission: As stated above,

due to higher commission/incentive

in first Policy Year, the designated

bank staff is not keen to pursue the

policy in second year.

Ÿ Focus: The core responsibility of

the bank's staff or RMs is not the

promotion or sale of insurance

products. Instead, they are involved in

a lot of other activities, such as the

maintenance of deposit base and the

promotion of bank's own products

e.g. credit cards or personal loans etc.

Due to an array of responsibilities,

apart from low commission rate in

renewal year, they are not able to

focus on persistency of a policy

previously sold.

Ÿ Staff Turn Over: The turnover of

staff is common in the banking sector,

due to employees switching jobs from

one bank to another. If any designated

Bank Insurance Executive has sold

the Insurance Product while on job for

the first Policy Year, it is not certain

that he/ she shall be retained on job till

second Policy Year.

Future Prospects

Shariah Compliant Products

As conventional insurance products

are resistant by some people on

Islamic grounds, so here Takaful

offers best solution to cater the needs

based on Shariah principles.

Although some major players are

a c t i v e l y w o r k i n g t o w a r d s

introduction and implementation of

Shariah Compliant products in Banca

Takaful mode, there is still a lot of

untapped market, Takaful penetration

in Pakistan being just 0.04% of the

GDP.

Technological Transformation

Wi t h t h e g r o w i n g i n s u r a n c e

penetration, the Insurance Companies

are working progressively towards

transformation of its IT related

p r o c e d u r e s a n d o p e r a t i o n s .

N o w a d a y s , M o b i l e A p p s a r e

becoming great tool of customer

interaction, paperless environments

and significant part of our everyday

lives, ranging from food to service

industry.

Most of the commercial as well as

Islamic banks have already developed

and launched their mobile based user

friendly applications, which

facilitates the customers in providing

banking solutions with easy access.

The Insurance companies have yet to

d e v e l o p t h e i r m o b i l e b a s e d

applications and introduction of the

same will provide the insurance

companies with more opportunities to

interact with customers leading to a

further promotion of bancassurance

sector.

Insurance Journal January, February, March 2019

25

Find us at: www.insurancejournal.com.pk — www.facebook.com/insurancejournalpakistan
---
Guest Contribution

Muhammad Aamir Jamil

Dip CII (UK), Deputy Manager (Underwriting)

Property Division / Ancillary Operations

Security General Insurance Co. Ltd

Coal, Facts,

Formation

and Uses

Basic Coal Facts:

Coal is a fossil fuel and is the altered

remains of old vegetation that

originally accumulated in swamps

and peat bogs. The energy we get

from coal today comes from the

energy that plants absorbed from the

sun approximately 360-290 millions

of years ago.

How is Coal Formed?

Earthshaking movements

buried plant material from

swamps and peat bogs, which

were covered under clay and

sediments to the great depths.

With burial process, the plant

material was subjected to

h i g h t e m p e r a t u r e s a n d

pressures. This caused

p h y s i c a l a n d c h e m i c a l

changes in the vegetation and

transforming it into peat and

then into coal. Initially the

peat was converted into

'brown coal' and over many

m o r e m i l l i o n s o f y e a r s , t h e

continuing effects of temperature and

pressure produces further change in

the brown coal. Further, chemical and

physical changes occur until these

coals became harder and blacker.

How is Coal Mined and Produced?

6.9 billion tons of hard coal are

currently produced worldwide. It is

mined by two methods i.e. surface of

open cast mining and underground

mining. The choice of mining method

depends on the geology of the coal

deposit. Underground mining

currently accounts for a bigger share

of world coal production than

opencast.

How many largest Coal Production

Countries are?

The largest coal-producing countries

are not confined to one region

although the top six hard coal

producers of coal are China, USA,

Russia, India, Australia and

Indonesia.

Where is Coal Found?

Coal reserves are available in almost

every country worldwide, with the

biggest reserves being in the USA,

Russia, China and India. Around 70

countries have recoverable coal

reserves. Coal is readily available

from a wide variety of sources in a

global market. Over 50 countries

mine coal commercially and over 70

countries use it. Ships and rails can be

used to transport coal to demand

centers quickly, safely and easily.

coal.

How is Coal Used?

Electricity: 41% of global

electricity is currently fuelled

by coal-fired power plants.

Steel: 70% of steel produced

today uses coal.

Cement: 200kg of coal

needed to produce 1 tonne of

cement.

Transport: 50% of the

energy used to produce

aluminum which comes from

Ÿ Steam coal which is also known as

thermal coal is mainly used in power

generation.

Ÿ Coking coal which is also known

as metallurgical coal is mainly used in

steel production.

(Source: World Coal Association)

Insurance Journal January, February, March 2019

27

Find us at: www.insurancejournal.com.pk — www.facebook.com/insurancejournalpakistan
---
Guest Contribution

Riaz Hussain Khan Jadoon

Member Chartered Institute of Loss

Adjusters (UK),

Qayyum Pervez Malik

LLMIT (Lloyds & London Market),

Authorized Insurance Surveying Surveyor & Officer Loss (The Adjuster SECP), /

MBA Claims (UK), M.Com Investigator (Insurance)

Qayyum Executive Pervez Director Malik - Pakistan & Co. Inspection (Pvt) Ltd

Company Pvt. Ltd.

The world is changing with a speed

unprecedented by virtue of

advancement in cloud and computing

technologies. I remember one of our

marketing lecturers telling us that you

have to keep moving to remain on top.

Fast forward 10 years and this is not

the case anymore. The new strategy is

to keep running in order to just

survive.

With London and Western Insurance

markets bracing themselves for

dealing with Driverless Cars and

Artificial Intelligence (AI) Software

Solutions, our insurance technology is

y e t t o e m b a r k u p o n b a s i c

Underwriting and Claims automation

processes.

A look at the traditional approach

adopted by the Insurance Industry

would reveal that innovation in this

area has been disturbingly slow due to

lack of interest by senior executives to

bring innovative software solutions.

Often during my discussions with

Industry colleagues, our comments

would finally conclude on "Pakistan

ma aisa kahan hota ha yaar… aisa

hona buhat mushkil ha" which

basically means that such things are

not possible in our country.

The lack of interest in technological

transformation have gradually faded

with the new breed of executives who

are keen to bring their industry on par

with others. For this purpose, they

Standing at

the Crossroads

Collaboration or Isolation

have formed in-house IT and

Programming teams to come up with

innovative Software Solutions by

taking input from Underwriting and

Claim teams. The Software Solutions

developed internally by them have,

however, been only partially

successful. Their Software Solution

works well in test environment but

mostly fails in real life situations. This

is because they have not gone through

the arduous process of internal testing

followed by sample testing prior to

large scale implementation. As such,

the disappointment brought by these

failures due to half-baked Software

Solution kills the motivation of

I n s u r e r s f o r t e c h n o l o g i c a l

transformation.

The fundamental professional

requirement of any insurance

personnel is to run the successful

operations of their insurance business.

Like any other industry professional,

they have to meet their customers'

expectations, business targets and

manage day to day operations. Their

role in development of any

technology system is usually

ancillary. On the other hand, the IT

and Development teams might be best

at their game, i.e. coding and

programming, but lacks the insurance

knowledge and know-how which is

vital to successfully innovate.

Another issue with technology is the

pace at which it changes. Ironically,

the Software Solution might still be in

the development phase when it is

replaced by a better technology

rendering it outdated even before its

creation and implementation.

A possible answer to this problem is

Insurance Journal January, February, March 2019

28

Find us at: www.insurancejournal.com.pk — www.facebook.com/insurancejournalpakistan
---
Guest Contribution

collaboration. Successful businesses

need each other and collaborate.

Apple would not become a Trillion

D o l l a r C o m p a n y w i t h o u t

collaborating with Foxconn due to

their manufacturing prowess.

Similarly, Samsung and Huawei

would have never competed with

Apple without collaborating with

Google for their "Android" operating

system. There are numerous examples

where successful or even failed

businesses have collaborated and

become successful.

The same model is adopted by

successful Insurance Industries i.e.

collaborating with technologists to

create successful partnerships giving

them edge where they are provided

with the most updated technologies to

meet their transformation needs.

With so many benefits that the

Insurers could avail with such

collaboration, the question arises as to

what is stopping them from

collaborating with tech partners?

One of the key resistance by Insurers

for not collaborating particularly in

our market is the privacy of their data

or the right insurance terminology

would be Moral Hazard. Some

companies do not want to share data as

they are concerned that the

information provided could also work

against them. For example; a broker

only shares minimum required

information with Insurer and

Underwriter so their potential client is

not approached directly by the Insurer.

Similarly, the Loss Adjuster /

Surveyor is only provided with the

information required to settle the

c l a i m . A n o t h e r m i s p l a c e d

apprehension is that technology will

replace underwriting and claims jobs

which can never be the case. The

judgement of a prudent underwriter

and input of claim manager and

surveyor combined with data and

technology would enhance decision

making securing their job rather

replacing them.

Apart from trust worthiness, another

reason for not collaborating is tight

budgets and slim profit margins. The

Insurers do understand that using new

technologies will make them more

competitive but at a cost which they

are not ready to bear. This is where

they fail to realize that reducing

claims by the use of technology would

result in decreasing their overall

claims cost. No doubt, there are fiscal

constraints to invest in new

technologies but the many indirect

and monetary benefits of investing in

Technology advancements will help

them in recovering cost besides make

them realize that the cost is just a

fraction of benefits attained.

Improvement in processes like claims

tracking, timely information for

decision making and better customer

servicing will help them to be more

valuable to their clients and ultimately

help increase their value to their

clients. Analysing historical data

would also help them in developing

better insurance products.

The Insurance Industries across the

globe has always been collaborating

with local and foreign entities for

several needs such as re-insurances,

fronting, broking, loss adjusting,

surveying etc. The local Insurers have

also been collaborating with all of the

above and, if such is the case, then

what stops them from collaborating

with technology firms.

The Insurance Industry of Pakistan is

now standing at crossroads to choose

between collaboration and isolation.

Personally, I can see two possible

outcomes for either option the

Insurers may choose. They can keep

developing Software Solutions in

isolation as traditionally being done

and compromise on the quality,

functionality and timely deliverance

of insurance technology. Or, they can

choose collaboration and utilize the

most updated, tested platforms for

their insurance functions at least for

the Insurance Surveying function

which had always been quite

problematic. The Software Solution is

currently available and successfully

used by at least one Insurer.

The key to success, however, is the

basic principle of insurance of

"Utmost Good Faith" which could

only be established through

collaborating and detaching from

suspicions of data breaches.

Insurance Surveyors provide with detailed technical reports on underwriters the risks involved

in a request for insurance cover. Their reports outline any aspects which might affect the

Insurance Premium.

-----------------------------------------------------------------------------------------------------------------------

Insurance Surveyors are professionals who assess the loss or damage and serve as a link between

the insurance and the insured. They usually function only in non-life business. Insurance risk

Surveyors carry out Surveys of buildings, machinery, transport and other sites or items that

need to be insured.

-----------------------------------------------------------------------------------------------------------------------

Before forming "Insurance Surveyor Company" the legal requirement must be fully observed

the license of Surveyors are issued by the regulatory authority in case of Pakistan Insurance,

licenses are issued by Security Exchange Commission of Pakistan (SECP).

Insurance Journal January, February, March 2019

29

Find us at: www.insurancejournal.com.pk — www.facebook.com/insurancejournalpakistan
---
Health Corner

Rana Naveed ur Rehman

MBA (HRM), Cert CII (UK)

Assistant Vice President (Health)

East West Insurance Co. Ltd

Household

Emergencies

(Part-6)

In my previous article, I was covered

the air-conditioning and centralheating

system problems related

household emergencies. In this part, I

will cover the home security related

household emergencies.

Home Security:

By identifying vulnerable areas of

your home and taking adequate

precautions, you can affectedly

reduce the risk of being burglarized.

Installing additional locks and bolts is

an effective way of deterring thieves.

Security devices such as peepholes,

door chains and alarms are also easy

to install and they not only safeguard

your property but also provide peace

of mind, particularly when you are

away from home.

Assessing Your Home Security

1) Identify Vulnerable Areas

Ÿ

Ÿ

Ÿ

Check all your doors and windows

for strength and security. Imagine

that you have locked yourself out

which window or door would you

choose to force open or break?

Look at your house again and reassess

your security.

Contact your local police

department for advice.

Ÿ

Ÿ

Ÿ

any side doors. For added security,

you should install heavy bolts at

the top and bottom of the inside of

each door.

Back and side doors must have

sturdy locks because they are often

hidden from view and badly lit,

which means that a burglar can

attempt entry unobserved.

For security when answering the

door, install a strong door chain

and peephole.

If a door opens outward, install

hinge bolts to the back edge so that

the door cannot be levered open on

the hinge side.

3) Install Patio Door Locks

Ÿ

Install locks and deadbolts at the

top and bottom of patio doors and

French windows to prevent them

from being forced open.

4) Install Window Security Devices

Ÿ

Ÿ

Windows are popular points of

entry for burglars.

Secure windows with locks or

deadbolts to prevent the catches

being released through a smashed

window. There are several types

for metal and wood windows.

5) Assess Lighting

6) Consider an Alarm

Ÿ

For the best security, either install

a burglar alarm yourself or have

one installed professionally.

Dealing with Intruders

1) Be vigilant

Ÿ

Ÿ

Ÿ

Ÿ

Ÿ

If you arrive home and see anyone

loitering outside, pass by your

house and ask a neighbour to

accompany you to the door.

If you return home to find that the

front door is open, do not enter

your home. Move a safe distance

away and, if you have a cellular

phone, call the police.

Alternatively, go to a neighbour's

and phone the police from there.

If you come home and your key

won't open the door, it could mean

that an intruder has secured the

door from inside so as not to be

disturbed. Move away quickly and

call the police.

If you return home to find that

your home has been ransacked,

call the police immediately. Do

not touch anything until the police

arrive so as not to destroy any

fingerprints left by burglars.

2) Make a Noise

2) Install main Door Security

Devices

Ÿ

Install locks on the front, back, and

If you install security lighting to help

you unlock your door on dark nights,

remember that this could be equally

useful to a burglar.

Ÿ

If you do enter your home and

meet an intruder, run out and shout

or scream as loudly as you can.

Don't try to apprehend him or her.

Insurance Journal January, February, March 2019

31

Find us at: www.insurancejournal.com.pk — www.facebook.com/insurancejournalpakistan
---
Health Corner

3) Stay calm

Ÿ

Ÿ

If you must face the intruder, keep

calm and try not to provoke a

reaction by making threats.

Try to memorize as much as you

can of the intruder's appearance,

mannerisms, and speech so that

you can provide the police with an

accurate description.

4) Call the Police

Ÿ

Ÿ

Dial 15 or call your local police

station.

Try to give the police as much

information as possible.

Dealing with a Night Intruder

Ÿ

Ÿ

Ÿ

Ÿ

Ÿ

Ÿ

If you are woken in the night by

unusual noises or the sound of

breaking glass, call the police.

Keep your cellular phone turned

on by the bed so that you can still

call for help if the telephone line

has been cut.

If you are alone in the house, talk

loudly as if you have a companion

in the room. You could also switch

on the lights and make a lot of

noise. Most intruders will leave as

soon as they hear noise.

D o n o t g o d o w n s t a i r s t o

investigate.

Do not keep an offensive weapon

or try to defend your property. No

items, however valuable, are

worth serious injury or death.

If you meet the intruder, stay calm

and try to memorize his or her

appearance.

Coping after a Break-In

1) Don't move anything

Ÿ

Ÿ

If you discover that your home has

been broken into, try to keep calm.

Do not touch anything. The police

will want to check the crime scene

and look for fingerprints.

2) Call Police

Ÿ

Ÿ

Dial 15 or call your local police

station.

When the police arrive, they will

talk to you about the burglary, ask

what has been taken, then take a

statement. They will then provide

you with a complaint number for

your insurance company.

3) List missing items

Ÿ

Ÿ

Ÿ

Start to make a list of what you

think has been taken. This process

can go on for days, because many

items will be missed only when

you try to find or use them. The

police should supply you with a

form for your list.

Give as clear a description as you

can of all items, and provide

photographs of valuables, if you

have any.

Indicate on the list which, if any,

items have been owner-labeled.

4) Secure Premises

Ÿ

If burglars have forced entry by

smashing glass, make a temporary

repair for security.

Ÿ

Determine how the burglar(s)

gained access to your home and

take steps to make it more secure

by installing additional locks or

bolts.

5) Contact Insurers

Ÿ

Ÿ

Contact your insurance company

and explain what has happened.

The insurance company and/or

claims adjuster will require the

complaint number and a detailed

list of what has been stolen.

6) Keep in contact with Police

Ÿ

Ÿ

I f y o u m o v e w h i l e t h e

investigation is still ongoing,

notify the police of your new

address.

If you discover more damage or

missing items, contact the officer

handling your case as well as your

insurance company.

Seeking Advice

Ÿ

Ÿ

If you are the victim of a burglary

or assault, you will be contacted

b y V i c t i m S u p p o r t , a n

organization that provides

counselling and help for victims of

crime.

Talk to friends and family about

your experience. They may be

able to offer you reassurance and

comfort.

Action in an Emergency

When an emergency arise, try to remain calm and controlled so that you can act

effectively. Before assessing the victim's condition and carrying out the appropriate first

aid, make sure that you are not putting yourself in danger. You will not be able to help

anyone else if you become a victim yourself. If possible, call immediately Rescue 1122 and

Police Helpline 15 while you deal with the situation.

Insurance Journal January, February, March 2019

32

Find us at: www.insurancejournal.com.pk — www.facebook.com/insurancejournalpakistan
---
National News

Jubilee Life Insurance introduces a brand new e-commerce

website

With the expansion of e-commerce in Pakistan, companies strive to make their offerings more

accessible by leveraging the opportunities created by the growing number of internet users in the

country.

Jubilee Life, Pakistan's largest private sector insurance company, taking forward its passion to

make buying insurance convenient has launched a new e-sales website.

The website provides complete product details and benefits. The design is crisp with no clutter to

distract your attention while making such an important decision. Insurance plans have been

packaged in a way that meets the varying needs of many people for both Life and Health Insurance.

To enhance the convenience of payment the options include: Cash on Delivery (COD), JazzCash

& Debit/Credit Cards.

It is evident that Jubilee Life has put in a lot of brains to come up with an e-sales offering that has all

the right ingredients for people who want the best options to buy affordable insurance online with

just a 'click'.

Pakistan is one of the few countries where the insurance industry has not reached its potential yet.

However, Jubilee Life has acknowledged the changing preferences of people who want to buy

insurance without the typical hassles.

SECP says insurers must get cyber risk insurance

The Securities and Exchange Commission of Pakistan (SECP) has issued directives to the

insurance sector for protection against cyber attacks, saying the probability of cyber risk is greater

today than ever before due to increasing reliance on technology for business operations and

expansion of financial technology.

The SECP directives, issued under SRO 31 (I)/2019 on Wednesday, warned that all life and nonlife

insurers including family and general takaful operators are required to obtain cyber risk

insurance to cover their own cyber risks to mitigate losses or damages from a variety of cyber

incidents, including data breaches, business interruption, and network damage.

The corporate sector regulator has directed insurers to submit the cyber security framework

assessment reports by April 30 of every year to the SECP.

The SECP said that because insurers are significant contributors to the national financial sector,

interruptions of insurers' systems due to cyber security incidents may have far-reaching

implication.

SECP has further directed insurance companies that the cyber risk insurance will protect insurers

against the claims arising from cyber attacks and the insurer's cyber security framework should

support and promote both its operational security and the protection of policyholder's data.

The SECP has also directed the insurance companies that they should protect their network

including hardware, firmware and software components, integrity, control of information flow,

Insurance Journal January, February, March 2019

33

Find us at: www.insurancejournal.com.pk — www.facebook.com/insurancejournalpakistan
---
National News

boundary protection, and network segregation if needed.

The insurers' cyber security framework will be able to protect the policyholder data in wake of

enhanced reliance on BPO (business process outsourcing), technology-based agency

arrangements and other strategic partnerships for offering technology based innovative insurance

products and services, SECP said.

The SECP has explained that cyber risk means "any risks that emanate from the use of electronic

data and its transmission, including technology tools such as the internet and telecommunications

networks."

The SRO said that this risk also includes physical damage that can be caused by cybersecurity

incidents, fraud committed by misuse of data, any liability arising from data storage, and the

availability, integrity, and confidentiality of electronic information be it related to individuals,

companies, or governmesnts.

The SECP has also explained that the insurers gather, store, and maintain substantial volumes of

confidential personal and organisational information, and because of these reservoirs of data,

insurers are potential targets for cyber criminals who seek information that later can be used for

financial gain through extortion, identity theft, or other illegal activities.

The insurance companies have been directed to appoint a senior executive as Chief Information

Security Officer (CISO) having adequate qualification and experience, who will be responsible

for implementation of overall cybersecurity framework within the organisation.

The CISO will be consulted for taking input with regards to cyber risk and required cybersecurity

strategy and framework to be put in place for mitigation of inherent cyber risk.

JS Bank, Allianz EFU signs agreement for health insurance

solution

JS Bank and Allianz EFU have signed an agreement for the sale and distribution of a unique health

insurance solution, covering in-patient hospitalization due to accident or illness. JS Bank, one of

Pakistan's fastest growing banks, is a leading provider of banking and wealth management

solutions in Pakistan. Allianz EFU is Pakistan's First specialized health insurance company.

The agreement was signed by Kamran Jafar – Deputy CEO, JS Bank and Kamran Ansari –

Operational Head, Allianz EFU.

Speaking at the occasion, Kamran Jafar - Deputy CEO, JS Bank, stated "JS Bank aims to create

relevant and unique solutions for its expanding and evolving customer base. Allianz EFU is an

ideal partner for JS Bank given their international experience and being the pioneers of health

insurance in Pakistan. This partnership reflects our commitment to the well-being of our

customers." Reflecting on the agreement, Kamran Ansari said "Allianz EFU is focused upon

making quality healthcare accessible and affordable for all by introducing quality health insurance

products. We are the first company in Pakistan to offer health insurance to individuals and

families".

Source: Websites

Insurance Journal January, February, March 2019

34

Find us at: www.insurancejournal.com.pk — www.facebook.com/insurancejournalpakistan
---
Legal Section

[Securities and Exchange Commission of Pakistan]

Before Tahir Mahmood, Chairman and

Zafar Abdullah, Commissioner (SMD)

WASI SECURITIES (SMC-PRIVATE) LTD. and another---Appellants

Versus

CHAIRMAN, SECP and 5 others---Respondents

Appeal No. 10 of 2012, decided on 29th November, 2013.

S e c u r i t i e s a n d E x c h a n g e

Commission of Pakistan Act (XLII

of 1997)---

---S. 33--- Securities and Exchange

Ordinance (XVII of 1969), Ss. 21 &

2 2 - - - G e n e r a l R e g u l a t i o n s ,

RegIns.2(A)(1)(d), 2(A)(1)(i) &

36(c)---Unlawful withdrawal of

shares by the appellant company from

the sub-accounts of its clients, and

depositing of such share without

permission of the account holders---

Failure of appellants to fully

cooperate with Enquiry Officer---

Commission received numerous

complaints against the company

regarding unlawful withdrawal of

shares from the sub-accounts of its

clients and disposing of the same

without permission of account

holders---Company also failed to

honour the award of the panel of

arbitrators of Stock Exchange---

Company instead of payment of

award money to the complainant,

filed winding up petition---Stock

Exchange switched off terminals of

the company on account of violation

of Regulations---Commission

appointed Enquiry Commission to

enquire into the matter relating to

outstanding investor's claims against

the company---Company was

directed to fully co-operate and assist

the Enquiry Officers in conducting

and completing the enquiry---

Company was also directed to

provide any information and

documents as required by the Enquiry

Officers, but the company which

ought to have fully co-operated with

the Enquiry Officer failed to provide

relevant record as directed by the

Enquiry Officer, despite repeated

direction---Enquiry Officers vide

notice directed the Company to

ensure presence of an authorized

representative of the company at the

company's officer at the Stock

Exchange building to inspect the

record of the company, but no one

appeared on behalf of the company as

directed---Company, ought to have

settled the claims of the investors

before initiation of winding up, and

should have fully co-operated with

Stock Exchange being the front line

regulator and the Securities and

Exchange Commission of Pakistan

being its apex regulator--- Investor

had suffered an inordinate delay for

settlement of their claims due to the

a c t i o n s o f t h e c o m p a n y - - -

Commission, in circumstances, had

rightly imposed a penalty of Rs.3

million on each Director of the

company and Rs.2 million on Chief

Executive Officer---In absence of any

reason to take lenient view, appeal

against impugned o r d er w as

dismissed, in circumstance.

Wasi Ullah for Appellants.

Hasnat Ahmad, Director (ICW)

and Tahir Mehmood Kayani,

Deputy Director (ICW) for

Respondents.

Date of hearing: 6th November,

2013.

ORDER

This order is in Appeal No. 10 of 2012

filed under section 33 of the

S e c u r i t i e s a n d E x c h a n g e

Commission of Pakistan (the

"Commission'') Act, 1997 against the

order (the "Impugned Order") dated

7-3-2012 passed by Respondent No.

5.

2. Messrs Wasi Securities (SMC-Pvt.)

Ltd (the "Company") was a member

Insurance Journal January, February, March 2019

35

Find us at: www.insurancejournal.com.pk — www.facebook.com/insurancejournalpakistan
---
Legal Section

of the Lahore Stock Exchange

(Guarantee) Limited ("LSE") and

was registered with the Commission

as a broker under the Broker and

Agents Registration Rules, 2001 (the

"Rules") and its board is constituted

of one director/Chief Executive, Mr.

Wasi Ullah Khan (the "Chief

Executive Officer").

3. Brief facts of the case are that the

Commission received numerous

complaints against the Company

regarding unlawful withdrawal of

shares from the sub-accounts of its

clients and disposing of the shares

without permission of the account

holders. Further, as per available

record, the Company failed to honour

the award of the panel of arbitrators of

LSE announced on 1-9-2009 and

upheld by the Appellant Bench of

LSE vide award dated 11-5-2011. In

view of the Company's failure to

deposit award money with LSE as

required under regulation 36(c) of the

General Regulations, the LSE issued

an expulsion notice to the Company

on 18-5-2011. On 1-6-2011, LSE

informed the Commission that

instead of payment of award money to

the complainant, the Company filed a

winding up petition (Civil Original

No. 29 of 2011) before the Lahore

High Court (the "Court") under

sections 305 and 309 of the

Companies Ordinance 1984. In

consequence, LSE switched off

terminals of the Company on 1-6-

2011 on account of violation of

R e g u l a t i o n s 2 ( A ) ( 1 ) ( d ) a n d

2 ( A ) ( 1 ) ( i ) o f t h e G e n e r a l

Regulations. Subsequently, the

governing Board of Directors of the

LSE, expelled membership of

Company with effect from 3-6-2011.

The Central Depository Company

vide notification dated 4-6-2011 also

terminated admission of the

Company to the Central Depository

System.

4. In view of the above, the

Commission conducted initial

scrutiny of the documents, record and

the contents of the winding up

petition filed by the Company which

revealed violations, misstatements,

non-compliances and pending

investor claims. The Commission

ordered an enquiry under section 21

of the Securities and Exchange

Ordinance, 1969 ("the Ordinance")

vide order dated 8-6-2011.

5. The Commission appointed Ms.

Asima Wajid, Deputy Director

("Respondent No. 3") and Mr. Tahir

Mahmood Kayani, Deputy Director

("Respondent No. 4") ("Enquiry

Officers") to enquire into the matter

relating to outstanding investor

claims against the Company, inspect

the books and record and to

investigate the trading activity and

practices of the Company and do all

such things as were necessary or

incidental thereto. The Company was

directed to fully co-operate and assist

the Enquiry Officers in conducting

and completing the enquiry. The

Company was also directed to

provide any information and

documents as required by the Enquiry

Officers from time to time and was

warned that in case of failure to

provide the required information,

appropriate action would be initiated

against it under the law. On 17-1-

2012, the Enquiry Officers submitted

t h e i r i n t e r i m r e p o r t t o t h e

Commission and highlighted that the

Company failed to provide the

relevant record and information as

directed by the Enquiry Officers

despite repeated directions.

6. Show Cause Notice ("SCN") under

section 22 of the Ordinance was

issued to the Company and the Chief

Executive Officer by Mr. Hasnat

Ahmad, Director ("Respondent No

5.") for non-compliance of the

directions and non-provision of

information/documents to the

Enquiry Officers. The authorized

representatives of the Company were

afforded an opportunity to appeal

before Respondent No. 5 on 21-2-

2012 but no one appeared on their

behalf nor was any request for

adjournment made, however, the

Chief Executive Officer provided a

written response dated 20-2-2012.

7. The Respondent No. 5, after

scrutiny of the facts of the case, held

that the Company failed to comply

with the requirements of section 21 of

the Ordinance, the Rules and

Regulations made thereunder. The

Appellants failed to furnish the

requisite record and information

which it was required to furnish under

the Ordinance. The Respondent No.5,

in exercise of the powers conferred by

section 22 of the Ordinance, imposed

a penalty of Rs. 3 million each on the

Company and Rs. 3 million on the

Chief Executive Officer.

8. The Appellants have preferred the

instant appeal against the Impugned

Order the Appellant's representative

argued that:--

(a) after passage of board resolution

by the Company and institution of

winding up petition under supervision

of the Court, a parallel initiative for

enquiry into outstanding investor

claims was unwarranted by law; and

(b) the Appellants could not provide

any documents/information to the

Respondent as they did not have

access to their office due to the

suspension of their membership from

LSE. It was further pleaded that

lenient view be taken by the Appellant

Bench as the Appellants undertake to

settle the claims of the investors as

soon as claims are finalized by the

Court.

9. The department's representative

argued that:--

(a) there is no provision of law which

bars the Respondent from conducting

an enquiry in cases where winding up

proceedings are pending before the

Court. Moreover, the rights of

investors have to be protected at all

costs and an enquiry into outstanding

investor claims was essential to

determine the outstanding claims

after the suspension of the Company

Insurance Journal January, February, March 2019

36

Find us at: www.insurancejournal.com.pk — www.facebook.com/insurancejournalpakistan
---
Legal Section

from LSE. The Appellants defaulted

and the LSE and the Commission had

received a large number of investors'

claim against the Company before

and after closure of its operations and

branch office. As per the statement

made on behalf of the Company in the

winding up petition, an amount of Rs.

53,341 million were payable to 105

investors of the Company; and

(b) the Respondent No. 1 through the

enquiry order, directed the Appellants

to fully cooperate and provide any

information and documents as

required by the Enquiry Officers,

however, the Appellants failed to

provide the relevant record and

information as directed by the enquiry

officers. The Appellants through

letter dated 20-8-2011 stated that the

record is in control of the LSE. The

LSE fully cooperated with the

Enquiry Officers, however, the

Appellants failed to provide the

record from their office at LSE. The

said matter was reported to the

Commission by the Enquiry Officers

on 17-1-2012. Furthermore, until

such time the winding up process is

complete, the Company remains a

legal entity and must provide all the

documents/information as required

by the Respondents for the purposes

of the enquiry.

10. We have heard the parties. Section

21(1)(2) and 22(1) of the Ordinance

are reproduced for ease of reference:-

21. Enquiry.---(1) The [Commission]

may, on its own motion or on

representation of not less than [onetenth]

in number of the members of

the Exchange or, in the case of the

b u s i n e s s o r a n y t r a n s a c t i o n

mentioned in clause (b), on the

representation of the Exchange or any

person interested in or affected by

such business or transaction, at any

time by order in writing, cause an

enquiry to be made by any person

appointed in this behalf into-

(a) the affairs of or dealings in, any

Exchange; or

(b) the dealings, business or any

transaction in securities by any

[person or] broker, member, director

or officer of an Exchange.

(2) Where any enquiry under section

(1) has been undertaken every past or

present member, director, manager or

other officer of the Exchange [or any

other person] to which the enquiry

relates, and every other person who

has had any dealing in the course of

his business with such [person or] 5

Exchange or with the director,

manager or officer thereof shall

furnish such information and

documents in his custody or power or

within his knowledge relating to or

having bearing on the subject-matter

or the enquiry as the person

conducting the enquiry may require.

22. Penalty for certain refusal or

failure.---(1) if any person.

(a) refuses or fails to furnish any

document, paper or information

which he is required to furnish by or

under this Ordinance; or

(b) refuses or fails to comply with any

o r d e r o r d i r e c t i o n o f t h e

[Commission] made or issued under

this Ordinance; or

(c) contravenes or otherwise fails to

comply with the provisions of this

Ordinance or any rules or regulations

made thereunder;

The [Commission] may, if it is

satisfied after giving the person an

opportunity of being heard that

refusal, failure or contravention was

willful, by order direct that such

person shall pay to the [Commission]

by way of penalty such sum not

exceeding [fifty million] rupees as

may be specified in the order and, in

the case of a continuing default, a

further sum calculated at the rate of

[two hundred] thousand rupees for

every day after the issue of such order

during which the refusal, failure or

contravention continues.

Emphasis Added

(a) the contention of the Appellants

that after institution of winding up

petition in the Court, an enquiry into

investor claims could not be held,

holds no merit. Reliance is placed on

section 21 of the Ordinance above

which states that the Commission

"..at any time…" may cause an

enquiry to be made into "…(b) the

dealings, business or any transaction

in securities by any [person or]

broker, member, director or officer of

an Exchange…" Section 21 of the

O r d i n a n c e d o e s n o t b a r t h e

Commission from conducting an

enquiry during pendency of winding

up petition before the court; and

(b) the Appellants ought to have fully

cooperated with the Enquiry Officers.

The Enquiry Officers vide letter dated

22-6-2011 and 11-8-2011 asked the

Appellants for the complete record.

The Appellants submitted vide letter

dated 20-8-2011 that they could not

provide the complete record as they

did not have access to their office after

suspension of their membership from

LSE. The documents/information not

provided to the Enquiry Officers

included: (a) account opening forms

of clients, with the house as well with

the CDC; (b) complete general

ledgers and subsidiary ledgers (partywise

ledgers) for the period 1-7-2009

t o 4 - 6 - 2 0 11 ; ( c ) c l i e n t - w i s e

transaction details for the period from

1-7-2009 to 4-6-2011; (d) party-wise

receipts and payment details for the

period 1-7-2009 to 4-6-2011 (e) trial

balance as on 4-6-2011; (f) details of

pending/ unsettled claims as on 4-6-

2011; (g) clients' securities balance

report and equity/ exposure report of

clients as on 4-6-2011; (h) UIN wise

and scrip wise break up relating to

balance of final loss payable to

NCCPL as on 4-6-2011 and its

subsequent position; (i) list of

employees and the directors holding

designation, current address and job

description (in case of employees

only); (j) copies of minutes of

meetings of shareholders and

Insurance Journal January, February, March 2019

37

Find us at: www.insurancejournal.com.pk — www.facebook.com/insurancejournalpakistan
---
Legal Section

directors of the Company; (k) risk

management policy including margin

requirements; (l) list of bank accounts

maintained by the brokerage house

with their address, and details of

available assets of the brokerage

house; (m) bank statements of all the

banks for the period from 1-7-2009 to

4-7-2011; (n) defaults of loan/finance

facilities obtained from the banks and

details of financial dues outstanding

against the company; (o) list of

a u t h o r i z e d s i g n a t o r i e s f o r

banks/CDC/NCCPL/LSE including

copies of board resolutions and

signatories cards; (p) net capital

balance certificate for the last two

years; (q) audited accounts of the

brokerage house for the last two

years; (r) correspondence with

complainants as well as with LSE

r e l a t i n g t o c o m p l a i n t s ; ( s )

documentary evidence regarding

actions by the management of the

brokerage house for resolution of

complaints; (t) copies of existing

charge registered on any assets of the

company; (u) pattern of shareholding;

(v) pledge reports of house/subaccounts

and details of pledge

(Add/Release/Call) by LSE banks;

and (w) CDC audit/ inspection report

issued by CDC.

The perusal of the record shows that

the Enquiry Officers vide notice dated

22-9-2011 directed the Appellants to

ensure presence of an authorized

representative of the Company at the

Company's office at the LSE building

in Lahore to inspect the record of the

Company, however, no one appeared

on behalf of the Company as directed.

The Chief Executive Officer

responded vide letter dated 28-9-2011

stating that a winding up petition of

the Company is pending before the

Court and the Company cannot be

compelled to produce any record or

statement that can be used against the

Company. The Enquiry Officers vide

letter dated 12-10-2011 afforded

another opportunity to the Company

to provide the record on or before 21-

10-2011, however, the Appellant vide

letter dated 14-10-2011 reiterated the

same stance taken earlier and failed to

provide the record. The Enquiry

Officers vide letter dated 11-11-2011

while responding to the averments of

the Company advised the Company to

provide the relevant record on or

before 23-11-2011. The Company,

however, still failed to provide any

information and record. We do not see

any reason why the Appellants failed

to cooperate with the Enquiry

Officers. The afore-mentioned facts

prove it beyond any doubt that the

entire record is in the custody of the

Appellants, who in order to delay the

processing of claims did not

cooperate with the Enquiry Officers.

So far as the contention of the

Appellants regarding leniency on the

ground that the Appellant are fully cooperating

with the Court in order to

pay back the claim of the investors is

concerned, we are of the view that the

Appellants ought to have settled the

claims of the investors before

initiating of winding up and should

have fully cooperated with LSE being

the front line regulator and the SECP

being its apex regulator. The investors

have suffered an inordinate delay for

settlement of their claims due to the

actions of the Appellants.

In view of the above, we see no reason

to take a lenient view and the appeal is

dismissed with no order as to costs.

Appeal dismissed.

Insurance Journal January, February, March 2019

38

Find us at: www.insurancejournal.com.pk — www.facebook.com/insurancejournalpakistan
---
Helping People

Take Control of Their Lives

Misc.

Insurance

Fire

Insurance

Crop &

Livestock

Insurance

Motor

Insurance

Engineering

& Bonds

Insurance

Health

Insurance

Agri Assets

Insurance

Cargo

& Hull

Insurance

Marine

Insurance

Travel

Insurance

Pioneer in Credit Linked Insurance

g

g

g

Fire & Allied Perils

Automobiles

Engineering & Bonds

Cargo and Hull

Miscellaneous Accidents

Crops & Agricultural Assets

After Completion of more than three decades in business, our highly qualified team of

professionals understand the importance of gaining your trust and providing you with

innovative solutions and expert advice. We believe that integrity, honesty and trust is the

basis of any successful company and look forward to continuously improving our

standards and performance in time ahead.

g

g

g

Rated

A+

by

PACRA

Successfully Launched

WINDOW TAKAFUL

OPERATIONS

Branches All Over Pakistan
---
We are specialist in UMRAH services

Exclusive UMRAH Packages:

Five Star

Package

Four Star

Package

Three Star

Package

Economical

Package

Travel & Tours (Pvt) Limited

IRTIQAZ Travel & Tours (Pvt) Limited