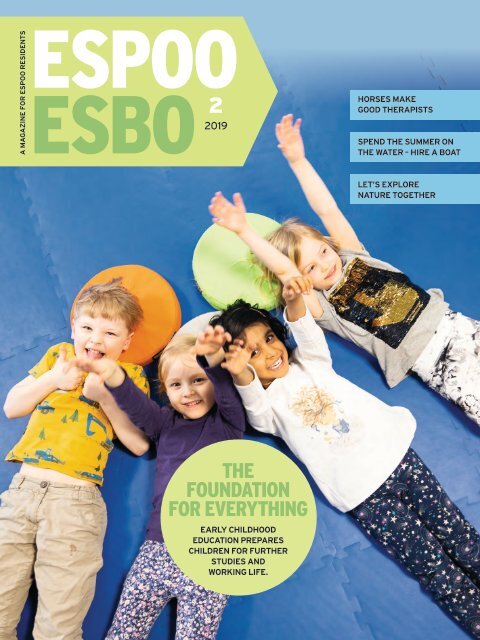 ESPOO MAGAZINE 2/2019
A MAGAZINE FOR ESPOO RESIDENTS
A MAGAZINE FOR ESPOO RESIDENTS
SHOW MORE
SHOW LESS
You also want an ePaper? Increase the reach of your titles
YUMPU automatically turns print PDFs into web optimized ePapers that Google loves.
A MAGAZINE FOR ESPOO RESIDENTS

2

2019

HORSES MAKE

GOOD THERAPISTS

SPEND THE SUMMER ON

THE WATER – HIRE A BOAT

LET'S EXPLORE

NATURE TOGETHER

THE

FOUNDATION

FOR EVERYTHING

EARLY CHILDHOOD

EDUCATION PREPARES

CHILDREN FOR FURTHER

STUDIES AND

WORKING LIFE.
---
MY ESPOO

FANNI HAS

ALREADY HELPED

MANY CHILDREN. SHE

IS A LARGE ANIMAL,

SO IT IS FINE TO GIVE

HER A PROPER

HUG.

TIMO PORTHAN

HORSES ACCEPT EVERYONE

JUST AS THEY ARE

LET YOUR horse carry your burdens

– he is strong enough. The old

saying has a grain of truth. Horses

mirror people's emotions. They can

sense sorrow and joy, they do not

accept angry people but they also

do not bear grudges. This incredible

characteristic has also been put to

use with children who have difficulties

with social situations, managing

their emotions or self-esteem.

"The intensive course in social

pedagogical equestrian activities will

be arranged by the Sports and Exercise

Services for the seventh time

this year. Working with Child Welfare,

we select a group of six to eight children

aged between eight and 12,"

says Jetta Laajarinne.

Saara Huhtanen works with

Laajarinne as an instructor on

the social pedagogical equestrian

activities, and physical education

instructor Tia Tikkanen is involved

in implementing the sporting elements

of the course.

The course is deliberately scheduled

on either side of the end of the

school year in May and June.

"For many special needs children,

these transitional times are challenging.

For this reason, the course

will experiment with the practice of

meeting again in August when the

schools restart this year," Laajarinne

says.

The children selected for inclusion

in the group have no prior riding

or horse-handling experience. The

course involves looking after horses

together. Any willing participants can

also jump on the back of a horse.

"The children will do things

together. The horse and horse-care

are important to some, while others

enjoy the sense of community in

the stables. It is incredible to see

how sensitive, withdrawn children

become emboldened and the most

lively children calm down when they

are near a large animal."

"At the stables, many of them

have the courage to talk about difficult

topics." TIINA PARIKKA

2
---
CONTENTS 2/2019

A MAGAZINE FOR ESPOO RESIDENTS

2

2019

IN THIS ISSUE:

2 MY ESPOO › Horses as therapists

4 EDITORIAL › Jukka Mäkelä

5 TOP PICKS › Rug-washing sites open

7 AT YOUR SERVICE › Lotta Lönnqvist

8 THEME › The foundation of the learning pathway

12 ACTIVE ESPOO › Coming up this summer

15 INSIGHT › Health services going online

16 PEARL › The world's best library

18 SERVICE › Summer on the water

20 SWEDISH IN ESPOO › Fokus på barnets bästa

22 FREE TIME › From the Finna.fi archives

23 ESPOO NATIVE › A joint birdwatching trip

8

As new teaching

practices take

sway, day-care

centres are

adapting and using

smaller spaces.

''

Espoo Library

received an

international

award.

7

14

23

ESPOO MAGAZINE 2/2019 >> 3
---
EDITORIAL

Sustainability is created

by learning new things

ESPOO IS a city of growth. Every year, more than 3,000 new citizens are

born in Espoo. The net inflow of citizens moving to Espoo is about the

same and includes a large number of families with children from other

parts of Finland and abroad. For this reason, Espoo is very much a city

for children and their families. The city's mission is to offer opportunities

for people to learn, engage in hobbies and live safely so that a good life

is within everybody's reach.

Last year, Espoo joined the UN's group of pioneering cities. This means

that we are committed to working with citizens and communities to build

replicable and scalable solutions to reach the Agenda 2030 Sustainable

Development Goals approved by the organisation's member states.

Espoo's activities focus on learning, education and innovation.

Our growing and internationalising city will have more urbanity, diversity,

life and culture. Urbanisation shapes the appearance and substance

of people's home neighbourhoods. It challenges us to think seriously

about what we do, both on a national scale and on a global scale.

As a child, I played in the wild areas near Tapiola. According to surveys,

one of the more important sources of wellbeing for us Espoo

residents is nature: nearby, at sea, in parks and in forests. Children continue

to have good, safe places to play here. But building a sustainable

future entails much more. In this magazine, we explain what Espoo's early

childhood education units are doing to give Espoo children a good start to

a lifelong learning pathway.

JUKKA MÄKELÄ

Mayor

Facebook

Espoo – Esbo

Updates from different

parts of the city and

pages dedicated to

various operators.

"

Finnoo is not only investing

in smart housing,

good public transport,

and jobs, but also in recreation

areas. Finnoo will

become a pioneer in environmentally

friendly

housing.

Twitter

@EspooEsbo

Always up to date.

Information, answers

and discussion.

"@OpetusEspoo

The young people in

Espoo became excited

about influencing at

school and now want to

promote common good.

"It's not that hard to influence.

Instagram

@espoonkaupunki

Great moments, events

and landscapes through

the eyes of Espoo

residents.

"@espoonkulttuurikeskus

Thank you @apriljazzfestival!

What a great Festival!

Thanks to all the

participants, performers,

audience!

MAGAZINE FOR ESPOO RESIDENTS Public bulletin to all households FEEDBACK AND SUGGESTIONS espoolehti@omnipress.fi

PUBLISHER City of Espoo, PO Box 12, 02070 City of Espoo, tel. 09 81 621, espoo.fi, firstname.lastname@espoo.fi

EDITOR IN CHIEF Satu Tyry-Salo, Communications director EDITORS Omnipress Oy, espoolehti@omnipress.fi

MANAGING EDITOR Kimmo Kallonen LAYOUT Hannu Kavasto/Hank PRINTED BY Punamusta DISTRIBUTION SSM

NOTIFICATIONS jakelupalaute@omnipress.fi COVER Timo Porthan ISSN 1798-8446

4
---
PICKS

13,000

More

than 13,000 kg of Fairtrade

bananas are eaten for snacks and

desserts in Espoo every year.

Espoo has been a Fairtrade

city for over ten years.

Register your event

for Espoo Day

ESPOO DAY – the largest annual city event in Espoo – is celebrated

in late August every year. All activities that are free of charge

and open to everyone are welcomed as part of

Espoo Day on 30 and 31 August 2019. Suitable

ESPOO DAY

activities for Espoo Day include experience-rich

events that are not religious, political or commercial.

AUGUST 2019.

ON 30 AND 31

Register your event by 2 June at espoopäivä.fi

and it will be included in the Espoo Day brochure and on the website.

Events registered from 3 June onwards will be included on

the website's programme.

TAKING OVER MATH

THE OLARIN KOULU comprehensive school pupils won the Finnish

finals of the Nordic MatCup mathematics competition and

will represent Finland at the Nordic Math Class Competition, the

NMCC finals, in Trondheim in the beginning of June. Unlike in

many other mathematics contests, in the MatCup competition,

the class solves tasks together. This time, the topic was mathematical

constellations. Other schools in Espoo were very successful

in the competition, too. The Mankkaan koulu secondary

school got silver and among the top ten were also the secondary

Have a party in a dairy

or a museum

IN ESPOO, you can arrange parties in a 150-year-old dairy, in a museum

surrounded by modern art or amidst stunning archipelago scenery.

Meijeri, the newly renovated dairy at Children's Cultural Centre

Aurora, is also available for adult parties and meetings. The building is

located in historical surroundings and has the capacity to welcome up

to 75 visitors. The ballroom can accommodate 60 seated guests, and

the sheltered yard also enables outdoor activities. You can order a catering

service for the wheelchair-accessible premises or bring your

own party food.

"The premises have been carefully decorated to support the appearance

of the protected site. You have to see it to believe it. I previously

worked in the catering sector for many years and I never saw an

environment as unique and diverse as this," says Tuija

Lustig, a customer service advisor at Aurora.

A different setting for a celebration is Aitio, a

seminar and function room at EMMA, where

guests can also look around the museum: the

Villa Paratiisi

room is separated from the exhibitions by

in Nuuksio.

a curtain. The room can accommodate 70

people for dinner or 150 people for a cocktail

event, and you can choose to kick off

the event with a talk about art from an

EMMA representative.

The City has many other banquet facilities.

Trap Factory in Otaniemi enables visitors

to combine an escape room game with a large

celebration. For smaller events, you can book a

banquette room at the Fat Lizard restaurant, which

serves beer from its own brewery a stone's throw away.

For a richer experience in the wilderness, head for Yli-Takkula

farm in Nuuksio or the Pentala archipelago restaurant, Paven.

› All of the banqueting facilities in Espoo are listed on visitespoo.fi.

home championships are one

way of promoting the status of women's

and girls' ice hockey, boosting the

number of players, raising awareness

schools Saarnilaakson koulu and Järvenperän koulu.

and lifting interest.

''The

HARRI NUMMELA, PRESIDENT OF THE FINNISH ICE HOCKEY

ASSOCIATION, ON THE WORLD CHAMPIONSHIPS BEING HELD IN ESPOO.

ESPOO MAGAZINE 2/2019 >> 5
---
PICKS

Macroplea

pubipennis.

There are

six free rugwashing

sites

for all citizens

to use.

Rug-washing sites open – new

site opened in Kirkkojärvenpuisto

RESIDENTS OF central Espoo will have access

to a new rug-washing site in the southern

part of the Kirkkojärvenpuisto recreational

area at the address Kaivomestarinniitty

6. The rug-washing sites are free for

all citizens to use until 29 September. The

washing basins have running water and the

sites have drying racks and a rug spinner.

The other rug-washing sites have been in

place for years. They are located in Finnoonniitty

(Finnoonniitty 6), Kilo (Kuninkaistenportti

22), Olarinluoma (Luomanportti 2)

and Niipperi (Niipperinkuja). The Espoonlahti

rug-washing site (Suokanlahdentie 1)

is being renovated in May and June and will

open later.

ESPOO IS TEACHING UNEMPLOYED PEOPLE TO CODE

LEHTIKUVA/SARI GUSTAFSSON

ESPOO IS COMMITTED TO

PROTECTING THE BALTIC SEA

ESPOO UPDATED its programme of actions for the

Baltic Sea for the coming years. The city has been

involved in the Baltic Sea challenge network for 12

years. The challenge entered its third term of operation

at the turn of the year and, in this term, Espoo

will endeavour to reduce nutrient loading, emissions

of hazardous substances and littering in its sea area.

A total of 77 actions have been listed for the coming

years based on the successes in the previous term.

The actions include connecting large recreational and

sports places to the water supply and sewer network

and examining the expansion of the nature conservation

network in the archipelago and sea area.

Many of the sites in Espoo's sea area are important

recreational areas for local citizens. Laajalahti and

the northern tip of Espoonlahti are nationally valuable

Natura wetlands for birds. The coastal waters are

also the habitat for an endangered species of beetle,

Macroplea pubipennis. Espoo is calling on all residents

to contribute to protecting the Baltic Sea.

THE CITY of Espoo has ordered a training programme

from Soprano Oyj, which will teach

unemployed people aged over 25 to become

programmers. The trainees have a background

in companies in the ICT sector, and

the training involves updating competences

for modern needs. The first three-month

course started at the beginning of April.

The training periods are individually tailored

for each student and, when the course

is finished, the students will be able to start a

three-month training period. After this, employment

options will be reviewed with them.

These may include acquiring additional

competences or even considering entrepreneurship,"

says Pauliina Lautanen-Nissi, Soprano's

Business Director of ICT Training Programmes.

nowadays

you can watch movies

almost anywhere.

but going to a movie

theatre, now that is

something!

the image,

the audio, the speaker

system, the music,

the plot, the story...

... so many things

that make up a great

night at the movies!

espoo residents are frequent movie-goers. up to three in four people in espoo went to the

movies within the past year. the residents of the greater matinkylä and greater tapiola areas

were the most active in this regard. are you already familiar with espoo's movie venues and

espoo ciné International film festival? Official Statistics of Finland: Participation in leisure activities. Statistics Finland.

cupore.fi/research

espoo.fi/espoocult

espoo.fi/espoostory

6
---
HOW CAN

I HELP?

For Lotta Lönnqvist,

solving customer's

problems is a matter

of pride. Every day, the

service advisor answers

an enormous number of

questions of all kinds.

TEXT Tiina Parikka

PHOTO Timo Porthan

Lotta Lönnqvist is often

keen to clarify things using

gestures. For now at least,

the person at the other end

of the line cannot see these

gestures.

AT YOUR SERVICE

''

Customer service is what

I do. I started working

at a service point in

Tapio la four years ago,

and I have been working in electronic

customer service for a couple

of years now. We handle the City's

switchboard, questions from service

points, advising on electronic

health care appointments and matters

to do with transport services.

We are constantly taking on new

duties.

Nowadays, we are increasingly

serving customers via electronic

channels. We get a lot of questions

via email and the City's feedback

channel, and we also monitor our

Facebook profiles, where people

ask questions about topical issues.

Soon we will also have a chat service.

The days alternate between advising

customers on the telephone

and doing written work. The

quickest way to get help is on the

phone.

The best thing about working as

a customer advisor is solving problems

and calming customers who

are worked up or in a bad mood.

Sometimes, it is necessary to contact

several different parties to sort

out a problem. This was the case recently

with a problem concerning

transporting a child to school. The

child's mother was naturally upset

at the lack of clarity with the situation.

After numerous discussions

with various parties, it felt really

good to tell the mother that everything

had been sorted out.

We provide service in Finnish,

Swedish and English. Sometimes,

communication can be challenging,

but we have always succeeded in

finding a common language.

I have worked for the City since

2005: my first job back then was as a

special needs assistant.

IN ESPOO'S E-SERVICES, THERE ARE:

10

EMPLOYEES

AND THEY ANS-

WER OVER

7 000

PHONE

CALLS,

ALMOST

1 000

EMAILS

AND

NEARLY

50

QUESTIONS ON THE

FEEDBACK CHANNEL

EVERY MONTH.

2/2019 ESPOO MAGAZINE >> 7
---
THEME

CHILDHOOD

EDUCATION SUPPORTS THE

NEW CURRICULUM.

''EARLY

11.4

%

2014

People are increasingly

opting for

private day-care.

15.2

%

2018

8
---
THE PATHWAY

OF LEARNING

Text Maarit Seeling

Illustration Susanna Tuononen

Photos Timo Porthan

BEGINS HERE

Early childhood education lays the foundation for studying and working.

The common theme of the new plan is sustainable development.

Early childhood education

has many purposes: promoting

the child's growth,

development, learning capabilities,

equality and non-discrimination,

and preventing social exclusion.

"The knowledge and skills learned

during early childhood education

reinforce the child's role as an active

member of society. In addition, early

childhood education supports parents

and guardians with education

work and enables them to study and

work," says Virpi Mattila, Director

of Early Childhood Education, and

Raija Laine, Development Manager

at the City of Espoo.

One of the overarching themes of

the reformed Early Childhood Education

Act will be sustainable development.

This means more for early

childhood education than simply

recycling goods, sorting waste

or providing instructions on saving

electricity and water: it means

taking care of each other and good

social relations. For the first time,

the prevention of bullying was also

included in the text of a law.

"The instrumental importance

of an ecologically, socially, culturally

and economically sustainable

lifestyle is taken into account in all

of the operations of day-care centres.

A responsible attitude to nature

is expressed through everyday

choices," Laine says.

The changes in the early childhood

education curriculum are echoed

in the new curriculum for basic

education and the vocational education

reform.

"Early childhood education is a

part of the child's learning pathway.

It creates the capabilities for subsequent

study and inclusion in working

life," Mattila says.

AT POHJOIS-TAPIOLA day-care centre,

children spend much of their days

in small groups. The building was

taken into use one year ago, and the

adaptable premises were designed

ESPOO MAGAZINE 2/2019 >> 9
---
THEME

CHILDREN WITH

AN IMMIGRANT

BACKGROUND ARE

ACCOUNTING FOR AN

INCREASING PROPORTION

OF THE CHILDREN

ATTENDING

DAY-CARE.

Of the total number of children

at early childhood education age

(between 10 months and 6 years),

the proportion of children who have

an immigrant background has risen

to 22.9 per cent (2018) since 2014.

16.4 % › 22.9 %

14.3 % › 22.2 %

In 2014, 14.3 per cent of

children in municipal daycare

had an immigrant

background, while the

corresponding figure in

2018 was 22.2 per cent.

from the very beginning to support

early childhood education goals.

"The small group activities are

planned together with the children.

Play is important and the personnel

are keen to hear the children's

wishes. Wishes may expand into

information-gathering projects, as

they did on the day when the children

saw a fox through the window,"

says Pia Arvonen, the manager of

the day-care centre.

Pohjois-Tapiola day-care centre

has bright open spaces spread over

two floors and divided into home

areas for two groups, containing the

basic rooms as well as various small

group areas that are jointly used,

including an atelier, climbing room

and water play area.

Children can safely practice their

social interaction skills in small

groups; even quiet children can

make their voices heard, and the

educator is better able to facilitate

the inclusion and enrichment of

play, and make their own observations.

Pohjois-Tapiola day-care centre

has 150 children, but it avoids a feeling

of disorder and disturbing noise

thanks to the efficient layout, good

acoustics and the staggered organisation

of the groups' activities, daily

rhythms and the use of space. This

solution has proven beneficial in

helping the children and also the

personnel to cope with everyday life

at the day-care centre.

IN AUGUST, ESPOO will begin a trial to

provide five-year-olds with 20 hours

of early childhood education free of

charge every week. The trial is expected

to bring an estimated 300

new children into early childhood

education.

"Of course, it is up to the family

to decide whether the child is

involved in early childhood education.

It is already obligatory for sixyear-olds

to receive preschool education,

but it is not mandatory for

them to attend a preschool. The law

only states that parents or guardians

are responsible for ensuring that the

child is involved in preschool education

or other activities that meet the

same targets. In other regards, early

childhood education is entirely voluntary,"

Mattila notes.

According to her, society is aiming

towards increasing the number

of children in early childhood education.

Early childhood education fees

have been reduced several times in

recent years.

The rate of involvement in early

childhood education in the Finnish

language was 76.4 per cent at the

end of 2018. The rate of involvement

of children under the age of three

New day-care centres are built every year

ON AVERAGE, the number of children attending

day-care centres in Espoo increases by 400 every

year. Additional places are therefore in constant demand.

Last year and this year have seen the completion

of Haukilahti day-care centre and the modular daycare

centres in Painiitty and Jupperi. Five new daycare

centres were completed in 2017 and five are

currently under construction. In addition to these,

the Vermo day-care centre is also on the drawing

board, along with comprehensive renovation projects

at the Mankkaa and Soukankuja day-care centres.

Some of the new day-care centres will replace old

buildings in poor condition, such as Jupperi day-care

centre and Pohjois-Tapiola day-care centre, which

was completed in 2017. However, when new buildings

replace old ones, the new buildings often have a

higher capacity, so they contribute to addressing the

expanding need for day care.

The comprehensive renovation and new construction

of day-care centres is a part of the Koulut Kuntoon

project, which seeks to improve the conditions

of all working premises, schools and day-care centres,

as well as premises such as health centres and

fire stations. Projects often concern education hubs

containing schools and day-care centres, such as

the Monikko school centre, where construction work

began this spring. This summer will also see the completion

of the Kirsti day-care centre, which is being

built alongside Kirsti school.

An essential aspect of the design of new day-care

centres is that the efficient use of floor area can

support new educational and teaching targets.

10
---
was around 30 per cent, while the

figure for six-year-olds was over

95 per cent.

MULTICULTURALISM has increased

in Espoo's day-care centres. Pia

Arvonen says that Pohjois-Tapiola

day-care centre has children from

several different linguistic and cultural

backgrounds. In many parts

of Espoo, the proportion of multicultural

children is significantly

higher.

"Small group activities also support

language learning among all

children. Children find it easiest

to learn by playing. In normal situations

at day-care centres, children

hear everyday vocabulary,

and they quickly pick up the words

they need. At the same time, Finnish

children learn that there are

other groups of people, religions

and habits in the world. Incorporating

ethics into education is the

modern way, and it teaches children

to accept diversity," Arvonen

says.

The problem is that multiculturalism

is not evenly distributed

in every area. In Espoo, there

are already some units where the

majority of the children have an

immigrant background. It is not

possible to learn the language

from the other children.

"It is an everyday issue at daycare

centres that the adults and

children do not share a common

language. It takes time to find

an understanding. We use interpreters,

simple language and pictures

to help the children and parents

to understand. For many families,

early childhood education

is a gateway into Finnish society,

and the day-care centre personnel

are the first point of contact here,"

Mattila says.

AT MANY DAY-CARE CENTRES, the

daily rhythm has remained unchanged

for decades: porridge for

breakfast, play and outdoor activities,

lunch, rest time, snack time

and then more play and outdoor

activities.

Staggering the activities has

led to some changes in the dayto-day

timetable at Pohjois-Tapiola

day-care centre, but the principle

is still the same. However, the

daytime nap is nowadays called

rest time. At preschool, it is a halfhour

relaxation period where the

children listen to a story or music,

while in other groups, the children's

needs and families' wishes

are taken into consideration more

extensively.

Digitalisation is also a part of

everyday life at day-care centres.

Groups have access to tablets,

which they use to teach subjects

such as image editing, the basics of

coding, searching for information

and using the internet safely.

"However, it is better to learn

certain things by getting out into

the forest and collecting pine

cones and twigs rather than using

teaching software. We make frequent

use of the local forest.

Early childhood education provides

experiences, observations,

research, stories and adventures

in natural surroundings. Positive

experiences of nature teach children

to respect and value nature,"

Arvonen says.

Sorting waste is an important

part of early childhood education

in sustainable development. The

activities highlight taking responsibility

for the local environment

by keeping it tidy, enjoyable and

safe. The activities integrate the

principles of sustainable development

into the everyday lives

of children and get them to think

about things for themselves.

"Last year, preschoolers made

15 bird boxes, which were put up

in nearby trees so that we could

see the birds nesting from our windows.

This year, the preschoolers

will take care of maintaining

the bird boxes. At the beginning

of April, the children emptied the

bird boxes ready for new arrivals,"

Arvonen says.

WHEN THE RELATIONSHIP

IS ON TRACK, THE WHOLE

FAMILY BENEFITS

ESPOO HAS a comprehensive family centre

service entity, which offers quick and easy

help to support families with children in different

life circumstances.

In the area of family wellbeing, attention

has now shifted to relationships. This spring

saw the launch of relationship Saturday

events, where various experts talked about

the ingredients of a successful relationship

and the services available to support relationships.

The Parisuhteen Pelastusrengas relationship

advice service, which is open every

second Tuesday, can be the first step toward

seeking help. The service operates at

the maternity and child health clinics (neuvola)

in Iso Omena, and it is open to everyone.

People are welcome to attend alone

or with their partners to discuss whatever is

weighing on their minds and receive information

about the bodies that can provide help.

No appointment is required. The Parisuhteen

Pelastusrengas relationship advice service

will be open one more time this spring, on

Tuesday 6 June from 4 pm to 7 pm in the

Kaisla group space.

Help and advice is available on topics such

as separation, sexuality and domestic violence.

Maternity and child health clinics (neuvolas),

church congregations and various

associations offer an extensive safety net

around families with children.

Further information: espoo.fi/familycentre

Pohjois-Tapiola

day-care centre

often works with

children in small

groups.

OPEN PLAYGROUNDS WITH

STAFF MOVE TO YARD AREAS

FOR THE SUMMER

ESPOO HAS 16 open playgrounds with staff

intended for families with children. They offer

the opportunity to meet other families

and for children to play together.

Supervised club activities are arranged at

open playgrounds with staff for children who

are in home care and aged two to five. The

clubs meet two or three times a week and

the activities last a couple of hours.

The clubs are led by skilled instructors.

They do not affect the parents' entitlement

to home care allowances.

Many open playgrounds with staff also

offer supervised activities for young school

children in the morning and late afternoon.

In the summer months between May and

September, the activities provided by open

playgrounds with staff are usually at nearby

parks.

For details of open playgrounds with staff in

your area and further information, see

espoo.fi/asukaspuistot

For information on clubs and how they select

children, as well as instructions for applying,

see espoo.fi/kerhot

ESPOO MAGAZINE 2/2019 >> 11
---
WHAT'S ON IN JUNE–AUGUST

ART TAKES OVER THE

AURORA SUMMER

GARDEN

CHILDREN'S CULTURAL CENTRE

AURORA will hold an opening ceremony

its revamped summer garden on Thursday

6 June, 6 pm – 7:30 pm. The opening

ceremony will feature catchy melodies,

witty lyrics and an energetic stage

show by Rosa-Maria, the singer and

guitarist from Sitku, and rapper Tiia

Karoliina. There will also be a pop-up

café and dream workshop, where visitors

will be able to make a dream map

for summer 2019 for the whole family.

The summer garden takeover will

take place in June and July. Between

10 am and 1 pm on Mondays, Tuesdays,

Wednesdays and Thursdays, an artist

will be present to surprise and entertain

families. Events will include activities by

the Seikkailutaidekoulu school of adventure

art, the Jäänsärkijät community

theatre group and Hupsansaa ry.

Other activities in the summer

garden:

Thursday 13 June and 11 July, 6 pm –

7:30 pm, Kortteli stage.

Tuesday 4 June, 11 June, 18 June and

2 July, 6 pm – 6:45 pm, garden colour

baths for children aged 4–12 months and

their parents. One-off fee: EUR 8.

Additional guided morning and evening

sessions. Free entry for all activities

unless otherwise stated. For more

details on the activities, see lastenkulttuurikeskusaurora.fi.

ARCHITECTURE STUDENTS CREATED

A VISION FOR THE FUTURE OF GLIMS

CHANGE IS the only permanent

thing in an environment of culturalhistorical

significance. The Glims

Farmstead Museum is exhibiting a

dream of a modern visitor centre.

The cultural committee has given

the green light to the plan, so the

dream will become a reality.

The visitor centre will modernise

the museum's services and free up

old buildings for new uses. It will

offer spaces for exhibitions, courses,

events, celebrations and school

pupils who – in the spirit of the

modern curriculum – will be able to

get out of the classroom.

The exhibition consists of posters

and small-scale models made by

Aalto University students on a construction

design course. Visitors will

be able to give feedback on individual

works and on the development

of the museum more generally.

"We would like to receive as much

information as possible about the

wishes of museum visitors and

Espoo citizens," says museum lecturer

Aino Osola, describing the aim

of the exhibition.

In summer, guided tours on the

theme of "guest house to visitor

centre" will be arranged in the

surroundings in Glims, which took

centuries to build into its present

form.

CENTURIES

MEET.

The oldest

buildings in Glims

are from the 18th

century.

› The exhibition, "Dreaming of a

visitor centre", will be shown at the

Glims Farmstead Museum until

12 January 2020. "Guest house to

visitor centre": guided tours on

Sunday 2 June, 3 pm – 4 pm, and

on Friday 5 July, Sunday 7 July,

Friday 12 July, Sunday 14 July,

Sunday 28 July and Friday 9 August,

1 pm – 2 pm. Price: EUR 4.

› Museum entry fees: EUR 4/

EUR 3. Free entry for visitors aged

under 18. Free entry on Wednesdays.

Free entry on Thursdays

after 3 pm from June to August.

Annual ticket: EUR 15. A Kaikukortti

site. A Museum Card site.

OTTO VÄÄTÄINEN

"Come and enjoy

leisurely summer days

alone or together.

A cultural oasis in the

middle of Espoo!"

– MIIA SALMINEN,

PRODUCTION ASSISTANT, AURORA

JUNE

VINTAGE AND

RHYTHMS

THE EVENT for fans of old items, vintage

and collecting will happen again

this year.

The event will feature sets by DJ

Fiona Timantti as well as Hi-Five

Quintet, a group playing traditional

rhythm and blues and soul, including

favourites from Ruth Brown, Etta

James, Marvin Gaye and Wilson

Pickett.

Wilhelmina Af Fera will also be

there, creating vintage and pin-up

hairstyles. Make an appointment in

advance: wilhelminaafferaofficial@

gmail.com. Price: EUR 40 per hairstyle.

› Lepuski Retro & Vintage,

Saturday 8 June, 10 am – 3 pm,

foyer at Sellosali. Free entry.

JUSSI HEMMO

JULY

GATECRASHERS'

FOLK SONGS

KUOKKAVIERAAT ("THE Gatecrashers")

will sing folk songs at the Glims

Farmstead Museum in honour of the

day of spring and verse. Kuokkavieraat

have been together for more than

40 years, singing an eclectic range of

Finno-Ugric folk music.

› Saturday 6 July 2019,

2 pm – 2:30 pm

GEOLOGY FOR

BEGINNERS

THE CITY of Espoo's Environment

Department is arranging a geology

trip for beginners. The trip starts and

ends at Espoon keskus. There is plenty

of interest to see along the way, and

the route includes steep ascents and

descents, so the trip is not suitable

for people who have trouble walking.

Robust shoes are required.

The guides are Stefan Eppu

Blomqvist and Jari-Pekka Mäkiaho.

The Environment Department will offer

free coffee at the Bemböle café.

› Boulders, rock and pits – a geology

trip for beginners, Sunday 14 June,

10 am – 4 pm. Departing from the

Espoontori car park. Not suitable for

children under the age of 10. Pets not

allowed. There is space for 45 participants.

Register by 12 July by phone:

+358 9 81654400.

12
---
More events: espoo.fi › In English › Culture and sport

WHAT'S ON IN JUNE–AUGUST

MIDSUMMER POP

THE ISKELMÄKESÄ tour will arrive in

Espoo during the hottest part of the

summer. On the Friday, the festival will

feature Antti Ketonen, who released last

year's most popular radio song, "Olisitpa

sylissäni", Matti and Teppo, who will be

performing less regularly after the summer,

and Raskasta Iskelmää, a festival

party band.

On the Saturday, the weekend will

culminate in performances by Eppu

Normaali, with sets by Laura Voutilainen,

Jonne Aaron, who has launched

a solo career after performing with Negative,

and Jannika B, who released her

second album in the spring.

› IskelmäKesä festival in Tapiola, Friday

26 July and Saturday 27 July, 5 pm

onwards on both days. Tickets available

at lippu.fi and Tiketti. One day:

EUR 39.90. Both days: EUR 69.90.

INTERNATIONAL

CHAMPIONSHIPS

IN THE summer, more than 200 teams

from nearly 40 countries will come to

Espoo to compete in the World Maxibasketball

Championships. The tournament

was arranged in collaboration

between the City of Espoo and Tapiolan

Honka, and the games will be played in

12 locations in the Tapiola sports park

area and near metro stations from 25

July to 4 August.

› Further information:

espoofimba2019.fi

AUGUST

A DIFFERENT TYPE

OF CARNIVAL AT

SELLOSALI

PEKKA KUUSISTO and other prominent

soloists will interpret the beloved

fantasia series composed by Camille

Saint-Saëns in the 19th century in a new

context. The music forms an enlightening

dialogue with the visual and textual

material depicting the destruction

wrought by humans.

› Animal carnival, 25 August,

6 pm at Sellosali. Tickets at

Ticketmaster, from EUR 22.50.

Recommended minimum age: 13.

ALL SUMMER

NATURE

EXPERIENCES FOR

PEOPLE OF ALL

AGES

THE LAAJALAHTI nature reserve

and Nature House Villa Elfvik, with

its varying exhibitions, display the

valuable Espoo nature and promote

a sustainable lifestyle. Villa Elfvik's

upper floor contains the Badger's

Forest, a play area intended for children

where visitors can dress up as

a forest animal or a fairytale character,

play with animal hand puppets

or crawl into the badger's sett.

› At Villa Elfvik from June to

September, Sundays, 10:30 am –

12:30 pm. Nature trip for the whole

family. A guide will read stories in the

Badger's Forest at 11 am on the first

Saturday of every month.

SUMMER EVENINGS

LISTENING TO HIT

SINGERS AND TOP

MUSICIANS

NEXT SUMMER, Espoo will host

numerous top international artists

at concerts included in the Organ

Night & Aria festival from 6 June

to 29 August at Tapiola Church and

Espoo Cathedral.

The performers will include

the singers, Camilla Nylund, Topi

Lehtipuu, Tuomas Katajala, Jorma

Hynninen, Arttu Kataja, Pia Freund,

Tuuli Takala and Aarne Pelkonen,

pianist Ralf Gothóni, concert organists

Kalevi Kiviniemi and Petúr

Sakari, guitarist Marzi Nyman, actor

Seela Sella and Austrian cellist Stephan

Koncz from the Berlin Philharmonic

Orchestra.

› The opening concert of the Organ

Night & Aria festival, Rossini's Petite

Messe Solennelle, will take place at

Tapiola Church at 7 pm on 6 June.

Atmospheric summer evening concerts

on Thursdays from 13 June to

29 August, 9 pm at Espoo Cathedral.

Tickets priced between EUR 14 and

EUR 39. More information: urkuyofestival.fi.

Tickets: lippu.fi.

TAKE A BOAT TO

THE ARCHIPELAGO

MUSEUM

THIS YEAR, the Espoo archipelago boat

routes will cover the entire coast, from

Otaniemi to Kivenlahti, and the islands

in between, such as the Pentala Archipelago

Museum. The city has 58 km of

coastline and 165 islands served by all

routes from 8 June until the beginning

of September.

When the archipelago routes begin

operating, the Pentala Archipelago

Museum will be opened, welcoming

IF YOU GO DOWN TO

THE WOODS TODAY...

groups until mid-September. Pentala

shows off Espoo at its best. The

museum route to Pentala will operate

from Tuesday to Sunday until 11 August,

after which it will operate at weekends.

Once you reach the island, you can

enjoy the natural sandy beach and take

guided tours to learn about the history

of fishermen.

› The Archipelago ferry M/S Vallisaari

serves the route Suomenoja–Suinonsalmi–Pentala–Soukka

in both directions

four times per day.

At one of the stops, visitors

can learn about the

important role that aspen

trees play in the forest

ecosystem, as well as the

characteristic rustling

sound that they make.

A HEALTH nature trail will be opened in Kokinmetsä

forest in Olari. Come and enjoy the health benefits that

nature provides.

The trail is 2.4 km in length, and it includes eight stops

with tasks designed for three main target audiences –

school pupils and children day-care, people who are not

familiar with forests in general, and people seeking the

beneficial health effects of the forest.

The trial was set up following an initiative from the

Olari association, and it offers children goal-oriented

learning experiences and an easy, guided way for people

to get to know the forest and discover their relationship

with nature.

› Olari health nature trail, opening ceremony on

Wednesday 12 June, 3 pm. There are signposts to the

trail from the car park next to Ylismäentie at the curve

where Ylismäentie meets Olarinkatu. The trail does not

offer unobstructed access for wheelchair users, but it is

suitable for people who have trouble walking.

ESPOO MAGAZINE 2/2019 >> 13
---
WHAT'S ON IN JUNE–AUGUST

GET FIT THIS

SUMMER

TIMO PORTHAN

Stair training on Tuesdays

Stair training is an easy form of exercise

that is suitable for everyone

and provides a pleasant diversion on

a jogging route. Adding stairs to a

training routine provides for greater

variety in terms of terrain and efficiency.

Free of charge, no enrolment.

› Tyrskyvuori stairs, Espoonlahdenranta

17, (75 steps) Tuesday 4 June –

18 June, 6:15 pm – 7:15 pm

Grab a bucket and get exercising

A bucket workout is a muscle-conditioning

exercise, which involves filling

a bucket with water so that it provides

suitable resistance during fitness

exercises. Bucket workouts are

done standing up, and they are suitable

for everyone who can keep hold

of a bucket. The only cost is the entry

fee for the swimming pool.

› Leppävaara lido, Monday 17 June –

8 July, 6:30 pm – 7:15 pm

GET MORE OUT OF YOUR

SWIMMING EXERCISES

Swimming is an enjoyable and healthy form of exercise for many people.

Tips for a more efficient technique are available throughout the summer.

WATER OFFERS GOOD RESISTANCE.

However, for many people who

do not swim competitively, the

last time their technique was assessed

was when they were at

school – if even then.

The City of Espoo offers the

opportunity to receive tips on

more efficient swimming techniques.

Swimming advice has

been offered since the winter

season, and it will continue

throughout the summer at the

swimming pools in Espoonlahti,

Keski-Espoo and Leppävaara.

"At predetermined times, our

group of swimming instructors

will be available to advise you

on more efficient kicking and

breathing techniques, and anything

else you might need help

with," says Elina Pennanen.

THE GUIDANCE IS FREE. Lessons

will be held in the lanes for hobbyist

swimmers. There is no

need to register in advance –

14
---
Health services

going online

1 2

BY VIDEO. Espoo's health care centres now also offer video

appointments. These are suitable for emergencies such as

stomach bugs, colds and other infectious diseases. A mobile

phone or computer with a camera and microphone are

required for video appointments.

Appointments can be made for the same day at espoo.fi/

e-healthcentre. Video appointments are available during the

opening hours of health care centres, Monday to Friday,

8 am – 4 pm.

espoo.fi/e-healthcentre

Advice and self-care

instructions are

available online.

Patients can also attend

virtual appointments

by video link.

INSIGHT

TEXT TIINA PARIKKA PICTURE LEHTIKUVA

ASK QUESTIONS ON THE HEALTH CARE CENTRE'S CHAT

SERVICE. Do you want to quickly ask the health care centre

personnel for some general advice? Health care centres now

offer service via chat on weekdays from 9 am to 3 pm. The

health care centre personnel can rapidly give general advice,

but chat is not used to make diagnoses or handle patient

details.

espoo.fi/terveysasemat (in finnish), espoo.fi/healthcentres

3

SELF-CARE INSTRUCTIONS AVAILABLE AT THE HEALTH

VILLAGE. The Health Village is an online specialist medical

service with virtual houses where patients can receive

advice for various life circumstances and symptoms. The

Emergency House provides advice about the most common

ailments that can be treated at home, such as allergic

symptoms, sunburn, colds, wounds, insect bites and stings,

nosebleeds, ticks and diarrhoea.

These services are only available in Finnish.

paivystystalo.fi tai terveyskyla.fi

4

CANCEL

AN APPOINTMENT – MAKE SPACE FOR YOUR

FRIENDS. At health care stations, mental health services,

dental care services and social services, there are always

people who do not turn up to the appointments they have

made. If you cannot attend your appointment or you no

longer need it, please cancel it. This will free up time for the

next person who needs it.

Cancellations are easy to make by phone or online.

espoo.fi/e-healthcentre

''

USING DIGITAL

CHANNELS, YOU

CAN QUICKLY GET

HELP TO AN

ACUTE PROBLEM.

ESPOO MAGAZINE 2/2019 >> 15
---
PEARL

16
---
TIMO PORTHAN

THE WORLD'S BEST LIBRARY

THE INNOVATIVE approach of Espoo City Library has turned

heads around the world. Espoo City Library was awarded the

title of Library of the Year 2019 at the London Book Fair. The

jury said the decision was based on the library's area open

to everyone and the reading challenges offered for people of

all age groups.

Espoo City Library was among the first to introduce a selfservice

library that customers can use when the personnel

are not present. The self-service library has doubled the

opening hours of small libraries in Espoo.

This pioneering approach has also garnered national attention.

Espoo was elected the Library Municipality of the

Year in autumn 2018. In the first such competition arranged

by the Association of Finnish Local and Regional Authorities

and the Finnish Library Association, Espoo won plaudits

for the diversity of its activities and its special investments in

services for immigrants.

Awards were given at the Book Fair to the City of Espoo

as well as Espoo library pedagogue Riikka Utriainen who invented

the reading challenge, which has spread throughout

Finland on social media. The idea was created on an impulse,

and it was first launched at Helmet libraries in Greater Helsinki.

Not only

books

Libraries have become

centres of activity where

you can find much more

than just books.

2/2019 ESPOO MAGAZINE >> 17
---
-

SERVICE

Busy waters

This summer, boat traffic in Espoo will be reinvigorated

by a multitude of new services. The range of services

includes archipelago routes, boat ride-sharing, marina

berth rentals and an expanded city boat service.

THE UBER FOR

BOATS OFFERS NEW

RECREATIONAL OPPORTUNITIES

Bout has created a platform that enables boat owners to

offer rides to destinations such as the nearby archipelago.

For boaters, this adds a new dimension to their beloved hobby,

while passengers gain the opportunity to access places that

are not covered by scheduled routes.

Boaters and passengers can download the Bout app to their phones and

use it to offer and order rides. Passengers enter their departure and arrival

points, as well as the number of passengers. The app then looks for the

closest boats of a suitable size. The driver enters the boat details

during the registration phase and indicates whether they are

active using an online/offline button.

Drivers of boats with an engine power of more than 20 horsepower

must have a rental boat driver's permit, which can be obtained from

Traficom. Permits can be granted to people aged 18 or over

who hold a driving licence and have completed a first aid

course. The applicant must also be deemed to have

enough boating experience.

bout.fi

NOW YOU CAN TAKE TO

THE WATERS BY MOTORBOAT

Skipperi offers city boat rental for a seasonal or monthly

fee. This summer, Skipperi will be expanding to include motorboats.

Six to eight motorboats are moored at Keilaranta

and are available for hire for a whole day at a time. Skipperi

also provides training for first-time boaters.

Rowing boats are still a part of the range of city boats.

You can take a rowing boat out from Keilaranta, Nokkala,

Haukilahti and Otsolahti.

Skipperi also enables you to hire a private boat or rent

out your own boat. Private boat owners can specify their

own criteria for rentals, such as who can rent the boat,

when and at what price.

skipperi.fi

18
---
YOU CAN NOW VISIT

PENTALA IN THE EVENINGS

FREE UP YOUR

BERTH FOR RENT

Satamapaikka.com offers the opportunity

to reserve a berth in advance. You can also rent

out your berth at your home marina when your

boat is on the water and the berth is free.

The aim of this trial is to use a digital solution

to increase the number of berths

available for rent.

This summer, it will be possible to get to the

Pentala archipelago in the evenings. The water

bus will sail between the shared pier in Soukka

and the island of Pentala on Thursdays, Fridays

and Saturdays until 9:30 pm.

See the back cover of this magazine

for detailed timetables.

Visit satamapaikka.com

BOAT SERVICES ALONG

THE WATERFRONT WALKWAY

ARE A PART OF THE "ALL THE

WAY THERE" PROJECT.

''BETTER

EVEN MORE CITY

BIKE STATIONS

The city bike season started at the beginning of

April. Two new city bike stations were opened in Espoo –

they are located in Otaniemi. This summer, Espoo will

have 107 stations with a total of 1,070 city bikes on offer.

Two stations have also been moved to new locations.

The station in Leiritori was transferred to Ruukinranta,

and the station on Adjutantinkatu in Leppävaara was

moved to the upper level of Itätuulenkuja in Tapiola.

You can register as a user at

kaupunkipyörat.hsl.fi

ESPOO MAGAZINE 2/2019 >> 19
---
SWEDISH IN ESPOO

The

"Sunflowers"

group hard at

work.

Putting

children first

EARLY CHILDHOOD

EDUCATION AND CARE

IS THE FIRST STEP

TOWARDS EDUCATION

AND WORK.

Early childhood education and care with a

FOCUS ON THE BEST

FOR THE CHILD

Faces concentrating, expressive hands. The "Sunflowers" are

sitting round the table learning about the media. In this class,

the children are working on a task in which they find out about

different types of media. The five year-olds at Storängen

day-care and preschool are familiar with computers, television,

iPads and radio and know exactly how to use them and what for.

Text Jenni von Frenckell Photos Timo Porthan

Media education is an

example of the crossgroup

activities that are

a focus at the Storängen

daycare and preschool in Espoo.

Cross-group activities mean that

children carry out activities in

small groups, across year and group

boundaries. Camilla Laitinen, a

teacher in early childhood education

and care (ECEC) aims to combine

media education with the children's

strengths and interests.

"Multi-literacy, for example, now

requires understanding things

other than language and punctuation.

Symbols and the digital world

have become part of the children's

literacy skills. We try to teach the

children to think for themselves

and also to take a critical approach

to things that they see and hear,"

Camilla Laitinen explains.

20
---
Once they have completed the task,

it's time for play.

One concrete example that

Camilla Laitinen has worked on

is the children's news broadcast

"Ödlenytt". The children themselves

planned the content and helped to

film and edit the programme. The

end result was a broadcast nine minutes

long, including domestic and

international news, environmental

news, sport and weather.

"The background looked like a

real news studio. There were pictures

of the Parliament building

too and naturally we had a weather

map for the weather report. Ödlenytt

was a project that managed to

incorporate a large number of the

learning areas in the ECEC plan,"

says Camilla Laitinen.

ALL THE ACTIVITIES in nurseries are

based on the ECEC plan. The fundamentals

underlying the ECEC plan

were updated last year. Changes involved

bringing the concepts in line

with legislation and affording much

more weight than before to evaluating

activities. Anti-bullying work is

to be more systematic too, explains

head of education Outi Saloranta-

Eriksson.

"It is extremely important to emphasise

anti-bullying work in early

years settings too. We must put

greater focus on prevention. Early

childhood education and care is all

about children being able to practise

their social skills together," says

Saloranta-Eriksson.

The ECEC plan is based on what

is best for the child. The plan is a coherent

entity that highlights upbringing,

teaching and care. As well

as following the general principles

of the ECEC plan, all municipalities

now also have to draw up a local plan

which will be adopted in August.

"The fact that all local service providers

have to have a steering document

as well, strengthens the consistent

thread running through the entire

education system. Provision becomes

more goal-oriented and there

is greater continuity. At the same time,

the local actors still have the freedom

to listen to the children and are able to

adopt a wide range of solutions," Outi

Saloranta-Eriksson points out.

STAFF AT STORÄNGEN put a great deal

of effort into continuity and a joinedup

learning pathway. A working partnership

between ECEC, preschool

and school makes for smooth transitions.

Leading nursery manager

Susanne Nordling is committed to

deepening cooperation between the

five year-olds in neighbouring municipal

and private nurseries.

"This means that the five yearolds

will carry out planned educational

activities with the preschool

groups. It's important that the children

share common values. At

Storängen we have a nursery, a preschool

and a school in the same facility.

Naturally, that makes collaboration

easier," Susanne Nordling explains.

As she sees it, the new underlying

principles of the ECEC plan

are not just about developing

provision but also about a new

approach.

"We adults have to listen to the

children more. And that means we

have to let go a bit and venture into

the unknown, even if we don't always

know what the end result will

be. At Storängen the culture allows

staff to try out new ideas," Susanne

Nordling concludes.

ESPOO MAGAZINE 2/2019 >> 21
---
THE PEOPLE OF ESPOO

BIRDWATCHING TOGETHER

Do you know which bird titters like a jolly Finland-Swede?

And what is a "Finnish-style minor singer"?

‹‹ The guide

Eppu Blomqvist

(in the middle)

is looking for

information on

the mobile phone

with the hikers.

‹ Bird observed.

Now everyone is

trying to see it

and observe the

characteristics.

ON AN EARLY APRIL Saturday, dozens of

people are gathered outside the Villa Elfvik

nature house ready for a birdwatching

trip. Eppu Blomqvist and Mika Aronen,

guides from the City of Espoo's Environment

Department, are laughing as people

describe the characteristics of different

bird species and teaching them how to

identify species based on their birdsong.

The people with the keenest ears can distinguish

more than 20 species before the

group has even set off and, as they make

their way through a small forest to the

Laajalahti reed field, they rack up dozens

more species.

The group includes first-timers as well

as committed birdwatchers. Some want

to learn to identify a few species that visit

their yards and gardens, while others

dream of spotting a hundred different

species before the year is out. They are

all happy to be greeted by a sunny spring

morning.

"Nice to begin the spring with music,"

laughs Pirjo Lindman, who has joined

the trip with her friend.

THE THREE-HOUR TRIP covers a short nature

trail, which offers plenty to see and

hear along the way. During the first hour,

the group only covers a few hundred metres

as Blomqvist and Aronen introduce

everyone to birdwatching as a hobby. The

group often stops to pull out the guidebook

and look up the characteristics of

the species that flutter by. Occasionally,

someone plays a digital birdsong to compare

with the genuine song so the group

can learn to spot the bird.

Many of the participants are carrying

binoculars, but the professional equipment

is taken out when the group reaches

the shores of Laajalahti. The guides set up

telescopes so the group can examine the

distinguishing marks of a teal or smew

swimming in the distance.

"DID YOU REMEMBER to look at the nail on

the rear toe?" Aronen jokes when a member

of the group wonders how similar species

can be distinguished from each other.

THE CITY OF ESPOO'S Environment Department

has arranged guided nature trips

for several years now. Throughout the

summer, dozens of trips to nature sites in

Greater Helsinki are organised for adults

and children. Blomqvist, who has been

leading guided tours for 16 years, says that

the trips normally have about 50 participants,

but bat-spotting trips in the autumn

can attract up to a hundred curious

nature-watchers.

One of the participants in the Laajalahti

birdwatching trip recalls how impressed

her children were when they saw bats on a

guided tour a few years back.

"I've been interested in nature and birdwatching

for decades. My children aren't

so keen, but they still remember the bat

and owl trips they went on."

KATRI TANSKANEN

TIMO PORTHAN

22
---
ESPOO MAGAZINE 2/2019 >> 23
---
Otaniemi

Otnäs

TAPIOLA

HAGALUND

Ristiniemi

Kivenlahti

Stensvik

Suomenoja

Finno

MATINKYLÄ

MATTBY

Nokkala

WESTEND

Haukilahti

Gäddvik

Tvijälp

Korkeasaari

Högholm

Ristiniemi

Vasikkasaari

Iso Vasikkasaari

Stora Kalvholmen

Soukka

SOUKKA

SÖKÖ

Suinonsalmi

Svinösund

Suvisaaristo

Sommaröarna

Torra Lövö

Pentala

Herrö

Rövargrundet

Gåsgrundet

Gåsgrundet

Rövaren

Stora Herrö

Rövaren

Kaparen

Knapperskär