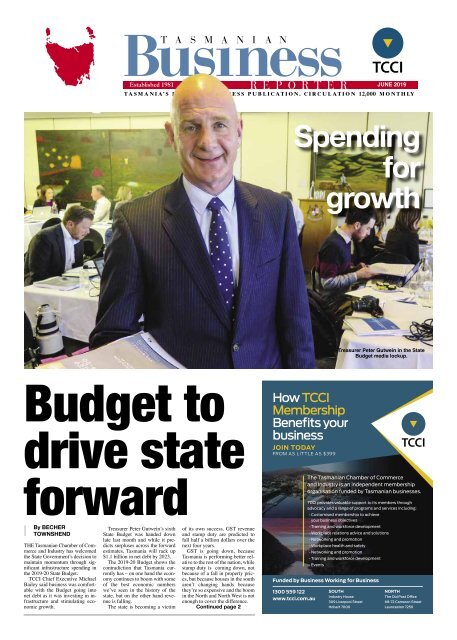 Tasmanian Business Reporter June 2019
Welcome to the June edition of the TBR. This month we take an in-depth look at the recently handed down State Budget where despite falling Government revenue, significant infrastructure spending looks set to maintain Tasmania's economic momentum. You'll also find a wrap-up of the Federal election and what the results mean for the state, an update on the $300 million Cattle Hill Wind Farm project and insight into the future of health care from St.LukesHealth CEO Paul Lupo.
Welcome to the June edition of the TBR.

This month we take an in-depth look at the recently handed down State Budget where despite falling Government revenue, significant infrastructure spending looks set to maintain Tasmania's economic momentum.

You'll also find a wrap-up of the Federal election and what the results mean for the state, an update on the $300 million Cattle Hill Wind Farm project and insight into the future of health care from St.LukesHealth CEO Paul Lupo.
SHOW MORE
SHOW LESS
Create successful ePaper yourself
Turn your PDF publications into a flip-book with our unique Google optimized e-Paper software.
JUNE 2019

T A S M A N I A' S L E A D I N G B U S I N E S S P U B L I C A T I O N . C I R C U L A T I O N 12,000 M O N T H LY

Spending

for

growth

Treasurer Peter Gutwein in the State

Budget media lockup.

Budget to

drive state

forward

By BECHER

TOWNSHEND

THE Tasmanian Chamber of Commerce

and Industry has welcomed

the State Government's decision to

maintain momentum through significant

infrastructure spending in

the 2019-20 State Budget.

TCCI Chief Executive Michael

Bailey said business was comfortable

with the Budget going into

net debt as it was investing in infrastructure

and stimulating economic

growth.

Treasurer Peter Gutwein's sixth

State Budget was handed down

late last month and while it predicts

surpluses across the forward

estimates, Tasmania will rack up

$1.1 billion in net debt by 2023.

The 2019-20 Budget shows the

contradiction that Tasmania currently

has – on one hand the economy

continues to boom with some

of the best economic numbers

we've seen in the history of the

state, but on the other hand revenue

is falling.

The state is becoming a victim

of its own success. GST revenue

and stamp duty are predicted to

fall half a billion dollars over the

next four years.

GST is going down, because

Tasmania is performing better relative

to the rest of the nation, while

stamp duty is coming down, not

because of a fall in property prices,

but because houses in the south

aren't changing hands because

they're so expensive and the boom

in the North and North West is not

enough to cover the difference.

Continued page 2

How TCCI

Membership

Benefits your

business

JOIN TODAY

FROM AS LITTLE AS $399

Funded by Business Working for Business

1300 559 122

www.tcci.com.au

The Tasmanian Chamber of Commerce

and Industry is an independent membership

organisation funded by Tasmanian businesses.

TCCI provides valuable support to its members through

advocacy and a range of programs and services including:

• Customised membership to achieve

your business objectives

• Training and workforce development

• Workplace relations advice and solutions

• Networking and promotion

• Workplace health and safety

• Networking and promotion

• Training and workforce development

• Events

SOUTH

Industry House

309 Liverpool Street

Hobart 7000

NORTH

The Old Post Office

68-72 Cameron Street

Launceston 7250
---
T A S M A N I A' S L E A D I N G B U S I N E S S P U B L I C A T I O N . C I R C U L A T I O N 12,000 M O N T H LY

2 Tasmanian Business Reporter - JUNE 2019

NEWS

Infrastructure spending to maintain momentum

Net debt to boost economy

T A S M A N I A' S L E A D I N G B U S I N E S S P U B L I C A T I O N . C I R C U L A T I O N 12,000 M O N T H LY

e dition

Tasmanian Business Reporter can now be delivered directly to your inbox. With our 30,000-strong monthly print

readership, our new up-to-date digital distribution will keep Tasmanians abreast of the all latest in local business

news. From this month we will distribute electronic editions of the Tasmanian Business Reporter as we go to print.

To confirm your copy sign up to our mailing list via

tbreditorial@fontpr.com.au

T A S M A N I A' S L E A D I N G B U S I N E S S P U B L I C A T I O N . C I R C U L A T I O N 12,000 M O N T H LY

Tasmania's business newspaper is published monthly by the

Tasmanian Chamber of Commerce and Industry. It is distributed

to businesses in Tasmania as well as key decision-makers.

Circulation: 12,000

BUSINESS

WHILE health has historically

been the biggest drain on

the State Budget, this year's

winners are education and infrastructure.

The highlights are:

Health: $8.1 billion over

the next four years, representing

nearly 32 per cent of the

entire State Budget. Over six

years the funding will support

298 new beds, 802 more nurses,158

additional doctors, 128

more allied health professionals

and 182 additional support

staff.

Education: $7.1 billion

over the next four years – a

$349 million increase from

last year's Budget and includes

$145 million in recurrent

funding which allows for

an additional 358 new staff

including 250 new teachers;

and $179 million in education

infrastructure across Department

of Education and Tas-

TAFE facilities.

Infrastructure: $3.6 billion

including $304.9 million

for rail infrastructure, $294

million on the new Bridgewater

Bridge, $111.7 million

to keep upgrading the Midland

Highway, $83 million

towards an urban congestion

fund, $58 million specifically

to support tourist roads and

$292 million to renew roads.

Tourism: $20 million Regional

Tourism Attraction

Managing Editor: Tom 2O'Meara

0418 135 822

Editor: Becher Townshend

0418 370 661

Advertising and Special Projects

Gil Sellars 0448 901 371

gil@thetrustedmediaco.com

HOBART'S Editorial BEST & Advertising RANGE OF

TBReditorial@fontpr.com.au

FOR THE www.tasmanianbusinessreporter.com.au

HOME AND OFFICE

Publisher:

We specialise Tasmanian in high Chamber quality ergonomic of Commerce chairs, and Industry

alternative seating

309 Liverpool

and electronic

St, Hobart,

sit/stand

TAS

desks.

7000

Flair Ph: Office 6236 Furniture 3600 has Fax: been 6231 providing 1278 quality, admin@tcci.com.au

affordable office

furniture to homes and offices throughout the Hobart region

for nearly 15 The years. Old We're Post a locally-based, Office, 68-72 family-run Cameron business St,

specialising in all types of Launceston products, so why TAS not 7250 visit us today to

see our fantastic Ph: range? 6331 1144 laun@tcci.com.au

Production:

Phone 6234 1127

aldridge.media

260 Argyle Street,

Ph: 0431 241 775

North Hobart

aldridge.media@iinet.net.au

Printer: Mercury

www.flairofficefurniture.com.au

Level 1, 2 Salamanca Square, Hobart, 7000

BUSINESS

YOUR QUICK GUIDE TO SERVICES AND PRODUCTS FOR YOUR BUSINESS

QUALITY ERGONOMIC FURNITURE

Loan Scheme to provide

low interest loans of up to

$1 million for businesses to

undertake projects to grow

their local visitor economy

and $1.2 million in a new

Business Events Attraction

Fund to bring major national

and international business

To see your business here, call Kerri on 0419 750 267 or email kerri@thetrustedmediaco.com

Budget to drive growth

From page 1

WANTED

Business

movers and

shakers

• Promotions

• Appointments

• Awards

• Celebrating

success

Share the news

with the

Tasmanian

business

community

Send your news

snippets, with a

high quality photo,

to TBReditorial@

fontpr.com.au

As a result, Treasurer

Peter Gutwein has

been forced to make

some difficult decisions.

First up, there will be the

introduction of two new

taxes – foreign investor

land tax to catch overseas

money, but more importantly

for Tasmanians a

15 per cent point of consumption

tax on gambling

– capturing gambling

online and bringing

Tasmania in line with the

rest of the nation.

There will be a $50

million special dividend

taken from the MAIB,

while the Tasmanian

Public Finance Corporation

will hand over $39.5

million.

Government departments

will also be required

to provide a 0.75

per cent special dividend

and the so-called hardline

two per cent wages

target continues.

However, given the

teachers' wages decision,

it remains to be seen if

this can be achieved.

The moves to increase

taxes and take further

special dividends are designed

to cover the loss

of revenue and thus allow

the Government to

continue its fiscal path.

This sees yet another

year of record infrastructure

spending at some

Your Partner

in Print.

www.footandplaysted.com.au

Now incorporating

events to Tasmania.

Business: Continuing the

payroll tax rebate scheme

and small business grants

until June 2021 to support

the employment of around

4,500 young Tasmanians

as apprentices and trainees.

$4.1 million partnership

with the TCCI and Tas-

COSS to address barriers to

work, $4.4 million for the

Tasmanian Trade Strategy

to further boost Tasmanian

exports and jobs and $2.8

million to develop Tasmania's

first Defence Industry

Strategy.

THE CRAFT LIVES ON.

$3.6 billion and while

some question the ability

of the Government

to spend this amount, a

drive down the Midland

Highway and through

the Hobart CBD certainly

proves things are happening.

Elsewhere health continues

to receive record

funding at $8.1 billion

– which is now about

32 per cent of the total

budget, while education

is not far behind at $7.1

billion.

There are some remarkable

figures for

those who study the longterm

economic growth of

Tasmania – a gross state

product figure of 2.75 per

The state rail network,

above left, will receive

$304.9 million while the

upgrade of the Midland

Highway, right, will

continue.

cent – revised up by half

a per cent since last year

and is three quarters of a

per cent better than the

long-term average.

Population growth is

running at double the

long-term average, therer

is continued growth

in visitor numbers and a

respectable 6.5 per cent

unemployment rate.

Meanwhile this year

will see a budget surplus

of $41 million, next year

it will see a $57 million

surplus, which interestingly

won't get us out of

net debt until 2021 but

given the circumstances

a steady-as-she-goes

budget is not such a bad

thing.
---
T A S M A N I A' S L E A D I N G B U S I N E S S P U B L I C A T I O N . C I R C U L A T I O N 12,000 M O N T H LY

Tasmanian Business Reporter - JUNE 2019 3

NEWS

Power

in the

wind

Tassie a

winner in

stunner

THE first of 48 wind turbines

has been erected at Goldwind's

Cattle Hill Wind Farm.

Company and Government

officials travelled to the Central

Highlands to celebrate the

milestone, with construction

of the $300 million project

expected to be finished by the

end of the year.

Goldwind Australia Managing

Director John Titchen said the

investment was committed

based on a long-term Power

Purchase Agreement with

Aurora to purchase Tasmanian

generated renewable energy

certificates produced by the

wind farm, underpinned by

the Federal Renewable Energy

Target.

"Goldwind and Power China

Resources Group appreciate

the significant project progress,

reflecting a team effort by many

major project partners and about

Goldwind Australia

MD John Titchen,

left, Energy Minister

Guy Barnett and

MD of Power China

Australia, Shiyou He

at the Cattle Hill Wind

Farm.

150 staff currently working on

site," Mr Titchen said.

More than a quarter of the

turbine components have been

delivered to site.

The turbines will be up to 170

metres in height and the three

blades positioned at the top of

the tower are 68.5 metres long.

Once operational, Cattle Hill

Wind Farm will produce enough

clean energy to power about

63,500 Tasmanian homes.

By TOM

O'MEARA

TASMANIA will again

be represented by government

MPs and the

state should benefit as a

result, after a swing to

the Liberal Party at the

Federal Election.

Prime Minister Scott

Morrison will be keen to

repay the faith that voters

in the marginal seats

of Bass and Braddon

showed.

Tasmania was a pivotal

player in the party's

unlikely victory, described

as a miracle by

Mr Morrison.

The PM was extremely

visible in Tasmania

throughout the campaign

– keen to press his "blue

collar" credentials with

regular visits to pubs and

footy clubs.

Liberal Bridget Archer

is expected to defeat incumbent

Ross Hart in

a nail biting count for

Bass, with the electorate

choosing to turf out the

sitting member for the

eighth time in the last 10

elections.

As we went to print,

Ms Archer was 656 votes

ahead of Mr Hart, who

suffered a swing against

him of 4.7 percent.

In Braddon, farmer

Gavin Pearce unseated

one-term member Justine

Keay – the result 53.2 to

46.7 on a two party preferred

breakdown.

In the Senate, the popular

Richard Colbeck

will retain his seat and

the Liberals will have

one other new, female

senator joining him.

Business and community

leaders have welcomed

Mr Morrison's

decision to give Senator

Colbeck a parliamentary

portfolio – naming

him as Minister for Aged

Care, Minister for Youth

and Minister for Sport

as reward for his performance.

Senator Jonathon Duniam

has been named

Assistant Minister for

Regional Tourism, Assistant

Minister for Forestry

and Fisheries and Deputy

Manager of Government

Business in the Senate.

Having sitting MPs

in Government will be

a win for the state, after

three years of no representation

from the Liberals

in any of the five Tasmanian

electorates after

the defeat of the "Three

Amigos".

It's expected that Ms

Archer and Mr Pearce

will now be able to push

hard for the delivery of

election promises in a

timely manner.

TCCI CEO Michael

Bailey said the success

of Bass and Braddon

candidates supported the

workplace productivity

project for Tasmania and

regional places around

the nation.

"The TCCI wanted

both major parties to

develop and deliver policies

to increase productivity,"

Mr Bailey said.

"It was encouraging to

hear new Braddon Member

Mr Pearce support

small business and advocate

to ensure that small

business is sound and to

create opportunities for

growth."

Labor's re-elected

members did suffer a

vote drop.

Brian Mitchell saw

a swing of 3.7 per cent

against him in Lyons but

was re-elected without

too much drama courtesy

of the Jessica Whelan

social media scandal

dismantling the Liberal

campaign in the sprawling

regional electorate.

In Franklin, Julie Collins

saw a swing of 2.5

per cent against her but

was still returned with a

massive 62 per cent on

two party preferred.

Also in the south, Andrew

Wilkie in Clark was

re-elected with a phenomenal

73 per cent of

the vote.

The South is now

left to fight for a bigger

chunk of the federal

funding pie without

any Government representation

at MHR level

and the influence of Mr

Wilkie as an independent

reduced given Mr Morrison

won't be forced to

govern in minority.

WANTED

Business

movers and

shakers

• Promotions

• Appointments

• Awards

• Celebrating

success

Share the news

with the

Tasmanian

business

community

Send your news

snippets, with a

high quality photo,

to TBReditorial@

fontpr.com.au

ADVERTISEMENT

Elise

Archer

Your local Liberal

Member for Clark

62 Main Rd, Moonah

Please contact me:

p: 6212 2210

e: elise.archer@dpac.tas.gov.au

m: PO Box 426, Moonah, 7009

www.elisearcher.com

Authorised by Elise Archer, 62 Main Rd, Moonah, 7009
---
4 Tasmanian Business Reporter - JUNE 2019

THOUGHT LEADERSHIP

www.tcci.com.au

State role in win recognised

THE Scott Morrison-led

Liberal National Coalition

has been returned to

form government.

To quote Prime Minister

Morrison: "I have

always believed in miracles."

I'm not sure this result

was down to miraculous

intervention.

I am extremely sure

that a lot of the result can

be levelled at the relentless

energy of the Prime

Minister.

He was everywhere

across Australia, including

on the day of actual

polling, in Tasmania

again.

The PM also "employed"

Premier Will

Hodgman strategically

throughout the Northern

campaign.

And Tasmania delivered

for the Liberals with

the electorates of Bass

and Braddon changing

hands.

The TCCI's policy

push - "Make it affordable

to employ people in

regional Australia" - got

national coverage.

The ACCI and

Queensland Chamber

also worked very hard in

that state's marginal elec-

Michael

Bailey

TCCI Chief Executive

torates; their Small Business

is a Big Deal campaign

really cut through.

What Tasmania now

needs is a cabinet minister

– and I nominate Senator

Richard Colbeck to

make a return there.

Bass has only been

won by a sitting member

when now State Labor

member Michelle O'Byrne

held the seat from

1998 to 2004.

You have to go back

to Warwick Smith

(1984 to 1993) and

Lance Barnard (1954 to

1975) to see when the

people of Bass enjoyed

long-term representation.

What is also clear is

that we cannot trust the

opinion polls anymore.

Right up until Saturday

night, when the results

started streaming

in, the polls were pointing

to a Labor victory.

In fact, SportsBet

paid on Labor in the

week of the election.

Listening to post-election

analysis on Sunday,

it emerged that Labor's

own polling showed that

they were in trouble in

Queensland.

And it was in

Queensland where the

Liberal National Coalition

cleaned up.

We often talk about

the disparities between

states in Australia and

how people in Victoria

think differently to people

in Queensland for example.

What is a constant is

that people don't like

political parties telling

them what they should

do.

In Queensland, the

Adani coal mine is a

huge issue … as many

people see it being an

important issue for the

whole country, depending

on which side of the

coal-fired power debate

you sit.

And that's what happened

in Queensland,

where the electorate rejected

absolutely the Labor

campaign.

In simplistic terms, the

Liberal National Coalition

said to Australia: the

economy is going well,

trust us.

Labor had a campaign

of change, which was exploited

on issues such as

new taxes and franking

credits.

The TCCI argued

strongly for a government

that understands

and supports small and

medium-sized business,

the backbone of the Tasmanian

economy.

We will be watching

carefully that all the

funding promises are

delivered for Tasmania,

particularly for Bass and

Braddon.

We wish the new Government

well, so too our

newly-elected members,

Gavin Pearce (Braddon)

and Bridget Archer

(Bass).

Scott Morrison

spent an

unprecedented

amount of time

campaigning in

Northern Tasmania

before the election

– including on

the morning of

the election in an

effort to win back

Bass and Braddon

– spending time

playing pool and

drinking beer with

some locals.

Congratulation to the

returned members in

Julie Collins (Franklin),

Brian Mitchell (Lyons)

and Andrew Wilkie

(Clark).

What Tasmania and

Australia now has is

Prime Minister Scott

Morrison elected in his

own right and with his

own mandate.

You're our

number 1

Thank you for voting us

Australia's number 1

in customer satisfaction

3 YEARS IN A ROW!*

ROY MORGAN RESEARCH

Customer Satisfaction Awards

Contact us today to join, switch, or have a cover comparison.

We can come to you, just ask us how! It's Easy!

stlukes.com.au 1300 651 988

* #1 Roy Morgan Customer Satisfaction Awards: Private Health Insurer of the Year – 2016, 2017 & 2018. St.LukesHealth ABN 81 009 479 618
---
Tasmanian Business Reporter - JUNE 2019 5

THOUGHT LEADERSHIP

Vietnam eye-opener

Sally

Chandler

Tradestart Adviser

MY visit to Vietnam was

an eye-opener and the

country is so different

from the 1000-year-old

Hanoi in the north to the

relatively young Ho Chi

Minh City in the south.

Hanoi is the capital

city and seat of government

and HCMC is the

commercial city where

two thirds of Vietnam's

trading activities are undertaken.

Australia has an Embassy

in Hanoi and a

Consulate General in

HCMC and Austrade has

offices within both.

South Korean company,

electronics manufacturer

Samsung has two

huge factories about 45

kilometres from Hanoi

Future of shipping laid bare

THE Tasmanian Logistics

Committee will once

again partner with the

Australian Peak Shippers

Group and the Freight

Trade Allegiance to

host the 2019 Tasmanian

Freight and Logistics

Forum at UTAS/AMC

Launceston on June 26.

The event, in its third

year, hosts more than 150

industry representatives

including shippers, shipping

lines, transport companies,

port operators,

students and Government

officials.

Premier Will Hodgman

will give the keynote address.

On the back of the recently

released trade

that are cities in themselves,

where 45,000

and 65,000 people work.

All the food and requirements

are trucked

in on a daily basis.

One has three canteens

using more than 13

tonnes of rice a day.

While scooters are the

main mode of transport,

more cars are coming on

the road with about 1000

new cars every month in

Hanoi, even though cars

are taxed at 200 per cent.

All media, including

newspapers and social

media, is heavily regulated

by Vietnam's ruling

Communist Party and a

lot of bloggers go to jail or

get deported. It is against

the law to share negative

strategy for the state,

and with the Premier

also being the Minister

for Trade, the subject of

growth in the Tasmanian

economy and freight and

logistics has never been

more entwined.

This year's forum has

been designed to address

the future with such topics

such as infrastructure

and growth, biosecurity,

environment and sustainability

and coastal

shipping and Bass Strait

trade.

Speakers include the

Director of Ports Policy

from the ACCC, CEOs

from Port of Melbourne

and TasPorts, General

Manager of Biosecuri-

A feeder vessel carries containers on the Saigon River.

stories on social media.

There is a lot of organised

crime and the drug

trade is large, with extortion

rampant. Ministers

and high ranking people

were sent to jail recently.

There is a lot of corruption

and the Australian

Government and Aus-

Cham Vietnam heavily

For international trade and investment assistance contact the TCCI's Trade-

Start Adviser at sally.chandler@tcci.com.au or phone 1300 559 122.

Brett

Charlton

Agility Logistics

ty Tasmania, COO of

ANL, Toll Tasmania and

Searoad senior management

as well as many

other professionals from

specific fields that can

provide accurate and upto-date

thinking on what

the challenges and opportunities

are for Tasmanian

shippers going

into 2020.

While we see positive

scenarios for trade on

promote anti-bribery and

not to be corrupt.

Australian companies,

indeed Tasmanian companies,

need to take a longer

term view of Vietnam.

As in all Asian economies,

relationships are the

key to success.

There is a big churn of

Australian companies in

the back of our free trade

agreements and reputation

on the world stage,

the reality is that growth

comes with real challenges.

Attendees will hear

about the investment in

new vessels to increase

capacity across Bass

Strait and plans to develop

new infrastructure in

Tasmania and Victoria

to accommodate growth,

Vietnam so it is extremely

important to work hand

in hand with Austrade

and/or AusCham Vietnam

to align a business with

the country and see what

products and services

work in Vietnam.

Education related exports

are deemed our biggest

future opportunities.

coupled with what the inhibitors

are that delay or

block progress in delivering

outcomes.

The climate is something

that the industry

takes very seriously and

attendees will leave the

forum well versed in the

coming implementation

of low sulphur fuels for

vessels and the ramifications

for shippers.

I strongly urge anyone

that has anything to do

with shipping or logistics

to attend this event – it

has truly become the premier

event for the industry

in Tasmania.

Tickets at - www.

ftalliance.com.au

www.tcci.com.au

Podcasts

you should

listen to

PODCASTS continue to grow as a powerful

marketing and branding platform. They are a

great way to build authority and nurture trust

with your customer base.

We are a long way from the days when a

podcast was just a recording of a terrestrial

radio show or a couple of fanatics chatting

on Skype. Podcast listeners now expect to be

entertained. Here are some good examples.

The Sauce from McDonalds

McDonalds recently teamed up with Studio@

Gizmodo and Onion Labs to create a fun,

engaging, satirical series based around its

promotional run of Szechuan sauce in the 90s.

The idea came from an episode of the cult

animated series Rick and Morty but Macca's

picked it up and ran with it.

Hackable? from McAfee

This series "digs into the minds of cyber

criminals" exploring the vulnerabilities we face

through staying connected to the internet. This

podcast is a perfect example of how a business

can use the medium to entertain and inform an

audience in a way that strengthens its brand.

Face 2 Face (Facebook)

This Australian production sounds like it's

aimed mostly at advertising and marketing

insiders but it's so well made, anyone who is

exposed to advertising (pretty much all of us)

will appreciate it. Hosted by Jules Lund, it

features interviews with some of Australia's

brightest marketers.

Tough Conversations with Henry Rollins

(Mercedes Benz)

American Musician Henry Rollins travels

around Australia interviewing locals about what

toughness means to them. Designed to promote

Mercedes' new X-Class which just happens to

be a tough, rugged all purpose vehicle.

FontCast from Font PR

Tasmania's top PR firm, Font PR, has

released the FontCast capitalising on the

experience of its partners Becher Townshend,

Brad Nowland and Brad Stansfield.

The program, produced and directed by Ikin

Media, is a panel style program covering news

and politics.

These are examples of how small and large

business from Australia and around the world

are harnessing the power of podcasting to

strengthen their brands.

If you would like to explore how podcasting

might work for you Ikin Media can help, with

expertise in multimedia journalism, audio

engineering Contact sam@ikinmedia.com or

call 0419 682 098 for a obligation free chat.

SOLUTIONS

IN PRINT

your print specialist for over 90 years

Full Off-Set,

Digital and

Wide Format

Capabilities

Binding and

Finishing

Variable Data

and Mailing

Warehousing

and Distribution

Online Ordering

and Inventory

Management

www.tasmanianbusinessreporter.com.au

Talk directly to Business

Leaders, Managers

and Owners

....the decision makers.

Tell your unique story to

the decision makers.

No other medium can talk directly to business like the BUSINESS Reporter can.

30,000 PRINT

READERS

+

5,000 ONLINE

SUBSCRIBERS

Imagine 30,000 business news readers statewide, plus over 5,000 Online

subscribers who get the latest business news that matters to them.

6391 8481

www.woolstonprinting.com.au

sales@paperstat.com.au

EXPLORE THE POSSIBILITIES.

Ask about the editorial/advertising package that

delivers a direct hit to your market.

See how the Tasmanian BUSINESS reporter

can build your brand awareness.

• Call Gil Sellars on 0448 901 371

• gil@thetrustedmediaco.com

WP - Advert Mar17.indd 1

4/04/2017 1:15:43 PM
---
6 Tasmanian Business Reporter - JUNE 2019

THOUGHT LEADERSHIP

Future of health care

Paul

Lupo

CEO, StLukesHealth

LOOKING after your health

is a bit like looking after your

car – it needs maintenance,

fuel and rest.

Imagine if you fed your car

the wrong fuel or neglected to

maintain the engine.

It is unlikely your car would

go the distance or be in your

life for very long.

Your health is the same, so

why is it then that we neglect

to take care of ourselves and be

active participants in our health

and well-being?

At St.LukesHealth, we believe

there are three pillars

of health centred on staying

healthy, getting well and living

better.

When we are younger our focus

is more on wellness and as

we advance in years, illness becomes

more the consideration.

It is easy to take life for

granted and unfortunately it is

only when we are faced with

illness that we appreciate it.

So, how well do you think

you currently manage your

health?

If Tasmania's health statistics

are anything to go by, it

could be better.

About 70 per cent of all mistakes

in medicine are the result

of information not being available

when a decision is made.

There are similar challenges

in the health system.

We are seeing many advances

around personal health and

many of these are being driven

by changes in technology and

communications.

In the US, 15 per cent of

consultations with health providers

are now virtual using

audio or video facilities.

Some have predicted that

within five years' half of all

interactions with health providers

will be using these techniques.

Many of us do not have an

overall vision of our health.

Documents sit with our doctors

and most of this documentation

is in paper form meaning

it can be easily lost in the

system.

How is it that your health-

Devices are at the centre of future health care.

care providers hold your health

record and not you?

Yet you are the one that

needs to manage your health

on a day-to-day basis.

Personal health records are

becoming the mode by which

you can have all your health

information at your fingertips.

This may include information

about allergies, illnesses,

surgeries, immunisations, tests

and screenings results.

It may also include information

about medicines taken and

health habits, such as diet and

exercise.

Home devices, including

fitness trackers and other

smart devices can also contribute

to managing health,

with health information at

your fingertips on a smart

phone or other device.

Now that is exciting.

You can ensure your body is

receiving the right fuel and

the right maintenance.

This is where the future of

personal health really lies.

Later this year

St.LukesHealth will introduce

a unique personal

health record solution for

members.

Watch this space.

www.tcci.com.au

Helping your

business thrive

JUST as all financial

institutions are different, so

too are business bankers.

Whether you're after a

simple business account or

a complex business loan,

you should feel confident

that you have a dedicated

business banker on your

side. So, what makes a

good business banker?

Time is money – A good

business banker should

be available when and

where you need them –

responsive and flexible to

help solve your financial

challenges quickly and

efficiently.

Know how – They

need the experience and

expertise to help manage

risk and build your

business. They may not be

an expert in your field, but

they should get to know

you and the industry you

operate in.

Supportive and reliable

– Think about how much

support you need as

your business changes

and grows. Ideally, your

business banker should

provide you with useful

services and solutions to

help you thrive at every

stage.

Paul

Ranson

CEO, Bank of us

Nurturing trust –

Banking arrangements

are often long-term. A

business banker should

invest the time to develop

and nurture your ongoing

relationship. Open and

honest communication

really is key.

One stop shop – It

makes sense that your

business banker can

help you with both your

business and personal

banking needs. Also,

consider whether your

business banker has

the authority and the

discretion to make onthe-spot

decisions. You

want to be dealing with

the person who is making

the decisions and not a gobetween.

Local knowledge – A

good business banker

knows the local market

and what market forces are

at play where you operate

and in the wider economy.

A local business banker

is an invaluable partner to

your business.

We do business banking.

RUNNING A BUSINESS ISN'T EASY

AND WE GET THAT.

At Bank of us, we are very business-y when it comes

to business banking.

From everyday business banking to overdrafts

and business loans we have the goods. Our

business banking comes with all the things you'd

expect from a bank but with some very important

differences, like fast, local decision making and

flexible banking solutions.

bankofus.com.au | 1300 306 716

Bank of us is a trading name of B&E Ltd ABN 32 087 652 088

AFSL & Australian Credit Licence 236870

How unexpected.
---
Tasmanian Business Reporter - JUNE 2019 7

THOUGHT LEADERSHIP

www.tcci.com.au

Who can be in your corner?

Abbey

George

Workplace Relations

UNLIKE the Supreme

Court or Magistrates

Court, the Fair Work

Commission is designed

for parties to represent

themselves during proceedings.

So, if you do wish to

have a lawyer or paid

agent represent you, the

FWC will need to be satisfied

before they grant

permission for them to

appear.

This means that you

could have been instructing

a lawyer for some

time (and cost) only for

it to come to the day of

the conference or hearing

and the FWC refuses permission

for them to assist

you.

There you are standing

in the FWC now having

to argue your case …

alone.

Section 596 of the Fair

Work Act 2009(2) sets

out the circumstances

in which the FWC may

grant permission for a

party to be represented

by a lawyer or paid agent

which includes:

• Complexity – would

Check whether you are allowed to "lawyer up" for the Fair Work

Commission.

it allow the matter to be

dealt with more efficiently?

• Fairness – can the

party represent themselves

effectively and

would it be unfair for

them not to be represented?

• Is one (or both) parties

from a non-English

speaking background or

has difficulty reading or

writing?

• If the party seeking

representation is the employer

– do they have

specialist human resources

staff?

Having said this, there

are circumstances set out

in the legislation where

a party does not have to

ask permission for representation

by a lawyer or

paid agent.

Section 596 of the Fair

Work Act 2009(4) states

that this includes:

• When the lawyer or

paid agent is an employee

or officer of the person;

or

• Where they are an employee

of officer of an organisation;

or

• An association of employers;

or a peak council

or a bargaining representative.

In simple terms this

means that unions are generally

exempt from seeking

permission, but so is

the Tasmanian Chamber

of Commerce and Industry

as we are a peak employer

not-for-profit organisation.

So if you are a TCCI

member, or seek TCCI

representation in matters

in the FWC you can rest

assured that we do not

have to seek permission to

represent you.

Some general information

around this can

be found on the Fair

Work Commission's

website here: https://

www.fwc.gov.au/anti-bullying-benchbook/

commission-processes/representation-lawyers-and-paid-agents

For assistance, contact the Helpline on

1300 765 123 or the TCCI on 1300 59 122 or

workplacerelations@tcci.com.au

Consider the risks of working in isolation

Craig

Hortle

Workplace Health & Safety

SOME workplaces may

require workers to perform

their work activity

in isolation.

If you have workers

in this situation how can

you ensure that they are

working in safe manner,

have not injured themselves

and have arrived

home safely?

This type of work may

include all-night convenience

store and service

station attendants, sales

representatives, drivers,

park rangers and health

and community workers.

Consider the following

if you have employees

in these, or similar, situations.

Communication

• What forms of communication

does the worker

have access to?

• Are there procedures

for regular contact with

the worker?

• Will the emergency

communication system

work properly in all situations?

• If communication

systems are vehicle-based,

what arrangements

are there to cover

the worker when he or

she is away from the vehicle?

The location of the

work

• Is the work in a remote

location that makes

immediate rescue or attendance

of emergency

services difficult?

• What is likely to happen

if there is a vehicle

breakdown?

The nature of the work

• What machinery,

tools and equipment may

be used?

• Are high risk activities

involved? For example

work at heights,

work with electricity,

hazardous substances or

hazardous plant.

• Is fatigue likely to increase

risk (for example,

with long hours driving a

vehicle or operating machinery)?

• Is there an increased

risk of violence or aggression

when workers

have to deal with clients

For more information contact Craig Hortle or Janelle Whitehouse at the

TCCI on 1300 559 122 or safety@TCCI.com.au

STRENGTHEN

YOUR BRAND

WITH A PODCAST

■ Regular programming – solo, panel or interview format

■ Documentary style series – working with journalists,

editors and sound designers

■ Fictional storytelling – think a television series for

your ears – we use the foley techniques and audio

design used in high end film and television to bring

Podcast Specialists

Ikin your Media story to will lifetailor a bespoke

podcast that suits your

needs engineering or editing needs

• Regular programming

– solo, panel or interview

format

• Documentary style series

– working with journalists,

editors and sound designers

■ We can also cater to any other audio design,

Ikin Media will tailor a bespoke podcast that suits your needs.

Call Sam Ikin on 0419 682 098 to discuss your project.

Ikinmedia.com

or customers by themselves?

• Can environmental

factors affect the safety

of the worker? For example,

exposure to extreme

hot or cold environments?

• Is there risk of attack

by an animal, including

reptiles, insects and sea

creatures?

The skills and capabilities

of the worker

• What is the worker's

level of work experience

and training? Is

the worker able to make

sound judgements about

his or her own safety?

• Are you aware of

a pre-existing medical

condition that may increase

risk?
---
8 Tasmanian Business Reporter - JUNE 2019

FOCUS ON BUSINESS

College

opts for

choices

By LEE

WHITELEY

University College

Chief Executive

Officer

UNIVERSITY College is

listening carefully to feedback

and conversations about

courses and delivery model.

While the uptake of UC

courses has been encouraging,

we are constantly refining

our offering and delivery

model to meet the market demand.

To date, UC has offered a

portfolio of courses through

a blended, or hybrid, delivery.

This means that our students

can study from their

preferred location, through a

combination of high-quality

digital content, tutorials and

face-to-face workshops.

This model has been popular

with a diverse group of

students; however, we are

also listening to feedback

from students who have expressed

their need for a campus

experience.

Many indicated their wish

to engage in a vibrant campus-life,

while undertaking

full-time study on campus.

In light of this feedback

and the exciting opportunity

that new campuses on the

Cradle Coast and Launceston

offer, the UC concluded that

a full-time on-campus option

for some specific courses is

essential.

We are now working to pilot

a unique course offering,

the new Associate Degree in

Equipment Design and Technology.

Even more exciting is a

brand new dedicated space

- the Original Equipment

Manufacturing facility: a

purpose-built space as an extension

of the Cradle Coast

Campus at Burnie that will

enhance the delivery of this

Many students are looking for a vibrant campus life while studying.

new course. Informed by

what the region is good at,

this course will teach 2D/3D

design skills, fabrication techniques,

lean management and

design thinking, incorporating

simulation experiences to embed

the learning.

The new OEM facility

will house equipment in a real-world

industry setting, so

that students can turn their

designs into reality.

Using a "real skills for real

outcomes" approach, students

will engage in a combination

of practical handson

activities within a higher

education setting, ultimately

gaining a relevant qualification

that is designed to set

students up for a promising

career in a related industry.

The Associate Degree in

Equipment Design and Technology

is under development.

A process of approval and

accreditation needs to be undertaken,

however it is anticipated

that the new course

will be accredited in time for

introduction in 2020.

As part of this process,

we are interested in further

building on the industry intelligence

already collected

through consultation and

conversations with key stakeholders

and industry partners.

After 39 years in industry,

I know that the combination

of the Associate Degree

in Equipment Design

and Technology and the

new OEM facility will be a

game-changer - for students

and for industry - supporting

a different way of learning

to achieve very different

outcomes.

At University College we

recognise that not everyone

learns in the same way.

This means we need to

think about different ways to

engage, and a different way

to teach.

Teaching needn't be constrained

to the classroom or

lecture theatre, instead it can

be much more stimulating;

engaging students through a

suite of learning experiences

– from virtual reality to

simulation, to making things

with both old-fashioned

hand tools and cutting-edge

robotics.

APPLY

NOW!

TERM 3 starts

July 22

Study an Associate Degree and

advance your career

Whether you're looking to up-skill, need a formal qualification to take the next step in your career or trying to break

into a new industry, UC has the right Associate degree for you. Our courses offer full-time and part-time options,

so you can find the right balance between work, life and study.

Your path to progress starts with a single step. Visit our website or call 1800 788 244 to speak with a course advisor.

utas.edu.au/college
---
Tasmanian Business Reporter - JUNE 2019 9

FOCUS ON BUSINESS

Six steps to managing risk

By ARASH

RASHIDIAN

...strategic risks are almost

exclusively the domain of

senior management.

A NUMBER of studies

over the past decade or

so have shown that mismanaging

strategic risks

is the top factor responsible

for destroying shareholder

value.

Risks can emanate

from many areas including

organisational culture

and capability, brand,

reputation, large transactions,

corporate structure

and ownership, quality

of board and executive

governance and focus

of leadership.

So how should enterprises

go about strategic

risk assessment and

apply it to their decision-making?

1. Hold the CEO

and executive team accountable

for changing

the risk/reward balance

at a sensible frequency

— rarely longer than

six-monthly.

2. Make time to set out

the most pertinent and recent

internal and external

events, drivers of performance,

sector health and

organisational (people)

strengths and weaknesses.

3. Find a process

to glean insight independently

and without

bias from the executive

and the board on scenarios

that concern them the

most.

Build scenarios with

plausible likelihoods of

realisation and clear material

implications.

Encourage board

members and management

to lift their gaze

from issues that are preoccupying

them this

quarter.

4. Stress-test scenarios

to resolve which are most

significant and generating

uncertainty.

5. Consider current

mitigating factors that

may or may not include

internal controls, whether

there is an adverse,

stable or positive trend

with time for the scenario,

and the limit of your

appetite for that risk scenario.

6. There are three alternatives:

• accept the risk and do

nothing more. There is

no practical or commercially

sensible response

to the scenario and it becomes

a volatile feature

of the strategy;

• do nothing more yet.

Accept the risk is real

and warrants action, but

that there is uncertainty

of an optimal response.

Research an optimal response

and execute; or

• do something now.

The scenario as represented

is currently unacceptable

without further

mitigation, so act now.

Unlike operational

risk, strategic risks are

almost exclusively the

domain of senior management.

Only senior managers

and directors are experienced

enough to have

reliable insight into these

risks – and only their

judgement can be relied

upon for a commercially

sensible and pragmatic

response.

Strategic risks are often

interdependent and

require an integrated approach.

Effective strategic risk

management involves

integrating risk management

into executive and

board decision making.

Experience suggests

that identifying and responding

to strategic risks

is an advanced managerial

set that requires practice.

Executives and directors

need to hone it over

time.

An ability to properly

frame and negotiate risk

appetite among the board

towards new strategy –

and aligning that appetite

with the executive – is a

challenge requiring perseverance

and a willingness

to negotiate and

compromise.

But it can require readiness

to change tack when

circumstances change.

Strategic risk profiles

have a shelf life which in

most sectors is shortening

all the time.

Arash Rashidian GA-

ICD is a principal with

Lighthouse Advisory

and an AICD facilitator.

This article first

appeared in the May

issue of AICD's Company

Director magazine.

OUR MEMBERSHIP

OPENS DOORS

Join more than 43,000 experienced directors and senior leaders by

becoming a member of the Australian Institute of Company Directors.

Membership provides you with exclusive access to our Business Centre

and Member Lounges in Sydney, Melbourne, Canberra, Adelaide, Perth

and Hobart CBDs, member-only events and a range of governance tools

and resources.

Take the next step in your career

t: 1300 739 101 w: companydirectors.com.au/SWT

06460-26_18
---
10 Tasmanian Business Reporter - JUNE 2019

NEWS

TasWater customer

service earns award

TASWATER's 24 Glasses

- Regional Towns Water

Supply Program, which

resulted in the removal of

all public health alerts on

drinking water, has been

named winner of the Operator

& Service Provider

Excellence award at this

year's Infrastructure Part-

nerships Australia presentation.

TasWater shared the

award with project management

partner KBR

and TRILITY, the company

which manufactured

and installed nine

water treatment plants

in communities around

New head for aqua feed company

BIOMAR has appointed David

returns to BioMar to lead the Greece, Turkey, China, Costa

Whyte as managing di-

start-up of the company's first Rica and Ecuador, supplying

rector of its new $56 million Australian plant.

high-performance feed to the

aqua feed manufacturing "I am excited to take this global aquaculture industry.

plant at Wesley Vale. new professional challenge to BioMar is wholly owned

The plant is under construction

build a high performing team by the Danish industrial group

and due to be commis-

and firmly establish BioMar Schouw & Co, which is listed

sioned in January, 2020. in Australia and New Zealand,"

on the NASDAQ, Copenha-

Mr Whyte is a marine biologist

he said.

gen.

with 32 years' experience

It's a tremendous opportuni-

Once operational, the Tastion

in aquaculture producty

and a significant responsibilmanian

facility will produce

and supply companies in ity to meet the expectation

2

of up to 110,000 tonnes per annum

of aqua feed product,

Scotland, Australia and New our customers, staff, community

and shareholders."

creating an expected 55 full

Zealand.

He was the first Technical BioMar operates 14 feed factories

in Norway, Chile, Den-

30 indirect jobs across the re-

time jobs and an additional

Manager at BioMar's UK

plant in the late 1990s and mark, Scotland, Spain, France, gion.

YOUR QUICK GUIDE TO SERVICES AND PRODUCTS FOR YOUR BUSINESS

BUSINESS

HOBART'S BEST RANGE OF

QUALITY ERGONOMIC FURNITURE

FOR THE HOME AND OFFICE

We specialise in high quality ergonomic chairs,

alternative seating and electronic sit/stand desks.

Flair Office Furniture has been providing quality, affordable office

furniture to homes and offices throughout the Hobart region

for nearly 15 years. We're a locally-based, family-run business

specialising in all types of products, so why not visit us today to

see our fantastic range?

www.flairofficefurniture.com.au

Phone 6234 1127

260 Argyle Street,

North Hobart

Tasmania. The judging

panel said it chose Tas-

Water's Regional Towns

Water Supply program

because of its innovative

approach to lifting public

health alerts in many

small communities and

achieving the best outcome

for TasWater customers.

TasWater CEO

Michael Brewster said it

was very pleasing to gain

national recognition for

a very significant infrastructure

development.

"The job of installing

a large number of small

and in some cases quite

isolated water treatment

BUSINESS

To see your business here, call Kerri on 0419 750 267 or email kerri@thetrustedmediaco.com

TasWater

Senior Engineer

Asset Strategy

Bryony Elson,

left, TasWater

Stakeholder

and Community

Engagement

Leader John J

Murray, Managing

Director Trility

Fracois Gouws

and General

Manager, Systems

Performance &

Major Projects

at TasWater

Dr Dharma

Dharmabalan.

plants was an immense

challenge from the very

start," Mr Brewster said.

"The key to success

was our partnership

with KBR and TRILITY

which enabled us to complete

the task within the

time frame of 18 months

which we committed to."

David Whyte

IN BRIEF

Check your online presence

TASMANIA'S 37,300 small to medium businesses

have a new digital check-up tool to help check the

health and effectiveness of their websites and attract

more customers to their businesses.

The tool, designed and built locally by Tasmanian

firm Neon Jungle, provides analysis and tips on search

engine optimisation, accessibility, performance, mobile

responsiveness and social profile.

The offering is part of the State Government's Digital

Ready for Business program, which has seen 600

Tasmanians attend a digital ready event or coaching

session thi year.

The digital check-up tool can be accessed via

https://checkup.digitalready.tas.gov.au/

Tassie's frozen neighbour

HOBART will host the fourth International Sub-Antarctic

Forum in July 2020 as the state aims to capitalise

on its proximity to Antarctica.

The 2020 forum will sit alongside the biennial Australian

Antarctic Festival, which attracts more than

21,000 visitors to Hobart from around the world.

It will bring together more than 120 experts from

Antarctic nations including Australia, New Zealand,

France, the United Kingdom, South Africa, Chile, Argentina

and Norway.

Land managers, policy makers, commercial operators

and NGOs, as well as sub-Antarctic scientists,

will focus on the challenges facing the sub-Antarctic

and develop stronger partnerships.

Tassie on the menu

TASMANIA'S premium food and beverages were the

envy of Asia at the HOFEX 2019 Food and Hospitality

Tradeshow in Hong Kong in mid-May.

Eight local premium food and beverage producers

were introduced to thousands of trade delegates

from more than 70 countries at the State Government-backed

stall.

Tasmania's presence yielded results, with Hong

Kong supermarket chain, City Super, signing deals to

stock Tasmania's Westhaven Dairy's full range of yoghurts,

and premium Tas Prime oysters.

Woodbridge Smokehouse also signed a deal to increase

the volume of their premium smoked salmon to

Hong Kong's ParknShop flagship stores.

Wildlife the winner

WILDLIFE will be the winner after a Hobart Airport

initiative to install 1km of virtual fencing technology

along Grueber Avenue.

Environment Manager Kirsten Leggett said it was

an important initiative to reduce animal deaths on the

road.

"Tasmania has recently earned the unfortunate title

of the road kill capital of the world, with more animals

dying per kilometre on Tasmanian roads than

anywhere else in the world," Ms Leggett said.

"For locals and visitors alike, the experience of colliding

with our wildlife can be quite traumatic.

The Wildlife Safety Solutions technology is activated

by oncoming headlights and uses audio alerts along

with flashing LED lighting to deter animals from entering

the roadway.

Initial testing of virtual fencing devices in Tasmania

has seen a 50 per cent reduction in road kill deaths.

Bruny ferry may go electric

A SECOND new

multi-million dollar vessel

to service Bruny Island

will be built by

Tasmanian business

Richardson Devine Marine.

SeaLink Travel Group

had already contracted

the ship builder to build

its first new vessel, which

is under construction and

due to be delivered in

Your Partner

in Print.

December this year.

A contract has now

Now incorporating

been signed for the second

vessel, which will

cost $7.5 million.

An artist's impression of the first new Bruny

Island ferry now under construction.

Investigations are un-

www.footandplaysted.com.au

der way into the viability

of it being electric -

which would be the first

ferry of its kind in the

southern hemisphere.

THE CRAFT LIVES ON.

SeaLink's two new

vessels will provide a

more reliable, efficient

and comfortable services

to the island, which is enjoying

a tourism boom.
---
Tasmanian Business Reporter - JUNE 2019 11

EVENTS

Becher Townshend of Font PR, left, Tom O'Meara of

Tasmanian Business Reporter and Scott Newton of Knight

Frank Tasmania.

Quintin Villanueva of Qapital Investments, left,

Alderman Simon Behrakis and Nick Heath from

the City of Hobart.

Greg Cooper of Macquarie Point Development

Corporation, left, and Rob de Fegely and Steve

Whitely from Sustainable Timber Tasmania.

What:

TCCI State Budget

briefing breakfasts

Where:

Tasman Room, Wrest

Point Casino, Hobart

Gateway Hotel,

Devonport

When:

Friday, May 24, 2019

Sam McQuestin from the Liberal Party (Tasmania), left,

and Jason Kambovski of Westpac.

Devonport Chamber of Commerce and Industry executive

member Dave Race, left, and Captain Dick Burgess.

Devonport

Chamber of

Commerce

and Industry

immediate

past

president

Stacey

Sheehan, left,

Kate Keenan

and Elizabeth

Holm.

Devonport

Chamber of

Commerce and

Industry

president Dane

Layton, left,

immediate past

president Stacey

Sheehan, TCCI

CEO Michael

Bailey and TCCI

Chair Susan

Parr.
---
12 Tasmanian Business Reporter - JUNE 2019

PROPERTY MATTERS

Statewide lease market strong

Scott Newton

Property Matters with

Knight Frank

Rob Dixon, Knight Frank Tasmania's Director

of Commercial Sales & Leasing (North),

shares his insights into the Northern Tasmanian

commercial market in this month's

article.

THE Property Council of

Australia Office Market Report

for 2019 released in January

reported Hobart CBD

office market vacancy rate

held steady at 5.9% for the

preceeding 12 months.

Being the third lowest capital

city behind Melbourne

and Sydney CBD markets is

a very positive result.

Northern regional Tasmania,

and Launceston specifically,

is experiencing similar

results with similar vacancy

rates for A-Grade space.

With the opening of the

CH Smith Building, there is a

pending addition of 4500 sqm

of former State Government

offices in May 2019.

Knight Frank has these

large floor plates on offer to

the leasing market.

Recent leasing of more

thanh 2000 sqm of this space,

and strong interest in a further

1000 sqm has highlighted

the strength in this sector

in regional Tasmania also.

Market research by Knight

Frank has Launceston office

vacancy for A-Grade space

at about 7.5%, which is very

encouraging for regional Tasmania.

We have recently seen

several large office developments

taken to the market and

the yields are trending consistently

considering the properties

attributes of location, office

type and lease covenant.

The former Tasmanian

Demand for A Grade office space in Launceston is encouraging.

Trustee building in Patterson

Street has been beautifully

renovated and showcases

Tasmanian office architecture.

The property has recently

transacted more than $3m, reflecting

a yield of about 7.0%.

The CH Smith Building has

recently been sold to an interstate

investor with a healthy

yield of around 6.5%, reflective

of the key investment

attributes: modern building,

well located, good parking,

and an attractive lease covenant

to the State Government.

There are other office assets

currently on offer in the

market that are priced at more

than $6m.

These properties, with a

healthy weighted average

lease term in place, are subject

to lease covenants to government

departments.

With very strong demand

for this sector of the market,

indications are the market is

seeing these assets at a yield

around 7.5% to 8.0%.

A further sale of a significant

B-Grade office block

in the city centre, with good

on-site car parking, was offered

with predominantly

vacant possession. This sale

has highlighted that buyers

see assets offered on a vacant

possession about 100 to 150

basis point yield softer than

leased assets.

A development application

has been lodged for a potential

new office development

in the city that would take up

some of the current market

demand.

Any potential requirements

from the University of Tasmania

in their relocation into

the city centre may place further

demand on a sector of

the market which is currently

holding firm.

Office owners are starting

to look to transition lesser

grade space to meet the needs

and requirements that should

present in the immediate future.

A number of these buildings

are now providing attractive

office fit outs, meeting

the demands of the market.

North West Tasmania, especially

Devonport, witnessed

strong office leasing

conditions during 2018, with

about 3000 sqm of office

space leased across 20 transactions.

In a market dominated by

space in the range of 100 to

200 sqm, Knight Frank concluded

several larger transactions

recently.

PROPERTY VIEW

June 2019

Opportunities abound.

145 Davey Street, Hobart.

For Sale by Expressions of Interest

Rare mall investment opportunity.

55 Elizabeth Street, Hobart.

For Sale by Offer

Flexible: Owner

occupy / develop

Site area:

430 sqm*

Building area:

220 sqm*

100% leased

investment

Site area:

195 sqm*

WALE: 2.6 years

This offering is an 1840 built single-level building on an

"Urban Mixed use" zoned site on a major Hobart arterial

road. The building would be well suited as offices, consulting

rooms, retail, visitor or residential accommodation.

Conditional DA for 2 apartments in place.

Matthew Wright 0458 290 588

Ian Reed 0419 670 501

Hobart's strategic mega site.

103 Melville Street, Hobart.

For Sale by Expressions of Interest

*Approx

Three level commercial building situated in the heart of

Hobart's retail pulse, the Elizabeth Mall. The property has

dual retail frontage as fronts Wellington Court at the rear.

The property is fully leased to four tenants and is anchored

by national retailer Ghanda Clothing.

Matthew Wright 0458 290 588

Richard Steedman 0408 559 046

Landmark office building.

144 Macquarie Street, Hobart

For Sale by Offer

*Approx

Site area: 1,179

hectares:*

Existing structure

6,374 sqm*

Scott Newton 0409 186 261

Hayden Peck 0412 766 395

2 year leaseback

SOLD

Knight Frank has the privilege to present the largest and

most significant CBD development site available to the

market. Situated on the Northern edge of the CBD only 250

metres from Hobart's central retail block, this site represents

an opportunity on scale that is truly unique.

*Approx

Net income of

$1.43 million pa

Lettable area:

5,684 sqm*

Scott Newton 0409 186 261

Richard Steedman 0408 559 046

NABERS rating

of 4 star

SOLD

Strategically located, sustainable A grade office building with

fantastic views and natural light. Substantial capital upgrades

have been completed to the base building lighting, lifts and

mechanical plant. The sale price point represents an attractive

value proposition in a competitive sales market.

5 Victoria Street, Hobart 54 Cameron Street, Launceston 48-54 Oldaker Street, Devonport

P: 03 6220 6999 P: 03 6333 7888 P: 03 6424 3568

*Approx