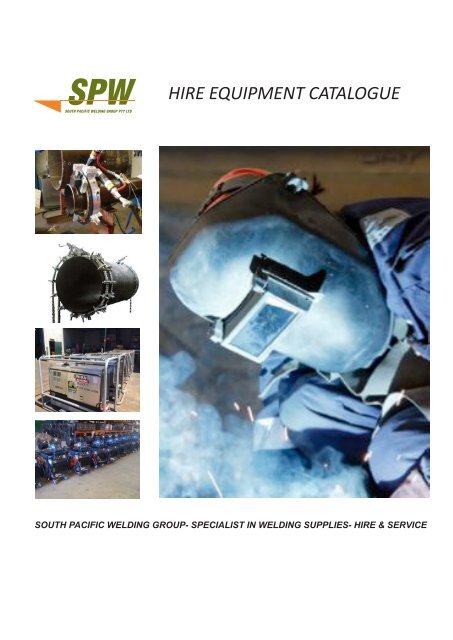 SPW Hire Equipment Catalogue
You also want an ePaper? Increase the reach of your titles
YUMPU automatically turns print PDFs into web optimized ePapers that Google loves.
HIRE EQUIPMENT CATALOGUE

SOUTH PACIFIC WELDING GROUP- SPECIALIST IN WELDING SUPPLIES- HIRE & SERVICE
---
CONSTRUCTION PROJECT & SHUTDOWN HIRE SPECIALISTS

COMPANY PROFILE

South Pacific Welding Group Pty Ltd was formed in early 2003 bringing together a number of welding supply warehouses that

have a combined service history of over 70 years. We specialise in welding which includes equipment, consumables, service,

second hand and hire. Our businesses are able to deliver a national specialised welding supply chain. Each of our trading

companies have retained their locations, staff expertise and customer service levels whilst combining buying power and

marketing initiatives. At SPW we will continue to deliver exceptional service and a comprehensive range of welding products in

every location.

Specialising in project work we place a major emphasis on understanding the needs of our Customers and carry comprehensive

range of quality products to backup & support our clients. We have a solid understanding and the necessary infrastructure to

assist with all facets of supply & service of Welding Equipment or related products.

SPW offers a total supply package for all welding consumables, equipment and associated products including, Hire, and sales of

second hand welding equipment etc.

We are Authorised Agents for-

- ARCOS Speciality Welding Consumables

- Binzel

- Cigweld

- Elliott's Safety

- Esab Consumables & Equipment

- Flexovit Abrasives

- Huntington Fusion Purging Systems

- Hyundai Welding consumables

- Kobe Welding Consumables

- Lincoln Electric

- Magnatech- Orbital Welding Equipment

- Mathey Dearman Pipe Cutting & Alignment clamps

- Metabo power tools

- Miller Welding Equipement

- Sandvik Stainless steel consumables

- Speedglas Welding Helmets & spares

- Sumner pipe Tooling

- Tig master GTAW Components

- TiP TiG

- Tri Tool Beveling Equipment

- Weldstar Welding Equipment & Consumables

- WIA Equipment & Consumables

SOUTH PACIFIC WELDING GROUP- SPECIALIST IN WELDING SUPPLIES- HIRE & SERVICE
---
CONSTRUCTION PROJECT & SHUTDOWN HIRE SPECIALISTS

INDEX

PORTABLE ARC WELDERS

KEMPPI MINARC EVO 140 VRD.......................................................1

KEMPPI MINARC EVO 150 VRD……………………………………………2

TIG WELDERS DC

KEMPPI MINARCTIG 180VRD ………………......................................3

KEMPPI MINARCTIG EVO 200 ......................................................4

MILLER MAXSTAR 200DX .............................................................5

KEMPPI MINARCTIG 250 ................................................................6

TIG WELDERS AC/DC

KEMPPI MASTERTIG 2300MLS AC/DC............................................7

MILLER DYNASTY 200 AC/DC.........................................................8

MIG WELDERS

LINCOLN POWER MIG® 180C……………………………………………..9

LINCOLN REDI-MIG 325 REMOTE…………………………………………10

LINCOLN REDI-MIG 455 REMOTE…………………………………………11

TRANSMIG 400 ………………………………………………………………12

ADVANCED PROCESS WELDERS

MILLER PIPEWORX ………………………………………………………….13

TIP TIG HOT WIRE GTAW …………………………………………………..14

INVERTEC® STT® II …………………………………………………………15

TRANSMIG 320SP COMPACT PULSE MIG........................................16

ORBITAL FLUXCORED WELDERS

MAGNATECH PIPELINER II 609 …………………………………………..17

MULTI-PROCESS WELDERS

LINCOLN INVERTEC® V350-PRO ...................................................18

LINCOLN FLEXTEC® 450 ................................................................19

LINCOLN IDEALARC® DC-600........................................................20

MULTIPLE OPERATOR RACKS .........................................................21

ARCTRACKER .................................................................................22

SEMI-AUTOMATIC WIRE FEEDERS

LN-25 …………………………………………………………………………23

LN-25 PRO …………………………………………………………………..24

LN-25 PRO DUAL POWER..............................................................25

ENGINE DRIVEN WELDERS

LINCOLN VANTAGE® 575.............................................................26

LINCOLN VANTAGE® 580.............................................................27

LINCOLN AIR VANTAGE® 500 ......................................................28
---
CONSTRUCTION PROJECT & SHUTDOWN HIRE SPECIALISTS

PLASMA CUTTING MACHINES

CUTMASTER 20MM PLASMA........................................................29

CUTMASTER 35MM PLASMA ......................................................30

CUTMASTER 40MM PLASMA…………………………………………….31

AUTOMATIC WIRE FEEDERS

LINCOLN LT7.................................................................................32

PIPE PREPING EQUIPMENT:

TRI TOOL ID BEVELLER

BEVELMASTER 204B ………………………………………………………33

BEVELMASTER 208B……………………………………………………….34

BEVELMASTER 214B ………………………………………………………35

TRI TOOL SPLIT FRAME CLAMSHELLS

MODEL 604SB CLAMSHELL ……………………………………………..36

MODEL 606SB CLAMSHELL ……………………………………………..37

MODEL 608SB CLAMSHELL ……………………………………………..38

MODEL 610SB CLAMSHELL ……………………………………………..39

MODEL 612SB CLAMSHELL ……………………………………………..40

MODEL 616SB CLAMSHELL ……………………………………………..41

MODEL 620SB CLAMSHELL ……………………………………………..42

MODEL 624SB CLAMSHELL ……………………………………………..43

MODEL 630SB CLAMSHELL……………………………………………...44

MODEL 636SB CLAMSHELL………………………………………………45

MODEL 642SB CLAMSHELL………………………………………………46

MODEL 648SB CLAMSHELL………………………………………………47

MODEL 660SB CLAMSHELL………………………………………………48

MODEL 672SB CLAMSHELL……………………………………………. .49

SMALL ALIGNMENT CLAMPS & PIPE STANDS

MATHEY DEARMAN QUICK FIT CLAMPS 1 ½-12".…………………..50

MATHEY DEARMAN FOLD STAND 1125 KG ………………………….51

MATHEY DEARMAN HD DOUBLE CHAIN CLAMPS

MATHEY DEARMAN D251-1036 ………………………………………52

MATHEY DEARMAN D251-1048 ………………………………………53

MATHEY DEARMAN D251-1054 ………………………………………54

MATHEY DEARMAN D251-1060 ………………………………………55

MATHEY DEARMAN D251-1072 ………………………………………56

MATHEY DEARMAN RIM CLAMPS

MATHEY DEARMAN D711-0810………………………………………57

MATHEY DEARMAN D711-1012………………………………………58

MATHEY DEARMAN D711-1420………………………………………59

MATHEY DEARMAN D711-1824………………………………………60

MATHEY DEARMAN D711-2632………………………………………61

MATHEY DEARMAN D711-3036………………………………………62

MATHEY DEARMAN D711-3440………………………………………63

MATHEY DEARMAN D711-3844………………………………………64
---
CONSTRUCTION PROJECT & SHUTDOWN HIRE SPECIALISTS

MATHEY DEARMAN RIM CLAMPS CONTINUED-

MATHEY DEARMAN D711-4248………………………………………65

MATHEY DEARMAN D711-5056………………………………………66

MATHEY DEARMAN D711-5460 ……………………………………..67

MATHEY DEARMAN D711-6268 ……………………………………..68

MATHEY DEARMAN MEGA RIM CLAMPS

MATHEY DEARMAN D711-0608M……………………………………69

MATHEY DEARMAN D711-0810M……………………………………70

MATHEY DEARMAN D711-1420M……………………………………71

MATHEY DEARMAN D711-1824M……………………………………72

MATHEY DEARMAN D711-3036M……………………………………73

MATHEY DEARMAN D711-3440M……………………………………74

MATHEY DEARMAN D711-4248M……………………………………75

MATHEY DEARMAN D711-5056M……………………………………76

MATHEY DEARMAN D711-5460M……………………………………77

MATHEY DEARMAN D711-6268M……………………………………78

MATHEY DEARMAN D711-6672M……………………………………79

EXHAUST FANS/BLOWERS

VAF-300 12' FAN…………………………………………………………80

VAF-400 16' FAN…………………………………………………………81

AUTOMATION- POSITIONERS

WELDSTAR 500 KG POSITIONER ………………………………………82

WELDSTAR 1000 KG POSITIONER …………………………………….83

WELDSTAR 2000 KG POSITIONER …………………………………….84

AUTOMATION- ROLLER BEDS

WELDSTAR 3000 KG TURNING ROLLS ……………………………….85

WELDSTAR 5000 KG TURNING ROLLS ……………………………….86

TURNING ROLLS 10-15 TONNE ……. ……………………………….87

TURNING ROLLS 20-30 TONNE ……. ……………………………….88

TURNING ROLLS 30-45 TONNE ……. ……………………………….89

ELECTRODE DRYING & STORGAGE OVENS

WELDSTAR 5KG PORTABLE OVEN ……………………………………90

WELDSTAR 10 KG PORTABLE OVEN …………………………………91

WELDSTAR 130 KG BAKING/STORAGE OVEN …………………….92
---
SOUTH PACIFIC WELDING GROUP- SPECIALIST IN WELDING SUPPLIES- HIRE & SERVICE
---
SOUTH PACIFIC WELDING GROUP- SPECIALIST IN WELDING SUPPLIES- HIRE & SERVICE
---
SOUTH PACIFIC WELDING GROUP- SPECIALIST IN WELDING SUPPLIES- HIRE & SERVICE
---
SOUTH PACIFIC WELDING GROUP- SPECIALIST IN WELDING SUPPLIES- HIRE & SERVICE
---
SOUTH PACIFIC WELDING GROUP- SPECIALIST IN WELDING SUPPLIES- HIRE & SERVICE
---
SOUTH PACIFIC WELDING GROUP- SPECIALIST IN WELDING SUPPLIES- HIRE & SERVICE
---
SOUTH PACIFIC WELDING GROUP- SPECIALIST IN WELDING SUPPLIES- HIRE & SERVICE
---
SOUTH PACIFIC WELDING GROUP- SPECIALIST IN WELDING SUPPLIES- HIRE & SERVICE
---
SOUTH PACIFIC WELDING GROUP- SPECIALIST IN WELDING SUPPLIES- HIRE & SERVICE
---
SOUTH PACIFIC WELDING GROUP- SPECIALIST IN WELDING SUPPLIES- HIRE & SERVICE
---
SOUTH PACIFIC WELDING GROUP- SPECIALIST IN WELDING SUPPLIES- HIRE & SERVICE
---
SOUTH PACIFIC WELDING GROUP- SPECIALIST IN WELDING SUPPLIES- HIRE & SERVICE
---
SOUTH PACIFIC WELDING GROUP- SPECIALIST IN WELDING SUPPLIES- HIRE & SERVICE
---
SOUTH PACIFIC WELDING GROUP- SPECIALIST IN WELDING SUPPLIES- HIRE & SERVICE
---
SOUTH PACIFIC WELDING GROUP- SPECIALIST IN WELDING SUPPLIES- HIRE & SERVICE
---
SOUTH PACIFIC WELDING GROUP- SPECIALIST IN WELDING SUPPLIES- HIRE & SERVICE
---
SOUTH PACIFIC WELDING GROUP- SPECIALIST IN WELDING SUPPLIES- HIRE & SERVICE
---
SOUTH PACIFIC WELDING GROUP- SPECIALIST IN WELDING SUPPLIES- HIRE & SERVICE
---
SOUTH PACIFIC WELDING GROUP- SPECIALIST IN WELDING SUPPLIES- HIRE & SERVICE
---
SOUTH PACIFIC WELDING GROUP- SPECIALIST IN WELDING SUPPLIES- HIRE & SERVICE
---
SOUTH PACIFIC WELDING GROUP- SPECIALIST IN WELDING SUPPLIES- HIRE & SERVICE
---
SOUTH PACIFIC WELDING GROUP- SPECIALIST IN WELDING SUPPLIES- HIRE & SERVICE
---
SOUTH PACIFIC WELDING GROUP- SPECIALIST IN WELDING SUPPLIES- HIRE & SERVICE
---
SOUTH PACIFIC WELDING GROUP- SPECIALIST IN WELDING SUPPLIES- HIRE & SERVICE
---
SOUTH PACIFIC WELDING GROUP- SPECIALIST IN WELDING SUPPLIES- HIRE & SERVICE
---
SOUTH PACIFIC WELDING GROUP- SPECIALIST IN WELDING SUPPLIES- HIRE & SERVICE
---
SOUTH PACIFIC WELDING GROUP- SPECIALIST IN WELDING SUPPLIES- HIRE & SERVICE
---
SOUTH PACIFIC WELDING GROUP- SPECIALIST IN WELDING SUPPLIES- HIRE & SERVICE
---
SOUTH PACIFIC WELDING GROUP- SPECIALIST IN WELDING SUPPLIES- HIRE & SERVICE
---
SOUTH PACIFIC WELDING GROUP- SPECIALIST IN WELDING SUPPLIES- HIRE & SERVICE
---
SOUTH PACIFIC WELDING GROUP- SPECIALIST IN WELDING SUPPLIES- HIRE & SERVICE
---
SOUTH PACIFIC WELDING GROUP- SPECIALIST IN WELDING SUPPLIES- HIRE & SERVICE
---
SOUTH PACIFIC WELDING GROUP- SPECIALIST IN WELDING SUPPLIES- HIRE & SERVICE
---
SOUTH PACIFIC WELDING GROUP- SPECIALIST IN WELDING SUPPLIES- HIRE & SERVICE
---
SOUTH PACIFIC WELDING GROUP- SPECIALIST IN WELDING SUPPLIES- HIRE & SERVICE
---
SOUTH PACIFIC WELDING GROUP- SPECIALIST IN WELDING SUPPLIES- HIRE & SERVICE
---
SOUTH PACIFIC WELDING GROUP- SPECIALIST IN WELDING SUPPLIES- HIRE & SERVICE
---
SOUTH PACIFIC WELDING GROUP- SPECIALIST IN WELDING SUPPLIES- HIRE & SERVICE
---
SOUTH PACIFIC WELDING GROUP- SPECIALIST IN WELDING SUPPLIES- HIRE & SERVICE
---
SOUTH PACIFIC WELDING GROUP- SPECIALIST IN WELDING SUPPLIES- HIRE & SERVICE
---
SOUTH PACIFIC WELDING GROUP- SPECIALIST IN WELDING SUPPLIES- HIRE & SERVICE
---
SOUTH PACIFIC WELDING GROUP- SPECIALIST IN WELDING SUPPLIES- HIRE & SERVICE
---
SOUTH PACIFIC WELDING GROUP- SPECIALIST IN WELDING SUPPLIES- HIRE & SERVICE
---
SOUTH PACIFIC WELDING GROUP- SPECIALIST IN WELDING SUPPLIES- HIRE & SERVICE
---
SOUTH PACIFIC WELDING GROUP- SPECIALIST IN WELDING SUPPLIES- HIRE & SERVICE
---
SOUTH PACIFIC WELDING GROUP- SPECIALIST IN WELDING SUPPLIES- HIRE & SERVICE
---
SOUTH PACIFIC WELDING GROUP- SPECIALIST IN WELDING SUPPLIES- HIRE & SERVICE
---
SOUTH PACIFIC WELDING GROUP- SPECIALIST IN WELDING SUPPLIES- HIRE & SERVICE
---
SOUTH PACIFIC WELDING GROUP- SPECIALIST IN WELDING SUPPLIES- HIRE & SERVICE
---
SOUTH PACIFIC WELDING GROUP- SPECIALIST IN WELDING SUPPLIES- HIRE & SERVICE
---
SOUTH PACIFIC WELDING GROUP- SPECIALIST IN WELDING SUPPLIES- HIRE & SERVICE
---
SOUTH PACIFIC WELDING GROUP- SPECIALIST IN WELDING SUPPLIES- HIRE & SERVICE
---
SOUTH PACIFIC WELDING GROUP- SPECIALIST IN WELDING SUPPLIES- HIRE & SERVICE
---
SOUTH PACIFIC WELDING GROUP- SPECIALIST IN WELDING SUPPLIES- HIRE & SERVICE
---
SOUTH PACIFIC WELDING GROUP- SPECIALIST IN WELDING SUPPLIES- HIRE & SERVICE
---
SOUTH PACIFIC WELDING GROUP- SPECIALIST IN WELDING SUPPLIES- HIRE & SERVICE
---
SOUTH PACIFIC WELDING GROUP- SPECIALIST IN WELDING SUPPLIES- HIRE & SERVICE
---
SOUTH PACIFIC WELDING GROUP- SPECIALIST IN WELDING SUPPLIES- HIRE & SERVICE
---
SOUTH PACIFIC WELDING GROUP- SPECIALIST IN WELDING SUPPLIES- HIRE & SERVICE
---
SOUTH PACIFIC WELDING GROUP- SPECIALIST IN WELDING SUPPLIES- HIRE & SERVICE
---
SOUTH PACIFIC WELDING GROUP- SPECIALIST IN WELDING SUPPLIES- HIRE & SERVICE
---
SOUTH PACIFIC WELDING GROUP- SPECIALIST IN WELDING SUPPLIES- HIRE & SERVICE
---
SOUTH PACIFIC WELDING GROUP- SPECIALIST IN WELDING SUPPLIES- HIRE & SERVICE
---
SOUTH PACIFIC WELDING GROUP- SPECIALIST IN WELDING SUPPLIES- HIRE & SERVICE
---
SOUTH PACIFIC WELDING GROUP- SPECIALIST IN WELDING SUPPLIES- HIRE & SERVICE
---
SOUTH PACIFIC WELDING GROUP- SPECIALIST IN WELDING SUPPLIES- HIRE & SERVICE
---
SOUTH PACIFIC WELDING GROUP- SPECIALIST IN WELDING SUPPLIES- HIRE & SERVICE
---
SOUTH PACIFIC WELDING GROUP- SPECIALIST IN WELDING SUPPLIES- HIRE & SERVICE
---
SOUTH PACIFIC WELDING GROUP- SPECIALIST IN WELDING SUPPLIES- HIRE & SERVICE
---
SOUTH PACIFIC WELDING GROUP- SPECIALIST IN WELDING SUPPLIES- HIRE & SERVICE
---
SOUTH PACIFIC WELDING GROUP- SPECIALIST IN WELDING SUPPLIES- HIRE & SERVICE
---
SOUTH PACIFIC WELDING GROUP- SPECIALIST IN WELDING SUPPLIES- HIRE & SERVICE
---
SOUTH PACIFIC WELDING GROUP- SPECIALIST IN WELDING SUPPLIES- HIRE & SERVICE
---
SOUTH PACIFIC WELDING GROUP- SPECIALIST IN WELDING SUPPLIES- HIRE & SERVICE
---
SOUTH PACIFIC WELDING GROUP- SPECIALIST IN WELDING SUPPLIES- HIRE & SERVICE
---
SOUTH PACIFIC WELDING GROUP- SPECIALIST IN WELDING SUPPLIES- HIRE & SERVICE
---
SOUTH PACIFIC WELDING GROUP- SPECIALIST IN WELDING SUPPLIES- HIRE & SERVICE
---
SOUTH PACIFIC WELDING GROUP- SPECIALIST IN WELDING SUPPLIES- HIRE & SERVICE
---
SOUTH PACIFIC WELDING GROUP- SPECIALIST IN WELDING SUPPLIES- HIRE & SERVICE
---
SOUTH PACIFIC WELDING GROUP- SPECIALIST IN WELDING SUPPLIES- HIRE & SERVICE
---
SOUTH PACIFIC WELDING GROUP- SPECIALIST IN WELDING SUPPLIES- HIRE & SERVICE
---
SOUTH PACIFIC WELDING GROUP- SPECIALIST IN WELDING SUPPLIES- HIRE & SERVICE
---
SOUTH PACIFIC WELDING GROUP- SPECIALIST IN WELDING SUPPLIES- HIRE & SERVICE
---
SOUTH PACIFIC WELDING GROUP- SPECIALIST IN WELDING SUPPLIES- HIRE & SERVICE
---
SOUTH PACIFIC WELDING GROUP- SPECIALIST IN WELDING SUPPLIES- HIRE & SERVICE
---
SOUTH PACIFIC WELDING GROUP- SPECIALIST IN WELDING SUPPLIES- HIRE & SERVICE
---
SOUTH PACIFIC WELDING GROUP- SPECIALIST IN WELDING SUPPLIES- HIRE & SERVICE
---
SOUTH PACIFIC WELDING GROUP- SPECIALIST IN WELDING SUPPLIES- HIRE & SERVICE
---
SOUTH PACIFIC WELDING GROUP- SPECIALIST IN WELDING SUPPLIES- HIRE & SERVICE
---
SOUTH PACIFIC WELDING GROUP- SPECIALIST IN WELDING SUPPLIES- HIRE & SERVICE
---
SOUTH PACIFIC WELDING GROUP- SPECIALIST IN WELDING SUPPLIES- HIRE & SERVICE
---
SOUTH PACIFIC WELDING GROUP- SPECIALIST IN WELDING SUPPLIES- HIRE & SERVICE
---
CONSTRUCTION PROJECT & SHUTDOWN HIRE SPECIALISTS