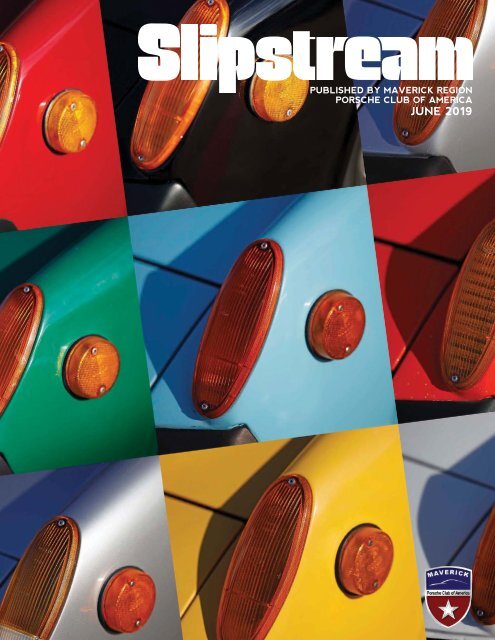 Slipstream - June 2019
The monthly newsletter of the Maverick Region of the Porsche Club of America
The monthly newsletter of the Maverick Region of the Porsche Club of America
SHOW MORE
SHOW LESS
You also want an ePaper? Increase the reach of your titles
YUMPU automatically turns print PDFs into web optimized ePapers that Google loves.
PUBLISHED BY MAVERICK REGION

PORSCHE CLUB OF AMERICA

JUNE 2019
---
More rush per hour.

More performance. More technology. More thrill. More sports car. In the

new Macan, there's only one thing you'll be left wanting more of: time.

Porsche. There is no substitute.

The new Macan coming soon.

Choose Thrilling.

1280 Texan Trail

Grapevine, TX 76051

833.470.0671

PorscheGrapevine.com

©2019 Porsche Cars North America, Inc. Porsche recommends seat belt usage and observance of all traffic laws at all times.

European car model shown. Some options may not be available in the U.S.
---
VOLUME 58

ISSUE 6

JUNE 2019

MAV.PCA.ORG

See, they don't melt! Mavs (actually their cars) on a rainy day.

Photo by Bill Kruder

FEATURES

6 | Mavs & Mochas Recap: April

8 | A Maverick Goes to Hawaii

12 | Driver's Education Series: April at MSR

15 | Autocross Series Event 3: Lone Star Park

16 | The Pursuit of Happiness: Part 2

19 | Maverick Marktpreis: 914

20 | Coffee, Cars & Conversation: Frank Briggs

26 | Follow the Easter Bunny Road Rally: 2019

30 | ABCDE Car Day: 2019

UPCOMING EVENTS

22 | Revolver Tour

22 | Motoring Mavs at Mayo

23 | Maverick Lunch Series

23 | Mavs&Mochas

28 | Board Meeting

DEPARTMENTS

2 | Sprockets (President's Column)

2 | Maverick of the Month

4 | List of Officers and Board Chairs

4 | Zone 5 Presidents

11 | New Mavericks

11 | Member Moments

14 | Porsche Trivia

34 | Advertiser Index

34 | Anniversaries

36 | Oversteer (Editor's Column)

EVENT DATES

See more details and check for event updates via the QR code

here or our online calendar at http://mav.pca.org/go/calendar

June

Board Meeting.......................................................................... (Wed) 5

Austin Schnell Fest: COTA......................................................... (Sat) 7-9

Lewisville area lunch.................................................................(Tue) 11

Motoring Mavs at Mayo............................................................ (Sat) 15

Maverick Happy Hour...............................................................(Thu) 20

Mavs & Mochas: Stonebriar Community Church....................... (Sat) 22

Revolver Brewery Tour .............................................................. (Sat) 22

Southlake area lunch................................................................(Thu) 27

Tech Session: Fifth Gear............................................................ (Sat) 29

July

Lewisville area lunch................................................................... (Tue) 9

Mavs & Mochas: Novel Coffee Roasters .................................... (Sat) 13

Frisco Rough Riders Porsche Night ........................................... (Sat) 13

Maverick Happy Hour...............................................................(Thu) 18

Motoring Mavs at Mayo............................................................ (Sat) 20

Autocross #6............................................................................. (Sun) 21

64th Porsche Parade...........................................................(Sun) 21-27

Southlake area lunch................................................................(Thu) 25

Tech Session: Park Place Porsche .............................................. (Sat) 30

On the Cover

914's everywhere you look. This collage was

put together by one of our resident shooters

especially for the occasion.

Photo by Paul Moseley

Slipstream (USPS 666-650) is published monthly by the Maverick Region, Porsche Club of America, 155 Jellico

Southlake, TX 76092. Subscription price is $24.00 per year. Periodical postage is paid at Fort Worth, TX.

POSTMASTER: Send address changes to Hiram Saunders, Slipstream, 155 Jellico, Southlake, TX 76092.

Opinions expressed herein are not necessarily endorsed by the Club's membership or officers. Contributions will be

printed on a space available basis. Chartered regions of PCA may reproduce items from this issue provided the author/

artist and Slipstream are credited. Slipstream is printed by Ussery Printing Company in Irving, Texas.

1
---
SPROCKETS: Hit the road!

by David Robertson, Region President

Summer has arrived and hopefully the wet weather

we have experienced all the way back to September is

subsiding. There have not been many weekends this

past winter and spring where a good drive through the

twisty backroads has been an optimal experience. Now

that we are past all of that, it is time to hit the road!

This is perfect weather for the convertible tops down or

sunroofs open. If you have neither, then roll down the

windows and enjoy the roar!

There are plenty of opportunities to get out with

other Maverick members and enjoy a drive or just hang

out and look at other Porsches.

The Maverick Region PCA is about much

more than just owning a Porsche. It's

really many things, including sharing

knowledge about our cars, including

servicing and ownership tips. Most of

all, it's about the people we meet and

lifelong friendships we make.

At just about every event I attend I meet someone who

has been a member of the club for years but attending

for the first time. Maybe they typically attend a DE but

haven't been to a tour, or they usually attend Mavs &

Mochas and haven't been to an autocross. Perhaps they

have never attended one of our fantastic events. In any

case the comment is always "Wow, why haven't I done

this before? I am having a great time!"

Myra Sutton, a dear member of the club since the

1970s, passed away recently. I met Myra at one of the

first events I ever attended and she made me feel very

welcome, telling me about the club and introducing me

to other people. I knew I had found the right spot with

the Maverick Region. She was living on borrowed time

the last few years, but I never saw her enthusiasm waiver

for the people in the Maverick Region, or for travelling

across the country to PCA Parade with husband Jerry,

or for fierce competitiveness on the autocross course.

Myra's spirit has been an inspiration to me. It's not just

the cars, it's the people!

MAV OF THE MONTH:

Peter Wen

Peter Wen joined PCA and the Maverick Region in December 2015 shortly after he

purchased his 2014 Cayman. By the next fall, he was actively involved in many Region

events and participated in his first DE. That set the Porsche hook deep; so deep in fact

that by January of 2017, Peter had sold his Cayman and purchased a beautiful 2011

Turbo S Cabriolet. It was a PTS (paint to sample) car inside and out, featuring Polar

Silver over a Lipstick Red leather interior all the way down to the leather-wrapped air

vents. It affectionately became known as "One-of-Wen." You will find Peter pitching in

wherever a need arises, many times directing parking at Mavs & Mochas, even in the

rain that we have had in the past months. He has also started a new feature in Slipstream,

with market prices for Porsches, that has become an instant favorite. Thank you Peter

-- we never get tired of looking at that red interior!

2 June
---
The Independent Porsche Specialist

• Expert maintenance and repair services • Track day preparation

• Performance and appearance upgrades from GMG, Manthey, FVD and more

• Superior customer service and free loaner cars • PCA discounts

Porsche factory computers • Comprehensive service from air-cooled to 991

We Buy, Sell and

Consign Quality

Pre-owned Porsches

3221 Skylane Drive, Dallas, Texas 75006 • 214-269-1570 • www.racperformance.com

3
---
2019 Maverick Region Board - Officers and Chairs

President

David Robertson

617-797-0516

president@mavpca.org

Vice President

Jim Falgout

vp@mavpca.org

Secretary

Carey Spreen

817-422-3480

secretary@mavpca.org

Treasurer

Deborah Fike

972-672-4282

treasurer@mavpca.org

Autocross Chair

Mark Schnoerr

ax@mavpca.org

Charity Chair

Chris Hamilton

hope@mavpca.org

Club Race Co-Chair

Pat Heptig

214-649-7907

cr@mavpca.org

Club Race Co-Chair

Joel Nannis

cr@mavpca.org

Coffee Meets Co-Chair

Derrick Tate

972-748-1178

coffeemeets@mavpca.org

Concours Chair

Mike Mahoney

801-230-1482

concours@mavpca.org

DE Chair

Renee Hayden

de@mavpca.org

DE Registrar

Jason Brodigan

deregistrar@mavpca.org

DE Chief Driving Coach

Craig Janssen

cdi@mavpca.org

DE Medical Chair

Dr. Jeffery Komenda

demedical@mavpca.org

Goodie Store

Chris Flaugh

214-288-5300

goodiestore@mavpca.org

Region Historian

Carey Spreen

817-422-3480

historian@mavpca.org

Marketing, Social

Media Chair

Bill Orr

marketing@mavpca.org

Membership Chair

Jim Hirsch

972-740-7377

membership@mavpca.org

Monthly Social Chair

Claudia Reynolds

hh@mavpca.org

PCA Tours Co-Chair

Sam Bryant

tours@mavpca.org

PCA Tours Co-Chair

Brant Worrell

tours@mavpca.org

Rally Co-Chair

Don Sebert

214-613-6900

rally@mavpca.org

Rally Co-Chair

George Luxbacher

rally@mavpca.org

Registrar, Club Race

Wendy Shoffit

crreg@mavpca.org

Safety Co-Chair

Bob Kramer

safety@mavpca.org

Slipstream Advertising,

Coffee Meets

Bill Kruder

214-497-0711

ads@mavpca.org

Slipstream Content Ed.

Carey Spreen

817-422-3480

editor@mavpca.org

Slipstream Editor

Kurt Scaggs

469-446-1690

editor@mavpca.org

Slipstream Event Ad Design

David Tierney

eventads@mavpca.org

Slipstream Mailing

Andy Mears

214-394-5857

mailing@mavpca.org

Slipstream Printing

Fran Ussery

972--438-8344 (W)

817-481-8342 (H)

printing@mavpca.org

Social Chair

Debi Kruder

social@mavpca.org

Tech Sessions Chair

Michael Baynton

214-641-2848

techsessions@mavpca.org

Time Trial Chair,

(AX/TT Rules)

Travis Howard

214-616-6152

tt@mavpca.org

TT Registrar, AX/TT

Schools, Swap Meets

Robyn Howard

214-991-0873

drivingschools@mavpca.org

Trivia Chair

Jerry DeFeo

972-240-5800

trivia@mavpca.org

Volunteers Chair

Landon Stogner

214-233-6858

volunteers@mavpca.org

Web Site Chair

James Shoffit

972-786-6246

webmaster@mavpca.org

ARK-LA-TEX

Ken Chandler

bad968@bellsouth.net,

2018 PCA Zone 5 Presidents and Zone Representative

HILL COUNTRY

Tuffy von Briesen

president@hcrpca.org

MARDI GRAS

Scott Spradley

swsprad@bellsouth.net

WAR BONNET

Eric Costello

ecostellodo@gmail.com

Link to

Board

Meeting

minutes:

CIMARRON

Jason Tollison

presidentcmr@gmail.com

COASTAL BEND

Bryan Kerrick

bksailspadre@sbcglobal.net

LONE STAR

Steve Bukoski

president@lsrpca.com

LONGHORN

Mikel Matthews

Mikel.matthews@gmail.com

MAVERICK

David Robertson

president@mavpca.org

OZARK

Jim Woolly

jim.carol_NOSPAM@sbcglobal.net

WHISKEY BAY

Stan Labat

labat@cox.net

WHITE RIVER

Leonard Zechiedrich

whiteriverregionpca@gmail.com

ZONE 5 REP

Chuck Bush

(703) 577-0562

zone5rep@pca.org

www.zone5.pca.org

4 June
---
VISIT OUR NEW 8600 SQ FT LOCATION!

MONTHLY SPECIAL

$195

MOTUL OIL

$187

MOBIL 1 OIL

CERTIFIED MASTER TECHNICIANS

GENERAL MAINTENANCE

PERFORMANCE UPGRADES

SUSPENSION MODIFICATIONS

ALIGNMENTS ( TRACK AND STREET )

TRACK PREPARATION

TECH SHEET INSPECTIONS

CUSTOM FABRICATION

CUSTOM BUILT SPEC 996S AND SPB

2520 Tarpley Rd. Suite 700

Carrollton, Texas 75006

(972) 418-1996

innovativeautosports.com

innovativeautosportstx@gmail.com

5
---
April Mavs & Mochas Recap

by Bill Kruder, Mavs & Mochas Chair

photos provided by Paul Moseley

I believe the saying is "April showers bring May

flowers." We certainly have had the showers. Due

to all the rain we had to postpone April's Mavs &

Mochas from its original date (4/13) and scramble

to get it rescheduled for 4/27. Needless to say, the

weather cooperated and we had nearly 130 cars in

attendance, including 16 914s.

You may or may not know, but the 914, once

considered an eyesore but now an icon,

is celebrating 50 years since production

started in 1969. That being said, I think the

words of a few owners and pictures of the

morning tell it all.

"I married into a family of car enthusiasts who

quickly got me interested in Porsches. I started looking

on and off at 914s because I loved its vintage look and

the vibrant colors, but wasn't sure it was right for me.

As soon as I took mine for a test drive, I was hooked

and haven't looked back!" - Katie Scheetz, 1973 owner

"My Olympic blue 914 is a perfect blend of eyecatching

classic style, performance, and handling.

Keep the top off and enjoy the ride. Plus it is my wife's

favorite car!" – Alan Lage, 1974 owner

"My wife's 914 was designed to be TONS of fun - it

was intentionally built by Porsche to be a street legal

Go-Kart! Just sitting in the car makes us smile every

single time; driving it makes us happy every single time.

Plus the two trunks make it great to take to the grocery

store."- Clay Perrine

Many thanks go to Park Place Porsche Dallas for

their continued sponsorship of Mavs & Mochas, and a

huge thank you to Al and his team at Zims Autotechnik

for hosting us and providing us with endless cups of

Felix Coffee.

6 June
---
your baby deserves

its own room.

Introducing Garages of Texas, a community of first-class, affordable, completely customizable garage suites. Here, you don't rent a

space. You buy it. Giving you complete financial control and power to make it your own with unlimited customization options. So, stop fighting

for space in your family garage. Upgrade to a garage suite and move your show cars, motorhome or boat to the showroom they deserve.

Contact our sales team at 888.988.8049 or sales@GaragesOfTexas.com for more information.

PLANO • DALLAS • ALLEN • ROANOKE • FRISCO • CARROLLTON • SAN ANTONIO • AUSTIN • HOUSTON • LEWISVILLE

GaragesOfTexas.com • Facebook.com/GaragesOfTexas

7
---
A Maverick goes to Hawaii

by Michael Durovick

photo provided by Michael Durovick

My wife and I recently returned

from our vacation to Hawaii. While

there, I was hoping to photograph a

Porsche or two in the natural beauty

of the islands. So I contacted the

President of the Big Island Hawaii

Region, Gunner Mench, who is the

owner/operator of the art gallery

Harbor Gallery in Waimea. We met

him at his gallery and were chatting

for some time when he told me he

couldn't leave the gallery to take

the car for a shoot.

I was a little disappointed,

thinking I wasn't going to be able

to take any photos. But to my great

surprise, he handed me the keys

to his fuel-injected 1980 SC Targa

and said to take it up the coast and

find a nice spot to shoot it. What!?!

Who hands the keys to a classic

Porsche to a complete stranger? He

said he had seen my photography

and liked my work and wanted to

see what I could do. For him to

say he likes my photos was a huge

thrill -- especially an art gallery

owner, with his father having

been a professional photographer

in Germany. His father had done

professional advertising photos for

the Porsche 356 back in the day

and even had a Porsche delivered to

him by Ferry Porsche himself!

So I heeded his request to keep

it under 100 mph (never went over

65) and got some good shots. What

a dream come true -- driving an aircooled

Targa (top off) in Hawaii.

And what a nice guy Gunner is.

Thanks Gunner.

I had contacted the President

of the Oahu PCA, Ellen Liddle,

who graciously had put together

an impromptu Porsche drive for

Wanda and me to participate in

when we traveled over to Oahu later

in our trip. We were picked up by

Rob and his son in their Panamera

GTS at our Waikiki beach hotel and

went to meet up with the rest of the

group at a local coffee shop.

From there, the group of five

Porsches took a spirited drive

through the southeast portions of

the island, stopping along the way

to grab some shots of the cars.

This included the Lanai Lookout,

Halona Blowhole, Sandy Beach,

and Makupu'u Lookout. My wife

enjoyed the view from Ellen's 911,

while I took shotgun in Ken's new

white 911 turbo cabriolet. This

road, Kalaniana'ole Highway, is

8 June
---
perfect for a spirited Porsche drive. The twisty curves

and blind corners make for both an exhilarating drive

and fantastic aural experience. The echoes of the

throaty exhausts of five Porsches tearing down this

road was quite the experience, made even better with

the top down on Ken's Turbo.

Our final destination was the beach at Bellows Air

Force station on the east side of Oahu for sunset shots.

The pavement on the road to this beach went right up

to the water, making for some good photos. As several

members of the group have military affiliations, we

were all able to get on base. Afterwards we headed to

Maui Brewing Company for some dinner and lively

discussions. We were so amazed how quickly we all got

along and agreed that the Porsche Club motto is true:

it's not just the cars, it's the people!

Left to right from back row: Rob Nelson, Ivan Serrano, Ken Kwock, Michael Durovick, Ellen

Liddle, Wanda Durovick, Tracy Fowler Immediately Right: Michael and Wanda Durovick

Your mind's been racing.

Catch up.

Decades of dreaming, fulfilled instantaneously. The iconic 911 Carrera. Legendary

handling, immediate power, and decades of motorsport heritage. It is the full

measure of a sports car. Found only in a Porsche. Porsche. There is no substitute.

The 911 Carrera.

Porsche Plano

5924 W Plano Pkwy.

Plano, TX 75093

(214) 579-1911

porscheplano.com

©2018 Porsche Cars North America, Inc. Porsche recommends seat belt usage and observance of traffic laws at all times.

9
---
10 June
---
Welcome Our New Mavericks!

by Jim Hirsch, Region Membership Chair

New Members April 2019

Douglas Aaron Allen 2015 Macan Turbo

Andy Allen Southlake 2013 911 Carrera S

Rick Bridwell Frisco 2015 911 Carrera S

Julie Chickering Dallas 2002 911 Carrera 4 Cabriolet

Michael Clapperton Dallas 2011 Cayman

J. Clark Garland 2006 911 Carrera S

Scott Colling (Christine) Dallas 2015 911 Turbo

Frank Conforti Sachse 2006 Cayenne S

Archie Crow Arlington 2018 Macan GTS

John Curanovic Rockwall 2017 911 Carrera S Cabriolet

Kuri De Luna (Carmen Anne) Grand Prairie 2008 911 Carrera 4S

Otha Doyelene Harris Arlington 2016 Panamera Edition

Ramon Espaillat Fort Worth 1984 911 Carrera Targa

Simon Figg Dallas 2017 911 Carrera 4S

Scott Gassel Dallas 2016 911 Carrera S

Stephen Gault Dallas 2001 Boxster S

Chad Golseth (Maria) Colleyville 2007 911 Carrera 4S

Nicholas Gutierrez Dallas 2018 911 GT3

Dan Harrison Denton 2016 Boxster

Byron Jones Dallas 2011 911 GT3 RS

Bill Lines Coppell 2001 911 Carrera

Justin Pohl Longview 2018 911 GT3

Richard Posey Allen 2003 911 Carrera 4S

Jonathan Raspaud Flower Mound 2014 Boxster S

Kari Rich Irving 2013 911 Turbo S

Erick Richards (Lisa) Richardson 2011 Boxster S

Bill Russell (Linda) Plano 2018 911 Carrera

Matt Saxton Dallas 2019 911 GT3

Christoph Schittko Dallas 2017 911 Carrera

Douglas Shock Plano 2018 Macan

Christopher Sickler Dallas 2002 Boxster

Craig Sinasac Dallas 2016 Race Car

Dorian Yates Dallas 2013 Boxster S

Transfers In

Thomas Atlas (CHO) Dallas 1988 911 Turbo

Aaron Hardy (HCT) The Colony 2013 Panamera

Wayne Parks (SOI) Granbury 2008 911 Turbo

Douglas Shock (CMR) Plano 2018 Macan

Markham Teguns (LST) Dallas 2013 911 Carrera S

Hakan Yorganci (NNJ)

2015 911 Turbo Cabriolet

Please give a Maverick Welcome to these new members when you meet them!

If you have any changes that

you would like to make to the

MRPCA membership guide, contact Jim

Hirsch at membership@mavpca.org

Member Moment

Claudia Reynolds

(joined 1/2019)

Occupation

Environmental Health and

Safety Consultant

Primary reason for joining PCA

Originally it was to participate at track

events, but everyone has been so welcoming

that I have decided to become a little

more involved and am going to volunteer

for a committee chair.

Current Porsche(s)

2014 Boxster S

Favorite Porsche

Just about any Singer 911

Best thing about Porsche ownership

The feeling I get when I'm behind the

wheel. It's incredible!

Hobby interests

I drive my car fast, shoot my guns, play my

pool, and go to my hockey games.

Member Moment

Roberto Anderson

(joined 10/2007)

Occupation

Strategic Account Manager

- Healthcare

First Porsche

2004 Boxster S limited edition, first one I

rode in was my brothers 1967 912.

Current Porsche(s)

2004 Boxster S limited edition and 1963

356 S

Favorite Porsche

My 356, would like a 50th anniversary 911

edition or a GT4.

Favorite Maverick or PCA event

All the social activities and the driving

tours.

Best thing about owning a Porsche

Getting a chance to learn all about the

Porsche models and their owners.

Maverick Membership Statistics as of May 1

Primary Members: 2026 Affiliate Members: 983 Total Membership: 3009

11
---
Drivers' Education Series: April at MSR

by Renee Hayden, Region DE Chair

photos provided by author

We were back to the track at MotorSport Ranch in

Cresson for our April 27 and 28 "Spring Fling" High

Performance Drivers Education (HPDE) event. With record

attendance and beautiful dry weather, we had another very

successful weekend. Thank you to all who participated in

the event, to those who participated in the charity parade

laps benefitting Patriot PAWS, and a special welcome and

thank you to a new DE sponsor, RAC Performance.

After the driving ended on Saturday we gathered at the

Drive Exotic building at MotorSport Ranch for a social

hour of drinks and snacks. This particular social hour, we

honored and thanked John Sandusky for his leadership

and selfless dedication to the HPDE team for 20 years.

John continues within the HPDE leadership team as our

Coach Training Team Leader. John trains our advanced

drivers as they continue their journey within the HPDE

program to become future coaches.

Our next HPDE opportunity will be at Circuit

of the Americas (COTA) in Austin on June

7 through 9. The HPDE name is the Austin

Schnell Fest and the event is presented by the

Hill Country, Lone Star, and Maverick Regions

of PCA, and the Houston Chapter of BMW-CCA.

Registration is open now and will remain open until

May 31 at noon CDT, so register as soon as possible to

make sure you get into the event. For more information,

go to http://austinschnellfest.clubregistration.net/.

After the June Austin Schnell Fest, we will take a break

for summer and be back in mid-September to run at the

newly configured Eagles Canyon Raceway. Please don't

miss an opportunity to run at COTA in June or Eagles

Canyon in September. Both are spectacular but very

different tracks. As always, you can find out more about

HPDEs and our event schedule at http://mav.pca.org/

Events/DE/. See you in the corners soon!

12 June
---
We Buy, Sell & Tradethe

World's Finest Timepieces

Precise, sleek, distinctive and exceptional. de Boulle is a family-owned business

established in 1983. Along with de Boulle Motorsports, both are a living and moving

illustration of the passion for excellence for jewelry, watches and racing. de Boulle is an

uthorized Dealer for major brands including: Patek Philippe, Rolex, Bell & Ross, Blancpain,

Corum, Girard Perregaux, Greubel Forsey and Tudor. de Boulle also provides the options

of pre-owned timepieces, which includes vintage watches of notable brands.

Visit deBoulle.com to view our extensive collection.

6821 Preston Rd., Dallas, TX 75205 214.522.2400

River Oaks District Houston, TX 77027 713.621.2400

deBoulle.com

13
---
Maverick Trivia: Are you a Porschephile?

Jerry DeFeo

sponsored by Zims Autotechnik

You can test your

knowledge (or Google search

ability) of all things Porsche

by participating in the

monthly trivia contest posted

online at http://mav.pca.org/

trivia. Answers are due by the

last day of each month.

The winner of the trivia

contest receives a $25 gift

certificate from our sponsor, Zims Autotechnik. In the case of ties, a random

drawing determines the winner.

Here are the questions and answers for the April 2019 Trivia. We went with

a Trivia that brings Q&A this month dealing with all kinds of items about

Porsches and other automotive items. The winner this month, getting ALL 5

of 5 correct, was Tom Martin. Honorable Mention goes to Michelle Cook,

getting 4 of 5 correct.

1. A woman, ________ , won Olympic Gold Medals in shotput and

discus throwing before turning to auto racing. She was so intent

on winning that she opted for a double

mastectomy because she said it was easier for

her to fit into the race cars of the era. She was

good enough to win the Bol d'Or 24 Hour

Race in a 750cc Cycle Car.

Answers: 1)c, 2)c, 3)b, 4)d, 5)b

a. Aloisia Johanna Kaes Porsche b. Dorothea Reitz Porsche

c. Violette Morris d. Bertha Benz

Source: Hemmings Daily, March 10, 2019; Women Who Influenced Automotive History

2. After WWII, Harley Earl of GM felt his design team was war-weary,

so he assembled an ALL female team that, from 1953 to 1958, was

affectionately called ________ . a. Designing Damsels b. Ladies &

Lacers c. Damsels in Design d. Harley's Harem

Source: Hemmings Daily, March 10, 2019; Women Who Influenced Automotive History

3. Which racing Porsche in the '50s and '60s did many think would

possibly be the future for Porsche street cars; but alas, it was not to be?

a. 550 Spyder b. 904 Carrera GTS c. 906 Carrera GT d. 911RS

Source: Porsche Panorama, Dec 2018, pg 3

4. From time to time Porsche 944s need to have the clutch slave cylinder

replaced due to fluid leakage. When doing so the car must be ________

when you bleed the slave. a. with wheels compressed in a normal driving

height b. perfectly level c. with the front end at least 12" higher than

the rear d. with the rear end at least 12" higher than the front

Source: Porsche Panorama, Dec 2018, pg 126

5. Porsche owners have been known to exceed the posted speed limits.

Recently this happened in the Texas Panhandle. Not only does the

driver hold the 2018 Texas record for MPH OVER the posted speed

limit, but he was driving a Porsche 911 too. While most tickets over

120 mph are written for 122 to 129 mph, he was in a 75 mph West

Texas zone doing ________ mph!!! a. 155 b. 166 c. 177 d. 188

Source: https://tinyurl.com/y5jmmvxe

14 June
---
Mav Autocross Series Event 3: Lone Star Park

by Mark Schnoerr, Region Autocross Chair

photos by Robert Kirby of Lightspeed Images

Event 3 was our first

time back this year at

the Lone Star Park site

in Grand Prairie, TX.

The rolling hills of this

huge parking lot give the

course designers a lot of

room to be creative in

course design.

Ten of the 93 cars at

this event were Porsches.

Class P1, the early 914

and 911 class, was

dominated by Ed Mayo

all day in his beautiful

silver 911S. Sigrid was

chasing him all day but

could not get closer than

a one second difference.

Amir El-Baghdaddy ran Ed Mayo and Elvira, his 1972 911S

uncontested in class P2

with his 944 S2 Cabriolet. Mas Watanabe had some

challenge in class P3 from William Mayo and Carolle

Liu but took the win. Doug Edney won in class P4 with

his 996, and in P5, Owen Coulman turned first quick

Porsche time with his red 996 GT3 over Dawn Marie

Grey in her yellow GT4.

Performance Index adjusted, Ed Mayo was first

quick in his early 911S over Owen's GT3 by just 0.075

seconds, and third was Sigrid in her 914. Sigrid was also

fourth quick in the ladies' overall Performance Index.

You can find the season schedule on the page to the

left. Our next event will be Challenge Cup #6 on Sunday

July 21st at Lone Star Park in Grand Prarie, TX followed

up by Cup #7 and #8 at the same locations. Contact

Mark Schnoerr for details or go to the ER website at

autocross.com.

P1 - 'PCA 1'

Fastest Run Difference

Total Entries: 3

1T P1 5 Edward Mayo Silver 911S 67.388 -

2 P1 914 Sigrid schnoerr Lime Green 914 68.379 0.991

3 P1 9 Julia Underwood Silver 911S 83.064 14.685

P2 - 'PCA 2'

Fastest Run Difference

Total Entries: 1

1T P2 7 Amir El-Baghdady Maroon 944 S2 48.818 -

P3 - 'PCA 3'

Fastest Run Difference

Total Entries: 3

1T P3 7 Mas Watanabe Red Boxster-S 68.72 -

2 P3 168 William Mayo Blue Boxster 70.758 2.038

3 P3 168 Carolle Liu White Boxster 987 77.832 7.074

P4 - 'PCA 4'

Fastest Run Difference

Total Entries: 1

1T P4 7 Douglas Edney Black 996 71.396 -

P5 - 'PCA 5'

Fastest Run Difference

Total Entries: 2

1T P5 428 Owen Coulman Guards Red Porsche 911 GT3 66.494 -

2 P5 98 Dawn Marie Gray Racing Yellow GT4 77.09 10.596

15

15
---
The Pursuit of Happiness: Part 2

by Jeff Mindrup

N.B.: I later spoke with the third owner about his time with

the car, and he told me, without a hint of sarcasm, that he

never got comfortable with it because the color drew way too

much attention. He now drives an ultraviolet purple GT3.

The rest of the drive to Salt Lake City was unremarkable.

Upon arriving later than originally planned, my gracious

AirBNB host allowed me to use their garage for the night.

Safe and sound, Happiness and I slept like babies that first

night together.

At 8:00 am I was out the door. Once again, a quick stop for

gas was extended by 10 minutes to answer questions and talk

about the car. Leaving the station, the GPS initially had me

going south on I-15 and then at some later southerly point

heading east. Seeing the much later ETA, I made a U-turn and

headed back to Spanish Fork, which had a more direct route.

Within an hour, I would be wishing I hadn't "out-thunk" the

wisdom of my GPS.

"Here's your sign," the

blue-collar joke begins. My

signs came clear and at regular

intervals as I traveled east on

Highway 6 from Spanish

Fork towards Soldier Summit,

Utah. Every couple-hundredfoot

increase in elevation, the

temperature dropped a degree

and the snow came down a

little stronger. Although the

skies had already warned

me, the first sign appeared:

"Starvation Road." Wild thoughts spun in my head -- would

I be one of those found in the snow melt next summer? Cell

service was nonexistent. Another sign, a highway electronic

warning sign: "Chains Required when Flashing." Not

flashing at the time, but I wondered if the light was burned

out or just about to flipped on.

I kept going. That's the spirit of any adventure, come hell

or high water; anything but high center. Sure, she has AWD,

but with only a few inches of ground clearance and P-Zeros,

I knew Happiness wasn't ready for my level of persistence.

All was well as long as I stayed in my lane. (Another of life's

often repeated and more often ignored lessons.)

Eventually, I caught up to a VW Beetle that was tooling

along at 30 when 40-45 seemed quite doable to me. After a

few miles at this slower speed, the "schedule" forced me to

the left and into the deeper snow of the road less traveled.

(Remember the guy who, less than 24 hours ago, was

feeling like his life was perfectly aligned? That confidence

and Happiness were about to do a 180.)

Instantly, a flood of equal parts regret, panic, and

adrenaline rushed into my bloodstream. Happiness pivoted

"Here's your sign," the blue-collar joke begins.

My signs came clear and at regular intervals

as I traveled east on Highway 6 from Spanish

Fork towards Soldier Summit, Utah. Every

couple-hundred-foot increase in elevation, the

temperature dropped a degree and the snow

came down a little stronger. Although the skies

had already warned me, the first sign appeared:

"Starvation Road."

photos provided by author

on her center axis; the front end broke loose first, followed

by the back end, a lesser movement with the front again, and

then the back again. I held my line and tried to be gentler but

it happened each time I tried to accelerate.

It's not her fault. It's me, it's the tire choice, and I am in

that reality when time slows down, when persistence becomes

stubbornness and then stands at the edge of the cliff where

stubbornness becomes stupidity. My mind spins random

thoughts of tomorrow's headline on Rennlist: "Idiot Fifth

Owner Smashes Rare Mexico Blue Porsche in Utah Mountains."

Thankfully though, there was a kinship, a brotherhood of

sorts, from my rear-engine cousin. Having seen Happiness

almost go off the road three times, the VW went full

Fahrvergnügen by slowing down instead of making me pass.

What a gift. I moved over to the right, took the road more

travelled by, and that has made all the difference.

Luck came in spades that day, as it sometimes needs to,

in order to ensure potential

Darwin Award winners one

more sunrise. As a result of the

ten inches of snow predicted

and later realized that day, it

turns out the Beetle was the

only vehicle I encountered

on the pass going in either

direction. With no one directly

in front or behind me, I could

focus on doing exactly what

Happiness and I were capable

of and no more.

Soldier Summit, Utah, the ghost town and the pass, lay

at 7,477 feet. Thankfully things got easier from here on

down. I was traveling faster than the snow storm, and the

accumulating snow was less and less with each mountain

village passed. As we descended the eastern slope, the

temperatures gradually picked up and the roads became

gradually clearer.

After about an hour of mixed conditions, we arrived on

the top of a great plateau. Descending into the valley below,

the temperature rose from below freezing to 48 degrees in

less than a mile. We were in the clear, but the schedule had

suffered. Normally one could go from Orem to Moab in a

little over three hours. It took me more than five that day.

If I hadn't been there just a few years ago, I would have

thrown away the schedule and gone into Arches National

Park to do some sightseeing and photography of the car.

Foolishly, I was still stubbornly optimistic that I could still

make it home late that night or early the following morning.

As a consolation, I stopped on the way out of town to take

a few shots in front of a typical Moab rock formation that

makes this area so unique.

16 June
---
I hit Albuquerque during late rush hour, and as a result

of some unknown setting in my GPS, ended up off the

Interstate and going down San Mateo Boulevard for about

four miles. Ten minutes later, I was on I-40 headed east, with

an ambitious goal of Amarillo for the night.

Around 9:00 pm, somewhere in eastern New Mexico, the

sandman began to win that day's battle. By wild coincidence

though, the Mavericks came on the radio shortly after

crossing the Texas state line with "Dance the Night Away."

The opening lyrics seeming to confirm the overall mission

now that we were back in Texas, "Here comes my happiness

again. Right back to where it should have been."

The song's happy beat and irony fueled me for another 30

miles, but eventually sleep and common sense prevailed. A

motel in Vega, Texas would end up being home for the night.

The front desk clerk, bitten by Happiness's charm, assured

me he wouldn't book any rooms even remotely near us.

The sun rose on the final portion of my journey with about

400 miles to home and only one last obstacle to navigate.

That's right. Estelline, Texas.

Estelline, Texas: the #1 rated speed trap city in all of

the U S of A in 2012, according to the National Motorists

Association. I can even proudly count myself as one of the

town's many benefactors.

From the looks of it, their speeding grift is still going strong.

The town's only policeman occupied a brand new tripleblack

Mustang hiding under the same rock they got me while

heading west in 2010. If you have read this article this far, let

this be my gift to you. When on US Highway 287, east or west,

slow down way before you ever get to Estelline. Way before.

The last 250 miles were eventless, and after 2,008 miles

we were home again, but the journey wouldn't be over until

I picked up my 3-year-old son Anton from his Montessori. If

you know anything about 3-year-old boys, their conversation is

typically pretty limited. Sentences like "I want a cookie please"

or "I want to watch Mickey Mouse" are as complex as they get.

I parked in the usual spot and went in to get him with a

renewed spirit that the 2000 mile trip was worth it. Anton

came out excitedly, saw the car and yelled enthusiastically,

"Whoa whoa blue Porsche!"

Walking to the car he kept asking "Blue Porsche, daddy!

Do you like it? Blue Porsche, daddy!" I buckled him into his

rear passenger booster seat and climbed into the driver's seat.

It was a very satisfying moment. I felt on top of the world

again. My son is happy. I'm happy and all seems well.

Now I know this is impossible, but in that brief pause

where I sat and relished that moment before starting the car,

I heard him say, "I'm not going to college am I?"

I know he's neither capable of complex thought nor of

precise comedic timing, but I sure heard him say it. I drove

us home into our garage and looked forward to a long

night of sleep.

The adventure was over, and at the same time, the

adventure was just beginning.

Welcome back to Mavericks country, Happiness; it's

where you belong.

17
---
THE

LUXURY LEADER

IN DFW.

SELLING MORE

HOMES OVER

$1 MILLION.

214.507.6699

tim@timschutze.com

We'll give

you an

assist on

your future

goals.

Contact me to learn how you can get

the most out of retirement.

Lisa D. Ward, MBA

Agent, New York Life Insurance Company

777 Mains Street Suite 3800

Fort Worth, TX 76102

817-614-3165

ldward01@ft.newyorklife.com

www.facebook.com/LisaWardNYL/

SMRU1710429 (Exp.10/21/2018)

©2018 New York Life Insurance Company,

51 Madison Avenue, New York, NY 10010

Insure. Prepare. Retire.

18 June
---
Maverick Marktpreis is proudly sponsored by:

Maverick Marktpreis: 914

by Peter Wen

Later this year the 914 will celebrate its 50-year anniversary.

This rather unusual mid-engine, Targa-top, two-seat roadster

was the lovechild of Volkswagen and Porsche. Two models

were produced from 1970 to 1976. The base model (914/4)

was equipped with a VW flat-four engine in a body built by

Karmann. The sportier model (914/6) received a flat-six engine

from the 911 T. Porsche sold both models in the U.S. In Europe,

the 914 was badged and marketed as VW-Porsche. Really.

Initially many purists thumbed their noses at the 914 because

of the VW joint venture. However, the 914 proved to be a

winner for Porsche. It was Motor Trend's Import Car of the

Year for 1970. The 914/4 became Porsche's top seller, selling

over 118,000 units worldwide. On the other hand, the 914/6

was priced just slightly below the 911 T, selling poorly during

its three-year production run. Only 3,351 914/6 units were

built (of which 1,788 were sold in the US).

Today the 914 is one of the most affordable vintage Porsches.

Weighing just shy of 2,100 lbs., it is light and nimble. Many

914s were modified for track or autocross use. They still have

a loyal following among racers and track enthusiasts. As

expected, the low production, 911-powered 914/6 is more

desirable compared to its 914/4 sibling.

$75,000

$65,000

$55,000

$45,000

$35,000

$25,000

$15,000

$5,000

Hagerty Valuation Tool:

1974 914 2.0

$20,000 average value

$0

Sep 2016 May 2017 Jan 2018 Sep 2018 Jan 2019

Excellence's magazine's Porsche Buyer's Guide offered these price

ranges for the 914:

914/4

'70-'73 1.7L $7k-$13k

'73-'74 2.0L $13k-$20k

'74-'75 1.8L $9k-$15k

'75-'76 2.0L $12k-$18k

914/6

'70-'72 2.0L $60k-$120k

Fun Fact: the 914 was sold without the Porsche shield emblem

on the hood from the factory. It was a popular dealer/3rd party

add-on for many owners. Interestingly, an emblem was shown

installed on a 914 on the cover of the 914/6 driver's manual.

1972 914/4

Sold for $36,000 + $1,800 buyer fee

True mileage unknown

Beach Bum Aqua Metallic/ Black

3.2L Flat-Six

5-speed manual

911 3.2L engine with Patrick Motorsport

conversion kit, Billy Boat exhaust

1973 914/4

$11,500 + $575 buyer fee

74k miles

Red / Black

1.7L Flat-Four

5-speed manual

Engine rebuilt 2011, repaint 2010

1973 914/4

Sold for $15,250 + $763 buyer fee

True Mileage Unknown

Metallic Blue / Black

1.7L Flat-Four

5-speed Manual

15" Fuchs, owner's manual

1970 914/6

Sold for $68,500 + $3,425 buyer fee

79k miles

Tangerine / Black

2.0L Flat-Six

5-speed manual

Immaculate restoration, CoA,

Engine rebuilt '18, Bilstein shocks

1974 914/4

Sold for $10,500 + $525 buyer's fee

True mileage unknown

Green / Tan

2.0L Flat-Four

5-speed manual

35-yrs owner, stored '02-'18,

partial service records

1974 914/4

Sold for $9,000 + $450 buyer's fee

57k miles

Ivory / Black

1.8L Flat-Four

5-speed manual

Two-owner (original owner '74-'13),

Mahle wheels, window sticker

With over 50 years of experience, Dallas Motorsports

offers a unique blend of inventory including some of the

most desirable performance and exotic vehicles available.

19
---
Coffee, Cars & Conversation

by Bill Kruder

photos provided by author

This month's conversation is

another example of time turning an

acquaintance into a shared friendship.

About five or six years ago, I would

see this guy at the monthly Cars &

Coffee and would always say hi as I

worked my way around the cars and

people. Matter of fact I thought his

name was Ed. Well time moved on,

and fast forward to the last couple of

years: "Ed" could always be counted

on to show up at any of the coffee

gatherings, and I would always take

the time to admire his car. Then about

six months ago when my wife and I

decided to purchase a 993, I turned

to "Ed" for advice. Let's just say he

had more information than I could

have ever imagined, and he sold me

on the idea of specifically buying a

Tiptronic; we will save the rest of our

car purchase for another day.

So here is the next in my series

of "conversations" I would like to

share with you:

Frank Briggs, enthusiast since 1989,

Owner 1995 911 (993)

Bill Kruder: So I know you are from

here, right?

Frank Briggs: Born and raised here.

I was actually born in East Dallas -

currently the site of Baylor Hospital

- then moved to Duncanville. My

Granddad bought 50 acres in 1949

to build on for his family. When we

first moved there we lived in the

caretaker's cottage; my two siblings

and I actually slept on the screenedin

porch. Funny, when I think back,

it was pretty crazy, as my dad's

brother and sister also had three

kids each, so here we all were, nine

kids, living on this ranch.

BK: Was there much there then?

FB: Heck no! We rode horses into

town (laughing). We were cowboys

through and through; we were

regulars at the local rodeo.

BK: So you never left Duncanville?

FB: Lived there for about twenty

years until about 1969, when I was

attending UTA. It was about this

time everyone was getting drafted

for the Vietnam War, so I decided to

I needed to take charge of my fate

and joined the Air Force.

Frank and Bobbie with their 1995 993

BK: What did you do? How long

did you stay in?

FB: They assigned me to be a

Medic, like I knew anything about

it (laughing), but that's the military.

Truly, as it turned out it, was the

luckiest move I made. I was in for

six years and never left Texas; heck,

I barely left the area I was from.

BK: How did you and Bobbie meet?

FB: We actually met at UTA, but

it was through her sister. While I

was attending UTA, I was working

at a bank, and I was training her

sister to be a teller. Just through

conversation she told me she had a

sister, and I had seen Bobbie around

town, so I knew who she was all

right. Her sister had even given me

her phone number, which I never

called. Well one day on campus,

Bobbie walked by and we made eye

contact and she kept on walking.

As she went by I told myself if she

looks back towards me I'm calling

her. Well sure enough she looked

back . . . and I called (smiling).

BK: So how long did you guys date

before getting married?

FB: Let's just say things were

moving fast. Again this was 1969

and the draft was looming. We

were dating for about four months

before I signed up for the Air Force,

and right before signing we got

married. Fifty years later she still

thinks it was a good choice.

BK: I know you are retired now but

what did you do prior?

FB: I spent 43 years in banking, retiring

in 2009 from View Point Bank.

BK: Let's talk cars. What was your first?

FB: My first car was a 1955 Ford

that I bought in 1963. I turned

it into a hot rod that I drove all

over town. I kept it, and at the

same time I bought a 1931 Chevy

that I restored back to its original

condition.

BK: Where did you get the interest

and knowledge about cars?

FB: My mom's dad owned a car

dealership in Corsicana. He would

take me to the shop - mind you I

was only six or seven years old -

but I would hang out back there

watching them work on cars. Guess

it kind of stuck with me.

BK: I hear you are a Model A guy?

FB: Guess you could say that. My

first was a 1929 Ford Model A

coupe. I purchased it around 1968

and did a ground-up restoration.

20 June
---
BK: Is this the one

you still have?

FB: No, I sold

that, and in 1984

I bought a totally

restored 1930

Model A. We still

have it.

1930 Standard Tudor Sedan Model A

BK: Some where

along the way you

caught the sports car bug I hear?

FB: I did! In the '70s-'80s I was into MGs so much I was

even the president of the local chapter back in 1987.

BK: Ok, let's talk Porsches now. First one?

FB: That was 1989. We bought a '76 912E. Think they

only made about 2000 of them, and for one year only;

I paid about $7500. Our daughter was graduating

from A&M and was getting married, so we sold the

car in 1995.

BK: Was the 993 next then?

FB: No, we went without a Porsche until 2002 when we

bought a '79 SC, black on black with a whaletail. We

had that for about three years and sold it in 2005.

BK: So now the 993?

FB: Yes that was next; we actually had both for a couple

months. We bought the 993 in May of 2005.

BK: Why the 993?

FB: When the car came out in 1995 I was in love

with it - the lines are just perfect. And the rear deck

automatically going up and down was a sight to see.

BK: How did you find this one?

FB: I was reading Slipstream and a member had posted

it for a friend of his. We loved the color: Aventurine

Green over Marble Gray. It was a Tiptronic, which I

thought was actually kind of rare, and it had 117K

miles on it; we purchased it for $21.5K. That was really

a bargain then and unbelievable by today's market.

BK: And I hear you drive the wheels off this car?

FB: Well, in the 14 years we have had it we have been to

four Parades and countless other events. It has been out

to California and east to North Carolina, up to Chicago

and down to New Orleans.

Well there you have it: another "what if." Don't miss

out on those around you - it may be the next "Ed!"

21
---
Upcoming Maverick Region Events

22 June
---
23

Upcoming Maverick Region Events
---
autoscope.co

3 Dallas Locations:

Porsche Specialists with over

35 years experience in DFW

Park Cities

6134 Denton Dr

Dallas, Tx 75235

214-350-3050

Plano

601 Coit Rd

Plano, Tx 75075

972-867-7467

White Rock

9796 Ferguson Rd

Dallas, Tx 75228

214-320-8280

The Art of Paint Protection

josh@invisibra.net

214-704-9299

Paint Protection Film

Ceramic Coating

Full Detailing

Window Tinting

24 June
---
When all HAIL breaks loose...

Roofing Solutions

By Darren Houk

Impact Resistant Roofing Options Including:

Metal, Tile, and even COMPOSITION shingles.

SAVE up to 28% on insurance premiums

www.RoofingSolutionsHOUK.com

817.692.8496

Showroom by Appointment

5500 Meandering Road Fort Worth 76114

25
---
Follow the Easter Bunny Road Rally: 2019

by Karen Horgan

photos provided by Jay Lynch and Don Sebert

This year's Easter Rally was a milestone for the Maverick

Region PCA. This was the 5th Annual Easter Rally! As in

past years, this rally was filled with fun, a scenic route, some

very interesting photographs, and plenty of head-scratching

questions to really make you think!

through Wylie and Sachse on the way back to Ten50 BBQ.

Participants were treated to some picturesque scenery and

fun country roads along the way. Navigators and drivers

were challenged to match photographs of interesting roadside

attractions and to answer questions by finding hints along the

route. It made for a very fun, enjoyable, and entertaining ride.

Back at Ten50 BBQ, everyone enjoyed a delicious lunch

and awards presentation. The award winners were:

1st Place Mic Young & Larry Pietonel

2nd Place Yasha & Kendra Avshaluma

3rd Place Todd & Diane Coon

Dead Last But Finished Yoo Joo Hwang

The Easter Rally was organized by the awesome

Rallymeisters, Don Sebert and George Luxbacher. The

rally committee included Jeff Sebert, Ed Martelle, Jay

Lynch, and Warren and Karen Horgan. Thanks to

everyone for pitching in and making this such a

memorable event!

The Easter Bunny held up his end of the bargain and

provided absolutely beautiful weather for the rally. The

morning started out cool and sunny but soon warmed up

to be the perfect spring day in Texas. Lots of sunshine, blue

skies, and plenty of Porsches! We had about 19 Porsches and

50 people participating.

We began and ended the rally at Ten50 BBQ, located at

1050 N. Central Expressway in Richardson. A big thank you

goes to William Weisiger, Managing Partner and Pitmaster

at Ten50 BBQ. William arranged to host our group at the

restaurant and provided plenty of parking before and after the

event. Best of all, after the rally, we enjoyed a mouthwatering

meal of the most delicious BBQ. If you live in the Richardson-

North Dallas area (or if you happen to be in that area), stop

by Ten50 BBQ and check out the scrumptious menu! William

is also member of the Maverick Region, and drives a beautiful

2016 Boxster 981 Black Edition, so look for him at club

events and be sure to say hello.

Rally participants left the parking lot of Ten50 BBQ and

headed toward Murphy to begin the 82-mile route. The

drive took us past the famous Southfork Ranch and made a

loop around beautiful Lake Lavon, and then drivers headed

Left column: Award winners and below the DLBF 'winners'. Right column:

Lunch at Ten50 BBQ and Don and William Weisiger, parking Porsches

26 June
---
MarvelousHomeMakeovers.com | 972.951.1932 | Botond@MarvelousHomeMakeovers.com

27
---
OUR WAITING ROOM IS YOUR LIVING ROOM

COMPLETE ON-SITE INSTALLATION AT YOUR HOME, OFFICE OR AT THE TRACK

ALL BRANDS TIRES & WHEELS • SALES • INSTALLATION • BALANCING

UPCOMING EVENTS

All PCA Members Get FREE INSTALL on Michelin & BFGoodrich Tires

CURRENTLY TAKING

ORDERS FOR:

WE PROVIDE QUALITY ON-SITE SERVICE

MAY 31 - JUNE 2

PCA CLUB RACE AT

MOTORSPORTS PARK HASTINGS

Order your tires now for this event!

JUNE 7 - 9

SPRING SCHNELL FEST AT COTA

Order your tires now for this event!

Don't forget to order your tires early

for SCHNELL FEST at COTA in June!

28 June
---
Engine Restoration

• Restore, Rebuild to OEM Original

or Modified Spec

• Partial or Complete Car

Preservation Restoration

• We Manufacture NLA Parts to

OEM Original Condition

• Specializing in 911 930 928

Visit us on Facebook - Randall Kara Techniques

R A N D A L L K A R A

RKT 817-624-1322

T E C H N I Q U E S

901 TERMINAL ROAD • SUITE 400 • FORT WORTH, TEXAS 76106

35 Years Doing What We Love.

29
---
ABCDE Car Day: 2019

by Pat Carmichael

Oh what a beautiful day! The All British and European

Car Day and the 25 Porsches in attendance were all

benefactors. For several of us, it all started with a quick

meetup at Hypnotic Donuts for broad and varied breakfast

treats and then a short drive to the lakeside position we

have had before at the ABCDE. It's a grand spot with

exceptional views and enormous shade trees for the

Porsche faithful to gather in our comfy chairs and watch

the events unfold. This is exceptionally enjoyable as there

is a continuous parade of cars going to their lineup.

This car enthusiast gathering is unique as the range of

cars here is really amazing. From the vary obscure to the

photos provided by Rudy Karimi

mainstream. Pretty much everything you can think of is

represented. The survivors to the concours restored. The

owners are almost always in attendance and ready to fill

you in with the details of the story behind the cars.

PCA Porsche was well represented too, from the early

356s to the latest models. The color band was covered

as well with one of the smaller passers by calling them

Skittles … HA! I have heard that before, but if was funny

coming from such a squirty little person! The fan voting

for the favorites picked some favorite Porsche models:

Congratulations to....

1. Bill McBride: 1965 356C

2. William Kruder: 1964 356C

3. Rob Wallace: 1973 914S

It was a well-attended event, as it always is, but it

doesn't hurt to be at a great venue. White Rock Lake

is certainly one of Dallas' best locales for family

activities. All of this leads to a big thanks to the ABCDE

for another great event and a special thanks for all of

the PCA members who participated.

30 June
---
Amphicar Model 770 on the water,

Austin-Healey row, Jaguar E-Type,

Triumphs in the shade, Mini's when

they were still mini.

If you love cars, we speak your language. Join the world's largest community

for automotive enthusiasts and save money on car stuff, get behind the wheel

at members-only events, receive six issues a year of Hagerty magazine and get

insider guidance on car values, trends, buying and selling.

Join the club at Hagerty.com/joinhdc

Membership benefits provided by Hagerty Drivers Club (HDC), a non-insurance subsidiary of The Hagerty Group, LLC. Roadside services provided by/through Cross Country Motor Club.

Only the Hagerty Drivers Club program guide contains a complete description of benefits. Hagerty, the Steering Wheel Logo and Hagerty Drivers Club are registered or common law

trademarks of The Hagerty Group, LLC. ©2019 The Hagerty Group, LLC. All rights reserved.

31
---
877 C

OUR PASSION DRIVES OUR CRAFTSMANSHIP

At APEX, your unique, personalized service program is crafted to meet your

speciic desires. Our passion is delivering a concierge level of service that

goes above expectations to create an unparalleled client experience.

To Ensure that you and your Porsche enjoy an unmatched standard of care,

contact us today for a private consultation.

855.998.APEX (2739) | www.ApexAutoCo.com | info@ApexAutoCo.com

CONCOURS LEVEL RESULTS

Using cutting-edge processes and

state-of-the-art equipment, our

detail techniques consistently

deliver an unsurpassed level

of care for your Porsche.

Expert Paint Correction | Professional

Detailing | Paint Protection Films (Clear Bra)

Ceramic Coatings | Window Films | Vinyl

Vehicle Wraps & Accents

Ceramic Pro Certiied Installer

The World's #1 Ceramic Coating

Member; IDA & Elite

Detialers Alliance

CARS & CANNOLI

Monthly on the 3rd Sat.,

Mar.-Nov., 9AM - 11:30AM

4756 Frank Luke Dr.

Addison, TX 75001

EXPERT ADVICE, OPTIMUM

ENHANCEMENTS

We have the knowledge and experience

required to truly enhance your

Porsche's aesthetics and

performance with

customized and proven upgrades.

Automotive Customization | Performance

Parts Sold & Installed | Intake/Exhaust |

Wheels/Tires | Suspension/Brakes | Custom

Methanol Injection Kits | ECU & TCU Tuning |

Racing Fuels and Methanol Sales | CEL/Code

Clearing & Diagnostics | Light Bodywork,

On-The-Go Hand Car Cleaning,

Reenishing & Respraying | Powder Coating

Automotive Customization &

Services | Integrated Radar/Laser Systems

Automotive Gifts

We indulge the needs of the connoisseur who values unsurpassed expertise

and craftsmanship for their Porsche. APEX; an automotive lifestyle brand.

200 C

200 C

200 C

200 C

200 C

123 C

German Car

Service & Maintenance

by Appointment

Specializing in:

307 C

307 C

354 C

354 C

354 C

108 C

108 C

108 C

307 C

108 C

354 C

200 C

108 C

307 C

354 C

307 C

299 C

151 C

Ussery Printing

Printer of SliPStream

Since 1982

817-366-1678

DasZauberwerk@ix.netcom.com

3402 Century CirCle irving, texas 75062

972-438-8344 Fax 972-721-1847

www.usseryprinting.com

32 June
---
From the exotic to

the everyday driver,

we've got you covered.

• Preventative Maintenance & Scheduled Service

• Repairs on Electrical Systems, Engine and Drivetrain

• Full Restorations

• Paint Protection Film and Detailing

Factory level diagnostics for

Mercedes, Volkswagen, Audi,

Porsche and BMW

serving north dallas since 1989

13595 Floyd Circle #400

Dallas, TX 75243

972-437-4216

33
---
Maverick June Anniversaries

40 Years

Randall Kara (Grace Karuu)

35 Years

Dave Casey (Doris)

25 Years

Darwin Binek (Kelly)

Robert Gordon (Robert)

Jeff Sebert (Jeri Lyn)

20 Years

Paul Dippell (Shelia)

15 Years

David DelVecchio (Kim)

Philip Hallenbeck (Elizabeth)

10 Years

Harold Howell (Judy)

William Young

5 Years

William Bradley (Judith)

Riz Chand (Laura Colhouer)

Ron Charles

Konnie Clayton (Jon)

Scott Kuehn (Julie)

James Malaniuk (Bernadette Ricci)

Sam Palmgren (Susan)

Mel Stanley (Sunny)

Jason Street (Jake McCalmon)

David Temming (JoAnne)

Andre Yanez (Amy)

Fort Worth

Copper Canyon

Midlothian

Coppell

Dallas

Plano

Dallas

Owens Cross Roads, AL

Southlake

Plano

Flower Mound

Dallas

Richardson

Dallas

McKinney

Fort Worth

Frisco

Benbrook

Desoto

Dallas

Fort Worth

Member Moment - 30th PCA Anniversary, March 2019

Joe A. Fierros

Occupation

AT&T Sr. Specialist Technical Process/Quality Manager

First Porsche

1976 911 Targa

Current Porsche

Recently sold my 2001 911 Coupe, no Porsche at present but looking for a replacement.

Most memorable Maverick or PCA event

Being present at 1997 Porsche Parade in San Antonio, Texas and meeting friends from college.

Best thing about Porsche ownership

The many friendships I have made over the years, and just knowing that every time I got behind

the wheel I knew it was not going to be a boring drive.

Advertiser Index

Advertising rates available upon request.

For more information contact Bill Kruder at

ads@mavpca.org

Apex Automotive........................................ 32

Attic Butlers................................................. 25

Autobahn Motorcar Group........................ B.C.

Autoscope................................................... 24

Bennett Motor Werks.................................. 33

Competition Motorsport............................. 33

Concorso Detailing...................................... 29

deBoulle Diamond & Jewelry...................... 13

DallasMotorSports...................................... 19

Fast Lane Travel........................................... 35

Falgout & Associates, P. C ............................ 24

Fifth Gear Motorsports................................ 36

Growler Motor Labs..................................... 21

Garages of Texas............................................ 7

Hagerty Drivers Club................................... 31

Innovative Autosports................................... 5

Invisibra...................................................... 24

Louden Motorcar Services....................... I.B.C.

Marvelous Home Makeovers...................... 27

Mayo Performance...................................... 18

Mustard Racing........................................... 32

New York Life.............................................. 18

OCD'tailers.................................................. 25

Onsite Tires................................................. 28

Park Place Porsche................................... I.F.C.

The Phoenix Insurance................................ 33

Porsche Plano............................................... 9

RAC Performance.......................................... 3

RKT Techniques........................................... 29

Roofing Solutions by Darren Houk.............. 25

Stuart's Paint and Body............................... 10

Tactical Fleet................................................ 30

Tim Schutze Real Estate............................... 18

Texas Motor Works...................................... 28

Ussery Printing........................................... 32

Zims Autotechnik........................................ 35

These advertisers support our

Maverick Region.

Tell them you saw their ad in

Slipstream!

34 June
---
Parts or Service, We Deliver Excellence.

Over 300,000 parts in stock.

Expert service and repair.

Parts and Service for: Porsche, Mercedes-Benz, BMW, Mini, and Smart Car.

817-267-4451

Visit us online at:

1-800-356-2964

www.allzim.com

zimips@allzim.com

1804 Reliance Pkwy. Bedford, TX 76021 M-F 8am to 5:30pm

Zims Autotechnik is not affiliated with Porsche AG or PCNA Registered Trademark of Dr. Ing h.c.F. Porsche A.G.

Hey Maverick Region, Reward Yourself!

European Luxury Driving Tours since 1976

Germany, Austria, Italy, France, Switzerland, China and USA

Our PORSCHE driving tours for 2019 combine fun,

adventure, luxury & gorgeous scenery!

For more information contact us at: 813-343-3001

info@FastLaneTravel.com or

visit us online at www.FastLaneTravel.com

It's Our Business to Do Pleasure. TM

35
---
Oversteer: Letter from the Editor

by Kurt Scaggs, Managing Editor

I've literally just returned from the garage after watching

a "fun repair job" spiral out of control into something less

fun. Nothing horrible happened; I didn't make any stupid

mistakes, other than start a job on an old Porsche with

expectations that the project would remain as it started in

my head. You see friends, I've run headlong into something

that many of you (okay most of you) already know: the

phenomenon known as "while you are in there." I didn't

roll off the turnip truck yesterday. I was very familiar with

how it could happen; it just wouldn't happen to me -- at

least not all in one evening.

I'm as guilty as the next guy (or gal). You start a project,

and then before you know it, there are parts coming from

every corner of the earth that have been more or less blessed

with spousal approval. (I like to take a blanket approach:

"I'm going to be replacing some things in the suspension,"

but there's fine print. I mean, there is always fine print. Caveat

emptor, right? I never said it what that would entail. It's not

my fault that "some things" wind up being most things since

it's going to be apart anyway.) But that's the long game; you've

got to plan and then find the great parts and pieces.

This was a different thing. This was a straightforward rear

shock replacement. It doesn't get any easier, it's literally four

bolts. How could that go wrong? Well take a seat and I'll tell

you. You see, in order to get to those four bolts, you need to

remove the rear tires. Look at that! There are brakes under

there. I did cook the pads at that DE, so that would mean pads

and probably rotors, and I might as well replace those 35-yearold

lines. And you can't just do the rear -- they don't do any

work anyway. I wonder if I could get bigger calipers under here.

It doesn't stop there, it gets worse. When I regained focus

on the task at hand, the shop light flashes the transmission.

Is that a leak? Seriously? Well, I was always planning on

changing the shift linkage and oh boy, here I go again.

Four separate instances of this. For something as simple

as replacing shocks. It's a good thing I derive some pleasure

from doing this on my own, because if I were trying to save

money by DIY, dear Lord save me. I'd be better off leasing a

skateboard. But I love this, right? Yeah, I do kind of love it.

Stay tuned: I'm replacing spark plugs next weekend. How

could that possibly go awry? Enjoy the drive. Unless your car

is still in pieces like mine.

Porsche Specialists - Experienced Enthusiasts

Dealer-Like Service at Independent Prices

fifthgear.biz

Excellent Service Maintenance & Repair Sales

•All Porsches' Serviced

•Fast Turnaround Times

•Same Day Service In Some

Cases

•Serving DFW Area For Over

14 Years

•Family Founded, Owned &

Operated

•100+ Years of Porsche Tech Experience

•11,000 sq. ft. State-Of-The-Art Facility

Equipped with the latest Diagnostic

Tools

•Comfortable Waiting Area with

Free WiFi & Coffee Bar

•Same Services and Capabilities as the

Dealers

•Consignment Sales performed

on a case-by-case basis

1975 Archer Ave • Lewisville • TX 75077 • 972•317•4005

36 June
---
Hiram Saunders, Slipstream

155 Jellico

Southlake, TX 76092

Periodical Postage

Paid at Fort Worth, TX