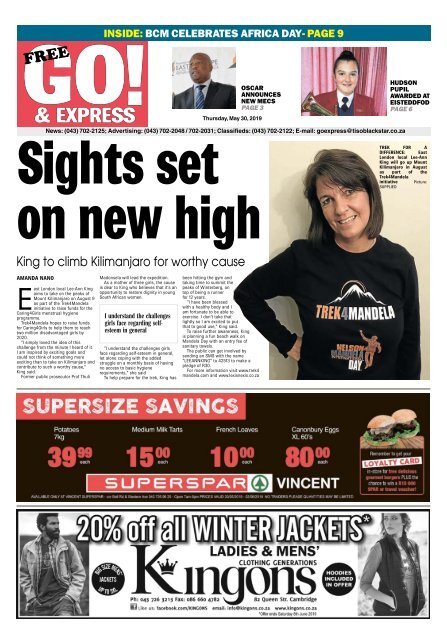 Create successful ePaper yourself
Turn your PDF publications into a flip-book with our unique Google optimized e-Paper software.
FREE

INSIDE: BCM CELEBRATES AFRICA DAY- PAGE 9

OSCAR

ANNOUNCES

NEW MECS

PAGE 3

Thursday, M ay 30, 2019

HUDSON

PUPIL

AWARDED AT

EISTEDDFOD

PAGE 6

News: (043) 702-2125; Advertising: (043) 702-2048 / 702-2031; Classifieds: (043) 702-2122; E-mail: goexpress@tisoblackstar.co.za

Sights set

on new high

TREK FOR A

DIFFERENCE: East

London local Lee-Ann

King will go up Mount

Kilimanjaro in August

as part of the

Tr e k 4 M a n d e l a

initiative Picture:

SUPPLIED

King to climb Kilimanjaro for worthy cause

AMANDA NANO

East London local Lee-Ann King

aims to take on the peaks of

Mount Kilimanjaro on August 9

as part of the Trek4Mandela

initiative to raise funds for the

Caring4Girls menstrual hygiene

programme.

Trek4Mandela hopes to raise funds

for Caring4Girls to help them to reach

two million disadvantaged girls by

2020.

"I simply loved the idea of this

challenge from the minute I heard of it.

I am inspired by exciting goals and

could not think of something more

exciting than to take on Kilimanjaro and

contribute to such a worthy cause,"

King said.

Former public prosecutor Prof Thuli

Madonsela will lead the expedition.

As a mother of three girls, the cause

is dear to King who believes that it's an

opportunity to restore dignity in young

South African women.

I understand the challenges

girls face regarding selfesteem

in general

"I understand the challenges girls

face regarding self-esteem in general,

let alone coping with the added

struggle on a monthly basis of having

no access to basic hygiene

requirements," she said

To help prepare for the trek, King has

been hitting the gym and

taking time to summit the

peaks of Winterberg, on

top of being a runner

for 12 years.

"I have been blessed

with a healthy body and I

am fortunate to be able to

exercise. I don't take that

lightly so I am excited to put

that to good use," King said.

To raise further awareness, King

is planning a fun beach walk on

Mandela Day with an entry fee of

sanitary towels.

The public can get involved by

sending an SMS with the name

"LEEANNKING" to 42513 to make a

pledge of R30.

For more information visit www.trek4

mandela.com and www.lexisnexis.co.za
---
Page 2 GO & EXPRESS

GOT A NEWS STORY? Call our news desk on (043) 702-2125. Find us on

May 30, 2019

Green Merrifield

gets platinum

SIVENATHI GOSA

Merrifield College received a platinum certificate

from the Wildlife and Environment Society of

South Africa (Wessa) for four years of consistent

work in key areas of the environment as part of

We s s a 's Eco Schools programme.

Over the last 10 years, the school has developed

and sustained projects on and off school campus

ECO WARRIORS: Merrifield College received their

Platinum certificate from Wessa's Eco Schools

programme recently

Picture:SUPPLIED

in order to foster a consciousness for

environmentalism in its students.

Merrifield staff member Chaylene Bachar said

they worked closely with other schools, such as

Lilyfontein School, which also took part in the Eco

Schools Programme, as well as Stirling High

School.

"We have five projects that we have worked on

for years under the Eco Schools theme.

"In the community and heritage theme,

everything is connected. Humans and the planet

are an interconnected system.

"We believe strongly in growing kindness

through our work with community projects, which

in turn grows kindness for our planet," said

B a c h a r.

She said healthy living is a very important part

of being an Eco School.

"Being conscious about what we eat,

encouraging the growing of food and looking after

both our psychical and mental health are key

areas for our young people.

"We have a brain food segment each morning

where students are encouraged to take out a

healthy snack to keep energy levels going and to

encourage healthy food choices.

"We plan to start a school food garden one day.

This is one of the big dreams of our Eco

Commit tee," Bachar said.

Bachar said they are looking forward in

completing their Diamond Decade which is a

celebration year for 10 years involved with the Eco

Schools programme.

"We are planning to put together a really

exciting portfolio for this.

"We are so passionate about developing a real

care for the environment as this is a very

important time in our planet's history.

"By the choices we make on a daily basis, we

are able to positively impact the world around us.

Nature needs us to care and we are very proud of

some of the amazing Eco Warriors we have at

Merrifield. We can change things for the better,"

Bachar said .

JUMP FOR JOY: Josh, left, and Rebecca Haschick celebrate the sunrise at Bonza Bay Picture: ANGELA

HASCHICK

Daily Dispatch Building, Cnr St Helena Rd

& Quenera Dr, Triple Point, Beacon Bay.

T: 043-702 2000 F: 086 545 2648

P.O. Box 131, East London, 5200

GENERAL INFO

COMPETITION ENTRIES

ŐŽĐŽŶĞΛŽďůĂĐŬĂĐŽĂ

MAIN E-MAIL ADDRESS

ŐŽĞĞΛŽďůĂĐŬĂĐŽĂ

ADVERTISING

MAIN BODY / FEATURE ADVERTISING

Cheryl Larsen : Phone 043-702 2031

ŵĂŝůŚĞůΛŽďůĂĐŬĂĐŽĂ

ĞůĞĐŽPhone 043-702 2048

ŵĂŝůĞůĞΛŽďůĂĐŬĂĐŽĂ

CLASSIFIED ADVERTISING

ĞůĞĐŽPhone 043-702 2048

ŵĂŝůĞůĞΛŽďůĂĐŬĂĐŽĂ

EDITORIAL

ĂŚĞŝĞůĚPhone 043-702 2125

ŵĂŝůĂŚĞΛŽďůĂĐŬĂĐŽĂ ĞĚŝŽ

ŝĞŶĂŚŝŽĂPhone 043-702 2046

ŵĂŝůŝĞŶĂŚŝΛŽďůĂĐŬĂĐŽĂ ŽŶĂůŝ

ŵĂŶĚĂĂŶŽPhone 043-702 2049

ŵĂŝůĂŶŽΛŽďůĂĐŬĂĐŽĂ ŽŶĂůŝ

BUSINESS MANAGER

AND EDITOR

ĂŶĞĞŶŚĂĞPhone 046 624 4356

ŵĂŝůŚĂĞΛŽďůĂĐŬĂĐŽĂ

ACCOUNTS / MARKETING

ĞŶĚĞĐŚŵĂŶŶPhone 043-702 2280

ŵĂŝůĞŶĚΛŽďůĂĐŬĂĐŽĂ

WEBSITE

www.goexpress.co.za

SOCIAL MEDIA

ŶĂŐĂŵwww.instagram.com/goexpressnews

ŝĞŝĞĐŽŵŽĞĞŽ

ĂĐĞŬŽΘĞ

DELIVERY ENQUIRIES

Phone 043-702 2239 / 2168 / 2103

O v e rc a s t

and cool

Despite some brief respite on Saturday, this

weekend looks set to be largely chilly and

o v e r c a st .

Thursday will be the coldest day of the

weekend with temperatures peaking at just

19°C. There'll be some light cloud and winds

will be blowing in from the North-East at

22km/h.

Temperatures rise slightly to 20°C on Friday

and cloud cover will also grow heavier.

Luckily the wind dies down to just 7km/h

while switching to the south-west.

Saturday will see the clouds completely

disappear, leaving clear skies throughout.

Temperatures will also increase further to

22°C with wind speed climbing slightly to

11km/h from the East.

The clouds return on Sunday, followed by a

drop in temperature to 20°C and another drop

in wind speed to 7km/h.

GIFT OF MOVEMENT: The Sweethearts Foundation and PnA Stationers handed over their 16th

wheelchair donation to Frederick Fortuin. Fortuin has a rare case of vertigo that affects all his

m ove m e n t . 'I salute everyone involved in this, it's truly a blessing to receive this gift. Thank you from

the bottom of my heart and I pray that God blesses this organisation,' he said. At the handover are,

from left, Cheryl Rozi Stafford and PnA Stationers' East London mascot Penny Picture: AMANDA NANO

C O N G R AT U L AT I O N S :

The Hudson Park High

School Choir achieved

Gold for the ATKV

Applous competition.

This is a national

competition and the

choir will find out next

week if they will be

progressing to the

finals in Bloemfontein

Picture: SUPPLIED
---
May 30, 2019 For all your advertising needs call Cheryl on (043) 702-2031, Wezley (043) 702-2048. Find us on Facebook

GO & EXPRESS Page 3

Premier announces MECs

ROB KNOWLES

Newly elected Eastern Cape premier

Lubabalo Oscar Mabuyane announced

the members of his executive council

(MECs) at a meeting with the press on

Tuesday afternoon and said there had

been good work done by previous MECs

led by a number of past EC premiers

and that the new executive council had

a task to continue with this work.

The meeting took place at the Royal

St Andrews Hotel and security was

tight, with X-ray scanners used to

inspect baggage brought in to the ANC

caucus meeting that took place before

the official announcement of the MECs.

However, the meeting with the press

took place in another room to which the

media were allowed free access.

Mabuyane, who was formerly the

Eastern Cape MEC for finance,

economic development, environmental

affairs and tourism, was elected

unopposed last week at the provincial

meeting in Bhisho and said he was

humbled to have been chosen to lead

the sixth provincial executive.

The "provincial cabinet", as

Mabuyane named it, stays at 10 and

includes the following members:

•Mlungisi Mvoko will now head

M a b u ya n e 's previous post as MEC for

finance, economic development,

environmental affairs and tourism;

•Xolile Nqata will take over as MEC

for cooperative governance and

traditional affairs;

•Nomakhosazana Meth will be the

MEC for rural development and agrarian

r e fo r m ;

•Babalo Madikizela is the new MEC

for public works;

•Fundile Gade is the new MEC for

e d u c at i o n ;

•SIndiswa Gomba is the MEC for

health;

•Nonqkubela Pieters was named MEC

for human settlements;

•Weziwe Tikana is now the MEC for

transport, safety and liasion;

•Fezeka Nkomony-Bayeni is the new

MEC for sport, recreation, arts and

culture; and

•Siphokazi Mani-Lusithi is the MEC

for social development

"To the people of our province, these

are women and men who will work with

you to grow the province. I congratulate

all the MECs for their appointment into

the executive council. This is not just a

job, this is a responsibility to serve the

people of our province. Serve them well

with diligence and humility.

"We are now a collective that will

make the dreams of our youth come to

pass, the vision of our mothers and

fathers to be realised, the desires of our

society to manifest," said Mabuyane.

In his announcement, Mabuyane said

that six of the 10 MECs were women, in

line with the recommendations of the

ANC NEC that at least 50% of the

provincial administration should be

women.

"We have exceeded this," he said.

"The announcement of MECs follows

a thorough engagement within the

structures of the ANC, our alliance

partners, Cosatu, Sanco and the SACP.

At the heart of this process was to

make sure that as we appoint leaders

we are guided by the policy imperatives

of the ANC, unity and renewal."

Mabuyane said that he had avoided

building systems around individuals.

"Our high hopes are not with leaders

but with the ANC," he said.

"We have built a solid foundation on

which to build."

Asked about allegations of corruption

that have plagued the ANC in recent

times, Mabuyane said the ANC had

investigated the candidates to ensure

CABINET ANNOUNCEMENT: Eastern Cape premier Lubabalo Oscar Mabuyane announced his new cabinet on Tuesday at

the Royal St Andrews Hotel. Six of his MECs will be women, exceeding the ANC's mandate for gender equality

Picture: ROB KNOWLES

they were fit for the job. Echoing State

President Cyril Ramaphosa's call, he

said his administration had been tasked

with routing out corruption in the

province where it existed.

"As the executive council of the sixth

administration we will always make

sure that whatever, we must always put

the people of this province first and

they must get a better life.

"That is why this executive council,

the new MECs, will be responsible for

the manifesto commitments the ANC

placed before the voters of this country.

The work we will do must create more

decent jobs for the people of this

province and grow the provincial

economy to benefit all the people of the

Eastern Cape.

"We move with the commitment of

providing quality healthcare for all,

ensuring security and comfort, safe

communities and safe lives. In this

regard, we want to appeal to the people

of the province not to take law into their

own hands.

"We saw a video of people with

weapons marching in the streets of

Nelson Mandela Metro looking for

members of gangs. Communities must

allow law enforcement to stop criminals

by reporting crime and not by taking up

arms to fight criminals.

"All these commitments will never

materialise if we do not have a capable

and honest government. This requires

employees of government from the

entry level to senior managers, the

public and MECs," Mabuyane said.
---
Page 4 GO & EXPRESS

GOT A NEWS STORY? Call our news desk on (043) 702-2125. Find us on

May 30, 2019

GO! IN KING

E-mail: goexpress@tisoblackstar.co.za

May 25 very special day

SINDISO SOLONTSI

As the country celebrated Africa

Day on May 25, we as students

also celebrated our own

graduation from King William's

Town-based Divinity College, an

entity of Ballsbridge University.

This day was special in that it

also commemorated the

formation of the Organisation of

African Unity (OAU) on in 1963.

As for me, receiving a

doctorate of philosophy in public

health leadership and

governance together with a

doctorate in divinity is a great

achievement and being the only

one to receive two doctorates on

the same day inspired me

further in my calling which is to

serve my communities, society

and nation.

Being born and raised in the

Transkei as part of the Abambo

Royal House in Blythswood

taught me responsibility as we

grew up under multiple

expectations from my family. The

Christian schools that raised me

encouraged me to have faith and

great zeal towards God and to

respect people no matter who

they are.

Having travelled to France,

Russia, Dubai, Ethiopia,

Botswana and worked with

people from Washington DC,

England, Kuwait, the Caribbean

and Portugal, this created

avenues of advancement and I

learned how other nations

overcome their different

challenges.

Recently having been part of

the land committee in

parliament from 2018, it was my

joy to have my recommendation

approved and this year I was

privileged to be invited by

President Cyril Ramaphosa to

the draft declaration summit for

interventions to build South

Africa.

There, I reiterated that unity is

HAPPY DAY: There was much celebration at the Divinity College graduation ceremony held at the Orient Theatre last weekend

Picture: THEMBELA NDLUMBINI

a must in social cohesion and

nation building and that land

redistribution must be handled

by traditional leadership with a

simultaneous governance

between politicians, churches

and traditional leaders to strike

the right balance.

My people, the Abambo/

AmaMfengu, have been

neglected and as pillars in

constructing our country,

deserve a better place like all

tribes in South Africa.

Agriculture is the current

economy needing development.

We ask all stakeholders and

businesses to partner with us in

building our country and making

it a better place for us all.

I thank Archbishop Abune

Yacob of the Ethiopian Orthodox

Church All Africa Diocese,

Council of Churches South Africa

Sign up for the King

Adventure Challenge

president Prof Mbulelo Mvubu,

my parents and colleagues for

their relentless support in my

endeavours. May God give them

many years to come.

I also want to thank my

supervisors Prof Hannes Marais

and Prof Cobus Louw.

TEEING OFF FOR FURRIES: The King William's Town and East London SPCAs held a fundraising golf

day at the West Bank Golf Course in East London last Saturday. In addition to the money raised by

the players, engineering consulting company Aurecon donated a large supply of pet food. From

left, Aurecon East London associate Thabo Sekhe, KWT SPCA chair Felicity Gower, EL SPCA

fundraiser Magaret Pautz, Aurecon head of marketing Yeyethu Stemela and Aurecon East London

project manager Rokkie Jacobs

Picture: MATTHEW FIELD

MATTHEW FIELD

Registration for the upcoming

King Adventure Challenge,

scheduled for August 11, are

now open and residents are

required to put their names

down as early as possible.

The challenge will consist

of three distances – 10km,

30km and 60km – with

teams being made up of

between two to four people.

The GO! & Express

previously reported (King

Adventure Challenge back

again, June 20 2018) that the

challenge involves running,

cycling and orienteering

through varying terrain and

o b st a c l e s .

"This is perfect training for

teams to gel and get ready

for the Lilyfontein Adventure

Race and longer events," said

Mike Webb, aka the Pink

Fair y.

For more information, send

an e-mail to

p i n k fa i r y k w t @ g m a i l . c o m .

KWT WEATHER

This weekend will be mostly cloudy and chilly,

although there will be some clear skies on

Saturday to break it up.

T h u r s d ay 's temperatures will be a pleasant

22°C with light cloud and low wind speeds of

just 7km/h from the north.

Friday will cool down to 21°C, which is

followed by an increase in cloud cover.

ADVENTURE TIME: The King Adventure

Challenge is now open for registration

and promises a number of exciting

challenges

Picture: FILE

Thankfully, the wind remains a low 7km/h and

switches to the south-west.

On Saturday, the clouds completely disappear

which leads to an increase in temperature back

to 22°C. The wind switches to the south-east

but remains at 7km/h.

Unfortunately, the clouds make a comeback

on Sunday, with a drop in temperature to 20°C.
---
May 30, 2019 For all your advertising needs call Cheryl on (043) 702-2031, Wezley (043) 702-2048. Find us on Facebook

GO & EXPRESS Page 5
---
Page 6 GO & EXPRESS

GOT A NEWS STORY? Call our news desk on (043) 702-2125. Find us on

May 30, 2019

GO!SCHOOLS

E-mail: goexpress@tisoblackstar.co.za

ANIMAL FRIENDS: Pupils from Sunshine Educare and Pre-School collected food for the SPCA who visited the school last

Tuesday

Picture: SUPPLIED

HEART-WARMING GESTURE: Hudsonians built a mountain of love and

comfort with their donations for Jersey Week. Thank you to everyone who

donated, you have made winter a little bit warmer for someone in need

Picture: SUPPLIED

TOP BRASS: The Hudson Primary brass band won the Da Capo Award for Best Primary

School Chamber Ensemble at the East London Port Rex Lions Eisteddfod

Picture: SUPPLIED

COAT KING

KIDS COATS

2 FOR

R80

GOLF SHIRTS

R25 each

BANDING TOGETHER: Cambridge Primary is proud of their

grade 2 and 3 percussion band members, as well as the

teachers, for their wonderful result in the recent Port Rex

Lions Eisteddfod. For the fourth consecutive year, the

school has received a gold with special mention and won

the medal for best junior percussion band in East London

Picture: SUPPLIED

MAESTRO: Hudson

Primary student

Jamie Goodall won

the WA Stevens

Memorial Award for

Most Promising

Junior Brass

Instrumentalist at

the East London

Port Rex Lions

E i st e d d fo d

Picture: SUPPLIED

OPEN TO THE PUBLIC

& HAWKERS

81 Fitzpatrick Rd, Arcadia.

043 743 8964
---
May 30, 2019 For all your advertising needs call Cheryl on (043) 702-2031, Wezley (043) 702-2048. Find us on Facebook

GO & EXPRESS Page 7
---
Page 8 GO & EXPRESS

GOT A NEWS STORY? Call our news desk on (043) 702-2125. Find us on

May 30, 2019

'TUBBE' both absurd

and oddly sincere

MATTHEW FIELD

The Lonely Island is a

comedic musical group

made up of Akiva

Schaffer, Andy Samberg,

and Jorma Taccone whose

style follows a similar vein

to classic comedic duo

Flight of the Concords or,

more locally, the Brothers

Streep. One thing that

makes Lonely Island stand

out is their willingness to

experiment and their

latest project, a "visual

poem" released on Netflix,

called The Unauthorized

Bash Brothers Experience

(TUBBE), is the best

example of this.

TUBBE is a very loose

adaptation of the lives of

1980s baseball stars Jose

Canseco (played by

Samberg) and Mark

McGuire (played by

S c h a f fe r ) .

The two became

famous for their incredible

baseball skills and later

for their involvement in a

massive steroid scandal.

You don't need to know

anything about the

real-life events that

inspired this work – in

fact, it probably helps if

you don't – because

Lonely Island's talent for

over-the-top humour,

combined with their

famous catchy beats,

ensures you'll be jamming

along – even as Samberg

and Schaffer sing about

the joys of steroids and

their daddy issues.

It's not just the music

that's enjoyable. The

Lonely Island crew have

proven their acting chops

multiple times, either

during their time at SNL or

in films, such as Hot Rod

and Popstar: Never Stop

Never Stopping, and they

bring that same energy to

TUBBE, managing to be

both absurd and yet oddly

sincere when it counts.

The film is only 27

minutes long, so if you get

the chance, check it out.

W H AT 'S ON THE GO!

Contact News Desk on (043) 7022048 or e-mail:

goexpress@tisoblackstar.co.za by Monday 4pm

on publication week

T H U R S D AY

ý THE UNIVERSITY OF THE THIRD

AGE meets at the St Andrews

Croquet club hall on the second

Thursday of the month and the

third Thursday at 09.30am. Each

meeting has a qualified speaker.

R10 for visitors and tea\coffee will

be served. Phone: 043-738-50 90

for information

ý Narcotics Anonymous at Buffalo

Flats Primary School, 84 Greenpoint

Road, Buffalo Flats. Starts at

7:30pm. Call 083-900-6962

ý Solo Club invites all singles to

mingle and dance with live music

by Ivan's Band at EL Bowling Club

from 8pm till late. Couples

welcome. Entry R25pp. Cash bar

open. Info Neva 082-766- 7897

F R I D AY

ý Narcotics Anonymous at

Khanya Youth Centre (next to the

fire station), 172 Dunoon Road,

Fynbos. Starts at 6pm. Call

083-900-6962

ý Dance the night away on EL's

best dance floor with live music by

EL's best singer Quentin at

Comrades Club from 8-30pm. Bar

and kitchen open from 6pm at

bargain prices Entry R25pp.

Bookings and info 083-255-3468

S ATURDAY

ý Yellowwood Forest Fare,

Morgan's Bay, every Saturday from

9am to 2pm.

ý The Centenary Tennis Club

hosts social tennis every Saturday

from 1.30pm. All welcome.

Enquiries: Maurice 082-676-9708.

ý Gonubie flea market every

Saturday in front of the

municipality from 8am to 1pm.

Glenda 082-714-3390.

ý Narcotics Anonymous meet

every Wednesday and Saturday at

22 Pell Street, St Nicholas Church,

Beacon Bay from 7p.m. For more

information, call Peter on

082-094-0959.

ý Nar-Anon Family Group meet on

Wednesday and Saturday at 22 Pell

Street, St Nicholas Church, Beacon

Bay from 7p.m. For more info call

Belinda on 083-662-3442.

ý The Hemingways Mall

Community Market Shop runs

every weekend, downstairs in the

Food Court. Support local traders.

We have a range of clothing,

accessories and shoes.

ý LGBTQI hiking and social group

on Saturday and Sunday. Locations

and times to be confirmed.

WhatsApp or SMS Cindy for more

info: 081-210-4879

ý The Support Group of Diabetes

SA – EL Branch meets June 1 from

3pm to 4pm at the Regent Hotel

(Esplanade) Ocean Terrace Room.

Speaker: Lindiwe Sekeleni, diabetic

educator. Join us for refreshments

afterwards. Enquiries: Vrooda

Makhan 083-708-0489

ý Church

Basaar/Market/Kerkbasaar

en Mark at the NG Church in

Bonza Bay Rd, Beacon Bay (next to

Kennersley Park), 9am to 1pm.

Bring the family and friends, and

spend a relaxing morning with us.

More info. 043-748-3111.

ý Country Dance with live music

by Time is Tight at the Cambridge

Bowling Club Hall from 8pm till

late. Entry R25pp. Cash bar open

and burgers for sale. Info and table

bookings Gladys 083-968-1069

S U N D AY

ý Narcotics Anonymous at

Buffalo Flats Primary School, 84

Greenpoint Road, Buffalo Flats.

Starts at 7pm. Call 083-900-6962

M O N D AY

ý The East London

group of

Alcoholics Anonymous meets at

the Catholic Church Hall, Quigney

at 7pm. Pieter 082 094 0959.

ý AA Kayser's Beach at the

Chapel Hall at 7.30pm. Call

082-714-9400.

ý The next meeting of the Beacon

Bay Ratepayers & Civic Association

will be held on Monday 3rd June,

2019, at 6.15 pm at the Bonza Bay

Bowling Club. All welcome.

T U E S D AY

ý The EL Caledonian Society Pipe

Band meets on Tuesdays. Robert

on 082-897-8571 or Stephen on

082-560-0247 .

ý EL Bridge Club duplicate Bridge

every Tuesday and/or Saturday at

1.15pm at the Berea Gardens dining

hall. Jean on 043-735-4893.

ý Scottish dancing classes 4pm

to 5.30pm at Ham's Club, Selborne.

Call Nookie 043-726-1100.

ý Beacon Bay bridge club social

bridge every Tuesday and Friday,

1.30pm to 4.30pm. Eden Worship

Centre, 10 Coad Road, Beacon Bay.

Olga, 083-650-6653 or Heather

0 4 3 - 74 8 - 1 4 6 5 .

Win R150 meal voucher

for one of Hemingways

Casino and Hotel's

restaurants.

SEND in a completed,

correct crossword

#1134 for a chance to

win a R150 meal at one

of Hemingways Casino

and Hotel's

restaurants. Either

drop off the crossword

solution before 10am

on Tuesday June 4 at

the Daily Dispatch

building in Beacon

Bay, or scan a copy

and e-mail it to

g o c o n t e s t s @ t i s o b l a c k s t a r. c o . z a

Please include your

contact number and full

name on the copy. T &

Cs apply. The winner of

crossword 1133 is

Kathryn Williams

Sponsored

by

PEPSI

- To quench your

thirst for love.

LIBBY

- Purr-fesional

nap taker.

Sponsored

by

A SELECTION OF

PETS UP FOR

ADOPTION.

PLEASE COME IN

AND HAVE

A LOOK.

TOBY

- I will be yours

fur-ever.

MADDIE

- When are you

coming to take me

home.

DIXIE

- On your lap is

where I belong.

FLASH

- Excited to meet

my new family.

Sponsored

by

Sponsored

by

Please give these pets a good home.

Interested persons please phone 043 745 1441 and ask for Reception.

Sponsored

by

Photo's by

Evette Joubert

Sponsored

by
---
May 30, 2019 For all your advertising needs call Cheryl on (043) 702-2031, Wezley (043) 702-2048. Find us on Facebook

GO & EXPRESS Page 9

Blanket run to keep kids warm

AMANDA NANO

East London motorcycle club BlackRock

Rebels will host the Kids in Dire Straits

(KiDS) Blanket Drive on Sunday at the

Marques Sports Bar and Grill in Berea.

The initiative was started 10 years ago

in Johannesburg by the Harley Owners

Group (HOG).

BlackRock Rebels president Willie du

Plessis said they were approached by

HOG Africa as there is no HOG branch

within the Eastern Cape.

"Our request is humble and simple:

please donate a blanket or two or three

so we can donate it to children in need."

The club is also involved in other

community projects, such as the Love In

Action (LIA) Trust, together with the

Rotary Club of Bonza Bay.

Motorcyclists will gather at the

German Monument at the Esplanade on

UNDER THE RAINBOW: A rainbow sprouts out of a garden in Wilsonia

Picture: KARIN LUFF

Sunday morning and ride together to

Marques Sports Bar.

Prizes, such as a weekend for two at

Trennery's Hotel on the Wild Coast, 'best

supporting club' and hamper prizes will

be up for grabs.

Drop-off points include RocoMamas

and Willie du Plessis Financial Services

in Beacon Bay, Natural products in

Arcadia, Debbie Lee SPAR in Greenfields,

Mugg & Bean at Hemingways Mall,

Maclear Stationers and Postnet in

Vincent, Bella Aqua in Gonubie, and

Marques Sports Bar and Grill in Berea.

Riders with traditional US twin bikes,

such as Harley-Davidson and Victory

who aren't members of motorcycle clubs,

can contact Du Plessis on

b l a c k ro c k re b e l s @ w e b m a i l . c o m .

BlackRock Rebels are the only private

Harley Davidson club in SA to assist with

the blanket run.

Mabuyane leads march

to celebrate Africa Day

SIVENATHI GOSA

HUNDREDS of people marched from Orient

Theatre to the Esplanade grounds on Friday

to celebrate Africa Day, with newly elected

Eastern Cape premier Oscar Mabuyane

leading the crowd.

The two-day celebration was conducted

by the department of sport, recreation, arts

and culture (Dsrac), starting off with five

schools having a dialogue about societal

issues that affect the continent and young

people.

Acting manager of cultural affairs in BCM

Ndileka Makhitshi said they were giving

pupils the opportunity to tell the public

about their views on the 25 years of freedom

in SA, and they could enlighten the

audience on their knowledge on Africanism.

Centre of Excellence pupil Itumeleng

Ncoko gave feedback on the debate, which

discussed the importance of continental

free trade, border control, free movement of

people, economic integration and common

currency as a key to a better Africa.

Ncoko mentioned the importance of

Africans in learning their indigenous

languages so they could communicate in

their own tongues.

"English is the most used language which

has made us forget our own languages. It

seems like we are forgetting who are, as we

like to focus on the dominating language

(English) instead of conversing in our own

indigenous languages.

"I see it as absurd that borders in African

countries restrict our brothers and sisters in

accessing their countries." Ncoko said.

Mabuyane said people must share a

common vision and mission to advance

Africa's agenda to be self-reliant and stop

being dependent on western countries.

"I want to challenge both Dsrac and the

universities in our province to organise

practical programmes that can advance

social cohesion in our communities where

participants should include fellow Africans

from the Diaspora.

"We should have exchange programmes

for students between African countries to

share best practices and learn about each

ot h e r 's cultures."

Sanca

launches

'Kick the

Habit'

MATTHEW FIELD

The South African National

Council on Alcoholism and

Drug Dependence (Sanca) is

encouraging Buffalo City

Municipality residents to give

up one of their habits as part

of their "Kick the Habit"

i n i t i at i v e .

The campaign is meant to

give members of the public

some idea of the

decision-making process

addicts have to go through

when confronting their

addictions.

Participants are also

encouraged to donate to

Sanca as part of the campaign

in order to fund further

outreach programmes.

Sanca was formed in 1956

and currently operates from

its base in Southernwood. The

non-profit organisation

focuses on intervention, as

well as rehabilitation and

support for people struggling

with substance abuse.

For more information,

contact Sanca brand developer

Caroline Fitzgerald on

071-020-1537 or e-mail

marketing@sancacec.co.za.

Alternatively, phone the East

London Sanca office at

043-722-1210 or visit the Sanca

East London Facebook page.
---
Page 10 GO & EXPRESS

GOT A NEWS STORY? Call our news desk on (043) 702-2125. Find us on

May 30, 2019

Fun day at Stirling

Stirling Primary School held its Games Day last

Saturday. There was plenty of excitement and fun

to be had, with various stalls and activities to keep

everyone entertained, regardless of age

CHOO-CHOO FUN: A miniature train was on hand to give attendees a ride around the field

Pictures: MATTHEW FIELD

COWGIRL BLUES: Sasha Mortimer tries to tame a feisty mechanical bull

REVVING IT UP: Sarah-Mead Kristafor takes a spin on one of the quad bikes

FOAM AND FUN: Children make a splash in the foam pool

JOLLY PIPERS: Members of the Caledonian Pipe Band perform for a large crowd
---
May 30, 2019 For all your advertising needs call Cheryl on (043) 702-2031, Wezley (043) 702-2048. Find us on Facebook

GO & EXPRESS Page 11

OFF THEY GO: Runners take off at the NFB 5km

Charity Family Fun Run last weekend

Picture: MATTHEW FIELD

Striding

out for

the kids

MATTHEW FIELD

Eager runners gathered at Oxford Striders last

Saturday to take part in the NFB 5km Charity

Family Fun Run.

The run was held to help raise funds for the

Loaves & Fishes Network (LAFN), an organisation

dedicated to helping children affected by poverty,

violence and HIV/Aids.

LAFN was founded in 2007 by the late Dr Trudy

Thomas in response to the poor state of early

childhood care she saw in her community.

According to general manager Pateka

Mtintsilana, LAFN aims at "providing

comprehensive ECD (early childhood

development) training, enabling facilities for

children, ensuring adequate nutrition of children

and mobilising parent and community

participation in the education, nurturing and

well-being of their children".

The organisation provides a training programme

for principals and teachers to help them gain the

necessary skills needed to serve their communities.

"The programme equips these adult learners

with the necessary skills and knowledge to deliver

high standards of care to the vulnerable young

children in their centres, whilst positioning them to

apply for the ECD subsidy from the department of

social development," said Mtintsilana.

LAFN also runs feeding programmes,

community outreach, and helps centres secure

proper infrastructure and other resources.

The organisation will be running parenting

workshops in July which will involve over 300

parents in different educare centres.

Also in July, LAFN will host companies that want

to do their Nelson Mandela Day hours at one of

their educare centres.

For more information, visit the LAFN website at

www.lafn.co.za. Alternatively, you can phone

043-722-0010 or e-mail info@lafn.co.za

BAD MOON RISING: A full moon rises over Chintsa

Picture: VEULAH IFFLAND
---
Page 12 GO & EXPRESS

GOT A NEWS STORY? Call our news desk on (043) 702-2125. Find us on

May 30, 2019

Give some of your

precious life-blood

GIVING LIFE: GO! & Express news editor Matthew Field donates blood during a drive by the SANBS at

the Daily Dispatch office on Tuesday

Picture: CHERYL LARSEN

MATTHEW FIELD

The South African

National Blood Service

(SANBS) recently held a

blood drive here at the

Daily Dispatch office

where I donated my

22nd pint of blood.

To celebrate this

milestone, I thought I'd

talk about how blood

donation works and

why you should totally

do it if you can.

Donating is easy

enough.

First, locate your

nearest SANBS branch.

For example, mine is

the one at 25 Pearce

Street in Berea.

The SANBS also does

frequent blood drives in

public locations, so you

can donate on the go.

The requirements for

donating are rather

extensive, but not all

that hard

to

u n d e r st a n d .

Yo u

have to be

bet ween

the ages

of 16 and

75, weigh

a

minimum

of 50kg,

have eaten within the

last four hours, and be

generally healthy.

All donors will have

to fill in an extensive

lifestyle survey and this

might put some people

off – when I say

extensive, I mean

extensive and potential

donors will have to

disclose facts, such as

HIV status and even

their sex lives.

This isn't because the

SANBS is a bunch of

pervs, however.

There are many

potential diseases that

can be spread via blood

such as hepatitis and

HIV/Aids.

The SANBS needs to

exercise the strictist of

screening methods in

order avoid infecting

recipients.

So yeah, it

may feel

uncomfor t-

able to

tell

complete

st rangers

that you

had a

one-night

stand last

weekend, but there is

an important reason

behind it.

Once SANBS staff are

satisfied you're healthy

enough to donate, all

t h at 's left is to sit down

and let them stick that

big scary needle in the

appropriate arm.

So what happens to

your precious life fluid

once its been drained

out of your body by the

most friendly group of

vampires ever?

Well, once the blood

arrives at the appropriate

facility, the first

thing the SANBS does

is to separate it into its

three components: red

blood cells, white blood

cells, and platelets.

Each component is

then heavily tested to

make sure there's no

risk of infection. Once

it's known to be safe,

the blood is stored until

requested by hospitals.

Finally, let's talk

about why you should

d o n at e .

Simply put, each

donation has the

potential to save three

lives.One donation,

once separated, can be

used on three different

patients so this isn't

just a catchy marketing

spin. People in

desperate need of

blood, include

premature babies,

trauma patients, those

undergoing surgery,

and many more.

Without blood, all of

these people could very

easily die.

At the time of writing,

synthesising blood is

still a long way off, so

donations are the only

way hospitals can get

the blood they need

(the same goes for

organ donations).

So if you are able

donate, I strongly

recommend you go out

and do so.

Creative look

at 4IR's impact

AMANDA NANO

The "Towards the Creative, Smart

Cit y" dialogue will be held at

Atlantis Lifestyle Lounge on the

Esplanade in East London on

Saturday, as part of the Umtiza

Arts Festival which kicks off on

Fr i d ay.

The dialogue aims to bring

together creativity, ICT, media,

business and academia to discuss

the impact of the Fourth Industrial

Revolution (4IR).

Dialogue curator Papama

Mnqandi said it is necessary to

spark conversation from the

creative class and other societal

sectors in the city.

"This will also enable the

province to make a meaningful

contribution to the presidential

commission for the4IR. This will

unleash the creative class,

especially in light of the youth

bulge, as a key ingredient for

sustainable economic

development," Mnqandi said.

He added the intention is seeing

the province as a capable hub for

the creative economy and be able

to pioneer future trends in the 4IR.

The panel includes German

producer and DJ Ralf Gum, Prof

Chris Adendorff from the 4IR

Commission and Unathi Lutshaba

of the South African Cultural

Observatory (Saco), among ot h e r s .

The dialogue also aims to

explore the Unesco Creative Cities

Network (UCCN) which fo st e r s

international cooperation within

and across cities of the world that

have invested in culture and

creativity as an accelerator of

sustainable development.

Tickets from Computicket at

R50. The event starts at 12pm.

Fundraising Gala Dinner

for Empire Foundation

SIVENATHI GOSA

Empire Foundation will be hosting

their Fundraising Gala Dinner on July

19 at the Steve Biko Centre in King

William's Town.

Empire CEO Thabisile Khanyile said

the objectives of foundation were to

restore human dignity through

provision of basic needs and reinstill

a sense of community belonging.

"We want to rebuild self-sustaining

communities in order to support

sound, healthy families that are safe

and protected, to assist in developing

healthy families through social

outreach programmes and to build

confidence and bring hope to the

youth," said Khanyile.

She said the main aim of the Gala

Dinner was to raise funds to assist

the geriatrics ward at Tower Mental

Hospital in Fort Beaufort as the

Empire Foundation made a pledge to

the hospital in December 2018.

The pledge involved the donation

of one plasma television, two

two-seater leather couches, one

coffee table, two side round tables,

four flower vases, two armrest chairs,

10 boxes of educational toys, window

blinds, tiling and paint in the

reception, and visitors' room.

"The Empire Foundation was

founded with one simple aspiration –

to make a difference in the lives of

others through thoughtful, effective

p h i l a n t h r o p y.

"We are a charitable organisation

that helps individuals, families, trusts

and businesses achieve their

charitable goals by offering tools and

resources that make giving easy,

flexible and effective," Khanyile said.
---
May 30, 2019 For all your advertising needs call Cheryl on (043) 702-2031, Wezley (043) 702-2048. Find us on Facebook

GO & EXPRESS Page 13

Take care of your hearing

SMART HEARING

Our five senses help us make every

second of our lives a unique experience.

T h at 's why we take good care of them.

We get glasses, we go to the dentist, we

exercise.

In fact, we're willing to go a long way

to improve our health and well-being.

However, when it comes to our hearing,

too many of us wait far too long.

Many people believe that hearing is the

most important sense of all.

It is our lifeline to an ever-changing

world.

Our sense of hearing connects us to

colleagues, friends and the people we

love.

One in every two adults has difficulty

understanding and following conversation

in a noisy environment.

At some stage, every adult suffers from

hearing difficulty which can affect their

lifestyle and career.

Hearing technology has improved to

the point where hearing devices can be

advertising feature

programmed to suit and enhance your

unique lifestyle.

Taking good care of your hearing is

important. Studies have linked the effects

of untreated hearing loss to poor memory,

stress, depression, isolation, reduced

earning power and health issues.

However, with modern hearing devices,

any level of hearing loss can be improved

– with potentially life-changing results!

If you feel you may have hearing loss,

contact your local hearing care

p r ofe s s i o n a l .

LOUD AND CLEAR: Smart Hearing owners Brandon Schlimper and father Rob

Schlimper

Picture: SUPPLIED

Solution for ocular needs

Get your brand out

there with Epikanini

Calling all businesses, government

departments, event planners, service

providers, clubs, churches and

schools: Epikanini Promotions is here

to assist you in getting your brand

out there!

Epikanini Promotions are a leading

wholesaler of clothing, gifts and

advertising materials and have an

extensive range of products to suit

your every need – from winter

jackets to beanies, T-shirts to golf

shirts, scarves or uniforms, lanyards

or trolley backpacks, gazebos or

banners – all branded with your

details.

Whether you are hosting a

All that glitters

is gold, coins

Buffalo Coin and Gold

is your one-stop shop

for all things bold and

beautiful.

We have a large

variety of pre-owned

gold and silver

jewellery at

unbelievable prices.

We also buy and sell

Kruger Rands, gold and

silver coins.

We will make an

offer on all coins and

notes brought in.

We buy all gold,

diamond and silver

jewellery and

S i l v e r wa r e .

We are also buyers

of all of the following:

Military medals and

all military-related

items, tokens, old

documents, cheques,

maps, antiques and

any unusual or

collectible items.

We have been

located at our premises

in Greenwood Street,

Berea, next to Mowers

for the p a st

three-and-a-half years.

Come in to browse or

for a free valuation on

function, outfitting your team with

uniquely branded clothing or wanting

to thank your clients with a special

gift, let us assist you

We have a fully stocked showroom

at 24 Jarvis Road where an extensive

range of samples can be viewed.

Alternatively, visit our website ate

www.pikininipromo.co.za to view our

online catalogues, as well as

never-to-be-repeated specials in our

Bargain Box.

Like and follow us on Facebook for

weekly specials where you will also

stand a chance to win a monthly

prize. We look forward to hearing

from you!

your items.

We look forward to

welcoming you to our

little treasure trove!

At Vicki Gaylard Optometrist

we measure more than just

your vision.

With her 20 years

experience in optometry and

invaluable time spent in an

ophthalmologist practice,

Gaylard is equipped to provide

the perfect solution for all your

ocular needs.

Whether it's eye strain

caused by the digital world we

live in, peace of mind

concerning an ophthalmic

surgical procedure or the

quest for that beautiful frame,

we at Vicki Gaylard

Optometrist can help you find

the perfect fit.

Our digital retinal camera is

able to give insight into many

eye diseases, including

glaucoma, sugar diabetes and

retinal malignancies. These

photographs are performed

routinely on all our clients.

The practice prides itself in

having an option to suit all

pockets. We are contracted to

most medical aids (including

Discovery Smart Plan) and

also offer package deals with

generic frames.

Our shelves boast around

450 frames, so most clients

are spoilt for choice!

Gaylard is passionate about

multifocal contact lenses, for

the "40-something" client who

hates wearing reading glasses

but loves the freedom to see

at all distances without

One-stop for Indian,

Thai, Chinese fare

Irana Asian Cuisine still offers the

very best curry and Thai food in

town.

Apart from Irana's delicious

curries with homemade spices, and

rich Thai dishes, their menu is now

also complemented with Chinese

fa r e .

Of course, Irana's haven't

forgotten their all-time favourites,

Durban-style bunny chows and roti

rolls.

It is no surprise Irana's has

become a one-stop choice for many

East Londoners' Asian cuisine needs

– from India to Thailand.

This winter season, come warm up

at Irana and enjoy their weekly

Wednesday specials from 6pm.

The special applies to Irana's

renowned butter chicken curry,

served with rice or homemade rotis

and sambals.

The "mild" Wednesday special is

R99.

Get to 5 Glaston Street to try out

Irana's wide range of deliciously

spicy meals.

Buffalo

Coin & Gold

Jaco: 06 06 159 159 | 043 721 2458

Email: buffalocoin@telkomsa.net

15 YEARS EXPERIENCE | AMAZING PRICES | ONLINE CATALOGUES

SUPPLIERS OF CLOTHING,

GIFTS, ADVERTISING

MATERIAL & SO MUCH MORE!

GET YOUR BRAND OUT THERE

TEL: 043 727 1073/6

spectacles.

Other offerings include top

of the range sunglasses to

protect from harmful UV rays,

blue light filters for comfort on

digital screens and advice on

the management of "dry eye".

Visit us at 23 Chamberlain

Road. Tel 0 4 3 - 72 6 - 0 2 0 1 .

BARGAIN BOX

LIKE &

SHARE TO

See more info on Facebook

CALLING ALL SERVICE PROVIDERS

Let us assist you with all DTI/Local content requirements

Free 2 day delivery service to our premises

083 400 5867 | mercia@pikininipromo.co.za | www.pikininipromo.co.za

VISIT OUR SHOWROOM AT 24 JARVIS ROAD, BEREA, EL
---
Page 14 GO & EXPRESS

GOT A NEWS STORY? Call our news desk on (043) 702-2125. Find us on

May 30, 2019

PERSONAL

2070

Health & Beauty

Dr Brian D. Ritchie

Plastic Surgeon.

My Directory Entry has

ďĞĞŶŽŵŝĞĚ

ĨŽŵŚĞĂŽŶĚŽŶ

2019-2020 Phone Book

ŐĞĚĚĞ

3 Princes Road,

Vincent, EL

ĞůĞŚŽŶĞŶŵďĞ

043 748 1470

043 748 1584

Ă

Emergencies 083 281 2688

Notices

A NICE UPRIGHT PIANO

wanted good condition

for pupil, I pay cash.

Tel 043 748 3721

A USED BMW WANTED

in good condition 2005

model or later, up to

R60k Tel 08325 66229

Personal

2

HOME MOVIES VHS OR

8mm onto DVD & USB

stick. LPs or tapes onto

CD or USB. 043748 3721

MARTIN GUITAR WANTED

in any condition. I can

pay cash. Tel 083 256

6229.

CLASSIFIED

INDEX

DOMESTIC ANNOUNCEMENTS

1010 Births

1040 Engagements

1050 Marriages

1070 Deaths

1100 In Memoriam

1220 Congrats / Best Wishes

1230 Birthday Greetings

1290 Thanks

PERSONAL

2070 Health & Beauty

2140 Lost

2142 Found

ENTERTAINMENT

3060 Entertainment General

SERVICE & SALES GUIDE

5010 Education & Tuition

5090 Plumbing

5100 Electrical Services

5120 Building Services

5122 Home Maintenance

5160 Walls / Fencing

5190 Painting / Decorating

5210 Pools, Spas, Accessories

5260 Computer Services

5360 Garden Services

5451 For Sale

5510 Kennels and Pets

5550 Misc Wanted

5570 Removals and Storage

5630 Services Offered

5640 Shuttle Services

EMPLOYMENT

6140 Education & Training

6150 Employment Wanted

6151 Employment

6170 Estate Agents

6370 Employment Wanted Domestic

ACCOMMODATION

7020 Accomm. Off / Wtd

7060 Flats to Let

7090 Houses to Let

7151 Holiday Accommodation

PROPERTY

8010 Flats For Sale

8050 Houses For Sale

8161 Business Premises To Let

8163 Business Premises For Sale

MOTORING

9070 Used Car Sales

9440 Motorcycles

9381 Motor Sundries

9640 Vehicles Wanted

9200 Used Bakkies / Panelvans

NOTICES

11010 Legal Notices / Auctions

11030 Businesses for Sale

2275

Loans & Finance

2180

2230

5

SERVICES & SALES

GUIDE

5121

Home Improvement

BLOCKS – R8,80; Sand,

Stone. Gladstone

083 735 7389.

BUILDING PLANS DRAWN

Home & Comm. SACAP.

Large & Small - Entire SA.

Kathy 082 939 8131 or

kathy@yourplans.co.za

MOPPS MAINTENANCE

Building, home improvements,

Electrical, Tiling,

Painting, Granite Installations

Carpentry. Free

quote 066 032 9161

maintenance@mopps

enterprises.co.za

5121

Home Improvement

DJ MAINTENANCE –

Alterations – Extensions,

Painting – Welding –

Gates – Handyman – Call

David 083 320 8017.

Hire & Rent

SCAFFOLD HIRE: From

R60 per day. Phone 0722

44 8044.

Under R300

5350

5541

ACCUCHECK diabetic

strips (50's). R100. 060

9888 552.

ANTIQUE MUSICAL

JEWELLERY BOX: Exquisite,

2 layers.

R299,99. 078 256 9317

BOOK: Awaken Your

&KLOGV 1aWuraO *enLuVy

Book for improved creativity.

Just R175 Tel

043748 3721

BOOTS: Leather, light

ErRZQ, QeZ Vi]e kLy

R299. 084523 4379.

BREADMAKER: Russell

Hobbs. Good cond.

R299. 082503 2524.

CONVECTION OVEN:

Sunbeam. R299. 082503

2524.

DISHES: 2x White enamel

(30cm wide). R40 each;

S/steel dish (35cm wide).

R40; Small 20cm wide

s/steel. R30. 078 256

9317

FOG LIGHTS: Fog lights

for cars. 2x R50 each.

083 5211 846.

GOLF BAG: Good cond.

R150. 084523 4379.

*2/)(56 (** Improve

your game with better

distance & accuracy. Includes

exercises. Just

R75 Ph 043 748 3721

GUITAR: Acoustic. R99.

082503 2524.

HEATER: Oil heater. Like

new. R299. 082503

2524.

5630

Services Offered

Under R300

5541

HEATER: Panel heater.

Good order. R199; Fan

heater. R99. 082503

2524.

JACKETS: 1x Black, medium

puffer jacket; 1x

Black medium jacket.

R100 ea. 073 158 5877

JEGGINGS: Leather-look

Jeggings New. Fits size

small. Now only R160.

Tel 082 452 5567

KITCHENWARE q utensils

and cutlery. R100.

084523 4379.

LIGHT FITTING: Twin tube.

R199. 082503 2524.

PERSPEX STANDS Ideal

for Menus/Promotions

Fits A5 flier. Six @ R45ea

Tel 08325 66229

PICNIC BACKPACK: Never

used. R299. 084523

4379.

REMOTE CONTROL - LG.

Original good working

order. R150. 071 054

1337

ROLLERBLDES - unisex In

new condition, for Size 1-

3. Was R295. Now R175.

Tel 082 452 5567.

SHOES: Black patent

leather, 6cm block heels,

size 5 ½. R150. 084523

4379.

TAPE RECORDER: OKI

Reel-to-reel. R299.

082503 2524.

TIMBER BOARDS: Pine

timber boards q

6/2m40cm x 20cm x

3cm. R49,99 each.

Please call 083 5211 846.

TV - LG TV for sale as

spares. R270. 071 054

1337

WINDOW BAR: 1.222 cm

*146 cm. R299. 071262

5042

WINDOW BAR: 2.166 cm *

110 cm. R299. 071262

5042

5542

Garage Sales

GARAGE SALE: Sat 1 st q

38 Plymen Place, Amalinda.

8 q 2pm. 078435

3145.

5560

Repair / Services

FRIDGE REPAIRS Regas

and repairs done on site.

Microwaves, washing

machines, stoves. Call

Hendrik 072368 3030.

SEWING MACHINE repairs

& services. All makes.

Industrial, domestic. 082

746 6023.

5630

Services Offered

IF YOU ARE READING

THIS - SO ARE YOUR

POTENTIAL CUSTOMERS

DON'T MISS OUT - PLACE YOUR

CLASSIFIED ADVERT TODAY.

CONTACT WEZLEY SCOTT ON

(043) 702 2048

Standing up for

c h i l d re n 's rights

AMANDA NANO

East London resident Mbulelo Plaatjie has held a

three-day, one-man demonstration this week to

highlight children's rights as National Child

Protection Week continues until June 4.

Plaatjie launched a children's rights campaign in

March, called "Children's Rights are Human

Rights".

"I have had a number of people stop and ask

about the campaign and why I was there. I got the

sense that they were happy for the knowledge,"

Plaatjie said.

The demonstration is in line with the United

Nations Convention on the Rights of the Child

(UNCRC) treaty, which celebrates its 30-year

existence on November 20.

The UNCRC is a legally binding agreement that

sets out the civic, political, economic, social and

cultural rights of every child regardless of their

race, religion or abilities.

"Some of those who stopped by, had no

knowledge of the rights treaty, and it highlighted

to me that there needs to be more awareness," he

said.

The UN stipulated that children's right include

the right to survival, development, protection and

par ticipation.

Plaatjie aims to educate and promote children's

SPEAKING FOR THE CHILDREN: Mbulelo Plaatjie

held a three-day demonstration in Beacon Bay,

East London to highlight National Child

Protection Week

Picture: AMANDA NANO

rights by visiting schools, churches, youth clubs,

radio stations and hold street demonstrations.

He has also been the Eastern Cape chair fo r

Childhood Cancer SA (CHOC) for two years.

Plaatjie can be contacted on 072-510-9338 or

mbuleloplaatjie100@gmail.com.

ART FEST: The 18th annual ELFest is underway at the Belgravia Arts Centre in East London, with over

1,000 pieces on display. The exhibition is a show for schools around the city from grade 1 to 12, with

an array of drawings, clay pieces and 3D assemblages to name but a few, as well as other art forms

on display. Pictured here is the Crewe Primary School's grade 6 and 7 art club's 'Totally 80s dance

party'. The exhibition is open to the public, Monday to Friday from 8.30am until 3.30pm and will run

until June 7

Picture: AMANDA NANO

SPORT STARS:

These hockey

players will be

representing

Hudson Park

Primary in their

respective U12

and U13 Border

teams at the

upcoming

i n t e r - p r ov i n c i a l

tour naments

being held in the

June holidays

Picture: SUPPLIED
---
May 30, 2019 For all your advertising needs call Cheryl on (043) 702-2031, Wezley (043) 702-2048. Find us on Facebook

GO & EXPRESS Page 15

Look at the Ertiga go!

I once knew this rather vain snail

who asked his Suzuki dealer to

decal a large "S" on his new car's

bonnet, as well as the roof and two

doors, so that, as he drove by,

everyone would turn and say:

"Wowzers! Look at that S car go

[ e s c a r g ot ] ! "

But Suzuki's new Ertiga is no

"snail-bad-cold with a crash

helmet". Just look at the big, bold

"S - fo r - S u z u k i " emblem on its grille.

Happily, this second generation

of Suzuki's multi-purpose vehicle

(MPV) has been revitalised with a

bigger capacity and more powerful

engine and is longer, wider, taller

than before, allowing for a bounty

of additional interior space.

It's MPV credentials are now

emphatically confirmed as it takes

on the opposition in this hotly

contested class of vehicle. Also,

it's now a real "mom's taxi".

Added practicality comes to the

seven-seater Ertiga, with

the stretching of its

length by 130mm to

4,395mm, widening it by

40mm and lifting its roof

by 5mm. This translates

to lots more space for

occupants in all three

rows of seats.

Suzuki believes a true

seven-seater must comfortably

accommodate adult passengers

even in the third row of seats.

It has accomplished this with a

deep floor, more hip space and

larger shoulder room.

Further comfort comes from a

new seat design that is more

supportive, while driver and front

seat occupant enjoy vastly more

shoulder room, so do, to a lesser

extent, the rest of the five

passengers.

The front passenger seat folds

flat, as do the 60/40 second and

50/50 third row of seats, making

for a massive flat load area of

some 2,820 litres.

With the seats up, and all

REAL MOM'S TAXI: The bigger bodied, new-generation Suzuki Ertiga –

with more power – is now well set to take on the best of its South African

MPV opposition

Picture: SUPPLIED

passengers aboard, the

luggage compartment is

199 litres in size, with a

load floor that can

adjust to two different

heights.

With the seats down,

the load area is more

hard-wearing than

before thanks to metal plates in all

the folding seatbacks.

Entering and leaving such MPVs

is normally a bit of a nightmare,

but the Suzuki design allows for

the middle row of seats to tilt and

slide further forward for good

access to the rear seats.

You can also lock the middle row

in differing configurations, by as

much as 140mm from front to rear

for maximum rear legroom.

Well thought-out, but all this

arranging of the "deck chairs"

sounded awfully taxi- and bus-like

to me.

To drive, you find this not so, as

in spite of the Ertiga's bigger

dimensions, the wheelbase

remains the same, thereby

retaining its manoeuvrability,

particularly with the short, 5.2m

turning circle.

In spite of the big

people-carrying capacity, even

when fully laden, the Ertiga is one

of the few MPVs that gives the

driver the impression you are in

command of a normal saloon and

not a small bus.

With the new Suzuki 1.5-litre

engine replacing the 1.4 unit, you

sense the Ertiga now has all the

energy you will need for a

practical, rather than a

performance vehicle – even when

seven-up.

There is 77kW at 6,000r/min

and 138Nm of torque at

4,000r/min from the 1.4cc

fuel-injected, variable valve timing

motor, allowing the desirable flat

torque curve for when this MPV is

under load.

The new engine is mated to a

manual, five-speed gearbox or

four-speed automatic transmission,

with new shift knobs that are more

comfortable to grip and operate.

Top speed is 175km/h with no load

up.

You can expect a fuel

consumption of 6.6l/100km under

average driving conditions.

Beside being noticeably bigger

from the outside, this MPV has

now been given a more imposing

front design with a large, upright

grille bracketed by large new

headlights in clear housings and

individually packaged driving and

high beam lights. The lower air

intake is significantly larger.

From the tail end, the rear lights

reach towards the roof and contain

combination LED brake and

reversing/fog lights. An integrated

high-level brake light in the boot

door is also new.

It would have been nice to have

had aluminium wheels on the GL

models, instead of the steel 'n

plastic wheel covers offered all

round. Suppose it's all a matter of

keeping the price low…

The driver has a new instrument

cluster with USB and Bluetooth

connectivity, ahead of a 'D'-shaped

steering wheel for ease of driver

entry and exit. There is also a

sensible money bin for notes and

coins and a special mobile 'phones

tray to store connected or charging

'phones.

Being ostensibly a multi-people

carrier, Suzuki has added two

air-conditioned cup holders up

front with a 12-volt charging

socket. A second charging socket

is located behind the front seats

for the middle row of passengers. I

liked the roof-mounted second

air-conditioning unit for improved

air flow to rear passengers.

The three versions of Ertigas

come with a 200,000km/five-year

mechanical warranty and a

four-year/60 000km service plan

The base model Ertiga 1.5 GA

costs R214,900, The GL, R239,900,

and the automatic GL, R254,900.

GET SERVED: Lilyfontein School pupil Taig Angelbeck

competed in the A3 Academy Table Tennis Tournament

recently during Lilyfontein's Founder's Day celebrations

Picture: SUPPLIED

TOP ATHLETES:

Hudson Park

Primary was the

school with the

largest number of

at h l e t e s

representing BCM

at the recent EC

Biathle and

Tr i at h l e

Championships.

They obtained f i ve

gold medals, three

silver medals, t wo

bronze medals

and 17 athletes

were selected for

the Eastern Cape

Team to go to the

SA Champs in

Durban in June

Picture: SUPPLIED

LETTING THE ARROWS FLY: Buffalo Archery Club recently took part in the Daniel Pienaar Bull's-Eye and 3D Competition in

Uitenhage. Buffalo Archery took 12 medals, including top male and top female archers. Medal winners were: Caley Kent-Brown,

Callum Wertlen, Jared Swart, Joshua Lindstrom, Rachel Krause, Saskia Botha and Blake Harvey

Picture: SUPPLIED
---
INSIDE: HUDSON REPRESENTS BCM ATHLETICS PAGE 15

Buffalo Archery dominates tournament -

page 15

S P O RT

CONTACT US

E-mail: goexpress@tisoblackstar.co.za

Newsdesk: (043) 702-2125

Advertising: (043) 702-2031

(043) 702-2048

(043) 702-2122

Thursday, M ay 30, 2019

. East London - 043 742 1673 *

. 1 Gladstone St KWT - 043 643 3859

. EC Peer Shopping Centre,

Smith Street* KWT . 043 642 2398

. Maclean Square, Old Theatre Building*

Butterworth - 047 491 8215 -

. Shop 5, Bell Street* Queenstown -

045 839 5814 49 - Robinson Rd R4900

R3850 R3150 R1900

Viaene is crowned King

LOCAL CHAMPION: Bruce Viaene, winner of the King of the Reef recently during the Border Waveski

Open that took place at Nahoon Reef in East London

Picture: DALTON BURTON

RIGHT ON TARGET: Buffalo Archery Club member

Jason Botha represented SA at the NASP Africa

All Stars Championships in Paarl, Western Cape

earlier in May. The South African team went up

against archers from Botswana, Zimbabwe and

Namibia. South Africa won overall and earned

gold in both the 3D and Bullseye categories.

Botha was selected for the NASP Africa

Federation Team which is made up of the top 16

archers in Africa

Picture: SUPPLIED

Cyclists converge on Great Kei Trek

MATTHEW FIELD

The second annual Great Kei Trek

(GKT) took place recently with over

200 people participating.

Cyclists from all over the world,

including the USA, Australia, and the

UK, arrived to take part in the

three-day mountain bike race.

The GKT started outside of

Queenstown and ended 240km later

in Morgan Bay.

Event organiser Rob Jackson said

he was pleased that such an event

could happen in the Eastern Cape.

AMANDA NANO

The highly anticipated King of

the Reef, hosted by the Border

Waveski Surfing Association was

held recently at Nahoon Reef in

East London, with wave swells of

more than 3m.

Top honours went to local

champion Bruce Viaene, who

said winning was a dream come

t rue.

"To have my family on the

rocks watching made this win

even more special.

"All the participants surfed so

well and from round three

onwards it felt like every heat

"We were really proud to bring

something new to the mountain

biking calendar, particularly in one of

the most beautiful areas of our

countr y.

For those who weren't up for a full

three days of hard riding, there were

other options available. A 78km

Farmer's Ride was organised starting

in Komga on the final day which

ended on the Morgan Bay cliffs. A

Mini Kei Trek was also available for

younger riders which only covered

40km.

The first GKT took place in 2018

with only 70 participants.

was a final," Viaene said. He

competed with Pierre Slabber

and Francois Steyn, from Cape

Town, as well as current South

African Waveski champion

Duran Martin, from Durban.

"It was an intense day of

surfing but I'm thankful to my

sponsors Macski and Reef

Wetsuits for helping me achieve

my goals!" he said.

The first heat saw Martin up

against local rider Francois

Roesstorff and Johan Oelofse.

Roesstorff held the lead over

Martin and Oelfse until the last

few minutes, when Martin took a

set wave from the bowl, scoring

a 5.17 and taking the lead. The

first upset of the day was when

Ryan Griffith dominated his heat

against SA Master's runner-up

Dian Esterhuyse, by scoring a

6.33 off the ride.

Round one, heat six saw

wildcard Dave Hammond win his

heat over Francois Steyn, Ken

Clements and Rory Taylor.

Hammond has been out of the

competitive scene for a while but

showed just how dominant he

still is against top Western

Province surfers.

The next competition on the

calendar is the KZN Open, which

takes place from August 10 to 11.

TREKKING OUT: The Great Kei Trek saw mountain bikers ride across the Wild

Coast over a period of three days

Picture: SUPPLIED