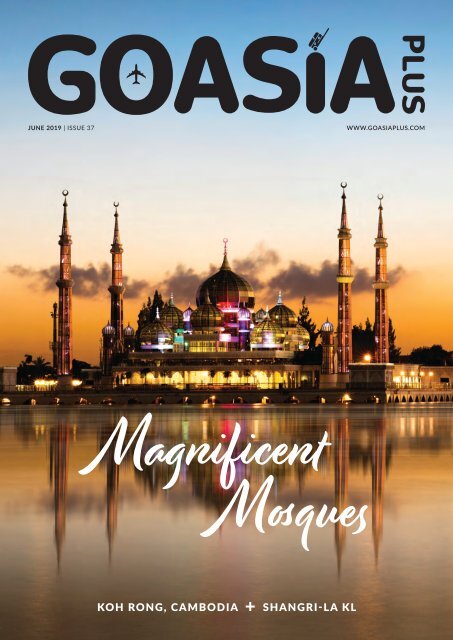 GOASIAPLUS June 2019
For this month of Eid, we draw attention to some of the great mosques in Asia that play an integral part in defining our history, culture and understanding. As to celebrate the breaking of fast, the unmissable dining outlets in Shangri-La Kuala Lumpur make a worthwhile gastronomy adventure in the city. Find the next beach getaway at Koh Rong, the upcoming paradise in Cambodia and some local tips on hailing a ride by the roadside in Southeast Asia!
For this month of Eid, we draw attention to some of the great mosques in Asia that play an integral part in defining our history, culture and understanding. As to celebrate the breaking of fast, the unmissable dining outlets in Shangri-La Kuala Lumpur make a worthwhile gastronomy adventure in the city.

Find the next beach getaway at Koh Rong, the upcoming paradise in Cambodia and some local tips on hailing a ride by the roadside in Southeast Asia!
SHOW MORE
SHOW LESS
You also want an ePaper? Increase the reach of your titles
YUMPU automatically turns print PDFs into web optimized ePapers that Google loves.
JUNE 2019 | ISSUE 37

WWW.GOASIAPLUS.COM

Magnificent

Mosques

KOH RONG, CAMBODIA

SHANGRI-LA KL
---
CONTENTS

18

4 ON THE RADAR

6 OUT & ABOUT

8 INSIGHT

Stood the Test

of Time

12 TRAVEL

Wondrous Mosque

in Asia

14 TRAVEL

Koh Rong, Cambodia

16 TRAVEL

Spotted in Asia:

Cheong Fatt Tze

Mansion, Penang

18 FOOD

Dining in the City

22 FYI

Settling for a

Perfect Ride

24 TALES ON TRACK

Lost & Found

22

4

PICK-UP POINTS

14

Read our magazine exclusively in Aerobus airport shuttles or bring home a copy of GOASIAPLUS with

you at these pick-up points below:

GATEWAY@KLIA2

AIRPORT SHOPPING MALL

KLIA EKSPRES

KL SENTRAL

KLIA

INFORMATION COUNTER AT

DEPARTURE MAIN TERMINAL

& SATELLITE BUILDING

KLIA2

INFORMATION COUNTER,

SATELLITE BUILDING &

INTERNATIONAL ARRIVAL

WWW.GOASIAPLUS.COM · 1
---
EDITOR'S NOTE

Here we are again with another festive season! In our very

own MCU (Malaysia Celebrates Unity), Malaysia is a

multicultural marvel and I believe we are all very proud of

the fact that it is one of the most diverse countries in Asia.

To preserve and safeguard the harmony and beauty of our

diversity, tolerance is a fundamental effort we need to share. Even

in every household, each member of the family have different

personalities that are unique to them and the best way to cultivate

harmony is from home.

When surrounded by our family and the people we love, it

is deeply wished that we can learn to mutually understand and

respect each other's identities and culture. From there, we bring

you some of the most iconic structures in Asia (page 12) where you

can appreciate the magnificence of mosques.

Also, a well-planned travel would be a stress-free journey during

a holiday period. On page 22, travel more efficiently and smart with

our tips and take on car-hailing services in Southeast Asia.

From everyone in GOASIAPLUS, Hari Raya Aidilfitri to all! For

those who are driving back to their hometown and villages, have

a safe trip on the road and enjoy a blessed celebration with your

loved ones.

John So

Publisher

FOLLOW US ON

@goasiaplus

COVER BY

GETTY IMAGES

EDITORIAL TEAM

GROUP HEAD & BRANDS

JOHN SO

GRAPHIC DESIGNER

JAMIE SOO-HOO

SENIOR WRITER

JESSY WONG

PHOTOGRAPHER

RICK CHEAH

CONTRIBUTORS

FRANCIS YIP & NG SHEN LEE

DIGITAL TEAM

WEB CONTENT

JESSY WONG

EDITORIAL ENQUIRIES

EDITORIAL@PCOMASIA.COM

COMMERCIAL & PARTNERSHIP

JOHN SO

JOHNSO@PCOMASIA.COM

PUBLISHED BY

PUBLISHCOM ASIA SDN. BHD.

NO. 83–1, JALAN MEDANG SERAI, BUKIT BANDARAYA,

59100 KUALA LUMPUR, MALAYSIA.

+603–20118983 WWW.PCOMASIA.COM

PRINTED BY

ULTIMATE PRINT SDN BHD

NO.2, JALAN SEPANA 15/3, OFF PERSIARAN SELANGOR,

SEKSYEN 15, 40200 SHAH ALAM, SELANGOR, MALAYSIA

+603-51013355 WWW.ULTIMATE.COM.MY

The views expressed in the articles published are not

necessarily those of Publishcom Asia Sdn Bhd (963236–P).

While every reasonable care is taken in compiling the

magazine, the publisher shall not be held liable for any

omission, error or inaccuracy. Please notify the publisher in

writing of any such omission, error or inaccuracy. Editorial

contributions are welcome, but unsolicited materials are

submitted at the sender's risk. The publisher cannot accept

any responsibility for loss or damage. All rights reserved

by Publishcom Asia Sdn Bhd (963236–P). No part of this

publication may be reproduced in any form without the

publisher's permission in writing.

KDN PP 19019/05/2016 (034482)

2 · WWW.GOASIAPLUS.COM
---
NEWS

ON THE RADAR

GET UP TO DATE ON THE LATEST HAPPENINGS ON

TRAVEL, HOTEL OPENINGS, FOOD OFFERS AND

TRENDING FASHION AROUND SOUTHEAST ASIA

BATMAN 80 YEARS GRAND

CELEBRATION

Fans can honour the World's Greatest

Detective at Southeast Asia's first

grand celebration for the Dark

Knight. From now until 10 July 2019,

visitors to the campaign can take

part in numerous exhibitions and

interactive activities including an

extravagant SkySymphony show while

shop for official merchandises in

commemorating Batman's journey in

80 long years.

SkyAvenue, Resorts World Genting,

Genting Highlands, Malaysia

www.rwgenting.com

ROOFTOP MUSOLLA IN AIRPORT

FOR FRIDAY PRAYERS

Muslim travellers and visitors at Kuala

Lumpur International Airport can now

gather for congregational worship during

the Friday prayers at the rooftop of

Malaysia's major airport. The musolla

can accommodate from 800 to 1,000

worshippers at a given time and it is

a fully-equipped area with ablutions

facility and prayer mats.

Rooftop, Parking Block B,

Kuala Lumpur International Airport

THE PERANAKAN GALLERY OF ASIA

Tracing 500-year-old stories of the Straits Chinese

population in Southeast Asia, The Peranakan Gallery

displays artful depictions of their colourful heritage and

cultural practices through various artefacts, art, fashion,

entertainment and culinary traditions. The gallery's

adjoining restaurant, The Peranakan, is able to cook up the

authentic signature dishes as exhibited in the museum.

Level 2, Claymore Connect Mall,

442 Orchard Road, Singapore

ALL-INCLUSIVE ESCAPE PACKAGE TO BALI

The more the merrier for a retreat to Bali as Alila Villas

Uluwatu let you jump in their unprecedented five-star

resort starts from USD 2,000 per night in a three-bedroom

pool villa for a maximum of 6 guests. All three main meals

are included at their resort's signature restaurant as well

as return airport transfers, a car for local sightseeing and

60-minute spa treatment.

www.alilahotels.com

4 · WWW.GOASIAPLUS.COM
---
EVENTS

OUT & ABOUT

LOOK OUT FOR THE MOST ANTICIPATED EVENTS OF

THE MONTH IN MALAYSIA AND BEYOND

THE PHANTOM OF THE OPERA

14 JUNE - 7 JULY

Andrew Llyod Webber's longestrunning

show on Broadway is showing

its famous multiple award-winning

tale of a disfigured musical genius

who haunts the Paris Opera House in

Malaysia. The Phantom's obsession

for Christine, a young soprano unravel

a plot intertwined with passion,

jealousy and madness.

Panggung Sari,

Istana Budaya

Kuala Lumpur, Malaysia

www.istanabudaya.gov.my

THE EXPERIENCE

SHOWCASE

16 JUNE

The first dance theater

production from L.I.F.E

explores the stories, hopes

and dreams of the Asian

culture. The journey of two

best friends in meeting

parental expectations and

struggling with freedom

of choice are told through

various street dance styles and

contemporary dance.

KLPAC, Kuala Lumpur,

Malaysia

www.klpac.org

MALAYSIA

MINIATURE HOBBY

SHOW 2019

29 - 30 JUNE

This national hobby

exhibition is an annual event in

Penang to showcase a spectacular range of Hobby

Manufacturer exhibitors and modeling clubs from

over 20 countries. The miniature model show puts

a focus on military, automobile, science fiction and

anime subjects in gathering the community of scale

modelers and hobby enthusiasts.

Cititel Penang, Georgetown, Penang, Malaysia

mmhs2018.weebly.com

LUCY ROSE

14 JUNE

Upon releasing a new

album "No Words Left",

Lucy Rose is on her

Southeast Asia tour with

a full band. After her

last sold-out concert in

Singapore 2 years ago, this

English folk singer and

songwriter will be sharing

her new music that deals

with Rose's mental health.

The Pavilion

(Far East Square),

Chinatown, Singapore

ticketing.igo.events

6 · WWW.GOASIAPLUS.COM

YOUNG B X NO:EL LIVE IN

BANGKOK

15 JUNE

Heavily breaking into South Korea's

hip-hop scene are these young blood

rappers, Young B and NO:EL, each

known for their distinctive rap-style

and recognisable tone. Both talented

rappers gained recognition from their

standalone talents in Korea's famous

survival hip-hop program "Show Me

The Money" and "School Rapper".

Thailand Esports Arena,

Bangkok, Thailand

www.ticketmelon.com
---
INSIGHT

Stood The Test of Time

ENTERING INTO A NEW PHASE TO BE A ONE-STOP CENTER FOR ALL, AIRASIA

IS READY TO SOAR BEYOND AN AVIATION COMPANY WITH SPENCER LEE'S

APPOINTMENT AS THE CHIEF EXECUTIVE OFFICER OF AIRASIA BIG.

Interview JESSY WONG • Photos SPENCER LEE

As a 18-year old company, AirAsia started the

journey by making sure everyone can fly.

It was a time when flying is a privilege for

most Malaysians. And the rest is history.

AirAsia has proved through time and again

with their 10th consecutive win of 'World's

Best Low-Cost Airline' at Skytrax World Airline

Awards. Continuing to spread their wings, AirAsia

only becomes better by including more amazing

products and offering.

The latest campaign from AirAsia allow

members to book accommodation and enjoy zero

booking, change or cancellation fee through the

website. Other than flights, new features like

extensive hotels, packages (flight + hotel), tours

and activities and even daily lifestyle deals are

available on airasia.com.

"Everyone has lots of apps on their phones,

easily eight to ten apps. But what if there is one

app that enables you to have everything from

travel, lifestyle, food and beverage deals, as well

as an upcoming home-delivery service for online

purchases?", questioned Spencer Lee, CEO of

AirAsia BIG.

Previously the Commercial Director for AirAsia,

Spencer's zest has grown with the company that

pushes boundaries and constantly bringing new

things to the table. Now riding with technology and

digitalisation, Spencer's vision is clear. He is on all

grounds preparing AirAsia to be a top travel and

lifestyle brand.

8 · WWW.GOASIAPLUS.COM
---
INSIGHT

In your opinion, what is the

significance of digitalisation to

your organisation?

As technology advances, it has

enabled us to really put our

dreams to the market. From

day one, we always believe

that AirAsia is a brand for

the people. Low-cost is just a

business model, everything else

is run on giving the best to our

guests. Technology allows us to

give a better flying and booking

experience to the people.

The next phase is how we can

leverage technology to serve

your day-to-day life beyond

flight. We want to make airasia.

com for everyone, even if you're

not flying with us, you can log

in to our website and just book

a deal.

As competition rises, how do

you differentiate your brand in

providing a great experience?

Our strength lies in having

an unrivalled network, a large

database and our BIG Points,

the universal digital currency

that can be used to pay for

bookings on airasia.com. From

airasia.com perspective, we are

happy and humbled that our

guests have recognised our

platform as a brand to go to for

the best fares before bookings.

Now, we are keen to add on

the 'non-flight' components to

further expand our reach and

open up more avenues for our

BIG Members to earn and use

their BIG Points.

And ultimately, we want

to make our users happy.

That would be the real

winner. AirAsia would achieve

this through hard work,

understanding the market and

using the right tech solution for

the business.

What is the biggest challenge in

your journey?

Time. The speed for go-tomarket

is key and we need to

constantly learn and improve.

Also, it is important to have

the right people and the right

culture in the company. We

need to train our people well,

but most importantly, we

also need to treat them well.

Therefore, we are quite happy

to have good people that stayed

with us for all these years.

We noticed your interesting

tweet recently mentioning

about Humanising Technology,

can you elaborate more?

We started the journey of

online booking 18 years ago.

This headstart has given us

all the data and infrastructure

in place. Now, it is about how

we use the data to understand

our consumers and put the

algorithm in place to predict

and serve the relevant products

to our users. Instead of a 'onesize-fits-all'

approach, we are

able to do precise targeting

based on user's behaviour

and interest. Also, technology

can be a very misused word.

At the end of the day, it is all

about how you apply it–or

humanised it–for your business.

We build what we believe the

market needs. From booking

experience to the best deals, we

use technology to continually

improve the entire process.

What would you advise those

who are interested in venturing

into new startups?

Anyone interested needs to have

a really clear mind. On what you

are building, creating and know

how to be flexible and agile in

constantly improving in the

journey towards your dream.

Also, don't let praises get into

your head. If you believe it

too much, you're gone. Media

has made startups sound sexy

however, understand that there

will be countless failures before

it becomes a success. So, don't

go in for the glam, always know

what you and your business

stand for.

"And ultimately,

we want to make

our users happy.

That would be

the real winner."

10 · WWW.GOASIAPLUS.COM
---
TRAVEL

Wondrous Mosques in Asia

THE HOUSE OF WORSHIP FOR MUSLIMS IS THE HIGH

SPOT OF CULTURAL ARCHITECTURE, ACCENTUATING

HISTORICAL SIGNIFICANCE AND A DEFINITION OF

SHEER MAGNIFICENCE.

Text JESSY WONG • Photos ADOBE STOCK

Islam was spread by Arab

traders to Asia in the 7th

century and in entirety, Asia

is now home to the largest

Muslim population. Mosques

are erected as a holy ground for

gathering and worship but some

is built to honour the founders

of Islam in the country. Asian

mosques are self-explanatory as

the most visited travel venues

in the world.

CRYSTAL MOSQUE

Living up to its namesake, this sleek

and modern mosque is one of the top

attractions in Malaysia. The architecture

of this riverside mosque is often gleaming

and reflected off the waters, displaying

refined works of Islamic engineering.

Coated with steel, glass and crystals, the

majestic exterior shines without fail in

daylight and nighttime. Completed in

2008, this mosque can accommodate up

to 700 worshippers at a given time.

Highlight:

The mosque

uses solar panel

cells to power

its facilities

Location:

Kuala

Terengganu,

Terengganu,

Malaysia

BASIC

MOSQUE

ETIQUETTE

Be

Respectful

Keep voice calm and avoid making loud

conversations in the holy place. Put your

handphones on silent mode and don't take

photos of worshippers praying. Also, no

eating in the mosques and don't enter if

you're intoxicated.

Dress

Modestly

Women should not be wearing revealing or

tight clothes when entering a mosque and

it is respectable to cover all limbs at both

wrist and ankle length. Whereas, men

should wear long pants and short-sleeved

shirts are allowed.

12 · WWW.GOASIAPLUS.COM
---
TRAVEL

GREAT MOSQUE OF XI'AN

Founded in the 8th century, the Great

Mosque is the largest Islamic place of

worship in the country. Intertwining both

classic Chinese architecture and Islamic

influences, the Great Mosque has a series

of pavilion surrounded by four courtyards

and spirit walls decorated with Islamic

art, inscriptions of birds, objects and text

both in Chinese and Arabic. As for the

minaret, a three-storey octagonal pagoda

is believed to be used to call for prayer.

Highlight:

Built to honour

the founders of

Islam in China

Location:

Xi'an, Shaanxi,

China

OMAR ALI SAIFUDDIEN

MOSQUE

The opulence of the iconic colossal

structure can be seen from anywhere in

the city of Brunei. Uniquely combining

Mughal architecture and Malay designs,

the mosque has marble minarets, golden

dome, marble bridge, a courtyard, floral

gardens and crystal chandeliers from

England. Completed in 1958, a lagoon is

even artificially made around the mosque

to give it a mirror image.

Highlight:

The main dome

is covered in

pure gold

Location:

Bandar Seri

Begawan,

Brunei

JAMA MASJID

One of India's biggest places of worship

is built by a Mughal emperor back in

the 1650s. The mosque's longer name,

Masjid-i Jahānnumā, also translates to

"world-reflecting mosque", fitting to its

elevated location with a broad view of

the city. The Indo-Islamic architectural

style mosque has three great gates (one

is a royal entrance), four towers and two

distinguished minarets built with red

sandstone and white marble.

Highlight:

Houses

the relics

of Prophet

Muhammad

including the

Quran written

on deerskin

Location:

Central Delhi,

Delhi, India

Take

Shoes Off

Always remove your

footwear before entering

the mosque. If you're

not used to walking

barefoot, you may wear

clean socks inside.

Cover

Your Hair

For a woman, bring a scarf to

cover your hair. Other than

taqiyah (the rounded religious

cap), it is considered rude to

be wearing hats, baseball caps

and sunglasses in the mosque.

Prayer

Times

There are five prayer times on

each day so when possible, avoid

visiting the mosque during

prayer times. If you're present,

go to the furthest back of the

mosque and observe in silence.

WWW.GOASIAPLUS.COM · 13
---
TRAVEL

ROAD LESS TRAVELLED

Koh Rong,

Cambodia

LOCATED BY THE GULF OF THAILAND, KOH RONG MAPS ITSELF

AS AN UPCOMING IDYLLIC PARADISE. THE BREATHTAKING

SCENERY AND PALM-FRINGED BEACHES REVEAL A DIVERSE

SIDE OF CAMBODIA.

Text JESSY WONG • Photos ADOBE STOCK & SOK SAN BEACH RESORT

HOW TO GET

THERE

Currently, the closest

and only way to step

foot into Koh Rong,

the country's second

largest island, is to

take a boat trip from

Serendipity pier at

Sihanoukville. The

boat trip takes around

90 minutes with a

stop at sister island

of Samloem before

reaching Koh Rong.

AirAsia has direct

international flights to

Sihanoukville airport.

WHERE TO EAT

Koh Rong is a humble

island with most of

its products provided

from the mainland

of Cambodia so you

won't find fancy

restaurants there.

Most eateries are

located along the

beach with a good

choice between Khmer

or western offerings.

Beyond the Reggae

bar, taste excellent

Mediterranean and

Italian cuisine at Da

Matti restaurant.

WHERE TO STAY

Sok San Beach Resort

is a favourite among

many with the wooden

bungalows and alfresco

lounge. Secluded in

nature, this Khmerstyle

resort is a unique

blend of comfort

and local tradition.

Nearer to Koh Touch

is Long Set Resort, a

beachfront stay with

spectacular views. Find

more laid-back inns

and backpacker hostels

along Koh Touch for

budget stays.

WHAT TO DO

If you're very much a

beach person, Koh Rong

is a paradise for you

with stretches of bright

soft sand and turquoise

water that are almost

unreal. Beach hopping

can be done on foot

following the forest path

or via a boat taxi. Water

activities are aplenty

including a High Point

Rope Park for adventure

zip line at the island.

Koh Touch is the

main tourist beachside,

dubbed with 'a party

atmosphere' with its

loud music into late

night, cheap alcohol

and accommodation.

Otherwise, go to Long

Set Beach, Coconut

Beach or Sok San Long

Beach for a peaceful

retreat. You can also

go to its sister island

Samloem for a day trip.

GOOD

to

KNOW

Bring adequate

amount of cash

with you from

Sihanoukville as

there is no ATM on

Koh Rong. If not,

foreign currency

exchange on the

island charges high

interest fees.

Be prepared with a

good pair of covered

shoes for exploration

on the island as

the terrain is

predominantly hilly.

Koh Rong

is relatively

underdeveloped

with raw roads and

no cars. Bicycle

rentals are available

as a mode of

transportation.

14 · WWW.GOASIAPLUS.COM
---
TRAVEL

SPOTTED: ASIA IN FILMS

Cheong Fatt Tze Mansion, Penang

Text NG SHEN LEE • Photos CHEONG FATT TZE MANSION & FREEVECTORMAPS.COM

It sits amongst a sea of

pristinely white multistorey

buildings. A drop of azure

splendour and ornate regalia

in Malaysia's idyllic foodie hub

or otherwise known as "Silicon

Valley of the East"–Penang.

Perhaps you know it as the

novel wedding venue and hotelcum-museum.

Or you've come

to know it as a UNESCO World

Heritage Site.

Either way, architectural

gem "Cheong Fatt Tze – The

Blue Mansion" has long been

synonymous with Penang's rich

heritage and the fabric of the

island's economy.

For centuries, business

mogul and trading tycoon

Cheong Fatt Tze used the

mansion as his seat of business

affairs. At least, when he wasn't

advising the Empress Dowager

of China and tending to his

companies across the entirety

of Asia, that is.

Also served as the grand

abode of his third, sixth and

seventh wives, the mansion

might not hold masses of

servants today, and you'd

be hard-pressed to hear the

neighing of horses in the stables

anymore. What you're more

likely to find though?

Actors, actresses and an

entire film crew at the ready,

for the lavish mansion has

become a favourite setting for

filmmakers with an eye out for

oriental charm.

That famously profound

mahjong scene in "Crazy Rich

Asians"? That was Cheong

Fatt Tze mansion! By far the

mansion's most internationally

recognized feature in its myriad

of movie roles, it spurred the

creation of "One Night at

the Mansion"–a package deal

offering exclusive use of the

entire mansion, complete with

a Nyonya tea and mahjong

session reminiscent of the

iconic blockbuster scene. Just

the thing for Asians who want

to feel crazy rich!

The 1991 French film

"Indochine" too, weaved the

Blue Mansion into its plot

of forlorn love and duty in

colonial-era Vietnam.

Multimillion dollar movies

aside, the mansion is also

spotted in Malaysia's very

own "The Red Kebaya", "3rd

Generation" and Singaporean's

"The Blue Mansion".

But the mansion is more

than a beauty to behold. Behind

its art nouveau windows and

vibrant walls breathes the

legacy of a self-made man who

held no small role in shaping

the economy of Southeast

Asia and China. The rise to

prominence of his mansion will

also entail a surge of tourism

and recognition for his legacy,

and with it Penang too.

FUN

FACTS

During the

restoration process,

gold was found buried

in auspicious corners

of the mansion for

Feng Shui purposes.

Hong Kong Street

in George Town,

Penang was renamed

Jalan Cheong Fatt

Tze as an ode to the

businessman.

16 · WWW.GOASIAPLUS.COM
---
FOOD

Dining in the City

THE FIVE-STAR ABODE AT SHANGRI-LA

KUALA LUMPUR BECKONS THE SPUR FOR A

SERIES OF HEARTY GASTRONOMY WITH THE

HOTEL'S STELLAR LINE-UP OF RESTAURANTS.

Text JESSY WONG

Photos JESSY WONG & SHANGRI-LA KUALA LUMPUR

Jalan Sultan Ismail is a far-reaching

street in Kuala Lumpur with major

travellers' spot at both ends–with Chow

Kit up north and Bukit Bintang down south.

Centered right in between the hype of the

city, Shangri-La Kuala Lumpur becomes a

significant melting pot of dining experiences.

Asian cuisine outlets like Zipangu and Shang

Palace together with the international buffet

restaurant, Lemon Garden, are echoes to the

culinary diversity in Kuala Lumpur.

ZIPANGU

Known as 'The Zen of Dining', the calm vibe in this

restaurant is a loud contrast to what your tastebuds

will be hit upon. Teppanyaki and fresh seafood

grill are the highly anticipated signature cuisines.

Seafood like eel are perfectly grilled with a salty crisp

on the outside while maintaining a soft and juicy

insides. Flavouring wise, certain teppanyaki dishes

are famously seasoned with miso sauce for another

depth of treat. Individual sushi and sashimi are made

to order and find other fusioned foods with local and

western ingredients in their rice or desserts menu. By

the way, the seemingly endless wine and sake cellar

upon walking in would more often than not have your

choice of fine sake to go with the food.

Cuisine

Japanese

Dish to Try

Teppanyaki Halal Wagyu Sirloin Steak

18 · WWW.GOASIAPLUS.COM
---
FOOD

SHANG PALACE

As trademark establishment of Shangri-La dining, Shang Palace in Kuala Lumpur

is a testament to the finest Cantonese specialties that the society can offer. The

familiar setting to an ancient affluent Chinese mansion is reflected similarly in its

food. There's a great attention to detail in their making of dim sum from steamed,

deep-fried and baked versions. Besides, their skilled braised cooking style brings

out the authentic Cantonese traditional flavours to the dishes. For live seafood

such as Garoupa, prawns, lobsters and crab, you can choose from seven different

types of cooking preparation as preference. The fragrant Shang Palace barbecue

combination crispy platter of roasted duck and chicken is one to look out for.

Cuisine

Cantonese

Dish to Try

Song Lou Har Gao

(steamed crystal prawn dumplings with black truffles dimsum)

LEMON GARDEN

Indulgent food lovers will be happy to be surrounded

by the buffet spread as prepared by Theatre Kitchens

in Lemon Garden. Starting from the assorted salad

bar, the aisle continues on to Western Theatre

Kitchen, Asian Theatre Kitchen, fresh seafood

counter before ending at a huge Dessert Pavilion.

The Asian Theatre is a colourful sight with bright

curries ranging from Indian, Malay and Nyonya

pickings to Chinese cuisines like double-boiled soups

to stir-fried meat and vegetables. If you love durians,

the light durian sponge cake with golden brown

meringue topping at the Dessert Pavilion is to die for.

There's no such thing as a "perfect time for buffet" so

get ready for all breakfast, lunch and dinner spread at

Shangri-La Kuala Lumpur.

All reservations for dining at Shangri-La

Kuala Lumpur can be made to 603-20743900

or restaurantreservations.slkl@shangri-la.com

Cuisine

International buffet

Dish to Try

The varieties of Malay salad

like achar and kerabu

20 · WWW.GOASIAPLUS.COM
---
FYI

Settling for a

Perfect Ride

RIDE-HAILING SERVICES IN ASIA DIFFERS IN EVERY UNIQUE

WAY POSSIBLE FROM THE TYPE OF WHEELS AND WAYS TO

HOLLER FOR A RIDE. BE INFORMED AND BE PREPARED.

Text JESSY WONG • Illustration ADOBE STOCK & FREEPIK.COM

CAMBODIA

Short distances in Cambodia are normally

covered by their motorised rickshaw or tuktuk

for a budgeted trip. Tuktuk is a two-people ride

while a big rickshaw can sometimes fit up to four.

Homegrown ride-hailing app "PassApp" is popular

in Phnom Penh and Siem Reap to book such

rides and even taxis. Other than US dollar, it is

recommended to have small change in Cambodian

riels for the rickshaw and tuktuk rides.

Foot by the curb and arm sticking out by the

sidewalks of New York City is undeniably

the most iconic taxi hailing scene ever. As

universal as it is, taxis are not as readily available

and convenient in some parts of Asia. Rides are

still abundant but to get one on hand, here are

some local tips to go by.

THAILAND

Tuktuk is the icon of Thailand's road. To

negotiate the ride's fare, always choose a tuktuk

that is solo and away from the group. Drivers in

a group are less likely to lower their starting fare

upon ganging up. For single traveller, use the

"GoBike" app to hail motorsai taxi (motorbike

taxis) if you're up for an exciting ride. Car taxis

are everywhere in the city. You just have to make

sure that the meters are used in your journey.

VIETNAM

Taxi is a steeper option but it is the safest

and most comfortable choice to go around in

Ho Chi Minh City. If you see drivers napping

in their taxi, don't worry about waking

them up as they are always game for some

extra income. As with the xe ôm, known in

Vietnam as motorbike taxi, find them easily

on "Grab" app or recognise them at busy

intersections or the roadside.

22 · WWW.GOASIAPLUS.COM
---
TALES ON TRACK

LOST & FOUND

Revisiting Malay

Ethnic Fashion

Text FRANCIS YIP

Photos ADOBE STOCK

Hari Raya Aidilfitri or Eid Al-Fitr is

here. The Malay Muslims are busy

changing their wardrobe with new

clothes. As a Malaysian, I join the joy of this

festival by donning a baju melayu to attend

their Hari Raya open house. I also enjoy

seeing my Malay female friends all dressed

up to the nines in their kebaya and baju

kurung. All these intricate designs reflect

the culturally rich fashion trends of the

Malay community.

STEP BACK IN TIME

Let me start with baju melayu. This is a

traditional Malay outfit for men. There are

two distinct types, the cekak musang collar

(fox lease) which has a raised stiff collar

and the Teluk Belanga style which was

originated from Johor during the reign of

Sultan Abu Bakar.

I remember how my Malay dance

teacher taught me how to wear the kain

samping or sarong together with the baju

melayu. Believe me, it was not easy to wrap

and tie it around my waist but practice

makes perfect, I did finally manage to tie it.

While the baju melayu continues to be

well-loved by the Malay men, the influence

of Middle East and Bollywood fashion has

seeped into the community in the new

millennium. Today, Malay men love to don

jubah, the Arabic long loose garment and

kurta, the collarless shirt worn mostly by

South Asians.

"Although the Middle East and Bollywood

influences are making an impact here, the

baju melayu is still a popular choice of

menswear during Hari Raya," says Farel

Mikhail, the founder of Farel Mikhail designer

label. For Farel, the Ramadan period will see

a sudden surge on demand for baju melayu.

Apart from the baju melayu, European

influences were strong in the early days. We

always saw men in suits in P. Ramlee movies

and those big suits have since evolved into a

new fashion trend.

In fact, I was amazed to see how unique

and smart the men suits can be using the

classic Malay songket (hand-woven brocade)

fabric and batik.

According to Bon Zainal, Chief Creative

Officer, Bon Fashion Legacy Sdn Bhd who is

also the President of Malaysian Bumiputra

Designers Association (MBDA), "Malaysia is

a melting pot of cultures and we should

take advantage of this uniqueness to infuse

this Malaysian features into our fashion.

"The West love our Malaysian-made

suit and they are willing to pay a lot for it,"

says Bon who is Malaysia's most celebrated

men's suit king.

24 · WWW.GOASIAPLUS.COM

FRANCIS YIP always loses himself but somehow, finds his way back with lots of juicy stories to share. Forgive him if he sparks a debate.

Love him if he unlocks hidden jewels. So heavenly, so travelicious with him!

www.franciswriter.com franciswriterAd franciswriter