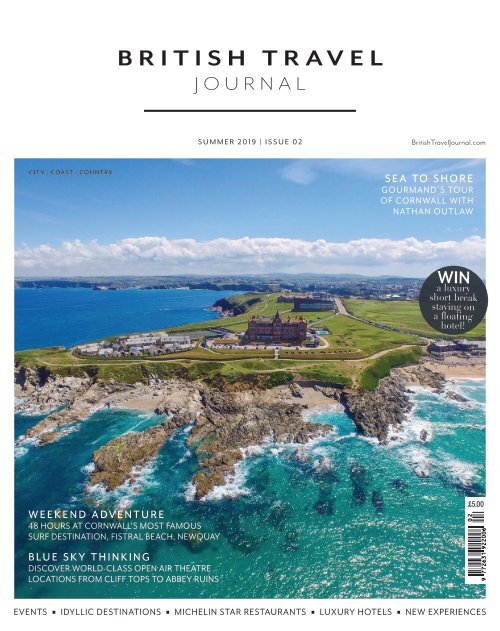 British Travel Journal | Summer 2019
Hooray it's the summer! – and all we want to do is travel - to see as much of the British Isles in this glistening sunshine as we possibly can, and with tourism in the UK rising rapidly from previous years, it seems we are not alone.... Inside this issue we tour the new South West Coast 300 driving route in Scotland, Nathan Outlaw takes our food columnist, Chantal Borciani on a gourmand's tour of the spectacular Cornish coastline, we visit the wonderful new Machrie Hotel on the Isle of Islay, 'In search of Scotch Whisky', we go behind-the-scenes at Wimbledon, learn to ride the waves at surfer's paradise, Fistral Beach, Newquay, we join a cookery class to improve the culinary skills, find adventure after-dark with our 10 unique experiences - and not to mention all of our regulars too - with the latest Travel News, What's On Cultural Agenda, and featured destinations and travel itineraries we hope will inspire you to book that holiday you have been dreaming of too!
Hooray it's the summer! – and all we want to do is travel - to see as much of the British Isles in this glistening sunshine as we possibly can, and with tourism in the UK rising rapidly from previous years, it seems we are not alone.... Inside this issue we tour the new South West Coast 300 driving route in Scotland, Nathan Outlaw takes our food columnist, Chantal Borciani on a gourmand's tour of the spectacular Cornish coastline, we visit the wonderful new Machrie Hotel on the Isle of Islay, 'In search of Scotch Whisky', we go behind-the-scenes at Wimbledon, learn to ride the waves at surfer's paradise, Fistral Beach, Newquay, we join a cookery class to improve the culinary skills, find adventure after-dark with our 10 unique experiences - and not to mention all of our regulars too - with the latest Travel News, What's On Cultural Agenda, and featured destinations and travel itineraries we hope will inspire you to book that holiday you have been dreaming of too!
SHOW MORE
SHOW LESS
You also want an ePaper? Increase the reach of your titles
YUMPU automatically turns print PDFs into web optimized ePapers that Google loves.
BRITISH TRAVEL

JOURNAL

SUMMER 2019 | ISSUE 02

BritishTravelJournal.com

CITY | COAST | COUNTRY

sea to shore

GOURMAND'S TOUR

OF CORNWALL WITH

NATHAN OUTLAW

WIN

a luxury

short break

staying on

a floating

hotel!

weekend adventure

48 HOURS AT CORNWALL'S MOST FAMOUS

SURF DESTINATION, FISTRAL BEACH, NEWQUAY

blue sky thinking

DISCOVER WORLD-CLASS OPEN AIR THEATRE

LOCATIONS FROM CLIFF TOPS TO ABBEY RUINS

£5.00

EVENTS ■ IDYLLIC DESTINATIONS ■ MICHELIN STAR RESTAURANTS ■ LUXURY HOTELS ■ NEW EXPERIENCES
---
WHICH IS THE MOST ICONIC

HOTEL IN THE UK?

#Siblingrivalry

CHEWTON GLEN, HAMPSHIRE

CLIVEDEN HOUSE, BERKSHIRE

THE LYGON ARMS, COTSWOLDS

11 CADOGAN GARDENS, LONDON

ICONICLUXURYHOTELS.COM
---
EDITOR'S LETTER

C O N T R I B U T I O N S

BRITISH TRAVEL

JOURNAL

BritishTravelJournal.com

WELCOME

EDITORS

EDITOR-IN-CHIEF Jessica Way

FEATURES EDITOR Samantha Rutherford

CHIEF SUB-EDITOR Angela Harding

EXPERT CONTRIBUTORS

FOOD & DRINK Chantal Borciani

ARTS & CULTURE Melanie Abrams

HISTORY & HERITAGE Robin Glover

SHOPPING & LIFESTYLE Emma Johnson

DESTINATION SPECIALIST Adrian Mourby

TRAVEL & ADVENTURE Max Wooldridge

AUTHENTIC TOURS Jules Mittra

OUTDOORS & EVENTS Felix Rowe

FRONT COVER IMAGE

The Headland Hotel

Fistral Beach, Newquay, Cornwall

headlandhotel.co.uk

PUBLISHED BY

CONTISTA MEDIA

Mitchell House, Brook Avenue, Warsash,

Southampton, SO31 9HP

MAIN SWITCHBOARD 01489 660680

contistamedia.co.uk

KEEP IN TOUCH

BritishTravelJournal

BTravelJournal

PROUD TO BE IN PARTNERSHIP WITH

HOORAY IT'S THE SUMMER! – and

all I want to do is travel – I want to

see as much of the British Isles in this

glistening sunshine as I possibly can,

and with tourism in the UK rising rapidly from

previous years, it seems I am not alone.

While it's always fun to take time out exploring

our stunning landscapes and visiting our cultural

attractions, when the weather is warm, it adds so

much more to the enjoyment of the experience.

Like touring the new South West Coast 300 driving route in Scotland for example –

watching a beautiful sunset each evening, stopping off to enjoy ice-cream, and walking

barefoot along the beach, p48.

Our food columnist, Chantal Borciani, has been enjoying the coast too, with

my second favourite 's' of the summer, 'seafood' – Nathan Outlaw takes her on a

gourmand's tour of the spectacular Cornish coastline, p30. I was lucky enough to visit the

wonderful new Machrie Hotel on the Isle of Islay, which you can read more about in our

'In search of Scotch Whisky' feature, p42.

Heading further inland, in anticipation of the Championships, the Grand Slam tennis

tournament, we are behind-the-scenes at Wimbledon, p36 – where we look forward

to biting on some delicious strawberries while watching the challengers to defending

champions Novak Djokovic and Angelique Kerber.

Trying your hand at something new is an essential part of every travel writers agenda

– and highlights this season include; playing on the new Padel courts at Stoke Park, p11;

learning to ride the waves at surfer's paradise, Fistral Beach, Newquay, p70; joining a

cookery class to improve the culinary skills, p86; and finding adventures after-dark with

our 10 unique experiences, p22.

Luxury hotels and places to stay have not gone unnoticed this season either, as

we visit the hotel Meghan and Harry chose for their private getaway, Heckfield Place,

p80; bring you a round-up of some of the finest coastal retreats, p84; and offer you the

opportunity to win an unforgettable stay in a beautifully styled cabin aboard Edinburgh's

new floating hotel, Fingal, p26!

Together with our regular Travel News, p11, Cultural Agenda, p15, and travel

itineraries, from p48, I hope this issue of British Travel Journal continues to inspire your

upcoming travel plans – and that the sun keeps shining! Wishing everyone a wonderful

summer. u

Jessica x

Contista Media Ltd cannot accept responsibility for

unsolicited submissions, manuscripts and photographs.

While every care is taken prices and details are subject to

change and Contista Media Ltd take no responsibility for

omissions or errors. We reserve the right to publish

and edit any letters. All rights reserved.

Jessica Way, Editor-In-Chief

Jessica@britishtraveljournal.com

BritishTravelJournal.com 3
---
Do sEThiG

MigT

A fantastic series of fully supported, one-day hiking marathons all

over the UK. Every Mighty Hike is easily accessible and will take

you to some of the most beautiful and unspoiled parts of our country.

Bring your family, bring your friends and take a step forward for people

living with cancer.

Find out more and sign up at

macmillan.org.uk/mightyhikes

Macmillan Cancer Support, registered charity in England and

Wales (261017), Scotland (SC039907) and the Isle of Man (604).

Also operating in Northern Ireland.
---
30

CONTENTS

SUMMER 2019 | ISSUE 02

Fingal, Edinburgh

Jubilee Pool Penzance

36

The Championships, Wimbledon

26

C O M P E T I T I O N

26

WIN A NIGHT

OF LUXURY

IN EDINBURGH...

We are offering you and

your companion the

chance to stay aboard

Fingal, in Edinburgh,

including tickets to The

Royal Yacht Britannia

with a delicious

Champagne Cream Tea!

JOTTINGS

11

TRAVEL NEWS

A look at what's new, and travel

noteworthy, in the British Isles.

CULTURAL AGENDA

15Dates for your diary of things you

don't want to miss out on this summer.

10 UNIQUE EXPERIENCES

22 YOU MUST TRY AFTER DARK

Moonwalks, night running, star-gazing,

late-evening kayaking, rope-swinging...

Finding the fun when the lights go down!

29 VICTUALS

Discover what's new in the scene

of British hospitality, Michelin-star chefs,

restaurants, hotels and spas.

FEATURES

30

NATHAN OUTLAW:

SEA TO SHORE

Michelin star-chef Nathan Outlaw takes our

food columnist on a gourmand's tour of the

wonderful Cornish coastline.

TOP SEEDS: BEHIND THE

36 SCENES AT WIMBLEDON

Welcome to Wimbledon – one of the world's

most prestigious British sporting spectacles.

IN SEARCH OF

42 SCOTCH WHISKY

There are many reasons to visit Scotland, but

its popular whisky industry is surely one of the

best! We take a look at the brands and which

distilleries to visit. à

BritishTravelJournal.com 5
---
E D I T O R B U Y S

48

Diamond Reef

Knot Pendant

£1,160

sheilafleet.com

ITINERARIES

48

SCOTLAND'S SOUTH

WEST COAST 300

Jessica Way explores the magnificent beauty

of the new SWC300 touring route - a stunning

drive of over 300 miles along the coast of

South West Scotland.

THE GREAT WEST WAY

56 England's first ever touring route,

destined to become one of the premier

routes in Europe, and probably the world.

IN FOCUS: PETWORTH

64 Discover this pretty historic market

town, home to the National Trust's Petworth

House and Park, West Sussex.

WEEKEND BREAK: FISTRAL

70 BEACH, NEWQUAY

A surf paradise serving the country's finest

pasties – it's no wonder this Cornish coastline

is home to one of the nation's favourite

seaside towns.

Loudoun Hill and the

Spirit Of Scotland

sculpture by Richard

Price, near Darvel,

East Ayrshire

© VisitScotland/ Paul Tomkins

GIFT TO ALL

SUBSCRIBERS!

Subscribe to British Travel Journal

today and receive the ultimate in travel

size luxury toiletries - worth £20!

See page 40 for more or visit:

britishtraveljournal.com

/subscribe 40

LIFESTYLE

75 INVESTOR

There has never been a more provident

time to invest in Modern British Art – owning a

piece of British art history, buying something

beautiful, that may eventually provide a return

on your investment.

HECKFIELD PLACE

80 Chantal Borciani discovers the hotel

Meghan and Harry chose for their private

getaway – An exquisite new hotel redefining

British country stays.

ESCAPE TO THE COAST

84 Stay in a beautiful beach lodge, chic

apartment or exquisite cottage, where you can

listen to the waves, just steps from the beach,

looking out to magnificent views.

DAY TRIPPER

86

COOKERY SCHOOLS

Whether you are a budding chef

wanting to finesse your culinary skills or you

just want to try something new, a course at

one of the UK's best cookery schools is a must.

BLUE SKY THINKING:

92 OPEN AIR THEATRE

From cliff tops to abbey ruins, witness worldclass

open-air theatre this summer at a range

of iconic British locations.

FOR YOUR JOURNEY

98 Latest books, travel gadgets and our

British travel inspired crossword.

6 BritishTravelJournal.com
---
WE A RE...

THE D ISCOVERERS

NAVI GATE OUR SEA

KINGDOM WHERE IS

WOND ERS MEET THE

…wandering the enchanted glens

with the breeze that travels over

plains and mountains, to the towering

chasms that cascade to the depths

of our emerald sea.

Imagine a place where we, the Discoverers,

roam through landscapes carved by Mother Nature

and lit by distant stars. We stroll along coastal

paths kissed by the dramatic seascapes that

surround our magical Island, seek out the

unexpected and the extraordinary, and wake

up in sublime surroundings where we are

reminded how life should be.

ROUTE KEY

PLANE

FERRY
---
WHO

BOUND

LAND

WATER...
---
THE GREAT BRITISH ESCAPE!

STOKE PARK

Stoke Park is a luxury 5 AA Red Star Hotel, Spa and Country Club set within 300

acres of beautiful parkland and offers world-class sporting and leisure facilities.

FACILITIES INCLUDE:

• 49 Bedrooms and Suites

• Award winning Spa

• 27 hole Championship Golf

Course

• David Leadbetter Golf Academy

• 3 Restaurants and Bars, including

Humphry's (3 AA Rosettes)

• 13 Tennis Courts (indoor, grass

and artificial clay)

• 2 Padel Courts

• Indoor Pool

• State-of-the-art Gym with Fitness,

Hot Yoga and Spinning Studios

hosting up to 50 classes per week

• Tinies Kids Club and Crèche

• Games Room

• Playground

For Hotel Reservations please call 01753 717171 or email reservations@stokepark.com

Stoke Park, Park Road, Stoke Poges, Buckinghamshire SL2 4PG | www.stokepark.com
---
TRAVEL NEWS

W H A T ' S N E W

Destinations | Renovations | Launches | Celebrations

QUEEN OF THE HEBRIDES

The Machrie Hotel and Links on the

stunning Isle of Islay, nestled beside seven

miles of pristine beach, has now opened.

campbellgrayhotels.com

See also

page 45

BE ONE OF THE FIRST TO TRAVEL ON THE NEW CALEDONIAN SLEEPER!

New Caledonian Sleeper carriages have now been unveiled on the Lowlander route between

London and Glasgow/Edinburgh, and on the Highlander route between London and Aberdeen,

Inverness and Fort William. Designed to accommodate the modern-day traveller, the new trains

offer rooms with double beds and en-suites – for the first time in the history of Caledonian

Sleeper. Other new features include a hotel-style keycard entry system, charging panels and

WiFi throughout the train. To find out more or to book a journey visit sleeper.scot

STEAM DREAMS

A new vintage steam train service (from

4 June) offers journeys from London's

Waterloo Station to Windsor with

elegant Pullman Style Dining carriages.

royalwindsorsteamexpress.co.uk

A SOLID SOLUTION

WE LOVE

PIONEERING IN PADEL

With predictions the sport is on the cusp of a

British breakthrough, Stoke Park has become the

first 5 Star Hotel in the UK to open Padel courts

for members and guests staying in the hotel.

stokepark.com

HAWKSTONE HALL

This magnificent Grade I listed 18th Century

mansion in Shropshire, set within 88 acres, has

for the first time in its 550 year history, opened its

doors as a luxurious 37-bedroom hotel.

hawkstonehall.co.uk

These solid beauty bars mean no more

liquids and no more leaks when travelling!

ethiqueworld.com

BritishTravelJournal.com 11
---
TRAVEL NEWS

TRIPLE WIN FOR YORKSHIRE

Yorkshire Sculpture Park might have

only just opened its new £3.6 million

visitor centre, The Weston, but it's already

winning, with three awards, from this

year's RIBA Yorkshire Awards. ysp.org.uk

SUNDAY MOVIE CLUB SHOWING ICONIC BRITISH CLASSICS

Sunborn London has announced the re-launch of their Sunday Movie Club, with the

new theme – Best of British. Enjoy Afternoon Tea followed by a screening of some of the

most classic and well known movies of all time, including; Four Weddings and a Funeral,

The King's Speech, Bridget Jones' Diary and many more, held in the grand, spacious

auditorium located in the bow of the boat. Open to hotel residents and visitors to the

yacht alike. Sunborn London is located adjacent to the ExCel centre and close to local

attractions including the O2, Greenwich and the Emirates Air Line. Traditional Afternoon

Tea with Laurent Perrier tasting and movie is priced £50 per person sunbornlondon.com

WINDERMERE JETTY LAUNCH

The brand new museum of boats, steam

and stories where visitors can sail on

Osprey, a fully-restored Edwardian

steam launch, has now opened its doors.

windermerejetty.org

INSTAGRAM HIGHLIGHT

"The Kelpies, 30-metre-high statues can

be visited free at The Helix (Falkirk). The

largest equine sculptures in the world..."

instagram.com/britishtraveljournal

FIFTY OF THE UK'S FINEST HOTELS HAVE BEEN FOUND

For the first time in its 37-year history, Pride of Britain Hotels has reached its self-imposed

limit of 50 hotels, with the introduction of The Royal Crescent Hotel & Spa, Bath, into its

collection of luxury independently-owned hotels - while Calcot & Spa, set within 220

acres of meadowland in the Cotswolds, has been named Pride of Britain Hotel of the Year

2019 for delivering outstanding hospitality. prideofbritainhotels.com

#britishtraveljournal

12 BritishTravelJournal.com
---
EXPERIENCE MORE

WITH PRIDE OF BRITAIN HOTELS

ON THE COAST

DISCOVER ALL OUR EXPERIENCES ONLINE TODAY

www.prideofbritainhotels.com/experiences

THE ART OF GREAT HOSPITALITY

Independently Owned | Luxury & Boutique Hotels | 50 Member Hotel Limit

0808 250 3121 • prideofbritainhotels.com
---
Unforgettable Cornwall Holidays

DISCOVER YOUR CORNISH GEM

Let Cornish Gems set the scene for your holiday highlife in Cornwall.

Choose from 180 luxury holiday homes offering beautiful settings for groups of up to 20.

BEACH APARTMENTS • COUNTRY HOUSES • COASTAL COTTAGES • DOG FRIENDLY

cornishgems.com | 01872 241 241
---
CULTURAL AGENDA

H O T T H I S S E A S O N

Exhibitions | Museums | Galleries | Shows | Events

Words | Melanie Abrams

HIGHLIGHT

Colour and Light: The

Art and Influence of the

Scottish Colourists

18 OCTOBER

2019-JANUARY 2020

Featuring at the Lake District's

Abbot Hall Art Gallery

this exhibition presents the

work of and influences of

Scottish Colourists... centred

on master-works from the

renowned Fleming Collection

which is the finest collection

of Scottish art outside public

museums and institutions. It

follows their major summer

show of Turner and Ruskin (p18)

abbothall.org.uk

à

S J Peploe, Luxembourg Gardens, c. 1910, The Fleming Wyfold Collection

BritishTravelJournal.com 15
---
A Midsummer Night's Dream at Shakespeare's Rose

Theatre, York. Photo by Ant Robling Photography

T H E A T R E & S H O W S

WHAT WE'RE BOOKING

Shakespeare's Rose Theatre

25 JUNE-01 SEPTEMBER (YORK)

08 JULY-07 SEPTEMBER (BLENHEIM PALACE)

13th century Clifford's Tower in York and

Blenheim Palace in Oxfordshire form the

backdrops for a summer of Shakespeare. See

popular works like Hamlet and Macbeth in a

pop up playhouse inspired by the bard's 1587

Rose Theatre. Whilst the surrounding re-created

Elizabethan villages set the medieval mood.

shakespearerosetheatre.com

Jean Paul Gaultier: Fashion Freak Show

23 JULY-02 AUGUST

After over two million people visited his

exhibition, The Fashion World of Jean Paul

Gaultier, on its marathon global tour, the

provocative fashion designer is now telling

his story in cabaret. The extravagant,

unconventional show at London's Southbank

Centre mirrors his fashion. Don your feathers

and corsets for this stylish party.

southbankcentre.co.uk

The Illusionists

06 JULY-01 SEPTEMBER

Abracadabra – The Illusionists re-appear at

London's Shaftesbury Theatre. Among the mind

bending line-up are the stylish card tricks of Yo

Ho Jin and daredevil escapology by Jonathan

Goodwin who can also throw a knife or two.

Then there's Adam Trent's high tech tricks with

his music and comedy interludes. See them

before they disappear.

theillusionistslive.com

Uncle Vanya

18 JULY-03 AUGUST

Bath's Grade II listed Georgian theatre hosts one

of this season's most tantalising stage debuts.

Upper crust actor, Rupert Everett turns director

in a new version of Anton Chekhov's Uncle

Vanya at the Theatre Royal by award-winning

playwright, David Hare. This re-mastered tale of

disruption and unrequited love also stars Everett.

theatreroyal.co.uk

Jean Paul Gaultier: Fashion Freak Show

The Illusionists: Card tricks of Yo Ho Jin

Rupert Everett to star in Uncle Vanya

Theatre Royal Bath

16 BritishTravelJournal.com
---
John Frederick Lewis: Blackburn, In the Bezestein,

El Khan Khalil, Cairo

E X H I B I T I O N S

WHAT WE'RE SEEING

Natalia Goncharova

06 JUNE-08 SEPTEMBER

Discover the breath-taking versatility of early

20th century Russian avant garde artist, Natalia

Goncharova, who has her first UK retrospective

at Tate Modern. Alongside her vivid paintings

and lithographs of Russian life, discover her book

designs, textiles and experimental costumes and

set designs for Sergei Diaghilev's iconic Ballets

Russes including The Firebird.

tate.org.uk

Cindy Sherman 133.15 Untitled Film Still # 15

John Frederick Lewis

09 JULY-03 NOVEMBER

For an exotic tour of Cairo to Constantinople in

the 19th century, head to the Watts Gallery in

Compton village, Surrey which is showing the

oils and watercolours of British Orientalist artist,

John Frederick Lewis. His detailed vibrant images

bring alive his heady lifestyle from busy bazaars to

romantic gardens.

wattsgallery.org.uk

Keith Haring

14 JUNE-10 NOVEMBER

With the 1980s en vogue, head to Tate

Liverpool to immerse yourself in the decade.

For the dockside gallery is celebrating one of the

era's poster boys, Keith Haring. Ahead of his

time, he even put subway drawings on gallery

walls. Alongside his cartoon-like works, his

collaborations with Madonna, Grace Jones and

other 80s icons are there too.

tate.org.uk

Cindy Sherman

27 JUNE-15 SEPTEMBER

The National Portrait Gallery is hosting

this summer's blockbuster - the UK's first

retrospective of American artist, Cindy Sherman.

Around 180 images of her manipulated selfies

since the 1970s will be on display including

her ground breaking Untitled Film Series,

Centerfolds and others never seen before.

npg.org.uk

Edouard Vuillard: The Poetry Of The

Everday

24 MAY-15 SEPTEMBER

Bath's Holburne Museum is drenched in colour

this summer as 40 works by Post Impressionist,

Edouard Vuillard are on show. These intimate

scenes including his mother pinning her bun, two

women chatting and a game of shuttlecock show

how he turns the simplest activity into the most

emotionally charged scene.

holburne.org

© Victoria && Albert Museum, London

Natalia Goncharova's set design for the final scene of The Firebird Tseng Kwong Chi, Keith Haring in subway car, (New York) Edouard Vuillard's The Game of Shuttlecock

BritishTravelJournal.com 17
---
John Ruskin, Dawn, Coniston, 1873, Watercolour over pencil, acquired with the support

of a V&A Purchase Grant and the Friends of Abbot Hall Art Gallery, Kendal, Cumbria.

Ruskin, Turner And The Storm Cloud

12 JULY-05 OCTOBER

J.M.W. Turner's stormy landscapes arrive at

Kendal's 18th century Abbot Hall Art Gallery

in the Lake District, revealing a romantic view

of British hotspots from the Kent Medway to

Lancaster Sands. Alongside lesser known work

of Victorian art critic, John Ruskin, on the 200th

anniversary of his birth. The exhibition offers a

fresh take on Turner's iconic works.

abbothall.org.uk

John Akomfrah

06 JULY-27 OCTOBER

The films of award winning British

artist John Akomfrah take centre

stage at the Baltic Centre for

Contemporary Art in Gateshead.

The immersive multi-channel

installations, celebrating black

identity, includes his deep dive into

the New Orleans jazz scene as well

as his poetic interpretation of a 16th

century Albrecht Dürer painting.

baltic.art

John Akomfrah, Peripeteia, 2012

Single channel HD colour video,

5.1 sound, 17 minutes 28 seconds

Courtesy of Smoking Dogs Films

and Lisson Gallery

18 BritishTravelJournal.com
---
A Tea Journey: From The Mountains

To The Table

06 JULY-22 SEPTEMBER

Afternoon tea is still chic – whether at The Ritz

or The Berkeley. Now Compton Verney is

exploring the cultural significance of this popular

drink with an ambitious exhibition – from 7th to

10th century Tang dynasty tea vessels, a 2010

bamboo and paper Japanese tea house by

Kazuhiro Yajima, to a model clipper and samples.

comptonverney.org.uk

After the Taking

of Tea, 2019 ©

Charlotte Hodes,

Photographer

Stephen Heaton

Phoebe

Cummings

Source (clay)

Bornholm

Kunstmuseum,

Denmark 2018

S H O P P I N G

WHERE WE'RE SPENDING

BRITISH

TRAVEL

JOURNAL

Loves...

Sheila Fleet Jewellery

Head to Princes Square,

Glasgow's award-winning retail

destination, for Sheila Fleet's

brand new store, filled with her

stylish unique collections, inspired

by the beautiful islands of Orkney.

sheilafleet.com

Queen Victoria's Palace

20 JULY-29 SEPTEMBER

Queen Victoria has barely disappeared from our

TV screens. Now Buckingham Palace's summer

exhibition reveals how the young monarch

turned an unloved residence into today's royal

headquarters. Amongst Royal Collection

artefacts, tap your foot to a waltz danced at the

Crimean Ball and marvel at the Ballroom's original

decoration. rct.uk

WHERE WE'RE INVESTING

The Lakes by YOO

An idyllic estate in the Cotswolds, The Lakes by YOO,

is for the first time offering the opportunity to invest in

a state-of-the-art apartment, right on the water's edge,

alongside its 130+ houses. These new £1m-plus threebed

apartments are to be fully-serviced by The Lakes

concierge and owners and guests have access to the

estate's facilities. A unique investment opportunity – as

here you can buy the apartment, enjoy it and rent it out.

thelakesbyyoo.com

GANT'S 70th Birthday Collection

Inspired by the coastal living

lifestyle, numerous shades of ocean

blue dominate the color palette

of preppy American sportswear

brand GANT's 70th anniversary

collection. gant.co.uk

© Royal Collection Trust / © Her Majesty Queen Elizabeth II

London Designer Outlet

Combining the best of online with

outlet shopping, Dropit is a new

shopping app available at London

Designer Outlet, offering a nifty

store-to-door delivery service of all

purchases made within its 50 stores

– and with the option to deliver to

homes, hotels or workplaces.

londondesigneroutlet.com

BritishTravelJournal.com 19
---
Wilderness Festival

Royal Ascot

© Third Light/

Getty Images

F A I R S & F E S T I V A L S

Henley Royal

Regatta

WHERE WE'RE PARTYING

Royal Ascot

18 JUNE-22 JUNE

Dress to impress at Royal Ascot – whether you

are invited to the Royal Enclosure or closer to the

horseracing action in the Queen Anne Enclosure.

Invest in new tails at New & Lingwood or a new

Stephen Jones hat. Be there at 2pm sharp to see

the royals on parade.

ascot.co.uk

Glastonbury Festival

26 JUNE-30 JUNE

The Killers, The Cure, Stormzy and even Kylie

are the headline acts at this year's Glastonbury

Festival at Worthy Farm in Somerset. Whilst

the Pyramid Stage is where to hear the big guns,

experiment with up and coming music at the

John Peel Stage or underground beats at Babylon

Uprising.

glastonburyfestivals.co.uk

Henley Royal Regatta

03 JULY-07 JULY

What better way to spend a hot summer's day

than by the banks of the River Thames in Henley

– watching the world and rowers go by with a

glass of fizz? Don your best blazer or tea dress for

the members' only Stewards' Enclosure or rock a

rowing look elsewhere.

hrr.co.uk

Masterpiece London Art Fair

27 JUNE-03 JULY

Nestling in the Royal Hospital Chelsea grounds

lies this top notch eclectic art and design fair.

Look for Banksy's spray paint Kissing Coppers

at the Geoffrey Diner Gallery and Lyndsey

Ingram's must see prints by Grayson Perry, the

Chapman Brothers and others. Whilst Hong

Kong jeweller, Cindy Chao will unveil her 2019

one-of-a-kind butterfly.

masterpiecefair.com

Edinburgh International Film Festival

19 JUNE-30 JUNE

Edinburgh might be colder than Cannes, but the

screenings at the city's international film festival are

equally hot. Billy Elliott and The Hurt Locker have

been among them. Modern and cult Spanish films

are this year's focus - kicking off with Tommy Smith

and the Scottish National Jazz Orchestra's take on

Miles Davis's Sketches of Spain.

edfilmfest.org.uk

Wilderness Festival

01 AUGUST-04 AUGUST

This Oxfordshire festival is one of the swankiest.

Amongst sets by Tom Odell, the reformed

Bombay Bicycle Club, there's art, dance and

more. Activities range from horse-riding to

axe throwing. Whilst for ultimate zen, try

Paddleboard yoga or the spa. Posh food is on

offer too by top chefs.

wildernessfestival.com

20 BritishTravelJournal.com
---
WHAT WE'RE WATCHING

C U L T U R A L H I G H L I G H T S

Yesterday

28 JUNE

The Beatles and their music are the subject of

this summer's Brit flick, Yesterday - as a struggling

musician (newcomer, Himesh Patel) takes credit

for their songs when he realises that no one else

has heard of them. Spot Liverpool's Penny Lane

as one of the many British locations.

yesterdaymovie.com

WHAT WE'RE LISTENING TO

The 1975

It's been a big year for Manchester quartet,

The 1975 - scooping top two BRIT awards for

British group and British album. Now we're

eagerly waiting for their latest album, Notes

on a Conditional Form, to drop this summer.

Meanwhile, head to Glasgow, Leeds and

Reading in August to listen to them live.

the1975.com

© Universal Pictures

WHAT WE'RE DISCOVERING

Tendril Is The Night

27 JUNE-07 JULY

Glimpse into Chelsea's cultural history with a visit to the

open studio home of sculptor turned potter, Kate Braine

at 20 Cheyne Row.Discover her colourful ceramics in the

Edwardian drawing room and beyond and her garden

kiln. With former homes of Mick Jagger and Marianne

Faithfull, Whistler and others nearby - it's London's

hidden cultural enclave.

#KateBrainePots

WHAT WE'RE READING

Take The Slow

Road: England &

Wales

Plan new ways to see England

and Wales with this lively book

on camper van and motorhome

trips by Martin Dorey published

by Conway. Discover 28 routes

and their hidden highlights like the

waterfalls en route from Harrogate

to Bolton Abbey or Blakeney

Point's seal colony in North

Norfolk. Helpful tips include where

to eat, stay and the number of days

needed to explore.

bloomsbury.com

Rusty Orange Scorched Lava Alien Flowers

BritishTravelJournal.com 21
---
10

EXPERIENCES

of the best

UNIQUE

YOU MUST TRY

After Dark!

Not all of the UK goes

to sleep after dark, and

you don't have to either.

The Museum of London

recently announced

it will open overnight

from 2023 but, until

then, here's a selection

of adventures and

experiences to try when

the sun goes down:

Words | Max Wooldridge

S T A R G A Z I N G I N S C O T L A N D

1Head to Glenapp Castle to see clear night skies in their amazing

glory. Thanks to minimal pollution, Galloway Forest Park in

Ayrshire is home to some of Europe's darkest skies. Join Glenapp's

Stargazing Experience for hot chocolate, night binoculars and an

expert dark sky ranger who will explain everything on view: the

myriad of stars, the Milky Way, maybe even the Northern Lights.

glenappcastle.com

22 BritishTravelJournal.com
---
EXPERIENCES

D U N W I C H D Y N A M O

2

On 13/14 July, join hundreds of cycle

enthusiasts – on road bikes, tandems and

recumbents - for the Dunwich Dynamo, an annual

200km overnight ride from Hackney, in East

London, to the lost medieval city of Dunwich on

the Suffolk coast.

southwarkcyclists.org.uk

J E R S E Y M O O N W A L K S

3

At low tide, as the English Channel recedes, Jersey doubles in size to 116 square miles.

Discover underwater secrets on a fascinating night walk to Seymour Tower, a small fort

on an islet a mile offshore. See bioluminescent creatures and marine life across the exposed

rocky seabed by the light of a full moon. They are known as "moonwalks" after the terrain's

resemblance to a lunar landscape. jerseywalkadventures.co.uk

© VisitScotland/ Paul Tomkins; National Trust Images / James Millar

N I G H T R U N N I N G - V A R I O U S L O C A T I O N S

4Fancy a moonlit jog through ancient woodlands or Georgian landscaped gardens? Each

autumn and winter, The National Trust hosts a programme of after-dark trail runs at a number

of its properties across the UK.

nationaltrust.org.uk

L U M I E R E F E S T I V A L

5

See local and global artists light up buildings

and public spaces in London, Durham

and other UK cities with light installations and

illuminations and large-scale projections. The UK's

largest light festival, now in its 10th year, runs from

14-17 November 2019.

lumiere-festival.com

BritishTravelJournal.com 23
---
L O N D O N ' S N I G H T

F O O D M A R K E T S

W I L D L I F E S P O T T I N G I N C A R M A R T H E N S H I R E

6

Spot nocturnal animals like otters, beavers and badgers in their natural habitat in a 300-acre

farm in Carmarthenshire. You'll also be helping a not-for-profit wildlife company reintroduce

wild beavers in Wales. bevistrust.comk

N I G H T W A L K S A L O N G T H E

W A L L S O F L I N C O L N C A S T L E

7

Each month, between

May and November,

Lincoln Castle runs themed

evening tours of William the

Conqueror's fine fortress.

Visit the castle's Victorian

prison, see a medieval

cooking demonstration,

a falconry masterclass,

or take a wall walk for

twilight views of the city.

lincolncastle.com

8

London's street food scene has enjoyed

nothing short of a revolution in recent

years, with many derelict and disused spaces

being transformed into night food markets. Try

Shoreditch's Dinerama, Canary Wharf's Giant Robot

and Lewisham's Model Market for mouth-watering

global cuisine. streetfeast.com

R O P E - S W I N G I N G

I N D A R K N E S S

9

Perfect your Tarzan call and take a leap in the

dark in North Yorkshire's Dalby Forest. Go

Ape's Adventures After Hours programme features

twilight zip-wires and the chance to get to grips with

the high ropes after dark. goape.co.uk

N I G H T K A Y A K I N G I N N O R F O L K

Experience some of the best night skies in

10 the UK on a full moon kayak adventure in

the heart of the Norfolk Broads. See the moon and

the stars reflected in the tranquil waters aboard an

easy-to-paddle two-seater kayak. The two-and-ahalf

hour adventure takes place on Hickling Broad

and the surrounding narrow reed bed backwaters.

norfolkoutdooradventures.co.uk

24 BritishTravelJournal.com
---
Discover hidden

treasures and

inspirational events

BRITAIN'S GREATEST PALACE

Birthplace of Sir Winston Churchill

blenheimpalace.com

Buy one day, get

12 months free*

NINE CENTURIES

IN THE MAKING

Discover a year of spectacular

events and new attractions to

mark our historic milestone.

CELEBRATING 900 YEARS

leeds-castle.com

29120 LC Generic 191x120mm.indd 1 02/05/2019 11:50
---
WIN

A NIGHT OF LUXURY

Staying aboard Fingal in Edinburgh

Enter our competition to win an indulgent five-star break for two,

with a truly Royal award-winning experience, in the Port of Leith

THE LUCKY WINNER, and their guest, will be welcomed

aboard Fingal, a luxury floating hotel permanently

berthed on Edinburgh's vibrant waterfront, just a short

stroll to the shops, restaurants and galleries. Fingal

started life as a lighthouse tender, helping maintain lighthouses

and transporting their keepers, equipment and supplies to some

of the most treacherous locations in Scotland. Now she has been

transformed into an exquisite 23 cabin boutique hotel, with decks

for stargazing and Champagne, by the award winning team at

The Royal Yacht Britannia. This is where time slows to a gentle

deck stroll, where you can experience the unhurried luxury of life

on board ship and every contour and curve, every angle and tilt

26 BritishTravelJournal.com
---
▶

A Royal Day Out

including tickets to

THE ROYAL YACHT

BRITANNIA

WITH A DELICIOUS CHAMPAGNE CREAM TEA!

BRITISH

TRAVEL

JOURNAL

Competition!

of Fingal is certain to offer a totally unique

experience, far removed from your everyday world.

Just a short walk from the hotel, the lucky duo

will be further rewarded with a magnificent

'Royal Day Out', at Scotland's Best Visitor

Attraction – The Royal Yacht Britannia, where

they will enjoy stunning panoramic waterfront

views, and a delicious Champagne Cream Tea

in the Royal Deck Tea Room. Britannia was

launched from the John Brown & Company

shipyard in Clydebank, Scotland, on 16 April,

1953. For over 44 years the Royal Yacht served

the Royal Family, travelling more than a million

nautical miles to become one of the most famous

ships in the world. To Her Majesty The Queen,

Britannia provided the perfect Royal residence

for glittering state visits, official receptions,

Royal honeymoons and relaxing family holidays.

For Great Britain, she was a majestic symbol of

the Commonwealth and a proud ambassador,

generating billions of pounds in trade deals.

For the Royal Family and the 220 dedicated

crew of Royal Yachtsmen, she was home. Step

aboard this famous ship and follow in the

footsteps of Royalty. Explore Britannia's five

decks with the free audio guide, available in 30

languages, as well as a children's tour and British

Sign Language tablet. See the elegant State

Apartments and the gleaming Engine Room.

See where Prince William and Prince Harry spent

their summer holidays. Discover where kings and

queens, world leaders and celebrities were wined

and dined; from Frank Sinatra and Liz Taylor to

Nelson Mandela and Sir Winston Churchill.

In the Royal Deck Tea Room you can enjoy freshly

prepared, homemade food, stunning views and

a warm welcome. Treat yourself with speciality

teas, coffees and lunch where the Royal Family

previously would have enjoyed drinks receptions,

sumptuous buffets, or played deck games. u

H O W T O E N T E R

ON OUR WEBSITE

britishtraveljournal.com

In addition to an overnight stay on

board Fingal, tickets to visit The Royal

Yacht Britannia, and a delicious

afternoon tea, the lucky winner will

also be sent a complimentary annual

subscription to British Travel Journal with

a Travel Trio gift set from Noble Isle.

LAST ENTRIES 31 AUGUST 2019

BritishTravelJournal.com 27
---
Alderney's Stunning Backdrop

Alderney is bursting with flavour. From local

produce and rich creamy milk to seafood straight

from the islands clear waters, all of which is

stocked across the island's shops and can be

enjoyed in our delightful cafes and restaurants.

Fresh Crab and Lobster

visitalderney.com

1-12 JULY
---
VICTUALS

W H A T ' S N E W

Restaurants | Food | Drink | Hotels

SCOTLAND'S FIRST VODKA

DISTILLERY EXPERIENCE

Located 20 miles north of Dundee, Ogilvy

Vodka – Scotland's first potato vodka

distillery – has opened the doors of its new

£150K visitor centre. ogilvyspirits.com

SCALLOPS, SUNSHINE AND SPARKLING WINE!

Nyetimber Dorset Seafood Festival, one of the UK's top seafood festivals, is set to take place

over the weekend of 13-14 July, along Weymouth's historic and picturesque harbour.

The award-winning event, now in its 12th year, is free to attend and offers over 100 stalls of

seafood, chef demos, children's activities and delicious English sparkling wine. Drawing crowds

of over 50,000 people, it is home to the top names in seafood producers, chefs, and

fishermen from Dorset and across the country. dorsetseafood.co.uk

FINE ENGLISH FIZZ

Digby Fine English has recently opened their

elegant new tasting room and cellar door in

the beautiful town of Arundel, West Sussex.

digby-fine-english.com

N E W

THE FLOATING SPA

Revitalise with this unique spa experience,

moored on the banks of the Monkey Island

Estate - a private island with 30 exquisite

guest rooms - now open in Bray-on-Thames.

monkeyislandestate.co.uk

MANDARIN ORIENTAL

Following a multi-million pound restoration,

Mandarin Oriental Hyde Park, London has

now re-opened, and is honouring the hotel's

illustrious 117-year history with a series of events.

mandarinoriental.com

We love this new cookbook priced £18, from

mezepublishing.co.uk and summery bottle of

2019 Babylonstoren Mourvèdre Rosé, priced

£14.90, from babylonstoren.com

BritishTravelJournal.com 29
---
I N T E R V I E W W I T H

NATHAN

OUTLAW

Sea to Shore

An esteemed culinary career ignited by the sea, Michelin

star wizard Nathan Outlaw takes food columnist Chantal

Borciani on a gourmand's tour of the Cornish coastline!

AMASTER OF SEAFOOD and the

seasonal, Nathan Outlaw has

wowed food critics, trained under

the tutelage of top chefs, earned

his Michelin stars and stripes and is now

synonymous with the finest Cornish dining.

Widely regarded as Cornwall's greatest

chef in residence, Nathan's eponymous Port

Isaac fish restaurant holds two Michelin stars

and has also been crowned the UK's top

restaurant in the 2019 Food & Drink Guide –

for the second year running. Not bad for a boy

who grew up hundreds of miles away in Kent.

The son of a chef, aged eight Nathan

was buttering toast during breakfast service

in his dad's kitchen. He worked in kitchens

on evenings and weekends and his first job

out of Thanet's catering college was at the

Intercontinental, followed by stints with

renowned chefs including Gary Rhodes and

Eric Chavot.

Passionate about seafood, Nathan soon

landed on Rick Stein's doorstep in Padstow.

"It was 1996, and at the time there were only

really a handful of excellent fish restaurants

and Rick's Seafood Restaurant was the place.

I just knew I had to do it. I told myself, if you're

going to work somewhere, work in the best

place in the world for seafood', and that was

Rick's," Nathan says. "It was a brilliant time

to be working there. It was manically busy but

good fun."

Today, Nathan owns his two Michelin star

Restaurant Nathan Outlaw near Port Isaac

and Outlaw's Fish Kitchen, located literally

metres down the road, which boasts another

coveted star. He usually spends a couple of

days a week in London, where he is slated to

open a new restaurant at The Goring hotel,

where Kate Middleton famously spent the

night before her wedding to Prince William.

"I'd be lying if I said I was ever not ready to

come back to Cornwall after a couple of days

in London. I mean, just look at it." Nathan is

sitting by the kitchen pass in Port Isaac, and

gestures to the window where barrelling surf

races towards the Cornish shore and a winter's

sunset floods the sky with crimson and mauve

spindles.

"I'd always had my eye on this building,"

30 BritishTravelJournal.com
---
he says of the Restaurant Nathan Outlaw

property, which overlooks the charming and

tiny bay of Port Gaverne. "I'll never leave

this place. And that's the first time I've ever

felt like that."

Positively effervescent when it comes to

Cornish produce, Nathan eschews trends

and continues to write his set tasting menu

at Restaurant Nathan Outlaw everyday

depending on the catch that comes in.

For Nathan, who has made his home

in Cornwall, West Country traditions and

its bewitching landscape are all part of the

county's rich allure.

"If you arrive on a Friday evening, head

to the pub. I like the St Kew Inn – it's a real

Cornish hostelry that dates back to the 15th

century. You might be lucky and hear some

shanty songs being sung there.

"There are so many beautiful beaches

both on the north and south shores but

I tend to visit Trevone most. I like it there

because there are two beaches; one

sandy and one rocky so you get the

best of both worlds. I also like the little

beach just below my restaurant at Port

Gaverne. It's tiny, but when the tide is

low you can explore all the rock pools

with the kids. I love walking along the

Camel Trail and the walk from Port

Isaac along to Port Quinn has amazing

views and will really blow away the

cobwebs."

A foodie through and through,

Nathan has recommendations for every

day of the week. "For a Saturday lunch

head to somewhere like Appletons at

Trevibban Mill vineyard and winery

where you can enjoy relaxed food food

in a beautiful setting.

The Lost Gardens of Heligan are

spectacular for a Saturday afternoon

stroll or the Eden Project has loads of

activities – you can zip line across the

entire place!"

If you're a keen home cook, Nathan

recommends heading to the Port

Isaac Seafood School down by the à

BritishTravelJournal.com 31
---
32 BritishTravelJournal.com
---
With unmissable sights including nearby Marazion's tidal

island and ancient castle of St Michael's Mount, plus the

outlying microclimatic Isles of Scilly just a ferry hop away,

Penzance has never been short of reasons to visit.

harbour where George Cleave and

his team will show you the day's catch

and give advice on how to prepare

and cook it.

"On Saturday night, head to

one of the really nice restaurants,

my one's pretty good!" Nathan

laughs. "And down the road at the

Outlaw's Fish Kitchen of course. Paul

Ainsworth in Padstow is really good,

a lovely restaurant right in the centre

of the harbour town.

"There are some superb restaurants

if you want to head further afield, too.

I recently visited The Driftwood on the

Roseland peninsula – Chris Eden is

head chef there and is the only Michelin

star Cornish chef ever so that's a bit

special."

"Down in the Penzance area, The

Shore is run by Bruce Rennie and

impressively he does it all himself. It's

just him in the kitchen and he cooks

fantastic seafood. Ben's Cornish

Kitchen is another Penzance gem,

where diners can enjoy Cornish food

cooked to a very high standard."

With unmissable sights including

nearby Marazion's tidal island and

ancient castle of St Michael's Mount,

the Jubilee Pool, an Art Deco lido

on Penzance's Promenade, plus the

outlying microclimatic Isles of Scilly

© VisitBritain/ Jason Hawkes

just a ferry hop away, Penzance has

never been short of reasons to visit, but

thanks to an influx of inventive chefs, its

food scene is now really coming of age.

Another food haven not to miss is the

town's first smokehouse at The Cornish

Barn where hip cocktails are served

alongside home-smoked Cornish meat

and fish. And with local vineyards,

breweries, bountiful fish markets and

farms across both shores, it's little

surprise Cornwall is a magnet for

gourmands and top chefs alike. Round

off your visit trying local ales in the

seafaring inns that dot both magical

coasts, Nathan says, and you'll soon

see why this eminent chef would never

live anywhere else. à

BritishTravelJournal.com 33
---
WHERE TO STAY:

North Cornwall: The Scarlet

For the ultimate Cornish beach escape, this

eco hotel set on the spectacular north coast

is simply unbeatable and is an easy drive

from Padstow and Port Isaac. With a reedfringed

outdoor pool, two clifftop hot tubs,

an award-winning spa and a sea-view sauna,

The Scarlet offers five-star relaxation rooted

in the heart and soul of its Cornish location.

Local art adorns the walls, the whole hotel

smells incredible thanks to the Cornish Oula

toiletires and around every corner guests

are greeted with soul-soothing views of

the sea. The adult-only retreat blends into

the hillside overlooking the creamy surf of

Mawgan Porth and the marigold beach lies

just footsteps through the wild grass meadow

garden. Settle into a sea-view couples pod,

enjoy fine dining with one of the best sunsets

in Cornwall and then doze off to the sound

of waves hitting the shore. The South West

Coast Path winds right along the front of the

hotel, ideal for hikes across to the glorious

expanses of Watergate Bay. A spellbinding

coastal retreat.

scarlethotel.co.uk

34 BritishTravelJournal.com
---
Marazion: Godolphin Arms

Experience the time and tides of Cornwall

like never before; guests can watch the

shifting sands around Mounts Bay as the

tide sweeps across the causeway eventually

lapping at the hotel brickwork. Fall to sleep

to the sound of the sea and wake to the

ever-changing vistas and sunrise above

St Michael's Mount. For beach walks,

sensational sunsets and extraordinary

access to St Michael's Mount, this

commanding position is second to none.

For the best views in the house, book the

remarkably well priced family apartment

in Room 11, where sea views abound and a

picture window captures the endless beauty

of Mounts Bay and the iconic castle.

godolphinarms.co.uk

Penzance: Chapel House

One of the most exquisitely designed

boutique hotels in Cornwall, Chapel House

occupies a captivating Georgian townhouse

in the old quarter. Dating back to 1790,

with former inhabitants including Admiral

Samuel Hood Linzee of HMS Temeraire, the

guesthouse has been painstakingly restored

and today mixes the old with contemporary

flashes of genius. A baby grand sits

alongside abstract art, beamed bedrooms

boast sumptuous open-plan polished

concrete bathrooms, and crackling in-room

log burners contrast with vibrant Ercol

furniture – staying here is an adventure.

Flooded with natural light, the property's

plethora of picture windows make the most

of the jaw-dropping sea views.

The stylish top loft bedroom is a

particular favourite and features an en

suite bathroom glass ceiling that retracts so

guests can bathe under the stars with the

view of the chapel spires. The graceful décor

extends to two apartments that adjoin the

main house, which provide guests with even

more privacy and living space. Apartment

1 has no less than three balconies and

panoramic views of Penzance harbour. An

exceptional find, with Bruce Rennie's The

Shore just footsteps away.

chapelhousepz.co.uk

TASTE OF CORNWALL

ABOVE: RESTAURANT NATHAN

OUTLAW

Raw Mackerel, roast onion, parsnip, chilli oil

ABOVE: DRIFTWOOD

40 Day Old Fillet of Ruby Red Beef

Cooked Over Coals, Smoked Bone Marrow,

Garlic & Spinach followed by Lemon Verbena,

Shortbread, White Chocolate & Macadamia Nut

BELOW: AINSWORTH

Paul Ainsworth at No. 6,

Padstow Trifle

Pictured opposite page: The Scarlet. Picture above in a clockwise direction from top

left, Chapel House; Bottom left, Godolphin Arms.

BritishTravelJournal.com 35
---
TOP SEEDS

Behind-the-Scenes

Welcome to Wimbledon – one of the world's

most prestigious British sporting spectacles

Words | Chantal Borciani

36 BritishTravelJournal.com

The ball boys and girls line up for their official photocall outside the clubhouse AELTC/Joel Marklund
---
T R A V E L I N S P I R A T I O N

BritishTravelJournal.com 37
---
EVERY SUMMER, MORE than 470,000 tennis

fans descend on London SW19's hallowed turf

for the annual Wimbledon Championships.

The iconic British tennis event is broadcast to

millions and is rooted in quintessential tradition and

pageantry. Dating back to the 1870s when the inaugural

tournament was held in front of a crowd of 200

spectators, today the annual sporting spectacle is held at

Wimbledon's All England Lawn Tennis Club (AELTC) and

attracts Hollywood stars and royalty alike, with Her Royal

Highness the Duchess of Cambridge a passionate patron

of the AELTC.

In the run up to the tournament, the All England Club

is, not surprisingly, a hive of activity. The courts, where

all eyes will soon be fixed, are the responsibility of the

fastidious grounds team, headed up by Neil Stubley. As

head groundsman, it is Neil's responsibility to ensure the

40 courts are in perfect condition when the gates open.

"There's definitely pressure. It's arguably one of the

top three sporting events in the world," Neil explains as

he walks alongside the immaculately manicured edge

of Centre Court. Neil began working at the All England

Club on a work placement in 1995 and has risen through

the ranks. He has a rather modest team of 15 full-time

groundsmen, which doubles in size during the summer

"With

this July's

tournament

on the

horizon,

the grounds

staff will

work day

and night to

ensure every

painstaking

detail is

perfect"

Pictured Left:

The Venus

Rosewater

Dish and The

Gentlemen's

Singles Trophy

on Centre Court.

Selling

strawberries at

the kiosk on St

Mary's Walk.

Images AELTC/Thomas Lovelock/ Chris Raphael/ Joe Toth/Ben Queenborough

and is "responsible for everything that grows". This

includes the 50,000 plants that adorn the club, the

iconic Boston Ivy which clads the famous clubhouse, and

every millimetre of the 100 per cent rye grass that is laid

on each court.

"We measure the courts every day for hardness,

moisture, chlorophyll content and so on. The grass is

cut to 8mm for The Championships and each court

has a tailored irrigation system run from a centralised

computer."

The aim, Neil says, is for absolute consistency. "In

theory, anyone like Roger [Federer] or Andy [Murray]

should be able to go onto any of the match courts or

practice courts two hours before heading on to Centre

Court or No. 1 Court and they should all play exactly

the same".

"These days tennis players don't leave anything

to chance. During the Championships, we'll get

players like Djokovic asking what yesterday's

weather might have done to the court, or what time

we cut the courts that day and if it was the same

time as yesterday because they're always looking for

that extra one per cent," Neil explains.

Since 1922 there have only been seven

tournaments without rain interruptions recorded and in

recent years, Neil and his team have dealt with heatwaves,

hail and everything in between.

"In 2017, two heat-waves struck London just before

The Championships opened. We were getting 40c

temperatures on the playing surface. So two weeks

before the tournament we were trying to manage grass

that pretty much shuts down above 28c."

While Neil and his team tend to the courts, a rather

unusual member of the Wimbledon grounds team takes

to the skies. Rufus the Harris Hawk has been working

at Wimbledon since 2007, and has his own AELTC

security pass with his job title detailed officially as 'Bird

Scarer'. Rufus usually starts flying around 5am during

The Championships and patrols the courts until 9am to

ensure that the iconic ivy-green seats remain unsullied for

spectators.

Rufus's handler Imogen Davis explains: "We visit most

weeks of the year as a pigeon deterrent. Rufus even has a

purple and green coloured hood to wear at Wimbledon

and his own social media accounts."

With the courts maintained to exacting standards and

even the resident hawk in uniform, it goes without saying

that the same degree of precision is applied to every other

facet of the tournament.

Around 54,250 balls are used during The

Championships every year with each ball kept at 68°F

before use; the stringing team work night and day

and string over 2,000 rackets, equal to over 40 miles

Pictured

Below:

Ground

Staff mow

and stripe

Court 18.

38 BritishTravelJournal.com
---
Pictured Above:

Garbine Muguruza

(ESP) in action against

Venus Williams (USA)

in the Ladiesí Singles

Final on Centre Court

2017 Championships at

Wimbledon.

of string; and the traditional strawberries and cream

devoured by so many visitors – 166,055 portions during

2017's Championships to be exact – are usually Grade 1

English strawberries from the 'The Garden of England',

Kent. The strawberries are picked daily at 4am, collected

from the packing plant at 9am and are delivered to the

Club by 11am for inspection and hulling, for guests to

enjoy on the same day.

New for 2019 will be the retractable roof on No.1

Court – the completion of a three-year build, which also

includes refurbished hospitality suites; two more rows of

approximately 900 seats; the creation of a two-level public

plaza named the Walled Garden; and a larger big screen

for the famously atmospheric outdoor viewing hill, which in

recent years has coined the moniker of Murray Mound.

As Wimbledon has grown, so too has its influence

and impact on the local community. The Wimbledon

Foundation, the charity of the AELTC, has awarded

over £1.75 million to local projects since the Foundation

began in 2013 and plays a pivotal role in opening

up the complex to schools and charities. After each

Championship, the Foundation also helps redistribute

unclaimed lost property and resources. "In 2018 we

donated 2,500 plants to local charities, sent camping

equipment left behind to the YMCA Wimbledon,

donated IT equipment to local charities, unclaimed

spectacles to Vision Aid Overseas, and donated

unwanted clothing items to local night shelters and the

Red Cross Refugee Centre," explains Helen Parker, head

of Wimbledon Foundation.

The Championships' impact both at grass roots level

and on the world stage continues at a pace but if you

don't have a golden ticket to the on-court action for this

year fear not as The Wimbledon Lawn Tennis Museum

and tours of the All England Club are open year round

COURT ACTION

290 MILLION

TENNIS BALLS

could fit into Centre Court with the roof closed

39,000

SPECTATORS

are allowed in the grounds at any one time

303,277

GLASSES OF PIMM'S

are on average consumed

21,917

BOTTLES OF CHAMPAGNE

are on average popped!

129MPH

FASTEST ALL

TIME SERVE (LADIES)

Venus Williams (2008)

76,603

ICE CREAMS

are on average enjoyed

307,277

TEA AND COFFEE

cups are served on average per tournament

33,000KG

STRAWBERRIES

were consumed during the 2017 tournament

and offer visitors a glimpse behind-the-scenes of this

historic site, with access to Centre Court, the BBC TV

studio, the members' balcony and the iconic players'

entrance.

With this July's tournament on the horizon, the

grounds staff will work day and night to ensure every

painstaking detail is perfect. And the last job to do?

Changing the scoreboards on Centre Court, which

remain as they stood at the final 'Game, set, match' at

the Ladies' and Mens' finals until the new action kicks

off for this year's Championships. u

THE 2019 CHAMPIONSHIPS IS HELD

MONDAY 1 JULY – SUNDAY 14 JULY

WIMBLEDON.COM

BritishTravelJournal.com 39
---
SUBSCRIBE TODAY

and receive the ultimate getaway essential!

Receive four issues of British Travel Journal, with free postage,

plus a free luxury gift set from Noble Isle worth £20 - all for just £19!

CITY | COAST | COUNTRY

BRITISH TRAVEL

JOURNAL

SUMMER 2019 | ISSUE 02

CITY | COAST | COUNTRY

BRITISH TRAVEL

JOURNAL

BritishTravelJournal.com

experiences

after dark

JERSEY MOONWALKS

TO STAR-GAZING

IN AYRSHIRE!

SPRING 2019 | ISSUE 01

BritishTravelJournal.com

Luxury

free gift

WORTH

£20!

Coastal Special WIN

sea to shore

GOURMAND'S TOUR OF CORNWALL

WITH NATHAN OUTLAW

IN THE STARS

GASTRONOMIC DELIGHTS AND A

CONSTELLATION OF MICHELIN STARS

JUST WAITING TO BE EXPLORED

a luxury

short break

staying on

a floating

hotel!

DREAM ESCAPE

DISCOVER THE REMARKABLE ISLANDS

AND BREATHTAKING LANDSCAPES

OF ORKNEY AND THE OUTER HEBRIDES

£5.00

#

weekend adventure

48 HOURS AT CORNWALL'S MOST FAMOUS SURF

DESTINATION, FISTRAL BEACH IN NEWQUAY

blue sky thinking

DISCOVER WORLD-CLASS OPEN AIR THEATRE

PRODUCTIONS ON CLIFF TOPS TO ABBEY RUINS

EVENTS ■ IDYLLIC DESTINATIONS ■ MICHELIN STAR RESTAURANTS ■ LUXURY HOTELS ■ NEW EXPERIENCES

£5.00

EVENTS ■ IDYLLIC DESTINATIONS ■ MICHELIN STAR RESTAURANTS ■ LUXURY HOTELS ■ NEW EXPERIENCES

Subscribe to British Travel Journal today and receive the ultimate getaway essential worth £20!

Return the form below or visit britishtraveljournal.com/subscribe

YES PLEASE! I WOULD LIKE TO SUBSCRIBE AND CLAIM MY FREE GIFT

START WITH CURRENT ISSUE SUMMER 2019 NEXT ISSUE AUTUMN 2019

NAME:

ADDRESS:

POST CODE:

EMAIL:

1 YEAR £19 2 YEARS £35 POSTAGE OUTSIDE THE UK 1 YEAR £45 2 YEARS £75

VISA VISA DEBIT MASTERCARD AMERICAN EXPRESS CHEQUE (payee Contista Media Ltd)

CARD NUMBER:

VALID FROM: EXPIRY DATE: ISSUE NUMBER: (Amex)

SIGNATURE:

D D M M Y Y

Contista Media is compliant with GDPR (General Data Protection Regulations) Your subscriptions data is

only used for the purpose of processing your subscription. Your email address will only be used in order to

contact you regarding renewing your subscription. We will not pass your details on to third party companies.

CSV:

* Ts & Cs: Limited time only, while stocks last. Gift is for UK subscriptions only.

40 Return BritishTravelJournal.com

to: Contista Media Ltd, British Travel Journal, Mitchell House, Brook Avenue, Warsash, Hampshire, SO31 9HP
---
EXCLUSIVE HOSPITALITY PARTNER TO THE CHAMPIONSHIPS, WIMBLEDON

THE CHAMPIONSHIPS, WIMBLEDON

MONDAY 1 JULY - SUNDAY 14 JULY

EXPERIENCE THE NEW NO.1 COURT ROOF

YOU'RE NOW GUARANTEED TO SEE TENNIS,

WHATEVER THE WEATHER

Bespoke official hospitality packages available.

All include Centre Court or No.1. Court seats.

Visit www.keithprowse.co.uk/BTJ

or call +44 (0)208 003 4539
---
In search of

SCOTCH

WHISKY

Over four million visitors a year beat a path to Scotland's

distilleries for an authentic taste of the country

Words | Adrian Mourby

THERE ARE MANY REASONS to visit Scotland,

but its whisky industry is by far one of the best.

Unlike many major manufacturing sites, the

average Scottish distillery is almost always located

in the countryside. Because they draw their water from the

purest springs and streams, whisky-makers tend to work in

clean, unsullied rural locations. And most of these tend to be

picturesque.

Often you'll find the famous drink being distilled inside

idiosyncratic old buildings that have evolved over time, many

of them with distinctive pagoda-like wooden rooves. Step

inside and you'll invariably be met with a cocktail of highly

distinctive smells: old wood, grain, yeast and spirit. You're also

likely to be met by an enthusiastic team who love sharing their

commitment to Scotland's uisge beatha (the Celtic words for

water of life).

The whisky industry is thriving today – with the result

that the names of lots of tiny Scottish villages are famous all

round the world – so it can be hard to believe that in the 1980s

"Scotch" was verging on the unfashionable.

A drink that had evolved over centuries had become the

tipple for old men and many distilleries were on the brink of

closure. The reasons for whisky's subsequent recovery are many

and complex. Clever marketing, astute management and

increasing affluence in the east may have had something to do

with it but the resurgence within a generation is extraordinary.

Today whisky is not just one of Scotland's major exports, but

one of the reasons people from all over the world come to visit.

Uisge beatha began in feudal times as a crofter's spirit

brewed and sold locally and used to provide a powerful

kick-start to the day. Not diluted as it is today (to around

40% alcohol) this original "water of life" probably actually

shortened life expectancy. Invigoration or anaesthesia against

the cold Scottish mornings was probably the main benefit of

whisky in those early days.

In the nineteenth century however the first enterprising

Scots merchants began buying up raw local whiskies and

blending them to create a predictable – and enjoyable – taste in

every bottle.

The rapid improvement in the quality of blended whiskies

like Johnnie Walker, Famous Grouse and Dewar's had the

knock-on effect of encouraging individual distilleries to improve

the quality of their own single (unblended) malts.

These days, although there are still great blended whiskies

out there, it is the single malts that sell for thousands of pounds

at auction and it is the individual distilleries that attract

pilgrims from all over the world who come just to pay homage

to the home of their favourite dram.

________________________________________________________

Just as French wines rely on the individual terroir where the

grapes are produced, so Scots whisky is an embodiment of the

landscape over which the water flows before going into each à

© VisitScotland / Peter Dibdin

42 BritishTravelJournal.com
---
BritishTravelJournal.com 43

Visitors enjoy a guided tour of the Clydeside Distillery, Glasgow
---
Whisky is one of Scotland's most

valuable commodities, attracting

visitors from all over the world,

with one in five visitors making a

trip to a whisky distillery during

their stay - VisitScotland

whisky. Single malts are also influenced by the local peat

that may stoke the fires at the distillery. For this reason

Scotland's bleak islands, its green glens, its lowland

pastures and rolling northern moors all contribute to the

unique flavour of each and every whisky.

The barrels in which ageing takes places also

influence that flavour, No wonder no two whiskies ever

taste the same.

Nowadays six whisky producing regions are

recognised in Scotland although they are hugely

different in size. "Lowland" is an area scarce in distilleries

between Edinburgh and Glasgow, conversely "Highland"

is really four massive regions – North, East, West and

Central – that are found to the north of Lowland.

Then there is "Speyside", a tiny area between the

Grampian Mountains and the Moray Firth, which is

as densely overpopulated by distilleries as Lowland is

underpopulated.

Meanwhile to the west – and only eleven miles from

the coast of Northern Ireland – lies "Islay", a single island

that is home to eight major distilleries. Campbeltown –

once the whisky capital of the world but which ironically

almost closed up shop in the twentieth century – sits

nearby on the mainland.

Finally there is the region known as "The Islands"

which comprises every other island distillery that isn't on

Islay itself.

If you are confused then just to make matters more

complicated the Scotch Whisky Association officially

lumps all the islands – except Islay – into the Highland

region. Conversely, many whisky experts subdivide the

Highlands into four separate inner regions. There is no

simple appellation system for Scottish Whisky.

Because each region has its individual qualities

the Scotch Whisky Experience in Edinburgh offers a

very accessible 50-minute audio-visual crash course

(with tastings) that explains whisky and its regional

characteristics.

But nothing beats the experience of visiting a distillery

and having the magic explained to you in situ. All that

polished, complex bespoke equipment inside can cause

OBAN

IN THE HIGHLANDS

Founded in 1794 by two brothers, this

distillery passed through many hands

down the centuries and occasionally fell

"silent". Today Oban is one of Scotland's

smallest distilleries, producing a single

malt typical of the West Highlands, drier

and smokier than the light, sweet malts

of other Highland regions. This old grey

stone building sits near a busy quayside

and looks rather forbidding from the

outside, but there is a very friendly new

visitor centre within.

obanwhisky.com

the mind to boggle. What do the grist mill, mash tun,

washbacks and copper pot stills actually do? What is

a spirit receiver and why is it kept locked? And why do

all of these pieces of Heath-Robinson invention look so

different? The byzantine machinery of each distillery is as

individual as the taste of the whisky it produces.

Finally, the great thing about a whisky tour is that it

unleashes a terrible thirst and that is what the tasting

room at the end of the visit is designed to sate.

There are so many distilleries to enjoy in Scotland – far

too many for the average visitor to ever reach – but here is

our selection of just one from each region. à

Where to stay

The Airds Hotel is

a small gourmet-dining

country house 19 miles

to the north of Oban on

the shores of Loch Linhe.

It was originally an inn

for drovers bringing their

cattle from the islands but

is now one of the most

comfortable hotels in the

area, celebrated for its

excellent food and for its

tranquil views across to the

Morvern Peninsula.

airds-hotel.com

44 BritishTravelJournal.com
---
GLENKINCHIE

IN THE LOWLANDS

There aren't many distilleries around

the Scottish capital but Glenkinchie,

set in undulating farmland 15 miles

to the southeast of Edinburgh is the

nearest.

Founded in 1825, the distillery

went through uncertain times

before being completely rebuilt

in 1881. In 2013 it was awarded

Scotland's prize for Best Lowland

Single Malt. This picturesque brick

building is an easy-going place to

visit and its whiskies have distinct

grassy sweetness on the palate.

malts.com

Where to stay

The Balmoral Hotel stands

commandingly above Edinburgh's

Waverley Station and is famous for

containing the room in which JK

Rowling completed her last Harry

Potter novel. It's a slow drive out to

Glenkinchie, but when you get back

to Edinburgh make sure to spend an

evening with one of the hotel's kilted

Whisky Ambassadors who will help

you enjoy whisky as never before.

roccofortehotels.com

LAGAVULIN

ISLE OF ISLAY

Dating from 1816 and housed in a

sequence of white-washed buildings

with a distinctive twin-towered roof,

Lagavulin has a long-running rivalry

with the nearby Laphroaig distillery.

Although the two distilleries are only

a mile apart, the water and the peat

each uses are sufficiently different to

create two very distinct whiskies. The

16-year-old Lagavulin is considered

by many to be the benchmark for a

great Islay whisky.

malts.com

WE LOVE

Where to stay

Recently reopened,

The Machrie Hotel is set in

the dunes of Islay, six miles

from Lagavulin village. Its 47

bedrooms have views across

island's peat plains, over the

hotel's own golf course or

as far as the remote Mull of

Oa peninsula. Seven miles

of pristine beaches and the

opportunity to spot white

eagles, puffins, short-eared

owls and waders make this an

hotel for wildlife enthusiasts

as well as golfers and

whisky-lovers.

campbellgrayhotels.com

BritishTravelJournal.com 45
---
CARDHU

SPEYSIDE

Started as an illicit still in 1810 by the

whisky smuggler John Cumming,

Cardhu became respectable

when Johnnie Walker & Sons of

Kilmarnock became a regular

purchaser of its single malts to go

into their famous blend. Eventually

in 1893 Cumming's daughter-inlaw

sold the distillery to Johnnie

Walker on the condition that the

family could continue its day-to-day

running of the stills. A company

myth runs that spiders in the tun

room have always had a beneficial

effect on the fermentation process

and this has led them to being a

protected species at the distillery.

cardhudistillery.com

Where to stay

Cardhu Country House is a

former manse half a mile from the

distillery. It offers just six bedrooms

with salmon and sea trout fishing

nearby. The house is at the heart

of Speyside's Malt Whisky Trail, a

unique signposted tour that visitors

can follow to eight local distilleries,

including Dallas Dhu which is now a

whisky museum and visitor centre.

cardhucountryhouse.co.uk

DONT MISS

HIGHLAND WHISKY

FESTIVAL

A new annual celebration

of the established Highland

Whisky Trail.

highlandwhiskyfestival.co.uk

GLEN SCOTIA

CAMPBELTOWN

Campbeltown was once the

powerhouse of Scottish whisky

production with over 30 distilleries.

Unfortunately, Prohibition in the United

States wrecked its export market.

These days the region is rebuilding with

three revitalised distilleries. Glen Scotia,

founded in 1834, is one of the smallest

distilling operations in Scotland with

just seven employees.

Five single malts are produced here,

including the Victoriana, a modern

recreation of their classic Victorian

Single Malt. Exposing the casks to the

unique salty sea air of Campbeltown

during ageing is said to contribute to

the whisky's distinctive taste.

glenscotia.com

Where to stay

Carradales Luxury Guest House

Fourteen miles north along the coast

from the Glen Scotia Distillery sits this

cosy four-bedroom Victorian guest house

warmed by log fires. The nearby fishing

village of Carradale has its own golf

course plus a local bus that goes five times

a day into Campbeltown itself.

carradales.com

46 BritishTravelJournal.com
---
TALISKER

THE ISLE OF SKYE

In 1960 when fire destroyed

most of Skye's most famous

distillery, its five uniquelyshaped

stills – odd-looking

might be a less diplomatic

word – were rebuilt in exacting

detail. Everyone agreed that

the shape of the stills might

somehow be responsible for

the whisky's unique spicy

flavour.

A maritime location

alongside Loch Harport also

affects the taste in a subtle

way. Talisker was much

enjoyed by Robert Louis

Stevenson who praised the

whisky in his poem "The

Scotsman's Return from

Abroad". Today Talisker

is held by many to be the

quintessential Islands Whisky.

malts.com

Where to stay

Twenty miles north of

Talisker stands Skeabost, a

former hunting lodge that was

rebuilt for comfort in 1871.

With the River Snizort running

through its grounds this is the

perfect place for salmon and

trout fishing. It is also the only

hotel on Skye with its own golf

course. The recent renovation has

blended the original Victorian

features with contemporary

furniture and tweeds in dramatic

primary colours.

skeabosthotel.com

THE LOWDOWN

GETTING THERE

plane British Airways fly to Edinburgh

and Glasgow several times a day from

Heathrow, Gatwick and London City

airports with single fares from as little

as £35. ba.com

INTRODUCTION

For the most user-friendly introduction

to Scots Whisky visit The Scotch

Whisky Experience next to Edinburgh

Castle: 354 Castlehill, 0131 220 0441

scotchwhiskyexperience.co.uk

BritishTravelJournal.com 47

© VisitScotland/ Paul Tomkins
---
Mull of Galloway Lighthouse

48 BritishTravelJournal.com

Images in this feature are ©VisitScotland/Kenny Lam/Paul Tomkins
---
I T I N E R A R I E S

SOUTH WEST

COAST 300

Scotland

Jessica Way explores the magnificent beauty of the

south west coast of Scotland, discovering some of the

finest hotels to stay in and places to visit along the way

YOU'VE PROBABLY ALREADY heard of

Scotland's North Coast 500, a circular route

around the northern top of Scotland from

and to Inverness, and now, more recently, the

South West Coastal 300 route has launched, a stunning

drive of just over 300 miles, firmly placed on the travel

itinerary wish-list for tourists looking to experience their

own slice of Scotland.

There is no one way to travel and explore either the

NC500 or SWC300, the choice of where you start,

and finish, is yours too. Both scenic driving routes cover

several hundred miles, and you could easily spend weeks

at a time exploring a single stretch of the coast, and still

feel you have only just scratched the surface.

The choice of spectacular white sandy beaches, pretty

coastal towns and villages, and landscapes filled with

soaring mountain views, makes discovering your own

coastal adventure as easy as the coastal breeze itself.

Much of the west coast, although sometimes exposed

to the whims of the North Atlantic weather, is shielded

by the inner isles, with easy access to island-hop across

to the likes of Arran, Islay, Jura, Mull, Iona and Skye

- making our only touring challenge avoiding island

temptation and sticking to our pre-planned route!

EDINBURGH TO DUMFRIES

Flying from Southampton to Edinburgh our SWC300

journey began with a pleasant two-hour drive south to

Dumfries, known as the 'Queen of the South'.

Picking up our hire car from the airport (we used

enterprise.co.uk) was straightforward, and touring by car

is made easy in Scotland. In addition to the motorways

and good main roads, there is an excellent network of

lightly trafficked rural roads, as well as strong signposting

for the main tourist routes.

While driving look out too for the many brown 'Thistle

Signs' by the road that point the way to all kinds of walks,

trails, attractions and adventures.

About half way on this journey we stopped to see

Scotland's Highest Village – Wanlockhead. Sitting at

an altitude of 467 metres, and home to The Museum of

Lead Mining, which tells the story of the local industry

and allows you to go down a former working mine.

There's also a lovely tea room serving pasties, homemade

soup, scones, cakes and other light bites.

Once in Dumfries itself we really enjoyed visiting

the Robert Burns House (robertburns.org). Now a free

museum, with friendly volunteers and a donations box,

it was previously the house in which Robert Burns lived à

BritishTravelJournal.com 49
---
Kirkcudbright Harbour and Marina

and where he wrote some of his best poems. There are

many of his most famous quotes to read and inspire,

and a lovely touch is seeing the inscription of his initials

scratched into the window pane of his bedroom.

Enjoying a day of culture, our next visit was to the

fabulous new visitor centre, Moat Brae (peterpanmoatbrae.org),

described by author J.M. Barrie as his

'enchanted land' – and the place where Peter Pan, and

the imagination within his stories, was born.

Moat Brae itself was originally the home of J.M. Barrie's

school friends Henry and Stewart Babbington – with his

own house just a few hundred metres away – Barrie is

quoted to say "I was more in that house (Moat Brae) more

than any other in Dumfries" and himself acknowledged

Moat Brae as being his inspiration behind Neverland.

Ten years of fundraising and restoration work has

gone into turning this impressive, historically significant

Georgian house, and gardens, into a modern, light, freeflowing,

interactive museum space. You should definitely

make a visit if you are passing by Dumfries – we were

really impressed. It has been achieved beautifully – while

remaining sympathetic to the original features.

Inspiring imagination and creativity is at the heart

of the museum – which aims to inspire and offer new

opportunities to children (and young people) interested

in creative writing and literacy. With the local community

and many passionate people behind the project, I am sure

the museum will be a huge success for Scotland.

We rested our heads for the night at the Cairndale

Hotel and Leisure Club (cairndalehotel.co.uk) where we

enjoyed a delicious four course Table d'Hote dinner in

the Reivers Restaurant. Following a morning visit to the

hotel's own private leisure club, The Barracuda Club,

where they offer a range of beauty treatments including

holistic and aromatherapy therapies, and a hearty full

Scottish breakfast, we were back on the road.

"Our first

stop of the

morning was

at the pretty,

quiet coastal

village of

Rockliffe – a

beautiful

sandy bay,

surrounded

in parts by

large rocks

and rock

pools, lined

with rows

of pretty

white-stone

and pastel

cottages."

ROCKLIFFE TO PORTPATRICK

In search of some sea-side tranquillity and fresh sea air

we headed south towards the Solway Firth. Our first stop

of the morning was at the pretty, quiet coastal village

of Rockliffe – a beautiful sandy bay, surrounded in parts

by large rocks and rock pools, lined with rows of pretty

white-stone and pastel cottages.

There is a large car park just before you reach the bay

or limited 20-minute parking at the beach itself. For us

that was enough time to soak up the views and enjoy an

ice-cream. On less sunny days when the ice-cream van

stays at home (we were lucky with the weather – and mine

was a 99!) there is also a curios/antiques shop which

serves takeaway coffees that can be enjoyed sitting out

on the green.

If you enjoy walking, there is a superb linear coastal

walk linking Rockcliffe to the east - with Sandyhills, a

picturesque sandy beach - said to be one of the finest

The Harbour Cottage Gallery in Kirkcudbright

50 BritishTravelJournal.com
---
cliff walks in Britain with stunning clifftop

scenery and views across the Solway Firth to

Cumbria and the Isle of Man. There is also

an infrequent bus service leading back to the

start – so if you wanted to give your legs a rest

there's no need to walk.

Heading in the opposite direction (west)

there is a more manageable mile-long Jubilee

Footpath linking Rockliffe to Kippford – a

charming waterside location with several

places to choose from for lunch.

Known as the Solway Riviera, popular with

yachtsmen, Kippford is lined with granite and

white-washed houses, colourful cottages, a

gift shop and café. We choose The Anchor pub

(which also has rooms) for a locally sourced

fresh seafood platter, and crab sandwich -

washed down with a refreshing juice.

Back in the car we continued our journey west

towards Kirkcudbright, passing Dundrennan

Abbey - dating back to 1142, and previously

a Cistercian monastery - and where Mary

Queen of Scots spent her final night in

Scotland back in 1568.

It was also close to here where we drove

past a 35 foot Wickerman, which I am fairly

certain must have been on the grounds of

East Kirkcarswell Farm, in memory of the

Wickerman Festival, and founder, Jamie

Gilroy who was tragically killed by gunshot

to his head in December 2014. The music

festival, which had been held at his farm since

2001, had become world-famous – likened to

a smaller version of Glastonbury – it attracted

the likes of Scissor Sisters, James, The

Proclaimers and many more.

Traditionally the festival would end at

around midnight with the burning of a giant

wickerman built by local craftsmen Trevor

Leat and Alex Rigg. The designs for these

became ever more elaborate and inventive

over the years.

Kirkcudbright, known as 'Scotland's

Artists' Town', made a quirky stopping point.

It was easy to park, and we enjoyed looking

in the new Kirkcudbright Gallery and some

of the independent craft shops and galleries.

There's an interesting harbour where you

can get ice-cream and fish and chips, and an

old-fashioned looking petrol station where we

filled up the car.

Next we crossed the bridge over the River

Dee and drove alongside the shore past the

beautiful Dhoon beach with its views of Little

Ross Island and its lighthouse. Continuing along

the B727 via Borgue we joined the A75 and took

a divert to explore Gatehouse of Fleet – and I am

so pleased we did.

Here we discovered the less-well known

Carrick Bay and Knockbrex viewing point – a

stretch which has been voted 'Favourite Beach

in Dumfries and Galloway', but is still quiet

from tourism. A hidden gem – not completely

hidden of course, after-all 'we' found it - but

there was hardly a car, or soul, in sight.

The sea level was so low we could have

walked across to Mossyard, had there been

time, but we did enjoy walking barefoot on

the sand and dipping our toes in the sea.

Continuing along the A75 passing

Creetown, the route took us to Newton

Stewart (another great stopping point for

shops and cafés) and with stunning views of

the Galloway Hills and Wigtown Bay.

From here it is just over an hour's drive to

Scotland`s most southerly point - the remote

Mull of Galloway – where you can delight in

views of the Galloway Hills, Lakeland Fells, the

Isle of Man and even the Mountains of Mourne.

This is one of the highlights of the route and

somewhere you could spend several hours

simply soaking up the atmosphere and views!

Climb the 115 steps to the top of the

fabulous Mull of Galloway Lighthouse, where

a spectacular view from the balcony and

lightroom will reward you for your efforts!

Pop in to the Gallie Craig award-winning cliff

top coffee house or make time for a visit to

the RSPB Nature Reserve. From here re-trace

your route and, just before Drummore, follow

the signs for Port Logan. Here we turned à

BritishTravelJournal.com 51
---
Pictured left;

Portpatrick

Harbour

Kirkcudbright.

Pictured below and

opposite page; 5

Star Luxury Hotel,

Glenapp Castle.

right, and, after a couple of miles, rejoined the A716

northwards. Port Logan has another beautiful beach

and nearby is 'Scotland's most Exotic Garden' – Logan

Botanic Garden.

From here you are not very far from Portpatrick,

where you will find several bars and restaurants on the

harbourside, pastel-coloured houses, set around a small

bay with cliffs forming the backdrop.

GLENAPP AND GALLOWAY FOREST PARK

From Portpatrick we headed north past Stranraer onto

the A77 along the coast of Loch Ryan to Cairnryan -

where we could see the ferries sail from terminals at each

end of the village across to nearby Northern Ireland.

Shortly afterwards we arrived in 5-star paradise for

our next overnight stay - easily one of the most beautiful

hotels in Britain. Glenapp Castle Hotel is ideally situated

on the South West Coast 300 route – and an absolute

must (if your budget allows).

Let the team take care of your itinerary for a couple

of days – they've just launched an exciting and unique

variety of experiences from mountain biking, archery,

private falconry displays, stargazing, golf, whisky tastings

– there's even 'forest bathing'.

The castle itself, built in 1870, is a strikingly beautiful

example of the Scottish baronial style of architecture.

Designed by the celebrated Scottish architect David Bryce

"We arrived

in 5-star

paradise

for our next

overnight

stay - easily

one of

the most

beautiful

hotels in

Britain."

for Mr. James Hunter, the Deputy Lord Lieutenant of

Ayrshire, the castle's mellow sandstone battlements are

topped by soaring turrets and towers, earning Glenapp

a rightful place as one of the most romantic castles in

Scotland.

In January, the castle took delivery of their new boat,

the 'Glenapp Castle' which can take up to eight guests

on private sea safaris exploring the stunning clear waters,

remote beaches and the amazing sealife and birds they

are blessed with on their doorstep.

In addition to this, the castle has stunning gardens

and grounds for you to explore and enjoy at your leisure,

including the wooded Glen walk. You are warmly

encouraged to take a map, jump into a pair of Hunter

boots, and grab a Glenapp jacket, before heading out to

enjoy the sights, sounds and scents of thirty-six acres of

castle grounds.

You could easily spend an afternoon strolling the

carefully tended lawns and pathways, surrounded by the

vast array of exotic plants that have been collected since

Victorian days.

We enjoyed taking a stroll through their beautiful

walled gardens, where we came across their wonderful

Italian garden, designed by Gertrude Jekyll, and a historic

Victorian glasshouse – currently being restored by

talented craftsmen to its former glory. In time this will be

a wonderful space where they will grow more of their own

fruit and vegetables.

And that's not the only improvements being made

at this incredible hotel – there's also the excitement of

the imminent launch of their 4-bedroom penthouse

52 BritishTravelJournal.com
---
apartment, sure to rival some of the finest

private suites in the world.

I was given a sneak-peek, hard-hat tour,

of the conversion, starting with a trip up

the beautiful spiral staircase (in the castle's

turrets) which links the bedroom suites and

reception rooms, as well as leading guests

to the private roof terrace with 360 degree

views over the surrounding countryside and

coastline. And what a view – I was told you

can see as far as Ireland on a clear day!

This space will be perfect for small

groups... there's also a drawing room which

can be used for private dining, a sitting room,

games room, kitchen, sauna and beauty

treatment room, along with an astonishing

master bedroom suite boasting more

magnificent views.

Glenapp Castle Hotel is also the perfect

base for exploring the Galloway Tourist

Route (from National Trust Scotland). This

route, stretching through the lush countryside

of Dumfries & Galloway and into Ayrshire,

in the very heart of Burns' country, takes

in Gretna Green before continuing on to

Dumfries (where we started our tour). From

Dalbeattie you then venture through the

beautiful Galloway Forest Park, just a 40

minute drive inland from Glenapp Castle

Hotel, and an absolute must for spotting

wildlife – 774 km² of unspoilt countryside with

many rare and endangered species, including

red deer and wild goats, and can you believe

it, a fifth of all of Scotland's red squirrels!

There are three visitor centres, and the

option to choose from two scenic Forest

Drives; either follow in the footsteps of Robert

the Bruce or take a picnic beside a peaceful

loch. The area is also Scotland's first Dark

Sky Park – and one of the best places to

stargaze in Europe.

Some of the guests staying at Glenapp look

on the castle as their home away from home,

with many repeat visitors, who have been

guests for several years. Between receiving the

finest quality of hospitality, in an atmosphere

of peace, tranquillity and relaxation – nothing

is too much trouble for their staff who are

ready and eager to be at your service. The

staff were exemplary - always offering to go

the extra mile to make your stay as enjoyable,

and memorable, as possible.

For such a grand castle – surrounded by

12,000 acres of Lord Inchcape's Glenapp

Estate – it is refreshingly unpretentious too.

Currently there are 17 luxurious and

spacious suites and bedrooms, each

individually furnished with a unique

combination of fabrics, art and antiques.

We stayed in a Junior Suite, situated in the East

Wing of the castle, furnished in grand stately

Victorian décor, complete with fireplace, large

windows, and a luxurious marble bathroom.

For our evening meal we chose the six

course gourmet menu – courses included

Spinach and Quail's Egg, Duck Foie Gras

Bonbon and Fillet of Loch Duart Salmon –

finished off at the end of the evening with

a warming dram of whisky in the lounge!

The food and service was flawless, and

unobtrusive – a lovely evening.

AYRSHIRE AND SANQUHAR

Following our wonderful stay at Glenapp

Castle we were back on the road, a downhill

coastal route heading towards Ballantrae,

with beautiful views, and where we had our

first proper glimpse of Ailsa Craig - a volcanic

(extinct) island famed for the granite used for

curling stones, and home to over 40,000 sea

birds with a summit of 1,100 feet. à

BritishTravelJournal.com 53
---
SOUTH WEST COAST 300

A view towards

Turnberry

Lighthouse and

Ailsa Craig from

the 8th green of the

new King Robert

the Bruce golf

course at Trump

Turnberry, Ayrshire

As we entered Ballantrae we took a left turn, pausing for a

moment, to take in the stunning views of Ailsa Craig, and

Arran, lying just offshore from the harbour.

We then followed the A77 along the coast for another

half an hour where we reached Turnberry, then on to the

A719 – and our next destination, another triumphant

5-star hotel within this glorious stretch of coastline – the

iconic Trump Turnberry Resort.

Known throughout the world for its incredible

championship links golf courses – there's an entirely

different vibe here from Glenapp, less personal, more

energetic, however it's another fabulous choice –

especially if you love golf and sporting activities.

Trump Turnberry is home to three exceptional golf

courses, the Open Championship Ailsa course, King

Robert the Bruce and the Arran – giving it the accolade as

one of the finest golf resorts anywhere in the world.

There's also a fantastic onsite activity centre, Turnberry

Adventures, offering guests a variety of activities

including, archery, horse riding, quad bike safaris, mini

highland games and water zorbing. Naturally there's a

luxurious spa, offering a range of ESPA treatments, and a

lovely swimming pool where we enjoyed a refreshing dip.

Trump Turnberry has over 100 years of heritage and

history – and, with the gleaming white-washed buildings

and immaculate lawns, golf courses, lighthouse and

amazing sea views, the resort is an impressive sight.

Resident Piper, Bryce McCulloch's Scottish Bagpipe music

added to the spirited ambience.

The 'big news' for the resort this year is the launch

of their stylish new collection of nine two-bedroom

cottage suites lovingly restored, following a £1.6 million

investment, back to their full glory.

The Cottage Suites, dating back to 1902, have been

elegantly designed and furnished – the interiors, inspired

from the surroundings and rich heritage, have many of the

signature Turnberry touches you would expect, combining

a timeless, cosy interior with modern functionality.

The suites offer a self-contained private haven for

guests – with all of the perks of a traditional hotel suite,

yet with even more space. A great option for families,

with cots, high chairs and stair gates available, and/or

54 BritishTravelJournal.com
---
Culzean Castle

from Croy Shore,

South Ayrshire.

Picture Credit:

Paul Tomkins

The Cottage Suites

at Machrie Lodge

Lounge

dog owners, designed to be dog friendly, with gourmet

treats, plush dog beds, water bowls and toys available on

request.

There's a wide choice of unique dining experiences,

including the signature restaurant 1906, which takes its

name from the year Turnberry opened; an elegant Grand

Tea Lounge and Bar, home to the opulent afternoon tea;

and Duel in the Sun restaurant overlooking the legendary

Ailsa golf course.

We opted for 1906, which offers classic dishes with a

modern twist. Here we enjoyed a lovely meal, and as the

sun set, out came our unique Chef's Table experience

– our Orkney beef steak diane, one of their signature

dishes, being cooked to our preference at our table.

Dessert was another timeless classic, 1906 Crepe

Suzette, flambéed at our table side before being served

with Grand Marnier, orange and vanilla ice cream. Our

waitress was lovely – very warm and chatty, and enjoyed

telling us how lucky she felt to have her job at Trump

Turnberry – a step up from her previous job, she told us,

where she'd been serving fish and chips.

The surrounding area offers even more to explore –

from castles to distilleries, from beaches to the birthplace

of Robert Burns – you could spend several days or more

exploring Ayrshire.

Back on the road we passed the entrance to Culzean

Castle and drove down the 'Electric Brae' where your

car appears to be rolling uphill! Onwards the road

approaches Dunure with more jawdropping views of

Arran. A detour of a mile or so from here brings you to

Dunure Village - a pretty harbour and the extensive ruins

of its 13th Century Castle and Dovecote.

Return to the A719 from where it's a short distance

to Alloway, a suburb of Ayr and famed for being the

birthplace of Robert Burns and the setting for his epic

poem, Tam o' Shanter. Our final stop – here we visited

Burns Cottage and Burns Birthplace Museum, housing

his life's work, before heading back on the road for the

airport.

An endlessly fascinating region of Scotland. We loved

the variety of quaint coastal villages, diverse landscapes,

and culturally inspiring attractions in this single stretch of

coastline. It was an extraordinary journey that has given

us an appetite for more. Missing the haggis already, the

more rugged NC500 route is now firmly in our sights. u

FOR MORE INFORMATION ON

VISITING SCOTLAND, PLEASE VISIT

VISITSCOTLAND.COM

BritishTravelJournal.com 55
---
N E W T O U R I N G R O U T E

GREAT

WEST WAY

London to Bristol

This summer marks an exciting moment for luxury travel in the

UK with the opening of England's first ever touring route, destined to

become one of the premier routes in Europe, and probably the world

Words | Jules Mittra

FORMING A BROAD corridor on either side

of the historic King's Road' (known as the

'A4' today), the Great West Way links two

of England's foremost historic port-cities;

London in the east, and Bristol in the west. This road

has been one of the most important routes in England

for almost two millennia. At around 125 miles in

total length, the Great West Way passes through,

or close to, some of the most spectacular and

fascinating landscapes, locations, attractions, history,

experiences and cultural highlights that England has

to offer. From the prehistoric to the ultra-modern,

from rural idylls to urban jungles, the Great West Way

offers curious, inquisitive travellers the opportunity

to go way beyond the routine tourist experience

and connect with England more powerfully and

authentically than ever before. For those with the

requisite resources, time and interest, it's the perfect

way to discover England, in luxury, unhampered and

at a pace that is relaxed and immersive. With so much

on offer, creating the perfect itinerary for you won't

be difficult, but here's mine...

Starting in London, the Great West Way begins in

the heart of the historic City. As it heads west out of

the city through Richmond and Twickenham, it passes

56 BritishTravelJournal.com

Buckingham Palace, well outside the city when

first built, past the Ritz, before escaping the capital

through Windsor and the suburbs and satellite towns

that orbit London's west flank. An ideal starting point

for exploring the Great West Way, especially for those

having just arrived from overseas, is The Langley, a

recently opened 5-star hotel just on the outskirts of

London, only 10 miles from Heathrow. Destined to

become one of England's most prestigious country

hotels and originally the Duke of Marlborough's

hunting lodge (ie the Churchills), The Langley recalls

the character, charm and elegance of an imperial

age whilst offering the comfort, service and facilities

of a contemporary 5-star hotel. The rooms are

sumptuously yet tastefully decorated, the spa complex

is stunning, and the hotel boasts a signature restaurant,

bar and exquisite afternoon tea. However, for food

lovers, Heston Blumenthal's Fat Duck is just a mere 20

minutes away and offers one of the most extraordinary

culinary experiences in the world, and one that

people travel across the world to experience. As such,

booking far in advance is a necessity.

Assuming an overnight stay at The Langley, a visit

to Windsor and its famous castle may be an essential

stop for some. Personally, Eton, on the opposite à

© VisitEngland/Doug Harding
---
Mounted police officers at Windsor Castle
---
Pictured above: Eton High Street; Pictured

below: Eton College; Pictured opposite page top

to bottom-right: Highclere Castle signage and

exterior; West Kennet Long-barrow; Great Bedwyn,

and the Avebury Stone Circle

bank of the river Thames and connected to

Windsor by a pretty foot-bridge, is a more

enticing, enchanting and less crowded

prospect. Home to Eton College one of

the world's most prestigious and oldest

schools, both the town and the school are

fascinating places to visit. Call the College

up ahead and it is often possible to find

times to visit the school or at least parts

of it, including the 1400s King's Chapel,

often guided by one of the scholars,

replete in his top hat and tails.

However, the town is also worth

perusing, if only for a stroll along its

Victorian streets with stores that seem

to have stood still in time: gentlemen's

outfitters with displays of fine hats,

riding-coats and assorted gentlemanly

attire, sweet shops with jars of hardboiled

marvels.

It may be obvious but travelling by

car along the Great West Way provides

the most flexible and simplest way of

exploring the route; however, there's

no need for the transport to be any less

interesting than the route itself. Whether

you'd prefer to self-drive or enjoy the

views from the back seat, there are plenty

of options for hiring a classic British

car for the trip from companies such as

'Bespokes', or 'Vintage Classics'.

Assuming Windsor and Eton are

morning stops, the afternoon should offer

something different. One such option

would be a visit to Silchester. Silchester

has to be one of the most incredible

hidden gems along the Great West Way.

Once a significant Roman town, it was

abandoned in the early 400s following

the Roman army's sudden departure,

recalled in a vain attempt to save Rome

from the barbarian hordes. Silchester's

walls were too long, and the site lacked

a natural defensive location or adequate

water supply, so its inhabitants seemingly

abandoned it in favour of more secure

Roman towns such as Bath and London.

Today its walls, gatehouses, road plan

and even amphitheatre are still visible,

with the rest of the site left to grazing

cattle and sheep.

It's an extraordinary place to visit;

quiet, peaceful and evocative, and a great

stop before making the short hop over to

near-by Heckfield Place for another night

of divine luxury.

Continuing the journey west the

following day, the route along the King's

Road/A4 provides passes you by historic

town after historic town and achingly

beautiful countryside. Fans of Downton

Abbey may want to stop by Highclere

Castle; it's a busy stop today but a drive

from that point to Marlborough takes in

some of the most spectacular countryside

in the south of England.

Before arriving at Marlborough,

the village of Great Bedwyn offers a

myriad of incredible experiences. First is

Wilton Windmill, a rare example of a

maintained windmill, with private guided

tours available and bags of flour to take

home. For fans of the industrial era, one

of the UKs most significant industrial

treasures - the world's oldest working

steam engine at Crofton Beam Engines,

is close by. Designed by Watt, the man

who spurred the industrial revolution with

the first efficient steam engine, this engine

has been pumping water up for the

nearby canal for over 200 years. Enjoy a

private, guided tour before stopping for

lunch at the award winning Three Tuns

Freehouse.

Whilst Stonehenge is recognised

the world over, just twenty miles north

of it lies another prehistoric UNESCO

world heritage site that to me at least,

is more awesome, mysterious and

magical. Avebury Stone Circle is the

largest stone circle or 'henge' anywhere

58 BritishTravelJournal.com
---
GREAT WEST WAY

"Silchester has to be one of the most incredible hidden

gems along the Great West Way... It's an extraordinary

place to visit; quiet, peaceful and evocative"

in Europe. Located within a gentle bowl

of hill lines, its scale and location is truly

awe inspiring. By way of comparison,

Stonehenge's diameter is approximately

98 metres, whilst Avebury's is 347 metres

across. And although we are fairly confident

about Stonehenge's purpose, Avebury's

remains a mystery. Touch its imperious stones

and walk along its enormous earth-banks,

built up out of the chalk spoil taken from

the deep, wide ditches beneath and gaze

upon the prehistoric monuments that dot

the landscape all around it. Aside from the

stone circle itself, Avebury also boasts several

other fascinating prehistoric features nearby;

the 2.5km stone avenue that links Avebury

to the ancient Ridgeway path, Silbury hill,

the largest man-made mound in Europe

built over generations, similar in size to a

contemporary Egyptian pyramid, and finally,

West Kennet Long-barrow. This ancient

burial chamber was first constructed over

5500 years ago and remained in constant

use for over a thousand years. Step inside

to discover remarkable Neolithic burial

chambers and the detritus of modern-day

druids and pagans who still enter the tomb to

leave votive offerings of candles, corn dollies

and ribbons in honour of the spirits. It's a

completely ethereal experience.

If a change of scene is required, perhaps

a sensory experience like tasting some of

the fine local produce would be desirable?

Cheesemakers, Distillers, Artisan food

producers can be found dotted across the

region, but perhaps unexpectedly, so can

wine-makers. England, not traditionally

known for its wines, is fast developing

as a wine producing nation. Its southern

chalk soils are perfect bedding ground for

champagne style varietals and the warming

climate is rapidly making southern England

a Goldilocks zone for such wines. It's still very

much a cottage industry, but outstanding

vineyards are emerging across the Great

West Way region. One such vineyard is

a'Beckett's Vineyard. Stop by for a private

tour of the facilities, vines, process and of

course, a wine tasting. As a contrast to the

luxury hotel, a great alternative is a stay at

a private rental. The Three Daggers Spa

Barn. The Three Daggers was originally a

simple coaching inn on the road at Edington,

Wiltshire, but today, under the stewardship

of a wealthy and passionate owner, it boasts

one of the finest restaurants in the area, as

well as its own craft beer brewery (which

can be visited privately), a first-class farm

shop filled with local produce and delicious

delicacies and pickles no longer in common

use. Most importantly however, is the

accommodation itself. The Three Daggers

has its own rooms, but also offers one of the

most sumptuous, private and well-equipped

private holiday rentals anywhere in the region.

The Three Daggers Spa Barn is a complex of

buildings for private hire that sits high above

the road and inn below, looking across to

the vale beyond. The vista is breathtaking;

stunning hill-lines, fields, villages and distant

towers and church spires fill the view. Enjoy

a little tranquillity, quietly reading under soft

light, on a comfy sofa whilst gazing across

the view from the comfort of the glass-fronted

barn that serves as the communal living à

BritishTravelJournal.com 59
---
GREAT WEST WAY

"Bath also offers the

perfect base from which

to explore the local

region – in essence, to

discover England."

Pictured left-right: The Henge Shop,

Marlborough; Great Chalfield Manor,

Wiltshire and Caen Hill Locks at Devizes

Images courtesy of greatwestway.co.uk

area. Or clamber into the spa-pool at the very

top of the property, enjoying a glass or two of

champagne, as dusk falls on the scene below

and the bubbling heated waters of the pool

turn to steam as they meet the cool air above.

Stonehenge is an ideal stop the following

day; it's a must-see but whilst 'inner-circle

access' tours are possible, unless you plan

on block-booking the entire 30 inner-access

places, a guided tour with a knowledgeable

expert offers a better experience. The newly

installed path allows visitors to come within

a few metres of the stones during regular

hours whilst an inner-access tour means that

you'll always be struggling to keep the 20

plus other people out of your photos as they

wander inside the circle.

There's also an incredible variety of

options for venturing away from the wellknown

as well. For those interested in grand

historical houses, and breath-taking gardens,

a visit to Great Chalfield Manor is a must.

Owned by the same family who've held it

since the early 1800s, it is now partially

maintained by the National Trust so open to

the public, but available for private viewings.

Lunch or drinks on the lawn with Patsy and

Robert is a spectacular experience worth

investing in.

However you choose to fill your day, the

next stop is Bath, and there is no better way

of heading into this fabulous historic town

than by climbing aboard a narrow boat at

Bradford on Avon and making the gentle

cruise into Bath over a matter of four or

so hours. The canal was built to facilitate

the movement of goods in the industrial

revolution but today, travelling the stretch of

canal from Bradford on Avon to Bath offers

one of the most relaxing and interesting

experiences you could hope for. Say hello to

other canal residents, stop at one of the pubs

or cafés enroute, journey over great stone

viaducts, through picturesque tunnels and

deep locks, and pass creamy coloured stone

rows of Georgian houses, emerging in the

heart of Bath. There's no better way to enter

the city.

When it comes to accommodation in

Bath, there simply is no better choice than

the Royal Crescent Hotel. Located at the

centre of one of Europe's most recognised

and celebrated residential buildings, the

hotel provides luxury, comfort and an oasis

of peace for visitors to this extraordinary

city. Boasting period rooms and décor as

befits a building that symbolised the zenith

of Georgian architecture and British imperial

confidence, the Hotel's restaurant is firstclass

as are its spa and facilities. Its greatest

asset to me though, is its gardens. Located at

the rear of the building and enclosed by the

converted coach-houses behind, the hotel's

gardens are a hidden gem in themselves

and the perfect place to enjoy an afternoon

tea. Just minutes from all of the attractions

of Bath, yet purposefully designed as a

suburb to the city in the 1770's, so that the

residents could enjoy the pleasures of getting

a sedan chair into, and out of town, the

Royal Crescent Hotel offers the opportunity

to stay in a world-famous heritage building,

alongside the service, facilities and

tranquillity expected of a 5-star hotel.

Bath itself is a city that deserves a stay

of several nights. Though it can be seen

in a day, a more leisurely stay to explore

its UNESCO world heritage protected

architecture, incredibly well-preserved

Roman Baths complex, majestic Abbey,

and plethora of art galleries, small museums,

restaurants, bars, streets, independent shops

and one of the best theatres in the country, a

single day in Bath is a little miserly.

Bath also offers the perfect base from

which to explore the local region – in essence,

to discover England. Located at the southern

tip of the Cotswolds, Bath is less than an hour

from Stonehenge, Glastonbury, Cheddar

Gorge, Bristol and Wales. The region is à

60 BritishTravelJournal.com
---
Descend into an expansive and eccentric land, populated with over 1,000 animals from all

continents. Delve into 450 years of history spanning 16 generations of the Thynn family

with Longleat House; one of the finest examples of Elizabethan architecture in Britain.

Home to the UK's original safari park established in 1966, Longleat is also the only

animal collection in England to have southern koalas.

Book online at longleat.co.uk and save up to 15%, group discounts also available.

Explore Gough's Cave where the oldest, most complete skeleton in Britain, dating back

10,000 years, was discovered in 1903. Wander up the 274 steps of Jacob's Ladder and then on

to the highest, inland limestone cliff formation to find an abundance of wildlife including the rare

Cheddar pink, then descend into the caves to marvel at the beautiful, natural rock formations.

Book online at cheddargorge.co.uk and save up to 15%, group discounts also available.

Follow the paths taken by generations of travellers…

Discover Longleat and Cheddar Gorge & Caves,

both within easy reach of the Great West Way.

GreatWestWay.co.uk
---
Kids go

FREE

EXPLORE THE GREAT WEST WAY ®

WITH AN EXPERT GUIDE

Chauffeur driven tours with a Blue Badge Guide

www.southwestdriverguide.co.uk | southwestguide@gmail.com
---
GREAT WEST WAY

Pictured below left-right: The

Cross Baths; Pulteney Bridge and

river weir; Clifton suspension

bridge; and Royal Ascot

teeming with history, landscapes, artisans,

food and beverage producers, gardens,

grand houses, steam railways and more.

In fact, Bath and the region offer so many

interesting choices for those looking to

do something unique and different, from

private dining whilst enjoying the historic

'Cross Bath', to enjoying private tours of its

galleries or museums, to caving, boating,

ballooning or a private steam train ride with

dinner served in a historic dining car, Bath

and the region offer almost anything you

can imagine.

Bath's larger neighbour, Bristol, is the

end point for the Great West Way, and is

just as worthy of a stay as Bath.

The two cities are connected by a 15

minute train ride, and are often seen as

twin cities. If that is so, they are more

Danny Devito and Arnold Scwartzenegger

than identical siblings. Bristol, just inland

from the mouth of the River Avon, was

historically England's second port (after

London) until the industrial revolution

made larger ships and deeper ports

Liverpool, Glasgow and Belfast more

relevant. Whereas Bath is small, genteal

and homogenous (both in its architecture

and residents), Bristol is diffuse, edgy,

industrial and creative. Bristol is a city of

neighbourhoods and diverse experiences.

It's an incubator for art and creativity

(Banksy, Wallace and Gromit, Portishead

and the Chemical Brothers all originate

in Bristol) but the city is also known for

its industrial innovation; The world's first

suspension bridge, the world's first fully

steam powered screw-propelled steam

ship as well as one of the few remaining

Concordes all reside there.

Whatever it is about 'England' that

engages and excites you most, the Great

West Way most likely has it and probably

offers the best experience of it you're

likely to find. It is a true treasure trove of

discoveries, possibilities and experiences.

For those wishing to go beyond the generic

and formulaic - and to do it in style…

Welcome to the Great West Way. u

Jules Mittra is the founder of Around and

About Bath (aroundandaboutbath.com), an

innovative tour company transforming the

local travel experience: From sightseeing to

discovery, meaning and connection.

RESOURCES

Download a Great West Way map

free from their website:

GreatWestWay.co.uk/explore/maps

Order a copy of the Great West Way

Travel Magazine:

isubscribe.co.uk

S U M M E R E V E N T S

ROYAL ASCOT

18-22 JUNE

Arguably England's most famous – and grandest

– horse racing event, with five days of races each

kicked off by a royal carriage parade. This is your

chance to wave at The Queen and to wear a

fabulous hat!

ascot.co.uk

HENLEY ROYAL REGATTA

3-7 JULY

Established in 1839, this annual regatta attracts

rowing crews from around the world to its five

days of head to head knockout competitions

and is regarded as an integral part of the English

social season.

hrr.co.uk

BATH CARNIVAL

13 JULY

Bath's biggest party features a procession of

more than 1,000 dancers and musicians through

the city plus plenty of world music on the sound

systems and at Party in the Park in Sydney

Gardens.

bathcarnival.co.uk

BRISTOL INTERNATIONAL

BALLOON FIESTA

8-11 AUGUST

Europe's largest annual meeting of hot air

balloons brings colour to the sky above Bristol

with twice-daily mass balloon launches and the

chance to take a ride yourself.

bristolballoonfiesta.co.uk

BritishTravelJournal.com 63
---
I N F O C U S

PETWORTH

West Sussex

Jessica Way heads to Petworth, a picturesque market town nestled in the

heart of the South Downs National Park, to discover that there's much more to

this stylish up-coming destination than the antique shops it's renowned for

ONE HOUR FROM LONDON, this delightful historic

town with its cobbled streets, hidden lanes and

picturesque chocolate-box cottages, draped in

wisteria, looks more like a quintessentially country-chic

getaway than the stuffy old-fashioned history-buff's treasure trove

that I'd imagined it to be.

I really had no idea; I am pleasantly surprised to see a town that

has not simply relied on its history and heritage (of which it has a

great deal), or the droves of Mayfair residents, (who flock to its

antiques stores to furnish out their million-pound pads), to keep

afloat. Petworth has moved with the times – and you certainly don't

need to be among the super-rich to enjoy it.

You can enjoy a day here exploring the town by simply milling

around, no need for your car or much in the way of forward

planning (just the regular town map leaflet readily available to pick

up) - and you won't be likely to break the amount of steps record on

your fitbit either. Nor will you be bored, go hungry, or feel thirsty –

and this is what surprised me the most about Petworth.

There is enough by way of tea rooms, modern gastro pubs,

delicatessens, fashion and art shops, dotted around the little

market square for a day of culture, shopping and first-class dining

experiences – not to disappoint even that of a Sloane's highstandards.

Most recently, the New Street Bar & Grill opened its doors (last

summer), previously a fine dining restaurant under the name of The

Leconfield, now a stylishly modern, air-conditioned restaurant and

bar, with pretty patio perfect for alfresco dining on warmer days.

The menu focuses on fresh, top quality local ingredients cooked

simply, to a high standard - with many local suppliers such as

Nyetimber, Goodwood and Nutbourne on the menu.

Expect quality British fare, from daily specials to classics, such

as Marinated Kentish Lamb Rump and Locally Reared Sussex Beef

from the grill, and amongst the starters, Crispy Squid Rings and

Gressingham Duck Croquettes.

Around the corner is 'The Hungry Guest Cheese Room' and if

you didn't know about it before you might first notice it on the New

Street Bar & Grill dessert menu – not just their cheese, their biscuits

too – in fact there's a lot more to 'The Hungry Guest' story than just

cheese and biscuits...

They have a food shop, a butcher's, and a café in town – I visited

all three and felt rather envious of the locals having such fabulous

fare, artisan foods, and home-made produce within such easy reach

of their daily lives. I am a fan of shopping 'local' for my meat, veg,

butcher's and bakery goods, and here you are spoilt for choice.

I was sure to fill up my shopping bags, and savour every mouthful

of the Hungry Guest Breakfast from their café (Lombard Street just

off the main square, they serve food here all day) – award winning

sausage, dry cured bacon, slow roasted tomatoes, Portobello

mushroom, poached eggs and sourdough toast. Their coffee,

although not their own brand (it was Illy, awarded the most ethical

coffee company in the world), was so good that I went back to their

shop (in Middle Street) to buy some of my own.

Back to the cheese – they have an exceptional collection of

artisan and farmhouse, many sourced from the British Isles. à

64 BritishTravelJournal.com
---
BritishTravelJournal.com 65
---
"There's a plethora of

walking trails to choose

from, rolling countryside

and open park spaces

surround this town."

The Cheese Room is lined with classics such

as Cheddar, Stilton and Roquefort as well

as less familiar cheeses, such as Bleu de

Termignon and Brie de Meaux.

Don't be put off by the glass-sided walk-in

doors either, you are encouraged to go in and

ask questions (and taste the cheese). The

doors are there to keep the humidity up and

the temperature down, not the cheese-lovers

out. There's a Cheesemonger who will be

there to offer you advice, and recommend

accompaniments too… pickled cherries,

truffle honey or fig paste anyone?

From savoury to sweet – there's also a

traditional sweet shop well-worth a visit,

Coco Café and Sugar Lounge, where oldfashioned

sweet jars are filled with whimsical

delights – bonbons, lollies, liquorice and lots

more. Coco Lola – the ice cream van is open

from April -October for ice cream, sundaes,

knickerbocker glorys and sodas – and it

also makes a great option for lunch offering

more than the name suggests, served in the

charming sugar lounge, designed to feel

reminiscent of the film 'Chocolat'.

Aside from spending my time eating, I

met many independent-shop owners, selling

quirky gifts, art, and on-trend fashion, all

within a short walk (or loop) from the central

market square. Shopping here is a millionmiles

away from the modern commercial

high streets - and this is before I've even

mentioned the word 'antiques'.

Petworth is internationally recognised

as being a major hub for antiques, often

being described as 'The Antiques Centre of

the South'. There are over 30 antique shops

dotted around the town – with interior brand

name, Augustus Brandt taking pole position –

with both a showroom and lifestyle shop, each

within easy walking distance of each other.

Augustus Brandt's 7,500 square feet

showroom is the jewel in the crown - an

enticing destination store for home interiors,

set within the inspirational surroundings

of Newlands House, a spacious Georgian

Grade II listed town house and adjacent

coach house. Give yourself enough time to

visit here – there's over 17 different rooms to

explore (open six days a week).

Discover a carefully curated selection of

objects, bridging antique and contemporary

furniture, artworks, photography and

collectables from renowned designers, such

as Linley and William Yeoward. There is a

room dedicated to Lucan Fashion country

and shooting clothing and a new room

promoting celebrated Brazilian furniture

designer, Casa Botelho.

There's also an ever-expanding range of

gifts and offerings, including Mungo and

Maud pet accessories, Argentine home

brand, La Claraz, and Italian leather store,

Giobagnara.

Then there's the lifestyle store in Market

Square – selling a gorgeous range of

accessories, furnishings and gifts. You will

find collections from brands such as David

Linley, established by the Queen's nephew,

with gifts in wood, leather, glass and silver

to the colourful Santorus ranges of bold and

colourful silk scarves and stationery.

It was a beautifully crafted Quaternity Chess

set which caught my eye, priced £1,500

(Instruction Book Included) but not yet

having mastered the 2-player game I decided

I was not quite ready for the 4-player version

and resisted temptation, opting instead for a

candle from the famous Cire Trudon, France's

oldest candle company, priced £75.

With all this food and shopping choice,

you might feel the need to walk it off, and with

Petworth's rural location, set in the heart of

the South Downs National Park, you are in the

right place. There's a plethora of walking trails

to choose from, rolling countryside and open

park spaces surround this town.

A favourite with the locals is Petworth

Town and Shimmings Valley path (ifootpath.

com), or for longer rambles try Pulborough to

Petworth (walkingclub.org.uk).

Then there's Petworth Park itself.

Wandering through the streets you are

unlikely to go far without coming across

a National Trust sign for Petworth House

and Gardens. One of the country's most

famous stately homes, surrounded by a vast

wall, which, according to the locals, was

constructed to keep the servants in rather

than the vagabonds out.

Spanning 900 years of history and

passing through just one family, Petworth

House was built as to rival the palaces of

Europe - a vast mansion set in a beautiful

283-hectare (700-acre) deer park,

landscaped by 'Capability' Brown and

immortalised in Turner's paintings.

You can step inside this English 'Versailles'

for £15.90 for an adult/£8.00 for a child,

and while the gardens adjoining the house

are included in the entry fee, you can access a

larger portion of them – known as à

66 BritishTravelJournal.com
---
HOLIDAYS IN HOMES OF DISTINCTION

in Petworth and locally in the South Downs National Park

SOARING

IMPOSING

For availability and choice of 20 cottages around

Petworth and over 80 in the South Downs please visit

our website or give us a call on 01798 877336

www.amberleyhousecottages.co.uk

Ancient Castle,

Stately Home & Gardens

for more details, call

01903 882173 or visit

www.arundelcastle.org

FREE HOUSE • EAST DEAN

FREE HOU

FREE HOUSE • EAST DEAN

FREE HOUSE • EAST DEAN

FREE HOUSE • EAST DEAN

FREE HOUSE • EAST DEAN

THE STAR & GARTER IS A GORGEOUS COUNTRY PUB, WHICH NESTLES IN THE

SOUTH DOWNS NATIONAL PARK AT THE HEART OF THE GOODWOOD ESTATE.

THE STAR & GARTER IS THE A GORGEOUS STAR & GARTER COUNTRY IS THE A GORGEOU

PUB, STAR WHIC & GA

SOUTH DOWNS NATIONAL SOUTH PARK DOWNS AT THE NATIONAL HEART SOUTH OF PARK THE DOWNS AT GOT

THE STAR & GARTER EAT, DRINK IS A & GORGEOUS BE MERRY! COUNTRY PUB, WHICH NESTLES IN THE

THE THE STAR STAR & GARTER & GARTER IS A SOUTH GORGEOUS DOWNS IS A GORGEOUS COUNTRY NATIONAL #FOLLOWTHESTAR

COUNTRY PUB, PARK WHICH AT THE PUB, NESTLES HEART WHICH IN OF THE THE GOODWOOD ESTATE.

NESTLES IN THE

SOUTH SOUTH DOWNS DOWNS NATIONAL NATIONAL PARK AT PARK THE HEART AT THE OF HEART THE GOODWOOD OF THE GOODWOOD ESTATE.

ESTATE.

01243 811 EAT, 318 DRINK & BE MERRY!

EAT, INFO@THESTARANDGARTER.CO.UK

DRINK & BE MERRY! #FOLLOWTHESTAR

D @STARANDGARTERED EAT,

E DRINK

@THESTARANDGARTEREASTDEAN & BE MERRY!

Q @STAR_GARTER

#FOLLOWTHESTAR EAT, DRINK & BE MERRY!

#FOLLOWTHESTAR 01243 811 318

01243 811 INFO@THESTARANDGARTER.CO.UK

318 #FOLLOWTHESTAR

INFO@THESTARANDGARTER.CO.UK

01243 811 318

INFO@THESTARANDGARTER.CO.UK

THE

BLUE BELL

D @STARANDGARTERED E @THESTARANDGARTEREASTDEAN Q @STAR_GARTER

D @STARANDGARTERED E @THESTARANDGARTEREASTDEAN Q @STAR_GARTER

01243 811 318

D @STARANDGARTERED E @THESTARANDGARTEREASTDEAN Q @STAR_GARTER

EMSWORTH

EAT, DRIN

#FOLLO

0124
---
Petworth Park – for free. Simply pass through

the long tunnel and some rather grand iron

gates to explore the 700-acre park at your

leisure.

WHERE WE STAYED

Ryde House, on Angel Street, a newly

refurbished three-bedroom Georgian villa

tucked away almost secretly (by just a simple

gate in the wall) from the quiet town - the

shops, pubs, restaurants, butchers', bakery,

and other yet-to-be discovered attractions,

just a short stroll away from our front door.

The property is grand and beautifully

furnished, in fact it could nearly be mistaken

for another of Augustus Brandt's luxurious

showrooms. Elegant and understated, an

early 19th Century Grade II listed building -

full of charm and character.

There's a pretty walled courtyard garden

to welcome you before you reach the front

door. Inside the interiors are just as grand,

there's a large sitting room, a dining room,

light and spacious Shaker style kitchen, three

cosy bedrooms and bathroom upstairs. There

is plenty of room here to entertain, and to feel

completely at home amid the antique rugs,

woven tapestry, cosy cushions and fireplaces.

Thought has been given to the details,

with luxury touches, such as a delightful (yes

you've guessed it Hungry Guest!) hamper of

foodie treats waiting for you in the kitchen,

fresh flowers in the dining room, to the

selection of games, movies, books and music

inviting you to start the wood burner, light

the candles, and rejoice in the sitting room.

High-ceilings, grand staircase and long

passageways give the property a feeling

of space and elegance, while the mix of

antique furniture with modern styling, neutral

colours, and homely furnishings, is both

relaxing and energising.

Under the same ownership as Ryde

House is the wonderfully stylish Angel Inn

(practically next door) with origins as old as

Petworth House, and where modern luxury

comes as standard; this is another great

option for breakfast, lunch or dinner.

You can also stay here - there are seven

beautifully designed guest rooms, medieval

origins, reflected in original beams, fireplaces

and quirky passageways.

Aside from the architecture, food and

luxury accommodation, Petworth is a

destination of art, culture and music.

To experience the town's full zenith

of community spirit, with proud locals

displaying their 'home-grown' talent, then

the Petworth Summer Festival, (16 July-3

August) is a must. See the town come alive

with classical concerts, jazz, cabaret, theatre,

comedy and visual arts.

There are events all through the year,

to include the pertinent Petworth Park

Antiques and Fine Art Fair (10–12 May),

Petfringe (12 April) comedy, the nearby

Goodwood Revival (13-15 September) and

Festival of Speed (4-7 July), and later in

the year the Literary Festival returns (26

October-3 November).

With all this just over an hour's drive

from London and only 30 minutes from

the south coast, I'm surprised more people

aren't packing up their bags and heading to

Petworth. Cultural treasures, locally farmed

fare, stylish shops, beautiful countryside - It

certainly ticked all the right boxes for me. u

P L A C E S T O V I S I T

PETWORTH HOUSE

Inspired by the Baroque palaces of Europe,

a stately mansion nestled housing the finest art

collection in the care of the National Trust.

nationaltrust.org.uk

SOUTH DOWNS NATIONAL PARK

From rolling hills to bustling market towns, the

South Downs National Park's landscapes cover

1,600km2 of breathtaking views and hidden rural

gems. A rich tapestry of wildlife, tranquility and

visitor attractions.

southdowns.gov.uk

COWDRAY PARK

The home of polo in the South of England. Enjoy

a relaxed picnic lunch lawn side watching some of

polo's highest rated players, or enjoy 18 holes on

Cowdray's revered golf course.

cowdray.co.uk

GOODWOOD ESTATE

The Goodwood Estate in the heart of West Sussex

is not only home to world famous events, Festival

of Speed, Goodwood Revival and the Qatar

Goodwood Festival, there is also The Goodwood

Hotel, Waterbeach Spa, two golf courses, and

sustainable restaurant, Farmer, Butcher, Chef.

Plus there are a number of driving and flying

experiences for an unforgettable day out.

goodwood.com

WEST DEAN GARDENS

Nestled at the foot of the South Downs, West

Dean Gardens is one of the country's greatest

restored gardens. Visitors can explore a wide

range of historic features on a gentle walk around

the grounds.

westdean.org.uk/gardens

BritishTravelJournal.com 69
---
W E E K E N D B R E A K

FISTRAL BEACH

NEWQUAY

Cornwall

Cornwall is known for its stunning beaches, world-class surfing, fresh seafood and

picturesque harbours. In pursuit of a taste of this summer-utopia, Jessica Way

takes a family weekend break to Newquay's iconic Fistral Beach on the west coast

A

" SURFERS PARADISE". "But mum I can't surf?" said

my 15 year old daughter as we travelled the four

hour car journey from Southampton. "It's ok",

I reassured her, we'll take a lesson together. We

could have caught a flight (its just 40 minutes from London

Gatwick to Newquay) but with four wet suits, bodyboards and

beach towels filling up the roof rack, we made the right choice.

The excitement levels rise as we reach the hotel, both

daughters recognising the dramatic Victorian red brick

immediately from one of their best-loved movies, The Witches,

from the book by Roald Dahl. We are staying at The Headland

Hotel – where the Grand High Witch (Anjelica Huston) plotted

to kill children, turning them into mice, and where the Hotel

Manager (Rowan Atkinson) tried desperately to protect his

hotels' reputation.

We arrive to check in, though sadly it's not with Rowan

Atkinson, however we are told about him – "in real life he is just

like Mr Bean…" the girls chuckle and Joshua (Front of House

Operations Manager) continues… "On one occasion, he ran a

bath, and went to bed without turning the taps off. The flood

70 BritishTravelJournal.com

Images © Matthew Hawkey
---
▶

reached the ground floor from his second-floor bedroom and

all the equipment, the photocopier, electric typewriters, that

were in the film's production office (in the first-floor bedroom)

were completely written off!".

The grand lounge is in view from the reception desk,

accessible through a white-wooden panelled glass door

frame. It invites us in to further explore the red carpet and

stylish antique furniture; white beaming arches, high ceilings,

chandeliers, fireplaces, and fabulous draping curtains around

the great bay windows, where light is flooding in to the hotel.

This is modern luxury - the grotty carpets and shoddy

interiors are nowhere to be seen. "It's rooms 223, 227 and 205

that were used in the movie" Joshua tells us. "(No, I'm sorry

girls – that's not where we are staying tonight)". We are gently

escorted to follow the porter back outside – and as we walk,

we agree, any wide-eyed children looking around the hotel for

mice today would be likely to fail.

as has its spa (the first 'Five Bubble' rated spa in the region) –

and they are not stopping there. The overall ambition is huge,

with the launch of a stunning new outdoor swimming pool

and leisure complex planned for launch in 2020 – and more

recently the announcement of their new 5-star self-catering

cottages. Perched on a private clifftop, luxury cottages just

yards from the UK's most famous beach? Yes please!

We were lucky enough to be amongst the first to try

them out. Designed to offer a more flexible, relaxed coastal

experience, and as an alternative option to staying in one of

the 95 bedrooms within the hotel, but still offering guests use

of their hotel, spa and rosette-worthy dining.

Like ours, most of the holiday cottages (there are 39 in

total) offer ocean views, and outdoor spaces such as a deck,

balcony or lawn, and I loved that seasonal and fresh farm à

WHERE WE STAYED

The Headland Hotel and Spa are celebrating 40 years (in

2019) since the owners John and Carolyn Armstrong first

bought the property. A labour of love – it has cost them

around £30 million over four decades on improvements and

repairs. Though this is an investment that has paid off; the

multi-award-winning hotel has been completely transformed,

As featured

on our front

cover!

Pictured

left:

Enjoying

lunch on

the terrace

at The

Headland

Hotel

BritishTravelJournal.com 71
---
produce could be delivered direct to your door. The interior is

as awesome as the waves from the sea below, surf-inspired,

coastal chic, with luxury touches throughout – as well as

practicality, such as having a large area for hanging and

drying your wetsuit.

There's a modern, beachy, sky blue and turquoise green

colour scheme, complimented by crisp white paint work,

contemporary artwork, painted wooden shutters, light oak

furniture, bright flowers, colourful fruit bowls, and stylish

candles splashing vibrant colour throughout the large open

plan kitchen and living area. Light and airy – and the views

are spectacular.

You need to walk across the hotel car-park to get to the

spa, located at the rear of the hotel, but they are happy for

you to stroll around in your dressing gown and slippers. The

spa includes six stylish treatment rooms, to include a VIP

suite, Rhassoul mud chamber and Swedish sauna, there's also

a Cornish salt steam room, hot tub, aromatherapy showers,

hydrotherapy pool and state-of-the-art gym. I escaped to

enjoy a lovely 40 minute Indian Head Massage, then it was

time to hit the beach.

THE PERFECT WAVE

Forget Maui and Malibu, Newquay's famous Fistral Beach

has some of the best breakers around. Between autumn and

spring surfers can test their skill with impressive swells known

to reach up to 12 feet high. This much-loved beach is known as

being one of the most consistent and best surfing beaches in

Europe. Summer is perfect for beginners to have a go though,

with 1-4ft waves gracing the shoreline.

Surfing aside, it's a beautiful long and sandy beach, backed

by dramatically beautiful rocks and cliffs. It's a great allrounder,

perfect for strolling, sunset-watching and sandcastles,

as well as being home to a number of restaurants, including

Rick Steins famous fish & chips (or try the take-away Pad Thai

Pictured

left: Jessica's

husband and

daughters

outside The

Headland Hotel

overlooking

Fistral Beach

72 BritishTravelJournal.com
---
noodles – delicious!) Another must try is the Fistral Beach Pasty

Shack, serving one of the best Cornish Pasties you will find in

Cornwall - simply, delicious food.

So although Fistral Beach has earned its place as the

destination choice of many competitions and festivals in every

surfer's competitive and social calendar, it is also a friendly,

lively, picturesque spot, welcoming to everyone – including

those who, like me, are in search of their first taste of wavefuelled

excitement.

First, we head down to the Surf Sanctuary to get kitted

out for these wave-riding endeavours. The Headland offers

introductory surf classes, hire, and improver and private

lessons, as well as coasteering, kite surfing and stand-up

paddle boarding. We opt for straightforward surfing…

though we discover it's far from straightforward!

Even the 4ft waves we find challenging. We spend

more time practising our method on the beach than we do

actually attempting the waves. However, it's great fun, our

instructor is fantastic, and we are enjoying the experience.

By the afternoon we are back in the sea, full of grit and

determination, and with a lot of super-fast arm paddling our

persistence starts to show signs of paying off. The girls are

catching the occasional wave, while I am mostly on my knees,

until finally I stand and, keeping my balance, don't fall. It's

taken me what feels like a million attempts, but it's all worth it

for that one wave – incredible. I feel so alive, I can actually surf

(well, kinda).

DURING BOARDMASTERS

Boardmasters Festival, held every August, (7-11 August 2019)

is a great time to visit – the beach is transformed into a vibrant

surf festival complete with installations, live music, Cornish

food stalls and bustling surf shopping village.

In fact, the festival has become so popular that it's split

between two iconic locations, Fistral Beach and Watergate

Bay (a 20 minute drive from The Headland Hotel). During the

festival, Watergate Bay is the home to the main music arena.

With multiple stages, bars, foodie feasts, fest-stalls and rides,

it's a show-stopping music-lover's haven. u

BritishTravelJournal.com 73
---
Enjoy a taste of the exotic this summer.

In collaboration with iconic British designer Matthew Williamson,

Newby Teas presents three limited edition luxury tea caddies containing

bespoke tea blends that fire the imagination and stir the senses.

Exclusively at

www.newbyteas.co.uk
---
INVESTOR

M O D E R N B R I T I S H A R T

Panter & Hall. Donald Hamilton-Fraser RA (1929-2009) Study Spinnaker

Words | Emma Johnson

Buying something beautiful, that may eventually provide a return on your investment, is a great way to own a

piece of British art history. And there has never been a more provident time to invest in Modern British Art à

BritishTravelJournal.com 75
---
Pictured Left-Right:

Banksy, The Kissing

Coppers and Gladwell

& Patterson, Francis

Picabia, both featuring at

Masterpice London 2019.

THE TREND FOR INVESTING in high net worth

items such as wine, art and rare books is often

fuelled by media headlines proclaiming huge

profits from recent sales - Hugh Grant, for

instance, pocketed an £11 million profit for selling an

Andy Warhol, and more recently, in November 2018, a

David Hockney painting made $90.3 million at auction.

And, while it can be a good way to put your money into

something that you love, and that may bring a decent

return over time, experts warn that caution is still to be

advised. "These kinds of profits are black swans in the

every day world of art dealing," says Matthew Hall,

founder and director of Panter & Hall Gallery in London.

This is not to say, however, that in general, areas of

the art world cannot rise significantly in value. Tastes

change and whole schools of painting or individual

artists can be rediscovered through a new interior design

trend, or the concerted efforts of a dealer with a vested

interest. In addition, art lasts for hundreds of years, and

in many cases outlives its owners; while the wide-ranging

availability of art from different genres and artists, means

all budgets are accounted for too. For the investor, those

on a limited budget can invest in an emerging artist when

their prices are low, while those with bigger budgets or

more knowledge can choose to pick a painting at a good

price, and at a good time.

THE CASE FOR MODERN BRITISH ART

But what is the right time, or the right painting? For

British art, it is now. British art has always been a fairly

robust area of the art market, and it has consistently

proven itself to be central to the art world. Modern

"Remember

that condition

is everything.

Always check

the condition

of a work and

make sure to

research any

conservation

or restoration

work carried

out. "

British Art is a direct result of the wealth of talent in

the UK, which has some of the most highly regarded

art schools in the world and many of the world's most

acclaimed galleries and museums. It has for centuries

produced world-famous artists and continues to

have an outstanding record for producing extremely

talented new artists with investment potential. "Where

better to acquire a work of art than from a country that

continues to produce ground-breaking artists," says

Matthew Hall.

Essentially covering the area of 20th century British

paintings, sculpture and works on paper, Modern

British Art has a solid international reputation. Typified

by a wide-ranging approach to style and genre,

covering two world wars and over a century of work,

it is an era that continues to evolve, as many modern

artists that don't consider themselves 'contemporary'

have fallen under the Modern British bracket. Key

names include Francis Bacon, Lucian Freud, David

Hockney, Barbara Hepworth, Howard Hodgkin, L.S.

Lowry, Ben Nicholson, Henry Moore and Bridget Riley

– while Frank Bowling, Stanley Spencer, Damien Hirst,

Banksy, Anish Kapoor, Chris Ofili, Paula Rego, Rachel

Whiteread and Gilbert and George also fall into this

category.

Today, Modern British Art has never been more

popular, says Penny Day, director and head of sales

for modern British and Irish art at Bonhams. "The

field of Modern British Art has seen a real surge in

recent years and I think collectors are drawn to it as

representing good value for money. Unlike the fields of

Impressionist or Contemporary Art, it is still possible

76 BritishTravelJournal.com
---
DAY-TRIPPER

"Art is a question of taste.

If you truly believe in one

artist's talent, you'll be

a great ambassador and

will contribute to seeing

their market value rise "

to acquire a really good example by a 20th

Century British artist for under £100,000

and indeed prices can start from as low as

£500. Demand has increased year on year

and we see no likelihood of that changing."

What makes Modern British Art a good

investment of course, is a finite supply of

goods, and the fact that it is a relatively

clear and easy to analyse area of art. There

are tiers of star artists who can be graded

and valued and minor acolytes who benefit

from their associations. "The prevailing

dealer hegemony ensures that the prices are

generally supported both at auction and

at fairs, and the scale of supply allows for

future sustainability," explains Hall. "What

was an academic backwater is now, thirty

years on, a truly global market and as blue

chip as any art market can be at this level."

HOW TO INVEST

BE PASSIONATE

As with many investments of this nature, your

first consideration must be a passion for the

subject, long before you consider profits.

"Buy what you genuinely love and can afford

and you should not go too far wrong," says

Robin Light, director of Crane Kalman

Gallery in London.

It is a view echoed by many of his peers.

"As trite as it sounds, buy something you

love," continues Hall. "The chances are that

you will be living with it for a very long time,

so you may as well enjoy it."

Simon Tovey, associate specialist at

Phillips action house in London, who also

heads up their annual New Now show,

echoes this sentiment, explaining that when

you're talking about an investment of this

nature, money is simply not the only object.

"I would advise that anyone looking to buy

a work of art should treat it as a purchase,

rather than as a financial investment.

Buying artwork should be an emotionally

rewarding investment and an enjoyable

experience."

"Allow yourself to be guided by instinct,"

adds Vera Kampf who heads up Singulart,

an online art portal. "Art is a question of

taste. If you truly believe in one artist's

talent, you'll be a great ambassador and will

contribute to seeing their market value rise.

BE KNOWLEDGEABLE

Investing in art should also be a chance to

indulge a passion or pique an interest. Try

to focus your investment or collection on an

area, medium or specific artist that you like;

picking a theme or a name helps to keep

things coherent, especially if you eventually

want to sell a collection as a whole.

Be appreciative of all there is to learn,

and take time to become knowledgeable.

"Go to museums, galleries, exhibitions

and art fairs," says Robin Light. "You will

find that most curators, dealers and artists

are interesting, good people. They will

share knowledge and exchange useful

information and views which, in turn,

should help you to make the right decisions

based on your experiences."

If you find an artist whose works you

admire, look at previous prices achieved

at auction (Artnet and Artprice are good

tools for this) which can give you a good

idea of the market value, and stop you from

overpaying. "Always buy the best example

you can budget for," advises Simon Tovey.

This might mean a great work on paper

over a lesser painting, or it might mean a

bigger painting over a smaller one that you

prefer. "For a new collector, I would always

say to go bigger if you can, so you'll have

a stand-out work," says Rebecca Wilson,

chief curator at Saatchi Art.

Hall agrees with assessment, and

cautions buyers to think not just about

names, but quality too. "There is a

temptation to buy a third-rate work by a

first division artist, however it will always be

a third-rate work. A first-rate work by a à

O N E S T O W A T C H

STANLEY SPENCER

"An A-lister. Spencer's record for an oil painting

stands at nearly $10m and yet it is still possible to

pick up drawings in the low thousands." (Matthew

Hall, Panter & Hall)

IDRIS KHAN

"I can get lost in the depth and beauty of each

of his creations be it a large scale print or an

exquisite work on paper such as the one we

recently sold." (Simon Tovey, Phillips)

ED SAYE

"I don't think he has had the attention yet that

he deserves and he's a pretty special artist with a

unique vision and great integrity and technique"

(Sara Ryan, New Blood Art)

ORLANDA BROOM

"She's a British artist of distinction and

experience, whose works have featured in

many solo shows across the UK." (Vera Kampf,

Singulart)

ALEC CUMMING

"Alec spends his time between the UK and India,

and travel and new places play a big part in

his works. His paintings are vibrant windows

onto another world, evoking a strong sense of

the distinctive light, sky, and colours of specific

places." (Rebecca Wilson, Saatchi Art)

FRANCISZKA THEMERSON

"A highly talented Polish artist who relocated

to London in 1940 and founded the influential

Gaberbocchus Press with her husband, and

developed her own distinctive style. (Angus

Granlund, Christie's)

A Fine Yarn Painting by Alec Cumming

BritishTravelJournal.com 77
---
A place of luxury

with a wealth of history.

A place of luxury

place of luxury

Welcome to JW Marriott Grosvenor House London. Ideally situated on Park Lane and overlooking

Royal Hyde Park, our hotel offers truly authentic experiences inspired by a unique location.

with A place a wealth of of luxury

history.

with wealth of history.

with a wealth of history.

From the thriving designer shopping district of Mayfair to the world's most renowned art collections

and museums with outstanding cultural attractions. We offer exceptional guest rooms, a tranquil

Park Room serving the British tradition of Afternoon Tea, with JW Steakhouse, Corrigan's Mayfair

Welcome to JW Marriott Grosvenor House London. Ideally situated on Park Lane and overlooking

or Ruya Welcome London to for JW exceptional Marriott Grosvenor culinary House experiences. London. Ideally Every situated detail of on your Park Lane stay and with overlooking us is designed

Royal Hyde Park, our hotel offers truly authentic experiences inspired by a unique location.

Welcome Royal Hyde to JW Park, Marriott to our nurture hotel Grosvenor offers and House truly celebrate authentic London. your Ideally experiences personal situated inspired passions.

Park by Lane unique and location. overlooking

From Royal the thriving Hyde Park, designer our hotel shopping offers district truly authentic of Mayfair experiences to the world's inspired most by renowned a unique art location. collections

From the thriving

Welcome to JW We Marriott look designer forward shopping

Grosvenor to providing district of

House London. you Mayfair with Ideally an to the unforgettable world's most

situated Park experience

renowned art collections

and museums with outstanding cultural attractions. We offer exceptional guest Lane rooms, and a tranquil overlooking

From and the museums thriving with designer outstanding shopping cultural district attractions. of Mayfair We to offer the world's exceptional most guest renowned rooms, art collections tranquil

Royal Park Hyde Room Park, serving our the hotel British offers tradition truly of authentic Afternoon experiences Tea, with JW inspired Steakhouse, by Corrigan's a unique location. Mayfair

Park and museums Room serving with the outstanding British tradition cultural of attractions. Afternoon We Tea, offer with exceptional JW Steakhouse, guest Corrigan's rooms, a tranquil Mayfair

or Ruya London for exceptional culinary experiences. Every detail of your stay with us is designed

From the Park or thriving Ruya Room London serving designer for the exceptional shopping British tradition culinary district of experiences. of Afternoon Mayfair Tea, Every to the with detail world's JW of Steakhouse, your most stay renowned with Corrigan's us is designed art Mayfair

to nurture and celebrate your personal passions.

collections

and museums or Ruya London with outstanding for exceptional to nurture

To make a reservation cultural culinary and celebrate

attractions. experiences. your

visit: londongrosvenorhouse.com

We Every personal

offer detail passions.

exceptional of your stay guest with us rooms, is designed a tranquil

We look forward to nurture to providing and celebrate you with your an personal unforgettable passions. experience

Park Room serving the We British look forward tradition to providing of Afternoon you with Tea, an unforgettable with JW Steakhouse, experience Corrigan's Mayfair

or Ruya London for We exceptional look forward culinary to providing experiences. you with Every an unforgettable detail of your experience stay with us is designed

to nurture and celebrate your personal passions.

To make a reservation visit: londongrosvenorhouse.com

We look forward To make to reservation providing visit: you with londongrosvenorhouse.com

an unforgettable experience

To make a reservation visit: londongrosvenorhouse.com
---
ASK THE EXPERT

Crackle Vine on Aluminium, Orlanda Broom

John Bratby, Venetian Backwater

currently lesser-valued artist will always

be a pleasure to live with and has the

potential to rise in value if the artist is rediscovered

by the market in the future."

BE THOROUGH

Remember that condition is everything.

Always check the condition of a work and

make sure to research any conservation

or restoration work carried out. "Oils can

be cunningly restored but a reputable

dealer will point any problems out and

price accordingly. Damage on works on

paper, particularly prints, can seriously

affect their value," says Hall.

As with most things, it's important to

accept what you don't know, and that

there are those with better knowledge,

insight and connections, who can help

take your passion for something and

turn it into an investment. Decide what

your objective is and choose the help

you need on this basis. If you are buying

purely for investment you need a good

advisor, and if you are buying a piece that

you love, which might eventually lead

to an investment, then go somewhere

like an online gallery or portal where the

selection process has been done for you

and then buy something you like. "Buy

from an agent, dealer or gallery you know

and trust, who has underpinning their

offering a good relationship with the

artists," says Sara Ryan.

If possible, also buy from a dealer

who is a member of a recognised trade

organisation – LAPADA, CINOA, BADA

or SLAD are the best-known. "Much can

go wrong in buying work from smaller

auctions or unaccredited traders, there

can often be little or no come back in the

small print," cautions Hall.

NEW NAMES

As you start to gain more confidence

in your investment, you may find your

interests expanding too. Supporting more

contemporary artists is a really interesting

way to develop your art knowledge, and

to help shape the market of the future. "I

love the fact that by investing in emerging

artists you are supporting them right at the

time they need it," says Sara Ryan... "By

giving them their first endorsement you

are impacting the value of the piece you

have invested in. The artist is encouraged

to make more work, and other collectors

consider them to be collectible, and the

artist gains traction. It's quite a compelling

combination of ethics meets upside."

Of course, the most important thing

to remember, is that 'a good investment'

comes in many guises. "We would all

like our assets to grow, but there is also

the benefit of living with something lifeenhancing

and beautiful," says Robin

Light. "And being the guardian of a

painting or object, and looking after it for

a certain amount of time and passing it on

for the next generation to appreciate. We

must not forget that most art outlives all

of us." u

ANGUS GRANLUND,

DIRECTOR, HEAD OF DAY

SALE, MODERN BRITISH ART,

CHRISTIE'S

When investing in art, whether starting a

collection or expanding one, it's important

to buy from the heart.

î YOU SHOULD WANT TO LIVE

WITH THE WORK YOU BUY,

REGARDLESS OF ITS VALUE

It's important to view exhibitions to discover

which works strike a chord with you. The Modern

British Art category covers a very broad and

eclectic period of creativity, spanning the 20th

century through to the YBA's.

î THE FUTURE VALUE OF A WORK

IS DIFFICULT TO PREDICT AND

CAN'T BE GUARANTEED.

Reputable artists like Henry Moore, Barbara

Hepworth and Ben Nicholson will hold their value

over time, while the market for less established

artists is prone to larger fluctuations. Keep an eye

on exhibitions at leading art institutions as these

can help promote an artist to a broader audience.

î AN ARTIST TO WATCH THIS YEAR

IS FRANK BOWLING.

He has a long-overdue retrospective at Tate

Britain from May to August, while Bridget Riley

is having a major retrospective in October at the

Hayward Gallery. We will be offering works by

both of these artists in our June sales.

DON'T MISS

May/June - 'Sculpture in the Square', an annual

exhibition of outdoor sculpture in St James's

Square with large scale pieces from Henry

Moore, Elisabeth Frink and Barry Flanagan.

For more information visit christies.com

BritishTravelJournal.com 79
---
H O T E L R E V I E W

HECKFIELD

PLACE

Hampshire

A little over an hour from London, a hotel with a no-expense spared

approach to design is redefining British country stays. Chantal Borciani

discovers the hotel Meghan and Harry chose for their private getaway…

THEY SAY THE BEST THINGS come to those who wait,

and in the case of Heckfield Place, the world was waiting

a while. Originally due to open in 2012, the launch of

the most exciting country house hotel to hit the UK

hospitality landscape in two decades finally opened its doors in

September 2018. Passion project of billionaire owner Gerald Chan,

it is rumoured the wait was so the owner could get things just right.

Though, renovating a Grade II listed mansion, where even the stone

plant pots flanking the ornamental fountain are under protective

covenant, would be no nimble feat for any owner.

Set in 400 acres of bucolic Hampshire countryside, Heckfield

Place was home to the Lefevre family for most of the 19th century,

one of the most notable residents being Charles Shaw-Lefevre,

Viscount Eversley, speaker of the House of Commons. Under

Eversley's head gardener, William Wildsmith, the estate gained

an arboretum and ornamental lake, and became renowned for its

exotic hothouse fruits. Today, undisclosed millions have been spent

on the renovations and the refined and elegant result is still just as

tightly interwoven with the landscape as ever. Mature woodland

cocoons the estate, walled gardens are fragrant with roses and

lavender, and a market garden and biodynamic farm supplies the

hotel's exquisite restaurants.

At the entrance we are ushered past a sweeping staircase lined

with black and white prints to a floor to ceiling French window. The

team like guests to instantly lay eyes on the rolling countryside that

surrounds them, and the picture window overlooking not one but

two lakes certainly sets the tone for things to come.

We move through to the vast 'morning room' (the name

denotes the ideal time to repose and drink in the views) where

early spring sunlight streams through yet more lofty windows,

illuminating reading chairs and silken soft sofas. The bookcase is

filled with literature to make "guests think", while in the adjoining

Drawing Room an original fireplace is offset with a giant gilded

mirror, and contemporary art punctuates the soothing grey walls

wonderfully. Every day, homemade scones, whipped butter and

seasonal homemade preserves are laid out for afternoon tea; a

blissful nod to the traditions of proper country life.

The interior vision is the work of designer Ben Thompson, who

trained under Ilse Crawford and worked on the revered Ett Hem

hotel in Stockholm. In Heckfield, Thompson has created a sublime

detailed country retreat, where natural textures, plants and a

palette of muted greys, velvet creams and forest greens reflect

the surroundings, while antiques, hand-picked art and crystal

chandeliers add dashes of drama.

In the main house, six spectacular signature rooms are the

grandest offerings, each providing acres of space, lavish bathrooms,

individual designs and even their own bespoke scent. These start

from £1,750 a night, rocketing up to £10,000 for a night in the à

BritishTravelJournal.com 81
---
hotel's Long Room. The preserve of the Hollywood elite and

nobility – the Duke and Duchess of Sussex are rumoured to

have chosen Heckfield for their babymoon this year – the

Long Room offers a vast private apartment with vaulted

ceiling, private kitchen, sitting and dining room and secluded

terrace. Fortunately for mere mortals, entry-level 'Friends'

rooms start at £350 per night.

For (seriously) special occasions, our Master Room, at

£800 a night, was set in the wing known as the 'Corridors',

and was all but flawless. Alongside the dressing room,

there's a luxurious country style bathroom, ample loft-feel

style living space and capacious bed. The suite is dressed

with Georgian timber furniture, hand-knotted wool rugs,

original British artworks from the owner's private collection,

handmade throws and antiquities that feel lavishly curated

yet rooted in place and purpose. Smaller, artisanal touches

embolden the narrative; a corn dolly is used as the 'do not

disturb' sign, your wooden room key (the hotel is soon to

be fully plastic-free) comes in an envelope embossed with

your initials, seasonal bouquets and single stems are deftly

positioned, and woven baskets hang on hooks next to a

wool covered hot water bottle – is there anything more

delightfully English? On the writing desk, a selection of

three tomes including John Ruskin's On Art & Life and

Virginia Woolf's A Room of One's Own feel thoughtfully

selected. Even the mini bars prove noteworthy. Each

cabinet is bespoke and painted to match its room, drawers

glide open, freshly ground coffee is set in handmade pots,

a run of supple leather pouches hold other accoutrement

while homemade cordials and freshly baked cookies sit

snugly in place. Even the kettle is bespoke; jet black and

modernist.

Despite the achingly good interior, Heckfield is as

much about ensconcing one's self in the land as it is about

snuggling down in your suite's billowing sofas. There are

Hunter wellies, wax jackets and umbrellas on hand for

guests in the Boot Room and maps of the gardens and

routes around the undulating woodland to follow.

We stroll down the gentle slope past Heckfield's upper

and lower lakes looping around to the ancient woodland

where California Coast Redwood Sequoias, Blue Atlas

Cedars, Grand Firs and Douglas Firs tower – with some

trees dating back to the 18th Century. A testament to

pioneering horticulturalist William Wildsmith, Heckfield's

forest, gardens, terraces and walled oasis have been

expertly restored in the last few years and are now a

pleasure ground for guests to explore.

Run biodynamically, Home Farm is also open to guests

and lies at one end of the estate with crops, chickens,

saddleback pigs, a 70-strong flock of sheep and an

expansive market garden and orchard. When we visit,

thousands of tulip bulbs are nearing bloom, soon to be

whisked up the hill to adorn the myriad vases in Heckfield's

rooms and corridors. In a few weeks, the farm's peonies,

"Despite

the achingly

good interior,

Heckfield

is as much

about

ensconcing

one's self in

the land as

it is about

snuggling

down in

your suite's

billowing

sofas."

sweet peas and roses will take their place. Similarly, the

produce that grows supplies the changing menus at

Heckfield's two restaurants; Marle and Hearth.

Skye Gyngell, of London's Spring restaurant, is the

hotel's culinary director and both restaurants smack

wonderfully of her commitment to produce and 'field to

fork' dining. Centred around an open fire, Hearth is as

intimate as it is atmospheric. Housed in the renovated

coaching stables and a haven of exposed brick, beams

and earthenware styling, the restaurant is only open

to guests of the hotel and all dishes are cooked on the

crackling fire. Ensure to look skyward during your meal,

as the bell in the clock tower above the Hearth's tables

is not only older than Big Ben, it was made by the same

brothers who manufactured it.

Marle, named after a class of soil, feels part verdant

summerhouse, part upscale dining room. There's a lakeview

terrace or tables inside that sit under swathes of

luscious foliage. At one corner, a vast skylight – adorned

with yet more trailing greenery – floods the area with

light and is a beautiful spot for breakfast.

This year, Heckfield will add a vast spa to its box of

tricks (the current bothy spa only has three treatment

rooms) and there are plans afoot for a country pub on

the estate, plus homestays and cookery courses on the

farm. Whatever comes, it is sure to be decidedly upscale

and exceptionally well thought out.

Unstuffy yet brimming with tradition and history,

Heckfield Place may have a royal price tag but it also

offers a new take on sophisticated British luxury where

seasons and nature are intrinsic to the design cues and

character of your stay. u

82 BritishTravelJournal.com
---
01665 710700 coquetcottages.co.uk

Mae'r gweision yn edrych

ymlaen at eich croesawu i

gartref y Cyrnol Prichard a'ch

diddanu â hanesion eu bywyd

nhw a bywyd y boneddigion!

The servants look forward to

welcoming you to the home of

Colonel Prichard and regaling

you with stories of their life and

those of the Gentry!

Banbury Photography

01443 412248

www.llancaiachfawr.co.uk

15348

Discover Northumberland this summer and

make lasting memories in the finest

collection of award winning family-friendly

& pet-friendly holiday homes on the coast

CarltonCourtMayfair

10 Down Street, Mayfair, London

All services

offered for

no extra

cost!

EXCLUSIVE UNIQUE SERVICED HOTEL APARTMENTS IN MAYFAIR

Stay in home-from-home luxury, from 2 nights onwards, extremely spacious, fully

serviced apartments in the heart of Mayfair, the most exclusive address in London!

Unwind in the comfort of your own self-contained spacious apartment, enjoy fully inclusive

seamless wifi, satellite and sky, 7-days-a-week on-site concierge, daily maid service,

air conditioning, stunning en-suite bedrooms, beautifully equipped kitchens, luxurious

living spaces, and 24 hour security, offering you peace of mind throughout the duration

of your stay. Our selection of newly furnished 1-3 bedroom apartments, and 5 bedroom

Town House are also just a short walk from London's Piccadilly, Park Lane, Oxford Street

and Bond Street. Excellent value - enjoy all this from a better price than a small hotel room!

+44 20 7493 0597 | WWW.CARLTONCOURT.COM
---
10of the best

Luxury stays

BRITISH

TRAVEL

JOURNAL

Loves...

ESCAPE TO

THE COAST

BAMBURGH SHEPHERD'S COTTAGE A property with the wow factor - the

views are spectacular. This fabulous large country holiday home sleeps 10 guests and welcomes 2

dogs, with great views out to Budle Bay and just 6 miles from the pretty village of Bamburgh, with

its stunning beach and magnificent castle. This is an ideal family retreat on the peaceful and idyllic

Northumbrian coast. Priced from £875 for a short break coquetcottages.co.uk

BOURNEMOUTH BEACH LODGES

Bright and airy located only a few steps away from

the soft sand and lapping waves. Priced from £295

for a 4 night stay. bournemouthbeachlodges.co.uk

SUFFOLK THE WATCH ROOM

Built at the end of a private track on the site of a

World War II watch station, with coastal views.

Priced from £575 for 3 nights. suffolkhideaways.co.uk

CORNWALL

SALTPONDS HOUSE

An exquisite cottage with a

stunning, unobstructed sea

views. Scandi inspired (there's

a marvellous Scandinavian

Jøtul woodburning stove that is

more like a piece of art!) Grade

II listed luxury cottage to rent in

Mousehole, recently restored with

stunning interiors. Up to 4 guests

and child - Priced from £995 for a

7-night stay. saltpondshouse.com

PEMBROKESHIRE

DRAGON'S EYE

This is a great base to explore

nearby Cardigan Bay, while

enjoying its remote lakeside

position and eye-like design,

Plus, with access to a shared

hot tub, games room and pizza

oven, there is plenty to do on

site. Featured on Channel 4's

'Cabins in the Wild' series.

Priced from £214 for a 3 night

stay, originalcottages.co.uk

84 BritishTravelJournal.com
---
CORNWALL

THE BEACH HUT

Millook, Widemouth Bay

Perched on a grassy knoll right

on the beachfront, The Beach

Hut is set in the small valley of

Millook between the popular

harbour towns of Bude and

Boscastle. Rediscover the

simple life at this secluded selfcatering

- and iconically Cornish

- beach hut. First built in the

1920s for use as a genteel

tearoom, The Beach Hut is the

ultimate coastal hideaway. This

unique beach shack in North

Cornwall occupies an enviable

nook on the edge of a stunning

coastal 52 acre estate, making

it an idyllic location to inspire

writers, artists and lovers alike.

Up to 2 guests - Priced from

£1,750 per week, £1,295 per

short break. thebeachhut.

uniquehomestays.com

NORFOLK

THE CATTLE SHED

Set in a peaceful village setting

just a few miles from Wellsnext-the-Sea.

New this year, the

loft style luxury, chic apartment

has undergone a complete and

truly sympathetic restoration.

Sleeps 8-10 guests and

welcomes 2 dogs. Priced from

£1,650 per week or from £1,238

for 3 nights' self-catering.

originalcottages.co.uk

CORNWALL

THE SIGNAL STATION

Journey to the end of the earth to this

iconic and historic maritime home settled

high on the cliffs of Cornwall's wild Lizard

Peninsula. Once offering safe passage

to voyaging ships, The Signal Station is

the most southerly self-catering home in

the land where chic, understated charm

perfectly complements the ever-changing

horizon. Up to 6 guests. Priced from

£1,925 per week, £1,395 per short break.

thesignalstation.uniquehomestays.com

NORTH DEVON WHIMBRELS

Beach or private pool? Sleeps up to 12. Priced

from £1,031 for 3 nights nicheretreats.co.uk

TRESCO FLYING BOAT COTTAGES

luxurious, 5 star hideaways right on the beach.

Priced from £2,205 per week tresco.co.uk

BritishTravelJournal.com 85
---
COOKERY SCHOOLS

Whether you are a budding chef wanting to finesse your culinary

skills or you just want to try something fun and different - a course

at one of the UK's best cookery schools is an absolute must

Words | Chantal Borciani

FROM CELEBRITY CHEF-LED KITCHENS TO STUNNING RURAL RETREATS, HERE ARE

SOME OF OUR FAVOURITE COOKERY SCHOOLS THAT THE UK HAS TO OFFER...

MAHÉ - PADSTOW, CORNWALL

Adjoining the acclaimed Paul Ainsworth at No.6 in

Padstow, Mahé is a new cookery school run by the

Michelin-starred chef John Walton in conjunction

with Paul and his wife Emma. It opened in May and

runs from Thursday through to Saturday, providing

an elegant and intimate space in which guests can

discover how to create stunning dishes.

The cookery courses are completely tailored to

each guest and are priced from £250 per person

which includes breakfast, a behind-the-scenes tour,

lunch in No.6's private room and a goody bag.

86 BritishTravelJournal.com

PIED A TERRE MASTERCLASS KITCHEN

EXPERIENCE - FITZROVIA, LONDON

If you have ever dreamt of working in a Michelinstarred

kitchen, then a culinary masterclass at

London's Pied a Terre is an absolute must. Every

Friday, five aspiring chefs can enter the kitchen

and work alongside the team; helping them create

some of Pied a Terre's most renowned dishes.

The class will demonstrate how the restaurant

creates their exciting dishes and will give you the

skills and expertise to take home and try out on

your friends and family. Guests will also receive a

goodie bag full of treats and can enjoy a 4-course

lunch with paired wines.
---
THE KITCHEN - CHEWTON GLEN, NEW

FOREST, HAMPSHIRE

The Kitchen, a standalone cookery school at Chewton

Glen Hotel & Spa, is headed up by celebrity chef

James Martin. It offers a range of courses, including

baking, seafood and cocktail-making classes.

You can even cook alongside the chef himself.

The 'Cook with James Martin' classes are held for a

maximum of 12 guests over a morning or afternoon.

Participants can watch James prepare two of his

favourite dishes, such as lobster ravioli and funnel

cake with blueberry and gin compote, and then will

have the opportunity to try recreating it under his

watchful eye.

Individual classes start from £95, while the 'Cook

with James' class is priced at £350 per person.

THE WOODSPEEN RESTAURANT AND

COOKERY SCHOOL - NEWBURY, BERKSHIRE

Run by acclaimed chef John Campbell, the

Woodspeen cookery school runs a wide range of

courses throughout the year. The courses are always

based around seasonal ingredients cultivated from the

school and restaurant's vegetable plot. Participants

can even go out into the plots to pick their produce of

choice.

From simple summer dining to vegan focused

courses, there is something for everyone and each

course is very hands on, which helps develop the

guest's skills and learning. à

BritishTravelJournal.com 87
---
Tours & Experiences | Ancient Towns | Stunning Countryside | Hidden Gems | Gourmet Dining

For bookings & more information

www.aroundandaboutbath.com

08000 747949

Proudly partnered with

AAAB_HPH_TravelJournal_AW.indd 1 15/02/2019 09:58

Explore the glorious historic

West Dean Gardens

Enjoy every season at West Dean in the heart of

the South Downs. Relax and unwind with beautiful

Lavant Valley views.

West Dean Gardens, Chichester, West Sussex, PO18 0RX

Tel: 01243 818210

www.westdeangardens.org.uk
---
RICK STEIN'S COOKERY SCHOOL,

PADSTOW, CORNWALL

If you are a fan of seafood, you should head down

to the delightful town of Padstow in Cornwall to

Rick Stein's Cookery School. Whilst the focus is on

the preparation and cooking of fish, guests can also

participate in classes in Indian, Far Eastern, Italian and

Mexican cuisine.

The cookery school was initially started for the

chefs working at the restaurant to undertake intense

training in the preparation and cooking a fish and

shellfish, but this was eventually offered out to the

public who wanted to develop their skills in preparing

seafood.

From lobster thermidor to Singapore chilli crab,

there are ten different workshops to choose from and

courses start at just £95 for an evening session.

THE NORTHCOTE COOKERY SCHOOL,

BLACKBURN, LANCASHIRE

Step into Northcote's intimate Cookery School in the

heart of Lancashire and you will soon feel at home.

Whether you are just getting started when it comes to

cooking or are a culinary whizz, a course at the Northcote

Cookery School will provide you with the inspiration and

tips that you need to create new dishes to enjoy at home.

Choose from fundamentals such as preparing

meat and fish dishes, how to create the ideal dinner

party menu as well as more specialist courses such

as advanced cookery techniques. You can even

undertake a course with Northcote's own acclaimed

Executive Chef Lisa Goodwin-Allen learning to create

three of Lisa's favourite dishes.

RAYMOND BLANC COOKERY SCHOOL,

GREAT MILTON, OXFORDSHIRE

The Raymond Blanc Cookery School at Belmond

Le Manoir aux Quat'Saisons hotel in Oxford runs

a range of cookery courses in kitchens next door to

those of its two-Michelin starred restaurant. Indeed,

the two kitchens are only separated by a series of glass

windows, so you'll feel like a pro no matter what level

of skills you have.

From half-day introductions to dinner party master

classes, there are some great classes to choose from -

many of which focus on recipes and dishes which have

inspired Raymond Blanc himself. à

BritishTravelJournal.com 89
---
Half day courses start from £185 per person and

include all tuition, ingredients and refreshments, while

full day courses are priced from £365, which also

includes a working lunch.

HH&CO BACKSTAGE AT THE LIME WOOD,

NEW FOREST, HAMPSHIRE

Drawing on Angela and Luke's fresh, confident

approach to cooking and eating and their signature

home-cooked style, the Lime Wood's cookery school

HH&Co Backstage offers a unique, fun and informal

way of learning how to cook delicious food!

The courses, which includes Italian cuisine,

seafood, pastry and how to cook that all-important

roast are suitable for everyone from complete

beginners to aspiring master chefs. Their hands-on,

relaxed style aims to improve participants' culinary

skills whilst giving the confidence and inspiration to go

home and get cooking in their own kitchen.

OUTCOOK COOKERY SCHOOL, ALNWICK,

NORTHUMBERLAND

Situated in the heart of Northumberland, the Outcook

Home Cookery School takes an informal and fun

approach towards cooking. From Mediterranean and

South East Asian cuisine to fish and seafood, guests

can either opt to take a regular course or to try a

private bespoke session with one of the school's chefs.

Either way, you can expect to leave with a lasting

appreciation of both the local Northumbrian produce

and North East hospitality.

THE COOKERY SCHOOL AT

DAYLESFORD, COTSWOLDS NEAR KINGHAM,

GLOUCESTERSHIRE

From beginners looking to learn new skills to more

confident cooks who are looking for more inspiration

in their own kitchens, the Daylesford Cookery School

offers a superb selection of courses that will whet any

appetite.

This unique place of culinary excellence is housed

in a beautifully restored stone barn, surrounded by

stunning Cotswold countryside and 2350 acres of

working farmland. It will equip you with a range of

techniques, recipes and principles to help you make

the most of their delicious seasonal ingredients. u

90 BritishTravelJournal.com
---
BLUE SKY

THINKING

Open Air Theatre

From cliff tops to abbey ruins, witness world-class open-air

theatre this summer at a range of iconic British locations

Words | Felix Rowe
---
WHAT COULD

BE MORE

enchanting

than witnessing

live theatre set within one of

the country's most beautiful

backdrops? Rugged cliff tops,

sandy beaches, lidos, palace

lawns, ancient abbey ruins and

grand country houses – all play

host to critically acclaimed,

award-winning theatre over the

summer. Ideal for all the family,

simply bring a picnic and blanket,

then relax in comfort with a

glass of wine, while the troupe

entertain you as the sun sets.

Outdoor theatre brings you

much closer to the action –

crashing waves and occasional

downpours only add to the

drama, as the actors respond to

heckles from seagulls or sheep.

Countless productions pop

up at jaw-dropping locations

across the UK, offering

everything from Shakespeare

to slapstick, sometimes both at

once. Perhaps unsurprisingly,

A Midsummer Night's Dream

is a popular choice, with an

array of interpretations to be

experienced.

What's more, the admission

price will often include pre-show

entry to the garden or country

house hosting the event. We

challenge you to find a better way

to spend a summer's evening. So

unpack your hamper, get comfy

and let the show begin! à

THE MINACK THEATRE

PORTHCURNO, CORNWALL

Arguably the Holy Grail of British

outdoor theatre, you'll be hard pushed

to find a more dramatic setting to stage

a performance. Literally perched on a

cliff edge above the Atlantic in far west

Cornwall, the Minack resembles the

ruin of an ancient Greek amphitheatre.

Though an entirely modern creation

fashioned largely out of concrete, its

story is no less fascinating. A gloriously

eccentric lady, Rowena Cade, bought

the remote headland for a mere £100

in the 1920s, and swiftly organised a

production of (yes) A Midsummer Night's

Dream. Following its success, Rowena

sought a more permanent stage, and

so in the early 1930s began to build

the amphitheatre herself, enlisting the

help of two gardeners. The Minack

staged its first official performance, The

Tempest, to glowing national reviews in

1932. Rowena continued adding to the

theatre throughout her life and could

often be seen hand mixing concrete well

into her 80s. Now, almost 90 years on

from its first performance, the theatre

continues to thrive, with a varied summer

programme including Romeo & Juliet and

Great Expectations.

Box office: 01736 810181

minack.com
---
94 BritishTravelJournal.com
---
REGENT'S PARK OPEN

AIR THEATRE

LONDON

Spectacular, world-class theatre staged in

a beautiful Royal Park in the heart of the

capital. If that sounds tempting, then you're

in luck. Just minutes from Baker Street station,

Regent's Park Open Air Theatre offers the

calibre of productions you would expect in the

most prestigious West End theatres, only in a

stunning outdoor setting. This summer offers a

vibrant programme, with extended runs of the

English National Opera's Hansel and Gretel,

A Midsummer Night's Dream, as well as the

Andrew Lloyd Webber and Tim Rice classic,

Evita. As with the venue itself, these lavish,

large-scale productions are designed to dazzle.

Regardless of your show of choice, it's bound

to be a spectacle at Regent's Park. There are

also special relaxed, captioned and audio

description performances on select dates to help

enrich the experience if required.

Box office: 0333 4003562

openairtheatre.com

GLAMIS CASTLE

ANGUS

Where better to witness 'the Scottish Play' than

in the grounds of the historic Scottish castle

that actually inspired it? Glamis Castle is a

real feast for the senses. With a thousand-year

history dating back to the real Macbeth, the

current building is largely a seventeenth century

creation, complete with imposing parapets

and turrets. The Ancestral seat of the Earl

and Countess of Strathmore and Kinghorne,

Glamis is both the Queen Mother's childhood

home and birthplace of her daughter, Princess

Margaret. On 16th July, The Three Inch Fools,

a troupe of five actors and musicians take on

two Shakespeare productions in the grounds.

Sit back and enjoy an evening of Much Ado

About Nothing and Macbeth itself (matinee

performance). To get into the spirit, you can

even take the 'Macbeth Trail' in the grounds.

But, with no disrespect intended to the Bard,

the real story of Glamis is perhaps even more

intriguing. The castle's colourful history

encompasses several shady characters inducing

the 'Monster of Glamis', Earl Beardie who

played cards with the Devil, and the 'White

Lady' – an apparition for whom a seat in the

chapel still remains reserved to this day.

Box office: Order online

glamis-castle.co.uk

© David Jensen

BritishTravelJournal.com 95
---
ILLYRIA

NATIONWIDE

Another fantastic touring company is Illyria,

which The Telegraph has rightly labeled 'top

notch outdoor theatre'. Wherever you find

yourself across Britain this summer, you have a

fairly good chance of catching a performance.

Illyria will be popping up throughout Scotland,

Wales and England in some truly wonderful

locations. Fulham Palace, Glastonbury Abbey,

Sandford Parks Lido, Arundel Castle, The

Lake District, Gordon Castle Walled Garden

(Scotland), Drum Castle (Scotland) – the list

goes on. This year's programme really does have

something for everyone, with performances of

Ali Baba and the Forty Thieves, Shakespeare's

The Tempest and Mary Shelley's Frankenstein

bound to set the country alight.

illyria.co.uk

© Gordon Scammell

96 BritishTravelJournal.com

© National Trust Images / David Watson
---
MIRACLE THEATRE

ACROSS THE SOUTH WEST

Of course, a stunning venue is something to

behold in itself, but it's the touring companies

putting on the shows that really make them come

alive. A prime example is Cornwall's Miracle

Theatre, which celebrates its 40th anniversary

this year with a tour of A Perfect World from June

to August across the South West. The Minack is

just one of many staggering and unusual venues

where you can witness the action, from beaches to

gardens. Some others include a Neolithic henge in

Dorset (Maumbury Rings); a subtropical garden

amphitheatre by the Helford River (Trebah); a cliff

overlooking the Jurassic Coast (Kimmeridge Bay);

various locations on the Isles of Scilly; and several

Cornish castles (Bude, Launceston, Restormel

and St Mawes). To make the St Mawes Castle

performance even more memorable, indulge in the

'Showboat' package, taking a specially charted

ferry from neighbouring Falmouth.

miracletheatre.co.uk

© National Trust Images / James Dobson

NATIONAL TRUST

VARIOUS LOCATIONS

Smallhythe Place is but one of countless

National Trust properties nationwide, from

the grand to the snug, that regularly hosts

open-air performances. Whether you hanker

for a classic such as Wuthering Heights, or

perhaps something a little more contemporary

like Gangsta Granny, you're well catered for.

Many, such as Scotney Castle, offer a VIP

theatre experience, which includes a welcome

drink, as well as a mezze platter to sup on and

a tub of artisan ice cream for the interval – all

to be enjoyed in style and comfort in the VIP

area. What's more, children are welcome and

under-fives go free. Why not experience Austen

as it should be, in the grounds of a grand stately

home like Attingham Park in Shrewsbury; or

laugh along to Wind in the Willows in a country

pile worthy of Toad Hall. Visit the National Trust

website to find a performance near you.

nationaltrust.org.uk

SMALLHYTHE PLACE

KENT

On a smaller scale, though no less enchanting,

is Smallhythe Place in Tenterden, Kent. In fact

its intimate setting only adds to its charm.

Managed by the National Trust, Smallhythe

Place is a beautifully preserved timberframed

cottage, perhaps dating from the

late fourteenth century. It was once home to

the eminent Victorian Shakespearian actress

Ellen Terry, and her daughter created the

'Barn Theatre' in the seventeenth century

thatched barn in her honour. Still going strong

today, it is complemented by several open-air

performances in the beautifully-kept gardens.

The Winter's Tale is probably the last thing

you'd expect to see in the height of summer,

but this adaptation of Shakespeare's classic

by Changeling (13th July) is one not to miss,

with the intriguing promise of 'just a hint of

ABBA' surely worth investigation alone. Other

summer open-air performances include Alice

in Wonderland (7th August) and Sense and

Sensibility (15th August). Arrive early to enjoy a

pre-show evening picnic in the gardens.

nationaltrust.org.uk

/smallhythe-place

© National Trust Images / David Levenson

BritishTravelJournal.com 97
---
CITY | COAST | COUNTRY

BRITISH TRAVEL JOURNAL CROSSWORD 02

The first twenty correct crosswords received will be rewarded with a free gift of

Newby Teas - simply send your completed crossword (or the answers) with your

choice of Moroccan Mint, Jasmine Blossom, Earl Grey or English Breakfast tea,

and your postal address, by post to British Travel Journal, Mitchell House, Brook

Avenue, Warsash, Southampton, Hampshire, SO31 9HP,

or email the answers to crossword@britishtraveljournal.com

ACROSS

DOWN

1 Stornoway castle (4)

2 Outgoing type (9)

4 As "Titanic" was supposed

3 DNA collectors (5)

to be (10)

4 Still in R&D (8)

9 Found between Dover and Calais (6) 5 Locale of Dawyck Botanic Garden (5)

10 One way to buy (2,6)

6 Free (2-4)

11 Like Glyndebourne's

7 Writer --- Dumas (9)

auditorium (9-6)

8 Jazz singer Cleo (5)

12 Christmas Dancer? (8)

13 Business as usual (9)

15 Chester's Roman name (4) 14 X-ray dose (3)

18 What a rocker aspires to be (4) 16 Change aviator in turbulence (9)

19 What futile complaints fall on (4,4) 17 Park home to the Princess Royal (8)

21 Disorganised cartel bakes fare for 20 Pour out freely (6)

an early bite (9,6)

22 Joint Hay Festival creator, with

25 Felicity Kendal's birth borough (8) Norman and Peter Florence (5)

26 Anglo-Saxon kingdom stretching 23 Sudden burst of applause (5)

from Offa's Dyke to East Anglia (6) 24 Reading has a museum

27 Lord's-based cricket club (10) dedicated to this kind of life (5)

28 King's ---, base for visiting

Sandringham (4)

Answers will be printed in the Autumn Issue out 29 August

ANSWERS TO CROSSWORD 01

ACROSS: 1 Smith 4 Thrashers 10 Tintagel 11 Newark 12 Trossachs 13 Using

15 Day-glo 17 Monmouth 19 Psalmody 21 Carrot 22 Nancy, 24 Arresting 27

Embryo 28 Identity 29 Gypsy moth 30 Orlop. DOWN: 2 Main roads 3 Totes

5 Holkham 6 Anne 7 Hawksmoor 8 Reran 9 Iguanodon 14 Snickered 16 Gold

cards 18 Two and two 20 Yorkist 23 Armoy 25 Tutor 26 Holm.

FOR YOUR JOURNEY

Books, apps, travel gadgets and crossword

BRITISH TRAVEL

JOURNAL

WE LOVE

SPRING 2019 | ISSUE 01

BritishTravelJournal.com

IN THE STARS

GASTRONOMIC DELIGHTS AND A

CONSTELLATION OF MICHELIN STARS

JUST WAITING TO BE EXPLORED

DREAM ESCAPE

DISCOVER THE REMARKABLE ISLANDS

AND BREATHTAKING LANDSCAPES

OF ORKNEY AND THE OUTER HEBRIDES

£5.00

EVENTS ■ IDYLLIC DESTINATIONS ■ MICHELIN STAR RESTAURANTS ■ LUXURY HOTELS ■ NEW EXPERIENCES

Distinguished artist Philip Hughes

records eleven iconic walks across

the length and breadth of Britain,

from Allt Coire Pheiginn in Scotland

to Zennor Head in Cornwall.

£15.99, amazon.co.uk

Easy, inspiring and energising, new

meditation app that helps you to

be more relaxed and present in life

so you can find and enjoy success

and happiness everywhere you go.

freemindhub.com

Featuring a totally waterproof zip,

drop it in the sea and it floats! Perfect

for paddle boarding adventures,

picnics, days at the beach, festivals,

travelling and camping trips!

£159.95, redoriginal.com

Download and read British Travel

Journal on your tablet or mobile

device anytime, and anywhere. Available

on apple, google play, and amazon.

Use the QR code above

britishtraveljournal/subscribe

98 BritishTravelJournal.com
---
Creative | Connected | People

Exclusive Travel Experiences in the UK & Ireland

www.dreamescape.co.uk

enquiries@dreamescape.co.uk | 0845 260 1085