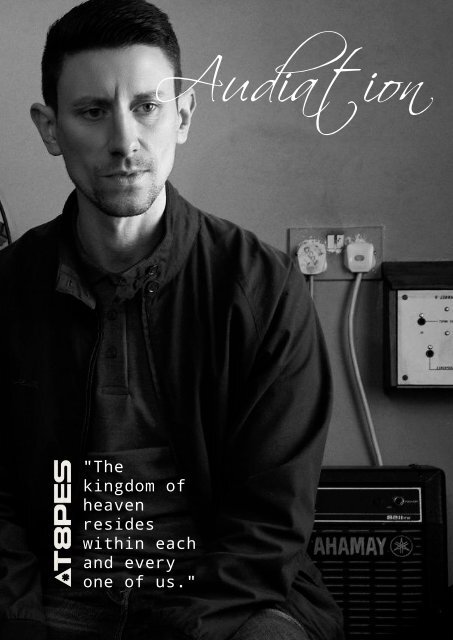 AM059
June 2019 Issue 59 features interviews with T8PES, Tiff Cornish and Rae Stewart plus highlights from Music On festival and the Eurovision Song Contest.
June 2019 Issue 59 features interviews with T8PES, Tiff Cornish and Rae Stewart plus highlights from Music On festival and the Eurovision Song Contest.
SHOW MORE
SHOW LESS
You also want an ePaper? Increase the reach of your titles
YUMPU automatically turns print PDFs into web optimized ePapers that Google loves.
"The

kingdom of

heaven

resides

within each

and every

one of us."

Audiation
---
A u d i a t i o n M a g a z i n e i s a g l o b a l m o n t h l y m u s i c p u b l i c a t i o n

w h i c h i s f r e e t o r e a d o n l i n e a n d a v a i l a b l e f o r o n d e m a n d

p r i n t p u r c h a s e s . W e f e a t u r e a l l s t y l e s o f m u s i c a n d v a r i o u s

l a n g u a g e s i n t h e m a g a z i n e , e a c h p i e c e i s a n e x p r e s s i o n o f

w h a t o u r w r i t e r s a n d f e a t u r e d a r t i s t s w i s h t o s h o w . W e d o

n o t h a v e s e t r u l e s a n d a l l o w t h e w o r d s t o c o m e n a t u r a l l y

w i t h f e w e d i t s . A r t i c l e s a r e n o t c o n s t r a i n e d t o s i m p l y m u s i c

- w e l i k e t o b e b r o a d i n t h e w a y w e e x p r e s s o u r p a s s i o n a n d

i n c l u d e a v a r i e t y o f t o p i c s i n c l u d i n g p o e t r y , f a s h i o n a n d

l i f e s t y l e . E a c h c h o s e n t o p i c w i l l r e fl e c t t h e t h o u g h t s o f t h e

w r i t e r a n d r e v o l v e a r o u n d m u s i c i n s o m e w a y . T h e

m a g a z i n e i s f r e e t o r e a d a s w e u n d e r s t a n d t h e d i ffi c u l t y i n

w h i c h c r e a t i v e i n d i v i d u a l s f a c e w h e n t r y i n g t o g o f a r , t h u s

w e w a n t t o h e l p t h e i r t a l e n t s r e a c h a s m u c h o f t h e w o r l d a s

p o s s i b l e . W e h a v e w o n d e r f u l p a r t n e r s , V i n y l F o r A C a u s e

b r i n g t o g e t h e r t h e i r f a v o u r i t e m u s i c i a n s w i t h a p e r c e n t a g e

o f p r o c e e d s g o i n g t o c h a r i t y , a n d , R i g h t C h o r d M u s i c w h o

h e l p t o p r o m o t e a n d d e v e l o p i n t e r e s t i n g i n d e p e n d e n t

m u s i c i a n s .

W e w i s h t o i n s p i r e m i n d s , e x p r e s s c r e a t i v i t y a n d r a d i a t e

o p t i m i s m t o t h e w o r l d t h r o u g h m u s i c .

w w w . A u d i a t i o n M a g a z i n e . c o m
---
"Music is much more than

sound. Music can be a

comforter, party maker,

career path or a way of

life."

Ruby, Editor & Owner

"Music is much more than

sound. Music can be a

comforter, party maker,

career path or a way of

life."

Rokuro, Associate Editor

"The birth of one's child is

the only feeling that

comes close to getting

lost in music."

Cessle, Associate Editor

"Music is a form of art

that reveals a truth in a

world full of mystery."

Sarah, Staff Writer

"No matter what's

happening in life, it's

usually great music will

keep you going."

Malachi, Staff Writer

"Music is life. It's a

universal language that

has no barriers. It unifies

people around the world.

It brings people joy."

Andy, Staff Writer

"Music & love are the

same things really. If kids

grew up with music in

their lives, then their lives

would always be filled

with love."

David, Associate Editor

"The moment you feel

happy about music, that is

the very essence of it.

Being in the vibes and

understanding what music

has for your soul."

Steve, Staff Writer

"Music is the way I see the

world."

Mary, Brand Ambassador

"It's an escape, a relaase, a

chance to write how I feel

and allow other readers to

relate. Music has saved

me many times."

Jessie, Staff Writer

"Music is love, you can

feel it. Music binds people

together, ending war and

bringing peace to the

soul."

Ashna, Creative Assistant

"Music is a material

artwork of my dreams that

inspires me to overcome

difficulties of everyday

life. I admire people who

can make it!"

Tamara, Brand Ambassador

"You know you are a

music addict when you

get a natural high when

you hear a tune you love!"

Christina, Vice President

"Music is my Truth.

Techno is my Heart. Love

the mediator that led to a

connected, liberating,

beautiful, surrender to my

inner peace."

Sharm, Staff Writer
---
Thanks to:

AWJ Recordings

Bobbin Head Music

DJ S.K.T

IO Production

Jukebox PR

Kenja Records

Leopolis Jazz Fest

Media PR UK

NexGen Music

On The Rise Promotions

Rae Stewart

Refuge Recordings

Relish PR Factory

Rogers & Cowan

Slime Recordings

Space Promotions

T8PES

Ten Letter PR

The Last InnHouse

Thumbs Up

Tiff Cornish

T8PES photography by Matt

Wilson

T8PES, Glee Club photography by

Matt Crockford

The Netherlands first rehearsal

2019 photography by Thomas

Hanses

The Last InnHouse, Durham, March

2019 photography by David Wala

Icons & graphics by

kues1

Onlyyouqj

Kjpargeter

Alekksall

fwstudio

freepik.com

CONTENTS

8 Shows Guide

10 Leopolis Jazz Fest

13 SMILE: T8PES

14 Tiff Cornish

20 Mythical Sound

22 The Music Was On

24 Peace & T8PES

26 Ibiza Live TV

28 T8PES

31 Note To Self…

32 Dare To Dream

34 #AudiationNation

35 SMILE: Rae Stewart

36 Ben Harper

38 Rae Stewart

40
---
5
---
Hi Guys & Dolls...

Our cover sports an oldschool theme with a black & white shot of artist T8PES and his

inspirational message. The back cover shares this theme, mimicking the dark grey studio

walls. This month we launched #AudiationNation, the bi-weekly collaborative playlist which

allows you to share your favourite songs of the moment. Get involved with this feature on

our Facebook page every second & fourth Saturday of the month. As a great highlight each

year, which we always look forward to, we checked out this year's Eurovision Song Contest…

We congratulate The Netherlands and Duncan Laurence for a passionate winning

performance!

In this issue: 'Let Us Dance' by Drea Pizziconi is our SMILE song with a great sense of female

empowerment. We give you the lowdown on one of Europe's best-loved Jazz festivals -

Leopolis Jazz Fest - in Ukraine this June with acts including Adrien Brandeis, Diana Krall,

Bobby McFerrin, Lisa Stansfield and more. Aah Melbourne… Sharm discovers the street art,

culture and musical world of this wondrous city. She meets female DJ Tiff Cornish, talking

about her love of various genres and simple ambition to create an enjoyable atmosphere

when playing out. Turn up the mythical sounds, I get my hands on the Swipe Unicorn

Shaped Speaker and tell you why it's a must-have for summer. The music was ON. Cessle

heads to Music On festival and gives us the highlights of the incredible event which was still

felt right through the body a week later! Get a slice of the Ibiza lifestyle. I find out about

Ibiza Live TV, the perfect companion to guide you around the iconic island and keep you upto-date

with the local events. Do it because you love it. I chat with the inspirational mind of

T8PES, a truly humble artist just doing what he loves and making a positive impact on the

world through music. Steve shares his reflections with us, finding himself together with the

loving memory of Josh Butler's 'Ocean' song. Dare to dream with our highlights of this year's

Eurovision Song Contest. Find out about Ben Harper's upcoming concert in Mauritius which

is set to be a spectacular night of soul music. Be you, never change. I grab a moment with

singer Rae Stewart as she rises in the urban music scene and tells us of her journey so far.

We've got your events guide, show listings and music from The Last InnHouse, Aaron Static,

Vina Rose, DSHunt, MITAD, Misc Mood and more.

Ruby x

Connect with us:

Facebook /AudiationMagazine

Twitter @AudiationMag

6 www.AudationMagazine.com
---
S h e i s a w a r r i o r

L a d i e s , l e t u s d a n c e

W e w h i s p e r t o t h e w i n d a n d

m a n i f e s t o u r r e a l i t y .

T i m e t o e x h a l e , r e l e a s e

W e c a n d o a n y t h i n g

Drea Pizziconi - Let Us Dance
---
SHOWS

London timezone

Radio | Podcast

Monday

10am Clara Amfo | Variety - BBC Radio 1

10am Neev | Variety - KISS FM UK

2pm Danny Blaze | House, UK Garage & Club Classics - Flex FM

6pm Relive The Madness | Dance - One World Radio

Tuesday

10am Clara Amfo | Variety - BBC Radio 1

10am Neev | Variety - KISS FM UK

6pm Relive The Madness | Dance - One World Radio

Sister Bliss In Session | House & Dance

A State Of Trance | Trance

Wednesday

10am Clara Amfo | Variety - BBC Radio 1

10am Neev | Variety - KISS FM UK

2pm Danny Blaze | House, UK Garage & Club Classics - Flex FM

6pm Relive The Madness | Dance - One World Radio

Thursday

10am Clara Amfo | Variety - BBC Radio 1

10am Neev | Variety - KISS FM UK

6pm Jeremy Sylvester | House & UK Garage - Urban Dubz Facebook

6pm Relive The Madness | Dance - One World Radio

Toolroom Radio | House & Dance

Global Warm Up | House & Dance

8 www.AudationMagazine.com
---
Friday

10am Neev | Variety - KISS FM UK

11am The Weekend with Adam K & Nervo | Dance - One World Radio

2pm Sam Supplier | House, UK Garage & Bass - Rinse FM

4pm Husky | House - D3EP

7pm Annie Mac | Dance - BBC Radio 1

9pm Pete Tong | Dance - BBC Radio 1

9pm Wideboys | House & UK Garage - KISSTORY

10pm Mike Delinquent | House & UK Garage - KISSTORY

10pm Friday Night Kiss with Steve Smart | Club - KISS FM UK

10pm Capital Weekender with Ministry Of Sound | Club - Capital FM

Trustnobody | House & Techno

Hospital Records | Drum & Bass

Above & Beyond Group Therapy | Trance

Clublife | Club

Saturday

11am The Weekend with Adam K & Nervo | Dance - One World Radio

6pm The Music Box | House - D3EP

6pm DJ Queen E | Urban - Ontop FM

8pm Saturday Night Kiss with Steve Smart | Club - KISS FM UK

10pm Capital Weekender with Ministry Of Sound | Club - Capital FM

11pm Saturday Night Kiss Fresh with DJ S.K.T | House, Techno &

Bass - KISS FRESH

Sunday

11am Sunday Recharge | Dance - One World Radio

The Beauty Of Sound | Trance

UKF Podcast | Bass

The Chillout Lounge Mix | Chillout

HeavyBeatsRadio | Club

Clubbing Culture | Club

Monthly Injection Shehzad K ON AIR | Club

Stashed Sessions | House & Techno

9
---
LEOPOLIS JAZZ FEST

Priceless summer days… 26 - 30 June sees a great celebration for Jazz music in

Lviv, Ukraine. Leopolis Jazz Fest is a brilliant 5 day showcase of the genre with

live performances, workshops, jazz-themed film screenings, street music acts,

a fairground and more. With over 100,000 international visitors each year, the

annual event is famed as one of the best jazz festivals in Europe.

LEOPOLIS JAZZ FEST

26 - 29 JUNE 2019

LVIV, UKRAINE

This year's festival has a jam-packed programme with tremendous artists

across three stages: the Eddie Rosner stage, Rynok Square and Pototsky Palace

yard. Acts will include Peter Cincotti, Adrien Brandeis Quintet, Claudia

Campagnol, Month of Sundays, Pokaz Trio and LosSamos. Street music artists

will also get the chance to shine, with open-air auditions prior to the event,

concerts will present the best local talent as chosen by the public.

Two large picnic areas allow guests to watch performances on LED screens and

enjoy interactive areas, carnival rides, food courts, souvenir stalls and further

entertainment. Movie screenings will also present collections from Leonid

Goldshtein, an icon of the Ukrainian Jazz movement. And, if that were not

enough, the cool double-decker #Borjomibus gives its top deck to performers

as it takes a tour of Lviv.

10 www.AudationMagazine.com
---
EDDIE ROSNER STAGE

Adrien Brandeis – a young, award

winning French pianist and composer,

winner of the LetterOne "Rising Stars"

Jazz Award – will be the first to perform

on the Eddie Rosner stage, followed by

three-time Grammy Award winners

Snarky Puppy, one of the most longawaited

bands at the festival, made up

of modern fusion and funk jazz

musicians.

Etienne Mbappe & the Prophets will

also perform on the festival's main

stage. This famous Cameroonian bass

player and composer already

performed on the fest stage in 2012 as

a member of John McLaughlin's 4th

Dimension.

A performance by Diana Krall – a famous

Canadian singer and pianist – her first

in Ukraine, is sure to create a stir among

attendees. Diana will perform with

world-famous musicians Joe Lovano,

one of the world's best saxophonists;

Marc Ribot, a uniquely skilled guitarist

who makes plays music from a range of

genres – from free jazz to rock; Robert

Hurst, a world-class double bass player

and 7-time Grammy Award winner; and

Karriem Riggins, a celebrated jazz

drummer.

Jazz legend Kenny Barron will also be

visiting Ukraine for the first time. This

American composer, arranger and "the

most lyric pianist of our time" will come

to Lviv accompanied by his quintette.

A performance from Bobby McFerrin –

one of the world's best known vocal

improvisers, who transforms his voice

into a music instrument – and his

Gimme5 (circlesongs) program is

expected to be exceptional and

breathtaking. The concert hall in B.

Khmelnytskyi Park will be adapted for

an impromptu choir consisting of about

80 people, including the Lviv National

Music Academy Student Choir, acapella

groups ManSound and United People,

Jamala, LAUD, Laura Marti, Kristina Marti,

Olya Chernyshova, Liza Bairak and

Uliana Holinei.

Pianist, multi-instrumentalist, vocalist

and composer Jon Cleary and his band

The Absolute Monster Gentlemen will

also perform on the Eddie Rosner stage.

His music clearly reflects the influence

of funk, R&B, soul, gospel, Afro-Cuban

rhythms and, of course, the New Orleans

school of piano-playing.

World-famous pianist, composer and

22-time Grammy Award winner Chick

11
---
Corea will perform with the Spanish

Heart Band project, which includes a

bright mixture of fusion-jazz and

traditional Latin music. The name itself

is a throw-back to the legendary album

My Spanish Heart from 1976. The

performance will be accompanied by a

flamenco dancer.

American singer and pianist Peter

Cincotti will perform on the last day of

the festival. At the age of 18, Cincotti

became the youngest musician ever to

reach #1 on the Billboard jazz chart.

Since then, Cincotti has performed in

the world's most prestigious concert

halls, from New York's Carnegie Hall to

L'Olympia in Paris.

soul and pop music for over 30 years.

Her first success came in the '80s when

the song "Big Thing" climbed to #11 in

the UK charts and hit the top-10 dance

charts in America. Lisa Stansfield has

received many awards, including Brit

Awards, Ivor Novello Awards and

Billboard Music Awards.

STAGES ON RYNOK SQUARE AND IN

THE POTOTSKY PALACE YARD

Guests and residents of Lviv will enjoy

two free stages in the downtown area –

on Rynok Square and in the Pototsky

Palace yard. Top music bands and

groups from Austria, Denmark, Israel,

Italy, Lithuania, Luxembourg, Germany,

Turkey, Hungary, France and

Switzerland are due to perform there.

Most of the performances will be

traditionally sponsored by embassies

and institutes.

CONSTITUTION DAY

On June 28, Ukraine's Constitution Day,

a concert featuring celebrated

Ukrainian musicians will be held for

festival attendees. In 2019, N , Skhid-

Side and Dennis Adu's big-band with the

exclusive "Jazzy DeLuxe" show will

perform on the Rynok Square Stage.

Everybody Jazz in Lviv!

www.leopolisjazz.com

Our special guest at the festival is one

of the Britain's most famous singers –

Lisa Stansfield. She has been combining

12 www.AudationMagazine.com
---
" S e e i n g o t h e r p e o p l e s h i n e .

N a t u r e . A n i m a l s & W i l d l i f e .

C h i l d r e n p l a y i n g a n d d a n c i n g w i t h

n o t e v e n a s m i d g e n o f s e l f

c o n s c i o u s n e s s . G r e a t a r t . " T 8 P E S

T H I N G S T H AT M A K E M E

SMILE.
---
AAH MELBOURNE. HOME TO STREET ART

AND GIFTED DJ'S...

Melbourne, Australia's second largest city is home to

beautiful architecture, wondrous street art and the

yummiest foodies. In Melbourne you'll find rich culture

and hidden gems waiting to be discovered by the

adventurous and curious. The city touts itself as a

world leader in coffee and café culture. Coffee snobs?

Rightfully so! Though, warmly, a socially

accommodating, welcoming and super friendly city with

soul - one that had been on my radar since arriving in

Australia in 2017. It took two years before I ticked it off

my bucket list. It was indeed a colourful experience on

every level.

Before arriving in Australia I connected with a wellknown

Melbourne-based DJ, Joey Sarantis, who invited

me to a private party he was playing at. Naturally I

accepted the experience of mixing with the locals and

meeting Joey.

It was that night that I met the beautiful Tiff Cornish, a

uniquely talented female DJ who's making huge waves

in the Australian scene. I was drawn to her presence

and music as she rocked the decks that night. This

lovely lady is going places...

14 www.AudationMagazine.com
---
15
---
Tiff Cornish

Ladies, gentlemen, boys and girls,

meet Tiff Cornish.

Aussie DJ, Tiff Cornish has been

lighting up dance floors with her love

for techno, house, tech-house and

disco since 2013. Bringing her glittery

mixes out as a support act for the likes

of Hot Dub Time Machine, Motez,

SAFIA, Marshmello(US) and Hayden

James.

Playing regularly around Melbourne's

notorious night (or day) spots,

venturing out to festivals such as

Beyond The Valley and even heading

overseas to London-based venues such

as DJ Mag's Work Bar. It is safe to say

Cornish is one to watch out for, where

ever in the world you may be!

2018 brought Cornish career

highlights; winning a competition for

both Deep House Amsterdam &

Magnetic Magazine as the featured

artist and guest mix for the month.

Tiff gained huge exposure on social

media platforms worldwide and

appeared alongside top artists; it was

a huge tick on the bucket list. However

nothing compared to 2019 where Tiff

Cornish's tech-house track "You Get

Me" was released on the very popular

Club Sweat label and almost instantly

spun on popular Triple J – Friday Night

Shuffle!

No stranger to the limelight, Tiff

Cornish has also had her fair share of

radio time, spinning on Bondi Radio in

2017 and 2018. Hosting her own show

on London's popular Hoxton Radio,

where she curated live playlists and

interviewed successful industry

professionals! And most recently, upon

her return to down under, Tiff is

producing and hosting 'Our

Patchwork', a weekly show on KISS FM.

Fresh back from London where she

studied music production & sound

engineering at Point Blank, honing her

skills and experimenting with her

unique style, it's exciting to see what

2019 holds and what music Tiff Cornish

has up her creative sleeve.

How did it all start for you?

Music has always been a huge part of

my life.

Dabbling in singing, clarinet and piano

from a young age, the magic of sound

has always captured my interest and

heart.

When I was 18 I started going to

nightclubs and, one evening, I saw a

female DJ playing some amazing house.

She made me stop and really listen to

dance music. I was totally captivated by

the sound and feeling. Hooked on this

music and the adrenalin, I knew I wanted

to be that girl one day making others

feel the way I did. And from there I just

went for it.

What do you love playing the most?

To be honest I hate sticking to a single

genre!

I love playing everything from tribal

16 www.AudationMagazine.com
---
17
---
house, tech house, melodic techno & on

the rare occasion a 90s hip-hop tune. I

love throwing down a really random

track in the middle of my set!

Favourite Food?

Rice! I am completely obsessed with

rice.

Who's your muse in the music world?

My muse is constantly changing!

At the moment I am really drawn to

artists like Tourist, Hayden James, KiNK,

Freya Ridings, Lane 8 and George

Fitzgerald.

" I w a n t i t t o s o u n d l i k e

t h e D a l a i L a m a s i n g i n g

o n t o p o f a m o u n t a i n 2 5

m i l e s a w a y . "

J o h n L e n n o n

How would you describe the dance

scene in Melbourne?

Melbourne has to be one of the best

places in the world for a party and coffee

the next day…

From the underground artists, the

international superstars and

undeniably talented locals, the hardest

part of every weekend or weeknight is

trying to choose or, as I like to, "party

split" between the many unique events

and experiences that lie within the night

and sunny days.

Favourite Colour?

Hmmm pink…. and black.

What single night out has been the most

memorable for you? As a DJ As an

attendee?

I would say my most memorable night

out would have to be my first big main

room performance.

Somehow my 3 best friends seemed to

completely take over the stage and the

dance floor. One had hold of the smoke

machine control, the other somehow

found a ladder and was climbing up it

on stage. And the third was right up the

front of the dance floor on someone's

shoulders just screaming like a maniac

in front of the decks.

I have never felt so much love and joy !

What are your future plans for your

music career?

I am hoping to play a few more sets

around the world and really work on

releasing some new tracks with my own

vocals.

What is your advice to emerging talent

and, how they can set aside any fears

and pursue their dreams with courage?

Playing music is all about having fun and

creating the most enjoyable

atmosphere. I think people (myself

included) from time to time put so much

18 www.AudationMagazine.com
---
pressure on a certain kind of set and

sound… we forget why we all started

spinning records, going out with our

mates and working that extra shift to

pay for that ticket to see that DJ. To have

fun and enjoy life!

The only fear you should have is: if you

don't at least try you will miss out.

Things aren't always going to be easy,

however, set some goals and keep

pursuing your dreams. Oh and one big

one – surround yourself with good

people along the way because they

make the ride worthwhile.

Favourite holiday destination?

influenced you the most?

I aspire to be the best version of myself.

My musical family and friends would

have to be my biggest influences.

Any parting thoughts for emerging

artists?

Courage over comfort.

__________________________________

Latest release 'You Get Me' is out now!

www.instagram.com/tiffycornish

www.soundcloud.com/tiffycornish

El Nido, Phillapines. No wait, Vietnam.

No – Tel Aviv, Israel...

Nope it cant be done, I cant choose just

one!

What are the things that bug you about

the DJ scene?

That free earplugs aren't provided in

venues for punters and DJs!

Name one track that never gets old for

you no matter how many times you

hear it?

Ease On Down The Road

If you could get eternally stuck in one

year's music scene, which year would

that be?

90s rave scene baby.

Who do you aspire to and who

Sharm

19
---
Mythical Sound

Explore a fairytale world of enchantment and mystical

wonders… We're smitten by the delight and charm of our

new audio friend - the Swipe Unicorn Shaped Speaker from

ThumbsUp.

This cute creature combines music enjoyment with playful

imagination, perfect for the leisurely sunshine days. With a

portable size and ease of use through Bluetooth, the

speaker delivers a powerful 3W sound with a 10 metre

radius. It also has the ability to make and receive calls with

a built-in microphone.

The magical speaker is a fun little item with good sound

quality, clear verbal and flashing light signals (including

on/off speech, flashing blue light when playing and

interchanging blue & red lights when device disconnects),

and handy buttons to play/pause or skip to previous/next

track. The speaker offers up to 2 hours of play time and

comes with a micro USB charging cable. It is small and

lightweight to pop in your handbag, with a sturdy and

durable structure for the outdoors.

Fun, fashionable and designed for modern day living. The

Swipe Unicorn Shaped Speaker injects innovation into our

power-hungry and hectic lifestyles, bringing both

practicality and surprise to the everyday. Because of its super

portable and compact size this speaker is ideal to throw in

your handbag or rucksack for those music emergencies or as

the hot weather strikes for any upcoming picnic, BBQ or

camping plans.

With a majestic exterior, what's not to love! Fantastically

cute with its vibrant pink, purple and yellow fur, mane and

flowing locks this gorgeous unicorn makes a great gift idea

for all ages and any unicorn obsessive at heart.

The Swipe Unicorn Shaped Speaker is available to buy online

for £19.99 from ThumbsUp.

www.thumbsup.com/collections/gifts-for-her/products/

unicorn-shaped-speaker

20 www.AudationMagazine.com
---
21
---
THE MUSIC WAS ON

There are a few things in life that, historically, the Dutch are either just the best

at or sit in that same bracket with just a few. Football, windmills, cannabis and

festivals. Now I'm no stranger to a festival in Holland, as I've been to a few, but

Music On Festival was something else. The music was most definitely on and

those that were there to hear it could feel it right through their bodies a week

later. Sweated out T-Shirts, battered bodies and blistered feet was the look and

feeling that predominately all had succumbed to, because Marco Carola and the

team behind the project had the music on and it was bumping. From the outlook

alone, just scoping a view of the line-up of artists that were set to play was enough

to make your mouth salivate: Jamie Jones, The Martinez Brothers, Apollonia, Paco

Osuna, Loco Dice, Steve Lawler and the rest. Seeing names like this and knowing

that this was taking place in the capital of the Netherlands was enough to tickle

me and get me excited, but being there in full action was a different feeling within

itself as the Dutch really do know how to put together a party, as does the Music

On team. The Ibiza nights speak for themselves.

Music On Festival was set over 2 days in early May and situated at Havenpark

just a mere 20 minutes from the city centre and the venue truly was a masterpiece.

My MO experience was only to last just for the 1st day, the Saturday, and it was

truly enough. It was so good it had me contemplating cancelling my flight and

rebooking just so I could attend the Sunday, but the responsible grown up inside

22 www.AudationMagazine.com
---
of me won that battle. 1 big field with 2 stages. The main stage came with that

familiar circus tent look from the outside whilst the inside holds the sounds

brilliantly and the 2nd stage was the highly memorable greenhouse stage which

is kind of synonymous with festivals in the 'Dam. Both stages had indoor layers

of wooden flooring and, I kid you not, this had an amazing effect. I can do nothing

but smile whilst drawback memories of losing my sh*t to Apollonia in the

greenhouse and feeling the floor just bounce beneath me, and those around me,

as we simultaneously stomped the life out of things. Whilst top acts like Jesse

Calosso & Marco Farone were there to warm things up in the heat of the afternoon,

the whole entire festival was buzzing. Whether it be from alcohol, natural

excitement or whatever, the whole entire grounds were buzzing, and rightly so,

because riddim after riddim was being dropped across both stages. I stood there

in the greenhouse with eyes locked to the front as the French trio of Dyed

Soundorom, Dan Ghenacia & Shonky aka Apollonia dug deep into the record bags

and played some of the best music I had ever heard in my life. As the evening

begun to wear on, it just got better and better.

Over in the main stage Paco Osuna had turned himself into the musical version

of Bruce Lee and was kung fu kicking the sh*t out the sound system causing every

raver in sight to dig deep and brandish new festival dance moves getting lost in

the vibe. Things seemed to take a turn at one point and you could literally feel

the levels step up a notch when Paco decided to drop Adam Beyer's 2018 smash

'Your Mind'. A set by either The Martinez Brother or Marco Carola was inevitably

gonna be top class, but The Martinez Brother b2b with Marco Carola was just next

level. This was different planet stuff. When a set of DJ's can make you dance your

bits off and, like it to a track that you would normally hear, and say 'Its home time

now' then you know you the music was incredible. It's that feeling of enjoying

something that you know you shouldn't really like. And for that reason alone, I

shall be going back next year. Roll on Music On Festival 2020!

www.facebook.com/musiconofficial

Cessle

23
---
24

Photography by Matt Wilson
---
Life is a journey. The journey IS the

reward. Too many people spend too much

time looking outward for fulfilment. We

only need look inward. The kingdom of

heaven resides within each and every one

of us, we just have to unearth it. When

we do look outward, we should be looking

at how we can enrich other people and

positively impact their lives. My focus

over the last few years has been on

emotional intelligence which is not easy

to develop. If we were taught this stuff

from a young age then perhaps we

wouldn't have to go through so much of

the trauma that life throws up.

- T8PES
---
Legendary clubbing memories, white

sandy beaches, picturesque

Mediterranean sceneries and

scorching hot summers - we'd all like

a slice of the iconic Ibiza lifestyle.

Ibiza Live TV is your sidekick when

visiting the island, highlighting the best

activities and events around. The

channel delivers up-to-date local and

international viewing including music

and wellbeing shows, guides to tourist

hotspots and information on what's

going on in the island.

"It's a very exciting time for our business,

we're growing faster than anticipated,

breaking new ground, going to new

areas. Our approach to the channel is

focused on good quality content that

also transitions to the mobile space

where brands and content creators can

extend their reach into a new space

whilst providing value to the hotels. We

have some very exciting new projects to

release in 2019 so watch this space."

Brett Taylor, CEO

This influential media platform is a gem

for getting your brand out there to the

European tourists visiting Ibiza. In the

last year, Ibiza Live TV became the

largest digital screen network in the

Balearics, generating over 1.3 million

advertising impacts on tourists. The

network is also branching into radio

space in partnership with Playa Sol

Radio. Their focus is on helping local

business and tourism to sustain Ibiza's

positive market. With the success of the

channel across more than 100 hotels in

Ibiza, Barcelona Live TV is also being

launched to deliver the same great

service in the vibrant European city.

The focus at Ibiza Live TV is always on

streaming great quality content while cocreating

unique new shows such as The

Ibiza Vibe, which showcases the best of

Ibiza products and provides them with a

platform to connect people with their

products. Next to that, the channel plays

a variety of well produced programmes

focused on the tourists, music and clubs

that make the White Isle such a globally

renewed location. Content touches on a

range of subjects from health to wellness,

fitness to interviews, DJ sets, music

features and content from industry

leading partners such as DJ Mag UK, DJ

Mag Spain, Essential Ibiza and many

more.

This is set to be an exciting year ahead

for the company as it expands its reach

with new mediums and continues to

develop the Ibiza Live TV identity. You

can find out more from them at

International Music Summit 2019 in

Ibiza.

www.ibizalive.tv

26 www.AudationMagazine.com
---
I can see your spirit in the sky

When northern lights are dancing

Show me the light...

KEiiNO - Spirit In The Sky 27
---
The extraordinary vocal talent from

Birmingham, UK, not only inspires us

musically but also with his warm heart.

'Flashback' to 2018 when we first

discovered the wonder of T8PES with

this debut single. Feel a huge burst of

positivity and motivation as you press

play, and you're taken back to the 90s

rave.

T8PES is not just a man, T8PES is a

movement - the impossible dream that

was somehow realised, the anomaly

amongst the standards, the light

shining despite the dark clouds, the

thing that shouldn't exist but does.

The sound of T8PES is a melange of

optimism for life together with

nostalgic inspiration. His lively flows

sit atop fun garage-style beats with a

bright energy in the air. With the

release of his debut album, we caught

up with T8PES to chat about life and

music…

Tell us about yourself and how you got

into music?

I'm Jimmy Davis, the brains (and braun)

behind T8PES. I'm an Alternative

Electronic Indie Hip Hop artist hailing

from the UK's 2nd city Birmingham. I'm

37 years old, been around the music

industry block and back again but still

learning and devoting myself to the

craft every day. I had this exciting

interest in music at junior school when

I would be regularly invited up to the

front of the class to perform as the

'human jukebox', but I got into music

properly aged 12 when I started

learning to play drums. I then started

singing in a band at secondary school

because vocalists looked like they got

more attention than drummers.. HA!

After leaving school, my music interests

turned to raves and DJ culture. We'd

come back from raves and use cassette

tape decks to 'cut' and mix between two

rave tapes and essentially mix tracks,

although it probably sounded horrific! I

then bought some decks and learnt to

mix, entered my first competition and

won a residency at a bar which lasted

all of 2 gigs. After losing a couple of

years of my life to drug addiction,

homelessness and other dark things I

eventually got my act together and went

to college to study music production.

Since then I've been making music and

writing songs.

Your songs always have strong

messages on life and also have an old

school vibe. Can you tell us more about

your musical style, aims and

influences?

I've always had quite an eclectic sound

because I'm influenced by so many

different artists and genres, so the

musical style can be somewhat difficult

to describe and pin down. The whole

vibe of this debut T8PES project has

been centred around old skool rave,

garage and jungle with added elements

of modern Hip Hop and Grime. My aim

is to create a slightly different sound for

each project as each is almost a concept

album in terms of how it relates to the

title, or symbol used for the title should

I say. The influences are so wide and

varied, but to give you an idea, they go

from The Prodigy to Fleetwood Mac to

28 www.AudationMagazine.com
---
Photography by Matt Crockford 29
---
Oasis to Kanye West to The Streets to

Elbow to Justin Bieber's last album.

Tell us a little about the album?

The album was inspired by a nostalgiadriven

vision I had to capture the feeling

of rave culture back in the day and blend

it with my other musical influences. In

terms of content some of it was

reminiscing, some recalling stories of

misspent youth, love and heartbreak,

social commentary, and a strong core

of positivity and good energy.

What are your tips & advice to aspiring

artists?

Be authentic and stay true to who you

are. Be professional. Be prepared to

work harder than you ever have for little

or no reward. Be prepared for rejection,

criticism and to have your dreams

trampled on. Most of all, enjoy it. Do it

because you love it, not because you

love the idea of the lifestyle it may

bring.

The planet needs our care and attention.

Please consider your actions as a

steward of this planet and start thinking

about what we can do to lessen the

destructive effects we're currently

inflicting on this beautiful world.

T8PES is you. T8PES is me. T8PES was

there when you didn't even realise you

were.

Namaste.

__________________________________

Debut album '
---
Note to Self...

Inspired by Josh Butler - Ocean (2012 Studio Version)

I am back

I have been lost

Well... I guess so

Would you mind chatting for a while

You know... it has been hard

Knowing that I was losing ground

I can't relate how it happened; nor when it started

I just realised it...

When listening to that song

Seemed like a loving memory

My heart was pounding with sorrow

As I knew that I was so afar

I thought I would have always been nearer to me

But seems changing times got me

Changed me...

I was lost... but music found me

Stv

31
---
Dare To Dream

Good evening Europe! Tel Aviv, Israel,

hosted the Eurovision Song Contest

2019 with the inspiring slogan: Dare To

Dream. This theme represents the

importance of inclusion, diversity and

union.

Michela opened the show, representing

Malta, with the upbeat and catchy EDM/

club track 'Chameleon'. The colourful

backdrops and a dirty drop definitely

got the party started.

Jonida Maliqi delivered a stunning

performance for Albania with 'Ktheju

tokës'. Great passion and fire was

exuded in her compelling vocal range.

Goosebumps!

Have no fear, the power lies in you.

North Macedonia's Tamara Todevksa

imparted motivation and female

empowerment with her intense

performance of 'Proud'.

Zala Kralj & Gašper Šantl represented

Slovenia with the soft, contemporary

song 'Sebi'. When your mind is full of

thoughts, you can listen to my heartbeat.

Their unusual yet beautiful act showed

us an intimate moment between two

lovers, as if they were the only people

in the room.

Hosts, Israel, came 'Home' with Kobi

Marimi's beautiful operatic voice

together with lovely harmonies. I feel

the sun upon my skin. This momentous

performance highlighted the proud

feelings of the country.

KEiiNO represented Norway with the

trendy, uplifting dance song 'Spirit In

The Sky'. The big feelgood energy was

32 www.AudationMagazine.com
---
paired by a fantastic blend of three

diverse voices. A trio of voices which

somehow clash against each other yet

work perfectly together. A song of

freedom and love. This was, by far, the

most Eurovision-esque song.

Hatari sliced through the pop vibes with

the full, harsh screamo song 'Hatrið mun

sigra' for Iceland. Just treacherous

illusion. The punk attitude was thrilling

together with the electronic dance

track.

Mahmood represented Italy with the

nonchalant verses and flavourful highs

of 'Soldi'. Betrayal is a bullet to the

chest. This killer track questions

sincerity and the real value of money.

Nevena Božović's stunning voice shone

brightly with 'Kruna' as she represented

Serbia. The thoughts on a pure love

come to a climax with a powerful and

dramatic chorus.

Kate Miller-Heidke took us into a

fairytale world with 'Zero Gravity' for

Australia. With exquisite high notes, a

little yodelling and a theatrical

performance, the sugary pop song was

a wonder to the senses.

The contest also comprised of many

perfectly good English pop/dance

songs which would sit well in the UK

charts at any given time. Tamta gave us

the sexy and energetic 'Replay' for

Cyprus. Duncan Laurence's moving

song of love and heartache 'Arcade'

allowed an impressive vocal range to

shine for The Netherlands. Michael Rice

represented the UK with the nice pop

performance of 'Bigger Than Us'.

Chingiz gave us the cool, modern dance

song 'Truth' for Azerbaijan. Luca Hänni

represented Switzerland with the lively

and raunchy dance song 'She Got Me'.

Miki represented Spain, and closed the

competition portion of the show, with

the colourful and charismatic 'La

Venda'. The blindfold fell already and

only joy remained. A fun, spirited energy

comes together with brilliant

motivational words of self-love.

The interlude presented a wonderful

celebration of the contest with some

great interpretations of memorable

Eurovision songs. Madonna performed

on the night with the chilled reggae

vibes of her new song 'Future' with

Quavo. She also delivered a wonderful

quote, "Let's never underestimate the

power of music to bring people

together." The Idan Raichel Project also

performed with 'Boee', a beautifully

Intriguing and cultural song infused

with modern dance.

The time finally came to see the results.

My favourites were amongst Norway

with the addictive energy and unique

vocal blend, Slovenia with the delicate

portrayal of love, and Spain with a burst

of bright fun. We were teased with a

slow reveal of each result and were

unsure until the very last suspenseful

moment. And the winner… Duncan

Laurence and The Netherlands! His

sweet charm warmed our hearts and we

were united in singing the chorus

together with him. Congratulations!

Gefeliciteerd!

www.eurovision.tv

Photography by Thomas Hanses 33
---
JUNE PLAYLIST

Jared James Nichols - Get Down

Paytra - ToTo

Saving Abel - Hell of a Ride

Colin James - Freedom

Dodeca - Pretty Picture

Many Mountains - Southern Kin

Marley Wildthing - All I Am

Take Me To Paisley - Broaden Your Horizon

Lisa Brigantino - Cookies & Whiskey

Ethereal - Aftertaste

Bobby McFerrin - Don't Worry Be Happy

The Last Innhouse - Open Road

Lizi & Ezra Bailey - I Like You Too

Reatha Pitman - Room For Both Of Us

Morrigan Raine - Running Water

Gracious Me - Warrior

Chantmagick - Down The Rabbit Hole

Audrey Hepburn - Moon River

Puddle of Mudd - Control

Limp Bizkit - Take A Look Around

Rae Stewart - Be Down

__________________________________________________

We are #AudiationNation - The playlist chosen by you.

Have your say and let us know what you're listening to

with our bi-weekly feature. Tell us your favourite song

every other Saturday on our Facebook page or add tracks

to our collaborative Youtube playlist.

34 www.AudationMagazine.com
---
" M u s i c a n d f o o d . " R a e S t e w a r t

T H I N G S T H AT M A K E M E

SMILE.
---
BEN HARPER...

In Concert

On 8 June 2019, Mauritius welcomes

the famous American artist Ben Harper

for a special performance. The Trianon

Convention Centre, in Plaines Wilhems,

will host this spectacular show for an

evening of enjoyment from 8pm.

Mauritian artist Hans Nayna will open

the show with his lovely rustic blues

charm. Having found a love for music

and the guitar at age 21, Hans Nayna

has rapidly risen in the industry being a

finalist in Réunion's 'Run Star' talent

competition, winning Mayotte's 'Grand

Casting de l'océan Indien' competition,

and releasing the successful debut

album 'Music For The Soul'.

Singer/songwriter and multiinstrumentalist

Ben Harper is the highly

anticipated main act of the night. His

delightful soulful voice, with styles of

folk and reggae, impart warm and

relaxing feelings which are perfect for

the island of sunshine. Having started

playing the guitar as a child, Ben Harper

has a rich music background with many

accolades to his name including three

Grammy awards, Rolling Stone's 'Artist

of the Year' in 2003, and Blues Music

Award's 'Song of The Year' in 2019.

This will be a lovely union of soul music

lovers in Mauritius with two superb

artists to dazzle the ears!

En Concert

Pour ceux qui se poseraient encore la

question « Qui est donc ce fameux Ben

Harper ? » Eh bien, la réponse est

simple. Il vous suffit d'écouter les titres

de deux de ses 14 albums « Diamonds

on the Inside » et « Give Till It's Gone

» et vous saurez d'emblée de quel

trempe il est fait. L'auteur-compositeur

et multi-instrumentiste, combine à lui

seul : pureté, authenticité et générosité

qui sont la marque des plus grands.

Artiste complet, d'un éclectisme rare, la

magie qui se dégage de sa musique ne

s'estompe pas avec le temps.

Outre Ben Harper, un autre artiste

d'exception foulera les planches du

Trianon Convention Centre le 8 juin

prochain : il s'agit de Hans Nayna. Notre

talentueux bluesman local, assurera la

première partie du concert. Hans est un

auteur-compositeur-interprète

Mauricien qui s'est fait connaître lors de

sa participation à l'émission Run Star à

la Réunion et qui s'est vu en 2016,

propulsé au-devant de la scène avec

son titre « Mo lam » extrait de son

album « Music for the soul ».

Alors avis aux inte'resse's il s'agit d'un

e've'nement a` ne manquer sous aucun

pre'texte!

BEN HARPER IN CONCERT

8 JUNE 2019

TRIANON CONVENTION CENTRE, MAURITIUS

TICKETS: WWW.OTAYO.COM | 466 9999

36 www.AudationMagazine.com
---
37
---
Rae Stewart

The versatile urban singer from

Manchester, UK, first came to our

attention in 2018 with her debut single

'Be Down' and EP 'Hear Me'. Her raw

lyrical flows and sweet twists create a

refreshing vocal concoction. Bold

strength, honesty and a fiery spirit

shine through each song.

Rae Stewart started singing from the

age of 3 and is influenced by the likes

of Lauren Hill, Aaliyah, Missy Elliot,

Brandy, Destiny's Child and more. Her

latest single 'Making Love' is

deliciously dark and seductive. We

took the chance to speak with Rae

Stewart as her career blossoms…

Tell us about yourself and how you got

into music?

My name's Rae Stewart, I am a singer /

songwriter from Manchester. I've been

doing music from my early teens but I

didn't have the confidence! I just didn't

take it seriously. I went through bad

situations and, out of nowhere, an

opportunity came and I just went for it!

It was now or regret it forever.

inspires your songs?

I speak about my life and other people's

experiences but I also just make stuff

up, even if I ain't been through it.

What are your tips & advice for aspiring

artists?

Be you, never change. You can easily

lose yourself. Never give up no matter

what.

What are your future plans? Any

upcoming singles or performances we

should keep an eye our for?

Keep making as much music as i can! Get

some features popping, a couple things

are coming just gotta stay tuned.

Thanks for a great interview.

__________________________________

Latest release 'Making Love' is out

now!

www.instagram.com/

raestewartofficial

www.raestewartofficial.com

You're rising well with your debut

'Hear Me' EP gaining strong industry

recognition, can we expect an album in

the next few years?

Anything will do: a mixtape, album,

volumes, etc - as long as I am getting

music out!

Your sound is really versatile showing

both soft and raw emotions, what

38 www.AudationMagazine.com
---
39
---
The '
---
Photography by Matt Crockford 41
---
NEW

MUSIC
---
'Let Us Dance' by Drea Pizziconi featuring Maimouna Youssef and The Dap-

Kings Horns is a wonderfully empowering song for the new world of change. A

gorgeous jazz band lifts our spirits high with brilliant brass flairs, elegant

strings and a tropical tempo. The vivid soulful beauty and power ooze from the

vocals with deep passion. Lyrics for female justice and equality drive home

clear and confident encouragement to women all around the globe.

"Let Us Dance," was written and produced by musician & activist Pizziconi,

with a rousing rap by Youssef. All 2019 profits from the track will support the

Campaign For Female Education's (CAMFED) work to educate girls in Africa.

"Education is a basic human right and there is no better investment in our

world's future, than the investment in a girl's education. But the barrier for

women to reach our potential remains high. I wrote this song for all the girls

out there who won't give up and want to tell the world "Get ready…we're

coming."

Pizziconi is a multi-hyphenate: composer/ lyricist/ producer/director and

serial social entrepreneur. She founded The Christie Company and

subsequently Africa Integras, one of Africa's largest education infrastructure

development companies, dedicated to the empowerment and education of

youth and especially girls.

Her global exposure as a musician inspired her early social and

entrepreneurial activism and reignited her storyteller musical roots. She felt

compelled to write music that would give a voice to those without a platform,

so these critical stories of survival would be told.

www.dreapizziconi.com

43
---
' Ra i n d r o p s ' b y DJ S . K .T i s a n a u g h t y l i t t l e n u m b e r. D i v i n e ,

s w i r l i n g wa v e s o f s t r i n gs c h a r m y o u . Pa i r e d w i t h a m o n o t o n o u s

y e t s e d u c t i v e v o ca l cu t , t h i s cu r i o u s c o m b i n a t i o n i s a

fa s c i n a t i o n f o r t h e s e n s e s . A s t h e t i d e c o m e s i n , s l o w ly c ov e r i n g

ea c h g ra i n o f s a n d , w e a r e r e f r e s h e d . T h e h a r d , p o u n d i n g b ea t

d r o p s i n t o t a k e c o n t r o l . Ra i n d r o p s fa ll a ll a r o u n d , f r e e i n g m e

f r o m o t h e r s o u n d s …

www.facebook.com/djskt

44 www.AudationMagazine.com
---
A gorgeous, funky

moment.

The sweetness of

love.

45
---
The 'Skimming Stone' album by The Last InnHouse is a

complex melange of quaint ideals, fraying sanity, passionate

whirlwinds and charming delights.

Highly artistic by design, the vibrantly poetic lyricism, radiant

vocals, and cleverly innovative musicianship found on the debut

album Skimming Stone by The Last InnHouse flows fluidly like water

into a stream of consciousness in sound and imaginative

combination of Alt/Country/Indie/Folk that's unique unto itself.

First track 'Love My Ghosts' enters with a familiar countrywestern

guitar melody though we are intrigued thereafter with an

angelic voice shifting the mood eerily. A darker twang comes in

together with a sweet reverie… desolate beauty reigns most. The

lively swing beat kicks in.

'Daydream Field' holds a deep, intense undertone which is

clashed against a pleasant walk in the wilderness. The stars might

burn our eyes. These contrasting moods fight each other yet

simultaneously dance together as the protruding and beautiful

voice pulls everything into one.

46 www.AudationMagazine.com
---
Debut single 'Open Road' is a lovely showpiece with smooth, hazy

vocals and a gentle melody. A somewhat mischievous attitude

rolls in with the robust bass and sweet vocal notes. Daggers in the

concrete. This playful, untamed spirit also injects a suave

demeanour which shows a strong, self-assured confidence.

An album many years in the making, The Last InnHouse has taken

exceptional care in refining their own identity, style, and sound

throughout their career. Preserving their darkly melodic magic once

and for all-time over the course of ten stunning songs on Skimming

Stone, the new record transcends a mere listening experience into a

compelling and bold adventure that connects to the mind, body,

and soul. From their local countryside, to the country town of

Rookhope in the next valley, to the immense deserts of a dark

southern night, desolate landscapes, and signs of hope – The Last

InnHouse draws inspiration from the world around them and brings

it right into the studio. Creating powerful atmospheres, ethereal

moods, and curiously mysterious melodies that authentically pique

the interest of listening ears, the naturally organic sound of the

songs being written, played, and shared between them, reveal a

remarkably unified sound determined to make an impact with a

fresh perspective unafraid to challenge convention and embrace

music as art.

Teaming up with the legendary talents of producer and drummer

Grant Henderson of Loom Studios in Yorkshire, their collaborative

efforts yield spectacular results; The Last InnHouse are set to begin

the most exciting chapter of their career with the new album

Skimming Stone. Join them as they plunge deep into a wild sea of

emotions on their debut record and explore themes of hopes and

dreams, love and loss, and the symbiotic relationship that exists

between their music and listeners. Certain to satisfy those craving

content that has real life in its veins, from the innate crossover

potential in their writing, to the undeniably appealing charisma in

their sound, songs, and performances, The Last InnHouse blend the

dark and the light into a powerfully memorable experience.

The complete 10-song garland flits across the lines of realistic

thought and irrational emotions to a tune of alternative rock.

www.thelastinnhouse.com

Photography by David Wala 47
---
A thrilling surge of energy and excitement fill your veins.

Subtle wisps of mesmerisation flutter in the air, just for

a moment. And then we are hit by the rush of adrenaline.

A pumping beat is brought together with an invigorating

melody to get you dancing. This killer track is perfect

for the summer parties having received early support

from Markus Schulz and Ferry Corsten. Throw your hands

in this air, this is fire!

www.danielwanrooy.com

48 www.AudationMagazine.com
---
'When We Love' by Aaron Static ft Chase Vass is a delicate song of love. The

emotive vocal waves tug at your heartstrings with deep yearning for the pain

to subside. Time goes by so fast. The gentle production mimics the emotions

portrayed. It creeps up on you, suddenly throwing you out of balance at the

middle section with a powerful gusto of air surging through the mind. All the

things I never told you. The In:Most Mix twists the track with a little dnb beat

for a light summer vibe.

Slime Recordings is proud to welcome Aaron Static back to the label for the

first single from his new album "Shifting Tides". 'When We Love' sees the

Australian producer combine his talents with hotly-tipped LA singer/

songwriter Chase Vass's sublime vocals for a mesmerising collaboration that

explores the melancholy textures of Future Garage with a chilled downtempo

feel that will soothe your soul

Drum & Bass upstarts In:Most frame the original in a liquid roller construct that

raises the tempo and packs the track full of sunshine that is a perfect

anticipation of the Summer festival season.

www.soundcloud.com/aaronstatic

49
---
'Reaction' by Sondrio is a trendy and warm track for the summer.

The chilled, groovy production oozes sunshine and feelgood vibes.

Lawlessness war. The vocal interlude penetrates the mind with

liberating speech. Oliver Dollar delivers a robust remix to add

another dimension.

Sondrio has been flying with a string of releases set to drop in

2019 alongside house music's finest producers. He delivers his

first solo release on Refuge with this upbeat, deep and dynamic

joint guaranteed to make your sets stand out from the rest.

Enlisting long time label friend, Oliver Dollar after the success of

his debut album on Classic Music Company, he clubs up the

original into a late night dancefloor weapon. Old school sound

with the new school feel, Sondrio & Oliver Dollar hit the nail on

the head with this package.

www.soundcloud.com/sondrio

50 www.AudationMagazine.com
---
'Fly Away' by Julia Kahn an endearing

moment of reflection. The husky and

sweet tones of her voice are the main

focus with just a subtle surrounding of

a tender, atmospheric production. If I

were a butterfly, you would've been my

cocoon. The lyrics reveal sadness of the

heart, though inner strength gradually

begins to rise.

Fly Away is the debut single from Julia

Kahn, the singer/songwriter from

Indianapolis, described as Lana Del Ray

meets Dua Lipa. Julia says, "I can't wait

to release Fly Away! Working with Bryan

Todd, a grammy nominated producer

was a brilliant experience - I'm so happy

with the final result. And the video

director Samuel Womer has worked

with amazing people so I feel really

lucky that he wanted to work with me

on my first video."

www.instagram.com/juliakahn

51
---
' B r e a t h e A g a i n ' b y V i n a R o s e i s a v i b r a n t s o n g o f r e s i l i e n c e .

L o v e l y s m o o t h fl o w s t w i s t i n t o s t r o n g b u r s t s o f e m o t i o n i n a

v o i c e w h i c h h o l d g r e a t d e p t h a n d a t i n g e o f a n a c c e n t . F e e l s

l i k e t h e w a l l s a r e c a v i n g i n . T h e l y r i c s d e p i c t a d i ffi c u l t

r e l a t i o n s h i p , u n d e r s t a n d i n g t h e n e e d t o r e l e a s e w i t h a

d e t e r m i n a t i o n t o m o v e o n t o b e t t e r d a y s . T h e r e i s n o t h i n g

l e f t t o s a y . T h e b r i g h t d a n c e p r o d u c t i o n r e fl e c t t h e s e

p a s s i o n a t e f e e l i n g s a n d s h o w i n n e r s t r e n g t h .

Breathe Again is the uplifting and instantly catchy new pop

single by London living Sicilian singer/songwriter Vina Rose,

whose sound is described as Sia meets Kaytranada. Vina

says "I wanted to make a summer classic to see dance and

pop fans through the coming months so I wrote dreamy

vocals over an uplifting EDM backdrop. It's a song about a

spiritual and emotional rebirth, the desire to turn fears and

indecisions into confidence and action. It was amazing

working with Gavin Holligan from Hollerzz Productions

and Geoff Pesche at Abbey Road Studios - the production

sounds so clean & crisp! I can't wait for my fans to hear the

finished result!"

Vina Rose has performed alongside the likes of Andrea

Bocelli, Alexia and Giorgia, performing across numerous

festival and TV show appearances on the BBC and ITV. Vina

has dazzled audiences at across gigs, theatre performances

and TV shows and has worked with radio stations to produce

original theme tunes so even though you might not know it -

you have already heard her voice!

In 2017, Vina moved to London and has since worked in the

best studios in the industry, such as Abbey Road. She now

performs regularly at exclusive clubs and venues across the

city. Breathe Again is the first of many releases planned in

2019 and Vina is currently arranging a tour across Europe

and America for later this year.

www.vinarosemusic.com

52 www.AudationMagazine.com
---
53
---
The 'Nieves/Chords' EP by Misc Mood is a nice and light duo of songs. 'Nieves'

brings the relaxed holiday vibes with tropical beats and a warm glowing

atmosphere to put a smile on your face. 'Chords' gets a little moody with dark

prominent beats and livelier cuts. A pair which will get you in the sunset party

mood this summer.

Misc Mood have always admired early house music producers. The Spanish

producer was drawn into the Chicago sound by the hypnotic and repetitive 4/4

beats, 808 drums and killer synthesised baselines at just a young age. For him

it was all about seminal electronic artists from the mid west and the

minimalistic tone of their music. If it was the Chicago sound that shaped Misc

Mood, it was the Techno from Detroit with its raw, Afrofuturistic vibe that

spurred him into making and producing his unique blend of modern

underground dance. This is a two-track single release that encapsulates the

MISC MOOD philosophy - where groove and warmth combine with pure club

sensibilities.

www.facebook.com/miscmoodhouse

54 www.AudationMagazine.com
---
'Figure You Out' by Alice Rowe is pure chill. Her cool, sultry voice brings

attitude and emotions. Cryptic in the text. A song of frustration and confused

communication. Tempted by your mystery. The fresh and slick production adds

to the swagger.

From her Soundcloud debut with Grammy nominated producer M16 Beats ('I

Do' - Young Jeezy ft Jay-Z & Andre 3000 & ''Duffle Bag Boyz' - Playaz Circle ft

Lil Wayne), to her first official release 'Black Opium' with UK super producer Z

Dot (Stormzy, Cardi B, Lady Leshurr), the trap tinged R&B sounds of Alice Rowe

are finely tuned in to her brand new jam 'Figure You Out'.

Stepping in to a really exciting landscape that is the current UK R&B scene,

Alice brings with her a distinctive vibe that draws on everything that is

popping from the UK underground. Laced across a bouncy trap beat, Alice

deconstructs elements from it and pairs them with a more fluid R&B sound. A

fascinating and snappy flow keeps focus directed to the core of this record

whilst her lyrical musings and soulful delivery build in the emotion and depth

expected from a true R&B player.

Having weighed in on some heavy productions so far that have opened up her

own take on R&B, Alice Rowe continues to work with producers that you

wouldn't typically associate with the genre. Finding a sound that resonates

with her and inspires her lyrical flow is the first step of her creating process

and one that lends itself to making her sound so fresh, adding her own depth

and soul then whips the magic in to the final offering. With a run of music in

her arsenal, it's time you figured out Alice Rowe.

www.instagram.com/iamalicerowe

55
---
'Complicated' by DSHunt is an emotive number. A deep and pensive moment,

delivered by the heartfelt vocal, is accompanied by a probing piano melody.

Half a dozen promises about to crack. The melancholy draws you in as you get

lost in the waves of mellow sound. Why do we have to be so complicated? The

remix by Husky takes us down into the underground with a moody atmosphere

and funky little flairs.

We're chuffed to welcome back UK artist DSHunt to the label! We have been

dying to get this one ready for the European summer as it's a perfect sound

track for those long sweaty nights. 'Complicated' is a captivating vocal house

record, layering lush piano melodies, melodic vocal hooks and snappy drums.

David has gifted us a feel good banger that's ripe for club sets and pool

parties!

On the remix is label boss Husky with a slightly more dubbed out, 'garage'

approach. Stripping back to the vocal cuts and adding some re-sampled piano,

Husky's remix drives a little harder for the late night vibe.

www.soundcloud.com/dshunt

56 www.AudationMagazine.com
---
Retro vibes in the

sunshine.

A distorted mind,

scrambling

through into

daylight.

57
---
The beat strides in setting a quick tempo ready

for the dance floor. Pump your fists in the air

as the dynamic and fierce synths take over. The

cold, hard determination builds in strength. A

wave of bright air clashes with this coldness.

We drop into a light, atmospheric break. The

energy rises once more, this time bigger and

bolder. The vigorous, upbeat tune gets you

jumping and living in the moment. Sound filling

every available space. This excitement is

contagious!

"'I' is the 130 BPM Trance track which has Psy-

Trance hints and colourful vocals," says GURU.

"I was experimenting with synthesised vocals

and, in a short period of time, it all came along."

www.awjrecordings.com

58 www.AudationMagazine.com
---
The 'Fighting With Fire' EP by MITAD is an intriguing mix of moods ranging from love

and darkness with styles dabbling throughout the grounds of bass and dance. 'Let

Me Show You' is a dream-pop sensation with sparkling waves and a groovy beat. The

title track brings a light yet lively dnb beat with a welcoming and alluring voice over

the top. 'Demons' holds a sinful side with a nature of desire and a deep house

production. The whole EP is a joyful plethora or emotions.

Mitad, a brand new electronic duo consisting of electronic producer/composer Sal Lo

Cascio and vocalist Katherine Downham, share their debut EP exclusively via

NexGenMusic. The duo is currently situated in different parts of the country and

mostly use modern technology to bridge the barriers of distance and language to

collaborate.

Speaking about the challenges of recording an EP while located in different parts of

the country, Katherine shares, "Distance will never stop the creation of music.

Recording from two entirely different areas in England did not prevent us from

finishing the album. It may have taken a little longer than it may do usually, but

nothing rushed/quick/instant is worth having."

On creating new music for Mitad, Sal states, "Diversity is the best word to represent

this release. No music border allowed. Bitter and sweet it is the main call in this

music feast. The best thing of this recording experience has been characterized by

the complete freedom left to each other in expressing our art."

Mitad's debut offering, Fighting With Fire, sees the duo blend their influences

together to create a melting pot of musical excellence. Drum and bass fans will find

solace in tracks such as 'Trust', 'Fighting With Fire', 'Lost Smile', and 'You'.

Alternatively 'Let Me Show You' has all of the makings of a vocal club classic, while

'Demons', and 'Hiding' sport undeniable quality deep house vibes. 'Why' is a silvertoned

piano ballad, showcasing the variety of the Mitad sound. The closing track on

the EP is an extended version of 'Let Me Show You'; perfectly crafted to be the

highlight of any DJ's set.

www.facebook.com/MUSICMITAD

59
---
EVENTS

Distortion

29 May - 2 June

Copenhagen, Denmark

Primavera Sound

30 May - 1 June

Barcelona, Spain

Zrce Spring Break Europe

30 May - 2 June

Novalja, Croatia

Secret Island

30 May - 2 June

Sibenik, Croatia

Earth Garden

30 May - 3 June

Attard, Malta

AVA Festival

31 May - 1 June

Belfast, United Kingdom

Best Kept Secret

31 May - 2 June

Hilvarenbeek, Netherlands

The Acoustic Festival Of

Britain

31 May - 2 June

Uttoxeter, United Kingdom

Free Your Mind Festival

1 June

Anheim. Netherlands

Camden Rocks Festival

1 - 2 June

London, United Kingdom

Amsterdam Open Air

1 - 2 June

Amsterdam, Netherlands

NOS Primavera Sound

6 - 8 June

Porto, Portugal

Field Day

7 - 8 June

London, United Kingdom

Rock Fest

7 - 8 June

Hyvinkaa, Finland

Junction 2 Festival

7 - 9 June

London, United Kingdom

World Club Dome

7 - 9 June

Frankfurt, Germany

Rock Am Ring

7 - 9 June

Nurburg, Germany

Papillons De Nuit

7 - 9 June

Saint-Laurent-De-Cuves,

France

Supa Dupa Fly X Santorini

7 - 11 June

Santorini, Greece

Pleinvrees Festival

8 June

Amsterdam, Netherlands

The DarkWoods Festival

II

8 June

Mauritius

60 www.AudationMagazine.com

Parklife Festival

8 - 9 June

Manchester, United

Kingdom

Ultra Singapore

8 - 9 June

Singapore

Marvellous Island

8 - 9 June

Paris, France

Bergenfest

12 - 15 June

Bergen, Norway

Live At Chelsea

13 - 16 June

London, United Kingdom

Isle Of Wight Festival

13 - 16 June

Isle Of Wight, United

Kingdom

ABODE On The Rock

13 - 17 June

Gozo, Malta

Its The Ship China

13 - 17 June

Shanghai, China

SHOWTIME: 90s Ragga

14 June

London, United Kingdom

Download Festival

14 - 16 June

Derby, United Kingdom
---
Disney Loves Jazz

15 June

Paris, France

Ajunadeep Presents

Explorations

20 - 25 June

Dhermi, Albania

Azkena Rock Festival

21 - 22 June

Vitoria-Gasteiz, Spain

A Summer Story

21 - 22 June

Madrid, Spain

Instytut Festival

21 - 22 June

Nowy Dwor Mazowiecki,

Poland

Secret Solstice

21 - 23 June

Reykjavik, Iceland

Solidays

21 - 23 June

Paris, France

Helfest Open Air

21 - 23 June

Clisson, France

VOLT Festival

26 - 29 June

Sopron, Hungary

Glastonbury Festival

26 - 30 June

Pitton, United Kingdom

Garorock

27 - 30 June

Marmande, France

OpenAir St.Gallen

27 - 30 June

St. Gallen, Switzerland

SHOWTIME: Dancehall

Future

28 June

London, United Kingdom

Download Festival

Madrid

28 - 30 June

Madrid, Spain

Lollapalooza Stockholm

28 - 30 June

Stockholm, Sweden

Tuska Open Air

28 - 30 June

Helsinki, Finland

Jazz A Vienne

28 June - 13 July

Vienne, France

Rum & Reggae Festival

London

29 June

London,United Kingdom

Awakenings Festival

29 - 30 June

Spaarnwoude,

Netherlands

Hideout Festival

1 - 5 July

Novalja, Croatia

Innversisions Festival

3 - 7 July

London, United Kingdom

Les Eurockeennes

4 - 7 July

Belfort, France

Love Supreme Jazz

Festival

5 - 7 July

Lewes, United Kingdom

Wireless

5 - 7 July

London, United Kingdom

Paradise City Festival

5 - 7 July

Perk, Belgium

El Dorado Festival

5 - 7 July

Ledbury, United Kingdom

British Summer Time

Hyde Park

5 - 14 July

London, United Kingdom

Ruhr-In-Love

6 July

Oberhausen, Germany

Kew The Music

9 - 14 July

London, United Kingdom

Dour

10 - 14 July

Dour, Belgium

Mad Cool Festival

11 - 13 July

Madrid, Spain

Hospitality On The Beach

11 - 15 July

Tisno, Croatia

61
---
Ultra Europe

11 - 18 July

Split, Croatia

Lovebox

12 - 13 July

London, United Kingdom

Ostend Beach Festival

12 - 14 July

Ostend, Belgium

TRSMT Festival

12 - 14 July

Glasgow, United Kingdom

Cocoon In The Park

13 July

Leeds, United Kingdom

Onblackheath

13 - 14 July

London, United Kingdom

Fresh Island Festival

15 - 17 July

Novalja, Croatia

Sonar

18 July

Barcelona, Spain

Bluedot

18 - 21 July

Cheshire, United Kingdom

Latitiude

18 - 22 July

Suffolk, United Kingdom

Pitchfork Music Festival

19 - 21 July

Chicago, United States

Tomorrowland

19 - 28 July

Boom, Belgium

Melt Festival

19 - 21 July

Gräfenhainichen, Germany

Lollapalooza Paris

20 - 21 July

Paris, France

Standon Calling

25 - 28 July

Hertfordshire, United

Kingdom

Camp Bestival

25 - 28 July

Dorset, United Kingdom

Clubland On The Beach

26 July

Redcar, United Kingdom

Positivus Festival

26 - 27 July

Salacgriva, Latvia

Fuji Rock

26 - 28 July

Yuzawa, Japan

MADE

27 July

Birmingham, United

Kingdom

Wacken Open Air

1 - 3 August

Wacken, Germany

Afronation

1 - 4 August

Portimao, Portugal

Untold Festival

1 - 4 August

Cluj-Napoca, Romania

Osheaga Music And Arts

Festival

2 - 4 August

Montreal, Canada

Medusa Festival

7 - 12 August

Cullera, Spain

Sziget Festival

7 - 13 August

Budapest, Hungary

Edinburgh Summer

Sessions

7 - 18 August

Edinburgh, United Kingdom

Way Out West

8 - 10 August

Gothenburg, Sweden

Defected Croatia

8 - 13 August

Tisno, Croatia

Elrow Town London

17 August

London, United Kingdom

SWF

17 August

Amsterdam, Netherlands

Sonus Festival

18 - 22 August

Novalja, Croatia

Zurich Openair

21 - 24 August

Zurich, Switzerland

B.My.Lake

21 - 24 August

Zamardi, Hungary

62 www.AudationMagazine.com
---
Creamfields

22 - 25 August

Daresbury, United Kingdom

DGTL Barcelona

23 - 24 August

Barcelona, Spain

Reading Festival

23 - 25 August

Reading, United Kingdom

Leeds Festival

23 - 25 August

Leeds, United Kingdom

Rock En Seine

23 - 25 August

Paris, France

Hold Festival Of Colours

Berlin

24 August

Berlin, Germany

Drumcode Festival

24 - 25 August

Amsterdam, Netherlands

South West Four

24 - 25 August

London, United Kingdom

Southport Weekender

31 August

London, United Kingdom

Stand out from the crowd with Fieldcandy 63
---
REFERENCES

Leopolis Jazz Fest

www.youtube.com/watch?v=

FOUVdq84ads

www.leopolisjazz.com

Tiff Cornish - You Get Me

www.soundcloud.com/sweat-it-outmusic/you-get-me

www.beatport.com/track/you-get-meoriginal-mix/11812563

---

www.instagram.com/tiffycornish

www.soundcloud.com/tiffycornish

Swipe Unicorn Shaped Speaker

www.thumbsup.com/collections/gifts-forher/products/unicorn-shaped-speaker

Music On Festival

www.facebook.com/musiconofficial

Ibiza Live TV

www.ibizalive.tv

www.barcelonalive.tv

KEiiNO - Spirit In The Sky

www.youtube.com/watch?v=

Ovt7YGHAj8I

www.deezer.com/en/track/628169612

---

www.keiino.com

T8PES -
---
MYKROBOY - If…

www.youtube.com/watch?v=fPT40V-lnBs

https://hypeddit.com/track/bhdd4r

---

www.facebook.com/mykroboy

The Last InnHouse - Skimming Stone

www.youtube.com/watch?v=

FgAFeTqUQ9Q

---

www.thelastinnhouse.com

Daniel Wanrooy - Can't Stop The Heat

www.youtube.com/watch?v=

xxNisFDM0YE

https://hcr.lnk.to/HCR354fs

---

www.danielwanrooy.com

Aaron Static ft Chase Vass - When We

Love

www.soundcloud.com/slimetime/aaronstatic-when-we-love

https://lnk.to/WhenWeLove

---

www.soundcloud.com/aaronstatic

Sondrio - Reaction

www.soundcloud.com/refugeaus/

sondrio-reaction-original-mix

www.beatport.com/release/

reaction/2581638

---

www.soundcloud.com/sondrio

Julia Kahn - Fly Away

www.youtube.com/watch?v=

FYydnW5K7G8

https://foundation-media.lnk.to/FlyAway

---

www.instagram.com/juliakahn

Vina Rose - Breathe Again

www.youtube.com/watch?v=

wB_hlXTqD_g

www.deezer.com/en/album/95802662

---

www.vinarosemusic.com

Misc Mood - Nieves/Chords

www.beatport.com/release/nieveschords/2593457

---

www.facebook.com/miscmoodhouse

Alice Rowe - Figure You Out

www.youtube.com/watch?v=

cXIaWSs7bCo

https://song.link/FigureYouOut

---

www.instagram.com/iamalicerowe

DSHunt - Complicated

www.youtube.com/watch?v=

c3CpKZshSOQ

www.traxsource.com/title/1125514/

complicated

---

www.soundcloud.com/dshunt

Abstract Vision pres. Subbota - Orysia E.P

www.youtube.com/watch?v=cq5h1IlpZg8

https://infraprogressive.choons.at/orysia

---

www.facebook.com/AbstractVisionOfficial

Kirk Spencer ft Aadae - Product

www.youtube.com/watch?v=

ShM7yFB58Og

http://hyperurl.co/ahxy3i

---

www.kirkspencer.co.uk

GURU - I

http://smarturl.it/AWJR160

---

www.awjrecordings.com

MITAD - Fighting With Fire EP

www.youtube.com/watch?v=y-Hsv9mldjE

www.nexgenmusicgroup.com/store/

nxgdep12-mitad-fighting-with-fire-ep

---

www.facebook.com/MUSICMITAD

65
---
Audiation Magazine, Issue AM059

On The Cover:

T8PES

www.t8pes.com

Order Print Copy:

www.peecho.com/print/en/521143
---
@AudiationMag

AudiationMagazine

info@AudiationMagazine.com

www.AudiationMagazine.com

With love

Ruby, Rokuro, Cessle, Sarah, Malachi, Andy, David,

Steve, Jessie, Mary, Ashna, Tamara, Christina & Sharm
---
Audiation

Issue AM059, 1st June 2019

Copyright 2019 © Audiation Magazine Ltd