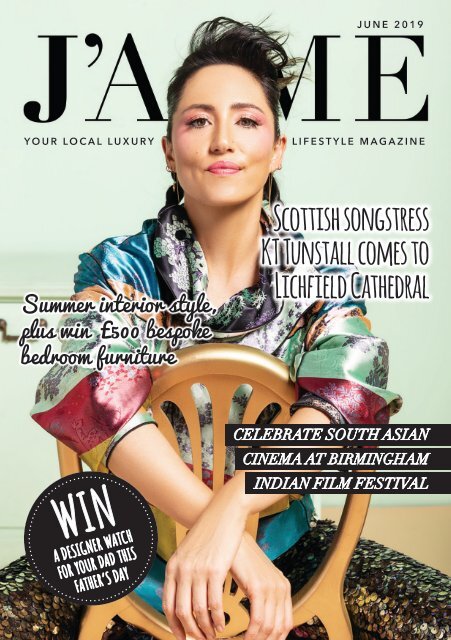 J'AIME JUNE 2019
Your local luxury lifestyle magazine
Your local luxury lifestyle magazine
SHOW MORE
SHOW LESS
Create successful ePaper yourself
Turn your PDF publications into a flip-book with our unique Google optimized e-Paper software.
J U N E 2 0 1 9

Y O U R L O C A L L U X U R Y

L I F E S T Y L E M A G A Z I N E

Summer interior style,

plus win £500 bespoke

bedroom furniture

Scottish songstress

KT Tunstall comes to

Lichfield Cathedral

WIN

A DESIGNER WATCH

FOR YOUR DAD THIS

FATHER'S DAY

CELEBRATE SOUTH ASIAN

CINEMA AT BIRMINGHAM

INDIAN FILM FESTIVAL
---
Welcome to J'AIME

June signals the start of summer proper, and

summer means festival season! Whether your

penchant is for food or film, arts or music,

there's plenty of festival action around the

Midlands this season.

J'AIME are proud to be supporting this

year's Birmingham Indian Film Festival, a

spectacular 11-day celebration of the best

in South Asian cinema. We chat to the team

behind the festival - executive director Cary

Rajinder Sawhney and festival programmer

Dharmesh Rajput, as well as acclaimed

film director Rima Das, who is bringing

her third feature film Bulbul Can Sing to

Birmingham. You will also have the chance

to join us on the red carpet for the opening

night, with a pair of tickets to this glittering

event up for grabs.

Scottish singer-songwriter KT Tunstall is

one of the big names headlining this year's

Lichfield Festival, and we catch up with

her ahead of her visit to the Midlands for a

show at Lichfield Cathedral, plus we chat to

Brummie Michelin-starred chef Brad Carter,

of Carter's of Moseley, who will be taking

to the stage at this month's BBC Good Food

Show Summer at the NEC.

Elsewhere, we've got the battle of the

columnists as our resident racing driver

Martin Plowman took on action man Jack

Regan for a track challenge with a difference

- check out both sides of the story to see who

emerged victorious!

With fashion, beauty and interior trends

galore, plus your favourite food and drink

experts and top travel destinations, we hope

this issue of J'AIME will get your summer

started in style!

EDITOR: AMY NORBURY

EDITOR@JAIMEMAGAZINE.COM

ADVERTISING: JAN ASHLEY

ADVERTISING@JAIMEMAGAZINE.COM

07388 335 931

DESIGN: DESIGN@JAIMEMAGAZINE.COM

CONTRIBUTORS: MARTIN PLOWMAN, JACK REGAN,

ALEX OLIVER, LISA PIDDINGTON, JILL HARTLEY,

HOLLY ROWLAND, ALI MOUNTJOY, THE GINTLEMAN,

ANGIE ANDERTON, PETER BACON

J'AIME IS PUBLISHED BY ASHBURY

PUBLICATIONS LIMITED AND PRINTED

BY KEP LIMITED, TAMWORTH.

Check us out online at:

WWW.JAIMEMAGAZINE.COM

Find us on

/JAIMEMAGAZINE

@JAIMEMAGAZINE

@JAIMEMAGAZINE

3
---
CONTENTS

InsideJ'aime this month...

6 Birmingham Indian Film Festival - A look

at some of the talent behind the festival's

fifth year

12 Property - Property of the month

14 Interiors - Rebel Yellow

18 Interiors - Totally tropical

22 Competition - Win £500 towards bespoke

bedroom furniture from Bedroom Gallery

24 Richard Winterton - Investing in designer and

luxury goods at auction

28 Father's Day - Our round-up of treats for Dad

32 Competition - Win a watch for your dad from Allen

Brown Jewellery

34 What's On - KT Tunstall at Lichfield Festival

36 Food & drink - Five minutes with Birmingham

Michelin-starred chef Brad Carter

37 Food & drink - Cocktail of the month from

Le Rêve, Lichfield

38 Food & drink - The Gintleman discusses

'ginspired' design workouts

40 Food & drink - Stylish wines from Indulgence

42 Travel - Exploring Georgia and Armenia

46 Fashion - Festival fun

48 Fashion - Monochrome magic with Nero

e Bianco

51 Beauty - Holiday prep with Harvey Nichols

Birmingham

52 Health - The power of acupuncture

54 Motors - Martin Plowman discovers a rally

experience in central Birmingham

56 Life on the edge - J'AIME columnist Jack Regan

takes on Martin Plowman in a track challenge

with a difference

4
---
SHAPE YOUR PERFECT BODY

At VIPilates, we are passionate about your

body needs and getting you into the best

shape you can be, regardless of your age,

lifestyle or fitness level.

Very individual people

We believe every client is a very individual person with

very individual needs, and we tailor-make the fitness support

needed for you by adopting the original works of Joseph

Pilates. By focusing on the powerhouse, you will become

stronger, more independent, and self empowered in your

enhanced body.

Our studio

The highly versatile equipment in our studio allows for an

unlimited range of exercises to be performed in small classes

of no more than four, or during one to one sessions, and we

offer a flexible timetable of classes to accommodate even the

busiest of clients.

VIPilates Classical Studio

Unit 2, 71 Hill Village Road, Four Oaks,

Sutton Coldfield B75 5BH

Tel: 0121 308 5930

BOOK FREE YOUR 35 MAT MINUTE TRIAL PRIVATE CLASS INDUCTION TO ALL NEW NOW AT ENQUIRIES VIPILATES.CO.UK

LIMITED PLACES AVAILABLE. BOOKING ESSENTIAL. REGISTER AT VIPILATES.CO.UK / TEXT 07500302878

Places are limited. All new clients will be booked in for an induction session first. Please consult your doctor before undertaking any exercise for the first time.
---
FEATURE

Celebrating Indian cinema

BIRMINGHAM INDIAN FILM FESTIVAL RETURNS FROM JUNE 21 TO JULY 1 FOR ITS FIFTH YEAR, BRINGING

A SHOWCASE OF THE BEST SOUTH ASIAN CINEMA TO THE SECOND CITY. AMY NORBURY CHATTED TO

FESTIVAL DIRECTOR CARY RAJINDER SAWHNEY AND PROGRAMMER DHARMESH RAJPUT, AS WELL AS

ACCLAIMED FILM DIRECTOR RIMA DAS, AHEAD OF THE CELEBRATIONS

The world's largest film industry,

India produces more films

watched by more people than

any other country.

And for 11 days this month the

Second City is set to become a

hub for the very best in Indian

cinema, showcasing a rich

assortment of entertaining and

thought-provoking independent

films that have been winning

awards and making global

impact, as well as welcoming

some of the most acclaimed

stars and directors to the

Midlands.

Now in its fifth year, the

Birmingham Indian Film Festival is part of the UK

and Europe's largest South Asian film festival, run

in conjunction with the Bagri Foundation London

Indian Film Festival which opens the day before on

June 20, as well as new festivals in Manchester and

Bradford. This year's screenings will take place at

BENGALI DIRECTOR

BUDDHADEB DASGUPTA

BRINGS HIS FILM THE FLIGHT

TO BIRMIMGHAM

Cineworld Broad Street, as well as MAC Birmingham

in Cannon Hill Park, The Mockingbird Cinema in

the Custard Factory and, new for 2019, Centrala in

Digbeth.

"The festival is always coming up with new surprises

each year," says festival director Cary Rajinder

Sawhney. "Our greatest strength is the diversity of

films we screen in many different Indian and South

Asian languages; comedies and films with strong

issues, family and children's films like the delightful

Chuskit, which adults can also enjoy.

"This year we open on June 21 with the world

premiere of Article 15 starring Bollywood star

Ayushmann Khurrana, a police whodunit which

should be a big hit like all the actor's recent films.

"We bring to Birmingham another world premiere

highlight Ardass II with Punjabi superstar Gippy

Grewal. On top of this we have the premieres of

top films from some of the world's greatest festivals

including Cannes and Toronto. We are bringing you

the cream of the crop for a few days only."

A decade ago Cary decided it was time for a

celebration of Indian cinema in the UK, setting

up the London Indian Film Festival, which then

expanded into Birmingham five years later.

"I have been Festival Programme Adviser South

Asia for BFI London Film Festival for many years,"

he says. "It's the biggest UK film festival but sadly

it can't screen all the great films that arrive on its

desks. I set up the festival in order to showcase some

of these great new films that might otherwise not be

platformed in the UK at all. Luckily for us, 10 years

ago the Indian indie scene started to grow from a

trickle of quality films to a stream and now a river, so

we hit the tide at the right moment!"

Over the past five years, the Birmingham festival has

grown to become a major celebration in the city.

"We started back in 2015 just with seven films at two

cinemas, and we now show around 15 films in four

cinemas," explains festival programmer Dharmesh

Rajput, a lecturer at Birmingham City University's

6
---
ACCLAIMED DIRECTOR

RIMA DAS

School of Media.

"What's been really great is the level of support

we've been getting within the city; Birmingham

City University are on board as a sponsor and we've

been getting great support from the Asian Business

Chamber of Commerce.

"We're working with a range of cinemas and

growing our audience year-on-year; we've got Sunny

and Shay from Radio WM's drivetime show as

our ambassadors, and this year Antonio Akeel, a

Wolverhampton-born actor who starred in one of our

films from last year, Eaten By Lions, has just joined us

as an ambassador for our fifth anniversary.

"Students from BCU are also getting involved in

a manner of guises, from promoting the festival to

coming to each screening and getting feedback from

the audience. We're also making sure we're using

their skills and helping them to develop so they will

be taking photographs, making videos and manning

social media for us too."

What sets Birmingham Indian Film Festival apart is

the opportunity to meet and mingle with filmmakers

and stars at the screenings.

"The festival will see the Birmingham premiere of

the incredible must-see documentary My Home

India, about how India gave refuge to over 5,000

Polish starving children after world War II, and we

hope that the director Anjali Bhushan will be in town

to tell this proud story which is guaranteed to have

you in tears of joy," says Cary.

"The multi award-winning director Rima Das returns

with another celebrated film Bulbul Can Sing and

we are proud that we brought her to the attention

of the UK first. We celebrate older masters this year

including the great Bengali director Buddhadeb

Dasgupta who, in spite of health challenges, has

kindly agreed to grace us with his presence for the

preview of his sumptuous magical realist movie The

Flight - think the Guillermo del Toro of India!

"And another most famous return is now the greatest

current indie filmmaker Anurag Kashyap, who gives

a special don't-miss Screen Talk at the festival."

The festival has worked tirelessly to promote the

virtues of South Asian cinema to a wider audience,

bringing a diverse range of films to appeal to a

plethora of film-lovers.

"Our audiences have always been diverse I'm pleased

to say, and this has included Bengali, Pakistani,

Gujarati and other South Asian communities in

the city and West Midlands," says Cary. "But it's

also thanks to great support by venues like MAC

Birmingham at Cannon Hill, Mockingbird Cinema at

the Custard Factory and Cineworld Birmingham who

have brought us an increasingly non-Asian audience

of fans keen to see fresh and more realistic images of

India and South Asian in all its myriad perspectives.

"We have very actively been involved in breaking

the myth that Indian cinema is just commercial

Bollywood and now mainstream journalists and

audiences are aware that there is such a thing as

Indian independent cinema and these are films that

both entertain and make you think."

Dharmesh adds: "When you think about Indian

cinema you think of Bollywood straight away; people

think it's the all-singing, all-dancing escape-type

RIMA DAS' FILM BULBUL

CAN SING IS SET TO BE A

FESTIVAL HIGHLIGHT

7
---
cinema.

"But the parallel cinema - which is the independent

side of Indian cinema, the offbeat films which are

more narrative-based and often with a social message

- marks 50 years this year, so it's not all about the

masala films.

"The festival helps to open audiences up to different

cinema from India, and make them realise there's

more to it."

A particular theme running through this year's

festival is the work of female directors, whose voices

are becoming increasingly prominent in India's

traditionally male-dominated film industry.

"It's happening worldwide that, at last, women

filmmakers are getting funding and profile," says

Cary.

"It's interesting to see just how fresh and strong

women filmmakers' stories are and this is the reason

we are selecting them, not for some tokenistic gesture.

The work speaks for itself. Another new strand in

India in particular is LGBTQ+ themes which seem

to be all the rage this year after India legalised

LGBTQ+ relationships and, once again, there are so

many fresh stories about these communities coming

to the fore."

After five successful years, the Birmingham Indian

Film Festival shows no signs of slowing down,

becoming a firm fixture on the city's festival calendar.

"The future is bright and we continue to expand in

Birmingham and perhaps next year we will dip our

toes in other nearby Midlands towns," says Cary.

FESTIVAL DIRECTOR CARY

RAJINDER SAWHNEY

"We are also expanding this year in Lancashire

and Yorkshire and Birmingham is a hub that can

connect very widely across the UK wherever Asian

communities are.

"Of course, Indian filmmaking continues to grow so

there is no shortage of great films."

Birmingham Indian Film Festival screenings

will be subtitled in English. Ticket details

for all films will be available at www.

birminghamindianfilmfestival.co.uk as they

go on release.

Five minutes with Rima Das

Acclaimed director Rima Das is bringing

her third feature film Bulbul Can Sing to

Birmingham Indian Film Festival, following

the success of her film Village Rockstars

which premiered in Birmingham last year.

Tell us about Bulbul Can Sing - where did the

idea for the film come from?

Bulbul Can Sing is a story of three teenagers, their

carefree friendship, experience of first love, loss

and finding oneself in the midst of it. I feel the raw

emotions of teenage are under-explored in Indian

cinema and I wanted to tell their story. During

teenage years, an individual experiences a lot of

physical and psychological changes. From having

all the freedom as a child, suddenly there are a lot

of restrictions imposed, particularly for girls. They

experience a dilemma where they want to do a lot of

things but there have to adhere to societal pressures.

Then there is a communication gap that exists

between these youngsters and adults. They feel adults

don't understand them. Bulbul Can Sing is a voice of

these teenagers.

Village Rockstars had its premiere in

Birmingham last year - what was that

experience like?

The response Village Rockstars received at

Birmingham was overwhelming. It only went on to

reiterate my belief that a human story transcends

geographical and cultural barriers. Interacting

with the children at the festival was a very different

8
---
More evening and

early morning trains

For all those stay-out-laters or early risers, we're also introducing

more later trains home and more early morning trains

in and out of Birmingham, Monday to Friday.

Find out more about the improvements at:

wmr.uk/myjourney

Proud to be investing in

the

West Midlands
---
experience in itself. Village Rockstars is not really

a children's film, it doesn't have a structured

story. I was surprised to see how the children from

Birmingham and London absorbed so much from

the film. I experienced something similar while

interacting with children in India as well.

How did it feel for Village Rockstars to be

put forward as India's submission for the

Foreign Language Film Oscar?

Village Rockstars had been doing well in the festivals

circuit and also bagged the National Film Award.

I hoped and wished that it would be selected as

India's official entry for the Oscars. When it actually

happened it was a mix of emotions, happiness, pride

and a sense of responsibility. I will always cherish this

experience.

How did you get into filmmaking? And what

kinds of stories do you like to tell though

your films?

I was trying to find work as an actor. During that

time I watched a lot of world movies and realised

I had so many stories to tell. I believed that I could

tell stories that our local and yet global, stories that

celebrate the extraordinary in the ordinary, stories

that have strong women. These are my kind of

stories.

You worked almost single-handedly on

Village Rockstars and Bulbul Can Sing - what

made you decide to work alone?

I worked with a small crew for my first feature Man

With The Binoculars. I didn't quite enjoy the process.

I wanted to exercise full freedom is creating my

vision on celluloid. So I made a conscious decision

of doing it all myself. Of course, there were budget

constraints as well being an independent producer.

But these were secondary factors.

Was it difficult managing to do so much by

yourself or did you enjoy having so much

creative control?

It was very challenging doing everything myself.

Shooting with nature threw another set of

challenges. I shot during rains, floods and used

natural light. My cousin, Mallika, assisted me in

the different departments. Although, it was tough, I

enjoyed every bit of the process. It was very organic.

I developed a deep connection with the characters

and the landscape. I was changing as a person. I was

discovering myself, I was rediscovering life. I felt very

liberated.

How is it being a female director in such a

traditionally male-oriented film industry? Is

the industry changing to more embrace the

work of female directors?

Since I am an independent producer, my journey is

very different. When I do a project with a studio or

production house things might be different. But there

is no denying that the journey of a female director

is more challenging than her male counterparts. I

think it goes beyond the industry, you see it across

professions. Patriarchy is so deep-rooted in our

society that right from childhood most women don't

really get enough freedom.

The competition

J'AIME HAS TEAMED UP WITH BIRMINGHAM INDIAN FILM FESTIVAL TO OFFER READERS THE CHANCE TO WIN A PAIR OF

TICKETS TO THE RED CARPET OPENING NIGHT AT CINEWORLD ON BROAD STREET, BIRMINGHAM, ON FRIDAY, JUNE 21.

THE NIGHT WILL INCLUDE THE BIRMINGHAM PREMIERE OF ARTICLE 15, A FILM STARRING INDIA'S HOTTEST MALE STAR

AYUSHMANN KHURRANA (ANDHADHUN, BADHAI HO). FOLLOWING THE FILM THERE WILL BE A Q&A WITH DIRECTOR

ANUBHAV SINHA AND OTHERS.

In Article 15 Ayushmann Khurrana plays a police officer from a privileged urban, international background, whose very first

posting is to rural north India, where three teenage girls have gone missing. His honesty does not sit well with the existing,

deeply entrenched corrupt system where, in 2019, a 1,000-year-old practice where human beings are divided on the basis of caste

continues. Beginning as a riveting police procedural that is a True Detective-like deep-dive into the Indian bayou, Article 15 soon

elevates to a gutsy exposé of a deeply flawed structure. The film's title is a reference to an article of the Indian constitution that

prohibits discrimination on the basis of caste, religion, race or sex.

FOR YOUR CHANCE TO WIN, SIMPLY ANSWER THE FOLLOWING QUESTION:

WHO STARS IN ARTICLE 15?

Send your answer, along with your name, address and telephone number, by email to competitions@jaimemagazine.com with

Birmingham Indian Film Festival Competition as the email subject. Entries must be received by 5pm on Friday, June 14, and our

winner will be notified by Wednesday, June 19. Terms and conditions apply. Visit www.jaimemagazine.com for further details.

10
---
BAYLISS

creating bathroom envy since 1929...

Visit our extensive prestigious bathroom and tile showroom....

regarded as one of the finest in the Country!

Bayliss Limited, 23 Gate Lane, Boldmere, Sutton Coldfield B73 5TR

T: 0121 362 1800 www.baylisslimited.co.uk
---
PROPERTY

Property of the Month

WE TAKE A SNEAKY PEEK AT SOME OF THE HOTTEST PROPERTIES ON THE MARKET IN THE

AREA EACH MONTH. THIS MONTH'S SELECTION IS A GLORIOUS MANOR HOUSE IN A STUNNING

COUNTRYSIDE SETTING - COMPLETE WITH HELIPAD

Shenstone Court, Court Lane, Shenstone, near Lichfield : £3,000,000

On the market with Fine and Country Sutton Coldfield: 0121 272 6900

THE AGENT SAYS: A rare opportunity to acquire a magnificent

country estate with helipad, sitting in grounds of 14 acres at the edge

of a thriving village between Sutton Coldfield and Lichfield.

The exceptional position of this impressive country home can be

immediately appreciated as you approach via the long sweeping

gated driveway.

The prestigious manor house was rebuilt in the last century but

Shenstone Court's history dates back to medieval times. The ground

floor living space features three grand principal reception rooms

with expansive windows for full appreciation of the wonderful

views of gardens and beyond. A stunning central hall with fireplace

also provides access to a boot room, separate study, butlers room

and spacious breakfast kitchen with french doors opening onto the

terrace.

Six bedrooms are arranged over the first floor approached from the

grand oak staircase with beautiful window features on both stairs and

landing.

A wide paved terrace spans the rear of the house, accessed directly

from the principal rooms, creating enviable space for entertaining.

Evening guests regularly enjoy breathtaking sunsets along with

views of the impressive fountain shimmering in the ornamental lake

beyond the paddocks with woodland walks and additional ponds to

the left of the estate.

Extensive outbuildings boast an agricultural barn with central heating

and kitchen, a large garage complex with mezzanine office. Closer

to the main house is a large brick built single storey building with a

one-bedroom auxiliary guest suite, a large workshop with staff kitchen

and three further garages.

W E L O V E :

THE MAGNIFICENT GROUNDS - AND

WHO WOULDN'T LOVE A HELIPAD?

12
---
Why wait to see clearly?

Our state of the art clinic offers fast treatment times

for a wide range of eye conditions including:

• Cataracts

• Laser eye surgery or clear lens exchange for

long or short sightedness

• Glaucoma

• Squints

• Cosmetic eyelid complaints

• Floaters

All procedures are carried out at Spire Little Aston

in Sutton Coldfield, just 25 minutes' drive from

Birmingham City Centre.

Questions about cataracts or

correcting long or short sight?

Join us at our FREE informal

information evening hosted by

Consultant Ophthalmic Surgeon

Mr Anandan and Mr Ressiniotis

Tuesday 18 June from 6.00 – 7.30pm

To book your complimentary place call

0121 514 7034

seclittleaston@spirehealthcare.com
---
INTERIORS

Rebel

yellow

IT'S the colour of sunshine and daffodils, of warm

golden sands and exotic spices. That's right; if there's

one colour which is sure to get us in the mood for

summer, it's yellow.

From rich mustard and turmeric hues to unashamedly

bold and bright banana shades, yellow is the perfect

antidote to dreary, drizzly days - you can't help but feel

that bit more sunny and cheery when surrounded by its

intrinsic warmth.

Go bold with statement furniture pieces and yellow wall

coverings for instant sunshine appeal, or give any room

an on-trend update with a dash of bright accessorising.

Yellow is also perfect for adding a pop of colour to a

more muted colour palette. Yellow accessories give a

trendy monochrome look that much-needed vibrancy,

or team with navy and gold to create a seriously

sophisticated scheme.

Sunny days are here again.

AMELIE FOOTSTOOL IN MUSTARD

YELLOW VELVET, £199, ATKIN & THYME.

WWW.ATKINANDTHYME.CO.UK

£45 £28

CULT LIVING BARDOT GLASS PENDANT LAMP,

CULT FURNITURE. WWW.CULTFURNITURE.COM

NEWGATE NUMBER THREE ECHO WALL CLOCK,

HURN & HURN. WWW.HURNANDHURN.COM

ORLA KIELY LINEAR STEM ENAMEL

STORAGE TIN, ANDSHINE.

WWW.ANDSHINE.CO.UK

£39

£22

£50

BOHEMIA DOT DASH PRINT CANVAS

STORAGE POTS, BOHEMIA DESIGN.

WWW.BOHEMIADESIGN.COM

NEON HELLO WALL LIGHT IN

YELLOW, HURN & HURN.

WWW.HURNANDHURN.COM

14
---
£32

HAIPOT PENDANT LIGHT BY

DYBERG LARSEN, LIME LACE.

WWW.LIMELACE.CO.UK

£POA

£135.50

YELLOW CUSTARD CREAM CUSHION, NIKKI

MCWILLIAMS AT ETSY. WWW.ETSY.COM

LIGNE ROSET LITHO DESK,

WWW.LIGNE-ROSET.COM/UK

£36.50 £49.95

TABOR YELLOW SMALL POT, ABODE LIVING.

WWW.ABODELIVING.CO.UK

TWEEDMILL PURE NEW WOOL

CHECK THROW, HURN & HURN.

WWW.HURNANDHURN.COM

£POA

CARNABY FOOT STOOL IN MUSTARD

YELLOW VELVET, ATKIN & THYME.

WWW.ATKINANDTHYME.CO.UK

£99

LIGNE ROSET RUCHE YELLOW SOFA,

WWW.LIGNE-ROSET.COM/UK

LIGNE ROSET TOGO SOFA, £POA,

COOKES FURNITURE.

WWW.COOKESFURNITURE.CO.UK

16
---
ANNIE SLOAN WITH CHARLESTON

CHALK PAINT IN TILTON, £19.95/LITRE.

WWW.ANNIESLOAN.COM

ALEXANDER AND JAMES IMOGEN

ARMCHAIR, £POA, COOKES FURNITURE.

WWW.COOKESFURNITURE.COM

LOIS LIGHT OAK THREE-SEAT CHAIR,

£664, AND SINGLE CHAIR, £419, DOBBIES.

WWW.DOBBIES.COM

CHARTREUSE YELLOW VELVET THROW,

£198, THE FRENCH BEDROOM CO.

WWW.FRENCHBEDROOMCOMPANY.CO.UK
---
I N T E R I O R S

Totally

tropical

PALM trees, pineapples and flamingos have been the

decor motifs du jour for the past few summer seasons,

but for SS19, these tropical tropes combine to create a

fabulous fiesta of interior style.

Lush exuberance abounds, as we get set to embrace the

exotic and evoke that luxury vacay vibe in our homes

this summer. It's a kaleidoscope of bold, bright and

vibrant design elements, with fantastic fronds vying with

beautiful birds and wild animals galore to be crowned

king of the prints.

You can start gently with some faux greenery to add

warmth, or go full on with exotic animal candle holders,

palm tree lamps and luxurious printed velvet cushions.

Remember, to properly nail the tropical trend, more is

most definitely more.

Welcome to the jungle...

TROPICAL JUNGLE POSTER, AVAILABLE FRAMED

OR UNFRAMED, FROM £7.95, MODE PRINTS.

WWW.MODEPRINTS.COM

BLOOMINGVILLE LEAF LANTERN VASE, THE

FIND STORE. WWW.THEFINDSTORE.CO.UK

£39

JARDIN TROPICAL DRUM PENDANT LIGHT,

AUDENZA. WWW.AUDENZA.COM

£249

£195

£375

JAMBI HAND WOVEN MULTI-COLOURED

OCCASIONAL CHAIR, HABITAT.

WWW.HABITAT.CO.UK

£59

PALM TREE TABLE LIGHT, ABODE LIVING.

WWW.ABODELIVING.CO.UK

PALOMA ROUND FOOTSTOOL, CULT

FURNITURE. WWW.CULTFURNITURE.COM

18
---
Call 01543 505539

for a brochure

Our skilled craftsmen can create

any type of design, from ultra-modern

to classically traditional

As an alternative if you cannot part

with your existing suite, we offer

an exceptional re-upholstery

service that goes above and

beyond recovering your choice of

fabrics and leathers.

Tel: 01543 505539

Unit 19, Martindale, Hawks Green, Cannock, Staffordshire, WS11 7XN

May 2018

sales@ralvernupholstery.co.uk • www.ralvernupholstery.co.uk

Visit our website for a virtual tour of our showroom

57
---
£159

TOUCH OF TROPICAL VELVET STOOL,

THE FRENCH BEDROOM CO.

WWW.FRENCHBEDROOMCOMPANY.CO.UK

BESPOKE UPHOLSTERED CHAIR,

TROPICAL AMAZONIA VINTAGE LINEN

ARMCHAIR, MIND THE GAP.

WWW.MINDTHEG.COM

PENELOPE VELVET ACCENT CHAIR, CULT

FURNITURE. WWW.CULTFURNITURE.COM

£120

TROPICAL BERMUDA VINTAGE

LINEN ARMCHAIR, MIND THE GAP.

WWW.MINDTHEG.COM

£POA

TROPICAL BRIGHTS STOOL,

THE FRENCH BEDROOM CO.

WWW.FRENCHBEDROOMCOMPANY.CO.UK

PALM TREE VELVET CUSHION, ABODE

LIVING. WWW.ABODELIVING.CO.UK

£120

£45

£POA

TROPICAL MONKEY VELVET CUSHION,

£39.95, THE CURVARELLA CHAIR, £708,

GINKGO LEAF TABLE, £102, MONKEY TABLE

LAMP WITH BLUE VELVET SHADE, £112, ALL

AUDENZA. WWW.AUDENZA.COM.

PARADISE MAYA GREEN LEAF PATTERNED

ROLLER BLINDS, FROM £23.56, ENGLISH

BLINDS. WWW.ENGLISHBLINDS.CO.UK

20
---
LICHFIELD

FESTIVAL

5 - 13 JULY 2019

KT TUNSTALL

IVOR NOVELLO: A CELEBRATION • THE MOZARTISTS •

THE MESSIAH : COME AND SING • VOCES8 • BLACK VOICES

CELEBRATE NINA SIMONE • BBC NATIONAL ORCHESTRA OF

WALES • KATHRYN TICKELL AND THE DARKENING

MANSFIELD PARK • BALLET CYMRU • OLGA KOCH • EMMA BRIDGEWATER • KABANTU

• BOBBY SEAGULL • HMS PINAFORE • LAUREN ZHANG • DEATH SHOW • MACBETH •

CLEVELAND WATKISS SINGS NAT KING COLE • GREAT JAMAICAN SONGBOOK •

TRACY BORMAN • PETER RABBIT'S MUSICAL ADVENTURE • ANDREW MAXWELL •

MON 17 SAT 22 JUNE

www.lichfieldfestival.org | 01543 306150

SPECIALISTS IN FITTED, SLIDING AND WALK-IN WARDROBES

STOCKISTS OF HEPPLEWHITE (A SUBSIDIARY OF HAMMONDS WARDROBES)

WE OFFER A FREE COMPREHENSIVE DESIGN AND QUOTATION SERVICE

INCLUDING A HD CAD DRAWING AND A FULL BREAKDOWN QUOTATION.

414 BIRMINGHAM ROAD, WYLDE GREEN, SUTTON COLDFIELD B72 1YJ

0121 350 9555 · WWW.BEDROOMGALLERY.CO.UK

OPEN MONDAY - SATURDAY 10AM - 6PM. SUNDAY 11AM - 4PM
---
CO M P E T I T I O N

Your bedroom dreams come true

J'AIME HAS TEAMED UP WITH BEDROOM GALLERY IN SUTTON COLDFIELD TO OFFER READERS THE

CHANCE TO WIN A £500 VOUCHER TOWARDS FITTED BEDROOM FURNITURE AND SLIDING WARDROBES

From a grand walk-in wardrobe to luxury master

bedrooms, Bedroom Gallery can help make all of

your bedroom dreams come true.

Bedroom Gallery pride themselves on offering,

creating the perfect bedroom for each and every

client. Being the most private and personal room in

your home means each design created will capture

your desires. The talented designers work to your

brief and help to create an individual style and a look

you absolutely love.

The Sutton Coldfield store was set up in May 2018

by Umar Hafeez, who brings some 11 years of

experience in the fitted furniture industry to the

business. Umar and his team pride themselves on

excellent customer service and the best designs, all at

a price to beat any like-for-like competitors.

Bedroom Gallery are proud to be a premium retailer

for Hepplewhite Fitted Furniture, covering the

Midlands area. Hepplewhite - along with its parent

company Hammonds Fitted Furniture - is one of the

largest manufacturers of bedroom furniture in the

UK.

As well as fitted furniture, Bedroom Gallery offer

a range of beds and lighting solutions to complete

your room. They also specialise in bespoke office

furniture.

For more details visit the showroom at

414 Birmingham Road, Sutton Coldfield,

B72 1YJ, call 0121 350 9555 or visit

www.bedroomgallery.co.uk

The competition

J'AIME HAS TEAMED UP BEDROOM GALLERY TO OFFER

LUCKY READERS THE CHANCE TO WIN A £500 VOUCHER

TOWARDS FITTED BEDROOM FURNITURE AND SLIDING

WARDROBES FROM THEIR STYLISH SELECTION.

FOR YOUR CHANCE TO WIN, SIMPLY

ANSWER THE FOLLOWING QUESTION:

WHERE IS BEDROOM GALLERY BASED?

Send your answer, along with your name, address and telephone

number, by email to competitions@jaimemagazine.com with

Bedroom Gallery competition as the email subject. Entries must be

received by 5pm on Friday, June 28, and our winner will be notified

by Wednesday, July 3. Terms and conditions apply. The voucher is

only valid towards purchases of fitted bedroom furniture or sliding

wardrobes, and is not valid on any other items in store. Visit www.

jaimemagazine.com for further details.

22
---
OUR NEW BROCHURE IS NOW AVAILABLE

P R E N T I C E

Quality Furniture

01827 287387

enquiry@prentice.co.uk

www.prentice.co.uk
---
FEATURE

Look out for luxury

IF YOU'RE LOOKING TO INVEST IN A COVETED DESIGNER PIECE - OR ARE HOPING YOUR

COLLECTION OF LUXURY GOODS MIGHT BE WORTH A PRETTY PENNY - RICHARD WINTERTON

AUCTIONEERS' NEW SPECIALISED SALE IS A GREAT PLACE TO START, AS AMY NORBURY DISCOVERS

We're used to hearing

about the history-making

sales of sprawling art

collections and priceless

Chinese ceramics - but

it seems that the world

of designer handbags

is becoming a lucrative

collectors' playground,

with one-of-a-kind,

decadent designs drawing

record numbers at

auctions around the

world.

The Handbags and

Accessories sale at

prestigious London

auction house Christie's

last December broke

the European record for

a bag sold at auction.

A 2010 Hermès, matte

Himalaya Niloticus

crocodile Birkin 35 with 18k white gold and diamond

hardware, went for an eye-watering £236,750,

exceeding the estimate by more than 60 per cent.

Rare bags are the ultimate anti-fast fashion buy

- long-lasting heirloom pieces with a pretty much

guaranteed resale value. And this emergence of

designer handbags as a genuine investment has seen

the rise of the female collector; women who know

what makes a handbag collectable, and are aware

of the value of these pieces on the primary and

secondary market.

Due to the rarity and difficulty many customers face

in purchasing an Hermès Birkin bag from the brand

directly, many consumers look to second-hand luxury

dealers and auction houses that offer authenticated

bags in excellent condition. 'Waiting lists' no longer

exist at Hermès stores, and it's the limited availability

of the bags that is just one of the aspects of why

demand has risen so much in recent years.

In 2016 it was announced that an Hermès bag is

officially a better investment than the stock market -

LUXURY GOODS INCLUDING DESIGNER

HANDBAGS AND WATCHES WILL BE UP FOR

AUCTION AT A NEW SPECIALIST SALE BY

RICHARD WINTERTON AUCTIONEERS

the bags have seen a 500% rise in value over the last

35 years.

Victoria Beckham, it is reported, has a collection of

Hermès Birkins in excess of 100 pieces - a shrewd

investment both in terms of style and financial

return.

And now, you may be able to chance upon a coveted

designer gem at auction locally.

Lichfield-based Richard Winterton Auctioneers has

launched a new department dedicated exclusively to

designer goods and watches.

This luxury department will be holding its first

dedicated auction at St Mary's in the Market Square,

Lichfield city centre, at 6pm on July 15 - and items

are now being sought for inclusion.

These include designer handbags, purses, as well as

scarves, shoes and ladies' accessories such as gloves,

hats, umbrellas, pens, belts, small leather goods,

sunglasses and perfume.

Gentlemen's accessories including designer gents'

bags, wallets, cufflinks, shoes, money clips, ties, belts,

pens, lighters, sunglasses, luggage and briefcases are

24
---
Proud to be

a family run

business for

over 35 years

HOME IS WHERE THE WARMTH IS

"Fantastic

service and great

products. Thanks

Kieran"

Sam McD,

Whitaker Heath

Suppliers of: Contura, Jotul, Gazco, Paragon, Scan, Town

& Country Fires, ACR Heat Products and many more

Installers and suppliers of gas fires, bespoke limestone

surrounds, and gas and woodburning stoves, since 1981.

R E C L A M A T I O N

YOUR RECLAIMED BUILDING & LANDSCAPING MATERIAL SUPPLIERS

WE SELL RECLAIMED BRICKS, BEAMS & NATURAL STONE SLABS

Bricks • Roof Tiles • Quarry Tiles • Natural Stone Walling & Paving • Rockery

• Granite Sets • Cobbles • Stone Troughs • Oak Beams • Cast Iron Radiators

• Lamp Posts • Fire Places • Doors • Chimney Pots • PLUS MUCH MUCH MORE!

Telephone: 0121 308 0554

Opening Hours: Monday - Friday 8.00am - 5.00pm • Saturday 9.30am - 1.30pm

35 Holding, Shirral Drive, Nr Drayton Bassett B78 3EQ

www.fouroaksreclamation.com

www.ebay.co.uk/usr/fouroaksreclamation

www.facebook.com/fouroaksrec

1/7 High Street, Erdington B23 6RG Next to Highclare School

Telephone: 0121 384 5251 - www.abbeyfirecentre.co.uk

Open: Mon - Fri: 9am - 5pm (closed Wednesdays), Sat: 10am - 4pm

abbeyfirecentre

@abbeyfirecentre

abbeyfirecentreltd
---
also sought.

Famous names to watch out for include the muchdesired

Hermès, as well as Rolex, Cartier, Chloe,

Valentino, Fendi, Alexander McQueen, Baccarat,

D&G, Mulberry, Tom Ford, Kenzo, Marc Jacobs,

Bulgari, Annoushka, Mont Blanc, YSL, Dunhill,

Patek Philippe, Jaeger-Le-Coultre, Max Mara,

Gucci, Tiffany & Co., Emporio Armani, Chanel,

Bulgari, Burberry, Prada, Dior, Vivienne Westwood,

Links of London, Breitling, Georg Jensen, TAG

Heuer, Omega, Tudor, Rado and Pandora.

Watch specialist Ben Winterton said: "This is another

exciting development for us as a Lichfield family

firm – it's a new specialist sale in a new location and

we are looking for some of the biggest names and

designers in the world of fashion and watches.

"As usual the auction will also be online and we are

expecting to attract international attention."

While most kids were playing football in the park

during the school holidays, Ben was earning his

stripes working at Richard Winterton Auctioneers.

Between travelling the world and learning the trade

at a local jeweller, the prospect of joining what he

grew up to love was an opportunity too good to turn

down.

Ben, 25, who lives in Lichfield, said: "I've been

gaining knowledge of watches and jewellery over a

number of years so it's a perfect time to follow in the

family's footsteps and spearhead this new department

in luxury watches and designer gear.

"For many years Richard Winterton Auctioneers

has had brands such as Chanel, Mulberry and Louis

Vuitton passing through as well as some of the

biggest watch names in the world such as Rolex and

Omega.

"The pre-loved industry has grown in leaps and

bounds and it's now time to dedicate a specialist

department here for this market.

"It's an exciting development to bring a high-end

auction to the centre of Lichfield - it is going to be an

occasion to remember."

Gemmologist Heather Callaway said: "This is a

wonderful opportunity to recycle pre-loved designer

and luxury items and convert the proceeds into your

latest designer crush."

Vintage jewellery expert Louise Ludlam-Snook

added: "Items ideally need to be in good condition

and it's worth having a good look for original

receipts, boxes and packaging too as this all adds to

the interest and achieving top prices at auction."

As well as free weekly valuations, including watches

and jewellery, from 9.30am-4pm every Tuesday at

The Lichfield Auction Centre at Wood End Lane,

Fradley Park, Richard Winterton Auctioneers offers

free specialised valuations of jewellery and watches

from 10am-4pm every Monday (except bank

holidays) upstairs at St Mary's in the Market Square,

Lichfield city centre.

Valuations will also take place in Tamworth and

Sutton Coldfield on Monday, June 24.

Experts will be at The Castle Hotel, Ladybank,

between 11am-12.30pm and at The Trinity Centre,

Church Hill, Mill Street, Sutton Coldfield between

2pm-3.30pm on the same day.

For more details visit

www.richardwinterton.co.uk

THIS RARE HERMES BIRKIN FETCHED A STAGGERING

£236,750 AT AUCTION IN DECEMBER

26
---
Free Valuations

at our Head Office in Fradley

Every Tuesday 9.30am - 4pm

We're ready to help you find that hidden

gem, be it jewellery, watches, silver,

bronzes, glass, ceramics, antiques,

a work of art, stamps, an old toy,

heirlooms and collectables…...

THE LICHFIELD AUCTION CENTRE

WOOD END LANE, FRADLEY PARK, WS13 8NF

01543 251081

www.richardwinterton.co.uk

office@richardwinterton.co.uk

Medals & Militaria

Technology

Come and meet our team

NEW MONDAY VALUATIONS

Just for jewellery and

watches at St Mary's

in the heart of Lichfield

Wines & Spirits

Coins & Banknotes

More than just your local auction house

The Winterton name has been synonymous

with auctioneering throughout

Staffordshire since 1864.

INSURANCE VALUATIONS | PROBATE SERVICES

NO OBLIGATION HOME VISITS | HOUSE CLEARANCES

FIND US UPSTAIRS

St Mary's in the Market Square

Lichfield City Centre, WS13 6LG

Mondays 10am-4pm (except bank holidays)

J'Aime Ad 190x280_April 2019.indd 1 29/03/2019 16:31
---
G I F T G U I D E

Number one dad

IT'S TIME TO SAY 'THANKS' TO DAD FOR EVERYTHING HE DOES ALL YEAR LONG, SO MARK

SUNDAY, JUNE 16 IN YOUR DIARY AND MAKE SURE HE HAS A FATHER'S DAY TO REMEMBER.

FROM SIMPLE TOKENS TO ELABORATE GESTURES, WE'VE ROUNDED UP SOME OF OUR

FAVOURITE GIFT IDEAS WHICH ARE SURE TO PUT A SMILE ON HIS FACE

BAN.DO INFLATABLE DRINKS

HOLDER SET OF TWO, AMARA.

WWW.AMARA.COM

AESOP MOROCCAN NEROLI

SHAVING DUET, SELFRIDGES.

WWW.SELFRIDGES.COM

£12

£179

£57

HUGO BOSS STRAP WATCH,

H JOHNSON & SON OF NUNEATON.

WWW.JOHNSONSJEWELLERS.CO.UK

GENTS LEATHER BRACELET,

ALLEN BROWN JEWELLERY.

WWW.ALLENBROWNJEWELLERY.CO.UK

£59.95

CRYSTAL HEAD VODKA, HARVEY NICHOLS.

WWW.HARVEYNICHOLS.COM

£45

£299

£22.95

FATHER'S DAY SLEEKSTER,

HOTEL CHOCOLAT.

WWW.HOTELCHOCOLAT.COM

BOSE QC35-II WIRELESS HEADPHONES,

SELFRIDGES. WWW.SELFRIDGES.COM

28
---
FREE no obligation design service with our kitchen specialists

16 -18 Britannia Way Britannia Enterprise Park, Lichfield WS14 9UY • 01543 263340

info@lichfieldkitchensandbedrooms.com • www.lichfieldkitchensandbedrooms.com

Opening Hours: Monday - Saturday 9:00 a.m. - 5:00 p.m.

Refreshingly Different

Visit our Stylish Showroom

11 Belwell Lane, Sutton Coldfield, B74 4AA - Tel: 0800 996 1241

Visit our fantastic website www.jmiwindows.co.uk - enquiries@jmiwindows.co.uk

Windows | Doors | Bi-Fold Doors | Garage Doors | Conservatories | Orangeries | Secondary Glazing | Window Repairs
---
£55

£55

£115

FATHER'S DAY SPA VOUCHER

INCLUDING BACK, NECK & SHOULDER

MASSAGE AND SPORTS MANICURE,

THE SPA AT MOOR HALL.

WWW.MOORHALLHOTEL.CO.UK

S'WELL ROAMER TEAK WOOD

BOTTLE, AMARA. WWW.AMARA.COM

£19.95

TOM FORD NOIR ANTHRACITE

EDP 100ML, HARVEY NICHOLS.

WWW.HARVEYNICHOLS.COM

JACOB JENSEN WATCH,

ALLEN BROWN JEWELLERY.

WWW.ALLENBROWNJEWELLERY.CO.UK

ITALIAN CRAFT BEER SELECTION,

INDULGENCE AT BARTON MARINA.

WWW.INDULGENCESHOP.CO.UK

£197

£39

£89.99

LUXURY RED WINE CASE,

INDULGENCE AT BARTON MARINA.

WWW.INDULGENCESHOP.CO.UK

KREAFUNK TOCHARGE PORTABLE

CHARGER, AMARA. WWW.AMARA.COM

J'AIME reader offer

TREAT DAD WITH 25%

OFF A SINGLE PRIVATE

PILATES SESSION AT

SUTTON COLDFIELD'S

VIPILATES WITH THE

CODE FATHER25.

TO BOOK VISIT WWW.VIPILATES.CO.UK/

TREATDAD. OFFER VALID UNTIL JUNE

15, 2019. TERMS AND CONDITIONS

APPLY. OFFER IS NON-TRANSFERABLE

AND NON-REFUNDABLE.

£210

MONTBLANC STAINLESS STEEL

STAR CUFFLINKS, H JOHNSON

& SON OF NUNEATON.

WWW.JOHNSONSJEWELLERS.CO.UK

£18

PAUL SMITH DINOSAUR INTARSIA

COTTON BLEND SOCKS,

HARVEY NICHOLS.

WWW.HARVEYNICHOLS.COM

£216

MISSONI HOME STAN HOODED

DRESSING GOWN, AMARA.

WWW.AMARA.COM

30
---
Creating beautiful

cutlery, silverware

and gifts has been our

passion since 1902.

Huge savings on high street,

retail and online prices.

You won't find this

anywhere else

SAVE AN

EXTRA

10% WITH

THIS

ADVERT

Present in store.

Terms and Conditions Apply

THE UK'S

LARGEST

CUTLERY, TABLEWARE

AND GIFT STORE

FREE PARKING

OPENING HOURS:

MONDAY - FRIDAY 9:30AM - 4:30PM

SATURDAY - 10AM - 4PM

SUNDAY - CLOSED

ARTHUR PRICE,

BRITANNIA WAY,

LICHFIELD

WS14 9UY

01543 267324

ARTHURPRICEINLICHFIELD.CO.UK

Proud

supporters of

BRITISH CRAFTSMANSHIP

Please be aware that the shop is located on

the first floor via a staircase. If access is an

issue we have a ground floor room available

where products can be brought down for

viewing by our dedicated customer

service team.
---
CO M P E T I T I O N

Win a treat for Dad this Father's Day

NOMINATE YOUR DAD TO WIN THIS STYLISH DANISH DESIGN WATCH FROM

ALLEN BROWN JEWELLERY - THE PERFECT FATHER'S DAY SURPRISE

With Father's Day fast approaching on June 16,

J'AIME has teamed up Allen Brown Jewellery,

located at Heart of the Country Shopping Village

near Lichfield, to offer lucky readers the opportunity

to win a stylish Danish Design watch for their dad.

Allen Brown Jewellery offer a trendy, masculine

selection of gent's jewellery, ranging from cufflinks

and tie-pins to bangles and necklaces.

The talented team can also make commission pieces

for men or remodel existing jewellery items. Men's

wedding rings are also available from the gallery and

can be made to order in any material. Engraving

is also available on jewellery items to make it extra

special.

With an upstairs watch gallery, Allen Brown Jewellery

offer a wide selection of designs and brands ranging

from around £80 up to £600. There are selections

from Danish Design, Panzera, Jacob Jensen, Issey

Miyake, Faber and MAM Originals.

Located in beautiful surroundings at Heart of the

OUR WINNER WILL GET TO TREAT

THEIR DAD TO A DANISH DESIGN

WATCH FROM ALLEN BROWN

JEWELLERY

Country off the A38 in Lichfield, it is a great place to

spend the day in the heart of rural Staffordshire.

For more details call 01543 481 948 or visit www.

allenbrownjewellery.co.uk and follow Allen Brown

Jewellery on Facebook, Instagram and Twitter for the

latest news and collections.

The competition

For your chance to win a stylish Danish

Design watch for your dad, simply tell us

why he deserves a treat this Father's Day

Send your answer, along with your name, address

and telephone number, by email to competitions@

jaimemagazine.com with Allen Brown Father's Day

competition as the email subject. Entries must be

received by 5pm on Wednesday, June 12, and our

winner will be notified by Friday, June 14. Terms and

conditions apply. The prize is non-exchangeable,

non-transferable and not redeemable for cash or other

prizes. Visit www.jaimemagazine.com for further

details.

ALLEN BROWN OFFERS A RANGE OF STYLISH

WATCHES IN THEIR DEDICATED WATCH GALLERY

32
---
Specialists in designing and making, remodelling and refurbishing
---
F E AT U R E

All eyes on KT

KT TUNSTALL WILL BE OPENING NEXT MONTH'S LICHFIELD FESTIVAL WITH A CONCERT IN

LICHFIELD CATHEDRAL ON FRIDAY, JULY 5. PETER BACON CAUGHT UP WITH THE SCOTTISH

SINGER-SONGWRITER FOR A CHAT AHEAD OF HER VISIT TO THE MIDLANDS

Ever since her debut album Eye To The Telescope

landed back in 2004, going on to sell more than five

million copies, KT Tunstall has been at the forefront

of the UK's singer-songwriter talent.

The creation of three further critically acclaimed

albums, Drastic Fantastic, Tiger Suit and Invisible

Empire/Crescent Moon in 2007, 2010 and 2013

respectively, kept the platinum sales rolling and

cemented the Scottish songstress' reputation as a

major recording talent, as well as a mesmerising live

artist.

Most of us first heard KT Tunstall back in 2004

singing Black Horse and the Cherry Tree on BBC

Two's Later With Jools Holland, performing as a

one-person band armed with her guitar, tambourine

and a loop pedal. Presumably there had been a lot

of hard graft that had led to that strikingly poised

performance?

"Yes, it's true. I looked a lot younger on Jools than

I actually was! I was just about to turn 30. I'd spent

10 years of hard graft to get to the point of making

my first record after signing publishing and record

deals," she explains.

"I'd put in the thousands of hours of practice and

live performing, so when the golden ticket came up

for me, I was able to really use it."

The effects of that mainstream TV exposure must

have been dramatic.

"Things moved extremely quickly," says KT. " We

rushed the album out after the crazy reaction to the

live performance, and Black Horse... was followed by

Suddenly I See, and then the lid just blew off. I loved

it and found it uncomfortable at the same time. But

what I loved the most was being able to travel the

world with my guitar."

Having toured the world many times over, she has

become a festival favourite, from Glastonbury to

Belladrum. She outsold every other female artist in

the UK in 2005, won the 2006 Brit Award for Best

British Female Solo Artist, won the Ivor Novello Best

KT TUNSTALL IS OPENING

THIS YEAR'S LICHFIELD

FESTIVAL NEXT MONTH

34
---
Song award for her self-penned hit Suddenly I See,

and a Q award for Track of the Year.

I wondered which she preferred – performing up on

stage or working in the recording studio?

"I used to answer that very easily; stage. Recording

just felt like a vehicle to get more gigs," says KT.

"I have absolutely changed how I feel about that

now, I love both equally and thank god don't have

to choose between them! The studio for me now

is a playground of experimentation and endless

potential, I love it."

She has performed in so many different places

around the world and in so many different settings.

What were the most memorable?

"60ft up in a one-woman air balloon inside The

Eden Project in Cornwall… Giants Stadium in

New York to 65,000 people for Live Earth... Japan

is always a thrill. I busked at the top of the Empire

State Building last year, that was great!"

Other accolades have included a Grammy

nomination for Best Female Pop Vocal Performance

and having her tunes chosen for a host of movies and

TV shows - Suddenly I See was used in the iconic

opening scene of the Meryl Streep-starring The

Devil Wears Prada.

The year 2016 hailed the arrival of the first of a

trilogy of albums, the critically acclaimed UK top

10 album KIN. The trilogy evokes, separately and in

sequence, spirit, body and mind. The second album,

WAX, appeared in autumn 2018.

So how easy did she find songwriting? Had it become

easier or more difficult? At the Lichfield Festival the

evening after her concert is a tribute to Ivor Novello.

What was it like winning a Novello Award?

"I am extremely grateful that song-writing has

always come very easily to me," says KT. "I wouldn't

try to pretend that I completely understand how it

happens, but I'm more aware now of what helps me

create: solitude, interesting travel, and journaling are

three big ones.

"Winning the Ivor Novello award was really

special. It is a songwriting award ceremony that is

not televised and therefore feels very authentically

focused on the work we all produce."

In Lichfield KT will be playing in a medieval

cathedral. Had she done many of those before?

"I grew up with a medieval cathedral down the road

in St Andrews, so I'm hoping I'll feel very at home!

The crew and I have a game where we talk in 'Castle

Speak', and I feel this may reach some sort of peak

the day we play Lichfield!"

The last few years have seen something of a creative

rebirth for Tunstall, including relocating to the west

coast of the USA.

Asked if California now feels like home, and whether

she misses St Andrews, KT says: "I really am a

nomad at heart. I don't feel the need to have roots so

deep anywhere that I'll stay forever. There are many

places I would like to live. I love living in California,

it is an amazing part of the world with extremely

beautiful nature and many interesting people. I am in

Scotland quite regularly which I enjoy, but I miss the

LA sunshine when I'm away!"

KT Tunstall is appearing in Lichfield Cathedral

on the opening night of the Lichfield Festival,

Friday July 5 2019. More information and ticket

booking for all Lichfield Festival events is at

www.lichfieldfestival.org

35
---
F O O D & D R I N K

Five minutes with Brad Carter

THE BBC GOOD FOOD SHOW SUMMER RETURNS TO THE NEC THIS MONTH FOR FOUR DAYS OF

FOOD FILLED FUN. ALONG WITH HUNDREDS OF EXHIBITORS, SOME OF THE UK'S MOST RECOGNISABLE

FACES WILL BE COOKING LIVE ON STAGE, INCLUDING SEVEN BIRMINGHAM-BASED CHEFS. WE CHAT TO

BRAD CARTER, OF MICHELIN-STARRED CARTER'S OF MOSELEY, AHEAD OF HIS RETURN TO THE SHOW

The BBC Good Food Show is back in

Birmingham – tell us what you'll be up to

and why you're a regular at the show?

I always look forward to the BBC Good Food Show,

it brings foodies from all across the country to

Birmingham, and it's the perfect place to show off

some of Carter's signature dishes in front of a live

audience. I like to keep my shows seasonal, so guests

this year can see me cooking pork over charcoal –

perfect for the summer.

Your unique take on fine-dining is inspiring a

new generation of chefs. What would you say

to a chef just starting their career?

It's incredible to hear that I inspire people, especially

as I have a huge focus on British ingredients and

cuisine, so I'm glad others see that and want to do

something similar.

For a young chef, the best advice I can give is what

served me so well – keep your head down and show

determination to your role. It'll take a lot of your

time and effort, but it doesn't go unnoticed. It's easy

for the new generation to get carried away and want

to be a sous chef before they've put the time in, but

the base skills need to be there, and from there each

chef can take their own route.

The awards and stars and rosettes shouldn't be the

goal – the customer is always the first priority, and

that will never change. If you have a busy restaurant

packed with happy customers, everything else will

follow.

When you're not in the kitchen, where in the

city do you like to eat?

When I'm not at the restaurant, I love heading into

China Town. There's so much choice, so just wander

around and see what you fancy on the day – and the

majority will be under £10! If I want roast meats, I

always go to Look In – the skills the chefs have there

is as good as any restaurant in the city. And when it

comes to Dim Sum, Ken Ho is my personal favourite

– if you're eating there on a Sunday or Monday, you

might just see me in there too!

BBC Good Food Show Summer takes place

at NEC Birmingham from June 13 to 16. For

more information and to book tickets visit

www.bbcgoodfoodshow.com

And what inspires you?

We're quite an individual restaurant, as we don't

import anything, so our menu takes inspiration

from everything and everywhere in the UK, from

fisherman to foragers. It's important to me that all

our ingredients have a story, and hearing the tales

from our suppliers inspires me to pair certain things

together, based on where they've come from.

My friends are also inspirational people, and quite a

few of them will also be cooking at the BBC Good

Food Show. Together, as a Birmingham movement,

we're showing people there's more on offer here than

ever before.

36
---
F O O D F& O OD D R I& N KD R I N K

Cocktail of the month

HOLLY ROWLAND, FROM LE RÊVE COCKTAIL BAR IN LICHFIELD, SERVES

UP A FRESH AND FRUITY CONCOCTION, IDEAL FOR HAZY SUMMER DAYS

Summer Sip

25ml Strawberry vodka

12.5ml Raspberry vodka

12.5ml Elderflower

liqueur

50ml Apple juice

12.5ml Strawberry purée

12.5ml Lemon juice

12.5ml Vanilla syrup

Add all ingredients to

your Boston shaker. Fill

with cubed ice and shake

vigorously. Then strain

your cocktail into your

glass and enjoy this light,

fruity refreshing summer

tipple. Garnish with a

half a fresh strawberry

and slice of apple or

raspberry.

37
---
F O O D & D R I N K

Ginspired design

THE GINTLEMAN, THE MIDLANDS' LEADING RACONTEUR AT HOUSE PARTIES AND VENUES THROUGHOUT

BIRMINGHAM, TAKES A LOOK AT THE RISE OF 'GINSPIRED' PACKAGING FOR OUR FAVOURITE TIPPLE

With a dedicated World Gin day on June 8 -

originally founded by local gin fan Neil Houston -

the march of gin's 'on trend' persona shows no signs

of slowing down. There is now a mind-boggling

array of flavours available, moving from traditional

juniper botanicals to diverse tastes; swirling candy

floss or smoked salmon gin anyone?

Elevating a gin brand to enhance the liquid's

profile and getting the all-important bar presence

or the wow factor in a consumer's drinks cabinet

are becoming pivotal. That's why more and more

brands are embracing eye-catching gin bottle shapes,

materials or typographic labelling.

It's nothing new; the early 90s saw the iconic

Bombay Sapphire blue design, while The Botanist's

embossed glass bottle features Latin botanical

descriptions and an inadvertent naughty word search

surprise on the front right of the bottle. 2016's

iconic Isle of Harris wave design came from creative

team Stranger and Stranger and, more recently, Le

Tribute, with its matching tonic brand, offers style

and substance.

Here I've showcased two recent 2019 releases that

have featured on my narrowboat tasting cruises I run

on Birmingham's waterway network.

Mermaid Gin's stunning sculpted bottle is the

result of a year-long redesign project by Isle of

Wight Distillery owners Xavier Baker and Conrad

Gauntlett.

The bottle perfectly captures the essence of the

island by representing the brilliant colours of the sea

and the striking mermaid scale shape, with the bottle

created exclusively from sustainable, recyclable

and environmentally-friendly 100 per cent plasticfree

materials. The distillery is also piloting a refill

scheme enabling island customers to have bottles

refilled on site.

The gin itself is created using ten ethically sourced

botanicals including rock samphire - the marmite of

sea veg, a salty, parsley taste foraged from the island

cliffs - Boadicea hops from Ventnor Botanic Garden

and locally grown elderflower.

Chapel Down in Kent, England's largest winemaker,

has released the third product in its premium spirits

range after their Chardonnay Vodka and Bacchus

(English Sauvignon Blanc grape) gin.

Pinot Noir Gin, a world first, has been produced by

distilling the grape skins leftover from the pressing

process for their sparkling wine, blended with

English wheat spirit. Producing an aromatic red

berry, rosehip and rose bud taste to mimic the Noir's

flavour characteristics, it's a grown up nod to the

'pink gin' category. The custom-made 70cl glass

bottle links back to the two production processes;

distilling and winemaking with the bottom half of

the bottle reflecting a cut-glass crystal decanter and

the frosted top half of the bottle denoting the classic

wine bottle shape.

Both available at Loki Wine in central Birmingham.

38
---
Summer Special Events

Summer Special Events

Summer Party

Night with Disco

Friday 2nd August

Enjoy a delicious three course

meal and disco until 12am

Bob Marley

Tribute Evening

Friday 23rd August

Enjoy a delicious three course

meal and entertainment

Charity Moth Ball

Friday 11th October

Dust off your wedding dress

and help us raise money for

YMCA Sutton Coldfield.

George Michael

Tribute Evening

Friday 9th August

Enjoy a delicious three course

meal and entertainment

Only Fools &

Three Courses

Friday 13th September

Great food and comedy action

served up Only Fools style

Halloween Party

Night with Disco

Friday 1st November

Enjoy a delicious three course

meal and disco until 12am

Afternoon Tea

With the Legends

Sunday 30th June

Songs from your favourite

musical legends including Elvis,

Frank Sinatra, Elton John to

name a few with our live choir

Afternoon Tea

At The Movies

Sunday 22nd September

Songs from your favourite

movies including The Greatest

Showman, Dirty Dancing and

Rocky with our live choir

Senior

Summer Lunch

Wednesday 31st July

A delicious three course lunch

with entertainment from our

vintage singer

Murder Mystery

Afternoon Tea

Friday 1st November

Sit down to a delicious

Afternoon Tea with murder,

mystery and intrigue!

Visit our website to view all events and to book online

Woodburning &

multifuel stoves

Moor Hall Drive, Four Oaks, Sutton Coldfield B75 6LN

0121 308 3751 www.moorhallhotel.co.uk

Visit our website to view all events and to book online

Bird Street, Lichfield, WS13 6PR

01543 414822 www.thegeorgelichfield.co.uk

t he heart of t he home...

Visit our showroom to be amazed by the choice -

from traditional to modern

With such a wide range of fires, fireplaces and stoves

there is sure to be a style to suit you & your home

WE OF F ER

A C OMP LE T E

INST ALLA T ION

SERV ICE

Visit our showroom and be amazed by the choice! With such a wide range from traditional to modern, there's sure to be a style to suit you!

5 Stafford Road, Lichfield WS13 7BZ - Tel: 01543 263 383 • www.thefireplacelichfield.co.uk • Email: sales@thefireplacelichfield.co.uk

Opening hours: Mon-Fri 9.30am - 4.30pm • Sat 10am - 4pm. Closed Sundays and bank holidays. FREE ON-SITE PARKING.
---
F O O D & D R I N K

Labelled with love

ALI MOUNTJOY, MANAGER OF INDULGENCE WINE & CHOCOLATE SHOP AT BARTON

MARINA SHOWCASES SOME BEAUTIFULLY LABELLED WINES WHICH TASTE EVERY BIT AS

GOOD AS THEIR DESIGN SUGGESTS

'Never judge a book by it's cover.' At least that's what we are told, but when it comes to wine, we can't help

but be drawn to a funky label. This month we're sharing some exciting wines sure to make any wine lover

want to pick up a bottle that will sit pride of place on the dinner table.

ARAGOSTA VERMENTINO DI SARDEGNA,

CANTINA SANTA MARIA LA PALMA

Near the seaside wine-hub of Alghero in North West

Sardinia, Cantina Santa Maria La Palma have been

well-established winemakers for the past 50 years. This

Vermentino was recently awarded a place in the top 20

of Wine Spectator's annual 100 Top Values, an award

distinguishing the world's highest-quality wines available

at budget-friendly prices. The wine bursts with flavours

of stone fruit, lemon peel and is reminiscent of pink

grapefruit sorbet. The refreshing acidity and mineral note

throughout make this delicate and juicy wine ideal for fish

and shellfish dishes, salads or simply on its own.

An absolute treat with fresh seafood and lighter pasta

dishes.

CHEJA ISOLA DEI NURAGHI, CANTINA DI

MOGORO, SARDINIA

Cantina di Mogoro has been an established winery on

Sardinia for almost 70 years. The word 'Cheja' is local

dialect meaning church. The naming of this Vermentino

blend is a nod to the ruins of ancient churches that

remain in old vineyards around the island, signifying the

importance that vine growing has held on the island for

centuries. Cheja has a delicate and fragrant nose of white

flowers and peach with ripe stone fruit and pear flavours on

the palate. Again, a really refreshing summery wine, perfect

alongside fish and shellfish, risotto and vegetarian dishes.

BENEVENTANO FALANGHINA MACCHIALUPA,

CAMPANIA

The grape Falanghina, is fast gaining a reputation for those

looking for something Italian beyond the usual suspects of

Gavi and Pinot Grigio.

Deeply aromatic, crisp and refreshing, it is also a fantastic

alternative for Sauvignon Blanc lovers.

This bright gold example from Macchialupa has us

smitten; offering an intensely rich bouquet, it has fruity

aromas of peach and pineapple along with hints of white

flowers and honey. The full and ripe palate is warming

with a little spice on the finish. Fantastic when paired with

grilled chicken, lightly spiced dishes and seafood.

IL VINO DAL TRALCETTO', MONTEPULCIANO

D'ABRUZZO, CANTINE ZACCAGNINI, ABRUZZO

Zaccagnini produce a stellar portfolio of wines that

regularly receive international praise, and this is one of

our favourites. 'Tralcetto' (grape vine) is wrapped around

the neck of each and every bottle by hand - an indication

of the attention to detail that goes into making this wine.

Made from 100% Montepulciano grapes and is aged

in barrel for six months, softening the wine's tannins.

The resulting wine is a silky and seductive red with deep

damson fruit on the nose leading to soft black cherry and

ripe blackberry flavours through the palate, all rounded off

with supple tannins. The ideal accompaniment to cheese

and charcuterie, filled pasta dishes, spaghetti Bolognese.

40

All wines available in store from Indulgence Wine & Chocolate Shop on Barton Marina,

which also offers a 'click and collect' service online. Visit www.indulgenceshop.co.uk.
---
The

Boat Inn

Michelin recommended

Liam has won numerous awards including the most recent award in 2019 of

'Newcomer of the Year' at the Estrella Top 50 Gastropub Awards.

He has been awarded'Best Chef' at the Midlands Food, Drink &

Hospitality Awards, beating the likes of Sat Bains, Aktar Islam, and Andy

Waters to name a few, as well as picking up 'Best Independent Restaurant'

by the Taste of Staffordshire Awards in 2018.

Formerly of Marcus Wareing at The Berkeley and Restaurant Story Liam

has worked in some of the UK's most prestigious kitchens.

This year he and his team are offering a number of new offers at The Boat!

· NEW BEER GARDEN & MENU · CHEF COLLABORATIONS

EVERY MONTH · AFTERNOON TEAS ON REQUEST

· NETWORKING LUNCHES FIRST WEDNESDAY OF THE MONTH

FATHER'S DAY - 16th JUNE

Now taking bookings for Father's Day

See our website for forthcoming events

Call for details - 01543 361692 - Open Wednesday - Sunday

www.theboatinnlichfield.com · Walsall Road, Lichfield WS14 0BU

W I N E , C H O C O L A T E , C O F F E E A N D G E L A T O

Indulgence Coffee Shop

with Real Italian Coffee, Cakes & Pastries.

Barton Marina Burton upon Trent DE13 8AS 01283 716 062 www.indulgenceshop.co.uk
---
T R AV E L

Exploring Georgia and Armenia

ALEX OLIVER, RB COLLECTION'S CENTRAL ASIA CONTACT REPORTS ON HIS FIRST TOUR OF THE

REGION WHICH HAS SPURRED MANY VISITS SINCE AND INSPIRED A SPECIAL TOUR THIS AUTUMN

For every would-be traveller, I think it would be fair

to say that we all have a list of destinations that we

have always yearned to visit. Not a bucket list per se,

but countries we have become almost obsessed with,

and with the start of every year, whisper to ourselves

'perhaps next year'.

For me, I the countries of the Caucasus - especially

Armenia and Georgia - were always in that list of

must-visit lands. I am not even sure that I can explain

why, yet there has always been a draw for me to

these rugged countries. A group of people that have

existed on the geopolitical stage for thousands of

years, yet in their recent reincarnation through the

collapse of the Soviet Empire, these are fresh and

young sovereign states. Surrounded by some hostile

neighbours and their often authoritarian leaders,

these fledgling democracies are striving to establish

themselves on the world stage once again. Part of

this development is a desire to bring in tourism and

to revel in the culture and history that both countries

offer in abundance.

I suppose for myself coming from a background

in classical education, my main draw for visiting

this corner of the globe was the amount of history

involved. Lands fabled in stories of Jason and the

Argonauts, they lay on the cusp of the expansive

empires of Alexander the Great and later on, the

Romans; coins from these periods being on display

in Mestia and Tbilisi museums. Some of the oldest

Christian lands in the world, Georgia and Armenia sit

on a crossroad of Christian and Muslim cultures and

because of this, these highland countries have a long

and bloody history of conflict. They boast dramatic

alpine landscapes which hide equally dramatic stories,

from ancient times all the way through to the last

days of the USSR.

42
---
I have the enjoyable role of

selecting some of the new

and exciting destinations that

our groups will be visiting in

the months and years ahead.

Georgia and Armenia were

one of first itineraries that

I put forward and we had a

small and adventurous group

of ten eager guests which

was enough to get this tour

off the ground.

Landing in Yerevan late on

a brisk Saturday evening,

I think the first impression

that struck many of the

group was the lack of

vehicles on the road, even

right in the middle of a

Francophonic summit. This

initial impression was further

developed upon the next morning, when strolling

through the streets of downtown Yerevan we noticed

a lack of traffic and also of pollution. This is a capital

city with grandiose architecture, a soviet grid system

and a quiet provincial atmosphere. Yerevan boasted a

very unique character.

After sampling the delights of the Yerevan Vernissage

(open-air market), literally a few steps from our hotel

entrance, we were then whisked through the streets

to the Yerevan countryside to visit two very special

highlights in one day.

Firstly we were brought to the steps of the Greco-

Roman temple of Garni, the best-known structure

and symbol of pre-Christian Armenia. This temple

famed to have been built by Tiridates I after his

visit to Rome in AD66. I presume that the styles he

witnessed impressed him deeply, as the temple did

for me. This compact collection of ionic columns

could either be considered 'Armenian-Hellenic' or

perhaps a foreign structure on Armenian soil. Either

way, it is a striking contrast to the land by which it is

surrounded. This Roman temple cradled by the arid

rolling hills and shrouded in a fog of smoke from

local fires, really did convey an atmosphere.

Thinking that the day could not contain any more

breathtaking experiences, we were then driven a

short distance to the temple of Geghard. This place

was incredible! A medieval monastery half hewn out

of the bare rock, begging to be explored. Darkened

chambers with shafts of light and hidden springs

trickling away in the gloom, Geghard really did

invoke my inner Indiana Jones, and this was just the

first day!

From Yerevan we traversed across almost sweltering

desert landscape, to a barren plateau on the Georgian

border (spying eagles and hawks as we went) and

ended up at the roof of Europe, under the shadow of

Mt. Ushba in the chilly mountain region of Svaneti.

All of this encompassed within 48 hours and just shy

of 800km.

En-route to the town of Mestia in Svaneti, we were

treated to another absolute highlight and a location

that I will not forget anytime soon; the 12th

century cave settlement of Vardzia. Constructed

by the national hero of Georgia, Queen Tamar,

this warren of seemingly unfathomable cave

settlements, corridors, steps and alleyways, lets

your imagination run wild. Originally intended

as an impregnable fortress to keep the Mongols

at bay, this now UNESCO wonder later became

a monastery and still has an active (if small)

community of monks. Again, what a treat this

visit proved to be for our guests.

As hinted at earlier however, this distraction was

en-route to the peak of excitement for our time

in Armenia and Georgia. The land of Svaneti

43
---
and the main town of Mestia boast a character

unique in all of Georgia. The Svan people are

fiercely proud of their traditions and customs. Their

landscape is dotted with hundreds of fortress-like

tower houses, from a time when family feuds were so

brutal, that these kinds of defences were a common

requirement.

At the roof of Europe, at the some the highest points

of the Caucasus Mountains, with the turbulent lands

of Chechnya and Dagestan over the horizon, our

group was treated to a wonderful feast and serenaded

by a world-famous polyphonic Svaneti choir. This

was both a surreal and fantastic experience.

From here we continued on through Georgia and

eventually into vibrant Tbilisi. Once again, there

were many more interesting and unique sights and

sites as we meandered through the region; however I

feel that I will run out of paper if I try to list them all!

Suffice to say that this tour was a great success and

we have continued to arrange more tours with our

partners in Georgia who recently organised all of the

ground arrangements for Joanna Lumley on her Silk

Road Adventure, including special access to see some

off-limits 10th and 12th century frescos, an honour

that our groups also enjoy. These partners of ours,

in addition have just finished filming with Jeremy

Clarkson and his crew on The Grand Tour series. So

it is fair to say that our groups are in safe hands.

I cherish the time I spent in these intriguing and

hospitable countries and my heart already yearns to

return in the future.

J'AIME reader offer

MENTION J'AIME WHEN YOU BOOK

YOUR HOLIDAY TO GEORGIA WITH RB

COLLECTION BEFORE JUNE 30, 2019 FOR

COMPLIMENTARY VIP LOUNGE ACCESS

ON DEPARTURE. APPLICABLE TO NEW

BOOKINGS ONLY.

Georgia and Armenia

Explorer Tour

• EXPLORE THE QUIRKY CENTRE OF OLD TOWN

TBILISI; GEORGIA'S CHARMING AND COLOURFUL

CAPITAL

• ENJOY SERENITY AND WONDERFUL FRESCOES

AT THE MONASTERY OF GELATI

• VISIT THE IMPRESSIVE CAVE DWELLINGS AND

MONASTERY AT 12TH CENTURY VARDZIA

• TAKE IN THE SIGHTS OF ONE OF THE WORLD'S

OLDEST INHABITED CITIES, YEREVAZ

• VIEW BREATHTAKING MOUNTAIN BACKDROPS

INCLUDING MT. USHBA IN GEORGIA AND

MT. ARARAT IN ARMENIA

• RETURN FLIGHTS FROM THE UK

• ACCOMMODATION WITH DAILY BREAKFAST

• EIGHT LUNCHES AND NINE MEALS

• ALL EXCURSIONS AND ENTRANCE FEES

• ALL LOCAL TRANSPORT AND ENGLISH-SPEAKING

GUIDES

• 11 DAYS, DEPARTING OCTOBER 5, 2019

• FROM £2,379 PER PERSON

FULL DETAILS: RBCOLLECTION.COM/GEORGIA,

EMAIL VIP@RBCOLLECTION.COM OR CALL 01543 258631.

44
---
Subscribe!

WE ARE NOW OFFERING A J'AIME

SUBSCRIPTION SERVICE. IF YOU DON'T LIVE IN

OUR DISTRIBUTION AREA BUT WOULD LIKE TO

RECEIVE A COPY OF J'AIME 11 TIMES A YEAR

THEN GET IN TOUCH!

JUST £22 A YEAR TO COVER POSTAGE COSTS.

CONTACT JAN ASHLEY ON 07388 335931

OR EMAIL ADVERTISING@JAIMEMAGAZINE.COM

N E R O e B I A N C O

M A T E R N I T Y & C H I L D R E N S W E A R

Babywear

Childrenswear

Educational Toys

Soft Toys

Books

Maternity Wear

and more ….

www.neroebiancochildren.co.uk

Bar ton Marina

Burton upon Trent

DE13 8AS

01283 716 524

Jean Lamb Wealth Consultancy

My offices are situated in the historic city of Lichfield and I have been providing personal

wealth management advice to my clients for more

than 25 years.

I specialise in the following key areas

and welcome your enquiry:

• Investment Planning

• InheritanceTax and Estate Planning

• Pre and Post-Retirement Planning

• Care Fees Planning and Funding for Care

Telephone: 01543 417342

Website: www.jeanlamb.co.uk

Email: jean.lamb@sjpp.co.uk

Office: 6A Market Street, Lichfield, WS13 6LH

Jean Lamb Wealth Consultancy is an Appointed Representative of and represents only St. James's Place Wealth Management Plc (which is authorised and regulated by the Financial Conduct Authority)

for the purpose of advising solely on the Group's wealth management products and services, more details of which are set out on the Group's website www.sjp.co.uk/products.
---
FA S H I O N

Festival of fashion

WHETHER YOU'RE GLAMPING AT GLASTONBURY OR BRONZING ON THE BEACH AT

BENICASSIM, ACHIEVE BOTH FIELD AND FASHION-PACK APPROVED STYLE WITH OUR

FESTIVAL ESSENTIALS, SAYS AMY NORBURY

FESTIVAL season is once again upon us, that time of year

when music and fashion collide and when fields up and down

the land become catwalks for festival-going fashionistas to

strut their stylish stuff.

From crystal-encrusted shades to boho maxi dresses, be festival

season's headline act with our retinue of field-ready outfits.

What do festival-going fashionistas and farmers have in

common? The answer is wellington boots - more specifically,

Hunters. Founded in Scotland and steeped in heritage, the

home-grown brand is still going strong since its opening in

1856. Today its famous rubber shoes are near-synonymous

with the rainy British weather, making them the ultimate

festival wellies to brave notoriously muddy grounds.

Although cut-off denim and Hunters are the backbone of

many a festival-friendly outfit, the Glastonbury look is about

so much more. This is the festival where British charm,

eccentricity and creativity shine; where anything goes;

where you can nonchalantly walk around sporting a feather

headdress or a metallic space-inspired jumpsuit and no one

will bat a starry, glittery eyelid.

A sequin tee is the perfect foil for your denim, adding a splash

of glam and a touch of drama to your festival attire, while a

printed kaftan is perfect for throwing over your outfit when the

evening chills set in.

If your idea of Glasto glam owes more to the hippy-inspired

days of Woodstock, then a dreamy printed dress should be

on your must-pack list. Fabulous florals are a perennial style

staple, but this summer opt for prints with a bit more pizazz.

Any and all animal prints should be right at the top of the

list - after all, they are the new neutral - while polka dots and

stripes are also having a fashion moment. For extra on-trend

points, just combine them all!

Weatherproofing your festival wardrobe is essential in the

unpredictable British climate, so make sure you pack a good

waterproof. But call time on dowdy anoraks; this year's chicest

festival raincoats embrace Bacofoil metallics and pastel-hued

PVCs.

Having risen from the ashes of touristy connotations, belt

bags continue to hold court as the festival bag du jour. Newly

evolved from '80s-era fanny packs and hardy nylons, the

modern belt bag comes in a flurry of iterations from buttersoft

leathers and logo-laden canvas. If you need a bit more

room for your festival essentials, then swap the belt bag for a

cute backpack.

BEACH COLLECTION MAXI DRESS

FROM A SELECTION AT MONSOON

46
---
£45

£85

£75

ONE TEASPOON LEGEND

DISTRESSED SHORTS,

HARVEY NICHOLS

SEQUIN EMBELLISHED TOP,

RIVER ISLAND

RAINS YELLOW RUBBERISED

RAINCOAT, HARVEY NICHOLS

£100

£885

SEQUIN TASSEL EARRINGS,

ACCESSORIZE

£10

£45

ORIGINAL TALL GLOSS

SLATE BOOTS, HUNTER

GUCCI GG MARMONT

RED LEATHER BELT BAG,

HARVEY NICHOLS

DIOR CLUB3 AVIATOR

SUNGLASSES,

HARVEY NICHOLS

£319

SEQUIN KIMONO,

£20, PRIMARK

FLORAL MIDI

DRESS, £69, STUDIO

BY PREEN AT

DEBENHAMS

47
---
FA S H I O N

A mono fashion fix

JILL HARTLEY, CO-FOUNDER AND DIRECTOR OF NERO E BIANCO EXCLUSIVE FASHION

AND BRIDAL BOUTIQUE AT BARTON MARINA, SAYS STYLISH CHOICES FOR THIS SUMMER

SHOULD BE BLACK AND WHITE

Female empowerment is important to us here at Nero e Bianco, which is why our ladies' clothes are designed

with that in mind; all of these upcoming looks will make you feel empowered, confident and strong while

remaining on-trend.

Two colours vastly underrated during summer months are white and black; although black is seen as a no-go

colour during hotter weather, a little black here and there forms the foundation for all of your go-to looks this

season.

The first look we're obsessing over is this two-piece;

although it looks like a jumpsuit, this is actually a top

and trouser set. The paperbag style pinstripe trousers

can be paired with heels or chunky white trainers to

take them from daytime casual trousers to workwear or

evening looks with heels.

The top is a simple cami complete with a scooped

neckline to add a little something to the look. It's perfect

paired with these trousers but would also look amazing

with jeans for a more casual vibe.

A pleated skirt is something we all need in our wardrobe

as it's the ultimate staple piece. Again, it's versatile in how

it can be worn as it can look fantastic for both casual and

evening events. Here paired with a cold shoulder top and

heels, the flowing pleated skirt is the centre of the look and

draws attention to curves which in turn flatters your figure.

This skirt is also available in pink.

48
---
Nero e Bianco

Occasionwear & Ladieswear

Barton Marina

Burton upon Trent

DE13 8AS

01283 346 704

www.neroebianco.uk
---
One of the biggest trends you may have seen in 2019 is the chain

print pattern; featuring tigers here too, the pattern adds a unique

feature to a basic blouse.

Paired here with plain black trousers, this makes a stylish workwear

look. The chain print makes you stand out from other formal looks

while looking and feeling super chic and sophisticated.

A basic tee can go a

long way, and when

you're rushing around

in the morning getting

ready throwing on

this tee will take all

of the stress out of

your morning routine.

Paired here with white

ripped jeans and heels,

this tee could also be

paired with coloured

jeans to add an extra

pop to the outfit and

trainers for a super

casual look meaning

you can look sleek

even while running the

errands.

Finally, adding colour to our black and white looks is

this beautiful belted jacket. Available in both ecru and

caramel, this jacket will take you all the way through

summer into autumn as its lightweight and practical style

can pair with any outfit.

View a wider range of our summer collection at neroebianco.uk or visit us in

store at Barton Marina, Barton under Needwood, Burton on Trent, DE13 8AS.

50
---
B E AU T Y

Holiday beauty prep

WITH THE HOLIDAY SEASON FAST APPROACHING IT'S NOT JUST YOUR PACKING THAT NEEDS YOUR

ATTENTION; IT'S TIME TO LOCK YOURSELF AWAY IN THE BATHROOM TO PREEN AND PAMPER READY FOR

THE BIG GET-AWAY. LISA PIDDINGTON FROM HARVEY NICHOLS BIRMINGHAM REVEALS HER PRE-TRIP

ESSENTIALS TO HAVE YOU BEACH-READY FROM TOP TO TOE

Packed full of nourishing

ingredients, Coco and Eve's

Like A Virgin Nourishing

Coconut & Fig Hair Masque,

£34.50, strengthens, repairs,

tames and treats. Raw virgin

coconut prevents breakage and

split ends while argan oil tackles

split ends to make your hair more

manageable. There's also added

essence of fig and shea butter to

moisturise and detangle.

Elemis Treat Your Feet

Foot Cream, £22, is rich in

conditioning shea butter and

jojoba oil to hydrate rough

skin. The intensely moisturising

formulation is infused with a

blend of aromatic patchouli,

eucalyptus and lemon oils to

help soothe and comfort.

Prep with SOS Oil, £55,

from Heaven Skincare – it's

designed to balance oil levels,

hydrate and feed the skin while

its vitamin content can help to

repair acne, scars and damaged

skin. It is also proven to shrink

warts, spots, blackheads and even

stretch marks due to its antiviral

properties, and can even be used

on dry hair and nails to soften

and repair.

Sol de Janeiro's Brazilian Bum Bum Cream,

£44, has quickly gained cult status on social

media. With nutrient-rich, ethically-sourced natural

ingredients from the Amazon, this cheeky skincare

must-have leaves skin super soft, deliciously scented

and ready for Rio. It's not just for your derrière –

you can use it on your tummy, arms and legs, in fact

anywhere you need glowing skin.

Rodial's Tanning

Water, £39, is a

translucent self-tan

developed with 3%

DHA for golden,

natural looking skin.

The hi-tech formula

works to hydrate while

delivering a sun-kissed

glow for a bronzed

finish. The lightweight

formula is transparent

when applied and

absorbs quickly for a

streak-free finish that

does not transfer onto

clothes or sheets.

PRODUCTS FEATURED ARE AVAILABLE FROM THE BEAUTY HALL AT

HARVEY NICHOLS BIRMINGHAM OR ONLINE AT HARVEYNICHOLS.COM

51
---
F E AT U R E

Getting to the point

ANGIE ANDERTON, FROM VERVE ACUPUNCTURE IN SUTTON COLDFIELD, DISCUSSES THE

BENEFITS OF THIS ANCIENT CHINESE TREATMENT FOR A MULTITUDE OF LIFE'S AILS

So, you've heard of acupuncture?

But what is it, what does it help with and will it hurt?

To start with, no it doesn't hurt; an acupuncture

needle is thinner than a human hair, it's nothing like

having an injection, having blood taken and doesn't

scratch. I have had many people who have come to

me with a needle phobia and have left wondering

why on earth they were worried, feeling relaxed and

having often had an acu nap!

So how does it work? Our bodies are truly amazing

when you think about it. They're like something out

of a gross horror movie; an arm gets sliced with a

knife and the skin weirdly grows back all by itself, you

have approximately five million of these crazy stringy

things growing out of your head and body that keep

us warm, and you can snap a bone clean in half and

it will fuse itself back together! Weird! Therefore, the

simple notion that our body has the ability to repair

itself shouldn't be so surprising; it can and does, but

sometimes it just needs a little help. That's where

acupuncture comes in.

Acupuncture is an ancient medicine practised and

modified over thousands of years. The most popular

form of acupuncture is Chinese acupuncture, which

is a part of traditional Chinese medicine, a holistic

way of approaching our health both physically and

emotionally.

During acupuncture fine needles are inserted into

specific points which, over thousands of years of

research, have been shown to have different effects

on different functions of the body and is able to

encourage the body to repair itself. These years of

research have given us specific functions of points

on the body; for example, acupuncture point kidney

3 helps to strengthen the kidneys and aid in fertility

and point st36 is said to give you an extra three miles

of running in your legs.

Sometimes the fine needles are solely inserted to

nudge the body into action; the tiny micro traumas

that the needles create will ensure the body knows

there is something to repair in the region and will

send what is required to repair it.

In facial acupuncture this will include collagen and

elastin which help to rejuvenate and revive skin,

reducing the signs of aging and giving you that all

important glow. For musculoskeletal injuries this will

repair and aid recovery for a multitude of ailments.

In these circumstances a multi-therapy, including

52
---
cupping for example, will

ensure blood flow is optimised

and recovery times enhanced.

One of the main study areas

for acupuncture effectiveness is

for pain relief; the acupuncture

needles trigger signals to the

brain which in turn releases

opiates and reduces pain

and inflammation. Pain can

be in many forms including

but not limited to migraines,

fibromyalgia and back pain.

For mental emotional

treatments the ability to balance

hormones is key. We live in

an age of worry so if you're

constantly stressed or suffer

ANGIE ANDERTON

FROM VERVE

ACUPUNCTURE

from anxiety, you may want to give acupuncture

a go. Your nervous system is divided between the

sympathetic and the parasympathetic nervous

system. Our sympathetic nervous system is known for

'fight or flight'; when the sympathetic nervous system

is on, our blood pressure goes up, as does the body's

stress hormone, cortisol. Acupuncture can encourage

the body to let the parasympathetic nervous system

take over — allowing the heart rate to slow down,

and blood pressure and cortisol levels to drop.

The balance of hormones is also crucial in the

treatment of fertility patients. I have a huge personal

attachment to treating women going through a

fertility journey as I have been on my own journey

and my daughter was born through IVF, during

which acupuncture for me was invaluable. So when

I say I know what you're going through, I actually

do. Acupuncture can assist in regulating periods,

reducing pain, ensuring that blood flow is optimal

to aid in fertility treatment and reducing stress

hormones, allowing you to relax in what can be an

extremely overwhelming time.

So this is a brief explanation of what acupuncture

is and the ways in which it helps. Always remember

that dry needling, which is the type of acupuncture a

physio might administer, can be learnt as a weekend

course, where as traditional Chinese acupuncture

takes years to study and gain official qualifications, so

they are not the same.

Acupuncture is also often seen as a last resort when

everything else has failed, so understand that while

any good practitioner will never give you more

sessions than are necessary, it will often be a course

of treatment that is required. We aim to treat the

cause and not just the symptoms.

In a nutshell, there is no simple introduction or short

list of what acupuncture can do as it can treat so

many things, more than 300 in fact. From arthritis,

back and neck pain to sports injury and recovery,

anxiety to fertility treatment, if you are looking for a

drug-free alternative to treatment, then acupuncture

could be for you.

For more information or to book an

appointment with Angie call 07861 246793,

email care@verveacupuncture.co.uk or visit

www.verveacupuncture.co.uk

53
---
M OTO R S

Life in the fast lane

J'AIME'S MOTORING EXPERT AND RESIDENT RACING DRIVER MARTIN PLOWMAN

DISCOVERS WHITE-KNUCKLE RALLY ACTION IN THE CENTRE OF BIRMINGHAM

I'm not sure about you, but I was one of those kids

growing up who loved cars so much that I would

dream about owning my own car company someday

and would spend hours drawing the perfect 'range'

of vehicles for sale. They mostly entailed powerful

engines, big wheels (sometimes eight!) and very

sporty rear spoilers; who knew I would get into

racing, right? For most of us, reality sinks in when

we grow up and those dreams of being a famous car

designer fall by the wayside.

But…

Not everyone lets go of those dreams! Meet Steven

Adams, founder and CEO of Walker-Adams. For

the past 15 years, he has been laying the foundations

and growing his business from the ground up without

the help of any large backers or angel investors.

Steven's story is one of a true British entrepreneur.

With nothing more than a dream, a brain full of

engineering skill from his many years spent in the

automotive industry and £50,000 in savings and a

shed, at 29 years old Steven threw caution to the

wind and made the bold move to start his own car

manufacturing company.

Walker-Adams designs and manufactures custombuilt

road-legal high-performance all-terrain cars. It's

safe to say that they will never be accused of being

'another bland car-maker', with their aim being "to

put the fun back into driving".

Instead of rushing a product to market that would

fail, Steven's business model was based upon steady

but sustainable growth. His first model, the Walker-

Adams Rebel, was geared towards the corporate

entertainment world as a way to generate muchneeded

income and develop a foundation to his

business. After investing more than £95,000 of

his own money to establish the track he now has a

thriving experiential marketing arm to his business

where he hosts corporate events, stag dos and

birthday parties where guests can drive his creations

in anger around his purpose-built track.

The track serves a purpose to help fund the R&D

side of his business, while also serving as a handson

marketing tool for prospective buyers. I'll be the

first to admit that I had not heard of Walker-Adams

as I was not in the market for an off-road vehicle.

And the chances of me going to a local dealer to

get a test-drive were slim, but by offering driving

experiences that just happen to be in one of his cars I

was now exposed first hand to the brand and what it

had to offer.

I caught up with Steven at the Walker-Adams test

track in Birmingham Wheels Adventure Park (a

54
---
stone's throw away from the Bullring), to get my

hands on his latest creation; the Revolution 4x2. The

Revolution 4x2 is a beast of a car. It is essentially

a road-legal, MSA-approved racing car that is

eligible for a host of off-road championships. With

attention-grabbing styling, it backs up its looks with

a perfectly engineered chassis to handle the rugged

terrain and with very little weight to carry it has a

very high power-to-weight ratio of 466BHP/tonne.

To give that some perspective its power-to-weight is

equivalent to that of a Lamborghini Aventador SV!

To give me a taste of what the Revolution 4x2

is capable of, Steven took me out onto the track

in what can only be described as ten minutes of

adrenaline-fuelled, white-knuckle 4x4 rally action.

When I was younger I had a passenger ride in a

World Rally Championship car with Petter Solberg

and this experience ranks right up there with that!

The handling of the car over the bumps and the way

he was able to slide the rear of the car out to get the

rotation before flooring the throttle, sending your

eyeballs back in their sockets was very impressive. It

had so much grip it made very little work of the mud

and rock-filled track.

Next up it was my turn. Now, granted I had a

lot of pressure to perform considering my racing

background; not only would it be my very first

experience of racing on dirt, but I was also going up

against my upstart marketing-guru friend Jack Regan

who mistakenly thinks he's Ayrton Senna incarnate.

Sadly he's not, and thankfully I didn't embarrass

myself too much after some expert tuition from

Steven, but I will let Jack tell that story in full in the

following article...

Even if you never buy an ATV, I implore you to

head down to Steven's track for one of his driving

experiences. I promise you will thank me later.

Q&A With Steven Adams

What is your background in the automotive

industry?

I'm a chartered engineer by trade. My background

was in designing, developing and testing steering

suspension systems. I have worked all over the world

for companies such as DAEWOO, Daimler-Chrysler,

Bentley, and Jaguar-Landrover. The experience

I gained working for them helped me to gain an

understanding of the whole car, which enabled me to

develop my own car.

How old were you when you decided to start

Walker-Adams?

I was 29 when I started Walker-Adams as a company

back in 2001 doing engineering consultancy work

and then opened the track in 2004.

What was the deciding factor that made

you take a leap of faith to start Walker-

Adams?

After returning from working in the US, I needed

a limited company for my consultancy work. The

transition from consultant to full-blown manufacturer

happened while I was working at Jaguar between

2001 to 2004. It got to the stage that I could no

longer hold down a full-time job and build my own

business, so I had to take a leap of faith and quit the

day job.

Has it always been your dream to start a car

company?

I have always loved cars, and I decided early on to

go for my degree in engineering and went on to work

in the automotive industry. I got to the point where

I was doing more paperwork than engineering; the

further I moved up the ladder. There came a time

that I felt I had the expertise to build my own car

from start to finish, which sparked my desire to start

a car company. I have always been into off-road

driving and working on the Dodge Ram in America

pushed me more in that direction.

What have been some of your biggest

challenges so far?

The biggest problem in the early days was money. I

always knew low-volume manufacturing was a risky

business, even with wealthy-backers. This is why I set

up the track first. I got it to a stage where it became

profitable and then used some of the profits to help

develop the vehicles. The combination of the track

(off road karting/rally school), part sales and vehicle

sales all work together and means I do not need any

backers. Now my problem is time as there are not

enough hours in the day!

55
---
F E AT U R E

Wacky races

IN THE BATTLE OF THE COLUMNISTS JACK REGAN, A CREATIVE AT TITAN. THE ADVERTISING

AGENCY IN BIRMINGHAM, GOES HEAD-TO-HEAD WITH J'AIME'S MOTORING EXPERT

MARTIN PLOWMAN FOR A TRACK CHALLENGE WITH A DIFFERENCE

J'AIME'S COLUMNISTS JACK

REGAN AND MARIN PLOWMAN

WENT HEAD TO HEAD ON A

DRIVING EXPERIENCE WITH A

DIFFERENCE

Right, okay, so the ever so subtle challenge was laid

down by this mag's editor over a bunch of drinks - a

gallon or two of Dutch courage with a few shots of

bravado for chasers, truth be told.

"Do you reckon you could give Martin Plowman a

run for his money?" I was asked.

"At chess?" I queried. "Or on a space hopper? He's

only a wee lad so I'd thrash him on a spacey."

"No, no," she chuckled as she topped up my pint, "I

mean in a car. Like in a race car, y'know?"

Martin Plowman is a world class race car driver. He

has been a world champion and a Le Mans winner.

He essentially races for Aston Martin now, so we'll

refer to him henceforth as Aston Martin Plowman.

Hmmmm, I hmmmed, necking about an ice cold

gallon of Peroni by way of an answer. And then

I hmmmed a wee bit more and the editor took it

upon herself to pour some more beer and so on, ad

infinitum.

I cast my mind back to the last race I had won. To

my glory days. I basked briefly in the memory of

the eureka moment at my school sports day (aged

nine) when me and my mate, Biggy, realised that if

we used a super strrrrretchy snake belt (remember

them?) for the three-legged race we could continue to

be as spectacularly uncoordinated as we were, yet still

thrash all comers, utterly unchallenged.

Hell, we were so blisteringly fast with that snake

belt we coulda embarrassed Shergar round a track.

And stewards enquiry be damned. And the janitor,

John 'The Jannie' McLatchie be damned too for

his vicious, utterly ridiculous Sepp Blatter calibre

attempts to have us disqualified. What a swine! What

a toerag! We were only nine, McLatchie! NINE! And

don't think we didn't know that that wee snivelling

Davie McTaggart was your nephew. Him sitting

there after being vanquished in our race, weeping

like Desdemona cos he hadn't thought up a genuine

genius ploy like our snake belt?! I have zero sympathy

for you and your family of embittered losers, I'm

56
---
afraid. Ze-Ro!

And while we're at it, McLatchie, it's little wonder

that wee Desdemona ended up halfway to being

a junkie with the horrendously bad influence your

soap-dodging, illiterate and godless, regularlynabbed-for-shopliftin'

clan set for him! And your

compulsion to protest to the deputy headmistress

about an innovation as worthy and properly

celebrational as our snake belt should have served as

warning to you that Desdemona's future would be a

very, very bleak one indeed. I'll say again, McLatchie

- NINE!

Anyways, it was a legendary three-legged victory for

us and we were so astonishingly fast that day that

they probably still talk about our win at that wee

school, even all these years later, the same way folk

still talk about Cantona at Old Trafford. Matter

of fact I wouldn't be surprised if we get a call one

day to say they're putting up a statue in the school

playground depicting our magnificent victory. Either

that or one of they veddy veddy posh blue heritage

plaques will go up in the lads' bogs mere moments

after we die. Mere moments, mark my words.

Though McLatchie would doubtless be dismantling

it hours after the Lord Mayor had unveiled it.

Probably melting down the metal to pay for his

nephew's drug addiction.

But I sat there with the editrix trying to decide

if I could pull off the same magnificent level of

racemanship on Aston Martin Plowman with his Le

Mans victory and all that nonsense.

"Would he be wearing his Le Mans medal while we

race?" I asked the ed, while taking another long,

contemplative pull on my pint of Peroni.

Cos if he did and I won I felt it was only right and

fair that I should then be declared the rightful owner

of said medal. The editor nodded in the of-course-

Jack-yes fashion while pouring me another frothy

Peroni and proceeded to explain what the race would

be.

It seems there's an English eccentric in Birmingham

who designs, builds and races what appear to be

very, very rapid moon buggies. Though he only races

them on Earth. And is very particular about that, it

seems.

Would I be up for racing Mr Plowman round a

spectacularly muddy dirt track in one of said moon

buggies?

So I did the decent thing. I had one more Peroni,

agreed to do it, then promptly collapsed and fell fast

asleep on the floor of the pub.

But then, come race day, I turned up bright eyed,

bushy whatsitted, sober and ready while Aston

Martin Plowman got lost and I had to go and find

him. Which I felt was a great start for me and a bit

of an embarrassment for him, though I'm too big

and better a man to gloat about something like that

in a magazine column. God no.

The fella, Steve Adams, wheels out two of these

incredible little pocket rocket racers and proceeds

to take the road legal one around the streets of

Brum, at breakneck cornering speeds, leaving every

57
---
other driver and

pedestrian we

encountered utterly

gobsmacked and

rubbernecking as

we whooshed away

into the horizon.

These cars can

be tuned to over

300BHP and have

Lambo shaming

acceleration, which

I nonchalantly

informed Aston

Martin Plowman

I would be using

to humiliate him

when he tried to set

a better lap time

than me around the

track.

Didn't seem too

troubled, I have to

say, but he was probably still just a touch mortified

and ashamed about getting himself lost earlier.

Steve explained that groups of up to 20 people

hire his track and his buggies to race around. It is

muddier than The Somme and makes for some for

some hilarious entertainment with pile ups clumsy

enough to make Wacky Races look elegant by

comparison.

We would be going round the track individually this

day though, so as to see who could set the best lap

time and thereby cement his eternal status as the

fastest man at J'AIME.

As a gentleman I allowed Aston Martin to go first.

And he took his time for the first few laps but was

soon thrashing it around the track, mud and gravel

rooster tailing spectacularly all over the place as he

hung the little car's tail out and mashed pedal to

metal in the ruthless fashion only a race car driver

can.

He set a blistering pace but then came into the pits

early because he had to dash off to his sewing circle

or embroidery class or some such nonsense. And so

he left.

And then your correspondent from Titan stepped

into the arena and I admit I had the highest

expectations that the snake belt glory days would

soon return and I would have a new swagger in my

step.

I had watched and learned from Steve Adams'

faultless tuition, had watched Aston Martin do his

bit and I had amped up the adrenalin in myself to

such unprecedented levels I might have easily been

mistaken for Caster Semenya.

Pumped, psyched, focused I had the eye of the

tiger as I strapped myself into the bucket race seats,

ready to tear hell-for-leather around that track,

leaving Aston Martin's time trailing in my wake and

eating my dust and I set off with the tyres of the car

seeming like they were on fire, Steve Adams beside

me chuckling nervously as I threw his perfectly

weighted vehicle around the track.

On my fifth round of the track I reckon I had

mastered the art of going sideways very, very

fast and I hammered the loud pedal in my bid to

utterly thrash Aston Martin. I was heel and toeing,

balancing the car on a knife's edge and, I sincerely

believe on the verge of true greatness and glory.

Right up until I stuffed the wee car painfully and

unceremoniously into a frickin' hedge! Which

seemed to appear out of nowhere, if I'm honest and

I'm not going to suggest this could have been dirty

tricks on Aston's part, but, y'know, I'm just saying.

That was that though. The end of the race. The end

of the event.

But anyway, I'll be magnanimous in defeat and all

that and congratulate Mr Le Mans, well done etc etc,

(gritted teeth) and, of course, I'll buy you a Peroni

one day.

And no doubt you'll be happy now too, McLatchie,

won't you?! You and that wee weepin', bed wettin'

Desdemona! After all these years, you'll be getting

hiiiiigh tonight in celebration!

But just mark my words, dear readers - crash or no

crash, I have lived to fight another day and this is by

no means the end of the matter. I'm just not one for

letting a grudge lie. You have been warned.

58
---
What the best dressed

bathrooms are

wearing this year.

Ripples Birmingham c/o Cookes Furniture, 28 Goosemoor Lane,

Erdington, Birmingham B23 5PN Tel: 0121 2505056

Ripples Solihull, 1693-1695 High Street, Knowle,

Solihull B93 0LN Tel: 01564 730223

www.ripplesbathrooms.com