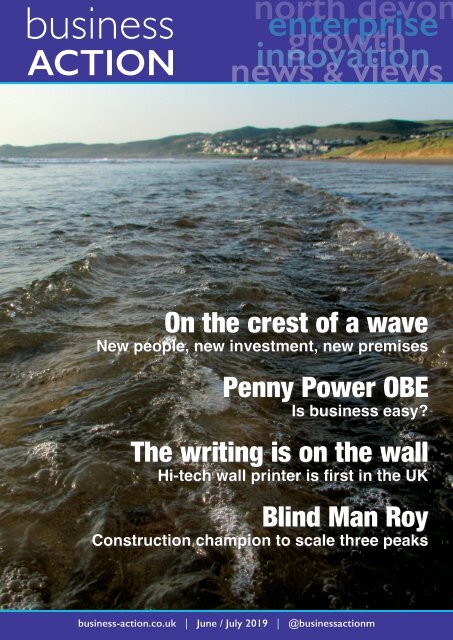 Business Action | June / July 2019
June / July 2019 issue of the independent North Devon-based business magazine covering news about business and enterprise in Barnstaple, Bideford, Braunton, Chulmleigh, Combe Martin, Holsworthy, Ilfracombe, Lynmouth, Lynton, South Molton, Torrington, Woolacombe and more. Full magazine available to non-subscribers mid-August. Subscribers and get priority access of new issues of Business Action on publication. Subscribe at http://www.business-action.co.uk/subscription-packages
June / July 2019 issue of the independent North Devon-based business magazine covering news about business and enterprise in Barnstaple, Bideford, Braunton, Chulmleigh, Combe Martin, Holsworthy, Ilfracombe, Lynmouth, Lynton, South Molton, Torrington, Woolacombe and more.

Full magazine available to non-subscribers mid-August.

Subscribers and get priority access of new issues of Business Action on publication. Subscribe at http://www.business-action.co.uk/subscription-packages
SHOW MORE
SHOW LESS
Create successful ePaper yourself
Turn your PDF publications into a flip-book with our unique Google optimized e-Paper software.
usiness

ACTION

north enterprise

devon

growth

innovation

news & views

On the crest of a wave

New people, new investment, new premises

Penny Power OBE

Is business easy?

The writing is on the wall

Hi-tech wall printer is first in the UK

Blind Man Roy

Construction champion to scale three peaks

business-action.co.uk | June / July 2019 | @businessactionm
---
Investment property to Let?

• Competitive commission rates

• Local, friendly, expert advice and support

• Comprehensive marketing

• Fully managed services to suit your needs

• NEW! Mobile-optimised website

• Over 97% of our owners would

recommend us - find out why...

Contact us today on 01271 813777

for your homeowner recruitment pack

marsdens.co.uk

TOWERGATE

YOUR LOCAL BROKER

Through our trusted broking team in Bideford, Towergate has access to a wide range of tailor made insurance solutions and risk management programmes.

Drawing on resource from our insurance experts across the UK, we can assist with insurance requirements locally, nationally and globally.

Contact Robin Glover on 01237 429 978

or email bideford@towergate.co.uk www.towergate.com

Towergate, 24 The Quay, Bideford EX39 2EZ

Towergate is a trading name of Towergate Underwriting Group Limited. Registered in England Number 04043759. Registered Office: Towergate House, Eclipse Park, Sittingbourne Road, Maidstone, Kent, ME14 3EN. Authorised and Regulated by the Financial Conduct Authority.
---
CONTENTS

business

ACTION

Web site | business-action.co.uk

Online version | business-action.uk

Vol 1 Issue 3 – June / July 2019 – distribution 2,500 across North Devon

CONTENTS

TDK-Lambda opens £1m EMC test centre........................................... 2

Agency's mission leads to bigger office.............................................. 2

HR consultancy to open fourth UK office............................................ 3

Ryanair launches Exeter to Alicante winter flights........................ 3

Triple wins for legal team in regional law awards........................... 4

Packaging firm maintains capital investment................................... 4

Large format wall printer is first in UK.................................................. 5

Editor's view......................................................................................................... 6

Business listings............................................................................................... 6

North Devon to host new technology institute centre.................. 6

North Devon Manufacturers Association 2019 Awards............... 7

Biggin' up beverages....................................................................................... 8

Penny Power OBE: Is business easy?.................................................. 9

From art to architecture................................................................................. 10

North Devon Enterprise Day....................................................................... 11

Heritage cob blocks......................................................................................... 11

BBxpo: Bideford Business Expo.............................................................. 12

People...................................................................................................................... 14

Digital Agency's Achievements................................................................. 15

Intelligence in Business................................................................................ 15

Magnetic Devon: From New York to Ilfracombe............................... 16

Subscribe to Business Action.................................................................... 16

Cheers! Brewery celebrates orders from across the UK............ 17

In the Hot Seat: Jack Richards of Applegate..................................... 18

Shaking off the corporate accountancy image................................. 19

Quality and detailed design......................................................................... 20

Co-founder on UK jewellery power list................................................. 20

Blind Man Roy set to scale three peaks............................................... 21

North Devon Show............................................................................................ 22

EDITORIAL

Robert Zarywacz

Editor, Designer & Publisher

t: 07971 176044

e: robertz@business-action.co.uk

@robertz

ADVERTISING

Alan Williams

Advertising, Distribution & Publisher

t: 07970 671192

e: alan@business-action.co.uk

© Need it Find it 2019. All information in this magazine is published in good faith.

Any views expressed are not necessarily those of the publisher, Need it Find it.

Readers are strongly recommended to seek advice from an appropriate professional

before taking any action on any topic discussed in the magazine and to check full

terms and conditions of any products or services promoted in advertisements.

INITIATIVES & CONSULTATIONS

New recruiters service

Gradsouthwest, the graduate

job board for the South West,

is offering free recruitment

advertising for paid internships,

placements and projects

of up to 12 weeks' duration in

South West England and Wales.

Gradsouthwest actively

encourages students to

gain work experience and

employers to offer work experience.

However, students and

graduates often don't know

how to find quality roles and

recruiters often don't have the

budget to advertise.

Gradsouthwest is offering

this service as a solution to

these problems. The service is

limited to two free recruitment

adverts per company / organisation

per year. The role must

be paid at least minimum wage

and must be a position which

could be reasonably assumed

to be at undergraduate or

graduate level.

■■Details gradsouthwest.com

Agricultural consultation

Exmoor National Park

Authority is inviting comments

on new guidance into how

new homes for rural workers

and farming families in the

National Park can be applied

for, as part of a public consultation

running for six weeks until

18 June 2019.

The draft 'Rural Worker

and Succession Farm Dwelling

Guidance' applies to those

working in land-based businesses

in the National Park,

such as farming or forestry, and

is supplementary to existing

national guidelines as well as

those set out in the Local Plan

for the National Park.

The draft guidelines and

comments form are available

from the Exmoor National Park

Authority web site, while hard

copies are available at National

Park Centres in Dulverton,

Dunster and Lynmouth,

Lynton and Porlock libraries,

Exmoor House in Dulverton

and West Somerset and North

Devon Council Offices in

Williton and Barnstaple.

■■Details exmoor-nationalpark.gov.uk

Cover photo: Woolacombe waves by Robert Zarywacz

Taking Teaching Further

Petroc is looking to initiate

innovative collaboration

between micro SMEs and

start-up businesses and Further

Education (FE) as part of the

national Taking Teaching

Further programme.

Taking Teaching Further

aims to attract experienced

industry professionals, with

expert technical knowledge

and skills, to work with FE in

delivering masterclasses and

collaboration. The objectives

are to develop a programme of

two-way secondments between

industry and FE to embed

digital and employability skills

across the curriculum.

Financial incentives

are available for successful

businesses.

This provides the opportunity

for academics and

industry to work in partnership

and deliver current

skills required for students to

enhance employability.

■■Details 01271 852428 or

projects@petroc.ac.uk

Small Business Saturday

The UK's most successful small

business campaign, Small Business

Saturday, is returning on

Saturday 7 December 2019. In

2017, the campaign saw an estimated

£748 million spent with

small businesses across the UK

on Small Business Saturday.

Once again, the campaign

will be highlighting 100 small

businesses, one a day for the

100 days leading up to Small

Business Saturday 2019. For

the past six years, the 100 have

not only received exposure

on Small Business Saturday's

social media channels and in

the local and national press, but

also joined the Small Business

Saturday team in London at a

number of official receptions.

Applications are now open.

■■Application details at

smallbusinesssaturdayuk.com

North Devon

Enterprise Day

The first North Devon

Enterprise Day on Thursday

24 October celebrates all businesses

in the area.

■■Details page 11

@businessactionm | June / July 2019 | business action 1
---
TDK Corporation has officially

opened its TDK-Lambda UK

EMC Centre located next to

its manufacturing facility in

Ilfracombe. The company,

which celebrates 60 years in

power this year, welcomed

Hiroyuki Yashiro, president of

TDK-Lambda Corporation,

who cut the ribbon at the grand

opening ceremony.

"It is an honour to welcome

President Yashiro from Tokyo

to perform our opening

ceremony," says Adam Rawicz,

managing director of TDK-

Lambda EMEA.

"The opening of this EMC

Centre is testament to the

11 months after opening

its Bideford office, Simple

Recruitment has moved to

bigger premises in Queen

Street as a result of its growing

success in North Devon.

Growing team

Established in Midsomer

Norton in 2009, managing

director Jayla Wilcox decided

to open the North Devon

office after holidaying here

several times with family.

Since opening in July 2018, the

Bideford team has expanded

to three members to meet the

enthusiastic response from the

area's business clients and candidates.

Permanent consultant

Karen Wraxton and temps

consultant Caitlin Wood continue

developing and driving

the business forward, assisted

by branch administrator Charlotte

Heath, who ensures the

smooth running of the office.

Building a reputation

"We have well-known clients

on board and a good candidate

base and are growing

every week," says Jayla Wilcox,

who attributes the company's

success to "building a good

reputation for a good solid

service, communication, honesty,

reliability and integrity".

"We do care, whether we're

putting someone forward for

a temp job or a career role,"

Jayla adds. "We are changing

continued inward investment

by TDK Corporation and will

enable the design teams to

their life and we take that

seriously."

Jayla started Simple

NEWS

TDK opens £1m EMC test centre

Official opening: (from left) Hiroyuki Yashiro, president, TDK-Lambda Corp;

Adam Rawicz, managing director, TDK-Lambda EMEA; Phil Scotcher &

Geoff Wilby, joint managing directors, TDK-Lambda UK; Kazuhiko Sekimoto,

general manager administration division, TDK-Lambda Corporation Japan

continue to develop the next

generations of world-class

leading-edge power supplies."

Recruitment with many years'

experience of high street

recruitment with the aim of

The £1 million EMC Centre,

which houses an anechoic test

chamber, enables the company

to perform EMC (electromagnetic

compatibility) test

measurements in full compliance

with EN, CISPR and

ANSI standards. This will allow

TDK-Lambda to fully certify

its power supply products

onsite, without the need to use

a third-party test house.

In addition, TDK engineers

will be able to provide a much

deeper level of support, assisting

customers to gain compliance of

their end equipment.

■■Details 01271 856600 or

uk.tdk-lambda.com

Agency's mission to make recruitment simple

leads to bigger office

Expanding team: (from left) branch administrator Charlotte Heath,

temps consultant Caitlin Wood, managing director Jayla Wilcox

and permanent consultant Karen Wraxton

Simple Recruitment welcomes clients and candidates to its new office:

(from left) Charlotte Heath, Karen Wraxton, Jayla Wilcox and Caitlin Wood

providing a 'simple', cost-effective

and timely recruitment

solution for both clients and

candidates, where consultants

listen to the needs and wants

of each party.

"We take great pleasure

in making the recruitment

process simple, so whether you

are looking for the next step

in your career or the newest

addition to your team, we are

more than happy to help."

Industrial and commercial

Simple Recruitment specialises

in both permanent

and temporary recruitment

services across industrial

and commercial sectors. Its

dedicated permanent division

develops relationships with

each client to understand

their business, what a vacancy

entails and what they require

from a new recruit in terms

of skill set, experience and

personality, so it can ensure

these goals are met.

It also provides temps on

both a short and long-term

basis, covering many job roles

from reception and PAs to

production operatives, forklift

drivers and more.

Jayla concludes: "We get

to know each and every one

of our clients and candidates

to ensure that the match is

always perfect."

■■Details 01237 439500 or

simplerecruitmentltd.co.uk

2 business action | June / July 2019 | business-action.co.uk
---
HR consultancy to open fourth UK office

Fitzgerald HR celebrated

its 10th year in business in

2018, and has experienced

significant growth since

Lucy Fitzgerald began the

consultancy in 2008. From its

head office in Barnstaple, the

consultancy has expanded to

include offices in Somerset

and London.

It is also opening an Exeter

office in June in response

to the growing demands of

developing businesses in the

South West.

"This is a great time for

businesses in the South

West, and we're excited for

Members of the Fitzgerald HR Barnstaple and Wellington offices: (from left) Charlotte Pengelly, Helen Rook, Alice Hellmund,

Emily Errington, Gemma Churchill and Vicki May

the future," says director and

founder Lucy Fitzgerald.

"Over the past 10 years,

we've been lucky to work with

amazing businesses, from

start-ups to well-established

organisations across industries

and sectors throughout the

South West.

"Our success has been a

result of the customised and

personal service that we deliver

to each and every one of our

clients. Many of our clients

consider us to be an integral

part of their in-house team.

"Our new office will

mean that we can support

more businesses across the

South West and beyond, and

continue to deliver our highquality

service to new and

established clients."

This summer, Fitzgerald

HR is bringing back its HR

talk sessions through webinars

and seminars to help more

businesses get the HR basics

right to manage risk, compliance

and comply with employment

law, as well as attract and

retain staff. Keep an eye on

the Fitzgerald HR web site for

more information.

■■Details 01271 859267 or

www.fitzgeraldhr.co.uk

Lucy Fitzgerald, director and

founder of Fitzgerald HR

Ryanair launches Exeter to Alicante winter flights

Ryanair is launching new

winter flights from Exeter

Airport to Alicante in Spain

starting 29 October 2019.

The announcement of the

twice-weekly service was made

days after Ryanair launched

three new routes from Exeter

to Malta, Malaga and Naples,

its first ever flights from the

Devon airport.

It will also enable passengers

to continue flying from Exeter

to Alicante when Flybe stops

its winter service in October.

Flybe has confirmed the route

will cease when it withdraws a

jet aircraft from Exeter on 26

October as part of its planned

fleet reduction strategy. It is

focusing instead on its Q400

aircraft, which operate the vast

majority of its domestic and

European routes from Exeter.

Matt Roach, managing

director of Exeter Airport, said:

"We're delighted that Ryanair

is expanding its network from

Exeter and that there will be no

gap in service for passengers to

Alicante between the summer

and winter timetable.

"Ryanair has predicted up

to 85,000 extra passengers a

year though Exeter, taking our

numbers above one million for

the first time since 2007."

To cater for extra demand,

Exeter Airport is investing

£1 million in new passenger

handling facilities in preparation

for the peak season.

Ryanair's flights from Exeter

to Alicante will operate twice a

week on Tuesdays and Saturdays,

and are on sale now at

ryanair.com.

■■Details exeter-airport.co.uk

@businessactionm | June / July 2019 | business action 3
---
Slee Blackwell's personal

injury and clinical negligence

team did not just win once at

the recent Devon and Somerset

Law Society's awards

ceremony, but returned to

Barnstaple with three awards.

Elizabeth Duncan won

Legal Hero of the Year for her

work in abuse law and stress

at work cases. She was also

Highly Commended in the

Chartered Legal Executives

category, while the department

was Highly Commended

in the Team of the Year award.

The ceremony was held

at Exeter Cathedral and was

attended by lawyers from

across Devon and Somerset.

Elizabeth, who deals with

personal injury and sexual

abuse claims, was thrilled:

"I feel hugely honoured to

win this award from such a

respected organisation. I am

passionate about the work

that I do and proud to be

able to give people who have

NEWS

All year 24/7 business services

Contemporary meeting venue

Great facilities & services

Choice of packages

Including activities

Training events

Call today for our business package

prices & details 01271 862446

ilfracombecarlton.co.uk

Triple wins for personal injury

and clinical negligence team

in regional law awards

Banner 2.indd 1 20/03/2019 16:20:58

Slee Blackwell's personal injury and clinical negligence team with their award

felt powerless and voiceless a

means to fight back, whether

they have survived sexual

abuse or workplace bullying or

suffered life-changing injuries.

I am touched and grateful that

this award will help to raise

the profile of those subjected

to abuse in all its forms."

Clinical negligence partner

Oliver Thorne said, "To be

shortlisted in these award

categories is an achievement

in itself, but for the team to

receive an award and then for

Elizabeth to receive her awards

was wonderful. The team have

worked exceptionally hard

this year and whilst I may be

considered biased, the recognition

is thoroughly deserved."

Oliver, who is based in the

Barnstaple office and specialises

in clinical negligence

claims, added: "Unfortunately,

it is a recognised fact that

claims relating to clinical

negligence and sexual abuse

are on the increase both in

the region and nationally.

Our team continues to grow

in order to accommodate

the number of enquiries we

receive. The team work tirelessly

on helping often vulnerable

people obtain the help

and support they need and I

am very pleased their efforts

have been rewarded."

■■Details 01271 349957

or sleeblackwell.co.uk

Packaging firm maintains capital investment

Atlas Packaging in Barnstaple

has recently installed a

Signode speciality bundler, the

SigCORR, to work behind its

new Bobst Expertfold 230 A2

folder gluer. The recent investments

are part of a larger

investment strategy, which

centred on the installation of

a Cuir high quality flexo post

print machine a few years ago,

as the company continues to

enter high value markets.

To complete its print and

gluing line, Atlas was looking

for an innovative bundle

strapping solution with the

versatility and handling

capacity for a multitude of

different box types that would

be coming from the new Bobst

folder gluer.

Vince McDermott, manufacturing

director at Atlas,

says, "The quality and reliability

of Signode's equipment,

combined with their first-class

support and back-up, made

turning to Signode for a solu-

Atlas Packaging's new Signode speciality bundler

tion a natural decision."

"An important factor for

Atlas was to have a proven

and reliable high-speed

solution to avoid packaging

operations causing production

bottlenecks. The design

of the machine is good and is

specific to bundling multipoint

glued cases. The key

benefits we have experienced

so far are faster packaging

operations, improved and

consistent bundle presentation

and no indentation or marks

on boxes."

Generating a £17 million

turnover in 2017, Atlas

Packaging employs some 135

staff, producing corrugated

cardboard boxes and packaging

from its Roundswell

base. Clients include national

and local companies such

as B&Q, ASDA, Riverford

Organic Farmers, St Austell

Brewery and Pall.

■■Details 01271 344055 or

atlaspackaging.co.uk

4 business action | June / July 2019 | business-action.co.uk
---
A North Devon business has

become the first in the UK to

introduce a high quality printer

that prints direct to walls. Wall

Printer UK, started by Graham

Atkinson, has invested in the

£40,000 German-manufactured

printer (pictured right) and

already completed a project

filmed for a programme to be

broadcast on national television.

The printer is suitable for

applications both in business

and homes, from printing

corporate logos, promotional

graffiti, innovative promotional

designs and marketing

murals to transforming dull,

uninteresting wall spaces into

entertaining and interactive

sources of information, fun and

fantasy in schools, hospitals

and airports. It enables interior

designers and homeowners to

turn their dreams into reality

and create the ambience they

require in gyms, restaurants,

cafés, hotels and homes.

Graham, who is based in

Barnstaple and previously ran

a car valeting business, was

searching online for products

to buy and sell when he

discovered the wall printing

technology. After months of

research, visits to the manufacturer

and training in Germany,

he returned with his printer to

launch Wall Printer UK.

"It's a challenge bringing

something new to the UK, but

it's already attracting a lot of

attention," says Graham.

"We can print in detail a lot

faster than a mural artist so we

cause minimum disruption to

a business or home when we're

printing. We can print a square

metre of wall per hour and it is

95% dry when finished. What's

more, there's no mess, no dust

and no fumes."

Graham can pack the

printer into six bags and transport

it anywhere it is needed to

print. Images can be printed up

to 3.8 metres in height with no

limit to the width on vertical

surfaces. For commercial structures

with higher ceilings, Wall

Printer UK can print conjoined

images almost in unlimited

height using a scissor lift.

Images can be printed

on most surfaces, including

plaster, wood, stone, plastic,

tiles, glass, metal and concrete.

They are printed using a

waterproof, scratch-resistant,

chemical-resistant washable

plastic-like UV ink with no

associated solvent fumes or

chemical releases and will

retain their quality for three to

six years or more outdoors with

a transparent UV coating, and

12 or more years indoors.

For clients requiring creative

input to develop imaginative

images for their spaces, Wall

Printer UK has teamed up with

Barnstaple-based design group

Really Different.

As the first in the country,

Wall Printer UK is attracting

considerable attention and

Graham has already participated

in a high profile project

filmed for a prime-time television

programme with more

filming likely to follow.

Wall Printer UK will be

giving live demonstrations at

BBxpo business-to-business

exhibition on Thursday 24

October in Bideford.

■■Details 07534 258992

or wallprinter.co.uk

NEWS

Large format wall printer is first in UK

First Thursday of every month

is Steak Night!

01237 473399

49 Torrington Street, East the Water, EX39 4DP

www.theriverbankbistro.co.uk

email@theriverbankbistro.co.uk

@businessactionm | June / July 2019 | business action 5
---
NEWS

Editor's view

Launching Business Action

has enabled me to reconnect

with many existing contacts

and make new ones locally and

across the region.

Welcome to the third, 24-page

issue of Business Action, the

independent North Devonbased

business magazine.

16 years ago I joined

ecademy, the world's first social

network for business, and

helped run its North Devon

club. In this issue, we are

delighted to include an article

by Penny Power OBE, ecademy's

founder, who discusses

the challenges of running a

business and how it's not as

easy as many people pretend.

You can also download for

free the first chapter of Penny's

book 'Business is Personal'.

Meeting people

It was through ecademy that I

connected with so many people

in North Devon, including

co-publisher Alan Williams. As

global social networks grew, so

I joined Twitter, LinkedIn, Facebook

and others, and connected

with thousands of people

worldwide. I still find this

aspect of social media enjoyable

and valuable, although never

to underestimate the importance

of face-to-face contact.

WE OFFER ASSISTANCE WITH:

Valuations

Cost Management

Bills of Quantities Tendering

Procurement

Invoice Reconciliation

CALL TODAY for an informal chat:

01271 603053

futuredimensions.uk

You can speak to us

With social networks now

imposing many restrictions,

communicating becomes more

challenging for businesses as

digital reach shrinks.

This is definitely not the case

with Business Action. You

can phone, email or message to

speak with us directly.

You don't have to send press

releases – you can if you want –

as we like to talk to you to find

out about you, your business

and your story.

This means that anyone

in business in or near North

Devon has the potential to

access this news channel.

You don't have to have a big

marketing department, PR

agency or budget – just news.

And we know that there's lots

of it out there.

So pick up the phone or

look out for us at networking

events, the North Devon Show

and BBxpo. We look forward to

meeting you.

Robert Zarywacz, editor

■■Call 07971 176044 or email

robert@business-action.co.uk

info@futuredimensions.uk

HYPNOTHERAPY

Paul Holder

New Life Hypnotherapy

South Molton

t: 01769 574711

w: newlifehypnotherapy.org

Landscaping

CW Landscaping

Bideford & North Devon

t: 01237 474335

m: 07960 930974

Locksmith

MJS Locksmiths

Covering North Devon

t: 07532 139388

w: northdevonlocksmith.co.uk

BUSINESS LISTINGS

OFFICE PRINT EQUIPMENT

Clarity Copiers North

Devon

North, Mid & West Devon

t: 01271 374061

w: claritynorthdevon.co.uk

Removals

HLH Removals

Covering North Devon & UK

t: 07593 234194

e: hlhremovals@yahoo.com

fb page: HLH Removals -

Horshams Light Haulage

PROMOTE YOUR BUSINESS FOR £10 PER ISSUE*

*minimum 3 insertions

CALL 07970 671192 or ads@business-action.co.uk

North Devon to host new

technology institute centre

North Devon will host a centre

as part of a new Institute of

Technology in the South West

after the success of a multibillion

pound bid in which

Petroc is participating.

The Institute of Technology

in the South West

will comprise centres located

across Devon, Cornwall and

Somerset, with state-of-theart

facilities proposed for

Barnstaple, Plymouth, Exeter,

Truro and Taunton.

In North Devon, it will

create a bespoke engineering

laboratory space, digital

immersion facilities, other

emergent manufacture

capacity and additional spaces

for research and learning,

providing a new hub for

quality engineering training

and innovation. The initiative

will revitalise part of the

Petroc campus in Barnstaple

to provide a multi-discipline

engineering and advance

manufacturing centre.

The national initiative aims

to establish unique collaborations

between universities,

Further Education colleges and

leading employers, to specialise

in delivering quality higher

level technical training and

provide employers with the

skilled workforce they need.

The successful proposal

draws on expertise from

partner organisations

including the University of

Exeter, University of Plymouth,

Petroc, Bridgwater &

Taunton College, City College

Plymouth, Exeter College and

Truro & Penwith College.

A group of 'anchor

employers' will lead the direction

of the new Institute of

Technology and ensure focus

on the latest industry skills.

Employers participating in the

group include Oxygen House

and the Met Office in Exeter,

Babcock in Plymouth and

TDK-Lambda in Ilfracombe.

The bid is also supported by

both the Heart of the South

West and the Cornwall and

Isles of Scilly Local Enterprise

Partnerships (LEPs).

Catering for up to 2,500

students, in apprenticeship

and full-time courses from

post-16 level to Master's

degree level, the institute

will help put the region at

the forefront of digital and

engineering education across

the UK.

Diane Dimond, principal

and chief executive of

Petroc, commented: "We are

delighted to be part of this

fantastic initiative for our

region bringing specialised

facilities and exciting careerenabling

opportunities."

■■Details petroc.ac.uk

6 business action | June / July 2019 | business-action.co.uk
---
The 2019 NDMA Awards

recently recognised North

Devon's outstanding manufacturers,

which continue to make

a massive contribution to the

area's economy.

Manufacturer of the Year

Accord UK was awarded the

title of Manufacturer of the

Year for responding positively

to legislative changes affecting

core products, while launching

six new products and planning

for all Brexit scenarios.

Award winners

The winners of the specific

award categories were:

➤➤Apprentice of the Year –

David Harwood of Eaton

Aerospace

➤➤Trainee of the Year –

Thomas Beauchamp of

Anglo Krempel

➤➤Engagement in STEM &

Schools – SEA

➤➤Environmental Project of

the Year – The Sign Maker

➤➤Innovation of the Year –

Helitune

➤➤Team of the Year – Accord

Q-Edge Team

➤➤Business Transformation of

the Year – Perrigo

➤➤Exporter of the Year – Pall

Life Science

➤➤Product of the Year – SEA

MANUFACTURING

Outstanding manufacturers recognised

Manufacturer of the Year Winner – Accord UK Ltd: (from left) Trudi Spratt

of Anew SW, Alain Casavieille of Accord UK and Janet Phillips of Anew SW

Schools and colleges

The Schools and Educational

Technology Awards recognised

students for projects submitted

in the under-16 and 16+ categories,

while awards were given

to teams in the primary school

STEM challenge, in which

600 pupils from nine schools

participated. The challenge was

to build a tower to hold a raw

egg as high as possible for 30

seconds from only uncooked

spaghetti and marshmallows.

Over and Above

The awards ceremony included

a brief introduction to the

event's nominated charity,

Over and Above – supporting

Northern Devon Healthcare

NHS Trust – which was given

by Richard Barnes of Beran

Instruments Ltd, who himself

recently received treatment for

multiple life-threatening conditions

at NDDH ICU. A raffle

raised £1,915 for the charity.

High standards

Competition among awards

entrants was tough and feedback

from the judging panel

highlighted the extremely high

standard of entries and incredible

diversity of manufacturing

capability and innovation in

the area.

■■Details ndma.org.uk

Paul Mullen with the primary school STEM challenge winning team from

Southmead Primary School

Paul Mullen with primary school STEM challenge Runners Up from

Woolsery Primary School, whose tower held the most eggs for 30 seconds

Right Way HR Services

Safeguard your business Call us on 01237 426450

• Advice on all aspects of employment law

• Contracts of employment

• Staff handbook • HR policies

• Letters, templates and documents

Call Richard on 07825 090782

e-mail: richard@rwhrs.com

Looking for independent financial advice?

for a free initial consultation

contact@dscottfinancial.co.uk

https://dscottfinancial.co.uk

Your home may be repossessed if you do not keep up repayments on your mortgage.

@businessactionm | June / July 2019 | business action 7
---
FOOD & DRINK

Finding Jobs for People and People for Jobs

Temporary & Permanent recruitment solutions throughout North Devon!

01237 439500

In a recent workshop, I gave

soft drinks the hard sell, with

stats, trends and profit-boosting

techniques that left attendees

shaken not stirred.

Here's the low-down:

Premium paving the way

The soft drink industry is now

worth over £8 billion, with last

year seeing an annual increase

of over 5.6% in value and 2%

by volume.

Luxury mixers (triggered

by artisan gins), cordials and

soft drinks have enjoyed the

greatest uplift, as consumers

seek out premium brands that

deliver superior quality, strong

brand stories and a play on

provenance.

No mocking the Mocktail

Once a token gesture,

mocktails now stand proud

alongside cocktails as one in

five consumers now define

themselves as teetotal. With

younger generations increasingly

health-conscious, low

and zero-alcohol alternatives

are on the up . . . with sugar

continuing as the #1 health

concern for the fourth year

consecutively.

Stir in the art of 'perceived

value' and mocktails make for

serious profit-power.

www.simplerecruitmentltd.co.uk

Biggin' up beverages

Sara-Jane Williams of BrandLanterns on the profit-power of soft drinks

Profit power

With 'restaurant typical food

costs' reported at approximately

25-30%, but beverages

at 20%, drinks provide a great

opportunity to stretch profit

margins. Furthermore, with

pressure for hospitality to be

more experimental, beverages

are lower risk than new dish

concepts. Give them the space,

psychology and descriptions

they deserve on a separate

menu, and consider tabletalkers

or postcards to get

promotions front-of-mind.

Emerging trends

The coolest drinks right now?

Innovative flavours (vegan

and plant, medicinal, ethnic);

bitter not sweet; cold-brew teas

(nudging over coffees); superpower

water (added minerals,

vitamins, caffeine etc);

digestive health (especially

Follow us:

those using traditional

methods of fermentation, pickling

and preserving); sustainability

(not just packaging

and processes, but also wonky

fruits, peels and seasonals).

Last but not least, the 'freefrom's

(with gluten-free behind

half of all the free-from sales

value in 2018).

Comfy or Cool?

Traditional? Trendy? Foodies?

You know your customers

best; the challenge is to

find the balance between a

beverage menu that's within

their comfort zone versus

delivering new experiences

that reinvigorate footfall. Seek

supplier support with a dedicated

beverage programme

(or ask us) to keep your

menu ahead of the game this

summer and beyond.

■■Details 01271 372620 or

brandlanterns.co.uk

Beautiful candles – Handmade in Devon

SHOWROOM & STUDIO

Lyn Candles . Lynton . N. Devon . EX35 6BS

Tel: 01598 753321 www.lyncandles.com

e-mail: lyncandles@btopenworld.com

01271 267420 | info@gtales.co.uk

8 business action | June / July 2019 | business-action.co.uk
---
ENTREPRENEURS

Is business easy?

Everyone else seems to think

it is. This is how most business

people feel. Terrified of the

truth, hiding their own vulnerabilities

and joining the world

of fake that is now so prevalent

in society.

I feel really passionate

about this statement. I called

myself an 'accidental entrepreneur'

for years. I actually feel

vast numbers of us are now

'accidental'. The opportunity

when we see a gap to make a

difference is so much easier

to launch, creating a web site,

applying digital technology to

our business model and the

desire to be able to say "I built

it and now they will come" is

intoxicating.

Is there a formula to success?

You would think so from all

the 'marketers' who sell their

courses online and tell us: "You

could be as rich as me, just pay

me and I will show you how."

Quite funny really. No

wonder they are rich (if they

really are) as they appeal to our

vulnerabilities to believe that

we lack, that we are not rich,

beautiful or wise enough.

How about this? Imagine

you were enough, imagine you

could create your own definition

of success and ambition

and you stopped looking over

your shoulders at other people

and took control of your life.

It is vital that we understand

ourselves, respect, accept

and believe in ourselves. Our

character, our personality, our

life experiences, our personal

desires and how much we are

personally willing to sacrifice.

Then add in your skills, knowledge

and the people you know.

This is one huge mixing bowl

of ingredients to create your

future from.

I work with people who are

skilled. They have a defined

and powerful skill that they

have honed and invested in

for a number of years. They

look over the shoulder at the

perception of the world and

they can't understand why

their life has not turned out

as amazing as the people they

follow and 'admire'.

Penny Power OBE

This is my take on this.

Firstly, what is your benchmark?

I coached a gentleman

who was amazingly successful

but had depression and was

frustrated with his business.

He laughed and laughed

when I asked him who he was

comparing himself with. "Mark

Zuckerberg and Elon Musk"

was his reply. His laughter

came from a place of joy as

he realised what a ridiculous

subconscious belief system he

was holding. It didn't take much

to make him feel incredible.

Secondly, what makes you

happy? This will be a great

discovery. Write down your

values, the top three things that

are important. Then create two

columns. The first, out of 10,

how important is this value to

you? The second, out of ten,

how are you doing against this

value? You will be amazed.

Many people have a value that

they are not recognising they

are achieving, or worse still,

they are chasing the wrong

definition of success.

Thirdly, what is the life and

business you want to lead? Be

very firm with yourself now.

Vast numbers of people have a

gap between 'believed' desires

and their true ones.

Many of us can be happier,

just with some self-awareness.

As Napoleon Hill said, What

do you desire? Do you believe

it is possible? What skills and

knowledge do you need to

make this happen? And, then,

the big one: will you take the

actions and create the change

in habits and mindset to make

your desires happen? If you are

not willing, then re-define what

your desires are.

I truly believe that we can

all achieve, but we must know

what that means to us. Let me

leave you with this thought:

"What does success mean to

you, and what is the life and

business you want to lead?"

■■Details pennypower.co.uk

Penny Power OBE is an

entrepreneur. She created the

world's first social network

for business, four years before

LinkedIn launched. Business

Action editor Robert Zarywacz

was one of the early members.

Awarded an OBE in

2014 for her contribution to

entrepreneurship, she went

on to build another business.

In November 2017, Penny

crashed and spent a year

recovering and examining

many aspects of being a business

owner that are not in the

'rule book'. As a result, Penny

wrote her latest book to help

create a fair and honest benchmark

on what it really means

to be a business owner. So

many people start a business

to be free. Financially free,

free to make their own choices

and freedom of time. Penny

believes, the ultimate freedom

comes when you allow you to

be free to be yourself.

Penny's book is on Audio,

print and Kindle – available

on Amazon.

■■If you would like to connect

with Penny and also have

a free download of her first

chapter, visit www.pennypower.co.uk/freechapter

@businessactionm | June / July 2019 | business action 9
---
ARCHITECTURE

From art to architecture

Is it possible to manage a

business in the South East

from deepest North Devon?

That is what Kevin Davies is

doing, managing a 12-member

architectural practice based in

Staines, Middlesex from his

Kevin Davies in his architects office and art gallery in Chulmleigh

office and gallery in the centre

of Chulmleigh.

Kevin's journey to Chulmleigh

has taken him across

the world after embarking on

a sabbatical from his position

at Robert Davies John West

Cranford Business

Services Limited

www.accountsindevon.co.uk

Old Stone, Cranford, Bideford, Devon, EX39 5QW

07896 204 857

Does your accountant...

Listen to you and act on your needs?

Explain your accounts in terms you understand?

Arrange meeting at your convenience?

Leaving you free to concentrate on what you do best!

Ltd, the architectural practice

established by his father. This

intended six-month exploration

of Africa extended to

eight years, during which time

Kevin and partner Sue started a

family while establishing a lowimpact

tourism site in Malawi,

setting up the country's first

permaculture / tourism project

and starting an architectural

practice among other activities.

It was their children's education

requirements and other family

considerations that brought

them back to Europe, first

to France, and then, in 2012,

to Chulmleigh, where Kevin

rejoined his father's practice.

Now, as director and chartered

architect playing an active

role in managing the business,

Kevin operates from his

office in Fore Street, working

remotely in between fortnightly

visits to Staines. Kevin has overseen

the growth of the practice

from a team of six to 12 over

the past seven years, operating

Chulmleigh as a satellite office.

He has a strong interest in the

restoration, conversion and

re-use of vernacular and listed

buildings, as well as in working

in conservation areas. Local

projects include the Chulmleigh

Congregational Church and an

early 15th century Benedictine

Tower in Cornwall, both are

Listed Grade II*.

He maintains his interest

in sustainable and appropriate

technologies in Africa, which

has led to involvement in new

projects in Kenya, Malawi,

Somalia and Bangladesh as well

as distinguished pioneering

developments including the

Sonda Orphan Care Centre,

Ripple Africa Mwaya and the

Cultural and Museum Centre

Karonga.

Visitors to Kevin's office

might be surprised to find it

doubles as an art gallery called

the Architects Gallery. Like

many of Kevin's interests which

turn into a business, this sprang

from meeting local artist Brian

Denington and giving him a

commission. This introduced

Kevin to the artist community

and the idea of opening a

gallery and, one by one, artists

contacted him. Now the gallery

promotes a number of artists

from Lapford, Torrington and

Winkleigh, and hosts several

shows a year to promote artists.

Kevin explains that architecture

and art dovetail well: "The

lovely thing about being an

architect is that you get out and

meet people and everyone has

a story, while the gallery brings

people together."

This also explains Kevin's

involvement in the community

with cricket and table tennis,

Chulmleigh Old Fair and as the

newly elected district councillor

for Chulmleigh.

■■Architects Gallery:

01769 581765 or

atelierthink.co.uk

■■Architects Practice:

01784 779106 or rdjwltd.com

10 business action | June / July 2019 | business-action.co.uk
---
Thursday

24 October 2019

is North Devon Enterprise

Day when all businesses can

join together to celebrate our

vibrant local business community,

support each other

and promote the vast range of

products and services provided

in the area.

Take part

Are you an enterprising

business? Take part now by

Heritage Cob and Lime has

started manufacturing its own

North Devon cob blocks. Based

in East-the-Water, the company

is known for manufacturing

and supplying its awardwinning

lime mortar and

associated products across the

UK. Its clients include home

owners, artisan lime plasterers,

traditional builders, architects

and organisations who

maintain historic buildings,

including Buckingham Palace

and Windsor Castle as well as

St Anne's Chapel in Barnstaple.

registering to

join the Enterprise

Wave at ndevonent.uk

Businesses are already

registering for what we aim

to be the largest independent

enterprise community in the

area – a collection of forwardlooking

entrepreneurs

committed to helping every

business to succeed.

On the day, we'll celebrate

at BBxpo with a panel session

of North Devon entrepreneurs

and the North Devon

Enterprise Free Networking

Buffet – open to all businesses.

Let's all share our experience

and advice to help other

businesses so all thrive.

And share on social media

– hashtag #ndevonent – to

encourage everyone to join in.

Heritage cob blocks

North Devon

ENTERPRISE

Day #ndevonent

Follow and connect

Connect with @northdevon,

@businessactionm and

@needitfinditnow on Twitter

and other platforms.

■■Visit ndevonent.uk or email

ndevonent@business-action.co.uk

for full details.

Now the company is making

its own cob blocks from a

North Devon vernacular

mixture of sub soils, mixes,

aggregates and straw, ideally

suited to the wetter climes of

the West Country. These are

ideal for building and restoration

work on traditional

cob and earth buildings, and

provide effective insulation,

having a zero carbon footprint.

Cob in its wet form is also available

for wattle and daub work.

■■Details 01237 477431 or

heritagecobandlime.com

Visit ideaengine.co.uk to see all the

brands that we have brought to life

online, in print, outdoors and in a

whole host of other ways.

ideaengine.co.uk

01271 324594 or 07974306711

Web, Brand, Advertising, Design, Literature

@businessactionm | June / July 2019 | business action 11
---
BBxpo

EXHIBITORS SO FAR . . . EXHIBITORS SO FAR . . .

BNIB

bnibarnstaple.co.uk

Business Networking in

Barnstaple (BNIB) is a team of

businesses from across North

Devon who meet weekly in

order to expand their business

through making new contacts

and gaining new work through

focused business referrals.

Cirrusli

cirrusli.co.uk

Top-notch training in cloud

and digital accounting

systems across North Devon

and Cornwall.

CITB

citb.co.uk

The industry training board

for the construction sector,

helping it to attract talent and

to support skills development.

Clarity Copiers North

Devon

claritynorthdevon.co.uk

Advice, demonstration,

service, rental & sale of colour

printers, copiers & MFPs

(multifunctional printers).

Dare2BU

dare2bu.co.uk

Working to make North Devon

the most mentally healthy

place to live and work.

Devon Electric Heating

devonelectricheating.co.uk

Electric heating systems

– supplied and installed –

throughout the South West.

Fernbank Advertising

fernbankadvertising.co.uk

Promoting your business

through advertisements on

bus shelters across the South

West region.

Fitzgerald HR

fitzgeraldhr.co.uk

With offices in Devon,

Somerset and London,

Fitzgerald HR provides Human

Resources with the human

touch to small, medium and

large organisations.

Jobcentre Plus

dwp.gov.uk

Engage with employers to

identify bespoke labour

market solutions creating

opportunities for DWP

customers.

Thursday 24 October

Devon Hall, Bideford College

Presentation programme

Build Your Personal Brand Online | Google Digital Garage

Learn to identify your brand, build and protect your online

presence, and share content to your network.

Get Your Business Visible on Google | Google Digital

Garage

Get your business visible on Google Maps and Search.

High Performance in the Workplace | Dare2BU

1 in 4 people suffer with a mental health problem every

year. How does it impact a business when employees have

mental ill-health and what can businesses do to help improve

employees' well-being and their productivity?

Benefits of Upskilling Your Workforce | Petroc

Supporting your staff will bring benefits to you and them.

This presentation will discuss specific qualifications, short

courses or apprenticeships as a route to help your staff upskill.

This interactive discussion will be an opportunity to explore

the options for you and your business and staff.

Celebrating North Devon Entrepreneurs

A panel of local business people will discuss their own business

experiences and answer questions on how to build a

successful business in North Devon.

North Devon Enterprise Day Free Networking Buffet

The ultimate free lunch brings together business people to

network and build new relationships on North Devon

Enterprise Day.

YOU CAN EXHIBIT – BOOK STAND(S) NOW at bbxpo.uk

Learn Devon

learndevon.co.uk

Adult and community learning

courses supporting people in

learning new skills for leisure,

returning to employment,

improving their English and

maths and improving their

health and wellbeing.

Marley Comms

marleycomms.co.uk

An expert leading bespoke

cloud and on-premise

telecommunications and

technology company.

Marsdens Devon

Cottages

marsdens.co.uk

With over 400 holiday

cottages across North Devon

and Exmoor, Marsdens helps

you get the most from letting

your holiday property.

Petroc

petroc.ac.uk

Petroc raises the aspirations,

knowledge and skills of

individuals, communities

and business in Devon and

beyond.

bbxpo.uk #BBxpo

Safety Supplies Direct /

Tawsa

tawsa.co.uk

Tawsa Ltd is a Health & Safety

consultancy, while Safety

Supplies Direct specialises in

supplying PPE and workwear.

Simple Recruitment

simplerecruitmentltd.co.uk

Specialises in both temporary

and permanent recruitment

solutions across industrial and

commercial sectors covering

the North Devon area.

The Sign Maker

sign-maker.net

House signs, business signs,

memorials, engraved plaques

and wheel covers all made in

North Devon.

Tarkatography

tarkatography.co.uk

A passionate photographer

concentrating mainly on food

and interior images for web

sites and magazines.

Towergate

towergate.com/locations/

bideford

Through our trusted team

in Bideford, Towergate has

access to a wide range

of tailor made insurance

solutions.

Utilities Warehouse

pinkpigsavings.co.uk

Based in North Devon, Nick

Parry can show you how to

make great savings on all your

household bills.

Wall Printer UK

wallprinter.uk

Introducing the UK's brand

new, innovative vertical wall

printing technology for interior

designers, graphic designers,

advertising agencies, sign

makers, painters, decorators,

artists and start-ups.

Wills at Home

wills-athome.co.uk

Alan Williams provides a

personal wills and lasting

powers of attorney service

across North Devon.

Zarywacz

z2z.com

Attract customer attention

with communications from

Zarywacz. From business

journalism and copywriting

to case studies, magazines,

blogs and online content,

campaigns and events.

12 business action | June / July 2019 | business-action.co.uk
---
What is BBxpo?

It's five months to BBxpo and

already it's shaping up as North

Devon's biggest business-tobusiness

event in 2019.

What started out as a

suggestion from co-organiser

Alan Williams to host a business

exhibition in Bideford

in 2018 has now grown to an

event that is attracting interest

from across North Devon and

the south of the county.

What is the key to the

event's success? Co-organiser

and Business Action editor

Robert Zarywacz says it is

because the event aims to be

useful to everyone: "We want

to give exhibitors the best

possible value by being part of

the event and that is why we

are already promoting them

in this magazine and on the

BBxpo web site.

"And we want visitors to

benefit from meeting all the

exhibitors, participating in the

presentations and connecting

with business people from

across Devon at the networking

lunch – all for free."

Andy Francis, the person

behind the camera: I was born

and grew up in North Devon

and am proud to be part of

its rapid growth and development.

It has such a diverse

lifestyle in some of the most

beautiful surroundings so I

am always out and about with

the camera and often at photoshoots

getting those images

that are just right for customers'

web sites and magazines.

I have been a passionate

photographer for many years,

concentrating mainly on

food and interior images. As

web sites have grown with

faster internet speeds, these

images can now be shown in

improved quality and detail.

My photography has

evolved with the internet

enabling me to deliver a costeffective

quality product for

web sites. Recent projects have

been in partnership with Land

Rover, Crew Clothing, Waitrose

Kitchen, The Michelin

Guide, The Sunday Times and

Devon Life magazine.

BBxpo

Capturing excitement on camera

I am privileged to have

been appointed official

photographer for BBxpo on

PHOTOGRAPHER PROFILE

Andy Francis of Tarkatography, official photographer for BBxpo 2019,

discusses his photographic career in North Devon

Thursday 24 October and look

forward to meeting everyone

on the day.

VISITORS REGISTER FOR FREE bbxpo19.eventbrite.co.uk

High performance in the workplace

One in four people suffer

with a mental health problem.

This has a massive impact on

our lives, our relationships and

our economy. Living a happy,

fulfilling and productive life

relies on a healthy mental state.

So how do we maintain a

healthy state of mind?

It seems to be an insurmountable

problem. Even our

doctors are baffled.

But what if it isn't?

What if understanding

mental health problems, and

solving them, was far easier

than we thought? What if

human beings were, in fact,

designed for success and it was

simply a misunderstanding that

has us struggling and suffering

so much?

This is what we have seen to

be true . . .

➤➤Our minds only work one

way – from the inside out

➤➤Perceptions and feelings

don't happen to us – they are

created within us

➤➤We live in the feeling of

our thinking – we don't feel

circumstances (the outside

world) we feel what we think

(our inner world)

➤➤Human beings are designed

for success

We have an intelligence that

runs our body that we all know

PRESENTER PROFILE

Beccy and Debra from Dare2BU discuss the impact of mental health

problems and what they will discuss in their BBxpo presentation

Presenting at BBxpo: (from left) Beccy and Debra of Dare2BU

about, rely on and trust.

This intelligence beats

our hearts, helps us heal and

performs a million tasks every

second to keep us alive. We

don't control this force, but we

do reap the benefit of it.

Our mind is exactly the

same; it has an intelligent

VISITORS REGISTER FOR FREE bbxpo19.eventbrite.co.uk

system running everything

behind the scenes.

Our problem is, instead of

understanding this amazing

psychological system and

benefitting from it, there is a

widespread misunderstanding

of it. This misunderstanding

has reached epic proportions

and is a major cause of all the

mental health issues that we

face and the mental health

crisis we are witness to.

Solving the problem is as

simple as putting this misunderstanding

straight.

The main objection we have

from people we work with

when they see the simplicity of

this is: "Why hadn't we heard of

this before?"

But as Ludwig Wittgenstein

said: "A man will be

imprisoned in a room with

an unlocked door that opens

inwards so long as it doesn't

occur to him to pull rather

than push."

Find out more at BBxpo.

@businessactionm | June / July 2019 | business action 13
---
PEOPLE

On the March: (from left) Heather Mock and Lorraine Irwin receive their

award from Active Devon

Two employees from Golden

Coast at Roundswell claimed

the top spot in Active Devon's

Big Devon March — a monthlong

campaign to encourage

the county's workers to become

more active on a daily basis.

More than 1,000 people

took part this year and it was

Lorraine Irwin and Heather

Mock from Golden Coast —

the UK's largest independent

distributor of products for the

swimming pool, hot tub, spa

and sauna industry — who

topped the leaderboard.

Jamie Adams, managing

director of Golden Coast, said:

"It's brilliant to see Team GC

win big at this year's Big Devon

March. We employ 33 people

at the company, who all love

being active — everything

from scuba diving to marathon

running to boxing."

Lorraine and Heather

recorded the highest average

number of steps for the 2019

Big Devon March — clocking

up more than a million

between them, and walking

more than 200 miles in the last

two weeks of the challenge.

Heather, administration

team leader, said: "It's fantastic

to place first, but it felt just as

rewarding to have explored

our beautiful region. I walked

part of the Tarka Trail across

North Devon and explored

some of the pathways along the

Tiverton to Taunton canal, as

well as my daily morning and

lunchtime walks."

Company accountant

Lorraine added: "It was fun

taking part in a team event and

becoming more active. The

challenge inspired me to take

walks during my lunch breaks.

"We both certainly feel the

benefits of walking a lot more

and feel both physically and

mentally healthier."

Sean Mackney has been

appointed principal and CEO

of Petroc from 1 August 2019.

Sean will take over from Diane

Dimond, who is leaving the

college in the summer as part

of her retirement plan.

Sean joins Petroc from

Buckinghamshire New

University, where he has

served as pro vice-chancellor

Research, Enterprise and

External Relations and pro

vice-chancellor Education.

Kevin Finan, chairman

of Petroc Governors,

commented: "We are absolutely

delighted with the

appointment of Sean, who

comes to us at a really exciting,

if challenging time. We are

confident that he will take up

the mantle from Diane who

has led us so effectively for the

past few years and under her

leadership we have achieved

so much including becoming

NicDex No:1 College in 2018.

Sean has extensive experience

in the FE and HE sectors as

well as developing strategic

partnerships with the business

community and this will

be invaluable for us in our

next stage of development,

ensuring we provide a high

quality and relevant provision

for our community."

Sean has more than 25

years' experience in the education

sector. In his most recent

role Sean has been responsible

for Buckinghamshire New

University's partnership provision,

with 5,000 learners in

partner FE colleges in the UK

and internationally.

"I am passionate about

working in partnership

to improve learning and

teaching, something I have

done throughout my career

with individual students,

students unions and the NUS,"

said Sean, "and I relish the

opportunity to do this back

in my home area of Devon,

ensuring we provide the best

possible opportunities for our

community."

Sean's previous roles

include director of Student

Education and Engagement at

the University of Exeter, senior

deputy chief executive at the

Higher Education Academy,

head of Learning and Teaching

at HEFCE and head of the

HE Regional Development

Association – South West.

Sean, who was born in

Devon, holds a postgraduate

qualification in education

from the University of

Manchester and is currently

completing his doctorate with

the University of Bath.

Mark Speck has joined

Barum & Dewar's UK sales

team as a regional sales

manager with responsibility

for developing business

growth in the South West.

His appointment underlines

Barum & Dewar's

continued commitment to

further improving client engagement.

Mark brings with him extensive experience

of the UK specialist packaging sector.

Barum & Dewar are a market leader in the

design, manufacture and supply of protective

cases with a reputation for delivering innovative

packaging solutions of the highest quality.

Barum & Dewar managing director David

Frame said: "Our business is all about building

trusted relationships with our clients. Mark

joins a highly motivated and expanding team

at Barum & Dewar and brings not only professional

integrity but enthusiasm and a desire to

make a real difference."

14 business action | June / July 2019 | business-action.co.uk
---
DIGITAL AGENCY'S

ACHIEVEMENTS

A digital agency established

in a one-bedroom flat in Exeter

recently celebrated its fifth year

in business and the acquisition

of its 300th client.

MiHi Digital, started

by director Mark Worden

in 2013 and now based in

Broadwoodwidger, supports

businesses throughout Devon

and Cornwall in strengthening

their online presence through

web design, social media,

search engine optimisation and

strategic consultancy.

In the past twelve months,

the business has broken its own

records by winning a total of

69 new clients, launching 39

web sites, and achieving growth

of more than 30% for a fifth

consecutive year.

Mihi has achieved significant

growth across all of

its core service areas, with

social media management

and training both growing by

more than 400% in revenue

compared with the previous

year. There was also strong

growth in search engine optimisation,

PPC management

and web site design, which

continues to be the agency's

leading service.

Mark, who previously

worked at a law firm, attributes

part of this year's expansion to

even more recommendations

from existing clients.

"We are delighted to have

had yet another busy and

successful year at MiHi, seeing

results which have surpassed

all of our expectations," says

Mark. "We've launched a large

number of new web sites and

gained a lot of work through

word of mouth and personal

recommendations, passed on

by our happy clients."

Now in its sixth year, Mihi

continues to build its reputation,

especially in the wedding

and tourism industries, as well

as developing a niche within

film and television production.

It also supports the Devon

business community by sponsoring

the Glamping Business

and Alternative Accommodation

of the Year category in the

Devon Tourism Awards.

"The glamping category is

one that's close to our hearts

at MiHi," adds Mark. "We've

worked with more than 100

hospitality businesses in

recent years, many of whom

have gone on to win national

acclaim, so we're looking

forward to handing over the

awards to those that really are

at the top of their game."

■■Details 01566 232323 or

mihidigital.co.uk

DIGITAL

Intelligence in Business

A review of purchases made

by businesses represented

at Applegate's 'Intelligence

in Business' event identified

combined potential cost savings

of £35,000.

As a technology business,

Applegate offers a free,

cloud-based eProcurement

tool for buyers to help them

find what they need. It is

also working, in partnership

with the Institute of Data

Science and Artificial Intelligence

at the University of

Exeter, to develop machine

learning systems – continually

enhancing that tool – with the

mission of saving businesses

time, money and hassle in the

purchasing process.

Intelligence in Business

explored what organisations

are doing to develop the digital

landscape across Devon, the

ways in which businesses can

recruit for the long term, the

role of AI for business, and

how procurement can often

mean sourcing smarter.

In line with the ethos

of saving businesses time,

hassle and money, Applegate

reviewed a number

of purchases by attendees,

placing requests on its system

to identify potential cost

savings, which identified the

£35,000 of cost savings.

"All organisations are

looking to achieve savings

across their business," said

Stephen Roberts, chief executive

of North Devon Hospice.

"As a local charity, we have

to ensure that every penny

counts and can be used to

support our care for patients.

Through Applegate you are

able to achieve efficiencies

both in terms of time and

costs across all aspects of your

procurement activities."

In addition to keynote

presentations spanning intelligence

in apprenticeships,

digital, Artificial Intelligence

and procurement from Jack

Richards (Applegate), Paula

Byers (DigitalND) and Stuart

Brocklehurst (Applegate), the

event concluded with a Question

and Answer session.

The event at the Queen

Anne's Café in Barnstaple,

was attended by organisations

including North Devon

Hospice, TDK-Lambda, Beran

Instruments and Children's

Hospice South West.

Stuart Brocklehurst,

chief executive at Applegate,

commented: "We are very

pleased to have saved money

for every organisation who

raised a request for quotation.

This event has proved highly

successful for us in spreading

the message of the importance

of sourcing smartly and we

hope that attendees found the

afternoon useful."

■■Details 0345 600 7177 or

applegate.co.uk

Celebrating five years in business working with 300

clients: Mark Worden, director of Mihi Digital

@businessactionm | June / July 2019 | business action 15
---
NORTH DEVON

A job in New York would be

a dream come true for many

people, so how does the Big

Apple compare with North

Devon? For Stacey Ferguson,

who grew up in Woolacombe,

working in New York was a

fantastic experience, but the

attraction of North Devon

compelled her to return home.

"You get a perspective on life

and realise what's important,"

says Stacey. "This is what life is,

not New York."

Stacey developed her career

in the art sector in roles with

Bonhams and Momart in

London and for six years with

Cadogan Tate in New York.

Now she works remotely

from Ilfracombe in business

development for Articheck, a

digital art condition report tool

specially designed for galleries,

museums, auction houses, art

shippers, and conservators.

Built on an app running

on smart phones, tablets and

PCs, Articheck enables users to

create reports on the condition

of paintings, paper art works,

sculptures, antiques, books,

photographs and other objects

easily and quickly. It saves paper,

saves time and eliminates many

of the headaches of creating

accurate, verifiable reports.

Users create reports which

record an item's name, artist or

From New York

to Ilfracombe

What is it that attracts business people to or back to North Devon?

In this issue's Magnetic North Devon feature editor Robert Zarywacz

talks to Stacey Ferguson who returned to Ilfracombe from New York

maker, creation date and other

details, along with photographs

which can be annotated. Information

can be entered using

dictation, typing, copied from a

database or uploaded in bulk via

Stacey Ferguson with Polly

CSV files. Once uploaded to the

web portal, each report is locked

for editing to provide a legally

verifiable audit trail. Updating

details creates a new version of

the report so that changes to

the item can be recorded and

assessed through comparisons

with previous reports.

Condition reports are

essential in the art world for

cataloguing, insurance, shipping

and other purposes, and

Stacey works by phone and

email with clients across the

world, from Hong Kong and

Singapore to the USA. She also

travels to London every week

to attend events and art fairs

and to meet colleagues.

Stacey is grateful for her

experience of working in

New York, and loved the

city's 24-hour heartbeat, the

opportunity to see and hear

great music, and being part

of the ex-pat Brit community,

although she warns that everything

there comes at a price.

"I would encourage

young people to explore, but

remember what is back home.

Remember the quality of life

and simplicity here. This is

really living."

Stacey now enjoys walking

with her daughter and dog on

Woolacombe beach before a

day of connecting with clients

in the UK and internationally.

She is also a keen supporter of

the arts in the South West and

would like to see North Devon

develop and attract more high

profile artists and exhibitions.

■■Details articheck.com

What attracted your

business to Magnetic

North Devon?

Share your story to

news@business-action.co.uk

business

ACTION

Don't miss the next issue

Subscribe for £40 per year

➤➤6 x print magazines per

year posted to a UK mainland

address

➤➤Exclusive access to online

magazine on date of publication.

Non-subscribers

have to wait.

➤➤Free listing in needitfindit.

uk online directory

➤➤Up to 3 free business event

web site listings per month.

➤➤Priority notification of

events and offers.

SUBSCRIBE NOW AT BUSINESS-ACTION.CO.UK

POP IN & PICK UP BUSINESS ACTION

We distribute Business

Action in towns and villages

across North Devon, although

cannot guarantee you will

receive a free copy.

We are delighted that a

number of businesses are

BARNSTAPLE

Together Financial

Solutions

29 Trinity Street

togetherfinancialsolutions.co.uk

BIDEFORD

Simple Recruitment

2 Jubilee House, Queen Street

simplerecruitmentltd.co.uk

offering to display copies and

are very grateful to them.

Please pop into any of the

businesses listed below to pick

up a free copy and tell them

you saw them listed in Business

Action.

BRAUNTON

North Devon Accounts

4 Cross Tree Centre, Caen St

northdevonaccounts.co.uk

HOLSWORTHY

Shepherds Hardware

The Square

OKEHAMPTON

Mooplehog

5 West Street

mooplehog.co.uk

16 business action | June / July 2019 | business-action.co.uk
---
BREWING

Cheers! Brewery celebrates

orders from across the UK

It's often said that what's

most important when starting

a business is to choose

something you enjoy doing.

It's no surprise then that the

founders of GT Ales, Gary

Jarvis and Toby Marsh, share a

passion for beer.

The two lifelong friends

started the business six years

ago, brewing 100 bottles

a week in Gary's garage.

Following the instant demand

for their beer, the business

moved to its current premises

in an ex-aircraft hangar on the

old Chivenor airbase where

they now brew 3,200 bottles

every week.

When asked what it is

that customers like about GT

Ales, Gary replies: "We use

the world's finest ingredients

to produce unique products

which are truly hand crafted.

"We use local producers

wherever possible, including

local printers for labels and

a local brewshop for certain

materials. The malts we use

are all grown in the UK, and

we use hops grown in the UK

as well as from all over the

world, including New Zealand,

USA and Europe.

Cheers! (from left) Gary Jarvis and Toby Marsh of GT Ales

"We have now been established

for six years and last

year were awarded CAMRA

'Brewery of the Year' for North

Devon out of 18 breweries

from across the region.

"We are continuing to grow,

and are still run entirely by

myself and Toby, hence the

name. The brand is becoming

more and more recognisable

and demand is now being

received from businesses

further afield, and so GT Ales

will be seen in various parts

of the country, with a proud

offering from a North Devon

producer.

"We currently supply

around 50 pubs, local shops,

restaurants and holiday parks

in North Devon, as well as

several locations in Exeter. We

feature in various beer festivals

nationwide and have just taken

our first order from a distributor

from the West Midlands."

GT Ales' range of beers

include Thirst of Many, Blonde

Ambition, North Coast IPA,

Dark Horse and Lazy 8 with

small batches of its GT# Series

produced throughout the year.

■■Details 01271 267420 or

gtales.co.uk

Attract customer

Attention!

with your marketing, PR

and communications

Wills Property Trusts (in will)

Children's Trusts (in will) Funeral Plans

Probate Lasting Powers of Attorney

Wills: £70 Single / £105 Joint

u business journalism u technical writing u

u case studies u blogs & online content u

u magazine production u campaigns u

u events u project management u

Call Robert Zarywacz on

01271 879100

25 years of business communication

Z

A

R

Y

W

C

COMMUNICATE IN SPEECH, PRINT & ONLINE

A

Z

@businessactionm | June / July 2019 | business action 17
---
IN THE HEADER HOT SEAT

Jack Richards of Applegate

1. What was your first job?

I worked for a sports coaching

company turned sports artist

agency as an admin assistant

from the age of 16. Bizarrely,

I organised an office renovation

in my first six months. I

am still confused as to why I

was trusted to do this . . . but it

turned out okay.

2. What is the best

business advice you've

ever received?

'Don't do too much on your

own'. I am a 'yes' person, and

whilst that is great, I have had

to admit that I am not the best

at everything. What I have

learnt is a business is filled with

experts and it is always best

to recognise that and use that

knowledge to broaden my own

understanding.

3. What do you enjoy most

about business?

Positive conversations. In a

world that can sometimes be

just a bit gloomy, it is incredible

how many positive conversations,

cheery coffees and

optimistic propositions I have

shared. Going to work can be

very refreshing.

4. What technology could

your business never be

without?

Artificial Intelligence. We lived

without it, but it now makes our

lives much easier and rather

more exciting. We have two

programmes running which

have been set up through our

partnership with the University

of Exeter. As a technology business,

PCs are rather important

too, but significantly less

glamorous than AI.

Each issue we put a North Devon business personality in the hot

seat and ask them 10 questions. This issue we asked Jack Richards,

marketing communications executive at Applegate

5. Describe your business

management / style

Our business is managed in

such a way that is inclusive of

employees at all levels. From

apprentices to directors, all staff

are made aware of decisions

and the vision of the business

– included in discussion and

decision making along the way.

6. How do you go about

personal development?

My personal development

seems to be never ending. From

a Degree Apprenticeship and

working towards CMgr status

to project management and

external event attendance, it is

safe to say I have a lot going on

in terms of my professional and

personal development. I think

that Applegate strikes the right

balance between providing

support and giving me

autonomy to jump into the deep

end and just learn to swim.

Applegate Marketplace offers

'Applegate' – the eProcurement

Marketplace which helps

buyers source the products

and services their organisation

needs. While Applegate's

database provides information

on millions of products

and services from many

thousands of companies – the

60,000 registered buyers can

simply fill out a request for

quotation and obtain multiple

quotes, from different

suppliers, in line with best

purchasing practices.

7. Is there anything about

yourself that you want to

change?

I think it's quite important to

learn to be happy with yourself.

So, I'd quite like to be more

like that. I always worry about

underperforming or me not

being the best I can be.

8. Social media: yes or no?

Preferred network?

Yes, yes, YES! Not just as

a digital marketer, but as a

person too. I love the fact that

on social media, I can see

where my friends are and all

the cool things they are up

to. I'm a Londoner, so social

media connects me to everything

and everyone I know.

LinkedIn is great for expanding

my professional network,

generating leads and keeping

up to date with contemporaries.

But, no preferred

network – I like them all.

9. How do you wind down

when not working?

Apart from drinking wine? Let

me think. I do like to travel and

visit new places, so winding

down for me often involves

heading off somewhere for

some exploring.

10. Do you have a motto or

favourite quotation?

No – I am not one of those

people, I'm afraid.

I've heard the phrase 'Be

More Jack' float around of late,

which I rather like.

ABOUT APPLEGATE MARKETPLACE

In partnership with the

Institute of Data Science

and Artificial Intelligence

at the University of Exeter,

the company now develops

machine learning systems,

continually enhancing the

matching of suppliers to buyers'

requests – ensuring the

best possible result for buyers.

The company is a Strategic

Partner of the US Department

of Commerce International

Trade Administration.

■■Details 0345 600 7177 or

applegate.co.uk

18 business action | June / July 2019 | business-action.co.uk
---
Barefoot accountants: (from left) Mel Willis, Barbara Harris and Nicola Blong

Shaking off the corporate accountancy image

Barbara Harris of Cranford

Business Services is one of a

growing new breed of accountants

– women, who dress

casually and can tell a joke.

She realised early on that

many clients are scared by the

fancy suits and plush offices

and, as she wasn't interested in

the 'corporate' image, started

her own business taking on

other clients.

"Originally, it was just for

me and my husband Ian as

money was tight and we could

save by doing our own tax

returns," says Barbara.

She quickly realised

that there were other selfemployed

people and those

who owned a single rental

property, for whom paying the

bills was the priority but profit

easily eaten away.

"It's also a matter of

knowing your strengths and

playing to them, letting others

play to theirs. By keeping

overheads low, we can pass

this saving along to those

smaller clients. Working

for the occasional client in

evenings and weekends from

a home office while working

full-time soon led to one parttime

member of staff, then a

move out of the house. Being

self-employed, it can be difficult

to switch off and if you're

not careful you find yourself

living to work rather than the

other way round.

"So many people in North

Devon / North Cornwall's

rural environs enter selfemployment

because there

is no real alternative, often

doing more than one type

of work – now colloquially

referred to as 'slashies'.

"This is an area that could

cause some problems for them

in future years. HMRC rolled

out their latest acronym MTD

(Making Tax Digital), which

finally went live in April. This

leads to quarterly reporting

of income and expenditure.

Presently only for those who

are above the VAT threshold

of £85,000 turnover, the

'HMRC initiative that will

revolutionise the UK tax

system and ultimately bring

an end to self-assessment' has

at least one flaw for those who

need to keep costs low and

that is the requirement for the

majority of business owners to

maintain digital records using

compatible software. And this

definitely has cost implications.

There are systems

available at lower costs to

enable Excel to communicate

to HMRC computers, but

increasingly it costs to use

Excel. And if you then have to

send income and expenditure

for each type of business you

run, it's not just the money

but the additional time it

takes in an already packed

working week.

"Is there an upside to this?

Well, if you have to do this

four times a year, then the

actual tax return at the year

end should be quicker.

"From the point of view of

the small accountant, there

have already been changes

and cost implications at Cranford.

In the past few years,

as we attracted new clients,

we have tried to encourage

them to let us have their

paperwork every few months

so it becomes a good habit.

This quickly made us realise

that storage space was going

to be a headache. Although

the volume of paperwork isn't

more, we still need to book it

in and be able to work on it

then get it back out to clients.

Also, we needed more people

to complete the work to meet

the new deadlines."

To meet these demands

Cranford has a new office and,

shortly Barbara and her two

existing colleagues will be

joined by a third. Barbara also

remains very conscious of the

need to provide the service

clients want at a cost they can

still afford.

"To keep costs down we

have our office at the bottom

of the garden rather than

paying rent on offices in town

and we meet up with clients

at a time and place to suit

them and stagger our opening

hours to provide a value for

money service.

"We are now waiting to see

how the new tax system will

actually work in real time.

RTi for payroll was introduced

14 years ago, requiring

employers to send an electronic

return to HMRC every

time they pay their staff, yet

we still encounter instances

where HMRC maintains that

its system received different

information from that which

was sent, leading to investigations

that can take months

and considerable work to

resolve."

So with changing times

ahead for tax, is there anything

that will stay the same?

"Oh yes, as the temperature

rises on those warm sunny

days with gentle winds, you

will still find us sitting up on

the decking with the parasol

up, sunscreen on and our

sandals off . . . still practising

barefoot accountancy."

■■Details 07896 204857 or

accountsindevon.co.uk

@businessactionm | June / July 2019 | business action 19
---
DESIGN

Quality and detailed design

One of the oldest clubs in

golf, Muirfield in Scotland, has

recently completed a major

redevelopment. Part of the

redevelopment process was the

creation of the new Muirfield

Room, which was carried out

by Barnstaple-based Bobblehat.

"This was tremendously

exciting for us and is testament

to our attention to detail and

quality of workmanship," says

sales director John Courtney.

"As the building dates

back to 1891, every detail was

scrutinised and signed off by

their heritage committee who

were great to work with."

This is the second major

golf-based refit undertaken

by Bobblehat, who two years

ago designed and fitted out the

Centurion Club pro-shop near

St Albans.

■■Details 01271 328003 or

bobblehat.co

Co-founder on UK jewellery power list

Katie Nickell, co-founder and

creative director of Barnstaple-based

Kit Heath, has been

named Brand Champion on

Professional Jeweller's Power

List 2019.

Professional Jeweller

honours leaders across the UK

jewellery trade and recognises

Katie for bringing innovation

back to the forefront of the

business. The listing places

Katie among prestigious business

leaders from De Beers,

Tiffany and Swarovski.

This advert can be

yours for

£125 a year.

Call 07970 671192

Katie and brother Kit

Heath founded the design

partnership in 1984, taking

inspiration from the beauty

of their North Devon home

and timeless British style. Kit

had melted down the family

candlesticks to create sterling

silver jewellery that he sold

to friends and family. He also

sold to gift and jewellery shops

from his VW camper van while

Katie collaborated and led the

creative side until both took

non-executive roles in 2000.

Professional Jewellery

recognises Katie's achievements

since returning to the business

full-time in 2014. This includes

winning Fashion Jewellery

Brand of the Year at the PJ

Awards and, in 2018, moving

away from a US distributor to

dealing direct with US retailers.

It says the firm is now doing

well in a tough market and

Katie has brought innovation

back into the business.

■■Details 01271 312029 or

kitheath.com

20 business action | June / July 2019 | business-action.co.uk
---
In his Blind Man Roy blog, Roy Imeson describes living with Retina Pigmentosa and his year of fund raising with his children: (from left) Ollie, Laura and Roy Imeson

Blind Man Roy set to scale three peaks

Eye tests are a routine for

many of us, but for Roy

Imeson of Ilfracombe they

brought to light deterioration

in his peripheral vision, leading

to a diagnosis of Retina

Pigmentosa (RP), which the

RNIB defines as "a group of

inherited eye conditions that

affect the retina at the back of

the eye" causing permanent

changes to vision.

The diagnosis came as a

shock to Roy, who is a father,

Exmoor Explorers Scout

leader and strategic partnership

adviser covering the

Heart of the South West for

the Construction Industry

Training Board (CITB).

"I was lost for reasons

and worried about going

forward and supporting my

family," says Roy. "I made a

call to the RNIB helpline and

was overwhelmed by all the

support that followed. The

help included a home visit

from a couple of supportive

people. After time, I received

white cane training, support

with finding further support

such as a 'Blue Badge' and

discounted bus journeys."

With support from his

employer and the government's

Access to Work scheme,

Roy continues to work across

Devon and in London. Instead

of driving himself, Roy is

provided with a chauffeur

through Access to Work, CITB

and Ilfracombe and District

Community Transport.

"I couldn't have asked for

a better employer," adds Roy.

"They give me scope to be who

I am and have provided me

with high-tech tools."

These include a microphone

designed to pick up

Roy's voice and cancel out

background noise as well as

dictation tools.

With this support, Roy is

working with as many small

rural construction companies

as possible to attract, train and

retain new talent.

"I'm still talking to people

and giving presentations,

although I don't see the audience

and am learning new

skills to get feedback."

Remarkably, Roy is one of

only two people registered

blind in the UK construction

industry and is working

to improve access: "It has to

increase. People need to be

aware that deaf and blind

people still need to work."

Roy is also working to

increase awareness of RP and

raise funds for the RNIB,

which is funded solely by donations.

In 2019, he and daughter

Laura and son Ollie are taking

part in a year of fund raising,

which includes an expedition

in July to scale the three

highest peaks in the United

Support Roy's Go Fund Me campaign at

gf.me/u/sxhxwz

Kingdom – Ben Nevis, Scafell

Pike and Snowdonia – plus

walks along the Once Brewed

section of Hadrian's Wall and

the English National Three

Peaks in the Yorkshire Dales.

Roy is very grateful to Ilfracombe

and District Lions Club

for offering to pay for fuel

for the trip and he welcomes

any further sponsorship or

support for the expedition.

He explains: "I also wish

to promote mental wellbeing

via my challenges and attitude

towards life, and support

other families with this rare

genetic problem. There are

some tough decisions and

it can feel very frustrating

and lonely. Please feel free to

contact me to ask questions or

offer support."

While RP has a major

impact on his life, he is able

to discuss it with humour and

discusses how he manages the

challenges in his Blind Man

Roy blog.

■■Details blindmanroy.com

Call 01271 326694.

info@boomboomedia.co.uk

visit www.boomboommedia.co.uk

@businessactionm | June / July 2019 | business action 21
---
North Devon Show – Wednesday 7th August 2019

The North Devon Show is a

celebration of all things rural.

Our traditional, annual one

day show has something for

everyone.

We have livestock classes

– sheep, cattle, horses and

ponies, and an open dog show,

alongside pig and poultry

exhibition marquees, sheep

shearing demonstrations and

NEW for 2019 – an education

and petting area.

In our horticultural

marquee there will be floral

art demonstrations and horticultural

classes for everyone

to enter.

Demonstrations will take

place all day in our countryside

area: ferret racing,

archery, fly casting, thatching,

stone walling, charcoal

display and many more –

come and have a go at clayzer

at no extra charge.

There are 400 trade stands

throughout the showground

including a food hall, arcade,

members mall, and crafts and

gifts marquee.

Our main ring and Tarka

ring will offer you a wide

range of attractions all day,

with our vintage vehicles on

display and parading our main

ring. Don't miss the fast and

furious inter hunt relay.

As well as our circus and

fairground, we have introduced

a music stage to the

centre of our showground,

which is NEW for 2019 with

acts commencing at 10.00am.

Our show opens at 8.00am

and runs all day – please come

and join us.

E-tickets are available to

purchase on our web site or via

our advance ticket outlets or

our gates on show day.

■■northdevonshow.com

Business Action is exhibiting at the North Devon Show

Meet the publishers and editor of Business Action magazine and the organisers of BBxpo

business

ACTION

business-action.co.uk | BBxpo.uk

Need it

Find it

Visit us at the North Devon Show on the Need it Find it stand in the Arcade