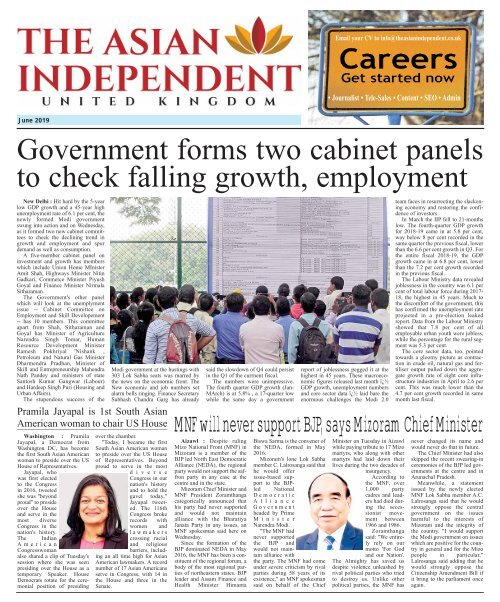 the Asianindependent 1st to 24 Pages June Edition
You also want an ePaper? Increase the reach of your titles
YUMPU automatically turns print PDFs into web optimized ePapers that Google loves.
Email your CV to info@theasianindependent.co.uk

• Journalist • Tele-Sales • Content • SEO • Admin

June 2019

Government forms two cabinet panels

to check falling growth, employment

New Delhi : Hit hard by the 5-year

low GDP growth and a 45-year high

unemployment rate of 6.1 per cent, the

newly formed Modi government

swung into action and on Wednesday,

as it formed two new cabinet committees

to check the declining trend in

growth and employment and spur

demand as well as consumption.

A five-member cabinet panel on

investment and growth has members

which include Union Home MInister

Amit Shah, Highways Minister Nitin

Gadkari, Commerce Minister Piyush

Goyal and Finance Minister Nirmala

Sitharaman.

The Government's other panel

which will look at the unemplyment

issue -- Cabinet Committee on

Employment and Skill Developement

-- has 10 members. This committee

apart from Shah, Sitharaman and

Goyal has Minister of Agriculture

Narendra Singh Tomar, Human

Resource Development Minister

Ramesh Pokhriyal 'Nishank ,

Petroleum and Natural Gas Minister

Dharmendra Pradhan, Minister of

Skill and Entrepreneurship Mahendra

Nath Pandey and ministers of state

Santosh Kumar Gangwar (Labour)

and Hardeep Singh Puri (Housing and

Urban Affairs).

The stupendous success of the

Pramila Jayapal is 1st South Asian

American woman to chair US House

Washington : Pramila

Jayapal, a Democrat from

Washington DC, has become

the first South Asian American

woman to preside over the US

House of Representatives.

Jayapal, who

was first elected

to the Congress

in 2016, tweeted

she was "beyond

proud" to preside

over the House

and serve in the

most diverse

Congress in the

nation's history.

The Indian

American

Congresswoman

also shared a clip of Tuesday's

session where she was seen

presiding over the House as a

temporary Speaker. House

Democrats rotate for the ceremonial

position of presiding

Modi government at the hustings with

303 Lok Sabha seats was marred by

the news on the economic front. The

New economic and job numbers set

alarm bells ringing. Finance Secretary

Subhash Chandra Garg has already

over the chamber.

"Today, I became the first

South Asian American woman

to preside over the US House

of Representatives. Beyond

proud to serve in the most

d i v e r s e

Congress in our

nation's history

and to hold the

gavel today,"

Jayapal tweeted.

The 116th

Congress broke

records with

women and

lawmakers

crossing racial

and religious

barriers, including

an all time high for Asian

American lawmakers. A record

number of 17 Asian Americans

serve in Congress, with 14 in

the House and three in the

Senate.

said the slowdown of Q4 could persist

in the Q1 of the currnent fiscal.

The numbers were unimpressive.

The fourth quarter GDP growth (Jan-

MArch) is at 5.8% , a 17-quarter low

while the same day a government

Aizawl : Despite ruling

Mizo National Front (MNF) in

Mizoram is a member of the

BJP led North East Democratic

Alliance (NEDA), the regional

party would not support the saffron

party in any case at the

centre and in the state.

Mizoram Chief Minister and

MNF President Zoramthanga

categorically announced that

his party had never supported

and would not maintain

alliance with the Bharatiya

Janata Party in any issues, an

MNF spokesman said here on

Wednesday.

Since the formation of the

BJP dominated NEDA in May

2016, the MNF has been a constituent

of the regional forum, a

body of the most regional parties

of northeastern states. BJP

leader and Assam Finance and

Health Minister Himanta

Biswa Sarma is the convener of

the NEDA, formed in May

2016.

Mizoram's lone Lok Sabha

member C. Lalrosanga said that

he would offer

issue-based support

to the BJPled

National

Democratic

A l l i a n c e

Government

headed by Prime

M i n i s t e r

Narendra Modi.

"The MNF had

never supported

the BJP and

would not maintain

alliance with

the party. The MNF had come

under severe criticism by rival

parties during 58 years of its

existence," an MNF spokesman

said on behalf of the Chief

report of joblessness pegged it at the

highest in 45 years. These macroeconomic

figures released last month �

GDP growth, unemployment numbers

and core sector data � laid bare the

enormous challenges the Modi 2.0

Minister on Tuesday in Aizawl

while paying tribute to 17 Mizo

martyrs, who along with other

martyrs had laid down their

lives during the two decades of

insurgency.

According to

the MNF, over

1,000 party

cadres and leaders

had died during

the secessionist

movement

between

1966 and 1986.

Zoramthanga

said: "We entirely

rely on our

motto 'For God

and our Nation'.

The Almighty has saved us

despite violence unleashed by

rival political parties who tried

to destroy us. Unlike other

political parties, the MNF has

team faces in resurrecting the slackening

economy and restoring the confidence

of investors.

In March the IIP fell to 21-months

low. The fourth-quarter GDP growth

for 2018-19 came in at 5.8 per cent,

way below 8 per cent recorded in the

same quarter the previous fiscal, lower

than the 6.6 per cent growth in Q3. For

the entire fiscal 2018-19, the GDP

growth came in at 6.8 per cent, lower

than the 7.2 per cent growth recorded

in the previous fiscal.

The Labour Ministry data revealed

joblessness in the country was 6.1 per

cent of total labour force during 2017-

18, the highest in 45 years. Much to

the discomfort of the government, this

has confirmed the unemployment rate

projected in a pre-election leaked

report. Data from the Labour Ministry

showed that 7.8 per cent of all

employable urban youth were jobless,

while the percentage for the rural segment

was 5.3 per cent.

The core sector data, too, pointed

towards a gloomy picture as contraction

in crude oil, natural gas and fertiliser

output pulled down the aggregate

growth rate of eight core infrastructure

industries in April to 2.6 per

cent. This was much lower than the

4.7 per cent growth recorded in same

month last fiscal.

MNF will never support BJP, says Mizoram Chief Minister

never changed its name and

would never do that in future.

The Chief Minister had also

skipped the recent swearing-in

ceremonies of the BJP led governments

at the centre and in

Arunachal Pradesh.

Meanwhile, a statement

issued by the newly elected

MNF Lok Sabha member A.C.

Lalrosanga said that he would

strongly oppose the central

government on the issues

harmful to the interests of

Mizoram and the integrity of

the country. "I would support

the Modi government on issues

which are positive for the country

in general and for the Mizo

people in particular,"

Lalrosanga said adding that he

would strongly oppose the

Citizenship Amendment Bill if

it bring to the parliament once

again.
---
2 June 2019

ASIA

www.theasianindependent.co.uk

Public statement on the suicide of

Dr. Payal Tadvi in a Mumbai hospital

Dr Payal Tadvi, an Adivasi

Muslim from one of the most

backward tribes of India committed

suicide on 22 May in her

hostel room in a Mumbai hospital.

She was a post-graduate

resident doctor in the hospital.

Many times before her suicide

her mother and husband had

given written representations to

the hospital authorities about

the harassment she had been

facing from three of her seniors.

According to these complaints

her harassers were using

casteist abuses and publicly

humiliating her. However, the

hospital took no administrative

actions. After her death the hospital's

anti-ragging committee

has reportedly found evidence

of harassment, and according to

some newspaper report the

police have found evidence of

derogatory casteist remarks.

Dr PayalTadvi's suicide

immediately brings to mind the

suicide by Rohith Vemula in

2015, a PhD scholar at the

Hyderabad Central University.

Rohith was a student

activist.His organisation had

been protesting against the

HCU administration for

months before his suicide.

Even ministers of the BJP central

government had enquiredif

his organisation had been adequately

punished by the university

administration after it was

Kochi : Facebook has honoured

a 19-year-old student

from Kerala for spotting a

Team AI :

Devinder Chander

Editor-in-chief

Columnists

V.B. Rawat

Farzana Suri

Arun Kumar

Rahul Kumar

Harminder K. Bhogal

Head Office

Samaj Media Enterprise Ltd

Suite 507, Hawthorns House

Halfords Lane, Smethwick,

Birmingham U.K.,B66 1BB

+44 7878 456 484

+44 121 565 4810

Email :

info@theasianindependent.co.uk

Advertisement

Enquiries

+44 7475 475 343

The Asian Independent is an

Intellectual Property of

Samaj Media Enterprise Ltd

involved in a physical brawl

with activists of the ABVP, the

student organisation allied with

the ruling party. If the context

of Rohith's suicide was institutional

victimisation of radical

dalit youth, Payal's suicide

throws open a window to the

intimate cruelties suffered by

the people of deprived backgrounds

every day. According

to her mother when Payal

moved in the hospital hostel,

the only cot in the room was

already taken by one of her

alleged harassers. Her roommate,

also a doctor would wipe

her feet on the mattress on

which Payal slept.Payal was a

trained doctor. She had worked

in a primary health center for a

year. Yet her modern professional

status could not shield

her from what she had to go

through.She narrated incidences

of her humiliation only

to her immediate family members.

They complained to

authorities when they felt she

was under serious stress. She

died alone, without leaving any

suicide note.

Even seventy years after

independence, and a constitution

that promises a life of dignity

to every citizen, Dalits,

adivasis, and minorities in

India continue to suffer multiple

humiliations in their everyday

lives. Appropriate legal

Facebook honours

Kochi teenager

memory corruption bug on its

instant messaging platform

WhatsApp, the media reported.

K.S. Ananthakrishna, a

B.Tech student at

Pathanamthitta Mount Zion

College of Engineering

College, detected the bug that

enabled other people to completely

remove files on

WhatsApp without knowledge

of the user, according to a

report in Kerala-based

Mathrubhumi on Monday.

A resident of Alappuzha,

Ananthakrishna had found the

bug two months ago and

informed Facebook officials.

Facebook examined the

solution provided by the young

student and after two months of

observation, then social networking

giant decided to honour

him for successfully rectifying

the error. Besides presenting

him with a cash award

of $500 (approximately Rs

34,000), Facebook also promised

a spot for Ananthakrishna

in the prestigious Hall of Fame,

according to the report.

provisions are in place.

Institutional motivation to

implement these provisions is

woefully lacking, as shown in

Payal's case. However, even if

institutional mechanisms were

in place, these can play a role

only after a dalit or an Adivasi

has been humiliated, or suffered

an assault. Indians need

to identify and root out the conditions

which make many of

them abusers and haters of

people from deprived backgrounds.

Indian society remains a

deeply hierarchical and divided

society. Its public sphere, in

which people are supposed to

be able to interact with each

other without distinctions, is

also stamped with hierarchy, so

New York : Spot gold prices in the

benchmark US market declined on Tuesday

after an initial surge following the Federal

Reserve Chairman Jerome Powell's

"dovish" statement on the US-China trade

tensions. Around 11.17 a.m. New York local

time, the spot gold prices traded at

$1,320.50 per ounce, lower by 0.32 per cent

from its previous close,

according to data from

Kitco.com.

Earlier in the day, it

had touched $1,329.70

per ounce, the highest

price currently of any

precious metal.

US Federal Reserve

Chairman Powell, in his

opening remarks at a

monetary policy conference

in Chicago, said:

"We do not know how or when these issues

will be resolved." This very statement was

perceived by the investors as "dovish",

according to analysts.

Powell was quoted in the US media as

saying: "We are closely monitoring the

implications of these developments for the

US economic outlook and, as always, we

that there is little respect for a

human being for just being a

person. The normalcy of this

public is dominated by people

from privileged backgrounds.

People from deprived backgrounds

always feel marked in

this sphere. Numerous writings

by Dalit and Adivasi authors

bring it out in painful detail. In

educational institutions and

work environments they are

permanently stamped with the

'reservation' category tag.

Most of them are first generation

learners from poor families.

They get to join these

institutions and places of work

after numerous hurdles, but

their individual talents are little

recognised. Increasingly,

Muslims of our country are also

being made to feel the same

way. Institutions of higher

learning and government

offices reek of a nefarious discourse

on 'merit' of the 'general'

category. This 'merit' is supposed

to be measured by marks

in entrance exams. But how

does one compare the abilities

of a dalit young woman from a

rural landless family, who spent

half her time on family chores,

went to a dilapidated village

school, and still got admission

to an institution of higher learning,

with another person whose

upper middle class urban parents

gave him/her education in

expensive private schools, provided

comfortable learning

environment at home, and paid

for extra tuitions and coaching?

Why should only one of them

be considered 'meritorious'?

Why cannot they interact freely

in an environment of mutual

respect?

The policy of reservation in

jobs and educational institutions

is often cited as the chief

culprit, as if without this policy

these places will be republics of

merit.The drafting committee

of India's constitution under

the leadership of Dr Ambedkar

adopted reservations as a policy

of affirmative action after

serious debate. Reservations

have been continued and

extended by democratically

Gold prices in red after

making initial gains

will act as appropriate to sustain the expansion,

with a strong labour market and inflation

near our symmetric 2 percent objective."

Gold prices, off-late firmed up on the

back of the ongoing US-China trade tensions

which has helped the yellow metal

regain the status of the most expensive precious

metal on Monday.

On Monday, gold

prices rose more than

1.5 per cent on Monday

to its highest level in

more than three months

of $1,325.72 per ounce.

Analysts said that this

upward movement happened

on concerns that

US-Chinese trade tensions

and Washington's

threat of tariffs on

Mexico would hurt the

global economy. Palladium, now the most

expensive precious metal, after decline in

gold prices, is currently trading at $1,323

per ounce, higher by 1.07 per cent from the

previous close.

Another precious metal, platinum's spot

price traded around $818 per ounce, lower

by 0.24 per cent from the previous close.

elected governments. Citizens

have a right to criticize any

government policy, or law.

However, no one has a right to

humiliate and abuse anyone,

and any effort to show these as

'reactions' to a state policy is

pure hypocrisy. These are acts

of aggression and violence

against people who are vulnerable

due to their deprived backgrounds.

\PADS calls upon the people

of India to seriously question

why so many of them are haters

and abusers of people from

deprived backgrounds. Why do

people who abuse and commit

hate crimes think they can get

away with it? It is evident that

the anti-caste movements have

only partially succeeded in

democratising India. The main

reason is that the task of making

India a democratic society

has never been undertaken by

the overwhelming majority of

Indians. Until this happens

India will continue to humiliate

and harass people from

deprived backgrounds, and

destroy bright and sensitive

men and women like Rohith

and Payal.

Released by:

Battini Rao, Convenor,

PADS (95339 75195)

battini.rao@gmail.com

(People's Alliance for

Democracy and Secularism)

RBI rate cut unlikely

to stimulate growth

due to poor

transmission: Ind-Ra

New Delhi : A rate cut, which is

almost certain in the second bi-monthly

monetary policy statement for 2019-20,

is unlikely to stimulate demand in the

near term due to the absence of quick

resonance in the financial market, India

Ratings and Research said on

Wednesday. Despite the RBI cutting policy

rate by 50bp so far in 2019, banks

have not adjusted their lending/deposit

rate accordingly. On the contrary, a number

of banks have raised their deposit

rates to mobilise funds. At the core of

this mismatch between the RBI's action

and the banks' inability to pass on the

benefit to the borrowers is the slowdown

in household savings. Increased government

borrowing and elevated small savings

rate have rendered deposit/investment

mobilisation by banks/NBFCs

expensive, the India Ratings report.

India's consumption demand is also

still not a pronounced credit fuelled or

leveraged demand. Outstanding personal

loan (excluding housing loan)/PFCE

(Private Final COnsumption

Expenditure) ratio was 35.7% in

4QFYE19 (28.2% at 1QFYE12).

However, Ind-Ra believes, more than

the rate cut it is the transmission of the

rate cut into the economy that has

emerged as a bigger challenge.

* The Asian Independent and people associated with it are not responsible for any claims made by the advertisers and do not endorse in any products or services advertised. Please visit www.theasianindependent.com/tc for more information.
---
www.theasianindependent.co.uk

ASIA

June 2019

Sikh Americans Remembers American & Sikh Soldiers

in 2019 Memorial Day Parade at Springfield, Ohio

Dayton, Ohio: Thousands of people

gathered, lined up on the sidewalks

of the streets, outside their resident

homes and parks to watch the 2019

Springfield, Ohio Memorial Day

Parade. This year, a group of about

100 Sikh Americans from Springfield,

Dayton, Cincinnati and neighboring

areas participated in the parade

remembering and honoring Sikh and

American soldiers of all Wars with a

float of their own.

The two hour and two-mile long

parade marched through downtown

with as many as 3000 participants in

attendance and a gathering of about

30-35000 spectators along the route to

watch the parade. Over 100 groups

and close to 300 cars made their way

to the city, making it the biggest

parade in the city's history,

Every year, Springfield resident

Avtar Singh and family along with

members of Sikh Community participate

in the parade. Avtar Singh and

Sarabjit Kaur says, "We along with

our family participated in the Parade

representing Sikh American for the

first time in 1999 to honor and

remember the soldiers who died while

serving in armed forces. We are very

happy that the number of Sikh community

members who attend the

parade is growing. Due to the tragic

incident of 9/11, Sikhs have been the

target of hate crimes due to mistaken

identity, hence, it is now more important

for Sikh Americans to participate

in such events and reach out to the

community.

Sameep Singh Gumtala, a social

activist and Convener of FlyAmritsar

Initiative from neighboring city of

Dayton says, "I have been part of this

parade for the past 9 years along with

my children, who every year are very

excited to participate and walk down

the street. Hosting a float at the parade

is also an opportunity to educate people

about the contribution of Sikhs in

World Wars. We take pride in our

country by supporting our troops,

3

remembering the people that have fallen

for us, went to war for us and

fought for our country."

Sikhs have lived in USA for more

than 100 years with many arriving in

the late 1800s.

They have made many contributions

to this nation including construction,

farming land, hospitality, education

and serving in the military. Still

majority of Americans cannot even

accurately identify a Sikh and do not

know about the Sikh tradition.

According to British General Sir

Frank Messervy "In the last two World

Wars, 83005 turban wearing Sikh soldiers

were killed and 109,045 were

wounded for the freedom of Britain

and the World. During shell fire they

had no other protection but the turban,

the symbol of their faith."

Sameep Singh Gumtala

Email: sameep.singh@gmail.com

Obama praises Sikh man

with rainbow turban

Washington : Former US

President Barack Obama has

praised San Diego-based Sikh

neuroscientist Jiwandeep Kohli

who is celebrating this year's

Pride Month with a rainbow

turban. Kohli, who is a bisexual,

went viral a few days ago

when he shared an image of his

elaborate creation -- his turban

that featured the colours of the

LGBT flag -- on Twitter.

"I'm proud to be a bisexual

bearded baking brain scientist. I

feel fortunate to be able to

express all these aspects of my

identity and will continue to

work towards ensuring the same

freedom for others," he captioned

the image.

Complimenting Kohli, Obama

tweeted on Tuesday: "You've

got a lot to be proud of,

Jiwandeep. Thanks for everything

you do to make this country

a little more equal. Turban

looks great, by the way. Happy

Pride Month, everybody!" The

California viral sensation

responded to Obama. "I'm a

fairly verbose person, but today

I am lost for words," Kohli

wrote. "Thank you for your support

and the compliment, Mr

Obama." Pride Month kicked

off on June 1 and honours the

LGBTQ community while commemorating

New York's

Stonewall riots in June 1969

that signalled a turning point in

the movement for equal rights.

Pakistan military to

cut defence spending

Islamabad : Pakistan's military

has decided to slash the

defence budget for the next

financial year in line with

broader austerity measures

being introduced by the government

to deal with the cashstrapped

country's financial

woes.

Major General Asif Ghafoor,

Director General of Inter

Services Public Relations

(ISPR) - the media wing of the

military, tweeted on Tuesday

the cuts "will not be at the cost

of of defence and security".

Terming it a voluntary cut,

Ghafoor wrote, "We shall

maintain the effective response

potential to all threats. Three

Services will manage impact of

the cut through appropriate

internal measures. It was

important to participate in

development of tribal areas and

Balochistan."

Prime Minister Imran Khan

said he was appreciative of the

military's "unprecedented voluntary

initiative of stringent

cuts in their defence expenditures"

especially in light of the

country's financial situation.

Khan said he was grateful

for the move that had come

"despite multiple security challenges"

that Pakistan faced.

The funds saved would be

used for development of the

newly merged tribal areas as

well as Balochistan, he added.

Calling it "not a small step at

all", Science and Technology

Minister Fawad Chaudhry

tweeted, "Only a strong civilmilitary

coordination can rescue

Pakistan from the deep

problems of governance and

economy." The army's decision,

he said, "shows a complete

trust in the leadership of

Prime Minister by an important

institution".Earlier in February,

the government had decided

not to make any cuts in the

country's defence budget for

the ongoing year. "The country's

defence budget is already

low compared with other states

in the region, and therefore it

should be increased,"

Chaudhry, then Information

Minister, had said. According

to experts, Pakistan's economy

has grown 5.2 per cent in 2018,

but is forecast to decline to 3.4

per cent this year and 2.7 per

cent next year, before recovering

to 4 per cent in 2021.
---
4 June 2019

ASIA

www.theasianindependent.co.uk

Eid celebrated with gaiety in India, J&K sees some clashes

New Delhi : Eid-ul-Fitr, marking

the end of the Muslim holy month of

Ramadan, was on Wednesday celebrated

across India with religious fervour

and gaiety, barring some places

in Jammu and Kashmir where clashes

erupted between stone-pelting youths

and security forces after special festival

prayers. President Ram Nath

Kovind, Vice President M. Venkaiah

Naidu, and Prime Minister Narendra

Modi were among leaders who greeted

the people on the occasion. The

Prime Minister specially wished people

in both English and Urdu through

his Twitter account. "May this special

day ignite the spirit of harmony, compassion

and peace in our society. May

everyone be blessed with happiness,"

Modi tweeted in English.

The tweet in Urdu read: "Eid-ul-

Fitr ke parmusarrat mauqe par

mubarakbaad. Khuda kare ke yeh

khususi din, hamare mashre mein

ham-aahang, rahm-dili aur aman ke

jazbat ko farogh de. Har kas-o-nakas

ki zindagi musarraton se hamkinar

ho." Lakhs of people thronged hundreds

of small and big mosques and

Eidgah maidans across India, especially

Delhi, Uttar Pradesh, Punjab,

Jharkhand, Maharashtra, as well as the

northeastern and southern states, to

celebrate the occasion, marking the

end of 30-day fasting during the holy

month of Ramadan.

Pakistan Foreign Secretary Sohail

Mahmood, who is the former High

Commissioner to India and was in

India a private visit, offered prayers at

Delhi's 17th century Jama Masjid with

his children.

A minor accident, however,

occurred in the national capital when a

motorist rammed his car into devotees

emerging from a mosque in city's

Khureji area but police said no one

was injured. Scene of communal harmony

marked the celebration in

Hyderabad where non-Muslims joined

their Muslim brethren at Eidgah or

open grounds where 'Namaz-e-Eid'

was offered in the morning.

Indian and Pakistan security forces

also exchanged sweets and greetings

on the Line of Control (LoC) and the

International Border on the occasion.

Defence sources said that Indian

soldiers greeted Pakistan soldiers on

the LoC in Chakan Da Bagh area of

Jammu and Kashmir's Poonch district

and the two sides exchanged sweets.

Border Security Force troopers also

exchanged greetings and sweets with

Indian gets 7-year jail for

raping woman in UK

Pakistani Rangers in J&K's Samba

and the Attari-Wagah joint border post

in Punjab.

The BSF and the Border Guards

Bangladesh (BGB) also exchanged

greetings, flowers and sweets on the

occasion. According to a BSF official,

senior officials of BSF and BGB

accompanied by locally posted troopers

greeted each other at many places

along the 4,096-km Bangladesh frontier

in West Bengal, Tripura, Assam,

Mizoram and Meghalaya. With the

monsoon yet to set in, special morning

prayers were held in open places in

Kerala and drew huge crowds. Many

wore new dresses and greeted one

another after the prayers.

At all centres in the state, there

were separate enclosures for women

and children. At the popular Palayam

Grand Mosque, the Shahi Imam, in his

sermon, spoke against terrorism and

extreme nationalism. Mutton and beef

stalls were crowded at most places

since late Tuesday. Mutton prices

soared to Rs 800 a kilo while beef was

priced at Rs 380. At Kochi, superstar

Mammootty turned up at an Eid prayer

session and interacted with the devout.

Except Jammu and Kashmir, the

festival was celebrated peacefully

almost across India. In Srinagar,

scores of masked men displaying

Islamic State, and Pakistan national

flags appeared on the streets of the old

city's Nowhatta area and raised pro-

Pakistan slogans.

Immediately after the Eid prayers,

scores of masked men came out with

IS and Lashkar-e-Taiba flags and

raised slogans like "Musa, Musa,

Zakir Musa", "Hum Kya Chahte

Azadi, Azadi", "Pakistan Zindabad"

and displaying posters carrying pictures

of militants. They marched

through the streets, and dozens of

other youths joined them until security

forces intercepted them after half a

kilometre from the Jamia Masjid.

The marchers then pelted stones at

the security forces, who resorted to

tear smoke and pellet guns to disperse

the crowd.

Earlier, Mirwaiz Umer Farooq,

delivering the sermon at the historic

Jamia Masjid, called for India and

Pakistan to engage in "meaningful dialogue"

"Our people have made huge

sacrifices and unless India and

Pakistan engage in a meaningful dialogue,

the problem will persist," he

said, urging the new political dispensation

at the Centre to stop the "military

approach" to resolve the Kashmir

issue. Clashes were also witnessed in

Sopore, Anantnag and Kupwara in the

Kashmir Valley after Eid prayers.

London : An Indian man who fled the UK

after raping a woman in 2017 has been sentenced

to seven years in jail.

Ajay Rana, 35, raped the woman in the

back of his housemate's car in Lowestoft

town, Suffolk, after offering her a lift on

December 9, 2017. He then took a "trophy

photograph" and fled to India days later under

the pretence of visiting his ill mother.

Rana was sentenced at Ipswich Crown

Court on Tuesday after being found guilty of

rape following a two-week trial, the BBC

reported.

In a

statement

read to the

court, the

victim said

the attack

"will haunt

me for the

rest of my

life". "I am

so angry

that he has

done this to

me, and

(the case)

brings it all

flooding

back and

the emotions hit me like a roller coaster," the

woman said.

She added that she had been diagnosed

with post-traumatic stress disorder, had begun

self-harming and suffered regular flashbacks,

despite receiving counselling.

Rana had offered to drive the woman home

as she walked along Oulton Road on

December 9, 2017. He told her he had already

driven two other people because of the cold

but stopped the car in Kimberley Road and

raped her.

The woman, who was in her 30s, managed

to get out and ran to a friend's house where the

police were called.

Rana then took a photograph of the evidence

of the attack on the passenger seat.

By the time the police identified him as a

suspect five

days later,

having

traced the

vehicle to

his home,

Rana had

taken a

flight to

India.

T h e

police then

began proceedings

to

extradite

Rana from

India and

also issued

a n

European Arrest warrant.

Rana was detained under the European

warrant by the Spanish police in Bilbao on

October 22. He was extradited to the UK on

November 12 after approval from the Spanish

courts.
---
www.theasianindependent.co.uk

Bengaluru : Thousands of

devout Muslims, including

women and children celebrated

Eid-ul-Fitr with religious fervour,

gaiety and piety across

Karnataka on Wednesday, the

first day of the 10th Islamic

month of Shawwal, 1440 Hijri.

"As the Shawwal crescent

moon was sighted over India on

Tuesday night, we have

declared Eid (festival) for

Wednesday, marking the end of

month-long Ramadhan fasting

with prayers, distribution of

alms and feasting," Ruwiyathe-Hilal

Committee member

Shaikh Aijaz Nadvi told IANS

here.

The fasting, which began on

May 6 in the holy ninth month

of the Islamic calendar, ended

with the faithfuls offering

prayers (namaz), listening to

sermons (khutba) and offerings

(nazrana) to the poor and

needy. In Bengaluru, the largest

gathering of about 10,000 was

at Idgah maidan in the southwest

suburb of Chamrajpet, followed

by assembling of the

devout at Silver Jubilee Park

mosque and other shrines.

State Congress minister

Zameer Ahmed, party leaders

Roshan Baig, Rizwan Arshad,

C.M. Ibrahim and former Rajya

Sabha member Rehman Khan

were among the prominent

members of the community

who participated in the prayer

meeting at the sprawling Idgah

grounds and exchanged greetings

with others.

Ruling Congress and Janata

Dal-Secular (JD-S) leaders,

including Siddaramaiah, state

chief minister H.D.

Kumaraswamy, JD-S supremo

H.D. Deve Gowda and deputy

chief minister G. Parameshwara

also participated in the prayers

and greeted their Muslim

brothern Eid mubarak!

BJP's state unit president

B.S. Yeddyurappa and party's

city legislators R Ashoka and

Suresh Kumar also wished the

devout on the occasion. The

annual fest was celebrated by

thousands of devout at Mysuru,

Mangaluru, Hubbli, Belagavi,

Ballari, Bidar, Bijapur,

Gulbarga, Raichur and Yadgir

among the cities and towns

across the southern state.

Dressed in new attire and

sporting skull caps mostly

white, young and old thronged

ASIA

Eid CELEBRATED in

Karnataka with piety

Assam police 'high' on humour

after huge ganja catch

New Delhi : Assam Police have earned praise from people

around the country for a humourous tweet that it posted after seizing

590 kg of ganja.

"Anyone lost a huge (590 kg) amount of cannabis/ganja and a

truck in and around

Chagolia checkpoint

last night?

Don't panic, we

found it. Please get

in touch with

@Dhubri_Police.

They will help you

out, for sure ;)

Great job Team

Dhubri," read the

message from the

Assam Police

Twitter handle on

Tuesday.

The post is accompanied by a picture of stacks of cannabis

placed on top of one another. People lauded the team for the huge

catch. But the humorous twist in the tale left the Twitterati in

splits. The tweet which has been liked over 19,000 times so far,

has also been commended by stand-up comedian Papa CJ.

He posted clap emojis on a tweet addressed to the @assampolice

"for the job done and the sense of humour :)"

Assam Police lapped up the comment from the comedian.

"You know you have arrived when Asia's Best Stand-up comic

appreciates your humour! Thank you @PapaCJ , you are a kind (&

funny) soul," a tweet from Assam Police said on Wednesday.

While police often bring up the image of a coercive force, such

humorous tweets have done well to connect with thousands.

Social Media Consultant Salik Khan who works for both Assam

Police and Meghalaya Police later posted a link related to the

tweet. Mumbai Police are also known for using humour, memes

and GIFs to send strong messages to the young.

New Delhi : Mumbai is the

most traffic congested city in

the world, while Delhi is close

behind at fourth position, an

analysis of traffic congestion in

403 cities across six continents

has revealed.

'Traffic Index-2018', compiled

by leading independent

location technology specialist

TomTom, said that Mumbai

takes the top spot for the second

consecutive year with

commuters spending an average

of 65 per cent extra travel

time stuck in traffic.

According to the rpeort,

after Mumbai, next in the global

rankings were Colombian

capital, Bogota (63 per cent),

Lima in Peru (58 per cent),

New Delhi (58 per cent) and

Russian capital, Moscow (56

per cent), making up the top

five most congested cities in

the world.

With Moscow taking the

lead in Europe, Istanbul(53 per

cent) came a close second with

Bucharest(48 per cent) Saint

Petersburg (47 per cent) and

Kiev (46 per cent) making up

open grounds, mosques and

community halls for prayers

and reciting the first sermons

(Quranic verses) as revealed by

Angel Gabriel to Prophet

Mohammed over 14th centuries

ago. Women devout also

prayed at homes in zanana (private

portions), exchanged

greetings with relatives and

neighbours and joined family

members for feasting. State

Governor Vajubhai Vala also

greeted the Muslim brethren

for the festival.

the top five.

Brussels (37 per cent),

London (37 per cent) and Paris

(36 per cent) ranked in at 11th,

12th and 13th respectively.

Among North American

cities, top five most congested

are Mexico City (52 per cent),

Los Angeles (41 per cent),

Vancouver (38 per cent), New

York (36 per cent) and San

Francisco (34 per cent).

The report said that traffic

congestion has increased globally

during the last decade and

nearly 75 per cent of the cities

Tom Tom includes in the new

Traffic Index report had

increased or stable congestion

levels between 2017 and 2018,

with only 90 cities showing

measurable decreases.

Decreases were measured in

Asia with a large decrease in

congestion (-8 per cent) in

Jakarta while nearly every city

June 2019

Mumbai most traffic congested

city in world, Delhi fourth

5

Good sleep cuts

appetite for

sweet, salty food

Johannesburg : A good night's sleep helps in reducing the

desire for sweet and salty foods, intake of sugar and caloric content,

says a study.

It is known that sleeping less than seven hours is associated

with an increased cardio-metabolic risk -- heart disease risk and

metabolic disorders -- but increasing the sleep duration can help

reduce it, said lead author Rob Henst, Associate Professor at the

University of Cape Town in South Africa.

In the study, published in the Journal of Sleep Research,

researchers found that sleep extension was associated with

improved measures of insulin sensitivity and reductions in overall

appetite, desire for sweet and salty foods, intake of daily free

sugar, and percentage of daily caloric intake from protein.

"It is now apparent that poor sleep quality may be an equally

important risk factor for cardio-metabolic diseases," said Dale

Rae from the varsity. For the study, the researchers studied a

data of 138 persons who were either healthy, healthy shortsleeping,

overweight short-sleeping, or pre- or hypertensive

short-sleeping individuals.

in South America posted

increases, the largest (8 per

cent) taking place in Lima,

Peru. "Globally, traffic congestion

is rising. And that's both

good and bad news. It's good

because it indicates a strong

global economy, but the flip

side is drivers wasting time sitting

in traffic, not to mention

the huge environmental

impact," Ralf-Peter Schaefer,

TomTom's Vice President of

Traffic information said.

He said TomTom has been

collecting traffic information

and providing traffic services

for nearly a decade, allowing

drivers to make smarter choices

in route planning and avoiding

congestion. "The location technology

specialist's work on the

future of driving -from high

definition maps for

autonomous vehicles, to efficient

electric vehicle routing

and charging -means that car

makers, technology companies,

road authorities and governments

already have the tools to

make the roads less congested,"

he said.
---
6 June 2019

ASIA

www.theasianindependent.co.uk

Understanding the importance of

Dravidian legacy of Karunanidhi

Kaliangar Karunanidhi would have

turned 96 today. A man of remarkable

wit and a literary icon, Karunanidhi was

one of the most successful political personality

of India. If the Bahujan movement

in north India can learn a few

things about the Dravidian politics, I am

sure, it would help them positively.

The Dravidian legacy of legendary

Periyar today rules Tamilnadu where

whether the ruling party or its opponent,

both hail from the same ideological persuit

though, it can be said with authority

that AIDMK

under J Jayalalitha

diluted the

Periyarist legacy a

lot and inducted

the brahmanical

practices and

interest inside the

movement. Yet, in

terms of pro people

policies, both

parties gave

Tamilnadu a solid

economic base.

Karunanidh was

much senior to not

only Jayalalitha

but also her mentor M G Ramachandran.

A close associate of another legend Anna

Durrai, Karunanidhi never compromised

on his personal beliefs just for the sake

of 'votes'. He remained a staunch atheist

all his life, like his leader Anna and

Periyar.

Unfortunately, the Bahujan politics

in the north particularly those claiming

to be the family of either Jaya Prakash

or Lohia remained entrenched in religiosity

and religious symbolism. Rather

than critiquing brahmanism and fighting

against caste hierarchy, the north Indian

parties actually 'welcomed' those brahmins

who joined them without leaving

their 'caste' interest or idea of caste

supremacy.

I have always advocated the idea of

understand Periyar and his hugely successful

socio-political movement for the

north Indian Bahujan parties but then

they failed to protect even Periyar due

to savarna protest in

Uttar Pradesh. it is

not that the

Periyarist movement

or Dravidian

parties do not have

draw backs and like

any other party,

Karunanidhi was

also blamed for

having a political

family but it is also

a fact that DMK

cadres were deeply

motivated towards

Karunanidhi and if

M K Stalin follow

his father's trait then it is certain that he

is going to run the state for a longer

term.

The father of the Dravidian movement,

Periyar was an iconoclast, an

amazing personality of reason, a thorough

rationalist and an absolute nightmare

for brahmanical elite. I am using

nightmare in logical sense and not in

terms of any violent methods but purely

argumentative ways. They launched the

self respect movement and language

was an important part of it, related to

Dravidian identity. At the time, when

the government is trying to impose

Hindi on people who do not have Hindi

as their main language, it is important to

understand why Tamilnadu opposed it

and why Nehru respected that sentiment.

We respect the rights of the non

Hindi speaking people to speak against

imposition of Hindi. While, it is a growing

fact that Hindi has been used by a

huge number of people and with active

state sponsorship and commercial venture,

it has reached to wider sections of

people across South Asia, it is equally

important that Hindi or the values in the

name of Hindi or north India are not

imposed on people. Every state has its

own language and some of these languages

including Tamil, Bangla,

Marathi have much more powerful literature

than Hindi could ever have.

An argument is being given that people

should learn more languages but

why the argument is for non Hindi

speaking people. Why not for the Hindi

speaking people. The importance of

English language or that of Europe is a

well known factor as far as internationalism

is concern and therefore most

of the people want to learn them.

People dont want to learn Hindi for

the sake

of learni

n g

By Vidya Bhushan Rawat

social and human rights activist

something and that is the irony.

Language represent our values, our

identity too and therefore, it is essential

Voices of dissent emerge

in SP against Mayawati

Lucknow : Voices of dissent

against Bahujan Samaj Party

President Mayawati have started

emerging from the Samajwadi

Party after the BSP snapped its

alliance with the SP on Tuesday.

Senior party MP Ram Gopal

Yadav said that the Samajwadi

Party was bigger party than the

BSP and if the Yadav community

had not voted for BSP candidates,

the party's tally would

have been around four to five

seats.

Ram Gopal Yadav said that

Mayawati had been wrongly

informed by her candidates that

Yadavs did not vote for them. "I went around

the state during the elections and nowhere

did anyone complain about this. I have seen

SP workers campaigning for BSP candidates

and vice versa. There it is wrong to allege

that BSP did not get SP votes," he said.

Aparna Yadav, younger daughter-in-law

of Mulayam Singh Yadav, said that she was

"pained" to hear the statements of Mayawati.

"Jo samman nahin pacha pate, wo apmaan

bhi nahin pacha pate (Those who cannot

digest honour, cannot digest dishonor

either)," she tweeted. Aparna Yadav, incidentally,

belongs to the Shivpal Yadav faction

and has been supporting his party. She had

contested and lost the 2017 Assembly elections

as the Samajwadi Party candidate from

the Lucknow Cantt seat. She told reporters

later that it was wrong to blame the

Samajwadi Party for the poll debacle.

Samajwadi MLA Hari Om Yadav

said that it was the Samajwadi Party

that had suffered losses in the alliance

with the BSP.

"If the SP had contested on its own,

it would have got 25 seats and BSP,

on its own, would have got zero seats.

Mayawati should actually be grateful

to SP cadres for winning 10 seats," he

told reporters.

The BSP had won zero seats in

2014 while Samajwadi Party had won

five seats which increased to eight

seats after the bye-election victories in

2018.

Samajwadi legislators, meanwhile, said

that the alliance did not percolate down to

the grassroots level and therefore SP suffered

losses.

"We will convey our views to the party

president whenever he convenes a meeting.

We supported BSP putting aside past hostilities

but we have emerged as a loser," said a

legislator from central Uttar Pradesh.

for Indian state to respect the sentiments

of the people, accept the diversity of

India both linguistically and culturally

as making it a unified one nation, one

religion, one language idea would only

create crisis and will never be accepted

by people.

Idea of India is enshrined in its constitution

where it celebrate the vast linguistic

and cultural diversity. Let the

north Indians also learn

some new languages of

India. We cant develop

hatred towards people in the

name of languages and cultures.

Urdu paid a price of it

when linked with Muslim

identity and religion rather than a language

which was born in India and

enriched our culture. Similarly, all

Indian languages strengthen our cultural

value system and idea of India. The fact

is that Despite so much of variety the

idea of India unite us and that idea is

that we all are Indians despite diverse

faiths and different languages and cultural

traits, all have equal rights hence

all attempt to impose one language, one

culture, one religion value system on

vast majority of people must be discarded

in greater public interest and in the

interest of our national unity.

Vidya Bhushan Rawat is a social

and human rights activist. He blogs

at www.manukhsi.blogspot.com

twitter @freetohumanity

Email: vbrawat@gmail.com

It was an experiment that

failed: Akhilesh Yadav

Lucknow : Samajwadi Party president Akhilesh Yadav on

Wednesday admitted

that his alliance with

the Bahujan Samaj

Party (BSP) was "an

experiment that

failed".

"I have been a

science student.

There are experiments

and sometimes

they fail... But

at least you realize

what went wrong.

But, today, I will say

what I said when we announced the alliance -- respect to Mayawatiji

is respect to me," he said. He added: "As far as the alliance is concerned,

if we have to contest alone in the Uttar Pradesh by-elections,

I will consult my party leaders on our future strategy." BSP President

Mayawati announced on Tuesday that her party would contest the

coming by-elections in 11 Assembly seats alone and would review

her decision to call off the alliance "only if the Samajwadi Party can

bring an improvement in its cadres".

The 11 seats have fallen vacant after the legislators of BJP, BSP

and SP got elected to the Lok Sabha. This is the first time the BSP

will be contesting by-elections. The party, in the past, has not contested

by-elections, terming it a waste of time. The BSP, in the recent

Lok Sabha elections, contested 38 seats but could win only 10 whereas

the Samajwadi Party contested 37 seats and won five. Political

analysts say that while Mayawati gained from the Samajwadi Party's

Muslim and Yadav voters, her Dalit vote base did not help

Samajwadi Party at all. However, Mayawati claims that her party

candidates did not get Yadav votes.
---
www.theasianindependent.co.uk

New Delhi- Though nine Indian cities

figure among the World Health

Organisation's 10 most polluted global destinations,

lack of effective implementation

of pollution control measures remains a

major challenge, say experts.

The Narendra Modi government's

Pradhan Mantri Ujjwala Yojana, which

ensures LPG connections to women from

poor families, has helped lower indoor pollution.

But vehicular emissions and stubble

burning in the northern states remain major

contributors to air pollution.

With polluted air raising health risks in

a large part of India, the situation is critical

to say the least and assumes significance as

we get ready to celebrate the World

Environment Day on Wednesday. The

United Nation's has set "air pollution" as

the theme for this year's celebrations.

"There are policies and programmes to

deal with air pollution. But there are issues

with their management," said Anand

Kumar, Associate Director (Environment

and Climate Change) at IPE Global, a consultancy

providing technical assistance and

solutions for equitable development and

sustainable growth in developing countries.

The government has dealt with vehicular

emission through several policies, but

stubble burning, which leads to smog and

high level of pollutant in the national capital

during winters, has not been looked at

properly. Last Diwali, in several parts of

Delhi concentration of PM 2.5 exceeded

1,500 μg/m3, way above the "severe" category

and could result in respiratory problems

to even healthy people, said Kumar.

Environmentalist C.R. Babu stressed the

need to raise public awareness.

"Technology cannot help much in the fight

against air pollution. The natural sinks (to

ASIA

Experts for right execution

of anti-pollution steps

Algeria cancels

July 4 presidential

elections

Algiers : Algeria on Sunday cancelled the presidential polls,

which was to be held on July 4, as both the candidates failed to

meet requirements to contest elections.

The papers submitted by Abdelhakim Hammadi, a doctor specialising

in pharmacy, and Hamid Touahri, a retired aircraft maintenance

engineer, in May had been rejected as both did not meet

the requirements, the Algerian Constitutional Council said in a

statement, reported Xinhua news agency.

Amer Rekhila, a law expert, said the deadline for new presidential

elections shall be extended for a maximum of 60 days

according to Article 103 of the Constitution.

Algeria has been plagued by wide-spread protests since

February 22, which forced then President Abdelaziz Bouteflika to

resign on April 2 and led to cancellation of presidential polls

scheduled for April 18. Protesters later started expressing objections

to elections on July 4.

The protesters are demanding guarantee for free and fair elections,

after a short transitional period of at least six months led by

honest and clean authorities.

Algeria's interim President Abdelkader Bensalah shall remain

in office until the new elected President takes oath.

absorb pollutant) have either filled or have

been eliminated, while sources of pollution

are increasing. How many vacuum cleaners

or sprays can be used to remove dust?

People's participation is a must," he said.

Babu suggested creation of green

buffers as one way. "We need multiple

patches of vegetation across the urban

areas. Only a carpet of greenery can absorb

dust and pollutant," he said.

CHARGESHEET in

minor's rape filed

within week in Punjab

Chandigarh

: Acting swiftly

on the orders of

Chief Minister

Amarinder

Singh, Punjab

Police on

Tuesday filed a

chargesheet

against the

accused in the

Dhuri school

minor's rape

case, within a

week of the incident

that had

sent shock waves across the

state.

The challan was filed in the

court of Sessions Judge

Sangrur, immediately after the

DNA test report on accused

Kamal Kumar was received

from FSL Mohali.

Kumar was arrested on May

26 soon after the Dhuri police

received a complaint from

Civil Hospital Dhuri regarding

the sexual assault of a fiveyear-old

school girl.

Medical examination of the

victim was carried out and her

swab samples, blood samples,

clothes etc were sent to the FSL

Mohali. Kumar, who was

arrested the same day, was

remanded in police custody the

next day, when members of the

school management Tarsem

Chand, Jiwan kumar Jain and

incharge of the school Babita

Rani, were also arrested.

A Special Investigation

Team (SIT) headed by

Superintend of Police Gurmeet

Singh was formed under the

supervision of Senior

Superintendent of Police of

Sangrur. During investigation,

SIT added offences under

Section 201 IPC, and Juvenile

Justice AcT 2015. The SIT

obtained one day police

remand of the management

members and also visited the

crime scheme.

A site map was prepared and

various documents were taken

into police custody, along with

the victim's clothes, birth

record, admission record, and

parent-teacher meeting record.

The mobile phone of the

accused was also taken into

custody.

June 2019

7

Afghan President to visit

Pakistan on June 27

Kabul :

Afghanistan President Ashraf Ghani on Tuesday

said that he will

visit Pakistan on

June 27 in an effort

to improve bilateral

relations that are

often hampered by

mistrust and reciprocal

accusations.

In his message

to mark Eid-ul-

Fitr, Ghani said he

agreed to visit

Pakistan's Prime Minister Imran Khan after he met him last

week on the sidelines of the Organization of Islamic

Cooperation meeting in Saudi Arabia, Tolo News reported.

"I hope the visit will be positive," he said.

The Afghan leader said that though he had a productive meeting

with Khan in Saudi Arabia, there was still a need of practical

steps. "'Introductory' meetings are not required, there should

be practical meetings." Kabul has accused Pakistan of harbouring

Taliban militants who launch attacks inside Afghanistan, but

Ghani said he was hopeful that years of mistrust can be replaced

by mutual trust and cooperation towards peace.

During their meeting on June 1, "Khan assured Ghani that

Islamabad will support Kabul in bringing peace and stability in

Afghanistan", the Pakistani Prime Minister's office said in a

statement. "Prime Minister Imran Khan reaffirmed Pakistan's

commitment to a peaceful and stable Afghanistan. He also

underlined Pakistan's firm support for an Afghan-led and

Afghan-owned peace process for political solution in

Afghanistan," the statement said. The statement added that

Ghani and Khan will further discuss security and economic

issues in the forthcoming visit of the Afghan President to

Islamabad.

Pak PM hails military's

'voluntary' cuts

Islamabad : Pakistan Prime Minister Imran Khan has

revealed that

the military has

agreed to slash

the defence

budget for the

next fiscal year

in line with

broader austerity

measures

being introduced

by the

government.

He noted

that the cuts

were agreed

upon despite

"multiple security challenges", the Dawn reported on

Wednesday.

He further stated that the money saved would be diverted to

aid the development of the merged tribal areas and Balochistan.

"I appreciate Pakistan Military's unprecedented voluntary

initiative of stringent cuts in their defence expenditures for next

Financial Year because of our critical financial situation, despite

multiple security challenges.

"My government will spend this money saved on development

of merged tribal areas and Balochistan," he tweeted very

late on Tuesday.

However, Inter-Services Public Relations, the military's

media wing, stated in a later tweet that the cuts "will not be at

the cost of of defense and security", and that it was important for

the military to participate in the rebuilding of Balochistan and

the erstwhile tribal areas.

Director General of ISPR Maj Gen Asif Ghafoor further stated

that the slashes would be managed "internally" by all three

branches of the armed forces taking into account strategic compulsions.

Earlier in February, the government had decided not to make

any cuts in the country's defence budget for the ongoing year.

"The country's defence budget is already low as compared to

other states in the region, and therefore it should be increased,"

the then information minister, Fawad Chaudhry, had said.

According to experts, Pakistan's economy has grown by 5.2

per cent last year, but is forecast to steeply decline to 3.4 per cent

this year and 2.7 per cent next year, before recovering to 4 per

cent in 2021, according to the report.
---
8 June 2019

ASIA

www.theasianindependent.co.uk

Unpredictable

Mayawati!

Mayawati, President of

Bahujan Samaj Party (BSP), is

known as an unreliable, unpredictable

politician in India.

After the death of Kanshi Ram

on 9 October 2006, her political

mentor, Mayawati was supposed

to run the BSP as Kanshi

Ram wanted her to run but it

did not happen.

Although Kanshi Ram

joined hands with the BJP to

make Mayawati the first time

Dalit Chief Minister of Uttar

Pradesh, a most populous state

in India, in 1995 under the

benevolence of the BJP, a

party of Brahmins, Thakurs.

Kanshi Ram, an unassertive

orator, was the leader who

always maintained clean and

honorable image and followed

the ideological path as laid

down by his social, political

mentor-Bharat Ratna(highest

civilian award instituted in

1954)Dr. B.R. Ambedkar, the

chief architect of the constitution

of India.

Mayawati notoriously

claims that she has been sacrificing

everything for the upliftment

of the Dalits but the truth

is that Mayawati aims only for

her own pecuniary advancement.

In 2016, Swamy Prasad

Maurya, an OBC leader in

BSP left Mayawati accusing

her turning the party into an

"industrial house" and allegedly

selling tickets. Later on, the

same leader joined the saffron

BJP party. It is not Swamy

Prasad Maurya who first time

leveled serious accusations

against her but there are many

other BSP leaders at the

national and local level found

that accusations leveled by

Maurya are truthful. Vaishnav

remarks that the BSP President

Mayawati is quite open that a

candidate should make a hefty

contribution to the party in

exchange for nomination.

As a freelance journalist, I

happen to meet leaders and

workers of the BSP in Punjab

and Delhi. A BSP leader from

Punjab on the condition of

anonymity said: "My wife and

I are BSP workers since the

days of Kanshi Ram.

Kanshi Ram personally visited

their house in Phagwara (a

district in Punjab) during his

election campaign. Today the

BSP is not the same as it used

to be at the time of Kanshi

Ram. Kanshi Ram was a man

who loved his workers and

party sympathizers. He used to

listen to the opinions, views of

all the party workers and

accordingly planned the election

strategy to win the hearts

and minds of the Dalits. People

from the Dalit communities

thronged his public meetings.

Today, when Mayawati comes

to Punjab leaders and workers

have to spend a lot of money

from their own pockets and

sometimes raise funds from

the public to hire truck, cars,

and bikes to carry the people to

the venue of the public meeting.

Mayawati is a dictator

who does not listen to anyone

in the party. She sometimes

humiliates the party workers in

the public". You see, no assembly

or parliament seat is won

by the BSP candidate in

Punjab for the last decades, he

said. The onus lies on

Mayawati who never comes

and support the Punjab BSP

leaders. They are left on their

own. The alliance with the

Badal family(Akalis) in

Punjab proved to be a disastrous

alliance since the Badal

family and Jat Sikhs succeeded

in convincing the Dalits that

Mayawati took money from

the Badam family and did not

turn up a single time in Punjab

to support the BSP candidates,

he said. Tell me what is the

utility of billions when

Mayawati cannot save her reputation;

what the utility of billions

is when Mayawati has no

son or daughter. It is beyond

my imagination for what she is

amassing wealth and for

whom, he said.

Another BSP workers from

Jalandhar(Punjab), said: "

Mayawati generally does not

trust the Dalits from Punjab.

She is under the impression

that Dalits from Punjab can be

controlled by her greedy, ravenous

party UP In-charges.

She sends office in-charge

from the central office, UP to

control the state leaders of

Punjab. The state President are

treated badly by the appointed

office in-charge. Sometimes,

the local BSP Punjab leaders

and state Presidents, vice-presidents

are humiliated by the

UP men on the issue of funds

collection. The litany is that

the UP office In-charge claims

that Behnji needs

enormous funds to

travel by helicopters

to various

states of India for

election campaigns.

The UP

office in-charge

will sometimes

stays 15 days and

collect the money

and go back to

deliver the money

to the central

office. God knows

how much Behnji

receive and how much is eaten

away by the UP office Incharge.

You see the majority of

the Dalits are poor, daily laborers

despite that they contribute

funds with a full heart. Their

only dream is to see Bhenji the

Prime Minister of India".

Some funds are collected

through The Backward and

Minority Communities

Employees Federation (BAM-

CEF) founded by Kanshi Ram

in 1978.

A BSP worker from BSP

Delhi unit stated: "The state

President collected funds from

the SCs/STs officers working

in various government departments.

The state President

asked for the funds to give to

Bhenji for going to various

states of India for election

campaigns by helicopter. The

state President collected funds

but most of the funds were utilized

for their own expenses

and some are claimed to be

spent on the maintenance of

the BSP Delhi office".

Another BSP

workers from

Karol Bagh, a

central Delhi district,

the area the

BSP Delhi office

is situated stated:

"A meeting was

called by the

BSP Delhi unit

state President to

discuss the celebration

of Behnji

birthday i.e 15th

– Dr Rahul Kumar January 1956,

This day is also

celebrated as Jan Kalyankari

Diwas(Public Welfare Day).

The basic idea behind the gargantuan

celebration is to raise

funds for the party. In the

meeting all the participants

were told that Behnji has given

a target of ten Million (One

Crore) for Delhi unit, the State

President said. The state

President collected huge funds

from the Dalit officers, teachers,

engineers, and local workers.

A BSP party worker, a

retired government SC

employee, from Nagloi, a district

in the west of UT Delhi

stated, "Mayawati has given

instructions to all state presidents

or secretaries not to

organize any political protest.

The purpose of a political

party is to raise the issues of

the people to the ears of the

government and find a permanent

solution. If a party of

Dalits will not raise an issue of

Dalit atrocities, then who will?

If you become an air-conditioned

leader who will give

you vote? If you do not fight

for the rights of the people as

reverend Baba Saheb

Ambedkar fought for the rights

and social dignity of the poor

Dalits, who will become your

party member? Baba Saheb

Ambedkar fought assiduously

for the Dalits rights and won

'Reservation'. What Mayawati

has done for the poor, underprivileged

Dalits in India? In

UP she could not fight in the

Allahabad court to save the

reservation for the Dalits while

she was the Chief Minister.

She has no political ethics to

continue to represent us in the

parliament. Today, the situation

is that the Dalits are not

trusted neither in the political

circle nor in the social circle

and it is because of

Mayawati`s money-grubbing,

aimless politics, he said.

Her opportunistic politics

has rigorously tarnished the

social and political reputation

of the Dalit communities at

large. After defeat in 2019 Lok

Sabha elections in Uttar

Pradesh(UP), the largest state

having 80 parliamentary seats

she got upset with the alliance

Samajwadi Party(SP) and suddenly

broke the alliance by

accusing the SP of not translating

the Yadav votes to the BSP.

Such accusation seems absurd.

How can Mayawati as the

President of the BSP level such

vile allegation against the

party of Yadavs when she

knew it very well that the

majority of the Yadavs hate

Dalits and its leaders inside

their hearts and minds. The

result of Uttar Pradesh in 2019

Lok Sabha elections shows

that the BSP fielded candidates

in 38 seats out which 10 are

won by the BSP, it means the

BSP is the gainer whereas the

SP fielded candidates in 37

seats and won only 05 seats it

means the SP as an alliance

partner stands loser after the

alliance with the BSP.

A local leader from the

Yadav community after the

official statement of temporary

break-up made by Mayawati

on national televisions claims

that "Mayawati is under pressure

from the BJP. Mayawati

knows it very well that if she

does not come forward to

break the alliance with the SP,

sooner or later the BJP would

compelled her to break under

the threat of Central Bureau of

Investigation (CBI). He further

said that Neta Ram, a close

aide of Mayawati is already

under CBI scanner. The BJP is

going to use him as bait to torment

Mayawati."Mayawati

knows it very well that her

party has no cadre workers

who would stage nationwide

protest if Mayawati is arrested

on the charges of corruption,

he said. Mayawati herself

claim that the SP leaders gave

her a lot of respect. After allegation

against the SP leaders,

this respect earned by her went

with the wind. On that, Arpana

Yadav, younger daughter –in

law of Former Chief Minister

Mulayam Singh Yadav said:

"Those who cannot digest

respect cannot digest defeat

ether". GVL Narasimha Rao

said, " this was predicted by

the Prime Minister a long time

back so it happened. He further

said, "the era of caste politics

in India is over".

Mayawati has to face a lot

of criticism in the coming days

for her immature act. She

could have waited for few

months before jumping to the

conclusion before announcing

break-up officially. Today

Mayawati is 63 years old.

Modi has already occupied the

seat of Prime Minister for five

years i.e. till 2024 Mayawati

has no chance even at distance

to become a Prime Minister of

India. Mayawati out of desperation

sacked office bearers,

coordinators in Uttrakhand,

Jharkhand, Rajasthan, Gujarat,

and Punjab and more to follow

after the ignominious defeat in

2019 Lok Sabha elections.

What it indicates that the BSP

Supremo Mayawati has lost

political credibility.

Those who were hoping to

see her Prime Minister of India

should sit at home and whine

her premature political demise.

Dalits Diaspora in UK,Canada

and USA and other western

countries should stop funding

the state Presidents, vice-president,

secretaries of the BSP in

the name of Mayawati. They

should invest their money and

time on education of the boys

and girls belonging to the marginalized

communities. That

would be an honest tribute to

Baba Saheb Ambedkar- THE

WORLD HERO.
---
www.theasianindependent.co.uk ASIA June 2019 9

Amid 'divergent' statements

by aides, ED to tighten

noose around Vadra

New Delhi : The Enforcement

tries to associate with him and has never

Directorate is all set to tighten the noose

around Robert Vadra, brother-in-law of

Congress President Rahul Gandhi, as there

are discrepencies in his and his associates'

statements.

A senior ED official told IANS that the

statements made by Vadra during various

sessions of questioning between February-

March 2019 contradict the statements produced

by his associates and counsels during

the questioning in the case.

The official said, "When he appeared for

the first time on February 6, Vadra had said

that he could not categorically say he knew

Puja Chadha. While on March 8, he told the

officials that he did not know Chadha.

"The official said when Vadra was asked

whether he knows Sumit Chahdha, a relative

of arms dealer Sanjay Bhandari, he said he

has not met Sumit Chadha.

"Meanwhile, one of his associate said that

Vadra knows Sumit Chadha," the official

said.

"To a question whether he knows Dubaibased

businessman C.C. Thampi through

whom the ED suspects kickbacks were routed

in a petroleum deal in 2009, Vadra stated

that he had met him on board an Emirates

flight," the official said, adding, "while

Thampi stated that he met Vadra through

Madhavan, personal assistant of Sonia

Gandhi."

The ED has recorded the statement of

Thmapi on April 6 this year.

Pointing out another contradiction, the

official said Vadra was asked whether he has

any knowledge about 12 Bryanston Square

(BSQ) property in London. "Vadra during

questioning on February 7, replied that he

has never stayed there. While Thampi in his

statement on April 6 said that Vadra did stay

at 12 BSQ in London," the official said.

Another contradiction was raised on

emails of Vadra from Sumit Chadha and Puja

Chada. The official said that on February 6,

Vadra agreed that a particular email ID

belonged to him. However, the very next day

he denied that these mails were written to

him. "On the contrary, the close aide of

Vadra, Manoj Arora, who was also questioned

by the ED on January 16, told the

investigators that "email appears to have

been sent by Sumit Chadha on the email ID

of Vadra and only he can explain the content

of the emails as these are addressed to him,"

the official said. The official said during

questioning, Vadra denied he knew Vipul

Beriwala.

"While Arora's mobile has the contact

number of Briwala saved in it," he said.

The official then said that during questioning

on March 8 this year, Vadra denied he

knew Sanjeev Varma, while again the mobile

phone of Arora has the contact of Verma.

Pointing out to another discrepancy, the

official said when Vadra was asked if RV

stands for his name in emails, he has stated

that "he is not known as RV and people do

not refer to him as RV".

"While the mobile phone of Arora on

January 31 said that the contact of MRV in

his phone stands as Mr Robert Vadra," he

said. The official then said that when on

February 6 Vadra was asked if he knows

Jagdish Sharma, he told the agency that

Sharma hovers around him, follows him and

worked for him.

"On the other hand, on December 8 last

year, Sharma during his questioning stated

that he is close to Gandhi family but he is

closest to Vadra," the official said.

"He said he does political profiling of

Vadra and also advises him on various matters,"

the official said.

Highlighting other discrepancies, the ED

official said when Vadra was asked on

February 7 if he is known as 'sahab', the husband

of Congress general secretary Priyanka

Gandhi Vadra, he stated that his subordinates

refer to him as "boss".

"While Sharma during questioning on

December 10, stated that 'sahab' is referred to

Vadra. And Anuj Nautiyal in his statement to

the ED on December 8 stated that Sharma

had told him that his 'boss' had invested in

the foreign properties in question and

Sharma referred to Vadra as his 'boss'," the

official noted.

"Even Vadra has stated on March 8 that he

is not referred as 'Robert Saheb', while Arora

has stated that Vadra is also addressed as

'Robert Saheb' and 'RV'," the official said.

Besides, the discrepancies, the ED has

also questioned Vadra whether he traveled

with Bhandari to France. "Vadra has stated

he was not sure," the official said.

The official said that Vadra on February 9

also said that he cannot recollect the emails

of Vishal Bajpai regarding the reservations

made for him and Arora.

Vadra has also denied knowledge about

the ownership of Columbyne Management

Ltd. and that he knew Sanjay Dhir.

Vadra is being investigated by the financial

probe agency in connection with a

money laundering case involving foreign

assets worth 1.9 million Great Britain Pound.

So far he has been questioned by the ED

for over 14 times. A Delhi court on Monday

allowed Vadra to travel to the Netherlands

and the US for medical treatment for six

weeks.

21 stocks surged over 50% in

Nifty's 11,000-12,000 journey

Mumbai : Around 21 stocks

contributed the most in the

Nifty's 333-days journey from

11,000 to the 12,000 mark, with

over 50 per cent gain during the

period. The index settled above

the 12,000 mark for the first time

on Monday. On Tuesday, it settled

at 12,021.65, lower by 66.90

points or 0.55 per cent from its

previous close.

Among the 21 stocks of Nifty

500, shares of three companies

rose more than two-fold, according

to data from Ace Equity.

Adani Power, Balrampur Chini

Mills and Vinati Organics rose

by 160.88 per cent, 125.14 per

cent and 122.30 per cent respectively.

They were followed by

Fine Organic

Industries and

Praj Industries,

which increased

by 93.28 per

cent and 84.76

per cent. other

companies in

the top 10 were

Procter and

Gamble Health

(77.44 per cent),

Info Edge

(India) (75.08 per cent), Power

Finance Corp (74.03 per cent),

UPL (73.06 per cent), ICICI

Lombard General Insurance

(71.61 per cent).

The 21 top companies also

included ICICI Bank (55.31 per

cent), Axis Bank (50.95 per

cent), Interglobe Aviation (50.44

per cent).

The other stocks included

SRF, Bata India, Muthoot

Finance, DCM Shriram, Tube

Investments of India, Aditya

Birla Fashion and Retail, Titan

Company and Heidelberg

Cement India.

Analysts said that the recent

surge in the market was mostly

based on hopes of reforms,

return of the BJP-led NDA government

to power and also of

probable interest rate cuts.

"The journey of 1,000 points

was a hope rally. Now, the market

now would depend upon how

fast the reform process takes

place and the problems with

NBFCs get resolved," Saurabh

Jain of SMC Comtrade said.

The Nifty50 may reach

13,000 mark and the BSE

Sensex may touch 43,500 by the

end of the year, Jain said.

Punjab top brass reject

reports on ISI's plans

Chandigarh : A high-level meeting, chaired by Punjab Chief

Minister Amarinder Singh,

here on Tuesday reviewed

the state's internal security

as well as law and order

situation, and raised doubts

about the authenticity of

alleged intel reports suggesting

an ISI project to

target retired army and

police officials to revive

militancy in Punjab.

Even as he directed the officials to take all possible steps to

maintain peace and harmony in the state, the Chief Minister agreed

with them that reports referring to intel inputs on such a project

seemed far-fetched and removed from the ground realities.

The reports were not verified and could be false, the meeting

felt, with the Chief Minister asking the police to take all possible

steps to verify such reports and check the spread of rumours, which

could lead to panic among people.

The Chief Minister, however, made it clear that his government

would not allow the state's peace and law and order to be disturbed

at any cost. The meeting comes a day after Punjab Police said

Pakistan-based Khalistan Liberation Force (KLF) handler Harmeet

Singh alias 'Happy PhD' was plotting to carry out a Rajasansi-like

attack on the anniversary of the Operation Bluestar.

The disclosure came after seizure of smuggled hand-grenades at

Kukranwala Adda in Amritsar district's Ajnala sub-division.

After initial investigations, the police said Harmeet 'PhD', also a

suspect in the grenade attack on a prayer congregation at the

Nirankari Bhawan in Rajasansi, was believed to be behind the

smuggling of hand grenades from Pakistan.

Police officials briefed the Chief Minister on the incident and

informed the meeting that probe was on to ascertain details about

the make of the grenades and the smuggling route.

ED questions Vadra over six

hours in money laundering case

New Delhi : The Enforcement Directorate (ED) on Tuesday

questioned Congress

President Rahul

Gandhi's brother-inlaw

Robert Vadra for

over six hours in connection

with a money

laundering case

involving assets

allegedly held abroad.

Vadra was asked

about the money

received by his company

as alleged kickbacks

in petroleum

deals in Gujarat. The

agency said the money

was used to buy properties

in London.

He appeared before

the investigators at

ED's Jamnagar office

in central Delhi following

summons.

The case relates to

the ownership of 1.9

million pounds of

overseas assets and

undisclosed entities set

up to evade tax.

In a Facebook post before arriving at the ED office, Vadra

wrote: "As I make my way for the 13th time, post almost 80 hours

with the Enforcement Directorate, answering any number of questions,

amidst sensation and unnecessary drama around, I stay

focused and calm." The businessman was upset with news reports

and media questions on his health and wrote: "But blatantly and

carelessly airing my health matters is not correct... But my time

spent with people with worst problems, ailing, blind and orphaned

kids to see them still smile, gives me the strength to go on..."

Vadra appeared before the financial probe agency, a day after a

Delhi court allowed him to travel to the Netherlands and the US for

six weeks of medical treatment.

Last Thursday, Vadra was questioned by the ED for over seven

hours on the amount received by his company as kickbacks in

petroleum deals in Gujarat. The agency accused him of using the

money to buy properties in London. However, he skipped the ED

questioning the next day citing ill-health.
---
10 June 2019

ASIA

www.theasianindependent.co.uk

'India can replicate China's

plan to tackle pollution'

Indian Sweets

& Catering

New Delhi, June 5 (IANS) China's

experience can be relevant to India in

tackling high pollution levels across the

country, a new report by a Chinese policy

and advocacy group said on Wednesday.

The report said India is facing a strong

opportunity for controlling air pollution

and introduces China's rapid progress in

air quality management from 2013 to

2017. It also identifies suggestions referencing

China's experience for Indian air

quality management efforts currently

underway. The United Nations

Environment Programme (UNEP) has

chosen air pollution as the theme for this

year's World Environment Day that falls

on June 5 with China as the host country.

Chinese environmental think tank

Bluetech Clean Air Alliance released a

report -- "Gaining a rapid win against air

pollution: How India can make use of

China's experience" -- sharing China's

experience that can be relevant to the

Indian context in tackling high pollution

levels. As India enters the implementation

stage of the National Clean Air

Programme (NCAP), a plan which aims

to bring down particulate pollution by 20-

30 per cent across 102 cities in five years,

experts at Bluetech Clean Air Alliance

claim the predicament and questions were

similar in China when the government

issued the National Clean Air Action Plan

(2013-17). The targets and ambition set

by the Chinese government required it to

achieve significant air quality improvement

in five years, comparable to the

reduction Europe and the US achieved in

decades. This was considered an impossible

mission and at the cost of slowing

down economic growth, an expert said.

Yet, China successfully achieved all

the air targets planned with continuous

growth of economy.

The particulate matter levels were

reduced by over 22 per cent across China,

and highly polluted Beijing and surrounding

region saw a 40 per cent improvement.

Being two of the world's largest

economies and most populous countries,

India and China's battles against air pollution

have global attention and spotlight.

Combined, the two countries also have

a population of over two billion people

who are facing adverse health impacts of

polluted air. Bluetech Clean Air Alliance

head Tonny Xie said: "Strong political

will and top level commitment from the

government played fairly important roles

in achieving clean air goals." "In 2013,

the Chinese premier declared a war

against pollution, signalling a new era in

environmental management. This paradigm

shift meant more frequent and

stronger policies and regulation. Nearly

300 national policies, appearing in different

forms as regulations, sectoral standards

and plans, had been rolled out from

2013 to 2017."

Based on China's experience, the

report said India should consider strong

political commitment and belief by the

top echelons of decision making in the

country in the benefits of air quality

improvement. Also, well designed science-based

policy making towards developing

emission inventory, data monitoring,

air quality modelling, source apportionment

and cost benefit analysis to

ensure most optimal and prioritized action

plans. It also favours implementation targets

of air quality programs designed with

adequate consideration to regional air

sheds where sources of pollution are nearly

similar. Aarti Khosla, Director, Climate

Trends -- a communications initiative

which partnered with Bluetech Clean Air

Alliance to bring the Chinese study to

India -- said: "As two countries with

starkly different political systems, India

and China differ fundamentally in how

policies are set and implemented."

"Yet, with bad air as a common, Indian

decision making could borrow aspects of

Chinese success, and combine it with a

more participatory approach and an

Indian way of finding a solution to the

problem.

"This will mean close coordination

among the Centre, the states and the

municipal corporations. No success is

possible unless there isn't agreement with

the different levels of decision making,

which is a necessary first step," she said.

We Cater For All Occasions;

Weddings, Birthdays,

Engagements Parties or any

other Social Functions.

Big Discounts on

Bulk Orders

Quality Service and

Years of Experience

71 Great Bridge,

Tipton, DY4 7HF

Tel. 0121 238 2648

Mob: 07413 426 930

Mail: vivek_18hp@yahoo.com

MAHARASHTRA told to complete PG

medical, dental counselling by June 14

New Delhi : The Supreme

Court on Tuesday told the

Maharashtra government to

reshuffle and hold "final" counselling

for general candidates

who got admission to PG medical

and dental seats on or before

June 14. Earlier, the apex court

had struck down the notifications

related to EWS quota for

the current academic year.

A vacation bench comprising

Justice Indu Malhotra and M.R.

Shah directed the state government

to advertise and give it

wide publicity specifying "final

round of counselling" and complete

the process within the stipulated

time period on the basis of

merit, and directed the former

not to miss this deadline.

The court also said that preferences

made by candidates

while filling up the admission

forms will remain intact and it

cannot be changed during the

reshuffling and counselling

process. The court also said: "No

application and petition in connection

with the admission in PG

medical courses in the state, for

this current academic year, can

be entertained by any other

court." The court asked the state

government to consider the

plight of the students who have

been adversely affected by the

implementation of the EWS

quota and the manner in which it

will impact their career.

The court's order came on

pleas filed by some medical students

seeking re-drawing of the

merit list after a fresh round of

counselling. The students

moved the top court after it

struck down the EWS quote in

PG medical admission for the

current academic year. The

court queried the state government

counsel to explain the reason

for not conducting

counselling after redrawing

the merit list.

"You (state) are the

author of this problem. It

is very improper -- meritorious

students cannot

be thrown out of the

window like this... fresh

counselling is mandatory.

The state must adopt a fair

process", said the court. The

counsel for the authority conducting

the test informed the

court that re-shuffling of the

merit list has been done in accordance

with the apex court's

order. Advocate Akash Kakade,

the counsel appearing for one of

the petitioners, said that no fresh

counselling has been conducted

so far, as previous rounds of

counselling was cancelled.

The Maharashtra government

counsel informed the court after

interim stay on the EWS quota,

the merit list of the students has

been re-shuffled, but no counselling

has been done so far.

"How long does the counselling

take?....it can be easily done in

two days," the court said. The

court appreciated the suggestions

made by the counsel of the

Medical Council of India (MCI)

who recommended manual or

physical counselling instead of

online counselling, and that an

advertisement should be issued

on the same.

715-C Parkfield Road

Wolverhampton, WV4 6EE

Tel. 1902 681 655

TM

Sky Digital Channel 0205

24 hour Entertainment

On Sky, On-Line, On Mobiles

Studio : 01902 457875

Reception : 01902 450533
---
www.theasianindependent.co.uk

ASIA

June 2019

11

Computer Baba takes charge

in MP, demands chopper

Bhopal : Namdev Das Tyagi, aka,

Computer Baba, who joined office at

the state secretariat here as chairman of

the Narmada-Mandakini-Kshipra trust

with ministerial rank on Tuesday, did

not waste even an hour after taking

charge to demand a helicopter within a

week to inspect the Narmada River.

Tyagi assumed charge amid rituals

and chanting of mantras in the presence

of former chief minister Digvijaya

Singh, state Law Minister P.C. Sharma

and a few religious functionaries.

No one should be surprised if the

Baba gets a chopper to survey the

Narmada. The baba said he wants the

job expedited. Any other means would

delay action. Chief Minister Kamal Nath had

handed the job of rejuvenating the holy river

to Tyagi, saying the river would get a new

life. "We will form a Narmada Sena for the

task. The previous Shivraj Chouhan government

was corrupt to the core," Nath had said.

He said there should be no objection to

'babas' coming into the government. There is

one already running a state government, he

had said, referring to UP Chief Minister Yogi

Adityanath. 'Computer Baba' had campaigned

for Digviajaya Singh during the

recent Lok Sabha elections. He had conducted

a havan to ensure Singh's victory. He had

also announced that Prime MInister

Narendra Modi would lose the Lok Sabha

Election and that BJP would never win. The

results are out now and the state government's

persistence with the mumbo-jumbo of

godmen is drawing derisive comments from

people.

After the Congress was trounced, the

Baba said the sanyasis (seers) don't support

any political party. They stand by the religion

while the parties come and go.

On May 9 the Bhopal police had lodged

an FIR against the Baba, ironically, on a

complaint from the BJP saying the Baba was

fanning communal sentiments.

On May 7 he had performed 'Hath Yoga'

and performed a 'chillies havan mahyagna'

along with Digvijaya Singh and his wife to

ensure Singh's victory. This had prompted

the Election Commission to serve a notice on

him for violation of Model Code of Conduct.

The Baba promptly said he had not invited

the Singh couple to the havan. "I don't know

whether Singh and his wife were present at

India, Pakistan must start new

chapter: Mirwaiz Umar

Srinagar : Senior religious

and separatist leader Mirwaiz

Umar Farooq on Wednesday

urged India and Pakistan to start

"a new chapter" and told the

Modi government that the

Kashmir issue needed "a peaceful

and political solution".

Delivering the Eid sermon at

the historic Jamia Masjid in the

old city's Nowhatta area here,

Mirwaiz Umar said: "We want to

remind the new political dispensation

in India that the Kashmir

issue is a reality which cannot be

wisher away.

"It needs a peaceful and political

solution. We are ready to

extend a helping hand and support

a peaceful dialogue between

the two countries," he said.

"We demand that the present

military approach against our

youth be stopped.

"I pray that today's Eid, being

celebrated in the entire sub-continent,

should bring the message

of peace, friendship, well being

and prosperity for the people of

India, Pakistan and Kashmir.

"We pray that the people of

India and Pakistan start a new

chapter today, forgetting the bitterness

and mistrust of the past.

"The people of Jammu and

Kashmir and their leadership

wants that we should become a

bridge of friendship between the

two countries.

"We demand and expect that

all the CBMs like Srinagar-

Muzaffarabad trade, people-topeople

contacts which have been

put on hold are restored. We

don't expect these CBMs to be

restored only between the two

parts of Kashmir but want such

CBMs to be announced between

India and Pakistan as well."

Pakistan Foreign Secretary

prays at Jama Masjid

New Delhi : Pakistan Foreign Secretary

Sohail Mahmood on Wednesday offered Eid

prayers at the 17th century Jama Masjid here,

diplomatic sources said.

Mahmood, who arrived here on Tuesday

night on a three-day private visit to India, is

scheduled to return to Pakistan on Friday, the

sources said. Mahmood took part in the Eid

prayers with his children who study in Delhi.

Mahmood was Pakistan's High

Commissioner in India before taking charge as

Foreign Secretary in April this year.

the spot or not. I didn't invite them. The

camp was set up from the donations

received," the Baba said.

The Baba has been in and out of news

and governments of rival parties in the

state in the name of guarding the interest

of the people on the banks of the

Narmada.

Over a year ago when former chief

minister Shivraj Singh Chouhan had

carried out a yatra along the river and

claimed to have planted six crore sapling

on the banks, the Baba was up in arms

against government's alleged corruption

and for polluting the sacred river by conniving

with sand mining mafia.

Chouhan had inducted him in a panel

to rejuvenate the river and accorded him

ministerial rank. He was often seen hobnobbing

with the press in the coffee house of

Bhopal. Baba's demands continued to rise

and finally, he left the ministry ahead of

assembly elections to campaign for the

Congress. He started accusing the BJP of

being irreligious and said Shivraj was ignoring

the cause of cow protection. This was

when one of his rival baba was appointed a

cabinet minister in the ministry for cow protection.

He was among the prominent invitees

during the swearing-in ceremony of Chief

Minister Kamal Nath. Computer Baba was

appointed chairman of a trust by the

Congress on March 10. To avoid action for

violation of electoral code, he had delayed

taking charge till after the elections.

Event Management & Wedding Planners

Travel & Accommodations

Enjoy Holidays in India & Across the Globe with ONTIME

Inbound & Outbound Tailor Made Tours

Ontime Luxurious Apartment

Rent-a-car Service Across India

Visa & Air Tickets | Travel Insurance

ONTIME HOSPITALITY SERVICE (Mumbai, India)

+91-22-26848985/66952866/26837175

+91-9833120569

info@ontimetravel.net, chetna@ontimetravel.net

www.ontimetravel.net | www.ontimeapartments.com

On kanshi TV

channel 864.

SATURDAY at

6 :00 pm

SUNDAY at

6 :00 pm

Ambedkarites News and Views

by

BUDDHIST INTERNATIONAL MEDIA

Mob : 07411 251 804, 07847 307 059
---
12 June 2019

BUSINESS

www.theasianindependent.co.uk

Niu Neer coconut

delivery app to serve

COCONUT WATER

New Delhi, India's first fresh tender

coconut delivery app is here. Niu Neer,

India's first-ever tender coconut delivery

service provider, is determined to offer

India's beloved 'nariyal paani' with the

utmost convenience and consistency.

A classic yet contemporary favourite in

India, Niu Neer proposes to put premium

quality tender coconuts in the hands of the

consumer, a couple of days from the time

they are picked.

With services available in Mumbai and

Chennai, Niu Neer is building its followers

by the thousands with its diverse target

audience. From households that traditionally

drink the beverage every morning to

discerning millennials adopting healthy

lifestyles, the company not only aims to

provide a service but to ensure a sustainable

one as well.

Inspired by the vision to create a consumer

revolution, Niu Neer dove into the

source of the value chain, reducing numerous

layers between the producer and con-

customers to be responsible to the environment.

For every delivery we also collect Niu Neer Founder Deepak Ram said.

tons of solid waste to the city of Mumbai,"

sumer. This enables audiences to avail

every shell we shell.

With business picking up, Niu

fresh, home-delivered produce, while

We make sure we recycle the shells the Neer aims to expand to 5 cities across the

simultaneously delivering a fair price to

customers have returned and have created next 18 months with Hyderabad,

farmers. "Our goal is not only to provide a

an innovative and seamless sustainability Bengaluru, Ahmedabad, Pune and Indore

seamless service but also to incentivize

initiative with these units thereby reducing on the map.

RIP iTunes as Apple aims big on

music subscription service

San Jose (California) : As the music streaming industry gets

bigger with more global

players joining the

fray, Apple has finally

announced to phase out

iTunes with its three

modern standalone

music services.

Apple on Monday

previewed "macOS

Catalina" which is the

latest version of the

world's most advanced desktop operating system, packed with

new features, fresh new apps and powerful new technology for

developers.

"With macOS Catalina, Apple is replacing iTunes with its popular

entertainment apps — Apple Music, Apple Podcasts and the

Apple TV app," said the company during its developers' conference

"WWDC 2019" here.

macOS Catalina replaces iTunes with these three modern apps

that simplify and improve the way Mac users discover and enjoy

their favourite music, TV shows, movies and podcasts.

The move to phase out iTunes didn't come as a shock as the

tech giant has been pushing users toward its music subscription

service. "With macOS Catalina, we're bringing fresh new apps to

the Mac, starting with new standalone versions of Apple Music,

Apple Podcasts and the Apple TV app," said Craig Federighi,

Apple's senior vice president of Software Engineering.

iTunes was formally launched in 2001 and its music store was

launched two years later.

Apple Music will help users discover great new music with

over 50 million songs, playlists and music videos, said the company.

The users will have access to their entire music library,

whether they downloaded the songs, purchased them or ripped

them from a CD.

For users who sync their media to their devices using a cable,

they can quickly and easily do so in the new entertainment apps.

And when users connect a device to their Mac, it will immediately

show up in the sidebar of Finder, enabling them to backup,

update or restore their device.

The developer preview of macOS Catalina is available to Apple

Developer Programme members.

Madhya Pradesh stares at grim drought

Bhopal, The peak summer is called

'Nautapa' — nine days of intense heat

— in Madhya Pradesh. Though the

period ended on Monday, the met

office refuses to forecast any relief

from the scorching heat in the next 48

hours.

Half the state is experiencing high

temperatures with the mercury in

Khajuraho and Naugaon reaching 47.5

degree Celsius. At 48.3 degrees

Celsius, Gwalior broke a 72-year-old

record on Friday.

Some areas of the Malwa region

experienced sporadic showers, which

could mean added humidity. Capital

Bhopal crossed the 44 degree Celsiusmark

for the fourth successive day on

Monday. This year's monsoon has

been delayed by a fortnight. Over the

past 20 years, only once did the monsoon

set in in the second week of June.

This year, however, it could be

delayed beyond June 24.

The resultant delay has left the

farmers worrying. The uncertainly

about sowing has doubled as there is a

likelihood of the showers being interspersed

with long gaps. That can force

multiple rounds of sowing, which

might derail the cropping calendar.

The heat wave has lashed most

parts of the state, keeping people

indoors in Damoh, Gwalior,

Khajuraho and Naogaon. Satna,

Umaria Rewa, Tikamgarh ,Shajapur,

Khargone, Guna and Shivpuri districts

too experienced high temperatures for

a better part of the past week.

Dust storms have been forecast till

Wednesday in Singrauli, Rewa, Sidhi,

Seoni, Khargone, Betul, Burhanpur,

Anuppur, Balaghat, Dewas, Satna and

Chhindwara districts, while dry spell

would extend in the remaining districts.

The met department has issued an

alert of severe loo in all the districts of

Mandla, Rewa, Jabalpur, Ujjain,

Sagar, Gwalior and Chambal divisions

and in Umaria, Raisen, Rajgarh,

Kharguna and Shajapur districts in the

next 24 hours.

Even before the onset of monsoon,

nearly 4,000 villages are staring at

acute drought in 36 out of the 52 districts

in the state.

A lean monsoon last year brought

in its trail a grave crisis for the third

successive year. Way back on March

15, a report by the Panchayat and

Rural Development department said

that 40 rivers that provided water to

these villages have gone dry and the

micro-watershed management was in

complete disarray. Most parts of the

state have experienced 20 to 50 per

cent deficient rainfall for the past two

years. Villages in Bundelkhand had

begun to experience water scarcity

early in November. The Bundelkhand

region is experiencing the fourth successive

drought in five years while the

rest of the state had a normal monsoon

in 2017. This year, the worst-affected

of the 36 districts is Katni with 305

villages experiencing water crisis.

Chief Minister Kamal Nath's stronghold

Chhindwara is another district

where water management has failed

and 145 villages bear the brunt of the

crisis. Another 2,000 villages are

affected in the districts of Rewa,

Chhatarpur, Jhabua, Rajgarh, Sagar,

Seoni, Dewas , Mandla, Neemuch ,

Damoh and Shivpuri.

Some villagers in Tikamgarh district

in the Bundelkhand region are

travelling more than five kilometres

every day to fetch water for over three

years now. Even the Swachh Bharat

Mission has taken a hit as women have

to walk long distances to use toilets.

The community toilets have no water

in most villages.

The Panchayat and Rural

Development department has drawn

up a plan to raise the groundwater

level by recharging the rivers through

community participation. The objective

is to raise rural jobs and provide

drinking water through works under

the Mahatma Gandhi National Rural

Employment Guarantee Scheme

(MGNREGS).

The state government may seek the

Election Commission's approval for

sustaining work to mitigate the crisis.

Considerable time was lost during the

Lok Sabha elections with the model

code of conduct cramping the administration.

Bhopal, which is also known

as City of Lakes, is facing a grim situation

with the administration formally

declaring it a low water availability

zone. A 33-year-old Water

Conservation Act has been invoked to

ban drilling of borewells, except for

drinking water. This year the Upper

Lake, the main source of drinking

water supply in Bhopal, has already

hit dead storage levels.
---
www.theasianindependent.co.uk

HEALTH

June 2019

13

Washington : Does your

child go to school by walking or

pedaling? If your answer is no,

then your child can easily fall

prey to obesity. A recent study

has been found that children

who regularly walk or cycle to

school are less prone to becoming

overweight.

The study was published in

the journal 'BMC Public

Health.' Based on results from

more than 2000 primary-age

schoolchildren from across

London, the researchers have

found that walking or cycling to

school is a strong predictor of

obesity levels, a result which

was consistent across neighbourhoods,

ethnicities and

socioeconomic backgrounds.

The study is the first to assess

the effects of physical activity

on childhood overweight and

obesity levels for primary

schoolchildren by simultaneously

relating two of the main types

of extracurricular physical activity:

daily commuting to school

and frequency of participation in

various sports activities.

Instead of using Body-Mass

Index (BMI) as a measure of

obesity, the researchers measured

body fat and muscle mass

and assessed how these were

correlated with physical activity

levels. BMI is the most commonly

used metric to measure

obesity levels due to its simplicity;

however, it is limited as

BMI looks at total weight,

including 'healthy' muscle

mass, rather than fat mass alone.

"Both BMI itself and the

points at which high BMI is

associated with poor health vary

with age, sex and ethnicity,"

said Lander Bosch, the lead

researcher. "While adjustments

have been made in recent years

Children who

walk to school less

prone to obesity

to account for these variations,

BMI remains a flawed way to

measure the health risks associated

with obesity," he added.

The current study is based on

data from the Size and Lung

Function in Children (SLIC)

study, carried out at University

Eating blueberries can

improve heart health

LONDON : Eating a cup of

blueberries daily reduces the risk

of cardiovascular disease (CVD)

by up to 15 per cent, according

to a study.

The findings, published in the

American Journal of Clinical

Nutrition, suggest that blueberries

and other berries should be

included in diets to reduce the

risk of cardiovascular disease.

"Having metabolic syndrome

significantly increases the risk of

heart disease, stroke and diabetes

and often statins and other

medications are prescribed to

help control this rise," said study

lead author Aedin Cassidy,

Professor at the University of

East Anglia in Britain.

The researchers studied

whether eating blueberries had

any effect on metabolic

syndrome—a condition,

affecting 1/3 of

westernised adults,

which comprises at

least three of the following

risk factors:

high blood pressure,

high blood sugar,

excess body fat around

the waist, low levels of

'good cholesterol' and

high levels of triglycerides.

For the study,

the researchers investigated

the effects of eating

blueberries daily in

138 overweight and

obese people, (aged

between 50 and

75), and having metabolic syndrome.

"We found that eating one cup

of blueberries per day resulted in

sustained improvements in vascular

function and arterial stiffness

- making enough of a difference

to reduce the risk of cardiovascular

disease by between 12

and 15 per cent," said Peter

Curtis, co-author of the study.

College London between 2010

and 2013. More than 2000

London primary schoolchildren,

from a range of ethnic and

MELBOURNE : Women

who experience symptoms of

depression are at increased risk

of developing multiple chronic

diseases such as diabetes, heart

disease, stroke and cancer, a

study has found.

The research, published in the

journal Health Psychology, suggests

that depression and chronic

diseases share a similar genetic

or biological pathway.

"These days, many people

suffer from multiple chronic diseases

such as diabetes, heart disease,

stroke and cancer," said

Xiaolin Xu, a PhD scholar at the

University of Queensland in

Australia. "We looked at how

women progress in the development

of these chronic diseases

before and after the onset of

depressive symptoms," Xu said.

The Australian Longitudinal

Study on Women's Health followed

healthy, middle-aged

women with no previous diagnosis

of depression or chronic illness

over 20 years.

The study found 43.2 per cent

of women experienced elevated

symptoms of depression and just

under half the cohort reported

they were diagnosed or taking

treatment for depression.

Women from the depressed

group were 1.8 times more likely

to have multiple chronic

health conditions before they

first experienced depressive

symptoms. "Experiencing

depressive symptoms appeared

to amplify the risk of chronic illness,"

Xu said. After women

started experiencing these symptoms,

they were 2.4 times more

likely to suffer from multiple

chronic conditions compared to

women without depressive

symptoms. "Inflammation in the

body has been linked to the

development of both depression

socioeconomic backgrounds,

were included in the study,

which looked at their physical

activity levels, body composition

and socioeconomic status.

Close to half of the children

in the study took part in sports

every day, and a similar proportion

actively commuted to

school, travelling by either on

foot, bicycle or scooter. The

researchers found that children

who actively commuted to

school had lower body fat, and

therefore were less likely to be

overweight or obese.

However, when looking at fat

mass and muscle mass separately,

children who engaged in

sports every day had significantly

more muscle development,

while their fat mass did not significantly

differ. "The link

between frequent participation

in sport and obesity levels has

generated inconsistent findings

in previous research, but many

of these studies were looking at

BMI only," said Bosch.

"However, when looking at

body fat instead, we showed

there was a trend whereby children

who were not active were

more likely to be overweight or

obese. It's likely that when looking

at BMI, some inactive children

aren't classified as obese

due to reduced muscle mass," he

added. The researchers believe

that it is important to understand

the relationship between obesity

levels and different types of

physical activity in order to

develop informed policy measures

that could contribute to the

reversal of the childhood obesity

epidemic. "Our findings suggest

that interventions promoting

regular participation in sports,

and particularly active commuting

to school could be promising

for combating childhood obesity

– it's something so easy to

implement, and it makes such a

big difference," said Bosch.

Depression may up risk of

multiple chronic diseases: Study

and chronic physical diseases,"

he said. "Chronic diseases, like

diabetes and hypertension, are

also commonly associated with

depression," Xu said. These

findings help strengthen healthcare

professionals understanding

of mental and physical health.

"Healthcare professionals

need to know that clinical and

sub-clinical depression (elevated

depressive symptoms) can be

linked to other chronic physical

conditions," he said. When treating

patients for these symptoms,

healthcare professionals must

realise these people are at risk of

developing further chronic illness,

researchers said.
---
14 June 2019

HEALTH

www.theasianindependent.co.uk

Childhood adversity may up mental disorder risk

WASHINGTON : Growing up in

poverty and experiencing traumatic

events like an accident or sexual assault

may increase the risk of mental health

disorders, such as depression and anxiety,

a study warns.

The research, published in the JAMA

Psychiatry, shows that low socioeconomic

status (L-SES) and the experience

of traumatic stressful events

(TSEs) were linked to accelerated

puberty and brain maturation, abnormal

brain development. "The findings

underscore the need to pay attention to

the environment in which the child

grows. Poverty and trauma have strong

associations with behaviour and brain

development, and the effects are much

more pervasive than previously

believed," Raquel E Gur, a professor at

University of Pennsylvania in the US.

The study was the first to compare

the effects of poverty (L-SES) to those

who experienced TSEs in the same sample

set. The researchers analysed data

from of 9,498 participants aged eight to

21 years for the study. They found specific

associations of SES and TSE with

psychiatric symptoms, cognitive performance,

and several brain structure

abnormalities. The findings showed that

poverty was associated with small elevation

in severity of psychiatric symptoms,

including mood/anxiety, phobias,

externalising behaviour (oppositionaldefiant,

conduct disorder, ADHD), and

psychosis, as compared to individuals

who did not experience poverty.

The magnitude of the effects of TSEs

on psychiatric symptom severity was

unexpectedly large. TSEs were mostly

associated with PTSD, but here the

researchers found that even a single

TSE was associated with a moderate

increase in severity for all psychiatric

symptoms analysed, and two or more

TSEs showed large effect sizes, especially

in mood/anxiety and in psychosis.

The researchers also found evidence

that adversity is associated with earlier

onset of puberty. Both poverty and

experiencing TSEs are associated with

the child physically maturing at an earlier

age. They found the same effects on

the brain, with findings revealing that a

higher proportion of children who experienced

adversity had characteristics of

adult brains. This affects development,

as the careful layering of the structural

and functional connectivity in the brain

requires time, and early maturity could

prevent the necessary honing of skills.

"The study suggests that it makes

sense for parents and anyone involved

in raising a child to try and shield or

protect the child from exposure to

adversity," said Gur. "Traumas that happen

to young children can have lifelong

consequences," he said.

'Proper nutrition policy can cut dietrelated

deaths in India': Experts

NEW DELHI : Following

India's poor ranking in the world

hunger index last year, experts

have urged the government to

come up with a comprehensive

nutritional policy to alleviate

diet-related deaths in the country.

A recent study by the

Institute of Health Metrics and

Evaluation (IHME), University

of Washington revealed that over

1.1 crore deaths occur due to

poor diet alone globally.

According to a study published

in the Lancet journal in

April, poor diet leads to hundreds

of deaths in India annually.

The study tracked trends in

consumption of 15 dietary factors

from 1990 to 2017 in 195

countries, showing India ranked

118th with 310 deaths per

100,000 people. Experts believe

the government will have to

ensure access to nutritious food

to the people living in both rural

as well as urban areas. "We have

failed in terms of a proper nutritional

food policy. Poor diet creates

a deficiency of essential

nutrition due to low supply of

vitamin, protein, fat, minerals

and other micronutrients," said

Rajesh Kumar, a senior expert at

Paras Hospital, Gurugram.

"These elements not only give us

energy to move and work, they

are key in building the immunity

of the body that fights the bacteria

and viruses in the atmosphere

from entering our body," Kumar

said.

"In its absence a child

becomes susceptible to diseases,

especially infectious disease

such as tuberculosis among others,"

he said. Kumar urged the

government to come up with a

comprehensive plan to reach out

to people in the remote areas suffering

from nutritional food crisis

that certainly is a root cause

for several serious diseases.

Emphasising that India's

hunger and poor dietary problem

is a major concern as it continued

to ignore its health burden,

Kumar said: "India is not

immune to the problems that

poor diet can cause. A healthy

diet does not mean an absence of

feeling of hunger." It tracked

trends for close to two decades.

In 2018, India ranked 103rd

Kids of less-educated moms at higher obesity risk

The researchers observed that children from poor socio-economic backgrounds were more likely to be overweight.

London: Children of poorlyeducated

mothers face higher

risk of obesity than those whose

mothers are well-educated, suggests

a new study.

For the study, published in

Paediatric and Perinatal

Epidemiology journal, the

researchers analysed data of

41,399 children in three

European countries – Ireland,

Portugal and the UK – using the

mother's highest level of education

as a marker of socio-economic

position. The researchers

from Trinity College, Ireland

observed that children from poor

among 119 countries on the

Global Hunger Index. The country

slipped three positions from

its 100th rank in 2017. It was

among the list of 45 nations that

have serious levels of hunger.

India is ranked way below its

neighbouring countries such as

China (25th), Nepal (72),

Myanmar (68), Sri Lanka (67)

and Bangladesh (86). Pakistan is

placed at the 106th position.

Tritiya Jana, a prominent

Bengaluru-based dietician at

Apollo Spectra, said that globally,

three million deaths were

attributed to too much sodium—

but another three million deaths

were attributed to a lack of adequate

whole grains, and another

two million deaths were attributed

to a lack of adequate fruits.

"Similarly urban migration

also is a reason. As the cities

developed and offered more

opportunities for employment,

agriculture became gradually

less labour-intensive, people

moved in large numbers into the

cities.

Even short trips to polluted

cities can make you sick: Study

NEW YORK : Even a short stay for travellers in cities with high

levels of air pollution leads to breathing problems that can take

them at least a week to recover from, according to a study conducted

in India, Pakistan and China.

Researchers at the New York University (NYU) School of

Medicine in the US analysed pollution-related coughing and

breathing difficulties, and recovery times upon returning home, in

healthy, young adults travelling internationally.

The finding, published in the Journal of Travel Medicine, is

timely given that the number of tourists travelling internationally is

expected to grow to 1.8 billion by 2030, according to the World

Tourism Organization. "We had several reports that tourists were

feeling sick when visiting polluted cities, so it became important

for us to understand what was really happening to their health,"

said Terry Gordon, a professor at NYU School of Medicine.

Researchers analysed six measurements of lung and heart health

in 34 men and women travelling abroad for at least a week from the

metropolitan New York City area. Most were visiting family in

cities with consistently high levels of air pollution, including

Ahmedabad and New Delhi in India; Rawalpindi, Pakistan; and

Xian in China. The team noted that New York City has relatively

low levels of air pollution, in part because of strict regulations, its

location on the coast, and weather patterns.

socio-economic backgrounds or

primary-educated backgrounds

were more likely to be overweight

or obese at any age as

compared to children whose

mothers' had a tertiary-level

education. In Ireland, boys and

girls aged 13 whose mothers had

a primary-level education measured

heavier as compared to

children from tertiary-level (university-level)

backgrounds, the

study found. "This study shows

that children from disadvantaged

socio-economic backgrounds

gain body mass more

quickly than their more advantaged

peers, are more likely to

be overweight or obese from

pre-school age onwards, and are

more likely to become obese if

previously non-overweight.

They are quite literally carrying

a heavier burden of disease from

much earlier in life," said lead

author Cathal McCrory,

Research Assistant Professor at

Trinity College.

"These findings reinforce the

necessity of challenging the

childhood obesity epidemic at

early ages as these patterns are

difficult to change once they

have become entrenched,"

McCrory added.

The study showed while there

were no differences in Body

Mass Index (BMI) between children

grouped by their mothers'

education in infancy, differences

in BMI emerged by pre-school

age (3-5 years). "This research

shows that inequalities in health

and life expectancy start early in

life and are well established by

age five. Most children who are

obese have a higher risk of being

obese in adulthood with longterm

health consequences," said

Richard Layte, Professor of

Sociology at the varsity.
---
www.theasianindependent.co.uk

HEALTH

HIV patients at increased

risk of heart disease, stroke

Accelerate actions to slash

tobacco use across South-East

Asian Region: WHO

New Delhi : WHO on Thursday asked its South-East Asian

member countries

including India to

accelerate actions to

slash tobacco consumption

and said its

use in all forms is a

major cause of illness,

disability and death

across the region.

It also asked its

member countries to

undertake targeted actions like developing youth-focused antitobacco

campaigns, increasing the cost of the product and protecting

people from its exposure.

On the eve of the World No Tobacco Day, WHO Regional

Director for South-East Asia, Poonam Khetrapal Singh said

almost 246 million people smoke tobacco and just below 290

million consume it in a variety of smokeless forms in the region.

"Together, both methods of consumption kill approximately 1.6

million people Region-wide every year, negatively impacting the

sustainable development of whole communities and countries,"

Singh said. WHO's South-East Asia Region comprises of

Bangladesh, Bhutan, Democratic People's Republic of Korea,

India, Indonesia, Maldives, Myanmar, Nepal, Sri Lanka,

Thailand and Timor-Leste. Singh lauded the member states for

taking actions in recent years to lift tobacco's burden saying ten

of them are Parties to the WHO Framework Convention on

Tobacco Control (WHO FCTC). Nicotine replacement therapies

such as patches, gum or lozenges should likewise be at hand,

with research showing that they can double the chance a person

will successfully quit, especially when administered in conjunction

with brief counselling and as part of a quit plan, she added.

Washington : Patients with HIV are at a

significantly higher risk of suffering from

heart and blood vessel diseases as compared

to those without the infection, scientists

say. According to a new scientific

statement published in the journal

Circulation, effective antiretroviral therapy

has changed HIV from a progressive, fatal

disease to a chronic, manageable condition

that increases the risk of heart attacks and

strokes. Interactions between traditional

risk factors, such as diet, lifestyle and

tobacco use, and HIV-specific risk factors,

such as a chronically activated immune

system and inflammation characteristic of

chronic HIV contribute to the increased

risk of heart and blood vessel diseases in

HIV patients.

Tobacco use, a major risk factor for cardiovascular

diseases, is common among

people living with HIV. Heavy alcohol use,

substance abuse, mood and anxiety disorders,

low levels of physical activity and

poor cardio-respiratory fitness are also

common among people living with HIV

and may contribute to elevated risk for diseases

of the heart and blood vessels,

according to the statement.

"Considerable gaps exist in our knowledge

about HIV-associated diseases of the

heart and blood vessels, in part because

HIV's transition from a fatal disease to a

chronic condition is relatively recent, so

long-term data on heart disease risks are

limited," said Matthew J Feinstein, from

Northwestern University in the US.

In addition, people living with HIV are

often stigmatised and face significant barriers

to optimal health care, such as education

level, where they live, healthcare literacy,

cognitive impairment, internalised and

anticipated stigma, gait and mobility

impairment, frailty, depression and social

isolation. There are also disparities in care

based on age, race, ethnicity and gender.

Another area of concern is the ageing

population of people living with HIV — 75

per cent of people living with HIV are over

age 45. "Ageing with HIV differs greatly

from the aging issues facing the general

population," said Jules Levin, in an accompanying

patient perspective.

"On average, people living with HIV

who are over 60 years old have 3-7 medical

conditions, including heart attacks, strokes,

heart failure, kidney disease, frailty and

bone diseases and many take 12-15 medications

daily," said Levin. "As they age,

people living with HIV are often alone and

disabled, emotionally homebound due to

depression, and are socially isolated," he

added. "In addition, they often suffer from

lack of mobility and an impaired ability to

perform normal daily functions," he said.

Providing scientifically based recommendations

on how to reduce the risk of

cardiovascular disease among people living

with HIV is also challenging. "There is

a dearth of large-scale clinical trial data on

how to prevent and treat cardiovascular

diseases in people living with HIV.

This is an area of research that is needed

for informed decision-making and

effective CVD prevention and treatment in

the ageing population of people living with

HIV," said Feinstein.

June 2019

15

Kids who nap are happier with

fewer behavioural problems

NEW YORK: Kids who take 30-to-60 minute mid-day naps at

least three times a week are happier and have more self-control

and grit. They also display fewer behavioural problems as compared

to children who skip afternoon naps, says a study.

Published in the SLEEP journal, the study revealed strong

connections between the afternoon shut-eye sessions and positive

outcomes in a handful of areas in the overall development of

kids. "A study of nearly 3,000 fourth, fifth, and sixth graders

ages 10-12 revealed a connection between midday napping and

greater happiness, self-control, and grit; fewer behavioural problems;

and higher IQ, the latter particularly for the sixth graders.

The most robust findings were associated with academic

achievement," said Adrian Raine, Professor at the University of

Pennsylvania in the US.

"Children who napped three or more times per week benefit

from a 7.6 per cent increase in academic performance in Grade,"

Raine said. During the study, from each of 2,928 children, the

researchers collected data about napping frequency and duration

once the children hit grades four through six, as well as outcome

data when they reached grade six, including psychological

measures like grit, happiness and physical measures.

The research team also asked teachers to provide behavioural

and academic information about each student. They then

analysed associations between each outcome and napping,

adjusting for sex, grade, school location, parental education, and

nightly time in bed. "Many lab studies across all ages have

demonstrated that naps can show the same magnitude of

improvement as a full night of sleep on discrete cognitive tasks.

Here, we had the chance to ask real-world, adolescent school

children questions across a wide range of behavioural, academic,

social, and physiological measures," said Sara Mednick,

Associate Professor at the University of California.

"The more students sleep during the day, the greater the benefit

of naps on many of these measures," she added.

China gene babies' mutation

linked to higher mortality: Study

Paris : The genetic mutation

had ordered people involved in

given to Chinese twins last year

the twin experiment to halt

rendering them immune to the

their activities, ruling that it

HIV virus may significantly

"seriously violates" national

reduce life expectancy, scientists

said Monday in a fresh

Curtis, honorary Professor at

law and medical ethics. David

warning against human geneediting.

Chinese researcher He

Genetics Institute, said the new

University College London's

Jiankui last year provoked

study provided a clear look at

widespread outrage among

the possible unintended consequences

of gene-editing in

doctors by unveiling the results

of an experiment he conducted

humans. "There are many other

to alter the DNA of twin girls,

examples in medicine where an

prompting authorities in California examined the health HIV may be increased susceptibility

to other, and perhaps one condition inadvertently

intervention intended to treat

Beijing to announce a moratorium

on the practice.

British ancestry and looked at more common, diseases," the causes major unexpected prob-

data of 409,000 people of

He used a gene-editing tool whether or not they possessed study's authors wrote.

lems elsewhere," said Curtis,

known as Crispr to insert a the mutation, which occurs naturally

in around one percent of the journal Nature Medicine, study. "This sends us a warning

The research, published in who was not involved in the

mutated variant of a CCR5

gene—known as Delta32—into the population, and how and doesn't explain why the mutation

increases mortality risk, cautious around the introduc-

that we should be extremely

the girls' chromosome at the when they died.

embryo stage meaning they are After correcting for the ages but the authors said there was a tion of therapies involving

now immune to the AIDS-causing

HIV virus. But a new wide-

those with the mutation were should discourage repeats of Robin Lovell-Badge, group

of those involved, they found clear statistical trend that modifying the genetic code."

ranging study of genetic makeup

and death registry informa-

before the age of 76 than those "Introduction of new or Institute in London, added: "All

21 per cent more likely to die He's experiment.

leader at The Francis Crick

tion suggests individuals carrying

the D32 mutation face a 20- D32 possessors were signifi-

using Crispr technology... Jiankui was foolish to choose

who did not. They found that derived mutations in humans this shows once more that He

per cent higher risk of early cantly more likely to die from comes with considerable risk CCR5 to mutate in his attempts

death compared with the global diseases that are far more common

than HIV, notably influen-

perceived advantage," they simply do not yet know enough

even if the mutations provide a at germline genome editing. We

population. Researchers from

the University of Berkeley za. "The cost of resistance to said. China in November it said about the gene."
---
16 June 2019

ENTERTAINMENT

www.theasianindependent.co.uk

'I'VE NEVER BELIEVED

IN FAIRNESS CREAMS'

Kajal Aggarwal posted a series of pictures, which showed her freckles

in all glory; she says nobody can have flawless skin

Actor Kajal Aggarwal recently

took the internet by storm when she

shared her pictures without makeup

showing her freckles. The photoshoot

went viral in no time and in the last

three days, since it was shared, the

picture showing her freckles has got

over 7 lakh likes on Instagram where

she wrote, "... we live in a world

crazed by physical attraction or

because social media has swallowed

up our self-esteem in whom and what

it glorifies. Billions of rupees are

spent on cosmetics and beauty products

that promise you the perfect

body. Narcissism seems to exist

everywhere. Between those lines, we

try to join the crowd or feel left out."

Talking exclusively to us, while

Kajal admits that in showbiz, actors

are always "defined by how they are

supposed to look" and "be the finest

and in your best hair and makeup",

she asserts that "true beauty lies in

accepting ourselves for how lovely

we are".

An established name in the south

Indian film industry, Kajal has had a

decent stint in Bollywood, too, with

films such as Singham (2011) and

Special 26 (2013). Talking about how

film industries expect actors to "wear

makeup all the time", the 33year-old

actor adds, "That's because it's our

job and we get paid for that. Nobody

can have absolutely flawless skin

24x7 or an airbrushed or photoshopped

skin. We all have pigmentation

issues, sunburns, pimples, dark

circles and freckles. And we also have

a support system of hair and makeup

artistes who makes us look pretty.

And with airport looks becoming

popular, it has created too much pressure

on actors." It takes a lot of

courage to show your flaws and

embrace freckles with elan. Kajal

says, "I've never believed in fairness

creams or the notion of having flawless

skin. While growing up, I was

also fascinated by how good-looking

celebrities were, but I was never

obsessed with being fair. As I grew

up, and ended up in the entertainment

industry, I realised it isn't possible to

fight your hormones in order to not

get a pimple. I just believe in being

authentic and recognising the difference

between what is real and what is

not." Though the actor "feels beautiful

with freckles" she quickly points

out that "in the West, people love

freckles". For some actors, looks play

an important role in getting cast for a

role, but Kajal opines that "talent and

hard work come first".

Asked if sh ever faced rejection

because of her looks or particularly

freckles, she shares, "Never. I'm

known for my craft and talent. I'll not

be okay with somebody telling me

'freckle aren't looking good'. It's part

of my personality and I can't remove

it out of my system."

'Language was the

biggest challenge'

How did you get Shrimad

Bhagavad?

Initially, when I got the call I

wasn't too sure about doing it.

Later, I read the script and went

for the mock shoot. I got to

know a lot of things about

Bhagavad Gita from this show.

What was your reaction

when you were offered the role

of Radha?

When the role was offeres, I

was skeptical if people would

accept me as Radha. Both my

director and creative director

have worked behind this character.

I hope my character would

be accepted by the audience and

our show will be a success.

How did you prepare yourself

for the character?

This is my first mythological

show. All the shows that I have

done so far, I portrayed characters

of either elite class or that of

a vulnerable girl. Preparing for

the role was easy being a

Gujarati as we worship Lord

Krishna. I have been taught

about him since childhood.

Any challenges you faced for

this role?

The biggest challenge was

the language. I am not an expert

in Hindi and it was quite difficult

because when you play a

god on the screen, you cannot

go wrong. Every single word

requires proper pronunciation.

We have language experts who

help us with the meaning and

pronunciation of words.

There are a lot of mythological

shows in the recent past.

What do you have to say about

this trend?

Yes, I have seen shows like

Ramayan and Radha Krishna in

the past, but, our show is totally

different from other mythological

shows. This is the first time

that a show would narrate

Shrimad Bhagavad.

Ajay Devgn's Chanakya

to have TWO PARTS

Ajay Devgn is all set to join hands with

filmmaker Neeraj Pandey, who has directed

movies like M.S Dhoni: The Untold Story, A

Wednesday, Baby, among others.

Now, the director is gearing up to make a

story on Chanakya featuring Ajay Devgn. In a

recent interview, Ajay opened up about playing

Chanakya, "This film will be made in two parts

because we have a lot to say. Chanakya was

way ahead of his time. Whatever is happening

today, politically and otherwise, he has spoken

it all at that time. He had a vast knowledge and

we see whatever he had mentioned then,

happening worldwide now."

Ajay also confirmed that the movie will go

on the floors later this year. "Director Neeraj is

busy writing the script. I said it could be made

in two parts, merely because summing up his

life and history will not be possible in one

part," said the actor.

When Vicky and Taapsee

met RUSSELL PETERS

Bollywood celebrities

are habitual of people

asking them for pictures,

but there are times when

actors themselves line up

for another star to pose

for photos. Recently,

Bollywood's who's who

attended the show of

comedian Russell Peters

in Mumbai and among

them were Vicky Kaushal

and Taapsee Pannu. The

two actors, who were

seen together in

Manmarziyaan, were

excited to meet Russell

and enjoyed his show.

Later, Taapsee shared the

photo with Russell on her Instagram. As we can see in the photo, Taapsee, Vicky and

Russell are posing together. Taapsee is dressed in a black and red outfit whereas Vicky

is seen sporting a casual look in a black tee and jeans.

Russell is seen carrying off a white shirt with blue blazer and trousers. The actress

captioned the photo as, "Thicker than a Snicker" @russellpeters."

What is Ranbir hiding?

Ranbir Kapoor surely has a huge fan

base but the actor isn't really a fan of

social media and has kept himself away

from all social media pages. However, it

is believed that like many other celebs,

Ranbir has a secret Instagram page. A lot

of RK's co-stars, friends and contemporaries

have also admitted that he is very

much active on Instagram and keeps

himself updated about what's going on in

and around Bollywood.

During a recent event in Mumbai,

Ranbir was quizzed about the celebrities

he follows on his secret Instagram page.

Answering this question, the actor took

the names of his two exes –Deepika

Padukone and Katrina Kaif along with

his ladylove Alia Bhatt. RK also mentioned

that he follows Ranveer Singh and

his cousin Kareena Kapoor Khan, who

too has a secret Instagram page.

Telling us about Ranbir being on

Instagram, Katrina on a talk show had

said, "I know Ranbir has. And Ranbir, by

the way, was the person who showed me

how Instagram works." Meanwhile, on

the work front, Ranbir will next be seen

in Ayan Mukerji's Brahmastra alongside

Alia.
---
www.theasianindependent.co.uk

A date to

remember

Reality TV personality

Khloe Kardashian finally

attended her first high

school prom, thanks to an

invite from a fan. The 34-

year-old accompanied a

student named Narbeh to

his dance in a high school

in California, on

Saturday. "My very first

prom and I went with the

best date ever

@NarbehKardash! We

had so much fun! How

handsome is my date?"

Khloe wrote on Twitter.

Narbeh, who runs

Kardashian fan accounts on

Twitter and Instagram, also

shared photographs of himself

and his date dressed in

matching black attire. His

Instagram fan account dedicated

to the famous family

has about 2,40,000 followers.

The pair went through

the typical prom rituals,

including clicking photographs

before the dance,

pinning on the boutonniere

and corsage, and taking

images in a photo booth at

the event.

ENTERTAINMENT

We are housing environmental

threats in our wardrobes : Alia

We have so many clothes, but we don't think what happens when we throw them

away. They end up in landfills, and get burnt. ALIA BHATT, ACTOR

It's hot, very hot but it's

good, all is going well," is

actor Alia Bhatt's reaction

when we ask her how

Varanasi, Uttar Pradesh,

where she's shooting for

Brahmastra right now, is

treating her. While she's a

busy actor, what she also

doesn't miss out on is doing

her bit as a responsible citizen.

Her initiative, Mi

Wardrobe is Su Wardrobe,

which was launched last

year has become popular,

and now, for its third leg,

Alia has brought her industry

friends on board, too.

She starts by sharing what

made her come up with the

campaign in the first place.

"It started with not

knowing what to do with all

my clothes. It's a basic,

human problem. You keep

buying new clothes, and

when your wardrobe is full,

you clear it out. As kids, we

always gave away our

clothes to an orphanage.

When I became an actor, I

realised my clothes were

getting out of control. I

don't feel I'm alone in this

experience. I'm sure there

are many girls who are

actors, or fond of shopping,

even more now since

there's online shopping,"

exclaims Alia.

The actor says that it

was her team that helped

her put ideas into perspective.

"I'd keep saying, 'I

want to do this fashion-forcause',

and then as I dug

deeper, I found that we're

plastic. When we wash

them, it's all released into

the ocean. So, through my

initiative, your clothes get a

new lease of life by say,

another nine months, which

reduces carbon emissions,"

she adds. This year's MiSu

housing environmental sale on an online platform

threats in our wardrobe! We coincides with World

have so many clothes, but

we don't think what happens

when we throw them

away. They end up in landfills,

get burnt, which has a

terrible impact on the environment.

At the manufacturing

stage, most of our

clothes are made of polyester,

which is a kind of

Environment Day, which

Alia reveals was a "conscious

decision and made

sense." The celebrity who

came on board to support

Alia this time is actor

Anushka Sharma.

Alia says, "I had this

idea two years ago, to reach

out to fellow celebs and

friends, who would be willing.

I started with my personal

closet, and invited

Anushka, a fellow animal

lover and an amazing person,

this time. She was gracious,

and gave a bunch of

clothes. Every celeb we

approach can choose an

added cause for the proceeds

from the sale. A

chunk of this year's sale

will go to support animal

welfare, chosen by her."

Ranveer to play

Gully Boy actor in Hrithik's Super 30

Actor Vijay Varma, after giving an impeccable performance

as Moeen bhai in his 2019 release Gully Boy, won many

hearts. This FTII graduate has been in the industry for past few

years doing some memorable roles in films like Monsoon

Shootout, Pink, Rangrezz among others.

Vijay will now be seen in Hrithik Roshan-starrer Super 30

in a cameo role. When the makers approached Vijay to do a

cameo in Super 30, he was ecstatic to be part of this film

because of the amazing cast of the film, including Hrithik

Roshan and Pankaj Tripathi.

June 2019

17

Mystery of

missing passport

When Aishwarya was asked to go for Miss

Universe instead of Sushmita Sen

Sushmita Sen was the first Indian to win the coveted

Miss Universe title in 1994 when she was just

18-years old. It was definitely a huge moment of

pride not just for Sushmita but for our entire nation.

We all are aware of Sushmita's success story but who

knew that she was almost on the verge of not making

it to the final day!

In a recent interview, Sushmita revealed that the

organisers wanted Aishwarya Rai to go in her place

instead. The actress recalls, "It was given to

Anupama Varma, then a very famous model and she

was also a coordinator for events and she had my

passport for a show in Bangladesh. She needed it for

some Id proof. She couldn't find it. I went crying to

my dad. I said, 'Baba I am not going for anything

else. I rightfully deserve to go for this'. My father

was like let me see what I can do and I will go on

record to say that Mr Rajesh Pilot helped us to get the

passport and he himself went on to say, 'look, she's representing our country so we got

to aide this process instead of delaying it'. And you better believe it that I went for Miss

Universe." And there's no surprise to what happened later!

Shooting in Bangkok

extra special: Akshay

Bollywood star Akshay

Kumar is currently filming

his upcoming movie

Sooryavanshi in Bangkok,

Thailand, and the actor

says shooting his own

stunts in the city makes

him feel nostalgic. The 51-

year-old actor learned

combat sport Muay Thai

and worked as a chef and

waiter in Bangkok before

making it big in the

movies. "I always have a

lot of fun doing my own

stunts. Rohit is anyway a

class apart when it comes

to action in his films. And doing these bike

a GUJARATI

In the midst of working on 83, actor light this film. Both humorous and poignant,

Ranveer Singh has signed up another film. He Jayeshbhai... is right up there with the most

will play a Gujarati in Yash Raj Films' (YRF) solid on-paper material I've ever come

Jayeshbhai Jordaar, to be helmed by debutant across."

writer-director Divyang Thakkar. The actor Great craft : Ranveer has been on a roll in

calls it a "miracle script". The project, a the industry, and has worked with top filmmakers

like Sanjay Leela Bhansali, Rohit

humorous entertainer set in Gujarat, is being

produced by YRF's home-grown producer Shetty, Zoya Akhtar and Kabir Khan. After

Maneesh Sharma, who also discovered amassing nationwide love as an actor across

Divyang. It will go on floors this October. all demographics, it was natural for him to

Describing the film, Ranveer says: back a newcomer. "I have been immensely

"Jayeshbhai... is a film with a big heart. In its fortunate to have collaborated with some of

concept as well as in its appeal, it encompasses

the broadest spectrum of the cinema-loving bling and gratifying that they believed in my

the finest filmmakers of our country. It is hum-

audience — it's a film for everyone. It is, in craft and chose me to lead their cinematic

fact, a miracle script' that YRF found for me vision. All that I have achieved as an actor

out of nowhere. The sheer brilliance of the today is due to these titanic cinematic forces

writing compelled me to immediately green-

having put their faith in me," he said.

stunts on the streets of

Bangkok was extra

special.

"Many years back I

would ride a bike in

Bangkok to deliver

food. Now, I am doing

the same all over

again, to earn my

food," Akshay said.

Directed by Rohit

Shetty, Sooryavanshi

is the fourth movie in

the filmmaker's cop

universe. The first

three films were

Singham, Singham

Returns and Simmba.

Shilpa's new guest

Shilpa Shetty is a pet lover and has shown her love for

animals from time

to time. The

actress has lately

added a new

member to her

family of three.

Apparently, a parrot

had fallen

from its nest and

landed at Shilpa's

house and the

actress immediately took it as her pet and named it

Poppy. Shilpa took to her Instagram and posted a cute

video with Poppy trying to mount itself up on Shilpa's

shoulder. While sharing the video, she wrote, "We found

#poppy (name in transit) in our home (dunno if it's a

male/female) was rescued by my staff on Friday night,

she must've fallen from her nest that's on the almond

tree in my garden...she fluttered her wings but couldn't

fly...Feels like a soul I know who's trying to communicate...She's

soo adorable ..Going to set her free as soon

as she's ready...but had to share this video of how friendly

this parrot is..#birds #poppylove #sign #goodtidings

#love #gratitude #parrotsofinstagram."
---
18 June 2019

ENTERTAINMENT

www.theasianindependent.co.uk

Filmmaker Shekhar

Kapur doesn't need cars

to prove 'self-esteem'

Mumbai : Acclaimed filmmaker

Shekhar Kapur finds it silly to own a car in

Mumbai and says he does not need them to

prove his self-esteem. A Twitter user wrote

to Kapur: "I derive a strange comfort to

know that celebs like you still use a rickshaw."

To which the filmmaker replied: "I

don't own a car. It's silly to own a car in

Mumbai. It takes 600,000 litres to make an

average size car. Shouldn't we use that

water to grow food instead?"

A social media troll then questioned him

about him not having a car and said that

"Bollywood celebrities have 20 plus

imported cars".

Kapur, who has made films like 'Bandit

Queen', 'Masoom' and 'Mr India', replied:

They told you so!

Yet another study confirms that violent

video games are dangerous for kids

Kids exposed to violent video games are more likely to pull

the trigger in

real life situations,

as compared

to those

who do not

indulge in such

gaming habits,

researchers have

w a r n e d .

Published in the

JAMA Network

Open Journal,

the study examined

the effects

of video games

with weapons

on children's

behaviour when

they found a gun

in real life.

The study

was conducted

on children aged

between 8-12

years who were

assigned to play

three different

versions of the

game Minecraft.

Although, the

research is limited by the artificial setting of a university laboratory

and Minecraft is not a very violent game, the researchers

encourage gun owners to secure their firearms and reduce children's

exposure to violent video games.

"I don't need to own 20 imported cars to

What a feast!

A slew of celebrities from

the film industry attended

politician Baba Siddique's Iftar

party where superstars Shah

Rukh Khan and Salman Khan

stole the limelight. The videos

and photographs of the actors

from the party have been doing

the rounds on Internet. In one

of the videos, SRK, dressed in

grey kurta and white pyjama, is

seen digging into kebabs while

conversing with Siddique and

his son Zeeshan.

Siddique's Iftar party is considered

one of the most exciting

events every year. And

Salman has been attending it

for many years.

Salman appeared in black

shirt and jeans at the party. He

is seen interacting with guests

and posing for selfies. Actress

Katrina Kaif was also there.

While Salman's brother

Arbaaz attended the party with

his girlfriend Giorgia Andriani,

the actor's sister Alvira was

accompanied by her husband

Atul Agnihotri.

Actors Raveena Tandon,

Urmila Matondkar, Sunil

Grover, Mouni Roy, Huma

Qureshi, Warina Hussain,

Ahana Kumra, Rashami Desai,

Motu-Patlu find a place among

stars at Delhi's Madame Tussauds

New Delhi : Motu, with his

favourite snack samosa, and

Patlu, with his quintessential

know-it-all expression, have

found themselves a special corner

at the Madame Tussauds

here. The popular cartoon characters

are latest in the long list

of celebrities from sports,

entertainment and other iconic

personalities already present at

the Regal Building. The event

also marked the launch of the

new Motu Patlu comic book for

children. "Our endeavour has

always been to give a complete

and memorable experience to

all our visitors. Motu Patlu are

the most loved cartoon characters

in India at the moment.

Their presence at Madame

Tussauds along with the other

celebrity figures will further

enrich the experience of visiting

families to the attraction,"

Anshul Jain, Director, Merlin

Entertainments India, said.

According to Jain, it took

more than 20 artists and a period

of five months to complete

the project. Initially featured in

print in 'Lotpot' magazine, the

characters went on to be telecast

on Nickelodeon (India)

network from 2012 onwards.

prove my self esteem."

Another user asked him if he used rickshaws.

Kapur said: "I don't own a car. So

often will use ricks." Kapur gained international

recognition with 'Bandit Queen',

based on the infamous Indian bandit and

politician Phoolan Devi, which won the

National Film Award for Best Feature Film

in Hindi. It was premiered in the Directors

Fortnight section of the 1994 Cannes Film

Festival and was also screened at the

Edinburgh Film Festival.

In international cinema, his historical

biopics on Queen Elizabeth, 'Elizabeth'

and 'Elizabeth: The Golden Age', won the

BAFTA Award for Best Film and two

Academy Awards.

Sanjeeda Shaikh, Aamir Ali

and Tina Dutta, among others

attended the party.

The comic duo are known to

get into hilarious situations

from which they manage to

extricate themselves only

through luck. According to the

creators of the show, 'Motu

Patlu' combines entertainment

and education and is designed

for viewers of all ages. "The

PRIYANKA

would love to

run for PM

Actress Priyanka Chopra Jonas says she would like to run for

Prime Minister of India. In an interview to The Sunday Times,

the Quantico actress opened up about the political aspirations

she has for herself, and her husband and pop star Nick Jonas,

reports people.com. "I would love to run for Prime Minister of

India. I would love Nick to run for President," Priyanka, 36,

said. "I don't like the things associated with politics, but I know

that both of us really want to make a change. Never say never."

While Priyanka said she has tried to remain apolitical throughout

her life because she likes to "cheer for humanity", the actress

could not deny the fact that Nick, 26, would make a great leader.

"He's not afraid to use the word (feminist) and I love that," she

said. Priyanka, who got married to Nick in December 2018, previously

praised the "Sucker" singer in April at Tina Brown's

10th Annual Women in the World Summit.

show captures a right flavour of

comedy and innocence, instilling

ideas of right and wrong in

kids in a subtle manner," Niraj

Vikram, screen writer, said. P K

Bajaj, founder and editor of

Lotpot Group, also said it was a

great moment to be recognised

in an internationally acclaimed

attraction. "We are elated and

look forward to kids' reaction

while meeting their favourite

stars," Bajaj said. Madame

Tussauds Delhi might come up

with more cartoon characters in

future in order to cater to the

interests of viewers, especially

the younger, said Jain.
---
www.theasianindependent.co.uk

Uber drivers to get

rebate at IOCL pumps

New Delhi, Ride-hailing giant Uber

has partnered with

state-run Indian Oil

Corp Ltd and digital

payment platform

Paytm to

offer discount to

drivers on petrol,

diesel and CNG

purchases at IOCL

fuel stations across the country.

Over 12,000 Uber driver partners had

already registered for this programme,

Uber said on Thursday.

The tripartite agreement, reached a

couple of months ago, became operational

only now after the requisite number

of driver registration for the programme

was achieved, an IOCL spokesperson

said. Refilling tanks at the IOCL fuel stations

would earn Uber drivers points,

which they would be able to redeem later.

"Indian Oil has been always striving to

add to the fuelling experience of customers

coming to its retail outlets.

Through our association with Uber, we

would be giving one more reason for a

Uber driver partner to fuel with us and

also earn IndianOil's XTRAREWARD

loyalty points for free fuelling," Vigyan

Kumar, Executive Director (Retail Sales),

IOCL, said in a statement.

Uber launched its services in India in

2013 with its UberBLACK service and

premium UberX service in 2014. Uber

operates in 31 cities in the country and

aims to take its services to other parts as

well.

TECH

Nokia 3.2 : Android One

edge plus big battery life

New Delhi, The trend in the

crowded sub-Rs 10,000 smartphone

market is to offer bigger

phones that last longer on a single

charge. HMD Global, the

house of Nokia phones, also

appears to be relying on these

features a lot to beat the competition.

The Nokia 3.2, launched last

month, comes with a 6.26-inch

HD plus display and 4000mAh

battery. These are, however, not

the only attractive features that

the phone offers.

It also comes with a dedicated

Google Assistant button, three

years of monthly security patches

and two major software

updates, as guaranteed in the

Android One programme.

The phone was launched in

two variants — the 2GB

RAM+16GB internal storage at

Rs 8,990 and the 3GB+32GB at

Rs 10,790.

Let's see how the 3GB+32GB

variant fared during our use.

The waterdrop notch display

and polycarbonate glossy body

make the phone look trendy. The

fingerprint sensor placed at the

back is fast and accurate. We

also found no trouble in accessing

the phone with the face

unlock feature.

Powered by the Qualcomm

Snapdragon 429 chipset, the

phone runs Android Pie OS. At

moderate usage, the device lasted

for a day and a half, thanks to

the 4000mAh battery.

The big screen, the thin

bezels on sides and the big battery

ensured that watching

videos and playing games on the

device was a decent experience,

although it lacked a bit of sharpness.

Overall, in terms of media

consumption, the phone does not

disappoint, considering the price

point. In adequate light, the 5MP

front camera captured good selfies

and didn't appear overexposed.

The 13MP rear camera,

despite having a single lens, also

surprised us with decent pictures.

What does not work?

The camera, however, was

found wanting when it came to

low-light photography. The

polycarbonate body easily

attracted fingerprints and there is

nothing to write home about the

sound quality.

Conclusion: The dedicated

Google Assistant button, battery

life and the big display are a

huge plus for the Nokia 3.2, but

they may not be enough to make

the device stand out in comparison

to Redmi Note 7, Realme 3

and Galaxy M20, which come

with dual rear camera systems

and some advanced features.

June 2019

19

Samsung unveils

Notebook 7, Notebook

7 Force laptops

Seoul, South Korean tech giant Samsung on

Monday launched two new laptops — Notebook 7

and Notebook Force. They feature a brand-new

design with solid metal frame, full HD display, 8th

gen Intel processor, latest NVIDIA graphics and

Dolby Atmos audio. The Notebook 7 and Notebook

7 Force would initially be available in South Korea

and Hong Kong, to be followed by the US and Brazil

later in 2019, Samsung said.

The Notebook 7 offers 16GB of RAM and is also

available with 512GB internal storage, although the

15-inch model will offer an expandable SSD slot to

increase storage. The Notebook 7 Force comes in a

single 15-inch FHD model and is designed to offer

more power and graphics performance for playing

games. It features NVIDIA GeForce GTX 1650 that

offers 70 per cent faster speed against the previous

GTX chipset. It comes with 24GB RAM and 512GB

of internal storage with 2 expandable slots. The

Samsung Notebook 7 will start at $999 and will go

on sale from July 26 on Amazon and Samsung, while

the Notebook 7 Force is priced at $1,499.
---
20 June 2019

TECH

www.theasianindependent.co.uk

Zomato expands to

100 NEW CITIES,

crosses 300 in India

New Delhi, Crossing the

300-cities mark, online ordering

and food delivery platform

Zomato on Monday announced

its expansion 100 new cities in

India. The new cities to get

Zomato services include Bhuj,

Junagadh, Rishikesh, Shimla,

Ayodhya and Begusarai among

others, the company said in a

statement. "As we expand, we

are also focusing on improving

our average delivery

time,which now stands at 30.5

minutes," said Mohit Gupta,

10 facts about air pollution on World Environment Day

Barcelona : Nobody is safe from

air pollution, the United Nations

warned on World Environment Day,

with nine out of 10 people on the planet

now breathing polluted air.

This has led to a growing, global

health crisis, which already causes

about 7 million deaths per year,

according to the World Health

Organization (WHO).

Burning fossil fuels for power,

transport and industry is a major contributor

to air pollution as well as the

main source of planet-warming carbon

emissions — and tackling both problems

together could bring substantial

benefits for public health.

Here are some facts on the human

impacts of air pollution and its links

with climate change:

1. Air pollution kills 800 people every

hour or 13 every minute,

accounting for more than three

times the amount of people who

die from malaria, tuberculosis and

AIDS combined each year.

2. Some of the same pollutants contribute

to both climate change and

local air pollution, including black

carbon or soot — produced by

inefficient combustion in sources

like cookstoves and diesel engines

— and methane.

CEO, food delivery, Zomato.

Gupta also mentioned that in

3. The five main sources of air pollution

are indoor burning of fossil

fuels, wood and other biomass to

cook, heat and light homes; industry,

including power generation

such as coal-fired plants and diesel

generators; transport, especially

vehicles with diesel engines; agriculture,

including livestock, which

produces methane and ammonia,

rice paddies, which produce

this expansion phase, Punjab

and Andhra Pradesh were the

most active states, with the

highest number of launches.

The company plans to boost its

services in the Seven Sister

States as well.

On average, Zomato is

onboarding 45-50 restaurants

in each city and the number is

likely to increase in the coming

months, the company added.

Founded in 2008, the company

now serves over 70 million

users every month along with

1.4 million restaurants across

24 countries.

New powerful iPadOS coming this fall

San Jose (California),

Giving iPad new capabilities

and intuitive features, Apple on

Monday introduced iPadOS

that is built on the same foundation

as its iconic iOS.

With iPadOS, users would

be able to work with apps in

multiple windows, see more

information on a redesigned

Home screen and more natural

ways to use Apple Pencil.

iPadOS with Dark Mode

feature will be available this

fall as a free software update

for iPad Air 2 and later, all iPad

Pro models, iPad 5th

generation and iPad

mini 4.

"iPadOS delivers

exciting features,

including a new Home

screen with widgets,

more powerful multitasking

and new tools

that make using Apple

Pencil even more natural,"

said Craig

Federighi, Apple's senior

vice president of Software

Engineering. The Home screen

for iPad has been redesigned

with a new layout to show more

apps on each page.

iPad users can now work

with multiple files and documents

from the same app

simultaneously with updates to

Split View, or can quickly view

and switch between multiple

apps in Slide Over.

Maps features a new basemap,

built from the ground up

where users can see street-level

images of cities using high-resolution

3D photography. The

new map is available now in

select cities and states and will

roll out across the US by the

end of 2019 and to more countries

in 2020.

methane, and the burning of agricultural

waste; and open waste

burning and organic waste in landfills.

4. Household air pollution causes

about 3.8 million premature deaths

each year, the vast majority of

them in the developing world, and

about 60% of those deaths are

among women and children.

5. 93% of children worldwide live in

Instagram suffers another

global outage, reason unknown

San Francisco : Facebook-owned photo messaging app

Instagram suffered a

major global outage that

hindered app logins, page

refreshes, commenting on

posts and uploading content

on the platform.

Users started experiencing

issues with

Instagram at 11.30 pm ET.

According to Down

Detector, users in India,

the US, the UK, South America, Japan and Australia were subject

to the outages, news website Deadline reported on Monday.

Since Instagram did not officially release a statement about

the outage, it remains unclear what may have triggered it.

According to the report, the app has recovered from the outage

and has started functioning smoothly again.

The news of Instagram's breakdown comes right after Google

apps and Snapchat recovered from a global outage across the US

and the UK earlier on Sunday night.

Google blamed issues with its Cloud service that powers

other apps along with the search engine giant's own web services

for the outage. In March, Facebook and its family of apps,

including Instagram, suffered the longest outage ever that lasted

for 12 hours worldwide.

Google says sorry for sending

Kohli's message to users

New Delhi, Google has apologised for erroneously sending

a video message in bulk to its

Google Duo users by the

Indian cricket team captain

Virat Kohli. Video conferencing

platform Google Duo

accidentally sent a message

from Kohli to users around

the world. In the video, Kohli

is seen saying "thank you for

the wishes and keep cheering for thr team India on Duo".

Google later issued a statement, saying the video message

was sent accidentally to unintended recipients.

"This was not an ad — it was a message that users in India

were intended to receive as a thank you if they chose to participate

in an upcoming Duo promotion," the company said in a

statement late Friday. Android users took to Redditt to report the

glitch. Interestingly, the video message was shared with users in

the US, Canada, New Zealand and Australia but not in India.

areas where air pollution exceeds

WHO guidelines, with 6,00,000

children under 15 dying from respiratory

tract infections in 2016.

6. Air pollution is responsible for 26%

of deaths from ischemic heart disease,

24% of deaths from strokes,

43% from chronic obstructive pulmonary

disease and 29% from

lung cancer. In children, it is associated

with low birth weight, asthma,

childhood cancers, obesity,

poor lung development and

autism, among other health

defects.

7. 97% of cities in low- and middleincome

countries with more than

100,000 inhabitants do not meet

the WHO minimum air quality levels,

and in high-income countries,

29% of cities fall short of guidelines.

8. About 25% of urban ambient air

pollution from fine particulate

matter is contributed by traffic,

20% by domestic fuel burning and

15% by industrial activities including

electricity generation.

9. Keeping global warming "well

below" 2 degrees Celsius (3.6F),

as governments have pledged to do

under the 2015 Paris Agreement,

could save about a million lives a

year by 2050 through reducing air

pollution alone.

10. In the 15 countries that emit the

most planet-warming gases, the

cost of air pollution for public

health is estimated at more than

4% of GDP. In comparison, keeping

warming to the Paris

Agreement temperature limits

would require investing about 1%

of global GDP.
---
www.theasianindependent.co.uk

New Delhi/Lucknow : Quintals of

seeds meant for distribution to poor farmers

were purchased and supplied, but merely

on paper, by top officials of Uttar

Pradesh government.

Signatures of officials and the seal of

government were blatantly used in 'forged

purchase receipts' to siphon off funds. A

preliminary probe has indicated that a

major part of the scam was committed during

the Mayawati and Akhilesh Yadav's

tenures as chief minister.

As of now, forged receipts worth Rs

16.56 crore have been traced. This could

just be the tip of the iceberg. Concerned

about the misuse of public funds, the Yogi

Adityanath government has instructed the

Economic Offences Wing to find out

whether the seeds scam was limited to

Kanpur (state warehouse) or was spread

across other districts of the Uttar Pradesh

as well. Speaking to IANS, Uma Shankar

Pathak, a senior official of the Agriculture

Department said that the Kanpur police has

already registered an FIR on the basis of

the preliminary enquiry of the UP Seed and

Development Corporation. The scam was

unearthed last year when the seed corporation

sent its bills to the Agriculture

Department for payment. During routine

verification, a few bills worth Rs 99 lakh

were found to be forged. Later, a departmental

enquiry was initiated to probe the

scandal. Sources said that during

Mayawati's tenure as chief minister (2007-

2012) and later in Akhilesh Yadav's tenure

(2012-2017), bills amounting to Rs 16.56

crore had been found forged. "We cannot

rule out the involvement of any Minister or

top bureaucrat in the scam. It appears that

there was connivance at the top," said an

official.

The sources said that during the enquiry,

which was focused on the Kanpur warehouse,

it was discovered that receipts

belonging to two series bearing numbers

9080 and 7188 had been forged. A few key

officials and lower rung employees of the

store purchased and supplied seeds only on

the paper. Later, the forged bills were

NEWS

UP farmers duped as

quintals of seeds supplied

only on PAPER

Bangladeshi student gets

42-year jail in Australia

Canberra : A Bangladeshi student was sentenced

to 42 years in jail by an Australian court on

Wednesday for intentionally engaging in a terrorist

act after stabbing her homestay landlord last year in

an Islamic State-inspired attack. On February 9,

2018, Momena Shoma stabbed Roger Singaravelu in

the neck with a kitchen knife while he was taking a

nap with his five-year-old daughter in his Melbourne

home. Both survived the attack.

The Supreme Court of Victoria in Melbourne

handed down the sentence to the 26-year-old with a

31-year non-parole period.

Shoma pleaded guilty in September to engaging

in a terrorist act for advancing a political, religious or

ideological cause, namely violent jihad, ABC News

reported. Eight days after arriving in the country to

study at La Trobe University, Shoma yelled "Allahu

Akbar" as she plunged the knife into Singaravelu's

neck, the court heard. The injury was so deep that it

fractured his spine. The blade got lodged so deeply in

his neck that it snapped when he tried to remove it.

His five-year-old daughter witnessed the attack and

still suffers from fear, trauma and an inability to trust

people. "It is the first time in Australia that a sentence

will be imposed for the offence of intentionally

engaging in a terrorist act," Justice Lesley Taylor

said in her judgment, according to Efe news.

Justice Taylor said when Shoma was approached

by a neighbour, she said she had stabbed the man

because she was ordered to do so by the caliph of the

Islamic State terror group and had gone to Australia

to attack someone, expressing the hope Singaravelu

would die.

According to the judgment, Shoma travelled to

Australia with the sole aim of committing a terrorist

act and she brought with her the weapon with which

she intended to carry out the attack. She displayed no

remorse for her act, it added.

Moscow : Chinese President Xi

Jinping arrived in Russia on

Wednesday for a state visit. Xi is

expected to join Russian President

Vladimir Putin in reviewing the

achievements and experience in the

development of the bilateral relationship

over the past seven decades and

charting the course

for its future development,

Xinhua

news agency reported.

The two leaders

are also expected to

sign or witness the

signing of important

cooperation documents

and attend a

gathering celebrating

the 70 anniversary

of bilateral

diplomatic ties.

"We have the

confidence and capability to bring our

relations to a new era of greater development

at a higher level, based on our

experience and achievements of the

past 70 years," Xi said in an interview

to Russia's TASS news agency and

endorsed by senior officials and payments

were made.

Chief Minister Yogi Adityanath has

instructed secretaries of important ministries

which have large expenditure to

focus on internal audits and ensure that the

government runs efficiently. The Chief

Minister has already suspended several

corrupt officials in the Animal Husbandry

and Chakbandi departments which have

become dens of corruption. Important

cases related of corruption like Gomti river

water front project and mining scam were

earlier handed over to the CBI by the Chief

Minister.

Chinese President

Xi Jinping arrives

in RUSSIA

Rossiyskaya Gazeta newspaper on the

eve of the visit.

During his stay in Russia, Xi will

also attend the 23rd St. Petersburg

International Economic Forum.

He will address a plenary session

to expound China's ideas on sustainable

development and call for concerted

efforts to

safeguard multilateralism

and improve

global governance

for the common

development and

prosperity of the

world. Xi's visit to

Russia, the eighth

since 2013 when he

was elected Chinese

President, comes as

the bilateral comprehensive

strategic

partnership of coordination

is at its best

in history, according to Xinhua news

agency.

Xi and Putin, maintaining close

friendship, have met nearly 30 times

on bilateral and multilateral occasions

since 2013.

June 2019

21

SP-BSP divorce, but ensure

there is no bitterness

Lucknow : Samajwadi Party President Akhilesh Yadav on

Tuesday put the seal of

approval on the break-up

of the SP-BSP alliance

when he said that his

party will contest all 11

seats where Assembly byelections

are to be held in

Uttar Pradesh. Earlier in

the day, BSP President

Mayawati had announced

at a press conference that

her Bahujan Samaj Party

(BSP) would contest the upcoming Assembly by-elections

alone. Mayawati said she was taking a break from her partnership

with the SP. "It is not a permanent break," she explained,

asking the Samajwadi Party to bring about improvement in the

conduct of its cadre. She said that the Yadav voters had not

supported the alliance. "If Yadavs had voted in full measure

for the alliance, senior SP leaders like Dimple Yadav,

Dharmendra Yadav and Akshay Yadav would not have lost

from Yadav-dominated seats. This is a matter of concern for

the Samajwadi Party," she said. The BSP President clarified

that her party did not benefit with the base vote of the

Samajwadi Party. In the Lok Sabha elections in Uttar Pradesh,

the SP and BSP contested 37 and 38 seats respectively and won

5 and 10. In the run up to the elections, both parties had

declared that the alliance will continue even after the Lok

Sabha battle. On Sunday, Mayawati had given clear indications

at a party meeting in Delhi that the alliance with SP was almost

over. The BSP President, in a shrewd move, said that her relations

with Akhilesh Yadav and his family would remain intact

and if the situation in SP improved, she could do some rethinking

on the alliance. Akhilesh Yadav, on the hand, did not comment

directly on Mayawati's statement but said the SP would

form its own government in Uttar Pradesh in 2022 when

Assembly elections are to be held.

This is being seen as an indication of the SP also going

alone in the Assembly polls. "I will consult my party leaders

and then decide. We are going to contest the by-elections and

form a government in 2022," he said. After the SP's election

debacle, party founder Mulayam Singh Yadav had asked

Akhilesh Yadav to revive the party by bringing back senior elders

who had left. He also hinted at bringing back Shivpal

Yadav who had formed his own party. Mayawati on Monday

blamed Shivpal Yadav for the poor show of the SP and had said

that he transferred Yadav votes to the BJP. Though the SP-BSP

break-up was expected after the Lok Sabha elections, the unexpected

change this time is that Mayawati has shown her softer

side by appreciating Akhilesh Yadav and his family and insisting

that the personal relationship between the two former Chief

Ministers will continue.

Mayawati confirms break-up,

terms it temporary

Lucknow : Bahujan Samaj Party supremo Mayawati said

that her party would contest the upcoming Assembly bye-elections

alone. Samajwadi Party President Akhilesh Yadav, on the

hand, did not comment on

Mayawati's statement but said in

Azamgarh on Tuesday that the

Samajwadi Party would form its

own government in Uttar Pradesh

in 2022 when Assembly elections

are to be held. This is being seen

as an indication of the SP also

going alone in the Assembly

polls. Mayawati said she was taking

a break from her partnership

with the Samajwadi Party. "It is not a permanent break," she

explained, asking the Samajwadi Party to bring about

improvement in its cadre. She said that the Yadav voters had

not supported the alliance. "If Yadavs had voted in full measure

for the alliance, senior SP leaders like Dimple Yadav,

Dharmendra Yadav and Akshay Yadav would not have lost

from Yadav-dominated seats. This is a matter for concern for

the Samajwadi Party," she said. The BSP president clarified

that her party has not benefitted with the base vote of

Samajwadi Party. "However, we cannot ignore political compulsions

and we will contest the Assembly bye-elections.

However, this is not the end of the road. If the Samajwadi Party

inculcates a missionary zeal in its workers and improves its

performance, we will see," she added. Mayawati spoke about

her relations with Akhilesh Yadav and his family and said they

gave her utmost respect. "Our relationship will not end though

politics is another aspect," she stated.
---
22 June 2019

WORLD

www.theasianindependent.co.uk

Indian economy grew 7.2% in 2018-19,

likely to top at 7.5%: World Bank

New York : As Finance Minister

Nirmala Sitharaman prepares her

budget, the World Bank reports Indias

economy grew by 7.2 per cent in

2018-19 in contrast to the recent

Indian Central Statistical Office

(CSO) estimate of only 6.8 per cent

growth during the period.

The Bank's Economic Prospects

Report released on Tuesday forecast

India's economy to grow by 7.5 per

cent during this and the next two fiscal

years, retaining its top spot as the

fastest growing major economy. It

would be helped by a "more accommodative

monetary policy" and low

inflation, it said.

The report retained the forecasts it

made in January for India. India's

growth forecast is the brightest spot in

a grim forecast for the world economy.

The report said that the global growth

rate was estimated at 3 per cent last

year and is forecast to dip steeply to

2.6 per cent this year, before edging up

to 2.7 per cent next year and 2.8 per

cent in 2021.

India "is estimated to have grown

7.2 per cent in fiscal year 2018-19,

which ended March 31", the report

said. "A slowdown in government

consumption was offset by solid

investment, which benefited from

public infrastructure spending".

The Bank said that the cut-off dates

for data used in the report was May

23. On May 31, the CSO said that

India's gross domestic product (GDP)

growth during the 2018-19 fiscal

stood at 6.8 per cent, lower than the

previous year's 7.2 per cent.

The CSO said the Indian economy

grew by only 5.8 per cent in the fourth

quarter. That dragged down the fiscal

year's growth rate.

Finance Secretary Subash Garg

attributed the slowdown to "temporary

factors like stress in non-banking

financial company (NBFC) sector

affecting consumption finance".

The World Bank report said,

"Growth in India is projected to accelerate

to 7.5 percent in FY 2019-20."

"Private consumption and investment

will benefit from strengthening

credit growth in an environment of

more accommodative monetary policy,

and with inflation below the

Reserve Bank of India's target", it

added.

Growth projections for India made

by different organisations vary a lot.

Last month, UN downgraded India's

growth rate for the current fiscal year

to 7 per cent, a cut of 0.6 per cent from

the projection made in January and

reduced the forecast for the next fiscal

year by 0.4 per cent to 7.1 per cent. It

estimated last fiscal year's growth rate

to be 7.2 per cent.

In April, the IMF cut India's growth

projections for this year by 0.2 per

cent from the 7.5 per cent made in

January to 7.3 per cent. It projected

next year's growth at 7.5 per cent,

though lower than the earlier 7.7 projection.

The Asian Development Bank said

in April that India's growth rate would

be 7.2 per cent this year and 7.3 per

cent next year.

China's economy grew by 6.6 per

cent last year and is forecast to grow

by 6.2 per cent this year and further

decelerate to 6.1 per cent next year

and 6 per cent in 2021, the World

Bank said.

Pakistan was estimated to have

grown by 5.2 per cent last year, but is

forecast to steeply decline to 3.4 per

cent this year and 2.7 per cent next

year, before recovering to 4 per cent in

2021, according to the report.

This despite "financial assistance

from Gulf countries and China and an

International Monetary Fund programme

(that) have helped rebuild

confidence", it said.

Last year, the report said,

Bangladesh recorded a growth rate of

7.9 per cent -- the highest of all

nations, regardless of size, although

with a GDP of only about $250 billion,

or less than a tenth of India's, it is not

considered a major economy.

Bangladesh's growth is forecast to fall

to 7.3 per cent this year, the Bank

reported. It is forecast to rise to 7.4 per

cent next year and dip to 7.3 per cent

in 2021.

Commenting on the global economic

outlook, World Bank Group

President David Malpass said,

"Current economic momentum

remains weak, while heightened debt

levels and subdued investment growth

in developing economies are holding

countries back from achieving their

potential. It's urgent that countries

make significant structural reforms

that improve the business climate and

attract investment".

The Bank report added several

notes of caution for India and the

South Asia region. "Fiscal deficits

continue to exceed official targets in

India and Pakistan, and supply bottlenecks

and business climate obstacles

could hold back investment potential

in the region," it said.

"In addition, non-performing assets

in the region remain high. A sharperthan

expected deceleration of growth

in major economies or an intensification

of trade frictions could have

spillover effects for the region," the

report added.

It is also an oil importer at risk from

vagaries of the oil market.

Brexit also poses another risk to the

region, it said: "A number of

economies have preferential trade

arrangements with the UK, and would

be vulnerable to a turbulent UK exit

from the European Union."

Trump joins Queen, world

leaders to mark 75th D-Day

Portsmouth : World leaders, including US

President Donald Trump, joined Queen Elizabeth

II, here on Wednesday, for the official commemorations

marking the 75th anniversary of the D-

Day landings.

The 93-year-old UK monarch was the last to

arrive at the event, attended by some 300 veterans

and other world leaders, including French

President Emmanuel Macron and

German Chancellor Angela Merkel.

A huge stage, decorated with the

national flags of the World War II

allies, had been set up for the occasion.

Members of the armed forces

welcomed the Queen with a military

display. The Queen was accompanied

by son and heir to the throne,

Prince Charles, as well as the US

President and First Lady Melania

Trump, outgoing UK Prime Minister

Theresa May and leaders of Canada, Australia,

New Zealand, Belgium, the Czech Republic,

Greece, Luxembourg, the Netherlands, Norway,

Poland and Denmark.

As part of the commemorations, images of the

D-Day landings were shown on a large screen set

up on the stage. Several nonagenarian veterans

took to the stage, mostly with walking sticks and

wearing medals on their lapels, and were

applauded by audience.

On Thursday, memorial services are planned

to mark the 75 years since the D-Day landings.

Troops from the UK, the US, Canada and France

attacked German forces on the coast of northern

France on June 6, 1944. It was the largest military

naval, air and land operation and marked the

start of the campaign to liberate Nazi-occupied

north-west Europe. At the Wednesday event,

Trump read a prayer, written by then US

President Franklin D Roosevelt and delivered on

the evening of D-day -- June 6, 1944, the

Guardian reported.

May read the letter of Captain Norman

Skinner of the Royal Army Service

Corps written to his wife Gladys on

June 3, 1944. The letter was still in

his pocket when he landed on

Sword Beach on June 6. Skinner

was killed the day after, leaving

behind wife and two young daughters.

French President Macron read

the final letter of Henri Fertet, a

resistance fighter, executed aged 16.

"The soldiers are coming to get me.

I must hurry. My handwriting may

look wobbly, but it's just because I am using a

small pencil. I am not afraid of death, my conscience

is completely clear… A thousand kisses.

Long live France," he wrote. Ahead of the event,

the 16 nations involved in the commemorations

agreed a proclamation to mark the anniversary.

The statement, coordinated by the UK, recognises

the sacrifice of those who took part in the

Second World War and salutes the surviving D-

day veterans.

The text was agreed upon by Australia,

Belgium, Canada, the Czech Republic, Denmark,

France, Germany, Greece, Luxembourg, the

Netherlands, Norway, New Zealand, Poland,

Slovakia, the UK and the US.
---
www.theasianindependent.co.uk

New York : Turning a conventional

wisdom on its head,

researchers have found that

consuming red meat and white

meat, like poultry, have equal

effects on blood cholesterol

levels.

The study indicated that

restricting consumption of

meat altogether, whether red or

white, is more advisable for

lowering blood cholesterol levels

than previously thought.

The research, published in

the American Journal of

Clinical Nutrition, showed that

consumption of high amount of

red meat or white poultry

resulted in higher blood cholesterol

levels than consuming a

comparable amount of plant

proteins.

"When we planned this

study, we expected red meat to

have more adverse effect on

blood cholesterol levels than

white meat. But we were surprised

that this was not the case

-- their effects on cholesterol

levels are identical when saturated

fat levels are equivalent,"

said the study lead author

Ronald Krauss, Professor at

University of California in the

US.

The study did not include

grass-fed beef or processed

products like bacon or sausage;

nor did it include fish. The

study also found that plant proteins

were the healthiest for

blood cholesterol.

Consumption of red meat

has become unpopular during

the last few decades over concerns

about its association with

increased heart disease.

Government dietary guidelines

have encouraged consumption

of poultry as a healthier alternative

to red meat.

But there had been no comprehensive

comparison of the

WORLD

Poultry as bad as red meats

for cholesterol: Study

Indian-origin woman jailed

for killing stepdaughter

Washington : An Indian-origin woman has

been sentenced to 22 years to life in prison for

strangling her 9-year-old stepdaughter in a bathtub

in 2016, a crime described by a US court as

a "disturbing" example of "extreme violence".

Shamdai Arjun, 55, of Queens, New York,

was sentenced on Monday after being convicted

in May of second-degree murder for killing

Ashdeep Kaur. She will spend 22 years to up to

life behind bars for the August 2016 killing.

Queens Supreme

Court Justice

Kenneth Holder

handed down the

sentence in a case

he described as a

"disturbing" example

of "extreme violence"

and suffering,

Queens Daily

Eagle reported.

Ashdeep Kaur

had moved from

India to be in the care of her father Sukhjinder

Singh and his wife in 2016. Family members

said the girl told them about past abuse at the

hands of her stepmother. "It's disturbing to consider

how you placed your hands around the neck

and throat of that child and squeezed without letting

up until her body went limp," Justice Holder

said at sentencing. "The suffering this child

endured as she was being killed is unimaginable,

and to boot you were the last face she had to look

up and see before she died." Acting Queens

District Attorney John Ryan said: "The defendant

in this case goes beyond the tales of evil stepmothers.

This defendant committed the unimaginable

- she wrapped her hands around her stepdaughter's

little neck and squeezed the life out of

her. "The victim was an innocent child and just

nine years old. The court has imposed a sentence

that will likely guarantee this woman never sees

freedom again. The sentence of the Court is more

than warranted in this tragic case," Ryan said.

According to trial

testimony, Arjun left

her home in the

Richmond Hill section

of Queens on

August 19, 2016

around 5.30 p.m.

with her former husband

and two grandchildren,

ages 3 and

5.Asked about the 9-

year-old victim's

whereabouts, she

told an eyewitness that the child was in the bathroom

and was waiting for her father to pick her

up.

The eyewitness, who observed that the bathroom

light had been on for several hours, called

the victim's father Sukhjinder Singh and was

instructed to break through the bathroom door.

Ashdeep Kaur's lifeless and bruised naked body

was later found in the bathtub. The medical

examiner's office determined that the cause of

death was strangulation.

effects of red meat, white meat

and non-meat proteins on blood

cholesterol until now, Krauss

said. Non-meat proteins like

vegetables, dairy, and legumes

such as beans, show the best

cholesterol benefit, he said.

London, On the second day of his UK state

visit, US President Donald Trump will meet outgoing

British Prime Minister Theresa May for

"substantial" talks on Tuesday, amid widespread

protests planned several cities, including

London, against his trip to the country.

Trump and May will start the day by co-hosting

a breakfast meeting of British and American

business leaders

at St James's

Palace in a bid to

boost trade links,

the BBC reported.

The Duke of

York, Chancellor

P h i l l i p

Hammond, US

Secretary of

State Mike

Pompeo and the

President's

daughter Ivanka

Trump are also

expected to

attend.

May, who will

stand down as

Conservativeleader on Friday, will then hold

talks with the US President in Downing Street,

when they are expected to discuss a range of

issues including climate change and the Chinese

tech giant Huawei, which the US has blacklisted

for security reasons. Also on Tuesday, thousands

June 2019

23

Samsung spurs R&D efforts

for 6G mobile network

Seoul : Samsung Electronics Co. has opened a new research

centre for the development of core technologies for 6G mobile

networks, joining the global race for the still nascent technology,

a company official has said.

Samsung Research, the firm's integrated R&D organisation, has

conducted extensive research on advanced cellular technologies

and has recently upgraded a next-generation telecommunication

research team to a centre to accelerate the development of solutions

and standardization of 6G, according to a Samsung official.

While 5G networks are just starting to roll out in early markets

and the current 4G LTE still remains a mainstream mobile network

in many countries, Samsung's move toward a 6G network is part

of its long-term business plan to get ahead in the next-generation

cellular technology, Yonhap news agency reported.

Samsung launched the world's first 5G smartphone, the Galaxy

S10 5G, in early April and has promoted its 5G solutions that can

be used in a host of new businesses, including self-driving vehicles,

smart factories and Internet of Things.

South Korean tech companies have started working on future

mobile technology to gain an early edge against the US and China,

which have announced plans for 6G networks.

LG Electronics Inc. in January joined hands with the Korea

Advanced Institute of Science and Technology (KAIST) to open a

6G research centre, and KT Corp., the nation's No. 2 mobile operator,

last week signed an agreement with the Seoul National

University (SNU) to collaborate on 6G research.

Though still in an embryonic stage, the upcoming 6G aims to

integrate satellites for global coverage to provide far high data

rates and faster Internet speeds than 5G, according to the

International Research Journal of Engineering and Technology.

Trump to hold talks with

Theresa May amid protests

of people are expected to join protests against

Trump's visit.A "national demonstration" in

London's Trafalgar Square will start at 11 a.m.,

while protests are also planned in Birmingham,

Stoke, Sheffield, Glasgow, Edinburgh, Chester,

Leicester, Oxford and Exeter.

Organisers have called for a carnival atmosphere,

but a huge police operation is taking place

in central London

to prevent any disruption

to the trip.

Opposition

Labour Party

leader Jeremy

Corbyn is due to

address the

London rally,

where he will be

joined by members

of other political

leaders.

The President

and First Lady

Melania Trump

arrived in London

on Monday. He

later praised the

"eternal friendship"

between the UK and US during a state banquet

at Buckingham Palace hosted by Queen

Elizabeth II. But before touching down, the

President reignited his political feud with the

Mayor of London, calling Sadiq Khan a "stone

cold loser".
---
24 June 2019

WORLD

www.theasianindependent.co.uk

Hum se jo takrayega,

woh chur chur ho

jayega : MAMATA

Kolkata : Assuring the

Muslim community that they

have nothing to fear, West

Bengal Chief Minister Mamata

Banerjee on Wednesday said

with its help she would fight

"every battle" to save the country.

Banerjee acknowledged that

the community has helped her

uphold secularism, national

unity, the ethos of the country

and the state as also "every

social work".

"In every social work, for

the unity of the nation, secularism,

tradition of the country

and the state, for the development

of the state, you always

help us. You also deserve our

help. "If you are with us, then

see, how we fight every battle.

We will fight. There is nothing

'Groundwater more contaminated

in non-ODF VILLAGES'

New Delhi :

Groundwater

sources were

likely to be contaminated

by

12.7 times in the

villages that have

not become open

defecation free

(ODF) as compared

to those

free from open

defecation,

reveals a study by

UNICEF. The study titled "The

Environmental Impact of the Swachh

Bharat Mission on Water, Soil and Food"

also showed that the soil and food in the

non-ODF villages were prone to have contaminated

by 1.1 times and 2.16 times,

respectively.

It was released by Union Jal Shakti

Minister Gajendra Singh Shekhawat and

Union Environment Minister Prakash

Javadekar here on the occasion of World

Environment Day. The objective of the

study was to assess the relationship

to be afraid," she said at an Eidul-Fitr

congregation.

Banerjee said one who is

afraid is finished. But those

who continue to fight, become

successful. "We will protect our

India. We will never turn away

from our country.

Hum se jo takrayega, woh

chur chur ho jayega," she said,

in a jibe at the Central government.

between

living in an

ODF environment

and the contamination

levels of

faecal bacteriological

indicators

found in

water, soil

and food

sample

taken from ODF and non-ODF villages.

About 725 samples were collected from 12

ODF and 12 non-ODF villages, spread

across West Bengal, Bihar and Odisha

between December 2018 and January

2019. Finding of the study also showed

that the relative risk of faecal contamination

of piped water supply traceable to

humans was 2.4 times more likely in non-

ODF villages. In case of stored household

water, the relative risk to human was 2.48

times more likely in non-ODF villages as

compared to ODF villages.

Ghani expresses readiness to

observe ceasefire if Taliban does

Kabul, Afghan President Mohammad

Ashraf Ghani on Tuesday expressed his

readiness to observe a ceasefire

if the Taliban outfit also does.

"The government of

Afghanistan is always ready to

observe ceasefire but the

Taliban group isn't," President

Ghani said in his message

marking Eid-ul-Fitr, the second

largest annual religious festival

that marks the end of

Ramadan, the Muslims holy

fasting month ended on Tuesday.

Ghani also said that the people of

Afghanistan were hopeful that the Taliban

group may observe ceasefire at least during

the three-day festival, reports Xinhua

news agency. The President also praised

his security forces' fight

against militants, saying the

they were able to foil the antigovernment

insurgents'

vicious plans to destabilize

the security and peace

process.

The Taliban outfit leader

Mullah Haibatullah

Akhundzada in a message on

Monday, once again rejected

the offer for talks with the Afghan government

and vowed to continue the war till

the withdrawal of foreign forces from

Afghanistan.

No breakthrough

in search for IAF's

missing An-32 aircraft

New Delhi : The search and

rescue operation continued for

the third day on Wednesday to

locate the IAF's An-32 plane

that went missing with 13 people

onboard on Monday.

On Wednesday, two SU-30s

along with two C-130J, two Mi17

helicopters and two Advanced

Light Helicopters (ALHs) including

one from the Army were

deployed to locate the aircraft,

officials said. Meanwhile, the

Long Range Maritime

Reconnaisance aircraft P-8I of

the Navy which took off from Tibetan Border Police, local after taking off from Assam.

from INS Rajali in Tamil Nadu to police and other agencies The transport aircraft was

join the search and rescue operation

has been put on standby and on the ground level from day one Mechuka Advanced Landing

involved in the search operations flying from Jorhat to the

shall be deployed, if requested by were carrying on.

Ground. Mechuka is a small

the Air Force.Besides, teams of The aircraft went missing in town in Aruanchal's West Siang

the Indian Army, the Indo- Aruanchal Pradesh on Monday district bordering China.