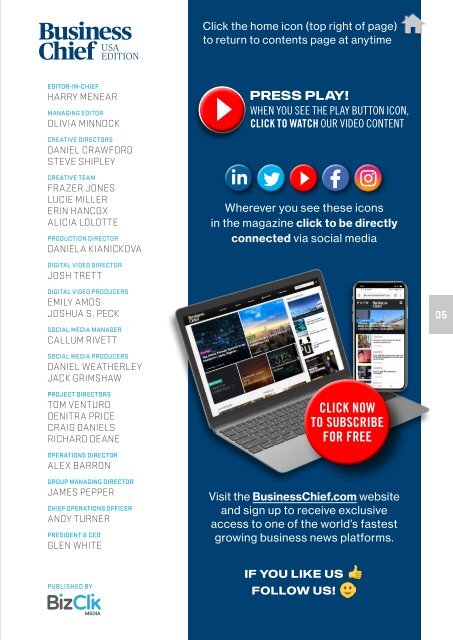 Business Chief USA June 2019 USA

EDITION

Click the home icon (top right of page)

to return to contents page at anytime

EDITOR-IN-CHIEF

HARRY MENEAR

MANAGING EDITOR

OLIVIA MINNOCK

CREATIVE DIRECTORS

DANIEL CRAWFORD

STEVE SHIPLEY

CREATIVE TEAM

FRAZER JONES

LUCIE MILLER

ERIN HANCOX

ALICIA LOLOTTE

PRODUCTION DIRECTOR

DANIELA KIANICKOVA

PRESS PLAY!

WHEN YOU SEE THE PLAY BUTTON ICON,

CLICK TO WATCH OUR VIDEO CONTENT

Wherever you see these icons

in the magazine click to be directly

connected via social media

DIGITAL VIDEO DIRECTOR

JOSH TRETT

DIGITAL VIDEO PRODUCERS

EMILY AMOS

JOSHUA S. PECK

SOCIAL MEDIA MANAGER

CALLUM RIVETT

05

SOCIAL MEDIA PRODUCERS

DANIEL WEATHERLEY

JACK GRIMSHAW

PROJECT DIRECTORS

TOM VENTURO

DENITRA PRICE

CRAIG DANIELS

RICHARD DEANE

CLICK NOW

TO SUBSCRIBE

FOR FREE

OPERATIONS DIRECTOR

ALEX BARRON

GROUP MANAGING DIRECTOR

JAMES PEPPER

CHIEF OPERATIONS OFFICER

ANDY TURNER

PRESIDENT & CEO

GLEN WHITE

Visit the BusinessChief.com website

and sign up to receive exclusive

access to one of the world's fastest

growing business news platforms.

PUBLISHED BY

IF YOU LIKE US

FOLLOW US!
More magazines by this user