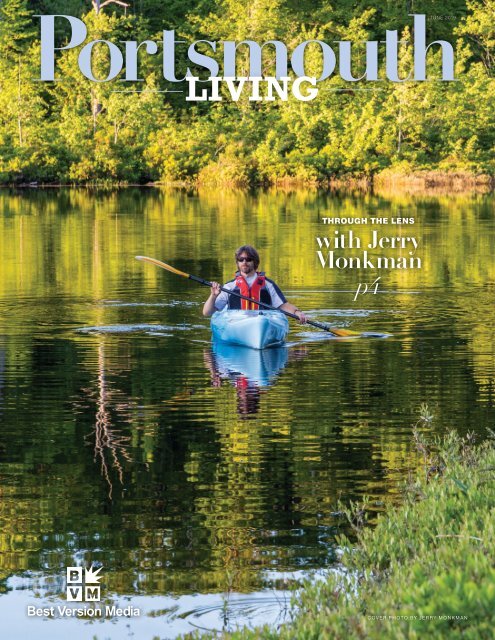 Portsmouth Living Magazine June 2019
You also want an ePaper? Increase the reach of your titles
YUMPU automatically turns print PDFs into web optimized ePapers that Google loves.
Portsmouth

JUNE 2019

LIVING

THROUGH THE LENS

with Jerry

Monkman

p4

COVER PHOTO BY JERRY MONKMAN
---
COMING SOON!

Dear Residents,

June is your month Portsmouth!

Warm weather is here and tourists are not quite taking

over the city yet! Portsmouth residents truly are some of

the luckiest people in this country.

There are hundreds of restaurants, and plenty of

beaches, parks and outdoor activities. So enjoy...

Please take advantage of our calendar of events and

explore all there is to do!

Let us know if you know of an event coming up…

and please give us advanced notice so we can print it.

Thank you,

~M ark

MARK KASPER

ROB LEVEY

PUBLICATION TEAM

PUBLISHER | Mark Kasper

DESIGNER | Gabrielle Rohmer

CONTENT COORDINATOR | Rob Levey

ADVERTISING

CONTACT | Mark Kasper

EMAIL | mkasper@bestversionmedia.com

PHONE | (603) 686-3131

FEEDBACK/IDEAS/SUBMISSIONS

24 Harborview Drive, Rye, NH

Barbara Dunkle | NH & ME Broker

PLATINUM GROUP MEMBER

Web: www.barbaradunkle.com

Cell: 603-498-7927

Office: 800-450-7784 ext.7078

Email: barbara.dunkle@beangroup.com

®

®

Have feedback, ideas or submissions? We are always happy to hear from

you! Deadlines for submissions are the 1st of each month. Go to www.

bestversionmedia.comand click "Submit Content." You may also email your

thoughts, ideas, and photos to rlevey@bestversionmedia.com.

IMPORTANT PHONE NUMBERS

Emergency.......................................................................................................... 911

Police Department........................................................................(603) 427-1500

Fire Department.............................................................. ..............(603) 427-1515

City Hall........................................................................................(603) 431-2000

Library......................................................................................... (603) 427-1540

Recreation Department......................................................... ......(603) 427-1548

School Department....................................................................(603) 431-5080

Important Websites.................................................www.cityofportsmouth.com

Karen Wight

603-436-5234

401 The Hill, Ste.101

Portsmouth

karenwright@allstate.com

DEADLINE FOR CONTENT SUBMISSION

IS THE I ST OF EACH MONTH

Distinctive Properties. Exceptional Service.

©2019 Bean Group, All Rights Reserved.

Any content, resident submissions, guest columns, advertisements and advertorials

are not necessarily endorsed by or represent the views of Best Version Media (BVM)

or any municipality, homeowners associations, businesses or organizations that this

publication serves. BVM is not responsible for the reliability, suitability or timeliness of

any content submitted. All content submitted is done so at the sole discretion of the

submitting party. ©2019 Best Version Media. All rights reserved.

Subject to terms, conditions and availability. Allstate Fire and Casualty Insurance Co.

© 2013 Allstate Insurance Co.

10175355

2 PORTSMOUTH LIVING

JUNE 2019 3
---
Resident Spotlight

THROUGH THE LENS

with Jerry

Monkman

4 PORTSMOUTH LIVING

BY ROB LEVEY

PHOTOGRAPHY BY

JERRY MONKMAN

AND MICHAEL PENNEY

As a boy in rural Illinois,

nature served as a source of

fun for Jerry Monkman.

"I grew up near 5 thousand

acres of woods, fields, and places to

play outside all the time," he says. "I just

loved being outside."

This love of the outdoors eventually

served to inspire his foray into photography,

which is not a hobby, but his

profession since 1993.

"Most of my work is shooting for nonprofits

and magazines and sometimes

tourism," he says. "I also shoot video and

documentary films, so depending on the

day it could just be me, my camera and

a tripod on a trail looking for the most

beautiful things to photograph."

He says he sometimes photographs

with a group of people who are hiking,

rock climbing or kayaking. He describes

this sort of work as "outside lifestyle

photography."

"When film-making, I will have a

crew of three or four of us, usually doing

the same sort of things," he explains.

"A lot of the time, I don't know

what I am going to find, so I just

track through the woods until I

find the shot I need."

"We have people riding bikes, or paddling

boats, and we are filming that

using drones and regular cameras."

Because he works mostly on conservation

projects, he notes he usually does

not shoot in well-known places.

"I go to many places that people

haven't photographed before," Jerry says.

"A lot of the time, I don't know what I

am going to find, so I just track through

the woods until I find the shot I need."

He says the challenge, which he loves,

is not working in iconic landscapes while

still looking for something special.

"It takes a lot more problem solving

and that's what I really love," he says.

His work, however, necessitates that

he work in the office, too.

"I spend a lot of time on my computer

editing this stuff," he adds. "I probably

Because he works mostly

on conservation projects, he

notes he usually does not

shoot in well-known places.

spend 75 to 100 days actually out on the

field and the rest of the time working in

the office."

When not working, Jerry follows the

Patriots and Red Sox.

"The whole family goes to Fenway

Park at least once a year, because it is

just one of those awesome trips to do if

you live around here," he says. "I love to

just travel with my family and not have

to worry about working."

As for his neighborhood, Jerry says

he loves the quiet neighborhood in

which he, his wife Marcy and teenage

children, Acadia and Quinn, call home.

"We are surrounded by South

Street, Miller Ave, and Middle

Street," he says. "What I love

about it is that it is a little removed

from downtown… It is also close

enough to walk down town if you

want, so it is an ideal location."

His home and that of his wife

for the past 25 years, Jerry says everyone

is nice to them, because to

some extent they have been there

"forever."

"People are friendly in the

neighborhood, for sure," he says.

As for what is next for Jerry,

he says he and his family plan to

travel to Europe this summer. He

says their itinerary includes some

hiking in the Alps and a visit to Paris

and Venice.

"That will definitely be one of the

biggest adventures we will do as a

family," he says. "We haven't done a

big trip as a family in a few years. We

have hiked in the White Mountains

and done winter ski trips in the Maine

woods, although we haven't done that

in a couple years."

He also expressed excitement at

possibly finishing a big photography

project.

"I have been working on a documentary

about the Merrimack River for

more than 2 years and I am really hoping

to finish that," he says. "My goal is

to complete that. Other than that, I really

love continuing to do conservationoriented

photography. I like how it has

been going the past few years."

DO YOU HAVE A NEIGHBOR WHO HAS A STORY TO SHARE? Contact us at:mkasper@bestversionmedia.com

Pearl Street

Painting Company

Artisan Painting

Interior | Exterior

603.380.8627

pearlstreetpainting.com

JUNE 2019 5
---
JUNE 2019

Health

Real Estate

I

f you've sustained a traumatic head injury and find that

day-to-day routine activities seem more challenging

to complete than before, or that your pain has become

chronic, don't be discouraged.

Oftentimes unresolved symptoms persist long after receiving

medical care. Beyond residual pain, symptoms like

headaches, blurred vision, dizziness, brain fog, or anxiety, to

name a few, can surface. Sometimes the body is just unable

to shake off the lingering discomfort and needs a little support

to regain balance and return to full health.

Craniosacral Therapy (CST) can be the missing piece in

your healing journey. Developed by osteopathic physician

John E. Upledger in the late 1970s, CST is an extremely

gentle therapy, non-invasive form of bodywork that involves

gentle therapeutic touch. The techniques used are subtle

manipulations of the cranium and spinal structures to help

guide the flow of cerebral spinal fluid in the body.

The craniosacral system involves the cranium, brain, and

the entire spine down to the pelvis. It is here where aspects

of the body's motor, cognitive, and emotional functions

originate, supported by the free-flow of cerebrospinal fluid.

THERAPY FOR BETTER

BRAIN FUNCTION

BY FRANCESCA CIANI, L.MT, C.S.T

Re-establishing proper flow allows the body to achieve balance,

improve brain function, reduce inflammatory responses,

and restore the body's craniosacral rhythm.

CST is suitable for people

of all ages – from children to

adults. It is a non-invasive and

relaxing treatment in which

the patient remains fully

clothed, resting on an air mat

designed to reduce compression

of the head and spine.

Typically, patients experience

noticeable benefits within the

first three sessions, generally

feeling immediate and deep

relaxation, reduced pain and

discomfort and an improved

sense of body awareness

and energy.

To learn more or schedule a session visit thegiftmassageandbodywork.com.

April 2019

Condo Sales

Average List Price: $587,188

Average Sale Price: $574,761

Average days on market: 59

April 2019

Single Family Home Sales

Average List Price: $784,015

Average Sale Price: $780,615

Average days on market: 58

On average, single family homes sold for 99.5% of list price in April.

Absorption Rate (# of months it would take to sell the currently listed homes on the market)

Condos: 4.02 months

Single family: 2.1 months

Best Version Media does not guarantee the accuracy of the statistical data on this page. The data does not represent the listings of

any one agent or agency but represents the activity of the entire real estate community in the area. Any real estate agent's ad

appearing in the magazine is separate from the statistical data provided which is in no way a part of their advertisement.

Reach Out

To Your

Local

Community!

Portsmouth

LIVING

THROUGH THE LENS

with Jerry

Monkman

p4

COVER PHOTO BY JERRY MONKMAN

Promote Your

Business in

Portsmouth Living

Call Mark at

(603) 686-3131 Today!

You deserve to

love where you live!

IT'S TIME

To Feel Good Again.

If pain is holding you back from living your life, get in touch with Atlantic

Orthopaedics today! As the Seacoast area's premier provider for

nearly 20 years, we'll get you back in motion and feeling great.

Summer in Portsmouth is here!

NH: 603-431-1121 · ME: 207-363-3490 · ATLANTICORTHOPAEDICS.ORG

DEDICATED TO YOU.

Barbara Dunkle | NH & ME Broker

Web: www.barbaradunkle.com

Cell: 603-498-7927

Office: 800-450-7784 ext.7078

Email: barbara.dunkle@beangroup.com

6 PORTSMOUTH LIVING

JUNE 2019 7
---
How did you get into race walking?

Were you a runner before?

Years ago, I would rise early and

lope a few miles for exercise before the

rest of the family got up, but I never

considered myself a runner. Eventually

arthritis in my back forced me to look

for some other form of exercise. I was

turning 65 and my daughter, Meredith,

challenged me to do the Seacoast Half

Marathon with her. She said I could

walk it so I figured, "No problem."

She took me to Runners Alley and

the folks there fitted me for walking

sneakers. Next, Meredith suggested I

could use the Seacoast Series as part of

my training for the Half. That seemed

reasonable, so I signed up. Several of

Meredith's work mates were also doing

the series. All of a sudden, I realized I

did not want to embarrass my daughter

by finishing last in these events. I

looked up "race walking"on You Tube

and tried to copy their examples. After

a couple of the races, I connected with

Jay Diener and a group of race walkers

in the Portsmouth area.

Lawn Cutting

SPECIAL

EVERY

3rd Cut

Is Half Price!

New Customers Only

(603) 502-0016

Clipperlandscaping.com

'RACE'WALKING AROUND

with Sherrie Gadd

What is the most challenging part

about race walking?

Race walkers have a real image

problem. If you race walk correctly,

you look rather silly. Maintaining race

walking form is difficult. Your front

heel must hit the road with your knee

straight and toe up. Your foot rolls

forward to your toes and you push off.

This leg then becomes a fulcrum while

your other leg bends at the knee and

swings forward until your heel hits the

pavement. As the foot rotation repeats,

one foot must be on the ground at all

times. In the meantime your posture

remains tall while your arms swing in

rhythm, elbows forcing backward and

thrusting forward.

What distances do you race?

The Seacoast Series event range from

5K to 10K. I usually do six of those

events. I have done the Seacoast Half

Marathon three times.

How many miles do you train each

week?

From December through mid-April,

I put my sneakers away and downhill

ski. I genuinely admire the folks who

hit the road all winter. As soon as

spring temperatures arrive, I put on my

sneakers. I usually go out on the road

2-3 times a week. Additionally, I meet

with the Portsmouth area race walkers.

We meet the first and third Saturdays

at Portsmouth High School and Jay

helps us with technique. It is a fun

group of people. We laugh a lot and

the hour training session flies by.

When I am on my own, I like to go

out on the back roads of West Newbury,

(MA) where I live. It is lightly

populated, beautiful and there is virtually

no traffic. I usually train between

3-6 miles each day I go out. My shuffle

is loaded with songs about walking,

running, shoes, sneakers - you get the

idea - and it is all with a good rhythm. I

listen to tunes and enjoy the open road.

Race walking is a bit more time consuming

than running. For example a

3.1 training walk will take me about 35

minutes. A 6-mile walk will take over

an hour, but it is such great exercise.

BY ROB LEVEY

Do you have a favorite race in the

Seacoast Series? How many races

do you participate in each year on

the Seacoast?

The Seacoast Series is eight races

that take place between May and October.

Each event has something special,

but I think my favorite is the Fox Point

Five Miler. It is held on a Saturday evening

in early September beginning and

ending at the Old Town Hall in Newington.

The course has a little bit of

everything - downhill on a tree-lined

reservation road, a section through the

woods on a bike path, some beautiful

residential neighborhoods and a very

challenging "double decker" hill. The

best part is at the finish. The local PTA

cooks hot dog and hamburgers for all

of us.

"Race walkers

have a real

image problem.

If you race walk

correctly, you

look rather silly."

What are your goals for race walking

in the future?

Ultimately, I simply want to keep

race walking, because it is such a terrific

total body workout. I turn 70 in

a few weeks, so just moving forward

is a major goal. As long as I continue

with the Seacoast Series, I will try to

be better in each event than the year

before. Last year on the Market Square

Day's course in downtown Portsmouth,

there was an electric speed sign on

Dennet Street, which obviously was for

cars. At that point on the course, I was

pretty much alone on the road with a

small pack ahead and a pack behind. As

I passed the sign a large "5" miles an

hour appeared. I registered on the sign!

I got a real kick out of that.

I would love to see more people get

interested in race walking.

OVERNIGHT OATS

BY CHELSEA SCOTT

Known for being healthy and filling, oatmeal is an

excellent hot cereal breakfast choice. In the summer

months, I like to switch to overnight oats. Think

oatmeal, only cold! The recipe is super simple,

highly customizable and just the thing for a

warm summer morning.

INGREDIENTS

• ½ cup uncooked old-fashioned oats

• ¼ cup milk (cow, nut, rice—your choice)

• 1 Tbsp honey (local is best)

• ¼ cup nonfat plain Greek yogurt

(nondairy yogurt works, too)

• 2 Tbsp roasted walnuts

• 2 Tbsp sliced strawberries

DIRECTIONS

Combine the first four ingredients

in a bowl and stir to combine.

Leave in refrigerator for four

hours or overnight. Before

serving, top with Greek yogurt,

strawberries and walnuts.

8 PORTSMOUTH LIVING JUNE 2019 9

Tips

Thyme to Cook

• The Greek yogurt can be

mixed into the oats with

the milk for a creamier,

thicker texture.

• For a chocolate version,

try adding a tablespoon

of unsweetened cocoa

powder.

• Nut butters are a great

addition, providing extra

flavor and healthy fat.

• Stir in a scoop of your

favorite protein powder

to get you through your

morning workout!

Seacoast Financial Planning

A financial advisory practice of

Ameriprise Financial Services, Inc.

603.427.8252

314 Middle Street,

Portsmouth, NH 03801

contact:

charles.m.beynon@ampf.com

gregory.m.vallee@ampf.com

nicolas.curtis@ampf.com

seacoastfinancialplanning.com
---
SUNDAY, JUNE 9

WHAT MOVES YOU 5K

@CORE ORTHOPEDIC, 7 ALUMNI DR., EXETER

The What Moves You 5K is returning to Exeter,

NH on Sunday, June 9th for another day of

celebrating health and fitness! This is a great

course traveling on rural roads through what

was once the Revolutionary War capital of the

United States. Join us for the next to last race in

the popular Will Run for Beer race series at the

after-party at Margarita's Restaurant!

TIME 9am-12pm

COST $25

www.whatmovesyou5k.com

THURSDAY, JUNE 13 AND FRIDAY, JUNE14

THE 12TH BEACHES CONFERENCE AT

THE KITTERY COMMUNITY CENTER

@ KITTERY COMMUNITY CENTER,

120 ROGERS RD., KITTERY

The date is set for the 12th Beaches Conference

at the Kittery Community Center! Everyone with

an interest in the region's beaches is invited to

gather at the biennial Beaches Conference to

review the latest science, policy, and trends on

the shore. For the second conference in a row,

the focus will include New Hampshire as well as

the beaches of Maine. On June 13, field trips will

visit coastal locations where participants can

experience and share project ideas. The conference

will follow on June 14 covering topics such

as marine debris, living shorelines, aquaculture,

gear technology, findings from Maine and New

Hampshire beach monitoring programs, and

resilience mapping and planning.

TIME 8am-5pm

COST $50-65

www.seagrant.umaine.edu/extension/beaches-conference

THURSDAY, JUNE 13

PEE LOCAL: SUSTAINABLE

AGRICULTURE THROUGH

NUTRIENT RECLAMATION

@PORTSMOUTH PUBLIC LIBRARY,

175 PARROTT AVE., PORTSMOUTH

Want to help save the Great Bay with sustainable

wastewater management? Want our farms to

thrive and save money? Want to safely capture

a resource you are wasting? Then come learn

how to Pee Local! Join a movement to capture a

major source of water pollution and use it to improve

soil health and boost crop production. Pee

Local is a NH based urine diversion and nutrient

reclamation program implementing practical and

sustainable wastewater management solutions

to help address the Great Bay's nutrient issues,

conserve drinking water, and support local

agriculture.

TIME 7pm-8:30pm

COST FREE

www.meetup.com/Seacoast-NH-Permaculture/

events/259933671/

10 PORTSMOUTH LIVING

SUNDAY, JUNE 16

FATHER'S DAY 5K IN DOVER

@MARGARITAS MEXICAN RESTAURANT,

23 MEMBERS WAY, DOVER

A fundraiser for Goodwin Community Health and

Families First, the 10th Annual Father's Day 5K

will begin at Margaritas in Dover, NH at 9 am.

Join us inside Margaritas after the race for

complimentary fruit and hand-rolled breakfast

burritos. Gift cards will be awarded to the top

overall male and female finishers and the top two

male and female finishers in each age group.

Proceeds from the event will be used to provide

innovative, compassionate, integrated health

services and family supports to local residents.

The first 200 registered adults will get a free

race tank.

TIME 9am-11am

COST $5-$25

www.goodwinch.org

FRIDAY, JUNE 21

CREATIVEMORNINGS PKX

AT THE MUSIC HALL LOFT

@THE MUSIC HALL LOFT,

131 CONGRESS ST., PORTSMOUTH

CreativeMornings Portsmouth is a local chapter

of the global breakfast lecture series for the

creative community founded by Tina Roth Eisenberg

(@swissmiss). We meet once a month on

a Friday morning 8:30 – 10 am. Every meeting

will feature a local speaker on the month's topic

and is free and open to the public – breakfast

snacks & drinks to be provided.

TIME 8:30am-10:30am

COST FREE

www.themusichall.org

FRIDAY, JUNE 21

PORTSMOUTH POCKET GARDEN TOUR

@SOUTH CHURCH, 292 STATE ST., PORTSMOUTH

The 30th anniversary Portsmouth Pocket Garden

Tour takes place this year on the evening of June

21 from 5-8 p.m. and on June 22 from 9 a.m. to

3 p.m. Stroll through over a dozen unique gardens

in the charming Christian Shore and Creek

part of the city. The gardens on this year's tour

were chosen with sustainability in mind, with

flower gardens interspersed with vegetable

plots and herb nooks.

TIME 5pm-8pm

COST $20-$25

www.southchurch-uu.org

FRIDAY, JUNE 21

SUNSET LIGHTHOUSE

CRUISE IN RYE

@ RYE HARBOR STATE MARINA,

1870 OCEAN BLVD., RYE

Join Friends of Portsmouth Harbor Lighthouses

for a narrated Sunset Lighthouse Cruise from

Rye Harbor State Marina. The cruise will pass

close to Portsmouth Harbor Lighthouse, Whaleback

Lighthouse, and White Island Lighthouse in

the Isles of Shoals. The boat has a galley serving

hot dogs, soft pretzels, candy, chips, soda, water,

wine, and beer. You can bring food on board,

but you cannot bring any alcoholic beverages on

board.

TIME 7pm-9:30pm

COST $30

www.portsmouthharborlighthouse.org

SATURDAY, JUNE 22

PORTSMOUTH POCKET GARDEN TOUR

@SOUTH CHURCH, 292 STATE ST., PORTSMOUTH

The 30th anniversary Portsmouth Pocket Garden

Tour takes place this year on the evening of June

21 from 5-8 p.m. and on June 22 from 9 a.m. to

3 p.m. Stroll through over a dozen unique gardens

in the charming Christian Shore and Creek

part of the city. The gardens on this year's tour

were chosen with sustainability in mind, with

flower gardens interspersed with vegetable

plots and herb nooks.

TIME 5pm-8pm

COST $20-$25

www.southchurch-uu.org

SATURDAY, JUNE 22

SWAG ON SWASEY FLEA MARKET

@SWASEY PARKWAY, WATER ST., EXETER

Join more than 20 vendors on beautiful Swasey

Parkway in Exeter for this monthly market.

Antiques, collectibles, vintage, repurposed,

salvaged and much more. Free on-street and

off-street parking and no admission make this an

even sweeter deal. The market is convenient to

Route 101.

TIME 8am-2pm

COST FREE

www.swagonswasey.com

SATURDAY, JUNE 22

PORTSMOUTH PRIDE 2019

@PORTSMOUTH DOWNTOWN,

14 MARKET SQUARE, PORTSMOUTH

The PRIDE Marketplace returns and will feature

booths from local non-profit organizations

and family-friendly vendors. We will also have

several local restaurants serving up some of the

best casual eats on the Seacoast. Other events

take place throughout the day.

TIME 12pm-11pm

COST FREE

www.seacoastoutright.org/portsmouth-pride-2019-nh

June 2019

FRIDAY, JUNE 28

SUNSET LIGHTHOUSE CRUISE IN RYE

@ RYE HARBOR STATE MARINA,

1870 OCEAN BLVD., RYE

Join Friends of Portsmouth Harbor Lighthouses

for a narrated Sunset Lighthouse Cruise from

Rye Harbor State Marina. The cruise will pass

close to Portsmouth Harbor Lighthouse, Whaleback

Lighthouse, and White Island Lighthouse in

the Isles of Shoals. The boat has a galley serving

hot dogs, soft pretzels, candy, chips, soda, water,

wine, and beer. You can bring food on board,

but you cannot bring any alcoholic beverages

on board.

TIME 7pm-9:30pm

COST $30

www.portsmouthharborlighthouse.org/events/sunsetlighthouse-cruise/

SATURDAY, JUNE 29

RECYCLED RIVER REGATTA IN DOVER

@CHILDREN'S MUSEUM OF NEW HAMPSHIRE, 6 WASH-

INGTON ST., DOVER

The Children's Museum of New Hampshire

challenges kids and grown-ups of all ages to

compete in the first Recycled River Regatta!

Build a boat that cannot only float, but drop 20-

feet into the Cochecho River. Follow our project

guidelines, which can be found online, and build

a boat at home, or join us at the museum during

our Boat Building Days: Monday, April 22 (free

with museum admission; June 24-27 (free with

museum admission); and a morning boat-making

workshop at the NH Maker & Food Fest on

Saturday, June 29th (same day as Regatta, and

only for Fest ticket holders). Tickets to the NH

Maker & Food Fest are not required to participate

in this event. Boats will be judged and awards

will be given. Groups are welcome to participate!

The boats will be launched by museum staff off

of Washington Street Bridge, while you watch

from lower Henry Law Park. Check out the

guidelines online at www.childrens-museum.org.

TIME 12pm-2pm

COST $0-$10

www.childrens-museum.org/things-to-do/events/

recycled-river-regatta

From Our Family to Yours

SATURDAY, JUNE 29

CHAD EAST-WEST NH HIGH SCHOOL

ALL-STAR FOOTBALL GAME

@UNH WILDCAT STADIUM, 155 MAIN ST., DURHAM

New Hampshire's top football players meet

up for one final game to raise money for the

families and services at the Children's Hospital

at Dartmouth-Hitchcock. The 2019 CHaD East-

West NH High School All-Star Football Game,

powered by Bedford and Nashua Ambulatory

Surgical Centers, is Saturday, June 29. Kick-off

is 6 p.m. under the lights at Wildcat Stadium,

home of the University of New Hampshire Wildcats.

The family-friendly event pits seniors from

high schools across the state in an East vs. West

battle while also teaching them about community

service, philanthropy, and humility.

TIME 6pm-8:30pm

COST $10-$50

www.chadallstarfootball.org

Have an

event for our

next issue?

Contact: rlevey@bestversionmedia.com

Caring for the dental

health of Portsmouth

families for 60 years –

We are excited to welcome

Dr. Andrew Harvey

and Brianna Harvey

to our staff.

Dr. Andrew Harvey

Dr. Paul Harvey Jr.

Brianna Harvey RDH

Call Today!

(603) 436-7810

610 Islington Street | Portsmouth, New Hampshire 03801 | www.portsmouthfamilydentistry.com

APRIL 2019 11
---
Arts In Reach Presents

2019 TABLESCAPES

Non Profit Spotlight

Arts In Reach (AIR) and Ethan Allen Furniture

recently announced their partnership for the return

of TABLESCAPES 2019, a community favorite

that will take place on Thursday, June 13 from 5pm to 7pm.

Taking place at the furniture showroom, proceeds from the

free event will benefit AIR, a Portsmouth-based nonprofit

that empowers teenage girls through inclusive, creative

community.

At the event, Mary-Jo Monusky, AIR Executive Director,

says area designers, artists, and florists showcase their talents

by creating stunning and imaginative tabletops with themes

of their choice.

"This popular event gives the public an opportunity to see

innovative table settings and to learn about AIR," she says.

Noting All of AIR art programs are provided at no cost

to families, Monusky says the fundraiser helps pay for staff,

artists, supplies, facilities and transportation. AIR programs

take place after school and during school vacations.

"AIR cultivates teenage girls' creativity and self-confidence

as well as critical life, work, and leadership skills," she adds.

AIR programs are offered to girls ages 13–20.

For Ethan Allen Design Center Manager Karen Atkins,

the chance to work with AIR is unique and exciting.

BY ROB LEVEY | PHOTO BY RICK DUMONT IMAGES

"When our visual display

expert, Michael Englehardt,

told me about his involvement

in previous years' AIR TA-

BLESCAPES, I immediately

thought that the Ethan Allen

showroom would make a great venue," she says.

Atkins says her excitement at the prospect of working

together also excited Monusky.

"We're looking forward to this amazing event that

supports a worthwhile cause," adds Atkins

New Hampshire Home will again serve as Media Sponsor

with Editor Andi Axman returning as judge.

"TABLESCAPES is a really fun event," says Axman.

"I love seeing all the unique ways to set a table, which can

make any occasion special. The designers are so talented

and so generous to share all their great ideas."

Cyndy Dumont, one of the designers who will participate

in TABLESCAPES, says it is a pleasure to support Arts

In Reach.

"My table, 'Let's Shell-ebrate!,' represents our beautiful

Seacoast and the work I do as a justice of the peace

with brides throughout the season," she says.

To learn more about the event, or AIR, visit artsinreach.org .

KREMPELS CENTER

RECEIVES NH

CENTER FOR

NONPROFITS

IMPACT AWARD

BY BECKY KATES

Recently, Portsmouth-based

nonprofit Krempels Center

received a NH Center for

Nonprofits Impact Award for "its

innovative and collaborative approach to

addressing the complex needs of brain

injury survivors in New Hampshire."

Expressing gratitude at the recognition,

Lisa Couture, Executive Director

of Krempels Center, whose mission

is dedicated to improving the lives of

people living with acquired brain injury,

says many are surprised at their work's

scope.

really get what they are going through,"

she says. "They can rebuild skills here

and get the support they need."

Brain injury, she says, does not wait

for a person to be ready.

"It does not care about age, ethnicity,

gender, race, religion, sexual orientation,

or socio-economic status," she says. "It

can happen to anyone, anywhere, at any

time."

"In a country with more than 5.3 million

Americans who are currently living

with brain injury-related disabilities at

a cost exceeding $76 billion each year,

comprehensive community care is imperative,"

she says. "While stories about

sports concussions and combat traumatic

brain injuries have grown public awareness,

what hasn't changed over the years

is the need for Krempels Center."

ELEVATING

WEALTH MANAGEMENT

TO AN ART FORM

Orion (detail) by Brian Rutenberg

The name "Dakota" means friend and ally –

here at Dakota Wealth Management, we

focus on caring for you, understanding

your family, lifestyle needs, goals and

long-term aspirations.

At a time when the financial industry has

resorted to passive strategies and

computer-generated models, our team of

investment managers and advisors brings

experience, knowledge and sound

judgment to thoughtfully position every

aspect of your financial life to ensure the

greatest success.

In everything we do, from crafting

portfolios to facilitating a comprehensive

wealth management experience, Dakota

brings a highly-personalized wealth

management approach to downtown

Portsmouth.

Contact Marilyn Rios, Partner and Senior Client Advisor

147 Middle Street

Portsmouth, New Hampshire

(603) 766-7694 | mrios@dakotawm.com

www.dakotawm.com

"Experiencing an acquired brain

injury means that someone's life was

on a trajectory free of disability," she

says. "That trajectory come to a sudden

halt due to a car accident or fall, stroke

or brain tumor, or a lack of oxygen to

the brain from drug overdose or heart

attack. Careers suddenly end, families

struggle financially, and many loved

ones and friends retract or disappear,

unsure of how to relate to this very

changed person."

She says many of these changes are invisible

and difficult to understand, which

leads to isolation and despair.

"Krempels Center is a place for brain

injury survivors to be with others who

"Krempels Center is a place for brain

injury survivors to be with others who

really get what they are going through,"

she says. "They can rebuild skills here

and get the support they need."

As for its beginnings, Krempels

Center was founded in 2000 by David

Krempels, who Couture says recognized

he and his peers living with brain injury

needed "more than a monthly support

group" as they navigated their new life.

Early on, Krempels Center partnered

with UNH, creating a learning lab for

allied health and social service interns,

which in turn allowed it to offer a widerange

of groups for participants. With a

strong supervision curriculum in place

for the students, Couture says this ongoing

symbiotic partnership helps ensure

services continuously evolve, improve

and remain evidence-based.

According to research, someone in

the US sustains a brain injury every 9

seconds.

"At its heart, Krempels Center is

a place of belonging and hope," adds

Couture. "Brain injury survivors are

seen and understood, which allows them

to let their shoulders down, be who they

are right now, and develop new plans

and goals for their future. Feeling you

are part of a community—truly belonging—is

something all human beings

yearn for."

To learn more about Krempels Center, visit krempelscenter.org.

12 PORTSMOUTH LIVINGING

JUNE 2019 13
---
Business Spotlight

Creating Livable Spaces You'll Love

Creating Livable Spaces You'll Love

Debbe Daley Debbe is Daley an Interior is an Interior Designer whose firm creates creates unique unique and personable and personable

spaces for residential and commercial interior design in Boston, Eastern

spaces for Massachusetts residential

Creating and and New Livable England. commercial "Your Spaces home interior is yours, You'll it design should Love showcase in Boston, what Eastern

Massachusetts and you New love and England. show who "Your you are. home Your space is yours, should tell it should a story." showcase what

Debbe Daley is an Interior Designer whose firm creates unique and personable

spaces you love for 379 residential and show

State Street and who

#1, commercial you are. Your

Portsmouth, interior space

NH design should

• (603) in 427-8648 Boston, tell a story." Eastern

Massachusetts and New England. "Your home is yours, it should showcase what

winner

379 State you love Street and www.daleydesigns.com

show #1, who Portsmouth, you are. Your space NH should • (603) tell a story." 427-8648

2 018

INTERIOR 379 State DESIGN Street • PROJECT #1, Portsmouth, MANAGEMENT NH • CONSULTATION

• (603) 427-8648

www.daleydesigns.com

www.daleydesigns.com

INTERIOR DESIGN • PROJECT MANAGEMENT • CONSULTATION

INTERIOR DESIGN • PROJECT MANAGEMENT • CONSULTATION

winner

2 018

winner

2 018

WE SPECIALIZE IN:

• BOTOX - DERMAL FILLERS

• LASER

• HYDRAFACIALS

• MICRONEEDLING WITH PRP

• COOLSCULPTING

• APPETITE CONTROL PROGRAM

• HCG INJECTIONS

• LIPOTROPIC INJECTIONS

• IV VITAMIN INFUSION

CALL US TODAY

FREE CONSULTATION

A GE-LESS

WEIGH-LESS

reveal the new you!

781.569.5100

50 Sheffield Dr, STE 101, Dover, NH

ageweighless.com

Recently celebrating its 10th anniversary in business,

Green Maids Cleaning is the brainchild of owner

John O'Brien, who says he saw a need for it.

"I realized that there was a need for more organic based

companies and there weren't any green cleaning companies

at the time," he says.

O'Brien says the term 'green' in his company's name accurately

reflects how they approach their work.

GREEN MAIDS CLEANING

Celebrates 10 Years

BY ROB LEVEY | PHOTOS BY GREEN MAIDS

As for how the company has thrived in a sometimes

uneven economy, O'Briens points to the people that work

there.

"Because of that, we make a concerted effort to ensure

Green Maids is a positive place to work," he says. "The

team members welcome new hires, help build each other

up throughout the day, and have great, upbeat attitudes.

The positive energy is infectious and really keeps every day

fun and interesting."

"The team members welcome new hires ... and have

great, upbeat attitudes. The positive energy is infectious

and really keeps every day fun and interesting."

"We put all of our efforts into using the most environmentally

friendly equipment and products possible to

give our customers the highest quality cleaning and a safe

home," he says.

He says even the company's cars, uniforms, office

supplies, business cards, and partnerships reflect an ecofriendly

philosophy.

"Every business decision we have to make, we do it with

the environment in mind," he adds.

For O'Brien, Green Maids Cleaning reflects his belief

that "every little bit helps" the environment.

"You don't have to be all or nothing," he says. "Just do

your best to a make positive impact on the environment

each and every day."

When not working, O'Brien says he spends time with his

wife Ashley and their best pal, Brady, a 12 year-old Golden

Retriever. The couple are also actively involved with some

community groups, such as Blue Ocean Society and Seacoast

Science Center.

"I'm also a diehard Boston sports fan and lifelong golfer -

not that you could tell," he laughs.

As for the future of Green Maids Cleaning, O'Brien

expresses optimism and gratitude.

"It's been an amazing 10 years building this business,"

he says. "Even after all this time, I'm still excited to go

to work every day and can't wait to see where the next 10

years bring us.

To learn more about Green Maids, visit greenmaidscleaning.com

14 PORTSMOUTH LIVING JUNE 2019 15
---
2786

Portsmouth

LIVING

Vieux Port

Vieux Port

Offering unparalleled custom design in engagement &

statement jewelry. As well as on site full jewelry restoration & repair.

Green tourmaline & baguette diamond ring in 18k palladium white gold by S. Thomas Bordonaro. Only at Vieux Port Goldsmith.

85 Daniel Street | Portsmouth, NH | (603) 319-6157 | www.vieuxportjewelry.com

Are you afraid of missing out on higher deposit rates?

Are you tired of trying to time the market for the best rates possible?

THE ALL NEW

The Rate Can Go UP

(but never down)

IS THE ANSWER!

We are excited to introduce a new CD! When you open an UP CD you'll benefit any time

the rate goes up, but will never be penalized if the rates go down! Minimum balance

to open an UP CD is $500*, so stop in or call us today to get yours started!

15 Pleasant Street

Portsmouth, NH 03801

603.436.5250

*The 25 Month UP Certificate of Deposit (CD) offers initial and subsequent rate changes tied to the current rate offer on the Bank's 2 Year CD product. The variable rate may

change at any time but only when there are increases to the interest rate of the Bank's current 2 Year CD product. As a result, the 25 Month UP CD rate will never decrease prior to

the first renewal. Minimum balance to open is $500.00. Penalty may be imposed for early withdrawals. Not available for Individual Retirement Accounts (IRAs).

piscataqua.com