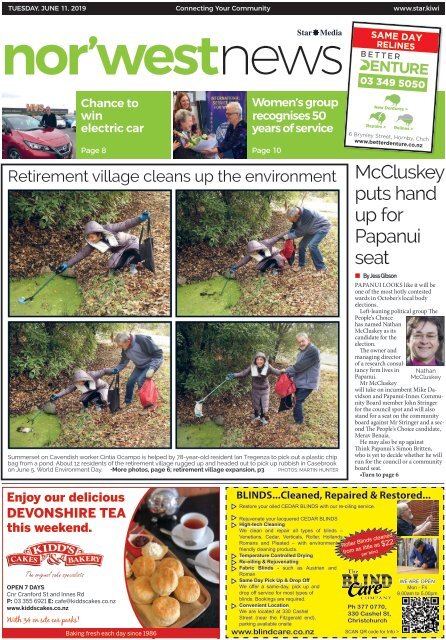 Nor'West News: June 11, 2019
You also want an ePaper? Increase the reach of your titles
YUMPU automatically turns print PDFs into web optimized ePapers that Google loves.
TUESDAY, JUNE 11, 2019

Connecting Your Community

www.star.kiwi

SAME DAY

RELINES

03 349 5050

Chance to

win

electric car

Page 8 Page 10

Women's group

recognises 50

years of service

Retirement village cleans up the environment

Summerset on Cavendish worker Cintia Ocampo is helped by 78-year-old resident Ian Tregenza to pick out a plastic chip

bag from a pond. About 12 residents of the retirement village rugged up and headed out to pick up rubbish in Casebrook

on June 5, World Environment Day. •More photos, page 6; retirement village expansion, p3 PHOTOS: MARTIN HUNTER

New Dentures >

Repairs >

Relines >

6 Brynley Street, Hornby, Chch

www.betterdenture.co.nz

McCluskey

puts hand

up for

Papanui

seat

• By Jess Gibson

PAPANUI LOOKS like it will be

one of the most hotly contested

wards in October's local body

elections.

Left-leaning political group The

People's Choice

has named Nathan

McCluskey as its

candidate for the

election.

The owner and

managing director

of a research consultancy

firm lives in

Papanui.

Mr McCluskey

Nathan

McCluskey

will take on incumbent Mike Davidson

and Papanui-Innes Community

Board member John Stringer

for the council spot and will also

stand for a seat on the community

board against Mr Stringer and a second

The People's Choice candidate,

Merav Benaia.

He may also be up against

Think Papanui's Simon Britten,

who is yet to decide whether he will

run for the council or a community

board seat.

•Turn to page 6

Enjoy our delicious

DEvonshirE TEa

this weekend.

OPEN 7 DAYS

Cnr Cranford St and Innes Rd

P: 03 355 6921 E: cafe@kiddscakes.co.nz

www.kiddscakes.co.nz

With 34 on site car parks!

Baking fresh each day since 1986

BLINDS...Cleaned, Repaired & Restored...

Restore your oiled CEDAR BLINDS with our re-oiling service.

Rejuvenate your lacquered CEDAR BLINDS

High-tech Cleaning

We clean and repair all types of blinds –

Venetians, Cedar, Verticals, Roller, Hollands,

Romans and Pleated – with environmentally

friendly cleaning products.

Temperature Controlled Drying

Re-oiling & Rejuvenating

Fabric Blinds - such as Austrian and

Roman

Same Day Pick Up & Drop Off

We offer a same-day, pick up and

drop off service for most types of

blinds. Bookings are required.

Convenient Location

We are located at 330 Cashel

Street (near the Fitzgerald end),

parking available onsite

Roller Blinds cleaned

from as little as $22

per blind

Ph 377 0770,

330 Cashel St,

Christchurch

www.blindcare.co.nz SCAN QR code for Info >

WE ARE OPEN

Mon - Fri

8.00am to 5.00pm
---
2 Tuesday June 11 2019

Latest Christchurch news at www.star.kiwi

get in touch

from the editor's desk

THINGS ARE heating up in the Papanui

Ward (see page 1).

The People's Choice, a well-organised

and powerful political group, is taking the

fight to incumbent councillor Mike Davidson.

It has named Nathan McCluskey

as its candidate for the local body elections.

McCluskey made an unsuccessful bid for the Papanui-Innes

Community Board in 2016.

Outspoken community board member John Stringer is also

seeking the Papanui Ward and there could be others joining

the battle.

A couple of top boxing yarns on pages 16-17 today. Byron

Antal is only 15 but he's one big boy. He is a tall tower and had

to lose weight in order to get someone to fight him. And Jai

Ghazizada didn't let Ramadan stop his winning way.

– Barry Clarke

GENERAL INQUIRIES Ph 379 7100

CLASSIFIED ADVERTISING Ph 379 1100

Star Media, a division of Allied Press Ltd

PO Box 1467, Christchurch

starmedia.kiwi

schools

Piper dad comes out on top

Greg Wilson piped his son Campbell to the South Island

championship open strathspey and reel piping title.

Page 12

sport

Young boxers and their food issues

Fasting didn't hinder Mujib (Jai) Ghazizada or Byron Antal at

the South Island Golden Gloves.

Pages 16-17

community events

NOR'WEST NEWS

Makerspace

Join the fun activities at the Makerspace session today at the

Redwood Library from 3.30-4.30pm.

NEWS

Jess Gibson

Ph: 021 914 169

jess.gibson@starmedia.kiwi

ADVERTISING

Monique Maynard

Ph: 364 7474

monique.maynard@

starmedia.kiwi

Rodd Gray

Ph: 982 9308

rodd.gray@

starmedia.kiwi

Page 20

The best-read local newspaper, delivered to

16,717 homes every Tuesday

Harewood, Burnside, Bishopdale, Bryndwr, Fendalton, Merivale,

St Albans, Mairehau, Papanui, Casebrook, Redwood, Regents

Park, Styx Mill, Northwood, Belfast, Strowan.

JOIN US NOW!

See website for details

BONDS

End of season storewide sale - 40% off

marked prices. T&Cs apply

UNDER ARMOUR

Hoodies and Joggers 2 for $100 and 2

for $160. T&Cs apply.

SCRIBER & MARKS

School ball offer. Fashion suit for $199,

plus receive a free cotton shirt and tie.

STYLES MAY DIFFER TO IMAGE SHOWN

RODD & GUNN

Selected styles priced from $49 and

from $79. While stocks last.

BENDON

Massive Mid-Year Sale starts in

store 12 June.

REMBRANDT

Wool, linen and cotton blazers. Usually

priced up to $399. Now from $99 with

nothing over $199. While stocks last

Sign up to Smart Deals & be in the monthly draw for a $100 Dress-Smart gift card!

Be one of the first to hear about the latest deals, sent straight to your inbox each week!

CHRISTCHURCH 409 Main South Road, Hornby

Open 10am-5pm, 7 Days 03 349 5750

www.dress-smart.co.nz
---
NOR'WEST NEWS Latest Christchurch news at www.star.kiwi

Tuesday June 11 2019 3

News

Retirement village expansion

• By Jess Gibson

AN INCREASING ageing

population has led to a proposed

$25 million expansion of a

Fendalton retirement home.

Holly Lea Village will build the

Morven apartment development,

which will add 28 apartments to

the site at 123

Fendalton Rd.

Prices for occupation

right

agreements

range from

$650,000 to

over $1 million.

Graham

Wilkinson

Executive director

Graham

Wilkinson said

the apartments

will be more spacious and

well appointed than the typical

retirement village apartment and

generally have two bedrooms

and two full bathrooms.

Already four apartments of

the first stage of eight have been

reserved.

Mr Wilkinson said Holly Lea's

vision was to provide a complete,

upscale retirement village and

care facilities for Fendalton

residents.

"In the last two years, we have

experienced a waiting list and

• By Jess Gibson

A SMALL community group

is working on a plan to get the

beautification of Bishopdale

Village Mall under way.

"Enliven Bishopdale" is a group

made up of five members, with

representatives from the Bishopdale

Menzshed, Bishopdale Community

Trust, and the Bishopdale

Business Association, among

others.

The group has come up with

three ideas to liven the retail area

at a low cost – by repainting the

seats, developing the green

space at the old library site into

a village green and a new

mural.

But community activator Bill

cannot satisfy the needs of senior

Fendalton residents wishing

to stay in the area," said Mr

Wilkinson.

The existing village was constructed

in 2004.

The complex currently consists

of one large building which

encompasses 19 two-bedroom

apartments, 14 one-bedroom

apartments and five studio

rooms.

"This Morven apartment

development is part of satisfying

Greenwood said the group are

waiting to have details checked

off by the community and shop

owners before work can officially

begin.

The Fendalton-Waimairi-

Harewood Community Board

that demand and our wider plan

involving a new boutique aged

care and memory care hospital

for Holly Lea so we can cater for

all needs of the immediate community."

In addition to the $15.5 million

costs of the apartments, there are

expenses involving land where

six houses once stood, design

fees, chattels, landscape.

The development is named

Morven in reference to the

founder of Holly Lea, Alan

pledged $10,000 in December to

help upgrade the mall.

However, none of the $10,000

has been spent yet.

Mr Greenwood said the group

are trying to get most of the material

and labour work completed

NEW

BUILDING: A

computergenerated

image shows

what the

new Morven

development

will look like

at Holly Lea

Village. ​

McLean, who was Scottish and

established a large farm close to

Waimate in 1866.

He called the local town

Morven, before selling to the NZ

Government in 1899 and moving

to Christchurch.

The first stage will be complete

in Spring 2020 and the second

stage early in 2021.

Prior to completion,

construction will begin on

the hospital and memory care

facility.

Group plans to tidy up Bishopdale mall

The revolution

in heat pumps

is here now!

DEDICATED: Bill

Greenwood is

helping beautify

Bishopdale

Village Mall.

The revolution in heat pumps is here now!

The Fujitsu e3series

The brilliant

heat pumps from Fujitsu

e1 : efficiency

e2 : environment

e3 : economy

Website: www.pshc.co.nz

Finance available

FREE consultation from your local

Accredited Heat Pump Expert

Phone today: 03 381 6950

INSERT DEALER DETAILS HERE

The brilliant e3 series

heat pumps from Fujitsu

e1 : efficiency

e2 : environment

e3 : economy

Fujitsu's Catechin Filters are

approved by the Asthma and

Respiratory Foundation NZ's

Sensitive Choice ® programme.

Email: info@pshc.co.nz

for "mates rates" so the budget

can go further.

The group has had help preparing

for the project so that

everything is ready when they get

confirmation to move forward.

Some of the broken seating

was repaired at the Menzshed in

preparation for painting, in conjunction

with City Care and with

support from the city council's

streets maintenance team.

Enliven Bishopdale has met

with the city council's parks

staff to discuss the staging of the

village green project, beginning

with a path and a few trees as

stage one and consulting with

the community to finish off the

design of the space as stage two.

Local

News

Now

In Brief

Fire rages, homes at risk

ASSOCIATION MEETING

The third Redwood Residents

and Business Association

meeting is set to be held at 7pm

tonight at the Christchurch

Function Centre in the

Redwood Hotel. At the last two

meetings, the group discussed

ways to make Redwood a more

welcoming and inclusive place

to live and talked about the

issues in the area. The informal

group will become official once

it gains more momentum and

more people show interest

in becoming members.

For more information,

visit www.facebook.com/

events/439553593446101/

ROWING GRANT

Casebrook 16-year-old

Scott Shackleton has

received funding from the

youth development fund.

The Fendalton-Waimairi-

Harewood Community Board

approved a $500 grant to

the teenager to compete at

the world under-19 rowing

championships in Japan in

August.

GRIMSEYS RD SUBWAY

The city council is looking at

options to prevent flooding

at the Grimseys Rd subway.

After the subway flooded

during heavy rain on June 1,

Papanui-Innes Community

Board member Emma Norrish

was told Papanui Primary

School pupils could not walk

through it. She alerted city

council staff who cleared it up.

They will investigate putting

in pumps. Ms Norrish said she

will continue to follow-up the

issue.

REST HOME LAUNDRY

A new electric laundry vehicle

has started servicing Bupa

care homes in Papanui and

Bishopdale. The laundry team

now service four care homes

around the city and picks

up between 1800-2000kg of

washing per day. The electric

vehicle has replaced a diesel

vehicle, and was purchased

using Government funding for

low emission vehicles.

Nicky Wagner

National List MP

A

E

P

W

922 Colombo Street

Central Christchurch

PO Box 21359

Christchurch 8143

chch.office@parliament.govt.nz

03 365 8297

nickywagner.co.nz

Funded by the Parliamentary Service and authorised by

Nicky Wagner, 922 Colombo Street, Christchurch.
---
4 Tuesday June 11 2019

Latest Christchurch news at www.star.kiwi

NOR'WEST NEWS

Your Local Views

McMaster & Heap

Veterinary practice

MOOSE'S MISADVENTURE

Meet Mr Moose, a 7 week

old White Swiss Shepherd

who our vet Kirsty saw

on Saturday for anorexia,

straining to defecate and

vomiting for the past 24

hours. Moose had Giardia

as a wee puppy and

was treated whilst at the

breeders. On examination

Moose was alert and

interactive but extremely

painful on palpation of

the abdomen, hunching

and crying when touched.

Kirsty didn't feel he was

constipated. He was very lean and dehydrated.

Being so young, Kirsty was concerned at

his level of pain so he was admitted for

Intravenous fluids, pain medications and xrays

to determine the cause of his pain.

Plain radiographs didn't show much initially

so we went straight into contrast studies,

administering barium orally. The xrays looked

pretty and we had a hunch he either had an

intestinal foreign body, an intussusception

or severe gastroenteritis. The pain relief we

had administered

hadn't really settled

him at all. His blood

testing revealed

an anemia and

an inflammatory

response.

After close

consultation

with the owners,

Kirsty felt it the

right option to

anaesthetise

Moose and have

a look inside to see what was going on. She

didn't feel he was improving and that it

wouldn't be right to wait another 24 hours.

On surgical examination, Moose

was diagnosed with a jejunojejunal

intussusception – this is where an inflamed

section of bowel has slipped inside another

segment of bowel (prolapse), effectively

obstructing and restricting the movement of

ingesta through.

This can happen

in any part of the

gastrointestinal

tract. It is more

common in

younger animals

and often occurs

in association with

a worm burden,

recent diarrhoea,

a foreign object

in the gut, intense

gastrointestinal

contractions or

recent bowel

surgery. Moose did

have Giardia as a

young puppy and

was treated for this.

Open 7 days

Cnr Hoon Hay & Coppell place

phone 338 2534, Fax 339 8624

e. mcmasterandheap@yahoo.co.nz

www.mcmasterheap.co.nz

Gastrointestinal intussusceptions are

serious with severe complications if not

corrected surgically. These can be electrolyte

imbalances, severe dehydration, death

(necrosis) of bowel tissue due to constriction

of the blood supply and severe toxaemia.

Clinically these dogs present with bloody

diarrhoea, straining to pass faeces, weight loss,

occasional vomiting and loss of appetite.

Luckily for "Moose" our vet Kirsty was onto it

late on a Saturday afternoon. Waiting another

24 hours for surgery

could have been

too late for Moose.

Kirsty easily reduced

the prolapsed

bowel and

checked the entire

gastrointestinal

tract for any other

abnormalities.

The bowel looked

essentially healthy.

Kirsty biopsied a

piece of bowel

tissue just in case there is an underlying cause

as it why this occurred. We are still awaiting

these results.

Moose has recovered very well from his big

ordeal. He needed to spend a few nights at

our After Hours clinic for around the clock

monitoring, basically due to him undergoing

major surgery at only 13 weeks of age. He was

discharged on pain medication, antibiotics

and gut protectants. We are

awaiting bowel biopsy and

fecal testing results to see if a

cause can be attributed to the

intussusception. He's back on

his food, maintaining his weight

and healing well. He's simply

adorable and very huggable.

Well done Kirsty for another

great surgical success. Steve

and I are very proud of our staff,

always going the extra mile

for their patients, regardless if

these patients are seen over a

weekend or late at night.

Dr Michele McMaster

McMaster & Heap

'Proud' of board's decision

over Northern Corridor plan

City councillor Mike Davidson writes about the Papanui-Innes

Community Board's joint decision not to support the Downstream

Effects Management Plan

THE ROLE of a

community board is 'to

represent and act as an

advocate for the interests

of its community'. And

I'm proud to say that

our Papanui-Innes

Community Board did just

that and recommended

the city council does not

endorse the Downstream

Effects Management Plan

at this stage.

However, we did vote

for work to commence

on the traffic calming

measures, which will

help mitigate the impact

of the increased traffic

from the Christchurch

Northern Corridor on our

communities and for more

work to be done to stop the

increase in the first place.

The community board

and the previous Shirley-

Papanui Community

Board have never

supported the CNC

project due to the negative

impacts on a number of

communities we represent

and the last piece of this

route is in residential

communities south of

Innes Rd where the CNC

terminates.

The DEMP was required

in the resource consent for

the CNC and is designed

to mitigate the impacts of

the Northern Corridor on

the residents of the area.

There are parts of the

DEMP that will benefit the

community, such as traffic

calming and slower speeds

in neighbourhood streets,

and there are aspects of the

DEMP that do not.

However, the best way to

reduce the impact on the

affected communities is to

reduce the number of cars

coming on to Cranford

Richard Gray responds

to the Nor'west News

article about options

for the contentious

Harewood, Breens and

Gardiners intersection

that are currently out for

consultation

I am pleased that Aaron

Keown has been so staunch on

his position over the years and

hope he is successful in futureproofing

this intersection for

the area.

St and, unfortunately,

this was deemed to be

out of the scope of the

management plan. It is

essential, though, and

needs to start in the

Waimakariri district

and happen along the

route with park and ride

facilities, HOV lanes and

better public transport.

The community feedback

was strongly in favour

of this approach and the

volume of submissions and

large community turnout

at the meeting made this

clear.

The last tool the

community and the board

had as leverage to increase

the likelihood of these

changes happening was the

OPPOSED: Mike

Davidson says one

reason the Papanui-

Innes Community

Board decided to

vote against the

Downstream Effects

Management Plan was

because of its negative

impact on Cranford St.

DEMP. By not endorsing

the DEMP and crafting

a number of alternative

recommendations for the

city council to consider, we

have opened the door for a

better outcome. I am now

hopeful the council will

take our recommendations

seriously and be more

ambitious for our

communities.

The community board

has shown this term that

it has consistently listened

and advocated for the

communities we represent

and it will continue to do

so.
---
NOR'WEST NEWS Latest Christchurch news at www.star.kiwi

Tuesday June 11 2019 5

News

Upgrade for Papanui centre

THE PAPANUI Service Centre

will soon become a one-stop

shop for people wanting to post

letters and pay bills.

Postal services have been

offered at the Papanui Service

Centre since the start of

February following NZ Post's

closure of its Main North Rd

branch.

Now an agreement has been

reached in which the centre

will become a full agent for NZ

Post, meaning it will be able to

provide bill payment services

too.

More services will soon be

offered at the centre.

Said head of customer

services Sarah Numan: "We are

delighted to be able to expand

the range of services we can

offer local residents from the

Papanui Service Centre. It

means we will have a convenient

one-stop shop where people

can access council customer

services, send letters and

parcels, and pay bills.''

Some upgrades will be made

to the centre over the next few

weeks to accommodate the

extra services and improve

customers' experience.

While the upgrade work is

done, the services currently

provided through the centre

will be provided from the

ONE-STOP: More services will soon be offered at the Papanui Service Centre.

boardroom at Papanui Library.

"The work that is being done

won't affect library operations

so people will still be able to

borrow and return books and

other items to Papanui Library

while the improvements are

made. We expect the work

on the service centre to be

completed by mid-July.''

Papanui-Innes Community

Board meetings will be held

temporarily in the Charles

Upham Room at the Papanui

RSA on Harewood Rd from

Friday to July 15.

The Papanui Service Centre

is located on the corner of

Langdons Rd and Restell St,

opposite Northlands Shopping

Centre. It is open Monday to

Friday from 9am-5pm.

•If you have any questions

about the temporary

changes, email Christine

Lane - christine.lane@ccc.

govt.nz

Local

News

Now

• By Jess Gibson

Fire rages, homes at risk

Library due

to reopen at

end of July

WORK IS on track at the

Fendalton Library and Service

Centre which is set to reopen on

July 29.

The work inside the building is

80 per cent complete. The interior

upgrades will be finished once

the installation of the new ceiling

tiles and the customer services

counter are done. Both are

expected to be completed by the

end of the month.

New weather-proof rubber has

been applied on the south side of

the roof and is currently being

applied to the north side.

New heating, ventilation, and

air conditioning technology has

arrived on site and plinths will be

installed on the roof next week so

the technology can be installed.

The library has been closed since

March 4. A mobile library has

been visiting the library car

park three times a week and

the Fendalton service desk has

been operating out of Fendalton

Village at 376 Ilam Rd

•For more information, visit

my.christchurchcitylibraries.

com/news/fendaltonlibrary-and-service-centreclosed-from-saturday-2-

march-4pm/

New name, same wealth of experience

73 Waitikiri Drive, Waitikiri

It's official, Says long-standing real estate agent

Gavin Topp. Harvey Real Estate's top South Island office in

Bishopdale has a new name. It is now called Topp's.

"We have enjoyed our time with Harveys," Gavin says, "and

we are now relishing the opportunity to be able to continue

the reliability and enhanced choices that our established

independent agency can offer.

"Flexibility, lateral thinking and promotion are paramount

to good results, and we want to continue to achieve the

maximum results always – even in this challenging market.

"We look forward to offering the public our 'Topp'

performance and top product choices."

For an enlightening observation on the present market,

Gavin says, phone 359 5595.

4 2 2 3

All teed up for you to enjoy

Topp's are marketing this superb home, one which captures

both the imagination and emotions. Gavin and his team invite

you to belong to a group of homeowners that enjoy the vistas

of rolling fairways and colourful greens and trees, plus golden

sunsets during the summer evenings.

This quality, single-level home of approximately 234 sqm is

positioned to enjoy extensive panoramas of both the course to

the west and the evergreen forest to the east.

The elegant main living area opens onto private, sundrenched

patios and lawn that extends to the perimeter of the

fairway. The separate dining room connects to the living area

and has room for an eight-setting dining suite, sideboards,

bookcases and occasional tables.

The four double bedrooms provide ample storage, with the

master bedroom being complete with dressing room and full

en suite, and having its own entrance. You can enjoy breakfast

and coffee in the morning sun on the sheltered patio.

Completing the picture and versatility of this home is the

three-car garage with dual, drive-through access to the rear of

the section. The one-tone décor creates a restful atmosphere,

blending well with nature's colours outside.

TradeMe ID#3505GT

Contact

Gavin Topp

M 027 431 7470

Bishopdale Office 03 359 5595

Topp Realtors Ltd MREINZ

- Licensed Agent - REAA 2008
---
6 Tuesday June 11 2019

Latest Christchurch news at www.star.kiwi

NOR'WEST NEWS

Local

News

Now

Fire rages, homes at risk

LITTER: Summerset resident 77-year-old Ken Campbell picks up a plastic bucket and dumped wood during a Casebrook rubbish clean-up day. Sheila Grady,

73, adds a paper drink cup to her rubbish bag. Ian Tregenza, 78, picks up plastic rubbish from a creek. PHOTOS: MARTIN HUNTER

Future focus for McCluskey

•From page 1

Mr McCluskey stood for the

community board spot under The

People's Choice banner in 2016

but polled fourth behind Emma

Norrish and Mr Stringer, who

were elected, and Mr Britten.

Cr Davidson said he is looking

forward to the challenges this

year's election brings and hopes

that more candidates will result

in a higher voter turnout.

"I think it adds to better democracy,

it's important that we

get more people running."

He went head to head for

Papanui's council seat against Mr

Stringer in the 2016 elections and

received 3316 votes compared to

Mr Stringer's 2364.

Cr Davidson said he is confident

about maintaining his position

because of the work he has

done within the Papanui Ward

and throughout the city like trying

to reduce rates.

"I've had a chat with (Mr Mc-

Cluskey) and he's quite a nice

chap. I'm not sure if he offers too

much more than what I offer but

that's fine, that's what democracy

is all about."

"Quite frankly I don't really

believe party politics belongs in

local government but obviously

that's their decision."

Mr McCluskey said his campaign

will be positive and future

focused.

"That means being positive

and future focused. I believe in

the power of local democracy to

represent the best interests of engaged

communities. That means

protecting natural resources like

water so they are sustainable for

my lifetime and future generations,"

said Mr McCluskey.

The People's Choice did not

run anyone for the Papanui

council spot in the 2016

elections.

The People's Choice chairman

Keir Leslie said the group was

fortunate this time round to have

strong candidates willing to put

their hand up for council.

"Mr McCluskey has got a lot of

skills. As a business owner, he's

aware of what it takes to make

the sums add up at the end of

the month. He's got really strong

values and would make a great

councillor," said Mr Leslie.

Fire station design revealed

THIS IS what the new Ilam fire

station will look like when it is

completed next year.

A blessing to mark the start

of the Ilam Fire Station and

Fire Engineering Educational

Training Facility's construction

was held on Wednesday.

The station is expected to be

completed by December 2020.

The state-of-the-art

operational facility will have

two appliance bays, operational

areas, off-street car parking,

sleeping quarters and modern

IT equipment.

It will include space and

facilities for additional visiting

fire engineers.

Two training rooms will be

able to cater for up to 100 people

– as one large space or two

smaller areas.

It will become home to 16

firefighters, who are currently

based at the Harewood station.

The new training facility will

also provide an area for students

from Canterbury University's

fire engineering programme to

share resources and collaborate

on research and development.

NEW LOOK:

What the Ilam

Fire Station and

fire engineering

educational

training facility

will look like

when it is

completed.

Ilam was identified as an

area in need of a fire station

due to the need to provide

rapid responses. It will also

provide fire safety advice to

university students and the Ilam

community.

A Fire and Emergency New

Zealand spokeswoman said

traditionally students have been

harder to reach when it comes

to risk reduction advice and

activities.

Work on the new fire station

will begin in the next three

months.

Congratulations

CAMERON BAILEY

Just announced as this years Number 1!

2019

No.1 Harcourts International

No.1 Harcourts New Zealand

No.1 Harcourts Christchurch
---
NOR'WEST NEWS Latest Christchurch news at www.star.kiwi

Tuesday June 11 2019 7

Warmth

is within

reach this

winter

Get at least 67% of the

cost of insulation covered.

Find out if you are eligible.

A Warmer Kiwi Homes grant is a big deal. It could save you

at least 67% of the cost of ceiling and underfloor insulation

and give you a warm and comfortable home this winter.

To be eligible for a Warmer Kiwi Homes grant you will need to:

• be the homeowner (owner-occupier) of a home built before 2008, AND

• have a Community Services Card or SuperGold Combo card, OR

• own and be living in a home in an area identified as lower-income.

Call 0800 358 676 or visit www.energywise.govt.nz

to use the checklist to see if you are eligible. A service provider

will then be in touch to provide a quick assessment and quote.
---
8 Tuesday June 11 2019

Latest Christchurch news at www.star.kiwi

News

Challenges

faced to

remove trees

• By Jess Gibson

CASEBROOK AND Merivale

residents are struggling to get

trees removed on council-owned

land.

A couple who live on Creedon

Glen, Casebrook, wanted the

12m oak trees which shadow

their property removed.

However, a city council

arborist recently met with them

to discuss the condition of the

trees, which were found to be in

good health. The residents were

advised by city council staff

that resource and landowner

consents are required to remove

the trees as they are over

10m and protected under the

District Plan.

In February, the board

received a separate letter,

requesting silver birch trees on

Carlton Mill Rd, Merivale, are

removed due to allergy issues.

The city council arborist

met with the Merivale resident

on two different occasions

to discuss the trees. At the

meetings, other nearby

vegetation was brought up as a

cause of the allergic reaction.

The resident then withdrew his

application to have the trees

removed.

A $40,000 electric vehicle is one

of many prizes up for grabs at

the Star Media Home and Living

Show.

Star Media events manager

Lisa Lynch said the show at

Horncastle Arena from June

28-30, 10am-5pm, promises

to deliver new and exciting

innovations, as well as prizes

galore.

"We're thrilled to be giving

away the car being supplied by

HVS, a Springfree trampoline

and a landscape concept plan

from Creative Intentions," she

said.

"Anyone who books a

kitchen or bathroom

renovation with Build Right

during the weekend will also

go in the draw to win a $5000

kitchen or $5000 bathroom

package."

There will be something

for everyone at the show with

thousands of ideas under one

roof, including an Eco Zone,

outdoor innovation area and a

range of stalls which cover all

aspects of home and living.

"We'll have eBikes, jetskis,

home renovations, insurance,

carpets, furnishings, spa

pools and everything you can

imagine," she said.

There will also be a range

of seminars throughout the

weekend educating attendees

on everything from purchasing

electric cars to decorating your

home. The taste corner is always

NOR'WEST NEWS

Local

News

Now

Chance to win an electric car

PRIZE: HVS sales and finance manager Richard Gardyne with the electric vehicle which will be

given away at the Star Media Home and Living Show at the end of the month.

Fire rages, homes at risk

popular for those wanting to

sample a range of delicious food

products.

•Turn to page 18 to cut

out a free entry coupon for

you and three friends to the

Star Media Home and Living

Show.
---
NOR'WEST NEWS Latest Christchurch news at www.star.kiwi

Tuesday June 11 2019 9

HARCOURTS GOLD

FOR REVENUE PER SALES CONSULTANT

2013-2019

MEET OUR...

TOP PERFORMERS

HARCOURTS GOLD TOP CONSULTANTS FOR MAY 2019

1 2 3 4 5

CAMERON BAILEY

PAPANUI

MICHELLE FU

PAPANUI

MARY TURNBULL

PAPANUI

CALEB GRIFFIOEN

PARKLANDS

BELINDA DUNSTER

PAPANUI

10

6 7 8 9 10

ASH SUTHERLAND TODD

PAPANUI

FOSS SHANAHAN

PAPANUI

GEETA ROSE

PAPANUI

SANDRA O'BRIEN

PAPANUI

ANDREW SWIFT

NEW BRIGHTON

OUR TOP CONSULTANTS. When your brand includes the top

Harcourts office out of 900 around the world, it's clear that

you've got an extraordinary team.

So for these consultants to earn the position of one of the top

ten real estate sales consultants at Harcourts gold is truly a

remarkable achievement.

They are phenomenally good at what they do; highly skilled,

highly trained and dedicated to delivering exceptional results for

property owners. I am extremely proud to work with these real

estate professionals.

JOHN MCFADDEN

BUSINESS OWNER HARCOURTS GOLD

John McFadden

Business Owner,

HARCOURTS GOLD AREINZ

Lynette McFadden

Business Owner,

HARCOURTS GOLD AREINZ

Chris Kennedy

General Manager,

HARCOURTS GOLD AREINZ

Left to Right: Kyle Sutherland Executive Manager, HARCOURTS GOLD PAPANUI

Yvonne Duff Sales Manager, HARCOURTS GOLD PAPANUI

Margaret Danzer Sales Manager, HARCOURTS GOLD REDWOOD

Nikila Creagh Sales Manager, HARCOURTS GOLD EASTSIDE

Doug Soper Liaison Manager, HARCOURTS GOLD

TOTAL REVENUE

Top National Franchise

FOR REVENUE PER SALES CONSULTANT

1st Gold Real Estate Group Ltd.

Top Residential Office

1st Papanui

Top National Office

FOR REVENUE PER SALES

CONSULTANT (LARGE GROUP)

1st Papanui

Top National Office

Revenue (LARGE GROUP)

1st Papanui

Top National Office

for Auctions

TOTAL NUMBER OF AUCTIONS LISTED

1st Papanui

PAPANUI 352 6166 International Division (+64) 3 662 9811

REDWOOD 352 0352 PARKLANDS 383 0406 NEW BRIGHTON 382 0043

FOLLOW US ON
---
10 Tuesday June 11 2019

Latest Christchurch news at www.star.kiwi

NOR'WEST NEWS

News

HONOURED:

Mary Holmes

at an event

organised by

Soroptimist

International of

Christchurch

members to

celebrate her

50 years of

service to the

organisation. ​

Women's group recognises

Mary's 50-year contribution

• By Jess Gibson

FOR MORE than half her life,

94-year-old Casebrook resident

Mary Holmes has worked hard

to help advance the status of

women.

Now Soroptimist International

of Christchurch has recognised

her 50 years' of service to the

global women's organisation.

An event, organised by

members of the club last

month, celebrated her enduring

contribution.

"It was a wonderful honour

for me and quite unexpected.

Throughout the past 50 years,

I have met so many wonderful

women and travelled the

world to attend Soroptimist

conferences," said Mrs Holmes.

"Women can make an

incredible difference in society

across a range of sectors,

including education and

training, politics, peacekeeping

initiatives, environmental

management and more."

Mrs Holmes has had a range of

positions within the organisation

since she first became involved

in 1969. "I have held many roles

at the executive committee

level. However, perhaps my

greatest contributions were as

club secretary where I kept all

members up to date regarding

club activities and also spent

many hours fundraising for our

various projects."

Mrs Holmes has also been

the club's region archivist

and managed to personally

collect, compile and place

many important Soroptimist

files in the historic section of

Christchurch Library.

Aside from her work with

Soroptimist, Mrs Holmes has

a long history of service to her

community. She was one of

the first females in the city to

become a justice of the peace on

preliminary hearings at districts

courts and recently retired three

months before her 94th birthday.

She has been a staunch

supporter of the Canterbury

Cats Protection League, of which

she is a patron and a founding

member.

She was also a founding

member of the North

West Christchurch Probus

Club, an active member of the

Returned Services Association

and of Papanui clubs in the

area.

"I believe that the world would

be a better place if we all helped

each other more willingly.

We come into the world with

nothing and we take nothing

with us when we depart. The

only important thing we leave

behind is our contribution to

others."

Mrs Holmes has been an

inspiration to her two daughters,

Triena Ong and Isla Winarto

throughout their lives.

"Mum has always been a great

role model, inspiring us to work

hard from a very early age, to

achieve meaningful, personal

goals and be proud of our

achievements. She has also made

us greatly aware that women are

capable of making a tremendous

contribution to society and

we should seize opportunities

as they come along," said Mrs

Winarto.

MESSAGE:

Arwen

Valks

wants to

publish a

book that

could help

people

with

mental

health

struggles.

PHOTO:

MARTIN

HUNTER

Bid to self-publish

book for anxiety and

depression sufferers

• By Matt Slaughter

ARWEN VALKS says no one

should have to go through

depression and anxiety alone.

She has been through them

herself and knows how hard

things can get.

Now Mrs Valks wants to

publish Rupert's Black Dog, a

book she has written for young

people who are facing similar

struggles, or might do in the

future

A Givealittle page she started

has already raised $1656.

Mrs Valks wants to raise

$5000 at least, which would

publish about 250 books, but

said the more she raised the

more people the book would be

able to help.

She said the story followed

a young boy who discovers

his anxiety and depression

through talking to a black dog

and learns how to deal with

it and share what he is feeling

with others.

Mrs Valks said she felt the

message of the book would be

of value to both young people

with mental health problems

and their parents.

"There are way too many

precious, amazing, beautiful

little people who can't see that

about themselves and who get

stuck in this cloud and think

their only way out is to call

time out on themselves and

it's just heartbreaking and it's

completely unnecessary."

Part of her inspiration for

writing the book was the

mental health struggles she

went through after the birth

of her 19-month-old daughter

Zuri.

Mrs Valks said if her

experience with anxiety and

depression since she was a

child, which had shaped some

of the themes of the book,

could help others she would

have done her job.

"If me going through all

of this and writing this book

makes things better for half a

dozen people, then it's worth

it. "

Mrs Valks said she had sent

Rupert's Black Dog to some

publishers, but nothing had

come of this yet.

Her decision to fundraise

and self-publish was because

she wanted to get the book out

and start helping people as

soon as possible.

The dog in the story was

named after her friend Rupert

Hill-Hayr, who illustrated the

book for free.

The Givealittle page for the

book closes at the end of this

month and Mrs Valks said

every contribution would help.

$53,000 WORTH OF PRIZES TO BE WON!
---
NOR'WEST NEWS Latest Christchurch news at www.star.kiwi

Tuesday June 11 2019 11

Hard work pays off

for young Irish dancer

• By Georgia O'Connor-

Harding

EMME Stephenson has

big dreams to one day

travel the world with an

international Irish dancing

company.

Since she was seven,

the Burnside High School

student has been in love

with the unique dance

form – and when she is not

at school, she spends the

majority of her spare time

training each week.

The hard work is beginning

to pay off, with

Emme, 13, being selected

to attend the Australian

International Oireachtas

Irish Dance Competition

on the Gold Coast next

month.

The competition is Australia's

largest Irish dancing

event, attracting more

than 800 competitors from

all over the world and up

to 600 spectators each day.

There are three rounds

in each competition – a

hard shoe round, light shoe

round and recall round for

the top dancers of the competition.

It won't be the first time

Emme, who trains more

than 10 hours a week, has

taken part in the competition

with her qualifying to

compete last year.

While the Burnside

High School student didn't

make the recall round last

time, she was listed as New

Zealand's top dancer in her

age group.

Although New Zealand's

Irish dancing scene is

small, Emme, who attends

the Swarbrick Irish Dance

school has goals to make a

big name for herself nationally

and internationally.

"I love doing it. I just

find it really fun to do. I

like competing and the

friends that you meet. It

has pretty much taken

gAPS CAN

MAKE EATINg

HARDER

We can help

EMERGING DANCER: Emme Stephenson has been

selected to compete at the Australian International

Oireachtas Irish Dance Competition.

PHOTO: VINCENT MORTIMER ​

over my life," she said.

Already she ranked fifth

place in the New Zealand

National Irish Dance

Championships for her

age group last year, which

qualified her for the Australian

competition.

In 2017, Emme represented

the country along

with a team of dancers at

the World Irish Dancing

Championships over in

Dublin and placed 34th.

Her next goal is to compete

in an international

competition in solo dancing.

Her mother Pip Stephenson

said Emme is

determined, hard-working

and committed to going

as far as she can in Irish

dancing.

She said dancing

has also taught her

time-management and

self-discipline which has

helped her to achieve good

results at school.

$

12 99

kg

$

5 70

ea

$

1 29

ea

Bluebird Burger

Rings, Twisties,

Cheezels or

Rashuns 120g

$

19 99

pk

Fresh NZ Pork

Loin Chops

(Excludes Free Farmed)

WW Salted Butter

500g

Speight's Gold Medal

Ale or Summit Ultra

12 x 330ml Bottles

$

6 00

kg

$

3 90

pk

$

1 99

ea

Pascall

Confectionery

140-180g

$

14 99

ea

The Ned 750ml

(Excludes Pinot Noir)

10 th to 16 th June 2019

Australian Red

Seedless Grapes

Meadow Fresh

Yoghurt, Goodies

or Dairy Food

6 Pack

svnw1106

233 Riccarton Road,

Phone 341 5419

The Partial Denture People

Owned &

operated

by locals

SuperValue Fendalton Village, Wairakei

For inspiration visit SuperValue.co.nz |

While stocks last at SuperValue Fendalton Village and Wairakei only.

Please drink

responsibly
---
12 Tuesday June 11 2019

Latest Christchurch news at www.star.kiwi

St Andrew's drummer

to play on world stage

• By Jess Gibson

ST ANDREW'S College student

Monte Stamm has drummed up a

spot on the world stage.

The 15-year-old snare

drummer will travel to Glasgow,

Scotland, in October to compete

at the World Solo Drumming

Championships.

"I am feeling really excited

about the world championships.

This year will be my first time

going to the world championships

for solo drumming," Monte said.

Monte was crowned Australian

young snare drummer of the year

in a competition held at The Scots

School Albury, New South Wales,

on May 25.

Because it was the first year of

the Australian young drummer

competition, Monte is the first to

hold the title.

The prize was a A$1500 travel

voucher, which Monte will put

towards his trip to Glasgow.

Monte also aims to buy a new

andante drum before his trip

which he will use to compete.

He began playing the drum

at five-years-old at The Scots

School Albury and moved to

Christchurch in 2017 to improve

his drumming skills at St

Andrew's College, where he was

offered a scholarship.

SCHOOLS

SKILLED: St Andrew's College

student Monte Stamm is set

to compete as a solo snare

drummer at international level.

Monte has received tutoring

from world champion pipe band

snare drummer James Laughlin

and is the leading drummer of

the college pipe band, directed by

internationally-recognised piper

Richard Hawke.

Monte went to the World Pipe

Band Championships in Scotland

with the St Andrew's College

band last year.

"The pipe band at St Andrew's

College is awesome. We have

great tutors and committed and

hard-working band members.

The relationships and skills we

learn in the pipe band are like no

other team," Monte said.

Father pips son out of major

piping championship win

• By John Lewis

IT APPEARS experience still

beats enthusiasm.

Father and son Greg and

Campbell Wilson were first

and second respectively in the

South Island championship open

strathspey and reel event at the

Piping and Dancing Association

of New Zealand Otago

competition.

Campbell, 16, who attends

St Andrew's College, said he

was "piped at the post" by his

52-year-old father by "only a

degree".

"I reckon I'm pretty close to

beating him next time. I'm right

on the doorstep."

Wilson said he was not

nervous about his son

becoming the best piper in the

family.

"If I've done my job properly,

he will beat me."

They were among about 60

bagpipers from around New

Zealand who competed in

the competition held at John

McGlashan College, while the

Highland and National Dancing

competitions were held at the

King's and Queen's Performing

Arts Centre.

Piping and Dancing

Association of New Zealand

Otago president Shiobhan Smith

said more than 120 dancers

participated in the dancing

events.

WELL DONE DAD: Greg Wilson showed experience can still

beat youth when he pipped his son Campbell at the South

Island championship open strathspey and reel event.

PHOTO: STEPHEN JAQUIERY

She said the majority of

events were for the Otago

championships, but among

them were six South Island

championship events.

Because the Otago event

was so close to the New

Zealand Highland Dancing

Championships early next

NOR'WEST NEWS

month, many of the country's

top dancers competed as a

"practice run", she said.

"It's an event that attracts

some of the best dancers in the

country every year.

"At this event, you see people

who were, or are, New Zealand

champions."
---
NOR'WEST NEWS Latest Christchurch news at www.star.kiwi

Tuesday June 11 2019 13

Wairakei Road Local

has NEW OWNERS

PLANTING: Jim Hudson, John Stringer, Euan Hilson, Gordon Shields, Jessie

Henwood, John Allen and Tony Taylor rugged up for the community planting

day at Papanui Bush.

Students and residents

help plant out reserve

• By Jess Gibson

MORE THAN 40 people

braved the frost to get

involved in a community

planting at Papanui Bush

on Arbor Day.

Papanui High School

students, residents, Rotary

members, Papanui-Innes

Community Board

members and city council

staff put in a big effort to

weed, plant and pick up

A YOUTH event aimed

at empowering future

leaders to be effective

global citizens is set to

take place at St Andrew's

College in July.

Senior high school

student leaders, along with

first year tertiary students,

are invited to apply to take

part in the New Zealand

China Youth Leadership

Summit.

It will celebrate the close

relationship between sister

rubbish at Bridgestone

Reserve.

It was the third

community planting day

at the bush as part of a

regeneration project

at the reserve between

Langdons and Sawyers

Arms Rds.

Said community board

member John Stringer: "We

got a lot done, mainly

ring weeding around the

growing native trees, some

cities in New Zealand

and China by bringing

together up to 100 student

leaders from the two

nations. The summit

offers a week-long

residential programme

at St Andrew's College,

with boarding house

accommodation provided.

Staying on campus will

ensure a fully immersive

experience, with evening

workshops, projects and

other activities planned to

new plantings, and large

areas of stubborn weeds

pulled out and extracted."

Concrete metal tree

plaques, initiated by

retired geography teacher

Denis McMurtie and

funded by Rotary and

Papanui Heritage, were

placed at strategic sites in

the reserve.

A sausage sizzle and hot

drinks kept the team fed

and warm.

Opportunity for young leaders

round out and enrich the

daily programme.

A non-residential option

is also available.

St Andrew's College

rector Christine Leighton

will host the summit.

•For more

information on

how to register,

email summit@

globalengagement.

ac.nz or visit www.

globalengagement.

ac.nz

BRYDWR'S Little Brown Jug has new

owners and new management.

e iconic local pub has been taken

over by experienced hospitality operators

Graham and Fay Wali.

Originally from Otago and well known

for their genuine southern hospitality, the

Wali family has been managing bars and

restaurants in the Canterbury region for

over 25 years.

Although they only took over the

neighbourhood local three months ago,

regulars are already praising

improvements to the business. In

particular the food.

Graham Wali & Chef Tracey Cashin

"We're very lucky to have Tracey

Cashin on board operating the bistro,"

said Graham.

During her career Chef Tracey Cashin

has been part of numerous Canterbury

based food operations and has recently

been awarded a prestigious 2019 Beef

LBJ

and Lamb Excellence award for one of

her dishes.

"I'm very excited to be working with

Graham and Fay," said Tracey. "We've put

together new lunch and dinner menus

and already have a couple of items, such

as my Seafood Chowder and our

succulent Ribs, that repeatedly sell out."

e new menu's offer a good selection

of dishes that are family friendly and

extremely affordable. Lunch choices

range Moroccan Chicken Tacos, and

Corn Fritter Stacks through to Lambs

Fry and Bacon, Roast of the Day, and a

200g Rump Steak - all priced at only $15.

Dinner choices include the same

exceptional value $15 200g

Rump Steak through to

Lamb Shanks (one for $26,

two for $32), Black Doris

Plum Chicken ($25), Pasta

of the Day ($22), and

Flintstone Steak ($32), to

name a few.

"We're also offering Gold

Card Holders a $5 dessert

with lunch orders and have

a great kiddies menu too,"

said Tracey.

LBJ is open daily from 9am with live

SKY sport, 18 machine gaming room,

TAB pod, and live music at weekends. It's

also available for private functions.

Enquire with the friendly team today!

UNDER NEW OWNERSHIP

3 issues $20

6 issues $44.50

10 issues $65

SUBSCRIPTIONS FREEPHONE

0800 77 77 10

rugbynews.co.nz

'CEREC' & cosmetic dentistry

Wisdom tooth removal

Painless, high quality dentistry

Sedation dentistry

Experienced, conscientious team

Experienced hygienists

OPEN SATURDAYS

355 9380

144 Cranford Street

www.stalbansdentalcentre.co.nz

Succulent

Roast Pork

Family friendly dining

BISTRO OPEN daily for Lunch & Dinner

LIVE NRL RUGBY

Friday 8pm

TITANS v WARRIORS

Saturday 7.30pm

RABBITOHS v PANTERS

LIVE MUSIC - COMING UP

Saturday 22nd June, 7.30pm

BLACKIE

Genuine Southern Hospitality

Little Brown Jug

290 Wairakei Road. Phone 03 359 5950.

www.facebook.com/LittleBrownJug
---
14 Tuesday June 11 2019

Latest Christchurch news at www.star.kiwi

$10k grant

for Burnside

Bowling Club

• By Jess Gibson

THE BURNSIDE Bowling Club

has been granted $10,000 for

new sunshades.

The Fendalton-Waimairi-

Harewood Community Board

approved the grant, which will

be put towards the $30,757 cost

of installing four sunshades

along the bowling green at

Burnside Park.

The purpose of the shades is to

provide adequate sun protection

for players and the viewing

public.

The club has 230 members

from all over the city, ranging

in age from 10 to more than

90-years-old.

The club has three greens

which are regarded as one of

the best playing surfaces in

Australasia, and has hosted

numerous international

tournaments over the years.

The club will apply for grants

and sponsorship to pay for the

remaining costs and will cover

any shortfall using its own

money.

Community board Sam

MacDonald chairman said the

club has assets which are used by

the community. "It seemed to fit

in well that we can give back to

them."

The club has not previously

asked for grants from the

community board.

Cricket nets set to get upgrade

• By Jess Gibson

THE CRICKET nets at Burnside

Park will be upgraded for the

first time in 15 years.

The Burnside West

Christchurch University Cricket

Club has launched a project to

refurbish the artificial nets and

replace the artificial grass at the

park.

The nets were first installed

in 2004, using funds raised by

members of the club with help

from the city

council.

They are

used often

by premier

players, club

players, junior

cricketers and

the general

public.

Shane Young

"People use

them every day

in the summer. We are always

really surprised by the amount

of use they get," said junior

convener Shane Young

Mr Young said the nets are

"past their use by date."

He said he hopes to see the

new nets and grass put in by

spring.

One of the club's social teams,

the Dubai Diamond Traders, has

agreed to help remove, supply

and refit new black, plasticcoated

netting.

Brook Skates is a part of the

team and said his workplace,

SPORT

Advanced Engineering Group,

will supply the netting at a

cheaper rate to "help the club

out".

The city council has agreed to

repair and replace the damaged

framing elements, and the club is

looking for someone to paint the

galvanised framing once the new

netting is fitted.

Mr Young said without the

WORN OUT: The cricket nets and artificial grass at Burnside

Park are set to be replaced.

help of the city council and

Dubai Diamond Traders, the

project would cost about $14,000.

The club has launched a

Givealittle page to raise money

for the artificial grass, which

would cost about $7000.

The club is also looking at

applying for funding from the

Fendalton-Waimairi-Harewood

Community Board and other

grant schemes to cover any

NOR'WEST NEWS

shortfall. It has been trying to

fund improvements to the nets

since 2016. However, members

have struggled to fund the

project on top of the general

running costs of the cricket club.

•To donate towards

the project, visit https://

givealittle.co.nz/cause/

bwcucc-artificial-cricketnets

•More sport, pages 16, 17 & 19

School's not

studywithus.co.nz

for everyone!

Is school not working for your teen?

GAIN

NCEA

CREDITS

TXT

'STUDY' TO:

027 557 8839

career

Ultimate

Security

digital media

decider

& forces

prep

Business Admin

Early Childhood

Web Development

Software Design

ENROL

NOW!

50 Hazeldean Road, Addington

0800 834 834 www.studywithus.co.nz

*conditions apply
---
NOR'WEST NEWS Latest Christchurch news at www.star.kiwi

Tuesday June 11 2019 15

EAL ESTATE

Restore, Revitalise or Redevelop

85 Glandovey Road, Fendalton

3 bedrooms | 1 bathroom | 3 lounges | 1 toilet | 4 off street parking | www.harcourts.co.nz | Listing #RD7245

With great bones and an enviable address,

this unique home presents a golden

opportunity for those with an eye for style to

make it their own. Others may see this sunny

north facing site as an enticement to land

bank and build on. Bursting with personality

and 1960/70s architectural features, this

property is crying out for a new owner to

show it some TLC. In original condition but

with all earthquake repairs completed and

the home fully insured, you can move in and

live in comfort while making plans to restore

the property to former glory or plan your

new development

The layout offers flexibility with the kitchen,

living and dining areas interconnected and

opening into the north-facing garden. A third

separate living area completes the communal

areas. Downstairs, two double bedrooms

provide accommodation supported by a

functional family-style bathroom. Creating

an opportunity to convert to a wonderful

master suite, a third huge bedroom is

hidden away at the top of a spiral staircase.

This upstairs space includes a landing with

built-in shelving which would lend itself

exceptionally well to creating a cosy reading

nook or study area.

Exposed beams, beautiful wood panelling

and integrated storage are all standout

features of the era, and the possibilities are

endless to restore, revive or strip back and

fully modernise the spaces.

Located on a sizeable 683sqm section, the

home enjoys a private and sheltered position

in a desirable neighbourhood. Families will

enjoy the proximity of parks and playgrounds

and the convenience of the nearby Fendalton

shops. Desirable zoning for Fendalton Primary,

Cobham Intermediate and Christchurch Boys'

and Girls' High Schools, plus a variety of nearby

private schooling option. This property is for

definite sale. Our vendors are committed to

exciting new plans which they are embarking

on and plan to have this property sold on or

before auction day. Contact us now to view.

Auction: Thursday 27 June 2019, from

10.00am (unless sold prior).

Gold Auction Rooms, 471 Papanui Road

Viewing: Saturday and Sunday

12.45 pm - 1:45 pm

Contact: Jenny Laney or Mark O'Loughlin

(Licensed agents REAA 2008) on 352 0352 or

021 353 736 (Jenny), 021 339 078 (Mark)

Email: jenny.laney@harcourts.co.nz

mark.oloughlin@harcourts.co.nz

Gold Real Estate Group Ltd.

Harcourts

International

Awards

2018-2019

OUT OF OVER 900

OFFICES WORLDWIDE

Harcourts New Zealand

Awards 2018-2019

Top National Franchise

FOR REVENUE PER SALES CONSULTANT

1st Gold Real Estate Group Ltd.

Top Residential Office

1st Papanui

Top National Office

FOR REVENUE PER SALES CONSULTANT

( LARGE GROUP)

1st Papanui

Top National Office

Revenue ( LARGE GROUP)

1st Papanui

Top National Office

for Auctions

TOTAL NUMBER OF AUCTIONS LISTED

1st Papanui

Number.1

International Office

for Harcourts

2017-2019

TOTAL REVENUE

FOLLOW US ON...
---
16 Tuesday June 11 2019

Latest Christchurch news at www.star.kiwi

NOR'WEST NEWS

Young boxers go without food

• By Gordon Findlater

FASTING DURING Ramadan

and dropping down a weight

division wasn't getting in the

way of Mujib (Jai) Ghazizada

winning the most scientific elite

boxer award at the South Island

Golden Gloves.

Ghazizada won the 64kg elite

male title by winning his three

fights at the Golden Gloves

held at the Kaiapoi Club at the

weekend. Following his gold

medal-winning bout he was then

awarded the most scientific elite

boxer.

He joins an elite list of

boxers to have won the trophy

including one of his idols –

current WBU Welterweight

World Championship Bowyn

Morgan – who won it in 2011

and 2012.

"When I took the trophy I saw

Bowyn Morgan's name on it, I'm

a huge Bowyn Morgan fan . . . I

look up to him, he's an amazing

boxer," said Ghazizada.

The 24-year-old would normally

fight in the 69kg division.

However, due to Ramadan –

which means abstaining from

food and drink between sunrise

and sunset – he dropped down a

weight division.

"Normally I weigh around

67kg," said Ghazizada.

"It was a bit difficult to

recover, but it was just a

mind-set. I just told myself

to never give up and give 100

DETERMINED: Mujib Ghazizada (blue) lands a punch en route to winning the 64kg elite male

title at the South Island Golden Gloves. (Right)– He and his coach Eric Sincock won the most

scientific elite boxer and coach of the most scientific boxer awards. ​

per cent everything I have." the Golden Gloves was just his

Ramadan finished yesterday sixth fight as an amateur.

and Ghazizada celebrated in Ghazizada – who is a civil engineer

– has the dream of going

traditional Afghani style with

rice and curry.

professional in the future.

He and his family arrived in "I'm really hungry for it . . .

New Zealand 14 years ago as It's a dream, every time I think

refugees from Afghanistan. One about it keeps me going and

of his first memories in New going, to turn professional and

Zealand was watching David become New Zealand champion

Tua and Shane Cameron fights one day. Hopefully, I can become

which sparked a keen interest in a world champion," said Ghazizada.

the sport.

However, it was only two years His commitment to boxing

ago that he joined the Papanui hasn't gone unnoticed by his

Boxing Club. His gold medal at coach Eric Sincock.

"He never misses a training

and he's very good in the gym

with the other people," said

Sincock.

The 75-year-old has been

involved as a coach at the

Papanui club for more than 20

years. However, it is the first time

he has won the coach of the most

scientific boxer award at a South

Island Golden Gloves.

South Island Golden

Gloves award winners:

•Most scientific youth:

Awatea Henry (NZFF)

•Most outstanding: Reece

Holz (Gore)

SPORT

•Most scientific elite: Jai

Ghazizada (Papanui)

•Coach of most scientific:

Eric Sincock (Papanui)

•Best junior: Oliver

Brittenden (Round 12)

•Most scientific junior:

Tamatekapua More (Southern

Queens)

•Most improved boxer:

Byron Antal (Woolston)

•Team with most wins: NZFF

and Dixon's Gym 5

Full list of Christchurch

winners:

44 cadet male novice – Max

Calbert (Smiling Tigers); 52

cadet male novice – Lachie

Armstrong (Woolston); 60

elite male open – Rendz

Remaneses (1 More Round);

60 elite women open – Tegan

Burdett-Clark (Woolston); 63

junior male novice – Oliver

Brittenden (Round 12); 64

elite male novice – Mujib

Ghazizada (Papanui); 75 junior

male open – Manaia Areli

(Papanui); 81 elite male novice

– Joseph Jacob (Round 12);

81 elite male open – Trevor

Swainson (Woolston); 81 junior

male novice – Byron Antal

(Woolston); 54 cadet male

open - Josh Tonga (A-Town);

56 youth male match -

Oremond Redmond (Papanui)

URGENT MEDICINE RECALL

FUSION HAIR TONIC

Oral Capsules – All BATCHES for ALL

PACK SIZES

Global Therapeutics Pty Ltd in collaboration with the New

Zealand distributor Health 2000 is recalling all batches of

Fusion Hair Tonic.

There have been overseas reports of liver injury in consumers

taking these products, with some cases requiring

hospitalisation. While the risk of drug induced liver injury is

low, it has the potential to be life-threatening.

In the interests of our consumers' health and safety, we ask that

if you have a bottle of Fusion Hair Tonic capsules that you

stop using this product immediately.

Consumers should return unused product to the place of

purchase for a refund.

Global Therapeutics also seeks to advise that there will be no

future supply of this formula.

No other Fusion products are affected.

TOLL FREE CUSTOMER SERVICE +64 800461 266

Global Therapeutics Pty Ltd sincerely regrets any

inconvenience to our customers.

Independent Easy Living for Over 60's

SAWYERS ARMS ROAD, PAPANUI

New Villas Available Today From $469,000

• Henry Roil Lane, Papanui (50 Sawyers Arms Rd) – private cul-de-sac

• Beautifully designed, quality finished two bedroom Villas

• Choice of six different floor plans from 97m2 – 103m2

• Focus on privacy, security and lots of daylight

• Freehold (Unit) Title – 100% ownership

• Purchase complete or off-the-plan with interior design choices

• Stroll to Northlands Mall, Swimming Pool, Cinema, Library

Display Villa Open Saturday 12noon – 2.00pm

or village viewing by private appointment

ANNETTE PENDERGAST

022 090 2627 • 0800 500 123

Annette.pendergast@mikepero.com

sawyersarmsvillas.mikepero.com

Mike Pero Real Estate Ltd REAA (2008)
---
NOR'WEST NEWS Latest Christchurch news at www.star.kiwi

Tuesday June 11 2019 17

but still land winners

• By Jacob Page

ST BEDE'S College student

Byron Antal's success at the

South Island Gloves has been

more than 12 months in the

making.

The 15-year-old, who stands

193cm and used to weigh 110kg,

has not been able to find an

opponent in more than a year.

To find someone to box, Byron

lost 17kg through intermittent

fasting, then stepped into the

ring at 93kg.

His hard work paid off – not

only did he beat Marlborough's

Elevisi Kaloni to win the junior

male novice South Island

title but he was also named

most improved boxer at the

tournament.

"The whole thing was surreal,"

he said. "I was just sitting there

at prize-giving and I heard my

name called."

Byron plays under-16 rugby for

the college, said he was thrilled

to find a bout and it validated his

effort at training.

"I felt really good in there,

considering it had been a while,"

he said.

"I was happy with my jab

and my work rate in there.

Sometimes you get impatient and

frustrated just training, but it's a

waiting game."

He had the support of his

Woolston Boxing Club trainers,

who went on the weight-loss

journey with him.

"I have been having my first

meal at 12pm and then a dinner

between 5pm and 6pm and

nothing else besides water and

it's worked."

Byron started boxing in 2015

as a way to get fit during the

rugby off-season.

"I didn't really think I

would like it, but I kept with

it and realised I really enjoyed

it.

CHAMP: Byron

Antal shows off

his South Island

Golden Gloves

most improved

trophy.

"At the start, I was training

hard but I wasn't looking

to improve and I was quite

stubborn, but then I started to

take advice on board and get

better. The coaches say I need

to use my jab, my hook and my

right."

Byron said he would like to

force his way into Canterbury

teams this year and then push his

claim for national honours.

Lock sets sights on world

champs of a different kind

• By Gordon Findlater

NEW BRIGHTON lock Boris

van Bruchem is preparing to

represent New Zealand at a

world championships – but not

in rugby.

Van Bruchem, 20, will travel

to South Africa following New

Brighton's final game of the

metro rugby season as part

of the New Zealand team to

compete at the World Korfball

Championships for the first time.

The 195cm lock grew up

around korfball – a ball sport

with similarities to netball and

basketball – due to his parents

being Dutch. His parents

through playing korfball in the

Netherlands, where more than

100,000 people take part in the

sport.

"I remember watching

my parents play, then they

coached a school team we had

at Richmond School," said van

Bruchem.

He started playing rugby as an

eight-year-old for Shirley before

going on to play first XV rugby

at Shirley Boys' High School.

"Korfball helps with my handeye

co-ordination, which helps

with catching and distributing

the ball at lineouts, but they are

quite different sports, which is

why I enjoy them because it's

nice being able to do something

and the next day having a

different training for a different

MULTI-SKILLED: Boris van

Bruchem will represent

New Zealand at the World

Korfball Championships in

August.

game," he said.

He has played for the

New Zealand under-19

korfball team at international

competitions. However, the

world championships will be his

first time playing for the New

Zealand senior side.

Last year van Bruchem was

part of the Canterbury rugby

team which competed at the

national under-19 tournament.

Since the end of last season, van

Bruchem has put on 10kg. Now

105kg, he hopes the added size

will help him progress his game

to the next level.

The World Korfball

Championships will

take place in Durban from

August 1-10.

345 sTANMORE ROAD, RICHMOND

261 BuRwOOD ROAD, BuRwOOD

All sites open 7 DAYs, 5Am-11pm

WaSH 2 Mink

BLanketS or

DuvetS

For onLY $8

Hot Water &

extra LarGe

WaSHerS

avaiLaBLe

liquiD

SeLF Service

LaunDroMatS

Dry up to 14kg from

$4 in only 25 minutes!

Save time &

electricity

WaSH & DrY

aLL Your

LaunDrY in

unDer 1 Hour

from

$

4.00 WASH $ 4.00 DRY

• Fast Dryers

• Sports Gear

• Duvets

• Mink Blankets

• Bedding

• Washers

• Domestic Laundry

over 70 locations nationwide

Other Locations: Sydenham • Hornby • Hoon Hay • Woolston • Aranui • Rangiora

www.liquidlaundromats.co.nz

Restoring your confidence through your smile

Full service Denture Clinic

and Laboratory

Caldent Denture Cleaner

Free Consultation

No Obligation

Ph: 385 5517 + 396 Innes Road, St Albans

admin@denturesplus.co.nz

+ denturesplus.co.nz

As local MP, I'm always looking

at ways to help our residents be

heard on what they need to get

ahead - and listening to a local

businesses is a big part of that.

Last week, I hosted National's

leader, Simon Bridges, in Northern

Christchurch to visit Christchurch

Engine Centre for a briefing and

tour of the business. This major

industry houses state-of the-art

equipment and training classrooms,

and it was good to bring Simon

down to hear directly from business

around the support they need.

I've always said the Belfast to

Pegasus motorway extension

is the logical next step to the

Western Belfast Bypass and the

Northern Corridor in moving traffic

seamlessly through our region.

Readers will be aware of my

petition and ongoing fight to save

this project, promised by National

in 2017, after $5 billion was

redirected by Government from

state highway funding to invest

in Auckland public transport.

Our residents appreciated the

opportunity to speak directly to

National's leader, Simon Bridges,

at a packed public meeting I

held to talk about the need for

this important project. We will

continue the fight.

Yesterday, National's Health

Caucus joined me in visiting

Pegasus Health and other health

services in Christchurch for a

briefing around the work they

do in supporting our region's

health and mental-health needs.

Keeping connected at grassroots

level with the organisations

that provide important services

ensures our policies are

continually relevant and effective.

My over 60s coffee mornings are

proving popular and I'm looking

forward to meeting you at the

Belfast Football Rugby Club, so

look out for my invite through your

letter box. I look forward to some

interesting discussions.
---
18 Tuesday June 11 2019

Latest Christchurch news at www.star.kiwi

NOR'WEST NEWS

FREE

ENTRY

COUPON

FRIDAY

SATURDAY

SUNDAY

Valid any-day for up-to 4 people!

Take a photo of this offer or

bring it in with you to redeem

Be inspired

Thousands Of Ideas

Under One Roof

$53,000

WORTH OF PRIZES

INCLUDING an EV car worth $40,000!

Friday Saturday Sunday

JUNE 28 - JUNE 30 10AM - 5PM HORNCASTLE ARENA
---
NOR'WEST NEWS Latest Christchurch news at www.star.kiwi

Tuesday June 11 2019 19

Good performance earns teen

place in Canty indoor cricket squad

• By Tatiana Gibbs

RYAN JAMES topped off

another successful South Island

indoor cricket campaign by

sealing a spot in the Canterbury

premier indoor cricket team for

the second year running.

The 18-year-old former Shirley

Boys' High School student was

in fine form and, over Queen's

Birthday weekend, anchored

his team into a last-ball thriller

which saw his Hornby Titans

take out the South Island

indoor cricket championships

at Riccarton's Howzat! Indoor

Sports Centre.

James' team defeated

Dunedin's Metro Muskets 86-83

in a match never lacking in fastpaced

action.

Hornby "had to dig it in''

for the last four games of the

competition, after a loss to

Central Sharks and Metro

Muskets in the round-robin

games.

Their remaining games were

"must-win matches" to keep

in the running for the final, in

which his team got redemption

against the Muskets to take home

the title.

The Canterbury squads

were selected at the end of the

tournament with James lowering

the team's average age.

Coach John McCarthy will lead

his team of 11 into the national

indoor cricket championship

later this month at Palmerston

North.

The Canterbury premier men's

team consists of Ryan James,

Craig Stevens, Micah Campbell,

(Action Hornby) Mitch Gardner,

Taylor Irie, Tom Agnew, Ben

Cochrane, (Howzat Riccarton)

Carl Hooper, Dan Vann,

Tom McDonald and Jackson

Hemingway (Action Central).

James will head north

with Canterbury to compete

against teams from Auckland,

Wellington, Central, Northern

and Southern Districts at the

national tournament.

He is hoping to finish ahead of

last year's modest fourth-place,

when the team missed out on a

chance at the final by just two

points.

New Zealand indoor cricket

selectors will be on the lookout

at the upcoming national

tournament to select their

SPORT

SUCCESS: The

Canterbury

premier men's

indoor cricket

championshipwinning

team

(Back row) – Curtis

Millard, Charlie

Fisher, Kyle Burns,

Josh Dyer, Paul

Partridge and

Donovan Hutton.

(Front row) – Harry

Bisphan, Ryan

James, Micah

Campbell and

Craig Stevens.

squads to compete at the 2019

transtasman series, which will be

held in Palmerston North from

September 12-14.

The transtasman series

will have competitive

fixtures across the under-21 boys

and girls, and open

premier men's and women's

grades and James' goal is to

progress from the New Zealand

under-21 team and be selected for

the New Zealand open premier

team.

Burnside and

St Thomas in

top-of-table

football clash

BURNSIDE HIGH School

will take on St Thomas of

Canterbury College tomorrow

in a top-of-the-table schools

premier football match at the

Christchurch Football Centre.

The game will be a rematch

of last year's final, which saw

St Thomas' claim the title 2-1.

Burnside have won four of their

five games this season to sit

second on the table. Their first

dropped points came in a 1-1

draw with third-placed Papanui

High School at English Park last

week.

Meanwhile, after six games St

Thomas' have been untouchable.

They are unbeaten, scoring 36

goals and conceding none. In

their last match, they hammered

Middleton Grange 8-0, with

captain Tom Stewart scoring a

hat-trick.

A win for either team

tomorrow night will provide a

massive boost to their chances

of qualifying for the boys Lotto

premier secondary school

tournament in Napier later this

year.

Kick off is at 5.30pm.

•Other fixtures: Cashmere

v Rangiora; Christ's College v

Papanui, Middleton Grange v

CBHS, St Andrew's v Lincoln,

St Bede's v Riccarton.

MERIVALE

RETIREMENT VILLAGE

Introducing our new boutique retirement lifestyle option

1 & 2 Bedroom Serviced Apartments Available Now

• Stunning 1 & 2 bedroom serviced

apartments

• Ground floor

• Fabulous sunny courtyards

• Fridge, dishwasher and cooking

facilities included in every apartment

• Cafe, private lounge & bar

• Close to Merivale Mall

1, 2 & 3 Bedroom Villas Also Available

• Sunny lounge

• Master bedroom with ensuite

• Well appointed kitchen

• Separate laundry

• Internal access garage & off street parking

Open MOnday

tO Friday

10aM-4pM

or by

appointment

including

weekends

Call Merivale Retirement Village today on 03 375 4117 or 021 971 487 to book a viewing and see for yourself why we really are the best.

27 Somme Street, Merivale | www.merivaleretirement.co.nz
---
20 Tuesday June 11 2019

Latest Christchurch news at www.star.kiwi

Senior citizens activities

Monday, 12.30-3pm, Tuesday,

12.45-2.30pm

Enjoy a range of different

activities for senior citizens.

There will be a cards group on

Mondays and indoor bowls and

friendship groups on Tuesdays.

An old time dance will be held

on the first and third Saturday

of each month. For more

information, phone Veronica on

383 4682 or Beth on 388 2375.

Scottish Society Hall, corner of

Caledonian and Edgeware Rds, St

Albans

Knit 'n' Yarn

Today, 1-3pm, and Thursday,

2-3.30pm, at Bishopdale,

Wednesday, 1-2.30pm, at

Redwood, Friday, 10am-noon, at

Papanui

Take your knitting, crochet or

another craft project and have

fun with a social group. This is a

free, drop-in event.

Bishopdale, Redwood and

Papanui libraries

GenConnect

Today, 12.15-12.45pm

If you have questions about

your iPad, smart phone or tablet,

head down to GenConnect where

Papanui High School students

will help you for free.

Papanui Library

Email jess.gibson@starmedia.kiwi by

5pm each Wednesday

Games at Papanui

Thursday, 2.30-4.30pm

If you have a love for games,

head down and choose from

a wide selection, including

the classics. This fun and social

event is free for all ages to enjoy.

No bookings required.

Papanui Library

Scrabble Club

Today, 10.30am-noon, at

Redwood, Wednesday, 1-3pm, at

Bishopdale, and 1.30-3.30pm, at

Shirley

Play Scrabble with a friendly

group. Just head down when you

can – no bookings required. All

materials are supplied at this free

event.

Redwood, Bishopdale and

Shirley libraries

Culture Exchange

Friday, 3.45-4.45pm

Go along and make new

friends, practice your English

and learn about New Zealand

and Christchurch.

Shirley Library

JP Clinic

Today, 10am-1pm, at Papanui,

Today and Wednesday, 10am-

1pm, at Shirley, Saturday, 10amnoon

at Bishopdale

A justice of the peace will

be available to members of

the community to witness

signatures and documents,

certify document copies, hear

oaths, declarations, affidavits

or affirmations, as well as sign

citizenship, sponsorship or rates

rebates applications. No charge.

Papanui, Shirley and

Bishopdale libraries

Reading to Dogs

Today, 3.30-4.30pm, at Shirley

Reading to Dogs is designed

to provide a relaxed, nonthreatening

atmosphere

which encourages children to

practice and develop a love of

reading. This programme uses

dogs which are pets of the city

council animal management

team. These furry friends have

all been trained and tested for

health, safety and temperament.

Registration is required for this

free event.

Shirley Library

Rummikub

Thursday, 1-2.30pm, Monday,

1-3pm

Go along and play

Rummikub – an exciting,

interactive strategy game. Free,

drop-in event.

Bishopdale Library

Storytimes

Today, 10.30-11am, at

Shirley, Wednesday, 10.30-

11am, at Bishopdale, Thursday,

NOR'WEST NEWS

Join in on the

fun activities

during the

Makerspace

session at

Redwood

Library

today from

3.30-4.30pm.

There will be

creative and

technologybased

activities to

try and fun

to be had

for kids of

all ages. No

bookings

required

for this free

event.

11-11.30am, at Papanui and

Monday, 10.30-11am, at Redwood

This free event encourages

learning through a love of stories.

Storytimes is an interactive

programme for all ages.

Shirley, Bishopdale, Papanui

and Redwood libraries

Mahjong

Saturday, 2-4pm, at Shirley,

Monday, 2-4pm, at Papanui

If you are interested in playing

or learning to play mahjong,

head down to this free session for

beginners and advanced players

alike.

Shirley Library (registrations

required) and Papanui Library

(drop-in)
---
NOR'WEST 2 [Edition NEWS datE]

Latest Christchurch news at www.star.kiwi

Tuesday June 11 2019 21

when you have your

AUTOMOTIVE PROFESSIONALS

Specialists offer

expert servicing plus

a valuable bonus

ROADSIDE ASS

Give us a call if you have a

✓ WOF ✓ Servicing ✓ Tune ups ✓ Cambelts

✓ Clutches ✓ Brakes ✓ Transmission flushes

✓ Coolant flushes ✓ Tyres and diagnostics

Whatever servicing or repairs your

vehicle needs, Avonhead Automotive Ltd

in Racecourse Road have the experience

and expertise to keep it running in

optimum condition.

They specialise in warrant of fitness,

servicing, tune ups, cambelts, clutches,

brakes, transmission flushes, coolant

flushes, tyres and diagnostics. They can

also provide a loan vehicle, so you are not

inconvenienced while your vehicle is in the

workshop.

However, not only do owners Michelle

and Wayne and their team at Avonhead

Automotive Ltd offer friendly, efficient

service and repairs for all types of vehicle,

they also provide a valuable bonus for

their customers. As part of the nationwide

Club Evolution, Avonhead Automotive Ltd

gives six months free roadside assist to all

customers that have their vehicle serviced

there. That means if you break down, you

will get the help you need to get you back

on the road. More information can be

found on the website clubevolution.co.nz.

Plus, WOFs are only $40 at Avonhead

Automotive Ltd. So, give them a call on 342

7123 to book in for a warrant, a service, or

for any vehicle repairs.

Avonhead Automotive Ltd is at 126

Racecourse Road. Opening hours are

7.30am to 5.30pm Monday to Friday and

8am to 1pm on Saturday.

Michelle and Wayne at Avonhead

Automotive will make sure your

visit is helpful and efficient.

Avonhead Automotive

For full terms and conditio

A vonhead

utomotive

free

6 months roadside assist

with any vehicle servicing

• automatic transmission

flushing service

• Wof • tune-ups • suspension

• batteries • neW tyres • oil &

lube service • courtesy cars

• full mechanical repairs

oPen 6 days (sat until 1pm)

126 racecourse road

Ph 342 7123 or 027 495 6600

Free Check & Assessment

ROSES

AUTO ELECTRICAL

rosesautoelec@gmail.com

®

s

m

a

r

t

mall

edium

• Panel beating

• Spray painting

Fast

turnaround

utomotive

epair

echniques

Smart repairS (NZ) Limited

automotive refinishers

272 Lichfield St (Fitzgerald Ave end)

Ph 377-0409

Your LoCAL

TYrE SPECIALIST

New & Quality Used Second-hand Tyres

Alloy Wheels

Replacement Rims

Puncture Repairs

www.jcmdirect.co.nz

8c Birmingham Drive,

Middleton

Next to Addington Raceway

343 0099 or 027 22 63 805

NEW

LOCATION

95 Gasson St

The Automotive Lamp Specialists

New and Used Lamps for Cars, Trucks,

Vans, 4WD and Motorhomes

PH 0800 225 483 | 95 Gasson Street, CHRISTCHURCH
---
22 Tuesday June 11 2019

Latest Christchurch news at www.star.kiwi

REAL ESTATE

Sunrise to sunset

7A Ranui Crescent, Diamond Harbour

Price: $418,000

2/3 bedrooms | 1 bathroom | Open plan living/dining/kitchen | Listing Number: 9394

NOR'WEST NEWS

Sitting as centre stage to the water, this is

a quirky, retro and totally unique property.

Sitting as centre stage to the water as you can

get, the views here out to the hills and the

head of the harbour are unbeatable.

In a well-established, private garden which

adjoins the reserve, this is a property which

begs closer inspection. It's functional in

layout, and there is certainly opportunity

here to add value and create something quite

remarkable with the interior, which oozes

potential.

Two decent sized bedrooms and a

bathroom downstairs, and on the middle

level is open-plan living/dining and kitchen

with more phenomenal views. Ascend the

spiral staircase to the upper level where

you will find more space for potentially the

master bedroom or additional living.

The house itself is tidy but requires some

structural work to continue its longevity -

this is a project best suited to someone with

construction skills or experience. There is an

engineer's report available.

For a private viewing of this unique

property in a stunning harbour position,

please contact Emma Dunningham of

Min Sarginson Real Estate (Licensed

Agent REAA 2008), phone 027 631 1570 or

328 7273
---
• By Sophie Cornish

WORKSAFE NEW Zealand

Brighton's Hawke St car park.

Coastal-Burwod Ward city

counci lor David East wants

WorkSafe to pre sure the car

park's private owners into

a "trip and vehicle" hazard.

WorkSafe chief inspector

a se sment southern Da ren

Surf club move

Safety at Work Act 2015, "as a

to rebuild on new site

undertaking."

Mr Handforth said WorkSafe

Cr East abou the car park.

"WorkSafe has completed

an a se sment visi to the site

to advise them that it is their

responsibility to manage their

risks a propriately."

Different parts of the car park

are owned by various people

and the Coastal-Burw od

Community Board recently

around health and safety.

Cr East said the bi gest i sue

in the past has b en ge ting in

touch with the landlords and

owners and ge ting them to

High-tech Cleaning

friendly cleaning products.

Temperature Contro led Drying

Re-oiling & Rejuvenating

Same Day Pick Up & Drop O f

agr e to anything. "The board

a difficulty in co-ordinating

said the le ter.

are required.

Convenient Location

Drop blinds into us by 9am, at

30 Cashel Str et (near the

Fitzgerald end), and co lect

them a th end of the day.

New Blind Sales Priced from $30

per blind

Ph 3 7 0 70,

30 Cashel St,

Christchurch

• By Georgia O'Co nor-Harding

GR ENDALE SCHOOL pupils

have taken a step back in time,

s eing first hand what men and

horses l oked like during war.

The New Zealand Mounted

Rifles Charitable Trust president

Mark A pleton and member

Mike Donaldson t ok their

horses to the sch ol on Monday,

Li ter library

River working group

Problem areas for li ter

revealed

Rebuilding a healthy

ecosystem in the Selwyn River

Ja z Competition.

• By Sophie Cornish

THE ST Andrew's Co lege big

band had extra incentive to

win a the National Youth Ja z

Competition – ba s player, Tom

Fastier, co lapsed and died the

to undertake work.

Cr East said there had b en

a "number of incidences" in

WE ARE OPEN

Mon - Fri

8. 0am to 5. 0pm

in a bid to educate pupils on the

sacrifice their ancestors made in

World War 1 and World War 2.

Mr A pleton and Mr Donaldson

a rived a the sch ol dre sed

in World War 1 uniforms while

their horses Tommy and Kruze

wore 1 0-year-old sa dles donated

to the trust.

The presentation is a prelude

christchurch east

Ca l to make an

a pointment

P: 384 9459

Pool plans for Edgeware

Designs for ind or learner's

p ol revealed

www.national.org.nz

themselves which had gone

unreported.

"I've always though that it

or senior citizens perhaps

Loca ly Owned

Authorised by Jo Hayes

Unit 6/950 Fe ry Road, Christchurch

Cyclist's helipad bid

Serious crash gives new

perspective on ride to hospital

day before the competition

began.

"Tom was a ba s player from

Cashmere High Sch ol who was

playing with our big band this

year. He had a strong chance of

wi ning best ba s player a the

to the Gr endale Recreation Reserve

Management Commi t e's

upcoming Anzac Day service.

As a tribute to those who

served, members of the trust wi l

ride horseback to the service.

Mr A pleton said it was

important children were

educated on what soldiers

wen through during World

• By Gordon Findlater

DEAN CALVERT (above)

returned from the United

Kingdom last w ek after

festival as he was a very a complished

musician," head of music

Duncan Ferguson said.

"We were delighted to win, but

it was bi tersw et," he said.

St Andrew's won the most

outstanding big band title a the

He is confiden the new

a proach wi l bring results.

"I think the WorkSafe

lever that we are l oking for."

Joy Butel AREINZ - Dip.R.E.

Land size

Garage

Land size

Bedr om

Alistair Hazeldine

Garage

Land size

Bedr om

850m

Carport

Bathr om

Carport

Bathr om

Car pad

Lounge

Car pad

Lounge

4 2 1

Boat pad

Boat pad

2.5

Dining

Land size

Bedr om

Mobile: 021 353 280 | Phone: 0 384 7950

Email: joy.butel@harcourts.co.nz

Toilet

Shower Study

P ol

Te nis court

1 2 3 4 5 6 7 8 9 10 1 12 13 14

850m

Garage

Bedr om

Carport

4

2

Bathr om

1

Car pad

Lounge

2.5

Dining

Garage

850m

Carport

Bathr om

Toilet

Shower Study

Car pad

Lounge

4 2 1

Boat pad

2.5

Dining

Toilet

Shower Study

P ol

Te nis court

1 2 3 4 5 6 7 8 9 10 1 12 13 14

P ol

Te nis court

1 2 3 4 5 6 7 8 9 10 1 12 13 14

850m 4 2 1 2.5

Boat pad

Dining

Toilet

Shower Study

P ol

Te nis court

1 2 3 4 5 6 7 8 9 10 1 12 13 14

Mobile: 027 572 1 5 | Phone: 0 384 7950

Email: alistair.hazeldine@harcourts.co.nz

w.harcourtsfe rymead.co.nz

Cartwright steps downs

Community board chairman

stays true to his word

New pi za joint

Fire and Slice fina ly se to

open in Sumner

June 29 - July 1

EXHIBITORS BOOK NOW

vanessa.fleming@starmedia.kiwi

021 914 565

competition in Tauranga.

The band dedicated it se to

Tom, who died while on his way

to Cashmere High on March 27.

His death was po sibly related to

a medical event.

•Turn to page 9

ge ting closer than mos to

Joseph Parker in the build up

to his world heavyweigh title

unification fight with Anthony

Joshua in Cardiff.

• By Georgia O'Co nor-Harding

A CRACKDOWN on mobile

traders acro s the districts could

be l oming.

However, the public has li tle

interest in having input into the

i sue.

Only eight submi sions were

received for a potential bylaw

aimed at regulating commercial

activities in public places.

The district council wi l be

holding a hearing for the Public

Places Bylaw and Policy on Commercial

Activities and Events in

Public Places.

A hearing i scheduled to be

held on Thursday.

The bylaw comes as an increasing

number of mobile traders

are s eking to operate in Selwyn,

especia ly during the summer

months.

In the past year, the district

council has received five inquiries

about se ting up a mobile busine s

on private or public land.

A report said there are two

str et operators in Darfield, a

coff e cart is parked beside the

railway in Ro leston, and a pi za

cart visits Lincoln w ekly betw en

September-May along with a Thai

f od truck.

•Turn to page 7

20 Tuawera Te race, Clifton Hi l - $980, 0 3 2 2 2

• By Emily O'Co ne l

call 332 4004 TexT 027 537 0567

230 BarringTon sTreeT

www.denturesouth.co.nz

Restore your oiled CEDAR BLINDS with ou re-oiling service.

Rejuvenate your lacquered CEDAR BLINDS

High-tech Cleaning

We clean and repair a l types of blinds –

Venetians, Cedar, Verticals, Ro ler, Ho lands,

Romans and Pleated – with environmenta ly

friendly cleaning products.

Temperature Contro led Drying

Re-oiling & Rejuvenating

Fabric Blinds - such as Austrian and Roman

Same Day Pick Up & Drop O f

We o fer a same-day, pick up an drop o f

service for mos types of blinds. B okings

are required.

Convenient Location

Drop blinds into us by 9am, at

30 Cashel Str et (near the

Fitzgerald end), and co lect

them a th end of the day.

New Blind Sales Priced from $30

Grenadier Real Estate Ltd MREINZ is a Licensed Agent Under the Real Estate Agents Act 2 08

has proven himself to be a cut

above his Au sie rivals at an

international competition.

Elite Meats owner Corey

Winder was named in the a l

War 1 and World War 2.

But he said the presentation

didn't go into t o much detail

and was more of a "show and

te l" to make them aware of what

the soldiers l oked like.

Children were shown the type

of kits horses were required to

wear in the war.

•Turn to page 7

Mr Winder and his team, the

Pip Su ton BCM (Marketing)

Residential Sales & Development

Specialist - Licens e Salesperson

Next Step Realty Limited

Licensed (RE A 2 08)

Mobile: 027 24 9524

DI: 03 421 8417

Email: pip.su ton@raywhite.com

includes W olston butcher

in the competition.

He said the cha lenge started

as a "transtasman test match"

seven years ago.

The preparation for this

year's World Butchers' Challenge

was intense as the team

members met in Auckland

Loca ly Owned

Denton Park a tracts more

Drop blinds into us by 9am, at

30 Cashel Str et (near the

Fitzgerald end), and co lect

The former New Zealand

title-holder trave led with his

father George and brother

Bryce to London ahead of the

fight where they spen time

them a th end of the day.

New Blind Sales Priced from $30

• By Sophie Cornish and Julia Evans

THE PAPANUI-I nes

Community Board has taken the

rare step of starting a petition

to figh the city council over

funding.

Signatures are being co lected

in a bid to get funding for a community

facility in Shirley.

It comes after the city council

removed funding for the centre

pla ned for Shirley Rd, near the

intersection with Hi ls Rd. This

was the site of the former community

centre, which was badly

damaged in the February 2,

20 1, earthquake.

The removal o funding

prompted community board

chairwoman Ali Jones to threaten

to stand down, citing it as her "die

in the ditch" project.

Ms Jone said the board's role

is to represen the community,

and by gathering signatures from

residents, it was fulfi ling that

role.

"One of the roles of a community

board is to represent and act

as advocate for the interests of its

community and this is what we

are doing. The LTP and a nual

plans are a l about lo bying the

council."

•Turn to page 5

per blind

Barks • Peastraw • Composts - we su ply the best available

A gregates - Chip, Round and Basecourse

Pavers & Schist products • Pungas

Decorative Stones & Landscaping Rocks

Trailer Hire first hour fr e with purchase

• Bag & Bulk - pick up or delivered

Ph 3 7 0 70,

30 Cashel St,

Christchurch

David, Carol & Mike

Traffic plan at The Brae

Bid to ease traffic on busy,

na row str et

with Parker in the build up.

Mr Calvert, 47, comes from a

boxing mad family.

•Turn to page 6

WE ARE OPEN

Mon - Fri

8. 0am to 5. 0pm

journey

AND

HARDFILL

DUMPING

Phone: 03 384 6540

Your local

hi l and

seaside

specialist.

P: 384 7950 M: 0274 318 960

LICENSED SALES CONSULTANT RE A 2 08

W ekdays 7.30am-5pm. W ekends 8.30am-3pm

www.dyersroadandlandscapes.co.nz

GRENADIER

• By Sarla Donovan

THE OWNERS of Sumner's Cave

Rock Apartments ar expecting the

Earthquake Commi sion to sign-off

on a se tlement agr emen this w ek.

Body corporate chairman Mike

White said the group had gone

into mediation with IAG and EQC

on February 20, and signed off

on a deal with IAG on February

2 – coincidenta ly seven years

to the day after the February 2,

20 1, earthquake. However, they

are waiting for EQC to sign the

agr ement.

"Given that EQC actua ly drafted

the agr ement, there' l be no

problem with them doing that."

The apartment suffered damage

in the February and June, 20 1,

earthquakes and were demolished in

late 2012. In 2016, IAG's offer of the

difference betw en indemnity value,

$10 mi lion, and the sum insured,

$16 mi lion, was rejected by the body

corporate.

The mediation agr ement

prevented Mr White from disclosing

the se tlement amount, but he said it

involved the two parties paying "a bit

more money than they'd wanted to

earlier."

•Turn to page 6

Loca ly Owned

High-tech Cleaning

friendly cleaning products.

Temperature Contro led Drying

Re-oiling & Rejuvenating

every two months for lengthy

Same Day Pick Up & Drop O f

result.

"To get second behind Ireland

are required.

Convenient Location

Drop blinds into us by 9am, at

30 Cashel Str et (near the

Fitzgerald end), and co lect

them a th end of the day.

New Blind Sales Priced from $30

be ahead of Australia is an

even bi ger thing for us," he

said.

But Mr Winder admires the

Loca ly Owned

Ro ler Blinds cleaned

from as li tle as $20

per blind

Ph 3 7 0 70,

30 Cashel St,

Christchurch

Ro ler Blinds cleaned

from as li tle as $20

per blind

Ph 3 7 0 70,

30 Cashel St,

Christchurch

Driver hazard?

blasts Yaldhurst Rd island

PHOTO: MARTIN HUNTER

Australian team.

"Those guys over there

[Australia] are on top of their

game, they do a g od job," he

said.

"And it just showcases that

New Zealand has got some

of the best butchers in the

world," he said.

since the age of 19.

WE ARE OPEN

Mon - Fri

8. 0am to 5. 0pm

8047287 A

8214716 A

WE ARE OPEN

Mon - Fri

8. 0am to 5. 0pm

LOOK

Used tyres from

told Western News the submi sion

would likely o pose Fulton Hogan's

plan.

"You can just about guarant e

it . because we [the commu-

community.

•Turn to page 5

New Tyres - Ba teries

Discounts on sets of tyres

AA

Discounts

LOOK

New tyres from

155

FR E PICK UP & DELIVERY (in local area)

x 13

LTD

PHOTO: MARTIN HUNTER

NOR'WEST NEWS Latest Christchurch news at www.star.kiwi

Tuesday June 11 2019 23

Classifieds Contact us today Phone our local team 03 379 1100

Community Events

ALCOHOLICS

ANONYMOUS, If you

want to have a drink that's

your business. If you want

to stop, we can help. Phone

0800 229-6757

For Sale

QUEEN size Rimu

slat bed as new + excel

mattress. 4 yrs old $500.

Matching 7 drawer chest

as new $500. Queen size

divan bed with mattress

$200. Ph 342-7878

Gardening

& Supplies

A GARDEN OR

LANDSCAPING TIDY

UP? Shrub, hedge &

tree pruning, Lawns,

Gardening, consistently

reliable general property

upkeep, Dip. Hort. 10

yrs experience, One off

tidy ups or on-going

service. Nick's Garden

Maintenance. Keeping

your garden beautiful.

Free Quote. Ph. 942-4440

& 022 264 7452

Personals

MATURE N/S Single

Man. In NW of city seeks

a happy slim older lady

for company & to spoil Ph

0276594425

Vehicles Wanted

CASH/CASH for any

unwanted vehicles, ph

347 9354 or 027 476 2404

Wanted To Buy

AAA Buying goods

quality furniture,

Beds, Stoves, Washing

machines, Fridge Freezers.

Same day service. Selwyn

Dealers. Phone 980 5812

or 027 313 8156

TOOLS Garden,

garage, woodworking,

mechanical, engineering,

sawbenches, lathes, cash

buyer, ph 355-2045

Situations Vacant

Reporters - Star Media

Star Media is seeking

reporters to join its

progressive and award

winning newsroom.

The positions will suit those who have

made a start in journalism and now

want to accelerate their careers, or

new graduates who are seeking to

launch their careers in a competitive

environment.

You will be part of a vibrant team which is a

major player in news coverage of our region.

TUESDAY, APRIL 10, 2018 Loca ly Owned

www.star.kiwi

Page 3 Page 13

The successful applicant will need to have a full New Zealand driver licence.

If you want to be part of a progressive media company,

please email your CV to:

Barry Clarke, Editor In Chief - barry@starmedia.kiwi

Trades & Services

CARPET

CLEANING

sPECIAL

3 Rooms & hALLwAy

fRom $59.00

over 20 years experience

027 220 2256

HOUSE

CLEARING

Are you

moving house

or trying to

downsize?

Call All Clear

Canterbury. We work

with you to recycle,

sell and dispose of

unwanted items.

Ph: 03 260 0934

or 021 078 4553

raewynlcooke@gmail.com

www.allclearcanterbury.co.nz

has b en a proached in a bid to

fina ly repair the potholes in New

repairing the potholes which are

Handforth said it may be able to

take action under the Health and

person conducting a busine s or

is aware of the concerns raised by

New Brighton surf club opts

and is engaging with the owner

wrote to them about its concerns

a preciates that multi-ownership

of the parking space may present

repair/resurfacing but felt obliged

to pa s these concerns onto you,"

One reply has b en received so

far from an owner who is wi ling

to discu s the i sue. However, a l

the owners would have to agr e

jo

hayes

New bid to fix potholes

Action looms

on Hawke St

car park

the car park of people injuring

has b en quite amazing that we

haven't had any serious a cidents

tri ping in those potholes and

doing themselve some damage."

HAZARD: Coastal-Burw od Ward city counci lor David East wants WorkSafe New Zealand to put pre sure on the Hawke St car

park owners to fix the dangerous potholes. PHOTO: GILBERT WEA LEANS

BLINDS .Cleaned, Repaired & Restored .

Restore your oiled CEDAR BLINDS with ou re-oiling service.

Rejuvenate your lacquered CEDAR BLINDS

We clean and repair a l types of blinds –

Venetians, Cedar, Verticals, Ro ler, Ho lands,

Romans and Pleated – with environmenta ly

Fabric Blinds - such as Austrian and Roman

We o fer a same-day, pick up an drop o f

service for mos types of blinds. B okings

Ro ler Blinds cleaned

from as li tle as $20

www.blindcare.co.nz SCAN QR code for Info >

TUESDAY, APRIL 10, 2018 www.star.kiwi

Page 3 Page 5

WEDNESDAY, APRIL 1, 2018 Loca ly Owned

www.star.kiwi

Page 3 Pages 10 & 13

HISTORY: Pupils have taken a step back in time learning about what

SW ET SOUNDS: St Andrew's Co lege year 12 students Lewis Edmond and Je na We ls performing a the 41st National Youth

New Zealand soldiers and horses l oked like in World War 1. Abi P oler,

5, sits on Kruze, alongside Mounted Rifles Charitable Trust president

Mark A pleton. PHOTO: MARTIN HUNTER

Bittersweet win for St Andrew's big band

involvement may prove to be the

Pupils learn about role of war horses

Mobile

Service

Available

WEDNESDAY, APRIL 1 2018 www.star.kiwi

Board

launches

petition

to get new

community

facility

BLINDS .Cleaned, Repaired & Restored .

MAgic on clifton

TEAM

BUTEL

Grenadier Fe rymead

Four Seasons Realty

Page 3 Page 5

Former champ hooks

up with Parker in UK

AN U PER Ri carton butcher

star team a the World Butchers'

Cha lenge in Northern Ireland.

Mobile

traders

could

face

regulation

New sections

selling now

Star Media is a division of Allied Press.

Ro ler Blinds cleaned

from as li tle as $20

www.blindcare.co.nz SCAN QR code for Info >

There's no be ter place to se tle out wes than at Falcon's Landing. Pop in to our sales and

information office, 17 Branthwaite Drive, this Thursday, Friday or Sunday from 1pm to 3pm

to find out more. Contact us on 03 741 1340 or mail enquiries@yoursection.nz anytime.

Mega centre f edback

submi sions than Cathedral

Page 3 Page 5

Dyers Road Landscape

& Garden Supplies

We wi l deliver!

SOIL

183 Dyers Rd, Bromley • OPEN 7 DAYS

Alison Carter

TUESDAY, APRIL 10, 2018 www.star.kiwi

E: alison.carter@harcourts.co.nz

Cave Rock

Apartments'

owners

expect EQC

sign-off

this week

Pedaling acro s NZ

Stroke survivor finishes long

TUESDAY, APRIL 10, 2018 www.star.kiwi

Pure South Sharp Blacks, which

Jeremy Garth, finished second

Page 7 Page 10

From New World Ferry Rd

to second in the

world

Fishin' for w eds

• By Emily O'Co ne l

• By Emily O'Co ne l

It was the firs time Mr Garth met in Auckland every two Mr Garth hopes to own a

months for THE lengthy HALSWE w ekend L-Hornbyand

he was "rea ly proud" of practices. Ri carton Community Board

how the team performed.

Mr Garth, who has b en a

international competition. "We produced some top quality

products and came away competition Templeton. brought back his "In two years' time, we' l be

butcher for 14 years, said the and on the 2020 cha lenge.

New World Fe ry Rd butcher

pa sion for the Mayor job. Lia ne Dalziel told going the back to try and win the

Pure South Sharp Blacks, re-

ha py," he said.

"Doing a l thi stuff and title," he said.

The preparation for this year's

U per Ri carton butcher Co-

ideas, it just brings that flair

Ireland.

intense as the team members back for you," he said.

South Sharp Blacks team.

qua ry.

Board chairman Mike Mora

had competed in the cha lenge

butcher shop of his own someday

but says for now he wi l fo-

A WOOLSTON butcher proved

to be a cut above the rest in an

has b en given the gr en cus ligh on to ge ting mor experience

o pose the pla ned qua ry near

Jeremy Garth and his team, the with a g od result so we're very

board on Thursday it had the okay

cently came second a the World

m eting new from people, the city s eing council new to make a

Butchers' Cha lenge in Northern World Butchers' Cha lenge was

submi sion if Fulton Hogan rey Winder a plies was part of the Pure

for a resource consen to create a

Children's event at risk if The

Groynes' lakes not cleaned up

GLOBAL STAGE: W olston butcher Jeremy Garth back home after his team came second in the World Butchers' Cha lenge.

BLINDS .Cleaned, Repaired & Restored .

AWARD-WINNING: Corey Winder is back home after his team came second in the World Butchers' Cha lenge .

Restore your oiled CEDAR BLINDS with ou re-oiling service.

Rejuvenate your lacquered CEDAR BLINDS

We clean and repair a l types of blinds –

Venetians, Cedar, Verticals, Ro ler, Ho lands,

Romans and Pleated – with environmenta ly

Fabric Blinds - such as Austrian and Roman

w ekend practices. Mr Winder

said coming second against 1

other countries was a "fantastic"

We o fer a same-day, pick up an drop o f

service for mos types of blinds. B okings

was a huge achievement and to

www.blindcare.co.nz SCAN QR code for Info >

Community board member

Elite butcher cut above the world

Your best choice

in the West

Restore your oiled CEDAR BLINDS with ou re-oiling service.

Rejuvenate your lacquered CEDAR BLINDS

High-tech Cleaning

We clean and repair a l types of blinds –

Venetians, Cedar, Verticals, Ro ler, Ho lands,

Romans and Pleated – with environmenta ly

friendly cleaning products.

Temperature Contro led Drying

Re-oiling & Rejuvenating

Fabric Blinds - such as Austrian and Roman

Same Day Pick Up & Drop O f

We o fer a same-day, pick up an drop o f

service for mos types of blinds. B okings

are required.

Convenient Location

www.blindcare.co.nz SCAN QR code for Info >

Mr Winder has b en a butcher

BLINDS .Cleaned, Repaired & Restored .

$ 40

Mobile

Service

Available

ca l 32 4 04 TexT 027 537 0567

230 Ba ringTon sTr eT

www.denturesouth.co.nz

Community

board get

permission

to oppose

Templeton

quarry

nity board] don't believe qua ries

should be so close to residential

areas," he said.

Mr Mora said he wasn't sure if

the city council would endorse the

board' submi sion.

"I'd like to think so because the

city council has had their eyes

open as we l ove recent years over

the crysta line silica risk," he said.

Mr Mora said the community

board wi l be "representing and

advocating" for the Templeton

T Y R E S

Quality Secondhand Tyres

A l at very competitive prices

Ph 348 0626

5

$ 70

9 Main South Rd (cnr Wa ts Rd), Sockburn

Mobile

Service

Available

ca l 32 4 04 TexT 027 537 0567

230 Ba ringTon sTr eT

www.denturesouth.co.nz

60km/h

Dyers Pass

speed

limit from

early next

month

A NEW 60km/h sp ed limit and

double ye low lines wi l be in

place on Dyers Pa s Rd by early

May.

The sp ed limit change was

a proved by the city counci last

w ek.

A decision to paint double yellow

lines on the stretch betw en

Summit Rd and the Sign of the

Takahe was earlier made by the

Spreydon-Cashmere Community

Board.

Bu the Banks Peninsula Community

Board decided against

ye low lines on the Summit Rd-

Governors Bay section due to the

road's na rowne s and general

condition.

The changes are designed to try

and reduce the crash rate.

Insta lation of the double

ye low lines, the new sp ed limit

signs and raised centre line pavement

markers wi l begin in mid

April.

The work i scheduled to take

place betw en April 15-18, 2-26,

29 and May 2.

While the work is done, Dyers

Pa s Rd wi l be closed to traffic

from the Sign of the Takahe to

Governors Bay betw en 7pm and

6.30am.

Trades & Services

YOU COULD

BE HERE

PLUMBER

A Top Plumbing job

completed at a fair price,

prompt service, all work

guaranteed, Ph Brian 960-

7673 or 021 112-3492

Trades & Services Trades & Services ROOFING REPAIRS

AAA HANDYMAN CHIMNEY SWEEP

Fully qualified, over 40

licensed carpenter *Rotary

brush

yrs experience. Ph John

LBP, all property and technology*. From $70

027 432-3822 or 351-

building maintenance, single story. 0800 SWEEP

9147 email johnchmill@

repairs, bathroom/shower ME

outlook.com

installations, with free

SHOE REPAIRS

quotes 03 383 1927 or 027 ELECTRICIAN

Belfast engraving. Shoe

245 5226 ciey@xtra.co.nz Prompt & reliable repairs, key cutting &

BATHROOM

registered electrician engraving. (10 yrs exp)683

Renovations, complete with 24 years experience Main North Rd, ph 027

service from start to finish, for all residential and 3113423

free quotes, ph Dave 027 commercial work, new

SHOE REPAIRS

334 4125

housing and switch board

Bennetts Shoe Service

replacements. Phone Chris

BUILDER

(since 1930) 482 Papanui

027 516 0669

HANDYMAN. No job

Road.

too small. Install heat ELECTRICIAN

SPOUTING CLEANING

transfers, repair/replace Registered, electrical Spouting Unblocked,

fences, floor boards, installation and repairs, Cleaned Out and Flushed

decks. Russ 027 884 2330. Gorbie Electrical, ph 021 Out. Call Trevor 332 8949

Liability insurance. 026 73375 or 03 322 4209 or 021 043 2034

****************

STUMP GRINDING

CARPET & VINYL PAINTING

Best price guarantee Tony

Laying. Exp. Repairs, & Decorating Wingfields

0275 588 895

uplifting, relaying, Contracting, all interior

restretching. Email & exterior painting & all TILER/CARPENTER

jflattery@xtra.co.nz ph forms of interior plastering 35 years exp, no job

John on 0800 003 181 or

027 2407416

& jib fixing, ph Mark 021

171-1586

too small. Ph Ross 027

4311440.

Let us help take

your business to

new heights

Advertise your business

in our Trades and

Services column.

For assistance phone

Vicky on 03 364 7419

TILING

Flooring - Splashbacks -

Wall incl tile removal, reg

master tiler, ph Dave 027

334 4125

T.V. SERVICE CENTRE

Repairs, tvs, microwaves,

audio amps, soundbars.

Aerial & satellite

installations, kitsets, 480D

Moorhouse Ave, ph 03 379

1400

VHS VIDEO TAPES

& all camera tapes

converted to DVD, video

taping special occasions,

www.grahamsvideo.co.nz

ph 03 338-1655

HOUSE

CLEARING

Are you

moving house

or trying to

downsize?

Call All Clear

Canterbury. We work

with you to recycle,

sell and dispose of

unwanted items.

Ph: 03 260 0934

or 021 078 4553

raewynlcooke@gmail.com

www.allclearcanterbury.co.nz

Letterbox Advertising

Flyers and Newspaper Inserts

Trades & Services

concrete & paving

• Driveways

• Earthquake repairs

• New Home Specialists

• Patios & Paths

tel: 0508 873 7483

email: sales@affordableconcrete.co.nz

www.affordableconcrete.co.nz

DRIVEWAYS

Exposed Aggregate

Stamped Concrete Plain

Concrete Resurfacing

Things we offer...

Competitive/affordable pricing

Attention to detail

Professional service

free quotes/insurance scopes

Cell 0278 145 848

www.drivecrete.co.nz

PLUMBER

NEED A PLUMBER

Call us now for fast friendly service.

Get your problems sorted out

quick smart - on time!!

Phone for a

FREE

quote now.

Phone 03 377 1280 | Mobile 021 898 380

DESIGN

We offer professional

design services.

PRINT

We print your gloss

mailers and letterbox

flyers.

Delivery

Canterbury wide

coverage or targeted

zone deliveries.

FREE QUOTES Contact: Michaela Malloch

P: (03) 379 7100 or 021 932 177

E: michaela.malloch@starmedia.kiwi

plumbING AND GAS

• Gas fitting – servicing, new, renovations

• Gas hot water installs

• Gas cookers and gas fires

• Kitchen / Bathroom renovations

• Backflow testing and installs

• Filtration – whole house, kitchen tap

• Domestic maintenance

Email: james@plumbingandgashq.co.nz

Text: 021 174 9265

0800 H20 LPG

4 2 6 5 7 4

DISCOUNT FOR

SUPER GOLD CARD

HOLDERS!

FREE QUOTES
---
24 Tuesday June 11 2019

Latest Christchurch news at www.star.kiwi

NOR'WEST NEWS

SELECTED

BEDS

SALE

ON NOW

Chiropractic Range

Chiropractic HD Range

Swisstek Latex Range

Was $3,399

Now From

$1,699

Was $4,799

Now From

$2,399

Was $5,599

Now From

$2,799

Queen Size

Mattress & Base

Other Sizes & Models Available In-store!

BEDS R US CHRISTCHURCH

166 Moorhouse Ave, (Next To Noel Leeming)

Ph: 03 379 5110

Queen Size

Mattress & Base

Queen Size

Mattress & Base
---
NOR'WEST NEWS Latest Christchurch news at www.star.kiwi

Tuesday June 11 2019 25

Love the life you choose

Christchurch Open Weekend

Saturday 15 & Sunday 16 June

10am - 3pm

Summerset at Avonhead

120 Hawthornden Road,

Avonhead

Summerset on Cavendish

147 Cavendish Road,

Casebrook

Summerset at Wigram

135 Awatea Road,

Wigram

0800 SUMMER

summerset.co.nz

SUM1587_FC1
---
26 Tuesday June 11 2019

Latest Christchurch news at www.star.kiwi

NOR'WEST NEWS

Love the life

you choose

When you move into a Summerset retirement village, you're not just

moving house – you're joining a vibrant and welcoming community

where you'll feel completely at home.

At Summerset we put you at the heart of everything

we do, so you can enjoy the freedom of living the life

you choose.

The perfect home is waiting for you. From villas and townhouses, to

apartments – you'll find a place to make your own. Our homes are

accessible, high-quality, and there are no worries about maintenance or

upkeep as we do it all for you. Pets are also welcome, and you can even

go away on holiday knowing your home will be safe and secure. We'll

also make sure you're aware of all costs, giving you the certainty that

there won't be any unexpected surprises.

When it comes to activities and events, there's always something

happening to keep our Summerset community involved and

entertained, and you can choose to do as much or as little as you like.

If you need some extra care or support, our continuum of care means

we'll be there for you as your needs change, giving you the peace of

mind to continue living life to its fullest.

Over 5,000 residents are already enjoying the Summerset life across

25 villages around New Zealand. If you're interested in Summerset for

yourself or a family member, come and visit one of our Christchurch

villages to find out more about the Summerset life.

Christchurch

Open Weekend

Saturday 15 & Sunday 16 June, 10am - 3pm

Visit summerset.co.nz to find the

Summerset village nearest you.
---
NOR'WEST NEWS Latest Christchurch news at www.star.kiwi

Tuesday June 11 2019 27

Love the Summerset life

Love the Choice

At Summerset you'll find a wide range of homes specifically designed

for the over 70s. Choose from one of our lovely, modern, purposebuilt

homes, then make it your own. All our homes are designed with

accessibility as a priority.

Love the Community

At Summerset you can continue to live the life you choose with the

added peace of mind of living in a warm and friendly community where

you'll feel completely at home.

As a Summerset resident, you'll enjoy all the benefits of being part

of a thriving Summerset community including easy access to village

facilities and community spaces. And there's support on hand should

you need it in the future.

Love the Confidence

At a Summerset village you can live fully independently or, should

you need it, you can receive support and care in your own home or

apartment, or in our fully certified care centre. So, if your needs change,

you can be confident you will the get the support you need, without

having to leave the village.

As a Summerset resident, you'll have access to a range

of community facilities, including;

To find out more about our Christchurch villages,

call 0800 SUMMER (786 637) or visit summerset.co.nz

Divine Café

Exercise room

Communal vegetable

gardens

Residents' bar

All-weather bowling green

Residents' workshop

Hair and beauty salon

Swimming pool and/or

spa pool

Regular visits from

health practitioners

SUM1587_FC_DPS
---
28 Tuesday June 11 2019

Latest Christchurch news at www.star.kiwi

NOR'WEST NEWS

Love the life you choose at

our Christchurch villages

Brand new show homes open to view!

At Summerset retirement villages, you'll find a wide range of homes specifically

designed for the over 70s.

Our warm, modern homes are built with accessibility as a priority. And there's no need

to worry about maintenance or upkeep. Simply choose your new home and make it

your own. You can even bring along your pet.

Summerset at Wigram and Summerset at Casebrook have brand new homes

available now and our Summerset at Avonhead village is pre-selling* homes that

will be ready to move into soon!

Come along to our Open Weekend and find the home that's right for you. We will take

you through village plans and pricing, and answer any questions you may have.

If you would like to get some information prior, you can make an appointment or call

in and visit us any time - we are open 7 days.

Christchurch

Open Weekend

Saturday 15 June

Sunday 16 June

10am - 3pm

Summerset at Avonhead

120 Hawthornden Road, Avonhead

Summerset on Cavendish

147 Cavendish Road, Casebrook

Summerset at Wigram

135 Awatea Road, Wigram

*Licence to occupy.

To find out more about Summerset, call us on

0800 SUMMER (786 637) or visit summerset.co.nz

SUM1587_FC4